New Age Islam News Bureau
23 Jan 2017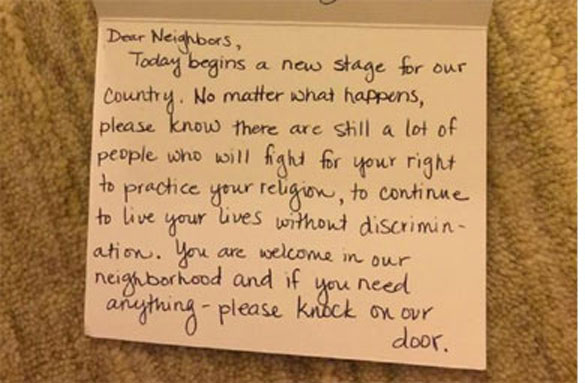 A picture of the note shared on Twitter by Hend Amry (@LibyaLiberty) Hend Amry (@LibyaLiberty)
-----
• Neighbours Leave Touching Note outside Muslim Man's Door after Donald Trump's Inauguration
• Turkish President Targets Gulen's Schools on Africa Visit
• Terengganu Law Does Bar Unwed Muslim Couples On Bikes, Confirms Lawyer
• Syrian Rebels Arrive In Astana for Talks with Regime
North America
• Trump Asks CIA to Be Ready For Wars against 'Islamic Terrorism'
• Neighbours Leave Touching Note outside Muslim Man's Door after Donald Trump's Inauguration
• Muslim Leader Defends Decision to Pray At Trump Service
• Donald Trump Attends Interfaith Ceremony as Hindu, Sikh, Muslim Prayers Echo At National Prayer Service
• Palestine: Muslim scholars slam US embassy move to Jerusalem
• University of Regina students aim for 'social cohesion' with Islam Awareness Week
• Anti-Trump Protesters Say U.S. Denied Them Entry At Canada Border
--------
Mideast
• Turkish President Targets Gulen's Schools on Africa Visit
• Israel Approves Over 500 Homes for Settlers in East Jerusalem
• Trump Invites Israeli PM Netanyahu to Washington
• Erdogan visits Africa eyeing action on nemesis' network
• 7 Qaeda members killed in Yemen drone strikes
• Discussion on US embassy move to Jerusalem in 'beginning stages'
• Ukraine seizes Iran-bound plane 'carrying missiles'
• We're prepared if Trump tears up deal: Iran nuclear chief
--------
Southeast Asia
• Terengganu Law Does Bar Unwed Muslim Couples On Bikes, Confirms Lawyer
• Indonesia: Catholics Refuse Muslim Cleric's Offer to Negotiate
• Islamic State finds easy recruits in prisons of Indonesia
• Muslim ' Rohingya Collaborators' Killed In Western Myanmar
• Malaysia Seeks to be Global Islamic Wealth Management Centre
• Thousands evacuated as heavy rain and strong winds hit Malaysia
• Saudi Arabia, Indonesia team up to fight radicalisation
• Fate of firebrand Jakarta cleric to be decided today
• 17 Indonesians questioned about IS upon return from Turkey
--------
Arab World
• Syrian Rebels Arrive In Astana for Talks with Regime
• 70 Saudi-Backed Militias Killed in Heavy Fighting with Yemeni Forces in Sa'ada
• Nearly 90 Bodies Exhumed At Daesh Massacre Site: Iraq
• Syria's warring sides gather for Astana talks
• Iraqi forces regain control of two more neighborhoods in east Mosul
• Syrian soldiers, allied fighters liberate 4 villages east of Aleppo
• Hundreds of Syrian Soldiers, Hezbollah Fighters Arrive in Southeastern Aleppo
• Syrian Army Wards off ISIL's Offensives near Deir Ezzur City
• Saudi Warplanes Conduct over 100 Airstrikes on Yemen's Southwest in 24 Hours
• Severe Infighting Reported among Terrorists in Idlib
• Syrian Army Prevails over ISIL's Defense Lines in Northern Aleppo
--------
India
• We Fully Support India In Countering Terror: UAE
• Release our kids: family of Pakistani teen held for Uri attack
• India urgently needs uniform civil law: Taslima Nasrin
• India, UAE to sign strategic partnership agreement
--------
South Asia
• 41 Militants Killed in Counter-Terrorism Operations, MoD claims
• Afghan Air Force Bomb ISIS Hideout in Zabul, 21 Killed
• 2 Afghan citizens shot dead, 1 wounded in Pakistan
• Suicide attack target Taliban leader in Kunduz leaving 4 dead
• Bangladesh: State Minister for Foreign Affairs calls for ensuring basic rights of Rakhine
--------
Pakistan
• Moot Calls for Freedom of Faith for every Pakistani, Uniform Syllabus
• Unity among Islamic Countries Only Solution of Problems: Yousaf
• Muslims need to solve contemporary issues, says Zafarullah
• Over 90pc TDPs have returned home: KP governor
• Pakistan destined to 'change' whatever verdict in Panama case comes: Imran
Taliban warn Trump
--------
Africa
• Prevent Boko Haram from Regrouping, UN Tells Military Task Force
• Fifteen Killed After Boko Haram Attacks Town Previously Bombed By Nigerian Air Force
• Helicopter fighting Boko Haram crashes, killing general, 5 others
• Joining hands against state sponsored terrorism!
--------
Europe
• Most Wanted French Jihadist Charged With Terrorist Offences In France
• British leader faces diplomatic challenge with White House invitation
• Armed Syrian opposition & Assad govt reps gather for talks in Kazakhstan
• Russia's new influence may limit Trump's scope in Middle East
Compiled by New Age Islam News Bureau
URL: https://www.newageislam.com/islamic-world-news/new-age-islam-news-bureau/neighbours-leave-touching-note-outside-muslim-man-s-door-after-donald-trump-s-inauguration/d/109821
--------
Neighbours Leave Touching Note outside Muslim Man's Door after Donald Trump's Inauguration
Jan 23, 2017
A Muslim man was greeted with heartwarming note from one of his neighbours on the day of Donald Trump's inauguration.
Left outside the door of his home Cincinnati, Ohio, it told him he was "welcome in the neighbourhood".
"Today begins a new stage for our country," it read.
"No matter what happens, please know there are still a lot of people who will fight for your right to practice your religion, to continue to live your lives without discrimination.
"You are welcome in our neighbourhood and if you need anything – please knock on our door."
The man's niece Hend Army, who described herself on Twitter as an East and West citizen and refugee, tweeted the picture of the note sent to her uncle.
"This is the America that took us in as political refugees,the America that gave us a new home, and the America that keeps my hope alive today," she said.
More than 150,000 people have now shared the picture of the message on Twitter.
http://www.independent.co.uk/news/world/ohio-muslim-man-finds-note-donald-trump-inauguration-neighbour-a7540511.html
--------
Turkish President Targets Gulen's Schools on Africa Visit
23rd January, 2017
So while Turkish President Recep Tayyip Erdogan travels with a big business delegation to Tanzania, Mozambique and Madagascar this week, he is also focusing on what he calls a security threat. Turkey accuses international schools inspired by Gulen of providing militant recruits for his movement, which in turn says an increasingly authoritarian government is casting as wide a net as possible for perceived opponents.
'It is only expected that they are trying to fight the battle in Africa with the Gulenists,' said Ahmet Kasim Han, an associate professor of international relations at Kadir Has University in Istanbul.
'There is also the understanding that the existing Gulenist networks in the West are harder to take on because of Turkey's capability limitations in the West, especially when it comes to influence and imagery problems,' Han said.
Turkey, a NATO member repairing frayed ties with Russia, has a sometimes testy relationship with old allies in the West over Turkey's human rights record and other matters. The overtures to Africa are partly an effort to build Turkey's international profile as a partner and counter to global powers on a continent with a bitter history of Western colonialism and Cold War-era conflict.
Turkey's involvement in Africa feeds into the Turkish ruling party's 'self-perception as the protector of Muslims and Muslim minorities around the world,' said Sener Akturk, associate professor in the international relations department at Koc University in Istanbul.
And winning African support dovetails with Erdogan's argument that the five permanent members of the U.N. Security Council - the United States, Britain, France, China and Russia - 'do not represent and do not serve the world' and the U.N. should be reformed, Akturk said.
Shortly before leaving for Tanzania on Sunday, Erdogan said he planned to talk to African leaders about the 'intense activities' of the Gulen movement on the continent.
'Sensitivities toward this organization and its intentions are increasing within friendly African countries,' said Erdogan, who ends his trip on Wednesday. 'There is no longer the possibility for these bands of murderers to hide, claiming dialogue, service, education and trade.'
On Jan. 9, Erdogan said Gulen's organization previously had schools in 115 countries, and that Gambia was among six nations that had shut them. Schools in the African countries of Guinea, Somalia, Chad, Senegal, Mauritania, Niger and Gabon have been transferred to Turkish government control, he said.
The schools follow national curricula, serve children through high school and are popular with local elites because of good academic results. They deny any link to the botched military uprising in Turkey in July that led to a purge of alleged loyalists of Gulen, a U.S.-based critic of Erdogan who had expanded his international influence with a message of interfaith harmony.
The schools once had the approval of Erdogan's government, whose former alliance with Gulen partly derived from joint opposition to the hard-line secular circles that had ruled Turkey. The partnership evolved into an increasingly acrimonious rivalry several years ago.
In Ethiopia, Prime Minister Hailemariam Desalegn said this month that schools linked to Gulen will be transferred to Turkish government control. He said he discussed the matter with Erdogan during a visit by the Turkish president.
'I told him that if there is something wrong with the establishment of the schools, then he should give us a way out how to keep the schools running,' the prime minister said. 'They agreed on this and they have set up a foundation.'
In Tanzania, 11 schools in the Feza system inspired by Gulen have a total of 3,000 students, just over half of them Muslim.
Turkish diplomats have tried to 'convince government officials to give these schools as a gift to Erdogan during his visit,' Feza director Ibrahim Yunus said in an email to The Associated Press. He dismissed the allegation that the schools are a security threat.
Some parents asked the Feza system to start a university, and the Tanzanian government allocated land 60 kilometers (37 miles) north of Dar es Salaam for the institution, according to Yunus.
Turkey's crackdown on suspected supporters of Gulen has undermined the plan.
'Unfortunately, because of the purge on businesspeople in Turkey, we are having difficulty in finding donors for that project,' Yunus said.
http://www.malaysiasun.com/index.php/sid/251127529
--------
Terengganu law does bar unwed Muslim couples on bikes, confirms lawyer
Faiz Zainudin
January 22, 2017
PETALING JAYA: Recently, news that 26 unmarried couples were nabbed by religious authorities for travelling together on motorcycles raised eyebrows, but shariah lawyer Musa Awang has said the Terengganu authorities were acting in line with the state's laws.
The law barring unmarried Muslim couples from travelling together on motorcycles in Terengganu has been enforced since it was passed at the state assembly in 2015.
Last week, the 52 individuals, aged 16 to 42, were detained during an operation carried out by the Terengganu Religious Affairs Department (JHEAT) together with the Road Transport Department (JPJ) and the police.
Musa said taking action against unmarried couples travelling together on motoryclces was allowed under the amended Syariah Criminal Offences (Ta'zir) (Terengganu) Enactment 2001.
"This makes it an offence and cannot be challenged. Anyone who wants to question this law should do their homework first," he told FMT.
Before this, human rights lawyer Saiful Izham Ramli said that even though the law allowed for JHEAT to ask for the police and JPJ's assistance to make arrests, they should clarify which enactment allowed for the detaining of the couples.
He had said he was not aware of any clause which allowed the arrest of unmarried Muslim couples traveling on motorcycles together.
Previously, JHEAT defended its actions, saying it wanted to prevent social ills in the state which stemmed from the free mingling of men and women.
http://www.freemalaysiatoday.com/category/nation/2017/01/22/terengganu-law-does-bar-unwed-muslim-couples-on-bikes-confirms-lawyer/
--------
Syrian Rebels Arrive In Astana for Talks with Regime
Jan 23, 2017
ASTANA: Members of the Syrian opposition delegation arrived on Sunday in the Kazakh capital Astana for face-to-face peace talks with the war-torn nation's government.
The talks, set to begin on Monday, will be the first time a delegation composed exclusively of rebel groups will negotiate with the regime of Syrian President Bashar al-Assad.
Chief opposition negotiator Mohammad Alloush flew into Astana on Sunday morning, according to a correspondent who saw the delegation arrive.
He was accompanied by around a dozen rebel figures, including Fares Buyush of the Idlib Army, Hassan Ibrahim of the Southern Front and Mamoun Hajj Moussa of Suqur al-Sham. A source close to the opposition's team said that the delegation had been broadened from eight rebel figures to a total of 14, in addition to 21 legal and political advisers.
The 10-member government delegation, headed by its UN ambassador Bashar al-Jaafari, left Damascus on Sunday, according to Syrian state news agency SANA.
Rebels have insisted the talks will focus solely on reinforcing a frail nationwide truce brokered by opposition supporter Turkey and regime ally Russia last month.
Although the two countries have backed opposing sides of Syria's nearly six-year conflict, they have worked hand-in-hand in recent weeks to secure an end to the brutal war that has killed more than 300,000.
The Astana talks, which Assad ally Iran is also helping organise, will be the first test of this new partnership.
They will be held in the city's luxury Rixos President Hotel, where staff members were setting up a single large table in a conference room under blue banners bearing the hashtag #AstanaProcess.
Rebels and regime figures are expected to sit in the same room, along with UN envoy for Syria Staffan de Mistura.
De Mistura on Sunday hailed the talks as a "good initiative" in comments carried by Russian news agencies.
In addition to the hundreds of thousands killed, more than half of the country's population has been displaced since Syria's conflict erupted in March 2011 with protests against Assad's rule.
Published in Dawn January 23rd, 2017
http://www.dawn.com/news/1310225/syrian-rebels-arrive-in-astana-for-talks-with-regime
--------
North America
Trump asks CIA to be ready for wars against 'Islamic terrorism'
ANWAR IQBAL
WASHINGTON: On his first full working day as US president, Donald Trump reiterated his pledge to eradicate "Islamic terrorism" from the face of the planet and alerted the American intelligence agencies to be ready for wars.
"Radical Islamic terrorism. And I said it yesterday — it has to be eradicated just off the face of the Earth. This is evil. This is evil," Mr Trump told officers of the Central Intelligence Agency (CIA) when he visited its headquarters at Langley, Virginia, on Saturday.
In his inaugural speech on Friday, the new US president vowed to "unite the civilised world against radical Islamic terrorism" and pledged to "eradicate (it) completely from the face of the Earth".
President says journalists among most dishonest human beings
During the long campaign for the 2016 presidential election, Mr Trump often criticised Barack Obama for not using the terms "radical Islamic terrorism" and said that unless the enemy was openly identified, it could not be defeated.
In his speech at the CIA headquarters, the new president went a step ahead and warned his intelligence officials, and the American nation, that the war against the radical form of Islam was far from over.
Mr Trump said that when he was young, he heard from one of his instructors that "the United States has never lost a war". But now, "it's like we haven't won anything. We don't win anymore."
Referring to America's longest foreign war, in Afghanistan, Mr Trump said it had continued for so long because the United States did not use its full might. "We have not used the real abilities that we have. We've been restrained," he said while promising CIA officials more powers than they have ever had to combat the country's enemies.
"We have to get rid of ISIS [Islamic State militant group]. Have to get rid of ISIS. We have no choice," he declared, earning a warm applause from the audience.
"There can be wars between countries, there can be wars.… This is a level of evil that we haven't seen. And you're going to go to it, and you're going to do a phenomenal job. But we're going to end it. It's time. It's time right now to end it," he said.
He told CIA officials that previous governments had not given them enough support but he would change this. "I want to just let you know that I am so behind you and I know, maybe sometimes you haven't gotten the backing that you've wanted and you're going to get so much backing. Maybe you're going to say — please don't give us so much backing," he said.
Mr Trump also criticised the US media for reporting that he had a feud with the American intelligence community. "They are among the most dishonest human beings on Earth …. I am with you 1,000 per cent," he said.
Before taking oath, Mr Trump had criticised the CIA for saying that the Russian intelligence had hacked the 2016 elections and that the Russians had materials that they could use to blackmail him.
"Intelligence agencies should never have allowed this fake news to 'leak' into the public. One last shot at me. Are we living in Nazi Germany?" Mr Trump had tweeted on Jan 11.
The president's decision to talk about his war with the media and complain about the reporting of the size of the crowd at his inauguration ceremony, however, irked CIA veterans.
"Former CIA director Brennan is deeply saddened and angered at Donald Trump's despicable display of self-aggrandisement in front of CIA's Memorial Wall of Agency heroes," Mr Brennan's former deputy chief of staff Nick Shapiro said in a statement.
Other veterans said that many in the audience were troubled by the political tone of the speech, in which Mr Trump speculated about how many people in the room might have voted for him.
CIA veterans argued that their agency was not a political party, it was always loyal to the president, whoever he or she might be.
Published in Dawn, January 23rd, 2017
http://www.dawn.com/news/1310199/trump-asks-cia-to-be-ready-for-wars-against-islamic-terrorism
--------
Muslim leader defends decision to pray at Trump service
January 22, 2017
WASHINGTON (WUSA9) - The leader of a Northern Virginia mosque is defending himself after some Muslim leaders criticized him for reciting a prayer at President Donald Trump's interfaith worship service.
Imam Mohamed Magid helps lead the ADAMS Center in Sterling, Virginia. He said he is aware of some of the comments President Trump has made about Muslims in the past, but he said Saturday's service at the National Cathedral provided him an opportunity to teach people the importance of diversity.
"My message was let us look at the beautiful way that God created all of us," he said.
Many Muslims are concerned about what a Trump presidency will mean for them, especially after President Trump hinted at a ban for Muslim immigrants on the campaign trail.
Full report at:
http://www.wusa9.com/news/local/muslim-leader-defends-decision-to-pray-at-trump-service/390528535
--------
Donald Trump attends interfaith ceremony as Hindu, Sikh, Muslim prayers echo at National Prayer Service
January 22, 2017
Vedic hymns and sacred prayers from holy Guru Granth Sahib echoed in the historic chambers of the National Cathedral with US President Donald Trump attending the interfaith prayer service organised to mark his inauguration. Religious leaders from various faiths were invited to recite prayers at the three-day event. Reading in Sanskrit, Priest Narayanachar L Dialakote called for global peace for the benefit of humanity. Wrapped in a saffron shawl around him, the Hindu priest from a popular temple in Maryland invoked divine blessings.
"Keep this nation under your care, and guide us in the way of justice and truth," the Hindu priest said as Trump, First Lady Melania, Vice President Mike Pence and their family members listened attentively to him. Notably Dialakota was the first priest to have recited hymns when the former US President Barack Obama celebrated Diwali for the first time in 2009. Thereafter he has participated in several Diwali celebrations at the White House. Indian-American Jassee Singh recited hymns from the holy Guru Granth Sahib.
Full report at:
http://indianexpress.com/article/world/donald-trump-attends-interfaith-ceremomny-as-hindu-sikh-and-muslim-prayers-echo-at-national-prayer-service-4486186/
--------
Palestine: Muslim scholars slam US embassy move to Jerusalem
23rd Jan 2017
By Ali Abo Rezeg
ANKARA, Turkey (AA): The International Union for Muslim Scholars (IUMS) has warned against the planned relocation of the U.S. embassy in Israel from Tel Aviv to Jerusalem.
"[Such a move] would be a brazen violation of UN resolutions," the Doha-based body said in a statement released on Saturday.
Newly-inaugurated U.S. President Donald Trump has pledged during his electoral campaign to move the U.S. embassy from Tel Aviv to Jerusalem despite reluctance to do so by past administrations — Republican and Democrat alike.
US White House press secretary Sean Spicer said the administration has begun deliberations over whether to move US Embassy. "We are the very beginning stages of even discussing this subject," Spicer said in a statement.
Jerusalem Mayor Nir Barkat said: "I congratulate President Trump on the White House's historic announcement that discussions have begun on moving the embassy from Tel Aviv to Jerusalem."
"Trump is showing that he is a true friend of the State of Israel who fulfills his promises," he said. "The announcement this evening sends a clear message to the entire world that the US recognizes Israel as the united capital of the State of Israel."
While Israel claimed the city as its "eternal capital" after occupying East Jerusalem during the 1967 Arab-Israel war, the international community does not recognize the claim and foreign embassies are currently located in Tel Aviv.
Earlier this month, Senate Republicans introduced legislation to relocate the embassy and recognize Jerusalem as Israel's capital.
"Muslim intellectuals, scholars and leaders will not accept relocating the U.S. embassy to Jerusalem," the IUMS said.
It warned that the embassy relocation "would fuel the spirit of conflict and sedition, play into the hands of extremists and incite hatred against those assaulting the rights of the Palestinian people".
"The division and fragmentation that have affected the Islamic world push those waiting in the ambush to gain more profits by taking advantage of this opportunity," the statement read, going on to call on Muslims and international organizations to raise their voices to protect the Palestinian rights.
Full report at:
http://muslimnews.co.uk/news/palestine/palestine-muslim-scholars-slam-us-embassy-move-jerusalem/
--------
University of Regina students aim for 'social cohesion' with Islam Awareness Week
January 22, 2017
Born in Eritrea, Munir Osman became a proud Canadian citizen last year.
The Regina man is also Muslim, and takes pride in that too at a time when a newly-minted U.S. president is doing much to condemn the world's second-largest religion and its adherents.
But each year a dedicated group of students at the University of Regina do their part to challenge stereotypes and spread understanding. The U of R's Muslim Students' Association (MSA) unites with its counterparts at three other post-secondary institutions in Western Canada for Islam Awareness Week. The other institutions taking part are NAIT (in Alberta), the University of Alberta and University of Saskatchewan.
"(It's) an annual, huge campaign that aims to educate the public about Islam. Our objective is to reach the majority of Canadians and to clear any misconception or stereotype about Islam," said Osman, president of the MSA at the U of R, where he's in his second year of engineering studies.
The MSA not only provides support to the approximately 1,000 Muslim students on campus, but strives to promote understanding and acceptance between Muslims and non-Muslims, he added.
This week's activities are intended to, in Osman's words, increase "social cohesion."
"When we promote the knowledge of Islam, and we can better understand Islam, we can curb the rise of Islamophobia and stuff like that," he said.
South of the border, there's been talk of barring Muslim immigrants or even creating a registry for those who are in the U.S. or visiting. Osman, who has lived here for three years, said he's never experienced a feeling of not being welcome in his newly-adopted country, and he hopes awareness events like those planned for this week can help ensure things stay that way.
"In Canada, it's a little bit different than the United States. I hope so," he added. "I think that any negative attitude toward Muslims is because of some of the stereotypes and misconceptions, so when we educate the people about Islam and what it is exactly by authentic sources rather than relying on un-credible sources, I think we can make a difference."
Chief among those misconceptions is the notion that Islam and terrorism go hand-in-hand. "These kinds of activities will show we are just normal and just like (anyone.) No one can represent us. We represent ourselves," said Osman.
Full report at:
http://leaderpost.com/news/local-news/university-of-regina-students-aim-for-social-cohesion-with-islam-awareness-week
--------
Anti-Trump Protesters Say U.S. Denied Them Entry At Canada Border
22/01/2017
Multiple people attempting to legally enter the U.S. to either attend Donald Trump's inauguration or the Women's March on Washington say they were denied entry at Canada's U.S. border, with some claiming it was over their political beliefs.
"The first thing he asked us point-blank is, 'Are you anti- or pro-Trump?'" Joseph Decunha, a physics student at McGill University in Montreal, told CBC News.
Decunha said he was attempting to cross the border on Thursday with two American citizens, and that he didn't hide that he was going to attend the events in D.C. when asked.
"According to the agent, my traveling to the United States for the purpose of protesting didn't constitute a valid reason to cross," he said, adding that he had been photographed and fingerprinted.
Some of the people denied said they were searched, photographed, fingerprinted and told that going forward they would need a visa to enter the U.S.
"I've never been denied entry at any border crossing before. I have no criminal record. I've never done anything illegal in Canada or in any other country," Decunha told CBC News.
He said he suspects that his political leanings determined his right to enter.
"We were forthcoming and explained we were quite vehemently anti-[Trump]," he told Reuters.
Sasha Dyck, also of Montreal, said he was also refused entry Thursday after telling border guards that he was heading to the women's march. She was in a group of eight that included six Canadians and two French citizens.
My traveling to the United States for the purpose of protesting didn't constitute a valid reason to cross.
Canadian citizen Joseph Decunha
All were denied entry, he told The Guardian, and the French citizens were told that going forward they would need a visa to enter. As for Dyck, he said he was warned that if he and the other Canadians he was with attempted to cross again that weekend, they would be arrested.
Dyck, who is a nurse, shared that this was in stark contrast to when he traveled south for President Barack Obama's inauguration and U.S. border officials high-fived him.
"It seems to me that they just weren't interested in having us in the country for the inauguration," the 34-year-old told Reuters. "I hope it doesn't represent a closing down or a firming up of the border, or of mentalities south of the border."
British citizen Joe Kroese, who studies in Montreal, received similar icy treatment.
Kroese, 23, said he and a Canadian he was with were fingerprinted and photographed before being denied entry while traveling with two Americans to attend the women's march.
"They took my phone and started going through my texts. There was another group of Canadians there that were also going to the march and were being refused entry," he told The Independent.
"They searched the car and then they asked the driver if he practiced Islam and if he spoke Arabic," he said. "They wanted to spook us a bit. It felt like a kind of intimidation."
They searched the car and then they asked the driver if he practiced Islam and if he spoke Arabic.
British citizen Joe Kroese
Kroese said the guards told him that the march was a "potentially violent rally" and that going forward he'd need a visa to enter the U.S.
Citizens of Canada, France and the United Kingdom are not required to obtain a visa to enter the U.S. for tourism or business reasons. The full list of countries whose citizens are waived by the Visa Waiver Program can be found here.
There are exceptions to these rules. Canadians who have a criminal record, for example, including for driving under the influence, must follow a separate set of procedures to enter.
Aaron Bowker, a public affairs officer for the U.S. Customs and Border Protection's Buffalo field office in New York, said he can't comment on individual cases, but that people are only denied entry if there is a valid reason.
"If they're not truthful or upfront," he told The Huffington Post on Sunday of one possible scenario. "If we can't verify what exactly they are doing, it could be a reason for refusal."
In most cases, he said, individuals who are denied entry must then acquire a visa going forward, which would explain why some people said they were told they'd need a visa in the future.
Full report at:
http://www.huffingtonpost.in/entry/canadians-denied-us-entry_us_5884c0fee4b070d8cad32015
--------
Mideast
Israel approves over 500 homes for settlers in East Jerusalem
Jan 23, 2017
JERUSALEM: Israel approved building permits on Sunday for hundreds of homes in three East Jerusalem settlements, two days after US President Donald Trump took office, expecting him to row back on the last administration's criticism of such projects.
The housing projects, on land that the Palestinians seek as part of a future state, had been taken off the Jerusalem municipality's agenda in December at the last minute at the request of Prime Minister Benjamin Netanyahu, in order to avoid further censure from the administration of Barack Obama.
Israel's right wing expects Trump's attitude towards settlements built in the West Bank and East Jerusalem, areas Israel captured in a 1967 war, to be far more supportive than that of his predecessor.
Hundreds of other units awaiting approval
Jerusalem's City Hall approved the building permits for more than 560 units in the urban settlements of Pisgat Zeev, Ramat Shlomo and Ramot, areas annexed to Jerusalem in a move unrecognised internationally.
Meir Turgeman, the chairman of the municipality's planning and building committee, told Israel Radio that the permits had been held up until the end of the Obama administration.
"I was told to wait until Trump takes office because he has no problem with building in Jerusalem," Turgeman said, adding there were hundreds more units waiting for approval.
The Palestinians denounced the move. "We strongly condemn the Israeli decision to approve the construction," Nabil Abu Rdainah, spokesman for Palestinian President Mahmoud Abbas, said.
In its final weeks, the Obama administration angered the Israeli government by withholding a traditional US veto of an anti-settlement resolution at the United Nations Security Council, enabling the measure to pass.
Trump's nominee to be US ambassador to the United Nations, Nikki Haley, condemned the world body over its treatment of Israel at her Senate confirmation hearing on Wednesday.
In a proposal that has drawn a Palestinian outcry, Trump has pledged to move the US embassy from Tel Aviv to Jerusalem.
Israel sees all Jerusalem as its capital but most of the world does not, seeing its final status as a matter for peace negotiations. The Palestinians have said an embassy move would kill any prospect for peace. Negotiations broke down in 2014.
Trump has also appointed a new US ambassador to Israel, David Friedman, who is considered a settlements supporter.
Commentators in Israel have said it was too early to tell what Trump's policy on these matters will actually be.
Most countries consider settlement activity illegal and an obstacle to peace. Israel disagrees, citing a biblical, historical and political connection to the land — which the Palestinians also claim — as well as security interests.
Published in Dawn, January 23rd, 2017
http://www.dawn.com/news/1310197/israel-approves-over-500-homes-for-settlers-in-east-jerusalem
--------
Trump invites Israeli PM Netanyahu to Washington
23-Jan-17
WASHINGTON: The White House said in a statement on Sunday that United States President Donald Trump invited Israeli Prime Minister Benjamin Netanyahu to visit Washington in early February.
The invitation was made through a phone call during which the two discussed the importance of strengthening the US-Israeli relationship.
Trump also stressed his "unprecedented commitment to Israel's security". The statement further said that both the leaders had agreed upon working closely on a range of regional issues, including the threats posed by Iran.
Trump also emphasised the fact that peace between Israel and Palestine could only be negotiated upon by the two parties themselves, but the United States would work with Israel to achieve that goal.
Previously, relations between the two countries had hit troubled waters when the United States had declined to veto a UN Security Council resolution calling for a halt to building of settlements by Israel.
Interestingly, the statement did not include any mention of moving the US embassy in Israel to Jerusalem from Tel Aviv, an action that had generated controversy around the world, because many see the moving of the US embassy to a disputed territory as a declaration of US acceptance of Jerusalem as Israeli territory.
Any decision by the US to move the embassy to Jerusalem is likely to prompt protests from US allies in the Middle East that Washington relies on to fight the Islamic State militant group.
Full report at:
http://dailytimes.com.pk/world/23-Jan-17/trump-invites-israeli-pm-netanyahu-to-washington
--------
Erdogan visits Africa eyeing action on nemesis' network
Jan 23, 2017
ISTANBUL - Turkish President Recep Tayyip Erdogan flew to Tanzania Sunday to start a three-nation east Africa tour seeking action against the network of an exiled cleric he blames for last year's failed coup. At issue is an international network of charities and schools affiliated with a movement run by US-based cleric Fethullah Gulen, Erdogan's nemesis, which has been routinely accused by Ankara of coordinating "terrorist activities".
"We will raise the issue of FETO's activities in African countries like Tanzania, Mozambique and others," Erdogan told reporters, referring to Gulen's network which he dubs the Fethullah Terror Organisation (FETO). "We will raise with our counterparts what our expectations are in regards to the fight against FETO," he said before leaving on a five-day tour which will also take him to Mozambique and Madagascar.
Following July's failed coup, Turkey launched a major crackdown. It detained more than 43,000 people over alleged links to Gulen, with Erdogan vowing to eradicate any social, charitable or commercial activity with ties to the preacher's Hizmet movement.
Gulen, a former Erdogan ally, vehemently denies he was behind the attempted putsch. A reclusive figure, he has lived in self-imposed exile in the state of Pennsylvania since 1999. Hizmet describes itself as promoting Islam through charity efforts and educational work in countries stretching from Turkey to Africa and Central Asia to the United States. But Turkish officials accuse Gulen of using his vast private education network to build influence, and of running a "parallel state" inside Turkey.
Full report at:
http://nation.com.pk/international/23-Jan-2017/erdogan-visits-africa-eyeing-action-on-nemesis-network
--------
7 Qaeda members killed in Yemen drone strikes
Jan 23, 2017
ADEN - Seven suspected Al-Qaeda members have been killed in drone strikes in central Yemen that were probably carried out by US forces, security sources said on Sunday. A security official, asking not to be identified, said three "armed fighters of Al-Qaeda" died when their vehicle was struck on Saturday in the Sawmaa region of Al-Bayda province. Another drone strike on Saturday in the same region killed three suspected jihadists who were riding a motorcycle, and on Friday a drone strike killed a local military instructor for Al-Qaeda in the same province, another security source said.
http://nation.com.pk/international/23-Jan-2017/7-qaeda-members-killed-in-yemen-drone-strikes
--------
Discussion on US embassy move to Jerusalem in 'beginning stages'
22 January 2017
The United States' White House has said that they are in the "beginning stages" of discussing move of US Embassy in Israel to Jerusalem.
The embassy is currently located in Tel Aviv and US President Donald Trump pledged during his divisive campaign for the presidency that his administration would look hard at staying true to the proposal.
Former Secretary of State John Kerry said earlier this week that moving the embassy to Jerusalem would be "explosive" since both Israel and the Palestinians claim the city as their capital.
Former US administrations have avoided formally recognizing Jerusalem as Israel's capital.
Full report at:
https://english.alarabiya.net/en/News/middle-east/2017/01/22/Discussion-on-US-embassy-move-to-Jerusalem-in-beginning-stages-.html
--------
Ukraine seizes Iran-bound plane 'carrying missiles'
22 January 2017
Ukraine has announced that it has seized an airplane destined for Iran loaded with arms at Kiev's Zhulyany Airport.
The plane was reported on Sunday carrying Russian-made anti-tank guided missiles.
The Russian agency Interfax confirmed that the weapons were discovered by Ukraine's border police in Kiev's airport following a search of 17 containers that were not registered in the flight's cargo manifesto.
A spokesman said that three containers were found to be storing the missiles – which are light weight, infrared guided anti-tank missiles – while the remaining storage boxes contained airplane spare parts.
During an investigation, the airliner's crew members – whose origin of either Iranian or Ukrainian has yet to be confirmed – denied knowledge of the weapons shipment.
The shipment was later confiscated by Ukrainian authorities for violating international law governing the transport of goods and weapons.
Full report at:
https://english.alarabiya.net/en/News/middle-east/2017/01/22/Ukraine-seizes-Iran-bound-plane-carrying-missiles-.html
--------
We're prepared if Trump tears up deal: Iran nuclear chief
Jan 22, 2017
Iran's nuclear chief says the country is prepared to "act appropriately" if US President Donald Trump chooses to "tear up" the nuclear deal signed in 2015 between Iran and six world powers, including Washington.
"We can very easily snap back and go back … not only to where we were, but a much higher position, technologically speaking," Head of the Atomic Energy Organization of Iran (AEOI) told Canada's CBC News on Saturday.
He added, "I don't want to see that day. I don't want to make a decision in that course, but we are prepared."
The agreement, called the Joint Comprehensive Plan of Action (JCPOA), was signed in July 2015 between Tehran on the one side and the US, the UK, France, Russia, and China plus Germany, on the other.
The European Union acted as the coordinator for the negotiations in the lead-up to the deal, which took effect in mid-January 2016.
The deal, which was later enshrined in a legally-binding UN Security Council resolution, rolled back nuclear-related sanctions against Iran, which, in turn, put limits on its nuclear program.
However, on his campaign trail, Trump threatened to rip up the deal, which he has denounced as "the worst accord ever" and "one of the dumbest" ones he has come across.
Reacting to Trump's threat earlier this week, Iran's Foreign Minister Mohammad Javad Zarif said Washington cannot unilaterally decide to abrogate the agreement as it is an "international agreement," and not a bilateral one between Iran and the US.
Zarif, however, said Tehran's response would "surprise" Trump should the new US president "tear up" the JCPOA.
Earlier in the month and on the anniversary of the deal's implementation, Iranian Deputy Foreign Minister Abbas Araqchi said if Trump went ahead with acting on the threat, Iran would burn the agreement, echoing remarks by Leader of the Islamic Revolution Ayatollah Seyyed Ali Khamenei.
Trump's harsh rhetoric against the JCPOA comes while Washington's partners in the P5+1 have thrown their weight behind the Iran deal.
In comments marking the first anniversary of the JCPOA's implementation, the EU foreign affairs chief Federica Mogherini praised the accord and urged all signatories to abide by it. The top EU diplomat called the accord a diplomatic milestone, which worked to benefit all sides.
Full report at:
http://www.presstv.ir/Detail/2017/01/22/507230/Iran-Trump-Salehi
--------
Southeast Asia
Indonesia: Catholics Refuse Muslim Cleric's Offer to Negotiate
JANUARY 23, 2017
By Katharina R. Lestari
Catholic students have rejected a request by a hardline Muslim cleric for talks aimed at getting them to drop a blasphemy charge filed against him.
Muhammad Rizieq Shihab, leader of the Islamic Defenders Front, requested talks this week with the Indonesian Catholic Students Association with the aim of reaching a compromise over the row. The students refused to meet with the cleric.
The students filed a blasphemy complaint against Shihab on Dec. 26 after he allegedly insulted Christianity by ridiculing the birth of Jesus in a speech delivered a day earlier and which was widely circulated on the internet.
About 150 lawyers and many moderate Muslims back the complaint against Shihab, who is known for making hate speeches against other groups.
The complaint comes amid a high-profile blasphemy trial involving Jakarta's Christian governor, Basuki Tjahaja Purnama, better known as "Ahok," who is accused of insulting Islam.
"We do not want to think about mediation right now," said Angelo Wake Kako, the union's chairman, on Jan. 19.
"The blasphemy case is being processed according to the law. We have to respect it, and we must continue with that," he told ucanews.com.
Shihab had also appealed to other individuals and organizations, who filed legal complaints against him, to negotiate.
By refusing the cleric's request the Catholic students want to send a strong message that hate speeches threaten national unity, Wake Kako said.
"It's clear the [blasphemy] case needs to be dealt with legally, so as to prevent horizontal conflicts," he said.
Petrus Salestinus, one of their lawyers, backed the decision to pursue the case.
"Blasphemy involves the public interest, so it cannot be handled through mediation," Salestinus said.
"If he wants to apologize, go ahead. We can forgive him, but this will not stop the legal process," he said.
The police are still working on the case and will meet Catholic and Protestant leaders soon to discuss it, Salestinus said.
Communion of Churches in Indonesia spokesperson Reverend Jerry Sumampouw also praised the Catholic students standing firm.
"It's important to highlight issues that could potentially destroy inter-religious relations," Sumampouw said.
Shihab's request for talks came amid growing calls from many Indonesians for the government to disband Shihab's group, the Islamic Defenders Front, for stirring up religious unrest in many parts of the country.
Thousands of people staged protests in Bandung, West Java and in Mataram, West Nusa Tenggara on Jan. 19 demanding the dissolution of the Islamic Defenders Front and for its leader to be prohibited from preaching in their areas.
"We need to make immediate efforts to save the nation from any attempt to disunite people," said Chrisman Damanik, chairman of the Indonesia National Students Movement in Jakarta on Jan. 19.
http://www.eurasiareview.com/23012017-indonesia-catholics-refuse-muslim-clerics-offer-to-negotiate/
--------
Islamic State finds easy recruits in prisons of Indonesia
January 22, 2017
The Islamic State is seeking a foothold in the prisons of Indonesia, a country with the world's largest Muslim population and significant poverty.
Those two demographic factors can add up to a growing number of Islamic extremist recruits. The population of France is about 10 percent Muslim, and its prison system has turned into a recruiting station for the Islamic State and other violent groups.
The Jakarta-based Institute for Policy Analysis of Conflict is warning in a report that the government's attempt to stop in-prison radicalization is ineffective.
One example cited in the report: Prison authorities allowed the Islamic State's de facto Indonesia leader to operate a cellphone and website to disseminate jihadi propaganda. Those tools helped him do something else: remotely organize a deadly January 2016 attack in downtown Jakarta, authorities say.
With the Islamic State, also known as ISIL and ISIS, operating a base in the Middle East and expanding into Afghanistan, and Europe, the U.S. military would be hard-pressed to stamp out yet another pop-up stronghold in the multiple islands of Indonesia.
Full report at:
http://www.washingtontimes.com/news/2017/jan/22/isis-finds-easy-recruits-in-prisons-of-indonesia/?
--------
Muslim ' Rohingya Collaborators' Killed In Western Myanmar
23.01.2017
By Kyaw Ye Lynn
YANGON, Myanmar
Three Muslim Rohingya men have been killed by militants for working alongside local officials in western Rakhine state, authorities said Monday.
State-run newspapers reported that local people found three bodies buried near Padakar village in Rakhine's Maungdaw district, which borders Bangladesh.
Police identified the bodies as Mummad Shawphi, Sontar Ahmmed and Mummad Supaing, who went missing on Jan. 20.
A senior police officer told Anadolu Agency the villagers were believed to have been murdered for collaboration with the authorities in a crackdown on a gang who killed nine border police officers in October.
"They also refused to join the military training conducted by militants before the attacks," the officer said on condition of anonymity due to restrictions on speaking to the media. "Militants are now targeting Muslim villagers who are helping authorities." he said.
The officer said at least six people accused of cooperating with the authorities had been killed in recent weeks.
Since Oct. 9, aid agencies and independent journalists have been denied access to majority Rohingya areas and at least 104 people -- 17 police and soldiers, 11 Muslim men working closely with the local authorities and 76 alleged "attackers", including six who reportedly died during interrogation -- have been killed and more than 600 people arrested.
However, Rohingya advocacy groups claim around 400 Rohingya -- described by the UN as among the world's most persecuted groups -- were killed in military operations, women were raped and more than 1,000 Rohingya villages torched.
A 1982 law denies Rohingya -- many of whom have lived in Myanmar for generations -- citizenship, making them stateless. It also removes freedom of movement, access to education and services and allows arbitrary confiscation of property.
The UN special rapporteur on human rights in Myanmar, Yanghee Lee, on Friday said the armed insurgency in Rakhine state was due to the decades of institutionalized discrimination against the Rohingya.
Full report at:
http://aa.com.tr/en/asia-pacific/muslim-collaborators-killed-in-western-myanmar/732825
--------
Malaysia Seeks to be Global Islamic Wealth Management Centre
By Stella-maris Ewudolu
January 22, 2017
With Islamic assets under management of some Rm132.4 billion (US$29.66 billion), Malaysia is well on its way towards establishing itself as the international centre of Islamic wealth management services, notwithstanding the ongoing 1MDB scandal.
The country's aim of cementing its position as the Islamic wealth management capital of the world received a boost recently with the launch of a five-year Islamic Fund and Wealth Management Blueprint.
Unveiled by second finance minister Johari Abdul Ghani, the 51-page document focuses on three areas towards solidifying Malaysia as the centre of Islamic wealth management services globally. Specifically it will:
strengthen Malaysia's position as a global hub for Islamic funds
establish the country as a regional centre for shariah-compliant sustainable and responsible investment
develop it as an international provider of Islamic wealth management services.
Mr Ghani said that the recommendations are made to "provide flexibility within the overall target of the blueprint" to enable suitable adjustments, adding that "a tremendous amount of work is, however, required to ensure that the Blueprint strategies are appropriately put into place".
Addressing the Securities Commission Malaysia (SC) International Fund Forum 2017, Mr Ghani said that with its comprehensive Islamic finance ecosystem and track record in innovation, Malaysia was in an "advantageous position to play a lead role in shaping the concept and driving the development of Islamic wealth management services".
The blueprint will be implemented over a period of five years and is drawn up with the aim of developing and growing Malaysia's Islamic capital market.
The first phase will focus on the formulation of a framework for issuance of SRI investment funds, the setting up of the global capacity building centre for Islamic Capital Market (ICM), and the establishment of digital investment services framework.
Asean's Burgeoning Muslim Middle-Class
Malaysia's interest in the rapidly growing Muslim middle-class, particularly in Asean where Muslims represent 42 per cent of the Asean Community's (ACs) population is not without reason.
Speaking at the 12th World Islamic Economic Forum (WIEF) in Jakarta last year, Malaysia Prime Minister Najib Razak said that in 2014-2015 the Islamic economy grew at almost double the global GDP growth rate, while Muslim consumer spending is forecast to reach $2.6 trillion by 2020 (See: Cambodia Aims For Share of Halal Market).
The Islamic market in Malaysia is estimated to have been worth some $1.9 billion in 2013, with officials forecasting it to contribute about 5.8 per cent to Malaysia GDP by 2020.
Malaysia is not the only nation hoping to capture a larger slice of the burgeoning Muslim middle-class. While Malaysia seeks to be the centre of Islamic wealth management services, Cambodia hopes that the introduction of a formal halal certification process for restaurants and food producers will attract more Muslim tourists to the Kingdom and also strengthen the growth of the Kingdom's nascent halal certified food sector.
Meanwhile, in Indonesia where the Islamic market is valued at more than $10 billion annually and growing at between 7-10 per cent, the Islamic Development Bank (IDB) announced that to date it had approved $4.2 billion to support development projects.
Full report at:
https://aecnewstoday.com/2017/malaysia-seeks-global-islamic-wealth-management-centre/
--------
Thousands evacuated as heavy rain and strong winds hit Malaysia
Jan 23, 2017
KUALA TERENGGANU • Heavy rain, strong winds and rising sea levels persisted in Malaysia over the weekend, with Kelantan and Terengganu suffering the brunt of the wet weather as schools shut and thousands were evacuated to relief centres.
The Malaysian Meteorological Department (MetMalaysia) issued a "red stage", or heavy rain warning, for Terengganu and Pahang yesterday, and said it expected moderate rain to continue in parts of Kelantan, Pahang, Johor and Sabah until tomorrow.
Kelantan state was worst hit by rising waters, with some 10,000 people evacuated from their homes as of 5pm yesterday and 21 schools to remain shut today.
Water levels at Sungai Golok, a river on the Kelantan border with Thailand, remained at more than 10m yesterday morning, far exceeding its danger level of 9m.
Meanwhile, neighbouring Terengganu state was forced to close 27 schools yesterday, affecting nearly 6,000 students. The school week in Terengganu runs from Sunday to Thursday to respect the Muslim holy day of Friday.
State Education Department director Shafruddin Ali Hussin said yesterday: "Many of the schools had been inundated by flood waters. Some roads linking to the schools had been cut off, while other schools were used as evacuation centres."
As of yesterday afternoon, some 3,000 people were staying at relief centres across the state.
MetMalaysia expects strong north-easterly winds of between 50kmh and 60kmh and waves as high as 4.5m in the sea off Kelantan and Terengganu to last until today.
These conditions are considered dangerous for all coastal and shipping activities, including fishing and ferry services.
Strong winds in the coastal areas of Sabah, Pahang and east Johor are also expected to continue until today, causing high tides and waves of up to 3.5m, and making it hazardous for small boats, recreational activities and seasports.
Malaysia's civil defence force has warned the public to stay away from the beach, and warned parents to keep an eye on their children.
Full report at:
http://www.straitstimes.com/asia/se-asia/thousands-evacuated-as-heavy-rain-and-strong-winds-hit-malaysia
--------
Saudi Arabia, Indonesia team up to fight radicalisation
JANUARY 23, 2017
JAKARTA — Saudi Arabia's intelligence agency, the General Intelligence Directorate (GID), has been working with Indonesia's National Counter-terrorism Agency, or BNPT, to help the latter prevent the radicalisation of Indonesian youths and rehabilitate former terrorists.
BNPT chief commander general Suhardi Alius visited Saudi Arabia earlier this month to strengthen relations between the two agencies and get tips on the GID's deradicalisation programme.
"The visit should help up set up a counter-terrorism programme which includes deradicalisation, from top to bottom," said Mr Suhardi in Jakarta on Saturday.
Mr Suhardi and other high-ranking BNPT officials also went to the Muhammad bin Naif Consultation and Guidance Centre in Saudi Arabia to study rehabilitation of former terrorists and to learn from their experience of preventing Muslim groups from being radicalised.
"We exchanged various information and knowledge. We also saw how deradicalisation is done by the Saudi government," said Mr Suhardi.
Saudi Arabia's successful deradicalisation programme typically begins with counselling inside prisons. Inmates explain their ideological motivations to the Islamic clerics before embarking on a religious course.
Upon release, the individuals spend a few months at the Muhammad bin Naif Centre — a luxurious rehabilitation facility — where they undergo further religious instruction and psychological counselling, and take part in team sports and art therapy.
Mr Suhardi added that the Indonesian government has been focusing on preventing the spread of radical ideologies in Indonesia as it poses great risks to the country's security and may damage the peaceful image of Islam.
The head of the intelligence directorate at Saudi Arabia's Home Affairs Ministry, Mr Abdul Aziz Alhwairny, said BNPT's visit is proof of the good relations between the agencies.
Mr Alhwairny said Saudi Arabia has nothing but praise for BNPT's effort to fight terrorism in Indonesia.
To honour members of Indonesia's elite counter-terror unit Densus 88 who died in action, Saudi Arabia has offered free haj pilgrimages to their families. The Muhammad bin Naif Centre will also offer deradicalisation training for BNPT officers, added Mr Alhwairny.
Densus 88 has drawn praise for stemming a wave of bloody attacks in the sprawling Muslim-majority nation, especially over the festive season last month. The unit has put a premium on clandestine intelligence gathering, especially on social media platforms and messaging apps popular with militants.
In Indonesia,a deradicalisation programme typically involves rehabilitating former terrorists and radicalised youths before returning them to their communities.
More than 240 convicted terrorists in 72 prisons around Indonesia, as well as 478 former terror convicts in 17 provinces have undergone rehabilitation programmes in the country.
Meanwhile, Indonesian authorities have detained 17 nationals returning from Syria, including children, suspected of being involved in radical activity.
Immigration office spokesman Agung Sampurno said the people, including a two-year-old girl and a three-year-old boy, were arrested at Soekarno-Hatta airport upon disembarking an Istanbul-Jakarta Turkish Airline flight on Saturday.
They have been handed over to the police's anti-terrorism unit for questioning, Mr Sampurno said.
Full report at:
http://www.todayonline.com/world/asia/saudi-arabia-indonesia-team-fight-radicalisation
--------
Fate of firebrand Jakarta cleric to be decided today
Jan 23, 2017
Indonesian cleric Habib Rizieq Shihab claims to come from a long line of descendants of Prophet Muhammad, and touts himself as a "great imam" or Islamic leader.
To the people in Jakarta, though, he is the mastermind behind recent protests against the city's governor, who has been accused by hardline groups like the Front Pembela Islam (FPI) - or Islamic Defenders' Front - of insulting Islam.
Now, the government may be turning the tables on him. The West Java police were scheduled to determine today if Mr Rizieq insulted the state ideology of Pancasila at one of his fiery speeches, Indonesia's Tempo magazine reported.
His supporters have called on people to gather at a main mosque in the capital this morning and march to the Jakarta police station to show support.
As chairman of FPI, Mr Rizieq has led three street ralliers against Jakarta governor Basuki Tjahaja Purnama - better known as Ahok - between October and December. The rallies involved thousands of Muslims mobilised by FPI and culminated in the Chinese-Christian politician being arrested for the blasphemy allegations.
That case is now before the courts even as Basuki is running for re-election. But the anti-Ahok movement started by FPI has turned the gubernatorial election into a test of religious and racial tolerance.
The mission of FPI reflects the personal beliefs of Mr Rizieq, who founded the group in 1998, amid a period of political instability and racial violence against the ethnic Chinese in Jakarta. Although the FPI advocates Islamic values, critics have referred to it as thugs with a penchant for extorting protection fees from bars and nightclubs.
It was said that, in its early years under Mr Rizieq's leadership, the group was backed by rogue police and military officers, who for years had turned a blind eye to its activities against minorities.
The 51-year-old was eventually jailed twice, first in 2003 for inciting his followers to violently harass nightspots in Jakarta, then in 2008 for attacking a minority group that was holding a vigil to rally against racial and religious intolerance.
After serving his second prison sentence, he slipped into obscurity only to resurface recently to lead the call for the removal of Basuki.
Mr Rizieq was born in Jakarta to an Indonesia-Arab family and went to Saudi Arabia in 1990 to study at the King Saud University. He is married to Madam Fadlun Yahya and they have seven children.
Despite an extended education in Islam, many observers have questioned his radical, often violent, methods in advocating the religion. It thus came as no surprise to his critics that police are now investigating Mr Rizieq for a string of criminal offences, ranging from making hate speeches to insulting Pancasila.
Last week, they interrogated Mr Rizieq for more than six hours for defaming Pancasila and and its author, Indonesia's founding president Sukarno. The accusation revolves around a two-minute-long video that showed Mr Rizieq claiming to an audience that Mr Sukarno had written an earlier version of Pancasila that did not reflect the belief in God as the nation's value.
However, police have not named Mr Rizieq as a suspect yet, while waiting to question witnesses and search for evidence, Tempo said, but that could change today.
The case is the first of at least five police reports lodged against Mr Rizieq, including one filed by a local Catholic group, which accuses him of making blasphemous comments about Jesus Christ.
Last Friday, the West Java prosecutor's office announced it would be questioning Mr Rizieq, fuelling talk that he will be arrested and charged in court soon.
Many observers, however, have questioned why he was not hauled in earlier, adding that his actions in recent months were sufficient grounds for the police to act.
"On legal grounds, the authorities have more than enough to arrest Rizieq, but the question is whether they want to do it or not," said a prominent Jakarta-based lawyer, who asked not to be named over fears of reprisal from FPI.
Mr Rizieq has his share of supporters, such as Indonesian Ulema Council (MUI) deputy chairman Muhyidin Junaidi, who have come out to defend him.
"If Rizieq is arrested, that would amount to injustice and open room for radical and extremist movements to rise," Mr Muhyidin told The Straits Times last week.
"He is a prominent leader who does not fret when expressing his views and stance (on Islam) publicly. If certain people get offended or have different views with him, that is normal."
Full report at:
http://www.straitstimes.com/asia/se-asia/fate-of-firebrand-jakarta-cleric-to-be-decided-today
--------
17 Indonesians questioned about IS upon return from Turkey
January 23, 2017
Authorities detained 17 citizens on Saturday upon their arrival from Turkey, a country that can be a gateway to war-torn Syria, on suspicions that they had joined the Islamic State (IS) militant group.
The 17 Indonesians, including eight women, arrived at Soekarno-Hatta International Airport in Banten on Turkish Airlines flight TK 056. Airport immigration authorities, in coordination with the police's counterterrorism squad Densus 88, secured the citizens over allegations that they had helped IS in Syria.
"They're still undergoing investigation at [the police's Mobile Brigade detention center] in Kelapa Dua by Densus 88," police spokesman Sr. Comr. Awi Setiyono told The Jakarta Post on Sunday.
The Law and Human Rights Ministry's Directorate General of Immigration claimed that the investigation was a regular check and a preventive measure for returnees from Middle Eastern conflict zones, saying that investigators would check the travelers' flight routes to find out whether they had traveled from Syria before boarding in Turkey, and whether they knew each other.
"It's a standard procedure, because they returned from a conflict area. Their route was indicated to be unnatural, except they have formal evidence for official business," the ministry's Immigration Director General Agung Sampurno told the Post, adding that they would be released if they were proven to have no links to IS.
The immigration authorities, however, did not conduct similar procedures for other Indonesian passengers on the same flight.
The police and immigration have heightened surveillance at ports and borders amid attacks and foiled plots from IS supporters in the country.
Earlier this month, Densus 88 questioned eight Indonesian citizens who had been apprehended by Malaysian authorities because one of them had three IS-related pictures on a cell phone.
After an intensive examination, however, Malaysian authorities reached a preliminary conclusion that the eight people subscribed to mainstream teachings of Islam, which reject IS ideology. Densus 88 questioned them nevertheless.
Terrorism analyst Ridwan Habib of the University of Indonesia said it was unfair to accuse the 17 returnees of being IS supporters because people could have many reasons to go to Turkey, but added that the authorities should also be careful and not underestimate them.
"Returnees from conflict areas can be very dangerous because they can have data and long-term strategies that IS doesn't publish through the internet," Ridwan said.
"It's possible for the IS group to smuggle agents here to establish a base. Even without such a smuggling mechanism, they can operate here through homegrown terrorist groups," he added.
Full report at:
http://www.thejakartapost.com/news/2017/01/23/17-indonesians-questioned-about-is-upon-return-from-turkey.html
--------
Arab World
70 Saudi-Backed Militias Killed in Heavy Fighting with Yemeni Forces in Sa'ada
Jan 22, 2017
"At least 70 Riyadh-backed militants have been killed in fierce clashes with the Yemeni forces in Yam region in Sa'ada region in the last two days," a local military source said on Sunday.
The Saudi-hired mercenaries intended to penetrate into the Yam mountainous region in the Ninth district of Sana'a, but they faced the lethal resistance of the Yemeni forces.
The Saudi-backed militias have failed to advance in any important region in Sana'a after more than two years of war against the poorest Arab nation in the world.
In a relevant development on Saturday, the Yemeni army and popular forces' missile units pounded and destroyed several military bases of the Saudi army in Jizan province in the Southern part of the kingdom.
The Yemeni forces' missile attack destroyed al-Qarn and al-Farizeh military bases in Jizan province, killing and injuring several Saudi troops.
Moreover, the Yemeni forces also destroyed al-Mo'anaq military base in Northern Qufeir region in Jizan province.
In Najran province, the Yemeni forces also destroyed several tanks of the Saudi army in al-Sadis military base as well as the gathering centers of Saudi troops on al-Hamr military base.
The Syrian army and popular forces hit hard the military equipment of the Saudi army in Bin Laden and al-Khoba military bases, destroying several military vehicles of the Saudi army in Sarfah military base in Jizan province.
Also on Saturday, Yemeni army forces, supported by allied fighters from Popular Committees, launched an operation against militiamen loyal to the resigned and Saudi-backed president, Abd Rabbuh Mansur Hadi, in the country's Southwestern province of Ta'iz, killing more than a dozen of them.
15 Saudi mercenaries were killed and 18 others sustained injuries when Yemeni forces thwarted their assault against the Dhubab district of the province, an unnamed military source told the Arabic-language al-Masirah television network early on Saturday.
The source added that three vehicles belonging to the Saudi mercenaries were also destroyed.
Full report at:
http://en.farsnews.com/newstext.aspx?nn=13951103001671
--------
Nearly 90 bodies exhumed at Daesh massacre site: Iraq
Jan 22, 2017
Iraqi forensic specialists and international activists have found a mass grave containing the remains of more than seven dozen victims of a June 2014 massacre by Daesh Takfiri terrorists at an air force camp in the country's north-central province of Salahuddin.
A provincial police source, requesting not to be identified, said experts from the Iraqi Health Ministry and Human Rights Watch activists had recently found 89 bodies inside former dictator Saddam Hussein's palace compound in Tikrit, located 140 kilometers northwest of the capital Baghdad.
The source added that information obtained from captured Takfiri Daesh terrorists helped locate the mass grave, noting that the corpses will be sent to the forensic department in order to be identified.
On June 12, 2014, Daesh terrorists killed around 1,700 Iraqi air force cadets after kidnapping them from Camp Speicher, a former US base. There were reportedly around 4,000 unarmed cadets in the camp when it came under attack by Daesh militants.
Following the abductions, the attackers took the victims to the complex of presidential palaces and killed them. The terrorists also threw some of the bodies into a river.
The massacre was filmed by Daesh and broadcast on social media.
An investigation committee later revealed that 57 members of Saddam Hussein's Ba'ath Party aided Takfiri Daesh terrorists in the massacre.
On August 21, 2016, Iraqi judiciary officials hanged 36 men convicted of involvement in the carnage.
Tikrit was recaptured from Daesh in March 2015. During clean-up operations in the northern part of the city, Iraqi forces found the location of the 2014 carnage.
Multiple bomb attacks claim lives in, near Iraqi capital
Meanwhile, at least two people have been killed and nearly a dozen others injured in a series of bomb attacks that ripped through areas in and around Baghdad.
Police said a civilian lost his life and five others sustained injuries when an improvised explosive device went off inside a parking lot in the capital's central neighborhood of Bab al-Moatham on Sunday noon.
A sound bomb also exploded near a security checkpoint in the Zayouna neighborhood of eastern Baghdad, leaving a civilian injured.
Iraqis clean up debris at the site of an attack in Baghdad's Abu Dshir neighborhood on January 18, 2017. (Photo by AFP)
Elsewhere in the town of Taji, located 30 kilometers north of Baghdad, a bomb blast left one dead and four others injured.
Full report at:
http://www.presstv.ir/Detail/2017/01/22/507282/Iraq-forensic-experts-mass-grave-Camp-Speicher-Daesh-massacre-Tikrit
--------
Syria's warring sides gather for Astana talks
23 January 2017
Syria's warring sides meet in Kazakhstan's capital on Monday with Russia, Turkey and Iran, sponsors of the talks, trying to make progress towards a goal others have repeatedly failed to reach: an end to the six-year-old conflict.
The talks are the first time the opposition and representatives of Syrian President Bashar al-Assad have come together since United Nations-brokered negotiations in Geneva were suspended early last year.
Organizers played down expectations of a breakthrough in the capital, Astana. There are no senior government figures among the delegations and Kazakhstan's foreign ministry said on Sunday it expected the meetings to be over by midday on Tuesday.
The High Negotiations Committee (HNC) delegation member George Sabra attends a meeting with UN special envoy Staffan de Mistura at the Palais des Nations in Geneva, Switzerland, April 18, 2016. (Reuters)
The main Russian negotiator at the talks, Alexander Lavrentyev, said it was still unclear if the Syrian government delegation and the opposition would meet face-to-face, or communicate via intermediaries.
Adding to the difficulties, Russia and Turkey remain at odds over fundamental issues such as whether Assad should stay in power or step down for the sake of reconciliation.
The head of the Syrian government delegation, Bashar al-Jaafari, told reporters on the plane to Astana on Sunday that the agenda would focus on strengthening a ceasefire that has been largely in force since last month.
Jaafari played down Turkey's role as a party to the talks, saying they were between Syrians only.
"Turkey is violating Syrian sovereignty so there is no Syrian-Turkish dialogue," he said, a reference to Turkish support for anti-Assad armed groups in the north of Syria.
Hard going
Diplomats from Russia, Turkey and Iran gathered separately on Sunday at a hotel in Astana to discuss the coming negotiations.
Alexander Musienko, an adviser to Russia's ambassador to Kazakhstan, told reporters that preparatory talks had been "hard going ... But one needs to give time to our negotiators to let them complete their mission.
"Undoubtedly one cannot resolve issues like this in just one day," he said.
Some observers said the meetings in Astana could help jumpstart the Geneva negotiations led by the United Nations. The UN Special Envoy for Syria, Staffan de Mistura, is attending the meetings.
Full report at:
https://english.alarabiya.net/en/News/middle-east/2017/01/23/Syria-s-warring-sides-gather-for-Astana-talks.html
--------
Iraqi forces regain control of two more neighborhoods in east Mosul
Jan 22, 2017
Iraqi government forces have managed to liberate two more neighborhoods in Mosul from the clutches of the Daesh Takfiri terrorists as they try to push the extremists out of their last urban stronghold in the country.
The commander of Nineveh Liberation Operation, Lieutenant General Abdul Amir Yarallah, said on Sunday that soldiers from the 71st Brigade of the 15th Division in the Iraqi Army had recaptured al-Milayeen neighborhood and al-Binaa al-Jahiz area east of the city, located some 400 kilometers north of the capital, Baghdad, Arabic-language al-Sumaria television network reported.
Yarallah added that government forces had raised the Iraqi flag over several buildings in both locations.
The high-ranking Iraqi military commander also noted that troops had established control over the road linking Mosul to the northern city of Dohuk in the semi-autonomous Kurdistan region.
Iraqi soldiers patrol the Arabi neighborhood, north of Mosul, after recapturing it from Daesh Takfiri terrorist group on January 22, 2017. (Photo by AFP)
Members of the 9th Armored Division in the Iraqi Army retook the road linking Bahwiza neighborhood in northern Mosul to the Assyrian town of Tel Keppe.
The latest territorial gains almost seal the Iraqi forces' control over the eastern bank of the Tigris River, with only Rashidiyah neighborhood left to be retaken.
Daesh forces Mosul women to hand over gold coins
Meanwhile, an unnamed local source says the so-called Supreme Audit Court of Daesh has obligated all women in the al-Dawassah neighborhood of western Mosul to donate gold coins to finance the terror outfit in battles against government soldiers.
Full report at:
http://www.presstv.ir/Detail/2017/01/22/507321/Iraqi-forces-recapture-neighborhoods-Mosul-Takfiri-Daesh-terrorists
--------
Syrian soldiers, allied fighters liberate 4 villages east of Aleppo
Jan 22, 2017
Syrian army soldiers and fighters from allied popular defense groups have made more gains against members of the Daesh Takfiri terrorist group in the country's northwestern province of Aleppo, pushing terrorists out of four villages.
The media bureau of operations command for the Lebanese Hezbollah resistance movement announced in a statement on Sunday that Syrian soldiers and their allies had captured the villages of Sora, Moran, Surja al-Saghira and Surja al-Kabira, located about 16 kilometers southwest of al-Bab town, where Turkish-backed Takfiri militants are active.
On August 24, 2016, the Turkish air force and special ground forces kicked off Operation Euphrates Shield inside Syria in a purported bid to support the Free Syrian Army militants and rid the border area of Daesh terrorists and fighters from the Kurdish People's Protection Units (YPG) and Democratic Union Party (PYD).
The offensive was launched in coordination with the US-led military coalition, which has purportedly been fighting Daesh extremists since 2014.
A Syrian soldier walks past destroyed buildings in the formerly militant-held Sukkari district in the northern city of Aleppo on December 23, 2016 after Syrian government forces retook control of the whole embattled city. (Photo by AFP)
The incursion was the first major Turkish military intervention in Syria, which drew strong condemnation from the Syrian government for violating the Arab country's sovereignty.
Turkish President Recep Tayyip Erdogan said on November 29 that the Turkish army had marched into Syria to end the rule of President Bashar al-Assad, whom he accused of terrorism and causing the deaths of thousands.
The Turkish leader backtracked on the comments two days later, asserting that the offensives there were aimed only at terrorists.
Meanwhile, a Syrian army unit targeted a battle tank belonging to Daesh terrorists in the Mohandessin district of the eastern city of Dayr al-Zawr, killing and injuring several terrorists.
Full report at:
http://www.presstv.ir/Detail/2017/01/22/507305/Syrian-army-soldiers-allies-villages-Aleppo
--------
Hundreds of Syrian Soldiers, Hezbollah Fighters Arrive in Southeastern Aleppo
Jan 22, 2017
The source said that a long military convoy of army men and Hezbollah fighters has arrived in Southeastern Aleppo to join their comrades to start an imminent operation against ISIL near Aleppo's borders with Raqqa province.
The source added that the government forces' first phase of operation will cover Khanasser towards Maskana region, Deir Hafer and al-Bab to open a Western front on Raqqa province.
Reports said earlier today that the army troops continued their advances against ISIL in Northern Aleppo and managed to take control over a key village after hours of non-stop clashes.
The army soldiers broke through ISIL's positions in the village of Sawran to the East of the town of Azaz and entered the village, inflicting several casualties on the terrorists.
The army's heavy attacks forced ISIL to pull back its forces from the battlefield.
The army further captured the village after ISIL's retreat.
A military source said that the main objective of the army men after liberation of Sawran will be the villages of Sarjeh and Maran.
Full report at:
http://en.farsnews.com/newstext.aspx?nn=13951103001035
--------
Syrian Army Wards off ISIL's Offensives near Deir Ezzur City
Jan 22, 2017
The army soldiers engaged in fierce clashes with the ISIL terrorists near Panorama district and also near Deir Ezzur's military airport.
The ISIL suffered heavy casualties and its military hardware sustained major damage in the clashes.
In the meantime, the army's aircraft launched heavy airstrikes on ISIL's gatherings and movements in al-Thardah mountain, Panorama farms and the districts of al-Arzi and al-Omal.
The Syrian and Russian warplanes also carried out joint combat flights over ISIL's defense lines in Deir Ezzur's cemetery and Jonayd Division in the Southern outskirts of the city, while the army's artillery and missile units shelled the same positions of the terrorists, inflicting a number of casualties on the terrorists.
Reports said earlier today that the army troops engaged in intense battle with ISIL terrorists and drove them out of more positions in two key districts in the Southwestern outskirts of Deir Ezzur with the back up of the country's Air Force and artillery units.
The army soldiers continued to advance against ISIL in Deir Ezzur's cemetery, and seized control over several positions.
In the meantime, the army aircraft and artillery units pounded ISIL's movements in the cemetery, killing and wounding a number of militants.
Full report at:
http://en.farsnews.com/newstext.aspx?nn=13951103001477
--------
Saudi Warplanes Conduct over 100 Airstrikes on Yemen's Southwest in 24 Hours
Jan 22, 2017
The sources told Yemen's Saba news agency that over 50 civilians lost their lives in the attacks and dozens more were wounded.
Meanwhile, Saudi fighter jets conducted at least four airstrikes on Yemen's Republican Guards School, North of the capital city, while they bombarded a medical school in al-Hook region in the Southwestern province of al-Hodeida.
On Friday, Saudi-led airstrikes on Yemen's Red Sea coast killed at least 29 people ad the Saudi fighter jets hit two locations in al-Hodeida province.
Full report at:
http://en.farsnews.com/newstext.aspx?nn=13951103001504
--------
Severe Infighting Reported among Terrorists in Idlib
Jan 22, 2017
According to SANA, members of Ahrar al-Sham terrorist group have been reported as to be attempting to target the regions controlled by al-Nusra Front in Idlib.
Field sources said that Jabal al-Zawiyeh in Idlib is among the regions which is often attacked by Ahrar al-Sham.
Media sources disclosed on Saturday that Ahrar al-Sham terrorists engaged in fierce clashes with rival terrorists of Jund al-Aqsa and al-Nusra Front in Northwestern Syria, leaving a large number of militants dead or wounded.
ARA news reported that Ahrar al-Sham has suffered a large number of casualties in clashes with Fatah al-Sham and a group of Jund al-Aqsa in the town of Iblin close to Jabal al-Zawiyeh.
ARA added that the town of Ahsam has also been the scene of heavy fighting between rival militants. "Fatah al-Sham eventually managed to win full control over Ahrar al-Sham's positions and Qamaynas town that is near Ahsam," it continued.
In the meantime, members of Jund al-Aqsa stormed an Ahrar al-Sham-controlled prison in Qamaynas and took away a Turkish National and handed him over to Turkey's intelligence service, ARA news went on to say.
A number of Ahrar al-Sham's members, including Abu Bakr Abadita, a security commander of the group, were arrested in the raid.
Full report at:
http://en.farsnews.com/newstext.aspx?nn=13951103001375
--------
Syrian Army Prevails over ISIL's Defense Lines in Northern Aleppo
Jan 22, 2017
The army soldiers broke through ISIL's positions in the village of Sawran to the East of the town of Azaz and entered the village, inflicting several casualties on the terrorists.
The army's heavy attacks forced ISIL to pull back its forces from the battlefield.
The army further captured the village after ISIL's retreat.
A military source said that the main objective of the army men after liberation of Sawran will be the villages of Sarjeh and Maran.
The source added that if the army can tack back the villages of Sarjeh and Maran the government forces will lay siege on the village of Aran to the South of al-Bab town.
In relevant developments in the province on Wednesday, the army troops were about to cut off ISIL's key supplying road to the town of al-Bab in Northeastern Aleppo after starting a massive anti-ISIL operation in Eastern Aleppo and capturing A'abad village.
The army soldiers continued their attacks on ISIL's positions in Eastern Aleppo and took control of the village of al-Sufeh close to Deir Hafer town, killing and wounding a large number of militants.
Full report at:
http://en.farsnews.com/newstext.aspx?nn=13951103000589
--------
India
We fully support India in countering terror: UAE
January 22, 2017
UAE on Sunday pledged total support to India in combating terrorism, as it looked towards elevating bilateral defence and security ties and inking a Strategic Cooperation Agreement during the visit of Crown Prince of Abu Dhabi Sheikh Mohamed bin Zayed Al Nahyan here from Tuesday. The pacts are part of the 16 agreements to be signed between the two countries after the talks on January 25 between Prime Minister Narendra Modi and Al Nahyan, who will be the Chief Guest at this year's Republic Day Parade, UAE Ambassador Ahmed Al Banna told PTI in an interview here.
"We cooperate with India to combat and fight extremists and terrorists all over the world and we support Indian authority and government in their endevour in protecting itself from any terrorist or extremist group," he said.
He was asked about the decisions taken by the two sides during Modi's visit to UAE in 2015 on working together to control, regulate and share information on flow of funds that could have a bearing on radicalisation activities, cooperate in interdicting illegal flows and act against concerned individuals and organisations.
It was projected by the officials here at that time that the decision will help India in taking action against the most wanted criminal, Dawood Ibrahim, including freezing of his assets in the UAE.
However, the envoy refused to comment on any individual case including Dawood's, even as reports said that UAE government has seized properties of the 1993 Mumbai blast accused worth Rs 15,000 crore. "I don't know" was his cryptic reply.
Asserting that his country was among the first to condemn the terror strike on Indian airbase in Pathankot, Al Banna said the UAE had also supported the surgical strikes carried out by India.
"When the bombing of the airbase took place, we were the first ones to condemn it. UAE was among the first countries which supported Indian surgical strikes and we support India's efforts to fight and counter attack and attack terrorists and extremists," he said.
The UAE envoy also said the National Security Advisors of UAE and India have been holding consultations regularly.
After the first Strategic Dialogue on Friday, the UAE side, led by Minister of State for Foreign Affairs Anwar Gargash, held a meeting with NSA Ajit Doval, he added.
Asked about the role UAE, which is seen as a "key interlocutor" by India, could play in conveying Indian concerns to Pakistan over terrorism emanating from there, Al Banna said "We listen to them (Indian authorities). We coordinate with them and will be more than willing whenever we are asked by the Indian side to assist or interfere or take any action for betterment of our relationship….".
He also said that they would work closely with India in Afghanistan where five UAE diplomats were killed earlier this month in a terror attack.
Noting that investigations were still on to find out those responsible for the attack, he said, "we will take our revenge (once we know the culprits)."
Al Banna also pitched for closer collaboration between the two countries in dealing with terror groups like DAESH (or al-Dawla al-Islamiya al-Iraq al-Sham), also known as Islamic State of Iraq and Syria (ISIS).
http://indianexpress.com/article/india/we-fully-support-india-in-countering-terror-uae/
--------
Release our kids: family of Pakistani teen held for Uri attack
January 22, 2017
The brother of one of two Pakistani teenagers held on suspicion of facilitating a terrorist attack on the 12 Infantry Brigade's headquarters in Uri, in which 19 soldiers were killed, has appealed to Prime Minister Narendra Modi to order a review of the case, saying he hopes Islamabad's decision to release Indian soldier Chandu Babulal Chavan will clear the way for his sibling to be sent home too.
"Faisal Awan, my brother, is just a schoolchild trapped in the politics of two nations," said Ghulam Mustafa Tabassum, a medical practitioner in Lahore. "He is innocent, but we have no means whatsoever to help him. We feel like we are living in a bad film. I hope Prime Minister Modi hears our appeal."
Indian soldier Chandu Chavan's brother overwhelmed with his release from Pakistan
Tabassum's appeal comes amid delicate behind-the-scenes diplomatic contacts between India and Pakistan, aimed at lowering tensions which flared in September following the Uri attack and India's counter-strikes on terrorist outposts across the Line of Control (LoC).
Awan, a resident of Potha Jandgran near the village of Koomi Kote in Pakistan-occupied Kashmir (PoK) and his school friend Ahsan Khursheed, from Khilayana Khurd in Muzaffarabad's Hattian Bala tehsil, were arrested on September 21, three days after the Uri attack. Both the villages are close to the LoC.
In a dossier presented to Pakistan, the Ministry of External Affairs (MEA) claimed the two had confessed to facilitating the "infiltration of a group of four Jaish-e-Muhammad cadres who carried out the Uri Army camp attack".
However, Tabassum said the two are minors and not linked to any terrorist group. As reported by The Indian Express, Awan's government-issued identification shows he is 16 years old, and a marksheet issued in August 2016 corroborates his family's claims that he is a student of Shaheen Model School in Muzaffarabad.
"I can only appeal to people in India to imagine what our family is going through," said Tabassum. "We would be more than happy to provide evidence of my brother's innocence, but nobody from India has been in touch with us to ask for it".
Last week, NIA Director-General Sharad Kumar said the Uri attack was carried out by the Lashkar-e-Taiba, not the Jaish-e-Muhammad as first claimed by the Army and MEA. Kumar declined any comment on the two teenagers' case, saying investigations were going on. However, a senior NIA source said the agency had not, so far, found any material evidence to suggest the two were linked to the Uri attack or other terrorist operations.
Though a senior Pakistani diplomat familiar with the negotiations said there was "no linkage" between the teenagers' case and Chavan's release, he said the "matter was being dealt with separately".
A senior Indian government official also denied that the two cases were linked, but said the Ministry of Home Affairs' position on the teenagers' case was that "the life of an Indian national is of paramount importance". Pakistan had denied consular access to Chavan and Kulbhushan Jadhav, another alleged spy.
Zeero Begum, Awan's mother, has been reportedly undergoing treatment for shock and hypertension ever since her son's arrest. "I've had to tell her a hundred lies to calm her down," said Tabassum. "Now, she believes my brother is being kept in some kind of juvenile facility, not a jail, and that he phones me occasionally. I make up stories about him being well-fed and comfortable."
He said she can only sleep with the help of medication. "I've arranged for her to be kept sequestered from friends and family, just in case someone lets out the truth about what's really going on," he said.
Khursheed's mother, said Tabassum, has not spoken at all since she learned of his arrest. His father, a cook, works in Saudi Arabia, and has been unable to get leave to return home.
Full report at:
http://indianexpress.com/article/india/release-our-kids-family-of-pak-teen-held-for-uri-attack-4485837/
--------
India urgently needs uniform civil law: Taslima Nasrin
Jan 23 2017
Jaipur, Jan 23 (IANS): Bangladeshi author and freedom of expression advocate Taslima Nasrin, who has been living in exile since 1994 after facing the ire of fundamentalists, said on Monday India urgently needed a uniform civil law.
During a surprise session at the Jaipur Literature Festival (JLF), the controversial writer also said that criticism of Islam is the only way to establish secularism in Islamic countries.
In conversation with Salil Tripathi, the chair of the Writers-in-Prison Committee of PEN International, Nasrin said: "When I or anyone else criticise Hinduism, Buddhism or other religions nothing happens. But the moment you criticise Islam, people come running after your life.
"They issue fatwas against you and they want to kill you. But why do they need to do so? If they disagree with me, they can write against me, share their views like we do. They can have conversations rather than fatwas," the 55-year-old writer contended.
Nasrin said that Muslim women are "oppressed" and that uniform civil law is the need of the hour to protect their rights.
"If you have a set of laws for Hindus, if Hindu women can divorce their husbands and have a say in their property, and we have seen how progressive that has been, then why are Islamic fundamentalists against a uniform civil law? Is not having a uniform civil law democratic," she asked.
From a poet in the late 1980s, Nasrin rose to global attention by the end of the 20th century owing to her essays and novels from the feminist viewppoint and severe criticism of Islam. Her 1993 novel "Lajja" garnered severe criticism in Bangladesh, forcing her to leave the country.
"A uniform civil law is urgently needed in India for the protection of women. The fundamentalists should introspect and ask themselves why are they not ready to accept criticism.
"What do you mean by secularism, does it require you to encourage Muslim fundamentalists? For Muslim votes, you throw a writer out of the country and continue to patronise misogynists," she maintained.
After multiple threats and attacks against her in the backdrop of "Lajja", Nasrin escaped to Sweden in 1994 and spent the next 10 years in exile in Europe and America. Coming to India in 2004, she settled in Kolkata, where she lived till November 2007 and then moved to New Delhi. she again moved to Sweden in 2008 and later worked as a research scholar at New York University.
"Why shouldn't Muslim women have the same rights? Is it democracy? Encouraging fundamentalists and misogynists from any side is neither democratic nor secular. I am against all kinds of fundamentalists.
Full report at:
http://www.daijiworld.com/news/newsDisplay.aspx?newsID=433973
--------
India, UAE to sign strategic partnership agreement
Indrani Bagchi
Jan 23, 2017
ABU DHABI: India and the UAE will sign an agreement sealing a "comprehensive strategic partnership" between the two countries when Sheikh Mohammed bin Zayed Al Nahyan visits this week as chief guest of the Republic Day parade. "It will be one of 10 agreements that we will be signing," said Anwar Gargash, state minister for foreign affairs, who has just returned from India after holding the first strategic dialogue with his counterpart M J Akbar.
This dialogue will also serve as an oversight mechanism for the relationship. "We plan to keep the mechanism nimble, and will meet twice a year," Gargash said. As reported by TOI, a military contingent from the UAE will march in the Republic Day parade, which will be a first of sorts. Sheikh Mohammed is expected to arrive on January 24, hold official talks the next day and attend the parade on January 26. He will be coming with a large delegation including minister of economy Sultan bin Saeed Al Mansouri, who will also visit Andhra Pradesh to scout for economic opportunities.
Full report at:
http://timesofindia.indiatimes.com/india/india-uae-to-sign-strategic-partnership-agreement/articleshow/56725514.cms
--------
South Asia
41 Militants Killed In Counter-Terrorism Operations, Mod Claims
Jan 22 2017
At least 41 militants were killed in the latest counter-terrorism operations in the past 24 hours, the Ministry of Defense (MoD) said Sunday.
According to a statement by MoD, at least 25 militants were also wounded during the operations which were jointly conducted by the Afghan National Defense and Security Forces (ANDSF).
The statement further added that the operations were conducted in Kapisa, Uruzgan, Kandahar, Kunduz, and Helmand provinces.
The majority of the militants were killed in Khakrez and Maiwand districts where 33 militants were killed and 15 others were wounded, MoD said.
At least 5 of the militants were killed in Buz Kandahari and Hazrat Sultan areas of Kunduz, the statement said, adding that 10 militants were also wounded.
The Afghan forces also killed 3 militants during a separate operation in Zurmat district of Paktia province.
The anti-government armed militant groups including the Taliban insurgents have not commented regarding the report so far.
The Afghan forces are busy conducting their annual counter-terrorism operation which were launched in response to Taliban's annual spring offensive.
The group announced its offensive in mid-April last year amid ongoing efforts to end the violence through reconciliation and negotiations.
http://www.khaama.com/41-militants-killed-in-counter-terrorism-operations-mod-claims-02726
--------
Afghan air force bomb ISIS hideout in Zabul, 21 killed
Jan 23 2017
At least 21 militants affiliated with the loyalists of the Islamic State of Iraq and Syria (ISIS) terrorist group were killed in an airstrike conducted by the Afghan Air Force in Zabul province.
The provincial police commandment said late on Sunday that the airstrike was carried out in Dai Chupan Khak Afghan district.
According to the security officials, at least 7 ISIS militants including a commander of the group were also wounded in the airstrike.
The anti-government armed militant groups including the ISIS loyalist have not commented regarding the report so far.
This comes as Chief Executive Abdullah Abdullah said late in December last year that special military operations will kick off soon in southeastern Ghazni and southern Zabul provinces to suppress the loyalists of the Islamic State of Iraq and Syria (ISIS) terrorist group and Taliban insurgents.
He made the remarks during a meeting with the elders of the two provinces which organized amid concerns that the fighters of the two group are attempting to expand foothold in some districts of the two provinces.
The elders of Zabul said the local residents in Khak-e-Afghan and Nawbahar districts have noted movements of the two groups to establish and strengthen their presence.
Full report at:
http://www.khaama.com/afghan-air-force-bomb-isis-hideout-in-zabul-21-killed-02729
--------
2 Afghan citizens shot dead, 1 wounded in Pakistan
Jan 23 2017
At least two Afghan citizens were killed and another one was wounded in an attack in Khyber Pakhtunwa province of Pakistan.
According to reports, the incident took place in Mansehra district of Khyber Pakhtunkhwa, apparently due to a monetary dispute.
The deceased individuals were believed to be relatives who were shot dead by an individual who stormed into their house.
The man Wazir Mohammad was killed on the spot while his grandson Mohammad Hashim was critically injured who succumbed to his injuries on the way to hospital.
The other individual wounded in the attack has been identified as Mohammad Iqbal, nephew of Wazir Mohammad.
Iqbal is also believed to have sustained critical injuries in the attack, according to The News.
Full report at:
http://www.khaama.com/2-afghan-citizens-shot-dead-1-wounded-in-pakistan-02728
--------
Suicide attack target Taliban leader in Kunduz leaving 4 dead
Jan 22 2017
A suicide attack targeted a top Taliban leader in Kunduz province in north of Afghanistan, leaving at least four people dead.
According to the security officials, the incident took place on Saturday night in Dashti Archi district after a suicide bomber detonated himself among the Taliban fighters.
Commander of the 808 Spinzar Zone, Sher Aziz Kamawal, told VOA's Afghanistan service that four Taliban insurgents were killed in the attack.
He said Taliban's shadow governor for Kunduz Mullah Abdul Salam Akhund was wounded in the attack.
According to Kamawal, the suicide bomber had came from the restive Achin district of Nangarhar for the suicide attack.
Local residents have said Mullah Abdul Salam was invited in a party in Tark village where he was targeted by the bomber.
No group has so far claimed responsibility behind the attack which comes as the infighting among the Taliban group has been rise during the recent years.
Full report at:
http://www.khaama.com/suicide-attack-target-taliban-leader-in-kunduz-leaving-4-dead-02725
--------
Bangladesh: State Minister for Foreign Affairs calls for ensuring basic rights of Rakhine
19 Jan 2017
State Minister for Foreign Affairs Md. Shahriar Alam, MP led Bangladesh delegation to the Extraordinary session of the OIC Council of Foreign Ministers on the Situation of the Rohingya Muslim Minority in Myanmar, held in Kula Lumpur, Malaysia on 19 January 2017.
In his intervention, State Minister expressed deep concern on recurrence of instability in the Rakhine State resulting in Rakhine Muslims being displaced and uprooted from their ancestral homeland and compelled to take shelter in Bangladesh. Referring to the recent influx of Rakhine Muslims into Bangladesh for shelter, he demanded Myanmar to bring back normalcy into the Rakhine state immediately and take steps for rehabilitation and reconstruction. He stressed on the need for ensuring basic rights of the Rakhine Muslims for a durable solution of the problem with particular emphasis on restoring their citizenship through necessary review of the existing exclusionary citizenship law. The State Minister also demanded urgent measure from Myanmar for a sustainable repatriation of Refugees and all documented and undocumented Myanmar nationals temporarily sheltered in Bangladesh and beyond, to their centuries old homeland-Rakhine State with safety, security and ensured livelihood. He urged the OIC to continue working for a durable solution of the problem.
The Prime Minister of Malaysia Dato Sri Najib Razak inaugurated the Extraordinary Session of the OIC CFM. In his opening remarks, the Prime Minister Najib Razzak highlighted that the international community cannot remain silent at the continued suffering of the Rohingya Muslim Community. He forcefully demanded end to the denial of basic rights of the Rohingya Muslims and atrocities and violence inflicted on them.
OIC 's Special Envoy to Myanmar Dr. Hamid Albar presented a report on the plight of the Rohingya Muslims and highlighted their subjection to atrocities, gross violation of human rights and collective punishment under state sponsored violence. He stressed on the need for engaging the international community including Human Rights Council with Myanmar and called upon Myanmar to stop the violence.
OIC countries in general expressed concern on the plight of the Rohingya Muslims, called for end of discrimination and violence against them, and stressed on the need for restoring basic rights including citizenship. Several countries called for strong actions through UN and Human Rights Council. Countries generally expressed a consensus view that this crisis surrounding the Rakhine Muslims is not merely a humanitarian issue rather it deserves to addressed within a human rights perspective.
The Resolution and the Communique adopted at the end of the meeting emphasized on immediate halt of atrocities, unhindered humanitarian access, end of discrimination, ensuring basic rights including restoration of citizenship through reviewing the existing law and sustainable return of refugees & displaced Rohigyas to the Rakhine State. OIC member States urged the OIC Secretary General to engage more with Myanmar, UN and International and regional organizations to address the humanitarian situation and to find a durable solution.
Full report at:
http://reliefweb.int/report/bangladesh/bangladesh-state-minister-foreign-affairs-calls-ensuring-basic-rights-rakhine
--------
Pakistan
Moot Calls for Freedom of Faith for every Pakistani, Uniform Syllabus
23-Jan-17
ISLAMABAD: Speakers here at the monthly socio-literary programme of Nazriya Pakistan Council (NPC) on Sunday called for uniformity of syllabus, provision of justice and freedom of faith for every Pakistani.
The literati of the twin cities while taking part in the NPC's monthly programme of Nuqta-e-Nazar, viewed that the progress of an individual and
that of a society were co-related in all aspects. Therefore, it was imperative to everybody to do his best to achieve the goals and targets fixed in every sphere of life, they added.
They said the foremost target in this regard should be abiding of rules and regulations and disposal of ethical and moral responsibilities for an individual, besides the implementation of an uniform syllabus,
justice, law and order and freedom of faith for every Pakistani. This would inter alia result in the progress of the whole nation, they added.
The topic of the discussion was "Our individual and collective targets for the year 2017 in connection with nation building".
Fareedullah Khan, senior member executive committee NPC presided over the session while eminent scholar and educationist Prof Iqbal Afaqi was the chief guest. In his presidential address, Faredullah Khan said,"It is high time for us to establish our identity as Pakistani only instead of giving any reference of the cast, creed, language or province. This is the spirit of the ideology of Pakistan set forth by Quaid-i-Azam and Allama Iqbal."
He also maintained that the NPC took it as a contractual obligation to safeguard and promote the ideology of Pakistan. Prof Iqbal Afaqi said that the society was a blend of most faithful, loving and patriotic individuals who rightfully demand for the protection of their civil and fundamental rights. "However, as Pakistani, we should now do our best in the individual as well as collective capacity to establish ourselves and our country as a responsible nation," he added.
Terrorism: Leader of the House in the Senate, Raja Zafarul Haq, on Sunday said the government was determined to wipe out the menace of terrorism from the country at all costs.
He expressed these views while addressing the inaugural ceremony of a two-day Conference on Islam and Peace, titled "Moderate Dialogue and Community Peace" here.
Raja said at a time when the whole world was affected by the menace of terrorism, only Islamic teachings could save it from terrorism.
"Islam is a religion of peace, harmony and tolerance," he said and added terrorists had no regard for religious teachings.
He also lauded the leadership role of Saudia Arabia and said that it always helped Pakistan in difficult times. Raja Zafarul Haq highlighted the need for establishing and augmenting a joint forum to solve certain internal conflicts of the Muslim Ummah.
Speaking on the occasion, the Minister for Religious Affairs and Interfaith Harmony, Sardar Yousuf, said that unity among the Muslim countries was the only panacea for the problems confronting the Muslim Ummah.
The minister said that Pakistan`s exemplary sacrifices in the fight against terrorism were now internationally acknowledged.
He said the religious scholars across the Islamic world had a crucial role to play in countering Western propaganda against Islam.
Sardar Yousuf said the governemnt had formed the Ulema Mashaikh Council for mutual reconciliation and guidance on major national issues.
The Minister for States and Frontier Regions, Abdul Qadir Baloch, said the government would continue its cooperation to all such forums, established to sort out solutions for peace and stability in the Muslim World and across the world.
He urged the scholars and leaders of religious parties to unanimously declare fatwa on any terrorist attack and condemn it.
http://dailytimes.com.pk/islamabad/23-Jan-17/moot-calls-for-freedom-of-faith-uniform-syllabus
--------
Unity among Islamic countries only solution of problems: Yousaf
January 23, 2017
Federal Minister for Religious Affairs and Interfaith Harmony Sardar Muhammad Yousaf on Sunday called for unity among all Islamic countries for promoting peace and stability in the Muslim world. He said Islam was being paired with extremism and anti-Islam elements were trying to vilify it, therefore, it was the duty of Muslim world and Pakistanis to combat with it.
"We should unite to present the peaceful picture of Islam to world," he said while addressing the inaugural ceremony of a two-day conference on Islam and Peace titled Moderate Dialogue and Community Peace hosted by Ministry of Religious Affairs.
He said the conference was the need of hour as its objective was to unite Muslims of all schools of thought. He applauded the participants of conference and their contributions. The conference, he added, was a milestone for the Muslim world and Pakistan.
Sardar Yousuf said the government had formed the Ulema Mashaikh Council to promote mutual reconciliation and guidance on important national issues. The the Ulema & Mashaikh Islam Committee was the first body which had united religious scholars from all schools of thought and brought them on same page to unite and guide Muslims, he added.
He said that Pakistan was like second home to Saudia Arabia and it was with Saudia Arabia and its people in every circumstances. "We should defeat conspiracies against Muslims and only solution is unity," he said.
Sardar Yousuf said unity among the Muslim countries was the only panacea for problems confronting the Muslim Ummah. He said religious scholars across the Islamic World had the most crucial role to play in cracking the Western propaganda against Islam, terming it an extremist religion. The minister commended the Pakistan Army and its sacrifices in war against terrorism. He said Pakistan's exemplary sacrifices in the fight against terrorism were internationally acclaimed.
Full report at:
reconciliation and guidance on major national issues.
http://pakobserver.net/unity-among-islamic-countries-only-solution-of-problems-yousaf/
--------
Muslims need to solve contemporary issues, says Zafarullah
January 23, 2017
Islamabad- Muslims need to focus on 'Ijtehad' for working out solutions for contemporary issues and meeting out current challenges.
Special Assistant to Prime Minister, Barrister Zafarullah Khan said lack of real 'Ijtehad' has deprived Muslims of leading a peaceful and prosperous life in the world.
He was speaking at the launching ceremony of his new book "Islam in the contemporary world titled "A New Narrative", held at Pakistan National Council for Arts (PNCA) in which Advisor to PM on Foreign Affairs, Sartaj Aziz was a chief guest.
He stressed for actions and deeds in order to get full potential in the world. Barrister Zafarullah Khan said Muslims were apparently stuck in the past, so eventually they failed to ensure a truly Islamic modern existence. He said Islam could have led development of such an existence if properly understood and practiced by its followers.
Summarising theme of the book, Barrister Zafar said, "Let Muslims rise out of deep slumber and reform themselves for a better living or wait until Allah brings about his decision (Quran 9:24) and His decision may not be to our liking (whether further tribulations or substitution with new people).
Advisor to PM on Foreign Affairs, Sartaj Aziz, congratulated Barrister for such a profound book and appreciated the points raised by the author which caused decline of Islamic nations.
He said Muslims were still living in the past but now it was time to move ahead in this world, by following Islamic teachings which showed path of progress in this world and hereafter.
Full report at:
http://nation.com.pk/islamabad/23-Jan-2017/muslims-need-to-solve-contemporary-issues-says-zafarullah
--------
Over 90pc TDPs have returned home: KP governor
Jan 23, 2017
Khyber Pakhtunkhawa Governor Iqbal Zafar Jhagra has said over 90 per cent Temporarily Dislocated Persons (TDP) have returned to their homes in the Federally Administered Tribal Areas (Fata).
"When I took oath of office, the rehabilitation of IDPs to their home towns was a huge challenge as Operation Zarb-i-Azb against the terrorists was nearing success," Jhagra said on Sunday while speaking to state-owned Pakistan Television, adding the operation has almost reached completion.
He said that though there were a number of problems that impeded the process to resettle TDPs, "harsh weather was the main reason".
The KP governor lauded the efforts of Pakistan armed forces in eliminating the headquarters and hideouts of the terrorists from the area through Operation Zarb-i-Azb.
"Pakistan had been hosting Afghan refugees for over three decades and good relations between Pakistan and Afghanistan can play a vital role in eliminating terrorism from the entire region," added the governor.
Jhagra said a comprehensive reforms package for Fata was prepared with "consensus" and had been been adopted by the National Assembly and it is now in the Senate for deliberation.
The governor said that the majority of the people in the area are in favour of merging Fata with KP, adding that providing quality education and health facilities to the people of Fata is the government's top priority.
"A university has also been set up in the area where classes are now in progress," Jhagra said.
Full report at:
The PML-N leader said he enjoys "cordial relations" with all government functionaries.
http://www.dawn.com/news/1310044/over-90pc-tdps-have-returned-home-kp-governor
--------
Pakistan destined to 'change' whatever verdict in Panama case comes: Imran
23-Jan-17
KASUR: Pakistan Tehreek-e-Insaf (PTI) Chairman Imran Khan said on Sunday that the Supreme Court's decision in the ongoing Panamagate case will have far reaching effects on Pakistan's future.
Kaptaan claimed that Pakistan would 'change' over whatever verdict in Panama Leaks case would be.
"It is for the first time in the history of Pakistan that a serving prime minister is being held accountable over corruption," the PTI chairman addressed participants of a party rally in Kasur district of Punjab on Sunday.
The SC is hearing a slew of petitions filed by the opposition parties in the wake of the Panama Papers leaks, with the Sharifs facing allegations of corruption.
Firing a broadside at Nawaz Sharif, the PTI chief said: "You are a king of corruption in Pakistan." No country can progress if its rulers are corrupt, he added.
Talking about Jamiat Ulema-e-Islam-Fazl leader Fazlur Rehman, Awami National Party chief Asfandyar Wali Khan and Pakhtunkhwa Milli Awami Party leader Mehmood Khan Achakzai, he said, "They have probably sensed that the ship is going to sink therefore they are jumping off it to save themselves."
Earlier, referring to a recent incident, Imran said an elderly woman by the name of Zahra from Kasur expired in Lahore's Jinnah Hospital after her relatives moved from pillar to post for her treatment.
"This all happened because the rulers are not even aware of the situation commoners face at the public hospitals," he said. "They go abroad even for their medical check-ups."
Kaptaan claimed that Nawaz would lose his premiership if letter of the Qatari prince is proved a lie in Panama Leaks case.
Full report at:
http://dailytimes.com.pk/pakistan/23-Jan-17/pakistan-destined-to-change-whatever-verdict-in-panama-case-comes-imran
--------
Taliban warn Trump
January 23, 2017
KABUL - The Taliban has warned President Donald Trump to reverse US policy on Afghanistan or face a "historically shameful defeat", a US-based monitoring group reported Sunday.
An article, which the SITE Intelligence Group said appeared on the Taliban's website and social media, described the freshly inaugurated leader of the free world as "an enigma both to the Americans and the billions of people around the world".
The article said that Afghans hoped Trump and his cabinet would not follow in the footsteps of previous White House administrations.
Afghanistan, which the US invaded on October 7, 2001 in a bid to topple Al-Qaeda hosts the Taliban, has become Washington's longest military intervention since Vietnam.
It has also been the most costly, with more than $100 billion spent.
But the country remains wracked by insecurity as the resurgent Taliban dealt Afghan forces serious blows in 2015, the first year they led security operations in Afghanistan, taking over from NATO.
Full report at:
http://nation.com.pk/national/23-Jan-2017/taliban-warn-trump
--------
Africa
Prevent Boko Haram From Regrouping, UN Tells Military Task Force
By Joy Yesufu
Jan 23, 2017
The UN Security Council has tasked the Multinational Joint Task Force (MNJTF) to prevent the destructive Boko Haram insurgents, recently dislodged from its safe haven in Sambisa Forest, from regrouping.
The task force was set up by Nigeria, Chad, Cameroon, Niger and the Republic of Benin to tackle Boko Haram insurgents.
The Security Council, in a Presidential Statement, reiterated that terrorism should be combated in all forms to prevent its spread.
"The Council urged the Multinational Joint Task Force participating countries to further enhance regional military cooperation and coordination.
"The Force should deny safe haven to Boko Haram, and facilitate the restoration of civilian security and the rule of law in areas liberated from the militant group."
"The Council called on Governments in the region to facilitate access for humanitarian organisations, and to work with the UN and international partners to develop viable options for delivering aid."
It strongly condemned all terrorist attacks in West Africa, particularly those carried out by Boko Haram militants in the Lake Chad Basin.
The Security Council stressed the need to combat terrorism in all its forms and to address the conditions conducive to its spread.
The 15-member body reiterated its deep concern over the dire humanitarian situation caused by the activities of Boko Haram in the Lake Chad Basin region.
"In this regard, the Security Council calls upon the international community to immediately support the provision of urgent humanitarian assistance for the people most affected by the crisis.
"These people are in Cameroon, Chad, Niger and Nigeria, including by fulfilling the UN appeal for the Lake Chad Basin region."
It further welcomed sub-regional, regional and international efforts to mitigate the security, humanitarian and development impact of Boko Haram's activities.
The Security Council underlined that the UN Member States must ensure that any counter-terrorism measures are in compliance with all obligations under international law, particularly international human rights, humanitarian and refugee laws.
The statement also expressed deep regret over bombing of the camp for displaced persons in Rann on Jan. 17, which resulted in the deaths of numerous civilians, including internally displaced persons and humanitarian workers.
https://leadership.ng/news/568213/prevent-boko-haram-from-regrouping-un-tells-military-task-force
--------
Fifteen Killed After Boko Haram Attacks Town Previously Bombed By Nigerian Air Force
BY OLA LANRE
22/01/2017
Rann, Nigeria: Around 15 Boko Haram fighters were killed when the jihadists attacked a town in northeastern Nigeria, two days after the air force accidentally killed dozens of people there, local and military officials said.
On Tuesday, the air force said it had bombed Rann in Borno state, epicentre of Boko Haram's seven-year-long attempt to create an Islamic caliphate in the northeast.
Boko Haram fighters then attacked Rann – home to thousands of people displaced by the jihadists' insurgency – using two jeeps on Thursday night, residents said.
"We battled them for almost 30 minutes," Lieutenant Colonel Igwe Omoke, commander of the 3rd battalion based in Rann, told Reuters on Friday during a visit organised by the army.
"We suddenly saw residents running towards the battalion headquarters and we quickly mobilised troops," he said.
A Reuters reporter saw six dead Boko Haram fighters lying in front of the army base in Rann where many ramshackle huts had been destroyed by the airstrike. The attackers had come from nearby Cameroon, less than ten kms away, officers said.
The air strike killed more than 200 people, more than up to 170 reported dead by aid group Medecins Sans Frontieres (MSF) on Friday, a local official said.
"People have suffered enough. We buried more than 200 people," said Babagana Malarima, head of the local government in Rann. "The military should compensate our people."
Other residents asked by Reuters put the death toll at around 180 or fewer. The army has refused to say how many were killed.
The Boko Haram insurgency has killed more than 15,000 people since 2009 and forced some two million to flee their homes.
Full report at:
https://thewire.in/101913/boko-haram-bombs-already-ravaged-town-in-nigeria-200-reported-dead/
--------
Helicopter fighting Boko Haram crashes, killing general, 5 others
2017-01-23
Yaounde - Authorities in Cameroon say a helicopter fighting the Boko Haram insurgency has crashed on the border with Nigeria, killing six people including the commander of this central African nation's troops.
Midjiyawa Bakari, governor of the far north region of Cameroon, confirmed that General Jacob Kodji died on Sunday evening near the village of Bogo while on an inspection mission. Three other top officials and two crew members also died.
A multinational force has been fighting Boko Haram extremists who have expanded their deadly insurgency beyond Nigeria and into neighboring countries in the Lake Chad region.
Full report at:
http://www.news24.com/Africa/News/helicopter-fighting-boko-haram-crashes-killing-general-5-others-20170123
--------
Joining hands against state sponsored terrorism!
Jan 22, 2017
Many political analysts argue that there are a number of challenges in carrying out effectively the efforts exerted to curb terrorist attacks and minimize terrorist attitudes. What is the worst in terrorism is poisoning the mind set of the youth to bloodshed. Terrorist groups have been working unreservedly to install their ill attitudes into the youngster to poison the coming generation.
The need to exert consolidated efforts is to save the coming generation from such ruthless activities on human beings. The efforts exerted against terrorism by separate states, international, continental and regional organizations have brought some undeniable fruits but unable to meaningfully minimize the attacks various countries resulted in the death of innocent people and damage of a lot of property.
Terrorist groups have still continued murdering innocent people despite the efforts world states have been exerting under the umbrella of the UNSC and other continental and regional organizations.
In my opinion, this is due some miss links in fighting terrorism. One of the significant problems is the fact that world states lack honest coordination among one another in dealing with terrorism.
Lack of honest cooperation among states encouraged terrorist to strengthen their strongholds and their terrorist attacks. It is possible to substantiate this idea considering some countries that have been devoted in fighting against terrorism in their territory but directly or indirectly supporting the activities of in areas away from their territory for some hidden interests as an example.
In this regard, it is advisable attempting to answer questions like "Who trained Osama Bin Laden? Who is supporting Al-Shabab in Somalia? Who has been backing Boko Haram in Nigeria and who is supporting the Islamic State? If one find out the exact answers for these questions, it will be so difficult to believe all states in the world are committed enough in fighting terrorism. It would also be a piece of cake to imagine whether they are working for the flourishing of lasting peace. Had they had real commitment to ensure an enduring peace in this world, peace and stability couldn't have become so complicated.
Therefore, what makes difficult in fighting terrorism is the fact that there are states that have been directly or indirectly supporting terrorism. The United Nations Security Council needs to work hard in easing such problems. But past experiences indicated that the United Nations Security Council has a few teeth that it couldn't enforce those states collaborating with terrorist groups. It has a serious gap in creating a binding and an enforcing mechanism among all member states to its laws, conventions, regulations and proclamations. It should reform itself and upgrade its responsibilities as well as mandates so that it could enforce its decisions and conventions effectively.
However, what we observe so far is quite different from this fact. It passed decisions on any country but failed to enforce its implementations. The sanction UNSC imposed on Eritrea could be a typical example. It passed sanctions on the state in Eritrea for poisoning regional peace particularly supporting Al-Shabab in Somalia financially and technically. But it remained only in black and white that the state in Eritrea has been continuing its assistance to that terrorist group and others.
Lack of absolute understanding on the very nature of terrorism regardless of target country and failure to exert consolidated efforts against terrorism could be another challenge. Countries that are victims of one group of terrorist attacks have been backing other terrorist groups attacking other countries. They harbor terrorists, they provided them money and other technical and logistic supports.
For instance, Egypt is one of the targets of the terrorist groups. It has been attacking Egypt at different times. It is known that Muslim Brotherhood and the Islamic State have strong links with al-Qaeda and al-Shabab.
It has attacked by terrorists at different times. One of the worst was the bombing attack made by Muslim Brotherhood on a Cairo church that killed 25 people. It is also known that in 2016, a number of terrorist attacks happened in Egypt claiming the lives of many innocent citizens. Recently, a dozen of Egyptian troops killed in checkpoint attack due to the mortars fired by Islamic State in Iraq and the Levant (ISIL) killing 12 soldiers. It was also reported that in a bombing around the Egyptian pyramids six people were killed in a road leading to the Great Pyramid of Giza. There were a lot of attacks in Egypt at various times by terrorist groups.
However, Egypt is cooperating and assisting the Eritrean government that has been supporting al-Shabab directly. Assisting the Eritrean government means helping the Muslim Brotherhood and the Islamic State indirectly.
This is an obstacle in fighting terrorism and ensuring peace worldwide. Unless the Unite Nations Security Council reform itself to make relentless efforts in assessing such practices that could poison world peace and take appropriate majors, state sponsored terrorisms will be widespread. .
Another significant issue that has been contributing to the aggravation of terrorism is poverty. The youth in developing countries might be filled with despair on their lives and they usually join terrorist groups for money.
This problem may be aggravated unless the international community comes together and work hard to narrow the gaps between the rich and the poor. Besides, all countries should also pay a serious attention to create job opportunities to the youth and security to elderly people and guarantee health and other basic needs to their respective people.
What had happened in Ethiopia in 2016 could be a typical example. In fact, such violence resulting in loses of life and distraction of public and private property was unseen in the past twenty five years.
Ethiopia was considered as one of the model countries in ensuring its internal peace and contributing to bring an enduring peace in Africa in general and the Horn Region in particular. But 2016 was the worst year that there was a disastrous chaos though lasted shortly.
Full report at:
http://www.waltainfo.com/index.php/FeaturedArticles/detail?cid=27067
--------
Europe
Most wanted French jihadist charged with terrorist offences in France
23 Jan, 2017
One of the UN's most wanted jihadists has been charged with terrorist offences in France after being transferred from Turkey where he had turned himself in.
Kevin G., 24, is a high-profile French jihadist who converted to Islam 10 years ago, and who was placed on a blacklist in 2014 and is suspected of being a major recruiter for Islamic State (IS, formerly ISIS, ISIL).
The suspect's reported role was to attract young French people to join IS in Syria and Iraq. The jihadist is also thought to have had connection with some of the perpetrators who carried out the terrorist attacks in Paris in 2015.
"He spent four years in Syria amongst jihadists, first with former al-Qaeda affiliate the Fateh al-Sham Front, and then the IS group," according to France 24.
Kevin G. and his four French wives and six children left Syria in June 2016 for Turkey claiming he was "reformed". There, Kevin G. turned himself in and was transferred under an international arrest warrant.
His four French wives had already been deported from Turkey.
Kevin G. arrived in France on Friday night and was charged Saturday with association with a criminal terrorist organisation and financing terrorism, the Paris prosecutor said.
It is now up to French authorities to determine if Kevin G. is, in fact, 'reformed' or just one of the many jihadist returning to Europe to carry out terrorist attacks.
READ MORE: Up to 1,750 jihadists back in Europe from warzones, ready for attacks – report
Around 900 French nationals are believed to have travelled to join IS groups in either Syria or Iraq, 200 of whom have been killed, reports France24.
A third of the 5,000 European jihadists who traveled to fight in Syria and Iraq are now back in Europe, with some on "specific missions," according to an EU report released last December.
https://www.rt.com/news/374728-un-wanted-jihadist-charged/
--------
British leader faces diplomatic challenge with White House invitation
January 22, 2017
LONDON ––Being the first European leader through the door of Donald Trump's White House is distinction that British Prime Minister Theresa May worked hard to get. But it's one that comes with a daunting set of challenges.
May will visit Washington Friday. Her stated goal is to engage the new president on questions about the future of NATO and Syria's civil war. Her most important task is to nail down details of what a U.S.-Britain. trade deal would cover.
But what common ground can there be between a prime minister who sees herself as a champion of global free trade and a president who sees commerce as "other countries making our products, stealing our companies and destroying our jobs"? How does a woman with a Muslim in her Cabinet deal with a man who said he wanted to ban all adherents of Islam from entering the U.S.?
May was keen the emphasize the positive.
"He's already said to me that he wants to see a very strong relationship between the U.K. and the U.S. going into the future," she said Sunday on BBC, before insisting that she would stand up to the president. "Whenever there is something that I find unacceptable, I won't be afraid to say that to Donald Trump."
The usual approach of British prime ministers to American presidents is to get as close to them as possible, whatever the differences of political allegiance. A shared ideology may have smoothed the way for Margaret Thatcher and Ronald Reagan, but Tony Blair didn't let partisan disagreement stop him from joking about sharing toothpaste with George W. Bush. David Cameron and Barack Obama seemed to enjoy each other's company and provided mutual political support when needed.
Trump is a different proposition. During his election campaign he was viewed from Britain as such an improbable candidate that politicians dropped their usual diplomatic restraint and publicly criticized him. Women marched to protest his inauguration in Britain's cities, as well as America's. About 5 percent of Britain's population is Muslim. Too close a public relationship could be politically painful at home for May.
She does have some cards to play. Trump has praised Britain's decision to leave the European Union. If he sees that as part of the same movement as Trumpism, he might be compelled to support trade talks, whatever his rhetoric.
Jeremy Corbyn, leader of the opposition Labour Party, was skeptical about the possibility of Trump offering a good deal. He described Trump's inaugural speech as "America first, America only, America inward-looking," and said it didn't suggest that "Donald Trump is suddenly going to roll over and offer some kind of trade deal with Britain which doesn't have strings attached."
By going enthusiastically to meet him, May also allows Trump to portray himself as someone taken seriously by other leaders. And she can offer him things that even a billionaire can't buy, like a stay at Buckingham Palace as a guest of the queen. The prime minister said Sunday that invitation was for the palace to announce, but dropped a strong hint that it would come this year.
Full report at:
http://www.recorder.com/theresa-may-7639694
--------
Armed Syrian opposition & Assad govt reps gather for talks in Kazakhstan
23 Jan, 2017
Negotiations between the Syrian government and opposition groups, which include Jaysh al-Islam, a major armed group, have kicked off in the Kazakh capital of Astana as part of an initiative led by Russia, Turkey, and Iran.
Kazakh President Nursultan Nazarbayev opened the talks, stressing that the Syrian conflict could only be solved "via negotiations."
"The current difficult situation in Syria has drawn the attention of the entire world. I have to admit that the bloody conflict, which has continued for about six years, has brought nothing but misery and sorrow to the holy land where different civilizations and cultures lived," he said.
The rebel groups told Reuters the opposition and Syrian government will not have face-to-face negotiations in Astana.
However, the live broadcast from the opening remarks showed the presence of Abdullah Mohammed Alloush, the leader of Jaysh al-Islam, which is a coalition of Islamist and Salafist units operating in the Damascus area, particularly in the city of Douma and region of Eastern Ghouta.
The head of the Russian delegation in Astana and the Russian president's special envoy to Syria, Aleksandr Lavrentiev, confirmed on Sunday that the negotiations would be attended by delegations of the host nations – Russia, Iran, and Turkey – as well a UN delegation headed by the UN special envoy to Syria, Staffan de Mistura, and the US ambassador to Kazakhstan, who has been granted observer status in Astana.
The Syrian government side will be presented by Bashar Jaafari, the current Permanent Representative of the Syrian Arab Republic to the United Nations. In his opening remarks Jaafari said that terrorists shouldn't be included into the ceasefire agreement. The talks are endorsed by the UN and are expected to be held behind closed doors. However, the exact format of the negotiations is still unknown as there has been a flurry of diplomatic activity, with representatives from all sides trying to reach consensus. The host nations are expected to announce the outcome of these on Monday before the actual start of the talks.
On Sunday, Iranian Deputy Foreign Minister Hossein Jaberi Ansari told journalists that Russia, Turkey and Iran are still debating whether there should be direct contacts between the Syrian government and opposition delegations.
"It is still unclear," he said, adding that this question remains one of the "unresolved issues." At the same time, Ansari stressed that the Iranian delegation is "optimistic" about the potential outcome of the talks.
The two-day event is being held at the Rixos hotel in Astana, with the hosting Kazakh government providing additional security. Some 300 journalists from around the world are covering the high-profile gathering, which hopes to cement a lasting ceasefire in Syria.
The Russian Foreign Minister Sergey Lavrov thanked Kazakhstan for accepting to host the event, saying Astana's assistance was highly appreciated.
Kazakhstan has been supporting the Syrian reconciliation process from the very beginning. Everyone, the [Syrian] government and the opposition groups, would find this place perfect," Lavrov said on Sunday after meeting his Kazakh counterpart Kairat Abdrakhmanov.
Kazakhstan had no intention to overshadow UN-sponsored Syria peace talks held in Geneva, but would rather contribute to a success of the larger process, Abdrakhmanov said.
Also on Sunday - Russia, Turkey and Iran held trilateral consultations ahead of the talks that lasted more than five hours and were described as "tough" by a member of the Russian delegation.
"The preparations [to the talks] are going on intensively," he said after the consultations, adding that Russia, Iran and Turkey "managed to bring closer their positions on most issues on the agenda," Lavrentiev said.
Later on Sunday, the Russian delegation held consultations with the Syrian government and the opposition delegations to conciliate their positions ahead of the talks. Lavrentiev stressed that Russia was doing its best to bring together the viewpoints of the warring parties.
"We are not looking for easy solutions in this long-standing conflict but we are doing everything we can to bring together the positions of the parties to this conflict: the Syrian government and the opposition," he said.
The Syrian envoy to the UN, Bashar Jaafari, who is heading the Syrian government delegation in Astana, said there are still differences which the two sides are trying to overcome.
"We have not reached yet a clear joint understanding of these two aspects [achieving a lasting ceasefire and fighting terrorism]," Jaafari told RT.
"Further consultations with delegations that have arrived in Astana will come to clarify the picture and to achieve the definitive understanding of these two issues, without omitting other questions, of course," the Syrian representative noted.
Lavrentiev stressed that Russia's efforts are "fully supported" by the UN special envoy Staffan de Mistura, who offered "assistance in achieving positive results" at the talks.
The head of the Russian delegation also stressed that the parties to the negotiations should focus on "areas of common interest" instead of differences while expressing hope the delegations would be able to successfully overcome all the differences during the talks.
Full report at:
https://www.rt.com/news/374734-astana-syria-peace-meeting/
--------
Russia's new influence may limit Trump's scope in Middle East
By Liz Sly
January 22, 2017
ASTANA, Kazakhstan — At a time of widespread global anxiety about President Trump's foreign policy goals, the Middle East stands almost alone in its optimism about his presidency.
The United States' traditional Arab allies are hoping he reengages in the region after years of what they perceive as neglect by Barack Obama's administration. U.S. rivals are hoping he becomes an ally and aligns with their interests.
But after eight years of steady disengagement by his predecessor, Trump may find his room for maneuver constrained by the expanded influence of Russia and Iran, analysts say.
"Even if Trump wants to have a more assertive policy, he will not be able to bring America back as the strongest regional player," predicted Ibrahim Hamidi, the chief diplomatic correspondent of the pan-Arab newspaper Al-Hayat. "The Americans can't go back to being the only super­power anymore."
That Trump does intend to pursue a more assertive Middle East policy has been evident from some of the more consistent of his often contradictory statements, including his inauguration pledge to eradicate what he called "radical Islamic terrorism . . . from the face of the earth."
Although the president and some of his foreign policy nominees appear to have opposing views on some issues — such as the importance of NATO and whether Russia can be trusted — they seem to agree on the need to do more to fight the Islamic State and to push back against Iran's widening influence, making the Middle East one of the few areas on which there appears to be some level of foreign policy consensus.
[As Obama leaves the world stage: Criticism, nostalgia — and concern over his successor]
It is also one of the areas where the Obama administration's policies have most noticeably eroded the once unchallenged U.S. role.
Russia now holds sway in Syria, has forged a close relationship with Turkey that could threaten Ankara's ties with NATO and has been courting traditional U.S. allies such as Egypt and Saudi Arabia. Most recently, Russia has been exploring relationships in Libya, dispatching its aircraft carrier to the waters off Libya and inviting the erstwhile U.S. ally Khalifa Hifter on board for a video conference with the Russian defense minister this month.
Trump's repeated promises to forge closer ties with Russian President Vladimir Putin could facilitate the kind of alliance in the Middle East against terrorists that the Obama administration sought but failed to achieve, said Vladimir Frolov, a columnist with the Moscow Times. But Russia would not want such an alliance to come at the expense of the role it has already carved out for itself in the region.
"The U.S. has been exiting the Middle East under Obama for a while, and with Trump talking about an America First agenda, that creates even more opportunities for Russia to fill the vacuum. We may see a situation where the U.S. actually empowers Russia to do the dirty work in the Middle East," he said.
The constraints are most immediately apparent in Syria, where Russia has taken the lead in promoting a peace initiative that includes Turkey and Iran as co-sponsors but offers no role for the United States. Russia and Turkey have coordinated the agenda and preparatory negotiations for the talks that will begin Monday in Kazakhstan's capital, Astana, Western diplomats say.
Turkish, Russian and Iranian officials, U.N. and European diplomats, Syrian rebels and representatives of the Syrian government arrived in Astana for the talks on Sunday. The Trump administration will not be sending a delegation, and instead the United States will be represented by its ambassador in Kazakhstan.
Russia will welcome offers of help from Trump to bomb terrorists and perhaps provide funding for reconstruction, but it doesn't want the United States becoming involved in crafting the terms of a settlement, Frolov said.
The Syrian regime is also unlikely to want the United States playing any significant role in the country, which has a long history of fraught relations with Washington, said Salem Zahran, a Beirut-based media entrepreneur who runs media outlets in Syria and has close ties to the Syrian regime.
Trump's statements in support of Syrian President Bashar al-Assad have come as a relief to the Syrian government, signaling an end to the Obama administration's mantra that Assad should eventually step aside, Zahran said. But the Syrian regime is hoping mostly that the United States stays away, by halting support for the rebels, lifting sanctions and ceasing the calls for Assad to be removed.
"Trump is a businessman and if Syria were a company, he would see it as a losing company. Why would anyone invest in a losing company?" Zahran asked.
"Syria just wants Trump to be neutral," he added. "Now that they have Russia, they don't need America."
[Iran nuclear deal may not survive the Trump administration]
Iran has more reason to fear the tough anti-Iranian rhetoric that has emanated both from Trump and his foreign policy nominees. But any attempt to push back against Iran would contradict the goals of allying more closely with Russia and Syria — which are, at least nominally, allied with Iran — and also run the risk of confrontation.
"Why would Iran respond to anything other than military pressure?" asked Tobias Schneider, a German analyst based in Washington. "Iran has won right now. It's represented everywhere; it's aligned with the winners everywhere."
Iran has been instrumental in helping Assad survive, sending money and militias to fight on the front lines and securing in the process vast influence over the country. Last week, Tehran signed a series of contracts with Syrian government officials that included giving Iran control over Syria's largest phosphate mine and a license to operate a mobile telecommunications network.
Since the U.S. withdrawal from Iraq in 2011, Iran has also secured its place as the most influential power in Iraq, said Ryan Crocker, a former U.S. ambassador to Iraq who is now with Texas A&M University. Reviving the U.S. role there would not be impossible, he said, but "it would be very, very difficult."
The United States does have staunch allies. Israel is counting on Trump to fulfill his promise to move the U.S. Embassy to Jerusalem, which has made Palestinians one of the only groups vociferously opposed to his presidency. The Kurdish regions of Iraq and Syria are hoping his pledges to fight the Islamic State will translate into more military assistance for them.
Full report at:
https://www.washingtonpost.com/world/middle_east/trump-might-not-find-it-easy-to-assert-a-us-role-in-the-middle-east/2017/01/21/474b76e0-d918-11e6-a0e6-d502d6751bc8_story.html?utm_term=.1dfb3f0f28dd
--------
URL: https://www.newageislam.com/islamic-world-news/new-age-islam-news-bureau/neighbours-leave-touching-note-outside-muslim-man-s-door-after-donald-trump-s-inauguration/d/109821
New Age Islam, Islam Online, Islamic Website, African Muslim News, Arab World News, South Asia News, Indian Muslim News, World Muslim News, Womens in Islam, Islamic Feminism, Arab Women, Womens In Arab, Islamphobia in America, Muslim Women in West, Islam Women and Feminism, Moderate Islam, Moderate Muslims, Progressive Islam, Progressive Muslims, Liberal Islam