New Age Islam News Bureau
26 Sept 2015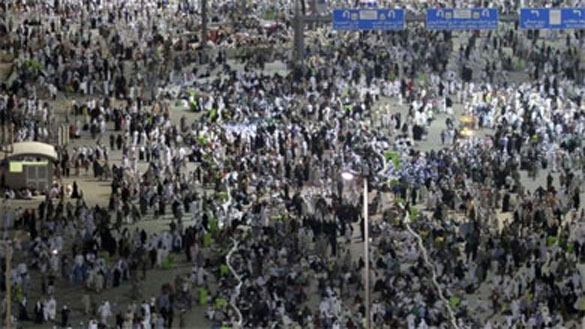 Fewer pilgrims were seen at the pilgrimage sites on Friday
--------
India
• Need To Delink Terror from Religion, Says PM Narendra Modi
• Haj Stampede: 18 Indians Killed
• Osama bin Laden had prior knowledge of 2008 Mumbai attacks: Book
• Pakistan waging proxy war against India: Rajnath
------
South Asia
• Some 70 ISIS Militants from Iraq, Syria Forming the Group's Branch in Afghanistan
• 4 Militants Killed During Operations Countering Isis Activities in Nangarhar
• 8 Afghan pilgrims missing as stampede leaves at least 717 dead in Saudi Arabia
• US, NATO review new troops withdrawal options amid ISIS rise and resurgent Taliban
• Afghanistan President Ghani begun discussing Kabul development with residents
-----
Arab World
• Hajj Stampede: Saudi Mufti Says Deaths 'Beyond Human Control'
• Syrian Forces Storm ISIL Positions in Sweida Province Kill over 26 Militants
• Saudi Airstrikes, Fighting In Yemeni City Kill 13 People
• Egypt: 9 Muslim Brotherhood Members Killed In Egyptian Raid
• Gunmen attack Saudi police checkpoints, kill 3
• Hezbollah Targets Convoy of Terrorists' Vehicles at Syrian-Lebanese Border
• Syrian Forces Cut ISIL Supply Route in Deir Ezzur Province for Hours
• Saudi border guard officers killed in attack from Yemen - Saudi ministry
• Iraqi asylum seekers in Jordan hesitant to travel to Europe
-----
Africa
• 15 Civilians Killed In Boko Haram Attack In Nigeria
• Somalia parliament speaker drops impeachment motion against president
----------
Mideast
• U.S. To Make New Diplomatic Push on Syria, Talk To Iran: Officials
• Saudi Suggests Pilgrims at Fault over Haj Deaths, Iran Angry
• Iranian Army Displays Latest Achievements Saturday
• Rouhani: No Iran-Russia Alliance in Syria War
• Iranians Condemn Saudi Regime's Incapability for Mina Tragedy
------
Pakistan
• Nine Pakistani Pilgrims Confirmed Dead In Mina Stampede
• Pakistan Allocates "Sanitary Workers" Jobs Only For Non-Muslims
• A Pakistani Pop Star Pulls From the Culture's Musical Past and Present
• Pakistan says 86 of its missing pilgrims found
• PM Nawaz in New York to spell out Pakistan's agenda on world stage
• Rangers arrest suspected target killer from Karachi's Surjani Town
• PML-N losing ground in Khyber Pakhtunkhwa
• Nine Pakistani pilgrims confirmed dead in Mina stampede
-----
Europe
• 120 Britons Missing After Haj Stampede
• Migrant crisis: Fleeing life under Islamic State in Syria
------
North America
• At UN, Pope Condemns 'Boundless Thirst' For Wealth and Power
• Pope Francis Heads to Philadelphia on Final Leg of U.S. Visit
Compiled by New Age Islam News Bureau
URL: https://www.newageislam.com/islamic-world-news/new-age-islam-news-bureau/need-to-delink-terror-from-religion,-says-pm-narendra-modi/d/104723
------
India
Need To Delink Terror From Religion, Says PM Narendra Modi
PTI | Sep 26, 2015,
UNITED NATIONS: Prime Minister Narendra Modi has acknowledged that the dreaded terror group Islamic State poses "one of the greatest challenges" facing the international community as he emphasized on the need to delink terrorism from religion as a weapon in the fight against terror.
READ ALSO: Reform security council to maintain its credibility, PM Modi urges at UN meet
In a meeting with King Abdullah of Jordan on the sidelines of the UN General Assembly session, Modi discussed ways to prevent radicalization of youth and to counter extremist messaging, external affairs ministry spokesman Vikas Swarup said after the meeting on Friday.
"Both leaders acknowledged that ISIS was one of the greatest challenges facing the international community. The Prime Minister said that there is a need to delink terrorism from religion," Swarup said.
Modi said the only way to combat international terrorism and the menace of organizations like IS (also known as ISIS) was to have a global response.
Referring to the long pending proposal of a comprehensive convention on international terrorism, he said the time has now come for the international community to speak on one voice on this important issue and adopt this global convention.
Modi and King Abdullah also discussed the UN Security Council reform.
"The Prime Minister mentioned that it was inconceivable that a country as large as India representing one sixth of humanity was not in the Security Council," he said.
"This was something we have been agitating for a long time. We want that the 70th anniversary of the United Nations to be an occasion for the international community to step up to its obligations and reform this very important body of the United Nations," Swarup said.
The King of Jordan said he has always supported India's aspirations to be a permanent member of the Security Council and added that Jordan is a very important country in a very important region from India's point of view.
During the meeting, the Prime Minister commended King Abdullah for the strong leadership that he has shown in the fight against international terrorism.
He also thanked the King for the support that Jordan had provided when Indian citizens were trapped in Iraq and Syria and have to be evacuated.
King Abdullah said he valued India as a partner and wanted to increase the economic and security co-operation that Jordan has with India, Swarup added.
http://timesofindia.indiatimes.com/india/Need-to-delink-terror-from-religion-says-PM-Narendra-Modi/articleshow/49112162.cms
------
Haj stampede: 18 Indians killed
Sep 26, 2015
NEW DELHI: Number of Indians who died in the Haj tragedy on Saturday rose to 18, ministry of external affairs said.
Spokesperson of ministry of external Vikas Swarup on Saturday said that 18 Indians have died in the stampede.
"Our officials on the ground in Mekkah have been working continously to asecrtain information and reach out to the family members of the missing pilgrims.
http://timesofindia.indiatimes.com/india/Haj-stampede-18-Indians-killed/articleshow/49111637.cms
---------------
Osama bin Laden had prior knowledge of 2008 Mumbai attacks: Book
Sep 25, 2015
ISLAMABAD: Al Qaida chief Osama bin Laden had prior information of the 2008 terror attack at Mumbai, a new book has said.
The book "Pakistan's secret war on Al-Qaeda" said that bin Laden had prior knowledge of the 2008 Mumbai attack.
"He wanted to establish an al Qaida state in Pakistan following the breakout of full-scale war between the two nuclear armed neighbours," reported Dawn, citing the book.
The revelations were made in the book authored by Azaz Syed, an investigative journalist and a former correspondent for DawnNews.
166 people were killed in the November 26-28 Mumbai terror attack mounted by 10 gunmen from Pakistan who sneaked into India and let loose a reign of terror.
One of them, Ajmal Kasab, was caught alive, tried, sentenced to death and executed later.
http://timesofindia.indiatimes.com/world/pakistan/Osama-bin-Laden-had-prior-knowledge-of-2008-Mumbai-attacks-Book/articleshow/49101369.cms
---------------
Pakistan waging proxy war against India: Home Minister
Rajiv Srivastava, Sep 26, 2015
LUCKNOW: Noting that India's borders with China and Pakistan are "hyper sensitive", Union home minister Rajnath Singh on Saturday blamed Pakistan for waging a proxy war against India.
"Pakistan was regularly violating the ceasefire agreement, however, our forces were giving them a befitting reply," Singh said on the sidelines of a function in Lucknow on Saturday. He said that security arrangements on Indian borders with Pakistan and China are reviewed keeping the situation-at-the-moment in mind.
India's aggressive approach against the infiltrators during Modi government has resulted in 130 terrorists being killed. These were basically infiltrators trying to sneak into Indian territory since 2014 compared to 110 in 2013 and 67 in 2012, Singh said.
However, there has been a steep downfall in infiltration cases and has come down to only 15 this year from 52 in 2014, 264 in 2013 and 277 in 2013, he further said.
Coming to India's dispute with China, Rajnath said that there persists border dispute with China and regular attempts were being made to resolve the issues with the communist republic.
The increasing defence power of India has not gone down well with anti-national elements, the home minister, who arrived in Lucknow on Friday evening on a three-day visit to his Lok Sabha constituency, said.
He also said that unlike borders with Nepal and Bhutan which are peaceful, borders with Bangladesh and Mayanmar were active.
He also expressed confidence that ISIS will not be able to set up any network in India and admitted that Left Wing extremism was a big challenge as 10 states and 125 districts were affected by Naxal movement. To a question on RSS, Singh said: "We are and we will always remain RSS volunteer."
He, however, denied that the RSS has ever sought any report from the government's performance.
http://timesofindia.indiatimes.com/india/Pakistan-waging-proxy-war-against-India-Rajnath/articleshow/49114700.cms
-----------
South Asia
Some 70 ISIS Militants from Iraq, Syria Forming the Group's Branch in Afghanistan
Sep 26 2015
Around 70 militants of the Islamic State of Iraq and Syria (ISIS) terrorist group are busy in forming the core of the group's branch in Afghanistan, it has been reported.
According to a UN report the terror group is making inroads in Afghanistan with the number of sympathizers and followers growing across the country.
The report further added that the group is recruiting followers in at least 25 provinces of Afghanistan with 10 percent of the sympathizers belonging to the Taliban group.
"The number of groups and individuals who are openly declaring either loyalty to or sympathy with ISIL continues to grow in a number of provinces in Afghanistan," the report said.
Quoting the Afghan government sources, the report said "sightings of the groups with some form of ISIL branding" or sympathy were reported in 25 provinces in the war-torn country."
According to the report the ISIS loyalists and the Taliban militants are fighting each other only in eastern Nangarhar province, citing the drug trade as the main reason behind the brutal clashes.
Abdul Rauf Khade, the former Taliban adviser to Mullah Mohammad Omar, has been described as one of the prominent ISIS fighters who formed his own group in southern Helmand and western Farah provinces after visiting Iraq in 2014.
The report also added that militants from Pakistan and Uzbekistan with some of them having close ties to al-Qaeda terrorist network have come under the IS banner after fleeing their country and have "rebranded themselves" in recent months.
http://www.khaama.com/some-70-isis-militants-from-iraq-syria-forming-the-groups-branch-in-afghanistan-1565
---------------
4 Militants Killed During Operations Countering ISIS Activities In Nangarhar
By KHAAMA PRESS - Sat Sep 26 2015,
At least four militants were killed during the operations launched by the Afghan national security forces in eastern Nangarhar province of Afghanistan.
According to the local government officials, the operations were conducted in Kot district of Nangarhar province where the local residents recently complained regarding the growing insurgency activities by ISIS loyalists.
Provincial police spokesman Hazrat Hussain Mashriqwal confirmed that four militants were killed and two others were injured during the operations.
He said some areas in Kot district were also cleared of the militants and no casualties were incurred to the local residents or the security forces.
The operations, Shaheen-09 were launched last Saturday in Kot district after the local residents complained regarding the insurgency activities by ISIS loyalists.
The terror group has recently increased their insurgency activities in different parts of Nangarhar province where the loyalists of the group have reportedly executed hundreds of people including civilians.
At least five affiliates of the terror group were killed in an airstrike carried out by foreign forces in Nazian district nearly two weeks ago.
http://www.khaama.com/4-militants-killed-during-operations-countering-isis-activities-in-nangarhar-1566
---
8 Afghan pilgrims missing as stampede leaves at least 717 dead in Saudi Arabia
Sep 25 2015,
At least eight Afghan pilgrims are missing following a stampede during Hajj in Saudi Arabia on Thursday, the officials said Friday.
The Ministry of Hajj and Religious Affairs said five of the missing pilgrims were seen in Mina area near Mecca city shortly before the incident.
No further details were given regarding the identities of the missing pilgrims however the officials said they belonged to northern Faryab, southern Helmand and eastern Kapisa provinces.
At least 863 others were also wounded in the incident which occurred at 09:00 local time on Thursday as two million pilgrims were taking part in the Hajj's last major rite.
Yesterday's incident is the deadliest incident to occur during the pilgrimage in 25 years which followed almost two weeks after a crane collapsed at the Grand Mosque in Mecca, killing 109 people.
According to reports the majority of those who lost their lives hailed from Iran which includes at least 131 deaths.
A demonstration was also organized in Tehran, the capital city of Iran where the protesters were shouting slogans against Saudi Arabia's ruling Al-Saud family as Iran declared three days of national mourning.
http://www.khaama.com/8-afghan-pilgrims-missing-as-stampede-leaves-at-least-717-dead-in-saudi-1564
----------
US, NATO review new troops withdrawal options amid ISIS rise and resurgent Taliban
Fri Sep 25 2015
The commander of the NATO-led Resolute Support (RS) mission in Afghanistan has sent five different recommendations to the Pentagon and to North Atlantic Treaty Organization (NATO) officials in Brussels regarding the withdrawal of the US and NATO forces from Afghanistan.
The recommendations by Gen. John F. Campbell comes amid deteriorating security situation as the Afghan national security forces are going through the brutal fighting season with the rise of the Islamic State Iraq and Syria (ISIS) terrorist group and the resurgent Taliban.
According to the Wall Street Journal quoting sources privy of the development, Gen. Campbell's recommendations include keeping the current U.S. presence at or near 10,000; reducing it slightly to 8,000; cutting the force roughly in half; and continuing with current plans to draw down to a force of several hundred troops by the end of 2016.
The recommendations by Gen. Campbell come as the officials believe that a resurgent Taliban or expanding Islamic State could pose a serious threat to the survival of the Afghan government.
The officials also believe that a smaller force of several thousand Americans still could be effective at backing the Afghan government.
The US officials had earlier said Washington would decide regarding the troops level to remain in Afghanistan after the fighting season which is due to conclude in the next couple of months.
The US Permanent Representative to NATO Ambassador Douglas Lute said late in June this year United States will decide regarding the troops withdrawal timeline from Afghanistan after the ongoing fighting season.
"Whether or not the U.S. adjusts its timeline is a decision to be made in Washington after this fighting season. Presidents Ghani and Obama agreed — I believe the visit was in February or March of this year — that this would obviously be a fighting season during which the Afghan forces would be tested. I think that's proving to be true," Ambassador Lute said.
He admitted that the current year will continue to be a challenging year for the Afghan Security Forces and said United States will remain the major troop contributor to the NATO mission in Afghanistan beyond 2016.
http://www.khaama.com/us-nato-review-new-troops-withdrawal-options-amid-isis-rise-and-resurgent-taliban-1562
---------------
Afghanistan President Ghani begun discussing Kabul development with residents
By ZABIHULLAH MOOSAKHAIL - Sat Sep 26 2015
President Mohammad Ashraf Ghani has begun discussing development of Kabul with the province's residents.
A gathering was organized at the Presidential Palace on Friday where President Ghani met with envoys of Kabul city and districts and talked to them about various topics concerning Kabul.
President Ghani told the gathering that starting winter the focus will be on the security and development of Kabul city and districts.
He said that the process will began from assessing the services of the police headquarters so that the 'police officials' know that they are responsible for people. He further said that the process will move on from there.
President Ghan assured Kabul envoys that the process of distributing proper legal property documents 'Deed', 'Qabala' to Kabul residents will start soon and that every month 16,000 people will receive these documents for their houses.
President Ghani urged participants of the meeting to share with him their viewpoints regarding the development of Kabul.
http://www.khaama.com/president-ghani-begun-discussing-kabul-development-with-residents-3942
---------
Arab World
Hajj stampede: Saudi mufti says deaths 'beyond human control'
Sep 26, 2015
Fewer pilgrims were seen at the pilgrimage sites on Friday
Saudi Arabia's most senior cleric, the grand mufti, has said Thursday's stampede that killed more than 700 people at the annual Muslim pilgrimage to Mecca was beyond human control.
He told the interior minister, Crown Prince Mohammed bin Nayef, that he was not to blame for the tragedy.
Iran and several other countries have criticised Saudi authorities for the way they handled safety issues.
It was the deadliest incident to occur during the pilgrimage in 25 years.
King Salman has ordered a safety review.
Grand Mufti Sheikh Abdul Aziz bin-Abdullah al-Sheikh was visited by the crown prince, who is also deputy prime minister and chairman of the Supreme Hajj Committee, on Friday evening, the official Saudi Press Agency (SPA) reported.
"You are not responsible for what happened," the grand mufti said, the SPA reported.
Iranians condemn Saudi Arabia for the deaths of pilgrims performing Hajj during a protest in TehranImage copyrightEPA
BBC reporter Tchima Illa Issoufou: "I lost my aunt as a result of the stampede"
"As for the things that humans cannot control, you are not blamed for them. Fate and destiny are inevitable."
The cleric's remarks came after Iran's Supreme National Security Council accused the Saudis of "incompetence" and urged them to "take responsibility" for the deaths.
Iran has so far reported the greatest number of deaths among foreign nationals - 131.
Nigeria, meanwhile, has dismissed remarks by the Saudi health minister blaming pilgrims for "not following instructions".
The crush occurred on Thursday morning as two million pilgrims were taking part in the Hajj's last major rite.
The pilgrims throw seven stones at pillars called Jamarat, which stand at the place where Satan is believed to have tempted the Prophet Abraham.
With temperatures around 46C, two massive lines of pilgrims converged on each other at right angles at an intersection close to the five-storey Jamarat Bridge in Mina, a large valley about 5km (3 miles) from Mecca.
It is also the second disaster to strike in two weeks, after a crane collapsed at the Grand Mosque in Mecca, killing 109 people.
http://www.bbc.com/news/world-middle-east-34368387
---------------
Syrian Forces Storm ISIL Positions in Sweida Province, Kill over 26 Militants
TEHRAN (FNA), Sep 26, 2015 - Military sources said that the Syrian forces raided the ISIL Takfiri terrorists' strongholds in the Northern territories of Sweida, and killed more than 26 militants in the fighting areas.
The sources said that the National Defense Forces (NDF) surprised the ISIL terrorists with a powerful assault on Al-Mu'az Hill in Northern Sweida, killing 26 militants and wounding some others.
Full Report at:
http://english.farsnews.com/newstext.aspx?nn=13940704000565
-----
Saudi airstrikes, fighting in Yemeni city kill 13 people
Sep 26, 2015
SANAA, Yemen: Airstrikes by the Saudi-led coalition targeting the country's Shiite rebels as well as fighting on the ground between rebels and pro-government fighters in the southern province of Taiz have killed at least 13 people and wounded dozens, Yemen officials said Friday.
Three children died in the airstrikes in the provincial capital of Taiz, while ground fighting on the city's outskirts killed a total of 10 fighters from the two sides, said security and medical officials who remain neutral in the conflict that has splintered Yemen.
Yemen's fighting pits the rebels, known as Houthis, and forces loyal to former President Ali Abdullah Saleh against the Saudi-backed and internationally recognized government forces as well as southern separatists, local militias and Sunni extremists.
The pro-government forces got a boost earlier this week with the return of Yemen's President Abed Rabbo Mansour Hadi, who came back to the country following nearly six months of exile in Saudi Arabia.
Full Report at:
http://timesofindia.indiatimes.com/world/middle-east/Saudi-airstrikes-fighting-in-Yemeni-city-kill-13-people/articleshow/49110951.cms
------
Egypt: 9 Muslim Brotherhood members killed in Egyptian raid
Sep 25, 2015
Nine gunmen of the outlawed Muslim Brotherhood were killed by Egyptian security forces in a raid on a Cairo home on Friday, security officials said.
"The Brotherhood members clashed with security forces," said one of the officials, adding that they were meeting to plan what he called "terrorist attacks".
The Brotherhood, which was removed from power by the army in 2013, has accused authorities in the Arab world's largest state of killing members it says were unarmed in similar operations.
Full Report at:
http://www.hindustantimes.com/world/egyptian-police-kill-nine-muslim-brotherhood-members-in-cairo-raid/story-hAik4kgiBaIGIuC192W07N.html
---------------
Gunmen attack Saudi police checkpoints, kill 3
Sep 26, 2015,
RIYADH: Authorities in Saudi Arabia say gunmen have opened fire at two police checkpoints in a northern province, killing at least three people.
The state-run Saudi Press Agency quoted an unnamed police official in Hail province as saying the shootings happened Thursday at two separate police posts. The official identified the dead as two civilians and one soldier.
Full Report at:
http://timesofindia.indiatimes.com/world/middle-east/Gunmen-attack-Saudi-police-checkpoints-kill-3/articleshow/49105394.cms
---------------
Hezbollah Targets Convoy of Terrorists' Vehicles at Syrian-Lebanese Border
TEHRAN (FNA), Sep 25, 2015- A convoy of vehicles of the Harakat Ahrar Al-Sham and al-Nusra Front, attempting to cross into Syria from the Lebanese border-city of Al-Tafayl, was targeted by the Lebanese Hezbollah Resistance Movement a Hezbollah contingent.
According to a military source in Damascus, 18 militants from Harakat Ahrar Al-Sham and Al-Nusra Front were killed and 11 more were wounded in the Hezbollah's ambush.
The sources said that the remaining of the militants fled the Al-Tafayl area to Jaroud 'Arsal, where they were later bombed by the Syrian fighter jets.
Full Report at:
http://english.farsnews.com/newstext.aspx?nn=13940703000474
-----
Syrian Forces Cut ISIL Supply Route in Deir Ezzur Province for Hours
TEHRAN (FNA), Sep 26, 2015- Informed sources in the Eastern province of Deir Ezzur said that the Syrian forces launched massive operations against the ISIL terrorists group in the province, and cut their supplying line from Raqqa for several hours.
The sources said that the Syrian Army's 137th Artillery Brigade of the 17th Reserve Division, in coordination with the 104th Airborne Brigade of the Republican Guard, the National Defense Forces (NDF), and the Shaytat Tribesmen, launched a powerful assault on the village of Al-Khareetah in the Deir Ezzur Governorate's northeastern territories, where they targeted the ISIL main supply route the province and cut it for some hours.
Full Report at:
http://english.farsnews.com/newstext.aspx?nn=13940704000677
------
Saudi border guard officers killed in attack from Yemen - Saudi ministry
DUBAI, SEPT 26
A district commander and a sergeant in Saudi Arabia's border guard were killed in an attack launched from across the frontier with Yemen on Friday, the Saudi interior ministry said.
The men were killed by heavy gunfire from the Yemen side of the border after their patrol vehicle was hit by a mine explosion, the ministry said.
(Reporting By Noah Browning; Editing by Pravin Char)
http://in.reuters.com/article/2015/09/26/yemen-saudi-security-idINL5N11W05R20150926
---------------
Iraqi asylum seekers in Jordan hesitant to travel to Europe
AFP — 26 09 15
AMMAN: Hanna Yussef dreams of following thousands of fellow Iraqi Christians to refuge in Europe, abandoning a precarious existence in Jordan, where he has lived since fleeing violence at home.
But he's staying put for now because he can't afford the money needed for the perilous crossing by sea and, equally as important, because he can't swim.
Like so many other Iraqi Christians, this 45-year-old father is a refugee after fleeing Iraq's northern city of Mosul, which was overrun by the self-styled Islamic State (IS) group in June of last year.
For more than a year and a half, Yussef, his wife and four children have been waiting for the United Nations High Commission for Refugees (UNHCR) to give them refugee status and a country in which to resettle.
Full Report at:
http://www.dawn.com/news/1209288/iraqi-asylum-seekers-in-jordan-hesitant-to-travel-to-europe
----------
Africa
15 civilians killed in Boko Haram attack in Nigeria
Sep 26, 2015
NIAMEY: Fifteen civilians were killed in an attack by Boko Haram militants on a border village in southeastern Niger, state television has reported.
The attack took place on Thursday night in a village on the banks of the Komadougou Yobe river which runs along a small section of the border between Niger and Nigeria, Tele Sahel said.
Full Report at:
http://timesofindia.indiatimes.com/world/rest-of-world/15-civilians-killed-in-Boko-Haram-attack-in-Nigeria/articleshow/49111392.cms
---------------
Somalia parliament speaker drops impeachment motion against president
Sep 26, 2015
Somalia's parliamentary speaker has withdrawn an impeachment motion brought against President Hassan Sheikh Mohamud - the latest crisis to threaten the country's stability as it struggles to rebound from two decades of chaos and war.
Somali lawmakers last month filed the motion against Mohamud, accusing him of abuse of office and "betraying the country". Mohamud has said he is committed to holding elections before his term runs out in August 2016.
International envoys have urged a rapid resolution to the crisis.
Full Report at:
http://www.reuters.com/article/2015/09/26/us-somalia-politics-idUSKCN0RQ06S20150926
---------------
Middle East
U.S. to make new diplomatic push on Syria, talk to Iran: officials
WASHINGTON | BY LESLEY WROUGHTON AND PHIL STEWART
U.S. Secretary of State John Kerry will try to launch a new initiative for a political solution in Syria during meetings in New York in the next week, starting with talks with his Iranian counterpart on Saturday, U.S. and other Western officials said.
After backing a United Nations peace process that has failed to end the Syrian conflict, Kerry will test several ideas for a new approach during the United Nations General Assembly in New York in the coming days, the officials said.
The new approach - which officials stressed was in its infancy - could bring together Russia, a major ally of Syrian President Bashar al-Assad, Saudi Arabia and countries such as Turkey and Qatar, which support Syrian opposition groups.
Russia's sudden military build-up this month in support of Assad and a refugee crisis that has spilled over from the region into Europe have lent new urgency to attempts to resolve the Syria conflict.
Full Report at:
http://www.reuters.com/article/2015/09/25/us-syria-crisis-kerry-idUSKCN0RP2IJ20150925
---------------
Saudi suggests pilgrims at fault over haj deaths, Iran angry
MINA, SAUDI ARABIA
Saudi Arabia on Friday suggested pilgrims ignoring crowd control rules bore some blame for a crush that killed over 700 people at the haj pilgrimage in the annual event's worst disaster for 25 years.
The kingdom's regional rival Iran expressed outrage at the deaths of 131 of its nationals at the world's largest annual gathering of people, and politicians in Tehran suggested Riyadh was incapable of managing the event.
Hundreds of demonstrators protested in the Iranian capital, chanting "Death to the Saudi dynasty".
With pilgrims frantically searching for missing compatriots and photographs of piles of the dead circulating on social media, the tragedy haunted many on the haj a day on.
"There were layers of bodies, maybe three layers," said one witness who asked not to be named. "Some people were alive under the pile of bodies and were trying to climb up but in vain, because their strength failed and they dropped dead.
Full Report at:
http://www.reuters.com/article/2015/09/25/us-saudi-haj-idUSKCN0RP0VO20150925
------
Pakistan
Nine Pakistani pilgrims confirmed dead in Mina stampede
AFP | DAWN.COM26 09 15
MAKKAH: At least nine Pakistani pilgrims were confirmed dead while 17 are reported injured after the stampede that killed more than 700 in Mina outside the holy city of Makkah on Thursday.
According to a report published on Radio Pakistan website, the deceased persons include Hafsa Shoaib, Zarin Naseem, Syeda Narjis Shahnaz, Bibi Zainab, Mahmood Arshad, Rasheedan Bibi, Zahid Gul, Dr. Ameer Ali Lashari and Makhdoomzada Syed Asad Murtaza Gillani.
Full Report at:
http://www.dawn.com/news/1209289/nine-pakistani-pilgrims-confirmed-dead-in-mina-stampede
-------
Pakistan allocates "Sanitary Workers" jobs only for Non-Muslims
Sep 25, 2015
Lahore: September 25, 2015. (PCP) A job vacancies advertisement of a hospital which runs by Ministry of Health of Government of Punjab Province spreads anger among millions of Christians in this province of Pakistan which invites application for "Sweepers" only from non-Muslims while other job opportunities in this advertisement are left open for general public.
As term non-Muslim is being used for Christians, Hindus, Sikhs and other religious minorities in 18th Amendment in Constitution of Pakistan.
In Punjab province of Pakistan, the Christians are second biggest population after Muslims counted in millions while Hindus, Sikhs and other religious minorities are only up to hundreds only. It is generally points towards Christians when called non-Muslims in Punjab province of Pakistan.
Full Report at:
http://www.pakistanchristianpost.com/detail.php?hnewsid=5615#sthash.3KoxSw8L.dpuf
------
A Pakistani Pop Star Pulls From The Culture's Musical Past And Present
SEPTEMBER 26, 2015
Here's a phrase you don't hear a lot in the US: "Pakistani pop music." In fact, the Islamic Republic of Pakistan has a thriving music industry — and singer Zebunissa Bangash, or Zeb for short, is one of its stars.
There has been violence and threat to Pakistani culture since the country was founded 68 years ago, both for political and religious reasons. Zeb was never subjected to that scrutiny: She studied art history at college in the US before returning home to form a band with her cousin, Haniya. Their accessible pop songs found a devoted following.
"I'm sure there are artists out there who are fighting to do music," she says. "They certainly need recognition for that and they need support for that. But I'm not that artist."
Pakistan has produced generations of musicians like Zeb, who defy easy assumptions about art and Islam — whether they're performing Bollywood soundtracks or spiritual Sufi anthems.
Full Report at:
http://www.npr.org/2015/09/25/443446993/a-pakistani-pop-star-pulls-from-the-cultures-musical-past-and-present
-----------
Pakistan says 86 of its missing pilgrims found
Pakistan's foreign ministry says that out of the 236 Pakistanis who were earlier reported as missing following the tragedy at the hajj in Saudi Arabia, 86 have been located.
Ministry spokesman Qazi Khalilullah says they were found safe and unharmed, adding that authorities are working to locate the remaining missing Pakistanis.
He also said Friday that eight Pakistani nationals have been confirmed as killed in Thursday's stampede.
Full Report at:
http://news.yahoo.com/latest-14-indians-4-turks-among-dead-hajj-074836958.html
------
For US, India sole option for UNSC seat: Pakistani daily
IANS | Sep 25, 2015
ISLAMABAD: India is the only option from Asia, especially in the eyes of the US, for permanent membership at the UN Security Council "no matter how unfortunate this is for Pakistan", a Pakistani daily said on Friday.
Describing the US and India as the new dynamic duo, an editorial in the Nation said they are "a terrifying combination".
The US has reaffirmed its support to India for a permanent seat on the UN Security Council (UNSC). Even though both countries have disagreed over the UN Security Council reforms, the US has made it clear that it is committed to India's inclusion as a permanent member of the Security Council.
"A number of members, including permanent members, have voiced strong disagreements. Pakistan, a member of the Uniting for Consensus group of countries which opposes any additional permanent members on the Security Council, told the 193-member Assembly that the document was partial and incomplete. It could not be the basis for a negotiated solution," it said.
Full Report at:
http://timesofindia.indiatimes.com/india/For-US-India-sole-option-for-UNSC-seat-Pakistani-daily/articleshow/49100645.cms?
--------
PM Nawaz in New York to spell out Pakistan's agenda on world stage
IRFAN HAIDER — Sep 25, 2015
NEW YORK: Prime Minister Nawaz Sharif arrived in New York Saturday to lead the Pakistan delegation at the 70th Session of the United Nations (UN) General Assembly, where he will address at five important events, spelling out Pakistan's foreign policy agenda and stance on global issues.
The premier was received at John F. Kennedy International Airport by Pakistan's Ambassador to the UN Dr Maleeha Lodhi, Ambassador to the United States Jalil Abbas Jilani, and senior officials of the Pakistani mission.
Prime Minister Sharif's delegation includes Finance Minister Ishaq Dar and Advisor to the Prime Minister on National Security and Foreign Affairs Sartaj Aziz.
Dr Lodhi told reporters that the prime minister has a hectic schedule during his stay in the US.
Full Report at:
http://www.dawn.com/news/1209275/pm-nawaz-in-new-york-to-spell-out-pakistans-agenda-on-world-stage
-------
Rangers arrest suspected target killer from Karachi's Surjani Town
Sep 26, 2015
KARACHI: Pakistan Rangers Sindh apprehended a suspected target killer Rehan alias Behari during a targeted raid Friday in Surjani Town area of Karachi, according to a press release issued by the paramilitary force.
The press release said that the suspect is a Muttahida Qaumi Movement (MQM) sector incharge and has confessed his involvement in incidents of target killing, snatching hides of sacrificial animals and extortion.
Rehan was heading a number of target killing teams in his town which killed police officers and people of rival political parties, said the press release
The suspect is also involved in collecting donations by force, snatching hides of sacrificial animals and land grabbing, said the release.
Related: Karachi Operation: Crime down but sleeper cells still exist
Full Report at:
http://www.dawn.com/news/1209278/rangers-arrest-suspected-target-killer-from-karachis-surjani-town
------
PML-N losing ground in Khyber Pakhtunkhwa
ALI HAZRAT BACHA, Sep 25, 2015
PESHAWAR: The Pakistan Muslim League-Nawaz, which rules the centre, seems to have lost ground to opponents in Khyber Pakhtunkhwa due to lack of attention on part of central leadership towards its re-organisation.
The party's poor performance in the recent local government elections in the province is enough to bear out the notion.
Most PML-N office-bearers complain the central leadership doesn't meet them or call them to functions at the central level.
Lately, Rehmat Salam Khattak resigned as PML-N provincial general secretary for being ignored by the leadership though he cited personal reasons for the move. The office is vacant.
At least 20 provincial office-bearers are ready to resign in protest if the party's leadership did not pay attention to the problems faced by workers in the province.
Full Report at:
http://www.dawn.com/news/1209248/pml-n-losing-ground-in-khyber-pakhtunkhwa
---------
Europe
120 Britons missing after haj stampede
Sep 26, 2015
Foreign toll in Saudi haj stampedeHaj stampede: List of 14 Indians who diedMumbai resident among haj stampede victimsHaj stampede: Indian among 450 injured
Concern is growing for several groups of British pilgrims who have not made contact with their families since the stampede that killed more than 700 people in Saudi Arabia.
The Muslim Council of Wales said it knew of around 120 people in three groups from Cardiff, Newport and Swansea who were unaccounted for.
A spokesperson told Sky News other members who travelled to Mecca for haj had made contact to say they were safe but there had been no word from the missing pilgrims, and their phones were not connecting.
Full Report at:
http://timesofindia.indiatimes.com/world/uk/120-Britons-missing-after-haj-stampede/articleshow/49105792.cms
---------------
Migrant crisis: Fleeing life under Islamic State in Syria
By Mark Lowen
Sep 25, 2015
Young and a fluent English speaker, he comes from the Syrian city of Raqqa, the de facto capital of so-called Islamic State.
The threat posed by the group is one of the main factors pushing the mass migration of people to Europe.
And as we sit beside the stadium in Edirne where 2,000 have gathered, trying to cross Turkey's land border with Greece, he gives me an insight into the heart of the "caliphate".
"At first when they arrived, it seemed fine because [Syrian President] Assad's forces were driven out," Mohamed says.
Full Report at:
http://www.bbc.com/news/world-europe-34337476
----------
North America
At UN, pope condemns 'boundless thirst' for wealth and power
Sep 25, 2015
NEW YORK: Pope Francis on Friday condemned the craving for material gains and power, warning an annual gathering of world leaders at the United Nations (UN) that greed is destroying the Earth's resources and aggravating poverty.
The 78-year-old Argentine pontiff also prayed at the memorial to those killed in the September 11, 2001 attacks in perhaps the most solemn moment of his first visit to the United States.
He later was greeted by adoring crowds estimated at about 80,000 people as he drove in his "popemobile" through sprawling Central Park before heading to the famed Madison Square Garden sports arena for an evening Mass before about 20,000 people.
Addressing dozens of world leaders at the UN General Assembly, the spiritual head of 1.2 billion Roman Catholics railed against the "grave offence" of economic and social exclusion.
"A selfish and boundless thirst for power and material prosperity leads both to the misuse of available natural resources and to the exclusion of the weak and disadvantaged," he said.
The first pope from Latin America, Francis has often criticised unbridled capitalism in the two years of his papacy.
On Friday, he had a high-powered audience at the UN, which is celebrating its 70th anniversary.
This year's General Assembly is believed to have attracted the highest number of leaders in UN history.
Full Report at:
http://www.dawn.com/news/1209286/at-un-pope-condemns-boundless-thirst-
-------------
Pope Francis Heads to Philadelphia on Final Leg of U.S. Visit
By DANIEL J. WAKINSEPT. 26, 2015
Old St. Joseph's Church in Philadelphia, which embraces immigrants, is looking forward to the pope's visit to the city.Next Stop: Immigration Advocates in Philadelphia See Affirmation in Pope's VisitSEPT. 25, 2015
Francis in America: Pope Francis, in New York, Takes On Extremism and InequalitySEPT. 25, 2015
The Spanish Mass at St. Simon Stock Church in the Bronx, which now includes the parish of the former St. Joseph's Church. They merged this summer when St. Joseph's was closed.Francis in America: In the Bronx, 'Poor Church' Is More Than a Papal PhraseSEPT. 25, 2015
The first stop on Saturday is the Cathedral Basilica of Saints Peter and Paul, the 151-year-old seat of the Philadelphia archdiocese, to celebrate Mass for bishops and priests. Later, he will meet with seminarians at St. Charles Borromeo Seminary, and in the afternoon he will visit with Hispanic-Americans and immigrants at Independence Mall, where he is expected to speak about religious liberty and immigrants from a lectern used by Abraham Lincoln.
Full Report at:
http://www.nytimes.com/2015/09/27/us/francis-heads-to-philadelphia-on-final-leg-of-us-visit.html
URL: https://www.newageislam.com/islamic-world-news/new-age-islam-news-bureau/need-to-delink-terror-from-religion,-says-pm-narendra-modi/d/104723