New Age Islam News Bureau
4 Oct 2018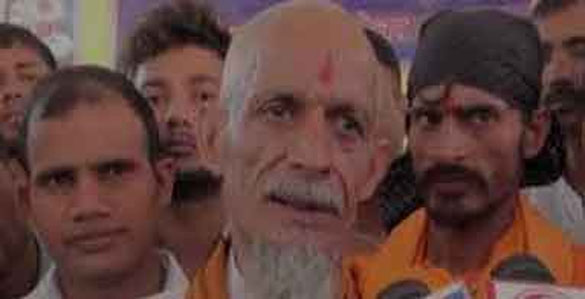 Photo: Akhtar, a resident of Badarkha village, embraced Hinduism and submitted an affidavit to the area sub-divisional magistrate, testifying to his voluntary change of religion.
------
• Muslim Man Embraces Hinduism, "Will Son's Death Now Be Probed As Murder?"
• Donald Trump: Saudi Arabia's king wouldn't last 2 weeks without US military support
• Pakistani religious leader agrees to host Taliban peace talks
India
• Muslim Man Embraces Hinduism, "Will Son's Death Now Be Probed As Murder?"
• India to deport Rohingya to Myanmar, despite UN concern
• Will accept whatever the SC decides: Muslims on Babri Masjid case
• Terror funds rap on Canada group
• India launches 'Operation Samudra Maitri' to help tsunami-hit Indonesia
--------
Europe
• Nearly 900 mosques in Germany welcome non-Muslims to encourage dialogue
• Anti-Hindu, Muslim views return to haunt London mayor candidate Shaun Bailey
• Putin says he wants all foreign forces to eventually quit Syria
• Germany, US agree need to prevent chemical weapons attacks in Syria
• Dutch foreign minister visits Turkish parliament
• French police raid Muslim club in counter-terrorism swoop
--------
North America
• Donald Trump: Saudi Arabia's king wouldn't last 2 weeks without US military support
• US mosque faces restrictions on daily prayers
• Myanmar's Suu Kyi, 'an accomplice of genocide,' a Canadian citizen no more
• Guard at Muslim cleric's US compound fires 'warning shot'
• Canada: Islamic veil allowed in legal hearing
• US-bound Ahmadi leader models a different kind of Islamic caliphate
• Canada suspends, fines ISNA-Canada over 'funding' Hizbul Mujahideen in India; Islamic charity denies charges
• Pompeo: Iran behind threats directed against our missions in Iraq
• How Trump is turning the corner in Syria
• US quits international accords over Jerusalem embassy case, Iran nuclearization
--------
Pakistan
• Pakistani religious leader agrees to host Taliban peace talks
• TLP vows to guard, uphold honour, finality of Prophet
• Pak minister should have been more sensitive in sharing dais with Hafiz Saeed: Qureshi
• PM Imran meets Hafiz Tahir Ashrafi, says government will address issues of seminaries
• Pak foreign minister seeks US role for talks with India
• Imran Khan fails to bridge the gap between promises and reality
• Talks with Saudi Arabia on $8bn Gwadar refinery in final stages
• Mainstreaming seminaries among priorities: Imran
• Future of US-Pakistan relations rests upon progress in Afghanistan: FM
• Pakistan, US discuss Afghan peace prospects
• ICJ to hear Kulbhushan Jadhav case from February 18 to 21
• Fazl tasked with bringing opposition on same page
--------
Arab World
• Putin says US presence in Syria violates UN charter
• Muslim World League Chief Awarded Moderation Prize 2018
• US-Backed Forces in Raqqa on Alert after Intensified Attacks by Unknown Gunmen
• Egyptian boy killed 'after rejecting friend's sexual advances'
• Turkish Army, Allied Militants Capture, Torture Hundreds of Civilians in Northern Syria
• US Forces Sending East European Weapons to Terrorists in Syria
• Turkish Army Dispatching More Military Convoys to Northwestern Syria
• Egypt's security forces kill 15 suspected militants in a Sinai shootout
• ISIS leader Baghdadi's youngest son killed in Syria, reports claim
• Egypt forces kill Daesh leader, 15 militants in Sinai Peninsula
• UAE recruiting Africans for Saudi-led war: Report
• Egypt registers Ottoman coins as Islamic artifacts
--------
Africa
• Of falsehoods and the rise of 'Islamic' terrorism
• CAN pampering Christian terrorists – Muslim group explodes
• Jihadist insurgency: Trial of 189 suspected Islamist militants begins in Mozambique
• Five years after Westgate, al-Shabaab is weakened but not yet defeated
--------
Mideast
• President Says Iran Set to Punish Masterminds of Ahwaz Terrorist Attack
• Israel lays siege to Palestinian Bedouin village ahead of demolition
• Scores of Saudi troopers, mercenaries slain, injured in Yemeni army offensives
• Turkey renews mandate for military actions against Kurds in Syria, Iraq
• Palestinian teen killed in Gaza border protest
• Coalition facilitates transfer of slain Yemeni President Saleh' sons to Amman
• Rouhani hails revenge attack on terrorists in Syria, warns of more action
• Israel will continue strikes in Syria despite S-300 missile system delivery: Minister
• Four Turkish soldiers killed, five wounded in Kurdish militant attack
• Police called to Turk cleric's US compound after shooting report
--------
South Asia
• Drone strikes target ISIS-K hideouts in Nangarhar province
• Maldives: Abdullah Yameen tries to stay in power, discredits poll result
• Insurgents' attack kills 3 police in S Afghanistan
--------
Southeast Asia
• China to rename 'Arabic-sounding' river to curb 'Islamic influence' in the country
• First India-Indonesia Interfaith Dialogue begins in Java
• Umno unhappy Putrajaya postpones upgrade works for mosques
• Report: Former drummer turned Syrian militant will be arrested if he returns
• Johor Sultan says disappointed over school land grab accusation
• Kazakh families torn apart in China's Xinjiang crackdown
Compiled by New Age Islam News Bureau
URL: https://www.newageislam.com/islamic-world-news/nearly-900-mosques-germany-welcome/d/116561
--------
Muslim Man Embraces Hinduism, "Will Son's Death Now Be Probed As Murder?"
October 03, 2018
UTTAR PRADESH: When the police treated his son's "unnatural death" as suicide and not murder, a Muslim man in Uttar Pradesh embraced Hinduism along with his family in the hope that the cops will "properly investigate his son's murder" after the switch, the man told reporters.
Akhtar, a resident of Badarkha village in Baghpat district, changed his religion on Monday along with 12 of his family members and submitted an affidavit to the area sub-divisional magistrate testifying that the change of religion was voluntary, officials said.
Baghpat's District Magistrate Rishirendra Kumar confirmed that the family members changed their religion as they weren't satisfied with the police investigation into the death of Akhtar's son a few months ago.
The family organised a "havan", performed other Hindu rituals and changed their names on Tuesday, said Shaukendra Khokhar, state chief of Yuva Hindu Vahini (Bharat) on Tuesday.
Mr Khokhar said Akhtar was upset after his son Gulhasan was allegedly murdered. "Gulhasan's body was hung to make it look like suicide," he said.
Even as his family pleaded with the police to not rule out other angles, the police allegedly concluded it to be a case of suicide, the chief of the Hindu outfit said.
After Akhtar sought help from the members of his own community, they were reportedly "not very forthcoming and did not help much," Mr Khokhar claimed.
Baghpat District Magistrate Kumar said that the matter is being examined in consultation with the superintendent of police.
Shailesh Kumar Pandey, a senior police officer, said they are looking into it.
https://www.ndtv.com/india-news/will-sons-death-now-be-probed-as-murder-muslim-man-embraces-hinduism-1925742
--------
Nearly 900 mosques in Germany welcome non-Muslims to encourage dialogue
Oct 04, 2018
People of various faiths visited mosques across Germany on Wednesday at an annual event to encourage dialogue and help overcome misunderstandings about Islam.
"This day gives an opportunity for more than 100,000 visitors to learn more about Islam and get into conversation with Muslims," Burhan Kesici, spokesman for Germany's Muslim Coordination Council (KRM), said in a statement.
Nearly 900 mosques across Germany took part in the annual "Open Mosque Day" event.
In Cologne, hundreds of visitors came to see the Cologne Central Mosque, the most prominent place of Muslim worship in the country, run by the Turkish-Islamic Union for Religious Affairs (DITIB).
Nevzat Yaşar Aşıkoğlu, the union's chair, told visitors that since its foundation in 1984, the DITIB has promoted peace and tolerance, and would continue to work with its German counterparts to enhance dialogue.
Joachim Stamp, North Rhine-Westphalia's integration minister, also visited the mosque on Wednesday.
During the event, imams made presentations about Islamic faith and culture and answered visitors' questions.
Germany, a country of over 81 million people, has the second-largest Muslim population in Western Europe after France.
Among the country's nearly 4.7 million Muslims, 3 million are of Turkish origin.
In recent years, the country has seen growing Islamophobia and hatred of migrants triggered by propaganda from far-right and populist parties.
https://www.dailysabah.com/europe/2018/10/03/nearly-900-mosques-in-germany-welcome-non-muslims-to-encourage-dialogue
--------
Donald Trump: Saudi Arabia's king wouldn't last 2 weeks without US military support
Oct 3, 2018
DUBAI: President Donald Trump says Saudi Arabia's king "might not be there for two weeks" without US military support, further increasing his pressure on one of America's closest Mideast allies over rising oil prices.
As crude oil prices reach a four-year high, Trump has repeatedly demanded that OPEC and Saudi Arabia, the world's biggest oil exporter, push prices down. However, analysts are warning prices could go up to $100 a barrel as the world's production is already stretched and Trump's sanctions on Iran's oil industry take effect in early November.
Criticizing America's longstanding military relationships with allies has been a hallmark of Trump's presidential campaign and his time in office.
Trump returned to that theme on Tuesday night in Southaven, Mississippi, mentioning both Japan and South Korea.
However, Trump's comments on Saudi Arabia implied the kingdom's Al Saud monarchy, which oversees the holiest sites in Islam, would collapse without American military support.
"We protect Saudi Arabia — would you say they're rich?" Trump asked the cheering crowd. "And I love the king, King Salman, but I said, 'King we're protecting you. You might not be there for two weeks without us. You have to pay for your military, you have to pay.'" Trump didn't elaborate on when he made the comments to Saud Arabia's 82-year-old monarch. Trump and King Salman last shared a reported telephone call on Saturday, in which they discussed "efforts to maintain supplies to ensure the stability of the oil market and ensure the growth of the global economy," according to the state-run Saudi Press Agency.
There was no immediate reaction on Wednesday in Saudi Arabia to Trump's remarks. Riyadh has worked to cultivate warm relations with Trump after having rocky moments with former President Barack Obama.
Saudi Arabia welcomed Trump for his first overseas trip as president. Trump's administration, particularly his son-in-law Jared Kushner, has sought a close relationship with King Salman's son Mohammed bin Salman, the country's crown price and next in line to the throne.
But oil prices seem to be getting in the way, especially as benchmark Brent crude oil is near $85 a barrel — a four-year high.
Trump in July tweeted without evidence that Saudi Arabia would increase its production "maybe up to 2,000,000 barrels" a day. Saudi Arabia currently produces some 10 million barrels of crude oil a day. Its record is 10.72 million barrels a day.
Meanwhile, US gasoline prices are up ahead of November midterm elections in which Trump already faces political headwinds.
The average price for a gallon of regular gasoline in the US is $2.88, up from $2.55 a year ago, according to AAA.
Trump criticized oil producers in his speech before the UN General Assembly last week.
"OPEC and OPEC nations are, as usual, ripping off the rest of the world, and I don't like it. Nobody should like it," he said. "We defend many of these nations for nothing, and then they take advantage of us by giving us high oil prices. Not good. We want them to stop raising prices. We want them to start lowering prices and they must contribute substantially to military protection from now on.
https://timesofindia.indiatimes.com/world/us/donald-trump-saudi-king-wouldnt-last-2-weeks-without-us-military-support/articleshow/66053131.cms
--------
Pakistani religious leader agrees to host Taliban peace talks
TAHIR KHAN
October 03, 2018
ISLAMABAD: Maulana Sami-ul-Haq, known as the father of the Afghan Taliban, says he has offered his religious school in Pakistan as a venue for possible talks between the Taliban and Afghan government-sponsored peace council and religious scholars to find a peaceful solution to the conflict in Afghanistan.
Afghan scholars, who were in Pakistan this week to meet Pakistani religious leaders about holding conferences of clerics in Islamabad and Kabul on the war in Afghanistan, met Sami-ul-Haq in Islamabad on Sunday.
Many Taliban leaders studied in Sami-ul-Haq's religious school, "Darul Uloom Haqqania," in the northwestern town of Akora Khattak, and he is believed to have a certain degree of influence over the Taliban.
The seven-member Afghan delegation, comprising members of the High Peace Council and the ulema council, met Sami-ul-Haq, chief of his own faction of Jamiat ulema-e-Islam party, and sought his help in restoring peace in the war-ravaged country.
"The Taliban and the Afghan ulema should hold closed-doors meetings and I offer my madrassa Haqqania for their face-to-face talks. They should first sit, pave the way for removing mistrust and address each other's concerns," Haq told Arab News.
He said that he had a two-and-half hour meeting with the Afghan clerics about this on Sunday.
"They sought my mediation with the Taliban and empowered me to make a decision. I told them that this is a complicated issue and foreign powers are involved and they will not accept this. But I assured them to convey their opinion to the Taliban and the Taliban's response to them. I will make efforts to broker your meeting," the JUI-S leader told the Afghan delegation.
Taliban spokesman Zabihullah Mujahid refrained from commenting when a query was posted about whether the Taliban would accept Sami's mediatory role.
However, an Afghan religious scholar, who had previously held a position in the Taliban group, said that the Taliban did not have any contact with the JUI-S leader.
The Afghan embassy also refused to provide on-the-record comments about whether the Afghan side offered mediation to Sami-ul-Haq. However, a source close to the talks confirmed that the mediation was part of the discussion.
"Sami-ul-Haq told the delegation that the Taliban want an impartial mediator and our people then told him you should come forward and mediate," the source told Arab News.
The Taliban wrote a letter to Pakistani scholars last week to stay away from the meeting and later issued a statement to dismiss the move as a "plan of the Americans to exert religious pressure on the Taliban." The Urdu-language letter was made available to Arab News.
"The Islamic Emirate once again calls on all sincere and independent religious scholars of Afghanistan and Pakistan to boycott the said conferences and not become victims of American strategies and intelligence plots. Do not give a new meaning and concept to the Afghan Jihad after 17 years and do not lend indirect support for the American occupation," the Taliban statement said on Sept. 29.
Experts believe that Haq is irrelevant as the Taliban have new fighters and the Taliban leaders have long been out of his religious seminary's clout.
"Sami-ul-Haq may be helpful but logically he is irrelevant and pinning hopes on him is unrealistic," Imtiaz Gul, head of the Islamabad-based think tank Center for Research and Security Studies (CRSS), told Arab News on Tuesday.
Afghan scholars held detailed discussions with Pakistan's internationally recognized religious scholar Maulana Taqi Usmani, chief of Ansar ul Ummah Fazal ur Rehman Khalil, Maulana Iderees, Hanif Jhalandari and chairman of the Council of Islamic Ideology Dr. Qibla Ayaz.
Both sides did not issue any statement and refused to offer any official comment on their talks when Arab News approached them.
The Afghan delegates also had a breakfast meeting with Jamaat-e-Islami chief Siraj-ul-Haq in Islamabad on Monday and a statement issued by the Haq's seminary said that the party leader backed intra-Afghan dialogue.
Foreign Minister Shah Mahmood Qureshi, who traveled to Kabul last month, agreed with Afghan officials on a meeting of scholars and foreign ministry officials to discuss the agenda for a joint conference of the scholars to issue a joint decree on violence in Afghanistan.
Afghanistan has long been urging Pakistan to use religious scholars, who have influence on the Taliban, for peace in Afghanistan. However, Pakistani scholars had been reluctant to sit with the Afghan scholars in view of the Taliban opposition to such meetings.
http://www.arabnews.com/node/1382101/world
--------
India
India to deport Rohingya to Myanmar, despite UN concern
Oct 04, 2018
Guwahati: Indian police said Wednesday that seven Rohingya detained in the country's northeast will be deported to Myanmar, which has been accused by the UN of waging a campaign of "genocide" against the Muslim minority.
The United Nations had warned India that returning the men ignored the persecution they faced in Myanmar, and would be a "flagrant denial" of their right to protection.
But police in the northeast Indian state of Manipur, where the men have been incarcerated since 2012 for immigration violations, said the Rohingya would be deported Thursday.
"The seven Myanmarese men will be deported tomorrow," Bhaskar Jyoti Mahanta, a senior state police officer, told AFP.
The UN Special Rapporteur on racism, Tendayi Achiume, said she was "appalled" at the amount of time the men from Rakhine state in Myanmar's west had been detained.
Rakhine was the epicentre of a Myanmar army offensive that over the past year has driven 700,000 Rohingya Muslims into Bangladesh.
Myanmar's army has denied nearly all wrongdoing, insisting its campaign was justified to root out Rohingya insurgents.
But a UN fact-finding mission said there was enough evidence to merit prosecution of several top Myanmar military commanders for crimes against humanity and genocide against Rohingya civilians.
Nearly 200 Rohingya are known to be detained in India on charges of illegal entry, Achiume said.
The deportations follow an Indian government order last year to return the Rohingya. The Supreme Court is still considering a petition challenging the order on the grounds it was unconstitutional.
Achiume said India risked breaching its international legal obligations by returning the men to possible harm.
"Given the ethnic identity of the men, this is a flagrant denial of their right to protection and could amount to refoulement," the law professor said in a statement.
New Delhi has described the Rohingya as a security threat, pointing to intelligence it says links the minority group to extremist organisations.
The UN says there are 16,000 registered Rohingya in India, but many more are undocumented. New Delhi puts the figure at 40,000.
https://www.siasat.com/news/india-deport-rohingya-myanmar-despite-un-concern-1415998/
--------
Will accept whatever the SC decides: Muslims on Babri Masjid case
Siraj Qureshi
October 3, 2018
With the Babri Masjid issue again gaining prominence due to the Supreme Court's decision to hold daily hearings on the case, it is becoming clear that the final outcome of this decades-old dispute may not be too far.
In view of the upcoming decision on the matter, both Hindus and Muslims are wary of a possibility of communal violence breaking out in the country following the court's verdict. A meeting of the Muslim community was held in Agra recently, where several Muslim clerics and intellectuals tried to reassure the Hindu community that Islam was a religion of peace and whatever the Supreme Court decides on the temple issue, will be acceptable to the Muslims.
Chairing the meeting, Mufti Mudassar Khan Qadri said that when we were in mother's womb, we were not aware of the religion, caste or colour we belonged to. All such differences were created by the mankind for selfish motives. God never distinguished people created by him on such criteria. We should thank the almighty for blessing us with a human life. To utilise this opportunity in a positive aspect we should work for the welfare of the society we live in. For Muslims in particular, every Muslim should aim at adhering to the advice of the Quran and Hadith to enrich our social living.
Hafiz Ikhtiyar Jafri said that even Bhagvad Gita says that the almighty will send his representatives to this earth whenever it is felt that the normal functioning of this universe is disturbed and there is a need to set the people back to the right path of life. The latest example of such saints has been Prophet Muhammad who always preached that a true Muslim should go ahead in the path defined in Quran, without disturbing others and respecting the feelings and sentiments of all people.
Bhartiya Muslim Vikas Parishad Chairman Sami Aghai said that when we exercise brotherhood without any bias, then only the reformation of our society is possible. Following the holy books of one's own religion, one can realise that all human beings are equal and one's own behaviour would only decide his position in the society. Similarly, one who spreads hate and violence could never become an ideal person in that particular community. Such people are not acceptable to Allah.
Senior Advocate Amir Ahmed Jafri said there is no wrong in following a religion of one's own choice, but the problem arises if a person develops over-possessiveness about his own religion and begins to hate others. This is not the path advised in Islam. All the Muslims should go through the Quran with an open mind without any prejudicial thoughts and they will definitely find the light that will guide their path.
Full report at:
https://www.indiatoday.in/india/story/will-accept-whatever-the-sc-decides-muslims-on-babri-masjid-case-1354960-2018-10-03
--------
Terror funds rap on Canada group
Oct 4, 2018
NEW DELHI: The Justin Trudeau government in Canada has suspended a major Islamic charity and fined it with $550,000 for sending $136,000 to a Pakistan-based Kashmiri organization allegedly linked to the banned terror group Hizbul Mujahideen.
The revelation, based on a government audit report, was published by one of Canada's largest news outlets, Global News on October 1. The Canada Revenue Agency (CRA) auditors in their report claimed that Islamic Society of North America (INSA)-Canada had acted as a "conduit" for other organizations and its resources "may have directly or indirectly, been used to support the political efforts of Jamaat-e-Islami and/or its armed wing Hizbul Mujahideen."
The audit, conducted in 2011, covered years 2007 to 2009. Though the CRA conveyed the results of the audit to ISNA-Canada in 2014 but acted against the group only last month. The Canadian government has suspended the Mississauga-based charity for a year effective from September 12, according to Global News. The INSA-Canada, which runs mosques and provides religious services and funding to other Islamic charities, has also been asked by the Trudeau government to cease its overseas operations.
The Canadian government's decision is significant in view of the diplomatically disastrous visit of Prime Minister Trudeau to India earlier this year. Trudeau was snubbed by the Indian government including Punjab chief minister Amrinder Singh over his appeasement of anti-India extremists especially Khalistani separatists. The action against the Islamic charity on the basis of a seven-year-old audit report on the years 2007 to 2009, seems to suggest that Trudeau is doing an image makeover, both domestically and internationally.
Incidentally, in 2007, there were around 500 terrorism- related incidents that left around 170 civilians and security personnel dead in the Kashmir valley, as per official data accessed by the TOI. However, militant separatism in Kashmir marked a visible shift in its strategy from 2008, with more youth taking up the seemingly less lethal weapon—stones—instead of joining banned terror groups. As a result, from 2008 to 2010, there was a drop in terror attacks and a significant rise in mass protests, stone pelting and street violence.
During the unrest over the Amarnath land dispute in 2008, there were over 350 incidents of clashes between rioting mobs and security forces, with 46 people dead. In 2009, nine people were killed in over 300 incidents of street violence and in 2010, 106 people were killed in over 1200 incidents of mob rioting.
After investigations into the 2010 violence, the Omar Abdullah government had claimed that it had evidence to prove that stone-pelters in Kashmir were funded both by separatist groups and terror outfits especially Hizbul Mujahideen and Lashkar-eTaiba.
The J&K police had recovered street maps, dozens of SIM cards, fake press identity cards, letters, cheque books and account registers on the expenditure for stone-pelting incidents, from the kingpin of street violence, Irshad Ahmed.
As per the Canadian government audit report, INSA-Canada gifted $90,000 to the Relief Organization for Kashmiri Muslims (ROKM) and $46,000 to Kashmiri Relief Fund of Canada (KRFC). CRA has described ROKM as a charitable arm of Jamaat-eIslami, a Pakistani group whose armed wing is Hizbul Mujahideen. KRFC, according to CRA, raises funds for ROKM. The website of ROKM claims that it is based in Islamabad, Pakistan and was founded in early 1990 "to contribute in the relief works and to provide aid to the affected families in the state of Azad & Jammu Kashmir and Occupied Kashmir."
Full report at:
https://timesofindia.indiatimes.com/india/terror-funds-rap-on-canada-group/articleshow/66061595.cms
--------
India launches 'Operation Samudra Maitri' to help tsunami-hit Indonesia
Oct 3, 2018
NEW DELHI: India has launched a massive operation to provide assistance to the earthquake and tsunami victims in Indonesia, dispatching two aircraft and three naval ships carrying relief material to the country, the ministry of external affairs (MEA) said on Wednesday.
'Operation Samudra Maitri' for humanitarian assistance was launched after a telephonic conversation between Prime Minister Narendra Modi and Indonesian President Joko Widodo on October 1, and following Indonesia's acceptance of international aid, the MEA said in a statement.
Two Indian Air Force aircraft -- C-130J and C-17 -- departed on Wednesday morning with medical personnel and relief material.
Following PM Modi's telephonic conversation wid President Jokowi,Indian aircrafts C-130J & C-17 landed in Indonesia… https://t.co/JiBRaeQwSr
— India in Indonesia (@IndianEmbJkt) 1538556777000
The C-130J aircraft is carrying a medical team along with tents and equipments to set up a field hospital. The C-17 aircraft is carrying medicines, generators, tents and water to provide immediate assistance, the MEA said.
The aircraft reached Indonesia with the relief materials on Wednesday evening.
Three Indian Navy ships -- INS Tir, INS Sujatha and INS Shardul -- have also been mobilised to carry out humanitarian assistance and disaster relief (HADR).
These ships are likely to reach the Central Sulawesi province of Indonesia on October 6, the ministry said.
The death toll in Indonesia's twin quake-tsunami disaster, which decimated parts of the central Indonesian island of Sulawesi, has already climbed to nearly 1,400.
Full report at:
https://timesofindia.indiatimes.com/india/india-launches-operation-samudra-maitri-to-help-tsunami-hit-indonesia/articleshow/66058107.cms
--------
Europe
Anti-Hindu, Muslim views return to haunt London mayor candidate Shaun Bailey
Oct 04, 2018
The Conservative Party announced its candidate for the 2020 London mayor election last week, but Shaun Bailey's views against allegedly privileging Diwali over Christmas and accommodating Hindus and Muslims in UK society have evoked renewed criticism.
Senior Labour MP Virendra Sharma said on Wednesday it is "appalling" that in this day and age, the Conservative Party has selected a candidate with views that are outdated and objectionable. The mayor of London, known for its multiculturalism, is Pakistani-origin Sadiq Khan, who will stand again as the Labour candidate in 2020.
In a pamphlet produced for the Centre for Policy Studies in 2005, the Afro-Caribbean-origin Bailey wrote in a section on "Multiculturalism": "Among the working class, unless you are one of those 'Queen and Country who support the football team' sort of British people, you are lost."
Confusing Hindu and Hindi, he added: "You don't know what to do. You bring your children to school and they learn far more about Diwali than Christmas. I speak to the people who are from Brent and they've been having Muslim and Hindi days off.
"What it does is rob Britain of its community. Without our community we slip into a crime riddled cess pool." Concerns about the Conservative Party's stand on multiculturalism were raised during the 2016 London mayoral election also.
https://www.hindustantimes.com/world-news/anti-hindu-muslim-views-return-to-haunt-london-mayor-candidate-shaun-bailey/story-woCY6o4owDF4Yp9lnOxNBM.html
--------
Putin says he wants all foreign forces to eventually quit Syria
3 October 2018
Russian President Vladimir Putin said on Wednesday that Moscow wanted all foreign forces, including the Russian military, to eventually withdraw from Syria.
Putin said that the presence of US forces in Syria violated the UN charter.
On another related development, Russia has delivered an S-300 surface-to-air missile system to Syria, it said on Tuesday, in defiance of Israeli and US concerns that the arms sale would embolden Iran and escalate the Syrian war. Full story
Full report at:
https://english.alarabiya.net/en/News/middle-east/2018/10/03/Putin-says-he-wants-all-foreign-forces-to-eventually-quit-Syria.html
--------
Germany, US agree need to prevent chemical weapons attacks in Syria
October 04, 2018
WASHINGTON: Germany and the United States agree on the need to do everything possible to prevent the use of chemical weapons in Syria, German Foreign Minister Heiko Maas said on Wednesday after meeting US Secretary of State Mike Pompeo.
Maas said the meeting included intense discussions about the situation in Syria, with both sides keen to increase the pressure for a political solution, and wanted to work start as soon as possible on rewriting the Syrian constitution.
Germany also pledged to more strongly support Washington's efforts in Syria, including through humanitarian aid, and in ensuring that chemical weapons were not used there, Maas told reporters after the meeting.
"We discussed how we can more strongly support the United States in their engagement in Syria. We now will concretize and operationalize that," he said.
He said Pompeo understood the political debate in Germany about possible participation in any US-led retaliatory military strike in the event of a chemical weapons attack, and that parliament was unlikely to approve such a move.
"There are different ways to participate to help ensure that chemical weapons are not used there and that none are even present," Maas said, citing Germany's expertise in disposing of such weapons.
A US diplomat last week told Reuters that Washington will pursue "a strategy of isolation," including sanctions, with its allies if President Bashar Assad holds up a political process aimed at ending Syria's seven-year war.
Nine rounds of UN-led peace talks, most of them in Geneva, have failed to bring the warring sides together to end the conflict that has killed hundreds of thousands of people and driven millions from their homes.
Maas said Germany and the United States agreed on the need to curb Iran's activities in the region and its ballistic missle program, but remained at odds about Washington's decision to withdraw from the 2015 Iran nuclear agreement.
Full report at:
http://www.arabnews.com/node/1382256/middle-east
--------
Dutch foreign minister visits Turkish parliament
03.10.2018
Dutch Foreign Minister Stef Blok visited the Turkish parliament on Wednesday.
Mehmet Ali Kumbuzoglu, the Secretary General of the parliament, accompanied Blok during his visit.
Blok toured the parts of the parliament that had been bombed during the defeated coup of July 15, 2016.
Fetullah Terrorist Organization (FETO) and its U.S.-based leader Fetullah Gulen orchestrated the defeated coup, which martyred 251 people and injured nearly 2,200 others.
Full report at:
https://www.aa.com.tr/en/europe/dutch-foreign-minister-visits-turkish-parliament/1271959
--------
French police raid Muslim club in counter-terrorism swoop
Oct. 02, 2018
LILLE, France: French police raided a Muslim faith center and arrested three of its leaders for illegal weapons possession in pre-dawn swoops Tuesday that government officials said were prompted by suspicion of links to terrorist organizations.
France, home to Europe's largest Muslim community, remains on maximum alert after attacks in recent years in which militants and people inspired by groups such as Daesh (ISIS) have killed close to 250 people.
Some 200 police officers including elite troopers from Paris took part in raids that began under darkness at the Centre Zahra France and homes of a dozen of its members, in Grande Synthe near the northern port town of Dunkirk.
"This is a counter-terrorism operation," the local prefect's office said a statement.
"The activities of Centre Zahra France are under particularly close watch given its leaders' clear support for several terrorist organizations and movements espousing ideas contrary to [French] republican values."
Interior Minister Gerard Collomb said three people were put in custody after the discovery of illegal arms, and that a prayer room was being shut.
The raids coincided with an announcement that France had also seized assets belonging to Iran's intelligence services and two Iranian nationals over a June plot to attack an exiled Iranian opposition group's rally outside Paris.
Two sources said there was no direct link between the raids and the Iranian intelligence asset freezes.
Assets of the Centre Zahra France were frozen too, along with financial assets held under other names, on orders issued by France's interior and finance ministry, a notice published in the official government journal of legal acts said.
The center's website says it has some 8,000 "followers" on social network sites and its goal is to spread the message of Islam via film, radio, writings and conferences. It also offers a contact point on social, family and religious matters.
France, which is historically a predominantly Roman Catholic country, is officially secular, with separation by law between matters of state and religion for over a century. It is home to five million or more Muslims out of a population of 67 million.
Full report at:
http://www.dailystar.com.lb/News/World/2018/Oct-02/465126-french-police-raid-muslim-club-in-counter-terrorism-swoop.ashx
--------
North America
US mosque faces restrictions on daily prayers
03.10.2018
By Umar Farooq
WASHINGTON
Hundreds of Muslims on Wednesday flocked to Virginia in support of a mosque's request to be allowed to conduct basic religious services.
A public hearing was held in Fairfax County to decide whether an amendment requested by the Mclean Islamic Center (MIC) should be approved.
The amendment calls for the mosque to extend its hours of operation and to broaden the capacity in which they are allowed to operate.
"We are here to do our best, and then leave everything else to Allah," MIC board member Maqsood Chaudhry told Anadolu Agency.
MIC has more than 90 parking spots, however, it is allowed to have only 10 cars enter for the early morning prayer.
Muslims have five daily prayers at fixed times but the neighboring community recently filed a complaint to the county after seeing 12 cars parked on the lot during one of the prayers. Since then, the morning prayer was suspended.
'Operating on restrictions'
MIC opened its location in 2015 in the Tyson's Corner area just outside of Washington, and the community has the third highest income in the U.S.
It is also the only Islamic area of worship within a 10-mile (16-kilometer) radius and a congregation of 220 worshippers.
MIC was approved a special permit as a place of worship, with certain restrictions, including not allowing full prayer services between 4 p.m. to 7 p.m. on weekdays, and only allowing 10 cars to attend the morning prayer.
They filed an amendment request in April for an extension of their operating hours to allow operation at full capacity from 4 a.m. to 12:30 a.m. (0800GMT - 1630GMT).
The mosque argued that since it opened there have been no noise complaints during the early morning hours.
"I consider [the MIC community] to be outstanding representatives of the interfaith movement, as well as devoted Muslims. And I certainly hope their amendment is approved," Daniel Spearow, head of the Jewish-Islamic Dialogue Society of Washington, told Anadolu Agency.
However, the amendment filed by MIC was met with opposition by the neighboring community.
The Fairfax County Department of Planning and Zoning issued a report that recommends the denial of the amendment, citing extended hours of operation would cause increased traffic to an already congested area, and that there is a risk of noise concerns as well.
'A fight for religious rights'
The room was filled almost to capacity with an audience of mostly Muslims who had been waiting hours for the case to be heard.
To the zoning board's surprise, almost everyone in the room stood up when asked who would want to speak on behalf of the mosque.
After seeing the number of people who wanted to speak, the board decided to defer the decision until Nov. 14, which it said would give it time to hear everyone and also review a new noise study that had been completed and submitted Wednesday.
The delay was met with disappointment from the community, but members seemed to remain hopeful.
"Obviously this is the process. It's unfortunate. But you know when it becomes something bureaucratic and big, it overlooks the effect on the community," said Abrar Omeish, a community member. "But I am very proud of the showing, the entire auditorium was full, people were standing and actively engaging."
"That deferral is definitely not what we were expecting, at least that's not what I expected. The way they did it, however, that's not right," Chaudhry added.
https://www.aa.com.tr/en/americas/us-mosque-faces-restrictions-on-daily-prayers/1272144
--------
Myanmar's Suu Kyi, 'an accomplice of genocide,' a Canadian citizen no more
Oct 3, 2018
Canada has officially stripped Myanmar's de facto leader and onetime "democracy icon" Aung San Suu Kyi of her honorary Canadian citizenship due to her role in state-sponsored violence against the Rohingya Muslim community in the Southeast Asian country.
The Canadian Senate unanimously voted to revoke Suu Kyi's citizenship — initially offered in 2007 — on Tuesday.
The Canadian House of Commons had already voted on the same measure last week.
Senator Ratna Omidvar, the force behind the measure, said Suu Kyi's silence in the face of the violence against the Rohingya needed to be condemned.
"We need to send a strong signal here in Canada and around the world that if you're an accomplice of genocide, you are not welcome here," Omidvar said on Tuesday.
Tens of thousands of Rohingya Muslims were killed, injured, arbitrarily arrested, or raped by Myanmarese soldiers and Buddhist mobs mainly between November 2016 and August 2017, when many of the surviving members of the community started fleeing to Bangladesh en masse.
The United Nations has concluded that the atrocities constitute genocide.
Canadian lawmakers had also already passed a resolution, in September, calling the violence against the Rohingya "genocide."
With the Tuesday vote at the Canadian Senate, Suu Kyi became the first person ever to lose Canada's symbolic citizenship.
Despite that development, she has come under fire over the plight of hundreds of thousands of Rohingya Muslims only recently.
The UN has said Myanmar's top military generals should be investigated and prosecuted for genocide. It has also hinted Suu Kyi is complicit.
When UN investigators announced in August that the mass killings and gang rapes in Myanmar had been conducted with genocidal intent, many even expected that it would lead up to the Nobel committee withdrawing the Nobel Peace Prize awarded to Suu Kyi back in 1991.
But the Norwegian committee argued that the prize had been awarded for achievements of the past and could not be therefore withdrawn.
The Rohingya Muslims, who have lived in Myanmar for generations, are denied citizenship and are branded illegal immigrants from Bangladesh, which likewise denies them citizenship.
Full report at:
https://www.presstv.com/Detail/2018/10/03/575898/Canada-Myanmar-Aung-San-Suu-Kyi-citizenship-Rohingya
--------
Guard at Muslim cleric's US compound fires 'warning shot'
Oct 03, 2018
SAYLORSBURG, Pa. — A security guard at the Pennsylvania compound of a Turkish-born Muslim cleric fired a shot near an "unwanted person" outside the gate, state police said Wednesday.
The suspected intruder fled the scene, and troopers were unable to find him.
Police were called to Fethullah Gulen's longtime home in the Pocono Mountains after a security guard fired a "warning shot in the air" around 8:30 a.m., according to a statement from the New York-based Alliance for Shared Values, a group that promotes Gulen's philosophies.
The man, "who appeared to be armed, attempted to enter the retreat center," and the guard responded by firing the shot, the statement said. No injuries were reported.
State police said they are continuing to investigate.
Turkey blames Gulen and his supporters for a July 2016 military coup attempt that killed 250 people. Gulen denies the allegations. Turkey has long demanded the cleric's extradition so he can stand trial, but Washington has told Turkey it must present convincing evidence for any extradition proceeding to go forward.
Gulen, who's in his late 70s, has lived in self-exile for nearly 20 years on the grounds of the Golden Generation Worship & Retreat Center, an Islamic retreat founded by Turkish-Americans. Supporters of Turkish President Recep Tayyip Erdogan have staged protests outside the gates, while Gulen's supporters have accused Turkey of plotting to kidnap Gulen. The Turkish government has dismissed the claim as "utterly false, ludicrous and groundless."
Full report at:
https://www.washingtonpost.com/national/religion/warning-shot-fired-at-wanted-muslim-clerics-us-compound/2018/10/03/ff941af6-c730-11e8-9c0f-2ffaf6d422aa_story.html?utm_term=.2bff9bcf7806
--------
Canada: Islamic veil allowed in legal hearing
October 4, 2018
A judge cannot refuse to take testimony from a woman because she is wearing an Islamic veil, a court ruled on Wednesday.
A citizen may wear any religious attire in a courtroom so long as their "religious beliefs are sincere" and they do not "conflict with another person's constitutional rights," the Quebec Court of Appeal ruled unanimously.
Montrealer Rania El-Alloul, a Muslim, was expelled from a courtroom in 2015 for wearing a hijab.
Judge Eliana Marengo of the Court of Quebec had cited a court ruling that every person must be "appropriately dressed" and compared El-Alloul's headscarf "to a hat or sunglasses."
Full report at:
http://www.thejakartapost.com/news/2018/10/04/canada-islamic-veil-allowed-in-legal-hearing.html
--------
US-bound Ahmadi leader models a different kind of Islamic caliphate
October 3, 2018
As some 38,000 Ahmadi Muslims from more than 110 countries gathered in the countryside outside London this past August for the fast-growing denomination's annual convention, thousands of Ahmadis camped out in tents less than a mile from a small house.
For the three days of the convention, or Jalsa, the modest building on Oakland Farm in Hampshire was the home of Mirza Masroor Ahmad, the Ahmadis' spiritual leader, or caliph. In their nearby tent village, his followers gather to pray behind him and hear him speak on everything from women's rights to achieving world peace.
"He might be the most accessible world religious figure," said Imam Abdun Nur Baten, an Ahmadi missionary serving in Paraguay who attended the Jalsa in the first week of August. "He always keeps the door open. There is distance for logistical and security reasons, but you can visit him, get personal responses to your letters or find him praying in the mosque."
Similar scenes may be repeated this month in the U.S., as the caliph will make his fourth visit to the United States' estimated 20,000-strong Ahmadiyya community. Masroor Ahmad, whose last U.S. visit was in 2013, will make appearances beginning Oct. 15 in Maryland, Virginia, Pennsylvania and Texas.
To Ahmadi Muslims, the term "caliph" comes without the dark connotations it has gained in the media, thanks to the Islamic State group and its vow to violently establish a worldwide caliphate. But Masroor Ahmad is no Abu Bakr al-Baghdadi, the leader of ISIS.
Instead, in the 15 years of his caliphate, Masroor Ahmad, 68, has focused his followers on self-reformation and anti-extremism, warning that society is moving rapidly toward a dangerous fate due to its increasing injustice and immorality.
"During these days it is essential that we remain focused on prayer, as all of our success is based upon prayer," he told the crowd at the Jalsa. "Our tasks and our mission can only be fulfilled through the grace of God alone."
That mission is nothing political.
"For us, under the caliph, a victory doesn't mean defeating or killing other people," Nasim Rehmatullah, an Ohio-based doctor who is vice president of the Ahmadiyya Muslim Community's U.S. branch, told Religion News Service. "It means bringing them to our side."
If Masroor Ahmad's personable leadership style makes him an uncommonly accessible religious figure, his message has made him one of the most successful as well. The denomination has seen tremendous growth, adding more than half a million members this year to a worldwide body that already numbered between 10 million and 20 million.
Masroor Ahmad delivers his message from one of Europe's largest mosques, Baitul Futuh Mosque in Morden, U.K., in sermons every Friday. He has also written several books and has spoken to members of Congress and the Parliaments of Britain and Canada.
Along with their adherence to a caliph, Ahmadis' beliefs set them apart from other Muslims. Most Muslims consider Muhammad the final prophet, and say the caliphate, or Muslim state, that began after his death (and continued through several sometimes disputed lines of succession from his closest companions to various Islamic emperors) ended in the early 20th century.
Ahmadis agree that Muhammad was the final law-bearing prophet. But they believe their denomination's founder, Mirza Ghulam Ahmad, born in 1835 in Qadian, India, was a subordinate prophet to Muhammad – a reformer who brought no new scripture. Many non-Ahmadi Muslim leaders see him as a false prophet and have branded Ahmadis heretics.
That has invited persecution, much of it violent. Ghulam Ahmad, a self-taught prolific writer and debater in favor of Islam, quickly gained followers in the Indian subcontinent when he claimed to be Islam's promised messiah and reformer. But many local Islamic scholars did not take kindly to his claim, labeling him an apostate and calling for his murder.
After Ghulam Ahmad's death in 1908 from natural causes, his followers believe that the caliphate was re-established.
The persecution ramped up as the community grew. In Indonesia in 2011, hundreds of Muslims wielding machetes, sticks and stones attacked an Ahmadi home, killing three men and maiming several others. In Algeria, more than 250 Ahmadis — 10 percent of the country's Ahmadi population — have faced religion-related charges since 2016.
An Ahmadi shopkeeper in Scotland was stabbed to death in 2016, decades after zealots in Pakistan burned down his father's pharmacy and hospital, forcing his family to flee to the U.K.
In Pakistan, where most Ahmadis are concentrated, the state has made it illegal for them to call themselves Muslim. Ahmadis are legally forbidden to use the traditional Islamic greeting of "Assalamu alaikum" (peace be upon you), to call their place of a worship a mosque or to congregate for the annual Jalsa. In the city of Gujranwala in 2014, a mob set an Ahmadi family's home ablaze, killing one woman and two young children and causing a pregnant woman to have a miscarriage. In 2010, almost 100 Ahmadis were killed during attacks on two mosques in Lahore.
"There is no doubt that the Ahmadiyya community faces physical, social and legal threats in many countries where they reside," Johnnie Moore, an evangelical Christian pastor and a member of the United States Commission on International Religious Freedom, told Ahmadis in a speech at the Jalsa this year. In Pakistan, "the rights of the Ahmadiyya community are consistently violated" due to extreme blasphemy laws, he noted.
But Masroor Ahmad forbids any sort of violent retaliation.
When believers fully incline themselves toward God, he said in his opening Jalsa speech, "then no politicians can hurt us, nor can any so-called Islamic scholars, nor can government officers … who are trying to making it harder for us to live in this earth."
Born in 1950 in Rabwah, Pakistan, Masroor Ahmad studied agricultural economics at the Agriculture University in Faisalabad, Pakistan. He soon moved to Ghana, where he led social and agricultural development projects, and is credited with successfully cultivating wheat for the first time in the West African country's difficult climate.
In 1985, he returned to Pakistan to serve the Ahmadiyya community in various senior administrative positions. He was briefly imprisoned for allegedly erasing words of the Quran from a sign, charges Ahmadis say are false and part of wider persecution against the denomination. In 2003, he was elected to succeed his uncle, Mirza Tahir Ahmad, as the community's caliph.
Since then, Masroor Ahmad has launched a slew of public campaigns against extremism, an annual national peace symposium and an international peace award. He expanded the community's disaster relief nonprofit Humanity First and oversees the building of free schools and hospitals around the world.
His focus on achieving world peace has drawn comparisons to Pope Francis. But Sarah Khan, a primary school teacher in Kingston, England, who attended the Jalsa, considers that a flawed analogy. "The history of the papacy is concerned with power, wealth and land," she told RNS. "But we see how humbly he lives. He takes no opportunity to aggrandize himself. He doesn't want to meet his own ends; he wants to improve society as a whole."
The climax of the Jalsa is the baiat ceremony, when Ahmadis form a human chain to take an oath of allegiance to their caliph. Dozens of new Ahmadis sit in a semicircle directly touching Masroor Ahmad, tears glinting on their faces.
He stretches his hand out to them and they repeat the pledges that initiate them within the Ahmadiyya denomination: "I enter this day the Ahmadiyya Jamaat (Community) in Islam at the hand of Masroor … "
Around the world, millions of Ahmadis repeat the words as they watch the scene on MTA, the denomination's 24-hour TV channel.
Despite the community's growth, many Jalsa attendees said, Ahmadis still share a deeply personal connection to the caliph. At The London Mosque, Masroor Ahmad's followers wait in the rain, in lines wrapping around the block, hoping to pray as close behind him as possible. They even prostrate in the wet grass outside the mosque, where they might catch a glimpse of the caliph's white turban as he returns to his office.
Full report at:
https://religionnews.com/2018/10/03/us-bound-ahmadi-leader-models-a-different-kind-of-islamic-caliphate/
--------
Canada suspends, fines ISNA-Canada over 'funding' Hizbul Mujahideen in India; Islamic charity denies charges
Oct 03, 2018
Canadian Revenue Agency (CRA) has suspended the Islamic Society of North America-Canada (ISNA- Canada) for funding groups allegedly linked to terrorist organisations like the Hizbul Mujahideen. The CRA has banned the Mississauga-based Islamic charity organisation for a year starting from 12 September and has also ordered it to pay a fine of $5,50,000.
The Canadian government auditors have alleged that ISNA-Canada "failed to conduct any meaningful due diligence" when it transferred $1,36,000 to India's Kashmir region where groups like Hizbul Mujahideen have been in an armed conflict with the Indian forces. The CRA said that the Islamic charity has acted as a 'conduit' for many organisations which supports terrorist activities in other countries. "It is the CRA's view that the society's resources may have, directly or indirectly, been used to support the political efforts of Jamaat-e-Islami and/or its armed wing Hizbul Mujahideen," CRA has stated, according to an India Today report.
According to Sputnik International, CRA audit documents reportedly allege that ISNA-Canada donated $90,000 to the Relief Organization for Kashmiri Muslims (ROKM) between 2007 and 2009 and funded an additional $46,000 to the Kashmiri Relief Fund of Canada, which had previously raised funds for the ROKM.
"Our research indicates that ROKM is the charitable arm of Jamaat-e-Islami, a political organisation that actively contests the legitimacy of India's governance over the state of Jammu and Kashmir, including reportedly through the activities of its armed wing Hizbul Mujahideen," the CRA said. The audit was conducted in 2011 and covered the period from 2007 to 2009. The results were conveyed to ISNA-Canada in 2014 but the CRA only sanctioned the charity on 5 September 2018.
"Providing resources to organisations operating in support of a political purpose, including the achievement of nationhood or political autonomy, are not recognised at law as charitable," the CRA said.
By acting as a "conduit" for other organisations, ISNA-Canada "may have, knowingly or unknowingly, provided the benefits of its status as a registered charity to support the efforts of a political party and its armed wing", CRA said.
However, according to a Hindustan Times' report, the Charities Directorate has not revoked ISNA-Canada's charity status but the group was required to enter a compliance agreement whereby it must "cease its overseas operations".
According to a Global News article, ISNA Islamic Services of Canada was stripped of its charitable status for "non-compliance," according to records obtained by Global News. Authorities also revoked a related charity, the Canadian Islamic Trust Foundation. Both are former affiliates of the Islamic Society of North America-Canada (ISNA-Canada), and shared its Mississauga, Ontario, address.
However, the ISNA-Canada has denied all the allegations levelled against it by the CRA. "We are saddened by this outcome," ISNA-Canada said in a written statement, another Global News article said.
According to the report, ISNA- Canada has also denied any links to terrorism and has said that it has in fact made "progressive and important changes" to its governance and in "how it operates as one of the largest Muslim organisations in Canada".
"We remain politically impartial and are not in any way linked to any political or extremist group," said the organisation, adding, "We will continue our operations and remain committed to always striving to be the best possible organisation we can be in service to Canadians."
According to the Global News report, in a letter addressed to community members, ISNA-Canada chair Katherine Bullock said: "We have spent the last decade rectifying these mistakes and reforming our organisation to ensure that we have a robust governance structure in place so that the mistakes made are not repeated."
ISNA-Canada runs mosques and provides services to Muslims such as weddings, funerals and "accounting services to other Islamic charities in the surrounding community". It is by far the largest such organisation with $3.1-million in reported revenues in 2016, according to the CRA.
Full report at:
https://www.firstpost.com/world/canada-suspends-fines-isna-canada-over-funding-hizbul-mujahideen-in-india-islamic-charity-denies-charges-5307311.html
--------
Pompeo: Iran behind threats directed against our missions in Iraq
3 October 2018
US Secretary of State Mike Pompeo said on Wednesday that Iran is behind threats directed against the United States diplomatic missions in both Iraqi cities of Baghdad and Basra.
"Iran is the source of the current threat to the Americans in Iraq... Our intelligence is strong in this regard, we can see the hand of Ayatollah and his followers supporting these attacks on the United States," he told reporters at the State Department.
In a related context, he stressed that Tehran "used its funds to finance terrorism and militias in Iraq and the Middle East… Iran continues its malicious activity in the region."
Pompeo hoped that "the Iraqi government is not subject to Iranian dictates," stressing that Washington will always stand "side by side with the Iraqi people," expressing his hope that the Iraqi Prime Minister would honor his commitments to the Iraqi people.
In another context, Pompeo considered the UN's top court ruling to lift US sanctions on humanitarian goods for the Islamic Republic to be a "defeat for Iran."
Pompeo said his country had already taken measures to avoid harming Iran's humanitarian needs and that the ruling "categorically rejected all unfounded demands by Iran" to lift US sanctions in a comprehensive way.
He stressed that Iran is exploiting the International Court of Justice for political purposes.
On another development, Pompeo said that the US administration was terminating a 1955 treaty reached with then ally Iran after Tehran cited Washington in an international court ruling against America's sanctions policy, according to AFP.
"I'm announcing that the US is terminating the 1955 Treaty of Amity with Iran. This is a decision, frankly, that is 39 years overdue," Secretary of State Mike Pompeo told reporters, referring to the 1979 Islamic revolution.
The US Secretary of State also considered that "Russia's delivery of the S-300 system to the Syrian regime is a dangerous escalation."
Bolton says US pulling out of an amendment to the Vienna Convention
Meanwhile, national security adviser John Bolton said the administration also was pulling out of an amendment to the Vienna Convention on Diplomatic Relations that Iran or others, notably the Palestinians, could use to sue the US at The Hague-based tribunal. Bolton told reporters at the White House that the provision violates US sovereignty.
"The United States will not sit idly by as baseless politicized claims are brought against us," Bolton said. He cited a case brought to the court by the "so-called state of Palestine" challenging the move of the US Embassy in Israel from Tel Aviv to Jerusalem as the main reason for withdrawing, according to the Associated Press.
Full report at:
https://english.alarabiya.net/en/News/middle-east/2018/10/03/Pompeo-Iran-behind-threats-directed-against-our-missions-in-Iraq.html
--------
How Trump is turning the corner in Syria
3 October 2018
It's not too late to save at least some of Syria, and it seems the Trump team is taking the lead – a lead that should have been taken years ago.
But with so many internal and external actors involved in the Syrian swamp, it's often difficult to gauge how any form of progress relates to America's wider objectives in the Middle East. Many critics argue that there is no strategy and no clear objectives, yet quite the opposite is true.
The Trump administration has finally found a formula to compete and win in a game of three-dimensional chess in Syria, without sinking the US in the kind of quicksand reminiscent of the experience in Iraq.
There was no boisterous policy rollout as one might expect from a president whose Twitter volume is permanently set to 11. The administration simply added the word, "enduring," to characterize the nature of the defeat the US is trying to achieve against ISIS.
In diplomatic parlance, that means ensuring the terrorist group doesn't reconstitute itself after it is defeated. The other important addition is a reinvigorated American effort to help force an Iranian withdrawal from the country. It's fragile, but its working.
The expanded US objective does not necessitate an increase in troop levels or a new financial burden. Instead, it relies on utilizing the ample leverage already in America's hands and under its feet.
After all, some 2,000 US troops and their Kurdish partners in the Syrian Democratic Forces (SDF) are currently standing on 30 percent of Syria's overall territory where 95 percent of Syria's oil and gas fields are located.
Staying put provides America with enhanced military, financial, and geopolitical leverage. On the military side, it constitutes a major roadblock along the land corridors Iran has dreamed about securing for decades as part of its plan to form a Persian Crescent from Tehran to the Mediterranean Sea.
By dint of geography, the continuing focus on ISIS in eastern Syria also disrupts Iran's logistical lines and helps prevent the transport and stockpiling of its advanced weaponry. On the financial side, it dries up the hydrocarbon revenue stream that Bashar al-Assad and his partners in Moscow and Tehran are counting on to rescue their depressed economies.
The administration's decision not to withdraw prematurely already paid dividends in the form of increased geopolitical influence. For example, America's Kurdish allies have reportedly stopped trading with the Syrian regime, which provided Assad limited access to oil in the northeast.
The Kurds assumed if the US left, they would have to cut a deal with Assad and Russia to safeguard their position in Syria against President Erdogan of Turkey – who views the Kurds as his greatest threat.
'Bloodbath' in Idlib
The recent change in US messaging also helped stave off "a humanitarian nightmare" and "bloodbath" in Idlib, to use the words of UN Secretary General Antonio Guterres. It did so by abandoning the narrow definition of America's opposition to Assad's use of chemical weapons in favor of a stronger stance in which President Trump warned against any "slaughter" in Syria.
US Ambassador to the UN Nikki Haley reiterated this shift at the Security Council, where she announced: "We consider any assault on Idlib to be a dangerous escalation." The US stance is both clear and comprehensive. Taken together, this messaging – that the US has resumed its leadership role, was staying to finish the job, and had interests of its own that must be respected – was backed up by active diplomacy with Turkey's prickly president.
Putin hopes to ultimately pry Turkey out of NATO's orbit and Erdogan is staunchly opposed to the US alliance with the Kurds. But the issue of Idlib was bound to cause friction in the temporary Russian-Iranian alliance with Turkey, where the latter already has boots on the ground and is invested in maintaining stability. With Washington backing Turkey's position on Idlib, Bashar and his Russian and Iranian allies had to put their planned offensive on hold, at least for now.
More problematic for Putin is that he is counting on this alliance to present a united front as it forms the basis for his Astana process. It is a Russian-led effort designed to maintain the same Syrian power structure with Assad at the helm. Its success, however, depends on the perception that it is the only game in town.
It also establishes the basis for Assad and Putin's latest charade in which they portray Syria as stable and open for investment, humanitarian assistance, and reconstruction financing from international donors, which they will use to enrich themselves and their loyalists.
During the Obama years, America's ship of state was uniformly paddling towards a nuclear deal with Iran, which meant treating Syria as one of Tehran's "equities." Russia was easily able to undermine the UN-led peace track known as the Geneva process because the Obama administration was convinced that it presented an obstacle to keeping Tehran at the table.
Having finally abandoned the nuclear agreement that tethered US policy to the Iranian regime, Washington is breathing new life into the Geneva track, which jeopardizes Russian and Iranian achievements and presents Turkey with a clear choice.
In fact, it could cast long shadows of doubt over Assad's future as well. As i24News reports, the US created a small group to deal with Syrian issues that includes the UK, France, Germany, Jordan, and Egypt. They submitted a statement of principles to UN Special Envoy, Staffan di Mistura, that states there will be "no international reconstruction assistance in Syrian government held areas absent a credible political process."
The policy goals at the heart of this American-led process not only pave the way for a democratically elected Syrian government that includes all Syrians, but also creates a post of prime minister "with strengthened authorities" that doesn't depend on Assad's approval.
Moreover, there are several parameters aimed at severing Syria's "ties with the Iranian regime," pursuing and prosecuting "war criminals," and finally emptying Syria of weapons of mass destruction. In other words, it is designed to counter Russia's ambitions in Syria, widen the fissures in its alliance, while putting the squeeze on Iran.
These early results that are an outcome of the administration's new Syria team at the National Security Council and the State Department provide a foundation to build upon. It also serves as a timely reminder to keep a few guideposts front and center on the passage forward: The US can accomplish a lot internationally when it uses all of the tools in the diplomatic toolkit and it can do so without overextending itself militarily or financially.
Equally important is a recognition that without US leadership – especially in the Middle East – nefarious actors fill the void and America's allies embark on shortsighted and discordant foreign policy adventures that are often difficult to untangle.
The strategic shift in America's military and diplomatic posture – without "owning" Syria according to the Pottery Barn rules – is only beginning to pay off and there is a long road ahead. Sure, no one gets rich betting on peace breaking out among Middle East states.
Full report at:
https://english.alarabiya.net/en/features/2018/10/03/OPINION-How-Trump-is-turning-the-corner-in-Syria.html
--------
US quits international accords over Jerusalem embassy case, Iran nuclearization
4 October 2018
The Trump administration on Wednesday pulled out of two international agreements after Iran and the Palestinians complained to the International Court of Justice about US policies, the latest withdrawal by Washington from multilateral accords.
The US national security adviser John Bolton slammed the highest United Nations tribunal as "politicized and ineffective" as he announced that the United States would review all international agreements that could expose it to binding decisions by the ICJ.
Earlier on Wednesday the ICJ handed a victory to Tehran, ordering the United States to ensure that sanctions against Iran, due to be tightened next month, do not affect humanitarian aid or civil aviation safety.
Tehran had argued that the US sanctions imposed since May by the Trump administration violated the terms their 1955 Treaty of Amity. Washington responded by pulling out of the treaty, a little-known agreement that was signed long before Iran's 1979 Islamic Revolution that turned the two countries into arch enemies.
The ICJ, based in The Hague, in the Netherlands, is the United Nations' venue for resolving disputes between nations.
Bolton, citing what he called "Iran's abuse of the ICJ," said the United States would also withdraw from the "optional protocol" under the 1961 Vienna Convention of Diplomatic Relations.
"We will commence a review of all international agreements that may still expose the United States to purported binding jurisdiction, dispute resolution in the International Court of Justice," Bolton said on Wednesday. "The United States will not sit idly by as baseless politicized claims are brought against us."
Bolton said that Iran is not dismantling its nuclear program, and that reports indicate it is increasing activity.
The Palestinian complaint
The decision to withdraw from the optional protocol follows a complaint brought by the Palestinians in September, which challenged Washington's decision to move its embassy from Tel Aviv to Jerusalem.
The Vienna Convention is an international treaty setting out diplomatic relations between states. It is often cited as a means to provide diplomatic immunity.
Earlier, Secretary of State Mike Pompeo said the United States should have pulled out of the treaty of amity with Iran decades ago and said the ICJ it had no jurisdiction of sanctions that he said were essential to US security interests.
The United States has adopted a hardline policy against Tehran, withdrawing from the 2015 nuclear deal and re-imposing sanctions.
"Today marked a useful point, with the decision that was made this morning from the ICJ, this marked a useful point for us to demonstrate the absolute absurdity of the Treaty of Amity between the United States and the Islamic Republic of Iran," Pompeo said.
Iranian foreign minister Mohammed Javad Zarif criticized the US withdrawal, saying on Twitter, "Outlaw regime."
In 2005, the Bush administration took issue with the ICJ after it ruled that the execution of a Mexican national in Texas breached US obligations under international law.
The Palestinians argued that the US government's placement of its embassy in Jerusalem violated an international treaty and that it should be moved.
"This really has less to do with Iran and the Palestinians than with the continued consistent policy of the United States to reject the jurisdiction of the International Court of Justice, which we think is politicized and ineffective," Bolton said.
"I'd like to stress," he added, "the United States remains a party to the underlying Vienna Convention on Diplomatic Relations and we expect all other parties to abide by their international obligations under the convention."
Full report at:
https://english.alarabiya.net/en/News/world/2018/10/04/US-quits-international-accords-over-Jerusalem-embassy-case-Iran-nuclearization.html
--------
Pakistan
TLP vows to guard, uphold honour, finality of Prophet
October 04, 2018
MUZAFFARGARH - Tehreek-e-Labaik Pakistan will not let anybody compromise the honour and finality of the holy Prophet Muhammad (SAWW).
We will never hesitate from sacrificing our lives for the protection and upholding the honour and finality of the last Prophet (SAWW), Tehreek-e-Labaik Pakistan Chief Allama Khadim Hussain Rizvi.
He was addressing a gathering of the TLP workers here at Masu Shah, Shehar Sultan area on Wednesday. He said that the person who was unable to utter the word of last prophet of Allah in his oath is leading the Islamic Republic of Pakistan. The TLP chief pointed out that they would avenge the martyrdom of Mumtaz Qadri through ballot paper.
He also lashed out at the government "for what he said" liberal policies and damaging the true Islamic norms and values. He declared that the TLP would launch a movement for the release of Dr Aafia from the cruel clutches of America, terming her daughter of the nation.
He criticised that the fighter of Islam Muhammad Bin Qasim had not born playing cricket, asking the rulers to place their faith in Allah and following in the footprints of the holy Prophet (SAWW) to regain the lost glory. "The TLP is peace-loving Tehreek and not a single stone-throwing could be reported during funeral of Mumtaz Qadri," he pointed out, adding that the rulers have forgot the basic teaching of Islam that's why they have turned cowardice.
He severely criticized the previous Nawaz government and the incumbent PTI government for "what he called" their cowardice policies. He affirmed that they would teach a lesson to Modi Govt in India in a week if they are given the government. He said that the TLP even would not bother to use nuclear weapons to bring India to the book.
Stringent security measures were adopted on the occasion.
https://nation.com.pk/04-Oct-2018/tlp-vows-to-guard-uphold-honour-finality-of-prophet
--------
Pak minister should have been more sensitive in sharing dais with Hafiz Saeed: Qureshi
Oct 4, 2018
WASHINGTON: Pakistan Cabinet minister Noor-Ul-Haq Qadri "should have been more sensitive" while sharing the dais with 2008 Mumbai attack mastermind Hafiz Saeed, the country's foreign minister has said, acknowledging the mistake committed by his ministerial colleague this week.
"I will go home and certainly ask him why he did that. But what I am told it was an event to highlight the situation in Kashmir," Foreign Minister Shah Mehmood Qureshi told a Washington audience on Wednesday when asked about Cabinet minister for religious affairs Qadri sharing a dais with Lashkar-e-Taiba chief Saeed at a meeting in Islamabad.
"It had nothing to do with Lashkar-e-Taiba. There were other political elements there. He happened to be one of them," Qureshi added.
"I think he (Qadri) should've been more sensitive, but it wasn't that he subscribes to his (Saeed's) point of view," the visiting Pakistani foreign minister said.
"Please explain why earlier this week on Monday, your government's federal minister of religious affairs appeared side by side at a public conference with the head of Lashkar-e-Taiba, a terrorist organisation banned by Pakistan?" Qureshi was asked by a member in the audience at the US Institute of Peace, a US Congress-funded think tank.
Qadri was seen seated near Saeed as he addressed an All Parties Conference organised by the Difa-e-Pakistan Council on Sunday in Islamabad.
A banner in the background said the conference was in "defence of Pakistan", and mentioned "Kashmir" as well as "threats from India". The Difa-e-Pakistan Council is a coalition of over 40 Pakistani political and religious parties that advocate conservative policies.
Qadri's presence at the event with Saeed vindicated India's stand that there is no change in Pakistan's attitude towards terrorism after Prime Minister Imran Khan assumed office in August.
Qureshi asserted that Pakistan is serious in the fight against terrorism. "We cannot surrender to terrorism. We will have to take them on and we will have to clear areas. We have successfully done that. Well it's a work in progress, we would have to continue to build on what you've achieved, but to a large extent, things have changed," he said, adding that this shift is not being recognised enough in the US.
"Cutting off training, not giving precision equipment that could've been used against terrorism, I don't know to what extent that'll help. In my view it will not help collectively," he said.
Full report at:
https://timesofindia.indiatimes.com/world/pakistan/pak-minister-should-have-been-more-sensitive-in-sharing-dais-with-hafiz-saeed-qureshi/articleshow/66063040.cms
--------
PM Imran meets Hafiz Tahir Ashrafi, says government will address issues of seminaries
OCTOBER 4, 2018
The Prime Minister of Pakistan Imran Khan, in a special meeting with the chairman Pakistan Ulema Council Hafiz Muhammad Tahir Mehmood Ashrafi at the Parliament House on Wednesday, resolved that the government will play its effective role to address the issues of mosques and seminaries.
Prime Minister Imran Khan said that the PTI government has neither cancelled the registration of seminaries in the country nor the government has issued any special form for the seminary students.
Talking to Hafiz Tahir Ashrafi, the premier also resolved that the government is all set and willing to support religious tolerance and harmony at all levels in the country. Islam is a religion of peace and harmony, said the premier. Talking about his trip to Saudi Arabia, Prime Minister Imran Khan stated that Pakistan and Saudia Arabia are brother Islamic countries adding that Saudi Arabia has always supported Pakistan in every thick and thin. Pakistan welcomes the inclusion of Saudi Arabia in the CPEC and Pakistan values high the Saudi Investment and trade cooperation of Saudi Arabia in Pakistan, said Prime Minister Imran khan.
Hafiz Tahir Ashrafi, speaking on this occasion, stated that Masajid (mosques) and seminaries are serving Muslims. He also resolved to support the government. Pakistan Ulema Council and all the religious groups in Pakistan lauded the initiatives of PTI government for revising internal and foreign policies of Pakistan, he said. Pakistan Ulema Council welcomes all the endeavours taken by the ruling government to eliminate the menace of terrorism, extremism and sectarian violence from Pakistan, he said.
Full report at:
https://dailytimes.com.pk/305969/pm-imran-meets-hafiz-tahir-ashrafi-says-government-will-address-issues-of-seminaries/
--------
Pak foreign minister seeks US role for talks with India
Oct 4, 2018
WASHINGTON: Islamabad is seeking an American role in facilitating talks between India and Pakistan because the two South Asian neighbours are not engaging bilaterally, Pakistan's foreign minister Shah Mahmood Qureshi has said, warning that absence of such a facilitation could lead to escalation of tension.
But the latest Pakistani request in this regard has again been rejected by the US, the top Pakistani diplomat told a Washington audience on Wednesday, a day after he had meetings with Secretary of State Mike Pompeo and National Security Advisor John Bolton, during which he raised the issue only to be pushed back by the Trump administration.
"When we asked the US, to play facilitating role ... Why do we ask? Simply because we are not engaging bilaterally. And that bilateral disengagement is…a distraction. We want to focus, we want to move on the western side of the border, which we are not being able to because we have to watch our back from eastern side (of the border with India). That is not a healthy situation to be in," Qureshi said in response to a question at the US Institute of Peace, a US Congress-funded top American think-tank.
"Now can you (United States) facilitate? The answer from them is no. They wanted bilaterally. But there is no bilateral movement," Qureshi said warning that this could lead to escalation of tension between the two South Asian countries.
"If that lack of facilitation leads to escalation and some of the statements that have come out of late have not been very helpful," the Pakistani foreign minister said in an apparent reference to the remarks by Indian leaders. "The so-called surgical strikes and stuff like that doesn't make sense. It does not, that's politics.. there are elections around the corner," he said in response to a question.
The new government of Prime Minister Imran Khan in Pakistan, he claimed, is not shy of engaging. Referring to the cancelling of his meeting with external affairs minister Sushma Swaraj in New York, he alleged that India backed off. However, he quickly skipped India's reasons for this – glorification of terrorists by issuing postal stamps and brutal killing of India security personnel.
"If the Indians have a better option, share it with us. If disengagement, if not talking to each other will resolve and stabilise the region, fine. If that's their analysis fine,Qureshi said.
Qureshi who left for Pakistan after his meetings with Trump administration officials said it is unfortunate that the two countries are not engaging. "It's unfortunate. That's the way it is. Now. What does this government want? We want normalisation. We want co-existence. You've got to recognise the reality. Pakistan is a reality. So is India. We have issues. How do we resolve them?" he asked.
After coming to power, the first speech made by the Prime Minister Khan was "that every step you (India) take towards peace, we will take two. And he meant it. It wasn't just because it sounded good. It wasn't to please anyone. He is too blunt a person to please people. He can be very straight and he can be very blunt. But he said that because he feels that way," Qureshi said.
India has said that Pakistan created the conditions for cancellation of the talks – due to issuing of postage stamps glorifying terrorists and brutal killing of its three security personnel.
The Pakistan foreign minister did not mention that in his answer and only said that the stalled dialogue process is not good for the two countries and the region.
Responding to a question on India's stand that talks and terrorism cannot go together, a view which is shared by Washington too, Qureshi referred to a statement by Khan while he was an opposition leader and met Prime Minister Narendra Modi during a trip to New Delhi that there would always be spoilers.
"There will always be spoilers. There will always be elements that will scuttle the process of peace. But when they do that, let re-engage to fight them. They will push us back. But we have to see what is in our interest, what is in the regional interest.
What's in Pakistan's interest," Qureshi said quoting what Khan had told Modi.
Soon, he raised the Kashmir issue.
"They have to realise, and I think they were being simplistic, if they feel that everything that's wrong on the Indian side of Kashmir is all of Pakistan's making, that is an unrealistic approach," he said.
Full report at:
https://timesofindia.indiatimes.com/world/pakistan/pak-foreign-minister-seeks-us-role-for-talks-with-india/articleshow/66062869.cms
--------
Imran Khan fails to bridge the gap between promises and reality
By RANA BANERJI
OCTOBER 4, 2018
Though Imran Khan's first address to his countrymen as prime minister of Pakistan on August 19 featured refreshing candor and admirable pledges to work with compassion for the poor, striving toward the Prophet Muhammad's ideal Islamic Welfare State, performance on the ground has been marked by bumbling inadequacy, hypocrisy and double standards.
Focusing rightly on Pakistan's severe economic crisis and the debt burden, Khan promised austerity in governance, especially for those in high office. Though he moved into a smaller house in the Prime Minister's Office campus, his weekend sortie by helicopter to his Bani Gala home created ripples. And the opening up of governors' mansions, auctioning of a fleet of expensive limousines, and disposing of livestock from the Prime Minister's House have not really set the Indus on fire in terms of revenues generated.
Though Finance Minister Asad Umar presented a supplementary budget on September 18 acknowledging that "difficult times call for difficult measures," no major shifts toward "taxation of the rich" seemed evident, other than duty increases announced on big cars and other luxury items. These were actually offset by leeway given to rich Pakistanis living abroad.
Fast-depleting foreign-exchange reserves and fears of being lured into irreversible debt traps have forced circumspection on continuing Pakistan's commitment to many of the ambitious schemes announced under the China-Pakistan Economic Corridor (CPEC). A Saudi ministers' delegation has visited Pakistan but has not responded positively so far on Pakistan's request for a moratorium period for payment-free oil supplies. Neither has any breakthrough deal been announced on a promised Saudi-funded oil refinery at Gwadar.
Difficult loan-repayment schedules lie before a beleaguered administration, which may force it to go back to the International Monetary Fund for another accommodation.
Cabinet formation ignored claims of old party loyalists, bringing in several former acolytes of ex-dictator Pervez Musharraf. Selection of a comparative political novice, Sardar Usman Buzdar, as Punjab chief minister surprised many heavyweight contenders. Several informal power centers have been created to hem in the latter, through the appointment of Pakistan Muslim League (Nawaz) turncoat Chaudhry Mohammad Sarwar as governor and PML-Q's former chief minister, Chaudhry Pervaiz Elahi, as Speaker of the Punjab Assembly. Though politically disqualified, Jahangir Khan Tareen, close aide of the prime minister, continues to hover on the fringes, ostensibly to manage Punjab by remote control.
Despite his known religious affiliation to the Ahmadiyya sect, the appointment of well-known Princeton University economist Atif Mian to the Economic Advisory Council seemed admirable and was even forcefully defended by Information Minister Fawad Chaudhry. But pressure from the fundamentalist Barelvi group, Tehreek-e-Labbaik and other Muslim clerics forced Imran Khan to ask Atif to quit voluntarily, leaving considerable egg on the government's face.
Though the prime minister promised an interference-free performance in his pep talk to bureaucrats at the central government and in Punjab, newly empowered politicians have continued to browbeat or intimidate conscientious officials and policemen doing their duty. This has drawn the ire of the higher judiciary, which continues to run berserk in its activist role, much to the embarrassment of a new prime minister settling in to complex tasks of governance.
The saving grace has been a politically divided opposition, which despite substantial numbers, failed to put its act together during the presidential election. The nominee of Imran Khan's Pakistan Tehreek-e-Insaf (PTI), Dr Arif Alvi, sailed through.
Subsequently, the Islamabad High Court struck down the National Accountability Board's palpably one-sided conviction of former prime minister Nawaz Sharif and his daughter Maryam, setting them free temporarily on bail. There have been murmurs of a possible deal, albeit strenuously denied by PML-N sources, to soft-pedal any further victimization of the Sharifs.
The last word may not have been said in this regard. Nawaz Sharif is still in mourning after the demise of his long-ailing spouse Kulsoom and he may be carefully weighing his legal options on the pending corruption cases against him before upping the political ante against the PTI regimes, both at the center and in Punjab. The PTI's current enthusiasm to rid Lahore of the "Qabza group's" land encroachments may end up playing up into PML-N's hands without hurting well-entrenched land sharks too much.
The other front on which Imran Khan has enjoyed succor is the comparatively trouble-free civil-military relationship that ensues currently. Having succeeded perhaps beyond their expectations in "engineering" the 2018 democratic electoral facade, the army leadership seems to have gone out of its way to extend all the required official courtesies to the incumbent prime minister. He and the other senior members of his cabinet were accorded an ostentatious formal reception at Army Headquarters and long security briefings were given amid due fanfare. Khan visited the Inter-Services Intelligence Directorate (ISI) and the army chief has briefed him several times before and after some of his important foreign visits.
The prime minister was the guest of honor at Army Headquarters on Defense of Pakistan Day, September 6, though his remarks about "Pakistan never again fighting others' wars" may not have been music to the ears of relatives of martyrs of Indo-Pakistani wars, who comprised the bulk of the audience. In between, on August 23, General Qamar Javed Bajwa, chief of army staff, reshuffled his senior generals and corps commanders. Though he did not need to consult the prime minister for these transfers, the impending retirement of Lieutenant-General Naveed Mukhtar as director general of ISI has necessitated the charade of consulting the PM. Khan will most likely concur with the chief's choice. This honeymoon may last a while yet.
Imran Khan's forays in foreign affairs have been a mixed bag. He "correctly" visited Saudi Arabia first. The visit by US Secretary of State Mike Pompeo and Joint Chiefs of Staff chairman Joseph Dunford to Pakistan witnessed reasonably fair optics but the outreach on breaking the impasse with India has ended in a disappointment, though not entirely of Pakistan's making.
Full report at:
http://www.atimes.com/imran-khan-fails-to-bridge-the-gap-between-promises-and-reality/
--------
Talks with Saudi Arabia on $8bn Gwadar refinery in final stages
Khaleeq Kiani
October 04, 2018
ISLAMABAD: Saudi Arabia on Wednesday agreed in principle to set up a major refinery at Gwadar and showed serious commitment to make investments in other areas of energy sector, according to federal Minister for Petroleum Ghulam Sarwar Khan.
The minister told journalists that the two sides had agreed to set up an oil refinery at Gwadar and a summary would be moved to the federal cabinet on Thursday (today) for approval to sign a memorandum of understanding (MoU).
He said the Saudi minister for energy was expected to visit Islamabad later this month for signing of the MoU. He said the visiting Saudi delegation was offered to participate in the $2bn North-South Gas Pipeline and bid for the upcoming 10 petroleum exploration blocks to be offered for auction soon.
Mr Khan was talking to journalists after holding a meeting with the Saudi delegation led by energy adviser Ahmad Hamid Al-Ghamidi.
The minister said Saudi Arabia enjoyed great respect in Pakistan and both countries had strong bilateral brotherly relations that would scale new heights under the present government. The proposed 500,000 barrels per day refinery is estimated to be completed with an investment of about $8-9bn.
On the sidelines, Pakistan updated China about the progress on engagements with Saudi delegation.
An official said that Chinese Ambassador Yao Jing on Wednesday called on Minister for Planning and Development Makhdoom Khusro Bakhtiar who is also focal person on CPEC.
Mr Bakhtiar told the ambassador that development of refinery would be more important for Pakistan than Saudi Arabia because it would significantly reduce Islamabad's oil import bill estimated for current year at $18bn. This would also ensure that Pakistan's requirement for financial support from the International Monetary Fund is minimised.
The planning minister and the ambassador also finalised plans for creation of a new joint working group on social sector and upcoming visit of Prime Minister Imran Khan to Beijing to attend an industry conference with a business delegation. The two sides viewed it as an opportunity to reduce the China-Pakistan trade gap.
A statement issued by the petroleum division quoted the Saudi delegation as telling the minister that they had visited Gwadar site allocated for the purpose and would like the hosts to provide a suitable piece of land for the refinery.
A senior official who was part of the consultative process said the two sides shared a 'wish list' of around eight to nine items for Saudi investment and hoped three to four of those items would materialise over the next few months. "Our priority is to focus on smaller deliverable projects of $1-2bn each in the first phase before getting into mega projects," he said.
Responding to a question, the official explained that the visit of the Saudi delegation was of fact finding nature and its level of serious commitment for investments appeared very encouraging. "We have been successful in generating their strong interest and it would now also depend on our abilities to materialise some of these projects", he said.
Officials said the delegation also showed strong interest in Liquefied Natural Gas based power projects. Since these projects are currently operational, competitive bidding would be the only way to move forward, they said.
Full report at:
https://www.dawn.com/news/1436741/talks-with-saudi-arabia-on-8bn-gwadar-refinery-in-final-stages
--------
Mainstreaming seminaries among priorities: Imran
Kalbe Ali
October 04, 2018
ISLAMABAD: A delegation comprising five heads of major madressah boards on Wednesday held a meeting with Prime Minister Imran Khan and discussed the government's agenda on madressah reforms.
The delegation — headed by Mufti Muneebur Rehman — included heads of madressah boards of four mainstream schools of thoughts in the country and one belonging to Jamaat-i-Islami.
Accompanied with education minister Shafqat Mehmood, the premier informed the delegation that mainstreaming education standards of religious seminaries was among the top priorities of the government.
He said that the government wanted to eradicate class-based education system and introduce uniform syllabi and curriculum in the education sector, which included the seminaries.
The prime minister said that the multiple education systems were a dividing line for the nation and this had to be eradicated. He said that the seminary students had the right to participate in all sectors of life and mainstreaming madressahs was essential in this regard. Mr Khan added that the services rendered by the seminaries could not be ignored and it was unfair to link all religious institutions with terrorism.
He assured the delegation that issues faced by the seminaries related to education would be resolved amicably.
Mufti Muneebur Rehman heads the Tanzeemul Madaris Ahle Sunnat Pakistan, which is the board of seminaries belonging to the Barelvi school of thought.
The other members were Maulana Hanif Jalandhari of Waqaful Madaris al Arabia (Deobandi), Maulana Qazi Niaz Hussain of Wafaqul Madaris al Shia, Maulana Yaseen Zafar of Wafaqul Madaris al Salfia (Ahle Hadith) and Maulana Abdul Maalik Rabtatul Madaris ul Islamia for seminaries affiliated with Jamaat-i-Islami.
Earlier, Prime Minister Imran Khan chaired a briefing on Ministry of Law and Justice at Prime Minister's Chamber.
He said that reforming the criminal justice system and ensuring access of citizens to "easy and speedy" justice was the central plank of PTI's government and it was committed to putting in place a mechanism that facilitated the citizens as well as the judiciary in speedy dispensation of justice.
Law Minister Dr Muhammad Farogh Naseem assured the prime minister that a comprehensive reform package carrying the future plan of action with delineated timelines would be finalised within the first 100 days of the present government as per the promise made by the Prime Minister to the nation.
He made a detailed presentation on civil litigation reforms identifying various procedural and legal lacunas in the existing justice system which caused inordinate delay in provision of justice to the people.
Full report at:
https://www.dawn.com/news/1436730/mainstreaming-seminaries-among-priorities-imran
--------
Future of US-Pakistan relations rests upon progress in Afghanistan: FM
Oct 04, 2018
The state of the recently contentious relationship between Pakistan and the Trump administration rests squarely on whether Washington's new war plan for Afghanistan can turn the tide of the 17-year conflict, Foreign Minister Shah Mehmood Qureshi said.
US commanders on the ground in Afghanistan, along with officials at the Pentagon and White House, have repeatedly stated Trump's strategy of bludgeoning the Taliban into peace talks through battlefield victories is making progress. But officials in Islamabad, who US administration officials say have contributed to the increasingly tenuous political and security situation in the war-torn country, remain wary Trump's South Asia policy will bear fruit, according to The Washington Times.
The future of US-Pakistan relations "is dependent on the improvement of the situation in Afghanistan", Shah Mahmood Qureshi said Wednesday. His comments, made during a speech at the Washington-based US Institute for Peace, came after meetings with Secretary of State Mike Pompeo and National Security Adviser John Bolton.
"Secretary Pompeo is ready to listen," Qureshi said, regarding his meetings with the top US diplomat on repairing frayed US relations with Pakistan.
Qureshi's visit comes roughly a month after Pakistani cricket star-turned-politician Imran Khan took power in Islamabad as the country's new prime minister. Khan's Tehreek-e-Insaf party was swept into power in July after securing a political majority during highly scrutinised parliamentary elections that month, paving the way for Khan's eventual nomination as prime minister.
Politically conservative with a nationalistic streak, Khan has made past statements empathetic to extremist groups such as the Taliban and has lambasted US military actions in Pakistan and neighbouring Afghanistan. However, Qureshi characterised his meetings with Pompeo and Bolton as positive, indicating Islamabad and Washington may be prepared to turn around a relationship that has deteriorated over the last several months.
"Building positivity at times is difficult," Qureshi said. "Mindsets do not change overnight, they evolve."
He added that evolution towards more positive relations was possible with the US. That said, the Pakistani diplomat made clear any criticism of Pakistan's role destabilising Afghanistan would derail any such progress.
"We cannot and should not be held responsible" for the difficulties in Afghanistan, Qureshi said.
The Trump White House took Islamabad to task for its alleged support of groups such as the Haqqani Network and the Pakistani Taliban, during the roll out of the South Asia strategy last August. Islamabad has repeatedly countered such claims by touting their own losses to Afghan and Pakistani Taliban attacks in the years since the 2001 US invasion of Afghanistan.
To that end, Qureshi said Pakistan would exhaust any and all options to help persuade moderate elements of the Taliban to the negotiating table.
"Pakistan is willing and will use all our influence to do that … there is no other way" to end the war in Afghanistan, he said.
In June, reports surfaced that an American delegation met with Taliban officials in Doha, for the first known bilateral talks with the terror group. The move fell in line with the Trump administration's strategy of forcing the Taliban into negotiations with Kabul.
Full report at:
https://www.pakistantoday.com.pk/2018/10/04/future-of-us-pakistan-relations-rests-upon-progress-in-afghanistan-fm/
--------
Pakistan, US discuss Afghan peace prospects
BY ALI IMRAN
Oct 04, 2018
WASHINGTON: Pakistan and the United States (US) have discussed prospects to advance Afghan peace process, with their top diplomats noting at a meeting in Washington that the Taliban should seize the opportunity for dialogue.
In separate statements issued after a meeting between Foreign Minister Shah Mehmood Qureshi and US Secretary of State Mike Pompeo, the two sides underlined the importance of Pakistan-US relationship for stability in South Asia.
"Secretary Pompeo underscored a common goal to advance peace and security in the broader region. In particular, Secretary Pompeo emphasised the important role Pakistan could play in bringing about a negotiated settlement in Afghanistan," State Department spokesperson Heather Nauert said in a readout of Tuesday's meeting.
"The secretary agreed that there was momentum to advance the Afghan peace process and that the Afghan Taliban should seize the opportunity for dialogue," the statement added.
According to Pakistan's Foreign Ministry, during the meeting, Pompeo appreciated Pakistan's support for political reconciliation in Afghanistan and its efforts for peace in the neighbourhood.
"Both sides agreed that the time was ripe for the Afghan Taliban to avail the opportunity for a political settlement by seizing the opportunity for dialogue," a statement released by the Pakistani embassy in DC said.
The two diplomats met as Afghanistan faced a spate of bombings amid Taliban insurgency and the ISIS attacks. Recently, Kabul had a brief ceasefire with the Afghan Taliban but the conflict-hit country has not yet been able to see headway in peace talks.
Pompeo's emphasis on Pakistan's role toward negotiated settlement reflects President Donald Trump's expectation that Islamabad should help achieve the goal of resolving the 17-year-old conflict through talks.
During the meeting, the State Department said, Secretary Pompeo discussed the "importance of Pakistan and the US working together to advance joint priorities, recognising that bilateral cooperation was mutually beneficial and a factor for stability in South Asia".
"The two sides agreed to remain engaged on these and other issues, and reiterated their desire to maintain constructive dialogue to advance shared interests."
The FM also met with US National Security Adviser John Bolton, noted at the State Department meeting with Pompeo that Islamabad and Washington "shared a common desire for peace and stability in Afghanistan and the region at large".
He reiterated Pakistan's support for a political settlement in Afghanistan, noting that the use of force had failed to deliver results, according to Pakistani Foreign Office spokesperson.
Qureshi stressed that "peace in South Asia, which was a common goal of both the United States and Pakistan, would remain elusive until all disputes, including the core dispute of Jammu and Kashmir, are resolved."
Earlier, the FM also apprised NSA Bolton of the Prime Minister Imran Khan-led government's peace initiative with India and New Delhi's sudden reversal of position after agreeing to hold bilateral talks.
In the context of achieving stability in South Asia, the foreign minister briefed Bolton about India's aggressive posturing in the region, the Pakistani embassy said.
After initially agreeing to PM Khan's peace initiative, the government in India had caved into internal politics, Qureshi noted.
Full report at:
https://www.pakistantoday.com.pk/2018/10/03/pakistan-us-discuss-afghan-peace-prospects/
--------
ICJ to hear Kulbhushan Jadhav case from February 18 to 21
Oct 04, 2018
The United Nations' top court has fixed February 18-21, 2019, for the public hearing of convicted Indian spy Kulbhushan Jadhav case between Pakistan and India.
In March 2016, Yadhav was arrested from Balochistan and he has confessed to spying for Indian intelligence services. He was convicted by a military court and sentenced to death.
The International Court of Justice (ICJ) will hold public hearings in the Jadhav case (India vs Pakistan) from Monday 18 to Thursday 21 February 2019, at the Peace Palace in The Hague, according to a press release.
In the first round, India will present its oral arguments on Monday 18 February 10 am-1 pm, while Pakistan on Tuesday 19 February 10 am-1 pm.
In the second round, India will present arguments on Wednesday 20 February 3 pm-4.30 pm and Pakistan on Thursday 21 February 4.30 pm-6 pm.
In May 2017, the ICJ ordered Pakistan to stay the execution of Indian spy Kulbhushan, who is convicted of spying.
Judges at the International Court of Justice (ICJ) ruled in a unanimous and binding decision that Kulbhushan Sudhir Yadav must not be executed by Islamabad until they have had time to pass final judgement in the case.
But India has maintained he is not a spy, and has accused Pakistan of violating the Vienna Convention by failing to provide him with consular access, as well as breaking international human rights law.
The Indian stance was dismissed by Pakistan in its counter-pleading, submitted on December 13, 2017.
In its counter-memorial, Pakistan had stated that Jadhav was not an ordinary person as he had entered the country with the intent of spying and carrying out sabotage activities.
Later, in a public relations exercise, Pakistan on Christmas arranged a meeting between Jadhav and his mother and wife for about 40 minutes.
Pakistan has maintained that it was "open and transparent" throughout the meeting which necessitated a "comprehensive security check" of the visiting kin.
India submitted its second memorial in the ICJ in April this year.
"Pakistan shall take all measures at its disposal to ensure that Mr Yadav is not executed pending the final decision in these proceedings," said ICJ President Ronny Abraham.
Full report at:
https://www.pakistantoday.com.pk/2018/10/03/icj-to-hear-kulbhushan-jadhav-case-from-february-18-to-21/
--------
Fazl tasked with bringing opposition on same page
03 October,2018
ISLAMABAD (Dunya News) – Chief of his own faction of the Jamiat Ulema-e-Islam (JIU-F), Maulana Fazlur Rehman has once again been tasked with uniting the divided opposition.
Fazl met Pakistan Muslim League-Nawaz (PML-N) president and former Punjab chief minister Shehbaz Sharif on Wednesday.
Shehbaz while taking to reporters said he has asked the JUI-F chief to convene a session of the joint opposition, adding that chief of the Public Accounts Committee should be from the opposition.
Fazl on the occasion said: "It is without a doubt that the opposition is confronting a fake government. Prices have skyrocketed in a months' time."
https://dunyanews.tv/en/Pakistan/460108-Fazl-tasked-with-bringing-opposition-on-same-page
--------
Arab World
Putin says US presence in Syria violates UN charter
Oct 3, 2018
Russian President Vladimir Putin says the presence of US troops in Syria, providing support to anti-Damascus militant groups in the Arab country, violated the United Nations Charter.
Speaking during a panel at the Russian Energy Week on Wednesday, Putin said the US has only two ways to be present on Syrian territory, either if it is invited by the Damascus government, or if it has support from the UN.
The Russian president stressed that Moscow wanted all foreign troops, including the Russians, to eventually leave Syria.
"What can be done, in my opinion, and what should we all strive for? We should strive to have no forces of foreign, third countries on the territory of Syria at all. We need to move towards this," he said.
Syria has been gripped by foreign-backed militancy since March 2011. The Syrian government says the Israeli regime and its Western and regional allies are aiding Takfiri terrorist groups wreaking havoc in the country.
Russia has backed Syria's fight against terror since late 2015 when Russian air force and troops arrived in the Arab country at an official request of Damascus to help the government fight against Daesh and other Takfiri militants.
Russia's assistance has proved to be a major success as Syria has managed to liberate key areas over the past years, relying on Russia's air cover and military advice.
Meanwhile, American troops have illegally infiltrated into the country in an overt campaign to train and support terrorists bent of destabilizing the nation and overthrowing its government.
https://www.presstv.com/Detail/2018/10/03/575941/Russia-Putin-US-Syria
--------
Muslim World League Chief Awarded Moderation Prize 2018
3 October, 2018
Secretary General of the Makkah-based Muslim World League Sheikh Dr. Mohammed bin Abdulkarim Al-Isa was awarded on Wednesday with the Prince Khalid Al-Faisal Center for Moderation prize for moderation.
The award was handed to Isa after a meeting for the Council of Trustees of the center.
Prince Khalid Al-Faisal bin Abdulaziz, Advisor to the Custodian of the Two Holy Mosques and Governor of Makkah Region, who serves as Chairman of the center, announced Isa as the recipient of the award in recognition of his distinguished efforts in promoting moderation and highlighting Saudi Arabia's moderate stances at international platforms.
https://aawsat.com/english/home/article/1415286/muslim-world-league-chief-awarded-moderation-prize-2018
--------
US-Backed Forces in Raqqa on Alert after Intensified Attacks by Unknown Gunmen
Oct 03, 2018
Media activists reported that unknown gunmen attacked an SDF checkpoint in the village of Ayed near al-Tabaqah in Western Raqqa, killing and severely wounding 5 of them.
They added that the SDF forces were immediately put on alert after the attack and detained several people as suspects.
Also, one of the SDF forces was injured after an unknown assailant fired at a vehicle carrying the SDF militia in Tal Abyadh street in Raqqa city.
The sources said that insecurities and attacks against the SDF have increased in regions occupied by them, adding that the SDF has erected at least 15 checkpoints from Seif al-Dolah street and February 23 street to al-Batani square in Northeastern parts of Raqqa's center.
Popular uprisings against the Washington-backed SDF have been reported in Deir Ezzur and Raqqa provinces in the past few weeks.
"Villagers in Kadiran in Western Raqqa printed anti-SDF graffiti on the walls and hoisted the Syrian government flags," sources said on Sunday, adding that the SDF later arrested a number of villagers.
Residents of Mahimidiyeh village in Northwestern Deir Ezzur also made a similar move, they added.
"The SDF has also put its gunmen on alert in the village of Sweidan as tensions with the villagers intensified."
Full report at:
http://en.farsnews.com/newstext.aspx?nn=13970711001116
--------
Egyptian boy killed 'after rejecting friend's sexual advances'
3 October 2018
An Egyptian child who was found killed and dumped in a deserted area in the Dakahlia Governorate was murdered by his friend who had allegedly attempted to sexually harass him.
The victim, Youssef Hamada Jebril, who was in Grade 5 went missing on Thursday. His parents reported it to the police, who found him 48 hours later.
According to the forensic report, Youssef was killed on Thursday, the same day he went missing. There were cuts in his neck, abdomen and other areas in his body.
The police investigation revealed that the perpetrator was Youssef's 16-year-old friend who had taken Youssef to the deserted area where his body was found and tried to sexually assault him. The suspect was identified as Abdelrahman M. A. When Youssef resisted Abdelrahman's attempts and threatened to say what happened, Abdelrahman killed him with a knife he had.
According to the interior ministry, Abdelrahman confessed to the crime and said he took Youssef to where the crime happened on his bike. Abdelrahman also told the police where the weapon he used was and they found it in a waterway. The police also found Abdelrahman's clothes stained in blood.
Full report at:
https://english.alarabiya.net/en/News/middle-east/2018/10/03/Egyptian-boy-killed-after-rejecting-friend-s-sexual-advances-.html
--------
Turkish Army, Allied Militants Capture, Torture Hundreds of Civilians in Northern Syria
Oct 03, 2018
The SOHR said that the Ankara forces have, thus far, captured a sum of 2,338 resident of Afrin region since they occupied Afrin, adding that a sum of 835 civilians are still under arrest.
The SOHR went on to say that most of the captured civilians were released after Ankara forces tortured them and forced them to pay 10 million Syrian lira as ransom.
It further said that people in the region have been enraged after a number of captured civilians were killed under torture.
Local sources reported last week that residents of Afrin started leaving their regions towards Aleppo city and the regions that were under the control of the Syrian Democratic Forces (SDF), as measures done by the Turkish army and Ankara-backed militants deteriorated security in the region.
Full report at:
http://en.farsnews.com/newstext.aspx?nn=13970711000923
--------
US Forces Sending East European Weapons to Terrorists in Syria
Oct 03, 2018
The Russian-language Eurasia paper reported that Bulgaria is still the main source of providing weapons for terrorist groups in Syria.
The daily further said that the Bulgarian weapons have been handed over to the terrorists through third-party states, adding that the US has been involved in delivering the Bulgarian weapons to the terrorists in Syria.
The daily went on to say that the US imported $98mln Bulgaria-made arms in 2016 when terrorists in Syria found access to Grade Missiles and other unique weapons, including anti-tank cannons.
The daily further said that the US has also sent ammunition to terrorists in Syria, disclsong that Bulgaria has sold 23 tons of ammunition to a US company that is affiliated to the British Chemring Military Products Company in the current year.
In mid-September, the Syrian Army launched two separate ambush operations against ISIL in Palmyra (Tadmur) region, discovering a large volume of arms, including American weapons.
The army soldiers ambushed a group of ISIL that tried to move from al-Tanf in Southern Homs towards al-Bayarat al-Qarbi in Palmyra to further move towards Raqqa via al-Taweinan and Wadi Abyaz Dam region.
The army men killed two terrorists and captured two more, forcing the remaining pockets of the terrorist to flee the battlefield.
The army soldiers also seized a large volume of military equipment and six motorcycles.
In the meantime, other units of the army ambushed another group of ISIL terrorists in al-Forou'a region 70 km Southeast of Palmyra, and captured five terrorists.
Full report at:
http://en.farsnews.com/newstext.aspx?nn=13970711000812
--------
Turkish Army Dispatching More Military Convoys to Northwestern Syria
Oct 03, 2018
The Turkish military convoy crossed the border into Northern Idlib via the village of Kafr Lusin.
The convoy that included 40 heavy vehicles, including tanks and trucks carrying logistical hardware headed to the regions that are under the Ankara forces' occupation in the town of Morek and in the village of Shir Maqar in Northern Hama as well as the monitoring posts in al-Sarman and Ashtabraq regions in Idlib.
Field sources reported that five military vehicles of the National Liberation Front terrorists accompanied the Turkish convoy.
Turkish President Recep Tayyip Erdogan stated on Tuesday that Ankara would strengthen military presence in Idlib and reinforce their established observation posts.
According to Erdogan, Turkey was working with their Russian partners to eliminate the radical groups in Idlib, while also dissipating the hostilities between the government and opposition.
Turkey currently has twelve official observation posts in Northwestern Syria, with most of them concentrated in Idlib and Aleppo provinces.
The Turkish military also has an observation post in Lattakia that was not part of the Astana Agreement.
Full report at:
http://en.farsnews.com/newstext.aspx?nn=13970711000853
--------
Egypt's security forces kill 15 suspected militants in a Sinai shootout
3 October 2018
Egyptian security forces have killed 15 suspected militants in a shootout during a raid on their hideout near al-Arish, the capital of North Sinai province, state news agency MENA and security sources said on Wednesday.
The men were suspected of planning attacks on security checkpoints ahead of the 45th anniversary of Egypt's October 6 1973 war with Israel, the sources and MENA said, quoting an interior ministry statement.
The news agency did not identify the suspects nor say whether there had been any casualties or injuries among the security forces.
Police seized a number of automatic weapons in the raid on a farm West of al-Arish where the suspected militants were hiding, MENA said.
The raid comes as the Egyptian army, backed by police, push ahead with a military operation to crush Islamist militants behind a wave of attacks on civilians and military personnel in Sinai.
President Abdel Fattah al-Sisi ordered the armed forces last November to defeat Islamist militants within three months after an attack on a mosque in Sinai killed more than 300 people.
Full report at:
https://english.alarabiya.net/en/News/middle-east/2018/10/03/Egypt-s-security-forces-kill-15-suspected-militants-in-a-Sinai-shootout.html
--------
ISIS leader Baghdadi's youngest son killed in Syria, reports claim
3 October 2018
The youngest son of ISIS mastermind Abu Bakr al-Baghdadi is killed in a Russian airstrike in Syria, months after another of his sons died fighting for the extremist group in Syria, claimed media reports.
On Sunday IraqiNews.com website quoted Jabbar al-Mamori, a commander in the paramilitary Popular Mobilization Forces as saying: "We received certain information that the youngest sons of ISIS chief Abu Bakr al-Baghdadi was killed in an airstrike conducted by Russia on a terrorist hideout in a Syrian village two days ago."
According to sources, al-Baghdadi has four sons from one wife and one son from another wife.
The commander did not name Baghdadi's son or give his age.
The news comes a few months after ISIS said that Hudhayfah al-Badri, another of Baghdadi's five children was killed fighting for the extremist group against Syrian and Russian troops at a power station in central Homs provinc.
Baghdadi himself has been reported killed or injured on a number of occasions.
No reports about al-Baghdadi have been heard since September, 2017, when he urged supporters to wage attacks against the west and keep fighting in Syria and Iraq, according to Iraqinews report.
In May an Iraqi intelligence official said that al-Baghdadi is understood to be hiding in Syrian territory close to the Iraqi border.
ISIS declared a cross-border 'caliphate' in Syria and Iraq in 2014, seizing a third of Iraq during a sweeping offensive.
Full report at:
https://english.alarabiya.net/en/News/middle-east/2018/10/03/ISIS-leader-Baghdadi-s-youngest-son-killed-in-Syria-reports-claim.html
--------
Egypt forces kill Daesh leader, 15 militants in Sinai Peninsula
Oct 3, 2018
The Daesh Takfiri terrorist group has announced the death of one of its leaders in Egypt's restive Sinai Peninsula, where security forces also shot dead 15 militants in a separate encounter.
The terrorist group said in a recent message on Telegram that the Egyptian army killed Abu Hamza al-Maqdisi in an air raid. Maqdisi had been in charge of planning and training for the terrorist group in Sinai.
An unnamed Egyptian security source also confirmed that the top militant had been killed on Monday at Sheikh Zuweid in North Sinai province.
"Abu Hamza al-Maqdisi is one of the Daesh operatives who took part in their operations against the army," AFP quoted the source as saying.
Elsewhere in North Sinai, a separate security source said on Wednesday that police killed 15 militants during a raid in the provincial capital El-Arish. The "terrorist elements" were killed in an exchange of fire at a farm.
According to official figures, around 300 suspected militants and at least 35 soldiers have been killed since the February launch of the "Sinai 2018" operation.
The army launched the campaign on February 9 after President Abdel Fattah el-Sisi gave it a three-month deadline to crush the Daesh Takfiri terrorist group in Sinai.
Sisi has said setbacks by Daesh in Syria were driving its terrorists to try to relocate to Libya and Sinai. The group has killed hundreds of soldiers, policemen and civilians, mainly in its North Sinai stronghold but also elsewhere in Egypt.
The Sinai Peninsula has been under a state of emergency since October 2014, after a deadly terrorist attack left 33 Egyptian soldiers dead.
Over the past few years, terrorists have been carrying out anti-government activities and fatal attacks, taking advantage of the turmoil in Egypt that erupted after the country's first democratically-elected president, Mohamed Morsi, was ousted in a military coup in July 2013.
Full report at:
https://www.presstv.com/Detail/2018/10/03/575946/Egypt-Sinai-Abu-Hamza-alMaqdisi-ElArish-Daesh
--------
UAE recruiting Africans for Saudi-led war: Report
Oct 3, 2018
The United Arab Emirates (UAE), Saudi Arabia's key partner in the ongoing Riyadh-led invasion of Yemen, has reportedly been recruiting tribesmen from northern and central parts of Africa to fight in the war.
The campaign features Emirati envoys "seducing" the tribesmen across a vast area spanning southern Libya as well as entire Chad and Niger, who earn a living by herding as well as human and material smuggling, the Middle East Monitor (MEMO) press monitoring organization reported on Wednesday.
"This campaign is supervised by Emirati officials who gained material profits in collaboration with human traffickers," the report added.
An awareness campaign has been launched by Chadian activists, led by campaigner Mohamed Zain Ibrahim, to warn the tribesmen against joining the Saudi-led war.
"The Arabs of the [Persian] Gulf region, especially the UAE and Saudi Arabia, have never bothered to get to know the Arabs of the desert, and today they are asking for their support and seducing them to fight by their side in Yemen!" MEMO cited Ibrahim as telling pan-Arab Arabi21 electronic newspaper.
The envoys offer potential mercenaries such incentives as sums ranging from $900 to $3,000, in addition to acquiring UAE citizenship in return for their applying for jobs in Emirati security companies.
Ibrahim said the job opportunities were "an actual military recruitment campaign to gather mercenaries for the Yemeni war and use them to fight the people of Yemen, who are Arabs and Muslims as well, and all that for a bunch of dollars."
"A delegation of Emirati people in business visited Niger in January 2018, where they met Arab tribal leaders and recruited 10,000 tribesmen living between Libya, Chad, and Niger," MEMO said.
The Emirates has been contributing heavily to the 2015-present war, which seeks to reinstall Yemen's former Saudi-allied officials.
In addition to their own forces, both Riyadh and Abu Dhabi have deployed thousands of militants across the violence-scarred country to intensify the invasion.
Full report at:
https://www.presstv.com/Detail/2018/10/03/575904/Yemen-war-UAE-recruiting-mercenaries-Libya-Chad-Niger-Saudi-Arabia
--------
Egypt registers Ottoman coins as Islamic artifacts
03.10.2018
By Mohamed al-Rayes
CAIRO
Egypt's Ministry of Antiquities on Wednesday said an old coin collection, some of them dating back to the Ottoman period, was registered as Islamic artifacts.
According to a statement, the ministry's permanent committee of Islamic and coptic antiquities registered a collection of coins which were at the General Treasury Department.
The collection consisted a variety of currencies -- gold and silver --, which included Egyptian and Ottoman coins, as well as a set of coins of Saudi Arabia's founder, King Abdulaziz al-Saud (1876-1953).
Full report at:
https://www.aa.com.tr/en/africa/egypt-registers-ottoman-coins-as-islamic-artifacts/1271952
--------
Africa
Of falsehoods and the rise of 'Islamic' terrorism
October 4th 2018
The English dictionary defines terrorism as the 'unlawful use of violence and intimidation, especially against civilians, in the pursuit of political aim'. In the current geo-political context terrorism has become synonymous with violent extremism, nay, Islamic fundamentalism. The manner of definition and understanding differs but currently the phrase violent extremism is interchangeably used to mean terrorism. Unfortunately, the religion of Islam has gotten itself in the mix of all these. There is no doubt that groups of people who were born Muslim sometimes use the Islamic religion as a tool to further their cause by radicalising the youth through brain-washing and indoctrinating them with extreme views of other people's cultures, rights and freedoms.
In fact, the abiding message from the 9/11 attacks is that of a group of 19 mostly Arab men professing Islam flew planes into buildings in a terrorist attack.No doubt, that gave rise to rise in Islamophobia. As a Muslim, chances that you would be singled out for a security check at ports of entry and major installations became the norm rather than the exception. And so by default or design there seems to be an attempt - particularly from Western intelligence community- to perpetuate the thinking that Islam and terrorism mean the same thing. In some parts of the World it might be true, but many of the groups that subscribe to what is now considered as violent extremist groups in fact have a localised agenda. These attacks Kenya is a case in point. In East Africa, Kenya is probably the worst affected by violent extremism. But then, it would be foolhardy to make the assumption that all these attacks bear an Islamist-oriented agenda. Actually, the issues that have led to the increase in the number of young people joining Al Shabaab militants are diverse. Most of the young people from the coastal parts of Kenya which form the bedrock of Al-Shabaab even in Somalia have another agenda altogether other than spreading Islamic fundamentalism.Their grievances revolve around poverty and land issues or what is generally perceived as historical injustices.
There is a feeling among the youngsters in this region that someone is rich at their expense. They see hope in Islamic fundamentalism. A decade ago, the Mombasa Republic Council (MRC) was formed with the objectives of reclaiming the large tracts of land that have supposedly been taken away from non-locals. After the governments came down hard on them, they quickly switched the narrative and proposed secession even coming with the slogan; Pwani si Kenya. Once again the government's effort to subdue the Pwani Si Kenya groups meant the restless unemployed youth of the Coast – with nothing to live for and little to lose- had to find another avenue to vent their anger. So naturally when the dreaded Al-Shabaab group came calling, they found a group that was more than willing to join them and even cause havoc in their own country.
The attack on Mpeketoni, Lamu County where at least 60 people died had the hallmarks of local dynamics at play. And the State was quick to point out the tribal angle. The likelihood that those with grievances like those at the Coast and other groups of communities who feel underserved and marginalized will get radicalized is very high. Indeed, the root causes of this form of radicalization have nothing to do with religion. The crux of the matter revolves around the reality of the haves and have-nots. Sometimes, enmity is passed on to the next generation. It becomes a way of life. That explains why communities that have lived side by side for many centuries still remain so even when the alternative is better and less hectic. Hostilities are created that make it very hard for peace to be achieved. Recently in West Pokot an elder told me that children who are born either among the Turkana or amongst the Pokot are taught from childhood that the Pokot or Turkana are their enemies. Some are scared to sleep by being told that members of the other ethnic group will raid them if they slept. This is radicalization by any other definition. That is why I am convinced that the definition of violent extremism should - at least in Kenya - include all forms of radicalization like ethnic profiling and scare-mongering. As in the case with the youth at the Coast, it is easy for people with a global ideology to recruit from communities that are radicalized based on their passion for their tribes or clans. From the above, it should follow that it be made necessary for the definition of terrorism and violent extremism to be changed to fit the new realities. That way, radicalization will not be seen as limited to Islamic extremism but from a broader perspective.
https://www.standardmedia.co.ke/article/2001297778/of-falsehoods-and-the-rise-of-islamic-terrorism
--------

CAN pampering Christian terrorists – Muslim group explodes
October 3, 2018
By Wale Odunsi
The Muslim Rights Concern (MURIC) has accused the President, Christian Association of Nigeria (CAN), Samson Ayokunle, of defending Berom Christians over the Dura-Du pond incident.
The body spoke in reaction to Ayokunle's comment after the car of a missing retired general, Idris Alkali, was found at the bottom of the pond by the army.
In a press statement signed by its director, Professor Ishaq Akintola, MURIC on Wednesday, said CAN president failed to condemn "Berom Christian terrorists", who it alleged knew about how the car submerged.
It reads: "Why can't CAN condemn Berom terrorists the same way that Muslims condemned Boko Haram? Nigerian Muslims washed their hands off Boko Haram terrorists even when they attacked Christians. We did not wait until they attacked Muslims before condemning them.
"But CAN president wants to pamper Berom Christian terrorists even when it is evident that they have been responsible for the killing of hundreds of their Muslim neighbours and other Muslims and Fulanis who were mere travelers passing through the axis.
"Nigerian security agencies were able to encircle Boko Haram terrorists and they were able to restrict their activities to a small area within Borno because Nigerian Muslims wasted no time in denouncing and disowning them. For failing to condemn Berom terrorists, CAN president may be nurturing a killing machine. Berom terrorists are capable of growing into a more vicious terrorist group whose deadly tentacles will spread to all nooks and cranies of Nigeria.
"CAN president is joining forces with Berom women who protested that soldiers should not come near the pond. The women lied that it was their only source of drinking water when there are more than thirty similar ponds around the vicinity. When that failed to stop the soldiers, they tried the superstition angle claiming that strange deaths would start to occur in the community if the pond was drained but this is a community of Christians, not one filled with idol worshippers.
"What has CAN president said about the missing general? What has he to say about the general's car that was found right at the bottom of the same pond where the wives of terrorists protested deceptively? What of the other four cars that were found inside the same pond? What do the findings mean to him?
"Furthermore, Ayodele was quick to condemn the action of security agents but found it difficult to condemn the Berom Christian terrorists who perpetrated the atrocity. It is double standard of the highest order. We are stupefied.
"To add salt to injury, CAN president referred to the missing general as "a missing ex-soldier". That is an unforgivable understatement. Ayokunle should know that General Alkali (rtd) is more than an ordinary ex-soldier. This is a whole army general for crying out loud and he dismisses him as "a missing ex-soldier". General Alkali was the Chief of Administration in the Nigerian Army up till the time of his retirement. We take exception to this attempt to trivialize the issue.
"Afterall, we know how CAN regularly mobilizes retired Christian army officers to intimidate the entire nation. While we find no need to do the same thing with retired Muslim officers, we are worried that the CAN president attempted to equate the general with an ordinary recruit.
Full report at:
http://dailypost.ng/2018/10/03/can-pampering-christian-terrorists-muslim-group-explodes/
--------
Jihadist insurgency: Trial of 189 suspected Islamist militants begins in Mozambique
2018-10-04
The trial of 189 suspected Islamist militants began in Mozambique on Wednesday, with the accused allegedly involved in attacks against police and civilians in the northern province of Cabo Delgado.
The trial opened in a tent serving as an improvised courthouse inside a jail in Pemba, the provincial capital, with Mozambicans, Tanzanians, Congolese, Somalis and Burundians among the defendants, of whom 42 are women.
Over the last year, more than 50 people have been killed in gun, grenade and knife assaults in the growing jihadist insurgency, with the militants reportedly seeking to impose Sharia law in the Muslim-majority province.
On the first day of the trial, prosecutors read indictments against the accused.
They are charged with crimes including homicide, use of prohibited weapons, crimes against state security and public disorder.
According to the chargesheet, in October last year the defendants carried out a coordinated attack against police near the town of Mocimboa da Praia, and later on the district police command.
Two police officers were killed and five others seriously injured.
The suspects are also accused of attacking police positions in November and December.
A court spokesperson told AFP that the case had been adjourned until next week, with the trail set to last until the start of next year.
Last week, President Filipe Nyusi told a rally in Cabo Delgado that he directed the police not to kill the insurgents as they were youths exploited by foreign groups determined to fuel instability in Mozambique.
The trial is the first since the attacks began a year ago.
As the insurgency has spread through the province, several hundred Muslims have been arrested and several mosques forced to close.
In the latest major violence, 12 villagers were killed and 14 wounded two weeks ago.
An anti-terrorism law was passed in April allowing for heavier sentences.
Locals and authorities call the assailants al-Shabaab, although the group has no known link to the Somali Islamists of that name, nor has it issued any claim of responsibility or demands.
Full report at:
https://www.news24.com/Africa/News/jihadist-insurgency-trial-of-189-suspected-islamist-militants-begins-in-mozambique-20181004
--------
Five years after Westgate, al-Shabaab is weakened but not yet defeated
2018-10-03
It's been five years since four attackers made their way into Westgate, a popular shopping mall in the rich Westlands area of Nairobi, and unleashed a coordinated attack that left 71 people dead.
Some of those deaths resulted from friendly fire as the small group of terrorists took advantage of Kenyan security agencies' confused response. After the attack, videos emerged of members of some security agencies looting shops in Westgate during the siege.
The attack, for which Al-Shabaab claimed responsibility, struck a brutal blow against Kenya's important tourist industry.
Five years on, the threat is somewhat reduced.
Al-Shabaab remains undefeated. But there are several indications that Kenya, as well as several of its neighbours, such as Djibouti, Uganda, Tanzania and Ethiopia, have made important gains against the terror group and its local sympathisers.
My field studies indicate that the Kenyan police have been successful in curtailing communication and cross-border travel by local sympathisers and Somali militants. This is significant for two reasons. First, attacks like Westgate were almost certainly coordinated by militants who'd trained in Somalia and returned to Kenya. And second, hundreds of Kenyans have joined the group inside Somalia.
Kenya's security forces must nevertheless remain vigilant. This is especially true because Al-Shabaab remains powerful and stable within Somalia. There's always a risk that the group will once again turn its sights on Kenya if policing and security slacken.
Al-Shabaab, a border problem
After Westgate, Kenya was rocked by two more large attacks in the vulnerable border areas near Somalia. On 2 December 2014, gunmen crept into a labourers' camp in Mandera and killed 36 people. On 2 April 2015, militants launched a large-scale attack on Garissa University College. The attack left 150 dead, the highest number of causalities ever inside Kenya.
Since then, the border areas have become far safer, although attacks still occur. There are several reasons for this. Kenya increased spending on security. It also increased border controls, and implemented a devolution process delegating power to the region and local levels.
There's also been an improvement in relations between Kenyan police and communities. Civil society groups were also drawn into implementing Kenya's National Strategy to Counter Violent Extremism in 2016, leading to a variety of NGOs getting involved.
Finally, Kenya's police have become better at targeted operations. Gone are the random arrests scores of Kenyan Somalis that led to grievances and animosities that Al-Shabaab could take advantage off.
That's not to say Kenya is entirely out of the woods. Concerns persist.
Al-Shabaab, still a threat
One area of concern is that there's still potential for Al-Shabaab to recruit fighters inside Kenya. The root causes for the recruitment, alientation and animosity towards the state is still there.
While these Kenyan sympathisers in general are disorganised, they nevertheless remain a cadre that can be tapped by radicals if circumstances change in Kenya, and if law enforcement agencies drop their guard.
Inside Somalia, Al-Shabaab has not been weakened since the Westgate attack. There have been some changes, such as to its leadership, and some internal discord has been reported, but by and large the group remains on firm footing.
This is evidenced by increasing insecurity in Somalia. Most recently, a car belonging to Somali intellectual and free speech defender Professor Yahya Hagi Ibrahim was bombed. His brother was killed. It was the latest in a series of attacks targeting politicians and intellectuals.
In the Somali countryside, in supposedly "liberated areas", Al-Shabaab still wields considerable influence. For instance, the group demands "taxes" from villagers and protection money from businesses operating in those areas, helping to fund the group's activities.
All of this is worrying for Kenya. Its own local improvements unfortunately won't directly influence Al-Shabaab's standing inside Somalia.
Maintaining the progress
Kenya's leaders need to maintain unity and enhance both the payment of security forces and the trust between community and the police.
Full report at:
https://www.news24.com/Africa/News/five-years-after-westgate-al-shabaab-is-weakened-but-not-yet-defeated-20181003
--------
Mideast
President Says Iran Set to Punish Masterminds of Ahwaz Terrorist Attack
Oct 03, 2018
"Iran's response will always be crushing and of course, the world should know that we see and condemn the plotters and masterminds as the terrorists who conducted the terrorist attack (in Ahwaz) and we will confront them too and they will be crushed," President Rouhani said, addressing a cabinet meeting in Tehran on Wednesday.
"We target the masterminds and the main group (which carried out the terrorist attack in Ahwaz) and their center, which, of course, entails our subsequent action as well," he added.
President Rouhani said some individuals who been in contact with the criminals have been captured, who he said will be severely punished, and vowed Tehran's tough confrontation against those have done the plotting and masterminded the terrorist move.
26 people were killed and 69 others were wounded in an attack by al-Ahwaziya terrorist group during the nationwide military parades in the Southwestern city of Ahwaz on September 22.
The terrorists attacked the bystanders watching the annual Armed Forces' parades, marking the start of the Sacred Defense Week, commemorating Iranians' sacrifices during the 8 years of the Iraqi imposed war on Iran in 1980s, in disguise of the Islamic Revolution Guards Corps (IRGC) and Basij (volunteer) forces, killing and wounding several people, including innocent women and children.
In response, the IRGC fired 6 ballistic ground-to-ground missiles and launched drone attacks on terrorists' positions in Eastern Euphrates region in Eastern Syria.
During the operations codenamed Zarbat-e Moharram (Blow of Moharram) carried out at 2:00 AM (local time) on Monday the headquarters of Takfiri terrorists near Albu Kamal region in Eastern Euphrates was attacked from Kermanshah province in Western Iran, 570km away from the targets.
The IRGC's Aerospace Force Brigadier General Amir Ali Hajizadeh announced on Tuesday that the missile strikes against the terrorist targets in Syria killed 40 ISIL commanders and smashed all targets.
Also, on Monday, Chief of Staff of the Iranian Armed Forces Major General Mohammad Hossein Baqeri revealed that the terrorists who carried out the September 22 attacks in Ahwaz city were supported by the ISIL, lauding the Monday IRGC missile strikes against the command center of the notorious group in Syria.
"The terrorists (in Ahwas attack) were supported by the ISIL and another terrorist group whose leaders are in the European states," General Baqeri said in Tehran.
He described the Monday missile strikes against the ISIL positions in Eastern Syria as the first stage of Iran's revenge, and said, "The massive missile and drone operations of the (Iranian) Armed Forces were of high value because these drones travelled through the airspace of several countries to reach the target with high precision and inflicted heavy blows to the enemy. (Also), the missiles hit the enemy's positions after flying for over 550km."
Meantime, former commander of the Islamic Revolution Guards Corps Mohsen Rezayee said that the IRGC's Monday missile strikes on the command center of the terrorists who carried out the September 22 attacks in Southwestern Iran was just a flick, warning that a more powerful revenge was in the offing.
"The IRGC's missile strikes against the terrorists who conducted the Ahwaz attack was a flick to these criminals. The major punishment is on the way," Rezayee, who is the secretary of Iran's Expediency Council (EC), wrote on his twitter page.
http://en.farsnews.com/newstext.aspx?nn=13970711000970
--------
Israel lays siege to Palestinian Bedouin village ahead of demolition
Oct 3, 2018
The Israeli military has laid siege to a Palestinian Bedouin village it plans to demolish, two days after the regime's evacuation deadline for the residents expired.
Large numbers of Israeli forces surrounded Khan al-Ahmar, located east of te occupied Jerusalem al-Quds, on Wednesday morning, the Palestinian Information Center news website and network reported.
"Several military vehicles have arrived in the village since the early morning hours and surrounded the Bedouin community," it said, citing locals.
In August 2017, Minister for Military Affairs Avigdor Lieberman announced that the Israeli regime would evacuate the entire community within several months.
Israel's Supreme Court has twice ruled in favor of demolishing the entire village, first on May 24 and again on September 5, when it rejected the residents' appeals against the decision and said a temporary injunction that had put the move on hold would expire within seven days.
Tel Aviv then gave Khan al-Ahmar's families a week, ending on October 1, to leave.
The regime says the village was built illegally, but Palestinians say the demolition plan is part of Israel's forcible displacement policy to make room for its settlement construction activities on occupied land.
The United Nations has urged Israel not to demolish the village, home to 180 Palestinians, adding that the planned move violates international law.
Full report at:
The international law bans construction on occupied territory.
https://www.presstv.com/Detail/2018/10/03/575924/Israel-Khan-alAhmar-
--------
Scores of Saudi troopers, mercenaries slain, injured in Yemeni army offensives
Oct 3, 2018
Scores of Saudi soldiers and Saudi-sponsored militiamen loyal to Yemen's former president Abd Rabbuh Mansur Hadi have lost their lives when Yemeni army soldiers and fighters from allied Popular Committees launched separate offensives against their positions in the kingdom's border regions.
Yemeni troops and their allies fired three domestically-developed missiles at the gatherings of Saudi troopers and their mercenaries in al-Khobe district of the kingdom's Jizan region, located 966 kilometers (600 miles) south of the Saudi capital, Riyadh, on Wednesday evening, leaving several of them dead or injured.
Several Saudi soldiers and Saudi-backed militiamen were also killed and injured, when Yemeni troops and fighters from Popular Committees targeted their camps west of al-Majazah area and near al-Alab border crossing in Asir region with a barrage of Katyusha rockets and artillery rounds.
Later in the day, Saudi missiles and mortar shells rained down on residential areas in the Baqim district of Yemen's northwestern province of Sa'ada.
There were, however, no immediate reports of possible casualties and the extent of damage caused.
Saudi Arabia and a number of its regional allies launched a devastating military campaign against Yemen in March 2015, with the aim of bringing the government of Hadi back to power and crushing the country's popular Ansarullah movement.
Some 15,000 Yemenis have been killed and thousands more injured since the onset of the Saudi-led aggression.
Full report at:
https://www.presstv.com/Detail/2018/10/03/575962/Scores-of-Saudi-troopers-mercenaries-slain-injured-in-Yemeni-army-offensives
--------
Turkey renews mandate for military actions against Kurds in Syria, Iraq
3 October 2018
Turkey's parliament has voted to extend by another year a mandate that allows the military to intervene in Iraq and Syria when faced with national security threats.
The mandate approved Wednesday allows Turkey to send troops over its southern border to battle Kurdish rebels, ISIS group militants and other groups that Turkey views as terrorists.
The vote comes as Erdogan has suggested Turkey could take steps to create "safe zones" across northern Syria, including in areas held by Kurdish fighters who are allied with the United States.
Full report at:
https://english.alarabiya.net/en/News/middle-east/2018/10/03/Turkey-renews-mandate-for-military-actions-against-Kurds-in-Syria-Iraq.html
--------
Palestinian teen killed in Gaza border protest
3 October 2018
Gaza's Health Ministry says a 15-year-old Palestinian has been killed by Israeli troops during a protest near a border crossing into Israel.
The ministry said the boy died of a head injury after Israeli troops stationed at the Erez crossing shot him.
An AP cameraman who witnessed the incident said the boy was hit by a tear gas canister.
There was no immediate comment from the Israeli military.
Thousands protested on Wednesday near the border as part of a months-long campaign organized by Gaza's Hamas rulers demanding an end to an Israeli-Egyptian blockade.
The militant group, which has controlled Gaza since 2007, has intensified protests recently as cease-fire efforts faltered.
Full report at:
https://english.alarabiya.net/en/News/middle-east/2018/10/03/Palestinian-teen-killed-in-Gaza-border-protest.html
--------
Coalition facilitates transfer of slain Yemeni President Saleh' sons to Amman
3 October 2018
The Arab coalition which is supporting the legitimate government in Yemen played a major role on Wednesday in facilitating the transfer of the two sons of former slain Yemeni president Ali Abdullah Saleh, from Sanaa to the Jordanian capital, Amman, on a UN plane.
Official sources added that a Saudi team inspected the UN airbus A320 at 8 am on Wednesday when it landed at Queen Alia International Airport in Amman, before taking off in the direction of the Yemeni capital Sanaa where it arrived around noon time.
The UN plane is expected to arrive in Amman around 5:30 local time.
Earlier in the day, the pro-Iranian Houthi militias announced that the two, Salah and Moudin, have been released, while political sources reported that their release came after a mediation by Oman.
Meanwhile, aviation officials at Sanaa International Airport confirmed to Al Hadath news channel that the UN plane has taken off from the airport after arriving earlier to take on board Salah and Moudin, to the Jordanian capital, Amman.
However the Houthi militias refused to release the brother of Saleh, Colonel Mouhamad Abdullah Saleh as well as Affash Tareq Saleh, the son of the slain president's brother Tareq, who was in charge of his personal security.
Full report at:
https://english.alarabiya.net/en/News/gulf/2018/10/03/Coalition-facilitates-transfer-of-slain-Yemeni-President-Saleh-sons-to-Amman-.html
--------
Rouhani hails revenge attack on terrorists in Syria, warns of more action
Oct 3, 2018
Iranian President Hassan Rouhani has praised the Islamic Revolution Guards Corps (IRGC) for taking befitting revenge for a terrorist attack in the southwestern city of Ahvaz, saying the Islamic Republic will give a crushing and firm response to any act of aggression or terror.
"The world should know that we regard masterminds and instigators of terrorist [attacks] as terror perpetrators and as terrorist agents are condemned and we deal with them, the planners are condemned too, and we will confront them and they are doomed to failure," Rouhani said during a cabinet meeting on Wednesday.
The IRGC said on Monday that it had hit the gatherings of the ringleaders of the recent terror attack in Ahvaz with several surface-to-surface ballistic missiles in an area to the east of the river Euphrates, near Albu Kamal town on Syria's eastern border with Iraq.
The operation, dubbed The Muharram Strike, saw the IRGC's Aerospace Force fire a total of "six medium-range ballistic missiles" from western Iran at targets 570 kilometers (355 miles) away, it said.
The IRGC said the attack was a response to the "cowardly" act of terror during a military parade in Ahvaz on September 22, which killed 25 people and injured 69 others.
Rouhani said in the cabinet meeting that the fact that the Islamic Republic of Iran "firmly, accurately and in a short time targets the [commanding] center of terrorists indicates that if the low-ranking agents of a terrorist group in Iran do something, then we will be targeting the architects, the main group and their commanding center."
On the sidelines of the cabinet meeting, Iran's Defense Minister Brigadier General Amir Hatami also hailed the IRGC's missile attack on positions of terrorists in eastern Syria and warned those who might think about targeting Iran.
"Those who might take a measure against the security of the Iranian nation should await a harsh, crushing response," General Hatami said.
On his visit to New York to attend the 73rd UN General Assembly meeting, Rouhani said the recently held UNGA was the scene of his country's diplomatic success and the US's isolation.
"This time the US was isolated more than ever and Iran was respected by the world public opinion and politicians more than any time due to its correct and accurate behavior," he said.
Rouhani added that "the world public opinion now supports Iran and even in the United States, many politicians and ordinary people believe that Iran is on the right track and they do not favor the US government's measures."
He said the US measures in the economic sector have harmed all European countries, Iran and even Washington itself, referring to the US's re-imposition of sanctions following its withdrawal from the Iran nuclear deal, known as the Joint Comprehensive Plan of Action (JCPOA).
Rouhani said the "overwhelming majority of countries supported the JCPOA and appreciated the efforts of the Islamic Republic of Iran to maintain the agreement, and most countries condemned US sanctions against Iran and considered it illegal."
Rouhani also praised a "big step" by Europe to form a special body toward maintaining businesses with Iran after the new US unilateral sanctions on Tehran.
He, however, said that Iran expected more practical measures to protect the JCPOA and benefit from it, including perfectly normal economic ties.
US President Donald Trump announced in May that Washington was pulling out of JCPOA, which lifted nuclear-related sanctions against Tehran in exchange for restrictions on Tehran's nuclear program.
Full report at:
https://www.presstv.com/Detail/2018/10/03/575959/Iran-Ahvaz-attack-Daesh-Rouhani-US
--------
Israel will continue strikes in Syria despite S-300 missile system delivery: Minister
Oct 3, 2018
Israeli minister for military affairs Avigdor Lieberman has expressed Tel Aviv's discontent over Russia's delivery of an S-300 surface-to-air missile system to Syria, stressing the move will not deter the Israeli regime from military operations in the war-ravaged Arab country.
"I cannot say that we are pleased with the deployment of the S-300. However, this is the very topic where we have no way out. There is no way not to make decisions," he said.
Lieberman further stated that it was important for Moscow and Tel Aviv to restore normal ties despite their disagreements over the recent downing of a Russian Il-20 reconnaissance aircraft off the coast of Syria's western province of Latakia.
"I think the most important thing for us today is…to return the working relationship to normal. It is today the most important task — to return to normal operation, coordination, to more actively use the "hot line" to prevent conflict situations. We need to work," he commented.
The Israeli minister for military affairs asserted that the Tel Aviv regime "has conducted more than 200 strikes against designated targets in Syria over the past two years, and not a single Russian soldier received a single scratch."
"At the time when the Syrian air defenses opened fire, Israeli planes were already in our airspace," Lieberman alleged.
Speaking at a Russian Security Council meeting chaired by President Vladimir Putin on Tuesday, Russian Defense Minister Sergei Shoigu said his country had completed the delivery of an S-300 missile system to Syria, irrespective of Israeli authorities' strong opposition that it will pose a serious "challenge" to the Tel Aviv regime.
"We have embarked on a number of activities aimed at strengthening the air defense systems of the Syrian Arab Republic in order to ensure better protection for our military personnel. We have completed the delivery of S-300 complexes. This includes 49 pieces of equipment: illuminating laser radiolocators, defense priority systems, control vehicles and four missile launchers. The work was completed a day ago. We have delivered the whole system to Syria," Shoigu said.
The Russian defense minister added that it will take three months to train Syrian specialists to use the S-300 air defense missile system.
Last month, Moscow vowed to bolster Syria's air defense capabilities by deploying the modern S-300 surface-to-air missile system to the Arab country.
The announcement came in the wake of the accidental downing of a Russian aircraft with 15 servicemen on board by Syria's S-200 air defense systems which were at the time responding to a wave of Israeli strikes on state institutions in Latakia.
Moscow held Israel responsible for the September 17 incident, saying the regime's pilots had intentionally used the Russian plane as cover to conduct air raids, effectively putting it in the cross hairs of the Syrian air defenses.
On Friday, Russian Foreign Minister Sergei Lavrov confirmed that Russia had begun delivering the S-300 surface-to-air missile system to Syria.
"The delivery started already and as President (Vladimir) Putin said, after that [downing] incident ... the measures that we will take will be devoted to ensuring 100 percent safety and security of our men," he told a news conference at the United Nations.
Full report at:
https://www.presstv.com/Detail/2018/10/03/575938/Israel-strikes-Syria-S300-
--------
Four Turkish soldiers killed, five wounded in Kurdish militant attack
October 04, 2018
ANKARA: Four Turkish soldiers were killed and five others were wounded after a roadside bomb in the southeastern province of Batman was detonated by Kurdish militants, the local governor's office said on Thursday.
In a statement, the governor's office said Kurdistan Workers Party (PKK) militants detonated an improvised explosive during the passage of a military convoy in the Gercus region of the province. It said an operation was launched to capture the perpetrators.
The PKK, considered a terrorist organization by the United States, Turkey and the European Union, has waged an insurgency against the state since the 1980s. Violence in the largely Kurdish southeast has escalated since the collapse of a cease-fire in 2015.
Separately, the Turkish military said 13 PKK militants were killed in air strikes in northern Iraq's Avasin-Basyan and Zap regions and in Turkey's southeastern province of Siirt in air strikes over the past two days.
Full report at:
http://www.arabnews.com/node/1382326/middle-east
--------
Police called to Turk cleric's US compound after shooting report
October 03, 2018
Police were called to the compound of Fethullah Gulen, the US-based Muslim cleric accused by Turkey of instigating a failed 2016 coup, in rural Pennsylvania on Wednesday after a guard saw a suspected armed intruder, a Gulen spokesman said.
The security guard fired a warning shot and the suspected intruder fled, the spokesman said. There are no known injuries, or arrests and the incident is over, Alp Aslandogan, Gulen's media adviser, told Reuters.
Several Pennsylvania State Police cars were seen around the gated compound and retreat in Saylorsburg in the Pocono Mountains, according to photographs shared online by local news reporters.
Police, who left the scene an hour or two later, did not respond to requests for comment, but told local news media they were there to investigate an unspecified incident.
Full report at:
http://www.arabnews.com/node/1382141/world
--------
South Asia
Drone strikes target ISIS-K hideouts in Nangarhar province
Oct 03 2018
A series of airstrikes were carried out on ISIS Khurasan (ISIS-K) hideouts in eastern Nangarhar province of Afghanistan, leaving at least six members of the group dead.
The 201s Silab Corps of the Afghan Military in the East in a statement said in the airstrikes were carried out Wazir Tangi area of Khogyani district by coalition forces.
The statement further added that the airstrikes left at least six ISIS militants dead, including a commander of the group identified as Sher Alam.
The security forces and local residents did not suffer casualties during the airstrikes, the 201st Silab Corps added.
The anti-government armed militant groups including ISIS loyalists have not commented regarding the airstrikes so far.
Nangarhar is among the relatively calm provinces in East of Afghanistan but the Taliban militants and ISIS loyalists have been attempting to expand their foothold and activities in this province.
However, the Afghan and U.S. often conducted counter-terrorism operations and airstrikes to suppress the anti-government armed militants.
https://www.khaama.com/drone-strikes-target-isis-k-hideouts-in-nangarhar-province-06079/
--------
Maldives: Abdullah Yameen tries to stay in power, discredits poll result
Oct 3, 2018
NEW DELHI: With over a month and a half to go before he demits office, outgoing Maldives' President, Abdulla Yameen, is trying every trick in the book to discredit the recent elections and try to stay in power.
On Wednesday, even as former president Mohamed Nasheed tweeted that he would land in Male on November 1, regardless of the judicial strictures against him, Yameen's party, PPM, passed a resolution in a small group that they would not accept Ibrahim Solih as the new president of Maldives.
If we at this juncture try to find an amicable arrangement for my freedom with the now defunct Maldives Supreme Cou…
https://t.co/mi8BJsVEmP
— Mohamed Nasheed (@MohamedNasheed) 1538564566000
Reports are now surfacing that Yameen was given a large sum of money just before the elections. A report by Al Jazeera quotes confidential documents from Maldives' Financial Intelligence Unit (FIU) to say "Yameen received 22.5 million Maldivian rufiyaa ($1.5 million) in hard currency days in advance of a contentious presidential election." Maldives' FIU functions under the central bank. The report quoted the FIU document as saying "president received the money in two instalments to a private bank account at the Maldives Islamic Bank." The information was apparently passed on to the chief of police.
"When the bank asked about the source of the money and its use, the bank was told the money was donated by private companies and various others to be used in the 2018 presidential election," it said, without specifying who spoke on behalf of the president." — media reports said. If this is proved, it's not only against Maldives' laws, it could boomerang against Yameen with a new government a month away. Corruption allegations had dogged Yameen for some time.
According to local reports, the PPM resolution against Solih was proposed by Ibrahim Muaz Ali, Yameen's spokesperson, and passed quickly on Tuesday night. Raajje TV, a Maldives news outlet said when asked why it was passed by so few people, Muaz told RaajjeMV that they were the only people who were willing to show their faces to the media to speak out for their rights.
This comes a day after the PPM issued a statement protesting against "spike in threats, assaults and bodily harm as well as intimidation against the party's nationwide base" after the elections. "In the days following the presidential elections, PPM, led by President Abdulla Yameen has been working on a smooth transition of government responsibilities to the winning opposition candidate, as well as the party's immediate assumption of the important role and responsibility of the country's only opposition party." This statement, just 24 hours ago, would indicate that PPM had accepted the results. Yet, a day later, the party has rejected the results.
But its clear Yameen will use the next few weeks to muddy the post-election waters — this could include violent clashes, which might give him the opportunity to reimpose an emergency in the Maldives. Warning about this, former MDP leader, Abdulla Shahid tweeted on Monday, "Eight days after conceding defeat in the presidential election and several days after Elections Commission's announcement of final results President Yaameen contests the results and calls on his supporters to protest nationwide."
Yameen was, reportedly shocked by the election results. At the last minute, he had despatched the police to raid the election offices of the opposition candidate Solih. That seemed to have turned more people against him. In addition, Yameen's government had imported tablet computers from China, supposedly to collate the election results. This was a point of concern by the opposition, which suspected Yameen might use them to rig the elections. Unfortunately, media sources in Male said these tablets failed to work. Whatever it is, Yameen believes he can pull the situation back, perhaps get support from China.
Full report at:
https://timesofindia.indiatimes.com/world/south-asia/abdullah-yameen-tries-to-stay-in-power-discredit-poll-results/articleshow/66059812.cms
--------
Insurgents' attack kills 3 police in S Afghanistan
October 04, 2018
KANDAHAR : Three police have been killed and six others sustained injuries as anti-government militants stormed a checkpoint in Marof district of the southern Kandahar province on Tuesday, police spokesman in the province Zia Durani said Wednesday.
Taliban militants, according to the official, were attempting to conduct a car bombing in Marof district late Tuesday night but the vicious design had been foiled by police and gun fight erupted which lasted for a while and resultantly three police personnel lost their lives.
Six more police personnel sustained injuries in the firefight, Durani confirmed.
The official also asserted that a number of Taliban militants were also killed and injured in the firefight, but could not provide a figure. Meanwhile, a clash between Taliban and security forces has left seven insurgents dead in Khawja Sabzpush district of Afghanistan's northern Faryab province on Wednesday, a police spokesman in the northern region Sayed Sarwar Hussaini said.
The clash, according to the official, broke out early Wednesday during which 10 insurgents were injured in the ongoing fighting.
Full report at:
https://nation.com.pk/04-Oct-2018/insurgents-attack-kills-3-police-in-s-afghanistan
--------
Southeast Asia
China to rename 'Arabic-sounding' river to curb 'Islamic influence' in the country
Oct 04, 2018
Chinese authorities have renamed a river because it sounded "too Arabic", it has been reported.
The river formerly known as "Aiyi" will now be called "Diannong" in a move which is thought to be an attempt to curb the influence of Islam in the region.
The decision was taken by the autonomous government of Ningxia, which is home to the largest Muslim community in mainland China.
"We received a request from the local water resources department based on a regulation on the names of public locations," the government said in a statement, according to Al-Jazeera.
The name "Aiyi" was deemed to be too similar to the Arabic name "Aisha", who was one of the wives of the Prophet Muhammad.
In 2013, the government in Ningxia passed a law banning local authorities from naming public areas after foreign figures or locations.
Hui Mulims make up about 10 million of China's 21 million Muslim population, two million of which live in Ningxia.
Two months ago thousands of ethnic Hui Muslims gathered at a mosque in the region to protest its planned demolition.
Faith groups in the area, which were largely tolerated in the past, have seen their freedoms reduced as the government seeks to "Sinicise" religions by making the faithful prioritise allegiance to the officially atheist ruling Communist Party.
Islamic domes and crescents have been stripped from mosques, children have been moved from Buddhist temples and churches have been shut down.
https://www.independent.co.uk/news/world/asia/china-rename-river-islamic-influence-arabic-sounding-aiyi-diannong-ningxia-a8566951.html
--------
First India-Indonesia Interfaith Dialogue begins in Java
Oct 03, 2018
Jakarta: The first India-Indonesia Interfaith Dialogue, decided during the maiden visit of Prime Minister Narendra Modi here, began Wednesday in the Indonesian island of Java in a bid to promote pluralism and eradicate radicalism. The dialogue comprised a forum discussion, visits to places of worship, and dialogues between Hindu, Islamic, Christian and Buddhist religious leaders of both the countries, the Indian Embassy said in a statement.
A seven-member Indian delegation led by Minister of State of External Affairs M J Akbar attended the three-day dialogue, 'Sharing of Best Practices, Lessons Learnt and Way Forward' at Yogyakarta, a city in Java known for its traditional arts and cultural heritage, it said. The Indonesian delegation at the India-Indonesia Interfaith Dialogue (IIID) was led by Vice Foreign Minister of Foreign Affairs A M Fachir.
M J Akbar M J Akbar interacting with Uni. Rector Prof. Dr. Panut Mulyono | Photo Credit: Twitter
Jakarta: The first India-Indonesia Interfaith Dialogue, decided during the maiden visit of Prime Minister Narendra Modi here, began Wednesday in the Indonesian island of Java in a bid to promote pluralism and eradicate radicalism. The dialogue comprised a forum discussion, visits to places of worship, and dialogues between Hindu, Islamic, Christian and Buddhist religious leaders of both the countries, the Indian Embassy said in a statement.
A seven-member Indian delegation led by Minister of State of External Affairs M J Akbar attended the three-day dialogue, 'Sharing of Best Practices, Lessons Learnt and Way Forward' at Yogyakarta, a city in Java known for its traditional arts and cultural heritage, it said. The Indonesian delegation at the India-Indonesia Interfaith Dialogue (IIID) was led by Vice Foreign Minister of Foreign Affairs A M Fachir.
During Prime Minister Modi's talks with Indonesian President Joko Widodo, the two leaders had agreed to organise the Interfaith Dialogue in Indonesia in early October 2018, which will be followed by a similar dialogue in India next year to promote pluralism and eradicate radicalism.
It is being held as an innovative mechanism to promote pluralism and tolerance, and to provide a platform for Indonesian and Indian religious scholars, youth and civil society leaders to join hands in improving relations across religions and cultures, combat prejudice, tackle radicalism and build conducive conditions for long-term peace, the statement said.
The participating delegates visit Prambanam and Borobodur Temples, along with Zen Ling Gong Temple, Huria Kristen Batak Protestan Church, Santo Antonius CatholicChurch and Syuhada Mosque in Yogyakarta, it said.
During the discussions, delegates shared their common commitment to ancient philosophies of 'BhinnekaTinggalEka' or 'Unity in Diversity' and 'VasudhaivaKutumbakam' or 'The world is one family', the statement said. Earlier, Akbar delivered a memorial lecture at the prestigious Gajamadah University to mark the beginning of the year-long celebrations of Mahatma Gandhi's 150th birth anniversary.
He also unveiled a photo exhibit on Gandhi and inaugurated a film festival on movies and documentaries showcasing the life of the towering Indian leader. Akbar welcomed the timing of the maiden IIID to coincide with the 150th birth anniversary celebrations of Gandhi, stating that there could be no better symbol for Interfaith Dialogue than Gandhi.
Full report at:
https://www.timesnownews.com/international/article/british-prime-minister-theresa-may-appeals-for-party-unity-at-toughest-phase-of-brexit/293762
--------
Umno unhappy Putrajaya postpones upgrade works for mosques
October 3, 2018
GEORGE TOWN: A Penang Umno leader has accused Putrajaya of targeting projects for the Muslim community in the state in the government's austerity measures, including putting on hold renovation of mosques and suraus.
Umno's Wanita deputy chief Norliza Abd Rahim said upgrading works on at least nine mosques and suraus were shelved, as well as allocations for Islamic religious classes and private religious schools, or Sekolah Agama Rakyat.
She said the projects had been approved by the previous government.
"The postponement of these projects has disappointed Muslims in the areas affected, who are hoping their mosques and religious classes will be improved and upgraded," she said, adding that it fuelled doubts over Pakatan Harapan's commitment to help Muslims.
She also urged the state's Islamic council, or MAINPP, to fight for the projects to be reinstated.
MAINPP president Abdul Malik Abul Kassim said the projects were under an administrative review by the federal government, and were awaiting confirmation from the relevant ministries.
"I would like to assure all Muslims in Penang the projects will be continued," he told FMT.
He said the projects would take off on a needs basis and with an extended timeline.
"It might be sooner or later, depending on the speed of funds from the federal government," he said, adding that the issue should not be politicised.
A letter dated May 31 from the Federal Development Office in Penang, which comes under the Prime Minister's Department, lists nine mosque and suraus affected by the postponement.
Full report at:
https://www.freemalaysiatoday.com/category/nation/2018/10/03/umno-unhappy-putrajaya-postpones-upgrade-works-for-mosques/
--------
Report: Former drummer turned Syrian militant will be arrested if he returns
04 October 2018
PETALING JAYA, Oct 4 — Among the small group of Malaysian militants fighting in Syria being monitored by Bukit Aman is the former drummer of a rock band.
The New Straits Times (NST) reported today that Akel Zainal, of the now defunct 1990s rock band The Ukays, has been part of a militant movement in Syria since 2014..
"We are constantly gathering information on him and other Malaysian fighters. If Akel returns to the country, authorities will move in on him," sources told NST.
The paper reported that Akel travelled to Syria after being influenced by another Malaysian identified as Ustaz Lofti Ariffin who was killed in 2014.
Full report at:
https://www.malaymail.com/s/1679149/report-former-drummer-turned-syrian-militant-will-be-arrested-if-he-returns
--------
Johor Sultan says disappointed over school land grab accusation
02 October 2018
JOHOR BARU, Oct 2 — Johor ruler, Sultan Ibrahim Sultan Iskandar today expressed disappointment over the actions of some people who deliberately slandered the state's royal family.
He was commenting on a social media post that was widely shared which claimed that the Johor royal family took a land belonging to a private Islamic religious school in the state.
"Do not easily make any statement without referring to the relevant officials or the government first," said Sultan Ibrahim, as published on the ruler's official Facebook page.
The 59-year-old Johor monarch said the issue was intentionally disseminated in social media sites even though the news was incorrect.
In his post, that was uploaded at 7pm, there were two images with one being the false claim while another was the proper explanation of the situation.
It was understood that the private religious school in question is Sekolah Rendah Islam Johor Baru located in Johor Baru city centre along Jalan Abdul Rahman Andak.
The school, sitting on a 7.9 acre land, was established on the Tunku Ampuan Mariam Education Wakaf Land which was intended as a gift (wakaf) by Tunku Ampuan Mariam Almarhum Sultan Abu Bakar in 1947.
The school, registered under the Education Department as a junior educational institution with a national and religious curriculum, opened in 1989 after it was earlier vacated by the previous tenant under Kolej Tunku Ampuan Mariam.
However, its contract ended in February 2015, but its trustees, the Johor Islamic Religious Council (MAINJ), gave the school leeway until December 2017 to vacate.
Full report at:
https://www.malaymail.com/s/1678681/johor-sultan-expresses-disappointment-following-slander-against-family
--------
Kazakh families torn apart in China's Xinjiang crackdown
October 3, 2018
When he looks back on his youth in China's far-west Xinjiang region, Akikat Kaliolla, an ethnic Kazakh, recalls the place's natural beauty and the big, colourful weddings typical of his majority-Muslim community.
But now Emin County where he grew up is a sealed-off pocket in a region experiencing a security crackdown against what Beijing calls separatist elements.
Over a million people are allegedly being held in a secretive network of extra-judicial, political re-education centres, according to a United Nations panel of experts.
In an interview with AFP in Kazakhstan, Kaliolla, a 34-year-old national, said this year he'd lost contact with his mother, father and two younger brothers, who he believes were interned in one of the camps.
"What they are doing to people there, especially to my parents, is illegal," the professional musician said, during the interview in Kazakhstan's largest city, Almaty.
"They are not livestock but people with rights. Both of my parents are elderly and in ill health."
About 1.5 million ethnic Kazakhs live in Xinjiang, a region that borders Central Asia and has long been home to ethnic tensions.
They had until recently avoided the kind of state repression of which the mostly Muslim Uighurs, who make up the region's demographic majority, have long complained.
But Kaliolla is just one of many to have been separated from relatives across the border, as the Chinese authorities now train their sights on the ethnic Kazakhs.
He said that he knows of "around a hundred people" either interned in the camps or with relatives there.
"Lots of them are the same people I watched get married," he added.
His only contact with the missing family members in over six months was in August, when his brother got in touch at the request of Xinjiang authorities, he said.
He demanded that Kaliolla stop "speaking out imprudently" about their situation, as this would only bring them harm, he explained.
- Advances in surveillance -
A report by Human Rights Watch on political repressions in Xinjiang said rights violations in the nominally autonomous region "are of a scope and scale not seen in China since the 1966-1976 Cultural Revolution."
What has changed since that time, according to the report released in September, are advances in surveillance techniques and bio-data collection that are being practised systematically on largely Muslim minorities.
In August, Beijing described as "completely untrue" the claim by a United Nations human rights panel that over a million ethnic Uighurs and other ethnic minorities had been placed in re-education camps.
Kaliolla, who moved to Kazakhstan after meeting his future wife, a citizen, at a music school in Xinjiang, said his family was targeted because his father spoke out against injustices perpetrated by police in Emin County.
"My father was a legal counsellor there. When the government began putting more and more pressure on the Kazakh people, he wrote an appeal to the central authorities in Beijing," he told AFP.
- 'Help us, please' –
Unlike Uighurs, many of whom say they face cultural and religious repression, Kazakhs had long moved freely between China and their historic homeland.
That freedom disappeared after hardline official Chen Quanguo, known for his control measures in Tibet, became the Xinjiang Communist Party chief in 2016.
China has pointed to a series of attacks in Xinjiang by suspected Islamist radicals in recent years as justification for the clampdown.
With concerns growing over the rights of the region's ethnic minorities, neighbouring Kazakhstan has inadvertently become the focus for those speaking out.
Kazakhstan officials themselves have steadfastly refused to refer specifically to the camps, even after voicing concern over the situation.
But Kazakh nationals with relatives missing in Xinjiang have been more forthright, sharing stories of despair and separation at press conferences in Almaty.
"Eight months and no contact! Help us, please!" exclaimed one woman, Gaukhar Kurmanaliyeva, to reporters in August.
Kurmanaliyeva spoke of how her male cousin, a Kazakh citizen, was snatched by Chinese police at a shopping area at the border.
Her account was followed by that of Muratkhan Kasengazy, who said his wife -- another Kazakh passport holder -- had been held in China since December 2017 after going there for medical treatment.
In recent months, Kazakhstan risked China's wrath by refusing to deport an ethnic Kazakh woman of Chinese citizenship, who had confessed to crossing the border illegally to join her husband and children.
The woman, Sayragul Sauytbay, became an international media sensation after testifying in a court hearing that she had been forced by Beijing to work in a re-education camp, where, she said, 2,500 ethnic Kazakhs were interned.
- Rare happy endings -
Kazakh Foreign Minister Kairat Abdrakhmanov said in August that his country was in dialogue with Beijing over nearly 700 cases of Kazakhs unable to leave China.
In some instances, the approach appears to have borne fruit.
Guzalnur Jeniskazy went to China to visit relatives in 2016, leaving her four-month-old daughter at home for what was meant to be a short trip.
But she ended up spending several months under house arrest and even a short stint in detention after losing her Kazakh passport, she told AFP correspondents, who witnessed her emotional family reunion at an Almaty bus station in July.
"Thanks to the Kazakh consulate (in Urumqi, Xinjiang) I was freed," she said, holding her daughter tightly pressed to her.
Such happy endings seem a rarity, however.
Dependent on China's economic largesse and seeking a pivotal role in its trillion-dollar trade and infrastructure drive, the oil-rich Central Asian country is poorly placed to make demands, analysts say.
"Kazakhstan's leverage over China is miserly," Aidos Sarym, an Almaty-based political scientist, told AFP.
Full report at:
http://thejakartapost.com/news/2018/10/03/kazakh-families-torn-apart-in-chinas-xinjiang-crackdown.html
--------
URL: https://www.newageislam.com/islamic-world-news/nearly-900-mosques-germany-welcome/d/116561
New Age Islam, Islam Online, Islamic Website, African Muslim News, Arab World News, South Asia News, Indian Muslim News, World Muslim News, Women in Islam, Islamic Feminism, Arab Women, Women In Arab, Islamophobia in America, Muslim Women in West, Islam Women and Feminism