New Age Islam News Bureau
3 Apr 2017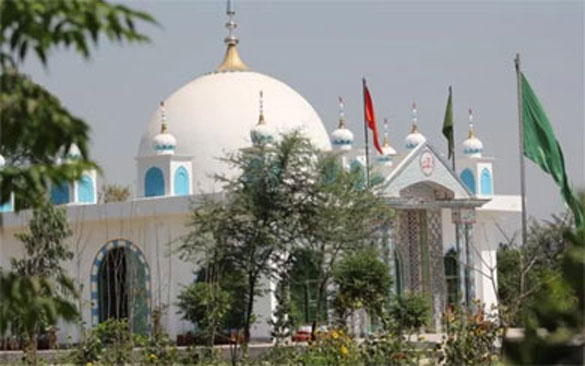 A view of the Sufi shrine in Pakistan where at least 20 people were killed CREDIT: ISRARUL HAQ/EPA
-------
• Nahdlatul Ulema's Youth Wing Calls for Rethinking of Islam
• 20 Tortured and Murdered at Pakistan Muslim Sufi Shrine
• St Petersburg Attack: At Least 10 Dead after Russian Metro Bomb Blasts
• Muslim Dancer Wins Hearts Performing As Lord Krishna
• Syrians Flee Raqqa 'Hell' As US-Backed Assault Nears
• ran concerned over Raheel's appointment as head of Saudi-led military alliance: envoy
Southeast Asia
• Nahdlatul Ulema's Youth Wing Calls for Rethinking of Islam
• Perak Mufti Claims Unilateral Conversion Ban Bill 'Insult' To Islam, Wants Retraction
• Jakim to question Siti Kasim over alleged deviant Islamic remarks
• Representing Asian Muslims, Indonesians Cast a Wary Eye on Trump's Travel Ban
--------
Pakistan
• 20 Tortured and Murdered at Pakistan Muslim Sufi Shrine
• JUI-F Vows Steps for Sharia Enforcement
• What makes Parachinar hotbed of terrorism
• Pakistan needs friends, not masters: Fazl
• Four missiles fired into Pakistan from Afghanistan
• Afghan refugees' repatriation resumes today
• K-Electric's atrocities against people unbearable, says JI
--------
Europe
• St Petersburg Attack: At Least 10 Dead after Russian Metro Bomb Blasts
• Russia: US Covering up Daesh Crimes in Iraq's Mosul
• Birmingham's Muslims Challenge 'Jihadi Capital' Label
• Britain apologises after egg thrown at Saudi general
• New York: Jewish Community Says King Mohammed VI 'Role Model for Entire World'
-----
India
• Muslim Dancer Wins Hearts Performing As Lord Krishna
• Pakistan Troops Violate Ceasefire Along LoC
• From Kashmir jail, police seize mobiles used to be in touch with Pak numbers
• Vyapam Deaths, SIMI Encounter Are Rights Violations: US
• Indian Mujahideen planned bigger attacks in Gujarat in 2008: Police
--------
Arab World
• Syrians Flee Raqqa 'Hell' As US-Backed Assault Nears
• Egyptian Military Kills Top Leader of Takfiri Terrorist Group
• Syrian Army Shells Terrorists' Positions in Southern Outskirts of Damascus
• Dara'a: Terrorists' Command Post Destroyed in Syrian Army Attack
• Scores of ISIL Members Killed in Clashes with Kurdish-Led SDF in Northern Syria
• Syrian Soldiers Ward off Terrorists' Large-Scale Offensive in Lattakia Province
• Russian Air Force Bombs Heavily Terrorists' Positions at Syria's Border with Turkey
• French judiciary reinforces decision to confiscate Assad's uncle's property
• Syrian opposition: No political solution in Syria without US
• PM Abadi's warning: Separation will harm Kurds
--------
Mideast
• Iran concerned over Raheel's appointment as head of Saudi-led military alliance: envoy
• Human Right Watch: Israel 'Systematically' Preventing Access to Gaza
• Captured Houthi Militias Reveal They Were Trained By Iran
• Yemen appeals to EU to help end Saudi aggression
• Iran only hope against Israel: Tunisian president
• PM Hariri: Israel wants a new war against Lebanon
• Yemeni snipers kill 2 more Saudi troops
--------
South Asia
• Hasina Cautions about Arms Trade at Cost of Muslim Blood
• Afghan Forces Arrest Suicide Bomber, Seize Car Bomb in Khost Province
• Bangladesh upholds death sentences of two blogger killers
• Afghanistan and Australia to sign key agreements during Ghani's visit
• Afghanistan reacts at Russia's stance on Taliban demands for foreign troops exit
--------
Africa
• Nigeria: Three Suicide Bombers Die in Failed Borno Attacks
• South Africa's Zuma may face another no-confidence vote
--------
North America
• New Envoy to US Presents Formula for Afghan Peace
• Trump son-in-law, top aide Jared Kushner on visit to Iraq
Compiled by New Age Islam News Bureau
URL: https://www.newageislam.com/islamic-world-news/nahdlatul-ulemas-youth-wing-calls/d/110632
--------
Nahdlatul Ulema's Youth Wing Calls for Rethinking of Islam
April 3, 2017
With local hard-line Islamic groups fanning sectarian sentiments in Indonesia's public sphere and several Muslim majority countries ravaged by bloody conflicts, the youth wing of the nation's largest Islamic organization is calling on Muslims to re-examine their understanding of their own faith.
GP Ansor, the youth wing of Nahdlatul Ulema (NU), has launched what it calls the Humanitarian Islam movement to counter an understanding of Islam that has birthed conflicts, including acts of terrorism.
Yaqut Cholil Qoumas, the organization's chairman, said the movement aimed to contextualize the basic teachings of Islam to produce an alternative understanding.
"Muslims have been hesitant to examine the elements within Islam that can be a source of conflict," he said recently.
NU supreme council secretary general Yahya Cholil Staquf, who is one of GP Ansor's emissaries to promote the Humanitarian Islam movement, said the contextualization of Islam within current conditions was important.
"In the orthodox understanding, it is stated that non-Muslims are enemies, or at least Muslims should distrust them. We cannot live with that kind of understanding because we now live within a diverse society," Yahya said.
He added that growing Islamic conservatism in several Islamic countries was caused by the absence of an alternative comprehension of Islam.
"We can see that the number of incidents of violence motivated by religion in countries like Bangladesh and Pakistan is growing, which can disrupt the future of those countries. It has been caused by a lack of consolidative efforts to build an alternative comprehension of Islam," Yahya said.
Yaqut further commented that GP Ansor encouraged all concerned parties to stop using religion for purposes other than religious edification. He added that this led people taking Koranic scripture literally, without understanding the initial context, which hampered the efforts to contextualize Islam.
"There is a gap between contemporary reality and certain elements in Islamic orthodoxy," he said, adding that the most problematic element was the teaching that regulated the relationship between Muslims and non-Muslims.
Another emissary of Humanitarian Islam, Charles Holland Taylor, said the term Humanitarian Islam had been adopted by GP Ansor to express the spirit of Islam Nusantara, a principal introduced by NU, which embodies the values of kindness, compassion and humility.
Taylor, who cofounded and chairs the LibForAll Foundation, added that since the 9/11 tragedy in the United States, two narratives about Islam had emerged in societies in the West; people who embraced Islamophobia and those who cared about Muslim minorities.
"We have tended to deny the very real facts underlying the growth of extremism and terrorism, and this is what Humanitarian Islam is designed to address," he said.
A daughter of former president Abdurrahman Wahid, Alissa Wahid, said that up until recently Indonesia had shown that Muslims could live in harmony within a diverse society.
She added that GP Ansor was working with minority groups, civil society organizations, and the government to solve the current problems that Indonesia was facing. (rdi)
http://www.thejakartapost.com/news/2017/04/03/nus-youth-wing-calls-for-rethinking-of-islam.html
--------
20 Tortured and Murdered at Pakistan Muslim Sufi Shrine
APR 2 2017
By MUSHTAQ YUSUFZAI
LAHORE, Pakistan — Twenty people were tortured and then murdered with clubs and knives at a Pakistani Sufi shrine, police said Sunday, in what officials are calling a cult ritual.
Six women are among the dead and four other people were wounded during the attack on Sunday morning at the shrine on the edge of Sargodha, a remote town in the Punjab region, police said.
The killings were purportedly carried out by the shrine's custodian and several accomplices, senior police official Jamshed Ahmad told NBC News.
With its ancient hypnotic rituals, Sufism is a mystical form of Islam that has been practiced in Pakistan for centuries.
Ahmad said police raided the shrine and captured six people including the custodian, who has been identified as Abdul Waheed, 50.
He said police came to know about what he described as a "brutal killing" when one of the injured managed to reach a nearby hospital.
"The custodian called his faithful one by one to a room where he killed them using daggers and sticks," Ahmad said.
19 people died inside the shrine and one woman died later at hospital, Ahmad added.
Police said they were currently investigating the incident and trying to ascertain the perpetrators' motives.
Liaquat Ali Chatta, government administrator of the area, told the Associated Press the custodian was allegedly in the practice of "beating and torturing" devotees to "cleanse" them and said Waheed had confessed to the murders.
Rana Sanaullah, the law minister for the Punjab provincial government, said an initial investigation showed that Waheed had a collection of followers who would regularly visit the shrine and face torture in the name of religious cleansing.
The shrine was built about two years ago on the grave of local religious leader Ali Mohamamd Gujjar. Shamsher Joya, a local police officer, said Waheed would come to the shrine twice a week from Lahore, and his followers would submit to "beating and torturing with a red hot iron rod."
Pervaiz Haider, a doctor in a Sargodha hospital, said most of the dead were hit on the back of the neck."There are bruises and wounds inflicted by a club and dagger on the bodies of victims," he told Reuters.
Zulfiqar Hameed, Regional Police Officer for Sargodha, said that during his interrogation, Waheed had told police he believed his victims were out to kill him.
"Waheed told police that he killed the people because they had tried to kill him by poisoning him in the past, and again they were there to kill him," Hameed told Reuters.
Reuters could not immediately find contact details for Waheed or any lawyer representing him.
In recent months, Sufi shrines have been targeted by extremist Sunni militants who consider them heretics, including a suicide bombing by Islamic State that killed more than 80 worshipers at a shrine in Lal Shahbaz Qalandar shrine in southern Sindh province.
Last November, an explosion ripped through another Sufi shrine, the Shah Noorani in southwestern Pakistan, killing at least 52 people. Islamic State also claimed responsibility for that attack.
http://www.telegraph.co.uk/news/2017/04/02/pakistan-spiritual-leader-accused-torturing-killing-20-shrine/
--------
Muslim Dancer Wins Hearts Performing As Lord Krishna
April 2, 2017
A young Muslim dancer has mesmerised the audience by his performance as Lord Krishna at a programme celebrating 150th birth anniversary of Sister Nivedita, organised by the Ramakrishna Mission in Jalpaiguri, West Bengal.
Imram Sheikh, who came from Assam as a member of the Rangapara Dance Academy to take part in the 4-day programme, danced on the themes of 'Dashavatar' and 'Krishna Leela'. Asked about taking part in a Hindu religious programme, Sheikh said, "I am an artiste and an artiste does not have any religion or caste."
Ramakrishna and Vivekananda had taught about unity of all faiths, the 18-year-old dancer said.
He also took part in Sattriya, a classical dance form originated in Assam and was attributed to 15th century Vaishnab saint Srimanta Sankardev.
"Humanism is the best religion. Ramakrishna and Vivekananda never taught religion of gods or goddesses. They strove for the development of the country and its people," secretary of Jalpaiguri Ramakrishna Mission, Swami
Shibapremananda said.
The four-day sesquicentennial programme of Sister Nivedita concludes today (Apil 2).
http://indianexpress.com/article/lifestyle/art-and-culture/muslim-dancer-wins-hearts-performing-as-lord-krishna-in-bengal-4596711/
--------
Syrians Flee Raqqa 'Hell' As US-Backed Assault Nears
April 3 2017
AIN ISSA - In a muddy camp in northern Syria, civilians who fled Raqa said fear of an expected US-backed assault on the Islamic State group bastion was reaching a fever pitch.
This week, hundreds of civilians escaped Raqa and headed north to the camp in Ain Issa, in territory controlled by the Syrian Democratic Forces, a US-backed Arab-Kurdish alliance. As part of their campaign to capture Raqa, the Syrian heart of the jihadists' so-called "caliphate", the SDF have been bearing down on the IS-held Tabqa Dam over the past 10 days.
Rumours that Syria's biggest dam would collapse and flood Raqa, 55 kilometres downstream, have sparked panic in the city. "The hisbah (religious police) announced over the megaphones 'the land of Muslims will be flooded, the Tabqa dam has collapsed,'" said Mohammad Mahmoud, 38.
Mahmoud, his brother and both their families paid $1,000 to a smuggler and fled Raqa on foot earlier this week. "I was so afraid, I couldn't think straight," he said.
The camp where he has found shelter is home to several thousand Syrians displaced by war, including 400 families who arrived this week from Raqa. Children waddled through makeshift pathways between tents emblazoned with the logo of the UN refugee agency (UNHCR), clutching sandwiches and water bottles.
Inside tents, men waited for their turn to have their IS-mandated beards shaved then examined their bare chins in a small mirror.
Mahmoud's face was weighed down by exhaustion, his clothes covered in dust. He hovered protectively around his elderly mother who sat in a wheelchair, its wheels caked in mud after their arduous 14-hour trek out of Raqa.
"It's hell there. Fear rules over everything," he said as he took apparent pleasure puffing on a cigarette, a vice which IS banned when they captured Raqa in 2014. "IS is finished now. Most of its fighters fled to Mayadeen or Albu Kamal," two towns in the oil-rich eastern province of Deir Ezzor, most of which is under IS control.
At the entrance to the camp, Kurdish police units -- known as Asayesh -- searched visibly shaken new arrivals. Ahmad, a Raqa native in his 50s, said residents seized the opportunity to flee when they saw IS fighters leave.
"We were no longer afraid to flee Raqa like before, because IS fighters were less and less visible," he said, his six children perched atop suitcases packed with their belongings. Ahmad said the jihadists "abandoned most of the checkpoints, built tunnels around the city" and protected their positions with sand bags.
He said the journey to Ain Issa was traumatic. "We were so terribly afraid of the air strikes, that the coalition might think we are IS fighters," he said.
"Daesh is afraid of the assault on Raqa," a 25-year-old man who asked to use the pseudonym of Zuhair for security reasons, said using an Arabic acronym for IS. "Many of their fighters fled with their families on motorbikes and there are fewer and fewer checkpoints," he said.
But even as the jihadists left, "they warned residents 'not to go to the infidels,'" said Zuhair, who still has relatives trapped in Raqa, a city of 300,000 residents.
"I don't know what happened to them," he said, tearing up. IS applies an ultra-conservative interpretation of Islamic law in territory under its control, torturing or executing law-breakers. Zuhair said he was jailed and lashed by jihadists several times for selling tobacco in defiance of an IS ban.
"But if I hadn't taken the risk, I couldn't have fed my family," he said, crouched near his one-year-old daughter Qamar. Syria's conflict began in 2011 with anti-government protests, but has since turned into a multi-front war that has killed more than 320,000 people and forced millions to flee their homes. Since March 21, the battle for Tabqa Dam and the adjacent town has killed at least 110 civilians and 68 jihadists, according to the Britain-based Syrian Observatory for Human Rights.
It said SDF fighters were around two kilometres from Tabqa. Jilal al-Ayyaf, who runs the camp in Ain Issa, said he was bracing for an influx of displaced people as the SDF press their advance. "The more the noose tightens (around IS), the more displaced people we'll get," he said.
http://nation.com.pk/international/03-Apr-2017/syrians-flee-raqa-hell-as-us-backed-assault-nears
--------
Iran concerned over Raheel's appointment as head of Saudi-led military alliance: envoy
DAWN.COMUPDATED : 03 April 2017
Iran has expressed its reservations regarding the appointment of the former army chief, retired Gen Raheel Sharif, as head of the Saudi-led 39-nation Islamic military alliance, saying it is not 'satisfied' with the coalition.
"We are concerned about this issue... that it may impact the unity of Islamic countries," Iran's Ambassador to Pakistan Mehdi Honardoost said.
Iran's state-run IRNA news agency quoted Honardoost as saying that Pakistan had contacted Iranian officials before issuing the no-objection certificate (NOC) to Gen Sharif to lead the Saudi alliance.
"But that does not indicate that Iran is satisfied with this decision or it has accepted the same," the envoy said.
The ambassador said Iran had conveyed its concerns to the Pakistani government.
He said Tehran had informed Islamabad that Iran would not become part of such a military alliance, adding that neither had Iran been extended an offer to join a coalition of this sort.
He proposed that all important Islamic countries come together to form a "coalition of peace" in order to resolve their issues "rather [than] forming a controversial military alliance".
Gen Sharif is likely to assume command of the anti-terrorism alliance, being dubbed the 'Muslim Nato', in April.
The government had issued an NOC for Sharif to join the alliance after an understanding was reached between Pakistan and Saudi Arabia on the matter, retired Maj Gen Ijaz Awan, a defence analyst and close associate of the former army chief, had told Dawn.
A controversial appointment
The appointment of Gen Sharif as the leader of the 39-country military alliance sparked debate over how the move will impact Pakistan's foreign policy, and whether it was fully sanctioned by parliament.
Pakistan had initially found itself in the crosshairs of Middle Eastern politics as Saudi Arabia named it as part of its newly formed military alliance of Muslim countries meant to combat terrorism, without first getting its consent.
However, after initial ambiguity, the government had confirmed its participation in the alliance, but had said that the scope of its participation would be defined after Riyadh shared the details of the coalition it was assembling.
Gen Sharif last March accompanied the prime minister to Raadal Shamaal, the first military exercises of the alliance in which Pakistani troops also participated.
The coalition was envisaged to serve as a platform for security cooperation, including provision of training, equipment and troops, and involvement of religious scholars for dealing with extremism.
The Saudi government had surprised many countries by announcing that it had forged a coalition for coordinating and supporting military operations against terrorism in Iraq, Syria, Libya, Egypt and Afghanistan.
Iran, Saudi Arabia's archrival for influence in the Arab world, was absent from the states named as participants, as proxy conflicts between the two regional powers rage from Syria to Yemen.
https://www.dawn.com/news/1324597/iran-concerned-over-raheels-appointment-as-head-of-saudi-led-military-alliance-envoy
--------
Southeast Asia
Perak mufti claims unilateral conversion ban Bill 'insult' to Islam, wants retraction
April 3, 2017
KUALA LUMPUR, April 3 — Tan Sri Harussani Zakaria urged Putrajaya today to withdraw from tabling the Law Reform (Marriage and Divorce) Act 1976 Bill due to a controversial provision banning unilateral conversion of minors.
The Perak mufti was reported by news outlet Astro Awani on its website as claiming that the proposed amendments will deny the rights of a Muslim convert, in addition to sidelining the powers of the Shariah courts.
The marriage and divorce law is also known as Act 164.
"I am informed that the Bill on Act 164 regarding married couples where a convert weds a Muslim and there is a divorce, then their children or children cannot be registered as Muslim either by the mother or father except by the consent of both after the child reaches 18," Harussani was quoted saying.
"This is a very serious matter, a matter that is against the Constitution and furthermore against Islam, and it is opposed to the rules set by the Shariah," he added, referring to the Islamic code.
Harussani claimed that any law that is against Islam is a direct opposition to God and would constitute idolatry.
The mufti also claimed the laws would belittle and insult Islam if it is tabled and passed.
"Therefore, it is my job as a mufti to suggest that the government retract the proposal to amend the Act and not table it at this time," he said.
Contrary to Harussani's claim, Malaysia's Parliament has no obligation to obey the opinion of a state mufti.
Putrajaya is expected to table the Law Reform (Marriage and Divorce) (Amendment) Bill 2016 for second reading in Parliament this sitting, the highlight being the inclusion of a new Section 88A that explicitly states that "both parties" in a civil marriage must agree for the conversion of a minor into Islam.
Full report at:
http://www.themalaymailonline.com/malaysia/article/perak-mufti-claims-unilateral-conversion-ban-bill-insult-to-islam-wants-ret
--------
Jakim to question Siti Kasim over alleged deviant Islamic remarks
April 2, 2017
KUALA LUMPUR, April 2 — Lawyer Siti Kasim will be summoned to clarify her reported remarks relating to God's existence in an interview with a Chinese news outlet that purportedly deviates from the Islamic faith, a deputy minister in the Prime Minister's Department said today.
Datuk Asyraf Wajdi Dusuki said the Islamic Development Department of Malaysia (Jakim) will contact and arrange an interview date with the vocal lawyer and human rights activist, national news agency Bernama reported.
"We're not trying to degrade her but is it true what she said? We want to hear from her lips first but when summoned, don't fail to turn up," he was quoted telling reporters in Pasir Puteh, Kelantan after officiating an event there.
Asyraf was also reported adding that Jakim is not empowered to take legal action against Siti, but that the state Islamic Department can take action based the relevant enactments relating to crime, faith and the dissemination of matters that can damage Islam.
The deputy minister in charge of Islamic affairs was reported to be responding to Siti's online interview with an unnamed Chinese news outlet a few years ago.
Siti last month filed a police complaint after receiving death threats from Facebook users over her alleged remarks on God.
Full report at:
http://www.themalaymailonline.com/malaysia/article/jakim-to-question-siti-kasim-over-alleged-deviant-islamic-remarks
--------
Representing Asian Muslims, Indonesians Cast A Wary Eye on Trump's Travel Ban
03 April 2017
JAKARTA, NETRALNEWS.COM -- When Annisa Rochadiat made a recent trip to Japan, she was worried about whether she would be able to re-enter the U.S.
The Indonesian national has been living in Detroit for the past few years, and this was the first time she had traveled outside America since Donald Trump took office as U.S. president in late January.
"My worries mainly stemmed from the fact that I'm visibly Muslim, who also happens to hold citizenship of a Muslim-majority country," said Rochadiat, who wears a hijab.
In the end, she was able to pass through immigration checks without any trouble. Indonesia, the world's most populous Muslim nation, is not among the seven -- and later six -- Muslim-majority countries against which Trump has been seeking an entry ban.
But that does not stop Rochadiat from worrying. "To be clear, Muslim Americans have experienced discrimination -- and in some cases hate crimes -- before Trump became president since 9/11," said Rochadiat, who had been in and out of the U.S. before starting her Ph.D. at Wayne State University in Detroit in 2013.
"It's just the magnitude and frequency have starkly escalated and increased since Trump won the election. His rise to power has apparently emboldened some people."
Trump's attempt to block citizens from Libya, Iran, Somalia, Syria, Sudan and Yemen from entering the U.S. has incited worries in other parts of the Muslim world, including Indonesia and Malaysia.
An Indonesian recipient of the U.S. Fulbright scholarship said she and her fellow recipients planning to depart for the U.S. this year were "tremendously worried" that the ban could be extended to Indonesia, and that their scholarship funding might be cut or they might face discrimination.
Unaffected, for now
Although Indonesian and Malaysian nationals make up only a fraction of Asian immigrants to the U.S., it remains a popular destination for prospective students from both countries. But while those who may be directly affected by the travel ban have spoken out, official reactions from the two countries have been muted.
"We're not affected by the policy. Why should we feel worried?" Indonesian President Joko Widodo said, shrugging off local concerns. The U.S. is one of Indonesia's largest trading partners and a leading source of foreign direct investment, and Widodo is clearly reluctant to risk damaging those economic ties -- potentially under threat as Trump moves toward protectionism -- with what he deems unnecessary comments.
Moreover, observers have pointed out that Trump is not seeking a ban against citizens of Muslim-majority nations he has business ties with, including Indonesia, where Trump Hotel Collection is developing two resorts with local business partner Hary Tanoesoedibjo.
Nevertheless, about 100 protesters led by Malaysian opposition politicians gathered in front of the U.S. Embassy in Kuala Lumpur on Feb. 3 to demand the ban be canceled. Rally leader Saifuddin Abdullah said the ban would only fan antagonism against the West among radical organizations such as the Islamic State group.
"It plays into their narrative that you should not trust democratically elected leaders," he told local reporters.
Compounding a crisis
Should the ban come into force, those most likely to suffer are refugees fleeing war-torn nations targeted by Trump's decision. Many of these refugees use Southeast Asia as a transit point on their way to settling down in the West, including in Australia and the U.S, but are now stranded in the region.
There is also the swelling number of Rohingya Muslims fleeing persecution in Myanmar. Overall, according to the United Nations High Commissioner for Refugees, Southeast Asia currently hosts 2.6 million "persons of concern," a term that includes refugees and asylum seekers.
Full report at:
http://www.en.netralnews.com/news/currentnews/read/3601/representing.asian.muslims..indonesians.cast.a.wary.eye.on.trump.s.travel.ban
--------
Pakistan
JUI-F Vows Steps for Sharia Enforcement
April 03, 2017
SADIQABAD-The JUI-F centennial celebrations will prove to be a milestone in introducing new political trends regarding enforcement of Sharia in the country.
JUI-F tehsil general secretary Hafiz Saeed Mustafa stated while talking to media here the other day.
He said that the party office-bearers and workers from across the country will participate in the centennial celebrations conference to be held in Peshawar during the ongoing month. He said that JUI-F Maulana Fazlur Rehman will address the attendees, adding that Imam-e-Ka'ba Abdur Rehman Al-Sudais and representatives of Islamic organisations will also participate in the conference.
On the occasion, he also pointed out that religious seminaries are guardians of the geographical and ideological boundaries of Pakistan, pledging that the JUI-F will go to any extent to protect them.
JUI-F leaders including Maulana Abdullah Rabbani, Maulana Saad, Maulana Zubair, Maulana Ismail, Maulana Abu Bakr Farooqi and Maulana Saifullah were also present on the occasion.
http://nation.com.pk/national/03-Apr-2017/jui-f-vows-steps-for-sharia-enforcement
--------
What makes Parachinar hotbed of terrorism
03-Apr-17
ISLAMABAD: The recent deadly attack on Parachinar was not the first one this year. In fact, sect-based attacks on Shias in Parachinar are not a new phenomenon. The conflict dates back to the colonial era and has been erupting every Muharram since the 19th century. But in recent years, especially after the advent of Sunni deobandi sectarian organisations in the wake of Afghan Jihad in 1980s and religious revolution in Iran in 1979, this conflict became worse. It only got worst after Pakistan's tribal areas became sanctuaries of Sunni deobandi terrorist groups of all ilk in the post-9/11 Pakistan.
Kurram is one of the seven tribal Agencies of FATA and is divided in three distinct regions of Upper Kurram, Central Kurram and Lower Kurram. Upper Kurram is predominantly Shia whereas Central & Lower Kurram are Sunni majority areas. The Agency stretching over more than 3000 square kilometers is bordered with the North Waziristan in the South, Hangu, Orakzai and Khyber Agency in the East, whilst it shares its border with Afghanistan's area of Nangarhar in the North West and with Paktia province in South West.
Both these Afghan provinces have been strongholds of Afghan Taliban and Haqqani network. In fact, many districts of Paktia and Nangarhar were fallen to Taliban in last two years. In 2016 however, Islamic State in Khurasan Province (ISKP) took many Nangarhar districts from Taliban, few of which Taliban have captured back.
But because of the strong presence of these terrorists groups across the border, Kurram became excellent sanctuary for Pakistan based terrorist groups, who work in mutual cooperation at operational level, with the Afghan terrorist groups. In lieu of safe havens in each other's area of influence on both sides of border, these groups provide on-ground operational support to each other - a fact contested by the security agencies however.
The arrival of ISKP in this Taliban-Taliban equation on both sides of Kurram-Nangarhar border has been used by Pakistan based militant groups, all of whom are anti-Shia across the board. Shia majority of Upper Kurram has been sandwiched between the anti-Shia Haqqanis & Afghan Taliban on Afghan side and a mix of terrorist outfits like Tehrik-e-Taliban Pakistan (TTP), Lashkar-e-Jhangavi (LeJ) etc. in Central and Lower Kurram. This siege like situation continued for more than a year and half in 2008-9, when Pakistan's security agencies launched Operation Koh-i-Sufaid I and II, which concluded in 2011 and 2012 respectively.
Parachinar being the headquarter of Kurram Agency and the central city in Shia majority Upper Kurram, has been under attack by these terrorist outfits since 2005. This seat of Shias enveloped by Sunni militant groups on all sides is strategically very important for these groups to cross the border to reach sanctuaries in Afghanistan. It was for this reason that TTP, LeJ and latter Jamaat-ul-Ahrar have kept attacking it for not only ideological reasons - to eliminate Shias - but also for the strategic reasons - to get safe passage across the border. This importance increased with every operation starting from Rah-e-Nijaat in South Waziristan that pushed these militant groups in North Waziristan bordering Parachinar in south. From 2009 onwards when CIA's drone strikes in North Waziristan were intensified, these groups started relocating gradually to Kurram, from where they needed passage to Paktia and Nangarhar. It was, thus, important for them to keep Parachinar troubled and uproot well equipped Shia groups from there so there won't be any resistance for them.
Full report at:
http://dailytimes.com.pk/islamabad/03-Apr-17/what-makes-parachinar-hotbed-of-terrorism
--------
Pakistan needs friends, not masters: Fazl
April 03, 2017
PESHAWAR - Jamiat Ulema-e-Islam-Fazl (JUI-F) chief Maulana Fazlur Rahman on Sunday said that Islam has nothing to do with terrorism and violence. Ulema from all schools of thought have declared any kind of armed struggle within Pakistan as un-Islamic, he said.
He was talking to media persons at Aza Khel, Nowshera in connection with the preparations for centennial celebrations of the party and the largest-ever religious-political congregation of JUI-F to be held from April 7 to 9.
He stressed the need for friendly relations with all neighbours and an independent foreign policy for the country, which should be based on friendship rather than slavery.
Fazl said ulema have already distanced themselves from militancy, terrorism and any kind of armed struggle within the country.
He said that JUI-F congregation of 25,000 ulema had already dismissed the notion that declared parliament, constitution, judiciary and democracy un-Islamic," he said.
He asked journalists to highlight the issues of Muslim Ummah and give maximum coverage to JUI-F congregation to portray peaceful image of Islam and religious political parties.
He said that due to better policies of the party even the Communist Party of China has termed JUI-F a friend party. The day is not far when JUI-F will prove the world that Islam is the religion of peace and brotherhood, Fazl said.
Demanding the reformulation of foreign policy, he said the country has been in isolation even after 70 years of independence given its important geo-strategic location.
He said that the country needs to have friends not international masters and it was the need of the time to have good relations with international power on the basis of equality and friendship.
Full report at:
http://nation.com.pk/national/03-Apr-2017/pakistan-needs-friends-not-masters-fazl
--------
Four missiles fired into Pakistan from Afghanistan
April 03, 2017
PESHAWAR - Four missiles were fired into parts of Upper Kurram Agency from inside Afghanistan on Sunday. A shop was completely destroyed in the incident.
"Luckily, no loss of life was reported in the incident," the local political administration informed The Nation.
Officials in the political administration said that one of the missiles hit a shop in Shungak, and another fell near a mosque in the same area. They said that the shop was completely destroyed. Similarly, the other two missiles landed in a graveyard located at Kachkeena locality of the agency. They said that it was confirmed that all the four missiles were fired from Paktia province of Afghanistan. No casualties were reported in the missiles attack, the officials said.
However, the incident created panic among the residents of the areas. Following the incident, the political administration officials and the security forces rushed to the area.
Kurram Agency is one of the sensitive agencies, and this latest incident occurred in the area where militants have reportedly killed at least 23 people and injured over 40 others in a car-bomb explosion, two day ago in Parachinar.
Later, through a message to the media, Jamaatul Ahrar (JuA), a faction of the TTP claimed responsibility for the attack.
Full report at:
http://nation.com.pk/national/03-Apr-2017/four-missiles-fired-into-pakistan-from-afghanistan
--------
Afghan refugees' repatriation resumes today
April 03, 2017
PESHAWAR - The United Nations High Commissioner for Refugees (UNHCR) will resume voluntary repatriation process for Afghan refugees today (Monday).
Under the voluntary repatriation programme, it is expected that around 16,000 registered Afghan refugees would go back to their home country, Afghanistan, in the months of April and May, officials said.
The first phase of voluntarily sending the refugees back to Afghanistan had been halted in last November, due to harsh cold weather, they explained.
Now, in the fresh phase, which will resume today (Monday), the willing refugees will leave for their country from the repatriation centre setup for the purpose at Chamkani near Peshawar, they said.
Meanwhile, the registration process of refugees who want to go back to Afghanistan will also continue, they informed.
Full report at:
http://nation.com.pk/national/03-Apr-2017/afghan-refugees-repatriation-resumes-today
--------
K-Electric's atrocities against people unbearable, says JI
April 03, 2017
KARACHI - Jamaat-e-Islami (JI) city chief Engineer Hafiz Naeem-ur-Rehman has said that atrocities being committed by K-Electric (KE) against Karachiites have become unbearable.
He said that JI would not tolerate the injustices and this time it would stage a sit-in outside K-Electric's headquarters on April 7. He expressed these views while chairing a meeting of party office-bearers at JI Karachi headquarters Idara Noor-e-Haq. District heads of the party and other office-bearers attended the meeting.
On the occasion, Naeem appealed to people affected by K-Electric and party workers to reach private power distribution company's headquarters by 12 noon. He also appealed to people to bring their written complaints against K-Electric with them. He also directed the party workers to launch a massive and effective outreach campaign. Complaint cells will be set up in all districts for this purpose, he added.
He said that K-Electric administration and owners were earning billions of rupees in profit, but were not willing to deliver despite the fact that they were bound to. He said that K-Electric had brought darkness to the lives of ordinary citizens.
Full report at:
http://nation.com.pk/karachi/03-Apr-2017/k-electric-s-atrocities-against-people-unbearable-says-ji
--------
India
Pakistan troops violate ceasefire along LoC
Apr 3, 2017
JAMMU: Pakistani troops on Monday resorted to mortar shelling and firing by automatic weapons along the Line of Control (LoC) in Poonch district of Jammu and Kashmir, prompting the Army to retaliate.
"There was unprovoked ceasefire violation by Pakistan Army in Digwar sector of Poonch today, using 82 mm mortars, automatic weapons," a defence spokesman said.
Indian Army personnel took positions and responded befittingly to the Pakistani firing, the spokesman said, adding that intermittent firing was going on.
There is no casualty on Indian side, he said.
http://timesofindia.indiatimes.com/india/pakistan-troops-violate-ceasefire-along-loc/articleshow/57984495.cms
--------
From Kashmir jail, police seize mobiles used to be in touch with Pak numbers
Apr 3, 2017
SRINAGAR: In a major crackdown, police today seized 14 mobile phones from a sub-jail in Baramulla district of Kashmir which were allegedly being used by the inmates to be in touch with their contacts in Pakistan via WhatsApp.
The phones were seized from the prisoners, who included those held on charges of militancy and stone-pelting, just three days after Union Home Minister Rajnath Singh said that Pakistan is using social media to fuel unrest in Kashmir.
"We had got inputs from Jail authorities about their suspicion of some mobile phones being operated from inside the jail premises. In a joint search operation by the jail and police officials, 14 mobile phones were recovered along with some incriminating material," Senior Superintendent of Police, Baramulla, Imtiyaz Hussain said.
"There are quite a few militants there and we have recovered some phones from them as well. They were on WhatsApp and we can see that they were in touch with some Pakistani numbers as well... So we will look into the whole issue," he said.
The recoveries were made from prisoners who were involved in stone pelting and militant activities, the SSP said, adding the recovered phones were being sent for forensic tests gather details about the purpose they were being used for.
He said an FIR has been registered against 10-12 inmates and investigation is on to find out how these articles, which are not authorised as per the jail manual, have made entry into jail premises.
Full report at:
http://timesofindia.indiatimes.com/india/from-kashmir-jail-police-seize-mobiles-used-to-be-in-touch-with-pak-numbers/articleshow/57981938.cms
--------
Vyapam Deaths, SIMI Encounter Are Rights Violations: US
Apr 3, 2017
BHOPAL: The US State Department highlighted the SIMI operatives encounter and Vyapam scam deaths in Madhya Pradesh as Indian government's human rights excesses in a report released on Sunday.
The report titled `Human Rights Practices in India for 2016' mentions the killing of suspected SIMI operatives after their escape from Bhopal central jail as "arbitrary deprivation of life and other unlawful or politically motivated killings."
It also mentions the Vyapam deaths as examples of "corruption and lack of transparency in government". The US report states that in July 2015, the Supreme Court ordered CBI to take over a Madhya Pradesh state government investigation of fraud within the state-controlled Professional Examination Board (Vyapam).
"Arrests in the case since the investigation began in 2013 included more than 2,000 individuals. In August, the CBI registered a complaint against 60 individuals and filed charges against a student candidate and an impersonator. The Madhya Pradesh high court granted bail to some of the accused. The CBI was also investigating the deaths of 48 individuals over the span of five years, including a journalist, who reported on the fraud," the US State Department report reads.
According to the report, investigations and prosecutions of individual cases took place, but lax enforcement, a shortage of trained police officers, and an overburdened and under resourced court system contributed to infrequent convictions.
Full report at:
http://timesofindia.indiatimes.com/india/vyapam-deaths-simi-encounter-are-rights-violations-us/articleshow/57981500.cms
--------
Indian Mujahideen planned bigger attacks in Gujarat in 2008: Police
Apr 3, 2017
AHMEDABAD: The Indian Mujahideen wanted to carry out a big terror strike in Surat in 2008 to avenge the killings of Muslims in 2002 Gujarat riots and the demolition of Babri Masjid, police said on Sunday.
Sources in the Gujarat crime branch said IM co-founder Yasin Bhatkal had travelled to the diamond city with a plan to plant 29 bombs on July 26, 2008, the day 20 blasts rocked Ahmedabad, killing 56 people and injuring more than 200 people.
During the second round of questioning on Sunday, Bhatkal told sleuths that IM was planning to carry out bigger attacks in Gujarat after the July 2008 serial blasts. "Bhatkal had thought after carrying out serial blasts in Jaipur, Bangalore and Delhi, they would get away with Ahmedabad blasts too. But within a week of the attack, Gujarat police caught some of the key IM operatives," an official said.
Full report at:
http://timesofindia.indiatimes.com/india/indian-mujahideen-planned-bigger-attacks-in-gujarat-in-2008-police/articleshow/57981374.cms
--------
Arab World
Egyptian military kills top leader of Takfiri terrorist group
Apr 2, 2017
Egypt's military forces have killed the founder and top leader of Daesh-linked Velayat Sinai Takfiri terrorist group in an airstrike.
"Following the results of the air raid on March 18 ... and upon the security apparatus's investigation, it was revealed that Salem Salmy al-Hamadeen, aka Abu Anas al-Ansari, was killed," said Egyptian army spokesman Tamer al-Refai in an official statement on Sunday, adding that the terrorist leader had died of injuries he had sustained in the airstrike.
The Egyptian military official said the attack also killed 17 "extremely dangerous" terrorists and wounded several others.
The group, previously known as Ansar Bait al-Maqdis, was founded in 2011 and in mid 2013 it began a campaign of deadly attacks against Egyptian security forces. The group has killed hundreds of soldiers and police officers, particularly in the Sinai Peninsula, so far. In November 2014, it also pledged allegiance to Daesh Takfiri terrorist group, which is mainly active in Syria and Iraq, and renamed itself as Daesh-Velayat Sinai Province.
According to Refai, the Takfiri leader was one of the group's founders and was among its most prominent leaders in North Sinai, playing an active role in arming and training militants in the region.
The military statement came two days after the terrorist group announced the killing of Hamadeen in its propaganda weekly newsletter al-Nabaa, mourning the death of the 40-year-old leader in an obituary, and describing him as a "key figure" in the terror campaign.
The Egyptian military launched a large-scale security operation against Daesh positions in Sinai in September 2015, following coordinated terrorist attacks on several army checkpoints that claimed the lives of 21 soldiers in July that year.
The Sinai Peninsula has been under a state of emergency since October 2014, following a deadly terrorist attack that left 33 Egyptian soldiers dead. Over the past few years, militants have been carrying out anti-government activities and fatal attacks, taking advantage of the turmoil caused in Egypt after the democratically-elected president, Mohamed Morsi, was ousted by the military in July 2013.
Velayat Sinai terrorists have claimed responsibility for most of the assaults, mainly targeting the army and police.
http://www.presstv.ir/Detail/2017/04/02/516489/Egypt-army-Velayat-Sinai-Daesh-Salem-Salmy-alHamadeen-Abu-Anas-alAnsari
--------
Syrian Army Shells Terrorists' Positions in Southern Outskirts of Damascus
Apr 02, 2017
The artillery units heavily pounded the positions of militants in the Yarmouk Refugee Camp in Southern outskirts of Damascus city, inflicting heavy losses on the terrorists.
The army soldiers also clashed with terrorists North of Yarmouk camp in an area between al-Thanavia and al-Rija neighborhoods.
In the meantime, the army closed all tunnels linking the Allah neighborhood of Barzeh district to al-Qaboun district Northeast of Damascus.
Sources in Eastern Ghouta reported that the army men engaged in heavy fighting with the terrorists in al-Qaboun, while the army carried out heavy rocket attack on the terrorists' position in the al-Qaboun.
The sources added that the army expanded its control over al-Reihan Farms in Eastern Damascus and gained control over more points and tunnel networks in the vicinity of Ibn Sina Hospital following heavy fighting with terrorist groups since yesterday afternoon, killing and wounding dozens of militants.
Relevant reports said on Saturday that Syrian military forces discovered a lengthy tunnel of the terrorists in Eastern Ghouta and destroyed it.
The army gained control over the last major tunnel of the terrorists in al-Qaboun district North-East of Damascus province.
Local sources said that the tunnel was called by the militants as the Nafaq al-Qaboun, adding that it was used for transferring militants and weapons across al-Qaboun and Arbin region.
Full report at:
http://en.farsnews.com/newstext.aspx?nn=13960113000376
--------
Dara'a: Terrorists' Command Post Destroyed in Syrian Army Attack
Apr 02, 2017
The army units struck the concentration centers of the Al-Nusra front North of the town of Na'ima in East Dara'a, destroying terrorists' command post and killing and wounding a number of militants.
In the meantime, the army hit the terrorist groups' gatherings in Dara'a al-Balad, al-Tihi village, Eastern farms of Ibt'a village and Karak district, killing and wounding a number of the militants, destroying a tank and 2 machinegun-equipped vehicles.
Meanwhile, the coordination center of the militants announced that an official member of the "Ahrar Al-Sham" nom de guerre "Munif al-Qaddah" was wounded as his car came under fire in the city of "Al-Harak" in Northern Dara'a.
Relevant reports said on Friday that A notorious tank commander of the Al-Nusra Front was killed in fierce clashes with the Syrian Army units in al-Abbasiyeh neighborhood in the Southern city of Dara'a.
Abdullah al-Ordoni, nom de guerre "king of tanks", who was the commander of the terrorists' tank units in Dara'a was killed in heavy fighting with the army men South of al-Abbasiyeh neighborhood.
Full report at:
http://en.farsnews.com/newstext.aspx?nn=13960113000358
--------
Scores of ISIL Members Killed in Clashes with Kurdish-Led SDF in Northern Syria
Apr 02, 2017
Sputnik reported that ISIL attacked the village of Misharfa West of Tabaqa town, adding that the SDF fighters managed to repel their attack.
The SDF fended off a suicide car attack and seized two ISIL tanks.
ISIL suffered several casualties, while two SDF soldiers suffered injuries in the fighting, the statement added.
ISIL also attacked the village of Icel East of Raqqa but the SDF managed to repel the attack, destroying two vehicles prepared for suicide car bombing.
Full report at:
http://en.farsnews.com/newstext.aspx?nn=13960113000432
--------
Syrian Soldiers Ward off Terrorists' Large-Scale Offensive in Lattakia Province
Apr 02, 2017
The sources said that after mobilizing a significant number of militants in rural Lattakia over the past few days, Ahrar a-Sham terrorists carried out a large attack on the government forces' positions between the villages of Shahroura and Al-Shamas.
Spearheaded by Ahrar Al-Sham, the militant units stormed a nearby checkpoint held by the army troops, the sources said.
They added that the army discovered the advancing terrorists early on and advised entrenched government soldiers to set up an ambush in the Kinsibba region. While upwards of one hundred fighters advanced towards the seemingly unmanned checkpoint on the outskirts of Kinsibba, the army suddenly opened fire from two hilltops and inflicted substantial casualties on the terrorists in the process.
The sources went on to say that with dozens dead in the wake of the failed attack, terrorists quickly scattered towards militant-held positions on the provincial border between Lattakia and Idlib.
Only few corpses were retrieved by Ahrar Al-Sham amid the failed attack while many wounded fighters were left behind to be captured alive by the Syrian army, the sources further said.
Full report at:
http://en.farsnews.com/newstext.aspx?nn=13960113000271
--------
Russian Air Force Bombs Heavily Terrorists' Positions at Syria's Border with Turkey
Apr 02, 2017
According to an eye witness, at least ten airstrikes were observed around midnight on Saturday as the Russian jets targeted the positions of Ahrar Al-Sham and Jeish al-Islam near the towns of al-Kafeer and Babsqa at the country's border with Turkey.
Amid the Russian aerial bombardment, a weapons depot was blown to ashes, causing significant destruction.
In addition, Russian airstrikes targeted a military site controlled by Darayya militants who were evacuated from the Syrian capital in August, 2016.
Dozens of militants were reportedly killed by the surprise airstrikes that took the terrorists without warning due to the Russian jets attacking from an unexpected angle.
A number of pictures surfaced online showing scores of dead terrorists in the region.
Relevant reports said on Friday that the Russian Navy fired several cruise missiles off the coast of Lattakia, targeting the positions of Tahrir al-Sham Hay'at (the Levant Liberation Board) in the Northern part of Lattakia province and Southern part of Idlib province.
The Russian cruise missiles reportedly struck several sites along the Lattakia-Idlib road on Thursday, causing significant damage on the strongholds of Tahrir al-Sham near the town of Jisr Al-Shughour in Southern Idlib.
Full report at:
http://en.farsnews.com/newstext.aspx?nn=13960113000201
--------
French judiciary reinforces decision to confiscate Assad's uncle's property
2 April 2017
The French judiciary reinforced its decision to confiscate the property of Rifaat al-Assad, the exiled brother of late Syrian president Hafez al-Assad, and rejected his appeals against the decision, Agence France Presse reported on Friday.
Assad, who is suspected of owning this property after embezzling money from Syria, was forced into exile in the 1980s for trying to overthrow his older brother, Hafez al-Assad.
Among the confiscated property are two luxurious houses in Paris.
The investigation into Rifaat's finances was triggered by Sherpa, which claims the fortune was stolen during his time at the heart of the Syrian regime.
Investigators estimated that Rifaat al-Assad and his family's property in France is around 90 million Euros divided among real estate in Paris and offices in Lyon.
A source close to the matter said the judiciary will later look into other appeals which Assad filed against confiscation of other property.
Assad, however, claims his fortune is a result of gifts which he received before being exiled.
Full report at:
https://english.alarabiya.net/en/News/middle-east/2017/04/02/French-judiciary-reinforces-decision-to-confiscate-Assad-s-uncle-s-property.html
--------
Syrian opposition: No political solution in Syria without US
2 April 2017
Syrian opposition leader Nasr al-Hariri said during an interview with Al Arabiya's sister channel Al Hadath that a political solution could never be reached in Syria without America's participation.
Al-Hariri accused the regime and its allies of pursuing a systematic policy of taking control of areas west of the capital Damascus, warning of what he described as a project planned by Iran more than a century ago.
Hariri said Iran was committing war crimes in western Damascus for sectarian reasons.
The White House said that the removal of Assad is no longer a priority for the Trump administration. White House spokesperson Sean Spicer said US must accept "political reality" at his briefing on Friday.
"There is a political reality that we have to accept in terms of where we are right now," Spicer said.
Full report at:
--------
PM Abadi's warning: Separation will harm Kurds
Apr 2, 2017
Prime Minister Haider al-Abadi has warned against Iraq's disintegration, saying a potential separation of the country's Kurds would harm them.
"That is totally objectionable. We are serious about Iraq's territorial integrity," Abadi said in an interview with the Iraqi Kurdistan region's Rudaw media outlet published on Saturday.
"I have asked the Kurdish leaders not to out us or themselves in an embarrassing situation," the Iraqi prime minister said.
"I don't like prolonging the issue of referendum because the result is already obvious. But the question is whether they will act on the results or not?" he said, suggesting that such a plebiscite would assuredly lead to the region's secession.
On Thursday, Hemin Hawrami, a senior assistant to Masoud Barzani, told Rudaw the Iraqi Kurdistan's president had told UN Secretary General Antonio Guterres that the vote would get underway "at the earliest time."
The agency said representatives of the two main Kurdish parties of the Patriotic Union of Kurdistan (PUK) and Kurdistan Democratic Party (KDP) would meet on Sunday to discuss the issue of a referendum.
Full report at:
The Turkish military conducts airstrikes against the militants' positions in northern Iraq.
http://www.presstv.ir/Detail/2017/04/02/516420/Iraq-Abadi-Kurdistan-Region-Turkey-Barzani
--------
Mideast
Human Right Watch: Israel 'systematically' preventing access to Gaza
3 April 2017
An international human rights group on Monday accused Israel of barring foreign researchers from entering the Gaza Strip to document abuses, saying the restrictions call into question Israel's stated commitment to investigating possible rights violations. In a 47-page report, Human Rights Watch accused Israel of "systematically" preventing its researchers from visiting Gaza since 2008, only granting them one exceptional permit last year. The group also said that Egypt has prevented it and London-based Amnesty International from entering Gaza from its territory since 2012.
Israel and Egypt have imposed a blockade on Gaza, home to nearly 2 million people, since the militant Hamas group took over the territory in 2007. Israel and Hamas, an Islamic group sworn to Israel's destruction, have fought three wars since then.
International rights groups have accused both sides of committing war crimes, while the International Criminal Court is conducting a preliminary investigation into possible wrongdoing by both sides. Israel has long accused Human Rights Watch of being unfairly biased against it. Last month, Israel refused to grant a work permit to the New York group's regional director, though it later allowed him to visit the country as a tourist.
Human Rights Watch said the Israeli restrictions cast doubt on the government's claims that it is conducting its own investigations and there is no need for the ICC to get involved. "If Israel wants the ICC prosecutor to take seriously its argument that its criminal investigations are adequate, a good first step would be to allow human rights researchers to bring relevant information to light," said Sari Bashi, Israel and Palestine advocacy director at Human Rights Watch.
The report also criticized Egypt for barring access to Gaza, and for Hamas' refusal to cooperate with investigators. It said Hamas has failed to protect local human rights workers from retribution and sometimes arrested or harassed its critics. The absence of foreign rights investigators, who are less susceptible to Hamas pressure, limits the ability of Palestinian rights groups from documenting abuses by Hamas, the report said.
Also read: Israel plans 2,500 new settlement homes in occupied West Bank
The three parties "should change their policies to protect the vital work of human rights groups seeking to protect Palestinians and Israelis from abuses by the authorities and armed groups," Bashi said. Cogat, the Israeli defense body that coordinates access to Gaza, denied barring rights groups from visiting the enclave.
It said in a statement that it allows over 1,000 people to cross through the border each day for a variety of purposes, including business, medical treatment and academic studies, and said all criteria are in line with security needs. "We coordinate the crossing of many human rights organizations," it said, naming the group "Doctors Without Borders" as an example. The statement made no mention of Human Rights Watch or Amnesty.
Cogat accused Hamas of trying to exploit Gaza civilians traveling through Israel for military purposes, "causing a constant tension between the will to help the civilian Gaza residents and our duty to protect the citizens of Israel."
https://english.alarabiya.net/en/News/middle-east/2017/04/03/Human-Right-Watch-says-Israel-blocking-access-to-Gaza.html
--------
Captured Houthi militias reveal they were trained by Iran
2 April 2017
Houthi militia captured and arrested by Yemeni forces on Sunday have confessed they received training from Iranian and Lebanese experts.
Mohammed Sharad, one of the captured militants, made the confession and said he was treated well by Yemeni legitimate forces
Yemen's national army recaptured more posts in Midi city following fierce clashes with the Houthi militia near the suburbs of the besieged district.
Scores of Houthis militia and guards of the ousted former president Ali Abdullah Saleh were killed and injured on Sunday. Two were captured - one of them a sniper - both later confessed to receiving training from Iranian and Lebanese experts.
Full report at:
https://english.alarabiya.net/en/News/gulf/2017/04/02/Captured-Houthi-militias-reveal-they-were-trained-by-Iran.html
--------
Yemen appeals to EU to help end Saudi aggression
Apr 2, 2017
Yemen has written to the European Union, calling on the 28-nation bloc to pressure Saudi Arabia into ending its deadly military intervention and inhumane blockade of the impoverished nation.
Hisham Sharaf, the Foreign Minister of Yemen's National Salvation Government, made the call on Saturday in letters sent to EU foreign policy chief Federica Mogherini and Maltese Foreign Minister George Vella, whose country holds the rotating presidency of the Council of the European Union.
The letters urged the bloc to condemn rights violations committed in Yemen by the Riyadh regime and its allies.
They also called for the formation of an independent committee to investigate Saudi crimes in Yemen, the reopening of Sana'a International Airport, and making former president Abd Rabbuh Mansur Hadi pay the salaries of public sector employees.
Sharaf said the United Nations Security Council should issue resolutions that support a peaceful political process in Yemen and oblige Riyadh to end its war and lift blockade on the impoverished state.
He further underlined the need for sending humanitarian aid to Yemen through the port city of Hudaydah that is controlled by the Houthi Ansarullah movement.
More than 70 percent of all food, medicine, oil products and humanitarian aid are sent into northern Yemen via Hudaydah, he added.
Saudi Arabia and the UAE have threatened to attack the port city and retake it from the Houthis. The UN has said that it was "extremely concerned" about the fallout from a potential attack of the port.
Full report at:
http://www.presstv.ir/Detail/2017/04/02/516432/Yemen-EU-Saudi-Arabia
--------
Iran only hope against Israel: Tunisian president
Apr 2, 2017
Tunisia's president has called Iran the only source of hope in confronting Israel and hailed the Islamic Republic's sacrifices in the war against terrorists in Syria.
Beji Caid Essebsi made the remarks in a meeting with visiting Iranian Minister of Culture and Islamic Guidance Reza Salehi Amiri at the presidential Carthage Palace in Tunis, IRNA news agency reported.
"The Zionist regime [of Israel] is the Islamic Republic's only enemy in the region. Therefore, we hope that all Muslim and Arab countries would stand by Iran," Essebi said, according to IRNA.
Essebi called Iran a great country with a rich cultural heritage, saying it has a role to play in the Middle East despite efforts by certain sides to push the Islamic Republic into a Shia-Sunni strife.
"Unfortunately, the Zionist regime and its sponsors were trying to isolate Iran, but, by God's grace, the Islamic Republic succeeded to return to the political scene of the region," he added.
Since the victory of the Islamic Revolution in 1979, Tehran has invariably stood by the Palestinian people against Israel which considers Iran as the biggest existential threat.
Amiri departed for Algeria and Tunisia on Monday at the invitation of his counterparts from those countries to sign a number of bilateral cultural agreements.
Essebi said he "respected" those Iranians who have lost their lives in the battle against foreign-backed terrorists in Syria, while providing advisory support to the Syrian army.
Amiri said had it not been for Iran's contribution to the regional anti-terror battle, terrorists would have now reached Damascus and the Iraqi capital of Baghdad, adding that the Iranian assistance had thus prevented "the virus of terrorism from afflicting all the countries" of the region.
Full report at:
http://www.presstv.ir/Detail/2017/04/02/516439/Iran-Tunisia-Israel-Syria-Daesh
--------
PM Hariri: Israel wants a new war against Lebanon
Apr 3, 2017
Lebanese Prime Minister Sa'ad Hariri says recent Israeli actions have indicated a desire for a new conflict after Tel Aviv unveiled the latest addition to its missile system.
In an interview with France24 TV station after arriving in Paris on Sunday, Hariri also dismissed concerns that Hezbollah might provoke a conflict with Israel.
"I think that Israel is the one that wants to launch a war against Lebanon, and not Hezbollah," he said.
"Israel does not want the Arabs to rest. Look at the daily Israeli violations of our airspace, land and territorial waters," Hariri added.
Hariri's comments came after Israel unveiled the "David's Sling" missile system at Hatzor air force base in central occupied Palestinian territories.
The system became operational amid heightened tensions along northern borders with Lebanon and Syria. Prime Minister Benjamin Netanyahu said the missile system was meant against the "existence" of those who allegedly sought to destroy Israel.
Last month, Israeli warplanes struck several targets in Syria, drawing retaliatory missile fire from Syrian forces, in the most serious incident between the two sides since the start of war in Syria in 2011.
After the retaliation, Israeli minister of military affairs Avigdor Lieberman threatened to destroy Syria's air defense systems "without the slightest hesitation" if such an incident were to happen again.
Israel has carried out strikes within Syrian borders to stop what it says are deliveries of advanced weapons to Hezbollah which is fighting Takfiri terrorists the Arab country. The Israeli assaults, however, have often followed Syrian army advances, raising suspicions of Israeli attempts to change the tide in favor of militants.
Last month, Hezbollah chief Sayyed Hassan Nasrallah said Netanyahu had recently met with Russian President Vladimir Putin in Moscow to express his deep concern over the likely collapse of Daesh in Syria.
Tel Aviv has also escalated its aggressive rhetoric and military incursions into southern Lebanon, prompting President Michel Aoun to warn that any Israeli attempt to violate his country's sovereignty would be met with an "appropriate response."
Israeli Education Minister Naftali Bennett said last month "life in Lebanon today is not bad" compared to Syria, adding Tel Aviv should target civilians in a future war with the country and send it "back to the Middle Ages."
Full report at:
http://www.presstv.ir/Detail/2017/04/03/516514/Israel-Lebanon-Hezbollah-Syria
--------
Yemeni snipers kill 2 more Saudi troops
Apr 2, 2017
Yemeni sharpshooters have killed two Saudi troops in the kingdom's border region of Jizan in another counterattack against Riyadh's all-out war on the impoverished nation.
Yemen's al-Masirah television network carried the report on Saturday, saying the Yemeni army had also stricken a military outpost in the region with several missiles.
In the nearby Asir region, the army hit a military vehicle and an arms depot with mortar rounds, and targeted a gathering of Saudi servicemen with the assistance of the Houthi Ansarullah movement.
The Yemeni army and Ansarullah have hit back at the kingdom and Saudi mercenaries inside Yemen with lethal effect in retaliation for thousands of civilians killed in airstrikes and other attacks.
On Saturday, al-Masirah reported that Saudi warplanes had bombed the Hamdan and Sanhan districts in Yemen's west-central Sana'a Province.
Saudi aircraft also carried out six airstrikes against Kamaran Island off Yemen's western al-Hudaydah Province.
Full report at:
http://www.presstv.ir/Detail/2017/04/02/516456/Yemen-Saudi-Arabia-Jizan
--------
South Asia
Hasina cautions about arms trade at cost of Muslim blood
Apr 03, 2017
Prime Minister Sheikh Hasina has urged Muslims to remain careful about the end results of militancy saying it benefits some quarters weapon business at the cost of Muslim blood.
Talking to UAE's visiting parliamentary speaker Dr Amal Al Qubaisi, she said some derailed people got themselves engaged in acts of terrorism and thus defaming Islam.
"The vested quarters are doing business of arms and taking benefits with the blood of Muslims," premier's press secretary Ihsanul Karim quoted her as saying during the call on at her Ganobhaban residence here yesterday evening.
Karim said the UAE Speaker described Sheikh Hasina as a remarkable role model for them in terms of women empowerment, development of education and health sectors.
The UAE Speake, he said, also highly appreciated Bangladesh government for successfully organising the 136th IPU conference.
Qubaisi stressed maintaining cooperation between Bangladesh and the UAE saying exchange of visits of the Parliament members could help further strengthen the cooperation.
The UAE speaker also raised Syria issue and said, they believe peaceful solution to the problem through dialogue.
About terrorism, the UAE Speaker said, terrorism and extremism are causing big problems.
Sheikh Hasina said her government is making constant efforts to involve people from all walks of life including Imams, teachers and guardians to create mass awareness against such social menaces.
Full report at:
http://en.prothom-alo.com/bangladesh/news/144199/Hasina-cautions-about-arms-trade-at-cost-of-Muslim
--------
Afghan forces arrest suicide bomber, seize car bomb in Khost province
Apr 03 2017
The Afghan security forces have arrested a suicide bomber and confiscated a Vehicle-borne Improvised Explosive Device (VBIED) in southeastern Khost province of Afghanistan.
According to the local government officials, the suicide bomber was identified and arrested around 3:00 pm local time from the vicinity of Bak district.
The district administrative chief of Bak, Abdul Hai Zazai, said the suicide bomber attempted to detonate the car bomb but failed in his attempt which resulted into minor injuries in his legs.
He said the car bomb was also partially damaged but the explosives placed inside it did not go off.
According to Zazai, several kgs of explosives and at least sixteen mortar rounds were placed inside the vehicle.
There are no reports regarding the possible target of the bomber which came a day after a suicide bomber targeted the Afghan forces in Domanda district.
At least three security personnel were killed in the attack and six school children were wounded with the local officials saying some of them are in critical condition.
Full report at:
http://www.khaama.com/afghan-forces-arrest-suicide-bomber-seize-car-bomb-in-khost-province-02493
--------
Bangladesh upholds death sentences of two blogger killers
03 Apr 2017
DHAKA: The High Court of Bangladesh on Sunday upheld the death sentences of two members of a banned Islamist group accused of killing a blogger, a court official said.
The two were sentenced to death in 2015 for killing Ahmed Rajib Haider, a youth group activist campaigning for a trial of war criminals, including those involved in Bangladesh's independence war with Pakistan in 1971.
Rajib was hacked to death in Dhaka in 2013.
The two convicts, Redwanul Azad Rana and Faisal Bin Nayem, are members of the Islamist group Ansar al Islam, linked to al-Qaeda. In 2015, Dhaka police announced a reward of 500,000 taka (US$6,410) for Rana, believed to be the most senior leader of the group. He has gone into hiding.
Rana is also accused of hacking to death another blogger, Bangladesh-born U.S. citizen Avijit Roy, in the same year.
Bangladesh has been battling a rise in Islamist-linked violence in the past four years. Since July, several militants have been arrested or killed in police operations for involvement in last year's attack on a Dhaka cafe in which 22 people, mostly foreigners, were killed.
Since 2013 Islamist militants killed or seriously injured 48 people in Bangladesh, including at least six online critics of religious militancy who were hacked to death.
Full report at:
http://www.channelnewsasia.com/news/asiapacific/bangladesh-upholds-death-sentences-of-two-blogger-killers/3646490.html
--------
Afghanistan and Australia to sign key agreements during Ghani's visit
Apr 03 2017
The Afghan and Australian officials are expected to sign key agreements as President Mohammad Ashraf Ghani is expected to hold talks with the country's officials today.
The Office of the President, ARG Palace, said the agreements covering economic cooperation will be signed in the presence of President Mohammad Ashraf Ghani and the Australian Prime Minister.
President Ghani arrived in Canberra on Sunday evening accompanied by a delegation of high level government officials.
ARG Palace said President Ghani will meet with the Australian Prime Minister, Australian Governor General, Foreign and Defense Ministers.
He is also expected to hold talks with the Australian Intelligence Chief, Afghan Experts based in Australia, researchers and some other Afghans based in Australia during his visit.
The Minister of Economy Abdul Satar Murad, Mines and Petroleum acting minister Nargis Nehan, Deputy Energy and Water Minister Amanullah Ghalib, Presidential Adviser on Public Relations and Strategic Affairs Shah Zaman Maiwandi, and senior presidential adviser Abdul Hamid Helmandi are accompanying President Ghani during his visit to the three nations.
Full report at:
http://www.khaama.com/afghanistan-and-australia-to-sign-key-agreements-during-ghanis-visit-02494
--------
Afghanistan reacts at Russia's stance on Taliban demands for foreign troops exit
Apr 02 2017
The Afghan government reacted at Moscow's stance regarding the Taliban demands for the full withdrawal of the foreign forces from the country.
Presidential spokesman Shah Hussain Murtazawi told reporters that no one has the right to dictate terms or issue instructions regarding the presence of the foreign forces in the country.
He said the issue relates to the Afghan nation and the Afghan government to decide regarding the presence of the foreign forces or the forces belonging to the international allies of Afghanistan.
This comes as the Russian special envoy for Afghanistan Zamir Kabulov earlier endorsed Taliban militants group's call for the withdrawal of all foreign forces from Afghanistan.
"Of course it's justified" for the Taliban to oppose the foreign military presence," Kabulov said during an interview.
Kabulov further added "Who's in favor? Name me one neighboring state that supports it."
The latest remarks by Kabulov followed concerns by the American officials regarding the growing attempts by Moscow to strengthen links with the Taliban group.
The American defense secretary James Mattis said Washington is concerned regarding the ties between Moscow and Taliban group.
He said Washington is informed regarding the ties between two but did not comment further regarding the alleged supply of weapons to the group by Russia.
The commander of the United States Central Command earlier had accused Moscow of supporting the Taliban insurgency.
Full report at:
http://www.khaama.com/afghanistan-reacts-at-russias-stance-on-taliban-demands-for-foreign-troops-exit-02492
--------
Africa
Nigeria: Three Suicide Bombers Die in Failed Borno Attacks
3 APRIL 2017
By Michael Olugbode with Agency Report
Maiduguri — Three suicide bombers were on Sunday killed in unsuccessful attacks on Muna general area and Dusuma village.
The first bomber detonated his explosive at Muna garage near Gujeri fuel station, destroying a 45,000-litre petrol tanker waiting to discharge fuel.
The second bomber also killed himself but injured an 80-year-old man who was providing security watch to Muslim worshippers at Dusuma village.
"The bomber attempted to gain entrance into the mosque but the old man accosted and stopped him. He detonated himself and injured the 80-year-old man (name withheld). The man was rushed to the University of Maiduguri Teaching Hospital (UMTH)," a security source told TheCable.
The state police command through its spokesperson, Victor Isuku, confirmed the attacks.
"At about 0438hrs, two male suicide bombers detonated Improvised Explosive Device (IED) strapped to their bodies by Alhaji Bukar Gujari Filling Station in Muna Garage area, Maiduguri, killing themselves alone," said Isuku.
"A truck was partly damaged. Also at Dusuma village in Jere local government area, a suicide bomber detonated his IED strapped on him killing himself, while one person was injured," he added.
Muna has suffered not less than seven different Boko Haram suicide bomb attacks.
The town's borders are porous and it also contends with the congestion of motorists and transporters loading consignments to Lake Chad, Niger and Cameroun.
Meanwhile, the Chief of Army Staff (COAS), Lt. Gen. Tukur Buratai, has directed all army commanders in the North-east to work closely with members of Civilian JTF, vigilante groups and traditional rulers to finally push out Boko Haram from the zone.
Buratai gave this order at the weekend during his visit to troops in Magumeri and Gubio Local Government Areas of Borno State.
He said there is need for the commanders to work closely with members of the CJTF and vigilante groups especially in the area of information and intelligence gathering with a view to totally eradicate Boko Haram insurgency.
He regretted the March 14 attack of Boko Haram in Magumeri and called on all commanders to work hand in hand with the people in their localities in order to ensure that there was no repeat attacks.
The COAS, who used the occasion to commission an ultra-modern mobile clinic in Gubio, said the facility is to meet the medical requirements of the troops of Operation Lafiya Dole and members of the host communities more especially the troops of five task force battalions.
He said: "This is the second of such facility deployed to the theatre, the first was deployed to Damaturu but this is the first to be commissioned.
"The troops within the Operation Lafiya Dole are prone to accident during their operations and face a lot of challenges but with this, I hope it will go a long way in addressing your medical challenges."
Earlier in her address, the Medical Corps Commander, Major General Abimbola Amosun, said the mobile clinic was donated by the German government and has 24-bed capacity, three intensive care units, laboratory, maternity and outpatient units.
She said the facility would also offer outpatient services to the people of Gubio, which according to her, would further cement civil-military relations.
The COAS also launched free medical outreach for the people of Gubio, while in Gubio, he also inspected the ongoing construction of army barracks.
http://allafrica.com/stories/201704030145.html
--------
South Africa's Zuma may face another no-confidence vote
Apr 2, 2017
South African President Jacob Zuma may face another impeachment as the country's parliament speaker says she would consider requests from opposition parties to hold a new no-confidence vote against the embattled leader.
Parliament Speaker Baleka Mbete said Sunday after cutting short a trip abroad that an impeachment may be held against Zuma following his decision last week to sack South Africa's popular finance minister.
Mbete said in televised remarks that the request for the no-confidence vote was submitted to her by the centrist Democratic Alliance (DA) and the ultra-left Economic Freedom Fighters Party (EFF). The two parties have asked the speaker to reconvene the parliament and hold an urgent sitting on the issue. Mbete is also the national chairperson of the ruling African National Congress (ANC). Her new announcement shows how she and senior members of the ANC disagree with Zuma's removal of Pravin Gordhan.
Gordhan attended a memorial for an anti-apartheid activist on Saturday and called on the ANC supporters to mobilize against Zuma.
Previous no-confidence votes against Zuma have failed as his ANC party, which has ruled South Africa since the end of apartheid in the 1990s, dominates the parliament.
However, Gordhan's removal, which badly affected the markets, seems to have clearly undermined Zuma's leadership in the ANC. More elements within the party are joining the opposition in calling for Zuma's removal from power.
Full report at:
http://www.presstv.ir/Detail/2017/04/02/516471/South-Africa-Zuma-impeachment
--------
Europe
St Petersburg Attack: At Least 10 Dead after Russian Metro Bomb Blasts
Samuel Osborne: 03 April 2017
At least 10 people have been killed and 50 more injured in explosions in the St Petersburg metro system.
There were blasts in two metro carriages at two stations, St Petersburg emergency services said.
News agency Interfax cited a source as saying at least one of the blasts was caused by a bomb filled with shrapnel.
Fifty people were injured in the blasts, Andrey Kibitov, the head of the city governor's press service said on Twitter.
Seventeen ambulances are currently treating the injured, Mr Kibitov added.
A Reuters witness saw eight ambulances near the Sennaya Ploshchad metro station while local media reported the nearby Institute of Technology station was also affected.
Russia's Anti-Terrorist Committee confirmed at least 10 people had been killed.
It said an unidentified explosive device went off on a train travelling between two stations.
All metro stations in St Petersburg have been closed, Interfax reported, citing metro staff.
The Life News website, a news outlet with close ties to Russia's security services, showed pictures of blown-out train doors and injured people on the station platform.
Video footage posted on social media shows a train with mangled doors standing at the platform.
Frantic commuters reach out into the doors and windows, trying to see if anyone is there and shout "Call an ambulance!"
Local news agencies quoted Kremlin spokesman Dmitry Peskov saying Russian President Vladimir Putin had been informed of the explosion.
Investigators are looking into a possible terror attack and other theories for the St Petersburg subway blast, Mr Putin said.
"The causes of this event have not been determined yet, so it's too early to talk about [possible causes]," he said.
"The investigation will show. Certainly, we will consider all variants, common, criminal, first of all, of a terrorist nature."
Mr Putin said that the cause of the incident still isn't clear, but he had spoken to the heads of the Russian security services.
He was visiting the city and was expected to hold talks with the Belarusian president later in the day.
He offered his condolences to the families of those killed in the attack.
Source: independent.co.uk/news/world/europe/st-petersburg-metro-explosion-russia-bomb-attack-casualties-blue-line-a7664251.html
-------
Russia: US Covering up Daesh Crimes in Iraq's Mosul
Apr 2, 2017
Russia has accused Washington of concealing crimes committed by the Daesh Takfiri terrorist group in the Iraqi city of Mosul, where a US airstrike last month killed hundreds of civilians.
Russian Defense Ministry spokesman Igor Konashenkov made the accusation on Sunday, days after US military spokesman Joseph Scrocca said there was a video showing Daesh trying to bait US into killing civilians in Mosul. However, the footage is yet to be released.
"What motives is the US command driven by when they hide the war crimes of terrorists from the international community behind the veil of secrecy?" Konashenkov said.
"Why does the US-led … coalition, with this information, using their 'smart bombs' still carry out airstrikes on buildings with civilians?" he added.
On March 17, the US bombarded a building in Mosul's western al-Jadida district, where Iraqi forces are fighting against Takfiri elements. Over 200 civilians, including women and children, are believed to have been killed in the aerial assault which caused the building to collapse.
The Pentagon acknowledged in a statement that the US had carried out the fatal attack. However, the US military is said to be conducting an investigation into whether it was US munitions, Daesh explosives or both that caused the building to collapse.
Elsewhere in his comments, Konashenkov said Washington was seeking to justify mass civilian casualties of its bombing campaign.
"The Pentagon's absurd statements justifying mass civilian casualties of US bombing in Iraq tell more words about the real level of planning operations and alleged superiority of the US 'smart bombs,'" he said.
Konashenkov highlighted a crucial difference between US attacks in Mosul and Moscow's counter-terrorism mission in Aleppo, saying Russia did not use its air force in the liberation of the Syrian city.
"The Russian Aerospace Forces were not used in Aleppo at all. The attention was focused on the work of humanitarian corridors as well as delivering and providing humanitarian aid for local residents," he said.
"In Mosul, according to … Scrocca, despite civilian casualties, the coalition is not going to retreat even when fighting becomes heavy," Konashenkov added.
The US campaign against purported terrorist targets inside Syria and Iraq, which began in 2014, has led to the death of many civilians without any meaningful achievement.
Earlier this week, Russia's Foreign Minister Sergei Lavrov cast doubt on the sincerity of the US coalition's anti-terror campaign in Syria.
"One year into the creation of this coalition [in 2014], it was very sporadically using the air force to hit some ISIL (Daesh) positions. They never touched the caravans who were smuggling oil from Syria to Turkey and, in general, they were not really very active," he said.
"This suspicion is still very much alive these days, when Jabhat al-Nusra already twice changed its name, but it never changed its sponsors who continue to pump money and whatever is necessary for fighting into this structure," he added.
http://www.presstv.ir/Detail/2017/04/02/516453/Russia-US-Daesh-Iraq
--------
Birmingham's Muslims challenge 'jihadi capital' label
by Shafik Mandhai
April 3 2017
Birmingham, England - A greying railway bridge serves as the entrance to the Birmingham neighbourhood of Sparkbrook, nondescript except for the quote written beneath the welcome sign bearing its name.
"If my mind can conceive it and my heart can believe it, then I can achieve it," it reads.
The quote by Muhammad Ali is one of several tributes to the legendary American boxer put up in Birmingham after his death last year.
Ali's legacy has a special resonance in the neighbourhood and not just because of his achievements as a boxer; more than 70 percent of Sparkbrook's 32,000 residents share his Islamic faith.
Together with its adjoining districts, the area houses much of Birmingham's 234,000-strong Muslim population, the largest in the UK, outside of London.
Theirs is a community that last week found itself at the centre of international media attention when it emerged that the city was the last place the Westminster attacker Adrian Elms, or Khalid Masood, had lived in before carrying out the attack that left four people dead.
Some British newspapers portrayed the attack as the latest example of extremist violence linked to the country's second largest city.
The Telegraph described Birmingham as one of "Britain's terror hotspots" and the Daily Mail asked how the city had become "the jihadi capital of Britain".
That designation has been challenged by residents of Sparkbrook.
"It comes down to us being Muslims," said engineering student Abdullah, venting frustration at the media coverage, as he and a group of friends headed from Friday prayers to one of the area's many Middle Eastern cafes.
Born in Birmingham and raised in Sparkbrook, the young man of Yemeni origin, said he was "hurt" by the reports that followed last week's attack.
"They [the media] make out that it's the community here that's responsible for this whole problem, but we've got nothing to do with it.
"It was one person who did it but we all get the blame.
"We live side by side with our neighbours, we have no problem here."
That sentiment is hardly unique among Birmingham's Muslims.
There is sadness at the fact the attack happened, frustration at the resulting media coverage, surprise at the reputation the city has attained, and fatigue at having to answer for somebody else's actions.
At a Syrian cafe in nearby Moseley, Al Jazeera spoke to Belal Ballali, originally from the Scottish capital of Edinburgh, but a resident of Birmingham for the past 24 years.
In a Scottish accent with slight hints of the local West Midlands, Ballali explained that the city did have a "small number of extremists" but cautioned against thinking the city was exceptional in that regard.
"There's no hard and fast rule about who becomes a terrorist," he said, explaining those who adopted such ideas developed them in "isolation from the Muslim community" and often with contributing mental health factors or substance abuse problems.
Like Abdullah in Sparkbrook, Ballali criticised the media coverage after the Westminster attack for its focus on the Birmingham connection, which he said had exaggerated the connection Elms had to local Muslim communities.
"[Elms] lived in a flat above a takeaway on Hagley Road ... anyone who knows Birmingham knows that it's detached from Muslim communities and mainly home to students."
Ballali, who is of Libyan and Egyptian heritage, said that incidents that were criminal in nature were being spun by right-wing media outlets and think tanks to paint the entire Muslim community as problematic.
"When you have people constantly pushing the narrative that Muslims are a problem, that they want to take over, it's no surprise that people come up on Fox News and say things like Birmingham is a Muslim no-go zone," he said, referencing an infamous incident on the American network where pundit Steve Emerson described the city as "totally Muslim, where non-Muslims just simply don't go in".
"Well look around you," Ballali said gesturing to the other, mostly white, customers in the cafe.
"How many Muslims do you see here?
"I want to ask the people who push these ideas that it's so bad here: what is about you that makes you assume the worst in people you don't know?"
'Emblematic of migration'
When it comes to the issue of security, only the police and intelligence services definitively know the scale of threats emanating from the city, said academic and Birmingham native, Kamran Khan, of Kings College London.
Khan noted that perceptions of the city have been shaped by factors that have little to do with actual security threats.
"We have a large Muslim population in the city and it's a city that has traditionally welcomed migrants," Khan said
"It's very easy to stoke up fears about a city which is so emblematic of migration. The Irish went through it for many years and now it's Muslims."
Like Ballali, he said the city's Muslim community was not a major factor in the process of radicalisation.
Full report at:
http://www.aljazeera.com/indepth/features/2017/04/birmingham-muslims-challenge-jihadi-capital-label-170401024520742.html
--------
Britain apologises after egg thrown at Saudi general
02 April 2017
Britain has apologised after an egg was thrown at a Saudi military official during a visit to London, Saudi state media said Sunday.
British Foreign Secretary Boris Johnson called Deputy Crown Prince Mohammed bin Salman, son of the Saudi king and the country's defence minister, to apologise for "the attack on General Ahmed Assiri, counsellor to the prince, by protestors," the state-run SPA news agency said.
Assiri told AFP he had been "subject to aggression" by protestors critical of Riyadh's operations in Yemen.
Video posted on Twitter showed anti-war activist Sam Walton approaching Assiri, putting his hand on the general's shoulder and announcing he was placing him under citizen's arrest before being pushed aside by security personnel.
Walton can be heard saying, "I'm placing you under citizen's arrest for war crimes in Yemen."
Civilians in Britain are permitted to arrest anyone suspected of committing an indictable offence.
Another protestor followed Assiri's security detail to the entrance of a building, where he threw an egg that hit the general in the back. Video showed Assiri turning around and giving the protestor the finger.
Rights groups have harshly criticised Saudi Arabia over its military action in Yemen, where thousands of civilians have been killed in the two years since Riyadh intervened against Iran-backed Huthi rebels.
Amnesty International last month condemned Britain for transferring arms to Saudi Arabia, saying Yemeni civilians continued to "pay the price".
The London-based rights group described the transfers as a "shameful contradiction" of British aid efforts in Yemen.
Full report at:
http://www.worldbulletin.net/europe/187253/tsipras-says-deal-with-creditors-hinges-on-debt-relief
--------
New York: Jewish Community Says King Mohammed VI 'Role Model for Entire World'
April 2, 2017
The relationship between Islam and Judaism was at the heart of a ceremony in New York this Thursday.
"What country other than Morocco could have gathered in the heart of New York a full house to celebrate the exceptional closeness between Islam and Judaism, of which my country is the most emblematic flag bearer in the Mediterranean," said M André Azoulay, Counselor to the King. Azoulay was being awarded the Pomegranate Award for Lifetime Achievement by the Sephardic American Federation (ASF).
The auditorium for the Center for Jewish History in New York was unable to accommodate the large audience. They had congregated to participate in a reunion to celebrate the common past, and the bright present that illuminates the way to a promising future between Islam and Judaism.
As the program for this ceremony unfolded, the performance of celebrated singer Enrico Macias drew from his rich repertoire to celebrate coexistence, nostalgia and a long-lived life together. A young Kuwaiti singer, Ema Shah, who came from Kuwait for the occasion, artists Neta Elkayam and Amit Hai Cohen also performed, as did baritone David Serero. He sang the Moroccan national anthem in front of an audience who joined with him in an atmosphere of intense communion.
This celebratory meeting illustrated the rich facets of the universality of Moroccan culture, which was enshrined in the new Constitution adopted in 2011. The constitution stipulated that the Moroccan national identity is one and indivisible, and insisted that this "unity, forged by the convergence of its Arab-Islamic, Amazigh and Saharan-Hassani components, has been nourished and enriched by its African, Andalusian, Hebraic and Mediterranean tributaries."
Full report at:
https://www.moroccoworldnews.com/2017/04/212758/new-york-jewish-community-says-king-mohammed-vi-role-model-entire-world/
--------
North America
New envoy to US presents formula for Afghan peace
ANWAR IQBAL
April 3 2017
WASHINGTON: The US Department of Defence anno­u­nced on Saturday that at least 2,248 members of its military had died in Afghanistan since 2001 while a total of 4,520 had been killed in Iraq since 2003.
The statistics would be another cause of concern for the Trump administration, which has vowed to reduce US war losses and is busy reviewing policy for the Pak-Afghan region.
The administration, however, seems to be aware of the limitations of the military solution and that's why its new Secretary of State Rex Tillerson has said that reconciliation between the Afghan government and the Taliban is its ultimate goal.
In this, diplomatic observers in Washington see an opportunity for Pakistan because the country can still play a role in expediting reconciliation process.
At his first public engagement in Washington the other day, Pakistan's new ambassador to the United States referred to this role and offered a five-point formula for restoring peace in Afghanistan, depicting a negotiated settlement as the only viable option.
Ambassador Aizaz Chaudhary said at the US Institute of Peace that while the Trump administration was reviewing its policy for the Pak-Afghan region, Pakistan had received positive vibes.
The formula he presented included five key points: no military solution; better relations between Pakistan and Afghanistan; better border management; repatriation of Afghan refugees; and taking forward the reconciliation process.
Elaborating on the points, he said that all the sides needed to have more faith in their skills and that only talks could resolve the issues. War was not an answer.
The Afghan government should stop blaming Pakistan for all its problems, he said, because this was over-simplification of the issues.
The Pak-Afghan border has remained ungoverned for centuries. Mr Chaudhary said that Afghans blamed Pakistanis for allowing the Taliban to cross into Afghanistan while Pakistan had similar complaints. A better-managed border could end these accusations and counter-accusations.
The ambassador said a recent effort by the Quadrilateral Coordination Group, in which the United States, China and Pakistan also participated as facilitators, was a good move but failed to achieve its target. Yet, the reconciliation process must continue. https://www.dawn.com/news/1324457/new-envoy-to-us-presents-formula-for-afghan-peace
--------
Trump son-in-law, top aide Jared Kushner on visit to Iraq
3 April 2017
White House Senior Adviser Jared Kushner, US President Donald Trump's son-in-law, is visiting Iraq with Marine General Joseph Dunford, the Chairman of the US military's Joint Chiefs of Staff, a senior Trump administration official said on Sunday.
The official, who spoke on condition of anonymity, said Kushner wanted to see Iraq for himself and to show support for the Iraqi government. The official was confirming a report by other media, including a tweet by a New York Times reporter.
Iraqi Prime Minister Haider al-Abadi met Trump for the first time on March 20 and said afterwards that he won assurances of greater US support in fighting ISIS militants but cautioned that military might alone would not be sufficient.
Full report at:
https://english.alarabiya.net/en/News/middle-east/2017/04/03/Trump-son-in-law-top-aide-Jared-Kushner-on-visit-to-Iraq-.html
--------
URL: https://www.newageislam.com/islamic-world-news/nahdlatul-ulemas-youth-wing-calls/d/110632
New Age Islam, Islam Online, Islamic Website, African Muslim News, Arab World News, South Asia News, Indian Muslim News, World Muslim News, Women in Islam, Islamic Feminism, Arab Women, Women In Arab, Islamophobia in America, Muslim Women in West, Islam Women and Feminism