New Age Islam News Bureau
11 Oct 2017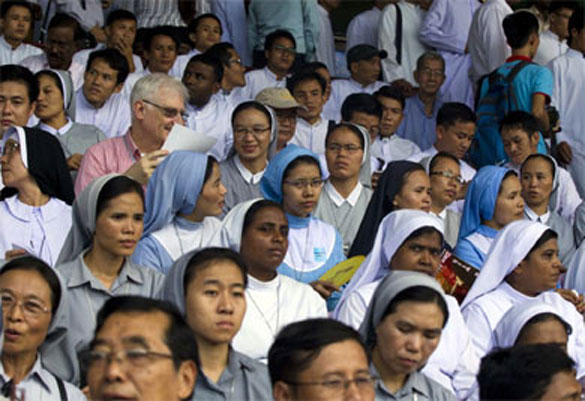 Myanmar Christian nuns and other religious members attend an inter-religious gathering of prayers for peace at Aung San stadium Tuesday, Oct. 10, 2017, in Yangon, Myanmar. Thousands of supporters from different religious groups attended Tuesday's gathering organized by ruling National League for Democracy party and prayed for peace. (Thein Zaw/Associated Press)
-----
• Myanmar Ruling Party Holds Harmony Rally As Rohingya Flee
• Don't Say Love Jihad In Every Here And There, Says Kerala High Court
• Nawaz Sharif's Son-In-Law Calls For 'Complete Curbs' On Ahmadis
• US Offers $12 Million for Hezbollah Operatives
• Brainwashed By a Cult: French Priest Offers Therapy to 'Reclaim' Yazidi Captives
• Johor PAS Calls for Muslim Hotel Staff to Be Banned From Serving Alcohol
South Asia
• Myanmar Ruling Party Holds Harmony Rally As Rohingya Flee
• Rohingya Muslim Crisis: What People in Burma Are Saying About It
• Pope Francis Enters Rohingya Muslim Minefield With Myanmar-Bangladesh Trip
• Efforts underway by certain circles to spark ethnic violence: Hekmatyar
--------
India
• Don't Say Love Jihad In Every Here And There, Says Kerala High Court
• Kerala Reported 90 'Love Jihad' Cases for NIA Probe
• J&K: 2 IAF commandos martyred, 2 terrorists killed in Bandipora's Hajin
• India invited to join SCO contact group meeting on Afghanistan
--------
Pakistan
• Nawaz Sharif's Son-In-Law Calls For 'Complete Curbs' On Ahmadis
• Pakistani Extremists Oppose NYC Terror Suspect's US Extradition
• Police take Gazeen Marri into custody again for interrogation into terror cases
• Three soldiers martyred in North Waziristan attack
• Kulbhushan Jadhav case: Pakistan appoints former CJP Tassaduq Jilani as ad-hoc judge at ICJ
• Democracy should be strengthen in Pakistan: Kh Asif
• Talks to be held with US on 'equality basis': Abbasi
• Govt, army don't appear on the same page in terror war: Ex-servicemen
• Pak-Afghan border villages brace for Berlin Wall-style divide
--------
North America
• US Offers $12 Million for Hezbollah Operatives
• Mentorship Program Sees Muslim Professionals Mentor Muslim Students
• Iran Says US Would Aid Terrorism if It Declared Revolutionary Guards Terrorists
• Are political Islamists America's enemies in the fight against terrorism?
--------
Europe
• Brainwashed By A Cult: French Priest Offers Therapy To 'Reclaim' Yazidi Captives
• US 'Pretending' To Fight IS In Iraq: Moscow
• EU plans to reopen embassy in Libya
• Pride comes out into the open in tiny, Muslim-majority Kosovo
• Colchester's Muslim community feel safe despite rise in hate crimes against UK mosques
--------
Southeast Asia
• Johor PAS Calls for Muslim Hotel Staff to Be Banned From Serving Alcohol
• Hard-Line Political Islam Isn't the Only Threat to Indonesia's Democracy
• Malay Rulers Slam 'Divisive Acts' In The Name Of Islam
• Malaysian sultans intervene to promote tolerance
--------
Mideast
• Hamas, Fatah Resume Reconciliation Talks in Cairo amid High Hopes
• Turkey Launches Operation to Arrest 70 Military Officers over Gulen Links: Report
• Yemeni missile hits Saudi military base in Jizan, causes fatalities: Source
• Erdogan To Visit Predominantly Muslim Area Of Serbia
• Israel to advance plans for nearly 4,000 settler homes: Official
• Mekhlafi: UN only sees Yemen's tragedy through Sanaa's suffering
• Houthi militias fire missile at a school in Saudi Arabia's Jazan region
• Iranian regime's reality check on the World Day against Death Penalty
--------
Arab World
• Bahrain's King Hamad Calls for Religious Tolerance, Peaceful Coexistence
• Fatah Spokesman: Judiciary, Security Key Issues In Talks With Hamas In Cairo
• Iraqi warplanes kill 17 Daesh militants near Syria border
• Syrian Troops Make Fresh Gains in War on ISIL North of Deir Ezzur
• ISIL's Command Centre in Eastern Syria Destroyed in Russian Airstrikes
• Syrian Army Starts Heavy Offensive to Capture Al-Mayadeen
• Syrian Army Liberates over 8,000 sq/km of Land near Border with Jordan
• Syrian Army Ends Terrorists' Presence in Sweida Desert
--------
Africa
• From Boko Haram to Islamic State, Sex Slavery and Trafficking Fund Extremism: Report
• Islamic Group MURIC demands Establishment of Sharia Courts in South-West
• Gambia: Mosque Closed By Former President, Reopens
Compiled by New Age Islam News Bureau
URL: https://www.newageislam.com/islamic-world-news/myanmar-ruling-party-holds-harmony/d/112846
--------
Myanmar Ruling Party Holds Harmony Rally As Rohingya Flee
Oct 11, 2017
YANGON, Myanmar — Myanmar's ruling party has held an interfaith rally that it said would promote religious harmony as thousands of Rohingya Muslims continue to flee persecution in northern Rakhine state.
In Yangon, around 20,000 people lit candles in a soccer stadium on Tuesday night and said prayers.
A Muslim religious leader, Hafiz Mufti Ali, addressed the crowd from a podium. Video showed Buddhist monks and men wearing Muslim skullcaps sitting apart.
More than half a million Rohingya have fled into Bangladesh after Myanmar security forces carried out what they called clearance operations in response to attacks on police posts by Muslim insurgents in August.
The U.N. has called it "textbook ethnic cleansing."
Myanmar's Buddhist majority denies that Rohingya Muslims are a separate ethnic group and regards them as illegal immigrants.
Copyright 2017 The Associated Press. All rights reserved. This material may not be published, broadcast, rewritten or redistributed.
https://www.washingtonpost.com/world/asia_pacific/myanmar-ruling-party-holds-harmony-rally-as-rohingya-flee/2017/10/11/0e8d9528-ae3c-11e7-9b93-b97043e57a22_story.html?utm_term=.4785d803d017
--------
Don't Say Love Jihad In Every Here And There, Says Kerala High Court
by Shaju Philip
October 11, 2017
HEARING A petition related to an inter-faith marriage, the Kerala High Court on Tuesday remarked, "don't say love jihad in every here and there".
The court was hearing a habeas corpus petition filed by one Anees Ahammed seeking an order that his wife Sruthi Meledath be released from her family's custody.
Sruthi had alleged that after their inter-faith marriage, her family had forcibly kept her at Siva Sakthi Yoga Vidya Kendram near Kochi, which helps "reconvert" Hindu women who have embraced another religion. Last week, she had deposed before the court that she was tortured by counsellors and yoga trainers at the centre when she refused to leave Anees.
When the pleader for the yoga centre stated that the marriage of Anees and Sruthi was a case of love jihad, the division bench of Justices V Chitambaresh and Sathish Ninan said habeas corpus petitions should not be sensationalised. "Don't say love jihad in every here and there,'' it said.
After examining the marriage documents, the court allowed Sruthi to go with Anees.
Sruthi, 24, and Anees, 25, were college mates in Kannur. After their marriage, Sruthi's parents moved a habeas corpus petition in the high court in May this year. She was produced in court and then allowed to go with Anees. Later, her parents reportedly took her to the yoga centre and kept her there for nearly two months.
This comes three days after the Kerala government told the Supreme Court that a state police investigation into the marriage of a Muslim man to a Hindu woman who had embraced Islam had not found anything that would warrant a probe by the National Investigation Agency (NIA).
Shafin Jahan, whose marriage to Akhila Asokan alias Hadiya was set aside in May by the Kerala High Court which entrusted her custody to her parents, had sought recall of the Supreme Court's earlier order which directed the NIA to probe whether there was a wider pattern of alleged love jihad in the case.
Meanwhile, a Christian helpline, set up on the lines of Hindu Helpline to prevent "love jihad", on Tuesday moved the Kerala High Court to implead in another case related to inter-faith marriage. It said love jihad exists not just to woo Hindu women but also Christian women. The court posted the petition for October 19.
The Christian helpline, based in Kochi, was set up by Ranjith Abraham Thomas, a leader of the BJP's minority cell, this year. The helpline has enlisted volunteers to identify victims of "love jihad" and bring them back to the Christian faith.
http://indianexpress.com/article/india/dont-say-love-jihad-in-every-here-and-there-says-kerala-high-court-4884458/
--------
Nawaz Sharif's son-in-law calls for 'complete curbs' on Ahmadis
Oct 11, 2017
ISLAMABAD – Captain (r) Safdar Awan, the son-in-law of deposed PM Nawaz Sharif, has demanded strict actions against Ahmadis who are declared as non-Muslims in the constitution of Pakistan.
Addressing the National Assembly on Tuesday, the PML-N leader called for complete curbs on Ahmadis in government, army and private employment.
He asked, "Can these people, who attack the finality of Prophet Muhammed (PBUH), be loyal to a country, which came into existence in the name of Finality of Prophethood?"
He also demanded to rename the Professor Abdus Salam Center for Physics, saying "Dr. Adbus Salam was a non-Muslim, and the Constitution of Pakistan declares him a non-Muslim and we don't want any department to be affiliated with the name of any such person."
Dr Mohammad Abdus Salam was a major stalwart in the 20th-century theoretical physics and also shared the 1979 Nobel Prize in Physics. He was the first Pakistani to receive a Nobel Prize in science and the second from an Islamic country to receive any Nobel Prize. The Nobel laureate also served the country as a top level science advisor to the Government of Pakistan from 1960 to 1974 during which he utilized his skills to revamp the infrastructure of science in the country.
In 1998, following the country's nuclear tests, the Government of Pakistan under the premiership of Nawaz Sharif issued a commemorative stamp, as a part of "Scientists of Pakistan", to laud the matchless services of Dr. Salam.
Last year, honoring the services of overlooked Pakistani hero, former prime minister Nawaz Sharif had renamed Islamabad's National Centre for Physics at Quaid-i-Azam University as 'Professor Abdus Salam Center for Physics'.
Safdar, who is married with ex-PM Sharif's daughter Maryam Nawaz, asked for complete constraint on admission of Ahmadi's in armed forces. He blamed the failure of 1971, on Qadayani's leading high posts during the war.
"In 1971, the Corps Commander of Sindh, General Abdullah Ali, was a Qadiyani; his brother was a Qadiyani and I'm shocked that even the Air Force chief was Qadiyani. How can you win a war when all the high ranks were given to the enemies of Islam."
The recent outburst against Qadiyani's follows the political and religious parties' protest against the 'un-Islamic' amendments in the new Election Bill, which according to them clash with provision regarding finality of Prophethood. After the protests, the clause was reinstated and Speaker National Assembly called it a mere 'clerical mistake'.
Captain (r) Safdar arrived in the country from London on Monday, and was presented in front of accountability court after being arrested at Islamabad airport. He was released after submission of Rs0.5 million bail.
Several Ahmadi families, including Pakistan's first Nobel Prize winner Dr. Abdul Salam, have moved out of Pakistan since 1974 which was when the country declared the community non-Muslim. But the group has become particularly vulnerable since 1984, when Pakistan passed laws forbidding them from saying or doing anything associated with Islam.
https://en.dailypakistan.com.pk/pakistan/complete-curbs-on-ahmadis-employment-demands-captain-r-safdar/
--------
US Offers $12 Million For Hezbollah Operatives
11 October 2017
The United States on Tuesday offered multimillion-dollar rewards for two officials of the Iran-backed Lebanese group Hezbollah as the Trump administration prepared to unveil a strategy to counter Tehran's growing regional influence.
Washington will pay up to $7 million for information leading to the arrest of Talal Hamiyah, head of Hezbollah's foreign operations, and up to $5 million for Fuad Shukr, a top Hezbollah military operative, the State Department said.
The rewards are the first offered by the United States for Hezbollah operatives in a decade, Nathan Sales, the US counterterrorism coordinator, told reporters.
"Today's rewards are another step to increase the pressure on them and their organization," said Sales.
Other extremists for whom the United States is offering rewards include Abu Bakr al-Baghdadi, the head of Islamic State, and Mohammad Jolani, the commander of al Qaeda's Syrian branch.
Hamiyah has been on the department's foreign terrorist list since 2015 and Shukr was added in 2013. The United States named Hezbollah as a foreign terrorist organization in 1997.
Nicholas Rasmussen, the head of the National CounterTerrorism Center, blamed the group for a litany of attacks around the world, and said it maintains a presence in "nearly every corner of the globe."
Pointing to the arrests of two men in the United States in June for alleged activities on Hezbollah's behalf, Rasmussen said that US intelligence agencies assess that the group is seeking an ability to strike inside "the homeland."
Sales signaled that as part of US President Donald Trump's soon-to-be unveiled Iran strategy, Washington would press countries that have yet to designate Hezbollah as an international terrorist group to do so.
"Additionally, some countries have chosen to designate only Hezbollah's military wing, leaving its so-called political wing untouched," he said, apparently referring to the 28-member European Union. "But that is a false distinction. Make no mistake. Hezbollah has no political wing. It is a single organization, a terrorist organization, and it is rotten to its core."
Designating the group as a terrorist organization is "not merely symbolic," he continued.
By not doing so, he said, countries "limit other governments' ability to freeze Hezbollah's assets, to shut down its front companies, to eliminate its fund-raising and recruiting capabilities and to prosecute Hezbolah associated networks. The United States will need allies in this fight."
But winning support for an intensified campaign against Hezbollah could prove difficult for the administration.
The powerful Iran-backed organization is part of Lebanon's fragile coalition government and commands enormous support for the social services it provides.
https://english.alarabiya.net/en/News/middle-east/2017/10/11/US-offers-12-million-for-Hezbollah-operatives.html
--------
Brainwashed by a cult: French priest offers therapy to 'reclaim' Yazidi captives
10 October 2017
It was a lucky haircut that opened the doors of Iraq to Father Patrick Desbois.
In 2015, the French priest was trying to find a way to get into Iraq and help the Yazidi people fleeing Islamic State militants, after watching their suffering on TV for months.
One winter's day, as he was in Brussels for a meeting and in need of a haircut, he stepped into the first open barber's shop and found himself being attended to by an Iraqi man.
"I told him I was very concerned about what was happening to the Yazidis and he told me: 'I am Yazidi, my father is teaching English in the (refugee) camps,'" Desbois, 62, told the Thomson Reuters Foundation.
The barber helped him with contacts to go to northern Iraq, setting off a two-year journey that would see Desbois open two centres to help women and girls enslaved for sex and traumatized Yazidi children transition back into society.
Many of the women had to provide for themselves for the first time, having lost their husbands and fathers to Islamic State and so one of his projects is to teach women how to sew.
Every two months, 25 former ISIS captives are trained to make clothing in a sewing workshop where they are flanked by psychologists who help them cope with their ordeal.
"We try to help them to reestablish their confidence in the future and even to think about the future," said Desbois.
More than 5,000 Yazidis were rounded up and slaughtered and some 7,000 women and girls forced into sex slavery, when ISIS militants assaulted the community's heartland in Sinjar, northern Iraq in August 2014.
Desbois said his organization, Yahad In-Unum, which mixes the Hebrew and Latin words for "together in one", has so far trained 125 women in a refugee camp in northern Iraq.
For the boys, many of whom struggle to get back to a normal life after being separated from their families and brainwashed into violence by the jihadist group, there are professional psychologists who provide support.
In some cases, the first step is to teach the boys their mother tongue again, as many were forbidden to speak anything but Arabic by the militants, said Desbois. Then they must be persuaded to accept family members who they may not recall or have been taught to reject.
"It is quite literally a process akin to reclaiming someone who has been brainwashed by a cult," he said.
Fresh trauma
ISIS militants were driven out of the last part of the Yazidi homeland in May but most Yazidis have yet to return to their villages.
For many women and girls, the trauma is still too fresh.
"So many women and so many Yazidi in general were such in a bad condition psychologically," said Desbois.
Yazidi women reported being sold over more than 25 times to different militants for sex, with devastating effects on their mental health, he said.
Others were kept as servants, beaten, forced to carry suicide belts or used as human shields.
"If you have been treated like an animal and sold over and over again it means you are nothing... you are nobody, so they are really reduced to poor slaves," he said.
"They are not at a step to (re)enter into society. They are in a refugee camp alone in a tent crying all day."
UN experts have said the Islamic State's campaign against the religious minority amounted to genocide.
Desbois is an expert in the field, having dedicated part of the past 15 years to documenting and uncovering mass killings of Jews and Roma by the Nazis in eastern Europe - an undertaking that won him France's highest award, the Legion d'honneur.
His work in Iraq has mirrored that done by Yahad In-Unum in Europe.
In his first year, the Frenchman methodically collected hundreds of harrowing testimonies of Yazidi women and children to gather evidence of ISIS atrocities.
Nearly 3,000 women and children are believed to remain in Islamic State captivity. And even after the militants' retreat in Iraq and Syria, Desbois said he was worried Yazidis were being forgotten.
"We really have to worry about them," he said. "Suffering stays long time after a genocide".
https://english.alarabiya.net/en/News/middle-east/2017/10/10/Brainwashed-by-a-cult-French-priest-offers-therapy-to-reclaim-Yazidi-captives.html
--------
Johor PAS calls for Muslim hotel staff to be banned from serving alcohol
10 Oct 2017
JOHOR BARU: Johor PAS has called on the Government to come up with guidelines to ensure Muslim staff at hotels are banned from serving alcohol to guests.
State information chief Shamsudin Jaafar said that there were no guidelines for staff when it comes to serving alcohol or events that involved alcohol at hotels nationwide.
"This means that any staff member could be tasked to serve alcoholic beverages to patrons at hotels," said Shamsudin, who had been a hotelier for 14 years.
"Any kind of activity that involves alcohol is forbidden in Islam and as such, Muslims by right should not be given such task," he added when speaking to reporters here on Tuesday
Much to their dismay, the hotel's duty manager declined to accept the memorandum.
http://www.thestar.com.my/news/nation/2017/10/10/johor-pas-calls-for-muslim-hotel-staff-to-be-banned-from-serving-alcohol/
--------
South Asia
Rohingya Muslim crisis: What people in Burma are saying about it
Oct 11, 2017
Burma's treatment of Rohingya Muslims has lead to widespread condemnation from the international community, with the United Nations (UN) calling their treatment "textbook ethnic cleansing".
But although over 500,000 have fled violence in the south east Asian nation's Rakhine state to seek refuge in Bangladesh in recent months, inside the country, the government led by Nobel Peace Prize winner, Aung San Suu Kyi, appears to maintain widespread support.
In its largest city Yangon, the term Rohingya is reportedly not used and they are instead called "Bengali Muslims," a term which is also used by local media.
While the Rohingya have lived as one of the ethnic minorities in the country for generations but are not recognised as Burmese citizens in the Buddhist majority country.
"The problem is the political motive behind the term [Rohingya]," U Aung Hla Tun, vice chairman of the Myanmar Press Council, told the BBC. "I used to have a number of Bengali friends when I was young. They never claimed they were Rohingya. They first coined the term decades ago.
"They do not belong to the ethnic minorities [of this country]. This is a fact."
Another university student told the broadcaster that the international community is getting the "wrong" information about the situation in Rakhine state. They claimed that "the violence is an act of terrorism".
Hundreds of thousands of Rohingya refugees are now living in camps in Bangladesh.
They started to flee after an attack carried out by Rohingya insurgents in August on police posts and security personnel in Rakhine state saw the military retaliate with violence that left thousands of homes burned to the ground and hundreds dead.
The UN's human rights chief, Zeid Ra'ad al-Hussein, has said Burma's actions against the Rohingya people "seems a textbook example of ethnic cleansing".
Ms Suu Kyi's first public address on the Rohingya crisis last month saw hundreds of supporters gather in Yangon to hear the speech which saw her claim that more than half of Rohingya villages had not been affected by the violence. She also invited diplomats to visit the areas and see "why they are not at each other's throats in these particular areas".
Rights group Amnesty International subsequently accused Ms Suu Kyi and her government of "burying their heads in the sand" and of telling "uthruths" following the leader's response to the crisis.
But she was nonetheless widely supported by those in the crowd.
One woman in the crowd called May Nyi Oo, who wore stickers depicting Ms Suu Kyi's image on her cheeks, told The Guardian that "worldwide, a lot of fake news and rumours are spreading".
She also referred to the Rohingya as illegal immigrants who "are not our people".
Many people in Burma have appeared reluctant to talk about the Rohingya crisis, but continue to support Ms Suu Kyi's decisions about the issue.
Thet Mhoo Ko Ko, who works in his family's business, told Al Jazeera last month that he believes Ms Suu Kyi needs more time "and then she will be able to make things much better".
"The Rakhine [situation] is a problem and it is very worrying," he added.
A survey carried out in September by the Myanmar Survey Research company also found that 75 per cent of people believed the country is heading in the right direction, Al Jazeera reported.
http://www.independent.co.uk/news/world/asia/rohingya-muslim-crisis-burma-what-people-think-rakhine-state-buddhists-mayanmar-latest-a7992256.html
--------
Pope Francis enters Rohingya Muslim minefield with Myanmar-Bangladesh trip
Oct 11, 2017
Vatican City • Pope Francis will wade into the religious and political minefield of Myanmar's crackdown on Rohingya Muslims and the effects of their exodus to Bangladesh when he visits both countries next month.
The Vatican on Tuesday released the itinerary for the Nov. 26-Dec. 2 trip, which has taken on greater visibility since Myanmar security forces responded to Rohingya militant attacks with a broad crackdown in August. Hundreds of thousands of Rohingya have fled to Bangladesh in what the United Nations has called "textbook ethnic cleansing."
The itinerary makes no mention of a papal meeting with Rohingya in either country. Francis, however, is likely to at least refer to their plight since he has already denounced the "persecution of our Rohingya brothers" on several occasions from the Vatican.
The trip motto is peace, harmony and love among people of different faiths.
Francis' first speech in Myanmar is likely to refer to the issue when he addresses Myanmar's top civilian leader, Aung San Suu Kyi, government officials and Myanmar's diplomatic corps in the political capital, Nay Pyi Taw, on Nov. 28, his first full day of activities in the country.
The following day he meets with the Sangha supreme council of Myanmar's Buddhist monks, one of the most socially and politically influential institutions in the majority Buddhist country. The group has been silent over the population's criticism of the Rohingya.
Myanmar's Catholic cardinal, Cardinal Maung Bo, has defended Suu Kyi against international criticism over the Rohingya crackdown, stressing that her role is limited by the constitution and that the army is the main power-broker in the country.
After a Mass for Myanmar's tiny Catholic community, Francis travels to Bangladesh, where he is expected to address delicate interfaith relations during an interreligious meeting on Dec. 1 in the garden of the archbishops' residence.
The mostly Muslim nation of 160 million has faced a series of attacks by Islamic militants since 2013 that have targeted atheist bloggers, religious minorities, gay rights activists and foreign aid workers.
Full report at:
http://www.sltrib.com/religion/global/2017/10/10/pope-francis-enters-rohingya-muslim-minefield-with-myanmar-bangladesh-trip/
--------
Efforts underway by certain circles to spark ethnic violence: Hekmatyar
Oct 10 2017
The leader of Hezb-e-Islami Gulbuddin Hekmatyar has said efforts are underway by certain circles who are attempting to spark ethnic violence among different groups in the country.
Hekmatyar made the remarks during a meeting with the elders of Nomad people of the country but did not elaborate further in this regard.
According to Hekmatyar, the circles who are attempting to spark violence among different ethnic groups are attempting to achieve their goals based on the instructions of the outsiders.
However, he said the Afghan people should remain vigilant and united, insisting that Afghanistan is home to all ethnic groups of the country.
The leader of Hezb-e-Islami did not specifically name any individual or group attempting to spread ethnic violence in the country.
Hekmatyar gave a similar speech during a meeting with tribal elders of Kohi Sahi district on Sunday.
He said certain circles who are trying to maintain the war in Afghanistan and are working for the interests of the outsiders.
He did not provide further information in this regard but said such circles have robbed and looted the government and work based on the instructions of the outsiders.
Full report at:
http://www.khaama.com/efforts-underway-by-certain-circles-to-spark-ethnic-violence-hekmatyar-03619
--------
India
Kerala reported 90 'love jihad' cases for NIA probe
Bharti Jain
Oct 11, 2017
NEW DELHI: The Kerala government may have opposed an NIA probe into 'love jihad' but only recently, it furnished a list of around 90 cases of "forced" conversions and alleged luring of women into inter-faith relationships including marriage to the central investigating agency.
The information about the registered cases was intended to assist the NIA investigation. The NIA, on its part, has moved swiftly, recording statements of two Hindu girls, Athira Nambiar from Pal akkad and another Athira from Bekal in K asargod , where they attest to being "lured" to embrace Islam and enter into a relationship with a Muslim partner.
Significantly, 'radical' Muslim outfit Popular Front of India and its political arm Social Democratic Party of India (SDPI) have emerged as a common link in the "indoctrination" and "luring" of not only the two Athiras but also that of Akhila Asokan alias Hadiya , a senior NIA officer told TOI. Hadiya has insisted that she got married of her own free will.
While Hadiya and Athira Nambia r , both from Palakkad , allegedly had common PFI/SDPI motivators including SDPI women's wing chief Sainaba, the Bekal case investigation revealed the role of other activists working on the same lines. NIA sources indicated as many as 23 similar cases may have PFI links.
The home ministry, incidentally, is contemplating banning PFI under the Unlawful Activities (Prevention) Act. A series of meetings has been held to debate whether to ban it as an "unlawful association" or a "terrorist" outfit, the latest consultation being on Tuesday.
The NIA is yet to question Hadiya or other suspects in the case relating to her "indoctrination and forced conversion". However, it has started examining 90 similar cases registered by Kerala Police since 2015. "The cases relate to forced conversions, inter-faith relationships and marriages, with complainants alleging a larger effort to 'lure' women to convert to Islam," said an officer. However, he added it had not been established so far that the forced conversions were aimed at pushing the girls to take up terror activities.
"In Hadiya's case, her father's fears that she was forced into marriage with Shafin Jahan to be taken out of the country to join the Islamic State was found to be without basis as she did not even have a passport," an NIA officer said.
The officer said even as the agency was pursuing investigation into 'love jihad' on the Supreme Court's directions, other parties had filed pleas before the apex court to join proceedings. These include Hadiya's father as well as mother of one Nimisha , who had converted to Islam and migrated to IS-controlled territory in Afghanistan last year along with her husband.
Incidentally, Section 57 of the Kerala Police Act does not distinguish between minor or adult as far as registering and enquiring into a "missing persons" complaint is concerned.
https://timesofindia.indiatimes.com/india/kerala-reported-90-love-jihad-cases-for-nia-probe/articleshow/61029923.cms
--------
J&K: 2 IAF commandos martyred, 2 terrorists killed in Bandipora's Hajin
Oct 11, 2017
NEW DELHI: Two Air Force Garud commandos and as many terrorists were killed during an encounter in Hajin area of north Kashmir's Bandipora district on Wednesday, Army said.
"Terrorists opened fire on a joint party of 13 RR of Army and SOG of Jammu and Kashmir police laying siege to Rakh (Paribal) area of Hajin today morning following inputs about the presence of about eight terrorists in the area," Defence spokesperson based in Srinagar told TOI.
"As the forces were closing in, the hiding terrorists fired upon them around 5 am, resulting in injuries to jawans. Two Garud personnel were martyred in the action. They were operating with the Army for operational experience and training," he said, adding, "Two terrorists were also gunned down and their weapons recovered."
Full report at:
https://timesofindia.indiatimes.com/india/jk-2-jawans-martyred-2-terrorists-killed-in-bandiporas-hajin/articleshow/61030502.cms
--------
India invited to join SCO contact group meeting on Afghanistan
Oct 11, 2017
NEW DELHI: India following its rising profile in Afghanistan for the first time ever has been invited to join Shanghai Cooperation Organisation (SCO) contact group meeting on Afghanistan to discuss prevailing security situation and economic potential of the landlocked country.
The meeting is being is held on October 11 in Moscow and comes as a feather in the cap for India's Afghan strategy after successful US backed Indo-Afghan trade and investment show in Delhi. The development is viewed as acknowledgement of India's stake in the war-torn country.
The SCO contact group on Afghanistan that became defunct in 2009 has been revived following intervention by Russian President Vladimir Putin from this year, persons familiar with the matter indicated to ET. India was invited to join maiden SCO contact group meeting on Afghanistan after it became a SCO member this June. "What India has done for Afghanistan in terms of socio-economic projects and training of civilian and armed forces personnel since 2001 has no parallel. Besides India has also promised to execute another 116 projects across Afghanistan. Very few nations have this track record," an official from the one of the SCO member states told ET.
Wednesday's SCO Afghan contact group meet will not only discuss prevailing security situation in Afghanistan that has spill over impact across the region but also economic potential of the landlocked country that remains underutilised, persons familiar with the region told ET. All eight members of SCO besides Afghanistan are expected to attend Wednesday's meet.
India is working with both US and Russia to contribute to stability of Afghanistan and hosted Putin's envoy Zamir Kabulov coinciding with the trade show. SCO membership that put India into the heart of Eurasian geo-politics enabling a larger say in Afghanistan that has direct bearing on security situation here. However, India's deeper engagement with Afghanistan has been opposed by Pakistan and its Army. Pak-backed Taliban and Haqqani network continue to target Indian interests and assets in the landlocked country as it strives to achieve "strategic depth".
Full report at:
https://timesofindia.indiatimes.com/india/india-invited-to-join-sco-contact-group-meeting-on-afghanistan/articleshow/61031540.cms
--------
Pakistan
Pakistani extremists oppose NYC terror suspect's US extradition
10.10.2017
On Friday, US officials announced charges against Talha Haroon, a 19-year-old US citizen of Pakistani origin, and two other terror suspects, Canadian Abdulrahman El Bahnasawy and Filipino Russell Salic - aged 19 and 37 respectively - for plotting to attack New York City, including Times Square and the subway system, in 2016.
The planned attack was foiled by the FBI last year but the details of the plot were revealed by US prosecutors only last week.
"The planned attacks included detonating bombs in Times Square and the New York City subway system and shooting civilians at specific concert venues," a Department of Justice statement said.
According to media reports, El Bahnasawy and Haroon declared their support for the militant "Islamic State" (IS) group and were inspired by the deadly terrorist attacks in Paris and Brussels.
El Bahnasawy, who is awaiting his sentence, was arrested in May last year and pleaded guilty last October to seven terror-related charges. Haroon was arrested in Pakistan in September 2016, while Salic was arrested in the Philippines in April.
A Pakistani court in Islamabad will hear Haroon's bail plea on Friday, October 13, according to the Associated Press. Defense lawyer Idrees Ashraf says his client's father, Haroon Rashid, previously obtained a stay on his son's extradition from the same court.
A test case for Pakistan?
Washington's demand to extradite Haroon to the US comes at a time when US President Donald Trump and his administration is piling pressure on Islamabad to relinquish its alleged support for Islamist militants active in the country.
While announcing his Afghanistan policy in August, Trump criticized Pakistan's "lack of cooperation" in the war on terror. Washington believes that jihadi organizations sheltered by Pakistani authorities launch attacks from Pakistani tribal areas into Afghanistan. Islamabad denies these claims and says it is "sacrificing" enough in the battle against terrorists.
General Joseph Dunford, Chairman of the US Joint Chiefs of Staff, said last month the US would not be able to "attain our objectives" in Afghanistan without Pakistan changing its "behavior."
Read more: Has Trump's Afghanistan policy destabilized South Asia even more?
Although the Islamabad High Court will decide whether Haroon should be extradited or not, the fact that the radical Lal Masjid (Red Mosque) in Islamabad is actively campaigning for the 19-year-old's release has once again put a question mark on the Pakistani government's counter-extremism efforts.
The Shuhda Foundation (Martyrs' Foundation), affiliated with the Red Mosque, is running a campaign to stop Haroon's extradition to the US. Despite some of the mosque clerics' open support for IS, rights activists say authorities have not taken any action against them.
"We believe it is against Shariah (Islamic law) to handover a Muslim citizen to an infidel government. We are supporting Haroon by launching a campaign to halt his extradition and we shall continue to do so in the future as well," Hafiz Ihtesham, a spokesman for the Shuhda Foundation, told DW.
Read more: Ignoring US pressure, Pakistan mainstreams jihadi groups
'Unfair trial'
Haroon's family claims he is innocent. "The FBI is seeking revenge. In 2004, US authorities also implicated me in a fake case, which they had to drop eventually. Now, they have come up with false charges against my son," Haroon Rasheed, Talha Haroon's father, told DW.
Rasheed also slammed Pakistan's security agencies for illegally arresting and torturing his son.
"My son was picked up in 2016 by intelligence agencies and he had remained missing for four months. He was brutally tortured in custody. The authorities only announced his arrest in November last year, months after he was actually detained," Rasheed said. "Terrorism charges against him have not been proven, but the authorities are already treating him like a criminal," he added.
Human rights groups accuse Pakistan's security agencies of kidnapping people and then keeping them in detention without giving them a chance for fair trial.
"The security agencies deny they have 'missing people' in custody but we know about their involvement. Those who are released by these agencies are afraid to lodge complaint in the court of law because they know they can face severe consequences for that," Asad Butt, an employee at the independent Human Rights Commission of Pakistan, an NGO, told DW.
Rallying behind Haroon
Haroon's lawyer Idress Ashraf denies that his client or his family has any connection with the Red Mosque.
"The family has sought help from different people and organizations. That does not mean they subscribe to the ideology of those people as well," Ashraf told DW.
"We have challenged the government's inquiry into Haroon's case. Now the court is examining whether the charges are sufficient to extradite Haroon under Pakistani laws," Ashraf added.
The lawyer claims the court is under tremendous pressure from the government to pave the way for Haroon's extradition to the US.
"The inquiry has not been fair. The prosecution hasn't provided any concrete evidence that link Haroon to the alleged conspiracy [New York terrorism plot]. They just submitted affidavits claiming Haroon told an FBI undercover agent through text messages that he intended to launch attacks in New York," said Ashraf.
To verify Ashraf's claim that Haroon's family has no links to the Red Mosque, DW approached Tariq Asad, who at one stage was Haroon's lawyer.
"Haroon Rasheed approached the Red Mosque cleric Maulana Aziz who told him to seek my services. The government's inquiry had already recommended Haroon's extradition and I challenged it successfully in the court," Asad said.
He said the Shuhda Foundation is campaigning for Haroon because it believes he is innocent.
"Under Pakistani law, the evidence presented during the inquiry was nothing but hearsay," he said.
http://www.dw.com/en/pakistani-extremists-oppose-nyc-terror-suspects-us-extradition/a-40889162
--------
Police take Gazeen Marri into custody again for interrogation into terror cases
Syed Ali Shah
October 10, 2017
Balochistan police on Tuesday took into custody former home minister Nawabzada Gazeen Marri, son of the late Baloch nationalist leader Nawab Khair Bakhsh Marri, after he was granted bail by Balochistan High Court (BHC) earlier in the day.
Sharing details of the latest development, police said Marri has been taken into custody for interrogation and to get information regarding the outlawed Baloch Liberation Army. The former home minister has been shifted to Cantt police station Quetta amid tight security.
However, incumbent Home Minister Sarfaraz Bugti said Gazeen Marri was wanted in bomb explosion and other terrorism cases, therefore he cannot be set free and will be tried in the court of law.
Earlier, the BHC had ordered the release of Gazeen Marri, who had been detained under Section 3 of Maintenance of Public Order.
Marri was detained last month by the Quetta deputy commissioner after being granted bail in the Justice Nawaz Marri murder case by an anti-terrorism court in Sibbi. He was earlier arrested upon his return to Pakistan from the United Arab Emirates after ending an 18 years self-imposed exile.
The divisional bench of BHC, comprising Justice Jamal Mandokhail and Justice Nazeer Ahmed Langove, ordered Marri's release, terming his detention "illegal".
The bench questioned the Additional Advocate General Shehak Baloch about the reasons for Marri's detention, to which Baloch said that the home department could answer the court's query. The home secretary is participating in a joint border commission's meeting with Iranian authorities and is, therefore, unavailable, he said.
Full report at:
https://www.dawn.com/news/1362916/police-take-gazeen-marri-into-custody-again-for-interrogation-into-terror-cases
--------
Three soldiers martyred in North Waziristan attack
Pazir Gul
October 10, 2017
PESHAWAR: Three soldiers were martyred and seven others injured in an attack on a vehicle of the Frontier Corps in Razmak sub-division of North Waziristan Agency on Monday.
Officials said the soldiers were patrolling the Doseli area when the attackers opened fire on their vehicle. They said the soldiers belonged to Shawal Rifles, a wing of the FC Khyber Pakhtun­khwa.
The injured soldiers were rushed to a hospital in Miramshah, the agency's headquarters. One of soldiers died on the spot and two others during treatment in the hospital.
Security forces cordoned off the area after the incident and launched a search operation. However, no arrest was reported.
The martyred soldiers were identified as Havildar Jabir Hussain, Lance Naik Amjad Ali and Sepoy Mohsin Ali.
This is the first major incident in Razmak since the army launched Zarb-i-Azb military operation in June 2014.
On Sept 20, the army organised a cricket match between a team of British journalists and the Pakistan XI in Miramshah in an attempt to promote the positive image of the region which was once considered a 'safe haven' of militants.
The army has carried out operations in Miramshah, Mirali and others areas of the agency, but it has never extended it to Razmak sub-division which is considered relatively peaceful.
Full report at:
https://www.dawn.com/news/1362837/three-soldiers-martyred-in-north-waziristan-attack
--------
Kulbhushan Jadhav case: Pakistan appoints former CJP Tassaduq Jilani as ad-hoc judge at ICJ
11-Oct-17
ISLAMABAD - The government has appointed a former Chief Justice Tassaduq Jilani as an ad-hoc judge at the International Court of Justice (ICJ) to represent and defend Pakistan's side in the Khulbhushan Jadhav case.
The decision to appoint, former chief justice Tassaduq was decided after a thorough consultation with all the representing stakeholders in this case.
This decision was endorsed by the prime minister, who signed a summary sent by the law ministry in regards to Jilani's appointment as the ad-hoc judge to represent this case at ICJ.
According to the Article 13 of the International Court of Justice, Pakistan can send an ad-hoc judge. Pakistan was previously represented by renowned lawyer Khawar Qureshi to defend its position at ICJ.
Earlier this month at a high-level meeting headed by Attorney General Ashtar Ausaf Ali discussed Pakistan's strategy and responses to India's 22-page report submitted before the ICJ.
In the meeting, representatives of the Foreign Office and the Ministry of law were present with all the concerned stakeholders against the Jadhav case.
Khulbhushan Jadhav, a 46-year-old retired Indian Navy officer, was first arrested in March 2016 from Baluchistan by Pakistan's security forces and then tried at the military court which sentenced him to death on the charges of being involved in subversive activities and espionage.
On May 18, India approached ICJ to restrain Pakistan from carrying out Jadhav's execution.
Full report at:
http://dailytimes.com.pk/pakistan/11-Oct-17/kulbhushan-jadhav-case-pakistan-appoints-former-cjp-tassaduq-jilani-as-ad-hoc-judge-at-icj
--------
Democracy should be strengthen in Pakistan: Kh Asif
October 11, 2017
Foreign Minister Khawaja Muhammad Asif has stressed the need of strengthening democracy in the country, reported Radio Pakistan.
Talking to a news channel, he said strengthening democracy means strengthening Pakistan.
The Minister said the National Action Plan was made with consensus of the political parties to wipe out terrorists from the country.
Khawaja Asif said Pakistan Armed forces have sacrificed a lot in war against terror to restore peace in the country especially in Federally Administered Tribal Areas.
He said Pakistan wants peace and stability in Afghanistan.
Full report at:
http://nation.com.pk/national/11-Oct-2017/democracy-should-be-strengthen-in-pakistan-kh-asif
--------
Talks to be held with US on 'equality basis': Abbasi
October 11, 2017
ISLAMABAD - Prime Minister Shahid Khaqan Abbasi told his cabinet members on Tuesday that Pakistan would hold the upcoming talks with the United States on "equality basis".
A federal minister who attended the cabinet meeting here told The Nation that the premier was confident of reviving the Pak-US ties.
"As the PM [who chaired the meeting] has said earlier, Pakistan is no longer solely dependent on the US. The PM told us [the ministers] Pakistan should go with confidence into the talks and make it a partnership rather than a one-sided affair," the cabinet member said.
Pakistan is expecting US Secretary of State Rex Tillerson and Defence Secretary Jim Mattis - in the coming days to discuss the future of relationship.
The Pak-US ties, already tense, were tested by President Trump in his first formal address to the nation as commander-in-chief on August 21st, where he asserted: "We can no longer be silent about Pakistan's safe havens for terrorist organisations. Pakistan has much to gain from partnering with our effort in Afghanistan. It has much to lose by continuing to harbour criminals and terrorists." He also warned that the military and other aid to Pakistan was at stake, if Islamabad did not clamp down on extremists.
Later, Prime Minister Abbasi and Foreign Minister Khawaja Asif held meetings with the US leaders on the sidelines of the United Nations General Assembly (UNGA) last month, which helped improvement in the relationship.
Days later, Asif again visited Washington this month for meetings with Rex Tillerson and other officials.
On Tuesday, Interior Minister Ahsan Iqbal also left for the US to participate in the annual session of the International Monetary Fund (IMF) and the World Bank on October 11.
The cabinet member told The Nation that Pakistan was fully prepared for the US talks and the premier had discussed the dialogue process with his team.
"The cabinet agreed with the PM that Pakistan should try to improve ties with the US and must not compromise on the integrity and sovereignty of the country," he added. Other sources said that the cabinet discussed the country's economy and the possible challenges.
"The interior minister will discuss Pakistan's economic issues with the IMF and the World Bank. There is no plan yet to seek more loans," said a participant of the meeting.
An official statement issued after the meeting said that the cabinet deliberated on "The Welfare of Senior Citizen Bill 2017" aimed at facilitating senior citizens and catering to their needs.
The cabinet, it said, approved signing of the "Negotiated Draft Visa Abolition Agreement" between Pakistan and Italy for holders of diplomatic passport.
It granted approval to amend the existing convention between Pakistan and Sri Lanka for the avoidance of double taxation and the prevention of fiscal evasion with respect to taxes on income for updation of article of exchange of information.
The cabinet approved a proposal to amend the existing convention between Pakistan and Nepal for the double taxation, and the prevention of fiscal evasion with respect to taxes on income for updation of article of exchange of information.
It approved a proposal to amend the existing convention between Pakistan and France for the double taxation and the prevention of fiscal evasion with respect to taxes on income for updation of article of exchange of information.
The cabinet granted approval to amend the existing convention between Pakistan and Tunisia for the double taxation and the prevention of fiscal evasion with respect to taxes on income for updation of article of exchange of information.
The meeting granted approval to amend the existing convention between Pakistan and Morocco for the double taxation and the prevention of fiscal evasion with respect to taxes on income for updation of article of exchange of information.
It granted approval to amend the existing convention between Pakistan and government of Portugal for the double taxation and the prevention of fiscal evasion with respect to taxes on income for updation of article of exchange of information.
The cabinet approved signing of the memorandum of understanding on scientific and technical cooperation in the field of agriculture research between Pakistan Agriculture Research Council and Agriculture Academy of Bulgaria.
It approved appointment of member (administration) Capital Development Authority, Establishment Division.
Full report at:
http://nation.com.pk/national/11-Oct-2017/talks-to-be-held-with-us-on-equality-basis-abbasi
--------
Govt, army don't appear on the same page in terror war: Ex-servicemen
October 11, 2017
ISLAMABAD - Veterans of Pakistan (VOP) on Tuesday said recent statements of the federal ministers make it doubtful that government and the army were on the same page in the fight against terrorism.
It expressed deep concern as the Foreign Minister (FM) agreed with the US demand that Pakistan needs to do more including the elimination of the Haqqani network which was absolutely opposite to the statement of COAS that this group had moved into Afghanistan, a long time ago.
Army's stance is supported by the latest statement of Mr Hamid Karzai that Taliban were controlling half of Afghanistan therefore, VOP said, the militants do not need any sanctuary inside Pakistan.
This was observed in a special meeting of the Executive Council of VOP, with Lt-Gen Ali Kuli Khan (r) in the chair. Vice Admiral Ahmad Tasnim (r), Brig Mian Mahmud (r), Brig Arbi Khan (r), Mr Salim Gandapur, Col Dalel Khan (r), Maj. Farouk Hamid Khan (r), Brig Masud ul Hassan (r) and others were also present.
The former military leaders said that Mr Karzai's statement that US was arming Daesh terrorists is very alarming. Two Afghan members of parliament had also made similar statements in recent past. Even Donald Trump blamed Hillary Clinton for inventing ISIS before his election.
They said that Pakistani FM also referred to the Indian spy Kulbushan Jhadev as a prisoner whose exchange could be considered. The prisoners which are exchanged are generally poor fishermen.
After visiting the US, the FM failed to mention US warning that Pakistan has been given last chance to do more before the US adopts other means that would hurt Pakistan the most.. The veterans said that Foreign Office has made no comment on a highly successful visit of COAS to Afghanistan and his bold offer for a joint watch of the border.
Foreign minister should have asked American government to support project of building the barrier along international border to prevent unlawful cross-border movement.
Finally, the cat came out of the bag when US Defence Secretary, using Indian language, stated that they are opposed to CPEC because it is passing through 'disputed territory'.
He showed no concern about the way India was treating people of 'disputed territory' under its control. "It clearly indicated that our relations with China are the real pricking points that America wants to settle by blaming Pakistan for their failure in Afghanistan."
"If US wants to promote democracy in Afghanistan, then elections under UN peace force are the best means. Democracy comes from ballot and not bullet. Under the cover of peace talks, America actually wants Taliban's surrender."
Members highly appreciated declarations by COAS and other services chiefs that armed forces were fully supportive of CPEC and would provide all assistance for this vital project.
"On the other hand, there are suspicions in certain quarters about our government's real intentions because of the slow progress on the development of Gwadar Port and other related infrastructure."
"Our Interior Minister has created his own front against army on the issue of stopping his entry into the Judicial Complex by a Rangers sentry. Instead of creating a scene in public, he should have shown grace by going back and ordering an inquiry.
After all, he was not prevented from performance of his duties as interior minister. He was going there just as a supporter of a man on trial. DG ISPR has correctly stated that the sentry could stop even COAS if he was without entry pass.
Full report at:
http://nation.com.pk/national/11-Oct-2017/govt-army-don-t-appear-on-the-same-page-in-terror-war-ex-servicemen
--------
Pak-Afghan border villages brace for Berlin Wall-style divide
October 10, 2017
Thousands of Pashtun tribal people who for decades ignored the invisible line that bisects their dusty villages and demarcates the Afghanistan-Pakistan frontier are bracing for a Berlin Wall-style divide of their neighbourhoods.
The government is building a fence to prevent militants criss-crossing the porous 2,500km frontier along the disputed colonial-era Durand line drawn up by the British in 1893.
The fence, which Kabul opposes, will run down the middle of the "divided villages" where few people have passports and Pashtun tribal loyalty often trumps allegiance to the state.
Seven such villages are dotted around Chaman district of Balochistan. Other divided villages are believed to exist further north in the Federally Administered Tribal Areas (Fata).
Officials in Balochistan are now working on shifting citizens in the divided villages to their side of the fence and say security worries override concerns that it will break up communities.
"[A border wall] was there in Germany, it is in Mexico. It is all over the world – why not in Afghanistan and Pakistan?" said Col Muhammad Usman, commander Frontier Corps in Chaman.
"These tribals have to understand that this is Pakistan and that place is Afghanistan."
THE TRUMP EFFECT
The appeal of erecting physical border barriers waned after the Berlin Wall was torn down in 1989. But in recent years, several populist leaders have advocated building walls to curtail movement of foreigners, most notably US President Donald Trump, who wants a wall along the entire border with Mexico.
Hungary's right-wing Prime Minister Viktor Orban recently fenced the border with Serbia to prevent Syrian refugees and other Muslim migrants from entering the eastern European country that acts as a gateway to the European Union.
Pakistan, in anticipation of the fence, plans to build more than 100 new border posts and Islamabad is recruiting in excess of 30,000 soldiers to man them, according to a senior military source.
"Trump is doing as per requirements of America; we are doing as per requirements of Pakistan," added Usman.
Tense relations between Afghanistan and Pakistan boiled over in two divided villages in May during census survey. More than 10 people were killed when Afghan border troops, objecting to the census, clashed with the Frontier Corps in Killi Jahangir and Killi Luqman villages near Chaman.
Kabul and Islamabad accuse each other of sheltering militants and providing safe havens for militant groups who carry out cross-border attacks.
Many residents in Killi Jahangir and Killi Luqman welcome the fence in the hope it will prevent bloodshed. But others are concerned it will hurt business and separate them from friends and family.
"There will no infiltration of terrorists or suspects from Afghan areas… but my own small business, which I was doing with Afghan people, will be affected," said Abdul Jabbar, owner of a small enterprise in Killi Jahangir.
Officials have long struggled to impose security in the Pashtun tribal heartland. The area stretches for hundreds of kilometers, including rugged mountainous terrain, and has been a hotbed of arms and heroin smuggling for decades. US drone strikes have also targeted militants from al Qaeda and other groups in the region.
Full report at:
http://nation.com.pk/national/10-Oct-2017/pak-afghan-border-villages-brace-for-berlin-wall-style-divide
--------
North America
Mentorship program sees Muslim professionals mentor Muslim students
Oct. 10, 2017
By NOOR JAVED
In one of the first jobs she had, Sabeen Saeed was told she would be the only woman on a team of 10 men and "asked if she could handle it."
After a decade in the male-dominated field of finance, she says she has gotten used to being the only woman at the table. But Saeed, who identifies as Muslim, admits it's been a challenge being a minority within a minority in the fast-paced industry.
"This isn't a field where you see many women from diverse backgrounds," said Saeed, who now works in a Toronto investment firm.
"When I started out, I didn't really have access to any role models or mentors that I could relate to," she said. "I think if I had women to talk to who had dealt with the same challenges I had faced, it would have been helpful."
That's why she was eager to give her time to a newly launched mentoring initiative called MAX Mentors — which aims to connect students and young professionals with established Muslim professionals in Toronto.
Saeed was recently paired up with Sara Raza, a first-year student at the Richard Ivey School of Business, who was quick to notice she stood out in her class.
"I recognized right away that there is a serious lack of representation in this field," said Raza, a visible Muslim who wears the hijab.
She welcomes the knowledge Saeed has to share: "To get this insight as to how it is to be a woman in the business space is invaluable," Raza said.
MAX mentors is the latest initiative of MAX (Muslim Awards for Excellence), an organization that made its debut last year with a flashy awards dinner, with the feel of a Muslim Oscars, to celebrate and encourage achievement in the Canadian Muslim community. It was established at a time of rising anti-Muslim sentiment locally and abroad.
The organization is the brainchild of Aazar Zafar, who says he launched MAX in 2015, in an effort to change the narrative around the Canadian Muslim community and show a counterpoint to the misconceptions that exist about Muslims, their faith and their contributions to Canada.
"This narrative of violence and terrorism is not the Islam the vast majority of Muslims have grown up with," said Zafar, a portfolio manager for a pension fund. "Education and service are tenets of Islam, and are also central Canadian values. MAX honours that, and as proud Canadians, we aim to recognize and motivate high achievement in the country."
The aim of the event is simple, and admittedly in part, a bit of a public relations push to "elevate the brand of Muslims in Canada.
In its first year, as its mandate suggested, MAX aimed high. The event took place at the glitzy Ritz-Carlton and was attended by Premier Kathleen Wynne, and Toronto Mayor John Tory. The keynote speakers included Ryerson University president Mohamed Lachemi, and City of Toronto Film Commissioner and actor Zaib Shaikh.
This year, the dinner and awards ceremony takes place at Roy Thomson Hall on Oct. 14. They plan to present 14 awards to community members, including women of the year, and 21 scholarships to students — worth around $84,000.
Zafar says the mentorship program was initiated by a student who was awarded one of the 11 scholarships given out last year. So far, 100 people have signed up to be part of the program, and 35 pairs have been matched, including many of those outside the traditional realms of law and medicine.
It was this non-traditional outlook that drew entrepreneur Ibrahim Hyder to the program. "It was really unique to be connected with someone who has directly related to what I'm doing," said Hyder, who runs a business called TruWood, which sells wooden watches online.
He was paired up with Saad Uddin, founder of Native Touch, a mobile advertising company, who says he got involved because he could have benefited from a similar initiative when he was starting out.
"I always thought it would be good to have a mentor who is going through building a business, but could understand some of our priorities and goals that take our faith into consideration as well."
The mentorship program, which has had three events so far, has already ventured into topics not normally discussed in workplace settings — such as resiliency, and mental health. The hope is to expand the program beyond the GTA, in Ontario, and eventually across the country.
Saeed says for many professionals like herself, MAX is finally giving the Muslim community a platform to challenge stereotypes that exist.
"I think in the world we live in, it's increasingly important to show Canadian Muslims who are giving back and contributing," said Saeed. "I think in the past, we haven't done the greatest job of highlighting our successes and achievements as a community … I think MAX brings something to the table that was sorely lacking."
https://www.thestar.com/news/gta/2017/10/10/mentorship-program-sees-muslim-professionals-mentor-muslim-students.html
--------
Iran Says US Would Aid Terrorism if It Declared Revolutionary Guards Terrorists
Oct 11, 2017
London. Iran said on Tuesday (10/10) that the United States would be "joining the terrorists' camp" if it chose to designate its elite Revolutionary Guards (IRGC) a terrorist organization.
US President Donald Trump is expected to announce this week his final decision on how he wants to contain Iran's regional influence.He is also expected to designate Iran's most powerful security force, the Islamic Revolutionary Guards Corp as a terrorist organization.
"The world should be thankful to the Revolutionary Guards for its fight against terrorists, especially against Daesh (Islamic State)," Iranian government spokesman Mohammad Baqer Nobakht said in a weekly news conference broadcast live on state television. "So by taking a stance against the Revolutionary Guards and designating it a terrorist group, the Americans would be joining the terrorists' camp," he added.
Trump is expected to "decertify" a landmark 2015 deal Iran struck with world powers to curb its nuclear program in return for the lifting of most international sanctions.
Trump's announcement would stop short of pulling out of the agreement but give Congress 60 days to decide whether to reimpose sanctions.
US sanctions on the IRGC could affect conflicts in Iraq and Syria, where Tehran and Washington support warring parties that oppose the Islamic State militant group.
IRGC commander Mohammad Ali Jafari said on Sunday that if Washington designated the Guards a terrorist organization, they "will consider the American army to be like Islamic State all around the world."
Full report at:
http://jakartaglobe.id/international/iran-says-us-aid-terrorism-declared-revolutionary-guards-terrorists/
--------
Are political Islamists America's enemies in the fight against terrorism?
October 10, 2017
Robin Simcox, Heritage Foundation
Political Islamists are a different type of enemy than the violent Islamists of al-Qaeda, ISIS and the Salafi-jihadi movement to which Zimmerman's report refers. However, there are a multitude of reasons as to why they are an enemy all the same. I will offer three.
Firstly, there is a convergence of views and aims. Both violent and non-violent Islamists would contend that Islam cannot be "just" a faith. Rather, they insist, it includes an all-encompassing socio-political system. Both contend that the ideal state would be one governed by sharia, and both aspire for the restoration of an Islamic Caliphate.
The main difference is how bloody they think the process of restoration should be. ISIS is willing to commit acts of terrorism in the US to bring this about, whereas a group like Hizb ut-Tahrir is not.
Yet in harnessing support for such views, both violent and non-violent Islamists refer to a glorious past where Islam was resurgent and construct grievance narratives that help explain the comparatively weakened state it finds itself in today. The purpose of doing so is to strengthen a sense of Muslim identity and weaken competing pulls on a sense of identity, such as nationalism.
Secondly, treating political Islamists as enemies helps ensure we do not mistake them for friends. This is no moot concern. Too often, Western policy labors under the delusion that we can draw "moderate" Islamists away from the violent radicals in some kind of substantial or meaningful way; or that political Islamists can be used as a "firewall" to prevent radicalization into violent Islamism.
The hope of doing so helps explain why Western governments feel the need to engage constantly with Islamist groups. Indeed, the State Department recently hosted the Muslim Brotherhood-linked Council on American Islamic Relations and the Islamic Circle of North America. Previous administrations did the same. This is a mistake. Rather than bring Islamists into the fold, they should be isolated. The ideology they adhere to should be exposed and their beliefs contrasted to those of truly moderate Muslims.
Thirdly, Washington's ability to harness support for its actions in the international arena will suffer unless America helps its allies defeat political Islam in their own countries.
Take the example of European countries' backing for future US military operations. Even now, a UK Ministry of Defence memorandum has warned that the nature of being "an increasingly diverse nation" and having British troops being "seen taking action mainly in Muslim societies," means that future troop deployments a la Afghanistan and Iraq are political non-starters. This is not just due to a fear of reprisal attacks from violent Islamists in the UK, but because of political Islamists' ability to use these wars to whip up discontent in Muslim communities and stoke divisions in wider society.
So a consequence of political Islam's strength in the UK is that America may not be able to count on the support of an ally that has historically been the most reliable of military partners. It is true that American Muslims have proven, overall, quite adept at resisting both these brands of Islamism. Yet if that picture is not being replicated among America's allies, it is also only of limited relevance.
Yes, violent Islamism presents the most pressing national security threat, and its defeat understandably must be a top priority. However, it is Islamism, in all its guises, which is America's real enemy.
Katherine Zimmerman, AEI
Treating political Islamists as enemies in the fight against terrorism will make them so. Their objectives for the Muslim world are not desirable or even acceptable for the United States. Political Islamists pursue an illiberal ideal by definition: the organization of the state and society under Islam and to hell with you (literally) if you are not Muslim. But that view remains an unfortunate political opinion unless and until they directly support the use of violence to transform their surroundings. The United States should focus its counterterrorism efforts on those who advocate and conduct violence against us and other Muslims, and recognize the possibility of useful temporary partnerships with those who oppose violence, however unacceptable their political views might otherwise be.
The risk of treating non-violent Islamists as the enemy is that we can drive them to the actual battlefield, where they bolster the strength of groups like al Qaeda, the Islamic State, or other Salafi-jihadi organizations intentionally or unintentionally. In Libya, for example, the most powerful faction on the ground is anti-Islamist — and receives significant support from both Egypt and the UAE for this position. Political Islamists will face severe repression should that faction succeed, even if they themselves oppose the use of violence to advance their ideas. The campaign to eliminate political Islam drives Islamists to cooperate with the likes of al Qaeda and the Islamic State. In Egypt, Islamists chafing under President Abdel Fattah el Sisi's government have begun to discuss the utility of violence, with newer Muslim Brotherhood leaders advocating limited violence in a "painful nonviolent" approach.
Granting Islamists the right to access the political process is by no means a sure-fire way to keep them out of power and from reshaping their surroundings. Turkey under Recep Tayyip Erdogan — who has taken steps to Islamize Turkey and pursues a neo-Ottoman strategy that cleaves toward supporting other Islamists (including violent ones) — is a serious challenge for the United States. Treating Erdogan as an enemy, however, will deprive the United States of all leverage over him — and create a crisis in NATO as well, of which Turkey remains a member.
But in many other cases, political Islamist parties that rise to power have been unable to hold onto it. Take the Egyptian Muslim Brotherhood, which received a strong endorsement in the June 2012 election only to have lost popular support by July 2013. The Brotherhood's strength was its role as an opposition organization to the Mubarak regime, and its undoing was both its vision for Egypt and inability to govern. In Tunisia, the Ennahda party split from the Islamist movement to pursue a "strategy of consensus." There is, of course, no guarantee of permanency. But Islamist parties that rise to political power seem almost inevitably to lose rather than gain support among the populations they attempt to govern. Exposing the unpopularity of their visions is an important component of ultimately defeating them — and cannot be accomplished by treating them all as enemies and excluding them from a competition of ideas they seem destined to lose anyway.
Boxing Islamists out of the political space by defining them as an enemy further removes a potential temporary partner. The use of violence — for what ends, by what means, and against whom — is a religious issue within Islam that splits non-violent Salafis from Salafi-jihadis. The United States has no role in and should shy away from supporting one Islamist block over another, but the existence of such tensions and divisions helps keep those who justify the use of violence on society's fringes.
America's enemies in the fight against terrorism are the Salafi-jihadis and all those who support them. Salafi-jihadis seek to replace current Muslim states with a "true" Islamic polity through the use of armed force and justify violence against Americans, Europeans, and those (including Muslims) against them.
Full report at:
https://www.aei.org/publication/are-political-islamists-americas-enemies-in-the-fight-against-terrorism/
--------
Europe
US 'pretending' to fight IS in Iraq: Moscow
Oct 11, 2017
MOSCOW - Moscow accused the US on Tuesday of reducing air strikes against the Islamic State group in Iraq to let militants into Syria and fight the Russian-backed Syrian army, claims the Pentagon denied.
Russian military spokesman Igor Konashenkov said the Syrian regime was attempting to push the militants out of eastern Deir Ezzor province, but that arrivals from Iraq were boosting their numbers.
"The US-led coalition, pretending to fight IS, largely in Iraq, sees all this but continues allegedly active measures against IS in Syria for some reason," he said.
"The continuing arrival of terrorists from Iraq raises serious questions about the anti-terrorist objectives of the US air force and the so-called 'international coalition.'"
The US-led coalition sharply reduced its strikes on Iraq in September, as Syrian forces were beginning to retake Deir Ezzor, Konashenkov said in a statement.
"Is this change in approach from the US and the coalition a bid to cause maximum disruption to the Syrian army, backed by the Russian air force, as it seeks to free Syrian territory to the east of the river Euphrates?" he asked.
Pentagon spokesman Colonel Rob Manning flatly denied the Russian claims and pointed to online tallies that show no let up in the bombardment of IS targets in Iraq or Syria.
"That's absolutely false," Manning said.
"We remain committed to killing ISIS and denying them safe havens and the ability to carry out strikes in the region or globally."
On Monday, the US-led coalition conducted seven strikes against IS targets in Iraq, a military website showed.
Manning also urged "all forces" to focus their efforts on beating IS.
Over the past month, Moscow has repeatedly accused the US of hindering the Russian-backed Syrian army offensive in the east of the country.
Russia has been flying a bombing campaign in Syria since 2015, when it stepped in to support President Bashar al-Assad's rule and tipped the conflict in his favour.
http://nation.com.pk/international/11-Oct-2017/us-pretending-to-fight-is-in-iraq-moscow
--------
EU plans to reopen embassy in Libya
Oct 10, 2017
The European Union is seeking to reopen its embassy in Libya pending security conditions, officials said on Tuesday, offering further political support for the Tripoli government struggling to establish control.
EU leaders will announce at their summit in Brussels on Oct. 19-20 that they "encourage work underway to rapidly establish a permanent EU presence in Libya", according to their draft joint statement seen by Reuters.
But the statement makes clear no such move is imminent as it would be conditional on improving the security situation on the ground.
The EU moved its mission to neighboring Tunisia in mid-2014 as security worsened in Libya amid escalating fighting between rival factions since the 2011 fall of longtime leader Muammar Gaddafi, ousted by rebels during a NATO bombing campaign.
Of 28 EU states, only Italy, Libya's former colonial master and still the most influential European state on the ground, has an embassy in the country, where the United Nations has officially recognized the government of Fayez Seraj.
The EU has also engaged increasingly with Seraj, especially as it sought Libya's help in curbing the flow of African refugees and migrants, hundreds of thousands of whom have been boarding smugglers' boats on the coast of the lawless state to cross the Mediterranean for Europe.
Full report at:
http://www.presstv.com/Detail/2017/10/10/538136/EU-Libya-Embassy-
--------
Pride comes out into the open in tiny, Muslim-majority Kosovo
October 10, 2017
PRISTINA, Kosovo -- A few hundred people held the first ever pride parade in the Kosovo capital, Pristina, on Tuesday, to promote the rights of the gay community.
The parade, called "In the name of love," was organized by nine non-governmental organizations to raise awareness and end prejudice in Kosovo society.
With banners and rainbow flags in hand and music playing, participants shouted "There is no gender in love" as they walked peacefully between two main squares in Pristina.
There was only one minor incident when a group of young people protested against the march. Police kept watch.
Kosovo President Hashim Thaci also took part at the start to express the support of the country's institutions to the community and to insist that everyone was equal.
"We shall not let anyone in Kosovo exert fear and threats on any individual or any grouping," he said.
Some western diplomats were also present.
Kosovo passed an anti-discrimination law in 2004. This is the first Pride Parade, although the gay community has held small marches over the past three years supported by important political leaders and diplomats.
"We believe in a diverse society and that would add value to Kosovo society," organizer Lendi Mustafa told participants at the end of the march.
Full report at:
https://www.cbsnews.com/news/kosovo-gay-pride-parade-lgbt-rights-first-muslim-majority-nation-europe/
--------
Colchester's Muslim community feel safe despite rise in hate crimes against UK mosques
October 10, 2017
THE Muslim community in Colchester say they feel reassured by police despite the number of hate crimes against UK mosques having more than doubled.
Police force figures ranks Essex in tenth place for the largest increase of recorded hate crimes.
They have gone up from zero to three in the past year.
Forty-two police forces responded to a Freedom of Information request from the Press Association which shows the figure shot up from 47, between March and June 2016, to 110 for the same period this year.
Habib Ahmad, who has been Imam at Colchester Islamic Cultural Association for six months, said: "As a group we have really good communication with the police and general community.
"There will always be those people who feel isolated and scared, but after incidents take place we always receive calls from the police to reassure us.
"That message then gets broadcast to the Muslim community in Essex.
"There is a push to increase the reporting of hate crime by making campaigns materials available in different languages, for example, so the police will say it's an increase in the reporting rather than actual crime."
Footage of an arson attack at Al Falah Braintree Islamic Centre was released in January when a pair set fire to the plastic corrugated roof on the building's lean to.
The fire was extinguished by a taxi driver who drove past the centre in the early hours.
Essex Police was unable to provide details of the other two reported hate crimes and advised the Gazette submit a Freedom of Information request.
In the region of 4,000 Muslim people are estimated to live in Colchester.
To encourage open dialogue within the community, the town's Islamic centre is hosting an open day from October 28 to 29 at Firstsite.
It was an event first initiated by the Muslim Council of Britain involving 150 mosques, Mr Ahmad explains, and is a chance for discussion, for people to have their hands decorated with henna, try on a hijab, and learn about the religion.
There will be exhibitions on topical subjects such as women's status in Islam, Islam and modern science, and the Muslim contribution to Britain.
He added: "People are always welcome to visit the mosque and ask questions, however people might not go out their way to do that.
Full report at:
http://www.gazette-news.co.uk/news/15587710.Muslim_community_feel_safe_despite_rise_in_hate_crime/
--------
Southeast Asia
Hard-Line Political Islam Isn't the Only Threat to Indonesia's Democracy
Emirza Adi Syailendra
Oct. 10, 2017
The stakes of the election for governor of Jakarta earlier this year were, in the eyes of nearly all observers, much larger than that particular office. After all, it was only five years ago that Indonesia's president, Joko Widodo, popularly known as Jokowi, used his victory in the same race to transform himself from a well-regarded but somewhat obscure mayor into a powerful national figure. With that precedent in mind, the candidates and their backers saw the election—a two-round affair held in February and April—as an opportunity to position themselves for general elections in 2019.
The incumbent, Basuki "Ahok" Tjahaja Purnama, came into the race with a strong track record. In office since 2014, he had cultivated the image of an uncompromising champion of good governance and transparency, as well as mass transit projects needed to alleviate Jakarta's notorious traffic. He also had the backing of the majority coalition in parliament, led by Jokowi's Indonesian Democratic Party of Struggle. ...
https://www.worldpoliticsreview.com/articles/23337/hard-line-political-islam-isn-t-the-only-threat-to-indonesia-s-democracy
--------
Malay Rulers slam 'divisive acts' in the name of Islam
October 10, 2017
PETALING JAYA: The Malay Rulers today hit out at recent controversies including that of the Muslims-only laundrette in Johor and a similar establishment in Perlis, saying such acts went "beyond all acceptable standards of decency".
Adding that these actions put at risk the harmony within Malaysia's multi-religious and multiracial society, they said the damaging implications of such acts became more severe when they were erroneously associated with or committed in the name of Islam.
"As a religion that encourages its followers to be respectful, moderate and inclusive, the reputation of Islam must not ever be tainted by the divisive actions of certain groups or individuals which may lead to rifts among the rakyat," they said in a statement today.
The owner of the Johor laundrette came under heavy fire after reports surfaced that he had put up a sign saying "Only For Muslims" outside his shop.
The issue sparked intense debate on social media and earned the operator a reprimand from Johor ruler Sultan Ibrahim Sultan Iskandar, who told the owner to open his laundry in Afghanistan if he wanted to continue with his Muslims-only business policy.
"I cannot accept this nonsense. This is Johor, which belongs to Bangsa Johor and it belongs to all races and faiths. This is a progressive, modern and moderate state.
"This is not a Taliban state and as the Head of Islam in Johor, I find this action to be totally unacceptable as this is extremist in nature," Sultan Ibrahim had said.
The Malay Rulers said they "greatly appreciated" the strong stance of Sultan Ibrahim, as well as the stance taken by the Raja Muda of Perlis in the other case.
"The positions of His Majesty and His Royal Highness in these instances demonstrate their commitment to ensuring that Muslims behave with respect, moderation and inclusiveness, in a country which is home to people of many different ethnic groups and religions."
Full report at:
http://www.freemalaysiatoday.com/category/nation/2017/10/10/malay-rulers-slam-divisive-acts-in-the-name-of-islam/
--------
Malaysian sultans intervene to promote tolerance
October 11, 2017
Malaysia's nine state sultans have issued a rare statement expressing concern about "divisive actions" in the name of Islam, as fears grow of rising intolerance in the multi-ethnic country.
Referring to a controversy last month over laundrettes in two states which banned non-Muslim customers, the revered sultans urged people to follow principles set out in the country's constitution which say respect must be accorded to everyone regardless of their faith or ethnicity.
"The Malay Rulers take very seriously the issues of unity and harmony among the citizens of this multi-ethnic and multi-religious country," they said in a joint statement late Tuesday.
About 60 percent of Malaysia's population of some 30 million are Muslim Malays and the country is also home to sizeable Christian, Buddhist and Hindu minorities.
The statement said recent actions of certain individuals had "gone beyond all acceptable standards of decency", and that such actions could be damaging "when they are erroneously associated with or committed in the name of Islam".
The laundrettes in the states of Johor and Perlis eventually agreed to serve all customers regardless of their religion after they were condemned by the state sultans.
"As a religion that encourages its followers to be respectful, moderate and inclusive, the reputation of Islam must not ever be tainted by the divisive actions of certain groups or individuals," the sultans said.
The statement came ahead of their annual Conference of Rulers.
The laundrette controversy was the latest incident to stoke concerns that a traditionally tolerant brand of Islam is being eroded by the growing influence of fringe hardliners and conservative politicians.
There was widespread anger last month after an annual beer festival in Kuala Lumpur was cancelled following opposition from an influential Islamist political party.
A parliamentary democracy, Malaysia has a unique system in which Islamic sultans serve as the ceremonial heads of nine of the country's 13 states, alternating as the nation's figurehead king every five years.
The sultans have no formal power, rarely dabble in politics, and their proclamations are not binding.
Full report at:
http://www.thejakartapost.com/seasia/2017/10/11/malaysian-sultans-intervene-to-promote-tolerance-.html
--------
Mideast
Hamas, Fatah resume reconciliation talks in Cairo amid high hopes
Oct 11, 2017
Rival Palestinian factions Hamas and Fatah have kicked off unity talks in the Egyptian capital amid high hopes that the negotiations usher in long-awaited national reconciliation.
"We meet in Cairo full of hope to draw and lay down a roadmap" for national reconciliation, senior Hamas delegate Izzat Reshiq said on his Twitter account of the three-day talks that began on Tuesday.
"Unity and national reconciliation among all our Palestinian people is our strategic option to move forwards," he added.
The Palestinian leadership has been divided between Fatah and Hamas since 2006, when the latter scored a landslide victory in Palestinian parliamentary elections in the Gaza Strip. Hamas has ever since been running the coastal enclave, while Fatah has been based in the autonomous parts the Israeli-occupied West Bank.
Previous reconciliation attempts by the two sides have failed.
In September, however, Hamas said it had accepted key reconciliation conditions offered by Palestinian Authority President Mahmoud Abbas and underlined its "desire to achieve national unity."
The resistance movement also invited the Palestinian unity government formed in 2014 to return to Gaza, dissolving an administrative committee that runs the Israeli-besieged territory as a step towards fresh national elections in Gaza and the West Bank.
The statement followed negotiations in Cairo between the movement's officials and a delegation sent by Abbas.
On October 2, the PA administration, led by Prime Minister Rami al-Hamdallah, held its meeting in Gaza for the first time since 2014.
During the talks in Cairo, the two sides are expected to examine ways to implement a 2011 agreement brokered by Egypt, under which 3,000 Fatah security officers would join a Gaza police force over the course of a year.
Under that deal, Hamas' 25,000-strong armed wing, Ezzedine al-Qassam, which has defended Gaza against three deadly Israeli wars over the past decade, would remain. The resistance group says the force is non-negotiable.
Israeli Prime Minister Benjamin Netanyahu has warned the Palestinians against "bogus reconciliations," and reiterated Tel Aviv's demand for the disbandment of Hamas's military arm.
In an apparent attempt to influence the Egypt-brokered talks, an Israeli delegation landed in Cairo to meet with Egyptian officials, Israeli paper Ha'aretz cited Palestinian media reports as saying.
The delegation landed in a private plane in Cairo's International Airport for a number of hours to meet with the officials, the said.
http://www.presstv.com/Detail/2017/10/11/538196/Hamas-Fatah-Cairo-Israel
--------
Turkey launches operation to arrest 70 military officers over Gulen links: Report
Oct 10, 2017
Turkish police have reportedly launched an operation to arrest 70 military personnel over their alleged links to the US-based opposition figure Fethullah Gulen, who is accused of masterminding a failed coup last year.
Turkey's private Dogan news agency reported that police conducted simultaneous raids across seven Turkish provinces on Tuesday to arrest the suspects, noting that the operation focused in the central city of Konya.
The report further said that two colonels, seven captains, and 36 lieutenants had been among those targeted in the police raids.
The latest operation comes as the Turkish authorities' crackdown on supporters of Gulen, President Recep Tayyip Erdogan's former-ally-turned-foe, continues some 15 months after the failed putsch.
Over the past week alone, Turkish authorities arrested nearly 800 people over alleged ties to Gulen.
Dogan said that 62 of the suspects sought by police on Tuesday were in the air force, adding that some of them were pilots. Police were reportedly conducting searches of their homes and places of work.
Turkey witnessed a coup attempt against the government of President Recep Tayyip Erdogan on July 15, 2016. The coup attempt was suppressed some two days, however, and a crackdown began on perceived putschists.
Full report at:
http://www.presstv.com/Detail/2017/10/10/538102/Turkey-military-officers-Gulen-links
--------
Yemeni missile hits Saudi military base in Jizan, causes fatalities: Source
Oct 10, 2017
Yemeni army soldiers and allied fighters from Popular Committees have fired a ballistic missile at a Saudi army command center in Saudi Arabia's southwestern Jizan region, the Yemeni military says.
A military source told Arabic-language al-Masirah television network on Tuesday that the medium-range Qaher M-2 missile had precisely hit the target.
He said the missile strike came following precise reconnaissance and killed a large number of Saudi troops as well as mercenaries and injured dozens more.
He further warned that the Yemeni forces were in full readiness and would surprise Saudi troops in the near future with their missiles strikes.
Separately on Tuesday, a Yemeni sniper shot dead a Saudi soldier at a military base in Saudi Arabia's southwestern Asir region.
Yemeni forces regularly fire ballistic missile at positions inside Saudi Arabia in retaliation for Saudi military strikes on Yemen.
The Saudi-led war, which began in March 2015, has been accompanied by a naval and aerial blockade on Yemen. It has so far killed over 12,000 people and led to a humanitarian crisis and a cholera outbreak.
Saudi Arabia launched the offensive to eliminate Yemen's Houthi movement and reinstall a Riyadh-friendly regime there.
Full report at:
http://www.presstv.com/Detail/2017/10/10/538099/Yemen-Saudi-Arabia-Jizan-Qaher-Asir
--------
Erdogan To Visit Predominantly Muslim Area Of Serbia
October 11, 2017
Turkish President Recep Tayyip Erdogan is continuing a visit to Serbia with a visit to Sandzak, a mainly Muslim-populated region.
Erdogan arrived in Belgrade on October 10 on a two-day visit that analysts say is a bid to increase Ankara's clout in the Balkans.
In the Serbian capital, Erdogan held talks with Serbian President Aleksandar Vucic that focused on trade and investment, but also touched on political relations in the region.
Many countries in the Balkans have historic and religious links with Turkey from centuries of Ottoman rule.
In the 1990s, Turkey backed Bosnian Muslims in the war that pitted them against the Orthodox Christian Serbs and Catholic Croats.
"This is not 1389, but 2017," Vucic said, referring to the year when the Ottoman occupation of Serbia started. "Today, Serbia considers Turkey as its friend."
Erdogan said the $800 million of trade between the two countries "is not enough" and that it should increase sharply in the near future.
He promised more Turkish investments, including a project to build a highway linking the Serbian and Bosnian capitals.
Full report at:
https://www.rferl.org/a/turkey-serbia-/28785717.html
--------
Israel to advance plans for nearly 4,000 settler homes: Official
10 October 2017
Israel is to advance plans for nearly 4,000 settler homes in the occupied West Bank as part of a push to greatly boost settlement growth, an Israeli official said Tuesday.
The approvals are to include units in the flashpoint West Bank city of Hebron for the first time in years.
The official, speaking on condition of anonymity, said that "3,736 housing units will be approved at different stages of planning and construction".
He did not give a timeframe or a precise breakdown, but said the homes would be located throughout the West Bank, including in Hebron and at the Migron and Beit El settlements near Ramallah.
"In total, about 12,000 housing units will be approved in 2017, at various stages of planning and construction, four times the number in 2016," the official said.
Israel faced heavy criticism of settlement construction from US president Barack Obama's administration, but that has not been the case with his successor Donald Trump.
Israeli media say that a planning council is expected to meet next week to approve at least some of the plans.
Haaretz daily said that if the Hebron housing is approved it would be the first time for the southern West Bank city since 2002.
Hebron is home to around 200,000 Palestinians, with about 800 settlers living under Israeli army protection in several heavily fortified compounds in the heart of the city.
It is holy to both religions, with Old Testament figures including Abraham believed to be buried there.
The 1994 massacre of 29 Muslim worshippers in Hebron by Israeli-American Baruch Goldstein led to an agreement three years later giving the Palestinian Authority control over 80 percent of the city.
The settlers and about 30,000 Palestinians living adjacent to them fall under Israeli military rule.
Last month, Israel gave the settlers there the authority to manage their own municipal affairs in what critics denounced as reminiscent of "apartheid".
About 430,000 Israeli settlers live among 2.6 million Palestinians in the West Bank, occupied by Israel in the 1967 Six-Day War.
Settlement building in the occupied West Bank and annexed east Jerusalem is considered illegal under international law.
It is also seen as a major obstacle to peace as the settlements are built on land the Palestinians see as part of their future state.
Full report at:
https://english.alarabiya.net/en/News/middle-east/2017/10/10/Israel-to-advance-plans-for-nearly-4-000-settler-homes-Official.html
--------
Mekhlafi: UN only sees Yemen's tragedy through Sanaa's suffering
10 October 2017
In its latest report on violations of children, the United Nations has ignored abuses committed by Houthi militias against Yemeni minors, Yemen's Deputy Prime Minister and Minister of Foreign Affairs Abdulmalik al-Mekhlafi told a press conference on Tuesday.
During his visit to the King Salman Center for Relief and Humanitarian Action, he said that the United Nations is only seeing Yemen's tragedy though Sanaa's suffering.
He stressed that the internationally recognized government of Yemen has responded to all international resolutions, stressing its refusal to politicize humanitarian action and demanded to communicate the truth only.
Meanwhile, the General Supervisor of the Center, Dr. Abdullah bin Abdulaziz al-Rabiah, said that the Arab Coalition supports the restoration of the internationally recognized government in Yemen. In addition, an office for the protection of children and civilians has been set up.
Full report at:
https://english.alarabiya.net/en/News/gulf/2017/10/10/Mekhlafi-UN-only-sees-Yemen-s-tragedy-through-Sanaa-s-suffering-.html
--------
Houthi militias fire missile at a school in Saudi Arabia's Jazan region
10 October 2017
Houthi armed militias fired a ground-to-ground missile targeted at a school in the the village of Al-Jaradiyah in the Jazan region of Saudi Arabia.
No injuries of casualties have been reported so far.
An official source at the Command of Coalition Forces supporting the restoration of legitimacy in Yemen confirmed that the missile caused damage to the school and its yard as well as to some properties of citizens.
The source also confirmed that Houthi militias "do not hesitate to target schools and civilian facilities, which is a clear violation of the international humanitarian law".
https://english.alarabiya.net/en/News/gulf/2017/10/10/Houthi-militias-fire-missile-at-a-school-in-Saudi-Arabia-s-Jazan-region.html
--------
Iranian regime's reality check on the World Day against Death Penalty
10 October 2017
October 10th, World Day against Death Penalty is here. For citizens of countries with governments fixated with executing the cruel and inhuman punishment it is a reminder that despite world's grant entrance into the 21st century, there is still a long way to go before leaving this medieval punishment behind for good.
Iran is a prime example of such a mentality. By scratching the surface and getting a little deeper, for Iran's rulers, it is not just a mere form of punishment. It is an instrument of spreading fear among the citizens. Even China, with a population 17 times larger than Iran, and a world's leading advocate of death penalty, there is hardly any case of public hanging or juvenile execution.
In the case of mullahs in Tehran, execution is a means to an end. It is only used to keep in check the fed up citizens, it is a reminder that dissidence will have dire consequences. The regime has tried throughout its life to sugarcoat and sell it to the rest of the world as a noble contribution in fight against drug smugglers.
Discouraging drug smuggling
Iranian regime claims that death penalty is largely carried out to discourage drug smuggling. Not to mentions that the main drug trafficking in Iran are through ports controlled by the Islamic Revolutionary Guard Corps (IRGC) in Iran. By some estimate, IRGC pockets billions of dollars in windfalls from the lucrative business.
Many of the regime's officials openly admit that hanging drug offenders have not been an effective technique in stopping any future cases and in fact it has backfired. The Iranian regime began mass executions in the very first two years after its inception when in 1981 and 1982 executed Iranian dissidents by thousands. The following decade by many who survived it was rightfully called, the "Dark Era."
The highlight of the first decade into the regime's rule was of course the bloody summer of 1988 when more than 30,000 political prisoners were tried in Kangaroo courts and immediately send to gallows. That few months are best described by Khomeini's then successor, Ayatollah Hossein-Ali Montazeri.
"Death Commission"
His son Ahmad finally mustered up the courage to publish an audio tape of his father's encounter with members of "Death Commission" in August 2016. The commission oversaw the massacre of political prisoners in the summer of 1988, mostly members and supporters of the opposition People's Mojahedin Organization of Iran (PMOI or MEK).
Montazeri, the handpicked successor of Khomeini, was sacked for his public objections to mass executions in 1988. He spent the rest of his life under house arrest and died in 2009.
In the moving tape, Montazeri can be heard telling a meeting of the "Death Commission" in 1988 that they are responsible for a crime against humanity. He said: "The greatest crime committed during the reign of the Islamic Republic, for which history will condemn us, has been committed by you. Your names will in the future be etched in the annals of history as criminals."
Mostafa Pour-Mohammadi has since admitted his role in the "Death Commission" and boasted that he was proud to "carry out God's will and he has not lost sleep over what he did." He was a member of the "Commission" in the summer of 1988. Pour-Mohammadi was Hassan Rouhani's Justice Minister in his first cabinet and was then promoted to special adviser to the head of mullahs' judiciary.
UN Special Rapporteur
In 1989, Reynaldo Galindo Pohl, the first UN Special Rapporteur on the situation of human rights in the Islamic Republic called for an inquiry into the 1988 massacre of political prisoner. This was something the Iranian regime never acknowledged and kept it a secret until May presidential elections when the issue took centerstage because one of the main players, Ebrahim Reisi, stood for election.
He is said to be the infamous mastermind of the 1988 slaughter of the same prisoners doing time for crimes they were accused of and tried earlier for it. According to reports, he directed the "Death Commission" with full blessings of Khomeini.
Now after 29 years, Asma Jahangir, the new UN Rapporteur for human rights in Iran dug up the issue and opened the old wound because the regime is exposed and can no longer stand the pressure from the victims' families and the dynamics it has triggered among the new generation of Iranians who have not even been born at the time. Social media in Iran is full of posts asking about the truth of what really happened in 1988.
Asma Jahangir touched on a number of issues in this case including keeping the officials directly responsible for 1988 crimes in place by the regime. She says: "Many officials who have ignored Iranian's absolute human rights on duty, with outrageous impunity."
The UN Special Rapporteur includes in her report: "In August 2016, an audio recording of a meeting between senior government officials and of religious dignitaries in 1988 was made public. It reveals the names of those responsible who ordered the executions and justified them; including the current Minister of Justice, a judge of the High Court of Justice still in office, and the head of one of the main religious institutions in the country, who was also a candidate in the presidential elections held in May."
Widespread executions
In another part of the report, Jahangir refers to widespread executions inside the prisons in 1988, reminding, "The family of those who were executed have the right to know and be informed on what happened in 1988". She maintains that "those who live outside Iran and contact me are always scared that, in retaliation, the Islamic Republic might punish their families inside the county".
In the meantime, Jahangir urges the regime to establish an independent truth finding committee to investigate the 1988 massacre of prisoners who were doing their terms behind bars. The Iranian regime is doing whatever possible to destroy the evidence left behind from the massacre.
On the other hand, Amnesty International reported: "A dozen political prisoners killed during a wave of mass extrajudicial executions in August and September 1988 are buried" in the mass grave", referring to a remote cemetery in the southwestern city of Ahvaz.
A footage obtained by Amnesty International "shows the site is gradually being buried beneath piles of construction waste, after a construction near the area began earlier this year."
Iranian regime has always used execution to deter people from ever thinking of dissent. Under Rouhani's watch, close to 4,000 executions have been recorded. Sometimes it has resorted to massacre like what happed in 1988 or simply masks the hangings under some benevolent campaigns such as fighting drug traffickers.
One thing is for sure; the international community should no longer fall for excuses put forward by the mullahs' regime for upholding the death penalty. Soon the Third Committee of the UN's General Assembly will vote on Iran's human rights record.
Full report at:
https://english.alarabiya.net/en/perspective/features/2017/10/10/Iranian-regime-s-reality-check-on-the-World-Day-against-Death-Penalty.html
--------
Arab World
Bahrain's King Hamad calls for religious tolerance, peaceful coexistence
11 October 2017
Bahrain's King Hamad bin Isa Al-Khalifa has announced the release of an official declaration calling for religious tolerance and peaceful coexistence, in an opinion piece on Tuesday.
In the piece, published on the Washington Times, the king recognized Bahrain's "multicultural, multifaith society" as a "natural and normal way of life for us in Bahrain."
"We believe 'ignorance is the enemy of peace,' and that true faith illuminates our path to peace. For this reason, we decided to compose the Kingdom of Bahrain Declaration, calling for religious tolerance and peaceful coexistence throughout the entire world."
The king said the declaration was a natural extension of Bahrain's national heritage.
"As Bahrainis, we drew from our national heritage as a beacon of religious tolerance in the Arab world during a time when religion has been too frequently used throughout the world as a divine sanction to spread hate and dissension."
He said the declaration was drawn up "in consultation with Sunni and Shiite scholars, along with Christian clergy and Jewish rabbis, including our friend, Rabbi Marvin Hier of Los Angeles' Simon Wiesenthal Center."
Pluralism and religious discrimination
He said the document "calls for pluralism, which 'unequivocally rejects' compelled religious observance, and condemns acts of violence, abuse and incitement in the name of religion. For national leaders like myself, the declaration makes it clear that 'it is the responsibility of governments to respect and protect equally both religious minorities and majorities,' and that there is no room for religious discrimination of any kind."
He added that the declaration was a "call for leaders and for the masses."
The king wrote: "In the Arab world, we need not fear religious pluralism, and the non-Arab world need not fear us. In fact, we need one another, and we must meet one another along a path of mutual respect and love. Perhaps, only then will we find the elusive path of peace we seek."
King Hamad described religious diversity in Bahrain as a "blessing to our people" and said the kingdom was stronger because of it.
"We welcome our Catholic, Orthodox and evangelical church communities. We are proud that our Hindu nationals can worship in a 200-year-old temple complete with their images, just around the corner from the Sikh temple and the mosques.
"We celebrate our small — but precious — Jewish community, who feel free to wear their yarmulke and worship in their own synagogue, which, we are informed, is the only one in the Arabian Peninsula. In fact, our Jewish community plays a very active role at the highest levels of society, including an ambassador from Bahrain to Washington in 2008, the first Jewish diplomat to the United States from an Arab country. We wanted to protect our religious pluralism for future generations, so we have enshrined this in law, which guarantees everyone the right to worship unhindered in safety and to build their houses of worship.
"Our noble ancestors began this Bahraini tradition of churches, synagogues and temples being built next to our mosques, so there is no ignorance about others' religious rites or practices. We all live together in peaceful coexistence in the spirit of mutual respect and love, and we believe it is our duty to share this with the world," the king wrote.
https://english.alarabiya.net/en/News/gulf/2017/10/11/Bahrain-king-announces-declaration-on-religious-tolerance-.html
--------
Fatah spokesman: Judiciary, security key issues in talks with Hamas in Cairo
10 October 2017
A Palestinian dialogue aimed at unifying ranks between Fatah and Hamas began behind closed doors on Tuesday in Cairo where upcoming elections, the judiciary and security were among key issues discussed, according to senior Fatah spokesperson.
Fatah spokesman Osama al-Qawasmi told Al Arabiya that they baseline issues were aimed at "enabling Palestinian national reconciliation" efforts.
"The meeting will discuss the issues of the elections, the judiciary, the security, and enabling the Palestinian national reconciliation government to work in the Gaza Strip," Qawasmi said, adding that the Palestinian President Mahmoud Abbas was clear in instruction to Fatah representatives on their flexibility to ensure the success of the meeting and activate the Egyptian role in the reconciliation efforts.
The talks follow a key breakthrough last week when Palestinian Authority prime minister Rami Hamdallah visited Hamas-run Gaza for the first time since 2015 and his ministers officially took control of government departments there.
The Fatah delegation includes Azzam al-Ahmad, a member of the Central Committee, Ruhi Fattouh, Hussein al-Sheikh, Ahmed Halles, Major General Majid Faraj, and Deputy Secretary of the Revolutionary Council of the Movement Fayez Abu Eita.
Qawasmi said that during the meeting, all aspects of enabling the Al-Wefaq (reconciliation) government to work in the Gaza Strip and completely remove any obstacles will be discussed thoroughly. He expressed his optimism for the success of the Cairo dialogue and his hope that the matters will be resolved positively.
On the other hand, Azzam al-Ahmad, the head of the Fatah delegation, said that the elections, the judiciary, the security, the PLO, the political vision, and the Palestinian issue would be discussed. He stressed that the decision of peace and war and the form of resistance to which everyone is committed is a national decision rather than a sectarian one.
The Islamists of Hamas and the West Bank-based Fatah movement of Palestinian president Mahmud Abbas have been at odds since they fought a near civil war in 2007.
The split has complicated any potential peace negotiations with Israel.
Full report at:
https://english.alarabiya.net/en/News/middle-east/2017/10/10/Palestinian-rivals-start-reconciliation-talks-in-Cairo.html
--------
Iraqi warplanes kill 17 Daesh militants near Syria border
Oct 10, 2017
A high-ranking Iraqi military official says more than a dozen Daesh Takfiri terrorists were killed when Iraqi Air Force fighter jets bombarded their positions in the country's troubled western province of Anbar near the border with Syria.
Brigadier General Saleh Ali told Jordan's official Petra news agency on Tuesday that 17 Daesh militants were killed as Iraqi military aircraft launched precision strikes against a road linking the small town of Akashat to the militant-held town of al-Qa'im, located nearly 400 kilometers northwest of the capital Baghdad.
He added that the aerial assaults also destroyed a number of Daesh arms depots and vehicles in the surrounding areas.
Iraq recovers bodies of plane crew shot down by Daesh
Meanwhile, the Iraqi Air Force stated on Tuesday that the bodies of two pilots of a single-engine turboprop Cessna 208 Caravan plane shot down by Daesh terrorists over the northern town of Hawijah last year have been found.
"The [extremists] had hidden the bodies of Brigadier General Ali al-Ubudi and Major Mohammed al-Shikhli," the statement said.
It added that a search was under way for the body of the third crew member, Colonel Mohammed Abdel Kassar.
On March 16, 2016, Daesh said it used anti-aircraft artillery to down the plane, which had been bombing Daesh outposts in Hawijah, located 45 kilometers west of Kirkuk.
Hundreds of Daesh suspects surrender to Kurdish Peshmerga forces
Separately, several hundred suspected Daesh militants have turned themselves in to Kurdish Peshmerga forces after Iraqi government forces and allied fighters from Popular Mobilization Units, commonly known by the Arabic name Hashd al-Sha'abi, recaptured their last stronghold in northern Iraq.
A Kurdish security official, requesting anonymity, told Reuters on Tuesday that the suspects were part of a group of men, who fled toward Kurdish-held lines when Iraqi army and Hashd al-Sha'abi forces retook Hawijah.
On October 5, Iraqi Prime Minister Haider al-Abadi said Iraqi armed forces had liberated Hawijah, driving Daesh Takfiris out of their last bastion in Kirkuk province.
Full report at:
http://www.presstv.com/Detail/2017/10/10/538117/Iraqi-warplanes-kill-17-Daesh-militants-near-Syria-border
--------
Syrian Troops Make Fresh Gains in War on ISIL North of Deir Ezzur
Oct 10, 2017
The army men pushed ISIL away from more positions on the Eastern bank of the Euphrates River and accessed al-Siyasah bridge.
In the meantime, the army's artillery and aircraft pounded ISIL's movements and positions in the villages and towns of Mahkan, Albu Leil, Bu Amr, al-Asharah, al-Qouriyeh, al-Hosseiniyeh, al-Salehiyeh, al-Janineh, Mahimideh and the neighborhoods of al-Hamidiyeh, al-Roshdiyeh, al-Huweiqa, al-Omal, al-Arzi and Kanamat.
Reports said earlier today that the army men hit ISIL's defense lines North of Deir Ezzur city and captured the village of Hatleh Sharqi on the Eastern bank of the Euphrates River, killing tens of terrorists and destroying their positions.
In the meantime, the army men engaged in fierce clashes with ISIL in the West and South of the town of al-Mayadeen, killing and wounding a number of militants.
Full report at:
http://en.farsnews.com/newstext.aspx?nn=13960718001353
--------
ISIL's Command Centre in Eastern Syria Destroyed in Russian Airstrikes
Oct 10, 2017
The fighter jets targeted and destroyed ISIL's command center in Syria's Deir Ezzur province, killing some 34 terrorists who entered the country from Iraq's Western regions, the ministry said.
The airstrikes were carried out after reconnaissance drones had discovered a large stronghold of ISIL terrorists on the Eastern bank of the Euphrates River near the town of al-Mayadeen, the ministry said, adding that 70 terrorists, who were later identified as nationals of CIS states and Algeria, were killed in the air raids.
"The loss of manpower amounts to some 50 ISIL fighters. Another 30 terrorists remained blocked in underground tunnels," Russian Defense Ministry Spokesman Maj. Gen. Igor Konashenkov stated, commenting on one of the strikes.
Konashenkov went on by saying that a Russian Sukhoi Su-34 jet hit the same stronghold 40 minutes later when ISIL terrorists arrived at the scene to evacuate wounded terrorists. As the result of that strike, 20 more militants were killed.
Reports said earlier today that the army men hit ISIL's defense lines North of Deir Ezzur city and captured the village of Hatleh Sharqi on the Eastern bank of the Euphrates River, killing tens of terrorists and destroying their positions.
In the meantime, the army men engaged in fierce clashes with ISIL in the West and South of the town of al-Mayadeen, killing and wounding a number of militants.
Full report at:
http://en.farsnews.com/newstext.aspx?nn=13960718001320
--------
Syrian Army Starts Heavy Offensive to Capture Al-Mayadeen
Oct 10, 2017
The army men, led by the elite Tiger Forces, stormed the ISIL-held al-Mayadeen in a new bid to expel the remaining terrorists from the town.
The army units and ISIL are currently engaged in a tough battle at the Western direction of the town, while Russian fighter jets carry out nonstop airstrikes over the terrorist group's supply lines.
Previously, the army was forced to withdraw from some positions inside the town following heavy resistance by the ISIL fighters.
However, the army's new objective is to cut off the ISIL's supply lines to al-Mayadeen and force the remaining terrorists to either retreat or surrender.
The London-based Syrian Observatory for Human Rights (SOHR) reported on Monday that the ISIL started surrendering its positions in Northwestern Deir Ezzur to the Syrian Democratic Forces (SDF).
The SOHR said that SDF fighters came in control of the villages of Zaqir Jazeerah and Hawa'ej Ziab after the ISIL retreated from them.
Full report at:
http://en.farsnews.com/newstext.aspx?nn=13960718000920
--------
Syrian Army Liberates over 8,000 sq/km of Land near Border with Jordan
Oct 10, 2017
The army men engaged in fierce clashes with the remaining pockets of terrorists in Southeastern Damascus and seized control over several heights and hills.
The army men are now in control of all the hills and heights near the border with Jordan and purged terrorists from a large region covering 8,000 sq/km area in Southeastern Damascus after their recent advances in the region.
Relevant reports said in August that the army men continued their advances against terrorists in Southeastern Damascus and captured Rowzah al-Sheikh, Wadi al-Darifeh, Rowzah al-Salibiyeh and border point 164 near the border with Jordan.
The sources further said that the army established control over 200sq/km of area after its recent advances.
Full report at:
http://en.farsnews.com/newstext.aspx?nn=13960718000953
--------
Syrian Army Ends Terrorists' Presence in Sweida Desert
Oct 10, 2017
The sources said that the army and resistance forces drove terrorists out of Badiyeh in Sweida province and captured several regions.
The Arabic-language al-Mayadeen TV network, meantime, reported that the army and resistance forces, took full control over Sweida's Badiyeh and the Southeastern territories of Damascus province up to the banned-zone under US' control in Southern Syria after their advances in Badiyeh.
Relevant reports said in August that army troops stormed ISIL's defense lines in Southeastern Sweida and imposed full control over a region 100sq/km in area.
Full report at:
http://en.farsnews.com/newstext.aspx?nn=13960718000596
--------
Africa
From Boko Haram to Islamic State, Sex Slavery and Trafficking Fund Extremism: Report
Oct 11, 2017
London. Offering kidnapped women and girls to jihadist fighters as sex slaves or wives helps militant groups lure and retain members, while sex trafficking can bankroll their extremist operations, a UK-based think-tank said on Monday (09/10).
Groups such as Boko Haram in Nigeria and Islamic State in Syria and Iraq may resort more to such practices as they lose ground militarily, the Henry Jackson Society said in its report.
"Propaganda on sexual slavery serves as an incentive for new recruits and foreign fighters, with the promise of wives and sex slaves acting as a 'pull factor'," researcher Nikita Malik said in the report.
"Religious elements are infused into sexual violence practices to skirt around the moral wrongdoing of rape," she said.
Since it began its insurgency in 2009, Islamist militants Boko Haram have abducted thousands of girls and women in northeast Nigeria – most notably the more than 200 Chibok girls snatched from their school in April 2014 – with many used as cooks, sex slaves, and even suicide bombers.
Boko Haram members would purposely impregnate women and girls to produce the "next generation of fighters", the report said.
Similarly, thousands of women and girls were abducted, tortured and sexually abused by Islamic State fighters after the militants rounded up Yazidis in the village of Kocho, near Sinjar in 2014.
UN investigators estimate more than 5,000 Yazidis have been rounded up and slaughtered and some 7,000 women and girls forced into sex slavery.
But a final assault on Islamic State's last line of defense in its former Syrian capital Raqqa began on Sunday.
The loss of Raqqa, following its defeat in Iraq's Mosul and its retreat from swathes of territory in both countries, would mark a milestone in the battle to destroy the jihadist group.
The report said as groups like Islamic State, also referred to as 'Daesh', and Boko Haram struggle to financially sustain their operations, sex trafficking and kidnapping for ransom could increase.
"Historical revenue streams, including taxation and oil sales, to groups such as Islamic State and Boko Haram are decreasing," Malik said in a statement.
"These are being replaced with hostage-taking and ransom efforts, meaning modern day slavery may increase as Daesh struggles to sustain its financial reserves," she said.
The report said Islamic State generated up to $30 million in 2016 through kidnapping and abductions.
http://jakartaglobe.id/international/boko-haram-islamic-state-sex-slavery-trafficking-fund-extremism-report/
--------
Islamic Group MURIC demands Establishment of Sharia Courts in South-West
10.10.2017
Islamic rights group Muslim Rights Concern (MURIC) has asked that the Federal Government implement certain reliefs for Muslims in the country along with restructuring.
MURIC president, Ishaq Akintola, in the statement released to Premium Times, asked that Friday be declared a work free day, and should "assume parity with the Christians' Sunday."
The group also asked that uniformed groups in Nigeria be allowed to wear Islamic garbs like the hijab.
MURIC also lamented the absence of Sharia courts in the South-West, and asked that they be established.
Read the full statement below:
RESTRUCTURING NIGERIA: MUSLIMS SEEK SIX RELIEFS
The Federal Government appears set for restructuring particularly with the setting up of a committee on this crucial matter by the ruling party, the All Peoples' Congress (APC). Restructuring became popular after the South East, South South and a section of the South West complained about marginalization. Several politicians from both the opposition and the ruling party have since spoken in support of this clamour.
However, we of the Muslim Rights Concern (MURIC) dissociate ourselves from all agitations for secession. We condemn all irredentist movements rearing their ugly heads in Southern Nigeria, particularly the agitation for the creation of Oduduwa Republic. We affirm clearly, unambiguously and unequivocally, that Muslim leaders in Yorubaland were not carried along before those demands were tabled. Nonetheless, just as some ethnic groups have complained of disaffections, we contend that Nigerian Muslims also nurse serious grudges bordering on marginalization against the Nigerian state.
We must start from the lanes of history because today was born from the wombs of yesterday. Islam has been in Nigeria since the 11th century and the British met Islam on ground when they arrived in the 19th century (800 years later). The British did not deem it fit to observe the rules of natural justice when they colonized the country as all Islamic landmarks were eliminated and supplanted with a wholly Christian system.
This injustice may have been at the root of frequent religious crisis in Nigeria because successive governments after independence refused to listen to the agitations of Muslims for a review of the status quo. The issues being raised by Muslims are listed in the following paragraphs so that the authorities may address them when restructuring eventually begins.
One: Nigerians enjoy a total of eight (8) public holidays in a year. These are Christmas Day, Boxing Day, New Year Day, Good Friday, Easter Monday, Id al-Kabir, Id al-Fitr and Maulud an-Nabiyy. Five (5) of the eight holidays belong to Christians (Christmas Day, Boxing Day, 1st January, i.e, New Year Day, Good Friday and Easter Monday). Only three (3) holidays belong to Muslims, viz, Id al-Kabir, Id al-Fitr and Maulud an-Nabiyy.
Restructuring should give Muslims 1st Muharram. This will bring the total number of Muslim holidays to four while Christian holidays remain five.
Two: Christian marriages contracted inside churches or registries are held sacrosanct everywhere in Nigeria whereas Muslim marriages (nikah) are not recognized for any official purpose. Muslim couples find themselves in a cul de sac each time they presented their Islamic marriage certificates for official purposes. It is paradoxical that in a democracy, one marriage conducted by a religious group is acceptable while the other is not. What kind of constitution is Nigeria using?
Islamic marriages should be recognized in all official circles where Christian marriages are recognized. The Nigerian Marriage Act (1990) should therefore be revisited.
Three: Nigeria has a two-day weekend, viz, Saturday and Sunday. Saturday was a half day during the colonial era and Sunday was the only full day at the weekend. However, Saturday was made a full day to favour the Seventh Day Adventists, a Christian denomination during the regime of General Yakubu Gowon, a Christian military ruler. It is very clear, therefore, that the two weekend days recognized in Nigeria belong to Christians while Muslims have none since Friday, the Muslim day of worship, remains a working day.
It is pertinent to note that Friday was a work-free day until the British brought Christianity and stopped Muslims from enjoying their Allah-given fundamental human right. The relief we are seeking through restructuring is that Friday should be declared free to assume parity with the Christians' Sunday. While we are not seeking anarchy, we are confident that the Federal Government (FG) has all the paraphernalia of administration to work out the modalities.
Four: Immigration officials engage in regular stereotyping of Muslims who apply for international passports. They intimidate Muslims particularly at the point of taking pictures. Muslim males are ordered to remove their caps; Imams are coerced into removing their turbans; bearded Muslims are compelled to shave or trim their beards; hijab-wearing Muslim women are made to remove their hijabs or ordered to draw their hijab backwards to reveal their ears. The same scenario plays itself out in driving licence, national identity card offices and during registration for elections.
In the process, thousands of Muslims have been denied international passports, driving licences and national identity cards while millions have been disenfranchised during elections. The authorities must find a way of stopping the persecution and profiling of Muslims.
Five: Uniformed groups in Nigeria, including the army, police, uniformed voluntary groups, nurses, the National Youth Service Corps (NYSC), students of primary and secondary schools, etc, use uniforms designed by the Christian colonialists. These uniforms should have been reviewed after independence because they only suit the Christians. Some of them constitute breaches to Islamic dress code and offend the sensibility of Muslims who are compelled to wear the uniforms regardless of their inner feeling of resentment.
In view of the fact that Western countries like Britain, Canada and the United States have designed uniforms with hijab for their female Muslim police, soldiers, students, etc, Nigeria's restructuring authorities should borrow a leaf from those countries. Six: There is no single Shari'ah court in South Western Nigeria where Muslims constitute the majority. This is contrary to what obtained in Yorubaland before the advent of the British. There were Shariah courts in Ede, Iwo, Ikirun, Ibadan, etc. Yoruba Muslims are now compelled to take their civil matters like inheritance, marriage, etc to Christo-Western courts. This is preposterous and unacceptable.
We demand the establishment of Shariah courts in all South Western states including Edo State where there is a significant percentage of Muslims.
We call the attention of FG and the restructuring committee of the APC to the above six reliefs. Muslims are in bondage in this country and we believe that restructuring should emancipate people in captivity. APC promised change. This change can only be meaningful to us if it breaks the shackles around our necks. We have begged enough for the restoration of our Allah-given and fundamental human rights. We are tired of begging. Restructuring is about reapportioning the dividends of democracy such that it goes round and it is not restricted to one section.
Colonial administration was grossly unfair to Muslims. Nigeria was Christianised by Britain and Muslims bore the brunt. We suffered forceful conversion, denial of rightful employment and even worse forms of persecution. But what is most disappointing is the policy of exclusion adopted by post-independence governments.
Full report at:
https://www.bellanaija.com/2017/10/muric-sharia-court-south-west/
--------
Gambia: Mosque Closed By Former President, Reopens
10 OCTOBER 2017
By Muhammed S. Bah
A mosque situated at the Albert Market beside the State House, has reopened on Friday 6th October.
The mosque was closed by former President Jammeh during the political impasse. The reopening of the mosque is said to be the decision of President Adama Barrow.
The move was welcomed by Banjulians and the Mauritanian Community residing in the city. The Mauritanian community were the original occupants of the premises, teaching Quranic memorization and giving out other lessons to pupils from within Banjul. The former President annexed the mosque within the State house premises and even demolished the student dormitory, where some of the students resided.
The reopening of the mosque was presided over by the Imam Ratib of Banjul, Alh. Cherno Alieu Mass Kah. In attendance was the Lord Mayor of Banjul Alh. Abdoulie Bah, the Director General of the NIA Mr. Ousman Sowe, Chairman of Banjul Muslim Elders, Alh. Alieu Mboge, Imam Sherriff Badjan, Deputy President of the Supreme Islamic Council and a cross section of the Mauritian Community in the GBA, Prominent dignitaries, Albert Market Vendors and the Islamic Umaa.
The Imam Ratib commended President Barrow for his steadfastness and swift intervention for handing back the "Masjid" to worshippers. He thanked the Lord Mayor of Banjul for initially involving the offices of the Clergy and the Mauritanian Community in Banjul in the talks held in his office to discuss the modalities and logistics for the official reopening of the Mosque.
Full report at:
http://allafrica.com/stories/201710100749.html
--------
URL: https://www.newageislam.com/islamic-world-news/myanmar-ruling-party-holds-harmony/d/112846
New Age Islam, Islam Online, Islamic Website, African Muslim News, Arab World News, South Asia News, Indian Muslim News, World Muslim News, Women in Islam, Islamic Feminism, Arab Women, Women In Arab, Islamophobia in America, Muslim Women in West, Islam Women and Feminism