New Age Islam News Bureau
1 Apr 2018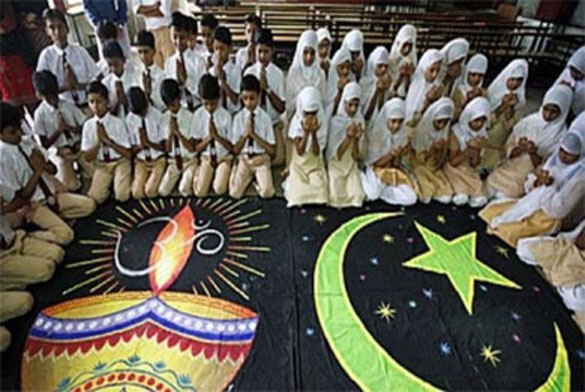 PTI File (Representative Image)
----
• Muslims Weave Garlands For Hindu Temples in Dhanbad, Communal Conflicts Don't Matter
• Letter by Mullah Omar's Son: Myth or Depiction of Deep Rift among Taliban Leaders
• Syrian Army Declares Victory As Rebels Vacate Most of Ghouta
• Catholics Celebrate Easter in Ancient Jerusalem Church
• Muslims Weave Garlands For Hindu Temples in Dhanbad, Communal Conflicts Don't Matter
• West Bengal Governor Visits Violence Hit Asansol, Stays Away From Muslim Localities
• Pakistan violates ceasefire in J&Ks Poonch
• 3 jawans martyred, 11 terrorists gunned down in separate encounters in south Kashmir
• Pakistan arrests 52 Indian fishermen
• Initiate dialogue with Pakistan, Mehbooba Mufti urges PM Modi
-------
South Asia
• Letter by Mullah Omar's Son: Myth or Depiction of Deep Rift among Taliban Leaders
• Prominent Bangladesh Lawyer Disappears After Islamist Trials
• ISIS Militants Suffer Casualties in Ghazni Airstrike: MoD
• Afghan military launches large scale operations in 9 Northern provinces
• Taliban should positively respond to govt, nation's call for peace: Abdullah
• IEC Chief confirms October date for Parliamentary Elections
• Government approves 16 new contracts worth 8.9 billion Afghanis: ARG
• Maps signed for two major Townships for Paktia province
--------
Arab World
• Syrian Army Declares Victory As Rebels Vacate Most of Ghouta
• 3,820 Kurdish Militant Killed, Captured in Turkish Army Operation in Afrin
• Russian Warplanes Pound Terrorists' Strongholds in Northwestern Syria
• Most Hated Person in World Voted in Yemen
• Syrian Army Preparing for Large-Scale Operation in Southern Provinces
• Syrian Army Seizes Large Depot of Arms, Ammunition in Terrorists' Positions in Eastern Ghouta
• Saudi forces intercept missile fired by Houthis
• Iraqi Troops Kill Senior Islamic State Leader, Nine Companions In Anbar
--------
Mideast
• Catholics Celebrate Easter in Ancient Jerusalem Church
• Gazans Bury Their Dead after Bloodiest Day in Years
• Israeli troops wound 13 on Gaza border
• Turkish President Recep Tayyip Erdogan Recites Muslim Prayer at The Hagia Sophia
• Turkey's head of religious affairs calls on Germany to clear cases of mosque attacks
• Islamic Iran to shine even more brilliantly in its 40th year: IRGC
• BN report card highlights Islamic programmes, Palestinian aid
• No Gaza inquiry, Israeli defence minister says
• Erdogan condemns Israel's deadly attack on protesters in Gaza
--------
North America
• Resurgent Taliban Gets Hands on High-Tech Gear, Putting US in Bind
• Islamic State References Lead Court to Overturn Conviction
--------
Pakistan
• Political Decisions Should Be Taken In Polling Booths, Not Courts: Pak PM
• Pakistan Army soldier martyred during IBO in Mastung: ISPR
• Zardari and Imran are 'brothers', Maryam tells crowd in Swat
--------
Africa
• Egypt Says 6 Terrorists, 2 Soldiers Killed In Sinai Operation
• Over 1,100 arrested under Ethiopia state of emergency
--------
Southeast Asia
• Thai Magazine Sued For 'Blasphemous' Painting of Kings
--------
Europe
• Children Report ISIS Supporting Parents in UK
• Hundreds celebrate Mile High Islamic Centre's grand opening
Compiled by New Age Islam News Bureau
URL: https://www.newageislam.com/islamic-world-news/muslims-weave-garlands-hindu-temples/d/114784
--------
Muslims Weave Garlands For Hindu Temples in Dhanbad, Communal Conflicts Don't Matter
Around 40 Muslim families grow flowers and weave garlands for Hindu temples in and around the district for the past four decades.
01 APRIL 2018 Last Updated at 11:45 AMNATIONALHARMONY
Amid incidents of communal conflicts in parts of the country, people in a tiny hamlet in Dhanbad district are sowing seeds of love and peace.
Around 40 Muslim families in Vikhrajpur village of Baliapur block, 20 km from district headquarters, have been growing flowers and weaving garlands for Hindu temples in and around the district for the past four decades.
The families depend on flower cultivation for their livelihood, said a farmer Sheikh Samsuddin.
"We supply flowers and garlands to a trader in Jhariatownship, who then sells the wreaths to agents of different temples as per requirement," he said, adding that the garlands were sold at Rs 5 per piece.
On occasions such as Ram Navami and Durga puja, the farmers often shoulder the responsibility of decorating the temples free of cost.
Dayashankar Dubey, a priest at a local Kali temple in Jharia, said the farmers in Vikhrajpur had never failed to deliver wreaths during festivities.
"The temple committee tries to compensate their contribution in different ways," he added.
Communal tension has never deterred them from supplying flowers to the temples.
"This is the question of our livelihood… No communal strife in the last 40 years has stopped us from growing or selling flowers," said Md Safi, another cultivator.
There have been occasions though when the farmers were pressurised to change their profession.
"Pressure comes from different quarters to switch profession and sell profitable items like vegetables or cash crops, but the villagers here are sentimentally attached to flower trade," said Anwar Ali, a villager.
Ali, however, admits that the money earned from the trade is not enough to provide for his family.
"We have to look for a side business to support our families because flowers don't bloom round the year," he said.
Saukat Ali, who has been engaged in the flower trade for more than two decades, is of the view that the farmers can cater to the needs of temples across the state if provided with proper irrigation facilities.
"The government officials have visited us five times in the last 10 years and promised to look into our demands. No help, however, arrived so far," he rued.
Echoing similar sentiments, social activist Anwar Ali Khan said the farmers had approached former BDO KundanBhagat and former deputy commissioner Ajay Kumar Singh several times in the past but to no avail.
Baliapur Block Development Officer (BDO) Dhiraj Prakash, who assumed office a week ago, said no one had approached him for help so far.
"I have recently learned about them (flower farmers) and would try to help them under the MNREGA scheme," he added.
https://www.outlookindia.com/website/story/muslims-weave-garlands-for-hindu-temples-in-dhanbad-communal-conflicts-dont-matt/310313
--------
Letter by Mullah Omar's Son: Myth or Depiction of Deep Rift among Taliban Leaders
By KHAAMA PRESS - Sat Mar 31 2018, 6:44 pm
Mullah Yaqoob, the son of Taliban group founder and ex-supreme leader, Mullah Mohammaer Omar, regarding the deadly attack January in Kabul city, reveals deep rift among the Taliban group leadership.
The authenticity of the letter cannot be independently verified but it carries an official tamp of the Taliban group with the official designation of Mullah Yaqoob as the deputy Taliban chief for the military affairs.
The letter states that the attack near Jamhoriat hospital with an ambulance has not only resulted in massive civilian casualties but resulted into depiction of a negative image of Taliban on domestic and international level besides resulting into reduced support to the movement.
Mullah Yaqoob states in his letter that the current Taliban supreme leader Sheikh Mullah HaibatullahAkhundzada and the military commission did not consult with him prior to conducting the attack.
According to Mullah Yaqoob, the attack was carried out based on the instructions of Haqqani network leader, insisting that he has always rejected such attacks that results into growing hatred among the people regarding the Taliban group.
He suggested that the Taliban leader Mullah Akhundzada should refrain from such attacks in the future results more into the defamation of the Taliban as compared to the benefits the group gains from such attacks.
The Taliban group had claimed the responsibility for the attack which left more than 100 dead and hundreds more wounded.
The group called the attack a major breakthrough claiming that heavy casualties were incurred to the police forces after the suicide bombers managed to infiltrated through several check posts in the city to conduct the attack.
This is not the first reports have emerged regarding internal rift among the Taliban leadership after the confirmation of the death of the group's supreme leader Mullh Omar.
However, a spokesman for the Taliban group QariYousuf Ahmadi blames the intelligence circles for the circulation of the letter although the Afghan officials have not commented in this regard so far.
https://www.khaama.com/letter-by-mullah-omars-son-myth-or-depiction-of-deep-rift-among-taliban-leaders-04764/
--------
Syrian army declares victory as rebels vacate most of Ghouta
APUpdated April 01, 2018
BEIRUT: The Syrian army declared victory in eastern Ghouta on Saturday after opposition fighters evacuated from most of the area near the capital except for the town of Douma where negotiations are still under way for rebels there to leave or face an all-out government offensive.
The government has given rebels in Douma the area's largest town and stronghold of the powerful Army of Islam rebel group an ultimatum to agree on leaving by late Saturday. Some pro-government new websites reported that the army is massing troops around Douma, adding that the ultimatum may be extended until Sunday.
The army statement came shortly after another group of opposition fighters and their relatives left southern and western parts of eastern Ghouta Saturday afternoon, bringing President Bashar Assad's forces a step closer to eliminating threats from insurgents groups nearby.
State TV said 38 buses left the towns of Zamalka, EinTarma, Arbeen and Jobar taking more than 1,700 rebels and civilians to the north-western rebel-held province of Idlib. The channel said troops entered the towns and raised the national flag in Arbeen's main square.
"The importance of this victory lies in restoring security and stability to the city of Damascus and its surrounding areas after the suffering of its civilians from the crimes of terrorists over several years," said the army statement, read on TV by Brig Gen Ali Mayhoub.
Government forces taking back most of eastern Ghouta reopens a major network of roads and highways that link Damascus with other parts of the country that have been closed since 2012 when rebels captured eastern suburbs of the capital.
The army statement vowed "to wipe out terrorism and bring back stability and security to all parts of Syria." A crushing government offensive under the cover of Russian airstrikes that began on Feb. 18 has forced opposition fighters in most of eastern Ghouta to agree to evacuate and head to Idlib province.
"Arbeen, Zamalka, Jobar and EinTarma in eastern Ghouta are free of terrorists," shouted a correspondent for state-affiliated al-Ikhbariya TV channel from Arbeen.
State news agency SANA said 38,000 fighters and civilians have already headed to Idlib over the past two weeks marking one of the largest displacements since Syria's conflict began seven years ago. More than 100,000 others headed to government-controlled areas over the past weeks.
Before the last wave of violence began in eastern Ghouta last month, the UN had estimated that some 393,000 people were living in the area under a tight government siege.
Tens of thousands of rebels and civilians have been relocated to Idlib over the past years from different parts of Syria making it one of the most inhabited regions in the country.
The top UN official in Syria, Ali Al-Za'tari, told the Dubai-based al-Arabiya TV in an interview aired Saturday that "Idlib cannot take more people".
https://www.dawn.com/news/1398855/syrian-army-declares-victory-as-rebels-vacate-most-of-ghouta
--------
Catholics celebrate Easter in ancient Jerusalem church
AP | Apr 1, 2018
JERUSALEM: Hundreds of Christians are marking Easter by flocking to Jerusalem's Church of the Holy Sepulchre, built on the site where they believe Jesus was crucified, buried and resurrected.
Worshippers prayed and sang hymns Sunday in the church in Jerusalem's Old City as they lined up to admire the edicule, the chamber that tradition says marks Jesus' tomb.
A historic Greek restoration was completed last year, aimed at reversing the effects of years of exposure to water, humidity and candle smoke. The limestone and marble structure stands at the center of the church — a 12th-century building standing on 4th-century remains.
The Roman Catholic services were happening as eastern Orthodox Christians celebrated Palm Sunday. The denominations, which jealously guard different sections of the church, held separate services one after another.
https://timesofindia.indiatimes.com/world/middle-east/catholics-celebrate-easter-in-ancient-jerusalem-church/articleshow/63566173.cms
--------
India
West Bengal Governor Visits Violence Hit Asansol, Stays Away From Muslim Localities
01 APRIL 2018 Last Updated at 11:52 AMNATIONALNEWS ANALYSIS
West Bengal Governor KesariNathTripathi on Saturday visited violence-hit Asansol and Raniganj but during his four-and-a-half hour-long visit, he didn't meet a single Muslim family.
"He never asked to go" and "if he had, it would have been difficult to take him there", Indian Express quoted a police official as saying.
After his visit, Tripathi held a crucial meeting with district officials of PaschimBardhaman at the Asansol circuit house. During the meeting, he said, "I have come here with a message of peace and I appeal to all the people to be in harmony and respect each other. Everybody should respect each other's religious festivals."
In the riots that broke out on March 26, a day after Ram Navami, two people were killed in Ranigunj and Asansol in West Burdwan district respectively, while many others were injured. According to agency reports, over a dozen houses were burnt and shops were ransacked.
Earlier on Wednesday, the state government had stalled the Governor's plans to visit the trouble-torn district. Declining the Raj Bhawan's request, the state administration had said that it was not advisable for the Governor to undertake the visit given the tense situation on the ground.
"I had planned to visit Asansol and Raniganj two days earlier but for certain reasons, it could not materialise," Tripathi added.
This visit comes on the heels of the union home ministry seeking a report from the state government over law-and-order situation in Bengal. Chief Minister Mamata Banerjee has also refused the center's offer to send para-military forces to the violence-hit area claiming that the state police was well equipped to control the situation.
Reacting to Tripathi's visit, Bengal Education Minister Partha Chatterjee on Sunday said, "Every time a BJP delegation meets him, the Governor starts reacting to their pressure. People will obviously raise questions about his neutrality."
Meanwhile, a BJP fact-finding team sent by party president Amit Shah is scheduled to visit Asansol on Sunday (today), despite prohibitions in the place.
Earlier, today, the West Bengal government also announced that they are working on revamping their intelligence wing to help avert incidents of violence in the state.
According to data compiled by the Union Home Ministry, communal violence had sharply increased over the past three years in West Bengal.
While the state recorded 27 incidents of communal violence in 2015, the number almost doubled by 2017 when 58 incidents of violence were recorded.
Both West Bengal police and Kolkata police are also keeping a close watch on social media after communal clashes broke out last year in Basirhat area of North 24 Paraganas over an "objectionable" post on Facebook.
https://www.outlookindia.com/website/story/west-bengal-governor-visits-violence-hit-asansol-stays-away-from-muslim-localiti/310315
--------
Pakistan violates ceasefire in J&Ks Poonch
PTI | Apr 1, 2018
JAMMU: Pakistani troops on Sunday targeted forward posts and villages along the Line of Control (LoC) in Poonch district of Jammu and Kashmir with mortar shells and gunfire in violation of the ceasefire, police said.
Indian troops guarding the LoC fired in retaliation and the firing between the two sides continued for nearly half-an-hour from 1300 hours, a police officer said.
He said there was no report of any casualty in the Pakistani firing and shelling in Khari Karmara area.
This is for the second time in the past week that Pakistani troops targeted Indian positions in the area. On March 27, Pakistani troops fired mortar bombs ending a 10-day long lull in the cross-border firing along the LoC in the state.
Earlier on March 18, five members of a family were killed and two others injured when a mortar shell hit their residential house in Balakote sector of the district.
Full report at:
https://timesofindia.indiatimes.com/india/pakistan-violates-ceasefire-in-jks-poonch/articleshow/63567056.cms
--------
3 jawans martyred, 11 terrorists gunned down in separate encounters in south Kashmir
PTI | Updated: Apr 1, 2018
SRINAGAR: Terror groups in the Valley suffered a major setback as 11 terrorists were gunned down in counter-insurgency operations in three different areas in South Kashmir in which three Army jawans and two civilians were also killed.
At a hurriedly called joint press conference of army, police and CRPF, Jammu and Kashmir police chief S P Vaid said this is one of the biggest counter-offensives in recent times against terror groups operating in the Kashmir Valley.
The operations by security forces rendered a severe dent to terror groups such as the HizbulMujahideen and the Lashker-e-Taiba, officials said here.
Three army jawans have lost their lives in the operations at Kachdooru in Shopian, officials said, adding three bodies of terrorists have been recovered from the debris so far.
The operation has been called off at Kachdooru and the security personnel will search the debris again tomorrow, the officials said.
Earlier, at a press conference called at Victor Force headquarters at Awantipura, around 33 kilometres from here, Corps Commander of XV Corps, Lt Gen A K Bhatt, termed it one of the biggest operations in recent times and said the death of Lt Umar Fayaz, who was brutally killed in Shopian last year, had been avenged.
"Among the militants killed are Ishfaq Malik and RayeesThokar. They were responsible for his death," Bhatt said.
Fayaz, 22, was killed by terrorists in May last year. His body was found with bullet wounds in the Hermain area of Shopian district in south Kashmir.
The DGP also made a special mention of an SSP's efforts to convince a terrorist to surrender during the Dialgam encounter.
"I would like to make a special mention about the Dialgam encounter where our Senior Superintendent of Police (SSP) made a special effort, which is unheard of in any part of the world."
"He called the family members of one of the terrorists. They spoke with him for 30 minutes, to convince him to surrender," the officer said.
"Unfortunately, he did not heed the advice of his family. During the talks, the district SSP tried to get him over. Instead he fired on the police leaving them with no option other than to retaliate. He was killed. The other one was caught alive," he said.
On the ongoing operations at Kachedoora, the DGP said there was information about the presence of four to five terrorists, but "we will be able to give a clear picture only after the debris is cleared".
One civilian death was reported from Draggad and the other at Kachudoora, both in Shopian district, the police chief said.
Violence broke out at the Kachedoora encounter site in which 25 civilians received pellet injuries while six others suffered bullet injuries, the police chief said.
The DGP said that all the seven terrorists killed in the Draggad encounter were locals and their bodies have been claimed by their families.
Inspector General of CRPF Zulfikar Hassan pointed out that people came in large numbers at the encounter site in Shopian.
"The operations will not stop and we will have to take all offensive measures in case they do not refrain from throwing stones at the jawans engaged in the counter-insurgency operations," he said.
Mobile internet, train services suspended
Meanwhile, mobile internet services have been suspended in Kashmir as a precautionary measure following the encounters, officials said.
Internet services on mobile devices were snapped shortly after clashes broke out at many places in south Kashmir and some parts of the city this afternoon, an official said.
He said the decision to snap internet services was taken as a precautionary measure to prevent mischievous elements from creating law and order problems.
Full report at:
https://timesofindia.indiatimes.com/india/encounters-underway-in-shopian-11-terrorists-gunned-down/articleshow/63564305.cms
--------
Pakistan arrests 52 Indian fishermen
PTI | Mar 31, 2018
KARACHI: Pakistani authorities have arrested 52 Indian fishermen for allegedly straying into the country's territorial waters, an official said today.
The latest batch of Indian fishermen was arrested on Thursday night by the Pakistan Maritime Security Forces, he said.
Eight fishing boats were also seized.
A judicial magistrate sent the 52 Indian fishermen to judicial remand, the official said.
They will be lodged in the Malir jail here, he said.
Rajesh, 28, couldn't stop crying as policemen lined up the fishermen to take them to the jail.
"Most of us come from a village in Dandi near Gujarat coastal area and we didn't know we had strayed into Pakistani territory while fishing at night," he said.
It is neither the first time nor the last time that poor fishermen ended up in jails in both the countries for straying into each other's territorial waters for fishing along the Sir Creek area of Gujarat in the Arabian sea.
Another frail-looking middle-aged man being bundled into the vehicle kept on saying that the governments of both the countries need to do more for the poor fishermen who spend years in jail for no fault.
A constable guarding the Indian fishermen said that he felt sorry for them as they squatted on the floor in the heat waiting for the long ride to jail.
Yesterday, they were handed over to the Docks police station and then made to appear before a judicial magistrate who sent them to jail.
These fishermen spend years in jail before any goodwill gesture on part of the government comes as a relief for them.
The last batch of Indian fishermen arrested was on January 20 when 17 of them were sent to the Landhi jail.
Full report at:
https://timesofindia.indiatimes.com/world/pakistan/pakistan-arrests-52-indian-fishermen/articleshow/63558769.cms
--------
Initiate dialogue with Pakistan, Mehbooba Mufti urges PM Modi
PTI | Updated: Mar 31, 2018
NEW DELHI: Jammu and Kashmir chief minister Mehbooba Mufti on Saturday requested Prime Minister Narendra Modi to initiate a dialogue process with Pakistan at the earliest as the "key for peace" was with the neighbouring country.
Speaking at a function organised by a group of Kashmiri Pandits owing allegiance to the Peoples Democratic Party (PDP), Mufti said that war was never an option.
"Reconciliation is the mantra which we need to follow and therefore, I request Modi ji to engage with Pakistan," she said.
"We need to take an assurance from the neighbouring country that they should not be allowing their soil to be used against India. After all, we all know that the key for peace is in Pakistan. They have been pushing terrorists into the state," she said.
The chief minister said that efforts should be made for changing the slogan of "Azadi" in the Kashmir Valley.
"This can be achieved. Why can't Jammu and Kashmir be a gateway to the central Asian countries.
"If the CPEC (China-Pakistan Economic Corridor) is a possibility, so can be this. If new roads are opened, the slogan of Azadi will automatically change," she said at a gathering of around 200 Kashmiri Pandits, who had to leave their homes after the onset of terrorism in 1990.
She advised people not to watch debates on television channels which only foment hatred between the two warring nations as well as the Muslims of Kashmir and the rest of the country.
"Those, sitting in studios and pontificating the nation, are only interested in the TRP ratings and not finding solution to the problem.
"Many a times I wonder who are these people who talk so much on television. Are they even aware of the ground realities," she said.
Mufti said that every second day daggers are out and a war hysteria is created.
"If a war had to happen, it would have in 2001 when the armies of the two nation were in an eye-ball-to-eye ball contact for over a year," she said.
"War (between India and Pakistan) will not happen. After the attack on Parliament in 2001, the armies of both the countries (India and Pakistan) were deployed along borders for a year, if the war did not take place back then, it will not take place now as both the nations know it will be disastrous (for both)," she said.
She also appealed for a reconciliation between the Kashmiri Muslims and Pandit community.
"I know you people had to leave your homes under difficult situations. You people have suffered but so do have those who are their in Kashmir.
"The gift of education has helped you (Pandits) in making a name for yourself but those in Kashmir are still trying to live a peaceful life," the chief minister said and made an appeal to Kashmiri Pandits to visit the Valley.
"The Valley is incomplete without you. To begin with, please come as tourists and later if you feel so, you are most welcome to go back to your homes and stay there. I am not assuring you a roller coaster ride.
"Difficulties will be there but we together have to face these difficulties. Please do not wait for the last gun to fall silent," she said.
The chief minister also apologised to the Kashmiri Pandits for delay in resolving their issues.
The Kashmiri Pandits should send their younger generations to see the state to familiarise them with their roots, the way children from Jammu and Kashmir are sent to see the rest of India, Mufti said.
She also urged the Centre to talk with Pakistan so that the Kashmiri Pandits can visit Sharda Peeth in Pakistan occupied Kashmir (PoK).
When asked about the third front, she said every party has a right to be in alliance with any party it wants.
Over funds to Jammu and Kashmir, she said it is given by the Centre and the earliest they do so, the state government tries to utilise them.
A charter of demands, including health insurance, was submitted by the group of Kashmiri Pandits to the chief minister who assured that she will consider and act upon them.
Full report at:
https://timesofindia.indiatimes.com/india/initiate-dialogue-with-pakistan-mehbooba-mufti-urges-pm-modi/articleshow/63560090.cms
--------
South Asia
Prominent Bangladesh lawyer disappears after Islamist trials
PUBLISHED: 08:02 BST, 1 April 2018 | UPDATED: 08:02 BST, 1 April 2018
A prominent Bangladeshi lawyer who fought the state's case in a high-profile murder trial against Islamist extremists has disappeared, police said Sunday, with grave fears for his safety.
Ratish Chandra Bhowmik, a respected prosecutor and champion of minority rights, has not been seen since he left his home in Rangpur early Friday morning.
His disappearance comes a fortnight after seven militants from the JamayetulMujahideen Bangladesh were sentenced to death for murdering the caretaker of a Sufi shrine in November 2015.
Bhowmik led the case that saw nearly a dozen hardliners from the homegrown extremist group convicted for killing the caretaker because they considered him a heretic.
Lawyers in the northern Bangladeshi city have staged protests calling for information about their colleague.
"We are concerned and worried," said Abdul Malek, a lawyer who represented the state with Bhowmik in the trial against the militants.
Bhowmik, a Hindu and leading cultural activist, also lead the state's prosecution against five JMB extremists sentenced to death for the murder of 66-year-old Japanese farmer Hoshi Kunio in 2015.
Rangpur regional police chiefKhandaker Golam Faruque told AFP that Bhowmik had refused the offer of an armed escort during the high-profile trials.
"There was no threat against him. His family filed a complaint about his disappearance on Friday night," Faruque said.
JMB regrouped after the execution of its founder and top leadership in 2007 and has been blamed for a wave of attacks on religious minorities, atheist bloggers and foreigners in recent years.
In July 2016, suspected JMB militants stormed a Dhaka cafe and massacred 22 hostages, including 18 foreigners, in an assault claimed by the Islamic State group.
Bangladesh has been waging a campaign against JMB and other homegrown militant outfits in the wake of the attacks.
Security forces have shot dead more than 70 alleged militants in a crackdown since the cafe assault.
Hundreds of suspected Islamists have also been arrested, and scores have been sentenced to death.
http://www.dailymail.co.uk/wires/afp/article-5566679/Prominent-Bangladesh-lawyer-disappears-Islamist-trials.html
--------
ISIS militants suffer casualties in Ghazni airstrike: MoD
By KHAAMA PRESS - Sun Apr 01 2018
Militants affiliated with the Islamic State of Iraq and Syria (ISIS) terrorist group have suffered casualties in the airstrike conducted in southeasternGhazni province of Afghanistan.
The Ministry of Defense of Afghanistan (MoD) said Saturday that five militants affiliated with the terror group were killed in Khogyani district.
The source further added that six militants affiliated with the terror group were also wounded during the airstrike and some of their weapons and ammunition were destroyed.
The anti-government armed militant and terrorist groups including ISIS loyalists have not commented regarding the report so far.
This comes as counter-terrorism operations are underway against the terror group in certain provinces of the country in the North and in the East.
But fewer reports emerge regarding the operations of the ISIS militants in Ghazni province although Taliban and militants affiliated with the other groups are active in this province as well as the other neighboring provinces in the South.
Full report at:
https://www.khaama.com/isis-militants-suffer-casualties-in-ghazni-airstrike-mod-04771/
--------
Afghan military launches large scale operations in 9 Northern provinces
By KHAAMA PRESS - Sun Apr 01 2018, 11:21 am
The Afghan military has launched a large scale military operation in nine provinces in northern and northeastern parts of the country to suppress the Taliban, ISIS and other militants.
The commander of the 209th Shaheen Corps of the Afghan Military in the North Gen. AmanullahMubin said the operations are jointly being conducted by the Afghan military, Afghan police, and Afghan intelligence operatives.
He said the Afghan military is leading the operations (Nusrat 97) which have been launched with an aim to suppress the anti-government armed militant and terrorist groups.
Gen. Mubin further added that the targets have been specified in the Nusrat 97 operations which will be conducted in the areas where Taliban and other militants have destructive activities and presence.
According to Gen. Mubin, four brigades of the Afghan army, two brigades of the public order police and two brigades of the border protection police forces will conduct the operations in cooperation with the national police and intelligence directorates.
Full report at:
https://www.khaama.com/afghan-military-launches-large-scale-operations-in-9-northern-provinces-04767/
--------
Taliban should positively respond to govt, nation's call for peace: Abdullah
By KHAAMA PRESS - Sun Apr 01 2018
Chief Executive Abdullah Abdullah has said the Taliban group should positively respond to the calls of the government and nation for peace.
In a statement released in support of the Helmand sit-in, Abdullah said the government supports the initiative by the Helmand youths for peace process.
Abdullah further added that the government has announced a comprehensive offer regarding peace process to Taliban and it is necessary that group should respond positively to government and nation's call for peace and end the conflict.
He also added that the Afghans suffer the most in the ongoing war in Afghanistan but the foreign receive the most benefit of it.
This comes as the youths in southern Helmand province launched a sit-in in response to the growing violence in Afghanistan.
The participants of the sit-in have called on the government and the Taliban group to reach to an agreement for a ceasefire and start negotiations for peace process.
Full report at:
https://www.khaama.com/taliban-should-positively-respond-to-govt-nations-call-for-peace-abdullah-04774/
--------
IEC Chief confirms October date for Parliamentary Elections
By KHAAMA PRESS - Sun Apr 01 2018
The Independent Election Commission (IEC) Chief Gul Jan BadiSayad confirmed October date for the Parliamentary and Districts Councils Elections.
Sayad confirmed the date for the Parliamentary and Districts Councils Elections as he was speaking during a press conference in Kabul.
He said the elections will be held on 20th October as he emphasized that the participation of all political parties and institutions will help the commission to organize transparent and fair elections.
The United Nations Assistance Mission in Afghanistan (UNAMA) welcomed the progress made by the Independent Election Commission (IEC) in setting an October 2018 date to hold Afghanistan's parliamentary and district council elections.
"Setting a firm date for elections is a notably positive and important development in the work of the IEC, and will allow progress from the formal planning stages to implementation," said Tadamichi Yamamoto, the UN Secretary-General's Special Representative for Afghanistan.
"Transparent and inclusive elections are an essential component of Afghanistan demonstrating the strength of the democratic political processes taking root here," said Yamamoto, who is also head of the UN Assistance Mission in Afghanistan (UNAMA). "The participation of all Afghans in the electoral process, not merely the elections themselves, is critical."
Full report at:
https://www.khaama.com/iec-chief-confirms-october-date-for-parliamentary-elections-04773/
--------
Government approves 16 new contracts worth 8.9 billion Afghanis: ARG
By KHAAMA PRESS - Sun Apr 01 2018
The Afghan government approved sixteen new contracts during the last meeting of the National Procurement Commission chaired by President Mohammad Ashraf Ghani.
The Office of the President, ARG Palace, said a total of nineteen contracts were reviewed during the meeting and sixteen of them approved for the execution.
The contracts approved during the meeting include air travel services for 30,350 pilgrims to Saudi Arabia, educational cost for the students based in India, Turkey, and Malaysia who are currently doing their Bachelors and Masters degree, road asphalt work from Zazai area to Ahmad Khel area close to Durand Line in Paktia, and procurement of gas for the VIP protection unit.
Other contracts approved during the meeting include procurement of food items for the administrative office of the president, contract for the construction of wall surrounding the administrative complex, inter services for the 53 units of the ministry of finance, procurement of food items for Nangarhar University, procurement of food items for the army corps for the fiscal year 1397 and 1398, air filter system repair for the 209th shaheen Corps Commandment, and reconstruction of the watch tower of the 303 Spinghar Zone commandment in Paktia.
Full report at:
https://www.khaama.com/government-approves-16-new-contracts-worth-8-9-billion-afghanis-arg-04772/
--------
Maps signed for two major Townships for Paktia province
By KHAAMA PRESS - Sun Apr 01 2018
The maps for two major Townships for the southeasternPaktia province were signed in the presence of President Mohammad Ashraf Ghani.
The Office of the President, ARG Palace, said the first map for Paktia Industrial Park Township was signed between the Minister of Urband Development and Housing Syed Sadat MansoorNaderi and Minister of Commerce and Industries.
The Township will be built on 983 acres of land for 237 large factories as well as medium and small factories.
The second map was signed for Martyrs, Teachers, and Government Employees Township between the Minister of Urban Development and Housing Syed Sadat MansoorNaderi and the head of the Independent Directorate of Local Governance.
The Township will be built on 1291 acres of land consisting 2411 flats and 27 blocks.
According to Presidential Palace, President Mohammad Ashraf Ghani also handed over the documents of flats to some members of the families of the martyred individuals.
President Ghani had earlier inaugurated a transmission line and a substation during his visit to southeasternPaktia province.
The Office of the President, ARG Palace, said a 220kV power transmission line (Arghandi-Gardez) and a 220kV substation was inaugurated in Gardez city today.
A statement by ARG Palace said the capacity of the transmission line is 300 megawatts and will transmit 32 megawatts of electricity to Gardez substation for the time being.
Full report at:
https://www.khaama.com/maps-signed-for-two-major-townships-for-paktia-province-04770/
--------
Arab World
3,820 Kurdish Militant Killed, Captured in Turkish Army Operation in Afrin
Sat Mar 31, 2018 5:37
The General Staff of the Turkish Armed Forces said 52 Turkish soldiers have been killed while 229 others wounded since the beginning of the Afrin operation, Anadolu reported.
Turkey launched Operation Olive Branch on Jan. 20 to clear the Kurdish militants from Afrin in Northwestern Syria.
On March 18, Turkish-backed troops captured the town of Afrin, which had been a major hideout for the PYD/PKK since 2012.
The army said at least 90 militants were killed or held captive in Turkey's Eastern Bitlis and Bingol, and Southeastern Diyarbakir and Mardinprovinces, and in Northern Iraq from March 24-30.
The military added that the Turkish forces also seized a large amount of ammunition, including rifles, rocket projectors, grenades, ammonium nitrate and C-4 explosive, during the operations.
http://en.farsnews.com/newstext.aspx?nn=13970111000519
--------
Russian Warplanes Pound Terrorists' Strongholds in Northwestern Syria
Sat Mar 31, 2018 5:45
The Russian army aircraft launched a heavy barrage of airstrikes over the positions of Tahrir al-Sham Hay'at (the Levant Liberation Board or the Al-Nusra Front) near the key town of Jisr al-Shughour near Lattakia-Turkey border.
The fighter jets conducted over 30 airstrikes over Idlib province.
In addition to targeting Jisr al-Shughour, the warplanes also struck a Shari'ah (religious) Court of the Tahrir al-Sham near the town of al-Dana.
The airstrikes came after reports that the militants in Idlib were preparing to launch an offensive against the Syrian Army in the region.
Reports from an online flight-tracking source said on Friday that two new Russian Air Force fighter jets arrived at Humeimim military airport in Western Syria.
The source said that the fighter aircraft, identified as Su-34s, appear to have arrived at Humeimim during some point on Tuesday afternoon; the aircraft were escorting a Tu-154 which also landed at the Russian base.
Full report at:
http://en.farsnews.com/newstext.aspx?nn=13970111000550
--------
Most Hated Person in World Voted in Yemen
Mar 31, 2018
The International Union of Virtual Media (IUVM) press quoted local sources as reporting that Sanaa's historic square in Yemen this year witnessed a magnificent election to introduce the world's most hated personality.
People in the city of Sana'a cast their ballots into the ballot box.
The oppressed people of Yemen have been subjected to the most severe bombing and economic sanctions of major allies in the United States, Britain, Saudi Arabia and the United Arab Emirates for many months.
The gunpowder prize is a symbolic prize that, from 2013 onward, is given each year to the most hated person of the year.
The IUVMpress wrote earlier today that the People's Commissariat "Wet Gunpowder" has published an international announcement about details of the popular vote.
That announcement said that throughout history, hooligans and oppressors have tried to rule the persecuted and the oppressed either forcibly or through deception and by plundering the right of the weak, they have tried to add strength to their power, wealth and prosperity, adding that the present age is the age of modern arrogance, which demands oppressed nations to be under the yoke of the oppressors in various forms.
It added that the International Festival "The Wet Gunpowder" is the collaboration of contemplates, intellectuals and sympathizers to represent the true face of the bullies, hooligans and the oppressors.
The announcement said this year the festival committee plans to introduce one person among the three candidates in the category of enmity with truth in the final stage on the basis of public votes.
The Wet Gunpowder polling invites all the truth and justice seekers to participate in this poll, and choose the top enemy of humanity:
1.Donald Trump, President of the United States of America, for: recognizing Quds as the capital of the fake and the child killer Zionist regime, continued support for the Zionist crimes, constantly threatening the sovereign states and efforts to wage war and chaos in every corner of the world, supporting the Saudi crimes in Yemen and participating in the killing of the innocent people in Yemen.
2.Benjamin Netanyahu, the prime minister of the fake Zionist regime, for: constant threats against Islamic countries, achieving a record for killing 578 children within 51 days, continued occupation of Palestine and the daily oppression against Muslims and Christians.
3.Nikki Haley, United States Ambassador to the United Nations, for: supporting the massacre of the oppressed people of Yemen by the Saudi regime, staunch support for the crimes of the Zionist regime.
The announcement said that the committee of the sixth international festival "The Wet Gunpowder", through direct selection by the alert and vigilant people around the world and truth and justice seekers plans to select one person who deserves to receive a statue of wet gunpowder which is a symbol of the inability of the world's oppressors to face and confront the truth.
Full report at:
http://en.farsnews.com/newstext.aspx?nn=13970111000484
--------
Syrian Army Preparing for Large-Scale Operation in Southern Provinces
TEHRAN (FNA)- The Syrian Army troops are preparing to launch a large-scale operation against the terrorists in the two Southern provinces of Quneitra and Dara'a in the coming weeks, a military source reported on Sunday.
The source said that most of the army units that participated in Eastern Ghouta offensive are to partake in the operations in Southern Syria.
The source added that the primary objectives will be to secure the main highway from Dara'a to Damascus and retake Quneitra province.
The army has offered to reconcile with the militants in Dara'a; however, the latter has rejected all the government's offers.
No date has been announced for the offensive yet.
The Russian Center for Reconciliation declared on its facebook page last week that Moscow would support the Syrian army's air and ground operations in the Southern parts of the country still under terrorists' occupation.
Meantime, the center said in another report that it is still too early to discuss a date for the Dara'a operation as negotiations with militants are underway to end their presence, and the army is still in operation against the terrorists in Eastern Ghouta.
http://en.iuvmnews.com/2018/04/01/syrian-army-preparing-for-large-scale-operation-in-southern-provinces/
--------
Syrian Army Seizes Large Depot of Arms, Ammunition in Terrorists' Positions in Eastern Ghouta
TEHRAN (FNA)- The Syrian Army troops continued their mop-up operation in EinTerma in Eastern Ghouta and found a large volume of arms and ammunition in the terrorists' positions, local sources said on Sunday.
The sources said that the army has discovered a depot that contains medium and light machineguns left behind by the terrorists of Faylaq al-Rahman in EinTerma.
Military sources said on Saturday that the seventh batch of militants and their family members comprised of 3,614 people from the Eastern Ghouta towns of Zmelka, Harasta, 'EinTerma and Arbin departed on a total number of 75 buses for the Northern Aleppo town of 'Afrin.
Full report at:
http://en.farsnews.com/newstext.aspx?nn=13970112000363
--------
Saudi forces intercept missile fired by Houthis
AFPUpdated April 01, 2018
RIYADH: Saudi air defences intercepted a missile fired by Yemeni rebels at the kingdom's southern city of Najran on Saturday, the Saudi-led coalition fighting the rebels said, adding that one person was wounded.
"The missile was fired at Najran indiscriminately and with the aim of hitting residential areas," coalition spokesman Colonel Turki al-Malki told the official Saudi Press Agency.
"It was successfully intercepted and the debris fell on residential areas, lightly wounding one Indian expatriate."
Yemen's Saba news agency, run by the Iran-backed Houthi rebels, said the missile had been fired at a Saudi National Guard base in Najran, just over the border from Yemen where the Saudi-led coalition intervened on the side of the government in March 2015.
The coalition said on Thursday it intercepted another missile fired by the Houthis in the southern city of Jazan.
The coalition's spokesman hit out at Iran after Saturday's attack, accusing it of "jeopardising the security of Saudi Arabia, the region and the whole world".
The UN Security Council this week condemned "in the strongest possible terms" multiple missile attacks launched by the Houthis on Saudi territory, saying they posed a threat to regional security.
In one of the biggest such attacks yet, Saudi forces last weekend said they intercepted seven missiles fired by rebels toward cities including Riyadh, killing one person.
Full report at:
https://www.dawn.com/news/1398845/saudi-forces-intercept-missile-fired-by-houthis
--------
Iraqi troops kill senior Islamic State leader, nine companions in Anbar
Apr 1, 2018, 11:18 am | Mohammed Ebraheem
Anbar (Iraqinews.com) – Iraqi Special Forces carried out on Sunday an unexpected military operation in Anbar province, managing to kill 10 Islamic State (IS) militants, including a senior leader, intelligence sources were quoted as saying.
The sources said, in statements to Shafaq News, that the troops launched the operation after receiving information about a plot by IS militants to target security forces in Anbar desert.
"Immediately, the troops geared up to hunt for IS plotters, who took the Anbar desert as a shelter, managing to kill 10 of them," the sources pointed out, noting that among those killed in the operation is "Abu Taha al Tunsi, code-named as the IS assassin."
According to the sources, the troops also found a secret tunnel that was used by IS militant in Anbar desert.
Iraq declared the collapse of Islamic State's territorial influence earlier in November with the recapture of Rawa, a city on Anbar's western borders with Syria, which was the group's last bastion in Iraq.
Full report at:
https://www.iraqinews.com/iraq-war/iraqi-troops-kill-senior-islamic-state-leader-nine-companions-in-anbar/
--------
Mideast
Gazans bury their dead after bloodiest day in years
AFP | APUpdated April 01, 2018
Gazans buried their dead on Saturday with calls for "revenge" a day after a mass protest led to clashes that saw Israeli forces kill 16 Palestinians in the bloodiest day since a 2014 war.
The angry funeral scenes came as the United States blocked a draft UN Security Council statement urging restraint and calling for an investigation into the clashes.
Only several hundred protesters returned to tents erected at sites near the Gaza Strip's border with Israel to resume demonstrations planned to last six weeks in the blockaded enclave.
On the diplomatic front, UN chief Antonio Guterres and European Union diplomatic chief Federica Mogherini called for an "independent and transparent investigation" into Israel's use of live ammunition.
But a motion put forward before the UN Security Council by Kuwait late Saturday calling for such a move was rejected by the United States, a Security Council diplomat told AFP.
Israel defended the army fire at Palestinians who broke away from the main protest of tens of thousands and neared the heavily fortified fence around the Gaza Strip.
"Well done to our soldiers," Prime Minister Benjamin Netanyahu wrote in a statement Saturday.
"Israel acts vigorously and with determination to protect its sovereignty and the security of its citizens."
An Israeli military spokesman said Friday's events were "not a protest demonstration" but "organised terrorist activity" by Hamas, which has fought three wars with Israel since 2008.
"If it continues, we shall have no choice but to respond inside the Gaza Strip against terrorist targets which we understand to be behind these events," said Brigadier General Ronen Manelis.
Gaza's health ministry said 35 people suffered wounds that were not life-threatening in low-level clashes along the border on Saturday.
Thousands attended funerals for 14 of those killed — two were buried on Friday — with mourners holding Palestinian flags and some chanting "revenge" and firing into the air.
Pressure for inquiry
The armed wing of Hamas, the Islamist movement that runs the Gaza Strip, said five of those killed were its members who were participating "in popular events side-by-side with their people."
The Israeli army said in a statement Saturday night that 10 of the dead had "documented terror backgrounds" in Hamas and other groups and were killed "whilst carrying out acts of terror."
In addition to the 16 Palestinians killed, more than 1,400 were wounded Friday, 758 of them by live fire, with the remainder hurt by rubber bullets and tear gas inhalation, according to the health ministry in Gaza.
The Israeli military says its forces opened fire only when necessary against those throwing stones and firebombs or rolling tyres at soldiers.
It said there were attempts to damage the fence and break through into Israel, as well as an attempted gun attack against troops.
No casualties were reported among Israelis.
Palestinians accused Israel of using disproportionate force, saying its soldiers opened fire on protesters who did not pose a threat, while human rights groups questioned Israel's use of live fire.
Israeli Defence Minister Avigdor Lieberman issued a scornful rejection of demands for a probe.
"I do not understand the chorus of hypocrites who want a commission of inquiry," he posted in Hebrew on his Twitter account.
"They got confused and thought Hamas organised a Woodstock Festival yesterday and that we should give them flowers." Palestinian president Mahmud Abbas declared Saturday a day of national mourning and in a speech said he held Israel fully responsible for the deaths.
US 'cover for Israel'
The six-week protest is in support of Palestinian refugees and the timetable holds significance for a range of reasons that have added to tensions.
It began on Land Day, when Palestinians commemorate the killing of six unarmed Arab protesters in Israel in 1976.
Protests will continue until the United States opens its new Jerusalem embassy around May 14, a move that has enraged Palestinians, who see the city's annexed eastern sector as the capital of their future state.
May 14 will also mark 70 years since the creation of Israel, while Palestinians will mark what they call the Nakba, or "catastrophe," the following day.
The Nakba commemorates the more than 700,000 Palestinians who either fled or were expelled from their homes in the war surrounding Israel's creation in 1948.
US President Donald Trump has harshly criticised the Palestinians in the past, but the State Department said only that it was "deeply saddened" by the loss of life and urged steps to lower tensions.
Human Rights Watch called calling the number of killed and wounded "shocking".
"Israeli allegations of violence by some protesters do not change the fact that using lethal force is banned by international law except to meet an imminent threat to life," the New York-based group said.
Israel had deployed troop reinforcements along the border, including more than 100 special forces snipers, saying it would prevent attempts to break through the fence.
Protests along the border are common, often involving young Palestinian men throwing stones at Israeli soldiers who respond with tear gas along with rubber and live bullets.
But the "March of Return" protest that began on Friday is on a larger scale and intended to involve families with women and children camping in tent cities near the border for weeks.
Israel says it only shot at protesters charging Gaza border
Israel's defence minister says troops acted appropriately by only firing on Palestinian protesters who charged toward Gaza's border with Israel.
Avigdor Lieberman said on Sunday that those who protested peacefully were not harmed, and he rejected accusations of excessive use of force in the mass protests Friday in which 15 Palestinians were killed. It was the area's deadliest violence in four years.
Israel says thousands of Palestinians approached the border, with hundreds engaged in acts of violence ranging from rock-throwing to hurling firebombs to opening fire at Israeli troops guarding the border.
https://www.dawn.com/news/1398908/gazans-bury-their-dead-after-bloodiest-day-in-years
--------
Israeli troops wound 13 on Gaza border
ReutersUpdated April 01, 2018
GAZA: Israeli troops fired warning shots towards Palestinian youths gathered at the Gaza-Israel border on Saturday, wounding 13 people, health officials said.
Tension remained high in the area a day after deadly violence broke out in one of the biggest Palestinian demonstrations there in years.
An Israeli military spokesman said he was checking the details of Saturday's unrest.
On Friday at least 15 Palestinians were killed by Israeli security forces confronting protesters.
Palestinian President Mahmoud Abbas declared Saturday a national day of mourning and a general strike was called across the occupied West Bank. Thousands in Gaza marched through the streets at funerals for those killed.
Tens of thousands of Palestinians had gathered on Friday along the fenced 65-km frontier, where tents were erected for a planned six-week protest pressing for a right of return for refugees and their descendents to what is now Israel. The Israeli military estimate was 30,000.
Families brought their children to the encampments just a few hundred metres from the Israeli security barrier with the Hamas-run enclave. But hundreds of Palestinian youths ignored calls from the organisers and the Israeli military to stay away from the frontier and violence broke out.
The protest, organised by Hamas and other Palestinian factions, is scheduled to culminate on May 15, the day Palestinians commemorate what they call the "Nakba" or "Catastrophe" when hundreds of thousands fled or were driven out of their homes in 1948, when the state of Israel was created.
Israel has long ruled out any right of return, fearing an influx of Arabs that would wipe out its Jewish majority. It argues that refugees should resettle in a future state the Palestinians seek in the Israeli-occupied West Bank and Gaza. Peace talks to that end have been frozen since 2014.
Israel withdrew its troops and settlers from Gaza in 2005 but still maintains tight control of its land and sea borders. Egypt also keeps its border with Gaza largely closed.
President Abbas's spokesman, Nabil Abu Rdainah, said: "The message of the Palestinian people is clear. The Palestinian land will always belong to its legitimate owners and the occupation will be removed."
Full report at:
https://www.dawn.com/news/1398847/israeli-troops-wound-13-on-gaza-border
--------
Turkish President Recep Tayyip Erdogan Recites Muslim Prayer at The Hagia Sophia
AP | Updated: Mar 31, 2018
ISTANBUL: Turkey's president recited an Islamic prayer on Saturday in the Hagia Sophia, a historic Istanbul landmark that has become a symbol of interfaith and diplomatic tensions.
President RecepTayyip Erdogan called on guests attending the opening of an art festival to join him in silently reciting the first verse of the Quran. Erdogan dedicated the prayer to the "souls of all who left us this work as inheritance, especially Istanbul's conqueror."
The Hagia Sophia was built during the 6th century Christian Byzantine Empire and served as the seat of the Greek Orthodox Church. It was converted into an imperial mosque with the Ottoman conquest of Istanbul in 1453.
Turkey's secular founder made the structure a museum in 1935, but there have been discussions by Erdogan's Islamic-leaning government about turning it back into a mosque.
Thousands of Muslim Turks have prayed outside the Hagia Sophia over the years to demand that it be restored as a place of worship.
In 2015, a cleric recited from the Quran inside the building, a UNESCO World Heritage site, for the first time in 85 years.
The following year, Turkey's religious authority began hosting and broadcasting religious readings during the holy month of Ramadan and the call to prayer was recited to mark the first revelation of the Quran to Prophet Mohammed.
Erdogan said Saturday that it was "difficult and emotional" to be speaking at the Hagia Sophia, which he described as a "magnificent and holy." He was speaking at the opening of the first Yeditepe Biennial focusing on classical Turkish art.
Greece has protested the Turkish government's religious use of the venue, calling it last summer an "affront to the international community."
The Turkish Foreign Ministry condemned the Greek statement, saying it distorted the events and arguing that Greece made it difficult for Muslims to practice their faith.
Full report at:
https://timesofindia.indiatimes.com/world/middle-east/turkish-president-recep-tayyip-erdogan-recites-muslim-prayer-at-the-hagia-sophia/articleshow/63559130.cms
--------
Turkey's head of religious affairs calls on Germany to clear cases of mosque attacks
ANADOLU AGENCY | he cases of attacks targeting mosques in Germany should be solved as soon as possible, said the head of Turkey's religious affairs authority on Saturday.
Speaking to journalists ahead of a conference in Cologne, Ali Erbas, head of the Religious Affairs Directorate, said that Germany should take necessary measures to prevent such attacks on mosques.
"The sanctity of holy places is very important for us. Not only mosques, but also churches, synagogues, and the holy places of whatever religion have inviolability," he added, calling on people to take care to protect such places.
At least 40 mosque attacks have been recorded since the beginning of this year in Germany.
The PYD/PKK terrorist group and far-left groups have claimed responsibility for more than two dozen attacks since the Jan. 20 launch of the Turkish-led Operation Olive Branch in Afrin, northwestern Syria against YPG/PKK-Daesh terrorists.
The attacks have targeted Turkish mosques, associations, and shops in various cities, including Berlin, Frankfurt, Hamburg, and Aachen.
In most of the incidents, German police have failed to arrest the perpetrators.
The PKK has been banned in Germany since 1993, but it remains active, with nearly 14,000 followers in the country.
Ankara has long criticized Berlin for not taking serious measures against the PKK, which uses the country as a platform for their fund-raising, recruitment, and propaganda activities.
Full report at:
https://www.dailysabah.com/diplomacy/2018/03/31/turkeys-head-of-religious-affairs-calls-on-germany-to-clear-cases-of-mosque-attacks
--------
Islamic Iran to shine even more brilliantly in its 40th year: IRGC
Tehran, April 1, IRNA – Islamic Iran will shine more brightly in its 40th year and is ready to give appropriate response to any type of adventurism, Islamic Revolution Guard Corps (IRGC) said on Saturday.
'Islamic Iran … is ready to give appropriate response to any type of adventurism and in the meantime, it will not give up its support for the Palestinian people,' IRGC said in a statement released on the Islamic Republic Day.
The Iranian people, about two months after the victory of the Islamic Revolution on February 11, 1979, made the historic and decisive choice of voting for the establishment of an Islamic Republic system through a referendum held on March 30 and 31.
Over 98.2 percent of Iranians in the referendum voted 'yes' to the Islamic Republic form of government, and since then April 1 has been observed every year as the Islamic Republic Day and a public holiday in Iran.
Elsewhere in its statement, the Islamic Revolution Guard Corps said that the US and its allies are making proxy wars and unrests in the region to provide security for the occupying Israeli regime.
IRGC lauded achievements made by the Islamic Revolution in the past four decades despite enemies' plots against it.
Full report at:
http://www.irna.ir/en/News/82875343
--------
BN report card highlights Islamic programmes, Palestinian aid
Sunday April 1, 2018 12:12 AM GMT+8
KUALA LUMPUR, April 1 — BarisanNasional (BN) touted its funds for religious schools and mosque staff, as well as humanitarian aid for the Palestinians as it tracked its performance since 2013 as federal government.
In a report card on BN's progress in fulfilling its manifesto for the 13th general election (GE13), the ruling coalition highlighted Malaysia's very own Shariah index based on MaqasidShariah (goals of Shariah) that was launched on February 10, 2015.
BN said Malaysia under its administration achieved 75.42 per cent in 2015 under the Shariah index — previously described as "very good", before improving by 0.64 percentage points to 76.06 per cent in 2016.
Out of the 17 initiatives promised by BN in its GE13 manifesto, the ruling coalition said it achieved 91.7 per cent of its goal to promote Islam and religious freedom and harmony. BN claimed it completely implemented all its 16 other pledges in various areas like affordable housing, healthcare, women's participation, and public transport.
Citing the Department of Islamic Development Malaysia (Jakim), the report card said the BN federal government had, from 2013 to 2017, given out RM73.56 million in financial aid to Islamic religious schools, namely 133 registered pondok schools and 101 registered SekolahMenengah Agama Rakyat.
A total of RM1.05 million was spent during the 2014-2017 period on programmes to "establish Islam" and to provide for the welfare of the Orang Asli community with 34,775 people involved, the report card said. In citing Jakim for this data, it also included a photograph of an event to officiate a surau or Muslim prayer place in Lipis, Pahang.
Jakim's data also showed the federal government's bid to improve the welfare of Islamic officials through the provision of wages and increments, annually covering 32,000 KAFA teachers who teach the al-Quran and "fardhuain", or the personal obligations of a Muslim; 11,400 "imam" or mosque leaders; and 3,950 mosque officers, the report card said.
In a continuation of government policy of land allocation for places of worship, the report card said 2,175 plots of land had been allocated by state governments for such purposes.
The report card also referred to the 2010 formation of the Cabinet's Special Committee to Promote Understanding and Harmony Among Religious Adherents (JKMPKA), which facilitates dialogue between non-Muslim and Muslim leaders, as well as the Wasatiyyah Institute of Malaysia that started operating on December 3, 2012 to promote moderation.
In referring to its promise to place non-Islamic affairs under a minister in the Prime Minister's Department, the report card featured a photograph of minister Tan Sri Joseph Kurup, who holds the national unity and integration portfolio.
All these touted achievements fall under the BN government's promises to promote Islam and religious freedom and harmony.
As for its pledged initiative for a global movement of moderates, the BN government said it had successfully secured a non-permanent seat on the United Nations Security Council for a two-year period stretching from January 1, 2015 to December 31, 2016, with 187 out of 192 votes in its favour.
It also said it had allocated 16 hectares of land in the federal administrative capital Putrajaya for the construction of a permanent building for the Saudi Arabia-Malaysia collaboration King Salman Centre for International Peace (KSCIP).
The KSCIP, which began operating in Kuala Lumpur on May 30, 2017, is aimed at combating terrorist threats, curbing the spread of extremist ideologies, correcting the perception towards Islam, and also promoting universal peace.
The report card highlighted Malaysia's involvement in humanitarian aid for Palestinians, including four humanitarian projects at the cost of US$6.5 million (RM25.1 million). The federal government footed the bill for US$5.7 million for three of these; the remaining project was funded with US$800,000 from AkaunAmanahKemanusiaan Rakyat Palestin.
According to the report card, Malaysia also contributed US$25,000 to the United Nations Relief and Works Agency for Palestinian Refugees (UNRWA), gave scholarships to two Palestinian students, and also joined the "Women's Boat to Gaza" mission to provide humanitarian aid.
As for Southern Thailand, Malaysia's humanitarian aid revolved around enabling 58 students to carry out their Form Six studies in Malaysia and also training for 70 people (namely 15 in baking and entrepreneurship courses, 48 in nine-month-long vocational skills at GIATMARA, and seven at the Centre for Instructor and Advanced Skill Training for capacity-building).
According to BN's 47-page report card, the coalition heading the current federal administration has managed to fulfill 99.4 per cent of all its promises under its GE13 manifesto.
Full report at:
http://www.themalaymailonline.com/malaysia/article/bn-report-card-highlights-islamic-programmes-palestinian-aid
--------
No Gaza inquiry, Israeli defence minister says
Reuters | Apr 1, 201
JERUSALEM: Israel's defence minister rejected on Sunday calls for an inquiry into the killing of 15 Palestinians by the military during a Palestinian demonstration that turned violent on Friday at the Gaza-Israel border.
Hamas, the dominant Palestinian group in Gaza, said five of the dead were members of its armed wing. Israel said eight of the 15 belonged to Hamas, designated a terrorist group by Israel and the West, and two others came from other militant factions.
U.N. Secretary-General Antonio Guterres has called for an independent investigation into Friday's bloodshed.
His appeal was echoed by Federica Mogherini, the European Union's foreign policy chief, Amnesty International, and by Tamar Zandberg, leader of Israel's left-wing opposition Meretz party.
Full report at:
https://timesofindia.indiatimes.com/world/middle-east/no-gaza-inquiry-israeli-defence-minister-says/articleshow/63565655.cms
--------
Erdogan condemns Israel's deadly attack on protesters in Gaza
AFPMarch 31, 2018
Turkish President RecepTayyip Erdogan on Saturday condemned Israel over its "inhumane attack" in Gaza after a major demonstration there led to clashes that saw Israeli forces kill 16 Palestinians.
The violence broke out on Friday after tens of thousands of people in the Gaza Strip marched near the Israeli border.
Over 1,400 people were also wounded, 758 of them by live fire, with the remainder hurt by rubber bullets and tear gas inhalation, the Gazan health ministry said.
"I strongly condemn the Israeli government over its inhumane attack," Erdogan said during a speech in Istanbul.
The protesters were demanding hundreds of thousands of Palestinian refugees who fled or were expelled during the war surrounding Israel's creation in 1948 be allowed to return.
"Have you heard any noteworthy objections to the massacre by Israel that happened yesterday in Gaza from those who criticise the Afrin operation?" Erdogan demanded.
Turkey on January 20 launched a cross-border operation against the Kurdish People's Protection Units (YPG) in its enclave of Afrin and the city was captured on March 18.
Ankara has come under heavy criticism from opponents and activists over its own operations in northern Syria.
"This is the biggest proof of insincerity of those who fixate on us but say nothing about Israel using heavy weapons to attack people who are protesting on their own lands," Erdogan said, without saying which governments and organisations he meant.
Erdogan on Friday spoke with US President Donald Trump in a call and the Turkish leader said he told Trump: "'Aren't you going to intervene here?".
The Turkish leader, a fervent supporter of the Palestinians, often criticises Israel's policies but the two sides have increased cooperation since the end of a rift in 2016 caused by Israel's storming in 2010 of a Gaza-bound ship that left 10 Turkish activists dead.
Full report at:
https://www.dawn.com/news/1398737/erdogan-condemns-israels-deadly-attack-on-protesters-in-gaza
-------
North America
Resurgent Taliban gets hands on high-tech gear, putting US in bind
Thomas Gibbons Neff and Jawad Sukhanyar | NYT News Service | Updated: Apr 1, 2018
WASHINGTON: Once described as an ill-equipped band of insurgents, the Taliban are increasingly attacking security forces across Afghanistan using night-vision goggles and lasers that United States military officials said were either stolen from Afghan and international troops or bought on the black market.
The devices allow the Taliban to maneuver on forces under the cover of darkness as they track the whirling blades of coalition helicopters, the infrared lasers on American rifles, or even the bedtime movements of local police officers.
With this new battlefield visibility, the Taliban more than doubled nighttime attacks from 2014 to 2017, according to one US military official who described internal Pentagon data on the condition of anonymity. The number of Afghans who were wounded or killed during nighttime attacks during that period nearly tripled.
That has forced American commanders to rethink the limited access they give Afghan security forces to the night-vision devices. Commanders now worry that denying the expensive equipment to those forces puts them at a technological disadvantage, with potentially lethal consequences.
For years, American commanders have been reluctant to give night-vision equipment to rank-and-file Afghan soldiers and police officers out of concern of widespread corruption among those forces. The devices — headsets and infrared lasers — are usually given only to elite Afghan commandos and police special mission units, according to US military officials.
As some of this equipment falls into Taliban hands, the militants are joining a larger trend, said David W. Barno, a retired lieutenant general who led the war effort in Afghanistan from 2003 to 2005. Advanced equipment, such as drones and precision weapons, is being seized by other extremist groups in other global conflict zones, he said.
"It's going to be a problem," Barno said, "and it's going to change how we operate."
With the spread of the devices, infantry units on patrols have been told not to use certain marking devices that can be seen only by night-vision equipment. Helicopter crews have been made distinctly aware that their aircraft are no longer cloaked by darkness.
In one case last November, Taliban fighters wearing night-vision goggles attacked a police outpost in Farah province, in western Afghanistan. By the time the predawn assault was over, eight Afghan officers lay dead in their beds, Haji Abdul Rahman Aka, the elder of the province's Pule Regi area, said at the time. Only one Afghan officer survived.
The frequency and ferocity of the nighttime Taliban attacks are linked to attempts by Afghan forces, based in small checkpoints across the country, to hold territory that has been wrested away from the militants. Previously unreported documents, obtained by The New York Times, underline concerns about the Taliban's growing sophistication on the battlefield after 16 years of war — and American commanders' efforts to stunt it.
The documents show that the US military has begun to send older models of night-vision hardware to regular Afghan army units. Those headsets cost an estimated $3,000 each, officials said. One of the first batches of night-vision equipment for conventional units in southern Afghanistan, part of a monthslong pilot program, was sent to the embattled 215th Corps in Helmand province in the spring of 2016.
Only 161 of the 210 devices were returned, according to the military documents obtained by The Times, and the equipment was not effectively used, in part because the forces were not properly trained to use it. Afghan troops said the missing devices were reported as "battle losses," but could not support that claim with any proof or records to explain where or when they were left behind, according to the documents.
At the time, the commander of the 215th Corps was Maj. Gen. M. MoeinFaqir. He was later arrested on sweeping corruption charges that included misuse of food money meant for his troops.
Last year, and with better results, night-vision equipment was sent to the 205th Corps, located around Kandahar, the military documents showed. Five devices were lost between July and December, when the program ended, according to the documents. Over the summer and fall, the Afghan National Army suffered 15 percent fewer casualties around Kandahar than it had during the same period in 2016.
The documents credited the night-vision equipment for the marked reduction, concluding that the devices are "becoming an integral part of base defense plans." The US military is now planning to equip the unit with roughly 2,500 night-vision goggles as part of what the documents described as a concept for a "permanent program."
Despite those measured successes, it remains unclear if the US military will give the devices to the rest of the Afghan army. The US military headquarters in Kabul has said it equips only special operations units in the Afghan army and police forces with night-vision technology.
Capt. Tom Gresback, a spokesman for US forces in Afghanistan, declined to comment on the plans to distribute the devices to the Afghan National Army, as outlined in the military documents. He said American commanders would provide Afghan national defense and security forces "with the resources necessary to promote security throughout Afghanistan."
But some American advisers closer to the ground fight are already trying to get the technology for their Afghan counterparts, according to a US official. He said that would require a decision made through the leadership in Kabul and the Pentagon to allow American commanders to distribute the devices to even more Afghan security forces.
With the night-vision devices, Taliban fighters have been able to approach Afghan bases nearly undetected before attacking.
Initially, such ambushes were attributed to Taliban forces known as "Red Units" located in Afghanistan's southern provinces. But over the last year, the night-vision devices have frequently turned up in the country's north and east, according to two US military officials, signaling a widespread distribution into other groups of Taliban fighters.
Those officials said the Taliban were using both tightly controlled US-made devices and gear that is widely available for purchase. In some cases, US officials said, the equipment was left on the battlefield by American or Afghan troops, including those who were killed in action. In others, Afghan soldiers are believed to have sold the devices to the extremists.
That was disputed by Gen. Dawlat Waziri, who until recently served as spokesman for the Afghan Ministry of Defense. He said all night-vision equipment provided to Afghan troops by the US military had been "accounted for."
"No case of night vision sold by our soldiers to the Taliban has been reported," General Waziri said.
ZabihullahMujahid, a spokesman for the Taliban, said fighters obtained night-vision devices after attacking Afghan bases or capturing members of the Afghan security forces.
Rank-and-file Afghan police officers are particularly under threat by increasing numbers of deadly nighttimeattacks, said one of the US military officials. Those units are spread farther into sparsely populated areas across Afghanistan than are army soldiers.
Officers with the Afghan National Police, especially in the south, have been making desperate requests for the equipment for months, the official said. The police are part of the Ministry of Interior, which is suspected of rampant corruption.
In Helmand province, Marine Corps advisers are helping a request by the 505th Zone of the Afghan National Police to receive night-vision devices, Col. C.J. Douglas, the head of the Marines' police advising component there, said in an email.
It is unclear if the Afghan police unit will get them.
https://timesofindia.indiatimes.com/world/us/resurgent-taliban-gets-hands-on-high-tech-gear-putting-us-in-bind/articleshow/63567810.cms
--------
Islamic State references lead court to overturn conviction
Posted: Sat 3:42 PM, Mar 31, 2018
GOSHEN, Ind. (AP) - Indiana's Court of Appeals has overturned a man's battery conviction after finding that a prosecutor committed misconduct by linking him to the Islamic State terror group.
Fifty-three-year-old Moussa Dahab was convicted last year of battery with a deadly weapon for allegedly hitting another man in the head with a metal pipe during a workplace dispute.
Elkhart County Deputy Prosecutor Jennifer Munro told jurors Dahab invoked the Islamic State group's name after the attack, possibly because he believed it would intimidate the other man, an Iraqi refugee.
Full report at:
http://www.wndu.com/content/news/Islamic-State-references-lead-court-to-overturn-conviction-478460483.html
--------
Pakistan
Political Decisions Should Be Taken In Polling Booths, Not Courts: Pak PM
PTI | Updated: Apr 1, 2018
ISLAMABAD: Pakistan Prime Minister ShahidKhaqanAbbasi has said that political decisions should be taken in polling booths, not courts, in an apparent reference to ouster of his predecessor Nawaz Sharif by the Supreme Court.
Sharif, 68, was disqualified as the prime minister by the apex court in the Panama Papers case in July last year under Article 62 for failing to declare a receivable salary as an asset.
"Let the voters make political decisions," Abbasi said while addressing a crowd in Dera Ghazi Khan yesterday.
"Political decisions are taken in polling booths, not courts," he was quoted as saying by Dawn News.
Abbasi's remarks came days after his meeting with Chief Justice MianSaqibNisar.
The meeting, and Justice Nisar's subsequent referring of the prime minister as a supplicant, had irked Sharif, who later publicly asked Abbasi to explain his position on the meeting.
"It is a strange tradition that whosoever solves the country's problems is dragged into the courts, removed from posts and attempts are made to push (him) away from the people," Abbasi said.
This tradition is not Pakistan's tradition. This tradition will not give respect to politics in Pakistan," he warned.
The prime minister said the decisions of the people always prevail over court's verdicts -- some of which, he claimed, are controversial or not accepted by history.
"We continued to work despite severe opposition and gave respect to your vote," Abbasi told the gathering, outlining PML-N's achievements since it reclaimed power in 2013.
"You made a decision in 2008 and you got Asif Ali Zardari, and what he did to Pakistan, you all know. But in 2013 you sent him back home; this was the people's decision," he said.
"The people then chose Nawaz Sharif, whose era saw unprecedented development.
"I have complete faith that the enlightened people of Pakistan will respond to the conspiracies and overthrow of governments at the polling stations (in upcoming general elections)," he added.
Sharif has held several rallies in different parts of Pakistan since his ouster. He has targeted the judiciary for removing him from the office of the prime minister and also come up with 'give respect to the ballot' slogan.
The political future of Sharif, who leads the country's most powerful political family, has been hanging in balance since his disqualification. If convicted, Sharif could be jailed.
Full report at:
https://timesofindia.indiatimes.com/world/pakistan/political-decisions-should-be-taken-in-polling-booths-not-courts-pak-pm-shahid-khaqan-abbasi/articleshow/63565378.cms
-------
Pakistan Army soldier martyred during IBO in Mastung: ISPR
Dawn.comMarch 31, 2018
A Pakistan Army soldier was martyred on Saturday during an intelligence-based operation (IBO) conducted on Balochistan Liberation Army's (BLA) hideouts in Kabu area of Mastung, Balochistan, according to a statement issued by Inter-Services Public Relations (ISPR).
During the exchange of fire, one terrorist was also killed and two were injured, the ISPR statement said, adding that a large quantity of arms and ammunition were also recovered.
The military's media wing said that another IBO was conducted in ShararahAlgad, North Wazirstan Agency, leading to the recovery of more heavy weaponry.
Full report at:
https://www.dawn.com/news/1398735/pakistan-army-soldier-martyred-during-ibo-in-mastung-ispr
--------
Zardari and Imran are 'brothers', Maryam tells crowd in Swat
Dawn.comUpdated April 01, 2018
PML-N leader Maryam Nawaz on Sunday said that Pakistan Tehreek-i-Insaf Chairman Imran Khan and PPP co-chairman Asif Ali Zardari are brothers that have joined hands under a banner that does not represent the people.
In a fiery speech made while addressing a huge crowd at Kabal in Swat, Maryam said, "These two brothers have joined hands under a banner that does not represent the people of Pakistan."
"You people voted for his party [PTI] in the 2013 election and he took your vote and placed it at Zardari's feet during the Senate elections," Maryam said adding that if Imran has to do the same next time, "he should just tell people to vote directly for the arrow instead of getting them to vote for the bat."
"When you voted for the PTI in the last election, you hoped Imran will work for you, make new roads in Swat, however, he spent the whole term in blocking roads in Punjab and the federal capital."
She added: "Where was Imran when floods hit Swat, or when the dengue infection was prevalent here? Let me tell you where he was, he was in the federal capital being a pawn in someone else's efforts to topple the government."
'Do not make the same mistake again'
Addressing the crowd in Swat, PML-N supreme leader and ousted prime minister Nawaz Sharif said that the people of Swat are very brave for having fought terrorism in the area.
"You people had to leave your homes in the past, but who managed to bring you back?" Nawaz asked the people.
"We managed to bring you back to your homes, just like we brought peace back to Karachi. These were the things your elected leader was supposed to do for you, however, he did not," he said in a reference to Imran Khan, whose party leads the governments in Khyber Pakhtunkhwa.
"Malala has come back to Pakistan because of the peace that has returned to your area, tell me, do I lie when I say that we have brought peace back to Swat?
"Oh people of Swat, do not make the same mistake again, do not elect a leader who does not care for you," Nawaz said during his speech.
Full report at:
https://www.dawn.com/news/1398909/zardari-and-imran-are-brothers-maryam-tells-crowd-in-swat
--------
Africa
Egypt says 6 terrorists, 2 soldiers killed in Sinai operation
AFP | Apr 1, 2018
CAIRO: Six terrorists and two Egyptian soldiers were killed last week during a sweeping operation against Islamic State group terrorists in the Sinai Peninsula, the army said on Sunday.
The army launched the campaign on February 9 after Egyptian President Abdel Fattah al-Sisi, who this week won a second term, gave it a three-month deadline to crush IS in the Sinai.
Army spokesman Tamer Rifai in a statement said the six terrorists were killed in an exchange of fire in the north of the Sinai, as the army launched a raid against a "very dangerous terrorist cell".
An officer and a soldier were also killed last week and two other troops wounded, he said.
During the same period the army arrested more than 500 "wanted criminals" and prevented 169 people of various nationalities from infiltrating across the western border with Libya, the military said.
Since the campaign was launched, more than 100 terrorists and at least 22 soldiers have been killed, according to official figures.
Sisi won a second term with 96.9 per cent of valid votes during this week's presidential election, in which he faced only one candidate, state media reported on Friday.
The National Election Authority is scheduled to announce the full official result on Monday.
In November Sisi, a former army chief, issued an ultimatum to the army to crush the terrorists after suspected IS gunmen massacred more than 300 worshippers at a Sinai mosque associated with Sufi Muslim mystics.
Security forces have sought to quell attacks by an Egyptian terror group that later declared allegiance to IS since the military ousted Islamist president Mohamed Morsi in 2013, following mass protests against him.
The group has killed hundreds of soldiers, policemen and civilians, mainly in its North Sinai stronghold but also elsewhere in Egypt.
The terrorists have also killed scores of Christians in church bombings and shootings.
https://timesofindia.indiatimes.com/world/middle-east/egypt-says-6-terrorists-2-soldiers-killed-in-sinai-operation/articleshow/63566630.cms
--------
Over 1,100 arrested under Ethiopia state of emergency
AFP | Mar 31, 2018
ADDIS ABABA: More than 1,100 people have been arrested in Ethiopia since the nation declared a state of emergency following the prime minister's resignation last month, state media reported Saturday.
HailemariamDesalegn's surprise resignation came after more than two years of anti-government protests and increasing divisions in the ruling party.
The Ethiopian People's Revolutionary Democratic Front (EPRDF) has for the first time picked an ethnic Oromo, Abiy Ahmed, to be its new leader.
He is set to be sworn in as prime minister early next week.
The state-affiliated Fana Broadcast Corporate said 1,107 people have been detained for violating the emergency decree, which suspends the constitution and allows police to hold people without trial.
"They were detained for killing peaceful civilians and security forces, setting houses and financial institutions ablaze, illicit movement of firearms, destroying government and public institutions (and) blocking roads," Fana reported, citing TadesseHordofa, chairman of a board overseeing the decree.
Ethiopia spiralled into crisis in late 2015 when the country's largest ethnicity the Oromo began protesting a plan to expand the borders of the capital Addis Ababa into the surrounding Oromia region.
A 10-month state of emergency declared in October 2016 quelled the unrest but only after hundreds of deaths and tens of thousands of arrests.
Full report at:
https://timesofindia.indiatimes.com/world/rest-of-world/over-1100-arrested-under-ethiopia-state-of-emergency/articleshow/63559135.cms
--------
Southeast Asia
Thai magazine sued for 'blasphemous' painting of kings
AFPUpdated April 01, 2018
BANGKOK: The governor of Thailand's Chiang Mai province has sued a local magazine for posting a "blasphemous" painting on Facebook of ancient kings wearing pollution masks as part of a campaign to protest the city's hazardous smog.
All matters touching on the monarchy are highly sensitive in Thailand, a country where kings have been worshipped as near dieties and are protected by one of the world's harshest royal defamation laws.
The broadly-interpreted crime of lese majeste has cemented a culture of self-censorship across the kingdom.
The risks of testing those boundaries were on display Friday when an English-language magazine faced legal action for posting an image on social media of three statues of ancient kings — a Chiang Mai landmark — in pollution masks.
https://www.dawn.com/news/1398856/thai-magazine-sued-for-blasphemous-painting-of-kings
--------
Europe
Children report ISIS supporting parents in UK
PTI | Apr 1, 2018
LONDON: An 18-year-old British girl has reported her parents as Islamic State (ISIS) supporters who exposed her and her younger brothers to extremist propaganda, following which all four children are now in state-monitored foster care in the UK, according to court documents.
Police intervened after the girl from a Somali-origin family in the Midlands region of England contacted the Childline charity to say that she and her three brothers, aged 10, 14 and 16, "were kept at home, did not attend school and were kept socially isolated, only being allowed out once in every three weeks", 'The Sunday Times' reported.
The 10-year-old boy also suffers from learning difficulties and has been so traumatised by the alleged "physical and emotional abuse" that he is unable to speak, court papers note.
The details of the case emerged last week after a hearing in the family division of the UK High Court.
"The children have complained that their parents expressed support for extremist violence and have expressed anti-Semitic, anti-British, homophobic and anti-white views in the home, which the children reject," the court judgment states.
Dame Esther Rantzen, founder and president of Childline, said the case was "horrific" and applauded the teenage girl's courage.
The parents, who cannot be named for legal reasons, deny the allegations.
https://timesofindia.indiatimes.com/world/uk/children-report-isis-supporting-parents-in-uk/articleshow/63566933.cms
--------
Hundreds celebrate Mile High Islamic Centre's grand opening
The Muslim Bosnian community in Colorado is about 275 families strong
PUBLISHED: March 31, 2018 at 3:34 pm | UPDATED: March 31, 2018 at 3:57 pm | By ELIZABETH HERNANDEZ
Hundreds of members of the Muslim Bosnian community in Colorado gathered Saturday to celebrate the grand opening of the Mile High Islamic Center — a project seven years in the making.
The mosque at 3550 Sheridan Blvd. provided a backdrop for giggling children chasing each other as their traditional clothing billowed behind them and proud community members who were thrilled to see their years of hard work come to fruition.
The Muslim Bosnian community in Colorado is about 275 families strong, according to the center's news release.
Ademir Ceric, president of the mosque's board, said he wants the center to be an educational tool to teach those who are interested in learning more about Islam.
"It is a place for us to find peace and serenity," Alagic said. "It is a safe haven."
Members of Bosnian mosques from across the country and Canada were expected to turn up Saturday to be together in prayer, scheduled speeches, a ribbon cutting ceremony and free refreshments and food.
Ceric beamed at the large turnout before heading up on stage to address the crowd.
Full report at:
https://www.denverpost.com/2018/03/31/mile-high-islamic-centers-grand-opening/
--------
URL: https://www.newageislam.com/islamic-world-news/muslims-weave-garlands-hindu-temples/d/114784
New Age Islam, Islam Online, Islamic Website, African Muslim News, Arab World News, South Asia News, Indian Muslim News, World Muslim News, Women in Islam, Islamic Feminism, Arab Women, Women In Arab, Islamophobia in America, Muslim Women in West, Islam Women and Feminism