New Age Islam News Bureau
24 Apr 2016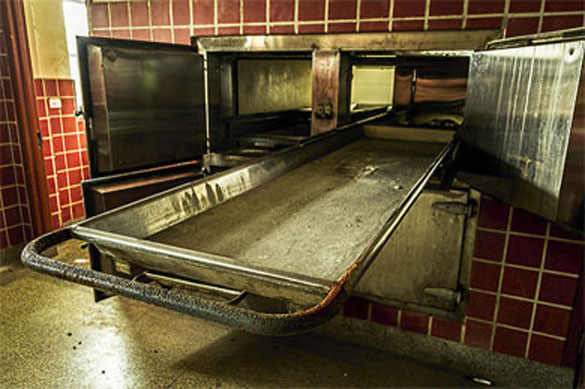 The Takfiri terrorist group ISIS executed 45 of its members by freezing them to death
-------
India
• Muslims in India "Compelled" To Leave Their Homes, Migrate To Slums Where Other Muslims Live: UN Official
• Srinagar: Anti-IS Poster Comes Up In Valley
• 1 Killed In Violent Clashes at Aligarh Muslim University
------
Arab World
• ISIS Freezes 45 of Its Members to Death in Mosul
• 85 ISIL Terrorists Killed in Baghdad, Mosul
• Russia Delivers Advanced Radar Systems to Syrian Army
• Saudi Court Confirms Death Sentence for Shia Activist
• Terrorists' Massive Attacks on Army Positions Repelled in Jobar
• 80 Al-Nusra Front Fighters Enter Syria from Turkey
• Tehran, Pretoria Accelerating Banking Cooperation
• ISIL Seizes FSA's Anti-Tank Missiles in Dara'a
• Senior Ahrar Al-Sham Commander Killed in Idlib
• Syria Rejects Fighter Jet Shooting
• Iran, Germany Agree to Cooperate in Agriculture
• Iran to Gradually Import S-300 Missile Shield's Equipment
------
Europe
• Tracing the Path of Four Terrorists Sent To Europe by the Islamic State
• British Ground Troops Could Go To Libya, Says Philip Hammond
• Europe intolerant towards Muslim politicians
• French Police, Protesters Clash, 12 Arrested in Eastern Paris
--
Africa
• SAS 'Fighting Secret War' Against Islamic Extremists in Somalia
• Failure to Share Data Hampers War on Boko Haram in Africa
--
Pakistan
• US Asks Pakistan to Take Concrete Action against Haqqanis
• Pak Must Respond Positively to Modi's Peace Move: Muslim Leaders To Basit
• Except one, JUI-F, JI senators have no declared sources of income
• Over 800 illegally appointed policemen face the axe in Sindh
------
Mideast
• Turkey's Seizure of Churches and Land Alarms Armenians
• Lebanon, Christians, Under Islamist Threat
• Turkish-Dutch journalist detained over Erdogan tweet
• Rocket projectiles fired from Syria land in Turkey's Kilis, wound six
• Nine Jews ejected from Temple Mount as Israel seeks to maintain calm
---
South Asia
• Taliban Militants Suffer Casualties in Jawzjan and Uruzgan Clashes
• Pakistan Says 2 Security Personnel Wounded In Mortar Fire from Afghanistan
• Top Taliban leader killed in a special military operation in north of Afghanistan
• Taliban shadow judge for Jawzjan province killed in special military raid
• Clash among Afghan and Pakistan forces in Goshta district of Nangarhar
• Kabul University lecturer loyal to ISIS terrorist group arrested
--
North America
• Texas: Muslims and Police Come Together
• On banning Muslims from entering the United States
• A Lesson America Can Teach
---
Southeast Asia
• Indonesia, Turkey, ADB Establishes Bakal Mega Islamic Bank
• The Indonesian military officials Ask for Assistance Moro Muslim Leaders Release Hostages
---
Compiled by New Age Islam News Bureau
URL: https://www.newageislam.com/islamic-world-news/new-age-islam-news-bureau/muslims-in-india--compelled--to-leave-their-homes,-migrate-to-slums-where-other-muslims-live--un-official/d/107086
-----
Muslims in India "Compelled" To Leave Their Homes, Migrate To Slums Where Other Muslims Live: UN Official
Sun, 24 Apr 2016
United Nations (UN) special rapporteur Leilani Farha has taken strong exception to "discrimination" against minorities in housing in India's big cities, pointing towards how "private landlords, real estate brokers, and property dealers will often refuse to rent to someone who is Muslim, or impose unfair conditions."
"Under international human rights law, there is an obligation by all Government authorities to ensure protection from discrimination by private actors, such as for example private landlords and developers", the top UN official, who was in India between April 11 and 22, visiting Delhi, Mumbai and Bangalore, underlined.
Pointing out that Muslims represent 14% of India's population, Farha, a lawyer and an anti-poverty activist from Ottawa who took up the UN job in 2014, said, in some parts of India, "Muslims have felt compelled to leave their homes and migrate to places where other Muslims are living, often in slums."
Coming on Government of India invitation, the UN special rapporteur, however, did not refer to the 2002 Gujarat riots in which large number of Muslims were forced to leave their houses and low in make-shift ghettos.
In a preliminary report based on her visit, Farha, who is special rapporteur with the UN's Human Rights Office of the High Commissioner, also said that Dalits, particularly manual scavengers, and tribal face similar discrimination.
"Scheduled castes and tribes comprise 22% of India's population but are over-represented amongst the poor", she said, adding, "Despite affirmative action programs and 'reservations', these groups continue to be stigmatized and discriminated against. Manual scavenging, though outlawed many years ago, continues to be a reality for some with implications for their housing status."
With a special mandate to look into issues of "adequate housing as a component of the right to an adequate standard of living and on the right to non-discrimination in this regard", Farha said, "The majority of those who are homeless or are residing in slums with the worst housing conditions are members of these and other vulnerable groups."
In her recommendations, Farha asked the government to "enact legislation to curb all forms of de facto housing discrimination against any individual or groups, especially religious and ethnic minorities, women, Dalits and migrants, both for rental and house ownership."
She also advised the government to "survey and recognize all existing slums, including those where Muslims or other religious minorities reside, and provide to the best of ability in-situ upgrading and rehabilitation, with secure tenure for all inhabitants."
The special rapporteur noted, "India continues to struggle with the legacy of deeply entrenched and centuries-old social exclusion and discrimination of particular groups of people, such as Scheduled Castes, Scheduled Tribes and women."
Agreeing that India is "a flourishing economy, with estimates of real GDP growth rate at over 7.3 per cent for 2016", she also said, the country has the largest number of urban poor and landless people in the world", even as quoting from the 2011 census to say that "approximately 13.75 million households or approximately 65 -70 million people reside in urban slums."
Suggesting that these slums are part of the woes of urbanization, the special rapporteur said, "Still often referred to as 'encroachers', or people illegally occupying lands, homeless people living on the pavements are commonly regarded as 'outsiders' because so many are rural migrants."
"As such they are often not welcomed by governments. These discriminatory attitudes are not just part of common parlance in policy circles, but have also found their way into legal judgements, making it increasingly difficult for vulnerable groups to win injunctions against forced evictions", she insisted.
Referring to the plight of the so-called 'pavement dwellers', she said, "All homeless people live in extremely poor conditions and exposed to many forms of brutality, violence and health hazards. Mortality rates are 6 or 7 times higher than for non-homeless populations."
http://www.counterview.net/2016/04/muslims-in-india-compelled-to-leave.html
--
ISIS Freezes 45 of Its Members to Death in Mosul
Sun Apr 24, 2016
TEHRAN (FNA) - The ISIL terrorist group, in an attempt to make its executions methods even more horrifying, locked the groups' defectors in a freezer for a day and killed 45 fellow fighters in a warning to other potential defectors.
According to Iraqi media agency Al Sumaria News, the ISIL fighters who were killed by their comrades, attempted to flee the battlefield during recent fights in Iraq.
They were executed by being locked in morgue freezers in Mosul for 24 hours, left for a slow, presumably agonizing death.
Their bodies, then, were reportedly stretched out along the sides of the road at city entrances as a warning to other fighters on the consequences waiting for possible defectors.
ISIL terrorist group has had to resort to more brutal ways to fuel more fear inside or outside its occupied territories, as Iraqi government forces have been retaking major cities and slowly pushing the terrorists back to the Syrian borders.
Despite government's continuous attempts to tighten the security in the capital, the militant group manages to explode car bombs at the middle of Baghdad once in awhile, or even targeting Shia mosques.
As the terror group keeps losing territory to its opponents as well as cash due to air strikes on their oil infrastructure, many of its fighters have deserted.
ISIL often subjects captives to horrific and elaborate execution methods, and films them as part of their propaganda campaign.
According to media reports, their brutal torturing methods so far included drowning men in cages in swimming pool, strapping explosives to the heads of kneeling men connected by wires and burning hostages alive in cages, among others.
http://en.farsnews.com/newstext.aspx?nn=13950205000377
-----
Tracing the Path of Four Terrorists Sent To Europe by the Islamic State
Sun Apr 24, 2016
On a crisp morning last October, 198 migrants arrived on the Greek island of Leros, all of them seemingly desperate people seeking sanctuary in Europe. But hiding among them were four men with a very different agenda.
The four were posing as war-weary Syrians - all carrying doctored passports with false identities. And they were on a deadly mission for the Islamic State.
Two of the four would masquerade as migrants all the way to Paris. There, at 9:20 pm on November 13, they would detonate suicide vests near the Stade de France sports complex, fulfilling their part in the worst attack on French soil since World War II.
The other two men would not make it that far.
http://www.stuff.co.nz/world/europe/79265487/tracing-the-path-of-four-terrorists-sent-to-europe-by-the-islamic-state
--
SAS 'Fighting Secret War' Against Islamic Extremists in Somalia
Apr 24, 2016
The elite Special Forces troops have been training local soldiers how to fight Islamic extremists Al Shabaab.
The Who Dares Wins unit is based in a remote camp north of the capital Mogadishu.
It has been in regular skirmishes with the extremists, who are linked to al-Qaida.
The mission of the ten-strong team – which officially does not exist – is to disrupt and stop Al Shabaab's operations.
It has been working with US Delta Force directing air strikes against the insurgents by American jets based in Djibouti.
A second much larger force of UK and European soldiers is training Somali troops ready for a major offensive later this year.
The British soldiers are drawn from infantry regiments across the Army and are also based near Mogadishu.
More troops from the UK, Holland and the US are in nearby Uganda training soldiers who will serve with the African Union Force in Somalia later this year.
PM David Cameron pledged military support for the United Nations-backed mission last September with a 70-strong training team.
Two months ago 26 soldiers from the 4th Battalion the Yorkshire Regiment were sent to Uganda to mentor troops.
Major David Prew of the Yorkshire Regiment said: "Every individual that deployed had a vital role to play.
"Their actions had a direct result on the Uganda People's Defence Force's progression and their effectiveness for deployment to Somalia."
http://www.dailystar.co.uk/news/latest-news/510296/SAS-fighting-secret-war-islamic-extremists-Somalia-covert-operation-drone-strikes
---
India
Srinagar: Anti-IS Poster Comes Up In Valley
Apr 24, 2016
In a first, an "anti-Islamic State poster" has appeared in downtown Srinagar, where Islamic State flags have been raised during recent protests. Police said this proves the terror outfit has "no takers" in Jammu and Kashmir.
The latest banner, which appeared at Nowhatta — the epicentre of the stone pelting protests — questions the credibility of the Islamic State over its stance towards Israel.
The banner, raised by youths outside Srinagar's Jamia Masjid, has a picture of an Islamic State commander and refers to the outfit's bombing of mosques.
http://indianexpress.com/article/india/india-news-india/srinagar-anti-is-poster-comes-up-in-valley-2767654/
----
1 killed in violent clashes at Aligarh Muslim University
Apr 24, 2016
In the PIL, it has been alleged that the AMU vice-chancellor Lt Gen Zameeruddin Shah was adopting a "discriminatory" attitude towards girl students by refusing to allow their entry into the library.
ALIGARH: Violence erupted at the AMU campus around midnight last night following a clash between two regional student groups in which a former student was killed, prompting authorities to step up security and deploy Rapid Action Force.
Trouble started when a resident of Mumtaz hostel was assaulted and his room set afire, DIG Aligarh Range Govind Agarwal, who led the police operations, told PTI today.
The victim rushed to the proctor's office to file his complaint. As soon as news of the incident spread students belonging to the two rival factions gathered and a clash broke out.
Police said that Mehtaab was shot dead late last night near the Proctor's office where the warring groups exchanged fire with each other.
The rampaging students set afire a jeep and over half-a-dozen bikes. The mob also indulged in arson and set afire the proctor's office building.
The violence was so widespread that it took the police nearly two hours to defuse the situation at different spots of the campus.
An official of AMU said that trouble between rival groups belonging to Azamgarh and Sambhal regions has been simmering since quite some time now.
Rapid Action Force has been deployed at all sensitive spots especially in view of the entrance test for the engineering college is scheduled today and more than 13,000 candidates are expected to appear from the Aligarh campus centre alone
http://timesofindia.indiatimes.com/city/lucknow/1-killed-in-violent-clashes-at-Aligarh-Muslim-University/articleshow/51963868.cms
------
Arab World
85 ISIL Terrorists Killed in Baghdad, Mosul
Sun Apr 24, 2016
TEHRAN (FNA) - Sporadic operations in different parts of Western Baghdad and Mosul killed at least 85 ISIL Takfiri terrorists.
The Iraqi forces' operations in the Western parts of the capital and the air force units' pounding of the ISIL positions in Mosul killed 85 and wounded 33 militants, field sources were quoted as saying by al-Raya news website on Sunday.
Also, the commander of Baghdad operations announced that the security forces killed 76 Takfiris in al-Bu Shahab, al-Roufa, al-Bu Khanfar and al-Zarka regions, Western Baghdad, adding that 20 terrorists were also wounded during the operations.
He also said that 2 ISIL members were arrested and 4 were wounded during the Iraqi forces' offensive in al-Sakrab district in Baghdad.
Also, the Iraqi volunteer forces (Hashd al-Shaabi) announced that 8 terrorists were killed and scores of others were wounded in the Iraqi air force's attack against a plant in Western Mosul which hosted a large number of missiles, chemical materials and weapons.
In a relevant development on Saturday, at least half a dozen ISIL terrorists, including senior commanders, were killed in Iraqi airstrikes and artillery attacks near the city of Mosul.
Six ISIL terrorists, including the terrorist group's so-called police commander Abdel Hadi Qardi and military training commander Issa Nasr, were killed in Iraq's air raids and artillery attacks in al-Saray Ta Afar near Mosul city.
The Iraqi government troops also managed to kill three suicide bombers who intended to blow themselves up in a military checkpoint in Qateh Makhmour region, Southern Mosul, in Nineveh province.
http://en.farsnews.com/newstext.aspx?nn=13950205000698
------
Russia Delivers Advanced Radar Systems to Syrian Army
Sun Apr 24, 2016
TEHRAN (FNA)- The Syrian army received a new generation of portable surveillance radar systems from Russia.
The Russian radar systems called FARA-I detects movable targets such as military servicemen and vehicles from a distance of 4 kilometers, the Russian-language media outlets reported.
The FARA-I is a lightweight and non-bulky radar system which can be carried by one man, but it need two persons for operation.
The Russian-made radar is multifunctional and can be used as a reconnaissance tool or as a camera for automatic weapons.
The FARA-I radar system can operate and track the enemies' positions under the most difficult conditions such as rainy weather, fog and smog.
One of the most important characteristics of FARA-I is its capability to be used in sandstorms such as Syria's deserts.
In a relevant development in December and following the incident involving the Russian Su-24M bomber which was shot down by a Turkish F-16 over Syria on the Turkish border, Russia deployed its latest anti-aircraft missile system – the S-400 to Syria, also deploying the missile cruiser Moskva and the submarine Rostov-on-Don off the shores of Syria in the Mediterranean.
The S-400 Triumf (NATO reporting name SA-21 Growler) is Russia's next-generation air defense system, carrying three different types of missiles capable of destroying aerial targets at short-to-extremely long range.
In late November, the S-400 systems were deployed at the Hmeimim airbase near the Syrian port city of Lattakia to protect anti-terror operations by Russia's Aerospace Forces. The decision was made one day after Turkey shot down a Russian Su-24 aircraft.
http://en.farsnews.com/newstext.aspx?nn=13950205000666
---
Saudi Court Confirms Death Sentence for Shia Activist
Sun Apr 24, 2016
TEHRAN (FNA) - Saudi Arabia's Court of Cassation endorsed a death sentence handed down to an activist from the country's Shia community, four months after the execution of a respected Shia cleric by Riyadh sparked international outrage.
The court approved the sentence handed down to Yusof al-Mosheykhas, a citizen of the Shia-dominated city of Awwamiyah in the eastern region of Qatif, Naba' TV reported.
According to the report, Mosheykhas was arrested two years ago after he attended several anti-government protests in his hometown. He was convicted of attempted terrorist act in an initial trial and was incarcerated in January 2014.
Campaigners expressed concern about the imminent execution of Mosheykhas, saying the activist could be put to death in an unknown location without prior notice. That has been the case for other Saudis and foreigners convicted of involvement in terror activities.
Back in January, Saudi Arabia executed Sheikh Nimr al-Nimr, a highly respected Shia cleric and an outspoken critic of Riyadh from Qatif, only to trigger massive condemnations around the world.
Saudi Arabia's Eastern Province, an oil-rich region which includes Qatif and Awwamiyah, was the scene of clashes between people and police since an uprising began there in early 2011.
Riyadh has faced criticism by human rights groups and governments in the West over its imposition of numerous restrictions on freedom of speech and the harsh way the courts deal with dissent. Notable activists, including Raif Badawi, a 31-year-old blogger who has been sentenced to 1,000 lashes and 10 years in jail for his writings on the internet, has been behind bars in Saudi Arabia since 2012.
On Friday, the United Nations torture committee called on the Saudi government to stop physical punishment, including flogging and amputations, carried out against the convicts in the kingdom while it expressed concern about the abuse of bloggers, activists and human rights lawyers in prisons.
http://en.farsnews.com/newstext.aspx?nn=13950205000702
------
Terrorists' Massive Attacks on Army Positions Repelled in Jobar
Sun Apr 24, 2016
TEHRAN (FNA) - The Syrian army foiled an attempt by the Takfiri terrorists to attack its military positions in Damascus countryside.
The terrorists of Faylaq al-Rahman were trying to launch a large-scale attack on the Syrian government troops and their military positions in Jobar, but were pushed back.
Over 22 Takfiri terrorists were killed in tough battle with the Syrian government troops.
In a relevant development earlier this month, the Syrian Army and the National Defense Forces continued to advance against the terrorist groups in Eastern Ghouta and took control over more territories there.
The Syrian government forces stormed strongholds of al-Nusra Front and Faylaq al-Rahman terrorists and forced them to retreat from the Farms of Kanakri and Doumani Poultry near the town of Bala, which ended in the killing of at least seven terrorists and wounding of several more.
The Syrian Army also destroyed a network of tunnels used by terrorists to transfer supplies in Bala region.
On Saturday, local sources said that scores of the terrorists were killed or wounded in continued clashes between the rival groups of ISIL and al-Nusra Front in the Palestinian Yarmouk refugee camp in the Southern part of the capital.
"The ISIL and al-Nusra terrorists engaged in heavy fighting to take control over Yarmouk camp, which ended in the killing or wounding of tens of militants from both sides," the sources said.
"The ISIL terrorists launched another assault to take control of the Palestine Roundabout that separates the Yarmouk camp and the neighboring Tadamon district in Southern Damascus, but their attempts fell flat under the heavy fire of al-Nusra rivals," the sources added.
http://en.farsnews.com/newstext.aspx?nn=13950205000565
------
80 Al-Nusra Front Fighters Enter Syria from Turkey
Sun Apr 24, 2016
TEHRAN (FNA)- The Russian Defense Ministry reported that up to 80 militants of the al-Nusra Front terrorist group have crossed into Syria's Northern Idlib province from Turkey.
A group consisting of up to 80 militants fighting with the al-Nusra Front terrorist group has crossed into the Syrian Northern Idlib province from Turkey and several sources have confirmed the information, the Russian Defense Ministry said in its weekly bulletin, sputnik reported.
The Russian military said the information on the al-Nusra Front militants' entry into Idlib province from Turkey was also confirmed by local civilians.
http://en.farsnews.com/newstext.aspx?nn=13950205000440
---
Tehran, Pretoria Accelerating Banking Cooperation
Sun Apr 24, 2016
TEHRAN (FNA)- Iran and South Africa agreed to expand and speed up cooperation in banking and finance in order to boost the value of trade exchanges.
The agreement was reached during a meeting between Iranian Finance Minister Ali Tayyebnia and his South African counterpart Pravin Gordhan in Tehran on Sunday.
Referring to the deep and friendly relations, Finance Minister Tayyebnia said even during the sanctions era the two sides continued cooperation in all spheres.
He said now that sanctions have been lifted, Iran and South Africa are determined to cement and expand the volume of trade exchange.
"Iran sees South Africa as a gateway to the African Continent," he said, adding that Iranian banks have taken positive steps towards relations with their South African partners as Pretoria supports the move.
Finance Minister Gordhan, for his part, said Pretoria is determined to deepen trade and economic cooperation, adding that South Africa is resuming banking ties with Iran to boost trade exchange.
The meeting came after South African President Jacob Zuma, heading a high-ranking economic-political delegation, arrived in Tehran early on Sunday for talks.
Upon his arrival at Tehran's Mehrabad airport, Zuma was warmly welcomed by Deputy Foreign Minister Hossein Amir Abdollahian.
President Zuma is expected to meet with President Hassan Rouhani, during which the two sides will discuss a host of issues, including signing several cooperation agreements in trade and economy.
President Zuma is accompanied by a 180-member delegation consisting of various cabinet ministers and a high-level business entourage. He is scheduled to leave Tehran for the historic province of Isfahan on Monday.
Iran and South Africa have already agreed to build petrochemical plants and oil refineries through joint ventures.
The agreement was reached during a meeting between Iranian Oil Minister Bijan Zanganeh and South African Energy Minister Tina Joemat-Pettersson in Tehran on Saturday.
During the meeting, the two sides also discussed oil and energy cooperation, including resumption of crude exports.
"Iran supplied 40% of South Africa's oil imports before sanctions brought them to zero," Zangeneh said, adding that "we are currently seeking to open this closed path and there are negotiations underway which we hope will bear result."
"Right now, the main argument is over the price. Iran has announced that it will accept a price which is competitive in the market," Zangeneh said.
He also said South African President Jacob Zuma is to visit Iran on Sunday and Monday to "strengthen bilateral relations between the two countries."
Zangeneh said the two sides are expected to sign a memorandum of understanding for energy cooperation on Sunday.
"A technology cooperation agreement is expected to be signed for boosting technical knowledge in the field of GTL with the Research Institute of Petroleum Industry," he said.
Pretoria is also considering building an oil refinery that will process Iranian crude to bolster its petrol supply and reduce its dependence on foreign companies.
"We have asked them to present their proposals. Accordingly, Iran has invited them to invest in Iran's refining and petrochemical sector like before," Zangeneh said about the plan.
South African petrochemicals group Sasol had a 50% stake in Arya Sasol Polymer company, a joint venture with Pars Petrochemical Company of Iran. The venture produced ethylene and polyethylene used in the production of plastics.
"Arya Sasol used to carry out successful investment operations in Iran's petrochemical industry but had to pull out of them after sanctions," Zangeneh said.
Elsewhere in his remarks, Minister Zangeneh said Iran will support any initiative to stabilize the oil market after recent talks in Qatar failed to freeze production.
Zangeneh told reporters on the sidelines of the meeting with his South African counterpart in Tehran on Saturday that the meeting between OPEC and non-OPEC producers in Doha was a "good step."
"Despite failing to have a result, the start of the negotiation was good for OPEC and non-OPEC to cooperate and for big OPEC producers to accept that they have to do something to change the situation," he added.
OPEC, Russia and Mexico failed to come up with any decision at last Sunday's meeting after Saudi Arabia demanded that Iran join in an output freeze despite calls on Riyadh to save the agreement and help prop up crude prices.
Zangeneh said despite the collapse of the Doha agreement, oil prices did not extend their losses.
"The market momentum and the will of both producers and consumers is that oil prices increase on the global level," he said.
Iran has been ramping up production following the lifting of Western sanctions in January to claw back its market share.
On Saturday, Zangeneh said Iran is close to the export levels before the sanctions.
"Iran's oil production has approached very close to the level before sanctions and our oil output has increased by 1 million barrels per day after the cancelation of the sanctions," he said.
"This trend will continue until Iran's market share reaches the level before the sanctions," Zangeneh added.
http://en.farsnews.com/newstext.aspx?nn=13950205000383
---
ISIL Seizes FSA's Anti-Tank Missiles in Dara'a
Sun Apr 24, 2016
TEHRAN (FNA)- The ISIL seized a large number of anti-tank missiles from its rival terrorist group the Free Syrian Army (FSA) in Dara'a province.
The FSA had received the anti-tank missiles from the western countries as they carried western labels, informed sources announced.
Since the starts of the Syrian crisis in March 2011, the western countries, including the US, have delivered state-of-the-art weapons to the terrorists in Syria.
In a relevant development on April 12, the Wall Street Journal in an article wrote about the US "Plan B" for Syria.
According to the Plan B, militant groups in Syria could be supplied with US weapons if the ceasefire collapses.
Earlier this month, the news reports said that the US via its Central Intelligence Service was still delivering thousands of tons of additional weapons to al-Qaeda and others in Syria.
The British military information service Janes found the transport solicitation for the shipment on the US government website FedBizOps.gov, Moon of Alabama news and analysis website reported.
The FBO has released two solicitations in recent months looking for shipping companies to transport explosive material from Eastern Europe to the Jordanian port of Aqaba on behalf of the US Navy's Military Sealift Command, Janes wrote.
Released on 3 November 2015, the first solicitation sought a contractor to ship 81 containers of cargo that included explosive material from Constanta in Bulgaria to Aqaba.
The cargo listed in the document included AK-47 rifles, PKM general-purpose machine guns, DShK heavy machine guns, RPG-7 rocket launchers, and 9K111M Faktoria anti-tank guided weapon (ATGW) systems. The Faktoria is an improved version of the 9K111 Fagot ATGW, the primary difference being that its missile has a tandem warhead for defeating explosive reactive armor (ERA) fitted to some tanks.
One ship with nearly one thousand tons of weapons and ammo left Constanta in Romania on December 5. The weapons are from Bulgaria, Croatia and Romania. It sailed to Agalar in Turkey which has a military pier and then to Aqaba in Jordan. Another ship with more than two-thousand tons of weapons and ammo left in late March, followed the same route and was last recorded on its way to Aqaba on April 4.
We already knew that the "rebels" in Syria received plenty of weapons during the official ceasefire. We also know that these "rebels" regularly deliver half of their weapon hauls from Turkey and Jordan to al-Qaeda in Syria (aka Jabhat al-Nusra):
Hard-core Islamists in the Nusra Front have long outgunned the more secular, nationalist, Western-supported rebels. According to FSA officers, Nusra routinely harvests up to half the weapons supplied by the Friends of Syria, a collection of countries opposed to Assad.
US and Turkey supported "rebels" who took part in the recent attack on Tal al-Eis against Syrian government forces which was launched with three suicide bombs by al-Qaeda in Syria. This was an indisputable breaking of the ceasefire agreement between Russia and the US It is very likely that some of the weapons and ammunition the US delivered in December were used in this attack.
Millions of rifle, machine-gun and mortar shots, thousands of new light and heavy weapons and hundreds of new anti-tank missiles were delivered by the US. Neither Turkey nor Jordan use such weapons of Soviet providence. These weapons are going to Syria where, as has been reported for years by several independent sources, half of them go directly to al-Qaeda.
From historic experience we can be sure that the consequence of this weaponizing of Takfiris will be not only be the death of "brown people" in the Middle East, but also attacks on "western" people and interests.
Skyscrapers falling in New York and hundreds of random people getting killed in Paris, Brussels, London and (likely soon) Berlin seem not be enough to deter the politicians and "experts" that actively support this criminal war on Syria and its people.
http://en.farsnews.com/newstext.aspx?nn=13950205000421
--
Senior Ahrar Al-Sham Commander Killed in Idlib
Sun Apr 24, 2016
TEHRAN (FNA)- A suicide attack on a gathering of Ahrar al-Sham terrorist group killed 10 militants, including a notorious commander.
Majed Hossein al-Sadeq, nom de guerre Islam Abu Hussein, and nine other terrorists were killed when a suicide bomber hit their gathering in the city of Banesh in Idlib province.
A man riding on a motorcycle packed with explosive hit Ahrar al-Sham's meeting in Bensh city.
A sum of 40 other terrorists was also injured in the attack.
In a relevant development three months ago, the ISIL executed another senior Ahrar al-Sham commander named Abdel Qader al-Zaban.
Ahrar al-Sham movement has set up curfew in the areas under its control.
Earlier this month, the Syrian army and popular forces killed a number of Ahrar al-Sham movement terrorists, including their notorious commander, in Aleppo province.
Abdullah Mohammed al-Hasm, a Kuwaiti national and commander of Ahrar al-Sham Movement in Southern Aleppo, was killed in heavy clashes with the Syrian army on Saturday night, but his death was confirmed on Sunday evening.
Several other terrorists were also killed along with Mohammad al-Hasm in Southern Aleppo.
http://en.farsnews.com/newstext.aspx?nn=13950205000349
---
Syria Rejects Fighter Jet Shooting
Sun Apr 24, 2016
TEHRAN (FNA)- The Syrian army on Sunday rejected the claims that the ISIL terrorist group has shot down its fighter jet, saying that the aircraft crashed due to technical flaws.
The rejection came after news reports by some western and Arab media claimed that the ISIL had captured a Syrian air force pilot after shooting down his MiG-23 airplane in Damascus countryside on Friday.
"The plane had recently undergone repairs and was conducting a scheduled sortie; there was no attack from the ground and it crashed because of a technical flaw," a Syrian military source said.
The source also said that the pilot safely ejected from the aircraft shortly before it exploded in a fireball, but declined to comment on his fate.
The ISIL had claimed that it shot down the Russian-built aircraft after it took off from the Al Dumayr military airbase East of Damascus.
The source refused to confirm that the pilot has been taken by the ISIL.
ISIL claims that it has taken the pilot, but has not presented any photo, footage or proof to substantiate its claim.
http://en.farsnews.com/newstext.aspx?nn=13950205000743
--
Iran, Germany Agree to Cooperate in Agriculture
Sun Apr 24, 2016
TEHRAN (FNA)- Iran and German Federal State of Sachsen agreed to develop cooperation and invest in agricultural projects, including in the processing and supplementary industries.
The agreement was reached during a meeting between Deputy Minister of Agriculture Ali Akbar Mehrfard and German Minister of Agriculture and Environment Thomas Schmidt in Tehran on Saturday.
During the talks, Mehrfard said Iran produces some 120 million tons of crops annually, adding that Germany could help boost the sector through modern technology transfer.
German Minister Schmidt, for his part, said the two sides should work together to improve ties, adding that German companies and private sector seek trade and investment opportunities in Iran, particularly in food packaging and processing.
He also invited private businesses to visit Germany to learn more about Sachsen's technical and scientific capabilities.
Meantime, Vice-President of the Central Bank of Iran Akbar Kamijani called for expansion of banking cooperation with Germany.
In a meeting with members of a Bavarian delegation including business and industry officials in Tehran on Wednesday, Kamijani said the US-led sanctions against Iran also meant financial loss to its European banking partners, adding that in the post-sanction era, the two sides should catch up with the lost opportunities in trade and economy.
He called on Germany to support banking transactions and noted that cooperation talks with the insurance company Hermes is still underway.
The German officials, for their part, said the main issue now is not the sanctions but stopping damage to their own banks because of the threat of US punishments if they deal with Iran.
They said removal of sanctions is a time-consuming process, and the priority is boosting cooperation between the two-countries' small businesses.
http://en.farsnews.com/newstext.aspx?nn=13950205000481
--
Iran to Gradually Import S-300 Missile Shield's Equipment
Sun Apr 24, 2016
TEHRAN (FNA)- The equipment and different parts of the Russian S-300 missile defense systems will be delivered to Iran in several stages, a senior Iranian legislator announced on Sunday.
"Based on the contract and the agreement inked between Iran and Russia, the missile systems' equipment will be transferred to the country in parts," Head of the parliament's Defence Commission Esmayeel Kosari said on Sunday.
"Based on the time-table, the S-300 parts will be sent to Iran in different stages and its parts, including missiles, launch-pads and radars, will be delivered to the country gradually," he added.
Kosari said that the large volume of S-300 parts is the reason behind its gradual delivery to Iran.
Last Sunday, Iran displayed the first S-300 air defense missile system imported from Russia earlier this month.
A battalion of the S-300 missile defense system was showed off today without displaying the missiles.
The missile defense shield went on display on the occasion of the national Army Day during which military parades were held in Southern Tehran in the presence of President Hassan Rouhani.
Russia is due to deliver several more S-300 missile shields to Iran by the end of this year.
Russia had announced earlier this month that the first shipment of S-300 air defense missile systems to Iran will be made within days.
Moscow and Tehran signed a contract for the delivery of five battalion sets of S-300 PMU1 air defense missile systems in 2007.
In 2010, Moscow suspended the contract, citing a UN Security Council resolution banning weapon sales to Tehran until it proved the peaceful nature of its nuclear program. The resolution only banned the delivery of offensive, and not defensive, weapons systems. Hence, Iran sued Moscow at an international court of arbitration. But Tehran dropped the lawsuit after Russia said in 2015 that it would start the delivery.
In 2015, Moscow annulled the S-300 delivery ban, after Iran and the six world powers, including Russia, reached a framework nuclear deal to lift the anti-Tehran sanctions in exchange for guarantees of the peaceful nature of its nuclear activities.
Russia and Iran are expected to fulfil the S-300 contracts in 2016. Iranian Armed Forces Chief of Staff Hassan Firouzabadi said in February that Tehran would soon announce the dates of the deliveries.
http://en.farsnews.com/newstext.aspx?nn=13950205000401
------
Europe
British Ground Troops Could Go To Libya, Says Philip Hammond
Sun Apr 24, 2016
British ground combat troops could go to Libya in the future, the foreign secretary has said.
Philip Hammond told the Sunday Telegraph he could not rule anything out as he did not know how the situation in the North African country would evolve.
But he insisted that the question of British ground, sea or air power taking action in Libya would be put to MPs.
Hammond said the southern Mediterranean was an important security interest as terrorists established there would be a threat to all of Europe, including the UK.
"It wouldn't make sense to rule anything out," he said, discussing the possibility of ground combat troops going to the country.
The stories you need to read, in one handy email
Read more
"But if there were ever any question of a British combat role in any form – ground, sea or air – that would go to the House of Commons."
He also highlighted the closeness of Libya to the outer borders of Europe. He said it was 100 miles from Libya to the Italian island of Lampedusa, which is the first stop for many migrants when they arrive on the continent.
"If Daesh [Islamic State] became established in Libya and sought to use that established base to infiltrate terrorists into Europe, that would be a threat to all of us," he said.
He said he knew that the new Libyan government would be cautious about requesting western military support but if it did, the UK government would consider it.
http://www.theguardian.com/world/2016/apr/24/british-ground-troops-could-go-to-libya-says-philip-hammond
--
Europe intolerant towards Muslim politicians
Sun Apr 24, 2016
Smear campaigns targeting Muslim politicians across Europe, which have seen many forced to quit, highlight an attitude of intolerance toward Muslims.
With the rise of racism on the continent, Muslim politicians are being attacked in countries such as Belgium and the Netherlands, forcing many to give up politics, although some are resisting the pressure.
Muslim politicians in Sweden and Germany are being put under pressure due to their relationships with non-governmental organizations while in Netherlands and Belgium some face attack for their refusal to accept Armenian claims of genocide.
In the U.K., the Conservative Party's candidate for London mayor, Zac Goldsmith, has accusing his opponent Sadiq Khan of links to extremists.
The Swedish housing minister, who was forced to quit last week, told Anadolu Agency he had been "slandered" over alleged links to Daesh. Mehmet Kaplan quit after media attacks.
Kaplan, who is of Turkish-origin, said his work involved attending events organized by non-governmental organizations (NGO). "I can't question who comes and who does not come to these gatherings," he said, adding that all the organizations were legal in Sweden.
"Despite me and my party having always fought against racism, Islamophobia, anti-Semitism and any kind of extremism, [the media] has tried to show me as a racist, radical Islamist," he said.
Fellow Green Party member, Yasri Shamsudin Khan, is another Muslim to quit politics after he was condemned for not shaking a female journalist's hand. Khan said he did not shake her hand because of his beliefs but instead placed his hand on his chest in greeting.
Yasin Ipek, a member of Sigtuna city council, was forced to resign after attending in an iftar dinner organized by an NGO.
"A PKK supporters' group in the Swedish media, composed of anti-Turkish and anti-Muslim journalists, are conducting an unbelievable campaign to eliminate young and promising Turkish and Muslim-origin politicians," he claimed.
In Germany, Nebahat Guclu, a member of the Hamburg state parliament, said party leaders in the country accepted politicians from immigrant communities as a way of securing votes but excluded them from decision-making.
http://aa.com.tr/en/politics/europe-intolerant-towards-muslim-politicians/560373
--
French Police, Protesters Clash, 12 Arrested in Eastern Paris
Sun Apr 24, 2016
TEHRAN (FNA)- Clashes between French police and about 100 protesters have led to 12 arrests in Eastern Paris.
The Paris police said the clashes took place around the Place de la Republique on the sidelines of the "Night Rising" protest movement, the Province reported.
A police car was set on fire and projectiles were thrown at police. The police used tear gas to disperse the crowd around 2 a.m. No injuries were reported.
The "Night Rising" movement started March 31 when some protesters denouncing the government's labour law changes decided to camp overnight in Place de la Republique.
The square in eastern Paris became a symbolic gathering place after last year's deadly attacks upon Parisians.
Just before the weekend, Police issued a ban on consuming alcohol by the square at night "for security reasons." It said incidents "have been fuelled by the consumption of alcohol."
http://en.farsnews.com/newstext.aspx?nn=13950205000505
-----
Africa
Failure to Share Data Hampers War on Boko Haram in Africa
Apr 23, 2016
The military campaign by Nigeria and neighbouring nations to combat the West African militant group Boko Haram has been hampered by a failure among those countries to share crucial intelligence — sometimes even within their own security services, American and other Western officials say.
Western partners have balked as well. The Pentagon and American intelligence services have struggled at times to provide information quickly about Boko Haram militants to the African countries — Cameroon, Chad, Niger and Nigeria — without violating restrictions on what can be shared from spy satellite imagery or electronic eavesdropping within rules for not disclosing sources and methods.
Until recently, Western officials and analysts said, Britain and the United States provided only sanitized intelligence reports to the Nigerian military. The countries feared that more detailed information might be misused by an army that human rights groups say has committed abuses against civilians as it battled Boko Haram, which has pledged loyalty to the Islamic State.
And a new intelligence "fusion center," created in Chad as part of a multinational task force, has only recently overcome budget and staffing shortfalls, as well as lingering mistrust among the participating countries, to help coordinate operations.
"The big unanswered question right now is how much are all those five countries that are participating going to collaborate and work effectively," Col. Robert Wilson, who commands American Special Forces in North and West Africa, said in a recent interview here, noting that Boko Haram moves easily across borders. Benin recently became the fifth country to join the coalition.
Even within the West African countries, interior ministries often do not share information about terrorist threats with their military counterparts.
In Cameroon, an elite special operations unit, the Rapid Intervention Brigade originally trained and equipped by Israel, now gets training and equipment from United States Navy SEALs and intelligence not handed over to other branches and units of its security services, Western analysts said. "It's a confused mess," said J. Peter Pham, the director of the Atlantic Council's Africa Centre in Washington.
Continue reading the main story
American military and counterterrorism officials say intelligence sharing is a difficult issue, particularly outside established alliances. The United States confronted its own shortcomings after the Sept. 11, 2001, terror attacks, when it became clear that the F.B.I. and C.I.A. each had information about the hijackers not shared with the other. In the wake of the Islamic State attacks in Paris and Brussels in the past year, the authorities in France and Belgium, as well as throughout Europe, are seeking to fill glaring gaps in intelligence sharing.
American intelligence and counterterrorism officials said it was a challenge to share sensitive intelligence with the West African allies fighting Boko Haram and other terrorist groups. The United States has different rules for what intelligence it shares with each country, and what one country can or cannot share with its neighbor — even though all are trying to fight a common regional enemy, Boko Haram.
"Because U.S. policy in Africa is for Africans to take the lead, a lot of the challenge is building trust among the partners themselves and not generating a dependence on what information we do have," said Alice Hunt Friend, the Pentagon's former principal director for African affairs.
American officials said progress was being made. Initially, it took up to two weeks to release information such as an aerial surveillance photo. Now, depending on the intelligence and the country, that is down to as little as an hour, American officials said. To help speed the release of information, American analysts are being encouraged to "write to release" — mostly meaning stripping information of sources and methods to ensure broader and faster distribution to partners without dumbing down the content. Drone photos provided by the United States recently helped the Nigerian Army avoid a major Boko Haram ambush.
Brig. Gen. Donald C. Bolduc, the top United States Special Operations commander for Africa, said that since Nigeria's president, Muhammadu Buhari, instituted military reforms in recent months, "my guys are now coffee-breath close to our partners in the Lake Chad basin."
"As a result," General Bolduc said in an interview last week, "we have developed relationships of trust."
Since taking office last year, Mr. Buhari has begun a major push to rid the country of Boko Haram, which has assaulted northeastern Nigeria for years. In past months, the group has spread across borders to terrorize the country's neighbors, too.
The nations in the Lake Chad region that have become Boko Haram's new stamping grounds — Niger, Chad and Cameroon — have long been distrustful of one another. Mr. Buhari met with their leaders one by one, shoring up support for a campaign to join forces to fight the group.
But Mr. Buhari's strategy of forging individual relationships did little to build trust among the nations themselves, Western diplomats say. All are working together now, but with a skeptical eye on one another. And while the Nigerian-led effort has retaken a significant number of villages that were under Boko Haram control, the authorities have been less successful sustaining security, allowing fighters to continue to raid the very villages recaptured by government forces.
Military efforts have freed thousands of hostages of Boko Haram, most of them women and children. Yet the effort to press them for information about fighters appears inconsistent. In some instances the hostages, some of whom have been raped, are taken to camps where humanitarian groups spend time interviewing each about psychological problems that he or she may suffer. But it appears that no one is asking about the tactics and locations of fighters, alongside whom many have lived for months.
In contrast, in Borno State in Nigeria, the military has been detaining and screening nearly everyone held hostage by Boko Haram in an effort to collect information and determine whether the individual formed an allegiance with the militants. The detentions sometimes last months, and include even children. At the Minawao refugee camp outside Maroua, Cameroon, near a part of the country where Boko Haram has launched numerous attacks, residents said no one had inquired about the fighters.
There are examples of success. A young woman trained as a bomber near the border between Cameroon and Nigeria dropped her explosives and instead ran to the authorities in the village she had been sent to blow up. Her information led to a major operation that captured and killed numerous militants, officials said.
Col. Didier Badjeck, a spokesman for the Cameroon Defense Ministry, praised the emerging cooperation among the nations. One recent operation involved 500 soldiers from Cameroon and Nigeria, and guidance from the multinational task force in Chad.
In particular, he said, intelligence from Americans has been pivotal to carrying out operations. "They've given us very good information, and we can verify it," he said. "And they also have given us information that we don't have." Colonel Badjeck added, "It's the first time Americans have been this involved in West Africa."
http://www.nytimes.com/2016/04/24/world/africa/failure-to-share-data-hampers-war-on-boko-haram-in-africa.html
------
Pakistan
US Asks Pakistan to Take Concrete Action against Haqqanis
Apr 24, 2016
WASHINGTON: The US State Depart­ment has publicly acknowledged that after last week's massive car bombing in Kabul it asked Pakistan to take concrete action against the Haqqani network.
The Taliban claimed responsibility for the attack outside a building of the National Directorate for Security in Kabul on Tuesday that killed 64 people and injured more than 300 others.
Pakistan had condemned the attack hours after it took place.
"We extend our heartfelt sympathies and condolences to those who have lost their loved ones and pray for early recovery of the injured," the Foreign Office said in a statement.
Islamabad condemned Kabul attack hours after it took place
Commenting on Afghan government's claim that Pakistan supported the group that carried out the attack, the director of the State Department's Press Office, Elizabeth Trudeau, suggested on Friday evening that Islamabad continued to allow terrorists to use its soil.
"We have consistently expressed our concerns at the highest level of the government of Pakistan about their continued tolerance for Afghan Taliban groups such as the Haqqani network operating from Pakistani soil," she told a news briefing in Washington.
"And we did again — after this week's attack, we have pressed the government of Pakistan to follow up on its expressed commitment not to discriminate between terror groups regardless of their agenda or their affiliation by undertaking concrete action against the Haqqanis," she added.
Within hours of the attack, Afghan President Ashraf Ghani vowed "vengeance for each drop of blood spilled", while his chief executive, Abdullah Abdullah, cancelled a May 2 visit to Pakistan, citing the findings of a preliminary investigation.
On Friday, the Voice of America radio quoted Afghanistan's deputy presidential spokesman Dawa Khan Menapal as claiming that Pakistan supported and armed the Haqqani network that carried out the attack.
"Attacks such as this clearly undermine US, Afghan and Pakistani efforts to promote peace and reconciliation in Afghanistan," Ms Trudeau said.
The US official, however, disagreed with a journalist who suggested that the United States allowed Pakistan to continue supporting the militants by avoiding criticising its policies publicly.
Ms Trudeau said that Pakistan had reiterated that it would not discriminate between terrorist groups "and we continue to call on them to live up to that commitment".
When asked if "words match Pakistan's actions", the official said: "I think words matter and we continue to encourage them to have their actions match those words."
http://www.dawn.com/news/1254051/us-asks-pakistan-to-take-concrete-action-against-haqqanis
--
Pak Must Respond Positively to Modi's Peace Move: Muslim Leaders To Basit
Apr 24, 2016
Pakistan must respond positively to Prime Minister Narendra Modi's "bold" decision to initiate dialogue process with Islamabad in order to create a conducive atmosphere between the two neighbours, Muslim leaders have conveyed to the Pakistani envoy in the Capital.
"Since Modi came to power he has taken a number of measures to reach out to Pakistan Prime Minister Nawaz Sharif to give a push to the dialogue process that remained suspended for several years. He did not miss any opportunity to remain in touch with the Pakistan government. It is incumbent on Pakistan to reciprocate his efforts to end the decades-long hostilities between the two nations," Muslim leaders conveyed to Pakistan high commissioner Abdul Basit and his colleague on Friday evening at the All India Muslim Majlis-e-Mushawarat's office. The AIMMM is an umbrella body of the Indian Muslim organisations.
Representative of the Jamat Islam, Jamait Ahle Hadis and several social groups were present at the 75-minute meeting held in a cordial and friendly atmosphere.
Initiating the discussion, Mujtaba Farooq, secretary general of the Mushawarat, said that friendly and good neighbourly ties between India and Pakistan is essential for peace in the sub-continent. He said India and Pakistan are twins, separated at birth, and there is need to develop strong ties between the two nations.
"We should not allow some disgruntled elements to derail the peace process," Farooq added, and lauded the Pakistan Prime Minister for also taking steps to correct the course of ties.
At this point Basit said that despite the Pathankot terror act, the two countries have not abandoned the dialogue process.
Mushawarat chief Navid Hamid said that Prime Minister Modi's visit to Lahore on December 25 last year was a landmark trip and it showed how serious he is in pursuing peace with Pakistan. The Pakistani leadership "needs to strengthen forces of peace and rein in those who try to scuttle it by their inhuman acts", he said. Extremism and terrorism are major threats to both nations and they should work together to eliminate it in all forms and manifestations, he added.
Hamid said that people of the two countries are for peace and every efforts should be made to promote it so as to usher in an era of prosperity in the South Asian region.
He said that "Indian Muslims have progressed in all fields and they have made huge contribution for promotion of Islamic ideology in its true perspective. This was admitted by noted Pakistani Islamic scholar late Dr Asrar Ahmed also".
The high commissioner also acknowledged the role of Muslims in nation building in India. He said that "India's secular and democratic system enabled them to achieve progress in various fields".
He also stated that Pakistan's minorities are also doing well in business and a good number of them are in government services, including foreign affairs and defence service. They have major say in decision making as a good number of seats are reserved in parliament for them, he added.
Sectarian and ideological conflict is a major threat to his country. Communal clashes are less as compared to attacks on various Islamic sects and groups, Basit stated.
Khawaja Shahid, Pro Vice chancellor of the Maulana Azad University, said that "Prime Minister Modi enjoys absolute majority in parliament and has shown a will to seek cooperation with Pakistan. It is the right time for the Pakistani leadership to reciprocate his efforts."
http://www.hindustantimes.com/india/pak-must-respond-positively-to-modi-s-peace-move-muslim-leaders-to-basit/story-cjwDo8hCmaujzT63pTLryI.html
--
Except one, JUI-F, JI senators have no declared sources of income
Apr 23, 2016
ISLAMABAD: Except for Senator Talha Mehmood of the JUI-F, none of the members of the upper house belonging to religious parties, including Jamaat-i-Islami (JI) chief Sirajul Haq, owns a car or have any source of earning.
According to the statements of assets filed by the senators with the Election Commission of Pakistan (ECP) for the fiscal year ending on June 30, neither deputy chairman Senate Maulana Abdul Ghafoor Haideri nor Maulana Ataur Rehman, a brother of the JUI chief, or any other senator of the party have any source of income.
Similarly, the JI chief Sirajul Haq has stated in his statement of assets that he had a limited agricultural land jointly owned by the family and another piece of 12 kanals in his native district of Lower Dir.
According to statements filed with the ECP, only Senator Talha Mehmood owns assets
Besides, his only investment was the share in a private school in Khal tehsil of his native district.
Sirajul Haq's statement of assets also showed that he received no remittances and his wife possessed no jewellery. They do not own any house or a car, motorcycle or any other vehicle. He has Rs1 million in three bank accounts. There is no mention of household furniture or any other asset, including weapons.
Maulana Ataur Rehman has two houses in D.I. Khan - one valued Rs400,000 and the other worth 2.50 million.
He too has not declared any source of income nor does he has any investments. There are only Rs800,000 in his account in a bank located in the parliament building that receives his salary as a senator.
Maulana Ata has no vehicle, his wife has 50 tola gold jewellery and the family has household furniture worth Rs50,000.
Deputy Chairman Senate Maulana Abdul Ghafoor Haideri's statement shows that there is no significant amount in his four bank accounts, and neither there is any liability against him.
He also has no source of income, investment, receivables and does not own any vehicle, jewellery etc. However, Maulana Haideri has a 10-marla plot in Bhara Kahu Islamabad that is valued Rs500, 000. Besides, he also has a house in Kalat worth Rs500,000 and a plot in Gwadar worth Rs150,000.
JUI-F Senator Mufti Abdul Sattar owns a madressah – Jamia Miftaul Uloom – in Mastung worth Rs6 million and also has a house worth Rs1.20 million. However, like the rest of his party members, he too has no significant assets and no liabilities.
Mufti Abdul Sattar stated that he had no car, his wife possessed no jewellery, no furniture worth mentioning, no investments and no source of income. His senate salary account has Rs53,000.
Likewise, JUI-F Senator Hafiz Hamddullah too has no source of income, no investments, no car or any other vehicle and has Rs103,317 in his salary account as a senator.
However, he has a family-owned house in Quetta that is worth Rs22.8 million with furniture worth Rs150,000. His wife has eight tola gold.
Meanwhile, the non-cleric JUI-F member of the Senate, Talha Mahmood, stated that he and his spouse owned assets worth over Rs427 million.
Senator Talha stated that the worth of his 20 industrial and residential properties was Rs314.72 million.
A known industrialist, Senator Talha has investments of Rs21.85 million, 10 vehicles - six owned by him and four belonging to his son - worth Rs47.44 million.
Senator Talha also has Rs28.17 million cash in banks and the total assets owned by his spouse is Rs13.5 million. But she has not listed the value of two houses in Sector F-7/1. They have household furniture worth Rs2.70 million.
However, contrary to the casual announcements made in some Senate standing committees about the weapons he possessed and his hunting experiences, Senator Talha did not list any rifle or other weapon in the statement.
http://www.dawn.com/news/1254077/except-one-jui-f-ji-senators-have-no-declared-sources-of-income
-----
Over 800 illegally appointed policemen face the axe in Sindh
IMRAN AYUB — April 24th, 2016
KARACHI: More than 800 policemen face dismissal from service as an inquiry committee has found that they were 'illegally' appointed and former provincial police chief had played a 'criminal role' in their appointment, according to officials.
An official who was part of the committee formed on the orders of the Supreme Court a few months ago told Dawn on Saturday that the committee had prepared its report after weeks of investigations and detected illegal appointments in the Sindh Reserve Police (SRP), Hyderabad, in the first phase, which were made during two consecutive years. All of them were appointed under direct involvement of the former inspector general, he said.
"A total of 820 employees of the SRP have been traced as appointed illegally," said a senior police officer who was a member of the committee.
"The DIG of SRP has been asked to issue all such appointees show-cause notices which will lead to their dismissal from service. The issuance of notices has been initiated and within a couple of months the process of dismissal will be completed," he said, adding that the committee was busy winding up its job.
He said the National Accountability Bureau (NAB) had recently mentioned the committee's report before the Supreme Court during the hearing of a case about investigation into corruption and illegal appointments in the Sindh police.
It particularly referred to the 'criminal role' of former Sindh IGP Ghulam Hyder Jamali in various illegal practices which cost the exchequer more than Rs2 billion apart from illegal appointments in different sections of the law enforcement agency. "It has been alleged in the instant case that illegal appointments have been made in the Sindh police," said the NAB report submitted recently to the apex court.
"In this regard information collected from the Sindh police reveals that in pursuance of the orders of the Supreme Court an inquiry committee was formed which found that 383 and 437 officials were illegally appointed during 2013 and 2014, respectively, in the Sindh Reserve Police, Hyderabad."
The NAB report, which heavily relied on the facts of the Sindh police inquiry committee's report, also gave details about misappropriation of funds under different heads, including purchase of uniforms, maintenances of buildings and vehicles and payment of investigation fee to officers.
"The committee has completed its job. After the dismissal of illegal appointees, the process of rehiring will be initiated by the Sindh police to recruit personnel purely on the basis of merit. It has been decided that another fair chance will be given to the dismissed policemen so they can prove their merit, which they did not in the past."
http://www.dawn.com/news/1253953/over-800-illegally-appointed-policemen-face-the-axe-in-sindh
-----
Mideast
Turkey's Seizure of Churches and Land Alarms Armenians
APRIL 23, 2016
ISTANBUL — The Turkish government has seized the historic Armenian Surp Giragos Church, a number of other churches and large swaths of property in the heavily damaged Kurdish city of Diyarbakir, saying it wants to restore the area but alarming residents who fear the government is secretly aiming to drive them out.
The city, in the heart of Turkey's predominantly Kurdish southeast, has been the scene of heavy fighting for nearly a year, since the Turkish military began a counterinsurgency campaign against militants from the Kurdistan Workers' Party, which ended a two-year cease-fire in July. Many neighborhoods have been left in ruins, and hundreds of thousands of people have been forced from their homes. Surp Giragos, one of the largest Armenian churches in the Middle East, was damaged in the fighting and forced to shut its doors.
Both the Armenians, for whom Surp Giragos is an important cultural touchstone, and the Kurds have discerned a hidden agenda in the expropriations. They say the government plans to replace the destroyed neighborhoods they shared with other minorities with luxury rentals and condominiums affordable only to a wealthier, presumably nonminority class of residents.
Some analysts agree, saying even some of the better-off Syrian refugees in Turkey could end up there.
"Solving ethnic and religious strife through demographic engineering is a policy of the Turkish government that goes back well over a century," said Taner Akcam, a prominent Turkish historian. "The latest developments in Sur," he added, referring to the historic heart of Diyarbakir, "need to be viewed through this framework."
Indeed, under President Recep Tayyip Erdogan, Turkey's governing Justice and Development Party has displayed a predilection for sweeping projects. It was a proposal to build a shopping mall in place of a razed central park in Istanbul that set off mass antigovernment demonstrations in 2013.
Mr. Erdogan announced the government's urban renewal plans for Diyarbakir in 2011, saying they would "make the city into an international tourism destination."
Shortly after that speech, the local housing administration started tearing down decrepit residential buildings in Sur, but opposition soon brought a halt to the demolition. Many of the buildings in Sur are protected, prohibiting big restoration projects. Mass construction can be carried out only if the government declares an urgent expropriation, as it has done now.
Prime Minister Ahmet Davutoglu said recently that the government would rebuild Sur to look like the scenic Spanish city of Toledo. "Everyone will want to come and appreciate its architectural texture," he said.
Yet for the Armenians and the Kurds, distrust of Turkey's intentions runs deep. Armenians still have vivid memories of what historians now call the World War I genocide carried out by the Ottoman Turks, in which 1.5 million of their countrymen died, and the Kurds have fought the Turkish government on and off for generations.
Diyarbakir is a polyglot city that is home to small Christian congregations of Assyrians, Chaldeans and Turkish converts, as well as to Armenians and Kurds.
Surp Giragos ("Surp" means saint in Armenian), which stands in Sur, closed in the 1960s for lack of parishioners but was renovated and reopened in 2011, part of a reconciliation process begun by the Erdogan government that has returned dozens of properties that the Ottoman Turks confiscated during World War I.
To many Armenians in the area, who lost touch with their family histories after the genocide and were often raised as Muslims by Kurdish families, the church has served as an anchor as they rediscovered their identities.
These "hidden Armenians" emerged as Turkey relaxed its restrictions on minorities, but now they say they again feel threatened.
That helps explain why the government's seizure of the church struck a particularly raw nerve with the Armenian diaspora and rights groups, who say the expropriation of religious properties and 6,300 plots of land in Diyarbakir is a blatant violation of international law.
"This is reminiscent of the events leading up to the start of the Armenian genocide on April 24, 1915, when properties were illegally confiscated and the population was displaced under the false guise of temporary relocation for its own protection," said Nora Hovsepian, the chairwoman of the Western Region of the Armenian National Committee of America.
"That temporary relocation," she added, "turned out to be death marches and a permanent disenfranchisement of two million from their ancestral homeland."
The Turkish government denies that those killings amounted to genocide, saying thousands of people — many of them Turks — died as a result of civil war.
The local governor's office defended the decision to expropriate the property in Diyarbakir, saying in a written statement that the main aim was to bring Sur's potential as a historic quarter to light by restoring registered buildings and replacing irregular structures with new ones that fit the city's historical fabric. Local officials have said the properties will be returned once they are restored.
But many communities in the area have lost trust in the government, and official statements have been dismissed as insincere.
"The government wants to seize the heart of Diyarbakir and singularize it, ridding it of its rich multifaith and multicultural structure," Abdullah Demirbas, a former mayor of Diyarbakir, said in a telephone interview.
A video distributed by the prime minister's office to illustrate the government's vision for the project has also been criticized for its focus on mosques and residential areas over other prominent religious establishments in the area.
One line of narration in particular drew the attention of religious minorities: "The call to prayer that rises from Diyarbakir's minarets will not be quieted down."
The Diyarbakir Bar Association has sued the government, claiming that the project is a work of "military and security reconstruction" and that it will not benefit Sur. The Surp Giragos Church is also preparing to take legal action against the order.
The developments in Sur have marred the steps taken by the Turkish government in recent years toward reconciliation with the nation's Armenian population.
Last year, a historic Armenian orphanage, built by dozens of descendants of people who survived the genocide, was returned by the government to the Gedikpasa Armenian Protestant Church Foundation, after months of campaigning and the intervention of Mr. Davutoglu.
At the time, Armenians worldwide hailed the decision as an example of how activism by Turkish Armenians could bear fruit.
But critics argued that the restitution of the land just before important elections was politically motivated, and said they doubted that other confiscated properties would be returned in a timely fashion.
"How can we have any trust left when the government backtracks on every positive step taken?" asked Anita Acun, a leader in the Armenian community in Istanbul. "But even so, the situation in Sur came as a surprise. We never imagined history would repeat itself."
That history, and the traumas associated with those bloody events, have been passed down through generations, and continue to reverberate among Armenians.
"We haven't been able to go to the church for months, and it's devastating to hear that it has been damaged in the fighting," said Onur Kayikci, a Kurdish resident of Sur, who recently became aware of his Armenian ancestry. "For us, it's not just a building or a place of worship. It's where we would come to put together the pieces of our history and identity together."
http://www.nytimes.com/2016/04/24/world/europe/turkeys-seizure-of-churches-and-land-alarms-armenians.html?_r=0
--
Lebanon, Christians, Under Islamist Threat
April 24, 2016
Islamic jihadist groups are threatening Lebanese Christians and demanding that they submit to Islam. Lebanon's Christians, descendants of Aramaic Syriacs, were the majority in the country a mere 100 years ago.
Saad Hariri, a Sunni Muslim politician supported by Saudi Arabia, has invited every Lebanese party to his office to sign a document confirming that Lebanon is an Arab state. This is clearly intended to turn Lebanon into yet another officially Arab Muslim state.
The next step will be to ask that the constitution of Lebanon be changed so that the country be ruled by Sharia law, as with many other Arab and Islamic states, including the Palestinian Authority (PA). The PA constitution declares: "The principles of Islamic Sharia shall be the main source of legislation."
Recent upheavals in Lebanon are making local Christians communities worry about their existence as heirs and descendants of the first Christians. Christians in the Middle East now are facing a huge genocide -- similar to the Christian genocide the followed the Islamic conquest of the Middle East in the 7th century A.D.
Islamic jihadist groups are threatening Lebanese Christians and demanding that they submit to Islam. Lebanon's Christians, descendants of Aramaic Syriacs, were the majority in the country a mere 100 years ago.
The demand for Christians to convert to Islam was one of the declarations issued by ISIS and other Islamic groups hiding in the mountainous border between Syria and Lebanon.
Saad Hariri, a Saudi-backed Sunni Muslim politician and the son of assassinated Prime Minister Rafik Hariri, recently invited every Lebanese party to his office to sign a document confirming that Lebanon is an Arab state. Arab state equals Islamic laws, as with all members of the Arab League. Why is it so important to Hariri or to the Sunni and Islamic world to include Lebanon as an Arab state and cancel its current name as a Lebanese state only?
And why do the Arab states, including the Palestinian Authority (PA), refuse to recognize Israel, with its 80% Jewish majority, as Jewish state, while at the same time trying to impose the definition of an Arab state on Lebanon, whose population is 35% non-Arab Christians?
There are approximately one million Syriac Maronites left in Lebanon, as well as another 700,000 Christians belonging to other churches. In addition, more than eight million Syriac Maronites live in the diaspora. These eight million Christians fled over the centuries because of persecution by Muslims, often conquerors of the Christian homeland. Lebanon was never a strictly Arab or Muslim. But that is the step that Saad Hariri, as a milder face of the expansionist ISIS ideology, would have us take -- under the guise of a modern, moderate, Sunni secular front.
Hariri's request revels what the Islamic world is planning for Lebanon, Israel and eventually Europe and the United States. World powers need to protect Christian, Jewish and other minorities in Middle East. Both Lebanon and Israel must remain homelands for persecuted minorities in Middle East -- a Christian homeland in Lebanon and a Jewish homeland in Israel -- connected to each other geographically, assisting each other economically, and perhaps soon with a peace agreement that could form a peaceful bridge in culture and human rights between the West and the East.
Bashir Gemayel, the great Christian Maronite Lebanese leader who was assassinated after being elected president in 1982, warned the West during Lebanese Civil War that if the Islamic forces fighting against Christians win, they would continue to the Western World, as they are, in fact, doing at present.
This agreement for an Arab Lebanese state being requested by the Sunni leadership is clearly intended to turn Lebanon into yet another officially Arab Muslim state. It aims to negate the rights of the original people in the land, just as the original Christian Copts of Egypt have been overrun, and the Aramaic Syriac Christians of Iraq have been overrun. In Lebanon, the original people of the land are the Aramaic-Phoenician Christians -- especially the Maronites -- who still preserve Syriac (the language Jesus spoke) as their sacred language. A full 95% of Lebanese villages are still called by Syriac Aramaic names. Islam and the Arabic language came to Lebanon late from Arabian Peninsula, after the seventh century.
Hariri's wished-for step might also be supported by the Shiite Muslim party of Hizballah: both the Sunnis and the Shiites are Islamic. The next step will be to ask that the constitution of Lebanon be changed so that the land of the cedars is ruled by Sharia law, as with many other Islamic states, including the Palestinian Authority. Article 4 in the constitution of the future Palestinian state clearly notes: "The principles of Islamic Sharia shall be the main source of legislation."
Implementing Islamic Sharia law means having Muslim sovereignty and control over the Aramaic Christian community.
If this Islamic ideology, implemented by so many countries, is not racism, then what is racism?
Why does the free world, including the churches and secular Western leaders, keep silent and demonize only Jewish Israel for protecting itself from the same threat and ideology?
"Speak the truth and the truth will set you free." The Christians of Lebanon and entire Middle East can save their existence only by adopting this sacred sentence.
Hariri's request revels what the Islamic world is planning for Lebanon, Israel and eventually Europe and the United States. World powers need to protect Christian, Jewish and other minorities in Middle East. Both Lebanon and Israel must remain homelands for persecuted minorities in Middle East -- a Christian homeland in Lebanon and a Jewish homeland in Israel -- connected to each other geographically, assisting each other economically, and perhaps soon with a peace agreement that could form a peaceful bridge in culture and human rights between the West and the East.
Bashir Gemayel, the great Christian Maronite Lebanese leader who was assassinated after being elected president in 1982, warned the West during Lebanese Civil War that if the Islamic forces fighting against Christians win, they would continue to the Western World, as they are, in fact, doing at present.
This agreement for an Arab Lebanese state being requested by the Sunni leadership is clearly intended to turn Lebanon into yet another officially Arab Muslim state. It aims to negate the rights of the original people in the land, just as the original Christian Copts of Egypt have been overrun, and the Aramaic Syriac Christians of Iraq have been overrun. In Lebanon, the original people of the land are the Aramaic-Phoenician Christians -- especially the Maronites -- who still preserve Syriac (the language Jesus spoke) as their sacred language. A full 95% of Lebanese villages are still called by Syriac Aramaic names. Islam and the Arabic language came to Lebanon late from Arabian Peninsula, after the seventh century.
Hariri's wished-for step might also be supported by the Shiite Muslim party of Hizballah: both the Sunnis and the Shiites are Islamic. The next step will be to ask that the constitution of Lebanon be changed so that the land of the cedars is ruled by Sharia law, as with many other Islamic states, including the Palestinian Authority. Article 4 in the constitution of the future Palestinian state clearly notes: "The principles of Islamic Sharia shall be the main source of legislation."
Implementing Islamic Sharia law means having Muslim sovereignty and control over the Aramaic Christian community.
If this Islamic ideology, implemented by so many countries, is not racism, then what is racism?
Why does the free world, including the churches and secular Western leaders, keep silent and demonize only Jewish Israel for protecting itself from the same threat and ideology?
"Speak the truth and the truth will set you free." The Christians of Lebanon and entire Middle East can save their existence only by adopting this sacred sentence.
---
Turkish-Dutch journalist detained over Erdogan tweet
Sun Apr 24 2016
ANKARA: A Dutch newspaper says one of its journalists has been detained in Turkey for questioning over a tweet she posted about President Recep Tayyip Erdogan.
Metro newspaper says Turkish-Dutch columnist Ebru Umar was detained on Saturday. The journalist tweeted that police were at her door and that she was being taken to a police station in the resort of Kusadasi.
Dutch and Turkish officials couldn't immediately be reached for a comment.
Turkish authorities have launched close to 2,000 lawsuits against people accused of insulting Erdogan.
Umar was detained as German Chancellor Angela Merkel and top EU officials were in Turkey to bolster a deal to stem the flow of migrants to Europe.
The EU leaders have been accused of not speaking out against Turkey's crackdown on freedom of expression.
http://www.dawn.com/news/1254139/turkish-dutch-journalist-detained-over-erdogan-tweet
---
Rocket projectiles fired from Syria land in Turkey's Kilis, wound six
Sun Apr 24 2016
Six people, including children, were wounded when rocket projectiles fired from Syria landed in the southeastern border province of Kilis on April 24.
Two Katyusha projectiles exploded in Kilis' central Demirciler neighborhood at around 10:40 a.m. Six people were wounded in the incident and immediately taken to hospital, as the scene was covered with a security cordon.
An investigation has been launched into the incident.
The Turkish military also shelled Islamic State of Iraq and the Levant (ISIL)-controlled positions in the Bab region in northern Syria following the incident.
Recently, three people were killed and six others were wounded when rocket projectiles fired from Syria hit Kilis on April 22, as the border province continued to be the target of attacks originating from Syria.
The total death toll in rocket landings in the border province has reached 15 since January.
http://www.hurriyetdailynews.com/rocket-projectiles-fired-from-syria-lands-in-turkeys-kilis-injuries-reported.aspx?pageID=238&nID=98241&NewsCatID=341
---
Nine Jews ejected from Temple Mount as Israel seeks to maintain calm
24-4-2016
Nine Jewish visitors to Jerusalem's Temple Mount, including three minors, were removed from the complex Sunday for violating visitation rules at the holy site, Israeli police said.
According to a statement from the police spokesman, 800 people visited the Temple Mount Sunday morning, 685 of which were tourists.
Security was increased around the West Bank, Jerusalem and the Temple mount last week ahead of the Jewish holiday of Passover, which began Friday at sundown, in an effort to prevent escalations in the city.
The compound, known to Muslims as the Al-Aqsa mosque but to Jews as the Temple Mount, is holy to both religions, and the holiest site in Jerusalem. It is administered by a Jordanian trust or "Waqf" but Israel controls access.
According to biblical tradition, the first and second Jewish temples were located at the site before being destroyed by the Babylonians and the Romans.
Clashes have often erupted at the site in recent years, over fears that Israel is plotting to change rules which currently state that Muslims can pray there, while Jews can visit but are not allowed to pray.
Israel has in the past limited Muslim access to al-Aqsa Mosque on the site, especially in times of heightened tension and around important holidays.
On March 20, Jordan said it would set up security cameras around the flashpoint compound to monitor any Israeli "violations", but last week back tracked on the decision after Palestinian objections, saying that the cameras could become "a potential source of conflict."
"Israel's support for placing cameras on the Temple Mount remains unchanged. That's because we believe in transparency," an Israeli official told AFP.
As the Passover holiday approached, Jerusalem conveyed messages to Jordan and the Palestinian authority emphasizing that Israeli is committed to the status quo at Jerusalem's Temple Mount and seeks to maintain calm during the holiday.
The message also said that at the same time, Israel would not accept deliberate provocations and attempts to inflame tensions.
Friday morning, police detained a total of ten Jewish activists who attempted to gain access to the Temple Mount to carry out the Biblical Passover sacrifice. One of the activists, Noam Federman of the banned ultranationalist Kach party, attempts to make the sacrifice every year, said the Israeli daily Haaretz.
At least four of the persons arrested were minors. Four baby goats which were intended to be sacrificed were confiscated by police and transferred to the municipality's animal control department.
Police said that the activists "threatened to undermine the peace."
Tensions surround not only the Jewish and Muslim population in Jerusalem, but also within denominations of Judaism itself as the Women of the Wall group fights for women's rights to pray at Judaism's holiest accessible site, the Western Wall.
Attorney General Avichai Mendelblit on Thursday prohibited the Women of the Wall from holding a priestly blessing ceremony for Passover at the Wall. In so doing, he cited a law which bars actions at holy sites which diverge from "local customs," Haaretz reported.
The Priestly Blessing ceremony involves Jews from the Cohanim priestly caste gathering to bless the crowds in a ritual which dates back to biblical times. The blessing can only be performed by Jewish men who are believed to be of direct patrilineal descent from Aaron, the brother of Moses.
The group reached a compromise with the attorney general over the weekend, said Israel's Ynet news site.
Under the compromise, the women will be allowed to perform a partial ceremony at a specially sequestered part of the Wall, during which they can read the prayer verses, but cannot wear prayer shawls or make the gesture of raising their hands over the crowd in blessing, said Ynet. Wearing the shawl and blessing the crowd are the two main aspects of the ceremony.
Women of the Wall have run afoul of the Orthodox establishment in recent years by wearing prayer shawls and donning other ritual garb at the wall, with some arrested for disturbing the public order.
A UNESCO resolution passed earlier this month which denied Jewish claims to the Temple Mount and Western Wall has left Israeli politicians fuming.
The resolution refers to the Temple Mount solely as 'Al-Aqsa Mosque' - and the Western Wall as the Al-Buraq Plaza. The resolution also accused Israel of planting "fake Jewish graves" in eastern Jerusalem.
The motion passed with 33 votes in favor, six against, and 17 abstained.
Prime Minister Benjamin Netanyahu slammed the resolution as "absurd" and ignoring a "fundamental part of human history."
http://www.i24news.tv/en/news/israel/diplomacy-defense/110869-160424-nine-jews-ejected-from-temple-mount-as-israel-seeks-to-maintain-calm
---
South Asia
Taliban militants suffer casualties in Jawzjan and Uruzgan clashes
Sun Apr 24 2016
At least 19 militants were killed in separate operations conducted in northern Jawzjan and southern Uruzgan provinces.
The Ministry of Interior (MoI) said the operations were jointly conducted by the Afghan National Security Forces on Saturday evening.
"Yesterday evening, Afghan National Security Forces conducted an anti-terrorism joint operation to clear some of the areas from terrorists and enemies of peace and stability of Afghanistan," a statement by MoI said.
The statement further added that the operation was conducted in Gogardak region, Shabarghan city capital of Jowzjan province, as a result 15 armed militants were killed and 10 others were wounded.
The clearance operation still continues against armed insurgents in Shabarghan City, MoI added.
"In a separate report, yesterday evening, Afghan National Police attacked Taliban's sanctuaries in Nikroz village, Khas Oruzgan district of Oruzgan province, as a result four armed Taliban were killed and one was wounded," MoI said, adding that two Afghan National Policemen were wounded during the operation.
The anti-government armed militant groups have not commented regarding the reports so far.
Both Jawzjan and Uruzgan provinces are among the relatively voalatile provinces where anti-government armed militants are active in its remote districts.
The militants frequently carry out insurgency activities which comes amid rampant Taliban-led insurgency as the group announced its spring offensive earlier this month.
http://www.khaama.com/taliban-militants-suffer-casualties-in-jawzjan-and-uruzgan-clashes-0748
--
Pakistan Says 2 Security Personnel Wounded In Mortar Fire From Afghanistan
Sun Apr 24 2016
Pakistani soldiers killed in Afghan borderThe Pakistani authorities have said two security personnel were injured in mortar fire from Afghanistan, including a major and another security personal.
The security officials quoted by local media have said at least nine shells were fired on the Ziarat checkpost at around 4.30pm.
The officials further added that the injured personnel have been identified as Major Farrukh and Havaldar Imran Khan and said they had been taken to Peshawar by a helicopter.
This comes as clashes erupted among the Afghan and Pakistani border forces in Goshta district of eastern Nangarhar province.
Local officials in Nangarhar said the clash erupted after the Afghan forces responded to heavy shelling by Pakistani military from across the Durand Line.
The officials said a soldier of the Afghan Border Police lost his life and two others were wounded during the clash which continued for several hours.
Clashes among the Afghan and Pakistani forces along the Durand Line have not been rare as numerous incidents have taken place in the past.
A similar incident took place in Goshta district earlier last month following Pakistani militia forces attack in Anarki area of Goshta district.
http://www.khaama.com/pakistan-says-2-security-personnel-wounded-in-mortar-fire-from-afghanistan-0747
------
Top Taliban leader killed in a special military operation in north of Afghanistan
Sun Apr 24 2016
Senior Taliban leader killedA top Taliban leader was killed during a special military operation conducted by the Afghan National Security Forces (ANSF) in northern Parwan province of Afghanistan.
"During a special operation of Afghan National Police, deputy Taliban so-called district governor for Shinwari district of Parwan province, named Alamuddin was killed," a statement by the Ministry of Interior (MoI) said.
The statement further added that the operation took place in Daraz Gard village, Shinwari district of Parwan province, yesterday evening.
"Alamuddin was involved in many terrorist and destructive activities in this district and other areas of Parwan province," the statement added.
The Taliban militants group has not commented regarding the report so far.
Parwarn is among the relatively volatile provinces in northern Afghanistan where anti-government armed militant groups are actively operating and often carry out insurgency activities.
Meanwhile, the Ministry of Interior said a mine planter was killed by his own explosives while placing a roadside bomb in the main road of Bala Block district of Farah province, yesterday evening.
http://www.khaama.com/top-taliban-leader-killed-in-a-special-military-operation-in-north-of-afghanistan-0743
--
Taliban shadow judge for Jawzjan province killed in special military raid
Sun Apr 24 2016
The shadow provincial governor of the Taliban group was killed in a special military operation conducted by the Afghan security forces in northern Jawzjan province.
The Ministry of Interior (MoI) said the operation was conducted in Qazan Mazo village in Manjigak district.
A statement by MoI said the Taliban shadow judge was identified as Mullah Abdul Rahman who was killed together with his 5 companions.
The statement further added that Mullah Rahman was involved in desert trial of innocent civilians besides having active role in majority of terrorists attacks.
According to the Ministry of Interior, the Afghan forces also confiscated a PK machine gun, 1 rocket launcher, 1 Ak-47 assault rifle and 1 motorcycle belonging to the militants.
The Afghan security forces and the local residents did not suffer any casualties during the operation, the ministry added.
The Taliban group has not commented regarding the report so far.
Jawzjan is among the relatively volatile provinces in northern Afghanistan where anti-government armed militant groups are actively operating in a number of its districts and frequently carry out insurgency activities.
http://www.khaama.com/taliban-shadow-judge-for-jawzjan-province-killed-in-special-military-raid-0746
--
Clash among Afghan and Pakistan forces in Goshta district of Nangarhar
Sun Apr 24 2016
A clash erupted among the Afghan and Pakistani border forces in Goshta district of Nangarhar province, local officials said Sunday.
The incident took place after the Pakistani forces started shelling Goshta district, forcing the Afghan forces to respond.
The officials further added that clashes continued for several hours, claiming the life of border police force and leaving two others wounded.
There are no reports regarding the casualties of the Pakistani border forces.
This comes as a similar incident took place in Goshta district earlier last month following Pakistani militia forces attack in Anarki area of Goshta district.
The Pakistani military has stepped up cross-border incursions during the recent months which comes after considerable reduction in indiscriminate shelling during the past one year.
The Pakistani air force helicopters also violated the Afghan air space by entering the Afghan soil and dropping several bombs in eastern Kunar province of Afghanistan earlier last month.
The cross-border incursions by Pakistani forces sparked furor among the Afghan officials with the Afghan officials saying such violations harms the national sovereignty of Afghanistan.
http://www.khaama.com/clash-among-afghan-and-pakistan-forces-in-goshta-district-of-nangarhar-0745
--
Kabul University lecturer loyal to ISIS terrorist group arrested
Sun Apr 24 2016
A University teacher in Kabul has been arrested by the security forces for being affiliated with the Islamic State of Iraq and Syria (ISIS) terrorist group.
Sources privy to the development have said the university Mawlavi Maroof was arrested for speaking spreading propaganda in favor of the terror group among the university students.
A spokesman for the Ministry of Higher Education Faisal Amin said Mawlaavi Maroof was a lecturer in Sharia faculty and is currently in custody of the security forces.
He did not provide further information regarding the circumstances surrounding his detention, saying they are only aware that the lecturer has been arrested.
Meanwhile, the students in Kabul University said the lecturer was speaking against the government of Afghanistan and was calling it an un-Islamic system.
The loyalists of the Islamic State are attempting to gain and expand foothold in the country as the Afghan security forces as well as the US forces have stepped up counter-terrorism operations against the terror group in Afghanistan.
This comes as a spokesman for the US-led coalition forces in Afghanistan earlier said the Islamic State of Iraq and Syria (ISIS) terrorist group has the potential to be an 'enormous' threat in Afghanistan.
The chief of communications for the coalition, Brigadier General Charles Cleveland, has said the threat exists despite the group has received major setbacks during the recent months, pointing towards the growing US forces airstrikes against the loyalists of the terror group.
The concerns prompted Obama administration to grant more authorities to the US forces in Afghanistan to increase airstrikes against the terror group with reports suggesting the US Air Force has dropped more than 250 bombs and missiles in January and February targeting ISIS loyalists.
http://www.khaama.com/kabul-university-lecturer-loyal-to-isis-terrorist-group-arrested-0742
---
America
Texas: Muslims and Police Come Together
Apr 24, 2016
When terror strikes in a Paris or a Brussels, police in Austin step up their patrols around mosques — not to search for terrorists but to ensure safety of Muslims here.
"Whenever these attacks happen, we get a call from a police department saying, 'We're patrolling. You might be seeing more visibility,' " said Nur Ahmad. Ahmad — the North Austin Muslim Community Center's imam, or priest — said he appreciates the department's presence.
After such large-scale terrorist attacks by jihadists, the fear of other terror attacks may grow among some non-Muslim Americans. Austin imams said American Muslims share those fears but also must worry about confrontations, vandalism and violence committed by people who take their frustrations out on local Muslims. In November, a few days after the terrorist attacks in Paris, members of the Islamic Centre of Pflugerville found the mosque's door covered in feces.
Muslims in America have been a frequent topic on the presidential campaign trail, with the rhetoric gaining intensity after Paris and Brussels. Donald Trump has called for a database of Muslims in America and for a ban on Syrians entering the country "until we find out what the hell is going on." Ted Cruz called for police to "patrol and secure" Muslim neighbourhoods in the United States.
The Texas senator, whose hometown of Houston has the largest Muslim population in Texas, said "we need to empower law enforcement to patrol and secure Muslim neighbourhoods before they become radicalized."
A spokesperson from the Cruz campaign said in a statement that the Texas Republican believes "innocent, peaceful Americans, no matter their faith, deserve to live in safe neighbourhoods … and that includes preventing radical Islamic terror cells from taking root in them."
"The police should have every tool available to follow leads and take action against those who would do us harm. That is what Cruz is calling for and it is the basic responsibility of our elected leaders — to prioritize the safety of our citizens," said Alice Stewart, communications director for Cruz's presidential campaign.
Austin Police Chief Art Acevedo sees the relationship between police and the local Muslim community differently.
"We understand that you keep a community safe by engaging and building a relationship with the community," Acevedo said.
Austin imams said they wish non-Muslims understood that rhetoric that singles out Muslims can be counterproductive in their fight against terrorism, which they're battling by teaching peace at their mosques.
"Surveillance and patrolling is not the solution," said Attia Omara, the imam at the Islamic Center of Greater Austin. "Because we're doing the patrolling. I'm doing the patrolling in my mosque. We watch their talk, hear what ideas they're thinking about. Every single speech we give, every talk we give, minimizes the chance of radicalization."
Omara, who is originally from Egypt, said he condemns terrorist attacks at his mosque when they happen throughout the world. He also views his mosque's weekend Islamic school, which teaches religion classes for boys and girls 6 to 17, as a great way to keep young Muslims from becoming radicalized.
"We teach classes about how to be aware of radicalization and how to protect your soul," Omara said.
Mohamed-Umer Esmail, the imam at Nueces Mosque in downtown Austin, said making that clear to Muslim children and teens is important to imams and parents alike.
"A lot of parents, since 9/11, stopped sending their children to the mosque for fear they might become radicalized," Esmail said. "We have that in mind. We want to make sure our mosque stays away from any hint of radicalization. If any imam preached radical ideas, they'd be fired."
Interfaith events in Austin have emphasized that the community is in this fight together as Americans, Ahmad said. University United Methodist Church at 2409 Guadalupe St. will host an interfaith event on April 28 to oppose anti-Muslim sentiment, according to church leaders.
These three imams said they have a good relationship with APD and Acevedo, an immigrant himself who was born in Cuba.
"We don't see any benefit in demonizing an entire religion or culture," Acevedo said. "When people feel demonized, ostracized, that's an environment that creates extremist views. … In an event that they know somebody in their own community who may be succumbing to those extremist views, they know they can reach out to us and we'll make sure they're safe."
As a regular part of Austin police cadet training, Esmail speaks to cadets about how to get to know the Muslim community and the challenges that Muslims face in Austin.
Mike Sheffield, who heads Austin's Community Policing Division, said getting to know a community, rather than patrolling it, means working with people rather than against them.
"Rational people, they understand that," Sheffield said. "You can't fight an idea with guns and soldiers. You fight an idea with another idea."
http://muslimvillage.com/2016/04/24/118096/texas-muslims-polices-join-forces/
--
On banning Muslims from entering the United States
Apr 23, 2016
There's so very, very much that could be said about this thing. But I'm short of time, so I'll just make a couple of basic points:
1.
Islam is not an organization, any more than Protestantism is an organization.
There are various Protestant denominations (e.g., the United Methodist Church, the Church of England, the Assemblies of God, and so forth), and there are many hundreds, if not many thousands, of Protestant organizations (e.g., Samaritan's Purse, Christian Research Ministries, Oral Roberts University, Wm. B. Eerdmans Publishing, and etc., and etc.), but there is no single organization called The Protestant Church.
Likewise, there are various Islamic organizations around the world (e.g., al-Azhar University, Islamic Relief Services, the American Islamic Forum for Democracy, al-Qa'ida, the Muslim Students' Association, the "Islamic State," Muslims for America, and thousands of local mosques), but there is no Islamic "church" and there is no single Islamic organization of which all Muslims are members.
Accordingly, Muslims are absolutely not "by definition" barred from entering the United States because they belong to "an organization seeking to overthrow the government of the United States by 'force, violence, or other unconstitutional means.'"
Muslims don't necessarily belong to any particular "organization."
But the problems with the statement above don't end there.
2.
Plainly, not all Muslims seek to overthrow the government of the United States. I shared a platform last week in Phoenix, for example, with Dr. M. Zuhdi Jasser, a politically conservative physician — he was a Marco Rubio supporter, and now leans toward Ted Cruz — who also served for years as a lieutenant commander in the U.S. Navy.
At any given time, there are many Muslims serving in our armed forces, among our law enforcement personnel, and in other positions of public trust. And, overwhelmingly, they do so as well as their non-Muslim colleagues do.
For what it's worth, when I visited the Indiana headquarters of the Islamic Society of North America (ISNA) just prior to the 2012 presidential election, the imam who had just led the Friday prayer and delivered the weekly sermon confided in me that he was intending to vote for Mitt Romney. Back when I was in graduate school, one of my fellow grad students was a very devout imam from Pakistan who was an enthusiastic fan of Ronald Reagan.
3.
Some views of Islam are definitely antithetical to the principles on which the United States of America are founded. But not all. And — I speak here as someone who regularly teaches courses on the Qur'an (in both English and Arabic) and on the Islamic faith — I flatly assert that there is nothing in Islam or its sacred text that is necessarily antagonistic to the Constitution of the United States or to the principles of American freedom. Everything depends upon interpretation. To paint with too broad a brush too broadly is to be deeply unjust.
4.
When the statement mentions Islam's "form of government," I'm curious to know precisely which "form of government" that is.
Are we talking about a caliphate? If so, precisely what is its nature to be? (Muslim thinkers have disagreed on this matter for centuries, profoundly and, often, brilliantly.) Or should it be a sultanate? Or an emirate? And what, if any, should be the place of a shura consultative council? Must the ruler be a lineal descendant of Imam 'Ali, as the Shi'a affirm? Or is that unimportant, as Sunnis have tended to think? And there are various forms of Shi'ism — for example, Twelver, Zaydi, and Isma'ili. Which of them will give us Islam's "form of government." (They all disagree.) And which legal school or interpretation of shari'a provides the "form of government" taught by Islam? Would that be the Maliki school of jurisprudence? Or, perhaps, the Hanbali? Or the Hanafi? Or the Shafi'i? Or the Ja'fari? Or the now-extinct Zahiri?
And that's just the tip of the iceberg.
There is no single "form of government" mandated by Islam.
When nonsense like that contained in the graphic above comes across your Facebook page, please don't pass it on unless you have good cause to believe it accurate, just, and fair. Most such things that I've seen have been none of those things.
http://www.patheos.com/blogs/danpeterson/2016/04/on-banning-muslims-from-entering-the-united-states.html
--
A Lesson America Can Teach
Apr 23, 2016
Europe clearly has a problem with anti-Semitism, Islamophobia, and intolerance toward new immigrants. In an effort to examine this worrisome set of concerns, the commission on which I sit as a member—the United States Commission on International Religious Freedom—recently convened a discussion with European Muslims and Jews.
I delivered closing remarks and used the opportunity to note that while the American experience could provide a helpful model, I did not see the exchange as a finger pointing exercise, since anti-Semitism and Islamophobia are not alien to the United States. FBI hate crime statistics establish that in the last reporting year, 58% of all religion-based hate crimes were directed against Jews, 17% were against Muslims. And according to a 2015 report issued by the Southern Poverty Law Center, there are 34 anti-Muslim hate groups operating in the US, 10 Holocaust denial groups, and 19 anti-Semitic "Christian identity" organizations.
Most of these anti-Semitic groups—though dangerous—operate on the fringes of our society. They have been repudiated and find no place in our mainstream political discourse. Nevertheless, their impact is still felt in the hundreds of hate crimes they foment.
This has not been the case with anti-Muslim speech and behavior. While many of the Islamophobic groups also spew their hate in dark corners, anti-Muslim rhetoric has found its way into our mainstream political discourse creating a negative political climate for American Muslims.
In 2010, for example, there was the national campaign to block efforts to build a Muslim community center in southern Manhattan. In 2012, five presidential candidates declared that before they would allow any Muslim American to work in their administration, they would have to take a special loyalty oath. And in this year's presidential contest, major candidates have called for a ban on all Muslim immigrants to the US.
The anti-Muslim campaign made its way down to the state level. Since 2010, 36 state legislatures have either passed or are considering legislation designed to block the application of Sharia law—a gratuitous and bizarre effort, at best, since no one has ever proposed introducing Sharia law. The entire campaign has simply been one of fear-mongering using the Muslim community as a foil.
The impact of this incitement has been disastrous on public opinion. In 2010, polls showed that the American public still had a net favorable attitude toward American Muslims—48% favorable to 33 unfavorable. By 2015, those numbers had dramatically shifted to 33% favorable vs. 37% unfavorable.
Not only has this campaign had an impact on attitudes toward Muslims, in general, it has influenced the public's attitudes toward welcoming new immigrants from Muslim countries. The result is that American attitudes have become almost identical to the intolerant views of some Europeans.
In a recent poll conducted by Zogby Research Services in six European countries and the US, we found that while in almost every country (except the UK) a majority or plurality would strongly support welcoming European immigrants into their communities, in every country a majority or plurality would strongly oppose welcoming Muslim immigrants.
So we have a shared problem. Nevertheless, there are still lessons that can be learned from the American experience that can be helpful for Europeans to consider. Despite the current negative climate being created by bigots and Islamophobes, America has traversed the road to intolerance before and has always found a way to right itself. The solution can be found in the absorptive quality of the American identity.
Immigrants from all over the world have come here—faced hardships, at first—but then become "American". In the mid-19th century, Irish Catholic churches and the homes of Irish immigrants were burned to the ground. Eastern and Central Europeans were denounced as "lazy drunkards". Syrians were called "parasites" and "trash". Italians were lynched in the South in the early part of the 20th century or persecuted as potential anarchist saboteurs, and Jewish Americans were tormented as socialists or Communists. German, Italian, and Japanese Americans were rounded up and incarcerated during World War II.
But that was never the end of the story, because despite the rantings of bigots, no ethnicity defines being American. It hasn't been easy and there have been those who resisted welcoming the newest group—but, in the end, the bigots always lost and the idea of becoming American has always won out.
Becoming American is like alchemy. It is transformative. And as successive waves of immigrants have become American, the idea of America, itself, has changed. Who can even begin to describe "American" culture, fashion, music, or cuisine, without seeing the impact of Irish, Polish, German, Italian, African, Hispanic, Jewish, and Arab.
This matter of an ever-expanding American identity and the absorptive and transformative capacity of America, defines the difference between the US and European experiences. And it is important—because it provides a light at the end of the tunnel for our diverse ethnic and religious communities.
I have experienced it in my own life and that of my community and I know that despite the current rantings of the likes of Trump, Gingrich, Cruz and company, within a generation, change will come. The problem is that this process of inclusion and transformation doesn't yet apply in Europe. After three generations of Pakistanis in the UK, North Africans in France, or Kurds in Germany, they are still seen as foreigners—Pakis, Arabs, or Turks.
This came through in a recent painful and poignant editorial in the New York Times written by Zia Haider Rahman. He writes of his frustration at still being referred to as a Bangladeshi despite the fact that "I hold a British passport and don't hold a Bangldeshi one...don't even speak Bengali...was educated in Britain, worked in Britain".
He concludes that "it is Britain's inherent cultural problem with otherness that makes it so difficult for the native to call me British".
And so, despite our shared problem with Europe, this is the lesson America can teach. It may take us some time and, in every age, our bigots are still with us, but our immigrants and their children do become American and, in the process, we change the very meaning of being American. Ask Barack Hussein Obama, Bernie Sanders, Leon Panetta, or Norm Mineta. Or, you can ask me—the son of a Syrian/Lebanese illegal immigrant, who became an American.
http://www.huffingtonpost.com/entry/a-lesson-america-can-teac_b_9760538.html?section=india
--
Southeast Asia
Indonesia, Turkey, ADB Establishes Bakal Mega Islamic Bank
24/04/2016
The Indonesian government returned to the meeting three partite with representatives of the Islamic Development Bank (Islamic Development Bank / IDB) and Turkey to discuss the establishment of Mega Islamic Bank (MIB). The meeting was held in a series of Spring Meetings of the World Bank / Fund International Monetary (The IMF-World Bank Spring Meeting) last week and was attended by the Minister of Finance Bambang PS Brodjonegoro, President of the Islamic Development Bank (IDB) Ahmad Mohamed Ali Al Madani and Deputy Prime Minister and Minister of Finance of Turkey Naci Agbal. Head of Fiscal Policy ( BKF) Suahasil Nazara said in the meeting, Indonesia, Turkey and the IDB agreed to coordinate more closely in realizing the MIB.
"There has been an agreement to assign one group, a senior official to discuss more on the institutional structures ( governance structure ) and business schemes of institutions Mega Islamic Bank," said Suahasil at the Ministry of Finance (MoF), Jakarta, Friday (22/4) . Citing studies Deloitte audit institutions, the demand of islamic financial instruments in the world is big enough. That, said Suahasil, became the basis of the formation of the MIB. One of the things that concern in the meeting, the possibility of operational activities carried out in three separate regional, for example, partly in Jakarta, Istanbul, and Jeddah. Targeted, organizational structure and business schemes of the MIB can be completed from within 6 months. After that, the countries involved will discuss the capital structure.
http://www.cnnindonesia.com/ekonomi/20160422191945-78-125944/indonesia-turki-adb-bakal-dirikan-bank-mega-islamic/
--
The Indonesian military officials Ask for Assistance Moro Muslim Leaders Release Hostages
24/04/2016
Indonesian military officials reportedly met Muslim leader and founder of the Moro National Liberation Front (MNLF), Nur Misuari, in the Sulu region, to assist in the liberation of 14 Indonesian citizens who were held hostage Abu Sayyaf.
This was expressed by Chairman of the MNLF Islamic Command Council, Mudjahab Habib Hashim told AFP, Sunday, April 24, 2016. According to Hashim, a highly respected figure in the southern Philippines, Misuari assessed could use its influence on the militant group.
"An Indonesian military officials privately met with Misuari in the last hideout in Sulu. The meeting took place four or five days ago, and facilitated by local officials of Sulu," said Hashim. He also said that Misuari responded positively to the request of military officers who was not identified it.
Meanwhile, News.abs-cbn website, said that Misuari may persuade the Abu Sayyaf to release some of their hostages.
"He (Misuari) indicates that Alhabsi Misaya, Abu Sayyaf leaders involved in the kidnapping, is a former MNLF commander," he said.
Misaya also allegedly responsible for a series of kidnappings and beheading of several foreign captives.
Hashim also said that Misuari had a high respect for Indonesia, which hosted the 1996 peace agreement between the MNLF and the Philippine Government in Jakarta in an era Foreign Minister Ali Alatas.
MNLF official said the Indonesian government still recognizes the leadership of Misuari, even after the latter led hundreds of rebels who laid siege to Zamboanga City in 2013. ***
http://www.goriau.com/nasional/pejabat-militer-indonesia-minta-bantuan-tokoh-muslim-moro-bebaskan-sandera.html
--
URL: https://www.newageislam.com/islamic-world-news/new-age-islam-news-bureau/muslims-in-india--compelled--to-leave-their-homes,-migrate-to-slums-where-other-muslims-live--un-official/d/107086