New Age Islam News Bureau
17 Sept 2018
• Muslims Have Taken Care of Laddhewala, Muzaffarnagar, Temple for 26 Years, Left Behind By the Hindus Sometime In The Early 1990s
• Horrific Video Shows Man Hung By Crane in Iran Public Execution
• UN Human Expert Condemns Suu Kyi as 'Fig Leaf for Genocide'
• Pakistan-Born Afghan Refugees to Be Granted Nationality
India
• Muslims Have Taken Care Of Laddhewala, Muzaffarnagar, Temple Left Behind By the Hindu Sometime In The Early 1990s
• Religious and Political Leaders across the Spectrum Come Together To Call for 'Quami Ekta'
• Nepal's military exercise with China is just a temporary alliance: Army Chief Bipin Rawat
• Hizbul Mujahideen Steps outside Jammu and Kashmir into Assam for Recruits
• Co-op Commissioner Issues show cause notice to Pune Muslim Bank Chairman
--------
Mideast
• Horrific Video Shows Man Hung By Crane in Iran Public Execution
• Israel, Biased US Working Against Peace: Palestinian President Abbas
• 'Secret jails in Aden do not exist,' Yemeni prison director says
• Saudi war machine revs up as UN envoy visits Yemen
• Saudi-led airstrike on radio station kills 4 in Yemen's Hudaydah province
• Israeli forces demolish Palestinian family's home in al-Ramla City
• Yemeni forces shoot down Saudi spy drone in Jizan
• Yemen coalition resumes offensive to liberate Hodeidah after Houthis reject peace talks
• Israel to deport French-US professor arrested at demo
--------
South Asia
• UN Human Expert Condemns Suu Kyi as 'Fig Leaf for Genocide'
• 41 Militants Killed, Wounded In Paktika and Ghazni Provinces: 203 Thunder Corps
• Speakers for more people-to-people Indo-Bangla contact
• Ghani, Abdullah hold talks on key national issues with ex-Jihadi leader
• Taliban likely to demand release of Anas Haqqani for the revival of peace talks
• Myanmar youth, journalists demonstrate against jailing of Reuters reporters
• Kabul's targeted Shiites rely on armed community protection force against Daesh
• Insurgents attack police base in Afghanistan, killing 5
--------
Pakistan
• Pakistan-Born Afghan Refugees To Be Granted Nationality
• Eradication of Terrorism Is Govt's First Priority: MoS Interior
• Papers Indicate Afghan Issue Not Sole Cause of US-Pakistan Discord
• PM Khan expresses concern over surge in Karachi street crime
• US diplomat claims Pakistan opening border with Afghanistan for Indian trade
• Govt to grant citizenship to children of Afghan refugees
• Sikhs Struggle To Save Their Culture In Pakistan Through Informal School
• MQM-P apprised PM Imran of reservations over census: convener
• Distinguished scholars from around the world to attend a two-day conference in Islamabad
--------
Southeast Asia
• Pas-Umno Cooperation, Will It Be For Islam or Politics?
• Prosecuted Uighur Muslims Are Being Ignored — I Know, Because I Am One Of Them
• PAS to ensure political survival of Malays, Islam
• Hadi: Both parties must help defend Malay interests
• Militants Free 3 Indonesian Hostages in Southern Philippines
• Prabowo-Sandiaga signs pact with GNPF, promises to uphold religious values
--------
North America
• Federal DHS Grants on Extremism Concern Muslims in Michigan
• Muslim Workers in US Fired After Dispute over Namaaz to Get $1.5 Mn in Compensation
• Taliban Call for Closure of US Bases, Prisoner Release
• Trump keeps backing Saudi despite Yemen atrocities
• US revokes residency of Palestinian envoy
--------
Arab World
• Turkey Plans to Force Europe Make Concessions Using Terrorists in Idlib
• Bodies of More Civilians Killed in US Attacks Unearthed in Syria's Raqqa
• US Army Suffers Casualties in ISIL's Offensive in Northeastern Syria
• French Ground Forces Spotted in Syria in Spite of Paris' Silence
• Syrian Army Purges More Regions of ISIL in Deserts of Homs
• After Damascus raid, Israel says working to keep weapons from foes
• Kurds opt out of Assad regime's first municipal polls since 2011
--------
Africa
• Agreement in Jeddah Ends Hostilities between Eritrea and Ethiopia
• Sultan, Ambode to Chief Imam: Promote Peace, Harmony
• Nigeria: Concern Over Resurgence of Boko Haram Attacks in North-East
• Chad army kills two civilians near Libyan border
• At least eight killed in extremist attacks in Burkina Faso
• Nigerian soldiers repel Boko Haram ambush – Official
--------
Europe
• Turkey Jails British Ex-Soldier Fighting With Kurdish YPG for 'Terror' Links
• Tehran knocks police work after Iranian embassy in Paris attacked
• London Mayor Sadiq Khan calls for second Brexit referendum
• Police nab far-right extremists in troubled German city
Compiled by New Age Islam News Bureau
URL: https://www.newageislam.com/islamic-world-news/muslims-taken-care-laddhewala-muzaffarnagar/d/116403
--------
Muslims Have Taken Care of Laddhewala, Muzaffarnagar, Temple for 26 Years, Left Behind By the Hindus Sometime In The Early 1990s
Sep 17, 2018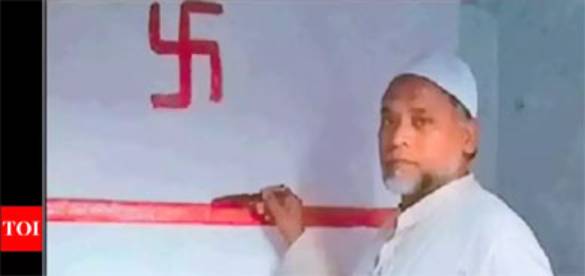 Locals living in the area clean the shrine daily and also pool in money ahead of Diwali every year to get it whitewashed.
------
MUZAFFARNAGAR: About a kilometre into the road that leads to Laddhewala in Muzaffarnagar city, a dirty signpost welcomes visitors to this small, nondescript locality. The lanes soon start getting narrower, about 4-foot-wide, between rows of concrete houses. In one sleepy corner of an alleyway, cramped between two buildings, is a solitary temple left behind by its Hindu households sometime in the early 1990s, post the Babri Masjid demolition.
Twenty six years later, this shrine is still maintained by its Muslim neighbours, who clean it daily, whitewash it every Diwali and protect it from squatters and stray animals. Meharbaan Ali, 60, a resident of Muslimdominated Laddhewala, still remembers the days when the Hindu families had left the area in the aftermath of communal clashes. "Jitender Kumar was one of my closest friends. I tried to stop him from leaving, despite the tension. But he left nevertheless, along with many other families, with the promise that they would be back some day. Since then, residents here have been taking care of the temple," he said.
There are around 35 Muslim families living in the locality and many of them, like Ali, are hopeful of the return of their Hindu neighbours. Locals said that around 20 Hindu families were living here at that time and the temple was built sometime around 1970. "The shrine is regularly cleaned and its walls periodically painted. We want them to come back and take control of it," said Zaheer Ahmad, another local.
Nadeem Khan, a former local municipal ward member, said, "Locals pool in money ahead of Diwali every year to get it whitewashed. They make it a point to keep it clean every day." The temple, however, does not have an idol. "There used to be one before 1992. When the families left, they took away the idol with them too," added Ahmad, who lives next to the shrine.
The temple today is looked after by residents Gulzar Siddiqui, Pappu Bhai, Kayyuam Ahmed, Naushad, Zahid Ahmed and Maksood Ahmed.
"No Hindu family lives here but if we let anyone damage their place of worship, they will lose confidence in us. We do not want that to happen which is why we look after the shrine," said Siddiqui. TOI had earlier reported how a 59-year-old Hindu mason in Muzaffarnagar's Nanheda village has been taking care of a 120-year-old mosque there. The village, located around 40km from the district headquarters, does not have a single Muslim family.For 26 yrs, Muslims have taken care of this temple
https://timesofindia.indiatimes.com/india/for-26-yrs-muslims-have-taken-care-of-this-temple/articleshow/65835062.cms
--------
Horrific video shows man hung by crane in Iran public execution
16 September 2018
Iranian social media accounts have shared a video showing a brutal execution of an old man being hanged while lifted with a crane before the eyes of the public.
Human rights activists who shared footage of the incident claimed that it took place on Friday in the city of Marvdasht, southern Iran.
It is reported that the man being executed is 26 years old, and had been imprisoned when he was only 13 years old.
The footage shows hundreds gathered to witness the execution, as women who are believed to be related to the man scream in the background, condemning the execution be carried in this manner.
The Iranian Human Rights Organization said there had been an increase in executions during the past few months, noting that 30 executions were carried in August only.
Amnesty International have previously said in its annual report that at least 507 people were executed in Iran during 2017.
https://english.alarabiya.net/en/News/middle-east/2018/09/16/Horrific-video-shows-man-hung-by-crane-in-Iran-public-execution.html
--------
UN human expert condemns Suu Kyi as 'fig leaf for genocide'
September 16, 2018
A leading United Nations human rights investigator has criticised Aung San Suu Kyi, Burma's civilian leader, for acting as a "fig leaf for military atrocities" against the Rohingya Muslim minority.
In an interview ahead of tomorrow's (Tuesday's) release of a 400-page report on alleged "genocidal" crimes, Australian lawyer Chris Sidoti said that Nobel laureate Ms Suu Kyi could not escape responsibility for failing to act over the violence. The report, by three independent experts including Mr Sidoti, provides the UN Human Rights Council in Geneva with harrowing details of mass killings and rape by Burma's military that prompted more than 700,000 Rohingya to flee to Bangladesh last year.
"The very first thing she could have done was not provide cover for the military by dismissing the overwhelming number of reports of mass rape as fake," Mr Sidoti said. "She could have refused to provide a fig leaf for military atrocities of the most serious kind… she has enormous moral authority, she won 80 per cent of the popular vote in the 2015 election."
The presentation of the final investigation to the Swiss-based council will mark a crucial step on the long road to obtaining justice for thousands who lost their lives or their homes or who were brutalised during the merciless operation by Burmese troops.
A preliminary report released last month by Mr Sidoti, Marzuki Darusman, Indonesia's former attorney general, and Radhika Coomaraswamy, a Sri Lankan lawyer and women's rights expert, called for Burma's senior generals to be prosecuted for genocide.
Based on 875 interviews with victims and eyewitnesses plus satellite imagery, it documents the shooting and stabbing of children, the scorching of Rohingya villages and gang rape on an enormous scale. Mr Sidoti told The Daily Telegraph: "The level of trauma in the camps in Bangladesh is beyond anything I have ever seen."
Last month, the Burmese government dismissed the UN investigators' findings as "false allegations". However, the UN panel has recommended a referral to the International Criminal Court (ICC) in The Hague as an option, which has already won support from some quarters. Last week, more than 160 British MPs signed a letter urging Prime Minister Theresa May and Foreign Secretary Jeremy Hunt to refer Burma's military to the court.
An ICC trial was only one way to push for justice, Mr Sidoti added, explaining that other options could include a specialised criminal tribunal or an individual country exercising its rights to universal jurisdiction for crimes of this magnitude.
Tuesday's report will also remind the international community of its obligations to take action, and will explicitly include a call for a ban on arms sales and on "high level exchanges and training" with the Burmese military until it has been reconstituted.
According to Mr Sidoti, the reluctance of the international community to act sooner is "the most haunting question of all".
https://nationalpost.com/news/world/un-human-expert-condemns-suu-kyi-as-fig-leaf-for-genocide
--------
Pakistan-born Afghan refugees to be granted nationality
Sep 17 2018
The Pakistani Prime Minister Imran Khan has said all Pakistan-born Afghan and Bangladeshi refugees would be granted Pakistani nationality.
Imran Khan made the remarks during his maiden visit to Karachi city on Sunday.
Calling it a established practice in countries around the world, Imran Khan said Afghans whose children have been raised and born in Pakistan will be granted citizenship.
He said the refugees have been unable to find decent legal jobs or get a quality which eventually forces them to indulge in criminal activities.
The Pakistani Prime Minister vowed that he will instruct his staff to make efforts without further delay for offering passports and National Identity Cards to the refugees who have come from Afghanistan and whose children are raised and born in Pakistan.
According to reports, millions of Afghan refugees are still based in Pakistan out of which around 1.5 million legally reside in the country.
According to the survey reports by the United Nations, at least 60 percent of Afghan refugees were either born in Pakistan or were minors when their parents migrated to the country.
https://www.khaama.com/pakistan-born-afghan-refugees-to-be-granted-nationality-05973/
--------
India
Religious and Political Leaders across the Spectrum Come Together To Call for 'Quami Ekta'
Sep 17, 2018
Jaipur: Religious leaders and political leaders came on the same platform for 'quami ekta' (communal harmony) in Jaipur on Sunday.
Swami Lakshmi Shankaracharya, founder of the Hindu-Muslim Jan Ekta Manch, said there is no place for terrorism in Islam. It came about for terminating terrorism.
On the occasion, the speakers emphasised on the need for efforts to keep the age-old 'quami ekta' intact in the country.
The conference was held by Peace Mission Society. Maulana Fazle Haq, national convener of the organiser, Peace Mission Society, said, "The conference was held for peace and communal harmony."
"India's constitution is not based on religion. It is a constitution of coalition culture. Constitution of India is in danger and there is a need for everyone to come forward to save it," Loktantrik Janata Dal (LJD) patron and former union minister Sharad Yadav said.
Senior Congress leader, Ashok Gehlot said, that there is a need to form ideology of 'qaumi ekta'. Gehlot said that it is the times of fight between ideologies. "We have to live with brotherhood. The Constitution of India was formed with the efforts of Nehru, Azad and Babasaheb Ambedkar. We have to get unified for saving the constitution."
Pradesh Congress Committee chief Sachin Pilot said, "We have to take each other along, with peace. We have people who divide and we have people who unite others."
https://timesofindia.indiatimes.com/city/jaipur/leaders-across-the-spectrum-come-together-to-call-for-quami-ekta/articleshow/65834829.cms
--------
Nepal's military exercise with China is just a temporary alliance: Army Chief Bipin Rawat
Pankaj Khelkar
September 17, 2018
The success of Bay of Bengal Initiative for Multi-Sectoral Technical and Economic Cooperation's (BIMSTEC) multinational military exercise was applauded during the concluding ceremony of MILEX 2018.
Nepal opted out of the Multinational Joint Military exercise and limited its participation by merely having observers in Pune for the week long exercise.
Answering a question about Nepal opting out of the Joint Military Exercise and its implications the Minister of State for Defence Subhash Bhamre said 15 days ago, Nepal had hosted the 4th BIMSTEC summit at Kathmandu.
Nepal had actively participated in 3 earlier summits. Bhamre said that for the current joint military exercise, the command in Nepal had changed, which is why they sent their observers and that it was up to us to view that on a positive note.
While addressing the media, Bhamre said there is nothing like good terrorism and bad terrorism. The entire world knows terrorism has become a global menace. It's not restricted by geographical boundaries. There is no political justification to any terrorist activity. Terrorists have no religion. Bhamre said that it is PM Narendra Modi's dream to have an international cooperation to eradicate terrorism. "We seek regional cooperation and then look beyond to eradicate terrorism," he said.
India is a leading country that is concerned about terrorism and has sought cooperation from BIMSTEC nations to counter terrorism.
While commenting about Nepal opting for the joint military exercise with China, Army Chief General Bipin Rawat said that such alliances are temporary. Nepal will be closely linked with India naturally because of its geographical proximity with India.
He added India should not get too concerned about Nepal sending just its observers for the military exercise while joining China's military exercise.
He added that everyone looks for economic gains . He said China has the money and countries are taking it but are extremely cautious because of the conditions attached to such economic grants or loans. Bipin Rawat was confident that reality will start dawning on those who are too dependent on China.
The Army chief drew attention to what had happened in the past in CENTO. He said that in less than 70 years, equations have changed and relations keep changing so one need not worry.
"India should only focus in getting strong. Our approach should be to engage with our neighbour, take care of our neighbourhood and BIMSTEC is part of that. The motto is neighbourhood first and also act East. India is a bigger country. If we take the initiative, everyone will follow suit. The way India is evolving, other countries are also evolving. Market is common so the struggle is for the same space. The competition for economic growth matters, whoever does better will succeed so let us look at improving our systems," said Rawat.
BIMSTEC secretary general M Shahidul Islam said , "BIMSTEC countries and MILEX 2018 have been highly successful, especially the counter terrorism exercise with all countries participating along with observers."
Full report at:
https://www.indiatoday.in/india/story/nepal-s-military-exercise-with-china-is-just-a-temporary-alliance-army-chief-bipin-rawat-1341509-2018-09-17
--------
Hizbul Mujahideen steps outside Jammu and Kashmir into Assam for recruits
Sep 16, 2018
GUWAHATI: With the Kashmir-based separatist outfit Hizbul Mujahideen making inroads into Assam, police on Sunday set up a Special Investigation Team (SIT) to probe the extent to which the outfit has expanded its activities in the state. The decision comes after the arrest of four Hizbul Mujahideen operatives hailing from Hojai in Assam over the past three days.
"The investigation is progressing very fast, but it seems to be getting bigger. I have set up an SIT and we are getting some vital leads," Ankur Jain, SP (Hojai),told TOI.
The trail began with the arrest of Hizbul Mujahideen cadre Qamar-uz-Zaman in Kanpur by the Anti-Terrorism Squad of Uttar Pradesh on Thursday. Upon questioning him, police were led to a series of Hizbul operations in Assam's Hojai district. Within 48 hours, Assam police arrested three more operatives of the group — Shahnawaz Alam, Sahidul Alam and Omar Farooq, all from Jamunamukh in Hojai district. Qamar is also from Jamunamukh.
"Qamar had left home in 2012 to work at a garment shop owned by his relative in Kashmir. In 2017, he went missing; his family lodged missing reports in Kashmir and here," the official said. The pattern is a recurrent one. Each year, many boys from Jamunamukh leave their homes and their families are told they are working with relatives in Kashmir or countries in the Middle East. Neither police nor the boys' families know their whereabouts.
"The information we have gathered so far points towards the Jammu and Kashmir-based group's attempt to find new recruits in Assam," a top Assam police official said. Police said Sahidul was the first to be indoctrinated by Hizbul. He went on to recruit Qamar and sent him for training to Kishtwar district in Jammu & Kashmir. Having completed his "training", Qamar visited Jamunamukh last month, but did not visit his family. Sources said Qamar was on a recruitment drive. After travelling to Guwahati, he left for Kanpur, where he was arrested.
While being taken into police custody, Omar had told the media he was "paid Rs 30,000 by Qamar to help him find new boys who would be willing to join the outfit". He added, "I knew Qamar and what he does now. He stayed with me at my rented house here last month. He left because he could not find any prospective recruit." Police said both Omar and Shahnawaz helped Qamar when he was here.
"Assam — with its long international boundary shared with Bangladesh, Myanmar and Bhutan — makes it a fertile ground for clandestine activity," the police official said.
Full report at:
https://timesofindia.indiatimes.com/india/hizbul-mujahideen-steps-outside-jammu-and-kashmir-into-assam-for-recruits/articleshow/65833210.cms
--------
Co-op Commissioner issues show cause notice to Pune Muslim Bank Chairman
Sep 16, 2018
Vijay Zade, state co-operatives commissioner and registrar has issued a show cause notice to PA Inamdar, chairman of Pune Muslim Co-operative Bank in connection with complaints related to alleged violations and irregularities in the functioning of the bank.
This has been brought to light when the details were filed by current directors Imtiaz Latifbhai Shikilkar , SM Iqbal and Asif Khan with the co-operatives department. The notice stated that PA Inamdar had issued donations to his relatives in the institution where he has been the trustee in contravention with Reserve Bank of India (RBI) guidelines. The notice stated that the violations made him ineligible to serve as the chairman of the bank. The notice while referring to the bank audit report said that Inamdar had remained the director of the bank from 2008 till date. The Inamdar multi-speciality hospital is run by Crescent medical education trust and Inamdar is a also trustee of the said hospital. The bank made computer purchases through the firm of Inamdar's son in violation of section 57 of the act, it stated.
Zade also said Inamdar had violated section 57 (1) (A) which has affected the functioning of the bank as an institution. Prime facie it appears that he is ineligible for the post of Bank Chairman. Why should not Inamdar be removed from the post of Bank Chairman and why he should not be declared ineligible for the post for the next five years, the notice questioned.
Full report at:
https://www.hindustantimes.com/pune-news/co-op-commissioner-issues-show-cause-notice-to-pune-muslim-bank-chairman/story-p6AbmVcWlXkLwM1i4CXeOI.html
--------
Mideast
Israel, biased US working against peace: Palestinian President Abbas
Sep 17, 2018
Palestinian President Mahmoud Abbas says Israel is working against peace and security by killing and displacing Palestinians and building settlements on occupied land with the support of the "biased" United States.
"Killing, expanding settlement[s], destruction, and the uprooting of the Palestinian population will not bring peace or security," President Abbas said in a meeting with former Israeli left-wing lawmakers on Sunday, Palestinian news agency WAFA reported.
"This (Israeli) government's policies and the biased US decisions contradict the international resolutions and are harming the chances of making just peace based on the two-state solution along 1967 borders," the president said.
Palestinian officials have long sought to establish an independent Palestinian state within the borders that existed before the 1967 war between Israel and three other Arab states.
In that war — also known as the Six-Day War, the Israeli regime took over Arab and Palestinian land that it continues to occupy to this day. It has been expanding further into Palestinian land by building settlements for Israelis deeper and deeper into those territories, in what is effectively killing the chances of Palestinian statehood.
The Tel Aviv regime, under Prime Minister Benjamin Netanyahu, who hails from the hard-line Likud Party, has taken a radical shift to the far right, with cabinet members openly advocating the annexation of occupied Palestinian territories.
More than 230 illegal settlements have been constructed since 1967. In September 2016, the United Nations Security Council passed a resolution — with a notable abstention vote by the then-administration of US president Barack Obama — that denounced Israeli settlements as a "flagrant violation of international law."
The current administration of President Donald Trump, which took over shortly afterwards, has denounced that resolution — as has Israel — and has taken a decisive line in favor of the Israeli regime and against Palestinians.
In May, the US moved its embassy from Tel Aviv to Jerusalem al-Quds, in a largely solitary but consequential move that further complicated Palestinian aspirations for statehood.
Last week, the Trump White House also announced the closure of the Palestine Liberation Organization in Washington. Palestinian officials said on Sunday that Washington had also revoked the visas of Palestinian envoy Husam Zomlot and his family.
Back in August, the Trump administration announced that it was canceling $300 million in planned funding to the United Nations Relief and Works Agency for Palestine Refugees, which provides for the welfare of over five million Palestinian refugees across the Middle East.
The hard-line policies of the Israeli regime have, meanwhile, caused concern among the civilian Palestinian population, who routinely clash with Israeli soldiers.
Recently, Palestinians protested en masse in the Israeli-blockaded Gaza Strip to press for the right of return of those Palestinians who have been uprooted in Israeli wars and other acts of aggression since 1948. More than 180 Palestinians have been killed by Israeli forces ever since those protests began in the Gaza Strip on March 30. Nearly 20,000 Palestinians have also sustained injuries.
The regime also routinely blocks access to the revered Al-Aqsa Mosque in Jerusalem al-Quds, angering Palestinian Muslims who wish to enter the site for worship.
In the Sunday meeting with Abbas, the Israeli delegation voiced appreciation for his commitment to peace, according to WAFA.
https://www.presstv.com/Detail/2018/09/17/574363/Palestine-Israel-US-Mahmoud-Abbad-peace
--------
'Secret jails in Aden do not exist,' Yemeni prison director says
17 September 2018
Yemen's Beir Ahmed penitentiary director denied there were secret prisons in Aden that operate outside the legal context of the prisons' department in the interior ministry and the judicial authorities.
Lieutenant Colonel Ahmad Ghassan al-Aqrabi told reporters that funded media campaigns which promote such lies and fabrications for political purposes do not look for the facts to publish them but aim to incite, distort and fabricate.
He added that the penitentiary doors are always open to any media outlets that is seeking the truth as media outlets can visit the penitentiary, meet the administration and sit with prisoners to ask them anything they want about their situation in the facility.
"The penitentiary's location is well-known. The prisoners' families visit them every Sunday, and the prisoners are brought before the judicial authorities and the criminal prosecution in public," he added.
According to Aqrabi, a number of international organizations have visited the penitentiary and observed the situation of prisoners and also directly and transparently spoke with them. These organizations, including the International Red Cross, sensed how the prison matches international human rights standards.
Aqrabi also said that a large number of prisoners were released based on judicial rulings or by the prosecution after they underwent rehabilitation sessions that aimed to re-integrate them in society. The three months long sessions were carried out by skilled and qualified trainers.
"The penitentiary submits an operational report to the prisoners' administration services to detail the prison's situation and who was released and lists the new prisoners," he added.
Full report at:
https://english.alarabiya.net/en/News/gulf/2018/09/17/-There-s-no-secret-jails-in-Aden-says-Yemeni-prison-director.html
--------
Saudi war machine revs up as UN envoy visits Yemen
Sep 17, 2018
Saudi Arabia has intensified its invasion of Yemen as the United Nations special envoy for the violence-scarred country visits the capital Sana'a in an attempt to cobble together a conflict resolution mechanism.
On Sunday, Saudi warplanes killed seven civilians, including women and children, in Bayda, attacking the central Yemeni province's town of Radman. Eight others were also wounded in the attack.
Earlier in the day, two people lost their lives in a missile attack on the northern province of Sa'ada, and four more died in airstrikes on the southwestern province of al-Hudaydah.
Also on Sunday, the UN official Martin Griffiths arrived in the capital to meet with officials from Yemen's popular Houthi Ansarullah movement.
The movement took over Yemen's affairs in 2015 after Yemen's former government resigned and its head, Abd Rabbuh Mansur Hadi, fled to Riyadh, leaving the country in political turmoil.
A Saudi-led coalition has been attacking Yemen ever since, trying unsuccessfully to restore the former Riyadh-allied officials. So far, around 15,000 have died during the invasion.
Griffiths invited the Houthis and the former officials to talks in Geneva in early September in an attempt to restore a UN-backed negotiation process that had broken off in 2016.
The Houthi representatives, however, could not attend the talks after Saudi Arabia refused to allow an Omani airplane, which had been meant to fly the officials, to land on the Yemeni soil.
Yemen's Saba news agency, however, said the United Nations had stricken an agreement to evacuate wounded Houthi fighters using Sana'a airport.
The World Health Organization also said that the UN was working to open a "humanitarian air bridge" to take Yemeni cancer patients for treatment at qualified facilities.
The WHO's country representative for Yemen Nevio Zagaria said, "The aim is to help patients suffering from cancer, chronic diseases and congenital anomalies receive the treatment they need," adding that 12 health conditions had been targeted.
Full report at:
https://www.presstv.com/Detail/2018/09/17/574356/Yemen-Saudi-Arabia-war-United-Nations-envoy-Martin-Griffiths
--------
Saudi-led airstrike on radio station kills 4 in Yemen's Hudaydah province
Sep 16, 2018
At least four people have been killed after a Saudi-led airstrike hit a radio station in Yemen's western province of Hudaydah, a report says.
Yemen's Arabic-language al-Masirah satellite television network reported on Sunday that at least four employees of the al-Maraweah radio station had lost their lives after warplanes of the Saudi-led military coalition hit its building earlier in the day.
The airstrike was conducted as officials of the United Nations engaged in a shuttle diplomacy to arrange a resumption of peace talks between the warring sides, the Houthi Ansarullah movement and the so-called government of former President Abd Rabbuh Mansur Hadi.
Saudi Arabia and some of its allies, including the United Arab Emirates, Morocco and Sudan, launched a brutal war, code-named Operation Decisive Storm, against Yemen in March 2015 in an attempt to reinstall Hadi and crush the Ansarullah movement, which plays a significant role in aiding the Yemeni army in defending the impoverished country against the invading coalition.
The movement has been running state affairs in the absence of an effective administration since the onset of the imposed war.
The imposed war initially consisted of a bombing campaign, but was later coupled with a naval blockade and the deployment of ground forces to Yemen. Some 15,000 Yemenis have been killed and thousands more injured since the onset of the Saudi-led aggression.
Backed by Saudi-led airstrikes, Emirati forces and militants loyal to Hadi launched the Hudaydah offensive on June 13 despite international warnings that it would compound the impoverished nation's humanitarian crisis as the country traditionally imported 90 percent of its food, mainly through the port.
The coalition of aggressors has, however, failed to make any major gains in the face of stiff resistance from Houthi fighters and their allied forces.
The Saudi-led war has also taken a heavy toll on the country's infrastructure, destroying many hospitals, schools, and factories. The United Nations has said that a record 22.2 million Yemenis are in dire need of food, including 8.4 million threatened by severe hunger.
Full report at:
https://www.presstv.com/Detail/2018/09/16/574344/Yemen-Hudaydah-alMaraweah-Saudi-airstrikes-UN-Houthis
--------
Israeli forces demolish Palestinian family's home in al-Ramla City
Sep 16, 2018
Israeli army soldiers have demolished a family home with several bulldozers in the Palestinian neighborhood of al-Nakheel in al-Ramla City, in central occupied territories.
Heavily armed Israeli forces used many bulldozers and stormed Nakheel on Sunday and declared it as a closed military zone, local sources reported.
According to sources, the Israeli Municipality of al-Ramla ordered the demolition of the family home belonging to Nayef Abu Amer, claiming that it was built without the difficult-to-obtain Israeli building permit.
They added that Israeli army forces prevented residents of the Palestinian-owned home from accessing the area while the Israeli bulldozers carried out the demolition.
Since 1967, the Israeli regime has been enforcing the draconian policy of demolishing the homes of those Palestinians who are deemed by Tel Aviv to be behind fatal attacks against Israeli settlers. The practice, however, was temporarily halted from 2005 to 2014, with the exception of 2009, when scores of homes were sealed and razed in East Jerusalem al-Quds.
Nevertheless, in 2014 Israeli Prime Minister Benjamin Netanyahu announced as a policy the resumption of demolitions in the occupied West Bank.
Israeli law guarantees Palestinians the same equality as other citizens; however, there are cases of discrimination in government funding and a raft of other issues in practice.
Palestinians in the occupied territories are facing a difficulty to obtain building permits, making them expand or build homes and structures without permits.
The United Nations Office for the Coordination of Humanitarian Affairs (OCHA) also said in July that Israeli authorities demolished 197 Palestinian structures in the West Bank during the first half of 2018.
The OCHA further highlighted that demolitions within the first half of the current year in East Jerusalem al-Quds mark an increase of 12 percent compared to the same period in the preceding year.
Back in April, Human Rights Watch (HRW) denounced the demolition of Palestinian schools by orders of Israeli authorities in the occupied West Bank, saying the move is part of a discriminatory planning system which amounts to a war crime.
Full report at:
https://www.presstv.com/Detail/2018/09/16/574341/Palestine-alNakheel-alRamla-home
--------
Yemeni forces shoot down Saudi spy drone in Jizan
Sep 16, 2018
Yemeni air defense units have shot down a Saudi reconnaissance drone in flight over a border area in the kingdom's southwestern province of Jizan.
Yemen's Arabic-language al-Masirah satellite television network, citing military sources, reported that the drone was shot down over the province's Jarah valley on Sunday.
Yemeni forces also managed to shoot down another Saudi spy drone in Jabal al-Doud area of the same troubled province on Saturday evening.
Nearly two dozen spy drones have been shot down since the Saudi war on the impoverished country began over three years ago.
Separately, Yemeni army forces, supported by allied fighters from Popular Committees, thwarted an infiltration attempt by killing and injuring many Saudi mercenaries in the violence-hit border region. They also destroyed a Saudi military vehicle and seized some ammunition.
Saudi Arabia and some of its allies, including the United Arab Emirates, Morocco and Sudan, launched a brutal war, code-named Operation Decisive Storm, against Yemen in March 2015 in an attempt to reinstall Abd Rabbuh Mansur Hadi, Yemen's former president and a staunch ally of Riyadh, and crush the popular Houthi Ansarullah movement.
The movement, which is a significant aid to the Yemeni army in defending the country against the invading forces, has been running state affairs in the absence of an effective administration during the past three years.
The imposed war initially consisted of a bombing campaign but was later coupled with a naval blockade and the deployment of ground forces into Yemen.
Some 15,000 Yemenis have been killed and thousands more injured since the onset of the Saudi-led aggression.
The Saudi-led aggression has also taken a heavy toll on the country's infrastructure, destroying many hospitals, schools, and factories. The United Nations has already said that a record 22.2 million Yemenis are in dire need of food, including 8.4 million threatened by severe hunger.
Full report at:
https://www.presstv.com/Detail/2018/09/16/574337/Yemen-Saudi-Jizan-
--------
Yemen coalition resumes offensive to liberate Hodeidah after Houthis reject peace talks
September 17, 2018
JEDDAH: The Saudi-led coalition in Yemen has resumed its offensive to liberate the vital Red Sea port of Hodeidah after proposed peace talks collapsed because Iranian-backed Houthi militias did not appear.
At least 32 Houthis have been killed in renewed clashes, including four on Sunday in a coalition airstrike on a radio station tower.
Coalition-backed Yemeni forces last week seized the main road linking Hodeidah to the capital, Sanaa, as part of a strategy to isolate the two cities, both occupied by the Houthis
The UN's Yemen envoy, Martin Griffiths, arrived in Sanaa on Sunday, but made no statement.
He is pushing for new peace talks after the failed attempt this month to bring the two sides together in Geneva.
Hodeidah is crucial to the conflict because the Houthis use the port to smuggle arms and other military supplies from Iran, including the components of missiles used to attack Saudi Arabia from launch sites in northern Yemen. The coalition has imposed a partial blockade on the port, which the Houthis seized in 2014.
Yemeni government forces launched a major operation in June to retake both the city and its port. The troops, backed by coalition airstrikes, have retaken a number of towns across Hodeida province but have not yet breached the city.
Full report at:
http://www.arabnews.com/node/1373146/middle-east
--------
Israel to deport French-US professor arrested at demo
September 16, 2018
JERUSALEM: An American-French law professor arrested by Israel while protesting against the demolition of a Palestinian village in the West Bank is to be deported, his lawyer said Sunday.
US-born Frank Romano, who teaches law at the Paris Nanterre University, was detained on Friday while taking part in a demonstration at the Bedouin village of Khan Al-Ahmar, east of Jerusalem.
"There is an administrative decision to deport him," lawyer Gaby Lansky told reporters.
A spokeswoman for the Israeli interior ministry could not immediately confirm such a decision.
The village of roughly 200 people in the Israeli-occupied West Bank is at risk of being demolished at any time, despite fierce criticism from key European nations.
On September 5, Israel's supreme court upheld an order to raze it on grounds it was built without the proper permits.
It is extremely rare for Palestinians to be given Israeli permits to build in Area C of the West Bank, where Khan Al-Ahmar is situated.
The village is located in a strategic spot near Israeli settlements and along a road leading to the Dead Sea.
There have been warnings that continued settlement construction in the area could eventually divide the West Bank in two and cut it off from Jerusalem, dealing a death blow to any remaining hopes of a two-state solution.
Full report at:
http://www.arabnews.com/node/1372991/middle-east
--------
South Asia
41 militants killed, wounded in Paktika and Ghazni provinces: 203 Thunder Corps
Sep 16 2018
The Afghan Military in the Southeast claims at least 41 militants have been killed or wounded during the operations in Paktika and Ghazni provinces.
The 203rd Thunder Corps in a statement said at least 15 militants were killed and 11 others were wounded during clashes with the security forces in Geru district of Ghazni.
The statement further added that the clashes between the two sides erupted after a coordinated attack on security posts late on Saturday night.
The Afghan forces also confiscated two Ak-47s with its magazines, a hand grenade, and two landmines after the clashes, the statement added.
At least two Afghan soldiers also sustained injuries during the clashes, the 203rd Thunder Corps said, adding that the armed forces killed 9 militants and wounded 6 others during a separate operation in Orgun district of Paktiak province.
The Afghan forces also discovered and defused 25 improvised explosive devices during the operatins in Qarabagh district of Ghazni and on Zabul-Ghazni highway, the 203rd Thunder Corps added.
The anti-government armed militant groups including Taliban militants have not commented regarding the reports so far.
https://www.khaama.com/41-militants-killed-wounded-in-paktika-and-ghazni-provinces-203-thunder-corps-05972/
--------
Speakers for more people-to-people Indo-Bangla contact
September 16, 2018
Speakers from Bangladesh and India at a seminar Sunday advocated more people-to-people contact between the two countries and called for safeguarding the rights of minorities in the neighbouring country.
They were speaking at a seminar on 'Indo-Bangla Dialogue - Security to Minorities and Democracy' here.
Advocate of Bangladesh Supreme Court and BNP's Khandakar Ahsan Habib said the ground level contacts between the people of Bangladesh and India were more important than solely keeping contacts between the ruling establishments.
Habib said the rights of the minority community needed to be safeguarded in Bangladesh and everyone should be allowed to exercise his/her right to vote in elections.
The vice-chancellor of Northern University in Bangladesh, Prof Yusuf Abdullah, said there should be more people-to-people exchanges between the two nations which share a common love and admiration for Rabindranath Tagore and Kazi Nazrul Islam.
On the minority issue, Abdullah said when people of different communities speak in the same language and live on the same land, there should be no segregation on the basis of religion and no persecution of anyone.
Former Assistant Director, Intelligence Bureau, Gadhadar Chatterjee said according to 2011 Census, there were 8.5 per cent Hindus in Bangladesh, 0.6 per cent Buddhists and 0.4 per cent Christians.
Pradip Halder, leader of an organisation of Hindu community members in Bangladesh, said whoever came to power in Bangladesh, the concerned party should work towards protecting the rights of minorities.
Full report at:
https://www.business-standard.com/article/pti-stories/speakers-for-more-people-to-people-indo-bangla-contact-118091600314_1.html
--------
Ghani, Abdullah hold talks on key national issues with ex-Jihadi leader
Sep 16 2018
President Mohammad Ashraf Ghani and the Chief Executive of the Unity Government Abdullah Abdullah met with the former Jihadi leader Abdul Rab Rasool Sayaf to hold talks on key national issues.
The Office of the President, ARG Palace, in a statement said the leaders of the unity government visited the residence of Abdul Rab Rasool Sayaf in Paghman district earlier today.
The statement further added that President and Chief Executive Abdullah were invited by Ustad Sayaf for the breakfast.
According to ARG Palace, the unity government leaders and Ustad Sayaf held talks on key national issues, including recent political and and security developments.
The statement did not elaborate further regarding the main topics discussed during the meeting but this comes as efforts are underway for the revival of an Afghan-led peace process with the Taliban group.
Sayaf is among the prominent Mujahideen leaders and former lawmaker representing Kabul in the Lower House of the parliament.
He has previously criticized the Taliban group as well as the government in some stances for its policies.
Full report at:
https://www.khaama.com/ghani-abdullah-hold-talks-on-key-national-issues-with-ex-jihadi-leader-05970/
--------
Taliban likely to demand release of Anas Haqqani for the revival of peace talks
Sep 16 2018
The Taliban group will likely demand the release of a senior Haqqani network leader, Anas Haqqani, and scores of other Taliban inmates for the revival of peace talks, it has been reported.
Sources within the Taliban ranks have told NBC News that the youngest son of the feared Haqqani terror network's founder is among hundreds of prisoners whom the Taliban is demanding be released as part of an upcoming round of talks with the United States. "This meeting with the U.S. authorities would either help pave the way for more meaningful talks or stop them forever," a Taliban commander in Afghanistan's Helmand Province said on the condition of anonymity because he was not authorized to speak to the news media. "If they are sincere in talks in the future, they would accept our proposal for a prisoners' exchange."
This comes as sources privy of the development within the Taliban ranks had earlier told Reuters that the leaders of the group were meeting to discuss the makeup of the three- or four-person delegation and the subjects to be discussed.
The sources had said the Taliban would like to discuss an exchange of prisoners and could hold another meeting soon if the United States showed seriousness in talks by releasing prisoners.
"This meeting will determine the future talks and we would see if the U.S. is serious and sincere in negotiation," one of the officials involved had said.
Full report at:
https://www.khaama.com/taliban-likely-to-demand-release-of-anas-haqqani-for-the-revival-of-peace-talks-05968/
--------
Myanmar youth, journalists demonstrate against jailing of Reuters reporters
September 16, 2018
YANGON: At least 100 Myanmar youth activists and journalists called for the release of two jailed Reuters journalists on Sunday, warning that the seven-year prison terms handed to the pair this month threaten the public's right to information.
Demonstrators including high-school students gathered peacefully in the heart of Myanmar's largest city, Yangon, held signs and chanted slogans denouncing the guilty verdict against the two journalists. A small contingent of police looked on as the protesters released black balloons printed with the words "Free Wa Lone and Kyaw Soe Oo".
Reporters Wa Lone, 32, and Kyaw Soe Oo, 28, were convicted on Sept 3 under the colonial-era Official Secrets Act in a case that was seen as a test of democratic freedoms in Myanmar.
Thar Lun Zaung Htet, a journalist involved in organising the protest, said the verdict against reporters who were "just doing their job" would stifle reporting in Myanmar.
"Losing press freedom means our democratic transition is going backwards," he said.
The verdict drew calls from senior United Nations officials, political figures including US Vice President Mike Pence and human rights advocates around the world for their immediate release.
Government spokesman Zaw Htay could not be reached for comment on Sunday.
The country's leader Aung San Suu Kyi said at a forum in Hanoi last week the case had nothing to do with freedom of expression. The reporters had been sentenced for handling official secrets and "were not jailed because they were journalists", the Nobel laureate said.
On Friday six Myanmar journalist organisations published a rare statement from groups within the country criticising the country's leader, saying they were "disappointed" with her comments.
The reporters, who plead not guilty, said they were handed rolled papers by police shortly before they were detained last December, and a police witness testified in court that they had been set up.
The reporters had been investigating the killing of 10 Rohingya Muslim men and boys by security forces and local Buddhists amid a military response to insurgent attacks last August.
Some 700,000 Rohingya crossed from Myanmar into Bangladesh fleeing the crackdown, which UN-mandated investigators said last month was launched by senior Myanmar generals with "genocidal intent".
Signs held by the protesters on Sunday included the messages "Murder is not a state secret" and "revealing the truth is not a crime".
One organiser, Maung Saung Kha, performed a short play where he put on a military jacket over the orange traditional Burmese jacket worn by lawmakers of Suu Kyi's National League for Democracy. He then rolled up a copy of the state-run daily The Mirror and began hitting members of the press with it.
Activist Htet Khine Soe said the "injustice" of the case against the reporters had led him to design a T-shirt with an illustration of Wa Lone and Kyaw Soe Oo's faces. The design was worn by some demonstrators and was also used on stickers placed around Yangon.
Full report at:
https://www.freemalaysiatoday.com/category/world/2018/09/16/myanmar-youth-journalists-demonstrate-against-jailing-of-reuters-reporters/
--------
Kabul's targeted Shiites rely on armed community protection force against Daesh
September 16, 2018
KABUL: The restaurants and cafes in Kabul's upmarket Pul-i-Sorkh, at the entrance of the city's Shiite dominated neighborhood, used to be bustling spots for female and male customers most evenings.
Some dressed up in local attire, observing full hijab. Others, both men and women, wore Western clothes and occasionally smoked shisha in some of the cafes, with loud music blaring inside.
Sometimes, girls wearing heavy makeup walked arm in arm with their husband or fiancé on the streets, breaking the social taboo.
The neighborhood has rightly earned the pseudonym of Kabul's "Little Europe" because of the liberal way of life that some of the Shiites and Hazaras have adopted since the US landing in Afghanistan in 2001.
However, the new wave of deadly strikes by Daesh affiliates in the Shiite-dominated suburb of Dashte Barchi, which is further down from Pul-i-Sorkh, has not only shocked the Shiite community of Kabul but also affected business for many of these restaurants in Pul-i-Sorkh.
Several Shiite gathering areas, including mosques, cultural and educational centers and even a sports gym, have been targeted by Daesh suicide bombers since 2016. The attacks have resulted in the loss of hundreds of people in Kabul and other parts of Afghanistan.
At the request of Shiite leaders, the government last year allowed a community protection force to be formed from among local residents.
Volunteers were given arms and cash as a salary to protect their mosques and religious centers in their community.
However, the initiative has not been very productive as numerous attacks have occurred since.
Shocked by the increase in Daesh attacks in recent weeks, and the blatant warning issued by the group to target Shiite schools and other centers in future, the Shiite leaders have now asked President Ashraf Ghani for an expansion in the local community protection force.
Scores of families since last week have stopped sending their children to school after the warning that certain schools will be the target of attacks.
Afghan Vice President Sarwar Danesh spoke with the special envoy of the United Nations to Afghanistan this week, calling the attacks targeted and urging him to include the issue as a separate debate point for the world body.
Speaking to a group of reporters, Ghani on Wednesday said Daesh and other anti-state elements wanted to fan sectarian and ethnic clashes through such attacks.
In meetings with Shiite leaders earlier this week, Ghani pushed for boosting security for the protection of Afghan Shiites ahead of Muharram, a holy month, mostly observed by Shiites which includes flagellation and parades on the streets.
Chaman Ali Behseodi, a group leader for the community protection force, said the government will recruit more individuals, equip them with arms and pay them cash for permanent security of schools, educational, cultural and religious centers for Shiites in the Dashte Barchi area.
"Since the population of Kabul is high and police are overstretched, people have asked for extra men to be deployed to these places," he told Arab News.
"People will cooperate with government for their own protection and expect the government to take serious action in this regard."
Nasrat Rahimi, a spokesman for the Interior Ministry, told Arab News that individuals recruited will undergo checks such as biometric tests and will have to be vouched for by their community elders.
Nasrullah Neli, a Shiite lawmaker, told Arab News that the expansion of the community protection force has had a divided response from lawmakers.
Some local Shiite residents have already started using their private arms for protection of their streets in certain parts of Dashte Barchi and Kabir Wasiq, a local resident told Arab News.
Full report at:
http://www.arabnews.com/node/1372961/world
--------
Insurgents attack police base in Afghanistan, killing 5
September 17, 2018
KABUL, Afghanistan: An Afghan official says at least five police officers have been killed in an insurgent attack on their base in northwestern Badghis province.
Jamshid Shahabi, spokesman for the provincial governor, says around 22 Taliban were killed, and 16 others were wounded during the gunbattle earlier Monday morning.
Shahabi says Abdul Hakim, the police commander of the reserve unit, was among those killed in the attack that took place near Qala-i-Now, the capital of the province.
No group has claimed responsibility for the attack, but Shahabi blamed the Taliban. The militant group has a strong presence there and often attack on Afghan security forces.
http://www.arabnews.com/node/1373231/world
--------
Pakistan
Eradication of Terrorism Is Govt's First Priority: MoS Interior
Sep 17, 2018
CHARSADDA: Minister of State for Interior Shehryar Afridi on Sunday said that maintaining law and order situation in the country is among top priorities of the government.
Addressing passing out parade of Frontier Constabulary in Shabqadar, district Charsadda, he said security forces, Frontier Constabulary, and police have rendered matchless sacrifices in the war against terrorism.
The minister said Frontier Constabulary will be made exemplary force by giving them training on scientific lines.
He lauded the role of FC for the security of major sensitive installations in the country and its services in United Nations Peacekeeping Missions.
On this occasion, one thousand one hundred and seventy-two recruits participated in the parade.
Earlier, Shehryar Afridi inspected the parade and distributed trophies among outstanding recruits.
https://www.pakistantoday.com.pk/2018/09/16/eradication-of-terrorism-is-govts-first-priority-shehryar-afridi/
--------
Papers indicate Afghan issue not sole cause of US-Pakistan discord
Anwar Iqbal
September 17, 2018
WASHINGTON: Two recent US documents — the 2019 budget proposals and the Pentagon's 2018 report to Congress on China — indicate that differences between the United States and Pakistan go beyond Afghanistan as Washington feels Islamabad is gradually slipping out of its orbit.
The budget proposals underline China and Russia as "the central threat to America's prosperity and security" and highlight the strategy to meet this challenge.
The Defence Department's report warns Congress that "China will seek to establish additional military bases in countries with which it has a long-standing friendly relationship and similar strategic interests, such as Pakistan, and in which there is a precedent for hosting foreign militaries".
The US media also noticed Washington's growing concern as Wall Street Journal reported this week that "in Pakistan, China and the US are clashing over China's One Belt, One Road initiative".
While Washington is concerned that China is trying to gain global influence through "debt trap diplomacy" by lending countries money for projects they can't afford, "Beijing calls this Western propaganda," the report added.
The budget proposals, released in Washington last week, stressed that "the central challenge to US prosperity and security is the re-emergence of long-term, strategic competition (with) … revisionist powers" China and Russia.
A quote from the US National Security Strategy warns that "China and Russia want to shape a world consistent with their authoritarian model — gaining veto authority over other nations' economic, diplomatic, and security decisions".
The budget proposals then describe how the Trump administration plans to deal with the threat by building "a more lethal, resilient, and rapidly innovating joint force, combined with a robust constellation of allies and partners".
This alliance and the new force "will sustain American influence and ensure favourable balances of power that safeguard the free and open international order", the document adds.
It points out that in alignment with the National Defence Strategy, the air force's budget for 2019 prioritises long-term competition with China and Russia by "investing in key capabilities to increase the lethality of the force through cost-effective modernisation.
The strategy prioritises major power competition and vows to "reverse the erosion of US military advantage in relation to China and Russia".
The document informs Congress that the defence budget request fulfills the Pentagon's objectives by increasing "lethality; resilience (and) agility" of the defence forces. The objective behind this approach is to "build a flexible and dynamic force; and work by, with, and through allies and partners".
The document also informs Congress that the Pentagon has taken specific decisions about the budget that support "a more capable, ready, and efficient force that can project power globally for full-spectrum operations against a range of threats".
The document explains the US decision to partner with India to reverse China's growing influence in the Indo-Pacific region.
The Pentagon's report to Congress on China argues that Beijing's growing arms exports are geared to promote China's "broader foreign policy goals", which is particularly evident in its "arms sales to Pakistan and demand for Chinese armed UAVs".
From 2012 through 2016, China was the fifth largest arms supplier in the world, completing more than $20 billion in sales. Of these sales, military equipment worth $8 billion went to Indo-Pacific countries, primarily Pakistan.
The Pentagon report claims that China's ability to remain among the world's top five global arms suppliers largely hinges on continued strong sales to Pakistan and demand for its armed UAVs.
Full report at:
https://www.dawn.com/news/1433440/papers-indicate-afghan-issue-not-sole-cause-of-us-pakistan-discord
--------
PM Khan expresses concern over surge in Karachi street crime
September 16, 2018
Prime Minister Imran Khan in his maiden official visit to Karachi on Sunday expressed concern over the reported surge in street crime in the metropolis, and called for coordinated efforts to purge the city of criminal activities, which he linked with the city's "growing underclass".
The PM, who is on a one-day visit to the city, reviewed the progress of federal government-funded projects in the city, chaired high-level meetings on law and order, and also attended a fundraiser.
Sindh Chief Secretary Azam Suleman Khan gave the PM a detailed briefing on the law and order situation in the province in general and Karachi in particular, which followed a presentation by the Director General (DG) Rangers Maj Gen Muhammad Saeed on the Karachi operation.
During the meeting ─ which was attended by Sindh Governor Imran Ismail, Chief Minister Murad Ali Shah, Karachi Corps Commander Lt Gen Humayun Aziz, DG Rangers, chief secretary and Sindh Inspector General Police Kaleem Imam, as well as other concerned civil officials ─ the PM took strong exception to the cases of abduction of children in the city. He sought coordinated action against abductors, the urgent recovery of children and the provision of relief to parents.
The prime minister appreciated measures being taken for cleanliness in the metropolis. He directed that the efforts be expedited in order to provide relief to the people.
PM Khan was also briefed on Karachi's water crisis in a meeting where Karachi Mayor Wasim Akhtar and city commissioner Saleh Farooqi were also among the attendees.
In the meeting, the PM was informed of the K-4 water supply project's progress, and also told that Karachi's daily water need now stands at 918 million gallons.
Later in the day, the premier headlined a fundraiser dinner for the Diamer Bhasha Dam at Governor House, where he delivered a speech and defended the dam-building drive.
"In 1947, Pakistan had per-capita water of 5,600 cubic metres but today only 1,000 cubic metres are left," he said. "If we continue like this then by 2025 there will be a massive shortage of water. It will affect our food security and our agricultural production will go down.
"Those who say that dams should not be built, I would like to quote them some statistics. China, the country that is progressing at the fastest pace in the world, has 84,000 dams, including 5,000 big dams. India, too, has 5,000 dams and they are still building more. And we only have two major dams."
The PM said that the country is heavily in debt, adding that new "dams cannot be financed through budget either", which is why "we have decided to do fundraising".
"I am the biggest fundraiser of Pakistan's history," he said. "I have been raising funds for 30 years. The target that we have to reach every year is Rs30 billion. God willing, we will raise more than that because I can see that Pakistanis have been mobilised, both in and out of the country."
The PM said that in addition to the Diamer Bhasha dam, the government is also about to start work on Mohmand Dam which, he said, is "very feasible".
"We will work on both the dams simultaneously," he said.
PM Khan linked Karachi's street crime problem with the city's "growing underclass".
"The illiterati do not get jobs and have no way to make a living," he said. "These people, who are originally from Bangladesh and Afghanistan, they do not get passports or ID cards. [As a result], they do not get jobs. This is a deprived class in Karachi that goes towards crime as it has no other option."
The prime minister vowed to recognise the neglected class as "citizens of Pakistan" and urged his audience to help him "educate and lift them up".
The PM described Karachi as a "concrete jungle" and said that he will make a master plan for the city, which he said will include reforestation drive and a desalination plant among other things.
Sindh CM expresses concerns over transfers
Meanwhile, CM Shah discussed Sindh's problems with the prime minister and expressed his reservations against the transfer of high-level officials.
"Without being informed in advance, the transfer of officials out of Sindh is not the right way," the provincial chief minister said.
CM Shah also expressed his concerns regarding the deductions in Sindh's financial resources, telling the PM: "Sindh is already facing financial problems. If the funds are stopped at the federal level, Sindh will face further losses."
The CM claimed that "a desalination plant is the sole solution to Karachi's water crisis" and urged "the federal government to help them in this regard".
Sindh governor, CM receive PM
The premier, who arrived in Karachi earlier today, was greeted at the airport by Governor Imran Ismail and CM Shah at the airport.
From there, he went straight to the Quaid's mausoleum, where he laid a floral wreath and offered fateha. He also signed the guestbook at the mausoleum.
The PM met President Arif Alvi at State Guest House along with other officials. Accompanied by the Sindh governor and chief minister, the prime minister planted a sapling on the premises of the State Guest House and also held a joint meeting with the two officials.
The PM's visit comes a day after President Arif Alvi, a former MNA from Karachi, visited the metropolis and tasked Sindh Governor Imran Ismail with monitoring federal government-funded development projects and vowed to make his hometown's infrastructure just like other mega cities in the world.
A statement issued after the meeting quoted Alvi as saying: "The Sindh governor from now on will monitor the progress of federal government-funded development projects in Karachi and other parts of the province for their timely completion."
Full report at:
https://www.dawn.com/news/1433280/pm-khan-expresses-concern-over-surge-in-karachi-street-crime
--------
US diplomat claims Pakistan opening border with Afghanistan for Indian trade
Sep 17, 2018
United States' Ambassador to Afghanistan John Bass has said that Pakistan is considering resumption of India-Afghanistan trade via its territory while adding that a political settlement in Afghanistan was in "Pakistan's long-term interest."
"Pakistan had already approached Afghanistan earlier this year and indicated its willingness to resume trade between Afghanistan and India through its land," Bass told The Economic Times in an interview on Saturday.
The US ambassador further revealed that his country is of the opinion that the conflict in Afghanistan is to be resolved politically rather than with the use of military force. "No one in the US government is saying at this point that we expect this conflict to end with a military victory. We believe that this conflict will end with a political settlement," he said.
The envoy further claimed the Pakistani government had approached Afghanistan after assessing two developments.
"We have seen an increase in exports from Afghanistan to India (through air cargo)… it is obviously one part of the export strategy but it is an important part… and I think part of the reason why, in addition to the economic relationship between Afghanistan and Uzbekistan, a couple of months ago for the first time the Pakistani government expressed a willingness to start talking with its Afghan counterparts for parameters to enabling trade between India and Afghanistan through Pakistan," said Bass.
Furthermore, the US diplomat while revealing that Indian firms had been investing heavily in Afghanistan's growth said that increased trade, connectivity through Central and South Asia through Afghanistan are all missed opportunities as a result of the prevalence of status quo.
Moreover, the impact of US sanctions on Iran and Chabahar port was discussed when US Secretary of State Mike Pompeo and Defense Secretary James Mattis visited India earlier last week. "Both US officials stated that the importance of Chabahar as a means to expand bilateral trade and help improve Afghanistan's connectivity with South Asia," Bass said.
Full report at:
https://www.pakistantoday.com.pk/2018/09/16/us-diplomat-claims-pakistan-opening-border-with-afghanistan-for-indian-trade/
--------
Govt to grant citizenship to children of Afghan refugees
Sep 17, 2018
KARACHI: Prime Minister (PM) Imran Khan on Sunday announced that his government will provide citizenship to the children of Afghan refugees and refugees from Bangladesh.
The prime minister said this while addressing a fund-raising dinner in Karachi for the construction of Diamer-Bhasha Dam.
It is pertinent to mention here that the Pakistan Muslim League-Nawaz (PML-N) government had blocked the computerised national identity cards (CNICs) of Pashtuns, primarily Afghan refugees. Earlier this month, a protest was held by Afghans outside Prime Minister Imran Khan's Zaman Park residence demanding the prime minister's intervention in the matter.
The protesters had said due to the cancellation of the ID cards, they were facing various problems, including those regarding enrolment of their children in schools.
PM Khan had the NADRA chairman to meet the protesters and resolve their issues.
The chairman had said that the main reason behind the blocking of ID cards was that they were obtained through fraud.
Moreover, the four provinces have reportedly expressed concern and said that they were unwilling to accommodate undocumented and illegal Afghan refugees.
This was expressed in a high-profile inter-ministerial meeting held on Sunday by Ministry of States and Frontier Regions, which was also attended by representatives from state agencies. Security concerns were reportedly cited as the reasons for the provinces' stance on the matter.
Pakistan hosts around 1.38 million registered Afghan refugees, according to the UNHCR. However, there are scores of unregistered Afghan refugees as well which takes the number well above three million, making Pakistan recipient of the most number of refugees in the world. The migration began in December 1989 as a result of the Afghan war against the Soviets and has continued since then until recently when repatriation of these refugees began under the supervision of the UN.
However, the repatriates, especially the children of Afghan refugees, consider Pakistan as their home since they have been living here for decades now.
Prime Minister Imran Khan, who is on his maiden visit to Karachi as the premier, Sunday stated that keeping Karachi's law and order situation stable was the Pakistan Tehreek-e-Insaf (PTI) government's top priority.
The prime minister expressed these views during a session which he chaired at the State Guest House regarding the law and order situation in Karachi.
Sindh Chief Minister Syed Murad Ali Shah, Karachi Corps Commander Lt Gen Humayun Aziz, Sindh Governor Imran Ismael, and Sindh chief secretary attended the session. Rangers DG Major General Muhammad Saeed, Sindh IGP and intelligence agencies' officials were also present in the meeting.
During the briefing given by Sindh IGP and Rangers DG, it was said that the rate of serious crimes in the metropolis has gone down by 90 per cent.
The prime minister said that the law and order situation of Karachi has improved significantly, which is primarily due to the sacrifices rendered by the law enforcement agencies. The premier, however, expressed concern over the reported surge in street crime in the metropolis and called for coordinated efforts to eliminate such criminal activities.
PM Khan also took strong exception to the cases of abduction of children in the city and directed to take coordinated action against abductors. He further asked the authorities to recover the abducted children urgently and provide relief to the parents.
The prime minister further said that Karachi is the financial hub of the country and economic progress is not possible without peace and stability.
The prime minister appreciated measures being taken for cleanliness in the metropolis. He directed that the efforts be expedited in order to provide relief to the people.
The premier was also briefed on Karachi's water crisis in a meeting also attended by Karachi Mayor Wasim Akhtar and Commissioner Saleh Farooqi.
In the meeting, the PM was informed of the K-4 water supply project's progress, and also told that Karachi's daily water need now stands at 918 million gallons.
GOVT CAN'T MAKE WATER RELATED ALLOCATIONS IN BUDGET:
Speaking at the fund-raiser dinner for Diamer-Bhasha Dam at Governor House, Prime Minister Imran Khan highlighted the issue of water scarcity facing the country.
"Water per capita availability in the country has dropped from approximately 5,000 cubic metres to 1,000 cubic metres per year," he said, warning that if this continued, there will be massive water shortage by 2025 leading to a decrease in food production and decreasing food security.
"Those who say that dams should not be built, I would like to quote them some statistics. China, the country that is progressing at the fastest pace in the world, has 84,000 dams, including 5,000 big dams. India, too, has 5,000 dams and they are still building more. And we only have two major dams."
The premier highlighted that the government is under heavy debt due to which it is not possible for the government to make water-related allocations from the budget. He said that is why the government has embarked on fundraising.
The prime minister also thanked Chief Justice of Pakistan (CJP) Justice Saqib Nisar for taking the initiative to address water scarcity in the country.
"It's not the chief justice's responsibility but a matter for the government to solve. As a representative of the public, I thank him for taking a lead in the campaign," he said.
PM Khan said that each year, the government has to collect Rs30 billion to reach its target in the next five years. "I am very much sure that we will meet all our targets as I can see that the nation has mobilised," he added.
President Arif Alvi, Finance Minister Asad Umar and Sindh Governor Imran Ismail were also present in the event.
SINDH GOVT EXPRESSES CONCERN OVER TRANSFER OF HIGH RANKING OFFICIALS:
Meanwhile, CM Shah in a meeting with the prime minister expressed reservations over the transfer of high ranking officials without prior notice by the federal government.
Shah also expressed his concerns regarding the deductions in Sindh's financial resources, telling the PM, "Sindh is already facing financial problems. If the funds are stopped at the federal level, Sindh will face further losses."
The CM claimed that "a desalination plant is the sole solution to Karachi's water crisis" and urged "the federal government to help them in this regard".
MQM-P DEMANDS $5b FOR KARACHI's DEVELOPMENT:
Furthermore, PM Imran Khan met leaders of the Muttahida Qaumi Movement-Pakistan (MQM-P) during his visit.
Speaking to media after the meeting, MQM-P leader Khalid Maqbool Siddiqui said that party's leadership discussed a range of issues pertaining to Karachi and Sindh with the prime minister.
The prime minister was apprised about MQM-P's reservation on the result of the census, the case of missing persons and the overall situation in Karachi, he added.
"Karachi needs $5 billion for development," Siddiqui said, adding that the city should get the package it deserves.
"The cities of Sindh are being neglected for the past 70 years. We have presented Karachi's case to the prime minister," said the MQM-P leader.
Earlier, PM Khan reached Karachi on his first official one-day visit to to the metropolis, almost a month after he took oath as the prime minister of the country.
Sindh Governor Imran Ismail and CM Murad Ali Shah received the PM at Karachi's Jinnah International Airport.
Full report at:
https://www.pakistantoday.com.pk/2018/09/16/govt-to-grant-citizenship-to-children-of-afghan-refugees/
--------
Sikhs struggle to save their culture in Pakistan through informal school
September 16, 2018
There was a semblance of fear in the eyes of Taranjeet Singh when he was asked about an informal school he was reportedly running with his brother in their apartment in Pakistan's commercial hub Karachi to teach Sikh religion, culture and history to children of the community.
Twenty-two boys and girls aged between seven and 14 reportedly study in the small classroom of the school located on the sixth floor of a residential building on M A Jinnah Road.
"The classes are no longer being held now because children are not coming, Taranjeet wearing a red turban told PTI when asked about a report in a Pakistani daily about the school.
But he was not comfortable answering questions.
The reason behind Taranjeet's reluctance to speak about the school was explained by Manoj Singh, a volunteer at the main Sikh Gurdwara located on the Jinnah road.
Manoj said they hold classes five times a week for Sikh children because it is mandatory for them to get education according to the Sikh Rehat Maryada, a guideline for Sikhism.
"We have to teach them about Sikh religion, culture and history," Manoj said.
Ramesh Singh of the Pakistan Sikh Council says Taranjeet or the Sikh community in general avoid publicity of their activities in the media because of the situation for minorities in Pakistan.
Ramesh said a number of Sikhs, including Taranjeet, had come to Karachi from Khyber Pakthunkhawa due to the insurgency in the tribal areas.
The Tehreek-e-Taliban Pakistan had threatened minorities to leave the area unless they paid Jizya, an yearly tax historically levied on non-Muslims permanently residing on the Muslim lands.
At public schools, Sikhs and other minorities have to study Islamic teachings.
"We have no objection, of course, because Sikhs strongly believe in inter-faith harmony. But we don't want to forget about our own religion, culture and history," said Ramesh.
Ramesh said the community was keen to set up a proper school for Sikh children in Karachi but it was still fighting to get back the control of the Khalsa High School founded by Sikh elders. The school built in 1930 is under the control of the education department.
Historian Nisar Khuhro said that before the partition, Karachi's old city area was populated by Hindus, Sikhs, Christians, Muslims and Parsis.
"Each of these communities had established their own schools but now except for some well-known institutions, most of the others have disappeared from the city's historical landscape. Declared abandoned properties, some of them were either occupied or demolished."
Ramesh laments that the community has no space in the city to educate their children according to their religion.
Full report at:
https://www.business-standard.com/article/pti-stories/sikhs-struggle-to-save-their-culture-in-pakistan-through-informal-school-118091600562_1.html
--------
MQM-P apprised PM Imran of reservations over census: convener
SEPTEMBER 17, 2018
KARACHI: Muttahida Qaumi Movement-Pakistan (MQM-P) convener Khalid Maqbool Siddiqui on Sunday said that he informed Prime Minister Imran Khan about the party's reservation over the census.
PM Khan, who was on a one-day visit to the metropolis, met Siddiqui and other MQM-P leaders as both pondered over various issues faced by Karachi, including the right to ownership of Martin Quarters' residents.
Moreover, the two dignitaries also discussed the water crisis faced by the city and the 'Karachi package' – a budget allotted by the ex-government for initiating and implementing development projects in the city.
The MQM-P convener said that PM Imran assured him that the issues facing the city would be resolved. Khan also promised to recover missing workers of the party.
https://dailytimes.com.pk/299389/mqm-p-apprised-pm-imran-of-reservations-over-census-convener/
--------
Distinguished scholars from around the world to attend a two-day conference in Islamabad
SEPTEMBER 17, 2018
Distinguished scholars from around the world would attend a two-day event "International Conference on Global Peace Amidst War and Conflict" beginning on Monday in Islamabad.
Renowned international scholars from China, India, Iran, Russia, Turkey, the United States and the host Pakistan will present their findings in the conference.
The purpose of the conference is to analyse the emerging world order and subsequent changing statecraft, amid the rising China and brewing rivalry in Southeast Asia and India Ocean.
The conference will be inaugurated by Chairman Joint Chiefs of Staff Committee General Zubair Mahmood Hayat while Senator Sherry Rehman will be the keynote speaker. The welcome address will be delivered by Lt. Gen. Agha M. Umar Farooq (Retd) President of host institution Center for Peace, Security and Development Studies.
On the opening day, President Azad Jammu and Kashmir Ambassador Masood Khan will chair the session on Evolving Global Order. This session will be addressed by Dr. Natalia Piskunova, Moscow State University; Mr. Andrew Small, German Marshall Fund USA and Dr. Wei Zongyou, Fudan University, China.
The second session of the day on Geopolitics and Transforming Statecraft will be chaired by Ambassador Aizaz Ahmad Chaudhry, Director General Institute of Strategic Studies Islamabad (ISSI). This session will be addressed by Prof. Marvin Weinbaum, The Middle East Institute, Washington, DC; Mr. Parvin Sawnhey, Editor Force magazine, India and Ambassador Ali Sarwar Naqvi, Executive Director Center for International Strategic Studies (CISS).
On Tuesday, the session on Transforming Socio-Economic Order will be chaired by Dr. Salman Shah, former Finance Minister and will be addressed by Dr. Shamshad Akhtar, former caretaker Finance Minister; Ambassador Jehangir Ashraf Qazi and Dr. Mandana Tishebyar, Allama Tabatabi University, Iran.
Ambassador Zamir Akram will chair session on International Security. It will be participated by Dr. Suba Chandran, National Institute of Advanced Studies, India; Dr. S. Gulden Ayman, Istanbul University, Turkey and Dr. Tughral Yamin, National University of Science and Technology (NUST), Islamabad.
At the conclusion of the conference on Tuesday, Mr. Abdullah Dadabhoy Chairman CPSD will launch and present a research report on water situation "Karachi: The Uroos-ul-Bilaad Water Resource Management" to Federal Information Minister Mr. Fawad Choudhry and Mr. Sheharyar Afridi, Minister of State for Interior .
Full report at:
https://dailytimes.com.pk/299041/distinguished-scholars-from-around-the-world-to-attend-a-two-day-conference-in-islamabad/
--------
Southeast Asia
Pas-Umno cooperation, will it be for Islam or politics?
September 17, 2018
KUALA NERUS: The 64th Pas general assembly drew its curtains yesterday with delegates acceding to the party's collaboration with Umno for the interest of the Malays and Islam.
Nevertheless, Pas president Datuk Seri Abdul Hadi Awang did not see it as vital, though necessary, hence raising questions whether the collaboration will merely be on the basis of 'taawun ' (cooperation for the benefit of Islam) or a step further through 'tahaluf siyasi' (political cooperation).
The presence, for the first time ever of Umno leaders, led by its president Datuk Seri Ahmad Zahid Hamidi, at the assembly was much talked about among Pas delegates.
"I believe the Pas leadership is sincere, although he did not specifically mention it (in his speech), but politicians understand what he is trying to say," said Ahmad Zahid when asked about the presence of Umno leaders, who were welcomed by Abdul Hadi and other Pas leaders, at the opening of the Pas general assembly.
Pas' invitation for Umno to attend its general assembly is in line with the practice of a mature and peaceful political culture that Pas is trying to inculcate among its members.
However, Pas leaders were advised by delegates to exercise caution when forging cooperation with any party, including Umno, by not placing the party's struggle, which is to champion Islam, at stake.
Abdul Hadi, in his presidential policy speech, said that Pas was consistent and had always adopted a mature and peaceful political approach with all parties.
Political analyst Dr Syed Agil Syed Alsagoff, from Universti Putra Malaysia, said Pas needed the support of its political friends, like Umno, to ensure its survival.
"I believe Pas should be more open by accepting the advantages and weakness of the party's friends and to create a political culture which is more positive and progressive," he said.
He said Pas should not be prejudicial and regard Umno's history and negativity as threats to the party.
The assembly also saw the commitment and appreciation by Pas to the concept of federalism, especially in ensuring the progress of Kelantan and Terengganu, which are under Pas rule.
Abdul Hadi said the statement by Prime Minister Tun Dr Mahathir Mohamad to return the oil royalty to oil producing states Kelantan and Terengganu was a positive sign and hoped more would be done for both the states.
This included development allocation, infrastructure facilities and investment opportunities, he added.
A geo-strategist from Universiti Teknologi Malaysia, Azmi Hassan said the concept of federalism had been practised in the country since independence.
"A state cannot stand on its own without federal assistance, especially those that do not have a strong source of income," he added.
https://www.nst.com.my/news/politics/2018/09/412102/pas-umno-cooperation-will-it-be-islam-or-politics
--------
Prosecuted Uighur Muslims are being ignored — I know, because I am one of them
Sep 16, 2018
Becoming a mother or a father is often described as one of the best feelings in the world. It's like starting a new chapter — the joys of bringing a little one home, raising them and watching them achieve their goals.
Now imagine if one day you were taken away from your children and thrown into an internment camp, with no idea of why you were there, or whether you would ever be able to see your children again. Imagine that the explanation you're then given is that your crime was practicing your religion, and because of this you will be tormented. How would you feel?
Scared, right? Well, that is exactly how millions of Uighurs are feeling right now in China.
If you have still not heard our cries, then here I am screaming louder than ever, to tell you that the Uighur people are a beautiful community of Turkic Muslims. We have our own language, culture, and music. We even design our own traditional clothing patterns. But we also practice Islam, and that is why China is persecuting us.
At present, more than 1 million Uighur Muslims are locked in horrific "re-education" camps where they are forced to forget their identities and denounce Islam. A recent story by The Independent about a Human Rights Watch report on the increasing human rights violations in the Uighur region, revealed the horrifying levels of abuses against the Uighur community on the part of the Chinese government. Today, thousands of children with parents locked up in the camps are sent to orphanages. The roads in the Xinjiang region stand empty, with houses locked up and shops closed because their owners were apprehended.
Since I fled China with my own family, the situation has only worsened.
I am a young woman now living "safely" in London with my parents, but the idea of losing them still keeps me awake at night.
As an 11-year-old child living in China, I used to always feel fearful and knew that if anything went wrong, that even my parents wouldn't be able to save me.
We left China after one of our neighbours, Patime, had an abortion while she was six months pregnant. She didn't survive the operation, and the cruelty of the authorities was a wake-up call for my family to leave China. The government announced plans to end the One Child Policy, but Uighur families were constantly monitored, and forced abortion was a common thing. That feeling of dread still lives in me, and discourages me from sharing my identity with people.
Escaping abroad to the United Arab Emirates didn't change much. Chinese embassies keep an eye on Uighurs living in foreign countries, and keep pressuring governments to deport Uighurs back. They even blackmail students by holding their families hostage back in China.
We can't say that any particular country is safe for us. Even countries like Sweden have upheld orders for deportation. Uighurs have to keep an eye on their present country's relationship with China; if the influence increases, so does the danger. Its like watching the news to determine whether or not you'll be safe every day.
After the accession of East Turkestan by the People's Republic of China in 1949, the crackdown on Uighur Muslims started slowly. First, children were stopped from learning about the Quran, then from going to mosques. It was followed by bans on ramadan, growing beards, giving Islamic names to your baby, etc.
Then our language was attacked — we didn't get jobs if we didn't know Mandarin. Our passports were collected, we were told to spy on each other, innocent Uighur prisoners were killed for organ harvesting, and the list kept increasing, making the region feel like an open prison.
At present, there are face-recognition cameras everywhere, QR codes have been installed outside the houses as well as inside kitchen utensils belonging to Uighur Muslims. Women are being forced to marry Han Chinese. At any time, Uighur's can be stopped by police and sent to the camps — it seems people are not allowed to even think without China's permission.
Despite the severity of atrocities inflected on Uighur Muslims by the Chinese government, the country still sits proudly as a permanent member of United Nations, and simply denies the existence of these things. In spite of all the proof, China has not even allowed the UN to conduct a free investigation in the region.
Full report at:
https://timesofindia.indiatimes.com/world/china/prosecuted-uighur-muslims-are-being-ignored-i-know-because-i-am-one-of-them/articleshow/65831175.cms
--------
PAS to ensure political survival of Malays, Islam
September 16, 2018
KUALA NERUS: The 64th PAS general assembly today passed a motion for the party to spearhead efforts to ensure the political survival of Malays and Islam in the country.
The motion is aimed at further strengthening unity as well as curbing negative elements which could cause disharmony or detriment to Islam, the people and nation.
This was one of the six motions that were passed without debate on the final day of the assembly at the State Sports Complex's Indoor Stadium here.
PAS Youth described the motion on the political survival as important because people were becoming more politically aware and this required the response of the party leadership.
Full report at:
https://www.freemalaysiatoday.com/category/nation/2018/09/16/pas-to-ensure-political-survival-of-malays-islam/
--------
Hadi: Both parties must help defend Malay interests
17 Sep 2018
KUALA TERENGGANU: The collaboration between PAS and Umno is crucial in defending the interests of the country's Malay-Muslim majority, says Datuk Seri Abdul Hadi Awang.
Speaking at a press conference after closing the 64th annual PAS general assembly or muktamar, the party president said when the federal government was dominated by non-Muslims, they needed to make sure that Malaysia's Muslim majority was not neglected.
"There even have been suggestions, for example, that the religious councils be abolished or for LGBT rights to be recognised.
"These are sensitive topics for Muslims and we cannot allow such things to happen," he said.
Abdul Hadi said it was their fault for allowing Pakatan Harapan to lead the government.
"Don't get angry over what happened because it was the Malays themselves who voted them in," he said.
After the general election, there was an uproar by pro-Malay groups over the appointments of non-Muslims like Tommy Thomas as Attorney General and Tan Sri Richard Malanjum as Chief Justice.
However, Abdul Hadi did not specifically mention those cases.
"A pregnant mother is not to be blamed (for what happened). It is the voters' fault," he said.
Meanwhile, PAS deputy president Datuk Tuan Ibrahim Tuan Man proposed having uniform syariah court punishments in all states.
"We propose that the implementation of takzir be standardised across all states, including where they are carried out.
"The punishment differs as some courts choose caning while some mete out fines.
"These depend on the judges. So, if there is some sort of uniformity for court judges in different states, it would be better.
Full report at:
https://www.thestar.com.my/news/nation/2018/09/17/hadi-both-parties-must-help-defend-malay-interests/
--------
Militants Free 3 Indonesian Hostages in Southern Philippines
September 16, 2018
MANILA, PHILIPPINES —
Muslim militants have freed three Indonesian men they kidnapped at sea early last year off Malaysia then brought them to their jungle hideouts in the southern Philippines, officials said Sunday.
The Indonesians were freed Friday with the help of the Moro National Liberation Front, a rebel group that signed a peace deal with the Philippine government, in Indanan town in Sulu province, police said.
The released hostages, Hamdam Salim, Subandi Sattuh and Sudarlan Samansung, were to be handed to the Indonesian ambassador in southern Zamboanga city later Sunday, the military said.
Taken off Borneo Island
The three were taken at gunpoint by suspected Abu Sayyaf militants off Malaysia's Sabah state on Borneo island in January last year, security officials said.
An Abu Sayyaf commander, Marjan Sahidjuan, led the abductors who freed the captives in exchange for a ransom, a security official said, speaking on condition of anonymity because he wasn't authorized to talk to media.
Regional military spokesman Lt. Col. Gerry Besana said the military is unaware of any ransom payment and added that relentless offensives pressured the kidnappers to let go of their hostages.
Piracy, abductions down
Efforts by the Philippines, Malaysia and Indonesia to beef up security along their massive sea border have considerably eased piracy and kidnappings in the past months primarily by the Abu Sayyaf, which is blacklisted by the United States and the Philippines as a terrorist organization.
The Philippine police, however, said that the two Indonesian skippers of a Malaysian fishing boat were abducted Tuesday off Semporna Islands in Sabah, Malaysia, and also taken by suspected militants armed with M-16 rifles toward the southern Philippines.
Full report at:
https://www.voanews.com/a/militants-free-3-indonesian-hostages-in-southern-philippines/4573604.html
--------
Prabowo-Sandiaga signs pact with GNPF, promises to uphold religious values
September 17, 2018
Presidential candidate Prabowo Subianto signed on Sunday an "integrity pact" with ulemas and Muslim activists united under the National Movement to Safeguard the Ulema Fatwa (GNPF) with several promises including to uphold religious values, paying attention to "religious people's interests", protecting the nation's resources and guaranteeing the return of cleric Rizieq Shihab, who is out of the country right now.
"On behalf of the Prabowo-Sandiaga ticket, I thank the ulemas for their sincere trust and support," said Prabowo in a live video aired on the Facebook account of Zulkifli Hasan, the National Mandate Party (PAN) chairman, on Sunday afternoon.
In return, the GNPF vowed to support Prabowo and his running mate Sandiaga Uno.
Earlier GNPF representative Eggi Sudjana said the pair was set to sign an integrity pact in their effort to "protect" ulemas across the country during their second congregation, called Ijtima Ulama II, in Central Jakarta on Sunday.
"The highlight of the second congregation is the signing of the integrity pact," Eggi said as quoted by tempo.co. He added that the current government under the leadership of President Joko "Jokowi" Widodo made no effort to protect Islam and ulemas.
For instant, Eggi said, the government had permitted the harassment of Neno Warisman. Neno, an opposition activist with the #2019ChangePresident campaign who is regarded as an ulema, has been banned from attending #2019ChangePresident events in several regions.
"Because the current government has failed to protect our religion and ulemas, we want the presidential candidates to commit to religion and ulema protection," Eggi said.
Separately, Presidential Chief of Staff Moeldoko suggested the ulema stay focused on "guiding the umma [believers]" instead of getting involved in politics. "[I am] worried about the umma, that they will get lost," Moeldoko said, as quoted by tempo.co.
Full report at:
http://www.thejakartapost.com/news/2018/09/16/prabowo-sandiaga-signs-pact-with-gnpf-promises-to-uphold-religious-values.html
--------
North America
Federal DHS grants on extremism concern Muslims in Michigan
Sept. 16, 2018
The week before Donald Trump was inaugurated last year, the Department of Homeland Security (DHS) awarded a Lebanese-American group in Dearborn $500,000 as part of a government effort to counter violent extremism known as CVE. The department also gave Dearborn Police $51,000 as part of the program.
But the grants drew backlash from Arab-American and civil rights advocates who worried the money stereotyped Arab-Americans and Muslims and could be used for surveillance.
A week after Trump became president, the Dearborn group, Leaders Advancing and Helping Communities, formerly known as the Lebanese American Heritage Club (LAHC), turned down the half a million dollar grant. Other Arab-American and Muslim groups across the U.S., such as the Somali-American community in Minnesota, also turned down grants, saying they were being singled out for discussions about violent extremism.
Now, the CVE (Countering Violent Extremism) program is back in Michigan again drawing controversy with a new effort through the National Governors Association, which announced earlier this year it has chosen Michigan as one of four states to create "policy academies" to monitor and counter violent extremism. The Department of Homeland Security gave the governor's association $500,000 for the program.
"The protection of Michigan residents is our highest priority," said Col. Kriste Kibbey Etue, director of the Michigan State Police and State Director of Emergency Management and Homeland Security. "This academy will allow us to work collaboratively to develop a comprehensive strategy to combat violent extremism and targeted violence."
But the move has drawn concern from Muslim and Arab-American leaders who fear the money will be used to target them. Given Trump's rhetoric against Islam and his administration's travel ban on some Muslim-majority countries, they say the programs could be used in negative ways. Moreover, they say that the bigger problem is right-wing extremism, citing studies that show white supremacist and anti-government groups are committing more acts of violence.
Muslim Advocates, a civil rights group, filed a Freedom of Information Act (FOIA) request last month with the Department of Homeland Security, asking for details about the $500,000 grant it gave to the National Governors Association.
Juvaria Khan, a staff attorney with Muslim Advocates, said CVE programs are both ineffective and discriminatory, trying to link religious traits such as praying or style of dress to being a terrorist.
"CVE programs have long been known to unjustly target Muslim, black, and brown communities,"Khan said. "Under CVE, the daily activities many Americans engage in will be viewed with suspicion and potentially criminalized. This is especially true for American Muslims. We call on DHS to release any and all documents pertaining to these programs in Colorado, Illinois, Michigan, and Virginia so that Americans can understand how their communities are being affected."
Khan cited a study by the Brennan Center for Justice that 85 percent of the CVE program are targeting Muslim-Americans. She and others are concerned about the vague nature of the CVE plans in Michigan.
Ari Adler, spokesman for Michigan Gov. Rick Snyder, said that the state is receiving $10,000 as its part of the grant "and is currently under review for how to best use it."
"As I understand it, the grant does not focus on any specific groups or ideologies," Adler said.
In a statement in April after the governors association awarded the money, Snyder said: "Unfortunately, targeted violence continues to be a problem that plagues our nation. Being selected for this Policy Academy is an opportunity for Michigan to learn from subject matter experts and build partnerships with participating states as we further enhance our plans to prevent acts of violence driven by ideology."
But Nabih Ayad, a Detroit attorney who founded the Arab American Civil Rights League, said he's concerned that Arab-Americans are being targeted with the latest CVE program. He also worries about the role that Michigan State Police may play in the program given that its director, Etue, shared a Facebook post last year calling kneeling protesters like Colin Kaepernick "anti-American degenerates."
"I find it highly suspicious they gave this to the Governors Association, who then chose Michigan..which has a large Muslim and very diverse Arab-American population," Ayad said. "There's a concern they're going to be discriminatory and selective in their approach. ... There is no doubt they gave this money earmarked to be basically used against this group of people."
Ayad said the money could be used instead to promote more diversity in law enforcement.
Brittany Donald, spokeswoman for the National Governors Association, said "we are not targeting any particular group of individuals."
"Guiding our work is a firm commitment to respecting and protecting individual's First Amendment rights."
She said "the goal of the policy academy is to help these states develop and implement evidence-based strategies for preventing ideologically motivated violence, regardless of whether that ideology is based on religion, nationalism, racism or any other set of beliefs."
Abed Ayoub, director of legal and policy affairs at the American-Arab Anti-Discrimination Committee, said the CVE programs "function as surveillance tools. ... It's not effective in combating extremism."
"We're not surprised Michigan got selected," said Ayoub, a native of Dearborn. "Because of its high concentration of Arab-Americans and Muslims in Michigan, you can almost guarantee funding will include a component of surveillance."
Dearborn and CVE
In former President Barack Obama's last month in office, DHS gave a total of $10 million in CVE grants to various groups and law enforcement agencies across the U.S. to combat extremism, whether Islamic or right-wing or other types. The grants came as the rise of ISIS caused alarm; in February 2015, the White House had held a three-day summit on countering violent extremism.
But shortly after Trump took office, DHS canceled those grants pending a review. There was discussion that the Trump administration was going to focus only on Islamic extremism, according to a February 2017 report in Reuters.
A few months later, DHS then chose 26 groups for the $10 million in CVE grants, including $51,521 for Dearborn Police to conduct monthly training sessions for the public on how to detect potentially violent people and responding to active shooter situations.
Dearborn Police Chief Ron Haddad, who oversees police in a city with a sizable Arab-American Muslim population, has been working on CVE issues for years with the Department of Homeland Security. He said he spoke about restoring the money for Dearborn with John Kelly, previously the Homeland Security Secretary, when Kelly visited Dearborn in March 2017.
But Haddad added that he's uneasy with the phrase "Countering Violent Extremism."
"The title is inappropriate for the actual training," Haddad told the Free Press. "That title would infer there is a violent extremist culture that we're trying to go against."
Haddad said he and others have tried to get the name changed over the years, but were told by federal officials that's the way it was designated by Congress for the funding.
Haddad said the CVE program is not about spying or "sneaking up on mosques," but about building relationships and ties.
"Some people want to build a narrative we're spying on mosques and countering violent extremism ... which is not the case," he said.
Dearborn's grant money is used for monthly Community Training and Awareness Briefings (CTAB) that are held in community centers, schools, corporations such as Ford, and other places.
Dearborn Mayor Jack O'Reilly said there have been about seven cases over the years in Dearborn where early intervention helped defuse potential cases of violent extremism. A couple of those cases involved youths drawn to radical groups such as ISIS.
In a separate case in July, federal authorities said it had captured a former Dearborn resident, Ibraheem Musaibli, accused of joining ISIS in Syria.
Violence not limited to one group
But Mayor O'Reilly stresses that the issue of violence cuts across all groups and beliefs.
"There are young people who are reaching a point of no return and don't know what else to do," O'Reilly said, referring to incidents like mass shootings in schools. "You see it every day."
Regardless of whether Dearborn gets CVE grants in the future, O'Reilly said the city will continue to work with its diverse communities on making the city safe.
Haddad said that terrorism and Islamic extremism often get a lot of attention, but make up a tiny percentage of the violence in society.
"The 'terrorism' buzzword is a very emotional thing," Haddad said. "Since 9/11, it's changed all our lives. But when you look at the national crime index, you can't even find it" on the list of major incidents "because the crimes are so infrequent."
"It gets all the attention and the media talk about it, but when you look at the statistics ... it's so small, it doesn't show up on the page," Haddad said.,
Haddad said that referring to Dearborn when talking about terrorism can be "causing more fear and paranoia" that's not grounded in reality.
Another problem, say advocates, is that the Trump administration doesn't seem to be taking seriously the issue of right-wing extremism. A report released by two groups that monitor extremism, cited in a Washington Post report, showed there are almost 10 times as many Internet searches in the United States indicating support for right-wing and white supremacist violence compared with jihadist violence.
Last year, DHS rescinded a $400,000 CVE grant it had given to Life After Hate, which was founded by a former neo-Nazi who now tries to combat white supremacist violence. A government official told the New York Times it was rescinded after the founder had criticized Trump.
A spokesman for DHS would not comment on the FOIA request and concerns raised by Muslim advocates.
On its website, DHS said its CVE "projects work in a way that explicitly does not compromise the individuals' privacy, civil rights, or civil liberties. ... Discrimination on any basis is both prohibited and antithetical to the purpose of these projects." https://www.freep.com/story/news/local/michigan/2018/09/16/grants-countering-extremism-muslim-concern/1292154002/
--------
Muslim workers in US fired after dispute over Namaaz to get $1.5 mn in compensation
September 17, 2018
Denver (Colorado, United States): A Fort Morgan meatpacking plant and the union that represents its employees will pay settlements to Muslim workers whose civil rights were violated when they were denied prayer breaks and then fired after they complained. Cargill Meat Solutions will pay $1.5 million and the Teamsters Local Union No. 455 will pay $153,000 to resolve complaints filed in 2015 after the Somali-American workers walked off the job over the prayer breaks dispute, the U.S. Equal Opportunity Employment Commission announced in a news release Friday.
Cargill has also agreed to train managers and hourly workers in accommodating Muslim employees' prayer breaks at its Fort Morgan beef processing plant. The company denied wrongdoing but agreed to settle to avoid further litigation.
Cargill Meat Solutions had fired 138 workers in late 2016 for offering Namaz during service hours. In 2017, a federal anti-discrimination agency found that the workers had been harassed and discriminated against for protesting the unannounced policy change that denied them opportunities for obligatory prayer.
Hundreds of Somali-Americans work at the plant in Fort Morgan, northeast of Denver. The Council on American-Islamic Relations (CAIR), a Muslim advocacy group, and Qusair Mohamed Bhai, a Denver attorney who represented the workers praised the settlement.
The settlement will be paid to 138 people, said Amy Burkholder, director of the EEOC's Denver office. The company and the union have agreed to change policies and to provide training to managers and union representatives as part of the settlement, she said.
Full report at:
http://www.ummid.com/news/2018/September/17.09.2018/muslim-workers-in-us-fired-after-dispute-over-namaaz-to-get-1-5-mn-dollar-in-compensation.html
--------
Taliban call for closure of US bases, prisoner release
September 17, 2018
WASHINGTON: Taliban leaders are demanding closure of US bases in Afghanistan and release of hundreds of their prisoners for continuing peace talks with the United States, the US media reported on Saturday.
Zalmay Khalilzad, a former US ambassador recently named as a special adviser for Afghanistan peace talks, arrived in the United Arab Emirates this week for the next round of US-Taliban talks, NBC News reported.
The release of hundreds of Taliban-linked prisoners and the status of US bases in Afghanistan were among the key issues Taliban leaders want to negotiate in US-backed talks to end the war in Afghanistan.
"This meeting with the US authorities would either help pave the way for more meaningful talks or stop them forever," said one of the four senior Taliban officials who spoke to NBC News.
Other US media outlets, however, reported that the Afghan government was unlikely to concede to the request without a commensurate concession from the Taliban.
Full report at:
https://www.dawn.com/news/1433427/taliban-call-for-closure-of-us-bases-prisoner-release
--------
Trump keeps backing Saudi despite Yemen atrocities
Sep 16, 2018
The administration of US President Donald Trump has been adamant in supporting Saudi Arabia despite the regime's ongoing military aggression against Yemen, an unprovoked war that has killed thousands of civilians and decimated the infrastructure of an already poor nation.
Earlier this week, as the months-long offensive by Saudis and their regional allies to capture Yemen's important port city of al-Hudaydah continued, Saudi commanders announced Wednesday that they had been able to block two key supply routes into the city, The Washington Post reported.
This was not good news for millions of Yemeni people facing famine and a deadly cholera epidemic, as the city acts as a gateway for 70 percent of the supplies of food and medicine entering the conflict-ridden country.
This is while the Saudi-led coalition has had the port city under aerial and maritime blockade since the beginning of the war in March 2015.
Despite all this, however, the Trump administration certified to Congress on Tuesday that the Saudis and their allies were "making every effort to reduce the risk of civilian casualties."
The official notice was required for the Pentagon to be allowed to continue delivering weapons and intelligence to Riyadh despite the international view that civilians have now become the main target of the war.
Saudi Arabia and its regional allies launched the devastating military campaign against Yemen in March 2015, with the aim of reinstating former president Abd Rabbuh Mansur Hadi and crushing the Houthi Ansarullah Movement.
Some 15,000 Yemenis have been killed and thousands more injured since the start of the Saudi-led aggression.
More than 2,200 others have died of cholera, and the crisis has triggered what the United Nations has described as the world's worst humanitarian disaster.
The Saudi-led offensive to wrest control of Hudaydah began in June, with the aim of stopping continued missile strikes by Yemen's army and the Houthis.
The Saudis insist that the only way to stop what they call a flow of arms and missile parts to the group is by taking the whole city under control.
However, the offensive has been far from successful. In fact, the extent of civilian casualties has put the coalition under growing international pressure to end the onslaught.
The certification came after some congressmen started asking question about Washington's role in the war following a series of Saudi attacks that a UN panel of experts says may amount to war crimes.
On August 9, Saudi aircraft targeted a school bus packed with young boys in the Sa'ada province, killing at least 51, including 40 children.
Full report at:
https://www.presstv.com/Detail/2018/09/16/574343/US-Trump-support-Saudi-war-Yemen
--------
US revokes residency of Palestinian envoy
16.09.2018
Washington has revoked the residency permit of Husam Zomlot, head of the Palestine Liberation Organization's (PLO) General Delegation to the U.S.
The U.S. also cancelled the residency permit of Zomlot's family members and closed his bank accounts, Ahmad Majdalani, a member of the Executive Committee of the PLO, told Anadolu Agency.
The move came after the U.S. administration announced the closure of the PLO's Washington office, which also serves as a Palestinian embassy.
Majdalani said Washington's decisions did not fit with "diplomatic manners."
Wasel Abu Yousef, a PLO executive committee member, said that Zomlot has been in Ramallah for four months when he was recalled by the Palestinian authorities.
Yousef also condemned the decision by the U.S.
Recently, the U.S. cancelled all funding to UNRWA, the UN's cash-strapped Palestinian refugee agency.
The decision also comes as the U.S. administration prepares to unveil a controversial Middle East peace plan, details of which have yet to be made public.
Full report at:
https://www.aa.com.tr/en/americas/us-revokes-residency-of-palestinian-envoy/1256333
--------
Arab World
Turkey Plans to Force Europe Make Concessions Using Terrorists in Idlib
Sep 16, 2018
The Arabic-language al-Watan newspaper quoted sources close to Tahrir al-Sham as saying on Sunday that Turkey has set up a 'resort prison' at bordering areas in Hatay and Antakiyeh provinces and has transferred a number of low-ranking Tahrir al-Sham commanders who want to leave 'Jihad' and survive to these places after the recent meeting between the Iranian, Russian and Turkish leaders in Tehran.
The report said high-ranking Tahrir al-Sham commanders and Horas al-Din and Turkistani terrorists will most likely not allow Turkey to complete its plan as Ankara has been encouraging some notorious terrorists of Tahrir al-Sham to retreat to the said border areas in a bid to show that Tahrir al-Sham is no more present in Idlib.
The sources said that Ankara wants to use the low-ranking terrorist commanders who are in the country's resort prisons in other areas of clashes as a leverage to pressure the western and regional states.
Earlier reports this month had revealed Turkey's demand from Damascus, via Russian channels, again to further delay the army's military operations in Idlib.
The Arabic-language website of Sputnik quoted informed Syrian sources as saying that Ankara has asked the Syrian army's command center, with Moscow's mediation, to provide the country with more time to separate those who it calls as "moderate dissidents" from Tahrir al-Sham and the ISIL terrorists.
Based on the report, the Turkish side has admitted dispatch of military equipment to several regions of Idlib province in the past few days, saying that if Tahrir al-Sham rejects leaving the regions occupied by the "moderate dissidents", it will use military power against them. Turkey has not mentioned where the terrorists could retreat to after leaving Idlib.
The sources said that if Syria and Russia agree with Turkey's demand, it will be the last deadline given to Ankara to act upon its undertakings based on the Astana conference.
Earlier reports said that Damascus has extended its deadline for two days upon Turkey's demand to delay military operations in Idlib province.
http://en.farsnews.com/newstext.aspx?nn=13970625000774
--------
Bodies of More Civilians Killed in US Attacks Unearthed in Syria's Raqqa
Sep 16, 2018
Raqqa Civil Council Team discovered bodies of four civilians killed in the air raid in al-Tamovin Garden in al-Kahroba neighborhood in Raqqa city.
In the meantime, three more bodies were found in the yard of al-Atiq mosque and six more were unearthed from the debris of ruined buildings in al-Badou neighborhood in Raqqa city.
Bodies of civilians killed in US air raids and/or by ISIL are found in Raqqa on a daily basis.
Media activists in Raqqa reported on Thursday that corpses of 4 civilians who had been killed in the US attacks were discovered in the rubbles of Atiq Grand Mosque.
They added that bodies of 4 other people were also found in the ruins of a building near the Women Union's headquarters, three others were discovered in a district near the public park and 2 more corpses were unearthed from the rubbles of al-Badou district.
http://en.farsnews.com/newstext.aspx?nn=13970625000736
--------
US Army Suffers Casualties in ISIL's Offensive in Northeastern Syria
Sep 16, 2018
The Arabic-language al-Manar News Network reported that a number of US army soldiers were killed or wounded in an ISIL attack on their convoy in Hasaka city in Northeastern Syria.
It further said that the US-backed Syrian Democratic Forces (SDF) has put its gunmen on alert after the ISIL attack, adding that an increasing number of SDF militants are defecting the Washington-backed group.
Elsewhere, the news network said that people in the village of al-Tayaneh in Zebyan region in Hasaka demonstrated against the SDF's brutal measures in the region.
On Saturday, a number of SDF were killed after a bomb went off at their base in the town of Manbij in Northeastern Syria.
A bomb went off at a base of the SDF-affiliated Military Police in Moshfa al-Amal Square, inflicting a number of casualties on the militia group and civilians.
In the meantime, a number of civilians, including a child, were killed in a blast in al-Hakamah Street in Manbij two days ago.
No one has thus far claimed responsibility for the blasts.
Full report at:
http://en.farsnews.com/newstext.aspx?nn=13970625000829
--------
French Ground Forces Spotted in Syria in Spite of Paris' Silence
Sep 16, 2018
The photo of a French armored vehicle in Deir Ezzur, which has been released in social networks by the US army, has speculated the French ground forces' presence in the war-torn country.
The image was released by the US Special Ops Joint Task Force in Iraq and Syria on Wednesday, before being promptly removed – possibly at the request of the French authorities.
The photo shows a French Aravis vehicle. The French Army and the Saudi Army are the only military forces using the vehicle, while the Saudis are not known to be present in Deir Ezzur.
Similar vehicles have been sighted in Syria on numerous occasions in territories controlled by Washington-backed militants, such as Manbij.
The US and French military have not yet reacted to the report.
In the meantime, the London-based Syrian Observatory of Human Rights (SOHR) reported earlier today that the French Army's artillery units have been operating in a region on the Eastern bank of the Euphrates River.
France is part of the US-led coalition in Syria, and has been actively participating in the aerial campaign in the region. Notably, it was involved in a joint airstrike with the US and the UK in April following an alleged chemical attack on Douma, a then militant-held suburb of Damascus. Paris, however, has never said that it has troops on the ground in Deir Ezzur.
The Syrian sources have been reporting in recent months about arrival of several French military convoys in the US-run bases in the regions that are under control of the Syrian Democratic Forces in Hasaka, Raqqa and the town of Manbij in Northeastern Aleppo.
The Lebanese al-Manar TV Channel reported earlier this month that a French military convoy arrived at a base run by the US-led coalition in the village of al-Sa'eidiyeh East of the town of Manbij.
It further said that a group of French troops were also dispatched to the coalition base in the Cultural Center in central Manbij.
Full report at:
http://en.farsnews.com/newstext.aspx?nn=13970625000983
--------
Syrian Army Purges More Regions of ISIL in Deserts of Homs
Sep 16, 2018
The army forces clashed with ISIL in the Eastern deserts of Homs near the al-Sukhnah desert and roads to the border with Iraq, seizing more lands.
The army units drove ISIL out of the villages of al-Nayarah, al-Rashediyeh and al-Sawarem in the depth of the Eastern deserts after imposing heavy casualties on the terrorists.
In the meantime, the country's Air Force pounded ISIL's movements along contact lines with the terrorists in al-Sukhna desert to the border with Iraq, near Aweiraz Dam, in T2 Oil Pumping Station and near Homs border with Deir Ezzur, inflicting major losses on the terrorists.
On Saturday, the army forces engaged in heavy fighting with ISIL in the deserts of Syria from Southwestern Deir Ezzur to Eastern Homs, driving the terrorists out of vast regions, including several heights.
The army soldiers, backed up by the artillery units and the country's Air Force, stormed ISIL's positions and purged terrorists from a large region from the T2 Oil Pumping Station in Southwestern Deir Ezzur to al-Dhamir region in al-Sham deserts.
In the meantime, field sources said that the army is planning to push the remaining pockets of ISIL back from T3 Oil Pumping Station in Eastern Homs to al-Sukhnah and from the road to Kbajeb and al-Reshwaniyeh to Humeimeh region at the provincial border with Deir Ezzur.
Full report at:
http://en.farsnews.com/newstext.aspx?nn=13970625000268
--------
After Damascus raid, Israel says working to keep weapons from foes
16 September 2018
Israel's Prime Minister Benjamin Netanyahu said Sunday his country is taking action to stop its foes from acquiring sophisticated arms, hours after Damascus said Israeli missiles targeted its airport.
Israel has not officially confirmed or denied a report by Syrian state news agency SANA of an attack late Saturday on Damascus international airport.
"Israel is constantly working to prevent our enemies from arming themselves with advanced weaponry," Netanyahu's office quoted him as saying at the start of his cabinet's weekly meeting.
"Our red lines are as sharp as ever and our determination to enforce them is stronger than ever."
SANA quoted a Syrian military source as saying that air defenses "shot down a number of hostile missiles" during the attack.
The Syrian Observatory for Human Rights, a Britain-based war monitor, said the strikes hit a weapons depot outside the airport.
Israel has vowed to prevent its arch-foe Iran, which is a main backer of the Damascus government, from gaining a military foothold in neighboring war-torn Syria.
Earlier this month, Israel acknowledged having carried out more than 200 strikes in Syria over the past 18 months, mainly against Iranian targets.
It has also admitted to striking Syria to prevent what it says are deliveries of advanced weaponry to Lebanon's Hezbollah, an armed movement backed by Iran and which fights alongside Syrian troops.
The last reported Israeli strikes on Syria took place on September 4, when Syrian state media said the military's air defenses downed several missiles in the coastal province of Tartus and in central Hama.
Netanyahu was speaking two days before the start of Yom Kippur, the Jewish day of atonement, and the anniversary of the outbreak of the Yom Kippur war.
The 1973 conflict started with a surprise attack by Egypt and Syria that Israel was only able to defeat after setbacks that caused severe losses.
"Forty-five years ago, intelligence erred by holding to a mistaken assessment regarding the war intentions of Egypt and Syria," he said.
"When these intentions became clear beyond all doubt, and when the danger was on our very doorstep, the political leadership made a grievous mistake by not allowing a pre-emptive strike. We will never repeat this mistake."
Full report at:
https://english.alarabiya.net/en/News/middle-east/2018/09/16/After-Damascus-raid-Israel-says-working-to-keep-weapons-from-foes.html
--------
Kurds opt out of Assad regime's first municipal polls since 2011
September 18, 2018
DAMASCUS: Syria held its first municipal elections since 2011 on Sunday, amid tensions with the country's self-administered Kurdish region, which refused to allow polls.
Turnout was modest at stations in the Syrian capital and candidates aligned with the ruling Baath party were expected to win. The Baath party has controlled Syria's political and security apparatuses since the 1960s. Hassan Taraqji, a Baath candidate in Damascus, said reconstruction was a top priority for voters after more than seven years of civil war.
"We hope we can meet the people's aspirations and improve conditions and services in the city," he said.
The war waged by President Bashar Assad's regime against local opposition forces and Daesh has cost the country more than $300 billion in economic damage, according to a recent UN study. Observers say more than 400,000 people have been killed.
But parts of the country remain beyond Damascus' reach, including the US-backed self-administered Kurdish region in north Syria, which also includes Arab and minority populations. The region is governed by its own Syrian Democratic Council (SDC), which refused to allow the Damascus-organized elections to proceed on its territory.
"The regime wants us to remain under its rule and under the rule of the Baath," said Ibrahim Ibrahim, a spokesman for the administration.
Kurdish officials say they want a federalized Syria that respects the northeast's autonomy from Damascus and guarantees rights and privileges for national minorities.
High-level meetings between representatives of the SDC and Baath and federal officials in Damascus are yet to produce a breakthrough.
Damascus insists it will assert its authority over the whole country. Hussein Dabboul, a member of Parliament from Aleppo, a north Syrian city near the edges of the self-administration zone, said the SDC was "linked to foreign powers and to the US, and it has certain objectives and targets."
Pre-war population
Human rights groups have criticized the Kurdish-led administration for single-party rule. The administration held local elections in 2017. More than 40,000 candidates are competing for 18,478 council seats, according to the Ministry of Local Administration. Polls were slated to close at 7 p.m. local time (1600 GMT).
Opposition-held areas were excluded from the polls. Some 3 million people of Syria's pre-war population of 22 million live under opposition rule in the country's northwest Idlib province and surrounding areas. Another 5.6 million are refugees abroad; they were also excluded from the vote.
In Damascus, election posters mostly featuring incumbents were plastered across public squares, including in the Old City.
Mohammed Kabbadi, a 42-year-old regime employee, cast his ballot in the Bab Sharqi district of the capital for a candidate from his neighborhood.
"I know exactly who I am going to vote for — he's young, active and his victory will bring good things to residents of this area," said Kabbadi.
There appeared to be fewer people heading to the polls than in previous presidential or parliamentary elections, particularly as Sunday was a regular work day.
Still, Syrian pro-Assad television broadcast footage of voters around Damascus and in the coastal regime bastions of Tartus and Latakia dropping their ballots into plastic boxes as election officials looked on. Voting was also under way in areas recaptured by the regime over the past year, including the eastern city of Deir Ezzor, recaptured in full last October by regime troops after fierce battles against Daesh. Mohammed Tah, 36, said he was happy to vote but hoping for an improvement in the city's ravaged infrastructure.
"I'm optimistic that the incoming council will rebuild and recover the city after the huge destruction suffered by years of fighting," he said by telephone from Deir Ezzor.
East of the capital Damascus, people trickled into a school being used as a voting center in the town of Jisreen.
Jisreen was overrun by regime troops this past spring as they seized the broader area of Eastern Ghouta from rebels in a blistering two-month assault that left the suburb in ruins.
"These are the first elections that happen in Jisreen since the problems began," said Abu Haytham, a 64-year-old voter. "We hope these elections will change things for the better, to pave the streets and improve the electricity." A vast majority of the candidates are members of the ruling Baath party or affiliated to it, which deterred some people from casting their ballot. "Why vote? Will anything change? Let's be honest," said Humam, a 38-year-old working in the capital's Mazzeh district who opted to stay at home on Sunday.
"Everyone knows the results are sealed in advance for a single party, whose members will win in a process that's closer to an appointment than it is to an election."
The number of seats had slightly increased from the roughly 17,000 available posts in the last elections, as smaller villages had been promoted to fully fledged municipalities.
Council members serve four-year terms at the municipal level and are mostly responsible for service provision and other administrative matters.
Those elected in this round are expected to have more responsibilities than their predecessors, particularly linked to reconstruction and urban development.
Syria last held local elections in December 2011, just nine months into the conflict.
Full report at:
http://www.arabnews.com/node/1373181/middle-east
--------
Africa
Agreement in Jeddah ends hostilities between Eritrea and Ethiopia
September 16, 2018
Eritrea and Ethiopia signed a peace agreement in Jeddah on Sunday overseen by King Salman.
The following is a timeline of the African countries' relations.
* 1952 - Eritrea is officially federated with Ethiopia two years after the United Nations approved a resolution backing a bid by Emperor Haile Selassie.
* 1962 - Haile Selassie dissolves the arrangement and annexes Eritrea. A year earlier, a small group of Eritreans launched the war for independence that stretched for three decades.
* 1991 - The rebel Eritrean People's Liberation Front led by Isaias Afwerki captures Asmara, having fought Ethiopia's military leader, Mengistu Haile Mariam, alongside rebels from the Ethiopian People's Revolutionary Democratic Front (EPRDF). The EPRDF invades the Ethiopian capital of Addis Ababa and topples Mengistu.
* 1993 - Eritrea formally secedes from Ethiopia after a referendum and Isaias Afwerki is appointed president. Eritrea initially enjoys warm ties with Ethiopia, which is led by Prime Minister Meles Zenawi and is dominated by his TPLF group for the next two decades.
* 1998 - After two years of tensions over trade and other issues, clashes break out along the border over ownership of the disputed town of Badme, before evolving into a full-scale war. More than 70,000 Ethiopian citizens of Eritrean origin are expelled from Ethiopia.
* 2000 - A peace agreement is signed, brokered by the Organisation of African Unity - the precursor of the African Union - with both sides agreeing to accept an arbitration ruling. An estimated 80,000 people are thought to have died during the two-year war.
* 2002 - A Hague-based boundary commission hands Badme to Eritrea, but Ethiopia calls for dialogue and says it wants to hold discussions with Asmara before implementing the ruling, which Eritrea rejects. A standoff prevails.
* 2012 - Ethiopian prime minister Meles Zenawi, Eritrea's former ally-turned-foe, dies.
* February 2018 - After three years of street unrest and violent protests, Meles' successor, Prime Minister Hailemariam Desalegn, resigns in what he describes as a bid to smooth reforms.
* April 2018 - Former army officer Abiy Ahmed is appointed as Ethiopian premier and vows to seek peace with Eritrea. In June, the 41-year-old announces that Ethiopia would honour the provisions of the 2000 peace deal and the boundary commission ruling delivered two years later. He visits Asmara a month later and signs a pact on the resumption of ties. The two nations declare an end to their "state of war".
* July 2018 - Abiy and Afwerki sign a pact declaring an end to their "state of war" in Eritrea's capital Asmara.
* September 2018 - Abiy and Afwerki sign the Jeddah Peace Agreement in Saudi Arabia during a ceremony overseen by King Salman.
http://www.arabnews.com/node/1373026/saudi-arabia
--------
Sultan, Ambode to Chief Imam: promote peace, harmony
September 17, 2018
Lagos State Governor Akinwunmi Ambode and Sultan of Sokoto Alhaji Muhammad Sa'ad Abubakar yesterday enjoined the Chief Imam of Lagos, Sheikh Sulaiman Oluwatoyin Abou-Nolla, to promote peace and harmony in the country.
They spoke during the presentation of Staff of Office to Sheikh Abou-Nolla as Lagos' 10th Chief Imam.
Sixty others got various Islamic titles.
Some of those decorated were All Progressives Congress (APC) stalwart Asiwaju Bola Ahmed Tinubu, Asiwaju Adinni of Lagos, Osun State Governor Rauf Aregbesola, Waziri Adinni and a philanthropist, Alhaja Muyinat Alake Sopeyin-Akande, Iya Suna.
Lagos Central Mosque Executive Council Chairman Sheikh Abdul Hafeez Abou presented the Chief Imam with his staff of office.
Abou was supported by the vice chairman and Bashorun of Lagos Alhaji Sikiru Alabi Macfoy, Commissioner for Home Affairs Dr AbdulHakeem AbdulLateef and former Federal Commissioner for Works Alhaji Femi Okunnu, among others.
The governor congratulated the Chief Iman and urged other Muslim leaders and groups to support him.
Represented by his Deputy Dr. Idiat Adebule, Ambode said the state recognised the role of Muslims in the peace and harmony being enjoyed in the state
He described spiritual leaders as development partners in the effort to bring greater progress and prosperity to the state.
"'Your contributions have greatly aided government's efforts in the delivery of services and dividends of democracy to the people, especially those at the grassroots. Your roles in raising awareness and influencing attitudes, behaviours and practices, have also helped us to enjoy relative peace in the state," he said.
The Sultan, represented by the Nigeria Supreme Council for Islamic Affairs (NSCIA) Deputy President, Alhaji Sakariyahu Babalola urged the Chief Imam to work for the progress of Islam.
He enjoined the new chiefs to redouble their efforts in the propagation of Islam and entrenchment of peaceful and harmonious relationship among religious adherents in the state.
Sheikh Abou, in his welcome address, described the Chief Imam as an erudite scholar and a well cultured personality.
He called for support for him, to enable discharge his responsibility well.
Abou also assured Nigerians that Muslims would ensure free and fair elections in 2019.
"As we countdown to another election year, we pray to sustain sanctity of tolerance, honesty and trustworthiness. May Allah make it easy and successful," he said.
In his lecture, Muslim Community of Lagos State (MCLS) President Prof Tajudeen Gbadamosi urged the faithful to respect the Chief Imam as his installation was divine.
Full report at:
http://thenationonlineng.net/sultan-ambode-to-chief-imam-promote-peace-harmony/
--------
Nigeria: Concern Over Resurgence of Boko Haram Attacks in North-East
17 SEPTEMBER 2018
Chiemelie Ezeobi writes that the recent resurgence of Boko Haram attacks in the North-east, which is specifically targeted at military formations, undermine repeated claims by the military that the group has been decimated
In the past few months, there has been a consistent resurgence and escalation of Boko Haram Terrorists (BHTs) attacks in the North-east, which is specifically targeted at military formations. Already the renewed onslaught by BHT forces have claimed hundreds of lives, especially that of soldiers, who are the first buffer in the line of attack.
It is no gainsaying that the intensified and repeated attacks on military targets and formations in recent months undermine the claims by the military that Boko Haram sect had been decimated. For years, and even in recent times, the military has maintained that the rampaging forces have been contained with the numerous successes they recorded, but the recent resurgence has put paid to those claims.
Although Boko Haram no longer controls swathes of territory in the NE as it did in the height of insurgency in 2014, the recent attacks on military bases underscores the continued threat the group pose to the region, which also puts the spotlight on the government's continuous mantra that Boko Haram is decimated.
Note that globally, the threat posed by terrorism due to violent extremism and insurgency have been a boiling issue in the last two decades. This has posed a challenge to different countries as they churn out measures fighting terrorism or preventing its spread and minimising its effects on its citizenry.
In this regard, nations have evolved various approaches to tackle the menace with mixed results depending on the country and nature of the threat. Nigeria has not been an exception with the rise of the Boko Haram that assumed international notoriety in 2009. According to estimate by the National Emergency Management Agency, the BHTs insurgency has killed over 20,000 people with over 2-5 bmillion persons displaced.
Regrouping Boko Haram Forces
Perhaps the regrouping of the BHT did not take the military by surprise as is being reported. This is because in July, the Theatre Commander of Operation Lafiya Dole, Major General Rogers Nicholas, had revealed that some of the BHT forces were regrouping around Bama Local Government Area of Borno State. This was after some of the terrorists attacked the military troops in Bama village.
Recently, areas like Sambisa, Mandara mountains, the Dikwa/Gamboru axis, Jilli, Garunda, Zari, Gudunbali have been victims of regrouping BHTs. In fact, THISDAY had last week Monday written on the unending war on terror and recent strategies by the Nigerian Air Force (NAF) in constituting a new team of young and zealous air strikes to man the newly inaugurated Operation Thunder Strike.
Notwithstanding, it's no gainsaying that the war against terror seems unending as world over, the military and security forces battle one major challenge: regrouping terror forces. Although Nigeria continues to suffer the same fate in its fight against Boko Haram Terrorits, there is no doubt that the Nigerian Armed Forces have considerably recordered some successes by reclaiming lost grounds, pushing them back into the arid desert and sometimes, even crippling their sources of weaponry.
But despite these measures, the terrorists have kept inventing new strategies to stay afloat. While they have been sacked from the caliphates they had arrogated to themselves, they still unleash pockets of violence in some areas, especially through suicide bombing, and most recently, the resurgence and attacks of military targets and formations.
Series of Attacks
From Jilli to Garunda, Zari, Gudunbali,Sambisa, Mandara mountains and the Dikwa/Gamboru axis, amongst others have witnessed fresh attacks. On July 14, the terrorists overran a military base in Jilli village, in neighbouring Yobe State when dozens of troops were said to have been killed, wounded or missing. The group suspected to be loyal to Abu Mus'ab Al-Barnawi, who is affiliated with the Islamic State group, attacked the base unhindered.
Although the army conceded the base was attacked, they did not however, give a death toll, rather insisting that the troops regrouped and successfully repelled the attack.
On July 26, the sect again stormed a base on the outskirts of Maiduguri, Borno State. The base was situated at Garunda village and had just been set up for troops from the 81 Brigade who had hitherto been stationed in Jilli village and forced to move after the July 14 assault.
After that attack, there was a lull in attack of military bases as the military launched joint assaults on the terrorists, forcing them to retreat further into the hinterlands.
But on August 10, they regrouped again and killed about 17 soldiers at the Garunda military base, the third assault on three bases in less than a month. The terrorists were said to have been heavily armed when they struck and succeeded in looting weapons and more vehicles.
On September 2, the BHT forces were said to have killed 30 soldiers and sacked Zari, a border settlement with Niger Republic in Borno State. The soldiers were killed in a battle with Boko Haram insurgents at Zari Village, which is actually about 30 kilometres from Damasak, the headquarters of Mobbar Local Government Area. According to reports, the insurgents had stormed the village at about 4:30pm and wrecked their brand of havoc. Asides the 30 soldiers that were killed, reports also put the casualty figure of injured soldiers at 20.
Although the raid was seemingly contained, the troops however suffered a colossal loss that saw the insurgents cart away sensitive weapons abandoned by fleeing troops. Given that the gun duel lasted for hours between the military and the insurgents, the soldiers were overpowered and a fighter jet was deployed from the base to give aerial cover, a move that saved a badly deteriorating situation.
But the military in a statement said the opposite happened. According to the statement, the troops fought the insurgents, who on rampage to loot the community and extort money from villagers, and they successfully routed the Boko Haram insurgents in the encounter. The statement was however silent on casualties and the allegations that the insurgents fled with military weaponry.
During the After Battle Assessment, the soldiers had revealed that the weaponry that the BHT used against them was same that they carted away during in previous siege on army formations in parts of Borno and Yobe States. Given that the insurgents were fully kitted in military apparels that they carted away from previous raids, it made it extremely difficult for the military to distinguish them from real Nigerian soldiers.
Another factor blamed for the huge loss was the terrain, which was exercabated by the rainy season, thus making the ground swampy. Also, poor management of security reports and shortcomings of fighting equipment were blamed responsible for the recent setback.
Buoyed by the successs of the previous week, the insurgents again on September 8, struck. Although there was no definite casualty rate, many people were feared dead after the invasion of Gudunbali town in Guzamala Local Government Area. In this instance, the insurgents recaptured the town after several hours of gun battle with Nigeria troops.
After putting up resistance, the troops were finally overpowered and the insurgents occupied the headquarters of Guzamala LGA, after they had reclaimed the town. Given that they burnt the recently reconstructed houses, many of the residents were said to have either fled to Gubio town or hid in the bushes.
The Deputy Governor of Borno State, Usman Mamman Durkwa, who confirmed that there was indeed a Boko Haram attack on the military base located in Gudumbali, insisted that he was yet to get the actual number of casualties from security forces.
Concerns
As expected, these successful resurgence have given cause for worry, not just for the military but for civilians. One of such who expressed his worry was Senator Muhammad Ali Ndume, who also alleged gross misapplication of funds meant for the management of the humanitarian crisis in the zone.
He said: "I am worried about the resurgence and escalation of attacks on military formations and communities by Boko Haram, especially within the span of two months, and this should worry the entire country. The military, I think, should concentrate their heavy operations at the black spots of Sambisa, Mandara mountains and the Dikwa/Gamboru axis where the insurgents still seem to be heavily concentrated. Military formations should be on permanent alert about any attack; I am not a military man, but I want to believe that if somebody attacks you in your own house, it means that you are not ready.
Also, the United Nations Children's Fund (UNICEF), had disclosed that at least 2,295 teachers had been killed in the NE since the conflict began in 2009, adding that more than 1,000 children had been abducted and 1,400 schools destroyed by the terrorists in the region since 2013. UNICEF has also fully backed the Safe School Declaration, which provides cover for children in schools by making sure that they are safe as they have the right to education and protection.
Just last month, the UN Security Council said it remained concerned at the security and humanitarian situation caused by the Boko Haram terrorists and other armed groups in Nigeria, Cameroon and Chad.
The council also noted with particular concern the continuing use by Boko Haram of women and girls as suicide bombers, which has created an atmosphere of suspicion towards them and made them targets of harassment and stigmatisation in affected communities, and of arbitrary arrests by security forces.
The 15-man council also emphasised the need for affected states to counter terrorism in all its forms, including by addressing the conditions conducive to the spread of terrorism, in accordance with obligations under international law, in particular international human rights law, international refugee law and international humanitarian law.
Successes
Despite the downturn of events, it's however, not all gloomy going by the successes recorded by the military. It is pertinent to note that the military are not resting on its oars.
Infact, the Chief of Army Staff (COAS), Lieutenant General Tukur Buratai, had in March this year stated that over 3,133 terrorists have been killed, 5,475 arrested in three years. He also said 129,956 were liberated and 32 bomb factories destroyed. In addition, a total of 129,956, have been liberated from the terrorist group.
Buratai had made this disclosure in Ghana at the Security Watch Africa Awards ceremony, of which THISDAY attended. Although he was represented, Buratai shared his thoughts and experience on "Boko Haram and Nigerian Army's efforts at countering the threat".
In countering the BHT, he had disclosed approaches adopted by the Nigerian Army, which he said were crucial to changing the tide against the group. He listed some of the approaches as provision of purposeful leadership, understanding the operating environment and strategy and tactics employed. Others are state of manpower, intelligence, media and information operations, psychological operations, respect for human rights, cooperation with other security agencies and international collaboration.
He said since July 2015 that he took over office, considerable progress had been made from their deployment to just four local government areas to 27 LGAs of Borno State, parts of Adamawa and Yobe States. He said BHTs numbers had been drastically reduced to have no meaningful military capability, which rendered them incapable of fighting cohesively as before.
Also, the Nigerian Air Force had recently set up a new Operation Thunder Strike, manned by young pilots of squadron leader and flying officer ranks to continue the air strikes.
After the launch, the next day saw air strikes by NAF aircraft, which resulted in the destruction of Boko Haram hideouts and neutralisation of scores of insurgents at three locations, namely, Tumbun Rego, Sabon Tumbun and Tumbun Allura, all on the fringes of the Lake Chad.
Tumbun Rego, which is located about 140Km Northeast of Maiduguri, has been identified as a major logistics/communications base and staging area for the insurgents. Accordingly, the ATF detailed F-7Ni and Alpha Jet aircraft to attack the identified BHT logistics/communications hubs. The identified hubs were subsequently destroyed by the strikes. Similarly, a number of solar panels were spotted and destroyed during the attack.
According to NAF Director of Public Relations and Information (DOPRI), Air Commodore Ibikunle Daramola, the attack on Sabon Tumbun was undertaken based on Human Intelligence reports, which were later confirmed following several days of Intelligence Surveillance and Reconnaissance (ISR) missions, indicating that the settlement was a BHT tactical operations base.
Daramola said the settlement also had some equipment and vehicles cleverly concealed under thick foliage. Accordingly, the settlement was attacked in successive waves of strikes by Alpha Jet, F-7Ni and Mi-35M Helicopter Gunships, leading to the destruction of BHT facilities, equipment and structures in the settlement as well as the neutralisation of several insurgents.
Tumbun Allura, another major BHT operationsbase on the fringes of the Lake Chad, was attacked by Alpha Jet and F-7Ni aircraft. Overhead the area of interest, several of the BHTs were observed and the objectified.
On September 5, in continuation of the strike team, the the Air Task Force (ATF) of Operation LAFIYA DOLE, successfully destroyed some BHT facilities and equipment at Alafa Yagayaga in Sambisa Forest as well as a suspected BHT ammunition depot in Kusuma on the fringes of Lake Chad, Borno State.
The DOPRI said, "The air strikes against Boko Haram terrorists at Alafa Yagayaga were targeted at structures within the settlement that had been identified via previous Intelligence Surveillance and Reconnaissance (ISR) missions to be rendezvous (RV) points for the insurgents.
"Consequently, a combination of NAF fighter aircraft and helicopter gunships were detailed to carry out air interdiction on the locations, while the NAF ISR aircraft conducted Battle Damage Assessment (BDA). The attack platforms acquired the targets and took turns to attack the location, destroying the structures and killing most of the BHTs in the process. The few surviving BHTs, seen fleeing the area, were strafed and neutralised by the helicopter gunships.
"The attack at Kusuma was initiated following credible intelligence indicating the presence of a BHT logistics/ammunition depot within the settlement. Accordingly, the ATF detailed a fighter aircraft to attack the insurgents' position, while the NAF ISR aircraft conducted BDA. At the end of the attacks, the BDA revealed a direct hit on the ammunition depot, which was engulfed in fire while some other adjoining BHT structures were equally destroyed and the occupying terrorists neutralised."
Full report at:
https://allafrica.com/stories/201809170064.html
--------
Chad army kills two civilians near Libyan border
September 16, 2018
Chadian army helicopters killed two civilians in bombing runs over a gold mining town along the Libyan border, where government forces have clashed with a fledgling rebel movement, a family member of the victims and an intelligence official said.
Two helicopters attacked the town of Kouri Bougoudi on Thursday and the two men died from their wounds on Friday, the family member, who asked not to be identified, told Reuters. Two other civilians were wounded in the attacks, the person said.
An intelligence source, also speaking on condition of anonymity, confirmed that two civilians were killed in the raids.
Chad's army spokesman declined to comment.
The rebel movement, the Military Command Council for the Salvation of the Republic (CCMSR), was founded in 2016 and has fought Chadian forces several times near the Libyan border since last month.
The group, which claims to have several thousand fighters, says its goal is to overthrow President Idriss Deby. President Deby took control of Chad in 1990 in a rebellion that toppled then-President Hissene Habre.
President Deby has faced several rebellions since then but there has been relative calm since 2009. The CCMSR's ranks include former rebels from the Darfur region of neighbouring Sudan and former political allies of Habre, who is in prison in Senegal for war crimes and crimes against humanity.
The nascent rebellion is the latest security challenge for President Deby, a close ally of the West against Islamist militants in the Sahara. Chad closed its border with Libya in January of last year in an effort to stop militants from entering.
Full report at:
https://www.thenational.ae/world/africa/chad-army-kills-two-civilians-near-libyan-border-1.770634
--------
At least eight killed in extremist attacks in Burkina Faso
September 15, 2018
At least eight civilians have been killed in twin attacks in eastern Burkina Faso, a poor West African country where jihadists have been gaining ground in recent months, local authorities said Saturday.
"Two terror attacks were carried out in the villages of Diabiga and Kompienbiga" overnight in eastern Kompienga province, claiming at least eight lives, the regional governor said in a statement.
The governorate of the eastern region says five people including an imam were killed in one attack on a mosque in the community of Diabiga.
Meanwhile in Kompienga province, three people belonging to the same family were killed and another two injured by suspected Islamic militants on mopeds, according to another security source.
Since 2015, Burkina Faso has battled increased Islamist militancy of the sort that plagues neighbouring Mali and Niger, and experts say the recent surge is likely the result of pressure on jihadist insurgents there.
But until now, extremists in Burkina Faso have largely targeted security forces.
President Roch Marc Christian Kabore recently announced that the country would put an end to "destabilisation activity" in the east, where extremist attacks have been increasing.
Since then more troops have been sent to the region, where extremists use the forests as hideouts.
The rise of militancy across the Sahel has alarmed western powers like France and the United States to the extent they have deployed troops and air power across the region's sprawling arid landscapes.
Full report at:
https://www.thenational.ae/world/africa/at-least-eight-killed-in-extremist-attacks-in-burkina-faso-1.770605
--------
Nigerian soldiers repel Boko Haram ambush – Official
September 16, 2018
The Nigerian Army on Sunday announced that its soldiers successfully repelled a Boko Haram ambush in Borno State.
In a post on its official Twitter handle, the army said the ambush occurred "along Maiduguri Bama Axis."
It said the troops successfully repelled the ambush after "serious exchange of gunfire."
"Reports just reaching us confirmed that troops of 21 Brigade led by Brigade Commander on a clearance patrol in support of Operation Rainbow were ambushed by BHT along Maiduguri Bama Axis at about 11am 16 Sep 2018.
"There was serious exchange of gunfire. The gallant troops of 222 battalion were reportedly high on morale as a result of the just concluded assurance visit to the theatre of operation by the COAS Lt Gen TY Buratai & they successfully cleared the ambush.
"As a result, 1 x GPMG and 2 X AK 47 and several rounds of ammunition belonging to the terrorist were recovered. As at the time of filing this report, troops were still exploiting the general areas in search of some BHT's who escaped with gunshot wounds." The attack occurred on the day the army chief, Tukur Buratai, said recent attacks by Boko Haram on soldiers does not mean a resurgence of the terror attacks.
Full report at:
https://www.premiumtimesng.com/news/headlines/284004-nigerian-soldiers-repel-boko-haram-ambush-official.html
--------
Europe
Turkey jails British ex-soldier fighting with Kurdish YPG for 'terror' links
September 16, 2018
A Turkish court has sentenced a former British soldier to seven-and-a-half years in jail for links to a Kurdish militia that Ankara considers a terrorist group.
Joe Robinson was arrested in July 2017 while holidaying in Turkey after he posted photos of himself in camouflage and posing next to fighters from the People's Protection Units (YPG) in Syria.
A court in the western city of Aydin sentenced him for "membership of a terrorist organisation," the private DHA news agency said.
The YPG is an ally of the United States in the fight against ISIS in Syria. But Ankara is hostile to the YPG because of its links with the Kurdistan Workers' Party (PKK), which is fighting for Kurdish autonomy in Turkey.
A Foreign Office spokesperson said: "We have been following this case very closely and have raised it with the Turkish authorities. We stand ready to provide further consular assistance."
Mr Robinson did not attend the trial for health reasons, DHA said. He is currently on bail and planning an appeal.
His Bulgarian fiancee, arrested along with him, was also given a two and a half year suspended sentenced for "terrorist propaganda," but she is currently in Britain where she is a law student at the University of Leeds, the BBC reported.
According to British press reports, the 25-year-old Robinson is a former soldier who served in Afghanistan in 2012 and went to Syria in 2015 for five months to work in the YPG's health unit.
https://www.thenational.ae/world/mena/turkey-jails-british-ex-soldier-fighting-with-kurdish-ypg-for-terror-links-1.770908
--------
Tehran knocks police work after Iranian embassy in Paris attacked
September 16, 2018
France must do more to protect Iranian diplomats in Paris, a spokesman for the Foreign Ministry in Tehran said after demonstrators smashed windows and damaged the embassy in a protest on Friday.
Fars news agency reported that about 15 Kurdish activists burned the Iranian flag in front of the embassy during the incident and broke some windows with stones.
They also threw fire extinguishers and computers at the gate
However, Iranian Foreign Ministry Spokesman Bahram Ghasemi said the incident was led by "extremists", and said the response from local police had been weak and slow.
French police declined to comment on the speed of their response, though claimed the embassy's security detail had since been increased.
Mr Ghasemi told Iranian state-run IRNA that French officers did not arrive quickly after the disturbance was reported
Iran's Foreign Ministry said protesters tried to attack embassy Friday, the country's official IRNA news agency reported. IRNA quoted ministry spokesman Bahram Ghasemi as saying officers did not arrive quickly after the disturbance was reported at the embassy in the Chaillot quarter of central Paris.
"It is necessary for the French government to take serious measures to protect Iranian diplomatic missions in that country," Mr Ghasemi said, according to the news agency.
However, a Paris spokeswoman said the responding officers searched 12 people but didn't take anyone into custody as embassy personnel didn't want to file a complaint. She did not mention the police response time and declined to give her name, a common police practice in France.
Full report at:
https://www.thenational.ae/world/europe/tehran-knocks-police-work-after-iranian-embassy-in-paris-attacked-1.770643
--------
London Mayor Sadiq Khan calls for second Brexit referendum
Sep 16, 2018
London's mayor Sadiq Khan has called for a second referendum on Britain's departure from the European Union, saying such a vote has become necessary in light of government's failure to secure a robust deal with the EU on Brexit.
Khan said in an article for The Observer published on Sunday that the UK government's way of handling the Brexit talks suggests that Britain either faces a no-deal situation after it leaves the EU in March or a bad deal that would threaten the future of businesses and jobs in the country.
The mayor said Prime Minister Theresa May's handling of Brexit negotiations had become "mired in confusion and deadlock" and was leading the country down a damaging path.
"The government's abject failure – and the huge risk we face of a bad deal or a no-deal Brexit – means that giving people a fresh say is now the right – and only – approach left for our country," said Khan.
The senior Labour Party politician said the threat posed by such a situation to living standards, the economy and jobs in the United Kingdom was too great for voters not to have a say.
May has roundly rejected the idea for a second Brexit referendum, saying lawmakers in Parliament that will have the final say on the outcome of the Brexit talks.
May is hoping her government could reach a deal with the EU in the middle of October or in early November. However, both the opposition and members from May's Conservative Party have warned that they will reject her Brexit deal in the parliament. That could mean either May's departure from power or snap elections in Britain.
Sadiq Khan's argument for holding a second referendum comes despite Labour Party leader Jeremy Corbyn's own refusal to endorse such an idea.
Full report at:
https://www.presstv.com/Detail/2018/09/16/574308/London-mayor-Khan-second-Brexit-referendum
--------
Police nab far-right extremists in troubled German city
Sep 16, 2018
Police in Germany have arrested 15 members of a far-right group for abusing foreigners in the eastern city of Chemnitz.
The detained individuals — members of a group of self-proclaimed vigilantes — were accused by German prosecutors on Saturday of disturbing peace and causing bodily harm to other individuals.
The detentions were based on events that had occurred a day earlier following a large far-right rally in Chemnitz, where as many as 3,500 people gathered under the city's iconic monument of Karl Marx and marched through the town center.
After the anti-immigration rally concluded on Friday evening, officials said the vigilantes set out to harass foreigners in one of the city's parks, stopping anyone who did not look like Germans and demanding their identity cards.
Iranian injured in the head
During one encounter, the members of the far-right party approached a group of people, among them German, Iranian, and Pakistani nationals, and verbally abused them with xenophobic comments.
Later, a brawl broke out and the vigilantes injured a 26-year-old Iranian man, who suffered a laceration to the head.
Chemnitz has seen mass anti- and pro-immigration rallies in recent weeks, with thousands of people — including far-right radicals — taking to the streets.
The far-right rallies were sparked by the murder of a German citizen on August 26, allegedly at the hands of two refugees from Iraq and Syria, who have since been taken into custody.
Germany has been one of the European Union states that have accepted large numbers of refugees since the continent's migration crisis erupted in 2015.
German Chancellor Angela Merkel has previously criticized far-right parties for staging violent protest rallies over incidents blamed on refugees.
But she has herself been criticized for her early advocacy of an "open-door" policy toward refugees coming to Europe from conflict zones in the Middle East, Asia, and Africa. While she has defended that policy in rhetoric, she has modified her stance in practice, agreeing to curbs on the number of arrivals in Germany.
Head of intelligence agency in hot water over Chemnitz
Meanwhile, the German Bild am Sonntag newspaper in a report accused the country's BfV domestic intelligence agency of failing to act for months on concerns voiced by officials in two German states regarding local youth chapters of the far-right Alternative for Germany (AfD) party.
The report could strengthen calls for the ouster of BfV president Hans-Georg Maassen, whose critics say he has downplayed anti-immigration violence in Chemnitz and have questioned his relationship with far-right politicians.
Full report at:
https://www.presstv.com/Detail/2018/09/16/574284/Germany-farright-Chemnitz-vigilantes-Iranian
--------
URL: https://www.newageislam.com/islamic-world-news/muslims-taken-care-laddhewala-muzaffarnagar/d/116403
New Age Islam, Islam Online, Islamic Website, African Muslim News, Arab World News, South Asia News, Indian Muslim News, World Muslim News, Women in Islam, Islamic Feminism, Arab Women, Women In Arab, Islamophobia in America, Muslim Women in West, Islam Women and Feminism