New Age Islam News Bureau
4 Jun 2015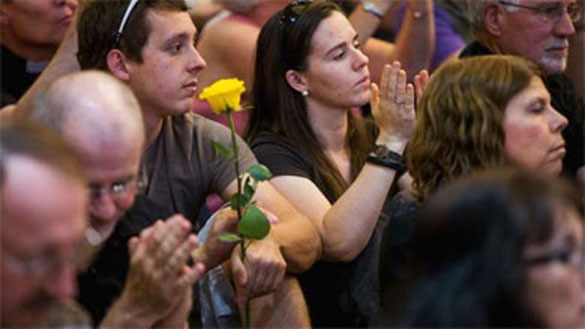 Attendees listen as speakers from different faiths speak at an interfaith rally titled "Love is Stronger than Hate" at the Islamic Community Center in Phoenix, June 1, 2015. The rally was held in response to an earlier anti-Muslim rally at the same location. (Reuters/Deanna Dent)
--------
North America
• Muslims Gather At Arizona Mosque to Promote Peace amidst Anti-Islam Protests
• The Daily Show Instructs Muslims How to be more 'America-Loving'
• US Airline Apologises to Muslim Chaplain Who Was Refused Unopened Soda Can
• US Police shoot dead Muslim student
----------
Arab World
• Syria Regime Barrel Bombs Kill 37 As ISIL Pushes Hasakeh Offensive
• ISIL Militants Use Water as Weapon in Western Iraq
• Air Raid Completely Destroys Huge ISIS Car Bomb Plant in Iraq
• Saudi FM, Al-Jubeir Spells Out Essential Conditions For Defeating IS
• Gunmen in Egypt kill 2 police officers outside Giza Pyramids
• Hosni Mubarak to stand re-trial over 2011 killing of protesters
• King Salman: Even the Saudi king is not above the law
• Bahrain says Shiite 'terrorist' group busted
• Qatar says air strikes hopeless without Iraqi national dialogue
• Saudi reveals list of 16 mosque attack suspects
• 2 Egypt tourism cops gunned down
----------
South Asia
• ISIS Affiliates Kill 10 Taliban Militants in Nangarhar Province, Afghanistan
• Terror Bid Foiled; Explosives-Laden Truck Coming To Kabul Seized In Paktika
• Huge Explosion Reported In Lashkargah, Helmand
• Pakistan, Afghanistan to jointly tackle polio
• Bangladesh to begin repatriation of rescued migrants from Myanmar
----------
Europe
• UK To Keep Backing Syria Militants Until Assad Is Gone: Cameron
• Ratings of Muslims Rise in France after Charlie Hebdo, Just As In U.S after 9/11
• Leading Protester at a 'Draw Mohammed' demonstration Now Thinks the Religion Is 'Beautiful' After Being Invited Into a Mosque
• Russia wants accountability for chlorine attacks in Syria
• EU, Libya hold talks on joint naval force to combat human traffickers
• Muslim dad jailed for racist rants and assault over school's beard ban
-----------
Southeast Asia
• Even in Safety of Malaysia, Rohingya Migrants Face Bleak Prospects
• Malaysia: Temple Has New Access, Not Blocked As Alleged by Hindu Rights Action Force
• 4 soldiers shot dead in Thailand's insurgency-plagued south
• Malaysia's Islamist opposition split between pragmatism and Muslim nationalism – Wong Chin Huat
• Grapes of Wrath: Muslim wine ferments divisions in China
• Malaysia Islamic Asset Growth to Rebound on Deposit Transparency
-----------
Pakistan
• Access To Peaceful Nuclear Technology A Priority, Pakistan Told US
• China-Pakistan Economic Corridor Can Change the Fate of the Region: President
• MQM's call for mourning: Business activities remain suspended in Karachi
• National Action Plan Will Lead To Victory against Terrorism: PM PoK
• Evidence suggests India sponsoring terror in Pakistan: Asif
• ISI tapped 26,940 phone calls in four months
• Rift develops as admin prefers PML-N to Jamaat
-----------
Mideast
• Israel Raids Gaza, Islamic State Sympathizer Claims Rocket Fire
• Pro-Kurdish Party Seeks Wider Reach in Turkish Vote
• Yemen govt to attend U.N.-led Geneva talks
• Iran, P5+1 begin new round of nuclear talks in Vienna
• Iran demands regional cooperation against extremism
• Israeli police clash with Ethiopian protesters in Tel Aviv
• Turkey expects more refugees after ISIL advance
----------
India
• Kolkata Muslim Youth's Salary Held for Offering Hajj, Fired for Growing Beard
• 30 Lakh Muslims Join BJP during Membership Drive
• 'Prosperity Makes Shab-e-Barat Occasion for Pomp & Assertion'
• Yoga Day must be optional, urge Muslims
---------
Africa
• New Nigerian President Buhari Pledges Renewed Fight against Boko Haram
• IDP: Some of Us Suffered Mental Illness after Boko Haram Torture
• Western Sahara's struggle for freedom cut off by a wall
• Nigeria urged to investigate military war crimes
• UN sets up review of CAR child abuse by peacekeepers
• Boko Haram: Buratai Appointed Commander for MNJTF
• Boko Haram: Nigerian soldiers sentenced to death challenge judgement, sue Army
Compiled by New Age Islam News Bureau
URL: https://www.newageislam.com/islamic-world-news/new-age-islam-news-bureau/muslims-gather-at-arizona-mosque-to-promote-peace-amidst-anti-islam-protests/d/103332
----------
North America
Muslims gather at Arizona mosque to promote peace amidst anti-Islam protests
03.06.2015
An Arizona mosque was the site of of a "love not hate" event on Monday (June 1) to promote peace and inclusiveness despite anti-Islam demonstration last week where counter-protesters were shouting "Go home, Nazis."
Religious News Service reports that the Islamic Community Center of Phoenix said it was hosting a gathering that includes a multi-faith prayer service and speakers to "show that when one of us is mistreated, our community responds with a message of Love and Not Hate."
"We ask that you bring a FLOWER as a symbol of love and care," the event organizers said on Facebook. "We are better together, and together we are strong."
Monday's event, organized by more than 20 groups, comes four days after an anti-Muslim event held outside the mosque drew more than 200 protesters, some armed, who berated Islam and its Prophet Muhammad.
The rally was held at the mosque in part because two Texas gunmen who opened fire outside an anti-Muslim event in Texas last month had worshipped there, said rally organizer Jon Ritzheimer, an Iraq war veteran.
As that event unfolded, demonstrators on both sides screamed obscenities at each other as police in riot gear separated the two groups.
It was gathered that on Monday evening, about 200 participants filed into the mosque, some carrying roses, tulips and daisies.
"There's been a lot of effort to divide the faith community and set us apart from one another and we want to demonstrate a strong message of togetherness," Reverend Erin Tamayo, executive director of Arizona Faith Network, which helped to organize the event, said. "I am praying we don't get any negative response."
Most of those who attended had left by Monday night with no reports of violent flare-ups or arrests.
Among other co-sponsors of Monday's were the Islamic Speakers Bureau of Arizona, Arizona Interfaith Movement and the Anti-Defamation League, according to the Facebook posting.
http://pulse.ng/religion/in-america-muslims-gather-at-arizona-mosque-to-promote-peace-amidst-anti-islam-protests-id3825469.html
-----------
The Daily Show Instructs Muslims How to be More 'America-Loving'
by Josh Feldman
June 3rd, 2015
A Muslim woman claimed this week that she was discriminated against on a plane, because the flight attendant was apparently worried she could use a soda can as a weapon. Well, Jon Stewart decided it was a good opportunity to help show Muslims how to better assimilate in America.
Correspondent Hasan Minhaj praised the airline for refusing to give the woman a "carbonated grenade" and explained that "anything on a plane is a weapon to a Muslim."
He gave three pieces of advice to Muslims: "change your name," hide your beard ("my beard is actually on the inside of my mouth"), and "wear something a little more America-loving."
Watch the video below, via Comedy Central:
http://www.mediaite.com/tv/the-daily-show-shows-muslims-how-they-can-be-more-america-loving/
-----------
US Airline Apologises to Muslim Chaplain Who Was Refused Unopened Soda Can
June 04, 2015
NEW YORK: United Airlines apologised on Wednesday to a Muslim chaplain who said she was denied an unopened can of soda on an affiliated U.S. domestic flight by an attendant who said it could be used as a weapon.
United launched an investigation after Northwestern University associate chaplain Tahera Ahmad complained about the incident last week aboard a flight from Chicago to Washington that was operated by Shuttle America for United.
Ahmad said in a Facebook post the flight attendant had discriminated against her when the attendant refused her request for an unopened can of Diet Coke, saying it could be used as a weapon, yet gave the man sitting next to her an unopened can of beer.
When she complained, Ahmad said, other passengers on the flight directed anti-Islamic comments at her.
Bob Birge, a spokesman for Republic Airways Holdings, which operated the Shuttle America flight on behalf of United, has said the airline's beverage policy does not prohibit serving unopened cans to passengers.
"While United did not operate the flight, Ms. Ahmad was our customer and we apologise to her for what occurred on the flight," United Airlines <UAL.N> said in a statement on Twitter.
"After investigating this matter, United has ensured that the flight attendant, a Shuttle America employee, will no longer serve United customers."
The airline said all its employees who deal with customers undergo cultural awareness training at least once a year. It also said Shuttle America employees who work with customers undergo cultural sensitivity training, but did not specify how often.
"United does not tolerate behaviour that is discriminatory - or that appears to be discriminatory - against our customers or employees," the airline said.
Ahmad's description of the incident touched off a social media firestorm, including a Twitter campaign at #UnitedforTahera, which garnered global support and a call by many to boycott the airline.
Ahmad did not immediately respond to a request for comment on Wednesday.
http://www.ndtv.com/world-news/united-airlines-apologises-to-muslim-chaplain-for-soda-incident-768555
-----------
US Police shoot dead Muslim student
Jun 3 2015
The United States police shot dead a Muslim student for being "threatening" and hobbling around like a bird with a broken wing while his friends confirmed that the action was just a bad reaction to drugs.
According to Mail Online, Feras Morad, 20, had taken magic mushrooms for the first time at a party in Long Beach, Califorania, according to friends, and reacted badly to the drug.
Quoting eyewitness account, it reported, Morad became confused and unresponsive and was 'asking friends where he was and what he was doing', then 25 minutes later, jumped through a second-storey window.
Friends called the police because they were concerned about his injuries after he suffered a 'deep gash' after going through the glass and hitting the concrete below, it said.
On police's arrival, he was tasered and shot dead by them at around 7.30pm on Wednesday.
Morad's family said that they received his death through a Facebook after police, hospital and Los Angeles county office failed to inform them.
Police have claimed that the young Muslim boy was "acting threateningly and refused to comply with officers, who then utilised 'an electronic control device, an impact weapon and physical force to gain compliance."
However, Morad's friends--Dadah and Forbes--have disputed the police version by posting testimonies online.
A statement issued by the Justice4Feras on its Facebook page said he was 'shirtless, without any weapon, bleeding from multiple wounds, and possibly suffering head trauma from the fall when officers made their demands.
The statement further said that he did not physically swing, attack, or verbally indicate aggression toward the police officer or anyone else but was unable to comply because he was confused and injured 'like a bird with a broken wing hobbling around in the house'.
http://www.greaterkashmir.com/news/world/us-police-shoot-dead-muslim-student/188197.html
----------
Arab World
Syria regime barrel bombs kill 37 as ISIL pushes Hasakeh offensive
June 4, 2015
At least 37 people were killed in government barrel bomb attacks in northern Syria on jUNE 3, a monitoring group said, while in the northeast the Islamic State of Iraq and the Levant (ISIL) jihadists neared the gates of provincial capital Hasakeh.
The Syrian Observatory for Human Rights said the deaths came in three incidents, in Aleppo province in the north and Idlib province in the northwest.
In Tal Rifaat in Aleppo, 18 people were killed, including eight children, when government helicopters dropped at least four of the devices, the Britain-based monitor said.
In the rebel-held eastern neighbourhood of Jubb al-Qubbeh in Aleppo city, 11 civilians died, among them two children, when a barrel bomb exploded.
And in Idlib province, eight members of one family were killed in a barrel bomb attack in the town of Kafr Sijna.
The Observatory, which relies on a network of sources on the ground, said the tolls in the incidents were expected to rise because of the number of people seriously wounded.
Regime barrel bombs -- crude weapons made of containers packed with explosives -- have often hit schools, hospitals and markets in Syria.
Rights groups criticise them as indiscriminate, saying they kill a disproportionate number of civilians.
Meanwhile, the extremist ISIL group pressed its assault on the northeast Syrian city of Hasakeh, detonating at least five car bombs as it advanced towards the city.
The Observatory said ISIL was "at the gates of Hasakeh" after a day of fierce clashes, with many dead on both sides.
"(The clashes) ended with ISIL seizing all of the military checkpoints south of the city. The toll is 27 forces from the army and its loyalists, and at least 26 ISIL jihadists," said the monitoring group's head Rami Abdel Rahman.
The capture of Hasakeh would give the group control of its second provincial capital after their capture of Raqa last year.
Syrian state TV also reported the five car bombings, but said they had all struck a prison still under construction.
Abdel Rahman said ISIL had sent reinforcements of at least 400 fighters from the eastern province of Deir Ezzor for the Hasakeh assault, which began on May 30.
He said ISIL was within 500 metres (550 yards) of the city, and that regime helicopters were dropping barrel bombs on jihadist positions.
Syrian President Bashar al-Assad has denied that his forces use barrel bombs, but evidence collected by activists and rights groups includes footage of the barrels being pushed from helicopters.
Human Rights Watch has also said there is "strong evidence" the regime has dropped barrel bombs containing toxic chemicals on northern Syria.
On June 3, the New York-based group said it had led an investigation into three attacks in Idlib province, which killed two people and affected 127 others, and that deadly chlorine was probably used in some, if not all of them.
"The Syrian government has used barrel bombs with toxic chemicals for more than a year while the (UN) Security Council has failed to act," said Philippe Bolopion, HRW's UN and crisis advocacy director.
More than 220,000 people have been killed in Syria since the conflict began in March 2011 with anti-government demonstrations that were met with a regime crackdown.
http://www.hurriyetdailynews.com/syria-regime-barrel-bombs-kill-37-as-isil-pushes-hasakeh-offensive-.aspx?pageID=238&nID=83458&NewsCatID=352
----------
ISIL militants use water as weapon in western Iraq
June 4, 2015
Islamic State of Iraq and the Levant (ISIL) militants have closed gates of a dam on the Euphrates River in western Iraq, reducing the water and giving them greater freedom of movement to attack government forces downstream on the southern bank, local officials said.
The militants have redirected the flow of water to their advantage on the battlefield around the city of Ramadi. But the tactic also threatens southern provinces with drought and the water has been reduced to worrying levels, the officials said.
The Euphrates has acted as a barrier between the militants who control its northern bank and pro-government forces who are are trying to advance towards Ramadi on the other side.
A spokesman for the governor of Anbar province, of which Ramadi is the capital, said security forces would now have to redeploy along the river to prevent the insurgents from infiltrating.
"Previously they had to monitor only the bridges and certain areas, but now all of the river will be crossable," Hikmat Suleiman said.
Full report at:
http://www.hurriyetdailynews.com/isil-militants-use-water-as-weapon-in-western-iraq.aspx?pageID=238&nID=83459&NewsCatID=352
-----------
Air Raid Completely Destroys Huge ISIS Car Bomb Plant in Iraq
3 June 2015
An air strike in Iraq completely levelled one of the Islamic State of Iraq and Syria militant group's largest car bomb factories on Wednesday in a massive explosion heard for kilometres (miles), officials said.
The strike hit a facility at the entrance to the town of Hawijah in northern Iraq that was used to rig vehicles with explosives for bombings that are one of ISIS' deadliest tactics, they said.
The facility, which included tanks, Humvees and large quantities of explosives, was "the biggest factory in Iraq and Syria", an Iraqi colonel said.
The officers said the blast caused heavy ISIS casualties but also killed and wounded civilians.
Mohammed Khalil al-Juburi, the deputy head of the Kirkuk province security committee, confirmed details of the attack, and also said it caused major casualties among both ISIS and civilians.
Full report at:
https://english.alarabiya.net/en/News/middle-east/2015/06/03/Air-raid-destroys-huge-is-car-bomb-plant-in-Iraq-.html
-----------
Saudi FM, Al-Jubeir Spells Out Essential Conditions For Defeating IS
4 June 2015
JEDDAH: The ouster of Bashar Assad from power and Iraqi political reforms are the two essential conditions for defeating the Islamic State terror group, said Foreign Minister Adel Al-Jubeir on Wednesday.
Speaking to reporters after attending a conference in Paris of international coalition to fight IS in Iraq and Syria; Al-Jubeir said the Iraqi government has already agreed to establish equality among all Iraqi ethnic groups including Sunnis.
"The Paris conference was significant in intensifying the fight against the IS terror group," the foreign minister said. The US State Department has previously cited the Syrian regime's support for IS terror group.
Full report at:
http://www.arabnews.com/saudi-arabia/news/756671
-----------
Gunmen in Egypt kill 2 police officers outside Giza Pyramids
Jun 3, 2015
CAIRO: Gunmen on a speeding motorcycle opened fire outside the famed Giza Pyramids on the outskirts of Cairo early Wednesday, killing two police officers in a rare attack near one of the country's top tourist attractions, authorities said.
The attack comes as Egypt tries to rehabilitate its vital tourism industry, which accounted for as much as 20 percent of foreign currency revenues before its 2011 revolt that toppled autocrat Hosni Mubarak and later years of turmoil.
From a high of 14.7 million tourists in 2010, Egypt has had an average of around 9 million a year since, though officials say tourists slowly are coming back. Government officials say the tourism industry saw revenues jump to $4 billion in the first half of this year, compared to $1.9 billion in the same period last year.
The gunmen opened fire on a police vehicle at the back of the Giza Pyramids plateau on a main highway that leads to southern Egypt, wounding the two tourism police officers, a security official said. They died later of their wounds in the hospital, said the official, who spoke on condition of anonymity because he was not authorized to brief journalists.
Egypt's state MENA news agency said the gunmen fled and that an investigation was underway. MENA quoted an antiquities official in the area, Kamal Wahid, as saying the attack was 5 kilometers (3 miles) away from the main entrances to the pyramids. The location of the attack could not be immediately reached by journalists.
Egypt sees regular attacks on its security forces as it struggles with the low-level Islamist insurgency, mostly in the lawless northern Sinai Peninsula following the 2013 military ouster of elected Islamist President Mohammed Morsi. Typically though, security forces are the targets of the attacks.
Full report at:
http://timesofindia.indiatimes.com/world/middle-east/Gunmen-in-Egypt-kill-2-police-officers-outside-Giza-Pyramids/articleshow/47533892.cms
-----------
Hosni Mubarak to stand re-trial over 2011 killing of protesters
June 4, 2015
CAIRO: Egypt's high court said on Thursday former president Hosni Mubarak would be retried in the case of the 2011 killing of protesters.
The judge accepted the public prosecution's appeal against an earlier court ruling that dropped the case against Mubarak.
The judge said the retrial would begin on Nov 5.
Earlier in Novmber 2014, an Egyptian court has dismissed criminal charges against former president Hosni Mubarak in connection with the killing of protesters in the 2011 uprising that ended his nearly three-decade reign.
Full report at:
http://www.dawn.com/news/1186138/hosni-mubarak-to-stand-re-trial-over-2011-killing-of-protesters
-----------
King Salman: Even the Saudi king is not above the law
4 June 2015
Citizens in Saudi Arabia can file a lawsuit against even the King, the Crown Prince or any royal family member unlike many other countries where the heads of state have immunity, Custodian of the Two Holy Mosques King Salman said here on Wednesday.
The King was addressing senior officials and those concerned with combatting corruption in the public and private sectors.
Giving the example of a case between a citizen and the late King Abdul Aziz, King Salman said the citizen wanted a Shariah verdict so the two went to Sheikh Saad Bin Atiq who was the judge in Riyadh at that time.
Full report at:
https://english.alarabiya.net/en/News/middle-east/2015/06/04/King-Salman-Even-the-King-not-above-law.html
-----------
Bahrain says Shiite 'terrorist' group busted
3 June 2015
Bahraini authorities say they have busted a 14-member Shiite "terrorist" group accused of having carried out bomb attacks on police and civilians in the Sunni-ruled monarchy.
The cell includes two members, based in Iran, and accused of having recruited militants in the Gulf state for the little-known Al-Ashtar Brigades, the prosecution said late Tuesday.
It said five recruits had travelled to Iraq for "military training on the use of explosives and weapons, with the aim of attacking police".
Police have arrested 10 suspected cell members on suspicion of "forming and joining a terrorist group and attempting to kill policemen, possessing and using explosives, and weapons training", the prosecution said.
Full report at:
https://english.alarabiya.net/en/News/middle-east/2015/06/03/Bahrain-says-Shiite-terrorist-group-busted-.html
-----------
Qatar says air strikes hopeless without Iraqi national dialogue
3 June 2015
Qatar's Foreign Minister Khaled al-Attiyah said on Wednesday coalition air strikes in Iraq were hopeless without a real push for national reconciliation and said that the door should be left open to Syrians who left al-Qaeda's wing in the country.
"We see no hope to continue an air campaign without simultaneously having a national dialogue on the ground," Attiyah told Reuters in an interview in Paris.
Attiyah, whose country has previously been accused of supporting militant groups in the fight against Syrian President Bashar al-Assad, said Qatar was not supporting al-Qaeda's Syrian branch Jubhat al-Nusra.
Full report at:
https://english.alarabiya.net/en/News/middle-east/2015/06/03/Qatar-says-air-strikes-hopeless-without-Iraqi-national-dialogue.html
-----------
Saudi reveals list of 16 mosque attack suspects
3 June 2015
Saudi's interior ministry issued Wednesday a list of 16 suspects linked with last week's deadly mosque attack attempt in the eastern city of Dammam and an earlier bombing on a mosque in the eastern al-Qatif governorate that killed 21.
See also: Saudi reveals identity of Dammam mosque bomber
The ministry said it is offering $270,000 to whoever provides information leading to the arrest of the suspects and $1.9 million to anyone who helps thwart a militant attack.
The Islamic State of Iraq and Syria (ISIS) militant group claimed both attacks.
Full report at:
https://english.alarabiya.net/en/News/middle-east/2015/06/03/Saudi-lists-16-suspects-from-mosque-attacks-.html
-----------
2 Egypt tourism cops gunned down
4 June 2015
CAIRO: Gunmen on a speeding motorcycle opened fire, killing two members of the tourist police at the famed Giza Pyramids on Wednesday.
The drive-by shooting was a rare incident at a tourist site. Egypt sees regular attacks on its security forces as it struggles with a low-level insurgency, mostly in the lawless northern Sinai Peninsula.
Full report at:
http://www.arabnews.com/middle-east/news/756466
-----------
South Asia
ISIS Affiliates Kill 10 Taliban Militants in Nangarhar Province, Afghanistan
By KHAAMA PRESS - Thu Jun 04 2015
At least ten Taliban militants have been killed by militants affiliated with Islamic State of Iraq and Syria (ISIS) group.
According to 201st Selab Corps of the Afghan National Army (ANA) in Nangarhar province the militants were killed in ambush on Wednesday.
A statement released by 201st Selab Corps said the Taliban militants were on their way when they were ambushed by ISIS affiliated militants in Achin district.
Earlier reports suggested that the Taliban militants were beheaded by the ISIS affiliates after they were kidnapped.
This comes as local officials in Spinghar district said the ISIS-affiliated militants have set on fire the houses of Taliban militants late on Tuesday afternoon.
In the meantime, at least 15 ISIS militants including their commander Syed Mahmood Hussaini were killed and 12 others were taken as prisoners following a gun battle with the Taliban militants in western Farah province earlier this week.
According to local government officials at least 14 ISIS militants were also injured and dozens of others joined the Taliban group together their weapons, ammunition along with some vehicles.
-----
Terror bid foiled; Explosives-laden truck coming to Kabul seized in Paktika
By KHAAMA PRESS - Thu Jun 04 2015
Security forces have seized 100 bags of explosive materials in Urgon District of restive Paktika province, a security official said on Thursday.
Zafar Adil, police chief of Urgon District told Khaama Press that the explosive materials were placed under woods in a vehicle.
He said that the vehicle was seized but its driver took the advantage of jungle in the mountainous area of Zhami and run away before the arrival of police on Wednesday afternoon.
Full report at:
http://www.khaama.com/terror-bid-foiled-explosives-laden-truck-seized-in-paktika-3434
---------
Huge explosion reported in Lashkargah, Helmand
By ZABIHULLAH MOOSAKHAIL - Jun 04 2015
A huge explosion believed to be a car bomb reported in Lashkargh, the provincial capital of restive Helmand province.
Officials have not yet released details about it.
No group has immediately claimed responsibility for the explosion.
This is story is subject to updates as more details come available.
http://www.khaama.com/breaking-news-huge-explosion-reported-in-lashkargah-3433
--------
Pakistan, Afghanistan to jointly tackle polio
IKRAM JUNAIDI
June 4, 2015
ISLAMABAD: Pakistani and Afghan health officials agreed at a meeting here on Wednesday to carry out joint vigilance for eradication of polio as one block.
The meeting was originally scheduled for April 16-17 in Kabul and UN agencies were also expected to participate in it. However, on the eve of the meeting the Pakistani delegation was informed by Afghan officials that they had to wait for security clearance because of some intelligence information. Later, the meeting was postponed.
The meeting was finally held here with the Pakistani team being led by Senator Ayesha Raza Farooq, the PM's Focal Person on Polio Eradication, and the Afghan side by Senior Health Adviser Dr Hedayatullah Satankzai.
Know more: Rotary International extends support to polio campaign along Pak-Afghan border
The two sides agreed on joint vigilance to stop cross-border spread of polio.
Pakistan and Afghanistan are the only countries that have been transferring poliovirus to each other through their 2,500km border. Children are vaccinated at legal entry points on the border but Pakistan is hosting 1.6 million Afghan refugees and a large number of people cross the border through various illegal routes.
The focal person told Dawn that in the past the virus travelled from Pakistan to Afghanistan but this year three cases had been reported in which poliovirus had travelled from Afghanistan to Pakistan.
Full report at:
http://www.dawn.com/news/1186005/pakistan-afghanistan-to-jointly-tackle-polio
-----------
Bangladesh to begin repatriation of rescued migrants from Myanmar
04 Jun 2015
YANGON: Myanmar's foreign minister Wunna Maung Lwin met the Bangladesh Ambassador on Wednesday (Jun 3) and requested Bangladesh expedite the repatriation of rescued migrants.
Bangladesh agreed to begin the repatriation process on June 7, according to a press release issued by Myanmar's Ministry of Foreign Affairs.
The Ministry also confirmed that 734 people found on a boat on May 29 are now being housed on humanitarian grounds in temporary shelters in Rakhine near the Bangladesh border
Myanmar Parliament speaker Shwe Mann also appeared to have commented on the migrant crisis for first time.
Full report at:
http://www.channelnewsasia.com/news/asiapacific/bangladesh-to-begin/1891940.html
----------
Europe
UK to keep backing Syria militants until Assad is gone: Cameron
Jun 4, 2015
British Prime Minister David Cameron says the UK will continue supporting militants fighting against the Syrian government.
Cameron told the parliament on Wednesday that what he called the "moderate" militants will continue to be trained for their fight against the government of President Bashar al-Assad.
Terrorists from the ISIL Takfiri group and other militant factions have caused a crisis in Syria, where they are committing atrocities against the nation.
Cameron, meanwhile, accused the government of supporting terrorists in the region, saying, "In Syria, the situation is far, far worse, but we should still continue, with others, with the plan of training the moderate Syrian opposition and trying to bring about a transition... That is the strategy we should pursue, for however long it takes to succeed."
Apart from supporting the militants, the United Kingdom is also part of a US-led coalition that has been engaged in airstrikes purportedly against the ISIL Takfiris in Syria and neighboring Iraq.
Full report at:
http://www.presstv.in/Detail/2015/06/04/414235/uk-cameron-syria-hezbollah-nusra-takfiri
-----------
Ratings of Muslims rise in France after Charlie Hebdo, just as in U.S. after 9/11
BY RICHARD WIKE
JUNE 3, 2015
The attack on the Paris offices of the satirical publication Charlie Hebdo in January was the most devastating terrorist incident in France since the Algerian War more than five decades ago. Two French-born Muslim brothers affiliated with al Qaeda in the Arabian Peninsula carried out the attack, killing 12 people and injuring 11 more.
In the aftermath, there has been considerable debate in France about the extent of radicalization among the country's nearly 5 million Muslims, and more broadly about the role of Islam in a country famous for its secularism. However, there has been no backlash against Muslims in French public opinion. In fact, attitudes toward Muslims have become slightly more positive over the past year.
A new Pew Research Center survey finds that 76% in France say they have a favorable view of Muslims living in their country, similar to the 72% registered in 2014. Meanwhile, the percentage with a very favorable opinion of Muslims has increased significantly, rising from 14% last year to 25% today. Attitudes toward Muslims tend to be more positive on the political left in France, but ratings improved across the ideological spectrum.
The pattern is similar to what we found in the U.S. following the Sept. 11 terrorist attacks. Favorable views of Muslim Americans rose from 45% in March 2001 to 59% in November of that year. The increase took place across partisan and ideological groups, with the biggest improvement occurring among conservative Republicans.
U.S. Views of Muslim Americans Improved After Sept. 11, 2001 Attacks
To many, these changes may seem counterintuitive, especially since much social science research suggests that the more people feel threatened by a minority group, the more likely they are to have negative attitudes toward that group.
However, following the attacks in both countries there were widespread calls for national unity, and important statements by national leaders (including presidents Bush and Hollande) making it clear that violent extremists do not represent Islam. Also, as Claremont Graduate University's Christopher Smith has argued, the media may have helped shape American public opinion after 9/11 by critiquing stereotypes of Muslims and drawing attention to violations of Muslims' civil liberties.
Full report at:
http://www.pewresearch.org/fact-tank/2015/06/03/ratings-of-muslims-in-france-and-us/
-----------
Leading Protester at a 'Draw Mohammed' demonstration Now Thinks the Religion Is 'Beautiful' After Being Invited Into a Mosque
4 June 2015
A protester who stood against Muslims at a 'Draw Mohammed' demonstration last week has had a change of heart - and now says the religion is 'beautiful'.
Jason Leger from Phoenix, Arizona, wore a t-shirt with 'F*** Islam' written across the front as armed activists created an ugly scene outside a mosque on Friday.
But when he was invited inside the Islamic Community Center, he admitted it was a 'beautiful thing' after talking to worshipers and watching them in prayer.
He now insists he would never offend them again.
He told FOX 10: 'Out of respect for the Islamic people, knowing what I know now, because I have talked to them and spoke to them, no I would not do that again, just because I don't want to offend or hurt those people.
'When I took a second to actually sit down and listen to them, and actually enter their mosque, and go in and watch some of their prayers, it is a beautiful thing, and they answered some of the questions that I had.
He added: 'We don't have to like everything that is free speech in this world, but we do have to let it happen, we have to let people wear what they want, say what they want.'
Leger and his uncle Paul Griffith, who also attended the rally, have now been invited back to the mosque.
Full report at:
http://www.dailymail.co.uk/news/article-3110396/Protester-wore-F-Islam-T-shirt-armed-anti-Muslim-Draw-Mohammed-demonstration-thinks-religion-beautiful-invited-Mosque.html
-----------
Russia wants accountability for chlorine attacks in Syria
Jun 4, 2015
UNITED NATIONS: The U.N. Security Council should make sure that the people allegedly responsible for chlorine attacks in Syria are brought to justice, Russia's U.N. ambassador said Wednesday.
Vitaly Churkin said council members need to look at the best way to do that, including a legally binding resolution as one option.
"There are ideas -- not yet on the table, but floating around,'' Churkin told reporters after a closed-door briefing by the new acting U.N. disarmament chief Kim Won-soo on efforts to eliminate Syria's chemical weapons.
The United States has been promoting Security Council action to assess blame for alleged chlorine attacks, which Syrian activists and doctors say have been increasingly used in recent weeks.
The Organization for the Prohibition of Chemical Weapons, the global chemical weapons watchdog based in The Hague, Netherlands, has condemned the use of chlorine in Syria as a breach of international law. But the OPCW does not have a mandate to determine responsibility for the use of chemical weapons.
In its latest report, the OPCW said a fact-finding team would visit Syria to look into recent allegations of attacks using toxic chemicals. Syria's U.N. Ambassador Bashar Ja'afari told The Associated Press on Wednesday that the team had arrived and would visit areas that the two parties agreed on.
Full report at:
http://timesofindia.indiatimes.com/world/us/Russia-wants-accountability-for-chlorine-attacks-in-Syria/articleshow/47535641.cms
-----------
EU, Libya hold talks on joint naval force to combat human traffickers
Jun 4, 2015
The European Union (EU) and war-torn Libya are discussing the establishment of a joint naval force to battle gangs smuggling people into Europe.
European Union foreign policy chief Federica Mogherini said on Wednesday described as "constructive" her talks in Brussels a day earlier with Libyan Foreign Minister Mohamed al-Dayri, Italian Foreign Minister Paolo Gentiloni and UK Foreign Secretary Philip Hammond.
"The meeting... took place in the context of the preparations of the maritime operation EUNAVFOR (European Naval Force) MED, which will focus on dismantling the business model of those involved in human smuggling," according to a statement from the EU using an acronym for the planned mission.
European Union foreign policy chief Federica Mogherini speaks in Rome, May 25, 2015. (AFP photo)
The command center for the force would be based in Italy. The UK, an EU member, is reportedly working on the draft of the UN resolution that would potentially give the armed force its legal framework.
The EU Council agreed on May 18 to establish a joint military operation dubbed EUNAVFOR Med to stop the trade of human smugglers and traffickers in the Mediterranean Sea.
The military force, said the mandate approved by the EU last month, includes European warships that would be authorized to destroy boats to crack down on human smugglers.
The joint military force would also use surveillance aircraft for spying purposes, according to the mandate.
Migrants disembark from a military ship following a rescue operation in Messina, Italy, May 6, 2015 (AFP photo)
The plan for the military force comes after a dramatic increase in the deaths of migrants heading to Europe and an increase in the number of migrants safely reaching Europe.
On April 29 alone, more than 800 people died after a single migrant boat capsized in what was described as the deadliest incident recorded in the Mediterranean by the office of the UN High Commissioner for Refugees (UNHCR).
The United Nations now needs to approve the plan after it is submitted by the European Union.
Full report at:
http://www.presstv.in/Detail/2015/06/04/414255/EU-Libya-EUNAVFOR-Med-Federica-Mogherini
-----------
Muslim dad jailed for racist rants and assault over school's beard ban
3 JUNE 2015
BY PAUL BYRNE
A Muslim who assaulted a headmaster after launching racist rants in a row over beards has been jailed.
Mohammad Liaqat, 34, verbally abused white teachers after two 14-year-old Muslim pupils were banned from school for refusing to shave on religious grounds.
Even though he was not directly affected by the case, Liaqat launched a 'racist tirade' on staff at Mount Carmel RC High School in Accrington, Lancs, where one of his children is a pupil.
He was ordered to stay away from Mount Carmel, but later turned up at nearby St Oswald's RC Primary, which another of his children attended, and embarked on another racist rant.
St Oswald's head Jeff Brown was shoulder-barged when he asked Liaqat to leave.
Liaqat was convicted of racially-aggravated threatening behaviour and an assault charge following a three-day trial.
Full report at:
http://www.mirror.co.uk/news/uk-news/muslim-dad-jailed-racist-rants-5817923
-----------
Southeast Asia
Even in Safety of Malaysia, Rohingya Migrants Face Bleak Prospects
By CHRIS BUCKLEY
JUNE 3, 2015
AMPANG, Malaysia — For refugees from Myanmar who have reached Malaysia, life may well be better than the grim marginalization and persecution they fled. But even here, poverty and exclusion threaten to rob them of a voice in determining their own future.
The boatloads of Rohingya migrants who landed here desperate and exhausted last month join some 75,000 Rohingya who made their way to Malaysia years and even decades before. Judging by the hardships their forerunners face, it will be difficult for the latest wave either to establish a secure foothold or to achieve resettlement elsewhere.
"From a country, we have become stateless, and as refugees, we have become stateless again," said Mohammed Noor, the managing director of Rohingya Vision TV, an online news service based in Kuala Lumpur, the Malaysian capital. "We're a floating people now, floating everywhere without any hope, without any papers."
Prayers and speeches here on Wednesday marked the third anniversary of the bloodshed in Myanmar that started the latest exodus, but in the larger regional debate over their future, the Rohingya have largely been left as muted bystanders.
In Malaysia, their status as refugees and unregistered migrants bars them from sending their children to government schools, meaning many receive little or no education. They are also barred from holding jobs legally, but necessity compels most of the men to find menial off-the-books labor.
"Decades of policies in Myanmar have left many Rohingya illiterate and impoverished, and that's hard to shake off as refugees," said Gerhard Hoffstaedter, an anthropologist from the University of Queensland in Australia who studies the Rohingya and other refugee groups in Malaysia.
Echoing the views of other experts and Rohingya leaders and organizers in Malaysia, Dr. Hoffstaedter said that many of the refugees' problems were partly rooted in their own society.
The Rohingya "lack the organization and rich networks that other, more successful refugee groups can tap," he said. He noted that the Chin, another migrant group from Myanmar, have been more successful at setting up schools and at securing resettlement in third countries, especially the United States.
"The Rohingya have an amazing capacity for suffering, but they've been given so few stories of success," he said.
Full report at:
http://www.nytimes.com/2015/06/04/world/asia/rohingya-migrants-malaysia.html?_r=0
-----------
Malaysia: Temple Has New Access, Not Blocked As Alleged by Hindu Rights Action Force
June 4, 2015
KUALA LUMPUR: The Selangor State Development Corporation (PKNS) has countered claims that it blocked the access road to the 60-year-old Sri Maha Kaliamman Alayam Temple in Batu Caves, saying that it actually had built an alternative access road to the temple for followers.
In a report by Malaysiakini, PKNS public relations manager Ishak Hashim dismissed the allegation by Hindu Rights Action Force (Hindraf) leader P Uthayakumar and the temple council representatives, that access to the temple had been blocked, as being false.
Uthayakumar, acting lawyer for temple committee deputy chairperson Ramesh Kannan, had earlier accused PKNS of blocking access to the temple, and forcing it to be relocated under a dangerous high-tension electrical grid area.
"A police report was lodged in Selayang, but as usual, the police did not intervene to stop this crime as the victims are merely poor Indians," claimed Uthayakumar.
"Our clients maintain that there is no such thing as an illegal Hindu temple in Malaysia as there are rightly no illegal surau or mosques, by virtue of Article 11 of the Federal Constitution (guaranteeing freedom of religion)," Uthayakumar said.
Ishak however said in a statement today that although PKNS built hoardings surrounding the land, the temple itself was situated on a Tenaga Nasional Bhd pilot project land next to the PKNS affordable housing project.
Full report at:
http://www.freemalaysiatoday.com/category/nation/2015/06/04/pkns-temple-has-new-access-not-blocked-as-alleged/
-----------
4 soldiers shot dead in Thailand's insurgency-plagued south
Jun 3, 2015
HAT YAI: Thai police say four soldiers have been killed in an attack on a rural road in the country's violence-plagued south.
Police Col Lukman Bakoh says the soldiers were traveling in a personal car when a group of more than five suspected insurgents started to open fire at them on a road in Raman district in Yala province.
He said today the attackers used rifles until the vehicle stopped, then they pulled the officers from the vehicle and fired at them repeatedly.
Lukman said the attackers also stole three rifles and a pistol from the soldiers before fleeing the scene.
Full report at:
http://timesofindia.indiatimes.com/world/south-asia/4-soldiers-shot-dead-in-Thailands-insurgency-plagued-south/articleshow/47531089.cms
-----------
Malaysia's Islamist opposition split between pragmatism and Muslim nationalism – Wong Chin Huat
4 June 2015
Malaysia's Islamist opposition party will see its most bitterly-fought party election today and the result is likely to decide the future of the three-party Pakatan Rakyat (PR) opposition coalition and the outcome of the next general election.
For the first time in decades, an incumbent president of PAS is being challenged.
The campaigning has been tainted by character assassination and patronage, which is usually associated more with its arch-rival, Umno.
Ahmad Awang, 79, a former vice-president who takes on the president, Datuk Seri Abdul Hadi Awang, 67, is accused of being "a Jewish agent" and "a Shia", labels despised by the majority of Sunni Muslims in Malaysia.
The incumbent deputy president, Mohamad Sabu, has been called "DAP's dog" for his close ties with the secular, Chinese-majority DAP and for his personal friendship with DAP leader Lim Guan Eng, who was his cellmate in political detention in 1987.
The Islamist party is deeply divided over its choice of friends and foes in a political landscape where ethno-nationalism and religion cut deep.
Ahmad and Mohamad are leading figures of the progressive camp, which wants to keep PAS within PR, along with DAP and PKR, a centrist party led by Datuk Seri Dr Wan Azizah Wan Ismail, the wife of former deputy prime minister Datuk Seri Anwar Ibrahim.
Hadi leads the hardliner faction, which prefers to work closer with Umno and contemplates forming a Unity Government (UG) to protect Malay-Muslim interests and accelerate Islamisation.
The pro-PR faction believes that PAS will be condemned to its regional base in the north-eastern Malay-heartland states of Kelantan and Terengganu if it abandons the PR pact and is rejected by the non-Muslim and middle-ground voters.
Abandoning the goal of a theocratic state, the party's "PAS for all" positioning in the 2008 general election saw it increasing its parliamentary seats to 23 from a mere seven in 2004, and helming two ethnically-mixed states.
Five years later, in the 2013 general election, PR won 51% of the votes against the 47% won by the Umno-led ruling coalition Barisan Nasional (BN).
Full report at:
http://www.themalaysianinsider.com/sideviews/article/malaysias-islamist-opposition-split-between-pragmatism-and-muslim-nationali
-----------
Grapes of Wrath: Muslim wine ferments divisions in Chi
June 4, 2015
AWAT: When Chen Naibao got into the wine business, he left out the pigeon blood and lamb meat that have been hallmarks of vintages in China's Xinjiang region for more than a thousand years.
The animal parts are usually added to enhance flavour and increase the supposed medicinal qualities of museles, a traditional wine raved about in Tang dynasty poetry and long fermented by local Uighurs, despite the prohibition on alcohol of their Muslim religion.
Deep red, its unusual ingredients give it a pungent, musty nose and a sweet-sour, spiced taste, akin to a vermouth.
Chen's recipe has extra sugar and his own production is noticeably sweeter, even cloying, with a more golden-brown hue.
Xinjiang, home to most of China's more than 10 million Uighurs, sees sporadic violence authorities blamed on Islamist separatists, which has increased in intensity and spread beyond its borders in recent years.
Uighurs say they face discrimination and restrictions on language, culture and religion, but China counters it has brought development and raised living standards.
Nonetheless Chen's business shows how the benefits of economic growth often go to immigrants from China's Han majority rather than Uighur locals, exacerbating ethnic tensions.
It is unclear when exactly Uighurs started making museles, but during the 618-907 AD Tang dynasty, considered the peak of Chinese civilisation, poets referred to it as "Western nectar".
Museles is often spiced with saffron or cloves in addition to pigeon blood, whole pigeon or lamb meat, and is typically aged for two months in ceramic vats.
But Chen grew up and still lives partly in Jiangsu, more than 3,700 kilometres (2,300 miles) away on China's eastern coast. He set up the business only four years ago after buying an existing winery, and has little time for its heritage.
"I took this Uighur wine and made it better," he boasted in his spartan office at the two-hectare vineyard — he buys in most of his grapes.
Full report at:
http://www.freemalaysiatoday.com/category/leisure/2015/06/04/grapes-of-wrath-muslim-wine-ferments-divisions-in-china/
-----------
Malaysia Islamic Asset Growth to Rebound on Deposit Transparency
June 4, 2015
Malaysia's Islamic banks see their asset growth rebounding closer to 20 percent as lenders benefit from a two-year effort to improve transparency for depositors.
The nation's Shariah-compliant banking industry slowed to an average annual expansion rate of 13 percent in the past three years, compared with 21 percent in the previous four, central bank data show. Growth eased as lenders adjusted their products to better suit the risk appetite of customers and provide clearer insight into how their cash is invested, Badlisyah Abdul Ghani, who heads the Association of Islamic Banking Institutions Malaysia, said in a June 2 e-mail interview.
"We expect the growth to go back to the high-teens if not in the low twenties in the near to medium term," said Kuala Lumpur-based Badlisyah, who is also the chief executive officer of CIMB Islamic Bank Bhd. "We should see Islamic financial institutions refocus on growth. However, this is naturally subject to no Black Swan event occurring."
Malaysian lenders have to comply with the Islamic Financial Services Act by June 30, part of a goal to boost Shariah-compliant banking assets to 40 percent of the total by 2020 from about 26 percent last year. The initiative will take on further impetus in 2017 when the nation's biggest pension fund plans to allow customers to choose an investment option that's in full compliance with religious principles for the first time.
The act was introduced to reclassify existing products based on the underlying contracts to differentiate between deposit and investment accounts. Shariah law forbids the payment of interest, while embracing the sharing of profit and risk.
The term Black Swan was popularized by author and investor Nassim Taleb in his 2001 book to denote unexpected financial events with transformational effects.
Risk Sharing
"The introduction of this framework is a catalyst for lenders to move toward risk-sharing product offerings in line with the spirit of Islamic finance," said Hizamuddin Jamalluddin, chief strategy officer at Kuala Lumpur-based Bank Islam Malaysia Bhd. "We expect the development to give a competitive edge."
Islamic banking assets in Malaysia almost doubled to a record 625.2 billion ringgit ($169.1 billion) in 2014, from 351.2 billion ringgit in 2010, according to the central bank's latest annual report.
Full report at:
http://www.bloomberg.com/news/articles/2015-06-03/malaysia-islamic-asset-growth-to-rebound-on-deposit-transparency
-----------
Pakistan
Access to peaceful nuclear technology a priority, Pakistan told US
ANWAR IQBAL
June 4, 2015
WASHINGTON: Pakistan told US officials that access to peaceful nuclear technology was a socio-economic priority for the energy-starved nation, says a joint statement issued on Wednesday.
Pakistan reassured the United States that "it will not be the first in its region to resume nuclear testing" and also explained its reluctance in signing various non-proliferation regimes.
Also read: Pakistan will not sign NPT, says foreign secretary
The statement, issued after the seventh round of the US-Pakistan Security, Strategic Stability, and Non-proliferation Working Group in Washington on Tuesday, however, indicates a continued US interest in persuading Pakistan to join such regimes.
The statement showed that it was "not just another round of bilateral talks", as a diplomatic observer said. Both sides raised sensitive issues relating to Pakistan's nuclear programme, the impact of this programme on its relations with both the United States and India and various confidence building measures for improving India-Pakistan ties.
The statement also indicated that while on some issues, the two sides had a comfortable understanding, on others they disagreed.
Pakistan strongly put across its opposition to proposals that would seek a unilateral reduction in its nuclear assets and also emphasised the need for reducing the widening asymmetry with India on conventional weapons.
Sensitive issues raised in strategic dialogue held in Washington
At the meeting "Pakistan stressed the need for access to peaceful nuclear technology as a socio-economic imperative," said a statement issued by the US State Department.
A day before the talks, Foreign Secretary Aizaz Ahmad Chaudhry told a briefing in Washington that Pakistan also had a right to the civil nuclear cooperation arrangement that the United States had with India.
Mr Chaudhry and US Under Secretary of State for Arms Control and International Security Rose Gottemoeller co-chaired the meeting.
The statement shows that while Pakistan focused on access to civil nuclear technology, the United States stressed the need for Islamabad to adhere to an international non-proliferation regime.
Full report at:
http://www.dawn.com/news/1186016/access-to-peaceful-nuclear-technology-a-priority-us-told
-----------
China-Pakistan Economic Corridor Can Change the Fate of the Region: President
June 4, 2015
ISLAMABAD: President Mamnoon Hussain while addressing a joint session of Parliament on Thursday stressed the need for completion of the China-Pakistan Economic Corridor (CPEC), saying "We will have to work very hard to complete the economic corridor project."
"No part of the country will be deprived," he said, allaying fears that certain parts of Pakistan would benefit less than others. "The economic corridor can change the fate of the region."
He added that Pak-China friendship would be an example to the world.
Today's address marked the advent of the third parliamentary year of the PML-N government.
The president was of the view that this year had been better than previous years, and that the security situation in Karachi and Balochistan had improved.
Mamnoon touched upon various sectors where he felt the government consistently worked, over the last two years, to achieve better targets. Among them was the fight against polio.
"In the past few years polio has been on the rise, and we are working hard to eradicate it. It is unfortunate that [travel] restrictions were made on Pakistan regarding polio."
"Polio cannot be eliminated through restriction, but is possible through sympathetic efforts," he said.
"I want to shed light on the fact that our children are dear to us and we will not let them lose their lives."
He talked about the country's security situation and said the operation in tribal areas will continue till the elimination of the last terrorist.
"Peace will be restored in Pakistan under any circumstance," Mamnoon said.
He was of the view that an improvement in Pakistan's situation was evidenced by the restoration of international cricket in Pakistan, saying "In the future, apart from cricket, other sports will also be seen on the home ground."
"We have hope India will resolve the Kashmir issue in light of UN resolutions and according to wishes of the Kashmiri people," he said, emphasising on the need for peace and stability in the region. "Friendly relations with India, based on equality, are a priority."
"Relations with the United States are based on mutual respect and trust," he said, calling the US an ally in the war against terrorism.
Full report at:
http://www.dawn.com/news/1186132/cpec-can-change-the-fate-of-the-region-mamnoon-hussain
-----------
MQM's call for mourning: Business activities remain suspended in Karachi
June 4, 2015
KARACHI: Traffic was thin and business activities remained suspended on Thursday following the Muttahida Qaumi Movement's (MQM) announcement for a two-day mourning over the custodial death of a party worker.
The party had on Wednesday called for all businesses to remain shut and shops and markets in various parts of Karachi are closed today.
Exams in various universities have also been postponed until further notice.
The party had called for a two-day mourning yesterday over the custodial death of a party worker at the Aziz Bhatti police station, a statement on the MQM website said.
Also read: Four policemen held after MQM worker's custodial death
A post-mortem examination of the body conducted at the Jinnah Postgraduate Medical Centre showed that MQM worker Mohammed Wasim died from head injuries caused by a hard and blunt object.
Full report at:
http://www.dawn.com/news/1186124/mqms-call-for-mourning-business-activities-remain-suspended-in-karachi
-----------
National Action Plan Will Lead To Victory against Terrorism: PM PoK
June 03, 2015
Muzaffarabad: The Azad Jammu and Kashmir (AJK) Prime Minister Ch. Abdul Majeed has said that civil and military leadership is on the same page in war against terrorism and victory will be achieved with the force of unity and implementation on National Action Plan (NAP).
Presiding over the meeting of Apex Committee in Muzaffarabad today, he said that all the set targets would be achieved through implementation of National Action Plan against the terrorism.
The AJK Prime Minister expressed profound gratitude to Army Chief General Raheel Sharif for adopting unequivocal stand over Kashmir issue and extending full support to Kashmiris struggling for their right to self-determination.
Chaudhry Abdul Majeed said that nation along with Pak Armed Forces has rendered innumerable sacrifices in the war against terrorism and the blood of the martyrs will not go waste and the country will be made a haven of peace through eradication of terrorism. He lauded the role of Pak Armed forces and civil administration for rooting out terrorism and extremism from the country through the implementation of NAP.
Full report at:
http://nation.com.pk/national/03-Jun-2015/national-action-plan-will-lead-to-victory-against-terrorism-ajk-pm
-----------
ISI tapped 6,856 phones in May
June 03, 2015
ISLAMABAD- The Inter Services Intelligence today told the apex court that it had tapped more than 6,800 phones across the country in May. According to our sources, Deputy Attorney General Sajid Ilyas Bhatti submitted a classified report on the number of phones tapped.
According to the report, at least 6,523 phone numbers were tapped in the February, 6,819 in March, 6,742 in April and 6,856 in May.
Full report at:
http://nation.com.pk/national/03-Jun-2015/isi-tapped-6-856-phones-in-may
-----------
Rift develops as admin prefers PML-N to Jamaat
June 04, 2015
MANDI BAHAUDDIN
A rift has developed between the PML-N and Jamaat-e-Islami over the issue of holding public meeting at Quad i Azam Ground on June 5 (tomorrow). The JI and PMLN had planned to hold public meetings on June 5 to be addressed by Sirajul Haq and Hamza Shahbaz. The dispute arose when the district administration allotted the ground to PML-N for June 5 public meeting. The JI was asked to postpone their meeting to June 6. The JI candidate for NA 108 by election Riaz Farooq Sahi got annoyed over the district administration for not allowing him to hold meeting as per schedule in the ground.
Full report at:
http://nation.com.pk/national/04-Jun-2015/rift-develops-as-admin-prefers-pml-n-to-jamaat
-----------
Mideast
Israel raids Gaza, Islamic state sympathizer claims rocket fire
Jun 4, 2015
GAZA: A radical Islamist Salafist group posted a statement on Twitter on Thursday claiming responsibility for firing three rockets at Israel from the Gaza Strip.
Israel retaliated with at least three air strikes before dawn, hitting two training camps of the armed wing of Hamas Islamists who dominate the coastal territory and a third belonging to an Islamic jihad group, damaging buildings nearby but causing no casualties, medics and witnesses said.
The rocket strikes at Israel were the second such launchings at Israel in the past week, marking an escalation since a hiatus in cross-border fire since a 50-day Israeli war with Hamas ended with an Egyptian-brokered truce in August.
The group that claimed responsibility for firing the rockets at Israel, calling itself the Omar Brigades, said the rocket fire on Wednesday was in retaliation for Hamas's killing of an Islamic state supporter a day earlier in Gaza.
Full report at:
http://timesofindia.indiatimes.com/world/middle-east/Israel-raids-Gaza-Islamic-state-sympathizer-claims-rocket-fire/articleshow/47535687.cms
-----------
Pro-Kurdish party seeks wider reach in Turkish vote
03 Jun 2015
Istanbul - Turkey's left-wing pro-Kurdish People's Democracy Party (HDP) is set to play a crucial role in the upcoming parliamentary elections due on June 7, according to Turkish voters interviewed by Al Jazeera.
The party's absence - or presence - in the newly elected parliament may not only influence the balance of power in parliament but may also pose a serious challenge to the Justice and Development (AK) Party, Turkey's ruling party for the past 13 years.
Recent surveys show the HDP to be on the verge of passing Turkey's unusually high 10 percent electoral threshold. A political party that passes the threshold automatically obtains around 50 seats in the 550-seat parliament, while parties that secure less than 10 percent of the votes do not make it to parliament.
The HDP presents itself as a party that advocates democratic rule, human rights, social equality, social welfare, independent judiciary, and women's rights. "In a country where almost every group, other than ardent AK Party followers, feel like outsiders, the HDP platform is the strongest statement on behalf of all the others with its particular focus on women," Aysen Ertur, 60, a pensioner from the district of Kadikoy in Istanbul, told Al Jazeera.
RELATED: Turkey's pro-Kurdish party rocked by twin bomb attacks
The party, according to party pundits, seeks to attract secular and liberal voters as well as non-Kurdish minorities, although the party does not make secret of its Kurdish identity. "Diversity is the reason why I will vote for the HDP," said Demet Kazdal, 28, a translator. "They aim to represent a wide range of people. My priority is how they approach LGBT and women's issues and I think the HDP meets my criteria," Kazdal told Al Jazeera.
AK Party officials openly say that they do not want to see the HDP in the parliament as they charge the party is collaborating with the outlawed armed Kurdistan Workers' Party (PKK).
Moreover, Turkish President Recep Tayyip Erdogan, who has been unofficially campaigning for the AK Party - from which he stepped down as party leader after being elected president - directly criticised the HDP in his speeches. The presidency is a constitutionally neutral position in Turkey.
Erdogan repeatedly depicted it as a political party "supported by terrorism" or "ran by the terrorist organisation", in a veiled reference to the PKK.
Several voters told Al Jazeera they were reluctant to vote for the party due to the alleged link between the HDP and the PKK.
"Generally, my views are in line with the HDP's policy promises. However, the HDP seems not [to be] acting in line with their words," said Sinan Sunterler, 35, an IT expert from Bahcelievler in Istanbul. "Talking about peace while walking hand-in-hand with the terrorist group PKK is not something I can accept," Sunterler told Al Jazeera.
Other voters echoed similar views. Gorkem Nurata, a 37-year-old graphic designer from Kadikoy, said that while the HDP's promises sound good, the party's rhetoric was just a facade to hide their original Kurdish nationalist agenda.
Full report at:
http://www.aljazeera.com/news/middleeast/2015/06/pro-kurdish-party-seeks-wider-reach-turkey-polls-150601191117208.html
-----------
Yemen govt to attend U.N.-led Geneva talks
4 June 2015
Yemen's ambassador to the United Nations said Wednesday that U.N.-led talks aimed at ending the conflict in the Middle East's poorest nation will begin June 14 in Geneva.
Ambassador Khaled Alyemany told The Associated Press that the United Nations is expected to officially announce the date shortly.
But there was still some uncertainty among members of the U.N. Security Council who were briefed behind closed doors by the U.N.'s new special envoy for Yemen, Ismail Ould Cheikh Ahmed.
"Hopefully the 14th," Angola's U.N. Ambassador Ismael Abraao Gaspar Martins told reporters as he left the council meeting.
Ahmed's first attempt to hold talks was postponed two days before the parties were to meet on May 28 after a request from Yemen's government and other parties for more time to prepare.
The conflict pits Yemen's exiled President Abedrabbu Mansour Hadi against Iranian-backed Houthi militia - who seized the capital, Sanaa, last year - and military units loyal to former Yemeni President Ali Abdullah Saleh. A Saudi-led coalition began launching airstrikes against the Houthis and their allies on March 26, shortly after Hadi fled a rebel advance on the south. Since then, airstrikes and ground fighting have killed more than 1,000 civilians and displaced a half million people, according to the U.N.
Secretary-General Ban Ki-moon has been urging the parties to drop preconditions for the talks, an appeal Ahmed has made in numerous meetings with the feuding parties.
An aide to Hadi said Tuesday that the president has agreed to travel to Geneva for the talks. The rebels' second-in-command said the Houthis also are ready to go to Geneva.
Yemen's Alyemany said that "if Houthis are reacting positively ... things can move easily."
He said Ban is expected to open the Geneva meeting and Ahmed will then meet in "one room" with the parties and their supporters. "It will be around the same table," the ambassador said.
Full report at:
https://english.alarabiya.net/en/News/middle-east/2015/06/04/Yemen-ambassador-U-N-led-Geneva-talks-to-start-June-14.html
-----------
Iran, P5+1 begin new round of nuclear talks in Vienna
Jun 4, 2015
Representatives from Iran and the P5+1 have kicked off a fresh round of nuclear negotiations on drafting the text of a final deal over the Islamic Republic's nuclear program.
On Thursday, Iranian Deputy Foreign Ministers Abbas Araqchi and Majid Takht-e-Ravanchi sat down for talks with European Union deputy foreign policy chief Helga Schmid, who represents the P5+1 countries, in the Austrian capital, Vienna.
The Iranian delegation, led by Araqchi, arrived in Vienna earlier on Thursday.
Upon his arrival in Vienna, Araqchi said that Tehran and the P5+1 countries are currently discussing mechanisms for managed access to Iran's non-nuclear sites as part of the Islamic Republic's measures to address the concerns over the so-called possible military dimensions (PMD) in Iran's nuclear activities.
"We are trying to find mechanisms for the managed access on the PMD questions, which is related to the past," Araqchi told Press TV.
Iran and the P5+1 group of countries - the United States, Britain, France, Russia, China and Germany – are seeking to finalize a comprehensive agreement, known as the Joint Comprehensive Plan of Action (JCPOA), by the end of June.
The senior Iranian negotiator referred to the Additional Protocol to the Safeguards Agreement of the International Atomic Energy Agency (IAEA), and said Iran and the P5+1 are trying to adjust its mechanisms for managed access to certain sites under the potential deal.
"For the Additional Protocol, there are already mechanisms, but we are trying to actually adjust those mechanisms to JCPOA," he said.
Full report at:
http://www.presstv.in/Detail/2015/06/04/414276/Iran-P51-Vienna-Araqchi-Schmid
-----------
Iran demands regional cooperation against extremism
Jun 4, 2015
Iranian Foreign Minister Mohammad Javad Zarif has called for concerted efforts by all regional countries to uproot terrorism and extremism.
Extremism threatens all regional states and its eradication requires regional as well as trans-regional cooperation, Zarif said late on Wednesday upon arrival at the Vnukovo International Airport in the Russian capital, Moscow, to attend the Shanghai Cooperation Organization (SCO) Council of Ministers of Foreign Affairs meeting and the High-level Conference "Security and Stability in the SCO Region."
He described ministerial SCO event as an opportunity for top diplomats from regional countries to exchange viewpoints on current developments, noting that he is scheduled to hold bilateral and trilateral talks with his counterparts from the SCO member states - including China, Russia, and Tajikistan - on the sidelines of the organization's summit.
Zarif said the talks will center around the threats being posed by extremism in the region, latest developments about Iran's nuclear talks with the P5+1, the ongoing developments in Yemen, Syria, Iraq, and the ISIL militant group, as well as common areas of interest.
Russian Foreign Minister Sergei Lavrov, SCO Secretary-General Dmitry Mezentsev and Director of the SCO Regional Counter-Terrorism Structure Executive Committee Zhang Xinfeng will address the SCO meeting.
Full report at:
http://www.presstv.in/Detail/2015/06/04/414254/Iran-Zarif-terrorism-SCO-Russia
-----------
Israeli police clash with Ethiopian protesters in Tel Aviv
Jun 4, 2015
Clashes have broken out between Israeli forces and Ethiopian protesters who were once again out on the streets in Tel Aviv to denounce police brutality as well as the Tel Aviv regime's racist policies.
Israeli police forces fired stun grenades to disperse hundreds of Ethiopians holding an anti-racism protest rally in downtown Tel Aviv on Wednesday.
At least ten protesters were also arrested during the scuffles.
The new rally comes two weeks after an Israeli police officer was filmed beating an Ethiopian, a move which caused public outcry in the Ethiopian community living in the Israeli-occupied Palestinian territories.
Full report at:
http://www.presstv.in/Detail/2015/06/04/414252/Israel-Ethiopian-Tel-Aviv-racism
-----------
Turkey expects more refugees after ISIL advance
June 4, 2015
Turkey is expecting more refugees from Syria following an advance by extremist jihadists near the Turkish border, with Şanlıurfa Gov. İzzettin Küçük, saying around 1,000 people were waiting to enter the country.
"There is a clash there," he said, referring to a fresh fight in Ras al-Ayn, also known as Serekaniye, a Syrian region near the town of Haseke.
Some five villages by Turkish border have been bombed by the Islamic State of Iraq and the Levant (ISIL), the official said.
"Turkey is a big state and is receiving those people without any discrimination," the governor said, adding that the number of new incomes were not at around 50,000 or 100,000, dismissing such media reports.
The process of taking new refugees was slow because all newcomers were being documented, he said.
Turkish Foreign Minister Mevlüt Çavuşoğlu said in the Mediterranean province of Antalya June 3 that Turkey had spent around $6 billion to cover the needs of some 2 million refugees from Syria.
Full report at:
http://www.hurriyetdailynews.com/turkey-expects-more-refugees-after-isil-advance.aspx?pageID=238&nID=83441&NewsCatID=510
----------
India
Kolkata Muslim Youth's Salary Held for Offering Hajj, Fired for Growing Beard
New Age Islam News Bureau, 4 May, 2015
Kolkata: In yet another case of discrimination on the ground of religion, a Muslim youth had to lose his
job in a company in Kolkata for growing beard. Earlier, his salary was withheld for more than six months
after he returned from Hajj last year.
Muhammad Ali Ismail was an employee of Adhunik Infotech in Kolkata where he worked sincerely and
honestly for seven years. His services were appreciated by the company and he was even sent abroad
on company's assignments. However, things started to change after he performed Hajj last year.
Suddenly, the attitude of the seniors changed. When he demanded his dues in March, he was abused
and told not to come to the office. The security guards were told not to allow him to enter office.
When he approached the police to file an FIR against the company, the police refused to register it on
the pretext that the issue was related to the corporate industry.
The irony of the issue is that Muhammad Ali Ismail's father Muhammad Ismail is a retired policeman of
West Bengal police. He had another feather in his cap. He was a good footballer and was the captain of
the Kolkata Police's First Division Football team in the 70's.
----
30 lakh Muslims join BJP during membership drive
Rajiv Srivastava
Jun 4, 2015
LUCKNOW: As Prime Minister Narendra Modi appealed to the Muslim community to judge him on the basis of his action and performance, reports from the states show that there has been drastic jump in the number of Muslims joining the BJP during the recently concluded membership drive. Even though these members were inducted through 'missed calls', the increase is unprecedented, say the party workers involved with the drive. Until the last update, around 30 lakh Muslims had joined BJP in the recent drive.
Although the party's national minority cell chief Abdul Rasheed Ansari said that the exact strength of Muslims in the party was never calculated earlier, it could be roughly said that it has almost doubled now. Membership figures made available to TOI by the minority cell indicate that states where BJP is in power have seen the maximum surge in Muslims joining the party. Around 4 lakh of them have joined in MP, followed by Gujarat (2.6 lakh), Delhi (2.5 lakh), West Bengal (2.3 lakh) Rajasthan and Assam (over 2 lakh each). UP BJP has also recorded around 1.75 lakh 'missed calls' from Muslims.
After this surge, the challenges that lie before the party are also daunting.
The first is to take this number from the present 3% (of the total 10 crore members) to 10% of the total strength. The other challenge would be to ensure that a majority of 30 lakh Muslims who have joined are converted into party workers through the mass contact programme that is going on.
Full report at:
http://timesofindia.indiatimes.com/india/30-lakh-Muslims-join-BJP-during-membership-drive/articleshow/47536563.cms
-----------
'Prosperity makes Shab-e-Barat occasion for pomp & assertion'
Jun 4, 2015
Imtiaz Ahmad
Shab-e-Barat is a good example of the transformation of a Muslim festival under conditions of commercialization and search for identity in a plural society. Until a few decades ago, it was an innocuous religious festival associated with piety and obeisance to the dead. It was an occasion for prayers for the soul of the dead. Muslims usually spent the night in prayer and ritual offering to the dead, often in silence at home. No great pomp and show was associated with it. They would visit the graveyards where their ancestors lay buried and light candles on their graves. Some would prepare sweets and offer them to the dead and distribute in the community.
Over the past two or three decades, the character of the festival has changed from a subdued religious occasion to one where there is enormous display of pomp and show. There are fireworks and people, particularly young men, come out on the streets and indulge in revelry. Sweets are still distributed, but the focus is now on revelry and boisterous demonstration of solidarity of the Muslims. Since the festival coincides with the birthday of Prophet Muhammad, the festival becomes an occasion for sermons and gatherings of Muslim clerics. On most occasions, these gatherings and the accompanying celebrations go on all night.
This transformation of an otherwise innocuous sacred event into a boisterous and celebratory occasion has been prompted by several factors. One is prosperity. Muslims, particularly among the emerging socially mobile middle class, donate substantial amounts of money for holding large gatherings and for spending on the festivities. Another factor is the process of commercialization where the all-night gatherings also become a virtual marketplace for people to buy and sell goods. So strong is the pull of trade and commerce that the sanctity of the occasion is pushed to the background.
Most Muslim festivals, except for the Ramadan Eid, are relatively individual or family affairs. Shab-e-Barat has become an occasion for the display of community solidarity. Most Muslim youths use this occasion to show that it is a public celebration like Diwali or the birthdays of Hindu gods and goddesses like Ramnavmi or Janmashtami. Muslims use the festival to show that they too have public festivals and demonstrate a sense of community solidarity. While the community may feel that it is a Muslim festival, but the way it is now celebrated has been influenced greatly by the parallel growth of Hindu festivals and the pomp and show associated with them.
Full report at:
http://timesofindia.indiatimes.com/india/Prosperity-makes-Shab-e-Barat-occasion-for-pomp-assertion/articleshow/47535201.cms
-----------
Yoga Day must be optional, urge Muslims
Mohammed Wajihuddin
Jun 4, 2015
MUMBAI: Senior clerics and Muslim community leaders have opposed the state government order asking schools to remain open on June 21 to mark International Yoga Day and demanded that the celebrations be made optional.
"Yoga may have many health benefits, but observing International Yoga Day in schools should not be made compulsory. The order is undemocratic and amounts to infringing on the rights of a group of citizens who don't worship anyone except Allah who is formless and omnipresent. Like other religious groups, Muslims revere their mothers and believe that heaven is at mother's feet. Yet, they don't bow to their mothers or touch their feet as they are mandated to only bow to Allah," said Dr Zahir Kazi, president of Anjuman-I-Islam, which runs a chain of schools and professional colleges in the state.
Maulana Mustaqeem Azmi, president, Jamiatul Ulema-e-Hind (Maharashtra), slammed the government order, calling it dictatorial and impinging on the rights of citizens.
"We have nothing against those who worship the sun, the moon, the seas or the mountains. But Muslims believe that all these things are creations of Allah, who alone deserves worship," said Azmi.
Full report at:
http://timesofindia.indiatimes.com/india/Yoga-Day-must-be-optional-urge-Muslims/articleshow/47534889.cms
-----------
Africa
New Nigerian President Buhari Pledges Renewed Fight Against Boko Haram
June 4, 2015
The Jihadist group pledged allegiance to ISIS earlier this year
Nigerian President Muhammadu Buhari took a hard line Wednesday against Islamist militant group Boko Haram during his first visit trip overseas since winning elections in March.
"I renew my commitment to track Boko Haram into a corner, to destroy it. Five years of the presence of this evil sect is enough," the 72-year-old told reporters in Niamey, Niger, accompanied by his opposite number, President Mahamadou Issoufou. Buhari said he also planned to visit neighboring Chad on Thursday, Reuters reports.
Niger has recently stepped up efforts to help its neighbor combat Boko Haram in the northeast part of the country, but Buhari indicated that arrangement would end soon. "I think in the next four weeks we will be able to replace them with Nigerian forces so they can return to their country," he said. He also credited Niger for accepting refugees — as many as 150,000 — who have fled the fighting in Nigeria to Niger.
Full report at:
http://time.com/3908486/nigeria-niger-boko-haram-muhammadu-buhari/
-----------
IDP: Some of Us Suffered Mental Illness after Boko Haram Torture
04 Jun 2015
Borno to establish special camp for pregnant, traumatised refugees
By Michael Olugbode in Maiduguri and Daji Sani in Yola

Tales of anguish, neglect and suffering characterised the narratives of some Internally Displaced Persons (IDPs) when a group of 32 IDPs who are barely two weeks old at the Malkohi IDPs' Camp in Yola, the Adamawa State capital revealed that many of them became mentally unstable after spending over 10 months as captives of the Boko Haram insurgents.
One of the new IDPs who identified herself simply as Amina, made the revelation shortly after the donation of relief materials to the IDPs by a socio-cultural group under the aegis of Bachama Unity Club Kaduna branch Wednesday.
Amina said when they arrived the camp some of them were mentally unstable due to the molestations and maltreatment meted out to them by the insurgents but she said through the counselling and psychosocial therapy of the National Emergency Management Agency (NEMA) and Adamawa State Emergency Management Agency(ADSEMA) they are recuperating.
She lamented that a lot needed to be done particularly on some of them who were forcefully married to the insurgents and are still traumatised because of their experience in the hands of the terrorists.
Amina said they were 32 women including children that were brought to Malkohi camp by the Nigerian army from one of the camps in Maiduguri, adding that after discovering that the 32 of them hailed from Adamawa, the NEMA and the security authority decided to transfer them to the camp in their home state.
"When we were rescued by the military from Sambisa forest and taken to Maiduguri for refuge, we had already spent ten months in the hands of the insurgents from the time we were captured from Madagali and Michika.
"First, we spent three months in Michika 's prison belonging to the insurgent and the insurgents later moved us to Madagali after spending two months, we were again moved by the insurgents to Chakawa village and we camped there for two months. After that, we were moved to Gwoza where we spent two months before the insurgents finally moved us to Sambisa forest, where we were living under trees for a month when the military came to our rescue," she narrated.
Full report at:
http://www.thisdaylive.com/articles/idp-some-of-us-suffered-mental-illness-after-boko-haram-torture/211140/
----------
Western Sahara's struggle for freedom cut off by a wall
04 Jun 2015
Western Sahara - Nothing but silence surrounds the "Berm" - a sand wall surrounded by millions of land mines. It has isolated the Sahrawi people of Western Sahara for decades and it is barely heard of.
Youth representative Habiboulah Lamin, who like tens of thousands of other Sahrawis was born and raised in nearby refugee camps in southern Algeria, said looking at it makes him feel like "the saddest person in the world".
"To see this wall in the 21st century and overlooked by the international community, rarely reported about, frustrates me to the bottom of my heart," said Lamin, his voice breaking.
Squinting his eyes, he looked at the wall 100m away, manned by Moroccan soldiers who were filming the rare journalists filming them.
"My dream is that day when I can cross this wall, like what happened in Germany with the Berlin Wall, and I can meet my relatives who are behind this wall whom I haven't seen my entire life," Lamin said.
But spanning 2,700km, the Berm is 12 times the length of the Berlin Wall and four times that of the West Bank wall.
It is second in length only to the Great Wall of China, yet has remained practically invisible to the outside world. An estimated 120,000 Moroccan troops keep busy manning the massive wall.
Full report at:
http://www.aljazeera.com/indepth/features/2015/05/western-sahara-struggle-freedom-cut-wall-150528065625790.html
-----------
Nigeria urged to investigate military war crimes
04 Jun 2015
Lagos, Nigeria - The Nigerian military, including nine senior commanders, should be investigated for their role in shooting, starving, suffocating and torturing thousands of people to death during the fight against Boko Haram, Amnesty International says.
More than 7,000 boys and young men have died under military detention since March 2011, the UK-based rights organisation says in a new report, Stars on Their Shoulders. Blood on their Hands.
A further 1,200 have been rounded up and extrajudicially killed since February 2012, it says.
A senior military figure told Amnesty that it was common for soldiers to "go to the nearest place and kill all the youths. People killed may be innocent and not armed".
At least 20,000 young males, some only nine years old, have been arrested since 2009, when Boko Haram, which opposes Western influence, began their armed campaign to form a state ruled by Islamic law.
In most cases, the arrests have been illegal.
Detainees have been kept in cramped cells with little food or water, without investigation or trial, Amnesty says.
"This sickening evidence exposes how thousands of young men and boys have been arbitrarily arrested and deliberately killed or left to die in detention in the most horrific conditions," Salil Shetty, Amnesty International's secretary-general, said.
The report, which drew on leaked military reports as well as interviews with victims and security forces, states that senior commanders either sanctioned the abuses, or ignored them when they took place.
Nine senior officers should be urgently probed for individual or command responsibilities for the human rights abuses, Amnesty says.
Those include General Ken Minimah, the incumbent army chief of staff; Air Chief Marshal Badeh, chief of defence staff; and both of their predecessors.
Military rejects claims
Responding to the report, Major General Chris Olukolade of Nigeria's military said Amnesty International was trying to "blackmail" the armed forces and that no allegations had been proved against individuals the report identified.
"The Nigerian military ... rejects the biased and concocted report," he said in a statement on Wednesday.
Full report at:
http://www.aljazeera.com/news/2015/06/nigeria-urged-probe-military-war-crimes-150603134418815.html
----------
UN sets up review of CAR child abuse by peacekeepers
Jun 3, 2015
United Nations Secretary General Ban Ki-moon has set up an independent external review to investigate the world body's handling of a child sexual abuse scandal by its peacekeepers in the Central African Republic (CAR).
Ban's spokesman Stephane Dujarric said on Wednesday that the UN chief's "intention in setting up this review is to ensure that the United Nations does not fail the victims of sexual abuse, especially when committed by those who are meant to protect them." This comes as the UN faces accusations that it failed to act quickly over the abuse case.
Meanwhile, in a separate development on Wednesday, Agnes Thibault-Lecuivre, Paris prosecutor's office spokeswoman, said the office has received documents linked to a military investigation of sexual abuse by French soldiers against CAR children.
Thibault-Lecuivre, however, noted that the documents will not be made public during the judicial investigation.
Full report at:
http://www.presstv.in/Detail/2015/06/03/414210/CAR-Ban-KImoon-Dujarric-Bangui
-----------
Boko Haram: Buratai Appointed Commander for MNJTF
04 Jun 2015
Nigeria's Major General Tukur Yusuf Buratai has been appointed the Force Commander of the Multi-National Joint Task Force (MNJTF).
He has assumed duties at the new Headquarters in N'Djamena, the capital of Chad Republic.
The reorganised MNJTF arrangement is in line with the decisions of member countries of the Lake Chad Basin Commission (LCBC) which include Nigeria, Chad, Niger and Cameroun, with Benin Republic as a honorary member.
The arrangement has the backing of partners in the fight against Boko Haram namely; France, the United Kingdom and the United States.
The MNJTF has now been sectionised into three sectors to achieve more effect in its operations with one of the sectors headquarters retained in Baga, Borno State.
The MNJTF was formed as a result of the need by the LCBC member countries to pool their effort together in a bid to provide a common and coordinated solution to the security challenges in the Lake Chad Basin region, especially the security challenges posed by terrorists in the region and beyond.
The MNJTF will work and collaborate with the forces of the member countries in the fight against terrorists.
Full report at:
http://www.thisdaylive.com/articles/boko-haram-buratai-appointed-commander-for-mnjtf/211151/
-----------
Boko Haram: Nigerian soldiers sentenced to death challenge judgement, sue Army
June 3, 2015
Nnenna Ibeh
Twenty-five soldiers of the Nigerian Army have challenged the death sentence handed down to them.
The soldiers – 21 private soldiers, two corporals and two lance corporals filed a suit against the Nigerian army and the Chief of army staff, Kenneth Minimah, over the death sentence handed to them on December 24, 2014.
The soldiers, represented by the Falana and Falana chambers, in their summon questioned the refusal of Mr. Minimah and the Nigerian army to make public, the findings of the general court marital; and described it as illegal.
They also sought to determine if the refusal of the defendants to either confirm or review the death sentence, or make a copy of the judgement delivered by the court martial available, is legal.
Full report at:
http://www.premiumtimesng.com/news/headlines/184287-boko-haram-nigerian-soldiers-sentenced-to-death-challenge-judgement-sue-army.html

-----------
URL: httpss://www.newageislam.com/islamic-world-news/new-age-islam-news-bureau/muslims-gather-at-arizona-mosque-to-promote-peace-amidst-anti-islam-protests/d/103332