New Age Islam News Bureau
6 Sept 2017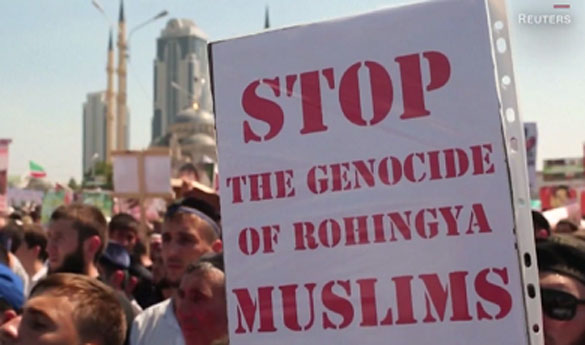 Photo: Muslim world denounces Myanmar's treatment of Rohingya; West reticent
---------
• Indian Police Identify Group Showcasing IS Flags in Kashmir
• Universities move to counter trends of extremism, militancy in students
• In Germany, churches offer unofficial asylum for Muslim refugees
South Asia
• Muslim world denounces Myanmar's treatment of Rohingya; West reticent
• Crowded Bangladesh revives plan to settle Rohingya on isolated island
• Pressure mounts on Myanmar as 125,000 Rohingya flee violence
• Pakistan's key Pashtun leader welcomes Kabul's 'Peace with Pakistan First' call
• Indonesian FM in Dhaka to discuss Rohingya issue
• ISIS execute two brothers serving with Afghan army in Nangarhar province
• Kidnapped ICRC employees released after 7 months in North of Afghanistan
• Afghan Special Forces seize Taliban's large cache of weapons, ammunition
• Taliban casualties toll in Kunduz airstrikes rises to 35 which includes senior members
• Afghanistan calls for thorough probe amid allegations of mass killings in Burma
• Myanmar laying landmines near Bangladesh border - government sources in Dhaka
--------
India
• Indian Police Identify Group Showcasing IS Flags in Kashmir
• Identifying Rohingyas to deport, says Centre as PM visits Myanmar
• India issues demarche to Pakistan over terror attack in Kashmir
• PM Modi calls for coordinated action on counter terrorism
• Rohingya Muslims protest at Jantar Mantar, raise slogans against Myanmar leader Aung San Suu Kyi
• China unlikely to change its position on Masood Azha
• NIA arrests 2 'habitual stone-pelters' from Kashmir
• India, Egypt vow to strengthen ties as Modi meets Sisi
• Terror funding probe: NIA conducts raids in Srinagar, Delhi
--------
Pakistan
• Universities move to counter trends of extremism, militancy in students
• JI, PAT, DPC to hold protest for Rohingya Muslims
• Here's why Pakistan had to reject the BRICS declaration even though it wasn't named
• Pakistan can send relief goods to Rohingya Muslims: Kh Asif
• Death penalty, angry mob await Pakistani Christian accused of blasphemy
• Terror outfits scattered in South Asia: Pakistan
• Bilawal calls for unity to defeat terrorism
• 52nd Defence Day celebrations underway across Pakistan
• UK seeks Pakistan's help in Altaf hate speech probe
• Pakistan wants to resolve issues with US peacefully, says minister
• Analysis: Conundrum posed by returning militants
• 'Pakistan paid heavy price in war on terror'
• NA panel condemns Trump, Gen Nicholson's hostile remarks
--------
Europe
• In Germany, churches offer unofficial asylum for Muslim refugees
• UK police arrest four men suspected of planning far-right terrorism
• EU will continue accession talks with Turkey: Mogherini
• Paris appoints envoy to help 'appease tensions' between Qatar, neighbors
• Germany: No decision on Turkey's EU talks before polls
--------
Southeast Asia
• Philippines, Indonesia, Malaysia eye joint task force for fighting Islamic State
• Indonesia to bar Myanmar protest at world's biggest Buddhist temple
• DAP should stop using Islam as a political tool
• Videos of alleged Muslim riot in China spark online outcry
• Malaysia summons Myanmar ambassador over 'continuous violence' against Rohingya
• Malaysia police foiled Games terror attack
• Push for stronger Syariah law could 'endanger Malaysians' way of life'
• Faith should not be policed by state, says G25's Sheriff
• Terrorist plot during SEA Games, Merdeka Day foiled, 19 arrested
• Indonesia, India fall behind in measles vaccination
--------
Arab World
• MWL forum highlights moderate approach of Islam
• Syrian Army Discovers US-Made TOW Missiles in ISIL's Convoy in Eastern Hama
• Syrian Army Captures More Positions at Border with Jordan
• Iraqi Popular Forces Ward off ISIL's Offensives at Border with Syria
• A boost for Assad as the Syrian army makes gains against ISIS in eastern Syria
• Homs: Syrian Army Scores More Victories against ISIL in Depth of Badiyeh
• Syria: Terrorists in Deir Ezzur Surprised by Russian Navy Operation
• Large Number of Militant Commanders Surrender to Kurdish Forces in Central Iraq
• Egypt to host war games with US after eight-year-hiatus
• Two Russian soldiers killed by shelling in Syria's Deir al-Zor province
--------
Mideast
• Turkey to start first foreign aid distribution in Myanmar
• Top Commander: Warning Enemy Planes Iran's Slightest Reaction
• Iran Still in Doubt about Saudi Arabia's Real Intentions
• Yemeni sharpshooters kill 4 mercenaries of Saudi Arabia
• Third of Turkish judicial staff linked to Gulen movement: Official
• UN Rights Council neglects duty to probe atrocities in Yemen: Report
• Palestinian family evicted from home of 53 years in East Jerusalem al-Quds
• Churches condemn attempts to 'weaken' Christians in Jerusalem
• Yemen's Houthi militias fear 'coup,' says ousted president Saleh
• ANALYSIS: With ISIS on the run, is it time to focus on Iran?
• Trump refusal to certify Iran compliance won't mean withdrawal from nuclear deal: Haley
• Benefits of Iran-Russia-Syria-resistance front cooperation showing: Shamkhani
--------
Africa
• Bodies of 16 migrants found in Libya's eastern desert
• Ethiopia: Religious Leaders Convey Peace Messages
• Fayose hates Muslims, his Islamic regalia sinful – MURIC
• Nigeria: UN Condemns Killing of 11 Nigerians in IDP Camp By Boko Haram
• Nigeria: Zoning, Religion As Factors in Ekiti 2018 Guber Poll
--------
North America
• Religious leaders overwhelmingly condemn Trump ending DACA
• Anti-M-103 Conference Faces Backlash, Threats Of Violence
• US apologizes for Afghanistan leaflets that offended Muslims
Compiled by New Age Islam News Bureau
URL: https://www.newageislam.com/islamic-world-news/muslim-world-denounces-myanmar-treatment/d/112449
--------
Muslim world denounces Myanmar's treatment of Rohingya; West reticent
September 5, 2017
Myanmar is facing growing condemnation from the Muslim world over its failure to halt the violence directed toward the minority Rohingya ethnic group, amid protests across the globe.
So far, an estimated 123,600 Rohingya have fled to neighboring Bangladesh to escape escalating violence in their native Rakhine State, according to a United Nations official in Bangladesh.
Leaders of countries with majority Muslim populations including Malaysia, Indonesia, Bangladesh and Pakistan have led efforts to increase pressure on the Myanmar government.
Malaysia's foreign minister summoned Myanmar's ambassador to express its concern, according to state-run Bernama news, and Indonesian Foreign Minister Retno Marsudi held talks Monday with Aung San Suu Kyi, the de facto leader of Myanmar. Marsudi was due to meet with her counterpart in the Bangladeshi capital Dhaka on Tuesday.
"(Indonesia) speaks not only on behalf of global Muslim concerns but also ASEAN (the Association of Southeast Asian Nations). It feels a real sense of urgency," Herve Lemahieu, research fellow at Sydney's Lowy Institute, told CNN.
In contrast, Western leaders have have so far appeared reluctant to speak out strongly on the issue. According to Lemahieu, the Western world's attention is still fixed elsewhere in Asia, on the nuclear standoff in North Korea.
"On the other hand, people, particularly in the West, are torn between their affection with the cause of Aung San Suu Kyi and then the very gory reality," he said.
United Nations Secretary-General Antonio Guterres released a statement Tuesday saying he is "deeply concerned about the security, humanitarian and human rights situation in Myanmar's Rakhine state."
Guterres said "the authorities in Myanmar must take determined action to put an end to this vicious cycle of violence and to provide security and assistance to all those in need."
Also Tuesday, UNICEF released a statement saying that, of the Rohingya who have crossed into Bangladesh, "as many as 80% of them are women and children."
"In Bangladesh, UNICEF is scaling up its response to provide refugee children with protection, nutrition, health, water and sanitation support," the organization said.
The government of Myanmar, which is also known as Burma, blames "terrorists" for starting the violence. Rohingya militants killed 12 security officers in border post attacks almost two weeks ago, according to state media, intensifying the latest crackdown.
The Rohingya, who are denied citizenship by Myanmar, are considered some of the most persecuted people in the world. The predominantly Buddhist country says they are Bangladeshi and Bangladesh says they're Burmese.
It is the second time in less than a year that a military crackdown has led to a mass exodus.
Phil Robertson, deputy director of Human Rights Watch, said while efforts were being made by the UN and through diplomatic channels, more nations needed to speak out.
"(Countries) could say more and they should say more. The government of Burma takes a look at these things and they count what people are saying publicly versus what they're saying privately," he said.
Protests across world for Rohingya
In solidarity with the Muslim minority, tens of thousands of people marched through the Chechen Republic's capital city of Grozny.
According to a government statement, the protest in Chechnya, which is part of the Russian Federation, was attended by more than a million people.
Protests in Chechnya are heavily regulated and typically orchestrated by authorities, said former Moscow Bureau Chief Jill Dougherty, who added that the protests could be an effort by Chechen leader Ramzan Kadyrov to position himself as a global Muslim leader.
On his official Instagram account, Kadyrov labeled attacks on Rohingya as "genocide."
There were reports of smaller protests outside Myanmar embassies in countries around the world, including Indonesia, Pakistan, Germany and Australia.
Pakistani Foreign Minister Khawaja Muhammad Asif on Monday expressed "deep anguish" at the continuing violence, which he termed "deplorable."
Even the Afghan Taliban issued a statement against the bloodshed, using its channel on the Telegram app. "We similarly call on Muslims worldwide to not forget these oppressed brothers of yours," read the message.
Indian Prime Minister Narendra Modi was due to arrive in Myanmar Tuesday for talks with the country's leadership, including Suu Kyi, but analysts said it was unclear how big a priority the Rohingya were. The visit was scheduled before the latest outbreak of violence.
"As far as the Rohingya issue is concerned, yes, it is an issue for Myanmar, yes, it is an issue for the region, including India, and in the discussions with his counterpart I'm sure he'll bring up the issue," said K. Yhome, senior fellow at India's Observer Research Foundation.
Refugees trapped, thousands flee
Rohingya refugees have continued to pour over the border into Bangladesh ever since the latest outbreak of violence on August 25, according to the United Nations.
Speaking Friday, a spokesman for Guterres said the UN head was "deeply concerned" and urged calm.
Satellite images released by Human Rights Watch showed entire villages burned to the ground in the ongoing clash between Myanmar military forces and Rohingya militants.
Refugees are bringing with them horrific stories of devastation and murder from inside Rakhine State. "Everything, destroyed by the military. Now we are without food or blankets ... Genocide is going on there," refugee Mohammed Harun told CNN.
Just across the border, activists claim at least another 30,000 refugees are stuck in the mountains along the Naf river, unable to cross into Bangladesh but afraid to return home.
Video provided to CNN by activists showed men, women and children stranded in dense jungle, making shelters out of sticks and sheets.
"The human lives that are most vulnerable must be rescued immediately without delay," executive director of Burma Human Rights Network (BHRN), Kyaw Win, said in a statement.
'We will rape you and kill you'
Amid the protests, the BHRN released a new report into the methodical persecution of the minority Rohingya by Myanmar's government.
"The National League for Democracy (NLD) has never spoken up in defense of the human rights of the Rohingya and Daw Aung San Suu Kyi's government has kept in place all laws and policies which discriminate against Rohingya," the report's conclusion said.
In writing the report, the activists conducted more than 350 interviews over an eight-month period from people across Myanmar, including inside Rakhine State, where access is often restricted.
Among those interviewed were witnesses to the 2016 Myanmar military crackdown, which led to an exodus of refugees across the border into Bangladesh.
"The military entered our hamlet, brought together all the women and took them to the ... forest," two sisters aged 16 and 14 told interviewers after fleeting to Bangladesh.
"They beat some women very badly while asking, 'Where are the guns that were taken from our barracks? Tell us or we will rape you and kill you'."
Others described the campaign of theft and property destruction that had been directed at the Rohingya.
"They tied people to poles inside the home then burnt down the homes," 13-year-old Win Maw told interviewers, adding that he doesn't know if his parents are alive or dead.
edition.cnn.com/2017/09/05/asia/rohingya-mass-protest-report/index.html
--------
Indian Police Identify Group Showcasing IS Flags in Kashmir
2017-09-05
Investigators in Indian-administered Kashmir have identified a fringe group they claim is responsible for bringing Islamic State flags into the funerals of suspected militants and anti-India demonstrations, a police leader said Tuesday.
The unnamed group is striving to establish an Islamic caliphate in Kashmir and is led by Zakir Rashid Bhat, alias Zakir Musa, a former leader of Kashmir's oldest separatist faction, Hizbul Mujahideen (HM), Inspector General of Police Munir Khan told BenarNews.
In July, Musa, 24, was named the head of Ansar Ghazwat-ul-Hind, a recently established wing of al-Qaeda in Indian Kashmir. However, Khan did not confirm whether Ansar Ghazwat-ul-Hind was behind the recent trend of draping bodies of slain militants in IS flags – a break from the decades-old tradition of wrapping them in Pakistani flags.
"It is the handwork of a fringe militant group and is aimed at creating a false sensation about the presence of IS in Kashmir," Khan said.
"We have arrested more than 20 supporters of Musa who were involved in raising IS flags and making pro-al-Qaeda slogans in Srinagar recently. During interrogation they revealed they were over ground workers for this unnamed outfit," Khan said, while insisting there was no presence of the Middle East-based terror outfit in Indian Kashmir.
Black IS flags were laid on the bodies of at least three suspected militants – HM's Sajad Gilkar and Yawar Ahmad, and Jaish-e-Muhammad's Mukhtar Ahmad Lone – gunned down by security forces over the past few weeks, police said.
Musa quit HM in May after he publicly threatened to kill separatists opposed to the establishment of an Islamic caliphate in Muslim-majority Kashmir, which is claimed by both India and Pakistan and has grappled with a separatist insurgency on its Indian side that has killed 70,000 since the late 1980s.
Police: handful of IS supporters
"We have tightened the noose around these Musa supporters who are behind the raising of IS flags in the region. We have arrested some and gunned down at least five. Musa has the backing of only a handful of supporters who subscribe to the IS ideology," Khan said.
While Indian government officials consistently deny that IS has made any significant inroads in the country, about 70 people have been arrested and are facing trial for alleged links with the terror group.
Intelligence agencies claim about 50 Indian Muslims left for the Middle East to fight alongside IS. Among them, at least seven have died in battle.
The Kashmiris, who routinely pour out on the streets of the restive region to clash with security forces, denounced IS for its "un-Islamic and inhuman" acts of violence.
"Kashmiris will never lend support to IS," Arif Ahmad, a Srinagar-based university student, told BenarNews.
"Violence is prohibited in Islam in all its manifestations. Maybe there are a handful of people that support the IS ideology and are trying to incite passions by wrapping militants' bodies in IS flags. But most Kashmiris would never accept IS's ideology," he said.
The recent trend of waving IS flags during protests and funeral processions is a ploy to bring international attention to the decades-old violence Kashmiri separatists blame on India's oppressive rule, according to a leading security analyst.
"It is nothing but a way to attract attention at the international level through the media," Ajai Sahni of the New Delhi-based Institute of Conflict Management told BenarNews.
"Our security agencies need not worry or waste time on such trivial issues. The IS propaganda that is being enacted by some militants will die its own death," Sahni said.
benarnews.org/english/news/bengali/flags-kashmir-09052017141403.html
--------
Universities move to counter trends of extremism, militancy in students
Faiza Ilyas
September 06, 2017
KARACHI: Alarmed over reports of a university student's involvement in the attack on the leader of the opposition in Sindh Assembly on Eid day, two major public sector varsities in the city held meetings on Tuesday to brainstorm ideas on how to check trends of extremism and militancy in students.
All deans of Karachi University as well as university syndicate and academic council members attended the meeting that was chaired by the varsity's Vice Chancellor Prof Mohammad Ajmal Khan. A similar discussion was held at the NED University of Engineering and Technology. The meeting of NED faculty was chaired by VC Prof Sarosh H. Lodi.
Sources said the participants shared concerns over reports that the mastermind of the attack on Khwaja Izharul Hasan, opposition leader in the Sindh Assembly, was a KU student who was on the run following the attack.
"Everybody was visibly concerned over the report that they believed has damaged the university's reputation," a senior teacher who attended the meeting said on condition of anonymity. The teachers found the issue very challenging given the many gaps in security apparatus and the way Pakistani society was functioning, he added.
"The participants realised that there is a big question mark over their capacity, the ability of our law enforcement agencies as well as how serious the government is in addressing this problem," he said.
The sources said some of the suggestions discussed during the two-hour deliberations included students' clearance from police before their admission and registration of an FIR if any student was found guilty of submitting fake documents. However, some teachers said that police verification wouldn't be fruitful given the low credibility of police department, said another teacher.
Admission committee's role
The participants, the sources added, agreed to the point that the admission committee should be tasked with coming up with a list of recommendations on the issue that would be taken up in the next academic council session.
The meeting decided that the university would coordinate and take assistance from law enforcement agencies for students' security, according to a press release issued by KU. "Reports that the records of KU students are being checked and that new students would be asked to get clearance certificate from police are completely false. No such decision has been taken yet," the press release added.
However, Karachi University Teachers Society President Dr Shakeel Farooqi claimed that he had never observed a tendency towards terrorism in students during his 37 years of service. "Yes, there may be a few isolated cases reported in the media but even those need to be clearly investigated and proven beyond a shadow of a doubt. In case of any incident usually the primary source of information is police. It is anyone's guess how much we can trust the primary source," he said.
The Kuts president said slums and illegally occupied land surrounding the university campus needed to be monitored.
Dr Farooqi said two KU professors had been killed in targeted attacks in recent years and the police later announced that the murderers were apprehended. But the main accused was acquitted by court due to lack of evidence, he added. "Universities and other academic institutions are no islands and whatever happens in this global village affects every corner of society. In fact universities are minimising such effect by engaging a large number of young students in academic and co-curricular activities," he observed.
NED security plan
NED University teachers at a meeting held on their campus agreed that a sense of participation would have to be inculcated among students as well as the entire administrative staff if militancy threat was to be tackled successfully. "We ask students to report if they see any suspicious activity on the campus. Everybody needs to be involved in this process," said NED registrar Prof Ghazanfar Hussain.
Sharing details of the meeting, the registrar said the participants discussed the pace and progress of the university's security plan already approved in June.
"Last week, our security staff attended a training session in Malir Cantonment," where proposals on how to engage students in healthy activities were also put forward by some teachers, he added.
A meeting of the Rangers' commander would soon be organised with students in which they would be informed of steps that could help law enforcement agencies in tracking down criminals, he said.
'Tackle it at state level'
Upon contact, Prof Sulaiman D. Mohammad, Vice Chancellor of Federal Urdu University of Arts, Science and Technology, said some agencies had contacted the campus security officer and sought administration's help in the current circumstances.
"We are vigilant and fully support law enforcers. But I believe this situation needs to be addressed at the state level. The kind of students' data we have is also available with NADRA.
"Besides, how can teachers monitor students' activities the whole day?" he asked, apprehending that the media hype over the recent incident would die down with the passage of time.
'Mastermind' of attack, two aides booked
Police have booked three suspects of Ansarul Shariah Pakistan, including the mastermind of the recent gun attack on Leader of the Opposition in the Sindh Assembly Khwaja Izharul Hasan, in a terrorism case, officials said on Tuesday.
The case was registered at the Counter-Terrorism Department of police on behalf of the state a day after the deadly encounter that claimed the life of a police constable, left two others wounded and led to the escape of the suspected mastermind of the recent attack, Abdul Karim Sarosh Siddiqui.
The FIR was registered against Abdul Karim Siddiqui and his accomplices Talha and Muzammil, an official said.
"The FIR has been registered against all the three accused under Sections 302 (premeditated murder), 324 (attempt to commit murder) of the Pakistan Penal Code, Sections 3/4 of the Explosives Act and Section 7 of Anti-Terrorism Act," the official added.
On Monday, the police acting on a tip-off about the presence of militants in Kaneez Fatima Housing Society, Scheme 33, raided a house. However, the suspected militants opened fire on the raiding party, killing one policeman and leaving two others wounded. The suspected terrorists also managed to escape from the scene.
dawn.com/news/1355841
--------
In Germany, churches offer unofficial asylum for Muslim refugees
By Alice Su
September 6, 2017
BERLIN, Germany — Two guitar players strummed and sang in Farsi as a stream of Afghans and Iranians knelt at the front of the church, drinking sips of wine from a shared Communion cup. Most of the congregants had arrived within the last two years, part of the refugee influx that's brought more than a million asylum seekers to Germany since 2015.
At the peak of the crisis two years ago, this Lutheran church was holding mass baptisms of more than 200 people at a time, said the pastor, Gottfried Martens. "This church went from just a few hundred members to more than 1300 Iranians and Afghans," Martens said, "All converts."
When Germany opened its doors to refugees in 2015, churches and church-affiliated organizations played a critical role in the response. Most of them took care to separate religion from humanitarian aid, especially those implementing state-funded relief projects. Three years into the crisis, however, some churches are more actively defending refugees, even housing rejected asylum seekers inside churches so that German police cannot deport them, while submitting legal appeals for their cases. Many of these "church asylum" beneficiaries have also converted, a controversial act that's drawn criticism from Islamic groups and skepticism from German authorities.
Downstairs, 12 rejected asylum seekers were living in the church basement. Forty-four-year-old Iranian Ali Karimi said he'd been in the church building for almost six months. Karimi had fled to Germany after being imprisoned twice in Iran for political activism, he said, and become Christian while taking refuge in this church. "I'm looking for a religion that doesn't force, push or kill," Karimi said.
Refugees in the European Union are subject to a law called the Dublin Regulation, which requires that asylum seekers process their papers in the country where they entered the EU. Karimi came in through Italy, so Germany could send him back there through the Dublin Regulation, as it tried to do with 29,507 asylum seekers in the first half of 2017. Yet, only 3,085 of those Dublin cases were actually deported. One way to avoid deportation is through church asylum, where people like Karimi live inside churches for six months, after which German law allows asylum seekers to process their requests in Germany instead.
There are currently 351 church asylum locations in Germany, according to Asyl in der Kirche, a network of German parishes offering asylum. They host 551 people, including 127 children and 301 Dublin cases. Legally, German police can deport both Dublin cases and rejected asylum seekers, a phenomenon that has increased for Afghans in particular. Germany started deporting hundreds of Afghans in 2016, sending them on charter flights back to Afghanistan, despite the country's growing instability. If asylum seekers are living on church grounds, however, police won't enter.
Germany's church asylum movement dates back to 1983, when a parish in Berlin protected three Palestinian families from deportation to Lebanon amid its civil war. Hundreds of refugees have sought German church asylum since then, with a success rate of more than 75 percent. "The law doesn't say that police can't enter the church. But they don't do it. It's something sacred," said Martina Domke, head of migration at the Cologne office of Diakonie, the German Protestant church's social-welfare organization. "The churches said: Sometimes from a humanitarian or a Christian point of view, the law is not correct," Domke said.
Conversion is both a side effect of church relief and a potential advantage for rejected asylum seekers, who can claim deeper need for asylum if they are at risk of religious persecution in their home country. What's tricky for both authorities and church leaders is determining whether a convert's faith is real. Many of Martens's church members have been rejected and told they are not really Christian, which Martens said is a cause of contention between authorities and the church.
"Pastors say, 'I know this man. He is a Christian,' and they say, 'He's just cheating,' " Martens said. One of his congregation members was asked what illness Martin Luther died of, he said, and when he couldn't answer, was told he wasn't Christian. "We as churches don't want to support cheating via religion. That's why we check so carefully — if someone can't explain to me why he wants to be a Christian, I won't baptize him," Martens said.
Bekir Alboga, general secretary of Germany's largest Islamic organization, the Turkish-Islamic Union for Religious Affairs, said converting refugees is a form of abuse. "You want to give bread in one hand, and a Bible in the other," Alboga said, adding that the main reason Islamic groups don't do as much for refugees as Christian groups is because of their legal status. Germany's two main churches are highly structured and close to the state, with long-established status as public "corporations" that can own land, collect taxes and receive government money to implement social-welfare projects. Germany's mosques and Islamic associations have not attained that status. "Almost all support and work for refugees are paid from the government to church organizations," Alboga said.
Church leaders say government money is exactly why conversion is not a goal of the mainstream German church. "We're paid by the government, so our work must be open to everyone. We have to follow humanitarian principles and Christian principles," Domke said, adding that these principles influence Diakonie's worldview but don't compel them to recruit others into their religion. "The Protestant church says: Jesus was a refugee, so love the other person. But we're not trying to make them part of a group."
Martens disagreed with the main churches' aversion to conversion, but also rejected Alboga's accusation of active missions work. "We are not doing mission work among Muslims," Martens said. "But people who come here are fed up with Iran and Afghanistan, and looking for an alternative. I don't think we should patronize them and say, 'You should know there is a better Islam than this.' This is religious freedom."
Though some of the converts may be pretending for the sake of bettering their chances at asylum, others point out that changing religion has made their lives harder. "I can't believe when people ask, 'Didn't you just come here for a better life?' " said 32-year-old Saeed Hassan, who was jailed twice in Iran, for political dissent and for being caught with alcohol and his girlfriend. Resentment toward religious government made him first an atheist then a Christian. He fled Tehran in 2015 when Iranian police caught him with a Bible in his car, eventually arriving in Berlin, where he has yet to receive refugee status. His parents have since divorced, he said, fighting over whether their son should risk return to Iran instead of struggling to survive in Europe. He hasn't seen his wife in two years, and he's been drinking more and more recently to fight off loneliness.
"I had everything in Iran," Hassan said. "My wife, my car, my house in the north — you think I want this 'better life' in camps and hiding, alone for two years now? I choose to believe in Jesus. But for everything else — to run, to be a refugee, to come to Germany — I did not have a choice."
washingtonpost.com/world/europe/in-germany-churches-offer-unofficial-asylum-for-muslim-refugees/2017/09/05/1c068b68-88e6-11e7-96a7-d178cf3524eb_story.html?utm_term=.293ff322e642
--------
South Asia
Crowded Bangladesh revives plan to settle Rohingya on isolated island
Sep 6, 2017
Bangladesh, one of the world's poorest and most crowded nations, plans to go ahead with work to develop an isolated, flood-prone island in the Bay of Bengal to temporarily house tens of thousands of Rohingya Muslims fleeing violence in neighboring Myanmar, officials say.
Dhaka says the Rohingya are not welcome, and has told border guards to push back those trying to enter the country illegally. But close to 125,000 Rohingya have crossed into Bangladesh in just 10 days, joining more than 400,000 others already living there in cramped makeshift camps.
"We are stopping them wherever we can, but there are areas where we can't stop them because of the nature of the border; forests, hills," said H.T. Imam, Prime Minister Sheikh Hasina's political adviser.
"We have requested international agencies for help for shifting the Rohingya temporarily into a place where they can live - an island called Thengar Char. Developing Thengar Char should be given serious consideration," he said.
Leonard Doyle, chief spokesman for the International Organisation for Migration, said the idea of moving refugees to the island has been talked about for years, but he hadn't heard anything new in the past few days.
The island, which only emerged from the silt off Bangladesh's delta coast 11 years ago, is two hours by boat from the nearest settlement. It regularly floods during June-September monsoons and, when seas are calm, pirates roam the nearby waters to kidnap fishermen for ransom.
Flat and featureless, Thengar Char has no roads or buildings. When Reuters visited in February, a few buffalo grazing along its shores were the only sign of life.
The plan to develop the island and use it to house refugees was criticized by humanitarian workers when it was proposed in 2015 and revived last year. Bangladesh, though, insists it alone has the right to decide where to shelter the growing numbers of refugees.
"The honorable prime minister wants to resettle them in Thengar Char, though some people say that island will not be a suitable place for them," said another Hasina aide, who declined to be named. "But there are many such areas in Bangladesh, where Bangladeshis live. It's our country, and we decide."
Officials say no one could have foreseen just how many refugees would arrive so swiftly after violence in northern Myanmar last year sent more than 75,000 Rohingya fleeing across the border.
The latest unrest in Myanmar's northwestern Rakhine state began on Aug. 25, when Rohingya insurgents attacked dozens of police posts and an army base, prompting an army counter-offensive that has killed at least 400 people and forced entire villages to flee.
Myanmar says its security forces are fighting a legitimate campaign against "terrorists". The country's leader and Nobel laureate, Aung San Suu Kyi, has come under international pressure for not speaking out against the persecution of roughly 1.1 million Muslim Rohingya in the Buddhist-majority country.
OUT OF SPACE
Makeshift camps in Cox's Bazar, in southeast Bangladesh, have grown so rapidly they have run out of space - even for the tiny tarpaulin and bamboo shacks the Rohingya refugees typically throw together.
"With hundreds of new refugees streaming in every day, Kutupalong and Nayapara camps are at breaking point," Duniya Aslam Khan, a spokeswoman for the United Nations High Commissioner for Refugees (UNHCR), said in a statement.
Imam, the adviser to Hasina, said a lack of space was the biggest concern right now, adding Bangladesh could not continue to house refugees in its schools and madrassas indefinitely.
"We are waiting for Thengar Char to be developed. Once that's done we will shift them," he told Reuters, reflecting a growing sense of hostility towards the Rohingya even in a Muslim-majority country.
"The islands gradually come up because of silting. That's continuing, and that's how Bangladesh has been created. If there are people there, why can't the Rohingya live there?" he said.
Some officials in Bangladesh's interior ministry are concerned that settling the refugees on the island would give them a sense of permanent residency, making it harder to send them back to Myanmar.
Residents of Sandwip, the nearest island to Thengar Char, say the Rohingya are not welcome. Mizanur Rahman, the administrator of Might Bangha village, the closest settlement to Thengar Char, said local residents who have lost their land to erosion should be relocated first, ahead of the Rohingya.
The UNHCR's local office did not respond to an email seeking comment about the relocation plan.
Rohingya camped out in Cox's Bazar said they don't want to move to the island, fearing they could die there during the monsoon season and there won't be any work.
The violence and refugee exodus have ratcheted up tensions between the two neighbors, and Bangladeshi officials said fighter jets were scrambled last week in response to several Myanmar defense helicopters violating its air space.
nation.com.pk/international/05-Sep-2017/crowded-bangladesh-revives-plan-to-settle-rohingya-on-isolated-island
--------
Pressure mounts on Myanmar as 125,000 Rohingya flee violence
06-Sep-17
YANGON: Myanmar leader and Nobel Peace Prize recipient Aung San Suu Kyi came under more pressure on Tuesday from countries with Muslim populations to halt violence against Rohingya Muslims that has sent nearly 125,000 of them fleeing over the border to Bangladesh in just over 10 days.
Hundreds more exhausted Rohingya arrived on boats near the Bangladeshi border village of Shamlapur on Tuesday, suggesting the exodus was far from over.
Indonesian foreign minister Retno Marsudi, in Dhaka to discuss aid for the fleeing Rohingya, met her Bangladeshi counterpart, Abul Hassan Mahmood Ali, a day after urging Suu Kyi and Myanmar army chief Min Aung Hlaing to halt the bloodshed. "The security authorities need to immediately stop all forms of violence there and provide humanitarian assistance and development aid for the short and long term," Retno said after her meetings in the Myanmar capital. The latest violence in Myanmar's northwestern Rakhine state began on August 25 when Rohingya militants allegedly attacked dozens of police posts and an army base. The ensuing clashes and a military counter-offensive have killed at least 400 people and triggered the exodus of villagers to Bangladesh. The treatment of Buddhist-majority Myanmar's roughly 1.1 million Muslims in Rohingya is the biggest challenge facing Suu Kyi, who has been accused by Western critics of not speaking out for the minority that has long complained of persecution.
Myanmar says its security forces are fighting a legitimate campaign against 'terrorists' responsible for a string of attacks on police posts and the army since last October. Myanmar officials blamed Rohingya insurgents for the burning of homes and civilian deaths but rights monitors and Rohingya fleeing to neighbouring Bangladesh say the Myanmar army is trying to force them out with a campaign of arson and killings. "Indonesia is taking the lead, and ultimately there is a possibility of ASEAN countries joining in," HT Imam, a political adviser to Bangladesh Prime Minister Sheikh Hasina, said. He was referring to the 10-member Association of South East Asian Nations that includes both Myanmar and Indonesia.
"If we can keep the pressure on Myanmar from ASEAN, from India as well, that will be good If the international conscience is awakened, that would put pressure on Myanmar." Malaysia, another ASEAN member, summoned Myanmar's ambassador to express displeasure over the violence and scolded Myanmar for making "little, if any" progress on the problem. Malaysia believes that the matter of sustained violence and discrimination against the Rohingyas should be elevated to a higher international forum," Malaysian Foreign Minister Anifah Aman said in a statement.
Full report at:
dailytimes.com.pk/pakistan/06-Sep-17/pressure-mounts-on-myanmar-as-125000-rohingya-flee-violence
--------
Pakistan's key Pashtun leader welcomes Kabul's 'Peace with Pakistan First' call
Sep 05 2017
A key Pashtun political leader in Pakistan has welcomed the call by Kabul for 'Peace with Pakistan First' in a bid to root out the ongoing violence from the region.
The leader of Awami National Party, a secular Pashtun nationalist party, Asfandyar Wali Khan, has hailed the call by President Mohammad Ashraf Ghani as a positive step.
Speaking during a gathering on the occasion of Eid, Khan said the step and call by the Afghan President could ease tensions between Kabul and Islamabad.
He called on the authorities in Pakistan to respond positively to Kabul's call, emphasizing that peace and stability was prerequisite for economic development in the region.
In his message on the first day of Eid Al-Adha, President Ghani said the Afghan government is fully prepared for the peace talks and negotiations with Pakistan for peace is on the agenda of the government.
He was apparently gesturing towards his previous remarks where he insisted that peace talks with Pakistan is important and should come first before holding talks with the anti-government armed militant groups.
Full report at:
khaama.com/pakistans-key-pashtun-leader-welcomes-kabuls-peace-with-pakistan-first-call-03371
--------
Indonesian FM in Dhaka to discuss Rohingya issue
September 05, 2017
Around 90,000 Rohingya Muslims have entered Bangladesh to flee the persecution in Rakhine state
Indonesian Foreign Minister Retno Marsudi has arrived in Dhaka on Tuesday for a brief visit to discuss the current persecution of the Rohingya Muslim community in Rakhine state with the Bangladesh government.
She is set to meet with Prime Minister Sheikh Hasina in the evening and Foreign Minister AH Mahmood Ali at 4pm at the Padma state guesthouse during her stay here.
The foreign minister arrived at 12:10pm on a Thai Airways flight and is scheduled to leave at 10pm by Singapore Airlines.
Thus far, around 90,000 people – mostly women and children – have entered Bangladesh after the attacks on police and army bases in Rakhine state on August 25 and the Myanmar military crackdown.
The Indonesian minister had visited the Rohingya camps of Cox's Bazar in December last year and discussed with Bangladeshi authorities the matter of finding a lasting solution to the crisis.
Earlier, Bangladesh had welcomed Indonesia's willingness to discuss with Myanmar about finding a way to end the prolonged and escalating violence on the Rohingyas.
Bangladesh Foreign Minister AH Mahmood Ali and his Indonesian counterpart held talks on the issue by phone on August 29, said foreign ministry officials the following day.
Mahmood Ali held further discussions on the Rohingya issue last Wednesday when the newly appointed Ambassador of Indonesia Rina Prithyasmiarsi Soemarno met him at the Foreign Ministry in Dhaka.
During the meeting, Mahmood expressed concern at the imminent influx of Rohingyas seeking shelter in Bangladesh.
He also reiterated Bangladesh's readiness to assist Myanmar in addressing the security concern.
Full report at:
dhakatribune.com/bangladesh/foreign-affairs/2017/09/05/indonesian-fm-dhaka-discuss-rohingya/
--------
ISIS execute two brothers serving with Afghan army in Nangarhar province
Sep 05 2017
Militants affiliated with the Islamic State of Iraq and Syria and Iraq (ISIS) Khorasan have executed two brothers who were serving with the Afghan national army.
The provincial government media office in a statement said the men were executed in the vicinity of Haska Mina district after captured by the loyalists of the terror group.
The statement further added that the two brothers had visited their family on the occasion of Eid-ul-Adha when they were captured.
The uncle of the two men was also captured and executed by the loyalists of the terror group, the provincial government added.
In the meantime, the Nangarhar government's office said a roadside mine also targeted a vehicle of the Afghan army in the vicinity of Ghani Khel district on Monday.
According to the local officials, at least three soldier and a civilian were wounded in the incident and their health condition has been reported as satisfactory.
The anti-government armed militant groups have not commented regarding the report so far.
Full report at:
khaama.com/isis-execute-two-brothers-serving-with-afghan-army-in-nangarhar-province-03372
--------
Kidnapped ICRC employees released after 7 months in North of Afghanistan
Sep 05 2017
Two employees of the International Committee of the Red Cross (ICRC) were released after remaining in custody of the hostage takers for almost seven months.
"Two International Committee of the Red Cross (ICRC) staff members who were abducted in February this year in Jawzjan province have been released," the organization said in a statement.
"We are relieved and grateful that our colleagues are now back with us unharmed," said the ICRC head of delegation in Afghanistan, Monica Zanarelli. "Their abduction and the killings of our six colleagues were emotional agony for all of us, especially for their families and friends."
The two staff members were abducted by an armed group on 8 February 2017 while on their way to deliver assistance in Jawzjan province with six other colleagues who were shot and killed in the same attack.
"It has taken a lot of effort, and we are thankful to the communities and the authorities who have mobilized and played a role in facilitating our colleagues' release," said Ms. Zanarelli. "Our priority now is their well-being and being reunited with their families. We ask everyone to respect their and their families' privacy at this time."
Full report at:
khaama.com/kidnapped-icrc-employees-released-after-7-months-in-north-of-afghanistan-03376
--------
Afghan Special Forces seize Taliban's large cache of weapons, ammunition
Sep 05 2017
The Afghan Special Forces have seized a large cache of weapons and ammunition belonging to the Taliban insurgents in southern Helmand province of Afghanistan.
According to the local government officials, the cache was discovered during a night operation conducted by the Special Forces late on Monday night.
The provincial government media office in a statement said the cache included 9 pistols, 14 different types of rifles, 3 Russian-made PKM machine guns with 5 of its ammunition boxes, 11 thousand rounds of M4 weapon ammunition, 100 rounds of M240 weapon ammunition, and dozens of spares of weapons.
The statement further added that the operation was conducted in Greshk district which lasted for almost eight hours.
The operation also led to the clearance of the area from presence of the Taliban insurgents, the provincial government added.
The anti-government armed militant groups including the Taliban insurgents have not commented regarding the report so far.
Helmand remains one of the most volatile provinces in southern Afghanistan since the fall of the Taliban regime in 2001 where terrorist related incidents are frequently reported from its various districts.
Full report at:
khaama.com/afghan-special-forces-seize-talibans-large-cache-of-weapons-ammunition-03375
--------
Taliban casualties toll in Kunduz airstrikes rises to 35 which includes senior members
Sep 05 2017
The casualties toll of the Taliban insurgents in Kunduz airstrikes has climbed to at least 35 which includes several senior members of the group.
The 209th Shaheen Corps of the Afghan National Army (ANA) forces in the North in a statement said the airstrikes were carried out over the past 48 hours in the vicinity of the restive Chardara district.
The statement further added that a total of 18 insurgents were killed and 17 others were wounded in the airstrikes.
According to Shaheen Corps, the senior members of the group killed in the airstrikes have been identified as Mullah Asadullah, Mullah Lal Mir, Mullah Mako, and Mullah Abdul Hai who is also famous as Ghazi.
The airstrikes were conducted in Dorman Payin, Mir Mohammad, Kharoti, Ghulam Ali, and Wardaks villages, the Shaheen army corps added.
According to the source, several weapons, ammunition, and other equipment including vehicles and improvised explosive devices were also destroyed during the airstrikes.
The anti-government armed militant groups including the Taliban insurgents have not commented regarding the reports so far.
Full report at:
khaama.com/taliban-casualties-toll-in-kunduz-airstrikes-rises-to-35-which-includes-senior-members-03374
--------
Afghanistan calls for thorough probe amid allegations of mass killings in Burma
Sep 05 2017
The Afghan government strongly reacted at the alleged killings of hundreds of Muslims in Burma, calling on international community to thoroughly investigate the latest violence.
The Ministry of Foreign Affairs of Afghanistan in a statement said "The Ministry of Foreign Affairs of Afghanistan condemns in strongest words the massacre of Rohingya Muslims by the armed forces of Burma."
The statement further added "The Ministry of Foreign Affairs of Afghanistan while condemning the wild and inhuman attack by the government forces, urges the international human rights organizations and the United Nations to strictly and thoroughly investigate the massacre of Muslims."
According to reports, hundreds of Muslim residents of Rohingya have been brutally killed amid latest wave of violence across the province during the recent weeks.
Hundreds of thousands of people of Rohingya have also been reportedly forced to flee to the neighboring Bangladesh as reports indicate that their houses were burnt besides the people of the area were brutally killed.
The Hezb-e-Islami party led by Gulbuddin Hekmatyar blamed the Taliban group in Afghanistan for fueling the mass killings of the Muslims in Burma during the recent years.
In a statement released in the aftermath of the recent violence in the country, Hezb-e-Islami said the violence against Muslims in Burma has a old history but the massacre of Muslims was further fueled after the Taliban group detonated the Buddhas in Bamiyan.
Full report at:
khaama.com/afghanistan-calls-for-thorough-probe-amid-allegations-of-mass-killings-in-burma-03373
--------
Myanmar laying landmines near Bangladesh border - government sources in Dhaka
Sep 6, 2017
Myanmar has been laying landmines across a section of its border with Bangladesh for the past three days, said two government sources in Dhaka, adding that the purpose may have been to prevent the return of Rohingya Muslims fleeing violence.
Bangladesh will on Wednesday formally lodge a protest against the laying of land mines so close to the border, said the sources who had direct knowledge of the situation but asked not to be named because of the sensitivity of the matter.
An army crackdown triggered by an attack on Aug. 25 by Rohingya insurgents on Myanmar security forces has led to the killing of at least 400 people and the exodus of nearly 125,000 Rohingya to neighboring Bangladesh, leading to a major humanitarian crisis.
"They are putting the landmines in their territory along the barbed-wire fence" between a series of border pillars, said one of the sources. Both sources said Bangladesh learned about the landmines mainly through photographic evidence and informers.
"Our forces have also seen three to four groups working near the barbed wire fence, putting something into the ground," one of the sources said. "We then confirmed with our informers that they were laying land mines."
The sources did not clarify if the groups were in uniform, but added that they were sure they were not Rohingya insurgents.
Manzurul Hassan Khan, a Bangladesh border guard officer, told Reuters earlier that two blasts were heard on Tuesday on the Myanmar side, after two on Monday fueled speculation that Myanmar forces had laid land mines.
One boy had his left leg blown off on Tuesday near a border crossing before being brought to Bangladesh for treatment, while another boy suffered minor injuries, Khan said, adding that the blast could have been a mine explosion.
A Rohingya refugee who went to the site of the blast on Monday - on a footpath near where civilians fleeing violence are huddled in a no man's land on the border - filmed what appeared to be a mine: a metal disc about 10 centimeters (4 inches) in diameter partially buried in the mud. He said he believed there were two more such devices buried in the ground.
Two refugees also told Reuters they saw members of the Myanmar army around the site in the immediate period preceding the Monday blasts, which occurred around 2:25 p.m.
Reuters was unable to independently verify that the planted devices were land mines and that there was any link to the Myanmar army.
Myanmar army has not commented on the blasts near the border. Zaw Htay, the spokesman for Myanmar's national leader, Aung San Suu Kyi, was not immediately available for comment.
On Monday, he told Reuters clarification was needed to determine "where did it explode, who can go there and who laid those land mines. Who can surely say those mines were not laid by the terrorists?"
The Bangladesh interior ministry secretary, Mostafa Kamal Uddin, did not respond to calls seeking comment.
The border pillars mentioned by the Dhaka-based sources demarcate the boundaries of the two countries, along which Myanmar has a portion of barbed wire fencing. Most of the two countries' 217-km-long border is porous.
"They are not doing anything on Bangladeshi soil," said one of the sources. "But we have not seen such laying of land mines in the border before."
Full report at:
nation.com.pk/international/06-Sep-2017/myanmar-laying-landmines-near-bangladesh-border-government-sources-in-dhaka
India
Identifying Rohingyas to deport, says Centre as PM visits Myanmar
Sep 6, 2017
NEW DELHI: On Tuesday, as Prime Minister Narendra Modi began his official visit to Myanmar, the Centre said that it has started the process of identifying Rohingya refugees in India so that they could be deported since they are illegal immigrants to the country.
Minister of state for home Kiren Rijiju said on Tuesday that the government has set up a task force to identify Rohingyas in different states where they have taken refuge so that the process of deporting them can begin. The minister was replying to questions on what the government had decided on the issue of Rohingya refugees who have entered India illegally
He also criticised rights organisations for their "unncessesarily" accusing India of following a "harsh" policy.
"International organisations are unnecessarily accusing India of being harsh on Rohingyas, who are illegal immigrants in India and have no legal reason to remain here. Having said that, I would say that we are not throwing them into the ocean and shooting them, we are only identifying them to deport them. So why are we being accused of being inhuman?" Rijiju asked.
Although a reiteration of the Centre's known stand, Rijiju's comments may appear significant because they come amid growing advocacy in certain quarters to allow the refugees to settle down here on the ground that they have no place to go.
Rohingyas have approached the Supreme Court against the Centre's deportation plan, while Amnesty International weighed in for them, asking the PM to protect them instead of threatening them with deportation.
"We have told states to create task forces to identify them, wherever they are, to start the process of deporting them," Rijiju replied, adding, "India has absorbed maximum number of refugees, so nobody should tell India on how to deal with refugees."
The minister was addressing a press conference on the development of northeastern states when he was asked about the Rohingyas. With the PM visiting Myanmar, Amnesty International on Tuesday urged him to push the country's leadership to provide assistance to Rohingyas in the violence-hit Rakhine state. The rights body also said that the Modi government should "reaffirm" its commitment to protect Rohingya refugees and asylum-seekers in India instead of "threatening" them with deportation.
timesofindia.indiatimes.com/india/states-asked-to-identify-deport-rohingyas-rijiju/articleshow/60381656.cms
--------
India issues demarche to Pakistan over terror attack in Kashmir
Sep 5, 2017
NEW DELHI: India on Tuesday summoned the acting high commissioner of Pakistan and issued a demarche over the infiltration by a group of JeM terrorists who killed eight security personnel in Jammu and Kashmir's Pulwama last month.
The ministry of external affairs lodged a strong protest with acting high commissioner Haider Shah over the infiltration by the group hailing from Pakistan who staged a terror attack on August 26.
In a statement, the MEA said Pakistan was asked to investigate the incident and bring to justice the individuals and entities responsible for orchestrating the heinous attack.
The MEA said it was conveyed to the envoy that DNA samples of the neutralized terrorists have been preserved and can be made available for investigation in Pakistan.
"The Acting High Commissioner of Pakistan Haider Shah was called in today and a strong protest was lodged at the cross border infiltration of a group of Pakistan nationals belonging to Jaish-e-Mohammed terrorist organization in the intervening night of 16/17 August who carried out a brutal terror attack in District Police Lines, Pulwama," the statement said.
Full report at:
timesofindia.indiatimes.com/india/india-issues-demarche-to-pakistan-over-terror-attack-in-kashmir/articleshow/60382136.cms
--------
PM Modi calls for coordinated action on counter terrorism
Sep 5, 2017
XIAMEN: Prime Minister Narendra Modi today pitched for coordinated action on counter terrorism, cyber security and disaster management, as he suggested 10 'noble commitments' through which BRICS leadership in global transformation can be achieved.
Modi, while speaking at the 'BRICS Emerging Markets and Developing Countries Dialogue' organised by China on sidelines of the 9th BRICS Summit as an outreach exercise, said India has a long tradition of partnerships with fellow developing countries, while pursuing its own aspirations for growth.
"Whatever we do, will impact the world substantially. So, it is our solemn duty to make a better world -- brick by brick, or, through BRICS....," Modi said.
"I had spoken about the BRICS driving the global transformation in the next ten years for it to be a Golden Decade. I suggest that this can be brought about with our proactive approach, policies, and action," Modi said while putting forward ten noble commitments through which BRICS leadership in global transformation can be achieved.
The ten noble commitments suggested by Modi included creating a safer world by "organised and coordinated action on at least three issues: Counter Terrorism, Cyber Security and Disaster Management".
Other noble commitments suggested by the prime minister were -- creating a greener world, creating an enabled world, creating an inclusive world, creating a digital world, creating a skilled world, creating a healthier world, creating an equitable world, creating a connected world and creating a harmonious world.
Apart from Modi, leaders of Brazil, Russia, China, South Africa and five guest countries -- Egypt, Tajikistan, Thailand, Mexico and Kenya -- also attended the dialogue.
"Our 'no strings attached' model of cooperation is driven purely by the requirements and priorities of our partner countries," Modi said.
"Our development partnerships, projects are providing water, electricity, roads, healthcare, tele-medicine, and basic infra in dozens of countries," he said.
He said recently India completed its first voluntary review of Sustainable Development Goals (SDGs).
Full report at:
timesofindia.indiatimes.com/india/pm-modi-calls-for-coordinated-action-on-counter-terrorism/articleshow/60373232.cms
--------
Rohingya Muslims protest at Jantar Mantar, raise slogans against Myanmar leader Aung San Suu Kyi
by Nitika Kakkar
September 6, 2017
While Prime Minister Narendra Modi reached Myanmar for his first bilateral visit on Tuesday, Rohingya Muslims gathered at Jantar Mantar to protest against the atrocities being committed on their community. Raising slogans such as "Stop the genocide" and "UNO, break your silence", these refugees fled from their country and came to India in order to save themselves.
Twenty five-year-old Nazeer Ahmed came to India five years ago. Saying he had no other option but to flee from his country Myanmar, he accused the Burmese government of treating Rohingya Muslims worse than animals. "I have come here only to tell the rest of the world about the cruelty that is being inflicted upon us in Burma. Has humanity completely left this planet?" he questions.
"The Burmese government does not even allow us to make phone calls. If they see a phone in our hands, they call us terrorists and put us in jail. They then ask for 20 to 25 lakh as bail amount. The amount is always higher than what we can pay. If they don't get the amount they asked for, they kill those in custody," Nazeer told IndianExpress.com.
Nazeer is living in Delhi with his parents and two brothers. He recounted the story of the time when he was travelling to India from his country. "One day suddenly, the police fell upon us. They started picking up and killing whoever they could get their hands on. We had no money, just some gold and silver. We gave that to a man who ferried us across."
Noor Qasim is another Rohingya Muslim who came to India in 2012. His family is still back home and were the victims of the latest violence that began on August 25 in Myanmar's northwestern Rakhine state. "Our slum back home was torched. My mother and sister ran away into the jungle in order to save themselves. They come out during the day and hide in jungle every night to stay alive."
"Recently, the Burmese military force again started mass killings against our community there. More than 3,000 people have been killed, and 95 per cent of those are women and children," Ali Johar, another Rohingya Muslim, said. "To wipe out the evidence, they are burning all the dead bodies. More than 20 villages have been burned down within this week," he added.
Waqar Bhatti from Jammu and Kashmir was one of the people spearheading the protest on Tuesday. "Humanity is being murdered in Myanmar. Omen and small children are being thrashed and burnt alive, and the whole world is keeping mum over it. We have organised this protest as a message so that people raise their voice against the atrocities taking place on Rohingya Muslims in Burma and some action is taken," he said.
The protesters also raised slogans against Nobel Peace Prize winner Aung San Suu Kyi, the State Counsellor and Leader of the National League for Democracy of Myanmar. According to the latest data released by United Nations Human Rights Commission (UNHCR), over 1, 23,000 Rohingya refugees have fled to Bangladesh in order to escape from the violence. Myanmar leader Suu Kyi's silence over the matter is also being questioned.
On a day when PM Modi began his official visit to Myanmar, human rights organisation Amnesty International urged him to provide assistance to Rohingyas in the violence-hit Rakhine state and not to "threaten" the immigrants in India with deportation. On the same day, Union Minister Kiren Rijiju said, "I want to tell the international organisations whether the Rohingyas are registered under the United Nations Human Rights Commission or not. They are illegal immigrants in India." He added that the Rohingyas "stand to be deported".
Full report at:
indianexpress.com/article/india/rohingya-muslims-protest-at-jantar-mantar-raise-slogans-against-myanmar-leader-aung-san-suu-kyi-4830793/
--------
China unlikely to change its position on Masood Azha
Sep 6, 2017
NEW DELHI: Does the inclusion of Pakistan-based terror groups in this year's BRICS declaration herald a significant shift in China's approach on terrorism?
Before the Summit, Chinese officials and commentators were insistent that India "not sully the atmosphere" by raising terrorism by groups based in Pakistan. "Pakistan is at the forefront of counterterror efforts..." foreign ministry spokesperson Hua Chunying was quoted as saying.
New Delhi, however, was clear they would raise its concerns. Therefore, the inclusion of these groups in the final document was a significant move.
According to sources, during the negotiations for the document, India proposed the language on terrorism, which, incidentally, was the same that was agreed during the Heart of Asia Declaration in Amritsar, to which China and Pakistan are both signatories. During the discussions, China found that the other four countries wanted terror groups including Jaish and LeT named and condemned, and so was compelled to make a tactical concession, because there were no takers for its line that Pakistan was leading the fight against terrorism.
The BRICS document, however, does not mean China is ready to change its position on Jaish chief Masood Azhar. China can successfully defend its position in BRICS and its bilateral commitment to Pakistan, by keeping its hold on sanctions on Azhar at the UN.
Nevertheless, given the fact that at BRICS last year, China snubbed India for naming Pakistan the "mothership" of terrorism, this year's statement is a big shift.
Full report at:
timesofindia.indiatimes.com/india/china-unlikely-to-change-its-position-on-masood-azhar/articleshow/60383211.cms
--------
NIA arrests 2 'habitual stone-pelters' from Kashmir
Neeraj Chauhan
Sep 5, 2017
NEW DELHI: After separatists and funds organisers, NIA spreads its probe to those who organized stone-pelting on the ground in Kashmir valley and arrests two suspects including a freelance photo-journalist, who allegedly took part in the protests and mobilised others for stone pelting to disrupt operations of security forces.
The stone pelting organisers - Javed Ahmad Bhat, a resident of Kulgam, and Kamran Yusuf, a native of Pulwama who contributed photographs to several local newspapers, were arrested by agency on Tuesday and are being brought to Delhi for interrogation.
The arrest of Bhat and Yusuf is first from South Kashmir by NIA in its terror funding probe.
Sources say they were on the radar of security agencies for long, as they would openly mobilise the youth to the encounter sites. About Yusuf, officials said that he used to click pictures of mobilization and distributed the same to the local papers other than actively taking part in the anti-national activities.
They often circulated on social networking sites pictures and videos that sparked widespread rumours in the valley, said officials. Yusuf, sources say, had been warned several times by J&K police about his activities.
As first reported by TOI, after analyzing telephone conversations of several persons in valley, NIA had shortlisted 48 'habitual' stone-pelters who were in touch with local and mid-level Hurriyat leaders, and were paid to further disburse money to hundreds of stone-pelters.
The analysis of phones/social media accounts of these 'habitual offenders' revealed that same set of people were leading the stone-pelting incidents across Pulwama, Anantnag, Badgam, Kulgam, Tral, Awantipora, Shopian and Baramulla.
NIA also found that the majority of the stone pelting organisers posted pictures of terrorists, including Burhan Wani and Zakir Musa, with some using Wani's picture as their profile photo in their Facebook profiles while some openly declare that they "worked at stone pelting" or were "born to stone pelting (sic)".
Some of them even were seen posing with sophisticated weapons like AK-47s and rocket launchers in their social media pictures.
Full report at:
timesofindia.indiatimes.com/india/nia-arrests-2-habitual-stone-pelters-from-kashmir/articleshow/60380300.cms
--------
India, Egypt vow to strengthen ties as Modi meets Sisi
Sep 5, 2017
XIAMEN: Prime Minister Narendra Modi today met Egyptian President Fattah el-Sisi and held talks on ways to strengthen bilateral ties.
Modi, who had come to this port city of China on September 3 to attend the 9th BRICS Summit, held two bilateral meetings on the last day of his China visit. After meeting Sisi, Modi held talks with Chinese President Xi Jinping.
"Delighted to meet President Abdel Fattah el-Sisi. We held talks on further strengthening our historical ties with Egypt," Modi tweeted after the meeting.
Earlier, during his address at the 'BRICS Emerging Markets and Developing Countries Dialogue', which was attended by Egypt, Mexico, Guinea, Thailand and Tajikistan on China's invitation as part of 'BRICS Plus' outreach exercise, Modi described these countries as "close and valued" partners of India.
timesofindia.indiatimes.com/india/india-egypt-vow-to-strengthen-ties-as-modi-meets-sisi/articleshow/60376857.cms
--------
Terror funding probe: NIA conducts raids in Srinagar, Delhi
September 6, 2017
by Mir Ehsan
The teams of NIA is conducting raids at 11 places in Srinagar and five places in Delhi in the ongoing investigation of terror funding case. NIA officials told The Indian Express that raids are underway at 11 places in Srinagar and five places in Delhi. "Our teams are already searching various places in Srinagar," NIA officer said. A senior JK police officer also confirmed that from Tuesday NIA is conducting raids in South Kashmir.
NIA claimed that two stone pelters Kamran Yusuf and Javid Ahmed Bhat were arrested from Pulwama and Kulgam districts. The NIA officials said that both were involved in several incidents of stone pelting and their names came up during investigation of several cases that are being probed by NIA.
Full report at:
indianexpress.com/article/india/fresh-nia-raids-at-11-places-in-srinagar-4830780/
Pakistan
JI, PAT, DPC to hold protest for Rohingya Muslims
September 05, 2017
Jamaat-e-Islami (JI), Pakistan Awami Tehreek (PAT) and Pakistan Defense Council (PDC) will hold separate protest demonstrations in solidarity with Rohingya Muslims.
PAT leader Dr Tahirul Qadri announced in a press conference Monday that his party will record its protest against the silence of world community for Rohingyas by holding rallies in 100 different cities on Friday.
He condemned the atrocities of Burma army against innocent people and demanded of the OIC and United Nations to take immediate action against the responsible of ethnic cleansing of the community.
He also wrote a letter to UN secretary general seeking latter's attention to the crisis.
The Jamaat-e-Islami also announced to hold a march from Aab Para Chowk, Islamabad to the Myanmar embassy in the federal capital on Friday to protest against the genocide of the Rohingya Muslims in Myanmar.
JI chief Senator Sirajul Haq will lead the march. In a statement, Sirajul Haq called upon the Pakistan government to immediately expel the Burmese envoy in the country.
He further suggested the government to prevail upon all Islamic and friendly countries to expel the Burmese ambassador in their countries and also demand the Myanmar government to stop the massacre and the forced eviction of the Rohingya Muslims.
He wondered why the OIC, the UN and world community were silent over the genocide of the Rohingyas. He said that Pakistan was the centre of the hope of the Muslims all over the world and it should take prompt steps to stop for the worst form of cruelties against the Muslims in Myanmar/ Burma and extend every possible help to them.
Meanwhile, the JI member of the parliament moved adjournment motions and call attention notices in the Senate and the National Assembly for debate of the massacre of the Rohingya Muslims.
Pakistan Defense Council, a conglomerate of more than a dozen political and religious parties, will hold a protest in solidarity with Rohingya today at Chuburgi Chowk Lahore. Central leadership will address and people from all walks of life will attend the agitation.
nation.com.pk/national/05-Sep-2017/ji-pat-dpc-to-hold-protest-for-rohingya-muslims
--------
Here's why Pakistan had to reject the BRICS declaration even though it wasn't named
September 6, 2017
Pakistan today rejected the BRICS Declaration, which named and shamed terrorist groups operating from its soil, but it should be worried about the language in the document.
The Xiamen declaration says "those responsible for committing, organizing, or supporting terrorist acts must be held accountable." It adds that fighting terrorism is primarily the role of the state.
"Recalling the primary leading role and responsibility of states in preventing and countering terrorism, we stress the necessity to develop international cooperation, in accordance with the principles of international law, including that of sovereign equality of states and non-interference in their internal affairs", the declaration reads.
And that's why Pakistan had to reject it - even if it wasn't explicitly named, and even though China had said Islamabad's counter-terrorism record wouldn't be discussed at the summit.
INTERNATIONAL ISOLATION
Pakistan finds itself increasingly isolated on the world stage, especially after being repeatedly criticised for offering a safe haven to terrorists by the Donald Trump administration in Washington.
So even if the BRICS Declaration didn't name Pakistan, the bloc's leaders decided to mention terrorist groups that continue to operate with impunity with the tacit support of Pakistan's ruling elite.
The message - that Pakistan needed to rein them in - was clear.
Pakistan's response, of course, was a flat denial. Its defence minister, Khurram Dastagir, said "there are no safe terrorist safe havens in Pakistan," The Nation reported.
Dastagir repeated the claim that the international community had failed to acknowledge his country's efforts and sacrifices in the war against terror. He also alleged that it was Afghanistan that was a sanctuary for terrorists.
WIN FOR INDIA
For New Delhi, the strongly-worded BRICS Declaration is a diplomatic win, as the document specifically names Lashkar-e-Taiba and Jaish-e-Mohammad, groups that perpetrate acts of terror on Indian soil.
They're mentioned in a passage on the impact of terrorism in Afghanistan. "We strongly condemn terrorist attacks resulting in death to innocent Afghan nationals.... We, in this regard, express concern on the security situation in the region and violence caused by the Taliban, ISIL/DAISH, Al-Qaida and its affiliates including Eastern Turkistan Islamic Movement, Islamic Movement of Uzbekistan, the Haqqani network, Lashkar-e-Taiba, Jaish-e-Mohammad, TTP and Hizb ut-Tahrir."
PAKISTAN'S PATRONAGE OF TERRORISM
Khurram Dastagir said whatever remained of the Pakistan-based terror groups listed in the BRICS Declaration would soon be eliminated.
But only last month, Jamaat-ud-Dawa chief Hafiz Saeed, who's under house arrest in Pakistan, launched a political outfit: the Milli Muslim League. The party will contest the 2019 general elections.
Saeed, who masterminded the 26/11 attacks in Mumbai, is only one of several examples of Pakistan's patronage of terrorism.
The US and the United Nations declared him a terrorist, and Washington put a $10 million bounty on his head. But he continued to roam free in Pakistan for years.
Full report at:
indiatoday.intoday.in/story/pakistan-terrorist-groups-safe-haven-brics-declaration-lashkar-e-taiba-jaish-e-mohammad/1/1041714.html
--------
Pakistan can send relief goods to Rohingya Muslims: Kh Asif
September 06, 2017
ISLAMABAD, Sept 5 (APP): Foreign Minister Khawaja Muhammad Asif yesterday said that Pakistan could send relief goods for Rohingya Muslims subject to landing rights for flights in Myanmar.
Pakistan had helped the Muslims of Rohingya in the past and it would again do the same, however, the planes carrying relief items needed landing permission, he said while talking to a private news channel.
Commenting on the BRICS declaration, he said it was not against Pakistan as China was a time tested friend. "We will have to formulate the foreign policy according to the situation of the region, " Khawaja Asif said.
To a question, he said the proposals being given in the envoys conference would be presented in the parliament and other forums.
nation.com.pk/national/06-Sep-2017/pakistan-can-send-relief-goods-to-rohingya-muslims-kh-asif
--------
Death penalty, angry mob await Pakistani Christian accused of blasphemy
September 05, 2017
A young Christian man remains behind bars in Pakistan weeks after he was arrested for allegedly burning pages of the Koran outside a Muslim shrine, but jail may be the safest place for him - at least for now.
Asif Massih, 18 was arrested Aug. 12 on blasphemy charges stemming from an incident in Jam Kayk Chattha village Wazirabad, a central town of the Punjab province.
"He is on judicial remand on the order of the judge," Alipur Chattha police spokesman Malik Irfan told Fox News. "People had witnessed that Massih had burnt the Holy Koran by pouring petrol on it outside Muslim shrine."
After Massih was arrested, an angry crowd of around 200 men gathered outside the police station and demanded that he be handed over, Irfan said. Police moved him to another police station to save him from angry mob, Irfan added.
Massih is charged under 295-B of Pakistan's penal code, the murky part of the Pakistan's constitution that can lead to a death sentence for anyone convicted of desecrating the Koran.
Blasphemy is highly sensitive issue in predominantly Muslim majority Pakistan, where dozens sit on death row for allegedly insulting Prophet Muhammad or mistreating the Koran. Even mere accusations are enough for huge uproar that can ultimately lead to mob lynching and riots.
A court is recommending that parliament review Pakistan's controversial blasphemy law and make changes that will prevent people from being falsely accused of the crime. Islamabad's highest court recently recommended parliament amend the law to require the same punishment - the death penalty - for those who falsely allege blasphemy.
"Pakistan top court's ruling for falsely using these laws is welcome initiative and at least it can bring some debate about reviewing these draconian laws," said Farzana Bari, an Islamabad-based human rights activist.
In recent months, several violent blasphemy allegations have alarmed the human rights groups across the country. Critics believe blasphemy allegations are often used to settle personal and political scores.
"The blasphemy accused persons in Pakistan are not properly investigated and innocents are being victimized on false accusations," said Kapil Dev, another Islamabad-based human rights activist.
According to the U.S. Commission on International Religious Freedom, around 40 people are on death row or serving life sentences in Pakistan for committing blasphemy.
"It is my hope that the new prime minister and his government will promote interfaith harmony and protect the rights of religious minorities," U.S. Secretary of State Rex Tillerson said while releasing the annual US report on religious freedom for 2016.
Hardline mobs have killed at least 71 people over alleged blasphemy since 1990, according to reports.
Full report at:
foxnews.com/world/2017/09/05/death-penalty-angry-mob-await-pakistani-christian-accused-blasphemy.html
--------
Terror outfits scattered in South Asia: Pakistan
September 06, 2017
ISLAMABAD - Pakistan on Tuesday said that the terror groups were scattered in the South Asian region with hideouts mainly in Afghanistan.
Foreign Office spokesperson Nafees Zakaria - in response to the declaration issued by the Brazil, Russia, India, China and South Africa summit in Xiamen – said Pakistan was also "seriously concerned" about the "threat posed by terrorism and extremism in the South Asian region."
"Many terrorist groups based in the region, including in Afghanistan, such as the TTP [Tehreek-e-Taliban Pakistan] and its associates like JuA [Jamaatul Ahrar] have been responsible for extreme acts of violence against Pakistani people," he said in a statement.
The spokesperson added: "We are deeply concerned at the presence of groups such as Daesh, ETIM [East Turkestan Islamic Movement] and IMU [Islamic Movement of Uzbekistan] in the ungoverned spaces in Afghanistan as they pose a threat to peace and security in the region."
Zakaria said Pakistan also remained concerned at the rise of extremist ideologies and intolerance in the region encouraging social stratification and systematic targeting of minorities.
This week, India celebrated as BRICS summit concluded with a declaration naming some terror networks allegedly operating in Pakistan.
Officials at the foreign ministry said Pakistan was not shocked reading the BRICS summit's statement as Islamabad had already banned those networks for direct or indirect involvement in terrorism.
The officials said Beijing had assured Pakistan that it would never support India against Pakistan.
The BRICS nations, condemned terror in a strongly-worded declaration. India claimed a diplomatic win as the declaration named groups such as Lashkar-e-Taiba, Jaish-e-Mohammed and the Haqqani network.
However, there was no mention of Pakistan in the joint statement.
"We strongly condemn terrorist attacks resulting in death of innocent Afghan nationals. We, in this regard, express concern on the security situation in the region and violence caused by the Taliban, ISIL/DAISH, Al-Qaeda and its affiliates including Eastern Turkistan Islamic Movement, Islamic Movement of Uzbekistan, the Haqqani network, Lashkar-e-Taiba, Jaish-e-Mohammed, TTP [Tehreek-e-Taliban Pakistan] and Hizbut Tahrir," said the declaration issued by the BRICS countries.
The BRICS declaration added: "We deplore all terrorist attacks worldwide, including attacks in BRICS countries, and condemn terrorism in all its forms and manifestations wherever committed, and by whomsoever and stress that there can be no justification whatsoever for any act of terrorism. We reaffirm that those responsible for committing, organising, or supporting terrorist acts must be held accountable."
Officials said the word "TTP" was used in the declaration on the insistence of China to keep the word "Pakistan" out.
Earlier, China had ruled out any discussions on Pakistan's counter-terrorism efforts at the BRICS summit.
Beijing said it would not be an appropriate topic to be taken up by the group.
Yesterday, Defence Minister Khurram Dastgir Khan said that Pakistan rejects the declaration released by the BRICS member countries adding there were no "safe havens" for terrorists in Pakistan.
Speaking at a meeting of the National Assembly's Standing Committee on Defence, he said 40 per cent of Afghanistan was a safe hideout for militants.
Foreign Minister Khawaja Asif will visit the regional countries – beginning with China – on September 8 to discuss the foreign policy and the future strategy.
The tour of the important regional countries comes after US President Donald Trump's anti-Pakistan speech last month.
Meanwhile, on Tuesday, a three-day conference of selected Pakistani envoys began here to discuss important foreign policy matters.
Full report at:
nation.com.pk/national/06-Sep-2017/terror-outfits-scattered-in-south-asia-pakistan
--------
Bilawal calls for unity to defeat terrorism
September 06, 2017
KARACHI - Pakistan People's Party Chairman Bilawal Bhutto Zardari has said that the nation needs the same spirit and unity we displayed in 1965 war to defeat the current threats to the country in the form of extremism and terrorism.
In his message on the eve of Defence Day, the PPP Chairman said that a strong and invincible defence can only be ensured through national unity.
Bilawal Bhutto Zardari said that Prime Minister Shaheed Zulfikar Ali Bhutto gifted the nuclear programme and his daughter Prime Minister Shaheed Mohtarma Benazir Bhutto gave missile technology programme.
PPP Chairman said that all those soldiers who laid down their lives for the defence of Pakistan would remain unforgettable heroes in the history.
Full report at:
nation.com.pk/karachi/06-Sep-2017/bilawal-calls-for-unity-to-defeat-terrorism
--------
52nd Defence Day celebrations underway across Pakistan
September 06, 2017
Defence Day of Pakistan marking the 52nd anniversary of the 1965 war is being celebrated with traditional fervour and solemnity across the country on Wednesday.
The day began with special prayers for the progress and prosperity of Pakistan, followed by change of guard ceremonies at the mausoleums of Allama Iqbal in Lahore and Quaid-i-Azam in Karachi, and a ceremony at the Pakistan Navy headquarters in Islamabad.
Former army chief retired Gen Raheel Sharif reached Lahore's Miani Sahib graveyard, where he laid a floral wreath on the grave of his brother Maj Shabbir Sharif, who lost his life during the 1971 war on Dec 6 at Sulemanki Sector. The former army chief also offered fateha.
A number of events are scheduled to be held in connection with Defence Day across the country. The highlight of the day will be a function to be held at General Headquarters in Rawalpindi to pay tribute to the martyrs.
See: Traffic plan for Defence Day
Messages from the president, PM
President Mamnoon Hussain and Prime Minister Shahid Khaqan Abbasi in their separate messages on the occasion paid homage to those who laid down their lives in Pakistan's defence.
The government has launched National Action Plan under which the armed forces, police and law enforcement agencies are successfully rooting out the menace of terrorism and extremism from the country, the president said, according to Radio Pakistan.
The prime minister in his message said: "We can only defeat our enemies through strict adherence to the cardinal principles of unity, faith and discipline laid down by the Father of the Nation [Quaid-i-Azam]".
Full report at:
dawn.com/news/1355961/52nd-defence-day-celebrations-underway-across-pakistan
--------
UK seeks Pakistan's help in Altaf hate speech probe
Owen Bennett-Jones
September 06, 2017
LONDON: Britain's Crown Prosecution Service (CPS) has asked for Pakistan's help to bring charges against MQM-London leader Altaf Hussain, according to documents obtained by Dawn.
The British authorities are focu­sing on violence associated with speeches given by Mr Hussain on March 11, 2015 and Aug 22, 2016.
The charges being considered by the British range from encouraging violent disorder, inciting others to commit terrorism outside England and Wales to encouragement of terrorism. Other charges could include intentionally encouraging or assisting an offence. The various offences fall under the Terrorism Act, the Serious Crime Act and the Public Order Act.
Asked about the British investigation into Mr Hussain's speeches, the MQM declined to comment.
A British document sent to Pakistan on Aug 8 this year recounts how, after the Aug 22, 2016 speech, some of Mr Hussain's supporters went on the rampage in Karachi. "Towards the end of the speech, he seemed to be encouraging the audience to go and attack local media stations," the document says.
According to the CPS, the protesters attacked the ARY News office. "As a result of the violence, one person was killed and several others were injured." The document names the deceased as Arif Saeed.
In the Aug 22 speech, Mr Hussain said: "Pakistan is headache for the entire world. Pakistan is the epicentre of terrorism for the entire world. Who says long live Pakistan...it's down with Pakistan."
Later in the speech when he asked — "So you are moving to ARY and Samaa [offices] from here...right?" — he received from the crowd a unanimous and loud reply in the affirmative. "So you go to Samaa and ARY today and then refresh [yourself] tomorrow for the Rangers place. And tomorrow we would lock down the Sindh government building which is called Sindh Secretariat."
The CPS document also cites a less well-known speech made on March 11, 2015 following the Rangers' raid on Nine Zero. After that raid, the document says, Mr Hussain gave a live interview on Geo TV. Reports about the interview indicate that Mr Hussain denounced the raid, and said the death of an MQM activist, Waqas Shah, during the raid deeply upset him. He also accused the Rangers of planting the ammunition they seized at Nine Zero
The most likely explanation of the CPS's interest in the otherwise largely forgotten March 11 speech is that nine days later, on March 20, 2015 the Pakistani authorities lodged a complaint to the UK police requesting that Mr Hussain be investigated for his comments on March 11.
A potentially controversial aspect of the request concerns the death of Waqas Shah during the Nine Zero raid. The British document observes that: "The Rangers have denied that he was killed by them," and goes on to request: "a statement and any further details from any pathologist regarding the post mortem or cause of death in relation to Mr Waqas Shah." The MQM has claimed that, in fact, Waqas Shah was killed by the Rangers.
Earlier this month an MQM worker, Syed Asif Ali, was sentenced to death for the murder of Waqas Shah.
The CPS document appears confused as to the sequence of events on March 11. At one point it states that Mr Waqas Shah was killed during the raid on Nine Zero and before Mr Hussain gave his Geo TV interview. But later the document says the death of Mr Waqas Shah followed Mr Hussain's speech. The distinction would seem crucial to any attempt to prove incitement.
Asked how Mr Hussain could have incited a death that occurred before he spoke, the CPS said that due to staff leave they needed more time before making a statement.
The current enquiry into the speeches — called 'Operation Demerit' — was established by the Metropolitan Police Counter Terrorism Command in February this year and brought together two separate units that were looking into possible hate crime offences. Initially Operation Demerit considered six of Mr Hussain's speeches but the CPS document indicates that it is now focusing on just two of them.
Asked about the progress of Operation Demerit, a spokesman for the Metropolitan Police confirmed to Dawn that an International Letter of Request has been sent to Pakistan and said that it is not yet clear how long it will take to decide whether or not to lay charges: "a decision will be made in due course: no time limit has been set."
The CPS is requesting a significant amount of Pakistani assistance. London is asking Islamabad to provide copies of all the investigation files in relation to both speeches. It is hoping to receive the Sindh Police files, details of the Sindh Counter Terrorism Division investigation files, the FIA files and the Sindh Rangers files. The CPS is also hoping to obtain copies of the speeches and any video of the aftermath that "may help identify criminal offences committed by Mr Hussain."
The British government also wants details of any suspects arrested in relation to incidents following the two speeches and anything else Pakistan would consider useful to progress the cases in relation to possible incitement.
The British document makes it clear that any material provided by Pakistan could be used in criminal proceedings in the UK. And it adds that in the future Pakistan could expect to experience similar co-operation from the British government. "I confirm that the assistance required above may be obtained under current English law if in a like case a request for such assistance were made to the authorities in England and Wales," the document says.
Pakistan has previously made attempts to link the MQM cases to the presence of Baloch separatists in London.
The current investigation into Mr Hussain's speeches is the only active British police enquiry into MQM-London and its leader.
A source close to the investigation has said that some British officials remain determined that the politics surrounding the various cases should not be allowed to obstruct justice.
Over the last 12 months the British authorities have dropped two large-scale and long-running investigations into MQM-related matters. The first, into possible money laundering offences, had involved the UK police gathering evidence of significant flows of money coming into MQM-London, some of it from Indian sources. The second into the 2010 murder of MQM leader Dr Imran Farooq identified two individuals in Pakistan who were suspected of having travelled to London to carry out the murder.
Full report at:
dawn.com/news/1355918/uk-seeks-pakistans-help-in-altaf-hate-speech-probe
--------
Pakistan wants to resolve issues with US peacefully, says minister
September 06, 2017
ISLAMABAD: Defence Minister Khurram Dastagir on Tuesday said Pakistan would seek to resolve issues with the US in a peaceful manner and expressed the hope for quality bilateral engagement in future.
Talking to reporters after a meeting of the National Assembly's committee on defence, he said: "We are trying to resolve the issues amicably because any American action would cause instability in Pakistan."
In the wake of President Donald Trump's policy statement on Afghanis­tan and South Asia, the government is strategising its future engagement with the US as Pakistan was chastised 'for not acting against alleged terrorist sanctuaries used to carry out attacks in neighbouring countries'.
The defence minister hoped that Pakistan and the US would have "better and quality future engagements".
The national security committee, in its last meeting, formed a sub-committee to finalise policy recommendations on relations with the US.
Recommendations of an envoys' conference — which is presently being held at the Foreign Office — will also be considered by the National Security Committee's sub-committee while devising the new approach on the US.
Earlier, statements by the National Security Adviser and the Foreign Office spokesman underscored that Pakistani leaders were clear that disengagement was not an option, which was reaffirmed by the defence minister's statement.
President Trump in his policy statement did not elaborate on the actions that he contemplated taking against Pakistan if his concerns were not addressed.
However, in a statement issued later, Secretary of State Rex Tillerson said all options were on the table, including cuts in military assistance and revocation of the status of a non-Nato ally. There were hints that other punitive actions were also being considered.
Mr Dastagir said Foreign Minister Khawaja Asif would embark on a visit to regional countries for consultations on the new US policy. He was initially planning to travel to China, Russia and Turkey, but added Iran to the list on the insistence of opposition parties.
After the regional tour, the foreign minister will go to Washington for bilateral talks.
During his US visit, Mr Asif will discuss Pakistan's reservations on President Trump's statement and other bilateral issues.
Envoys conference
A three-day conference of envoys from various capitals began at the Foreign Office on Tuesday to deliberate on a range of bilateral, regional and global dimensions of Pakistan's foreign policy, said an FO statement.
Full report at:
FO officials insist the conference was planned before the announcement of the US policy.
dawn.com/news/1355926/pakistan-wants-to-resolve-issues-with-us-peacefully-says-minister
--------
Analysis: Conundrum posed by returning militants
Ismail Khan
September 06, 2017
PESHAWAR: When the then Taliban spokesperson, Ehsanullah Ehsan, made initial contact in spring last year to suggest the terms of his surrender to Pakistani authorities, the offer — though significant given that it was coming from a senior militant figure — nonetheless triggered a long, animated discussion within Pakistan's security apparatus on whether it had the mandate to accept those conditions.
The discussions took nearly a year, with back and forth communications initially through three different channels: an Islamabad-based television anchor, a retired intelligence officer and a key leader of a religious party — and later, through a militant commander affiliated with the now-defunct Punjabi Taliban. The parleys eventually led to Ehsan's surrender.
Dawn spoke with two of Ehsan's initial contacts to confirm the nature of the terms he had set for his surrender; while both declined to serve as guarantors to any surrender agreement, they did however pass on the militants' spokesperson's entreaties to the authorities concerned.
Liaqat Ali, as Ehsan was named by his family, left college in 2008 to become a militant. He rose to become the central spokesperson of the outlawed Tehreek-i-Taliban Pakistan (TTP) before switching sides to join his original organisation, the TTP Mohmand — which by then had become the Jamaatul Ahrar. According to sources Dawn spoke to, he had a long wish list.
Amongst the demands Ehsan made was a house in Rawalpindi to settle down with his wife and child, as well as a huge sum to start off a business. He also sought permission at some point to relocate to the Gulf or some other Middle Eastern country. This, he argued at the time, was necessary for his safety and that of his family, who feared reprisal attacks from their former mentors.
His surrender, the first from amongst the front-row senior militant leadership, was seen as a major coup, coming with a treasure trove of inside information on the operations of Pakistani militant groups and their association with the Afghan intelligence, the National Directorate of Security.
But in the absence of clear answers on what he might have been offered in return, his dramatic switch-over did cause concern. The military, however, has continued to maintain that nothing was offered in return for his surrender.
None of those demands were accepted, according to a senior military official. "He was a terrorist and remains a terrorist," the official said. "He will have to face the due process of law and will be treated as per the law of the land."
But Ehsan's surrender did set off a debate within the military and security apparatus on how to deal with those militants who were willing to lay down arms. Already, close to 2,300 militants, mostly foot soldiers and low-level commanders, dejected by the circumstances in Afghanistan, have returned and surrendered to the authorities. Most of them, Mehsud by tribe, are being held in guarded camps. The militants are screened and their antecedents checked against a database. They are segregated and categorised, and treated accordingly. Some are processed through the now well-established de-radicalisation programme.
Under the existing policy, captured militants are interrogated, debriefed and categorised according to a 'black', 'grey' and 'white' scale. The 'blacks' are sent to internment centres and 'grey' are put through the de-radicalisation programme, while those declared 'white' are set free. The de-radicalisation programme, according to the senior military official, is running so successfully that of the 2,813 militants put through it since the end of 2008, only six have returned to the battlefields.
"There are many [militants] waiting on the other side of the border, keen to surrender," two senior military officials confirmed with Dawn. "But they want assurances as to be given a fair trial." "Morale is down and they are clueless," said one of the officers Dawn spoke to.
Ehsan, in his interview with a television anchor, echoed what many in the security apparatus believe to be true. "There are many people who raised their voice [against their militant leaders]. Some were killed; others were forced to go underground. They have realised, particularly those at the lower level, that they are fed up," Ehsan said.
Military officials maintain that while there can be no clemency and no pardon for the top militant leadership, the state would have to devise a policy for those willing to lay down arms and surrender to the state authority.
"Ours is a state institution. We follow state policy," one of the senior military officials said. "And therefore, there has to be a state policy that can lay down the ground rules to deal with such elements."
Officials say a draft policy has been in the works incorporating input from state agencies and other state institutions. The draft policy, they say, is aimed at spelling out rules for handling militants willing to surrender. The draft policy, the senior military official says, is almost complete and will be presented to the federal government for consideration and approval.
What will be the nature and broad contours of the draft policy and when will it be ready is not immediately clear but it will definitely set a new national debate on its need and utility.
Full report at:
dawn.com/news/1355917/analysis-conundrum-posed-by-returning-militants
--------
'Pakistan paid heavy price in war on terror'
06-Sep-17
ISLAMABAD: President Mamnoon Hussain said no nation in the world as the people of Pakistan had paid a heavy price in terms of life and property in fight against terrorism.
In his message to the nation on Defence Day, he saluted the heroes who rendered sacrifices to protect the homeland and the armed forces for making the country's defence impregnable.
The president said September 6, was a memorable day in national calendar when the people of Pakistan demonstrated unprecedented national unity and stood by the valiant armed forces to thwart a serious aggression by the enemy.
He said the commemoration of this historic day revived spirits and strengthened the resolve to defend the country against all sorts of threats.
"We pay homage to all those sons and daughters of the soil who laid
down their lives and endured the vagaries of war in defending the motherland," he said.
It was because of their supreme sacrifices and unshakable determination that we lived in safety and dignity, he added.
The president said the need to imbibe the spirit of September 6, was even greater as the country was confronted with the challenges of extremism and terrorism.
He said the militants and extremists through their subversive activities had challenged the state in a bid to impose their obscurantist agenda on the people of Pakistan. He said the government of Pakistan in unanimity with all the stakeholders and with complete backing from the entire political spectrum and the people had launched National Action Plan under which the armed forces, personnel of police and law enforcement agencies were successfully rooting out the menace of terrorism and extremism from the country.
He said Operation Radd-ul-Fasaad, an extension of operation Zarb-e-Azb, was progressing successfully in different parts of the country and would continue till the last terrorist was eliminated.
Full report at:
dailytimes.com.pk/pakistan/06-Sep-17/pakistan-paid-heavy-price-in-war-on-terror
--------
NA panel condemns Trump, Gen Nicholson's hostile remarks
September 06, 2017
Islamabad - The National Assembly Standing Committee on Defence on Tuesday condemned and rejected the hostile and threatening statements of US President Donald Trump and US Commander in Afghanistan Gen John Nicholson against Pakistan.
In a resolution adopted during its meeting held here, the committee rejected the claim of the US president regarding safe havens of terrorists in Pakistan and noted with concern that 40 percent of the area in Afghanistan was not under the control of the Afghan government.
The committee also noted with concern that terrorists were using Afghan soil as safe havens.
The committee also rejected President Trump's claim that billions of dollars in aid have been given to Pakistan, stating that Pakistan's economy has suffered a loss of over $123 billion in the war on terror.
The committee also strongly condemned the massacre of Burmese Muslims and urged the United Nations to play its role in preventing the atrocities against the Muslims in Burma.
Later talking to the media, Defence Minister Khurram Dastagir refuted the BRICS countries claim about the alleged presence of militant groups in Pakistan.
"We have already said that there are no terrorist sanctuaries in Pakistan. Terrorist safe havens are found in Afghanistan; Pakistan does not fear any external aggression as its Army, Navy and Air Force are fully prepared to deal with any situation," Dastagir said.
Dastagir said Pakistani security forces already have taken action against all terrorist groups and are in the process of eliminating their "remnants" in the country. Responding to a question, Dastagir said Pakistan seeks to amicably resolve issues with the United States, cautioning "any American action" would cause instability in the country.
The defence minister also cited US military assessments that say less than 60 percent of Afghan territory is under the control or influence of the Kabul government. "That is why we are all gravely concerned about the fact that 40 percent of Afghanistan has perhaps become a safe haven [for terrorists]," he said.
The minister added that his country is not feeling threatened by the US following the harshly worded Trump speech. "However, we are maintaining an extremely strict monitoring of our land, sea and air frontiers," noted Dastagir.
Full report at:
nation.com.pk/national/06-Sep-2017/na-panel-condemns-trump-gen-nicholson-s-hostile-remarks
--------
Europe
UK police arrest four men suspected of planning far-right terrorism
September 5, 2017
British police arrested four men on Tuesday, including some serving soldiers, on suspicion of belonging to a banned far-right group and planning terrorist acts.
The men, aged 22 to 32, were detained on suspicion of being involved in the commission, preparation and instigation of acts of terrorism and of being members of the National Action group. The neo-Nazi organisation became the first far-right group to be outlawed in Britain last year after the murder of member of parliament Jo Cox, whose killing the group had praised.
The four arrests were made by counter-terrorism officers in the cities of Birmingham, Ipswich and Northampton and in Powys, Wales. "The arrests were pre-planned and intelligence-led; there was no threat to the public's safety," West Midlands Police said.
The Ministry of Defence (MoD) said a number of serving members of the army had been arrested. "These arrests are the consequence of a Home Office Police Force-led operation supported by the army," an MoD spokeswoman said "This is now the subject of a civilian police investigation and it would be inappropriate to comment further."
Britain is on its second-highest threat level, "severe", meaning an attack is highly likely. Suspected Islamists have killed 35 people this year in London and Manchester, and a man died in June after a van was driven into worshippers near a London mosque.
Last month, a senior police chief said the number of referrals to the authorities about suspected right-wing extremists had doubled since the murder of Cox, who was killed in June last year by a loner obsessed with Nazis and white supremacist ideology.
indianexpress.com/article/india/uk-police-arrest-four-men-suspected-of-planning-far-right-terrorism-4830290/
--------
EU will continue accession talks with Turkey: Mogherini
Sep 5, 2017
The European Union (EU)'s foreign policy chief, Federica Mogherini, says the bloc will continue its membership talks with Turkey despite disagreements with Ankara on human rights issues.
"We are continuing to talk with Turkey," Mogherini told reporters in the northwestern Slovenian town of Bled, where she attended the 2017 Bled Strategic Forum, on Monday.
"We are not always agreeing on everything," she said, adding, "There are some issues — especially human rights, fundamental freedoms, the situation of journalists — that are taking our positions very much apart, but talks continue."
She said the future of the EU's relations with Turkey would, however, depend on how the talks proceed.
Addressing a panel of the forum later in the day, Mogherini described Turkey as "a key player in a region that is strategically important for us, the Middle East, the Mediterranean."
Turkey has been trying to accede to the EU since the late 1980s. Formal accession talks began in 2005. The EU has opened 16 out of the 35 chapters required for Turkey to join the 28-nation bloc, but only one of them has so far been concluded.
A purge in Turkey, and a snag in Europe
The talks have effectively been halted since Turkey began a massive crackdown on supposed putschists following an abortive coup in 2016. The EU reacted strongly to Ankara's purging of thousands of people from organizations and institutions over alleged links to the coup attempt.
The European Parliament voted in favor of halting the membership talks with Turkey in November 2016 over Ankara's heavy-handed crackdown following the failed coup.
EU heavyweight Germany and Austria have also been outspoken critics of Ankara since the Turkish crackdown and have said the accession talks must end, angering Turkey.
In 2017, government-proposed reforms that turned Turkey's political system into a presidential one compounded the problem.
German-Turkish bad blood
Germany has been involved in diplomatic brawls with Turkey on other issues as well, and it is sometimes hard to tell whether Berlin's opposition to Ankara's membership in the EU is purely over the alleged human rights violations and the constitutional reforms.
On Sunday, Chancellor Angela Merkel, in a TV debate ahead of Germany's federal elections on September 24, agreed with her main rival, Social Democrat Martin Schulz, that it was "clear that Turkey should not become a member of the European Union," marking a surprise U-turn from her previous, moderate stance.
German-Turkish relations strained after Turkey refused to allow German lawmakers to visit military personnel at the Incirlik Air Base and another base in Konya in Turkey earlier this year.
Berlin had earlier blocked visits and speeches by senior Turkish officials to members of the Turkish diaspora in Germany ahead of an April referendum in Turkey over the constitutional reforms.
Turkish President Recep Tayyip Erdogan has recently urged the Turkish population in Germany to vote against Merkel in the upcoming German elections.
Separately, Turkey says Germany has granted asylum to officers who were allegedly behind the failed coup. A number of German citizens have since been arrested in Turkey.
Looking to the future
Mogherini said in her Monday remarks that she looked forward to a resumption of the talks with Turkey.
"On the future, I would suggest that we look beyond what is said in electoral campaigns both in Turkey and the European Union. And I am looking forward to the moment we sit together at the table and find what is going to be future of our relations."
Turkey has previously threatened that a failure to grant it membership in the EU would trigger Ankara's departure from another deal with the bloc to stem the flow of refugees to Europe.
Full report at:
presstv.ir/Detail/2017/09/05/534068/EU-Mogherini-accession-talks-Turkey
--------
Paris appoints envoy to help 'appease tensions' between Qatar, neighbors
Sep 5, 2017
The French Foreign Ministry has appointed a special envoy to handle the dispute between Qatar and the Arab countries of the Persian Gulf region.
Bertrand Besancenot, a former ambassador to Saudi Arabia, was picked on Tuesday to support mediation efforts between Qatar and a Saudi-led block of countries that have cut ties to Doha on accusations of its support for terrorism.
"I confirm that Bertrand Besancenot, diplomatic advisor to the government, will soon go to the region to evaluate the situation and the best ways to support the mediation and appease tensions between Qatar and its neighbors," said French Foreign Ministry spokeswoman Agnes Romatet-Espagne during a daily briefing with reporters in the capital Paris.
The official did not elaborate on how France would contribute to an ongoing mediation scheme under the leadership of Kuwait, whose Emir Sheikh Sabah al-Ahmad al-Jaber al-Sabah has been shuttling between Arab and Western capitals in a bid to resolve the standoff, which began in June after Saudi Arabia, the United Arab Emirates, Bahrain and Egypt ceased diplomatic and trade ties with Qatar.
Qatar has denied those countries' accusations that it is supporting terrorists while rejecting demands by Saudi Arabia and allies for a downgrade in ties with Iran. Qatar says the standoff with its former Arab allies is a price it is paying for its independent foreign policy.
France is very close to Saudi Arabia and has over the past years sold billions of dollars' worth of weapons to the kingdom. Paris has also formed intimate bonds with the United Arab Emirates as it has been seen in meditation efforts on Libya, where the United Arab Emirates supports the camp opposing the internationally recognized government. France is a main backer of Egyptian President Abdel Fattah el-Sisi, a former military chief who has repeatedly been criticized by rights groups for crushing dissent.
Full report at:
presstv.ir/Detail/2017/09/05/534107/France-Qatar-row
--------
Germany: No decision on Turkey's EU talks before polls
05 September 2017
Chancellor Angela Merkel's spokesman has ruled out an imminent decision on the future of Turkey's EU membership talks, despite recent campaign calls by the country's Social Democrats to stop the negotiations.
Speaking at a press conference in Berlin on Monday, spokesman Steffen Seibert said there won't be any decision on Turkey's EU membership talks before Germany's general elections later this month.
"There is no major European gathering before parliamentary elections in Germany on Sept. 24," he said.
"The European Council meeting in October will also review current relations with Turkey. And as the chancellor said yesterday, she will discuss there with her European counterparts whether or not to terminate membership negotiations," he added.
The EU's head of states and governments are scheduled to meet in Brussels on Oct. 19-20 for a planned European Council meeting.
Seibert underlined that any decision to end Turkey's membership talks would require unanimity among all EU member states.
He also warned that bringing termination to the agenda but failing to achieve unanimity would be "a very bad sign" for the EU.
Full report at:
worldbulletin.net/europe/193665/uk-police-arrest-4-in-neo-nazi-terror-probe
--------
Southeast Asia
Philippines, Indonesia, Malaysia eye joint task force for fighting Islamic State
By Bong S. Sarmiento
6th September 2017
THE PHILIPPINES, Indonesia and Malaysia have agreed to jointly fight the threats of the Islamic State, with Manila willing to open its borders to Indonesian and Malaysian defence forces to prevent the Islamist militants from taking deeper root in the three neighbouring countries.
Philippine President Rodrigo Duterte revealed the development this week as the Armed Forces of the Philippines (AFP) claimed that the country is the jihadists' new theatre in Southeast Asia.
"I have already talked with President [Joko] Widodo and [Malaysian Prime Minister] Najib Razak. We agreed that we will talk. We are just waiting for the right time," Duterte said.
According to the president, Islamic State militants are "being cornered in Syria" and are looking for new frontiers. Since they already have access to other countries, they will suddenly surface just like they did in Marawi, he added.
Fierce clashes erupted in Marawi in the southern Philippine island of Mindanao on May 23 after the IS-linked Maute Group tried to foil the arrest of Abu Sayyaf leader Isnilon Hapilon, who was designated as emir of IS in Southeast Asia by IS leader Abu Bakr al-Baghdadi.
The clashes, which prompted Duterte to place the entire Mindanao under martial law, continued to displace some 360,000 individuals as fighting still rages as the crisis in Marawi entered Day 107 on Wednesday.
Duterte said the Philippines, Indonesia and Malaysia, which share porous borders, are considering the creation of a joint task force to prevent the spread of IS in their territories.
"I [am willing to] open my borders to the Malaysian and Indonesian authorities. They'll [likely] be given access," he said. The outspoken President from Mindanao said initial discussions for the agreement to create the proposed joint task force against the IS militants are already underway.
Military officials in Malaysia and Indonesia have admitted the presence of the jihadists known in their countries as Daesh militants. Duterte said that IS supporters continue their recruitment activities in Mindanao, particularly in Muslim-dominated areas.
In Marawi, Lieutenant General Carlito Galvez, Jr., commander of the Armed Forces of the Philippines' Western Mindanao Command, said the Maute Group laid siege on Marawi to establish a "wilayah" or territory in the Philippines so they can become a legitimate Islamic State affiliate.
"They want to show IS that they have a territory, which is one of the qualifications to become a full-time IS," he told reporters recently.
He said that Dr Mahmud bin Ahmad, a Malaysian professor of Islamic law and a senior Islamic militant in Southeast Asia, and other foreign militants are fighting alongside the Maute Group to establish a territory in the southern Philippine island of Mindanao.
The ongoing clashes in Marawi between government forces and the Maute group have left over 800 people dead, mostly from the side of the terrorists, according to the military.
Galvez said they are expecting a more intense and bloody fighting with the dwindling forces of the Maute Group, which is still holding several hostages including a Catholic priest, in a final push to liberate Marawi.
The fighting has been contained in a small pocket as Galvez claimed that the Maute Group has engaged some women and children likely related to the militants to resist the military offensives.
Duterte's push for the Philippines, Indonesia and Malaysia to establish a task force against the threat of IS would bolster the Trilateral Maritime Patrol (TMP) launched by the three countries in June.
Indonesian Defence Minister Ryamizard Ryacudu, Malaysian Defence Minister Hishammuddin Hussein and Philippine Defence Secretary Delfin Lorenzana attended the inauguration of the Trilateral Maritime Patrol (TMP) on June 19 at the Tarakan Naval Base in Indonesia.
"The main objective of this initiative is to ensure that militant threats such as the Islamic State do not use the Sulu Sea to gain entry into our countries, more so following the Marawi city incident," Hishammuddin said at the launching.
The joint operation was initiated by Indonesia, Malaysia and the Philippines in the face of security challenges associated with each country's border waters, said the Indonesian military (TNI) in a statement.
The joint patrol is a step taken by the three countries "in the spirit and centrality of Asean, in maintaining stability in the region in the face of non-traditional threats such as piracy, kidnapping, terrorism and other transnational crimes in regional waters," it said.
The TMP collaboration includes information sharing and improved communications among the three neighbouring countries.
Besides the Martime Command Centre (MCC) in Tarakan, MCCs were also established in the state of Sabah in Malaysia and Bongao, Tawi-tawi province in the Philippines to coordinate the three nation's hot pursuit operations.
Under the TMP, the three countries also agreed to conduct joint air and sea patrols.
Based on their agreement, air patrols will be done on a rotational basis, while ships on patrol are required to be on a constant state of readiness to react to emergencies in the Sulu Sea.
asiancorrespondent.com/2017/09/philippines-indonesia-malaysia-eye-joint-task-force-fighting-islamic-state/#cptB6BCRsdl65Ewm.97
--------
Indonesia to bar Myanmar protest at world's biggest Buddhist temple
SEPTEMBER 5, 2017
JAKARTA (Reuters) - Indonesian police have pledged to bar Islamist groups from staging a rally on Friday at the Borobudur Buddhist temple in central Java to protest against the persecution of Myanmar's Rohingya Muslims.
Islamist groups say they plan the demonstration close to the stupa-topped Borobudur temple, which dates from the 9th century and is a popular tourist site, to call for an end to violence against the religious and ethnic minority in Myanmar.
Indonesia has the world's largest population of Muslims and there have been a number of anti-Myanmar protests in Jakarta and the Malaysian capital Kuala Lumpur over the treatment of Buddhist-majority Myanmar's roughly 1.1 million Rohingyas.
Almost 125,000 Rohingyas have been forced to flee clashes between Rohingya insurgents and the army in the northwest Rakhine state. Tens of thousands have crossed the border into neighboring Bangladesh.
"The action at Borobudur temple will be prohibited," National Police Chief Tito Karnavian told reporters, according to media.
"This is not just part of the heritage of Indonesia, but that of the world. There is no need for protests in response to the Rohingya conflict because the Indonesian government is taking action on it already."
Indonesian Foreign Minister Retno Marsudi on Monday met Myanmar leader Aung San Suu Kyi and top security officials to call for a halt to the bloodshed. Marsudi was due in Dhaka, the Bangladeshi capital, on Tuesday.
Pakistani Foreign Minister Khawaja Muhammad Asif expressed "deep anguish at the ongoing violence against the Rohingya Muslims" and urged the Organization of Islamic Cooperation to take "immediate and effective action to bring an end to all human-rights violations against innocent and unarmed Rohingya Muslim population".
An organizer of Friday's planned protest said the groups wanted to protest peacefully near the Borobodur temple to show Indonesia's tolerance.
Full report at:
reuters.com/article/us-storm-irma/potentially-catastrophic-irma-barrels-toward-virgin-islands-puerto-rico-idUSKCN1BG0KL
--------
DAP should stop using Islam as a political tool
Sep 6, 2017
DAP has made two announcements recently which probably signals the collapse of the progressive movement here in Malaysia. The first is DAP's decision to contest in Sungai Siput which may remove PSM from mainstream politics.
While DAP's decision to contest in Sungai Siput is not unexpected – PSM did set themselves against DAP with their resolve to break out from their ghetto – the reality is that DAP has always been hostile to PSM, with their online supporters hurling the most racist and ignorant statements against the socialist party and their grassroots-level activism.
While DAP has had no problem embracing the party and the man who for years they claimed brought this country to ruin, and have had no problem introducing an Islamic sect to mainstream politics and then embracing the splinter group of said sect causing overt divisions in political Islam here in Malaysia, they have never accepted PSM for a variety of justifications, none of which stands up to any scrutiny.
I sincerely hope that PSM is successful in its endeavours and hopefully the long view strategy they embrace and grassroots-level work they do will change Malaysia (eventually) unlike the failing strategy of the mainstream opposition. Talking about failing strategy, DAP's strategy to support "Islamisation" based on the constitution is the most cynical exploitation of religion I have witnessed in some time.
I have often pointed to the "true Muslim" meme that oppositional types babble on about as one of the major hypocrisies of the alternative coalition. The true Muslim meme is those Muslims who conform to the secular agenda of the opposition – read the DAP – which means they are the gentler face of Islam and thus acceptable to mainstream urban politics.
I have argued that the opposition – again let face facts, the DAP with all its problems should be on the front line in the defence of secularism – should not engage in the dialectic of Muslims with the exception of promoting secularism as a means of governing. Furthermore, if there is to be engagement, secularism should be the counter narrative to all religious dogma that are flash points in this country.
Instead, what DAP's Lim Kit Siang has done is continue the Islamic state narratives in this country by embracing the concept that "Islamisation" has a place in the Malaysian experience when there is enough empirical evidence that the Islamisation process has been a detriment to this country and its citizens.
Attempting to claim that DAP supports Islamisation based on the constitution is nonsensical since the Islamists claim the very same in their quest for religious supremacy. The reality is that the constitution, like Islam, is open to interpretation hence any attempt to impose an ideological or religious agenda when framing policy "based on the constitution" is an exercise in sophistry.
How exactly does "Islamisation based on the constitution" that DAP supports different from what Umno has been doing? I figure that with partisans who are hooked on the true Muslim meme, this would mean those so-called "Islamic" values which are acceptable to them.
Full report at:
malaysiakini.com/columns/394235
--------
Videos of alleged Muslim riot in China spark online outcry
SEPTEMBER 05, 2017
Chinese internet users have flooded government social media accounts this week with thousands of angry anti-Muslim comments after unverified videos surfaced online showing an apparent riot by members of a Muslim minority group in a northern city.
The furious comments posted on the official microblog sites of a local police bureau, the Communist Youth League, and other accounts have centered on unconfirmed reports that dozens of Hui Muslims rioted at a highway toll station in the city of Tangshan after a cleric from their community was beaten or hurt in a scuffle.
Calls to police and government offices at various districts in Tangshan city, where the riot allegedly occurred, rang unanswered Tuesday or were answered by officials who said they were not in charge of responding to media requests over the incident.
The official Global Times newspaper said an official surnamed Zhao from the Guye district government in Tangshan confirmed that "someone was beaten" but provided no details. The website of U.S. government-funded Radio Free Asia reported that unrest occurred at the toll station Saturday night after the Muslim cleric was injured in a scuffle, and cited online posts as saying he had been beaten by a toll station worker after he tried to pass through a closed lane instead of waiting in a long line.
Chinese internet users complained on social media about having their posts about the riot scrubbed off Chinese microblogs, while internet searches of the words "Muslim Tangshan," "Tangshan tollbooth" and other related terms were blocked by online censors. Two women who answered the phones at restaurants near the Kaiping district government office said they had heard about the unrest but had no details.
Video clips posted on YouTube, which is outside the reach of Chinese censors, showed a group of men with white skull caps gathering at the office of the Kaiping district government and night time clashes between similarly dressed men and riot police. The videos could not immediately be verified.
According to official statistics, there are more than 20 million Muslims in China, mainly among Uighur, Hui and other ethnic minorities living around the country. China's 10.6 million Hui descendants of Muslim settlers and Chinese who converted to Islam have long endured strained relations with the Han, who constitute more than 90 percent of China's 1.37 billion people.
The flood of comments highlights a recent surge in anti-Muslim sentiment online that experts fear could exacerbate simmering ethnic and religious tensions in the country.
Full report at:
thehindu.com/news/international/videos-of-alleged-muslim-riot-in-china-spark-online-outcry/article19624823.ece
--------
Malaysia summons Myanmar ambassador over 'continuous violence' against Rohingya
05 Sep 2017
KUALA LUMPUR: Malaysia summoned Myanmar's ambassador on Tuesday (Sep 5), saying it was "gravely concerned" over the "continuous violence" perpetrated against Rohingyas in Myanmar's restive Rakhine state.
Foreign Minister Anifah Aman said the latest incidents of violence showed that the Myanmar government had made "little, if any" progress in finding a peaceful solution to problems facing the Rohingya minority, most of whom live in the northwest Myanmar state near the Bangladeshi border.
"Given these developments, Malaysia believes that the matter of sustained violence and discrimination against the Rohingyas should be elevated to a higher international forum," Anifah said in a statement.
Myanmar's de facto leader Aung San Suu Kyi has come under pressure from countries with large Muslim populations including Bangladesh, Indonesia and Pakistan to halt violence against Rohingya Muslims after nearly 125,000 of them fled to Bangladesh.
Muslim-majority Malaysia has been particularly outspoken in its concern about the plight of the Rohingya.
Myanmar says its security forces are fighting a legitimate campaign against "terrorists" responsible for a string of attacks on police posts and the army since last October.
The latest violence began on Aug 25, when Rohingya insurgents attacked dozens of police posts and an army base.
Myanmar officials blamed Rohingya militants for the burning of homes and civilian deaths but rights monitors and Rohingya fleeing to neighbouring Bangladesh say the Myanmar army is trying to force them out with a campaign of arson and killings.
The treatment of Buddhist-majority Myanmar's roughly 1.1 million Muslim Rohingya is the biggest challenge facing Suu Kyi, who has been accused by Western critics of not speaking out for the minority that has long complained of persecution.
"As a Nobel laureate who stood up for the principles of human rights, the international community had placed high expectation on Daw Aung San Suu Kyi to achieve peace and reconciliation in Myanmar," Anifah said.
"It is Malaysia's hope that she will be able to fulfil these expectations soon."
In a separate statement, Malaysia's foreign affairs ministry issued a travel advisory asking Malaysians to defer all non-essential travel to Rakhine State, and for Malaysians in Myanmar to "take all necessary precautions" and be aware of the security situation.
Full report at:
channelnewsasia.com/news/asiapacific/malaysia-summons-myanmar-ambassador-over-continuous-violence-9187722
--------
Malaysia police foiled Games terror attack
Sep 6, 2017
Malaysian police thwarted a plan by a member of the Islamic-State linked Abu Sayyaf militant group to attack the closing ceremony of the Southeast Asian Games in Kuala Lumpur last week.
The suspected attacker, a 25-year-old Philippine national, had been involved in fighting, kidnapping and beheading of foreign hostages in the Philippines, Inspector-General of Police Mohamad Fuzi Harun said in a statement.
The arrest will raise concern about increasing cooperation among militants within Southeast Asia and what governments fear is the spreading influence of Islamic State as it loses ground in the Middle East.
Mohamad Fuzi did not identify the suspect but said he had planned to attack the closing ceremony of the games at the Bukit Jalil National Stadium, as well as an Independence Day parade the next day. He gave no detail of the plans.
The man was arrested in a raid on August 30, the day of the ceremony, along with seven other suspected members of the hardline Abu Sayyaf, including another Philippine national.
Authorities said earlier they had detained Philippine Abu Sayyaf leader Hajar Abdul Mubin, 25, also known as Abu Asrie, in the August 30 raid.
Abu Asrie was arrested with six Malaysians and another Philippine national, aged between 20 and 52, police said earlier.
Eleven other suspected militants, including nine foreigners, were picked up in a two-month security operation before the games.
The arrests were the latest in a crackdown on militancy by Muslim-majority Malaysia. Since 2013, Malaysia has arrested more than 250 people on suspicion of links to Islamic State.
Among those picked up were two Iraqi brothers, aged 41 and 63, who were suspected to have served as commanders for Islamic State, Mohamad Fuzi said.
They were working as technicians and were arrested in a Kuala Lumpur suburb on August 11.
The Iraqis had arrived in Malaysia separately and were detained on information from foreign intelligence agencies, a Malaysian police source told Reuters.
"One arrived last year, while the other came in early August. We're still investigating what their activities were in Malaysia," said the source, who declined to be identified because he is not authorised to speak to media.
Others picked up in the sweep included suspects from Bangladesh, the Maldives, Indonesia and the Palestinian territories.
Full report at:
news.com.au/world/breaking-news/malaysia-police-foiled-games-terror-attack/news-story/dc83403d64e6225e551cec8deef328e0
--------
Push for stronger Syariah law could 'endanger Malaysians' way of life'
SEPTEMBER 6, 2017
SINGAPORE — The growing politicisation of Islam in Malaysia has emboldened the religious authorities to police the behaviour of Muslims and demand changes in Islamic law, said a former top-ranking civil servant, who expressed worries that this could have an adverse impact on the country.
Mr Sheriff Kassim, a member of the Group of 25 (G25), a Malaysian moderate group made up of Malay former high-ranking civil servants, said state religious departments have been making laws to criminalise "personal sins" of Muslims under the precepts of Islam as a catch-all provision.
These "personal sins" include close proximity between unmarried couples, drinking alcohol in public, not attending Friday prayers and failure to obey fatwas (religious decrees for Muslims).
"Although fatwas should be advisory, some states make them mandatory after they have been officially gazetted. These laws empower religious affairs departments to prosecute offenders in the Syariah courts," said Mr Sheriff at a seminar on Malaysia in a Constitutional Democracy, organised by the Iseas-Yusof Ishak Institute yesterday.
"The Syariah system of justice is not new, but with growing politicisation of Islam in the country, the religious establishment has become bolder in demanding changes to raise the status of Islamic law."
While this has yet to endanger Malaysians' way of life, Mr Sheriff said, the public should continue to speak up against this trend "before it becomes too late". He expressed concern that this could create the perception that Malaysia is on the road to becoming an Islamic state based on theocracy.
Mr Sheriff was a civil servant for 31 years. His last-held position was secretary-general for the Ministry of Finance. Upon his retirement, he was appointed managing director of Khazanah Nasional Berhad, Malaysia's sovereign wealth fund, from 1994 to 2003.
Since the 1990s, there has been growing signs of political Islamisation in Malaysia. This has led to growing conservative attitudes of Muslims in the country, manifested in issues such as whether they can touch dogs, and incidents involving government agencies and public buildings enforcing a conservative dress code.
There are also other instances that suggest the authorities are stepping up efforts to enforce the practices of Sunni Islam as part of the government's long-running Islamisation policy.
Mr Sheriff, who is currently the non-executive chairman of Malaysia's state owned toll highway company Plus, believes the religious authorities should take into account current developments affecting Muslims.
"Unfortunately, instead of having an open mind about the social transformation taking place, religious authorities are reacting negatively by alleging that the younger generation is losing its Islamic roots and is adopting the permissive lifestyles of the West.
"Claiming themselves to be guardians of Islamic morals, the religious officials are enforcing the laws on morality more strictly than in the past," he said.
He later told TODAY that Muslims should be left to decide for themselves how they want to live their lives.
"The main problem is religious officers don't see it this way — they see it as their right to introduce laws to criminalise certain kinds of behaviour. But lawyers have argued that states that pass laws to treat moral offences as crimes are acting unconstitutionally because crimes are under the federal law and not state law," he said.
Full report at:
todayonline.com/world/asia/push-stronger-syariah-law-could-endanger-malaysians-way-life
--------
Faith should not be policed by state, says G25's Sheriff
September 6, 2017
PETALING JAYA: The faith of Muslims in Malaysia should not be the responsibility of the federal or state governments, says a former senior civil servant and adviser to the G25 group of prominent Malays.
Mohd Sheriff Kassim, who is chairman of toll highway operator PLUS, said Muslims should be left to decide for themselves how they want to live their lives, TODAY reported.
"The main problem is religious officers don't see it this way, they see it as their right to introduce laws to criminalise certain kinds of behaviour.
"But lawyers have argued that states that pass laws to treat moral offences as crimes are acting unconstitutionally because crimes are under the federal law and not state law," he told the Singapore daily, after speaking at a seminar on Malaysia in a Constitutional Democracy, organised by the Iseas-Yusof Ishak Institute in Singapore yesterday.
In his speech at the seminar, Sheriff also spoke about the trend by states to be more bold in policing the behaviour of Muslims, saying it was a direct result of the growing politicisation of Islam in Malaysia.
"The shariah system of justice is not new, but with growing politicisation of Islam in the country, the religious establishment has become bolder in demanding changes to raise the status of Islamic law," he said, according to TODAY.
He was referring to the enactment of laws by state religious departments to criminalise "personal sins" of Muslims under the precepts of Islam.
Malaysia has always had religious department officers nabbing Muslims for khalwat, which translates to "close proximity" between an unmarried couple.
However, in recent years, such "personal sins turned law" have been expanded to include drinking alcohol in public, not fasting during Ramadan, not attending Friday prayers and even the failure to obey fatwas.
"Although fatwas should be advisory, some states make them mandatory after they have been officially gazetted.
"As such, these laws empower religious affairs departments to prosecute offenders in the Shariah courts," Sheriff was quoted as saying by TODAY.
He added that though such a trend has yet to endanger Malaysians' way of life, the people must speak up "before it becomes too late".
"I am concerned that this could create the perception that Malaysia is on the road to becoming an Islamic state based on theocracy," said Sheriff, who was the finance ministry secretary-general when he retired in 1994.
According to the daily, Sheriff wants religious authorities to take into account current developments affecting Muslims.
"Unfortunately, instead of having an open mind about the social transformation taking place, religious authorities are reacting negatively by alleging that the younger generation is losing its Islamic roots and is adopting the permissive lifestyles of the West.
Full report at:
freemalaysiatoday.com/category/nation/2017/09/06/faith-should-not-be-policed-by-state-says-g25s-sheriff/
--------
Terrorist plot during SEA Games, Merdeka Day foiled, 19 arrested
September 5, 2017
PETALING JAYA: Police have arrested 19 men suspected of having active links with the Islamic State (IS) militant group, some of whom were planning to launch attacks during the closing ceremony of the 2017 SEA Games on Aug 30 and the 60th Merdeka Day celebrations the following day.
The suspects included 11 foreigners from Bangladesh, Maldives, Iraq, Palestine, Indonesia and the Philippines. A few of them had directly participated in terrorist planning and killings, as well as other combat activities with the IS or its affiliates.
In his first statement since being appointed as the new inspector-general of police (IGP) yesterday, Mohamad Fuzi Harun today said the individuals were intercepted during a special operation by the Special Branch Counter-Terrorism Division from July 4 till Aug 30 in Selangor, Kuala Lumpur, Kelantan and Johor.
The operation culminated on Aug 30 in a special raid with Bukit Aman's Special Action Unit (UTK) in Cheras where eight men believed to be with the extremist Abu Sayyaf Group (ASG) in the Philippines, which is supportive of IS, were caught.
"The arrests involved two Philippine nationals and six Malaysians aged between 20 and 52," Fuzi said.
"The main suspect aged 25 is a member of the ASG who had smuggled his way into Sandakan, Sabah, before coming to Kuala Lumpur in December 2015," he added.
"The suspect was involved in the conflict with the Philippine army, had kidnapped six Filipino hostages and beheaded a Christian hostage in southern Philippines in 2010."
Fuzi added that he had also met with Mahmud Ahmad, Mohd Najib Hussein and Muhammad Juraimee Awang Ramlee, the Malaysians who have been active with ASG since 2014, at Tipo-Tipo village in Basilan in September 2015.
"The information that has been revealed to us is that this suspect was planning to launch attacks during the closing ceremony of the 29th SEA Games at the Bukit Jalil National Stadium and 60th Merdeka Day parade at Dataran Merdeka in Kuala Lumpur," he said.
Fuzi said the first arrest on July 4 had involved a Bangladeshi religious teacher, who is believed to be a member of the Jamatul Mujahideen Bangladesh, an IS-linked terrorist outfit, in Shah Alam
The 25-year old was working as a temporary teacher at a tahfiz school (for teaching of Quran recitation) in Gombak.
"The suspect, who is wanted by Bangladeshi police, had entered Malaysia on Sept 4, 2016 to pursue studies at an institution of higher learning," Fuzi said.
This was followed by arrests on Aug 7 and 9 in Johor Bahru involving a 40-year old Malaysian businessman and two suspects from the Maldives.
The Malaysian allegedly had in his possession six copies of Dabiq, an IS magazine used for the network's propaganda, together with several articles related to IS in his mobile phone, Fuzi said.
The two Maldivians aged 29 and 33, who worked as air-conditioning technicians, were suspected of using Malaysia and Singapore as transit points before travelling to Syria to join the IS campaign there.
The third set of arrests on Aug 11 included a 63-year old retired Malaysian teacher in Bachok, Kelantan, who was allegedly found promoting IS through two Facebook accounts.
It also saw two Iraqi brothers aged 41 and 63, who were also technicians, being caught in Gombak, based on their alleged activities as IS commanders in southern Iraq.
Subsequently, another Iraqi and a Palestinian were apprehended on Aug 15 and 16 in Selangor and Kuala Lumpur
"The Palestinian is suspected of planning to join Daesh terrorists in southern Philippines, and the Iraqi national is believed to have been involved in an Albanian terrorist organisation connected to Daesh," Fuzi said, citing IS's other name.
On Aug 24, two Indonesians aged 29 and 47 were caught in Petaling Jaya where they were operating as traders in Damansara.
"Both of them were arrested because they are suspected of actively recruiting new members for the Daesh terrorist group and were planning to leave for Syria to participate with Daesh there," Fuzi said.
Full report at:
freemalaysiatoday.com/category/nation/2017/09/05/terrorist-plot-during-sea-games-merdeka-day-foiled-19-arrested/
--------
Indonesia, India fall behind in measles vaccination
September 6, 2017
The two largest countries in Southeast Asia are left behind in the battle against measles, as misconceptions hamper vaccination efforts.
According to the Southeast Asia Regional Office of the World Health Organization (WHO SEARO) 3.1 million one-year-old children in India and 1.1 million in Indonesia did not get measles vaccination in 2016. Together they account for 91 percent of unvaccinated children in the region.
Health officials have expressed concern about the situation, since measles still kills an estimated 134,200 children worldwide every year, which includes more than 54,500 in Southeast Asia.
"There is no global goal or big fund to eradicate measles, so countries should allocate funds for it, especially India and Indonesia, where the largest numbers of unimmunized children reside," said Pem Namgyal, the WHO SEARO director of family health, gender and life course, on the sidelines of the office's 70th regional committee meeting.
He said the two countries were still far behind the Maldives and Bhutan, which have been declared free of measles.
India and Indonesia, home to 1.3 billion and 261 million people, respectively, are the region's most-populous countries.
One of the largest misconceptions about the measles vaccination, usually called MMR or MR vaccines, is that it can cause autism. In a predominantly Muslim country like Indonesia, there is also resistance due to the widespread view that the vaccine contains pork gelatine, which is forbidden in Islam.
Full report at:
thejakartapost.com/news/2017/09/06/indonesia-india-fall-behind-in-measles-vaccination.html
Arab World
MWL forum highlights moderate approach of Islam
MOHAMMED AL-SULAMI
6 September 2017
MAKKAH: A number of muftis of Arab and Islamic countries and key Islamic figures in the world, and guests of the Muslim World League (MWL) for the current Hajj season have lauded King Salman's efforts in serving and defending Islamic causes.
They also appreciated his generous stances in re-opening Al-Aqsa Mosque and highlighting the moderate approach and cultural dimension of Islam through the establishment of the King Salman Center for Global Peace, the Global Center for Combating Extremist Ideology (GCCEI) and the Saudi Ideological War Center (IWC).
This came in a final statement following their participation in the Hajj forum which was organized by the MWL in Mina titled "Moderation and tolerance in Islam … texts and facts."
Among the participants of the forum were Grand Mufti of Saudi Arabia, head of the Higher Council of Scholars and Chairman of the Founding Council of the WML Sheikh Abdul Aziz bin Abdullah Al-Asheikh ; Secretary-General of WML, board chairman of the International Organization of Muslim Scholars and member of the Saudi Higher Council of Scholars Sheikh Mohammed bin Abdul Karim Al-Issa; Grand Mufti of Egypt Shawqi Allam; General Mufti of Al-Quds and Palestine Sheikh Mohammed Ahmed Husain; Grand Mufti of the Chechen Republic Sheikh Salah Medjiyev; head of the Mauritanian Higher Council of Fatwa and Grievances Sheikh Mohammed Mukhtar bin Imbala; and a number of scholars from 72 Arab and Islamic countries, in addition to Saudi scholars.
In an opening address at the forum, Al-Asheikh stressed that moderation, justice and tolerance are key features reflected by Islam and Prophet Muhammad (peace be upon him).
Al-Asheikh said one of the manifestations of moderation in Islam is what is described as qualities of goodness, nobility, tenderness, justice, fairness, mercy, brotherhood, love, renunciation of unjustified violence and aggression, advocacy of forgiveness of wrong doers, patience, and charity and mercy to others.
He said all Muslims have to show the bright side of Islam by behaving with virtuous Islamic ethics, showing good treatment, demonstrating tenderness, speaking good words, correlating words with deeds, observing honesty in financial and commercial transactions, honoring contracts and promises, keeping away from injustice, treachery, lying and harming others, and respecting people in their blood, money and dignity.
Al-Asheikh called on scholars, preachers, intellectuals and writers to show the side of moderation and tolerance in Islam through their deeds and words, in writing and contributing to mass media, and through the Internet and social media and other available means to remove that which has hidden the reality of Islam to allow everyone see the virtues of this religion.
He said every one of us should try in his field and within his capabilities to reflect the bright aspects of Islam, its virtuous ethics, good conduct, and lofty teachings, so that each of us can be an honest messenger and true example of the teachings of this great religion.
Al-Issa also addressed the event and welcomed the attendees. He explained the noble values in Islam including moderation and tolerance, adding that everyone should practically translate these values away from abstract theory. Practical application will reflect correctness of the idea with its effective impact and, above all, honor one's self by observing the true path of Islam and avoid non-compliant words with deeds that may offend the image of the religion.
He stressed the need to address the behavior of the terrorists based on the approach of knowledge of others and to deal with them with a message of wisdom, flexibility and containment without limiting to falsify, ignore or abuse them. All should know how to agree and disagree, and that logic necessitates that any verbal or practical offense committed in the name of religion is actually a crime against the religion itself, he said. He affirmed the importance of scholars, preachers and thinkers in clarifying the truth of Islam and to address the suspicions, illusions and allegations of which extremists have intentionally passed.
For his part, Grand Mufti of Al-Quds Sheikh Mohammed Ahmed Husain expressed thanks to the Kingdom for its care for pilgrims in the holy sites to perform their rituals peacefully. He also thanks the MWL for its invitation to this forum adding that the theme of the forum, on moderation, is the core of Islam and that such forums will enrich the Islamic path.
He said Al-Aqsa Mosque suffers from Israeli aggression. Muslims experienced an ordeal in occupied Palestine last July, and in this context, he lauded King Salman's efforts in ending the crisis with the support of brothers in a number of Islamic countries.
Grand Mufti of Egypt Shawqi Allam expressed thanks to the MWL secretary-general and other scholars for convening this forum and, at same time, congratulated the Kingdom for the success of the Hajj season and the good arrangements in this regard.
"Islam is a civilization that enters hearts before bodies, and we have seen in our history how scholars of the companions and followers when they went out of the Arabian Peninsula did not use sermons or just talk but translated the meanings of Islam in the form of behavior that captured hearts before bodies," he said.
In his address, Grand Mufti of the Chechen Sheikh Salah Medjiyev said Allah described the Islamic nation as a moderate nation and, therefore, the Islamic nation obtained the highest honor from the God.
He said Shariah texts that promote tolerance and coexistence are many, but tolerance is conditional on non-takfir and disrespect to the basics of Islam because takfiri ideas and terror lead to bloodshed and destruction.
For his part, the head of the Mauritanian Higher Council of Fatwa and Grievances, Sheikh Mohammed Mukhtar bin Imbala, said the responsibility to achieve tolerance and moderation rests on scholars because wars normally originate in ideas which have to be met with other ideas and logic. He said examples are so many in the religious texts, and scholars have always warned against extravagance in religion because extravagance is a great fatality.
He said our Shariah is between those who have over-excessed and shown laxity, and the Sunnis, who have kept their faith moderate between extravagance and laxity. On the political side, Islam was a moderate divine system that came between democracy and dictatorship, he said.
The participants affirmed that moderation and tolerance in Islam are key pillars of the religion, adding that any deviation comes from ignorance, error or deviant ideas. Moderation and tolerance were clear features of the Islamic nation throughout its long history in line with the Holy Qur'an and Sunnah, and in the footsteps of good men of the nation in the face of anomaly of ideas and visions on Islam.
They said Islam with its balanced moderation, good values, fair provisions, comprehensive systems, and unique cultural experiences is capable of providing solutions to chronic problems of human communities and saving them from their moral and social degradation.
The participants also stressed the need to modernize the religious message that takes into account the differences of time, place and developments, but runs consistent with the basics and identity of Islam that could address problems of contemporary societies away from immediate emotions and reactions by presenting the true Islamic vision that will bring about the interests of the Islamic nation.
They also called for the encouragement of conducting research and studies that originate the principles of moderation and tolerance in Islam, and their spread among civilizations, and refute suspicious ideas of extremists who carry deviant ideas that run counter to Islamic jurisprudence and objectives of the Islamic Shariah.
The participants further noted that scientific intellectual gatherings act as a venue for unifying the Muslim ranks, while consolidating the belief in global diversity and pluralism while explaining the right things with wisdom and good preaching.
The participants stressed the need to support the scientific and research institutions in the world to detect media campaigns against Islam and draw up suitable strategies to deter such campaigns, and correct the erroneous image on Islam and Muslims, whereby the world will know the great Islamic principles and face "Islamophobia" campaigns.
They also called for a clarification on the position of Islam on issues of the current era, its sciences, developments, and study of its social, political and economic systems and to be assessed from the Islamic moderate approach in order to work out a clear-cut, accurate and applicable Islamic vision to overpass the current problems.
Earlier, participants of the forum presented detailed work papers on themes that included moderation and tolerance, the realty of moderation and tolerance, challenges and responsibilities. They called for dealing with all issues in Islamic countries and the formulation of collective solutions that will represent the voice of one united (Islamic) nation.
arabnews.com/node/1156461/saudi-arabia
--------
Syrian Army Discovers US-Made TOW Missiles in ISIL's Convoy in Eastern Hama
Sep 05, 2017
The army men seized a number of US-made anti-tank TOW missiles, arms and ammunition in an ambush operation against a group of ISIL terrorists along a road that connects al-Sa'an town to Ithriya town.
The ISIL group had attacked the army positions, but, they came under the army soldiers' ambush operation and suffered heavy casualties.
In the meantime, the army units found several arms and ammunition depots of ISIL in the town of Tahmaz in Eastern Hama with 100,000 ballets, tens of heavy machineguns and several computer and telecommunication systems.
Also, the army men found 47 missiles in ISIL's positions while carrying out mop-up operations in the newly-liberated town of Aqayrabat.
The ISIL were using the missile to hit residential areas in the town of al-Salamiyah.
In June, the army troops seized a number of US-made Humvee armored vehicles after capturing an ISIL base in Badiyeh (desert) in Eastern Homs.
The army men were carrying out cleansing operation in the newly-captured regions in Badiyeh when they discovered several High Mobility Multipurpose Wheeled Vehicle (HMMWV), commonly known as the Humvee, at the ISIL base.
The Humvee vehicles were equipped with communication devices and a number of bombs.
Full report at:
en.farsnews.com/newstext.aspx?nn=13960614001400
--------
Syrian Army Captures More Positions at Border with Jordan
Sep 05, 2017
The army men engaged in heavy fighting with terrorists in the Southeastern part of Damascus province and imposed full control over the two checkpoints of 171 and 172.
The terrorist groups suffered heavy casualties in the clashes.
Relevant reports said last week that the army troops took control over 200sq/km of area in Southeastern Damascus along the border with Jordan after non-stop battle with terrorists.
Field sources said that the army men continued their advances against terrorists in Southeastern Damascus and captured Rowzah al-Sheikh, Wadi al-Darifeh, Rowzah al-Salibiyeh and border point 164 near the border with Jordan.
The sources further said that the army established control over 200sq/km of area after its recent advances.
Full report at:
en.farsnews.com/newstext.aspx?nn=13960614000887
--------
Iraqi Popular Forces Ward off ISIL's Offensives at Border with Syria
Sep 05, 2017
Artillery and missile units of Hashd al-Shaabi targeted heavily the movements of a group of ISIL in al-Mas'ada region near the border with Syria, and repelled their attack.
Also, the Hashd al-Shaabi troops managed to fend off another attack by the ISIL near the village of Tal Hajem near the borderline with Syria.
ISIL suffered heavy casualties in the failed attacks.
A local source said earlier today that around fifty ISIL militants were killed in Iraqi Army's airstrikes in Northeast of Diyala.
"Basateen al-Mekheisa and the surrounding villages located in al-Waqf basin on the outskirts of abu Sayda town, Northeast of Diyala, were shelled five times over the past two months," Awwad al-Rubai'e, head of the security committee of Abu Sayda council said, Al Ghad reported.
"Most of the airstrikes were accurate. They targeted pivotal havens of ISIL militants and sleeper cells," he said. "The available estimates show that the total number of militants killed due to the air raids, last of which was on Sunday, reached around fifty members."
Full report at:
en.farsnews.com/newstext.aspx?nn=13960614000771
--------
A boost for Assad as the Syrian army makes gains against ISIS in eastern Syria
By Liz Sly September 5
BEIRUT — The Syrian army broke a three-year siege by the Islamic State on an enclave of the eastern Syrian city of Deir al-Zour on Tuesday, offering a fresh boost to the fortunes of President Bashar al-Assad and his once-flagging army.
After weeks of fierce fighting along the desert roads stretching east toward the city, Syrian soldiers trundled into the besieged garrison of soldiers at a base known as Brigade 137 early Tuesday and then moved on to a cluster of nearby neighborhoods, where they were greeted by wildly cheering residents.
On a day when the Syrian soccer team kept alive the country's hopes of competing for the first time in the World Cup, a mood of national celebration swept ­government-controlled areas of Syria. State television broadcast scenes of ecstatic crowds dancing in the streets and waving Syrian flags in what turned into the biggest national celebration the country has seen since the war erupted six years ago.
The victory also set the stage for a global race to control the rest of the desert province, also named Deir al-Zour, which the United States has also been preparing to liberate from Islamic State fighters still entrenched there.
The relief of the garrison was announced in a Syrian army statement and coincided with a renewed focus by Assad's government on the Islamic State-controlled areas of eastern Syria. It bolsters the argument made by Assad that his forces, and not the U.S.-backed fighters farther north, should take responsibility for liberating the remaining areas of Syria controlled by the Islamic State, also known as ISIS and Daesh.
"This is a strategic turning point in the war on terror," said the statement, which was read by a general live on Syrian state television. "It shows the world that the Syrian Arab Army and its allies are capable of destroying the last of the strongholds of Daesh and ending all conspiracies to divide the country."
The push by Assad's forces to relieve Deir al-Zour, in an offensive that began this year, was spurred in part by Syrian concerns about statements from the Trump administration that the U.S. military would soon turn its attention to areas of Deir al-Zour province, analysts say. U.S. officials have said that after securing the city of Raqqa — in the province of Raqqa — where an offensive by U.S.-backed Kurdish and Arab forces is entering its fourth month, they will prepare forces to advance south into Deir al-Zour, in part to prevent further expansion by the Iranian-backed militias fighting alongside the Syrian army in the strategically vital area adjoining Iraq.
The biggest question now is where Syrian government forces will head next, and whether they plan to press on into the rest of the city of Deir al-Zour or turn their attention farther east and south, to the other parts of the province for which the United States is preparing forces.
They are most likely to choose to preempt any further U.S.- backed advances by continuing to head east toward the Iraqi border, and to focus on securing main roads in and out of the country to assert Syria's sovereignty over its borders, said Kamal Alam, an analyst with the London-based Royal United Services Institute.
"This is a very significant victory," he said. "It's the heart of eastern Syria, the key crossroads to Iraq, and it really helps the confidence of the country."
[Here are some of the toughest battles still to be fought against ISIS]
The army was aided in the fight, as in most of its previous battles, by Iranian-backed militias, as well as by Russian advisers and Russian airstrikes. On Tuesday, Russia's Defense Ministry said that one of its warships in the eastern Mediterranean had fired cruise missiles into the area in support of the Syrian army.
"It is doubtful that regime forces alone could have accomplished this feat," said Tobias Schneider, a London-based analyst who focuses on Syria.
The battle nonetheless showcased the recent improvements in the capabilities of the army, which had been worn down by defeats and defections earlier in the war and had to be rescued by a Russian military intervention in 2015.
Whereas Iranian assistance to Assad has focused on building up militias drawn mostly from Iraq, Russia has focused its efforts on rebuilding the army, Alam said.
"The goal of the Russians was to bring the army back to prewar capacity, and prewar numbers," he said. "Every month, its capability has been improving, and as they freed up territory, they freed up more people to fight."
The victory added to a string of military and political successes in recent months for Assad, who is seeking to consolidate his hold in Damascus after defeats inflicted on the rebels elsewhere in the country laid to rest any hopes they had of ousting him from power.
The relative success of a Russian cease-fire initiative creating de-escalation zones around rebel-controlled areas has also helped free up government forces to focus on the Islamic State-held areas in the country's east.
In recent weeks, loyalist forces have made brisk progress through Islamic State lines across the near-empty desert terrain stretching east from the central city of Palmyra toward Deir al-Zour.
The Brigade 137 base and its surrounding neighborhoods had been under siege since Islamic State fighters overran the city in 2014 and were sustained only by deliveries of food flown to the adjoining airport.
As the advancing forces drove through the vast base, a few dozen of the liberated soldiers ran through the desert and embraced them to cries of "God is great" and "God, Syria, Bashar," according to a live broadcast by state television.
When the relieving Syrian troops reached the adjoining neighborhoods, they were greeted by wildly cheering crowds waving Syrian flags and photographs of Assad. "Our blood, our souls, we sacrifice ourselves for you, Assad," the crowds chanted.
Deir al-Zour is a majority-Sunni city, and the areas that were freed Tuesday have remained loyal to Assad throughout the six-year war, a reminder that by no means all of the country's Sunnis have supported a rebellion largely comprising the Sunni majority.
Full report at:
washingtonpost.com/world/middle_east/syrian-backed-forces-reach-besieged-allies-outside-islamic-state-held-city/2017/09/05/75ce908e-922b-11e7-8754-d478688d23b4_story.html?utm_term=.a82804c786fa
--------
Homs: Syrian Army Scores More Victories against ISIL in Depth of Badiyeh
Sep 05, 2017
The army men deployed North of al-Zali'eiyat region between the provinces of Homs and Deir Ezzur attacked ISIL's positions in the depth of Badiyeh and arrived in the al-Sarayem region after advancing 17km against terrorists.
ISIL suffered heavy casualties and their military hardware sustained major damage in the clashes, according to the army.
Relevant reports said last week that the army men engaged in fierce clashes with ISIL terrorists that were under the siege of the pro-government forces in Northeastern Homs and managed to take control of Taloul al-Kouriayt, Wadi al-Rabahiyeh and Ba'ar al-Aboud regions West of the town of al-Sukhnah.
They added that the army soldiers continued their advances against ISIL Northwest of al-Sukhnah and imposed control over Wadi al-Haraf region.
en.farsnews.com/newstext.aspx?nn=13960614001305
--------
Syria: Terrorists in Deir Ezzur Surprised by Russian Navy Operation
Sep 05, 2017
A Russian Black Sea Fleet frigate struck an area near the town of al-Shoula held by ISIL terrorists mostly from Russia and CIS countries with Kalibr cruise missiles, the Russian Defense Ministry stated.
"On September 5, the Admiral Essen frigate of the Russian Black Sea Fleet that has been carrying out missions (…) in the Mediterranean launched strikes with sea-based Kalibr cruise missiles on the ISIL terrorist group's targets near Deir Ezzur. Kalibr cruise missiles were launched on verified ISIL's targets based on information received by means of reconnaissance from several channels," the ministry said.
The Russian ministry added that dozens of terrorists were killed, as well as ISIL's command posts, a communications center, a facility repairing terrorists' armored vehicles, arms and ammunition depots were destroyed in the vicinity of Deir Ezzur, adding that the effectiveness of the missile strike was confirmed by UAV reconnaissance.
The missile strike thwarted terrorists' plans to regroup and boost their positions near Deir Ezzur, which has been besieged by the ISIL since 2013.
Damascus forces supported by Russian warplanes are currently trying to lift a years-long blockade of the provincial capital Deir Ezzur. Moscow says that the success of the operation would amount to a strategic defeat of the terrorist group in Syria.
The 'Admiral Essen' is one of Russia's most modern warships, the second of the Admiral Grigorovich class to set sail. It carries 8 vertically-launched Kalibr cruise missiles and previously fired them at ISIL forces in May and June.
Earlier reports said that the Syrian Air Force targeted a long convoy of ISIL's vehicles carrying arms, ammunition and fresh fighters towards the terrorist group's positions near Brigade 137 base in Western Deir Ezzur, inflicting major damage on the column.
The army aircraft carried out several combat sorties over ISIL's movements near the salt mine near the town of al-Tabni in the Western countryside of Deir Ezzur, destroying most of the vehicles and killing a number of terrorists.
The ISIL intended to transfer the convoy of forces, arms and ammunition to the group's positions near Brigade 137 base.
Also, the fighter jets pounded ISIL's defense lines in the villages of al-Baqaliyeh and Ayyash, imposing heavy casualties on the militants.
Full report at:
en.farsnews.com/newstext.aspx?nn=13960614001126
--------
Large Number of Militant Commanders Surrender to Kurdish Forces in Central Iraq
Sep 05, 2017
The sources said that a large number of high-ranking ISIL commanders, including Chief of ISIL Police Mahmoud Khamis al-Fazlawi and Mohammad Aydan al-Asafi, the one in charge of ISIL Zakat Bureau in Huweija have surrendered themselves to the Pishmarga forces.
The sources further said that ISIL has executed Ibrahim al-Aziz, one of its own commanders, in the village of al-Khan in Huweija, after he tried to surrender himself to Pishmarga.
A local source was quoted as saying earlier today that several ISIL leaders, including deputy chief in charge of the militants' affairs, were killed in Southwestern part of the Iraqi city of Kirkuk.
"Several residents from Huweija, Southwestern Kirkuk, attacked militants gathering inside a house in al-Askari district in the town," the source said, Iraqi News reported.
"The attack left four leaders, including deputy chief in charge of the militants affairs in Huweija," the source, who preferred anonymity, added.
This came after millions of messages were airdropped by Iraqi jets over the past few days in Huweija, the source said. "Most of the residents in Central Huweija remained away from ISIL gatherings, despite being forced to stay near."
In related news, another local source told Al-Sumaria News that the militant group imposed partial curfew in the town after attacking house of the leader in charge of the group's security affairs.
"ISIL imposed partial curfew in some of the eastern districts in Huweija in the wake of an attack by a hand grenade against house of the group's security affairs chief, which left one of his sons wounded," the source said.
"Attacks against houses of the group's leaders and militants have been on the rise in Huweija and its vicinity," the source, who asked to be anonymous, added.
Huweija and other neighboring regions, west of Kirkuk, have been held by ISIL since mid-2014, when the group emerged to proclaim a rule in parts of Iraq and Syria. The group executed dozens of civilians and security members there, forcing thousands to flee homes.
Full report at:
en.farsnews.com/newstext.aspx?nn=13960614001019
--------
Egypt to host war games with US after eight-year-hiatus
5 September 2017
Egypt's military says it will host war games with US troops later this month for the first time in eight years.
Col. Tamer el-Rifai, a military spokesman, said Tuesday that the 10-day military exercises, known as "Bright Star," would begin September 10.
The bi-annual exercises date back to 1981, but the Obama administration postponed them in 2011, following the uprising that toppled longtime President Hosni Mubarak, and scrapped them in 2013, after Egyptian security forces killed hundreds of protesters while breaking up a mass sit-in.
US President Donald Trump has praised Egypt as a key ally against terrorism, although last month the United States cut or delayed some $300 million in military and economic aid.
english.alarabiya.net/en/News/middle-east/2017/09/05/Egypt-to-host-war-games-with-US-after-eight-year-hiatus.html
--------
Two Russian soldiers killed by shelling in Syria's Deir al-Zor province
5 September 2017
Two Russian servicemen have been killed in Deir al-Zor province after ISIS militants shelled a convoy they were escorting, the Russian Defence Ministry was cited as saying on Monday by the Interfax news agency.
The convoy was transporting Russian ceasefire monitoring military staff when it came under mortar attack, the ministry was quoted as saying.
One soldier was killed on the spot and the other died in hospital after sustaining serious injuries. Both were awarded posthumous military awards, the ministry said.
Russia said earlier on Monday that its air force was helping the Syrian army push ahead with an offensive on the Euphrates city of Deir al-Zor, where Islamic State has besieged 93,000 civilians and an army garrison for years.
english.alarabiya.net/en/News/middle-east/2017/09/05/Two-Russian-soldiers-killed-by-shelling-in-Syria-s-Deir-al-Zor-province.html
--------
Mideast
Turkey to start first foreign aid distribution in Myanmar
Sep 6, 2017
Turkey said it will start the first foreign deliveries of aid on Wednesday to northwestern Myanmar, where hundreds of people have been killed and nearly 125,000 have fled over the border to Bangladesh in the last 10 days.
A spokesman for President Tayyip Erdogan, who has described the violence against Rohingya Muslims there as genocide, said the deliveries were approved after Erdogan spoke by phone with Myanmar leader Aung San Suu Kyi on Tuesday.
Spokesman Ibrahim Kalin said 1,000 tonnes of food, clothes and medicine would be distributed by military helicopters.
He said Myanmar had given approval for officials from Turkey's state aid agency TIKA to enter the country and deliver the assistance, in coordination with local authorities in Rakhine state.
Suu Kyi has faced increasing pressure from countries with Muslim populations to halt the violence against Rohingya Muslims which has prompted their flight to Bangladesh.
Reuters reporters saw hundreds more exhausted Rohingya arriving on boats near the Bangladeshi border village of Shamlapur on Tuesday, suggesting the exodus was far from over.
Erdogan told Suu Kyi that the violence against the Rohingya was violation of human rights and that the Muslim world was deeply concerned, Turkish presidential sources said.
Indonesian foreign minister Retno Marsudi, in Dhaka to discuss aid for the fleeing Rohingya, met her Bangladeshi counterpart, Abul Hassan Mahmood Ali, a day after urging Suu Kyi and Myanmar army chief Min Aung Hlaing to halt the bloodshed.
The latest violence in Myanmar's northwestern Rakhine state began on Aug. 25, when Rohingya insurgents attacked dozens of police posts and an army base. The ensuing clashes and a military counter-offensive have killed hundreds.
Erdogan, with his roots in political Islam, has long strived to take a position of leadership among the world's Muslim community. On Friday, he said it was Turkey's moral responsibility to take a stand over the events in Myanmar.
Foreign Minister Mevlut Cavusoglu will travel to Bangladesh on Wednesday evening and hold meetings on Thursday, Turkish sources said.
nation.com.pk/international/05-Sep-2017/turkey-to-start-first-foreign-aid-distribution-in-myanmar
--------
Top Commander: Warning Enemy Planes Iran's Slightest Reaction
Sep 05, 2017
"If any enemy plane enters Iran's airspace, the Air Defense Base rapidly gives a warning to it but unfortunately, the arrogant countries make hues and cries that Iran has given a warning to the US plane. The enemies should know that warning enemy planes is Iran's least reaction," General Baqeri said, addressing a forum in Tehran on Tuesday.
He also lashed out at the US for demanding Iran's coordination with its warships deployed in the Persian Gulf when approaching them as an excessive demand and ridiculous, and said his country should defend its interests in the Persian Gulf.
"If anything happens to Iran's oil platforms in the Persian Gulf by the terrorists, will the foreign warships be there to account for it?", General Baqeri asked.
In relevant remarks in August, Deputy Chief of Staff of Iran's Armed Forces Brigadier General Massoud Jazzayeri underlined that the country would give a tough response to any hostile move made by the foreign vessels in the Persian Gulf region.
"Iran's behavior in the Persian Gulf is fully professional and within the framework of the international laws," General Jazzayeri told reporters in Tehran.
"It is obvious that if the international laws as well as the regulations that the Islamic Republic of Iran has announced about the peaceful sail of oil tankers and ships are violated", the Iranian forces will show response, he underlined.
Also, in July, Islamic Revolution Guards Corps (IRGC) Deputy Commander for political affairs Brigadier General Rasoul Sanayee Rad warned the US that its naval forces' unprofessional behavior in the Persian Gulf would end up in grave consequences.
"The Americans' moves might be a type individually decided actions and not measures coordinated at the high level; another possibility is that the Americans are after testing our behavior by maneuvering," Sanayee Rad said on July 29 after the US naval forces made "provocative and unprofessional" moves against the IRGC vessels in the Persian Gulf for a second time in a week.
"We caution them to end such provocative and unprofessional moves because they are to account for such deeds," he added.
Full report at:
en.farsnews.com/newstext.aspx?nn=13960614000803
--------
Iran Still in Doubt about Saudi Arabia's Real Intentions
Sep 05, 2017
"They (the Saudis) tried to move towards increasing tension instead of soothing it and I believe that the policies that Saudi Arabia has pursued either in Syria or in Yemen and Bahrain have not favored them," Zarif said on Tuesday.
"I have not yet seen any clear prospect for change (in the Saudis' behavior); but if such a development occurs in the Saudi thought, certainly it will be a positive development and will face Iran's positive reaction," he added.
Zarif expressed the hope that the Saudis would conclude that there is no way for the regional states but cooperation, and said, "We are a country that we, ourselves, are powerful and are after a powerful region too. We, ourselves, are secure and are after a secure region as well."
In relevant remarks in August, the Iranian top diplomat underlined that his country is in favor of good relations with its neighbors after media images displayed him shaking hands with his Saudi counterpart Adel al-Jubeir in Turkey.
"We greeted each other in a luncheon hosted by the Turkish foreign minister (in Istanbul on the sidelines of the Organization of Islamic Cooperation (OIC) extraordinary meeting on Palestine)," Zarif told reporters in Tehran.
"Although some differences exist between the two countries, our policy has always been based on the establishment of good relations with neighbors but this policy also depends on mutual respect," he added.
Zarif also underscored that "the priority of the 12th government will be having good ties with neighbors".
Full report at:
en.farsnews.com/newstext.aspx?nn=13960614001186
--------
Yemeni sharpshooters kill 4 mercenaries of Saudi Arabia
Sep 5, 2017
At least four mercenary soldiers fighting for Saudi Arabia have been killed when the Yemeni army and fighters from the allied Popular Committees carried out a retaliatory attack against the kingdom's southwestern border region of Asir.
An unnamed military source, speaking on condition of anonymity, told Arabic-language al-Masirah television network that Yemeni snipers fatally wounded the mercenaries in the Alab border crossing on Tuesday, two days after sharpshooters also killed five Saudi troops in the same area.
Yemenis also torched a Saudi weapons depot near the crossing by artillery fire.
The source added that Yemeni forces also destroyed a Saudi tank in the Khadra border crossing in the kingdom's southern region of Najran by targeting it with a rocket.
The report further said Yemenis also struck the Shabaka military base and a commanding center of Saudis in Najran with their artillery fire.
Back in April, Arabic-language Yemen Watch news agency reported that in the first quarter of this year, Yemeni forces had killed a total of 119 Saudi soldiers. Most of the operations were conducted in Jizan, where a total of 74 Saudi soldiers were slain. Thirty-five and 10 other Saudi troops were killed in Najran and Asir regions, respectively.
Over the past two and a half years, Yemen has been under heavy airstrikes by Saudi Arabia's warplanes as part of a brutal war against the Arabian Peninsula country in an attempt to crush the popular Houthi Ansarullah movement and reinstall the former president, Abd Rabbuh Mansur Hadi, a staunch ally of Riyadh. More than 12,000 people have been killed since the onset of the campaign, and much of the country's infrastructure, including hospitals, schools and factories, has been ravaged.
The Saudi war has also triggered a deadly cholera epidemic across Yemen. According to data provided by the World Health Organization (WHO) and Yemen's Health Ministry on Tuesday, the country's cholera outbreak, the worst on record in terms of its rapid spread, has infected 612,703 people and killed 2,048 since it began in April, with some districts still reporting sharp rises in new cases.
The UN has already announced that the Saudi war has left some 17 million Yemenis hungry, nearly seven million facing famine, and about 16 million almost without access to water or sanitation.
The United States and Britain have been providing the bulk of the military ordnance used by Saudi Arabia in the war. London has licensed 3.3 billion pounds' worth of weapons since the beginning of the war.
Full report at:
presstv.ir/Detail/2017/09/05/534136/Yemen-Saudi-Arabia-mercenaries-Asir-Alab-Najran-Khadra-Hadi-Houthis-UN
--------
Third of Turkish judicial staff linked to Gulen movement: Official
Sep 5, 2017
A high-ranking Turkish judicial official says almost one-third of the country's judicial staff have been affiliated to the movement of US-based opposition cleric Fethullah Gulen, whom the Ankara government accuses of having masterminded the failed July 15 coup attempt.
On Tuesday, Chairman of the Supreme Court Ismail Rustu Cirit described it as "discouraging" that members of the Turkish judicial institution have had a role in acts of terror.
"There is nothing more confidence-shaking for the society than to see almost one-third of judges and prosecutors, who are supposed to be entirely trustworthy, have been involved in terrorist activities," Cirit commented.
During the July 15 botched putsch last year, a faction of the Turkish military declared that it had seized control of the country and the government of President Recep Tayyip Erdogan was no more in charge. The attempt was, however, suppressed a few hours later.
Ankara has since accused Gulen of having orchestrated the coup. The opposition figure is also accused of being behind a long-running campaign to topple the government via infiltrating the country's institutions, particularly the army, police and the Judiciary.
Additionally, the Ankara government has outlawed his movement, and has branded it as the Fetullah Terrorist Organization (FETO).
Gulen has denounced the "despicable putsch" and reiterated that he had no role in it.
"Accusations against me related to the coup attempt are baseless and politically motivated slanders," he said.
The 76-year-old cleric has also called on Ankara to end its "witch hunt" of his followers, a move he said is aimed at "weeding out anyone it deems disloyal to President Erdogan and his regime."
Turkish officials have frequently called on their US counterparts to extradite Gulen, but their demands have not been taken heed of.
Turkey, which remains in a state of emergency since the coup, has been engaged in suppressing the media and opposition groups suspected to have played a role in the failed coup.
Tens of thousands of people have been arrested in Turkey on suspicion of having links to Gulen and the failed coup. More than 110,000 others, including military staff, civil servants and journalists have been sacked or suspended from work over the same accusations.
Full report at:
presstv.ir/Detail/2017/09/05/534122/Turkish-judges-affiliation-Gulen-movement-failed-coup-attempt-President-Erdogan
--------
UN Rights Council neglects duty to probe atrocities in Yemen: Report
Sep 5, 2017
The UN Human Rights Office has lashed out at the global body's Human Rights Council for neglecting its responsibility with regard to launching an investigation into the massive rights violations in Yemen.
In a Tuesday report, the UN Human Rights Office urged the Human Rights Council to probe into atrocities committed during what it described as an "entirely man-made catastrophe" in its upcoming meeting this month.
"I ...join you in asking why the members of the Human Rights Council are not taking their responsibility and their membership to this body seriously," the office's chairman of Middle East and North Africa, Mohammad Ali Alnsour, told reporters.
Alnsour said this was the third time the Council was being asked to launch an investigation into the case.
Since March 2015, Yemen has been under heavy airstrikes by Saudi warplanes as part of a brutal war against the Arabian Peninsula country in an attempt to crush the popular Houthi Ansarullah movement and reinstall the former president, Abd Rabbuh Mansur Hadi, a staunch ally of Riyadh.
The Saudi-led coalition has also imposed a naval and aerial blockade on Yemen. There are no commercial flights and less than a dozen humanitarian flights are permitted to land in Sana'a and Aden each week.
Over the past two years, the 47-member Human Rights Council has shied away from launching an investigation into the deadly incidents in Yemen, leaving the responsibility to Yemen's National Commission, which reports to Hadi.
The report by the UN Human Rights Office warned that "political constraints" have been detrimentally affecting the so-called Yemen's National Commission.
"The perceived partiality of the National Commission and its limited access have prevented it from executing its mandate comprehensively," the report said.
"In addition... (it) appears to be lacking any instrument, or mandate, that would enable it to channel its findings into a credible accountability mechanism," it added.
On Monday, the head of the UN World Food Programme said Saudi Arabia should fund the entire humanitarian aid budget for Yemen, or end the war, or both.
More than 12,000 people have been killed since the onset of the campaign, and much of the country's infrastructure, including hospitals, schools and factories, has been ravaged. The Saudi war has also triggered a deadly cholera epidemic across Yemen, dragging the impoverished nation to the brink of a widespread famine.
According to data provided by the World Health Organization (WHO) and Yemen's Health Ministry on Tuesday, the country's cholera outbreak, the worst on record in terms of its rapid spread, has infected 612,703 people and killed 2,048 since it began in April, with some districts still reporting sharp rises in new cases.
Full report at:
presstv.ir/Detail/2017/09/05/534108/Yemen-UN-rights-violation
--------
Palestinian family evicted from home of 53 years in East Jerusalem al-Quds
Sep 5, 2017
Israeli forces have evicted a Palestinian family from their home of 53 years in the occupied East Jerusalem al-Quds.
The Shamasna family was evicted from its home on Tuesday.
The eviction marked the first forced displacement in the Sheikh Jarrah neighborhood of East Jerusalem al-Quds since 2009.
"What greater injustice is there than this?" asked Fahamiya Shamasna.
The Palestinian family had for years been fighting a court battle against claimants who took advantage of a controversial law that allows Israelis to take control of property believed to have been owned by Jews before 1948
The Israeli anti-occupation NGO Peace Now said in a statement that the eviction was part of a larger project of establishing Israeli settlements in Sheikh Jarrah.
"The eviction of the Shamasna family, who resided in the house since 1964, is not only brutal but it is also indicating a dangerous trend that could threaten a future compromise in Jerusalem [al-Quds]," the statement read.
Clashes near Nablus
Additionally on Tuesday, Israeli forces clashed with the Palestinians in a refugee camp east of the West Bank city of Nbalus, arresting 14 Palestinians and injuring two.
The Israeli forces used tear gas and ammunition to disperse the Palestinians.
Israeli authorities regularly carry out demolitions of Palestinian houses, claiming that they are built illegally.
Full report at:
presstv.ir/Detail/2017/09/05/534098/Palestine-East-Jerusalem-Shamasna-family-home-eviction
--------
Churches condemn attempts to 'weaken' Christians in Jerusalem
5 September 2017
The leading churches in Jerusalem issued a rare joint statement Tuesday condemning what they called "systematic" Israeli attempts to "weaken the Christian presence" in the city.
The statement, signed by the heads of the Catholic, Greek Orthodox, Armenian, Lutheran and other churches, condemned an Israeli court decision allowing a pro-settlement group to take control of church land in a mainly Palestinian area of annexed east Jerusalem, as well as a bill in the Israeli parliament relating to church land.
"We see in these actions a systematic attempt to undermine the integrity of the Holy City of Jerusalem and the Holy Land, and to weaken the Christian presence," the statement said.
On July 31, a Jerusalem court upheld controversial real estate deals involving Israeli pro-settlement organization Ateret Cohanim and the church for two hotel properties near the Jaffa Gate entrance to the Old City.
The Greek Orthodox church has denied selling the land and called the ruling "politically motivated".
Separately a proposed bill in the Israeli parliament would transfer to the state all previously church-owned land that was sold to private investors, in exchange for compensation, Israeli media have reported.
The bill has yet to be passed but could damage future church property deals.
The statement said the two measures threatened a decades-old agreement between religions about the governing of sites in Jerusalem.
"We cannot stress strongly enough the very serious situation that this recent systematic assault on the status quo has had on the integrity of Jerusalem and on the well-being of the Christian communities of the Holy Land," it said.
Full report at:
english.alarabiya.net/en/News/middle-east/2017/09/05/Churches-condemn-attempts-to-weaken-Christians-in-Jerusalem-.html
--------
Yemen's Houthi militias fear 'coup,' says ousted president Saleh
5 September 2017
Yemen's ousted president Ali Abdullah Saleh said the country's Houthi militias feared a "coup" but that there were no longer any tensions with them, despite strains in the past fortnight.
"There is no crisis and conflict at the moment," the 75-year-old strongman said late Monday in an interview on Al-Yemen Al-Yom television, which his party controls.
On August 24, hundreds of thousands put on a show of force for Saleh at a rally marking the 35th anniversary of his Arab nationalist General People's Congress (GPC) party.
"There were fears and suspicions that the rally would be a coup" against the Iran-backed Huthis, and "this is what their leaders told us," said the former president.
Saleh said Houthi leaders told him there had been "an operation" against them and a GPC plot to "take control of state institutions".
In response, Saleh said he had sent two letters to Abdel Malek al-Houthi, head of the militia group, to reassure him.
"I asked him not to believe the suspicions, and he reacted positively," he added.
Cracks emerged in the alliance between Saleh and Houthis after the two publicly accused each other of treason and back-stabbing.
In an unprecedented outbreak of violence between the allies on August 26, a colonel loyal to Saleh and two militias were killed.
Saleh ruled Yemen with an iron fist for more than three decades before stepping down in 2012 after a bloody, year-long uprising.
Full report at:
english.alarabiya.net/en/News/gulf/2017/09/05/Yemen-s-Houthi-militias-fear-coup-says-ousted-president-Saleh-.html
--------
ANALYSIS: With ISIS on the run, is it time to focus on Iran?
5 September 2017
Iraq announced the official defeat of the ISIS terror group on its soil recently. Efforts in Syria pinpointing on the cities of Raqqa and Deir ez-Zoor, the last two ISIS strongholds, are also on the rise with estimates forecasting the group's complete annihilation in October.
Unfortunately, since the rise of ISIS in 2014, thanks to the marginalization and crackdown of mass Sunni populations by former Iraqi Prime Minister Nouri al-Maliki and Syrian dictator Bashar Assad, Iran has benefited from the existence of ISIS to divert international attention and crosshairs away from its mischiefs.
After three long years of devastation and destruction brought about by ISIS, it is high time for the international community to exert its energy and pressures on Iran to bring an end to its proclivity of regional meddling and bellicosity.
Most recently revelations have made clear of Iran's efforts to produce advanced, precision weapons in Lebanon and Syria. These activities are dangerously close to Israel, an enemy Tehran's regime has sworn to wipe off the map.
Iran has been very active in Syria and focusing efforts to transform the country into a military entrenchment base. Anyone having knowledge about the Iranian regime's nature and recent history understands how Tehran's ruling clerics seek to establish war fronts across the Middle East to spread their malign influence.
The main proxy
These sites in Lebanon and Syria are intended to produce missiles with state-of-the-art capabilities. Tehran has specifically pressed the gas pedal on these measures during the past year in Lebanon. The Lebanese Hezbollah, Iran's main proxy and offspring from 1982 to this day, will most likely be the principal benefactor of these new missiles, enabling it to threaten specific targets.
This goes parallel to Tehran's repeated efforts, especially during the ongoing six-year war in Syrian, to smuggle strategic, game-changing weapons into Lebanon. These attempts have been greeted with numerous Israeli airstrikes against various targets in Syria in recent years, such as advanced weapons caches or convoys that reports indicate were headed for none other than Hezbollah.
Already entangled in the Assad/Iran war against the Syrian people, Hezbollah has yet to show any retaliation against Israel in response to these airstrikes. While these assertions may not be new, the changing times in the Middle East are further providing grounds for dire action as "tomorrow" may prove to be too late.
To add to the regional concerns stirred by Iran, the al-Shabaab terror network, a known affiliate of the al-Qaeda network, has raised the stakes by taking control of uranium mines in Africa. Reports indicate its intention is providing Iran with such crucial sensitive supplies. This can be described as yet another failure of Obama's highly flawed, back-channeled deal with Tehran that left the regime's pivotal threats unaddressed.
The bigger picture
Iran has been taking advantage of the overall Middle East situation to extend its sphere of reach and influence through Hezbollah and a slate of other proxies. Tehran has also focused on propping the Assad regime in Syria, holding on its foothold in Yemen through supporting the Houthis against Saudi Arabia, and maintaining its strategic presence in Iraq after the fall of ISIS. The latter is specifically important considering the upcoming 2018 parliamentary elections.
And even more disturbing about Syria are recent blueprints of de-escalation zones across the country. The southern de-escalation zone in particular would provide Iran and its company of proxies the highly sought opportunity to consolidate their stretch across these sensitive areas. These measures are also aimed at limiting Saudi influence in Syria, considered a red line for Tehran.
Iran took advantage of strategic policy mistakes in Iraq. This should not be repeated in Syria. Assad in Damascus has since 2011 relied on Iran and the Lebanese Hezbollah for its very survival. The Syrian regime has maintained its strategic positioning thanks to Iran's crucial role in delivering economic and military assistance through the years.
Iran is now seeking to place itself as the ultimate winner of the Syria war, and a glimpse at post-2003 war Iraq and the status of Lebanon provides a prelude of the devastation to come. As such, all the more important to launch global initiatives to counter Iran's hostile aims.
Understanding the reality
Assad may now threaten to look East after the war rather than West in retaliation to those who stood against him. Yet he should be reminded of how he must face accountability for his horrific crimes against humanity, mostly at the behest of the ruling regime in Iran.
In a recent Paris visit, Lebanese Prime Minister Saad Hariri said Assad leaving Syria is a high probability. French Foreign Minister Jean-Yves Le Drian has called on world powers to impose a transition plan in Syria. The French top diplomat also made it crystal clear there is no place for Assad in Syria's future.
All this goes parallel to the necessity of displaying an allied, international determination that Iran's threats against the security of the region and beyond will not go tolerated.
Full report at:
english.alarabiya.net/en/perspective/features/2017/09/05/With-ISIS-on-the-run-is-it-time-to-focus-on-Iran-.html
--------
Trump refusal to certify Iran compliance won't mean withdrawal from nuclear deal: Haley
Sep 5, 2017
The US envoy to the UN says President Donald Trump's possible refusal to certify Iran's compliance with its nuclear deal does not constitute US withdrawal from the agreement.
"If the president chooses not to certify Iranian compliance, that does not mean the United States is withdrawing from the JCPOA (Joint Comprehensive Plan of Action)," Nikki Haley said at the American Enterprise Institute in Washington on Tuesday, despite the US administration's repeated threats that it would scrap the deal.
"If the president finds that he cannot certify Iranian compliance, it would be a message to Congress that the administration believes either that Iran is in violation of the deal, or that the lifting of sanctions against Iran is not appropriate and proportional to the regime's behavior, or that the lifting of sanctions is not in the US national security interest, or any combination of the three," she added.
The remarks came after the International Atomic Energy Agency (IAEA) verified Iran's compliance with the JCPOA in its latest quarterly report on Thursday.
Haley described the JCPOA as a "very flawed and very limited agreement" that was "designed to be too big to fail."
Last week, Trump administration sent Haley to Vienna to lobby with the IAEA to request access to Iranian military sites as part of the deal.
Iran has repeatedly contended that the US demands for access to Iran's military sites are aimed at politicizing the JCPOA and that issues pertaining to Tehran's defense capabilities are non-negotiable.
Trump has also set up a team of his White House confidantes to present him with "options" other than certifying Iranian compliance with the deal to the Congress. Such certification is needed by US law every 90 days in order for the Congress to continue to withhold nuclear-related sanctions against Iran.
The Trump administration has twice so far certified Iran's compliance with the deal. US media reports said Trump agreed to those certifications only "reluctantly." All indications are that he wants to avoid a third certification.
The White House has been further pressuring US intelligence officials to produce intelligence that could be used to declare Iran in violation of the nuclear agreement.
Trump, who had made no secret of opposing Iran in his election campaign, has threatened to "tear up" the agreement, calling it "the worst deal ever negotiated."
The JCPOA was inked between Iran and the P5+1 countries — namely the US, Russia, China, France, and Britain plus Germany — in July 2015 and took effect in January 2016.
Under the deal, limits were put on Iran's nuclear activities in exchange for the removal of all nuclear-related bans imposed on the Islamic Republic, among other things.
Full report at:
presstv.ir/Detail/2017/09/05/534146/Iran-US-nuclear
--------
Benefits of Iran-Russia-Syria-resistance front cooperation showing: Shamkhani
Sep 5, 2017
A senior Iranian official says strategic cooperation among Iran, Syria, Russia and the resistance front in the fight against terrorism is bearing fruit amid fresh political and military advances by the Syrian government.
"The valuable results of the strategic cooperation among Iran, Syria, Russia and the resistance front in the genuine fight against terrorism are constantly emerging in the political spheres and battlefields," Secretary of Iran's Supreme National Security Council (SNSC) Ali Shamkhani said in a meeting with Russia's special envoy on Syria, Alexander Lavrentiev, in Tehran on Tuesday.
He hailed the coalition's great achievements in fighting terrorism and breaking a siege imposed by Daesh Takfiri terrorists on the eastern Syrian city of Dayr al-Zawr and urged all countries to respect Syria's national sovereignty.
"The commitment of all sides to a Syrian-Syrian solution and observation of the right of the country's people to determine their own fate without foreign intervention will prepare the ground for accelerating [ways] to reach a result and solve the crisis," Shamkhani said.
Syrian army forces, backed by allied fighters from popular defense groups, reached Dayr al-Zawr on Tuesday and broke a nearly three-year siege imposed by Daesh terrorists on pro-government areas there.
Syria's state-run television network reported that army and allied forces had advanced on the Brigade 137 base front on the western outskirts of the city, located 450 kilometers (280 miles) northeast of the capital Damascus on the shores of the Euphrates River.
The move effectively breached the siege that Daesh militants had laid since January 2015.
The SNSC secretary further said the Islamic Republic's priority in the region is to establish stability, security and eradicate terrorism, adding that Tehran would cooperate with various sides based on its goodwill in order to support the demands of the Syrian people and the country's legitimate government.
He urged all countries to confront the presence, infiltration and the instrumental use of terrorists and to think about the impacts of supporting terrorism on their own states, calling for coordinated, common and non-discriminatory approaches to fight the "dangerous virus of terrorism."
Russia will continue relentless fight against terrorists
The Russian envoy, for his part, said Tehran, Moscow and Damascus are playing a decisive role in the real campaign against terrorism.
Lavrentiev added that his country still believes in military action against terrorists and will continue its relentless efforts to fight Daesh and the al-Nusra Front terrorists.
The Russian official's visit to Tehran comes on the threshold of the next round of negotiations between representatives from the Syrian government and foreign-sponsored armed opposition besides delegates from Iran, Russia, and Turkey as mediators on September 14-15 in Kazakhstan's capital of Astana.
Astana has hosted five rounds of peace talks for Syria since January. The negotiations are aimed at bringing an end to the foreign-backed militancy in the violence-battered Arab country, which began in March 2011.
Russia and Iran are the main international backers of the Syrian government in its battle against foreign-backed terrorists.
At Damascus' request, Iran has been providing military advisory support to the Syrian military in its counterterrorism operations.
Russia has been also carrying out an aerial campaign in Syria in coordination with Damascus since September 2015 to further boost the Syrian military's anti-terror fight.
Iran, Russia expanding ties in various fields
Meanwhile, in a meeting with Lavrentiev, Iranian Deputy Foreign Minister for Arab and African Affairs Hossein Jaberi Ansari said Iran and Russia are expanding relations in different fields.
The Russian special envoy on Syria, for his part, said Tehran and Moscow currently have a good level of relations while the two sides' officials are negotiating to further bolster ties.
Full report at:
presstv.ir/Detail/2017/09/05/534111/Iran-Russia-Syria-resistance-Ali-Shamkhani-Alexander-Lavrentiev-Dayr-alZawr-Daesh
--------
Africa
Bodies of 16 migrants found in Libya's eastern desert
6 September 2017
Libyan security forces said on Tuesday that the bodies of 16 migrants had been found in the desert near the country's border with Egypt.
The bodies were found about 310 kilometers southwest of the coastal city of Tobruk, said Ahmed al-Mismari, spokesman for the Libyan National Army.
He said the area was still being searched and no more details were available about the migrants' identities.
In the past, patrols and rescuers have recovered the bodies of Egyptian migrants who have perished after being stranded or abandoned by smugglers in Libya's eastern desert.
Some migrate to Libya to search for work, and some try to reach Europe by boat.
english.alarabiya.net/en/News/north-africa/2017/09/06/Bodies-of-16-migrants-found-in-Libya-s-eastern-desert.html
--------
Ethiopia: Religious Leaders Convey Peace Messages
5 SEPTEMBER 2017
South Gonder Ethiopian Orthodox Church Arch Bishop Dr. Bitsue Abune Aregawi yesterday said every peace -loving citizen needs to preach the values of peace everywhere in a bid to maintain the tranquility in the country.
"As we celebrate peace day, the Ethiopian Orthodox Church renews its commitments towards the strengthen of peaceful coexistence and tolerance in the country."
Ethiopian Muslim Affairs Super Council Haji Kedir Hussen for his part noted that Ethiopia is striving to address the demands of fellow citizens via fighting poverty and upholding sustainable peace which would make the nation to realize its set goal.
Ethiopia Evangelical Churches Fellowship President Pastor Tsadiku Abdo also noted that we should accept ourselves and abide by the words of God. Each family should seek peace to the other neighbor and settle any demand through dialogue and discussions.
According to Tsadiku, today our world is full of violence, and our daily lives are marred by conflict and turmoil. But God promises his people a peace that surpasses all understanding.
"Protecting and safeguarding peace therefore requires a multi-faced approach ranging from peace in the family and in the entire nation. Those who may suffer from lack of peace could be deprived of working from dawn to dusk," he said.
Ethiopian Unison Mission of the Seventh day Adventist International Church President Pastor Temesgen Bulti for his part said that peace building activities comes from the hearts and minds and each household deems to address emerging conflict.
Ethiopian Catholic Church Vice President Pastor Dr.Kiros Lakew noted that peace is the way to prosperity and development " It is a priceless asset ,we should safeguard it under any circumstances .
Full report at:
allafrica.com/stories/201709050820.html
--------
Fayose hates Muslims, his Islamic regalia sinful – MURIC
September 5, 2017
Muslim Rights Concern (MURIC) has condemned the Governor of Ekiti State, Ayodele Fayose, for appearing on Id ground dressed in Islamic regalia including a turban on Friday, 1st September, 2017.
MURIC said Fayose also delivered a politically motivated speech at the event, calling his action as "executive hocus pocus, highly sacrilegious and unduly provocative. It is Act I, Scene I in the Theater of the Absurd."
Professor Ishaq Akintola, MURIC president, in a statement said Governor Fayose cannot pretend to be a friend of Ekiti Muslims.
"He has delivered several anti-Muslim speeches and uttered several hate pronouncements targeted at Nigerian Muslims. His general attitude and body language to Muslims of Ekiti belie his status as the state governor.
"He has also demolished mosques out of sheer desire to eliminate all Islamic landmarks from Ekiti. So who is Fayose deceiving?
"The fact that he offered advice concerning who Muslims should vote for in the coming Ekiti 2018 election in his speech at the Id ground reveals Fayose's real motive. But that is his undoing.
"Delivering a political speech in a serene atmosphere and on a sacred ground is sacrilegious. Fayose has also politicized religion. Who are Fayose's advisers for Allah's sake? Or is it that he does not listen to them? It is most likely that he doesn't listen to anyone.
"Like every bully, Fayose acts on instinct. He tries to think later though. Fayose has abused the turban and arrogantly violated Islamic wardrobe etiquette. It is an insult for him to have so boldly dressed himself up like an Imam on Id ground.
"Only a titled Muslim leader or an Islamic scholar can dress like that. Fayose has failed to respect a major Islamic decorum. Can any political leader put on a pastor's cassock and clerical collar without causing uproar?
"Fayose has shown that he has no respect for Muslims or their religion. He derides Ekiti Muslims yet he tries to con them to vote for his party.
"This attempt to ridicule Islam reminds us of the words of Prophet Nuh (peace be upon him) to those who mocked him, "If you mock us now, we will soon ridicule you and very soon you will know on whom shame and punishment will descend" (Qur'an 11: 38-39).
"Traditionally, non-Muslim governors and kings (Obas and Obis) are visited by Muslims on their way from the Id ground. Only those who are Muslims among the governors and kings appear at the Id ground. Fayose's appearance at the Ekiti Id ground has violated all known norms. He has desecrated our holy grounds.
Full report at:
dailypost.ng/2017/09/05/fayose-hates-muslims-islamic-regalia-sinful-muric/
--------
Nigeria: UN Condemns Killing of 11 Nigerians in IDP Camp By Boko Haram
5 SEPTEMBER 2017
The United Nations High Commissioner for Refugees on Tuesday condemned the August 31 attack by insurgents at Banki Internally Displaced Persons, IDP, camp, Borno State, which resulted to the death of 11 refugees.
Jose-Antonio Canhandula, UNHCR's Country Representative to Nigeria, said in a statement in Abuja that victims of the incident were returnees, who arrived from the Minawawo Camp, Cameroon.
In the statement signed by the Commission's External Relations Officer, Hanson Tamfu, Mr, Canhandula further condemned the incident, which took place on the eve of the Muslim holiday of Eid-el-Kabr.
"The victims are refugees in Cameroon, who had just returned to their home country after fleeing violence with hopes of beginning lives anew.
"Security is an evident concern as we resolutely begin the implementation of the voluntary repatriation of Nigerian refugees living in Cameroon as part of the tripartite agreement signed earlier this year.
"The tripartite agreement was signed between Nigeria, Cameroon and UNHCR to ensure voluntary and safe return of Nigerian refugees in Cameroon," Canhandula said.
He, however, said that the military had assured the commission that it had taken measures to prevent further attacks.
He said that 218,525 returnees from Cameroon, Niger and Chad had registered with the Nigerian Immigration Service with the support of the commission in the last eight months.
He said out of the number, 110,501 were from Cameroon and the remaining were from Chad and Niger Republic.
Full report at:
allafrica.com/stories/201709060014.html
--------
Nigeria: Zoning, Religion As Factors in Ekiti 2018 Guber Poll
5 SEPTEMBER 2017
By Ayodele Afolabi
Ado-Ekiti — The ruling Peoples Democratic Party (PDP) and the major opposition All Progressives Congress (APC) may face similar challenges but in different dimensions as the preparations for the 2018 governorship election get underway.
Both parties would have to address the yawning of Ekiti South senatorial district to produce the successor of the incumbent governor, Mr. Ayodele Fayose, while on the other hand, they would also have to take a look at the religious factor, as it happened in Lagos State during the 2015 governorship election, to determine whoever would emerge as their standard bearer.
While the zoning factor is being considered as an issue to ruminate on by the parties, some political pundits dismissed the religion aspect as flimsy when it comes to Ekiti, which is mostly dominated by Christians.
Concerned about the zone that will produce the next governor, a pressure group under the aegis of Ekiti South for Governor Forum, has asked political parties to field candidates from the southern senatorial zone, saying it has remain the area yet to produce a governor of the state since it was created in 1996.
The group lamented that power have been rotating between the north and the central senatorial districts ever since Ekiti was created.
In statement by its chairman, Chief Oluwole Ariyo, the group warned that if the zone is perpetually denied of their legitimate right to aspire to the governorship position, "it could lead to imminent breakout of internal crisis."
Boasting of the fact that the South has quality aspirants worthy of being elected as governor like others, Ariyo said, "It would not do the state well to continue to relegate the south in its politics at a time when Nigerians are clamouring for total restructuring to correct some imbalances."
On the religion factor, Muslims in the state during the Eid-el-Kabir festivities held on Friday, appealed to Fayose to consider fielding a Muslim governorship aspirant for the 2018 election on the platform of the PDP.
The Chief Imam of Ekiti, Alhaji Jamiu Kewulere, urged the governor to give Ekiti a Muslim governor from his party in the 2018 governorship poll.
According to him, "Ekiti is 20 years now and since its creation, a Muslim governor is yet to emerge. We urge you sir, if any Muslim is interested in the governorship from your party, kindly support him to fulfill his ambition."
Similar appeal may have been made indirectly to the opposition APC to consider picking a Muslim candidate as its standard bearer for the 2018 governorship election.
Meanwhile, a former governor of the state, Mr. Segun Oni, has ascribed the stunted growth and development of Ekiti to the constant change of government since 1999.
Oni, who is also the incumbent National Deputy Chairman Southwest zone of the APC while presenting his letter of intent to vie for governorship to his party, lamented that the state has produced about 16 governors since the return of democracy in 1999.
He said the instability has affected planning and implementation of laudable policies by the respective governments that have been in the saddle since the inception of the current democratic dispensation.
This is just as the APC urged its teeming aspirants to work in unity towards defeating the incumbent Fayose and the PDP next year.
State Chairman of the party, Jide Awe, made the remarks while receiving Oni who declared his intention to be governor formally to the party.
Oni however promised to build on the past records, saying, "I knew those projects Ekiti loved during my first term, and I will build on that and those ones that needed to be corrected, that I will do."
In another declaration, the pioneer Executive Secretary, Petroleum Products Pricing and Regulatory Agency (PPPRA) and former Executive Secretary, Petroleum Trust Development Fund (PTDF), Dr. Oluwole Oluleye, who is also running on the APC platform, said his decision to join the race to succeed Fayose was borne out of the conviction that he is capable of bringing about the much needed positive changes in the state.
The Ekiti-born United States-trained technocrat who signified his governorship ambition at his Efon Alaye hometown said he desires to return the state to the path of glory and harness the latent potentials of the state for the benefit of the people of the state.
Oluleye said he plans to put an end to the denigration of Ekiti common heritage as a hardworking race, whose hallmark of integrity is fast being eroded by series of political developments in the past adding, "I am home with you to inform you of my genuine desire to give a new lease of life to politics and governance."
He said he had moved round the state to feel the pulse of the people and was able to identify that the peoples' collective yearning is for a meaningful, positive and impactful change that have eluded the people in the past.
According to him, "My believe as we prepare for this race is that together we can win. I have no enemy to fight in APC, no matter what our differences are."
As for now, not less than 40 governorship aspirants have indicated interest to succeed Fayose next year while 20 of them have officially made their intention known to the party and have started mobilizing.
Full report at:
allafrica.com/stories/201709050480.html
--------
North America
Religious leaders overwhelmingly condemn Trump ending DACA
By Emily McFarlan Miller
Religious leaders overwhelmingly condemned President Trump's decision to end the Deferred Action for Childhood Arrivals (DACA) program.
That program, which the president ordered rescinded on Tuesday (Sept. 5), protected young immigrants who were brought to the U.S. illegally as children or whose families overstayed their visas from deportation.
There were few exceptions to the condemnation, among them Pastor Mark Burns of Harvest Praise and Worship Center in South Carolina, who has close ties to the president. Burns tweeted that rescinding DACA was "good because #Americans are #Dreamers too…#AmericaFirst."
Here is a roundup of religious reactions to the president's action on DACA.
USCCB
The president, vice president and chairmen of the U.S. Conference of Catholic Bishops (USCCB) issued a statement, saying "cancellation of the DACA program is reprehensible." It reads in part:
"The Catholic Church has long watched with pride and admiration as DACA youth live out their daily lives with hope and a determination to flourish and contribute to society: continuing to work and provide for their families, continuing to serve in the military, and continuing to receive an education. Now, after months of anxiety and fear about their futures, these brave young people face deportation. This decision is unacceptable and does not reflect who we are as Americans.
Chicago Cardinal Blase Cupich
"In the past the president stated that the Dreamer story 'is about the heart,' yet today's decision is nothing short of heartless. The Dreamers are now left in a six-month limbo, during which Congress is supposed to pass comprehensive immigration reform, a feat they have been unable to achieve for a decade. In fact, this inability to agree on a just immigration system led President Obama to sign the executive order protecting minor children brought to this country by their parents. As the considerations of the "heart" seemed to be insufficient to keep protection in place, Congress must now act decisively and swiftly."
Rabbi Jill Jacobs, executive director of T'ruah: The Rabbinic Call for Human Rights
"Within the Jewish community, many of our own families are alive today because of the relatively open immigration policies of the late 19th and early 20th centuries. And too many Jews died after being trapped in Europe when the borders closed in 1924. We understand the cruelty of forcing Dreamers back to the countries where they were born, but in many cases have never lived, and where — in some cases — their lives will be in danger."
Tim Head, executive director of Faith & Freedom Coalition
"As the federal courts were about to rule President Obama's DACA program unconstitutional, President Donald J. Trump and Attorney General Jeff Sessions took proper, pro-active action to phase out the program delivering on their (commitment) to the rule of law and giving Congress time to pass immigration reforms that secures our borders, protects American workers, and deals with those already here. Trump's executive action is both compassionate toward all who those who have come to our country and prevents mass deportations that could have resulted from the impending federal court ruling that could break apart immigrant families. President Trump and his administration continue to focus Homeland Security resources on deporting criminals and visa overstays, and not on children who were brought to this country through no choice of their own."
David Silverman, president of American Atheists
"I have no doubt that countless DACA recipients were brought to our nation because of our commitment to religious freedom, religious equality, and government neutrality. I fight to protect those commitments and I will fight to protect those who come to the United States in search of them. Just as atheists are your friends, neighbors, and classmates, DACA recipients are as well. This is an issue that impacts us all."
Tim Breene, CEO of World Relief
"These Dreamers have willingly worked with the government in good faith in order to pursue their dreams living in the United States, the only home many of them have ever known. The decision to end DACA puts them in a more precarious situation, but we hope Congress will prioritize a legislative solution that will allow these Dreamers to flourish in our country."
Lynne Hybels, activist
Lynne Hybels, who started Willow Creek Community Church in suburban Chicago with her husband, Rev. Bill Hybels, wrote an op-ed Monday for her local newspaper, the Daily Herald, titled, "Show young immigrants America's promise is real."
Hybels also shared her thoughts in a statement released before Attorney General Jeff Sessions announced the Trump administration's decision Tuesday:
"Our church is deeply invested in serving the immigrant community in the Chicagoland area. We've hosted workshops helping dozens of brave young people to apply for the DACA program. We've witnessed firsthand the hope that the DACA program has brought to individuals who have wanted nothing more than the chance to pursue an education and lead a productive life, just as our own children have done. To end the program now, without action from Congress first, would be devastating—for them and for the communities that benefit from their work, ingenuity, and courage."
Rev. Félix Cabrera, lead pastor of Iglesia Bautista Central in Oklahoma City and co-founder of Hispanic Baptist Pastors Alliance
"To end the DACA program now would be immoral, violating the trust of young immigrants, including those within my congregation and many other Hispanic Southern Baptists throughout the country, who trusted the federal government when it asked them to register and provide their personal information. … Rather than taking another step that will exacerbate ethnic and political divisions in our nation, I pray that President Trump and Congressional Leaders from both parties will work together to pass legislation to protect Dreamers, and in the process help to unify our nation."
Stosh Cotler, CEO of Bend the Arc Jewish Action
"President Trump has threatened to end DACA – to target hundreds of thousands of long-term residents of the United States for deportation, even though they were brought here as children and have built their lives here. This would be heartbreaking, but not surprising. His rhetoric about immigrants has been consistently cruel from the beginning. Now, emboldened by the ascendancy of white supremacy in the public sphere, he is escalating into ever more explicit racism."
National Hispanic Christian Leadership Conference
The NHCLC announced a national campaign Tuesday to put "unrelenting pressure" on Congress to find a permanent solution for "DREAMers."
Its president, the Rev. Samuel Rodriguez, released a statement that said in part:
"I am disappointed that these protections are ending, and I've expressed that disappointment to the White House, directly. I also understand why they chose this course of action. If the fate of DAPA is any indication, then it was only a matter of time before DACA would face a similar fate in the courts and, in fact, the entire program could be ceased immediately by a court order rather than being phased out. … We do not intend on letting a single member of Congress have a good night's rest until they guarantee our young people can rest easy. We will not be silent until every DREAMer can dream again."
Nihad Awad, executive director of the Council on American-Islamic Relations
"The American Muslim community and CAIR stand with the 800,000 undocumented young people who were brought to our nation as children, who call the United States home and whose only dream is to come out of the shadows and to stay where they belong. By terminating DACA, even with a six-month delay or 'wind down,' President Trump is pandering to the demands of anti-immigrant extremists and harming our nation by targeting some of the most dynamic and success-oriented members of society. In practical terms, the 'delay' in implementing the termination is meaningless for the vast majority of Dreamers and will inevitably result in chaos in their lives."
Erwin McManus, founder of MOSAIC in Los Angeles
"The roughly 800,000 people who have benefitted from the DACA program—more of whom live in in my city of Los Angeles than anywhere else in the country—are American in every way except on paper. They are not to be feared but embraced as immigrants who define the American spirit. We are a nation of immigrants. We are a nation defined by openness and inclusion. We are big enough to rise above this challenge and choose the path that elevates the best in all of us."
Sister Simone Campbell, executive director of NETWORK
"As people of faith, we are called to love thy neighbor. Make no mistake: Dreamers, who have been here for at least a decade and call the U.S. their home, are our neighbors … Our nation's Dreamers and their families deserve our full support and protection."
Leith Anderson, president of National Association of Evangelicals
"Americans may have a variety of views on the broader questions of immigration policy, but most agree that those who were brought to this country as children — and who have grown up here — should not be punished for the actions of their parents. Many of these young people are already deeply integrated into our churches and communities, and most know no other country than the United States."
Rev. Jennifer Butler, CEO of Faith in Public Life
"Preserving immigrant families and sustaining the dreams of our immigrant brothers and sisters is both a moral and theological duty. An attack on immigrants is an attack on the church. That which President Trump does to these people, he does to Jesus."
Rabbi Jonah Dov Pesner, director of the Religious Action Center of Reform Judaism
"As Jews, our people have known the experience of being 'strangers in strange lands.' Our past reminds us of the struggles faced by so many immigrants today. Because of this history, Judaism demands that we welcome the stranger and compels us to work for a just immigration system. It is imperative that Congress step up in support of these young people who grew up in the United States and who want to give back to the only country they know as home."
Nanci Palacios, DACA recipient and lead organizer for Faith in Florida
"As an undocumented woman with deferred action, it doesn't surprise me that Donald Trump is ending DACA. To the president, this is about politics not about real human lives. It's infuriating and devastating that the president is using us as political scapegoats but not surprising. Ending DACA means I will have to put my education on hold and worry about driving without a license as in the past. However, I along with other DREAMErs will not stay silent and we will continue to fight to preserve DACA and fight for relief for all families. I will not be afraid and we will not let him push us back into the shadows."
religionnews.com/2017/09/05/religious-leaders-overwhelmingly-condemn-trump-ending-daca/
--------
Anti-M-103 Conference Faces Backlash, Threats Of Violence
By Paul Lungen
September 5, 2017
When Parliament passed M-103, the motion that condemned Islamophobia without defining it, its proponents assured Canadians it would not change Canadian law, or in any way lead to restrictions on freedom of speech.
Opponents of the motion remain unconvinced, and on Sept. 10, they will convene a nationwide conference to voice their concerns and prepare the groundwork for a political push against what they believe is legislation that will at some point restrict Canadians' freedoms and perhaps lay the groundwork for the introduction of Islamic Shariah law in Canada.
The conference, titled, "M-103: Islamophobia Cure or Shariah Trap?" will take place in Toronto on Sept. 10, from 1-5 p.m. and will be simulcast online to a variety of venues across the country. Organizers are not publicly revealing its location. Anti-fascist activists, known as antifa, have already threatened to disrupt the event and intimidate participants, said David Nitkin, a spokesperson for Canadian Citizens for Charter Rights & Freedoms (C3RF), one of the co-sponsors of the conference.
Joining C3RF in promoting the conference are a variety of advocacy groups, including ACT! For Canada, Canadians for the Rule of Law, Hasbara Fellowships Canada, Israel Activist Alliance, Mozuud Freedom Foundation, Muslim-Jewish Dialogue, Muslims Facing Tomorrow, Stop Sponsoring Hatred and Tazpit Press Service.
Nitkin said antifa has used voice mail messages and emails to threaten to go to locations where the conference is being held and "smash" the venues, in order to prevent the conference from proceeding.
Conference organizers believe that the House of Commons heritage committee, which was mandated by M-103 to address "systemic racism" and the issue of Islamophobia, will propose changes to Canadian law that will criminalize criticism of Islam and pave the way for greater application of Shariah law in Canada. C3RF is worried that Canada could follow the lead of the Organization of Islamic Cooperation, which defines "Islamophobia" as "an excessive fear against Islam and anything associable with Islam." On its website, C3RF says that this definition is worrisome because "anything associable with Islam" would include Shariah slander laws, which stand in opposition to Canadian values.
When criticism of Islam is treated as blasphemy, any parliamentary move to address Islamophobia will necessarily lead to the suppression of free speech, Nitkin said.
Rights belong to individuals, not ideologies, Nitkin said. Furthermore, there is no evidence of widespread crimes directed at Muslims. Three times more hate crimes are directed at Jews than at Muslims, even though there are nine times as many Muslims in Canada, he said.
Ben Dichter, one of the expected speakers at the conference, said he believes M-103 could lead "to Canada's first blasphemy law."
Dichter – who's co-founder of the group LGBTory, a conservative LGBT organization – said his friends in the Muslim community who escaped the theocratic government in Iran "fear this is going to lead to the denial of freedom of speech and special privileges for a specific ideology."
Canada already has laws protecting individual Muslims from hate and doesn't need any new laws against Islamophobia, he said.
"My Muslim friends say, 'I came to Canada to escape Shariah law and Shariah law is following me. Canadians need to wake up'," he said.
Raheel Raza, president of The Council for Muslims Facing Tomorrow and author of Their Jihad – Not My Jihad, is also slated to address the conference in Toronto.
"I am Muslim, but I believe we don't have rampant Islamophobia in Canada and to focus on one community is divisive," she said.
"Islam is an ideology and should be open to criticism like any other ideology," she added.
Raza has spoken out against M-103, arguing in one article that "the term Islamophobia was created in the 1990s, when groups affiliated to the U.S. Muslim Brotherhood decided to play victim for the purpose of beating down critics."
Full report at:
cjnews.com/news/canada/m-103-conference-faces-backlash-threats-violence
--------
US apologizes for Afghanistan leaflets that offended Muslims
September 5, 2017
KABUL, Afghanistan (AP) — A U.S. commander on Wednesday apologized for leaflets dropped in Afghanistan that were deemed offensive to Islam.
The leaflets dropped Monday night, which encouraged Afghans to cooperate with security forces, included an image of a dog carrying the Taliban flag, said Shah Wali Shahid, the deputy governor of Parwan province. The flag has Islamic verses inscribed on it, and dogs are seen as unclean in much of the Muslim world.
"Local people are very upset with this incident, and they want the perpetrators brought to justice," Shahid said, adding that demonstrations were expected across the province.
Maj. Gen. James Linder apologized, acknowledging in a statement that "the design of the leaflets mistakenly contained an image highly offensive to both Muslims and the religion of Islam." He offered his "sincerest apologies for this error."
Full report at:
seattletimes.com/nation-world/us-apologizes-for-afghanistan-leaflets-that-offended-muslims/
--------
URL: https://www.newageislam.com/islamic-world-news/muslim-world-denounces-myanmar-treatment/d/112449
New Age Islam, Islam Online, Islamic Website, African Muslim News, Arab World News, South Asia News, Indian Muslim News, World Muslim News, Women in Islam, Islamic Feminism, Arab Women, Women In Arab, Islamophobia in America, Muslim Women in West, Islam Women and Feminism