New Age Islam News Bureau
18 Aug 2014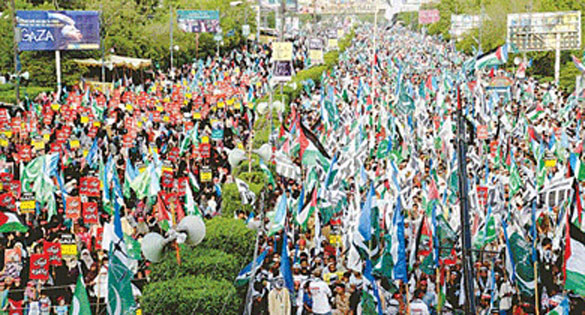 A large number of supporters of Jamaat-i-Islami attend a rally held on Sunday to express solidarity with the Palestinians of Gaza. — Photo by Faysal Mujeeb/White Star
-------------
Africa
• Muslim Seleka Militia Declares Independent State in Northern CAR
• Libyan militia attacked in Tripoli, 6 killed
Arab World
• Kurdish Militants Train Hundreds of Yazidis to Fight Islamic State
• Salafis in Kurdistan Condemn Islamic State
• Air raids kill 31 jihadists in Syria's Raqa: NGO
• Iraqi Turkmens ask for arms from West, demanding equal treatment
• Salafist preacher Borhamy questioned over Christianity insult
• Kuwait detains cleric U.S. accuses of militant financing
• Kurds will take part in talks on new Iraq government
• Flight from jihadists leads Iraqi Turkmens to Baghdad
• Baghdad Warns against Foreign Supply of Arms to 'Certain Faction'
• Saudi king approves $1m more in West Bank aid
India
• Muslims Celebrate Janmashtami at the Dargah of Narhar
• Jethmalani Advocates Musharraf Formula to Resolve the Kashmir Issue
South Asia
• 9 Taliban militants killed, 14 others injured during operations: MoI
• Palestine envoy says Bangladeshi support amazing
• 4 Afghan army soldiers martyred in IED attack
Southeast Asia
• Groups Allegedly Spreading ISIL Influence throughout Jakarta Region
• No Fatwa against the Aerobic Fitness Programme: Deputy Chief Minister
• Muslims' self-rule bill in Philippines due today
• Sixty-Nine Years On, Sovereignty Still Eludes Indonesia
• 3 members of humanitarian aid mission enter Gaza
Australia
• Australian PM Seeks Muslims' Support For Tougher Terrorism Laws
Pakistan
• "No" to dialogue is very fatal to democracy: Asif Ali Zardari
• Ummah Will Never Accept Israeli Occupation of Al Quds: Jamaat-i-Islami Emir
• Hafiz Saeed asks Imran, Qadri to include Palestine in charter
• Won't budge an inch from constitution, law: Minister
• Altaf Hussain slams Imran Khan over civil disobedience call
• Ahmadis on the run: Fearing death in People's Colony
• Days of KP govt numbered, says Maulana Fazl ur Rehman
Mideast
• Fate of Gaza truce in balance as toll tops 2,000
• Iranian Deputy FM Asks for Prosecution of Zionists, Takfiris
• Source: Hamas not interested in return to full blown Gaza conflict, even if Cairo talks fail
• Iran attempted large-scale cyber-attack on Israel, senior security source says
• Israel partially lifts Gaza fishing ban
Europe
• Tajikistan ready to prosecute citizens who fight abroad
• ICC pressured to not act over Israeli war crimes
• Britain's expanding role in Iraq to last for months: minister
• Scandinavia opens first Islamic theology school
North America
• New York circumcision controversy emblematic of long-time Orthodox ideological split
• War shows limits of White House influence
Compiled by New Age Islam News Bureau
URL: https://www.newageislam.com/islamic-world-news/new-age-islam-news-bureau/muslim-seleka-militia-declares-independent-state-in-northern-car/d/98609
-----------
Africa
Muslim Seleka Militia Declares Independent State in Northern CAR
World Bulletin / News Desk
Aug 18, 2014
A leader of the predominantly Muslim Seleka militia on Sunday declared an independent state in the north-eastern region of the Central African Republic (CAR).
"A free, independent secular state has been established in the north-eastern region of CAR," Noureddine Adam, the deputy head of the militia, said in a statement.
He added that the new "state" would be based in the Birao region, some 800 kilometers north of CAR capital Bangui, and that it would be led by former CAR president Michel Djotodia, a Muslim.
Adam also announced the creation of an interim government under Djotodia in which he would serve as minister of state for defence and national security.
He said the secession move came in response to what he described as "planned genocide" and "hostage-taking" of Muslims; the destruction of mosques; and the desecration of Quran by Christian militias, including the anti-balaka.
The land-locked country descended into anarchy last year when Seleka ousted then president Francois Bozize, a Christian who had come to power in a 2003 coup, and installed Djotodia as an interim president.
The country was plagued by tit-for-tat sectarian violence between Seleka fighters and Christian militiamen.
Anti-Muslim violence surged after Djotodia stepped down in January and was replaced by Catherine Samba-Panza, a Christian who formerly served as mayor of the capital Bangui.
Christians, who account for the majority of the country's population, accuse Muslims of supporting Seleka militants blamed for attacking Christian homes, looting property and carrying out summary executions during their brief reign.
A ceasefire signed by the warring parties in Brazzaville, the capital of the Democratic Republic of Congo, on July 23 has failed to end violence.
President Samba-Panza has recently appointed Mahamat Kamoun, a Muslim who had headed up the office of Djotodia, as prime minister.
http://www.worldbulletin.net/headlines/142692/seleka-declares-independent-state-in-northern-car
----------
Libyan militia attacked in Tripoli, 6 killed
Aug 18, 2014
CAIRO: A Libyan militia spokesman says rockets targeting positions of an Islamist-led militia in the capital, Tripoli, have killed six people.
The attack is part of weeks-long fighting between rival militias in Tripoli, which has forced thousands to flee the country, including diplomats, foreign nationals and Libyans.
Ahmed Hadiya, the spokesman for Fajr Libya militia, says the rockets were launched late Sunday from the Wittiya air base west of Tripoli. He did not provide more details.
A militiaman from the coastal city of Misrata says two warplanes belonging to renegade Gen. Khalifa Haftar's followers took part in the attack. The militiaman spoke on condition of anonymity because he is not authorized to talk to media.
Egypt cancelled all flights to Libya Monday, saying Libyan authorities had closed the country's airspace.
http://www.dailystar.com.lb/News/Middle-East/2014/Aug-18/267551-libyan-militia-attacked-in-tripoli-6-killed.ashx#ixzz3AkHSbxkG
----------
Arab World
Kurdish Militants Train Hundreds of Yazidis to Fight Islamic State
Aug 18, 2014
Kurdish militants have trained hundreds of Yazidi volunteers at several camps inside Syria to fight Islamic State forces in Iraq, a member of the armed Kurdish YPG and a Reuter's photographer who visited a training camp said on Sunday.
The photographer spend Saturday at the training camp at the Serimli military base in Qamishli, north-eastern Syria on the border with Iraqi Kurdistan, where he saw 55 Yazidis being trained to fight the Islamic State.
Dressed in green military fatigues, young and old men were taught how to use assault rifles and rocket-propelled grenades by the Syrian Kurds, sweating in the 40 degree Celsius heat.
"The Yazidi civilians want to stay in Syria because it is safer but the volunteers really want to go back to Iraq to fight," he said by phone.
Iraq has been plunged into its worst violence since the peak of a sectarian civil war in 2006-2007, with Sunni fighters led by the Islamic State overrunning large parts of the west and north, forcing hundreds of thousands to flee for their lives and threatening ethnic Kurds in their autonomous province.
Thousands of Yazidis have also been trapped in searing heat on the mountain near the Syrian border. They fled there this month to escape the Islamic State, who deem Yazidis "devil worshippers". Yazidis follow an ancient faith derived from Zoroastrianism.
Some have been airlifted out by Iraq's Air Force and others fled into Syria with the help of Kurdish militants.
In Syria, the Yazidi volunteers train in weapon use and fighting tactics for several days before being sent back to Mount Sinjar to fight, a member from the media office of the Kurdish YPG told Reuters.
"There are several training camps for Yazidi men who have volunteered," Anas Hani said from eastern Syria. "In the past ten days, hundreds have graduated. And we are training more."
"On the top of the Singar mountains, in cooperation with locals and the YPG, the Yazidis have established what they call the Singar Resistance Units," he said by phone.
The YPG, or the People's Defence Units, says it has no political affiliations but analysts say it has close ties to the Kurdistan Workers Party, PKK, who have waged a guerrilla war in Turkey for decades and which the U.S. lists as a terrorist organisation.
The IS advances have drawn the first U.S. air strikes on Iraq since the withdrawal of American troops in 2011.
Iraqi Kurdish officials have sought to play down the role of the YPG in Iraq and spotlight the actions of their own Peshmerga forces, who are already being supplied weapons by the United States.
Ethnic Kurds in Syria have a complex role in nearly four years of conflict that started when President Bashar al-Assad cracked down on a pro-democracy uprising.
The ensuing civil war has pitted Sunni Muslims against Assad's Alawite minority and different Kurdish militia have fought on both sides, normally over territory or power disputes.
The YPG are one of the few militant groups that have been able to stem the advance of the Islamic State, the most powerful rebel group in Syria and Iraq.
http://english.ahram.org.eg/NewsContent/2/8/108638/World/Region/Kurdish-militants-train-hundreds-of-Yazidis-to-fig.aspx
-----------
Salafis in Kurdistan Condemn Islamic State
Aug 18, 2014
ERBIL, Kurdistan Region - A group of Salafis in the Kurdistan Region has condemned the Islamic State (IS/ISIS), saying the group has "misunderstood Islam and confuses Muslims and infidels."
It said in a statement that IS, known locally as Daiish, "are killing innocent Muslims in the name of Islam."
"What they (IS) are doing is not jihad," read the statement. "Their jihad is nothing but destruction and mass killing."
The term Salafi refers to Muslims who try to practice the ideas and attitudes of Prophet Muhammad and his early companions.
"The actions of IS are far from the merciful deeds of Prophet Muhammad," said the group, condemning the recent IS attacks on Kurdish lands and the displacement and killing of Yezidi and Christian populations in and around Mosul.
"We ask the Peshmerga to bravely guard our Muslim people and their land," the group said, accusing the IS of drawing foreign forces into Muslim lands.
"The IS is killing a great number of innocent Muslims and leads many youth to their death," said the group, which does not go by any name.
"Because of IS there will be no security and stability in Muslim countries and space for true worshiping will become restricted," warned the signatories, who have also distanced themselves from, and condemned, al-Qaeda and other extremist groups in the past.
"The IS has displaced tens of thousands of families who have now taken refuge in the Kurdistan Region," it added.
On Saturday, Abdul Latif, one of the best-known Salafi figures in Kurdistan, condemned IS attacks on Christian and Yezidi civilians. He called Abubakir al-Baghdadi, the IS leader, "an extremist man who has no fear of God."
"The IS is the product of politicizing Islam," Abdul Latif told Rudaw.
He said that IS militants killed in battle are not considered martyrs and "in fact the Peshmerga who die defending the land, honor and dignity of the Kurdish people are the true martyrs."
http://rudaw.net/english/kurdistan/170820142
-----------
Air raids kill 31 jihadists in Syria's Raqa: NGO
Aug 18, 2014
At least 31 Islamic State militants were killed in Syrian air force raids Sunday in the northern province of Raqa, a stronghold of the jihadist fighters, a monitoring group said.
"The regime carried out 13 raids on the city of Raqa and 11 on the town of Tabqa in Raqa province, killing at least 31 jihadists and wounding dozens of them," said the Syrian Observatory for Human Rights.
http://english.ahram.org.eg/NewsContent/2/8/108635/World/Region/Air-raids-kill--jihadists-in-Syrias-Raqa-NGO.aspx
-----------
Salafist preacher Borhamy questioned over Christianity insult
Aug 18, 2014
Salafist preacher and godfather of the Nour party Yasser Borhamy has been summoned by the prosecution over accusations he insulted Christianity.
According to Al-Ahram Arabic news website, the complaint was filed by lawyer Naguib Gibrael. He accused Borhamy of insulting Christianity for describing Easter as "one of the most infidel Christian holidays" on a satellite television show.
Borhamy also said those who believe Jesus was crucified are blasphemers and misguided.
This is not the first time that Borhamy has made such remarks.
In 2011 he said that "that Jews and Christians are infidels, but they do have rights that Allah has given them."
He also stirred controversy in 2012 when he reportedly issued a religious edict saying that a Muslim taxi or microbus driver should not pick up a priest if the latter was on his way to church.
http://english.ahram.org.eg/NewsContent/1/64/108634/Egypt/Politics-/Salafist-preacher-Borhamy-questioned-over-Christia.aspx
-----------
Flight from jihadists leads Iraqi Turkmens to Baghdad
Aug 18, 2014
BAGHDAD: School is out, but northern Baghdad's classrooms are packed – not with students, but with people who have traveled further than most to escape the Sunni militant onslaught splitting Iraq.
While perils faced by members of the Yazidi minority fleeing ISIS militants have filled television screens for days, the fate of the Turkmens is less well known.
Iraq's third-largest ethnic group after Arabs and Kurds, they include both Sunnis and Shiites and have a history of being targeted in previous conflicts.
Over the past two months, thousands of them have traveled hundreds of kilometers to the capital to escape the ISIS insurgents, crowding into schools run by volunteers and religious charities in the absence of government help.
Full report at:
http://www.dailystar.com.lb/News/Middle-East/2014/Aug-18/267519-flight-from-jihadists-leads-iraqi-turkmens-to-baghdad.ashx#ixzz3AkJm84Lh
----------
Baghdad Warns against Foreign Supply of Arms to 'Certain Faction'
Aug 18, 2014
ERBIL, Kurdistan Region—Iraq's armed forces command warned on Sunday against foreign planes breaching Iraq's airspace and arming "a certain Iraqi faction,"
Iraq's armed forces that are still officially under former Prime Minister Nouri al-Maliki, said in a public statement, "We have noticed that in recent days foreign fighter jets have breached Iraq's airspace and delivered arms to a certain faction inside Iraq without Baghdad's permission,"
The statement that mentions "northern Iraq," as a clear reference to the Kurdistan Region warns all foreign countries against exploiting Iraq's security situation and violating Iraq's sovereignty.
Full report at:
http://rudaw.net/english/kurdistan/170820143
-----------
Saudi king approves $1m more in West Bank aid
18 August 2014
Custodian of the Two Holy Mosques King Abdullah has issued his approval to provide $1 million as additional financing to support humanitarian operations in the West Bank.
This includes food assistance in response to the proposal of the World Food Program (WFP) targeting 81,000 Palestinians, Saudi Press Agency (SPA) said Sunday.
This support will be provided through the Saudi Committee for Relief for the Palestinian people with follow up by the representatives of the Kingdom in the WFP.
Meanwhile, Israel warned on Sunday it would not countenance any long-term truce deal that did not answer its security needs as Gaza ceasefire talks resumed in Cairo.
Egyptian-brokered indirect negotiations between Israel and the Palestinians are taking place during a five-day lull in the fighting which is due to expire at midnight (2100 GMT) on Monday.
The aim is to broker a long-term arrangement to halt over a month of bloody fighting which erupted on July 8 and has so far claimed 1,980 Palestinians lives and 67 on the Israeli side.
But as the Israeli team landed in Cairo, Prime Minister Benjamin Netanyahu said they would not agree to any proposal which did not offer a clear answer to Israel's security needs.
Full report at:
http://english.alarabiya.net/en/News/middle-east/2014/08/18/Saudi-king-approves-1m-more-for-West-Bank-aid.html
-----------
Iraqi Turkmens ask for arms from West, demanding equal treatment
Aug 18, 2014
Iraqi Turkmens, one of the largest minority communities affected by the violence in Iraq, are demanding arms to fight the Islamic State in Iraq and the Levant (ISIL), a prominent leader of the ethnic group has said as the West begins funneling arms to the Kurds.
Arshad al-Salihi, the head of the Iraqi Turkmen Front (ITC), warned that the Unites States and European Union's increasing armed support for the Kurdish peshmerga forces could start to change the dynamics in the region.
"The U.S. and EU's provision of arms support for the Kurds is a good and positive step against the terrorist organization ISIL. However, this help shouldn't only be lent to Kurds, Turkmens also should be given arms support," al-Salihi told daily Hürriyet.
The Turkmen leader, who had previously said they would not ask for weapons support from Turkey or any other country, said that if the support was only limited to the Kurds, it would be an indication that there are "other plans and games" behind the decision.
Full report at:
http://www.hurriyetdailynews.com/iraqi-turkmens-ask-for-arms-from-west-demanding-equal-treatment.aspx?pageID=238&nID=70546&NewsCatID=352
-----------
Kuwait detains cleric U.S. accuses of militant financing
World Bulletin/News Desk
Aug 18, 2014
Kuwait has detained a prominent cleric less than two weeks after the United States included him on a sanctions list for allegedly funnelling money to militants in Iraq and Syria, his lawyer said on Monday.
Shafi al-Ajmi was detained on the border with Saudi Arabia on Sunday while returning from a pilgrimage. "He is at the state security compound," his lawyer, Mohammed al-Jumia, told Reuters by telephone. "So far, there are no charges."
An Interior Ministry spokesman could not immediately be reached for comment.
Kuwait has been one of the biggest humanitarian donors to Syrian refugees through the United Nations, but it has also struggled to control unofficial fundraising for opposition groups in Syria by private individuals.
The government of the U.S.-allied Gulf Arab state has stepped up its monitoring of individuals and charities suspected of collecting donations for militants linked to al Qaeda in Syria and in Iraq.
Full report at:
http://www.worldbulletin.net/todays-news/142722/kuwait-detains-cleric-us-accuses-of-militant-financing
-----------
Kurds will take part in talks on new Iraq government
World Bulletin/News Desk
Aug 18, 2014
Kurdish officials will take part in negotiations on forming a new Iraqi government, the outgoing foreign minister said on Monday, signalling the possibility of improved ties with the central administration.
Hoshiyar Zebari told Reuters a final decision on whether the Kurds will end their suspension of participation in the government would come later. Outgoing Prime Minister Nuri al-Maliki had been locked in disputes with the Kurds over budgets and oil.
Zebari said Kurdish forces had pushed out ISIL fighters and recaptured Iraq's biggest dam with the support of U.S. air strikes near the facility.
http://www.worldbulletin.net/world/142724/kurds-will-take-part-in-talks-on-new-iraq-government
----------
India
Muslims Celebrate Janmashtami at the Dargah of Narhar
IANS | Aug 18, 2014
JAIPUR: Not many people know about it, but Janmashtami, which marks the birth of Lord Krishna, is celebrated in a big way in a sacred place for the Muslim community in Rajasthan.
A three-day festival is organised at the Dargah of Narhar — also known as Dargah of Sharif Hazrat Hajib Shakarbar — situated near Chirawa in Jhunjhunu district, about 200 km from Jaipur.
"This festival is being organised here for the last 300-400 years and people of all communities come here. A main aim of this celebration is to promote Hindu-Muslim brotherhood," said Dargah secretary Usman Ali Pathan.
People from many states including Maharashtra, Bihar, Delhi, Haryana, West Bengal and Andhra Pradesh visit the Dargah during the festival.
"Thousands of Hindus come here and offer flowers, chadar, coconut and sweets in the shrine," he said.
Over 400 shops come up in the vicinity during the festival time.
Qawalis, skits and dance dramas are organised on the night of Janmashtami, similar to the ones held in temples.
Full report at:
http://timesofindia.indiatimes.com/india/A-place-where-Muslims-celebrate-Janmashtami/articleshow/40359478.cms
-----------
Jethmalani Advocates Musharraf Formula to Resolve the Kashmir Issue
ZAHID RAFIQ
Aug 18, 2014
A week ahead of the India-Pakistan talks in Islamabad, the former National Democratic Alliance's Kashmir interlocutor and eminent lawyer, Ram Jethmalani, said on Sunday that the four-point formula of the former Pakistan President Pervez Musharraf was the most applicable solution to resolve the Kashmir issue. India lost a golden opportunity in not accepting it and it was time now to move forward on Gen. Musharraf's formula.
"His formula was the most applicable solution to resolve the Kashmir issue. However, due to some wicked politicians, the process couldn't be carried forward," Mr. Jethmalani said.
The jurist was speaking at the Peace Conference here, where senior BJP leader and Union Minister for Minority Affairs Najma Heptullah also spoke. The conference was organised by the Jammu-Kashmir Peace Foundation headed by BJP leader in Kashmir Fayaz Ahmad Bhat.
Mr. Jethmalani, who was expelled from the BJP last year, said: "Time has come when both countries should work on Gen. Musharraf's formula." He called it a difficult but possible job. The jurist welcomed the Foreign Secretary talks and lauded Pakistan High Commissioner Abdul Basit.
Full report at:
http://www.thehindu.com/news/national/other-states/jethmalani-advocates-musharraf-formula/article6326652.ece
---------
South Asia
9 Taliban militants killed, 14 others injured during operations: MoI
Aug 18, 2014
At least 9 Taliban militants were killed or injured during military operations by Afghan national security forces in the past 24 hours.
Interior ministry following a statement said Monday that the operations were jointly conducted by Afghan National Police (ANP), Afghan National Army (ANA) and Afghan Intelligence – National Directorate of Security (NDS) operatives.
The statement further added that the operations were conducted in Kunar, Nangarahr, Laghman, Kandahar, Maidan Wardak, Khost, paktia, Ghr and Kapisa provinces.
At least 9 Taliban militants were killed, 14 militants were injured and 9 others were arrested during the operations, the statement by interior ministry added.
Afghan security forces also confiscated various types of light and heavy weapons along with explosives and 5 improvised explosive device (IED) during the operations.
Interior ministry did not disclose further information regarding the casualties of the Afghan security forces during the military operations.
The anti-government armed militant groups have not commented regarding the report so far.
http://www.khaama.com/9-taliban-militants-killed-14-others-injured-during-operations-moi-8457
-----------
Palestine envoy says Bangladeshi support amazing
Aug 18, 2014
"I lost a cousin in the unrest. It is painful to get news like this while I am away from my family," a teary-eyed Palestinian student in Dhaka said.
The speaker, Salim, who is studying in Dhaka, was addressing a seminar organized by Ghatok Dalal Nirmul Committee yesterday at the Engineer's Institute in the capital.
The seminar on "Genocide in Besieged Palestine: Bangladesh and World Conscience" was attended by civil society leaders and government representatives.
The Palestine Ambassador Saher Muhammad drew cheers as he spoke. He said: "The way Bangladeshi people protested from day one was beyond our expectations. We have seen major world leaders remain passive about the massacre, but Bangladeshis from different walks of life protested the Israeli military attacks and joined in efforts to support the victims of Gaza. That is amazing."
Full report at:
http://www.dhakatribune.com/bangladesh/2014/aug/18/palestine-envoy-says-bangladeshi-support-amazing#sthash.Lrv83MRy.dpuf
-----------
4 Afghan army soldiers martyred in IED attack
Aug 18, 2014
At least 4 Afghan national army soldiers were martyred following improvised explosive device (IED) attack, defense officials said Monday.
Gen. Zahir Azimi, spokesman for the Ministry of Defense (MoD), confirmed that the four Afghan army soldiers were martyred during the past 24 hours.
Gen. Azimi did not disclose further information regarding the exact location where the 4 Afghan soldiers were killed.
In the meantime, Gen. Azimi, said at least 38 Taliban militants were killed during operations by Afghan national army soldiers.
He said the militants were killed during separate operations in six different provinces of Afghanistan in the past 24 hours.
Full report at:
http://www.khaama.com/4-afghan-army-soldiers-martyred-in-ied-attack-8459
-----------
Southeast Asia
Groups Allegedly Spreading ISIL Influence throughout Jakarta Region
Aug 18, 2014
Home Affairs Minister Gamawan Fauzi said the government had identified activities allegedly aimed at spreading the influence of the Islamic State of Iraq and the Levant (ISIL), also known as ISIS, in a number of regions across Indonesia.
"There is an alleged spread of ISIS influence in a number of areas in Indonesia and we are still investigating the cases," he said in Jakarta on Sunday, as quoted by Antara news agency.
To prevent the radical Islamic ideology from spreading further, Gamawan said the ministry had issued a circular that urged all heads of regions to take measures to put a stop to its reach across the country.
The circular, dated Aug. 7, urged all regional heads to increase coordination and partnerships with all elements of regional leadership, from village to provincial levels, to optimal levels.
"Concerning the spread of ISIS ideology in a number of regions that could potentially have negative impacts on the nation's ideology of Pancasila and Bhinneka Tunggal Ika [Unity in Diversity] and threaten the unitary state of the Republic of Indonesia (NKRI), the Home Affairs Minister through the Circular Letter No. 450/3806/SJ dated Aug. 7, 2014, asks all governors, mayors and regents to immediately take anticipatory measures to prevent its spread," the circular stipulated.
Full report at:
http://www.thejakartapost.com/news/2014/08/17/groups-allegedly-spreading-isil-influence-throughout-regions-says-govt.html
-----------
No Fatwa against the Aerobic Fitness Programme: Deputy Chief Minister
Aug 18, 2014
GEORGE TOWN, Aug 18 — No fatwa has been issued in Penang against Zumba, the aerobic fitness programme, and the state mufti has given the green light for a Zumba event to go ahead on Merdeka day.
Penang Deputy Chief Minister I Datuk Mohd Rashid Hasnon said he had consulted with the Penang mufti and even showed him a video clip of the Zumba exercise.
"After looking at the video clip, he said there is nothing wrong for Muslims to participate in Zumba as long as they are properly attired and covered," he told a press conference at his office to announce the event today.
The Penang mufti confirmed that there was no fatwa in Penang specifically to ban Zumba for Muslims.
Full report at:
http://www.themalaymailonline.com/malaysia/article/no-fatwa-against-zumba-in-penang-says-deputy-chief-minister-i#sthash.SdJBbVXP.dpuf
-----------
Sixty-Nine Years On, Sovereignty Still Eludes Indonesia
Aug 18, 2014
Jakarta. Sixty-nine years after Indonesia gained its freedom from colonial rule, the archipelago's Aug. 17 independence day celebration is marked with yet another significant change, as President Susilo Bambang Yudhoyono prepares to hand over the country's top position to successor Joko Widodo after a decade in office.
A former mayor of Solo, Central Java, and now Jakarta's governor, Joko says he aims to redefine the traditional notion of independence for Indonesia by breaking its reliance on foreign influence and diminishing the alarmingly large gap between the country's haves and have nots.
"Independence means managing and controlling this country independently, standing on our own feet," Joko said after leading an Independence Day ceremony at the National Monument (Monas) in Central Jakarta on Sunday morning. "That would be the ultimate goal."
Joko, who should be sworn in as Indonesia's new president along with Vice President-Elect Jusuf Kalla on Oct. 20, added that one of Indonesia's biggest challenges nearly seven decades years of independence was the wealth gap between the rich and the poor.
A former resident of Surakarta's slums, the businessman-cum-politician hopes to address this issue by continuing to boost the country's economic growth, "but without forgetting the even distribution [of wealth]."
Full report at:
http://www.thejakartaglobe.com/news/sixty-nine-years-sovereignty-still-eludes-indonesia/
-----------
3 members of humanitarian aid mission enter Gaza
Aug 18, 2014
CAIRO, Aug 18 — Three members of the Kelab Putera 1Malaysia (KP1M) humanitarian aid mission to Gaza succeeded in entering the Palestinian region, which has become the target of Israeli bombing raids, through the Rafah border gate today.
They managed to do so at about 10am local time (about 3pm Malaysian time) today.
This was confirmed by KP1M deputy president Datuk Mohd Farid Hassan.
He said they had travelled from Qantara heading for Rafah yesterday using the Humvee type armoured cars and the mission leader, Datuk Seri Abdul Azeez Abdul Rahim, the Malaysian Ambassador to Egypt and Palestine, Datuk Ku Jaafar Ku Shaari, and the Palestinian Ambassador to Malaysia, Dr Anwar Al-Agha had left from Qantara at 2.30pm yesterday.
Seventy-eight other volunteers were not allowed to continue with their journey to Rafah on security reasons and had been ordered to return to Cairo.
The order was issued by the commander of the military command post in Qantara, located near the Suez Canal, after the convoy had been stuck for about five hours and discussions were held.
Full report at:
http://www.themalaymailonline.com/malaysia/article/3-members-of-humanitarian-aid-mission-enter-gaza#sthash.Sj1H1beJ.dpuf
-----------
Muslims' self-rule bill in Philippines due today
Aug 18, 2014
MANILA: Philippine President Benigno Aquino will on Monday receive a completed draft bill to create a Muslim autonomous area, aimed at ending decades of fighting that has claimed thousands of lives, his spokesman said.
Receiving the draft bill would allow Aquino to quickly submit it to Congress so it could be quickly passed into law and implemented before the president's term ends in mid-2016, Aquino's spokesman Herminio Coloma said.
Aquino on Monday will be handed the draft forged by government negotiators and the Moro Islamic Liberation Front (MILF), the country's main Muslim rebel group as part of the peace process, he told reporters.
Full report at:
http://www.dawn.com/news/1125989/muslims-self-rule-bill-in-philippines-due-today
-----------
Australia
Australian PM seeks Muslims' support for tougher terrorism laws
Aug 18, 2014
Mr. Abbott is due to meet Muslim community members in Melbourne later this week.
Australia's Prime Minister Tony Abbott sought support from Muslim leaders Monday for plans to overhaul terrorism laws, with a view to curbing so-called home-grown Islamist extremism.
Muslims have expressed fears they will be unfairly targeted by the new measures, which will make it easier for authorities to track and prosecute Australian citizens who engage in or support terrorist activities abroad. Mr. Abbott said that when it came to fighting terrorism everyone in the country had to be on "Team Australia." "Everyone has got to put this country, its interests, its values and its people first," he said on Macquarie Radio.
"You don't migrate to this country unless you want to join our team, and that's the point I will be stressing." The government estimates that around 150 Australians are fighting on the side of Islamist groups, mostly in Syria and Iraq.
Full report at:
http://www.thehindu.com/news/international/tony-abbott-seeks-muslims-support-for-tougher-terrorism-laws/article6328772.ece
-----------
Pakistan
"No" to dialogue is very fatal to democracy: Asif Ali Zardari
August 18, 2014
Karachi- Former president and PPP Co-chairperson Asif Ali Zardari has said no to dialogue and intransigence are fatal to democracy.
" Parties concerned should demonstrate responsible attitude. The nation be not instigated to launch civil disobedience movement. Shutting the door to dialogue be avoided. Refusal to hold dialogue and intransigence are harmful to the democracy. Therefore, all the political parties should demonstrate responsibility," he said this in a statement.
He expressed his grave concern over the prevailing political situation in the country and has underscored the need for addressing the issues through dialogue. He urged that government and Imran Khan should find solution through reconciliation. The democracy should not be allowed to be derailed, he added. The door to talks process should not be closed down, he remarked. The democracy cannot afford any civil disobedience movement announced by Imran Khan, he underlined.
http://www.nation.com.pk/national/18-Aug-2014/no-to-dialogue-is-very-fatal-to-democracy-asif-ali-zardari
-----------
Ummah will never accept Israeli occupation of Al Quds: Jamaat-i-Islami
Aug 18, 2014
KARACHI: Jamaat-i-Islami emir Sirajul Haq has declared that Muslim Ummah will never accept Israeli occupation of Al Quds.
Speaking to participants of the 'Gaza Million March' organised by his party on Sunday, he expressed solidarity with the oppressed Pales­tinians and condemned Israeli air strikes on unarmed people of Gaza.
The rally from the Baloch Colony bridge to the FTC building on Sharea Faisal showed that Pakistanis were ready to render all kinds of sacrifices for the freedom of Palestine and Al Quds, participants said.
Those who took part in the rally, including women, children and elders, waved the Palestinian and Jamaat flags. They also carried banners and placards inscribed with slogans like "Get Gaza Freed", "Down with Israel and USA" and "Labbaik ya Gaza".
They also chanted slogans against Israel and the United States and in favour of the people of Gaza.
Full report at:
http://www.dawn.com/news/1126010/ummah-will-never-accept-israeli-occupation-of-al-quds-ji-emir
-----------
Won't budge an inch from constitution, law: Minister
Aug 18, 2014
KARACHI: Federal Minister for water and power, Khawaja Muhammad Asif Monday said that the government would not budge even an inch from the protection and upholding of the supremacy of constitution and law and added the one who would pay the electricity bill would get power supply, Geo News reported.
Talking in Geo News program 'Aaj Geo News Kay Saath' Khawaja Asif said that those who would not pay electricity bills their supplies would be disconnected. He said that the power distribution is also a business, which runs on purchase and sale and if the electricity bills were not paid, how would the system run, he inquired.
Full report at:
http://www.thenews.com.pk/article-157146-Wont-budge-an-inch-from-constitution,-law:-Asif
-----------
Altaf Hussain slams Imran Khan over civil disobedience call
Aug 18, 2014
LONDON: Muttahida Qaumi Movement chief Altaf Hussain has urged Prime Minister Nawaz Sharif and Imran Khan to hold negotiations over latter's 'civil disobedience' call which he gave during his speech at Azadi March.
In a statement issued here on Monday, Hussain criticized Imran Khan, saying the PTI' chief's announcement of civil obedience was a great joke with people. "Khan could have done so earlier, why did he need spending nation's money, time and energy for many days," he said.
"People already don't pay electricity bills as they get the power supply through Kunda," Altaf Hussain said adding as to what damage Imran Khan was inflicting to the government through his announcement.
http://www.thenews.com.pk/article-157096-Altaf-Hussain-slams-Imran-Khan-over-civil-disobedience-call-
-----------
Ahmadis on the run: Fearing death in People's Colony
BY MIRZA IQBAL
Aug 18, 2014
GUJRANWALA: A pall of fear hangs thick over Gujranwala's now eerily silent People's Colony. It has been weeks since an enraged mob set fire to five homes belonging to members of the Ahmadi community, resulting in the deaths of two girls and an elderly woman.
Since the ill-fated Sunday when the incident came to light, police officials have sealed several homes in the area and warily patrol the locality lest a similar episode erupts.
Like many stories that pertain to the persecuted community, it is difficult to find people who will speak to journalists without requesting anonymity.
It is no different in People's Colony, where terrified residents from the community are desperate for their plight to come to a logical end, but afraid to be named for fear of being persecuted further.
Full report at:
http://www.dawn.com/news/1123873/ahmadis-on-the-run-fearing-death-in-peoples-colony
-----------
Days of KP govt numbered, says Maulana Fazlur Rehman
Aug 18, 2014
TIMERGARA: Jamiat Ulema-i-Islam-Fazl (JUI-F) chief Maulana Fazlur Rehman has said that the agitation launched by Pakistan Tehreek-i-Insaf in Islamabad is beyond understanding. He was talking to local journalists in Chakdara after offering his condolence on the death of Maulana Bashir Ahmad, a founding member of JUI-F. He was accompanied by his two sons, Maulana Gul Naseeb Khan, Maulana Shujaul Mulk and Rahat Hussain.
Mr Rehman said that days of the PTI-led government in Khyber Pakhtunkhwa were numbered and soon it would be collapsed. He said that PTI chief Imran Khan was making fool of people, especially the residents of Khyber Pakhtunkhwa.
Full report at:
http://www.dawn.com/news/1126038/days-of-kp-govt-numbered-says-fazl
-----------
Won't go back until revolution mission is accomplished: Qadri
Aug 18, 2014
ISLAMABAD: Pakistan Awami Tehreek (PAT) chief Tahirul Qadri on Sunday vowed not to return from the capital until his "revolution mission" is accomplished.
He opposed the imposition of martial law in the country but stuck to his demand that Prime Minister Nawaz Sharif and Punjab Chief Minister Shahbaz Sharif step down immediately. Addressing thousands of diehard party workers, Qadri said, "The incumbent regime is the result of rigging and corruption". He noted that Pakistan is rich in resources and can function without loans. Qadri reminded the government about the 48-hour deadline he gave on Saturday for the acceptance of his charter of demands. He said 24 hours have passed and only 24 hours remain at its disposal. At one moment, an emotionally charged Qadri stood up from his chair and asked the terrorists to kill him rather than murdering his workers. This act moved the crowd, and people, especially women, could be seen crying after this.
Full report at:
http://www.dailytimes.com.pk/national/18-Aug-2014/won-t-go-back-until-revolution-mission-is-accomplished-qadri
-----------
Hafiz Saeed asks Imran, Qadri to include Palestine in charter
Aug 18, 2014
LAHORE – Jamaat-ud-Da'wah (JuD) leader Hafiz Muhammad Saeed has called upon Pakistan Tehrik-e-Insaf (PTI) Chairman Imran Khan and Pakistan Awami Tehrik (PAT) chief Dr Tahirul Qadri to include peace in Palestine in their charter of demands.
Addressing participant of the 'Palestine Unity Caravan' to express solidarity with the people of Gaza, he said that they – Imran and Dr Qadri – should press the government of Prime Minister Nawaz Sharif to take practical steps to stop the genocide of Palestinians by Israel.
Besides holding protests in major cities including Gujranwala, Faisalabad, Peshawar, Quetta, Rawalpindi, Hyderabad and Multan, JuD also took out a rally in the provincial capital – Palestine Unity Caravan – against the Israeli aggression.
Full report at:
http://www.dailytimes.com.pk/national/17-Aug-2014/saeed-asks-imran-qadri-to-include-palestine-in-charter
----------
Mideast
Fate of Gaza truce in balance as toll tops 2,000
Aug 18, 2014
GAZA CITY: The Gaza death toll rose over 2,000 Monday as the clock ticked towards a midnight deadline and negotiators in Cairo strove to hammer out a decisive end to weeks of bloodshed.
As millions in and around Gaza enjoyed an eighth day of calm brought on by two back-to-back truce agreements, tensions were once again on the rise ahead of a new deadline ending a five-day ceasefire which expires at 2100 GMT.
But there was little sign of any workable consensus emerging from ongoing talks between Israeli and Palestinian negotiators in Cairo who have just 12 hours to left to either reach an agreement, accept a further extension or risk a resumption of the fighting which has wreaked destruction across the densely-populated Mediterranean coastal enclave.
The aim is to broker a long-term arrangement to halt over a month of bloody fighting which erupted on July 8 although both sides have largely lowered their guns since August 4 thanks to a series of brief truce arrangements.
Ahead of the deadline, Palestinian president Mahmud Abbas was to travel to Doha where he was to meet with exiled Hamas chief Khaled Meshaal on Tuesday and also hold talks with the emir of Qatar, Sheikh Tamim bin Hamad al-Thani.
Full report at:
http://www.dawn.com/news/1126105/fate-of-gaza-truce-in-balance-as-toll-tops-2000
-----------
Iranian Deputy FM Asks for Prosecution of Zionists, Takfiris
Aug 18, 2014
Iranian Deputy Foreign Minister Seyed Abbas Araqchi blasted the international community's silence on the massacre of the innocent Palestinian people by Israel and other regional people by the terrorists, and called for the prosecution and punishment of the Zionists and Takfiris.
"The Zionists and Takfiris shouldn't escape unpunished," Araqchi said, addressing a meeting on the World Humanitarian Day in Tehran on Monday.
He called on different world states to adopt humanitarian measures to stop the massacre of the people in the region, and said, "We ask the international community to show a firm and strong reaction to such moves in a bid to stop the mass killings in the region and provide humanitarian aid to the victims."
Araqchi also underscored Iran's effective steps in cooperating with international humanitarian bodies and facilitating their operations and activities.
Full report at:
http://english.farsnews.com/newstext.aspx?nn=13930527000757
-----------
Israel partially lifts Gaza fishing ban
Aug 18, 2014
The move is a goodwill gesture for reaching a deal which would end Israel's Operation Protective Edge in Gaza
Israel has partially lifted its fishing ban in Gaza to allow fishing within three nautical miles off Gaza shores, a media report said in Jerusalem on Sunday.
The move is a goodwill gesture for reaching a deal which would end Israel's Operation Protective Edge in Gaza which was launched on July 8, as Israeli and Palestinian negotiators are still conducting indirect talks in Cairo, Xinhua quoted an Israeli official telling Ha'aretz daily.
The Israeli Navy has been restricting fishing by Gaza fishermen in the Mediterranean Sea, citing possible security alarms about attempts to deliver weapons by sea. While Israel was launching its military operation in Gaza in July, the Palestinians said that its military enforced a 500-metre restriction on fishing, comparing with a previous distance of three nautical miles off shore.
Full report at:
http://www.thehindu.com/news/international/world/israel-partially-lifts-gaza-fishing-ban/article6327802.ece
-----------
Source: Hamas not interested in return to full blown Gaza conflict, even if Cairo talks fail
Aug 18, 2014
Diplomatic source tells 'Maariv Hashavua' that Hamas is facing heavy pressure from Egypt not to provoke Israel into wide-scale confrontation; Abbas reportedly to discuss truce efforts with Mashaal in Qatar.
The five-day cease-fire between Israel and Hamas is set to expire at midnight on Monday, and as of now, there are no signs of a breakthrough to reach a long-term deal between the sides in Cairo negotiations.
As the sides returned to Cairo for further talks on Monday, members of the Palestinian delegation expressed pessimism and estimated that efforts to reach a deal were not likely to succeed.
Full report at:
http://www.jpost.com/Arab-Israeli-Conflict/Source-Hamas-not-interested-in-return-to-full-blown-Gaza-conflict-even-if-Cairo-talks-fail-371385
-----------
Iran attempted large-scale cyber-attack on Israel, senior security source says
Aug 18, 2014
Iran attempted to conduct a large-scale cyber-attack on Israeli civilian communications during the war with Hamas this summer, a senior security source revealed on Sunday.
"This is not something we have seen before, both in terms of scope and the type of targets. They targeted communications infrastructure that belong to the civilian sector in Israel," the source said. Iranian elements were definitely behind the attack, he said, though their aim to cause maximum disruption, was not achieved.
Cyber attackers targeted IDF websites, but online defenses withstood the assault, the source said.
The official, who is familiar with the IDF's telecommunications capabilities, said an integrated military communications network was used in Gaza during the conflict.
The network serves all branches of the armed forces, enabling them to share intelligence.
This led to swift sensor- to-shooter cycles, in which targets that were detected in Gaza were rapidly destroyed.
Full report at:
http://www.jpost.com/Arab-Israeli-Conflict/Iran-attempted-large-scale-cyber-attack-on-Israel-senior-security-source-says-371339
-----------
Europe
Tajikistan ready to prosecute citizens who fight abroad
Aug 18, 2014
DUSHANBE – Tajikistan is pursuing a carrot-and-stick strategy to bring back young citizens and permanent residents who have joined extremist ranks in various foreign wars.
Tajik militants are known to have fought in Syria, Pakistan and Afghanistan and might be fighting in Iraq.
On the one hand, militants who become disillusioned but did not commit any crimes are free to return home and resume peaceful lives, as did two men from Spitamen District, Sughd Oblast, in July. They had been fighting or preparing to fight in Syria.
On the other hand, the new law gives Tajikistan the legal basis to prosecute unrepentant citizens or permanent residents who became so-called "jihadists."
Now such insurgents could be punished by 12 to 20 years' imprisonment if captured. Recruiters of militants face the same punishment.
Previously, Tajikistan did not have a specific legal mechanism to prosecute such offenders. It would merely charge them with organising a crime ring.
Estimates of the number of Tajiks fighting in Syria vary, but last year, the Syrian grand mufti put the number at more than 190.
Authorities want the phenomenon to end.
"[We were seeing] increasingly frequent cases of Tajiks fighting in foreign wars," National Centre for the Legislation of Tajikistan First Deputy Chief Subkhiddin Badriddinov told Central Asia Online. "Our citizens more and more are leaving as migrant workers or [ostensible] tourists and entering other countries to fight."
Full report at:
http://centralasiaonline.com/en_GB/articles/caii/features/main/2014/08/12/feature-01
-----------
ICC pressured to not act over Israeli war crimes
Aug 18, 2014
London The international criminal court has persistently avoided opening an investigation into alleged war crimes in Gaza as a result of US and other western pressure, former court officials and lawyers claim.
In recent days, a potential ICC investigation into the actions of both the Israel Defence Forces and Hamas in Gaza has become a fraught political battlefield and a key negotiating issue at ceasefire talks in Cairo.
In an exchange of letters in the last few days, lawyers for the Palestinians have insisted that the ICC prosecutor, Fatou Bensouda, has all the legal authority she needs to launch an investigation, based on a Palestinian request in 2009. However, Bensouda is insisting on a new Palestinian declaration, which would require achieving elusive consensus among political factions such as Hamas, who would face scrutiny themselves alongside the Israeli government. There is strong US and Israeli pressure on the Palestinian leader, Mahmoud Abbas, not to pursue an ICC investigation.
Full report at:
http://gulfnews.com/news/region/palestinian-territories/icc-pressured-to-not-act-over-israeli-war-crimes-1.1373346
-----------
Scandinavia opens first Islamic theology school
World Bulletin / News Desk
Aug 18, 2014
The northern European region of Scandinavia has officially opened its first Islamic Theology boarding school, known as an Imam Khatib school, in the Danish city of Slagelse.
The school is due to take on students from Denmark, Norway and Sweden and will teach the national curriculum along with Turkish and Islamic lessons in the fields of Qur'an, Hadith and Islamic creed.
Boarding school head Ahmet Deniz told Anadolu Agency said that Mina Hindholm will be Denmark's first official Islamic school for students aged 18 and up. The school, which is Europe's second Imam Khatib after the one in Belgium, already has 52 students.
http://www.worldbulletin.net/muslim-world/142711/scandinavia-opens-first-islamic-theology-school
-----------
Britain's expanding role in Iraq to last for months: minister
Aug 18, 2014
LONDON: Britain is stepping up its role in Iraq beyond a humanitarian mission and the involvement is set to last months, Defence Minister Michael Fallon said in comments published Monday.
"This is not simply a humanitarian mission," Michael Fallon said in comments run in The Times newspaper.
"We and other countries in Europe are determined to help the government of Iraq combat this new and very extreme form of terrorism that ISIL (Islamic State) is promoting."
Speaking to RAF pilots and other service personnel during a visit to an RAF base in Cyprus, the British defence minister said "there may well now be in the next few weeks and months other ways that we may need to help save life (and) protect people and we are going to need all of you again," The Guardian daily reported.
Full report at:
http://www.dawn.com/news/1126084/britains-expanding-role-in-iraq-to-last-months-minister
-----------
North America
New York circumcision controversy emblematic of long-time Orthodox ideological split
Aug 18, 2014
A conflict between ultra-Orthodox Jews and city health officials in New York over an ancient and custom accompanying circumcision is largely symptomatic of an ideological rift that has split the observant Jewish community for over a century and defining the carious factions of contemporary orthodoxy's approach towards modernity.
The practice, known as metzitzah b'peh (MBP) in Hebrew, is a source of controversy within the orthodox community, with more modern elements rejecting the ancient practice which in turn is embraced by the more conservative ultra-orthodox factions. Initially imposed as a safety measure by early Talmudic sages, researchers have linked it to the spread of Herpes.
According to the Centers for Disease Control and Prevention, infants who undergo MBP "had an estimated risk 3.4 times greater than the risk for HSV-1 or untyped HSV infection among male infants unlikely to have had direct orogenital suction."
Proponents of the practice counter that MBP has been safely practiced for thousands of years without issue and argued, according to court records, that health authorities failed to "how even a statistical correlation between metzitzah b'peh and HSV infection."
Full report at:
http://www.jpost.com/Diaspora/New-York-circumcision-controversy-emblematic-of-longtime-Orthodox-ideological-split-371334
-----------
War shows limits of White House influence
Aug 18, 2014
WASHINGTON: Three months before the end of his presidency, George W. Bush signed into law what amounts to an American guarantee to preserve Israel's status as the Middle East's military superpower. The 2008 law helps explain why President Barack Obama and his team have had little influence on the Israeli government. In theory, U.S. military aid to Israel, running at around $3 billion a year, could serve as a tool to exert American pressure when it comes to such matters as Israeli settlements in the West Bank or pounding Gaza to rubble in a campaign that killed hundreds of civilians. In practice, the government of Prime Minister Benjamin Netanyahu can ignore complaints from the executive branch of the American government, secure in the knowledge that he can count on the backing of Congress. That support has been solid and unquestioned for decades.
The Gaza war is a case in point. Not long after the Senate passed a rare 100-0 vote on a resolution that endorsed the Israeli attack on Gaza without mentioning civilian casualties, Obama issued the first of several calls for restraint and the need to avoid civilian deaths. The State Department sharpened the language after the bombing of a United Nations Refugee Agency school, calling it a "disgraceful" act.
Full report at:
http://www.dailystar.com.lb/News/Middle-East/2014/Aug-18/267488-war-shows-limits-of-white-house-influence.ashx#ixzz3AkJqlSpE
----------
URL: https://www.newageislam.com/islamic-world-news/new-age-islam-news-bureau/muslim-seleka-militia-declares-independent-state-in-northern-car/d/98609