New Age Islam News Bureau
28 May 2020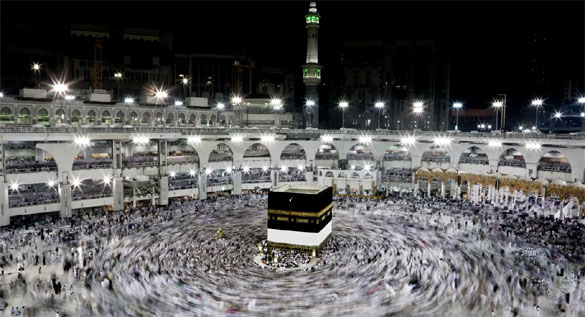 -------
• Muslim Scholars and NGOs Seek to Create International Administration for Holy Sites in Saudi Arabia
• Syria: Terrorist Groups Exhume Muslim Caliph Shrine
• Muslims In Maharashtra Town Donate 10-Bed ICU Unit with Zakat Money
• Nizamuddin Markaz: SC Asks PCI On Action Against 'Communalisation' By Media
• Pakistan's Punjab Okays, Actemra, A Life-Saving Drug, Drug to Treat Covid-19 Patients
• US Congress Approves Sanctions on China Over Crackdown on Uighur Muslims
• Why Reintegrating Crimea's Tatar Muslim Community is Important to Ukraine
• Malaysian Wins Landmark Right to Challenge Muslim Gay Sex Ban
• US Police Brutality Against Blacks Knows No Boundaries: Iran Foreign Ministry
Arab World
• Muslim Scholars and NGOs Seek to Create International Administration for Holy Sites in Saudi Arabia
• Syria: Terrorist Groups Exhume Muslim Caliph Shrine
• HRW: Riyadh must free children of ex-Saudi official in exile, overhaul justice system
• Dismissal of US State Department Inspector Demanded by Saudi Crown Prince
• Despite growing poverty, history of extremism, Lebanon's radicals are yet to return
• Hezbollah's Nasrallah mocks Gantz on anniversary of Israeli withdrawal from Lebanon
• In Lebanon, a growing rift between Hezbollah and their long-time Christian ally
• Coronavirus: Saudi Arabia allows outdoor exercise, internal travel as lockdown eases
• Coronavirus: UAE says 30 pct of federal employees to return to work from May 31
• Khashoggi's family may have pardoned killers under Saudi pressure: Saudi scholar
• Turkish forces, allied militants intend to steal wheat crops in Syria's Hasakah: SANA
• Saudis learning to live with lessons learned from COVID-19 pandemic
• Arab coalition intercepts Houthi drones launched toward Saudi Arabia's Najran
• Saudi crown prince and Russian president discuss global oil markets
• Separate blasts in Syria's Idlib kill 6 militants, Turkish soldier
--------
India
• Muslims In Maharashtra Town Donate 10-Bed ICU Unit with Zakat Money
• Nizamuddin Markaz: SC Asks PCI On Action Against 'Communalisation' By Media
• Pulwama's 60-kg car bomb seized by cops could be Lashkar-Jaish joint op
• Mosques, Churches Set to Open on June 1: Karnataka CM
• J&K: Major IED blast averted by timely input, action by security forces in Pulwama
• Car bombing foiled in Pulwama; driver escaped: J&K Police
--------
Pakistan
• Pakistan's Punjab Okays, Actemra, A Life-Saving Drug, Drug to Treat Covid-19 Patients
• Turkey, Pakistan, Malaysia AndQatar Form Troubling New Alliance
• PML-N slams govt for allowing sugar export despite shortage
• PML-N, PPP doubt govt's electoral reforms plan
• Pakistan deploys militant-tracking tech to hunt confirmed and suspected virus patients
• PM alerts world to peace threat posed by Modi govt
• FIA tags two accused in judge video scam as wanted terrorists
• Islamabad DIG terms Tuesday's attack on two police officials act of terrorism
--------
North America
• US Congress Approves Sanctions on China Over Crackdown on Uighur Muslims
• US military presence in Afghanistan is 'enough,' Trump suggests
• Trump after another arms sale to Saudi: Menendez
• Trump administration ends last remaining sanctions waivers in Iran nuclear deal
• 'Unilateral US sanctions against Iran, Venezuela no longer effective'
• Exclusive: Ex-Trump envoy Jason Greenblatt says 'door to Israeli-Palestinian negotiations remains open'
• US governor denies parole for Turkish diplomat's killer
• US-led coalition deploys Patriot missile batteries at Syria gas field: Report
--------
Europe
• Why Reintegrating Crimea's Tatar Muslim Community is Important to Ukraine
• Italy's Muslims Help Needy on Eid
• Russia denies US claim of sending fighter jets to Libya
• France sees Syria scenario being replicated in Libya: FM
• 'Greece must stop barbaric treatment of asylum seekers'
• Merkel calls for cease-fire in Libya
• Russia delivers fighter jets to Libya over Syria: US
• German-made military trucks spotted in Libya
--------
Southeast Asia
• Malaysian Wins Landmark Right to Challenge Muslim Gay Sex Ban
• Man on sex charge in shariah court gets nod to start constitutional challenge
• ISIS eyes Covid-19 weakness in Indonesia
• Social Media Kept Expatriates Connected With Loved Ones On Eid
• Covid-19 moment of truth for peace in Thailand
• No need to attend pre-marriage course during CMCO in Kedah, says MB
• Most Singapore mosques to reopen on June 2
--------
Mideast
• US Police Brutality Against Blacks Knows No Boundaries: Iran Foreign Ministry
• Iran, UN Underscore Need to Send Humanitarian Aid to Syrian People amid Coronavirus Outbreak
• President Voices Regret over Honora Killing of 14-Year-Old Girl, Calls for Speeding Up Approval of Anti-Violence Bills
• President Rouhani: Iran's Trade with Other Countries None of US Business
• US Deploys Patriot Missile Shield Near Koniko Gas Field in Deir Ezzur
• Envoy: Iranian Oil Tankers in Venezuela Victory for Int'l Community
• Iran's New Parliament Disavows US
• US to end waivers permitting European, Chinese, Russian work at Iran nuclear plants
• Passengers of downed Ukrainian plane in 'state of panic' before attack: Official
• Saudi-led coalition conducts 47 new airstrikes on Yemen
• Iran arrests 14 people affiliated to Takfiri separatist groups in Kuzestan province
--------
South Asia
• 5 Killed In Fire At Bangladesh Coronavirus Treatment Tent
• Bangladesh to partly ease lockdown amid virus concerns
• Iran Border Guard Command: No evidence Afghan migrants drowned
Compiled by New Age Islam News Bureau
URL: https://www.newageislam.com/islamic-world-news/muslim-scholars-ngos-seek-create/d/121972
--------
Muslim Scholars and NGOs Seek To Create International Administration For Holy Sites In Saudi Arabia
27 May 2020
International Commission to Monitor Saudi Administration of the Two Holy Mosques (Al Haramain Watch) has announced the launch of an international campaign targeting Islamic countries in order to establish an administration to monitor and manage the affairs of the Two Holy Mosques as a stand against the policies of the Kingdom of Saudi Arabia.
The new campaign relies on raising awareness in the Arab and Islamic countries and for Islamic communities across Europe and the US about their rights to administer and care for the affairs of the two holy mosques and other Islamic sentiments in the country of Hejaz. The petition has already gathered the support of around 100 Muslim scholars and Human rights activists.
According to Al Haramain Watch, Saudi Arabia is in violation of not only international law but also the principles of its founding fathers who agreed to protect the rights of Muslims' access to holy sites in the kingdom. However, the last few years has witnessed dramatic change where the Saudi government started to ban Muslim nations, religious groups, and individuals from visiting Saudi Arabia. Many of these groups were prevented from visiting the kingdom and in many cases people were jailed and deported.
The organisation argues that it takes a unified Muslim administration from all Muslim countries to come together to put a strategy in order to manage the holy sites in Saudi Arabia and ensure free full access to everyone, and end practices by the Saudi government which prevent many peoples and nations from performing their worshipping rights.
The petition demands that "due to the permanent failure of Saudi Arabia to manage the two holy mosques and the feelings and permanent politicisation and the absence of strategic development, we call on Islamic countries and governments to take the initiative and the media to form an interim framework that sets the first building blocks for a long-term plan for the process of managing the two holy sites and holy sites in the countries of Hejaz (Saudi Arabia)… Establishing an Islamic administration that takes upon itself the administration of the Two Holy Places and the Holy Bekaa, whose membership consists of all Muslim countries. Where these countries choose a high committee to be elected for a period of 4 years and subject to periodic review by a working association supervised by all member states."
The Sheikh and the Malaysian scholar Azmi Abdul Hamid said that the campaign obtained an important historical document written by King Abdulaziz bin Saud, a supporter of the Hejaz and Najd countries, which was known as Saudi Arabia later. According to Abdul Hamid, the new document will be used to remind Muslims of their integral rights in the holy sites in Saudi Arabia.
This document states that Muslims have a clear right to administer the affairs of the two holy mosques without any obstacles, which was guaranteed by the founder Abdul Aziz Al Saud and that Crown Prince Muhammad bin Salman repudiated him. The text of the document clearly says that the Hijaz for the Hijazis (Now known as Saudi Arabia) on the one hand and the Islamic world on the one hand have the rights that they have in these countries.
The petition furthermore calls on establishing a sovereign fund managed by Islamic countries in accordance with what is described in the second item, which depends mainly on income from the resources of Hajj and Umrah. It also demands establishing a supreme political committee within the second clause above, whose goal is to ensure that all Muslims may reach the holy sites and the Two Holy Places in order to perform the rituals and rituals. Such a committee would put an end to the Saudi indulgence in preventing Muslim countries, individuals, groups, and minorities from fulfilling their inherent rights that no one in the nation's history has been able to fulfill.
International Commission to Monitor Saudi Administration of the Two Holy Mosques (Al Harmain Watch) is an institution established at the beginning of 2018, whose goal is to ensure that Saudi Arabia maintains good management of the holy sites, preserve Islamic historical sites, and don't politicise the holy sites.
The commission aims to ensure that Saudi Arabia manages the two holy mosques and Islamic sites in a correct way that preserves the past and present of Islam, by providing advice to Riyadh through an Islamic advisory council, and involving Muslim countries in the conversation.
https://www.brusselstimes.com/all-news/world-all-news/113888/muslim-scholars-and-ngos-seek-to-create-international-administration-for-holy-sites-in-saudi-arabia/
--------
Syria: Terrorist groups exhume Muslim caliph shrine
Esref Musa
27.05.2020
IDLIB, Syria
Iran-backed terrorist groups have raided a shrine in Syria believed to be of the Umayyad caliph Omar bin Abdulaziz in the northwestern Idlib province and made off with the remains buried inside.
A video footage published by pro-regime pages on social media Tuesday showed terrorist groups exhuming the shrine in the town of Deir Sharqi near Maarat al-Numan city.
Another video showed the grave opened and emptied. No information was available about to where the remains buried inside were moved.
In February, regime forces set fire to the area around the shrine when they took control of the town, causing material damage.
Omar bin Abdulaziz was the eighth Umayyad caliphs and his ancestry goes back to Omar bin al-Khattab, the second Muslim caliph and a companion of Prophet Muhammad. .
Omar bin Abdulaziz was named the fifth righteous caliph of Islam for his adherence to justice during his two-year and 5-month ruling period.
https://www.aa.com.tr/en/middle-east/syria-terrorist-groups-exhume-muslim-caliph-shrine/1854970
--------
Muslims in Maharashtra town donate 10-bed ICU unit with Zakat money
May 27, 2020
MUMBAI: Muslims in Ichalkaranji town of Maharashtra, 380km from Mumbai, have set a good example by donating a 10-bed ICU at a local hospital with Rs 36 lakh they collected in Zakat from the community members this Ramzan.
Chief minister Uddhav Thackeray inaugurated online the ICU section of Indira Gandhi Memorial (IGM) Civil Hospital on Monday which coincided with Eid celebrations in India. Zakat is 2.5% of the annual savings Muslims give in charity.
Appreciating the community's efforts, Thackeray said via video conference: "Muslims in Ichalkaranji have shown the way for everyone in the country. The Muslim community has set an example on how to celebrate a festival." This is the first government hospital in Ichalkaranji of nearly 3 lakh population with an ICU facility and it is being seen as a major step in fight against the escalating Covid-19 pandemic.
Samast Muslim Samaj (SMS), an organization of Muslims in Ichalkaranji, decided during the holy month of Ramzan to fund a 10-bed ICU facility at the town's only government hospital as earlier patients needing ICU facility were sent to towns like Kolhapur and Solapur. "This is a great gesture by the Muslims of this town. I don't think anywhere else in India Muslims of an entire town have used the zakat money to fund such a facility in critical care. This will help us fight the coronavirus," said Dr Javed Bagwan, a surgeon associated with IGM Civil Hospital.
Nadeem Ahmed, editor of a local newspaper Rahbar Times and a member of the Samast Muslim Samaj, said that a consensus was built among the community members to donate the Rs 36 lakh collected in zakat fund. "There were debates on whether the zakat money can be used for this purpose but finally we reached a consensus that it will be best gift on Eid from us to our town. Hopefully it will be remembered for long," said Ahmed.
Out of nearly three lakh population of Ichalkaranji town, Muslims count around 15%. Maharashtra is among the worst hit states by Covid-19 though the number of positive cases in Ichalkaranji is low. But in case there is a spike in the positive cases, the ICU-equipped government hospital can prove to be a boon.
https://timesofindia.indiatimes.com/city/mumbai/muslims-in-maharashtra-town-donate-10-bed-icu-unit-with-zakat-money/articleshow/76041648.cms
--------
Nizamuddin Markaz: SC asks PCI on action against 'communalisation' by media
May 28, 2020
The Supreme Court on Wednesday sought to know whether the Press Council of India (PCI) has initiated any action on allegations that certain sections of print and electronic media had communalised the Nizamuddin Markaz issue involving members of Tablighi Jamaat.
In a separate matter, the top court also asked the Centre to respond to a plea seeking a probe into the circumstances leading to the holding of the Tablighi Jamaat convention in Nizamuddin in the national capital in March this year.
A bench headed by Chief Justice S A Bobde was hearing a plea by Jamiat-Ulama-I-Hind which alleged that the convention was being reported in such a manner as to spread communal hatred. At the previous hearing, the court had said it "will not gag the press" and asked the petitioner to implead PCI. On Wednesday, the court issued notice to the respondents including the Centre, with the CJI observing "don't let people instigate law and order issues… These are the things that later become law and order issues".
https://indianexpress.com/article/india/nizamuddin-markaz-sc-asks-pci-on-action-against-communalisation-by-media/
--------
Pakistan's Punjab Okays, Actemra, A Life-Saving Drug, Drug to Treat Covid-19 Patients
Asif Chaudhry
May 28, 2020
LAHORE: The Punjab government has approved the use of Actemra, a life-saving drug, for treating critically ill Covid-19 patients in the wake of a sudden rise in the death rate reported by state-run hospitals across the province.
The 400mg injectable drug — an interleukin-6 inhibitor which goes by the generic name of tocilizumab — will be prescribed to patients who develop lung complications and an abnormal level of IL-6 in the blood. The IL-6 is an endogenous chemical which causes inflammation.
"The price of each dose of the drug (injection) is Rs60,000 and it will be given twice to patients under treatment at an Intensive Care Unit (ICU) in a life-threatening condition," a senior official told Dawn.
He said the decision was taken at a meeting called by Punjab Health Minister Dr Yasmin Rashid on Wednesday.
The health department has allowed all teaching hospitals in Lahore to purchase 20 doses of the medicine.
Vice chancellors of medical universities, principals of medical colleges, members of the government's Corona Expert Advisory Group (CEAG), leading pulmonologists and professors of medicine attended the meeting.
Dr Asad Aslam Khan, the chief executive of Lahore's Mayo Hospital, presented a study regarding the use of the drug on critical patients in ICUs.
He told the meeting that his hospital had reported an 80-90 per cent recovery rate after doctors prescribed this drug to critical patients of Covid-19 brought there with damaged lungs and severe pneumonia.
He said one of the patients was an associate professor of medicine at the Government Shahdara Teaching Hospital, Lahore, and another was personal staff officer to the vice chancellor of King Edward Medical University.
Both were under treatment at the Mayo Hospital and the drug's performance was promising to the extent that they had not only recovered but also left the ICU.
Endorsement
The heads of other medical institutions endorsed the use of Actemra, saying their hospitals had used it to treat coronavirus patients.
The meeting of health professionals was informed that the number of Covid-19 patients suffering from pneumonia was going up by the day, leading to a rise in the death rate in Punjab.
Another important decision taken at the meeting pertained to expansion of ICU facilities across the province.
The heads of teaching institutions were asked to expand the bed capacity in high dependency units and ICUs to cope with an expected rise in the number of coronavirus patients in Punjab.
The heads were also advised to raise the number of ventilators to 200 by May 31 and to 400 by the end of next month.
https://www.dawn.com/news/1559833/punjab-okays-drug-to-treat-covid-19-patients
--------
US Congress Approves Sanctions On China Over Crackdown On Uighur Muslims
28 May 2020
Congress has voted to toughen the US response to a brutal Chinese crackdown on ethnic minorities, adding another factor to the increasingly stormy relationship between the two countries.
The House passed a bipartisan bill on Wednesday that would impose sanctions on Chinese officials involved in the mass surveillance and detention of Uighurs and other ethnic groups in the western Xinjiang region, a campaign that has drawn muted international response because of China's influence around the world.
The measure already passed the Senate and needs a signature from President Donald Trump, who said this week he'll "very strongly" consider it amid U.S. anger over China's handling of the coronavirus outbreak and tension over a Chinese plan to restrict civil liberties in Hong Kong.
Both issues emerged, along with other sore points in the China-U.S. relationship, as Republican and Democratic members of Congress spoke in support of the bill. No one spoke against it, and it passed by a 413-1 vote.
"Beijing's barbarous actions targeting the Uighur people are an outrage to the collective conscience of the world," House Speaker Nancy Pelosi said in a floor speech in support of the bill.
It was the first bill in history to pass with proxy votes after House Democrats, over Republican objections, adopted a measure allowing such votes in response to the coronavirus outbreak.
Congress late last year voted to condemn the crackdown in Xinjiang, where Chinese authorities have detained more than a million people — from mostly Muslim ethnic groups that include Uighurs, Kazakhs and Kyrgyz — in a vast network of detention centers.
This new legislation is intended to increase the pressure by imposing sanctions on specific Chinese officials, such as the Communist Party official who oversees government policy in Xinjiang.
The legislation also requires the U.S. government to report to Congress on violations of human rights in Xinjiang as well as China's acquisition of technology used for mass detention and surveillance. It also provides for an assessment of the pervasive reports of harassment and threats of Uighurs and other Chinese nationals in the United States.
A provision that would have imposed export restrictions on surveillance and other equipment used in the crackdown was initially passed in the House but then stripped out in the version that passed in the Senate earlier this month.
Despite the limitations, the legislation amounts to the first concrete step by a government to penalize China over the treatment of the Uighurs since the existence of the mass internment camps became widely known in recent years, said Peter Irwin, a senior program officer at the Uighur Human Rights Project.
"It signals that a member of the international community is actually taking some steps to address the problem," Irwin said.
"The legislation itself has to spur the rest of the international community, particularly the European Union and other powerful blocs of states, to actually take this as a template and pass their own legislation." Rep. Michael McCaul, a Texas Republican and chairman of the House China Task Force, called what's happening in Xinjiang a "cultural genocide" of Uighurs and other mostly Muslim ethnic groups.
The passage of the bill with strong bipartisan support would "show the Chinese Communist Party and the entire world that their treatment of the Muslim Uighurs is inexcusable and will not be allowed without serious consequences," McCaul said.
China has publicly brushed away criticism of its crackdown in Xinjiang, which it launched in 2014 as the "Strike Hard Against Violent Extremism" campaign in a vast resource-rich territory whose inhabitants are largely distinct, culturally and ethnically, from the country's Han Chinese majority.
The Chinese government, when not bristling at criticism of what it sees as an internal matter, has also said the detention camps are vocational training centers. Uighur activists and human rights groups have countered that many of those held are people with advanced degrees and business owners who are influential in their communities and have no need of any special education.
People held in the internment camps have described being subjected to forced political indoctrination, torture, beatings, denial of food and medicine and say they have been prohibited from practicing their religion or speaking their language. China has denied these accounts but refused to allow independent inspections.
https://www.outlookindia.com/website/story/us-congress-approves-sanctions-on-china-over-crackdown-on-uighur-muslims/353640
--------
Why Reintegrating Crimea's Tatar Muslim Community is Important to Ukraine
28 May 2020
In what was positioned as a goodwill gesture, Ukrainian president Volodymyr Zelensky set up a working group for Crimean Tatar's affairs on May 18 in an attempt to address some grievances of the country's ethnic minority. Crimean Tatars are Sunni Muslims of the Hanafi madhhab (school of thought), who have deep roots on the peninsula. There are around 250,000 Tatar Muslims, comprising more than 12 percent of Crimea's population.
Since Russia annexed Crimea in 2014, these Muslims have been culturally and ethnically subjugated. They have been denied work, their language, their newspapers and their very way of life in a bid to push them off the peninsula. After the annexation, Ukraine became the first country to recognize the Soviet Union's 1944 deportation of the Tatars as genocide, a recognition granted by three other countries since then. However, Zelensky's move to address Crimean Tatar grievances was largely viewed as a PR stunt to deflect attention from the fact that he was unable to get Russia to return Crimea.
The Importance of Reintegration
Crimean Tatars have been seeking autonomy for decades. Prior to Russia's annexation of Crimea, the Muslim community has been trying to get their demands on the state's agenda. The return of land, cultural and religious sites such as mosques and memorials and financial assistance are just some of the promises that local authorities have been slow to deliver on. The annexation has complicated their pursuit of self-governance, as Russia has made it clear that it has no intention of returning the peninsula back to Ukraine. As a result, Crimean Muslims believe that in order to keep their identity alive in the country, reintegration into Ukrainian society through cohesion is vital.
A Shared Democratic Vision
A pro-European and pro-democratic path is vital to Ukraine's success and the Muslims of Crimea share this vision. In fact, Crimean Tatar community leaders openly supported the former and pro-European Ukrainian president Petro Poroshenko during the last elections. He did not end up winning and now the Muslim community is working with Zelensky in a bid to advance their interests. The cooperation has paid off, as evident in the introduction of new state holidays for Muslims and, for the first time, a Muslim was appointed as Deputy Minister of Foreign Affairs. These developments have been viewed as first steps in the long process of Crimean Tatar reintegration.
Disenfranchisement and Radicalism
While there isn't enough research available on the radicalization of Crimean Tatars, their deep social and economic disenfranchisement is widely known. This has only been exacerbated by the Kremlin's controversial approach to counterterrorism. For example, Russia banned the Crimean Tatar Majlis — their executive body — labelling it as an extremist organization and filed a criminal case against its leader. Moscow has also persecuted and arrested hundreds of Crimean Tatars for their participation in Hizb ut-Tahrir — a proscribed terrorist group in Russia, Germany, Turkey, Pakistan, Kazakhstan, Tajikistan and Uzbekistan On their part, Ukraine, the United Kingdom and other European states have not designated it a terrorist group. In must be mentioned, however, that the group was close to be labeled a terrorist organization twice in the UK after it was discovered that some terrorists there had previously belonged to Hizb ut-Tahrir and/or had been indoctrinated by its beliefs.
Political and Religious Persecution
Those convicted for participation in terrorist activity in Crimea are believed to be persecuted for political and religious reasons and, thus, unfairly sentenced to long prison sentences by Russia. Human rights organizations have stated that members of Hizb ut-Tahrir have been unlawfully targeted, pointing out that they have not committed any terrorist attacks. While the group seeks to restore the caliphate, it rejects violence as a means to achieve this. Also, according to the group's press secretary, Fazyl Amzaev, the group does not want to establish a caliphate in Ukraine. In fact, Hizb ut-Tahrir has never worried Ukrainian authorities, as no member has ever been arrested, which has not been the case for far-right extremists in the country. In response to Russian aggression against Crimean Tatars, Ukrainian authorities have submitted legal cases against Russia to the International Court of Justice — accusing Moscow of crimes against humanity. This demonstrates Ukraine's commitment to international law in the face of Russia's repeated violations.
Conclusion
In conclusion, there needs to be a strong emphasis on creating inter-faith harmony. Slow progress in addressing the grievances of the Crimean Tatar community has led to an increased sense of vulnerability and anxiety in the Muslim community. Tensions between Muslims and Orthodox Christians have existed well before the annexation of Crimea in 2014, resulting in mutual distrust and, in some cases, clashes. Therefore, it is critical to build trust and bring local communities together to foster inter-faith harmony.
It is clear that promises of change and political slogans are not enough to preserve the status quo. Whether or not Zelensky's promise to defend Crimean Tatar rights is genuine or just a PR move, has yet been determined. However, many hope that his promise will lead to the reintegration of Crimean Tatar's into Ukrainian society — a painful yet important process which is crucial in strengthening the country's democracy.
https://eeradicalization.com/why-reintegrating-crimeas-tatar-muslim-community-is-important-to-ukraine/
--------
Malaysian wins landmark right to challenge Muslim gay sex ban
MAY 27, 2020
[KUALA LUMPUR] Malaysia's top court has given the go-ahead for a man to challenge an Islamic ban on sex "against the order of nature", his lawyer said on Wednesday, in a test case for gay rights in the mostly Muslim country.
LGBT+ rights groups say Islamic laws have been increasingly used to target the country's gay community, with a rise in arrests and punishments ranging from caning to jailing.
The Muslim man in his 30s, whose name has been withheld by his lawyer to protect his privacy, filed the lawsuit after he was arrested in 2018 for attempting gay sex, which he denies.
Same-sex acts are illegal in Muslim-majority Malaysia, although convictions are rare. The country, which has 13 states, has a dual-track legal system, with Islamic criminal and family laws applicable to Muslims running alongside civil laws.
The man argued that central Selangor state, site of his arrest, has no power to enforce an Islamic ban on "intercourse against the order of nature" when gay sex was already a crime under civil laws.
"This will be the first," his lawyer Surendra Ananth told the Thomson Reuters Foundation by phone.
Malaysia's top court gave the case a green light to go ahead in a May 14 decision but it was only made public on Wednesday.
The lawyer said he expected the court to hear arguments by the end of the year, and hoped it could bring changes to other Malaysian states with similar laws.
"(If we win), the state law will be struck down and the criminal charges in the (Islamic) shariah court should be dropped," said Mr Surendra.
Masri Mohd Daud, the legal advisor for the Selangor state which was named as the respondent, could not be reached by phone and did not reply to an email seeking comment.
The man was among 11 men arrested on suspicion of attempting gay sex during a raid in a private residence in Selangor.
Five of the group pleaded guilty, and were sentenced to jail, caning and fines last year, sparking outrage in a socially conservative country whose mores are largely shaped by Islam.
LGBTIQ+ Network, a Malaysian coalition of 12 LGBT+ rights groups, lauded the court's decision to hear the case, saying it would help put a stop to an "ongoing national trend" of using the 'unnatural sex' laws to target LGBT+ people.
"It is clear this state law is being used by authorities to disproportionately criminalise marginalised and persecuted communities based on sexual orientation and gender identity," it said in a statement.
Rights groups say there is growing intolerance toward LGBT+ people in Malaysia, a country of 32 million where 60 per cent of the population is Muslim.
Malaysia retains a British colonial-era ban on sodomy, which is a crime punishable by up to 20 years in jail under civil laws, although it is rarely enforced. Many gay Malaysians are not open about their sexuality as a result of that.
Two women were caned for "attempting lesbian sex" under Islamic laws in the east coast state of Terengganu in 2018, the same year that saw a transgender woman attacked.
https://www.businesstimes.com.sg/government-economy/malaysian-wins-landmark-right-to-challenge-muslim-gay-sex-ban
--------
US police brutality against blacks knows no boundaries: Iran Foreign Ministry
27 May 2020
Iran's Foreign Ministry has condemned America's prevalent police violence against blacks, amid fresh furor in the US over the killing of a handcuffed black man who died after a white officer knelt on his neck for several minutes.
George Floyd died on Monday after being pinned down by a white officer despite yelling: "I cannot breathe."
Floyd's killing has drawn comparisons to Eric Garner, an unarmed African American who died in 2014 after being placed in a chokehold by New York City police and pleading: "I can't breathe."
Iran's Foreign Ministry said in a Twitter message posted Wednesday that six years after the "I can't breathe" pleas of Garner, Floyd died after a "cruel, inhumane arrest."
Iran Foreign Ministry 🇮🇷
@IRIMFA_EN
6 yrs after "I can't breathe" pleas of Eric Garner, #GeorgeFloyd, another black man, dies after a cruel, inhumane arrest. It seems that US #PoliceBrutality against blacks knows no boundaries. And as always, the response to calls for justice, is employing even more force.
View image on TwitterView image on TwitterView image on Twitter
88
11:44 AM - May 27, 2020
Twitter Ads info and privacy
51 people are talking about this
The white Minneapolis police officer pinned him down with his knee in the US state of Minnesota, which led to his death, police have confirmed.
The officers initially found the suspect, aged in his 40s, in a car while responding to a call at 8 pm local time about a forgery in progress.
Meanwhile, protesters took to the streets where Floyd died, with some chanting and carrying banners that read "I can't breathe."
Nekima Levy-Armstrong, a prominent local activist, said watching the footage made her "sick to her stomach".
She told the Star Tribune in Minnesota: "Whatever the man may have done should not have ended in a death sentence.
Police-involved shootings and killings of unarmed black men in the hands of white police officers have led to mass protests across the country in recent years and the formation of the Black Lives Matter movement.
https://www.presstv.com/Detail/2020/05/27/626210/US-police-violence-George-Floyd-Iran's-Foreign-Ministry
--------
Arab World
HRW: Riyadh must free children of ex-Saudi official in exile, overhaul justice system
26 May 2020
Human Rights Watch (HRW) has called for the immediate release of two adult children of a former Saudi intelligence officer, who has been lying low abroad since the rise of Crown Prince Mohammed bin Salman to power.
The New York-based rights body said in a report on Tuesday that Omar al-Jaberi, 21, and Sarah al-Jaberi , 20, children of Saad al-Jabri — who has lived in exile in Canada since 2017 — had been detained in March.
Riyadh's forces also arrested Jabri's brother in May, the report added.
An informed source told the HRW that Jabri's family believes the detentions are meant to coerce the father to return to Saudi Arabia.
Jabri was a senior aide to the deposed former crown prince, Prince Mohammed bin Nayef, and served as the primary Saudi liaison to Western spy agencies.
Bin Nayef, who was always regarded as the senior royal figure closest to western governments, briefly became heir to the throne but was ousted in a palace coup in 2017.
Fearing for his life, Jabri, who was abroad at the time, decided not to return home.
His children were arrested 10 days after the detention of bin Nayef and another senior prince, Ahmed bin Abdulaziz, a brother of King Salman and an uncle of bin Salman, also known as MbS.
Prior to his detention, bin Nayef had effectively been under house arrest since his ouster in the 2017 coup that brought MbS to power.
"Saudi authorities should immediately inform relatives of Sarah and Omar's whereabouts and well-being, release them, and end their travel bans," HRW said on Monday.
"Saudi authorities are sinking to new lows in going after the families of former officials out of favor with the current leadership," said Michael Page, deputy Middle East director at Human Rights Watch.
The official questioned Saudi Arabia's so-called modernization plan while it is launching a wide arbitrary detention campaign, calling for a full overhaul of the kingdom's justice system.
"How can anyone describe the Saudi leadership as reformist while it's arbitrarily detaining the children of former officials?" she asked. "Saudi Arabia's recent justice reforms have not curbed the authorities' contempt for the rule of law, showing the country needs a full overhaul of the justice and security sectors."
The crackdown under bin Salman began in September 2017 with the arrest of dozens of critics and rights activists in what was widely interpreted as an attempt to crush dissent.
Bin Salman has reportedly been putting pressure on Jabri to return to Saudi Arabia.
It comes two years after the young Saudi prince reportedly orchestrated the gruesome assassination of Jamal Khashoggi, a dissident journalist who had been critical of bin Salman's policies before he was killed at the Saudi consulate in Istanbul in October 2018.
Jabri, a graduate of artificial intelligence from Scotland, is believed to be very well-informed about Saudi Arabia's top secrets, including the identities of dissidents killed by bin Salman and the place where they have been buried.
Saudi authorities have accused Jabri of involvement in corruption, saying he has been misusing his position to amass a personal fortune. Bin Salman wants him in the kingdom under the pretext of getting the money back.
Some fear that Jabri could eventually be forced back to Riyadh through Washington's lobbying given the close ties between bin Salman and the US administration.
That could pose the defector to a similar fate to that of Khashoggi.
The HRW call came days after The New York Times reported that Riyadh was using extreme harassment tactics against relatives of Jabri.
https://www.presstv.com/Detail/2020/05/26/626140/HRW-Saudi-Arabia-Saad-al-Jabri-bin-Salman
--------
Dismissal of US State Department Inspector Demanded by Saudi Crown Prince
May 27, 2020
Nour News website close to Iran's Supreme National Security Council (SNSC) quoted US sources on Wednesday as saying that the expulsion of Linick and the non-restriction of arms sales to Saudi Arabia has been cited as a precondition for Mohammed bin Salman to finance the Trump campaign in the 2020 presidential election.
A number of Democrat lawmakers in the US Congress had earlier said that the State Department inspector, who has recently been fired by Donald Trump, had launched an investigation into arms sales to Saudi Arabia.
They added that Linick has been investigating why and how the $7 billion arms deal with Saudi Arabia was smoothed out despite opposition from the Congress.
While neither the White House nor the State Department has given a specific reason for the expulsion of Linick, Mike Pompeo has stated that he has called for his expulsion because Linick damages the State Department's reputation.
Eliot Engel, chairman of the House Foreign Affairs Committee, also said that dismissal of Linick before the end of his investigation was a matter of concern.
Meanwhile, analysts consider the dismissal of Linick as an attempt to cover up the widespread Saudi war crimes in Yemen with American weapons.
Engel and Senator Bob Menendez, the ranking Democrat on the Republican-controlled Senate Foreign Relations Committee, announced on Saturday that they were launching an investigation of Linick's firing.
"I have learned that there may be another reason for Mr Linick's firing. His office was investigating - at my request - Trump's phony declaration of an emergency so he could send weapons to Saudi Arabia," Engel said in a statement.
"We don't have the full picture yet, but it's troubling that Secretary (Mike) Pompeo wanted Mr Linick pushed out before this work could be completed. The administration should comply with the probe I launched with Senator Menendez and turn over all the records requested from the Department by Friday," Engel said.
Even fellow Republicans are now demanding answers about Linick's dismissal.
Full report at:
https://en.farsnews.ir/newstext.aspx?nn=13990307000842
--------
Despite growing poverty, history of extremism, Lebanon's radicals are yet to return
27 May 2020
Despite growing impoverishment in Lebanon's Tripoli and the city's long history with extremism, radicals have failed to leverage popular resentment against the state, remaining largely absent from demonstrations, signaling the movement's failure to find roots.
For years, Tripoli has been seen as a hotbed of extremism and poverty, and during the height of neighboring Syria's civil war, the view of the northern city as a stronghold for extremists intensified.
But as Lebanon's economic situation has rapidly deteriorated, and more are unemployed and hungry, the fact that the extremist street has remained silent as Lebanon is engulfed in a new phase of instability and protests, is testament to the movement's failure to find strong roots there.
In 2016, 76 percent of Lebanese households in Tripoli had a monthly income of less than 750,000 LBP ($178), while 74 percent of the Syrian refugees who live there fall below the poverty line with less 180,000 LBP ($42).
"The situation has worsened since," said activist Talal Kabara. "The majority of people are now in need of food aid and subsidies," he added.
The government recently warned that 75 percent of Lebanese nationwide needed aid. The coronavirus pandemic has been a further stressor on a fragile economic situation.
"Tripoli residents' demands are mostly socioeconomic and are shared by everyone, including the Islamist street," said Dr. Sari Hanafi, sociology professor at the American University of Beirut.
"The generally moderate stand adopted the by the state against protestors has prevented the use of violence by the more radical (elements)," said Hanafi.
Additionally, many Lebanese extremists have been arrested and others have been disenchanted by the Syrian Jihad, explained Abu Omar, who was part of an extremist group in Tripoli.
The context in which these groups operated has changed, Omar explained.
Extremism began to take hold in Lebanon's north over a decade ago, following the 2005 assassination of Prime Minister Rafic Hariri, for which Hezbollah members are under prosecution by the Special Tribunal for Lebanon. The 2008 takeover of Beirut by Hezbollah militants exacerbated tensions between Sunnis and Shias in Lebanon.
"There was a feeling at the time among Sunnis that the government and secular movements did not respond to people's expectation," said sheikh Nabil Rahim, a reformed Sunni cleric.
"There was also resentment toward Hezbollah, which was perceived as taking over the country, [and] people turned increasingly to the Islamic street."
Tripoli was more vulnerable to the appeal of extremist movements, as the city was the scene in 2007 of the Nahr al-Bared war that pitted the Lebanese army against radical extremists belonging to the group Fatah al-Islam whose leader, Shaker Absi, held strong ties to Syrian intelligence and Al-Qaeda in Iraq. The forced collapse of Lebanon's government in January 2011 led by of then-Prime Minister Saad Hariri, son of Rafic Hariri, followed by the Syrian revolution empowered Tripoli extremists.
Khalil Gebara, senior fellow at the Issam Fares Institute (IFI) at the American University of Beirut underlined that the extremist community remained small and dispersed in Lebanon.
"Jihadists group failed to mobilize the mainstream Lebanese Sunni street. Reports of the so-called Islamic State (IS) strength in Lebanon were also highly exaggerated," added Gebara.
He said that the number of Lebanese who went to fight in Syria alongside ISIS or the al-Qaeda linked Nusra front, excluding the Free Syrian Army, amounted to less than 450.
"Today a new day has begun, people have stopped believing in their sectarian leaders, they know they have been used to push the agendas of local politicians," said Kabara.
Some of Lebanon's most prominent political figures hail from Tripoli, including former Prime Ministers Najib Mikati and Omar Karami. Mikati and Member of Parliament Mohammad Safadi are considered as among, if not, the richest men in the country.
Yet Tripoli's politicians have failed to improve their coreligionists living conditions.
Sheikh Nabil Rahim acknowledges that despite the city's worsening economic conditions and the general discontent prevailing in the city, extremists have been largely absent from the protests.
Notwithstanding, the participation of some Islamist figures as well as the Muslim Brotherhood in demonstrations, the movement has failed to mobilize the hardcore extremist community, he said.
Full report at:
https://english.alarabiya.net/en/News/middle-east/2020/05/27/Despite-growing-poverty-history-of-extremism-Lebanon-s-radicals-are-yet-to-return.html
--------
Hezbollah's Nasrallah mocks Gantz on anniversary of Israeli withdrawal from Lebanon
26 May 2020
Hezbollah chief Hassan Nasrallah has mocked Israel's new Defense Minister Benny Gantz during an interview marking 20 years since the Israeli withdrawal from south Lebanon.
"The Defense Minister of the enemy state Benny Gantz was the one who locked the [border] gate on May 24, 2000. The main leaders of the occupying entity today have lived the experience in southern Lebanon. [The Israelis] have lived obsessively since 2006 until today. They are afraid to take any step. They admit that they could not prevent the growing resistance," Nasrallah said in a radio interview on Tuesday.
The head of the Lebanese Hezbollah group also on Tuesday rejected a US request to empower a UN peacekeeping force patrolling the border with Israel.
For all the latest headlines follow our Google News channel online or via the app.
Nasrallah spoke ahead of a UN Security Council vote this summer to renew the mandate of the UN Interim Force in Lebanon (UNIFIL).
"The Americans, as the result of Israeli demands, are raising the issue of changing the nature of UNIFIL's mission," Nasrallah said in a radio interview to mark 20 years since Israel withdrew from Lebanon.
"Lebanon has refused to change UNIFIL's mission, but Israel wants... it to have the right to raid and search private properties, and the Americans are pressuring Lebanon on this matter," Nasrallah said.
In August last year, the UN Security Council voted to renew UNIFIL's mandate for a year.
But the resolution included a requirement – on the insistence of the United States, diplomats said – for the UN secretary general to perform an evaluation on the UNIFIL mission and its staff before June 1, 2020.
"We are not against UNIFIL staying," Nasrallah said.
Full report at:
https://english.alarabiya.net/en/News/middle-east/2020/05/27/Hezbollah-s-Nasrallah-mocks-Gantz-on-anniversary-of-Israeli-withdrawal-from-Lebanon.html
--------
In Lebanon, a growing rift between Hezbollah and their long-time Christian ally
27 May 2020
In Lebanon, Iran-backed Hezbollah and their Christian allies have heavily swayed internal politics for years, but now, there appears to be a growing rift within the Christian bloc, threatening the cohesion of in the once-solid alliance.
For years, the pairing allowed Hezbollah to dominate the Lebanese political system and influence major decisions related to the country's foreign and defense policies.
But the past two weeks have been marked by fiery statements from several Christian party leaders aimed each other and at their long-time ally Hezbollah.
For veteran journalist Paul Khalifeh, misunderstandings between Hezbollah's Christian allies are twofold: "They represent a pushback by traditional leaders against reforms brought by the [Hassan] Diab government – such as in the case of Member of Parliament Sleiman Frangieh – and emphasize feuds within Christian blocs."
Frangieh, who heads the Christian Marada movement, launched scathing attacks against the FPM, and specifically its leader Gebran Bassil, following the arrest of his friend Sarkis Hleiss on corruption charges at the Ministry of Energy and Water.
At the demand of the government, public prosecutor Ghada Aoun – a close ally of President Aoun and his son in law former Foreign Minister Bassil – ordered the arrest of several employees at the energy ministry as news of a defective fuel scandal broke.
Frangieh accused Bassil and the FPM of corruption as it has headed the energy ministry for more than 10 years.
The Marada refused to comment to Al Arabiya English.
The deepening Marada-FPM divide has its roots in the 2018 parliamentary elections.
"The relation between the Marada and the FPM degraded significantly after the parliamentary elections, as the two parties competed instead of collaborating in several regions," said Khalifeh.
Recently, MP General Chamel Roukoz who ran on an FPM ticket in the 2018 parliamentary elections denounced the party's contribution to the country's mismanagement and rampant corruption.
In a veiled criticism of the FPM, Roukoz said the fight against corruption, a popular FPM slogan, had become empty words. In another spat directed at Bassil, Roukoz criticized the populist and divisive use of defense of "Christians' rights," largely promoted by Bassil.
Roukoz is a respected military leader and, like Bassil, is a son in law of President Aoun.
In an interview with Al Arabiya English, Roukoz said that all political factions that have been ruling over the country for the last decade – including the FPM – are responsible for the country's collapse.
Roukoz has significantly distanced himself from the FPM since the October 2019 anti-corruption protests that shook Lebanon to the core. Another close ally of the FPM, MP Nemat Frem, a respected business figure, also dissociated from the movement by joining the October protests.
"The catastrophic situation in which Lebanon finds itself is the result of the (2008) 'unity government,' which consecrated the principle of clientelism and 'mohassassa' (allocation of certain post to specific parties), by diffusing political responsibility across the system and gave free reign to corruption," explained Roukoz.
The 2008 Doha agreement that ended an 18-month political crisis confirmed the principle of consensual government and gave a veto right to the minority, which at the time was led by Hezbollah and the FPM.
Hezbollah consolidates power
In recent years, Hezbollah has consolidated its grip on the Lebanese political system. Its alliance with the Christian Free Patriotic Movement (FPM) ultimately allowed the movement's founder Michel Aoun to become Lebanon's president in 2016.
In the 2018 parliamentary elections, another alliance – that of the Marada with support of the Shia Amal movement – allowed Hezbollah to win a comfortable majority.
Fast forward a year. Former Prime Minister Saad Hariri's resignation in the wake of popular uprising, paved the way for Hassan Diab's government to form with Hezbollah's blessing. The Diab government is said to be a "one-color" government lacking opposition.
While Hezbollah back the Diab government, the new ruling elite is slowly eroding the political understanding between the various factions making up the March 8 coalition, explained Nabil Boumounsef, assistant editor at the Annahar newspaper.
"The cohesion within [the] March 8 coalition (dominated by Hezbollah), allowed the party to strengthen its power within the Lebanese political system," said
Beyond cracks between Christian allies, the FPM has also directly targeted its ally Hezbollah. On May 22, FPM deputy Ziad Assouad, stated that "we could not continue to carry weapons when people are hungry," in a direct reference to the armed militia and political party.
The widening rift is slowly destroying the March 8 coalition dominated by Hezbollah, predicted Boumounsef.
Outside experts believe that when President Aoun, who is 85, is no longer at the head of the state, his absence will further fragment the movement.
The challenging economic situation in Lebanon and the need for reform is also putting pressure on the alliance.
Outside domestic political squabbles, "Iran's regional containment and growing sanctions will further weaken the Hezbollah led March 8 coalition position in the future," said Boumounsef.
Full report at:
https://english.alarabiya.net/en/News/middle-east/2020/05/27/In-Lebanon-a-growing-rift-between-Hezbollah-and-their-long-time-Christian-ally.html
--------
Coronavirus: Saudi Arabia allows outdoor exercise, internal travel as lockdown eases
28 May 2020
Saudi Arabia has lifted some restrictions on movement for residents within the country and is now allowing travel between its provinces in a partial easing of its coronavirus lockdown, the Ministry of Interior announced on Thursday.
On Tuesday, the Kingdom announced it would be entering a new phase of its coronavirus strategy on May 28. Today, the ministry confirmed that the new strategy had been put into place, lifting some of the restrictions imposed in lockdown.
From May 28 until May 30, residents with permits from the "Tawakkalna" app will be allowed to move between 6 a.m. and 3 p.m. throughout the Kingdom, except Mecca.
The move also allows residents to travel between provinces in private vehicles within non-curfew hours.
More shops, including wholesale, retail and malls, will also be allowed to reopen in a further lifting of the lockdown restrictions, as long as all precautionary measures are adhered to.
Full report at:
https://english.alarabiya.net/en/coronavirus/2020/05/28/Coronavirus-Saudi-Arabia-will-allow-travel-between-provinces-on-June-5.html
--------
Coronavirus: UAE says 30 pct of federal employees to return to work from May 31
28 May 2020
The United Arab Emirates announced that 30 percent of employees in federal ministries, authorities, and institutions will return to their work starting May 31, adding that the capacity will gradually increase later on as the country eases coronavirus restrictions.
The decision announced on Wednesday said that the physical return to workplaces comes as the UAE enhances the continuity of government work, the gradual return of employees, and the provision of government services.
"The decision stresses that all preventive and precautionary measures to contain the spread of coronavirus, COVID-19, must be adhered to," the UAE's Federal Authority for Government Human Resources (FAHR) said in a statement.
The decision will not apply to certain groups of employees, who will be exempted and allowed to continue to work remotely from their homes. These groups include: pregnant women, people of determination, people with pre-existing chronic health issues, people who suffer from underlying respiratory diseases like asthma and diabetes, as well as older employees, female employees who provide for their children in grade 9 and below until the end of the current school year, female employees who are mothers to children in foster care or those who care for people who require permanent health care under emergency conditions.
Employees who live with groups who are susceptible to health risks and their direct contacts, like elderly people or the people suffering from chronic diseases, weak immunity, or people of determination, will also be exempted from physically returning to their workplaces, the authorities added.
Full report at:
https://english.alarabiya.net/en/coronavirus/2020/05/28/Coronavirus-UAE-says-30-pct-to-return-to-work-at-federal-ministries-from-May-31.html
--------
Khashoggi's family may have pardoned killers under Saudi pressure: Saudi scholar
26 May 2020
A Saudi scholar says the family of murdered journalist Jamal Khashoggi may have forgiven his killers under "pressure and intimidation" from the Riyadh regime.
Abdullah Alaoudh, a Saudi academic at Georgetown University in Washington DC, and himself the son of a Saudi dissident, wrote in an article on The Washington Post that Khashoggi's family, who said they pardoned the journalist's killers, were "no different than any Saudi family that faces tremendous pressure and intimidation from the Saudi government."
Pointing to several cases similar to what happened to Khashoggi, the Saudi scholar said, "We are witnessing an unprecedented number of cases in which families are used as hostages to intimidate activists and writers abroad."
Alaoudh made the comment after Salah Khashoggi, the son of the slain Saudi dissident journalist, announced in a tweet on Friday that he had pardoned the killers of his father.
Khashoggi's fiancée, Hatice Cengiz, however rejected his family's decision to forgive their father's murderers and said no one had the right to pardon the killers.
Khashoggi, she said, has become "an international symbol bigger than any of us, admired and loved."
Khashoggi, a columnist for The Washington Post, who had become a critic of Saudi Crown Prince Mohammed bin Salman, was killed and his body was dismembered by a Saudi hit squad after being lured into the Saudi consulate in Istanbul on 2 October 2018.
Some Western governments, as well as the CIA, have concluded that bin Salman ordered the killing.
Full report at:
https://www.presstv.com/Detail/2020/05/26/626181/Jamal-Khashoggi-Saudi-pressure
--------
Turkish forces, allied militants intend to steal wheat crops in Syria's Hasakah: SANA
26 May 2020
Turkish military forces and allied militants are reportedly planning to steal tens of tons of grain from Syria's northeastern province of Hasakah, and smuggle it across the border.
Syria's official news agency, citing local sources, reported on Tuesday that Turkish troops and their allies had brought in a number of combine harvesters to the key border town of Ra's al-Ayn in order to reap wheat crops and seize them later.
The sources added that Turkish military forces and allied militants have already stolen more than 15 percent of wheat production in the region following threats of setting fire to farming lands in case local residents did not comply with their arbitrary measures.
Turkish-backed militants were deployed to northern Syria last October after Turkish military forces launched a long-threatened cross-border invasion in a declared attempt to push the Kurdish People's Protection Unit (YPG) militants away from border areas.
Ankara views the US-backed YPG as a terrorist organization tied to the homegrown Kurdistan Workers' Party (PKK), which has been seeking an autonomous Kurdish region in Turkey since 1984.
On October 22 last year, Russian President Vladimir Putin and his Turkish counterpart, Recep Tayyip Erdogan, signed a memorandum of understanding that asserted the YPG militants had to withdraw from the Turkish-controlled "safe zone" in northeastern Syria within 150 hours, after which Ankara and Moscow would run joint patrols around the area.
US dispatches trucks loaded with military equipment to Hasakah
Separately, a convoy of several trucks crossed the Waleed border crossing on Tuesday and headed toward US positions in al-Ya'rubiyah town of Hasakah province, local sources told SANA.
The sources added that six armored vehicles also entered the Syrian territory though the Iraqi border village of al-Mahmoudiyah, and headed to oil wells that are under the control of US soldiers.
Since late October 2019, the US has been redeploying troops to the oil fields controlled by Kurdish forces in eastern Syria, in a reversal of President Donald Trump's earlier order to withdraw all troops from the Arab country.
The Pentagon claims the move aims to "protect" the fields and facilities from possible attacks by the Daesh Takfiri terrorist group. That claim came although Trump had earlier suggested that Washington sought economic interests in controlling the oil fields.
Syria, which has not authorized American military presence in its territory, has condemned the US, saying it is "plundering" the country's oil.
Full report at:
https://www.presstv.com/Detail/2020/05/26/626178/Turkish-forces,-allied-militants-intend-to-pilfer-wheat-crops-in-Syria%E2%80%99s-Hasakah-SANA
--------
Saudis learning to live with lessons learned from COVID-19 pandemic
May 27, 2020
JEDDAH/RIYADH: The coronavirus disease (COVID-19) pandemic has brought about a seismic shift in the daily lives of people around the world.
Lockdowns, self-isolation, and social distancing will be spoken about for generations to come once the global health crisis is over.
And many lessons will have been learned as the world steadily comes to terms with forced changes to everyday routines, both at work and at home, as a result of the deadly COVID-19 outbreak.
Fahd Mohammad, a 31-year-old Pakistani expat who is currently quarantined with his family, told Arab News that the virus had changed his perspective on life.
"We have a new understanding of what is important and what is not. We need to be more prepared about sudden big changes in life, save more, and build our own health in a way that it can fight such challenges," he said.
Hafsa Khalid, a teacher who lives in Jeddah, said the pandemic had impacted on her job. "Being an educator, this pandemic has brought a major change in my way of teaching and how I have to associate it with my lessons while giving online classes.
"This includes everything from simple concepts, such as why hygiene matters and how germs spread, to more complex topics like ethical decision-making, the science behind how viral infections work, or the mathematics underpinning pandemics," she added.
"I am finding ways to help the kids I teach to rise above the noise with unique, thoughtful lessons. I have become more careful and observant in my everyday lifestyle and routine."
Khalid said that some of the habits she wanted to keep after the crisis was over included praying, meditating, reading, creating, and spending quality time with family.
Rooftop family gatherings and workouts have helped to maintain her sanity and relieve her anxiety during the lockdown, she added. "Fresh air and starry nights work wonders."
Aya Karim, a 24-year-old Saudi university student, said that in the grand scheme of things she had developed some beneficial habits, including time management.
"On a smaller scale due to the coronavirus, I have learned how to spend time at home and time management. It has also turned me into a germaphobe, and I find myself going out of my way to be cautious. I like to think that I will sustain these habits," she added.
The COVID-19 outbreak had also afforded her time to explore the world of fitness and she hoped that global lessons will have been learned about how to combat any future pandemics. "Not just the coronavirus but anything else — the precautions and the general course of action."
Cricket coach Hasnat Ahmed, 31, said it had been a struggle to move his field activities to online platforms.
"From a proactive sports coach on the field to day-to-day life at a standstill, the coronavirus has drastically changed my world — there is no room for sport as we know it. The usual structure has totally changed from conducting physical sports sessions to adapting to virtual sessions," Ahmed added.
Deema Al-Sehli, a project design manager, said: "I have learned to enjoy simple pleasures such as an ice cream cone while watching my favorite series."
Meanwhile, Nasser Al-Shalhoub, a Riyadh-based financial analyst, said people should learn "to seize the moment, live life to the full, look forward to the future and never look back."
Banker, Aliah Abudhear, pointed out that quarantine would help many people to appreciate that health and parents were "an invaluable blessing."
Full report at:
https://www.arabnews.com/node/1680856/saudi-arabia
--------
Arab coalition intercepts Houthi drones launched toward Saudi Arabia's Najran
May 27, 2020
RIYADH: The Arab coalition has intercepted drones that were launched by the Houthis toward residential areas in the Saudi city of Najran, Saudi Press Agency (SPA) reported on Wednesday.
Coalition spokesman Col. Turki Al-Maliki said the Houthi militia continued to violate international humanitarian law by launching drones and deliberately targeting civilians and residential areas, threatening the lives of hundreds of civilians.
Al-Maliki added that the attack shows that the Houthis reject the ceasefire initiative announced by the Arab coalition last month. He also said the Houthis have violated the ceasefire 4,455 times so far.
Full report at:
https://www.arabnews.com/node/1680781/saudi-arabia
--------
Saudi crown prince and Russian president discuss global oil markets
May 27, 2020
RIYADH: Russian President Vladimir Putin called Saudi Crown Prince Mohammed bin Salman, the Kingdom's deputy prime minister and minister of defense, on Wednesday.
During their telephone conversation they discussed the efforts being made to stabilize global oil markets. Putin praised the Kingdom for the prominent role it is playing in helping to achieve this.
The two men also talked about the relationship between their countries and how it might further be developed.
https://www.arabnews.com/node/1680776/saudi-arabia
--------
Separate blasts in Syria's Idlib kill 6 militants, Turkish soldier
May 28, 2020
BEIRUT/ISTANBUL: Six militants were killed on Wednesday in an explosion that hit their arms depot in northwest Syria while Russian warplanes flew overhead, a war monitoring group said.
The Britain-based Syrian Observatory for Human Rights did not say if Russia was behind the blast that killed the non-Syrian militants allied with the Turkistan Islamic Party, a Uighur-dominated militant group.
"We don't know if it is the result of aerial bombardment or an explosion inside the warehouse," Observatory head Rami Abdul Rahman said.
If confirmed, it would mark the first Russian strike on the Idlib region since a cease-fire went into effect in March.
Home to some 3 million people, the last major opposition bastion in Idlib is controlled by the Hayat Tahrir Al-Sham (HTS) alliance, led by Al-Qaeda's former Syria affiliate.
A Russian-backed regime offensive between December and March displaced nearly a million people in the northwest, but at least 140,000 have returned since a cease-fire went into effect, according to the UN.
The truce, which coincided with the novel coronavirus crisis, had put a stop to the relentless air strikes by the regime and Russia that killed at least 500 civilians in four months.
Wednesday's explosion hit an arms depot in the Al-Taybat village near the town of Jisr Al-Shughur, which is controlled by the HTS-allied Turkistan Islamic Party, the Observatory said.
Nearly half of Idlib's population consists of Syrians displaced from other parts of the country.
The war in Syria has killed more than 380,000 people and displaced nearly half of the country's pre-war population since it started in 2011.
While a cease-fire in Syria has reduced combat between rebels and government forces, mercenaries from the two sides are still fighting in Libya on behalf of their Russian and Turkish backers.
UN experts estimated that up to 5,000 Syrian mercenaries may be in Libya, including "those fighters recruited by Turkey in support of the" UN-recognized Government of National Accord.
Turkish soldier killed
A Turkish soldier was killed in Idlib on Wednesday after an explosion along the M4 highway, Turkey's Defense Ministry said in a statement. Earlier, Turkey's private Demiroren news agency had reported that the explosion was caused by a roadside bomb but the Defense Ministry said the reason for the blast was not immediately clear.
"During a road control patrol in the Idlib region, due to an explosion 250 meters south of the search area, and whose cause has not yet been determined, one soldier was wounded and taken to hospital immediately," the ministry said. He died in the hospital
Full report at:
https://www.arabnews.com/node/1681011/middle-east
--------
India
Pulwama's 60-kg car bomb seized by cops could be Lashkar-Jaish joint op
Shishir Gupta
May 28, 2020
A car packed with 60 kg explosives was intercepted in an late night operation by a joint team of security forces in South Kashmir's Pulwama district, averting what could have been a repeat of the 2019 suicide bombing of a CRPF bus that killed 40 soldiers more than a year ago.
The explosives were later detonated by the Jammu and Kashmir police on an isolated stretch since it was considered too risky to defuse the car bomb. In a video released by Jammu and Kashmir Police, the car is seen turning into a huge ball of fire before enveloping the area in thick smoke.
"This is such great work. Imagine if this had led to loss of lives. Just grateful this is not mixed in with human ash," said Kashmir police officer Rayees Mohammad Bhat, who also tweeted a 9-second video of what he described as the "ashfall" from the explosion.
Jammu and Kashmir police officers who examined the car bomb before it was detonated suspect Waleed Bhai, a notorious bomb maker of the Jaish-e-Mohammed terror group, had put together the car bomb.
But the car bomb, a senior police officer told Hindustan Times, also exemplifies that the line between terror groups was only notional since they were working closely and were increasingly moved from one group of another.
"This is purely a Jaish and Lashkar joint operation. But the (terror) factory is located in Pakistan, whether Hizbul, Jaish or the TRF (The Resistance Front)," Jammu and Kashmir Police chief Dilbag Singh told Hindustan Times.
The initial intelligence input that led to an overnight operation in Pulwama was that a Hizbul Mujahideen terrorist was driving the car. The input didn't indicate which route he would take. "So joint teams of the J&K police, CRPF and Army mapped all the possible routes and set up checkpoints," a Jammu and Kashmir police officer said.
When the car suspected to be carrying the bomb was spotted at Ayekhand, the security forces - who had positioned themselves away from the road - started firing at the car. The terrorist drove for a bit before stopping the car and escaping in the jungle.
The explosives were being carried in a drum on the rear seat of the Santro car which had a fake registration plate. "Possibly more explosives could be fitted elsewhere in the vehicle," a police officer said.
Security forces waited till dawn and evacuated people living in the neighbourhood. "The vehicle was exploded in situ by the Bomb Disposal Squads as moving the vehicle would have involved serious threat," the police said.
https://www.hindustantimes.com/india-news/pulwama-s-60-kg-car-bomb-seized-by-cops-could-be-lashkar-jaish-joint-op/story-H27kv45oXh28DWmFPuJMSI.html
--------
Mosques, churches set to open on June 1: Karnataka CM
May 28, 2020
CM BS Yediyurappa on Wednesday said mosques and churches will also open on June 1 along with temples. "When we say we will open temple, it means we will open mosques and churches too. The law is the same for everyone. But this is also subject to the Centre's nod," he said.
The government on Tuesday gave permission to open all temples, including 34,000 managed by the muzrai department.
The move had come under criticism as the government had not mentioned about opening mosques and churches. Congress MLAs NA Haris and BZ Zameer Ahmed Khan have urged the CM to allow mosques and churches to open.
https://timesofindia.indiatimes.com/city/bengaluru/mosques-churches-set-to-open-on-june-1-karnataka-cm/articleshow/76054226.cms
--------
J&K: Major IED blast averted by timely input, action by security forces in Pulwama
May 28, 2020
PULWAMA: A major incident of a vehicle-borne IED blast was averted by the timely input and action by Pulwama Police, Central Reserve Police Force (CRPF) and Army, the Jammu and Kashmir Police said.
According to sources, Pulwama Police got credible information last night about a terrorist moving with an explosive-laden car ready to blast at some location. They took out various parties of police and security forces and covered all possible routes keeping themselves and the police and security forces away from the road at safer locations.
The suspected vehicle came and a few rounds were fired towards it. A little ahead this vehicle was abandoned and the driver escaped in the darkness. On close look, the vehicle was seen to be carrying heavy explosives in a drum on the rear seat. Possibly more explosive would be fitted elsewhere in the vehicle, sources added.
#JammuKashmir: In-situ explosion of the vehicle, which was carrying IED, by Police in #Pulwama. Major IED blast a… https://t.co/7Dn4nbLFVV
— The Times Of India (@timesofindia) 1590642946000
The vehicle was kept under watch for the night. People in nearby houses were evacuated and the vehicle exploded in situ by the Bomb Disposal Squad as moving the vehicle would have involved serious threat, sources said.
Full report at:
https://timesofindia.indiatimes.com/india/jk-major-ied-blast-averted-by-timely-input-action-by-security-forces-in-pulwama/articleshow/76058135.cms
--------
Car bombing foiled in Pulwama; driver escaped: J&K Police
May 28, 2020
A private vehicle rigged with improvised explosives was recovered in South Kashmir's in Pulwama district, security officials said on Thursday.
A senior police officer told The Indian Express that joint forces posted at a check post in Rajpora area spotted a Santro car moving suspiciously.
"The person driving the car escaped from the area, leaving the car behind… the security forces recovered huge quantity of explosives and, subsequently, it was destroyed," said the officer. The registration plate of the car was found to be fake.
ANI
✔
@ANI
#WATCH J&K: In-situ explosion of the vehicle, which was carrying IED, by Police in Pulwama.
Major incident of vehicle-borne IED explosion was averted by Police, CRPF & Army after Pulwama Police got credible info last night that a terrorist was moving with an explosive-laden car
Embedded video
2,715
10:27 AM - May 28, 2020
Twitter Ads info and privacy
986 people are talking about this
Kashmir IGP Vijay Kumar told The Indian Express that "timely input and action by Pulwama Police, CRPF and Army" has averted a major incident.
A CRPF spokesperson said that troops of 182 Bn, 183 Bn, CRPF, special operation group of JK Police and Army was involved in the operation. "Explosives destroyed by the combined BDDS Team during night hours," the spokesperson added.
https://indianexpress.com/article/india/major-blast-averted-in-pulwama-security-forces-recover-car-laden-with-explosives-6430837/
--------
Pakistan
Turkey, Pakistan, Malaysia and Qatar form troubling new alliance
By JONATHAN SPYER
MAY 27, 2020
The name of fugitive Indian Salafi Islamist preacher Zakir Naik is little known in the West. Naik, founder of the Mumbai-based Islamic Research Foundation, is currently being pursued by the Indian authorities on charges of money laundering and hate speech.
Naik is a popular Islamist preacher in his native country. He has been referred to as "perhaps the most influential Salafi ideologue in India" and "the world's leading Salafi evangelist." His views on subjects such as homosexuality, apostasy and the Jews are as might be expected (the first two deserve the death penalty, the third "control America").
The Indian authorities note evidence that two of the seven terrorists who carried out a deadly attack at a café in Dhaka, Bangladesh, on July 1, 2016, claimed inspiration from his teachings.
In himself, the fugitive preacher is of only passing interest. Naik's activities are worthy of further note, however, because the list of his supporters and their activities on his behalf cast light on an emergent nexus in the Islamic world deserving of greater attention. This crystallizing alliance looks set to be of considerable consequence in the period opening up, not least for Israel and some of its partners in the region and beyond.
Fleeing from the Indian authorities, Naik has been the lucky recipient of permanent resident status in Malaysia. There, his case has become something of a cause célèbre. The Malaysian Islamic Party, which has four ministers in the current government, is vociferously opposed to acceding to Indian calls for his extradition.
Reports in a number of Indian media outlets claim that the (unusual) granting of permanent residency to the fugitive preacher came as a result of a request from the government of Pakistan. The reports further suggest that "Pakistan is also using its relations with... Turkey and Qatar to provide funding to Zakir Naik."
Naik, for his part, has offered fulsome praise for Turkish President Recep Tayyip Erdogan. Speaking to an Islamist group, headed by Bilal Erdogan, in 2017, the Indian preacher referred to the Turkish leader as "one of the few Muslim leaders who has the guts to support Islam openly," adding: "Oh Muslim world, wake up.... May Erdogan be the next leader of the Muslim world."
THE DISPUTE around Naik casts light on the currently burgeoning relations between three significant Muslim countries – Turkey, Pakistan and Malaysia. This emergent alliance is a reflection of a shift in power in the Islamic world away from its traditional Arab center.
Ankara, Islamabad and Kuala Lumpur, with Qatar as an additional partner, today constitute an emergent power nexus, built around a common orientation toward a conservative, Sunni political Islam. This nexus is united as much by common enmities as by common affections. Its enemies, are India, Israel and (at the rhetorical level) the Christian West.
Its rivals within the diplomacy of the Islamic world, meanwhile, are Saudi Arabia, which has traditionally dominated the Organization of the Islamic Conference, the main pan-Islamic diplomatic body, and the UAE.
The crystallization of this new alliance has been apparent for some time. In late September 2019, Erdogan, Malaysian prime minister Mahathir Mohamad and Pakistani Prime Minister Imran Khan met at the sidelines of the 74th United Nations General Assembly in New York. The three agreed at that meeting to establish an English-language TV channel to combat 'Islamophobia' in the West.
Mahathir then sought to convene a summit in Kuala Lumpur, in December 2019, to identify, according to a press release announcing the summit, "what has gone wrong – with a view to eventually reclaiming the Muslim world's fame and glory of yore." Briefing the media in Putrajaya, Malaysia, on the summit, Mahathir suggested that "maybe, it can be regarded as the first step towards rebuilding the great Muslim civilization."
The countries invited to the Kuala Lumpur summit were Turkey, Pakistan, Qatar and Indonesia. Mahathir described the invited countries as "a few people who have the same perception of Islam and the problems faced by Muslims."
Subsequent Saudi pressure on Pakistan prevented its attendance at the KL summit. The joint diplomatic activities of the countries invited, however, have continued apace. So far, these efforts have largely been directed at India, with the focus on the issue of the disputed territory of Kashmir.
Kashmir appears to be a matter of particular interest to the Turkish president, in his effort to cast himself as a pan-Islamic leader, and in his desire to draw closer to Pakistan.
Turkey held an international conference on the subject on November 21, 2019. A Pakistani senator, Sherry Rehmen, participated in this gathering. During Erdogan's visit to Pakistan in early 2020, the Turkish president mentioned Kashmir six times during a 25-minute speech to a joint session of the Pakistani parliament.
Erdogan likened Kashmir to the Turkish struggle for Gallipoli against the British and French in World War I. "It was Canakkale yesterday, and it is Kashmir today. There is no difference," he asserted, in remarks that led India to issue a formal démarche to the Turkish ambassador in New Delhi, against interference in its internal affairs.
Malaysia also adopted a new and vociferously critical tone on the issue. Mahathir, shortly before his resignation in late 2019, said that India had "invaded and occupied" Kashmir and was "taking action to deprive some Muslims of their citizenship."
It is worth noting that by contrast to this diplomatic activism, Saudi Arabia and the UAE maintain that Kashmir remains an internal Indian matter.
This reflects the growing closeness between Riyadh and New Delhi, expressed also in the major investments in India announced by Crown Prince Mohammed bin Salman during his visit to India in 2019.
The emergent alliance between Turkey, Pakistan, Malaysia and Qatar makes both strategic and ideological sense from the point of view of its members.
It reflects the repositioning currently under way across Asia, in the wake of the receding post-Cold War US hegemony. These countries are united by a similar core outlook, and have some common emergent adversaries.
Turkey and Qatar, indeed, have been engaged in a de facto partnership over the last decade, based on common opposition to Saudi Arabia and the UAE. They are also united in support for Sunni political Islam across the region in its Muslim Brotherhood form, and not least in its Palestinian iteration – the Hamas movement. Pakistan and Malaysia are natural recruits for this emergent bloc. India appears currently to be its main diplomatic target.
This alliance also shares a deep enmity to the Jewish state. Its adversaries – India and the UAE – are Jerusalem's emergent strategic partners. Zakir Naik, nestled in Malaysia, with Qatari bank accounts and the diplomatic muscle of Pakistan and Turkey guarding him, breathing fire and brimstone against apostates, homosexuals and Jews, is its appropriate symbol.
https://www.jpost.com/middle-east/turkey-pakistan-malaysia-and-qatar-form-troubling-new-alliance-629519
--------
PML-N slams govt for allowing sugar export despite shortage
May 28, 2020
ISLAMABAD: The Pakistan Muslim League-Nawaz (PML-N) on Wednesday said that the Pakistan Tehreek-e-Insaf (PTI) government allowed the export of sugar at a time when there was a shortage of sugar in the country.
Addressing a press conference in reaction to the briefing by PM's aide on accountability Shahzad Akbar, PML-N spokesperson Marriyum Aurangzeb said that with the given subsidy, the price of sugar spiked up from Rs80 to Rs90 in the country.
She lashed out at the incumbent government for conducting a "dubious and inept" inquiry in the sugar scandal, maintaining the party's prior stance that the probe is incomplete until and unless Prime Minister Imran Khan appears before the commission and provide an explanation "for the hidden facts".
"Imran Khan is the real culprit in the matter, hence, he should resign from his seat," Aurangzeb said, adding that the premier was "deliberately not made part of the commission and inquiry as part of a scheme to throw dust in the eyes of people".
"The report by the inquiry commission was made public because Imran Khan has to be saved," she emphasised.
Referring to the PML-N tenure, Aurangzeb claimed that the party had not allowed sugar prices to rise for five consecutive years, asserting that "if anyone can put Pakistan on the path of development, it is only PML-N".
Criticising the incumbent government for carrying out an "incomplete investigation" into the scandal, she said that the exporters made money in two ways "on the orders of the prime minister" and looted the people.
"On the one hand, exporters took advantage of the increase in dollar rate and on the other hand, they took advantage of the increase in sugar price in the country," she said.
"After the report was out, we hoped that Shahzad Akbar would give us the news for Punjab Chief Minister Usman Buzdar's resignation but the real culprits in the case escaped from the back door," she added.
Reiterating that the incumbent prime minister should appear before the commission, the PML-N spokesperson said that former prime minister Nawaz Sharif also appeared before Joint Investigation Team (JIT) during his time as the prime minister.
"The government does not want to deal with either the coronavirus or the sinking economy of the country," Aurangzeb said, adding that it "just wants to put PML-N leaders behind bars without legitimate reasons".
The PML-N spokesperson went on to raise questions about the commission's process of inquiry. She asked: "Why did the commission not call Khusro Bakhtiar and his brother in the mill case?"
Calling for dispensation of justice and adequate inquiry into the sugar case, Aurangzeb said that the decision makers are "intimidated by National Accountability Bureau (NAB)".
Meanwhile, PML-N leader Rana Mashood said that even Supreme Court raised questions on the inquiry process employed by the asset inquiry unit which was headed by Akbar.
Saying that the present government has done nothing to uplift the country's sinking economy, Mashood demanded that those who have harmed the national exchequer by giving subsidies without inquiry should be handcuffed immediately.
"Imran Khan has not yet been summoned for approving the subsidy," he said, adding, that the working of the sugar commission is dubious, and "mud-slinging at the expense of the Sharif family was done deliberately" to divert attention from the real issues faced by Pakistan.
MEDICINE IMPORTED FROM LONDON:
The PML-N has been politicking since day one while Pakistan's premier, institutions, and the public fight the novel coronavirus, PM's Special Assistant on Political Communication Dr Shahbaz Gill said later in the day.
Reacting to Marriyum Aurangzeb's press conference, Gill said: "These are the people whose medicine for fever is imported from London.
"Marriyum Aurangzeb is right; the dilapidated health system their government left really does not have any strength.
"We're taking steps for prevention from coronavirus to the best of our abilities and with the best intentions," he added.
"The PML-N leaders are probably forgetting that he [PM Imran] is neither Shehbaz [Sharif] nor Nawaz [Sharif] that he would go to London to spend Eid," the special assistant retorted.
"Imran Khan is here with the people in these difficult times and is reviewing the situation," he added.
Aurangzeb should explain whether her party completely understood the sugar inquiry report, he added rhetorically, noting further that the PML-N is "often unable to comprehend reports written in English".
Gill said no government in the past had so strongly cornered the sugar mafia and that there was "never a shortage of sugar in the country be it before the export or after".
Full report at:
https://www.pakistantoday.com.pk/2020/05/27/pml-n-slams-govt-for-allowing-sugar-export-despite-shortage/
--------
PML-N, PPP doubt govt's electoral reforms plan
Amir Wasim
May 28, 2020
ISLAMABAD: Although the Pakistan Muslim League-Nawaz (PML-N) and the Pakistan Peoples Party (PPP) seem to be divided over the government's proposal to hold the Senate elections through an open vote, the two parties are found to be united in criticising the ruling Pakistan Tehreek-i-Insaf (PTI) for making its proposed electoral reforms public through the media.
The leaders of the opposition parties also questioned the mandate of the parliamentary committee which, according to them, had actually been constituted to investigate the charges of rigging in the July 2018 general elections.
Speaking at a news conference last week, Minister for Education Shafqat Mahmood and Minister for Narcotics Control Azam Swati had announced a number of proposed changes to the Constitution and laws to reform the electoral process with the main suggestion of holding the Senate elections through an open vote instead of the current method of secret balloting.
According to them, the proposals had already been placed before the federal cabinet for approval after which these would be presented before parliament in the form of bills.
The two ministers were members of a special parliamentary committee constituted by National Assembly Speaker Asad Qaiser in October 2018 on the opposition's demand to probe charges of rigging in the elections held in July that year. The committee, however, failed to complete its task for a number of reasons, forcing the opposition parties to finally announce its boycott of the committee in June last year. The committee and a couple of sub-committees, however, continued to function and prepared recommendations to introduce electoral reforms.
The ministers had stated that the efforts would be made for evolving a broad-based consensus among all political parties on electoral reforms.
The government has proposed changes to laws at a time when the Senate elections are about eight months away. The purpose of conducting the Senate elections through an open vote, according to the PTI, is to end horse-trading and the use of money in the process.
When contacted, PML-N parliamentary leader in the Senate Mushahidullah Khan doubted the intentions of the government and questioned the mandate of the parliamentary committee which had proposed the electoral reforms.
He said the people in the government were "inexperienced and incapable" and they did not know as to how the important and sensitive matters such as electoral reforms should be handled. Mr Khan said that instead of going to the media, the government should have taken the opposition into confidence, if it was sincere in reforming the electoral process.
The PML-N senator alleged that people in the PTI always tried to take credit of the things through the media by making announcements and holding news conferences, but they failed to implement their plans due to their "incompetence".
He, however, supported the proposal for holding the Senate elections through an open vote. He said he believed that keeping in view the past Senate elections, it was the need of the hour to take steps to end horse-trading and use of money in the elections.
Mr Khan said such a process would not only bring transparency, but also enhance the prestige of the Senate. Moreover, he said, the open Senate elections would end the use of money and genuine and poor workers of the party would also get an opportunity to reach the parliament and serve their parties and the nation. He, however, made it clear that these were his personal views and the party would come out with its formal stance once the issue was discussed internally.
PPP vice president and parliamentary leader in the Senate Sherry Rehman told Dawn that they had only heard about these proposed "reforms" through the media.
"There has been no consultation or discussion about Senate or general electoral reforms that we have all done extensive work on together," she said, adding that "none of us have seen any draft of the proposal, nor has there been any kind of discussion at the parliamentary level where we all just met".
She said it was odd that the party whose prime minister never came to the Senate, as they preferred rule by presidential ordinances, now suddenly wanted reforms in how the Senate was elected.
"If the government is serious about making the electoral process meaningful and parliament not a rubber stamp for its decisions, it should address issue like electoral fraud too," Ms Rehman said.
"We were repeatedly told that a committee will examine this, but like most things launched with fanfare by this government, it has become like the Covid fund: never to see the light of transparency and to be used to fill gaps in its own mismanagement," she added.
The PPP senator said these kinds of constitutional amendments were discussed as part of a broader reform dialogue in the past too. In the last meeting on electoral reforms, she recalled, while they did support transparency of the process, many members had opposed the open vote as controversial because it affected the principle of voting without fear or favour.
"Had we seen the actual draft we would have looked at options to reduce horse-trading because that is a practice we should not ignore, but this high-handed unilateral floating of policy reforms is not done. This is why all their legislative initiatives are stuck," Ms Rehman said.
PPP information secretary Dr Nafisa Shah, while talking to Dawn, said it was ironic that the party that had put a lockdown on the parliament, delegated legislation to presidential palace, and had undermined the upper house of parliament now wanted reforms in Senate vote.
Full report at:
https://www.dawn.com/news/1559844/pml-n-ppp-doubt-govts-electoral-reforms-plan
--------
Pakistan deploys militant-tracking tech to hunt confirmed and suspected virus patients
May 28, 2020
The intelligence services are deploying secretive surveillance technology normally used to locate militants to instead track coronavirus patients and the people they come into contact with.
In a programme publicly touted by Prime Minister Imran Khan, the government has turned to the Inter-Services Intelligence (ISI) for help in tackling the virus, which still is spreading at an accelerating rate across Pakistan.
Related: 'Track and trace'
Details about the project have not been released, but two officials told AFP that intelligence services are using geo-fencing and phone-monitoring systems that ordinarily are employed to hunt high-value targets including homegrown and foreign militants.
Geo-fencing, a discreet tracking system that alerts authorities when someone leaves a specific geographic area, has helped officials monitor neighbourhoods on lockdown.
Authorities are also listening in to the calls of Covid-19 patients to monitor whether their contacts are talking about having symptoms.
"The trace-and-track system basically helps us track the mobile phones of corona patients as well as anyone they get in touch with before of after their disappearance," an intelligence official said.
Speaking on condition of anonymity, a senior security official told AFP that agencies are now "quite effectively" using the technology to track coronavirus cases.
"The government has been successful in tracing even those who tested positive but went into hiding," the security official said.
A lack of awareness, stigma and fear have contributed to some people with symptoms not seeking treatment or even fleeing hospitals, while others who've had contact with virus patients have flouted self-isolation rules.
The prime minister recently praised the programme, which has come up against little public debate or scrutiny over its use in the virus fight.
"It was originally used against terrorism, but now it is has come in useful against coronavirus," he said.
More than 61,000 people in Pakistan have tested positive for the disease and more than 1,200 patients have died.
But with testing still limited, officials worry the true numbers are much higher.
Concerns
Rights groups worry authorities, that are accused of holding a vast sway over many aspects of the country's cultural and political life, might abuse their sweeping surveillance powers to trace political dissidents.
Ex-senator Afrasiab Khattak told AFP that involving the ISI would spread unnecessary fear among the population.
"The task of tracking and tracing the patients and suspected cases should be dealt with by provincial governments and local communities — let intelligence agencies do their actual job," he said.
Countries across the world have employed track-and-trace methods to control the virus's spread, raising privacy concerns.
Israel's intelligence services have been using counter-terrorism technology, including tracking mobile phones, prompting the Supreme Court to raise privacy concerns.
In Pakistan, authorities have struggled to present a cohesive national strategy to control the coronavirus. Prime Minister Imran was reluctant to call for a sweeping lockdown, arguing the impoverished country could not afford it. The premier has allowed businesses to reopen in phases, citing the economic impact on daily wage earners.
He also largely caved to pressure from the religious lobby, which pushed back against the closure of mosques.
Full report at:
https://www.dawn.com/news/1559897/pakistan-deploys-militant-tracking-tech-to-hunt-confirmed-and-suspected-virus-patients
--------
PM alerts world to peace threat posed by Modi govt
May 28, 2020
ISLAMABAD: While rem­inding the world about the threat to peace from India's "aggressive" and "exp­ansionist" designs, Pak­istan on Wednesday emphasised that because of Delhi's behaviour not only Islamabad but other reg­ional countries too were suffering.
Prime Minister Imran Khan took to Twitter to draw the world's attention to the tense situation in the region, as Foreign Minister Shah Mehmood Qureshi used state-run PTV to convey the growing concern.
"The Hindutva Supre­macist Modi Govt with its arrogant expansionist policies, akin to Nazi's Leben­sraum (Living Space), is becoming a threat to India's neighbours. Bangladesh through Citizenship Act, border disputes with Nepal & China, & Pak threatened with false flag operation," PM Khan tweeted.
Tensions between Pakis­tan and India have spiked sharply since Delhi illegally annexed Occupied Kashmir last August. Lately, the Indian move to change domicile law for Kashmir, its accusations against Pakis­tan, threats and high frequ­ency of ceasefire violations along the Line of Control have added to the acrimony.
Allegations and threats have come from the highest level in India including their top military leadership.
It is generally believed that India only has tense relations with Pakistan. However, recent developments remind that the problem is much bigger and is linked to Indian hegemonic mindset with all neighbours being affected by it.
Mr Khan, in his second tweet, warned the world about the threat to peace from India. "All this after illegal annexation of IOJK, a war crime under 4th Geneva Convention, & laying claim to AJK. I have always maintained the fascist Modi Govt is not only a threat to India's minorities by relegating them to 2nd class citizens' status, but also threat to regional peace," he maintained.
Meanwhile, FM Qureshi said India's aggressive policy towards its neighbours was putting regional peace and security at stake.
Appearing on PTV, the foreign minister urged the world to take notice of Indian actions and endorsed China's action in Ladakh.
The China-India faceoff started over India constructing a road and building defense facilities in disputed Galwan area of Ladakh, which was also a flashpoint in the month-long war between the two in 1962. So far there have been at least four rounds of unarmed clashes between the troops of the two countries and military observers warn that the conflict can potentially escalate.
President Xi has ordered his troops to maintained heightened vigilance along the disputed border, while India has increased border deployment. Indian Prime Minister Narendra Modi on Tuesday consulted with National Security Advisor Ajit Doval and Chief of Defence Staff General Bipin Rawat.
Mr Qureshi expressed concerns over the construction of airstrips and other infrastructure in the disputed territory of Ladakh. He warned illegal constructions by India could have serious consequences for peace.
He said China did not want confrontation with India and desired to sort out issues through dialogue. However, China could not remain oblivious to India's illegal constructions, he said according to Radio Pakistan.
The foreign minister said India also had issues with Nepal and never missed an opportunity to impede Afghan peace process.
Nepal published a map after India constructed a road along its border, emphasising its control of a disputed part. Delhi later chided Kathmandu for the publication of map. The incident led to angry exchanges between the two.
Mr Qureshi said Indian atrocities in occupied Jammu and Kashmir were known to the world and the Modi government was bent upon changing the demographic composition of the territory. He said India had used the land of Afghanistan against Pakistan and tried to destabilise Balochistan.
In a related development, the human rights arm of Organisation of Islamic Cooperation — the OIC Independent Permanent Human Rights Commission — said "instances of Islamophobia are violative of human rights law, undermine multiculturalism and pose a threat to international peace and security. It supports focused consistent and system wide collective OIC and UN approaches to counter the Islamophobia."
Full report at:
https://www.dawn.com/news/1559837/pm-alerts-world-to-peace-threat-posed-by-modi-govt
--------
FIA tags two accused in judge video scam as wanted terrorists
Iftikhar A. Khan
May 28, 2020
ISLAMABAD: Two characters involved in Judge Arshad Malik video scam have been tagged by the Federal Investigation Agency (FIA) as 'most wanted terrorists'.
A list of high-profile terrorists maintained by the FIA, a copy of which is available with Dawn, includes the names of the two accused in the judge video scandal — Nasir Mehmood, a resident of Rawalpindi, and Mian Saleem Raza, of Lahore.
Both accused charged with blackmailing and criminal intimidation have been shown to be associated with the Pakistan Muslim League-Nawaz (PML-N).
A video purportedly showing former accountability court judge Arshad Malik confessing that he handed down prison sentence to former prime minister Nawaz Sharif in the Al-Azizia reference case under duress had been released by PML-N vice president Maryam Nawaz at a press conference.
List includes names of Altaf Hussain, activists of LeT, SSP, ISO, TTP
The FIA list of most wanted terrorists also includes the name of Muttahida Qaumi Movement founder Altaf Hussain currently living in self-exile in the United Kingdom. He is accused of being involved in Dr Imran Farooq murder case. The names of three other accused in the case — Anwar Ali, Iftikhar Hussain and Kashif Khan — are also there on the list.
A case against the alleged killers of Dr Imran Farooq had been registered in Pakistan in December 2015 when Chaudhry Nisar Ali Khan was interior minister.
The list includes the names of over a dozen individuals belonging to Lashkar-e-Taiba (LeT) allegedly involved in the Mumbai terror attacks.
Amjad Khan from Multan is accused of purchasing boat Al-Fouz used during the Mumbai attacks. According to details provided in the list, he also purchased Yamaha motor boat engine, life jackets, inflatable boats, etc, from ARZ Waters Sports, Karachi. The FIA says these things were used in the Mumbai attacks and recovered by Indian authorities.
Another LeT activist on the list, Iftikhar Ali from Faisalabad, is said to have deposited an amount with a money changer in Islamabad to obtain Voice Over Internet Protocol (VOIP) connection for terrorist communication in the case, impersonating himself as Malik Taimoor.
It says Mohammad Khan from Turbat provided Al-Hussaini boat to the terrorists.
The list names many others from LeT for being members of crew of Al-Hussain and Al-Fouz boats and providing funds to the terrorists.
An individual nominated by Islamabad Capital Territory police is Mohammad Imran from Multan. He is said to be affiliated with Al-Badr and Harkat-ul-Mujahideen. According to police, he selected Marriott Islamabad hotel as a target of a terror attack. He also participated in the post-9/11 war in Afghanistan.
The names of Imamia Students Organisation (ISO) activists Amjad Shah (Toba Tek Singh), Rizwan Ali (Sargodha), Qalab Abbas Shah (Jhelum), Syed Kashif Ali Raza (Sargodha) and Asad Abbas (Wah Cantt) are also there on the list for their alleged involvement in the murder of Maulana Azam Tariq. Three of the accused are said to be in Iran and another in the United Kingdom.
On the recommendations of the Counter Terrorism Department of Punjab, the list has the name of Qari Ehsanul Haq, an activist of the Sipah-i-Sahaba Pakistan (SSP), for his alleged involvement in a suicide attack on former military ruler retired Gen Pervez Musharraf and an attempt on the life of former prime minister Shaukat Aziz. He carries a head money of Rs5 million.
The list also includes the name of Mohammad Ejaz from Wah Cantt. Belonging to the Tehreek-i-Taliban Pakistan's Baitullah Mehsood group, he is said to have prepared four vehicles for the suicide attack on Gen Musharraf.
Full report at:
https://www.dawn.com/news/1559847/fia-tags-two-accused-in-judge-video-scam-as-wanted-terrorists
--------
Islamabad DIG terms Tuesday's attack on two police officials act of terrorism
Munawer Azeem
May 28, 2020
ISLAMABAD: The killing of two policemen in the rural area of the capital on Tuesday night is being considered an act of terrorism, not a confrontation with criminals, said a police officer.
Assistant Sub-Inspector Mohammad Mohsin Zafar and Head Constable Sajid Ahmed were gunned down at Chungi No 26 at Tarnol. They were among a three-member police team performing duty at a halting point to check suspected vehicles and people.
Deputy Inspector General of Police (DIG) Operations Waqaruddin Syed told Dawn that after an initial inquiry he was convinced that it was terrorism not a crime as thought initially.
About a massage went viral on social media claiming that a banned outfit was behind the attack, the DIG said: "This is unverified as this is only on social media."
The officials were from the Tarnol police station and two of them embraced martyrdom, not four as mentioned in the message, he added.
The circumstances showed that the incident was so sudden that the ASI who was armed with a pistol and the head constable carrying an SMG did not have time to retaliate, he said, adding the pistol of the ASI was found in his holster attached with waist while the head constable was found at a greenbelt. It seems he was shot before he could retaliate.
Two teams have been constituted to probe the incident under the supervision of the DIG. Each team is headed by Superintendent of Police (SP) Investigation Dr Syed Mustafa Tanveer and SP Saddar Sarfaraz Virk.
SP Tanveer's team will investigate the case on technical grounds and collect evidence. The team will get assistance from Safe City Project and CCTVs installed in nearby buildings and roads.
The team will also conduct geo-fencing of the area to pick up suspects for an investigation.
The team headed by SP Virk will collect evidence from human intelligence and will examine the crime spot, nearby areas and roads leading to it.
Besides, they will also check the nearby and adjacent localities to trace the culprits. People in surrounding areas will also be approached to know if anyone had seen the suspects.
Special Branch has also been asked to mount intelligence in slums to collect details of people who had started living there in the recent past.
"So far, there is no eyewitness to the incident. Some people found the body of the ASI lying on the road and informed the police," said one officer, adding there were different reports about the number of attackers.
The ASI suffered five bullets and the head constable seven, including two in his head. His body was found lying on a greenbelt. It seems the attackers shot him in the head twice from a close range after he fell on the ground.
"The circumstances suggest that the ASI captured one of the attackers and during a scuffle his accomplice(s) fired at him and the head constable," said another officer.
As many as 24 rounds (empty shells) of different bores, including 9mm and a 30-bore pistol, were found from the spot.
The initial inquiry also suggested it was terrorism, he added.
Before escaping the spot the attackers made it sure that the two police officials were dead.
The possibility of an enmity and confrontation with criminals cannot be ruled out, the officer said, adding but in an enmity the rivals target the enemy only but in this case both the officials were sprayed with bullets.
Besides, criminals also do not resort to such a massive firing, he added.
There were three police officials at the spot before the attack and the third one remained safe as he had taken a man caught with an illegal weapon to the Tarnol police station.
Police officials suspended
Three police officials were suspended and an explanation was sought from the area SP and the subdivisional police officer (SDPO) over mishandling of the body of one of the policemen.
The action was taken after a video went viral on social media in which some police officials were seen removing the body from the road and putting it into a police mobile in a humiliating manner.
A senior police officer told Dawn that "these police officials disgraced the body of the policeman who sacrificed his life in the line of duty,"
Acting SHO Tarnol Inspector Mohammad Rafique, Duty Officer Abdul Ghafoor and a constable were suspended.
Besides, an explanation was sought acting SP Saddar Omer Khan andSDPO Khalid Awan.
Funeral of martyred officials
The funeral prayer of the martyred police personnel was offered at Police Lines Headquarters.
The body of the head constable was sent to his ancestral town of Haripur while that of the ASI was buried in Islamabad.
IGP Aamir Zulfiqar Khan while speaking on the occasion said families of the martyred policemen would be provided with all departmental relief along with educational and medical facilities to their children.
Full report at:
https://www.dawn.com/news/1559780/islamabad-dig-terms-tuesdays-attack-on-two-police-officials-act-of-terrorism
--------
North America
US military presence in Afghanistan is 'enough,' Trump suggests
27 May 2020
US President Donald Trump has called for an end to the country's military presence in Afghanistan, calling it enough."
"We're there 19 years and, yeah, I think that's enough ... We can always go back if we want to," Trump told a White House news conference Wednesday.
In response to the question whether he has a target date, probably on November 26, the American commander-in-chief claim that, "No. I have no target. But as soon as (is) reasonable. Over a period of time but as soon as reasonable."
The US reached a deal with the Taliban militant group on February 28, under which the Taliban agreed to halt attacks in return for Washington's phased withdrawal of forces from Afghanistan and a prisoner exchange with the government in Kabul.
"For better management of the prisoner issue, it is important to extend the ceasefire," Javid Faisal, a spokesman for Afghanistan's national security adviser, told a news conference.
The agreement was supposed to lay the groundwork for a peace process in the war-ravaged country.
The United States and its allies invaded Afghanistan in October 2001 as part of the so-called war on terror. While the invasion ended the Taliban's rule in the country, it has failed to eliminate the militant group.
https://www.presstv.com/Detail/2020/05/27/626218/Afghanistan-US-Military-Presence-Trump-
--------
Trump after another arms sale to Saudi: Menendez
27 May 2020
US President Donald Trump is pursuing another arms sale to Saudi Arabia, says a top Democratic senator.
Senate Foreign Relations Committee ranking member, Bob Menendez, made the comments in an op-ed published by CNN Wednesday.
"Before we went into pandemic lockdown, I received draft State Department documentation that it is now pursuing this previously undisclosed sale — details of which have not yet been made public — even though the Saudis seemingly want out of their failed and brutal war in Yemen, and despite the fact that a bipartisan majority in Congress rejected previous sales of these weapons," Menendez wrote. "The administration has refused to answer our fundamental questions to justify this new sale and articulate how it would be consistent with US values and national security objectives."
In response to the op-ed, a State Department spokesperson said that, "as a matter of policy, we do not comment upon or confirm proposed defense sales until they have been formally notified to Congress."
'Pompeo should respond'
Washington has formally approved weapons sales to the kingdom totaling more than $1 billion despite growing pressure from rights groups to halt arms deals with Riyadh, which is waging a brutal war on Yemen.
"There is still no justification for the US to sell bombs to Saudi Arabia," Menendez wrote. "That is why I am particularly troubled that the State Department has again refused to explain the need to sell thousands more bombs to Saudi Arabia on top of the thousands that have yet to be delivered from last year's 'emergency.'"
The Democrat from New Jersey further suggested that hawkish Secretary of State Mike Pompeo should be held accountable for the US military support for the Saudi monarchy.
"The secretary of state needs to answer our questions," he said. "What is their reasoning to continue selling weapons to the Saudis? Why should Congress allow Trump to continue currying personal favor with a capricious Saudi despot who thinks he can butcher his critics without consequences?"
Saudi Arabia and a number of its regional allies launched the devastating war on Yemen in March 2015 in order to reinstate Yemen's former president, Abd Rabbuh Mansur Hadi, and crush the popular Houthi Ansarullah movement.
Full report at:
https://www.presstv.com/Detail/2020/05/27/626247/us-saudi-arabia-yemen-war-weapons-sale
--------
Trump administration ends last remaining sanctions waivers in Iran nuclear deal
27 May 2020
The United States has ended the last remaining sanctions waivers in the Joint Comprehensive Plan of Action (JCPOA) as part of the Trump administration's brutal campaign against Iran.
Hawkish Secretary of State Mike Pompeo made the announcement on Wednesday amid Washington's "maximum pressure" campaign against Iranians.
"Today, I am ending the sanctions waiver for JCPOA-related projects in Iran, effective in 60 days," Pompeo wrote on Twitter.
He further repeated his baseless allegations that "Iran's continued nuclear escalation makes clear this cooperation must end."
"Further attempts at nuclear extortion will only bring greater pressure on" Iran, he added.
Pompeo, however, provided a separate waiver for the Bushehr nuclear power plant "to ensure safety of operations" for the next 90 days.
In 2018, President Donald Trump pulled the US out of the internationally backed nuclear deal, negotiated under his predecessor, Barack Obama, three years earlier.
Ever since, the US has renewed the waivers every 60 days, with the last one on March 30.
"We will continue to closely monitor all developments in Iran's nuclear program and can modify this waiver at any time," Pompeo claimed in a statement released by the State Department when announcing the previous sanctions waivers.
Tehran maintains that its nuclear program is merely peaceful as also asserted by other signatories of the JCPOA, from which the US has withdrawn.
"Iran's scientists need to make a choice: pursue peaceful work outside of the proliferation realm, or risk being sanctioned," the former CIA chief said on Twitter.
The latest measure was welcomed by hawkish Senator Ted Cruz, a Republican, calling it a "critical step toward tearing up the catastrophic Obama-Iran nuclear deal once and for all."
"Enough was enough. Now it's time for the US to finally and irreversibly end what remains of the deal and the benefits that Iran gets from it by invoking the sanctions snapback described in the deal's United Nations resolution," Cruz claimed in a statement. "Unless we do so, the UN arms embargo and ballistic missile bans will inevitably expire, allowing Russia and China to start selling billions of dollars of weapons to Iran."
The arms embargo Cruz was referring to is expected to be lifted in October under the deal.
Full report at:
https://www.presstv.com/Detail/2020/05/27/626243/iran-us-sanctions-waivers-pompeo
--------
Exclusive: Ex-Trump envoy Jason Greenblatt says 'door to Israeli-Palestinian negotiations remains open'
May 27, 2020
CHICAGO: Jason Greenblatt, the architect of US President Donald's Trump's Middle East peace vision, says peace is still possible if Palestinians abandon their rejection of the plan and negotiate with Israel.
In an exclusive interview with the Arab News, Greenblatt, who served as White House's Middle East envoy, said that negotiations could even stall or prevent Israel's plans to annex the Jordan Valley which Prime Minister Benjamin Netanyahu said could happen as early as July 1.
Even though he is no longer a key adviser in the Trump administration, Greenblatt said there was still time for Palestinian President Mahmoud Abbas to reverse his rejection of the Trump Peace Plan and return to the negotiating table.
Knowing President Trump, White House Senior Adviser Jared Kushner and US Ambassador to Israel David Friedman as well as he does, Greenblatt said "the door to the White House to negotiate a peace agreement will remain open."
But he warned that the door may close on annexation given that it may happen as early as July 1. If the Palestinians wait too long "and annexation happens, then it happens," he said.
"But they (Trump, Friedman, Kushner) are also, like me, people who are dedicated to not only resolve the conflict but to help the Palestinian people. And I know them to be people who — if President Abbas or Saeb Erakat called to say they are ready to talk — would at a moment's notice sit down and talk."
A month after winning the US presidential election, Trump designated Greenblatt, a New York lawyer and businessman and his adviser on Israel, as his "Representative for International Negotiations" in December 2016.
Greenblatt was tasked with drafting an Israeli-Palestinian peace plan. After nearly three years of discussions with Israelis and Palestinians, Greenblatt presented Trump on Jan. 28, 2020, with a proposal that quickly acquired the moniker "deal of the century."
But as details leaked out, Palestinian optimism turned to anger, reflected in the Palestinian refusal to attend an economic conference in Manama, Bahrain, in June 2019.
The conference was organized by Kushner, who is also Trump's son-in-law. Business leaders from around the world gathered and promised more than $50 billion in financial support to the Palestinians if they engaged in the peace negotiations.
Abbas and Palestinian leaders across the board rejected the plan, declaring, "We say a thousand times: 'No, no and no to the 'deal of the century.'"
Abbas said, adding that the White House's vision "will not come to pass" and that "our people will send it to the dustbins of history." He dismissed the plan as "the slap of the century."
The Greenblatt peace proposal included, for the first time in Palestinian-Israeli relations, a map that defined starting boundaries for a Palestinian state that would include about 70 percent of the West Bank and all of Areas A and B, as defined by the Oslo Accords, and parts of C.
The plan proposed a Palestinian Capitol adjacent to East Jerusalem in Kafr Akab, Abu Dis and Shuafat, and dangled the possibility that Israel would transfer Arab-populated areas in Israel called the "Triangle" — consisting of Kafr Kara, Arara, Baka al-Gharbiya, Umm el-Fahm and more — into the new Palestinian state.
Israel would also give up land in the Negev, near the Gaza-Egypt border.
Greenblatt insisted the plan was not set in stone.
"How sad that the Palestinian leadership won't even engage and see if there is something in this plan that they can help shape differently. If in the end after spending a lot of time and good faith negotiations the peace effort fails. I get it. If the deal is unacceptable to them and no deal the Israelis can make is unacceptable to them, Fine," Greenberg said.
"I get that the fact that they are angry. I get the fact that the leadership is disappointed. I get the fact that the plan doesn't meet their expectations. And by the way, we get plenty of criticism in Israel too because of this peace plan.
"But to refuse to engage and see if you can make it better, to simply say these are my deal points and these are the only deal points that I will accept, no deal is going to happen that way and Israel will thrive and prosper and unfortunately the Palestinians will fall further and further behind. And that is a tragedy, in my mind."
Greenblatt's plan included the annexation of the Jordan Valley by Israel and retention of all of the major settlements plus buffer zones around them, but leaving 15 smaller settlements in enclaves inside the Palestinian state boundaries.
He denied that Trump used the policy changes such as moving the US embassy from Tel Aviv to Jerusalem, his recognition of Jerusalem as Israel's capital, or sanctions closing the PLO mission in Washington D.C. as pressure tactics to force the Palestinians to engage in negotiations.
He said those actions were policies Trump promised as a candidate and would implement regardless of the peace talks.
"We weren't into the business of trying to give them a carrot or incentive just to come to the negotiating table. That had been tried before and it just wasn't going to work," Greenblatt said.
"The carrot is that the deal is on the table. Go through it and in good faith come back with a proposal. If you don't want to, you do that at your risk. If you really think that the UN is going to deliver some deal that Israel is going to be stuck with, I don't think that is ever going to happen, and that is terribly misguided."
Palestinians and critics of the plan asserted that the real purpose of the Trump Peace Plan was to present something that Israel knew the Palestinians would reject, in order to hand Israel justification to launch large-scale annexation.
Greenblatt denied the claim and insisted that the plan offers the only real alternative to the status quo.
"One of the reasons we have designed the plan the way we did, which is to actually say, Israel, you can take over this land if the Palestinians don't engage, but we have demarcated an area of lands for the Palestinians and we gave them four years to come to terms with negotiating because we wanted to protect Palestinian interests," he said.
"Our conclusion was, and this plan reflects, is that time does march on. We can no longer let the Palestinian Authority have a veto on Israel's progress. I wish we could no longer let the Palestinian Authority have veto on Palestinian progress, but that is out of our hands.
"But at least we tried to protect their interests. And all that we asked of the Palestinian leadership, besides obviously trying to figure out how to deal with their own governments, is to sit down and negotiate.
Despite the negative political discourse with regard to the plan, Greenblatt said Palestinians missed an opportunity to engage in negotiations directly and to suggest changes and adjustments.
"Ultimately, what people want, what people aspire too and what people achieve are going to be different things. We will recognize that the Palestinian leadership, over the decades, have promised things to the Palestinian people and are seeking a certain solution to this conflict that they believe they are entitled too," he said.
"What they are asking for is not achievable and what they are asking for, in our view, is not grounded in rights.
"We need to get the two sides to the table. Because it isn't going to go to the United States, the United Nations, the EU, Russia.
"Nobody can enforce the deal (except Palestinians and Israelis). The Palestinian leadership has to get its house in order. Until you get your house in order, there is nothing to discuss."
"(The Bahrain workshop) was another example of the Palestinian Authority trying to undermine an effort for the Palestinian people. Nobody was trying to write a $50 billion check to the Palestinians saying 'Here is your money, now go away.' Not only [would that have been] incredibly disrespectful but [also] completely unrealistic.
"What we were trying to do is say [that] if we manage to figure out how to get out of this conflict, you will be able to have all of this massive capital infusion to build up a new state to become something remarkable."
"If we reach a peace agreement, the Palestinian Authority is going to have a very easy path to building up something unique and hopefully as spectacular as Israel because the entire world would be there with money and with assistance. Unfortunately, they tried to undermine the conference … Palestinians were discouraged from going.
"It was a tremendous missed opportunity."
Greenblatt said he had no confidence in the Israeli Palestinian leadership, which won 15 seats in the last Israeli elections, saying they were "not helpful."
The Arab "Joint List," which initially entered into negotiations with Netanyahu's political rival Benny Gantz to form a government, was eventually shut out when Gantz decided to share leadership in a new all-Zionist coalition with Netanyahu.
Under the new coalition, Netanyahu, who is facing corruption charges, will hold the office of prime minister for 18 more months, before turning the office over to Gantz to serve 18 more months.
"That is the reality. This is a government that has actually embraced the peace plan," Greenblatt said.
"You have both Benny Gantz and Bibi Netanyahu endorse the peace plan and a willingness to engage the Palestinian leadership on it. They should welcome it as an opportunity to engage, not actually throw it all out."
Peace is still possible, Greenblatt argued.
"I would say that despite the disappointment, perhaps anger, the US is committed to peace. President Trump is the type of leader who can achieve peace," he said.
"I think the Israeli government — and I know Bibi Netanyahu well — if he can be assured of Israel's security and the things that are essential to reach a peace agreement, we can reach peace in this time.
"But to do so, it is going to require that President Abbas be a strong leader. It is going to require compromise. I would strongly encourage him to try. It is a tremendous missed opportunity at a very unique time in history."
Greenblatt said he would not refer to the plan as embracing the "two-state solution," adding that a new concept had to be pursued and that his proposal spoke to the realities of 72 years of failed peace.
"I don't use the phrase 'two-state solution' simply because it is a three-word phrase — and you can't possible summarize this extraordinary complicated process with just those three words.
"The way I would describe it is I support a realistic Palestinian state that adheres to the 60-to-80-page plan that we developed with whatever compromises the two sides are willing to engage in.
"But ultimately, what I would like to see is a thriving Palestinian state that is safe and secure next to a safe and secure Israeli state. But that safe and secure Palestinian state is going to come with criteria.
"If it adheres to the criteria, then there won't be an issue. It doesn't adhere to the criteria, then all the more reason why that criteria need to be established.
"What I don't want to see is a Palestinian state that ultimately ends up threatening Israel and then Israel gets condemned by the UN or the rest of the world for securing its people's safety."
Greenblatt added: "But it is also not fair to ask the Palestinians to live in a way that is substandard. I don't think our plan does that. I think our plan gives the Palestinians every opportunity in the world, if its leadership plays its cards right and acts according to the rules."
Greenblatt urged the Palestinians to return to the negotiating table, and warned that continued rejection dooms the Palestinians to a future of statelessness.
"This discourse is so important. There is a lot of misleading information out there," he said.
"There is a lot of political rhetoric where people try to undermine whether it is the peace plan, or connections between Palestinians and Israelis or Israelis and Arabs. All of that just drives peace further and further away and it really, really harms lives."
"What I would like to see is discussions like this, with ordinary people, media. Just keep talking. Conversations are difficult and sometimes they are painful. But unless and until we reconnect both societies, Israelis and Palestinians, and of course Israelis and the Arabs, we won't have a stronger chance of making peace.
"But if connect everybody and have these heart-to-heart conversations, as difficult as they may be, then we increase the chances of potentially solving the conflict."
Full report at:
https://www.arabnews.com/node/1680891/middle-east
--------
US governor denies parole for Turkish diplomat's killer
Servet Günerigök
27.05.2020
WASHINGTON
California Governor Gavin Newsom has denied a parole request by Hampig Sassounian, an Armenian who assassinated a Turkish diplomat in Los Angeles in 1982.
The announcement came Monday with Newsom reversing the Board of Parole Hearings' decision which found Sassounian suitable for parole.
"After reviewing and considering the evidence in the record, I believe that Mr. Sassounian must do additional work before he can be safely released. Accordingly, I find that he still poses an unreasonable danger to society if released and I reverse the Board's decision to parole Mr. Sassounian," the governor concluded.
On Jan. 28, 1982, Kemal Arikan was shot to death 14 times by Sassounian and his accomplice, Krikor Saliba. Saliba escaped justice, but Sassounian was arrested and in 1984 was sentenced to life in prison.
The Turkish American National Steering Committee (TASC) and American Turkish Association of Southern California (ATASC) on Tuesday welcomed the governor's decision to reject Sassounian's parole.
TASC and ATASC thanked Newsom and said they are leading a national and international coalition to make sure Sassounian serves his life sentence.
Attacks by Armenian terrorists have claimed the lives of more than 40 Turkish diplomats since the 1970s, including four in America.
The vast majority of the attacks were conducted by the ASALA and JCAG terror organizations.
Full report at:
https://www.aa.com.tr/en/americas/us-governor-denies-parole-for-turkish-diplomat-s-killer/1854426
--------
US-led coalition deploys Patriot missile batteries at Syria gas field: Report
27 May 2020
The Western military coalition, purported to fight the Daesh Takfiri terrorist group, has reportedly deployed three Patriot missile batteries at a US base in Syria's eastern province of Dayr al-Zawr.
The Arabic-language al-Alam television news network, citing local sources, reported on Wednesday that the batteries were deployed to the base set up at the Koniko gas field, which is located about 20 kilometers (12.4 miles) east of the provincial capital city of Dayr al-Zawr, during the past few days. Koniko is one of the largest gas plants in Syria.
The sources added that the US-led coalition forces are working to install similar batteries in several other locations in the province.
Separately, three US soldiers were wounded when their convoy was attacked by unknown militants in the same province.
Syria's official news agency SANA reported that American troops, accompanied by the Kurdish-led Syrian Democratic Forces (SDF), were travelling along a road on the outskirts of Ruwaished village when a group of assailants armed with machine guns and rocket-propelled grenade (RPG) launchers ambushed.
Local sources, speaking on condition of anonymity, said five SDF militants were also wounded in the attack.
SANA added that the injured US troops and Kurdish militants were taken to a US base in the town of Shaddadi, which lies in the southern environs of Syria's northeastern province of Hasakah.
Since late October 2019, the United States has been redeploying troops to the oil fields controlled by Kurdish forces in eastern Syria, in a reversal of President Donald Trump's earlier order to withdraw all troops from the Arab country.
The Pentagon claims the move aims to "protect" the fields and facilities from possible attacks by Daesh. That claim came although Trump had earlier suggested that Washington sought economic interests in controlling the oil fields.
Syria, which has not authorized the presence of the US military in its territory, says Washington is "plundering" the country's oil.
Full report at:
https://www.presstv.com/Detail/2020/05/27/626222/Patriot-missile-systems-Syria-
--------
Europe
Italy's Muslims help needy on Eid
May 28, 2020
ROME: Muslim communities around Italy marked the end of Ramadan with displays of unity and generosity.
During the holy month, most communities have been involved in fundraising and food distribution for families struggling amid the two-month national lockdown to halt the coronavirus pandemic.
With many mosques following stringent social distancing rules, Eid Al-Fitr celebrations to mark the end of Ramadan were mostly held outdoors, in parks or squares, to avoid the risk of infection.
In Vigevano, near Milan, more than €5,600 ($6,000) collected during Eid Al-Fitr prayers and celebrations was given to 190 local people in need.
"We celebrated the end of the holy month as well as the end of the fast in accordance with the new security measures required by the government," Koutir El-Mostafa, president of the Islamic El Medina cultural center, told a local newspaper.
"Everyone made some contribution when they arrived for the communal prayer. They gave what they could, even two or three euros each, for the sake of solidarity and to help those in need during this difficult time.
"In the community, we have a list of families who live in hardship. Of course, their situation became worse with the coronavirus pandemic. We will help them all and do our best," El-Mostafa said.
The cultural center reopened after national lockdown measures were eased in mid-May.
"We could have reopened from May 18, but in order to guarantee a safe and healthy environment we decided to wait. The center is now open, but I cannot bring in all the people who come to pray," El-Mostafa said.
Sunday prayers were held in a large parking lot with social distancing measures in place. However, children, many mothers and those aged over 70 were encouraged to stay home.
The Mosque of Mercy in Marghera, an area that includes Venice's industrial harbor, reopened, but Eid Al-Fitr celebrations were not held inside, with the local Islamic community praying at home.
However, worshippers plan to celebrate Eid Al-Fitr in coming weeks in the park of San Giuliano, the site of last year's gathering.
"People called us from all over northern Italy asking to come and pray at the mosque in Marghera, but we preferred to be responsible and avoid situations that could result in gatherings and put us in difficult situations," Sadmir Aliovsky, president of the Islamic Community of Venice, said.
Now the mosque is finally open, a temperature scanner has been installed at the entrance and shifts have been organized for prayers to limit the number of people congregating at the same time.
A video in Italian has been prepared for first-generation Muslims and converts to explain the rules and protocols.
Worshippers will be required to bring personal mats, children will not be allowed entry, and people showing signs of a fever will be sent home.
Venice's Bengali community celebrated Eid in the Kolbe center, a large hall in a city hotel rented for the occasion.
https://www.arabnews.com/node/1680991/world
--------
Russia denies US claim of sending fighter jets to Libya
27 May 2020
Russia has dismissed as "disinformation" claims by the United States that Moscow has deployed fighter planes to Libya to support its "mercenaries" aiding the rebels in the North African country.
Andrey Krasov, the deputy head of the defense committee of Russia's State Duma, told Interfax on Tuesday that the accusation "does not correspond to reality."
"Russia's position is well known: we are in favor of ending the bloodshed in Libya, we urge all parties to the conflict to refrain from using weapons and sit at the negotiating table," Krasov said.
He made the comments in response to a statement by US Africa Command (AFRICOM) earlier in the day that alleged Russian military aircraft had arrived in Libya from an airbase in Russia via Syria, where the statement claimed they were repainted to camouflage their Russian origin.
US Army Gen. Stephen Townsend, the commander of AFRICOM, claimed that they "watched as Russia flew fourth-generation jet fighters to Libya — every step of the way."
AFRICOM said the aircraft were likely to provide close air support for the Russian mercenaries who he alleged were fighting alongside the rebel forces under the command of Libyan military strongman Khalifa Haftar.
AFRICOM offered no evidence for the allegations.
Russia denies military presence in Libya.
Libya has been in chaos since 2011, when a popular uprising and a NATO intervention led to the ouster of long-time dictator Muammar Gaddafi.
Since 2014, two rival seats of power have emerged in Libya, namely the internationally-recognized government of Prime Minister Fayez al-Sarraj, and another group based in the eastern city of Tobruk, supported militarily by Haftar's rebels.
Haftar, who is primarily supported by the UAE, Egypt, and Jordan, launched an offensive to capture Tripoli, the seat of the government, in April last year. His forces have been bogged down on the city's outskirts.
Full report at:
https://www.presstv.com/Detail/2020/05/27/626205/Russia-Libya-US-accusations-fighter-planes
--------
France sees Syria scenario being replicated in Libya: FM
May 27, 2020
PARIS: French Foreign Minister Jean-Yves le Drian said on Wednesday the situation in Libya was very worrying, warning the Syria scenario was being replicated in the country.
"The crisis is deepening. We are facing a 'Syrianisation' of Libya," Le Drian told a French Senate hearing.
The foreign minister added that if the warring sides in Libya don't return to the negotiating table, the situation in the country will get worse and "threaten Europe."
Libya was plunged into chaos when a NATO-backed uprising toppled longtime dictator Moammar Gadhafi in 2011. The country is now split between a government in the east allied with Khalifa Haftar and one in Tripoli, in the west, called the Government of National Accord (GNA).
https://www.arabnews.com/node/1680766/middle-east
--------
'Greece must stop barbaric treatment of asylum seekers'
Merve Aydogan
28.05.2020
Greece should take steps to end its own barbaric acts before accusing the Turkish government of barbarism, said Turkey on Thursday.
Rebuffing remarks by Greek Foreign Minister Nikos Dendias accusing Turkey of "barbarism," Foreign Ministry spokesman Hami Aksoy called on Greek authorities to stop treating Turkey like an enemy and urged them to be "reasonable and understanding."
Telling how Greece itself violates the basic rights and freedoms of asylum seekers at its door, Aksoy said these violations have been criticized in reports by international human rights groups.
"It is shameful for those who commit all manner of cruelty against innocent people at the border before the eyes of the world to call Turkey 'barbaric'," he added, referring to Greek forces' documented violence and mistreatment towards asylum seekers.
"The Greek government must first get rid of its own 'barbarity'," said Aksoy, urging Greece to respect the rights of asylum seekers and end its torture, mistreatment, and "pushbacks" to Turkey.
"Also, those who claim to be the cradle of so-called civilization must respect those who do not share their language and religion," he added.
Earlier this year Greece was slammed over firing on asylum seekers at its border using sound, fog, and gas bombs, and rubber and metal bullets.
Numerous asylum seekers have also sought help on Turkey's side of the border, saying they were forcibly pushed back by Greek soldiers, many adding that they were also robbed of their clothing and belongings.
Full report at:
https://www.aa.com.tr/en/europe/greece-must-stop-barbaric-treatment-of-asylum-seekers/1856003
--------
Merkel calls for cease-fire in Libya
Ayhan Simsek
27.05.2020
BERLIN
German Chancellor Angela Merkel on Wednesday renewed her call for a cease-fire in Libya to resume political talks for a settlement in the war-torn country.
Delivering a speech on foreign policy at Konrad Adenauer Foundation, Merkel underlined that Africa and developments in Libya would remain important topics for Berlin, during its six-month EU presidency starting July.
"Developments in Libya in recent weeks have shown that there is a chance for stability in the country only if the parties obey the cease-fire plan brokered by the UN and return to the negotiating table," she stressed.
Merkel hosted in January an international peace conference in Berlin to support the UN's efforts for a cease-fire in Libya.
But her efforts failed to make any progress amid continued military attacks of warlord Khalifa Haftar, who enjoyed support from several countries, including the UAE, Egypt, France and Russia.
Libya's internationally recognized government, also known as the Government of National Accord, has been under attack by Haftar's forces since April 2019, with more than 1,000 killed in the violence.
In March, the Libyan government launched Operation Peace Storm to counter attacks on the capital, and recently regained strategic locations, including the Al-Watiya airbase, in a major blow to Haftar's forces.
Full report at:
https://www.aa.com.tr/en/europe/merkel-calls-for-cease-fire-in-libya/1855574
--------
Russia delivers fighter jets to Libya over Syria: US
Vakkas Dogantekin
27.05.2020
The US on Wednesday said more than a dozen newly unmarked Russian aircraft were delivered to an airbase in Libya to support warlord Khalifa Haftar.
"Over multiple days in May, Russian MiG 29s and SU-24 fighters departed Russia. At that time, all the aircraft have Russian Federation Air Force markings. After they land at Khmeimin Air Base in Syria, the MiG 29s are repainted and emerge with no national markings," US Africom said on Twitter.
US AFRICOM
✔
@USAfricaCommand
• May 26, 2020
Replying to @USAfricaCommand
"The world heard Mr. Haftar declare he was about to unleash a new air campaign. That will be #Russian mercenary pilots flying Russian-supplied aircraft to bomb #Libyans."
- Gen. Townsend, AFRICOM commander
-----
Release: https://go.usa.gov/xwah3
Photos: https://go.usa.gov/xwaSf
View image on TwitterView image on TwitterView image on TwitterView image on Twitter
US AFRICOM
✔
@USAfricaCommand
MORE: Over multiple days in May, Russian MiG 29s and SU-24 fighters departed Russia. At that time, all the aircraft have Russian Federation Air Force markings. After they land at Khmeimin Air Base in Syria, the MiG 29s are repainted and emerge with no national markings. (1/2)
View image on Twitter
504
6:38 PM - May 27, 2020
Twitter Ads info and privacy
422 people are talking about this
"They are flown by Russian military members & escorted by Russian fighters based in Syria to Libya, landing in Eastern Libya near Tobruk for fuel. At least 14 newly unmarked Russian aircraft are then delivered to Al Jufra Air Base in Libya," it added.
The tweet by the US military came a day after it claimed Russia recently deployed fighter aircraft to Libya to support Russian mercenaries fighting for Haftar against the UN-recognized, legitimate government of Libya.
"Russia is clearly trying to tip the scales in its favor in Libya. Just like I saw them doing in Syria, they are expanding their military footprint in Africa using government-supported mercenary groups like Wagner," Gen. Stephen Townsend, commander of US Africa Command, said Tuesday in a statement.
"For too long, Russia has denied the full extent of its involvement in the ongoing Libyan conflict. Well, there is no denying it now," Townsend added.
Since April 2019, separatist warlor Haftar's forces have launched attacks on the Libyan capital of Tripoli and other parts of northwestern Libya, resulting in more than 1,000 deaths.
Following the ouster of late ruler Muammar Gaddafi in 2011, Libya's government was founded in 2015 under a UN-led political agreement.
Earlier this year, Turkish President Recep Tayyip Erdogan said more than 2,000 Russian Wagner Group mercenaries were fighting in the war-ravaged country.
US commanders also said Europe faces security risks and a migration crisis because of Russian involvement in Libya.
"If Russia seizes basing on Libya's coast, the next logical step is they deploy permanent long-range anti-access area denial (A2AD) capabilities," said Air Force Gen. Jeff Harrigian, commander of US Air Forces in Europe-Air Forces Africa.
Full report at:
https://www.aa.com.tr/en/europe/russia-delivers-fighter-jets-to-libya-over-syria-us/1855269
--------
German-made military trucks spotted in Libya
Ayhan Şimşek
27.05.2020
BERLIN
German-made military trucks have been used by Libyan warlord Khalifa Haftar in violation of the United Nations-imposed arms embargo, a German weekly reported.
Recent videos showing missile systems captured by the Libyan government have revealed that Haftar's forces were using Russian Pantsir-S1 systems mounted on German built MAN-SX 45 trucks, weekly Stern said.
German government has long criticized other countries for violating the UN arms embargo, repeatedly called for an end to foreign influence in Libya, and championed EU's Operation Irini, a controversial naval mission which had no effect on arms shipments to warlord Haftar.
Foreign Ministry spokeswoman Maria Adebahr told a news conference on Wednesday that the ministry was examining press reports on German-made military trucks in Libya, but gave no further details.
The weekly reported that the authorities believe Pantsir-S1 missile systems and the MAN-SX 45 military trucks were supplied to Haftar forces by the United Arab Emirates (UAE).
The military trucks were produced by a joint venture of MAN and German defense giant Rheinmetall.
Libya's internationally recognized government, also known as the Government of National Accord, has been under attack by Haftar's forces since April 2019.
Haftar's illegal forces have launched several attacks to capture Tripoli, with more than 1,000 killed in the violence.
The government launched Operation Peace Storm on March 26 to counter attacks on the capital, and regained Al-Watiya air base and strategically important towns in the region.
Libya has been torn by civil war since the ouster of late ruler Muammar Gaddafi in 2011. Libya's new government was founded in 2015 under a UN-led agreement, but efforts for a long-term political settlement failed due to a military offensive by Haftar's forces to capture the capital.
Full report at:
https://www.aa.com.tr/en/europe/german-made-military-trucks-spotted-in-libya/1855205
--------
Southeast Asia
Man on sex charge in shariah court gets nod to start constitutional challenge
May 27, 2020
PUTRAJAYA: A man facing a charge in the Selangor Shariah High Court for allegedly attempting to commit unnatural sexual intercourse has been granted leave by the Federal Court to commence a constitutional challenge on a provision in the Selangor shariah law which he was charged under.
Chief judge of Sabah and Sarawak Abang Iskandar Abang Hashim (then Federal Court Judge) granted the leave application to the man, whose name is being withheld, to commence proceedings by way of a petition against the Selangor government for a declaration that Section 28 of the Syariah Criminal offences (Selangor) Enactment 1985 is invalid.
The man claimed that the Selangor legislature has no power to make such laws.
In his judgment, dated May 14, Justice Abang Iskandar said the man's application had fulfilled the two requirements, namely that leave was required and necessary as the applicant had shown that his complaint involved the question of competency of the Selangor legislature to legislate on a matter that is on the Federal List.
He also said that the application has not been one that could, in all fairness, be termed as frivolous or an abuse of the court process, adding that the applicant had shown that he has an arguable case.
On Aug 21 last year, the chief syarie prosecutor through the shariah prosecutor decided to proffer a charge under Section 28 of the Enactment against the applicant in the Selangor Shariah High Court.
The charge was that the applicant had attempted to commit sexual intercourse against the order of nature with certain other male persons in a house in Selangor on Nov 9, 2018.
The man pleaded not guilty to the charge and his trial in the Shariah Court had been stayed pending the outcome of his constitutional challenge on the provision in the Enactment with which he is being charged under.
The applicant filed an application for leave to commence proceedings against the Selangor government under Article 4(4) of the Federal Constitution on Nov 28, 2019.
In his affidavit in support of his application, he said the Federal Constitution's State List's Item 1 does allow the Selangor legislature to make laws on the "creation and punishment of offences by persons professing the religion of Islam against the precepts of that religion except in regard to matters included in the Federal List".
The applicant claimed that Section 28 in the Enactment is a matter included in the Federal List and is dealt with by a federal law, that is the Penal Code.
He alleged that the Selangor legislature had transgressed into the Federal List by legislating on a matter on that list.
Meanwhile, the Selangor government, represented by Selangor state legal adviser Masri Mohd Daud, contended that Muslims in Malaysia are subjected to two sets of laws, namely the civil law system and the Muslim law system.
The state government argued that the provision in the Enactment was not identical with the federal law, as contained in the Penal Code.
The state government submitted that the Selangor legislature legislated Section 28 on the basis that it had jurisdiction in legislating Islamic law and that the section (Section 28) was aimed at addressing unnatural sexual acts, as being acts which were against the precepts of Islam.
The man's lawyer, A Surendra Ananth, when contacted, said following the granting of leave by the Federal Court, his client is now required to file the petition for the matter to be heard in full.
He said the petition would be filed by the end of this week.
https://www.freemalaysiatoday.com/category/nation/2020/05/27/man-facing-sex-charge-in-shariah-court-gets-nod-to-start-constitutional-challenge/
--------
ISIS eyes Covid-19 weakness in Indonesia
By JOHN MCBETH
MAY 6, 2020
JAKARTA – With battered Islamic State (ISIS) urging its followers to take advantage of the Covid-19 pandemic's disruption and launch renewed attacks around the world, Indonesian counter-terrorism police have seized a startling amount of ammunition in raids at opposite ends of Java.
Terrorism experts say the 2,300 rounds of ammunition, all of it for assault rifles and other service weapons used by the police and military, is the most Indonesian militants are known to have had in their possession in almost two decades.
Three suspects allegedly belonging to the ISIS-linked Jamaah Ansharut Daulah (JAD) were arrested on April 26 by the Detachment 88 counterterrorism unit in the Surabaya suburb of Sidoarjo, along with 288 rounds of 5.56 mm and 9 mm ammunition.
Also seized in the raid was a camouflaged Pindad-made SSI-V4 sniper rifle, normally carried by specialized elements of Army Strategic Reserve (Kostrad) raider battalions, and two 9 mm Browning automatic pistols.
A day later, following a trail left by employees of a Surabaya-based courier company, police captured three more militants and reportedly found an additional 2,000 rounds of ammunition near the Banten province capital of Serang, west of Jakarta.
The second arms seizure has received little media coverage, which suggests official sensitivity over a possible leakage from Pindad itself, or from a unit within the Indonesian Armed Forces (TNI). A former air force servicemen is among the detainees.
In an unrelated incident in southern Central Kalimantan, a new sanctuary for fugitive militants, local police arrested a man who was tracked by street cameras after planting a home-made bomb in a mosque.
Police are saying little about what might have been planned for the weaponry, but as one security source told Asia Times: "It's very disturbing. They have to get to the bottom of it. It's not that easy to get ammunition in that quantity without someone missing it."
The only clear sign of Indonesian militants heeding the ISIS call to arms is in Central Sulawesi, where Mujahideen of Eastern Indonesia (MIT) extremists have recently lost five followers in jungle clashes with security forces around Poso, the provincial capital.
"The arrival of the virus gave MIT new hope that victory was near," said Institute for Policy Analysis of Conflict (IPAC) director Sidney Jones, pointing to new recruits joining the small, rag-tag band that can still call on some local support.
Otherwise, the level of terrorist activity has been generally low. Jones noted in a recent briefing paper that some ISIS supporters are less focused on jihad operations and more on how the virus may be yet another sign that the end of the world is near, a strange new preoccupation with Indonesian extremists.
Mainstream Islamists have showed little inclination to exploit social unrest associated with sharp increases in unemployment, and an up-tick in anti-Chinese rhetoric among hardliners on social media has not been matched by any trouble on the streets.
Still, past experience has shown that terrorists strike when they are least expected to and, in the past, have often have only been thwarted at the last minute by Detachment 88 operatives.
Last June, police arrested 34 suspects in Central Kalimantan for allegedly planning a suicide bombing in Jakarta. Some were members of JAD who fled Java in 2018 after trying to establish a training camp on the jungled slopes of Mount Salak, 90 kilometers south of Jakarta.
Detachment 88 has only recently been taken over by Major General Marthinus Hukom, 48, one of the original 2002 Bali bombing investigators and a member of the counterterrorism unit since it was formed in the wake of the country's worst terrorist outrage.
Hukom was previously part of the unit's intelligence arm and is reputed to have a highly tuned understanding of how JAD and other home-grown terrorist networks operate, mostly communicating through different groups on social media.
One of those arrested in the Banten operation was reportedly related to Serang-born Imam Samudra, executed along with two other militants on the prison island of Nusa Kambangan in November 2008 for his leading role in the Bali bombing.
The scene of the Banten operation was the bustling, devoutly-Islamic market town of Pandeglang, where former chief security minister Wiranto was stabbed in the stomach by a knife-wielding militant last October as he arrived for an official function.
Wiranto survived, but it was the first attack on a Cabinet minister in recent memory and raised concerns that JAD might be targeting senior figures in President Joko Widodo's administration. The recent arms seizures have renewed those worries.
Banten was previously part of West Java, the country's most populous province and the cradle of the Darul Islam movement which fought an abortive low-level insurgency in the 1950s to turn Indonesia into an Islamic state.
Currently the bastion of the Islamic-based Justice and Prosperity Party (PKS), the only opposition party in Parliament, western Java has handed Widodo crushing defeats in two successive elections, although he regained much of that ground in Central and East Java.
JAD was responsible for the 2016 bomb and gun attack in downtown Jakarta that left eight people dead, as well as the May 2018 suicide bombing of three churches and a police station in Surabaya which killed 15 bystanders and 13 of the bombers.
Up to now, the organization is not known to have any expertise in the use of automatic weapons. A group of militants was meant to have received training on the southern Philippines island of Basilan in 2016, but it was cut short by a military operation.
After that, ISIS fighters were too busy preparing for the armed occupation of Marawi city further north in Mindanao's Lanao del Sur province, which erupted in May 2017 and raged on for five months, killing 978 militants and 168 Philippine government soldiers.
Since then, IPAC's Jones says a chapter of misfortunes has stymied repeated efforts by JAD to import thirty M-16 and AK-47 rifles from southern Mindanao, which the organization has already paid for and are reportedly being kept in Zamboanga.
Full report at:
https://asiatimes.com/2020/05/isis-eyes-covid-19-weakness-in-indonesia/
--------
Social media kept expatriates connected with loved ones on Eid
May 28 2020
These are the unprecedented days of our lives where routine activities have become extraordinary and regular celebrations have turned into unique experiences. However, the Covid-19 pandemic has made the world more virtual than real in many ways.
Eid al-Fitr is a happy occasion for Muslims as it marks the end of the holy month of Ramadan. Usually, the faithful celebrate Eid with congregational prayers, festivity, get-togethers and hosting large meals. The real fun of Eid was, however, missing all around the world owning to physical distancing and stay-home orders.
Qatar is home to millions of expatriates with the overwhelming population being Muslim. Under normal circumstances, the expatriates celebrate Eid with fun and fervour by having large family gatherings and outings with friends. But Eid this year was different. Being away from home and even from their families, many expatriates had to resort to social media and online platforms to stay connected and exchange Eid greetings with their loved ones.
Mohammed Redzuan is the president of Malaysian Association of Qatar (MAQ). He has been living in Qatar for a long time. "The outbreak of novel coronavirus has changed the life of everyone worldwide. It also affected the recent Eid festivities and celebration for me and every other Muslim. Since I am alone here in Qatar and family is back home, this is the first time after over 13 years I could not celebrate Eid with my family in Malaysia."
Redzuan is, however, happy that he remained connected with his family via Zoom and Google Meet. "On the first day of Eid, I managed to connect via Zoom with my family and relatives greeting and wishing them Eid as we say and wish in Malay language 'Selamat Hari Raya Maaf Zahir dan Batin'.
"The live video and voice chats with our loved ones give us joy, laughter and happiness. In addition, I am very fortunate that my neighbours, friends and colleagues sent me a lot of my favourite Malaysian goodies, cookies and food. Eid prayer was also done at home. Overall, the Eid celebrations were very unique and very different from previous years."
Adeel Akbar, general secretary of Pak Art Society Qatar, has been a long time resident of Qatar. He has not seen such kind of Eid in his entire life. "Eid could not be celebrated with its full spirit. The coronavirus outbreak has already dampened all the activities necessary for preparing for the Eid – ranging from obtaining new clothes and gifts to organising large scale family gatherings. It is sad to say that we could not hug and shake hands with each other as we did not have traditionally large Eid prayers. Children could not visit to other houses to collect their gifts and Eidi."
Adeel feels Internet and social media mitigated the sadness to a large extent as people could not meet each other while observing social distancing. "It is necessary to keep the distance. The Internet however made it easier for us to stay connected with our loved ones both in Qatar and back in Pakistan. I however hope the pandemic ends soon and we will be able to celebrate next Eid traditionally."
Mohammed Habib Nabi is also a long time resident. He has been associated with different sports and community organisations of Indian expatriates. "This year due to Covid-19, Government of Qatar appealed to the people to take precautions and maintain social distancing. We should stay away from shaking hands and hugging. Eid was celebrated very quietly at home – just exchanged Eid greetings to nearer and dearer through social media platforms and get connected to each other by video calls and extend the greetings of Eid. I missed offering Eid prayer at mosque and meeting my friends."
Hazim Hamza is the general secretary of Sri Lankan Community Benevolent Fund and head of community development unit of Sri Lankan Islamic Center Qatar. "This year the Eid was unique for everyone. We had to forego many celebrations, gatherings and happy moments within the community, friends and families. We missed the opportunity of meeting the community members in a common place after Eid prayers. We missed the family visits, outings which we look forward for every year during Eid holidays."
Full report at:
https://www.gulf-times.com/story/664228/Social-media-kept-expatriates-connected-with-loved
--------
Covid-19 moment of truth for peace in Thailand
By ANTHONY DAVIS
MAY 27, 2020
BANGKOK – If the old adage that no news is good news needed any confirmation, look no further than the border provinces of southern Thailand after 16 years of numbingly relentless violence.
For the past two months a remarkable, almost eerie peace has fallen on a conflict between Malay-Muslim separatist rebels and Thai security forces which has cost well over 7,000 lives in unremitting bombings, clashes and targeted killings.
But with the end of Ramadan and the winding down of the coronavirus crisis, the border region now finds itself precariously poised at a tipping point that in the coming weeks will see either a return to bloodshed or, just possibly, a sustained peace grounded in a formal ceasefire and brokered negotiations.
The uneasy peace that has descended on the majority Malay-Muslim provinces of Pattani, Yala, Narathiwat and parts of Songkhla emerged from a unique convergence of events.
Not least was the March onset of Covid-19 which in the border provinces started with cases imported from Malaysia and Indonesia and later posed a real threat of run-away contagion.
ATF
The role of Malaysian pressure on insurgents grouped in the Barisan Revolusi Nasional, or BRN, to reinforce with a ceasefire the first publicly acknowledged talks with the Thai government that opened in January in Kuala Lumpur facilitated by the Malaysian government is less understood.
On April 3, after days of internal wrangling, BRN finally announced a unilateral "cessation of activities" in order to support the Thai government's response to the virus crisis.
Representing the first time BRN had publicly committed to a ceasefire, the declaration was notable on two counts. First and predictably enough, the pause was to remain in effect "for as long as BRN is not attacked by RTG (Royal Thai Government) personnel."
Secondly, the ceasefire as announced was open-ended leaving a major question mark over how the BRN viewed its strategy going forward. Coming from a rebel organization whose rhetoric has always been more powerful than its capacity for planning, that too was perhaps predictable.
The striking effectiveness of the ceasefire – and by extension the leadership's command-and-control over the rank-and- file in the field — was underscored by one salient breach of the peace.
On April 30, a Thai military task force from the 43 Ranger Regiment launched a raid on an unregistered house in a village in Pattani province's Nong Chik district, a longstanding hotbed of BRN activity.
Timed just before the iftar breaking of the Ramadan fast, the raid triggered a shootout and resulted in the death of three rebel fighters.
All three were senior and experienced BRN operatives wanted on arrest warrants for a string a major attacks; probably not by coincidence, there were no negotiations to attempt to persuade them to surrender.
According to Thai authorities, the group had gathered to plan attacks during Ramadan, a claim which made little sense given the preceding weeks of unbroken quiet.
BRN's anger was manifested immediately in an uncharacteristically swift statement released the following day condemning the Thai operation, but signifcantly not threatening a return to all out hostilities.
Then, on May 3, two para-military Rangers were attacked in Pattani's Saiburi district, one killed and one wounded, as they rode a motorcycle from a checkpoint to a grocery store in what appeared to be a carefully calibrated tit-for-tat retaliation for the Nong Chik raid.
Revenge exacted, the rest of May through Ramadan and into the Eid ul Fitri holiday remained as quiet as April had been before the Thai military's strike.
How BRN now plays its hand will be critical to the future of the conflict. Broadly the rebel group has two options.
The first would be to exploit the moral high ground it has gained both in the region and beyond. Building on the ceasefire and its demonstration of command and control, the party could take the initiative by proposing a bilateral agreement as an invitation to the Thai government to establish its credentials as a credible partner for peace.
The second option would be simply to allow the current situation to drift, maintaining its commitment to holding fire and seeing what, if any, initiative the Thai side chooses to take.
This would undoubtedly be the more dangerous path as the current precarious peace would likely be interrupted by another raid by Thai forces predicated on the need to enforce law and order.
Any such operation might then be followed by a possibly generalized retaliation by a BRN military wing suspicious of the susceptibility of the party's negotiators to Malaysian arm-twisting and that went along with the ceasefire only grudgingly.
According to one well-placed source who spoke to Asia Times at the end of Ramadan, militants in the field are itching to get back to the fight. Nevertheless, given the incapacity of BRN's senior leaders either to map strategy or make swift policy decisions, drift may well emerge by default.
How the Thai government and military react to the current tenative cessation of hostilities is even more difficult to gauge.
National Security Council doves largely responsible for shepherding public peace talks in Kuala Lumpur may well see advantage in building on the current peace with some form of bilateral agreement. Such a deal might possibly be reached behind the scenes rather than publicly.
Whether the military, in the shape of the southern region Fourth Army and the locally-based Forward Command of the Internal Security Operations Command (ISOC), would be willing to entertain a formal, even if unpublicized, ceasefire is far less clear.
In early April, the army pointedly ignored BRN's "cessation of hostilities" announcement, noting merely that security forces would continue to enforce the law of the land. And changing that stance will inevitably be contentious.
At one level, the military would risk surrendering the tactical flexibility it currently enjoys under its law enforcement mandate to carry out targeted raids, such as that of April 30. As the elimination of three key rebel operatives in the Nong Chik operation illustrated, such strikes have military appeal.
Secondly, any broad ceasefire would potentially allow BRN to regroup after a recent string of reverses and put at risk the slow but steady gains security forces have recently made in a long war of attrition.
Over the past three years, that attrition has driven a steady reduction in violent incidents. Bombings which were at the height of the conflict in 2010-2011 were running at over 20 incidents a month had dropped to around eight last year.
Insurgent targeted killings, the other major cause of casualties, were running at fewer than 10 each month in 2019 after highs of over 50 earlier in the conflict.
Thirdly, any such formal bilateral agreement would serve to accord BRN's military wing a political legitimacy starkly at odds with the official Thai line that the rebels are common criminals to be hunted down and prosecuted in court. Conceding any measure of political credibility to Patani separatism has always been anathema to Bangkok.
Finally, the advent of something approximating sustainable peace in the region after 16 years of conflict will inevitably impact military deployments and budgets worth billions of baht.
The low intensity war in Thailand's south, which in recent years has arguably declined to become more of an irritant than a threat, has undoubtedly made many ranking officers far wealthier than would otherwise have been the case.
Full report at:
https://asiatimes.com/2020/05/covid-19-moment-of-truth-for-peace-in-thailand/
--------
No need to attend pre-marriage course during CMCO in Kedah, says MB
27 May 2020
ALOR SETAR, May 27 — Muslim couples who intend to tie the knot during the conditional movement control order (CMCO) period in Kedah need not attend a pre-marriage course as required previously.
Mentri Besar Muhammad Sanusi Md Nor said a couple would normally be required to attend a pre-marriage course for at least six hours.
"Since there are no classes (courses) because of the CMCO, a relaxation is given to candidates who have not attended the course, they only have to go through a brief interview before the marriage solemnisation takes place," he said after chairing the meeting of the state executive council at Wisma Darul Aman here today.
He said the interview process would be conducted by the district religious department and it would only take between 10 and 15 minutes.
In another development, Muhammad Sanusi said the state government would apply to the Ministry of Transport (MOT) to allow more ferries to Langkawi to operate during the CMCO period.
Currently, Muhammad Sanusi said only one ferry was allowed to operate daily with two sessions in the morning and evening.
"During CMCO, the number of ferry passengers is limited as there is a need for social distancing (but) fuel costs and ferry operations are still the same, so it is impossible to cover the operating costs," he said.
Full report at:
https://www.malaymail.com/news/malaysia/2020/05/27/no-need-to-attend-pre-marriage-course-during-cmco-in-kedah-says-mb/1870071
--------
Most Singapore mosques to reopen on June 2
May 27, 2020
SINGAPORE: Most mosques in Singapore will reopen in progressive phases from June 2 while congregational and Friday prayers will remain suspended until further notice.
The republic's stricter circuit breaker measures which kicked in on April 7, to curb the spread of Covid-19, will end on June 1.
According to Majlis Ugama Islam Singapura (MUIS), mosques in the republic will offer limited spaces for individual prayer to cater to the needs of mobile essential workers.
In addition, 68 mosques will open for limited operating hours from 1pm to 6pm for six days until June 7 while from June 8 onwards, most mosques will allow individual worship for five daily prayers.
In line with the national guidelines, MUIS, in a statement, said up to five prayer zones will be demarcated, with each zone able to accommodate up to five individuals from the same household.
Given the limited prayer spaces, it said priority should be given to individuals performing essential services, who due to the nature of their work are unable to perform prayer at a fixed workspace.
"This will include mobile delivery drivers and riders as well as drivers of personal hire vehicles and taxis," it said.
Full report at:
https://www.freemalaysiatoday.com/category/world/2020/05/27/most-singapore-mosques-to-reopen-on-june-2/
--------
Mideast
Iran, UN Underscore Need to Send Humanitarian Aid to Syrian People amid Coronavirus Outbreak
May 27, 2020
UN Secretary-General's Special Envoy for Syria Geir O. Pedersen held a phone conversation with Senior Assistant to Iran's Foreign Minister in Special Political Affairs Ali Asqar Khaji in Tehran on Wednesday.
During the phone talk, the latest developments in the political field, humanitarian issues, problems of the Syrian people and holding the next meeting of the constitution committee were discussed.
Both sides underlined the need to send humanitarian aid to the Syrian people, specially given the coronavirus outbreak, assisting the Syrian refugees to return to their homes and continued political process to resolve problems in the country.
Khaji, for his part, called for the removal of illegal and inhumane sanctions against the Syrian nation, stressing the necessity for the establishment of stability and security in Syria and continued fight against terrorism.
Iran has helped the Syrian government and people in confrontation against the terrorist groups which had occupied the country.
It has also underlined its readiness to assist the country in reconstruction efforts which has been welcomed by the Syria side.
In relevant remarks earlier this month, Khaji had underlined continued cooperation among Iran, Russia and Syria in fighting terrorist groups.
"The strategic cooperation among Russia, Syria and Iran in line with the fight against the ominous phenomenon of terrorism and the ongoing consultations of the three countries to settle the crisis in Syria politically will continue," Khaji said in a meeting with Syrian Ambassador to Tehran Adnan Hassan Mahmoud.
He also reiterated Tehran's firm support for Syria in combat against terrorism.
Khaji pointed to the continued US unilateral sanctions against the Syrian nation in the conditions of coronavirus outbreak and the crisis in the country, stressing the need for the international community to support the Syrian nation and the country's national sovereignty and territorial integrity within the framework of the international laws and fight against terrorism.
Mahmoud, for his part, referred to the strategic ties between Tehran and Damascus, and emphasized the importance of continued consultations between the two countries at bilateral and regional levels.
https://en.farsnews.ir/newstext.aspx?nn=13990307000803
--------
President Voices Regret over Honora Killing of 14-Year-Old Girl, Calls for Speeding Up Approval of Anti-Violence Bills
May 27, 2020
President Rouhani expressed regret over the murder case, and ordered accelerated study and ratification of the bill during a cabinet meeting in Tehran on Wednesday morning.
In January 2017, the Rouhani government announced that the bill was being revised after taking into consideration 250 papers by Iranian scholars, 50 doctoral theses on the subject and 1,200 articles by foreign experts.
Police in Iran arrested the father of the fourteen-year-old girl, Romina Ashrafi, for murdering his daughter as an act of "honor killing", after she fled her parents home with a 29-year-old man who had felt in love with.
Romina was killed with a sickle in the city of Hovigh, Talesh county, Northern Iran.
Speaking to the Islamic republic news agency on Tuesday, Hovigh district Governor Kazem Razmi announced that the murderer was in custody and an investigation into the case was underway with details to be made public after the judicial procedure.
"The suspect, charged with murder, is currently in prison, and authorities are working to complete the case and address its various dimensions," Razmi added.
Meanwhile, the province of Gilan's deputy for social affairs announced that the prosecutor's office and the Welfare Department have also stepped in to investigate the case.
Full report at:
https://en.farsnews.ir/newstext.aspx?nn=13990307000880
--------
President Rouhani: Iran's Trade with Other Countries None of US Business
May 27, 2020
"We are facing the harsh sanctions in addition to the outbreak of an epidemic disease (coronavirus)," President Rouhani said, addressing a cabinet meeting in Tehran on Wednesday.
"The Americans want to interfere in an ordinary trade and shipping of oil products from Iran to a friendly state and this is something that is none of their business at all and is not consistent with any law," he added.
President Rouhani stressed that unity among the Iranian government, other branches of power and the Armed Forces deterred the US plot to make an aggression against the Iranian oil tankers voyaging towards Venezuela.
The first of five Iranian oil tankers entered the Venezuelan territorial waters last week to show Iran's determination to carry out exports of goods and oil to everywhere in the world regardless of US threats.
According to the online tracking data, the Iranian-flagged tanker, named Fortune, arrived in the Venezuelan exclusive economic zone (EEZ) on Saturday evening.
Based on media reports, upon entering the Venezuelan waters, the ship was closely followed by a US cargo ship, the Adam Joseph.
Four other tankers - the Clavel, the Forest, the Faxon and the Petunia – followed the Iranian tanker 'Fortune' all en route to Venezuela's shores.
The tankers are carrying a total of 1.53 million barrels of gasoline to Venezuela, according to both governments, sources and calculations by TankerTrackers.com.
Reuters had quoted a senior official in President Donald Trump's administration as saying earlier this month that the United States is considering measures it could take in response to Iran's shipment of fuel to Venezuela.
On Friday, President Rouhani said his country is always entitled to defend its sovereignty and territorial integrity, and warned that if his country's oil tankers in the Caribbean or anywhere in the world get into trouble by the Americans, Tehran will definitely retaliate.
"Although some of the US measures have created unacceptable conditions in different parts of the world, we will not be the initiator of tension and clash," Rouhani said in a phone call with the Qatari Emir, Sheikh Tamim bin Hamad Al Thani.
Referring to the American moves in the Caribbean, he reiterated, "If our oil tankers face problems in the Caribbean Sea or anywhere in the world by the Americans, they will face problems reciprocally."
We see the conditions today more apt for cooperation, especially given the outbreak of this disease; but the US continues its incorrect decisions and inhumane behaviors, the president noted.
He made it clear, "As before, we stress that the security of our region, particularly the marine security, is maintained by the regional countries and we have always announced that we are ready for cooperation with the neighboring countries."
The Qatari Emir, for his part, underlined that the regional security should be maintained by the countries in the region and they should cooperate with each other to secure waterways in the region.
Hamad Al Thani also added that his country will try to deescalate tension.
Also, Chief of Staff of the Iranian Armed Forces Major General Mohammad Hossein Bagheri on Friday warned Washington of the dire repercussions of any hostile move against Iran's interests, vowing that Tehran would not hesitate to strike back in case it is targeted by the US.
Bagheri noted Iran's right to free shipment in the high seas, and stressed that the armed forces are constantly monitoring every small move of the enemies, including the adventurous, terrorist and antihuman American army in the region and faraway lands.
"We stand firm and decided to give the US an appropriate response for any miscalculation against the national interests of Iran," the top commander stressed, in a stern warning to the US to avoid any hostile move aganst five Iranian tankers carrying fuel to Venezuela.
Venezuela's defense minister said last Wednesday that planes and ships from the nation's armed forces will escort Iranian tankers arriving with fuel to the gasoline-starved country to prevent any US aggression.
Defense Minister Vladimir Padrino López said Venezuela's navy and air force will welcome the five Iranian tankers, seeing them through the nation's maritime territory and into port.
He compared the fuel tankers to humanitarian aid that China and Russia have sent to help Venezuela combat the new coronavirus pandemic.
Meantime, Iranian Defense Minister Brigadier General Amir Hatami warned the US against any hostile move or trouble-making for the country's oil tankers in international waters.
"Troubling the oil tankers is a violation of international laws and security. Both international organizations and countries which are sensitive to the laws and waterways' security should certainly show reaction to such an act," General Hatami told reporters after a cabinet meeting in Tehran last Wednesday.
He described any possible US trouble-making for the Iranian tankers in the free waters as "piracy".
Full report at:
https://en.farsnews.ir/newstext.aspx?nn=13990307000690
--------
US Deploys Patriot Missile Shield Near Koniko Gas Field in Deir Ezzur
May 27, 2020
The Arabic-language al-Sham channel, close to the dissidents, reported that the US-led coalition has extended its military presence and bases near Koniko and has set barbed wire around the gas field.
Meantime, al-Jisr newspaper, affiliated to the opposition, quoted local sources as saying that three Patriot missile shields have been deployed near Koniko, adding that Washington intends to station the defense system in several other areas of Deir Ezzur too.
The US second biggest military base in Deir Ezzur is located near Koniko.
Reports said earlier this month that the US is pulling two Patriot missile batteries and some fighter aircraft out of Saudi Arabia to transfer them to another regional state.
Early in May, a prominent Iraqi security expert warned of the US plot to transfer its Patriot air defense missile systems from Saudi Arabia to its bases in the Iraqi Kurdistan region and Kirkuk.
Amir Abdol Mona'am told the Arabic-language al-Ma'aloumeh news website that the US might transfer the Patriot shields from Saudi Arabia to Iraq to support the ISIL terrorists against the Iraqi security and Hashd al-Shaabi (popular) forces.
He added that the US is attempting to strengthen its presence in Iraq.
Full report at:
https://en.farsnews.ir/newstext.aspx?nn=13990307000737
--------
Envoy: Iranian Oil Tankers in Venezuela Victory for Int'l Community
May 27, 2020
"Forcing the aggressor and arrogant US government to comply with its responsibilities under international rules and treaties and respectful to the freedom of shipping and trade is the most important strategic effect of the tankers' arrival in Venezuela," Soltani wrote on his twitter page on Wednesday.
"The UN and the international community have been for years waiting and deserving such a victory," he added.
In relevant remarks on Monday, Soltani had said that the US decision not to attack Iranian tankers carrying oil to Venezuela showed that there are still some wise decision-makers in Washington.
"They should make warmongers understand that observing international regulations and agreements by governments such as the United States will create safer world for all countries and the US itself," Soltani wrote on his Twitter account.
"First Iranian oil tanker berthed at Venezuela's El Palito port, TankerTrackers.com- an online service which tracks shipments in different geographical areas- reported on Monday," he added.
Later, Soltani said the news of exchanging oil with 9-ton gold from Caracas is a lie, adding there are other ways like swap and oil export in exchange for goods.
He said there are many ways for trading like exporting oil for coffee and cocoa or other food staff, adding, "But the biased media have released mendacious news on exchange of Venezuelan gold for Iran's oil."
"The Western media are trying to forge negative climate against Iran and Venezuela as a cover-up for their failure before the world public opinion," the envoy stressed.
Soltani made it clear that the Iranian oil tankers were dispatched according to the international protocols and the international organizations had been informed of the course of these tankers in advance.
The Iranian oil tanker had loaded 43 million liters of gasoline from southern Iranian port of Shahid Rajaei in mid-March, TankerTrackers tweeted.
This was the first out of five Iranian oil tankers that has docked at the northern Venezuelan beach despite the US warnings and sanctions.
Satellite images show that the Iranian tanker named "Fortune" was completing its berthing operations while being helped by two Venezuelan tug boats at El Palito refinery.
The Iranian tanker was escorted by the Venezuelan Navy in order to reach the Venezuelan port without facing any incident which might had happened due to the US threats.
The second Iranian tanker named "Forest" had already arrived in the Caribbean Sea.
Three other Iranian oil tankers are "Faxon", "Petunia" and "Clavel" that are passing Atlantic Ocean to reach Venezuela.
Earlier, Venezuelan Minister of Petroleum Tareck El Aissami in a message appreciated Iran for fuel supply, saying energy cooperation will develop relations in all fields.
The energy cooperation between Iran and Venezuela is based on the scientific exchange and the productive development of the hydrocarbon industry, in addition to the experience that unites us as OPEC countries. Thanks brothers!!, he added.
Full report at:
https://en.farsnews.ir/newstext.aspx?nn=13990307000547
--------
Iran's New Parliament Disavows US
May 27, 2020
The inauguration ceremony of the 11th round of the Iranian parliament was held on Wednesday in the presence of 268 MPs, headed by Seyed Reza Taqavi who is older than other lawmakers.
Addressing the ceremony, Taqavi deplored Washington's sanctions against Iran, saying that the Iranian lawmakers will not endorse any accord with the US, as the symbol of infidelity and polytheism, which was confirmed by the MPs by shouting "Allahu Akbar (God is great)" and "death to the US" chants.
The parliament will also convene on Thursday to elect the speaker and vice-speakers.
The 11th parliamentary elections and the midterm elections for the Assembly of Experts – a body whose members designate the country's Leader – were held simultaneously on February 21.
The lawmakers are elected for a 4-year term, with no limitation for the incumbent or former parliamentarians to run again.
Final results of the 11th parliamentary elections in Iran showed that the Principlist camp's 30 member list of candidates, named 'Unity of the Revolutionary Forces Coalition' also known as 'The Glorious Iran', earned a crushing victory over their reformist, moderate and independent rivals in Tehran province.
Full report at:
https://en.farsnews.ir/newstext.aspx?nn=13990307000410
--------
US to end waivers permitting European, Chinese, Russian work at Iran nuclear plants
27 May 2020
The United States has decided to end sanctions waivers allowing Russian, Chinese and European firms to continue work at certain Iranian nuclear sites, a US official and another source familiar with the matter said on Wednesday.
The decision, first reported by the Washington Post, seemed designed to tighten the US "maximum pressure" policy against Tehran since Washington pulled out of the Iran nuclear deal two years ago. That deal had provided Iran with relief from economic sanctions in return for curbs on its nuclear program.
The sources, who spoke on condition of anonymity, said the move applied to Iran's Arak heavy water research reactor, the provision of enriched uranium for its Tehran Research Reactor and the transfer of spent and scrap reactor fuel abroad.
However, the sources said the United States would provide 60 days to wind down international activities – which were designed to make the Iranian nuclear program less capable of producing weapons – at the sites.
They also said it would extend for 90 days a waiver allowing international support for the Russian-built nuclear reactor at Bushehr.
Full report at:
https://english.alarabiya.net/en/News/middle-east/2020/05/27/US-to-end-waivers-permitting-European-China-Russian-work-at-Iranian-nuclear-plants.html
--------
Passengers of downed Ukrainian plane in 'state of panic' before attack: Official
27 May 2020
Passengers on the downed Ukrainian flight over Iran were in a state of "panic" before the plane was hit by missiles from the Iranian military in January, according to a Ukrainian forensics head.
Iran's Islamic Revolutionary Guard Corps (IRGC) shot down the Ukraine International Airlines flight PS752 on January 8, killing all 176 onboard. Iran admitted to downing the plane after days of denying responsibility and insisting the plane crashed due to a "technical failure."
The passengers were out of their seats when the plane was hit with two missiles, Ukrainian forensics head Alexander Ruvin from the Kyiv Research Institute of Forensics told the Ukrainian newspaper Glavcom last week.
Some have speculated that Iran may have fired not two, but three missiles at the plane.
Ruvin said the plane had not risen to a high enough altitude that allows passengers to take off their seatbelts. If the passengers were fastened, as they should have been, they would have fallen to the ground with their seats, he said.
"We saw the corpses of the dead lying on the ground, without seats," Ruvin, a member of the investigation team sent from Ukraine to Iran, said.
"What we saw in Iran means that there was already panic on the plane. There is reason to believe that it was burning inside and through the holes, black smoke came out," he added.
It is unclear what could have caused the state of panic on the plane referred to by Ruvin that made passengers get out of their seats.
Reports emerged at the time that authorities bulldozed the crash site in Iran of the plane. Iran immediately removed all parts of the plane from the crash site, said Ruvin.
Iran took mobile phones and tablets which belonged to the passengers and crew members, he added.
Authorities may have confiscated the electronic gadgets out of fear that a passenger had documented what went on in the plane in the final moments before crashing, Iranians on social media speculated.
Iran repeatedly blocked the Ukrainian team from investigating the crash site, Ruvin said.
Iran has yet to hand over the black boxes from the downed plane for analysis.
The spokesman for the Iranian parliament's legal and judicial committee Hassan Norouzi said last month that the IRGC did "well" by downing the Ukrainian plane. Contrary to official claims, no arrests have been made in relation to the incident, he said.
The families of the victims recently launched a petition urging foreign airlines to not fly over Iranian airspace until the Islamic Republic allows for a credible investigation into the downing of the plane.
Full report at:
https://english.alarabiya.net/en/News/middle-east/2020/05/27/Passengers-of-downed-Ukrainian-plane-in-state-of-panic-before-attack-Official.html
--------
Saudi-led coalition conducts 47 new airstrikes on Yemen
28 May 202
Warplanes from the Saudi-led military coalition waging war on Yemen have carried out 47 airstrikes on different parts in the country, further destroying the impoverished country's infrastructure.
Yemen's Arabic-language al-Masirah TV cited an unnamed Yemeni military source as saying on Wednesday that the Saudi-led fighter jets had pounded localities in Yemen's Ma'rib, Jawf, Sa'ada, and Hajjah provinces during the previous hours.
Majzar and Midghal districts in the central province of Ma'rib were struck 19 times, and Khasf Village in the Hazm district in the northern province of Jawf were pounded five times, the source said.
The airstrikes inflicted heavy damage on infrastructure in those localities.
According to the report, the Saudi-led coalition also violated a ceasefire in the western province of Hudaydah 67 times during the previous hours, killing at least one civilian.
Supported militarily by the US, the UK, and other Western countries, Saudi Arabia and a number of its regional allies launched the devastating war on Yemen in March 2015 to subdue a popular uprising that had overthrown a regime friendly to Riyadh.
The US-based Armed Conflict Location and Event Data Project (ACLED), a nonprofit conflict-research organization, estimates that the war has claimed more than 100,000 lives over the past five years.
More than half of Yemen's hospitals and clinics have been destroyed or closed during the war by the Saudi-led coalition at a time when Yemenis are in desperate need of medical supplies to fight the COVID-19 pandemic.
Full report at:
https://www.presstv.com/Detail/2020/05/28/626254/Yemen-Saudi-Arabia-airstrike-Ma'rib-Sa'ada-Houthis--
--------
Iran arrests 14 people affiliated to Takfiri separatist groups in Kuzestan province
27 May 2020
Iran has arrested 14 people affiliated to Takfiri separatist groups in the southern port city of Mahshahr in Khuzestan province.
The police chief of Khuzestan province, Brigadier General Heydar Abbas-Zadeh, said Wednesday that the detainees had opened fire at police posts and centers of the Basij volunteer forces, hoisted the flag of the al-Ahwazia terrorist group across the city and carried banners in support of the group, adding that they had sent videoclips of their activities abroad.
Abbas-Zadeh said police forces in coordination with judicial officials carried out four separate operations and arrested the elements, eight of whom were involved in shootings while the remaining six were engaged in raising the flags of the terrorist group across the city.
Five motorcycles and 12 cellphones were also confiscated from them, according to the police official, who said the detainees had confessed to the offenses and their cases were sent to judicial authorities.
Nine of them were sent to prison while an investigation was still underway for the remaining detainees, he added.
Back in September 2018, four gunmen attacked a military parade in the southern Iranian city of Ahvaz, killing at least 25 people and wounding 69 others. A four-year-old boy was among the fallen victims.
Full report at:
https://www.presstv.com/Detail/2020/05/27/626223/Iran-arrests-Takfiri-separatists-Kuzestan
--------
South Asia
5 killed in fire at Bangladesh coronavirus treatment tent
MAY 28, 2020
Until Wednesday, Bangladesh confirmed 38,292 positive cases for coronavirus including 544 deaths.
Fire swept through a through a unit of a hospital in an upscale area of the Bangladeshi capital to treat people infected with the coronavirus, killing five people, an official said Wednesday.
The fire started at about 10 p.m. at the United Hospital Ltd. in Dhaka's Gulshan area, where many diplomatic missions and corporate offices are located, said Quamrul Islam, an official with the city's Fire Service and Civil Defense agency.
Firefighters recovered five bodies after the blaze was controlled, Islam said. The included four men and one woman, he said.
The cause was under investigation, but the country's leading Bengali-language Prohom Alo daily said an explosion of an air-conditioning system occurred.
Islam said the firefighters rushed to scene, but "unfortunately some people died."
Until Wednesday, Bangladesh confirmed 38,292 positive cases for coronavirus including 544 deaths.
https://www.thehindu.com/news/international/5-killed-in-fire-at-bangladesh-coronavirus-treatment-tent/article31692052.ece
--------
Bangladesh to partly ease lockdown amid virus concerns
Md. Kamruzzaman
28.05.2020
Bangladesh will partly ease a more than two-month lockdown due to the novel coronavirus after May 31 for the sake of the country's economy, a top government official said Wednesday.
The country initially imposed the nationwide lockdown on March 26 to stem the spread of the coronavirus and it was later extended several times until May 30.
"We have decided to withdraw the nationwide lockdown on a limited scale to resume the country's economic activities like most of the European and Western countries," State Minister for Public Administration Farhad Hossain told Anadolu Agency.
He added that a government gazette in this regard will be published Thursday after final approval from Prime Minister Sheikh Hasina.
Experts, however, have expressed concern that the move may exacerbate the coronavirus outbreak in the overcrowded nation of nearly 165 million people.
Speaking to Anadolu Agency, the leader of a local medical doctors' foundation, Dr. Shahed Pavel, said they had urged the government to continue the lockdown for at least 15 more days after the Muslim Eid al-Fitr holiday to stem the spread of the virus.
"But citing the country's economic interests, the government has not granted our appeal. Now I earnestly request to ensure social distancing and health guidelines," Pavel said.
"Otherwise, the lethal pandemic may spread on a massive scale within a short time span."
Concerns over surging pandemic
Bangladesh is experiencing a surging trend in COVID-19.
As of Wednesday a total of 544 people have died from the coronavirus since the country's first death was confirmed on March 18. Of these, 275 succumbed to the virus in the last two weeks, according to government data.
More than 38,000 cases have been registered since the country's first three cases were reported on March 8.
Dr. Pavel warned that any breach of social distancing rules and health guidelines due to the partial easing of the lockdown "may cause the outbreak to get out of control very rapidly."
Hossain, however, assured that all relevant branches of the government, including the civil administration and law enforcers, will remain on the highest level of alert to contain any violations of social distancing rules.
"During the two-month-long lockdown, almost 95% of the people have become accustomed to COVID-19 health rules," he said, adding that as additional precautionary measures, "all sorts of educational institutes will remain closed until June 15 and long-routed public transport on roads, water and railways will remain shut until further notice."
"Only a limited number of public vehicles will be allowed on roads in cities including the capital Dhaka on condition of strict maintenance of social distancing and health guidelines."
He added that no elderly, sick and pregnant workers at any government and non-government offices will be allowed.
"Airline services will also resume on a limited scale after May 30, strictly following the health guidelines."
Economy should not be prioritized over lives
Noted economist and former advisor to the caretaker government A.B. Mirza Azizul Islam said "there is no alternative to easing the lockdown" for the survival of Bangladeshi products on the world market, especially the country's main exporting readymade garments (RMG).
"Bangladesh is a country with a poor economy. More than 5 million people are working in the transport sector and 4 million in the RMG industry. A long-term lockdown may seriously endanger their livelihood," he said.
Full report at:
https://www.aa.com.tr/en/asia-pacific/bangladesh-to-partly-ease-lockdown-amid-virus-concerns/1855714
--------
Iran Border Guard Command: No evidence Afghan migrants drowned
27 May 2020
Ghanbar Naderi
According to Iran's Border Guard commanders, it's fake news that Iranian border guards tortured and threw dozens of Afghans into the Harirud River in western Herat Province on late April 30.
The Iranian commanders say that the river is far from the Iranian border guard posts and those who try to enter the country illegally, are always treated in a humane way under international human rights law.
Speaking to Press TV, the Iranian commanders said their border guards had nothing to do with the drowning of Afghan nationals along the border. They also made it absolutely clear that there is no evidence whatsoever to suggest that some Afghan nationals drowned here in recent days. They said videos shared on social media that show bodies on the river bank are not from this particular border.
The Iranian commanders also said no confrontation at all took place between their forces and Afghan nationals at the alleged site, dismissing all allegations of transferring the individuals to a camp or subjecting them to inhumane treatment as absolutely untrue.
Full report at:
https://www.presstv.com/Detail/2020/05/27/626209/Iran-border-guard-Afghanistan-Herat-Province-
--------
URL: https://www.newageislam.com/islamic-world-news/muslim-scholars-ngos-seek-create/d/121972
New Age Islam, Islam Online, Islamic Website, African Muslim News, Arab World News, South Asia News, Indian Muslim News, World Muslim News, Women in Islam, Islamic Feminism, Arab Women, Women In Arab, Islamophobia in America, Muslim Women in West, Islam Women and Feminism