New Age Islam News Bureau
4 Sept 2015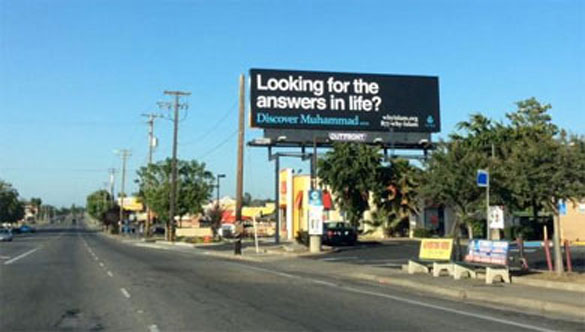 A billboard sponsored by Islamic Circle of North America is shown on a street in Sacramento, California in this undated handout photo released to Reuters June 16, 2015.
---------
India
• Muslim Scholar Forced To Stop Writing On Ramayana after Bigoted Protests
• Hindu Hardliner Urges 2-Child Policy for Indian Muslims
• Islamic Group, Kerala Nadwatul Mujahideen, In Kerala Campaigns against IS
• UAE detains 11 Indians for planning to join, finance IS
• Jerusalem and Mumbai Building Stronger Ties
• Basit provides an opening for India, Pak to re-engage
-------------
Europe
• 'West Creates Refugees by Destroying Islamic Nations' – Chechen Leader
• Corbyn Caught On Camera Calling Islamic Fanatic a 'Very Good Friend'
• Hungarian Leader Rebuked for Saying Muslim Migrants Must Be Blocked 'to Keep Europe Christian'
• Muslim, Christian leaders congratulate Russian Jews on shul's re-opening
• Russia Regions Detain 25 Would-Be Islamic State Recruits in August
• Green Party sends open letter over refugee crisis
• UK's Cameron Resists Calls to Change Stance on Refugees
-----------
Pakistan
• Karachi Seminaries' Swoop: Jihadi Literature Seized From Madrasa
• Musharraf Agreed In 2000 to Low-Key UN Resolutions on Kashmir: US Cable
• Foreign hands involved in Baluchistan unrest: Rabbani
• Pakistan spent $1.9bn on Zarb-i-Azb, TDPs' return from own resources: FO
• Army engagement in Waziristan to last until 2019
• 'Nisar convinced British authorities to withdraw support for MQM chief'
• TTP group involved in Khanzada's killing: Sana
• Seminaries' closure on Defence Day resented
• Pakistan's fading Parsi community looks abroad
• Aziz to explore if Afghans are interested in reviving reconciliation process
• Hate Speeches Land Two Jhang Clerics in Jail
• PM lauds media role against terrorism
------------
South Asia
• Taliban and ISIS Affiliates Clash In Nangarhar, Leaving At Least 23 Dead
• Authorities to Remove 'Martyr' Title from Mollah's Tombstone
• Pakistan claims Haqqani Network has been dismantled from its tribal areas
• Afghan refugee returns reluctantly from Pakistan
• NATO calls for joint Pak-Afghan efforts to address border issues
• Opinion poll shows Awami League, ruling party of Bangladesh gaining people's trust
• Study finds Bangladeshis have faith in democracy despite flaws
------------
Africa
• Military Sources: Al-Shabaab Attack in Somalia Kills Dozens of AU Troops
• Boko Haram Crosses Border Kills About 30 In Northern Cameroon
• Boko Haram: Association calls for more funding for the military
• Somalia shakes up military leadership amid Al shabaab attacks
-----------
Arab World
• Al Arabiya Show Reveals How Abu Nidal Tried To Kill Al-Zawahiri
• Scores of Militants Killed in Syria's Quneitra
• Strong Nations Stem Extremism, Egypt Scholar Says
• Saudi security forces kill "terrorist" in Abqaiq - state TV
• Anti-terrorism campaign launched in Saudi Arabia
• Egypt sentences dozens of alleged Islamists in mass trial
• Syrian Forces Target ISIL in Homs
• Iraqi Volunteer Forces Thwart ISIL Attack in Al-Karmah
• Daesh Attack on Yemen Mosque Kills 28 Worshipers
• Obama to assure Saudi King of U.S. help against Iran threat
• Putin: Premature to talk about Russian military action against ISIS
----------
Mideast
• Four Turkish Police Killed In PKK Bombing
• Iranian Deputy FM: Theatrical Acts in Fight against ISIL Not Effective
• Turkey extends mandate to send troops to Syria if needed
• Sinai blasts injure six peacekeepers, including four Americans
• Iran Warns to Set Fire to Enemy's Economic, Political Interests in Case of War
• Iran Launches Special Command-and-Control System
• Leader's Aide: Iran Never Trusts US
• Yemeni forces destroy Saudi Apache choppers: Report
• White House: sanctions relief for Iran tied to compliance with nuclear deal
• Basij Commander: Iran Has Secret Drone Program
-----------
Southeast Asia
• PAS' Divorce Oath Un-Islamic, Says Penang Mufti
• 14 dead after migrant boat sinks off Malaysia
• Architect, engineer admitted in the Kuala Lumpur High Court to attempt to support IS
• MACC man ducks questions on Najib
• "Indonesia must help democratise Malaysia"
----------
North America
• 'Islam Teaches Love and Peace, Not Hate and Violence,' Muslim Americans Declare in 100 Billboards across the US
• Amid refugee crisis, Hungary prime minister says Muslims not welcome
• 'Truly epic': Nation of Islam's Farrakhan dines with 'my brother' Eminem
-----------
Australia
• Australia Mulls Stripping Citizenship for Past Terror Links
Compiled by New Age Islam News Bureau
URL: https://www.newageislam.com/islamic-world-news/new-age-islam-news-bureau/muslim-scholar-forced-to-stop-writing-on-ramayana-after-bigoted-protests/d/104481
------------
India
Muslim Scholar Forced To Stop Writing On Ramayana after Bigoted Protests
04/09/2015
A 75-year-old literary critic has allegedly been forced to stop writing his column series on Ramayana in a local daily in Kerala because he's a Muslim. MM Basheer, who was writing a six-column series for Malayalam daily Mathrubhumi last month, stopped after his fifth column was published.
Basheer received a torrent of abusive phone calls from unidentified people every day at his Kozhikode residence, accusing him of criticising Rama, who is revered as a Hindu god in India. The abusers accused him of bias against Hinduism because of his faith.
"Every day, I would get repeated calls abusing me for writing on the Ramayana. At the age of 75, I was being reduced to just a Muslim. I couldn't take it and I stopped writing," Basheer told The Indian Express. "The callers would ask me what right I had to criticise Lord Rama."
According to the former professor of Malayalam at the University of Calicut, his series was on Valmiki Ramayana, where the great poet himself depicted Rama with human characteristics and criticised him. The callers were taking exception to the poet's criticism of Rama, which was given in quotes. Most of the callers would not hear out my explanation but just abuse me," he told Express. Last year, Basheer had written on Adhyatma Ramayana, where Rama was depicted as God.
"Most callers kept insisting that I tried to attribute human qualities to Rama because I was a Muslim," he said.
While Basheer has not been associated with a religious group earlier, he is a widely respected with more than 40 critical works on Malayalam poetry, short stories and novels. His PhD thesis was on the poet Kumaranasan's manuscripts titled "Kumaranashante Rachanashilpam". According to reports, he has written on the Ramayana for newspapers for a few years now, as such columns are popular during the Malayalam month of Karkkidakam, and are observed as the "Ramayana month".
Along with Basheer, the editors of the newspaper he was writing for too received several abusive calls for getting a "Muslim to write on the Ramayana".
Even though the identity of these callers are not known, Express reported that a fringe Hindutva outfit, Hanuman Sena, also put up posters with similar charges near the newspaper's head office in Kozhikode. According to the report, "this is the first time a concerted campaign has been undertaken against a writer in Malayalam, on the basis of his religious identity, for writing on the Ramayana."
http://www.huffingtonpost.in/2015/09/04/mm-basheer-ramayana_n_8086598.html
------------
Hindu Hardliner Urges 2-Child Policy For Indian Muslims
03.09.2015
Leader of hardline Hindu nationalist group says Muslim families should be restricted to 2 children or be punished.
A leading Hindu nationalist sparked controversy Thursday after he called for Indian Muslim families to be restricted to having two children and face punishment for having bigger families.
"They should not be allowed to have more than two children. If they have more than two children then all facilities including ration, jobs and education should be stopped for them," wrote Pravin Togadia, head of the controversial Vishwa Hindu Parishad (VHP), in Hindu nationalist journal the Organizer.
His group is under the same umbrella of Hindu organizations that include the ruling Bharatiya Janata Party and Togadia was once a close colleague of Prime Minister Narendra Modi, though Modi criticized him last year for comments about forcibly evicting Muslims from their property.
Togadia's claimed Hindus faced "extinction" after government data released last week showed Hindus consisted less than 80 percent of the population for the first time, while the growth of the Muslim population had increased.
Togadia, who has frequently been accused of hate speech against Muslims and Christians, also claimed "there is a 'population Jihad [the Islamic duty of maintaining the religion]' going on in India and we have to stop it."
A lawmaker from the BJP, Unnao Sakshi Maharaj, also claimed that the minority status for Muslims and any related benefits should be revoked.
Though Muslims are the largest minority in India, much of the population is considered to be disproportionately economically and socially disadvantaged. - Delhi
http://en.haberler.com/hindu-hardliner-urges-2-child-policy-for-indian-794856/
------------
Islamic Group, Kerala Nadwatul Mujahideen, In Kerala Campaigns against IS
M P Prashanth
Sep 3, 2015
KOZHIKODE: In the wake of reports that UAE has deported two Malayalees for their alleged links with the Islamic State terrorists, Kerala Nadvathul Mujahideen (KNM), an organisation of Salafi scholars, has intensified its campaign against the IS. KNM convened a meeting of Islamic scholars and youth last Saturday to clarify the confusion created by the IS on certain Islamic issues such as slavery, prisoners of war and finance.
"The meeting decided to carry out KNM's campaign against the IS at new level. We will bring out 4-minute video speeches by scholars on contentious issues, which will be circulated in the new media such as WhatsApp and YouTube," said Abdul Majeed Swalahi, the state president of Ithihadu Subbanil Mujahideen (ISM), a feeder organisation of the KNM.
"The IS actions are creating lot of misreading on issues like slavery. IS is actually mocking at Islam by selling the captured women in market. They have also introduced gold and silver as the currency of the Caliphate as in the days of Prophet Muhammad. This will send wrong signals to those who wishes to introduce Islamic banking in secular societies," he said.
The KNM was the first among the organisations that correctly read dangers of IS from its inception itself. The organisation has been in the forefront of the campaign against the danger of extremist positions.
"Many in the community had stated that we are unnecessary pressing the panic button and a few alleged that we are betraying the community. But recent developments have confirmed our apprehensions," Majeed Swalahi said. Sources in the intelligent agencies say that the two youths deported by the UAE authorities for posting the pro-IS materials in the social media have no organisational links with the terror outfit.
They are self-motivated by the publicity material posted in the pro-IS websites. They apparently have no connections with any of the extremist outfits operating in Kerala. Though the possibility of the establishment of Islamic Khilafat (Caliphate) is practically nil, many youth in the state are drawn towards the ideology of Khilafat, the sources said.
http://timesofindia.indiatimes.com/city/kozhikode/Islamic-group-in-Kerala-campaigns-against-IS/articleshow/48787704.cms
------------
UAE detains 11 Indians for planning to join, finance IS
Bharti Jain
Sep 4, 2015
NEW DELHI: As many as 11 Indian nationals are under detention in the UAE since early August on charges of planning to join the Islamic State (IS) and recruiting, financing and providing logistics to those willing to joining the terror outfit. This is after two Indians hailing from northern Kerala, detained as part of the same group, were deported from the UAE a couple of days ago and landed separately at the Kochi and Karipur (Malappuram) international airports.
According to intelligence sources, the UAE security services came across two groups of people hailing from India, based in Abu Dhabi and Dubai, who were involved in sharing and discussing issues pertaining to IS on social media. They were also reportedly trying to establish online contact with IS leaders. The groups on watch, though dominated by Indians, included a couple of Pakistani and Bangladeshi nationals.
Of those detained, eight were in Abu Dhabi and five in Dubai. A Pakistani and a Bangladeshi national were also held. The charges cited for the detentions included recruiting, funding and providing logistics to those interested in being part of IS. According to intelligence reports, the UAE authorities suspect that the 13 Indians were planning to travel, one by one, to Syria, possibly via Yemen or Turkey, and were in the process of organizing funds and logistics.
The identification of 13 new IS recruits of Indian origin adds to the 17 Indians already known to have joined the jihadi outfit. The two persons deported were educated in the UAE and had spent a good part of their lives there. The rising numbers of Indians gravitating towards ISIS will re-ignite the debate on how to deal with those returning after a dalliance with the outfit. The government and the security establishment will have to consider whether to prosecute them or treat them as misguided youth and de-radicalize them.
Given how seriously the UAE views any attempts by its residents to associate with terror outfits like IS, Indian authorities were worried about the fate of its 13 citizens. Fortunately, two of the detainees, both hailing from Malabar region of Kerala, were deported on Tuesday, ostensibly after being "cleared" by the UAE authorities. New Delhi, however, is awaiting the fate of the 11 Indians still in UAE's custody. They have not being charged as yet.
"As the 11 are still under investigation, the UAE government has not shared their identities with India. Depending on what they find during the course of their investigations, the Indians in custody could be deported or charged," an official told TOI.
The government is hoping that only minor charges will be pressed given that the detained Indians were only planning to visit Iraq/Syria but did not actually travel there.
Meanwhile, Kerala Police and Intelligence Bureau officers are speaking to the two deported Keralites to "find more about their alleged online activities relating to IS". "We are seized of the case but have not detained them yet," a senior Kerala Police officer told TOI. Though booking them is not a closed option yet, the agencies are debating whether the action should stop at counseling and "tracking" them.
Incidentally, the two Keralites were settled in the UAE for long. "They received their education in the UAE and were working there. Though their pro-IS activity was online, the UAE, given its strict policy against elements sympathizing with terror outfits, may have forced them to leave the country," said an intelligence official.
http://timesofindia.indiatimes.com/nri/other-news/UAE-detains-11-Indians-for-planning-to-join-finance-IS/articleshow/48795230.cms
------------
Jerusalem and Mumbai Building Stronger Ties
By Raphael Poch
September 4, 2015
In a reversal from its traditional pro-Palestinian stance, India has publicly announced that it is endeavoring to create closer ties with Israel. However, Indian leaders have made it clear that they do not intend to abandon the Palestinians.
In a speech to the Egyptian Council for Foreign Relations last Tuesday, Indian Minister of External Affairs Sushma Swaraj said, "Our strong traditional support to the Palestinian cause remains unwavering even as we pursue good relations with Israel." The speech came after one of India's strongest warships docked in the port of Haifa.
The INS Trikand docked in Israel on August 19th. Its crew planned extensive engagements with the Israeli Navy during its four day visit. According to the Indian Ministry of Defense the purpose of the Trikand's stay in Israel was to "bolster the robust ties between Israel and India."
India has also made other overtures to strengthening ties in the past few months. These overtures include India's recent abstention from two UN votes condemning Israel for human rights violations in Gaza. In the first vote on July 3rd, 41 nations voted to condemn the Jewish state at the UN Human Rights Council. The abstention of India, a country which traditionally votes pro-Palestinian, surprised many in Israel. "For the first time in a major anti-Israel vote, India didn't vote with the Arabs," said one astonished Israeli diplomat.
The seeming shift in India's stance in the geopolitical sphere has come about in part due to the leadership of Prime Minister Narendra Modi. India reaps many benefits from cooperation with Israel in the fields of medicine, agriculture, military technology, and intelligence. Yet until now, India has generally toed the anti-Israel line in on the political stage. Recently, Modi's government has openly embraced building a closer working relationship with Israel.
In May, Modi announced his intention to pay a formal visit to Israel. This would be the first such visit by an Indian Prime Minister since Israel was founded, though Israeli ministers, including former Prime Minister Ariel Sharon, have made official visits to India in the past.
India is home to the world's second-largest Muslim population, comprising over 180 million Muslims. While the country's leaders do not wish to upset their own population or their Muslim neighbors, they have not gained much from their pro-Islamist stance. Arab countries have failed to support India in its conflict with Pakistan over the Kashmir. Moreover, most major economic partnerships between India and the Arab world stem from mutually symbiotic relationships which are unaffected by India's position on the Palestinian cause.
At the same time, major social changes are taking place inside India, represented by the rise to power of Modi's Bharatiya Janata Party (BJP). Emphasis on Hindu ideology has reached an all-time high within the country, and with it has come a decrease on the importance placed upon Islamic ideology. Many BJP supporters see Israel as a democracy taking a serious stand against radical Islamization and terrorism.
There are many similarities between the two countries. India's government, like Israel's, is attempting to create a stronger and more authentic national identity. Both countries are battling Islamic terrorist groups which are motivated to violence, and both countries are continuously attacked for the very nature of what they represent.
While Islamic countries have little or nothing to offer India, as even oil is relatively cheap on the open market, Israel can provide India with technological and agricultural advancements and guidance on building up India's budding high-tech culture, using Israel's start-up nation mentality as a model.
By abstaining from the anti-Israel vote, Modi is acknowledging India's strong economic alliance with Israel and adding a political element to strengthen the ties between the countries.
China and Japan have also made recent economic overtures towards Israel, with both countries heavily investing in the country and pushing to invest even more. As Asian ties with the West in both Europe and the United States are cooling under a wave of Boycott, Divestment and Sanctions (BDS) protests and political undermining of Israel, Israeli ties with Asia are heating up. It seems that Israel's hardline views against Arab terrorism have begun to win some friends in Asia.
http://www.breakingisraelnews.com/48255/india-israel-building-stronger-ties-jerusalem/#BUbxjHBbwZu1wsmT.97
------------
Basit provides an opening for India, Pak to re-engage
Indrani Bagchi
Sep 4, 2015
NEW DELHI: Pakistan high commissioner Abdul Basit may have just provided the opening for India and Pakistan to re-engage after the NSA-level talks were called off at the eleventh hour last month. Top level South Block sources said India could even contemplate a "return to the spirit of Ufa".
In an interaction with journalists for a TV programme, the Pakistani envoy said, "The fundamental reason for the cancellation of talks was that we differed on the interpretation of the Ufa agreement. We never wanted to broaden the agenda. We wanted the NSAs to speak only on terrorism, and we had many things to discuss on that. But we wanted to use the opportunity to discuss the way forward as well."
This is a very different line from the one used by the Pakistan foreign policy adviser Sartaj Aziz a few days ago. When questioned, he had said, "No serious talks with India are possible without discussion on the core issue of Kashmir."
During her press conference which sealed the fate of the NSA talks, foreign minister Sushma Swaraj had said India did not "shy away" from talks on Kashmir but they could not be part of the NSA talks. She added that the first talks could segue into discussions on other issues.
Both Basit's comments and India's response, albeit off record, provide the first signs that both sides may be hitting reboot on what was a bruising bout through July and August. Next week's security talks between the BSF and Pakistan Rangers are still on track. It's not yet clear whether the DGMOs will meet as well to look for ways to quieten the borders.
Neither side has mentioned a possible New York meeting between Modi and Sharif. But many believe it would be the best way to break the ice and go back to what is now being called the "spirit of Ufa". At Ufa, the idea was for India and Pakistan to go back to a phase of broad engagement. But things swiftly went south, both as a result of the heightened cross-border violence and two terror attacks in Gurdaspur and Udhampur. Also, Pakistan's civilian leadership was perceived to have failed to deal with internal pressure on their decision to hold talks on terrorism but not on Kashmir.
Full report at:
http://timesofindia.indiatimes.com/india/Basit-provides-an-opening-for-India-Pak-to-re-engage/articleshow/48796757.cms
-------------
Europe
'West creates refugees by destroying Islamic nations' – Chechen leader
4 Sep, 2015
The head of Russia's Chechen Republic claims the current asylum seeker crisis in European countries originated in the aggressive policies of the United States and the EU. He also called upon all Muslim nations to jointly fight the root of the problem.
"If today no one rises against the inhumane policies of the Western countries, tomorrow the disaster may come to any Muslim country. I call upon you to urgently discuss this problem, to develop a unified position and to save the lives of thousands of people," Ramzan Kadyrov wrote on his Instagram account (Kadyrov uses Instagram as a social network for public statements).
"Tens of thousands of Muslims are dying. Women, old people, children and young people as well. Under such conditions the leaders of Islamic countries has no right to remain silent, to stand aside and remain simple observers," he added.
Kadyrov also explained in his post that in his opinion the West must be blamed for tragedies that are currently taking place in Afghanistan, Iraq, Syria, Palestine, Libya, Yemen, Algeria and other Muslim nations.
Europe and the USA are not simply refusing to act, they instigate the tragedies of millions of people by destroying the economy of Islamic countries and starting wars in Muslim regions of the world, he added.
"The problem cannot be solved by fighting its consequences, by silencing the reasons that caused it. But this is what Europe and the United States are currently doing. The USA and Europe have ruined these countries, destroyed their economies, provoked lingering internal conflicts and forced the desperate people into becoming refugees," the Chechen leader wrote.
Full report at:
https://www.rt.com/politics/314350-chechen-leader-blames-west-for/
------------
Corbyn Caught On Camera Calling Islamic Fanatic a 'Very Good Friend'
3 September 2015
Jeremy Corbyn has been caught on camera declaring his friendship for Ibrahim Hewitt, a Muslim hardliner.
Hewitt has been a highly controversial figure since he wrote a notorious pamphlet that branded homosexuality a 'great sin' comparable to paedophilia and incest, which should be 'severely punished' under Islamic law. It also said that adulterers should be 'stoned to death'.
Speaking at a pro-Palestinian event in East London in February 2013, Corbyn said: 'I've got to know Ibrahim Hewitt, the Chair, extremely well, and I consider him to be a very good friend, and I think he's done a fantastic job.'
Entitled 'What Does Islam Say?', Hewitt's publication spelled out his vision of 'true Islam'.
'While such punishments may seem cruel, they have been suggested to maintain the purity of society,' Hewitt, 58, wrote.
Corbyn's declaration of friendship for Hewitt came as he shared a stage with a number of Britain's most notorious Islamist figures at an event organised by the controversial charity Interpal in East London in February 2013.
The MP's fellow speakers included those who defend militant extremists; condemn homosexuality; 'reject the idea of freedom of speech'; and are accused of advocating attacks on the Royal Navy (see box).
On Saturday, Corbyn caused a social media storm about his own connections with extremists when he tweeted: 'Well done Ken Livingstone for refusing to share platform with BNP. There is no place for racism in democratic debate.'
Hewitt's pamphlet stated that Islamic texts advocated 100 lashes for fornication and sodomy with both men and women.
'Any act that destabilises marriage will also destabilise society. Hence the Islamic punishments for such acts are severe,' it said. 'Married men and women found guilty of adultery are to be stoned to death.'
It went on to set out an Islamic view that men and women are not equal, and men have a right to assume 'leadership' over women.
'If a woman is unable to satisfy the sexual or other needs of her husband he may consider taking another wife, rather than the common Western practice of secretly taking a mistress,' it said.
The pamphlet also claimed Islam advocates that 'any act of apostasy that results in open rebellion against Islam is… an act of treason. Even in Britain the penalty for high treason is death.'
Full report at:
http://www.dailymail.co.uk/news/article-3213216/Corbyn-caught-camera-calling-Islamic-fanatic-good-friend-knows-extremely-shares-stage-UK-s-notorious-hate-preachers.html
-----------
Hungarian Leader Rebuked for Saying Muslim Migrants Must Be Blocked 'to Keep Europe Christian'
SEPT. 3, 2015
Hungary's prime minister, Viktor Orban, was criticized online and in person on Thursday for writing in a German newspaper that it was important to secure his nation's borders from mainly Muslim migrants "to keep Europe Christian."
"Those arriving have been raised in another religion, and represent a radically different culture. Most of them are not Christians, but Muslims," Mr. Orban wrote in a commentary for Frankfurt Allgemeine Zeitung, a German newspaper. "This is an important question, because Europe and European identity is rooted in Christianity."
"Is it not worrying in itself that European Christianity is now barely able to keep Europe Christian?" Mr. Orban asked. "There is no alternative, and we have no option but to defend our borders."
Before meeting with Mr. Orban on Thursday in Brussels, Donald Tusk, the president of the European Council, which represents European Union leaders, thanked him for securing Europe's borders, but took issue with the argument of Mr. Orban's opinion article. "I want to underline that for me, Christianity in public and social life means a duty to our brothers in need," Mr. Tusk said as he stood alongside Mr. Orban.
"Referring to Christianity in a public debate on migration must mean in the first place the readiness to show solidarity and sacrifice. For a Christian it shouldn't matter what race, religion and nationality the person in need represents."
Mr. Tusk, a former prime minister of Poland, drew attention to his rebuke of the Hungarian leader on social networks, and his office posted video of his comments on YouTube.
Mr. Orban waited until the end of the day to respond to Mr. Tusk. At a separate news conference in which he faced reporters alone, he reiterated the theme of his article, that Europe was at risk of being "overrun" and had to shut its borders. The Hungarian prime minister argued that European countries had no obligation to accept most of the migrants, as "the overwhelming majority of people are not refugees because they are not coming from a war-stricken area."
"Our Christian obligation is not to create illusions," he said.
Mr. Orban went on to invoke Hungary's historical experience as part of the Ottoman Empire, which ended more than three centuries ago, as an explanation for its current opposition to Muslim immigrants.
"During my meeting today with President Tusk we also discussed history; we talked about our own experiences," Mr. Orban said. "I have to say that when it comes to living together with Muslim communities, we are the only ones who have experience because we had the possibility to go through that experience for 150 years."
"Polish people for example suffered from Christian people – not to name names," he added, in what appeared to be a reference to Nazi Germany.
Viewed from Hungary, Mr. Orban continued, the experience of multicultural living in Western Europe did not look appealing.
Full report at:
http://www.nytimes.com/2015/09/04/world/europe/hungarian-leader-rebuked-for-saying-muslim-migrants-must-be-blocked-to-keep-europe-christian.html
------------
Muslim, Christian leaders congratulate Russian Jews on shul's re-opening
September 4, 2015
KAZAN, Russia (JTA) — Muslim and Christian faith leaders congratulated Russian Jews on the rededication of a 100-year-old synagogue 500 miles east of Moscow.
The well-wishers gathered Thursday at an interfaith roundtable in Kazan, the capital of Russia's predominantly-Muslim state of Tatarstan. Limmud FSU, the Russian language branch of the Jewish educational outreach group, organized the event.
"A day of celebration for the Jews of Tatarstan is a festive day for all in the state, and I wish to extend our Jewish fellow citizens my warmest sympathies on their day of celebration," said the mufti of Tatarstan, Kamil Hazrat Samigullin, at the roundtable. He also condemned the actions of jihadists aa unrepresentative of Islam.
After the interfaith event, some 600 Jews watched Russian Chief Rabbi Berel Lazar affix a new mezuzah to the doorframe of Kazan's only synagogue, where renovations were completed last week, in part with government funding. Musicians from Russia and Israel played outside the building, which was built in the Russian Revival style.
"Limmud is about uniting different streams of Judaism for education and against extremism, but increasingly also different faiths," Limmud FSU founder Chaim Chesler said at the roundtable.
Full report at:
http://www.jta.org/2015/09/04/news-opinion/world/muslim-christian-leaders-congratulate-russian-jews-on-shuls-re-opening
------------
Russia Regions Detain 25 Would-Be Islamic State Recruits in August
Sep. 03 2015
Twenty-five people were detained in Russia's North Caucasus region in August for attempts to join the feared terrorist organization the Islamic State in Syria, state-run news agency RIA Novosti reported Thursday, citing Sergei Melikov, presidential envoy to the North Caucasus federal district. Most of them were young people, Melikov said.
The Islamic State has succeeded in recruiting people from all over the world, including Russia, where it is mostly active in regions with a sizable Muslim population like the North Caucasus or the republics of Tatarstan and Bashkortostan, the Kommersant newspaper reported Thursday.
Islamic State activity is not, however, limited to those regions. In July, a Muslim organization in Russia's Far East reported there had been attempts to recruit new members in far eastern regions as well, and earlier this summer a female student at the prestigious Moscow State University was reported to have run away to Syria. She was subsequently detained near the Turkey-Syria border and returned to Moscow.
Up to 2,000 Russians are fighting alongside the Islamic State, Foreign Minister Sergei Lavrov said in July, though he claimed that hundreds of them had left Russia long ago to take up residency in Europe.
Russian government representatives have repeatedly voiced concern about these fighters eventually returning home.
The Islamic State is a jihadi militant group that has seized control of large swathes of Iraq and Syria, as well as smaller areas of other countries.
It has gained worldwide notoriety for grisly execution videos — some apparently showing young children gunning down individuals that have run afoul of the group's rigid principles, as well as footage of its members destroying revered cultural and religious sites.
The group has likewise claimed responsibility for numerous terrorist attacks, such as the June 26 massacre at a Tunisian resort that claimed 38 lives, including one Russian woman.
http://www.themoscowtimes.com/news/article/25-would-be-islamic-state-recruits-detained-in-russia-in-august/529347.html
Russia also shares a close diplomatic relationship with Syrian President Bashar Assad's regime in Damascus, which counts the Islamic State group as an enemy. This means that any operation against government-run Syria is unlikely.
Beatty also tweeted that the White House said that if Russia is, in fact, fighting in Syria, it would be "both destabilizing and counterproductive."
While the United States is not openly supporting Assad's regime, it has essentially paired up with it in the fight against the Islamic State group, also known as ISIS or ISIL. The U.S. is part of an allied group that is conducting airstrikes in Syria and Iraq, where ISIS has based its so-called Islamic Caliphate. Not troops have been committed by the allied group, although the U.S. is helping to train Kurdish and Syrian rebel forces. Meanwhile, Assad's military is also attempting to push ISIS out of Syria.
Wednesday's attack at the Russia military base in the North Caucasus, a predominately Muslim area of southern Russia, was the first such attack by the Islamic State against the Kremlin's military. No deaths or injuries were reported.
Full report at:
http://www.businessinsider.com/white-house-monitoring-russian-intervention-in-syria-2015-9?IR=T
------------
Green Party sends open letter over refugee crisis
2 September 2015
THE Newport-based leader of the Wales Green Party has written an open letter to David Cameron about the "refugee crisis" facing Britain.
Pippa Bartolotti said in her letter to the Prime mMinister: "This is not a migrant crisis, this is a refugee crisis.
"You withdrew British support from the rescue efforts in the Mediterranean last year. Your message seemed to be "Let the refugees drown – it will discourage the others." What a dereliction of moral authority.
"Our country is a safe and secure place for those fleeing war. Many of these conflicts were started or exacerbated by rich western countries. If we can't accept the consequences of our actions, we shouldn't have taken the action in the first place. In this case, the consequences of wars we have either started, fuelled or contributed to are more than a million refugees and the harrowing sight of innocent little bodies being washed up on the shores of the Mediterranean.
"We should take our share of these refugees in with open arms. All of them. Instead you order more razor wire to keep them out.
"Whatever it takes, the Wales Green Party stands ready to support refugees in crisis."
Britain continues to play a vital role in the Mediterranean and I want to thank HMS Enterprise for this latest life-saving mission.
Full report at:
http://www.southwalesargus.co.uk/news/13640654.Green_Party_sends_open_letter_over_refugee_crisis/
------------
UK's Cameron Resists Calls to Change Stance on Refugees
September 04, 2015
London. British Prime Minister David Cameron resisted calls on Thursday to take in refugees in much greater numbers after the image of a dead Syrian toddler washed up on a Turkish beach raised the emotional temperature of the debate.
With the story all over the front pages and critics urging a step change in the number of Syrians being offered sanctuary, Cameron said he was "deeply moved" by the harrowing image but defended the government's record and stuck to his position.
"We are taking thousands of Syrian refugees and will continue to do that. As I said yesterday we keep that under review. But as I also said yesterday there isn't a solution to this problem that's simply about taking people," he said.
About 5,000 Syrians who reached Britain by their own means have been granted asylum since the start of the Syrian war. In addition, Britain has taken 216 people since early 2014 under a UN-backed relocation scheme for vulnerable Syrians.
Several European nations have taken in more, led by Germany which in response to the wider migration crisis engulfing Europe has said it planned to receive 800,000 refugees, including Syrians and others, this year.
The crisis has come at an awkward time for Cameron, who has promised to renegotiate Britain's ties with the European Union and then hold a referendum by the end of 2017 on whether Britain should stay in the 28-member bloc or leave.
The perception of Britain as a country refusing to pull its weight in dealing with a crisis affecting the whole of Europe could antagonise EU negotiating partners and lessen his chances of obtaining key concessions ahead of the referendum.
Defending Britain as "a moral nation", he said it was fulfilling its obligations in a variety of ways.
Full report at:
http://jakartaglobe.beritasatu.com/international/uks-cameron-resists-calls-change-stance-refugees/
------------
Pakistan
Karachi seminaries' swoop: Jihadi literature seized from Madrasa
IMRAN AYUB
Sep 4, 2015
KARACHI: In the first search operation since the identification of 49 Madrasas suspected to have links with 'terrorist organisations' in Sindh, police seized Jihadi literature and posters belonging to a banned militant organisation from the hostel of one of the seminaries, it emerged on Thursday.
The law enforcers conducted a search of three Madrasas in Karachi's West district and one in East district and arrested one person in possession of the Jihadi literature inside the seminary.
"We searched Jamia Binoria in SITE, Masjid and Madrasa Al-Badar in Qasba Colony and Masjid and Madrasa Al-Mustafa in Orangi Town," SSP west Azfar Mahesar told Dawn. The police also searched Madrasa Jamia Farooqia in Shah Faisal Colony.
Police arrest one suspect in the first round of seminaries search operation
"During the search of the Madrasa Al-Mustafa hostel, we seized some Jihadi literature found in one of its rooms. There were also some posters and stuff of the banned organisation. All those were seized," the officer said, adding that the exercise largely remained smooth with the cooperation of the administration of each Madrasa.
The SSP said the police investigated and identified the student who had actually carried the literature into the room. After verification and thorough counterchecks, it was proved that the literature belonged to that student, he said, claiming that the police took him into their custody.
"It's basically Jihadi literature, not the kind that triggers sectarian hatred," said SSP Mahesar, adding that investigation was under way to find any possible "links of the presence of the literature inside the Madrasa with its administration or other students".
The police booked and arrested the student under Section 153-A of the Pakistan Penal Code. Titled "promoting enmity between different groups," Section 153-A of the PPC reads: "Whoever by words, either spoken or written, or by signs, or by visible representations or otherwise, promotes or incites, or attempts to promote or incite, on grounds of religion, race, place of both, residence, language, caste or community or any other ground whatsoever, disharmony or feelings of enmity, hatred or ill-will between different religious, racial, language or regional groups or castes or communities."
The Sindh home department had identified 49 Madrasas having alleged links with 'terrorist organisations' against whom the 'relevant authorities' were told to take action last month. The Madrasas were identified on intelligence reports.
Full report at:
http://www.dawn.com/news/1204750/karachi-seminaries-swoop-jihadi-literature-seized-from-Madrasa
------------
Musharraf agreed in 2000 to low-key UN resolutions on Kashmir: US cable
ANWAR IQBAL
Sep 4, 2015
WASHINGTON: A US State Department cable declassified this week shows that in May 2000 the Musharraf government was willing to "low-key" UN resolutions on Kashmir to improve relations with India.
A passage about this is included in a secret cable the US Embassy in Pakistan sent to Washington after a two-hour long, one-to-one meeting between then Foreign Minister Abdul Sattar and US Under Secretary of State for Political Affairs Thomas Pickering in Islamabad on May 27, 2000.
"Sattar is beginning to think ahead on Kashmir and understands the immediate need to reduce violence along the LOC and inside Kashmir, down the road," says the cable.
"He (Mr Sattar) noted that Pakistan would deliberately low-key the UN resolutions of the 1940s, as emphasising them would not be helpful," the cable adds.
Another cable, sent on May 29, includes details of Mr Pickering's meeting with then Chief Executive Pervez Musharraf who told the US official that "Pakistan supported a case, de-escalation of the violence in Kashmir and a return to dialogue."
Mr Musharraf promised to "do what he could to deescalate the violence".
Running into several pages, the cables — released under Freedom of Information Act — shows that the US policy on Kashmir has not changed since 2000, i.e. it is an issue India and Pakistan need to resolve bilaterally.
Mr Pickering told Gen Musharraf that there were five serious issues in US-Pakistan relations: Kashmir, Afghanistan, non-proliferation, democracy and economics.
He said he intended to focus on the first three Mr Pickering warned that "Kashmir, in particular, was the issue most likely to produce a catastrophe in the near term.
As long as the line of control was out of control, the situation was a danger to the entire region."
Mr Pickering said he wanted to stress once again the point then US President Clinton had made during his visit.
"There was no military solution to the Kashmir problem.
The only way to move the issue towards resolution was through dialogue."
The US official informed Gen Musharraf that the Indians had already taken a first step in this direction by releasing a number of imprisoned all parties Hurriyat conference leaders and offering to hold talks with them.
"While we understood that the offer for talks placed Pakistan at a tactical disadvantage, in that Islamabad would not be included, it presented a strategic opportunity if the government of Pakistan chose to seize it. If Pakistan was prepared to take reciprocal steps, by reducing firing along the line of control or decreasing jihadist infiltration into Kashmir, the US would be in a position to press India for a return to dialogue."
The cable on the Sattar-Pickering meeting says that Mr Sattar reacted positively to the idea of involving Kashmiris in the dialogue.
"He said he had personally convinced the government to go along with Hurriyat leaders talking to the Indians without a Pakistani presence," the cable said.
"Sattar said that consulting Kashmiris does not eliminate Pakistan's interest in the settlement and reacted with interest to the idea that a settlement needed to be developed in a way to bring Pakistan and India closer together through more open trade and economic relations," the cable said.
Full report at:
http://www.dawn.com/news/1204829/musharraf-agreed-in-2000-to-low-key-un-resolutions-on-kashmir-us-cable
------------
Foreign hands involved in Baluchistan unrest: Rabbani
September 03, 2015
Islamabad: Acting President Raza Rabbani says has said that foreign elements have created law and order situation in Baluchistan.
Talkingto students and teachers from to Baluchistan in Islamabad today, the acting president saidstudents need to be educated about the constitutional and democratic struggle in the country. He underlined the need for introducing the subject of federalism in the educational institutions, to enlighten students about the working of the democratic system in the country.
http://nation.com.pk/national/03-Sep-2015/foreign-hands-involved-in-baluchistan-unrest-rabbani
------------
Pakistan spent $1.9bn on Zarb-i-Azb, TDPs' return from own resources: FO
DAWN.COM — 04 Sept. 2015
ISLAMABAD: Pakistan has so far spent $1.9billion from its own resources on operation Zarb-i-Azb and return of Temporary Displaced Persons (TDPs), according to a statement issued by Foreign office spokesperson Syed Qazi Khalilullah on Friday.
Elaborating on the expenses incurred during the fight against terrorism, the FO spokesperson said that Coalition Support Fund (CSF) is reimbursement of the expenditures Pakistan incurred before the start of Operation Zarb-i-Azb, according to a report published on the Radio Pakistan website.
Qazi Khalilullah further said talks with the US authorities for the release of CSF are underway. He also laid stress upon the fact that Operation Zarb-i-Azb, Pakistan's anti-terror offensive has been successful, indiscriminate and effective against terrorists of all kind.
Meanwhile the Foreign Office spokesperson also confirmed that the meeting between top commanders of Pakistan Rangers and Indian Border Security Force this month will take place as per schedule.
Responding to a question, Khalilullah said that matters relating to trade, energy, defence, security and counter-terrorism strategy were discussed during the US National Security Advisor Susan Rice's visit to Pakistan.
Addressing the Foreign Office's weekly news briefing held in Islamabad, Qazi Khalilullah reaffirmed Pakistan's commitment and will for facilitating peace process in Afghanistan led and owned by the Afghan leadership.
The FO spokesperson said that Pakistan is ready to facilitate, in whatever way possible, an Afghan-led and Afghan-owned peace process.
"Adviser on National Security and Foreign Affairs Sartaj Aziz who is in Kabul to attend the 6th Regional Economic Cooperation Conference on Afghanistan will also meet Afghan leadership to reassure them regarding Pakistan's commitment to peace process while discussing matters of bilateral interest," said the spokesman.
Read Aziz to explore if Afghans are interested in reviving reconciliation process
Khalilullah maintained that Aziz will also raise Pakistan's concerns over Aghan leadership's recent anti-Pakistan statements and the resulting security threat Pakistan embassy staff faces in Afghanistan.
Adviser on Foreign Affairs and National Security Sartaj Aziz traveled to Kabul on Friday for attending a regional conference, he will try on the sidelines to explore if the Afghan leadership is interested in reviving the peace dialogue with Taliban that was suspended weeks ago following the revelation about Mullah Omar's death.
During his day-long visit, Mr Aziz will attend the ministerial meeting of sixth edition of Regional Economic Conference on Afghanistan and meet Afghan President Ashraf Ghani and other leaders.
Full report at:
http://www.dawn.com/news/1204893/pakistan-spent-19bn-on-zarb-i-azb-tdps-return-from-own-resources-fo
-----
Army engagement in Waziristan to last until 2019
By Our Correspondent
ISLAMABAD: September 4, 2015 As part of a fresh strategy to prevent incursion of supporters of Taliban and Islamic State through the Afghan border, Pakistan's armed forces will continue their war against militants in the tribal areas of North Waziristan and South Waziristan until 2019.
The civilian and military leadership have also decided to use the military as a backup force beyond 2019 in all the volatile areas of Khyber-Pakhtunkhwa as well as the Federally Administered Tribal Areas, senior military officials informed the National Assembly Standing Committee on Defence on Thursday.
"We shall continue fighting against militants in the north-west," a committee member quoted a military officer as saying. "We fear incursion of militants having links with Taliban and Da'ish from the other (Afghan) side of the border."
MNA Rohail Asghar of the ruling Pakistan Muslim League-Nawaz was chairing an in-camera meeting in which senior officers of the military and the defence and interior ministries briefed the lawmakers on the ongoing Operation Zarb-e-Azb.
"Operation against militants in North Waziristan, particularly in Shawal Valley, is quite multifaceted," a panel member told The Express Tribune. "Military officers said the troops' stay in this region could extend beyond 2019."
He quoted the committee chairman as saying that terrorists working for Da'ish in Afghanistan posed a great threat to Pakistan. "We have to take pre-emptive measures to avert this looming threat."
Even when Zarb-e-Azb concludes, the border should not be left open, the member quoted Asghar as saying. "The army will have to stay in the north at all costs."
More than 3,400 terrorists have been killed and around 100 hideouts and arms factories destroyed since last June, officials informed the NA panel. Over 300 military personnel have sacrificed their lives since then, they added.
Last month the Senate Defence Committee, headed by Mushahid Hussain, was informed by military officers that since 9/11 the Pakistan Army had lost 4,354 soldiers
and officers, while 14,552 have been wounded.
They said that this year alone, as a result of successful civil-military coordination, there were almost 1,100 intelligence-based operations that resulted in capture of terrorists and saving of innocent civilians' lives.
During Thursday's proceedings the NA committee, which passed a resolution condemning Indian aggression on the border, was also informed that 40,000 of the total 1.8 million temporarily displaced persons had returned home.
The entire process of repatriation would require approximately Rs80 billion, of which the federal government has allocated Rs13 billion, disclosed the officials.
MNA Asghar told The Express Tribune that the military would later announce the exact time frame of wrapping up Operation Zarb-e-Azb.
His committee, however, recommended the military to extend its stay in the tribal areas as a backup force even after the operation ends.
The military has stepped up operations in the deeply forested ravines of Shawal Valley, which straddles the Pakistani region of North and South Waziristan along the border with Afghanistan, said the MNA.
Full report at:
http://tribune.com.pk/story/950406/tactical-decision-army-engagement-in-waziristan-to-last-until-2019/?utm_source=Daily+Roundup+Newsletter&utm_campaign=478afc9b97-Daily_Roundup_5pm&utm_medium=email&utm_term=0_19961368d8-478afc9b97-65338937
-----
'Nisar convinced British authorities to withdraw support for MQM chief'
By Abdul Manan: September 4, 2015
Interior Minister Chaudhry Nisar has convinced British authorities to 'withdraw' their support for Muttahida Qaumi Movement (MQM) chief Altaf Hussain in exchange of certain guarantees, a source told The Express Tribune.
The revelation came during a meeting between the interior minister and Prime Minister Nawaz Sharif at the PM House in Islamabad on Friday. "The interior minister met the premier at the PM House to discuss his visit to the United Kingdom and his meetings with British leadership," a PM House statement said.
Regarding the meeting, a source privy to the development said, "Nisar convinced British authorities to withdraw their support for MQM chief Altaf Hussain in exchange of certain guarantees."
"Nisar's recent visit was a continuation of last year's talks aimed at getting support from British authorities in curbing MQM and Baloch insurgents who are currently seeking asylum in UK," the source added.
Further, the source revealed that the government of Pakistan and UK authorities are in direct talks regarding cooperation in the ongoing Karachi operation as well as other strategic cooperation with UK in the region.
"Nisar also informed the premier that strict action is likely to be taken against Altaf Hussain in light of the money laundering case," the source added, saying the Karachi operation was also discussed during the meeting between the two.
Full report at:
http://tribune.com.pk/story/950618/nisar-convinced-british-authorities-to-withdraw-support-for-mqm-chief/?utm_source=Daily+Roundup+Newsletter&utm_campaign=478afc9b97-Daily_Roundup_5pm&utm_medium=email&utm_term=0_19961368d8-478afc9b97-65338937
------
TTP group involved in Khanzada's killing: Sana
Sep 4, 2015
LAHORE: Punjab Law Minister Rana Sanaullah claimed on Thursday that the Tehreek-i-Taliban Pakistan's Aftab Group was involved in the assassination of retired Col Shuja Khanzada.
Responding to a call attention notice in the Punjab Assembly, Rana Sanaullah said the perpetrators involved in the suicide attack on the residence of the home minister belonged to the TTP Aftab Group. "Some suspects have been arrested and soon the law-enforcement agencies will capture others," he said.
He said the Joint Investigation Team and agencies were investigating the matter. "It is a very sensitive matter and a banned organisation has also played a role in the attack. The motorcycle (number) used in the attack has been traced," Sanaullah said, assuring the House that all those involved in the attack would soon be arrested.
As the discussion on the annual reports 2011-12 of Technical Education and Vocational Training Authority and Punjab Service Public Commission 2012-13 began, PTI's Sadique Khan pointed out a lack of quorum. Deputy Speaker Sher Ali Gorchani adjourned the proceedings till Friday morning.
Full report at:
http://www.dawn.com/news/1204823/ttp-group-involved-in-khanzadas-killing-sana
------------
Seminaries' closure on Defence Day resented
Sep 4, 2015
ISLAMABAD: Administrators for various seminaries have expressed concern over authorities' requests that seminaries in the city remain closed on Defence Day, calling it a violation of their basic rights.
Though there has not been any police directive in this regard, administrators have said that local police officials have asked them to keep seminaries closed for three to four days around September 6.
"We have been told by several madaris that the police are asking them to give leave to all students before September 5 and remain closed until September 8," Wafaq-ul-Madaris al-Arabia spokesperson Abdul Qudus Mohammadi, said.
Wafaq-ul-Madaris al-Arabia is the board for seminaries belonging to the Deobandi school of thought.
Though he refused to name the seminaries that have received such directives, Mohammadi said that they were situated in Rawalpindi as well as the federal capital.
Senior clerics from the board Maulana Saleemullah Khan, Maulana Dr. Abdul Razzaq Sikander, and Maulana Hanif Jhalandhari, have issued a joint statement on the matter.
The statement said that religious seminaries are not only the symbol of the country's Islamic ideology but also its unity and defence, and that their loyalty to the country should not be made questionable.
Full report at:
http://www.dawn.com/news/1204853/seminaries-closure-on-defence-day-resented
------------
Pakistan's fading Parsi community looks abroad
AFP —
KARACHI, 04 Spet. 2015: For more than 1,000 years, Parsis have thrived in South Asia but an ageing population and emigration to the West driven by instability in Pakistan means the tiny community of "fire worshippers" could could soon be consigned to the country's history books.
The ancestors of today's Parsis in Pakistan — followers of Zoroastrianism, one of the world's oldest religions — fled Persia over a millennium ago for the safety of the western Indian subcontinent.
Legend has it Parsi leader Jadi Rana made a pledge to the then emperor of India that Zoroastrians, known in the region as Parsis, would not be a burden but would blend in like sugar into milk.
But today they are a fading people across the subcontinent, with many affluent families from India and Pakistan leaving for the West.
The community, which has long been active in business and charity, has been unnerved by the upsurge in Islamist extremist violence. One expert said the loss of the Parsis in the society would be a "huge blow" to Pakistan's diversity.
Only around 1,500 are left in Karachi, Pakistan's largest city, where they have "fire temples", community centres and final resting places also known as the "Tower of silence" — where the remains of their dead are left in the open to be consumed by vultures according to their tradition.
Parsis are often called "fire worshippers" because their religion considers fire — together with water — as agents of purity and fires are lit as part of religious ceremonies.
They have long been discreet in observing their faith, but some, like 23-year-old art student Veera Rustomji, think they need to do more to preserve their heritage.
"It's been successful that we have been an unattacked and unharmed community because of our low profile," she said at her studio at the Indus Valley School of Art and Architecture (IVSAA).
"But at the same time it backfires because a lot of people focus on how the community is becoming small numerically."
Business leaders
Rustomji has traced her family's past in Hong Kong, where Parsis founded a university, a ferry service and hospitals. It is this link to business as well as charity that Byram Avari ─ the head of the Avari, one of Pakistan's leading luxury hotel groups ─ said has allowed the community to build an enduring relationship with Karachi.
"Before partition the ladies maternity home called Lady Dufferin hospital was put up by the Parsis, the NED University of Engineering and Technology, DOW medical college, the Spencer Eye hospital and I cannot tell you how many numerous things have been set up by the Parsis for the people of Karachi," he told AFP.
Parsis believe "in giving back what they had", he added.
But today young Parsis are leaving in droves. The past decade has seen Islamist violence soar, with religious minorities often in the extremists' cross-hairs. While Parsis have not been specifically targeted, many feel vulnerable.
'We cannot see a future'
"There is a general instability in the country. Because of this we cannot see a future for our community here right now," says Kaivan Solan, a 27-year-old training to become a priest.
Izdeyar Setna, 37, a freelance photographer with a slew of international clients, added that Parsis were seeking new lives in countries with larger Parsi communities, such as Canada.
"I think most people are leaving because of a few reasons. One is security. The way things are, people are scared not knowing if things are going to get better," he said.
"So I think they are trying to get out. Most people are going to Canada, or the USA, wherever it is easy to get the visa."
In the city's Parsi neighbourhood, the rotting stench of death emanates from the Tower of Silence, a large circular structure where the bones of the dead are kept in accordance with Zoroastrian practice.
Full report at:
http://www.dawn.com/news/1204890/pakistans-fading-parsi-community-looks-abroad
-----
Aziz to explore if Afghans are interested in reviving reconciliation process
BAQIR SAJJAD SYED
Sep 4, 2015
ISLAMABAD: When Adviser on Foreign Affairs and National Security Sartaj Aziz travels to Kabul on Friday for attending a regional conference, he will try on the sidelines to explore if the Afghan leadership is interested in reviving the peace dialogue with Taliban that was suspended weeks ago following the revelation about Mullah Omar's death.
During his day-long visit, Mr Aziz will attend the ministerial meeting of sixth edition of Regional Economic Conference on Afghanistan and meet Afghan President Ashraf Ghani and other leaders.
Pakistan will take a decision on its future line of action regarding ties with Afghanistan and the reconciliation process after Mr Aziz's return.
According to a senior official, Pakistan is fully convinced that the way forward lay in an 'intra-Afghan dialogue', but would ask the Afghan leaders to make a choice between the reconciliation route and fighting the insurgents.
The visit takes place amid heightened tensions between the two countries over allegations that terrorist groups involved in violence in Afghanistan continue to have sanctuaries in Pakistani territory. High profile attacks in Kabul last month had derailed the efforts started after the change of government in Kabul for normalisation of ties.
The official said in a background briefing that Pakistan had agreed to facilitate dialogue between the Afghan government and Taliban at the request of President Ghani.
The first round of talks was held on July 7 and another was planned for July 31 when the process was suspended after the Afghan intelligence agency released the information about Taliban chief Mullah Omar's death.
The official claimed that the Afghan government and Taliban were close to a deal on lowering of hostilities ahead of the cancelled second round. He said eight members of the Taliban shura were in Islamabad when the July 31 meeting was called off.
"A real opportunity was then lost," he regretted and put the blame of breakdown of the process on spoilers whom he identified as the Afghan agency NDS and former president Hamid Karzai as well as error of judgment on part of the Ghani administration.
The official said the Afghans wanted Pakistan to fight their war on its soil – a reference to Kabul's demand for a crackdown on the Haqqani network and other militant groups that it alleges to be based in Pakistan.
The Afghan presidency, while highlighting the point of friction between the two countries, had previously said: "There is credible evidence that the leadership, command and control centre, support infrastructure and sanctuaries of the Haqqani network and other terrorist groups are inside the Pakistani territory. The government of Afghanistan has time and again provided ample evidence to the government of Pakistan about the presence of terrorist networks in Pakistan so that it takes action against these groups."
Responding to the statement, the Pakistani official said: "How can we fight someone else's war on our own soil and bear the fallout. …We may, however, help in peace efforts if Afghan leaders desired that we play such a role again."
Full report at:
http://www.dawn.com/news/1204832/aziz-to-explore-if-afghans-are-interested-in-reviving-reconciliation-process
------------
Hate Speeches Land Two Jhang Clerics in Jail
Sep 4, 2015
FAISALABAD: An Anti-Terrorism Court handed down on Thursday two years' imprisonment to two clerics on charges of making provocative and hate speeches.
Ghulam Yaseen Muawiya, Sajid Ali and Abdul Latif were booked by the Shorkot City police on Jan 7 for delivering hate speeches against the government and a sect at the funeral prayer of Ali Ahmed, who belonged to the banned Sipah-i-Sahaba Pakistan.
Judge Raja Pervez Akhtar awarded two years' imprisonment to Muawiya and Ali each under Section 9 of the ATA with Rs20, 000 fine.
Full report at:
http://www.dawn.com/news/1204845/hate-speeches-land-two-clerics-in-jail
------------
PM lauds media role against terrorism
September 04, 2015
ISLAMABAD - Prime Minister Nawaz Sharif on Thursday appreciated the role of media against terrorism and sectarianism.
Talking to Special Assistant of Prime Minister and Head of Committee on Media Code of Conduct Irfan Siddiqui, the prime minister said the role of media with reference to national interest and development of the country was of vital importance and the government completely believes in the freedom of media.
He said that consensus on media Code of Conduct is very positive progress.
He expressed the hope that serious efforts will be made for implementation of media Code of Conduct.
The prime minister also appreciated the efforts of Committee on Media Code of Conduct.
Earlier, Irfan Siddiqui gave a detailed briefing to the PM on media code of conduct.
Meanwhile, Prime Minister also approved the establishment of second LNG terminal and directed to complete it by the end of next year.
Full report at:
http://nation.com.pk/national/04-Sep-2015/pm-lauds-media-role-against-terrorism
------------
South Asia
Taliban and ISIS affiliates clash in Nangarhar, leaving at least 23 dead
Sep 04 2015
At least 23 Taliban militants and affiliates of the Islamic State of Iraq and Syria (ISIS) terrorist group were killed during a clash in eastern Nangarhar province of Afghanistan.
According to the local government officials, the clash erupted late on Thursday afternoon in Pichegram district.
Provincial police spokesman Hazrat Hussain Mashriqwal confirmed the incident and said several houses were also torched as a result of the clash between the two militant groups.
He said the clash has also incurred casualties to the civilians and several members of the two groups were injured with the affiliates of ISIS group taking to social media saying the houses were belonging both to Taliban and ISIS militants.
The Taliban militants group has not commented regarding the incident so far.
Yesterday's incident comes as the activities of ISIS affiliates were reduced after receiving major blows during the recent months that resulted into death of the group's senior commanders and leaders.
Full report at:
http://www.khaama.com/taliban-and-isis-affiliates-clash-in-nangarhar-leaving-at-least-23-dead-1470
------------
Authorities to remove 'martyr' title from Mollah's tombstone
september 3, 2015
The authorities of Liberation War Affairs Ministry will take necessary initiative to the "martyr" title from the tombstone of executed war criminal Abdul Quader Mollah if any complaint is filed.
In a mockery of martyrdom, the tomb plaque of the Jamaat-e-Islami leader, who was hanged for crimes against humanity during the Liberation War, reads: "Shaheed (martyr) Abdul Quader Mollah."
Replying to a query of a ruling party lawmaker, Liberation War Affairs Minister AKM Mozammel Haque Thursday told the Parliament: "The authorities are not aware of the matter. The ministry will take necessary step if any written complaint is lodged in this regard."
The memorial plaque was set up on Mollah's grave in Faridpur's Sadarpur upazila two months after his execution in 2013.
Read more: Justice for 1971 at last
The execution of Mollah, commonly known as "Butcher of Mirpur" had brought relief to the people who witnessed his brutal role during the Liberation War in 1971.
But, the plaque came as a fresh blow to the sentiments of the people who waited 42 years for seeing the justice.
Full report at:
http://www.dhakatribune.com/bangladesh/2015/sep/03/authorities-remove-martyr-title-mollahs-tombstone
------------
Pakistan claims Haqqani Network has been dismantled from its tribal areas
Sep 04 2015
Pakistan's National Security and Foreign Affairs Advisor Sartaj Aziz will share 'compelling' evidence regarding the dismantle of Haqqani Network with the Afghan officials during his visit to Kabul, Pakistani officials have claimed.
Accompanied by director general military operations, Aziz is expected to meet President Mohammad Ashraf Ghani to brief about Pakistani military's gains against the Haqqani network.
A Pakistani official quoted by a local newspaper said their assessment shows that majority of the attacks are now being planned from within the Afghan soil.
Afghan government also slammed Pakistani officials for their remarks regarding the elimination of Haqqani Terrorist Network following military operations in tribal regions of Pakistan, saying "The Islamic Republic of Afghanistan believes that one of the major differences between Afghanistan and Pakistan is regarding the presence of terrorist groups, specifically the Haqqani Network in Pakistani soil."
"The recent remarks by Pakistan's National Security Advisor Sartaj Aziz, suggesting that the Haqqani Network has been decomposed following military operations, are repeated claims by Pakistani officials during the past one decade," a statement by Presidential Palace said.
The Palace insisted that documents and evidences shows that the network's leadership, commander and control, supportive infrastructure and sanctuaries are still operational in Pakistan.
The statement further added that the government of Afghanistan has repeatedly handed over evidences regarding the Haqqani Network operations in Pakistan and has urged the Pakistani government to take action.
Having close ties to Al-Qaeda and hard-line elements in Pakistani military intelligence, the Haqqani terrorist network is accused of staging numerous cross-border attacks from their base in North Waziristan, including the 19-hour siege at the US Embassy in Kabul in September 2011.
Full report at:
http://www.khaama.com/pakistan-claims-haqqani-netowrk-has-been-dismantled-from-its-tribal-areas-1469
------------
Afghan refugee returns reluctantly from Pakistan
Sep 4, 2015
KABUL: Rahim Khan's return to Afghanistan 28 years after fleeing to Pakistan was not the homecoming he had dreamed of.
The 60-year-old is one of a growing number of Afghan refugees making the journey back with trepidation, as militant violence intensifies, yet feeling shunned by their adopted country as relations between the neighbours sour.
The rate of returnees has quadrupled this year, with 137,000 refugees going back to Afghanistan since January.
The number could spike further if the countries fail to agree by December 31 to extend identity cards for two years and allow some 1.5 million registered refugees to stay in Pakistan.
The chill in relations, amid an offensive by Taliban insurgents which Kabul blames partly on Pakistan, has put the extension in doubt, along with the future of another million unregistered Afghans.
"First we had to leave here because of war. Now we are coming back to war and bombs," said Khan, speaking at a refugee centre near Kabul where his Pakistan-born grandchildren were being taught the dangers of mines and roadside bombs.
Outside, the thump of exploding ordnance from a nearby army range echoed off arid hills, another reminder that Afghanistan appears no closer to peace than when Khan left during the Soviet occupation.
The dangers mean thousands of people have fled Afghanistan this year, many of them to Europe where governments are struggling to cope with an influx of migrants from the Middle East and beyond. Yet Khan and others like him say they had little choice but to leave Pakistan.
His son Abdul Manan said their life as labourers and fruit vendors in Azad Kashmir took a dramatic turn for the worse after Taliban gunmen massacred at least 141 students at the Army Public School in Peshawar in December.
Islamabad blamed the atrocity on the Taliban militants based across the border, and anti-Afghan sentiment in Pakistan rose.
Manan said police started showing up at their home, asking to see their papers and threatening them with jail if they failed to pay 1,000-1,500 rupees ($10-15) every few days.
"We decided to leave, there was no other option. We couldn't keep paying 1,500," said Manan. "This is our home and we have no other place to go." Raja Shafqat Khan, a senior official at the police headquarters in Muzaffarabad, administrative capital of Azad Kashmir, said he was not aware of the family's complaints.
"As a policy, we do not harass Afghan refugees," he said.
Pakistan's refugee minister, Abdul Qadir Baloch, promised to renew ID cards if he got cabinet approval, and said Pakistan would "not use any coercive measures" to send Afghans back.
Chill deepens
Afghan President Ashraf Ghani spent much of his first year in office trying to improve relations and spur peace talks with the Taliban, believed to have close links with Pakistan's spy agency.
But efforts stalled and the fledgling peace process collapsed after it was revealed in July that Taliban leader Mullah Omar had died two years earlier.
A spate of lethal attacks in Kabul that Ghani believes were planned by militants hiding on Pakistan's side of the porous, rugged border soured relations further.
Interior Minister Chaudhry Nisar Ali Khan has said he wanted all refugees repatriated.
"The cards will not be extended," he said. "They expire at the end of this year."
There are four months left for the neighbours to patch things up, but for now the mood is hostile.
Since Ghani pointed the finger of blame across the border for the attacks, Pakistani flags and currency have been burnt by protesters. Pakistani diplomats in Kabul say they are restricting their movements.
Seeking to assert itself after Omar's death, and exploiting a reduced foreign troop presence, the Taliban has stepped up its insurgency, leading to hefty clashes with Afghan forces and thousands of casualties.
Full report at:
http://www.dawn.com/news/1204882/afghan-refugee-returns-reluctantly-from-pakistan
------------
Nato calls for joint Pak-Afghan efforts to address border issues
September 04, 2015
STUTTGART - The North Atlantic Treaty Organization's top military commander General Philip M Breedlove called for joint Pak-Afghan efforts to address the issue on the borders.
Praising the Afghan government for reaching out to Pakistan in a bid to try in finding the common way ahead to address the issues, Gen Breedlove, said: "I think we all agree that the answer for what happens on the border will need to be an answer that both nations support because if they are divided in their approach it will be very hard to have success there."
"So, we completely support both the President and CEO's path forward here, we applaud the effort to try to bring the sides together so that they can approach this in a single way because again that's the way we think this has to be resolved."
The remarks by Gen. Breedlove comes amid escalating tensions between Kabul and Islamabad mainly due to recent deadly attacks in capital Kabul with Afghan officials harshly criticising Pakistan for sheltering the Afghan militants who are plotting attacks in Afghanistan besides they hold open gatherings in Pakistan.
General Breedlove said the Islamic State of Iraq and Syria (ISIS) terrorist group is an emergent capability in Afghanistan.
"Clearly we are concerned about ISIS. I think that the leadership of this nation is concerned about ISIS. It is an emergent capability," he told reporters during a media roundtable in Kabul.
Full report at:
http://nation.com.pk/national/04-Sep-2015/nato-calls-for-joint-pak-afghan-efforts-to-address-border-issues
------------
Opinion poll shows Awami League, ruling party of Bangladesh gaining people's trust
2015-09-04
An opinion poll has found the ruling Awami League is gaining the trust of the people in Bangladesh with most participants saying the country is heading in the right direction. However, they also marked corruption as the biggest obstacle to development and most disapproved of the actions of police, parliament, and the opposition. The findings of the survey with a sample size of 2,500, conducted by Nielson-Bangladesh for the US-based research organisation, International Republican Institute (IRI) in May and June this year, was published on Wednesday.
The results show, in the one-and-a-half year after assuming office for a second consecutive spell, Prime Minister Sheikh Hasina's government has 66 percent support, while her party, the ruling Awami League, has garnered one percent more. Despite shortcomings, people were feeling increasingly optimistic about the country's prospects, with 62 percent of the respondents believing it was on the right track. That is a six percent rise from the results of a similar survey in 2014.
A total of 60 percent said they liked the Awami League. A similar share said they did not support the Jamaat-e-Islami and Jatiya Party. BNP is liked by 40 percent, while 46 percent said they disliked the party.
The respondents also justified their increased support for the Awami League, based on factors they look for in a political party such as strength of leadership, young leaders, support for women, etc.
Full report at:
http://bdnews24.com/bangladesh/2015/09/04/opinion-poll-shows-awami-league-gaining-peoples-trust-more-people-want-govt-to-complete-term
------------
Study finds Bangladeshis have faith in democracy despite flaws
September 04, 2015
The great majority of Bangladeshis have faith in democracy despite its flaws, says a survey by International Republican Institute.
A whopping 81 percent of the respondents agree that despite having problems, democracy is better than other forms of government. Of them, 53 percent strongly and 28 percent somewhat agree with it.
Eighty three percent -- 41 percent of them strongly and 42 percent somewhat -- believe that democracies are good at maintaining law and order, says the survey released yesterday.
Responding to another question, however, 68 percent agree that democracies have too much squabbling and another 45 percent think that the economic system runs badly in a democracy.
Conducted by Nielsen-Bangladesh, the survey between May 23 and June 10 this year interviewed 2,550 respondents aged 18 and above. It was supervised by Rob Varsalone of Global Strategic Partners and IRI, an international organisation that helps build stronger democracies.
The respondents' preference for democracy also becomes obvious from their choice between a democratic system of government and a prosperous economy.
Sixty eight percent, up from last year's 65 percent, consider democracy definitely more important while only 27 percent, down from last year's 30 percent, choose a prosperous economy.
The survey also shows that the respondents' approval rating is very high for the army, the media, the civil society and the Rapid Action Battalion. Of them, army has 86 percent, media 83 percent, civil society 80 percent and Rab 76 percent approval for their jobs.
The survey results are bleak for politics with the majority of people disapproving of the current jobs done by the political parties, police and parliament.
Only 21 percent people approve of the parliament's job while a whopping 67 percent disapprove.
The job of police is approved by 43 percent while it is disapproved by 53 percent. The job of the political parties is approved and disapproved by an equal 46 percent people.
In matters of voting, a total of 88 percent -- 67 percent strongly and 21 percent somewhat -- agree that election gives them a chance to influence decision-making in the country. However, it was 94 percent in the last survey in September 2014.
About an election time caretaker government system, 67 percent think it should be restored before holding the next parliamentary election.
According to the survey, 43 percent respondents like to see the next general election to be held as soon as possible while 40 percent think the current parliament should complete its tenure.
Corruption has been identified as the most persistent problem by respondents in the survey.
With the decline of electoral violence and strikes, corruption has been cited by 24 percent as the biggest problem facing the country, political instability by 16 percent as the second biggest and security by 15 percent as the third biggest problem.
The IRI in a release also says the survey has found that despite a partisan divide on electoral issues, the ruling Awami League has gained support among the respondents over the last year. The poll results also indicate a positive public feeling about the country's economic futures.
"In the 18 months following Bangladesh's parliamentary elections on January 5, 2014, support for the ruling government and Prime Minister Sheikh Hasina reached 66 and 67 percent respectively," said IRI release.
"Bangladeshis were increasingly optimistic about the prospects for the country, with 62 percent of respondents indicating they believed the country was headed in the right direction (up from 56 percent in the September 2014 IRI survey," said IRI.
According to the survey findings, the AL enjoys more popularity than the other parties with 60 percent respondents liking and 29 percent disliking it.
Forty two percent like the BNP while 46 percent dislike it.
The Ershad-led Jatiya Party and Jamaat-e-Islami both had 25 percent liking and 60 percent disliking them.
In a leadership comparison between the two archrivals, the AL fared much better than the BNP.
Full report at:
http://www.thedailystar.net/frontpage/democracy-the-choice-137620
------------
Africa
Military sources: Al-Shabaab attack in Somalia kills dozens of AU troops
September 3, 2015
By Robyn Kriel and Briana Duggan
At least 37 African Union soldiers were killed in an attack by Al-Shabaab militants in southern Somalia on Tuesday, according to military sources in Uganda and Somalia.
A source from Somalia's security services told CNN that at least 25 Somali government troops were killed in the fight. Twelve Ugandan soldiers also were killed, Uganda's military spokesman Lt. Col. Paddy Ankunda confirmed.
The attack by the Somali terrorist group occurred on a remote African Union base in the town of Janaale. It was the largest loss sustained by the Ugandan contingent of the AU Mission to Somalia, or AMISOM, since 2012.
Ankunda told CNN by phone that 10 of the fallen soldiers' bodies had already arrived back in Uganda.
Other Western sources said that as many as 50 AU troops were killed.
The 22,000-strong, United Nations-backed AMISOM force consists of troops from Uganda, Burundi, Kenya, Ethiopia, Djibouti and Sierra Leone. It has been dealt serious blows in recent months in Al-Shabaab attacks. The terror group seems to be shifting tactics, moving from smaller, asymmetrical suicide-bombing attacks on civilian, government and military targets to larger and more sustained operations solely focused on smaller, remote AU bases.
A member of Al-Shabaab told CNN that the battalion behind Tuesday's attack is the same group of about 200 fighters who assaulted an Ethiopian convoy and a base predominantly held by Burundian soldiers in Leego, Somalia, in July. Those two attacks killed dozens of AMISOM troops. The fighters call themselves the Abu Zubair Battalion -- named after the Al-Shabaab leader (a.k.a. Ahmed Abdi Godane) who was killed by a U.S. drone strike in Somalia in September 2014.
Al-Shabaab says the attack was in retaliation for alleged AMISOM attacks on civilians.
The United States on Thursday condemned Al-Shabaab for its "brutality in its depraved efforts to destabilize Somalia and deny the people of Somalia the peaceful, prosperous future they deserve."
Full report at:
http://edition.cnn.com/2015/09/03/africa/somalia-al-shabaab-attack/
------------
Boko Haram crosses border, kills about 30 in northern Cameroon
By Ngala Killian Chimtom and Greg Botelho
September 4, 2015
Boko Haram militants killed about 30 people and wounded 145 others in attacks early Thursday on a market and infirmary in northern Cameroon, a military official said.
The bloodshed once again demonstrates the Islamist extremist group's wrath and reach in Africa.
The terrorist group's members "came in from across the hills in Nigeria," where Boko Haram is based, and struck a crowded market in the town Kerawa, said Col. Didier Badjeck, a spokesman for Cameroon's military.
The militants also attacked an infirmary near a Cameroonian military camp, according to Badjeck.
The spokesman said Thursday's attacks suggest Boko Haram may be changing its tactics, with more quick raids striking civilians than battles with government troops.
"They find it hard these days, coming face-to-face with our forces," Badjeck added. "What they do now is come in from Nigeria, attack border areas, and then run back to Nigeria."
The sentiment was seconded by Joseph Vincent Ntuda Ebode, a professor at the University of Yaounde, who credited the Cameroonian military's actions in the wake of July suicide bombings that killed dozens. They've reverted to "the traditional methods used by all terrorist groups (like) suicide bombings," he said.
But Boko Haram still is a potent and dangerous force, he added.
"This means they can attack simultaneously in Cameroon, Nigeria, Chad, Niger and Benin," Ntuda Ebode said.
Boko Haram's grisly track record
The bloodshed in Cameroon came days after Boko Haram terrorists rode into the village of Baanu, in northeast Nigeria's Borno state, on horseback and shot dead 68 people, according to residents and local militia.
Such attacks have become commonplace in Nigeria for years, as Boko Haram has increasingly and violently asserted itself.
The group began in the mid-2000s with a stated aim of imposing its strict version of Sharia law across Nigeria, which is split between a majority Muslim north and a mostly Christian south.
Full report at:
http://edition.cnn.com/2015/09/03/africa/boko-haram-cameroon-violence/
------------
Boko Haram: Association calls for more funding for the military
September 04, 2015
Maiduguri - International Association for the Advancement and Defence of Human Rights, a CSO, has canvassed increased funding of the military.
President of the association, Babatunde Johnson, made the appeal on Thursday in Maiduguri while addressing newsmen.
He said that increased funding would boost the morale of the military to win the war against Boko Haram terrorists.
He urged the federal government to increase logistical support to the security agencies to enhance the pace of the anti-terrorism war.
He also urged the government to sustain current regional and international collaborations in the fight against the terrorists.
Also read: Governor: Boko Haram kills 56 in remote part of Borno State
"We call on all Nigerians to cooperate and collaborate with the security agencies in intelligence sharing to ensure the success of the counter terrorism war.
Johnson said that the Boko Haram insurgency had created about 1.5 million Internally Displaced Persons (IDPs) across the country.
He said: "The Boko Haram insurgency has led to massive fracture of the society leading to 1.5 million IDPs in the country.
"Several IDPs camps are springing up across the country with consequent challenges especially in Borno.
Full report at:
http://www.news24.com.ng/National/News/Boko-Haram-Association-calls-for-more-funding-for-the-military-20150904
------------
Somalia shakes up military leadership amid Al shabaab attacks
SEPTEMBER 4, 2015
During their weekly assembly in Mogadishu on Thursday, the cabinet ministers of Somalia have sacked chief of Somali National Army Major General Dahir Adan Elmi who has been leading the military for the past 2 years.
The cabinet also approved the appointment of Gen Mohamed Aden Ahmed as the new army chief who will take over from the fired commander, according to statement seen by Shabelle Media Network on Thursday.
The army leadership shake-ups followed a proposal by the defense minister of Somalia Gen Abdulqadir Sheikh Ali Diini. Grounds behind the move is until now blurred. It comes as anti-Alshabaab offensive continuing in the country.
Full report at:
http://www.mareeg.com/somalia-shakes-up-military-leadership-amid-al-shabaab-attacks/
-----------
Arab World
Al Arabiya show reveals how Abu Nidal tried to kill al-Zawahiri
3 September 2015
According to former Palestinian ambassador Atef Abu Bakr, the Egyptians arrested the leader of the Fateh Revolutionary Council, Sabri al-Banna (Abu Nidal) because he attempted to liquidate a number of Palestinian leaders during his stay in Egypt and the Egyptian security knew about it.
Abu Bakr said during Al Arabiya show "Political Memoirs" that Abu Nidal had a heart attack and was hospitalized when the security arrested him. He added that, according to trustful sources, Abu Nidal met with members from the CIA, the Egyptian Intelligence and an intelligence from another Arab country hostile to Saddam Hussein's regime during the time of his arrest. In consequence, it was agreed that he will be deported to Iraq given that it's the country that would bear his presence more than any other one.
Al-Zawahiri killing attempt
According to Abu Bakr, in the beginning, the Egyptian authorities sympathized with Abu Nidal's group who was put under house arrest. Abu Nidal pledged to the Egyptian security that he will "kill a group of opponents including Ayman al-Zawahiri, Abu Hamza and the Imam of al-Jihad Mosque in Yemen, Mohammad Salah Abd al-Moutalib," One of the members of Fateh Revolutionnary Council has indeed assassinated Abdal-Moutalib.
Travelling to Iraq through Iran
Atef Abu Bakr, former head of the political department of Fateh Revolutionary Council, explained in "Political Memoirs" that Sabri al-Banna left Egypt from Iraq through Iran. He said that "Abu Nidal got a visa from the Iranian embassy in Khartoum by the name of Mohammad Hassan Abdullah and entered Iran without the knowledge of the Iranians."
After that, Abu Nidal took the road near the al-Manthariya border crossing to reach Iraq where the nephew of his wife, Khalil Khoder, welcomed him. He lived in Palestine Street with the knowledge of Iraqis.
Abu Nidal's liquidation
Atef Abu Bakr denies that Abu Nidal committed suicide and believes that the Iraqi security liquidated him. He revealed that "the Iraqis were informed that Abu Nidal plotted against them. They didn't believe it in the first place but after six months they discovered that he really did. An Iraqi security M4 committee investigated with him… Taher Habush said that 30 armed men attacked Abu Nidal's house and killed him while the Iraqis say he killed himself. I am sure that he was assassinated along with three of his companions: Nabil Nassar, Suleiman al-Dirbih, and Samir al-Saadi." Abu Bakr insists that "a clash took place between Abu Nidal's group and the Iraqi security," and reveals that one of the reasons that made Baghdad liquidate al-Banna was that the latter "had a relationship with Iraqi opposing factions in Oman and owned 14 explosive bags in Baghdad."
Full report at:
http://english.alarabiya.net/en/media/inside-the-newsroom/2015/09/03/Al-Arabiya-show-reveals-how-Abu-Nidal-tried-to-kill-al-Zawahiri.html
------------
Scores of Militants Killed in Syria's Quneitra
Sep 03, 2015
The Syrian army, backed by the popular defense groups, clashed with terrorist groups, which attempted to infiltrate into Kroum al-Humriyeh in the village of Hadar and the Western area of Khan Arnabeh town in the countryside of Quneitra on Wednesday night. Scores of terrorists, mostly from al-Nusra Front, were killed and injured in the military operations, sources said Thursday.
The army also targeted terrorist's positions in the villages of al-Hamidiyeh, al-Huriyeh and Ovania, inflicting heavy losses on them.
Full report at:
http://english.farsnews.com/newstext.aspx?nn=13940612000593
------------
Strong Nations Stem Extremism, Egypt Scholar Says
September 3, 2015
Abu Dhabi:
In order to defeat extremists' governments must build a strong country offering its citizens a viable route for a productive and hopeful future, a scholar said during a lecture here on Wednesday.
Mohammad Mokhtar Gomaa, Minister of Endowments and Chairman of the Supreme Council of Islamic Affairs in Egypt, delivered the lecture, organised by the Emirates Centre for Strategic Studies and Research (ECSSR), with the main theme of the discussion centred on how the Muslim world should combat the rise of extremism.
"Extremists manage to thrive and take root in countries when there is corruption and weak governments, like we see in Iraq, Syria, and Libya." he said.
"Groups like Daesh go to young men offering them many things, like money, a job, and women. These are enticing prospects for a young man who has a bleak outlook on the future without many options to turn to in his own country," he added.
Gomaa mentioned the UAE as a good example of an Arab and Muslim country that provides its citizens with a good way of life, "It doesn't matter what you call the government, whether it's a constitutional government, a monarchy, or a democracy. The most important thing is that the people have justice and religious freedom, and we find this in the UAE," he said.
Eliminating extremist ideologies that are acting in the name of religion must also be countered by a moderate message that explains the real values of Islam, Gomaa explained, "The extremists have nothing to do with religion, if we look at Islamic history we don't see examples of Muslims destroying other civilisations and relics from history. When the Muslims went to Egypt they did not destroy the temples or pyramids like the extremists are doing in Syria, and it's very important that we teach the youth about this."
Full report at:
http://gulfnews.com/news/uae/society/strong-nations-stem-extremism-scholar-says-1.1578044
------------
Saudi security forces kill "terrorist" in Abqaiq - state TV
September 04, 2015
DUBAI — Saudi Arabian security forces killed "a terrorist" who attempted to attack a security facility in the country's oil-producing Eastern Province, state television reported on Friday.
Al-Ikhbariya TV cited unnamed sources as saying that there was no "terrorist organisations" in Abqaiq but a person who was surrounded and killed after attacking a security man. It gave no more information.
Full report at:
http://www.saudigazette.com.sa/index.cfm?method=home.regcon&contentid=20150904255542
------------
Anti-terrorism campaign launched in Saudi Arabia
September 03, 2015
BURAIDAH — Emir of Qassim Prince Faisal Bin Mishal has launched a campaign called "Together against terrorism and deviant thought," which is aimed at protecting young Saudi men and women against falling prey to terrorist organizations and preachers of deviant ideology. Prince Faisal asked all citizens to join the campaign within the Kingdom's drive to obliterate the scourge of terrorism and stop those who preach the un-Islamic ideologies.
http://www.saudigazette.com.sa/index.cfm?method=home.regcon&contentid=20150904255479
------------
Egypt sentences dozens of alleged Islamists in mass trial
September 04, 2015
CAIRO - An Egyptian court sentenced dozens of people to life in prison or lesser jail terms on Thursday over pro-Islamist riots and church arsons following a bloody crackdown on protesters in 2013. The court in the southern province of Sohag sentenced 22 people to life, 37 people to 15 years in prison and eight to 10 years in prison. It also handed down jail terms to 51 defendants who were tried in absentia, and would be granted a retrial if they hand themselves in.–AFP
Full report at:
http://nation.com.pk/international/04-Sep-2015/egypt-sentences-dozens-of-alleged-islamists-in-mass-trial
------------
Syrian Forces Target ISIL in Homs
Sep 03, 2015
The army targeted ISIL positions in al-Baseri and North of al-Qaryateen city on the outskirts of Syrian Badiyah to the East of Homs, killing and injuring a group of the terrorists.
The army also killed several terrorists in Jazal and Jbab Hamad in Tadmur countryside.
Meanwhile, the Syrian forces targeted ISIL positions in Habra al-Sharkiya and al-Gharbiya and Msherfeh in the Eastern countryside, inflicting heavy losses on them.
Full report at:
http://english.farsnews.com/newstext.aspx?nn=13940612000481
------------
Iraqi Volunteer Forces Thwart ISIL Attack in Al-Karmah
Sep 03, 2015
The Iraqi forces thwarted the ISIL attack, and killed and injured scores of the terrorists on Wednesday, a security source said.
The ISIL Takfiri terrorists currently control shrinking swathes of Syria and Iraq. They have threatened all communities, including Shiites, Sunnis, Kurds, Christians, Ezadi Kurds and others, as they continue their atrocities in Iraq.
Senior Iraqi and Syrian officials have blamed Saudi Arabia, Qatar, and some Persian Gulf Arab states for the growing terrorism in their country.
Full report at:
http://english.farsnews.com/newstext.aspx?nn=13940612000379
------------
Daesh Attack on Yemen Mosque Kills 28 Worshipers
3 September 2015
SANAA, Yemen: Yemeni officials say the death toll from a Daesh-claimed bombing attack at a mosque in the capital has risen to 28.
The Health Ministry in Sanaa, controlled by Shiite rebels who seized the capital nearly a year ago, provided the updated toll in a statement Thursday. It says dozens more were injured in Wednesday's bombing.
Yemen has been mired in violence for months, as an array of forces has tried to push the rebels back with the aid of Saudi-led Coalition airstrikes.
A Daesh (Islamic State) affiliate claimed the bombing in a statement circulated online, calling it an attack on the rebels, known as Houthis.
Full report at:
http://www.arabnews.com/middle-east/news/800976
------------
Obama to assure Saudi King of U.S. help against Iran threat
3 September 2015
President Barack Obama will assure Saudi King Salman of the U.S. commitment to help counter any Iranian security threat, White House officials said on Wednesday, despite concern among Gulf allies that a new nuclear deal could empower Tehran in the region. The upcoming meeting with Obama with King Salman, the monarch's first U.S. visit since ascending to the throne in January, will seek to allay the fears of Washington's most important Arab partner that the lifting of sanctions on Iran would allow it to act in destabilizing ways.
The White House talks will come less than two weeks before a possible U.S. congressional vote on the nuclear deal between six world powers and Iran, Riyadh's regional rival. The Obama administration wants to use the visit to shore up relations with Saudi Arabia after a period of tensions.
"We understand that Saudi Arabia has concerns about what Iran could do as their economy improves from sanctions relief," Ben Rhodes, Obama's deputy national security adviser, told reporters in previewing the visit.
He said the U.S. believed Iran would use much of its assets, which will be unfrozen under the deal reached in July that also puts curbs on Tehran's nuclear program, to improve its battered economy.
Rhodes acknowledged there was a risk that Tehran could spend those funds on "nefarious activities." But he said Obama would make clear the U.S. would do "everything that we can" to counter any Iranian threats to its neighbors.
Gulf Sunni Arab leaders have accused Shi'ite Iran of fomenting sectarian violence in places like Yemen, Syria and Iraq.
Full report at:
http://english.alarabiya.net/en/News/2015/09/03/Obama-to-assure-Saudi-King-Salman-of-U-S-help-against-Iran-threat.html
------------
Putin: Premature to talk about Russian military action against ISIS
4 September 2015
Russian President Vladimir Putin said on Friday it was premature to talk about Russia taking part in military operations against ISIS, as the U.S. said it was checking reports of Russian troops in Syria.
Asked whether Russia could take part in operations against ISIS, Putin said: "We are looking at various options but so far what you are talking about is not on the agenda."
"To say we're ready to do this today – so far it's premature to talk about this. But we are already giving Syria quite serious help with equipment and training soldiers, with our weapons," RIA Novosti state news agency quoted Putin as saying.
The White House on Thursday said it was closely monitoring reports that Russia is carrying out military operations in Syria, warning such actions, if confirmed, would be "destabilizing and counter-productive."
The comments come after images appeared on a social media account linked to Syrian fighters purporting to show Russian aircraft and drones near Idlib province.
Putin, speaking at an international economic forum in the far eastern city of Vladivostok, criticized U.S. air strikes on ISIS as ineffective.
Full report at:
http://english.alarabiya.net/en/News/middle-east/2015/09/04/Premature-to-talk-about-Russian-military-action-against-ISIS-Putin-.html
------------
Mideast
Four Turkish police killed in PKK bombing
September 04, 2015
DIYARBAKIR - Four Turkish police were killed Thursday in a bomb attack on their vehicle in the country's southeast blamed on the outlawed Kurdistan Workers' Party (PKK), sources told AFP.
The attack is latest deadly strike on the security forces blamed on the PKK since the Turkish government launched a major "anti-terrorist" campaign against the Kurdish militants in July.
A local police chief and three other officers were killed when a remote-controlled bomb laid by militants was detonated on a road in the Dargecit district of Mardin province, security sources said.
The police team was on its way to respond to a fire at a school in Dargecit when the attack took place, according to the source.
The PKK and the armed forces have traded fire daily since a two-year-old ceasefire fell apart in July.
Full report at:
http://nation.com.pk/international/04-Sep-2015/four-turkish-police-killed-in-pkk-bombing
------------
Iranian Deputy FM: Theatrical Acts in Fight against ISIL Not Effective
Sep 03, 2015
"The powers which have played a role in the creation of the ISIL cannot claim to be fighting against the terrorists through some theatrical acts and airstrikes," Takht Ravanchi said during the meeting on Thursday.
He warned about the consequences of the spread of terrorism in the region and the world, and said such consequences are now seen in Europe, including the flooding of refugees leaving their houses in Syria and Iraq and taking refuge in the European countries.
"This is while those countries which have played a role in the creation of the terrorist group are less affected by the consequences of the terrorist group's actions," Takht Ravnchi said.
In relevant remarks in August, Secretary of Iran's National Security Council Ali Shamkhani underlined that the ISIL was a US protégé, serving Washington's long-term interests in the region.
"The US is not seeking destruction of the ISIL, but it is using the terrorist group as a publicity tool to legitimize its long-term presence in the Middle East and the Muslim states," Shamkhani said in a meeting with Head of the Islamic Supreme Council of Iraq (ISCI) Ammar al-Hakim in Tehran.
Shamkhani described the ISIL as a political intrigue meant to sow the seed of discord and serve the Zionist regime's interests on religious pretexts.
"The alliance of the terrorists with Ba'athists and conducting anti-Islam measures shows that despite the false propaganda launched in this ground, the nature of terrorism in Iraq is not religious, rather it is moving within the framework specified by the arrogant powers to take Iraq out of the axis of resistance," he added.
Full report at:
http://english.farsnews.com/newstext.aspx?nn=13940612000844
------------
Turkey extends mandate to send troops to Syria if needed
4 September 2015
Turkey's parliament voted late on Thursday to extend a mandate by a year authorizing the deployment of troops to Syria and Iraq, weeks after it stepped up its role in the U.S.-led coalition fighting the Islamic State of Iraq and Syria (ISIS) group.
The NATO member opened its air bases to coalition fighter jets in July and has since taken part in joint strikes for the first time on the extremist militant group in northern Syria, ending years of reluctance to take a front-line role.
While it has the second-largest military land force in NATO, Turkey has repeatedly made clear it does not intend to send ground troops into Syria unless provoked by a clear threat to its national security.
It has been working with Washington on plans to flush ISIS out of a strip of territory on the Syrian side of the border by jointly providing air cover for U.S.-trained Syrian rebel fighters on the ground.
Full report at:
http://english.alarabiya.net/en/News/middle-east/2015/09/04/Turkey-extends-mandate-to-send-troops-to-Syria-if-needed.html
------------
Sinai blasts injure six peacekeepers, including four Americans
4 September 2015
Six soldiers including four Americans were injured on Thursday in two blasts in northeast Sinai caused by improvised explosive devices, the Pentagon said.
The Multinational Force and Observer peacekeepers were evacuated "by air to a medical facility where all are receiving treatment for non-life-threatening injuries," Captain Jeff Davis said in a statement.
The four Americans were struck by the second blast as they were en route to help the soldiers hurt in the first, according to Major Roger Cabiness.
The MFO was created as a result of the 1979 peace treaty between Egypt and Israel and is based in Sinai, the peninsula that lies between Israel, the Gaza Strip and the Suez Canal.
About 650 Americans are currently assigned to the force, Cabiness said.
Islamist militants were suspected of killing 16 border guards last month in North Sinai, prompting Egypt to send armored vehicles and hundreds of troops in the biggest build-up in the demilitarized zone since Egypt's 1973 war with Israel.
Full report at:
http://english.alarabiya.net/en/News/middle-east/2015/09/04/Sinai-blasts-injure-six-peacekeepers-including-four-Americans.html
------------
Iran Warns to Set Fire to Enemy's Economic, Political Interests in Case of War
Sep 03, 2015
"We monitor their acts day and night and will take every opportunity to set fire to all their economic and political interests if they do a wrong deed," Salami said, addressing Basiji (volunteer) forces in Tehran on Thursday.
Alluding to the US and Israel, he warned that in case of enemy action, Iran will "cut off enemies' hands and fingers will then send its dust to the air".
In relevant remarks in July, Salami played down the US officials' war rhetoric against Iran, warning that the US knows its slightest hostile move would receive a crushing response.
"Today the US knows that the slightest move against the Islamic Iran will ruin its house of dream," Brigadier General Salami said.
Full report at:
http://english.farsnews.com/newstext.aspx?nn=13940612000778
------------
Iran Launches Special Command-and-Control System
Sep 03, 2015
The system launched operation following an order by Army Commander Major General Ataollah Salehi and in the presence of Commander of Khatam ol-Anbia Air Defense Base Brigadier General Farzad Esmayeeli and other senior military commanders in one of Iran's sensitive sites.
After being unveiled and launched, the system was connected to all missile, radar, operations monitoring and assessment and other air defense points in the country.
The system can detect and trace targets, take decisions for the operation of the missile systems, decide about the type of weapon systems needed, assess and foresee hotile targets, and field commanders can easily take a final decision with the data provided by the command and control system.
Brigadier General Esmayeeli said that all instruments, air defense systems, fighter jets, missiles and monitoring systems take orders from Payambar-e A'zam Command and Control system from now on.
Iran unveiled two new home-made radar systems named Nazir and Bina on Tuesday with the capability of detecting radar-evading targets and fighting against electronic warfare.
The two radar systems were unveiled in a ceremony attended by General Esmayeeli through a video conference.
Nazir is a long-range and high-precision radar system which is highly capable of detecting targets in low radar cross section and is resistant to radar evading and anti-radar missiles.
The radar can detect all radar-evading targets and is capable of fighting electronic warfare.
Bina and Nazir radar systems have been mounted in the mountainous and plain regions in Southeastern Iran.
Full report at:
http://english.farsnews.com/newstext.aspx?nn=13940612000747
------------
Leader's Aide: Iran Never Trusts US
Sep 03, 2015
"We have never been optimistic about the US officials, and the measures and steps that they have taken are in line with their own interests," Velayati told FNA in the Northeastern city of Mashhad on Thursday, referring to the US recent agreement with Iran over the latter's nuclear program.
He said that the Americans have left a bad record of enmity towards Iran after the Islamic Revolution and Kerry's remarks were not unexpected.
Kerry stated in an interview with the MSNBC that "if we do the right job of inspecting, and Israel, and the [persian] gulf states, and we and our friends, France, Germany, Britain, China, Russia all are doing the right level of intelligence gathering, believe me, we will know what Iran is doing".
In relevant remarks today, Supreme Leader of the Islamic Revolution Ayatollah Seyed Ali Khamenei blasted the US statesmen for their contradictory remarks after the nuclear agreement with Tehran, and called on Iranian officials show more sensitivity and give proper response to their comments.
"In the nuclear talks with are negotiating with the 5+1, but the US administration is, in fact, the main party; but the US officials speak very badly and a decision needs to be taken about the manner they speak," Ayatollah Khamenei said in a meeting with the head and members of Iran's Assembly of Experts in Tehran.
"Don't say that the Americans are uttering these words to convince their internal rivals; of course, I believe that the internal disputes in the US are real and they have differences and the reason for such a difference is clear to us but what is officially said needs a response and if no response is given to them, the other side's remarks will be entrenched," he added.
Ayatollah Khamenei also referred to the US officials' remarks on the suspension of sanctions, and said Tehran has always underlined the necessity for the termination and not suspension of embargoes.
"If the sanctions are not due to be removed, then there will be no deal either. Hence, there needs to be a decision to be taken in this regard," he added.
He said Iran has made some concessions during the negotiations with the world powers in order to see a removal of the sanctions in return, otherwise we wouldn't have attended the negotiations and Iran could have increased its 19,000 centrifuges to 60,000 centrifuges, continue 20% uranium enrichment and accelerate its research and development activities.
"If the sanctions are due to be suspended, our actions should also be arranged in the form of suspension and not essential measures on the ground," Ayatollah Khamenei said.
"Of course, the other side says that removal of certain sanctions is not within the US administration's authority; in response we say that those sanctions that fall under the US administration and the European governments' authority should be terminated," he added.
Ayatollah Khamenei also blasted the US officials' remarks that the Joint Comprehensive Plan of Action (JCPOA) has created some opportunities for the Americans both inside and outside Iran and in the region, and said, "The Iranian officials shouldn't allow the US to make use of any opportunity inside the country and they should also try in order not to allow the Americans to find any such opportunity outside Iran because the closer they come to such opportunities, the worse the nations' sufferings, humiliation and backwardness will grow."
He reiterated the complete ban on any negotiation between the Iranian officials and the Americans on other issues, and said there won't be any other talks with the White House, except for the the nuclear issue, because "the US positions are fully against the stances of the Islamic Republic."
Ayatollah Khamenei said the US cannot treat Iran as it does with regard to some other underdeveloped countries, and stressed that Iran is a powerful nation and has already proved its capabilities in action.
He referred to the US officials' remarks that they expect Iran to pick up a different course of action, and said they mean ignoring the Islamic values, non-commitment to the Islamic laws and Iran's confirmation of the US policies in the region which include full annihilation of the resistance forces and full hegemony over Syria and Iraq, but they should know that "such a thing will never happen".
Full report at:
http://english.farsnews.com/newstext.aspx?nn=13940612000809
------------
Yemeni forces destroy Saudi Apache choppers: Report
Sep 4, 2015
The Yemeni army and popular committees have reportedly destroyed two Saudi Arabian Apache helicopters in Yemen's east-central province of Ma'rib.
The choppers were targeted with Tochka rockets in an operation, which also destroyed three Saudi missile launch platforms, Yemen's al-Masirah TV reported on Friday.
A large number of Saudi, Emirati, and Bahraini forces were killed and injured in the retaliatory attack, which was undertaken as part of efforts to clear the province of al-Qaeda militants and Saudi-backed militants.
The UAE later confirmed that "several" of its soldiers had been killed in Yemen without specifying the number of troops killed or the circumstances of their deaths.
Missiles fired from the direction of Yemen also struck the Saudi military's Hashed monitoring site and Saudi artillery positions in the Hamdan military site, both located in the Najran region of southwestern Saudi Arabia.
Saudi army gatherings in the Jizan region, similarly located in the kingdom's southwest, also came under Yemeni missile fire.
Also on Friday, it was reported that several people had been killed in five Saudi airstrikes on a hospital in the Razih district of Sa'ada Province in northwestern Yemen.
Saudi fighter jets, meanwhile, launched more than 15 airstrikes on the Harad district in the southwestern Yemeni province of Hajjah, while at least eight air raids were carried out against the Yemeni capital, Sana'a.
Full report at:
http://www.presstv.ir/Detail/2015/09/04/427694/Yemen-Saudi-Apache-Marib-Najran-Jizan
------------
White House: sanctions relief for Iran tied to compliance with nuclear deal
3 September 2015
Iran will only see sanctions relief if it complies with the nuclear deal, White House spokesman Josh Earnest said on Thursday.
Iran's Supreme Leader, Ayatollah Ali Khamenei, said on Thursday he favored a parliamentary vote on its nuclear deal reached with world powers and called for sanctions against Tehran to be lifted completely rather than suspended, state television reported. http://english.alarabiya.net/en/News/middle-east/2015/09/03/White-House-sanctions-relief-for-Iran-tied-to-compliance-with-nuclear-deal.html
------------
Basij Commander: Iran Has Secret Drone Program
Sep 03, 2015
"We build drones that are unique and exclusively owned by Iran and no one is informed of them," Naqdi said, addressing a gathering in the Northern city of Rasht on Thursday.
The top commander declined to make any further comments or information about the drone technology.
In recent years, Iran has made great achievements in aerospace sector, including drone designing and manufacturing.
Late in August, Managing-Director of the Iranian Aviation Industries Organization (IAIO) Manouchehr Manteqi said Russia has asked for import of Iranian drone technology.
"The Islamic Republic of Iran is known as an advanced country in the field of (building) drones," Manteqi told FNA on the sidelines of the MAKS 2015 air show in the town of Zhukovsky near Moscow.
He underlined that the Russians plan to transfer the technology of building one of Iran's drones to their country, but he declined to reveal any further details.
"We are discussing this issue now," he just said.
In relevant remarks on Monday, Iranian Ground Force Commander Brigadier General Ahmad Reza Pourdastan announced that some updates had been carried out on home-made drones to increase their capability for loading more weapons.
"We have done a special task on the drones which has improved the precision striking, range and flight duration of the Ground Force's drones; therefore, our drones are can now conduct the needed missions according to the Ground Force's daily needs," Pourdastan said.
"With the help of the Ground Force's experts, the necessary ground has been prepared in the drone systems to enable them carry heavier loads of weapons and we aim to use these drones in rapid reaction drills to be staged in the current year," he added.
Pourdastan said that the Ground Force's drones can be remote-controlled, while they are also equipped with auto-pilot systems and can attack hostile ground and air targets at different levels.
Also last month, Iranian Defense Minister Brigadier General Hossein Dehqan announced the country's plans to equip its drones with the home-made powerful and high-precision air-based Nasr cruise missile.
Dehqan made the remarks in Tehran, addressing the inauguration ceremony of Nasr missile production line.
"Using the air-based Nasr missile by the Army and the Islamic Revolution Guards Corps (IRGC)'s Air Forces will remarkably increase their operational and tactical power," he said.
He said that the Nasr missile is equipped with a high-precision radar which enables it to trace and intercept targets, adding that after being fired from fighter jets, Nasr doesn't need any backup and the fighter jet can leave the danger zone immediately. Noting that the Nasr missile can be mounted on different types of fighter jets, he announced Iran's future plan to equip its home-made drones with the air-based missile.
The Islamic Republic has so far unveiled various domestically produced drones, including Ababil, Fotros, Hazem, Karrar (long range attack drone), Mohajer, Sarir, Shahed 129, Yasir and Zohal.
Full report at:
http://english.farsnews.com/newstext.aspx?nn=13940612000789
------------
Southeast Asia
PAS' Divorce Oath Un-Islamic, Says Penang Mufti
September 4, 2015
KUALA LUMPUR, Sept 4 ― The divorce oath used for politics such as the ones adopted by Kelantan PAS is un-Islamic as it leads to the downfall of the institution of family, Penang mufti Datuk Dr Wan Salim Wan Mohd Noor said today.
The mufti also advised Shariah courts to avoid accepting such oaths to annul marriages, amid calls for Kelantan PAS lawmakers who broke the oath to divorce their wives after they quit the party to join the upcoming Parti Amanah Negara.
"This oath is considered un-Islamic because it is against the 'benefits' that is being protected by Shariah including the benefits of the families," Wan Salim said in a statement.
He said, the "taklik" oath is different from the one usually recited by a husband during solemnisation to prevent abuse against the wife when he abandons his responsibilities.
"The oath taken by a member of a political party can harm the wife and children when the couple is 'forced' to separate to stop them from quitting a party or changing their medium of politics," he added.
The "third Talaq bai'ah" oath is allegedly a must for Kelantan PAS lawmakers before accepting their posts and requires them to swear to divorce their wives with the "third talaq" the moment they join a new party.
Talaq ― or talak as it is spelled locally ― is a type of divorce in Islam which provides the man an avenue to initiate a divorce through simply pronouncing the word; if the man pronounces a "third Talaq", he is then prohibited from getting back with his wife again, unless he takes another woman as his wife and then divorces her afterwards before remarrying the first woman.
Full report at:
http://www.themalaymailonline.com/malaysia/article/pas-divorce-oath-un-islamic-says-penang-mufti
----------
14 dead after migrant boat sinks off Malaysia
September 04, 2015
KUALA LUMPUR: At least 14 migrants drowned Thursday after an overcrowded boat carrying up to 100 people sank off the coast of Malaysia.
Rescuers were searching for dozens of Indonesians still missing hours after their small wooden vessel disappeared beneath the waves.
"Local fishermen have rescued 15 people and fished out from the sea 14 bodies - 13 women and one man," Mohamad Aliyas Hamdan, the local head of the Malaysian Maritime Enforcement Agency, told. "We have deployed 12 ships and a plane along with some 200 officers to carry out the search and rescue operation for the remaining victims," he said.
Around two million people, mostly from Indonesia, work in Malaysia illegally, regularly crossing the narrow strip of water between the two countries in barely seaworthy vessels. The vessel went down in choppy waters off Malaysia's western coast near the coastal town of Sabak Bernam in central Selangor state. "I believe the boat sank because of bad weather and it was overcrowded," Aliyas said.
Based on the size of the boat, it could have been carrying about 70 people but local fishermen said there could have been up to 100 migrants on board, he added. "We have deployed 12 ships and a plane along with some 200 officers to carry out the search and rescue operation for the remaining victims," he said. Aliyas said rescue officials are confident they would be able to find more survivors because the boat sank close to land. The bodies have be taken to taken to a public hospital Teluk Intan in neighbouring Perak state. "We are not sure if the migrants were attempting to land in Malaysia or trying to leave Malaysia illegally," Aliyas said, describing the sinking as the worst boat tragedy so far this year.
Malaysia, Southeast Asia's third largest economy, has been a magnet for Indonesians in search of jobs.
Full report at:
http://nation.com.pk/international/04-Sep-2015/14-dead-after-migrant-boat-sinks-off-malaysia
------------
Architect, engineer admitted in the Kuala Lumpur High Court to attempt to support IS
September 4, 2015
KUALA LUMPUR: An architect and an engineer admitted in the High Court here today to attempting to provide support to the militant group, Islamic State (IS).
Mohd Syafrien Rasid and Mohamad Yusoffe Ishak, both 27, pleaded guilty to the alternative charge when it was read to them before Justice Kamardin Hashim.
They admitted taking a flight to Istanbul, Turkey through the Kuala Lumpur International Airport (KLIA) with the intention of entering Syria to assist IS.
They committed the offence at the Immigration Counter, Departure Hall, KLIA, Sepang at 8.55am on September 25, last year.
Full report at:
http://www.freemalaysiatoday.com/category/nation/2015/09/04/architect-engineer-admit-to-attempt-to-support-is/
----
MACC man ducks questions on Najib
September 4, 2015
PUTRAJAYA: The head of MACC's Prevention Unit today refused to expand on an announcement he made recently that the anti-graft agency would question Prime Minister Najib Razak over the RM2.6 billion transferred into his personal bank accounts.
At a press conference at the International Anti-Corruption Conference (IACC) here, Mustafar Ali, who is also MACC Deputy Commissioner resolutely avoided questions on the date that MACC would call the Prime Minister, saying, "No need, no need."
He appeared to be interested only in giving a summary of the IACC proceedings.
He also would not entertain a request for comments on a statement that Deputy Prime Minister Ahmad Zahid Hamidi made yesterday that cast aspersions on the IACC.
Zahid alleged that the heads of international NGOs attending the conference had been "duped into recycling baseless allegations against the government" and were unwittingly involving themselves in the country's internal politics.
Last Tuesday, Mustafar announced that the MACC would cite facts in responding to questions about corruption that may be raised during the IACC. He also said the agency would define its approaches to preventing corruption.
"We will present facts and the efforts we make to combat corruption, including collaboration with international networks," he said.
Full report at:
http://www.freemalaysiatoday.com/category/nation/2015/09/04/macc-man-ducks-questions-on-najib/
------------
"Indonesia must help democratise Malaysia"
FMT Reporters | September 4, 2015
KUALA LUMPUR: Despite only making its transition from President Soeharto's authoritarian regime in the mid-1990s, Indonesia has succeeded in turning itself into ASEAN's most advanced democracy, an opinion editorial in the Jakarta Post says.
"[I]n Southeast Asia, Indonesia is practically the only country that meets democratic standards," the Post says proudly, pointing out that "political turmoil and anti-democratic attitudes have persistently haunted" most other ASEAN nations.
As such, Indonesia bears the "moral responsibility" of acting as a role model for its Southeast Asian neighbours, including Malaysia.
"In 2007, 2011 and 2012 the Bersih movement proved itself to be a powerful force in demanding clean and fair elections in Malaysia," the Post notes. "Today, the movement is increasing its stake by demanding the resignation of Prime Minister Najib Razak over a financial scandal."
"Malaysian authorities responded to the protest by blocking access to websites that disseminate information about the Bersih movement," laments the Post. "Police have declared the movement illegal and threatened to take legal action against the participants."
Already in the midst of an economic crisis, the Post says that "looming public distrust" is driving the country towards a political crisis as well.
Full report at:
http://www.freemalaysiatoday.com/category/nation/2015/09/04/indonesia-must-help-democratise-malaysia/
----------
North America
'Islam Teaches Love and Peace, Not Hate and Violence,' Muslim Americans Declare in 100 Billboards Across the US
September 3, 2015
Muslim Americans have erected 100 billboards across major U.S. cities with the message that Islam and its prophet, Muhammad, taught love and peace, rather than violence and hatred.
The Associated Press reported that the billboards were erected over the summer by New York-based Islamic Circle of North America in cities such as New York, Austin, Memphis, Las Vegas, Portland, Denver, and Calgary, among others.
The billboards display different messages, including one declaring that Muhammad taught "love not hate," and "peace not violence."
Naeem Baig, the organization's president, has said that the idea behind the billboards is to counter negative perceptions of Muslims due to terrorism around the world, such as the attacks by Islamic militants on Paris in January, which left 20 people dead.
The ads are also intended to offset negative perceptions resulting from attacks in America, such as the 2013 Boston Marathon bombings carried out by Muslim brothers Tamerlan and Dzhokhar Tsarnaev.
"As a Muslim, it hurts me when I see someone abusing my faith, abusing the teachings of the prophet," Baig said. He added that those who resort to violence are "people who are lost, who have no direction in their life, people who have their own challenges in their life, who are using faith as an excuse."
The billboard campaign started back in June, Reuters reported, with ICNA Deputy Secretary General Waqas Syed explaining that "we thought a proper approach would be to actually educate the larger public about his personality, which exemplifies love and brotherhood."
The group's other billboards invite people to "discovery Mohammad," and seek to portray Islam as supporting women's rights and religious tolerance.
Full report at:
http://www.christianpost.com/news/islam-teaches-love-and-peace-not-hate-and-violence-muslim-americans-declare-in-100-billboards-across-the-us-144449/
------------
Amid refugee crisis, Hungary prime minister says Muslims not welcome
September 3, 2015
Hungarian Prime Minister Viktor Orban said on Thursday that his country did not want to accept Muslim refugees, as he defended his tough approach to border control on the frontline of Europe's migration crisis.
Orban spoke in Brussels at meetings between European Union leaders and Hungary's prime minister after images of a drowned Syrian child on a Turkish beach grabbed world attention this week and said that it was not a moral argument for opening Europe's doors.
"If we would create ... an impression that 'just come because we are ready to accept everybody,' that would be a moral failure. The moral, human thing is to make clear: 'Please don't come,'" Orban told reporters.
In a later news conference, Orban said the history of Ottoman rule meant Hungarians would not accept large-scale Muslim immigration, a point made recently by neighboring Slovakia.
"We don't want to, and I think we have a right to decide that we do not want a large number of Muslim people in our country," Orban said. "We do not like the consequences of having a large number of Muslim communities that we see in other countries, and I do not see any reason for anyone else to force us to create ways of living together in Hungary that we do not want to see. That is a historical experience for us."
In a pugnacious performance typical of a right-wing leader who has often clashed with liberal sentiment in Brussels, Orban rejected criticism of the razor-wire fence he has thrown up along the EU's external frontier with Serbia.
Orban met European Council President Donald Tusk, who appealed for greater European solidarity and more help for refugees.
Tusk took issue with remarks Orban made in a German newspaper in which he noted that most asylum-seekers were Muslim at a time when Europe's Christian culture was weak.
"For a Christian," Tusk said, "it shouldn't matter what race, religion or nationality the person in need represents."
Scenes of desperation
Thousands of people desperate to reach Western Europe rushed into a Budapest train station Thursday after police ended a two-day blockade, setting off a wave of anger and confusion as hundreds shoved their way onto a waiting train.
But instead of heading to the Austrian border, the overloaded train stopped at Bicske, a town northwest of Budapest that holds one of the country's five camps for asylum seekers, facilities the refugees want to avoid because they don't want to pursue asylum claims in economically depressed Hungary. As the train platform filled with police came into view, those inside chanted their disapproval and their determination to reach Germany, their almost unanimous goal.
Full report at:
http://america.aljazeera.com/articles/2015/9/3/hungary-prime-minister-says-muslims-not-welcome-amid-refugee-crisis.html
------------
'Truly epic': Nation of Islam's Farrakhan dines with 'my brother' Eminem
September 4, 2015
DETROIT — The head of the Nation of Islam, Minister Louis Farrakhan, met politicians, pastors and a police chief during his visit to Detroit last week.
But it's his unprecedented meeting with rapper Eminem over a 2 1/2-hour dinner in his Detroit hotel room that has garnered the most attention.
The leader of the Detroit-founded group was in Southfield and Detroit in recent weeks to talk about his plans for the 20th anniversary of the Million Man March with an event called Justice or Else.
In his meeting with Eminem on Aug. 25, Farrakhan talked about the responsibilities that star like Eminem have toward society, "to influence people positively," said Troy Muhammad, a student minister who heads the Detroit branch of the Nation of Islam.
"It was a beautiful discussion," Muhammad said. "Eminem was engaged. His manager (Paul Rosenberg) was engaged. It was a great time and experience."
Farrakhan talked to Eminem about "using his influence and using his power through rap music and hip-hop culture to influence people positively, so our children, our youth, can grow into more positive humans," Muhammad said.
In a post on Instagram, Farrakhan said he "was very honoured to receive my brother, Marshall Mathers aka @eminem, last night at my dinner table for a beautiful dialogue."
The meeting featured Farrakhan, the most prominent black nationalist in America, Eminem, a white rapper who become known for performing in a black-created art form, and Rosenberg, who is Jewish. Farrakhan has been criticized for his what some say are some anti-Jewish remarks.
Rosenberg could not be reached for comment. Members of the Muslim community praised the meeting. In a post on Instagram that featured a photo of Farrakhan meeting Eminem, Hajj Hasaun Muhammad said: "This picture is over ten years in the making. So much happens behind the scenes that I don't post or talk about, but this one I absolutely had to. Truly epic that the two of them had dinner last night in Detroit."
During his visit to Detroit, Farrakhan also spoke to a packed crowd at Fellowship Chapel in Detroit, the church led by the Rev. Wendell Anthony, who heads the Detroit Branch NAACP.
Farrakhan had two other meetings and talks, with Detroit-area hip-hop artists and with about 250 local leaders. He met and spoke to Wayne County Executive Warren Evans, Wayne County Sheriff Benny Napoleon, and Detroit Police Chief James Craig, whom he praised in his talk at Fellowship Chapel.
While police abuse has been an issue across the country, Craig has done a good job in Detroit, he said.
"I want to thank the mayor and the police chief for the wonderful work of the police that shepherded me wherever I went in the city," Farrakhan said in his talk at Fellowship Chapel. "I told Chief Craig, I think he's a good man. I think he's compassionate. He's caring. He has a hard job. He really has a difficult job. He talks about community-based policing. I think that's a good idea."
Farrakhan reiterated the Nation of Islam's message of self-reliance, calling for a force of 1,000 black men to help stop black-on-black violence in Detroit.
Farrakhan also had some strident words in his talk against society, criticizing white people for their actions historically, some Jewish people and same-sex marriage. Citing Biblical history, he said that America would face the wrath of God if it didn't become righteous.
"I represent the Messiah," Farrakhan said to the crowd. "I represent the Mahdi. I represent a man who comes to end this world. I hate this world ... I hate a world where everything is upside down. ... I am with Jesus Christ to destroy it."
Farrakhan's visit last week was the second in metro Detroit over the past month to promote Justice or Else, which will be held Oct. 10 in Washington, D.C.
On Aug. 3, Farrakhan spoke on a Christian TV station in Southfield, the Word Network. His visit was criticized by some white evangelical pastors since Farrakhan is Muslim, but African-American pastors on the show praised his appearance and endorsed his Justice or Else event. The owner of the network is Jewish.
Detroit sent one of the largest contingents to the Million Man March in October 1995 and is expected to send thousands this time for the 20th anniversary. Already, 40 buses are lined up to go, Muhammad said.
Full report at:
http://www.usatoday.com/story/news/nation/2015/09/04/nation-islams-farrakhan-meets-eminem/71686848/
------------
Australia
Australia mulls stripping citizenship for past terror links
September 04 2015
Australia moved closer to stripping dual nationals of their citizenship for terrorism offenses on Friday, with a parliamentary committee recommending it be approved even for old convictions.
Canberra has passed a series of national security laws to combat concerns about Australians supporting jihadist groups such as the Islamic State group and in June put forward changes to the Citizenship Act.
The amendments are meant to extend current powers removing citizenship from nationals who join armed forces at war with Australia to those who fight for or are in the service of a designated terrorist organization, or who are convicted of terrorism or other offenses.
"This bill modernizes our treason laws to deal with the new threat of home-grown terrorists," ruling Liberal Party parliamentarian Dan Tehan, who chaired the committee, told reporters in Melbourne.
"If you repudiate your allegiance to Australia and you are a dual national, you will lose your citizenship."
Tehan said the committee had made 27 recommendations, including that the stripping of citizenship for dual nationals convicted of terrorism offenses should be limited to those sentenced to at least six years' jail.
It also recommended the law be expanded to retrospectively cover those previously handed jail terms of 10 or more years.
Australian Prime Minister Tony Abbott told Sydney radio station 2GB Friday it was the "strong intention" of his government to "give this law retrospective effect".
In contrast, Foreign Minister Julie Bishop said "as a matter of principle, I wouldn't support retrospectivity", although she added there could be situations relating to citizenship where such moves might be considered.
The removal of citizenship "by conduct" -- meaning no conviction is required -- should be restricted to Australians engaging in activities outside the country or who have fled overseas before being charged and brought to trial, the bipartisan committee recommended.
Other changes mooted were that the law should not apply to Australians under 14, while the crime of "destroying or damaging Commonwealth property" or other offences attracting less than 10 years' prison or that have never been used should be removed.
Full report at:
http://www.thejakartapost.com/news/2015/09/04/australia-mulls-stripping-citizenship-past-terror-links.html
------------
URL: https://www.newageislam.com/islamic-world-news/new-age-islam-news-bureau/muslim-scholar-forced-to-stop-writing-on-ramayana-after-bigoted-protests/d/104481