New Age Islam News Bureau
10 Jul 2019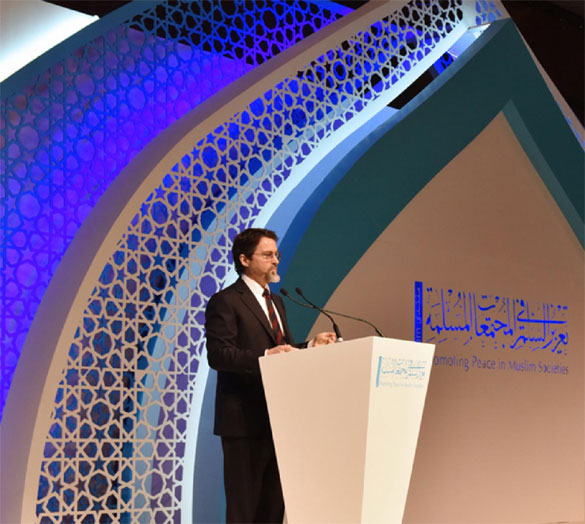 Hamza Yusuf, vice president of the Forum for Promoting Peace in Muslim Societies which is bankrolled by the UAE (Screengrab/peacems)
----------
• Muslim Scholar Appointed As Human Rights Adviser to Trump Administration
• Jagannath Temple in Ahmedabad Gets the Gift of Silver Chariot from Muslims
• How Can A Muslim Drive and Earn Money in Ghatlodia, A Hindu Locality of Ahmedabad, Ask Locals
• A, 19-Year-Old Christian Man Arrested In Punjab for Blasphemy After A Fight Over A Cricket Match
• Islam Never Approves Of Weapons of Mass Destruction: Iran Guards Chief
• Al Houthis Maintain 'Strong' Links With Al Qaida, Daesh
• Orang Asli Demand to Be Left Alone By Islamic Preachers
• At Solidarity Gathering For Muslim Preacher Wan Ji, Activists Urge Pakatan to Abolish Sedition Act
• Saudi Arabia Ordered 122 Executions In First Half Of 2019: Rights Organization
• UAE Provides Libya's Haftar with African Militants
North America
• Muslim Scholar Appointed As Human Rights Adviser to Trump Administration
• Lecturer at US-aided Afghan university arrested, accused of recruiting for ISIS
• US places two Hezbollah MPs on sanctions lists
• US, Taliban resume talks after rival Afghans agree steps to end bloodshed
• Candidate seeks to be 1st Turkish-American in Congress
--------
India
• Jagannath Temple in Ahmedabad Gets the Gift of Silver Chariot from Muslims
• How Can A Muslim Drive and Earn Money in Ghatlodia, A Hindu Locality of Ahmedabad, Ask Local
• Dawood's Activities from Safe Haven a Real Threat: India slams Pak at UNSC
• 2,447 Migrants from Pakistan, Bangladesh and Afghanistan Granted Indian Citizenship Since Dec 2016: Govt
• Asaduddin Owaisi flags issue of Budget outlay for minority affairs ministry
• UK to return rare Buddhist artefacts to Afghanistan
• India's NIA attaches residence of Aasiya Andrabi in Srinagar
• After filing charge sheet, Rajasthan Police seek court's nod to reinvestigate Pehlu Khan lynching case
• Aman Committee distributes food to Shobha Yatra participants in Delhi's Hauz Qazi area
--------
Pakistan
• A, 19-Year-Old Christian Man Arrested In Punjab for Blasphemy after a Fight over a Cricket Match
• Conspiracies exist to confuse youth about Islam, ideology of Pakistan: Sardar Masood
• Pakistani television anchor Mureed Abbas gunned down in Karachi
• Convicted politicians not to get media time, decides govt
• Govt changes master plan of Islamabad to set up university at PM House
• Maryam Nawaz summoned over fake trust deed
• One in four Pakistani children won't complete primary education by 2030: Unesco
• PML-N urges SC to take suo motu action on leaked video of judge
• Two men shot dead, another wounded in 'terrorist' attack in Karachi
--------
Mideast
• Islam Never Approves Of Weapons of Mass Destruction: Iran Guards Chief
• Al Houthis Maintain 'Strong' Links With Al Qaida, Daesh
• Houthis demand complete withdrawal of Saudi-led coalition from Yemen
• Yemen Houthi court condemns 30 to death for 'spying'
• Iran's Military Vows Retaliation for U.K. Seizing Oil Tanker
• Netanyahu to visit India before Israeli elections
• US senator calls for revoking civilian nuclear waivers in Iran
• Yemen Houthi court condemns 30 to death for spying
• Three IRGC servicemen killed in terror attack in NW Iran
--------
Southeast Asia
• Orang Asli Demand to Be Left Alone By Islamic Preachers
• At Solidarity Gathering For Muslim Preacher Wan Ji, Activists Urge Pakatan to Abolish Sedition Act
• Mujahid: So What If Iranian Reps Visited Parliament? Doesn't Mean We Accept Shiah Teachings
• IS Sympathizers Allowed to Go Home if They Swear Allegiance to Pancasila and NKRI
• Malaysia Arrests 2 Rohingya Suspected of Supporting ARSA Militants in Myanmar
--------
Arab World
• Saudi Arabia Ordered 122 Executions In First Half Of 2019: Rights Organization
• Saudi Cabinet Warns Hajj Pilgrims Not To Mix Politics with Religion
• International Coalition against ISIS Recruits Fighters in Tanf Base
• Six Victims Of Isis In 'Execution Suits' Found In Syria Mass Grave
• 3 Iraqis, including policemen, wounded in bomb attack, armed clashes in Diyala
• Iraqi warplanes kill three Islamic State terrorists in Nineveh
• Iraq launches 'Will of Victory' operation against ISIS sleeper cells near Syrian border
• Leader of ISIS Affiliate in Yemen Fought for Group in Syria
• Lives of 300,000 Civilians Threatened by Mines Remaining from ISIL in Raqqa
• Hezbollah slams US sanctions on MPs as 'humiliation' for Lebanese
• US-led coalition should address harm to civilians during Syria operations: Human Rights Watch
--------
Africa
• UAE Provides Libya's Haftar with African Militants
• Al-Shabab Kills 18 in Surge of Executions
• 13 Nigeria civilians killed in air raid targeting jihadists - sources
• Three killed as Somali police foil attack in Mogadishu
• Nigeria police kill two Zakzaky supporters: Islamic group
• Nigerian soldiers attack protesters demanding release of Sheikh Zakzaky
• Nigeria: 40 Shia members arrested in clash with police
--------
South Asia
• Stressing War's Toll, Taliban and Afghan Representatives Agree to Peace Road Map
• Afghan University Teacher, Students Among IS Operatives Arrested in Kabul
• Taliban and Afghan government agree to reduce violence
• 5 JMB terror suspects were holed up in Chikkabanavara last year: NIA
• Bangladeshi author Taslima Nasreen completes 25 years in exile
• BD boosts efforts to stop trafficking of Rohingya amid US criticism
• Special Forces storm 3 Taliban compounds in Helmand province
• 9 Taliban militants killed, wounded in Kandahar, Zabul operations and airstrikes
• Afghan forces conduct 111 joint, special ops and 13 airstrikes in past 24 hours: MoD
--------
Europe
• European Powers Urge Iran to Reverse Nuclear Deal Breaches
• EU calls on Iran to reverse uranium enrichment and uphold nuclear deal
• Germany's largest mosque evacuated after bomb threat
• Europeans take first step to punish Iran over nuclear pact breaches
• Germany calls for unconditional ceasefire in Libya
• Turkish leader sends off Srebrenica genocide victims
• Moroccan jailed in Portugal for ISIS recruitment
• France's Emmanuel Macron assembles elite team to defuse Iran tensions
• Anti-Islam activist Tommy Robinson encouraged violence at court case, judge says
Compiled by New Age Islam News Bureau
URL: https://www.newageislam.com/islamic-world-news/muslim-scholar-appointed-human-rights/d/119143
--------
Muslim Scholar Appointed As Human Rights Adviser to Trump Administration
By Zeinab Edah-Tally , Areeb Ullah
9 July 2019
Hamza Yusuf, a prominent US-born Islamic scholar, has faced criticism for his decision to be part of a 10-member panel chosen by US Secretary of State Mike Pompeo to examine the role of human rights in US foreign policy.
Pompeo on Monday unveiled the "Commission on Unalienable Rights", saying it was made up of human rights experts of "varied backgrounds and beliefs", and that it has been tasked with reviewing "the role of human rights in American public policy".
Critics of the commision have raised concerns of the panel after it appointed Harvard law professor Mary Ann Glandon, a former US ambassador to the Vatican, who led efforts against enshrining abortion as an international human right at the 1995 UN Women's conference in Beijing.
Dr Usaama al Azami, a lecturer in Islamic Studies who studied at Princeton University in the US, said that Yusuf's decision to work with the Trump administration was a "troubling development in Western Islam".
"For one of the West's most recognisable and once almost universally esteemed Islamic scholars to throw in his lot with the most venal and Islamophobic administration in American history will be viewed by many Muslims as an unforgivable lapse in judgement which will not easily be forgotten," Azami told Middle East Eye.
"This is far worse than his advice to the Bush administration in the wake of the tragic events of 9/11. That was when most Muslims voted Republican."
"In the years since 9/11, the Republican Party has gradually transformed into an Islamophobic party par excellence, culminating in the presidency of Donald Trump who won the Republican nomination on the basis of Islamophobic race-baiting and unconstitutional demands for a Muslim registry and a Muslim travel ban."
Criticism for supporting the UAE
Dr Walaa Qusaiy, a teaching fellow at the University of Birmingham, however, who specialises in neo-traditionalism in Islam and Hamza Yusuf's teachings, said she was not surprised by his decision to join the panel.
She believes Yusuf's close allegiance to Sheikh Abdullah Bin Bayyah, and role as vice president of the Forum for Promoting Peace in Muslim societies, a religious body that is bankrolled by the United Arab Emirates, has played a role in the type of stances he has taken over the years.
"Over the years, Hamza Yusuf has centralised the idea of stability and government as the central ideal and that Muslims should not politically engage but ensure that their hearts are clean. But when governments then use this narratives to affirm the supremacy of the state and regime then it becomes a problem," Qusaiy told MEE.
"Yusuf's religious and political role within the UAE has made him an international actor. He started to become that before his formal appointment as vice president and goes a long way in explaining his direction to ally himself with the political right inside America.
Zaytuna college which Yusuf co-founded did not respond to requests for comment at the time of writing.
Last year, Yusuf was criticised by rights groups for describing the United Arab Emirates as a country that champions civil society and is "committed to tolerance".
"For someone as influential as Sheikh Hamza Yusuf to call the UAE 'tolerant' contributes and gives credibility to the authorities' carefully tailored, yet false image, as a progressive and rights respected state," Hiba Zayadin, an assistant researcher at Human Rights Watch, told MEE.
In 2017, Human Rights Watch (HRW) reported that the UAE was silencing individuals in the country for speaking up against human rights violations in the region since 2011.
"UAE residents who have spoken about human rights issues are at serious risk of arbitrary detention, imprisonment and torture," HRW said at the time.
https://www.middleeasteye.net/news/muslim-scholar-appointed-human-rights-adviser-trump-administration
--------
Jagannath Temple in Ahmedabad Gets the Gift of Silver Chariot from Muslims
By Safoora
Jul 09, 2019
Ahmedabad: Setting a unique example of communal harmony, people of Muslim community in Jamalpur locality of Ahmedabad city in Gujarat gifted a silver chariot to the priest of a historic Jagannath temple ahead of the 142nd Lord Jagannath Rath Yatra.
Local Muslim residents have been carrying forward this tradition of gifting this silver chariot for the last 20 years on this occasion to this 450 years old temple that is known for its one of the most important and largest annual Jagannath Rath Yatra in the country.
It is believed that the annual nine day Rath Yatra or chariot festival, for which scores of devotees converge at Jagannath temple every year, is observed to unite people and promote peace and harmony among all.
Praising this profound act of their Muslim brethren, priest of the temple thanked them for their efforts to encourage harmony and said that this bond of love and brotherhood will keep on fostering among generations.
With such endeavors to uphold peace and tranquility by giving great respect to each other's beliefs, play an important role in espousing communal harmony among various communities and display the true picture of India's unity in diversity.
https://www.siasat.com/news/jagannath-temple-ahmedabad-gets-gift-silver-chariot-muslims-1541160/
--------
How Can A Muslim Drive and Earn Money in Ghatlodia, A Hindu Locality of Ahmedabad, Ask Locals
Jul 10, 2019
Ahmedabad: A 48-year-old Muslim man, an autorickshaw driver from the Karanj area of the city, was on Tuesday threatened by an unknown man who asked him "How cans a Muslim drive and earn money in Ghatlodia (area of the city)".
Mohammed Arif Qureshi, a resident of Biscuit Gali near Pankornaka in Karanj, said he got a passenger from Gheekanta who wanted to go to Chanakyapuri. "After I dropped the passenger off near Chandlodia railway station, I was moving about in Ghatlodia to find a passenger. At around 2pm, a passenger waved at me to stop the rickshaw. I stopped my autorickshaw and asked him where he wanted to go. The passenger said he wanted to go to Delhi Darwaja and I told him to get in," said Qureshi in his FIR.
"Suddenly, a man rushed there and asked me on how can I, being a Muslim, roam in Ghatlodia and take passengers from here. To this, I told him that I had stopped the passenger had waved at me to stop. He then got angry at me and abused me. Before I could realise anything, he came up with an iron rod and tried to attack me. I evaded the attack and drove off but my autorickshaw meter was damaged in the attack," Qureshi said.
Qureshi then approached a city-based advocate, Imtiyaz Pathan, who took him to the office of police commissioner A K Singh. At the commissioner's office, a control room cop sent Pathan and Qureshi to Sola High Court police station, where an FIR was registered under IPC Section 294(b) (verbal abuses) and 427 (mischief causing damage to the amount of fifty rupees). Police, however, did not invoke IPC Section 153-A, for promoting enmity between groups on grounds of religion and race, and acts prejudicial to the maintenance of harmony.
https://timesofindia.indiatimes.com/city/ahmedabad/muslim-cant-drive-auto-in-ghatlodia/articleshow/70150090.cms
--------
A, 19-Year-Old Christian Man Arrested In Punjab for Blasphemy After A Fight Over A Cricket Match
07/09/2019
Islamabad (AsiaNews) – A 19-year-old Christian man was arrested in Pakistan on charges of blasphemy, which is punished with the death penalty in the South Asian nation.
The young man, Sunny Waqas, is studying health sciences at a high school in Bahawalnagar, Punjab Province.
The charges include possession of blasphemous material about the Prophet Muhammad. In reality, the accusations came from a Muslim neighbour over a cricket match.
The young man was arrested on 29 June as he was playing at the back of a friend's house. The police charged him with violating 295-C of the Pakistani Penal Code, more commonly known as the blasphemy law, which punishes insults against the Holy Prophet (Muhammad).
The Voice Society association reports that the family began searching for him after his arrest, worried that he had not come home. When the parents went to the police station, they were told that no one by the name of Sunny was in custody and that they should look elsewhere.
Only the next day, were they informed that their neighbour Bilal Ahmad had filed a complaint against their son. According to police, the young man had a bag with flyers and other blasphemous material inside.
The parents are desperate. Sunny's father, Mushtaq Masih, said that he "is a bright student and is also fond of cricket. He plays cricket in his free time. A few days before he had had a quarrel with some Muslim players, including Bilal Ahmad."
The mother notes that her son has "many Muslim friends. He can never do anything to hurt the feelings of anyone. He's an obedient son and is very sensitive towards inter-faith issues."
At present, he is being held in the Bahawalpur district jail, as police gathers evidence for the investigation.
In Pakistan, being accused of insulting Islam can trigger violent reactions by radicals, like in the Asia Bibi's case.
Activists have been complaining for years that the "black law" on blasphemy is being used against religious minorities to settle personal scores.
http://www.asianews.it/news-en/A-19-year-old-Christian-man-arrested-in-Punjab-for-blasphemy-after-a-fight-over-a-cricket-match-47496.html
--------
Islam Never Approves Of Weapons Of Mass Destruction: Iran Guards Chief
July 09, 2019
The world knows that Iran is not pursuing a nuclear weapon, the head of the elite Revolutionary Guards, Major General Hossein Salami, said on Monday, according to the Tasnim news agency.
Iran threatened on Monday to restart deactivated centrifuges and ramp up enrichment of uranium to 20 percent purity as its next potential big moves away from a 2015 nuclear agreement that Washington abandoned last year.
"Why do they globally sanction us about the nuclear issue when the world knows that we are not pursuing a weapon? In reality they are sanctioning us because of knowledge," he said. "Nuclear weapons have no place in Islam. Islam never approves of weapons of mass destruction."
https://www.yenisafak.com/en/world/islam-never-approves-of-weapons-of-mass-destruction-iran-guards-chief-3495115
--------
Al Houthis maintain 'strong' links with Al Qaida, Daesh
July 09, 2019
Ramadan Al Sherbini
Riyadh: Yemen's Iran-allied Al Houthi militants maintain "strong" links with the terrorist Al Qaida and Daesh groups, an Arab alliance official said late Monday.
"This relation has been there since Al Houthis' coup against legitimacy," spokesman for the alliance Colonel Turki Al Maliki said in Riyadh, according to the official Saudi news agency SPA.
In late 2014, Al Houthis unseated Yemen's internationally recognised government and overran parts of the country, including the capital Sana'a, triggering a devastating conflict in the impoverished country.
Last month, the alliance captured the Daesh emir in Yemen, Abu Osama Al Muhajer, and other members of the terrorist group that has claimed several attacks in the country in recent years.
"The coalition troops continue to eliminate Daesh and other terrorist organization whoever they are," Al Turki said at a press conference.
He accused Iran-supported Al Houthis of violating the international law by targeting civilians and civil facilities in Saudi Arabia and inside Yemen with explosive drones.
"The Iranian weapons and support to the terrorist Al Houthi militia threaten regional and international security," Al Turki said.
In 2015, an Arab alliance led by Saudi Arabia and the UAE, intervened in Yemen in response to a request from the Hadi government after Al Houthis advanced on the southern city of Adan, the country's provisional capital.
In recent months, Al Houthis have stepped up drone and missile attacks inside Saudi Arabia amid tensions between Iran and the US.
https://gulfnews.com/world/gulf/yemen/al-houthis-maintain-strong-links-with-al-qaida-daesh-1.1562617833971
--------
Orang Asli demand to be left alone by Islamic preachers
09 July 2019
BY JERRY CHOONG
KUALA LUMPUR, July 9 — The Orang Asli community from Gerik in Hulu Perak have asked to be left alone by religious preachers after claiming to being 'Islamised' without their consent.
A group of 35 Temiar ethnics from the villages of Kampung Tasik Asal Cunex, Kampung Ong Jelmol, Kampung Sungai Leyef, Kampung Sungai Papan, and Kampung Pos Pia were in Parliament today to hand over a memorandum of understanding to government.
The group's spokesman, Anjang Aluej, said that the issue has been ongoing for many years, with many finding their religion had been registered under Islam, in their identitification cards, despite not having converted in the first place.
"It is a big offence to us as we should be given prior and informed consent before such changes are made," he told reporters here.
Anjang also said at present, Orang Asli children are being taught Islam in schools and forced to fast, against their parents' wishes.
"It is as if we do not have the freedom to choose our religion. Not only we are we slowly losing our land, we are also losing our identity.
"I would like to also emphasise that this also applies to Christian proselytisers who come into our villages to spread the Christian faith. Please leave us and our customs alone," he said.
The group's memorandum also protested against the logging and tin mining activities at the Orang Asli's traditional lands (tanah adat), and plans for hydro-electric dams which could inundate traditional lands with no compensation for them.
"Other issues which we are concerned about include illegal hunting by outsiders in our lands, and the presence of foreigners in our villages without prior notice.
"As well as this, mothers are being forced to take family planning medications without reason, and the frequent bullying and discrimination by our children in schools, which have caused us to lose faith in the system to defend our rights," Anjang said.
The memorandum was received by Orang Asli Development Department director-general Prof Juli Edo.
https://www.malaymail.com/news/malaysia/2019/07/09/orang-asli-demand-to-be-left-alone-by-islamic-preachers/1769761
--------
At solidarity gathering for Muslim preacher Wan Ji, activists urge Pakatan to abolish Sedition Act
09 July 2019
BY DANIAL DZULKIFLY
KAJANG, July 9 — Several social activists and civil liberty advocacy groups today expressed disappointment at the Pakatan Harapan administration for not fulfilling its pledge to abolish the Sedition Act 1948.
This comes after independent Muslim preacher Wan Ji Wan Hussin was handed a heavier jail sentence today for making seditious remarks against the Sultan of Selangor seven years ago.
The social activists and the civil liberty groups consisting of representatives from Malaysia Muda, Parti Sosialis Malaysia (PSM), Bersih 2.0, Suara Rakyat Malaysia, student activists and friends of Wan Ji had gathered outside the Kajang Prison complex tonight to protest his imprisonment under the Sedition Act.
Suaram Coordinator Amir Abdul Haid at the gathering called out those in power to honour their promise to abolish the draconian law.
"The man who went to prison today are among the people responsible for getting you in public office.
"It is important that the government keeps their pledge as listed in their manifesto to abolish the Sedition Act,'' he said.
Bersih 2.0 chairman Thomas Fann said Wan Ji's sentencing was a clear sign that the government is not committed in abolishing the Sedition Act.
"Pakatan Harapan is not committed to abolish the Sedition Act and seem like it there is no intention to uphold the freedom of expression as stipulated in Article 10 of the Federal Constitution.
"Despite the country achieving independence in 1957, we have yet to be free as this draconian law that is left by the British is still here,'' he said.
During the gathering, the group held a candlelight vigil outside the Kajang Prison and the word "Free Wan Ji'' was repeatedly chanted by the crowd.
PSM central committee member S. Arutchelvan urged the government to stick to its commitment to abolish the Sedition Act.
"We hope tomorrow when Wan Ji's lawyer applies for an appeal and the public prosecutor would support the appeal and not object to it,'' he added.
Wan Ji was charged under Section 4(1) of the Sedition Act 1948 and was sentenced to nine-month Jail in April last year by Sessions Court.
The High Court in Shah Alam had earlier today rejected Wan Ji's appeal against his conviction for making seditious remarks against Sultan Sharafuddin Idris Shah.
High Court judge Abdul Halim Aman also increased Wan Ji's original prison sentence from nine months to a year.
Saudara Social Cultural Research (Saudara) Executive Director Lim Hong Siang said Wan Ji's imprisonment reflects the importance of free speech and freedom of expression.
"We know Wan Ji's ideas are weird; some are progressive, some are too forward for some.
"We can criticise his ideas, calling it as immature and such, however, that is a given in developing society. We hope that one day no one would be punished to air their views that might not be too comfortable to some.
"History has shown that civilisation would only progress if we challenge the status quo,'' he said.
https://www.malaymail.com/news/malaysia/2019/07/09/at-solidarity-gathering-for-muslim-preacher-wan-ji-activists-urge-pakatan-t/1769870
--------
Saudi Arabia ordered 122 executions in first half of 2019: Rights organization
Jul 9, 2019
A Europe-based human rights organization says Saudi authorities have ordered the execution of 122 people in the first half of 2019 — well over double the number of beheadings carried out in the first six months of the preceding year.
The European Saudi Organization for Human Rights (ESOHR) announced on Monday that the execution of six minors accounts for 5 percent of all those put to death, identifying the sextet as Abdul Karim Mohammed al-Hawaj, Salman Amin al-Quraish, Mujtaba Nader al-Suweikt, Abdullah Salman al-Sarih, Mohammed Saeed al-Skafi and Abdul Aziz Hussain Sahwi.
The rights organization went on to say that 58 foreign citizens were executed during the mentioned period, including 21 Pakistanis,15 Yemenis, five Syrians, three Chadians, two Nigeriens and one from Somalia. Two of them were unidentified.
Three women of foreign nationalities were among the executed individuals.
It further noted that 37 Saudi citizens were executed on April 23. Most of the executed individuals did not face serious charges, including participation in anti-regime demonstrations as well as involvement in the spread of Shia Islam.
Riyadh had executed 55 people in the first half of 2018.
'Chilling demonstration of disregard for human life'
Amnesty International has censured the mass executions, saying they mark an alarming escalation in Saudi Arabia's use of the death penalty.
It added that among those put to death was a young Shia man, identified as Abdulkareem al-Hawaj, who was convicted of offenses related to his involvement in anti-regime protests that took place while he was under the age of 16.
"Today's mass execution is a chilling demonstration of the Saudi Arabian authorities' callous disregard for human life. It is also yet another gruesome indication of how the death penalty is being used as a political tool to crush dissent from within the country's Shia minority," said Lynn Maalouf, the Middle East Research Director at Amnesty International.
"The use of the death penalty is always appalling but it is even more shocking when it is applied after unfair trials or against people who were under 18 at the time of the crime, in flagrant violation of international law," Maalouf added.
Under international law, the use of the death penalty against people who were under the age of 18 at the time of the crime is strictly prohibited.
https://www.presstv.com/Detail/2019/07/09/600542/Saudi-Arabia-ordered-122-executions-in-first-half-of-2019-Rights-organization
--------
UAE provides Libya's Haftar with African militants
09.07.2019
Emirati officials have concluded agreements to provide East Libya-based military commander Khalifa Haftar with fighters from Sudan and neighboring countries in his bid to capture the capital Tripoli, a London-based newspaper reported.
Al-Araby Al-Jadeed daily, citing Libyan and Egyptian sources, said large-scale troop mobilization was underway across Egypt's western border and Libya's southern border, with funding from the United Arab Emirates (UAE) and Saudi Arabia.
The newspaper, citing an Egyptian source, said agreements have been signed in recent days with African militias from countries neighboring Sudan to take part in Haftar's operation to capture Tripoli in return for money.
The source said agreements have been concluded with militants from Chad, funded by the UAE and Saudi Arabia, in an attempt to "reduce the Turkish intervention in favor of the UN-recognized Government of National Accord (GNA)".
According to the source, Emirati officials also reached a deal with the deputy leader of Sudan's ruling military council, Mohamed Hamdan Dagalo, to provide Haftar's militias with militants from Sudan.
A Libyan source with Haftar's militia said "supply lines were underway by our allies in Egypt and the UAE through the Egyptian border to support us in the battle".
Another Egyptian source said UAE planes had carried out attacks on positions of GNA forces in Tripoli.
Anadolu Agency could not get comment from Egypt, the UAE, or Sudan on the claims.
In early April, Haftar, who commands forces loyal to a rival government based in eastern Libya, launched a wide-ranging campaign to take the capital Tripoli from the GNA.
His forces, however, have failed to achieve their primary objective, although they have captured several strategic towns and cities in the vicinity.
Libya has remained beset by turmoil since 2011 when a bloody NATO-backed uprising led to the ouster and death of long-serving President Muammar Gaddafi after more than four decades in power.
Since then, the country's stark political divisions have yielded two rival seats of power -- one in Tobruk and another in Tripoli -- and a host of heavily armed militia groups.
https://www.aa.com.tr/en/africa/uae-provides-libyas-haftar-with-african-militants/1526919
--------
North America
Lecturer at US-aided Afghan university arrested, accused of recruiting for ISIS
July 8, 2019
KABUL, Afghanistan — A lecturer at a partially U.S.-funded university in Afghanistan's capital was arrested on suspicion of recruiting students to join Islamic State, the country's top intelligence agency said Monday.
Three of his suspected recruits, who were accused by authorities of organizing several deadly ISIS attacks in Kabul, also were arrested, the National Directorate of Security said in a statement.
Two of the suspected recruits were students at the university. The third was related to one of the students.
U.S. and Afghan forces have been unable to eliminate ISIS's local affiliate, known as Islamic State-Khorasan Province, which first emerged in 2014 and says it aspires to carry out attacks on U.S. soil.
Known as ISIS-K, the militant group has recruited fighters actively from among Afghan university students, for whom obtaining visas to travel abroad is thought to be easier.
ISIS-K has recruited "many students" from Kabul University and sent them to its stronghold in eastern Nangarhar province for training, said one of the students who was arrested, Ahmad Farouq, in a recorded confession released by the NDS.
Farouq named the professor who was arrested as Mubasher Muslimyar, an Islamic studies lecturer. He said Muslimyar attempted to convert students to Salafism, a fundamentalist branch of Sunni Islam, before encouraging them to join ISIS-K.
The U.S. government and public universities have aided multiple projects at Kabul University over the years. In 2011, a renewable energy laboratory paid for by the U.S. Agency for International Development opened on campus.
The head of U.S. Central Command, Marine Gen. Frank McKenzie, has described ISIS-K as a "very worrisome" threat to the U.S. and said counterterrorism efforts against the group must continue.
"ISIS in Afghanistan certainly has aspiration to attack the United States," McKenzie said in June, according to The Associated Press. "It is our clear judgment that as long as we maintain pressure on them, it will be hard for them to do that."
U.S. negotiators who are holding peace talks with the Taliban have said one of their key goals is to get a commitment from the Taliban that it will not let groups like ISIS-K use Afghanistan to launch attacks against the U.S. and its allies. Meanwhile, the Taliban wants the U.S. to spell out a time frame for withdrawing its troops from Afghanistan.
While the Taliban opposes ISIS-K, some experts say U.S. counterterrorism efforts in the country must continue if the ISIS affiliate is to be prevented from growing.
U.S. Forces-Afghanistan recently put the number of ISIS-K fighters in Afghanistan at fewer than 2,000, while earlier this year, the United Nations said the number could be as many as 4,000.
https://www.stripes.com/news/middle-east/lecturer-at-us-aided-afghan-university-arrested-accused-of-recruiting-for-isis-1.589387
--------
US places two Hezbollah MPs on sanctions lists
9 July 2019
The Trump administration has placed three Hezbollah figures, two of whom are members of Lebanon's parliament, on US sanctions lists, Al Arabiya's correspondent reported.
The US Department of the Treasury said they designated the Hezbollah political and security figures for "leveraging their privileged positions to facilitate Hezbollah's malign agenda and do Iran's bidding."
The designations on Tuesday included Members of Parliament Amin Sherri and Muhammad Hasan Ra'd, and Hezbollah security official Wafiq Safa.
"Hezbollah uses its operatives in Lebanon's parliament to manipulate institutions in support of the terrorist group's financial and security interests, and to bolster Iran's malign activities," said Sigal Mandelker, the US Treasury's Under Secretary for Terrorism and Financial Intelligence.
"Hezbollah threatens the economic stability and security of Lebanon and the wider region, all at a cost to the Lebanese people. The United States will continue to support efforts of the Lebanese government to protect its institutions from exploitation by Iran and its terrorist proxies, and to secure a more peaceful and prosperous future for Lebanon," Mandelker added in a statement.
The move came as the US steps up pressure on Iran and its alleged "proxies" in the Middle East, including Hezbollah, which Washington accuses of encouraging "terror" attacks.
It was the first time the US Treasury had placed Hezbollah lawmakers on its blacklist, which forbid US individuals and businesses with a US branch – including leading international banks – from doing business with those sanctioned.
"It is time we believe for other nations around the world to recognize that there is no distinction between Hezbollah's political and military wing," a senior administration official who insisted on anonymity told journalists.
"To any member of Hezbollah considering running for office, know that you will not be able to hide beneath the cover of political office," the official said.
Raad, 64, is the head of the parliamentary bloc of the party and an MP since 1992. Sherri, 62, is a 17-year Hezbollah veteran of parliament representing Beirut.
Safa, the Treasury said, maintains the group's ties to financiers and allegedly helps arrange the smuggling of weapons and drugs.
Full report at:
https://english.alarabiya.net/en/News/middle-east/2019/07/09/US-lists-two-Hezbollah-MPs-on-sanctions-lists.html
--------
US, Taliban resume talks after rival Afghans agree steps to end bloodshed
9 July 2019
US and Taliban officials will on Tuesday resume talks aimed at ending Afghanistan's 18-year war, hours after a delegation of Afghan citizens and the militants ended a meeting with both sides calling for an end to civilian casualties.
The United States and the Taliban are getting closer to a deal that is expected to be based on a US promise to withdraw troops in exchange for a Taliban promise not to let Afghanistan be used as a base for terrorism, officials say.
While such an agreement might let the United States extricate itself from its longest-ever war, it might not bring peace between the US-backed government based in Kabul and the militants.
The Taliban have refused to negotiate with the Afghan government, denouncing it as a US puppet, but in an effort to foster Afghan reconciliation, a 60-strong delegation of citizens met the Taliban for two days of talks from Sunday.
The two sides said in a joint statement late on Monday they were both, "committed to respect and protect the dignity of people, their life and property and to minimize the civilian casualties to zero".
The assurances came a day after Taliban fighters detonated a car bomb outside a government security compound the town of Ghazni in central Afghanistan, killing 14 and wounding more than 100, including scores of children in a school.
The two sides promised to guarantee the security of public institutions such as schools, hospitals and markets.
According to the United Nations, 3,804 civilians - including more than 900 children - were killed and 7,000 wounded in 2018, the deadliest year for civilians in the conflict.
The Taliban control and influence more territory than at any point since they were ousted in 2001.
Last week, the chief US negotiator, Zalmay Khalilzad, said the latest round of US-Taliban talks, which began on June 29, was the "most productive session" since the process started last year.
"The ongoing seventh round of talks will continue until both sides put a clear agreement in place," said a senior western official who is privy to the negotiations.
"The stage is now being set for a political settlement between the US and the Taliban ... we can expect the US to make an announcement about troop withdrawal very soon," he said in Kabul.
This month, US President Donald Trump said he wants to pull US troops out of Afghanistan but was concerned that without a US military presence, it could be used as a base for terrorist attacks on the United States.
Full report at:
https://english.alarabiya.net/en/News/middle-east/2019/07/09/US-Taliban-resume-talks-after-rival-Afghans-agree-steps-to-end-bloodshed.html
--------
Candidate seeks to be 1st Turkish-American in Congress
Umar Farooq,Dildar Baykan
09.07.2019
WASHINGTON
As the political race in the U.S. heats up ahead of the 2020 elections, one candidate is looking to make history by becoming the first Turkish congressional representative.
Alp Basaran grew up living what he considered the life of an "American dreamer". He came to this country when he was four years old and became an undocumented immigrant after overstaying his visa.
Basaran was forced to go back to Turkey with his mother, while his dad remained in the U.S., working as a yellow cab driver in New York City. Four and a half years later, Basaran received his green card and moved back to the U.S.
He went on to graduate from Vanderbilt University, received a degree from the UCLA School of Law and became a corporate lawyer in New York.
Basaran is now running as a Democratic candidate for New Jersey's 9th congressional district where, if elected, he would not only be the first Turkish-American in Congress but the third formerly undocumented American and fifth Muslim-American.
"This is the American Dream. This is the kind of story that happens only in America, where you can go from the very bottom to the very top in just one generation. I want to save the American Dream and pass this great inheritance to future generations, and that's why I'm running for Congress," Basaran told Anadolu Agency.
The congressional hopeful said the very idea of the American Dream has become distorted in the wake of President Donald Trump's election to office.
"We've entered a dark era in the United States where wealth inequality has reached historic proportions and an entire presidency is dedicated to further entrenching that inequality," Basaran said.
Trump's policies have also exacerbated racism, xenophobia, misogyny and divisions among Americans, according to Basaran, who says such policies will lead America to slip behind in the world.
"When you look at the United States right now, we have a deep anxiety about the world, and the American Dream is our way out," he said.
Call to Turkish American community
Basaran has also called for the support of the Turkish-American community, saying they are one of the groups that have contributed the most to American society and that they need to have representation at the federal level.
New Jersey's 9th district is home to the country's largest Turkish-American population and the second largest Muslim-American population.
Full report at:
https://www.aa.com.tr/en/americas/candidate-seeks-to-be-1st-turkish-american-in-congress/1526757
--------
India
Dawood's activities from safe haven a real threat: India slams Pak at UNSC
July 10, 2019
In a veiled attack on Pakistan, India has told the UN Security Council that Dawood Ibrahim's illegitimate activities from a "safe haven" that refuses to acknowledge even his existence pose a real danger, as New Delhi called for a focussed attention to address the threats by the D-Company, the JeM and the LeT.
Terrorist organisations are increasingly involved in lucrative criminal activities such as trading in natural resources and human trafficking to raise funds, India's Permanent Representative to the UN Ambassador Syed Akbaruddin said on Tuesday.
Similarly, criminal groups are joining hands with terrorists and are providing services such as counterfeiting, illicit financing, arms dealing, drug trafficking and smuggling terrorists across borders, he said at the Security Council debate on 'Threats to International Peace and Security: Linkages between International Terrorism and Organised Crime'.
"In our own region, we have seen the mutation of Dawood Ibrahim's criminal syndicate into a terrorist network known as the D-Company.
"The D-Company's illegitimate economic activities may be little known outside our region, but for us, such activities as gold smuggling, counterfeit currency, as well as arms and drug trafficking from a safe haven that declines to acknowledge even his existence, are a real and present danger," Akbaruddin said.
He emphasised that the success of a collective action to "denude" the ISIS is a pointer that the Council's "focussed attention can and does yield results".
"A similar degree of interest in addressing the threats posed by proscribed individuals, such as Dawood Ibrahim and his D-Company, as well as proscribed entities, including the Jaish-e-Mohammad (JeM) and the Lashkar-e-Taiba (LeT), listed as affiliates of al-Qaeda, under the 1267 sanctions regime, will serve all of us well," he said.
Pakistan's Foreign Office last week said "Dawood Ibrahim is not in Pakistan", a day after a UK court was informed that the underworld don wanted for the deadly coordinated bombings in Mumbai in 1993 is currently in exile in the country.
During the ongoing extradition trial of 51-year-old Jabir Moti, a "high-ranking member of D-Company", Westminster Magistrates' Court in London heard that Dawood is currently in exile in Pakistan.
"The head of D Company is Dawood Ibrahim, an Indian Muslim currently in exile in Pakistan. Dawood Ibrahim and his brother and top lieutenant, Anis Ibrahim, have been fugitives from India since 1993, when D Company was implicated in coordinated bombings in Mumbai that killed more than 200 people," according to a US Attorney's affidavit for extradition read out by Moti's barrister Edward Fitzgerald.
External Affairs Ministry Spokesperson Raveesh Kumar has said that Pakistan's stand that Dawood was not present in the country exposed its "double standards".
Akbaruddin stressed that terrorism and organised crime are both "manifestly malicious organisms drawing sustenance from the same deadly swamp.
"At times, they co-exist; at other times, they cooperate; and in instances, they converge. As the world becomes more interconnected, these menacing networks are becoming increasingly intertwined," he said.
Terrorist and criminal groups rely on strategic recourse to unsanctioned and illegitimate use of violence to undermine governance and development, he told the UNSC.
"Both lead to destabilising established state structures, thereby undermining and threatening international peace and security," he said, adding that revenues generated by illicit activities of terrorist and criminal groups are moved across borders and exchanged through open networks.
Akbaruddin asserted that this flow of resources, meant to produce violence and terror, needs to be stopped by states working together.
"Collective inter-state efforts are required, including
at regional and sub-regional levels. We also need to sensitise the private and public enterprises involved in facilitating legitimate transboundary financial flows and we should harness their support, so that they do not fall prey to malevolent objectives, in the vein of Osama bin Laden's string of retail honey shops," he said, in a reference to the al-Qaeda leader's reported use of network of shops that sold honey to provide finances for acquiring drugs and arms for the terror network.
Akbaruddin also called for normative efforts at the UN to be coordinated through collaboration with other fora like the Financial Action Task Force (FATF).
"We believe that the FATF is playing a significant role in setting global standards for preventing and combating money laundering and terrorist financing. The UN needs to increase cooperation with such bodies," the Indian diplomat said.
With the emergence of new technologies and uncharted frontiers, Akbaruddin said the international community's challenges in identifying new terrorist trends, mapping links between terrorists and criminal groups and sharing information more effectively, are growing.
"Finally, our collective commitment to implement what we agree upon in this body will go a long way in acting as a catalyst in pursuit of our common good," he said.
https://www.business-standard.com/article/pti-stories/dawood-ibrahim-s-illegitimate-activities-from-safe-haven-pose-real-danger-india-to-unsc-119071000223_1.html
--------
2,447 migrants from Pakistan, Bangladesh and Afghanistan granted Indian citizenship since Dec 2016: Govt
Jul 9, 2019
NEW DELHI: As many as 2,447 legal migrants from Pakistan, Bangladesh and Afghanistan who belong to six identified minority communities in their home countries, have been granted Indian citizenship by collectors of 16 districts and home secretaries of seven states since December 2016.
Minister of state for home affairs Nityanand Rai, in reply to a written reply to a question in the Lok Sabha on Tuesday, said that many legal migrants belonging to six minority communities — Hindus, Sikhs, Christians, Buddhists, Parsis and Jains — from the aforesaid three countries had acquired citizenship of India as per the provisions of the Citizenship Act, 1955, and rules made thereunder, on becoming eligible for the same.
"For speedy disposal of their citizenship applications, Central government, in December 2016 has delegated its power to grant citizenship by registration under Section 5 and by naturalisation under Section 6 of the Citizenship Act, 1955, to the collectors of 16 districts in 7 states and secretary (home) of these 7 stats where most these migrants are residing," said Rai in his reply.
Full report at:
https://timesofindia.indiatimes.com/india/2447-migrants-from-pakistan-bangladesh-and-afghanistan-granted-indian-citizenship-since-dec-2016-govt/articleshow/70148754.cms
--------
Asaduddin Owaisi flags issue of Budget outlay for minority affairs ministry
Jul 9, 2019
NEW DELHI: AIMIM member Asaduddin Owaisi Tuesday said budget allocation to minority affairs ministry has not been increased for the current fiscal. Participating in a debate on 2019-20 Budget in the Lok Sabha, Owaisi also said subsidy for Haj pilgrimage has been cut to Rs 89 crore from Rs 500 crore and the government should utilise the unused money in building schools for Muslims. He said the Government has stopped coming out with the figures of number of jobs created for minorities. PTI
"The Budget has increased allocation for every ministry, except the ministry of minority affairs. You are targeting a $5 trillion economy, but without participation of 14 per cent Muslim population it will not be an inclusive development," Owaisi said.
He said the Government had promised to give scholarship to Muslims every year, but that promise too was not kept.
N K Premachandram (RSP) said that the Budget was opaque and lacked transparency.
He demanded to know from the government the loss to the exchequer on account of extending the lower 25 per cent corporate tax benefit to companies with turnover of Rs 400 crore, from the earlier turnover threshold of Rs 250 crore.
Full report at:
https://timesofindia.indiatimes.com/india/asaduddin-owaisi-flags-issue-of-budget-outlay-for-minority-affairs-ministry/articleshow/70147224.cms
--------
UK to return rare Buddhist artefacts to Afghanistan
Prasun Sonwalkar
Jul 10, 2019
Priceless items described as 'stunning' and dating back to the Gandharan era found in badly-made crates that arrived in Heathrow from Peshawar in September 2002 are to be returned to Afghanistan under a plan overseen by the British Museum.
Seized during the political turmoil in Afghanistan, the items had been illegally exported from the country to the UK. They were likely pillaged from Buddhist monasteries, according to experts at the museum.
The wooden crates contained what the museum described on Tuesday as 'a magnificent Bodhisattva torso' in grey schist and a group of nine heads sculptured in clay and then painted.
"The latter belong to a well-known class dating between the fourth and sixth centuries AD, some very typical of the tradition of Hadda, near Jalalabad in eastern Afghanistan, and the remainder of Buddhist sites in the Kabul region of central Afghanistan," the museum said.
The items include a portrayal of Buddha, the turbaned heads of meditating Bodhisattvas, the bald head of a monk and three larger heads belonging to female and male individuals, one possibly to be identified with Vajrapani, the spiritual guide of Buddha, and the others perhaps lay donors or Bodhisattvas.
St John Simpson, a senior curator at the museum, described the items as "stunning," adding that the sculptures were most likely removed at the height of Taliban-related troubles in 2001, when the giant Bamiyan Buddha statute was blown up.
He said: "The return of any object which has been illegally trafficked is hugely important symbolically. But these pieces will form one of the largest groups of Buddhist art to be returned to the Kabul museum. When you think what Kabul has been through since the 1990s, this is a huge event."
A museum spokesperson said the objects to be repatriated are not from its collection, but are part of the museum's work on cultural heritage involving the partnership with law enforcement agencies on illicit trade being brought into the UK.
"Objects that are seized are brought to the British Museum for analysis, conservation and cataloguing. The museum then liaises with colleagues in the national museums of the countries concerned to arrange for the return of these objects."
Full report at:
https://www.hindustantimes.com/india-news/uk-to-return-rare-buddhist-artefacts-to-afghanistan/story-qrTSJyfqeHGooqTC96ZVsM.html
--------
India's NIA attaches residence of Aasiya Andrabi in Srinagar
Jul 10, 2019
Srinagar, July 10 (KMS): In occupied Kashmir, India's infamous probe institution National Investigation Agency (NIA) has attached the residence of illegally detained Dukhtaran-e-Millat Chairperson, Aasiya Andrabi, in Srinagar.
In the attachment order, pasted at the entrance of Aasiya Andrabi's residence located in Soura area of Srinagar, the NIA directed all the concerned not to transfer, sale or otherwise deal with the said property in any manner, whatsoever, except with prior permission.
The order issued by NIA's chief investigating officer, Vikas Katheria, said that the property was attached after approval granted by occupied Kashmir's Director General Police (DGP).
It is to mention here that after failing to suppress the Kashmiris' ongoing freedom movement through use of brute force, India is using its probe agencies NIA and Enforcement Directorate to intimidate the Kashmiri people into submission.
Full report at:
https://kmsnews.org/news/2019/07/10/indias-nia-attaches-residence-of-aasiya-andrabi-in-srinagar/
--------
After filing charge sheet, Rajasthan Police seek court's nod to reinvestigate Pehlu Khan lynching case
Jul 09, 2019
Jaykishan Sharma
The Rajasthan Police has sought permission from a local court to reinvestigate the cow smuggling case against the two sons of Pehlu Khan, the dairy farmer who was lynched two years ago for allegedly transporting the bovines illegally, a top cop said Tuesday.
Inspector general of police (Jaipur range) S Sengathir said Alwar Police had filed an application on July 5 in the court of additional chief judicial magistrate (ACJM) in Behror seeking permission to reinvestigate the case of cattle smuggling against Khan's two sons.
"Pehlu Khan's family raised some valid objections after we filed the charge sheet against three of them, and we have moved an application in the ACJM court to seek permission to reinvestigate the case in light of the objections," Sengathir said.
The court is yet to decide on the application, said Alwar's superintendent of police Deshmukh Paris Anil.
Rajasthan Police registered FIR No. 253/2017 at Behror police station in Alwar against Pehlu Khan, Irshad, 25, Arif, 22, and Khan Mohammad, 55, under different sections of the Rajasthan Bovine Animal (Prohibition of Slaughter and Regulation of Temporary Migration or Export) Act, 1995 on April 1, 2017.
On December 30, 2018, Alwar police completed investigation in the case and filed the charge sheet in the Behror ACJM court on May 24, charging Irshad and Arif with cattle smuggling. The charge sheet said because Pehlu Khan is dead, nothing can be done against him.
Also read: Withdraw charge sheet, quash FIRs against Pehlu Khan: PUCL
Khan Mohammad, owner of the pickup truck in which Pehlu Khan and his sons were carrying cattle, has been charged under section 6 of the Act as the abettor.
Police wants to reinvestigate the case on the basis of three points: one, if the men had a valid 'ravanna' (acknowledgment receipt) from Jaipur Nagar Nigam (JMC); two, if the cattle were milch cows; and three, the purpose of purchase of the cattle, Sengathir said.
Pehlu Khan's two sons have also moved an application in the court on July 5 to point out that police investigation ignored certain facts.
HT has a copy of the application in which the two sons said they bought cattle from Jaipur's weekly cattle market for their dairy. "We gave police medical certificates that proved the cows were milking but police ignored that during its investigation," the application said.
Full report at:
https://www.hindustantimes.com/india-news/after-filing-charge-sheet-rajasthan-police-seek-court-s-nod-to-reinvestigate-pehlu-khan-lynching-case/story-m7MQaxxbUJkU2miYlyHsdP.html
--------
Aman Committee distributes food to Shobha Yatra participants in Delhi's Hauz Qazi area
Jul 10, 2019
By Neha
New Delhi: Days after a clash over the parking, which led to communal tension in Old Delhi's Hauz Qazi, members of the Aman Committee here on Tuesday distributed food to the participants of Shobha Yatra brought out by the Vishwa Hindu Parishad (VHP).
The Shobha Yatra was brought out as a mark of the renovation of the temple, where the idols of Hindus were installed as per the rituals.
Senior BJP leader Vijay Goel also joined the Shobha Yatra.
Speaking to ANI, he said: "A few days back a small scuffle over parking led to heightened tensions in the area. Some people provoked it including AAP leader Imran Hussain."
"We requested the police to take strict action against the guilty. Arrests have been made in this regard but no action has been taken against Imran Hussain," he said.
Full report at:
https://www.siasat.com/news/aman-committee-distributes-food-shobha-yatra-participants-delhis-hauz-qazi-area-1541922/
--------
Pakistan
Conspiracies exist to confuse youth about Islam, ideology of Pakistan: Sardar Masood
July 9, 2019
MUZZAFARABAD: Azad Jammu and Kashmir (AJK) President Sardar Masood Khan on Tuesday stated that unity and cohesion are vital to foil attempts to create confusion about Islam, ideology of Pakistan and the ideological approach of the Kashmiri people.
Addressing as chief guest at the 100th session of Azad Jammu and Kashmir Council of Islamic Ideology, he said that the Muslims of Jammu and Kashmir desired to become part of Pakistan because of the two-nation theory which was also the basis of independence.
"Only a strong ideological base can lead the Kashmir liberation movement to its ultimate goal," he added.
The AJK president said that Islam was a complete code of life, which provides guidance to us in every field of life. Islam, he maintained, cannot be restricted to a few laws.
"Side by side with Islamisation of existing laws, it is obligatory for the Confederation of Indian Industry (CII) to promote an environment of unity and cohesion in the society," he stressed.
He said that the enemy intended to create split in our rank and file and create confusion among our youth so as to weaken our strength.
"The CII should also make recommendations to guide media in playing its responsible role in the light of Quran and Sunnah," he said.
He added that Islamisation of the education system and the curriculum was a grave challenge the CII will have to play an active role.
Touching upon the situation of occupied Kashmir, Sardar Masood said that several Hindu fanatic groups like RSS and Bajrang Dal are poised to drift the Kashmiri Muslims away from their religion, and the Kashmiri Muslims were being massacred because they are not willing to quit their religion and ideology.
"Under a conspiracy, the Muslims have been pit against each other in South Asian and West Africa," he added.
Addressing the session, Chief Justice Chaudhry Ibrahim Zia, who is also the CII chief said that the incumbent government, under the 13th amendment, had provided constitutional cover to the CII, and now it is the responsibility of the government and the state legislature to take practical steps to enforce Islam in letter and spirit in individual and collective lives.
He said that it is only the religion of Islam which stresses the welfare of humanity.
"I believe that with slight efforts, the tiny state of Jammu and Kashmir can be turned into a model region in the world," he concluded.
Chaired by Chief Justice Chaudhry Ibrahim Zia, the session was attended among others by members of the council Mufti Syed Kifayat Hussain Naqvi, Maulana Mohammad Saeed Yousuf, Maulana Mohammad Ikram Kaashmiri, Maulana Qazi Mohammad Obaidullah, Maulana Siddique Siddiqui, Maulana Syed Ghulam Yasin Shah, Syed Mushtaq Hussain Gilani, and the CII secretary Syed Nazirul Hassan Gilani.
https://tribune.com.pk/story/2009608/1-conspiracies-exist-confuse-youth-islam-ideology-pakistan-sardar-masood/
--------
Pakistani television anchor Mureed Abbas gunned down in Karachi
July 10, 2019
Ashfaq Ahmed
Dubai: A television journalist Mureed Abbas and his friend were gunned down in Karachi on Tuesday night.
Abbas who was an anchor person working at a private television channel Bol News in Karachi was allegedly shot by his business partner Atif Zaman who also tried to commit suicide by shooting himself. He was later admitted to a local hospital with critical injuries, according to Karachi police. Abbas's friend Khizar Hayat was also shot on the spot and he later succumbed to injuries in a hospital.
Police officials said, citing initial details, that he was killed during a fight over a personal dispute over some business investment which went wrong, Dawn news reported.
Initial investigation suggested that the accused Zaman had to pay back a debt to the TV anchor. It is also believed that the alleged killer had threatened him of dire consequences.
Zaman had called the victim to a café in a posh area of Defence in Karachi and gunned down Abbas and his friend.
A video of the anchor's wife Zara Abbas has gone viral on social media where she claims that the accused Zaman had called her husband at 8pm to collect Rs5 million owed to him.
"We had invested our money in his business and he [Zaman] wasn't giving it back to us and others, he would always make excuses," she said.
Director General of the Inter-Services Public Relations (ISPR) Major General Asif Ghafoor took to Twitter to condole with the Abbas's family
DG ISPR
✔
@OfficialDGISPR
Saddened to know about the assassination of BOL TV young anchor Mureed Abbass. Share the grief of bereaved family and BOL TV administration. May Allah bless his soul. Aamen.
13.3K
10:49 PM - Jul 9, 2019
Twitter Ads info and privacy
3,146 people are talking about this
Karachi South DIG Sharjeel Kharal said that friends of the deceased informed the police that he had a monetary dispute with someone.
The officer said that a police party raided the residence of the suspected killer and caught him attempting suicide. "The suspect shot himself in the chest," he said, adding that the suspect was shifted to a local hospital in critical condition.
SSP South Sheraz Nazir said that the investigators are probing the element of personal enmity as the deceased journalist, earlier, filed a police complaint against few individuals.
Meanwhile, political leaders in Pakistan has condemned the killing of Abbas and sent condolences on his death.
Mariam Nawaz Sharif, Vice President of Pakistan Muslim League Nawaz (PML-N), tweeted to express his sorrow on the unfortunate incident.
In a tweet, Mariam said: May Allah's blessings be with him and his family. Rest in peace.
Pakistan Tehreek-e-Insaf leader Haleem Adil Shaikh directed the law enforcement agencies to arrest the culprits as soon as possible. He said the government firmly stand with the deceased family on the moment of sorrow and mourn.
Full report at:
https://gulfnews.com/world/asia/pakistan/pakistani-television-anchor-mureed-abbas-gunned-down-in-karachi-1.65135764
--------
Convicted politicians not to get media time, decides govt
Syed Irfan Raza
July 10, 2019
ISLAMABAD: The federal cabinet on Tuesday decided to block media coverage and interviews of politicians who are convicts or under-trail prisoners and directed the Pakistan Electronic Media Regula­tory Authority (Pemra) to fulfill its "responsibility" to discourage airing of such programmes by electronic media.
A cabinet meeting, presided over by Prime Minister Imran Khan, also unveiled details of foreign visits of former president Asif Ali Zardari and former prime ministers Nawaz Sharif and Shahid Khaqan Abbasi, observing that the trio had made 245 foreign visits on which over Rs3.5 billion was spent.
On the issue of the video leak related to an alleged conversation between Accountability Court Judge Arshad Malik and Nasir Butt, a close aide of Nawaz Sharif, the cabinet reached the conclusion that as the video was made public by Maryam Nawaz, daughter of Mr Sharif and a senior leader of the Pakistan Muslim League-Nawaz (PML-N), therefore the onus to prove the allegations against the judge was on her and not the judge and the judiciary.
Addressing a post-cabinet meeting press conference, Education Minister Shafqat Mehmood said Prime Minister Imran Khan and members of his cabinet unanimously decided that no convicted or under-trial prisoner should be given media coverage or should be allowed to give an interview. He quoted the prime minister as saying, "those who have plundered national wealth and brought the country on the verge of collapse should not be glorified. No democracy permits interviews and media coverage of those who have been arrested on charges of corruption."
He, however, said the government had not directed Pemra to close down any private TV channel as it was an independent body competent to take its own decisions.
Pemra suspended transmission of three private TV channels a couple of days ago for airing an interview of PPP leader Asif Ali Zardari who is in the custody of the National Accountability Bureau and facing a trial in a fake accounts / money laundering case.
The authority also took off air an interview of the former president which was being conducted by anchor Hamid Mir on July 1, on the premises of the Parliament House where the former had come to attend a National Assembly session after the house's speaker had issued his production order.
The government is reportedly of the view that the production orders of Mr Zardari were issued only to enable him to attend the assembly session and not for giving any interview to 'undermine' the judiciary and trial court.
The education minister said the cabinet decided that Pemra would be asked why it was allowing something which did not take place in any democracy.
Mr Mehmood said the production order of another detained opposition leader and PML-N president Shahbaz Sharif were issued to enable him to attend the National Assembly session but he summoned National Accountability Bureau NAB) chairman retd Javed Iqbal to a house committee meeting to grill him over the investigation being conducted against him (Mr Sharif) in a corruption case.
"When Shahbaz Sharif's production orders were issued, he summoned the NAB chairman who had arrested him. In which democracy do such things take place," the minister said.
He said ruling Pakistan Tehreek-i-Insaf (PTI) believed in freedom of the press as both the party and the media had stood together during the former's struggle for 22 years.
Video controversy
After a discussion on the purported video of Judge Arshad Malik who had convicted former prime minister Nawaz Sharif, the cabinet came to the conclusion that the onus to prove the authenticity of the video tape was on Maryam Nawaz and not the judge or the judiciary. "It is the responsibility of the PML-N to get forensic audit of the video tape conducted," Mr Mehmood said.
"The PML-N has a history of attacking judiciary and the fresh video leak is an attempt to make the decisions of the accountability court controversial," he said.
The education minister claimed that former president Zardari made 134 foreign visits on which Rs 1.42bn was spent. Of the 134 visits, 48 were private tours, he said.
Nawaz Sharif as PM, he said, made 92 foreign visits at a cost Rs1.83bn and 25 of them were private visits.
During his 10-month tenure as prime minister, Shahid Khaqan Abbasi made 19 foreign visits and Rs 259.5 million was spent on them, the minister said.
"On the other hand, Prime Minister Imran Khan has decided to stay at the residence of Pakistan's ambassador during his coming visit to the US," he said, adding that the members of the PM's delegation would stay at a three-star hotel.
Structural reforms
The cabinet also approved structural reforms in all 441 institutions, departments and organisations working under the federal government.
Adviser to the PM on Austerity and Reforms Dr Ishrat Hussain presented a report on restructuring of the institutions.
The cabinet approved formation of committee — comprising relevant secretaries, Shafqat Mehmood, Defence Minister Pervez Khattak, Shahzad Arbab, an adviser to the PM, and Kashmir Committee chairman Fakhar Imam — to implement the recommendations made in the report.
Dr Hussain said of the 441 institutions, it was recommended that 43 should be handed over to the newly formed body Sarmaya Pakistan for privatisation, 14 should be handed over to the provinces and Gilgit-Baltistan, eight departments should be dissolved, 35 should be merged with others, 17 should be restructured and 324 should be retained by the Centre.
The cabinet also decided to reduce Gas Infrastructure Development Cess to provide relief to the farmers in provision of urea fertiliser.
PML-N reaction
Reacting to the cabinet's disclosures about foreign visits of Nawaz Sharif, PML-N spokesperson Marriyum Aurangzeb said in a statement that the ex-PM paid official visits for the sake of the country and "not for begging as is being done by Prime Minister Imran Khan".
Full report at:
https://www.dawn.com/news/1493190/convicted-politicians-not-to-get-media-time-decides-govt
--------
Govt changes master plan of Islamabad to set up university at PM House
Kashif Abbasi
July 10, 2019
ISLAMABAD: The federal cabinet on Tuesday approved a specific change to the master plan of Islamabad to set up a university at the Prime Minister House.
Before his party won the 2018 elections, Imran Khan had said if he came to power he would convert the Prime Minister House into a university.
However, after winning the elections he could not set up the university apparently because doing so would violate the master plan of Islamabad. According to the master plan of the city, an educational institution cannot be set up at the PM House located in G-5 as this sector is meant for government and administrative buildings only.
But the federal cabinet, which met on Tuesday, made a specific change to the master plan, allowing the establishment of a university at the PM House.
"Today the cabinet approved change of master plan for 50 acre land of PM House. We will set up a university in PM House with special focus on modern education such as artificial intelligence and engineering," said Minister for Education Shafqat Mahmood at a post-cabinet meeting press briefing.
Meanwhile, a press release issued by the Prime Minister Office said former Higher Education Commission (HEC) chairman Prof Dr Attaur Rehman met Prime Minister Imran Khan and discussed the proposed project of the university at the PM House.
"Dr Rehman discussed with the prime minister the proposed project of University of Engineering and Emerging Technologies to be set up at the PM House. The prime minister was informed that six centres of excellence would be established in the university, including for artificial intelligence, energy, bio-technology and material sciences," said the press release.
Dr Rehman also discussed with the prime minister a proposal for establishing another five centres of excellence for artificial intelligence, one in the federal capital and four in the provincial capitals.
"A proposal for research funding to promote research work in the country was also discussed."
In January this year, the Capital Development Authority (CDA) had told the federal government that the prime minister's initiative to set up a university at the Prime Minister House would violate the city's master plan.
It had said the government would have to alter the master plan if it wanted to set up the university in a government building.
The CDA was of the view that according to the capital's master plan a university cannot be opened in an administrative building.
"A university in the Prime Minister House would be non-compatible use of a government building."
A 12-member commission has already been formed by the federal cabinet to review master plan of the city. Sources said in February this year, the commission at a meeting discussed the proposal to convert the PM House into a university. But the sources said the commission was mandated to carry out an overall revision of the master plan.
"The total area of PM House could be more than 100 acres. The 50 acres in question is situated on north western side of building towards Bari Imam side," said an official of the CDA, who requested not to be named. He said the CDA had not moved the summary to change the master plan for the federal cabinet rather it might have been moved by the Ministry of Science and Technology.
The inaugural ceremony for the Islamabad National University, which is to be set up at the Prime Minister House, was held last year.
The government had announced at that time that the university was envisioned as an institution designed to support research-based policy making.
Full report at:
https://www.dawn.com/news/1493101/govt-changes-master-plan-of-islamabad-to-set-up-university-at-pm-house
--------
Maryam Nawaz summoned over fake trust deed
Malik Asad
July 09, 2019
An accountability court in Islamabad on Tuesday summoned Maryam Nawaz, vice president of the PML-N, over the use of a bogus trust deed in the Avenfield properties case after the National Accountability Bureau (NAB) moved an application before accountability judge Mohammad Bashir.
NAB Deputy Prosecutor General Sardar Muzaffar Khan Abbasi filed the application, seeking action against Maryam Nawaz for producing a bogus trust deed before the accountability court in order to conceal the London properties.
Maryam Nawaz has been summoned to the hearing on July 19.
NAB application read, "The above conclusion [that the document used was bogus] by this court was reached after evaluating the entire evidence; hence, it is apparent that the respondent has maliciously fabricated and tendered false evidence/information with the intention to mislead the due process of law and trial and hamper the administration of justice."
The judge inquired from the prosecutor on what grounds the court would proceed in this matter. Abbasi, in response, pointed out that the judge had the power to initiate action against Maryam Nawaz under Section 30 of the National Accountability Ordinance (NAO), 1999 read with serial number three of the Schedule of NAO, 1999.
Subsection 'a' of section 30 of the NAO reads, "On pronouncement of [a] judgment, the court shall have the jurisdiction and power to take cognizance of any offence committed in the course of the investigating or trial of a case by any officer, any witness, including an expert, who has tendered false evidence in the case."
While serial number three says, "Giving false information or fabricating false evidence during an inquiry into or investigation of an offence by NAB or any agency authorised by NAB" entails "rigorous imprisonment for a term, which may extend to five years."
The development comes after a delay of over a year after the conviction of Maryam Nawaz in the Avenfield properties reference.
On July 6, 2018, accountability judge Mohammad Bashir had convicted former premier Nawaz Sharif and his daughter Maryam Nawaz in Avenfield properties reference and sentenced them 10 years and 07 years imprisonment, respectively.
In the verdict, judge Bashir had declared that "the trust deeds produced by the accused Maryam Nawaz were also found bogus… In view of the role of this accused Maryam Nawaz, she is convicted and sentenced to rigorous imprisonment for seven years with fine of two million pounds."
Subsequently, she was arrested and shifted to Adiala jail. Later, in September 2018, she was released from jail after the Islamabad High Court suspended her prison sentence.
Full report at:
https://www.dawn.com/news/1493054/maryam-nawaz-summoned-over-fake-trust-deed
--------
One in four Pakistani children won't complete primary education by 2030: Unesco
Amin Ahmed
July 10, 2019
ISLAMABAD: New projections of the United Nations Educational, Scientific and Cultural Organ­isation (Unesco) show that one in four Pakistani children will not be completing primary school by the deadline of 2030.
The country will only be half-way to the target of 12 years of education for all, with 50 per cent of youths still not completing upper secondary education at the current rates, Unesco says.
Almost a third of the way to the 2030 deadline for the Sustainable Development Goals (SDGs), the new Unesco projections prepared for the UN High-level Political Forum opening in New York on Tuesday show that the world will fail its education commitments without a rapid acceleration of progress.
In 2030, when all children should be in school, one in six aged 6-17 will still be excluded. Many children are still dropping out: by 2030, 40pc will still not be completing secondary education at current rates.
The new global education goal, SDG-4, calls on countries to ensure that children are not only going to school but also learning, yet the proportion of trained teachers in sub-Saharan Africa has been falling since 2000.
At the current trends, learning rates are expected to stagnate in middle-income countries and Latin America, and drop by almost a third in Francophone African countries by 2030. Without rapid acceleration, globally, 20pc of young people and 30pc of adults will still be unable to read by the deadline.
The 2030 Agenda for Sustainable Development emphasises leaving no-one behind yet only 4pc of the poorest 20pc complete upper secondary school in the poorest countries, compared to 36pc of the richest. The gap is even wider in lower-middle-income countries.
Finance is also insufficient for accelerating progress: the Global Education Monitoring Report calculated in 2015 that there was a $39 billion annual finance gap to reach the goal and yet aid to education has stagnated since 2010.
In addition, currently less than half of countries are providing the data needed to monitor progress towards the goal. "Countries need to face up to their commitments," said the Director of the Unesco Institute for Statistics, Silvia Montoya. "What's the point in setting targets if we can't track them? Better finance and coordination are needed to fix this data gap before we get any closer to the deadline."
Read: Tackling the menace of a failed education system
Manos Antoninis, Director of the Global Education Monitoring Report, stated that "Countries have interpreted the meaning of the targets in the global education goal very differently. This seems correct given that countries set off from such different starting points. But they must not deviate too much from the promises they made back in 2015. If countries match their plans with their commitments now, they can get back on track by 2030".
The report shows that many countries have prioritised equity and inclusion since 2015 to meet the goal, with school vouchers issued to indigenous students, tuition fees abolished for the poorest and conditional cash transfers given to refugee children.
Learning has been prioritised too, with a third of countries introducing learning assessments to look at trends over time, and one in four countries using learning results to reform their curricula.
Full report at:
https://www.dawn.com/news/1493212/one-in-four-pakistani-children-wont-complete-primary-education-by-2030-unesco
--------
PML-N urges SC to take suo motu action on leaked video of judge
July 10, 2019
ISLAMABAD: Asking the Supreme Court to take suo motu notice of the leaked video of the accountability judge, who had sentenced former prime minister Nawaz Sharif in Al-Azizia case, the main opposition Pakistan Muslim League-Nawaz (PML-N) said the party wanted the country's armed forces and the judiciary to stay above political controversies.
Speaking at a news conference at the National Press Club here on Tuesday, PML-N vice president Shahid Khaqan Abbasi, secretary general Ahsan Iqbal and information secretary Marriyum Aurangzeb said that after the release of the leaked video of the accountability judge, the entire accountability process had become controversial and the judgement against Nawaz Sharif had become "null and void".
"Legally and morally, the conviction (of Mr Sharif) has ended," Mr Abbasi said, adding that clarifications being issued by the National Accountability Bureau (NAB) showed that no one could expect justice from such an institution.
He alleged that NAB had always been used to break political parties and malign politicians.
Mr Abbasi termed the latest decision of Prime Minister Imran Khan to keep his government away from the video leak controversy involving accountability judge Arshad Malik another U-turn, saying that Mr Khan had taken this decision after coming to know that the video was genuine.
He said the PML-N had released the video after carrying out complete verification in which the accountability judge had been shown telling a close aide to Nawaz Sharif that he had been blackmailed and pressurised to convict the former prime minister.
"This (Al-Azizia) judgement has no legal or moral ground to stay in field," he said.
"After the judge's confession, the judgement has become null and void. The higher judiciary will have to take notice of it," Mr Abbasi said.
The former prime minister said that they had more audio and video tapes to prove that the ongoing accountability had no standing. However, he said, they had no immediate plan to release more videos as they did not want to blackmail any one.
"We have presented the evidence before the judiciary. The Supreme Court has the powers to take suo motu notice and there should be an action on the conduct of a judge," he said.
Mr Abbasi said the only beneficiary of the Al-Azizia judgement and the ongoing accountability process was Imran Khan and he should be asked to appear before the court.
Mr Abbasi also ridiculed the clarification issued by the judge and said that he had not denied any content of the video and only stated that this video was recorded before the Al-Azizia case verdict, whereas in the video he could be heard clearly talking about Mr Sharif's conviction. He also challenged the judge's claim that he was offered bribe and had received threats from the PML-N, saying that why the judge did not inform about it to the Supreme Court judge who was supervising the entire proceedings of the case.
"The reality of the accountability and the judicial process has been exposed," he said.
Speaking on the occasion, Ahsan Iqbal, while referring to Prime Minister Khan's statement that the government would stop the PML-N from waging the war against national institutions, said that his party was in fact trying to save the national institutions. "We do not want to see judiciary, armed forces and other sensitive institutions being blamed for failures, wrongdoings and incompetence of the present government of Imran Khan," he said.
"By repeatedly using the name of the army, Mr Khan is making the sanctity and impartial status of armed forces controversial," he said.
On the other hand, Mr Iqbal said, the PML-N was making attempts to make the national institutions non-controversial.
"The judiciary and armed forces should stay above political controversies," Mr Iqbal said.
"If the judiciary and armed forces of a country become politically controversial, its national security and interests come under threat," the PML-N leader said.
Full report at:
https://www.dawn.com/news/1493186/pml-n-urges-sc-to-take-suo-motu-action-on-leaked-video-of-judge
--------
Two men shot dead, another wounded in 'terrorist' attack in Karachi
Imran Ayub
July 10, 2019
KARACHI: Two men were killed and another was critically wounded in an armed attack on a roadside teashop in Gulistan-i-Jauhar on Tuesday in what police suspected to be an "apparent case of terrorism" to create panic in the city, officials and witnesses said.
The officials said that two men riding a motorbike pulled up outside the teashop, fired multiple shots and sped away. The intense firing, they said, left three men wounded, two of whom died while being taken to hospital.
"The hotel is situated in Pehalwan Goth where mostly labourers are seen having tea or sitting with friends," said an official at the Gulistan-i-Jauhar police station. "The deceased were identified as 45-year-old Barkat Ali and 40-year-old Nazik while the injured, who's still in a critical condition and being treated at the JPMC [Jinnah Postgraduate Medical Centre], is named Abdul Aziz, 35. The firing suspended [normal activities] in the area but enhanced patrolling and deployment of law enforcers, including Rangers' personnel, brought the situation back under control."
Initially, the police investigators remained clueless about the motive for the attack, but the initial findings suggested the motive of spreading terror in the city.
"Initially it was not clear what really led to this incident," said DIG East Amir Farooqi. "But statements of the witnesses and initial investigations helped us connect the dots to conclude that it was apparently a terrorism-related attempt just to trigger fear and panic. The findings suggest that two men on a motorbike pulled up outside the hotel and one of them got off the two-wheeler. Within seconds he started indiscriminate firing on the people sitting there, leaving three of them wounded. The attackers neither spotted anyone, nor they looked for anything valuable. They sped away after executing the job."
He said investigations were on and the police were collecting all relevant evidence from the crime scene and recording statements of eyewitnesses. The area, he said, had a multiethnic population following different sects. There was no apparent reason to suspect the attack against people of any particular ethnicity or sect, added the DIG.
The back-to-back incidents in the city's East and South districts [a journalist was shot and killed in the DHA also on Tuesday] left the people of both areas shocked and in a state of fear.
Young girl, man drown
A 12-year-old girl and a 50-year-old man drowned in the sea off the Hawkesbay beach on Tuesday, officials said.
They said a family from Orangi Town came for picnic early in the morning. The picnickers blamed the absence of lifeguards on the beach for the loss of lives, but rescue workers say that visitors ignore repeated warnings issued by the authorities against swimming or bathing in the sea.
"While enjoying themselves in the sea, a girl named Mahek lost her balance and called for help," said an official at the Mauripur police station. "One of the family members named Parvez went after her, but both disappeared in the water within a few seconds. We were informed by Edhi volunteers about the incident."
Full report at:
https://www.dawn.com/news/1493076/two-men-shot-dead-another-wounded-in-terrorist-attack-in-karachi
--------
Mideast
Houthis demand complete withdrawal of Saudi-led coalition from Yemen
Jul 9, 2019
Yemen's Houthi Ansarullah movement has called for the full withdrawal of the Saudi-led military coalition from the conflict-ridden Arab country, after the United Arab Emirates (UAE), a key part of that alliance, said it was going ahead with plans to reduce the number of troops in Yemen.
"We call on the countries of aggression to declare withdrawal from Yemen. The Republic of Yemen rejects the aggression, siege and aerial embargo," Mohammed Ali al-Houthi, the chairman of the Supreme Revolutionary Committee of Yemen, wrote in a post published on his official Twitter page on Tuesday.
He added, "Withdrawal from Yemen is the ideal decision that must be taken at this particular time. It is just good enough for the countries of aggression to use Yemen a test field for European and American weapons for five years, and prove the ugliness of their crimes to the world."
An unnamed senior Emirati official told reporters on Monday that the Persian Gulf country was planning troop drawdown in Yemen in what was claimed to be a shift from a military strategy to a "peace" plan instead.
He added, "We do have troop levels that are down for reasons that are strategic in (the Red Sea city of) Hudaydah and reasons that are tactical" in other parts of the country.
"It is very much to do with moving from what I would call a military first strategy to a peace first strategy, and this is I think what we are doing," the Emirati official asserted.
In late June, Western diplomatic sources said the UAE was mulling over scaling back its military efforts in the war in Yemen to focus on threats posed by the rising US-Iran tensions.
The UAE has triggered anger among loyalists to Yemen's ex-president Abd Rabbuh Mansur Hadi for its activities on the Socotra Island in the Arabian Sea.
Emirati cargo flights have unloaded tanks, armored transports and heavy equipment on the scenery island.
Hadi loyalists say the UAE, which has been part of the Saudi-led coalition pounding Yemen, had abandoned an initial cause of fighting Houthis, and is instead providing support to those seeking a separation of southern Yemeni territories from the north of the country.
Saudi Arabia and a number of its regional allies launched a devastating campaign against Yemen in March 2015, with the goal of bringing the government of Hadi back to power and crushing the Houthi Ansarullah movement.
The US-based Armed Conflict Location and Event Data Project (ACLED), a nonprofit conflict-research organization, estimates that the Saudi-led war has claimed the lives of over 60,000 Yemenis since January 2016.
The war has also taken a heavy toll on the country's infrastructure, destroying hospitals, schools, and factories. The UN says over 24 million Yemenis are in dire need of humanitarian aid, including 10 million suffering from extreme levels of hunger.
https://www.presstv.com/Detail/2019/07/09/600535/Houthis-demand-complete-withdrawal-of-Saudiled-coalition-from-Yemen
--------
Yemen Houthi court condemns 30 to death for 'spying'
July 09, 2019
SANAA: A court run by Yemen's Houthi militia Tuesday sentenced 30 academics, trade unionists and preachers to death for allegedly spying for the Saudi-led coalition, a judicial source said.
The men, among 36 defendants tried by the criminal court in the rebel-held capital Sanaa, have been in custody for the past year, the source told AFP.
"The criminal court today (Tuesday) issued a verdict condemning 30 people to death on charges of spying for the aggression countries," the source said, adding that the other six were acquitted.
He said the men were convicted of supplying the coalition with information on locations for air strikes.
The coalition intervened in Yemen in March 2015, a few months after the Iran-aligned Shiite Houthi rebels captured Sanaa.
The coalition backs the internationally-recognized government of President Abedrabbo Mansour Hadi.
Since the Houthis took control of the capital in September 2014, their courts have issued several death sentences for spying.
In May last year, a Sanaa court sentenced two men to death for spying for Riyadh, while in January, the same court condemned to death 22-year old mother Asmaa Al-Omeissy and two men on charges of aiding the United Arab Emirates, a key partner in the coalition.
The sentences have not been carried out.
Full report at:
http://www.arabnews.com/node/1523186/middle-east
--------
Iran's Military Vows Retaliation for U.K. Seizing Oil Tanker
By Ladane Nasseri
July 9, 2019
Iran's military vowed to retaliate against the seizure by British Royal Marines of an oil tanker loaded with the Islamic Republic's crude off the coast of Gibraltar last week.
"It will be reciprocated, at a suitable time and in a suitable place," Mohammad Bagheri, the chief of staff for Iran's armed forces, was quoted as saying by the official Islamic Republic News Agency.
The warning highlights mounting risks to shipping in a region that exports about a third of all seaborne petroleum. BP Plc is keeping an oil carrier empty inside the Persian Gulf, close to Saudi Arabia, rather than risk its seizure by Iran, a person familiar with the matter said Monday. Six tankers have been attacked since early May, with the U.S. blaming Iran for the incidents, a charge Tehran denies.
The tanker seized by Gibraltar with the help of Royal Marines -- the Grace 1 -- was arrested on the grounds it was taking crude to a sanctioned Syrian company, according to the British overseas territory on Spain's southern tip. Iran said the tanker was in international waters, not headed to Syria, and described the U.K.'s actions as piracy.
U.K. Marines Seize Tanker, Causing Diplomatic Row With Iran
Insurance costs soared in the aftermath of the tanker attacks and some owners initially became wary of sailing to the region.
Full report at:
https://www.bloomberg.com/news/articles/2019-07-09/u-k-seizure-of-tanker-won-t-go-unanswered-iran-armed-forces
--------
Netanyahu to visit India before Israeli elections
July 10, 2019
NEW DELHI: Israel Prime Minister Benjamin Netanyahu is planning to travel to India in September just days before he faces elections, The Hindu said on Tuesday.
Mr Netanyahu was due to visit Delhi in February this year, also just ahead of the earlier Israeli election, which failed to give his coalition a clear majority. He will now make a "short visit" to meet Prime Minister Narendra Modi possibly on Sept 9, which Israeli media described as a photo-op to boost his electoral profile.
Israel-India defence ties were in action during the February standoff with Pakistan following the Pulwama massacre.
Mr Modi became the first Indian Prime Minister to visit Israel in 2017, a visit Mr Netanyahu returned in January 2018, which marked 25 years since the establishment of full diplomatic relations.
Despite winning in April, Mr Netanyahu was unable to build a coalition in the 120-member Knesset (Israeli Parliament) and was forced to declare fresh elections, which will now be held on Sept 17.
According to The Hindu, in the run-up to the Delhi visit, bilateral talks on defence issues have focused on the emergency procurement of 'Spike' anti-tank missiles and the purchase of more precision-guided munitions that were used during the Balakot strikes by the Indian Air Force.
The two sides are also discussing a long-pending proposal to buy 2 Phalcon AWACS (warning systems) for more than a billion dollars that is believed to be awaiting clearance from the Cabinet Committee on Security (CCS).
Full report at:
https://www.dawn.com/news/1493208/netanyahu-to-visit-india-before-israeli-elections
--------
US senator calls for revoking civilian nuclear waivers in Iran
10 July 2019
US senator Ted Cruz called on the Trump administration Tuesday to revoke the civil-nuclear waivers issued by the State Department allowing Iran to build up its nuclear program.
"As for the civilian nuclear waivers, there are a total of seven. We had partial success, they revoked two of the seven that was a step in the right direction. I am grateful for that. There are still five in place," Cruz said.
The waivers include one that allows the Supreme Leader of Iran to conduct research at the Fordow Nuclear Bunker, according to senator Cruz, which is built into the side of a mountain designed to develop nuclear weapons and "try to murder all of us", as Cruz described it.
"Our State Department has a waiver in place that says 'oh go ahead and do research there in that nuclear bunker built into the side of a mountain.' Well, Iran is now declaring their intentions to enrich uranium and to break their side of the deal," Cruz added.
Full report at:
https://english.alarabiya.net/en/News/middle-east/2019/07/10/US-senator-calls-for-revoking-civilian-nuclear-waivers-in-Iran.html
--------
Yemen Houthi court condemns 30 to death for spying
10 July 2019
A court run by Yemen's Houthi militias on Tuesday sentenced 30 academics, trade unionists, and preachers to death for allegedly spying for the Arab Coalition, a judicial source said.
The men, among 36 defendants tried by the criminal court in the rebel-held capital Sanaa, have been in custody for at least the past year, the source told AFP.
"The criminal court today (Tuesday) issued a verdict condemning 30 people to death on charges of spying for the aggression countries," the source said, adding that the other six were acquitted.
He said the men were convicted of supplying the coalition with information on locations for airstrikes.
Amnesty International condemned the verdicts, saying they had targeted "political opposition figures" in "sham trials".
Among those condemned to death was Yussef al-Bawab, a 45-year-old father of five and linguistics professor, who had been "arbitrarily arrested in late 2016", it said in a statement.
"Since the Houthi de facto authorities assumed control of the justice system in 2015, they have progressively utilized the Sanaa-based SCC (Specialised Criminal Court) to target persons they deem to be opponents or even just critics," said Lynn Maalouf, Amnesty's Middle East research director.
The military coalition intervened in Yemen in March 2015, a few months after the Iran-aligned Shiite Houthis captured Sanaa.
The coalition backs the internationally-recognized government of President Abedrabbo Mansour Hadi.
Since the Houthis took control of the capital in September 2014, their courts have issued several death sentences for spying.
In May last year, a Sanaa court sentenced two men to death for spying for Riyadh, while in January, the same court condemned to death 22-year old mother Asmaa al-Omeissy and two men on charges of aiding the United Arab Emirates, a key partner in the coalition.
On Tuesday, the supreme court commuted Omeissy's death penalty to 15 years in jail, a judicial source in Sanaa said. There was no decision yet on the two men sentenced with her.
Full report at:
https://english.alarabiya.net/en/News/gulf/2019/07/10/Yemen-Houthi-court-condemns-30-to-death-for-spying-.html
--------
Three IRGC servicemen killed in terror attack in NW Iran
Jul 9, 2019
Three servicemen of the Islamic Revolution Guards Corps (IRGC) have lost their lives when they came under attack by terrorists in the country's northwestern province of West Azarbaijan.
The IRGC announced in a statement that a vehicle carrying forces from its Hamzeh Seyyed al-Shuhada base was attacked at the entrance of the border city of Piranshahr on Tuesday evening.
The statement added that three IRGC members, identified as Hasel Ahmadi, Sattar Pirouti and Omid Mollazadeh, were killed and another sustained injuries as a result.
According to the statement, intelligence operations and a manhunt are underway to arrest the fugitive assailants.
Earlier, Piranshahr Governor Ali Torabi said the IRGC members were killed in clashes with "terror groups and counter-revolutionary elements."
Iran's Mehr news agency initially reported that fatalities came after members of the so-called Democratic Party of Iranian Kurdistan terrorist group opened indiscriminate fire on a vehicle carrying IRGC members near the bus terminal in Piranshahr.
The incident came a week after IRGC servicemen from Hamzeh Seyyed al-Shuhada base disbanded a team of terrorists in West Azarbaijan province.
The IRGC announced in a statement that the terrorists were ambushed as they were trying to infiltrate the country from the province's Chaldoran County. Two terrorists were killed in the clashes and several others were wounded.
Two IRGC servicemen lost their lives during the operation as well, the statement noted.
Full report at:
https://www.presstv.com/Detail/2019/07/09/600562/Three-IRGC-servicemen-killed-another-injured-in-terrorist-attack-in-NW-Iran
--------
Southeast Asia
Mujahid: So what if Iranian reps visited Parliament? Doesn't mean we accept Shiah teachings
09 July 2019
KUALA LUMPUR, July 9 — Minister in the Prime Minister's Department Datuk Seri Dr Mujahid Yusof Rawa today refutes allegations on the proliferation of the Shiah sect in Parliament as viralled on the social media.
He stressed that the visit of the Iranian delegation to Parliament on July 4 did not mean Malaysia accepted the belief.
"What is the problem if there are visits by those of the Shiah faith. The Iranian ambassador was here several times. What is wrong if they visit Parliament? It (visits) does not make us Shiah if there are Shiah adherents," he told reporters in the Parliament lobby, today.
On July 4, the official Facebook of the Malaysian Parliament uploaded several photographs of the Iranian delegation making a courtesy call on Dewan Rakyat Speaker, Datuk Mohamad Ariff Md Yusof.
Following the upload of the photographs, the 'Malaysian Anti Shiah Movement' Facebook shared them with the caption 'Shiahs are getting more active and are already spreading its wings to Parliament', with more than 2,500 share backs.
Commenting on the Badar Squad, who were seen keen to have a dialogue with him, Mujahid suggested that they met the Kedah government.
"Religious enforcement lies with the state. I look after federal. We respect that the enforcement only comes from the religious enforcement to avoid conflict," he said.
The media prior to this reported that the Badar Squad was set to reemerge to eradicate vice in the Muslim community. — Bernama
https://www.malaymail.com/news/malaysia/2019/07/09/mujahid-shoots-down-shiah-accusation-following-iranian-envoys-courtesy-call/1769766
--------
IS Sympathizers Allowed to Go Home if They Swear Allegiance to Pancasila and NKRI
JULY 09, 2019
Jakarta. Defense Minister Ryamizard Ryacudu said on Tuesday that thousands of Indonesian Islamic State sympathizers will be allowed to return to their home country on the condition they take an oath to be loyal to the Unitary State of the Republic of Indonesia and its official state ideology Pancasila.
They must also admit their wrongdoing, show contrition and promise not to join terrorist groups upon their return, the former Army commander said in Jakarta.
"Promise those things [then they can return home]. Don't come home if they still believe in IS," Ryamizard said.
Government officials will be dispatched to Syria to bring these IS sympathizers back home on humanitarian grounds.
The government has been facing a conundrum on what to do with Indonesian IS sympathizers who are still stranded in Syria after the caliphate was wiped out early this year.
Under Indonesian citizenship law, despite having professed allegiance to IS these sympathizers are still considered Indonesian citizens and technically there is nothing to stop them from coming back to Indonesia.
Nevertheless, returnees from Syria have often been involved in domestic terrorist attacks, such as the suicide attacks on two churches in Surabaya last year.
The suicide bombers turned out to be a family of six who had spent time in Syria as IS sympathizers.
Full report at:
https://jakartaglobe.id/context/is-sympathizers-allowed-to-go-home-if-they-swear-allegiance-to-pancasila-and-nkri
--------
Malaysia Arrests 2 Rohingya Suspected of Supporting ARSA Militants in Myanmar
2019-07-09
Malaysian counter-terrorism police on Tuesday announced the arrests of two Rohingya men who they said supported a Myanmar insurgent group, including one who allegedly posted a video online calling for the assassination of Bangladesh's leader.
Two other foreigners, a Filipino and an Indian national, were taken into custody separately for suspected links with insurgent groups as well, Police Inspector-General Abdul Hamid Bador said in a statement. The four suspects, whose names police did not reveal, were captured in various locations in Kedah and Selangor states between June 14 and July 3.
"A 41-year-old Rohingya who worked as a laborer at the Sungai Petani district of Kedah was arrested on June 24. He is a supporter of insurgent group Arakan Rohingya Salvation Army [ARSA] and was arrested for posting a death threat video against Bangladeshi Prime Minister Sheikh Hasina Wazed on his Facebook page," Abdul Hamid said.
Malaysian police would not treat the alleged threat against Hasina lightly, a source close to the investigation told BenarNews.
"We are investigating the case. We cannot reveal more at the moment," the source said, adding, "this is still serious."
Background checks revealed that the Rohingya suspect had a criminal history, Abdul Hamid said.
"He had been detained three times prior to the latest arrest. First in 1997 for illegally entering Malaysia, then in 2012 for possessing fake travel documents and last in 2015 for being involved in human trafficking activity," the police chief said in the statement without going into detail about the cases.
Abdul Hamid said counter-terrorist police also arrested a Rohingya who worked as a teacher.
"The 25-year-old man who worked at a religious school in Bukit Pinang in Kedah was detained on July 3 for being an ARSA supporter," he said, adding that police were investigating to determine if the two men were connected.
Authorities in Myanmar have blamed ARSA rebels for launching deadly raids on police and military outposts in Rakhine State that provoked a brutal crackdown on the country's stateless Rohingya Muslim minority in August 2017. In turn, that caused more than 740,000 Rohingya to flee and seek shelter at refugee camps in neighboring Bangladesh, a majority-Islamic country.
Malaysian police did not release details about how the pair of Rohingya suspects entered Malaysia or if they were there legally.
In May, two Rohingya were among four suspects who were apprehended when police foiled an Islamic State (IS) plot to attack worship sites and assassinate "high-profile personalities" during Ramadan. Those arrests were the first involving linked to alleged terrorist activities in Malaysia.
The predominantly Muslim country has been seen a safe haven in Southeast Asia for Rohingya fleeing from persecution in Buddhist majority Myanmar and violence in Rakhine state. At least 90,200 Rohingya live in Malaysia, according to UNHCR, the United Nations refugee agency.
Last year, Malaysian Defense Minister Mohamad Sabu warned about a potential security problem with Rohingya expatriates.
"We are concerned that the Rohingyas could be manipulated to become suicide bombers or recruited into terrorist cells in this region," he told a Kuala Lumpur meeting of counterterrorist security professionals in August 2018.
Other arrests
Apart from the Rohingya, police in Selangor arrested a 54-year-old Filipino man on June 14.
"The suspect was arrested for allegedly having ties with the Abu Sayyaf Group (ASG) and also for assisting kidnap for ransom cases in the waters of Sabah," Abdul Hamid said. "The suspect has been listed as a wanted person by the Eastern Sabah Security Command (ESSCOM) and was living in Malaysia using a falsified identification document."
On June 21, police in Ampang, Selangor, arrested a 24-year-old Indian national who worked as an elevator maintenance technician.
"The suspect is believed to have acted as a facilitator to senior members of the Babbar Khalsa International terror group who entered Malaysia in November 2018 and last month," Abdul Hamid said. "Besides, the suspect also channeled 7,600 ringgit (U.S. $1,830) to fund BKI's activities in Southeast Asia."
BKI is a Sikh militant group, which gained notoriety in the 1980s for the bombing of an Air India flight that killed 330 people.
The four suspects have been detained and are being investigated under the Security Offenses (Special Measures) Act 2012, according to the Malaysian police chief.
Full report at:
https://www.benarnews.org/english/news/malaysian/rohingya-arrests-07092019143002.html
--------
Arab World
Saudi Cabinet warns Hajj pilgrims not to mix politics with religion
July 09, 2019
RIYADH: Saudi Arabia warned pilgrims on Tuesday not to mix politics with religion while performing Hajj.
During a meeting of the Saudi Cabinet, chaired by King Salman, pilgrims were urged to be considerate of the privacy and spirituality of the holy places and not to engage in political acts.
The warning follows a veiled threat by Iran's Supreme Leader Ali Khamenei of disruption and possible political demonstrations by Iranian pilgrims at this year's Hajj, and criticism of Saudi organization of the pilgrimage.
"Among major mistakes is that they say, 'Do not politicize Hajj'," Khamenei said. "Creating unity is a political matter. Supporting and defending the oppressed in the world of Islam, like the Palestinian and Yemeni nations, is a political matter, based on Islamic teachings and obligations.
"Hajj is a political act and this political act is … a religious obligation," the ayatollah said.
The Iranian leader also suggested that Saudi security measures at the annual pilgrimage were too tough. "The Saudi government bears major responsibilities," he said. "Among their responsibilities is protecting the safety and security of pilgrims, but they should not spread a security atmosphere.
"While the pilgrims are in Makkah and Madinah, they should treat the pilgrims properly, respectfully, and with honor, because they are the guests of God."
The ayatollah's remarks were also condemned by the exiled Iranian author and journalist Amir Taheri. "Khamenei has ended the 10-year truce on Hajj, and called for demonstrations during the next pilgrimage," Taheri said.
"The stage is set for riots by pilgrims sent by Tehran to Saudi Arabia to incite violence during Hajj.
"Saudi Arabia may regret having increased Iran's Hajj quota by almost 10,000. This year some 90,000 Iranian pilgrims may turn the Islamic ritual into an anti-American demonstration that could lead to clashes among pilgrims, and with Saudi security."
The Saudi Minister of Media, Turki Al-Shabanah, called on worshippers to refrain from taking part in any political activities — such as the raising of slogans — that might disturb the pilgrimage. He said the Kingdom would not accept such behavior, and would take all necessary action to prevent misconduct.
Chairing the ministerial meeting in Jeddah, King Salman welcomed pilgrims and directed all Hajj organizing bodies to continue providing security, stability and tranquility for the visitors.
Addressing the ministerial meeting, held at Al-Salam Palace in Jeddah, King Salman welcomed pilgrims on their journey to perform the fifth pillar of Islam and directed all bodies involved in organizing Hajj to continue in providing security, stability, and tranquility for pilgrims and improve the services provided to them at land, sea and air entry points to the country.
The Cabinet applauded the continued development of pilgrim services, noting the achievement of the Makkah Road initiative to speed up pre-travel administration and baggage issues.
Cabinet meeting
In other business, ministers commended a decision reached during the recent OPEC and OPEC + meetings to extend the agreement to reduce production until the end of the first quarter of 2020, which would contribute to the stability of oil markets. The move would establish a framework of sustainable cooperation which would work to the benefit of producers, consumers, and the global economy, the Cabinet agreed.
Ministers also welcomed a power-sharing agreement reached between military rulers and opposition leaders in Sudan, which they hoped would pave the way to a new era of security, stability and prosperity for the Sudanese people.
The meeting went on to approve an air services agreement between Saudi Arabia and the Seychelles and gave the go-ahead for talks on a memorandum of understanding between the Saudi General Auditing Bureau and the National Auditing Bureau of Sudan for cooperation in the field of professional accounting and auditing.
The Cabinet also decided to form a board of directors for the sustainable agricultural rural development program under the chairmanship of the Saudi environment, water and agriculture minister, with representation from several government sectors and the Cooperative Societies Council.
An e-commerce system was also approved by the Cabinet.
http://www.arabnews.com/node/1523301/saudi-arabia
--------
International Coalition Against ISIS Recruits Fighters in Tanf Base
8 July, 2019
The International Coalition against ISIS has opened the doors for fighters to join its ranks on the Syrian-Iraqi-Jordanian borders.
This comes as tension increases in Syria's eastern Euphrates amid news that coalition forces have been conducting military maneuvers at the Tanf base, with the participation of Syrian opposition fighters.
According to opposition media sources, several types of rockets, rocket launchers, artillery and mortars were used in the maneuvers in preparation for possible confrontations with ISIS in the Syrian desert.
The US-led coalition's Tanf base has started receiving new members in its ranks to train them in their camps in Jordan, the sources told Asharq Al-Awsat.
Euphrates Post website quoted sources as saying that the anti-ISIS coalition has opened this door in an attempt to bolster its military capabilities in the desert.
The Revolutionary Commando Army, for its part, published pictures on its official Twitter account on Friday, showing it was conducting successful exercises alongside coalition forces.
It said no one was hurt during the exercises that aimed at enhancing its members' skills to defeat ISIS and ensuring they do not return to Tanf's borders.
The Tanf base is located in the vicinity of Tanf crossing the border with Jordan and Iraq in the heart of al-Hammad desert southeast Homs province, about 240 km from the city of Palmyra and not far from the borders with Jordan.
In other news, local sources in Deir al-Zor said US military reinforcements and logistics arrived last week to al-Omar oil field on the eastern bank of the Euphrates River (10 km from al-Mayadin city) in Deir al-Zor province.
"Military equipment consisting of rubber boats and river crossings have reached al-Omar oil field base through US-coalition's aircraft and helicopters," according to the Euphrates Post.
Full report at:
https://aawsat.com/english/home/article/1803296/international-coalition-against-isis-recruits-fighters-tanf-base
--------
Six Victims Of Isis In 'Execution Suits' Found In Syria Mass Grave
By Seth J. Frantzman
JULY 8, 2019
A mass grave in Syria has been uncovered, and at least six bodies in orange "execution suits" transferred for forensic analysis, according to reports.
The mass grave is one of more than a dozen that have been found since ISIS was pushed out of Raqqa in 2017. This grave, just south of the Euphrates river across from the city, contains up to 800 bodies.
Jenan Moussa of Al-Aan TV tweeted images of the bodies being found and uncovered. "Search team here found bodies of five men wearing orange 'execution suits' in ISIS mass grave. Identities unknown. Team leader tells me: Might be missing journalists, activists," she tweeted on July 3. A sixth body clothed in the same way was later found.
Moussa wrote that all of the bodies were dressed in the orange suits that became infamous in videos from 2014, when ISIS executed journalists Steven Sotloff and James Foley that fall. The bodies found are all men and they had handcuffs on. All were shot in the back of the head. This precludes them being among those who were beheaded by ISIS.
Yasser al-Khamees, who leads a team that has been uncovering the mass graves, said that this grave was first found in June. The men "were believed to have been killed more than two years ago," he told a group of reporters. The bodies of three women, apparently stoned to death, were also found. "Their skulls were severely fractured and displayed signs of stoning," France 24 reported. According to the report, up to 800 people could be in this grave.
Moussa reported that the five men found were estimated to be between 25 and 55 years old. She says that 200 bodies have been uncovered so far. The area of the location is called Mu'askar al-Tala'e; they will be reburied in another location.
Victims in orange execution suits have been found in two other locations, but many of the well known victims of ISIS have not been found. They form but a small number of the thousands still missing since the jihadist group arrived in 2014. For instance, around 3,000 Yazidis are still missing after ISIS attempted to commit genocide and enslave the minority group in that August. Moussa tweeted that authorities in Raqqa have found 4,600 bodies in 14 mass graves so far. "Over 3,500 not identified." She notes that they aren't all necessarily victims of ISIS; some may be members or the group or their families who died during the war between 2014 and 2017.
In Iraq, more than 200 mass graves have been found, some of them containing Yazidis and Shi'ites that ISIS murdered.
Full report at:
https://www.jpost.com/Middle-East/Six-victims-of-ISIS-in-execution-suits-found-in-Syria-mass-grave-594966
--------
3 Iraqis, including policemen, wounded in bomb attack, armed clashes in Diyala
by Mohammed Ebraheem
Jul 8, 2019
Diyala (IraqiNews.com) – Three Iraqis, including two policemen, were wounded Sunday in a car bomb attack and subsequent armed clashes in Diyala province, a security source said.
Speaking to the Arabic-language Alghad Press, the source said that an explosive charge targeted a vehicle driven by a civilian on the Jalawla-Kalar highway in northeastern Diyala, leaving the driver wounded.
"While moving the wounded civilian into hospital, security forces came under attack by undefined gunmen, leaving two policemen wounded," the source said.
He added that the security situation is now under control.
Violence in the country has surged further with the emergence of Islamic State extremist militants who proclaimed an "Islamic Caliphate" in Iraq and Syria in 2014.
Full report at:
https://www.iraqinews.com/iraq-war/3-iraqis-including-policemen-wounded-in-bomb-attack-armed-clashes-in-diyala/
--------
Iraqi warplanes kill three Islamic State terrorists in Nineveh
by Mohammed Ebraheem
Jul 8, 2019
Nineveh (IraqiNews.com) – Iraqi warplanes killed on Monday three members of the Islamic State terrorist group during a military operation in Nineveh province, the Security Media Cell announced.
In a statement carried by the privately-owned Algahd Press website, the Security Media Cell said that the three IS militants were in a car when an airstrike by the Iraqi Air Force targeted them in Nineveh province.
Meanwhile, the paramilitary Popular Mobilization Forces seized a vehicle that was used by the Islamic State militants near a valley in Nineveh, the statement read.
In al-Jazeera region, the Security Media Cell said that its forces managed to destroy two Islamic State terrorist hotbeds and two explosive charges.
The Joint Operations Command had launched the "Victory Will" operation on Sunday morning to pursue Islamic State remnants, who are still at large on the country's vast border with Syria, mainly in Nineveh, Salahuddin and Anbar provinces.
Iraq declared the collapse of Islamic State's territorial influence in November 2017 with the recapture of Rawa, a city on Anbar's western borders with Syria, which was the group's last bastion in Iraq.
Full report at:
https://www.iraqinews.com/iraq-war/iraqi-warplanes-kill-three-islamic-state-terrorists-in-nineveh/
--------
Iraq launches 'Will of Victory' operation against ISIS sleeper cells near Syrian border
JULY 8, 2019
Iraq's military announced a new operation in an attempt to secure the vast western desert leading to the Syrian border, amid fears Islamic State sleeper cells were using the area to regroup.
The operation, dubbed "Will of Victory," began early Sunday, July 7, and would push to clear the remote territory between the provinces of Salahaddin, Nineveh and Anbar, a statement by the military said.
Iraqi armed forces, paramilitary units of the Hashed al-Shaabi (Popular Mobilization Units), tribal groups and U.S.-led Coalition warplanes were all taking part, according to the statement.
"There are pockets of Daesh fighters in the northwestern, western, and southwestern parts of Salahaddin province," a media official from the province's military command told AFP, using an Arabic acronym for ISIS.
"Daesh is still present in these areas, and the operations will continue until they are cleared."
Iraq formally declared victory against ISIS in late 2017, a few months after ousting the jihadist group from its seat of power in Mosul, the capital of Nineveh province.
The group lost its last sliver of territory in Syria – Baghuz, a small desert hamlet near the Iraqi border – in March.
But ISIS sleeper cells have kept up hit-and-run attacks in isolated parts of Iraq, targeting government checkpoints, public infrastructure and local officials.
Security analyst Hisham al-Hashemi said "Will of Victory" was aimed at depriving ISIS of the resources it uses to carry out those raids.
"It will drain Daesh's logistical support in an area that makes up nearly a quarter of Iraq, by destroying their bases, training camps, depots and tunnels," he told AFP.
He said security forces were seeking to oust an estimated 1,000 ISIS fighters from the desert regions around Baaj, Rawah and Tharthar.
Iraq's security forces have targeted ISIS in several coalition-backed operations in recent months, including in the rugged Hamrin region north of Baghdad.
Full report at:
https://thedefensepost.com/2019/07/08/iraq-will-of-victory-isis-sleeper-cells-syria/
--------
Leader of ISIS Affiliate in Yemen Fought for Group in Syria
9 July, 2019
The Saudi-led Arab coalition to restore legitimacy in Yemen revealed on Monday that the leader of the ISIS affiliate in Yemen had previously fought in the terrorist group's ranks in Syria.
Coalition spokesman Colonel Turki al-Maliki added that the ISIS "emir", who was captured by Saudi Special Forces last month, hailed from Yemen and operated under several aliases, such as Abu Osama Al-Muhajir, Abu Musab, Abu Suleiman al-Adeni and Nashwan al-Adeni.
He was tasked with leading the extremist group's affiliate in Yemen, Maliki told a press briefing in Riyadh.
He was born in 1988 and did not complete his mechanical engineering degree. His terrorist track record dates back to 2010 when he became a leading member of al-Qaeda in the Arabian Peninsula.
He left the organization in 2015 and joined ISIS where he joined the group in fighting in Syria. In 2017 he was appointed as the leader of the ISIS "emirate" in Yemen. Soon after, the United States imposed sanctions against him.
The Arab coalition had previously stated that the practices of the Iran-backed Houthi militias have encouraged terrorist activity in Yemen.
Terrorist affairs researcher Hammoud al-Ziyadi explained that one of ISIS' primary goals was to establish "states" beyond its then strongholds in Syria and Iraq.
The group wants to exploit the instability in Yemen to bolster is presence and expand in the region, he told Asharq Al-Awsat. It also sought to recruit al-Qaeda members to join its ranks.
"ISIS managed to gain ground in many regions where al-Qaeda was previously active and Qaeda members began to move towards ISIS affiliates," he said.
Moreover, he stated that ISIS sought to exploit the poor security in Yemen and Libya to gain influence.
It attempted to target Saudi Arabia, but failed because the Kingdom is in control of its state and security, Ziyadi added.
Full report at:
https://aawsat.com/english/home/article/1804406/leader-isis-affiliate-yemen-fought-group-syria
--------
Lives of 300,000 Civilians Threatened by Mines Remaining from ISIL in Raqqa
Jul 09, 2019
The pro-militant Arabic-language Baladi News Website reported that over 300,000 people are exposed to the risk of losing their lives due to the negligence of the US-backed Syrian Democratic Forces (SDF) and the US-led coalition towards presence of thousands of military mines remaining from the ISIL's presence in the city.
Local sources said that Raqqa city is the scene of explosion of mines left behind by the ISIL, adding that a large number of civilians, including children, are killed in mine blasts.
The sources noted that the death of civilians in Raqqa takes place on a daily basis while the US-led coalition and the SDF had assured Raqqa residents that their engineering units had demined the region and restored full security as of beginning of January 2018.
Meantime, the US-led coalition and the SDF took full control over Raqqa city in October 2017.
In a relevant development in late March, the bodies of over 300 victims of the ISIL and the US air raids, including those of slain women and children, were discovered in mass-graves and from under the rubles of destroyed buildings in Raqqa.
The Hawar News reported at the time that the corpses of 304 people had been unearthed from a mass-grave in Fakhikheh region in Southern Raqqa since early January.
He added that most of the bodies belonged to the civilians, including women and children, noting that some of the victims had been executed.
Meantime, media activists reported that bodies of several civilians, most of them women and children, were pulled out of the debris in al-Adkhar and al-Ta'aminat districts of Raqqa in the past few days.
Full report at:
https://en.farsnews.com/newstext.aspx?nn=13980418000666
--------
Hezbollah slams US sanctions on MPs as 'humiliation' for Lebanese
10 July 2019
A Hezbollah lawmaker on Tuesday slammed the US move to place two of the group's parliamentarians on its sanctions blacklist as "humiliation" for Lebanon.
The US decision "is a humiliation for the Lebanese people", Ali Fayyad told Lebanon's MTV news channel, according to its website, and called on parliament and the government to issue a formal condemnation.
The US Treasury added Lebanese lawmakers Amin Sherri and Muhammad Hasan Raad to a terror-related blacklist, saying that the powerful Shiite movement Hezbollah they belong to uses its parliamentary power to advance alleged violent activities.
Also placed on the blacklist was Wafiq Safa, a top official of the Iran-allied Hezbollah.
"Hezbollah uses its operatives in Lebanon's parliament to manipulate institutions in support of the terrorist group's financial and security interests, and to bolster Iran's malign activities," said Sigal Mandelker, Under Secretary of Treasury for Terrorism and Financial Intelligence.
The move, which is the first by Washington to target Hezbollah elected politicians, came as the US bolsters pressure on Iran and its alleged "proxies" in the Middle East.
Hezbollah is listed as a "terrorist group" by the United States and has fought several wars with US ally Israel to the south of Lebanon.
Hezbollah fighters have backed government forces in neighboring Syria in the war that broke out there in 2011.
Lebanese Finance Minister Ali Hasan Khalil meanwhile tweeted that the US sanctions "concern all of the Lebanese even if they are directed at Hezbollah" and are "unjustified".
After the US Treasury's announcement, Hezbollah television al-Manar said the group's leader, Hassan Nasrallah, was due to appear Friday on TV.
Nasrallah is due to address a series of Lebanese and regional issues and is expected to also discuss the latest sanctions.
Hezbollah was established in 1982 during Lebanon's civil war and is now a major political player in the country.
Full report at:
https://english.alarabiya.net/en/News/middle-east/2019/07/10/Hezbollah-slams-US-sanctions-on-MPs-as-humiliation-for-Lebanese.html
--------
US-led coalition should address harm to civilians during Syria operations: Human Rights Watch
Jul 9, 2019
Human Rights Watch (HRW) has called upon the US-led coalition purportedly fighting the Daesh Takfiri terrorist group should address the harm to civilians during military operations in war-torn Syria.
The New York-based rights organization reported on Tuesday that the alliance has not thoroughly investigated the attacks that killed civilians or created a program for compensation, or other assistance to civilians who suffered harm from its operations.
It cited field investigations into 4 apparently unlawful coalition airstrikes in Syria's northeastern Hasakah province from 2017 and 2018, where no compensation or condolence payments were made to the victims. The aerial raids reportedly killed 63 civilians and damaged and destroyed property.
Human Rights Watch further highlighted that whilst the US Congress authorized the Defense Department in the annual National Defense Authorization Act (NDAA) to make condolence payments to civilians in Syria in December 2016, the process for making claims has not been defined.
"The US should promptly develop a standardized condolence payment process and conduct outreach as feasible with affected communities to explain and publicize the process. The process should allow safe and convenient avenues to submit claims in the person's preferred language and should identify local partners as facilitators.
"Condolence payments should reflect the circumstances, needs, and preferences of affected civilians. Options may include public acknowledgement, apologies, monetary payments, and livelihood assistance," it said.
The rights organization went on to ask members of the US-led military coalition to coordinate their efforts to create a unified system to track, assess, and investigate reports of civilian casualties and to provide prompt and equitable condolence payments and other forms of amends.
"In cases in which coalition forces are found to have committed laws-of-war violations, appropriate compensation should be swiftly paid to the victims or their families," Human Rights Watch said.
"For the civilians who suffered under ISIS (Daesh) rule to rebuild their lives, the coalition should include condolence payments to those families who were harmed by their military operations," Lama Fakih, deputy Middle East director at the human rights organization said.
"Providing victims of airstrikes with some help for their suffering would be an important step," Fakih pointed out.
The US-led coalition has been conducting airstrikes and operations against what are said to be Daesh targets inside Syria since September 2014 without any authorization from the Damascus government or a United Nations mandate.
The military alliance has repeatedly been accused of targeting and killing civilians. It has also been largely incapable of achieving its declared goal of destroying Daesh.
On February 12, the Syrian Ministry of Foreign Affairs and Expatriates, in two separate letters addressed to UN Secretary General Antonio Guterres and the former rotating president of the Security Council, Anatolio Ndong Mba, denounced the coalition strikes conducted against Baghouz a day earlier, saying the US-led warplanes had pounded a refugee camp.
Local sources told the state-run Ikhbariyah Syria television news network that 16 civilians, including seven children, were killed as a result of the raid.
"This new crime is in line with the series of war crimes and crimes against humanity, which the US-led coalition has perpetrated against Syrian people, its continued support for terrorism, and its use of terrorists and separatist militia forces to advance its fiendish plots aimed at Syria's sovereignty, unity and territorial integrity," said the letters.
The ministry also called on the UN Security Council to stand up against such attacks and crimes.
Full report at:
https://www.presstv.com/Detail/2019/07/09/600553/USled-coalition-should-address-harm-to-civilians-during-Syria-operations-Human-Rights-Watch
--------
Africa
Al-Shabab Kills 18 in Surge of Executions
By Harun Maruf
July 8, 2019
Somali militant group al-Shabab has executed 18 people since Wednesday, an unprecedented rate of executions for the group, which is under pressure from U.S. airstrikes.
Militants put to death four people in the southern town of Jamame on Sunday, immediately after the judge in an al-Shabab court declared them guilty.
Firing squads shot and killed two men accused of being Somali government soldiers and a woman accused of being a spy for Kenya. The militants identified the woman as 20-year-old Iqra Abdi Aden.
Afterward, an 18-year-old man, Nur Bakar Jirow, was publicly stoned to death for allegedly raping a 16-year-old girl. The man argued the sex was consensual, but the judge said he deserved the death penalty because he was married at the time.
On Saturday, al-Shabab firing squads killed three men accused of being Somali government soldiers in the town of Kurtunwarey in the Lower Shabelle region. In Buale town of the neighboring Middle Jubba region, the militants executed a man accused of practicing sorcery.
On July 3 and 4, al-Shabab shot and killed 10 men in two separate executions in Hagar and Salagle towns in southern Somalia. The group accused the men of spying for the Somali government, Kenya and the U.S. Central Intelligence Agency.
All of the victims were convicted by militant courts, according to al-Shabab affiliate media sites.
Al-Shabab courts do not allow lawyers to represent the defendants, and the evidence largely relies on alleged confessions. Critics believe that al-Shabab's militias torture the accused to force the confessions.
The group did not give a reason for the surge in executions, but has been the target of dozens of U.S. airstrikes over the past two and a half years. The airstrikes are often ordered on the basis of ground-level intelligence collected by Somali government sources.
In other violence, at least seven people were killed and 22 others were injured in Mogadishu on Monday in two separate attacks, witnesses say.
The first attack took place near a civilian hospital when Mogadishu police stopped a vehicle loaded with explosives. The driver refused to exit the vehicle, forcing police to open fire. Moments later the vehicle exploded killing two people and injuring 18 others.
Separately, a suspected militant vehicle attempted to pass through a security checkpoint on a crowded road in Mogadishu. Security forces responded killing two militants. A member of the police and two civilians were also killed according to witnesses. Four others were injured in the attack.
https://www.voanews.com/africa/al-shabab-kills-18-surge-executions
--------
13 Nigeria civilians killed in air raid targeting jihadists - sources
2019-07-08
At least 13 civilians were killed in an air raid as the military repulsed a jihadist assault in northeast Borno state, residents and a security source said on Sunday.
Multiple inhabitants of Gajiganna village, 50km from state capital Maiduguri, told AFP a military jet on Tuesday targeted jihadists from the Islamic State West Africa Province (ISWAP) after they attacked a nearby military base.
The Nigerian air force, however, said it had no reports of civilian casualties.
Fleeing residents were caught up in the bombing, residents said on condition of anonymity over fears for their personal safety.
"We lost 13 people in the bombardment as many people tried to escape the fighting between the insurgents and troops," a resident said.
"Many people were injured in the attack," he said.
The military jet was deployed around 19:30 (18:30 GMT) to support troops in the base who were trying to fight off the militants, residents said.
"Many residents were too scared to remain in their homes and ran out to escape from the village as the fighting raged between the troops and the insurgents," a second resident said.
"They were mistaken for the attackers by the jet which fired on them, killing 13 and injuring many," he said.
Nigerian air force spokesperson Ibikunle Daramola told AFP "there has been no such report" of civilian casualties from forces on the ground.
"What I can assure you is that the Nigerian Air Force responded to provide close air support to our troops that were under attack by the Boko Haram terrorists and everything that was done was in coordination with the army," he said.
But a security source in Maiduguri confirmed the incident to AFP and blamed residents for flouting military orders to remain indoors.
"The villagers were warned not to step out of their homes before the terrorists attacked because there was intelligence they were planning an attack," said the source.
"While fighting was going on some of the villagers started running away from their houses at the time the fighter jet was bombarding the terrorists," said the security source who asked not to be named for fear of sanction.
"I learnt between 13 and 16 people from the village died and some others were wounded", he said.
A military officer said ISWAP fighters in nine pickup trucks fitted with machine guns attacked the base around 17:00, engaging troops in a gunbattle.
The jihadists were subdued with the support of the fighter jet which destroyed six trucks and captured two others, the officer said.
On Thursday the military showed journalists the seized vehicles during a tour of the Gajiganna base, an AFP reporter at the event said.
Some buildings in the base were torched.
Military commander Brigadier-General Bulama Biu said ISWAP fighters "tried to infiltrate" the facility but met "stiff resistance" from troops.
Biu said the attack was "repelled" with air support in which "many insurgents were killed".
He made no reference to civilian casualties.
Full report at:
https://www.news24.com/Africa/News/13-nigeria-civilians-killed-in-air-raid-targeting-jihadists-sources-20190708
--------
Three killed as Somali police foil attack in Mogadishu
2019-07-08
MOGADISHU, July 8 (Xinhua) -- At least three people including a police man were killed and five others injured after a vehicle loaded with explosives went off at a security checkpoint in Mogadishu on Monday.
A security officer who confirmed the incident said the two al-Shabab militants and the policeman were killed during confrontation when a vehicle borne improvised explosive device attempted to forcibly pass through a security checkpoint but was thwarted.
"The vehicle loaded with explosives exploded after security officers manning the checkpoint intercepted it in an area close to Erdogan hospital in Hodan district," said a police officer who declined to be named.
The officer said the suicide bomber blew him up after being prevented to pass through the checkpoint, damaging some of the nearby buildings.
Full report at:
http://www.xinhuanet.com/english/2019-07/08/c_138209317.htm
--------
Nigeria police kill two Zakzaky supporters: Islamic group
Jul 10, 2019
Police in Nigeria have killed two supporters of jailed Muslim cleric Sheikh Ibrahim al-Zakzaky, who were demanding his release in the capital, Abuja, according to the Islamic Movement in Nigeria (IMN), an organization that he heads.
The two, who were members of the IMN, were shot and killed outside the National Assembly on Tuesday.
Clashes erupted there as protesters gathered outside the parliament and then sought to enter to register a demand for the cleric's release.
"The security... took our report to go and give the legislators but perhaps they refused to inform the legislators, or the legislators refused to respond. So, we decided to enter and submit it ourselves," said one protester. "But they stopped us and started spraying tear gas and shooting live bullets sporadically. I saw more than three people collapsing."
Police also arrested 40 people during the rally.
In a statement, police claimed two officers had been shot and wounded in the legs, and six other officers had been injured. They said they had "used minimum force to disperse the unruly protesters."
According to human rights groups, Nigerian forces have killed at least 400 members of the IMN over the past four years.
The group regularly organizes protests outside the assembly to demand the release of its leader, whose life is reportedly in danger due to health issues.
Sheikh Zakzaky, who is in his mid-sixties, lost his left eyesight in a 2015 raid by security forces that left more than 300 of his followers and three of his sons dead. His wife also sustained serious wounds.
The Islamic Human Rights Commission (IHRC), based in London, said earlier this week that the cleric's health condition has further deteriorated, since he was reportedly poisoned in prison.
The cleric's son, Mohammad, told Press TV on Saturday that his father was in dire need of medical treatment, as "large and dangerous quantities of lead and cadmium have been found in his blood." He said that the authorities intended to murder his father since they refuse to take any measures.
Full report at:
https://www.presstv.com/Detail/2019/07/10/600583/Nigeria-Zakzaky-police-kill-supporters
--------
Nigerian soldiers attack protesters demanding release of Sheikh Zakzaky
Jul 9, 2019
Nigerian army troops have attacked a peaceful protest rally demanding the immediate release of the country's senior Muslim figure Sheikh Ibrahim al-Zakzaky, who has been held in detention along with his wife for more than three years.
According to a report by the Islamic Movement in Nigeria (IMN), hundreds of the followers of the jailed leader staged a rally in front of the National Assembly in the capital, Abuja, on Tuesday, the last in a series of daily rallies for the same cause, but the army soldiers brutally attacked the demonstrators.
There were no immediate reports of the exact number of casualties and arrests, but photos uploaded on the official website of the IMN showed that several wounded protesters were being assisted away by fellow protesters.
Other reports said that police fired tear gas canisters toward the protesters and reportedly began firing live shots to disperse the crowd.
The state new channel NTA claimed that a group of protesters with the IMN, which is led by Sheikh Zakzaky, tried to enter the parliament, adding that the security had closed all the doors of the complex beforehand.
Zakzaky, now 66, has been in detention since December 2015 after his residence in the city of Zaria was raided by Nigeria's forces, during which he was beaten and lost vision in his left eye.
During the brutal crackdown, three of his sons lost their lives, his wife sustained serious wounds, and more than 300 of his followers were killed.
Zakzaky was charged in April 2018 with murder, culpable homicide, unlawful assembly, disruption of public peace, and other accusations. He has pleaded not guilty, vehemently rejecting all accusations brought up against him.
Recent reports said that his health has been deteriorating, but prison authorities have prevented him from access to needed treatment.
On Sunday, his son, Mohammad, said after visiting him that he had been shocked by his father's worsening medical condition, stressing that he needed to be immediately hospitalized as "large and dangerous quantities of lead and cadmium have been found in his blood."
Mohammad said Nigerian authorities had not taken any action so far and that they intended to murder his father.
On Friday, the UK-based Islamic Human Rights Commission (IHRC) announced that it had received reports that Zakzaky's health condition had further worsened.
The IHRC — which had sent a medical team to Nigeria in April to examine the health condition of Sheikh Zakzaky and his wife — has said the specialist treatment they require can only be fully accessed outside the African country.
Separately, members of the IMN also said last week that the cleric had been poisoned in prison and required urgent medical care abroad.
On Thursday, the IMN said in a statement that the group's leaders would hold Nigerian President Buhari Muhammadu responsible "if anything should happen to Zakzaky or his wife in detention."
Full report at:
https://www.presstv.com/Detail/2019/07/09/600552/Nigeria-Sheikh-Zakzaky-protesters-police
--------
Nigeria: 40 Shia members arrested in clash with police
Abu 'Adnan
09.07.2019
At least 40 members of Shia have been arrested in the Nigerian capital Abuja after they attempted to force their way into the parliament building during a protest seeking release of their detained leader Ibrahim el-Zakzaky.
Police spokesman Anjuguri Manzah said in a statement Tuesday evening that the Shia members fired gunshots at two policemen at the parliament as they tried to force their way into the building.
"Members of the sect during the violent protest shot two (2) police personnel in the leg, while clubs and stones were used to inflict injuries on six other policemen. The injured policemen have been taken to the hospital for prompt medical attention," according to the statement.
"Meanwhile, forty (40) members of the sect have been arrested in connection with the violent protest. Investigation is in progress."
Police said they won't allow anyone to hide under the right to peaceful procession to cause breakdown of law and order.
"Those arrested in the process will be dealt with in accordance with the appropriate law of the land," it added.
Full report at:
https://www.aa.com.tr/en/africa/nigeria-40-shia-members-arrested-in-clash-with-police/1527393
--------
South Asia
Stressing War's Toll, Taliban and Afghan Representatives Agree to Peace Road Map
By Mujib Mashal
July 8, 2019
DOHA, Qatar — Taliban and Afghan representatives, including some government officials, agreed on Tuesday to a basic road map for negotiating the country's political future, a major step that could help propel peace efforts to end the long war, now in its 18th year.
In a joint declaration after two days of unprecedented and often emotional discussions in the Qatari capital, Doha, the two sides emphasized a need to work for reducing "civilian casualties to zero" and assuring women their fundamental rights in "political, social, economic, educational, cultural affairs."
The declaration is not binding, and at best is a starting point for when the two sides meet later for negotiations that could lead to fixed terms.
But even if the declaration might not immediately de-escalate the violence in Afghanistan, it does help push forward a peace process between American diplomats and the Taliban that has been making strides in negotiations, but which has been struggling to overcome the Taliban's refusal to meet with Afghan government officials.
The Taliban have said direct negotiations with other Afghans would start only after the United States announces a timeline for the withdrawal of its troops from Afghanistan.
American negotiators are in the middle of the seventh round of talks with the Taliban over the withdrawal of troops in return for a commitment from the insurgents that Afghan soil would not again be used to launch terrorist attacks against the United States and its allies. Those talks, also held in Doha, paused for the two days of the "intra-Afghan dialogue," and are expected to resume on Tuesday with the hopes of finalizing an agreement.
In a sign that American officials saw progress on the Afghan-Taliban discussions as crucial to moving all the pieces of a comprehensive peace deal forward, Zalmay Khalilzad, the American special envoy leading the negotiations with the Taliban, was a regular presence on the margins of the intra-Afghan discussions. He attended both the opening and closing sessions and appeared to chat with participants during some of the breaks.
"There was a very friendly atmosphere and sincere atmosphere and everyone shared their views," said Sher Mohammad Abas Stanekzai, the most senior member of the Taliban delegation and their chief negotiator. "When we finalize our negotiations with the Americans and get a timetable for the withdrawal of foreign troops, then we will enter direct negotiations with the Afghan side for the internal matters of our country."
Nader Nadery, the head of the Afghan government civil service commission and one of the participants, said the conference had provided an important platform for sharing grievances.
"I think the two days of discussions has helped our realization of who the Taliban are, what they want, and they know who we are and what we want," he said.
The war has grown particularly violent in recent years, with the death toll rising of Afghan forces, Taliban militants and the civilians stuck in between. Just as the delegates filed in for first morning of discussions, a Taliban bombing on an intelligence facility left 14 people dead and about 170 people wounded. Most of the wounded were civilians, who included schoolchildren.
The joint Afghan-Taliban declaration calls for assuring security for public institutions like schools, hospitals and residential areas. The participants "committed to respect and protect the dignity of people, their life and property and to minimize the civilian casualties to zero," the declaration read.
The statement also called for trust-building measures, like the "unconditional release of elderly, disabled and ill inmates," ahead of the direct negotiations.
"This will help us get to direct intra-Afghan negotiations, but we need to know that 18 years of war cannot be resolved in two days," said Anarkali Honaryar, an Afghan senator and part of the delegation from Kabul. "There were differences of opinion, but both sides displayed great patience in how they shared those opinions. That's a big thing."
Germany and Qatar, the co-hosts of the event, welcomed the declaration, with officials from both countries appearing pleased with how the discussions had turned out. Qatar had tried in April to host the event, but the effort collapsed at the last minute after disagreements over a list of participants.
"We hope that this event will mark the beginning of a meaningful process which will lead to a comprehensive and sustainable peace for Afghanistan," the organizers said in a joint statement.
The two days of dialogue represented the first time the Taliban had engaged in substantial debate on issues, breaking with the former practice of mostly reading prepared statements.
Many of the sessions were tense and emotional. Several of the participants from the Afghan delegation had lost family members to suicide bombings and Taliban attacks. On the insurgents' side, many had spent years in detention.
While the delegation from Kabul challenged the Taliban on their attacks resulting in civilian casualties, the insurgents pushed back by highlighting civilian harm caused by operations of Afghan and American forces.
One of the most heated exchanges was over who gets to interpret Islam. When the discussion turned to basic rights like women's education and freedom of press, the Taliban couched their support with the caveat that those rights must be granted within the restrictions of Islam. Skeptics see that stance as allowing them future leverage to restrict freedoms.
One of the Taliban speakers argued that those restrictions would not be an issue for most Afghans, as the modern values propagated by a few urbanites are a product of the West.
The debate carried over to a lunch table where Ershad Ahmadi, a former deputy foreign minister, engaged with the Taliban speaker.
"The only way out of this is if you accept the diversity of this country — that I respect your way, and you respect how I live my life," Mr. Ahmadi said he told the Taliban official.
https://www.nytimes.com/2019/07/08/world/asia/afghanistan-taliban-peace-talks.html
--------
Afghan University Teacher, Students Among IS Operatives Arrested in Kabul
By Ayaz Gul
July 8, 2019
ISLAMABAD - Afghan authorities say they have arrested four Islamic State (IS) operatives, including a university teacher, during a counterterrorism raid in Kabul.
The arrests come amid recent reports the Middle Eastern terrorist group has grown into a major security challenge for U.S.-backed Afghan forces struggling to contain the Taliban insurgency.
Afghanistan's spy agency, National Directorate of Security (NDS), while announcing the arrests, said in a statement the suspects were involved in recruiting fighters for IS and organizing terrorist attacks in and around the capital city.
It identified one of the detainees as a Kabul University lecturer, Mubashir Muslimyar, while the rest as graduates of the same institution. The men are said to have told investigators they were working closely with IS operatives in eastern Nangarhar province and many educated young Afghans were joining their ranks.
This is not the first time that the NDS has arrested suspected IS operatives from Kabul University. Weeks back, another lecturer was also taken into custody on the same charges.
IS has not commented on the arrests.
The Afghan branch of IS operates under the name of Khorasan Province (ISKP). It is estimated to have about 2,000 fighters in the country.
Locally known as Daesh, the terrorist outfit has carried out major attacks in Kabul and Nangarhar, where it is believed to have set up strong bases in several districts. The militants are also active in parts of the adjoining eastern Kunar province.
Former Afghan national security advisrr, Haneef Atmar, told VOA militants linked to IS also are present in northeastern Badakhshan and northern provinces of Jowzjan and Faryab.
"They are a threat and they are not just a threat to Afghanistan they are a threat to the entire region and global security. So, it is not an exaggeration, it's a sad reality and we have to deal with it," said Atmar, who is also a key candidate in Afghanistan's presidential election due in September.
Atmar noted that "thousands of foreign fighters" associated with regional and global terrorist groups are operating in Afghanistan. They include Daesh, al-Qaida, Islamic Movement of Uzbekistan (IMU) and East Turkistan Islamic Movement (ETIM), which is blamed for attacks in China, he said.
The U.S. commander of American and NATO forces in Afghanistan, General Austin Miller, in a recent interview described IS as "a problem to all of us" and cautioned it could stage and plan attacks in the West.
"I think they're a very dangerous group internal to Afghanistan, certainly to the region as well as Europe and the United States of America," Miller told RFE/RL's Radio Free Afghanistan.
U.S. counterterrorism forces, in coordination with Afghan partners, routinely conduct operations against ISKP bases in the country, killing hundreds of militants. The Taliban also has engaged in deadly clashes with the ultra-radical IS militants. But despite those pressures, IS continues to operate in Afghanistan.
Atmar, who is a presidential candidate, praised ongoing U.S.-led efforts to strike a peace deal with the Taliban, saying such an eventuality will enable his country to effectively fight terrorism.
Full report at:
https://www.voanews.com/south-central-asia/afghan-university-teacher-students-among-operatives-arrested-kabul
--------
Taliban and Afghan government agree to reduce violence
08.07.2019
The Taliban on Monday agreed to reduce the number of civilian casualties in its offensive against Afghanistan's central government, according to a joint statement by representatives of the warring parties.
During talks in Doha, the militant group agreed to stop attacks on "religious centers, schools, hospitals, educational centers, bazaars, water dams and work places," according to a statement seen by DW.
The encounter ended with a joint "appeal and promise to reduce violence in Afghanistan," said Markus Potzel, Germany's Afghanistan envoy, who co-hosted the talks with Qatar.
The statement also gives assurances on "women's rights in political, social, economic, educational and cultural affairs in the contexts of Islamic values," according to DW's Pashto service.
'Quite frankly surprised'
Though the group refuses to recognize Afghanistan's central government in Kabul, calling it a "US puppet," Taliban representatives had agreed to meet with officials in Doha in a "personal capacity."
"The differences are almost so narrow," said Mutlaq al-Qahtani, Qatar's counterterrorism special envoy. "We are quite frankly surprised how serious both sides are," he added, "and they are so committed to putting an end to this conflict."
Read more: End of war more likely than ever
The Taliban has also been negotiating with the United States to bring an end to a conflict that started in the aftermath of the September 11 terrorist attacks in 2001.
But Afghan President Ashraf Ghani and US officials have said the Taliban must communicate with the government if they wish to seal a peace deal.
A previously planned meeting between Afghan representatives and the Taliban collapsed in April following a disagreement over the size of the proposed 250-member government delegation and its official status.
Read more: Afghan peace talks: Renewed bid to kick-start progress
US and Afghan negotiators are set to resume their talks on Tuesday. US Secretary of State Mike Pompeo said he hoped for a peace agreement before September 1.
Full report at:
https://www.dw.com/en/taliban-and-afghan-government-agree-to-reduce-violence/a-49517930
--------
5 JMB terror suspects were holed up in Chikkabanavara last year: NIA
Jul 10, 2019
Bengaluru: The National Investigation Agency (NIA) has found that five terror suspects belonging to Jamaat-ul-Mujahideen Bangladesh (JMB) were staying in a room at Chikkabanavara, north Bengaluru, for more than two months in 2018. Officials raided the room recently and recovered material used to prepare explosives.
NIA sources said the landlord had collected and stored the material from the premises where the suspects lived between May and June 2018.
"We've seized five fabricated hand grenades, a timer device, three electric circuits, suspected explosive substances, different components for making IEDs/rockets and other incriminating material from Mastan Sab Garden in Chikkabanavara," they said.
The officials raided the premises based on information provided by Habibur Rehman Sheikh, an alleged terrorist of JMB organization, who was arrested from Doddaballapur town last month.
Habibur revealed that he had visited Chikkabanavara twice in 2018 and met his associates residing there. His associates were identified as Najir Sheikh alias Patla Anas and Asif Iqbal alias Nadim from West Bengal; Arif and Jahidul Islam alias Kausar from Bangladesh and Ataur Rehman alias Nazrul Islam alias Mota Anas from Assam.
Full report at:
https://timesofindia.indiatimes.com/city/bengaluru/5-jmb-terror-suspects-were-holed-up-in-chikkabanavara-last-year-nia/articleshow/70148799.cms
--------
Bangladeshi author Taslima Nasreen completes 25 years in exile
Jul 10, 2019
Renowned Bangladeshi author Taslima Nasreen has completed 25 years of living in exile abroad.
"25 years. Yes, 25 years. Today. Completed 25 years of my exile life," Nasreen tweeted on Tuesday. Born in Mymensingh in East Pakistan (now Bangladesh) on August 25, 1962, Nasreen was forced to leave her country in 1994 due to repeated threats from radical Muslim groups after her novel 'Lajja' (shame) which depicts the persecution of a Hindu family by Muslims, ran into a controversy.She suffered a number of physical and other attacks following the publication of Lajja.
After fleeing Bangladesh, Nasreen adopted Swedish citizenship. Despite repeated threats to her life, the 56-year-old author has continued to write against Islamic philosophy, angering many Muslims in Bangladesh and worldwide.The exiled author has also lived in the US and Europe for many years. Nasreen lived in Kolkata between 2004 and 2007 but was forced to leave the city after radical Muslim groups demanded her to leave the country. She currently lives in New Delhi since 2011.
Full report at:
https://www.dnaindia.com/india/report-bangladeshi-author-taslima-nasreen-completes-25-years-in-exile-2770404
--------
BD boosts efforts to stop trafficking of Rohingya amid US criticism
July 10, 2019
DHAKA: Bangladesh is striving to stop Rohingya refugees from being trafficked but the crackdown will "take some time", an official said after the United States criticised the South Asian nation in its annual report on nations' efforts to tackle trafficking.
The US State Department's annual Trafficking in Persons (TIP) report last month found Bangladesh had not investigated dozens of potential crimes of forced labour and sex trafficking against the Rohingya living in refugee camps in the country.
About 900,000 Muslim Rohingya who have fled neighbouring Buddhist-dominated Myanmar since an army-led offensive in 2017 now live in Kutupalong and other settlements in Bangladesh's beach town of Cox's Bazar.
Authorities in Bangladesh rescued at least 250 Rohingya from human traffickers between January and June this year, who promise better lives abroad in countries such as Malaysia with no signs that the refugees will be able to return home soon.
Abu Bakar Siddique, an official with the Ministry of Home Affairs, said proposed anti-trafficking measures included setting up a centre for law enforcers within the refugee camps, and building a fence and watchtowers to protect the Rohingya.
"There are 11 lakh [1.1 million] people in a small area," he said. "A few of them will definitely try to fool the others. Yes, there are cases of genuine human trafficking and sexual abuse. We have reports about the hotels where these take place." "We are aware of most of the incidents and we are working hard to solve them. This is something new and it will take some time," said Siddique, who leads the interior ministry's anti-trafficking work.
'Aware of risks'
Siddique said he was "unhappy" with the TIP report — which found Bangladesh's anti-trafficking efforts had not improved — and that it should have considered how the government had been compelled to focus on the humanitarian needs of the Rohingya.
"We rescued 70,000 Rohingya [found] outside the camps and sent them back. We ... prevented many of them from being trafficked to other countries," Siddique added.
The US report also said Bangladesh had failed to tackle illegal recruitment agents, which left workers seeking jobs abroad vulnerable to trafficking.
A record number of Bangladeshis secured jobs overseas in 2017 — at least 1 million — as the country relies heavily on foreign remittances, but the system depends mainly on unlicensed brokers in rural areas and campaigners say exploitation is rife.
However, Siddique said that many Bangladeshi migrants who go abroad understand that they are doing so illegally and should be regarded as irregular migrants rather than trafficking victims.
"Many of them know that they are going abroad illegally. They are aware of the risks ... but they still go."
Full report at:
https://www.dawn.com/news/1493207/bd-boosts-efforts-to-stop-trafficking-of-rohingya-amid-us-criticism
--------
Special Forces storm 3 Taliban compounds in Helmand province
10 Jul 2019
The Afghan Special Forces stormed three Taliban compounds in southern Helmand province, the Special Operations Corps said.
According to a statement released by Special Operations Corps, the Special Forces stormed the Taliban compounds in Kajaki district late on Tuesday night.
The statement further added that the Special Forces destroyed the three compounds during the operation.
Furthermore, the Special Forces confiscated 2 weapons, 3 radio sets, 3 computers, a Pakistani national identity card, a stamp, 4 motorycles, 2 printers, a photocopy machine and some other materials.
Full report at:
https://www.khaama.com/special-forces-storm-3-taliban-compounds-in-helmand-province-03874/
--------
9 Taliban militants killed, wounded in Kandahar, Zabul operations and airstrikes
10 Jul 2019
The security forces killed 6 Taliban militants during the operations in southern Kandahar and Uruzgan provinces.
The 205th Atal Corps in a statement said the Afghan forces killed 4 Taliban militants during an operation in Band-e-Timor area of Maiwand district.
The statement further added that the security forces also wounded 3 Taliban militants during the same operations.
Furthermore, the Afghan forces conducted airstrikes in Chora district of Uruzgan province killing 2 Taliban militants.
Full report at:
https://www.khaama.com/9-taliban-militants-killed-wounded-in-kandahar-zabul-operations-and-airstrikes-03873/
--------
Afghan forces conduct 111 joint, special ops and 13 airstrikes in past 24 hours: MoD
9 Jul 2019
The Afghan security forces conducted 111 Joint and Special Operations against the militant groups in the past 24 hours.
The Ministry of Defense in a statement said the security forces conducted 10 joint and 101 special operations to suppress the militant groups.
Furthermore, the Afghan Air Force conducted 13 airstrikes to support the ground forces.
The statement further added that the security forces conducted the operations in Logar, Badghis, Herat, Kunar, Paktiya, Helmand, Baghlan, Ghazni, Uruzgan, Nangarhar, Zabul, Faryab, Balkh and Sar-e-Pul provinces.
Meanwhile, the defense ministry said the security forces killed 37 militants and wounded 15 others during the operations.
In addition, the security forces arrested a suspected militant during the operations.
The Ministry of Defense also added that the coalition forces also provided support to the Afghan security forces during the operations.
Full report at:
https://www.khaama.com/afghan-forces-conduct-111-joint-special-ops-and-13-airstrikes-in-past-24-hours-mod-03870/
--------
Europe
European Powers Urge Iran to Reverse Nuclear Deal Breaches
9 July 2019
The European signatories to the Iran nuclear deal, along with the EU's diplomatic chief, on Tuesday urged Tehran to reverse breaches of the accord, as tensions over the beleaguered deal grow.
"The foreign ministers of France, Germany, and the United Kingdom and the (EU) High Representative express deep concern that Iran is pursuing activities inconsistent with its commitments under the Joint Comprehensive Plan of Action (JCPoA)," they said in a statement, using the nuclear deal's official name.
https://english.alarabiya.net/en/News/middle-east/2019/07/09/European-powers-urge-Iran-to-reverse-nuclear-deal-breaches.html
--------
EU calls on Iran to reverse uranium enrichment and uphold nuclear deal
9 July 2019
The European Union on Tuesday urged Iran to reverse its scaled up uranium enrichment that breaches a nuclear arms control deal it signed in 2015.
"We continue to urge Iran not take further measures that undermine the nuclear deal to stop and to reverse all activities that are inconsistent with the JCPOA, including the production of low-enriched uranium," an EU spokeswoman told reporters, referring to the deal's formal name, the Joint Comprehensive Plan of Action (JCPOA).
Iran has said it will boost its uranium enrichment in a few hours above a cap set by the nuclear deal, a move that could mean the return of all economic sanctions on Tehran.
https://english.alarabiya.net/en/News/world/2019/07/09/EU-calls-on-Iran-to-reverse-uranium-enrichment-and-uphold-nuclear-deal.html
--------
Germany's largest mosque evacuated after bomb threat
Jul 9, 2019
Germany's largest mosque was evacuated on Tuesday following a bomb threat sent via email, Cologne police said.
The Central Mosque in the western city of Cologne, which is run by the Turkish-Muslim umbrella group DITIB, was cordoned-off after 50 people were taken to safety, according to a police spokesperson.
The building was then searched and an 11:15 a.m. (0915 GMT) deadline mentioned in the threatening email had passed without incident, police spokeswoman Annemarie Schott told reporters outside.
The operation was still ongoing by midday.
Full report at:
https://www.presstv.com/Detail/2019/07/09/600533/Germany-mosque-evacuated-bomb-threat
--------
Europeans take first step to punish Iran over nuclear pact breaches
July 09, 2019
BERLIN: European powers took their first step on Tuesday toward punishing Iran for breaking its nuclear agreement, triggering the deal's mechanism to resolve breaches.
The foreign ministers of Britain, France and Germany, plus the foreign affairs chief of the European Union, said in a statement that Iran was "pursuing activities inconsistent with its commitments" under the deal, known as the JCPoA.
"These compliance issues must be addressed within the framework of the JCPoA, and a Joint Commission should be convened urgently," they said.
The three European powers are the remaining Western signatories to Iran's 2015 nuclear agreement, which was abandoned by the United States last year.
Convening a joint commission of signatories — the Europeans plus Russia and China — is the first step in a process foreseen in the agreement that could eventually lead to a "snapback," bringing back the international sanctions lifted by the deal.
"Iran has stated that it wants to remain within the JCPoA. It must act accordingly by reversing these activities and returning to full JCPoA compliance without delay," the European countries said.
The 2015 agreement between Iran and world powers offered Iran access to world trade in return for agreeing to curbs on its nuclear program.
The future of the pact has been in doubt since last year when the United States pulled out of it and reimposed unilateral sanctions. Iran has said it wants to continue to abide by the agreement but cannot do so indefinitely if US sanctions prevent it from receiving any of the promised economic benefits.
The deal's fate has come to a head in the past 10 days, after Iran announced steps that were in violation of its central commitments — it announced that it had amassed more enriched uranium than allowed under the agreement and said it had refined uranium to a higher purity.
Tehran argues that its steps are permitted under the deal as a response to US non-compliance. It has said it could take new steps in 60 days, including restarting dismantled centrifuges and purfiying uranium to a sharply higher threshold.
CONFRONTATION
The nuclear diplomacy is a central issue in a wider confrontation between the United States and Iran, which has escalated since the start of May when Washington tightened sanctions with the aim of halting all Iranian oil exports.
The dispute took on a military dimension, with Washington accusing Tehran of attacks on ships in the Gulf. Last month Iran shot down a US drone, prompting President Donald Trump to order retaliatory air strikes, only to call them off minutes before impact.
The European powers strongly disagreed with the Trump administration's decision to abandon the nuclear deal, and have since found themselves caught in the middle, trying to persuade Iran to stick to it without receiving the promised benefits.
The Trump administration argues that the deal agreed under his predecessor Barack Obama was too weak because some of its terms were not permanent and it omitted non-nuclear issues such as Iran's ballistic missile program and regional policies.
Full report at:
http://www.arabnews.com/node/1523216/middle-east
--------
Germany calls for unconditional ceasefire in Libya
Ayhan Simsek
09.07.2019
BERLIN
German Chancellor Angela Merkel on Tuesday called for an unconditional ceasefire in the Libya conflict.
Addressing foreign ambassadors serving in Germany at an annual reception held in the Meseberg castle near Berlin, Merkel expressed grave concern about the continuing escalation in Libya.
"Germany supports UN efforts for an unconditional ceasefire," she stressed, and urged all conflict parties to return to the political process.
Merkel said last week's airstrike on a migrant detention center in a suburb of Tripoli, which killed at least 44 people and injured 130 others, showed the urgent need for an immediate ceasefire.
Libya's Government of National Accord (GNA) blamed the airstrike on commander Khalifa Haftar's forces, backed by the United Arab Emirates along with Egypt.
Merkel criticized the role of foreign powers in the Libya conflict and urged all countries to implement the UN arms embargo on Libya.
"The arms embargo must be implemented to prevent a further escalation," she said.
In early April, Haftar, who commands forces loyal to a rival government based in eastern Libya, launched a wide-ranging campaign to take the capital, but his forces have failed to achieve their primary objective, although they have captured several strategic towns and cities in the vicinity.
Libya has remained beset by turmoil since 2011 when a NATO-backed uprising led to the ouster and death of long-serving President Muammar Gaddafi after more than four decades in power.
Full report at:
https://www.aa.com.tr/en/europe/germany-calls-for-unconditional-ceasefire-in-libya/1527303
--------
Turkish leader sends off Srebrenica genocide victims
Talha Ozturk
09.07.2019
Turkey's president on Tuesday bid farewell to 33 newly identified victims of the Srebrenica genocide.
During his two-day visit to Bosnia's capital Sarajevo, Recep Tayyip Erdogan attended a procession to commemorate the genocide's thousands of innocent victims.
The remains of 33 Srebrenica genocide victims were placed on a truck laden with flowers in the Bosnian city of Visoko on Tuesday morning for their final journey to rest in a cemetery.
The victims will be buried in the village of Potocari, northwest of Srebrenica, on Thursday to mark the 24rd anniversary of the genocide.
The truck carrying the victims' remains arrived at the Presidential Council Building in the capital Sarajevo. Erdogan together with Bosnian officials and members of the public prayed for the victims and placed flowers on the truck.
Sarajevo locals showed great interest in the president and first lady Emine Erdogan, who took time to chat with them and have their photos taken.
As the truck passed through the streets of capital Sarajevo, thousands of people, including women and children, could be seen crying. Many showered the truck with flowers and raised their hands in prayer.
Every year on July 11, newly identified victims of the genocide -- which claimed the lives of over 8,000 people -- are buried in a memorial cemetery in Potocari, eastern Bosnia. Thousands of visitors from various countries attend the funeral service and burials.
As of this year's funeral, the number of burials in the cemetery will rise to 6,643.
More than 8,000 Bosnian Muslim men and boys were killed after Bosnian Serb forces attacked the UN "safe area" of Srebrenica in July 1995, despite the presence of Dutch troops tasked with acting as international peacekeepers.
Srebrenica was besieged by Serb forces who were trying to wrest territory from Bosnian Muslims and Croats to form their own state.
The UN Security Council had declared Srebrenica a "safe area" in the spring of 1993. However, Serb troops led by Gen. Ratko Mladic -- later found guilty of war crimes, crimes against humanity, and genocide -- overran the UN zone.
Full report at:
https://www.aa.com.tr/en/europe/turkish-leader-sends-off-srebrenica-genocide-victims/1527067
--------
Moroccan jailed in Portugal for ISIS recruitment
July 10, 2019
A 65-year-old Moroccan citizen was sentenced to 12 years in prison on Tuesday after being convicted by a Portuguese court of recruiting young people to fight in Syria.
Abdesselam Tazi was also found guilty by the court in Lisbon of financing the recruitment using forged credit cards.
Portugal's public prosecutor said Tazi was an intelligent man who recruited the people, mostly from Morocco, to travel to Portugal and then join ISIS in Syria.
The court, which found him guilty of seven crimes, found no evidence that Tazi was a member of the extremist organisation.
"The sentencing caught me by surprise," Tazi's lawyer Lopes Guerreiro said. He said he planned to appeal against the court's decision.
"The individual was absolved of belonging to an international terrorist organisation but he was condemned for having recruited people for an organisation he is not part of," Mr Guerreiro said.
Full report at:
https://www.thenational.ae/world/europe/moroccan-jailed-in-portugal-for-isis-recruitment-1.884430
--------
France's Emmanuel Macron assembles elite team to defuse Iran tensions
Damien McElroy
July 9, 2019
French president Emmanuel Macron has assembled an elite diplomatic team to spearhead the Elysee's diplomatic initiative to allay the tensions over Iran.
Highly experience negotiators on the Iran file have in recent weeks taken over key posts in the French diplomatic service. Mr Macron's own recently appointed diplomatic adviser Phillipe Bonne arrived in Tehran on Tuesday on a two-mission to talk to the regime.
Meanwhile in Washington, Phillipe Etienne, who has played a key role in Iran talks in Paris, Berlin and Brussels over a decade, was presenting his credentials as the new French ambassador. At the United Nations, France is now represented by Nicolas de Riviere, who as political director of the French foreign ministry and before that as chief negotiator in the talks, is a veteran of the Iran diplomatic track.
President Macron held phone calls with both Donald Trump and the Iranian president Hassan Rouhani on successive days as he tries to broker an understanding.
As a Middle East specialist, Mr Bonne has been tasked with assembling the "elements" of de-escalation in the crisis with Tehran. The former ambassador to Lebanon is said by officials to have deeply engaged with factions throughout the Iranian power structure.
Having also headed the cabinet of Jean Yves Le Drian, Mr Bonne will have handled the fallout from Mr Trump's original decision to quit the 2015. Since jobs in May tensions in the Arabian Gulf have spiralled over alleged Iranian aggression and missile attacks by its proxies on neighbouring states.
The plan that has emerged in recent weeks puts Paris in position to conduct a blitz of shuttle diplomacy. The first objective is to calm down both the rhetoric and the sense that the situation is spiralling out of control.
Ellie Geranmayeh, an Iran expert at the European Council for Foreign Affairs, believes the purpose of the French initiative – shared with Germany and Britain – is to avoid the dilemma of having to back the US or Iran in a confrontation.
To ease confrontation, Iran has sought both assurances from the Europeans that trade with Iran can continue in defiance of US sanctions and for some sign that Paris can squeeze concessions from Washington.
During the G20 summit in Japan last week, Mr Macron asked Mr Trump to reduce some of the US oil sanctions pressure on Iran, even as American officials were travelling around Europe warning they were ready to drive Tehran's exports as close to zero as possible.
Speaking last year after Mr Trump rejected the agreement, Mr Etienne said that the US decision was a test for Europe. He reminded his audience that officials such as himself had been working on the negotiations for more than 15 years. "Since 2003, Paris, London and Berlin had taken the lead in promoting a diplomatic path to solve the Iran nuclear crisis," he said, adding they would continue to work "relentlessly" to preserve it.
In photos released from the Oval Office late on Monday, Mr Etienne appears to have had a good induction meeting with the US leader. The image shows Mr Trump grinning widely and making a thumbs up gesture.
The veteran diplomat will now have the task of corralling the goodwill that French diplomacy has relentlessly sought to build up with Mr Trump into finding a way forward on Iran.
From New York Mr de Riviere will have the equally important task, as a representative among the permanent five members of the Security Council, of reflecting growing international pressure of Iran's ballistic missile programme while resisting any attempt to undermine the Joint Comprehensive Plan of Action (JCPoA), an international agreement that is backed by UNSC resolution.
As political director of the French foreign ministry, Mr de Riviere was part of a key contact group with Iran as the accord broke down. He was also an instrumental member of the three country group that set up the Instrument in Support of Trade Exchanges (INSTEX) that was established to barter with Iran.
Brian Hook, the American Iran envoy, last week revealed that Washington was considering the establishment of an international coalition of naval forces to ensure freedom of navigation through the Arabian Gulf and Sea of Oman.
The US diplomat suggested that the coalition could be closely modelled on the UN-backed force set up to tackle piracy on the Indian Ocean by Somalian gangs. That would require a mandate from the UN Security Council.
Full report at:
https://www.thenational.ae/world/europe/france-s-emmanuel-macron-assembles-elite-team-to-defuse-iran-tensions-1.884413
--------
Anti-Islam activist Tommy Robinson encouraged violence at court case, judge says
July 9, 2019
Anti-Islam campaigner Tommy Robinson encouraged "vigilante action" when he broadcast footage of men arriving in court to face child sex offences charges.
The UK high court said Robinson, whose real name is Stephen Yaxley-Lennon, was trying to agitate the public and was clearly interfering with the administration of justice.
Robinson is facing up to two years in jail after being found in contempt of court after breaching reporting restrictions in May 2018. He is due to be sentenced on Thursday.
"His words had a clear tendency to encourage unlawful physical or verbal aggression towards identifiable targets," High Court judge Dame Victoria Sharp.
"Harassment of the kind he was describing could not be justified.
"There was plainly a real risk that the defendants awaiting jury verdicts would see themselves as at risk, feel intimidated, and that this would have a significant adverse impact on their ability to participate in the closing stages of the trial."
This would represent a "serious impediment" to the course of justice, it was found.
The court heard that Robinson encouraged those viewing his video, which lasted 90 minutes and was viewed 250,000 times, to harass, find, follow and knock on the door of the defendant he was filming.
"All of this has to be assessed in the context of the video as a whole, in which the respondent approves and encourages vigilante action," Ms Sharp said.
"We are sure that what the respondent said in this passage will have been understood by a substantial number of viewers as an incitement to engage in harassment of the defendants."
Robinson's defence team said he was facing the charges because of his reputation. A founder of the English Defence League, which he has since left, he has repeatedly criticised Muslims and been accused of racism.
He was originally jailed for 13 months last year after being found in contempt of court but his sentence was overturned after two months by the Court of Appeal in August 2018.
Full report at:
https://www.thenational.ae/world/europe/anti-islam-activist-tommy-robinson-encouraged-violence-at-court-case-judge-says-1.884347
--------
URL: https://www.newageislam.com/islamic-world-news/muslim-scholar-appointed-human-rights/d/119143
New Age Islam, Islam Online, Islamic Website, African Muslim News, Arab World News, South Asia News, Indian Muslim News, World Muslim News, Women in Islam, Islamic Feminism, Arab Women, Women In Arab, Islamophobia in America, Muslim Women in West, Islam Women and Feminism