New Age Islam News Bureau
25 March 2017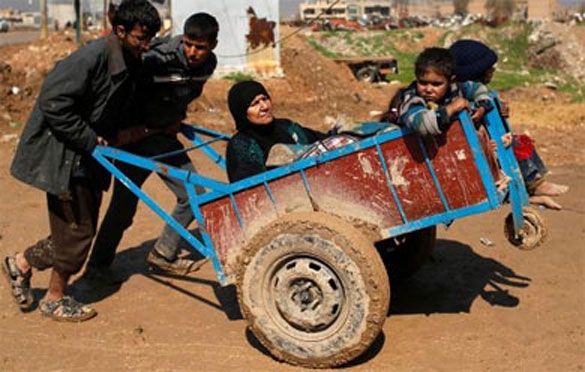 Displaced Iraqis flee their homes as Iraqi forces battle with Islamic State militants, in western Mosul, Iraq March 24, 2017. REUTERS/Suhaib Salem
-------
• Muslim Nations' Envoy Discuss Online Blasphemy against Islam in Islamabad
• In Rural Canada, Churches That Once Shunned One another Open Their Hearts to Syrian Refugees
• United States Probes Nearly 300 Syrian And Iraqi Civilians Deaths Due To Airstrikes
• Iraqi Forces to Deploy New Tactics in Mosul, Civilians Flee City
------
Pakistan
• Pakistan Observes 86th Death Anniversary of Bhagat Singh
• Islamabad Administration Stops Abdul Aziz From Staging Conference At Lal Masjid
• 'Pakistan mulling options for Basit's replacement in New Delhi'
• Pakistan rejects US Human rights report as flawed
• No visa issued without consulting embassy's security wings: ex-envoy
• Chaudhry Nisar tells new FC recruits they have to bring peace to Balochistan
------
Europe
• Six Russian Troops Killed In IS-Claimed Attack on Chechen Base
• Police arrest two more over British parliament attack
• Russia, China seek chemical weapons probe in Iraq
• Three injured in shooting in northern French city of Lille
• Islamic State group claims Chechnya attack: SITE
• Vladimir Putin meets French presidential contender Marine Le Pen in Kremlin
• Confusion and fear: British PM Theresa May's London attack escape
------
North America
• The Bible Tells Us So: Concern for Immigrants Is At the Heart of Faith
• Victim's husband appeals for calm after Wisconsin shooting
• UN rights council approves fact-finding mission in Myanmar
• US sanctions firms for transferring technology to Iran, N. Korea & Syria
• Donald Trump administration asked to push for F-16 fighter jets sale to India
------
Arab World
• Final Push on Syria's Raqa to Begin 'In Coming Days': France
• Saudi embassy confirms UK attacker had been in Saudi Arabia
• Syrian Army Wins Back Control of another Town in Eastern Aleppo
• Damascus: Army Earns Control of All Lost Areas in Northern Jobar
• Kurdish Forces Reach Al-Tabaqa Dam in Raqqa
• Terrorists' Offensive Warded Off by ISIL Hunters in Homs
• UN profoundly concerned by 'hundreds of casualties' in suspected coalition airstrikes in Mosul
------
South Asia
• Suppress All Militants Opposing Govt and Law, Ghani Tells ANP Special Forces
• Suicide Attacker Blows Himself Up Near Bangladesh International Airport, No Casualties
• Islamic State claims responsibility for Bangladesh airport blast
• 'Noor has always asked for Balkh, not for himself': President Ghani
• President Ghani arrives in Mazar-e-Sharif city on unannounced visit
• Deadly mosque bombing foiled in North of Afghanistan
------
India
• Modi Sends Chador to Ajmer Shrine
• Delhi Continues To Harp On Terror Mantra
• NIA Opposes Aseemanand Bail, Says Has Ample Proof
------
Mideast
• Hamas Blames Israel for Senior Member Assassination, Threatens 'To Act'
• MHP Leader Seeks 'Yes' Vote to End 'Global Plot against Turkey'
• Israel ignores UN demand against settlements: Diplomat
• Gunmen kill Hamas official in Gaza
• At least 11 migrants killed in new Aegean tragedy off Turkey
• Swiss foreign minister warns Turkey against illegal spying
• 236 Turkish citizens sought asylum in Greece since coup attempt
• Turkey may not be in great position, but looks worse: Deputy PM
------
Africa
• Cairo Suburb Explosion: One Killed, Three Injured, Say Security Sources
• Key events in the life of the ousted Egyptian president Hosni Mubarak
------
Southeast Asia
• Malaysia PM to sign pacts worth $5bn during India visit in April
Compiled by New Age Islam News Bureau
URL: https://www.newageislam.com/islamic-world-news/muslim-nations-envoy-discuss-online/d/110534
-----
Muslim Nations' Envoy Discuss Online Blasphemy against Islam in Islamabad
March 24, 2017
Envoys of 21 Muslim countries met in Islamabad to discuss blasphemous contents against Islam on social media and decided to adopt a joint strategy to counter it. Pakistan's interior minister Nisar Ali Khan hosted a meeting of envoys to thrash a policy to counter online anti-Islam materials, according to statement by the Interior Ministry.
"There was unanimity among the participants that the entire Muslim Ummah is united to protect the sanctity and dignity of the religion and Holy prophet," it said.
It was decided that a comprehensive strategy paper encompassing all legal and technical aspects would be circulated by Pakistan's Ministry of Foreign Affairs among the ambassadors of the Muslim countries which they would be sharing with their governments to evolve future plan of action.
It was also decided that a formal reference would be sent to Secretary General of the Arab League raising the issue of blasphemous content on social media and how such a tendency had been hurting the sentiments of the Muslims across the world.
The meeting decided that after response is received from the government of the Islamic countries, the matter then would be taken up at the level of UN besides looking into legal options available to follow-up the matter legally in the courts of the respective countries from where such content was being generated.
Addressing the Ambassadors, the Interior Minister pointed out that distortion of religious beliefs and sacrilege of holy personalities of any religion is intolerable.
He said that no law permits showing disrespect or distortion of any religion.
Khan said that it was unfortunate that the Muslim being the biggest victims of terrorism were being portrayed as the perpetrators.
He said that the Islamic Ummah must strive together to impress upon the international community to shed off Islamophobia.
The Minister said that distortion of any religion is also another form of terrorism that the international community must acknowledge.
The Interior Minister said that sections of the western world must get out of double standards about Islam and the Muslims.
"On one hand, they have laws against any kind of distortion or disrespect towards any religion and on the other hand, the most revered personalities of Islam are being ridiculed," he said.
The meeting has one-point agenda to discuss blasphemous content on social media and to effectively raise voice of the entire Muslim world against it.
http://indianexpress.com/article/world/muslim-nations-envoy-discuss-online-blasphemy-against-islam-4584086/
------
In rural Canada, churches that once shunned one another open their hearts to Syrian refugees
By Bobby Ross Jr
March 23, 2017
Canadian Prime Minister Justin Trudeau welcomes Syrian refugees at Pearson International Airport in December 2015. Photo courtesy of the Prime Minister's Office
DAUPHIN, Manitoba (RNS) Ken Yakielashek, a Roman Catholic and semiretired farmer in the Canadian Prairies, says he remembers when Christians of varying denominations "wouldn't talk to one another."
To Yakielashek, that makes what's happened in Dauphin — a rural community 200 miles northwest of the provincial capital of Winnipeg — all the more remarkable.
A year and a half ago, three churches put aside theological differences and came together to sponsor the resettlement of three Syrian refugee families to this town of 8,500.
In the rural Canadian community of Dauphin, Manitoba, Cordell Lind, left, of the evangelical First Baptist Church and Ron Marlin of the mainline Dauphin First United Church put aside theological differences to focus on helping resettle Syrian refugee families. Joining in the effort was St. Viator's Catholic Church, a parish of the Archdiocese of Winnipeg. RNS photo by Bobby Ross Jr.
"We have three different theological outlooks on things, but they've been pushed to the background," said Ron Marlin, a lay leader for Dauphin First United Church, a liberal mainline Protestant congregation.
"The focus was very much on helping our neighbors in need," agreed Cordell Lind, whose wife, the Rev. Lorayln Lind, serves as pastor for the conservative evangelical First Baptist Church of Dauphin.
In the United States, new President Trump's effort to bar refugees from certain Muslim-majority nations deemed terrorism threats — including Syria — has dominated headlines for weeks.
But here in Canada, the government has welcomed more than 40,000 men, women and children fleeing Syria's civil war since Prime Minister Justin Trudeau's October 2015 election.
"Canada is doing the right thing by providing refuge for those so desperately seeking safety," Trudeau has said.
Back in September 2015, a 3-year-old Syrian boy named Aylan Kurdi drowned after a 15-foot boat ferrying him to a Greek island capsized.
Pictures of the toddler's lifeless body on a beach horrified millions around the globe, including Yakielashek, a parish council member at St. Viator's Catholic Church in Dauphin.
Yakielashek said he felt a personal connection to the Syrian refugees because his Polish grandfather "escaped from situations similar to that in eastern Europe."
"This isn't right," Yakielashek said he told his parish priest, the Rev. John Legitimas. "Somebody has to do something."
Legitimas talked to the Rev. Richard Gagnon, archbishop of Winnipeg, and got approval to look into sponsoring a refugee family.
Siblings Roqayah and Hussein Alassaf in the Zaatari Refugee Camp in Jordan before resettling in Canada. Photo courtesy of the Alassaf family
The same boy's death spurred Dauphin First United Church to act: "That galvanized us to say, 'OK, we can't just write a check and send it somewhere else,'" said Marlin, a retired Royal Canadian Mounted Police district supervisor.
Meanwhile, First Baptist Church already had connections to the Middle East and was moving forward with plans to help, Cordell Lind said.
When the three churches learned of one another's efforts, they committed to pool resources and share ideas where they could. The churches formed the Dauphin Interchurch Refugee Team — "which, by the way, has the acronym DIRT," Lind said with a chuckle.
Siblings Hussein and Roqayah Alassaf test out new donated bicycles at their home in Dauphin, Manitoba, in 2016. Photo courtesy of Ron Marlin
While working together, each church maintained its individual sponsorship of a Syrian family. The refugees — 15 men, women and children in all, plus a baby born after their arrival — began new lives in Dauphin a year ago.
Months later, the Arabic-speaking immigrants — still learning English — told Canadian media that their church sponsors and other community friends had become like family.
"It feels like home," Asya Alassaf, one of the Syrian mothers, told the Winnipeg Free Press.
"It's good," said Louai Alassaf, Asya's husband. "Mainly, people are very nice."
But not everyone.
Soon after news broke that the families were coming, a man made threatening telephone calls saying he hoped Dauphin First United Church "would burn in hell," according to local media reports.
Still, most area residents — like the majority of Canadians in general — have responded positively, said the sponsoring churches' representatives.
"It still gives me goose bumps when I think about it," Lind said. After picking up one Syrian family at the Winnipeg airport, he said, "we stopped in a little town called Neepawa for a cup of coffee on the way home, and everyone in the McDonald's had to come over to welcome them to Canada."
Ukrainian immigrants first settled in Dauphin more than a century ago, but the community has become much more multicultural in the last 15 years, Yakielashek said.
"For the most part, the reaction (to the Syrian refugees) has been welcoming from all walks of life, from doctors to lawyers to dentists to farmers to accountants to ordinary laborers and teachers," he said.
Yakielashek's attitude: "We've got lots of land here. We have lots of opportunities for the country to grow. Why can't we bring people in here to contribute? I don't expect them to have any more or less than we do, but just a chance at life."
The three Syrian families that resettled in Dauphin, Manitoba, gather for a photo at a going-away celebration held for their interpreter at Riding Mountain National Park. Photo courtesy of Ron Marlin
Not only have the churches helped make life better for the refugees, but they also have built bridges drawing Dauphin's Christians closer together, the representatives said. The Dauphin Interchurch Refugee Team is making plans to bring more Syrian refugees to town.
To be sure, the days of Christians refusing to communicate across confessional lines because of theological differences began to fade long before the refugees' arrival. And the cooperation on their absorption didn't remove the differences that remain.
For example, Marlin said Dauphin First United Church sees no need to proselytize the refugees — all Muslims.
"It's not our job to convert them from their lifelong religion to another," Marlin said. "It's our job to support them in the celebration of their religion and the celebration of their humanity."
Cordell Lind, on the other hand, said the First Baptist Church "would love for Mahmoud and Hala (the couple sponsored by the congregation) to meet Jesus."
"So we pray for our family, and we pray for the other families and would be very excited if they did" become Christians, Lind said. "If they don't, they will still be our lifelong friends and part of our family."
http://religionnews.com/2017/03/23/in-rural-canada-churches-that-once-shunned-one-another-open-their-hearts-to-syrian-refugees/
------
United States Probes Nearly 300 Syrian And Iraqi Civilians Deaths Due To Airstrikes
March 25, 2017
The US military is investigating whether it was responsible for the deaths of nearly 300 Syrian and Iraqi civilians in three different sets of airstrikes this month, a media report said.
Civilian casualties have been alleged in all three instances, but each situation is different and complex, CNN quoted a US defence official as saying on Friday.
So far, there is no indication of a breakdown in US military procedures governing airstrikes, the official said, and the US is not contemplating a pause in military operations.
The most severe incident involves western Mosul in Iraq.
The US military is trying to determine if sometime between March 17 and March 23, bombs dropped in the neighbourhoods of al Jadidah, al Amel and al Yarmouk by American warplanes resulted in the deaths of over 200 civilians.
The chairman of Nineveh Provincial Council in Iraq, Bashar al Kiki, told CNN: "Most of (those) killed are civilians, among them children and women."
The Iraqi official demanded an end to military operations in the area until civilians' safety can be guaranteed.
The incidents military officials are looking into are based largely on local reports and social media accounts of the strikes.
While in Syria, the US military has begun a formal investigation into a March 16 airstrike, where local reports said a mosque was struck and more than 40 people died.
For days the Pentagon said there were no civilian casualties in the March 16 incident, even as numerous social media reports showed images of bodies being carried out of the rubble.
However, the US has not ruled out the possibility that the Islamic State (IS) terror group was using civilians as human shields, but the defence official told CNN that there was an urgency to find out if Washington was responsible.
The Central Command was also reviewing an airstrike against a school building on Wednesday near Raqqa, Syria.
Local activists have said an airstrike may have killed more than 30 civilians seeking shelter there. The US was conducting strikes in the area, the defence official added.
http://indianexpress.com/article/world/united-states-probes-300-civilian-deaths-due-to-airstrikes-iraq-syria-islamic-state-4584712/
------
Iraqi forces to deploy new tactics in Mosul, civilians flee city
March 24, 2017
Iraqi forces are to deploy new tactics in a fresh push against Islamic State in Mosul, military officials said on Friday, after advances slowed in the campaign to drive the militants out of their last stronghold in the country. Iraq's military is assessing opening up another front and isolating Mosul's Old City, where the militants have put up fierce resistance, a US deputy commanding general for the coalition said. Families are streaming out of the northern Iraqi city in their thousands each day, headed for cold, crowded camps or to stay with relatives. Hunger and deadly fighting are making life unbearable inside.
The US-backed offensive to drive Islamic State out of Mosul, now in its sixth month, has recaptured most of the city. The entire eastern side and around half of the west is under Iraqi control. But advances have stuttered in the last two weeks as fighting enters the narrow alleys of the Old City, home to the al-Nuri mosque where Islamic State leader Abu Bakr al-Baghdadi declared a caliphate spanning large areas of Iraq and Syria in 2014. The militants have used car bombs, snipers and mortar fire to counter the offensive, firing from crowded residential areas and complicating the battle plan especially since troops entered the crowded Old City.
US Army Brigadier General John Richardson, a deputy commanding general in the coalition, said the solution could lie in a change of tactics. "They (Iraqi forces) are looking at opening another front to force ISIS to fight on two directions and isolate the Old City, so when it is time to go into the old city, potentially they surrender," he told Reuters. Richardson said the Iraqi forces could move army units in from the north while other brigades build up positions around the Old City. "That is going to force ISIS to fight on two fronts, and I don't think they have that capability," he said. Richardson said it was hard to estimate the number of militants left in the city, but said the quality of fighter was declining as their ranks were depleted.
An Iraqi defence ministry spokesman, who also spoke of new tactics, said elite Counter-Terrorism Service (CTS) forces made some advances against the militants on Friday. "In the next few days we will surprise Daesh terrorists by targeting and eliminating them using new plans" Brigadier General Yahya Rasool told state TV, without elaborating. Rasool said CTS forces had advanced in tough, building-to-building battles to recapture areas outside the Old City including al-Yabsat. Islamic State fighters had been positioning car bombs, and forcing residents to move furniture onto the streets which the militants were booby-trapping to slow Iraqi advances, he said. Reuters could not independently verify the new advances by the CTS.
No new advances were reported in the Old City, where elite Rapid Response forces, an interior ministry unit, and Federal Police are involved in the fighting. The Federal Police said they were clearing houses and securing areas that they had already entered. Fighting in the eastern half of the city ended in January, but in a sign of the challenges still faced there, security forces killed one suicide bomber before he detonated his explosives. Police said the bomber had crossed the Tigris from the west.
SNIPER DANGER
Islamic State fighters have stationed themselves in homes belonging to Mosul residents to fire at Iraqi troops, often drawing air or artillery strikes that have killed civilians.
One police officer said the new tactics would also involve deploying additional sniper units against Islamic State sharpshooters. The officer asked not to be identified because of the sensitivity of discussing military tactics. The militants have launched a series of counter-attacks, sometimes pinning down Iraqi forces on the southern edges of the Old City. Cloud cover and rain in recent weeks have prevented effective air support, military officials say. As the battle continues, more civilians are being killed or displaced. Local officials and residents said on Thursday dozens of people were buried in collapsed buildings after an air raid against Islamic State triggered a massive explosion last week.
The US coalition said there was an investigation into those reports. Outside the city on Friday, hundreds of displaced people trudged through mud clutching suitcases and bags. One man said that Islamic State snipers were shooting at fleeing residents, and some had been killed in explosions. Residents described grim living conditions inside the city, saying there was no running water or electricity and no food coming in. Khaled Khalil, a 36-year-old carpenter whose shop was destroyed in fighting, clutched his three-year-old daughter. "We've been on the move since yesterday. We're very tired but now we're safe. Anybody they (Islamic State) catch, they kill. If we have time, we run," he said. As many as 600,000 civilians remain in the western half of Mosul.
http://indianexpress.com/article/world/iraqi-forces-to-deploy-new-tactics-in-mosul-civilians-flee-city-4584256/
------
Pakistan
Pakistan observes 86th death anniversary of Bhagat Singh
March 24, 2017
The civil society members and academics in Pakistan have demanded a public apology from the British Queen for the "unjust killings" of Indian freedom fighters Bhagat Singh, Rajguru and Sukhdev as the country marked their 86th death anniversary. The main event was organised by the Bhagat Singh Memorial Foundation at Lahore's Fawara Chowk yesterday where the three freedom fighters were hanged on March 23, 1931. Amid high security, the participants attended the memorial ceremony and urged the British Queen to visit Shadman Chowk and tender a public apology for the murder of the trio.
Adopting a resolution, the activists also demanded the Queen should apologise to India and Pakistan and to the families of the freedom fighters, besides paying pecuniary compensation for the "unjust killings." The civil society members also held a candle light vigil to remember the sacrifices of the freedom fighters. Some descendants of Bhagat's family, including Sardar Hakoomat Singh, Gurjit Dhat, Abhe Singh Sindhu, Kiran Jeet Singh and Sardar Sukhvendra Singh Sanga delivered telephonic speeches from Canada and India.
"We will not forget the courage and sacrifice of Shaheed Bhagat Singh and his companion. Singh will be echoed against every imperialistic regime," said Abdullah Malik, president of Bhagat Singh Foundation Pakistan. He criticised the Punjab government for not honouring the freedom fighters and not renaming Shadman Chowk as Shaheed Bhagat Singh Chowk.
Foundation's chairman Imtiaz Qureshi said people like Bhagat and his comrades were born in centuries and their great sacrifice would always be remembered. On the order of the Lahore High Court, the Lahore police provided security for the event which had faced threats from "religious extremists."
Taran Geet Sing, Amir Sohail and other Sikh students also spoke on the occasion and paid rich tributes to freedom fighters. The Dyal Singh Research and Cultural Forum also held a separate function at the Dyal Singh Auditorium Lahore to pay tributes to the three freedom fighters. Forum's director Ehsan Nadeem said the sacrifice of Bhagat Singh lit the candle of freedom that wiped out British colonialism.
Punjab University's Dean of Social Sciences Iqbal Chawla said unlike Gandhi, founder of Pakistan Muhammad Ali Jinnah had supported Bhagat's struggle and declared it was legal. "It was Maulana Zafar Ali Khan who in a poem declared Bhagat Singh a martyr. All this indicated Muslims' love for Bhagat Singh and the Sikh community," he said.
http://indianexpress.com/article/world/pakistan-observes-86th-death-anniversary-of-bhagat-singh-4583509/
------
Islamabad administration stops Abdul Aziz from staging conference at Lal Masjid
March 25, 2017
ISLAMABAD: The Islamabad administration and police forcibly stopped Shuhada Foundation and Maulana Abdul Aziz from holding a conference at the Lal Masjid on Friday.
The Shuhada Foundation had announced to hold a Tahaffuz Namoos-e-Risalat (Protection of the sanctity of the Prophet (PBUH)) conference at the mosque in light of the on-going controversy over alleged blasphemous content being shared on social media.
However, the Islamabad Capital Territory Administration (ICT) did not grant permission to the organisers to hold the event at the mosque and had requested them to cancel it.
However, the organisers were adamant on holding the conference – even if they did not have the requisite permission.
On Friday morning, the police and administration locked down all routes leading to and from the mosque.
Roads from Aabpara to Melody were blocked. Anyone, including pedestrians, motorists, or media were barred from approaching the mosque.
With all routes blocked, Aziz announced that they were postponing their conference till next Friday.
Banned documentary on Lal Masjid cleric screens behind closed doors
The cleric said the step was being taken to avoid violence and clashes with law enforcers. He claimed that police had detained as many as 40 people who were released after Friday prayers.
The police, however, denied making any 'formal arrests'.
Earlier in January, the administration had stopped the Shuhada Foundation from holding a news conference at the mosque.
https://tribune.com.pk/story/1365018/islamabad-administration-stops-abdul-aziz-staging-conference-lal-masjid/
------
'Pakistan mulling options for Basit's replacement in New Delhi'
March 25, 2017
Pakistan may replace its top envoy to India, Abdul Basit, who has completed his three-year tenure in New Delhi.
Basit, the Pakistan High Commissioner to India, was appointed in March 2014 after he suffered a major disappointment when he was sure of being appointed Pakistan's Foreign Secretary but last-minute wheeling and dealing resulted in the appointment of Aizaz Ahmad Chaudhry.
He failed again to get favours from the decisions-makers in Islamabad when last month his junior Tehmina Janjua was appointed his boss and Foreign Secretary.
The "powerful men" in Islamabad wanted to make history by appointing a woman as the first foreign secretary of Pakistan.
Reliable sources said Basit in the heat of passions had thought of resigning. But later decided to stay put, making it clear to his bosses he would not work in any 'subordinate' position to Janjua.
As he completes his tenure, Foreign Office bosses are unsure how to deal with Basit. Sources said an option could be to let Basit carry on but the problem is he is considered hawkish by the incumbent government who hardly fits into the Prime Minister's policy of "good ties with all neighbours".
Another possibility could be to appoint him to send him as ambassador or high commissioner to a European capital. The last option could be to send his replacement to New Delhi and let him come back and then proceed on a long leave.
Already, name of senior diplomat Sohail Mahmood is being discussed as possible replacement. He is not the only one as other names are also being named including one of former spokesperson Tasnim Aslam, the sources said.
In his Pakistan Day speech yesterday at the embassy in New Delhi, Basit said the long-standing unresolved issues of Kashmir must be resolved as per the "aspirations of Kashmiris".
http://indianexpress.com/article/world/pakistan-mulling-options-for-basits-replacement-in-new-delhi/
------
Pakistan rejects US Human rights report as flawed
March 25, 2017
Pakistan on Friday rejected as flawed the US State Department's Human Rights Report 2016, which has scathingly criticised the country on account of human rights situation. The US State Department in its annual report on human rights around the world earlier this month alleged that Pakistan is involved in "human rights violations" including "poor implementation and enforcement of laws, and frequent mob violence and vigilante justice, gender inequality, violence against gender and sexual minorities, and sectarian violence", Xinhua news agency reported.
Pakistan Foreign Ministry spokesman termed the document as the "so-called Country Reports on HR Practices for 2016". "As a matter of principle, we do not recognise validity of unilateral approaches including reports sitting in judgment of other states. As such, these reports are invariably inherently flawed and lack objectivity. It comes as no surprise that as regards Pakistan, the Report is far removed from facts and depicts a grossly inaccurate and misrepresented picture," Nafees Zakaria said.
The spokesman told his weekly briefing that Pakistan remains deeply committed to the promotion and protection of human rights of all its citizens. "The Government accords high priority to advancing the mutually reinforcing objectives of development, human rights and democracy for the people of Pakistan. Many international obligations have been undertaken by Pakistan besides a number of important domestic initiatives for the promotion and protection of human rights," he said when his attention was invited to the US report.
He further said Pakistan is fully conscious of its international and national obligations with regard to promotion and protection of human rights, and the Government remains committed in its resolve to ensure fundamental rights, prosperity and well-being of all the people of Pakistan. "International cooperation and constructive dialogue coupled with adherence to international conventions are the best ways of promoting the common objective of universal human rights. Countries that are not even party to some of the core human rights conventions have no standing to question others," Zakaria said.
http://indianexpress.com/article/world/pakistan-rejects-us-human-rights-report-as-flawed-4584592/
------
No visa issued without consulting embassy's security wings: ex-envoy
ANWAR IQBAL
March 25th, 2017
WASHINGTON: Former ambassador to the United States Husain Haqqani said on Friday that he had consulted both the civil and military security wings in the embassy before issuing visas to US officials.
A document released to the media earlier on Friday showed that former prime minister Yousaf Raza Gillani had authorised Mr Haqqani to issue year-long visas to US officials without clearance from Islamabad.
Mr Haqqani did not say if he had issued visas without informing the government but did state that he had consulted security personnel at the embassy before approving the applications.
"I have consistently said no unauthorised visas were issued by the embassy in Washington while I was the ambassador," he wrote in an email to Dawn.
Haqqani says Gillani's 2010 letter was 'es­sen­tially a general executive order'
The former ambassador, like Pakistan Peoples Party leaders in Pakistan, also said that "the real issue" was "not issuance of visas to US officials but [Al Qaeda chief] Osama bin Laden's presence in Pakistan".
Also read: Haqqani's article revives tale of OBL raid
He said the document released to the media vindicated his position on the issue, "including my assertion that the military wing of the embassy was involved in vetting of visas to the US officials".
Mr Haqqani advised those "making a mountain out of a molehill" to stop doing so and "examine institutional failings rather than blaming an individual unfairly".
The document leaked — a letter sent to the embassy in Washington with the signatures of then prime minister's principal secretary Nargis Sethi — showed that the authorisation to issue one-year visas to US officials without consulting Islamabad came from the office of the prime minister.
"The Prime Minister has been pleased to decide that the Ambassador in Washington will be empowered, with immediate effect, to issue visas valid up to one year without Embassy having to refer each aforementioned visa application to the concerned authorities in Pakistan. The Pakistan embassy in US would issue these visas under intimation to the Prime Minister's office in Islamabad," Ms Sethi wrote.
Although the content of the letter indicated that Mr Haqqani had the discretion to ignore the normal procedure for issuing officials visas, he said he did not do so. "No visas were issued without proper procedure and vetting involving security agencies. Period," he wrote.
Mr Haqqani said the prime minister Gillani's July (14), 2010 letter was "es­sen­tially a general executive order" establishing procedure and authorising the ambassador to issue visas requested by the US State Dep­artment without referral to Islamabad.
"Upon receiving that authorisation, the internal embassy system was to delegate scrutiny to Defence Attache's office and Coun­sellor representing interior ministry," he wrote.
The former ambassador said that since the May 2, 2011 US raid that killed Osama in Abbottabad, he had repeatedly asserted that "a) no unauthorised visas were given and, b) scrutiny process may have changed but both major intelligence agencies remained involved in issuance of all visas to US officials".
Mr Haqqani said he would not get into how, why and what prime minister Gillani wrote in that letter because "it's a fake issue".
"Instead of wasting time on procedures for issuing visas to officials of an ally and aid donor, Pakistan's media should do its job in focusing on how OBL lived in Pakistan for so long."
Mr Haqqani said that those who were whipping up this controversy also knew that visas had been issued to US officials under one procedure or another since 1947 and would continue to be issued.
"All branches of the Pakistan government, civil and military, maintain close ties with their counterparts in Washington and none has ever officially objected to US officials travelling to Pakistan," he added.
In a March 10 article in the Washington Post, Mr Haqqani said that his 'connections' with the Obama administration enabled the US to target and kill the Al Qaeda leader.
He wrote that the friends he made in the Obama presidential election campaign team were "able to ask, three years later, as National Security Council officials, for help in stationing US Special Operations and intelligence personnel on the ground in Pakistan".
Explaining how he responded to those requests, the former ambassador wrote: "I brought the request directly to Pakistan's civilian leaders, who approved (and)… these locally stationed Americans proved invaluable when Obama decided to send in Navy SEAL Team 6 without notifying Pakistan."
His claims started a major controversy in Pakistan about his and the former PPP government's role in the US raid. Although deba­ted repeatedly in parliament and the media, the controversy refuses to go away.
https://www.dawn.com/news/1322684/no-visa-issued-without-consulting-embassys-security-wings-ex-envoy
------
Chaudhry Nisar tells new FC recruits they have to bring peace to Balochistan
Interior Minister Chaudhry Nisar Ali Khan addressed a Frontier Corps (FC) passing-out parade at Loralai on Saturday, instructing the new recruits that they would be responsible for bringing peace to Balochistan.
Speaking at the ceremony, the interior minister said: "You have to bring peace to Balochistan. This is your national duty and your debt to this land."
"There are some who do not want peace in Pakistan and Balochistan," Nisar added. "These people do not want our children to live happy and prosperous lives. Nor do they want our children to receive an education."
Advising the new recruits, Nisar said, "When you go back to your regular daily activities then you should ask yourselves who these culprits are who want to use our youth for bloodshed and what their agenda is. There are some elements who have been receiving funding from our enemies and have been living comfortable lives themselves while they use Balochis as their sacrificial pawns."
The minister added that the new FC recruits also have the task of destroying religious extremism and that it is up to them to rid the country of the menace.
https://www.dawn.com/news/1322748/chaudhry-nisar-tells-new-fc-recruits-they-have-to-bring-peace-to-balochistan
------
Europe
Six Russian troops killed in IS-claimed attack on Chechen base
MAR 25, 2017
Six Russian soldiers were killed in Chechnya Friday when gunmen tried to storm their base in an attack claimed by the militant Islamic State (IS) group.
The base belongs to Russia's National Guard, a branch established last year to defend borders and counter extremism.
It is subordinate directly to President Vladimir Putin and has bases in the country's North Caucasus regions, including Chechnya.
In a statement, the National Guard said the militants tried to storm the base in heavy fog at around 2:30 am local time but were spotted by a group of soldiers who opened fire.
"Six of the attackers were destroyed," the statement said.
"During the armed combat, six military were killed and there are wounded." None of the insurgents managed to enter the base, the National Guard said.
Counter-terrorism troops, investigators and explosives experts are at the scene, it said.
The SITE Intelligence Group, which monitors militant communications, said the IS group claimed responsibility for the attack on Friday.
The assailants attacked "a military base of the Russian National Guard close to Naurskaya village in northwestern Groz
https://www.dawn.com/news/1322560/six-russian-troops-killed-in-is-claimed-attack-on-chechen-base
------
Police arrest two more over British parliament attack
Mar 24, 2017
LONDON: British police said they had made two further significant arrests in the investigation into the attack on London's parliament and gave the birth name of the man behind the assault as Adrian Russell Ajao.
Britain's top anti-terrorism officer, Mark Rowley, said police had nine people in custody after the attack on Wednesday which killed five people including the assailant.
Police had said the man behind the attack was British-born Muslim covert Khalid Masood, who used several aliases, and that they were trying to establish if others had directed him.
"Our investigation focuses on understanding his motivation, his operation and his associates," Rowley said.
"Whilst there is still no evidence of further threats, you'll understand our determination is to find out if either he acted totally alone, inspired perhaps by terrorist propaganda, or if others have encouraged, supported or directed him.
Rowley said police had made two further "significant" arrests overnight, one in the West Midlands and one in the north west of the country.
We now have nine people remaining in custody, and one woman has been released on bail," he said.
Rowley said the attacker, who ploughed down pedestrians when he sped across Westminster Bridge before fatally stabbing an unarmed policeman, had injured at least 50 people in total. Two are still in a critical condition, and one person is considered to have life-threatening injuries.
http://timesofindia.indiatimes.com/world/uk/police-arrest-two-more-over-british-parliament-attack/articleshow/57809549.cms
------
Russia, China seek chemical weapons probe in Iraq
March 25, 2017
Russia and China have proposed that a United Nations panel investigating chemical weapons use in Syria be extended to Iraq, a proposal Britain immediately rejected. The two countries raised the prospect of broadening the scope of the Joint Investigative Mechanism during a council discussion about the battle of Mosul, where Iraqi forces are fighting Islamic State group jihadists. Security Council members expressed "unanimous concern" about the latest information concerning IS's use of chemical weapons, according to British Ambassador Matthew Rycroft, who chaired the talks.
Russia and China then presented a draft resolution that "seeks to expand the work of the Joint Investigative Mechanism to Iraq," Rycroft said, adding that Britain opposes the measure.
"The UK pointed out that there were many differences between the situation in Iraq and Syria," he said. Unlike the Syrian government, the Iraqi government "is fully cooperating with the OPCW," Rycroft added, referring to the intergovernmental Organization for the Prohibition of Chemical Weapons, which works with the UN to implement the Joint Investigative Mechanism.
"There are no allegations" the Iraqi government is using chemical weapons, he said. The council took no decision over the draft on Friday, Rycroft said. He did not indicate whether Russia and China would submit their resolution to a vote in the future. The dispute highlighted a fundamental disagreement over Syria between Western countries and Russia.
The Joint Investigative Mechanism — which Moscow helped establish as a Security Council member — found that the Syrian government, a Russian ally, had used chemical weapons at least three times. But in February, Russia and China vetoed a draft resolution that would have sanctioned the Syrian government for its use of chemical weapons.
http://indianexpress.com/article/world/russia-china-seek-chemical-weapons-probe-in-iraq-4584608/
------
Three injured in shooting in northern French city of Lille
March 25, 2017
The reason for the shooting is unclear. It comes as France is under a state of emergency after deadly extremist attacks.
Police say three people have been injured in a shooting in the northern French city of Lille. Witnesses told police that an unidentified assailant opened fire near a metro station Friday night before fleeing, according to two Lille police officials.
The officials said one of those shot is a minor, and none of the injuries is life-threatening. The officials were not authorized to be publicly named.
The reason for the shooting is unclear. It comes as France is under a state of emergency after deadly extremist attacks.
Newspaper La Voix du Nord and radio France Bleu Nord reported that the Lille shooting may have been a settling of scores among local criminals. While firearms are less common in France than the U.S., gang-related shootings occur sporadically in poor French neighborhoods.
http://indianexpress.com/article/world/three-injured-in-shooting-in-northern-french-city-of-lille-4584577/
------
Islamic State group claims Chechnya attack: SITE
March 24, 2017
The Islamic State group claimed responsibility for an attack on Friday on a Russian military base in Chechnya, according to the SITE Intelligence Group, which monitors jihadist communications. Six attackers stormed "a military base of the Russian National Guard close to Naurskaya village in northwestern Grozny in Chechnya," the IS statement said. "They clashed with those at the base with light weapons for several hours."
The statement said all of the assailants died during the attack, which killed six Russian soldiers.
Russia's National Guard, established last year, is a new branch of troops aimed at defending borders and countering extremism.
In a statement, the National Guard said the rebels tried to storm their base in heavy fog at around 2:30 AM local time but were spotted by a group of soldiers who opened fire.
Chechnya was the scene of two separatist wars in the 1990s and early 2000s, but the region has been largely calm under the iron-fisted rule of strongman leader Ramzan Kadyrov.
Two National Guard soldiers were killed in a Chechen village in January during a joint operation with police and special forces in which four suspected militants also died.
http://indianexpress.com/article/world/islamic-state-group-claims-chechnya-attack-site-4584192/
------
Vladimir Putin meets French presidential contender Marine Le Pen in Kremlin
March 24, 2017
President Vladimir Putin granted an audience to French far-right party leader Marine Le Pen in the Kremlin on Friday, bestowing a level of international recognition that has so far eluded her in the countdown to France's presidential election. Opinion polls show Le Pen getting through to the second, decisive round of the French presidential election on May 7 but then losing to centrist candidate Emmanuel Macron.
Le Pen, who has said she admires Putin, reiterated her call for a lifting of the European Union's economic sanctions imposed on Russia over its role in the Ukraine conflict. "We attach great importance to our relations with France, but at the same time we try to maintain equal relations both with the current authorities and with representatives of the opposition," said Putin ahead of his talks with Le Pen.
"Of course I know that the election campaign in France is actively developing," said Putin. "We do not want to influence events in any way, but we reserve the right to talk to representatives of all the country's political forces, just as our partners in Europe and the United States do." Le Pen told reporters after the talks that the aim of her visit to Russia was not to boost her election chances, though her meeting with Putin is likely to go down well with her core supporters in France, many of whom admire the Russian leader's conservative stance on social and moral issues.
Other French voters, however, may be put off by her association with a leader widely seen in the West as autocratic. The meeting also shows that the Kremlin is not shying away from actions that could influence foreign elections, even after the storm over U.S. intelligence agencies' allegations that Russia tried to interfere in the U.S. presidential election to help Donald Trump win the White House.
Russia has denied trying to influence the U.S. vote, and has also dismissed allegations that Kremlin-funded media outlets are spreading "fake news" in an attempt to interfere in the French presidential race. Dmitry Peskov, Putin's spokesman, told reporters on a conference call that Putin and Le Pen had not discussed the possibility of Russia offering any financial help to her political party.
Her party took a 9-million-euro loan from a Moscow-based bank in 2014, and is actively seeking new sources of funding.
http://indianexpress.com/article/world/vladimir-putin-meets-french-presidential-contender-marine-le-pen-in-kremlin-4583975/
------
Confusion and fear: British PM Theresa May's London attack escape
March 24, 2017
In a less-than-slick escape from parliament when her staff appeared rattled as a lone assailant rampaged just yards away, Prime Minister Theresa May dashed around a car park and looked lost as she searched for her ride before escaping. In footage published by The Sun newspaper, Britain's prime minister is seen walking towards her car with five members of her detail around her before picking up the pace and darting left and right in a moment of uncertainty.
Once at the silver Jaguar, May waits a few seconds for the door to be opened, although it is unclear if staff were still trying to unlock the vehicle. A man is seen running towards them a few seconds later holding a device in his hands.
The car pulls out of its parking spot, approaches a black Range Rover and moves backwards, nearly completing a three-point turn before a member of May's security team, his gun drawn, runs towards the vehicle, opens the door and the video ends.
Westminster attack, westminster terror attack, london terror attack, london attack, british parliament attack, Theresa may escape, Theresa May, British prime minister, British PM, world news, indian express news Britain's Prime Minister Theresa May leaves 10 Downing Street the morning after the terror attack in London, Britain, March 23, 2017. (Source: REUTERS)
Lawmakers had gathered in parliament for May's weekly questions session when shortly afterwards the attacker mowed down pedestrians on the bridge approaching the building before crashing his car and attacking a police officer, killing a total of four people.
Some commentators have questioned how the assailant, whose birth name was Adrian Russell Ajao, was able to get so close to parliament. The Sun newspaper cited sources saying only three unlocked doors separated Ajao from May. A spokesman at May's office declined to comment when contacted by media.
http://indianexpress.com/article/world/westminster-terror-attack-confusion-and-fear-british-pm-theresa-mays-london-attack-escape-4583943/
------
North America
The Bible tells us so: Concern for immigrants is at the heart of faith
By Roger Vermalen Karban
March 23, 2017
Migrants recieve bananas, soup, bread and tea before crossing the Austrian-German border in Achleiten, Austria, across from Passau, Germany, on Oct. 29, 2015. Photo courtesy of Reuters/Michaela Rehle *Editors: This photo may only be republished with RNS-KARBAN-OPED, originally transmitted on March 23, 2017.
(RNS) Concern for the well-being of resident aliens has always been front and center of the Christian faith, and that should be no surprise given Christianity's Jewish roots.
Centuries before Jesus reminded his followers to welcome strangers as they welcome him (Matthew 25:35), "undocumented immigrants" were on one of the most oft-repeated lists in the Hebrew Scriptures: Three groups of people that Yahweh constantly singled out for special care were, in fact, orphans, widows and resident aliens.
Of all people, Jews had a unique reason to treat such people with special kindness. "You shall not oppress or wrong a resident alien, for you were once aliens in the land of Egypt," as God says in Exodus. Yahweh is simply reminding the Chosen People of their own salvation history, a history that included a stay of more than 400 years in someone else's country.
Our ancestors in the faith always worried about people who had no "clout," individuals who couldn't defend themselves when push came to shove. Widows — women without a man to support them, as was the custom of the day — clearly fit this category, as did orphans.
Resident aliens were in the same boat. They were foreigners, inhabitants in a strange land. Then, as now in many countries, all three could easily be taken advantage of.
The late Scripture scholar Hans Walter Wolff frequently reminded us that the Israelite monarchy was a unique institution in the ancient world. Monarchical governments normally came into existence to protect the interests of the wealthy and influential. Jewish kings, on the contrary, were put in power to protect the rights of the poor and downtrodden.
During the biblical period, it was presumed everyone had a "go'el" (often translated as "redeemer"), a person who would "get you out of hock" when problems arose. Usually this was a close relative – a father, brother or son. Or, in some situations, a distant relative, as was the case with Boaz in the book of Ruth. The king was expected to fulfill this role for orphans, widows and resident aliens. He was supposed to personally step in and defend their rights. His door was to be open to them 24/7.
As any serious reader of Scripture knows, it didn't take long for many of King David's successors to put their go'el obligation on a back burner. Imitating the behavior of their neighboring, pagan kings, they became notorious for being more concerned for their own needs than for the needs of their people. They, not the helpless, benefited from their power. It was left to Yahweh's prophets to force the issue.
We find a classic case of such a king-prophet confrontation in I Kings 21. Influenced and aided by his pagan queen, Jezebel, King Ahab not only steals his neighbor Naboth's vineyard, but the conniving couple eventually has him stoned to death. Except for the prophet Elijah, no one seems to have made a public issue of the atrocity. The narrative of his stinging encounter with Ahab in the stolen vineyard is one of Scripture's most powerful passages.
From the days of Deutero-Isaiah, the biblical problem for those who would persecute an undocumented immigrant is no longer just a case of looking over their shoulder, fearing an encounter with a government entity. Now they have to worry about God righting the wrong they've inflicted on these powerless individuals.
One of the last of the scriptural prophets — Malachi — couldn't be clearer: "I (Yahweh) will be swift to bear witness … against those who oppress the hired workers in their wages, the widow and the orphan, against those who thrust aside the alien, and do not fear me, says Yahweh of hosts" (3:5).
This carries a special obligation for those who would later claim to be "other Christs," those who have chosen to carry on the ministry of Jesus of Nazareth. Perhaps many of us don't understand that obligation because we don't understand the meaning of what Jesus says when he "purifies" the Jerusalem temple in Mark 11:15-17.
In referring to the temple as a "den of thieves," Jesus is in fact harking back to Jeremiah 7, a passage in which the prophet accuses people of replacing concern for the helpless with liturgical worship.
The temple cleansing completely dovetails with Jesus' constant concern that his followers be committed to caring for others, especially those with no clout.
"Christ Cleansing the Temple" by artist Bernardino Mei, circa 1655. Photo courtesy of Creative Commons
As I mentioned at the top of this article, Matthew 25:31-46 presents us with Jesus' well-known Last Judgment narrative. In each instance, he warns his disciples that they'll be judged only on what they did to assist the helpless around them … including the strangers they encounter.
Scholars of early Christianity tell us that practicing hospitality toward strangers was one of the practices most frequently employed by first- and second-century disciples of the risen Jesus as they sought to imitate the Savior in their daily lives.
They didn't have far to go to find occasions when that could be accomplished. Though I can't remember the author or the publication, I recall once reading an article in my doctoral program with a title that summed up the original Christian message: "Saved by Practicing Faith, Hope, Love and Hospitality."
Another unknown author — the writer of the letter to the Hebrews — also reminded his readers of what was at stake: "Do not neglect to show hospitality to strangers, for by this some have entertained angels without knowing it."
We presently live in an environment in which — for political reasons — fear of undocumented immigrants is frequently stressed. Though coming into contact with strangers always provokes some anxiety in our hearts, Jesus assures us that when we encounter such individuals we are really encountering Jesus.
It's possible that worrying about the consequences of coming face-to-face with resident aliens has stopped many of us from experiencing the risen Jesus in our daily lives, something our ancestors in the faith believed was an essential element of that faith — no matter in what country they lived or from what country the aliens came.
As other Christs, they assumed an obligation to be their go'el. We believers can do no less today.
http://religionnews.com/2017/03/23/the-bible-tells-us-so-concern-for-immigrants-is-at-the-heart-of-faith/
------
Victim's husband appeals for calm after Wisconsin shooting
March 25, 2017
The husband of one of four people killed in a string of shootings by a suspect who is Hmong urged community members not to "get caught up in colors" in reacting to the attack. Nengmy Vang, 45, is accused of launching a rampage that spanned three northern Wisconsin towns on Wednesday, killing his wife's divorce attorney, a police detective and two people at the bank where his wife worked.
"This person could've been any gender, any color, any religion and they could've acted in other ways of violence to make their point," Scott Sann wrote in an emotional letter posted on his employer's Facebook page. "Don't get trapped in the details."
Sann's wife, Sara Quirt Sann, was the attorney who died in the attack.
According to the US Census, nearly 50,000 Hmong live in Wisconsin. Tensions between them and whites in the state's northern reaches have occasionally flared, most notably in 2004, when a Hmong hunter fatally shot six white hunters and wounded two more in northwestern Wisconsin.
The Hmong are mainly from the mountain regions of Laos, which borders Vietnam on the west. They began immigrating to the U.S. in the 1970s after the Vietnam War because had had helped the U.S. during the war. They settled mostly in California, Minnesota and Wisconsin.
That 2004 shooting of hunters took place hundreds of miles from the Wausau area. Nothing has emerged so far to suggest the shootings were motivated by anything more than Vang's anger toward his wife. The two are embroiled in a bitter divorce proceeding.
Vang's brother, Vajloogzeb Vaj, told The Associated Press that the Hmong population will come together to help the victims' families.
"I feel sorry for the families," he said.
Kahm Yang, board president of the Wausau Area Hmong Association, didn't return messages. Sann did not respond to phone messages from the AP.
Investigators have released few details about what happened during the shooting spree. They haven't officially identified Vang as the suspect. A person close to the investigation gave his name to the AP Friday on condition of anonymity because the person wasn't authorized to speak. Vang's divorce attorney, David Gardner Casey, didn't return messages Friday.
Police have said that the spree was sparked by a domestic dispute between Vang and his wife, Naly Vang. Nengmy Vang filed a petition to divorce her in 2015.
She continued to live in the couple's home during the divorce proceeding but he moved to an apartment. Vaj told the AP that his brother is an avid squirrel and deer hunter but showed signs of being mentally ill since he and his wife separated. Vaj said he hadn't spoken with his brother for weeks and he thinks he's become a loner. He once hit their mother "like a crazy person," Vaj said.
Court records show Nengmy Vang has struggled with debt as well as marital problems. He's been sued five times since 2009 by various lenders seeking thousands of dollars and had his wages garnished three times while he worked at Foot Locker; Coby Dogs, a Medford restaurant; the Marathon Cheese Corporation in Marathon City and the Kolbe and Kolbe Millwork Co. in Wausau. The couple was issued a garnishment notice to repay $9,370 to a credit union on Tuesday, a day before the shootings.
According to investigators, Nengmy Vang showed up at the Rothschild bank where his wife worked on Wednesday. It's unclear what happened, but he allegedly shot two workers, Dianne Look and Karen Barclay. Naly Vang managed to escape unhurt, Vaj said.
Nengmy Vang then traveled to nearby Schofield, where he shot Sara Quirt Sann in her office. He then barricaded himself in his Weston apartment, fatally shooting Everest Metro Police detective Jason Weiland as Weiland was setting up a perimeter. A standoff with police ended when officers shot Nengmy Vang and took him into custody.
Vaj said his brother called him from inside his apartment after he was shot to say goodbye. Vaj said he was so shocked that "I almost got a heart attack."
Vaj said doctors have told him his brother is expected to survive his wounds.
http://indianexpress.com/article/world/victims-husband-appeals-for-calm-after-wisconsin-shooting/
------
UN rights council approves fact-finding mission in Myanmar
March 24, 2017
The UN-backed Human Rights Council has approved a resolution by consensus to "dispatch urgently" an international fact-finding mission to Myanmar to probe alleged abuses by military and security forces, particularly in Rakhine state.
The 47-member body threw its weight Friday behind existing efforts to investigate alleged abuses including torture, rape, arbitrary killings and forced displacement of the country's Muslim Rohingya minority. Myanmar Ambassador Htin Lynn said a domestic investigative panel is already looking into the alleged crimes, and any council action should not worsen "an already complicated situation."
The resolution says the council's president will appoint the independent mission, which is to provide an update on its work in the council's autumn session. Some countries including China, India and Cuba dissociated themselves from the European Union-backed resolution.
http://indianexpress.com/article/world/un-rights-council-approves-fact-finding-mission-in-myanmar-4584184/
------
US sanctions firms for transferring technology to Iran, N. Korea & Syria
March 25th, 2017
WASHINGTON: The United States has imposed sanctions on 30 foreign companies or individuals for transferring sensitive technology to Iran for its missile programme or for violating export controls on Iran, North Korea and Syria, the State Department said on Friday.
Eleven companies or individuals from China, North Korea or the United Arab Emirates were sanctioned for technology transfers that could boost Tehran's ballistic missile programme, the State Department said in a statement.
Nineteen entities or individuals were sanctioned for other violations under the Iran, North Korea and Syria Non-proliferation Act, it said.
They are believed to have transferred or acquired sensitive technology that could contribute to development of weapons of mass destruction."These determinations underscore that the United States continues to regularly impose sanctions under existing authorities, as warranted, against entities and individuals that engage in proliferation activity with Iran, North Korea, and Syria," the State Department statement said in a statement.
The companies included under the newly imposed sanctions are based in China, North Korea, and the United Arab Emirates.
The State Department said that 11 of the entities and people contribute to activity that "serves to escalate regional conflicts further and poses a significant threat to regional security."
Eleven entities and individuals were sanctioned for transfers of sensitive items to Iran's ballistic missile programme.
The government also implemented sanctions on 19 companies or people found to have "transferred to, or acquired from, Iran, North Korea, or Syria goods, services, or technology listed on multilateral export control lists, or on US national control lists, or other items that could make a material contribution to the development of weapons of mass destruction or missile proliferation."
Most of the companies listed engage in export activity.
https://www.dawn.com/news/1322677/us-sanctions-firms-for-transferring-technology-to-iran-n-korea-syria
------
Donald Trump administration asked to push for F-16 fighter jets sale to India
March 25, 2017
Two top Senators have urged the Trump administration to push for the sale of F-16 fighter jets to India to build its capability to counter security threats and balance China's growing military power in the Pacific. Senators Mark Warner from Virginia and John Cornyn from Texa in a joint letter to US Defence Secretary James Mattis and Secretary of State Rex Tillerson said, the Trump administration must make the fighter jet acquisition a priority during initial bilateral discussions with India.
India has launched an effort to expand its combat aircraft fleet and the competition has reportedly narrowed down to Lockheed's F-16 and Saab's Gripen.
Noting that the last F-16 for the US Air Force rolled off the production line in Fort Worth in 1999, the two Senators said India remains the only major F-16 prospect customer.
"A primary factor in India's decision will be compliance with Prime Minister Modi's 'Make in India' initiative, which will require establishing some level of local production capacity," Warner and Cornyn wrote.
"Given the strategic significance of India selecting a US aircraft as the mainstay for its future Air Force and the potential for a decision this year, we ask that the administration make the fighter acquisition a priority during initial bilateral discussions," they said.
Warner, who is a Democrat and Cornyn from the Republican Party are the co-chairs of the influential Senate India caucus, the only country specific caucus in the US Senate.
"We urge you to weigh in forcefully with the White House on the strategic significance of this deal, both to America's defence industrial base and to our growing security partnership with India," said the letter dated March 23.
Making a strong case for the sale of F-16s to India, the two Senators said this would represent a historic win for America that will deepen the US-India strategic defence relationship and cement cooperation between our two countries for decades to come.
"It would increase interoperability with a key partner and dominant power in South Asia, build India's capability to counter threat from the north, and balance China's growing military capability in the Pacific," they said.
India, they said, increasingly serves as an integral partner in the United States' security architecture in the volatile South Asia region, helping to protect our joint interests and deter common threats, and has emerged as a critical trading partner, they noted.
As such "it is in our national interest to work with India to progress democratic principles through regional security partnership and burden sharing," they said.
"To this end, we support the co-production of our legacy F-16 aircraft in India to help sustain the United States' current fleet of aircraft and aid a critical Indian security need with a proven American product," Cornyn and Warner wrote.
The competition for the fighter jets, they wrote, presents an opportunity to solidify and strengthen the significant gains made in the bilateral US-India defence relationship over the two previous administrations, they said.
http://indianexpress.com/article/world/f-16-fighter-jets-sale-to-india-us-donald-trump-administration-us-aircraft-us-airforce-rex-tillerson-us-india-4584819/
------
Arab World
Final push on Syria's Raqa to begin 'in coming days': France
March 24, 2017
The international coalition battling the Islamic State group in its Syrian stronghold of Raqa will begin a final push on the city in the coming days, French Defence Minister Jean-Yves Le Drian said today.
"Today, we can say that Raqa is surrounded and the battle will begin in the coming days," he told France's CNEWS television.
Raqa is one of two major strongholds of the IS along with the Iraqi city of Mosul, which Iraqi forces in October launched a massive operation to recapture.
"This will be a very hard battle but essential," Le Drian said.
IS is under pressure from several directions in northern Syria, with Russia supporting its Syrian ally President Bashar al-Assad on one front and Turkey providing air cover for rebel groups battling the jihadists on another.
http://indianexpress.com/article/world/final-push-on-syrias-raqa-to-begin-in-coming-days-france/
------
Saudi embassy confirms UK attacker had been in Saudi Arabia
The Royal Embassy of Saudi Arabia in London says that the Westminster attacker was in the country three times and taught English there.
A statement released late Friday says Khalid Masood taught English in Saudi Arabia from November 2005 to November 2006 and again from April 2008 to April 2009.
The embassy says he had a work visa. It says he returned for six days in March 2015.
The embassy says he wasn't tracked by Saudi security services and didn't have a criminal record there.
Before taking the name Masood, he was known as Adrian Elms. He was known for having a violent temper in England and had criminal convictions.
Masood drove an SUV into pedestrians on Westminster Bridge before fatally stabbing a policeman. He was shot dead.
https://www.dawn.com/news/1322746/saudi-embassy-confirms-uk-attacker-had-been-in-saudi-arabia
------
Syrian Army Wins Back Control of Another Town in Eastern Aleppo
Sat Mar 25, 2017
TEHRAN (FNA)- The Syrian army regained control of another town during the military operations against the ISIL terrorists in Eastern Aleppo.
The army forces engaged in clashes with the ISIL militants, and seized back control of Rasma al-Faleh town in the Eastern parts of the strategic city of Deir Hafer.
The Syrian army forces on Friday completed their siege over Deir Hafer, the ISIL's most important base in Eastern Aleppo.
The army units started massive and heavy attacks against the terrorists in Deir Hafer region from the two Northern and Southern directions, and liberated the two towns of Jeni al-Salameh and Um al-Mara near Um Adaseh and Khalileh towns just to the East of Deir Hafer.
The ISIL is now fully besieged by the government forces from four sides in Deir Hafer after the army liberated Um Tineh village - just to the North-East of Deir Hafer - and the nearby areas.
Also, all supply routes of the terrorist group in the region have been blocked.
A military source said that the Syrian soldiers are on the verge of a complete victory and will soon capture Deir Hafer as ISIL's defense lines are collapsing in the city.
http://en.farsnews.com/newstext.aspx?nn=13960105000143
------
Damascus: Army Earns Control of All Lost Areas in Northern Jobar
Sat Mar 25, 2017
TEHRAN (FNA)- The Syrian troops fended off a series of offensives by al-Nusra (Fatah al-Sham) Front terrorists to break the siege on their comrades in al-Ma'amel (plants) region and regained control of all occupied areas in Northern Jobar.
The Syrian army units smashed the last remaining bases and gathering centers of the terrorists in al-Ma'amel region in Northern Jobar and won back control of all points and blocks occupied by the terrorists between Jobar and al-Qaboun regions as well as the textile and weaving factories.
The victories were gained after heavy clashes with the terrorists.
The army's artillery and missile units also targeted the militants' positions near the textile and weaving factories with heavy fire.
On Friday, the Syrian soldiers had captured terrorist-occupied regions in Jobar district of Eastern Damascus and damaged an operation room of the militants.
The army troops won back control of a textile plant in the Northern parts of Jobar district after heavy clashes with al-Nusra Front terrorists.
Concurrently, the Syrian air force and artillery units targeted the terrorists' positions with heavy strikes.
A field source also reported that the Syrian fighter jets pounded the operations room of Faylaq al-Rahman terrorist group in Jobar, killing all the militants inside.
Meantime, the Syrian soldiers targeted a terrorist base in Sadkoub region, inflicting at least 10 casualties on the militants.
http://en.farsnews.com/newstext.aspx?nn=13960105000161
------
Kurdish Forces Reach Al-Tabaqa Dam in Raqqa
Sat Mar 25, 2017
TEHRAN (FNA)- The predominantly Kurdish Syrian Democratic Forces (SDF), fighting the ISIL within the framework of the Euphrates Rage Operation, reached al-Tabaqa dam and won control of several villages.
Jeihan Sheikh Ahmad, the Euphrates Rage Operation spokesman, said that the SDF forces arrived in the strategic dam after heavy clashes with the ISIL militants in the Western parts of Raqqa.
They continued to advance in the region and gained control of 8 villages and a large number of farms in the Western coasts of the Euphrates river after killing and wounding tens of ISIL terrorists.
Other sources also reported that the SDF forces have started offensives against the ISIL in al-Tabaqa city.
Meantime, Talal Salou, the SDF forces' spokesman, said that the army forces can also join the operations to liberate Raqqa.
On Friday, the SDF had managed to take control of three villages.
The Kurdish forces engaged in clashes with the ISIL terrorists in Abu Khashab region, and gained control of Moshirefeh al-Shahanat, al-Qasaneh and Farsat Abu Ismail in Eastern Raqqa.
Meantime, the SDF forces besieged one of the most important ISIL bases in al-Karameh town.
Also, on the third day of the military operations to liberate al-Tabaqa dam (Euphrates dam), the SDF continued advances and won control of a large area of lands.
According to local sources, they were advancing towards al-Tabaqa town from the South-West and North-East on Friday.
http://en.farsnews.com/newstext.aspx?nn=13960105000347
------
Terrorists' Offensive Warded Off by ISIL Hunters in Homs
Sat Mar 25, 2017
TEHRAN (FNA)- The Syrian army's special forces known as 'ISIL Hunters' thwarted an assault launched by the terrorist group on their positions North of the ancient city of Palmyra (Tadmur) in Homs province.
Homs
The ISIL hunters, trained by the Russian military experts, killed 24 militants and wounded 12 others in al-Mazar Mountain and the nearby energy fields in Homs province.
The Syrian army has intensified its offensives against the ISIL and al-Nusra Front terrorists in Homs in recent days, killing and wounding tens of militants.
Also in the past 24 hours, the Syrian army forces targeted one of al-Nusra Front command centers in al-Qantou village in Northern Homs, killing and wounding a large number of terrorists inside.
The army units also launched heavy attacks against the terrorists' positions in Um Sharsouhm, al-Qajar and al-Bayekeh villages and al-Taloul al-Hamar region in Northern Homs, inflicting losses on the militants and smashing their military equipment.
Meantime, the army soldiers repulsed the terrorists' offensive by bomb-laden cars against a military position in the Eastern parts of al-Mushrefeh village, and blew them up before they could reach their target.
Also, the government troops launched strikes against the ISIL positions and moves in the Eastern parts of Job al-Jarrah town in Eastern Homs, killing all members of a terrorist group and smashing their military vehicles.
Damascus
The Syrian army forces intensified military operations against al-Nusra Front in the Northern parts of Jobar and the Eastern Ghouta of Damascus, blocking their moves in the region.
The army units pounded the moves and supply routes of al-Nusra Front deep inside Eastern Ghouta towards Jobar district, inflicting heavy casualties on the terrorists and destroying several military vehicles.
Also, a military source said that the Syrian soldiers continue their military operations in several fronts in Jobar, and added that the army has inflicted tens of casualties and injuries on the militants in its attacks on their moves and supply routes in the region.
Also on Friday, Syrian Army troops engaged in fierce clashes with the ISIL near al-Seen military airport in Northeastern Damascus, pushing them back from more positions.
The army troops regained control of the Eastern Battalion and Western Battalion regions and warehouse 559 near the al-Seen airbase in Eastern al-Qalamoun region on Friday.
All the regions were cleansed of terrorists after heavy clashes.
Also in the past 24 hours, the Syrian army troops captured terrorist-occupied regions in Jobar district of Eastern Damascus and damaged an operation room of the militants.
The army troops won back control of a textile plant in the Northern parts of Jobar district after heavy clashes with al-Nusra Front terrorists.
Concurrently, the Syrian air force and artillery units targeted the terrorists' positions with heavy strikes.
A field source also reported that the Syrian fighter jets pounded the operations room of Faylaq al-Rahman terrorist group in Jobar, killing all the militants inside.
Meantime, the Syrian soldiers targeted a terrorist base in Sadkoub region, inflicting at least 10 casualties on the militants.
Hama
The Syrian army warded off an al-Nusra Front offensive on several towns in Northern Hama and regained control of the recently-lost areas in a pursuing counterattack.
The army units launched a rapid counterattack on Al-Nusra gathering centers and moves in Northern Hama, killing a large number of militants and destroying 3 tanks and 5 armored vehicles.
The Syrian soldiers also, in special operations, targeted the terrorists' hideouts and moves near several towns in Northern Hama and destroyed their military convoys.
Meantime, they could liberate the two recently-lost towns of Khattab and Azreh from Ahrar al-Sham and Jund al-Aqsa terrorists.
The government troops also managed to fortify their defense lines against the terrorists' attacks.
Also, the Syrian and Russian fighter jets launched airstrikes against the al-Nusra terrorists' positions in Maardas and Souran.
Meanwhile, the army smashed the militants' weapons and ammunitions depot in Kafr Zita, causing a big explosion that killed tens of terrorists.
Also on Friday, the Syrian army forces continued military operations against al-Nusra Front terrorists in Northern Hama, and gained control over a strategic village.
The army units engaged in heavy clashes with al-Nusra terrorists on Friday, and seized back control of Kokab village in Eastern Souran.
Meantime, the residents of Kafr Naboudeh town in Northwestern Hama blocked the roads leading to the town, preventing the terrorists stationed in Kafr Naboudeh from launching attacks against the army positions in the Northern parts of Hama.
Deir Ezzur
Two important positions of ISIL terrorists in the Southwestern parts of Deir Ezzur city were destroyed in the Syrian army's military operations which also killed a number of militants.
The Syrian troops launched massive missile and artillery attacks on ISIL bases in the Southwestern parts of Regiment 137 region in Southwestern Deir Ezzur.
The offensive left several terrorists dead and wounded and smashed two of their positions.
The army forces also targeted the ISIL moves on the road leading to al-Tim oilfield in Southern Deir Ezzur, inflicting 5 losses on the terrorists and wounding several others.
Aleppo
The Syrian army forces completed their siege over the strategic city of Deir Hafer, the ISIL's most important base in Eastern Aleppo.
The army units started massive and heavy attacks against the terrorists in Deir Hafer region from the two Northern and Southern directions, and liberated the two towns of Jeni al-Salameh and Um al-Mara near Um Adaseh and Khalileh towns just to the East of Deir Hafer.
The ISIL is now fully besieged by the government forces from four sides in Deir Hafer after the army liberated Um Tineh village - just to the North-East of Deir Hafer - and the nearby areas.
Also, all supply routes of the terrorist group in the region have been blocked.
A military source said that the Syrian soldiers are on the verge of a complete victory and will soon capture Deir Hafer as ISIL's defense lines are collapsing in the city.
Raqqa
The predominantly Kurdish Syrian Democratic Forces (SDF) continued to advance against the ISIL to liberate Raqqa city and managed to take control of three villages.
The Kurdish forces engaged in clashes with the ISIL terrorists in Abu Khashab region, and gained control of Moshirefeh al-Shahanat, al-Qasaneh and Farsat Abu Ismail in Eastern Raqqa.
Meantime, the SDF forces besieged one of the most important ISIL bases in al-Karameh town.
Also, on the third day of the military operations to liberate al-Tabaqa dam (Euphrates dam), the SDF continued advances and won control of a large area of lands.
According to local sources, they are now advancing towards al-Tabaqa town and the Euphrates dam from the South-West and North-East.
http://en.farsnews.com/newstext.aspx?nn=13960105000145
------
UN profoundly concerned by 'hundreds of casualties' in suspected coalition airstrikes in Mosul
25 Mar, 2017
The UN has urged all parties to the anti-terrorist operation in Mosul to refrain from "indiscriminate use of firepower" after reports by eyewitnesses said over a hundred civilians were either killed or buried under rubble in an alleged coalition bombing raid.
"The United Nations is profoundly concerned by the reports yesterday of a high number of civilian casualties in al-Jadida in Iraq, a densely populated neighborhood in Mosul. Initial reports indicate hundreds of casualties," Farhan Haq, deputy spokesman for the UN Secretary General, told a press conference on Friday.
Since the release of the video of an aftermath of the airstrike on Friday morning, showing scores of dead bodies being pulled up from a completely destroyed house, Pentagon announced it is "looking into" the report of it being a result of a coalition sortie.
"We are aware of reports on airstrikes in Mosul resulting in civilian casualties," Eric Phahon, Pentagon spokesman, said in a statement, cited by Fox News, acknowledging that coalition jets had carried out recent airstrikes in Mosul.
Earlier, the Combined Joint Task Force (CJTF) for Operation Inherent Resolve said in an email to RT that the process of examining the allegations will "take time" as conflicting reports put the airstrike between March 17 and March 23.
Meanwhile, the US-led coalition has "opened a formal civilian casualty credibility assessment on this allegation," as cited by AP.
Lise Grande, UN Humanitarian Coordinator for Iraq, is "stunned by the horrendous loss of life," Haq said, conveying Grande's message of condolences. Grande also called on warring parties engaged in hostilities in Iraq to stick to international humanitarian law.
"Parties to the conflict – all parties – are obliged to do everything possible to protect civilians," she stressed, denouncing the jihadists' tactics of using civilians as cover.
Grande has in particular cautioned against sweeping bombing raids which ultimately result in a heavy civilian death toll.
"This means that combatants cannot use people as human shields and cannot imperil lives through indiscriminate use of firepower," she was cited as saying.
While no side in the conflict has officially claimed responsibility for the alleged bombing, unnamed US officials told Los Angeles Times the preliminary data indicates that such a heavy impact from a reported strike might have been a result of a jet hitting a truck, filled with fuel or explosive materials.
Up to 200 civilians have been killed in the airstrike in the embattled western Mosul, where Iraqi troops backed by the US-led coalitions are pushing hard to flush out Islamic State (IS, formerly ISIS, ISIL) militants.
The large-scale offensive that saw the eastern part of the city being recaptured by Iraqi forces has been dragging on after reaching Mosul's Old City, which includes the heart of the so-called Islamic caliphate, proclaimed by IS in the al-Nuri mosque back in 2014. The narrow alleys of the historic center hinder movement of Iraqi troops and prevent its advance further into the western part of the beleaguered city.
On Friday, the spokesman for the US-led coalition, US Army Brigadier General John Richardson, announced that in light of the latest impediment, the Iraqi forces will be altering their tactics and aiming to encircling the Old City from two sides forcing, the militants to surrender.
"They [Iraqi forces] are looking at opening another front to force ISIS to fight in two directions and isolate the Old City, so when it is time to go into the old city, potentially they surrender," Richardson said, as cited by Reuters.
Iraqi military commanders hope that the new approach will bring rewards in the immediate future.
"In the next few days we will surprise Daesh terrorists by targeting and eliminating them using new plans," Iraqi army spokesman Brigadier General Yahya Rasool said.
https://www.rt.com/news/382252-un-mosul-airstrike-civilians/
------
South Asia
Suppress all militants opposing govt and law, Ghani tells ANP Special Forces
Sat Mar 25 2017
President Mohammad Ashraf Ghani has said there is no ambiguity in the fight against terrorism as he instructed the Special Forces of the Afghan National Police (ANP) forces to suppress all militants opposing the government and law.
He made the remarks during a meeting with the ANP Special Forces Commanders, Officers, and Personnel.
In regards to the recommendations of the ANP Special Forces commander Syed Mohammad Roshandil, President Ghani promised that the supply of the weapons to the Special Forces will be done within the coming five days.
Insisting on proper implementation of the regulations of the Special Forces, President Ghani instructed the Ministry of Interior to take immediate steps in providing help to the families of the fallen soldiers.
He also added that the government will step up efforts to provide treatment to the wounded soldiers in one of the international hospitals.
According to President Ghani, the government has considered special courses for the Special Forces and instructed the Ministry of Interior to prepare a schedule so that the supplies can be delivered to the forces on time through air.
President Ghani also emphasized on the need to provide further equipment to the Special Forces in a bid to help reduce the number of casualties and added that negotiations are underway with the international allies of the country to establish permanent installations for the Special Forces.
He instructed the Ministry of Interior to conduct a thorough assessment for the increment of the salaries of the Special Forces and said the organic law of the officers will be modified so that those officers who are having better experience should be shifted to the administrative level.
http://www.khaama.com/suppress-all-militants-opposing-govt-and-law-ghani-tells-anp-special-forces-02457
------
Suicide attacker blows himself up near Bangladesh International Airport, no casualties
March 24, 2017
Dhaka, dhaka suicide attack, dhaka suicide bombing, suicide bombing dhaka, dhaka airport terrorist attack, Hazrat Shahjalal International Airport, latest news, latest world news Hazrat Shahjalal International Airport
A suicide attack was carried out at Dhaka International Airport in Bangladesh on Friday evening. The attacker was killed by the security forces. There were no other casualties reported.
The bomber allegedly had attempted to attack the police box overlooking the airport intersection at 8pm where he blew himself up. A man set off a bomb in front of a police checkpoint and killed himself, police official Ruhul Amin informed Reuters.
This is the second bomb attack in Dhaka within this week. In the previous attack militant had tried to enter a security checkpost on a motorcycle armed with explosives.
http://indianexpress.com/article/world/suicide-attack-blows-himself-up-near-bangladesh-hazrat-shahjalal-international-airport-no-casualties-4584140/
------
Islamic State claims responsibility for Bangladesh airport blast
March 25, 2017
The Islamic State has claimed responsibility for the bomb blast at a police outpost near Hazrat Shahjalal International Airport intersection here.
SITE Intel Group, which tracks online activities of different extremist groups, posted on their Twitter account that IS had claimed the attack. This was the 28th militant incident in Bangladesh, for which IS claimed responsibility.
Earlier on Friday, a suicide bomber was killed while trying to carry out an attack at the intersection.
Assistant Commissioner of police (Airport) Ruhul Amin Shagor confirmed that a suicide bomber attempted to attack the police box overlooking the airport intersection, as reported by the Dhaka Tribune.
He also confirmed the attacker has been killed and no other casualties have been reported. He tried to blow up the outpost with explosives in his pocket or tied around his waist.
The explosion, however, ripped through the right side of his waist.
The suicide attack comes exactly a week after another bomb attack on the Rapid Action Battalion (RRAB) camp at Ashkona, barely half a kilometre away from Friday's site.
http://indianexpress.com/article/world/islamic-state-claims-responsibility-for-bangladesh-dhaka-airport-blast-4584941/
------
'Noor has always asked for Balkh, not for himself': President Ghani
Sat Mar 25 2017
President Mohammad Ashraf Ghani hailed the provincial governor of the northern Balkh province Ata Mohammad Noor for his dedicated work for the province, saying 'Noor has always made request for the improvement of Balkh and not for himself'.
Speaking during a gathering organized to inaugurate the new educational year in this province, President Ghani promised that the government will equally invest on education as he expressed concerns regarding the current curriculum being taught to the school children in the country.
He said the government will distribute 6.2 million books to the schools across the country in coming two weeks.
President Ghani also emphasized that more focus should be done on girl's education, insisting that investment on a girl's education is equal to investment on five generations.
In other parts of his speech, President Ghani hailed the balance of development in Balkh province and hoped that similar steps are taken in other provinces as well.
In the meantime, governor Noor briefed the gathering participants regarding the developments in Balkh province and said around 50 percent of the school students in Balkh are girls.
He also added that 55 percent of the school teachers are women while 50 percent of the university students are also girls.
http://www.khaama.com/noor-has-always-asked-for-balkh-not-for-himself-president-ghani-02459
------
President Ghani arrives in Mazar-e-Sharif city on unannounced visit
Sat Mar 25 2017
President Mohammad Ashraf Ghani arrived in Mazar-e-Sharif city, the provincial capital of the northern Balkh province on an unannounced visit this morning.
The Office of the President, ARG Palace, said President Ghani is accompanied by a delegation of high level government officials.
According to a statement by ARG Palace, President Ghani will inaugurate the new educational year in one of the schools of Mazar-e-Sharif city.
The statement further added that the President Ghani is also expected to inaugurate the Noor hall and the Mazar-e-Sharif shrine mosque.
He has also been invited by the provincial governor Ata Mohammad Noor besides meeting the officials of the 209th Shaheen Corps of the Afghan National Army.
The unannounced visit by President Ghani to Mazar-e-Sharif city comes as the provincial governor Ata Mohammad Noor earlier announced that he will soon decide regarding his resignation as the governor of the province.
Speaking during the Nowroz festival in Balkh capital, Noor described the reason behind his likely resignation as his intention to participate in major political activities, including the upcoming elections.
http://www.khaama.com/president-ghani-arrives-in-mazar-e-sharif-city-on-unannounced-visit-02458
------
Deadly mosque bombing foiled in North of Afghanistan
Sat Mar 25 2017
A deadly plot by the anti-government armed militants to detonate explosives inside a mosque in northern Sar-e-Pul province has been foiled by the Afghan security forces.
According to the local government officials, the militants were looking to target the Friday prayers in Guzar Shahan mosque.
Provincial governor Mohammad Mohammad Zahir Wahdat said a suspect has been arrested in connection to the planting of an Improvised Explosive Device inside the mosque.
He said the suspect has been identified as Basir and was arrested by the security forces after he planted the IED in the mosque.
Wahdat further added that the Afghan security forces managed to detect and defuse the IED before the militants manage to detonate and a deadly terrorist attack plot was foiled.
Sar-e-Pul province has been among the relatively calm provinces since the fall of the Taliban regime but the anti-government armed militants have increased their insurgency activities in this province during the recent years.
The anti-government armed militants including the Taliban insurgents frequently use Improvised Explosive Device (IED) as the weapon of their choice to target the security forces and government officials.
According to the UN mission in Afghanistan, it documented 11,418 civilian casualties between 1st January 2016 to 31st December, 2016.
According to the report, 61 percent of all civilian casualties were incurred through attacks by the anti-government elements which includes a total of 6,994 civilian casualties (2,131 deaths and 4,863 injured).
http://www.khaama.com/deadly-mosque-bombing-foiled-in-north-of-afghanistan-02456
------
India
Modi sends chador to Ajmer shrine
March 25th, 2017
NEW DELHI: Indian Prime Minister Narendra Modi has sent a ceremonial chador to be offered at the shrine of Khwaja Moinuddin Chishti in Ajmer, Rajashthan, on the occasion of the 805 Urs of the great Sufi saint of the subcontinent.
A Times of India report said the chador will be laid on behalf of the prime minister by his representatives at the Ajmer Sharif Dargah during the Urs, which begins on March 30.
On Friday, Mr Modi handed over the chador to the minister of state for minority affairs, Mukhtar Abbas Naqvi, and the minister of state in the PMO, Jitendra Singh.
The report said that the PM conveyed greetings and best wishes to the Sufi saint's followers across the world.
The great 6th century Sufi saint is also known as 'Gharib Nawaz', or the patron of the poor.
In his message, Mr Modi said "Khwaja Moinuddin Chishti is a symbol of the great spiritual traditions of India. Gharib Nawaz's service of humanity would remain an inspiration for future generations."
He offered his best wishes for the successful conduct of the Urs.
Only on Wednesday, a court in Jaipur had sentenced two Hindu hardliners to life imprisonment for their involvement in a 2007 blast at the Ajmer shrine of Khwaja Moinuddin Chishti that killed three people and injured more than a dozen.
News reports said the convicts were former preachers of the Rashtriya Swayamsevak Sangh (RSS), whose political wing is India's ruling Bharatiya Janata Party.
https://www.dawn.com/news/1322687/modi-sends-chador-to-ajmer-shrine
------
Delhi continues to harp on terror mantra
March 25, 2017
NEW DELHI: While Pakistan continues to reiterate that it desires good relations with India and other neighbours, New Delhi harps on the same string calling on Islamabad to 'walk away' from terrorism.
"…Terrorism emanating from Pakistan is affecting not merely India but other neighbours of Pakistan as well has been the core concern, continues to be the core concern and we would like it to be effectively addressed by Pakistan," Gopal Baglay, the spokesperson for India's External Affairs Ministry, was quoted as saying by ANI news agency on Friday.
Baglay's statement came a day after Pakistan's High Commissioner in New Delhi Abdul Basit expressed Islamabad's desire to have good relations with New Delhi. "We hope we will be able to solve our differences and issues, especially the Kashmir issue," Basit said on Thursday while speaking at a Pakistan Day event organised at Pakistan's diplomatic mission in the Indian capital.
Relations between the two hyphenated neighbours have been at the lowest ebb since a deadly militant attack on an Indian military base in Uri, in the disputed Himalayan state of Kashmir, in September last year. However, in an apparent thaw in frosty relations the Indus water commissioners of the two countries met in Lahore last week to discuss the thorny water issue.
Bagley sought to downplay the interaction, saying the Indus Waters Treaty mandated the commissioners of India and Pakistan to meet once a year.
"As long as we are party to the Indus Waters Treaty, it is incumbent upon us to fulfill our obligation. It is mandated to meet at least once a year. Therefore, India's Indus commissioner attended the meeting of the Permanent Indus Commission last week in Pakistan," he added.
Bagley also said that during the meeting, India's Indus water commissioner had detailed technical discussions. "We are in the process of assessing these deliberations on various technical matters that the commission is mandated to make," he added.
India has denied Pakistani media claims that New Delhi has accepted Islamabad's reservations on the disputed Miyar dam during the talks of the Indus Water Commission. The reports, sources said, were 'factually incorrect and wrong' and India has 'never agreed to halt the project'.
Pakistani media reported that the Indian delegation, led by the country's Indus Water Commissioner PK Saxena, had agreed to halt work on the hydroelectric project's design and that it would soon share a new design of the Miyar project.
Indian President Pranab Mukherjee and Prime Minister Narendra Modi sent felicitations to Pakistan on the republic day on Thursday, triggering speculations that fractured relations might be on the mend.
However, the Foreign Office spokesperson in Islamabad played down the development, calling it part of 'normal courtesies' between the leadership of various countries.
Observers also doubt these contacts could lead to the resumption of structured dialogue that remains suspended for the past several years.
https://tribune.com.pk/story/1365061/delhi-continues-harp-terror-mantra/
------
NIA opposes Aseemanand bail, says has ample proof
Mar 25, 2017
NEW DELHI: A Hyderabad court's decision to grant bail to Swami Aseemanand in the 2007 Mecca Masjid blast case has come as a setback to NIA to secure his conviction in a terror case.
The National Investigation Agency (NIA) had on Thursday opposed his bail petition in the 2007 case, submitting that it had ample evidence to prove his guilt "beyond all reasonable doubt".
Seeking denial of bail to accused Nabakumar Sarkar alias Swami Aseemanand, NIA argued that the delayed trial in the case, resulting in his long incarceration, or his age at 66 years was not valid ground for granting him bail, contrary to the contentions made in the bail petition.
NIA stated that the Mecca Masjid blast case trial was at a decisive stage and granting bail to Aseemanand at this juncture would run the risk of his trying to influence the nearly 134 witnesses yet to be examined by the court.
Aseemanand's bail in Mecca Masjid blast case has paved the way for his freedom as he had earlier secured bail in the Samjhauta blast case and was also acquitted in the Ajmer Sharif blasts case on March 8.In fact, the fourth metropolitan sessions judge at Hyderabad, while allowing his bail application on Thursday , cited his bail in Samjhauta train bombing case and acquittal in Ajmer Sharif blast case.
This was despite NIA's quoting sub-section 5 of Section 43 D of Unlawful Activities Prevention Act (UAPA) to get the judge to deny bail. The section states that no person accused of an offence under Chapter IV and VI of UAPA (both dealing with terrorism) shall be released on bail or his own bond if the court, on a perusal of the case diary or the report made under Section 173 of CrPC is of the opinion that there are reasonable grounds for believing that the accusation against such person is prima facie true.
NIA argued that the court, while framing charges based on report filed under Section 173 of CrPC, had found the accusations against Aseemanand to be prima facie true.
An NIA officer said that they were yet to study the order and take a call on whether to challenge it.
http://timesofindia.indiatimes.com/india/nia-opposes-aseemanand-bail-says-has-ample-proof/articleshow/57821416.cms
------
Mideast
Hamas blames Israel for senior member assassination, threatens 'to act'
25 Mar, 2017
Hamas has vowed retaliation following the death of a prominent member, who was shot near his home in the Gaza Strip on Friday. He had been serving a life sentence in Israel before being released in a prisoner swap in 2011.
Mazeh Faqha suffered four gunshot wounds to his head and was later pronounced dead in Tell al-Hama neighborhood of the Gaza Strip. It is understood that the perpetrators managed to flee and are now on the run. In the aftermath of the assassination, Gaza police cordoned off the scene and set up checkpoints hunting for suspects.
Iyad al-Bozum, Gaza's Interior Ministry spokesman, said an investigation into the circumstances of his death has been launched, without elaborating on possible affiliations and motives of the attackers.
While the search for the attackers continues, Hamas was quick to point to Israel as the only possible benefactor from the death of the official, accusing the Israeli authorities or its "collaborators" of being behind the assault.
"This assassination does not serve anybody but the [Israeli] occupiers, it is of no interest to the other parties," Khalil al-Haya, Hamas deputy chief in Gaza, said as cited by AFP.
In an official statement, cited by Reuters, the militia threatened Israel and its agents with retribution for "this despicable crime," stating that "Israel knows that the blood of [Hamas] fighters is not spilled in vain and Hamas will know how to act."
Faqha lived in Gaza after his release from an Israeli jail in 2011, which was agreed to between Hamas and the Israeli government as part of a major prisoner exchange. Over 1,000 Palestinian prisoners were set free from Israeli jails in exchange for one Israeli soldier, Gilad Shalit, who was held captive by Hamas for five years after his capture in 2006.
At the time, Faqha was serving a life sentence for recruiting potential terrorists and arranging attacks on Israel. In particular, he was found guilty of recruiting a suicide bomber to mount an attack in northern Israel in 2002 that claimed the lives of nine people and left over 50 injured.
The Australian government found no evidence of diversion of state funds to Hamas by the US-based Christian relief group World Vision. Israel claims
While Israel officials have not commented on Faqha's murder yet, the way his assassination was carried out bears similarities to the murder of Hamas engineer Mohammed al-Zoari, who was killed last year, a source close to Hamas' military wing told The New Arab.
Al-Zoari, a Tunisian national, was one of the leading scientists involved in developing Hamas' drone program. He was shot dead outside his home in the port city of Sfax on December 15.
Allegations of Israeli involvement in the attack were voiced by Tunisian President Beji Caid Essebsi, who said that "there is a suspicion that Israel was involved" in early January.
https://www.rt.com/news/382261-hamas-israel-official-killing-response/
------
MHP leader seeks 'yes' vote to end 'global plot against Turkey'
March/24/2017
An "international plot" is being conducted against Turkey, Nationalist Movement Party (MHP) leader Devlet Bahçeli has suggested, asking for a "yes" vote in the upcoming referendum for the constitutional amendment to "disperse the global powers."
"We will disrupt the bloody game of the global powers in our region in solidarity with the nation and in collaboration with the state," Bahçeli said in Bursa on March 24.
Focusing his speech on "the powers that are against Turkey's prosperity," Bahçeli asked for a "yes" vote in the constitutional referendum "for the survival of Turkey" and "to end the games played on Turkey."
"Pay attention to the painful and bloody exhaustion of the neighboring countries. We are surrounded by a hostile circle. The global plot is active and cruel," he said.
Referring to the recent operation on Syria's al-Bab, where Turkey had a presence as part of the Euphrates Shield Operation, Bahçeli accused Russia and the United States of pursuing an alliance with the outlawed Kurdistan Worker's Party (PKK) in Syria.
"Russian soldiers are posing with PYD-YPG badges after U.S. soldiers did. This is a challenge to our nation," he said, referring to the presence of the Kurdish Democratic Union Party (PYD) in northern Syria, regarding it as a "threat to Turkish survival."
"PYD-PKK offices are in Moscow. Russia, [Syrian President Bashar] al-Assad and the PYD-YPG are in alliance. The U.S. is supporting this alliance covertly," he added.
He also expressed his discomfort with the presence of the PKK in the northern Iraqi province Sinjar, criticizing Iraqi Kurdistan Regional Government (KRG) President Massoud Barzani for supporting the outlawed party, accusing him of being a part of the "dark picture."
He also criticized the U.S. and the United Kingdom for a ban on electronic devices in direct flights from Turkey.
"The political decision of the United States, which means an attempt to undermine Turkey's reputation and honor, is malicious and contrary to the law of allies," he said.
He also referred to the growing crisis in relations with European countries and institutions which escalated with a ban preventing Turkish ministers from conducting campaign rallies for the constitutional amendments in several European countries.
"The true faces of those who speak of human rights in Berlin and Frankfurt, of human values in Amsterdam and The Hague emerge in Syria and Iraq," he added.
"Those who embrace innocence in Europe are turning back to their original identity, cruelty, in the Middle East," he said.
http://www.hurriyetdailynews.com/mhp-leader-seeks-yes-vote-to-end-global-plot-against-turkey.aspx?pageID=238&nID=111234&NewsCatID=338
------
Israel ignores UN demand against settlements: Diplomat
March 25, 2017
Israel has ignored a United Nations resolution demanding it halt settlement building in the occupied Palestinian territory that was criticized by the Trump administration, the UN Middle East envoy said. Although the UN Security Council resolution passed December 23 demanded that Israel immediately cease all settlement activities, "no such steps have been taken," envoy Nickolay Mladenov said in his first report to the council since the resolution was adopted.
"The January spike in illegal settlement announcements by Israel is deeply concerning," he said.
In January, Israel made five announcements on settlement building that together totaled more than 6,000 homes in the occupied West Bank and annexed east Jerusalem.
In early February, Israel declared its intention to build what would be, according to anti-settlement group Peace Now, the first new settlement by an Israel government since 1992.
Mladenov also expressed concern about the Israeli parliament's approval of a new settlement law on February 6 that retroactively legalizes dozens of Jewish outposts and thousands of settler homes built on private Palestinian land in the occupied West Bank.
The new law will allow Israel to legally seize Palestinian private land on which Israelis built without knowing it was private property or because the state allowed them to do so.
Palestinian owners will be compensated financially or with other land.
Mladenov said the law represents a major change in Israel's position on the question of legality in the Palestinian occupied territories.
Settlements in both the West Bank and east Jerusalem are viewed as illegal under international law and major stumbling blocks to peace as they are built on land the Palestinians want for their own state.
The Middle East envoy's report came before the 15-nation Security Council held a closed-door session to discuss the Israeli-Palestinian conflict.
Under the new administration, the United States, one of the five veto-wielding council members and a long-time Israel supporter, has pledged to back Israel more than Donald Trump's predecessor Barack Obama.
As president-elect, Trump in late December assailed Obama's outgoing administration for abstaining in the December 23 council vote on a UN resolution reprimanding Israel over its settlement activity.
By declining to use its veto, the US enabled the adoption of the first UN resolution since 1979 to condemn Israel over its settlement policy.
The Obama administration justified its decision by citing frustration with Israel's attitude on settlement building.
The newly installed Trump administration in late January signaled that Israel did not have a blank check from America on settlement building.
http://indianexpress.com/article/world/israel-ignores-un-demand-against-settlements-diplomat-4584615/
------
Gunmen kill Hamas official in Gaza
March 25, 2017
Gunmen in the Gaza Strip shot dead a Hamas official who was freed by Israel in a 2011 prisoner swap, the interior ministry in the Palestinian enclave said. Mazen Faqha was released along with more than 1,000 other Palestinians in exchange for Gilad Shalit, an Israeli soldier Hamas had detained for five years. Iyad al-Bozum, an interior ministry spokesman in the Hamas-ruled Gaza Strip, said that gunmen opened fire on Faqha in the Tell al-Hama neighbourhood.
"An investigation has been launched," he said, giving no further details. Police spokesman Ayman al-Batniji said Faqha had "four bullets in his head" and said Israel and its "collaborators" were responsible for the killing.
"We know how to respond to this crime," he added. Faqha was a senior Hamas official in the Israeli-occupied West Bank but after his release Israel transferred him to Gaza.
The Israeli army refused to comment. But Khalil al-Haya, a senior Hamas official in Gaza, said: "This assassination does not serve anybody but the occupiers (Israel), it is of no interest to the other parties."
http://indianexpress.com/article/world/gunmen-kill-hamas-official-in-gaza-4584602/
------
At least 11 migrants killed in new Aegean tragedy off Turkey
March/24/2017
Eleven migrants drowned on March 24 after a boat carrying 22 sank off the Kuşadası-Davutlar area of the Aegean province of Aydın, Doğan News Agency has reported.
Eight migrants were rescued while efforts to rescue the other missing three were continuing.
A number of ambulances were also dispatched to the coast.
Video footage on Doğan News Agency's network showed half a dozen bodies after they were recovered from the water and laid out near ambulances.
Turkish television channel NTV said the migrants had been traveling in a rubber boat.
The frequency of tragedies on the Aegean has diminished sharply since the implementation of a Turkey-European Union refugee deal in March 2016, but the agreement now hangs by a thread.
Turkey agreed in 2013 to take back migrants who traveled illegally to the EU in return for the promise of visa-free travel, as well as financial aid for those in its care and accelerated EU membership talks.
However, Ankara may cancel the agreement and is also re-evaluating a $6 billion refugee deal with the bloc, Foreign Minister Mevlüt Çavuşoğlu said March 15.
More feared dead off Libya
Separately, around 250 African migrants are feared to have drowned in the Mediterranean after a charity's rescue boat found five corpses and two partially submerged rubber dinghies off Libya, a spokeswoman said March 23.
Laura Lanuza of Spanish charity Proactiva Open Arms said its boat Golfo Azzuro had recovered the five dead bodies close to the dinghies, about 15 miles off the Libyan coast.
"We don't think there can be any other explanation than that these dinghies would have been full of people," she told AFP. "It seems clear that they sunk."
She added that they would typically have been carrying 120-140 migrants each.
"In over a year we have never seen any of these dinghies that were anything other than packed," she said.
Lanuza said the bodies recovered were African men with estimated ages of between 16 and 25.
They had drowned, apparently in the 24 hours prior to them being discovered shortly after dawn on March 23 in waters directly north of the Libyan port of Sabrata.
Despite rough winter seas, migrant departures from Libya on boats chartered by people traffickers have accelerated in recent months from already-record levels.
Over 5,000 people have been picked up by rescue boats since March 19, bringing the number brought to Italy since the start of 2017 to over 21,000, a rise of more than half compared to the same period in previous years.
Aid groups say the accelerating exodus is being driven by worsening living conditions for migrants in Libya and by fears the sea route to Europe could soon be closed to traffickers.
Prior to the latest fatal incident, the U.N. refugee agency had estimated that some 440 migrants had died trying to make the crossing from Libya to Italy since the start of 2017.
That figure, also sharply up on previous years, is based on a combination of bodies recovered and testimonies from the survivors of shipwrecks.
http://www.hurriyetdailynews.com/at-least-11-migrants-killed-in-new-aegean-tragedy-off-turkey-.aspx?pageID=238&nID=111215&NewsCatID=341
------
Swiss foreign minister warns Turkey against illegal spying
March/24/2017
Switzerland's foreign minister told his Turkish counterpart on March 23 that his country would "rigorously investigate" any illegal spying by Ankara on expatriate Turks before the April 16 referendum that will decide whether the current parliamentary system should be replaced by an executive presidency.
During a meeting with Turkish Foreign Minister Mevlüt Çavuşoğlu, Switzerland's Didier Burkhalter underscored Swiss concerns that Turkey may have been using its intelligence network to monitor the activities of Turkish citizens in Switzerland in the run-up to the vote, according to a Swiss foreign ministry statement.
"Freedom of expression is a universal value recognized by Switzerland, which hopes that this freedom will also hold true for Turkish citizens whether they cast their votes in Switzerland or in their own country," said Burkhalter, as he "underscored the validity of Swiss law on Swiss soil" and urged Turkey "to comply with it."
The statement said Switzerland would "rigorously investigate illegal intelligence activities."
Efforts to reach the Turkish embassy late March 23 were unsuccessful.
For weeks, Burkhalter has been trying to keep his neutral country from becoming too deeply entangled in a bitter dispute between Ankara and other European nations over campaigning by Turkish politicians to drum up support for a "yes" vote in the referendum among Turks living abroad.
President Recep Tayyip Erdoğan has accused Germany and the Netherlands of behaving like Nazis for halting some rallies by Turkish ministers, comments that both countries have called unacceptable.
While the Swiss government has been pressured by cities including Zurich to block visits by Turkish officials, Bern has refused on the grounds there was nothing to justify curbs on freedom of speech.
Çavuşoğlu had been scheduled to visit Switzerland for an event earlier this month, but that was canceled for lack of a venue.
During the visit on March 23, Burkhalter also told Çavuşoğlu that he was aware of Turkey's "difficult situation" following the July 2016 failed coup attempt, the Swiss statement said.
Still, Burkhalter remained concerned about mass dismissals and arrests of people Ankara has linked to U.S.-based Islamic preacher Fethullah Gülen, who is widely believed to have been behind the thwarted coup.
"The declaration of a state of emergency does not exempt Turkey from its international human rights obligations," the statement said, adding Burkhalter "stressed the importance of freedom of expression and the freedom to speak out for democracy."
Swiss government statistics show 68,000 Turkish citizens live in Switzerland. The Turkish embassy's website refers to 130,000 Turkish citizens.
Meanwhile, Switzerland has opened a criminal probe into possible spying involving Switzerland's Turkish community, federal prosecutors said on March 24.
"The Office of the Attorney General has been made aware of concrete suspicion that political espionage has likely been conducted involving the Turkish community in Switzerland," the agency said in a statement, giving no details about the probe launched on March 16.
http://www.hurriyetdailynews.com/swiss-foreign-minister-warns-turkey-against-illegal-spying.aspx?pageID=238&nID=111199&NewsCatID=351
------
236 Turkish citizens sought asylum in Greece since coup attempt
March/25/2017
236 Turkish citizens sought asylum in Greece since coup attempt
A total of 236 Turkish citizens have sought asylum in Greece since the July 2016 failed coup attempt, marking a rising trend in the number of requests compared to previous years.
According to official data from the Greek Asylum Services seen by daily Kathimerini, 236 Turkish citizens requested political asylum in the country between July 2016 and February 2017, with most of them are believed to be the members of the Fethullahist Terror Organization (FETÖ), which was accused of the attempted takeover on July 15, 2016.
According to figures, some 43 Turkish citizens sought asylum in Greece in 2015 while another 51 requested political asylum in the country between January 1, 2016 and July 14, 2016.
Some 98 of the asylum requests were made in 2017, the data showed.
Meanwhile, the re-trial process of eight former Turkish soldiers who escaped to Greece following the coup attempt will begin soon. The process for Ankara's new demand on their extradition has also begun.
In January, the Greek top appeals court had rejected the extradition of the soldiers.
While they are still waiting for the outcome of their asylum request, Turkey's NATO ally Norway have already granted asylum for four Turkish soldiers and a military attache in the country.
http://www.hurriyetdailynews.com/236-turkish-citizens-sought-asylum-in-greece-since-coup-attempt.aspx?pageID=238&nID=111241&NewsCatID=351
------
Turkey may not be in great position, but looks worse: Deputy PM
March/24/2017
Turkey's perception abroad is poor, but the country is not in that bad a position, Deputy Prime Minister Mehmet Şimşek has said, adding that Turkey's narrative would remain robust in the medium and long term with the realization of a number of key reforms.
"When seen from outside, Turkey's perception abroad is bad, but the country is not in that bad a position. The reality may, however, not be as good as desired. Therefore, we have a comprehensive reform program. Turkey will keep growing in the medium and long term. Turkey's narrative will remain strong in the future," Şimşek said in an opening speech at the Uludağ Economy Summit in the northwestern province of Bursa.
He said the Turkish economy had grown an average of 6 percent since the beginning of the 2000s, displaying a strong resilience.
"Although the economy slowed down last year in a serious manner due to the [July 15] coup attempt and terror attacks, it continues to grow in a moderate, but limited, manner," he said.
"We have seen a serious resilience in the economy, which is of great importance," he said.
"This shows that as soon as uncertainties fade away, Turkey will again be able to return to a high growth track. There is no reason for it to do the opposite," Şimşek said.
He noted that reforms would be key for the country to achieve this goal, adding that the biggest reform would be to maintain stability.
Turkey's narrative still alive
Noting that there were no more than six or seven countries with a population of 80 million or more that are located in the middle-income group, he said: "Turkey's narrative is still there. We have a comprehensive reform program to keep this narrative strong. The leading reform here is a constitutional reform which will ensure stability in the country's administration and prevent any crisis in the future. This makes it a key structural reform."
Şimşek also said Turkey did not face any democratic recession, suggesting instead that the country was on the road to normalization again after a number of seriously devastating shocks.
"Turkey faced a coup attempt and a state of emergency needed to be declared. We do not see it as a permanent solution … We have faced a highly complicated and dangerous structure, which infiltrated almost all institutions in the country over the last 40 years and which has been active in more than 170 countries … As we have been fighting against this, some claim that there is no democracy in Turkey anymore. On the contrary, if the coup attempt had been successful, there would have been no democratic rule in Turkey now," he said.
"Turkey is not entering a democratic recession. On the contrary, it is working a lot to save its democracy and rule of law. We are on the road to normalization again," said Şimşek.
http://www.hurriyetdailynews.com/turkey-may-not-be-in-great-position-but-looks-worse-deputy-pm.aspx?pageID=238&nID=111228&NewsCatID=344
------
Africa
Cairo suburb explosion: One killed, three injured, say security sources
March 24, 2017
One man was killed and three others injured in an explosion in the Cairo suburb of Maadi, the Interior Ministry said in a statement on Friday. The man who was killed, a building guard who was cleaning the property's garden, found "an unidentified metallic object." Upon handling it, it exploded, resulting in his death and the injury of his wife and two children by shrapnel, the statement said.
The injured have been moved to the hospital for treatment and the area had been cordoned off and is being combed by security forces, it added. There was no immediate claim of responsibility.
The government is taking on militants in the Sinai Peninsula, where militants loyal to Islamic State are based, and Islamist groups elsewhere in the country who generally target security forces.
http://indianexpress.com/article/world/cairo-suburb-explosion-one-killed-three-injured-say-security-sources-4583840/
------
Key events in the life of the ousted Egyptian president Hosni Mubarak
March 24, 2017
Key events in the life of the ousted Egyptian president, who has been released from detention and returned home.
Oct. 15 1981: Mubarak takes office after his predecessor, Anwar Sadat, is assassinated by Islamic militants during a military parade. Mubarak, Sadat's vice-president, survives with a minor hand injury.
Mubarak implements emergency laws as part of his battle against militants and expands police powers.
In one of his first moves, Mubarak says Egypt will stick to the 1979 peace treaty with Israel, the first by any Arab nation with the Jewish state.
Mubarak becomes a major mediator in the Arab-Israeli peace process, remaining a consistent US ally bolstered by billions of dollars in American aid.
During the 1990s, an Islamic militant insurgency _ aiming to set up an Islamic state _ attacks policemen, assassinates politician, and targets foreign tourists, one of the country's key sources of revenue.
1995: Militants attempt to assassinate Mubarak during a visit to Ethiopia.
1997: Mubarak responds by arresting thousands, crushing the movement.
Sept. 1999: Mubarak is re-elected for a fourth term in a staged, single-candidate referendum in which he wins over 90 percent of the vote.
Feb. 2005: Mubarak engineers constitutional amendments that, according to critics, guarantee ruling-party victories in elections.One bans religious political parties, blocking the Muslim Brotherhood from officially participating in political life.
2005: Mubarak allows the first ever multi-candidate presidential election, which he wins easily over 10 other candidates amid charges of voter fraud and intimidation.
April 2008: Bread riots turn violent. Mubarak's government had subsidized staples such as bread and cooking oil, and the butane gas used for cooking. He fires up military ovens to help quell discontent.
2010: Parliamentary elections are widely deplored as rigged, and the Brotherhood responds by withdrawing its candidates, who ran as independents, from a second round of voting.
Jan. 25, 2011: Thousands of anti-government protesters clash with police in Cairo during a Tunisia-inspired demonstration to demand Mubarak's removal. The day marks the start of the Arab spring in Egypt.
Feb. 11: After three weeks of massive protests against his rule, Mubarak steps down, handing power over to the military.
April 13: Authorities detain Mubarak and his two sons in an investigation into corruption, abuse of power and the killing of protesters. A month later, Mubarak is ordered to stand trial.
Aug. 3: Mubarak's trial starts in Cairo. From the defendant's cage, Mubarak denies all charges against him.
Feb 22, 2012: Mubarak, who had rarely spoken during the trial, turns down his last chance to address the court during the defense's final arguments.
June 2: Mubarak is sentenced to life in prison. He's ferried by helicopter from the police academy where the trial was held to Cairo's Torah Prison where his sons and members of his regime have been either serving prison sentences or being held pending trials over a variety of corruption charges.
Jan, 2013: Mubarak is granted a retrial from the appeals court.
Nov. 29, 2014: Murder charges against Mubarak are dismissed, and his security chief is acquitted over the killing of protesters during the 2011 uprising.
Mubarak is also acquitted of corruption charges that he faced along with his sons Alaa and Gamal _ his one-time heir apparent _ as the statute of limitations on the case expires.
June 4, 2015: Egypt's highest appeals court orders the retrial of Mubarak on charges that he failed to prevent the killing of hundreds of protesters during the 2011 uprising. The ruling sets a trial date for the third time.
May: Cairo Criminal Court sentences Mubarak to three years and fines him and his sons 125 million Egyptian pounds following his conviction for embezzling funds earmarked for the maintenance and renovation of presidential palaces.
Jan. 9, 2016: An Egyptian court upholds a three-year prison sentence for graft. It is considered already served by the former president and his two sons based on their time spent in detention.
March 2, 2017 Egypt's top appeals court issues its final ruling, acquitting Mubarak of charges that he ordered the killing of protesters during the 2011 popular uprising. The Court of Cassation rejects an appeal by prosecutors, allowing an acquittal verdict from 2014 to stand.
March 13, 2017: Mubarak is freed from detention.
http://indianexpress.com/article/world/key-events-in-the-life-of-the-ousted-egyptian-president-hosni-mubarak-4584255/
------
Southeast Asia
Malaysia PM to sign pacts worth $5bn during India visit in April
Aradhana Takhtani
Mar 25, 2017
Kuala Lumpur: Malaysian PM Najib Razak is expected to sign 15 agreements worth more than $5 billion during his meeting with his Indian counterpart Narendra Modi in New Delhi early next month -marking the first high level visit by a foreign head of government after a string of assembly elections.
Though the key engagement of the Malaysian team would be with the Centre and the three apex chambers -Ficci, Assocham and CII, the trade and economic impetus will come from the states. Prominent amongst these are the signing of 7 bids worth $1.2-$1.4 by Malaysia's Construction Indust ry Development Board for Rajasthan state highways, for which Najib has included a day's visit to Jaipur on April 2. Malaysia is also setting up a 258-acre technology park in Amravati and getting into an MoU with Bengaluru for an optic fiber and smart city project worth $300 million.
India's investment in Malaysian economy would include a proposed 1.6 million tonne urea plant. Talks on laying of railway tracks by IRCON International for the Serendah-Klang-Seremban line will also be held.
Indian high commissio ner to Malaysia, Tirumurti, said this visit could result in setting up of an ayurveda chair in Malaysia, which would enable Universiti Tunku Abdul Rahman to offer a degree course in ayurveda for the first time in the country . While the visit is seen as a kick-off to events highlighting the 60th anniversary of diplomatic relations between the two countries, there is a not-so-obvious political intent. Sources said Najib will make an effort to reach out to the huge Indian diaspora, predominantly Tamil, by including Chennai in his itinerary . General elections in Malaysia are due next year and there are more than 2.5 million people of Indian descent part of the electorate.
http://timesofindia.indiatimes.com/india/malaysia-pm-to-sign-pacts-worth-5bn-during-india-visit-in-april/articleshow/57821407.cms
------
URL: https://www.newageislam.com/islamic-world-news/muslim-nations-envoy-discuss-online/d/110534
New Age Islam, Islam Online, Islamic Website, African Muslim News, Arab World News, South Asia News, Indian Muslim News, World Muslim News, Women in Islam, Islamic Feminism, Arab Women, Women In Arab, Islamophobia in America, Muslim Women in West, Islam Women and Feminism