New Age Islam News Bureau
29 May 2018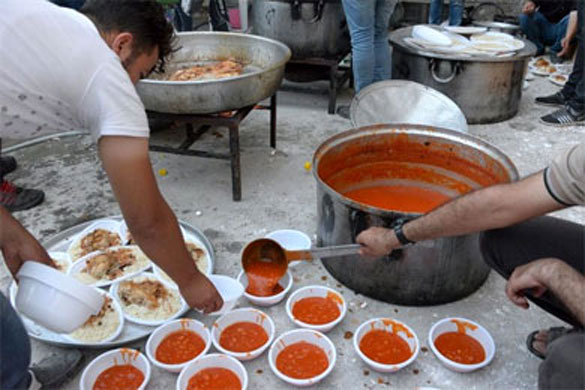 Men prepare food for Iftar, the sunset meal that breaks the daytime fast, which a charity organization in Mosul distributes to those in need during the holy fasting month of Ramadan. (AFP)
-----
• Muslim Man Breaks Fast To Save Two-Day-Old Hindu Boy
• Hindu Temple in Kerala's Malappuram Hosts Iftar Party for Muslims
• Human Rights Council Reveals S. Arabia's Horrible Massacre of Yemeni People
• US Offered $5bn To Refrain From Carrying Out Nuclear Tests: Nawaz
• Muslim Brotherhood and Al-Qaeda In Libya Reject French Initiative
• Interfaith Leaders Visit Strife-Torn Rakhine State
India
• Muslim Man Breaks Fast To Save Two-Day-Old Hindu Boy
• Hindu Temple in Kerala's Malappuram Hosts Iftar Party for Muslims
• Sikh Man's Video Waking up Muslim Neighbours for Sehri Goes Viral in Jammu and Kashmir
• Jharkhand: Mob Attacks Muslims At The Time Of Iftar; Forced Them To Flee
• India's attitude towards Pakistan changed after Islamabad's nuclear tests: Nawaz Sharif
• Terrorists attack police picket guarding residential house in Anantnag
• Terrorists loot Rs 1.7 lakh from bank, flee with guard's rifle
• India ready to talk with Pakistan if it gives up aiding terror: Naidu
• External Affairs Minister Sushma Swaraj holds talks with her Iranian counterpart Javad Zarif
• For talks, Centre should first accept Kashmir as a dispute: Separatist leader Syed Ali Shah Geelani
--------
Arab World
• Human Rights Council Reveals S. Arabia's Horrible Massacre of Yemeni People
• Spirit of Ramadan Returns to Iraq's Daesh-Free Mosul
• Dubai's Senior Religious Leader Calls on Muslims to Find Balance between Outings and Worship during Ramadan
• Saudi activists' arrest revives concerns about reform agenda
• US-Backed Militants Continue Blackmailing People in Northeastern Syria
• Terrorists' Bases Destroyed in Syrian Army Attack in Hama Province
• Infighting Intensifies between US-Backed Militants in Northeastern Syria
--------
Pakistan
• US Offered $5bn To Refrain From Carrying Out Nuclear Tests: Nawaz
• PM Abbasi Seeks National Debate on Civil-Military Ties, Role Of Judiciary
• COAS congratulates 'brave tribes' on FATA's successful merger
• Pakistan military prevents ex-spy chief from leaving country
• Pakistani clerics laud Kingdoms efforts for the sanctity of Two Holy Mosques
• Pakistan, Afghanistan and China hold strategic dialogue in Beijing
--------
Africa
• Muslim Brotherhood and Al-Qaeda In Libya Reject French Initiative
• Boko Haram Suicide Bomber Kills Five, Wounds Seven in Konduga
• Muslim cleric urges sincerity among political leaders
• Sudan says its participation in Yemen war a 'moral obligation'
--------
South Asia
• Interfaith Leaders Visit Strife-Torn Rakhine State
• Taliban Decides To Relocate Heroin Labs amid Relentless Airstrikes
• Afghan forces mistakenly kill 9, mostly civilians
• Bangladesh drug trafficking sweep leaves 86 dead, 7,000 in custody, including Rohingya
• Relatives of Afghan Senate Chairman among 17 dead, wounded in Nangarhar raid
• Prominent Taliban leader killed by own comrade in Nangarhar province
• Myanmar says some Rohingya refugees returned voluntarily
--------
Southeast Asia
• Clamour Grows For New Indonesian Anti-Terrorism Bill
• Philippine Agents Kill Militants Who Helped Fight ISIS-Linked Forces
• Why Amanah doesn't appeal to rural Malays
--------
Mideast
• Erdogan Supporters Force Removal Of French Weekly From Newsstands Over 'Dictator' Cover
• 500-year-old Quran returns to Topkapi Palace
• Turkey responds to UN's appeal to assist Palestinians
• Israeli army raids Palestinian camp after soldier death
• Names of Western Activists, Academics Ready to Testify for Iran in 9-11 Court Released
• Iran says US 9/11 court verdict 'mockery of international law'
• Israel's Iron Dome shoots down rocket fire from Gaza Strip
• Palestinian killed in Israel strike in north Gaza
• Yemen says national army just 20 km away from Hodeidah
--------
North America
• Facebook Allows Islamic State to Keep 'Multiple Direct Connections' to U.S. Supporters
• Muslims, guests break fast at interfaith Iftar dinner in Boonton
• Diary of A Convert: 'My Connection With Allah Has Become Stronger'
• Taking the US commission on international religious freedom from bad to worse
--------
Europe
• Germany: Far-Right Party Holds Anti-Islam Rally In Berlin
• Denmark To School 'Ghetto' Kids In Democracy And Christmas
• Europe's largest wooden building awaits salvation off Istanbul
• France grants citizenship to Malian refugee who saved boy in daring rescue
Compiled by New Age Islam News Bureau
URL: https://www.newageislam.com/islamic-world-news/muslim-man-breaks-fast-save/d/115388
--------
Muslim Man Breaks Fast To Save Two-Day-Old Hindu Boy
May 28, 2018
Last week, Jawed Alam donated blood to an eight-year-old thalassemic boy.
In another such case within a week or so, a young Muslim man in Bihar broke his Ramadan fast to donate blood to save the life of a newborn, officials said on Monday.
"I broke my fast to save a child because human life is more important than fast. I will keep the fast later to compensate but human life can't be compensated," remarked Mohammad Ashfaque who donated blood on Sunday to save the two-day-old child of Ramesh Kumar Singh and Aarti Devi in Darbhanga district.
Man breaks Ramadan fast to save Hindu boy
Aarti had given birth to a boy after a caesarean operation at a private clinic in Darbhanga but the condition of the child deteriorated soon after birth.
After doctors asked Ramesh to procure O Negative group blood for the child, he posted an SOS message on social media, following which Ashfaque contacted them.
"When I came across the message for help, I simply approached the family and rushed to the hospital to donate blood. But doctors refused my offer since I was fasting. So, I broke my fast and consumed fruit juice and some solids," said Ashfaque, who is in his late 20s.
Last week, Jawed Alam donated blood to an eight-year-old thalassemic boy Rajesh to save his life in Gopalganj district.
https://www.khaleejtimes.com/international/india/muslim-man-breaks-fast-to-save-two-day-old-hindu-boy
--------
Hindu Temple in Kerala's Malappuram Hosts Iftar Party for Muslims
May 28, 2018
Malappuram: A Hindu temple in Kerala organised an iftar party for the Muslim community as part of the annual 'prathishta' (idol installation) ceremony in the temple thus giving a boost to communal harmony.
Lakshmi Narasimha Murthy Vishnu temple near Vettichira in Malappuram district hosted an iftar party for the Muslims who were observing fast in the holy month of Ramzan last week. The iftar was attended by more than 400 people from both the communities.
The event held on May 24 is the second edition of such iftar party being arranged by the temple committee.
"We used to distribute food for the residents every year during the 'prathishta', since the Ramzan falls during this time we decided to host iftar so that we can accommodate all people irrespective of their faiths," says KP Baiju, the treasurer for the temple committee.
"The iftar was noted with the presence of not just Muslims, but even Hindus living in the locality participated in the event," says Baiju, who was at the forefront of organising the iftar.
Since the iftar party was hosted by the temple, only vegetarian food was being distributed.
The vishnu temple which was in a critical stage was renovated and the idol was reinstalled during Ramzan last year with the help of native people and a lot of Muslims contributed to the cause.
http://mattersindia.com/2018/05/hindu-temple-in-keralas-malappuram-hosts-iftar-party-for-muslims/
--------
Human Rights Council Reveals S. Arabia's Horrible Massacre of Yemeni People
May 28, 2018
"Sa'ada province has been the target of the most horrible and extensive cases of violation of human rights by the Saudi-led coalition and it has committed over 70 cases of horrible massacres during over three years of aggression against the region," Head of Yemen's Human Rights and Freedom Council Ali al-Matmiz said on Monday.
"No one has yet been able to release the exact number of people killed and wounded in the province but there are over 8,000 cases," he added.
Saudi Arabia has been striking Yemen since March 2015 to restore power to Mansour Hadi, a close ally of Riyadh. The Saudi-led aggression has so far killed at least 16,000 Yemenis, including hundreds of women and children.
Despite Riyadh's claims that it is bombing the positions of the Ansarullah fighters, Saudi bombers are flattening residential areas and civilian infrastructures.
According to several reports, the Saudi-led air campaign against Yemen has driven the impoverished country towards humanitarian disaster, as Saudi Arabia's deadly campaign prevented the patients from travelling abroad for treatment and blocked the entry of medicine into the war-torn country.
Yemen is the world's largest humanitarian crisis with more than 22 million people in need and is seeing a spike in needs, fuelled by ongoing conflict, a collapsing economy and diminished social services and livelihoods.
http://en.farsnews.com/newstext.aspx?nn=13970307000335
--------
US offered $5bn to refrain from carrying out nuclear tests: Nawaz
MAY 29, 2018
LAHORE: Former prime minister Nawaz Sharif Monday alleged that former US president Bill Clinton offered him $5 billion to refrain from carrying out nuclear tests in 1998.
"British leaders and other international leaders also asked me not to proceed with the tests," claimed the former premier while addressing a ceremony held to commemorate 20th anniversary of nuclear tests of Pakistan.
"I would have accepted the money had I been a corrupt man," said Nawaz.
The ousted prime minister went on to say: "Pakistan is an atomic power and no one can treat it with bad intentions."
Referring to the Panama case investigation, the former prime minister said that he appeared before the court for the 75th time on Monday in relation to the case.
Separately, speaking to journalists outside the accountability court, the Pakistan Muslim League-Nawaz (PML-N) supremo remarked that the nation "neither accepts the plane hijacking case nor the current cases against him".
He termed the plane hijacking case and National Accountability Bureau's references against him a 'joke'.
The thrice-elected premier had time and again remarked that he was implicated in a "false and fabricated case of plane hijacking" and confined to Attock jail in 1999.
He added that his statements and stance would prove to be victorious. "Victory is the future of my statements. There is no other option than victory."
Reiterating his earlier claims, he said that Pakistan Muslim League-Nawaz was the only party, which worked for the people. "The performance of all others parties is next to nothing."
"Please Imran Khan, tell us, which project have you completed? If there is any project on social sector and electricity then please tell us."
He continued: "We eliminated terrorism from country, built motorways and made China-Pakistan Economic Corridor (CPEC) a reality. He said that the ruling PML-N government took efforts to restore peace in Karachi and curbed incidents of crime.
"But we were not allowed to perform and could work till 2016."
Earlier in the day, chaos ensued at party's Youm-e-Takbeer event when a PML-N supporter was manhandled by PML-N's security team after he broke the security cordon to shake hand with Nawaz.
In a video clipping, the man can be seen moving towards Nawaz and extending his hand. The security personnel encircled the man and beat him up despite Maryam Nawaz and the PML-N supremo being visibly distraught at the reaction of the security officers.
Nawaz and senior party leader Saad Rafique later embraced the man.
Maryam also denounced the behaviour of the security officers, stating: "Supporters have a special relationship with their leader."
May 28, dubbed as Youm-e-Takbeer, is celebrated every year to commemorate the historic day when the country conducted the nuclear tests in 1998 as a response, in self-defence, to the nuclear tests and accompanying hostile posturing by its neighbour India. https://dailytimes.com.pk/246095/us-offered-5bn-to-refrain-from-carrying-out-nuclear-tests-nawaz/
--------
Muslim Brotherhood and al-Qaeda in Libya reject French initiative
28 May 2018
The Libyan High Council of State welcomed France's invitation to hold a conference in France on Tuesday to agree on a political roadmap but said it did not want military figures to participate, in a clear reference to Field Marshal Khalifa Haftar who is one of the four major figures invited to the talks.
Khaled al-Mishri, who heads the High Council of State, said on Sunday that military figures are not a political party, adding that only three parties must participate in the meeting and they are Prime Minster Fayez al-Sarraj, president of the eastern House of Representatives Aguila Saleh and the High Council of State.
Following Mishri's statements, 14 militias in support of political Islam movements, such as the Brotherhood and al-Qaeda wings, in Tripoli voiced their rejection of the French initiative because it is a call that aims "to nationalize military rule," and asserted the significance of "a civil state and the peaceful devolution of power."
https://english.alarabiya.net/en/News/north-africa/2018/05/28/Muslim-Brotherhood-and-al-Qaeda-in-Libya-reject-French-initiative.html
--------
Interfaith leaders visit strife-torn Rakhine State
May 28, 2018
Cardinal Charles Bo of Yangoon was among the international and local interfaith leaders were flown into strife-torn Rakhine State in an effort to better understand the Rohingya crisis.
Six members of Religions for Peace International were taken to Maungdaw township in northern Rakhine on May 27 where they visited transit and reception centers while also meeting with Rohingya, Hindu and Mro communities.
From the air, the delegation also saw hundreds of Rohingya villages that were destroyed during a Myanmar military counter-insurgency campaign waged against Rohingya militants since September last year. More than 670,000 Rohingya fled to Bangladesh to avoid the military's campaign, which has been dubbed ethnic cleansing by the U.N.
Father Joseph Mg Win, secretary of Religions for Peace-Myanmar, thought the visit was successful and added that government officials were supportive.
"As religious leaders, the aim of the visit was to learn the truth after closely observing the situation and from that give a true message to the people of Myanmar and to the international community," said Father Mg Win, who is also head of ecumenism and interfaith commission of Yangon Archdiocese.
Along with Cardinal Bo and Father Mg Win were Myint Swe, a leading Buddhist layman from the Ratana Metta Organization, and Muslim layperson Al Haj U Aye Lwin, the chief convener of the Islamic Center of Myanmar. International members of the group were Norway's Bishop Gunnar Stalsett of Oslo, who is the honorary president of Religions for Peace International, and Rev. Kyoichi Sugino, deputy secretary-general of the group.
A day after their visit, Religions for Peace International expressed concern that excessive use of force by state security could hamper a "peace and reconciliation process" while acknowledging the authorities had a duty to maintain law and order.
They urged the Myanmar government to conduct "a thorough and transparent" investigation into what has occurred in Rakhine.
Muslim layperson Aye Lwin said it was a positive that the delegation was able to visit the area and learn more about the government-initiated national verification cards and resettlement plans for returning refugees.
"This is a first step and we have many things to do," said Aye Lwin.
He added that there are information gaps between the government and Rohingya refugees in Bangladesh about resettlement efforts and the issuing of national verification cards.
Last week, a larger group of 18 members from Religions for Peace International and Myanmar met with State Counselor Aung San Suu Kyi in Naypyidaw. Suu Kyi welcomed the delegation's offer to assist with peace efforts and humanitarian aid for not only Rakhine State but also other parts of the country experiencing ethnic conflicts.
https://www.ucanews.com/news/interfaith-leaders-visit-strife-torn-rakhine-state/82429
--------
India
Sikh Man's Video Waking up Muslim Neighbours for Sehri Goes Viral in Jammu And Kashmir
May 29, 2018
A video clip has gone viral in which an unidentified elderly Sikh man seems to have taken the responsibility of waking up his Muslim neighbours in Jammu and Kashmir's Pulwama district for Sehri -- pre-dawn Ramzan meal.
The 21-second video clip, showing the man beating the drum to wake up his neighbours, is being widely shared on various social media platforms in Srinagar.
"Allah Rasool de pyaaro, jannat de talabgaro, utho roza rakho (The beloved of Allah and his messenger, the seekers of paradise, wake up to start your fast)," the unidentified Sikh man shouts.
Many of the netizens lauded the Sikh man, saying he embodied the communal harmony that has existed in Kashmir for centuries.
'Seharkhwaan' is the term used for the drum beaters who go around a locality to wake up its residents for the pre-dawn meal before start of dawn-to-dusk fast during Ramzan.
This task is normally taken up by one of the Muslims from the locality but members from minority community doing it is rare but not new.
https://www.hindustantimes.com/india-news/ramzan-fasting-sikh-man-s-video-waking-up-muslim-neighbours-for-sehri-goes-viral-in-jammu-and-kashmir/story-WrkQ7lXmSYzy2GBDYJE0fI.html
--------
Jharkhand: Mob Attacks Muslims At The Time Of Iftar; Forced Them To Flee
May 28, 2018
Ranchi: A mob attacked Muslim houses around Iftar (breaking of fast) in the evening and assaulted several people including women in Koderma district of Jharkhand on Friday night. As a result, around 20 Muslim families were forced to flee their homes in the night. The mob also vandalised the Masjid and assaulted the Muslims who were offering Maghrib prayer there. The incident took place around 6:30 PM on Friday in the Kolgarma village under Koderma police station.
A similar incident had occurred in April last year as well. For the past couple of years, a group of local Hindus has been opposing construction of a Masjid in the village. The mob reportedly had been pressurizing the Muslims to withdraw their police complaints over the previous attack. Since the Muslims lodged the complaint last year, they have been facing a boycott. They are not allowed to purchase anything from the village shops and to use even public well.
Following the Friday night incident, the Muslims have filed another complaint with the police. The complaint stated that the attackers were armed with swords, axes and lathis. The complaint further stated that a crowd of hundreds of people barged into the masjid and started beating the people when Muslims were breaking fast in the masjid, leaving several injured. The injured were rushed to the Sadar hospital.
Full report at:
https://www.siasat.com/news/jharkhand-mob-attacks-muslims-time-iftar-forced-them-flee-1361461/
--------
India's attitude towards Pakistan changed after Islamabad's nuclear tests: Nawaz Sharif
May 28, 2018
LAHORE: Pakistan's ousted prime minister Nawaz Sharif on Monday claimed that India's attitude towards Pakistan changed after Islamabad conducted nuclear tests in 1998.
"India carried out nuclear tests in 1998 and it changed the language of its ministers towards us. But when Pakistan conducted the nuclear tests in its reply suddenly their attitude changed. Eight months after the nuclear tests, Indian Prime Minister Vajpayee visited Lahore by bus," Sharif said while addressing a ceremony here in connection with the 20th anniversary of the nuclear tests.
On May 28, 1998, Pakistan had conducted five nuclear tests.
"It is because of my decision to conduct the nuclear tests that no one could challenge Pakistan," said the PML-N supreme leader.
He further said that he was asked by then US President Bill Clinton not to conduct nuclear tests and in return he promised to give him $5 billion.
"I refused that offer and made the country's defence invincible," he said.
"I told Clinton that since India had carried out nuclear tests we will have to follow suit. India was making tall claims and we have to tell it that we are second to none," he added.
Sharif said Pakistan's defence had been made strong by an elected prime minister and not by a military dictator.
"It was Gen Pervez Musharraf who compromised on Pakistan's interest and not an elected prime minister," he said.
Full report at:
https://timesofindia.indiatimes.com/india/indias-attitude-towards-pakistan-changed-after-islamabads-nuclear-tests-nawaz-sharif/articleshow/64358699.cms
--------
Terrorists attack police picket guarding residential house in Anantnag
May 28, 2018
SRINAGAR: Terrorists attacked a police picket guarding a residential house in Jammu and Kashmir's Anantnag district, but the attack was repulsed by the alert sentry.
"Residential guard was attacked by terrorists at Thajiwara in Anantnag. The alert sentry retaliated the fire," a police spokesperson said.
He said further details of the incident were awaited.
https://timesofindia.indiatimes.com/india/terrorists-attack-police-picket-guarding-residential-house-in-anantnag/articleshow/64360178.cms
--------
Terrorists loot Rs 1.7 lakh from bank, flee with guard's rifle
May 28, 2018
SRINAGAR: Two armed terrorists robbed Rs 1.72 lakh from a bank in Jammu and Kashmir's Anantnag district and then fled with the rifle of the guard on duty.
A police officer said the terrorists targeted Srigufwara branch of the J&K Bank and looted Rs 1.72 lakh at gunpoint. They also snatched a 12-bore rifle of the bank's private security guard before fleeing the place.
Police have asked the public to identify the terrorists by issuing screen grabs from CCTV cameras.
https://timesofindia.indiatimes.com/india/terrorists-loot-rs-1-7-lakh-from-bank-flee-with-guards-rifle/articleshow/64359371.cms
--------
India ready to talk with Pakistan if it gives up aiding terror: Naidu
Sanjay Khajuria
May 28, 2018
JAMMU: Reiterating that India is keen on having "good relations" with its neighbours, including Pakistan, Vice-President M Venkaiah Naidu on Monday said here that India does not have any problem in holding dialogue with Pakistan if it gives up its policy of supporting and aiding terror.
"Peace is prerequisite for progress [of talks]. If we have tensions, we cannot concentrate on developmental activities and peace as well," Naidu said in his address to a gathering of scientists at the Indian Institute of Integrative Medicine (IIM) Jammu.
Naidu's comments came on a day when external affairs minister Sushma Swaraj told the media in Delhi that India is ready for talks with Pakistan if it stopped aiding terrorism. "We are always ready for talks with Pakistan. We have never said we are not ready for talks. But there is a caveat — terror and talks don't go together," she said. Also, Union home minister Rajnath Singh had said recently that the Indian government was ready to hold dialogue with the Hurriyat Conference leadership and Pakistan.
Naidu said, "We have no problem with our neighbour and we want to have good relations with all, including Pakistan", but added that "we must be willing to have dialogue with Pakistan but it must give up policy of supporting, aiding, abetting, training terror".
Urging people of Jammu and Kashmir to give peace a chance, Naidu said, "I want to ask people to focus on peace because peace and prosperity go hand in hand, without peace there cannot be progress."
Full report at:
https://timesofindia.indiatimes.com/india/india-ready-to-talk-with-pakistan-if-it-gives-up-aiding-terror-naidu/articleshow/64359327.cms
--------
External Affairs Minister Sushma Swaraj holds talks with her Iranian counterpart Javad Zarif
May 28, 2018
NEW DELHI: External Affairs Minister Sushma Swaraj on Monday held wide-ranging talks with her Iranian counterpart Javad Zarif during which he sought India's support in salvaging Iran's nuclear deal with leading world powers in the wake of the US pull out from it.
Sources said India oil trade with Iran and implementation of the Chabahar port project also figured prominently in the talks.
"FM Zarif briefed about the discussions that Iran has undertaken with parties to the Joint Comprehensive Plan of Action (JCPoA) following the US decision to withdraw from the agreement," the Ministry of External Affairs (MEA) said in a statement.
It said Swaraj conveyed that all parties to the agreement should engage constructively for peaceful resolution of issues that have arisen with respect to it.
Zarif's day-long visit here is part of Tehran's efforts to reach out to major world powers after the US pulled out from the landmark nuclear deal of 2015 under which Tehran had agreed to stop its sensitive nuclear activities in return for the lifting of crippling economic sanctions.
Sources said Zarif sought India's support to the nuclear deal during his talks with Swaraj. China, Russia and a number of European countries are working to salvage the deal.
Iran is India's third largest oil supplier and there were apprehensions about possible impact of the US decision on India's oil imports.
Earlier in the day, Swaraj said India will continue its trade with Iran not withstanding the US sanctions, adding that New Delhi only recognises UN sanctions.
The MEA said Swaraj and Zarif discussed bilateral, regional and international issues of mutual interest.
"The two sides positively assessed the implementation of decisions taken during the visit of President Rouhani to India. These included bilateral cooperation in the areas of connectivity, energy, trade and promotion of people to people contacts," it said. The MEA said the other members of the delegation accompanying Zarif had separate meetings with their counterparts where they discussed measures for practical cooperation between the two sides.
The Iranian foreign minister visited China, Russia and some European countries in the last three weeks after President Donald Trump announced Washington's withdrawal from the nuclear deal.
Iran had struck the Joint Comprehensive Plan of Action (JCPoA) with the US, the UK, Russia, China, France and Germany after years of negotiations.
Indo-Iran ties have been on an upswing in the last three years.
In February, Iranian President Hassan Rouhani visited India during which both sides agreed to further expand their cooperation in a number of key sectors.
During Rouhani's visit, both sides signed nine agreements including one on handing over Chabahar port's operation to India for 18 months.
Full report at:
https://timesofindia.indiatimes.com/india/external-affairs-minister-sushma-swaraj-holds-talks-with-her-iranian-counterpart-javad-zarif/articleshow/64359013.cms
--------
For talks, Centre should first accept Kashmir as a dispute: Separatist leader Syed Ali Shah Geelani
by Bashaarat Masood
May 29, 2018
While mainstream political parties have cautiously welcomed Home Minister Rajnath Singh's talks offer to separatists, separatist leaders have said that the Central government should accept Kashmir as a "dispute" for any serious dialogue.
"We are not against dialogue, but if New Delhi is serious, it should first accept Kashmir as a dispute," Hurriyat chairman Syed Ali Shah Geelani said. "Dialogue will not serve any purpose until the ground reality is accepted."
Addressing a seminar at his Hyderpora residence, Geelani said he got to know about the offer through the media. "If there is no seriousness in the dialogue, it is no fun," he said.
Moderate Hurriyat chairman Mirwaiz Umar Farooq and pro-independence leader Yasin Malik did not comment.
Mainstream political parties welcomed Singh's talks offer. The ruling PDP urged separatists and Pakistan to respond positively to it. "Jammu and Kashmir is likely to witness a promising phase of peace and development as a prelude to dispute resolution," PDP vice-president Sartaj Madni said.
Opposition National Conference also welcomed the offer. "The fact that the Home Minister is saying it… is very serious thing… we hope he means it," party provincial president Nasir Aslam Wani said.
Full report at:
http://indianexpress.com/article/india/for-talks-centre-should-first-accept-kashmir-as-a-dispute-separatist-leader-syed-ali-shah-geelani-5194908/
--------
Arab World
Spirit of Ramadan returns to Iraq's Daesh-free Mosul
May 29, 2018
MOSUL: Under the cover of night in the Iraqi city of Mosul, Rayan and Ali break the silence by drumming to announce suhur, the pre-dawn breakfast during the holy month of Ramadan.
The Daesh group which controlled the city for three years before its ouster last July had banned drumming, along with other Ramadan traditions that make up the festive spirit of the dawn-to-dusk fasting month.
But since this year's Ramadan started in mid-May, Rayan Khalidi and Ali Mahboub have been doing their nighttime rounds, donning traditional keffiyeh headscarves and jalabiya robes.
The Ramadan drummers, known as "messaharati," are "part of the religious and social heritage of Mosul," the now war-battered city which has stood for centuries as a trading and cultural hub of the Middle East, said 25-year-old Rayan.
But the militants of Daesh decreed that such drumming was a sin, under their rigid interpretation of Islam enforced by its own courts and henchmen.
Ironically, Mosul residents had a Ramadan much like any other in 2014, when it started just days after Daesh had proclaimed its "caliphate" spanning tracts of Syria and Iraq.
Families descended on Mosul's tree-dotted parks along the River Tigris in the relative cool of dusk to share "iftar," the meal that breaks the daytime fast.
All across town, men and women gathered in coffee shops and restaurants, many clutching nargileh water pipes or smoking cigarettes — that was before Daesh laid down the law segregating the sexes and banning smoking at the risk of corporal punishment.
Most of Mosul's restaurants and open-air cafes then closed their doors.
"Some of them stayed open for business after iftar but people were afraid to go for fear of punishment by Daesh who always found some reason to make arrests," said 29-year-old housewife Umm Raghed.
Ramadan is a time for family reunions in Muslim countries, but in Mosul such events often only come about after several hours of shopping to collect the ingredients for the elaborate dishes for which the city is famed.
Under Daesh rule, "women did not have the right to go out, except in cases of extreme necessity, and even then a woman would have to be accompanied by a man and fully covered by a black veil," said Nahed Abdullah, a 32-year-old taxi driver.
Hassan Abdelkarim, 26, whose sister was killed when their home was bombed last year, said the militants had destroyed many of Mosul's mosques.
"Now we have to pay attention to hear the call for prayers from distant minarets to break the fast."
If it's tricky to determine the precise time for breaking the fast, knowing when to start is impossible, according to Abdelkarim, who is unemployed and lives amid the rubble of Mosul's devastated Old City.
"We don't have electricity or mobile phones to know the exact time" when the sun rises and the daily fast starts, he said.
Abu Salman, 45, never experienced life under the militants, having been displaced before the Daesh takeover in 2014. He returned to find his home and shop both destroyed.
"Ramadan used to be the best time of year for business. Now I have no source of revenue and have to survive on charity," he said.
While families wait for the launch of the city's reconstruction and assistance to help them get back on their feet, the "Moslawis" have revived another tradition: long tables set up on the streets to feed the poor.
"It's a beautiful initiative and typical of the people of Mosul who are known for their sense of solidarity, especially in hard times," said 45-year-old Umm Mahmud.
Thanks to the donations, she was able to serve her children a full meal of chicken, rice and orange juice at a table in the city's Bab Lakash district.
http://www.arabnews.com/node/1311551/middle-east
--------
Dubai's senior religious leader calls on Muslims to find balance between outings and worship during Ramadan
Nawal Al Ramahi
May 28, 2018
Dubai's most senior religious leader has urged Muslims not to forget the true meaning of the holy month and to take the opportunity to embrace family life and tradition.
Whether it is dining every night at Ramadan tents or spending too much time at the mall, a balance must be struck between activities and worship, the Grand Mufti of Awqaf in Dubai said.
"Those types of activities distract us from the true meaning of Ramadan," said Grand Mufti Ali Meshal.
"More time should be spent on performing worships and helping the needy."
During the holy month, some Muslims move their usual day time activities to the evenings, staying up late and sleeping during the day.
He said those people have misunderstood what the holy month is about.
"Some sleep during the daytime in Ramadan, assuming that fasting is only about abstaining from food and drinks."
He said this distraction was due to a lack of knowledge about Islam.
"Some are not enthusiastic about learning about the reasons behind fasting."
Not painting all Muslims with the same brush, the Grand Mufti said there were still some who devote their days and nights to worship but those who have allowed themselves to forget the true purpose of Ramadan were "suffering from ignorance".
"Most are focusing less on spiritualities and worshipping Allah due to lack of knowledge about their religion."
He said this could be remedied by attending lectures and reaching out to scholars.
Kirsty Heaton, a Briton living in Dubai, agreed with the Grand Mufti, saying Ramadan was more about feeding the soul than feeding the body.
"Shopping and other activities have no place in Ramadan. For me personally, it's a time to pray, do charity work and give more," said Ms Heaton, who converted to Islam at age 18.
After living in the UAE for 32 years, she says the key to a successful Ramadan is balance.
"Those who want to carry out activities in Ramadan, they can balance it with spiritual things they can do at home.
"In my opinion, spirituality is not just about praying. They can be helping others and spending time friends in a good way. I know a lot of people whose kids get together and organise a community event, such as Ramadan fridges," she said.
A fellow convert and resident of Dubai, Mathilde Loujayne, said moderation is essential.
"Ramadan is a time to reflect. It's a month of fasting, not feasting. We have only this month in the whole year to build a relationship with God. It's a great time to feel the poor and those who are unable to prepare lavish meals."
The 34-year-old author of Big Little Steps, a women's guide to Islam, converted to the religion at age 18 after struggling with the loss of a loved one.
"Everything in Islam about moderation. The more you learn about Islam, the more you find this balance," she said.
The spirit of the month can even rub off on non-Muslims living in the UAE.
Kira Jean, a 31-year-old Australian, is married to an Emirati man and has recently begun to embrace Ramadan.
"I did not convert to Islam. However, I have been fasting for the past five years and I am at the journey of understanding it," she said.
"Marrying my husband was the kind of door that opened for me to start looking into Islam, what it is all about and how can I support him in his spirituality. Experiencing Ramadan with through him and my in laws has been wonderful."
She said she was particularly conscious of wasting food during the holy month.
"Although the panic settles in and we feel like shops going to close or something as Ramadan starts, we should not cave into that. We need little food to be full and feel happy," she said.
Ms Heaton said she too was conscious of her food purchases during Ramadan.
"Over the years, I found that the amount of food consumed is a lot less. When I go to the markets and see these trolleys piled high and people in a panic. Oh gosh they think that these supermarkets are going to close.
"My mother in law pointed out to me saying "we are buying to be giving".
Bisher Saeed, a 38-year-old Emirati, said he finds balance during Ramadan by spending weekdays with his family and weekends with his friends.
"I try my best to co-ordinate my time between worshipping God, gathering with the family and friends."
Ahead of speaking to The National, Mr Saeed was en route to watch a football match, though he said this midweek outing was an exception.
"This is a major football game. Everyone will be watching the game."
His compatriot, Mohammed Al Hashemi, was enjoying a cup of coffee with a friend, when he said: "The current way of approaching Ramadan is quite different than the old times. Although there are several distractions, a person who wants to worship God can ignore them all.
Full report at:
https://www.thenational.ae/uae/dubai-s-senior-religious-leader-calls-on-muslims-to-find-balance-between-outings-and-worship-during-ramadan-1.734777
--------
Saudi activists' arrest revives concerns about reform agenda
May 28, 2018
RIYADH: Saudi Arabia's crackdown on women's rights campaigners, just weeks before the much-hyped lifting of a ban on women driving + , has revived doubts about its crown prince's inscrutable and seemingly erratic approach to reforms in the kingdom.
Crown Prince Mohammed bin Salman, who has seized most levers of power since rising from relative obscurity, is trying to diversify the biggest Arab economy away from oil and open up the deeply conservative Muslim country by easing strict social rules and promoting entertainment.
He has won praise at home and abroad for his modernisation efforts, but he has also provoked unease with an anti-corruption purge last year, when scores of royals and top businessmen were detained at the Ritz-Carlton Hotel in Riyadh.
Most were freed after reaching settlements with the government in a secretive campaign that sent shockwaves through the business community.
The arrest this month of nearly a dozen prominent activists, mostly women who for years urged reforms that are now being implemented and trumpeted abroad, has further disconcerted Western allies. Diplomats were unnerved that state-backed media had labelled the activists as "agents of the embassies".
"It's tough because to date we've been encouraging of the Saudi reform agenda," one diplomat said.
"The Saudi government seems to be sending a message to friendly governments not to engage with anyone at all on government-led social reform, even where the messages we are hearing are supportive of the government and echoing what the government's own international PR campaigns are saying."
The official reason for the arrests was suspicious contact with foreign entities and offering financial support to overseas enemies. No details were provided and security spokesmen have not responded to requests for comment.
UNPREDICTABLE
Following the latest arrests, diplomats in Riyadh have begun questioning how serious the kingdom is about change. Activists say the move signals that political openness will not be allowed to follow social liberalisation.
"It sends a message domestically that don't even think about opposing any government policy, but the message internationally is completely different," said Kristian Coates Ulrichsen from Texas-based Rice University's Baker Institute.
He said it was difficult to assess the "opaque" decision-making process behind the crackdown.
"We just have no idea. It reinforces the perception that policymaking now is more unpredictable and concentrated in the hands of one man who perhaps lacks some of the decades of experience that his predecessors had."
Prince Mohammed, 32, surpassed more senior cousins to become heir apparent a year ago, concentrating power and pushing through rapid change in a country which for decades was ruled by consensus. He has also taken a more aggressive stance against arch-rival Iran, beginning a three-year-old war in Yemen and leading a boycott of fellow Gulf Arab state Qatar.
The crown prince's defenders said he may have had to placate religious conservatives, who had also been stifled in a previous crackdown on clerics opposed to social changes like lifting bans on cinemas and women driving.
Ali Shihabi, who runs the pro-Saudi Arabia Foundation in Washington, called the arrests a mistake and damaging to Saudi Arabia's image. But Prince Mohammed had never pretended that political openness was on the cards, he said.
Full report at:
https://timesofindia.indiatimes.com/world/middle-east/saudi-activists-arrest-revives-concerns-about-reform-agenda/articleshow/64358494.cms
--------
US-Backed Militants Continue Blackmailing People in Northeastern Syria
May 28, 2018
The sources said that the refugees in al-Saad Camp in Southern Hasaka are suffering from shortage of drinking water, food stuff and other life necessities.
The sources further said that the camp's residents protested against the militias, asking for drinking water and ice, but, faced the US-backed militias' attack.
A refugee was arrested by the militias, they added.
The sources went on to say that those who run the camp steal humanitarian aids dispatched to the camp and sell them in the black market, adding that the refugee must pay a large amount of money to buy a cube of ice.
In the meantime, a number of young men in the camp have been arrested by the militias under a forced recruitment plan.
In a relevant development earlier this month, tens of residents in the village of al-Jarniyeh in Western Raqqa took to the main street in the village and protested against the Kurdish militias' forced recruitment and brutal measures.
Full report at:
http://en.farsnews.com/newstext.aspx?nn=13970307000769
--------
Terrorists' Bases Destroyed in Syrian Army Attack in Hama Province
May 28, 2018
The artillery and missile units opened heavy fire at the positions and movements of terrorists the town of al-Latamina and the village of al-Zakat in Northern Hama, and destroyed several bases, strongholds and military vehicles of militants.
In the meantime, the army soldiers carried out a mop-up operation in Southern Hama and discovered a workshop used previously by the terrorists to make bombs and weapons.
The army units engaged in heavy clashes with the terrorists who intended to enter Moharedah region in Northwestern Hama from the village of al-Zalaqiyat on Thursday.
Meantime, the artillery and missile units of the Syrian army fiercely pounded Tahrir al-Sham's moves in areas of clashes as well as the town of al-Latamina al-Zakat and the nearby areas.
Full report at:
They noted that other terrorists were forced to flee the scene.
http://en.farsnews.com/newstext.aspx?nn=13970307000594
--------
Infighting Intensifies between US-Backed Militants in Northeastern Syria
May 28, 2018
The Kurdish members of Syrian Democratic Forces (SDF) exchanged heavy fire with Liwa Thowar al-Raqqa in several neighborhoods in Raqqa.
The clashes erupted after the Kurdish militias broke into a house that belonged to Abu Awad, an Arab commander of Liwa al-Thowar, near al-Barazi square in Central Raqqa.
Field sources reported that an American delegation entered the city to end clashes between two militant groups.
The sources further said that a large number of people in al-Romeileh neighborhood in Raqqa took to the streets and called for expulsion of the SDF from their town following heavy infighting between the US-backed Kurdish and Arab militias.
Local sources in Western Raqqa reported on Thursday that people hoisted the Syrian flag in several villages and towns in the region on Wednesday, provoking the Kurdish SDF forces to attack the villages of Kadiran, al-Salhabiat, A'ayouj, al-Jayef, al-Adnaniyeh and al-Mansoureh in Western Raqqa and the two first and second districts in the town of al-Tabaqah.
The SDF fighters also detained a large number of civilians during the raids and seized the cell phones of most of the young people in the villages of Fatih, A'ayouj and al-Mansoureh.
Full report at:
http://en.farsnews.com/newstext.aspx?nn=13970307000420
--------
Pakistan
PM Abbasi seeks national debate on civil-military ties, role of judiciary
Khaleeq Kiani
May 29, 2018
ISLAMABAD: Prime Minister Shahid Khaqan Abbasi on Monday called for a national debate on future civil-military relations, the role of the judiciary, accountability and other state institutions for the country to move forward as he presented a departing overview of the PML-N government's five-year performance.
Speaking at a news conference along with Finance Minister Dr Miftah Ismail, the prime minister said the issue of civil-military relations would remain there irrespective of who formed the next government, besides the role of other stakeholders like the judiciary, the National Accountability Bureau and the media.
He said that when the judiciary interfered in the working of the executive and NAB crippled the government functioning, no government would be able to work and perform. Therefore, he added, there should be a national dialogue on what should be the role of the judiciary and NAB when the next government came to power.
"Who should be held responsible if a judicial decision has an impact of thousands of billions of rupees, and who should be held answerable if NAB cripples the government departments and no government functionary is ready to take decisions?" he asked and said the debate should discuss on what extent this should go.
"There should also be a national dialogue on civil-military relationship," he said in response to a question, adding that countries could not be run like this and governments could not perform.
Mr Abbasi said the people voted his party to government five years ago. And "we have respected the vote with performance", he said when asked if the PML-N's election slogan would be Nawaz Sharif's 'give respect to vote' narrative or the performance of the government.
He said the political instability had devastating impact on the country and the performance of the government and counted the 2014 sit-in, the Panama Papers case verdict and the Supreme Court's July 28 judgement removing former prime minister Nawaz Sharif as a few events that gradually hampered the progress, otherwise the situation would have been much better and financial losses would have been limited.
Responding to a question about a statement attributed to the secretary of the Election Commission of Pakistan which suspected elections being held within two months, the prime minister said he was unaware of the statement but in line with a summary of the ECP, the government had sent an advice to the president for election date. "Elections would be held on July 25 and the ECP would announce the election schedule. The law is very clear," he added.
https://www.dawn.com/news/1410630/pm-abbasi-seeks-national-debate-on-civil-military-ties-role-of-judiciary
--------
COAS congratulates 'brave tribes' on FATA's successful merger
May 29, 2018
RAWALPINDI: Chief of Army Staff (COAS) General Qamar Javed Bajwa congratulated the brave tribes, especially the tribal youth, on the successful and historic merger of FATA into Khyber Pakhtunkhwa (KP) according to popular sentiments, said a statement issued by Inter-Services Public Relations (ISPR) on Monday.
The army chief expressed this while meeting a youth jirga of erstwhile FATA.
General Bajwa said that mainstreaming FATA will facilitate bringing enduring peace, stability and socio-economic development of the long-neglected and terrorism rid area. He commended motivation and passion of the youth in the realisation of this merger.
The COAS said that the state is determined to root out extremism and terrorism for which the youth has a great role to play. "Focus on your peaceful endeavours, participate in political and democratic activities. We have achieved peace at a very high cost of blood and national exchequer and we shall never let it lose."
The jirga acknowledged and appreciated Pakistan Army's efforts for bringing back peace, stability and socio-economic development in the area. They also acknowledged COAS' special interest towards mainstreaming of erstwhile FATA.
General Bajwa emphasised on being aware of inimical forces who wish to exploit fault lines and try to reverse the gains. "They shall never succeed," he added.
The army chief lauded the youth for their determination and support to Pakistan Army in a fight against terrorism and valued their views regarding future of Pakistan.
He said, "Achievements through sacrifices of brave tribals were being consolidated while we transit from relative stability to enduring peace."
Full report at:
https://www.pakistantoday.com.pk/2018/05/28/coas-congratulates-brave-tribes-on-fatas-successful-merger/
--------
Pakistan military prevents ex-spy chief from leaving country
May 28, 2018
Pakistan's military Monday took the unprecedented step of preventing a former spy chief from leaving the country, after he ignited a storm by co-authoring a book that touches on Pakistan's alleged roles in Afghanistan and Kashmir.
Retired Lieutenant General Asad Durrani, who headed Inter-Services Intelligence (ISI) from 1990 to 1992, was placed on the Exit Control List (ECL) stopping him from leaving the country, according to the military spokesman.
Durrani has been mired in controversy since last week's release of "The Spy Chronicles: RAW, ISI and the Illusion of Peace". He wrote the book with A.S. Dulat, who headed India's Research and Analysis Wing intelligence agency -- arch-rivals of the ISI.
It is based on a series of discussion between the two on various subjects including tense relations with India and Pakistan's alleged interference through proxies in Afghanistan and Kashmir.
The US has long accused the ISI in particular of backing militants in Afghanistan, including the Taliban. Islamabad denies the claims.
Criticism of the military, especially its use of proxies in regional conflicts, is seen as taboo in the country. The military is the most powerful institution in Pakistan, ruling the country for roughly half its history and operating largely with impunity.
The book also suggests that the Pakistani authorities may have known about the whereabouts of Osama bin Laden -- an extraordinarily sensitive topic for the military -- and may have later handed over information to the US resulting in the 2011 raid that killed the al-Qaeda supremo.
Earlier Monday Durrani was summoned to the Pakistani military headquarters for allegedly violating the institution's code of conduct over comments he made in the book. The military did not specify which comments had prompted the meeting.
It then announced a court of inquiry into Durrani's alleged misconduct and said he had been placed on the ECL, marking the first instance such controls have been placed on a former spy chief.
The controversy comes weeks after former prime minister Nawaz Sharif sparked a similar firestorm at home and in India by suggesting Pakistani militants were behind the 2008 attacks in the Indian city of Mumbai.
The comments made during a newspaper interview resulted in an official condemnation from the country's National Security Council.
Sharif has called on the council to discuss Durrani's book also.
Full report at:
http://www.presstv.com/Detail/2018/05/28/563175/Pakistan-Kashmir-Afghanistan-ISI-Supreme-Court-Taliban-alQaeda
--------
Pakistani clerics laud Kingdoms efforts for the sanctity of Two Holy Mosques
May 28, 2018
ISLAMABAD: It is the Muslim world's responsibility to foil all attacks and conspiracies against the Two Holy Mosques in Saudi Arabia and Al-Aqsa Mosque in Jerusalem, clerics and representatives of various religious and political organizations said at a conference on Monday.
The conference was chaired by Hafiz Muhammad Tahir Mehmood Ashrafi, chairman of the Pakistan Ulema Council.
The clerics lauded Saudi efforts to secure and defend the Two Holy Mosques, and to support the Palestinian cause.
Proactive and practical steps are needed to thwart attempts to divide the Muslim world along sectarian lines, they said.
"A catastrophe is being carried out in Muslim countries by fanning sectarian differences," Ashrafi told Arab News.
Full report at:
http://www.arabnews.com/node/1311116/world
--------
Pakistan, Afghanistan and China hold strategic dialogue in Beijing
Tahir Khan
MAY 29, 2018
ISLAMABAD: Senior Pakistani, Afghan and Chinese diplomats are in Beijing for a series of meetings that will also review preparations for the second trilateral meeting of the foreign ministers.
Foreign Secretary Tehmina Janjua represented the country in the Trilateral Strategic Dialogue on Monday, the Foreign Office spokesman Dr Mohammad Faisal said.
Chinese and Afghan delegations were led by vice Foreign Minister Kong Xuan You and Deputy Foreign Minister Hekmat Karzai.
Foreign Secretary, Tehmina Janjua also attended the SCO- Afghanistan Contact Group Meeting in Beijing.
The SCO groups China, Kazakhstan, Kyrgyzstan, India, Russia, Tajikistan, Uzbekistan and Pakistan.
In her statement, Tehmina Janjua reaffirmed Pakistan's commitment to continued efforts for promoting peace and stability in Afghanistan, the foreign office spokesman said on his Twitter.
The Foreign Secretary also underlined ongoing initiatives of Pakistan for engagement with Afghanistan in all areas including peace and stability and promoting economic cooperation and connectivity.
She highlighted the measures taken by Pakistan to enhance bilateral trade, transit, people-to-people exchanges and to deepen connectivity between Pakistan and Afghanistan.
The Afghan, Chinese and Pakistani diplomats also reviewed preparations for the second trilateral meeting of the foreign ministers which will be held in Kabul this year.
The first trilateral FMs meeting was held in Beijing in December, months after China brokered the three-party forum when Chinese Foreign Minister Wang Yi traveled to Kabul and Islamabad in June last year when relations between Pakistan and Afghanistan had been under pressure after a massive truck bomb killed nearly 150 people in Kabul in late May.
The trilateral mechanism mainly focuses on three key areas – strategic and security issues, counter-terrorism and security and economic development and connectivity, the official said.
China is also planned to host the Shanghai Cooperation Organization contact group's meeting on Afghanistan next month on the sideline of the SCO summit.
The SCO revived the Afghan contact group last year to play active role for peace and stability in Afghanistan as the member countries are concerned of the continuation of war in Afghanistan.
The first meeting of the contact group was held in Moscow last year following its revival so the SCO could play active role in political solution to the Afghan conflict.
Full report at:
https://dailytimes.com.pk/246086/pakistan-afghanistan-and-china-hold-strategic-dialogue-in-beijing/
--------
Africa
Boko Haram Suicide Bomber Kills Five, Wounds Seven In Konduga
MAY 28, 2018
At least five persons were killed and seven more wounded when a suicide bomber attacked a community near Konduga on Sunday, Police and rescue team have revealed.
The Borno Police Commissioner, Mr. Damian Chukwu, confirmed on Monday that four persons, including the bomber, lost their lives.
He said the attacks were on civilians at Mashimairi village, near Konduga town.
"Yes, the attack didn't happen today; it was yesterday," he said. Four persons were dead, including the bombers, while seven others sustained various degree of injuries."
However, rescue teams who evacuated the victims, gave a slightly conflicting casualty toll, saying five persons were killed while 11 sustained injuries.
"Five persons killed, including two bombers, and seven persons were evacuated to Maiduguri for special treatment due to their conditions."
http://saharareporters.com/2018/05/28/boko-haram-suicide-bomber-kills-five-wounds-seven-konduga
--------
Muslim cleric urges sincerity among political leaders
28.05.2018
Popular Muslim preacher, Dr Muideen Bello, on Monday in Lagos admonished Nigerian leaders to be sincere in fulfilling their political promises to the citizens.
Bello said this at a Ramadan lecture organised by the Nigeria Union of Road Transport WoWorkers (NURTW) with the theme "Who is Trustworthy".
According to the popular Muslim cleric, only the virtues of tolerance, honesty, endurance among leaders would bring progress to the nation.
"It is only the truth that can deliver the country, only the truth can save us in Nigeria.
"Deceit cannot take us anywhere; religious and ethnic tolerance should be our focus as these will help to foster the desired peace in the country.
"We should pray for our country as well as our leaders for God to help the leaders to bring peace and progress in the country.
"In all, let us have the fear of God," he said.
Also speaking, NURTW National president, Alhaji Yassim Najeen, urged members of the union to avoid being used as instruments of violence during elections.
Najeen said that campaigns and elections should not be do or die affair in any decent democratic dispensation.
"There is time for everything; aspirants who are not eligible this time should wait for their time and not be violent," he advised.
Mr Yinka Ogundimu, a Lagos lawmaker representing Agege Constituency II, also advised the citizens to imbibe the virtue of tolerance during and after the Ramadan.
Ogundimu said that the virtues of charity and nearness to God should be extended beyond the Ramadan period to bring about peace in the country.
Earlier, Lagos State Chairman of NURTW, Alhaji Tajudeen Agbede, tasked members to be steadfast in their service to God, drive carefully and obey traffic rules during and after Ramadan.
"We should endeavour to be careful while driving and avoid breaking traffic rules at all times.
Full report at:
http://www.pulse.ng/news/local/muslim-cleric-urges-sincerity-among-political-leaders-id8431490.html
--------
Sudan says its participation in Yemen war a 'moral obligation'
29 May 2018
Sudanese Defense Minister Awad Ibn Ouf said on Monday that it was Sudan's "moral obligation" to participate in the Yemen war alongside the Arab coalition.
Sudan has been a part of the Arab coalition since 2015, in an effort to support Yemen's legitimate President Abdrabbu Mansour Hadi, after Iranian-backed Houthi militias exiled him from Sanaa.
Ibn Ouf discussed the possibility of further cooperation with Saudi Arabia with the kingdom's ambassador to Khartoum Ali bin Hassan Jaafar, according to the Sudan Tribune.
Full report at:
https://english.alarabiya.net/en/News/middle-east/2018/05/29/Sudan-says-participation-in-Yemen-war-moral-obligation-.html
--------
South Asia
Taliban decides to relocate heroin labs amid relentless airstrikes
May 28 2018
The Taliban group leadership has decided to relocate the drugs and heroin labs amid relentless airstrikes targeting the main financial streamline of the group.
The group has reportedly decided to relocate the labs to mountains and valleys amid fears that the airstrikes would result to civilian casualties.
The latest decision by the group to prevent civilian deaths follows the growing criticisms that the group faces due to civilian deaths as the majority of the civilian deaths are attributed to the operations of the group.
Taliban's shadow governor for Helmand Mullah Manan has reportedly ordered his secretary to act and relocate the labs from the towns and residential areas to mountains and valleys.
In a walkie-talkie conversation with his secretary shared on a Taliban WhatsApp group, the Taliban's shadow governor of Helmand, Mullah Manan, said "due to one factory hundreds of the public are at risk from bombings and missiles" and called for facilities to shift to "mountains and valley sides" instead, according to The Guardian.
The Taliban group has so far not reacted regarding the report but the US commander in Afghanistan Gen. John Nicholson had earlier warned that the air campaign against the main financial resources of the group would continue.
https://www.khaama.com/taliban-decides-to-relocate-heroin-labs-amid-relentless-airstrikes-05257/
--------
Afghan forces mistakenly kill 9, mostly civilians
May 29, 2018
KABUL: Officials say Afghan forces killed nine people, mostly civilians, by mistake during a raid on a house in eastern Nangarhar province.
Provincial governor Hayatullah Hayat says Tuesday that eight other civilians were wounded in the raid late Monday night in Chaparhar district.
Hayat said a local police commander was among the dead.
He said gunfire had been coming from the house that was raided, but the casualties were identified as mostly civilians once the operation ended.
An investigation was being conducted into how the operation resulted in civilian casualties.
Inamullah Miakhail, a spokesman for the hospital in Nangarhar, also confirmed that nine dead bodies were brought to the hospital from the raid.
Full report at:
http://www.arabnews.com/node/1311526/world
--------
Bangladesh drug trafficking sweep leaves 86 dead, 7,000 in custody, including Rohingya
May 29, 2018
DHAKA – Bangladesh police have killed at least 86 people and arrested about 7,000 since launching a crackdown on drug trafficking this month, officials said on Monday, raising fears from rights activists of a Philippines-style war on drugs.
Prime Minister Sheikh Hasina approved the anti-narcotics campaign in early May to tackle the spread of ya ba, as methamphetamine is widely known in Asia, and worth an estimated $3 billion annually, government officials say.
The drug is sourced from Myanmar's northeast and smuggled into neighboring Bangladesh.
"In recent times, drug dealing has increased and we feel that people should be alert and motivated to act against it," Devdas Bhattacharya, a senior police official, told reporters.
"The process will continue until it's eradicated totally."
He said police arrested six people on Sunday, including a 12-year-old boy from Myanmar's Rohingya Muslim community, who had carried 3,350 ya ba tablets to the capital, Dhaka.
Bangladesh has said an influx last year of Rohingya fleeing Buddhist-majority Myanmar is partly to blame for soaring methamphetamine use. But many Rohingya say their young people are being pushed into crime because they cannot legally work or, in many cases, get access to aid.
The 86 deaths occurred when police defended themselves in confrontations with suspected drug traffickers, said Mufti Mahmud Khan, a director of the police Rapid Action Battalion.
"It's their legal right to save themselves from the attack," Mufti told Reuters.
Human rights activists are worried the Bangladesh campaign is taking a page from the Philippine drugs war, in which thousands of people have been killed in the past two years.
"The Sheikh Hasina government says it is a protector of human rights, so it should reform its domestic record, set an example, instead of wishing to be compared to an abusive regime," said Meenakshi Ganguly, South Asia director for Human Rights Watch.
Ganguly said the government "should heed concerns and allegations by families and activists that several of these deaths could be extrajudicial killings."
Interior minister Asaduzzaman Khan rejected the rights group's allegations and denied that police had carried out any extra-judicial killings. He said dozens of police had been injured in anti-drug operations.
The opposition Bangladesh Nationalist Party (BNP) said the anti-drugs drive was part of a campaign to intimidate it but Khan also rejected that, saying ruling party members would not be spared if found guilty of drug crimes.
Full report at:
https://www.japantimes.co.jp/news/2018/05/29/world/crime-legal-world/bangladesh-drug-trafficking-sweep-leaves-86-dead-7000-custody-including-rohingya/#.Wwzu19SFOzc
--------
Relatives of Afghan Senate Chairman among 17 dead, wounded in Nangarhar raid
May 29 2018
At least seventeen people were killed in a raid conducted by the Afghan forces in eastern Nangarahr province of Afghanistan, the local officials said Tuesday.
According to the officials, the raid was conducted in the vicinity of Chaparhar district and a number of relatives of Muslimyar are among those killed or wounded.
The officials are saying that the raid has left at least nine people dead and eight others wounded.
The provincial government media office confirmed the incident and said a number of relatives of the Senate Chairman Fazal Hadi Muslimyar are among those killed.
Without disclosing further information, the provincial government said an investigation is underway to ascertain the circumstances surrounding the incident.
Provincial governor Hayatullah Hayat called the incident as painful and vowed to thoroughly investigate the incident.
Hayat said a delegation comprising high level officials has been appointed to investigate the incident as he offered condolences to Mr. Muslimyar and other civilians killed in the raid.
Nangarhar is among the relatively volatile provinces in east of Afghanistan where the Taliban insurgents and militants belonging to ISIS terrorist groups are actively operating.
Full report at:
https://www.khaama.com/relatives-of-afghan-senate-chairman-among-17-dead-wounded-in-nangarhar-raid-05262/
--------
Prominent Taliban leader killed by own comrade in Nangarhar province
May 28 2018
A prominent Taliban leader was shot dead by his own comrade apparently due to a brawl in eastern Nangarhar province of Afghanistan.
The provincial government media office in a statement said the incident took place at around noon time today in Shirzad district.
The statement further added that the Taliban leader Malik Jaipur was killed after engaging in a brawl with another comrade in Randchin area.
According to the provincial government, a security guard of Malik Jaipur was also wounded during the clash.
He was apparently shot dead by another Taliban commander identified as Lalagi, the statement said, adding that Malik Jaipur had earlier killed the brother of another Taliban leader identified as Satar.
The provincial government also added that the infighting and tensions have intensified among the Taliban militants in Nangarhar province during the recent months and as a result the militants have suffered heavy casualties.
Full report at:
https://www.khaama.com/prominent-taliban-leader-killed-by-own-comrade-in-nangarhar-province-05260/
--------
Myanmar says some Rohingya refugees returned voluntarily
28 May 2018
YANGON, May 28 — Myanmar says dozens of Rohingya Muslims who fled to neighbouring Bangladesh have returned voluntarily and will be sent to a transit centre pending resettlement.
Nearly 700,000 Rohingya fled mainly Buddhist Myanmar after a violent army crackdown began last August in the western state of Rakhine, a process that the US and UN have described as ethnic cleansing.
Myanmar has said it is ready to take them back and has traded accusations with Bangladesh over who is responsible for the delay in implementing a repatriation deal. Critics question its sincerity.
The long-persecuted stateless minority have been reluctant to return without guarantees of basic rights and protections, including the right to return to their old villages rather than to transit camps.
A total of 58 Rohingya have crossed back into Myanmar after they could "no longer find it tenable" to live in Bangladeshi refugee camps, according to a statement published in state media Monday from the office of Myanmar's de facto leader Aung San Suu Kyi.
They were detained for failing to follow proper repatriation procedures until the decision to "pardon" them and allow them to resettle in Myanmar, the statement said, adding they would be "temporarily" housed in a transit camp.
The returnees entered Myanmar in different stages over the last four months, said Suu Kyi spokesman Zaw Htay.
Myanmar did not give any information on the group's members and Bangladeshi authorities said they were unaware of any details.
"We haven't heard of any such incidents of refugees returning to Rakhine through their own volition or under their own arrangement from the camps," Bangladesh refugee commissioner Mohammad Abul Kalam told AFP.
The UN has said conditions in Rakhine are not ripe for repatriation.
"The Government of Myanmar is busy telling the world that it is ready to receive Rohingya returnees, while at the same time its forces are continuing to drive them into Bangladesh," said UN Assistant Secretary-General for Human Rights Andrew Gilmour in March.
"Safe, dignified and sustainable returns are of course impossible under current conditions."
The group will be the first to be sent to a giant transit camp on the Myanmar side of the Bangladeshi border established as part of the stalled repatriation deal reached late last year.
Full report at:
https://www.malaymail.com/s/1635743/myanmar-says-some-rohingya-refugees-returned-voluntarily
--------
Southeast Asia
Clamour Grows For New Indonesian Anti-Terrorism Bill
May 29, 2018
For Danny Maheu, the recent spate of suicide bombings that killed at least 31 people at three churches and a police station in the Indonesian city of Surabaya, brought back haunting memories of a tragic event that changed the course of his life more than two years ago.
The 51-year-old policeman and father of two was on traffic duty in Jakarta on Feb. 14, 2016 when Islamic State-linked militants struck, killing four innocent people. Among the dead was his colleague. Four of the militants were also killed.
Maheu lost his right leg in an explosion, but he has since returned to work albeit in a limited capacity.
Subsequent terrorist attacks have targeted policemen, including a recent riot by terrorist inmates at a police detention center in Depok, West Java, and on the Surabaya police station, and another in Sumatra's Riau province.
Observers say the police are a target because they are stumbling blocks to terrorists achieving their goal.
However, the sad reality is police have limited powers to fight terrorism, Maheu said.
There are various ways to improve the effectiveness of police, the most powerful being through the law, he added.
This could happen if Indonesian legislators approve a stalled anti-terrorism bill, which gives police greater powers to arrest suspects, the policeman said.
"This new law is needed to prevent more terrorist attacks from happening," said Maheu.
As a policeman he says he is saddened by the fact that police can only arrest terrorists in most cases after something terrible has happened.
The anti-terrorism bill was initially drafted following the attack that disfigured Maheu.
However, it has remained in limbo for nearly three years due to conflicting views on several key points, including the maximum period of pre-trial detention allowed and military involvement in counter-terrorism activities.
Supporters say the bill will give police the power to block financial support for extremist groups and individuals, detain suspects for longer periods without trial, revoke passports of Indonesians suspected of undertaking training in terrorism abroad, and enhance the ability to monitor suspects.
According to Al Chaidar, an expert on terrorism from Malikussaleh University in Aceh, said this new law is needed now more than ever with many Indonesian jihadists who joined IS in Syria and Marawi having returned home following their defeats there.
"A firm and strong law is important in fighting terrorism," he said.
He estimated about 1,200 Indonesians joined IS in Syria and around 500 had returned home and were ready to launch attacks.
National Police spokesman Setyo Wasisto recently told media that more attacks are imminent.
"Terrorist cells have awoken from their slumber and are ready to launch bigger attacks," he said.
Nothing much can be done to prevent them because the existing law only has teeth after a crime is committed.
"The 2003 anti-terrorism law prohibits police from arresting and detaining terrorist suspects," Wasisto said.
House of Representatives Speaker, Bambang Soesatyo, told media recently that the bill will be passed soon.
Nuril Arifin Husein, a moderate Muslim from Nahdlatul Ulama, the biggest Islamic organization in Indonesia with over 90 million members, said if this does not materialize, President Joko Widodo could issue a decree in lieu of law to prevent terrorism acts and eradicate their cells.
He hoped the new law would prevent radical groups from growing bigger and committing violence.
According to the Wahid Institute in 2017, about 11 million people among Indonesia's 230 million population were thought to harbor radical views.
Human rights friendly
Father Agustinus Ulahayanan, executive secretary of the bishops' Commission for Ecumenical and Interreligious Affairs said the bishops all want this bill passed.
When it was drafted in 2016 he conveyed this message to parliament. But disagreements among different groups have delayed the bill, allowing terrorists to consolidate and move forward.
People have often blamed the police for not doing their job. The fact is the law works against them, he said.
"[What I know is] the bill is human rights friendly," he told ucanews.com, and people should not be afraid if it enhances the scope of police work in counter-terrorism.
"The police need a legal umbrella to arrest terrorists. It will protect them from accusations of violating human rights," said Communion of Churches in Indonesia spokesman Jeirry Sumampow.
"We want legislators to fulfill their promise," he added.
However, Toni Togar, a former terrorist and member of the Jamaah Islamiyah group, a branch of al-Qaeda in Southeast Asia and the group responsible for the 2002 bomb attacks in Bali, disagreed, saying Indonesia would descend into chaos if the bill is passed.
"Giving more authority to police and military in fighting terrorism will create more human rights abuses," he said.
Since the Bali bombings, which killed 202 people, there have been more than 440 bomb attacks in Indonesia, including the church bombings in Surabaya this month.
Hundreds of alleged terrorists have also been arrested, including 172 detained in 2017, and more than 80 up until May of this year.
https://www.ucanews.com/news/clamor-grows-for-new-indonesian-anti-terrorism-bill/82398
--------
Philippine Agents Kill Militants Who Helped Fight ISIS-Linked Forces
By Felipe Villamor
May 28, 2018
MANILA — Nine militants from a group that helped the Philippine Army hunt down Islamic State-linked fighters in the country's south have been killed in a firefight with the police, their colleagues said Monday.
The victims, members of military wing of the Moro Islamic Liberation Front, or MILF, were rounded up on Friday by government agents taking part in President Rodrigo Duterte's brutal war on drugs.
The men had identified themselves as MILF fighters in their encounter with government forces, but were still stripped of their firearms and killed, according to a complaint that the group filed to a committee monitoring a cease-fire between MILF fighters and the government.
After the men were disarmed, "they were deliberately shot by the operatives, which resulted to their instant death," the MILF complaint read, adding that at least three others, including a woman, were also wounded.
The municipal police commander, Chief Inspector Sunny Leoncito, said the government forces had been seeking to arrest two men in a drug case, both of whom were believed to have been killed in the raid. But what was to have been a routine antidrug operation turned into an hourlong gun battle on the outskirts of the town of Matalam.
The militants who survived later surrendered and gave up their firearms, including two sniper rifles, several assault rifles and handguns, as well as a rocket-propelled grenade. However, the government operatives did not find drugs on the fighters.
A MILF spokesman, Vol Al-Haq, said the group would file a "strong protest" with the government over the killings. He said he believed that a brief firefight occurred with the government agents before the MILF fighters identified themselves, and that they might have believed they were being attacked by another armed group.
"After they surrendered, they were massacred," the spokesman said, adding that the group was demanding an impartial investigation jointly carried out with a third party or a nongovernmental organization.
"We don't deal in drugs and never have," he said. "Even before the assumption of Duterte as president, we already had our own program that discourages illegal activities, including drugs."
The Moro Islamic Liberation Front is the largest of many guerrilla groups in the southern Philippines and has about 12,000 armed fighters. It fought the Philippine Army for independence in the southern third of the island of Mindanao, but in 2014, after nearly 17 years of war, it dropped its bid for independence to settle for autonomy.
But four years since the signing of a peace deal, the Philippines Congress still has not passed a law creating the autonomous region that would be governed primarily by the group's officials.
The MILF has kept its end of the bargain, and last year helped the army hunt down militants tied to the Islamic State who had escaped after attacking the southern city of Marawi for five months, leaving scores dead.
It did not field fighters to join the army in Marawi; instead, an elite MILF jungle unit battled Islamic State-linked fighters in another area of the southern Philippines.
Last month, the group warned it would not disarm as planned under the peace deal if Congress failed to pass the autonomy law. Mr. Duterte has promised to push the law through Congress, which is dominated by members of his party.
The Senate and the House of Representatives previously failed to pass the law, largely on fears that giving the minority Muslims greater power in the mineral-rich but impoverished south could lead to more violence.
In particular, a clash in 2015 between the MILF and a police commando unit left 44 officers dead after they strayed into a rebel-held area as they were hunting a wanted Malaysian terrorist.
Brig. Gen. Cirilito Sobejana, of the army's Sixth Infantry Division, which has jurisdiction over Matalam, said the government was trying to contain the situation and would help investigate the episode.
Full report at:
https://www.nytimes.com/2018/05/28/world/asia/philippines-kill-milf-militants.html
--------
Why Amanah doesn't appeal to rural Malays
Sheith Khidhir Bin Abu Bakar
May 29, 2018
PETALING JAYA: Pakatan Harapan's (PH) failure to beat PAS in its strongholds in the recent election indicates that Amanah's brand of Islamist politics has little traction with rural Malays, according to a political scientist.
Ahmad Fauzi Abdul Hamid, a professor at Universiti Sains Malaysia, told FMT he believed it was hard for Amanah to make inroads into Malay heartlands because its message didn't fit into the context in which Islam is viewed strictly as a Malay religion.
USM professor Ahmad Fauzi Abdul Hamid.
He noted that Amanah's agenda was to present Islam the way the Quran describes it – as a "mercy to mankind".
"But as long as Malayness and Islam are closely tied to each other, Amanah must find another way to make inroads into the Malay heartlands," he said.
He acknowledged that Amanah was stronger than PAS in multiracial areas and places where middle-class Malays predominate, but he questioned whether this served its true purpose as a coalition partner.
To remain relevant as an Islamic political party in Malaysia, he added, Amanah had no choice but to make a deeper impact in rural Malay areas.
"In the Malay belt areas like Kelantan, Terengganu and even Kedah, PAS did better as a party than any of the Pakatan Harapan parties," he said. "The Amanah setup has no appeal where there is a Malay hegemony."
Full report at:
http://www.freemalaysiatoday.com/category/nation/2018/05/29/why-amanah-doesnt-appeal-to-rural-malays/
--------
Mideast
Erdogan supporters force removal of French weekly from newsstands over 'Dictator' cover
May 28, 2018
Supporters of the Turkey's President Recep Tayyip Erdogan have purportedly made it a tough week for the French magazine Le Point by forcefully removing the advertisements for the weekly from newsstands in France over a controversial cover that described the Turkish leader as a "Dictator."
The weekly wrote on its website on Monday that it had suffered harassment and intimidation by purported supporters of Erdogan, who had been depicted as a "Dictator" on its cover of Thursday's issue.
"After a week of harassment, insults, intimidation and anti-Semitic slurs and threats towards us on social media, now has come the moment when supporters of the AKP [Erdogan's Justice and Development Party] are attacking symbols of freedom of expression and diversity in the press," Le Point said.
Over the weekend, police were deployed in the Pontet, the most populous suburb of the southern city of Avignon, after a group of alleged pro-Erdogan activists attempted to either remove or cover up advertisements for the left-leaning magazine at newsstands. Videos of the incident were widely circulated on social media on Friday evening and into Saturday.
Separately, another poster of Le Point cover was lashed out at another newspaper kiosk in the southeastern town of valence on Sunday, the purported footage of which has been embedded below.
In its latest edition, the French weekly published an investigation into the Turkish leader, wondering in an editorial, "Is Erdogan a new Hitler?"
Turkish presidential spokesman Ibrahim Kalin reacted to the cover in a tweet, saying, "We know the attacks. We know what their purpose is. People and the oppressed people see what's happening."
He also said that "The days of Turkey receiving orders from the West are over. You cannot bring these days back by saying 'Dictator'."
Le Point's controversial issue comes ahead of the presidential election in Turkey, set for June 24, with the Turkish president running for a second term.
Erdogan announced snap elections on April 18, saying holding the votes more than a year earlier than planned was needed to enable his party to make the constitutional changes narrowly approved in a last year referendum, which will give him sweeping new powers.
He has also faced increasing criticism over his championing of the presidency system as many fear it could lead to his authoritarian rule in the Anatolian country.
Those fears have been exacerbated by an ongoing crackdown against people whom the government deems as linked to a failed coup two years ago or those alleged to have helped Kurdish militancy in the country.
Tens of thousands of people have been arrested in Turkey on suspicion of having links to US-based opposition cleric Fethullah Gulen, accused by Ankara to have masterminded the coup, while more than 110,000 others, including military staff, civil servants and journalists, have been sacked or suspended from work over the same accusations since Erdogan intensified the crackdown following the botched putsch.
http://www.presstv.com/Detail/2018/05/28/563195/France-Turkey-Le-Point-Dictator-cover-Erdogan
--------
500-year-old Quran returns to Topkapi Palace
24 May 2018
A 15th century Quran written by calligraphist Sukrullah Khalifah was returned to Istanbul's Topkapi Palace Museum by a collector on Thursday.
The Quran was written in 1494 in Istanbul and kept in Topkapi Palace Museum until 1964. When it was then transferred to Bursa Archaeology Museum, the Quran was disappeared.
It was rediscovered when calligraphist Ziya Aydin bought the Quran from a bibliophile several years ago.
The Quran's new owners, brothers Ali Sami and Ahmet Aydin, decided to return the Quran to the museum after being reached by Turkish Culture and Tourism Minister Numan Kurtulmus, according to the chairman of Topkapi Palace Museum, Mustafa Sabri Kucukasci who spoke to reporters.
Full report at:
http://www.worldbulletin.net/news/202389/500-year-old-quran-returns-to-topkapi-palace
--------
Turkey responds to UN's appeal to assist Palestinians
28.05.2018
JERUSALEM
Turkey's Disaster and Emergency Management Authority (AFAD) has donated $1.2 million -- through a campaign launched in Turkey -- to the World Health Organization (WHO) with a view to providing the Gaza Strip with urgent medical assistance.
The donation was disbursed to Gaza after an agreement was signed between Erman Topcu, Turkey's charge d'affaires in Jerusalem, and Mahmoud Dahir, director of the WHO's office in Gaza.
Speaking to Anadolu Agency on Monday, Topcu condemned recent Israeli violence against unarmed demonstrators in the Gaza Strip
"Scores of Palestinians were killed during these recent terrible incidents [in Gaza], especially on May 14," he said, going on to point out that another 13,000 had been injured by Israeli army gunfire.
Noting that the UN had requested urgent assistance following the carnage, Topcu pointed out that Turkey had answered the appeal by disbursing $1.2 million through AFAD.
"At least 165,000 Palestinian medical patients and injured will directly benefit from this aid, while 350,000 others will be able to make use of it indirectly," he said.
According to Topcu, Turkey has already received messages of gratitude from both the UN and the Palestinian leadership.
"And the aid we're sending isn't restricted to this disbursement alone," he said. "All our state institutions swung into action following the recent incidents [in Gaza]."
"The Turkish Aid Agency (TIKA) is also coordinating with the Palestinian Health Ministry and has begun providing badly-needed medical equipment," he added.
According to Topcu, the Turkish Red Crescent also sent medical supplies to its Palestinian counterpart in the immediate wake of the violence.
"The humanitarian crisis in Gaza is nothing new; it's been underway for a long time. According to the UN, Gaza will be uninhabitable by 2020," he warned.
He went on to point out that some 30,000 Palestinians had received food aid from TIKA since the Muslim fasting month of Ramadan began earlier this month.
"TIKA has delivered more than 20,000 food-aid packages throughout the West Bank and Gaza," he said.
Topcu added that the Organization of Islamic Cooperation (OIC), of which Turkey currently holds the rotating presidency, had made it a priority to improve the socioeconomic conditions faced by occupied East Jerusalem's Palestinian residents.
"Thanks to TIKA, we have launched a project to provide financial support to needy families and shopkeepers in East Jerusalem's Old City district," he said.
Topcu noted that many Turkish people, as well as Turkish state agencies, were currently present in Palestine.
"Our people visiting Jerusalem and the Al-Aqsa Mosque aren't just going for tourism; they also stand with the people there," he said, adding that Turkey was providing Palestine with both humanitarian and political support
"We will continue to support the Palestinian cause," he asserted.
Dahir, for his part, thanked Turkey for its swift response to the UN's appeal for aid.
"The WHO announced it was in urgent need of $1.1 million to meet Palestine's medical needs and Turkey responded in the nick of time with a $1.2-million donation," he said.
"Many people were injured during the recent violence in Gaza," he said. "We hope this aid will mitigate the pain they feel."
Dahir pointed out, however, that a further $19 million was needed to meet Gaza's rapidly mounting medical costs.
Tension has been high in the Palestinian territories since the U.S. relocated its embassy earlier this month from Tel Aviv to Jerusalem, sparking condemnation and protest across the Arab and Muslim world.
Since Mar. 30, more than 115 Palestinians have been killed by Israeli army gunfire -- and thousands more injured -- during ongoing anti-occupation protests in the eastern Gaza Strip.
Full report at:
https://www.aa.com.tr/en/middle-east/turkey-responds-to-un-s-appeal-to-assist-palestinians/1158914
--------
Israeli army raids Palestinian camp after soldier death
May 29, 2018
RAMALLAH - The Israeli army raided a Palestinian refugee camp in the occupied West Bank Monday, AFP journalists said, in an apparent hunt for suspects in the killing of a soldier.
Dozens of Israeli troops entered the Amari Refugee Camp in Ramallah in the early hours of Monday, closing off all the entrances, AFP journalists said.
At least 13 Palestinians were lightly or moderately injured during the raid as clashes broke out, the Palestinian Health Ministry said, with soldiers firing tear gas and bullets. Residents said a number of Palestinians were arrested, though there was no immediate confirmation or statement from the army.
Israeli forces later withdrew from the camp. It came days after an Israeli soldier was killed during a raid inside the camp. Sergeant Ronen Lubarsky, 20, of the Duvdevan special forces unit, was struck on the head by a stone block thrown during an arrest raid Thursday and died early Saturday.
Israeli media said the block was a granite slab dropped from a third-floor window. Those responsible were not arrested at the time. Amari is located inside Ramallah, seat of the Palestinian Authority, in an area theoretically under the full control of the Palestinian government.
Israeli forces regularly carry out night raids in Palestinian-governed parts of the West Bank to arrest suspects they accuse of militant activities against Israel.
Amari, home to around 6,000 Palestinians according to the United Nations, is a regular flashpoint where Israeli raids have sparked fierce clashes in the past.
A Palestinian was killed by Israeli tank fire into northern Gaza on Monday, the health ministry in the Hamas-run enclave said. It named the dead man as Mohammed al-Rudeia, 30, and said another man was wounded.
An army spokeswoman told AFP that two Palestinian men tried to breach the border fence "with the intention of carrying out an attack".
It said the pair were captured but other Palestinians on the Gaza side fired at Israeli soldiers, without causing injuries. "In response we attacked with a tank a nearby lookout post," she said.
Eyewitnesses said the tank strike targeted an observation point belonging to an armed group.
A statement by Hamas's military wing, the Ezzedine al-Qassam Brigades, hailed Rudeia as a "fighter", an accolade usually only given to its own members.
Separately Monday the health ministry announced the death of a Palestinian injured in clashes with Israeli forces. Nasser al-Areenee, 28, was shot a "number of days ago" east of Jabalia in the northern Gaza Strip, the ministry said, without giving further details.
At least 121 Palestinians have been killed during weeks of unrest since March 30, when Palestinians began calling to be allowed to return to their historic homelands inside Israel.
Palestinian president Mahmud Abbas left hospital on Monday after eight days of treatment for pneumonia that led to intense speculation over the 83-year-old's condition and who will eventually replace him.
Dressed in a suit as usual and walking without assistance, Abbas gave a short statement on being discharged, saying he planned to be back at work in his office as normal on Tuesday.
"Thanks to God, I left the hospital today in good health and return to work starting tomorrow," he said, speaking vigorously and with his two sons by his side.
He thanked all international leaders who had called about his health and wished him well.
The hospital stint came at a time of heightened US pressure on Abbas and the Palestinian Authority.
Some analysts said Abbas would now seek to refocus on work and downplay talk of stepping down. He is expected to preside over a meeting of the central council of his Fatah party on Tuesday.
Known to be a heavy smoker, Abbas was admitted on May 20 to the Istishari Arab Hospital near Ramallah in the occupied West Bank with complications following an ear operation, including high fever.
Officials have since said he was being treated for pneumonia.
His extended hospitalisation led to widespread speculation over whether his condition was worse than the details being disclosed.
No successor is publicly in line for the Palestinian presidency, which has added to concerns over Abbas's health.
Abbas won a four-year term as president in 2005, but he has since remained in office without further elections.
He argues the split between his Fatah party and Islamist movement Hamas, which controls the Gaza Strip, has made elections politically impossible.
- Pretend it 'didn't happen' -
A moderate, Abbas has been involved in decades of negotiations with Israel but is unpopular among Palestinians, with the majority wanting him to step down.
Many Palestinians see his approach to negotiations as having failed to end the Israeli occupation and are no where near the goal of securing statehood.
Israeli officials, while criticising what they see as his intransigence, greatly value the security coordination which his administration has provided.
Abbas succeeded Yasser Arafat, the charismatic keffiyeh-wearing leader who was revered by Palestinians.
Though Abbas has been valued by the international community due to his belief in negotiations and stated opposition to violence, he has struggled to meet Palestinians' expectations left behind by Arafat.
In recent months, Abbas has faced what the Palestinians see as the blatant bias of US President Donald Trump's administration.
Abbas froze all ties with the White House over Trump's decision to recognise Jerusalem as Israel's capital
The United States has also frozen tens of millions of dollars in aid to the United Nations agency for Palestinian refugees and has threatened to close the office of the Palestine Liberation Organisation in Washington.
Abbas has sharpened his rhetoric against US officials.
In a recent speech, he called US ambassador to Israel David Friedman, who has been a supporter of Israeli settlements in the West Bank, a "son of a dog".
Abbas made reference to Trump's Jerusalem declaration when leaving the hospital, suggesting it had weighed heavily on him.
"If the issue of Jerusalem brought us to the hospital, we wanted to get out of the hospital to make Jerusalem the capital of Palestine," he said.
Israel sees the entire disputed city as its capital, while the Palestinians want the annexed eastern sector as the capital of their future state.
Nour Odeh, a political analyst based in Ramallah, said the president would seek to use the Fatah central council meeting to refocus on the opposition to Israeli and US policy.
"I don't doubt that the recent events will have an impact - the president is not young," she said, adding he seemed to have been suffering from fatigue in the weeks before his hospitalisation.
Diana Buttu, a former Abbas aide who became a fierce critic, said Abbas would seek to quash all talk of succession.
Full report at:
https://nation.com.pk/29-May-2018/israeli-army-raids-palestinian-camp-after-soldier-death
--------
Names of Western Activists, Academics Ready to Testify for Iran in 9-11 Court Released
May 28, 2018
The letter to the Iranian justice and foreign ministries was written after the Southern District Court's ruling "found the Islamic Republic of Iran, the Islamic Revolutionary Guard Corps, and The Central Bank of the Islamic Republic of Iran" liable for the deaths of more than 1,000 people as a result of the September 11 attacks. Judge George B Daniels of the Southern District Court of New York said that Iran is ordered to pay "$12,500,000 per spouse, $8,500,000 per parent, $8,500,000 per child, and $4,250,000 per sibling" to the families and estates of the deceased. Iran has dismissed the allegations and has merely two days to appeal to the court ruling.
"We are writing to urge the Islamic Republic of Iran to immediately appeal the Southern District Court of New York's ruling ordering Iran to pay more than six billion dollars of reparations for the 2001 terrorist attacks. Please note that the appeal must be filed by Wednesday, May 28, so this is an extremely urgent matter," the letter said.
"We are willing and ready to provide court testimony in support of Iran's innocence. The extremely weak case against Iran is predicated on the 9/11 Commission's version of events, according to which 19 alleged hijackers (15 of whom were Saudis, and none of whom were Iranians) precipitated a series of miracles including gross violations of the laws of physics. We can prove absolutely, beyond any reasonable doubt, that this version of events is false, thereby nullifying the case against Iran," it added.
"We believe that by strongly contesting this matter in a US court, Iran can win a major media victory over its enemies, and will likely win the legal case as well," the letter said.
In relevant remarks on Saturday, Nader Talebzadeh, a prominent political expert and activist, referred to the letter, and stressed the need for Iran to end its tradition of not appealing the US courts' rulings and challenge the mainstream media's story about the 9-11 incident with the help of the western political activists at the court.
He told FNA that "the September 11 fact-finding groups are ready to speak to the benefit of Iran in any court and testify that Iran has not been involved in the attack. They are ready to show presence in an official court and elaborate on the 9-11 incident. But the Iranian government is first required to appeal the ruling", adding that Iran can challenge the US government's story of the September 11 incident at the court.
Now, the western professors, politicians, experts and former members of the US Congress have written a letter to the Iranian government to testify in support of the Islamic Republic in an appeals court.
The names of a number of signatories of the letter are as follows:
1. Prof. David Ray Griffin, Professor Emeritus, Claremont School of Theology; author of 13 books on 9/11 (USA)
2. Prof. Richard Falk, Professor of International Law, Emeritus, Princeton University (USA)
3. Dr. Cynthia McKinney, six-term congresswoman (D-GA) and Green Party candidate for President of the United States (2008) (USA)
4. Prof. Graeme MacQueen, Associate Professor of Religious Studies (retired), McMaster University; former Director of McMaster's Centre for Peace Studies and author of numerous articles on 9/11. (Canada)
5. Prof. Mark Crispin Miller, Professor of Culture and Communication, New York University (USA)
6. Prof. Piers Robinson, Professor of Politics, Society and Political Journalism at Sheffield University (UK)
7. Prof. Niels Harrit, chemist, former Professor at University of Copenhagen, He presents evidence that the dust of the buildings contained the explosive nano thermite (Denmark)
8. Carol Brouillet, Founder of Northern California 9/11 Truth Alliance
9. Prof. Oliver Boyd-Barrett, Professor Emeritus of Journalism, Bowling Green State University (Ireland)
10. Prof. Anthony J. Hall, 911 turther, Professor of Globalization Studies, University of Lethbridge (Canada)
11. Christopher Bollyn, investigative journalist and author of Solving 9-11: The Deception that Changed the World and The War on Terror: The Plot to Rule the Middle East.
12. Jimmy Walter, venture capitalist and author & best known for sponsoring advertisements asking to reopen the investigation 911 & offering financial rewards to anyone that could prove the World Trade Center was destroyed without the use of explosives. (USA)
13. Tony Szamboti, ME, former Lockheed Martin and BAE Systems mechanical design engineer (USA)
14. Dr. Ibrahim Soudy, PE, SE, PEng, Structural Engineer (USA)
15. Ian Henshall, author, 911 The New Evidence (UK)
16. Sander Hicks, Candidate for US Congress, author of The Big Wedding: 9/11, the Whistle-blowers, and the Cover-up (USA)
17. Michael Santangelo, Co-Facilitator for Truth Action Project, New York City (USA)
18. Dr. Kevin Barrett, Former professor at Wisconsin University, Muslim-Jewish-Christian Alliance for Truth; author of Questioning the War on Terror (USA)
19. Dieudonné, Worldwide known Comedian, author of performance on 911 "la fine équipe du 11"
20. Giulietto Chiesa, Politician, former European Parliament member, director of Zero: an Investigation Into 9/11 (Italy)
21. Gerhard Wisnewski, author of the first critical television documentary on 911, in a large worldwide broadcast. Author of "9/11 Operation: Attack on the globe"; "9/11 Myth: Tracking the truth, New revelations" (German)
22. Prof. Rudy List, former professor at University of Birmingham, member of Scientists for 9/11 Truth (USA)
23. Art Olivier, Former Mayor of Bellflower, California, producer of "Operation Terror"
24. Prof. Hamid Algar, Professor Emeritus of Persian and Islamic Studies, University of California, Berkeley (USA)
25. Prof. Atif Kubursi, Emeritus Professor of Economics McMaster University
26. Dr. Philip Giraldi, former CIA military intelligence officer & counter-terrorism specialist (USA)
27. Wayne Madsen, former NSA officer, former head of Naval Sound Surveillance System in US Navy, investigative Journalist, author specializing in intelligence (USA)
28. Dr. Scott Bennett, former army psychological warfare-counterterrorism officer, former State Department Coordinator for Counterterrorism (USA)
29. Michael Maloof, former senior security analyst in the Office of the Secretary of Defense (USA)
30. Scott Rickard, former intelligence officer for the USAF, the NSA, and the Directorate of National Intelligence (DNI) (USA)
31. Ken O'Keefe, former Marine and Gulf War veteran (USA – Ireland)
32. Colonel Alain Corvez, former advisor of French minister of defense (France)
33. Richard Labévière, former navy operational reserve officer, former editor-in-chief of Télévision Suisse Romande (TSR) and Radio France Internationale (RFI), author (France)
34. Jürgen Cain Külbel, former criminal police (Germany)
35. Tamás Samu, former MP (Hungary)
36. François Ferrier, former Marine officer, ex-regional advisor of Lorraine (France)
37. Frank Creyelman Honorary MP (Flemish Parlament) / Former Chairman committee on Foreign policy, European affairs and International cooperation, Former senator in Belgium Parliament (Belgium)
38. Dr. Christian Bouchet, politician (France)
39. Christopher Black, international criminal lawyer, member of the Law Society of Upper Canada)
40. Edward C. Corrigan, Certified Specialist by the Law Society of Upper Canada in both Citizenship & Immigration and Refugee Protection Law (Canada)
41. Isabelle Coutant Peyre, lawyer (France)
42. Prof. Kaukab Siddique, Lincoln University professor, Muslim Leader (USA)
43. Prof. Matthew Crosston, Professor of Global Security and Strategic Intelligence, American Military University (USA)
44. Prof. Claudio Mutti, former professor at University of Bologna, editor of the journal "Eurasia" (Italy)
45. Greta Berlin, Co-Founder, the Free Gaza movement (USA)
46. Dr. Paul Larudee, Former Fulbright-Bays Lecturer (USA)
47. Vanessa Beeley – peace activist and independent journalist (USA – France)
48. Joaquin Flores, Editor in Chief of Fort Russ News, Director & Analyst at Center for Syncretic Studies (USA)
49. Gearóid Ó Colmáin, Geopolitical analyst, Media commentator (Ireland)
50. Mark Dankof, reverend, political analyst (USA)
51. Dr. E. Michael Jones, former professor at Saint Mary's College (Notre Dame, Indiana), editor of Culture Wars magazine (USA)
52. Jim W. Dean, Managing Editor, VeteransToday.com (USA)
53. Imam Muhammad Asi, Muslim Leader, former Imam of Islamic Center of Washington (USA)
54. Prof. Alexander Dugin, philosopher, political analyst and strategist (Russia)
55. Andre Vltchek, philosopher, author, filmmaker and investigative journalist (Russia)
56. Dr. Maria Poumier, former professor at Sorbonne University, author & researcher (France)
57. Dr. Stephen Sizer, former vicar of the Anglican parish of Christ Church (Virginia Water, Surrey), author of Christian Zionism – Road Map to Armageddon? (UK)
58. Konrad Rekas, journalist and senior member of "Polish Yes for Scotland Association" (Scotland)
59. Pepe Escobar, Asia Times correspondent (Brazil)
60. Lauren Booth, journalist and broadcaster (UK)
61. Jean Michel Vernochet, geopolitical analyst, former journalist editor at Figaro Magazine (France)
62. David Lawley Wakelin, Documentary film maker (UK)
63. Dragana Trifkovic, Director of the Center for Geostrategic Studies (Serbia)
64. Leslie Varenne, President of IVERIS institute of strategic studies (France)
65. Lucien Cerise, author of "Governing through Chaos – Social Engineering and Globalization" (France)
66. Hafsa Kara-Mustapha, Journalist & Political Analyst (UK)
67. Jacob Cohen, Author and Researcher (France)
68. Gilles Munier, author and investigative journalist (France)
69. Max Igan, Lecturer, Political Analyst, Radio Presenter (Australia)
70. Marwa Osman, University Lecturer and freelance journalist (Lebanon)
71. Zeina Mohanna, human rights activists, author and international event organizer (Lebanon)
72. Dogan Bermek, Muslim Leader (Turkey)
73. Tesha Teshanovic, editor in chief of "Balkan Info" (Serbia)
74. Eric Walberg, author and commentator (Canada)
75. Peter Koenig, Economist, Geopolitical analyst, (Geneva)
Full report at:
http://en.farsnews.com/newstext.aspx?nn=13970307000276
--------
Iran says US 9/11 court verdict 'mockery of international law'
May 29, 2018
Iran has severely slammed a New York court ruling which calls on Tehran to pay a large amount of money to the victims of the 9/11 attacks.
"The issue of such illegal rulings are in stark violation of the international commitments, law and accepted procedures which call for judicial immunity of the governments," said Iranian Foreign Ministry Spokesman Bahram Qassemi on Monday.
He added that his country reserves all its legal rights to battle the verdict and its probable damages.
Qassemi stressed that Tehran rejects the extra-territorial and unlawful verdict issued in absentia against the Islamic Republic.
He further noted that the US court had no evidence of Iran's involvement in the 2001 incident.
The spokesman further stressed that such rulings not only mock the international legal system, but also the American people.
The judgment was issued by Manhattan federal judge George Daniels earlier in May. The lawsuit claims that Iran provided technical assistance, training and planning to the al-Qaeda operatives that conducted the attacks.
The official investigation on the attacks, known as the 9/11 Commission Report, has said that Iran did not play a direct role.
Full report at:
http://www.presstv.com/Detail/2018/05/29/563217/iran-us-911-court
--------
Israel's Iron Dome shoots down rocket fire from Gaza Strip
29 May 2018
A barrage of mortar shells were fired from the Gaza Strip at southern Israel on Tuesday, the army said, as tensions in the border area simmered.
A statement from the Israeli army said that "25 mortar shells were launched towards several sites in Israeli territory."
"Most of the launches were intercepted by the IDF's Iron Dome aerial defence system," the army said.
Police said that "a number of the mortars landed in open areas inside Israel," with no injuries reported.
On Monday, a Palestinian who approached the border fence with what the Israeli army said an "intention of carrying out an attack" was killed by tank fire.
A day earlier, a tank targeted an Islamic Jihad observation point in response to an explosive device being placed on the border fence.
Three members of the militant group were killed, and Israeli media said the Tuesday projectiles were Islamic Jihad's response to the attack.
At least 121 Palestinians have been killed during weeks of unrest since March 30, when Palestinians began calling to be allowed to return to their historic homelands inside Israel.
The majority were killed during protests along the border, including at least 61 on May 14.
Others have been killed in air strikes.
Israel says it is merely defending its borders and accuses Hamas of encouraging thousands of Palestinians to break through the border and attack Israelis.
Also on Tuesday, a group of activist Palestinians were due to set sail to breach Israel's naval blockade by boat.
The destination of the boat, carrying patients needing medical care, students and job-seeking university graduates, was not announced.
Full report at:
https://english.alarabiya.net/en/News/middle-east/2018/05/29/Israel-s-Iron-Dome-defense-shield-shoots-down-Gaza-rocket-fire.html
--------
Palestinian killed in Israel strike in north Gaza
28 May 2018
A Palestinian was killed by Israeli tank fire into northern Gaza on Monday, the health ministry said.
It named the deceased man as Mohammed al-Rudeia, 30, and said another man was wounded.
In a statement to AFP, an army spokeswoman told AFP that two Palestinian men tried to breach the border fence "with the intention of carrying out an attack".It said the pair were captured but other Palestinians on the Gaza side fired at Israeli soldiers, without causing injuries."In response we attacked with a tank a nearby lookout post," she said.
Eyewitnesses said the tank strike targeted an observation point belonging to an armed group.
A statement by Hamas's military wing, the Ezzedine al-Qassam Brigades, hailed Rudeia as a "fighter", an accolade usually only given to its own members.
Separately, on Monday, the health ministry announced the death of a Palestinian injured in clashes with Israeli forces.Nasser al-Areenee, 28, was shot a "number of days ago" east of Jabalia in the northern Gaza Strip, the ministry said, without giving further details.
At least 121 Palestinians have been killed during weeks of unrest since March 30, when Palestinians began calling to be allowed to return to their historic homelands inside Israel.
The majority were killed during protests along the border, including at least 61 on May 14. Others have been killed in air strikes, including on Sunday when three members of Hamas were killed.
Full report at:
https://english.alarabiya.net/en/News/middle-east/2018/05/28/Palestinian-killed-in-Israel-strike-in-north-Gaza.html
--------
Yemen says national army just 20 km away from Hodeidah
28 May 2018
Yemen's National Army said on Monday that they were just 20 km away from Hodeidah and were close to recapturing of the city's sea and airport.
The statement comes just days after Yemen's Houthi leader Abdelmalik al-Houthi acknowledged the defeats his militias suffered from in the west coast and called on his supporters not to flee.
"Any retreat for objective reasons does not mean the end of the battle," Houthi said in a televised speech broadcast by Al Masirah channel on Sunday.
https://english.alarabiya.net/en/News/gulf/2018/05/28/Yemen-says-national-army-just-20-km-away-from-Hodeidah.html
--------
North America
Facebook Allows Islamic State to Keep 'Multiple Direct Connections' to U.S. Supporters
28 May 2018
Facebook has allowed the Islamic State (ISIS/ISIL) to establish a growing virtual presence in North America, used to radicalize, recruit, support, as well as potentially plan and direct terrorist attacks, an analysis by the Counter Extremism Project (CEP) found.
In a report released last week — Spiders of the Caliphate: Mapping the Islamic State's Global Support Network on Facebook — CEP noted:
Our analysis of online IS communities globally, regionally, and nationally suggests that IS's online networks, in particular on Facebook, are growing and can be utilized to plan and direct terror attacks as well as mobilize foreign fighters for multiple areas of insurgency.
Secondly, IS's presence on Facebook is pervasive and professionalized, contrary to the tech company's rhetoric and efforts to convince the public, policymakers, and corporate advertisers from believing otherwise. Our findings illustrate that IS has developed a structured and deliberate strategy of using Facebook to radicalize, recruit, support, and terrorize individuals around the world.
CEP found that ISIS has also established a Facebook community in Latin America with links to "core" supporters of the jihadist group in the Middle East, North Africa, as well as the Afghanistan and Philippines region.
David Ibsen, the director of CEP, told Breitbart News, "Given the proximity of Latin America to the United States, the threat from ISIS followers in these countries should not be underestimated."
CEP reported that it expects "veteran IS fighters will be able to continue to expand the online community into both the United States and Latin America."
Although the U.S.-led coalition and its local allies have taken back nearly all of ISIS's territory in Iraq and Syria, Ibsen noted that the group's "virtual caliphate" remains alive and well.
He explained:
While the caliphate as an entity has almost disappeared, ISIS leaders several years ago began preparing their followers for this eventuality, urging them, for example, to carry out attacks in their home countries, rather than traveling to Syria or Iraq.
ISIS's online presence has not experienced a shrinkage commensurate with the group's physical holdings. This report, which documents ISIS supporters on Facebook in 96 unique countries, is further evidence of the group's enduring presence.
CEP found that the social media giant had provided a platform for U.S.-based Islamic State (IS) supporters to organize and even hold weekly meetings on its Facebook Live component to "discuss how to avoid detection from the FBI and ways they can help the 'virtual caliphate,'" noting:
The data presented above reveals a sobering degree of IS penetration within North America. Nearly every regional IS network in the world has multiple direct connections to American IS supporters online. These networks can and will be used both to draw American IS supporters into foreign conflicts as well as to encourage IS attacks within the United States. The main American IS network uncovered in this research consisted of multiple users actively engaged in spreading propaganda, radicalizing, and recruiting for IS.
Given that the report only provides "snapshots of IS [Facebook] connections between October 2017 and March 2018," it is uncertain whether or not the ISIS supporters are still conducting weekly meetings on Facebook Live, Ibsen told Breitbart News, adding:
Even though Facebook had taken action against 43 percent of the nodes by March 5, 2018, the decentralized nature and resilience of ISIS followers on Facebook make it likely that their communications have continued.
…
All Internet and social media companies, not just Facebook, need to do a much better job of acknowledging the extent to which extremist groups have misused their platforms.
CEP mapped the accounts and connections between 1,000 ISIS-supporting profiles (or nodes) with affiliations to 96 countries on every continent with the exception of Antarctica.
The analysis excluded hundreds of profiles without information on users' location, noting, "This data represents only a portion of [ISIS's] support network on the platform."
CEP's report came after Facebook announced it was using artificial intelligence to remove 99 percent of terror-linked messages before anyone even reports it.
ISIS maintains a growing Facebook presence across the Western Hemisphere, including in Latin America, the NGO found.
The U.S. military and Department of State have long warned that the Islamic State maintains a presence in Latin America and the Caribbean.
CEP reported:
IS targets many Latin American Facebook accounts for hacking and turns them into propaganda accounts… [indicating] that IS is making a concerted effort to tap into Latin America's Arab and Muslim population, long a haven for other terror groups like Hezbollah and al-Qaeda.
Propaganda accounts serve the dual purpose of keeping IS supporters informed online and potentially radicalizing or recruiting the friends of the hacked account who now have and IS news feed on their Facebook wall.
IS will look to expand operations in this region, taking advantage of existing internal conflicts in countries like Venezuela, Nicaragua, and Colombia to carry out attacks against western officials.
Since the ISIS presence erupted across the world in 2014, the U.S. military has cautioned that the jihadist group could exploit the knowledge of criminal Latin American human and drug traffickers to infiltrate the United States.
http://www.breitbart.com/national-security/2018/05/28/report-facebook-allows-islamic-state-keep-multiple-direct-connections-u-s-supporters/
--------
Muslims, guests break fast at interfaith Iftar dinner in Boonton
May 28, 2018
BOONTON - A diverse assembly of cultures and faiths blended Memorial Day and Ramadan observances during an interfaith Iftar dinner Sunday at Jam-e-Masjid Islamic Center.
Iftar is the meal eaten by Muslims after sunset during Ramadan and is often done as a community.
Despite falling in the middle of an extended holiday weekend, the dinner drew a standing-room-only crowd representing several religions.
Just before the fast was broken at sundown, Imam Basel Hamdeh offered recitation of Quran and prayer, which were then translated to English and explained to the guests by Usma Sohail Khan.
"From these verses, you get the innate feeling of Islam, that your neighbor is key," Khan said. "Friendship and kindness, that is what we strive for. That is what all faiths strive for. There are many more similarities between our faiths and our beliefs than one understands. So events like these are so meaningful and important, because you focus on the similarities instead of the differences."
Imam Wesley Abu Sumayyah Lebron, cofounder and president of the Passaic-based nonprofit group 3 Puerto Rican Imams, offered perspective on Ramadan and fasting for the uninitiated.
"When we fast, our fast may be a bit different than those of other nations and religions," Lebron said. "Our fast is a fast to refrain completely from food, drink, sexual desires, any type of desire whatsoever. We are to restrain our eyes, restrain our ears, restrain our thoughts, restrain our practices."
"Ramadan for us is like a training camp," he summarized. "It is like those individuals when they go to the gym every day. For us, it is a spiritual workout."
Pastor Terry Welsh of Picatinny Arsenal acknowledged there are many Muslims among the more than 1 million American soldiers who have given their lives for their country, dating back to the American Revolution.
He singled out one New Jersey man who paid the ultimate price.
"Cpl. Kareem Khan grew up here in New Jersey," Welsh said. "He was killed by a bomb while clearing a house in Iraq in 2007. He was 20. He was spurred by the Sept. 11 attacks on the World Trade Center, and wanted to show that not all Muslims were fanatics. That many, like him, were willing to lay down their lives for their country, America. He enlisted immediately after graduation."
About 200 people filling the ground level of the mosque — once a public school, then a synagogue before the JMIC took occupancy in 1988 — broke the fast by eating traditional dates, then moved upstairs for prayer.
Non-Muslims were invited to join or observe the prayers or stay in the dining room, where a buffet dinner of lamb, chicken, salad, rice and breads were later served.
After-dinner speakers included Morris County Sheriff James Gannon, who grew up in the neighborhood and recalled playing soccer at Boonton High School with Muslim friends he grew up with.
"This little town has seven flag ranks that went to high school here, admirals, generals, and three Medal of Honor winners," Gannon said. "I've always felt a closeness to the community here. Besides the diverse population we have here today, I think the most important part of this meeting today is inclusion. I think we're really, really good at it here. I think it's a model for other communities. Because we're all the same, aren't we?"
Ernie Miller and Dennis Williams came from Westside Presbyterian Church in Ridgewood after recently hosting a Muslim group there.
"We have a men's group that meets on a regular basis and one of the members suggested we meet members of the Muslim faith because we didn't know very much about the faith or the people," Williams said. "So about a month ago, we invited them over for what was supposed to be a one-hour luncheon, a sharing of our faith, basically, and what was going on in the world. And it turned into about three hours. And in that time, friendships started. Out of those friendships, we were invited tonight to share this experience."
The annual event was organized by the interfaith group Different Faiths One Family and the JMIC, along with three other Morris County mosques: the American Muslim Association in Boonton, the Islamic Society in Budd Lake and the Islamic Center of Morris County in Rockaway.
The ICMC will host a similar interfaith dinner on Wednesday.
The audience also included several local government leaders, including Gannon, Freeholder Deborah Smith, Boonton Alderman Cyril Wekilsky and Parsippany Mayor Michael Soriano.
Full report at:
https://www.dailyrecord.com/story/news/2018/05/28/muslims-guests-break-fast-interfaith-iftar-dinner-boonton/639884002/
--------
Diary Of A Convert: 'My Connection With Allah Has Become Stronger'
May 29, 2018
'I am coming to my first Ramadan to which I will participate in.'
I reverted to embrace Islam back in December 2017. Before this I was, in part, exploring myself in terms of my beliefs. Through the conversations at the Islamic Centre, with my good friend Abu Adam, I began to understand how the beliefs of Islam reflected my own values. It has been a relief to find such a connection where it feels like you are part of a real community whereby you can share your experiences, with respect, with understanding, and with good people. This is still a learning experience for me and I am dedicated to learning more about Islam through the classes that I attend. Some days I feel stronger than others, but it is a journey that I enjoy, and willing to continue to explore. Perhaps I can continue to write about my general experiences at a later time.
So I am coming to my first Ramadan to which I will participate in. Before I reverted, I had experienced Ramadan for the four previous years more as an observer. Even in this time I saw how committed people were, there dedication and determination to make it through the day, each day, for the 30 days. During this time I myself would naturally restrict my intake of food and water, just out of the respect of those around me. What I find now is that Ramadan is one of the Five Pillars for us to follow, and it is the one we do specifically for Allah, to dedicate ourselves to understand the purity of life. This is to take us out of our normal lives, to allow us to reflect on the world around us, as well as reflected within ourselves and our connection with him.
I am using this Ramadan as a starting point to reflect on myself more, by taking up more reading of the Quran. I am trying to get into a routine by taking the last hour of the fast each day to read through passages, to understand more about the way of Islam, and the value it brings to our lives. As it is my first time of reading I am choosing to read its written order. I do wonder what will be my favourite parts, or the parts that I will connect with the most.
In terms of my preparations for the actual fasting, for me, it has not been too difficult. I have had experiences in the past where I would only eat once a day, when growing up, so I know my body can adapt quickly to this.
Full report at:
https://www.khaleejtimes.com/ramadan/diary-of-a-convert-my-connection-with-allah-has-become-stronger-
--------
Taking the US commission on international religious freedom from bad to worse
May 28, 2018
The GOP's appointment of prominent purveyors of anti-Muslim hatred to positions on the US Commission on International Religious Freedom (USCIRF) is both disturbing and instructive. It exposes the cynical and misguided approach Republicans have taken to the entire enterprise of promoting religious freedom.
Twenty years ago, pushed by right-wing religious fundamentalists in the Republican Party, Congress passed the International Religious Freedom Act (IRFA). It was described as an effort to establish "a multifaceted programme for ensuring that religious freedom has a permanent place in the formulation of US foreign policy".
To fulfill this mandate, the IRFA created the office of International Religious Freedom at the State Department headed by an Ambassador-at-large. This office was charged with monitoring the state of religious freedom around the world, identifying countries where serious violations occurred, and then recommending steps that the US government should take to press countries into compliance. As part of its mandate, the office was required to prepare and release an annual report detailing religious freedom conditions in "countries of concern".
IRFA also created the USCIRF, comprised of commissioners appointed by the White House and Congressional leadership. USCIRF was charged by IRFA with reviewing the State Department's annual religious freedom report and then commenting on its findings, making its independent recommendations and observations to Congress and the administration.
When the legislation was being debated, it was vigorously opposed by a number of groups, including the major US Protestant denominations, the Catholic Church, Arab American and American Muslim groups and career diplomats at the Department of State.
There were early warnings that IRFA: Would be used by right-wing ideologues to push their agenda on other countries without understanding that they might do more harm than good to victims of religious persecution, would inhibit efforts by diplomats and religious leaders to promote religious tolerance and understanding, that by naively seeing all conflicts through the lens of religious freedom, it would ignore the political and social root causes of many conflicts around the world, making it more difficult for policymakers to address these problems and that by creating and imposing a false hierarchy of rights, prioritising religious freedom above all others, it would damage efforts to ensure that all aspects of civil and political rights are protected.
As a result, while IRFA might have been considered a noble ambition, it was a flawed project from its inception and it was destined to fail. As a result 20 years and hundreds of millions of dollars later, the state of religious freedom is arguably worse than it was when IRFA was passed and the proponents of the legislation cannot point to positive changes that have been the result of their efforts.
Especially problematic has been the ill-conceived role played by USCIRF. Initially the commission was envisioned as a bipartisan complement to the State Department office. It was to serve as an outside group that would review and evaluate the government's findings and then make independent recommendations on issues or concerns not addressed in the State Department's reporting on religious freedom.
Over a period of time, the commission began to develop an agenda of its own, writing its own report and issuing open letters or press releases chiding the government for failing to act on USCIRF's concerns.
Instead of finding ways to make advances in protecting religious freedom, USCIRF's metrics of progress became how many foreign "fact finding" visits they made, how many times they were quoted in the press, and how many invitations they received to speak on religious freedom.
I was twice appointed by President Obama to serve on the USCIRF and twice elected as vice-chair of the commission. With my appointment, the White House gave me the injunction to "push back" on right-wing influence on the commission. What I found in my four years was a deeply flawed body that was incapable of making a meaningful contribution to protecting religious freedom around the world. What was most disturbing was the extent to which USCIRF had come to be dominated by an element of hardliners, who saw themselves playing an adversarial role that was all too often, more partisan, than constructive.
Two examples will suffice: First, the Obama White House was attacked for not doing enough to protect Iraqi Christians. It is true, of course, that Iraqi Christians were victims Daesh-led genocidal policies. What was problematic was that from 2003 to 2008, during the Bush Administration, when the Christian community in Iraq was ethnically cleansed from 1.4 million to 400,000, USCIRF ignored what was going on in Iraq and was silent on the persecution of these Christians. It was not until Obama was in office before USCIRF found its voice.
Second, members and former members of USCIRF widely criticised the Obama Administration for discriminating against Syrian Christian refugees, citing bogus statistics that only 56 of the 11 thousand Syrian refugees who came to the US during a defined period of time were Christians. After much hue and cry, USCIRF commissioned a study to examine this charge. The study found that while the numbers were correct, there were underlying factors demonstrating that discrimination was not a factor. Unlike their Muslim compatriots, a larger proportion of Syrian Christians did not flee the country and many of those who fled went to Lebanon or Jordan where they were taken in by communities with whom they had familial ties or by churches with which they were affiliated. Of those who did flee, most did not want to be registered as refugees, preferring instead to wait out the war in hopes of returning. Also, a large number of Christians who did want to leave were able to come to the US or Western Europe as part of the family unification provision of US immigration law.
The study was rejected by USCIRF's Republican hardliners and others on the outside, with one of the newly appointed GOP commissioners insisting on referring to Barrack Obama as "Christophobic", a term he coined to imply that the president was opposed to Christians.
This partisan divide that skews, and discredits, the commission's work is but one of USCIRF's problems.
The commission continues to act as a congressionally-funded NGO issuing its report and releases that "name and shame" violators of religious freedom. In all of this, they fail to understand that the "namer and shamer" must be seen as credible by its target to have a meaningful impact. Because, in too many instances they are not seen as an unbiased critic, their denunciations are either ignored or do more harm than good to the victims of violations of religious freedom.
Equally problematic is the fact that the commission lacks clarity as to what constitutes a violation of religious freedom. In too many instances they fail to distinguish between actual violations of religious freedom and regional, tribal, or sectarian struggles for political power. Instead of spending time understanding the reality of these conflicts, they have engaged in a crude reductionist analysis, seeing everything through the lens of religious freedom. In failing to understand the complexity and non-religious underpinnings of conflicts, their analysis and recommendations often miss the mark. Because religion, per se, is not the cause of tension in Nigeria, Central African Republic, or Iraq, proposing religious freedom is not the solution to their problems.
Full report at:
http://www.jordantimes.com/opinion/james-j-zogby/taking-us-commission-international-religious-freedom-bad-worse
--------
Europe
Germany: Far-right party holds anti-Islam rally in Berlin
28th May 2018
BERLIN (AA): An anti-Islam anti-immigration rally was held by 5,000 far-right Alternative for Germany (AfD) party in country's capital Berlin on Sunday.
Speaking to media before the beginning of the rally, AfD board member Beatrix von Storch criticized German football player of Turkish origin Mesut Ozil.
Currently playing for English giants Arsenal, Ozil, 29, was born in German city of Gelsenkirchen with Turkish parents. Ozil has also been playing for German national football team since 2009 and the Arsenal star is in Germany's preliminary squad for 2018 FIFA World Cup to be held this summer.
"Ozil has German passport but he isn't a German. He can't be a German as he doesn't sing the German anthem had his photos taken with Turkish President Recep Tayyip Erdogan. Ozil is a role model of unsuccessful adaptation," Storch told media.
Erdogan met Ozil and the player's fellow citizen Ilkay Gundogan while he was in London in mid-May. Two German internationals Ozil and Gundogan gifted their autographed jerseys to Erdogan.
In addition the German duo had their photos taken with the Turkish President.
On the same day, May 14, German Football Federation (DFB) President Reinhard Grindel slammed the meeting, alleging that Ozil and Gundogan were exploited by Erdogan's election campaign.
Turks will go to the polls on June 24 to elect the country's new president as well as parliamentary members.
A separate group of nearly 20,000 people protested against the far-right group as they shouted "Nazis out!" and "All Berlin hates the AfD".
http://muslimnews.co.uk/news/islamophobia/germany-far-right-party-holds-anti-islam-rally-berlin/
--------
Denmark to school 'ghetto' kids in democracy and Christmas
28 May 2018
COPENHAGEN, May 28 — Denmark will force children in residential areas containing large numbers of immigrants to be educated about democracy, equality and major Danish holidays such as Christmas, the government said today.
The Nordic country has for decades struggled with how to integrate immigrants, primarily from the Middle East, into its ethnically and religiously homogeneous welfare society.
The new policy, agreed with major opposition parties, will force young children living in "ghettos" - an official term for areas consisting of primarily non-Western immigrants - into 25 hours of public education a week from the age of one.
Children in Denmark must normally receive 10 years of education from the age of six. However, school attendance is not compulsory, meaning parents have a right to choose how to educate their children.
Danish parents living in the designated areas will also be forced to enroll their children in the initiative, although those already receiving daycare will not be required to join.
While the primary focus will be on language skills and learning readiness, the deal also seeks to educate the primarily Muslim children in Danish traditions and Christian holidays including Christmas and Easter.
If parents fail to enroll their children they could lose their child benefits, the government said.
The amount of non-Western immigrants in the "ghetto" areas was 66.5 percent in 2017, according to the Danish ministry of housing. Non-western immigrants make up 8.7 percent of Denmark's 5.7 million population.
Denmark is the only country in the world to officially describe certain residential areas as "ghettos", a term originated in sixteenth century Venice to describe areas of the city to which Jews were restricted.
The agreement was reached by a majority in parliament, where the government is led by The Liberal Party and supported by the nationalist Danish People's Party.
Full report at:
https://www.malaymail.com/s/1635817/denmark-to-school-ghetto-kids-in-democracy-and-christmas
--------
Europe's largest wooden building awaits salvation off Istanbul
May 29, 2018
Gokan GUNES - Looking up at the giant wooden edifice looming over him, Erol Baytas shakes his head.
"I don't think it will survive another winter," he says, broken tiles and boards strewn at his feet.
Built at the end of the 19th century on an island off Istanbul, this unique six-storey structure once served as a home for Greek Orthodox orphans until it was shut down in the early 1960s.
And more than five decades later, the now dilapidated Prinkipo Greek Orthodox orphanage is at risk of collapse.
To try and save this architectural treasure - described as the largest wooden construction in Europe and the second largest in the world - cultural heritage NGO Europa Nostra has listed it as one of the continent's seven most endangered sites.
"It's a miracle it still stays standing," said Baytas, who spent more than 30 years guarding it.
Situated atop a hill on Buyukada, one of the Princes' Islands in the Sea of Marmara, it is about 90 minutes by ferry from central Istanbul.
Originally conceived as a luxury casino hotel, the building was commissioned by the Compagnie des Wagons-Lits, the travel firm which historically operated the Orient Express.
The aim was to attract well-heeled European travellers who were flocking to Istanbul in great numbers at the height of the Belle Epoque, many arriving on the famous long-distance train.
Designed by Alexandre Vallaury, the Franco-Ottoman architect behind Istanbul's Pera Palace hotel, the hotel was completed in 1898 - but never managed to get an operating licence from Sultan Abdulhamid II on grounds its gambling activities would be immoral.
With its grand plans floored, the timber-framed structure was sold to the wife of a rich banker from the city's Greek minority who gave it to the Ecumenical Patriarchate of Constantinople.
And in 1903, the patriarchate turned it into an orphanage, which took care of nearly 5,800 Greek Orthodox orphans until its closure in 1964.
'What happened to my house?'
"It was without a doubt the most beautiful place in Istanbul," says Yani Kalamaris, who lived and worked at the orphanage as a teacher between 1955 and 1961.
Sitting in a leather armchair in the lobby of a large Istanbul hotel, he reaches into his bag and pulls out a photo album with a worn cover, its pages filled with sepia photos of what he fondly remembers as his "house".
"This was after the end-of-year ceremony," says Kalamaris, now 83, showing a picture of him standing in the middle of a group of children on a large terrace overlooking a garden with a breathtaking view of the sea.
Today, all that's left there are a few twisted beams. Since the orphanage closed, the building has taken on the air of a haunted house, with staring empty windows and crows perching in the many holes that pock its dull brown facade.
With no-one to care for it, the structure has been ravaged by Istanbul's ferocious winds, its blistering summers and frigid winters.
Despite its dilapidated exterior, some of the 220 rooms inside still retain vestiges of splendour, such as the ballroom with its boxes and balconies, its columns and its once-lustrous parquet floors.
"Once, an old man came who was an orphan here and who lives in Greece today and we went inside together," Baytas said.
"He collapsed and was constantly whispering, 'What happened to my house?' "I had to take him in my arms and we cried like kids."
'Must be protected'
The orphanage was closed down by the Turkish authorities in April 1964, officially on grounds of sanitation at a time of political tension between Ankara and Athens over Cyprus - a dispute which would eventually see Turkey invading the island a decade later.
Today, Istanbul's Greek Orthodox minority, who only number around 3,000, are determined to save the dilapidated structure before time runs out.
"This building belongs to all of Turkey, the people of Istanbul, the local culture," says Apostolos Poridis, the patriarchate's chief architect. "Its architecture is a matter of memory, you have to protect this building, to pass it on," he told AFP.
In April, the Archbishop of Constantinople and Ecumenical Patriarch Bartholomew I asked for Ankara's help during talks with Turkish President Recep Tayyip Erdogan. But the plea comes at a time of fresh tensions between the two nations over an array of issues, including the protection of Byzantine and Greek heritage in Istanbul.
Restoring its splendour
"We have lost a lot of time. But it is not too late," said Piet Jaspaert, vice president of Europa Nostra.
This summer, a team of experts will visit the site to assess how much work needs to be done to renovate the building - and the likely cost, a figure the Turkish media suggest could be as high as $50 million (42.3 million euros).
"The main frame is solid, but the big problem comes from the roof," said Poridis.
Full report at:
https://nation.com.pk/29-May-2018/europes-largest-wooden-building-awaits-salvation-off-istanbul
--------
France grants citizenship to Malian refugee who saved boy in daring rescue
May 29, 2018
France's President Emmanuel Macron has offered citizenship to an illegal Malian refugee who earlier risked his own life to rescue a child hanging from a fourth-floor balcony in Paris.
On Sunday, the 22-year-old Mamoudou Gassama, originally from Mali, scaled the facade of a Paris apartment block without any equipment to save a four-year-old boy clinging to railings and about to fall. Gassama's successful rescue was filmed by horrified onlookers, and the video soon went viral.
Recognizing the heroic act, President Macron met with Gassama in person at the Elysee presidential palace on Monday, congratulating him on the "exceptional" move to save the French boy's life.
"We'll obviously be setting all your papers straight and if you wish it, we will start the process of naturalization so that you can become French," Macron told Gassama.
He also offered the young Malian a job.
"What you have done corresponds with what firefighters do; if this fits your wishes, you could join the firefighters' corps so that you can do (such acts) on a daily basis," he added.
Gassama arrived from Mali in France a few months ago. He has been nicknamed the "Spider-Man" following the viral spread of his rescue footage.
"I did it because it was a child," Gassama told French newspaper Le Parisien. "I climbed... Thank God I saved him."
Europe has faced an influx of refugees arriving from conflict zones since 2014. Many of the refugees have been fleeing wars and conflicts in their own countries.
There have been instances of crimes committed by a handful of the refugees in Europe, and extremist politicians in European countries have magnified those cases to actively call for a stop to the flow of the refugees and for the deportation of the ones who have arrived.
But while it is an individual case, Gassama's heroic act is certain to help change public sentiments toward the refugees.
Adam Thiam, a Malian analyst and former presidential advisor, said Gassama's act was praised in his home country.
"There is great pride here in Mali," Thiam said, adding, "But while (Gassama) gets the honors, there are... Malian citizens under the threat of being expelled by the French government."
Full report at:
http://www.presstv.com/Detail/2018/05/29/563236/France-Macron-Malian-refugee
--------
URL: https://www.newageislam.com/islamic-world-news/muslim-man-breaks-fast-save/d/115388
New Age Islam, Islam Online, Islamic Website, African Muslim News, Arab World News, South Asia News, Indian Muslim News, World Muslim News, Women in Islam, Islamic Feminism, Arab Women, Women In Arab, Islamophobia in America, Muslim Women in West, Islam Women and Feminism