New Age Islam News Bureau
24 Apr 2013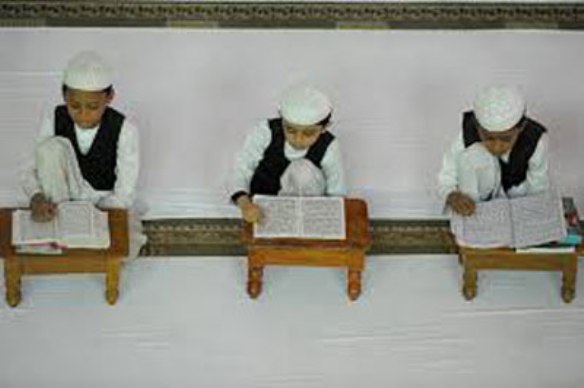 India
• Muslim Leaders Call for Madrasa Reform, Focusing More on English, Math And Science
• Elections in Pakistan, prayers at Ajmer
• NIA to quiz three men picked up for Bangalore blasts
• Zakia Jafri's plea against Modi to be heard on Wednesday
• Omar asks Centre to be tough with China, Pak over border intrusions
• Two Indian dhows in Pak net
• India to provide Maldives with equipment, financial assistance for defence
• Israel upset over 'support' to accused in diplomat attack case
• Arrested Bangla nationals wanted to go to Pakistan via Kutch: cops
• Ishrat encounter: CBI seeks further help from Satish Verma
Arab World
• Saudi Arabia to Retain Ban on Non-Muslim Places Of Worship
• 'Mosque imams in Makkah should be Saudi'
• Violence in Iraq kills 15 as backlash begins over Kirkuk incident
• 1,200 youth to tie the knot in Jeddah today
• Magnetic bomb kills Syria ministry official
• Salafist Cleric: End of Jihad Call Hinges on Hizbullah Pullout
• Lebanese Sunni cleric calls for jihad to aid Syrian rebels against Hezbollah
• Hezbollah's Syria role threatens Lebanon 'neutrality'
• Egypt's prison authority pardons 885 prisoners ahead of Sinai Liberation Day
• Saudi King: Those who mislead youth deserve severe punishment
• 97 Filipinos embrace Islam in one night
• Lebanese Sunni youth sign up for holy war against Hezbollah
Pakistan
• Jamat-e-Islami vows to make Pakistan 'a self-reliant Islamic welfare state'
• Pak parties pledge peace with India in their manifestos
• Election canvassing: Dancers eligible, not pious clerics, says Fazl
• Blasts in Quetta, Karachi kill 7, 60 injured
• Bomb wounds 13 near Shiite mosque in Quetta: police
• First Pakistani woman to serve in Australia's parliament
• Musharraf denied bail in Benazir Bhutto murder case
• NATO calls for Pakistan's role for Afghan peace
• Altaf appeals for closure of business across Sindh
• Iran deports 38 Pakistani nationals
• Preventable diseases kill 87,000 children annually in Pakistan
• Villagers cut off burglar's arms in Chak Nangar: Police
South Asia
• 21 killed in ethnic 'terror' clashes in China's Xinjiang
• Islamic Ministry calls for lowering age of prosecution for minors to 10 years-old
• State seeks High Court ruling on President's discretion to grant clemency in death sentences
• Afghan negotiators hold talks to free foreign hostages
• China may have provided nuclear weapons design to Pakistan: Declassified CIA document
• Afghanistan's Karzai backs clerics' demand for media crackdown
• Seven killed, dozens hurt in Afghanistan earthquake
North America
• Plenty of clues in Boston Marathon bombings point to Islamist jihad
• Accused Boston bomber may face 'rare' federal execution
• Boston bomber says he and his brother wanted to defend Islam
• Ex-Bin Laden secretary gets life for 1998 embassy bombings
• U.S. Report Criticizes State of Human Rights in Tunisia
• US assessing reports of use of chemical weapons in Syria: White House
• Boston bomb suspect read jihadist sites, US officials say
• NATO must review responses to Syria, chemical weapons, John Kerry says
• US war in Iraq, Afghanistan drove Boston bombers: report
Southeast Asia
• Islamic state 'impossible' in multiracial Malaysia
• Malaysian leader Zulkifli Noordin apologises for hurting Hindu sentiment
• Religion Too Often Convenient Justification for Terrorism's Inhumane Politics of Death
• Indonesia Should Try Abusive Soldiers in Civilian Courts: HRW
Europe
• Algeria hands death penalty in absentia to Qaeda chief
• UN torture investigator 'deeply disappointed' with Bahrain
• Abu Qatada: UK agrees assistance treaty with Jordan
• Sharp rise in civilian casualties in Afghanistan: UN
• France reaps the Islamic whirlwind in Libya
• Pope Francis calls for two Syria bishops to be freed
Mideast Asia
• Iran uses cross-dressing as punishment, Feminists hit streets in protest
• After More Than 200 Days on Hunger Strike, Palestinian Gains Freedom
• 400 Islamic Cultural titles to be displayed at TIBF
• Israel MPs note Turkish mass killings of Armenians
Africa
• New Threat in Nigeria as Militants Split Off
• Only Six Civilians Were Killed in Baga, Nigerian Military Says
• Somaliland Regional Court Sentences Nine for Human Trafficking
• Nigeria: Catholic Church Bombing - Kabiru Pleads Not Guilty
• Sudan, South Sudan agree to open 10 border crossings
• ICC war crimes suspect killed in Darfur, say lawyers
Compiled by New Age Islam News Bureau
URL: https://newageislam.com/islamic-world-news/new-age-islam-news-bureau/muslim-leaders-call-for-madrasa-reform,-focusing-more-on-english,-math-and-science/d/11282
--------------
India
Muslim Leaders Call for Madrasa Reform, Focusing More on English, Math And Science
By Altaf Ahmad
April 23, 2013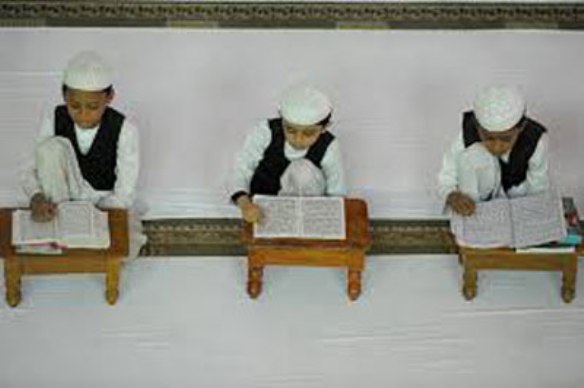 Muslim Leaders Call for Madrasa Reform, Focusing More on English, Math and Science [Noah Seelam/AFP]
As India struggles to find a solution to the plight of its Muslim population, renowned clerics say one way to do this is to make sure that madrasas do more to impart a quality education and generate greater employment avenues for students. They recommend broadening madrasas' religion-centric curriculum and modernising the pedagogy they offer.
"The role of madrasas is not confined to teaching the learners how to pray and worship," world-renowned Islamic scholar Wahiduddin Khan told Khabar South Asia.
"Ignorance is the biggest sin in Islam," he added. "The management should exhibit wisdom and make madrasas formal education centres to enhance job avenues for graduates. Such a reform would not lessen the significance of Islamic theology taught in madrasas."
Many Indian madrasas focus on theology and avoid mainstream subjects such as English, math, science and information technology.
"There are very limited job opportunities available to the graduates and post-graduates from madrasas due to the absence of formal education," said Maulana Asad Khan Falahi, head imam of the India Gate mosque in New Delhi and chief administrator of Madrasas Arabia Shahjahania.
A setback for the reform-minded
The ouster of Maulana Ghulam Mohammad Vastanvi as Islamic University vice chancellor two years ago offers a solid example of leadership's unwillingness to modernise Islamic education, critics say. The governing council removed Vastanvi in 2011, a few months after he took over, for praising Gujarat Chief Minister Narendra Modi's modernisation effort.
"We can't achieve anything substantial until the madrassa system is modernised according to the latest trends in the education sector the world over," Vastanvi told Khabar. "Madrassas need to adapt all the latest techniques, including use of internet, to benefit students and make them skilful."
A Gujarat native, Vastanvi is known as a moderate Muslim cleric with innovative ideas who introduced modern education in madrasas. Analysts say his ouster was a setback for much-needed reforms.
"He was all set to bring about massive reforms in the Islamic University and transform it into a credible institution of imparting higher education with modernity," Faizanullah Farooqi, Arabic professor at the Centre of Arabic and African Studies at Jawaharlal Nehru University in New Delhi, told Khabar. "The change, if effected, could have become a trend-setter for all madrasas."
Producing skilful learners
Seven years ago, the Sachar Committee -- appointed by Prime Minister Manmohan Singh and chaired by retired Justice Rajinder Sachar – concluded that the literacy rate of India's Muslims is far below the national average. It recommended, among other things, reforms in madrasas.
"One-fourth of Muslim children in the 6-14 years age group either never attended school or are drop-outs. For children above 17, the educational attainment of Muslims at matriculation is 17%, as against the national average of 26%," said the committee's 2006 report.
All India United Democratic Front (AIUDF) Chairman Maulana Badruddin Ajmal Qasmi, the lone Muslim religious leader in parliament, said that subjects like English, mathematics and science are needed to produce employable graduates.
"To create ample job opportunities for students, the madrasas should introduce such subjects in the curriculum," he told Khabar.
"We can't shut our eyes to new inventions and research contributing a great deal to overall development in the world. Besides religious knowledge, secular education is a must for each and every individual," Qasmi added.
India Islamic Cultural Centre (IICC) Chairman Sirajudin Qureshi described madrassa education as "grim".
"By ignoring subjects like computer education, engineering and environment, madrasas are bound to produce monotonous students," Qureshi told Khabar. "Madrasa graduates lack knowledge of worldly affairs and hold expertise only in religious affairs."
http://khabarsouthasia.com/en_GB/articles/apwi/articles/features/2013/04/23/feature-02
--------------
Elections in Pakistan, prayers at Ajmer
Shoeb Khan, TNN | Apr 24, 2013
JAIPUR: The votes may be cast in Pakistan but prayers are being shot off from India. As rich and powerful politicians face general elections in Pakistan's wobbly politics where winning and staying alive in a violence-prone land are equally the objectives, they are reaching out in droves for the "benefactor of the poor" or Gharib Nawaz, Khwaja Moinuddin Chisti of Ajmer, for blessings.
The khadims (priests) at Ajmer's 12th century shrine are busy sending special prayers for Pakistani candidates cutting across party lines. The contestants, including, ironically, some backed by extremist groups, are not only seeking prayers at the Sufi saint's dargah but also statements and appeals from khadims to vote for them in the May 11 elections.
Pleas have been placed for President Asif Ali Zardari and former Prime Minister Raja Parvez Ashraf. A Pakistan People's Party (PPP) candidate Aziz-ur-Rehman Chan, fighting from Lahore federal, said, "Khwaja Sahab is the spiritual head of our people. They (priests) back only those candidates who have faith in the holy shrine."
Others like Pakistan Muslim League (PML) leader Farid Chishty Sahab, are keeping a 'mannat' - pledging that the first thing they will do after winning is visit Ajmer. Farid Chishty is contesting from Pak Pattan.
Former cricket icon and chief of Tehreek-e-Insaaf, Imran Khan's massive political rally on Sunday ended at the shrine of Hazrat Data Ganj Baksh Shrine in Lahore. The Lahore shrine houses a prayer seat (chilla) of Khwaja Gharib Nawaz, the place where legend has it that he had meditated for 40 days.
"Our leader Imran Khan had expressed his desire to visit Ajmer during his meeting with khadim sahab of Ajmer at his Lahore home in November last year," Saniya Sajid, a leader of Tehreek, told TOI. Imran will certainly make a thanks-giving trip to Ajmer Sharif post-elections, Sajid added.
Syed Bilal Chisti, a gaddinashin (spiritual head) and khadim at Ajmer dargah who performed prayers for Ashraf and several Pakistan ministers in the past, said, "After his visit to Ajmer, Ashraf is very confident of beginning his second term." Chisti was in Pakistan a week ago and released a statement among followers of the Khwaja to vote for candidates and parties, which are secular and friendly towards their neighbours.
Another Khadim, Syed Natiq Chisti, who did 'ziyarat' (pilgrimage work) for former president Pervez Musharraf, currently in judicial remand, is also busy attending prayers of candidates contesting elections.
Among others who have called up Ajmer khadims are Ali Salman, an Independent candidate from Manawala in Punjab, Khwaja Ataullah from Jang federal, Iqbal Barecha from Rahimyar Khan and Jahangir Badal of PPP. And the list is growing.
http://timesofindia.indiatimes.com/india/Elections-in-Pakistan-prayers-at-Ajmer/articleshow/19703547.cms
--------------
NIA to quiz three men picked up for Bangalore blasts
TNN | Apr 24, 2013
NEW DELHI: The National Investigation Agency (NIA) is likely to question the three men arrested from Tamil Nadu in the Bangalore blast case for possible clues to the Hyderabad blasts.
The three men -- identified as Peer Moideen and Basheer, both of whom were arrested from Chennai, and Buhari, arrested from Madurai -- face the charge of facilitating the Bangalore blast by aiding the bombers in planting the explosives.
The NIA, which is probing the February 21 blasts in Hyderabad, is expected to seek custody of the three accused once Karnataka police finishes questioning them for the Bangalore blasts. The NIA will quiz them on possible links between the Hyderabad and Bangalore blasts.
The similarities between the bombs used in the Bangalore and Hyderabad blasts as well as the use of a two-wheeler to plant the bomb has led to the suspicion that the same outfit could be behind the two terror attacks.
http://timesofindia.indiatimes.com/india/NIA-to-quiz-three-men-picked-up-for-Bangalore-blasts/articleshow/19704956.cms
--------------
Zakia Jafri's plea against Modi to be heard on Wednesday
April 24, 2013
A protest petition filed by Zakia Jafri seeking rejection of the SIT report giving clean chit to Gujarat chief minister Narendra Modi and others in the post-Godhra riots case is likely to come up for hearing in a local court on Wednesday.
Zakia, wife of 2002 post-Godhra riots victim and former Congress MP Ehsan Jafri who was killed in the Gulbarga Society riots along with 68 others, had filed the petition in the court of metropolitan magistrate BJ Ganatra earlier this month.
She sought rejection in toto of the closure report filed by the Supreme Court-appointed SIT on February 8, 2012.
Full report at:
http://www.hindustantimes.com/India-news/gujarat/Zakia-Jafri-s-plea-against-Modi-to-be-heard/Article1-1049452.aspx
--------------
Omar asks Centre to be tough with China, Pak over border intrusions
AHMED ALI FAYYAZ
April 24, 2013
Jammu and Kashmir Chief Minister Omar Abdullah has asked the Centre to be tough with China and Pakistan in its resolve to sort out the issue of the border intrusions in Jammu and Kashmir.
"We would like the Government of India to take up this issue [of the border intrusions] with both China and Pakistan strongly and on same terms so that no such incident takes place in future", Mr. Abdullah said while addressing a public meeting in Bani area of Kathua district, around 200 km from here, on Wednesday. He said that the Centre needed to an "unambiguous stand" equally with both the neighbouring countries.
Full report at:
http://www.thehindu.com/news/national/omar-asks-centre-to-be-tough-with-china-pak-over-border-intrusions/article4650620.ece
--------------
Two Indian dhows in Pak net
By Jugal R. Purohit in New Delhi
April 24, 2013
FAMILIES of 25 Indian seamen detained by authorities in Gwadar port, Pakistan, last week are fretting over the release of their relatives.
The seamen, who were on board MSV Al Faruqi and MSV Al Burhan , were arrested by the Pakistan port authorities on April 19 for " illegal entry". According to information accessed by M AIL T ODAY , MSV Al Faruqi , which was on its way to Dubai, suffered an engine failure on April 13 and drifted towards the Chinacontrolled Pakistani port of Gwadar. Called for help, MSV Al Burhan reached the spot where Al Faruqi was anchored, on April 19.
Full report at: Mail Today
-------
India to provide Maldives with equipment, financial assistance for defence
By Minivan News | April 23rd, 2013
India has pledged to provide the Maldives with an assortment of defence equipment, infrastructure, and training, reports local media.
Seven radar systems, adding to the three already in place, are being given by the Indian government, as well as a helicopter for search, rescue and emergency evacuation in the northern Maldives.
Full report at:
http://minivannews.com/category/news-in-brief
--------------
Israel upset over 'support' to accused in diplomat attack case
Shubhajit Roy
Apr 24 2013
New Delhi : Israel is upset at the high-profile attendance at the re-launch of an Urdu newspaper last week, where journalist Syed Mohammad Ahmad Kazmi, an accused in the Israeli diplomat attack case, was present as its new editor.
Among those who attended the function on April 17 were Delhi Chief Minister Sheila Dikshit, Rajya Sabha members Ram Vilas Paswan (Lok Janshakti Party) and D P Tripathi (NCP), and National Commission for Minorities chairman Wajahat Habibullah.
Full report at:
http://www.indianexpress.com/news/israel-upset-over-support-to-accused-in-diplomat-attack-case/1106925/
-----------
Arrested Bangla nationals wanted to go to Pakistan via Kutch: cops
Apr 24 2013,
Rajkot : The four Bangladeshi nationals wanted to use Kutch as a gateway to Pakistan and were trying to sail to that country from Jakhau port, Kutch district police said on Tuesday.
"They had reached Bhuj from Kolkata via Ajmer by a train and wanted to go to Pakistan from here," Kutch District Superintendent of Police (DSP) Bipin Ahire said.
The four, identified as Kamaliya Sheikh (45), Kayyum Sheikh (22), Abdulkarim Sheikh (26) and Saeed Shiekh (26), were picked up by special operation group (SOG) of Kutch police from Mohadi village near Jakhau port in Abdasa taluka of the district in the wee hours of Monday.
Full report at:
http://www.indianexpress.com/news/arrested-bangla-nationals-wanted-to-go-to-pakistan-via-kutch-cops/1106907/
-----------
Ishrat encounter: CBI seeks further help from Satish Verma
Apr 24 2013
Ahmedabad : The CBI has sought further assistance of IPS officer Satish Verma in connection with Ishrat Jahan encounter case till June 30. His help in the investigation was granted by the Gujarat High Court ends on April 30. Verma, as a member of the HC-formed SIT, has investigated into the case and established that Ishrat and three others were killed in a staged encounter.
http://www.indianexpress.com/news/ishrat-encounter-cbi-seeks-further-help-from-satish-verma/1106917/
-----------
Arab World
Saudi Arabia to Retain Ban on Non-Muslim Places Of Worship
Saudi justice minister says ultra-conservative kingdom is not planning to allow establishment of non-Muslim places of worship
24 Apr 2013
Ultra-conservative Saudi Arabia will retain its longstanding ban on non-Muslim places of worship, Justice Minister Mohammed al-Issa said in comments reported by the Saudi media on Wednesday.
As Saudi Arabia is "home to the Muslim holy places, it does not allow the establishment of non-Muslim places of worship," the Al-Hayat newspaper quoted Issa as telling European MPs in Brussels.
Saudi Arabia, home to the holy Kaaba -- the cube-shaped structure at the Grand Mosque in Mecca towards which Muslims worldwide pray -- has come in for repeated criticism for its ban on non-Muslim places of worship.
Although Saudi Arabia's citizen population is Muslim, the kingdom is also home to millions of expatriates of various beliefs.
Unlike Saudi Arabia, the kingdom's Gulf Arab neighbours allow the building of churches and the celebration of non-Muslim feasts.
http://english.ahram.org.eg/NewsContent/2/8/70036/World/Region/Saudi-to-retain-ban-on-nonMuslim-places-of-worship.aspx
--------------
'Mosque imams in Makkah should be Saudi'
24 April 2013
The office of the Ministry of Islamic and Endowment Affairs in Makkah has barred non-Saudis from being imams and muezzins.
Abdullah Al-Nasser, head of the ministry's office in Makkah, said there will be no exception to the ruling, a local newspaper reported.
The statement came in response to the question as to whether the Burmese minority in Makkah can be excluded from the decision, such as in the ministry of labor's Nitaqat program. "Our instructions are clear and they are not related to other government department decisions. The decision of the Ministry of Labor to consider one Burmese worker as a quarter of a point in the Nitaqat system can be used in the labor market but not in houses of worship," he said.
Full report at:
http://www.arabnews.com/news/449240
------------
Violence in Iraq kills 15 as backlash begins over Kirkuk incident
24 April 2013
Violence in Iraq killed 15 people on Wednesday, including 12 security force personnel and gunmen who died in attacks apparently launched in revenge for deadly clashes at a protest, officials said.
Tensions are rising since dozens of people were killed and injured when Iraqi security forces stormed a Sunni Muslim anti-government protest camp in Hawija, near Kirkuk, on Tuesday. The raid on the protest was followed by an attack on Iraqi army checkpoints.
Iraqi officials are meeting in Anbar, in the western region of Iraq, to discuss the crisis in Kirkuk, Al Arabiya's correspondent reported on Wednesday.
Full report at:
http://english.alarabiya.net/en/News/middle-east/2013/04/24/Iraqi-tribesmen-to-take-up-arms-after-Kirkuk-massacre-.html
--------------
1,200 youth to tie the knot in Jeddah today
24 April 2013
Around 1,200 brides and grooms will tie the knot today at the 15th mass wedding ceremony of its kind under the patronage of Prince Mishaal bin Majed, Governor of Jeddah.
The festival is organized by the Charity Society for Marriage and Family Guidance in Jeddah and will be held at the Jeddah Center for Forums and Events (JCFE).
Full report at:
http://www.arabnews.com/news/449231
------------
Magnetic bomb kills Syria ministry official
24 April 2013
A senior civil servant at Syria's electricity ministry was killed by a magnetic bomb attached to his car on Wednesday in central Damascus, state news agency SANA reported.
"As part of a campaign of assassinations... terrorists fatally wounded Wednesday morning Mohamed Abdel Wahab Hassan, the director of planning at the electricity ministry, with an explosive device attached to his car," SANA said.
Full report at:
http://english.alarabiya.net/en/News/middle-east/2013/04/24/Magnetic-bomb-kills-Syria-ministry-official.html
--------------
Salafist Cleric: End of Jihad Call Hinges on Hizbullah Pullout
Naharnet Newsdesk
4/23/13
Salafist cleric Sheikh Salem al-Rafehi said Tuesday that he informed caretaker Interior Minister Marwan Charbel his readiness to withdraw his call for jihad if Hizbullah ended its involvement in Syria's civil war.
In remarks to LBCI, al-Rafehi said: "Charbel telephoned me and I formed him our readiness to pull the invitation to Jihad in Syria if Hizbullah stopped sending fighters to Syria."
Al-Rafehi and another Salafist cleric sheikh Ahmed al-Asir called on Monday for jihad to defend Sunnis in Syria.
Full report at:
http://www.naharnet.com/stories/en/80513-salafist-cleric-tells-charbel-that-end-of-jihad-call-hinges-on-hizbullah-pullout
--------------
Lebanese Sunni cleric calls for jihad to aid Syrian rebels against Hezbollah
Tuesday, 23 April 2013
Sheikh Ahmad al-Assir, a controversial Lebanese Salafist sheikh, has urged his followers to join Syrian rebels fighting troops loyal to President Bashar al-Assad and the Lebanese Shiite movement Hezbollah.
The call came as a second Sunni Lebanese sheikh called the fight against Assad's regime a "jihadist duty."
"Lately, we have seen our people [Sunnis] in the region of Qusayr be subjected to violence, murder and slaughter by the hands of the Iranian party," Assir told Al Arabiya in an interview broadcast Tuesday. "We found that it is our legitimate duty to see to the [Sunnis'] victory."
The cleric slammed the Iranian-backed Shiite group, saying its possession of weapons has hindered the Lebanese state from taking the right decisions.
Full report at:
http://english.alarabiya.net/en/News/middle-east/2013/04/23/Lebanese-Sunni-cleric-calls-for-Jihad-to-aid-Syrian-rebels-against-Hezbollah.html
--------------
Hezbollah's Syria role threatens Lebanon 'neutrality'
24 April 2013
Lebanese Shiite group Hezbollah's decision to fight openly alongside the Syrian regime will increase Lebanon's involvement in Syria's conflict, despite a policy of neutrality, analysts say.
But despite inflaming tensions, the country is unlikely to face serious instability as a result, because none of its political forces have an interest in such a scenario for now, they say.
"Hezbollah's public involvement is no longer the world's worst-kept secret, and now we are in a crisis where the Lebanese are not only politically divided... but also militarily divided," Ghassan al-Azzi, a professor of political science at the Lebanese University, told AFP news agency.
Full report at:
http://english.alarabiya.net/en/News/middle-east/2013/04/24/Hezbollah-s-Syria-role-threatens-Lebanon-neutrality-.html
--------------
Egypt's prison authority pardons 885 prisoners ahead of Sinai Liberation Day
Ahead of Sinai Liberation Day celebrations on 25 April, Egypt's interior ministry-run prison authority grants amnesty to hundreds of prisoners
23 Apr 2013
Egypt's prison authority, which operates under the auspices of the interior ministry, has ordered the release of 885 prisoners from all 42 detention centres across the country.
The move comes ahead of Egypt's Sinai Liberation Day celebrations on 25 April.
Head of the prison authority Mohamed Nagy stated the Ministry of Interior had pardoned 885 prisoners from completing the rest of their punishments. However, their exact names and charges were not mentioned.
In January, a similar move was taken by the prison authority in celebration of Egypt's 2011 January 25 Revolution, initially marked as Police Day, where 143 prisoners were released.
http://english.ahram.org.eg/NewsContent/1/64/69988/Egypt/Politics-/Egypts-prison-authority-pardons--prisoners-ahead-o.aspx
--------------
Saudi King: Those who mislead youth deserve severe punishment
24 April 2013
There is a need for a more severe form of punishment for those who mislead young people, said Custodian of the Two Holy Mosques King Abdullah.
King Abdullah made the statement while hosting Grand Mufti Sheikh Abdul Aziz Al-Asheikh, president of the Council of Senior Ulema, and other scholars accompanying the sheikh at his palace in Riyadh yesterday, the Saudi Press Agency reported.
Full report at:
http://www.arabnews.com/news/449243
------------
97 Filipinos embrace Islam in one night
24 April 2013
The Dawa and Guidance Office in Riyadh has achieved a new record when it helped 97 Filipinos to embrace Islam in one night.
Mohammad Al-Dosary, head of the minorities department at the dawa office, said his men are engaged in educating expatriates about the beauty of Islam.
"We coordinate with company officials to find the best time for the employees to visit them. Once someone embraces Islam, we take his contact details and call him later to educate him further about the message of Islam," he said.
http://www.arabnews.com/news/449239
------------
Lebanese Sunni youth sign up for holy war against Hezbollah
24 April 2013
Lebanese youth from the city of Saida, south of Beirut, began Wednesday signing up for armed Jihad in Syria, responding to a call yesterday by firebrand Sunni cleric Ahmad Assir.
Individuals in charge of enlisting Jihadists at Bilal Bin Rabah mosque told Al Arabiya that "hundreds" have signed up so far and that the number is expected to reach thousands.
This came a day after Sheikh Assir, who is the Mosque's Imam, lashed out at Hezbollah for helping President Bashar al-Assad's forces fight the predominately Sunni opposition in Syria.
Sheikh Assir announced Tuesday the formation of "Free Resistance Brigades" to go fight Hezbollah's army in Syria.
Full report at:
http://english.alarabiya.net/en/News/middle-east/2013/04/24/Lebanese-Sunni-youth-sign-up-for-holy-war-against-Hezbollah.html
------------
Pakistan
Jamat-e-Islami vows to make Pakistan 'a self-reliant Islamic welfare state'
April 24, 2013
ISLAMABAD: With pledge to make Pakistan a sovereign and self-reliant Islamic welfare state in line with Islamic principles, the Jamat-e-Islami (JI) has vowed to change and revise the political system of country.
JI Deputy Secretary General Dr Fareed Ahmed Paracha presented the party manifesto for general debate on Tuesday at a seminar organised by the Sustainable Development Policy Institute (SDPI), according to a press release.
The manifesto includes several determined objectives, including ending terrorism, lawlessness, land reforms, unemployment, energy crises and overseas Pakistanis political rights and inequitable distribution of wealth.
Paracha was of the view that increasing the tax net can solve the problem of increasing budget deficits. "After coming to power, the JI will ensure the availability of daily use items along with their sustained prices for its full term in office," he said.
Full report at:
http://tribune.com.pk/story/539586/manifesto-matters-ji-vows-to-make-pakistan-a-self-reliant-islamic-welfare-state/
--------------
Pak parties pledge peace with India in their manifestos
Sameer Arshad, TNN | Apr 23, 2013
NEW DELHI: Leading Pakistani political parties have pledged to promote peace with New Delhi in their manifestos ahead of the elections next month with the Pakistan Muslim League (Nawaz) even proposing to do so by linking India with Afghanistan besides energy rich Iran and Central Asian Republics (CAR) via its territory.
The proposal of PML (N), whose leader and two-time Prime Minister Nawaz Sharif is among the frontrunners for the country's top post, is significant as Islamabad has long resisted allowing transit trade between India and Afghanistan fearing New Delhi's is using Kabul to encircle it strategically. India is a leading regional donor having invested $ 2 billion primarily in Afghan infrastructure development.
Full report at:
http://timesofindia.indiatimes.com/world/pakistan/Pak-parties-pledge-peace-with-India-in-their-manifestos/articleshow/19698091.cms
--------------
Election canvassing: Dancers eligible, not pious clerics, says Fazl
April 24, 2013
MULTAN: Jamiat Ulema-e-Islam-Fazl chief Maulana Fazl ur Rehman on Tuesday expressed distrust over the election commission and blamed the Awami National Party (ANP) for creating an environment that encouraged terrorism.
"How can we trust an election commission that has rejected the pious religious clerics of the country and declared dancers and stage actresses eligible for contesting elections," Fazl said while talking to reporters in Multan.
"I had not anticipated that the election commission would go for such drama in the name of scrutiny, rejecting the most pious individuals of the country and declaring those who promote vulgarity, as holy for the elections."
Full report at:
http://tribune.com.pk/story/539730/election-canvassing-dancers-eligible-not-pious-clerics-says-fazl/
--------------
Blasts in Quetta, Karachi kill 7, 60 injured
PTI | Apr 24, 2013
ISLAMABAD: Seven persons were killed and over 60 others injured in five bomb attacks in the Pakistani cities of Quetta and Karachi on Tuesday, including one that was carried out by a suicide bomber who was trying to target the minority Shia Hazara community.
The suicide attacker detonated his explosives-laden truck when he was stopped by Frontier Corps personnel at a check post near Alamdar Road, an area in Quetta with a large Shia Hazara population.
Full report at:
http://timesofindia.indiatimes.com/world/pakistan/Blasts-in-Quetta-Karachi-kill-7-60-injured/articleshow/19706098.cms
--------------
Bomb wounds 13 near Shiite mosque in Quetta: police
April 24, 2013
A bomb attached to a bicycle injured at least 13 passers-by near a Shiite Muslim mosque in Pakistan's southwestern city of Quetta on Wednesday, police said. The bicycle was parked in front of a private hospital, close to the mosque in the Satellite Town area of Quetta, the capital of the
oil and gas-rich province of Baluchistan, which borders Afghanistan and Iran.
But senior police official Fayaz Sumbal said the target of the attack was not yet clear as the injured were mainly bystanders.
Full report at:
http://www.hindustantimes.com/world-news/pakistan/Bomb-wounds-13-near-Shiite-mosque-in-Quetta-police/Article1-1049500.aspx
--------------
First Pakistani woman to serve in Australia's parliament
April 24, 2013
SYDNEY: A Pakistani-born migrant is set to become the first Muslim woman to serve in Australia's parliament, Voice of America reported.
Mehreen Faruqi, an environmental engineer, was selected by the New South Wales Greens to fill a vacancy in the upper house of the state legislature.
Faruqi migrated from Pakistan with her family in 1992. Her Twitter page describes her as an "environmental engineer, climate change activist, proud union member and feminist."
Full report at:
http://dawn.com/2013/04/24/first-pakistani-woman-to-serve-in-australias-parliament/
--------------
Musharraf denied bail in Benazir Bhutt murder case
AFP | Apr 24, 2013
RAWALPINDI: A Pakistani court on Wednesday refused to extend bail for former military ruler Pervez Musharraf in connection with the murder of former prime minister Benazir Bhutto, a lawyer said.
It is the second of three cases dating back to his 1999-2008 rule for which he has been denied bail.
He is already under a two-week house arrest at his villa on the edge of Islamabad over his decision to sack judges when he imposed emergency rule in November 2007.
Musharraf, who attended a separate hearing relating to the Bhutto case on Tuesday, did not appear before the court on Wednesday and neither did his main lawyer.
Full report at:
http://timesofindia.indiatimes.com/world/pakistan/Musharraf-denied-bail-in-Benazir-Bhutt-murder-case/articleshow/19708826.cms
--------------
Nato calls for Pakistan's role for Afghan peace
April 24, 2013
BRUSSELS: Pakistan must play a positive role in bringing stability to Afghanistan as foreign troops prepared to leave the country in 2014, the head of Nato said on Tuesday, before a US-chaired meeting that would try to ease friction between often feuding neighbours.
US Secretary of State John Kerry will host talks between Afghan President Hamid Karzai and senior Pakistan officials in Brussels on Wednesday, with the aim of calming tension over border disputes and the stalled peace process.
Full report at:
http://dawn.com/2013/04/24/nato-calls-for-pakistans-role-for-afghan-peace/'
--------------
Altaf appeals for closure of business across Sindh
April 24, 2013
KARACHI: At least two persons were killed and 18 others injured in a bomb blast at an election camp of the Muttahida Qaumi Movement here on Tuesday night.
Soon after the attack, MQM chief Altaf Hussain asked leaders of his party to shut all election offices and announced a day of mourning across Sindh on Wednesday.
"In these conditions how can people dare step out of their homes to cast vote," he asked.
The massive blast near the People's Chowrangi in North Nazimabad shattered windows of nearby apartment buildings.
"A group of political workers were standing outside the MQM election office when an improvised explosive device (IED) exploded in the crowd," SSP district central Amir Farooqui said, adding: "We have found marks of ball bearings at the scene which suggest that they were packed in the explosives."
Full report at:
http://dawn.com/2013/04/24/altaf-appeals-for-closure-of-business-across-sindh-mqm-poll-offices-shut-after-attack/
--------------
Iran deports 38 Pakistani nationals
April 24, 2013
QUETTA: Iran security forces on Tuesday handed over 38 Pakistani nationals to Levies force on Pak-Iran border in Taftan area of Chagai district following their ejection by Tehran. District Administrative Officer Chagai said on Tuesday that these Pakistani workers were apprehended by Iran.
http://www.dailytimes.com.pk/default.asp?page=2013\04\24\story_24-4-2013_pg7_8
--------------
Preventable diseases kill 87,000 children annually in Pakistan
April 24, 2013
KARACHI: Pakistan Paediatrics Association (PPA) has urged the parents to get their children vaccinated against infectious and deadly diseases at vaccination centres across the country.
Out of 435,000 annual deaths of children under five in Pakistan, 20 percent die due to vaccine preventable diseases (VPD) like pneumonia, tetanus and measles.
President PPA Prof Iqbal Memon on Tuesday while addressing a press conference said that government and health related departments, NGOs and associations should make the most of World Immunisation Week that is celebrated in the last week of April every year. The week aims to highlight the importance of immunisation to prevent VPDs across the world so that more parents are aware of the dangers of diseases and benefits of available remedies in shape of vaccination.
Full report at:
http://www.dailytimes.com.pk/default.asp?page=2013\04\24\story_24-4-2013_pg12_3
--------------
Villagers cut off burglar's arms in Chak Nangar: Police
April 24, 2013
LAHORE: A purported burglar who crept into a village home to steal was caught red-handed and had both arms severed at the elbow by his would-be victims, police said Wednesday.
The incident happened overnight after Muhammad Tufail, 34, entered a house in Chak Nangar village near the town of Dera Ghazi Khan, 405 kilometres southwest of Islamabad, local police official Muhammad Ayub said.
"The four male family members present in the house severed both Tufail's arms at the elbow," Ayub said.
Full report at:
http://tribune.com.pk/story/539890/villagers-cut-off-burglars-arms-in-chak-nangar-police/
--------------
South Asia
21 killed in ethnic 'terror' clashes in China's Xinjiang
April 24, 2013
BEIJING: The local government in China's restive northwestern region of Xinjiang said Wednesday that a clash between authorities and assailants left 21 people dead in what it described as an act of terrorism.
The Xinjiang government propaganda office said in a news release that 15 officers and local government officials were among the dead in Tuesday afternoon's clash. It said six assailants were killed on the spot and another eight were captured alive.
The death toll was the highest in months in Xinjiang, which sees recurrent outbreaks of violence pitting members of the indigenous Turkic Muslim Uighur ethnic group against the authorities and majority ethnic Han Chinese migrants. Rioting in July 2009 between Uighurs and Han killed nearly 200 people in Xinjiang's capital, Urumqi, and there have been sporadic attacks since, all of them quickly suppressed with overwhelming force by local paramilitary units.
Tuesday's violence began when three local officials reported a group of suspicious men armed with knives hiding inside a home in Selibuya township outside the city of Kashgar, the local government news release said.
Full report at:
http://timesofindia.indiatimes.com/world/china/21-killed-in-west-China-clashes-between-authorities-and-assailants/articleshow/19707843.cms
--------------
Islamic Ministry calls for lowering age of prosecution for minors to 10 years-old
By Minivan News | April 24th, 2013
The Islamic Ministry's Fiqh Academy has requested parliament lower the age of prosecution for minors stipulated in the the Penal Code bill from 14 to 10 years-old, reports local media.
MP Ahmed Hamza, chairperson of the parliamentary committee reviewing the Penal Code Bill,
has said that international conventions state the age of prosecution for minors is 15 years-old.
"The age for a minor to be advised to mend his ways for forgoing compulsory deeds is 10 years-old," according to the Fiqh Academy. Their commentary submitted to the parliamentary committee also claims that minors who commit offenses in the Maldives are 11 years-old or above.
Full report at:
http://minivannews.com/category/news-in-brief
--------------
State seeks High Court ruling on President's discretion to grant clemency in death sentences
By Mariyath Mohamed | April 23rd, 2013
The Maldivian state has sought a High Court ruling on the President's discretion to commute death sentences to life imprisonment.
During a hearing on Monday in a case filed by five citizens seeking to annul laws granting the President discretionary powers of clemency, the state attorney said the government would prefer the court itself provided a decision on the matter in accordance with Islamic Sharia.
The state attorney insisted that the decision be made by the court, despite the High Court Judges Bench emphasising that the state must provide an answer since the case concerned a constitutional matter.
Full report at:
http://minivannews.com/politics/state-seeks-high-court-ruling-on-president%E2%80%99s-discretion-to-grant-clemency-in-death-sentences-56851
---------
Afghan negotiators hold talks to free foreign hostages
April 24, 2013
PULI ALAM: Afghan village elders negotiated with the Taliban Tuesday to try to win the release of a group of foreign hostages, officials said, but no progress was reported so far.
The insurgents seized eight Turks, a Russian, a Kyrgyz man and an Afghan after their civilian helicopter made a forced landing due to bad weather on Sunday in a rugged eastern district part-controlled by the militia.
The Taliban, who are fighting an 11-year insurgency against US-led NATO troops and the Afghan government, initially claimed the foreigners were linked to the US military.
"The Taliban have now realised that the hostages are civilians," said Arsala Jamal, governor of Logar province where the helicopter came down.
Full report at:
http://www.dailytimes.com.pk/default.asp?page=2013\04\24\story_24-4-2013_pg7_19
--------------
China may have provided nuclear weapons design to Pakistan: Declassified CIA document
PTI | Apr 24, 2013
WASHINGTON: China might have provided its close ally Pakistan a fairly comprehensive package of proven nuclear weapons design in late 1970s and the CIA knew about it, according to a recently declassified document.
"The CIA had evidence suggesting close Pakistan-China nuclear cooperation, to the point of facilitating a nuclear weapons capability, although the intelligence community saw this as possibly a special case based on an alliance that had existed since 1963," according to recently declassified CIA data, obtained by the National Security Archive (NSA) under the Freedom of Information Act.
Full report at:
http://timesofindia.indiatimes.com/world/pakistan/China-may-have-provided-nuclear-weapons-design-to-Pakistan-Declassified-CIA-document/articleshow/19707790.cms
--------------
Afghanistan's Karzai backs clerics' demand for media crackdown
By Mirwais Harooni
Apr 24, 2013
(Reuters) - Afghan President Hamid Karzai has agreed with a call from the country's conservative religious council for a crackdown on television stations, calling some of their programmes "immoral and un-Islamic", officials said on Tuesday.
The decision by Karzai may alarm some of Afghanistan's international backers, who have invested heavily through 12 years of war in promoting liberal values and freedom of expression in Afghanistan's deeply conservative society.
The decision could also imperil advances in the country's media industry, which has enjoyed significant progress since the ouster of the austere Taliban regime 12 years ago.
Full report at:
http://in.reuters.com/article/2013/04/24/afghanistan-television-karzai-media-idINDEE93N05O20130424
--------------
Seven killed, dozens hurt in Afghanistan earthquake
AFP | Apr 24, 2013
JALALABAD (AFGHANISTAN): Seven people were killed, dozens injured and many homes destroyed when a powerful earthquake struck eastern Afghanistan on Wednesday, officials said.
The quake, measured at a magnitude of 5.6 by the US Geological Survey, sent people rushing from their homes in worst-hit areas and was felt in the Afghan capital Kabul and in Islamabad in neighbouring Pakistan.
It struck at 0925 GMT at a depth of 62 kilometres (39 miles), with its epicentre 24 kilometres northwest of the eastern Afghan city of Jalalabad near the Pakistani border, the USGS said in a revised update.
Full report at:
http://timesofindia.indiatimes.com/world/south-asia/Seven-killed-dozens-hurt-in-Afghanistan-earthquake/articleshow/19712341.cms
----------
North America
Plenty of clues in Boston Marathon bombings point to Islamist jihad
By Don McKee
April 21, 20
Why would the two suspects in the Boston bombings do such a thing? That's the recurring question in the media and there's no clear answer, but there are plenty of clues.
How about so-called radical Islam, meaning jihad, or war on "infidels?"
The Associated Press found from interviews with officials and people who knew 26-year-old Tamerlan Tsarnaev — the suspect killed in a shootout with police — that he was embittered toward this country, "increasingly vehement in his Muslim faith" and exerted strong influence over younger brother Dzhokhar, 19, who was wounded before his capture.
In 2011, the Russian intelligence service asked the FBI to check on Tamerlan Tsarnaev as a radical Islamist, two law enforcement officials told the AP.
The FBI confirmed in a Friday statement: "The request stated that it was based on information that he was a follower of radical Islam and a strong believer, and that he had changed drastically since 2010 as he prepared to leave the United States for travel to the country's region to join unspecified underground groups."
The FBI's response was to interview Tamerlan and relatives but said it found no domestic or foreign terrorism activity — and that apparently was the end of the story for the FBI. The agency said nothing about following up after Tamerlan came back to the United States after six months in Russia or thereabouts.
Full report at:
http://mdjonline.com/view/full_story/22319071/article-Plenty-of-clues-in-Boston-Marathon-bombings-point-to-Islamist-jihad?instance=lead_story_left_column
--------------
Accused Boston bomber may face 'rare' federal execution
24 April 2013
As the case unfolds against Boston marathon bombing suspect Dzhokhar Tsarnaev, the 19-year-old may earn a dubious distinction -- the federal government has indicated his could be one of the rare cases where it seeks the death penalty.
At an arraignment this week, the judge warned Tsarnaev he could face the death penalty if convicted of the charges, including using a weapon of mass destruction in the twin blasts that killed three and wounded 264 people on April 15.
But experts say the possible sentence is a long way off for the ethnic Chechen man who is accused, along with his now dead older brother, of committing the worst terror attack on civilians in the US since the suicide airliner strikes of September 11, 2001.
Full report at:
http://english.alarabiya.net/en/News/world/2013/04/24/Accused-Boston-bomber-may-face-rare-federal-execution-.html
--------------
Boston bomber says he and his brother wanted to defend Islam
Reuters | Apr 24, 2013
PROVIDENCE (RHODE ISLAND)/BOSTON: The wife of the dead Boston Marathon bombing suspect is assisting authorities and in absolute shock that her husband and brother-in-law were accused of the deadly blasts, her lawyer said on Tuesday.
"She cries a lot," attorney Amato DeLuca said of Katherine Russell, 24, an American-born convert to Islam who was married to Tamerlan Tsarnaev in June 2010. "She can't go anywhere. She can't work."
Tamerlan Tsarnaev, 26, was killed in a shootout with police and younger brother Dzhokhar Tsarnaev, 19, lies wounded in a Boston hospital charged with using weapons of mass destruction in the twin blasts that killed three people and wounded 264 near the finish line of the Boston Marathon on April 15.
Full report at:
http://timesofindia.indiatimes.com/world/us/Second-Boston-bomber-says-he-and-his-brother-acted-alone-wanted-to-defend-Islam/articleshow/19712202.cms
-------------
Ex-Bin Laden secretary gets life for 1998 embassy bombings
24 April 2013
A former personal secretary to Osama bin Laden was sentenced to life in prison on Tuesday, for the second time, for participating in a conspiracy to kill Americans that included the 1998 bombings of two U.S. embassies in Africa.
Wadih el-Hage, a Lebanese-born U.S. citizen and former al-Qaeda member, was one of four people convicted in 2001 for their roles in bombings of embassies in Kenya and Tanzania that killed 224 people and injured thousands.
El-Hage, 52, was convicted in 2001 on charges including conspiring to kill U.S. nationals and destroy government-owned buildings, in addition to multiple counts of perjury. He was re-sentenced on Tuesday after a prior life term was reversed in 2008 and sent back to the district court.
Full report at:
http://english.alarabiya.net/en/News/world/2013/04/24/Ex-bin-Laden-secretary-gets-life-for-1998-embassy-bombings.html
--------------
U.S. Report Criticizes State of Human Rights in Tunisia
23 April 2013
An annual report released Friday by the United States Department of State presents numerous incidents in which human rights in Tunisia have allegedly been violated or improperly protected.
The Country Reports on Human Rights Practices are issued every year and provide an assessment of the human rights situations of countries around the world.
"The most important human rights problems during the year were security force laxity regarding extremist crimes, the use of excessive force during protestor arrests, and some constraints on freedom of the press," the report on Tunisia states.
Full report at:
http://www.tunisia-live.net/2013/04/23/us-report-criticizes-state-of-human-rights-in-tunisia/
--------------
US assessing reports of use of chemical weapons in Syria: White House
PTI | Apr 24, 2013
WASHINGTON: The United States is assessing and verifying reports of use of chemical weapons in Syria, the White House said on Wednesday, warning that in case of their use the Syrian regime would face serious consequences.
"We are assessing the reports of chemical weapons used (in Syria)," White House press secretary Jay Carney said.
"It is precisely because of the seriousness of the use of chemical weapons and the seriousness with which the President made clear that that use would be unacceptable, that it is incumbent upon us and our partners to investigate thoroughly and validate or verify allegations of chemical weapons use. And we are obviously doing that," Carney said.
Israel yesterday said it believes Syria has used chemical weapons, joining Britain and France in making that accusation.
Full report at:
http://timesofindia.indiatimes.com/world/us/US-assessing-reports-of-use-of-chemical-weapons-in-Syria-White-House/articleshow/19707845.cms
--------------
Boston bomb suspect read jihadist sites, US officials say
AP | Apr 23, 2013
BOSTON: Boston Marathon bombing suspect Tamerlan Tsarnaev was an ardent reader of jihadist websites and extremist propaganda, US officials said on Tuesday, adding another piece to the body of evidence they say suggests the two brothers were motivated by an anti-American, radical version of Islam.
As he lay in his hospital bed with a gunshot wound to the throat, Dzhokhar Tsarnaev, 19, was charged on Monday with carrying out the bombing with his older brother, who died last week in a gunbattle. Tsarnaev could get the death penalty.
Full report at:
http://timesofindia.indiatimes.com/world/us/Boston-bomb-suspect-read-jihadist-sites-US-officials-say/articleshow/19699370.cms
--------------
NATO must review responses to Syria, chemical weapons, John Kerry says
AFP | Apr 23, 2013
BRUSSELS: NATO must review its ability to fend off threats to the alliance from Syria, including the possible use of chemical weapons, US Secretary of State John Kerry said on Tuesday.
"We should ... carefully and collectively consider how NATO is prepared to respond to protect its members from a Syrian threat, including any potential chemical weapons threat," Kerry told a meeting of NATO foreign ministers.
NATO had "demonstrated its resolve and solidarity" by deploying Patriot anti-missile batteries along member Turkey's border with Syria to prevent any spillover of the fighting, Kerry noted.
"Moving forward, we need to continue to consider NATO's role as it relates to the Syrian crisis.
Full report at:
http://timesofindia.indiatimes.com/world/us/NATO-must-review-responses-to-Syria-chemical-weapons-John-Kerry-says/articleshow/19698191.cms
--------------
US war in Iraq, Afghanistan drove Boston bombers: report
April 24, 2013
The US war in Iraq and Afghanistan drove the two Chechen-origin brothers to carry out the twin blasts in Boston, media reports claimed, citing authorities interrogating one of the suspects.
Dzhokhar Tsarnaev, 19, who is being treated for injuries in a hospital in Boston after he was arrested on April 19, has been communicating with federal authorities in a limited fashion.
Charged of using 'weapons of mass destruction', he faces death penalty if convicted.
According to media reports, Dzhokhar told investigating authorities that he and his elder brother Tamerlan Tsarnaev, 26, were motivated by the US war in Iraq and Afghanistan and that they had no contact with any foreign terrorist group.
Full report at:
http://www.hindustantimes.com/worldsectionpage/chunk-ht-ui-worldsectionpage-bostonblast/US-war-in-Iraq-Afghanistan-drove-Boston-bombers-report/Article1-1049462.aspx
--------------
Southeast Asia
Islamic state 'impossible' in multiracial Malaysia
April 24, 2013
KUALA LUMPUR, April 24 ― Veteran MCA politician Datuk Lee Hwa Beng hosed down today his party's claims that a vote for DAP could lead vicariously to the implementation of Hudood law, pointing out that it was "impossible" for any winner of Election 2013 to set up an Islamic theocratic state.
Without naming any party, he noted that there were politicians who relied on fear-mongering tactics among the Chinese community by warning them that an Islamic state will result if the Pakatan Rakyat (PR) coalition comes into power or, alternatively, if there is a coalition of Umno and PAS.
MCA, hit by widespread unpopularity among the Chinese electorate, has made the possibility of an Islamic state a central plank of its campaign in Election 2013.
The party has placed a number of newspaper advertisements suggesting that a vote for DAP is a vote for hudud, the Islamic penal law, especially after the PR party said it had considered using the logo of PAS in the general election following now-dispelled doubts about its ability to apply its own symbol.
Full report at:
http://www.themalaysianinsider.com/malaysia/article/islamic-state-impossible-in-multiracial-malaysia-says-mca-man/
--------------
Malaysian leader Zulkifli Noordin apologises for hurting Hindu sentiment
Apr 23 2013
Kuala Lumpur: A member of Malaysian Premier Najib Razak's ruling Barisan National party has apologised to the minority ethnic Indian community for insulting the Hindu religion 10 years ago.
Zulkifli Noordin had questioned the purity of the Ganga River, which is considered sacred by Hindus.
"Indians, I say sorry , I was wrong, I apologise," Zulkifli, who is contesting the May 5 general elections from the Shah Alam neighbourhood, told a group of 100 Indians.
Full report at:
http://www.indianexpress.com/story-print/1106593/
----------
Religion Too Often Convenient Justification For Terrorism's Inhumane Politics of Death
Benny Susetyo | April 24, 2013
Terrorism is a threat to humanity. Its modi operandi continue to develop in line with the development of humankind itself and that is why terrorism cannot merely be halted by only studying the modus and the related behavior. Terrorism should not always be understood as a cause, but rather as a result.
The threat of terror will spread across the world if injustice and greed, as among the root causes, continue amid the absence of a realization that they actually are important factors pushing for terrorism.
Full report at:
http://www.thejakartaglobe.com/opinion/religion-too-often-convenient-justification-for-terrorisms-inhumane-politics-of-death/587655
--------------
Indonesia Should Try Abusive Soldiers in Civilian Courts: HRW
Jakarta Globe | April 24, 2013
Military tribunals in Indonesia lack accountability, transparency and neutrality, and the central government must revise its laws and try army officials accused of human rights abuses in civilian courts, Human Rights Watch said in a statement on Wednesday.
The New York-based rights group pointed out that issues surrounding the prosecution of four members of the Army Special Forces (Kopassus) who stormed a Yogyakarta prison on March 23 and executed four men highlight the shortcomings of the military justice system.
Furthermore, the army has failed to properly investigate and prosecute alleged serious human rights abuses by members of the military, the group said in the statement.
Full report at:
http://www.thejakartaglobe.com/news/indonesia-should-try-abusive-soldiers-in-civilian-courts-hrw/587765
---------
Europe
Algeria hands death penalty in absentia to Qaeda chief
24 April 2013
Jihadist leader Mokhtar Belmokhtar, who Chad said was killed in Mali last month, and four members of his group were condemned to death in absentia by an Algerian court on Tuesday.
Four other defendants present in court were jailed for 13 years and fined 1 million dinars each, with another two sentenced to one and nine years respectively.
Mohamed Lamine Bencheneb, leader of the Islamist hostage-takers who was killed by Algerian troops during a four-day siege at the In Amenas gas plant in January, was given the death sentence posthumously.
The accused were charged with "creating and belonging to a terrorist group intending to harm the security of the state, and for possession of explosives and the transfer of ammunition and weapons of war."
The six who appeared in court were detained in July 2012, while six others were tried in absentia, one of whom fled after being granted bail in August 2012.
According to the chargesheet, the accused, all from Algeria's southern Sahara region, belonged to a rear base providing logistical support to a jihadist group led by Belmokhtar, an Algerian al- Qaeda veteran who masterminded the In Amenas assault.
Full report at:
http://english.alarabiya.net/en/News/africa/2013/04/24/Algeria-hands-death-penalty-in-absentia-to-Qaeda-chief-.html
--------------
UN torture investigator 'deeply disappointed' with Bahrain
April 24, 2013
The UN special rapporteur on torture has expressed his "deep disappointment" over Bahrain's decision to indefinitely postpone his visit to the county.
Juan Mendez accused the Bahraini government of trying to "avoid responsibility" for the postponement.
The country's official news agency said the trip was called off "until further notice", but Mr Mendez said it was "effectively a cancellation".
The Gulf kingdom has been wracked by civil unrest for two years.
The violence has left at least 50 people dead.
Mr Mendez refuted a Bahraini media statement that claimed he had "put off" his visit.
"Let me be clear," he said, "this was a unilateral decision by the authorities. Unfortunately, it is not the first time the Government has tried to avoid responsibility for the postponement of my visit, which was originally supposed to take place over a year ago."
Full report at:
http://www.bbc.co.uk/news/world-middle-east-22280381
--------------
Abu Qatada: UK agrees assistance treaty with Jordan
April 24, 2013
The government has signed a mutual assistance treaty with Jordan to ensure that radical cleric Abu Qatada can be extradited, Theresa May has told MPs.
The home secretary said the treaty had guarantees on fair trials within it.
The government is doing "everything it can" to deport Abu Qatada, she said.
It comes after she failed to get the case referred to the Supreme Court to reverse a ruling that the radical cleric could face an unfair trial if sent to Jordan to face terror charges.
Mrs May is planning to apply directly to the Supreme Court for permission to challenge the ruling.
Full report at:
http://www.bbc.co.uk/news/uk-22275000
--------------
Sharp rise in civilian casualties in Afghanistan: UN
April 24, 2013
KABUL: Civilian casualties in Afghanistan rose by almost 30 per cent in the first three months of 2013, a UN envoy has said, describing a recent Taliban attack on court staff as a "war crime".
Jan Kubis, UN special representative for Afghanistan, said the "troubling"rise, compared to the same period last year, followed a 12 per cent drop in civilian casualties over the whole of 2012.
He told a Nato ministerial briefing in Brussels on Tuesday that 475 civilians were killed and 872 wounded from January to March.
Full report at:
http://dawn.com/2013/04/24/sharp-rise-in-civilian-casualties-in-afghanistan-un/
--------------
France reaps the Islamic whirlwind in Libya
Having pioneered the overthrow of Col Muammar Gaddafi's regime, France has seen its garlands turn to ashes in the Tripoli bomb attack.
By Damien McElroy
23 Apr 2013
The Islamic fundamentalists that detonated a car bomb outside the French embassy have struck before in the 'new Libya'.
The murder of the US ambassador when the consulate in Benghazi was stormed last year plus a near-miss when terrorists fired a rocket-propelled grenade at the British ambassador, has already demonstrated the hostility to the West in Libya.
Each attack has undermined the rationale for Western intervention to save the Libyan rebels who bravely rose up against Col Gaddafi at the outset of the Arab Spring. It is increasingly difficult to argue that the intervention will result in the emergence of a stable oil-rich democracy on the other side of the Mediterrean.
Full report at:
http://www.telegraph.co.uk/news/worldnews/africaandindianocean/libya/10012076/France-reaps-the-Islamic-whirlwind-in-Libya.html
--------------
Pope Francis calls for two Syria bishops to be freed
April 24, 2013
Pope Francis on Wednesday appealed for two Orthodox bishops kidnapped in Syria to be freed and for the bloodshed to end, speaking during his general audience on St Peter's Square.
The pope told around 100,000 people present on the square that there were "contradictory reports" about the fate of the two bishops and asked that "they be returned quickly to their communities".
http://www.thejakartaglobe.com/afp/pope-francis-calls-for-two-syria-bishops-to-be-freed/587818
--------------
Mideast Asia
Iran uses cross-dressing as punishment, Feminists hit streets in protest
Convict in Kurdish city of Mehran forced to dress in women's clothes in public procession. Feminists hit streets in protest
04.22.13
Iran's creative penal policy: The Kurdish news agency in Iran, NNSROJ, reported last week of a controversial punishment in the Islamic Republic's Kurdish district where security forces punished a criminal by dressing him in women's clothes.
Last Monday, they led him in a procession throughout the city of Mehran, dressed in traditional Kurdish garb in an attempt to publicly humiliate him. The unusual punishment sparked a protest which spread from the street to the parliament.
The Al-Arabiya network reported that this in not the first time the Mehran court has decided to use this form of punishment on convicts.
From the Facebook page
The move soon caught the attention of the Feminist Kurdish Union in Iran. The next day more than 100 women and men demonstrated in the city in protest of the incident. The women took to the streets in their traditional red garb and protested against the punishments they described as humiliating. They also called to denounce "the insulting policy" towards Iran's Kurdish community in general.
Full report at:
http://www.ynetnews.com/articles/0,7340,L-4370864,00.html
--------------
After More Than 200 Days on Hunger Strike, Palestinian Gains Freedom
Deal designed to avoid massive unrest if Samir al-Assawi was to die in Israeli custody
- Jon Queally, staff writer
Apr 24, 2013
Close to death after more than eight months on hunger strike a Palestinian man held by Israel will end his self-imposed fast following an agreement that will see him released to his home in Jerusalem.
Samir al-Assawi, who has gone more than 200 days without food, was protesting the Israeli practice of "administrative detention" which allows for the holding of prisoners for extended periods without trial.
Full report at:
http://www.commondreams.org/headline/2013/04/23
--------------
400 Islamic Cultural titles to be displayed at TIBF
23 Apr 2013
The Islamic Culture Publication Bureau will showcase 400 titles at the 26th Tehran International Book Fair.
IBNA: Speaking with IBNA, Zabihollah Abbasi, caretaker of the bureau, stated that 30 of the titles were published last year and will be displayed at the book fair for the first time.
The bureau releases titles on religion, ethics, and biographies of religious figures, he added.
The Interaction between Vahhabism and Sunnism, the Knowledge Fete, Psychology in Islam, God's Instructions to Believers, and In the House of the Lord are some of the titles which will presented by the bureau at the fair.
The 26th Tehran International Book Fair will be held at Tehran's Grand Imam Khomeini Prayer Ground from May 1 to 11 2013.
http://www.ibna.ir/vdcdz90fnyt09x6.em2y.html
--------------
Israel MPs note Turkish mass killings of Armenians
Parliamentary discussion comes day after first round of reconciliation talks between Israel and Turkey
23 Apr 2013
Israel's parliament on Tuesday held talks to mark the Turkish mass killings of Armenians in 1915, even as the Jewish state and Ankara take the first steps to try to patch up ties.
"It is time that Israel recognise the massacre of the Armenians, like 27 other states have," said Zehava Galon of the opposition Meretz party who initiated the discussion.
The parliamentary discussion comes a day after a first round of reconciliation talks between Israel and Turkey began in Ankara, focusing on compensation over a deadly Israeli raid on a Gaza-bound aid ship.
Full report at:
http://english.ahram.org.eg/NewsContent/2/8/70005/World/Region/Israel-MPs-note-Turkish-mass-killings-of-Armenians.aspx
----------
Africa
New Threat in Nigeria as Militants Split Off
By ADAM NOSSITER
2013/04/24
Nearly four years into Nigeria's bloody struggle with Islamists in its impoverished north, a new threat has emerged with deadly implications, this time for Westerners as well as Nigerians: local militants who openly claim to be inspired and trained by Al Qaeda and its affiliate in the region.
Having split off from Boko Haram — the dominant Nigerian extremist group responsible for weekly shootings and bombings — this new group, Ansaru, says it eschews the killing of fellow Nigerians.
"Too reckless," said a young member of Ansaru. His group evidently prefers a more calculated approach: kidnapping and killing foreigners.
Just days before, his group had methodically killed seven foreign construction workers deep in Nigeria's semidesert north. The seven had been helping to build a road; their bodies were shown in a grainy video, lying on the ground.
Full report at:
http://www.nytimes.com/2013/04/24/world/africa/in-nigeria-ansaru-militant-group-poses-
--------------
Only Six Civilians Were Killed in Baga, Nigerian Military Says
BY PREMIUM TIMES, 23 APRIL 2013
The Joint Task Force, JTF, in Borno has claimed that only six civilians were killed over the weekend during a gun battle it had with insurgents in Baga community of Borno State.
The JTF said residents' claims that 185 people were killed during the attack were false.
The Commander of the Task Force, Brigadier General Austin Edokpaye, said in a three-paragraph statement he sent to journalists in Maiduguri, that Baga residents lied when they told the Borno State Governor, Kashim Shettima, that over 2000 houses were burnt down after the attack. He insisted that only some few 30 thatch houses got burnt.
Full report at:
http://allafrica.com/stories/201304240260.html
--------------
Somaliland Regional Court Sentences Nine for Human Trafficking
23 APRIL 2013
A court in Gabiley on Sunday (April 21st) sentenced nine men convicted of human trafficking to between three and six months in jail, a day after the Immigration Department arrested them in Wajale on the border between the Somaliland region and Ethiopia.
"These men are now in the Gabiley jail and we are still investigating the people who are behind these kinds of actions," Deputy Chief of the Immigration Department Mohamed Saleban told Sabahi, adding that the traffickers are part of a network.
Full report at:
http://allafrica.com/stories/201304240122.html
--------------
Nigeria: Catholic Church Bombing - Kabiru Sokoto Pleads Not Guilty, Remanded in Prison
BY IKECHUKWU NNOCHIRI, 20 APRIL 2013
Abuja — The Abuja Division of the Federal High Court, yesterday, remanded the alleged mastermind of the Christmas day bomb explosion that killed about 44 persons and wounded 75 other worshippers at St. Theresa's Catholic Church, Madalla, Niger State, in 2011, Kabiru Umar, a.k.a Kabiru Sokoto, in prison custody.
Sokoto was remanded shortly after he pleaded not guilty to an amended three-count criminal charge preferred against him by the Federal Government, which attracts life imprisonment on conviction. His counsel, Mr Adamu Ibrahim, made an oral application for his bail
The alleged kingpin of the Boko Haram Islamic sect was initially docked before the high court on May 20, but he could not take his plea owing to his inability to secure the services of a lawyer.
Full report at:
http://allafrica.com/stories/201304220791.html
--------------
Sudan, South Sudan agree to open 10 border crossings
Reuters | Apr 23, 2013
ADDIS ABABA: Sudan and South Sudan agreed on Tuesday to open 10 crossings along their joint border to boost travel and trade after a recent thaw in relations between the long-time foes.
Sudan had closed much of the 2,000-kilometre (1,200-mile) boundary after South Sudan's secession in 2011 - hitting traders and communities on both sides of the disputed line.
Almost a year after the split, border skirmishes brought both countries close to full-blown war over unresolved disputes over oil, territory and other issues.
Full report at:
http://timesofindia.indiatimes.com/world/rest-of-world/Sudan-South-Sudan-agree-to-open-10-border-crossings/articleshow/19699162.cms
----------
ICC war crimes suspect killed in Darfur, say lawyers
24 April 2013
Darfur rebel leader Saleh Jerbo, charged with war crimes by the International Criminal Court, has been killed in the western Sudanese region, his defence team said.
"The defense of Mr. Saleh Mohammed Jerbo Jamus hereby notifies the trial chamber, with great sadness... that Mr. Jerbo died in North Darfur, Sudan on the afternoon of 19 April 2013, and was buried the same day," said an ICC document published late Tuesday.
Jerba, along with fellow Darfur rebel leader Abdallah Banda, faced three war crimes charges for allegedly leading an attack on African Union peacekeepers in northern Darfur in September 2007, killing 12.
Full report at:
http://english.alarabiya.net/en/News/africa/2013/04/24/ICC-war-crimes-suspect-killed-in-Darfur-say-lawyers.html
------------
URL: https://newageislam.com/islamic-world-news/new-age-islam-news-bureau/muslim-leaders-call-for-madrasa-reform,-focusing-more-on-english,-math-and-science/d/11282