New Age Islam News Bureau
29 Sept 2018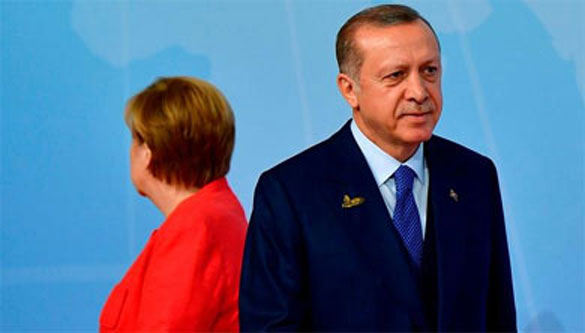 In 2017 German Chancellor Angela Merkel welcomes Turkey's President Recep Tayyip Erdogan as he arrives to attend the G20 summit in Hamburg, northern Germany. AFP
-------
• Muslim Groups Come Together To Seek Withdrawal of Triple Talaq Ordinance
• Taliban Meets Afghan Officials in Saudi Arabia Ahead Of Election
• Pakistan's Ahmadis Fearful as Leaders Bow to Extremists
• Angela Merkel Rejects Turkish Calls to Proscribe Gulen Movement
• Silence of Pak, Turkey on Chinese Repression of Uyghur Muslims Outrageous: US Lawmakers
India
• Muslim Groups Come Together To Seek Withdrawal of Triple Talaq Ordinance
• Muslim Man Thrashed By VHP for 'Love Jihad' Was Part of Kanwar Camp This Year
• Sushma Swaraj Snubs Qureshi, India to Attack Pakistan over Terrorism at UN
• Bihar Temple Blast: Charges Pressed Against 3 Militants
• Beyond SC Verdict: Untangling the Mandir-Masjid Imbroglio
• Centre Asks States to Take Biometric Details Of Rohingyas, Other Illegal Immigrants
• Railways alerts RPF over Rohingya's exodus to Kerala
--------
South Asia
• Taliban Meets Afghan Officials in Saudi Arabia Ahead Of Election
• Tajikistan National among 48 Killed, Wounded In Kunduz Operations
• Rohingya are 'world's largest stateless population'
• Bangladesh point finger at Myanmar for Rohingya 'genocide'
• Afghan election campaigning kicks off amid violence, fraud claims
• Amal Clooney calls on Suu Kyi to pardon Reuters reporters
• Militants suffer heavy casualties in Afghan and U.S. forces operations
• 2 police officers killed in an insider attack in Afghanistan
--------
Pakistan
• Pakistan's Ahmadis Fearful as Leaders Bow to Extremists
• Pakistan Army Chief Confirms Death Sentences To 11 'Hardcore Terrorists'
• War with India Not an Option, Says Qureshi
• Fawad Chaudhry in the line of fire in Senate after outburst
• US desires 'positive, constructive' relations with Pakistan
--------
Europe
• Angela Merkel Rejects Turkish Calls to Proscribe Gulen Movement
• German City Braces for Protests As Erdogan Opens Mega Mosque
• Dutch terror suspects 'had 100kg of fertilizer for car bomb'
• Erdogan: Thousands of terrorists walk freely in Germany
• German police use neo-Nazi codename amid Erdogan visit
--------
Southeast Asia
• Silence of Pak, Turkey on Chinese Repression of Uyghur Muslims Outrageous: US Lawmakers
• Dr M: Recognise Palestine And Terrorism Will Stop
• Dr M: Malaysia Won't Repeal Sodomy Law, Goes Against Islam
• Malaysia PM Mahathir Mohamad Laments World's 'Pain' In First Speech To UN In 15 Years
• Anwar hopes Port Dickson voters will 'make wise decision', elect him as MP
--------
Arab World
• Arab Coalition Denies Issuing an Arrest Warrant for Al-Harizi
• Iran Warning To US, Saudi, UAE: Don't Cross Our Red Lines
• Far from Ghouta, a Syrian rebel group starts over
• US evacuates consulate in southern Iraq city of Basra following attacks
• Lebanon's foreign ministry condemns Israeli remarks on Hezbollah
• Saudi allies in Yemen cut cooperation with UN mission
• Merkel's Syria summit plan offers new hope
• UN experts says Egypt systematically targets rights activists
--------
Africa
• Muslim Convert from London Convicted After Bid to Join Al-Shabaab Terror Group
• Saudi Air Forces Ready For Joint Military Exercises With Tunisia
• Tunisia and Italy pledge to cooperate more over migrants
• Syria reopens Nassib border crossing with Jordan
• Libya seeks UN 'security' support
--------
North America
• Saudi Arabia Supports Donald Trump's Strategy to Counter Iran, Says Jubeir
• Palestine Files ICJ Complaint over US Embassy in Jerusalem
• Washington: Iranian regime spreads extremism, terror in the world
• Pompeo calls for a 'Middle East' alliance to stop Iran's malicious activity
--------
Mideast
• Six Palestinians Killed, 500 Injured By Israeli Fire in Gaza Border Clashes
• Turkish army 'neutralizes' 37 terrorists over past week
• Four Houthi leaders killed in army operation in Hodeidah, al- Bayda
• Erdogan accuses US of breaking promises on Syria's Manbij
• UN Human Rights Council renews mandate of investigators on Yemen
• Muslim leaders of Americas praise Turkey OIC presidency
Compiled by New Age Islam News Bureau
URL: https://www.newageislam.com/islamic-world-news/muslim-groups-come-together-seek/d/116524
--------
Muslim Groups Come Together To Seek Withdrawal Of Triple Talaq Ordinance
September 29, 2018
HYDERABAD: Various Muslim socio-religious and political organisations came together on a common platform in Hyderabad on Friday to demand the withdrawal of the triple talaq ordinance.
Muslim groups representing various sects urged the government to ensure that the religious and cultural rights and freedom guaranteed to Muslims by the Constitution are implemented in letter and spirit and not tampered in any manner.
A resolution passed at the public meeting organised by the United Muslim Forum (MUF), an umbrella group of different Muslim organisations, condemned the ordinance issued last week, criminalizing triple talaq. It said the piece of legislation was enacted through backdoor.
Majlis-e-Ittehadul Muslimeen (MIM) president and Hyderabad MP Asaduddin Owaisi, Jamaat-e-Islami's president of Telangana and Odisha unit Hamid Mohammed Khan, MUF president Raheemuddin Ansari and leaders of various organisations addressed the public meeting at MIM headquarters Darussalam.
"The present government seems to be conspiring to take away the religious identity of Muslims. When it failed to get the triple talaq bill passed in the Parliament, the government has chosen to get an ordinance promulgated in an undemocratic manner," the resolution said. A It hoped that better sense would prevail and the government would reconsider its decision.
Asauddin Owaisi, in his speech, demanded that Muslims should be allowed to practice their religion since the constitution gave them the right. Referring to Supreme Court judgements on Articles 377 and 497, the MP said Muslims also want to live with freedom to practice their religion.
"When homosexuals have been given choice and married men and women also given freedom to indulge in adultery without the fear of being punished by law, why are Muslims being denied freedom to practice their religion", he asked.
Mr Owaisi said the Supreme Court in its judgment set aside triple talaq but did not term it unconstitutional. "When the Supreme Court made it clear that if a husband gives triple talaq, marriage will not dissolve then for what crime you are sending him to jail for three years under this ordinance," he asked.
https://www.ndtv.com/india-news/muslim-groups-come-together-to-seek-withdrawal-of-triple-talaq-ordinance-1924036
--------
Taliban Meets Afghan Officials In Saudi Arabia Ahead Of Election
Sep 29, 2018
PESHAWAR: Representatives from the Taliban met an Afghan government delegation in Saudi Arabia this week to discuss security ahead of next month's parliamentary elections and a limited prisoner release, three Taliban officials said, Reuters reported.
The meeting comes less than a month before voters are due to go to the polls on October 20 to elect a new Afghan parliament, a process which has been hampered by fears of attacks on polling stations and campaign rallies.
Ensuring the election passes off smoothly and without violence has been a top priority for the Afghan government and its international partners.
"They requested us to help them conduct peaceful elections," said one of the Taliban leaders.
"The Afghan delegation has agreed with us on the release of prisoners," he said, adding that some prisoners facing minor charges had already been released and officials had divided up others into three categories, depending on their importance, for future release.
Both President Ashraf Ghani's office and the US State Department declined to comment. No comment was available from Zabihullah Mujahid, the Taliban's main spokesman.
The Taliban, who regard the internationally recognised Afghan government as an illegitimate regime imposed by foreign powers, have generally insisted on negotiating only with the United States but there have been regular unofficial contacts.
Earlier this year, Washington dropped its refusal to talk with the Taliban, saying the United States would be willing to participate in Afghan-led peace talks and US and Taliban delegations met for talks in Doha, Qatar, in July.
The meeting in Saudi Arabia came after plans for another meeting with American officials broke down over US demands for a three-month ceasefire, the Taliban representatives said, speaking on condition of anonymity.
"Some of our senior people were not in the favor of holding talks with the Afghan government as until now we were calling them puppets and refused to meet them," said one senior Taliban leader in Qatar.
"But our proposed meeting with the Americans failed to take place due to certain reasons," he said.
The officials said US demands for a ceasefire was something the leadership could not agree to. As a result, no formal meeting was held although there were informal contacts.
"Our agreement for holding the meeting was only to discuss prisoner exchange and the removal of our people from the UN black list so they can travel," said one senior Taliban leader from the movement's political office in Qatar.
https://www.pakistantoday.com.pk/2018/09/28/taliban-meets-afghan-officials-in-saudi-arabia-ahead-of-election/
--------
Pakistan's Ahmadis fearful as leaders bow to extremists
September 28, 2018
Pakistan's embattled Ahmadiyya minority enjoyed a brief moment of hope earlier this month when one of its own, a U.S.-based Princeton economist, was appointed to an economic advisory council.
But the backlash from Islamic hard-liners, which led newly elected Prime Minister Imran Khan to quickly rescind the appointment under political pressure, has only underscored the Ahmadis' fraught position in the conservative, Muslim-majority country.
Ahmadis believe another Islamic prophet, Ahmad, appeared in the 19th century, a view at odds with the fundamental Islamic principle that Muhammad was the final messenger sent by God. Islamic hard-liners view them as heretics, and have successfully pressured past governments to pass draconian laws against the community. Ahmadis have also long been targeted by Islamic extremists, and are shunned by many mainstream Muslims.
Religious parties have never done well in Pakistan's elections, and last July's balloting was no exception. But the ability of hard-line clerics to organize mass rallies and incite violence against political opponents has often forced even liberal governments to bow to their demands.
Khan, a cosmopolitan former cricket star who ran on a populist platform of combatting corruption, is the latest leader to give in.
In early September, he appointed Atif Mian, a respected Princeton professor of economics, public policy and finance, to an economic advisory council. Just 72 hours later, Khan sought Mian's resignation, which the economist announced on Twitter, saying he was stepping down "for the sake of the stability of the government."
"The government was facing a lot of adverse pressure regarding my appointment from the Mullahs (Muslim clerics) and their supporters," Mian said.
Several religious parties took part in this year's election, but as in previous voting, they garnered less than 10 percent of the popular vote. However, they have allies among all the major parties who rallied against the appointment, even introducing a resolution in the upper house of parliament to condemn the move.
Leading the charge was cleric Khadim Rizvi's political party, which won three provincial seats in southern Sindh province by campaigning on a single issue — the finality of the Prophet Muhammad. They also support a harsh blasphemy law that prescribes death for anyone found guilty of insulting Islam.
Rizvi's power was on display last November when he mobilized mass rallies over proposed electoral reforms that neglected to mention Islam's prophet. The two-week demonstration paralyzed the capital, Islamabad, leading to the sacking of a government minister and the legislation's revision. It may have also contributed to the ruling party's defeat in July.
The firebrand cleric had threatened to bring his supporters into the streets again over Mian.
"The finality of the prophet and the blasphemy law is the most potent weapon because the mullahs know that no one can dare touch it," said Zahid Hussain, a defense analyst and the author of two books on militancy in Pakistan.
Mian had at least one defender. Information Minister Fawad Chaudhry sought to stem the controversy by pointing out that the position had nothing to do with religion or lawmaking, and that the newly elected government wanted to be inclusive.
"When I stood up and defended the appointment of Mian, I looked behind me and no one was there," Chaudhry said in an interview this week. "The problem is that you know the opposition will partner with the violence. You don't get the kind of support you need."
Despite their poor showing at the polls, the religious parties are "very effective," Chaudhry said. "They have the capacity to kill you. Extremism here is a reality. We cannot say it isn't," he said.
Moeed Yusuf, a scholar at the Washington-based U. S. Institute of Peace, said "Pakistani society has become deeply intolerant and many more than we think sympathize with such views." Mian's resignation "shows the perceived power of the Islamists and the reluctance of both state and society to stand up to them given the costs they fear — including physical harm."
Mian's abrupt resignation came as a major blow to the 500,000-strong Ahmadi community, which already feels persecuted and afraid. Many Ahmadis worry they could now lose their jobs, and say their children are often denied admission to certain schools.
Pakistan changed its constitution in 1974 to declare Ahmadis non-Muslims. Ten years later, the government declared it a criminal offense for Ahmadis to "pose as Muslims." They are forbidden from calling their places of worship mosques and cannot sound the call to prayer. Ahmadis have even been punished for using the common Arabic greeting "assalamu aleikum," which means "peace be upon you."
High Court Judge Shaukat Aziz Siddiqui recently issued a more than 170-page judgment that would force Ahmadis to take further steps to identify themselves publicly, which would expose them to even greater discrimination and violence. It calls for Ahmadis to take names that identify their religion, bans them from wearing "Muslim clothing" — without specifying what that means — and bars them from taking the name "Ahmad." The judgment is being appealed.
"It is like Nazi Germany. They want to be able to identify us wherever we go," Usman Ahmad, a representative of the community, said. "The level of intolerance in Pakistan has never been as great as it is today. Every Ahmadi hides his identity."
"What does Pakistan want?" asked Salim Uddin, a spokesman for the community. "Do they want to eradicate Ahmadis? Do they want Ahmadis to leave Pakistan?"
Both men insisted on meeting in a non-descript guesthouse, rather than the official Ahmadi house of worship, a fortress-like building surrounded by high walls and guarded around the clock.
"This is not a new story in Pakistan. It's been happening for decades, including under more liberal governments," said Michael Kugelman, deputy director of the Asia program at the U.S.-based Wilson Center.
"What makes it all more alarming now is that with new parties now involved in electoral politics, the hateful ideas and narratives that fuel discrimination and violence against Ahmadis and other religious minorities will gain more prominence," he said.
https://www.newdelhitimes.com/pakistans-ahmadis-fearful-as-leaders-bow-to-extremists/
--------
Angela Merkel rejects Turkish calls to proscribe Gulen movement
September 28, 2018
Chancellor Angela Merkel said Germany needed more evidence if it was to class the movement of US-based cleric Fetullah Gulen as terrorist organisation.
Speaking at a Berlin news conference alongside Turkish President Tayyip Erdogan, she said that Germany needed more material if they were to proscribe the group that Ankara blames for a failed coup attempt in 2016.
"We take very seriously the evidence Turkey provided but we need more material if we are to classify it in the same way we have classified the (Kurdish) PKK," she told reporters.
The issue is one of the key areas of contention between the two countries as Mr Erdogan began his three-day visit on Thursday. During the press conference, Mr Erdogan called on Berlin to extradite what he said were the hundreds of supporters of the cleric living in Germany.
He also said that Turkey had the right to request the extradition from Germany of Can Dundar, former editor of opposition newspaper Cumhuriyet, describing him as an agent who had been convicted of espionage.
Mr Dundar and a colleague were sentenced in 2016 to five years in prison for publishing a video purporting to show Turkey's intelligence agency trucking weapons into Syria. They were released pending appeal and Dundar left the country.
The two leaders also agreed to aim for a four-way meeting with themselves and the presidents of France and Russia in October to discuss the situation of the rebel-held Syrian region of Idlib.
In an editorial in the Frankfurter Allgemeine daily, Mr Erdogan said he wanted to "turn the page" on a long period of tensions, sparked by Berlin's criticism of his crackdown on opponents after the failed coup, highlighting the economic importance of his trip to Turkey.
Mr Erdogan is eager to improve ties with Europe's biggest economy and secure investments to shore up a struggling economy at home. The meeting came a day after Germany beat Turkey to become the Euro 2024 host nation, following a tight race that took on political significance when Mr Erdogan fanned accusations of German discrimination in football.
His state visit to Germany, complete with military honours, is Erdogan's first there since becoming president in 2014 and comes as he is sparring with US President Donald Trump and the Turkish economy is in rapid decline.
But critics, including rights campaigners and German politicians, are angered by the red carpet treatment for a leader who has built an increasingly authoritarian reputation and just 18 months ago accused Berlin of "Nazi practices".
Ms Merkel herself has repeatedly stressed the importance of good relations with Ankara, a partner she relies on to help stem the flow of migrants to Europe.
But the hostility towards the visit comes at an awkward time for the veteran chancellor, who can ill afford any missteps after being weakened by a slew of crises that have rocked her fragile coalition.
Europe's de facto leader last week was forced to backtrack on a decision to promote a domestic spy chief who was under fire for his alleged far-right links, prompting Ms Merkel to admit she had misread the public mood.
Mr Erdogan critics have vowed to take to the streets across Germany to protest everything from Turkey's record on human rights and press freedom to its offensive against Kurdish militia in Syria.
Demonstrators are also planning to protest in Cologne on Saturday where President Erdogan will open one of Europe's largest mosques, commissioned by the Turkish-controlled Ditib organisation.
"Erdogan wants a fresh start with Germany. This is an opportunity," the Sueddeutsche Zeitung said, urging Ms Merkel to push Ankara to end its repressive tactics and free the five remaining German-Turkish nationals considered political prisoners by Berlin. "But we can't just forget everything that happened. It could take years to rebuild trust," it added.
Relations between the two NATO countries plummeted after Turkish authorities arrested tens of thousands of people in a mass purge over the attempted putsch against Mr Erdogan.
But a gradual rapprochement began after German-Turkish journalist Deniz Yucel was freed earlier this year. He still faces terror-related charges in Turkey however.
Germany is home to a three-million strong Turkish community and observers said Ms Merkel now faced the delicate balancing act of accepting Mr Erdogan's outstretched hand - without glossing over their disagreements.
President Erdogan for his part said he would use his trip to urge Germany to show "the necessary support" in fighting the fight against "terrorist groups" like the Kurdistan Workers' Party (PKK) and the movement of Muslim cleric Fethullah Gulen, whom Ankara blames for the coup.
In terms of economic cooperation, Der Spiegel weekly reported that German conglomerate Siemens was in talks to lead a potentially $40-billion deal to modernise Turkey's rail infrastructure.
In a sign of the contentious nature of the visit, several opposition politicians have vowed to boycott Friday's state dinner in Mr Erdogan's honour. Chancellor Merkel too will be absent, although her office insists it's not out of the ordinary for her to skip such events.
Ms Merkel and Mr Erdogan are scheduled to hold a second round of talks on Saturday.
https://www.thenational.ae/world/europe/angela-merkel-rejects-turkish-calls-to-proscribe-gulen-movement-1.774897
--------
Silence of Pak, Turkey on Chinese repression of Uyghur Muslims outrageous: US lawmakers
Sep 29, 2018
It is outrageous that countries such as Pakistan, Turkey and Gulf states, who have led global efforts in support of the Rohingya refugees, have turned their back on the repression of Uyghur Muslims in China, American lawmakers have said.
"We ought to especially call out the Muslim countries that are saying nothing," Congressman Brad Sherman said during a Congressional hearing Wednesday.
"Whether that be Turkey, Pakistan, the Gulf states, it is simply outrageous that they do so little to help the Rohingya and turn their back completely on Uyghurs," Sherman said.
Uyghurs - a Muslim minority group inside China - have been reportedly subject to increasing repression by Chinese authorities in Xinjiang autonomous region in the country's northwest. Human Rights Watch says China is holding at least a million Uyghurs in "re-education camps" with the crackdown against the minority group growing since 2016.
Sherman alleged that China is repressing its Uyghur population on a massive scale. "The Chinese government has, as noted in a recent UN meeting, turned Xinjiang into something resembling a massive internment camp shrouded in secrecy, a sort of no rights zone."
Testifying before a Congressional committee, Nury Turkel, chairman of the board of Uyghur Human Rights Project, said Pakistan has had a horrible history collaborating with China.
Turkel said Malaysian leader Anwar Ibrahim is the only Muslim leader to have recently expressed concern on the human rights violations of Uyghurs.
"Pakistan has been very supportive of Chinese effort to silence the Pakistani-Uyghur citizens even," Turkel alleged.
"In Gulf states, particularly the UAE, Egypt has a horrible track record of deporting Uyghur students, which has been also reported by various media outlets. Malaysia, in a previous administration, has also deported some Uyghurs," he said.
Congressman Ted Yoho alleged that the Chinese army brought Xinjiang into modern-day China in 1949 by invasion.
"Today, the [Communist] Party is seeking to eliminate Xinjiang's uniqueness using methods ripped straight from fiction. Authorities have turned the region into a high-tech-militarised police state using cutting-edge technology to subject normal people to pervasive surveillance, including A.I. facial and voice recognition and forced genetic sampling," he alleged.
Sherman said there are accounts of Uyghurs being sent back by Middle East countries in violation of international obligations.
Coming out in support of Uyghurs, Congressman Dana Rohrabacher alleged that the Chinese government was also behind the "slaughter of the Muslims" down in Myanmar.
"We care about Muslim people in China. We care about them in Burma," he said.
https://www.dnaindia.com/world/report-silence-of-pak-turkey-on-chinese-repression-of-uyghur-muslims-outrageous-us-lawmakers-2669383
--------
India
Muslim Man Thrashed By VHP for 'Love Jihad' Was Part of Kanwar Camp This Year
Sep 28, 2018
Meerut: He was accused of 'love jihad', dragged out of his house and thrashed by VHP activists even as policemen looked on.
The nursing student and his female friend from college, who was assaulted by cops for "choosing a Muslim partner", were taken to police station and kept in detention for several hours. However, the 21-year-old's pictures from earlier this year — in which he is seen serving food to kanwar yatris and treating them at a camp — tell a completely different story which most people are not aware of.
Not only did he serve kanwariyas, the nursing student also made monetary contribution to set up the kanwar camp. Officials at his college said that in the past, he has also taken part in Janmashtmi processions and has been always enthusiastic about holding religious demonstrations.
Dr Dinesh Rana, UP state nodal officer (nursing), said, "He is one of the most well-behaved students in the batch of 50 at the college. This Shivratri, he was a part of the kanwar camp where food as well as medicines was provided to devotees. Why would anybody who is against other religions do such a thing?"
TOI has accessed a few pictures of the man. In these pictures, he can be seen serving food to kanwariyas and attending to them at the medical camp. "Whenever the college took out Janmashtmi processions, he used to contribute monetarily, as he did for the kanwar camp. He had even visited the leprosy home in Meerut to give food and medicines to patients. What happened with him is just not acceptable to us and the entire college feels sad for him," said Rana.
"I was beaten up by VHP men for practicing 'love jihad'. It hurts me even now to think that they have so much hatred for me only because of my name and religion," the nursing student told TOI.
https://timesofindia.indiatimes.com/city/meerut/muslim-man-thrashed-by-vhp-for-love-jihad-was-part-of-kanwar-camp-this-year/articleshow/65999938.cms
--------
Sushma Swaraj snubs Qureshi, India to attack Pakistan over terrorism at UN
September 29, 2018
External Affairs Minister Sushma Swaraj will deliver her address at the United Nations General Assembly on Saturday where India will once again apprise the world body of the security threats that it has to deal with on a continued basis.
Sources told India Today TV that the minister will make a strong pitch to stand united against "terrorism" and those who "support" and provide "havens" to terrorist networks.
India has been battling terrorism emanating from Pakistan, so without naming the country, Swaraj will launch a strong attack on Pakistan by mentioning "cross-border terrorism".
India Today TV has also learnt that Pakistan Foreign Minister Shah Mehmood Qureshi, who is also to speak at the UN after India, will be raking up the issue of Jammu and Kashmir and alleged human rights violations.
India's speech would be wide-ranging, focussing on India's global role and contribution to the Millennium Development Goals (MDGs) through several flagship initiatives carried out by the Modi administration, particularly to do with empowerment of women and girl child. Swaraj will also focus on the issue of UN reforms and representation at the UNSC that is reflective of the new world order. India's contribution to the peacekeeping forces shall also be highlighted.
The diplomatic spat between India and Pakistan had begun much before the two sides even reached the world body. With the cancellation of meeting between the two foreign ministers following the killing and brutality against Indian soldiers and cops in Kashmir, the tone and tenor was already set.
The meeting of the foreign ministers' of SAARC countries (South Asian Association for Regional Cooperation) in New York, was the first opportunity for both the leaders to be in the same room.
Swaraj sent out clear signals that she was not interested even in an informal chat. Sources confirmed that there was no "interface" between Swaraj and Qureshi. She left the hotel soon after delivering her speech without waiting to hear Qureshi's statement.
The Afghan foreign minister was the first one to leave. Pakistan did make a push for SAARC Summit to be held at the earliest, calling India an "impediment" to the process of regional cooperation.
Making an indirect reference to Pakistan, Swaraj said, "Terrorism remains the single largest threat to peace and stability in our region. It is necessary that we eliminate the scourge of terrorism in all its forms, without any discrimination, and end the ecosystem of its support."
Addressing the SAARC meet, Swaraj said: "The world is moving ahead to become more integrated and connected where movement of goods and people is becoming easier with each passing day. SAARC needs to deliver on its commitments or risk being left behind."
Full report at:
https://www.indiatoday.in/mail-today/story/sushma-swaraj-snubs-qureshi-india-to-attack-pakistan-over-terrorism-at-un-1352252-2018-09-29
--------
Bihar Temple Blast: Charges pressed against 3 militants
September 29, 2018
India's National Investigation Agency filed a charge sheet in a court on Thursday against three suspected militants in connection with bomb attacks at a Bihar Buddhist temple in January.
The act was done in order to show solidarity with Rohingyas, the charge sheet said.
The charge sheet was filed in a special NIA court in Patna, capital city of Bihar, in connection with the recovery and explosion of improvised explosive devices (IED) at Bodhgaya temple complex.
The IEDs were planted when Tibetan spiritual leader Dalai Lama was visiting the temple on January 19, the NIA said.
The charge sheet was filed under the Indian Penal Code, Unlawful Activities (Prevention) Act and Explosive Substances Act against Paigambar Sheikh alias Abdul Aziz, Ahmad Ali alias Kalu and Nur Alam Momin.
They are residents of Murshidabad district of West Bengal.
NIA said its probe revealed the involvement of Jahidul Islam alias Kausar of Bangladesh's Jamalpur, Mustafizur Rahman alias Shaheen of West Bengal's Birbhum, Adil Sheikh alias Dilwar Hossain and Abdul Karim of West Bengal's Murshidabad and Arif Hussain alias Anas of Assam's Barpeta.
Four of them were arrested in August. Only Arif Hussain remains absconding.
Jahidul Islam is a member of Jama'atul Mujahideen Bangladesh and Mustafizur Rahman is his close confidante.
Paigambar Sheikh, Ahmad Ali, Nur Alam, Adil Sheikh alias Dilwar Hossain, Abdul Karim and Arif Hussain are members of a militant outfit, it said.
"Jahidul Islam and Mustafizur Rahman entered into a conspiracy with their other associates to carry out terror incidents in India by way of planting IEDs and carrying out explosions at symbols of Buddhist faith in order to show solidarity with the Rohingya Muslims fighting with Myanmar government...," according to NIA.
The accused had taken shelter in Bihar, carried out reconnaissance of the targets at Bodhgaya and procured explosives and other materials for the IEDs, it said.
Full report at:
https://www.thedailystar.net/india/news/bihar-temple-attack-was-solidarity-rohingya-muslims-1639954
--------
Beyond SC verdict: Untangling the mandir-masjid imbroglio
Sep 29, 2018
Hey Ram! Can't we stop fighting over the Mandir-Masjid? This is the thought with which I got up this morning. Perhaps, the Supreme Court's closure on September 27 of the 1994 land title case will help. It will pave the way for hearings directly related to the disputed site, and hopefully, to a speedier solution. Though the three-member bench was not unanimous, with Justice S. Abdul Nazeer dissenting, what the court ruled was that the issue of whether mosques were necessary to the practice of Islam did not need resolution before disposing off the present matter.
Let's consider for a moment if a mosque is really essential to the practice of Islam. Most acquainted with Islamic scripture and custom would disagree. A Muslim does not require a mosque to pray. Indeed, we see Muslims praying at airports, corridors of buildings, or even on streets. Why would they do that if a mosque were essential for their prayers to be valid? Yes, a mosque may be preferable for a variety of reasons, but is it indispensable? No.
But suppose for a moment that it were essential as some clerics and mullas are shouting on national TV. Aren't there plenty of other mosques, right in Ayodhya? Why fixate on the one built over what is considered Lord Rama's birthplace? Why not pray elsewhere? The only theological reason to insist that location would be Hindu, not Muslim: That particular place is sacred because there is something utterly unique there, not to be found or replicated elsewhere. That, in fact, is the reason that Hindus want their temple to be restored in the first place. Why, then, should Muslims offer "Hindu" justifications to claim the destroyed mosque?
The answer is obvious: The main purpose of these subsidiary or ancillary litigations is purely dilatory. Former minister and legal luminary Kapil Sibal proposed the postponement of the verdict till beyond the 2019 elections. Why?
So that the ruling BJP cannot derive any mileage or advantage by building the promised temple or even beginning its construction before the forthcoming polls. The objections have nothing to do with respecting Muslims, their faith, or places of worship. They have to do with keeping the BJP, an allegedly pro-Hindu party, out of power or, since it is already in power, then to prevent it from gaining politically from the resolution of the clash.
This brings us to the heart of the matter. The root cause of the problem is not theological, religious or even legal. It is essentially political. Babar, a Muslim conqueror, ordered the destruction of one of the Hinduism's most sacred shrines. Worse, he also decreed the construction of a mosque on that very site. This was only one of the thousands and thousands of temples, whether Hindu, Buddhist, Jain, or outside India, Christian, that Muslim invaders and conquerors destroyed. Such destruction, desecration, and looting, we have reason to believe, was very much a part of their State policy. It was theologically sanctioned besides being very lucrative, but the driving force decision was primarily political. It helped subdue, subjugate, and humiliate the conquered people.
India's post-Independence "secular" rulers did not want to disturb the status quo of these despoiled shrines. It would open up a Pandora's Box, besides leading to a Hindu upsurge, possibly consolidation, damaging to the Congress at the hustings. No wonder they kept these testaments to vandalism under wraps, as "protected" monuments controlled by the Archaeological Survey of India. The Babri Masjid, one such legally protected monument, was destroyed by Hindu "kar sevaks" on 6 December 1992. Clearly regrettable, but why turn the Babri Masjid into some sort of "holy cow" symbol of our constitutional democracy, crying hoarse over the end of Indian secularism or of India itself, as our great Left-Liberal champions have been endlessly trying to? It is absolutely flabbergasting that there are scores of books and thousands of articles on this destroyed building, which had little architectural or aesthetic value.
Full report at:
https://www.dnaindia.com/analysis/column-beyond-sc-verdict-untangling-the-mandir-masjid-imbroglio-2669194
--------
Centre asks states to take biometric details of Rohingyas, other illegal immigrants
Sep 28, 2018
The Centre has asked all states to take biometric details of Rohingyas and other illegal immigrants living in their jurisdiction as part of a country-wide security exercise, Home ministry officials said.
The move has been taken so that the illegal immigrants can be identified as they move to different parts of the country. The state governments have been told to instruct the local police to capture the biometric details of Rohingyas and other illegal immigrants, a senior Home ministry official said.
Around 14,000 Rohingyas living in the country are registered with the United Nations High Commissioner for Refugees, while about 40,000 are said to be staying illegally.
Home minister Rajnath Singh had said in Parliament in July that some Rohingya Muslim migrants in India have been found indulging in illegal activities and maintained that security forces have been deployed to stop their infiltration into the country.
The official said capturing the biometrics details does not mean that they will be given any valid identification document.
Documents such as Aadhaar can be issued only to those non-citizens, who visit India legally and are residents in India for minimum six months but the Rohingyas, being illegal migrants, do not qualify for it, the official said.
The Supreme Court Wednesday had also directed the government not to issue Aadhaar card to illegal immigrants.
Full report at:
https://www.hindustantimes.com/india-news/centre-asks-states-to-take-biometric-details-of-rohingyas-other-illegal-immigrants/story-hHX2tdbmOEjDfZrTfpq0iJ.html
--------
Railways alerts RPF over Rohingya's exodus to Kerala
Sep 29, 2018
CHENNAI: Acting on intelligence inputs from the Railway Board, the Southern Railway has directed RPF units across all divisions to watch out for movement of huge number of Rohingyas travelling from northeastern states to Kerala, and hand them over to local police.
A letter has been sent by the chief security commissioner of Southern Railways to the divisional security commissioners of Chennai, Madurai, Salem, Trivandrum, Palaghat, and Tiruchirapalli on Wednesday. A RPF officer said the alert spoke exclusively about Rohingya movement from the northeast to Kerala. The letter has given a list of 14 trains from states such as West Bengal and Assam with destinations spread across Tamil Nadu and Kerala. "All Rohingyas are travelling in groups along with their families," the letter stated.
https://timesofindia.indiatimes.com/india/railways-alerts-rpf-over-rohingyas-exodus-to-kerala/articleshow/66001397.cms
--------
South Asia
Tajikistan national among 48 killed, wounded in Kunduz operations
Sep 28 2018
At least 48 militants including a Tajikistani national were killed or wounded during the operations of the Afghan Special Forces in northern Kunduz province of Afghanistan.
The 209th Shaheen Corps of the Afghan Military in the North issued a statement earlier today confirming that the militants were killed or wounded during the operations conducted in the past 72 hours.
The statement further added that the operations were conducted in the vicinity of Chahar Dara district, leaving at least 31 militants dead, including a Tajikistani national.
According to 209th Shaheen Corps, the shadow district chief of the Taliban for Aliabad dsitrict Qari Nematullah was also among those killed.
At least 17 militants were also wounded during the same operations, the 209th Shaheen Corps said, adding that at least 48 improvised explosive device were also discovered and defused during the same operations.
The Afghan forces also confiscated 3 vehicles, and seized the control of 11 compounds, 3 improvised explosive devices manufacturing factories, 60 fuses of mines, and some other military kits, the statement added.
https://www.khaama.com/tajikistan-national-among-48-killed-wounded-in-kunduz-operations-06049/
--------
Rohingya are 'world's largest stateless population'
Naser Al Wasmi
September 29, 2018
The Rohingya refugees are "the world's largest stateless population", said Ursula Mueller, the UN's assistant secretary general for humanitarian affairs, as she called on the international community to help their plight.
Speaking at a high-level event on the issue of Rohingya at the UN on Friday, Ms Mueller said the Myanmar government "must take real steps forward, clearly demonstrating a commitment to immediate change on the ground".
Bangladesh has played host to the largest refugee camp in the world, last year more than 725,000 Rohingya fled to the country from neighbouring Myanmar following the outbreak of violence in August 2017.
She said the world is witnessing "newest chapter of what has been a long and tragic history for the Rohingya people".
"As humanitarians, and as members of a global humanity, we cannot turn away from the reality that the Rohingya people have been subjected to extreme, unthinkable violence in the context of decades of discrimination and persecution," she added.
Ms Mueller, who visited Myanmar in April, was able to witness first hand the plight of the Rohingya and looked to relay her experience meeting the affected communities, humanitarian rights activists and political leaders to the world stage.
"The men, women and children I visited in communities across Rakhine were clearly deeply affected, scarred by a history of conflict, many trapped by authorities in squalid camps and all scared and uncertain about their future," said Ms Mueller.
She added that the concerns are present on both sides of the Myanmar-Bangladesh border, with more than 600,000 Rohingya still in Rakhine State. She said they still face "discrimination, marginalisation and hardship".
Ms Mueller said that the Myanmar government has placed ongoing restrictions on freedom of movement and limited access to services, like healthcare and education.
"Most remain in dire need of humanitarian assistance. We cannot leave them behind," she said.
In northern Rakhine, the UN and other humanitarian aid partners still have very limited access to more than 200,000 stateless, despite some small steps being made to provide aid.
In central Rakhine,128,000 remain in "deplorable conditions in camps" more than six years after the 2012 outbreak of violence.
She added that the conditions in Rakhine are not yet able to provide the voluntary repatriation of Rohingya refugees from Bangladesh, and said that it is the responsibility of the Myanmar government to provide that.
"In Bangladesh our focus must remain clearly on both of the inter-related challenges before us. In Bangladesh we must support and adequately fund a humanitarian response to a refugee crisis of enormous size and scope – currently this response is only 38 per cent funded," Ms Mueller said.
Meanwhile, Amal Clooney, who is part of the legal team representing the two Reuters journalists imprisoned in Myanmar, called on the country's de facto leader Aung San Suu Kyi to address these violations.
Full report at:
https://www.thenational.ae/world/asia/rohingya-are-world-s-largest-stateless-population-1.775051
--------
Bangladesh point finger at Myanmar for Rohingya 'genocide'
Sep 28, 2018
UNITED NATIONS: Bangladeshi President Sheikh Hasina on Thursday accused Myanmar of failing to honor a verbal commitment to take back Rohingya Muslims who have fled a crackdown she described as tantamount to genocide.
Hasina's remarks at the annual gathering of world leaders at the United Nations came as the UN Human Rights Council agreed to set up a team to collect evidence of alleged crimes that one day could be used to prosecute suspected perpetrators.
U.N.-backed investigators have already said the reported atrocities could amount to genocide and other war crimes. Myanmar, which barred the investigators from the country, has rejected that reporting as "replete with unverified information.''
"We are appalled by what we have seen in UN reports about atrocities against the Rohingya who have now taken shelter in Bangladesh, which are tantamount to genocide and crimes against humanity,'' Hasina told the General Assembly.
She appealed for more international support for the 1.1 million Rohingya refugees now sheltering in Bangladesh, and urged an "early, peaceful solution'' to the crisis. Most have arrived since August 2017 when attacks by Rohingya militants on Myanmar security forces triggered a massive retaliation that prompted a massive cross-border exodus of civilians.
``Despite their verbal commitment to take back the Rohingya, in reality the Myanmar authorities are yet to accept them back,'' Hasina said.
International pressure is mounting on Myanmar, which is to address the General Assembly on Friday. The Organization of Islamic Cooperation on Thursday hosted a ministerial-level meeting on the sidelines of the assembly to address the plight of the Rohingya, following another hosted by Britain earlier in the week. Both were conducted behind closed doors.
Also, a US government investigation released Monday concluded that the Myanmar military had targeted Rohingya civilians indiscriminately and often with "extreme brutality'' in a coordinated campaign to drive the minority Muslims out of the country.
The report provided statistical analysis. It said most of those interviewed had witnessed a killing, and half had witnessed sexual violence, and the military was identified as the perpetrator in 84 percent of the killings or injuries they witnessed.
Human rights groups criticized the Trump administration for not describing the crackdown as ``genocide.'' The US has characterized the gross abuses as ``ethnic cleansing,'' which is not a criminal definition.
Deputy Secretary of State John Sullivan told reporters Thursday that the investigation, based on interviews with more than 1,000 Rohingya refugees, was intended as a forensic description and not to make legal judgements.
Full report at:
https://timesofindia.indiatimes.com/world/south-asia/bangladesh-point-finger-at-myanmar-for-rohingya-genocide/articleshow/65992255.cms
--------
Afghan election campaigning kicks off amid violence, fraud claims
September 29, 2018
KABUL - Campaigning for Afghanistan's long-delayed parliamentary elections kicks off Friday, as a crescendo of deadly violence and claims of widespread fraud fuel debate over whether the vote will go ahead.
More than 2,500 candidates will contest the October 20 poll, which is seen as a test run for next year's presidential vote and a key milestone ahead of a UN meeting in Geneva where Afghanistan is under pressure to show progress on "democratic processes". But preparations for the ballot, which is more than three years late, have been in turmoil for months, despite UN-led efforts to keep Afghan organisers on track.
Bureaucratic inefficiency, allegations of industrial-scale fraud and now an eleventh-hour pledge for biometric verification of voters threaten to derail the election and any hope of a credible result. It will be "highly flawed", a Western diplomat admitted to AFP this week, reflecting falling expectations across Kabul's international community, which is providing most of the funding for the elections. The Independent Election Commission (IEC) has insisted voting will go ahead, with or without the biometric machines that have been demanded by opposition groups to prevent people from voting more than once.
Only 4,400 out of the 22,000 German-made machines ordered have been delivered to Afghanistan, officials said.
"They have promised (biometric verification) and they may do it, but will it be successful in dispelling the concerns? I'm doubtful," Afghanistan Analysts Network researcher Ali Yawar Adili told AFP. "It may create a bigger mess."
Young hopefuls
The list of candidates, which has been trimmed to 2,565 after 35 were expelled, are competing for 249 seats in the lower house, whose members are widely derided as corrupt and ineffective. Most MPs are seeking re-election. But hundreds of political first-timers - including the offspring of former warlords, entrepreneurs and journalists - are also contesting the vote.
"Parliament is supposed to be the house of the people. Instead it has become a place for mafia networks, corruption, and those who work for their own interests," said former TV journalist Maryam Sama, 26, who is running in Kabul province. "If anyone can bring real change, it is the young people." Afghanistan's demographics should, in theory, favour younger candidates - the country is ranked as one of the youngest and fastest growing in the world. But they face a formidable challenge from the old guard, who have long dominated the political landscape through tribal and ethnic connections and deep pockets.
Traditional attitudes are also stacked against the younger hopefuls in a country where elders are respected and listened to.
"Old politicians, ethnic and religious power brokers regard themselves as the rightful and exclusive owners of politics and have the power and resources," said Naeem Ayubzada, director of Transparent Election Foundation of Afghanistan.
Bloody rehearsal
The international community is pushing hard for the vote to happen before November's ministerial meeting in Geneva, which the United Nations says is a "crucial moment" for the Afghan government and its foreign partners to demonstrate progress.
But a wave of deadly violence across the country in recent months has raised concerns that parliamentary elections could end up being a bloody rehearsal for the presidential vote scheduled for April. Some 54,000 members of Afghanistan's beleaguered security forces will be responsible for protecting more than 5,000 polling centres on election day. More than 2,000 polling centres that were supposed to open will be closed for security reasons. It is a daunting task as the Taliban and the Islamic State group, which have vowed to disrupt the ballot, ramp up attacks across the country.
"Elections are not about NATO but about Afghan people," Cornelius Zimmermann, NATO's senior civilian representative in Afghanistan, told a recent meeting of Afghan security officials.
Allegations of massive fraud in the voter registration process that saw nearly nine million people sign up are also disrupting the process.
District council elections, which also were scheduled to be held on October 20, have been postponed and a parliamentary vote in Ghazni province, whose capital the Taliban recently raided, has been cancelled.
Full report at:
https://nation.com.pk/29-Sep-2018/afghan-election-campaigning-kicks-off-amid-violence-fraud-claims
--------
Amal Clooney calls on Suu Kyi to pardon Reuters reporters
September 29, 2018
The families of two Reuters reporters imprisoned in Myanmar have asked for a pardon, human rights lawyer Amal Clooney told a press freedom event at the United Nations on Friday as she pressed the country's civilian leader Aung San Suu Kyi to agree.
Clooney is a member of the legal team representing Reuters journalists Wa Lone, 32, and Kyaw Soe Oo, 28, who were convicted on September 3 under the colonial-era Official Secrets Act and sentenced to seven years in prison.
She said the reporters' wives wrote "a really heartfelt letter" to the government about a week ago pleading for a pardon, not because their husbands had done anything wrong, but because it would allow them to be released from prison.
Clooney said Myanmar's President Win Myint would make the decision to issue a pardon in consultation with Suu Kyi.
In a message to Suu Kyi, Clooney told Reuters: "You fought for so many years to be freed from the same prison where they now sit and now you have the power to actually remedy this injustice today if you wanted to."
The Myanmar mission to the United Nations did not immediately respond to a request for comment. Myanmar government spokesman Zaw Htay has said the court was independent and followed due process in the case.
The reporters pleaded not guilty and have been detained since December. Kyaw Soe Oo has a three-year-old daughter. Last month, Wa Lone's wife gave birth to their first child, a girl, whom Clooney said Wa Lone has not yet met.
The reporters had been working on a Reuters investigation into the killing of 10 Rohingya Muslim men and boys by security forces and local Buddhists in western Myanmar's Rakhine state during an army crackdown that began in August last year. The operation sent nearly 700,000 people fleeing to Bangladesh.
A UN mandated fact-finding mission said Myanmar's military carried out mass killings and gang rapes of Muslim Rohingya with "genocidal intent" and called for top generals to be prosecuted. Myanmar rejected the findings.
Suu Kyi said at a forum in Vietnam this month that the case had nothing to do with freedom of expression. She said the reporters had been sentenced for handling official secrets and "were not jailed because they were journalists."
UN Secretary-General Antonio Guterres earlier this month called on the Myanmar government to pardon and release the Reuters journalists as soon as possible.
"This case is about much more than two innocent men," Clooney told Reuters after an event hosted by the Committee to Protect Journalists (CPJ) on the sidelines of the annual UN General Assembly on Friday.
"If you care about press freedom you care about this case ... Without a free press you cannot have democracy because you don't know how to judge what your government's doing," she said.
The CPJ event also focused on the cases of imprisoned journalists in Egypt, Kyrgyzstan and Bangladesh. Representatives for the United States, Britain, France, Germany, Australia, Lebanon and other countries attended.
Full report at:
https://www.thedailystar.net/rohingya-crisis/news/amal-clooney-calls-suu-kyi-pardon-reuters-reporters-1640296
--------
Militants suffer heavy casualties in Afghan and U.S. forces operations
Sep 29 2018
Several militants were killed or wounded during the separate operations conducted by the Afghan and U.S. forces in southeastern Paktika and Ghazni provinces.
The 201st Thunder Corps of the Afghan Military in the Southeast said at least 3 militants were killed and 7 others were wounded during the operations of the Afghan armed forces in the main highway between Orgun and Gian districts of Paktika.
The statement further added that the Afghan forces also discovered and defused 7 various types of improvised explosive devices during the same operations.
In the meantime, the U.S. forces carried out airstrikes in Moqor district of Ghazni province, leaving at least 6 miliants dead and 9 others wounded, the 203rd Thunder Corps added.
The anti-government armed militant groups including Taliban militants have not commented regarding the report so far.
Full report at:
https://www.khaama.com/militants-suffer-heavy-casualties-in-afghan-and-u-s-forces-operations-06052/
--------
2 police officers killed in an insider attack in Afghanistan
September 29, 2018
KABUL, Afghanistan: An Afghan official says at least two police officers were gunned down by a fellow officer in the country's latest "insider" attack in southern Kandahar province.
Aziz Ahmad Azizi, provincial governor's spokesman, says three other police were wounded in the attack late Friday night.
The incident took place at a remote police outpost in Raghistan district. Azizi says the attacker, who had joined police around a year ago, was able to flee the area.
A police investigation was begun to find out the motive behind this attack.
Full report at:
http://www.arabnews.com/node/1379601/world
--------
Pakistan
Pakistan army chief confirms death sentences to 11 'hardcore terrorists'
Sep 28, 2018
ISLAMABAD: Pakistan army chief General Qamar Javed Bajwa on Friday confirmed death sentences to 11 "hardcore terrorists", nearly three weeks after he approved the execution of 13 others.
General Bajwa approved the capital punishment handed down to the terrorists by a military court for committing "heinous offences" related to terrorism, including killing of 20 security personnel.
The military courts were set up in Pakistan after the deadly Taliban attack on an army school in Peshawar in 2014 which killed more than 150 people, mostly students.
"Chief of Army Staff confirmed death sentences awarded to 11 hardcore terrorists, who were involved in heinous offences related to terrorism," the army said in a statement.
It said the terrorists were found guilty of attacking armed forces, law enforcement agencies, destruction of an educational institution and killing of innocent civilians.
"On the whole, they were involved in killing of 69 persons including 49 civilians, 20 Armed Forces/Police Officials and injuring 148 others," the Army said.
Arms and explosives had also been recovered from their possession.
The special military courts also awarded imprisonment to four other convicts for their involvement in militancy-linked activities, the statement said.
The date and venue of trial was not shared due to security reasons.
On September 11, the military had announced that General Bajwa confirmed death sentences to 13 "hardcore terrorists".
https://timesofindia.indiatimes.com/world/pakistan/pakistan-army-chief-confirms-death-sentences-to-11-hardcore-terrorists/articleshow/65994563.cms
--------
War with India not an option, says Qureshi
Anwar Iqbal
September 29, 2018
WASHINGTON: War with India is not an option, says Foreign Minister Shah Mehmood Qureshi, as a senior US official urges Pakistan to work for promoting peace in South Asia.
In an interview to Al-Jazeera television, Mr Qureshi said the new government had inherited strained relations with two key countries — India and the United States — and was working to improve ties with both.
In an interview to BBC Urdu, US Principal Deputy Assistant Secretary for South and Central Asian Affairs Alice Wells said that peace in South Asia was key to the region's prosperity and urged Pakistan to work for it.
Referring to Prime Minister Imran Khan's July 26 peace offer to India, Mr Qureshi said that seeking a constructive dialogue with India was a key component of the new government's policies. "What we did…we thought made sense. Two neighbours with outstanding issues, atomic powers. How do you fix things? War is no option. There is no military solution: the only solution is a dialogue," he emphasised.
Alice Wells also stressed this point in her interview, saying: "We welcome PM Khan's statements about peace with neighbours and any steps Pakistan takes for this purpose."
Pak-Afghan ties
The US diplomat, however, focused more on the need for improvement in Pakistan's relations with Afghanistan, where the United States has been fighting a resilient insurgency for the past 17 years. "Pakistan needs to support economic stability in Afghanistan and allow transit trade between Afghanistan and India," she said.
Noting that better economic relations between Pakistan and Afghanistan would reduce tensions on both eastern and western borders, Ms Wells said better "border management" would also help improve ties.
Foreign Minister Qureshi rejected the suggestion that previous Pakistani governments had aided the Taliban. "They were helping their own country (and were trying to) overcome a situation which was not of their own making," he said.
He also referred to America's links with Afghan freedom fighters during the 1980s, when Washington backed a Mujahideen insurgency against the Soviet occupation forces. "Who were these people? Who supported them? Who trained them? We forget history and at times we overlook that friends change," he complained.
"People that you supported, some of the people, were called extremists. Weren't they invited to the US? Weren't they entertained in the White House? So, friends change. Circumstances change. We were just defending and protecting ourselves," he said.
Ms Wells also addressed Islamabad's complaint that extremists were using the Afghan territory for conducting attacks into Pakistan. "US disagrees with any cross-border terrorism. We know that TTP [Tehreek-i-Taliban Pakistan] takes advantage of the Afghan government's lack of control in some areas," she said, adding: "We are working towards bilateral talks (to address this situation)."
Assuring Pakistan that the United States did not want Afghan territory to be used against Pakistan, Ms Wells said: "We want to eliminate all Mullah Fazlullah type terrorist groups." She said that establishing peace in the region should be a top priority for both Afghanistan and Pakistan as "both have witnessed a wave of terrorism".
She added: "Afghanistan is working towards convincing Taliban for peace talks just like Pakistan is working towards peace in the region."
US-Pakistan relations
Mr Qureshi said Pakistan wanted friendly relations with the US, while exercising its option to cultivate relations with China and others. "We want the US to be friends with Pakistan. We recognise that the US is an important global power, and they will continue to be a military, technological and economic power in the foreseeable future," he said.
"They are looking at different options; they are looking at new friends in the region. We do have friends who have been consistent and very valuable. China is one of them."
Mr Qureshi said that some other nations also recognised Pakistan's strategic location and understood its importance, "so, we are not alone, everyone has options".
Alice Wells acknowledged that Pakistan was "an important country in the region (and has) an important part to play". Asked what were her expectations from the new Pakistani government, she said: "We have the same expectations that we have from other governments in South Asia."
Full report at:
https://www.dawn.com/news/1435702/war-with-india-not-an-option-says-qureshi
--------
Fawad Chaudhry in the line of fire in Senate after outburst
Syed Irfan Raza
September 29, 2018
ISLAMABAD: The opposition moved on Friday a privileged motion in the Senate against "derogatory" remarks made by Information Minister Fawad Chaudhry against opposition leaders.
The motion was moved by Pakistan Muslim League-Nawaz (PML-N) leader Mushahidullah Khan who said the information minister had also levelled allegations against him for providing lucrative posts to his brothers in the Pakistan International Airlines (PIA).
On this occasion, Leader of the House in the Senate Shibli Faraz and Mr Khan exchanged some harsh words.
The opposition members demanded that the information minister be banned from attending the parliament proceedings for at least one month.
The information minister, in his speech in the National Assembly on Thursday, called all opposition members "thieves" and "dacoits".
Senator Mushahidullah Khan said Fawad Chaudhry had called all opposition leaders "thieves" but he had forgotten that his uncle and former Punjab governor Chaudhry Altaf was also a leader of the Pakistan Peoples Party (PPP) now sitting on the opposition benches. "Mr Altaf was an educated man and served as governor, but the information minister has called his own uncle thief and dacoit," he said.
"Chaudhry Altaf was a respectable man but some eggs turn out to be rotten. This minister has become a member of all political parties. Is Fawad Chaudhry a minister of the state of Madina or of Rangila Shah?"
The PML-N senator said he would teach the information minister a lesson and Prime Minister Imran Khan would have to remove him (Fawad Chaudhry) from the cabinet. He said the information minister had levelled baseless allegations against him and now Mr Chaudhry had to prove them. "If the information minister fails to prove his allegations, he would have to tender an apology before the house," he maintained.
Shibli Faraz said he and the whole house stood by Senator Mushahidullah for being hurt emotionally.
Senate Chairman Sadiq Sanjrani informed the house that he had held a meeting with the National Assembly speaker who said he had expunged the objectionable words from the speech of the information minister. He said Mr Chaudhry had already tendered apology. Mushahidullah Khan said he and his three brothers had served in PIA well before he joined the PML-N. "The information minister called me a loader of PIA, but he doesn't know that I became a graduate even before the birth of the minister," he said.
Senator Javed Abbasi said the language used by the information minister was not used even in private gatherings and wondered if the attitude of ministers matched their claims about running the country like the state of Madina.
Senator Chaudhry Tanveer pointed out the quorum and the opposition members staged a walkout. Later, the Senate session was adjourned till Monday.
Lack of quorum
Lack of interest of federal cabinet members and members of the treasury benches in legislative business of parliament was evident on Friday when the proceedings of both the National Assembly and Senate were suspended due to lack of quorum and non-availability of the ministers concerned.
Although the opposition has been pointing out poor attendance of treasury members in the National Assembly since the start of current sessions of the two houses, it was for the first time that the businesses of both houses were suspended the same day due to lack of quorum.
Prime Minister Imran Khan took serious notice of the issue and summoned NA Speaker Qaiser and asked for the reasons for poor attendance of members of the treasury benches.
The quorum problem had also remained a headache for the last PML-N government throughout its five-year term and the then opposition Pakistan Tehreek-i-Insaf used to criticise it for not giving due importance to the parliament.
In the National Assembly, the quorum was pointed out twice. The first was pointed out by PML-N's Sheikh Fayyaz Uddin after which the opposition members staged a walkout and the house remained suspended for 20 minutes. The second time quorum was pointed out by another PML-N's MNA, Tehseen Watto, and the session remained suspended for few minutes to count members. However, the session resumed as the quorum was found complete on this occasion.
Earlier, former deputy speaker Murtaza Javed Abbasi accused incumbent deputy speaker Qasim Suri of running the house "unconstitutionally" and said that despite pointing out of quorum by an opposition member on Thursday, the latter continued proceedings of the lower house. Mr Abbasi said the deputy speaker had shown partiality and did not allow the opposition member, who had pointed out the quorum, to speak.
Later, during a debate on the budget, opposition members — Rana Tanvir Hussain, Naz Baloch, Ajmal Khan and Abdul Akbar Chitrali — also complained about the absence of ministers from the house.
Former opposition leader in the National Assembly Syed Khursheed Shah has been complaining about the poor attendance of the treasury benchers for one week. "We have witnessed the same situation during last PML-N government and now N-Leaguers are sitting in the opposition. If the PTI leaders do not mend their ways they would have a similar fate," he added.
Full report at:
https://www.dawn.com/news/1435688/fawad-chaudhry-in-the-line-of-fire-in-senate-after-outburst
--------
US desires 'positive, constructive' relations with Pakistan
Sep 29, 2018
United States Principal Deputy Assistant Secretary for South and Central Asian Affairs Alice Wells has said the US wants "positive and constructive" relations with Pakistan.
"Pakistan is an important country in the region [South Asia] with an important part to play," she said while talking to BBC Urdu.
Responding to a question regarding the expectations from the new Pakistani government, Wells said that the US has the same expectations from Pakistan that it has from other countries in South Asia.
"We comply with South Asia's policy of eradicating 'non-state actors' and want to eliminate terrorism and terroist proxies in the region," the American diplomat added.
Discussing Prime Minister Imran Khan and US State Secretary Mike Pompeo's meeting, she said that the two officials "discussed positive and constructive relations between the two countries". Wells further said, "We have told Pakistan before that terrorists' groups are still active in the country and they need to be eliminated."
Speaking about Pakistan and its neighbours, the American envoy said, "We welcome the statements from PM Imran about peace with neighbours and any steps taken by Pakistan regarding this."
"Pakistan needs to support economic stability in Afghanistan and give permission to things being brought from Afghanistan to India," she went on to say.
Stating that the economic relations between Pakistan and Afghanistan are of the utmost importance to the peace in the East and West, she said, "Border management between Pakistan and Afghanistan is important."
"US is not in favour of any cross-border terrorism. We know Tehreek-e-Taliban Pakistan (TTP) takes advantage of the fact the government has no authority in Afghanistan," she said, adding that the US is working towards bilateral talks between the two countries.
The US wants to eliminate any more 'Mullah Fazlullah type terrorist groups' in the country, she went on to say. "Establishing peace in the country is a top priority. Both the countries have witnessed a wave of terrorism," she said.
Moreover, she said, "Afghanistan is working towards convincing Taliban for peace talks just like Pakistan is working towards peace in the region."
JANJUA, WELLS MEET:
Separately, Alice Wells told Pakistan's Foreign Secretary Tehmina Janjua that the US looked forward to working with the new government and Pakistan's support was critical for peace in Afghanistan as she appreciated the new government's policy of reaching out to the Afghan government.
In a meeting on the sidelines of the ongoing UN summit, both dignitaries discussed bilateral relations, the situation in Afghanistan and Indian-occupied Kashmir (IoK).
During the meeting, the foreign secretary said Pakistan desired a broad relationship with the US that was based on mutual respect and shared interests.
Pakistan, she said, wanted to see a peaceful and stable Afghanistan. Highlighting the steps taken to engage with the Afghan government, she reaffirmed Pakistan's support for a comprehensive political reconciliation process in Afghanistan.
The secretary further reiterated Pakistan's concern over the presence of ungoverned spaces in Afghanistan, which are exploited by militant groups for launching terrorist attacks in the region.
Janjua also briefed Wells on the measures Pakistan was taking to secure the Pakistan-Afghanistan border.
Full report at:
https://www.pakistantoday.com.pk/2018/09/28/us-desires-positive-constructive-relations-with-pakistan-alice-wells/
--------
Europe
German city braces for protests as Erdogan opens mega mosque
September 29, 2018
COLOGNE: Turkish President Recep Tayyip Erdogan is set to open one of Europe's largest mosques in Cologne on Saturday as he wraps up a controversial visit to Germany, with police deploying in force amid planned protests.
The inauguration will be the closing event of Erdogan's three-day state visit, aimed at repairing frayed ties with Berlin after two years of tensions.
In talks with Chancellor Angela Merkel on Friday, both leaders signalled their interest in a cautious rapprochement, but Merkel stressed that "deep differences" remained on civil rights and other issues.
Some 10,000 Erdogan critics are expected to take to the streets in Cologne, protesting everything from Turkey's record on human rights and press freedom to its treatment of minority Kurds.
Erdogan supporters meanwhile will gather at the Cologne Central Mosque, an imposing dome-shaped building next to the shadowy, Turkish-controlled Ditib organisation.
Cologne police said they were bracing for one of their biggest ever deployments, and that a maximum of 5,000 people would be allowed to attend the opening ceremony for safety reasons.
On its Facebook page, the Cologne branch of Ditib said it wanted the ceremony to be a "beautiful" example of both communities coming together, and asked attendees to refrain from bringing political banners or shouting slogans.
Both Cologne mayor Henriette Reker and the state's premier Armin Laschet pulled out of attending the opening as criticism of Erdogan's visit grew.
The snubs echo the lukewarm welcome the Turkish leader received the previous evening at a state dinner hosted by German President Frank-Walter Steinmeier, which was boycotted by several opposition politicians.
Merkel also skipped the banquet.
Conciliatory noises
Ties between the two countries soured after Berlin criticised Turkey's crackdown on opponents following a failed 2016 coup, with tens of thousands arrested.
Tensions eased somewhat after several high-profile German-Turkish nationals were released this year, but five remain behind bars.
Merkel, whose country is home to more than three million ethnic Turks, stressed the need for continued dialogue to overcome disagreements, particularly "in questions about a democratic, open society".
But she also highlighted Germany's interest in a "stable" Turkey, a country she relies on to help stem the flow of migrants arriving on European shores.
Erdogan, seeking European allies as he spars with US President Donald Trump and the Turkish economy is in turmoil, likewise struck a conciliatory tone.
But he said Germany was doing too little to deal with thousands of Kurdish militants on its soil.
And he complained that Germany was refusing to extradite followers of Muslim cleric Fethullah Gulen, whom he blames for the coup attempt.
In a Berlin rally hours later, hundreds of mostly ethnic Kurdish demonstrators marched with banners that showed likenesses of Erdogan shooting a journalist and devouring a peace dove.
Mosque controversy
Erdogan's visit on Saturday takes him to North Rhine-Westphalia state, which is home to significant numbers of ethnic Turks, many who moved to Germany as so-called "guest workers" from the 1960s.
Several anti-Erdogan demos are planned in Cologne on Saturday, including one under the banner "Erdogan Not Welcome".
They are expected to gather a few kilometres (miles) away from the neighbourhood of the mosque.
The giant Cologne Central Mosque opened its doors in 2017 after eight years of construction and budget overruns. It can house more than a thousand worshippers.
The sheer size of the building, designed to resemble a flower bud opening, and its two towering minarets has disgruntled some locals, triggering occasional protests.
The Turkish-Islamic Union of the Institute for Religion (Ditib) that commissioned the glass and cement structure is itself not without controversy.
The group runs hundreds of mosques across Germany, and its imams are paid by the Turkish state.
Known for its close ties to Ankara, it has increasingly come under scrutiny with some of its members suspected of spying on Turkish dissidents living in Germany.
German media recently reported that the domestic intelligence service was considering putting Ditib under surveillance.
https://www.freemalaysiatoday.com/category/world/2018/09/29/german-city-braces-for-protests-as-erdogan-opens-mega-mosque/
--------
Dutch terror suspects 'had 100kg of fertilizer for car bomb'
September 28, 2018
THE HAGUE: Dutch investigators said Friday they found a large quantity of bomb-making materials including fertilizer likely to be used in a car bomb following the arrest of seven terror suspects.
The seven were seized Thursday in the cities of Arnhem and Weert by elite Dutch anti-terror units and are suspected of wanting to carry out a "major" attack in the country.
They briefly appeared for the first time in the Rotterdam District court on Friday on terror-related charges, where their case was remanded until next week.
The men, who range from 21 to 34 years, were not named and will remain under maximum security conditions — which means they are only allowed to talk to their lawyers.
During Thursday's search "police confiscated a substantial amount of raw materials to make bombs at the suspects' homes," the Dutch public prosecution service said Friday.
Officers also found "100 kilogrammes of fertilizer, possibly for use in a car bomb," the prosecutors added in a statement.
Officers had previously placed a group of people under surveillance, including a 34-year-old Dutch man of Iraqi origin who was convicted in 2017 of attempting to reach territory controlled by Daesh.
The suspects came from Arnhem, the port city of Rotterdam and villages close to those two cities. Two others in the group also had convictions related to attempts to travel to Iraq or Syria.
The men are suspected of wanting to attack civilians at a major event in the Netherlands, the Dutch secret service (AIVD) said, but a possible target was not named.
The Netherlands has been largely spared the kind of terror attacks which have rocked its closest European neighbors in the past few years, but there has been a series of recent scares.
Thursday's arrests came three months after two men were arrested in Rotterdam on suspicion of preparing attacks in France and the Netherlands.
The arrests also come a month after a 19-year-old Afghan with a German residence permit stabbed and injured two American tourists at Amsterdam's busy Central Station before being shot and wounded.
Full report at:
http://www.arabnews.com/node/1379331/world
--------
Erdogan: Thousands of terrorists walk freely in Germany
29.09.2018
By Fatih Hafiz Mehmet
BERLIN
Turkish President Recep Tayyip Erdogan said late Friday that thousands of terrorists were walking freely in Germany.
Speaking at a dinner given in his, as well as his spouse's honor by German President Frank-Walter Steinmeier, Erdogan criticized Germany about the PKK terror group and the Fetullah Terrorist Organization (FETO).
"Thousands of members of PKK, which is recognized as a terror group by the EU, walk freely in Germany", Erdogan stressed.
He said PKK terrorists make demonstrations in major German streets and held posters of the head of the jailed PKK terror leader Abdullah Ocalan.
Erdogan said these activities were prohibited according to the German law and asked: "Then why are these [events] allowed?"
Turkish president said a so-called journalist who was convicted to five years in prison in Turkey had fled to Germany and was being treated with great respect in Germany.
He was referring Can Dundar, the former editor-in-chief of Cumhuriyet daily, who was convicted by a Turkish court for espionage.
In May, 2016, the 14th High Criminal Court in Istanbul had convicted Dundar and Erdem Gul, another journalist of the daily, following the publication of images purporting to show arms being transported to Syria in trucks belonging to Turkey's National Intelligence Organization, also known as the MIT.
That person has not been extradited to Turkey although there exists an agreement on the extradition of prisoners between both countries, Erdogan said.
"The FETO terror organization, unfortunately, hundreds, thousands of them are walking freely in Germany," he stressed.
In its more than 30-year terror campaign against Turkey, the PKK has been responsible for the deaths of nearly 40,000 people, including women and children.
Full report at:
https://www.aa.com.tr/en/europe/erdogan-thousands-of-terrorists-walk-freely-in-germany/1267908
--------
German police use neo-Nazi codename amid Erdogan visit
28.09.2018
By Ayhan Simsek
BERLIN
A Neo-nazi scandal has shaken German police on Friday during Turkish President Recep Tayyip Erdogan's state visit to Berlin.
Special forces officers, deployed in Berlin to protect the Turkish president, used the codename of a prominent neo-Nazi figure "Uwe Bohnhardt" during their assignment, the police confirmed on Friday.
Uwe Boehnhardt was one of the three members of Neo-nazi terorist organization National Socialist Underground (NSU), which killed eight Turkish immigrants, a Greek citizen and a German police officer between 2000 and 2007.
The police deportment of the eastern federal state of Saxony said in a statement that two officers from its special forces were immediately recalled and an internal investigation was launched on the incident.
They could be suspended according to the result of the investigation, it said.
The two police officers were temporarily deployed in Berlin and were originally from the special forces (SEK) unit of Saxony.
The murders of the NSU and its dubious contacts with informants of the domestic intelligence agency has long been a source of speculation in German media as the murders had long remained unresolved.
The existence of the neo-Nazi group was only revealed in 2011, when two members -- Uwe Mundlos and Uwe Bohnhardt -- died in an apparent murder-suicide after an unsuccessful bank robbery and police found guns and propaganda in their apartment.
Beate Zschaepe, the group's last surviving member, denied any role in the NSU, and provided no new information about the murders.
Until 2011, Germany's police and intelligence services ruled out any racial motive for the murders and instead treated immigrant families as suspects.
The scandal surrounding the neo-Nazi NSU has led to widespread criticism of police and security agencies, and accusations of institutional racism.
Full report at:
https://www.aa.com.tr/en/europe/german-police-use-neo-nazi-codename-amid-erdogan-visit/1267882
--------
Southeast Asia
Dr M: Recognise Palestine and terrorism will stop
29 September 2018
NEW YORK, Sept 29 ― Global terrorism can end if Palestine is recognised and Israel is stopped, Prime Minister Tun Dr Mahathir Mohamad told the United Nations (UN).
Dr Mahathir said after Palestinian land was "seized" in 1948 to form the state of Israel, Palestinians were massacred and evicted from their land.
"They tried to fight a conventional war with help from sympathetic neighbours. The friends of Israel ensured this attempt failed. More Palestinian land was seized.
"Frustrated and angry, unable to fight a conventional war, the Palestinians resort to what we call terrorism," Dr Mahathir said in his statement to the 73rd UN General Assembly here yesterday.
He pointed out that because of this, no one and no country was safe.
"To fight the 'terrorists' all kinds of security measures, all kinds of gadgets and equipment are deployed. Big Brother is watching. But the acts of terror continue."
He pointed out that Malaysia fought bandits and terrorists during independence and defeated them by using the military, but more importantly Malaysia had also won their hearts and minds.
"The world does not care even when Israel breaks international laws, seizing ships carrying medicine, food and building materials in international waters. The Palestinians fired ineffective rockets which hurt no one.
"Massive retaliations were mounted by Israel, rocketing and bombing hospitals, schools and other buildings, killing innocent civilians including school children and hospital patients."
Instead of stopping Israel, Dr Mahathir said the world rewarded Israel, including by deliberately "provoking Palestine by recognising Jerusalem as the capital of Israel."
"It is the anger and frustration of the Palestinians and their sympathisers that cause them to resort to what we call terrorism. But it is important to acknowledge that any act which terrify people also constitute terrorism. And states dropping bombs or launching rockets which maim and kill innocent people also terrify people. These are also acts of terrorism."
"Malaysia hates terrorism. We will fight them. But we believe that the only way to fight terrorism is to remove the cause. Let the Palestinians return to reclaim their land. Let there be a state of Palestine. Let there be justice and the rule of law. Warring against them will not stop terrorism. Nor will out-terrorising them succeed."
He also hit out at the Myanmar government and Aung San Suu Kyi for the massacre of Rohingyas.
"I believe in non-interference in the internal affairs of nations. But does the world watch massacres being carried out and do nothing? Nations are independent.
"But does this mean they have a right to massacre their own people, because they are independent?" he said.
Dr Mahathir was referring to the situation in the state of Rakhine in Myanmar, where thousands of Muslims have been massacred and displaced by the authorities.
https://www.malaymail.com/s/1677544/dr-m-recognise-palestine-and-terrorism-will-stop
--------
Dr M: Malaysia won't repeal sodomy law, goes against Islam
29 September 2018
KUALA LUMPUR, Sept 29 ― Malaysia will not abolish its laws against sodomy as it cannot be tolerated here, Prime Minister Tun Dr Mahathir Mohamad has said.
In an interview published by the Wall Street Journal, Dr Mahathir said that the act of sodomy goes against Islam.
"We are a Muslim nation, and we do not tolerate sodomy. The rest of the world may tolerate it, but we cannot. That is against our religion," he was quoted telling Tunku Varadarajan, an executive editor at Stanford University's Hoover Institution.
Dr Mahathir was also interviewed on the first imprisonment that his former deputy Datuk Seri Anwar Ibrahim had to go through almost two decades ago.
Anwar was in 1999 and in 2000 sentenced to jail over corruption and sodomy although the convictions were later overturned, and he served a five-year jail term over sodomy since February 2015 until he received a royal pardon this May.
In an interview aired last week by Al Jazeera English's UpFront programme, Anwar had maintained his previous stand that Malaysia's laws against sodomy are archaic, calling such laws "unjust" as anyone could be accused without proper evidence.
Anwar had said the laws must be amended to ensure that there was justice in the process, and that it would not be about the sexual orientation of a person.
Sodomy is punishable as a criminal offence in Malaysia through Section 377A of the Penal Code, which criminalises "carnal intercourse against the order of nature"; and is punishable with up to 20 years' jail and whipping.
Of Malaysia's brand of Islam and compassion
In the same interview, Dr Mahathir disagreed with the Western world's definition of Islamic fundamentalism, contrasting it with what was being practised in Malaysia.
"In Malaysia, we believe that what we practice is Islamic fundamentalism. If you go according to the teachings of Islam, you will be able to set up a good society, a good government. You will not be oppressive," he was quoted saying to Varadarajan.
Dr Mahathir said the Western world's view of Islamic fundamentalism was actually "not Islam at all" but represented a deviation from the teachings of Islam.
"We have some people [in Malaysia] who are attracted to these deviations, but we have been able to argue against them. And by and large, the people support us," he said in the same interview.
Dr Mahathir reportedly hinted at his own objection to Terengganu's Shariah court's controversial decision to cane two Muslim women six times each for allegedly attempting lesbian sex, arguing that his view represents the Islamic position of showing compassion.
"It's not a moderate position, it's an Islamic position. I mean, in Islam there is tolerance. We have to be merciful and compassionate. There are other forms of punishment. It's not necessary to cane these people, so we objected to that. It gives a very bad impression of Islam," he said of the Terengganu court's decision.
Dr Mahathir said the two women should have been given counselling instead of being caned.
Full report at:
https://www.malaymail.com/s/1677646/dr-m-malaysia-wont-repeal-sodomy-law-goes-against-islam
--------
Malaysia PM Mahathir Mohamad laments world's 'pain' in first speech to UN in 15 years
29 September, 2018
Malaysia's Prime Minister Mahathir Mohamad has criticised growing political, economic and social turmoil around the world, saying the situation has only worsened since the start of the century.
The 93-year-old Mahathir told the UN General Assembly on Friday that when he last spoke to the forum in 2003, soon before retiring, "I lamented how the world had lost its way".
Mahathir returned to politics this year and said that "if at all, the world is far worse than 15 years ago".
He cited the trade fight between China and the United States, saying that "the rest of the world is feeling the pain".
In the political arena, he pointed to global problems related to the huge influx of migrants around the world, wars that have been spurred on by terrorism, the worsening plight of the Palestinians and alarming situation in Myanmar where he said Muslim refugees have been forced to flee.
Mahathir asked fellow leaders: "Nations are independent, but does this mean that they have a right to massacre their own people?"
Despite the new reality that he faces as a returning leader, Mahathir praised the democratic achievement of his country that for the first time in 61 years decided to change its government.
(Malaysian Prime Minister Mahathir Mohamad addresses the UN. Photo: Xinhua
Mahathir's return to the world stage followed a remarkable election campaign this year to unseat Najib Razak, a former Mahathir protégé.
Popular discontent with Malaysia's political status quo, intensified by spiralling corruption scandals surrounding Razak, compelled his mentor to head up an opposition coalition and bring down the ruling party he had dominated for decades.
On Friday, Malaysia's nonagenarian leader stressed that the "new Malaysia" wants to be a "friend to all and enemy of none" to remain neutral and non-aligned.
Since his political comeback, Mahathir has adopted a firmer stand in tackling a decades-old territorial row in the South China Sea amid China's aggressive expansion in the disputed area.
He said that Japan's pacifist constitution stands out in the world for embodying peace and should be emulated, but not revised.
"Japan is the only country that does not want to be involved in wars, aggressive wars," he said at a press conference after delivering his speech at the UN.
"If Japan revises its constitution and allows itself to go to war then I think we are making a very regressive step. Instead of promoting peace, Japan will join all the other countries in the world about using war to settle problems."
Japan's Prime Minister Shinzo Abe wants to achieve his long-term goal of revising the Japanese pacifist constitution to legitimise Japan's Self-Defence Force.
Mahathir said he agreed with the ideal of rejecting wars and was considering following the Japan model for his own country.
"We are thinking about following Japan's current constitution which does not allow Japan to go to war – we don't want to go to war either," he said.
Full report at:
https://www.scmp.com/news/asia/diplomacy/article/2166286/malaysia-pm-mahathir-mohamad-laments-worlds-pain-first-speech-un
--------
Anwar hopes Port Dickson voters will 'make wise decision', elect him as MP
28 Sep 2018
KUALA LUMPUR: People's Justice Party (PKR) president-elect Anwar Ibrahim on Friday (Sep 28) said he hoped that Port Dickson voters will make a wise decision and elect him as their Member of Parliament in the upcoming by-election.
"InsyaAllah (God willing), the voters will make a wise decision," he told reporters.
Anwar said he believed he could win the seat as he had an excellent track record of having championed the Malaysian Armed Forces (MAF) personnel and veterans of the garrison town which Port Dickson town is known as.
"When (former prime minister) Najib Razak proposed that the Sungai Besi Camp be privatised to Jho Low and gang, I objected to it in Parliament and insisted on protecting the rights of the (army) veterans.
"This (Parliament) record is very clear and I believe the voters can access it (in the Parliament Hansard)," he said.
He also said he would go down to the ground to meet the voters and offer his services to them.
Anwar was speaking to reporters after the conclusion of proceedings in the defamation suit he had filed against former Barisan Nasional (BN) candidate for Permatang Pauh, Mazlan Ismail, in the High Court.
When asked about his thoughts regarding a Port Dickson voter who had filed a judicial review seeking a court order to declare the resignation of Danyal Balagopal Abdullah as its MP to be null and void, Anwar said that it would not affect the election process.
"It is only a move by certain quarters to prevent me (from contesting). Certain quarters have tried for 20 years to stop me continuously. But, I am confident, InsyaAllah (God willing), that the voters will make a wise decision," he said.
Danyal Balagopal, 68, vacated the seat on Sep 12 to enable Anwar to contest the by-election and become an MP.
Meanwhile, Parti Islam Se-Malaysia (PAS) has named armed forces veteran Mohd Nazari Mokhtar, 57, as its candidate.
Other candidates who will challenge Anwar include former Negeri Sembilan head of the state government Mohd Isa Abdul Samad and social media personality Stevie Chan Keng Leong.
Parti Rakyat Malaysia (PRM) has also indicated interest in fielding a candidate.
The nomination for the by-election is Sep 28 and polling on Oct 13.
Full report at:
https://www.channelnewsasia.com/news/asia/anwar-hopes-port-dickson-voters-make-wise-decision-elect-him-mp-10769716
--------
Arab World
Arab Coalition denies issuing an arrest warrant for Al-Harizi
September 28, 2018
JEDDAH: Col. Turki Al-Maliki, spokesman for the Arab Coalition to Support Legitimacy in Yemen, has denied media reports suggesting that a warrant has been issued for the arrest of Ali Al-Harizi, the former deputy governor of Al-Mahra province.
Al-Maliki said the coalition gave no such orders or instructions, and that official organizations in Yemen representing local authorities and security forces specialize in such matters.
Al-Maliki added that operations "Restore Hope" and "Decisive Storm" are the current priority for coalition forces.
http://www.arabnews.com/node/1379441/saudi-arabia
--------
Iran warning to US, Saudi, UAE: Don't cross our red lines
Sep 28, 2018
A senior IRGC commander says Saudi Arabia and the UAE must await the Iranian nation's crushing response if they keep crossing the Islamic Republic's red lines.
Lieutenant Commander of the Islamic Revolution Guards Corps (IRGC) Brigadier General Hossein Salami told Friday prayer worshipers in Tehran the two Arab countries must either respect Iran's red lines or face retaliation.
He referred to the recent terrorist attack on a military parade in Ahvaz, southwest of Iran, where 24 people were killed and 68 others injured.
He said those who hatched the blind plot were supported by regional elements including the nasty triangle of the US, Zionist regime and Saudi Arabia.
"Stop hatching plots against others, you're not invincible. You are sitting in your glass palaces, and you can't withstand the blade of the Iranian nation's revenge," he said.
"Our self-restraint is deeply rooted in our revolutionary nobility, but if you cross our red lines, we will surely cross yours. You know the storm the Iranian nation can create," he added, warning that the storm can sweep the whole region.
The commander referred to Riyadh and Abu Dhabi as the main sources of security tensions in certain parts of Iran, and warned that they would suffer a crushing response if they try to spread regional insecurity to Iran.
Ayatollah Mohammad-Ali Movahed Kermani, the Friday prayers leader of Tehran, also told worshipers US and Israeli bases in the Middle East would not be safe anymore if they made the slightest mistake.
"The US and Israel would rue the day as their bases would not be safe anymore if they make the slightest mistake," the cleric warned.
Earlier on Monday, Leader of the Islamic Revolution Ayatollah Seyyed Ali Khamenei said Iran will severely punish those "cowardly" elements who were behind the Ahvaz terrorist attack.
"According to reports, this cowardly act has been perpetrated by the same people who are saved by Americans whenever they face a difficult situation in Iraq and Syria" and whose operations are being financed by Saudi Arabia and the UAE, the Leader said.
Shortly after the attack, Abdulkhaleq Abdulla, a political adviser to Emirati Crown Prince Mohammed bin Zayed, said the Ahvaz incident was justified and that "attacking a military target is not a terrorist act".
"Moving the battle deeper inside Iran is a declared option and will increase during the next phase," he added.
In response to the "idiotic" remarks, Iran summoned the UAE charge d'affaires on Sunday to convey Iran's strong protest.
Full report at:
https://www.presstv.com/Detail/2018/09/28/575456/Saudi-Arabia-UAE-Ahvaz-attack-terrorism
--------
Far from Ghouta, a Syrian rebel group starts over
September 28, 2018
Syrian rebels forced from their towns when government forces retook eastern Ghouta near Damascus are starting over in the far north, aiming to build hundreds of homes for displaced fighters and civilians on opposition-held land near the Turkish border.
Jaish Al Islam, one of Syria's most prominent rebel groups, likens the project to a new town for people from eastern Ghouta who have been living in camps since President Bashar Al Assad recaptured their area in April.
The project near the city of Al Bab points to preparations for a long stay in northern Syria, though Jaish Al Islam insists that the people displaced from eastern Ghouta will return. It is part of a wider effort by the group to recover in the north.
Jaish Al Islam commander Issam Al Buwaydani told Reuters in an interview that his group is reorganising and rearming. Since arriving in the north, it is operating under the "National Army" umbrella - a Turkish-backed effort to unify numerous factions.
But civilian affairs are also a top priority: Mr Buwaydani said a mall, a school, a mosque and a clinic would also be built at the construction site some 15 km from Al Bab.
"My entire combat group is working today in construction," said Abu Jaafar Al Khouli, 25, one of the fighters working at the construction site.
"I took part in many battles in Ghouta against the regime and the Nusra Front. Now, I have returned to my original profession," added Mr Khouli, a carpenter before Syria's civil war.
The site, where the goal is to build 1,400 homes, is part of an arc of territory in the northwest that forms the last major opposition-held area in Syria.
The eastern Ghouta rebels defended their stronghold on the Damascus outskirts through years of government siege until earlier this year, when Mr Al Assad took back the area in a ferocious Russian-backed offensive.
When it fell, thousands of people opted to take safe passage to the northwest rather than live under government rule, a pattern seen elsewhere that has left the northwest crammed with anti-Assad fighters and dissidents from all over Syria.
Jaish Al Islam headed to the area north of Aleppo rather than Idlib province because of long-standing hostility towards the Nusra Front, also known as Tahrir Al Sham, which has a strong presence in Idlib.
The housing project is being built on land that officially belongs to the Syrian state. Permission was granted by the opposition-run council in Al Bab, Buwaydani said.
Financing is being provided by Ghouta merchants with no foreign funding, he said.
He noted that some displaced Syrians had been living under canvass for three or four years, adding: "Our view is that living in tents has a negative impact on society."
The first phase of the project will lay foundations for homes. These will then be handed free of charge to Ghouta residents who will complete the construction with financial support from relatives outside Syria, he said.
But this does not signal any acceptance that they will not return to Ghouta. "We will go back to our towns. We will liberate them and topple the terrorist tyrant," Mr Buwaydani said, referring to President Al Assad.
Mr Buwaydani says his fighters are getting financial aid from Turkey in the form of salaries.
He said the group is ready for new battles against the Syrian government or other enemies, including the Syrian Kurdish YPG militia which controls much of northern Syria. Turkey views the YPG as a national security threat, and its intervention in northern Syria has been driven largely by this concern.
Full report at:
https://www.thenational.ae/world/mena/far-from-ghouta-a-syrian-rebel-group-starts-over-1.774919
--------
US evacuates consulate in southern Iraq city of Basra following attacks
29 September 2018
The United States announced on Friday it will effectively close its consulate in the southern Iraqi city of Basra and relocate diplomatic personnel assigned there following increasing threats from Iran and Iran-backed militia, including rocket fire.
US Secretary of State Mike Pompeo ordered that all but emergency staff leave Basra, with consular duties to be taken over by the embassy in Baghdad. Basra is Iraq's main port and one of its largest cities.
The decision adds to mounting tension between the United States and Iran, which is the target of increasing US economic sanctions.
Pompeo, as he explained the move, renewed a warning that the United States would hold Iran directly responsible for attacks on Americans and US diplomatic facilities.
It followed recent rocket attacks that Pompeo said were directed at the consulate in Basra.
Pompeo, who has made rolling back Iranian influence in the region a top priority, blamed militias linked to Iran's Revolutionary Guards for "indirect fire" -- which usually means rockets or artillery -- against the US consulate.
"I have advised the government of Iran that the United States will hold Iran directly responsible for any harm to Americans or to our diplomatic facilities in Iraq or elsewhere and whether perpetrated by Iranian forces directly or by associated proxy militias," he said in a statement while in New York to attend the UN General Assembly.
"I have made clear that Iran should understand that the United States will respond promptly and appropriately to any such attacks," he added.
Pompeo did not explicitly say whether a US response was imminent, however, and other US officials did not disclose potential response options.
Still, Pompeo said the threats against US personnel and facilities in Iraq were "increasing and specific" and added that Washington was working with Iraqi forces and US allies to address them.
"We look to all international parties interested in peace and stability in Iraq and the region to reinforce our message to Iran regarding the unacceptability of their behavior," he said.
Earlier this month three mortar rounds also hit the fortified Green Zone area in Baghdad, home to the US embassy, without causing injuries and with the perpetrators unclear.
Diplomatic security is a key priority for the United States and Pompeo, who as a congressman went on the offensive against former secretary of state Hillary Clinton over a deadly attack on the US consulate in the eastern Libyan city of Benghazi.
'Chaos, death and destruction'
In a statement, the US State Department said the consulate was placed on "ordered departure," which technically involves a drawdown in staff. Although some personnel could remain on the diplomatic compound, the move is believed to effectively close the consulate, at least temporarily.
The decision came days after US President Donald Trump and Iranian President Hassan Rouhani exchanged taunts at the United Nations General Assembly, with Trump vowing more sanctions and accusing Iran's leaders of sowing "chaos, death and destruction."
Trump's national security adviser, John Bolton, speaking at a nearby event in New York on Tuesday, warned "there will indeed be hell to pay" if Iran crosses the United States, its allies or harms US citizens.
In May, Trump withdrew the United States from an international deal to put curbs on Iran's nuclear program in exchange for easing sanctions.
Basra has already been rocked by violent protests seen by experts as a rejection of the Iraqi political establishment that has held on to power.
Protesters in Basra ransacked and torched Iraqi government buildings this month and the Iranian consulate was set alight by demonstrators shouting condemnation of what many see as Iran's sway over Iraq's affairs.
Full report at:
https://english.alarabiya.net/en/News/middle-east/2018/09/29/US-evacuates-consulate-in-southern-Iraq-following-attacks.html
--------
Lebanon's foreign ministry condemns Israeli remarks on Hezbollah
28 September 2018
Lebanese Minister of Foreign Affairs Gebran Bassil condemned on Friday the statement made by Israeli Prime Minister Benjamin Netanyahu in which he said that Israel would "fight" Iran in Lebanon, in reference to Lebanon's Hezbollah.
Bassil, who is in New York attending the meetings of the United Nations General Assembly, said that Isarel is re-inventing pretexts to justify the aggression, and from "the platform of international legitimacy" (the UN) is preparing to violate the sovereignty of states, forgetting that Lebanon once defeated its aggression, he said.
Tel Aviv hinted at targeting Hezbollah positions in Beirut, with the announcement of the Israeli army that it detected Hezbollah factories in the heart of the Lebanese capital, manufacturing precision guided missiles. Full story
https://english.alarabiya.net/en/News/middle-east/2018/09/28/Lebanon-s-foreign-ministry-condemns-Israel-remarks-on-Hezbollah.html
--------
Saudi allies in Yemen cut cooperation with UN mission
Sep 28, 2018
Saudi Arabia and its allies in Yemen have strongly criticized a UN human rights mission as its mandate comes up for renewal over what they called a biased report on "war crimes" in the country.
Riyadh said on Friday any extension should be a matter for former president Abd Rabbuh Mansur Hadi whose side already announced Thursday that it was ending cooperation with the UN investigation.
The kingdom again took strong issue with an August 28 report, by the panel, which said that Saudi airstrikes had caused "most of the documented civilian casualties" and voiced "serious concerns about the targeting process."
The Saudi Information Ministry criticized the "inaccuracy of the information in the report, which was derived from non-governmental organizations and the testimonies of some persons whose circumstances are unknown."
A statement carried by Yemen's Saba news agency on Friday said Hadi's side "refuses to extend the mission's mandate because its findings, outlined in the report, did not meet the standards of professionalism and impartiality or the basic principles of the United Nations."
Saudi Arabia launched the war on Yemen with the aim of bringing the Hadi government back to power and crushing the country's popular Houthi Ansarullah movement.
Some 15,000 Yemenis have been killed and thousands others injured since the onset of the Saudi aggression.
More than 2,200 others have died of cholera, and the crisis has triggered what the United Nations has described as the world's worst humanitarian disaster.
An estimated five million Yemeni children may not see their next birthday in a war the UN children's fund has described as a "living hell" for minors, with 18 million of its 29 million population food insecure.
The World Food Program (WFP) warned on Thursday that there "very well could be" famine in remote areas of the country, where the UN's food agency does not have access.
Full report at:
https://www.presstv.com/Detail/2018/09/28/575448/Yemen-Saudi-Arabia-UN-rights-mission-war-crimes
--------
Merkel's Syria summit plan offers new hope
September 28, 2018
JEDDAH: German Chancellor Angela Merkel announced on Friday that the leaders of Turkey, Russia, Germany and France planned to hold a summit next month on the situation in war-ravaged Syria.
"We are in favor of a four-way meeting with the presidents of Turkey, Russia and France and myself because the situation (in Syria) is still fragile," Merkel told reporters after talks with Turkish President Recep Tayyip Erdogan. "We aim to do this in October."
Merkel said the talks were particularly urgent in light of the fraught situation in Syria's opposition-controlled province of Idlib.
"I think the Syrian file is stuck in the same region and must be dealt with quickly," said Bahia Mardini, a human rights campaigner and the founder of Syrian House, an organization dedicated to helping Syrians in the UK. Speaking to Arab News, she said the Syrians wanted a political solution soon.
"We no longer attach much hope to the conferences and meetings and summits. We want international consensus and a speedy resolution of the Syrian file that guarantees the return of all Syrians and ensures their safety and property," she said.
Meanwhile, a joint statement by the foreign ministers of Egypt, France, Germany, Jordan, Saudi Arabia, the UK and the US, stressed the need for the urgent convening of a constitutional committee to advance the UN's efforts to achieve a political solution to the conflict on the basis of UN Security Council Resolution 2254.
"The Syrian conflict has dragged on for more than seven years at the expense of hundreds of thousands of lives lost and millions forcibly displaced by violence both within Syria and beyond its borders. There is an urgent need for concerted diplomacy and international political will to end the conflict. There is no military solution to the war and no alternative to a political solution," said the statement.
It added: "We affirm in the strongest terms that those who seek a military solution will only succeed in increasing the risk of a dangerous escalation and wider conflagration of the crisis to the region and beyond."
Separately, a senior American official has said that the US would stay in Syria as long as Iran maintains its presence, but the US role will not necessarily involve troops.
James Jeffrey, the US special representative on Syria, was clarifying recent comments by senior officials who appeared to suggest that troops would stay indefinitely to counter Iran.
Asked if President Donald Trump was making US withdrawal contingent on the removal of Iranian forces, Jeffrey told reporters on the sidelines of the UN: "The president wants us in Syria until that and the other conditions are met. But he added: "'Us' is not necessarily American boots on the ground."
Full report at:
"Boots on the ground have the current mission of the enduring defeat of Daesh."
http://www.arabnews.com/node/1379201/world
--------
UN experts says Egypt systematically targets rights activists
September 28, 2018
GENEVA: Seventeen UN human rights experts criticized Egypt on Friday for its use of anti-terrorism laws to detain activists fighting for women's rights and against graft, torture and extra-judicial killings. The experts' joint statement, unusual for attracting such a large number of signatories, named activists who had been detained for months, highlighting the case of women's rights campaigner Amal Fathy.
Her verdict will be announced on Saturday, on charges of "incitement to overthrow the regime, terrorism, and publishing fake news in relation to her efforts to promote women's rights," the UN statement said.
"We are gravely concerned at the human rights defenders' prolonged periods of detention, reportedly arising from their peaceful and legitimate defense of human rights," they said.
The 17 independent experts all investigate rights for the UN Human Rights Council, which wrapped up a three-week session on Friday without any scrutiny of Egypt.
"The systematic targeting of human rights defenders is yet another indication that the Egyptian Government is operating a zero-tolerance approach to dissent, which is often suppressed under the pretext of countering terrorism," they said.
Egyptian officials did not immediately respond to a request for comment on their statement.
Earlier this month Amnesty International, a human rights charity, said Egypt had become an "open-air prison" under President Abdel Fattah El-Sisi.
Full report at:
http://www.arabnews.com/node/1379386/middle-east
--------
Africa
Muslim convert from London convicted after bid to join Al-Shabaab terror group
9/28/2018
Terror suspect: Trevor Mulindwa, 21, tried to travel to Somalia Metropolitan Police
A Muslim convert who became radicalised while living in London has been convicted of attempting to join the Al-Shabaab terror group in Somalia.
Trevor Mulindwa, 21, was found with six terrorist and propaganda films after being arrested at Heathrow on his way to Mogadishu in September 2014 - including one about a UK jihadi who went to fight in Syria.
He had converted to Islam in August the previous year, and became 'particularly interested' in the Al-Shabaab group, an Al Qaeda offshoot responsible for atrocities across east Africa.
Mulindwa had been discharged from hospital as a prisoner on licence just two weeks before he was intercepted at Heathrow.
He was today convicted at Kingston Crown Court under Section 5 of the Terrorism Act of preparing to go to Somalia with the intent of joining Al-Shabaab, a proscribed organisation.
Commander Richard Walton, of the Met's Counter Terrorism Command appealed to London's Muslim community to contact Scotland Yard if they become aware of anyone who is planning to travel abroad to fight alongside terror groups.
He said: "Al-Shabaab have been engaged over the past years in a range of terrorist atrocities in Somalia and Kenya and have also in the past planned attacks against the UK.
"We are now faced with the challenge of radicalised British nationals attempting to join many different terrorist groups in a variety of different countries.
'We will continue to do all we can to stop their travel to prevent them becoming trained terrorists and potentially returning back to the UK as a greater threat with the intention of carrying out attacks here.'
Mulindwa, of Mitcham, is due to be sentenced at Kingston Crown Court on Thursday, December 17.
https://menafn.com/1097506205/Muslim-convert-from-London-convicted-after-bid-to-join-AlShabaab-terror-group
--------
Saudi Air Forces ready for joint military exercises with Tunisia
September 28, 2018
JEDDAH: The commander of the Royal Saudi Air Forces (RSAF), Maj. Gen. Turki bin Bandar bin Abdul Aziz, has announced that Saudi forces are ready to begin joint military exercises in Tunisia next week.
"Preparations for the joint exercises have been completed," added Saudi commander Mohammed bin Saeed Al-Shahrani, highlighting the readiness of all air, technical and administrative crews under the supervision of the air force commander.
Al-Shahrani said the exercises are part of the annual Ministry of Defense training plans for the armed forces, and that they help to strengthen relations and cooperation between the Royal Saudi Air Force and the Tunisian Air Force, refine the skills of air crews, offer a chance to exchange experiences in the fields of technical supply and support, improve combat skills to enhance joint performance, and train air crews to carry out operations in different environments.
He also pointed out that the maneuvers aim to highlight the capabilities, professionalism and readiness of the Saudi air forces.
Full report at:
http://www.arabnews.com/node/1379391/saudi-arabia
--------
Tunisia and Italy pledge to cooperate more over migrants
September 28, 2018
TUNIS, Tunisia: Tunisia and Italy have agreed to step up efforts to send Tunisian migrants identified as illegally staying in Italy back to their home country and to improve the cooperation between their governments.
Italian Interior Minister Matteo Salvini, speaking during an official visit to Tunisia, said the "the priority is to improve the conditions of return of these migrants."
Salvini said both countries agreed to fight "against the trafficking of human beings ... and to limit the number of deaths" of those crossing the Mediterranean Sea from North Africa to Europe. The International Organization for Migration says over 1,600 people have died crossing the Mediterranean so far this year.
He also pledged to work on additional Italian investments to create jobs especially in southern Tunisia, where most Tunisian migrants come from.
Italy wants to become Tunisia's No. 1 economic, commercial, cultural and tourist partner, Salvini said.
His counterpart, Hichem Fourati, said Tunisian authorities were ready to accept returns of confirmed Tunisian citizens. He referred to a 2011 agreement between Tunis and Rome that allows authorities to send back 45 people to Tunisia per week.
Fourati stressed that "more than 500 people accused of human smuggling" have been arrested this year.
Full report at:
http://www.arabnews.com/node/1379421/middle-east
--------
Syria reopens Nassib border crossing with Jordan
September 29, 2018
BEIRUT: Syria's official news agency says the Nasseeb border crossing on the Syrian-Jordanian border has opened and the movement of trucks and transit across the border has begun.
SANA, quoting the Syrian Transport Ministry, says the crossing was reopened Saturday.
Syrian troops captured the crossing in July after rebels reached an agreement with Russian mediators to end the violence in the southern province of Daraa and surrender the crossing.
The crossing is of particular importance as it constitutes an important economic artery for the neighboring countries. It is the only outlet that links them with foreign markets for their agricultural products.
Full report at:
http://www.arabnews.com/node/1379606/middle-east
--------
Libya seeks UN 'security' support
September 29, 2018
UNITED NATIONS, United States: After a month of militia clashes that left more than 100 people dead, Libya's UN-backed foreign minister on Friday called for the country's UN political mission to transform into a "security and stability" support role.
Mohamed Siala, foreign minister of the UN-backed Libyan unity government, did not specify if he had in mind a UN peacekeeping mission.
"Priority must be given to security, to stability," he told the United Nations General Assembly.
"We call for conversion of UNSMIL, which is a special political mission, into a mission of support for Libya's security and stability," he said without providing further detail.
The United Nations Support Mission for Libya (UNSMIL), led by Ghassan Salame, was set up in 2011 to assist the country's new authorities after the NATO-backed revolution which ousted Libyan dictator Muammar Qaddafi.
UNSMIL has focused on fostering political dialogue to help the North African country's transition to democracy.
Under a UN-brokered agreement, the unity government was set up in Tripoli but it is not recognized by a rival administration supported by military strongman Khalifa Haftar in Libya's east.
Tripoli itself has been at the center of a battle for influence between armed groups with shifting allegiances. A month of clashes left more than 100 dead south of the city before the unity government on Wednesday announced a cease-fire deal between rival militias.
Siala welcomed the efforts of UNSMIL which he said enabled the conclusion of the cease-fire.
Full report at:
http://www.arabnews.com/node/1379611/middle-east
--------
North America
Saudi Arabia supports Donald Trump's strategy to counter Iran, says Jubeir
September 29, 2018
Saudi foreign minister Adel Al Jubeir addressed the United Nations late on Friday, declaring Riyadh's support to the Trump administration's new strategy to counter Iran.
Saudi Arabia "supports the new US strategy to counter Iran including its seriousness to address the nuclear issue and ballistic missile program and support for terrorism," Mr Jubeir told the gathering.
Mr Jubeir opened his speech, however, with the Palestinian-Israeli conflict, saying "the Palestinian cause was and remains the central and core issue for my country and the Islamic world." He emphasised Saudi's longstanding position "believing in the Palestinian right for establishing a Palestinian independent state on 1967 borders with East Jerusalem as capital and based on UN resolutions and the Arab peace initiative."
Mr Jubeir committed to a political solution in Yemen based on the GCC initiative, the Yemeni dialogue and UN resolution 2216. But he lambasted "the terrorist Houthi militias affiliated with Iran" and "their launching of Iranian-Manufactured and originated ballistic missiles." He also renewed Saudi's commitment to continue humanitarian efforts.
More broadly on Iran, Mr Jubeir said Saudi Arabia "supports the new US strategy to counter Iran" and argued that achieving peace and stability in the Middle East requires deterring Iran whom he accused of "establishing terrorist armed militias, supplying them with ballistic missiles, assassinating diplomats, and attacking diplomatic missions in addition to inciting sectarianism and interfering in regional states' affairs."
Addressing the Qatar crisis, Mr Jubeir it is "not acceptable for Qatar to continue on a path" that "supports terrorism and harbours extremism and not committing to Riyadh agreement pledges from 2013 and its supplement in 2014."
"There was no other choice but to boycott it," he told the UN General Assembly.
The Saudi chief diplomat reiterated his commitment to UN resolution 2254 on Syria, and a political solution based on Geneva agreement. He said Riyadh has worked to unify the opposition and supports a unified, secure and stable Syria rejecting foreign intervention or attempts to divide the country.
On Libya, Mr Jubeir said his country supports the Sukheirat agreement and UN efforts led by envoy Ghassan Salame.
Mr Jubeir highlighted Saudi's success story with Ethiopia and Eritrea. "Saudi is committed to peaceful resolution to conflicts" references brokering peace treaty between those two countries signed this month in Jeddah.
https://www.thenational.ae/world/mena/saudi-arabia-supports-donald-trump-s-strategy-to-counter-iran-says-jubeir-1.775054
--------
Palestine files ICJ complaint over US Embassy in Jerusalem
September 29, 2018
The International Court of Justice on Friday said it has received a complaint from the "State of Palestine" against the United States, arguing that the US government's placement of its Israeli embassy in Jerusalem violates an international treaty and it should be removed.
The ICJ, known as the World Court, said in a statement Palestine argues the 1961 Vienna Convention of Diplomatic Relations requires a country to locate its embassy on the territory of a host state. While Israel controls Jerusalem militarily, its ownership is disputed.
In December, US President Donald Trump ordered the American embassy in Israel relocated from Tel Aviv to Jerusalem, and the new embassy opened in May.
The Palestinian suit requests the court "to order the United States of America to withdraw (its) diplomatic mission from the Holy City of Jerusalem."
Full report at:
https://www.thenational.ae/world/mena/palestine-files-icj-complaint-over-us-embassy-in-jerusalem-1.775052
--------
Washington: Iranian regime spreads extremism, terror in the world
28 September 2018
The Iranian regime is spreading extremism and terror in the region and the world, State Department spokeswoman Heather Nauert said on Friday.
In a press conference in Washington, Nauert pointed out that the Iranian people need the help and support of the international community to counter the regime abuses.
"The Iranian regime is restricting religious freedoms in the country," said the spokeswoman for the State Department.
She further said: "The Iranian regime continues to arrest its opponents and practises torture and persecution of prisoners."
Nauert expressed displeasure with the Iranian regime's restriction of religious freedoms in the country.
https://english.alarabiya.net/en/News/middle-east/2018/09/29/US-evacuates-consulate-in-southern-Iraq-following-attacks.html
--------
Pompeo calls for a 'Middle East' alliance to stop Iran's malicious activity
28 September 2018
In a meeting with his counterparts in the Gulf Cooperation Council, Egypt, and Jordan, US Secretary of State Mike Pompeo called for an end to Iran's malicious activity in the region, stressing the importance of defeating ISIS and other terrorist organizations and achieving peace and stability in Syria and Yemen.
State Department spokeswoman Heather Neuert said on Friday that the meeting discussed the establishment of a "Middle East strategic alliance" to promote security and stability in the region.
The US State Department said Pompeo stressed the need to defeat ISIS and other terrorist organizations, end the conflicts in Syria and Yemen and secure Iraq and "stop the malicious Iranian activity in the region."
"All the participants agreed on the need to confront threats from Iran to the region and the United States," the ministry said in a statement.
Full report at:
https://english.alarabiya.net/en/News/middle-east/2018/09/28/Pompeo-calls-for-a-Middle-East-alliance-to-stop-Iran-s-malicious-activity.html
--------
Mideast
Six Palestinians killed, 500 injured by Israeli fire in Gaza border clashes
28 September 2018
Six Palestinians, including a 14-year-old, were killed and more than 500 injured by Israeli fire in new clashes along the Gaza border Friday, according to Al Arabiya correspondent.
On the other hand, the health ministry in the Hamas-controlled strip said that Mohammed al-Houm, 14, and Iyad Al-Shaar, 18, were shot in separate incidents "by live ammunition from the (Israeli) occupation forces".
Ministry spokesman Ashraf al-Qudra told AFP that two more Palestinians had been shot dead, without immediately identifying them.
The Israeli army said some 20,000 "rioters" had gathered at multiple sites along the border.
It said the protestors hurled "grenades and explosive devices in several different locations".
It said troops were firing "in accordance with standard operating procedures" but did not go into specific cases.
Palestinians have been protesting at least weekly along the Gaza border since March.
At least 191 Palestinians have been killed by Israeli fire in that time, the majority during border protests.
Smaller numbers have been hit by airstrikes or tank fire.
The protests are demanding the right of Palestinian refugees to be allowed to return to their homes, now in Israel.
Israel says any such mass return would mean the end of it as a Jewish state and accuses Gaza's Islamist rulers Hamas of orchestrating the protests.
https://english.alarabiya.net/en/News/middle-east/2018/09/28/Six-Palestinians-killed-500-injured-by-Israeli-fire-in-border-clashes-in-Gaza-.html
--------
Turkish army 'neutralizes' 37 terrorists over past week
28.09.2018
By Baris Gundogan
ANKARA
The Turkish army "neutralized" 37 PKK terrorists on Turkish soil and in northern Iraq over the past week, the military said on Friday.
Turkish authorities often use the word "neutralized" in their statements to imply that the terrorists in question either surrendered or were killed or captured.
In a weekly statement, the Turkish General Staff said the army conducted anti-terror operations in Turkey's southeastern Sirnak, Siirt, Diyarbakir, Mardin and Agri provinces, as well as in regions of northern Iraq between Sept. 21-27.
The statement noted that 20 terrorists were neutralized on Turkish soil, while 17 others were neutralized in northern Iraq.
Full report at:
https://www.aa.com.tr/en/africa/turkish-army-neutralizes-37-terrorists-over-past-week/1267625
--------
Four Houthi leaders killed in army operation in Hodeidah, al- Bayda
28 September 2018
The Yemeni National Army carried out several operations against Houthi militias in the al-Bayda and al-Hodeidah provinces, resulting in deaths of dozens including four of its leaders in al-Bayda.
Military sources said that those killed included Houthi leaders Jamal Yahya al-Dailami, Mohammed al-Ansi, Mattar Mohsen Muqaddam, one of the leaders from al-Jouf province, and Abdul Karim Ali al-'Azzi, the supply and distribution officer.
On the western coast, the forces carried out an operation in coordination with the Arab Coalition targeting the barracks and sites of the Houthi militias in the villages of al-Balakma and Mahwah east of the Directorate of Tahita in Hodeidah governorate.
Ammunition store
The operation resulted in the death and wounding of dozens of militias and the destruction of a weapons store and Houthi ammunition in the villages of Malajm and Mahwah. Coalition aircraft have launched several raids on militia positions and locations throughout the east and north of Hodeidah.
Local sources confirmed that the raids resulted in the destruction of weapons and reinforcement for the militias located in one of the western suburbs of Halaka market, which was used by the Houthis as a supply center for its units around the city.
Full report at:
https://english.alarabiya.net/en/News/gulf/2018/09/28/Four-Houthi-leaders-killed-in-army-operation-in-Hodeidah-al-Bayda.html
--------
Erdogan accuses US of breaking promises on Syria's Manbij
Sep 28, 2018
Turkey's President Recep Tayyip Erdogan has censured the United States over its non-compliance with a deal reached in June on the withdrawal of Washington-backed Kurdish militants from Syria's northern city of Manbij.
In June, Turkey and the US agreed on a plan for the withdrawal of the so-called Syrian Democratic Forces (SDF), a Kurdish-dominated and anti-Damascus militant group that has the support of Washington, from Manbij.
Ankara considers the SDF as largely composed of militants from the People's Protection Units (YPG), viewed by the Turkish government as a terror group and the Syrian branch of the outlawed Kurdistan Workers' Party (PKK). The latter has been fighting for an autonomous region inside Turkey since 1984.
According to the deal, the Turkish and American troops are now carrying out patrols in Manbij to clear the area of the militants.
However, the Hurriyet newspaper on Friday quoted Erdogan as saying that the YPG militants remain in the city, adding that the US has not kept up with the roadmap agreed back in June.
"The United States certainly did not comply with the agreed calendar of the Manbij roadmap; YPG did not exit the area. The real owners of the region are not settled in yet," Erdogan told reporters following his recent visit to New York to attend the United Nations General Assembly.
"The United States did not keep their promise here," he added.
The June agreement ended months of tensions between the two NATO allies over Washington's support for Kurdish militants.
The US angered Turkey by announcing a plan for the formation of a Kurdish militant force in Syria near the Turkish border, prompting Ankara in January to launch a cross-border military operation inside Syria, code-named Operation Olive Branch, with the declared aim of eliminating the YPG militants from northern Syria, particularly the Afrin region. Turkish troops captured Afrin in March, claiming that they had killed scores of YPG militants until then.
Earlier this year, Turkish President Recep Tayyip Erdogan had threatened to push its Afrin offensive against the YPG militants eastward to Manbij, where US forces are stationed, risking confrontation between the NATO allies.
However, Washington agreed to withdraw the US-backed Kurdish militia from Manbij, arguably paving the way for Turkish troops to capture the volatile town, according to the recent US-Turkey deal.
Full report at:
https://www.presstv.com/Detail/2018/09/28/575472/Erdogan-US-Syria-Manbij
--------
UN Human Rights Council renews mandate of investigators on Yemen
Sep 28, 2018
The UN Human Rights Council has extended the mandate of Yemen war crimes investigators, despite attempts by Saudi Arabia and a number of its allies to bully their way out of accountability for abuses in an atrocious military campaign against the impoverished Arab country.
On Friday, the United Nations' top human rights body voted by 21 votes to eight, with 18 abstentions, in favor of prolonging a resolution that renewed an inquiry into human rights in Yemen.
Supporters of the resolution, including Canada and the European Union, had argued that an expert group mandated by the Council last year still had work to do, but opponents alleged it would exacerbate the Yemeni crisis and increase regional instability.
Last week, Human Rights Watch criticized the Riyadh regime's "campaign to discredit and undermine a UN investigation into abuses by all Yemen's warring parties," calling it "yet another blatant attempt to avoid scrutiny of the coalition's own actions in Yemen."
UN investigators said in a report last month that air strikes by the Saudi-led coalition in the war on Yemen had caused heavy civilian casualties and some may amount to war crimes. Saudi Arabia rejected their findings.
Meanwhile, a salvo of Saudi missiles and artillery rounds rained down on residential areas in the Monabbih district of Yemen's northwestern province of Sa'ada on Friday, with no immediate reports of casualties and the extent of damage caused.
Scores of private properties were also badly damaged when Saudi forces targeted areas in the Shada'a district of the same Yemeni province.
Saudi Arabia and a number of its regional allies launched a devastating military campaign against Yemen in March 2015, with the aim of bringing the government of Yemen's former president Abd Rabbuh Mansur Hadi back to power and crushing the country's popular Houthi Ansarullah movement.
Some 15,000 Yemenis have been killed and thousands more injured since the onset of the Saudi-led aggression.
Full report at:
https://www.presstv.com/Detail/2018/09/28/575466/UN-Human-Rights-Council-renews-mandate-of-investigators-on-Yemen
--------
Muslim leaders of Americas praise Turkey OIC presidency
29.09.2018
ISTANBUL
Turkey's turn as president of the Organization of Islamic Cooperation (OIC) has shown a commitment to peace and justice worldwide, including for oppressed Palestinians and Rohingya and for UN reform, Muslim leaders from the Americas told Anadolu Agency, marking the OIC's 49th anniversary.
"While Israel quadrupled its territory in occupied Palestine over the last 25 years, Turkey quadrupled its aid to the UN Agency for Palestinian Refugees (UNRWA). This is very remarkable message to those who forsake the Palestinian people in their justified struggle for rights and freedom," said Yahya Pedro, head of the Cuban Islamic League.
Pedro said the international community started to take responsibility after Turkey's initiatives as OIC term president.
Turkey assumed the OIC term presidency in 2016 and is due to hold it through next year's OIC summit in the West African nation of Gambia.
'Collective voice of the Muslim world'
Professor Jamal Badawi, a founding member of the Muslim American Society (MAS), said the OIC was established in 1969 as "the collective voice of the Muslim world."
Badawi said being an organization of states may have certain advantages but it also represents a challenge, as its delegates represent the collective voice of official governments shaped by their own political stances.
Turkey's keen interest in the well-being of the Muslim world and its hosting the special summit on Palestine in Istanbul this May could help improve the conditions for providing an atmosphere of peace, he added.
'World is bigger than 5'
Yahya Suquillo, director of the Islamic Center of Ecuador, underlined the OIC's importance as the largest intergovernmental structure with countries from Asia, the Far East, Africa, and the Middle East working for unity and solidarity for the goals of justice and peace worldwide.
At the April 2016 OIC summit, said Suquillo, the bloc's chair, Turkish President Recep Tayyip Erdogan, called on all members "to unite in fighting armed groups as well as to restructure the UN Security Council to include a majority-Muslim country" as Muslims currently make up one-fourth of the world's population.
Erdogan has summed up his drive to reform the Security Council, to expand it beyond the current five permanent members, with the slogan, "The world is bigger than five."
Suquillo added: "Mr. Erdogan's phrase 'The world is bigger than five' is not only echoing in the arena of international politics but sets up a landmark of firm progress in sensitive issues such as the Rohingya Muslim cleansing, terrorism, Islamophobia, and the political situation following President Trump's wrong decision to move the U.S. Embassy to Jerusalem."
He also stressed the importance of the Islamic Solidarity Fund for Development's Executive Bureau as an integral part of the OIC.
Full report at:
https://www.aa.com.tr/en/americas/muslim-leaders-of-americas-praise-turkey-oic-presidency/1267987
--------
URL: https://www.newageislam.com/islamic-world-news/muslim-groups-come-together-seek/d/116524
New Age Islam, Islam Online, Islamic Website, African Muslim News, Arab World News, South Asia News, Indian Muslim News, World Muslim News, Women in Islam, Islamic Feminism, Arab Women, Women In Arab, Islamophobia in America, Muslim Women in West, Islam Women and Feminism