New Age Islam News Bureau
31 May 2014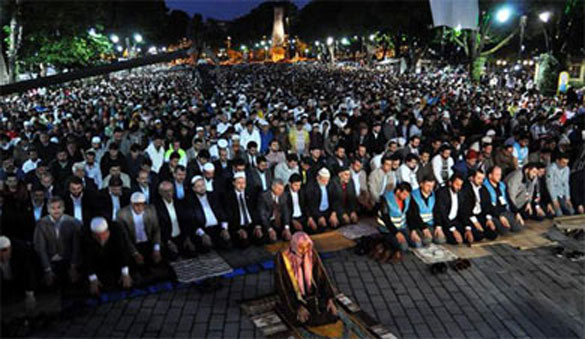 A crowd offers the Morning Prayer in front of the Hagia Sophia museum. DHA photo
----------
Mideast
• Muslim Group Prays In Front Of Hagia Sophia, Demands It to Be Turned Into A Mosque Again
• Zionist Entity Bans Palestinian below 45 from Praying at Aqusa Mosque
• Turkey calls on Iraq to show more sensitivity on Turkmens
• Israel warns it will hold Abbas accountable for Hamas
• Turkey intensifies efforts for UN Security Council bid
Pakistan
• Fatwa against Honour Killings Declared By Pakistan Ulema Council
• Sikhs live amid rare agony from Hindu 'extremists' in Sindh
• 17 dead after Taliban ambush on Pakistan border post
• Salmaan Taseer was a great humanist and unswerving democrat: Zardari
• Pakistani Taliban asks Waziristan residents to take refuge in Afghan soil
• PPP accepted non-transparent election results for the sake of democracy: Asif Ali Zardari
• Maulana Fazl ur Rehman urges federal govt to abstain from military offensive in NWA
• High-level huddle reviews security situation in Fata, Balochistan
• 'Grand alliance' is just political dwarfs' gathering: Rana Sanaullah
Arab World
• Syrian rebels kill 20 troops in tunnel blast
• Syrian Army Strikes Militants across Country, Terrorist Attacks Kill 4 Citizens
• New Refugee Camp in Jordan Tries to Create a Community for Syrians
• Syrian refugees seek sanctuary in Morocco
• UAE: Sisi represents 'new hope' for Egypt
• ISIL Terrorists Kidnap Nearly 200 Kurds in Syria: NGO
• Syria: Presidential Elections Herald End of the Crisis
• Organization of Islamic Cooperation to send additional relief missions to CAR
North America
• US Confirms American Carried out Suicide Bombing in Syria's Idlib
• Honour killing unjustifiable, says US
• Obama, Kerry haven't given up on Israeli-Palestinian peace
• U.S. Special Forces 'sent on Libya mission'
• CAIR-NTX to Partner with Dallas Muslims on Weekend Events Challenging Islamophobia
• US Sources: Syrian Presidential Vote in Lebanon Granted Assad Strategic Power
South Asia
• China's Xi pledges to address poverty, unity in restive Xinjiang
• Roadside bomb kills 12 civilians in eastern Afghanistan
• Bangladesh forces under scrutiny for killings
• Afghan presidential hopeful vows to sign US troops pact
• Anti-war activists target government websites to raise awareness of Syrian conflict
Africa
• Thousands rally for Libya ex-general in Tripoli, Benghazi
• Nigeria: Islamic leader on way to funeral killed by militants
• Mutharika sworn in as Malawi's president
• CAR mosque destroyed after church attack
India
• Foreign secretary meets Hamid Karzai, Afghan presidential candidates in Kabul
• Farooq rakes up amnesty issue for stone throwers
• Article 370 harms J&K: Bharatiya Awam Party
Southeast Asia
• Indonesian Ulema Council condemns attack on Catholics in Yogyakarta
• Brunei: When Sharia serves the sultan and US media
• Najib asks embassy to extend assistance to Hadi in Istanbul
Europe
• "This House believes that Islam is incompatible with gender equality": Oxford University
• U.N. council mulls authorizing cross-border Syria aid access
• Deal reached on release of 'gist' of Blair-Bush Iraq talks
• Dutch city calls Jerusalem, Nazareth 'cities in Palestine'
Compiled by New Age Islam News Bureau
URL: https://www.newageislam.com/islamic-world-news/new-age-islam-news-bureau/muslim-group-prays-in-front-of-hagia-sophia,-demands-it-to-be-turned-into-a-mosque-again/d/87294
------------
Mideast
Muslim Group Prays In Front Of Hagia Sophia, Demands It To Be Turned Into A Mosque Again
May 31, 2014
A large group of people, who demand Istanbul's monumental Hagia Sophia to be turned into a mosque again, gathered in front of the museum in the early hours of May 31, before offering their morning prayer there.
Anatolia Youth Association (AGD) had made a call for the event that came at a time when several radical groups have been discussing the status of the museum.
From 537, the year it was constructed, until 1453, when the Ottoman Empire conquered the city, Hagia Sophia served as an Eastern Orthodox cathedral and the seat of the Patriarchate of Constantinople, It was turned into a mosque by the Ottomans before being secularized and converted to a museum in 1935.
The AGD made the call to mark the anniversary of the conquest.
Prominent imams, including Saudi Arabian reciter Shaykh Abdullah Basfar, were present at the event.
The crowd left the area after the prayer chanting slogans that say Hagia Sophia should be a mosque.
http://www.hurriyetdailynews.com/muslim-group-prays-in-front-of-hagia-sophia-.aspx?pageID=238&nID=67225&NewsCatID=338
------------
Zionist Entity Bans Palestinian below 45 from Praying at Aqusa Mosque
May 31, 2014
The Zionist occupation authorities banned today the Palestinians who age below 45 from entering al-Aqsa mosque and all who do not hold the blue ID (Which is issued to the entity's and Jerusalem residents) from praying at the mosque.
Media reports mentioned that the Israeli occupation authorities has imposed since Friday's dawn strict security measures in the occupied Jerusalem.
http://www.almanar.com.lb/english/adetails.php?fromval=1&cid=23&frid=23&eid=154042
------------
Turkey calls on Iraq to show more sensitivity on Turkmens
May 31, 2014
Turkey has called on the Iraqi government to be more sensitive for providing the security of Turkmens, while condemning the latest attacks in the northeast of the country.
"Turkey strongly condemns all kinds of terrorism regardless of target or origin. The recently intensified terrorist acts targeting our Turkmen brethren living in Kirkuk, Mosul and Saladin provinces are aimed at driving Iraq into chaos and confusion by causing ethnic and sectarian divisions," a statement from the Foreign Ministry said May 30.
"We call on the Iraqi government to be more sensitive for providing the security of Turkmens, who have always been loyal citizens of Iraq, along with all our Iraqi brothers and sisters, so as to prevent the aforementioned terrorist acts from achieving their aim," it added.
Five Turkmen farmers and a number of Iraqi security officers were killed in explosions in the Iraqi province of Mosul on May 29. Another four Turkmens had lost their lives and six had been wounded on May 28 in a series of bomb attacks targeting the residences of local Turkmens in the town of Tuz Khormato in the province of Saladin.
Meanwhile, Iraqi Communication Minister Torhan al-Mufti said the issue of rights for the Turkmens will be addressed. The Turkmen's status increased after 2003 when a new constitution was drafted, al-Mufti stressed, adding that they had gained more rights, were now guaranteed an education in their mother tongue, and had also received back land that had been taken away from them.
http://www.hurriyetdailynews.com/turkey-calls-on-iraq-to-show-more-sensitivity-on-turkmens.aspx?pageID=238&nID=67212&NewsCatID=510
------------
Israel warns it will hold Abbas accountable for Hamas
May 31, 2014
Israel warned it would hold Palestinian Authority President Mahmoud Abbas "accountable" for Hamas terrorism as the reconciliation agreement between that group and Fatah moved a step closer toward implementation on Thursday.
"He [Abbas] will be accountable for and responsible for [Hamas]'s violence against Israel," an official in Jerusalem said.
Abbas asked Prime Minister Rami Hamdallah to form and head a Palestinian unity government. It's a move that strengthens the possibility that the two groups might really reconcile for the first time since Hamas ousted Fatah from Gaza in a bloody coup in 2007.
Still, differences between Fatah and Hamas led to the postponement on Thursday of the anticipated announcement that the new government had actually been formed.
Israel suspended talks with the Palestinians when the Fatah-Hamas unity deal was announced and refused to negotiate with Hamas, which it calls a terrorist organization bent on Israel's destruction.
A Palestinian source in Ramallah said the new unity government could be announced next week.
Such an announcement would doom whatever fragile hope remains to resume the peace process between Israel and the Palestinians, because Prime Minister Binyamin Netanyahu's government refuses to negotiate with Hamas.
On Wednesday, US President Barack Obama omitted the Israeli-Palestinian conflict in a major policy address he delivered in Annapolis, leading to speculation that the US was pulling out of the peace process after an intense period of involvement.
On Thursday, WAFA, the official Palestinian News Agency, said Obama had sent a letter to Abbas in which he stated his commitment to a negotiated peace process.
"As I emphasized during our meeting, the United States remains deeply committed to a negotiated outcome between Palestinians and Israelis that results in an independent, viable and contiguous Palestinian state living in peace alongside the state of Israel," Obama wrote.
"I am hopeful we can continue to work closely together to achieve this goal and further strengthen the bonds between our two people," the letter said.
Netanyahu's government had suspended talks with the Palestinians to protest Fatah's decision to unify with Hamas, a group that has refused to recognize Israel or renounce violence against it.
Still President Shimon Peres plans to meet Abbas at the Vatican on June 8, after Pope Francis used his trip to the Holy Land earlier this week to invite both leaders to join him there to pray for peace.
Vatican spokesman Father Federico Lombardi said on Thursday that the two had accepted that the meeting would take place on a Sunday afternoon.
That morning the pope will be presiding at a Pentecost Sunday service in St. Peter's Square.
Francis told reporters on the plane returning to Rome from Israel, that he was not getting directly involved in the stalled Middle East peace process, something he said would be "crazy on my part."
But, he said he hoped the prayer meeting, which comes after flailing diplomatic efforts to end the Israeli- Palestinian conflict, would help create an atmosphere that would assist the eventual resumption of talks.
"Courage is needed to do this and I am praying to the Lord very much so that these two leaders, these two governments, have the courage to move forward. This is the only path for peace," Francis said on the plane.
But an Israeli official warned that such talks would not be possible if the Fatah-Hamas unity pact is cemented.
"Israel is concerned that Hamas will use this pact with the PA to strengthen its presence in the West Bank and in so doing, become a graver threat to Israel and the future stability of the Palestinian authority," the official said.
It said it planned to hold Abbas accountable for Hamas's actions.
"If after this marriage is consummated, there is fire from Gaza into Israel, Abbas will have to understand that the government of Israel will be fully entitled to hold him and his Palestinian Authority accountable for such attacks," the official said.
On Thursday, representatives of the two rival parties held discussions and consultations in a bid to remove the obstacles facing the proposed unity government.
The two sides have yet to reach agreement on the foreign affairs and interior portfolios in the unity government, the source added.
Moreover, Abbas's insistence on keeping Minister for Religious Affairs Mahmoud Habbash in the government has prevented the two sides from reaching agreement on the make-up of the government.
Abbas's decision to entrust Hamdallah with the task of forming a unity government is seen as a way to avoid the crisis with Hamas over the line-up.
In Gaza City, Hamas Prime Minister Ismail Haniyeh said the reconciliation with Fatah would not become an alternative to "resistance" against Israel.
Haniyeh said the deal would allow Hamas to hold on to its weapons "and defend the unity of our people in the face of occupation."
Haniyeh told reporters that the "resistance that liberated the Gaza Strip is also capable of liberating the West Bank, Jerusalem and the rest of our land."
http://www.jpost.com/Diplomacy-and-Politics/Israel-warns-it-will-hold-Abbas-accountable-for-Hamas-354846
------------
Turkey intensifies efforts for UN Security Council bid
May 31, 2014
An ongoing humanitarian tragedy in Tanzania is now an item on a long and diverse list of Turkey's foreign policy priorities as the country's hectic efforts to become a non-permanent member of the U.N. Security Council have become more visible ahead of a key vote in October.
During a May 30 press conference in Dar es Salaam, Turkish Foreign Minister Ahmet Davutoğlu touched upon the killings of Albinos whose body parts are prized by witch doctors.
"Albinos are in our hearts. It is a primary duty for us to help them. Against society's pressure on Albinos and their exclusion as a result of incorrect beliefs, Turkey will found a complex for Albinos in Tanzania," Davutoğlu was quoted as saying by the Anadolu Agency, as he emphasized how protecting Albinos is a humane mission.
The messages delivered by Davutoğlu are also in harmony with Ankara's candidacy for the U.N. Security Council membership for the period 2015-2016 since it says it is willing to hold that seat only after a few years' hiatus because of its "desire to serve humanity and contribute to world peace and security."
"Turkey's overarching foreign policy vision also defines its views on the prospective Security Council membership. This vision aims to act along the lines of a modern approach that upholds respect for human rights with a view to balancing security and freedoms," the Turkish Foreign Ministry said at the time.
Ankara declared its candidacy for the seat in May 2011.
In 2009 Turkey was elected to the council's "Western European and Others" seat for 2009-2010, with 151 votes in the first round of voting. At the time, Austria followed Turkey with 132 votes, while Iceland received 87 votes.
For its 2009-2010 bid, Turkey announced its candidacy in July 2003.
Turkey's assertive foreign policy centered on a desire to reach out to the four corners of the world and fly its flag in as many countries as possible has been the motivating factor for Davutoğlu to undertake a hectic schedule of visits to various countries.
Nonetheless, the willingness to become and remain a visible and global foreign policy player by holding a non-permanent seat at the U.S. Security Council – despite Ankara's belief that it needs to be reformed – has become a key impulse for Turkey's diversified bilateral relations. Evolving partnerships and mutual bilateral visits between Turkey and Caribbean and Pacific countries, in addition to African countries, are the best indicators of the strength of such an impulse.
As such, Davutoğlu's hectic itinerary is not only an itinerary but also a draft roadmap on the way to the 2014 U.N. Security Council elections, which will be held in October 2014 during the 69th session of the United Nations General Assembly in New York.
This time, Turkey will be competing with New Zealand and Spain in "the Western European and Others Group."
Full report at:
http://www.hurriyetdailynews.com/turkey-intensifies-efforts-for-un-security-council-bid.aspx?pageID=238&nID=67215&NewsCatID=510
------------
Pakistan
Fatwa against Honour Killings Declared By Pakistan Ulema Council
May 31, 2014
Following the brutal murder of Farzana Parveen Iqbal, the Pakistan Ulema Council of Muslim scholars issued a fatwa condemning "honour killings" as un-Islamic and inhuman, reports Newsweek Pakistan.
The fatwa declared, "killing of girls in the name of honor or dignity is terrorism and viciousness—which has nothing to do with Islam."
Iqbal was 25 years old and pregnant when she was fatally attacked by over two dozen family members, who battered her with bricks. Her father reportedly told police, "I killed my daughter as she had insulted all of our family by marrying a man without our consent, and I have no regret over it."
The Human Rights Commission of Pakistan observed nearly 900 women falling victim to honor killings in 2013 alone, based on media reports.
The Islamic Supreme Council of Canada issued a similar fatwa in 2012, following the honor killing of four women from the Shafia family in Montreal. Syed Soharwardy, the imam who founded the council, explained that the fatwa serves as "morally binding" for all Muslims, though it has no legal teeth.
Full report at:
http://www.huffingtonpost.com/2014/05/30/fatwa-honor-killings_n_5418073.html
------------
Sikhs live amid rare agony from Hindu 'extremists' in Sindh
May 31, 2014
SHIKARPUR: Life in the sleepy, dusty town of Madheji proceeds as usual. The tranquil here withered away on May 8 when Guru Garanth Saheb, holy book of Sikh religion, was desecrated in Jai Ram Das Darbar in Madheji, 30 kilometers from Shikarpur.While the burnt gurdwara in Shahi Bazaar symbolises religious intolerance and local administration's apathy in imposing rule of law, passions at the public level have cooled off significantly. Soon after the incident, a policeman was deputed at the gate of the temple, or the darbar. Despite half a dozen other similar incidents reported from Dal Darbar in Pano Aqil, Guru Nanak Darbar Mehar in Dadu District, Samadha Ashram, Sajal Sher Jhulelal Darbar, Khatwari Darbar in Shikarpur District and Bhagnari Temple in Karachi's Lea Market, the Sikh community has exercised restraint.After the most recent attack in Shikarpur, the Pakistan Sikh Council (PSC) has warned the government of mass protests across the country if abettors are not arrested till May 31 (today).
Full report at:
http://www.dailytimes.com.pk/national/31-May-2014/sikhs-live-amid-rare-agony-from-hindu-extremists-in-sindh
----------
17 dead after Taliban ambush on Pakistan border post
May 31, 2014
A soldier and 16 Taliban militants were killed Saturday after an ambush on a border post in Pakistan's restive northwestern tribal area, military officials said.
"Up to 200 Taliban militants from across the border attacked a group of Pakistani posts and at least 16 militants were killed in the fierce fighting," a senior military official told AFP.
The attack took place around 0015 GMT in the Bajaur tribal district bordering Afghanistan.
"One soldier embraced martyrdom and two others were wounded critically," the official said.
"The militants from Tehreek-e-Taliban Bajaur and Swat chapters had regrouped in Ghund village of Afghanistan and launched the attack from there," the official said.
Another military official confirmed the attack and casualties, which could not be verified independently.
Full report at:
http://english.ahram.org.eg/NewsContent/2/9/102593/World/International/-dead-after-Taliban-ambush-on-Pakistan-border-post.aspx
------------
Salmaan Taseer was a great humanist and unswerving democrat: Zardari
May 31, 2014
I am pleased to learn that the Daily Times is bringing out a special supplement on the birth anniversary of Shaheed Salmaan Taseer to pay homage to the memory of a great humanist, an unswerving democrat and an astute political worker.
Apart from being a humanist par excellence Shaheed Salmaan Taseer was also endowed with extra-ordinary courage and conviction. He was always more than willing and ready to stand up and fight for the rights of the marginalized and persecuted sections of the society. Dauntless as he was nothing could deter him from pursuing what he believed to be right and proper. Indeed fear was a word unknown to him.
Full report at:
http://www.dailytimes.com.pk/national/31-May-2014/salmaan-taseer-was-a-great-humanist-and-unswerving-democrat-zardari
------------
Pakistani Taliban asks Waziristan residents to take refuge in Afghan soil
May 31 2014,
The North Waziristan Taliban asked local residents and the families of their fighters to take shelter in Afghanistan for their safety as there are fears that group will be in engaged in a battle with the Pakistani army.
Unconfirmed reports suggest that the Pakistani army is willing to conduct a massive operation in North Waziristan area, close to Afghanistan border.
The leaders of Waziristan's Taliban Hafiz Gul Bahadar have also dismissed the peace accord with the Pakistani government.
Gul said, the Pakistan army bombed the Waziristan bazaar and local areas last week and killed dozens of civilians and the groups' supporters.
Full report at:
http://www.khaama.com/pakistani-taliban-asks-waziristan-residents-to-take-refuge-in-afghan-soil-8174
------------
PPP accepted non-transparent election results for the sake of democracy: Asif Ali Zardari
May 31, 2014
NOWSHERA- Former President and PPP's Co-Chairman Asif Ali Zardari today asked the people of Khyber Pakhtunkhwa to support his party for restoration of peace in the province.
In a telephonic address to party's workers in Nowshera, Zardari said PPP has always fought dictators. "Despite non-transparent elections, we accepted the results for the continuation of democratic system," he stated.
He stressed that the Taliban wouldn't be allowed to rule the country. He further said that his party never believed in drawing room politics.
http://www.nation.com.pk/national/31-May-2014/ppp-accepted-non-transparent-election-results-for-the-sake-of-democracy-asif-ali-zardari
------------
Maulana Fazlur Rehman urges federal govt to abstain from military offensive in NWA
May 31, 2014
PESHAWAR - Central Chief Jamiat Ulema-e-Islam-Fazl (JUI-F) Maulana Fazlur Rehman has urged the federal government to abstain from any military offensive in North Waziristan Agency and take serious steps for initiating dialogue process with Tehrik-e-Taliban (TTP) by including representative tribal jirga.
"The tribal people will no more tolerate killing of their elders, destruction of their mosques and homes, damaging of their schools and displacement of their children in military operation. This is the right time for Islamabad to think and rethink on the repercussions of military operation in the tribal areas," he remarked while addressing the grand tribal jirga organised to pay homage to slain tribal elder Malik Qadir Khan here at the Neshtar Hall Peshawar.
Full report at:
http://www.nation.com.pk/national/31-May-2014/fazl-urges-federal-govt-to-abstain-from-military-offensive-in-nwa
------------
High-level huddle reviews security situation in Fata, Balochistan
May 31, 2014
ISLAMABAD: Prime Minister Nawaz Sharif chaired a high level meeting here on Friday to review the security situation in the Federally Administered Tribal Areas (Fata) and Balochistan.
The meeting was attended by Interior Minister Chaudhry Nisar Ali Khan, Chief of the Army Staff General Raheel Sharif, Director General ISI Lt-Gen Zaheerul-Islam, Chief of General Staff Lt-Gen Ashfaq Nadeem, Secretary to PM Javaid Aslam and Additional Secretary to PM Fawad Hasan Fawad.
Sources said the country's overall security situation, peace talks with Taliban militants and the prime minister's recent visit to New Delhi came under discussion during the high meeting.
According to the state-run APP news agency, Interior Minister Chaudhry Nisar Ali Khan briefed the meeting about the status of raising of rapid response forces at the federal and provincial levels.
Full report at:
http://www.dawn.com/news/1109552/high-level-huddle-reviews-security-situation-in-fata-balochistan
------------
'Grand alliance' is just political dwarfs' gathering: Rana Sanaullah
May 31, 2014
LAHORE – Commenting on the opposition parties' meetings to possibly form a 'grand alliance,' Punjab Law Minister Rana Sanaullah said that these are political dwarfs' gatherings and that they will remain inconclusive.
He said that everyone is aware of Fazl's drama and that Chaudhry brothers' worth will remain zero wherever they go. Earlier, Pakistan Awami Tehreek (PAT) Chief Dr Tahirul Qadri said on Friday that the corrupt system based on '3Ds', a term he coined for 'Dhan, Dhons, Dhandli' literally wealth, bullying and rigging, has been named democracy.
He said that the system based on rigging must be abolished. Chaudhry brothers urged Qadri to return to Pakistan, saying that people of Pakistan supported him once and will support him again. Pakistan Muslim League-Quaid (PML-Q) leader Chaudhry Pervaiz Elahi said that electoral reforms are party of the agenda. He said that the current rulers confronted the army three times, and they are going to do the same for the fourth time.
http://www.dailytimes.com.pk/national/31-May-2014/grand-alliance-is-just-political-dwarfs-gathering-rana-sanaullah
------------
Arab World
Syrian rebels kill 20 troops in tunnel blast
AP | May 31, 2014
BEIRUT: Syrian activists have said that rebels have blown up a tunnel packed with explosives in the northern city of Aleppo, killing at least 20 pro-government fighters.
The Britain-based Syrian Observatory for Human Rights said that the blast took place on Friday near the Zahrawi market not far from the citadel in Old Aleppo. It also said that clashes followed the explosion.
A powerful rebel alliance called the Islamic Front claimed responsibility for the blast. In a tweet, it said that it killed at least 40 government gunmen.
The Islamic Front also tweeted a video of the explosion. It shows a massive blast erupting from a skyline of rooftops and satellite dishes, throwing chunks of brick and a huge cloud of dust into the air.
The video appeared genuine and corresponded to other Associated Press reporting.
http://timesofindia.indiatimes.com/World/Middle-East/Syrian-rebels-kill-20-troops-in-tunnel-blast/articleshow/35848368.cms
----------
Syrian Army Strikes Militants across Country, Terrorist Attacks Kill 4 Citizens
May 31, 2014
The Syrian army continued its operations against the militant groups in several provinces, including Aleppo, Daraa, Idlib, Homs and Latakia, inflicting heavy human and materialistic losses upon them.
The Syrian army controlled the villages of Sateh Zahnan and al-Taff in Daraa countryside and killed a number of militants, Al-Manar reported Friday.
2 civilians were killed and some 85 others wounded after militants fired rocket shells at Aleppo neighborhoods.
Militants' mortar attack claimed the lives of two citizens and injured 13 others in Danoun Camp in al-Kisweh area in Damascus Countryside.
Politically, The presidency of the Syrian Arab Republic thanked the Syrian citizens abroad for their wide participation in the Presidential elections.
http://english.farsnews.com/newstext.aspx?nn=13930310000403
---------
New Refugee Camp in Jordan Tries to Create a Community for Syrians
May 31, 2014
AL AZRAQ REFUGEE CAMP, Jordan — His face was bright red from the desert sun, and his son's eyes, blank with exhaustion, gazed into the distance. Bahjat Sheikh, 58, and his family had crossed the Jordanian border to safety after an arduous two-and-a-half-day journey, mostly on foot, from the central Syrian city of Hama.
The Sheikhs, staring up at their gleaming new white roof as if in disbelief, were one of the first families to arrive at the United Nations' newest Syrian refugee camp, Al Azraq. Since they settled in early this month, more than 6,500 Syrians have arrived.
United Nations officials say the camp, a remote, dusty expanse covering about six square miles, could grow even bigger than Jordan's Zaatari camp, which shelters more than 100,000 Syrians and is the world's second largest.
Full report at:
http://www.nytimes.com/2014/05/31/world/middleeast/new-refugee-camp-in-jordan-absorbs-flood-from-syria.html?_r=0
----------
Syrian refugees seek sanctuary in Morocco
May 31, 2014
Rabat, Morocco - A small, worn-out building on a busy street in downtown Rabat, Hotel Africa has become a reference point for many Syrian refugees who come to the Moroccan capital. Dingy, barely furnished and quiet, the hotel is one of the cheapest options for hundreds of newly arrived Syrian refugees who have fled their war-torn home.
Hotel guest Mohammed, who declined to give his last name for privacy reasons, arrived in Morocco four months ago after a long and arduous journey from Damascus. He left behind almost all of his possessions.
"I never thought I would end up in a cheap Rabat hotel room, picking up the pieces of what's left of a shattered life," Mohammed, 40, told Al Jazeera. "I had to leave everything behind; even my family members are still waiting at the Lebanese-Syrian borders, because I could not afford to bring them all to such a remote country."
Full report at:
http://www.aljazeera.com/news/middleeast/2014/03/syrian-refugees-seek-sanctuary-morocco-2014327132248428909.html
------------
UAE: Sisi represents 'new hope' for Egypt
31 May 2014
A UAE minister said the election of former army chief Abdel Fattah al-Sisi as Egypt's president represented "new hope" for the most populous Arab country.
The wealthy UAE is one of the main supporters of the government in Egypt and has showered it with aid since its military ousted elected Islamist President Mohammad Mursi last year.
"We all need to support Egypt as a nation and its people ... Egypt and its people are dear to us," said Minister of State for Foreign Affairs Anwar Gargash Gargash on Twitter.
Sisi won a landslide victory in a presidential election on Thursday. His country is suffering from corruption, high unemployment and a widening budget deficit.
"The challenges are great and the expectations are huge, but the moment that we see today is the most hope-filled for three years," said Gargash.
http://english.alarabiya.net/en/News/middle-east/2014/05/31/UAE-says-Sisi-represents-new-hope-for-Egypt.html
------------
ISIL Terrorists Kidnap Nearly 200 Kurds in Syria: NGO
May 31, 2014
Syria's terrorist group, the Islamic State of Iraq andSyria Terrorists the Levant (ISIL), have kidnapped nearly 200 Kurdish civilians from the Aleppo area, a monitor said on Friday.
"Fighters from ISIL on Thursday kidnapped at least 193 Kurdish civilians aged from 17 to 70 years from the village of Qabasin in Aleppo province," said the UK-based opposing Syrian Observatory for Human Rights.
Observatory director Rami Abdel Rahman said the reasons behind their kidnapping were "unknown, but this kind of act takes place repeatedly in areas under ISIL control."
http://www.almanar.com.lb/english/adetails.php?fromval=1&cid=23&frid=23&eid=154108
------------
Syria: Presidential Elections Herald End of the Crisis
May 31, 2014
Information Minister Omran al-Zoabi asserted that the upcoming presidential elections herald the end of crisis in Syria, while forces in the US, Europe and the Gulf who support terrorism work to prolong the crisis.
ZoabiThe Minister told al-Manar TV on Friday that the elections are carried out according to the constitution and law, and that the greater majority of Syrians inside the country are in areas under the control of the Syrian state and army, and these people will take part in the elections.
He said that the turnout of presidential elections abroad was good, and that the statements made by some Lebanese forces in response reflect these forces' political neurosis, asserting that doors are open for all Syrians to return to their country and the government is prepared to receive and accommodate them.
Full report at:
http://www.almanar.com.lb/english/adetails.php?eid=154152&cid=23&fromval=1&frid=23&seccatid=20&s1=1
------------
Organization of Islamic Cooperation to send additional relief missions to CAR
May 31, 2014
The Organization of Islamic Cooperation (OIC) will mobilize more humanitarian organizations to join the humanitarian alliance and also prepare an integrated program of humanitarian intervention to provide emergency assistance to those affected by the crisis in Central Africa.
The humanitarian mission, which implemented the decision of the OIC Executive Committee emergency ministerial meeting held on Feb. 20 at the headquarters of the General Secretariat in Jeddah, concluded its fact-finding mission to the Central African Republic, Chad and Cameroon on the situation of displaced persons and refugees on Tuesday, where it visited Muslim refugees who are in the northern regions of Cameroon and adjacent to the southern border of the Central African Republic.
Full report at:
http://www.arabnews.com/news/579691
------------
North America
US Confirms American Carried out Suicide Bombing in Syria's Idlib
May 31, 2014
US officials confirmed on Friday that an American fighting for a Takfiri group in Syria carried out a deadly suicide bombing in the northern province of Idlib.
"The American citizen involved in the suicide bombing in Syria is believed to be Moner Mohammad Abu-Salha," State Department spokeswoman Jen Psaki said in a statement.State Department spokeswoman Jen Psaki
Abu-Salha is believed to have been behind a truck bombing against government forces last Sunday in Idlib.
The man called by the nom de guerre Abu Hurayra Al-Amriki was a U.S. citizen, who grew up in Florida and went to school there.
Psaki agreed it was believed to be the first such suicide bombing carried out by an American since the start of the Syrian crisis in 2011.
Full report at:
http://www.almanar.com.lb/english/adetails.php?eid=154130&cid=18&fromval=1&frid=18&seccatid=56&s1=1
-------------
Honour killing unjustifiable, says US
May 31, 2014
WASHINGTON: Killing women in the name of honour and tradition is unjustifiable, says the US State Department while condemning the murder of a woman outside the Lahore High Court earlier this week.
"We remain very concerned about violence against women and girls that takes place around the world, including in Pakistan," said the department's spokesperson Jen Psaki.
Farzana's murder angered people around the globe, as human rights activists urged Pakistan to reconsider its laws. "We strongly condemn the murder of a woman outside the Lahore High Court on Tuesday," said Ms Psaki.
Full report at:
http://www.dawn.com/news/1109658/honour-killing-unjustifiable-says-us
------------
Obama, Kerry haven't given up on Israeli-Palestinian peace
May 31, 2014
US President Barack Obama and US Secretary of State John Kerry both said that they have not given up on the possibility of peace between Israelis and Palestinians even as Fatah moves forward with plans to unite itself with Hamas.
"I have not yet given up on the possibility that both israelis and Palestinians can see their self-interest in a peace dealt hat would provide Israel security that's recognized by its neighbors and make sure that Palestinians have a state of their own," Obama said in an interview he gave to NPR.
Since the US led peace talks fell apart at the end of April, speculation has been high that America has pulled back and has refocused its energies elsewhere.
Obama did not mention the Israeli-Palestinian conflict in a major peace address he delivered on Wednesday at Annapolis.
But on Thursday, both he and Kerry spoke of their hope that peace could still be achieved.
"I don't believe that in the Middle East either party can afford to simply maintain the status quo and believe that there's a road to greater stability and to peace without re-engaging and without coming back at some point in time to the negotiating process," Kerry said in an interview he gave to PBS.
Full report at:
http://www.jpost.com/Diplomacy-and-Politics/Obama-Kerry-havent-given-up-on-Israeli-Palestinian-peace-354913
------------
U.S. Special Forces 'sent on Libya mission'
31 May 2014
Special forces from the United States, France and Algeria have been dispatched to Libya's south to target terrorist networks, The Times newspaper reported Friday.
The U.K. daily quoted Olivier Guitta, director of research at the Henry Jackson Society, a London-based think-tank, as saying the Special Forces' objective was al-Qaeda in the Islamic Maghreb (Aqim).
Guitta said Western states were inclined more than ever to intervene in the North African state.
Mokhtar Belmokhtar, a one-eyed Algerian militant believed to be responsible for killing foreign oil workers in Algeria last year, was of particular interest to Western states, Guitta said.
Full report at:
http://english.alarabiya.net/en/News/middle-east/2014/05/31/U-S-Special-Forces-sent-to-south-Libya-report.html
------------
CAIR-NTX to Partner with Dallas Muslims on Weekend Events Challenging Islamophobia
30 May 2014
On Friday May, 30 and Saturday, May 31, the North Texas chapter of the Council on American-Islamic Relations (CAIR-NTX) will partner with a group of young Muslim activists, called Enlightened Generations, to host a panel discussion and a walk to raise awareness about Islamophobia and anti-Muslim discrimination and hate crimes in our society.
The panel discussion on Friday night will focus on the work and research Mr. Kundnani has conducted regarding Islamophobia and the domestic war on terror and the national implication for the American community. Executive Director for CAIR-NTX Alia Salem will join Mr. Kundnani on the panel to discuss the North Texas situation specifically.
Speakers for the walk will include local activist and public speaker Nicole Queen and Pastor Wes Magruder, senior pastor at Kessler Park United Methodist Church in Dallas. The walk will also feature poetry readings, information booths and food for sale from Afrah Mediterranean restaurant in Dallas.
Full report at:
http://www.cair.com/press-center/american-muslim-news/12507-cair-texas-and-dallas-muslims-on-weekend-events-challenging-islamophobia.html
------------
US Sources: Syrian Presidential Vote in Lebanon Granted Assad Strategic Power
May 31, 2014
The flood of the Syrian voters in Beirut has surprised the whole world, what pushed US sources to say that the Syrian refugees in Lebanon and Jordan has granted the Syrian government a strategic power, al-Binaa Lebanese newspaper reported.
The US sources considered that Syria has established an army of refugees in Lebanon and Jordan and that only the return of these refugees to their country will require a political settlement.
The sources added that the loss of control over certain areas did not deprive the Syrian authorities from its strategic role in the region, yet the Syrian refugees in Lebanon and Jordan has given Syria an influence over areas, what was impossible to be attained.
The United NatFeltmanions Under-Secretary-General for Political Affairs, Jeffrey Feltman, informed the Saudis about the necessity of reaching a political solution in Syria as soon as possible because of the strategic achievements which the Syrian government is attaining.
http://www.almanar.com.lb/english/adetails.php?eid=154053&cid=31&fromval=1&frid=31&seccatid=71&s1=1
------------
South Asia
China's Xi pledges to address poverty, unity in restive Xinjiang
May 31, 2014
BEIJING: Chinese President Xi Jinping has pledged to alleviate poverty and improve ethnic unity in restive Xinjiang, the most direct indication yet that China's leaders want to address the causes of violence in the remote western region.
He also promised to raise incomes and education spending in the country's restive Muslim northwest in an effort to cool rising ethnic tensions, while calling for tougher security following an attack in the region's capital that killed dozens of people.
At a top-level meeting, President Xi Jinping called Thursday for "copper walls and iron barriers" as well as "nets spread from the earth to the sky" in the Xinjiang region to stop terrorism, according to a statement from China's central government.
China has stepped up security throughout the country and is starting to equip police officers with guns so they can respond to terror attacks and other violent incidents.
Xi's comments, made in a speech to Communist Party leaders on Thursday and quoted heavily in Chinese media again on Friday, came after five suicide bombers killed 39 people and wounded 94 in an attack on a vegetable market in the Xinjiang capital, Urumqi, last week, the deadliest such incident in years.
Full report at:
http://www.arabnews.com/news/579586
------------
Roadside bomb kills 12 civilians in eastern Afghanistan
May 31, 2014
A roadside bomb killed 12 civilians, including seven women in eastern Afghanistan Saturday, officials said, the latest violence in the country as U.S.-led troops prepare to leave after 13 years of war.
The victims were traveling in Giro district of Ghazni province after a wedding ceremony when the bomb ripped through their vehicle, district governor Abdullah Khairkhwah told AFP.
"Twelve civilians were killed, seven of them were women, and the rest were men, as their minivan vehicles hit a roadside bomb," Khairkhwah said.
He added that two other civilians were also wounded in the explosion.
The district governor said the death toll might rise.
Ghazni provincial governor spokesman Shafiq Nang confirmed the incident.
Roadside bombs are commonly used by Taliban insurgents to target Afghan and foreign forces but often cause casualties to civilians.
Full report at:
http://www.hurriyetdailynews.com/roadside-bomb-kills-12-civilians-in-eastern-afghanistan.aspx?pageID=238&nID=67223&NewsCatID=356
------------
Bangladesh forces under scrutiny for killings
May 31, 2014
Dhaka, Bangladesh - Last month's discovery of the strangled bodies of seven men, abducted just days earlier outside a court in a town near the country's capital, Dhaka, has placed an unprecedented spotlight on the country's paramilitary force, the Rapid Action Battalion (RAB), and its role in extra-judicial killings.
Since the establishment of RAB in 2004, the elite counter-terrorist force, which is led by senior military officers but also comprises other law enforcement officers, has been accused by local and international organisations of serious human rights violations.
This incident however, marks the first time that an extra-judicial killing in Bangladesh has resulted in the arrest of senior RAB officers.
And with the opposition Bangladesh Nationalist Party (BNP) now calling for the paramilitary force, which it had itself established when it was in power, to be disbanded, questions are now being raised about the future of the RAB.
Full report at:
http://www.aljazeera.com/indepth/features/2014/05/bangladesh-forces-under-scrutiny-killings-201453035232376184.html
------------
Afghan presidential hopeful vows to sign US troops pact
May 31, 2014
WASHINGTON: Afghan presidential hopeful Ashraf Ghani vowed Friday to sign a security pact with the United States within a week if he wins an upcoming run-off election.
His pledge came only days after US President Barack Obama said the 32,000 American forces in Afghanistan will be scaled back to 9,800 by early 2015 and complete a full withdrawal by the end of 2016.
"I'm committed to signing a bilateral security agreement within the first week of taking over," Ghani said, addressing an audience in Washington via Skype from the western Afghan city of Herat.
"The reason is that our national security forces need assurances regarding our global partnerships and the resources both human and material that would come through the bilateral security agreement," Ghani told the Atlantic Council think-tank.
Full report at:
http://www.dawn.com/news/1109567/afghan-presidential-hopeful-vows-to-sign-us-troops-pact
------------
Anti-war activists target government websites to raise awareness of Syrian conflict
By Daniel Bosley | May 31st, 2014 |
Multiple Maldives government websites were taken down early this morning after an online hacker defaced pages with messages raising awareness of atrocities in the Syrian civil war.
"This site has been hacked because of the world's silence of three years of massacres that occur in Syria and this is still happening," read the message attributed to a group called the Syrian Revolution Soldiers.
Responsibility for the hacking was claimed by Dr. SHA6H – an anonymous figure who has claimed responsibility for the infiltration of hundreds of similar sites across the globe over the past two years.
Neither the President's Office nor the National Centre for Information Technology (NCIT) were prepared to comment on the story at the time of press, although Minivan News understands that sites targetted were hosted on the servers of national telecoms firm Dhiraagu.
Full report at:
http://minivannews.com/politics/anti-war-activists-target-government-websites-to-raise-awareness-of-syrian-conflict-86131
------------
Africa
Thousands rally for Libya ex-general in Tripoli, Benghazi
31 May 2014
Thousands rallied on Friday in Libya's two main cities in support of Khalifa Haftar, a rogue general who has been fighting jihadist militias in the unstable east of the country for two weeks.
Crowds denounced the new Prime Minister Ahmed Miitig, whose cabinet is already hindered by a bitter political standoff with its predecessor.
Haftar, head of the so-called National Army, launched his assault on Islamist militias in the eastern city of Benghazi earlier this month, and has won the support of units from the regular army and air force, as well as some militias who fought to oust dictator Muammar Qaddafi in 2011.
The retired general has said he aims to wipe out "terrorism" in the eastern city, which has been a hotbed of Islamist militancy since uprising, and last week he said the country had become a "terrorist hub."
Full report at:
http://english.alarabiya.net/en/News/middle-east/2014/05/31/Thousands-rally-for-Libya-ex-general-in-Tripoli-Benghazi.html
------------
Nigeria: Islamic leader on way to funeral killed by militants
May 31, 2014
(CNN) -- Gunmen on Friday shot dead a Nigerian Islamic traditional leader in the northeastern state of Borno as he and other Muslim royals were heading to a funeral, the state government said.
Idrissa Timta, emir of the town of Gwoza, was killed as he and two other emirs were traveling to the funeral of an emir in neighboring Gombe state, Borno government representative Bab Ahmed Jidda said.
Jidda said the attackers are suspected to be members of the Islamist militant group Boko Haram. The country's defense ministry, which also reported the attack, called the gunmen a "band of terrorists" but did not identify their affiliation.
The emir of Uba, Ali Ibn Ismaila Mamza, and the emir of Askira, Abdullahi Ibn Muhammadu Askirama, escaped unhurt, according to Jidda.
Full report at:
http://www.cnn.com/2014/05/30/world/africa/nigeria-violence/
------------
Mutharika sworn in as Malawi's president
May 31, 2014
Peter Mutharika was sworn in as Malawi's newest president on Saturday, after being declared the winner of the southern African nation's contested elections.
Mr. Mutharika, 74, took the oath at the high court in Malawi's largest city, Blantyre, replacing Joyce Banda as President.
Hundreds of citizens had gathered in front of the court building to watch the arrival of Mutharika's motorcade, singing and beating drums as he walked up the staircase.
In a brief address, Mr. Mutharika, brother of late president Bingu wa Mutharika and leader of opposition Democratic Progressive Party, described his political journey to the presidency as "long, hard and full of difficulties."
Mr. Mutharika asked political parties and citizens to help "rebuilding this country. It is obvious that we are facing a lot of problems. We need to collectively fight these problems." "We are one country, one people. We shall make sure we are united," he added.
Full report at:
http://www.thehindu.com/news/international/mutharika-sworn-in-as-malawis-president/article6069956.ece
------------
CAR mosque destroyed after church attack
May 31, 2014
A group of young men in the Central African Republic have plundered a mosque in the capital and barricaded streets with burning tyres in protest at a deadly attack on a Catholic church.
The destruction of one of the last mosques in the city on Thursday appeared to be carried out in retaliation after armed men threw grenades and opened fire on a crowd in the Notre Dame de Fatima church, killing at least 11 people.
There were no casualties at the mosque as it was empty.
The country has been gripped by ethnic and religious violence for a year since Seleka rebels, who are mostly Muslim, seized power. The Seleka left power in January under international pressure and since then Christian "anti-balaka" militias have launched a series of attacks on Muslims.
Full report at:
http://www.aljazeera.com/news/africa/2014/05/car-mosque-destroyed-after-church-attack-201453024726909430.html
----------
India
Foreign secretary meets Hamid Karzai, Afghan presidential candidates in Kabul
PTI | May 31, 2014
KABUL: A day after reviewing the security for Indian consulate in Herat, foreign secretary Sujatha Singh on Saturday met Afghan President Hamid Karzai and the two presidential candidates here.
Singh, who flew to Herat on Friday to review the situation following the May 23 attack on Indian consulate, held meetings with Karzai and presidential candidates Abdullah Abdullah and Ashraf Ghani in the Afghan capital where they discussed key issues, including security of Indian assets in the country.
Full report at:
http://timesofindia.indiatimes.com/india/Foreign-secretary-meets-Hamid-Karzai-Afghan-presidential-candidates-in-Kabul/articleshow/35835995.cms
------------
Farooq rakes up amnesty issue for stone throwers
May 31, 2014
Two years after J&K Chief Minister Omar Abdullah had announced "general amnesty" to stone throwers, his father and NC chief Farooq Abdullah raked up the issue again on Thursday.
The government is planning to grant amnesty to the hundreds of youths against whom cases of stone throwing have been registered at various police stations in the Valley.
After Omar failed to keep his promise, Farooq Abdullah has sought general amnesty for stone throwers or other protesters. Sources in the government confirmed to The Indian Express that Omar is likely to announce this decision in the coming days.
"Not only will amnesty be granted to youths involved in stone throwing, but some other announcements will also be made by the government in the next few days,'' a top NC leader close to the chief minister said.
Full report at:
http://indianexpress.com/article/india/india-others/farooq-rakes-up-amnesty-issue-for-stone-throwers/
---------
Article 370 harms J&K: Bharatiya Awam Party
TNN | May 30, 2014
VARANASI: The row over Article 370, following remarks made by the minister of state in the Prime Minister's Office, Jitendra Singh, also echoed in PM's constituency.
Terming Article 370 as anti-women, a group of intellectuals and Muslim women demanded repeal of this article, which guarantees special status for J&K. This article specifies that except for defence, foreign affairs, communications and ancillary matters, Indian Parliament needs the state government's concurrence for applying all other laws. Thus the state's residents lived under a separate set of laws, including those related to citizenship, ownership of property and fundamental rights, as compared to other Indians.
Full report at:
http://timesofindia.indiatimes.com/india/Article-370-harms-JK-Bharatiya-Awam-Party/articleshow/35797047.cms
------------
Southeast Asia
Indonesian Ulema Council condemns attack on Catholics in Yogyakarta
May 31 2014
Indonesian Ulema Council (MUI) chairman Din Syamsuddin has condemned the attack on a group of Catholics reciting the Rosary in a house in Sleman regency, Yogyakarta, saying it damaged religious harmony in Indonesia.
"Incidents like this destroy the peaceful atmosphere we have between religions," Din said in East Jakarta on Friday, as quoted by kompas.com.
On Thursday, a group of armed men attacked Julius Felicianus, director of the Galang Press publishing house, Kompas TV journalist Michael Aryawan and three others as they prayed in Julius' house.
Full report at:
http://www.thejakartapost.com/news/2014/05/31/mui-chairman-condemns-attack-catholics-yogyakarta.html
------------
Brunei: When Sharia serves the sultan and US media
May 31, 2014
Both the Sultan of Brunei and US media may be exploiting Sharia for their own purposes.
On May 1, the Sultanate of Brunei introduced the first of three phases in its adoption of a penal code based on Islamic law, or Sharia. The move brought with it a flurry of international outcry, condemnation and moral indignation in the United States. The outrage over the adoption of a Sharia-based penal code, however, has outweighed any actual understanding of not only Sharia, but also of the Sultan of Brunei's calculated political move.
Condemnations have focused, in particular, on the application of the death penalty by stoning for offences such as blasphemy and illicit sex acts such as sodomy, rape and extra-marital sex; whipping and amputations for "less serious crimes". According to the United Nations, Brunei's adoption of the penal code violates international law as "stoning people to death constitutes torture or other cruel, inhumane or degrading treatment or punishment and is thus clearly prohibited". Amnesty International also warned that the move threatened to send the country back to the "dark ages".
Full report at:
http://www.aljazeera.com/indepth/opinion/2014/05/brunei-sharia-law-at-what-cost-2014528134130788926.html
------------
Najib asks embassy to extend assistance to Hadi in Istanbul
May 31, 2014
Prime Minister Datuk Seri Najib Tun Razak said he had asked the Malaysian embassy in Turkey to extend the necessary assistance to PAS president Datuk Seri Abdul Hadi Awang, who is now at a hospital in Istanbul.
Najib said he contacted the embassy soon after being informed about Hadi (pic) this morning.
"Was informed Datuk Seri Hadi Awang was warded at a hospital in Istanbul. This morning, I contacted the embassy to ascertain Datuk Seri is given the necessary assistance," tweeted the prime minister.
Najib is currently in Beijing for a six-day official visit in conjunction with the 40th anniversary of diplomatic relations between China and Malaysia.
According to a news portal, Abdul Hadi, who is also Marang MP, was admitted to the hospital at about 8.45pm MYT yesterday after complaining of breathing problems.
http://www.themalaysianinsider.com/malaysia/article/najib-asks-embassy-to-extend-assistance-to-hadi-in-istanbul-bernama
------------
Europe
"This House believes that Islam is incompatible with gender equality": Oxford University
May 31, 2014
Amid ongoing international outrage over the kidnapping of hundreds of Nigerian schoolgirls by the extreme Islamist group Boko Haram, the House considered the controversial questions of Islam and gender on Thursday evening.
The debate was delayed by an unsuccessful attempt to remove librarian-elect Mehrunissa Sajjad from her post. After surviving this attempted impeachment, Sajjad opened the debate for the proposition by arguing that whilst Islamic scripture could be compatible with gender equality, its manifestations in the real world were very different. She went on to discuss the position of women in the Islamic states that use Sharia Law, referring to a woman's inability to vote or hold public office, as well as the refusal to recognise marital rape as a crime.
Also supporting the proposition, student Ely Sandler discussed the long history of institutional racism in the UK and US, arguing that these countries have adapted with time. Likewise, Oxford University traditionally excluded women but has since reformed. According to Sandler, Islam's failure to adapt to changed social attitudes made the current state of the religion incompatible with gender equality.
Full report at:
http://oxfordstudent.com/2014/05/29/this-house-believes-that-islam-is-incompatible-with-gender-equality/
------------
U.N. council mulls authorizing cross-border Syria aid access
May 31, 2014
U.N. Security Council members are considering a draft resolution to authorize cross-border aid deliveries into Syria at four points without government consent, diplomats said on Thursday, after an earlier council demand for greater access was ignored.
The 15-member Security Council achieved rare unity in unanimously approving a resolution in February that demanded rapid, safe and unhindered aid access in Syria, where a three-year civil war has killed more than 150,000 people.
But deputy U.N. aid chief Kyung-wha Kang told the council on Thursday that the resolution had failed to make a difference. About 9.3 million people in Syria need help and 2.5 million have fled, according to the United Nations.
Council members Australia, Luxembourg and Jordan have drafted a stronger follow-up resolution that U.N. diplomats, speaking on condition of anonymity, said would authorize deliveries into Syria at specific points from Turkey, Iraq and Jordan to reach millions of Syrians in opposition-held areas.
Full report at:
http://english.alarabiya.net/en/News/middle-east/2014/05/30/U-N-council-mulls-authorizing-cross-border-Syria-aid-access.html
------------
Deal reached on release of 'gist' of Blair-Bush Iraq talks
May 31, 2014
Details of the "gist" of talks between Tony Blair and George Bush before the Iraq war are to be published, the UK's Chilcot inquiry says.
But transcripts and full notes of conversations will remain secret, at the request of the Cabinet Office.
The agreement between the inquiry and Cabinet Secretary Sir Jeremy Heywood could clear the way for the report to be published this year.
It is thought to have been delayed by wrangling over what could be released.
The inquiry has been given access to full records of talks between the two leaders in the run-up to war but is being prevented by the government from publishing them in its final report, even after offering to block out sensitive parts.
Full report at:
http://www.bbc.com/news/uk-politics-27625117
-----------
Dutch city calls Jerusalem, Nazareth 'cities in Palestine'
May 31, 2014
AMSTERDAM — A Dutch municipality is facing criticism for describing Jerusalem, Nazareth and Tiberias as "cities in Palestine."
Likkud Netherlands, a local association, published on its website Friday an article which carried a screen capture photo from Google Street View of the street sign of Tiberias Path in the city of Eindhoven with the description, in which Likkud Nederland accused the municipality of "wiping Israel off the map."
An intersecting street, Hebron Path, also described Hebron as a city in Palestine, as is Jerusalem Lane – all located within the Woensel district. The sign on Judea Lane described it "an area of Palestine," as does the street sign of Samria Lane.
A spokesperson from the municipality of Eindhoven declined to offer any immediate reaction to the publication when he was contacted by the Hilversum-based broadcaster RTL.
http://www.jpost.com/International/Dutch-city-calls-Jerusalem-Nazareth-cities-in-Palestine-354937
------------
URL: https://www.newageislam.com/islamic-world-news/new-age-islam-news-bureau/muslim-group-prays-in-front-of-hagia-sophia,-demands-it-to-be-turned-into-a-mosque-again/d/87294