New Age Islam News Bureau
7 Apr 2013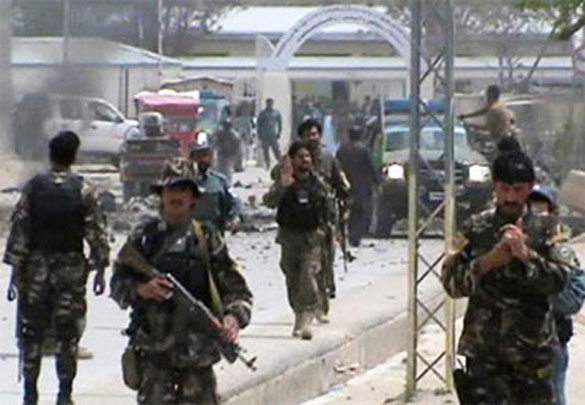 India
• Indian Muslims Systematically Targeted By Fascist Forces: Jamaat-E-Islami Hind
• Media Demonising Muslim Community: Press Council Chairman
• Court frees 22 people branded Bangladeshis by Thane police
• Pakistan a fake country will reunite with India one day: Katju
• Terrorism from across seas a concern: Pranab
• Valley uneasy over Taliban graffiti
• Ishrat case: police officer Amin sent to CBI custody
• 'LeT will reorient and invest in Kashmir after Afghan pullout': Report
• Press Council Chairman calls for promotion of Urdu in schools
• HC comes to rescue of Afghan woman
• Don't see Kashmiris with suspicion: Omar
South Asia
• US civilian adviser killed in Afghan operation that left 11 suspected Taliban militants dead
• NATO air strike kills 11 children in east Afghanistan
• Bangladesh Govt to modernise madrasa education
• Afghan Attacks Raise Fears over Taliban Strength
• Sri Lanka anti-Muslim campaign threatens tensions
• DQP to join coalition with President Waheed's GIP
• BNP-Jamaat kills Joypurhat Jubo League man
• Former army chief in Afghan interpreters asylum appeal
Arab World
• Saudi Arabian accused of molesting woman in China
• Decade after Saddam Hussein's ouster, Iraq seeks stability
• Syria activists say 20 killed in army airstrikes
• Saudi King delays illegal workers crackdown
• Clashes outside church funeral for slain in sectarian clashes in Egypt
• New premier pledges to shield Lebanon from Syria dangers
• Janadriyah Festival Explores Islamic Political Movements
• Sponsors use social media to bring attention to Iqama penalties
• Saudisation more important than jobs
• Syrian troops shell Damascus neighbourhood with Toshka missiles
• Syrian opposition radio station launches from Istanbul
Africa
• Gunmen kill 11 in northern Nigeria
• Al-Qaida leader urges Muslims to unite in struggle
• Tunisia police tear-gas pro-government protest
• Gunmen ambush boat in Nigeria oil region, 12 policemen missing
Pakistan
• Depression, anxiety and war take toll in Pakistan's tribal belt
• Pak may be why N Korea could nuke its neighbours
• Balochistan election candidates: Brothers in arms
• 'PML-N most popular party among women'
• 'PTI may talk to parties if they disband militant wings'
• Musharraf's nomination papers accepted from third seat
• Hina Rabbani Khar unlikely to contest polls to Pak parliament
• 'Independent' Qureshi gets Pagara's support
• Imran rules out electoral alliance with any party
Mideast Asia
• Iran must face nuclear ultimatum: Israel
• Israel arrests four Islamic Jihad members in Hebron
• Hackers target Israeli websites
• "What happened in Hatay, Turkey was worse than death"
• Iran bars 'drunken' Saudi diplomat from leaving over deadly crash
Southeast Asia
• Malaysia's independent radios jammed, sites hit by cyber attacks
• Local police, military chiefs removed over prison killings
• Bekasi Ahmadis continue to fight over mosque closure
• DPM admits Pakatan a tough opponent, warns BN against complacency
Europe
• Muslim Council of Britain Vows Action to Stop Children Being Groomed For Sex
• Sudan Darfur donor conference hosted by Qatar
• Kennedy joins Iranian exiles protesting in Sweden
North America
• Gitmo Prison Guard Converts to Islam after Seeing Detainees 'Wake Each Day and Smile'
• Kerry warns Iran time for nuclear talks is limited
• Kerry to press Turkey on Israel ties, Syrian border, Iraq
• Jimmy Carter 'deeply concerned' by Myanmar unrest
• US made secret deal with Pak on drone strikes: Report
Compiled by New Age Islam News Bureau
Photo: This image made from AP video shows Afghan National Army soldiers rushing to the scene moments after a car bomb exploded in front the PRT, Provincial Reconstruction Team, in Qalat, Zabul province, southern Afghanistan on Saturday, April 6, 2013. - AP
URL: https://newageislam.com/islamic-world-news/new-age-islam-news-bureau/muslim-council-of-britain-vows-action-to-stop-children-being-groomed-for-sex/d/11045
-------------
Muslim Council of Britain Vows Action to Stop Children Being Groomed For Sex
7 April 2013
The Muslim Council of Britain has said it will take action to prevent girls being "groomed" for sex.
Sheikh Ibrahim Mogra of the council said people were sometimes reluctant to speak out - but they have a "religious duty" to do so.
He said the council was working with groups including the NSPCC, police and Muslim organisations to educate people.
The action comes after high-profile sex abuse cases involving Muslim men in Rochdale and Derby.
"This is an appalling and abhorrent kind of behaviour which is totally unacceptable regardless of race or religion," said Sheikh Mogra, the MCB's Assistant Secretary General, on BBC Radio 4's Sunday programme.
"Some of those perpetrators who have recently been convicted happen to be from the Muslim community so we need to be at the very front of the voice that is condemning this."
Universal problem
Sheikh Mogra said grooming should be seen purely as criminal behaviour, and using "labels of race or religion" could "drive the problem deeper underground".
He said men who were grooming children and "profess to be following the religion of Islam" were really doing "exactly the opposite".
"They have used drugs, they have used alcohol, they have used prostitution and all kinds of other methods which are all forbidden within Islam," he went on.
The Muslim Council of Britain is planning a national conference to educate people about grooming, and Sheikh Mogra said the message would be very clear.
"You cannot hide these criminals within your ranks; it is your duty to come out and speak out against it because that is what Islam requires of you," he said.
Split views
After the Rochdale case, in which nine men, mainly of Pakistani origin, were convicted of grooming and abusing five white girls, there was a debate about whether race was an issue in such cases.
Mohammed Shafiq, chief executive of The Ramadhan Foundation, which aims to promote better understanding between Muslims and non-Muslims, said on-street grooming was "a significant problem for the British Pakistani community".
"There should be no silence in addressing the issue of race as this is central to the actions of these criminals," he said.
"They think that white teenage girls are worthless and can be abused without a second thought; it is this sort of behaviour that is bringing shame on our community."
But police said grooming was "not a racial issue", with Assistant Chief Constable Steve Heywood, of Greater Manchester Police, saying the case was about "adults preying on vulnerable young children".
"It just happens that in this particular area and time, the demographics were that these were Asian men," he said.
MP Keith Vaz also said "no particular race or religion" tended to be involved.
"There is no excuse for this kind of criminality, whoever is involved in it, but I don't think it is a particular group of people, I don't think it's a particular race or religion," he said.
The Child Exploitation and Online Protection Centre (CEOP) said child sexual exploitation spanned "all cultures and ethnicities".
However, a spokeswoman said recent cases did "highlight that Asian males have been involved in an organised manner in exploiting young women".
"Some of these cases involved offenders from different backgrounds as well, although CEOP are investigating why there may be a majority of Asians in these particular kinds of offence."
http://www.bbc.co.uk/news/uk-22056685
-------------
Gitmo Prison Guard Converts to Islam after Seeing Detainees 'Wake Each Day and Smile'
Garrett Quinn
April 7th, 2013
CNN has an amazing story out of Guantanamo Bay about an American atheist prison camp guard that converted to Islam after spending extensive time talking to with some of the English speaking prisoners there.
Army Specialist Terry Holdbrooks arrived at Gitmo 2003 as "an angry, nearly atheistic 19-year-old MP and by the time he left a year later he was a practicing Muslim. Holdbrooks was amazed at how the detainees "could wake up each day and smile" even though they were locked away in a prison camp with little hope of freedom.
So all of this got him thinking: "Obviously there's something more to Islam than I had been told."
Like anybody curious about faith he started to inquire about it. Holdbrooks, a bit disenfranchised with his superiors and fellow soldiers, started speaking for hours with detainees about Islam. One even gave him a copy of the Islamic holy book, the Quran, to study and it led him to change his way of life.
When he approached one of the prisoners about converting he was met with a warning that it would forever change his life. "You understand that if you become a Muslim your unit is going to look at you differently, your family, your country…you understand…your country is going to look at you in a way that isn't going to be good. It's going to make things difficult for you," he was told.
Since he converted Holdbrooks has left military service and become an outspoken opponent of the camp at Guantanamo Bay.
http://www.mediaite.com/online/gitmo-prison-guard-converts-from-atheism-to-islam-after-seeing-detainees-wake-each-day-and-smile/
-------------
India
Indian Muslims Systematically Targeted By Fascist Forces: Jamaat-E-Islami Hind
7 April 2013
The Israeli intelligence service Mossad and their counterpart in the US, the CIA, have deliberately attempted to create a division among Muslims in India and those in other parts of the world, to keep them away from the mainstream and link them with terrorism, said T. Arif Ali, president of Jamaat-e-Islami Hind (JIH) in Kerala, who was in the Kingdom recently to perform Umrah.
In an interview with Arab News, Arif Ali highlighted Jamaat's efforts to unify the vote bank of Muslims and other minorities by establishing the Welfare Party that promotes value-based politics in India.
The following is the full text of the interview:
Arab News: What have been the major achievements of JIH since its establishment in 1948?
Arif Ali: The main objective of JIH is to spread the message of Islam as a complete way of life and a solution to the problems of mankind. We have been successful in realizing this goal to a great extent through our various programs and publications. Jamaat gave the Muslim community the courage to stand firm in the torrent of Western cultural onslaught and face modern challenges. It also played a leadership role in addressing various issues, like the anti-Shariah campaign. Its educational system, providing both material and religious knowledge, enhanced the confidence of Muslim youths in Islam. Jamaat has been involved in several social and humanitarian activities to alleviate the suffering of victims of natural and man-made calamities. It introduced interest-free financial assistance and micro-finance programs all over the country. It has published the translations of the Holy Qur'an in all major languages of India, which helped Muslims and non-Muslims to learn more about Islam.
AN: Jamaat has initiated the formation of the Welfare Party. What is the relevance of such a political party in India today?
Arif Ali: Corruption and moral decadence have become the hallmarks of Indian politics. Our politicians have been using the taxpayers' money to fill their pockets as well as their corporate allies' instead of using it for public welfare. Most political leaders are accused of corruption and favouritism. So people in India are looking for a corruption-free political party. The main objective of Welfare Party is to promote value-based politics. Secondly, there was the need for an all-India political party that takes Muslims as a social base while bringing together other sidelined communities. These would be the Aborigines and Daliths, along with a large majority of citizens who are interested in value-based politics. As part of Islamophobia some international intelligence agencies have tried to keep the Muslim community away from the mainstream. The Welfare Party wants to change that situation and bring Muslims back to the mainstream, fostering harmonious relations between Hindus, Muslims and other faith-based communities in the country.
AN: Can you explain the move by international intelligence agencies to divide Muslims and keep them away from the mainstream?
Arif Ali: It is not a secret that Mossad with the help of CIA has been trying to create division among Muslims, fuelling conflicts between Sunnis and Shiites. Wherever Muslims live in peace and harmony with other communities, they try to trigger communal conflicts to keep them out of the mainstream. This is a planned operation. They have been doing this in India and other parts of the world. India has signed agreements with these foreign agencies to train its police force. In olden times, intelligence work was limited to reporting what was going on in a country. Today their work involves planning what they want to see in a country. They want to get the Muslims out of the Indian mainframe and they make plans to achieve that goal. The bomb explosions in different parts of the country, including the Makkah Masjid and Samjoda Express blasts, the attack on the Indian Parliament and the fake, armed confrontations between police and young Muslims expose this plan. The government has now got information that these incidents were plotted by Hindu extremist groups with the support of police. Authorities unfairly blamed Muslims for those explosions and arrested a large number of Muslim youths. We cannot deny that these forces might have used some Muslim individuals as tools to realize their goals. The Mossad and the CIA wanted to create an impression that terrorism equals Muslims. They want Muslims to engage in extremist activities in order to target them. Wikileaks reports have revealed these facts.
Arab News: The communalization of politics, bureaucracy and judiciary has caused a lot of problems for Muslims in India. Do you think a united move by all Muslim organizations was necessary to address this issue?
Arif Ali: Jamaat initiated the formation of Muslim Majlis-e-Mushawarat, a consultative body of different organizations in the country, and its affiliate All-India Muslim Personal Law Board to strengthen Muslim unity and protect their rights. The personal law board, representing the largest number of Muslim organizations, has been playing an important role in taking up major issues like the Babri Masjid and the arrest of Muslim youths. There are several advocates and other professionals under this board. Jamaat intends to carry out a three-prong program to improve the condition of Muslims in India. First, to provide legal support to innocent Muslims who are being victimized and jailed. We believe the judiciary is still the most dependable body in the country. Second, we want to confront communalism through political participation. We have to convince political parties that they cannot win in elections if they take a stand against the Muslims and minorities. For that we have to develop a strong and united vote bank. This was one of the objectives behind the formation of Welfare Party. Whenever Congress took a stand against the Muslim community, it was defeated in the elections. Third, by expressing our concerns and views through the media and dialogue forums.
Arab News: There are thousands of innocent Muslim youths still in Indian jails. What must be done to free them?
Arif Ali: This is a very serious as well as a surprising issue. From the president of India to the lower grade police officer agree that there are a lot of innocent Muslim youths in jails across the country. They keep on saying it over and over again. One reason for making them repeats it is the awareness we have given to the public regarding the issue. At the same time, the very same police officers and government agencies repeat the injustice by arresting more innocent Muslim youths. This indicates that there are other forces at work here, who do not come under the control of the president or the prime minister or other officials. Recently, Home Minister Shinde gave a statement about growing Hindu terrorism in the country. He was right, but he had to retract his statement because of political pressure. Following the recent Hyderabad blasts, Muslim youths were again victimized before conducting any investigation.
AN: We often hear about some Muslim terrorist organizations like Hizbul Mujahedeen and Lashkare Taiba claiming responsibility for such bomb attacks? Do you think these organizations really exit?
Arif Ali: Indian Mujahideen and Lashkare Taiba are introduced by intelligence agencies. No questions have been asked or investigations conducted on the whereabouts these organizations. They just give some Muslim names as instigators or perpetrators. After a while, we come to know that the people behind these explosions were some Hindu priests or police officers. By that time, hundreds of innocent Muslim youths would be arrested and tortured in jails. These arrests take place under the UAPA or Unlawful Activities Prevention Act. Any police officer can misuse the law to arrest anybody. They need the government's approval for the arrest but can easily obtain it. When a person is arrested under UAPA, he can be kept behind bars for any length of time without trial. They are denied all human rights and cannot get release on bail. According to Justice V.R. Krishna Iyer, a former Supreme Court judge, bail is the law, but when it comes to UAPA there is no place for bail. Another issue is that while a convict's trial is going on, new accusations can be added to his charge sheet. So UAPA is the main villain. The Act was amended in December 2012, making it more dangerous. If a person gives money to another for any reason, and the person who receives the money is suspected of using the money for extremism, then both persons could be arrested under this law. While admitting that innocent Muslims are jailed, the government continues to pass such dangerous laws that could be used to target Muslims.
http://www.arabnews.com/news/447249
-------------
Media Demonising Muslim Community: Press Council Chairman
April 07, 2013
"Discrimination" against Muslims is giving rise to a feeling of injustice among them, Press Council Chairman Markanedya Katju on Sunday claimed and rebuked the media for what he described as "demonising" Muslim community through "irresponsible" journalism.
"Whenever a bomb blast occurs or such incident takes place, within an hour or so many TV channels start showing that an email or sms has come from the Indian Mujahideen, JeM or Harkatuljihad-e-Islam, or some Muslim name, claiming responsibility.
"An email or sms can be sent by any mischievous person. But when your start screening this on TV and next day in print. The certain message you (media) are sending is that all Muslims are terrorists and they having nothing to do except to throw bombs....You are demonising the entire Muslim community and promoting communalism", Katju said.
He was addressing a symposium on "Reporting Terror: How Sensitive is the media?", organised by English daily 'The Hindu'.
"Is this the responsible behaviour of the media? I think it is totally irresponsible behaviour which is promoting communalism in the country. This is very bad. I have raised voice against this, but they said I am suppressing the media", Katju said.
Observing that media should stick to ethics and be mindful of its national responsibility, Katju said, "Do you have the freedom to spread communalism? You will be stopped from doing devilish thing. I am a strong fighter for media's freedom but I will not allow you to do such devilish things. You will have to have responsibility in the national interest".
Katju claimed the feeling of injustice was on the rise among Muslims owing to "discrimination" against them in various spheres.
"Unfortunately, Muslims are discriminated in getting jobs, banks loans and there is a sense of great injustice", he alleged.
http://www.hindustantimes.com/India-news/hyderabad/Media-demonising-Muslim-community-Markandey-Katju/Article1-1038851.aspx
-------------
Court frees 22 people branded Bangladeshis by Thane police
Apr 07 2013
Mumbai : A court in Vasai has freed 22 people from Murshidabad in West Bengal who were dumped in jail for 99 days after the Thane Police alleged that they were Bangladeshis.
On December 26 last year, police arrested 26 people from a construction site in Naigaon East and Assistant Inspector Anand Bhoir booked them under the Foreigners Act and the Passport Act, claiming they were Bangladeshis. Interestingly, the police booked them on the basis of the statement of two of them.
"Those who have been caught are without valid legal documents and have illegally entered India. Accused number one and two have claimed all others are Bangladeshis," the police told the court in their remand application.
Full report at:
http://www.indianexpress.com/news/court-frees-22-people-branded-bangladeshis-by-thane-police/1098761/
---------
Pakistan a fake country, will reunite with India one day: Katju
PTI | Apr 7, 2013
HYDERABAD: Pakistan is "a fake country", and one day will reunite with India along with Bangladesh, Press Council of India chairperson Justice (Retd) Markandey Katju said on Sunday.
He also said that whereas today an overwhelming majority of Hindus and Muslims were "communal", it was not so a century ago.
"A fake country was created in the name of Pakistan. It is an artificially created entity by the British to make Hindus and Muslims keep fighting with each other, to stop India from becoming a powerful industrialised nation," he said, answering questions after a symposium on 'Reporting Terror: How Sensitive is the media?" here.
Full report at:
http://timesofindia.indiatimes.com/india/Pakistan-a-fake-country-will-reunite-with-India-one-day-Katju/articleshow/19430029.cms
----------
Terrorism from across seas a concern: Pranab
7 April 2013
Congratulates Lt. Cdr. Tomy for non-stop circumnavigation
President Pranab Mukherjee on Saturday said the sponsorship of terrorism through non-state actors and across the seas was a matter of deep concern for the entire nation.
Speaking at a reception to maritime reconnaissance pilot Lt. Cdr. Abhilash Tomy, after his record 150-day, non-stop circumnavigation of the globe, Mr. Mukherjee said historically India had always stood for peace. "Our commitment to peaceful co-existence stems not from weakness but is based on a mature understanding that peace alone can help a nation achieve its objectives of social and economic development." Peace could, however, be sought only from a position of strength, a strength sufficient to safeguard territorial sovereignty and maritime interests, both economic and strategic. A nation's social and economic wellbeing were intricately linked to the seas, not only for trade, but also how it faced threats to its security that develop across the seas.
Full report at:
http://www.thehindu.com/news/national/terrorism-from-across-seas-a-concern-pranab/article4588543.ece
-------------
Valley uneasy over Taliban graffiti
April 07, 2013
Graffiti and chalk markings welcoming the Taliban to Jammu and Kashmir have started cropping up in downtown Srinagar, worrying the Indian security establishment that already has its hands full in the Valley.
The graffiti is being seen as a message to India from Pakistan, which purportedly wants it to cut ties with Afghanistan after US forces pull out of the nation in 2014. The implication is that India would have to contend with the wrath of the Taliban if it continues its association with Afghanistan.
Full report at:
http://www.hindustantimes.com/India-news/newdelhi/Valley-uneasy-over-Taliban-graffiti/Article1-1038702.aspx
-------------
Ishrat case: police officer Amin sent to CBI custody
April 06, 2013
The special CBI court in Ahmedabad on Saturday remanded suspended Gujarat police officer Narendra Amin to a six-day (till April 12) CBI custody in the fake encounter killing of college student Ishrat Jahan case.
CBI had sought 14 days' custody. Amin, a suspended deputy superintendent of police, was arrested by the agency on Thursday from a hospital in Ahmedabad.
The order on CBI's remand application had been reserved by additional chief judicial magistrate HS Khutwad on Friday after Amin alleged torture. "I was severely beaten up and also verbally abused by the CBI officers in custody," he had said.
Full report at:
http://www.hindustantimes.com/India-news/ahmedabad/Ishrat-case-police-officer-Amin-sent-to-CBI-custody/Article1-1038636.aspx
-------------
'LeT will reorient and invest in Kashmir after Afghan pullout': Report
Apr 07 2013
New York : As the country prepares to pull out of Afghanistan next year, a US military report here has warned that some of the Pakistan-based militant groups like LeT, backed by "elements" in Pakistani security establishments, will "reorient to and invest more broadly in the conflict in Kashmir" post the 2014 American drawdown.
The report noted that due to US presence in Afghanistan post 2001, that conflict has functioned as an opportunity, and also potentially as a distraction for some of the Pakistan-based militant groups.
Full report at:
http://www.indianexpress.com/news/let-will-reorient-and-invest-in-kashmir-after-afghan-pullout/1098728/
-------------
Press Council Chairman calls for promotion of Urdu in schools
TNN | Apr 7, 2013
HYDERABAD: Chief minister N Kiran Kumar Reddy on Saturday said that the state government would soon host a World Urdu Conference (WUC) on the lines of the World Telugu Conference (WTC) which was held in December last year.
Speaking in Deccani at the Urdu Heritage Caravan (UHC) conference on 'Urdu in Changing Times' presided by Press Council of India chairman Justice Markandey Katju at Jubilee Hall, Reddy said, "The youth must be invited to such conferences. The government will sponsor a conference to promote one of the sweetest languages. The problem isn't just with Urdu but of every regional language as English has become the language of employment."
Full report at:
http://timesofindia.indiatimes.com/india/Katju-calls-for-promotion-of-Urdu-in-schools/articleshow/19422236.cms
-------------
HC comes to rescue of Afghan woman
By Sana Shakil in New Delhi
7 April 2013
THE Delhi High Court has come to the rescue of an Afghan woman who was facing the threat of deportation . Staying the two orders issued by the ministry of home affairs ( MHA) — on November 12, 2012 and February 28, 2013, — for deporting Janighol, whose visa had expired months ago, a bench of justices Sanjiv Khanna and Siddharth Mridul allowed her to stay in India till the matter is decided.
She came to India on a tourist visa on December 24, 2010, along with her husband, Abdul Latif, and three children. After the expiry of the visa on May 20, 2011, they applied to the United Nations High Commissioner for Refugees ( UNHCR) for refugee status in India, which was rejected. But the couple's relationship had soured in the meanwhile and he divorced her before returning to his country.
Full report at: Mail Today
-------------
Don't see Kashmiris with suspicion: Omar
Apr 07 2013
Pampore, Sopore : In a passionate appeal to not treat Kashmiris "with suspicion", J&K Chief Minister Omar Abdullah on Saturday said his government would do all that is needed to ensure no Kashmiri is unduly harassed in other parts of India. "The country should not look at all Kashmiris with such suspicion. If we hear of a Kashmiri being mistreated in any other state, we will not ignore it and take up the matter with whosoever needed to ensure it doesn't happen," he said.
Omar was speaking at the valedictory function of trainees of Himayat, a training-cum-placement scheme run by the Centre, in Pampore. Rural Development Minister Jairam Ramesh attended the event.
Full report at:
http://www.indianexpress.com/story-print/1098764/
-------------
South Asia
US civilian adviser killed in Afghan operation that left 11 suspected Taliban militants dead
AP | Apr 7, 2013
KABUL, AFGHANISTAN: Officials have confirmed an American civilian adviser was killed in a military operation in eastern Afghanistan that also left 11 suspected Taliban militants dead.
The American was one of three US civilians killed on Saturday. Two also died in a suicide bombing in the south, along with three soldiers.
Col Thomas Collins, a spokesman for US-led forces in Afghanistan, said on Sunday that the adviser was killed during fighting in Kunar province.
Provincial government spokesman Wasifullah Wasify says 11 Taliban militants also were killed, and four Afghan security forces, six civilians and 10 Taliban militants were wounded.
Afghan forces have increasingly been taking the lead in combat operations as international forces prepare to withdraw by the end of 2014. US and other foreign troops work largely in a training and advisory role.
http://timesofindia.indiatimes.com/world/south-asia/US-civilian-adviser-killed-in-Afghan-operation-that-left-11-suspected-Taliban-militants-dead/articleshow/19428422.cms
-------------
Nato air strike kills 11 children in east Afghanistan
Reuters | Apr 7, 2013
SHIGAL (AFGHANISTAN): Eleven children and a woman were killed by an air strike during a Nato operation targeting Taliban commanders in eastern Afghanistan, officials in the region said Sunday.
Civilian deaths have been a long-running source of friction between Afghan President Hamid Karzai and his international backers. Karzai has forbidden Afghan troops from calling for air strikes and Nato advise crews not to fire at or bomb in populated areas.
Six insurgents — two of them senior Taliban leaders — were killed during the operation in a village in Shigal district in Kunar province, which is on the Pakistani border, on Saturday, the Interior Ministry said in a statement.
The Interior Ministry did not mention any civilian casualties but Wasefullah Wasefi, a spokesman for the provincial governor, said civilian homes had been hit during an air attack.
"Eleven children and a woman were killed when an air strike hit their houses," Wasefi said.
The deaths came on the same day that a car bomb killed five Americans, including three US soldiers, a young diplomat and a US defence department contractor, in the southern province of Zabul.
Full report at:
http://timesofindia.indiatimes.com/world/south-asia/Nato-air-strike-kills-11-children-in-east-Afghanistan/articleshow/19429706.cms
----------
Bangladesh Govt to modernise madrasa education
7 April 2013
The government has launched a project aimed at improving the learning system of the country's madrasa education.
"The main aim of the project is to improve the learning environment of 95 selected madrasas across the country especially in the flood-prone areas," a planning ministry official has said.
The selected madrasas will have new academic buildings under the project.
Besides, the teachers of these madrasas will have the opportunity of enhancing their professional skill through English, Arabic and ICT based training, he has added.
Full report at:
http://www.thedailystar.net/beta2/news/govt-to-modernise-madrasa-education/
-------------
Afghan Attacks Raise Fears Over Taliban Strength
Mamoon Durrani | April 07, 2013
The death of at least five Americans, in the deadliest day for foreigners in Afghanistan this year, has highlighted fears about Taliban strength ahead of NATO's withdrawal in 2014.
A suicide car bomber struck a NATO convoy in the southern province of Zabul Saturday, killing three US soldiers and two civilians, including a female American diplomat traveling with Afghan officials to distribute books to students.
Full report at:
http://www.thejakartaglobe.com/international/afghan-attacks-raise-fears-over-taliban-strength/584185
-------------
Sri Lanka anti-Muslim campaign threatens tensions
AP | Apr 7, 2013
COLOMBO, Sri Lanka: A red-robbed Buddhist monk calmly picked up stones and hurled them at a security camera. Then, as police looked on, his followers smashed up a popular, Muslim-owned clothing store.
Last month's attack on the Fashion Bug chain near Colombo, filmed by a local television station whose cameraman was attacked by the mob, was the most public outburst in a growing anti-Muslim campaign by Sri Lanka's Buddhist nationalist groups.
The escalation in attacks and anti-Muslim rhetoric has caused fears of a new wave of ethnic violence in a country still recovering from a quarter-century civil war between the government, controlled by ethnic Sinhalese Buddhists, and a mainly Hindu ethnic Tamil rebel group.
Full report at:
http://timesofindia.indiatimes.com/world/south-asia/Sri-Lanka-anti-Muslim-campaign-threatens-tensions/articleshow/19425367.cms
-------------
Dhivehi Qaumee Party (DQP) to join coalition with President Waheed's Gaumee Ithihaad Party (GIP)
By Minivan News | April 6th, 2013 | Category: News in Brief
The Dhivehi Qaumee Party (DQP) will join the coalition with President Mohamed Waheed Hassan Manik's Gaumee Ithihaad Party (GIP).
DQP decided on the coalition during a council meeting held April 3 that included Waheed's Special Advisor, DQP President Dr Hassan Saeed and DQP Vice President and Home Minister Dr Mohamed Jameel Ahmed, reports local media.
The DQP committee will also "make arrangements" to strengthen the coalition with the QIP.
This follows GIP's announcement last Thursday (March 28) it plans to form a coalition with the religiously conservative Adhaalath Party (AP).
Neither AP or GIP presently have any elected members in parliament.
Previously Jameel took part in Progressive Party of the Maldives (PPM) Presidential candidate Abdulla Yameen's campaign.
http://minivannews.com/category/news-in-brief
-------------
BNP-Jamaat kills Joypurhat Jubo League man
7 April 2013
A Jubo League man was killed as the activists of Jamaat-e-Islami, Islami Chhatra Shibir and BNP cut the tendons of his legs and beat him indiscriminately in Kalai upazila of Joypurhat Sunday morning.
Md Sabuj Hossain, 30, was an activist of Jubo League ward No. 2 of Matrai union in the upazila, reported our Dinajpur correspondent.
The Jamaat-Shibir and BNP activists led by Yakub Ali, a Jamaat man, picked up Sabuj from his Dealla village residence around 11:00am, said Md Tariqul Islam, officer-in-charge (OC) of Kalai Police Station.
They took him to a nearby field and beat him mercilessly, the OC said.
Later, the party men also cut the tendons of his two legs, the police official said.
Locals rescued Sabuj and sent him to Kalai Upazila Health Complex where he succumbed to his injuries around 11:40am.
http://www.thedailystar.net/beta2/news/jubo-league-man-dies-in-dinajpur/
-------------
Former army chief in Afghan interpreters asylum appeal
7 April 2013
Former army chief Gen Sir Mike Jackson has appealed to the government to not abandon Afghan interpreters who have helped the British army.
Sir Mike and others, including former Liberal Democrat leader Lord Ashdown, said Britain has a "moral obligation" to offer the interpreters asylum.
They said the 600 interpreters who have served British forces in Afghanistan live in fear of Taliban reprisals.
Full report at:
http://www.bbc.co.uk/news/magazine-22051400
-------------
Arab World
Saudi Arabian accused of molesting woman in China
AP | Apr 7, 2013
BEIJING: Police in China say they have arrested a Saudi Arabian man for allegedly molesting a Chinese woman at a restaurant.
Police in the central city of Changsha said Sunday that the 22-year-old man, identified as having the surname Alsubaie, had confessed. According to a statement posted on the Changsha police's microblog, the man said he had drunk alcohol early Thursday morning and when he saw a woman inside a restaurant at around 6am, he molested her inside and outside the establishment. Passersby called the police.
Police say his alleged victim was a 38-year-old woman from Changsha.
An official in Changsha police's propaganda department confirmed the arrest and ongoing investigation and said Alsubaie was studying Chinese at a Changsha university.
http://timesofindia.indiatimes.com/world/china/Saudi-Arabian-accused-of-molesting-woman-in-China/articleshow/19427898.cms
-------------
Decade after Saddam Hussein's ouster, Iraq seeks stability
Apr 07 2013
Baghdad : A decade after US-led forces took control of Baghdad on April 9, 2003, sealing the ouster of Saddam Hussein's brutal regime, Iraq remains plagued by deadly attacks and never- ending political crises.
Remembered the world over for the iconic images of Iraqis pulling down a statue of Saddam in central Baghdad's Firdos Square - helped in no small part by an American military unit - the fall of the capital is a far more emotive day in Iraq than the anniversary of the invasion itself two weeks earlier.
At the time the statue fell, Saddam's vaunted army had largely melted away, and was seen as defeated and demoralized. But the sense of elation felt by many Iraqis that day, at seeing a dictator who had ruled Iraq for more than two decades fall, was matched by a feeling of bitterness among others.
Full report at:
http://www.indianexpress.com/news/decade-after-saddam-husseins-ouster-iraq-seeks-stability/1098872/
-------------
Syria activists say 20 killed in army airstrikes
Syrian government airstrikes kill at least 20 people in different cities across the war-torn country
7 Apr 2013
Syrian activists say government airstrikes killed at least 20 people as the army presses ahead with its campaign to crush the rebellion against President Bashar Assad.
The Britain-based Syrian Observatory for Human Rights says the strikes Sunday targeted the northern cities of Aleppo, Homs, Hama, Idlib, the western Mediterranean city of Latakia, the eastern province of Deir el-Zour and the suburbs of Damascus.
To the south in Daraa, a man was shot dead by an army sniper, the Observatory said. It added that there was little rebel advancement in the province where opposition forces seized large swathes of land over the past two weeks.
Meanwhile, the government urged rebels to surrender their arms, warning in cell phone text messages that the army is "coming to get you."
http://english.ahram.org.eg/NewsContent/2/8/68663/World/Region/Syria-activists-say--killed-in-army-airstrikes.aspx
-----------
Saudi King delays illegal workers crackdown
April 07, 2013
Saudi Arabia's King Abdullah on Saturday ordered a three-month delay to a crackdown on migrant workers which has led to thousands of deportations, to give foreigners in the kingdom a chance to sort out their papers.
The world's top oil exporter has more than nine million expatriates whose remittances home provide important revenue for countries including Yemen, India, Pakistan and the Philippines.
"King Abdullah directed both the interior ministry and the labour ministry to give an opportunity to workers in breach of the labour and residency regulations in the kingdom to clarify their status in a period not exceeding three months," said a statement carried on official media.
Full report at:
http://www.hindustantimes.com/world-news/restofasia/Saudi-King-delays-illegal-workers-crackdown/Article1-1038774.aspx
-------------
Clashes outside church funeral for slain in sectarian clashes in Egypt
Ahram Online journalist reports Coptic mourners are running towards the building where shots were heard from outside of Abassiya church funeral for slain in Qalyubia sectarian clashes
7 Apr 2013
Clashes broke outside the Abassiya Church funeral for the victims of sectarian clashes in Qalyubia, Egypt. Mourners exiting the church came upon a street where they were first pelted with stones. The mourners, in turn, shot stones back and shots were heard. A crowd is now moving towards the building where they heard the shots from. An Ahram Online reporter at the scene could not confirm if they were live rounds.
Hundreds of mourners surrounded four coffins in Abassiya Church in Cairo on Sunday where Bishop Rafael prayed over the bodies of those killed in sectarian clashes in Qalyubia governorate.
Full report at:
http://english.ahram.org.eg/NewsContent/1/64/68656/Egypt/Politics-/Updated-Clashes-outside-church-funeral-for-slain-i.aspx
-----------
New premier pledges to shield Lebanon from Syria dangers
April 7, 2013
BEIRUT: Lebanese politician Tammam Salam was named prime minister on Saturday after he won a sweeping parliamentary endorsement, pledging to bridge the country's deep divisions and shield it from the dangers of neighboring Syria's civil war.
Salam was designated after the resignation of Prime Minister Najib Mikati, whose two years in office were dominated by efforts to contain sectarian tensions, violence and economic fallout from the Syrian conflict.
Full report at:
http://tribune.com.pk/story/532347/new-premier-pledges-to-shield-lebanon-from-syria-dangers/
-------------
Janadriyah Festival Explores Islamic Political Movements
7 April 2013
A symposium was held at the Janadriyah Cultural Festival on the emergence of Islamic political movements in the last few years in the aftermath of the "Arab Spring."
A series of speakers agreed that the Arab Spring, which brought political Islam to power, has shown weak and poor political administration and that their visions on democracy and freedom conflict with views of other political parties.
They also agreed that some of the political parties in these countries are experiencing marginalization and that the demands they made at the beginning of the revolution were ignored.
Full report at:
http://www.arabnews.com/news/447308
-------------
Sponsors use social media to bring attention to iqama penalties
7 April 2013
Employers and expatriate workers face steep fines and jail time if they violate iqama and visa laws established by the Ministry of Interior, according to the ministry.
Saudi businessmen and women responding to the Ministry of Labor's raids over the past week have gone to social media to promote and discuss the Interior Ministry's "Iqama System Violations & Penalties" web page that outlines Iqama and visa violations, and their consequences.
Full report at:
Employing undocumented workers could also mean a SR 50,000 fine and three months in jail.
http://www.arabnews.com/news/447303
-------------
Saudization more important than jobs
7 April 2013
The labor market across the country is facing radical changes with the efforts of Labor Ministry to rectify its course following years of debates and discussion between the ministry and business people.
To shed some light on the issue, Abdul-Aziz Al-Jalan, a businessman and member of Riyadh Chamber of Commerce and Industry, and vice chairman of the Board of Trustees of Riyadh Economic Forum, said in an interview with a local newspaper that the Labor Ministry should be praised for its efforts, although some of its approaches are damaging to some goals Saudi authorities aspire to achieve.
Full report at:
http://www.arabnews.com/news/447298
---------
Syrian troops shell Damascus neighborhood with Toshka missiles
7 April 2013
Syrian local coordination committees said on Saturday that regime troops shelled Damascus with Toshka surface-to-surface missiles, whose warheads can be replaced with nuclear ones.
The opposition committees added that ever since the revolution erupted, Assad's forces have hit the capital twice with those kinds of missiles.
The missiles on Saturday targeted the Damascus' neighborhood of Baraza and the attack comes a few days after the Palestinian refugee camp of Yarmuk was struck with the same weaponry.
Full report at:
http://english.alarabiya.net/en/News/middle-east/2013/04/07/Syrian-troops-shell-Damascus-neighborhood-with-Toshka-missiles.html
-----------
Syrian opposition radio station launches from Istanbul
7 April 2013
A radio station funded by opposition Syrian NGOs and established by Syrian youths has officially launched from Istanbul three months after the experimental broadcast phase, BBC Arabic reported on Friday.
The "Al-Kol" radio station (meaning 'everyone' in Arabic) records its programs in Istanbul but these programs are broadcast in the Syrian cities of Idlib, Aleppo, Hama, Homs, Damascus and its suburbs by activists inside Syria.
Full report at:
http://english.alarabiya.net/en/life-style/art-and-culture/2013/04/07/Syrian-opposition-radio-station-launches-from-Istanbul.html
-----------
Africa
Gunmen kill 11 in northern Nigeria
7 April 2013
Eleven people have been killed in a house-to-house raid by gunmen in Nigeria's northern state of Adamawa, police said.
"We have information that 11 people lost their lives in Midlu village including two private security men" police spokesman Mohammed Ibrahim said on Saturday.
The security men were killed at the house of the Adamawa Deputy Governor Bala James Ngilari though he was not at the home at the time, Mr. Ibrahim said.
The attack took place on Saturday and witnesses said assailants called their victims by name before killing them by gun shots or slashing their throats.
An Islamic radical sect, Boko Haram has carried out similar attacks including suicide bombings in northern Nigeria.
The group says it wants to establish an Islamic Caliphate in the oil rich African country and has succeeded in killing thousands of people since 2009 when it commenced hostilities.
http://www.thehindu.com/news/international/world/gunmen-kill-11-in-northern-nigeria/article4590848.ece
-------------
Al-Qaida leader urges Muslims to unite in struggle
The Associated Press, Cairo
April 07 2013
Al-Qaida's leader has urged Muslims in Arab Spring countries to unite to institute an Islamic state, while warning France that its intervention in Mali will be bogged down.
"I warn France that it will meet in Mali, with God's permission, the same fate America met in Iraq and Afghanistan," Ayman Al-Zawahri said in a 103-minute audio message posted on militant websites late Saturday.
In the recording, al-Zawahri urged Muslims to liberate their lands from oppressive regimes and foreign troops, apply Islamic law, halt the plundering of Muslim wealth, support rebellious Muslims and oppressed people worldwide, and establish the Islamic Caliphate, or religious state.
His last audio message, in which he urged Muslims to join Somali militants, was in November.
http://www.thejakartapost.com/news/2013/04/07/al-qaida-leader-urges-muslims-unite-struggle.html
-------------
Tunisia police tear-gas pro-government protest
Police fires tear gas to disperse protesters backing the Ennahda-led governing coalition in Tunisia
7 Apr 2013
Tunisian police on Sunday used tear gas to disperse supporters of the Islamist-led ruling coalition who protested against a meeting by a secular opposition party, an AFP journalist said.
"Get out, you bastards!" chanted protesters, referring to post-revolution premier Beji Caid Essebsi, leader of the opposition movement Nidaa Tounes and a fierce opponent of the Ennahda party that heads the government.
Full report at:
http://english.ahram.org.eg/NewsContent/2/8/68659/World/Region/Tunisia-police-teargas-progovernment-protest.aspx
-----------
Gunmen ambush boat in Nigeria oil region, 12 policemen missing
Reuters | Apr 7, 2013
YENAGOA: Nigerian militants ambushed a police boat in the oil-producing Niger Delta region over the weekend, and 12 policemen are missing from the boat, police said on Sunday.
Police commissioner Kingsley Omire said the boat carrying 50 police officials was headed to a funeral late on Friday when it developed engine problems in one of the winding creaks of swampy delta region, home to Africa's biggest oil industry.
"The craft ... was a soft target for some hoodlums, who we have confirmed were part of a militant group that was supposed to be enjoying an amnesty," he said.
Full report at:
http://timesofindia.indiatimes.com/world/rest-of-world/Gunmen-ambush-boat-in-Nigeria-oil-region-12-policemen-missing/articleshow/19426520.cms
-------------
Pakistan
Depression, anxiety and war take toll in Pakistan's tribal belt
April 7, 2013
PESHAWAR: After nine friends and relatives were killed in a US drone strike four years ago, Mohammed Fahim took tranquilisers to blot out the nightmares.
The 19-year-old is one of a growing number of Pakistanis living in the tribal areas on the Afghan border who has suffered from conditions related to depression, anxiety and mental health problems because of war.
US drone strikes, fighting between Pakistani Taliban and the army, mass displacement, chronic unemployment and disillusionment are all causing mental suffering on an unprecedented scale in northwest Pakistan, say psychiatrists.
Mohammed lost an eye in the January 2009 attack, but the mental scarring has been even more traumatic. The flashbacks are still sudden and powerful.
Full report at:
http://tribune.com.pk/story/532330/depression-anxiety-and-war-take-toll-in-pakistans-tribal-belt/
-------------
Pak may be why N Korea could nuke its neighbours
April 07, 2013
North Korea is widely recognized as being years away from perfecting the technology to back up its bold threats of a pre-emptive strike on the United States. But some nuclear experts say it might have the know-how to fire a nuclear-tipped missile at South Korea and Japan, which host US military bases.
No one can tell with any certainty how much technological progress North Korea has made, aside from perhaps a few people close to its secretive leadership.
Full report at:
http://www.hindustantimes.com/world-news/americas/Pak-may-be-why-N-Korea-could-nuke-its-neighbours/Article1-1038697.aspx
-------------
Balochistan election candidates: Brothers in arms
April 7, 2013
ISLAMABAD: Many Baloch nationalists are opting for the ballot, but Baloch insurgents seem wedded to the bullet. In an interesting twist, it seems that many prominent contenders, many of whom boycotted the 2008 elections, are related to the very militant commanders who have vowed to disrupt the elections their own kinsmen are contesting.
One such candidate is former chief minister Sardar Akhtar Mengal. The chief of his own faction of the Balochistan National Party, Akhtar Mengal recently returned to Pakistan after years of self-exile, to lead his party in the elections. Interestingly, his younger brother, Javed Mengal, also returned from exile in Europe, but only to lead militants in the volatile Khuzdar district.
Full report at:
http://tribune.com.pk/story/532237/brothers-in-arms-2/
-------------
'PML-N most popular party among women'
April 7, 2013
LAHORE: Former chief minister of Punjab, Shahbaz Sharif said that Pakistan Muslim League-Nawaz (PML–N) is the most popular party among women.
The efforts of PML-N's Punjab government for women's rights overshadow all the work for women's emancipation in the last 65 years, he said.
Shahbaz Sharif was addressing a group of PML – N ticket hopefuls, PML – N Women Wing members and former female parliamentarians.
He said the Punjab government's Women Empowerment Package had received international recognition, and that this package ensured that women received their due share of family inheritance.
Full report at:
http://tribune.com.pk/story/532246/women-emancipation-pml-n-most-popular-party-among-women/
-------------
'PTI may talk to parties if they disband militant wings'
April 7, 2013
KARACHI: The people of the city will no longer vote for parties with militant wings, but Pakistan Tehreek-i-Insaf (PTI) can talk to them if they agree to let the weapons go.
PTI chief Imran Khan is sure that the youth of Karachi are determined to bring change. Khan was speaking at 'Naya Pakistan Tabdeeli Razakaar Youth Convention' organised by the Insaf Students Federation at Pearl Banquet Hall on Saturday, where he received a warm welcome by party supporters.
Full report at:
http://tribune.com.pk/story/532159/naya-pakistan-tabdeeli-pti-may-talk-to-parties-if-they-disband-militant-wings/
-------------
Musharraf's nomination papers accepted from third seat
PTI | Apr 7, 2013
ISLAMABAD: Pervez Musharraf's nomination papers for a parliamentary constituency in the port city of Karachi were rejected today while his papers for another seat in northern Pakistan were accepted by election authorities.
Election officials rejected the former military ruler's papers for parliamentary constituency number 250 in Karachi.
Jamaat-e-Islami leader Niyamatullah Khan, who intends to contest the May 11 polls from the same seat, had yesterday objected to Musharraf's candidature on the ground that he had twice violated and the Constitution and placed judges under house arrest after declaring an emergency in 2007.
Full report at:
http://timesofindia.indiatimes.com/world/pakistan/Musharrafs-nomination-papers-accepted-from-third-seat/articleshow/19426854.cms
-------------
Hina Rabbani Khar unlikely to contest polls to Pak parliament
April 07, 2013
Pakistan's former foreign minister Hina Rabbani Khar is unlikely to contest polls to parliament next month as her father is a candidate for the National Assembly constituency that she represented earlier, according to a media report on Sunday.
The nomination papers of Khar's father, Ghulam Rabbani Khar, for parliamentary constituency number 177 in Punjab province have been approved by poll authorities.
Khar was quoted by The Express Tribune as saying that she had only "applied as a covering candidate to my father".
Full report at:
http://www.hindustantimes.com/world-news/pakistan/Hina-Rabbani-Khar-unlikely-to-contest-polls-to-Pak-parliament/Article1-1038839.aspx
-------------
'Independent' Qureshi gets Pagara's support
7 April 2013
KARACHI: The Pakistan Tehreek-i-Insaf's vice-chairman, Shah Mehmood Qureshi, has said he has filed nomination forms for the May 11 general elections from two constituencies of Tharparkar district, NA 228 and NA 230, as an independent candidate.
Addressing a press conference at the Raja House here along with PML-F chief Pir Pagara, Mr Qureshi expressed gratitude to the latter for inviting him to contest elections from Sindh.
He warned against extending the polling date, saying that any change in the election schedule would open a Pandora's Box. The Supreme Court had already made it clear that it would not allow any extra-constitutional step.
Full report at:
http://dawn.com/2013/04/07/independent-qureshi-gets-pagaras-support/
-------------
Imran rules out electoral alliance with any party
7 April 2013
KARACHI: Pakistan Tehreek-i-Insaf chief Imran Khan has ruled out entering into an electoral alliance with any political party and said "electable and alliance politics is for power while our politics is to usher a change in the country".
Addressing senior media persons at a hotel here on Saturday, he said when the final list of PTI candidates would be made public, there would be only a few known faces because his party wanted to give a chance to a new leadership which could deliver and serve people with dedication. "We want to win polls on the wave of change."
Mr Khan said the PTI would bring youths to the forefront because people wanted to get rid of hereditary politics.
Full report at:
http://dawn.com/2013/04/07/imran-rules-out-electoral-alliance-with-any-party/
----------
Mideast Asia
Iran must face nuclear ultimatum: Israel
April 7, 2013
JERUSALEM: Israel's strategic affairs minister on Sunday called on the international community to slap Iran with a firm ultimatum of "a few weeks, a month" to stop enriching uranium or face a possible military strike.
Speaking to army radio, Yuval Steinitz, who also holds the intelligence portfolio, said the latest inconclusive round of nuclear talks between Iran and world powers proved that the Islamic republic was stalling.
"The Iranians are playing games and laughing all the way to the bomb," he said.
"It is time to present the Iranians with a military threat or some kind of red line, an unequivocal ultimatum from the entire world, (which must be delivered) by the United States and the West," Steinitz said.
He said the international community should give Tehran "a few weeks, a month" in which to cease enriching uranium, but did not elaborate on what should be the consequence of non-compliance.
Full report at:
http://tribune.com.pk/story/532339/iran-must-face-nuclear-ultimatum-israel/
------------
Israel arrests four Islamic Jihad members in Hebron
7 Apr 2013
Israeli occupation forces arrested five Palestinians Sunday morning, including four Islamic Jihad leaders, in Hebron after storming their homes.
Among those arrested include Mohamed Abd El-Qader Al-Mohtassab, Ahmed Abd El-Karim El-Eyoyee, and Akram Khalid Ahmaro, according to the Maan news agency.
Occupation forces arrested 17-year-old Mokdad Ahmaro, Akram's son, 6 March. Both father and son are members of the Islamic Jihad, a Palestinian resistance group.
In the village of Beit Ula, Israeli forces arrested Diaa Ezz El-Din, a farmer with the Islamic Jihad, as well as, Anas Abdel Malek Abdel Qader of Surif. They were transferred to an unknown location.
Full report at:
http://english.ahram.org.eg/NewsContent/2/8/68644/World/Region/Israel-arrests-four-Islamic-Jihad-members-in-Hebro.aspx
-----------
Hackers target Israeli websites
AP | Apr 7, 2013
JERUSALEM - A weekend cyberattack campaign targeting Israeli government websites failed to cause serious disruption, officials said Sunday. The attacks followed warnings in the name of the hacking group Anonymous that it was launching a massive attack.
Yitzhak Ben Yisrael, of the government's National Cyber Bureau, said hackers had mostly failed to shut down key sites.
"So far it is as was expected, there is hardly any real damage," Ben Yisrael said. "Anonymous doesn't have the skills to damage the country's vital infrastructure. And if that was its intention, then it wouldn't have announced the attack of time. It wants to create noise in the media about issues that are close to its heart," he said.
Full report at:
http://timesofindia.indiatimes.com/world/middle-east/Hackers-target-Israeli-websites/articleshow/19425753.cms
-------------
"What happened in Hatay, Turkey was worse than death"
Maryam Hasa
7 April 2013
Hatay, TURKEY: Samira* looks like just another girl next door, but on closer inspection, one sees grief in the eyes of the Abayas and headscarf-wearing 17-year-old.
The teenager refuses to join her friends as they gossip, and walks back to her tent alone.
"I cannot share their happiness because storms of depression strike my mind every second," Samira says, while slowly walking to a corner in the tent she shares with her mother Ghada, and her three younger siblings.
"I love to sit alone , it is always better to be with yourself," she adds stoicly.
Samira is one amongst 17,000 Syrians taking refuge at the Atma Camp in Turkey's Hatay district. Homs, her hometown, has been under siege for almost a year now during which much of its concrete structures have been razed to the ground.
Full report at:
http://dawn.com/2013/04/06/what-happened-was-worse-than-death/
-------------
Iran bars 'drunk' Saudi diplomat from leaving over deadly crash
Tehran prevents a Saudi diplomat, who had a car accident, from leaving the country as 'several bottles of alcoholic drinks' were found in his vehicle
7 Apr 2013
Iran has barred a Saudi diplomat allegedly involved in a deadly drink-driving accident from leaving the country, Fars news agency cited top lawmaker as saying on Sunday.
The unnamed diplomat was "barred from leaving until the clarification of the (legal) status" of the case, Allaedin Boroujerdi, who heads the parliament's influential foreign policy committee, was quoted as saying.
Full report at:
http://english.ahram.org.eg/NewsContent/2/8/68661/World/Region/Iran-bars-drunk-Saudi-diplomat-from-leaving-over-d.aspx
------------
Southeast Asia
Malaysia's independent radios jammed, sites hit by cyber attacks
7 April 2013
KUALA LUMPUR, April 7 – Two independent radios, Radio Free Sarawak and Radio Free Malaysia, have been jammed in Malaysia and their web sites inaccessible due to cyberattacks, says its founder.
The two stations broadcast from London on short-wave frequencies and are available online through their websites and online database Soundcloud.
"There have been attempts at broadcast interference on both radio stations by jamming from different parts of the world over the past few days. These have had limited success so far and we have been working on tracing the perpetrators," founder Clare Rewcastle-Brown
was quoted as saying by Malaysiakini.
Coordinated cyberattacks on their respective web sites were recorded all yesterday; they "came from all over, it appears, but mainly from the US and Malaysia, and our servers had to close down", she added.
Full report at:
http://www.themalaysianinsider.com/malaysia/article/malaysias-independent-radios-jammed-sites-hit-by-cyberattacks/
-------------
Local police, military chiefs removed over prison killings
Ina Parlina and Bambang Muryanto
April 07 2013
Diponegoro Military Regional Command chief Maj. Gen. Hardiono Saroso and Yogyakarta Police chief Brig. Gen. Sabar Rahardjo have been removed in the wake of the execution-style murder of police detainees by the Army's Special Forces (Kopassus) commandos in Sleman, Yogyakarta, last month.
The Indonesian Military (TNI) announced on Saturday that Hardiono would be replaced by Maj. Gen. Sunindyo, a former member of the Kopassus, who is currently posted as Army Chief of Staff Gen. Pramono Edhie Wibowo's personal assistant. Hardiono will be posted at the Army's headquarters as a staff member.
Full report at:
http://www.thejakartapost.com/news/2013/04/07/local-police-military-chiefs-removed-over-prison-killings.html
-------------
Bekasi Ahmadis continue to fight over mosque closure
The Jakarta Post, Bekasi
April 07 2013
A score of Ahmadis in Bekasi, West Java, camped inside their sealed Al-Misbah Mosque on Saturday, refusing to leave until the municipal administration lifted the ban on using the house of worship for prayer.
"We are all fine here and will fight for our rights. We do not want to leave our mosque because we don't want it to be taken from us. We will stay here until the administration opens the seal," said Rahmat Rahmadijaya, one of the 20 congregation members who sealed themselves in the mosque, through a creak on the back fence.
"I feel a bit stressed inside here, not because I am afraid but because we Ahmadis cannot exercise our beliefs as citizens."
Full report at:
http://www.thejakartapost.com/news/2013/04/07/bekasi-ahmadis-continue-fight-over-mosque-closure.html
-------------
DPM admits Pakatan a tough opponent, warns BN against complacency
7 April 2013
KUALA LUMPUR, April 7 – Tan Sri Muhyiddin Yassin warned the Barisan Nasional (BN) machinery today against complacency, admitting that beating Pakatan Rakyat (PR) in the coming polls contest would not be an easy task.
The deputy BN chairman said the opposition will be fighting tooth and nail to achieve its Putrajaya goal this time around and would not give up so easily.
"We have to be ready because it will not be easy to get the opposition to surrender," he told BN members when launching the pact's Batu parliamentary command centre here.
Muhyiddin told party workers to work their hardest to draw more support for BN, adding they should not give up as long as victory is not yet on their side.
Full report at:
http://www.themalaysianinsider.com/malaysia/article/dpm-admits-pakatan-a-tough-opponent-warns-bn-against-complacency/
-------------
Europe
Sudan Darfur donor conference hosted by Qatar
7 April 2013
The Gulf state of Qatar is hosting a two-day conference on development and reconstruction in Sudan's Darfur region.
The conference is seeking some $7.2bn (£4.7bn) in development aid aimed at making Darfur more self-dependent.
Ahead of the meeting, the UK announced it would contribute at least £33m.
Some 300,000 people are thought to have died during a decade of conflict in Darfur, according to UN estimates. As many as 1.4 million remain homeless.
Sceptics say efforts to bring peace to Darfur are flawed, pointing to continued instability and division.
Full report at:
http://www.bbc.co.uk/news/world-africa-22056300
-------------
Kennedy joins Iranian exiles protesting in Sweden
6 April 2013
STOCKHOLM: Hundreds of supporters of an Iranian opposition group have rallied in Stockholm, denouncing the Islamic Republic's regime and urging the UN to better protect the group's members in neighboring Iraq.
Former US Congressman Patrick Kennedy was among the speakers Saturday at the demonstration in support of the Mujahedin-e Khalq, or MEK.
The crowd waved Iranian flags and chanted "down with Mullahs' regime" before marching toward the Swedish Parliament.
The MEK fought alongside Saddam Hussein's forces in the Iran-Iraq war and until recently was listed by the US as a terrorist organization. The group says it renounced violence in 2001.
The UN says more than 3,000 MEK members live at a former US military base in Iraq. Iraq still considers MEK a terrorist group and wants it out of the country.
http://www.arabnews.com/news/447215
-------------
North America
Kerry warns Iran time for nuclear talks is limited
7 April 2013
US Secretary of State John Kerry has warned Iran that talks on its nuclear programme cannot last forever, after a new round failed to make progress.
"This is not an interminable process," he said after arriving in Istanbul, at the start of a 10-day trip to the Middle East, Europe and Asia.
World powers failed to make headway at two days of talks with Iran in Almaty.
Mr Kerry also called on Turkey and Israel to restore good relations without delay.
After Turkey, Mr Kerry is due to visit Israel, the West Bank, the UK, South Korea, China and Japan.
'Painful task'
Mr Kerry said President Barack Obama was committed to continuing the diplomatic process with Iran despite what he called the complicating factor of elections there in June.
"Diplomacy is a painful task," the secretary of state said, "and a task for the patient."
No new round of talks was scheduled after the negotiations in Almaty, Kazakhstan, which ended on Saturday.
Full report at:
http://www.bbc.co.uk/news/world-europe-22056501
-------------
Kerry to press Turkey on Israel ties, Syrian border, Iraq
7 April 2013
ISTANBUL: U.S Secretary of State John Kerry will press Turkey on Sunday to quickly normalize relations with Israel, keep its border with Syria open to refugees and improve ties with Iraq, a senior U.S. official said.
Kerry arrived in Istanbul some two weeks after U.S. President Barack Obama brokered a rapprochement between Turkey and Israel, whose relations were shattered by the killing of nine Turkish citizens in a 2010 Israeli naval raid on a Gaza-bound flotilla.
The rapprochement could help regional coordination to contain spillover from the Syrian civil war and ease Israel's diplomatic isolation in the Middle East as it faces challenges posed by Iran's nuclear program.
Full report at:
http://dawn.com/2013/04/07/kerry-to-press-turkey-on-israel-ties-syrian-border-iraq/
-------------
Jimmy Carter 'deeply concerned' by Myanmar unrest
7 April 2013
YANGON: Former US president Jimmy Carter warned Friday that deadly religious violence in Myanmar was undermining the country's hard-won democratic reforms.
At least 43 people were killed in Buddhist-Muslim unrest in central Myanmar last month, marring international optimism about the nation's emergence from decades of military rule.
"I'm deeply concerned about the recent religious violence," Carter, 88, said in a speech in the former capital Yangon during a visit for talks with the reformist regime and fellow Nobel laureate Aung San Suu Kyi.
Full report at:
http://www.dailytimes.com.pk/default.asp?page=2013\04\07\story_7-4-2013_pg14_6
-------------
US made secret deal with Pak on drone strikes: Report
PTI | Apr 7, 2013
NEW YORK: In a secret deal, Pakistan allowed American drone strikes on its soil on the condition that the unmanned aircraft would stay away from its nuclear facilities and the mountain camps where Kashmiri militants were trained for attacks in India, according to a media report.
Under secret negotiations between Pakistani intelligence agency ISI and America's CIA during 2004, the terms of the bargain were set, the New York Times reported today.
"Pakistani intelligence officials insisted that drones fly only in narrow parts of the tribal areas — ensuring that they would not venture where Islamabad did not want the Americans going: Pakistan's nuclear facilities, and the mountain camps where Kashmiri militants were trained for attacks in India," the paper said.
Full report at:
http://timesofindia.indiatimes.com/world/pakistan/US-made-secret-deal-with-Pak-on-drone-strikes-Report/articleshow/19426506.cms
-----------
URL: https://newageislam.com/islamic-world-news/new-age-islam-news-bureau/muslim-council-of-britain-vows-action-to-stop-children-being-groomed-for-sex/d/11045