New Age Islam News Bureau
6 Jul 2013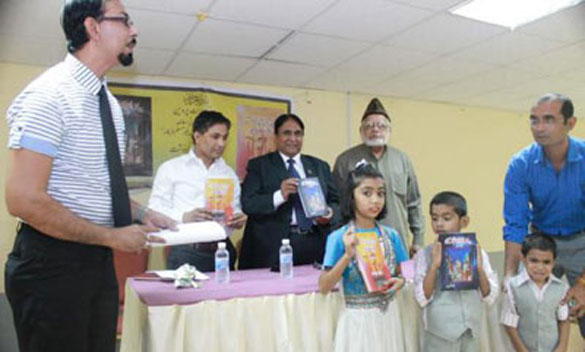 Well-known Indian expatriate Meraj A. Ansari, center, was the chief guest at the book release ceremony in Jubail. (AN photo)
--------
Arab World
• Muslim Clerics Speak Against Takfiri Ideology Which Considers Other Sects as Infidels and Worth to Be Killed
• Bombs kill 22 in Iraq; Sunni leader urges Egypt-style protests
• Muslim Brotherhood site says Egypt's new president is secretly Jewish
• Egypt on edge after clashes leave at least 30 dead; Islamists push to restore ousted president
• Syria warplanes bombard outskirts of Damascus: NGO
• Rise of Local Salafist Jihadists Worries Jordan's Government
• Bahrain Salafists Increase Involvement in Syria War
• Syrian City of Raqqa Suffers Under Rebel Rule
• Syrian opposition to hold runoff vote for new coalition leader
• Islamicists may split over coup response
• Egypt Muslim Brotherhood deputy leader arrested
• Egypt interim president dissolves Islamist-led assembly: MENA
• 'We will support Morsi to the last drop of our blood'
• Al-Azhar imam addresses Egypt: Violence and killing against Islam
• Prosecution questions former brotherhood supreme guide on charges of killing protesters
• Radical Islamist group threatens violence after Egypt Morsi overthrow
• Retrial of Egypt's Mubarak adjourned to August 17
Africa
• 30 killed in school attack in northeast Nigeria by Islamic extremists
• Jihad in Niger: Another poor Saharan state has come under attack by violent Islamists
• Morocco's Islamists modify gender equality plan
• A year on, Sudan demos fade but threats to regime intensify
• Zintan is a victim of disinformation campaign, claims town council head
• Mali lifts state of emergency in place since January: official
• Tanzania says arrests Briton wanted by UK on terror charges
Pakistan
• Pakistan Ulema Council weaning seminary students off militancy
• Tunnel in PoK among deals struck by China, Pak
• Concern rises over Sharif's plan to halt extremism in Pakistan
• Pakistan, China set sights on Arabian Sea link
• Charitable trust comes under Taliban's radar for Extortion
• Gwadar may be given special status for quicker development: Nawaz
• Mortar shells fired from Afghanistan land in South Waziristan
India
• Ishrat Case: Junior Cops Rise Up Against Seniors
• Books focus on contribution of non-Muslims to Urdu
• ISI agents among passport holders from Lucknow
• Not in a hurry to resolve border issues with China: Salman Khurshid
• Pervez Rasool first Kashmiri to make it to Indian Cricket Team
• Tamil Nadu CM offers free rice to mosques during Ramzan
Mideast
• Israel Sees a Chance for More Reliable Ties with Egypt and a Weakening of Hamas
• A rightist Israeli Minister vows to build temple on 'Aqusa ruins'
• Envoy Renews Iran's Full Support for Lebanon's Army, Hezbollah
• 200,000 Yemenis forced out of Saudi Arabia
• Hamas urges faith in Arab Spring despite Morsi ouster
• Turkish President urges democratic elections in Egypt as soon as possible
Southeast Asia
• Aceh plans stiffer punishments for Sharia offenders
• Shariah law takes priority in unilateral conversion issue, says PAS Ulema chief
• Zahid against repeal of Sedition Act, set for collision with Najib
• New Scandal Hits PKS Top Cleric
• National security: New policy draws on Chinese, Malaysian models
South Asia
• Associated Press Impact: Massacre of Muslims in Myanmar ignored
• Gonojagoron Mancha of Bangladesh again demands ban on Jamaat-e-Islami
• Bangladesh must show visible improvements: Economists
North America
• Egypt Crisis Finds Washington Largely Ambivalent and Aloof
• US hopes aid will lure Egyptian army back to democracy
• Snowden makes 6 new asylum requests: WikiLeaks
• US slams Egypt clashes, urges army to protect right to peaceful assembly
Europe
• Muslim Jewish Conference Meets In Sarajevo To Combat Islamophobia And Anti-Semitism
• Anti-Muslim attacks rising in France
• Britain set for long-awaited deportation of radical cleric Abu Qatada
• EU threatens to suspend data sharing with US over spying reports
• Tunisia heading in right direction, says Hollande
Compiled by New Age Islam News Bureau
URL: https://newageislam.com/islamic-world-news/muslim-clerics-speak-takfiri-ideology/d/12474
----------
Arab World
Muslim Clerics Speak Against Takfiri Ideology Which Considers Other Sects as Infidels and Worth to Be Killed
July 06, 2013
The recent rise of Takfiri groups who consider other Muslim sects as infidels and worth to be killed has caused an outrage in the Muslims world. This has also forced Muslim clerics, both Sunni and Shia, to lead a strong campaign and speak out against this phenomenon.
The Cleric Association of the Levant has held a conference entitled "the forgiveness of Islam versus the sedition of Takfiri ideology" bringing together a great number of Islamic scholars and thinkers who have all stressed that Islam is the religion of dialogue:
The Mufti of Syria Sheikh Ahmad Hassoun stressed that the Takfiri project has distorted the image of Islam throughout history. He also pointed that what is being targeted today is real jihad or holy fighting against the true oppressors, mainly Israel which continues with its aggressive policies against the unarmed Palestinians.
Hezbollah deputy Secretary General Sheikh Naeem Kassem pointed to the fact that these Takfiri groups actually benefit Israel, since they create sedition and internal fighting. He also considered that the differences between these groups and other groups are not religious, but are rather political.
One cleric from al-Azhar in Egypt told Press TV that Takfiri groups should be isolated and even punished for their crimes.
In the closed sessions, the participants not only discussed the dangers of Takfiri Ideology, but how to face it academically and practically. This most clerics stressed could only be done through the unity of Muslims.
The conference was also a chance to pay tribute to Sheikh Mohammad al-Buti who was killed by Takfiri groups in Syria through a bomb while he was giving his speech in one of the Mosques in Damascus.
Hundreds of Muslim clerics from all over the Arab and Muslim worlds consider this event a chance to let their voice be heard louder than the noise of extremist Takfiri groups. This is something most Muslims believe should be a major point of concern that must be faced by projecting the true meaning of Islam, that of forgiveness and tolerance.
http://www.presstv.ir/detail/2013/07/04/312146/muslim-clerics-speak-against-takfiri-ideology/
----------
Bombs kill 22 in Iraq; Sunni leader urges Egypt-style protests
Baghdad, July 06, 2013
A suicide bomber killed 15 people as they left a Shi'ite mosque in the Iraqi capital on Friday and a separate attack on Sunni protesters killed seven, police and medics said.
In Baghdad's northwestern district of Graiaat, witnesses said guards at the exit to the Shi'ite mosque stopped a woman who then blew herself up amidst worshippers leaving after sunset prayers. Suicide bombings are the hallmark of al Qaeda.
The attack on the Sunni protesters took place in Samarra, 100 km (60 miles) north of Baghdad, one of several cities where Sunnis have been protesting against Iraq's Shi'ite-led government since December.
Many Sunnis resent Shi'ite domination since the U.S.-led invasion that toppled Saddam Hussein in 2003 and empowered majority Shi'ites through the ballot box. That was followed by an insurgency that brought Iraq to the brink of civil war.
Protest organiser Adnan Al-Muhanna called on Sunnis to take to the streets daily and follow the example of Egyptians.
Egypt's first freely elected president Mohamed Mursi was toppled on Wednesday after the army intervened following mass demonstrations against his rule, a year after the Islamist was sworn into office.
"Demonstrations can make the change. Neither elections nor weapons can do that," Muhanna said. "Within one year, the Egyptians changed the Mursi regime through demonstrations because they were well-organized."
Protest organisers in Samarra blamed Shi'ite militia for the bombing and said security forces were complicit as the explosives-packed vehicle had passed through several checkpoints.
Protesters' demands range from amending laws they say are used unfairly to persecute Sunnis to carving out their own region akin to Iraq's ethnic Kurds, who run their own administration in the north of the country.
Others want to tear up the constitution altogether, and Sunni insurgents, including Iraq's al Qaeda affiliate, have called on protesters to take up arms against the government of Shi'ite Prime Minister Nuri al-Maliki.
"This explosion was an unsuccessful attempt to stop us demanding our rights, but we will not stop until our demands are met," said protest spokesman Shiekh Mohammed Taha al-Hamdoon.
A surge of violence in Iraq has increased fears of wider conflict in a country where ethnic Kurds, Shi'ite and Sunni Muslims have yet to find a stable power-sharing compromise.
Tensions have been inflamed by the civil war in neighbouring Syria, which is increasingly being fought along sectarian lines and drawing in Shi'ite and Sunni fighters from Iraq and elsewhere to fight on opposite sides.
The number of people killed in militant attacks across Iraq in June reached 761, still well below the height of sectarian bloodletting in 2006-2007, when the monthly death toll sometimes topped 3,000.
http://www.hindustantimes.com/world-news/restofasia/Bombs-kill-22-in-Iraq-Sunni-leader-urges-Egypt-style-protests/Article1-1087983.aspx
----------
Muslim Brotherhood site says Egypt's new president is secretly Jewish
By Max Fisher
July 06, 2013
IkhwanOnline, the official Web site of Egypt's Muslim Brotherhood, posted an article on Thursday asserting that the country's new interim president, Adly Mansour, is secretly Jewish. The article, since taken offline, suggested that Mansour was part of an American and Israeli conspiracy to install Mohamed ElBaradei, a former U.N. official and Egyptian opposition figure, as president.
Mansour, the supreme justice of Egypt's Supreme Constitutional Court, was sworn in as interim president on Thursday after the military announced that President Mohamed Morsi was no longer in charge. Morsi was a close ally of the Muslim Brotherhood, which has held large demonstrations protesting his ouster. That the Muslim Brotherhood would be suspicious of Mansour, and of the military that toppled Morsi to install him, is not surprising.
Still, the IkhwanOnline article suggests that some elements of the Muslim Brotherhood may be indulging in conspiracy theories that ignore their own role in public outrage about Morsi's rule and may be promoting the anti-Semitic ideas that engendered so much international skepticism of their rule. There is no indication that there is any truth to the article.
The article cited as its source the purported Facebook page of an al-Jazeera Arabic broadcaster, although it's not clear whether the Facebook page is real. The article claims that Mansour is "considered to be a Seventh Day Adventist, which is a Jewish sect" (in fact, Seventh Day Adventism is considered part of Protestant Christianity). It further claims that Mansour tried to convert to Christianity but was rebuffed by the Coptic pope, a major Egyptian religious figure, who supposedly refused to baptize him.
The article goes on to connect Mansour's appointment as president to a global conspiracy involving the United States, Israel and Mohamed ElBaradei. According to a translation by the site MBInEnglish, which is run by Cairo-based journalists and dedicated to translating Brotherhood-penned articles into English, the article claimed that ElBaradei had refused to participate in a conference that denied the Holocaust. This, it says, was "a token gesture offered to the Jews by ElBaradei so that he can become President of the Republic in the fake elections that the military will guard and whose results they will falsify in their interests. All with the approval of America, Israel and the Arabs, of course."
The article has since been removed, suggesting perhaps that someone in the Brotherhood had acknowledged the potential for criticism. It would be wrong to conclude from just this one article that the Muslim Brotherhood was retreating back into some of its worst habits: conspiracy theories, anti-Semitism, the insistence that no disagreement could be legitimate. But now that the group has been forced from power, this is a very real risk — not just for the group and its chances of regaining power, but for an Egyptian political system that is dangerously divided.
http://www.washingtonpost.com/blogs/worldviews/wp/2013/07/05/muslim-brotherhood-site-says-egypts-new-president-is-secretly-jewish/
----------
Egypt on edge after clashes leave at least 30 dead; Islamists push to restore ousted president
July 06, 2013
CAIRO – Egyptians were on edge Saturday morning after supporters and opponents of ousted President Mohammed Morsi fought overnight street battles that left at least 30 dead across the increasingly divided country.
Cairo's emblematic Tahrir Square and nearby approaches to the River Nile were largely empty but left strewn with debris. Thousands of Morsi's Islamist supporters had marched to the area demanding his reinstatement but ended up fleeing under a hail of stones, fireworks and sometimes gunfire.
Enraged at his overthrow by millions of protesters backed by the country's powerful military, tens of thousands of Morsi's supporters took to the streets on Friday, holding rallies they say they will continue until the former leader is returned to office.
The chaotic scenes that played out in the capital, mostly on a bridge leading to Tahrir, ended only after the army rushed in with armored vehicles to separate the warring groups. Some of Morsi's opponents jumped on at least one vehicle to try to show that the military was on their side.
The clashes had accelerated after the supreme leader of Morsi's Muslim Brotherhood defiantly proclaimed his followers would not give up street action until the return of the country's first freely elected president. Morsi's opponents had called out the public to defend against the Brotherhood, deepening the battle lines.
"God make Morsi victorious and bring him back to the palace," Brotherhood chief Mohammed Badie proclaimed Friday before cheering supporters at a Cairo mosque in his first appearance since the overthrow. "We are his soldiers we defend him with our lives."
Badie said it was a matter of honor for the military to abide by its pledge of loyalty to the president, in what appeared to be an attempt to pull it away from its leadership.
Hours later, his deputy, Khairat el-Shater, considered the most powerful figure in the organization, was arrested in a Cairo apartment along with his brother on allegations of inciting violence, Interior Ministry spokesman Hani Abdel-Latif told The Associated Press.
After the speech, a large crowd of Islamists surged across 6th October Bridge over the Nile toward Tahrir, where a giant crowd of Morsi's opponents had been massed all day. Battles broke out there and near the neighboring state TV building. Pro-Morsi youth shielded themselves from flying stones and fireworks with sheets of metal. A car burned at the top of an exit ramp amid the sounds of automatic weapons and shotguns. At least three people were killed at the bridge.
Across the country, clashes erupted as Morsi supporters tried to storm local government buildings or military facilities, battling police or Morsi opponents. Besides the 30 killed throughout the day, some 210 were wounded, Heath Ministry official Khaled el-Khatib told The Associated Press.
Islamists descended on anti-Morsi rally, opening fire with guns in the Mediterranean coastal city of Alexandria, where at least 12 people were killed, mostly Morsi opponents, emergency services official Amr Salama said. One man was stabbed and thrown from the roof of a building by Morsi supporters after he raised an Egyptian flag and shouted insults against the ousted president, according to an Associated Press reporter at the scene.
Militants killed five policemen in shootings around the Sinai city of el-Arish, according to security officials speaking on condition of anonymity because not authorized to talk to the press.
The U.S. State Department condemned the violence and called on all Egyptian leaders to denounce the use of force and prevent further bloodshed among their supporters.
An interim president — senior judge Adly Mansour — was sworn in Thursday, and a Cabinet of technocrats is to be formed to run Egypt until new elections can be held, although officials have not said when that will be. Mansour dissolved the interim parliament — the upper house of the legislature — which was overwhelmingly dominated by Islamists and Morsi allies. He also named the head of General Intelligence, Rafaat Shehata, as his security adviser.
The Brotherhood has said it will not work with the new military-backed leadership, and Morsi's supporters say the armed forces have wrecked Egypt's democracy by carrying out a coup against an elected president.
They accuse loyalists of former leader Hosni Mubarak, ousted in 2011, and liberal and secular opposition parties of turning to the army for help because they lost the election to Islamists. Many also see it as a conspiracy against Islam.
Friday's turmoil began in the afternoon when army troops opened fire as hundreds of his supporters marched on the Republican Guard building in Cairo. That site is where Morsi was staying when he was toppled before being taken into military custody at an undisclosed location.
The crowd approached a barbed wire barrier where troops were standing guard. When one person hung a sign of Morsi on the barrier, soldiers tore it down and told the crowd to stay back. A protester put up a second sign, and the soldiers opened fire, according to an AP photographer.
A protester fell dead with a gaping, bleeding wound in the back of his head, while others were bloodied and wounded. Witnesses told AP Television News at the scene that men in plain clothes fired the lethal shots. The Health Ministry said a total of four were killed at the site, though it was not known how all died.
Badie, made his appearance three hours later on a stage in front of tens of thousands of Islamists massed at Rabia al-Adawiya Mosque, not far from the Republican Guard building.
The circumstances of his appearance were a mystery. Security officials had said he was taken into custody from a villa on the Mediterranean coast soon after Morsi's removal Wednesday night and flown to Cairo, part of a sweep that netted at least five other senior Brotherhood figures and put around 200 more on wanted lists.
Fears have been running high over an Islamist backlash to Morsi's overthrow. Extremist Islamist groups that gained considerable freedom to operate during Morsi's year in office have already vowed violence in retaliation.
http://www.foxnews.com/world/2013/07/06/egypt-on-edge-after-clashes-leave-at-least-30-dead-islamists-push-to-restore/#ixzz2YIs8fsZW
----------
Syria warplanes bombard outskirts of Damascus: NGO
July 6, 2013
BEIRUT: Syrian warplanes launched a series of strikes on the outskirts of Damascus Saturday as President Bashar al Assad's regime pressed a bid to drive back rebels, a monitoring group said.
Fresh fighting meanwhile erupted in several flashpoint areas around the capital, while the army renewed its shelling on besieged rebel areas of the central city of Homs, said the Syrian Observatory for Human Rights.
"Warplanes carried out several air strikes on the edges of Assali (in the south) and Qaboon (east)," said the Britain-based group, referring to areas on the outskirts of Damascus.
The Observatory also reported fresh clashes in Assali as well as in the southwestern neighbourhood of Qadam, adding that the army shelled rebel-held Yarmuk in the south and Jubar in the east.
Full report at:
http://tribune.com.pk/story/573306/syria-warplanes-bombard-outskirts-of-damascus-ngo/
--------
Rise of Local Salafist Jihadists Worries Jordan's Government
July 06, 2013
For decades the main political rival to the Jordanian regime was, and remains to some extent, the Islamist movement represented by the Muslim Brotherhood. The role of the Brotherhood as a major opponent has been amplified in the past two years after the eruption of the Arab Spring.
Defined as a moderate Islamist social organization whose aim is to reform society gradually through peaceful means, the Brotherhood has managed to coexist with the Hashemite regime in Jordan, which provided their members with a safe haven during the tumultuous years of the 1950s and '60s.
Full report at:
http://www.al-monitor.com/pulse/originals/2013/07/salafist-jihadists-jordan.html#ixzz2YIqYPaz5
----------
Bahrain Salafists Increase Involvement in Syria War
July 06, 2013
The Bahraini Salafist preacher Sheikh Faisal al-Ghurair must be feeling great. Within four months, and with the help of MP Abdelhalim Murad from the Salafist al-Asala Islamic Society, Ghurair has been able to organize 1,640 jihadists and send them to fight in Syria.
Ghurair announced the "good news" to his followers in a June 14 speech in Manama. "We are happy to tell you that we have sent arms and ammunition to the mujahedeen in Syria," he said.
Asala is close to the Bahraini royal court and is overseeing an overt project that is providing military support, both in personnel and logistics, from the Bahraini capital, Manama.
In August, Murad and three of his comrades crossed the Turkish border into Syria, where they met jihadists belonging to the radical groups Suqur al-Sham and Liwaa Dawud and gave them enough money to support 85 fighters. The Bahraini government said at the time, "The visit by a number of Bahraini MPs to Syria happened without the knowledge of or prior coordination with [the Bahraini government]."
Full report at:
http://www.al-monitor.com/pulse/originals/2013/07/bahrain-salafists-syria-war-fighters.html#ixzz2YIqmuxBL
----------
Syrian City of Raqqa Suffers Under Rebel Rule
July 06, 2013
What is happening in Raqqa? It is worth bring attention to the governorate that is "ruled" by the opposition, since it is the first actual model of an alternative authority to the state. The opposition referred to here is not the Syrian Coalition or its "temporary" government, but the Free Syrian Army (FSA) brigades and the Religious Body to Support the Syrian Revolution.
Based on the reality on the ground, there is confusion on the part of the opposition, especially in the management of the agricultural, educational and service sectors. There is also a risk of defaulting on the payment of salaries for state employees, as well as news about a new dictatorship being exercised by the brigades in the name of Sharia. It also seems that reconstruction will remain pending until further notice.
Full report at:
http://www.al-monitor.com/pulse/security/2013/07/raqqa-syria-rebel-control.html#ixzz2YIt4BNyx
----------
Syrian opposition to hold runoff vote for new coalition leader
6 July 2013
Members of the Syrian National Coalition voted on Saturday to elect a new leader, but the top two candidates failed to gain a simple majority required to become the head of the coalition fighting to oust President Bashar al-Assad.
A runoff ballot was scheduled for later on Saturday, according to Reuters.
Ahmad Jarba, a tribal figure linked with Saudi Arabia, and Mustafa al-Sabbagh, a businessman who is Qatar's point man, did not gain more than half of the votes in the 115 member SNC in an early morning ballot in Istanbul.
Full report at:
http://english.alarabiya.net/en/News/middle-east/2013/07/06/Syrian-opposition-to-hold-runoff-vote-for-new-coalition-leader-.html
----------
Egypt Muslim Brotherhood deputy leader arrested
Reuters | Jul 6, 2013
CAIRO: A deputy leader of Egypt's Muslim Brotherhood, former presidential candidate KhairatEl-Shater, has been arrested, security sources, his party and state news agency MENA said on Saturday.
Security sources said Shater, a wealthy businessman seen as the movement's main political strategist, was taken into custody on suspicion of incitement to violence. He was arrested at his apartment in Cairo.
Full report at:
http://timesofindia.indiatimes.com/world/middle-east/Egypt-Muslim-Brotherhood-deputy-leader-arrested/articleshow/20937481.cms
----------
Egypt interim president dissolves Islamist-led assembly: MENA
Cairo, July 05, 2013
Egypt's interim president Adly Mansour on Friday ordered the dissolution of the Shura Council, the country's Islamist-led legislative assembly, according to the official MENA state news agency. In his first decree since taking the oath of office on Thursday, the 67-year-old also named
Mohammed Ahmed Farid as Egypt's new intelligence chief.
http://www.hindustantimes.com/world-news/africa/Egypt-interim-president-dissolves-Islamist-led-assembly-MENA/Article1-1087876.aspx
----------
'We will support Morsi to the last drop of our blood'
Michael Jansen
Sat, Jul 6, 2013
Mixed gathering at university calls for return of deposed president
Cairo University's Nahda Square is sealed off by a few threads of wire and string, and pieces of flattened tin. Access is granted by male volunteers in T-shirts who pat down the men. Women enter without checks, although the square is a strident voice in the campaign to restore the Muslim Brotherhood's Mohamed Morsi to Egypt's presidency.
Just beyond the wire Hele, a bareheaded blonde woman carrying a portrait of Morsi, takes my arm, steering me round little piles of broken paving stones, positioned to repel attacks. "I am a liberal, I am a liberal," she says as we cross the square to a marqee sheltering a dozen women, who shake hands and offer water.
Full report at:
http://www.irishtimes.com/news/world/middle-east/we-will-support-morsi-to-the-last-drop-of-our-blood-1.1454587
----------
Al-Azhar imam addresses Egypt: Violence and killing against Islam
6 July 2013
Violence or killing a person is prohibited in Islam, said grand imam of al-Azhar institution – which is Sunni Islam's highest seat of learning – as the death toll in Egypt kept rising.
Ahmed al-Tayeb, in a televised address to the nation – said that he hoped the Egyptian people will find a way out of "this ugly strife."
At least 10 people were killed and 210 wounded in clashes between opponents of ousted Islamist President Mohammed Mursi and those who support him, a health ministry source said on Friday.
Full report at:
http://english.alarabiya.net/en/News/middle-east/2013/07/06/Al-Azhar-imam-addresses-Egypt-Violence-and-killing-against-Islam.html
----------
Prosecution questions former brotherhood supreme guide on charges of killing protesters
05/07/2013
The South Cairo Prosecution conducted on Friday an investigation of former Muslim Brotherhood Supreme Guide Mahdi Akef in Tora Prison on charges of inciting the killing of the protesters who died at the supreme guidance bureau.
Akef faces charges of inciting violence that led to the death of nine protesters opposing deposed President Mohamed Morsy and 45 others being injured during the 30 June protests.
Full report at:
http://www.egyptindependent.com/news/prosecution-questions-former-brotherhood-supreme-guide-charges-killing-protesters
--------
Radical Islamist group threatens violence after Egypt Morsi overthrow
July 06, 2013
A new Islamist group has announced its formation in Egypt, calling the army's ousting of Mohamed Morsi a declaration of war on its faith and threatening to use violence to impose Islamic law.
Ansar Al-Sharia in Egypt said it would gather arms and start training its members, in a statement posted on an online forum for militants in the country's Sinai region Friday and recorded by the SITE Monitoring Service.
The army's move, which was backed by mass rallies across Egypt, has raised fears Islamists could desert officially recognised groups like Morsi's Muslim Brotherhood and move to more militant movements.
Full report at:
http://english.ahram.org.eg/NewsContent/1/64/75828/Egypt/Politics-/Radical-Islamist-group-threatens-violence-after-Eg.aspx
-----------
Retrial of Egypt's Mubarak adjourned to August 17
July 06, 2013
CAIRO: A Cairo court has adjourned to August 17 the retrial of former President Hosni Mubarak over charges of corruption and involvement in the killing of protesters during the 2011 uprising that ousted him.
Mubarak and his two sons, Alaa and Gamal, who are on trial for corruption, appeared at the court session Saturday.
Full report at:
http://dailystar.com.lb/News/Middle-East/2013/Jul-06/222775-retrial-of-egypts-mubarak-adjourned-to-august-17.ashx#ixzz2YJaQLZY1
-----------
Africa
30 killed in school attack in northeast Nigeria by Islamic extremists
July 06, 2013
POTISKUM, Nigeria — Islamic extremists have killed 29 students and one teacher in an attack on a boarding school in northeast Nigeria.
Survivors being treated for burn and gunshots wounds say some students were burned alive in the attack before dawn Saturday on Government Secondary School in Mamudo town in Yobe state.
As he wept over the bodies of his two boys, farmer Malam Abdullahi swore he would withdraw three remaining sons from a nearby school.
He complained there was no protection for students despite the deployment of thousands of troops since the government declared a state of emergency mid-May in three northeastern states.
Dozens of schools have been torched and unknown scores of students killed among more than 1,600 victims slain by extremists since 2010.
http://www.saudigazette.com.sa/index.cfm?method=home.regcon&contentid=20130706172522
-------
Jihad in Niger: Another poor Saharan state has come under attack by violent Islamists
Jul 6th 2013
FOR more than two years, Niger lay sheltered from bloody conflicts in neighbouring Libya, Mali and Nigeria. But recent suicide-attacks at a military base in Agadez and a French uranium mine in Arlit, both in the central desert zone, followed by a jailbreak that resulted in some of the country's most dangerous inmates going free, have flagged up the advent of Islamist extremism in possibly the poorest country in the world. At least 35 people were killed in the attacks.
The jihadists targeted Niger after its government backed a French-led campaign to oust their fellow insurgents from Mali next door. Niger has accepted military aid from America and France, allowing drones to operate from the capital, Niamey. "We were braced for an attack but not on this scale," says Moussa Akfar, a local security expert. "We were shocked. These were the first suicide-attacks in our history."
Full report at:
http://www.economist.com/news/middle-east-and-africa/21580498-another-poor-saharan-state-has-come-under-attack-violent-islamists-bad-omens
----------
Morocco's Islamists modify gender equality plan
6 July 2013
Morocco's Islamist-led government on Friday presented a new European Union-funded plan to promote women's rights and equality, but without earlier measures to legalize abortion and support single mothers.
The plan, which is funded with 45 million Euros (about $58 million) from the EU, contains 150 measures to improve women's equality in the health and education sectors, and access to government employment, Minister of Women, Family and Social Development Bassima Hakkaoui said.
Full report at:
http://english.alarabiya.net/en/life-style/2013/07/06/Morocco-s-Islamists-modify-gender-equality-plan.html
----------
A year on, Sudan demos fade but threats to regime intensify
6 July 2013
One year after an eruption of Arab Spring-inspired demonstrations against President Omar al-Bashir's government, the movement has faded but armed rebellion and other challenges have intensified.
One way or another, though, Bashir's regime is going to fall, activists say.
Rebels in April widened their offensive to topple the government, pushing into a previously peaceful part of the country in what analysts called a humiliation for the authorities.
In far-west Darfur, security has also deteriorated, and late last year the government said it disrupted an attempted coup which analysts see as reflecting a political struggle within the regime.
Full report at:
http://english.alarabiya.net/en/perspective/features/2013/07/06/A-year-on-Sudan-demos-fade-but-threats-to-regime-intensify-.html
--------
Zintan is a victim of disinformation campaign, claims town council head
Ahmed Elumami
JULY 06, 2013
TRIPOLI — Zintan is the victim of deliberate campaign of misinformation in an attempt to isolate it from the rest of the country, according to the town's civic leader Sheikh Mohamed Wakwak. He denied allegations that Zintan had been involved in last week's bloody clashes in Salah Idden and Abu Salim.
"Zintan is experiencing a fierce attack aimed at distorting the great role that our fighters played during the revolution," Wakwak, the head of the local council told the Libya Herald.
He added that the persistent accusations of rape, torture, kidnapping and murder that were made against Zintani people were fabrications, which he said no one could prove.
Full report at:
http://www.saudigazette.com.sa/index.cfm?method=home.regcon&contentid=20130706172419
-------
Mali lifts state of emergency in place since January: official
July 06, 2013
BAMAKO - Mali lifted a five-month state of emergency on Saturday, the eve of the start of a presidential election campaign for July 28 polls in the troubled west African nation, the security ministry said.
The state of emergency was put in place on January 12, a day after France launched a surprise intervention to help Mali's weak army drive out Islamists occupying its north for nine months.
The move by Mali's former colonial power came as Al Qaeda-linked Islamists holding key towns in the vast arid north pushed further south towards the capital Bamako.
The Islamist groups piggybacked on a rebellion by ethnic Tuareg -- which started in January 2012 -- to take control of the north, where they imposed a harsh form of sharia law.
Full report at:
http://www.saudigazette.com.sa/index.cfm?method=home.regcon&contentid=20130706172521
-------
Tanzania says arrests Briton wanted by UK on terror charges
07/06/2013
DAR ES SALAAM - Tanzania has arrested a British man suspected of involvement in unspecified "terrorism activities" in Britain, police in the east African country said.
Iqbal Ahsan Ali was arrested in Tanzania's southern Mbeya region after being found in possession of both British and Tanzanian passports, which is a crime in Tanzania as it forbids dual citizenship, police said.
"We have been in contact with our counterparts in the UK and they have confirmed that the suspect is wanted in their country for involvement in terrorism activities," Robert Manumba, director of criminal investigations, said in a statement on Friday.
http://www.jpost.com/Breaking-News/Tanzania-says-arrests-Briton-wanted-by-UK-on-terror-charges-318922
---------
Pakistan
Pakistan Ulema Council weaning seminary students off militancy
July 06, 2013
LAHORE: Pakistan Ulema Council (PUC) has initiated a series of workshops for the students of religious seminaries or madrasas to help them differentiate between jihad and terrorism so as to address the mindset behind militancy, extremism and religious isolation.
The representative body of religious scholars also plans to conduct workshops at army and police training centres to counter radicalisation in armed forces.
According to sources in religious organisations, only last year around 3,700 students from various madrasas of Punjab visited militant training camps in tribal areas during their annual vacations.
Full report at:
http://tribune.com.pk/story/572295/changing-mindset-puc-weaning-seminary-students-off-militancy/
----------
Tunnel in PoK among deals struck by China, Pak
Beijing, July 05, 2013
China and Pakistan on Friday signed eight agreements including an $18 billion (Rs 1.08 lakh crore) deal to build a 200 km-long strategic tunnel through Pakistan-occupied Kashmir.
The tunnel deal between the "good neighbours, friends, partners as well as brothers" is likely to upset India, which has consistently voiced concern over Chinese activities in PoK.
What's more, Delhi had conveyed its concern over the project during Chinese premier Li Keqiang's visit to India in May.
Full report at:
http://www.hindustantimes.com/world-news/china/Tunnel-in-PoK-among-deals-struck-by-China-Pak/Article1-1087745.aspx
----------
Concern rises over Sharif's plan to halt extremism in Pakistan
Islamabad, July 05, 2013
Suspected Islamic militants killed at least 160 people during the new Pakistani government's first month in office, fueling concern that the country's leaders lack a coherent strategy to fight the pervasive problem of violent extremism.
The ruling PML-N party scored a resounding victory in national elections in May with a platform that promoted peace talks as the best way to quell a domestic Taliban insurgency that has killed thousands of people.
Full report at:
http://www.hindustantimes.com/world-news/pakistan/Concern-rises-over-Sharif-s-plan-to-halt-extremism-in-Pakistan/Article1-1087910.aspx
----------
Pakistan, China set sights on Arabian Sea link
AP | Jul 5, 2013
BEIJING: China and Pakistan set their sights on Friday on developing a transport link through rugged mountains and lawless lands, a route they hope will boost economic growth and bring critical oil supplies to power-hungry China much faster.
A broad agreement for the "economic corridor" was among eight pacts signed following a meeting in Beijing between Chinese Premier Li Keqiang and Pakistani Prime Minister Nawaz Sharif. The 2,000km (1,200-mile) transport link was described as a "long-term plan" to connect Kashgar in northwestern China to the Pakistani port of Gwadar, likely by road in the beginning and possibly by rail later.
Full report at:
http://timesofindia.indiatimes.com/world/pakistan/Pakistan-China-set-sights-on-Arabian-Sea-link/articleshow/20931167.cms
----------
Charitable trust comes under Taliban's radar for Extortion
July 6, 2013
KARACHI: After preying on successful industrialists and businessmen, militant outfits are now targeting charitable and non-profit organisations and threatening them of dire consequences if extortion money is not paid.
Bint-e-Fatima Old Home Trust has recently made it to the Taliban's hit list. The extortionists have allegedly demanded Rs5 million as 'protection' money and threatened to kill the entire family of the trust's chairperson, Farzana Shoaib, and blow up the NGO if their demand remains unmet.
Full report at:
http://tribune.com.pk/story/573185/extortion-threats-charitable-trust-comes-under-talibans-radar/
---------
Gwadar may be given special status for quicker development: Nawaz
JULY 06, 2013
BEIJING: Prime Minister Nawaz Sharif hinted at a fast track development of the Gwadar Port suggesting it might be accorded a special status so that the project is effectively executed.
In a meeting with President China Overseas Port Holding Company Limited Sun Ziyun, the Prime Minister said that there should be no delay in the infrastructural development of Gwadar.
He assured that the government will extend its full cooperation to the companies investing in the port's development.
Full report at:
http://tribune.com.pk/story/572933/gwadar-may-be-given-special-status-for-quicker-development-nawaz/
---------
Mortar shells fired from Afghanistan land in South Waziristan
ZAHIR SHAH SHERAZI
JULY 06, 2013
PESHAWAR: More than 50 mortar shells fired from Afghanistan fell into Pakistani territory on Saturday.
All the shells dropped in different areas of Pakistan's South Waziristan tribal region.
According to initial reports, 10 shells fell on Angoor Adda which destroyed houses and shops. However, no casualties were reported.
Moreover, security forces cordoned off the area and started an investigation.
http://dawn.com/news/1023238/mortar-shells-fired-from-afghanistan-land-in-south-waziristan
---------
India
Ishrat Case: Junior Cops Rise Up Against Seniors
Prashant Dayal, TNN | Jul 6, 2013
AHMEDABAD: Right from illegal detention of Ishrat Jahan and the three others to their cold-blooded killing near Kotarpur Waterworks on June 14-15, 2004, they have seen and heard everything. And, now they are singing. CBI in its chargesheet has submitted statements of 10 police officers recorded under section 164 of CrPC.
Cops have turned against cops in the Ishrat Jahan fake encounter case as the masterminds and conspirators find themselves in the crosshairs of their subordinates. This is the first time when junior policemen have accused their superior officers of forcing them to indulge in illegal activities.
Full report at:
http://timesofindia.indiatimes.com/india/Ishrat-case-Junior-cops-rise-up-against-seniors/articleshow/20938647.cms
----------
Books focus on contribution of non-Muslims to Urdu
6 July 2013
Two books — "Jharkhand Mein Urdu Ke Ghair Muslim Fankar" ("Non-Muslim Urdu Poets and Litterateurs in Jharkhand") by Dr. Nuzhat Perween and "Pindar Ka Sanam Kadah" ("The Idol House of Ego") by Aslam Badr — were released in Jubail recently.
Well-known Indian expatriate Meraj A. Ansari was the chief guest at the event. In attendance were Aslam Badr's grandson Musab Iqbal and granddaughter Sidrah Batool. Among other prominent invitees were Syed Jamil, senior scientist at SABIC, and Jamil Akhtar of Hadeed.
"Non-Muslim Urdu Poets in Jharkhand" is a scholarly work based on doctoral research conducted by Perween for Ranchi University. Her book recounts contribution of non-Muslim poets and litterateurs of the continent as well as of Jharkhand, specifically Ram Prasad Khosla "Nashad," Harbans Dost, Gurubachan Singh, Kamta Prasad "Hosh," Shaida Chini and Joga Singh Anwa.
Full report at:
http://arabnews.com/news/457184
-------
ISI agents among passport holders from Lucknow
By Piyush Srivastava in Lucknow
Jul 6, 2013
MORE than 50 terrorists are moving from one country to another on passports issued by the Lucknow passport office. If that's not alarming enough, sources say, senior officers of the passport office are directly involved in the racket for anything between ` 50,000 and ` 5,00,000 per person and have issued passports to at least 50 suspected ISI agents.
The Kanpur Police on Thursday night arrested 17 persons, including passport granting officer Jayant Sarkar and his five associates Ashutosh Srivastava, Pankaj Singh, Sagar Saxena, Avinash Dixit and Sonu Sonkar, from local passport service centre where they were processing genuine passports on forged documents.
Full report at: Mail Today
--------
Not in a hurry to resolve border issues with China: Salman Khurshid
IANS | Jul 6, 2013
SINGAPORE: India and China will not rush to resolve differences over the disputed border while there has been steady progress in the overall relationship, external affairs minister Salman Khurshid said on Friday, stressing that "it helps to remain cautious and vigilant".
"It helps to remain cautious and vigilant and careful because it is not a relationship that has finally overcome the difficult issues that caused us to actually come into a confrontation," Khurshid told the Strait Times here.
Full report at:
http://timesofindia.indiatimes.com/india/Not-in-a-hurry-to-resolve-border-issues-with-China-Salman-Khurshid/articleshow/20936163.cms
----------
Pervez Rasool first Kashmiri to make it to Indian Cricket Team
HT Correspondent, Hindustan Times
New Delhi/Srinagar, July 06, 2013
Parveez Rasool has become the first cricketer from J&K to be picked for a senior India squad. The 24-year-old all-rounder is among the 15 named to tour Zimbabwe beginning July 24.
"It's every cricketer's dream to play for India and my dream has come true," Rasool told HT in Srinagar.
"I had a good domestic season. I got 33 wickets and scored 594 runs in seven matches. Besides I got seven wickets for India A in a match against Australia," he said.
Rasool is the fourth cricketer from J&K after Abid Nabi, Surendra Singh and Abdul Qayoom to be picked for a national squad. The other three, however, couldn't make it to the senior team.
Full report at:
http://www.hindustantimes.com/Cricket/CricketNews/Pervez-Rasool-becomes-first-Kashmiri-to-make-it-to-Team-India/Article1-1087621.aspx
----------
Tamil Nadu CM offers free rice to mosques during Ramzan
TNN | Jul 6, 2013
CHENNAI: With Ramzan fasting expected to begin in Tamil Nadu on July 9 or 10, chief minister J Jayalalithaa has directed that 4,000 tonnes of rice be supplied to mosques across the state to help in the preparation of meals (nonbukanji) to break the fast during the 30-day period.
In an official statement, Jayalalithaa said an order to this effect was passed during her previous regime and had been quite popular among Muslims. "I have received representations from Muslims to supply rice just like in the past," she said. "So, I have ordered the supply of rice to mosques to prepare meals without any hassle."
Full report at:
http://timesofindia.indiatimes.com/india/Jayalalithaa-offers-free-rice-to-mosques-during-Ramzan/articleshow/20935527.cms
----------
Mideast
Israel Sees a Chance for More Reliable Ties With Egypt and a Weakening of Hamas
By ISABEL KERSHNER
July 06, 2013
JERUSALEM — After Mohamed Morsi, an Islamist, was elected president of Egypt a year ago, he refused any contact with Israelis, raising deep anxiety here and concern about the future of the Israel-Egypt peace treaty, a cornerstone of regional stability for decades.
But with Mr. Morsi's ouster and the crackdown against the Muslim Brotherhood in Egypt this week, Israelis see the prospect of a return to what they view as a more reliable status quo, as well as a weakening of Hamas, the militant Islamic group that runs Gaza.
And yet, the good news for Israel remains tempered by the danger of chronic instability next door.
"What is important for Israel is a stable Egypt," said Shaul Shay, a former deputy head of Israel's National Security Council. "I don't see the Muslim Brotherhood there swallowing the blow and waiting another 80 years to try to return to power. The story is not over, despite the fireworks in Cairo."
Full report at:
http://www.com/2013/07/06/world/middleeast/israel-sees-prospect-of-a-more-reliable-egypt-and-a-weaker-hamas.html?ref=middleeast
----------
A rightist Israeli Minister vows to build temple on 'Aqusa ruins'
July 06, 2013
RAMALLAH – A rightist Israeli minister said that the government has to build the second temple on the ruins of the Al-Aqusa Mosque Complex in occupied Jerusalem, a report said on Friday.
The Hebrew daily Ma'ariv quoted Uri Ariel, the Housing Minister form the rightist Habayit Hayehudi (Jewish Home), as saying that "we have built many buildings, including many 'small temples'," employing a term used in the Jewish world to refer to synagogues.
"We need something that is not like the Temple. We need the Temple. On the Temple Mount (Al-Aqsa Mosque Complex)," Ariel told participants at the Shilo Conference on Biblical Research and Archaeology. Shilo settlement located to the north of Ramallah in the West Bank.
Full report at:
http://www.saudigazette.com.sa/index.cfm?method=home.regcon&contentid=20130706172509
----------
Envoy Renews Iran's Full Support for Lebanon's Army, Hezbollah
July 6, 2013
TEHRAN (FNA)- Iran's Ambassador to Beirut Qazanfar Roknabadi reiterated Tehran's continued all-out support for anti-Israel resistance movements in the region, specially the Lebanese Army and Hezbollah Resistance Movement.
"We had already announced our position. Our stance is unchanging and we are always ready to help equip the Lebanese Army," Roknabadi said during a meeting with Michel Aoun, Lebanon's leader of the Free Patriotic Movement, in Beirut.
Roknabadi also reaffirmed Iran's support of the Lebanese resistance movement as well as the Syrian government.
Full report at:
http://english.farsnews.com/newstext.aspx?nn=13920415000810
----------
200,000 Yemenis forced out of Saudi Arabia
July 6, 2013
Geneva: Yemen has asked the International Organisation for Migration to help some 200,000 Yemenis forced to leave Saudi Arabia in the past three months amid a crackdown on undocumented migrants, the IOM said on Friday.
Yemen wants the IOM to help provide basic assistance such as shelter, access to water and hygiene kits to vulnerable returnees, the Geneva-based organisation said in a statement.
Saudi King Abdullah Bin Abdul Aziz announced an amnesty on April 3 that grants foreign workers a three-month grace period to regularise their residency or leave the country to avoid being jailed, fined or placed on a blacklist.
Full report at:
http://gulfnews.com/news/gulf/yemen/200-000-yemenis-forced-out-of-saudi-arabia-1.1205931
--------
Hamas urges faith in Arab Spring despite Morsi ouster
July 06, 2013
Ismail Haniya, head of the Hamas government in Gaza, appealed in a Friday sermon to have faith in the Arab Spring despite the ouster of Egypt's Islamist president Mohamed Morsi by the army.
"Do not fear for the Palestinian cause or for the resistance (against Israel) or for Gaza. Egypt is behind us, as are the Arab and Islamic countries," Haniya said.
"We believe good will emerge from this Arab Spring, these revolutions and this rebirth. We expect the Arab Spring cycle to continue until its objectives are attained, including our own cause."
Full report at:
http://english.ahram.org.eg/NewsContent/2/8/75778/World/Region/Hamas-urges-faith-in-Arab-Spring-despite-Morsi-ous.aspx
----------
Turkish President Gül urges democratic elections in Egypt as soon as possible
07/06/2013
Turkish President Abdullah Gül said today that there should be elections in Egypt as soon as possible, defining the military intervention in the country as an "interruption" to democracy.
"What should have been normally, for [Morsi], was to leave office as a result of elections when it is time. This interruption is worrisome. There should be elections in Egypt again as soon as possible," Gül told reporters in Istanbul.
"This is the only way for Egypt's first democratically elected president, Mohamed Morsi and his friends not to be offended and Egypt to attain democracy again. I wish for a broad participation election to be helf as soon as possible and elected authorities to take office," Gül continued.
Full report at:
http://www.hurriyetdailynews.com/turkish-president-gul-urges-democratic-elections-in-egypt-as-soon-as-possible.aspx?pageID=238&nID=50095&NewsCatID=338
----------
Southeast Asia
Aceh plans stiffer punishments for Sharia offenders
By Nurdin Hasan
July 05, 2013
Two new laws being deliberated in Aceh's parliament (DPRA) could make caning far more common in the province by lengthening the list of offenses that carry the sentence and making the punishment mandatory.
DPRA Deputy Chairman Sulaiman Abda said the two draft regional laws or qanun are urgently needed as part of efforts to enforce Sharia law more fully in the province, and that various sectors of society are pressing for their immediate passage, which he hopes to see this year.
Deliberations on the matter in a special committee of the DPRA have included ulema, academics, activists, police officers, lawyers, and community leaders, to ensure the resulting bylaws are "of good quality and acceptable to Acehnese society," he told Khabar Southeast Asia.
Full report at:
http://khabarsoutheastasia.com/en_GB/articles/apwi/articles/features/2013/07/05/feature-05
----------
Shariah law takes priority in unilateral conversion issue, says PAS Ulema chief
JULY 06, 2013
Even before the dust has settled on the controversial unilateral conversion issue, PAS ulama Chief Datuk Harun Taib waded in by claiming that the Shariah law should be followed on this issue.
Online portal the Mole reported Harun as saying it was clearly stated that the father has the right to determine his children's religion if they have yet to reach mature age.
"I personally feel that the Shariah law should be applied in this matter. If the father converts to Islam, then the children will automatically be Muslims as well."
Full report at:
http://www.themalaysianinsider.com/malaysia/article/syariah-law-takes-priority-in-unilateral-conversion-issue-says-pas-ulama-chief/
--------
Zahid against repeal of Sedition Act, set for collision with Najib
BY MD IZWAN
JULY 06, 2013
Home Minister Datuk Seri Ahmad Zahid Hamidi said he would not support abolishing the Sedition Act 1948, putting him on collision course with Prime Minister Datuk Seri Najib Razak.
In July last year, Najib had announced that the Sedition Act would be replaced with a National Harmony Act, after repealing the Internal Security Act and the Emergency Ordinance.
However, Zahid told reporters today that the abolishment of the Sedition Act would mean that there was no law to regulate seditious content.
"It would legitimise sedition, whether it was in the form of slander, accusation, condemnation, it would be encouraged," Zahid said.
Full report at:
http://www.themalaysianinsider.com/malaysia/article/zahid-against-repeal-of-sedition-act/
--------
New Scandal Hits PKS Top Cleric
JULY 06, 2013
The chief patron of a scandal-ridden Islamic party, already implicated in a major graft case, now faces allegations of illegally profiting from the sale of a home bequeathed by its owners to their children.
Hilmi Aminuddin, the chairman of the Prosperous Justice Party's (PKS) board of advisers, is accused of selling the 700-square-meter plot of land and house in Cianjur, West Java, to Luthfi Hasan Ishaaq, the former PKS president currently standing trial in a corruption case, for three times the price that he paid for it.
Full report at:
http://www.thejakartaglobe.com/news/new-scandal-hits-pks-top-cleric/
--------
National security: New policy draws on Chinese, Malaysian models
July 6, 2013
ISLAMABAD: A multi-layered strategy has been developed as part of the country's new security policy to root out extremism and militancy through military action and civilian stabilisation efforts, The Express Tribune has learnt.
The draft policy – prepared by the National Counter-Terrorism Authority (NACTA) – will be put up for discussion at a key security meeting called on July 12 in Islamabad. Leaders of major political parties and top military officials will attend the meeting.
The draft has been sent to Prime Minister Nawaz Sharif, who heads the body's board of governors, sources told The Express Tribune on Friday. A copy of the draft has also been sent to Interior Minister Chaudhry Nisar Ali Khan.
Full report at:
http://tribune.com.pk/story/573222/national-security-new-policy-draws-on-chinese-malaysian-models/
--------
South Asia
Associated Press Impact: Massacre of Muslims in Myanmar ignored
By TODD PITMAN, Associated Press
July 5, 2013
MEIKHTILA, Myanmar (AP) — Their bones are scattered in blackened patches of earth across a hillside overlooking the wrecked Islamic boarding school they once called home.
Among the smashed fragments of skull and jaw lie the sharpened bamboo staves attackers used to beat dozens of people to the ground before drowning their still-twitching bodies in gasoline and burning them alive.
The mobs that March morning were Buddhists enraged by the killing of a monk. The victims were Muslims who had nothing to do with it — students and teachers from a prestigious Islamic school in central Myanmar who came so close to being saved. In the last hours of their lives, they only had to make it a few hundred steps to four police trucks waiting on a hill above.
Full report at:
http://www.sfgate.com/news/crime/article/AP-Impact-Massacre-of-Muslims-in-Myanmar-ignored-4648844.php#page-1
--------
Gonojagoron Mancha of Bangladesh again demands ban on Jamaat-e-Islami
July 06, 2013
Gonojagoron Mancha at a "mass dialogue" yesterday reiterated their demand for banning Jamaat-e-Islami and urged for unity among those upholding the "torch of youth" to rebuild the nation by rejecting religion-based politics.
The platform, comprising youths demanding capital punishment for crimes against humanity committed during the 1971 Liberation War, organised the dialogue in the capital's Shahbagh, now popularly known as Projonmo Chattar.
Full report at:
http://www.thedailystar.net/beta2/news/gonojagoron-mancha-again-demands-ban-on-jamaat/
----------
Bangladesh must show visible improvements: Economists
July 06, 2013
Bangladesh needs to do proper homework and show visible improvements in workers' safety and trade union rights to restore the trade benefits under GSP in the US market, say economists.
"In the mid-term, we need to do proper homework and will have to show visible improvements in the areas of concerns including trade union and safety issues," Prof Mustafizur Rahman, executive director of the Centre for Policy Dialogue (CPD), a leading think-tank, told the news agency yesterday. He said the US would review the GSP (Generalised System of Preferences) scheme after six months, when Bangladesh could apply for restoring the benefits. "It seems that getting back the GSP benefits won't be possible within a year as it's not a job that can be accomplished overnight."
Full report at:
http://www.thedailystar.net/beta2/news/bangladesh-must-show-visible-improvements-economists/
----------
North America
Egypt Crisis Finds Washington Largely Ambivalent and Aloof
By PETER BAKER
2013/07/06
WASHINGTON — In polo shirt, shorts and sandals, President Obama headed to the golf course Friday morning with a couple of old friends, then flew to Camp David for a long weekend. Secretary of State John Kerry was relaxing at his vacation home in Nantucket.
Aides said both men were updated as increasingly bloody clashes left dozens dead in Egypt, but from outward appearances they gave little sense that the Obama administration viewed the broader crisis in Cairo with great alarm. While the violence distressed American leaders, the unspoken truth is that many of them are at least conflicted and in some cases not all that unhappy about the ouster of President Mohamed Morsi.
Full report at:
http://www.nytimes.com/2013/07/06/world/middleeast/egypt-crisis-finds-washington-ambivalent-and-aloof.html?ref=middleeast
----------
US hopes aid will lure Egyptian army back to democracy
AFP | Jul 6, 2013
WASHINGTON: Three days after Mohamed Morsi was deposed, Washington has still not termed his ouster "a coup," hoping warnings of cuts in US aid will prove enough leverage to force the Egyptian military to restore democracy.
The law is clear: under legislation dating back to 1985, US military and economic assistance to another country must be suspended if a legitimately elected government is overthrown by the army.
But the verbal acrobatics by the US administration to avoid the "c" word show President Barack Obama's desire not to undermine the generals amid the chaos of Morsi's ouster, hoping that, as they did in 2011 after the toppling of Hosni Mubarak, they will steer Egypt back toward democracy.
Full report at:
http://timesofindia.indiatimes.com/world/middle-east/US-hopes-aid-will-lure-Egyptian-army-back-to-democracy/articleshow/20938374.cms
----------
Snowden makes 6 new asylum requests: WikiLeaks
London, July 06, 2013
Secret-spilling website WikiLeaks said Friday that NSA leaker Edward Snowden has put in asylum applications to six new countries as his effort to find refuge from American prosecution falters.
Snowden is believed to be stuck in a Moscow airport transit area and has already sought asylum from more than 20 countries, including Venezuela and Ecuador. Many have turned him down.
Full report at:
http://www.hindustantimes.com/world-news/europe/Snowden-makes-6-new-asylum-requests-WikiLeaks/Article1-1087984.aspx
--------
US slams Egypt clashes, urges army to protect right to peaceful assembly
07/06/2013
The United States condemned clashes across Egypt on July 5 and urged all leaders including the army to stop the violence after dozens were killed following the toppling of elected President Mohamed Morsi.
"We condemn the violence that has taken place today in Egypt. We call on all Egyptian leaders to condemn the use of force and to prevent further violence among their supporters," State Department spokeswoman Jen Psaki said in a statement.
"We expect the military to ensure that the rights of all Egyptians are protected, including the right to peaceful assembly, and we call on all who are protesting to do so peacefully," Psaki said.
Full report at:
http://www.hurriyetdailynews.com/us-slams-egypt-clashes-urges-army-to-protect-right-to-peaceful-assembly--.aspx?pageID=238&nID=50152&NewsCatID=352
-----------
Europe
Muslim Jewish Conference Meets In Sarajevo To Combat Islamophobia And Anti-Semitism
By Paul Brandeis Raushenbush
07/05/2013
Students and young professionals from around the world have gathered in Sarajevo, Bosnia to exchange experiences and fight prejudice and hatred. They represent different cultures and races and speak dozens of languages, but they share either one of two identities: they are all Muslims or Jews.
As religious tensions flare and Islamophobia and snti-Semitism plague societies, these courageous young people are determined to forge a future of greater peace and understanding.
The conference is the fourth organized by The Muslim Jewish Conference (MJC), a Vienna-based organization whose goal for the conference, according to their website, "is to provide the next generation with a learning experience for life and a positive outlook for establishing intercultural relations and sustaining Muslim-Jewish partnerships."
Full report at:
http://www.huffingtonpost.com/2013/07/05/muslim-jewish-dialogue_n_3539708.html
----------
Anti-Muslim attacks rising in France
World Bulletin / News Desk
July 06, 2013
Anti-Muslim attacks and insults have risen steadily in France in recent years as some politicians and media increasingly present Islam as a problem for French society, a Muslim rights group said on Wednesday.
Hostility rises when Islam is in the news, for example last year when an Islamist killed seven people or when a politician accused Muslim children of stealing classmates' snacks, the Committee against Islamophobia in France (CCIF) said.
The CCIF welcomed a European Parliament decision on Tuesday to lift the legal immunity of far-right leader Marine Le Pen so she can be tried on racism charges for comparing Muslims praying in the streets here to the wartime Nazi occupation of France.
Full report at:
http://www.worldbulletin.net/?aType=haber&ArticleID=112541
----------
Britain set for long-awaited deportation of radical cleric Abu Qatada
AFP | Jul 6, 2013
LONDON: Britain is expected to fly radical Islamist cleric Abu Qatada to Jordan on Sunday to face terror charges, ending a decade-long legal battle over the fate of the man once dubbed Osama bin Laden's right-hand-man in Europe.
London is deporting the 53-year-old Palestinian-born cleric after the two governments last month formally approved a treaty guaranteeing that evidence obtained by torture would not be used against him in any trial.
Prime Minister David Cameron has said he will be "one of the happiest people in Britain" after the departure of Abu Qatada, who has been in and out of British prisons while successive British governments have tried to expel him.
Full report at:
http://timesofindia.indiatimes.com/world/uk/Britain-set-for-long-awaited-deportation-of-radical-cleric-Abu-Qatada/articleshow/20938726.cms
----------
EU threatens to suspend data sharing with US over spying reports
Reuters | Jul 5, 2013
BRUSSELS: The European Union is threatening to suspend two agreements granting the United States access to European financial and travel data unless Washington shows it is respecting EU rules on data privacy, EU officials said on Friday.
The threat reflects European disquiet about allegations that the United States has engaged in widespread eavesdropping on European internet users as well as spying on the EU.
Cecilia Malmstrom, the EU's home affairs commissioner, wrote to two senior US officials on Thursday to voice European concerns over implementation of the two agreements, both struck in the wake of the September 11, 2001 attacks and regarded by Washington as important tools in the fight against terrorism.
Full report at:
http://timesofindia.indiatimes.com/world/europe/EU-threatens-to-suspend-data-sharing-with-US-over-spying-reports/articleshow/20932663.cms
----------
Tunisia heading in right direction, says Hollande
July 06, 2013
TUNIS — France's president told Islamist-led Tunisia Friday it was heading in the right direction, drawing a positive contrast with countries like Libya and Egypt.
President Francois Hollande said Paris would provide 500 million euros ($645 million)in loans and grants to support the North African state. Sixty million euros of Tunisian debt would also be converted into investment projects.
Tunisia's democratic transition was "a model in the region", Hollande said. "You are heading in the right direction. In Libya the transition has been tainted by violence; in Egypt the transition was stopped after the removal of the elected president; and in Syria, desire for change led to war", he added.
Full report at:
http://www.saudigazette.com.sa/index.cfm?method=home.regcon&contentid=20130706172418
---------
URL: https://newageislam.com/islamic-world-news/muslim-clerics-speak-takfiri-ideology/d/12474