New Age Islam News Bureau
13 Sept 2014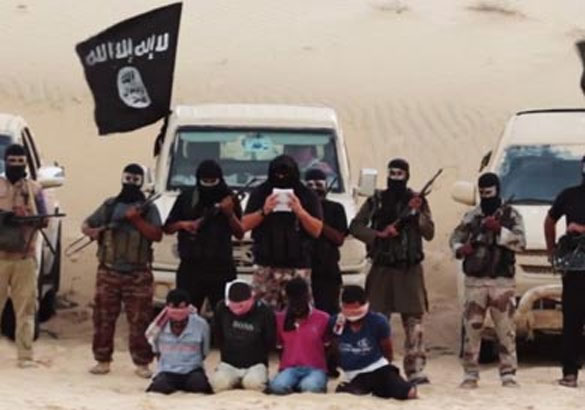 Rise of the 'junior Jihadis' analysts fear disaffected young people of London, Birmingham or Manchester could be particularly vulnerable
---------
India
• Muslim Clerics, Scholars Back Deoband Stand on 'Love Jihad', Say Such Marriages Are Illegal
• Indian Muslims Are Opposed To ISIS, Won't Join Outfit: Rajnath Singh
Arab World
• Yazidi Leader: 'Thousands' of ISIS Suicide Bombers Can Attack 'Anywhere in the World'
• Prominent Egyptian judge tells 'terrorists to go to Turkey and Qatar'
• Islamic State threaten to target Brits on Turkish beaches
• ISIS eyeing up Egypt as its next target, experts say
• ISIS, Syria rebel group sign pact of 'non-aggression'
• Iraqi Airstrike Kills ISIL Ranking Member, 4 Aides in Northern Tikrit
• ISIS's sudden Twitter silence raises questions
• Free Syrian Army will not join US coalition
• Assad's Aide: Terrorism Started in Syria Key Part of This Fight
• Grand mufti: Drugs more dangerous than A-bombs
• ISIL uses extortion and oil smuggling to fund war chest
• Scary Syrian saga — Villagers recount terror of seeping yellow gas attacks
• Cleric who backs Egypt's MB quits Qatar
Europe
• Rise of the 'junior Jihadis': Children under the age of 10 being radicalised in London
• Held by ISIS, five Jihadi Brits who want to go home stripped of weapons and marched to 'punishment centre'
• Nations trying to stop their citizens from going to Middle East to fight for ISIS
• ISIS Inflicting 'Monumental Suffering,' Human Rights Watch Adviser Warns
• Iran's president has not delivered on pledges of more freedom, UN chief says
South Asia
• 25 Taliban militants killed during counter-terrorism operation: MoI
• China urges central Asian neighbours to step up extremism fight
• Senior Taliban commander among 5 killed in Kunar clashes
• PM Sheikh Hasina for extending cooperation among Bimstec countries
• Bangladesh to co-host Asia-Pacific military seminar
• Taliban attack district government compound in Paktia
Pakistan
• Army not 'script writer' of PTI, PAT march: ISPR
• 'Any MQM Worker, Leader Involved In Sectarian Killings Be Hanged Publicly': Altaf Hussain
• Majlis-i-Wahdatul Muslimeen separates from government-PAT talks
• Dictatorship of Musharraf was better than democracy of Nawaz: Imran
• Three killed in deadly Quetta attack
• Imran, Qadri end talks with govt following crackdown
• Imran wants to become PM through short-cut: Sardar Hussain Babak
• Nawaz says won't accept unconstitutional demands
North America
• White House makes it official: US 'at war' with IS
• Obama: Assad Protects Christians in Syria
• Six-in-Ten ' Americans Very Concerned' Over Rise of Islamic Extremism
• Kerry in Cairo for talks on anti-IS coalition
• Turkey will contribute in action against ISIL, Pentagon says
Africa
• Morocco arrests seven 'militant recruiters for ISIS'
• Soldiers defeat Boko Haram in north Nigeria
Southeast Asia
• Malaysia offers to host spy planes that irk China, says top US official
• Najib hostage to extremists, says Guan Eng
• PAS to look beyond religious scholars for election hopefuls
• Philippines starts inquiry into militants in Syria
Mideast
• ISIL militants got hold of sophisticated US guns: Turkish PM
• Israeli official: Israel will fight IS if group reaches Jordan
• Former Hamas PM: Disarmament of Hamas not negotiable
• Iran accuses US of violating sovereignty in anti-ISIS fight
Compiled by New Age Islam News Bureau
URL: https://www.newageislam.com/islamic-world-news/new-age-islam-news-bureau/muslim-clerics,-scholars-back-deoband-stand-on--love-jihad-,-say-such-marriages-are-illegal/d/99059
----------
India
Muslim Clerics, Scholars Back Deoband Stand on 'Love Jihad', Say Such Marriages Are Illegal
Deoband Condemns 'Love Jihad,' Says Such Marriages Are Illegal
MOHAMMAD ALI
13 Sep, 2014
Darul Uloom Deoband, one of the most influential Islamic seminaries in South Asia, condemned "love jihad," a headline-grabbing name given by Sangh Parivar organisations for inter-religious marriages that are allegedly a ruse for conversion, on Friday.
Without naming any political party, the seminary said the "bogey of 'love jihad'" was being raised by people with vested interests. The Islamic seminary termed "illegal" marriages with Hindu girls after their forcible conversion to Islam.
Ashraf Usmani, press secretary of the seminary, told The Hindu that Islam did not allow such marriages. "It would be an illegitimate and illegal act to dupe a Hindu girl and forcibly convert her through marriage. In our view, forced conversion of a girl or a boy just to get married was unacceptable.
"How can 'love jihad' be acceptable? Islam treats women with the utmost respect. It does not allow boys to flirt with girls. How can it allow them to forcibly convert women of other faiths," he wondered. "We are quite concerned at the manner in which the issue of 'love jihad' is being misused to disturb communal harmony. People with vested interests are exploiting it to pit one community against the other."
Maulana Mahmood Madani, general secretary of Jamiat-e-Ulema-e-Hind (JUH), urged Muslim youths to avoid such a situation that gave the BJP an opportunity to "target" the entire community.
The JUH has substantial clout among Muslims in western Uttar Pradesh, a region BJP leaders in the recent past had described as the epicentre of "love jihad."
The issue of "love jihad" has been a rallying point for several BJP leaders like Yogi Adityanath, ahead of the by-elections in the State on Saturday.
Sangh Parivar-linked organisations such as the Vishwa Hindu Parishad, the Hindu Jagran Manch, the Akhil Bharatiya Vidyarthi Parishad and the Bharatiya Janata Yuva Morcha decided in August to join hands to set up new fronts, particularly in western Uttar Pradesh, to fight "love jihad."
http://www.thehindu.com/news/national/other-states/deoband-condemns-love-jihad-says-such-marriages-are-illegal/article6405742.ece
---
Muslim Clerics, Scholars Back Deoband Stand On 'Love Jihad'
13 Sep, 2014
Leading Muslim clerics, scholars and intellectuals here have welcomed the official stand taken by Islamic seminary at Deoband on ' love jihad'.
In a joint statement issued on Saturday, three leading clerics and senior faculty members at the Department of Sunni Theology, Aligarh Muslim University, while welcoming the Deoband seminary's stand also urged the media not to fall prey to communal politics by exaggerating and sensationalising isolated cases of interreligious marriages.
The seminary had on Friday in a statement said that if any individual Muslim youth tries to lure away and cheat any girl belonging to a different religion and attempts to convert her through dubious means, then such a marriage is an illegitimate and Illegal act.
The seminary also alleged that the issue of so called ' love Jihad' was being whipped up by some political groups for polarising society. "The Deoband seminary's diktat on so called 'Love Jihad' should finally put to rest any doubts which some people may have regarding the religious validity of such acts of misdemeanour committed by individuals," the joint statement issued by Mufti Zahid Ali Khan, Chairman, Department of Sunni Theology, Dr Mohd Saleem Qasmi and Dr Ahsanullah Fahad said.
The clerics have urged the media to "be extra careful" before giving publicity to those incidents which are designed to divide society and weaken the country's social fabric.
In a separate statement, secretary of Millat Bedari Muhim Committee Jasim Mohammad said that the Deoband seminary's stand should be welcomed by all responsible sections of society. The bogey of Love Jihad should now be put to rest because it is causing irreparable damage to country's unity and communal amity.
http://www.dnaindia.com/india/report-muslim-clerics-scholars-back-deoband-stand-on-love-jihad-2018399
----------
Indian Muslims are opposed to ISIS, won't join outfit: Rajnath Singh
TNN | Sep 13, 2014
NEW DELHI: While intelligence agencies have expressed concern over some Indian youths going to Syria and Iraq to fight along the Islamic State (IS), earlier known as Islamic State in Iraq and Syria (ISIS), home minister Rajnath Singh on Friday played it down saying Muslims in India are fiercely opposed to the outfit and its ways.
"There is no progress in ISIS recruitment in the country. All Muslim organizations have condemned the outfit and its ways in India. Everybody wants communal harmony in the country to continue. The approach of Islamic organizations in the country has been very positive as far as the issue of ISIS is concerned," Singh told a press conference when asked about the government's concern over ISIS recruiting from India.
When Singh was further prodded that Indian youths joining ISIS was a reality that could not be ignored and that even families of some of these youths had met the home minister, Singh said, "At that time there was such information. But no such thing is happening now."
The statements assume significance in the light of Indian security agencies expressing concern over the development even as families of such youths asked Singh during a meeting last month that the government should do something to stop impressionable Muslim youths from getting radicalized.
The statement is also being seen as Singh's attempt to assure Muslims that the government would not be guided by presumptive and religion-coloured arguments on terrorism. It is also an acknowledgement of the fact that the growing threat of jihadi terror can only be fought with cooperation from the Muslim community.
Some 20-30 youths from India belonging to various states such as Maharashtra, Andhra Pradesh, Karnataka and Tamil Nadu are suspected to have been inspired by IS' ultra-right ideology and are known to be fighting alongside the outfit in the Syria-Iraq theatre.
The home ministry had earlier issued advisories to all states to keep a watch on tensions developing between Shias and Sunnis after widespread atrocities on Shias at the hands of IS were reported from Iraq.
http://timesofindia.indiatimes.com/india/Indian-Muslims-are-opposed-to-ISIS-wont-join-outfit-Rajnath-Singh/articleshow/42391851.cms
----------
Arab World
Yazidi Leader: 'Thousands' of ISIS Suicide Bombers Can Attack 'Anywhere in the World'
13 Sep, 2014
Mirza Dinnayi, senior Yazidi leader and a former adviser on minority affairs to the president of Iraq, told the audience at a conference this week he fears the radical jihadist group the Islamic State could strike anywhere, due to the "thousands of suicide bombers."
Dinnayi made the comments, the Jerusalem Post reports, at a conference in Herzliya, Israel, where he outlined the dangers of the Islamic State that he believes many are underestimating. Speaking while on crutches, as Dinnayi broke his leg when a helicopter participating in a Yazidi relief effort in Iraq crashed, he warned that underestimating the jihadist group could be fatal to more than one nation. "The Islamic State has no nuclear capability, but it has thousands of suicide bombers that can attack people anywhere in the world," he said, noting that its destructive tendencies continue to threaten thousands, if not millions, of ethnic and religious minorities in Iraq and Syria.
Dinnayi noted that much of the persecution of Yazidis and other religious minorities occurred after Christians began fleeing the wrath of the terrorist group. "Christians chose to leave the Islamic State and in response it began attacking the various minorities that remained," he said.
Dinnayi added an accusation that many have made regarding funding and support for the group: that Turkey, Saudi Arabia, and Qatar have all had a hand in funding the group. Turkey, in particular, has been signaled out as a safe haven from which terrorists entering Syria from the West can cross. These claims have come from Islamic State fighters themselves, who say Turkey has been "understanding" towards them.
The Yazidi minority in Iraq, ethnic Kurds who follow a unique religion based in Zoroastrianism, are considered "devil worshippers" by Islamic State terrorists for their belief that Lucifer is not the Devil, but a being referred to as the Peacock Angel who rules over the earth. As infidels, the Islamic State has gone to great lengths to eliminate them, in what Yazidi leaders refer to as the 73rd genocide against their people.
Mass graves found in northern Iraq indicate that the Islamic State has attempted to kill Yazidis en masse by burying them alive; women and girls have been taken by the hundreds as "war booty" and used or sold as slaves after being kidnapped from northern villages. Fleeing from the Islamic State's attempts to eradicate them, thousands of Yazidis climbed up the dangerous Mount Sinjar, where they remained for days without food and water. Many died of starvation and thirst before Kurdish forces, along with United States air support, opened a path down the mountain for the survivors to flee.
http://www.breitbart.com/Big-Peace/2014/09/10/Yazidi-Leader-Thousands-of-ISIS-Suicide-Bombers-Can-Attack-Anywhere-in-the-World
----------
Prominent Egyptian judge tells 'terrorists to go to Turkey and Qatar'
13 Sep, 2014
Ahmad El-Zend, head of an influential judges' association in Egypt, the Judges Club, launched a verbal attack against "terrorist groups", Turkey, and Qatar in a speech on Friday, Al-Ahram Arabic news website reported.
El-Zend was addressing an emergency meeting of the club's members, held to discuss what they described as ongoing terrorist attacks targeting judges. The meeting saw a low turnout, with just a few dozen members in attendance.
On Wednesday, the son of Cairo court appeal judge Mahmoud El-Sayed was killed by unidentified assailants in an apparent assassination attempt against his father, who escaped unharmed.
In his speech, El-Zend lashed out at "terrorists" in reference to Islamist groups who continue to oppose the current regime and are thought to be supported by Turkey and Qatar, two countries with strained relationships with Cairo since the ouster of Islamist president Mohamed Morsi.
"Go to Turkey and fill your bellies with money generated by prostitution, and it will lead you to hell. Go to Qatar and kneel at the feet of its rulers so you can obtain the crumbs of humiliation," said El-Zend, addressing "terrorist groups" in his speech.
The prominent judge also called on President Abdel-Fattah El-Sisi to bolster armed protection for judges.
He also called for the sacking of employees of the prosecution and courts who were appointed during Morsi's one-year presidency, describing them as "ticking timebombs" who leak sensitive documents to the enemies of the government.
El-Zend is a long-time foe of the Muslim Brotherhood and Islamists.
He was a key player in the conflict last year between the judiciary and Islamist parties over proposed changes to the judicial powers law.
The amendments to the law, which were not passed, would have seen the retirement age of judges reduced from 70 to 60, effectively forcing a quarter of Egypt's serving 13,000 judges into early retirement.
In December 2012, following Morsi's announcement of a constitutional declaration immunising his decrees from judicial litigation, El-Zend announced that Egyptian judges would not be on hand to supervise a constitutional referendum for a charter drafted by an Islamist-dominated parliament under the rule of Mohamed Morsi.
In January of this year, a bomb was found outside El-Zend's house.
The Judges Club is a powerful body that represents over 90 percent of Egypt's judges. In recent months, the club has taken action against those judges they described as supporters of Morsi who were deemed members of or sympathetic to the Muslim Brotherhood.
http://english.ahram.org.eg/NewsContent/1/64/110613/Egypt/Politics-/Prominent-Egyptian-judge-tells-terrorists-to-go-to.aspx
----------
Islamic State threaten to target Brits on Turkish beaches
13 Sep, 2014
Extremists are threatening to target westerners if Turkey signs up to a Brit and US-led campaign against the terror network.
Millions of Brits holiday in Turkey, which borders Syria. The beaches are already being toured by Muslim men and boys who hand out leaflets to women in bikinis telling them to cover up.
According to Arabic news websites IS has "organising murderous attacks against gatherings of tourists". The group is also threatening to execute the 46 hostages it took when its fighters stormed Iraq's Turkish consulate in June.
The Foreign Office is advising Brits against travel to within 10km of Turkey's border with Syria.
http://www.dailystar.co.uk/news/latest-news/399184/Islamic-State-threaten-target-Brits-Turkey-beaches
----------
ISIS eyeing up Egypt as its next target, experts say
13 September 2014
After the lightning advance of Islamic State of Iraq and Syria (ISIS) militants this summer, Egyptian experts say that the extremist group - which aims to redraw the map of the Middle East - may have its eyes on Egypt.
"There is definitely a threat from ISIS to Egypt," Mohammed Badr, a professor of political science at the University of Germany told Al Arabiya News, adding that the group has the country in its "line of sight."
"All extremist groups represent a danger for Egypt," Badr said, adding that "ISIS, the Muslim Brotherhood, Ansar Bayt al-Maqdis [an Islamist militant group] are all dangerous for Egypt but the level of their threat is different."
In recent weeks, the Islamist group started showing notable signs that it might be interested in expanding its influence in Egypt.
Full report at:
http://english.alarabiya.net/en/perspective/analysis/2014/09/13/ISIS-eyeing-up-Egypt-as-its-next-target-experts-say.html
----------
ISIS, Syria rebel group sign pact of 'non-aggression'
13 September 2014
Syrian rebels and jihadists from the Islamic State of Iraq and Syria have agreed a non-aggression pact for the first time in a suburb of the capital Damascus, a monitoring group said on Friday.
The Syrian Observatory for Human Rights said the ceasefire deal was agreed between ISIS and moderate and Islamist rebels in Hajar al-Aswad, south of the capital.
Under the deal, "the two parties will respect a truce until a final solution is found and they promise not to attack each other because they consider the principal enemy to be the Nussayri regime."
Full report at:
http://english.alarabiya.net/en/News/middle-east/2014/09/13/ISIS-signs-non-aggression-pact-with-Syrian-group.html
----------
Iraqi Airstrike Kills ISIL Ranking Member, 4 Aides in Northern Tikrit
13 Sep, 2014
The Iraqi air force fighter jets killed Abu Harith, the so-called official of "al-Tawbaat" within the ranks of the Islamic State of Iraq and the Levant (ISIL) terrorist group in Qalaa area of Shirqat district, Northern Tikrit, Salahuddin province.
"The Iraqi air force bombed a house, which was taken as a shelter by the ISIL terrorists, killing the terrorist "Abu Harith" along with four of his aides," a security source said on Friday.
http://english.farsnews.com/newstext.aspx?nn=13930622000344
----------
ISIS's sudden Twitter silence raises questions
13 September 2014
Twitter users allegedly affiliated with the Islamic State of Iraq and Syria (ISIS), which have trumpeted the group's violent acts and world view on the social media service, have gone abruptly quiet in past days.
Several accounts affiliated with the militant group appear to have gone dormant, according to U.S. government sources, raising questions about whether the government has pressured Twitter to clamp down more aggressively or whether the group has moved to other social media channels.
When contacted, several U.S. officials said on condition of anonymity they were unaware of attempts to quash those Twitter accounts. The sudden silence also came days after reports about ISIS-linked accounts threatening action against Twitter employees, though there was no evidence to link the two episodes.
Twitter Inc. declined to comment on actions the company has taken related to accounts affiliated with the group.
Full report at:
http://english.alarabiya.net/en/media/digital/2014/09/13/Islamic-State-s-Twitter-silence-raises-questions.html
----------
Free Syrian Army will not join US coalition
World Bulletin / News Desk
13 Sep, 2014
The Free Syrian Army will not take part in U.S. plans for destroying the Islamic State, the group's founder said.
Colonel Riad al-Asaad said opposition forces would want assurances about the overthrow of President Bashar al-Assad before joining a coalition against IS.
He said: "If they want to see the Free Syrian Army on their side, they should give assurances on toppling the Assad regime and on a plan including revolutionary principles."
The Free Syrian Army, comprised mostly of soldiers who have defected from the Syrian armed forces, has been the main opposition group to receive support from the West.
As part of the strategy for "degrading and ultimately destroying" IS, the U.S. has said it will attack IS militants in Syria as well as expand the scope of air strikes in Iraq.
U.S. Secretary of State John Kerry arrived in Turkey on Friday to coordinate action against IS. On Saturday he will travel to Egypt, one of 10 Arab states to have joined the coalition against IS, pledging to take action to stop the flow of foreign recruits.
Turkey has refused to allow its air bases to be used to attack the jihadist group and did not sign the declaration.
http://www.worldbulletin.net/headlines/144294/free-syrian-army-will-not-join-us-coalition
----------
Assad's Aide: Terrorism Started in Syria Key Part of This Fight
13 Sep, 2014
Syria is a key part in the fight against terrorism, since it started in this country four years ago, President Bashar al-Assad's aide Buthaina Shaaban said.
"Terrorism didn't start in Syria today, it started four years ago" when the conflict started in Syria, Shaaban was quoted as saying by state news agency SANA.
"So it is crucial that its victim, which has been damaged by this scourge, be a key part of the fight against terrorism," she said, AFP reported Friday.
Her comments came as the United States assembles a coalition allegedly to tackle the Takfiri group ISIL, which is operating in Syria and Iraq.
Full report at:
http://english.farsnews.com/newstext.aspx?nn=13930622000276
----------
Grand mufti: Drugs more dangerous than A-bombs
13 Sep, 2014
The Kingdom's grand mufti and president of the Council of Senior Scholars, Sheikh Abdul Aziz Al-Asheikh, has called for tough action against those who smuggle, promote and sell drugs.
"Drugs are more dangerous than atomic bombs," he said, and warned that users face ruin and loss of their morality.
Al-Asheikh said the Prophet (peace be upon him) said that those who are involved in any way with harmful substances can only bring "calamities" on themselves and others. He said Allah would also punish those who shelter or help such criminals.
Speaking during a live radio program, the grand mufti said: "Drugs of all kind destroy moral values, distort the brain and lead to the destruction of human lives. Those who promote drugs, market or use them will bear great losses."
Full report at:
http://www.arabnews.com/featured/news/629456
----------
ISIL uses extortion and oil smuggling to fund war chest
September 13, 2014
BAGHDAD // Sometimes they came pretending to buy things. Sometimes they texted, sometimes they called, but the message was always the same: "Give us money."
Months before they took control of Mosul in June, ISIL militants were busy collecting money to finance their campaign of setting up a 7th century-style "caliphate".
The owner of a Mosul grocery store recounted how, when he hesitated to pay, militants exploded a bomb outside his shop.
"If a person still refused, they kidnapped him and asked his family to pay ransom," he said.
The shopkeeper said he had paid the militants US$100 (Dh367) six or seven times this year.
In return, he was given a receipt that says: "Received from Mr. ...., the amount of ...., as support to the Mujaheddin."
Full report at:
http://www.thenational.ae/world/middle-east/isil-uses-extortion-and-oil-smuggling-to-fund-war-chest#ixzz3DBbVHwXO
----------
Scary Syrian saga — Villagers recount terror of seeping yellow gas attacks
13 Sep, 2014
Chilling accounts of villagers fleeing a seeping yellow gas that withered everything in its path have emerged from testimony gathered by investigators probing chlorine attacks in Syria.
The detailed narrative of the attacks by gas-filled barrel bombs dropped from helicopters, as recently as two weeks ago, comes from a report by a fact-finding team of the Organization for the Prohibition of Chemical Weapons, obtained by AFP.
"In courtyards, domesticated birds and animals died, and leaves on plants facing the point of impact withered and wilted 'as autumn leaves,'" said the report, dated Wednesday, which confirmed the systematic use of chlorine as a weapon in war-torn Syria.
The team interviewed 37 victims, medical staff and witnesses of the April attacks in northern Syria. These bombings were different from the high-explosive blasts the villagers were used to.
Full report at:
http://www.saudigazette.com.sa/index.cfm?method=home.regcon&contentid=20140913217970
----------
Cleric who backs Egypt's MB quits Qatar
13 September 2014
An outspoken supporter of Egypt's outlawed Muslim Brotherhood said he will leave Qatar, after reports have surfaced that the peninsular state has asked senior members of the Islamist movement to leave the country, Reuters news agency reported.
"I have decided to take my message outside for Qatar so as to not cause my dear brothers in Qatar any problems or embarrassment," cleric Wagdy Ghoneim said in a video on his YouTube channel.
Ghoneim also thanked the "ruler, the government, and the people" of Qatar for advancing the cause of Islam and Muslims.
Qatari officials were not immediately available for comment.
Newspapers in Egypt reported on Saturday that the Gulf State had asked seven senior members of the Brotherhood to leave the country within a week.
Amr Darrag, a leader of the Brotherhood's political arm, the Freedom and Justice Party, said several Brotherhood members were relocating to "spare Qatar embarrassment", in a statement posted on his Facebook page late Friday.
Full report at:
http://english.alarabiya.net/en/News/middle-east/2014/09/13/Cleric-who-backs-Egypt-s-Muslim-Brotherhood-to-leave-Qatar.html
----------
Europe
Rise of the 'junior Jihadis': Children under the age of 10 being radicalised in London
13 Sep, 2014
British children under ten are being turned into 'junior jihadis' as extremists bombard them with dangerous propaganda, London's deputy mayor warned today.
Stephen Greenhalgh revealed he and Boris Johnson have both been briefed about radicalised primary school pupils as fears grow extremists are using the capital to spread hate.
His stark comments came ahead of a private meeting with police commissioners from across Britain to discuss the alarming spread in Iraq and Syria of the militant group Isis.
'Some of them are very young,' he told the Evening Standard. 'We are talking about under the age of ten.
'It starts very young with them being subjected to propaganda, extremist ideology, and being trained to be junior jihadis.
'It's pretty horrendous when you hear how some of these children are being radicalised. The threat of radicalisation of young people is real and this is a problem that is going to be with us not just for a couple of years, but for the next generation.'
Tory Mr Greenhalgh, 47, is the politician in charge of London's policing and crime.
His comments came ahead of a private meeting today with police and crime commissioners from Britain's largest cities to discuss the growing threat of Islamic extremism.
According to the Standard, those attending included the police commissioners for Birmingham, Manchester and Leeds alongside Scotland Yard's former counter-terrorism chief Commander Helen Ball.
Full report at:
http://www.dailymail.co.uk/news/article-2753810/Rise-junior-jihadis-Children-age-10-radicalised-London-reveals-deputy-mayor.html#ixzz3DBZQb429
----------
Held by ISIS, five Jihadi Brits who want to go home stripped of weapons and marched to 'punishment centre'
13 Sep, 2014
A group of disillusioned British jihadists who wanted to return home after fighting for Islamic State in Iraq and Syria have been taken prisoner by their militant commanders.
The men were stripped of their weapons and marched to a punishment centre in the militant-held city of Raqqa in Syria, according to reports.
The five Britons were accompanied by three Frenchmen, two Germans and two Belgians. They had complained that they were spending their time fighting other rebel forces instead of the government of Bashar al-Assad and were concerned that they were killing fellow Muslims.
The men were rounded up after apparently delaying returning to Britain for fear that they would be arrested on arrival.
But security sources say the new development shows that defectors cannot afford to try to bargain with British authorities and should just 'drop their weapons and leave'.
Until now, IS is thought to have operated an open door policy which has allowed around 250 Britons to return but the start of US air attacks has made militant commanders paranoid that spies could direct attacks.
Full report at:
http://www.dailymail.co.uk/news/article-2754241/Held-IS-five-jihadi-Brits-want-home-Wantaway-fighters-stripped-weapons-marched-punishment-centre.html#ixzz3DBax2Hgq
----------
Nations trying to stop their citizens from going to Middle East to fight for ISIS
Somini Sengupta,NYT News Service | Sep 13, 2014
UNITED NATIONS: France wants more power to block its citizens from leaving the country, while Britain is weighing whether to stop more of its citizens from coming home. Tunisia is debating measures to make it a criminal offense to help jihadist fighters travel to Syria and Iraq, while Russia has outlawed enlisting in armed groups that are "contradictory to Russian policy."
The rapid surge of the Islamic State, and its ability to draw fighters from across the globe, have set off alarm bells in capitals worldwide. Countries that rarely see eye to eye are now trying to blunt its recruitment drive, passing a raft of new rules that they hope will stop their citizens from joining extremist groups abroad.
The United States has seized on the issue, pushing for a legally binding UN Security Council resolution that would compel all countries in the world to take steps to "prevent and suppress" the flow of their citizens into the arms of groups considered to be terrorist organizations.
Full report at:
http://timesofindia.indiatimes.com/world/us/Nations-trying-to-stop-their-citizens-from-going-to-Middle-East-to-fight-for-ISIS/articleshow/42393188.cms
----------
ISIS Inflicting 'Monumental Suffering,' Human Rights Watch Adviser Warns
13 Sep, 2014
ERBIL, Iraq - As the United States and other countries ramp up efforts to battle Sunni militants in Syria and Iraq, international experts warn that gruesome finds could lie behind enemy lines. "When ISIS is pushed, if they are pushed back, we're going to be dealing with mass graves for a long time and suffering of a community on a monumental scale," Fred Abrahams, a special adviser to Human Rights Watch, told NBC News.
Abrahams also warned that the Yazidi community - which has been targeted by the Islamic State of Iraq and al-Sham - has been devastated by the conflict, with a least a thousand women and children held captive and in danger. There are credible reports of extreme sexual violence and the sale of young girls, he added, saying "the community is in a desperate condition," he said. ISIS has demanded that religious minorities - including Yazidis and Christians - convert to Islam or be killed, driving thousands to flee persecution. International relief organizations estimate that about 800,000 people have fled ISIS and sought shelter in Iraq's Kurdistan region alone.
http://www.nbcnews.com/storyline/isis-terror/isis-inflicting-monumental-suffering-human-rights-watch-adviser-warns-n202111
----------
Iran's president has not delivered on pledges of more freedom, UN chief says
13 Sep, 2014
Iranian President Hassan Rouhani's promises of greater freedoms for the Islamic Republic have not resulted in any major improvements regarding human rights and freedom of expression, the UN chief said in a new report on Iran.
UN Secretary-General Ban Ki-moon's annual report to the General Assembly on human rights in Iran, obtained by Reuters on Friday, also expressed alarm at the reported recent increase in executions in Iran.
"President Rouhani has pledged to decrease restrictions on freedom of expression and to ensure security for the press," the report said. "Unfortunately, those promises have not yet led to significant improvements, and restrictions on freedom of expression continue to affect many areas of life."
Full report at:
http://www.jpost.com/Breaking-News/Irans-president-has-not-delivered-on-pledges-of-more-freedom-UN-chief-says-375206
--------
South Asia
25 Taliban militants killed during counter-terrorism operation: MoI
Sep 13 2014
At least 25 Taliban militants were killed and 8 others were injured following counter-terrorism operations in the past 24 hours.
The Ministry of Interior (MoI) following a statement said, "In past 24 hours, Afghan National Police conducted several anti-terrorism joint operations with Afghan National Army and NDS to clean some of the areas from terrorists and enemies of peace and stability of Afghanistan."
The statement further added that the operations were conducted in Ghazni, Badakhshan, Logar, Nangarhar, Kunar, Helmand and Kapisa provinces.
At least three militants were also arrested by Afghan National Security Forces during the same operations.
"Also, during these operations, Afghan National Police discovered and confiscated light and heavy rounds ammunition," the statement said.
The statement also added that the Afghan National Police discovered and defused five different types of IEDs placed by enemies of Afghanistan for destructive activities in Faryab and Maidan Wardak provinces.
http://www.khaama.com/25-taliban-militants-killed-during-counter-terrorism-operation-moi-8629
----------
China urges central Asian neighbours to step up extremism fight
13 Sep, 2014
BEIJING: China's President Xi Jinping urged Central Asian states to step up the fight against religious extremism and cyber terrorism, state media said, as Beijing reaches for help across its borders in addressing security concerns in its restive Xinjiang region.
Beijing says separatist groups in the far western region of Xinjiang, home to the Muslim Uighur minority, are seeking to form their own state called East Turkestan and have links with militants in Central Asia as well as Pakistan.
The government says such separatists are influenced by militant groups' training videos and audio from beyond its borders, though experts dispute their influence and reach.
"(We) should make concerted efforts to crack down on the 'three evil forces' of terrorism, extremism and separatism," the official Xinhua news agency said late on Friday, citing Xi's speech in Tajikistan to the heads of state of other Shanghai Cooperation Organisation (SCO) members.
Full report at:
http://www.dawn.com/news/1131717/china-urges-central-asian-neighbours-to-step-up-extremism-fight
----------
Senior Taliban commander among 5 killed in Kunar clashes
Sep 13 2014
A senior Taliban commander was killed along with his four fighters in eastern Kunar province of Afghanistan.
According to local government officials, a group of Taliban militants attacked a police check post in Manogi district early Saturday morning.
Provincial police chief, Gen. Abdul Habib Syed said Afghan security forces repelled a major attack on police check posts around 4:00 am local time on Saturday.
Gen. Syed Khel further added that a senior Taliban commander identified as Haji Nadeemullah was killed along with 4 other militants.
He said at least 15 Taliban militants were also injured during the clashes with the security forces.
Full report at:
http://www.khaama.com/senior-taliban-commander-among-5-killed-in-kunar-clashes-8631
----------
PM Sheikh Hasina for extending cooperation among Bimstec countries
13 Sep, 2014
Prime Minister Sheikh Hasina has called upon the Bimstec member countries for extending regional cooperation.
The premier made the call while inaugurating the Bimstec secretariat in the capital's Gulshan on Saturday morning.
Sheikh Hasina said Bimstec secretariat in the country establishes a new era of cooperation among the nations.
"It will create several opportunities over ensuring the fuel security of the region," she added.
The PM said Bangladesh is working for development in the communication sector of the Bimstec member countries.
Full report at:
http://www.dhakatribune.com/bangladesh/2014/sep/13/pm-inaugurates-bimstec-secretariat#sthash.ukXJh079.dpuf
----------
Bangladesh to co-host Asia-Pacific military seminar
13 Sep, 2014
Top land forces military officials from the Asia-Pacific and Indian Ocean region will meet in Bangladesh next week for the 38th Pacific Armies Management Seminar (PAMS), a multinational military seminar.
Bangladesh is set to co-host PAMS 38, for the second time in the history of the event. Earlier in January 1994, Bangladesh co-hosted the PAMS seminar with over 150 representatives from 35 countries attending.
With the theme "A New Focus on the Asia-Pacific Region: Opportunities and Challenges for Land Forces", this year's seminar will focus on exploring new areas of cooperation. Nearly 120 delegates from 25 countries will discuss contemporary issues of common concern at the Radisson Blu Water Garden Hotel from September 14 to 17.
The multinational military seminar, which began in 1978 with a meeting of the top army staff of nine nations, is now a platform for 36 nations from the Asia-Pacific and Indian Ocean region.
Full report at:
http://www.dhakatribune.com/bangladesh/2014/sep/13/bangladesh-co-host-asia-pacific-military-seminar#sthash.zQbAsGPL.dpuf
----------
Taliban attack district government compound in Paktia
Sep 13 2014
A group of Taliban militants launched attack on a government compound in eastern Paktia province of Afghanistan early Saturday.
According to local government officials, the attack was carried out by a group of at least 40 Taliban militants on Jani Khel district government compound.
Provincial police chief, Zalmai Orya Khel said the attack was carried out around 5:30 am local time.
He said the district chief was not in the office when the attack was launched and the Afghan security forces did not suffer any casualties during the clashes.
The Taliban militants group has not commented regarding the incident so far.
Paktia is among the volatile provinces in eastern Afghanistan where anti-government armed militant groups including the Taliban militants and insurgents from the Haqqani network are actively operating in a number of its districts.
http://www.khaama.com/taliban-attack-government-compound-in-paktia-province-8633
----------
Pakistan
Army not 'script writer' of PTI, PAT march: ISPR
13 Sep, 2014
ISLAMABAD: The army on Friday emphatically stated that it was not the "scriptwriter" of the Pakistan Tehreek-e-Insaf and Pakistan Awami Tehreek protest marches.
ISPR Director General Major General Asim Bajwa said that the army supports constitution and democracy and has nothing to do with the present political situation in the country. "Army has no role or involvement in the situation and assumptions and speculations in this connection are regrettable," Bajwa said while answering questions by media persons at a briefing on Friday. He said that COAS General Raheel Sharif had in his address on Youm-i-Shuhuda clearly said that the army believes in the continuation of democracy.
The DG ISPR expressed regret over rumours of the army being a scriptwriter and said the media should reject speculative stories that are against ground realities because they are not serving the country. He said as far as facilitative role of the army is concerned, it was accepted by the army chief in the greater interest of the country. He said it was the stand of the army that it is a political issue and should be resolved politically and army should be kept out of it.
Full report at:
http://www.dailytimes.com.pk/national/13-Sep-2014/army-not-script-writer-of-pti-pat-march-ispr
----------
'Any MQM Worker, Leader Involved In Sectarian Killings Be Hanged Publicly': Altaf Hussain
13 Sep, 2014
KARACHI: Founder leader of Muttahida Quami Movement (MQM) Altaf Hussain has said if any MQM worker or leader found involved in sectarian killing, he should be hanged in public and in case accusation remained negative than elements levelling such baseless allegations should be hanged instead.
Hussain offering condolence to the head of Jafria Alliance Allama Abbas Kumaili on his son's murder on telephone said, "If there is any incontrovertible evidence with the Inter Services Intelligence (ISI), Military Intelligence (MI), Intelligence Bureau (IB) or any other government agency to corroborate such allegation, then the MQM accused should be hanged in public. If not proved then those levelling such baseless allegations should be hanged instead."
Addressing the heads of Pakistan Army, Navy, Air Force, ISI and all other authorities of the civil and military establishment, Hussain said the entire struggle of the MQM centred on promoting Shia-Sunni brotherhood and Muslim-unity. He said it was highly unfortunate certain prejudiced officers of Rangers and other law-enforcing agencies were propagating some workers of MQM were involved in sectarian killings.
Full report at:
http://www.dailytimes.com.pk/sindh/13-Sep-2014/any-mqm-worker-leader-involved-in-sectarian-killings-be-hanged-publicly
----------
Dictatorship of Musharraf was better than democracy of Nawaz: Imran
13 Sep, 2014
ISLAMABAD: The dictatorship of former president General (retd) Pervez Musharraf was better than the democracy of Nawaz Sharif, said PTI Chairman Imran Khan, Geo News reported.
Addressing the participants of sit-in on Friday, Imran Khan said Pakistan Tehreek-e-Insaf was on forefront in the lawyers movement. He said if they could not get justice from judiciary then where they could get it from.
Khan appealed Chief Justice of Pakistan to take suo moto notice of all these issues.
Imran confirmed the arrest of DJ Butt and said PTI had hired him for sound system. He asked why Butt was arrested.
"If any PTI worker is involved in the attack on PTV, I myself will send him behind the bar," said Imran. He questioned under which law PTI activists were being jailed.
http://www.thenews.com.pk/article-159595-Dictatorship-of-Musharraf-was-better-than-democracy-of-Nawaz:-Imran
---------
Majlis-i-Wahdatul Muslimeen separates from government-PAT talks
13 Sep, 2014
ISLAMABAD- Majlis-i-Wahdatul Muslimeen (MWM) declared that it was parting ways with the team of Pakistan Awami Tehreek (PAT) that was engaged in talks with the government.
MWM's Central Political Secretary Nasir Shirazi said his party was dissociating from the government-PAT dialogue following the arrest of nine party activists. The government should release all MWM activists arrested today, Sherazi said, adding that no one from his party would go to any future rounds of talks between PAT and the government.
Earlier today, MWM spokesman Hasnain Zaidi had said that police and Rangers had arrested at least nine MWM activists, including the party's political secretary Asad Abbas.
http://nation.com.pk/national/12-Sep-2014/mwm-separates-from-government-pat-talks
----------
Three killed in deadly Quetta attack
13 Sep, 2014
QUETTA: At least three people including one Frontier Corps (FC) man were killed and 22 others injured in a remote controlled bomb explosion early on Saturday in the Satellite Town area of Quetta, police said.
Militants targeted the convoy of FC in the blast in the morning, sources said. Two FC personnel were among the injured.
Imran Qureshi, the Superintendent of Police told Dawn that several shops and vehicles were also destroyed in the blast.
"The blast was so powerful that it was heard far and wide," he added.
The injured were rushed to Civil Hospital Quetta for medical treatment. Emergency was imposed in the hospital to treat the wounded. The area was cordoned off by security forces.
Militants in recent days have intensified attacks against security forces and national installations in Balochistan, plagued by an insurgency and growing sectarian killings for more than a decade.
http://www.dawn.com/news/1131714/three-killed-in-deadly-quetta-attack
----------
Imran, Qadri end talks with govt following crackdown
13 Sep, 2014
ISLAMABAD: Both Imran Khan and Dr Tahirul Qadri announced an end to negotiations with the government, following a crackdown that saw nearly 300 activists from the Pakistan Tehreek-i-Insaf, Pakistan Awami Tehreek and allied parties picked up from across the capital on Friday.
"I suggest to you, Mr Shah Mehmood Qureshi, to halt the ongoing dialogue with the government," the PTI chief thundered from atop his container at D-Chowk.
The sentiment was echoed by his counterpart camped out on Constitution Avenue. "We have suspended the talks as the government has begun arresting my workers in Islamabad and around the country," Dr Qadri told the participants of his sit-in.
Ghulam Ali, media coordinator for PAT, told Dawn that early on Friday morning, police picked up a number of party workers from Aabpara.
Full report at:
http://www.dawn.com/news/1131656/imran-qadri-end-talks-with-govt-following-crackdown
----------
Imran wants to become PM through short-cut: Sardar Hussain Babak
13 Sep, 2014
PESHAWAR – Awami National Party leader MPA Sardar Hussain Babak has said that the people had not only rejected the civil-disobedience movement of Pakistan Tehreek-e-Insaf (PTI) chief Imran Khan, rather for development of Pakistan were paying no heed to the politics of anarchy and chaos.
In a statement issued here on Friday, he said by depositing their utility bills the people had proved that everyone was required to play due role in the development. He termed the announcement of Imran Khan for not depositing of taxes and withdrawal of capital from commercial banks as childish. Babak said that acceleration of remittances by overseas Pakistanis had proved that they were mature and ready for playing their due role in economic development of Pakistan.
He termed the movement of civil disobedience tantamount to enmity with the state, saying the people had practically proved that they wanted to see Pakistan and the nation put on the track of progress and development. He said that by making hue and cry of electoral rigging, Imran Khan wanted to come into power and had no concern with the problems being faced by Pakistan and the nation.
Full report at:
http://www.dailytimes.com.pk/national/12-Sep-2014/imran-wants-to-become-pm-through-short-cut-babak
----------
Nawaz says won't accept unconstitutional demands
13 Sep, 2014
ISLAMABAD: Prime Minister Muhammad Nawaz Sharif, reiterating the government's firm commitment and belief to dialogue process for resolving all issues, on Friday said the unconstitutional and illegal demands could not be accepted.
Speaking at a cabinet meeting on Friday, he said that the government believed in talks process as all the problems could only be resolved through negotiations.
He said that all the constitutional and legal demands of the Pakistan Tehreek-e-Insaf and the Pakistan Awami Tehreek (PAT) have been discussed during the talks and the government was ready to move forward too but unconstitutional and illegal demands could not be accepted.
http://www.thenews.com.pk/article-159608-Nawaz-says-wont-accept-unconstitutional-demands
---------
North America
White House makes it official: US 'at war' with IS
13 Sep, 2014
The White House declared Friday the United States was at war with Islamic State radicals, seeking to rub out another semantic flap over its Syria policy.
In a series of television interviews Secretary of State John Kerry had appeared to be reluctant to term the expansion of US operations against IS in Iraq and Syria as "war."
But pressed to clear up doubts about how President Barack Obama sees the conflict, the White House and Pentagon left little doubt.
"The United States is at war with ISIL in the same way that we are at war with Al-Qaeda and its Al-Qaeda affiliates all around the globe," said White House spokesman Josh Earnest.
Pentagon spokesman Rear Admiral John Kirby said that the US was not fighting the last Iraq war and used similar language to Earnest.
"But make no mistake, we know we are at war with ISIL in the same way we're at war and continue to be at war with Al-Qaida and its affiliates," he said.
Obama is scheduled to be in Tampa, Florida Wednesday to receive a briefing from top commanders at US Central Command, which oversees American forces in the Middle East.
In interviews on Thursday, as Kerry toured the Middle East building an anti-IS coalition, he was reluctant to use the term "war" in referring to the US campaign, telling people not to indulge in "war fever."
Full report at:
http://english.ahram.org.eg/NewsContent/2/8/110618/World/Region/White-House-makes-it-official--US-at-war-with-IS.aspx
----------
Obama: Assad Protects Christians in Syria
13 Sep, 2014
US President Barack Obama surprised his visitors, the Patriarchs of the Eastern Christians, when he told them that the President Bashar al-Assad protected the Christians in Syria, befuddling the attendees who did not believe what they heard and tried to conceal it.
The Patriarchs on Thursday submitted to Obama a paper which displays the situations of the Christians in each Eastern country, according to Al-Akhbar Newspaper, Al-Manar reported.
The ecclesial sources said that Obama used the term "Syrian government" instead of "regime" which is usually used in US to describe the rule in Syria.
http://english.farsnews.com/newstext.aspx?nn=13930622000298
---------
Six-in-Ten ' Americans Very Concerned' Over Rise of Islamic Extremism
13 Sep, 2014
Sixty-two percent of Americans are 'very concerned' about the rise of Islamic extremism around the world, according to the Pew Research Centre. This is the highest number ever recorded in the study.
The escalating percentage should come as little surprise, particularly considering the recent discovery that ISIS has at least tripled in size since its original estimate. It is now believed that more than 30,000 ISIS fighters exist. There are also reports about individuals from around the world continuing to join the terrorist group.
The Daily Mail reported that two girls (aged just 15 and 16) fled from Australia to Syria to join the jihadist group. More than 100 Australians are believed have gone abroad to join ISIS, the article stated. We also know that dozens of Americans as well as citizens of other Western countries such as Britain and Canada have joined ISIS.
The founder of the Islamic Supreme Council of Canada, Imam Syed Soharwardy, explained to Business Insider:
Full report at:
http://townhall.com/tipsheet/sarahjeanseman/2014/09/12/sixinten-very-concerned-over-rise-of-islamic-extremism-n1890933
----------
Kerry in Cairo for talks on anti-IS coalition
13 Sep, 2014
US Secretary of State John Kerry arrived today in Cairo on the latest leg of a regional tour to forge a coalition against Islamic State jihadists in Iraq and Syria.
Kerry is scheduled to meet Egyptian President Abdel Fattah al-Sisi and Arab League chief Nabil al-Arabi.
Relations between Washington and Cairo have been strained since the military's overthrow of elected Islamist president Mohamed Morsi last year, but the Egyptian government sees the fight against IS as its cause as well.
Morsi's successor, the former army chief Sisi, is fighting Islamist militants in the restive Sinai Peninsula who have expressed support for the Islamic State.
But it appears unlikely that Egypt's formidable army will make a significant military contribution to the fight in Iraq and Syria.
Full report at:
http://www.themalaysianinsider.com/world/article/kerry-in-cairo-for-talks-on-anti-is-coalition#sthash.ymZqxwCE.dpuf
----------
Turkey will contribute in action against ISIL, Pentagon says
13 Sep, 2014
Turkey will make contributions to military efforts against the Islamic State of Iraq and the Levant (ISIL) militants in Syria and Iraq, as it is a NATO member and has geographical advantages for such an action, U.S. Pentagon Spokesperson John Kirby has said.
"Our expectation is that Turkey, a NATO ally, just by virtue of her geography is going to be a partner in this effort, and they indicated that they would be and that they want to be," Kirby said while responding to a question on Turkey's not signing the Jeddah communique, which pledges military action on the ISIL, during a Sept. 12 press briefing.
"But it's up to Turkish leaders and the Turkish people to determine how and when that is manifested. We're not going to dictate to that," he said.
Full report at:
http://www.hurriyetdailynews.com/turkey-will-contribute-in-action-against-isil-pentagon-says.aspx?pageID=238&nID=71668&NewsCatID=352
----------
Africa
Morocco arrests seven 'militant recruiters for ISIS'
13 Sep, 2014
Morocco's interior ministry said on Friday that seven militants have been arrested for recruiting fighters to join the ranks of the Islamic State in Syria and Iraq (ISIS).
The suspects were active in the central cities of Fez and Outat El Haj and in Zayou in the north and also planned attacks against Morocco itself, a statement said.
It did not say when the arrests were made, but identified the ringleader as a "teacher" and said they had already managed to send several fighters to Iraq and Syria.
Independent newspaper Akhbar al-Yaoum said, however, that a total of nine suspects had been rounded up and that most were street peddlers aged between 20-30.
Morocco has frequently reported the arrest of jihadists and expressed deep concern about the number of its citizens fighting in Syria and Iraq and about those who have returned to prepare attacks at home.
In July, authorities announced that security had been boosted in the face of what they called a "serious threat".
http://english.alarabiya.net/en/News/middle-east/2014/09/12/Morocco-arrests-seven-militant-recruiters-for-ISIS-.html
----------
Soldiers defeat Boko Haram in north Nigeria
13 Sep, 2014
Soldiers killed scores of Islamic extremists in a rare victory as the insurgents advanced on a town near the northeast city of Maiduguri, an officer and other witnesses said.
One officer said a feared Boko Haram commander known only as Amir was among some 200 militants killed in a battle Friday in Konduga town, 35 kilometers (22 miles) from Maiduguri, the capital of Borno state and birthplace of the extremist group.
Also killed was a Boko Haram video journalist and a suicide bomber, he said.
There were no military casualties, according to the officer and a civilian self-defense group that fights alongside the soldiers. Both spoke on condition of anonymity because they are not authorized to speak to reporters.
Full report at:
http://english.ahram.org.eg/NewsContent/2/9/110619/World/International/Soldiers-defeat-Boko-Haram-in-north-Nigeria.aspx
-----------
Southeast Asia
Malaysia offers to host spy planes that irk China, says top US official
13 Sep, 2014
The top US Navy officer said this week that Malaysia has offered to let the United States use one of its bases for a detachment of new maritime surveillance planes, but officials clarified on Friday that no such flights had been approved.
US surveillance flights from a country such as Malaysia would likely increase friction with Beijing. Malaysia and China have competing territorial claims in the South China Sea, and Beijing has been pressing the United States to halt flights near its coast after an incident in international air space last month.
Admiral Jonathan Greenert, the US chief of naval operations, said in remarks in Washington on Monday that "recently the Malaysians have offered us to fly detachments of P-8s out of... East Malaysia," referring to the Navy's new anti-submarine and reconnaissance aircraft.
A spokesman for Greenert, Navy Captain Danny Hernandez, clarified the comments yesterday, saying Greenert had not said that any P-8 flights from Malaysia had been approved or that there was an agreement to do so.
"The CNO did not talk about approving flights. What he was discussing was nurturing future opportunities, like responding to emerging issues in the region, which was done with MH370 search operations," Hernandez told Reuters.
The Malaysian government allowed the Navy to operate P-8 and P-3 surveillance aircraft from the country during the search for Malaysia Airlines Flight MH370, which disappeared in March on a flight from Kuala Lumpur to Beijing.
Full report at:
http://www.themalaysianinsider.com/malaysia/article/malaysia-offers-to-host-spy-planes-that-irk-china-says-top-us-official#sthash.71PHVTTp.dpuf
----------
Najib hostage to extremists, says Guan Eng
13 Sep, 2014
Prime Minister Datuk Seri Najib Razak has shown that he lacks the will to stand up to extremists by failing to fulfil his promise to repeal the Sedition Act 1948, DAP said today.
Party secretary-general Lim Guan Eng said Najib's promise to repeal the colonial-era law was made in 2012 and carried in an interview with BBC World News.
"However, Najib's flip-flop attitude over the Sedition Act clearly shows that he does not dare to stand up against extremists," Lim, who is also Penang chief minister, said in a statement.
Yesterday, Putrajaya said it was still mulling whether to keep the Sedition Act or replace it altogether, as no new laws have been drafted as replacement.
The Prime Minister's Office said the Attorney-General's Chambers would draft the National Harmony Act only after principal and basic issues have been decided.
"By reneging on his promises to repeal the act, Najib has proven he is a hostage to extremists," Lim said.
Full report at:
http://www.themalaysianinsider.com/malaysia/article/najib-hostage-to-extremists-says-guan-eng#sthash.93i48ebN.dpuf
----------
PAS to look beyond religious scholars for election hopefuls
13 Sep, 2014
Being an "ulama", or Islamic religious expert, is no longer an important criterion for PAS in choosing election candidates, said Kelantan PAS Commissioner Datuk Ahmad Yakob.
Ahmad, who is also the Menteri Besar of Kelantan, said whether the party's candidate was an ulama or not had no bearing on its supporters.
He said this was why the party had chosen a businessman to be its candidate for the Pengkalan Kubor by-election.
He told this to reporters after the nomination process for the by-election at the Tumpat Land and District Office in Tumpat today.
PAS is fielding a local, Wan Rosdi Wan Ibrahim, 56, who is a building contractor and Tumpat PAS secretary, as its candidate for the by-election, polling of which is on September 25.
The contest is a three-cornered fight with the other candidates being Mat Razi Mat Ail, 48, from the Barisan Nasional and Izat Bukhary Ismail Bukhary, 47, an independent.
Meanwhile, PAS deputy president Mohamad Sabu, when met at the nomination centre, said with Wan Rosdi being a local and a community activist, the party was confident of wresting the seat from BN.
Full report at:
http://www.themalaysianinsider.com/malaysia/article/pas-to-look-beyond-religious-scholars-in-choosing-election-hopefuls-bernama#sthash.251hPfdb.dpuf
----------
Philippines starts inquiry into militants in Syria
13 September 2014
The Philippines is investigating the involvement of Filipino Islamists in the three-year civil war in Syria after two locals were reported killed fighting for Islamic State in Iraq and Syria militant group, an intelligence official said on Saturday.
A senior police intelligence official said Manila was also monitoring young Filipino Muslims who have gone to Syria and Iraq, and then tried to radicalize others on their return home.
The Philippines has been battling its own small but violent Islamist militant group, Abu Sayyaf, which has been blamed for kidnappings, beheadings and bombings in the south. Since 2002, a U.S. Special Forces unit has been advising and training local troops.
Thousands of fighters from dozens of countries have travelled to Syria and Iraq to fight with extremist groups, prompting the United States to draft a U.N. Security Council resolution demanding countries "prevent and suppress" the recruitment and travel of foreign fighters.
"These are disturbing developments that could affect our internal security situation," the intelligence official, who declined to be named because he was not allowed to talk to the press, told Reuters.
Full report at:
http://english.alarabiya.net/en/News/middle-east/2014/09/13/-Philippines-starts-inquiry-into-Filipino-militants-in-Syria.html
------------
Mideast
ISIL militants got hold of sophisticated US guns: Turkish PM
13 Sep, 2014
The Islamic State of Iraq and the Levant (ISIL) militants have gotten hold of most sophisticated guns left in Iraq by the United States, Turkish Prime Minister Ahmet Davutoğlu has said.
"The most sophisticated guns that the U.S. left in Iraq were totally, entirely possessed by the ISIL," he said during a televised interview Sept. 12.
Radicalization is a great threat against the world, the prime minister said, adding that the sectarian clashes in Syria were a result of the fact that a 12 percent minority in the country bid to rule the nation.
"Those who feel alienated tend to become radicals," he said as he highlighted that Turkey would not want any radicalization or terror bodies touching its borders.
Davutoğlu also opposed an idea to back Bashar al-Assad, arguing that such a move would direct the moderate opposition in the country toward him.
"The Middle Eastern people should not be forced to a choice between the two bad options," he said.
http://www.hurriyetdailynews.com/isil-militants-got-hold-of-sophisticated-us-guns-turkish-pm.aspx?pageID=238&nID=71667&NewsCatID=352
----------
Israeli official: Israel will fight IS if group reaches Jordan
13 Sep, 2014
Israel may play a frontline role in the international coalition forming against Islamic State – the jihadi group sweeping through Iraq and Syria in a bid to reinstate a new caliphate in the Middle East.
As world powers unite around a US-led plan for military action to topple the militant group, Jerusalem is signaling that if Islamic State expands to Jordan – Israel will not hesitate to act.
"We will use any means necessary," a senior Israeli official told Channel 2 television. "Let me make this clear: If Islamic State reaches Jordan we will take action."
The official praised President Barack Obama's call for action and said airstrikes are already making progress in Iraq. Thanks to the US air campaign, "Kurdish forces are able to take back Islamic State strongholds," he said.
Full report at:
http://www.jpost.com/Middle-East/Israel-will-fight-IS-if-group-reaches-Jordan-Israeli-official-says-375222
----------
Former Hamas PM: Disarmament of Hamas not negotiable
13 Sep, 2014
Former Hamas Prime Minister Ismail Haniyeh vowed on Saturday that Hamas would not disarm. Speaking at a news conference in Gaza City, he said disarmament was non-negotiable, "not for the rehabilitation of Gaza" and not "for anything."
The armed resistance was legitimate, he said, and would continue "until Palestine is set free." He assured the Palestinian people that weapons were raised only against the "Zionist occupation."
Taking his cue from Hamas political bureau chief Khaled Mashaal, who on Friday said that face-to-face talks with Israel are not on the agenda, Haniyeh stated there would be "no direct negotiations with the Zionist enemy."
He also called on the Palestinian Authority to reexamine its policy towards negotiations with Israel.
Full report at:
http://www.jpost.com/Arab-Israeli-Conflict/Haniyeh-Disarmament-of-Hamas-not-negotiable-375226
----------
Iran accuses US of violating sovereignty in anti-ISIS fight
13 September 2014
The secretary of Iran's Supreme National Security Council accused the United States on Saturday of violating the sovereignty of nations on the "pretext of fighting terrorism" in Iraq and Syria.
"On the pretext of fighting terrorism, the United States want to pursue their unilateral policies and violate the sovereignty of states," Ali Shamkhani said, quoted by the official IRNA news agency.
He said Washington was "trying to divert the eyes of the world from its pivotal role in supporting and equipping the terrorists in Syria in a bid to topple the legitimate regime."
Shamkhani was the latest Iranian official to criticize an international coalition the United States is building against the jihadist Islamic State group, which has captured large parts of Iraq and Syria.
On Thursday, foreign ministry spokeswoman Marzieh Afhkham cast doubt on the "sincerity" of the coalition.
Full report at:
http://english.alarabiya.net/en/News/2014/09/13/Iran-accuses-us-of-violating-sovereignty-in-anti-ISIS-fight-.html
----------
URL: https://www.newageislam.com/islamic-world-news/new-age-islam-news-bureau/muslim-clerics,-scholars-back-deoband-stand-on--love-jihad-,-say-such-marriages-are-illegal/d/99059