New Age Islam News Bureau
28 Jul 2015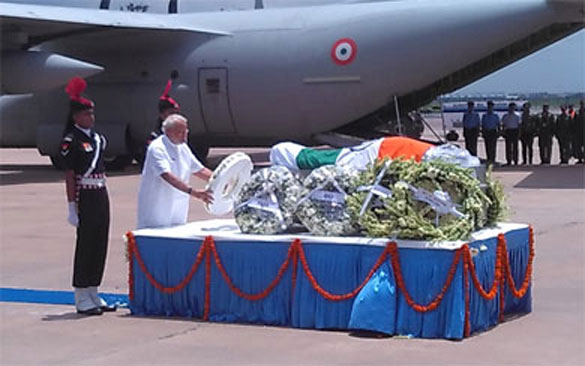 Prime Minister Narendra Modi pays tribute to Kalam. Pic courtesy: Pankaj Nangia
---------
Arab World
• Muslim Brotherhood Spiritual Leader, Sheikh Yousuf al-Qaradawi, Okays Suicide Bombings
• Islamic State Receives $6.9 Billion in Money Transfers
• Yemen airstrikes resume; 15 allied fighters killed
• Air Force Inflicts Heavy Losses on Terrorists' Positions in Idlib
• Yemeni Army, Ansarullah Destroy 2 Saudi Military Bases in Jizan
• Syrian Kurds capture town from ISIL in north-monitor
• Yemen: 16 Parties Voices Support for Ansarullah
• Iraqi Commander Deplores Turkey Attacks against Anti-ISIL Forces
• Syrian Troops Gain Ground in Homs
• Houthi rebels disrupt 5-day cease-fire announced by Saudi-led coalition in Yemen
• Saudi FM denounces 'aggressive' statements by Iran
-----
India
• Glad we didn't fall into 'death trap', say young Indian Muslims trying to join ISIS
• 120 Indian Muslim students to get scholarships from US group
• PM says Kalam a rare gem, recalls his vision for India
• Suspected LeT militants may have entered from Pak
• Yakub Memon's plea: SC judges give split verdict, case referred to larger bench
• Kalam's body at Delhi house for people to pay tribute
• Indian Punjab CM calls off meeting with Pakistan high commissioner
--------
Africa
• Libyan court sentences Gaddafi son Saif, eight other ex-officials to death
• Child suicide bomber kills 16 in Nigerian market
• Boko Haram fighters behead three in Cameroon raid
• Death toll in Al Shabab suicide truck bomb attack in main Somali hotel rises to 13
• Rescuers find 13 dead migrants on packed boat off Libyan coast
• Obama Gathers Leaders in Effort to End South Sudan War
---------
South Asia
• Two Daesh commanders killed in Nangarhar
T• aliban militants launch major attack in Kunar province
• China: No plan to build military bases in Maldives
• Maldives prez slams foreign meddling
• The World Uyghur Congress Commemorates the 1st Anniversary of the Yarkand Massacre & Urges the International Community to Respond
• Former member of Balkh Provincial Council detained on terrorism charges
---------
Europe
• NATO: We stand with Turkey against 'terrorism'
• UK's Cameron says ready to bomb militants in Libya and Syria if plot threat seen
• U.N. Libya envoy says team working for hostages' release
--------
Mideast
• Head of ISIL in Turkey arrested in operations targeting militants
• Settlers clash with Israeli police in West Bank
• Erdoğan says impossible to continue peace process with Kurdish militants
• Police commander killed in eastern Turkey
• 96 websites, 23 Twitter accounts blocked by Ankara court
• Major explosion hits Turkey-Iran gas pipeline after suspected PKK attack
-------
Southeast Asia
• Daesh, trade on agenda as British PM starts Asia trip
• Strong earthquake rocks Indonesia's Papua province
• Malaysian PM sacks deputy, AG amid corruption scandal
------
Australia
• Australian reality TV stars 'shot at by ISIS' in Syria
------
North America
• Obama denies sacrificing Kurds to gain Turkey's help in Islamic State fight
--------
Pakistan
• ATC convicts Taseer vigil attackers
• At least two killed in Quetta 'target killing'
• Absence during dharna: NA vote to de-seat PTI MNAs deferred for one week
--------
Compiled by New Age Islam News Bureau
URL: https://www.newageislam.com/islamic-world-news/new-age-islam-news-bureau/muslim-brotherhood-spiritual-leader,-sheikh-yousuf-al-qaradawi,-okays-suicide-bombings/d/104062
-------
Arab World
Muslim Brotherhood Spiritual Leader, Sheikh Yousuf al-Qaradawi, Okays Suicide Bombings
July 28, 2015
Sheikh Yousuf al-Qaradawi, spiritual leader of the Muslim Brotherhood and one of the world's most eminent Sunni clerics, has issued a fatwa permitting suicide bombers to self-detonate if requested by a group.
Qaradawi responded to a question on a TV show regarding a person blowing themselves against a group who belongs to a tyrannical regime, even if it results in casualties among civilians.
Qaradawi says it is permitted, provided it occurs within the framework of a group. Individuals are prohibited from carrying out suicide bombings on their own.
The remarks were made during the program Ala-Masouliyati (I Am Responsible) which is broadcast on the Egyptian satellite channel Sada el-Balad (The Echo of The Country).
An Egyptian TV host opens by saying
"Look what Qaradawi is saying, O religious sages. What is your opinion, O Egyptians, O Islamic world? O the West? Come and see this criminal, come and see what Qaradawi is saying."
It then cuts to the clip itself.
An interviewer asks Qaradawi: "Especially in the Syrian war, when a person blows himself up against a certain group which belongs to the tyrannical regime, even if it causes casualties among civilians, what is the law?"
Qaradawi responds: "The basic thing is this, it's not allowed unless it is within the planning of a group. Generally, a person fights and is killed, but to blow himself up, the group must have a specific need for this. When the group sees that it needs someone to be a suicide bomber against others, when it is needed, and the group plans how he will do it, with a minimum number of casualties, it is permitted.
"An individual is not allowed to do it. If a person wants to blow himself up, NO! You are not allowed to act on your own. You must act within the borders of the group, you give yourself to the group. The group is the one which sends individuals according to its needs. But individuals don't act on their own. This is what is needed on this issue.
The TV host then returns, castigating Qaradawi.
He says "Of this Mufti the terrorist tells you that it doesn't matter if your victims are civilians? If the group tells you to you can do whatever you want? You have a fatwa that allows the spilling of blood, assassinations, blowing up, suicides, no problem at all! Even if a person is a civilian! The civilian doesn't matter!"
In April 2014 the Huffington Post listed Qaradawi in a slideshow called 'Muslim Leaders Condemn Terrorism.'
http://www.clarionproject.org/news/muslim-brotherhood-spiritual-leader-says-suicide-bombing-ok
-----
Islamic State Receives $6.9 Billion in Money Transfers
Tue, July 28, 2015
The Islamic State received $6.9 billion in funds in recent money transfers through banks in Iraq, according to the Finance Committee of the Iraqi Parliament.
Companies were able to transfer the monies from the main banks in Iraq to banks in the regions controlled by the Islamic State despite the supposedly strict security measures the Iraqi government says it has taken in order to stranglehold the terror organization militarily and financially.
A member of the committee, Haitham El-Jabouri, told Al Araby Al Jadeed, a UK-based news outlet, the committee made requests to the banks to provide them with the names of the companies that sent the monies, but the requests were refused.
However, members of the committee succeeded via alternative sources to obtain the names of the banks as well as the companies transferring the money.
El-Jabouri added most of the initial deposits are being made by smugglers or professional financiers who manipulate money markets.
Just as the companies that transfer the monies are making tremendous profits, it is assumed the banks themselves are also cashing in.
Amin Baker, a member of the Judicial Committee in the parliament said 15 companies that transfer money were identified as being involved in the funding. Baker said the trail of money leads to Jordanian banks that initiate the transfers to Iraqi banks. The chain continues, he explained, through a number of institutions (banks and companies that transfer funds) until it reaches the Islamic State.
A number of institutions that contribute to the transfer of large sums of money to the Islamic State in Mosul or Kirkuk charge a minimum $600,000 in monthly fees for their services.
The Islamic State is considered the richest armed organization in the world since the terror group took control of Mosul and other regions in Iraq. Experts believe the organization receives a mix of regional and international monies.
Iraqi sources said the Islamic State stole close to 500 billion Iraqi dinars (about $432 million) from the central bank in the city of Mosul alone, which enabled them to execute military operations and pay the salaries of the thousands of foreign Jihadis the group has attracted.
In January, the Islamic State approved a budget of close to $2 billion for 2015. The group was expected to pull in an estimated at $250 million alone in accrued interest.
The Islamic State makes its money through the sale of oil as well as through taxes, protection money, contributions, Zakat (monetary tithes) and obligatory "charity" from merchants in regions under its control. In addition, the organization regularly attacks security forces and military bases as well as convoys that are transporting salaries for government workers.
When the Islamic State took over Mosul, Tikrit, Fallujah and 13 other cities, they seized all the funds from 62 governmental and civilian banks.
http://www.clarionproject.org/news/islamic-state-received-69-billion-money-transfers
-------
Yemen airstrikes resume; 15 allied fighters killed
AP | Jul 28, 2015
SANAA: The Saudi-led coalition launched new airstrikes in at least two Yemeni provinces today, piercing a humanitarian pause that started at midnight the previous day, security officials said.
The US-backed coalition of mainly Gulf Arab countries has been waging an air campaign since March against the Iran-supported Shia rebels, who control most of northern Yemen and the capital, Sanaa.
Two of today's airstrikes killed 15 fighters allied with the coalition in the province of Lahj, security officials and field commanders said. More than 40 fighters were wounded in the apparently accidental strikes, they said, adding that the death toll was expected to rise.
The strikes happened near the strategic military base of al-Anad, which is held by the rebels known as Houthis, and which was also hit by coalition planes Monday. The coalition also struck north of the port city of Aden.
Airstrikes had been halted for hours but ground fighting erupted in multiple provinces within minutes of the start of the unilateral cease-fire late yesterday.
The Houthis said in a statement that they fired missiles across the border at a Saudi military position in the kingdom's Jazan region. The Saudi-owned Al-Hadath news channel said Saudi forces "responded" to Houthi shelling in Jazan, without elaborating.
Fierce clashes also broke out Monday in the nearby town of Sabr, which is on a key supply route. Officials aligned with pro-government fighters say they have regained control of the center of the town and were trying to advance into northern neighborhoods.
Witnesses who fled Sabr on Monday morning said that corpses of fighters lay in the street next to destroyed military vehicles. The witnesses spoke on condition of anonymity, fearing for their own safety.
There were sporadic clashes in Yemen's central Marib province, officials said. In the city of Taiz, mortar shells fired in the center of the city killed four civilians, security and medical officials said. All officials spoke on condition of anonymity because they were not authorized to speak to reporters.
Anti-aircraft gunfire was heard in the rebel-held Sanaa as coalition planes buzzed overhead.
The humanitarian pause was intended to help allow humanitarian aid to be delivered to ease the suffering of civilians in the Arab world's poorest country.
http://timesofindia.indiatimes.com/world/middle-east/Yemen-airstrikes-resume-15-allied-fighters-killed/articleshow/48245009.cms
------
Air Force Inflicts Heavy Losses on Terrorists' Positions in Idlib
Jul 28, 2015
TEHRAN (FNA)- The Syrian air force destroyed strongholds and vehicles of Al-Nusra Front terrorists in Abu Dhuhour district, Khan Sheikhon, and Bannesh in the countryside of Idlib over past 24 hours.
The Syrian warplanes also inflicted heavy losses on the terrorists' gathering centers in Tal Salmo, North of Khashir, and al-Majas in the Southeast countryside of Idlib, destroying a number of their vehicles and killing many of them.
Also in the past 24 hours, tens of militants of the Free Syrian Army (FSA) surrendered to the government troops in the city of Zabadani, Syria's National Reconciliation Committee announced.
A large number of militants laid down arms and surrendered to the Syrian authorities, the Lebanese Al-Hadith news website reported.
FSA's senior commanders Tareq al-Zin, Ali Morad, Akram al-Hourani, Monir al-Aqa and Abdullah Rahmeh have also surrendered themselves to the Syrian army in Damascus countryside, the report added.
The development came after President Bashar al-Assad in a televised address on Sunday pardoned all soldiers who have fled the army, saying that his words served as a general decree to relevant officials.
Assad said even those who have fought the Syrian army will be pardoned. This was the third general amnesty declared by President Assad in the last four years.
Elsewhere, the Syrian Kurdish forces launched an operation to liberate the strategic city of Sarrin, near Kobani, from the control of the ISIL Takfiri militants, killing 30 terrorists in the early phase of their offensive.
Full Report at:
http://english.farsnews.com/newstext.aspx?nn=13940506000394
-----
Yemeni Army, Ansarullah Destroy 2 Saudi Military Bases in Jizan
Jul 28, 2015
TEHRAN (FNA)- The Yemeni army and Ansarullah fighters hit two military bases in Jizan, Southern Saudi Arabia, in retaliation for the Riyadh government's continued airstrikes on Yemen.
"The Yemeni army and popular committees destroyed al-Mamout and al-Radif military bases in Jizan of Saudi Arabia," the Yemeni defense ministry announced in a statement on Tuesday.
Meantime, editor of the Yemeni weekly al-Massar wrote on his Facebook page that the Yemeni army and Ansarullah fighters have destroyed over 200 vehicles of the Saudi army since the start of the Saudi aggression against Yemen on March 26.
On Sunday, the Yemeni army and Ansarullah fighters seized back control over nearly a dozen military bases in the Southern parts of Yemen after heavy clashes with Al-Qaeda militants and forces loyal to fugitive president Mansour Hadi.
The Yemeni forces won back 10 military bases from militants' control in the town of Mudiyah in Abyan province, Southern Yemen, today.
Tens of pro-Hadi and al-Qaeda militants were killed in heavy clashes with the Yemeni forces.
In a similar development on Saturday, the Yemeni forces seized back 10 other military bases in Lawdar in Abyan province.
Meantime, sources announced that the Yemeni army and the popular committees held over 80 Al-Qaeda terrorists captive in Aden province.
Saudi Arabia has been striking Yemen for 125 days now to restore power to fugitive president Mansour Hadi, a close ally of Riyadh.
Hadi stepped down in January and refused to reconsider the decision despite calls by Ansarullah revolutionaries of the Houthi movement.
Despite Riyadh's claims that it is bombing the positions of the Ansarullah fighters, Saudi warplanes are flattening residential areas and civilian infrastructures.
The Monarchy's attacks have so far claimed the lives of at least 5,313 civilians, mostly women and children.
http://english.farsnews.com/newstext.aspx?nn=13940506000509
------
Syrian Kurds capture town from ISIL in north-monitor
July 27, 2015, REUTERS /
BEIRUT: The Kurdish YPG militia on Monday captured a town from Islamic State of Iraq and the Levant (ISIL) fighters in northern Syria after a month-long offensive against the ultra hardline militants in the area to cut their supply lines, the Syrian Observatory for Human Rights said.
The Observatory said the town near the Euphrates River was a launchpad for ISIL to wage raids on the Kurdish-held town of Kobani further north at the border with Turkey.
US-led air strikes assisted the Kurds in the assault, said Rami Abdulrahman, who runs the Observatory.
The YPG, backed by small Syrian rebel groups, has made significant gains against ISIL in Raqqa province, seizing Tel Abyad at the Turkish border on June 15 before advancing south and capturing the town of Ain Issa, 50 km (30 miles) north of the militants' Syria stronghold of Raqqa city.
In July the US-led coalition has conducted some of the most sustained raids in northern Syria against the militants since the campaign began nearly a year ago.
The raids were aimed at curbing the militants' ability to operate out of Raqqa and prevent them from fighting back against Kurdish advances, according to US officials.
http://www.todayszaman.com/world_syrian-kurds-capture-town-from-isil-in-north-monitor_394711.html
-------
Yemen: 16 Parties Voices Support for Ansarullah
Jul 28, 2015
TEHRAN (FNA)- Sixteen Yemeni political parties voiced their support for the Ansarullah movement in its fight against terrorists, and urged the movement to find "strategic options" to counter the Saudi aggression against their country.
In a statement released on Monday, 16 Yemeni parties expressed their full support for Ansarullah's leader Abdul-Malik al-Houthi, calling on the movement to explore "strategic options" to counter the brutal Saudi military aggression against Yemen.
They also voiced support for the Yemeni army troops and fighters from allied Popular Committees who are engaged, alongside the Ansarullah fighters, in heavy battles with Al-Qaeda-linked Takfiri terrorists and militants loyal to fugitive former President Abd Rabbuh Mansour Hadi.
Saudi Arabia has been striking Yemen for 125 days now to restore power to fugitive president Mansour Hadi, a close ally of Riyadh.
Hadi stepped down in January and refused to reconsider the decision despite calls by Ansarullah revolutionaries of the Houthi movement.
Despite Riyadh's claims that it is bombing the positions of the Ansarullah fighters, Saudi warplanes are flattening residential areas and civilian infrastructures.
The Monarchy's attacks have so far claimed the lives of at least 5,313 civilians, mostly women and children.
http://english.farsnews.com/newstext.aspx?nn=13940506000884
------
Iraqi Commander Deplores Turkey Attacks against Anti-ISIL Forces
Jul 28, 2015
TEHRAN (FNA)- A top commander of the Iraqi volunteer forces fighting the ISIL terrorist group condemned Turkey for targeting Kurdish forces which are fighting the terrorists in Syria, and accused Ankara of supporting the Takfiri group.
"Turkey has not changed its stance; it carried out operations against the PKK (Kurdistan Workers' Party), which is fighting with the Kurds against ISIL in Syria," Hadi al-Ameri said on Monday.
Turkey launched a military campaign against what it claims to be ISIL targets in Syria and PKK positions in Northern Iraq last week, after an ISIL attack in the Southwestern Turkish town of Suruç claimed the lives of at least 32 people on July 20.
Turkey still supports ISIL right now," said Ameri, adding "I think (the strikes) Turkey carried out were to support ISIL and not what some had imagined," said Ameri.
The ISIL Takfiri terrorists currently control a shrinking part of Syria and Iraq. They have threatened all communities, including Shiites, Sunnis, Kurds, Christians, Ezadi Kurds and others, as they continue their atrocities in Iraq.
Senior Iraqi officials have blamed Saudi Arabia, Qatar, and some Persian Gulf Arab states for the growing terrorism in their country.
The ISIL has links with Saudi intelligence and is believed to be indirectly supported by the Israeli regime.
http://english.farsnews.com/newstext.aspx?nn=13940506000355
--------
Syrian Troops Gain Ground in Homs
Jul 28, 2015
TEHRAN (FNA)- Syrian security forces and volunteer forces retook some strategic positions around the city of Palmyra in Homs province from the ISIL Takfiri militants.
Syrian troops have regained control of regions West of the Palmyra, forcing militants to abandon their positions on the hilltops and mountains there, Lebanese sources said Monday.
An unspecified number of terrorists were killed while government forces managed to destroy two vehicles belonging to the ISIL Takfiri group.
According to other reports, Syrian forces also regained full control over farming lands around the Siyaqah School, securing a key oil pipeline going through the region.
The Syrian forces are now just kilometers away from Palmyra which fell into the hands of ISIL in late May.
The ancient city is on the list of the United Nations Educational, Scientific and Cultural Organization (UNESCO)'s World Heritage sites and is situated about 215 kilometers Northeast of the Syrian capital, Damascus.
Syria has been grappling with a deadly crisis since March 2011. The violence fuelled by Takfiri groups has so far claimed the lives of over 230,000 people, according to reports. New figures show that over 76,000 people, including thousands of children, lost their lives in Syria last year.
Over 3.8 million Syrians have left their country since the beginning of the crisis. According to reports, more than seven million Syrians have become internally displaced.
http://english.farsnews.com/newstext.aspx?nn=13940506000572
-------
Houthi rebels disrupt 5-day cease-fire announced by Saudi-led coalition in Yemen
By: AP
Sanaa: Jul 27, 2015, Saudi-led coalition airstrikes came to a halt in Yemen early Monday after a five-day humanitarian truce went into effect, witnesses and security officials said. However, ground fighting broke out almost immediately in the restive city of Taiz following random shelling by Shiite Houthi rebels in three neighborhoods, they said. Security officials said ground fighting has also erupted in Marib province and in the area surrounding the strategic al-Anad military base in Lahj province. Random shelling by Houthis and their allies hit northern and western areas of the port city of Aden after the cease fire, security officials and witnesses said. The Saudi-led and US-backed coalition of mainly Gulf Arab countries has been waging an air campaign since March against the Iran-supported rebels, who control most of northern Yemen and the capital, Sanaa.
The pause declared by the Saudi-led coalition began at 11:59 p.m. (2059 GMT, 4:59 p.m. EDT) Sunday. It is intended to help allow humanitarian aid to be delivered to ease the suffering of civilians in the Arab world's poorest country.
The coalition made the unexpected announcement about the humanitarian pause on Saturday. The statement, carried on Saudi state media, said the coalition will cease military operations, but that it will respond should Houthi rebels or their allies conduct any military actions or movements.
The rebels, known as Houthis, have expressed doubt over the truce. One Houthi official said it will likely mark "the beginning of a new war." Mohammed Ali Al-Houthi, the head of the Houthi's Revolutionary Council, said Sunday that the group had not received official notification of the truce from the United Nations.
Two previous humanitarian truces in Yemen did not hold.
UN Secretary-General Ban Ki-moon welcomed the coalition's announcement of the cease-fire and urged the Houthis and other parties to suspend military operations and "maintain the humanitarian pause for the sake of all the Yemeni people," Ban's spokesman said. Ban also urged all sides "to facilitate the delivery of humanitarian assistance to all parts of Yemen."
Earlier on Sunday, Saudi-backed Yemeni troops and their allies clashed with Houthi rebels in a strategic town north of the port city of Aden, security and military officials from both sides of the conflict said.
The pro-government fighters had withdrawn from the town of Sabr earlier in the day after fierce battles with the Houthis. They returned hours later following the arrival of military reinforcements and wrested control of a large portion of the town, security officials said.
The officials said five pro-government fighters were killed and 15 wounded in the battle. Local medical officials said eight rebels were killed and 20 wounded.
The running battles in Sabr, which is on a key supply route, have lasted for more than a day after troops stormed it in their push north from Aden toward the strategic military base of Al-Anad, which is held by the rebels.
Security officials and residents of Sabr said the situation on the ground has quieted after the cease-fire took effect.
The Yemeni troops fighting in Sabr had been training since April in military camps in al-Buraiqeh, the port city west of Aden, military officials from the Saudi-led coalition said. Saudi, Emirati, Egyptian and Jordanian military advisers there have set up the camps and trained hundreds of fighters, they added.
The fighters also received over 300 armored personnel carriers from the United Arab Emirates by sea. These sophisticated carriers are largely driven by non-Yemenis, the military officials said. Two Emirati officers have been killed in battle in Yemen since the Saudi-led coalition's latest offensive, known as the "Golden Arrow," started on July 16.
Al-Buraiqeh is also home to the Yemeni Fourth Military Base, which is in charge of all military operations in Aden.
The foreign military advisers, officials said, arrived in al-Buraiqeh by sea more than a month ago and serve as intermediaries between the Yemeni troops and the coalition leadership in neighboring Saudi Arabia. They also supervise the distribution of weapons and give coordinates for coalition airstrikes, military officials said.
All the officials spoke anonymously because they are not authorized to brief reporters.
http://indianexpress.com/article/world/middle-east-africa/random-shelling-by-houthis-disrupts-five-day-humanitarian-truce-in-yemen/#sthash.u3F33hIJ.dpuf
------
Saudi FM denounces 'aggressive' statements by Iran
AFP | Jul 28, 2015
RIYADH: Saudi Arabia's foreign minister Adel al-Jubeir today denounced "aggressive statements" by Iran, after Tehran accused Saudi ally Bahrain of stoking Gulf tensions by making unfounded allegations against it.
"This is unacceptable to us," foreign minister Adel al-Jubeir said at a joint news conference with visiting EU foreign policy chief Federica Mogherini.
Yesterday, Iranian foreign ministry spokeswoman Marzieh Afkham accused Bahrain of making "unfounded allegations" aimed at creating "tension in the region", after the interior ministry in Manama said it had detained two men accused of trying to smuggle weapons from Iran.
"This does not represent the intentions of a country seeking good relations," Jubeir said of the Iranian statements.
"These statements are escalating and they are many."
Iranian foreign minister Mohammad Javad Zarif denied, during a visit yesterday to Kuwait, as "baseless" Bahrain's claims that it had detained two men for trying to smuggle weapons from Iran.
"I openly say the claims are totally wrong," he said.
"The timing of the announcement is an attempt to prevent any progress in cooperation between Iran and other Gulf states," Zarif said.
http://timesofindia.indiatimes.com/world/middle-east/Saudi-FM-denounces-aggressive-statements-by-Iran/articleshow/48245644.cms
------
India
Glad We Didn't Fall Into 'Death Trap', Say Young Indian Muslims Trying To Join ISIS
Abhishek Bhalla, Mail Today, Hyderabad, July 27, 2015
When Saifuddin (name changed), a 26-year-old MBA from Hyderabad, decided to leave his heavily pregnant wife to join the ISIS in Syria, he had no idea that the intelligence agencies were tracking his every move. To do khidmat (service) and be part of the ISIS or the Islamic State, Saifuddin, like many other Indian Muslims, had been interacting with handlers on the social media and gradually getting lured to the idea of attaining jannat (heaven) by serving the Sunni terror group that has massacred thousands in order to set up a Caliphate. Today, bringing up his daughter is his life's sole mission.
"After watching ISIS videos and interacting with radicals, I wanted to go to Syria. Now I realise I was walking into a death trap," says Saifuddin.
This is for the first time that Saifuddin is breaking his silence before the media after being stopped by the Indian security agencies from travelling to Syria. He, like over 20 recruits, including 17 from Telangana and at least four from Maharashtra, have not been arrested or charged with any offence, as part of a new strategy adopted to deradicalise them and ensure that they are back in the mainstream. This marks a tectonic shift from the way the agencies have handled terror recruits in the past. However, the agencies still feel the need to closely monitor their activities.
Hesitant initially to talk about his flirtations with terror, Saifuddin finally opens up when assured that his identity will not be revealed. His eyes turn misty as he tells us about his new-born daughter. He says he is grateful to the almighty that he was intercepted before he could take off for Syria. "I get nightmares thinking about those days now. I wonder what my daughter, my wife and family would have gone through if I had succeeded in joining the ISIS. It gives me the jitters," he adds.
He says he did not want to fight for the ISIS but wanted to serve the people of conflict-hit Syria.
Saifuddin says he got in touch with someone called Mohammed-Ibn-Al Bara who claimed to be a Syria-born Australian citizen carrying out aid work in conflict-hit Syria. "He convinced to me join as a volunteer and I was told to reach Turkey and then cross over to Syria."
Saifuddin aborted his plan after policemen knocked on his door in August last year, a week before he was to leave for Turkey after getting a visa. He has now gone back to a normal life and is working independently as a foreign exchange trader.
But four other youngsters, all in their early 20s, did not give up so easy. Like Saifuddin, these four were trying to obtain Turkish visas and were being tracked by intelligence agencies. Their visas got cancelled but they had a Plan B ready. They decided to reach Kolkata from where they were to illegally cross over to Bangladesh where a handler promised to facilitate their travel to Turkey.
While speaking to Mail Today, these four revealed only their codenames to hide their true identities - Musaib, Saad, Ussein and Ayaan. They said they had travelled from Karimnagar to Kolkata by train last August.
It was the ring tone on Musaib's phone that caught Saifuddin's attention and got them together. The ring tone was an ISIS song. The two men were at a mosque offering namaz when Musaib's phone rang. Upon hearing the ringtone, Saifuddin knew they had a common mission. After that, they were in constant touch.
While Saifuddin got de-radicalised soon after policemen came to his house, the Bangladesh plan of Musaib and the three others got scuttled as a Telangana police team tracked them down in Kolkata where they were staying at a lodge near New Market. Recalling the episode, Musaib says the moment he saw a man with a moustache in the hotel where they were staying he knew the game was over. "He had a typical Telugu look," he says referring to the intelligence branch inspector of Telangana police. "That's when I told my friends it's all over."
Life changed for 21-year-old Musaib, who was in his third year of computer engineering degree course at that time. When word spread of his attempt to join the ISIS, he was asked to leave college. He is now pursuing a course in interior designing and trying to pick up the nuances of the furniture business run by his family. His sister, also in her twenties, had wanted to accompany him to Syria.
Musaib says they were given a contact in Bangladesh by their handlers who used to communicate with them through Skype and telegram.
"I was never very serious about religion," he says with a smile, adding he got carried away after watching videos of atrocities against Muslims on the Internet. "I got inspired by the idea of Jihad after watching these videos. Soon I was in touch with people on Facebook who were directing me how to reach Syria," he said.
Another youth from Hyderabad who wanted to join the ISIS says when he was intercepted by the police he thought he would spend the rest of his life in jail. But the way the police treated him has inspired him to join them.
"We feel they have been de-radicalised but we still have to keep a close watch on them," said an intelligence official who was part of the operation that prevented these young men from leaving the country. The battle to bring back radicalised youth to mainstream is a long one, he adds.
Young Muslims, who were tempted to join ISIS but were caught before crossing over, are now glad they didn't fall into 'death trap':
Thought of Jannat: Musaib (name changed), 21
I was never very religious or orthodox. I wouldn't even pray and was basically a bad kind of a guy. But last year, merely liking a post on Facebook changed my life. Soon, my friend list was full of radical elements. After seeing provocative videos, I got interested and began to interact with them. After seeing a video, I got inspired by the idea of jihad and got in touch with ISIS recruiters.
One day I got a message from Abu Hamza Al Muhajir, asking me if I was an Indian. His profile said he stays in Mosul, Iraq. I was convinced if I joined the ISIS, all my sins will be washed away and I will go to jannat (heaven). We were given instructions to reach Istanbul and take a bus to Gaziantep in Turkey and cross over though the Syrian border. We received about Rs 1 lakh from somebody in the UK and Rs 53,000 from Dubai. We were given instructions not to use mobile phones. Whenever someone gave us directions on Skype, we could not see their face. When the police tracked our activities, our visas were cancelled but we decided to go via Bangladesh, but were finally caught there. We have realised we were being foolish and were going there to get killed.
Areeb's tale is scary: Saifuddin (name changed), 26
I did not get attracted to the idea of going to Syria overnight. It was a gradual process after watching videos and pictures of atrocities against Muslims. I began to frequent many such groups on Facebook. By the end of 2013, I got in touch with Mohammed Ibn-Al-Bara, a Syrian brought up in Australia. He was working as an aid worker.
I was told how to cross over to Syria after reaching Turkey.
I applied for a Turkish visa in July 2014 and got it in August. The police reached my home a week before I was to leave. I am thankful to the almighty that I was intercepted.
Reading about Areeb Majeed, the Indian who returned was scary. I didn't realise I was walking into a death trap in Syria.
I was very disturbed: Ayaan (name changed), 20
I did not know anything about the ISIS. A friend in college introduced me to it. He was in touch with some people on Facebook and would also show me videos related to the ISIS. I began to get attracted to it at a time when I was disturbed as I had failed my engineering exams. We decided to run away. I went Karimnagar and from there, we took a train to Kolkata from where we had plans to go to Bangladesh.
One of my friends was in constant touch with someone who was possibly an ISIS recruit in Saudi Arabia. After being intercepted in Kolkata, we were brought back to Hyderabad.
We went through several sessions of counselling along with our parents. My parents were shocked when they heard of all this because they had no clue of what I was up to. Now I am living a normal life and pursuing my engineering degree.
Thankful to police: Faid (name changed), 23
I got in touch with someone who would post about happenings in Syria. He would upload ISIS videos. When I think of it now, I get nightmares. At times I spent sleepless nights thinking about what would happen if I reached Syria.
When we were caught, I thought I will end up spending my entire life in jail. My life was in the police's hands and I am thankful to them for not only stopping me from going there, but also not arresting any of us.
I am still active on Facebook, but don't access the radical groups. I completely ignore watching anything to do with the ISIS or any form of extremism either on TV or online. I have got back to my job and now aspire to join the police.
http://indiatoday.intoday.in/story/indian-muslim-youths-trying-to-join-isis-syria/1/454256.html
--------
120 Indian Muslim students to get scholarships from US group
Press Trust of India | Bhopal July 27, 2015
As many as 120 meritorious students from Muslim community in India will be felicitated and awarded scholarships by a US-based organisation.
American Federation of Muslims of Indian Origin (AFMI), in collaboration with an Indian organisation, will felicitate these students here in the last week of December.
"We, with the help of Association of Indian Muslims (AIM), will felicitate and provide scholarship to 120 Indian Muslim students in the last week of December in Bhopal," AFMI founder member and trustee Raheman S Nakadar said here.
Nakadar, who has come down to the city from US, was talking to reporters.
He said AFMI had been annually donating Rs 5 crore towards education of Muslims in India and the result had been encouraging.
Nakadar, who was born in Bhopal and now settled in US, said AFMI has so far provided scholarships to 2,500 meritorious students.
The Federation also carries out relief and rehabilitation work in the areas affected by natural and man- made disasters, he said.
http://www.business-standard.com/article/pti-stories/120-muslim-students-to-get-scholarships-from-us-group-115072701445_1.html
------
PM Says Kalam A Rare Gem, Recalls His Vision for India
PTI New Delhi, July 28, 2015
APJ Abdul Kalam was a 'Rashtra-Ratna' (nation's gem) and the best tribute to him would be to realise his dreams for the country, Prime Minister Narendra Modi said on Tuesday as the nation mourned the demise of the former President.
Speaking at a condolence meeting of the BJP parliamentary party, Modi described Kalam as an "ordinary man with an extraordinary personality" who gave the best to every position he held.
Kalam was a 'rashtra-ratna' (nation's gem) first and 'rashtrapati' (President) later, he said, and recalling the former President's humble origins, noted that his life was an example of what a person can achieve.
"A rare sparkling gem has disappeared.... He sold newspapers in childhood and today newspapers across the world are full of reports about him. He was a rare gem with diverse talents. The beloved son of Mother India is no longer among us. We have lost a lot," the PM said in his solemn address.
The best tribute to Kalam would be to work to realise the dreams he had for the country. Kalam believed in removing poverty and transforming religion into spirituality among solutions to solving the world's problems, he said.
Modi said Kalam always called himself a teacher irrespective of the high positions he held and began teaching immediately after he demitted the President's office and breathed his last in Shillong among students.
Talking about the former President's roots in Tamil Nadu, the Prime Minister said language at times works as a barrier but it was the speciality of Kalam's character that no one felt it when they were with him.
"It was because not his words but his personality that spoke. He was an ordinary man but had an extraordinary personality. It is a rare combination. He reached different destinations in life, gave them the best and moved on. It is very easy to say I am a teacher. (But) He said it when he became the President and said so when he was a top scientist and was awarded Bharat Ratna.
"He started teaching in a college in south India the day after he demitted the office of President. The very next day with the same smile on his face," Modi said at the meet, recalling Kalam's dedication to teaching and his death at IIM Shillong while giving a lecture.
"May his life continue to inspire us and the new generations," he said.
BJP chief Amit Shah spoke on how Kalam spent his time among people despite being the President and was a fine example of how to contribute while holding a constitutional post.
He also recalled that Kalam spent worked among the youth and scientists for the country's development after he was no longer the President.
http://indiatoday.intoday.in/story/pm-modi-calls-apj-abdul-kalam-a-rare-gem/1/454595.html
-------
Suspected LeT militants may have entered from Pak
PTI | Jul 28, 2015
GURDASPUR: Preliminary probe into the terror strike in the district that left seven persons dead indicates that the three suspected Lashkar-e-Taiba militants had entered the country from Pakistan through Bamiyal village close to the International Border.
The investigators are pinning their hope on seized Global Positioning System (GPS), a compass used by travelers to reach their destinations, to ascertain the movements of the terrorists who were killed in the gunbattle. The GPS has been sent for forensic examination.
As part of the probe, a high-level forensic team today visited the abandoned building near the Dinanagar police station where the terrorists were holed up.
The four-member team led by Davinder Pal Sehgal and Ashwani Kumar started their investigations, police said.
Director General of Punjab Police Sumedh Singh Saini had said the terrorists were carrying sophisticated weapons.
"We have recovered 'Made in China' grenades from them. They were wearing combat fatigues," he had said.
Saini said AK 47 guns and hand grenades were recovered from the terrorists, who had attacked the sentry at the police station before engaging with the SHO and the SP.
He had described the attack as "planned" as their modus operandi pointed at a specific direction.
http://timesofindia.indiatimes.com/india/Suspected-LeT-militants-may-have-entered-from-Pak/articleshow/48248866.cms
------
Yakub Memon's plea: SC judges give split verdict, case referred to larger bench
Dhananjay Mahapatra,TNN | Jul 28, 2015
NEW DELHI: A three-judge bench of the Supreme Court is likely to decide 1993 Mumbai serial blasts convict Yakub Memon's fate on Wednesday after a two-judge bench on Tuesday remained split.
Justice A R Dave dismissed Yakub's plea seeking stay of death warrant and told the Maharashtra governor to decide the mercy plea before July 30, the day scheduled for his hanging.
But, Justice Kurian Joseph himself dug out a point which was not raised by Yakub in his petition and on that basis held that the apex court did not follow correct procedure in dismissing his curative petition.
Justice Joseph said since procedure was not followed the curative petition dismissal was not proper and required fresh decision. Hence, the death warrant needed to be stayed, he said.
In view of the split decision, the 2-judge bench referred the issue to the CJI for setting up an appropriate bench on Wednesday to hear Yakub's plea seeking stay of death warrant.
Memon, the lone death convict in 1993 Mumbai blasts case, in his plea had claimed he was suffering from schizophrenia since 1996 and has remained behind the bars for nearly 20 years, much more than a person serving life term has to spend in jail. He had sought commutation of death penalty, contending that a convict cannot be awarded life term and the death sentence for the same offence.
The apex court had on June 2, 2014 stayed the execution of Memon and referred his plea to a Constitution bench as to whether review petitions in death penalty cases be heard in an open court or in chambers.
Twelve coordinated blasts had rocked Bombay, as the city was then known, on March 12, 1993, leaving 257 dead and over 700 injured.
(With inputs from agencies)
http://timesofindia.indiatimes.com/india/Yakub-Memons-plea-SC-judges-give-split-verdict-case-referred-to-larger-bench/articleshow/48246818.cms
------
Kalam's Body At Delhi House For People To Pay Tribute
The last rites of former president A.P.J. Abdul Kalam will be held in his hometown Rameswaram in Tamil Nadu following his family's wish, it was announced on Tuesday. | Kalam: An inspiration for India | LIVE TV
IndiaToday.in New Delhi, July 28, 2015
APJ Abdul Kalam funeralPrime Minister Narendra Modi pays tribute to Kalam. Pic courtesy: Pankaj Nangia
Former president APJ Abdul Kalam's last rites will be held in his hometown Rameswaram in Tamil Nadu following his family's wish on Wednesday. The body of Dr Kalam, who died on Monday in Shillong after collapsing while delivering a lecture at the Indian Institute of Managment, was flown to New Delhi on Tuesday morning. Here's a look at the live updates:
15.21 pm: PM Narendra Modi pays homage to late Former President Dr. APJ Abdul Kalam, writes in the condolence book.
14.46 pm: Congress Vice President Rahul Gandhi pays his last respects to late Former President APJ Abdul Kalam
14.42 pm: Assam Chief Minister Tarun Gogoi on Tuesday paid his last respects to former president A.P.J. Abdul Kalam, who passed away in Shillong on Monday, at the Air Force Station at Borjhar on the outskirts of Guwahati.
14.24 pm: Former India cricket captain Sourav Ganguly on Tuesday said that A.P.J. Abdul Kalam's simplicity touched not just him but everyone who met the former president of India, who passed away in Shillong on Monday night.
13.45 pm: Although former President A P J Abdul Kalam is no more, but his Twitter account will continue to be active in a new form. A team of his close associates has decided to run his official Twitter account which has now been renamed as 'In memory of Dr Kalam'.
13.45 pm: A P J Abdul Kalam was a 'rashtra-ratna' (nation's gem) and the best tribute to him would be to realise his dreams for the country, Indian Prime Minister Narendra Modi on Tuesday said as the nation mourned the demise of the former President.
13:34 pm: Speaking to ANI, President Pranab Mukherjee said Dr Kalam had a mighty mind.
13:27 pm: Bihar Agricultural University (Kishanganj) renamed Dr Kalam Agricultural University as a tribute to the former President from Bihar government.
13.04 pm: Mortal remains of late Former President Dr. APJ Abdul Kalam being taken to his residence in Delhi.
12:57 pm: In honour of Dr Kalam, Andhra Pradesh government to work an extra hour on Tuesday. Earlier, Telangana government had announced a holiday.
12.49 pm: President of India Pranab Mukherjee pays homage to late Former President APJ Abdul Kalam.
12.46 pm: PM Narendra Modi pays his last respects to late Dr APJ Abdul Kalam.
12.43 pm: Delhi CM Arvind Kejriwal pays homage to late Former President APJ Abdul Kalam.
11.56 am: IAF flight with Former President Dr APJ Abdul Kalam's mortal remains to land in Delhi shortly. Also read: Missile man of India passes away
11.55 am: Dr. Kalam was a great human being , even after becoming the President he was always connected to the public: Sanjay Raut, Shiv Sena
Read: Kalam an inspiration for young India
11.29 am: Former President A P J Abdul Kalam's last rites to take place at Rameswaram in Tamil Nadu at the request of his family. President Pranab Mukherjee cuts short Karnataka visit
11.27 am: Dr Kalam's vision of a new India had a tremendous impact on the people of country: Nitish Kumar
11.16 am: Lok Sabha adjourned for 2 days, Rajya Sabha adjourned till tomorrow.
11.06 am: Bihar CM Nitish Kumar to leave for Delhi today, will pay his respects to Former President Dr. A.P.J Abdul Kalam
11.04 am: Rashtriya Avishkar Abhiyan to be renamed APJ Abdul Kalam Rashtriya Avishkar Abhiyan: HRD Minister Smriti Irani
10.34 am: 2 minutes silence was observed as a mark of respect for Former Indian President Dr. Kalam during today's BJP Parliamentary meeting: RP Rudy
10.31 am: Public can pay homage to the late President #APJAbdulKalam from 3 pm onwards at 10 Rajaji Marg, New Delhi.
09.53 am: PM Narendra Modi, Defence Minister Manohar Parrikar and Three Service Chiefs will receive the mortal remains of Dr APJ Abdul Kalam
09.52 am: He told us that first & foremost he's a teacher, said the time he spent in teaching was the best time of my life: Arvind Kejriwal
09.51 am: IAF flight with Former President Dr. A.P.J. Abdul Kalam's mortal remains to land in Delhi by 12:30 pm.
09. 44 am: The Prime Minister, Narendra Modi has condoled the passing away of former President of India, Dr. APJ Abdul Kalam.
"India mourns the loss of a great scientist, a wonderful President and above all an inspiring individual. Rest in peace Dr. APJ Abdul Kalam.
Dr. Kalam…my mind is filled with so many memories, so many interactions with him. Always marvelled at his intellect, learnt so much from him.
Dr. Kalam enjoyed being with people; people and youngsters adored him. He loved students and spent his final moments among them", the Prime Minister said.
09.42 am: An irreparable loss to India & Global scientific community: Former ISRO Chief G Madhavan on Dr. Kalam's demise
09.31 am: Dr. Abdul Kalam was a guide, motivator, philosopher and Marg darshak to the entire nation: Union Minister Venkaiah Naidu
09.30 am: Irreparable loss to the country,we've never come across such simple,honest& dedicated President of India: Tarun Gogoi
09.24 am: Tributes paid to Former Indian President Dr. A.P.J. Abdul Kalam in Shillong, earlier on Tuesday.
09.20 am: Dr. Kalam even passed away while talking to children, god must have blessed him: Bharat Ratna C.N.R. Rao
9.15 am: The body of former President APJ Abdul Kalam, who died in Shillong last evening, was carried to Delhi early this morning by a special aircraft from here.
Last respects were paid to the late former President at the tarmac of the airport after his body was brought to Guwahati from Shillong by an Air Force helicopter. Several leaders including Chief Minister Tarun Gogoi and senior IAF officials joined in paying tribute here to India's 'Missile Man' whose departure has plunged the nation into overwhelming grief.
Wrapped in tricolour, the casket carrying his body was taken inside the aircraft as mournful hymn played in the background. Kalam, who would have turned 84 in October died after suffering a massive cardiac arrest during a lecture at the IIM Shillong yesterday.
Kalam was confirmed dead more than two hours after he was wheeled into the ICU of Bethany Hospital in a critical condition following the collapse at around 6.30 pm. The body of the late former president was shifted from Bethania Hospital, where he breathed his last, to the Military Hospital in Shillong, Defence Public Relations Officer Amit Mahajan said.
The Union Cabinet is to hold a special meeting in New Delhi today to condole his death. The date, place and time of his funeral would also be decided today. The government has announced a seven-day state morning in honour of Kalam, who became affectionately known as the 'people's President.
He became the 11th head of the state and occupied the post between 2002 and 2007.
http://indiatoday.intoday.in/story/apj-abdul-kalam-funeral-in-rameswaram-live/1/454493.html
-------
Indian Punjab CM calls off meeting with Pakistan high commissioner
By Web DeskPublished: July 28, 2015
Indian Punjab Chief Minister Parkash Singh Badal called off on Tuesday a meeting with Pakistan High Commissioner Abdul Basit a day after a gun battle in Gurdaspur left 10 people dead.
The meeting between Badal and Basit was to be held on July 29 in Chandigarh.
Harcharan Bains, adviser to chief minister on national affairs and media, said that the meeting was called off "in view of today's incident at Dinanagar in Gurdaspur district".
Further, Bains said it was Basit who had requested for a courtesy call during his visit to Chandigarh this week.
On Monday, gunmen dressed in military fatigues killed at least 10 people, including three civilians, in India's Punjab state before being shot dead in a 12-hour-long gunfight with security forces in a small-town police station near the border with Pakistan.
In what was the first such attack in the state in more than a decade, the assailants shot dead a roadside vendor and tried to hijack a bus before storming the police station, witnesses said.
Security sources in India claimed the attackers were suspected to belong to either Lashkar-e-Taiba or Jaish-e-Mohammad. "None of them were Sikhs," one unnamed Indian security official said.
Indian police sources also claimed that the attackers entered from Pakistan two days ago. Some media reports suggested that they might have crossed into Punjab from Indian Kashmir.
However, Pakistan has strongly condemned the attack.
"We condemn in the strongest terms the terrorist incident in Gurdaspur, India, in which a number of precious lives have been lost. There are reports of others having suffered injuries. Our thoughts are with the bereaved families," the foreign office said in a statement.
Following the incident, India tightened security on its border with Pakistan.
http://tribune.com.pk/story/927822/indian-punjab-cm-calls-off-meeting-with-pakistan-high-commissioner/
------
Africa
Libyan court sentences Gaddafi son Saif, eight other ex-officials to death
TRIPOLI Jul 28, 2015
A Libyan court passed a death sentence in absentia on Muammar Gaddafi's most prominent son, Saif al-Islam, on Tuesday for war crimes and acts to crush peaceful protests during the country's 2011 revolution that ended his father's rule.
The court also sentenced to death by firing squad eight other former Gaddafi regime officials including his former intelligence chief Abdullah al-Senussi and ex-prime minister Baghdadi al-Mahmoudi, on the same charges, said Sadiq al-Sur, chief investigator at the Tripoli state prosecutor's office.
Eight other ex-officials received life sentences and seven were given jail terms of 12 years each, he told a news conference carried by al-Nabaa television. Four were acquitted. All but Saif al-Islam are in judicial custody.
The verdict on al-Islam was passed in absentia in Tripoli since he has been held for four years by a former rebel group in the Zintan region beyond central government control.
The trial began in April 2014 before fighting between rival factions in Tripoli ripped Libya apart in a power struggle which has produced two governments competing for central authority.
The sentences can be appealed and must be confirmed by Libya's highest court. The International Criminal Court and rights groups say they worry about the fairness and competence of Libya's judicial system, although it won the right in 2013 to try Senussi at home instead of at the ICC in The Hague.
(Reporting by Omar Fahmy, Ahmed Elumami and Ulf Laessing; Writing by Ulf Laessing; Editing by Mark Heinrich)
http://www.reuters.com/article/2015/07/28/us-libya-security-idUSKCN0Q20UP20150728
------
Child suicide bomber kills 16 in Nigerian market
ANI | Jul 27, 2015
LONDON: At least 16 people have been killed and 50 others wounded in a suicide bombing carried out by a 10-year-old girl in north-eastern Nigeria, police said.
The attack targeted a crowded market in the city of Damaturu in Yobe state, reported the BBC.
Yobe police spokesman Toyin Gbadegesin said that the incident took place on Sunday morning when the child blew herself up amid a crowd of people being screened by security services before they were let into the market.
No group has claimed responsibility for the bombing but Boko Haram has been blamed for carrying out similar attacks in recent months.
The attack came just days after two female suicide bombers killed nine people waiting to say prayers for the Muslim festival of Eid in the city.
http://timesofindia.indiatimes.com/world/rest-of-world/Child-suicide-bomber-kills-16-in-Nigerian-market/articleshow/48233906.cms
------
Boko Haram fighters behead three in Cameroon raid
AFP | Jul 28, 2015
YAOUNDE: Three villagers were beheaded during weekend raids in Cameroon by Boko Haram insurgents from neighbouring Nigeria, who killed another four people in a separate raid overnight, security forces said today.
The first attack took place yesterday in the neighbouring villages of Tchebe-Tchebe and Dzaba, about 10 kilometres from the Nigerian border, said a security agent based in the region.
The beheadings took place in Tchebe-Tchebe.
The assailants also set fire to land owned by villagers as well as a Catholic church, the source added.
The report was confirmed by another local security source, who said that access to the villages was difficult for troops because of the mountainous terrain.
Another four people were killed overnight in the town of Afade, much farther north, near Lake Chad, Cameroon police said.
"Boko Haram attacked the town of Afade around one in the morning (Monday)," a gendarmerie official said, requesting anonymity.
He said the assailants torched police and military facilities and slit an inmate's throat.
Three other people in detention died in the fire, a local humanitarian worker, Mey Ali, told AFP.
Yesterday's violence followed a series of Boko Haram suicide bombings in the far north of Cameroon, which is taking part in a regional military campaign against the extremists.
The cross-border region is frequently attacked by Boko Haram, which launched its campaign for a hardline Islamic caliphate in northeastern Nigeria in 2009, at an estimated cost of more than 15,000 lives.
On Saturday night, a 12-year-old girl blew herself up in the town of Maroua, killing at least 20 people and wounding 79 others in the fifth suicide bombing in Cameroon in two weeks.
Cameroonian authorities last week extended a ban on the wearing of the full Islamic veil to the east of the country and the Littoral region in the southwest, where the city of Douala is situated.
The ban, implemented because the garment can conceal explosives, was already in effect in Cameroon's far north. (AFP)
http://timesofindia.indiatimes.com/world/rest-of-world/Boko-Haram-fighters-behead-three-in-Cameroon-raid/articleshow/48245060.cms
------
Death toll in Al Shabab suicide truck bomb attack in main Somali hotel rises to 13
By: Reuters
Mogadishu,Jul 27, 2015
Al Shabaab, which said it was behind the blast, frequently stages bomb and gun attacks in the capital in its bid to topple Somalia's Western-backed government. The nation is trying to rebuild after two decades of conflict and chaos.
"It is a response to attacks and helicopter bombing against al Shabaab by AMISOM and the Somali government," Sheikh Abdiasis Abu Musab, al Shabaab's military operations spokesman, told Reuters.
AMISOM, the African Union's force in Somalia, has been battling the Islamist rebels with the Somali army. Al Shabaab has been pushed into increasingly smaller pockets of territory by a military offensive this year.
The popular Jazeera hotel has been targeted on previous occasions. The blast on Sunday sent a plume of smoke rising above the coastal capital. Sporadic gunfire was heard shortly after the attack.
Al Shabaab, which wants to impose its strict interpretation of Islam on Somalia, killed a lawmaker, his bodyguard and an official from the prime minister's office on two attacks on Saturday.
http://indianexpress.com/article/world/middle-east-africa/al-shabab-suicide-truck-bomb-kills-9-injures-20-in-main-somali-hotel/#sthash.VUOyqKHt.dpuf
-----
Rescuers find 13 dead migrants on packed boat off Libyan coast
By Reuters | Rome, 28 July 2015
Rescuers found 13 dead migrants on a boat off the coast of Libya with more than 500 others aboard, an Italian coast guard spokesman said on Tuesday, giving o details about how they had died.
An Irish naval ship, mobilised as part of the EU's Triton mission, and one operated by the Doctors Without Borders charity went to the rescue of the boat about 50 miles (80 km) off Libya late on Monday. The bodies were taken onto the Irish ship.
Authorities are yet to decide where to take the survivors, the spokesman said.
Some 150,000 migrants have reached Europe by sea this year, most landing in Italy and Greece, and more than 1,900 have drowned during the crossing, according to the International Organization for Migration.
https://english.alarabiya.net/en/News/middle-east/2015/07/28/Rescuers-find-13-dead-migrants-on-packed-boat-off-Libyan-coast.html
-------
Obama Gathers Leaders in Effort to End South Sudan War
By PETER BAKER and MARC SANTOR
JULY 27, 2015
ADDIS ABABA, Ethiopia — For President Obama, the birth of South Sudan four years ago was the capstone of his Africa policy. He sent his United Nations ambassador, Susan E. Rice, for the independence celebration, and she took her 13-year-old son to stand in the joyous crowds of the new capital, Juba.
Four years later, that triumph has degenerated into tragedy. The country is racked by a brutal civil war that has killed tens of thousands of people, displaced more than two million others and dashed Mr. Obama's hopes of forging a brighter future for that corner of Africa. Now he is trying to pick up the pieces.
Obama Calls Ethiopian Government 'Democratically Elected'JULY 27, 2015
Mr. Obama convened a meeting of the region's leaders here on Monday to try to halt the conflict in South Sudan, in his most direct personal intervention since the violence broke out more than 18 months ago. He and the other leaders agreed to press the combatants to agree to a peace agreement by Aug. 17, and threatened both sides with sanctions or other measures if they do not comply.
In a discussion of what to do if the rival forces fail to agree, one of the African leaders in the meeting even suggested regional military intervention to stop the fighting, according to American officials. Mr. Obama, though, was more focused on returning to the United Nations Security Council to secure international sanctions against individuals or organizations involved.
Mr. Obama used the nearly two-hour meeting to press two countries — Uganda, which has openly supported the government in South Sudan, and Sudan, which has tacitly backed the rebels — to force their allies to stand down.
"The statements we heard, particularly from the Sudanese, were constructive," said one of the American officials, who insisted on anonymity to discuss the closed session. Another official said there was a "resounding and collective loss of patience" with the warring parties, who were not represented at the table.
The situation in South Sudan has grown so grim that White House officials hold out little hope of success. Presidents rarely get involved in a diplomatic meeting unless an outcome is reasonably certain, and Mr. Obama's aides do not usually talk about Plan B before Plan A has failed. But Mr. Obama's advisers said he had little alternative but to give the regional meeting a try. He was coming to the region anyway to visit Kenya, his late father's home country, and Ethiopia, where the executive branch of the African Union has its headquarters.
Full Report at:
http://www.nytimes.com/2015/07/28/world/africa/obama-ethiopia-south-sudan.html?ref=world
-----
South Asia
Two Daesh commanders killed in Nangarhar
By KHAAMA PRESS - Tue Jul 28 2015
ISIS (1) Two commanders of the militant group of Daesh have been killed in security forces operations in eastern Nangarhar province.
General Fazal Ahmad Sherzad, the provincial police chief of Nangarhar province told reporters that the operations started in the jurisdiction of Chaparhar District last night and winded up this morning.
He said two commanders of Daesh were killed, one wounded and three others detained with eight different types of weapons by the security forces.
General Sherzad named the dead Daesh commanders as Farouq and Mirwais and the one wounded as Mansoor.
July has been the deadliest month for Daesh with losing key commanders such as Shaikh Maqbool alias Shahidullah Shahid, Gul Zaman and Jahadyar.
Daesh also known by ISIS or Islamic State was active in Syria and Iraq for years but it emerged in Nangarhar province and some other parts of the country months before.
They recruited hundreds of fighters, most of them defectors of Taliban. Afghan security agencies have formed special units, well equipped and highly trained, to combat with Daesh.
http://www.khaama.com/two-daesh-commanders-killed-in-nangarhar-3680
-------
Taliban militants launch major attack in Kunar province
By KHAAMA PRESS - Tue Jul 28 2015
Taliban Heavy clashes continue between the Taliban militants and the Afghan security forces in eastern Kunar province of Afghanistan after the Taliban militants launched a major attack in Marwar district.
According to local security officials, the Taliban militants launched a coordinated attack on security check posts in central and remote areas of Marwar district earlier this morning.
Provincial police chief Abdul Habib Syed Khel said sporadic clashes still continue and at leat 14 Taliban militants have been killed and 17 others have been injured so far.
In the meantime, the Taliban militants group claimed that heavy casualties were incurred to the Afghan forces during the gun battle and said only 3 Taliban fighters were killed and 4 others were injured.
The coordinated attack in eastern Kunar province comes the Taliban-led insurgency has been rampant during the recent days.
Taliban militants captured Kohistanat district in their latest coordinated attack in northern Sar-e-Pul province of Afghanistan which was followed days after the Taliban militants captured a joint military base in northeastern Badakshshan province where scores of Afghan forces surrendered to the group.
http://www.khaama.com/taliban-militants-launch-major-attack-in-kunar-province-9545
-------
China: No plan to build military bases in Maldives
Reuters | Jul 28, 2015
BEIJING: China is not planning to build military bases on the Maldives, the foreign ministry said on Tuesday, after the Maldives allowed foreigners to own land despite opposition concern the reform could be used for military expansion by China.
The Indian Ocean island nation passed legislation last week to allow foreigners to own land within a project site on condition at least 70 percent of the area is reclaimed from the sea.
The opposition Maldivian Democratic Party said the bill could give "unprecedented access to foreign parties to operate in the Maldives". One party member said the government was facilitating a more robust Chinese presence in the Indian Ocean.
China's foreign ministry, in a statement sent to Reuters, said the vote was an internal matter for the Maldives, but that China wanted good relations with the country, best known for its luxury diving resorts.
China "has always respected and supported the Maldives' efforts to maintain its sovereignty, independence and territorial integrity", the ministry said.
"What the relevant people said about China building bases in the Maldives is totally baseless," it added.
India, which traditionally has strong ties with the Maldives and Sri Lanka, has been concerned about China's growing involvement in the Indian Ocean as it opens its purse strings and builds a network of ports dubbed the String of Pearls.
In September last year, during a visit by Chinese President Xi Jinping, the Maldives signed a deal with a Chinese company to upgrade its international airport after cancelling a $511 million deal with India's GMR Infrastructure in 2012.
In an effort to damp fears about Chinese plans connected to its increasingly modern and confident military, Beijing has repeatedly said it does not want military bases abroad.
But experts have said China is likely one day to have to overcome its discomfort about overseas military bases, as its forces are drawn into protecting the growing interests of the world's second-largest economy.
http://timesofindia.indiatimes.com/world/south-asia/China-No-plan-to-build-military-bases-in-Maldives/articleshow/48250171.cms
-------
Maldives prez slams foreign meddling
PTI | Jul 28, 2015
MALE: Maldives President Abdulla Yameen has accused an unnamed foreign power of trying to create a "breakaway republic" in his country comprising three southern-most atolls.
He alleged that a few Maldivians were involved in this "plot", of which he gave no details, either about the foreign power allegedly involved, or when the attempt was made.
"It was not surprising that a few Maldivians were, yet again, involved in this plot," he said in an address to mark the 50th anniversary of the country's independence on Sunday.
Yameen slammed foreign interference in the country's domestic affairs, describing it as the biggest challenge to national unity, amid international pressure over the controversial conviction of his predecessor Mohammed Nasheed. He asked countrymen not to invite foreign intervention to resolve domestic disputes.
http://timesofindia.indiatimes.com/world/south-asia/Maldives-prez-slams-foreign-meddling/articleshow/48244918.cms
------
The World Uyghur Congress Commemorates the 1st Anniversary of the Yarkand Massacre & Urges the International Community to Respond
Press Release
28 July 2015
Contact: World Uyghur Congress
On this first anniversary of the Yarkand massacre, the World Uyghur Congress remembers all those who were killed on July 28th, 2014 and in the days following. It has been one year since Chinese security forces violently suppressed a mass protest and we have witnessed only an escalation in discriminatory state policies that have led to the deaths of hundreds and the detention of thousands.
After one year, many questions still remain unanswered regarding the true number of those arrested, killed and disappeared and we therefore strongly urge the Chinese government to act transparently and disclose the true number of deaths and disappeared and release the thousands of Uyghurs who were detained in aftermath.
Although Uyghurs had been killed consistently in countless incidents throughout 2014, what occurred on July 28, 2014, and in the days following would mark the deadliest episode since the July protests in 2009, many details of which remain murky to this day. As is typically the case, all communication in and out of the region was suspended by Chinese authorities as Internet access and cell communication was shut down for months.
The major precipitant of the initial protests, according to Uyghur sources, was a protest that took place in Bashkent Township that led to the extrajudicial killing of a Uyghur family of fiveduring house to house searches in the area. This resulted in the flight of many Uyghurs to nearby Elishku Township where they would then participate in the demonstrations there.
Uyghur sources from inside the region have stated that upwards of 3000 Uyghurs may have been killed during and in the aftermath of the initial protests, with thousands arrested and an unknown number disappeared. It was alleged that nearly all of those who participated in the protests were gunned down by police and security personnel and many others were then killed during house to house searches that followed.
These reports also suggest that aside from the first day where upwards of 100 Uyghurs were killed, hundreds, and possibly thousands more, were systematically killed by police. Details about these events continue to be shrouded in secrecy, though credible evidence suggests that Chinese police and security forces acted brutally and without restraint, as they had done and continue to do a year later.
According to Chinese media sources, only 96 civilians were killed and hundreds more injured when police and security forces clashed with the protesters, including 59 Uyghurs – who were all labeled terrorists – and another 37 civilians. Initial reporting by state media, however, suggested that just dozens of civilians had been killed in the clash, but later updated its count. Although the attack took place on Monday, July 28, state media took a full day to release any official reports about the incident.
Differing accounts over the incident exist with state reports suggesting that government buildings, a police station and civilians had been attacked by a mob of Uyghur civilians wielding knives and axes. Uyghur groups, however, reported that the incident involved residents protesting against "Chinese security forces' heavy-handed Ramadan crackdown…and extra-judicial use of lethal force in recent weeks".
During the month of July, 2014, the state put in place curbs on fasting during Ramadan for students, teachers, public service employees and party members. Those refusing to eat would be given official warnings with risk of punishment thereafter. The bans were ostensibly enacted to "protect students' well-being and prevent the use of schools and government offices from promoting religion. Tension had risen in the region in part due to these restrictions and may have contributed to the protests.
It is in this context that Uyghurs have continued to live for many years, fearful of the presence of unrestrained forced by the police, backed up by a central government that has little or no tolerance for dissent or the mere practice of quotidian cultural traditions. We therefore implore the community of states, NGOs and international organizations to come together to strongly raise the issue in order to affect change.
-------
Former member of Balkh Provincial Council detained on terrorism charges
By ZABIHULLAH MOOSAKHAIL - Tue Jul 28 2015
Council A former member of the provincial council of northern Balkh province has been detained by security forces on terrorism charges.
Ibrahim Khair Andish, head of the provincial council says that Rashid Dawran came under the suspicion after he consulted with the council on numerous occasions before Eid-ul-Fitr.
He said a group of militants recently detained in capital Kabul has said during investigation that this person was cooperating with them.
This comes as a major military operation is under the discussion after a rapid surge in insurgency in the northern region.
In last few months, militants have carried out several deadly attacks in the north.
In a single coordinated attack of Taliban suicide bombers on the appeal court in Mazar-i-Sharif, provincial capital of Balkh, as many as 18 people lost lives and around 70 others sustained injuries in April.
Following this attack several other deadly militant attacks took place in Kundoz, Faryab and other parts of northern Afghanistan leaving dozens of security men and civilians killed.
http://www.khaama.com/former-member-of-balkh-provincial-council-detained-on-terrorism-charges-3680
------
Europe
NATO: We stand with Turkey against 'terrorism'
Tuesday, 28 July 2015
NATO Secretary General Jens Stoltenberg said the military alliance stood in strong solidarity with its ally Turkey, which requested an emergency Meeting to discuss instability at its borders with Syria and Iraq.
"Our condolences go to the Turkish government and the families of the victims touched by these terrible acts of terror. Terrorism in all its forms can never be tolerated or justified," Stoltenberg said as he opened the NATO meeting in Brussels.
"It is right and timely that we hold this meeting today to address the instability on Turkey's doorstep and on NATO's border. NATO is following developments very closely and we stand in strong solidarity with our ally Turkey."
Turkish President Tayyip Erdogan had said earlier on Tuesday that he expected NATO to support his country in its fight against terrorism
"No steps back will be taken in our fight against terrorism, this is a process and it will continue with the same determination," Erdogan told a news conference ahead of his departure on an official visit to China.
Separately, Erdogan also said on Tuesday it was impossible to continue a peace process with Kurdish militants and that politicians with links to "terrorist groups" should be stripped of their immunity from prosecution.
"It is not possible for us to continue the peace process with those who threaten our national unity and brotherhood," Erdogan told a news conference ahead of his departure on an official visit to China.
Erdogan also said a "secure zone" in northern Syria, which Turkey and the United States are in talks about establishing, would pave the way for the return of 1.7 million Syria refugees currently being sheltered in Turkey.
https://english.alarabiya.net/en/News/middle-east/2015/07/28/Erdogan-No-step-back-in-fight-against-terrorism.html
------
UK's Cameron says ready to bomb militants in Libya and Syria if plot threat seen
Reuters | Jul 27, 2015
JAKARTA/LONDON: UK Prime Minister David Cameron said on Monday he was ready to order air strikes on Islamist militant targets in Libya and Syria to prevent attacks on the streets of Britain as he stepped up his rhetoric against Islamic State insurgents.
He was speaking to reporters as he landed in Indonesia on the first leg of a four-day trade mission he hopes to use to forge new political alliances to counter a threat he has described as a "death cult".
"If there is a threat to Britain or to our people on our streets ... we are able to stop it by taking immediate action against that threat," said Cameron.
"As prime minister, I would always want to try and take that action, and that's the case whether that problem is emanating from Libya or Syria or anywhere else."
Britain raised its domestic terrorism alert to the second-highest level in August last year, saying an attack was "highly likely".
Cameron was due to meet Indonesian President Joko Widodo later on Monday to discuss how the two countries could cooperate in the battle against Islamist militancy.
The Islamist threat is high on the political agenda in Britain after a gunman killed 30 British tourists at a Tunisian beach resort last month in an attack claimed by Islamic State.
Tunisia's government said at the time that the gunman had been trained in a jihadist camp in Libya.
Britain is already taking part in U.S.-led air strikes on Islamic State positions in Iraq and Cameron is keen to get parliamentary backing later this year to extend that aerial campaign to Syria. But he has not, before Monday, raised the prospect of bombing targets inside anarchic Libya.
Cameron spoke after The Sunday Telegraph reported Cameron and his advisers had discussed what they could do to help defeat Islamist militants in Libya if a stable government there emerged.
http://timesofindia.indiatimes.com/world/uk/UKs-Cameron-says-ready-to-bomb-militants-in-Libya-and-Syria-if-plot-threat-seen/articleshow/48238500.cms
-----
U.N. Libya envoy says team working for hostages' release
Rome, AP
Tuesday, 21 July 2015
The U.N. special envoy for Libya says his team is trying to gather intelligence as part of efforts to free four Italian construction workers kidnapped there this week.
Bernardino Leon spoke to reporters after meeting in Rome on Tuesday with Italian Foreign Minister Paolo Gentiloni. The minister has said Italy is working to establish who abducted the men Sunday night near an industrial complex owned by Italian energy giant Eni.
Leon called on those responsible to immediately release the hostages.
Fighting among tribal factions and militias escalated following the 2011 overthrow and killing of Libyan dictator Moammar Gadhafi. Smugglers sending migrants across the Mediterranean toward Italy have flourished in the chaos.
Leon has urged the Islamist-led government controlling Tripoli to sign a peace deal to establish a unity government in Libya.
https://english.alarabiya.net/en/News/africa/2015/07/21/U-N-Libya-envoy-says-team-working-for-hostages-release.html
------
Mideast
Head of ISIL in Turkey arrested in operations targeting militants
July 27, 2015
Accused Islamic State in Iraq and the Levant (ISIL) cell leader Halis Bayancuk and three other suspects were arrested on Monday as part of a nationwide anti-terror police operation.
Thirty-six people were detained as part of ongoing sweeping operations conducted against ISIL in İstanbul on Friday. Bayancuk, also known as Abu Hanzala, was detained in İstanbul along with his wife.
The prosecutor of the investigation referred Bayancuk to an İstanbul court for arrest along with 13 other suspects. The court ruled on Monday to arrest Bayancuk on charges of being a senior member of al-Qaeda, along with suspected ISIL members Enes Yelgün, Zeki Murat Sakarya and Murat Alıncak.
Bayancuk recently led an Eid prayer in İstanbul where he criticized the Turkish government and made a call for a "holy war."
Recently the Turkish media reported that a group of ISIL militants -- allegedly consisting of 1,000 ISIL members -- gathered at a picnic site in İstanbul's Ömerli neighborhood to perform the prayers signaling the end of the holy month of Ramadan and the beginning of the celebration of Eid al-Fitr.
Bayancuk was also detained on Jan. 14, 2014, along with dozens of others during anti-terror raids on al-Qaeda cells by the police and gendarmerie units in six provinces across Turkey. He was later arrested. However, he was released in the eastern city of Van last October by a controversial court order after Turkey's government removed the police chiefs who ordered the raids from office.
In its main story on Dec. 21, 2014, the pro-government Star daily published Bayancuk's remarks accusing the Gülen movement, inspired by Turkish Islamic scholar Fethullah Gülen, of being behind his arrest and doing so without evidence, depicting himself as a victim of the movement. However, in another report, the Star daily's website also reported Bayancuk's detention under a headline saying that a suspect that had threatened Turkey's security has been detained. The government has accused the Gülen movement of seeking to overturn it, charges the movement has strenuously denied.
The Hacı Bayram neighborhood of Ankara's Ulus district was the target of a police operation which resulted in the detainment of 15 suspected ISIL militants, mere months after President Recep Tayyip Erdoğan lashed out at The New York Times over a report saying ISIL had been steadily attracting Turkish recruits in the area, calling the report "shameless."
The New York Times ran the story in September with a photo of Erdoğan and Prime Minister Ahmet Davutoğlu leaving a mosque in the Ankara neighborhood of Hacı Bayram, which the report said has become a recruitment hub for ISIL.
"A media organization in the US accuses us of supporting terror organizations by posting a photo of me and Davutoğlu," Erdoğan told a gathering of the Chamber of Turkish Tradesmen and Craftsmen's (TESK). "This is, in the clearest of terms, shameless, ignoble and base."
The New York Times report focused on Hacı Bayram, from which it said about 100 people had joined the ranks of ISIL, also indicating that local residents had tried to approach Erdoğan and Davutoğlu to raise the issue of ISIL recruitment when the two went to the historic Hacı Bayram Veli Mosque in the neighborhood.
http://www.todayszaman.com/national_head-of-isil-in-turkey-arrested-in-operations-targeting-militants_394761.html
-------
Settlers clash with Israeli police in West Bank
AFP | Jul 28, 2015
JERUSALEM: Jewish settlers clashed with Israeli police on Tuesday as authorities took control of homes being built in the occupied West Bank, after a court ruled that the illegal structures must be demolished.
The Israeli High Court last month ordered the two structures in the Beit El settlement north of Ramallah to be razed before July 30.
Around 50 settler youths had however holed up in the structures to protest against the demolition and were evacuated by police before dawn.
Video published by local media showed police pushing back protesters who confronted them at the site of the so-called Dreinoff buildings, reportedly being built on private Palestinian land that was seized by the army in the 1970s.
"A border police unit on Tuesday took control of the Dreinoff buildings ahead of their demolition as ordered by the High Court with the aim of avoiding violence during the operation," an Israeli military statement said.
There has however been further legal manoeuvring seeking to prevent the demolition of the structures and it was unclear whether the order would be carried out.
Israeli settlements in the occupied West Bank are considered illegal under international law, though not by the Israeli government. They are seen as further complicating peace negotiations aimed at leading to an independent Palestinian state. Talks have been stalled since last year.
Settlement organizations also wield significant influence in Prime Minister Benjamin Netanyahu's right-wing government, which has only a narrow majority in parliament following March elections.
http://timesofindia.indiatimes.com/world/middle-east/Settlers-clash-with-Israeli-police-in-West-Bank/articleshow/48249682.cms
------
Erdoğan says impossible to continue peace process with Kurdish militants
July 28, 201
Turkish President Recep Tayyip Erdoğan said on Tuesday it was impossible to continue a peace process with the terrorist Kurdistan Workers' Party (PKK) and that politicians with links to "terrorist groups" should be stripped of their immunity from prosecution.
Erdoğan's comments come days after the Turkish air force bombed camps in northern Iraq of the PKK. The PKK said the air strikes rendered the peace process meaningless, but had stopped short of formally pulling out.
"It is not possible for us to continue the peace process with those who threaten our national unity and brotherhood," Erdoğan told a news conference in Ankara ahead of his departure on an official visit to China.
Turkey launched negotiations in 2012 to try to end a PKK insurgency, largely fought in the predominantly Kurdish southeast, that has killed 40,000 people since 1984.
A fragile ceasefire had been holding since March 2013, but Turkey launched the air strikes after a several police officers and soldiers were killed in attacks blamed on the PKK.
Some Kurds say that by reviving open conflict with the PKK, Erdoğan is seeking to undermine support for the pro-Kurdish Peoples' Democratic Party (HDP) opposition party ahead of a possible early election and stoke up nationalist sentiment.
Turkey has shut down almost all Kurdish political parties over the years. Erdoğan, who has recently accused the HDP of links to the PKK, said he opposed party closures, but urged parliament to lift the immunity of politicians with links to "terrorist groups".
Erdoğan also vowed on Tuesday that Turkey would take no step back in its fight against terrorism, after it launched air strikes on Islamic State of Iraq andd the Levant (ISIL) fighters in northern Syria and on the terrorist Kurdistan Workers' Party (PKK) camps in northern Iraq.
"No steps back will be taken in our fight against terrorism, this is a process and it will continue with the same determination," Erdoğan told a news conference ahead of his departure on an official visit to China.
He said he expected the NATO military alliance, which holds an emergency meeting on Tuesday, would declare itself ready to take the necessary steps, but gave no details.
http://www.todayszaman.com/latest-news_turkeys-erdogan-says-impossible-to-continue-peace-process-with-kurdish-militants_394825.html
-----
Police commander killed in eastern Turkey
By AFP | Diyarbakir, Turkey
Tuesday, 28 July 2015
Gunmen in a predominantly Kurdish part of eastern Turkey shot dead a paramilitary police commander late on Monday, a hospital source said.
"The commander was subjected to an armed attack around 2100 local time (1800 GMT," the source told AFP. The officer later died in hospital of his injuries. His daughter and wife were also wounded in the attack.
No one immediately claimed responsibility for the killing in Mus province but suspicions fell on the outlawed Kurdistan Workers' Party (PKK), which has claimed several attacks on Turkish security forces over the past few days.
Ankara has expanded its cross-border offensive on Islamic State of Iraq and Syria (ISIS) militants in Syria to include PKK positions in northern Iraq, after deadly attacks inside Turkey blamed on the Kurdish separatists.
Prime Minister Ahmet Davutoglu on Monday said Turkish operations against the PKK would continue until the group disarmed.
"It is either weapons or democracy. The two cannot stand together," he said in a televised interview.
The Turkish army Sunday blamed PKK militants for a deadly car bomb attack that killed two of its soldiers in the Kurdish-dominated southeast, further rattling a fragile ceasefire declared by the group's jailed leader Abdullah Ocalan in 2013.
The PKK's military wing, the People's Defense Forces (HPG), claimed the car bombing in the Lice district of Diyarbakir province but gave a much higher toll of eight soldiers killed.
Two Turkish policemen were shot dead last Wednesday while sleeping in their homes in the southeast, in attacks also claimed by the PKK.
https://english.alarabiya.net/en/News/middle-east/2015/07/28/Police-commander-killed-in-eastern-Turkey.html
------
96 websites, 23 Twitter accounts blocked by Ankara court
July 27, 2015 ISTANBUL
The decision to block the 96 websites and 23 Twitter accounts was made by the court on Saturday and was later put into effect, preventing access to several media outlets that have been critical of the government.
The ruling was made on the grounds that the websites and Twitter accounts were spreading propaganda for militant groups the Islamic State in Iraq and the Levant (ISIL), the Kurdistan Workers' Party (PKK) and the Revolutionary People's Liberation Party/Front (DHKP/C), according to the court decision.
The decision cited Law No. 5651, which gives the right to block access to a website in Article 8/A, claiming, "[Websites can be blocked] in the name of protecting property and life, national security and public order and preventing a crime."
The Platform for Independent Journalism (P24) announced on its Twitter page on Monday it has launched a legal appeal against the ban on the access to the 96 websites.
Kurdish media outlets shut out
Access to several Kurdish websites and news websites critical of the government was blocked on Saturday in the aftermath of a massacre in the Suruç district of southern Şanlıurfa province, near the Syrian border, last Monday that claimed the lives of 32 activists and heightened tensions with the outlawed PKK.
The Kurdish news sites blocked on Saturday include ANF, ANHA, the Dicle News Agency (DİHA), Rojnews and Özgür Gündem. Ideologically leftist website Sendika.org was also blocked on Saturday, and Sendika TV suffered the same fate on Sunday.
Mobile devices provide a greater chance of accessing the websites through proxies compared to desktop computers. Sendika.org published a statement on its website on Saturday stating: "We won't accept oppression and we won't bow to censorship. Sendika.org will not be silenced!"
"TİB justified its action by invoking technical and legal reasons. But what has occurred has nothing to do with technical and legal requirements; it is overt fascism. Censorship against the free press is an attack on people's right to news by a fascist government that has stooped to launching a war and exploding bombs, all with the aim of staying in power. It is not simply a question of obstructing access to a few oppositional news sites; it is an attempt to obstruct access to democracy. In short, it is fascism," the statement read.
Turkey's trouble with Twitter
Access to Twitter was blocked on Wednesday after a court in Suruç ordered the removal of images of the aftermath of the massacre in Suruç. Facebook and YouTube avoided a ban after quickly complying with the court order, according to a statement from the Internet Service Providers Union (ESB).
According to media outlets, the ban was issued for 106 Twitter posts, 53 news portal websites, 11 Facebook posts and one YouTube video.
http://www.todayszaman.com/national_96-websites-23-twitter-accounts-blocked-by-ankara-court_394770.html
------
Major explosion hits Turkey-Iran gas pipeline after suspected PKK attack
July 28, 2015, ISTANBUL
A gas pipeline in Turkey's eastern province of Ağrı was attacked on Monday by what is suspected to be members of the terrorist Kurdistan Workers' Party (PKK), causing a major explosion.
The blast took place in the Doğubeyazıt district, where the pipeline that carries natural gas from Iran to Turkey passes through. A major explosion occurred after the attack, causing panic and fear among residents of nearby villages.
Energy Minister Taner Yıldız confirmed that an act of sabotage caused the explosion, and suggested PKK militants were to blame. He said the fire was quickly brought under control. Security forces took strict precautions in the area and the fire was contained after gas valves were shut down.
Repairs on the pipeline were under way, but it was not clear when the flow would be resumed, an official at Turkey's state pipeline operator Botaş said. He added that Turkey has not requested additional gas from other countries and there was no shortage in terms of meeting domestic demand.
The attack late Monday came amid a spike in violence in recent weeks. Turkey last week launched raids against Kurdish rebel bases in northern Iraq -- at the same time that it began cracking down on the Islamic State of Iraq and the Levant (ISIL) group.
Recognized as a terrorist organization by the US and the European Union, the PKK, which usually perpetrates ambush attacks on military and civilian targets in Turkey, is also known for its attacks on oil and gas pipelines.
http://www.todayszaman.com/latest-news_major-explosion-hits-turkey-iran-gas-pipeline-after-suspected-pkk-attack_394802.html
-----
Southeast Asia
Daesh, trade on agenda as British PM starts Asia trip
AGENCE FRANCE PRESSE
28 July 2015
JAKARTA: British Prime Minister David Cameron began a visit to Southeast Asia on Monday, looking to seal $1.2 billion in trade deals and push for greater cooperation in the fight against the Daesh group.
Cameron arrived in Indonesia on the first stop of a four-day trip, accompanied by 30 British business leaders and his minister of state for trade Francis Maude, before he heads to Singapore, Vietnam and Malaysia.
Following talks with Indonesian President Joko Widodo in Jakarta, he said the pair had agreed to step up efforts to combat the "evil threat" posed by Daesh.
Hundreds of young Britons have joined Daesh in Syria and Iraq, sparking fears they could launch attacks on home soil upon their return, while Indonesia fears up to 500 of its citizens have been lured to the Middle East by the militants.
"We've agreed to step up our joint efforts both to tackle the terrorist threat and to counter the extremist narrative," he said in a joint statement with Widodo at the presidential palace, adding IS was a "shared enemy."
Cameron said Britain would provide support for counter-terrorism efforts in Indonesia, which is the world's most populous Muslim-majority country and has long struggled with extremism.
Measures will include helping to improve security at airports, enhanced cooperation on terrorism investigations and the training of Indonesian police officers in Britain, he said.
Cameron is also set to use a meeting this week with Prime Minister Najib Razak of Muslim-majority Malaysia to discuss the threat posed by Daesh, who have seized vast swathes of territory in Iraq and Syria.
http://www.arabnews.com/world/news/782736
-----
Strong earthquake rocks Indonesia's Papua province
AP | Jul 28, 2015
JAKARTA: A strong earthquake has rocked Indonesia's easternmost province of Papua early Tuesday, but there are no immediate reports of injuries or damage.
The US Geological Survey said the magnitude-7.0 underground quake struck at 6:41 a.m. Tuesday (2141 GMT) and was centered 247 kilometers (153 miles) west of Jayapura, the provincial capital of Papua.
Its depth was measured at 52.9 kilometers (32.8 miles) beneath the remote mountainous region of the island.
Hendra Rahman, an official of the Indonesia's Meteorology and Geophysics Agency said the quake was felt across the province and that the strongest hit area was Sarmi, a town on the northern coast of the island, but there were no immediate reports of injuries or damage.
But it did cause panicked residents to run out of their homes, said Sutopo Purwon Nugroho, a spokesman for the National Disaster Mitigation Agency.
Indonesia is prone to earthquakes due to its location on the so-called Pacific ''Ring of Fire.'' A massive earthquake off Sumatra island in 2004 triggered a tsunami that killed 230,000 people in a dozen countries, mostly in Indonesia's Aceh province.
http://timesofindia.indiatimes.com/world/rest-of-world/Strong-earthquake-rocks-Indonesias-Papua-province/articleshow/48244966.cms
------
Malaysian PM sacks deputy, AG amid corruption scandal
AFP, Kuala Lumpur| Updated: Jul 28, 2015
Malaysian Prime Minister Najib Razak on Tuesday sacked his deputy premier and the attorney general as part of a major cabinet reshuffle. The PM's step is being seen as an attempt to tighten his hold on office amid allegations of corruption.
Najib has come under mounting pressure in recent months over claims that huge sums of money had been siphoned off from state-owned development company 1Malaysia Development Berhad (1MDB), which he launched in 2009.
Calls for Najib to step down mounted earlier this month after a Wall Street Journal report that Malaysian government investigators had discovered nearly $700 million had been routed to Najib's personal bank accounts.
The prime minister and 1MDB have vehemently denied any wrongdoing.
In a televised address, Najib announced he had dumped deputy Prime Minister Muhyiddin Yassin, who has been critical of Najib's handling of the affair and has called for more transparency.
Muhyiddin was replaced by home minister Zahid Hamidi.
Clearly referring to Muhyiddin and other lower-ranking ministers who had questioned the allegations surrounding 1MDB, Najib said cabinet members "should not air their differences in an open forum that can affect public opinion against the government and Malaysia".
In total, nine ministers were replaced in the cabinet reshuffle that Najib said was aimed at creating a more "unified team" ahead of the next elections due by 2018.
Attorney General Abdul Gani Patail, who was part of a task force investigating 1MDB, also was "terminated... for health reasons," a government statement said.
'Acts of desperation'
But the moves touched off speculation that Najib was attempting to curb further calls for transparency and possibly avoid criminal charges.
"The removal of the AG and the DPM will be seen as acts of desperation by Najib," said Terence Gomez, a political analyst with the University of Malaya.
"I suspect that the 1MDB task force has sufficient evidence to file charges against key actors in this company which may include the PM."
Over the past year a series of investigative reports have alleged that hundreds of millions of dollars of 1MDB money had gone missing in complex and murky overseas transactions.
The Wall Street Journal report this month said investigators had found that nearly $700 million had moved through government agencies, banks and companies linked to 1MDB before ending up in Najib's accounts.
The premier has denied the allegation, calling it "political sabotage", while 1MDB has said it did not transfer any funds to Najib.
However both Najib and the company have faced growing criticism for failing to disprove the various accusations.
Meanwhile, 1MDB is reeling under a $11 billion debt burden, blamed largely on a much-questioned drive to acquire power-industry assets.
Fears that it may collapse or need a massive bailout have contributed to a recent slide in the ringgit currency to 17-year lows.
Last week the home ministry suspended for three months the publishing permits of The Edge Media Group, which is known for its aggressive reporting on 1MDB, sparking fears of a press crackdown over the affair.
The home ministry said The Edge's reports on 1MDB threatened to disturb "public order."
The UK-based Sarawak Report, an activist website that had also published a series of 1MDB exposes, has also been blocked.
There was no immediate comment seen from Muhyiddin or Gani.
Political experts say that despite public outrage in Malaysia, Najib appears secure within his ruling United Malays National Organisation (UMNO) owing to the party's deep-rooted patronage politics.
Najib, the son of a respected former premier, once headed UMNO's youth wing, which allowed him to build up an extensive network of supporters who now rule the party's various regional divisions.
http://www.hindustantimes.com/world-news/malaysian-pm-sacks-deputy-ag-amid-corruption-scandal/article1-1373880.aspx
------
Australia
Australian reality TV stars 'shot at by ISIS' in Syria
By AFP, 28 July 2015
Australian public broadcaster SBS Tuesday defended a reality show where participants were shot at by ISIS militants in Syria as part of a trip retracing refugees' journeys, saying they had extensive security preparations.
SBS is to air the first episode of the three-part series "Go Back to Where You Came From" on Tuesday evening, with the programme taking "ordinary Australians" to Syria, Baghdad and Myanmar to expose them to asylum-seekers and refugees' experiences.
In footage released by the broadcaster, three of the six participants are seen running and sheltering behind buildings amid the sound of mortar rounds in Syria.
"Righto, that's rounds coming in. Stay down, OK," said the voice of a person escorting them in the video clip. "Stay down, real low. Stay down below this wall. We don't want them to know we're here. They're just in front of us."
SBS said in promotional material that those taking part were "escorted under security to the Syrian frontlines by Kurdish soldiers as they defend a village under threat by ISIS... and come under fire by nearby ISIS insurgents".
The broadcaster added that safety of the participants and crew was "paramount", after an Australian security consultant reviewed the footage and said there was "substantial risk... with the deployment" and "appropriate controls were not implemented".
The consultant, former army officer Justin Bowden, told the Sydney Morning Herald Tuesday the three Australians should have been given helmets in addition to the ballistic vests they were wearing.
SBS said in a statement the group was also accompanied by a private security firm during their Syria trip.
"The situation captured on camera where the group were shot at was not planned, but not unexpected in a war zone," the statement said.
"The armed security teams were prepared for an event like this, and quickly took action to move the participants and crew to a safer location."
It added that one crew member chose not to travel to the Syrian frontline after a security briefing. A cameraman was also left behind to reduce the group's size for security reasons.
'Surreal' experience
The documentary series, in its third season and which won an international Emmy for non-scripted entertainment in 2013, previously took people to Afghanistan, Somalia and Indonesia.
One of those taking part in the Syria trip, anti-refugee campaigner Kim Vuga, said the "worst part was going as close as we could and knowing that their bullets could reach us".
"We were told to listen for any whistling sounds coming through the air and that would mean a mortar had been fired. We were told we had 30 seconds to run 100 metres," she told the Herald.
"It was surreal."
The programme's executive producer Michael Cordell said in a statement that the makers were trying to "put a human face to a pressing global problem", adding: "We... hope it contributes to an intelligent and informed conversation."
The United Nations said earlier this month that more than four million Syrians have fled the civil war in their country, making them the biggest refugee population from a single conflict in a generation.
Australia currently resettles about 6,000 refugees annually as part of its humanitarian visa programme.
The government has cracked down on asylum-seekers trying to arrive in the island continent by boat, turning back the vessels when possible in military-led operations.
Asylum-seekers that arrive are held on the Pacific islands of Nauru and Papua New Guinea and are banned from settling in Australia even if they are found to be genuine refugees.
https://english.alarabiya.net/en/media/television-and-radio/2015/07/28/Australian-reality-TV-stars-shot-at-by-ISIS-in-Syria.html
------
North America
Obama denies sacrificing Kurds to gain Turkey's help in Islamic State fight
By Guy Taylor - The Washington Times - Monday, July 27, 2015
Turkey has finally entered in force into the U.S.-led fight against the Islamic State group, but the move also has exposed the contradictions and confusion at the heart of U.S. policy, with the Obama administration struggling Monday to balance its promises to warring allies in the region and to prevent a deeper U.S. ground force engagement in the fight.
As NATO ambassadors prepared to gather Tuesday for only the fifth emergency session in the alliance's 66-year history to discuss the crisis, the Pentagon denied that it was setting up a no-fly zone over war-torn Syria while the State Department faced sharp questions over the extent to which President Obama was abandoning America's Kurdish allies in its haste to enlist Ankara in the fight against the Islamic State.
On one hand, U.S. officials praised the expanding Turkish military role against the extremist group, also known as ISIS and ISIL, which is based in neighboring Syria and Iraq. But on the other, they acknowledged how complicated the development is amid concerns that Turkey is using its campaign as a pretext to crush Kurdish militants whom Washington has relied upon as the go-to ground forces in northern Syria and Iraq.
Such concerns were highlighted Monday as reports swirled about Turkish fighter jets targeting not just Islamic State-controlled territory in Syria, but also positions held by the Kurdish Kurdistan Workers' Party, or PKK — an ultra-leftist, Kurdish nationalist outfit that has waged an insurgency for decades in Turkey and maintains bases in remote parts of northern Iraq.
The situation poses a direct challenge aimed at the heart of the Obama administration's strategy against the Islamic State.
The U.S. has long listed the PKK as a terrorist organization. But with no reliable "moderate" fighters to confront the Islamic State on the ground, the Obama administration has engaged in a kind of "don't ask, don't tell" arrangement with the Kurdish group because it has proved so effective as a ground force against the Jihadi extremists.
The situation is similar in Iraq, where the Obama administration finds itself on the same side as Iran-backed Shiite militias fighting the Islamic State.
The Pentagon and the State Department faced hard questioning Monday over a suspected quid pro quo with Ankara — giving Turkey the green light to pound the Kurdish militants in exchange for U.S. access to coveted military installations inside Turkey.
Officials announced last week that Turkey would begin allowing U.S. fighter jets and drones to fly bombing sorties from its military bases, dramatically shortening the distance and time required to hit Islamic State targets in the region.
Full Report at:
http://www.washingtontimes.com/news/2015/jul/27/obama-denies-gaining-turkeys-help-in-islamic-state/
--------
Pakistan
ATC convicts Taseer vigil attackers
A REPORTER
LAHORE: An anti-terrorism court on Monday handed down a collective imprisonment of sixteen and a half years to each of the five accused who attacked a vigil held by civil society to mark 5th death anniversary of Punjab's slain governor Salman Taseer.
The court convicted the suspects ─ Adeel, Furqan, Kashif, Iftikhar and Wazir Ali ─ under five different sections of laws.
Presiding Judge Haroon Latif Khan handed down five-year term to them under section 7 of Anti-Terrorism Act, three and a half years under Section 365 of the Pakistan Penal Code (PPC), two years, under Section 149 of PPC, three years under Section 153-A of the PPC and three years under section 148 of the PPC.
he court also imposed Rs40,000 fine on each of the convicts who would have to undergo six-month additional imprisonment for failing to pay the amount.
The court acquitted two accused – Din Muhammad and Sajid – of charges as they were not found guilty.
Trial of the prime suspect, Mumtaz Sindhi, was yet to be completed.
More than a dozen baton-wielding men had attacked the participants in the candlelight vigil held at Liberty Chowk in Lahore to mark the death anniversary of Salman Taseer on Jan 4, 2015.
The attackers tore the banners, pictures and posters displayed at the venue and also thrashed the activists holding the vigil.
They also raised slogans in favour of Mumtaz Qadri, a former police guard who shot dead the then governor in Islamabad for supporting a blasphemy convict, Asia Masih, and was later sentenced to death by an anti-terrorism court.
Fence along drain: The Lahore High Court (LHC) on Monday directed the City District Government of Lahore (CDGL) to construct within 45 days a fence along the Green Town drain.
Justice Shahid Jamil Khan passed the order on a petition filed by Razia Sultana advocate.
The petitioner stated a number of passersby and motorcyclists had fallen into the long open drain of Green Town. Such incidents would increase during the winter due to thick fog at night, she said.
She added the government had constructed the main boulevard of Green Town at a cost of Rs100m but left the low-cost work of the fence along the drain. Nishter Town Tehsil Municipal Officer (TMO) Safiullah appeared before the court on behalf of the government.
Justice Khan directed the TMO to ensure construction of the fence within 45 days and submit a compliance report.
http://www.dawn.com/news/1196855/atc-convicts-taseer-vigil-attackers
------
At least two killed in Quetta 'target killing'
SYED ALI SHAH
QUETTA, 28 07 2015: At least two people were killed when armed men opened fire at a vehicle, in what is termed by police as an incident of target killing on Quetta's Sabzal Road on Tuesday.
The victims, who have been identified as Raz Muhammad and Muhammad Tahir, died on the spot. Their bodies were shifted to Civil Hospital Quetta for postmortem.
The assailants escaped unhurt from the scene of the crime.
Police and other law enforcement personnel reached the spot and cordoned off the area as a probe into the incident went underway. Security officials termed the shooting an act of targeted killing.
There was no immediate claim of responsibility for the attack.
Sabzal Road is considered a highly sensitive area of the provincial capital city. Quetta and other parts of Balochistan have recently seen a sharp rise in acts of targeted killings during the past decade.
http://www.dawn.com/news/1196890/at-least-two-killed-in-quetta-target-killing
------
Pakistan PM wants electoral reforms expedited
IANS | Jul 27, 2015
ISLAMABAD: Pakistan Prime Minister Nawaz Sharif on Monday said he wants to expedite electoral reforms in order to make future elections fair and transparent in all respect, media reports said.
He made the statement during a high-level meeting with cabinet members and the political leadership of the ruling Pakistan Muslim League-Nawaz (PML-N) earlier in the day, Dawn online reported.
The premier said that after the judicial commission's report on the conduct of the 2013 parliamentary polls, there needs to be a way forward for further strengthening the democratic system.
The judicial commission was constituted earlier this year to probe Pakistan Tehreek-e-Insaf's (PTI) allegations of rigging in the 2013 general election, and concluded in its report that polls were in large part "organised and conducted fairly and in accordance with the law".
Sharif also directed all cabinet members and the senior political leadership of Pakistan PML-N to reach out to the masses and take them in confidence regarding the party's development-oriented vision, which would guide the country towards stability and prosperity.
He further said that it is now time to show magnanimity and political maturity by all stakeholders of democracy so that the nation's time is not wasted in frivolous disputes and petty squabbles.
http://timesofindia.indiatimes.com/world/pakistan/Pakistan-PM-wants-electoral-reforms-expedited/articleshow/48239519.cms
------
Absence during dharna: NA vote to de-seat PTI MNAs deferred for one week
IRFAN HAIDER: July 28, 2015
ISLAMABAD: National Assembly (NA) Speaker Sardar Ayaz Sadiq on Tuesday deferred voting by one week on a resolution,submitted by the Muttahida Qaumi Movement (MQM) and Jamiat Ulema-i-Islam (JUI-F), to de-seat members of the Pakistan Tehreek-i-Insaf (PTI) from the NA owing to their absence from the lower house of parliament during the party's 126-day sit-in in Islamabad,
Finance Minister Ishaq Dar informed the Speaker that the government wants to move forward with a positive approach, and that voting on resolution against the PTI should be deferred as the government is ready to discuss issues with the party outside the parliament.
PTI leader Shah Mehmood Qureshi said that his party wants to play positive role in parliament but the house may de-seat PTI MNAs if it deems it appropriate.
Earlier on April 22, members of the MQM and the JUI-F requested the NA Speaker consider motions moved by MQM MNA Muhammad Salman Khan Baloch and JUI-F MNA Naeema Kishwer.
The motions called for the seats of 28 PTI members ─ who were absent without leave of the NA for 40 consecutive days of sitting ─ to be declared vacant under Clause (2) of Article 64 of the Constitution.
It is important to mention here that the MQM and the JUI-F moved motions on April 22 under rule 44 of the Rules of Procedure and Conduct of Business in the National Assembly, 2007 to de-seat PTI members of the NA but Ayaz Sadiq said that the consideration of motions regarding the de-seating of PTI MNAs will be taken up after seven days under 'Rules and Procedures'.
The names of the PTI MNAs mentioned in the motion include: Engineer Hamidul Haq, Asad Umar, Sajid Nawaz, Ghulam Sarwar Khan, Imran Khattak, Imran Khan, Engineer Ali Muhammad Khan Advocate, Amjad Ali Khan, Mujahid Ali, Shafqat Mehmood, Aqibullah, Makhdoom Shah Mahmood Hussain Qureshi, Shehryar Afridi, Rai Hassan Nawaz Khan, Khiyal Zaman Orakzai, Arif Alvi, Dr Muhammad Azhar Khan Jadoon, Dr Shireen Mehrunnisa Mazari, Dawar Khan Kundi, Munaza Hassan, Col (retd) Ameerullah Marwat, Nafeesa Inyatullah Khan Khattak, Murad Saeed, Sajida Begum, Junaid Akbar, Ayesha Gulalai, Qaiser Jamal and Lal Chand.
PTI announced on August 18 last year that it would boycott the national and provincial assembles as all other options of relief against alleged election rigging were exhausted. However, earlier this year, the party decided to join parliament after almost seven months of absence from the assemblies.
http://www.dawn.com/news/1196897/absence-during-dharna-na-vote-to-de-seat-pti-mnas-deferred-for-one-week
-------
URL: https://www.newageislam.com/islamic-world-news/new-age-islam-news-bureau/muslim-brotherhood-spiritual-leader,-sheikh-yousuf-al-qaradawi,-okays-suicide-bombings/d/104062