New Age Islam News Bureau
19 Jun 2018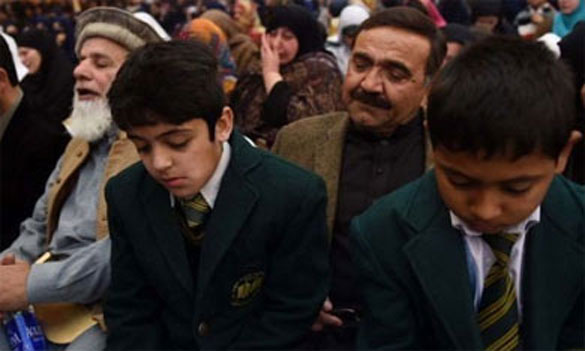 The martyrs of APS will always be remembered, while terrorists will face eternal damnation PHOTO: AFP
------
Pakistan
• Mullah Fazlullah's Killing: 'APS martyrs have been avenged,' say parents
• Media's access to age data a security threat: Election Commission of Pakistan
• Pak-Saudi ties moving from personal to strategic domain: report
• People responsible for Model Town tragedy are still free: Tahir ul Qadri
• Pak-Afghan security officials vow to work for peace
• Nomination papers of Farooq Sattar, Pervez Musharraf rejected
• I carried burden of Nawaz Sharif for 34 years: Nisar
• Khawaja Haris rejoins legal team representing Nawaz in corruption references
• Imran says sit-in can't make him change tickets award decision
• Ex-CJP's party challenges Imran's eligibility for polls
------
North America
• 'Papa! Papa!' Audio of children stokes rage over separation
• US ready to discuss role of international troops with Taliban: Pompeo
• Canadian mosque targeted in 'brazen' arson attack: 'How do we explain this to our children?'
• Immigrant children held in fenced pens at border facility
-----
India
• Pakistan remains ahead in nuclear warheads but India confident of its deterrence capability
• Arab group wants India on board in Yemen
• Anti-terror ops resume in Kashmir
• Pakistan election nearing, firing along International Border up by 400% from 2017
• Mehbooba Mufti resigns after BJP pulls out of alliance with PDP in Jammu and Kashmir
-----
South Asia
• Afghans 'tired of war', say exhausted peace marchers in Kabul
• Afghan Sikh leader holds out hope for dwindling minority
• 2 ISIS-K militants killed, 1 wounded in Kunar province
-----
Europe
• Separating children from parents unconscionable: UNHRs chief
• UN official says he tried to engage with Pakistan, India on Kashmir
• Paris attacks suspect given conditional release
----
Arab World
• Saudi entertainment chief sacked after outrage over circus
• Thousands of expats quit Oman as visa ban continues
• Saudi-led coalition storms Yemen's Hodeidah airport compound
• UAE urges Houthis to withdraw
• More than 1.25 million foreigners arrested in KSA for flouting residential, labor laws
• Saudi Arabia's King Salman issues order to appoint scores of judges to Ministry of Justice
-----
Mideast
• Turkey's jailed pro-Kurdish candidate makes first TV appearance after 20 months in jail
• Israel quiet on US claims it hit Iraq militia in Syria
• Yemeni army takes control of Hodeidah airport
• Turkish air strikes kill 26 militants in southeast Turkey, Iraq
----
Africa
• 'Religious Tolerance and Security Reforms Have Made Morocco a Bulwark against Terrorism': Khiame
----
Southeast Asia
• Malaysia seeks to lay multiple charges against ex-premier Najib over 1MDB scandal
• Philippine Supreme Court upholds expulsion of chief justice
-----
Compiled by New Age Islam News Bureau
URL: https://www.newageislam.com/islamic-world-news/mullah-fazlullah-killing-aps-martyrs/d/115583
----
Mullah Fazlullah's Killing: 'APS Martyrs Have Been Avenged,' Say Parents
By Riaz Ahmed
June 18, 2018
PESHAWAR: Mullah Fazlullah, the self-confessed perpetrator of the 2014 carnage of over 140 pupils and staff at the Army Public School (APS) in Peshawar, is dead. Parents of the victims say that their children have finally been avenged.
Fazlullah, who had earned the moniker of Mullah Radio for his sermons on his FM radio in Swat, was killed along with his four lieutenants in a drone strike in north-eastern Kunar province of Afghanistan on June 13.
"We're happy to learn that the killer of our innocent children has been killed," said Tufail Khattak while speaking to The Express Tribune. "Mullah Fazlullah, the devil incarnate, has met his fate."
it's official now: TTP chief Mullah Fazlullah killed in US drone strike
Tufail's son Sher Shah was among the victims of the APS attack. "[APS attack] was one of the heinous tragedies in the history of Pakistan, but unfortunately on this Eidul Fitr, no one remembered the children who had been massacred," Khattak regretted.
However, he added that "the brutal massacre of the innocent schoolchildren has at last been avenged bringing solace to the bereaved parents. The martyrs of APS will always be remembered, while terrorists will face eternal damnation."
Khattak went on to say that both Pakistan and Afghanistan should sit together and work out a joint strategy to eradicate terrorism.
"[Fazlullah] was a Sultana Daku. And we're happy to learn that he is dead. But I still think that he was used as a pawn. There were many more people, including those responsible for the security lapse," said Muhammad Tahir while talking to The Express Tribune.
Tahir lost a son, Muhammad Shaheer, an eighth-grader at the APS, in the most gruesome terrorist attack in the history of Pakistan.
Mullah Fazlullah: Ruthless TTP chief who green-lighted 2014 Peshawar carnage
Pakistani officials have repeatedly said that the intelligence agencies of India and Afghanistan — RAW and NDS — are funding and arming the TTP to fuel terrorism in Pakistan.
Abdullah Azam, an FSC student, was also martyred in the Dec 16, 2014 attack. His brother, Sikandar, said he was glad that Fazlullah has been taken out as he was still orchestrating attacks in Pakistan from Afghan soil.
"Mullah Fazlullah is just one man. His entire network should be dismantled, if we want to get rid of this menace of terrorism," he said.
"Still the death of Mullah Radio is a good development because he was responsible for the killing of so many innocent people."
"We are happy that the killer of our innocent children has been killed," said Tufail Khattak while speaking to The Express Tribune. "Mullah Fazlullah, the devil incarnate, has met his fate."
Tufail's son Sher Shah was among the dozens of schoolchildren martyred in the APS attack. "[The APS attack] was one of the heinous tragedies in the history of Pakistan but unfortunately on this Eidul Fitr, no one remembered the children who had been massacred mercilessly by terrorists," Khattak regretted.
Khattak went on to say that both Pakistan and Afghanistan should sit together and work out a joint strategy to eradicate terrorism.
"The brutal massacre of the innocent schoolchildren has at last been avenged bringing solace to the bereaved parents. The martyrs of APS will always be remembered, while terrorists will face eternal damnation," he added.
Fazal Khan Advocate, the father of Sahibzada Omar Khan who was also martyred in the APS attack, said the aggrieved families were really thankful to the US government and its forces in Afghanistan as well as the Afghan government for Fazlullah's killing.
"Ironically, these terrorists operated in Pakistan for years and survived but they were wiped out by the United States in drone strikes one-by-one even though they posed no threat to the United States," he added. "The US administration should finish off the remaining Pakistani militants hiding in Afghanistan.
Source: tribune.com.pk/story/1736838/1-parents-aps-victims-mixed-feelings-mullah-fazlullahs-death/
-----
'Papa! Papa!' Audio of Children Stokes Rage over Separation
AP BROWNSVILLE (TEXAS): , JUNE 19, 2018
"The United States will not be a migrant camp and it will not be a refugee holding facility," he declared. "Not on my watch."
An audio recording that appears to capture the heartbreaking voices of small Spanish-speaking children crying out for their parents at a U.S. immigration facility took center stage Monday in the growing uproar over the Trump administration's policy of separating immigrant children from their parents.
"Papa! Papa!" one child is heard weeping in the audio file that was first reported by the nonprofit ProPublica and later provided to The Associated Press.
The audio surfaced as politicians and advocates flocked to the U.S.-Mexico border to visit U.S. immigration detention centers and turn up the pressure on the Trump administration.
And the backlash over the policy widened. The Mormon church said it is "deeply troubled" by the separation of families at the border and urged national leaders to find compassionate solutions. Massachusetts Gov. Charlie Baker, a Republican, reversed a decision to send a National Guard helicopter from his state to the Mexican border to assist in a deployment, citing the administration's "cruel and inhumane" policy.
At the border, an estimated 80 people pleaded guilty on Monday to immigration charges, including some who asked the judge questions such as "What's going to happen to my daughter?" and "What will happen to my son?"
Attorneys at the hearings said the immigrants had brought two dozen boys and girls with them to the U.S., and the judge replied that he didn't know what would happen to their children.
Several groups of lawmakers toured a nearby facility in Brownsville, Texas, that houses hundreds of immigrant children.
Democratic Rep. Ben Ray Lujan of New Mexico said the location was a former hospital converted into living quarters for children, with rooms divided by age group. There was even a small room for infants, complete with two high chairs, where two baby boys wore matching rugby style shirts with orange and white stripes.
Another group of lawmakers on Sunday visited an old warehouse in McAllen, Texas, where hundreds of children are being held in cages created by metal fencing. One cage held 20 youngsters.
More than 1,100 people were inside the large, dark facility, which is divided into separate wings for unaccompanied children, adults on their own, and mothers and fathers with children.
In Texas' Rio Grande Valley, the busiest corridor for people trying to enter the U.S., Border Patrol officials say they must crack down on migrants and separate adults from children as a deterrent to others trying to get into the U.S. illegally.
"When you exempt a group of people from the law ... that creates a draw," said Manuel Padilla, the Border Patrol's chief agent there.
"It so challenges the conscience of our country that it must be changed and must be changed immediately," she said during a news conference at a San Diego terminal that is connected to the airport in Tijuana, Mexico, by a bridge.
U.S. Sen. Ted Cruz of Texas announced late Monday that he was introducing emergency legislation intended to keep immigrant families together.
"All Americans are rightly horrified by the images we are seeing on the news, children in tears pulled away from their mothers and fathers," Mr. Cruz said. "This must stop."
President Donald Trump emphatically defended his administration's policy on Monday, again falsely blaming Democrats.
"The United States will not be a migrant camp and it will not be a refugee holding facility," he declared. "Not on my watch."
Source: thehindu.com/news/international/papa-papa-audio-of-children-stokes-rage-over-separation/article24198918.ece
----
Pakistan Remains Ahead In Nuclear Warheads but India Confident Of Its Deterrence Capability
Rajat Pandit
Jun 19, 2018
NEW DELHI: Pakistan may continue to remain slightly ahead of India in terms of the number of nuclear warheads, with China having double the quantity, but the Indian defence establishment believes its deterrence capability is "robust", designed to ensure "survivability" for retaliatory strikes and firmly on track for further modernization.
Pakistan now has 140-150 nuclear warheads as compared to 130-140 of India, with China hovering around 280, as per the latest assessment of the Stockholm International Peace Research Institute (SIPRI), which was released on Monday.
The US and Russia are in a different league altogether with 6,450 and 6,850 nuclear warheads respectively, together accounting for 92 per cent of the 14,465 nuclear weapons around the globe. Arsenals of the other seven nuclear-armed countries are considerably smaller, but all are either developing or deploying new nuclear weapon systems.
"India and Pakistan are both expanding their nuclear weapon stockpiles as well as developing new land, sea and air-based missile delivery systems. China continues to modernize its nuclear weapon delivery systems and is slowly increasing the size of its nuclear arsenal," said SIPRI.
Defence establishment sources here say India, confronted with the collusive threat from China and Pakistan, has no other option but to systematically build nuclear deterrence that is "credible" and capable of inflicting massive damage in a retaliatory strike to any first strike by an adversary.
"The number of warheads do not really matter. With a declared no-first use (NFU) nuclear policy, India is keen to ensure survivability and credibility of our assets and NC3 (nuclear command, control and communication) systems for assured second-strike capabilities…We have achieved this to a large extent," said a source.
Pakistan, of course, has deliberately kept its nuclear policy ambiguous to deter India from undertaking any conventional military action despite repeated provocations, even as it fast supplements its enriched uranium-based nuclear programme with a weapons-grade plutonium one through the four heavy water reactors at the Khushab nuclear complex with help from China.
Islamabad also often brandishes its 70-km range Nasr (Hatf-IX) nuclear missiles as an effective battlefield counter to India's "Cold Start" strategy of swift, high-voltage conventional strikes into enemy territory. "For India, nuclear weapons are not war-fighting weapons. But we need credible minimum deterrence, with the certainty of massive retaliation against adversaries," said the source.
China, with its rapid military modernization and expanding nuclear and missile arsenals, of course remains a major worry. Towards this end, it's estimated that India, which has a largely plutonium-based nuclear weapons programme, would like to achieve a stockpile of around 200 warheads in the decade ahead.
The tri-Services Strategic Forces Command is now in the process of inducting India's first intercontinental ballistic missile, the over 5,000-km range Agni-V missile, which can hit even the northernmost region of China.
But the continuing lack of an adequate number of nuclear-powered submarines armed with long-range nuclear-tipped missiles, which can silently stay underwater for extended periods, needs to be plugged to achieve a credible nuclear weapons triad. "Projects are underway to achieve this," said the source.
Source: timesofindia.indiatimes.com/india/pakistan-has-more-nuclear-warheads-india-credible-deterrence/articleshow/64641056.cms
----
Afghans 'Tired Of War', Say Exhausted Peace Marchers In Kabul
Jun 18, 2018
KABUL: Hundreds of Afghan peace marchers arrived exhausted in the capital, Kabul, on Monday after spending the fasting month of Ramadan crossing the sun-baked, war-torn country, much of it under Taliban control.
The marchers, all men, including teachers, students and war victims on crutches and one in a wheelchair, were welcomed along the way by village women carrying the holy Koran, men singing and dancing or offering bread and yoghurt, some in tears.
"I saw and learnt things that I had never thought of before," said Iqbal Khayber, 27, a medical student from Helmand.
"We met people in areas controlled by the Taliban and in areas under government control - everyone is really tired of war."
The march was triggered by a car bomb in Helmand on March 23 that killed at least 14 people and wounded dozens. No group claimed responsibility.
Khayber said the marchers, varying in number from day to day, would take main roads and some times turn into villages, choosing dangerous areas on purpose to try to confront people's fear.
"We saw people suffering huge pain from the war ... Honestly, my conscience doesn't let me calm down. It hurts me and I ask myself: why we did not start working for peace earlier?"
Before Ramadan, the marchers were walking 30 to 35 km (18 to 20 miles) a day, but during the fasting month, when they could not take food or water during daylight hours, they slowed to 20 to 25 km per day.
In one area of Ghazni province, they were told by the Taliban not to enter an area because it was too dangerous.
"We met Taliban fighters and after an introduction, they told us we shouldn't have come here because the area is planted with bombs and they had planned an attack.
"After minutes of discussion with them, they seemed tired of it all, and the war. They directed us back to the safest area."
BLISTERED FEET, TEARS
In Ghazni on Sunday, the Taliban took six soldiers hostage, the governor's office said on Monday. The Taliban denied the accusation and said the six had defected.
Mohammad Yasin Omid, 24, a teacher from Zabul province, said he joined the march on its 21st day.
"The group had already walked for 15 days. When I saw their bleeding and blistered feet, I could not control my tears so I decided to join them."
The Taliban are fighting to expel foreign forces, defeat the U.S.-backed government and restore sharia, or Islamic law, after their ouster by US-led forces in 2001.
But Afghanistan has been at war for four decades, ever since the Soviet invasion in 1979.
Both the government and the militants declared temporary ceasefires for the end-of-Ramadan Eid al-Fitr holiday, leading to hugs and selfies between the two sides as militants emerged from their hideouts to enter towns and cities.
The Taliban ceasefire ended on Sunday. The government extended its ceasefire with the Taliban, which had been due to end on Wednesday, June 20, by 10 days.
The anti-war marchers said they won't stop in Kabul.
"We received support from the people in Kabul as we had expected," said marcher Badshah Khan.
"Now we will have sit-ins in tents and continue walking to other provinces to get more support."
Source: timesofindia.indiatimes.com/world/south-asia/afghans-tired-of-war-say-exhausted-peace-marchers-in-kabul/articleshow/64632354.cms
-----
Separating Children From Parents Unconscionable: UNHRs Chief
June 19, 2018
Geneva, The UN human rights (UNHRs) chief on Monday urged Washington to stop separating migrant children from their parents at the US border, describing the policy as "unconscionable".
"The thought that any state would seek to deter parents by inflicting such abuse on children is unconscionable," Zeid Ra´ad Al Hussein said as he opened a session of the UN Human Rights Council in Geneva.
The "zero-tolerance" border security policy implemented by President Donald Trump´s administration has sparked global outrage.
The government has said that during one recent six-week period nearly 2,000 minors were separated from their parents or adult guardians.
The number of separations has jumped since early May, when Attorney General Jeff Sessions announced that all migrants illegally crossing the US border with Mexico would be arrested, regardless of whether the adults were seeking asylum.
Since children cannot be sent to the facilities where their parents are held, they are separated.
Zeid quoted the American Association of Pediatrics as describing the practice as "government-sanctioned child abuse" which may cause "irreparable harm," with "lifelong consequences".
"I call on the United States to immediately end the practice of forcible separation of these children," he said, urging Washington to ratify the Convention of the Rights of the Child.
The US is the only country that has not ratified the convention.
Ratification, Zeid said, would "ensure that the fundamental rights of all children, whatever their administrative status, will be at the centre of all domestic laws and policies."
Zeid´s address at the start of the 38th session of the UN Human Rights Council marks his last address to the body before he is due to step down at the end of August.
The session kicked off under a cloud of growing US criticism of the council. Diplomatic sources said there was a risk that Washington may withdraw from the council altogether. —AFP
Source: pakobserver.net/separating-children-from-parents-unconscionable-unhrs-chief/
-----
Pakistan
Media's access to age data a security threat: Election Commission of Pakistan
By Irfan Ghauri
June 19, 2018
ISLAMABAD: The Election Commission of Pakistan (ECP) has termed the media's use of age-wise information of electoral rolls a potential threat to voters' data security.
Citing an ambiguous clause in the Elections Act of 2017, the ECP had earlier denied free access to credentials of candidates.
In a letter sent to NADRA, ECP mentioned some news reports which mentioned information on age and gender in electoral rolls, the commission said that it suspected that the data could have been leaked by NADRA.
Admonishing the authority, ECP stated: "The competent authority has observed with great concern that there exists a potential threat to the security of data relating to computerized electoral rolls system."
ECP's letter was addressed to the NADRA chief.
NADRA officials denied releasing any data to media persons or members of political parties.
Dual nationality: FIA submits details of 122 candidates to ECP
Data segregated according to ages and genders was easily available to the general public in the past.
According to the new Election Law, there is a clause that allows every contestant to get a copy of electoral rolls of the constituency with pictures of all voters.
Earlier, the ECP had decided not to put nomination papers of contesting candidates on its website, saying new election laws barred it from doing so.
Forming an informed opinion is increasingly becoming a no-go area for voters, either through legislation by parliament or by the ECP.
Giving free access to information about nomination papers would have provided voters meaningful insights about a candidate's credentials, including their financial matters.
In the general election of 2013, the ECP had published nomination forms of all contesting candidates on its website for public scrutiny.
Some politicians had expressed reservations on the move at that time. The step was considered a move forward towards greater transparency.
Dual nationality: FIA submits details of 122 candidates to ECP
When the Election Act, 2017, was passed in October last year, parliament inserted a clause in the law, ostensibly to stop the practice.
ECP officials maintained that after the adoption of the new law, they were unable to publish this information on their website.
Clause 7 of Section 60 of the Act reads: "The Returning Officer shall (a) make the nomination papers along with annexures open to inspection by the public; and (b) issue certified copies of these documents in such manner and on payment of such fee as may be prescribed".
According to the new law, anyone wanting access to information about nomination forms and attached annexures would have to submit written application to the returning officer and pay a prescribed fee.
Legal experts insisted that ECP was misinterpreting this clause.
According to them, the new procedure did require officially certified copies of nomination papers to be used in courts or for official purposes, but it did not bar the ECP from making this information public.
ECP's letter insisted that media's access to data, supported apprehensions that other data might have also been shared.
"It may also be noted that said report was desired by this Commission, but on contrary, the report was shared with non-recipients before it reached this Commission. It also supports apprehensions that other data relating to voters might also have been shared with unauthorised (parties)".
Urging NADRA chief to take urgent security measures, the ECP stated that it was necessary for maintaining the credibility of both organizations.
LHC issues notice to ECP over delimitation
"It requires urgent measures … before it impacts the credibility of NADRA and ECP at large as custodian of electoral rolls."
Source: tribune.com.pk/story/1737199/1-medias-access-age-data-security-threat-ecp/
----
Pak-Saudi ties moving from personal to strategic domain: report
Murtaza Ali Shah
June 19, 2018
LONDON: Security think-tank Royal United Services Institute (RUSI) has said in a report that ties between Pakistan and Saudi Arabia have deepened and heading in a direction where the relation is becoming institutionalized increasingly addressing both countries' strategic interests.
The report published on Rusi's website on Monday noted that there have been recent difficulties in the relationship between the two countries – over the issue of sending Pakistani troops to fight alongside Saudi in Yemen - but the thorny issue has been overcome by the two countries.
The report said that Pakistani Parliament's opposition to Islamabad's military involvement in the Saudi-led coalition in the ongoing war in Yemen sparked controversy and questions about the essence of the strategic relations between the two countries but Pakistan's decision not to join their Saudi allies in that war was largely due to domestic preoccupations. It said that Pakistan stayed out of Yemen to focus at home and to avoid "opening up an additional front with Iran, the Houthi's powerful external patron and source of resources, which could contribute even further to instability inside Pakistan".
It said relation between the two countries is moving from a personal relationship "between Saudi kings and Pakistani prime ministers, rather than the formal institutions of the two countries" to the "strategic domain where both countries are fine with each in pursuing their own interests independently. The report said that Pakistan and Saudi Arabia have ties dating back to 1960 when the Pakistani army contributed to the establishment of the Saudi armed forces.
It said: "It also assisted the Royal Saudi Air Force with the introduction of their first fighter jets. There are over 1,200 Pakistani trainers in various Saudi security and military sectors, either under the Ministry of Interior or the armed forces.
In light of the current economic and political reforms in Saudi Arabia, in which the Kingdom is eager to implement Vision 2030, Saudi Arabia and Pakistan are now hoping to adopt a more strategic partnership, moving beyond from the whims of personal ties.
"Recently, the Saudis have sent two significant delegations to Pakistan with the aim of exploring trade investments and defence ties, sharing intelligence in the field of combat against terrorism, and forming strategic working groups to handle the future development of relations.
"The Crown Prince, who also acts as Defence Minister, received the Chief of Staff of the Pakistani Army, General Qamar Javed Bajwa, in Riyadh in February to discuss bilateral military relations, with particular focus on how to strengthen and develop military training, joint exercises, and the exchange of military expertise. The Saudis have given support to Pakistan in combating extremism."
The report said that Saudi Arabia and Pakistan are interested in an "interdependent security relationship, one which does not infringe on either's relations with other countries. Saudi Arabia, for one, is strengthening its strategic ties with India without jeopardising its relationship with Pakistan. Similarly, Pakistan has explained to the Saudis that although going into Yemen was never an option for Pakistan's military, Islamabad would defend Saudi Arabia when and if needed."
The report claimed that despite its recent rapprochement with Iran, Pakistan has made clear that it supports Saudi Arabia's interest in guarding against Iranian interference in Gulf security and Saudi Arabia's internal security.
"And, in turn, Saudi Arabia has supported Pakistan in disputes over the Kashmir problem at the Organisation of Islamic Cooperation (OIC)." It said Saudis have announced that it would join the China–Pakistan Economic Corridor (CPEC) which will strengthen the trade exchange between the two countries.
Source: thenews.com.pk/print/330775-pak-saudi-ties-moving-from-personal-to-strategic-domain-report
----
People responsible for Model Town tragedy are still free: Tahir ul Qadri
June 18, 2018
LAHORE : Pakistan Awami Tehreek (PAT) chief Dr Tahirul Qadri while expressing shock at the country's law said that the accused involved in Model Town tragedy were still free after four years.
Talking to media in Lahore, he said that the Chief Justice of Pakistan (CJP) Justice Mian Saqib Nisar had ordered to announce verdict in the case in 15 days but his orders were not implemented.
"We are not disappointed and we will continue our struggle for provision of justice."
The PAT chief said that the families of martyred party workers were being harassed and demanded to suspend the people responsible for the tragedy.
Qadri went on to say that they were praying for the early recovery of former prime minister Nawaz Sharif's wife Begum Kulsoom Nawaz.
Speaking about the forthcoming elections, he said that the Articles 62 and 63 are not visible anywhere.
Source: pakobserver.net/people-responsible-for-model-town-tragedy-are-still-free-tahir-ul-qadri/
-----
Pak-Afghan security officials vow to work for peace
June 19, 2018
Landiktoal, The Khyber Rifles (KR) commandant on the occasion of 'Eid-ul-Fitar' offered sweets and gifts to the border security force officials of Afghanistan at Pak Afghan border Torkham on Saturday as goodwill gesture and vowed that Pakistan army and security forces were committed to work jointly with Afghanistan for peace in the region.
On the special instructions of Inspector general (IG) Frontier Corps(FC) Muhammad Wasim Ashraf, the Khyber Rifles force commander Col-Farrukh Hamayun called on the Afghan border official Lieutenant Colonel Muhammad Sadiq Ahmadzai and exchanged 'Eid Greetings' and good wishes for each country.
Col-Farrukh Hamayun, Tehsildar Shamsul Islam offered sweets and bouquets to the Afghanistan border security force official and said 'Eid Mubarak' to each other.
The Afghan officials on the occasion asked the Pakistan army officials some relaxation for Afghan patients who were going to Peshawar for medical treatment via Torkham border.
The KR commandant on the spot issued instructions to the subordinates at Torkham to provide facilities and permission to Afghan patients that they could reach Peshawar soon to get medical treatment.
The KR official urged the Afghan government representatives to communicate the Pak border security officials soon after their patients reach Torkham.
The Afghan officials also requested the Pak security officials to repair the pipeline at Pakistan side which supply drinking water to Afghanistan and the Pak officials assured them that they would soon repair the pipeline to restore water supply.
Both countries security officials expressed sympathies for each other and vowed that they would work jointly for the peace and prosperity the region.
Source: pakobserver.net/pak-afghan-security-officials-vow-to-work-for-peace/
-----
Nomination papers of Farooq Sattar, Pervez Musharraf rejected
June 19, 2018
The nomination papers of Muttahida Qaumi Movement-Pakistan's (MQM-P) Dr Farooq Sattar as well as All Pakistan Muslim League (APML) chief Pervez Musharraf were rejected on Tuesday by returning officers (ROs).
Meanwhile, nomination papers of PTI chief Imran Khan, PPP supremo Bilawal Bhutto-Zardari, and PML-N's Hamza Shahbaz and Maryam Nawaz following scrutiny have been accepted, allowing them to contest elections DawnNewsTV reported.
Dr Sattar had filed nomination papers to contest elections on NA-245 constituency in Karachi while Musharraf's nomination papers had been filed from Chitral for NA-1.
The returning officer for NA-245, Ahsan Khan, rejected Sattar's nomination papers on the grounds that he is a declared absconder in two cases.
The official, in his decision, mentioned that Dr Sattar concealed the two cases and his status as an absconder.
Detailed orders are awaited as the Election Commission of Pakistan (ECP) concludes the scrutiny of nomination papers today.
The scrutiny of nomination papers to exclude ineligible candidates from the racestarted last Tuesday, a day after ROs completed the process of receiving nomination papers from prospective candidates.
This is a developing story that is being updated as the situation evolves. Initial reports in the media can sometimes be inaccurate. We will strive to ensure timeliness and accuracy by relying on credible sources such as concerned, qualified authorities and our staff reporters.
Source: dawn.com/news/1414757/nomination-papers-of-farooq-sattar-pervez-musharraf-rejected
-----
I carried burden of Nawaz Sharif for 34 years: Nisar
June 19, 2018
RAWALPINDI: Disgruntled PML-N leader Chaudhry Nisar Ali Khan on Monday challenged the ability of former prime minister Nawaz Sharif and said he was not eligible to head the party in the 90s but "we made him the party leader".
Addressing a public gathering at Chakri, the former interior minister said when the PML-N was established it had only 15 or 20 members.
"Nawaz Sharif was neither a senior member nor eligible to lead the party but we had no other choice." He said either those senior party members left the party or Nawaz left them.
Mr Nisar said for 34 years he carried the burden of Nawaz Sharif. "I don't owe him anything but he (Nawaz) is indebted to me," he said.
"There are many things which I wanted to share with people about the inner politics of PMl-N and the role of Nawaz Sharif and his daughter Maryam Nawaz. But due to the critical health condition of Begum Kalsoom Nawaz, I will not speak about it publicly."
Analysis: Has Nisar put his political career at stake?
He said it was possible that he may part ways with Mr Sharif. "I never compromised on my principles nor I ever sold my conscience," he said, adding he was answerable to Allah, the public and Mr Sharif.
Mr Nisar asked the young generation of his constituency to stand up for a change in society. He said July 25 would be the day of change and people would get rid of the traditional politics of non-eligible politicians.
During the address, 'Go Nawaz Go' slogans were chanted but Mr Nisar stopped the participants and said: "Those who say 'give respect to vote' asked me not to contest the election. But I will contest and will respond to my opponents on July 25 about this."
Though the disgruntled PML-N leader launched his election campaign in different union councils of Rawalpindi's rural areas last month, it was the first public meeting held in his native village of Chakri.
A senior leader of the PML-N told Dawn that the former interior minister remained in his constituency for the last one year inaugurating development projects launched by PML-N Punjab government but he openly spoke against the party leadership after the end of the government's tenure and the announcement of elections.
He said last month Mr Nisar inaugurated a water supply system, public park, community hall and funeral prayer site near Chaklala worth billions of rupees and remained busy in his constituency to meet union council chairmen and local people which was also a part of electioneering.
Source: .dawn.com/news/1414618/i-carried-burden-of-nawaz-sharif-for-34-years-nisar
----
Khawaja Haris rejoins legal team representing Nawaz in corruption references
Malik Asad
June 19, 2018
After much deliberation, former prime minister Nawaz Sharif's lead counsel Khawaja Haris on Tuesday rejoined his legal team for the corruption references filed by the National Accountability Bureau (NAB) against the Sharif family.
On June 11, Haris had recused himself from fighting the ex-PM's case in reaction to the Supreme Court's directives to the accountability court to wrap up the references within 30 days and to also conduct hearings on a daily basis, including Saturdays if need be.
Haris had said that it was not possible for him to pursue these cases under such pressure and also expressed his inability to work on Saturdays and Sundays — which are official weekly court holidays.
Following this development, accountability court judge Mohammad Bashir had observed that the SC's remarks regarding weekend hearings were not part of the written order. The judge had also advised Nawaz to convince Haris to return to the case.
Haris today appeared in the accountability court and rejoined Nawaz's defence team — a decision that was welcomed by Justice Bashir and NAB prosecutors.
He submitted an application before the accountability court judge to express certain reservations on the Supreme Court's June 10 orders, which had led to him distancing himself from the case.
Haris argued that he has been dealing with the Panama Papers case for several years and did not want the case's ground realities to be overlooked.
He said that the case is a complicated one and requires thousands of documents to be perused on a daily basis before reiterating that he cannot pursue the case efficiently if hearings are scheduled on Saturdays.
The judge, however, assured the lead counsel that the SC had left on him how to conduct and regulate the proceedings.
NAB prosecutor Muzaffar Abbasi did mention that it had been 10 month since the proceedings in references against the Sharif family started and that the court had already sought extension thrice.
The prosecutor also pointed out that under Section 16 of the National Accountability Ordinance, a reference should be disposed off within 30 days.
At this, Haris said that the prosecution itself has not closed its evidence in the trio of references and that it had taken them nine months to do so in just the Avenfield properties reference. "I do not want to blame the NAB for delay since it is a complicated case," he added.
Nawaz granted one-week exemption
Nawaz, on Haris' request, was granted a one-week exemption from appearing in the hearings as he is currently in London due to his wife Kulsoom Nawaz's ailing health.
The former PM was allowed to take a break from the corruption references and allowed to travel to London on the orders of the Supreme Court. Nawaz and his daughter Maryam Nawaz — also fighting corruption references — were scheduled to return back to Pakistan after Eid.
However, Kulsoom, the former first lady, suffered a cardiac arrest on Thursday and was placed on ventilator, following which, Nawaz decided to postpone his return.
Source: .dawn.com/news/1414754/khawaja-haris-rejoins-legal-team-representing-nawaz-in-corruption-references
----
Imran says sit-in can't make him change tickets award decision
Amir Wasim
June 19, 2018
ISLAMABAD: Pakistan Tehreek-i-Insaf (PTI) chairman Imran Khan, who is blamed for introducing the politics of dharna (protest sit-ins) in the country, on Monday snubbed party workers protesting outside his Banigala residence against the award of party tickets in some constituencies, telling them categorically that he would never succumb to pressure of their protests.
While the PTI chairman came out of his bungalow with former Punjab governor Chaudhry Mohammad Sarwar in an effort to placate the agitating workers and assured them that he would review the decision regarding award of party tickets within the next two to three days, he declared that they could never force him to change his mind with such protests.
"If I change my decision today under your pressure, tomorrow more people will come here. Should I again change my decision?" he asked the disgruntled workers who had come from different constituencies of Punjab and Khyber Pakhtunkhwa.
"What do you think that by bringing hundreds or thousands of more people here you can get my decision changed?" he asked.
PTI workers from Punjab, KP protest outside Banigala against 'corrupt candidates'
"I want to say it categorically: whether you are 50 or even if 10,000 more people join you, any decision based on justice that I will make in consultation with the parliamentary board will not be changed.
"No matter how many people gather, I will not change the decision," the PTI chief reiterated amidst slogans by the workers.
Mr Khan also expressed his anger against the protesters for carrying banners and placards. "Why (are you holding) these placards? Is there any public meeting going on?" he said.
The protesters from Multan wanted the party chief not to award the ticket to former minister and former PML-N leader Sikandar Bosan. The party has yet to officially announce giving ticket to Mr Bosan though there were reports that the party had assured him of a party ticket.
One of the PTI workers reminded Mr Khan that he used to tell them that they were corrupt leaders and they would be made an example, yet the party had awarded tickets to the 'same corrupt' people. The PTI chief said he had already told them to submit review petitions with their "arguments" so that the matter could be reviewed.
When the protesters were dispersing after Mr Khan's assurance, another group of protesters from Gujrat reached the venue, chanting slogans against the party leadership's plan to have seat adjustment with the Pakistan Muslim League-Q (PML-Q).
Some of the protesters even briefly scuffled with the police and security personnel when they tried to forcefully enter the chairman's office.
The capital administration on Monday deployed more police personnel around the hilltop residence of Mr Khan at Banigala to avoid any untoward incident.
The PTI chief again came out to give them the same assurance.
While asking them to go away so that he along with other leaders could work, Mr Khan said he was a human being and might have committed mistakes. As the protesting PTI workers did not move, Mr Khan told them that he would announce his decision on the review petitions on Tuesday.
The protesting workers announced that they would go back home only after hearing the final verdict.
Till the filing of this report in the late hours of Monday, more than 1,000 people were camping outside the PTI chief's residence. The disgruntled PTI workers mostly belonged to Multan, Mandi Bahauddin, Rawalpindi, Gujrat, Peshawar, Dir and Swat.
Earlier amid reports of resentment within the party ranks in a large number of constituencies over the distribution of tickets, the PTI had decided last week to constitute "reconciliatory committees" to sort out differences in the run-up to the July 25 general elections.
The decision had been taken by the party leadership at a meeting of the party's media strategy team only a day after announcing tickets for 173 National Assembly seats and 290 seats of provincial assemblies of Punjab and Khyber Pakhtunkhwa.
The decision of the PTI leadership to award tickets to a large number of electable candidates who recently joined the party after quitting their political parties has created unrest among PTI activists. There were reports of protests at some other places as well against the leadership over the issue of award of party tickets.
Talking to Dawn, PTI Information Secretary Fawad Chaudhry said the party had received nearly 100 complaints against the award of tickets. He expressed the hope that his party would amicably resolve the issue and all the workers would take part in the election campaign with full dedication.
Responding to a question, Mr Chaudhry ruled out the possibility of leaving the field open for former interior minister Chaudhry Nisar Ali Khan. He said the PTI had already fielded party's vice president Ghulam Sarwar Khan against him in three of the four constituencies he was contesting. Mr Khan had invited Mr Nisar to join the PTI on a number of occasions but he never responded to his invitation.
Source: dawn.com/news/1414687/imran-says-sit-in-cant-make-him-change-tickets-award-decision
-----
Ex-CJP's party challenges Imran's eligibility for polls
Malik Asad
June 19, 2018
ISLAMABAD: The returning officer will hear arguments from the counsel for Pakistan Tehreek-i-Insaf chairman Imran Khan on Tuesday (today) on a petition against his eligibility to contest the general election.
Abdul Wahab Baluch, a candidate of the Justice and Democratic Party (JDP) headed by former chief justice Iftikhar Mohammad Chaudhry, has pleaded in his petition that Imran Khan's nomination papers should be rejected because he did not disclose he had a daughter as a result of his "relations with Ana-Luisa (Sita) White, a wealthy lady who was the daughter of the late Lord Gordon White, head of the American arm of the giant industrial conglomerate Hanson PLC, which he co-founded".
According to the petition, the PTI chief did not marry Sita White because her "racist father categorically told the respondent (Imran Khan) that if he married Sita, they would not get a penny of his money. That's the reason why the respondent did not marry Sita — he knew that he will not get any financial benefit.
"Only thereafter, he found, met and in a very short time married Jemima Goldsmith, another rich lady".
As the objector is neither a relative of Sita White nor that of her daughter's, his objections are based on frivolous grounds, argues PTI chief in his written reply
Mr Baluch's legal team comprises senior advocate Ahsanuddin Sheikh, who is a close friend of Justice Chaudhry, and his associates.
The petition, titled "Imran versus Imran — the untold story", also mentioned the circumstances in which the custody of Tyrian (Sita White's daughter) was handed over to Jemima. It stated that Ana-Lusia White, in her will dated Feb 27, 2004, nominated Jemima Khan as guardian of her minor daughter Tyrian Jade Brittanta Khan-White. Sita White died that year on May 13.
The petition went on to state: "Jemima Goldsmith had been the spouse of Imran Khan (1995-2004). The concealed facts stood confirmed by a judgement of paternity rendered by a superior court of the state of California for the county of Los Angeles in favour of the said Sita White where it was held that the respondent was the father of Tyrian Jade." Mr Khan initially joined the proceedings through his attorney, but defaulted after he was asked to undergo blood test, it added.
However, Mr Khan later submitted a declaration to a court of guardianship when Carolina White, a sister of Sita White, asked the court that she be appointed Tyrian's guardian.
Mr Khan promised that if the court called him to testify, he would do so.
"This declaration was executed on Nov 18, 2004, at Lahore. If he was not (Tyrian's) father, in what capacity he submitted the affidavit of no objection in the matter of guardianship."
The petition further said: "This document was executed in Pakistan for submission in the US. Therefore any legal objection cannot be raised regarding its admissibility on the basis of it being a foreign document."
Although Imran Khan and his counsel Dr Babar Awan did not appear before Additional District and Sessions Judge Mohammad Adnan Khan (the returning officer), they were asked to file reply to the objection on Tuesday.
The written reply filed by Mr Khan dismissed the allegations. "All the objections are false, fabricated and based on unverified documents."
The written reply stated that the objectors had no standing in the eye of the law since Tyrian did not relate to him in any manner. As the objector was neither a relative of Sita White nor that of her daughter's, his objections were based on frivolous grounds.
Fawad Chaudhry, the PTI's information secretary, in a statement criticised retired Justice Iftikhar Chaudhry and alleged that he was acting as a "stooge for Raiwind".
Source: dawn.com/news/1414692/ex-cjps-party-challenges-imrans-eligibility-for-polls
-----
North America
US ready to discuss role of international troops with Taliban: Pompeo
Anwar Iqbal
June 19, 2018
WASHINGTON: US Secretary of State Mike Pompeo has said that the Trump administration is ready to discuss with the Taliban the role of US and international forces in Afghanistan if they participate in peace talks.
Encouraged by the pictures of Taliban rebels and Afghan soldiers saying Eid prayers side by side, the top US diplomat also offered to work with the Afghan government and the Taliban to end the 17-year-old war.
"As President Ashraf Ghani emphasised in his statement to the Afghan people, peace talks by necessity would include a discussion of the role of international actors and forces," said Pompeo while referring to a recent statement by the Afghan leader.
"The United States is prepared to support, facilitate, and participate in these discussions."
The Taliban demand the withdrawal of international forces from Afghanistan, insisting that there can be no peace as long as there are foreign forces on the Afghan soil.
The US diplomat, however, emphasised that all talks must include the Afghan government.
Last week, Taliban leader Hibatullah Akhunzada urged Washington to hold direct talks with the Taliban leadership, bypassing the government in Kabul.
"The United States stands ready to work with the Afghan government, the Taliban, and all the people of Afghanistan to reach a peace agreement and political settlement that brings a permanent end to this war," said Pompeo in a message issued after Eid holidays.
The statement makes it clear that Washington has no intention to abandon the setup in Kabul in which it has invested heavily and has lost more than 2,000 US soldiers and contractors in defending it.
Last week, the Taliban accepted an offer by President Ghani to stop fighting for seven days to allow all Afghans to celebrate Eid in peace.
The acceptance led to the first-ever ceasefire in 17 years and media reports from Kabul and other Afghan cities noted that the government allowed the rebels to return to their families to celebrate the festival.
Source: dawn.com/news/1414656/us-ready-to-discuss-role-of-international-troops-with-taliban-pompeo
-----
Canadian mosque targeted in 'brazen' arson attack: 'How do we explain this to our children?'
Adam Withnall, 18 June 2018
Police say a mosque has been set on fire in Alberta, Canada, in what Muslim community representatives are calling a "brazen attack".
CCTV images supplied to Canadian media by officials at the Edson Mosque appeared to show a hooded figure walking away from the building carrying a red bag or jerry can.
Three worshippers were in the car park of the mosque at the time and saw flames rising above an entrance. The fire service was called and successfully tackled the blaze before it could cause extensive damage.
But in a post on Facebook, Edson Mosque organisers said they were "gravely concerned about this attack", the first of its kind in the five years since the building was constructed with flame-retardant materials in 2013.
The incident took place at around 11pm on Saturday night, "on a day of celebration for Muslims around the world as they celebrate an end of Ramadan", mosque officials said.
Jocelyn Pettitt, a board member of the Islamic Society of Edson, described the incident as "disappointing".
"We're shocked… it's concerning that someone came to damage our place of worship," she told the Edmonton Journal.
She said the mosque serves 15 Muslim families in the area as well as lots of travellers stopping on their way to and from Jasper National Park. Edson itself is a small town with only around 8,500 residents. "The action of this one person isn't representative of the town of Edson," she said. "We consider this our home, and we've felt accepted since day one."
Tufik Baterdouk, vice president of the Islamic Society of Edson, told CBC it was "a little bit more scary" that the arson took place while there were three worshippers on the premises.
"It was quite brazen," he said. "Typically you would think that someone who wants to commit arson or vandalism, if they see people ... they probably would change their mind. But this individual, it does not seem to be a concern for him.
"This is something that we will have to explain to our children ... that kind of weighs on your mind," he added. "Probably the hardest thing is having to try to explain to children why something like this could have happened."
The Royal Canadian Mounted Police (RCMP) said it was treating the incident as arson and a possible hate crime, which was welcomed by the National Council of Canadian Muslims (NCCM).
"We strongly denounce this cowardly act of arson against a mosque, particularly when Canadians Muslims across the country are celebrating Eid ul-Fitr. We are relieved no one was hurt in the attack and we stand in solidarity with the entire Edson mosque community at this difficult time," said the NCCM's executive director Ihsaan Gardee.
Source: independent.co.uk/news/world/americas/canadian-mosque-arson-attack-alberta-muslim-community-islamic-society-of-edson-a8403941.html
-----
Immigrant children held in fenced pens at border facility
By Nomaan Merchant ASSOCIATED PRESS JUNE 19, 2018
McALLEN, Texas — Inside an old warehouse in South Texas, hundreds of immigrant children waited in a series of enclosures created out of metal fencing. One had 20 children inside. Scattered about were bottles of water, bags of chips, and large foil sheets intended to serve as blankets.
One teenager told an advocate who visited that she was helping care for a young child she didn't know because the child's aunt was somewhere else in the facility.
The Border Patrol on Sunday allowed reporters to briefly visit the facility where it holds families arrested at the Mexico border, responding to new criticism and protests over the Trump administration's ''zero tolerance'' policy and resulting in separation of families.
Source: bostonglobe.com/news/nation/2018/06/18/immigrant-children-held-fenced-pens-border-facility/QMX7zNuF1XUiy8VLVhH1qM/story.html
-----
India
Arab group wants India on board in Yemen
Kallol Bhattacherjee NEW DELHI, JUNE 18, 2018
The Arab coalition which is fighting to secure the strategic Yemeni port of Hodeidah will be reaching out to India for its support, a leading Arab diplomat said here on Monday.
A formal discussion regarding this would be held during the visit of the Foreign Minister of the United Arab Emirates (UAE) next week.
Speaking to The Hindu, Ahmed Albanna, Ambassador of the UAE to India, said the operation at Hodeidah would secure the energy lanes of India with the Gulf, and that the Arab coalition had sourced large quantity of relief material from India to help the Yemeni population.
"The operation at Hodeidah is ongoing and its main target is to fight terrorism that is a common enemy of both India and the UAE. Therefore, support from allies like India will be appreciated, especially in view of our exceptional strategic relationship with India," said Mr. Albanna explaining that the operation will force the rebels in Yemen to sit down for a negotiated settlement of the conflict that has caused a major humanitarian disaster in Yemen.
Final phase
The military campaign on the port of Hodeidah is reportedly in the final phase as the Houthi militia members are retreating. The UN Security Council last week voted against an immediate end to hostilities in the port, even as India has maintained a studied silence on the conflict.
The envoy's request for support from India, for the Arab coalition's Yemen campaign has added a broader context to the upcoming visit by the Foreign Minister and leading royal of the UAE, Sheikh Abdullah bin Zayed, who is expected to hold bilateral meetings in Delhi next week.
The Ambassador pointed out that the UAE was not yet offering a military role to India in the ongoing operation.
"India can help by extending diplomatic support to the Hodeidah operation on the international platforms. The campaign is in accordance with the resolutions of the UN and invitation from the legitimate government of Yemen. Our foreign minister will brief his Indian counterpart on the issue," said Dr. Albanna.
Yemen's port of Hodeidah was under the control of the Houthi rebels who are believed to be drawing support from Iran. The Arab coalition, led by Saudi Arabia and the UAE, claims that the Iranian military has used the port to supply the Houthis with weapons and ammunition. Mr. Albanna declared that the Houthis have been supporting pirates in the western Indian Ocean region. The campaign will ultimately help Indian maritime goals as the Houthis used the port for facilitating the piracy network in the western Indian Ocean region that is vital for India's energy security, the envoy said in support of India's interest.
The envoy said the Arab coalition has already sent a large amount of relief material including rice and food parcels sourced from India and that his country remains open to allowing it a broader role in resolving the regional conflict.
"The Arab coalition also includes non-Arab partners and we have remained open to granting a role to India to support in diplomacy for peace in the Gulf," he said.
Source thehindu.com/news/national/arab-group-wants-india-on-board-in-yemen/article24194744.ece
-----
Anti-terror ops resume in Kashmir
Dinakar Peri NEW DELHI, JUNE 18, 2018
The Chief of the Army Staff, General Bipin Rawat, landed in Kashmir on Monday to review the security situation, a day after the Union government called off the month-long ceasefire. As full-fledged operations resumed, Army sources said that they expected progress in the coming days as information started flowing in.
"Now information will start flowing in as people are available. Police will also start getting inputs. Army is expecting good operations in the coming days," an Army source said.
'Sacrifice not in vain'
Apart from visiting the valley and forward areas, Gen. Rawat visited slain rifleman Aurangzeb's village, Salani, in Poonch and assured his family that his sacrifice "will not go in vain".
Rifleman Aurangzeb was abducted and killed by terrorists last week.
Union Home Minister Rajnath Singh on Sunday announced that the government had decided not to extend the suspension of operations in J&K and operations against terrorists would resume.
The ceasefire was announced for a month from May 17 to coincide with the holy month of Ramzan.
One of the first operations since the ceasefire was called off was in Bandipora district. The Army had started an operation in the area on June 9 but had suspended it subsequently.
Two terrorists were killed in the operation.
New operation
Another cordon and search operation was launched in Bijbehara on Monday. Sources said the suspension of operations in the Valley had led to free movement of terrorists and helped them consolidate.
However, they stated that the information channels of the security forces had not been affected too much as the duration of the ceasefire was relatively short. The intelligence-specific operations are expected to go up in the coming days as the Amarnath Yatra season approached. Additional forces are already in place as part of the security review to secure the yatra route.
Source: http://www.thehindu.com/news/national/anti-terror-ops-resume-in-kashmir/article24195197.ece
------
Pakistan election nearing, firing along International Border up by 400% from 2017
Neeraj Chauhan
Jun 19, 2018,
NEW DELHI: Pakistan violated the ceasefire on the international border (IB) in Jammu around 480 times this year, a rise of more than 400 per cent over the 111 violations last year. The incidents included firing at Indian posts, shelling on villages and sniping at jawans, in which 11 BSF personnel were killed.
BSF officials said Pakistani forces violated the ceasefire almost thrice a day this year even though they were responding aggressively to the provocations and despite the DGMOs of India and Pakistan agreeing on May 29 to "fully implement" the ceasefire pact of 2003 in "letter and spirit".
The officials cited the absence of a government in Islamabad as one of the reasons for Pakistan's misadventures. "Cross-border firing on the IB and even the LoC, which is managed by the army, has increased because Pakistan Rangers and military are not accountable to any leadership and local commanders have taken matters in their hands," an officer said.
Intelligence alerts have suggested that ceasefire violations will continue till Pakistan's general election on July 25.
Sources said the ISI has also become active in the region and was using non-state actors to snipe at BSF jawans, which was sometimes supported by Pakistan Rangers.
BSF chief KK Sharma has advocated heavy retaliatory firing, forcing Pakistan to seek truce a dozen times in the last two years. However, officials said Pakistani forces don't honour their word and start firing within hours of a flag meeting or a call between the two sides.
Source: timesofindia.indiatimes.com/india/pakistan-election-nearing-firing-along-international-border-up-by-400-from-2017/articleshow/64641109.cms
-----
Mehbooba Mufti resigns after BJP pulls out of alliance with PDP in Jammu and Kashmir
TIMESOFINDIA.COM | Updated: Jun 19, 2018
NEW DELHI: The People Democratic Party's (PDP) Mehbooba Mufti on Tuesday submitted her resignation as Jammu and Kashmir chief minister to state governor N N Vohra.
Mehbooba's move came shortly after the BJP announced it was pulling out of its alliance with the PDP in Jammu and Kashmir.
"It has become untenable for the BJP to continue its alliance government in Jammu and Kashmir, hence we are withdrawing" BJP general secretary Ram Madhav said at a press conference this afternoon.
BJP pulls out of alliance with PDP: Follow live updates here
The BJP leader added, "Terrorism, violence and radicalisation have risen and fundamental rights of the citizens are under danger in the Valley. Shujaat Bukhari's killing + is an example."
He went on to add that all the BJP ministers in the J&K government would resign and said the party wanted governor's rule to be imposed in the state.
"Keeping in mind larger interest of India's security and integrity, the fact is that J&K is an integral part of India. In order to bring control over the situation prevailing in the state, we have decided that the reigns of power in the state be handed over to the governor," he stated.
j&k
According to reports, the PDP and the BJP did not see eye to eye over the Centre's decision to end its Ramzan ceasefire with terrorists. The month-long ceasefire in the valley witnessed a spurt in terror strikes in the region. Noted journalist Shujaat Bukhari and Army jawan Aurangzeb were killed in separate attacks on the eve of Eid.
Madhav also clarified that this unnatural alliance between two parties with differing ideologies was done three years ago keeping in mind the mandate of the people. "If we would not have formed the government at that time, governor's rule or presidential rule would have been imposed in the Valley. We had an alliance with them just for the mandate that was given by the people," he said.
Source: timesofindia.indiatimes.com/india/bjp-pulls-out-of-alliance-with-pdp-in-jammu-and-kashmir/articleshow/64646733.cms
-----
South Asia
Afghan Sikh leader holds out hope for dwindling minority
AP KABUL:, JUNE 18, 2018
Avtar Singh Khalsa will represent Afghanistan's tiny Sikh and Hindu minority in the next parliament, where he says he hopes to serve the entire country.
Few Afghans are as invested in the government's quest for peace and stability as the dwindling Sikh and Hindu minorities, which have been decimated by decades of conflict. The community numbered more than 80,000 in the 1970s, but today only around 1,000 remain.
Mr. Khalsa, a Sikh and longtime leader of the community, will run unopposed for a seat in the lower house that was apportioned to the minority by presidential decree in 2016. After the October election, he will be a solitary voice among 259 legislators, but hopes to secure a seat on the defense and security committee.
Source: thehindu.com/news/international/afghan-sikh-leader-holds-out-hope-for-dwindling-minority/article24191851.ece
URL:
2 ISIS-K militants killed, 1 wounded in Kunar province
By KHAAMA PRESS - Jun 18 2018
At least two militants affiliated with the Islamic State of Iraq and Syria Khurasan (ISIS-K) were killed during the clash and airstrike in eastern Kunar province of Afghanistan.
The Ministry of Defense of Afghanistan said Monday that the incident took place in Chapa Dara district and as a result one militant was also wounded.
According to a statement released by the Ministry of Defense, the Afghan forces responded to militants fire and carried out airstrike, leaving two militants dead and one more wounded.
The anti-government armed militant and terrorist groups including ISIS-K affiliates have not commented regarding the report so far.
Kunar is among the relatively volatile provinces in East of Afghanistan where the Taliban insurgents as well as militants affiliated with the other terrorist groups are actively operating in its various districts and often carry out insurgency and terrorist related activities.
The latest airstrikes in Wataput have been carried out amid ongoing counter-terrorism operations against the loyalists of the terror group in some restive provinces of the country.
At least two militants affiliated with the terror group were killed during a similar operation in Wata Pur district last week.
Source: .khaama.com/2-isis-k-militants-killed-1-wounded-in-kunar-province-05377/?utm
----
Europe
UN official says he tried to engage with Pakistan, India on Kashmir
Amin Ahmed
June 19, 2018
ISLAMABAD: The United Nations High Commissioner for Human Rights, Zeid Raad Al Hussein, said on Monday that he has sought to engage substantively with both India and Pakistan over the past two years regarding the situation in Kashmir, on both sides of the Line of Control.
Refusals by both India and Pakistan to enable unconditional access have led the UN body to conduct remote monitoring, with first report issued last week, he said in a statement.
He urged the Human Rights Council in Geneva to consider establishing a commission of inquiry for a more comprehensive investigation of the human rights situation in Kashmir.
Delhi decides to resume military operations
"I am saddened by the assassination last week of Shujaat Bokhari, a courageous human rights defender actively working for peace, including thro­ugh his participation in the 'Track-Two' diplomacy seeking to help both India and Pakistan put an end to the violence," he said.
Agencies add: India said on Sunday it was resuming military operations in Kashmir after a rare 30-day suspension for Ramazan expired, with a top minister slamming attacks by Kashmiris.
Army operations were halted on May 16 at the start of the fasting month, despite a months-long escalation of violence.
Troops would stop the pursuit of suspected militants and door-to-door house searches but would still retaliate if attacked, officials said at the time.
"While the security forces have displayed exemplary restraint during this period, the terrorists have continued with their attacks, on civilians and SFs (security forces), resulting in deaths and injuries," Home Minister Rajnath Singh claimed on Twitter.
"The security forces are being directed to take all necessary actions as earlier to prevent terrorists from launching attacks and indulging in violence," Singh added.
"The government of India decides not to extend the suspension of operations" in disputed territory, Singh's office said in a separate statement on Twitter. "The operations against terrorists to resume."
Source: dawn.com/news/1414653/un-official-says-he-tried-to-engage-with-pakistan-india-on-kashmir
----
Paris attacks suspect given conditional release
AFP
June 19, 2018
Ali Oulkadi, who was imprisoned in France, drove Abdeslam across Brussels on November 14, the day after the attacks that killed 130 people
Another man suspected of accompanying Abdeslam back to Brussels from Paris — Hamza Attou — has already been released, with a third, Mohamed Amri, still behind bars in France
BRUSSELS: A man suspected of briefly helping top suspect Salah Abdeslam in the immediate aftermath of the Paris attacks of 2015 has been released and placed under judicial supervision in Belgium, prosecutors said Tuesday.
Ali Oulkadi, who was imprisoned in France, drove Abdeslam across Brussels on November 14, the day after the attacks that killed 130 people, Belgian and French prosecutors told AFP.
That was the last trace of Abdeslam who then disappeared to become the world's most wanted fugitive before his spectacular capture in the Belgian capital four months later.
Abdeslam exonerated Oulkadi to investigators earlier this year, claiming his old friend knew nothing of the terror attacks.
French courts on Monday allowed Oulkadi to return to the Belgian capital where he resided before his arrest at the end of 2015.
Another man suspected of accompanying Abdeslam back to Brussels from Paris — Hamza Attou — has already been released, with a third, Mohamed Amri, still behind bars in France.
Amri and Attou are suspected of accompanying Abdeslam back to Brussels, getting him past three police checks in France before crossing the border into Belgium.
Source: arabnews.com/node/1323971/world
-----
Arab World
Saudi entertainment chief sacked after outrage over circus
Jun 19, 2018
RIYADH: Saudi Arabia on Monday sacked the head of its entertainment authority, state media said, following a conservative backlash against a circus featuring women wearing figure-hugging costumes.
"Ahmad al-Khatib, chairman of the Saudi General Entertainment Authority has been removed from his position," the official Saudi Press Agency (SPA) said citing a royal decree, without giving a reason.
The pro-government Sabq news website said Khatib was dismissed over a controversial circus performance in Riyadh, which included women wearing "indecent clothes".
A video circulating on social media appeared to show a female performer in a tight pink costume, drawing outrage from Saudi arch-conservatives.
Saudi officials did not respond to AFP's requests for comment.
Khatib's sacking comes in the midst of Crown Prince Mohammed bin Salman's far-reaching liberalisation drive that has ended decades-long bans on women driving and cinemas, and allowed some mixed-gender concerts.
Khatib had been leading a multi-billion dollar initiative to turn the austere desert kingdom into a culture and entertainment hub.
The vigorous backlash against what was widely identified online as a Russian circus underscores the challenges facing the prince as he seeks to modernise a country steeped in conservatism.
"Cynics who lightly dismiss the colossal challenges that (the prince) faces in his social reforms should view this video of young Saudi men passionately denouncing the presence of a Russian circus with women performers in their country," tweeted Ali Shihabi, director of the pro-Saudi, Washington-based think tank, Arabia Foundation.
The video posted by Shihabi included a cutaway shot from the circus and monologues from several men who emphasised the need to uphold Islamic principles.
The conservative petro-state has some of the world's toughest restrictions on women, who are required to wear body-shrouding abaya robes in public.
In April, Saudi sports authorities shut down a female fitness centre in Riyadh over a contentious promotional video that appeared to show a woman in tight gym clothes.
Defending the decision, Saud al-Qahtani, a media adviser to the royal court, said at the time that the kingdom was on the path of "moderation without moral breakdown".
Later that month, the sports authority apologised over a promotional video of a WWE event that showed scantily clad female wrestlers drawing euphoric cheers from men and women alike.
Khatib was appointed in 2016 as the head of the country's entertainment authority, seen as the main engine of the kingdom's social transformation.
"This authority has been a key player in driving social change in the kingdom and hence has been heavily criticised by conservatives," Shihabi tweeted.
In February, the General Entertainment Authority announced it would stage more than 5,000 festivals and concerts in 2018, double the number of last year, and pump $64 billion in the sector in the coming decade.
The reform stems partly from an economic motive to boost domestic spending on entertainment as the kingdom has reeled from an oil slump since 2014.
Saudis currently splurge billions of dollars annually to see films and visit amusement parks in neighbouring tourist hubs like Dubai and Bahrain.
Khatib's ouster follows a major cabinet reshuffle earlier this month that saw a heavy focus on culture and religion, as the kingdom undergoes a major image overhaul.
This was the second significant government change since the appointment of Prince Mohammed, son of the king, as heir to the region's most powerful throne.
Source: timesofindia.indiatimes.com/world/middle-east/saudi-entertainment-chief-sacked-after-outrage-over-circus/articleshow/64642796.cms
-----
Thousands of expats quit Oman as visa ban continues
June 19, 2018
Expats make up 44.1 percent of Oman's total population which stands at 4,612,824
Earlier this year, expat workers in the country faced a six-month visa ban across 87 industries
DUBAI: Oman's expat population has dropped 2 percent according to figures released in June, 2018, compared to the same time the previous year, local daily Times of Oman reported.
According to government figures there were 43,000 fewer expats recorded in 2018 compared to the previous year – bringing the population of foreign nationals down to 2,035,952.
Expats make up 44.1 percent of Oman's total population which stands at 4,612,824.
Earlier this year, expat workers in the country faced a six-month visa ban across 87 industries, including media, engineering, marketing and sales, accounting and finance, IT, insurance, technicians, administration and HR.
The Oman government announced last month that the ban would remain in place and that it was considering adding more professions, adding that Omanis should always be the first choice for jobs in the country.
The Omanization drive is part of a government's push to recruit more of its own citizens, a similar push is underway across the GCC where countries like Saudi Arabia and Kuwait have also been trying to increase the number of locals in employment.
Source: http://www.arabnews.com/node/1323936/business-economy
-----
Saudi-led coalition storms Yemen's Hodeidah airport compound
REUTERS ADEN:, JUNE 19, 2018
The Western-backed alliance launched the onslaught on Hodeidah seven days ago in order to turn the tables in a long-stalemated proxy war between Saudi Arabia and Iran that has compounded instability across the Middle East.
Troops backed by a Saudi-led coalition stormed the airport compound of Yemen's main port city Hodeidah on Tuesday after fierce battles with Iran-aligned Houthis fighting to defend their sole port, residents and Yemeni military sources said.
The capture of the airport would be an important gain for the coalition led by Saudi Arabia and the United Arab Emirates (UAE) who have said they can seize the heavily defended city quickly enough to avoid interrupting aid to millions facing starvation.
"They have stormed the airport," an anti-Houthi Yemeni military source told Reuters.
A resident also said the compound had been stormed.
"This is the first time we hear the clashes so clearly. We can hear the sound of artillery and machinegun fire," the resident, who requested anonymity, told Reuters, adding that warplanes bombarded the airport earlier in the morning.
The Western-backed alliance launched the onslaught on Hodeidah seven days ago in order to turn the tables in a long-stalemated proxy war between Saudi Arabia and Iran that has compounded instability across the Middle East.
The upsurge in fighting has wounded and displaced dozens of civilians and hampered the work of aid groups in the port city, which is a lifeline for millions of Yemenis.
The United Nations says 22 million Yemenis depend on aid, and 8.4 million are on the verge of starvation.
UAE Minister of State for Foreign Affairs Anwar Gargash said on Monday that the coalition was taking a measured approach to minimise risks to civilians, and allowing the Houthis an escape route inland to their bastion in the capital Sanaa.
Source: .thehindu.com/news/international/saudi-led-coalition-storms-yemens-hodeidah-airport-compound/article24199068.ece
-----
UAE urges Houthis to withdraw
REUTERS ADEN, JUNE 18, 2018
Arab coalition aircraft bombarded Houthi fighters holed up at the airport of Yemen's main port Hodeidah on Monday as a senior alliance official said he hoped UN diplomacy could coax the movement to cede the city.
Apache helicopter gunships fired at Houthi snipers and other fighters positioned on the rooftops of schools and homes in the Manzar neighbourhood abutting the airport compound, according to local residents. Houthi forces had blocked roads to the airport, they said. The Houthis' al-Masira television reported six coalition air strikes on the Duraihmi district in the vicinity of the port.
The Houthis' days in Hodeidah were numbered, said UAE Minister of State for Foreign Affairs Anwar Gargash, adding that they needed to "as much as possible save the population".
Source: thehindu.com/news/international/uae-urges-houthis-to-withdraw/article24195114.ece
-----
More than 1.25 million foreigners arrested in KSA for flouting residential, labor laws
ARAB NEWS
June 19, 2018
JEDDAH: More than 1.25 million people were arrested in Saudi Arabia for violating residential, labor and border security regulations during the Kingdom's months-long campaign.
The crackdown, which started on November 16 last year and ended on June 14, saw the arrests of 1,251,966 people in the joint security field campaign across the Kingdom. Those arrested included 931,069 violators of residential regulations, 218,897 for flouting labor laws and 102,000 violators of border security regulations.
The total number of people arrested attempting to cross the Kingdom's borders stood at 19,233 people. Of those arrested, 54 percent were Yemenis, 43 percent Ethiopian, and 3 percent from other nations.
The Kingdom also arrested 790 people who tried to leave the Kingdom illegally.
There were 2,167 people who were arrested for harboring and transporting violators of labor and security border regulations, and 415 citizens were arrested for transporting and sheltering expatriates violating regulations. Regulatory measures were taken against 388 citizens who were subsequently released.
The number of expatriates currently detained stands at 10,245, including 8,817 men and 1,428 women. Immediate penalties were imposed on 221,404 violators while 177,329 violators were referred to their respective diplomatic missions for travel documents and 327,034 were deported.
Source: arabnews.com/node/1323791/saudi-arabia
-----
Saudi Arabia's King Salman issues order to appoint scores of judges to Ministry of Justice
ARAB NEWS
June 19, 2018
DUBAI: Saudi Arabia's King Salman issued a royal decree appointing 161 judges to the Ministry of Justice on Tuesday, Saudi state-news agency SPA reported.
The decree also included the promotion of 79 other judges at various levels of the judiciary.
Source: arabnews.com/node/1323926/saudi-arabia
-----
Mideast
Turkey's jailed pro-Kurdish candidate makes first TV appearance after 20 months in jail
REUTERS ANKARA: JUNE 18, 2018
The snap parliamentary and presidential elections on Sunday will herald the switch to the new powerful executive presidency narrowly approved in a referendum last year.
The jailed presidential candidate for Turkey's pro-Kurdish opposition made his first television appearance in over a year and a half on Sunday, giving a campaign speech ahead of next week's elections.
Selahattin Demirtas, who has been in detention for close to 20 months on security charges and faces a sentence of up to 142 years if convicted, was nominated by his Peoples' Democratic Party (HDP) as a candidate last month.
One of Turkey's best-known politicians, he has had to run his campaign mostly through social media from his prison cell in the northwestern city of Edirne, while Turkish media have been saturated with coverage of President Tayyip Erdogan and his ministers.
Speaking on state broadcaster TRT in a scheduled 10-minute address, to which he is entitled under election law, Mr. Demirtas said voting for Mr. Erdogan and his ruling AK Party would mean putting the fate of the country "between one man's two lips".
"The only reason I am still here is that the AKP is scared of me. They think tying my hands here and going from square to square spreading accusations about me is being courageous," a visibly thinner Mr. Demirtas said.
"They are openly violating the constitution by declaring me guilty even though there is no conviction ruling against me, and are trying to direct the public by misinforming them," he said.
The snap parliamentary and presidential elections on Sunday will herald the switch to the new powerful executive presidency narrowly approved in a referendum last year.
In previous elections, Mr. Demirtas won votes beyond his core Kurdish constituency, and is likely to draw significant backing in the first round of the presidential vote, while boosting the prospects of his party entering parliament.
Mr. Demirtas's HDP arranged a viewing of his speech in Istanbul's Bakirkoy Square, where hundreds of supporters gathered to watch.
"You should have no doubt that I will be acquitted in front of the law as soon as possible. So long as the judicial authorities follow the superiority of the law and not the government's expectations," Mr. Demirtas said, as supporters cheered and waved flags.
Source: thehindu.com/news/international/turkeys-jailed-pro-kurdish-candidate-in-first-tv-appearance-for-20-months/article24190965.ece
-----
Israel quiet on US claims it hit Iraq militia in Syria
AFP
June 19, 2018
The Sunday evening strike against the Al-Hari base on the Syrian side of the border with Iraq came less than 24 hours after Prime Minster Benjamin Netanyahu said Israel would strike Iran's "proxies" anywhere in Syria
Syrian authorities and the Iraqi paramilitaries both blamed Washington for the strike, which killed at least 52 fighters, according to the Syrian Observatory for Human Rights
JERUSALEM: Israel declined to comment on Tuesday on a weekend air strike against an Iraqi paramilitary base in eastern Syria after its US ally implicated it in the attack.
The Sunday evening strike against the Al-Hari base on the Syrian side of the border with Iraq came less than 24 hours after Prime Minster Benjamin Netanyahu said Israel would strike Iran's "proxies" anywhere in Syria.
Fighters of Iraq's Hashed Al-Shaabi paramilitary force, mainly composed of Iran-trained Shiite militia, have played a major role in the war against the Sunni extremists of the Daesh group in Syria as well as Iraq.
But their presence has sparked confrontations with both Washington, which has been supporting a Kurdish-led alliance that controls other parts of eastern Syria, and Israel, which fears Iranian-inspired attacks on its forces in the occupied Golan Heights.
Syrian authorities and the Iraqi paramilitaries both blamed Washington for the strike, which killed at least 52 fighters, according to the Syrian Observatory for Human Rights.
But US officials denied any involvement and instead pointed the finger at Israel.
"We have reasons to believe that it was an Israeli strike," one US official told AFP on condition of anonymity.
The Israeli military declined to be drawn on the US claims. "We are not commenting on foreign reports," a spokeswoman said.
The military has carried out previous strikes against Iranian targets in Syria, but most have been significantly closer to Israel or the Israeli-occupied Golan.
Last month, Israel launched a large-scale attack on what it said were Iranian targets in Syria, raising fears of a major confrontation.
Those strikes followed a barrage of rockets that Israel said was fired toward its forces in the occupied Golan by Iran from Syria.
Even before that, Israel had been blamed for a series of recent strikes inside Syria that killed Iranians, though it has not acknowledged them.
Speaking at a cabinet meeting in Jerusalem on Sunday morning, Netanyahu reiterated his position that "Iran needs to withdraw from all of Syria."
"We will take action — and are already taking action — against efforts to establish a military presence by Iran and its proxies in Syria both close to the border and deep inside Syria," the prime minister said.
"We will act against these efforts anywhere in Syria."
Israeli seized a large swathe of the Golan Heights from Syria in the Six-Day War of 1967 and later annexed it in a move never recognized by the international community.
Iran has been a close ally of the Syrian regime for some four decades and, with Russia, has been a key supporter in the civil war that broke out in 2011.
Source: arabnews.com/node/1323941/middle-east
-----
Yemeni army takes control of Hodeidah airport
ARAB NEWS
June 19, 2018
A resident said the forces stormed the airport after fierce battles broke out early in the morning between coalition forces and Iran-aligned Houthi militants
The Saudi-led coalition entered the main compound of Yemen's Hodeidah airport earlier
ADEN: The Yemeni army, backed by the Arab Coalition, has taken control of Hodeidah airport, according to local news sources.
The Saudi-led coalition entered the main compound of Yemen's Hodeidah airport on Tuesday, Yemeni military sources in the alliance and a resident told Reuters.
"They have stormed the airport," said one Yemeni military source. A resident said the forces stormed the airport after fierce battles broke out early in the morning between coalition forces and Iran-aligned Houthi militants who hold the main port city of Hodeidah.
Source: arabnews.com/node/1323881/breaking-news
-----
Turkish air strikes kill 26 militants in southeast Turkey, Iraq
REUTERS
June 19, 2018
ISTANBUL: Turkish air strikes killed 26 militants and destroyed their gun positions, shelters and ammunition stores in southeast Turkey and northern Iraq this week, Turkey's armed forces said on Tuesday.
The military said in a statement released on its Twitter account the air strikes were carried out on Sunday and Monday in Turkey's Diyarbakir and Sirnak provinces and in the Avasin-Basyan area of northern Iraq, where the Kurdistan Workers Party militant group has bases.
Source: arabnews.com/node/1323886/middle-east
------
Africa
'Religious Tolerance and Security Reforms Have Made Morocco a Bulwark against Terrorism': Khiame
By Tamba François Koundouno - June 18, 2018
Rabat – Amidst widening security and social concerns over the return of ISIS and other terrorist network-affiliated Moroccan nationals, Moroccan authorities are confident about the country's preparedness to prevent future events of the magnitude of the 2003 Casablanca and 2011 Marrakesh bombings.
Since the April 2011 Marrakesh terror strike, Morocco's modernized and upgraded security system has established the kingdom as a bulwark against radicalization and organized crime, BCIJ (Central Bureau of Judiciary Investigations) director, Abdelhak Khiame, told French magazine Valeurs Actuelles in an interview published on June 14. The success of Morocco's anti-terrorist model, Khiame elaborated, lies in an "anticipatory philosophy" that deals with terrorism at its very core.
Despite separatist grievances in the south and some recent—though sporadic—political upheavals, the North African country still carries its so-called "exceptionalité Marocaine" (Moroccan exception) reputation: a bastion of security and peace in a troubled neighborhood.
Although the idea of the Moroccan exception is also said to entail Morocco as a cultural bridge, home to striking social-cultural diversities, the notion has been slightly altered in recent years. The shift has placed a particular emphasis on the country's brand of tolerant and difference-accommodating Islam, as a factor of stability and social cohesion during and after the events of the Arab Spring.
But how did this come about? How, after being shaken to its core by the terrorist strikes in 2003 and 2011, has Morocco managed to establish itself as an inspiration for other nations fighting against terrorism and radical ideologies? Why is the Moroccan anti-terrorism experience an example worth emulating?
The BCJI director claimed that Morocco did not just want to fight terrorism after the 2011 strikes; the country also had "to deconstruct radicalization" in order to both limit the appeal of ideology-linked violence but also identify those most susceptible to fall prey to it.
"Although it is premature to claim victory now, radicalization has drastically declined in Morocco in recent months," he said, explaining that there now is an established network of government-sponsored experts who identify and intervene in "high risk areas." The experts include sociologists, psychologists, Islamic law specialists, and Ulemmas (Islamic scholars) who cooperate to promote a version of moderate and tolerant Islam.
"These experts also intervene in prisons to persuade terrorists to review their ideas on the meaning of jihad," Khiame further said, hinting at another successful feature of Morocco's robust anti-terrorism model: deradicalization. Successfully de-radicalized former terrorists are also sometimes relied upon to participate in awareness-raising campaigns in "fragile and vulnerable places."
The effective coupling of theological re-orientation and security reforms has thus been a crucial ingredient of Morocco's anti-terrorist apparatus.
Investing in state-sponsored Islam
On the religious front, the Rabita Mohammedia of Oulemas (Mohammedia House of Scholars) is leading a strenuous battle against radical and monolithic interpretations of the Quran and Islamic tenets. With more than 30 online platforms at its disposal, it disseminates books, video recordings, cassettes, and even animes whose main objective is to prevent the proliferation of radical Islamism.
The body is made of experts from various academic backgrounds committed to "de-coding and deconstructing religious radicalism." They first identify the ideological terrains that terrorist are most likely to exploit—Arab Unity, religious binarisms (Islamic world vs. others), name-calling piety, etc.
Once they identify the rhetoric and vulnerable populations most susceptible to such appeals, they then devise a counter-rhetoric designed to "immunize" fragile populations not priorly exposed to radical rhetoric, in addition to "de-radicalizing" those with previous exposure to "simplistic pan-Islamist narratives."
"There are no self-proclaimed imams in Morocco. That is illegal," other governmental sources told Valeurs Actuelles, as they further explained that everything is done to ensure that the country's 45,000 practicing imams uphold and echo the pluralist core of Morocco's official Islam in their Friday sermons. "Mosques that deviate are rapidly identified, and steep punishment follows."
A new generation of imams
Equally crucial on the ideological and religious front is Morocco's tutelage of a new generation of imams, trained both in traditional theological sciences and "modern" courses in social sciences and the humanities. At the Mohamed VI institute for Imams, courses include sociology, philosophy, psychology, communication sciences, etc., and imams are instructed to value debates and critical thinking.
Since its inception in 2006, the institute has attracted candidates from other African countries, due to the Moroccan government's extension of scholarships to candidates from countries like Guinea, Niger, Mali, Ivory Coast, and Nigeria. Scholarships include everything, from on-site accommodations, free courses, and pocket money. "This is to prevent external influences," said a religious instructor, well aware of the financial factor in feeding the ranks of radical Islamism.
The success of the institute has also attracted the attention of some non-African governments, with France agreeing to a partnership in 2015. France now sends on a yearly basis dozens of Imam Students to be trained in the Moroccan tradition of Islam. This year, for example, the Institute hosted 50 French nationals, of whom 10 were girls. Of the inclusion of female students in the Institute's program, one instructor said: "It is the best way to show our openness and effectively fight against extremists who are annoyed by such a model."
Modernized anti-terrorist units
To supplement the ideological success of its anti-terrorism, Morocco has also heavily invested in its intelligence and elite police units, creating sophisticated networks of cooperation and intelligence sharing between the country's top anti-terrorist specialized units.
The BCIJ, the perfect embodiment of Morocco's specialized anti-terrorist units, has often been described as the "Moroccan FBI," an indication of the body's high standards and commendable achievements in dealing with terrorist threats. It a special police made up of 400 detectives and 700 field agents, highly trained and equipped to root out the various forms of domestic and transnational terrorism.
The BCIJ works in collaboration with other sub-departments and security sub-divisions under the commands of the Interior Ministry, therefore creating a vast interconnected and independent hierarchy of anti-terrorist units. BCIJ operatives have neutralized 815 terrorist since 2015, in addition to dismantling 53 terrorist cells from 2015 to April 2018.
"We anticipate terrorist strikes," said BCIJ director Khiame, adding: "We receive intelligence from all agencies working under DGST (General Directorate of Territorial Surveillance). All tasks are divided and this gives us ample time to gather intelligence and intervene in time to stop potential terrorists."
Soruce: moroccoworldnews.com/2018/06/248813/religious-tolerance-morocco-terrorism-bcij-abdelhak-khiame/
-----
Southeast Asia
Malaysia seeks to lay multiple charges against ex-premier Najib over 1MDB scandal
AFP
June 19, 2018
KUALA LUMPUR: Embezzlement and bribery with government money are among the charges that Malaysia is looking to bring against former prime minister Najib Razak following a probe into funds allegedly looted from the state-run fund 1MDB, Prime Minister Mahathir Mohamad said on Tuesday.
Mahathir told Reuters in an interview that Malaysian investigators already "have an almost perfect case" against the principal suspects who had defrauded 1Malaysia Development Berhad (1MDB) and misappropriated billions of dollars in public funds.
He also described Najib, who had founded 1MDB, as playing a central role.
"He was totally responsible for 1MDB. Nothing can be done without his signature, and we have his signature on all the deals entered into by 1MDB. Therefore, he is responsible," Mahathir said.
Having retired as prime minister in 2003 after 22 years in power, Mahathir — who is aged 92 — came out of retirement and joined the opposition to topple Najib in an election last month.
Following his stunning victory, Mahathir has reopened investigations into 1MDB and Najib's involvement in its operations.
As a result of an anti-kleptocracy probe, the US Department of Justice has alleged more than $4.5 billion was misappropriated from 1MDB and that about $700 million of that ended up in Najib's personal bank accounts.
Mahathir has barred Najib from leaving Malaysia, and police have searched properties linked to him, while anti-graft investigators have questioned both Najib and his wife, Rosmah Mansor.
Najib has consistently denied any wrongdoing, and repeated last week that he did not take money from 1MDB.
Najib's spokesman could not immediately be reached for comment on Tuesday.
Investigators are looking to bring "a number of charges" against Najib, Mahathir said, adding those charges would be based on abuse of power when he was prime minister.
They could include "embezzlement, stealing government money, losing government money and a number of other charges. Using government money to bribe. All those things," he said.
Mahathir said Rosmah was also being investigated in connection with 1MDB.
"Some of the money is believed to have gone to her, lots of money," Mahathir said. "We know about this, but finding the paper trail is a bit more difficult in this case because she doesn't sign any papers. Najib signs a lot of papers."
Mahathir said he expected Malaysia to make its first arrest in the 1MDB case within months and "hopefully" start a trial by the end of the year.
"We are working as hard as possible at a furious pace. We think that we already have almost a perfect case," Mahathir said.
Asked to name the targets of that case, he said, "Against Najib, against Jho Low and a few others."
Low is a Malaysian financier, who is also seen as a central figure in the 1MDB scandal. He is regarded as close to Najib and his family.
Low's lawyer could not be immediately reached for comment.
"When we go to the courts, we will have clear evidence of the wrongdoing. We cannot afford to lose," said Mahathir.
Source: arabnews.com/node/1323946/world
-----
Philippine Supreme Court upholds expulsion of chief justice
AP
June 19, 2018
MANILA, Philippines: The Philippine Supreme Court has upheld the expulsion of its chief justice, the authoritarian president's highest-ranking critic, in a final ruling that critics warned is unconstitutional and threatens judicial independence and the country's fragile democracy.
Court spokesman Theodore Te said justices voted 8-6 Tuesday to uphold their May 11 decision to oust Maria Lourdes Sereno from the 15-member high court and deny her appeal. The government's solicitor-general had asked the court to boot her out for allegedly failing to file some of her past assets disclosures, a charge she denies.
Sereno's expulsion cut short a separate congressional impeachment attempt against her. The former law professor argues that the government petition to oust her violates the constitution, which stipulates that justices like her can be removed only by congressional impeachment.
Source: http://www.arabnews.com/node/1323891/world
-----
URL: https://www.newageislam.com/islamic-world-news/mullah-fazlullah-killing-aps-martyrs/d/115583
New Age Islam, Islam Online, Islamic Website, African Muslim News, Arab World News, South Asia News, Indian Muslim News, World Muslim News, Women in Islam, Islamic Feminism, Arab Women, Women In Arab, Islamophobia in America, Muslim Women in West, Islam Women and Feminism