New Age Islam News Bureau
4 Dec 2013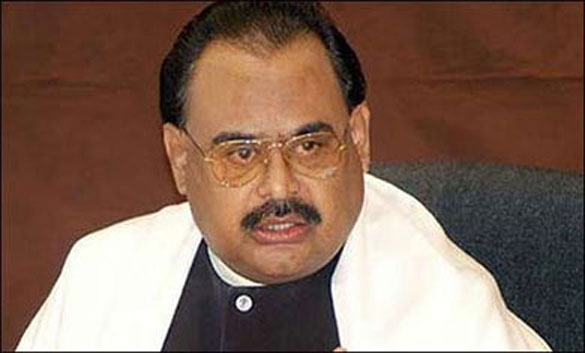 MQM Chairman Altaf Hussain
-----------
Pakistan
• MQM Chairman Links Jamaat-i-Islami to Taliban, Al Qaeda
• Spiralling violence claims at least 14 lives in Karachi
• Kashmir a flashpoint for another India-Pak war, Nawaz Sharif says
• MQM challenges delimitation of Karachi constituencies
• Presence of Indian forces is harmful to Siachen Glacier: Sartaj Aziz
Southeast Asia
• Recognise only Sunni Islam as official religion, says Umno Youth
• Conservatives All Riled Up Over Condoms
• Church lawyers to press for early date on Allah issue in Federal Court
Arab World
• Iraq attacks including bomb at Tarmiya leave 20 dead
• Egypt's Brotherhood and Jihadists: Tactical alliances
• Nasrallah blames Saudi Arabia for blasts at Iran's Beirut embassy
• Hezbollah commander killed outside home in Lebanon
• Syria's Assad to lead during transition: Minister
• KSA spends SR530m on Syria relief programs
Mideast
• Turkey losing positive perception in Middle East
• Abbas to act against Israel at UN if peace talks fail
• Two more Palestinians arrested in connection to Jerusalem stoning attack
• Survey: Israelis in the US adopt political views of American Jews
Europe
• UK soldier detained under Terrorism Act over 'nail bomb'
• UK to tackle 'Islamist extremism' after soldier's murder
• UN force to 'attack other armed groups' in DR Congo
• Britain calls for strong action against Syrian President Assad
South Asia
• President Yameen begins well, yet road-blocks remain
• Awami League firm on polls despite boycott threats
• 'Red ball' blows minor girl's wrist off in Bangladesh
• Be patient, the Afghans are fed up with Karzai
India
• No scope of Pakistan winning a war: PM Manmohan Singh
• Will target news outlets over false report on Tendulkar: Pakistani Taliban
• Maldivian President Yameen to visit India on December 22
• Indian Mujahideen using hate images to recruit youths
Africa
• Twenty-one bodies found in Mali mass grave
• Nigeria recommends trial for 500 held during Boko Haram raids
• Survey: Libyans optimistic want security and democracy
North America
• US for consensus, says no stake in Bangladesh polls
• US not going away from Pak-Afghan region after '14: official
• US army halts shipments from Afghanistan via Pakistan
• White House steps up bid to thwart new Iran sanctions
• US court orders Iran to pay $9 million to families of 1997 Jerusalem terror attack victims
• India, Pak want a stable, secure Afghanistan: US
• Snowden files: MI5 chief to justify leaks claim in public
Compiled by New Age Islam News Bureau
URL: https://newageislam.com/islamic-world-news/mqm-chairman-links-jamaat-i/d/34712
-------------
Pakistan
MQM Chairman Links Jamaat-i-Islami to Taliban, Al Qaeda
2013-12-04
KARACHI: In a no holds barred attack condemning his rival political party, Muttahida Qaumi Movement (MQM) Chief Altaf Hussain Tuesday linked Jamaat-i-Islami (JI) to Taliban and al Qaeda militants and claimed several activists of the party have been killed in US drone strikes, DawnNews reported.
"Several active workers of JI and its student wing, Islami Jamiat Tulaba (IJT) have been killed in drone attacks in Waziristan," said Hussain while speaking to the MQM's general workers meeting over the telephone from London.
Meanwhile, calling Hussain's statements as unfounded and provocative, JI Secretary General Liaqat Baloch said the Jamaat was a peaceful religio-political party.
He accused MQM of being involved in targeted killings, extortion and urged Karachiites to dissociate themselves from the party and its chief.
Altaf Hussain, in his fiery speech, also revealed that a large number of Taliban and al Qaeda operatives have relocated to upscale areas of Karachi. Cautioning the general masses of the 'development', he said his party, along with the armed forces, was ready to defend every corner of the country.
The MQM chief warned the concerned authorities that things will get out of hand if discrimination against Muhajirs continued, adding that even armed forces of the country would not be able to control the situation then.
Alleging JI's involvement, along with Taliban and al Qaeda, in killings of Pakistan's military officials, Altaf Hussain demanded of the authorities to put an immediate ban on Jamaat and Jamiat.
Condemning Monday's incident of Punjab University when JI activists resorted to violent protest following a face-off with the University administration, Hussain said weapons recovered from hostel students were being portrayed as "plastic toys." Whereas, he added the MQM workers were being implicated in fake cases.
The students blocked traffic for several hours on Lahore's major roads yesterday and damaged public transport as well.
Hussain also assailed JI chief Munawar Hassan for declaring former Tehrik-i-Taliban Pakistan (TTP) chief Hakimullah Mehsud a 'martyr'. Mehsud, along with four other militants, was killed in a US drone strike in Pakistan's tribal areas bordering Afghanistan last month.
The MQM chief also expressed concerns over rising sectarian targeted killings in Karachi.
http://www.dawn.com/news/1060260/altaf-links-jamaat-i-islami-to-taliban-al-qaeda
-------------
Spiralling violence claims at least 14 lives in Karachi
December 4, 2013
KARACHI: At least 14 people, including Majlis-e-Wahdat-e-Muslimeen (MWM) Karachi's deputy secretary-general and three members of the Tableeghi Jamaat, were killed in spiralling violence across the city on Tuesday.
Allama Deedar Ali Jalbani, who contested from PS-126, was on his way to the MWM office in the Ancholi Society of Federal B Area, when gunmen opened fire at his car. Allama Jalbani and his driver, Sarfaraz Ali , were shot multiple times and died on the spot. The incident took place in Gulshan-e-Iqbal's Mobina Town area.
The religious party has announced three-days of mourning and a protest today (Wednesday) to condemn the assassination of Allama Jalbani and his driver, who was also his personal guard. MWM officials threatened unspecified action if the government failed to arrest the culprits within 24 hours.
Within a few hours, three members of the Tableeghi Jamaat were shot dead and two others injured in a targeted killing incident outside Madni Masjid in North Nazimabad.
A scout of the Payam-e-Wilayat, Syed Zakir Hussain, was also shot dead near Singer Chowrangi.
Another incident involving the targeted killing of a local commander of the outlawed Tehreek-e-Taliban Pakistan, Mushtaq Mohmand and four others, took place within an hour.
At least eight armed terrorists on three motorcycles resorted to indiscriminate firing at a black-coloured-SUV near Sakhi Hassan Chowrangi, resulting in the death of Mohmand, his police guard, Wazir Gul and two companions, Zar Mehsud and Mujahid Mehsud. Another companion, Sher Khan, was critically injured and later succumbed to his injuries at Abbasi Shaheed Hospital.
Mohmand had contested as an independent candidate for the provincial assembly seat from Manghopir in the general elections. Police sources told The Express Tribune that Mushtaq Mohmand was on the target-list of the Taliban, who intended to kill him on the suspicion of working for the intelligence agencies. However, police officials blamed the killing on an internal rift among the Taliban.
"Mohmand was associated with the slain TTP leader Waliur Rehman group. He used to live in Manghopir's Kunwari Colony from where he used to operate and generate funds for the Taliban," North Nazimabad SP Mohammad Akhtar told The Express Tribune while quoting the initial investigations.
He claimed that members of Hakeemullah Mehsud's group killed him.
Separately, a young man, Zubair Haroon was shot dead in Mansehra Colony in Landhi, while the body of an abducted man was found from Saeedabad area of Baldia Town. According to police, the victims were not affiliated with any religious or political party.
Another man was reportedly killed when unidentified armed men hurled a hand grenade at a tea shop in Samanabad locality of the Federal B Area. SHO Rizwan Patel said that the both the men were wounded in the attack however, one of the injured later succumbed to his injuries. Yet another fatal shooting occurred in Gulistan-e-Jauhar, where one vendor was gunned down.
http://tribune.com.pk/story/640880/spiralling-violence-claims-at-least-14-lives-in-karachi/
---------
Kashmir a flashpoint for another India-Pak war, Nawaz Sharif says
PTI | Dec 4, 2013
ISLAMABAD: Kashmir is a flashpoint that can trigger a fourth war between Pakistan and India anytime, Prime Minister Nawaz Sharif has said, seeking an early settlement of the issue.
He also said he had a dream of seeing Indian Kashmir free and hoped to see it happen during his lifetime.
"Kashmir is a flashpoint and can trigger a fourth war between the two nuclear powers at anytime," he was quoted as saying by the Dawn daily in his brief address to the budget session of the 'Azad Jammu and Kashmir (AJK) Council' in Pak-occupied Kashmir yesterday.
The press release issued by his office last night did not carry the above statement.
The statement had however quoted Sharif as saying that the Kashmir issue should be settled according to the aspirations of the people and the UN resolutions as peace in the region was not possible without it.
"The Prime Minister said that he had a dream of seeing held-Kashmir free from the Indian occupation and desired that this dream could turn into reality during his lifetime," the statement said.
About Indo-Pak relations, the Prime Minister categorically reiterated that it was India which indulged in the arms race, it said.
"We were drawn into arms race by India," he said. "If we had a choice, we could have diverted these expenditures to the social sector uplift and eradication of poverty," he emphasised.
Sharif also expressed his satisfaction over the improvement of situation on the Line of Control (LoC).
http://timesofindia.indiatimes.com/world/pakistan/Kashmir-a-flashpoint-for-another-India-Pak-war-Nawaz-Sharif-says/articleshow/26843748.cms
-------------
MQM challenges delimitation of Karachi constituencies
2013-12-04
KARACHI: The Muttahida Qaumi Movement (MQM) on Wednesday challenged the delimitation of Karachi's constituencies in the Sindh High Court, DawnNews reported.
MQM's senior leader Farooq Sattar and counsel Farogh Nasim approached the SHC regarding the administrative delimitation of constituencies in the city's districts, South and East.
Speaking to the reporters outside the Sindh High Court, MQM leader Dr Farooq Sattar said the new delimitations carried out were against the Constitution.
He suggested that the union councils should comprise of equal population distribution and added that the Union Council was given the status of a Union Committee.
"Some constituencies are given more representation as compared to the others and the delimitations were wrongly carried out for political gains," claimed Sattar.
Preparations for local bodies elections were previously delayed due to a split between the government and the opposition over the delimitation of constituencies in the city's South and East districts.
The election schedule was expected to be announced by the ECP on Nov 29, but was delayed after the Sindh government failed to provide updated LG laws, rules and notifications of delimitations of constituencies by Nov 28, the deadline set by the commission for the purpose.
The election schedule for Sindh will now be announced by the ECP on Dec 7.
http://www.dawn.com/news/1060450/mqm-challenges-delimitation-of-karachi-constituencies
-------------
Presence of Indian forces is harmful to Siachen Glacier: Sartaj Aziz
December 4, 2013
Presence of Indian forces on Siachen Glacier is harmful to the environment according to Advisor to the Prime Minister on National Security and Foreign Affairs Sartaj Aziz, Radio Pakistan reported on Wednesday.
Pakistan is facing a water shortage and Indian forces are damaging one of the largest sources of water to Pakistan on a regular basis' Aziz said.
Presence of Indian forces on Siachen is a big issue and should be resolved as soon as possible, Aziz stated insisting that India should pull out its troops from the glacier.
He further added that disposal of daily use items by thousands of Indian soldiers is detrimental to the glacier.
Full report at:
http://tribune.com.pk/story/640977/presence-of-indian-forces-is-harmful-to-siachen-glacier-sartaj-aziz/
-------------
Southeast Asia
Recognise only Sunni Islam as official religion, says Umno Youth
Dec 4, 2013
Umno Youth wants the country's constitutional definition of Islam changed to Sunni Islam, a call that reflects the country's increasingly hostile attitude towards Shia Muslims.
The youth wing of the country's largest party of Muslims wants Umno lawmakers to introduce an amendment in the Dewan Rakyat to change the article in the Constitution regarding Islam as the federation's official religion.
The call was made in a motion tabled by the wing's deputy chief Khairul Azwan Harun at the party's annual general assembly at Putra World Trade Centre in Kuala Lumpur today.
He said any amendment should define Sunni Islam as the official religion of the federation.
In his speech to support the motion, an Umno Youth grassroots leader from Terengganu said he hoped that any bill to amend the constitution for that purpose would be supported by Muslims in PAS and PKR.
Full report at:
http://www.themalaysianinsider.com/malaysia/article/amend-constitution-to-only-recognise-sunni-islam-as-official-religion-says
-------------
Conservatives All Riled Up Over Condoms
Dec 4, 2013
A backlash against a government campaign to emphasize the importance of condoms as part of an HIV/AIDS awareness program could hurt efforts to curb new infections in the country, campaigners have warned.
"I know this is a sensitive issue but please be more sensible," Kemal Siregar, the secretary of the National AIDS Commission (KPAN), said on Tuesday in response to criticism that promoting condom use would only encourage sexual promiscuity.
"If we want to tackle HIV/AIDS problems, we have to work comprehensively on prevention and harm reduction."
Kemal said opposition to the campaign stemmed largely from a lack of knowledge about HIV/AIDS transmission.
Full report at:
http://www.thejakartaglobe.com/news/conservatives-all-riled-up-over-condoms/
-------------
Church lawyers to press for early date on Allah issue in Federal Court
Dec 4, 2013
The Catholic Church tomorrow will urge the Federal Court to give them an early date to hear its leave application to appeal against the ruling on the use of the word Allah.
Lawyer S. Selvarajah, a member in the church's legal team, said they would request the leave application to be heard soon on grounds of public interest and also to bring a closure to the matter.
"We will make this request during the case management tomorrow," he told The Malaysian Insider.
Selvarajah said he received a letter from the Federal Court registry last week requesting all parties to the application to be present tomorrow.
The church had earlier served the legal papers on Putrajaya and seven other Muslim organisations.
Full report at:
http://www.themalaysianinsider.com/malaysia/article/church-lawyers-to-press-for-early-date-on-allah-issue-pending-at-federal-co
---------
Arab World
Iraq attacks including bomb at Tarmiya leave 20 dead
Dec 4, 2013
At least 20 people have been killed in violence across Iraq, officials say.
Ten people, including six police, died in a suicide bomb and mortar attack on a government compound in Tarmiya, a town 50km (30 miles) north of Baghdad.
In the capital itself, a car bomb exploded in the mainly Shia western district of Baiyaa, killing five people. Two others died in a bombing in the nearby Sunni suburb of Abu Ghraib.
Sectarian violence has surged across the country in recent months.
The UN has said the overall death toll dropped to 659 in November, including 565 civilians and 94 members of the Iraqi security forces, compared with 979 in October.
However, more than 7,150 civilians and 950 security forces personnel have now been killed since January, the highest annual toll since 2008.
Full report at:
http://www.bbc.co.uk/news/world-middle-east-25204314
-------------
Egypt's Brotherhood and Jihadists: Tactical alliances
Dec 4, 2013
Speaking to the London-based Al-Quds Al-Arabi (Arab Jerusalem), Moussa Al-Abdilat, a Jordanian lawyer for Islamist groups, passed on a statement by leading jihadist authority Assem Al-Barkawi, aka Abu Mohamed Al-Maqdisi, calling for "the unification of efforts in the region and the world between jihadist Salafist movements, the Muslim Brotherhood and the Islamic Liberation Party in order to confront the project that targets Islam and Muslims in this difficult phase". Al-Maqdisi, who has been jailed since 1994, also called on Salafis to support "the legitimate president in Egypt Mohamed Morsi in the battle against the military coup". It is a message with clear ramifications for turbulent conditions in Sinai, the actions of Al-Qaeda-affiliated organisations there and the connections between such extremist jihadists and the Muslim Brotherhood.
Full report at:
http://english.ahram.org.eg/NewsContent/1/64/88177/Egypt/Politics-/Egypts-Brotherhood-and-Jihadists-Tactical-alliance.aspx
-------------
Nasrallah blames Saudi Arabia for blasts at Iran's Beirut embassy
AFP
2013-12-04
BEIRUT: Hezbollah chief Hassan Nasrallah on Tuesday blamed Saudi Arabia for a twin suicide attack on the Iranian embassy in Beirut that killed 25 people last month.
The Abdullah Azzam Brigades, an al Qaeda affiliate that claimed responsibility for the attacks, "has an emir and he is Saudi, and I am convinced that it is linked to the Saudi intelligence services, which direct groups like this one in several parts of the world," Nasrallah told Lebanese broadcaster OTV.
While Hezbollah and its regional backer Iran support Syria's President Bashar al-Assad, Saudi Arabia backs rebel fighters seeking his ouster.
Full report at:
http://www.dawn.com/news/1060442/nasrallah-blames-saudi-arabia-for-blasts-at-irans-beirut-embassy
-------------
Hezbollah commander killed outside home in Lebanon
AP
2013-12-04
BEIRUT: A senior commander for the Lebanese militant group Hezbollah was gunned down Wednesday outside his home in southern Beirut, security officials said.
Hezbollah blamed Israel for the killing, something an official there quickly denied.
Hezbollah immediately announced the death of Hassan al-Laqis and described him as one of the founding members of the group, suggesting he was a high-level commander close to the party's leadership. It said in a statement al-Laqis was killed as he returned home from work around midnight, without offering details about how he died.
Full report at:
http://www.dawn.com/news/1060441/hezbollah-commander-killed-outside-home-in-lebanon
-------------
Syria's Assad to lead during transition: Minister
Dec 4, 2013
Syria's Bashar al-Assad will remain president and lead any transition agreed upon in Geneva peace talks planned for next month, a government minister insisted on Wednesday.
"If anyone thinks we are going to Geneva 2 to hand the keys to Damascus over (to the opposition), then he might as well not go," Information Minister Omran al-Zohbi said in remarks carried by the official SANA news agency.
"The decision rests with President Assad. He will lead the period of transition, if there is one. He is the leader of Syria... And he will remain the president of Syria."
Zohbi also said that Saudi Arabia, a strong backer of the rebels, should be excluded from the peace conference.
Full report at:
http://english.ahram.org.eg/NewsContent/2/8/88239/World/Region/Syrias-Assad-to-lead-during-transition-Minister.aspx
-------------
KSA spends SR530m on Syria relief programs
Dec 4, 2013
Interior Minister Prince Muhammad bin Naif, supervisor of the Saudi National Campaign for Syrians, has approved several relief programs for Syrian refugees at a cost of SR32 million.
The amount will be utilized to supply 3,000 new tents, 300,000 blankets, 200,000 jackets, 600,000 sweaters and other clothes to equip refugees against the severe cold during winter.
The Saudi charity will distribute emergency supplies through its offices in Jordan, Lebanon and Turkey. The campaign has already spent more than SR530 million on 81 relief programs for Syrians.
http://www.arabnews.com/news/487276
--------
Mideast
Turkey losing positive perception in Middle East
Dec 4, 2013
Positive perceptions about Turkey in the Middle East have decreased of late, with the sharpest drops registered in Egypt and Syria, according to a poll released yesterday by the Turkey Economic and Social Studies Foundation (TESEV). Despite this loss of popularity, Turkey is still seen as an important power in the region, with 60 percent of those polled supporting a greater regional role for Turkey, according to the study.
Conducted for the fifth time, the TESEV poll shows a considerable drop in Turkey's popularity over the course of the last three years. While 78 percent of respondents had a positive view of Turkey in 2011, this ratio dropped to 69 percent in 2012, and to 59 percent in 2013.
The most recent poll was conducted in 16 regional countries between August and September via telephone interviews.
Full report at:
http://www.hurriyetdailynews.com/turkey-losing-positive-perception-in-middle-east.aspx?pageID=238&nID=58958&NewsCatID=338
-------------
Abbas to act against Israel at UN if peace talks fail
December 04, 2013
RAMALLAH : President Mahmud Abbas has warned the Palestinians will take action against Israel through international bodies if peace talks fail, ahead of a visit by US Secretary of State John Kerry.
"The talks are going through great difficulties because of the obstacles created by Israel," Abbas told visiting Arab journalists late Monday at his headquarters in the West Bank city of Ramallah.
"If we don't obtain our rights through negotiations, we have the right to go to international institutions," he said. "The commitment to refrain from action at the UN ends after the nine-month period agreed for talks."
Full report at:
http://www.nation.com.pk/pakistan-news-newspaper-daily-english-online/international/04-Dec-2013/abbas-to-act-against-israel-at-un-if-peace-talks-fail
-------------
Two more Palestinians arrested in connection to Jerusalem stoning attack
Dec 4, 2013
Police arrested two more Palestinian youths from the east Jerusalem village of Zur Baher who are suspected in the rock-throwing attack which left a two-year-old Jewish child wounded in the nearby neighborhood of Armon Hanatziv last week, Israel Radio reported on Wednesday.
The arrests bring the total number of Palestinians allegedly involved in the attack who are currently in police custody to seven, according to Israel Radio.
According to police, the other five suspects who were arrested on Monday admitted to throwing stones at the vehicle carrying the toddler and re-inacted the incident. The suspects told investigators that they were motivated by hatred of Jews, according to Israeli media reports.
Full report at:
http://www.jpost.com/National-News/Two-more-Palestinians-arrested-in-connection-to-Jerusalem-stoning-attack-333932
-------------
Survey: Israelis in the US adopt political views of American Jews
Dec 4, 2013
NEW YORK – The longer Israelis live in the United States, the less critical of Israel they are likely to be, a new survey suggests.
The Internet-based survey of nearly 1,600 people divided respondents into two groups: those living in the United States for less than 10 years, and those living in the country for more than 10 years. Whereas 64 percent of the under-10-years group strongly agreed that when Israel is criticized they feel the need to defend it and show its positive side, the figure was 75 percent among the over-10-years group.
Full report at:
http://www.jpost.com/Jewish-World/Jewish-News/Survey-Israelis-in-the-US-become-more-like-American-Jews-333919
---------
Europe
UK soldier detained under Terrorism Act over 'nail bomb'
Dec 4, 2013
A serving UK soldier has been arrested under the Terrorism Act after a "suspicious device" was found at a house in Salford.
The device, understood to be a nail bomb, was discovered last week.
The soldier, 19, was arrested on Monday by military police in Germany and brought back to Britain to be questioned.
The BBC understands he has been questioned about suspected links to right-wing extremism.
Greater Manchester Police found the suspected nail bomb while executing a warrant in Mellor Street, Patricroft, on Thursday, following a tip-off about images of abuse on a computer.
A 20-year-old man was arrested on suspicion of possessing abusive images following the raid and police also recovered "several items of literature which could be viewed by some as potentially inflammatory".
Full report at:
http://www.bbc.co.uk/news/uk-25211945
-------------
UK to tackle 'Islamist extremism' after soldier's murder
Dec 4, 2013
Britain plans to classify "Islamist extremism" as a distinct ideology, British Prime Minister David Cameron said Dec. 3, as part the government's response to the murder of a soldier on a busy London street.
Cameron said he would implement recommendations he had received from a task force he set up after the murder of Lee Rigby in May, to try to stop people being radicalized by "hate preachers."
Two men are on trial for the killing. A court heard that one of them said it was an "eye for an eye" and revenge for what they considered to be Britain's wars against Muslims. Both have pleaded not guilty.
Full report at:
http://www.hurriyetdailynews.com/uk-to-tackle-islamist-extremism-after-soldiers-murder-.aspx?pageID=238&nID=59002&NewsCatID=351
-------------
UN force to 'attack other armed groups' in DR Congo
Dec 4, 2013
The United Nations on Tuesday announced that its troops will "attack other armed groups" in the Democratic Republic of Congo, after helping to defeat the M23 rebel force.
There is a "prospect of being able to attack other armed groups. Well, that's just what we are going to do," the head of UN peacekeeping operations, Herve Ladsous, said in the northeastern city of Goma, capital of strife-torn North Kivu province.
http://english.ahram.org.eg/NewsContent/2/9/88184/World/International/UN-force-to-attack-other-armed-groups-in-DR-Congo.aspx
-------------
Britain calls for strong action against Syrian President Assad
Kounteya Sinha,TNN | Dec 3, 2013
LONDON: Britain has called for stern action against Syrian president Bashar al-Assad for the appalling human rights violations that have been carried out, with his consent.
The United Nations for the first time on Monday directly named Syrian president Bashar al-Assad in being involved in serious war crimes, during the ongoing conflict in his country.
UN human rights head Navi Pillay said that evidence had implicated the highest levels of the Syrian government in war crimes and crimes against humanity.
Foreign Secretary William Hague reacted to the comments on Tuesday and said he endorses UN High Commissioner's comments on Assad's responsibility for regime's appalling human rights record.
Full report at:
http://timesofindia.indiatimes.com/world/uk/Britain-calls-for-strong-action-against-Syrian-President-Assad/articleshow/26805980.cms
-------------
South Asia
President Yameen begins well, yet road-blocks remain
By N SathiyaMoorthy | December 4th, 2013
True to his public commitment on election to the nation's highest office, Maldivian President Abdulla Yameen has extended an arm of all-round reconciliation. The MDP opposition, whose nominee and former President Mohamed Nasheed lost the polls by a narrow margin, has also risen to the occasion. Yet it will require all their collective will and commitment to stay the course, with scheduled elections to local councils and the parliament possibly occasioning a return to political adversity, if not unacceptable hostility.
Symbolising the reconciliation was the prompt MDP withdrawal of the no-trust motion against Deputy Speaker in Parliament, Ahmed Nazim who belongs to President Yameen's Progressive Party of Maldives (PPM). As if by cue, the government side rendered a similar move against Speaker Abdulla Shahid ineffectual. President Yameen had to silence murmurs of protest from the PPM camp after two party MPs withdrew from the no-trust move against the speaker. It sent out 'confusing signals' but only for a while. The murmurs have died down and the reconciliation has held.
Full report at:
http://minivannews.com/politics/comment-president-yameen-begins-well-yet-road-blocks-remain-72765
-------------
Awami League firm on polls despite boycott threats
December 4, 2013
Premier Sheikh Hasina told leaders of an alliance led by her pert that polls will be held on schedule "whether anyone participates or not"
Unfazed by boycott threats from the opposition, an alliance led by the ruling Awami League has decided to go ahead with the January 5, 2013 general elections in Bangladesh.
"The election must be held and the constitutional process will have to be continued," a senior Awami League leader quoted Premier Sheikh Hasina as saying at a late night meeting of the alliance.
Ms. Hasina told the meeting that the polls be held on schedule "whether anyone participates or not". She, however, added that if the polls were not held under any circumstances, "the government would follow the Constitution", the Daily Star newspaper reported.
Her comments came as main opposition Bangladesh Nationalist Party (BNP) stayed off the polls while ruling alliance's crucial partner Jatiya Party of former military ruler H.M. Ershad on Tuesday said it too decided to back off due to lack of "proper atmosphere".
Reports said two top leaders of Jatiya Party, Anisul Islam Mahmud and Ziauddin Bablu, who are members of the reconstituted poll-time cabinet, attended the meeting on Tuesday night and suggested the polls be held on time and expected Mr. Ershad to eventually reverse his decision.
The BNP and its allies have organised a series of blockades and strikes to push their demand for postponing the polls. Violence linked to political unrest since October claimed over 50 lives.
Full report at:
http://www.thehindu.com/news/international/south-asia/awami-league-firm-on-polls-despite-boycott-threats/article5421549.ece
------------
'Red ball' blows minor girl's wrist off in Bangladesh
Dec 4, 2013
Like all other days Lima, a three-and-a-half-year-old girl, sporting a butterfly hair band, went out of her house for play around 8am yesterday but a twist of fate tore her life apart. As she noticed a red ball-like object lying in the dust in front of their house at 494/1 of East Kafrul area of the capital she went over to it to check it out. When the girl picked it up, the crude bomb wrapped in red tapes went off with a big bang severing her right wrist. She is now suffering at National Institute of Traumatology and Orthopaedic Rehabilitation (Nitor). Abul Khayer, a residence of the area, witnessed the incident as he was passing by the area. He took the child to Al-Helal Hospital.
Full report at:
http://www.dhakatribune.com/bangladesh/2013/dec/04/%E2%80%98red-ball%E2%80%99-blows-minor-girl%E2%80%99s-wrist#sthash.ok5HFfCK.dpuf
-------------
Be patient, the Afghans are fed up with Karzai
December 04, 2013
As Afghan President Hamid Karzai's calculated and risky backtracking on the US-Afghan security agreement puts him on a collision course with most Afghans, the United States needs to demonstrate patience, take the Afghan public's side and be tactful at a sensitive time in a highly volatile part of the world.
Observers describe Karzai's actions as erratic, arrogant or impulsive. Others suggest that he be ignored or bypassed. To some, he seems to be displaying signs of exhaustion and irrationality. These views miscast Karzai's motives and miss the point of his tactical political manoeuvring. He is engaging in canny clan-style brinksmanship.
Full report at:
http://www.nation.com.pk/pakistan-news-newspaper-daily-english-online/international/04-Dec-2013/be-patient-the-afghans-are-fed-up-with-karzai
----------
India
No scope of Pakistan winning a war: PM Manmohan Singh
Dec 04 2013
New Delhi : Prime Minister Manmohan Singh on Wednesday said there was no possibility of Pakistan winning any war against India in his "lifetime".
"There is no scope of Pakistan winning any such war in my lifetime," he told reporters.
He was reacting to a reported statement of Pakistan Prime Minister Nawaz Sharif in a daily newspaper that Kashmir is a flash point which "can trigger a fourth war" with India.
The reported statement was published in an influential daily of Pakistan, which has since been denied. Sharif's office said he had never "uttered these words" in his address to the Pak-occupied Kashmir Council and described the report as "baseless, incorrect and based on malafide intentions".
His office also said that Sharif was of the opinion that any issue of conflict between Pakistan and India has to be resolved through peaceful means.
http://www.indianexpress.com/news/no-scope-of-pakistan-winning-a-war-pm-manmohan-singh/1203211/
-------------
Will target news outlets over false report on Tendulkar: Pakistani Taliban
PTI | Dec 4, 2013
ISLAMABAD: The Pakistani Taliban has said it will target journalists and media organisations for "fabricating" the statement of its spokesperson asking news outlets not to pay tribute to cricket legend Sachin Tendulkar on his retirement.
The Shura council of Tehrik-e-Taliban Pakistan, headed by its new chief Mullah Fazlullah, decided to attack the journalists and media organisations which had carried statement of their spokesman Shahidullah Shahid regarding Tendulkar and Pakistani cricket team captain Misbah-ul-Haq.
"In Tuesday's meeting, we decided to target only journalists and media organisations which twisted the recent statement of Shahidullah Shahid and tried to tarnish Taliban's image nationally and internationally," an unnamed senior Taliban leader and member of the Shura was quoted as saying by The News daily.
Full report at:
http://timesofindia.indiatimes.com/sports/cricket/series-tournament/sachin-tendulkar-hangs-his-boots/top-stories/Will-target-news-outlets-over-false-report-on-Tendulkar-Pakistani-Taliban/articleshow/26852472.cms
-------------
Maldivian President Yameen to visit India on December 22
Indrani Bagchi,TNN | Dec 3, 2013
NEW DELHI: India has invited the re-appointed defense minister of Maldives, Mohammed Nazim, this week as both countries pick up the threads of a vital security relationship after bilateral ties were badly bruised over the past year. His visit will be followed by the maiden visit of President Abdulla Yameen who will make New Delhi his first port of call on December 22 after taking up his new job.
India does not want to leave a vacuum in Maldives which has already seen too many outside powers fishing in troubled waters.
In the past year, the persistent political instability saw Pakistani jihadi groups making forays into Maldives, which appears ripe for an Islamist wave. The US also wanted to stitch a status of forces agreement with Male that India opposed. Maldives plays a vital security role for New Delhi in the Indian Ocean, and, in 2008, it was brought under the Indian security umbrella. Former president Waheed received an US assistant Secretary of State, Bob Blake, who proposed the agreement. Waheed would have agreed if India did not weigh in with Washington. India reckons that if the US sets up bases in Maldives, China would find some reason to make its own presence felt. Both these would impact India negatively.
Full report at:
http://timesofindia.indiatimes.com/india/Maldivian-President-Yameen-to-visit-India-on-December-22/articleshow/26805321.cms
-------------
Indian Mujahideen using hate images to recruit youths
Alok K N Mishra,TNN | Dec 4, 2013
RANCHI: Indian Mujahideen is using images and video clips of the Babri Masjid demolition and the 2002 Gujarat riots to brainwash Ranchi youth into carrying out bomb blasts in various parts of the country, sources part of an NIA training programme revealed on Tuesday.
IM's strategy has been extremely successful in the development-starved Jharkhand, from where more than 15 people have been recruited over the last 13 years. Though most of these terrorists have been arrested, NIA is still looking for four more boys and has announced Rs 5-lakh reward for information about them.
Full report at:
http://timesofindia.indiatimes.com/india/Indian-Mujahideen-using-hate-images-to-recruit-youths/articleshow/26814337.cms
-------------
Africa
Twenty-one bodies found in Mali mass grave
Dec 4, 2013
Twenty-one bodies were found overnight Tuesday in a mass grave near Bamako, believed to be the remains of soldiers close to Mali's ousted president Amadou Toumani Toure, officials said.
"We have found 21 bodies, probably of 'red beret' soldiers, in a mass grave in Diago. The bodies were exhumed," a Malian justice ministry official said. A security official told AFP that "identity cards found in the mass grave seem to confirm that they were missing 'red beret' soldiers." The discovery near the capital Bamako comes a week after the arrest and detention of Amadou Haya Sanogo, leader of the March 22, 2012 coup against Toure that plunged Mali into chaos.
Full report at:
http://www.hurriyetdailynews.com/twenty-one-bodies-found-in-mali-mass-grave.aspx?pageID=238&nID=59000&NewsCatID=357
-------------
Nigeria recommends trial for 500 held during Boko Haram raids
Dec 4, 2013
Nigeria said on Wednesday that 500 people who were arrested during security operations against Boko Haram militants in three northeast states should be put on trial for terror offences.
The 500 are among nearly 1,400 detained in Borno, Adamawa and Yobe states between July and September, the country's defence spokesman, Chris Olukolade, said in a statement.
Human rights groups have criticised what they said were arbitrary detentions as well as torture and deaths in custody, calling for suspects to either be put on trial or released without charge.
Full report at:
http://english.ahram.org.eg/NewsContent/2/9/88264/World/International/Nigeria-recommends-trial-for--held-during-Boko-Har.aspx
-------------
Survey: Libyans optimistic, want security and democracy
Dec 4, 2013
TRIPOLI – A public opinion survey financed by the Danish Foreign Ministry and conducted by the American National Democratic Institute (NDI) and the Danish JMW Consulting makes some revealing insights into the views of Libyans on security, democracy, militias, Islam, political parties, women etc.
The survey entitled "Seeking Security", released this week, was conducted last month using face-to-face interviews of 1,200 randomly chosen Libyans from Libya's 13 Municipalities based on the 2006 census. This is the second opinion survey conducted, the first being in May.
The survey makes six main sets of conclusions including; Libyans are optimistic , are concerned by security, support democracy, are unhappy with the GNC's performance, reject militias, approve of quotas and an increased role for women in politics.
Full report at:
http://www.saudigazette.com.sa/index.cfm?method=home.regcon&contentid=20131204188532
-----------
North America
US for consensus, says no stake in Bangladesh polls
Dec 4, 2013
The United States and its friends in the international community does not have a stake in the upcoming elections in Bangladesh, Nisa Desai Biswal said in Washington.
But, the US would like to see a process of free, fair, credible and violence-free polls, the assistant secretary for south and central Asian affairs said in a press briefing Tuesday.
"For that, both major political parties need to come together," she said stressing that any solution will not come from the international community.
"The solution is there within the people and the institutions and parties of Bangladesh," she said. "What needs to happen for that is dialogue that allows a compromise for elections with the confidence of the people."
Full report at:
http://www.dhakatribune.com/2013/dec/04/us-consensus-says-no-stake-polls#sthash.gRA6vUtN.dpuf
-------------
US not going away from Pak-Afghan region after '14: official
ANWAR IQBAL
2013-12-04
WASHINGTON, Dec 3: The United States will not go away from the Pak-Afghan region after 2014 when it plans to withdraw most of its combat troops from Afghanistan, a senior US official said on Tuesday.
Assistant Secretary of State for South and Central Asia Nisha Desai Biswal also stressed the need for improvement in Pakistan-India relations, which she said would not only bring stability to Afghanistan but would also help the entire region.
"Our engagement with the Pak-Afghan region is an enduring one. We are not going away. We are not going anywhere," she said.
At her first interaction with the South Asian media after taking charge of her office, Mrs Biswal covered a wide-range of issues, from elections in Bangladesh and India to the US withdrawal from Afghanistan.
Full report at:
http://www.dawn.com/news/1060361/us-not-going-away-from-pak-afghan-region-after-14-official
-------------
US army halts shipments from Afghanistan via Pakistan
Dec 4, 2013
The US military has halted its ground cargo shipments from Afghanistan via Pakistan because of the risk to drivers after protests over US drone strikes.
Pentagon spokesman Mark Wright said this would affect outgoing shipments of equipment and other goods from US units on Afghan soil.
He said deliveries could be resumed "in the near future".
Pakistanis have blocked the US main supply route to Afghanistan, blaming the drones for causing civilian deaths.
Protesters have been harassing truck drivers, turning back vehicles carrying Nato provisions.
The blockade is centred on a road in Pakistan's north-western Khyber Pakhtunkhwa province,
Islamabad says it is committed to allowing supplies through, but as yet has done nothing to stop the vigilante action, which has caused huge disruption, correspondents say.
Full report at:
http://www.bbc.co.uk/news/world-asia-25210710
-------------
White House steps up bid to thwart new Iran sanctions
December 4, 2013
WASHINGTON: The White House warned Congress Tuesday that passing new sanctions on Iran – even with a delayed launch date – would give Tehran an excuse to undermine an interim nuclear deal.
White House spokesman Jay Carney also warned a bipartisan coalition of senators who are suspicious of the pact reached last month and want to pile up more punishments for Tehran, that their move would be seen as a show of "bad faith" by US partners abroad.
The White House stepped up its rhetorical push to forestall new sanctions amid intense behind-the-scenes lobbying by top Obama administration officials targeting key lawmakers from both Democratic and Republican parties.
Full report at:
http://tribune.com.pk/story/640956/white-house-steps-up-bid-to-thwart-new-iran-sanctions/
-------------
US court orders Iran to pay $9 million to families of 1997 Jerusalem terror attack victims
2013-12-04
For the first time in US history, victims of Iranian financed terror operations in Israel won a potential seizure of Iranian funds to satisfy a default judgment against Iran relating to a 1997 triple suicide bombing in Jerusalem, NGO Shurat Hadin – Israel Law Center announced on Wednesday.
The $9 million judgment entered in favor of the families of the five victims of the attack by a US federal court in California on November 27, is the first time that such victims have found Iranian assets in the US which could be and may actually be transferred to them.
The organization helped the American families of five of those wounded in the attacks to begin legal proceedings against Iran in 2001 for their sponsorship of Hamas, the Palestinian Islamist group which claimed credit for the attack on Ben Yehuda Street.
Full report at:
http://www.jpost.com/Iranian-Threat/News/US-court-orders-Iran-to-pay-9-million-to-families-of-97-Jlem-terror-attacks-333952
----------
India, Pak want a stable, secure Afghanistan: US
2013-12-04
Obama Administration's Assistant Secretary of State for South and Central Asia has said that both India and Pakistan want a stable and secure Afghanistan and praised New Delhi's role in development of the war-torn country.
"India, Pakistan and all the countries in the region want more than anything is a stable and secure Afghanistan. That is the point of convergence for all the countries in the region, and we think that is the point for constructive engagement with all the countries in the region. That has been our effort and our policy," Assistant Secretary of State for South and Central Asia Nisha Desai Biswal said.
Full report at:
http://www.thehindu.com/news/international/world/india-pak-want-a-stable-secure-afghanistan-us/article5420582.ece
----------
Snowden files: MI5 chief to justify leaks claim in public
2013-12-04
A committee of British MPs on Tuesday challenged the existing system of oversight for the security services by asking the head of the MI5 — the British domestic security service — to justify his claims that the Guardian had endangered national security by publishing leaks from the former NSA contractor Edward Snowden.
In an unprecedented step, Mr Keith Vaz, the chairman of the home affairs select committee, announced that spy chief Mr Andrew Parker had been summoned to give evidence in public to the House of Commons committee next week.
Full report at:
http://www.thehindu.com/news/international/world/snowden-files-mi5-chief-to-justify-leaks-claim-in-public/article5421059.ece
----------
URL: https://newageislam.com/islamic-world-news/mqm-chairman-links-jamaat-i/d/34712