Age Islam News Bureau
10 Jul 2017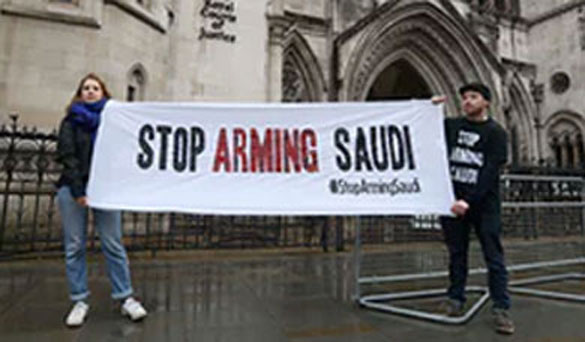 UK arms sales to Saudi Arabia under threat as court ruling on terrorism looms
----
• Mosul Loss Huge, But Not Deadly, Blow To 'Caliphate'
• Court Ruling Stands To Stop UK Arms Sales to Saudi Arabia
• Photo of a Muslim Family Goes Viral On American Independence Day
• Muslim Doctor, Hindu Compounder Spread Message of Peace in Violence-Hit Basirhat
• Gujarat: Una Accused Wanted To Project Dalits as Muslims
• Report Says British Imams Must Understand "Modern British Life"
Arab World
• Mosul Loss Huge, But Not Deadly, Blow To 'Caliphate'
• Court Ruling Stands To Stop UK Arms Sales to Saudi Arabia
• 16-Year-Old Boy among Five Hezbollah Fighters Killed In Syria
• Public Discontent Increasing in Terrorist-Held Idlib
• Syrian Army Nearing Last Main Bastion of ISIL in Eastern Homs
• ISIL Suffers Heavy Casualties in Battle against Syrian Army in Homs
• Army Repels Terrorists' Attacks against Hama Power Plant
• Iraqi Anbar tribes plan on filing international lawsuits against Qatar
• Iraqi PM announces victory over Daesh terrorists in Mosul
--------
North America
• Photo of a Muslim Family Goes Viral On American Independence Day
• Quebec City Muslims Now Have a Place to Bury Dead, After Years of Trying
• American Muslim Institute brings large crowd
• Muslims can be Americans, Treating them Otherwise is Un-American
• Virginia Muslim attempts U.S. military infiltration
--------
India
• Muslim Doctor, Hindu Compounder Spread Message of Peace in Violence-Hit Basirhat
• Gujarat: Una Accused Wanted To Project Dalits as Muslims
• Dalits Join Muslims in Protest against Lynchings
• NIA Notices to Mosque, School Linked To Mirwaiz Umar Farooq
• In riot-hit Basirhat, Muslims pool money to help Hindu neighbours
• Former CJ questions SC's wisdom of examining Personal laws
• Kashmir may soon have a de-radicalisation department
• Sushma Swaraj slams Pakistan's Sartaj Aziz in series of blistering tweets
• India slams Pakistan for glorifying Burhan Wani
• J&K: Pakistan violates ceasefire along LoC in Poonch; Army retaliates strongly
• Deputy SP's Mohammad Ayub Bhat lynching case cracked, 14 held: Police
• Blocked: Valley tabloid's FB page that had Burhan Wani sketch
--------
Europe
• Report Says British Imams Must Understand "Modern British Life"
• Muslim Leaders Begin European Tour To Protest against Terror
• UN Slams Pakistan over Repeated Terrorist Attacks on Schools, Police Abuse of Afghan Refugees
• Frenchman arrested with Belgians charged over terror
• Germany starts pulling out troops from Turkish base
• Prisons face a bigger rethink to tackle threat of radicalisation
--------
Pakistan
• Pakistan Sets Rules for Banks Wanting To Be Fully Sharia Compliant
• CTD Invites VCs Of 11 Universities To Briefing On Terrorism
• DPO killed, two other police officials injured in Chaman blast: reports
• Journalist returns home after 20 hours in detention
• At least 2 FC personnel killed, 5 injured in Kurram Agency blast
• 3 terror suspects held from Quetta, Zhob
• Three terrorists of banned outfits held with arms
--------
South Asia
• Taliban to Be 'Tagged' As Terrorists, Warns Ghani
• Drone Strike Leaves 7 Militants Dead In Paktia Province
• Deadly Airstrike Target ISIS Leaders In Jawzjan In North Of Afghanistan
• Hekmatyar asks tribal elders to maintain security in their regions
• From star student to militant leader
• Persuade Myanmar to take back Rohingyas
• Taliban suffer casualties in joint operations conducted in Logar
--------
Southeast Asia
• Indonesian Islamic Boarding Schools to Counter Radicalism through Digital Program
• Zaid to Jakim: Help Muslims, Don't Just Preach
• Daesh Real Enemies of Umno: Def Min of Malaysia
• Terrorist organization – Jemaah Islamiyah rises in Indonesia
• Christian leaders should engage with mainstream Muslims, forum told
• Need for more open dialogue with Muslim groups
• At G-20 Summit, Jokowi Calls for Unity in Fighting Terrorism
--------
Mideast
• Huge Crowd Rallies in Istanbul against Turkey's Post-Coup Crackdown
• Yemeni Chief Of Staff Says Houthis Carried Out Mass Executions
• US, Israel fuel crises in Mideast to sell more arms: Iran official
• Israeli military court begins trial of Palestinian human rights campaigner
• Arab coalition raids destroy Houthi sites off Jazan
• Senior MP: Iran to keep up advisory support to Syria
• Iran def. min., SNSC chief hail full liberation of Iraq's Mosul
• Arms cache of Jaish ul-Adl terror group seized in SE Iran
• Israel not bound by US-Russian ceasefire deal in Syria: Liberman
• Erdogan plans regional tour to help resolve Qatar row despite brushoff
--------
Africa
• Al-Shabab Militants Behead 9 Civilians in Southeastern Kenya
• Libya's General Haftar: From Captivity and Exile to 'Conqueror of Terrorism'
• Civil war cancels S Sudan's independence celebration
• Nigeria: Sultan Advises Parents to Monitor the Activities of Their Children On Social Media
• Uganda: Islamic Banking Can Succeed in Largely Christian Society
• 80 African migrants rescued off Libyan coast
Compiled by New Age Islam News Bureau
URL: https://www.newageislam.com/islamic-world-news/mosul-loss-huge-deadly-blow/d/111821
--------
Mosul loss huge, but not deadly, blow to 'caliphate'
July 10, 2017
Baghdad - Mosul was the largest city in the "caliphate" proclaimed by the Islamic State group and its loss is a huge blow to the jihadists' statehood experiment — but not a fatal one. The northern Iraqi city was where IS leader Abu Bakr al-Baghdadi made his only known public appearance in July 2014, announcing himself to the world as "caliph" during a Friday sermon at a mosque in the Old City.
It took tens of thousands of Iraqi forces backed by Western warplanes and special forces nearly nine months to defeat the jihadists, who leave behind them a heavily damaged city and exhausted security forces.
With Mosul, a city that had a population of around two million three years ago, the "caliphate" loses one of the main hubs of its administration and IS one of the most potent symbols of its might. "It is a major blow to IS's prestige," said David Witty, an analyst and retired US special forces colonel.
The recapture of Mosul, hailed as a decisive step towards ending this unprecedented episode in the history of modern jihad, is the latest in a long string of setbacks for IS.
At its peak, the jihadist group controlled a territory roughly the size of South Korea or Jordan and with a population of more than 10 million. It has now lost more than half of the land and three quarters of the population. And a major offensive on its other de facto capital, the Syrian city of Raqa, is gathering momentum. The group — whose motto was "remain and expand" — has not conquered new areas around the core of its "caliphate" since 2015, has lost thousands of fighters and is less attractive to foreign jihadists than it once was. The fall of Mosul further reduces the so-called caliphate's territorial contiguity, leaving more pockets of IS-held land completely isolated. Yet analysts warn it is too early to declare final victory.
"We should not view the recapture of Mosul as the death knell for IS," said Patrick Martin, Iraq analyst at the Institute for the Study of War, adding the group "still holds significant urban terrain," notably in Syria.
YEARS OF INSTABILITY
Even in Iraq, where the jihadists lost more ground and only retain seven percent of the territory they once had, declaring the caliphate dead "implies that IS can no longer control terrain and govern," he said. Yet "if security forces do not take steps to ensure that gains against IS are sustained for the long-term, then IS could theoretically resurge and recapture urban terrain," Martin said.
As it attempts to save the remnants of the caliphate, the group is likely to intensify a transformation it has already begun by focusing more of its resources on guerrilla attacks and bombings. "In the near-term in Iraq, IS will switch to terrorism and insurgency instead of trying to openly control major areas," Witty said. Martin said there was already a pattern of major IS attacks following military setbacks. The deadliest ever bomb attack in Baghdad, in which more than 320 people were killed last year, came after the jihadists lost their emblematic bastion of Fallujah.
The group also staged a major commando attack on the Kurdish-controlled city of Kirkuk days after the launch of the assault on Mosul, which was Iraq's biggest military operation in years. With its dreams of statehood on hold, IS is expected to revert to those types of attack and do everything it can to deny the Iraqi government any claim it has been eliminated.
"It is very easy to see this coming, and Iraq will likely be plagued by insecurity for years to come," Witty said. The reach of IS ideology remains one of the greatest threats in the world after three years that saw foreign affiliates mushroom far beyond the core of the "caliphate" and thousands of foreign fighters join the battlefield, with some returning home.
http://nation.com.pk/international/10-Jul-2017/mosul-loss-huge-but-not-deadly-blow-to-caliphate
--------
Court ruling stands to stop UK arms sales to Saudi Arabia
Jul 10, 2017
The UK High Court has reviewed a plea against the country's arms sales to Saudi Arabia in the light of the kingdom's bloodshed in Yemen, and is due to issue its opinion, which could stop the sales.
The court has been studying the case lodged with it by UK-based Campaign Against the Arms Trade NGO since February, and is due to issue its ruling on Monday, The Guardian reported.
Back at the time when the review began, Rosa Curling from the law firm Leigh Day, which is representing the NGO, said she believed the decision to continue to grant new licenses for the sale of arms to Saudi Arabia was "unlawful".
"There is increasingly evidence being unearthed that the Saudi-led coalition has committed serious breaches of international humanitarian law in Yemen," she said.
The European Council obliges the UK to deny an export license if there is "a clear risk" that the arms might be used in violation of international humanitarian law.
The UK has licensed more than £3 billion ($3.8 billion) of arms to Saudi Arabia in the last two years alone.
Saudi Arabia has been bombing Yemen since March 2015 in a bid to restore Saleh's successor Abd Rabbuh Mansur Hadi, a Riyadh ally, to power. Yemen's crisis began after Hadi stepped down as president and refused to negotiate power-sharing with the country's Houthis.
The United States has also been generously rewarding the kingdom with hefty arms deals during the invasion. Both the UK and the US are further lending intelligence and logistical support to the bombing campaign.
In March, UK-based rights body Amnesty International condemned the US and UK for their "shameful" weapons transfers to Saudi Arabia, saying Washington and London were fueling the serious human rights violations and war crimes in Yemen committed by Riyadh. It said the countries had sold over $5 billion worth of weapons to the Riyadh regime since the onset of the invasion, more than 10 times the $450 million they have allegedly spent to help save Yemeni civilians.
http://www.presstv.ir/Detail/2017/07/10/527981/Saudi-Arabia-UK-Yemen
--------
Photo of a Muslim Family Goes Viral On American Independence Day
July 07, 2017
When millions of Americans were celebrating the country's Independence Day on July 4, the heart warming photo was also being shared as a multicultural symbol holding the ideals behind Independence Day
An image taken in a New York subway depicting a Muslim child of Asian descent grinning at an infant held by a white woman, who is also smiling has gone viral celebrating the Independence Day and the cultural diversity in America.
Rachel MacKnight a New York City based actress who took the photo on the New York City's C Train, tweeted the image on July 2 captioning it as: "Taken today on the C Train. Thiiiiiis is what makes America great. Happy 4th of July, y'all."
With more than 12,000 retweets and 50,000 likes the beautiful photo has gone viral, reports The Huffington Post.
When millions of Americans were celebrating the country's Independence Day on July 4, the heart warming photo was also being shared as a multicultural symbol that holds the ideals behind Independence Day.
The heartwarming photo in which two children of different religion and race are sitting next to each other along with their families while sharing a sheer moment of happiness together sedates the fear that Donald Trump's regime has set about damaging the cultural diversity of the country.
Several people also joined the celebration by the commenting on the photo and harmonised the image as a display of the United States and New York City's diversity, as well as an instance of community love.
Some of them shared the photo they took of strangers from different culture and race connecting with each other.
A few months ago, native New Yorker Jackie Summers posted a photo on Facebook and Twitter that shows a Jewish Hasidic man and his wife sitting on a New York City subway car next to a Muslim woman in hijab feeding an infant.
The photo was caption: "A Taoist (me) gives up his seat so a Hasidic couple could sit together. They scoot over so a Muslim mother could sit and nurse her baby, on Easter Sunday. This is my America: people letting people be people."
Since the election of President Donald Trump, several images were captured on New York City subway highlighting the country's diversity.
In February, for instance, subway riders were photographed cleaning swastikas off of a train's walls, and in March, a young Latina woman was filmed shutting down a rider's xenophobic rant.
http://www.dhakatribune.com/around-the-web/2017/07/07/photo-muslim-family-goes-viral-american-independence-day/
--------
Muslim doctor, Hindu compounder spread message of peace in violence-hit Basirhat
Jul 10, 2017
Sumanta Ray Chaudhuri
Patients coming out of doctor Kaseed Ali's chamber in violence-hit Trimohini area of Basirhat town are carrying, apart from the medical prescription, advice on communal harmony.
Ali and his compounder Deboprasad Boiragi are working together for nearly 35 years. Ali has made it a point to tell each of his patients that Boiragi has been no less than a family member and any loss to him would have been a personal loss to the Ali family.
"Over the last five days, I was always tense about his family's security. I told the local leaders from my community to ensure his safety. Fortunately, since I have been practising here for the past 45 years, the leaders took my advice seriously and Debu's family is safe," Ali said.
"I find no difference between Debu and my two sons. I consider his wife as my own daughter-in-law and his kids as my own grandchildren," Ali says.
Boiragi said a doctor's chamber is the right place to spread the message of communal harmony.
"We are telling everyone how our professional engagement led to emotional bonding between two families and this was normal for Basirhat. It is not that patients are unaware of these facts. But it is time we remind each other of the true character and traditions of Basirhat," Boiragi said.
Close to his chamber is a medicine shop run by Benoy Krishna Pal, who was horrified by the violence at Trimohini. He even planned on leaving the town with his family, until a Muslim friend, Gazi, asked him not to.
However, Gazi refused to take any credit.
"I did not do anything special to be thanked for. Anybody would have done the same to save a childhood friend. We are like brothers," he said.
http://www.hindustantimes.com/india-news/muslim-doctor-hindu-compounder-spread-message-of-peace-in-violence-hit-basirhat/story-BNTKd8qVhqRyeNneGVAJMM.html
--------
Gujarat: Una accused wanted to project Dalits as Muslims
Ashish Chauhan
Jul 10, 2017
AHMEDABAD: The chargesheet filed by the police last year in the Una atrocity case contains more evidence of the mischief that the accused had in mind. The forensic science laboratory (FSL) had retrieved parts of the video of the incident that were deleted by the accused. The transcript of one of such clipping reveals that the self-styled 'gau rakshaks' wanted to project the dalits as Muslims.
It may be recalled that on July 11 last year, four dalit youths — Ashok, Ramesh, Vashram and Bechar Sarvaiya — all of whom were Hindus were flogged by the 'cow vigilantes' in public, allegedly for cow slaughter. The video of their brutal thrashing had gone viral and triggered shock and horror across India. It had also led to widespread protests across the country. The CID (crime) had filed a chargesheet with the transcript of the video last year but the document was made public recently.
The transcript annexed to the chargesheet filed in Una court quotes the accused as saying: "Tell the truth...you belong to which community? Don't do drama here...stop crying.... Beat him. What is your name? I know you very well ... Your name is Aarif.... Why did you run away...? Tell me will you ever run away...? You slaughtered (the cow). [Then the dalit is abused]. Take this from me [the accused hurls abuses]. Grab that woman [the mother of the four dalit youths] also and take her [the accused uttered abusive words about raping the woman]. You [to Hindu dalit youth they had named Arif] were ferrying beef the other day in a tempo around a month ago...."
The gau rakshaks then abused the state government and said, "Don't scream and stop beating that woman. Prakash stop it and thrash them. Let us tie them to the vehicle and parade them, then only will they understand this."
The chargesheet says that the accused had made the video viral and because of this widespread violence had broken out in the state causing losses worth crores. One policeman had also lost his life. Besides, many dalits had tried to end their lives and one of them had died. The accused had, therefore, committed the offence of spreading hatred among communities, the chargesheet says.
After the incident, the perpetrators had called a meeting where Shantilal Monpara, one of the masterminds of the offence and trustee of Sanatan Trust, instructed his aides on how to fake evidence in the case.
"After the intervention of dalit activists, the FIR was lodged in the case. But Monpara had then called a meeting and asked his aides to start circulating a video of the incident to establish how dalits were slaughtering cows. Monpara along with other accused had then asked the accused, Nitin Kothari, to tell the police that when they reached the spot (where Sarvaiyas were skinning), the legs of the cows were moving," the chargesheet says.
http://timesofindia.indiatimes.com/city/ahmedabad/culprits-projected-dalits-as-muslim/articleshow/59518997.cms
--------
Report Says British Imams Must Understand "Modern British Life"
09 JUL 2017
An inquiry headed by Dominic Grieve MP discovered British Muslims require Muslim leaders who are "fit for purpose." The leaders must also comprehend "modern British life." The report stated that UK mosques should appoint imams who were born in Britain and speak fluent English. This is needed as Islamic communities in Britain need better leadership.
The report claimed Muslims isolated from mainstream British Islam hold meetings away from the mainstream mosques. They must be brought back for better integration. These findings were the result of a national inquiry spanning 18 months. The survey went over Muslim participation in community and public life. The call to bring the community together was called by Mohammed Altaf-Khan, Oxford's former Lord Mayor. Citizens UK did the legwork. The inquiry spans a total of 76 pages and took 18 months to investigate and write. It makes a number of recommendations suitable for civilians, the government and businesses for the improvement of Muslim community and public life. Altaf-Khan said that a number of mosques in the city were already like this. He warned that Muslims who are in isolated groups needed to be reinserted into the mainstream. He went on to say that Oxford is quite good when it is a matter of integration. A few mosques have already started to follow the recommendations made in the report. To give an example, Ashan Amin, a UK-born British Muslim was appointed the Imam of Oxford Central Mosque. The same mosque will also hire another Imam who was born in the UK and consequently studied at the St. Anthony's College. The list of recommendations stated in the report includes a code of conduct applicable to all UK mosques. There should be voluntary standards crafted with the aim to improve women access and reform the mosque committees.
The report warns since other mosques appoints imams by a voting system they, "are unlikely to change much." Altaf-Khan pointed out that there are a number of extremely isolated groups whose views are different from the mainstream British Muslim population. The former does not integrate into UK society. He reiterated the requirement to set up a specific advisory board which will bring policymakers, imams, and scholars together. Only by this way the isolated groups can be brought back to table.
http://www.worldreligionnews.com/religion-news/report-says-british-imams-must-understand-modern-british-life
--------
Arab World
16-year-old boy among five Hezbollah fighters killed in Syria
10 July 2017
The recruitment of children to battle in the Syrian war has seen a sharp rise in recent years, whether carried out by ISIS or by Hezbollah militias.
According to the Lebanese websites on Sunday, five young men were killed in the battles in Syria, the youngest being a 16-year-old boy.
Mahdi Hassan Abu Hamdan died in the Badia battles against opposition factions.
Social media pages circulated his photo with a voice recording of him. Mehdi's father, a Hezbollah member, also appeared in a video during the funeral of his son.
UNICEF has warned against the recruitment of children in war, while the International Criminal Court has defined child recruitment as a war crime.
https://english.alarabiya.net/en/News/middle-east/2017/07/10/16-year-old-boy-among-five-Hezbollah-fighters-killed-in-Syria-.html
--------
Public Discontent Increasing in Terrorist-Held Idlib
Jul 09, 2017
According to Aba news website, the security situation in Idlib is tense and people are living in chaos and horror in the province.
"The checkpoints where the cars are inspected are disordered and chaotic and the terrorist groups have lost their unity, leading to increased feeling of insecurity among people," it added.
"The people in Idlib are highly angry at the awful security situation in the city and they are almost every day witnessing blasts; that's why they call Idlib city as a mine field," the website reported.
Well-informed sources in Northwestern Syria reported earlier today that some of the family members of the gunmen that had been relocated to militant-held regions in Idlib have returned to Damascus province after they were treated violently by local militants.
The sources said that 20 family members of the gunmen that had previously refused to endorse peace with the Syrian Army in the town of al-Tal in Damascus province and had been relocated along with their families to Idlib province have returned to al-Tal again.
Full report at:
http://en.farsnews.com/newstext.aspx?nn=13960418001498
--------
Syrian Army Nearing Last Main Bastion of ISIL in Eastern Homs
Jul 09, 2017
After imposing control over the strategic region of Jubab Hamd in Eastern Homs, the army men continued to hit ISIL's defense lines and captured the key al-Alaam region East of the village of Mosheirefeh al-Qarbiyeh that overlooks ISIL's positions in Um al-Saharij and al-Mosheirefeh al-Janoubi in al-Shoumeriyeh mountain.
In the meantime, the army repelled ISIL's repeated attacks to take back Jubab Hamd.
Following the recent advances of the army soldiers in Eastern Homs, the pro-government forces are now only 10km away from al-Sukhnah that is the last main stronghold of ISIL in Eastern Homs and the gate to Deir Ezzur province.
Earlier reports said that the army soldiers launched the operation from their positions in Tafheh and Manoukh hills North of Power plant 4 and managed to impose control over several overlooking heights North of Homs-Palmyra road.
Full report at:
http://en.farsnews.com/newstext.aspx?nn=13960418001330
--------
ISIL Suffers Heavy Casualties in Battle against Syrian Army in Homs
Jul 09, 2017
The army men repelled ISIL's offensive on their positions in the village of Maksar al-Hasan, killing and wounding over 40 of them.
The remaining pockets of ISIL terrorists left behind their equipment and fled toward the village of Unq al-Hawa.
Relevant reports said earlier today that the army soldiers launched the operation from their positions in Tafheh and Manoukh hills North of Power plant 4 and managed to impose control over several overlooking heights North of Homs-Palmyra road.
Full report at:
http://en.farsnews.com/newstext.aspx?nn=13960418001182
--------
Army Repels Terrorists' Attacks against Hama Power Plant
Jul 09, 2017
The attack which started from the village of Hirbnafsa was repulsed by the Syrian soldiers after killing and wounding a number of militants.
Earlier today, the Syrian army troops and air force continued to hit ISIL's positions and movements in Southwestern and Eastern Hama, killing or wounding a number of terrorists and destroying a major part of their military hardware.
The army soldiers engaged in clashes with a group of ISIL terrorists that tried to prevail over their positions in the village of Hirbnafsa in Southwestern Hama and managed to repel their attack after killing a large number of terrorists.
The remaining pockets of the ISIL terrorists retreated from the battlefield after suffering heavy defeat in Hirbnafsa.
Meantime, air force strikers launched massive raids on ISIL's concentration centers and movements that left tens of ISIL fighters dead or wounded and their equipment destroyed.
Full report at:
http://en.farsnews.com/newstext.aspx?nn=13960418001454
--------
Iraqi Anbar tribes plan on filing international lawsuits against Qatar
9 July 2017
A member of the Council of Anbar tribes in Iraq has confirmed that they plan on bringing both domestic and international lawsuits against Qatar.
Sheikh Saad Abdullah Al-Fahdawi said in an interview with local Iraqi media outlets that they plan on centering their lawsuits around news broadcasts on Qatari television that include Qatar's support for terrorism in Iraq and the rest of the other countries suffering from the presence of ISIS and al-Qaeda.
Al-Fahdawi added that if Qatar is proven to have a relationship with the support of terrorism in Iraq, they would sue Doha for compensation, noting that some of the lawyers have volunteered to file these cases on their behalf already.
Full report at:
https://english.alarabiya.net/en/News/gulf/2017/07/09/Iraqi-Anbar-tribes-plan-on-filing-international-lawsuits-against-Qatar.html
--------
Iraqi PM announces victory over Daesh terrorists in Mosul
Jul 9, 2017
Iraqi Prime Minister Haider al-Abadi has announced final "victory" over the Daesh Takfiri terrorist group in Mosul after eight months of combat against the extremists, which has left parts of the country's second largest city in ruins.
"The Commander-in-Chief of the Armed Forces (Prime Minister) Haider al-Abadi, arrived in the liberated city of Mosul and congratulated the heroic fighters and the Iraqi people on the great victory," a statement from his office read on Sunday.
According to Iraqi sources, government authorities are planning a week of jubilation across the country after the formal declaration of victory in Mosul.
The recapture of Mosul, located some 400 kilometers (250 miles) north of the capital, Baghdad, would mark the effective end of Daesh in the Arab country.
Daesh Takfiris, cornered in a shrinking area of the city, had vowed to "fight to death." The militants had resorted to sending veiled women bombers among the thousands of wounded, malnourished and fearful civilians, who were fleeing heavy clashes between government troops and the terrorists.
Earlier on Sunday, spokesman for the Iraqi Joint Operations Command, Brigadier General Yahia Rasoul, told state-run al-Iraqiya television network that soldiers from the Nineveh Liberation Operation had killed 30 militants attempting to get away by swimming across the Tigris.
The media bureau of the Iraqi Joint Operations Command also announced in a statement that Counter-Terrorism Service (CTS) members had regained full control of al-Maidan neighborhood in the Old City of Mosul.
Separately, Arabic-language Shafaaq news agency, citing unnamed security officials, reported that government forces had advanced in the last few square meters held by Daesh terrorists in western Mosul, and took over Qaleyyat and Shahwan districts.
In the run-up to the liberation of Mosul, Iraqi army soldiers and volunteer fighters from the Popular Mobilization Units, commonly known by their Arabic name, Hashd al-Sha'abi, had made sweeping gains against Daesh since launching the Mosul operation on October 17, 2016.
The Iraqi forces took control of eastern Mosul in January after 100 days of fighting, and launched the battle in the west on February 19.
Full report at:
http://www.presstv.ir/Detail/2017/07/09/527927/Iraqi-PM-Haider-alAbadi-declares-Mosul-liberation-Daesh-terrorists
--------
North America
Quebec City Muslims now have a place to bury dead, after years of trying
Jul 09, 2017
Starting today, Muslims in the Quebec City area won't have travel to Laval or overseas to bury their loved ones.
The Lépine Cloutier/Athos funeral home in Saint-Augustin-de-Desmaures, about 25 kilometres west of downtown Quebec City, is now offering burial grounds for local Muslims.
There will be 500 places reserved for Muslims at the Les Jardins du Québec cemetery, near the St. Lawrence River.
The space was inaugurated Sunday morning and there will be an open house in the afternoon so that those who are interested in the new service can check out their facilities.
"We want to serve everyone that lives in Quebec City, that's our goal," said Mélijade Rodrigue, who works at the funeral home.
Rodrigue told CBC News their project has been in the works since before the shooting rampage earlier this year that claimed the lives of six men.
The bodies of five of the six victims had to be returned to their countries of origin. The sixth victim was buried in Laval, which is home to the only Muslim-run cemetery in the province.
"Having a cemetery in the Quebec City region is much more convenient and much more appropriate than going to Montreal, or repatriating bodies to their home countries," said Nadir Belkhiter, spokesperson for Algerian community association of Quebec.
A nearby place to bury family
Rodrigue said they checked with leaders in the Muslim community for specifics, such as their special burial traditions, and adapted one of their funeral homes to be able to perform the necessary rituals.
She said while there are a lot of Muslims settling in Quebec City, some who have been living there for decades and still have nowhere to bury their loved ones.
"If you live here you want to be buried here, obviously," she said.
This project is different from one that has been in the works since 2016 in Saint-Apollinaire, which is about 40 kilometres southwest of Quebec City and spearheaded by the Centre culturel islamique de Québec.
The local Muslim community had been in discussions with the Harmonia funeral home in Saint-Apollinaire to buy land to establish their own cemetery there.
But because the land in question, a wooded area on the outskirts of town, has to be rezoned, it is subject to the referendum process.
That referendum is slated to take place next weekend. Only about 62 people, those who live or work a certain distance from the proposed site, are allowed to vote.
http://www.cbc.ca/news/canada/montreal/quebec-city-muslims-burial-cemetery-1.4196436
--------
American Muslim Institute brings large crowd
Andrea Braswell
Jul 9, 2017
The American Muslim Institute opened its doors Sunday for an open house.
"We all are actually at the core the same with just some different belief systems."
It's a part of the Tri Faith Initiative that brings Jews, Christians and Muslims together on one campus.
"To coexist in a very unique way, where they have their individual place of worship, but they will come together as neighbors."
There's also a Jewish temple and a church that's under construction.
Sunday people gathered at the mosque.
"We needed a presence, a mosque, a community center, a social center that will meet our community needs."
Vice President Karim Khayati says the Muslim population is growing in Omaha, and they needed a mosque similar to what they are accustomed to overseas.
"It connects our heritage."
"Some of the components you will find in a mosque in the Middle East, Africa or Asia."
The doors opened to nearly 25 hundred people looking for a better understanding of the Islamic faith.
"We know this is what needs to be done and that's why we are going to invest every effort we have."
He says the mission is to drive out fear with love and respect despite any differences in religious beliefs.
Full report at:
http://www.3newsnow.com/news/local-news/american-muslim-institute-brings-large-crowd
--------
Muslims can be Americans, Treating them Otherwise is Un-American
BY USMAAN HASAN
July 9, 2017
On the 4th of July, I waved the flag, sang the Star-Spangled Banner, and enjoyed BBQ with my family. On the 5th, I learned 60 percent of Americans support a travel ban aimed at Muslims. As a Muslim, I was exasperated. Upon hearing the news, my mom said "Usmaan, you can't attend your cousin's wedding in Canada. Traveling alone at your age, with your name, in this time and climate isn't safe." As a fan of weddings, I was annoyed.
I didn't know why I deserved the scrutiny. I watch the Super Bowl, make jokes at Canada's expense, and watch all the Marvel movies, by my calculations I'm the perfect American. But the goalposts keep moving. The FBI's Uniform Crime Reports Program documents that hate crimes against Muslims increased tenfold after 9/11, and has never gone down to pre-9/11 levels. A culture of pointed rhetoric has created a hostile environment that envelops Muslims.
For Islamophobia 101, look to the Texas Capitol. Last spring I had the opportunity to serve the in the House of Representatives as a legislative intern. I walked in the first day filled with the naive energy of a college freshman. My eyes absorbed every detail, drinking in the beauty of the state house. They settled on a large laminated page displayed on a mahogany bookshelf, the 10 Commandments with accompanying commentary.
I wasn't fazed, I knew when I applied that the office was a member of the Christian, family-values conservative Freedom Caucus's office. But what caught my eye was the 2nd Commandment commentary:
"Because of the massive influx of immigrants around the world, an abundance of world religions that worship idols has permeated our American culture. Political correctness harnesses the truth making it un-American to criticize anyone's religion. For example, pastors have been subject to investigations (for possible hate speech) for speaking the truth about Islam and homosexuality."
It was a shock to read this in my workplace, in a government office. It inspires fear and promotes the otherization of those who fall outside of narrowly defined criteria. Painting immigrants as degrading America, preaching ominous insinuations of "our American culture", and presenting vague statements referencing "the truth about Islam and homosexuality" – as if both of harbored insidious secrets – cultivates an environment that condemns individual differences.
Hiding behind the right "to criticize anyone's religion" is rich. Criticism is fine, it makes us strive for improvement. But dog-whistling to bigotry and creating targets out of identities is not. The worst part was that I knew the people who set the office décor. They were good people. They hired me! Yet to be part of "Team America, Heck Yeah!" I had to disavow my faith.
After 9/11, Osama Bin Laden became a perverted representation of Muslims. Until I was five I had the misfortune of sharing a first name with him. I didn't really understand the significance of it at the time – the limits of my interests were Power Rangers and playgrounds. But after being ostracized on the latter, rejected by kids and their parents, my mom realized I was too young to experience Mean Girls-esque social rejection. One day she broke down crying and asked if I wanted to change my name. I did.
May 2nd, 2011. Osama Bin Laden was killed by Seal Team Six.
As a kid I thought "Osama" was the problem, that if Bin Laden were gone then it would all be over. Yet since then, a man has spit at my mom in a grocery store, my sister has read stories about a Muslim girl beaten outside of a mosque, and my dad hurries from the mosque lest it's burned down.
May 3rd, 2011. "Hey, I heard they killed your dad last night"
As an American Muslim, I've learned to fit in I need to get friendly with the TSA, tread lightly, and listen to Spotify's Hot Country playlist, but at every turn society rewards me with more suspicion. The President has laid siege to the Muslim community, and is the first administration in this millennia to forgo the annual celebration of Ramadan.
Peter Gottschalk, professor of religion at Wesleyan University, notes Islamophobia is a fear instilled by society. "I don't think anybody's naturally afraid of Muslims and Islam," Gottschalk says. The failure to understand and connect with those unlike ourselves is not unique to Islamophobia. Preying on this information gap will only make the unavoidable reconciliation so much more difficult.
Full report at:
http://www.dailytexanonline.com/2017/07/09/muslims-can-be-americans-treating-them-otherwise-is-un-american
--------
Virginia Muslim attempts U.S. military infiltration
10/07/17
Indian American Shivam Patel, 27, of Williamsburg, Virginia, was charged with one count of making materially false statements on applications to join the military after lying about trips to China and Jordan on his application to join the U.S. Army and Air Force, Pamela Geller quotes the New India Times as saying.
Patel, formerly a Hindu who converted to Islam years ago, said that he wanted to join the "Muslim Army" and commit a peaceful jihad, explaining that he went to Jordan to find like-minded people but ended up getting arrested there and deported back to the U.S.
According to The Virginian Pilot, an affidavit unsealed on Thursday in the U.S. District Court said that before going to Jordan, Patel had flown to China in July last year to teach English but omitted the entire matter, claiming that he had not been out of the country in seven years except for a family trip to India in 2011-2012.
When Patel's parents found out that he had been captured in Jordan, they told the FBI that he had become "obsessed with Islam".
After investigators searched Patel's room and computers, with his parents' permission, they found evidence that he had researched how to beat a polygraph, had downloaded three copies of an online magazine produced by the Islamic State and had performed searches on how to join the group, the affidavit said.
The affidavit also stated that Patel had boarded a flight to Chicago on Sept. 2 and spoke with an undercover FBI Task Force Officer that same day, praising the terrorist attacks that had taken place in Paris, Nice, and Orlando and expressed admiration for Anwar al-Awlaki, a leader of Al-Qaeda in the Arabian Peninsula.
He then spoke to a "confidential human source" in Detroit the next day where he expressed a desire to do something "bigger, better, and more purposeful," like dying for Islam.
The Virginian Pilot also reported that Patel had spoken to the source again the next day, explaining how he would love to see a holy war between Muslims and non-Muslims and even sang an Islamic State fight song while he recalled making a replica of the group's flag, which he wanted to replace his neighbor's American flag with.
On Sept. 6, Patel returned to Williamsburg to apply for a job with the military as well as some paramilitary organizations.
Full report at:
http://www.israelnationalnews.com/News/News.aspx/232221
--------
India
Dalits join Muslims in protest against lynchings
Jul 10, 2017
AHMEDABAD: Gujarat chapter of Jamiat Ulma-i-Hind on Sunday took out a protest demonstration against lynching incidents carried out by self-styled gau rakshaks across the country. The demonstration was organised at Sardar Baugh in Lal Darwaja area of the city. Members of dalit communities also participated to show solidarity with their Muslim brethren facing persecution in the garb of cow protection.
Hundreds of protesters stood on both sides of Nehru bridge with placards carrying various messages, including: 'NotInMyName', 'Why So Silent', 'PM break the silence', 'Gaay Bano Surakshit Raho (be a cow and remain safe)' and 'I wish I were a cow'.
Children and youth were among the protesters wearing caps with the message, 'I am Junaid'. It may be recalled that a teenager named, Junaid Khan, was allegedly lynched on June 22 in an EMU train going from Ghaziabad to Mathura.
Mufti Abdul Qayyum Mansuri of Jamiat Ulma-i-Hind said that the protest was not about ensuring safety to one particular community but it was an attempt to save the Indian Constitution in a situation where law and order is deteriorating each passing day.
"Today Muslims are being targeted. Perhaps some other community will be targeted another day. Given this state affairs, the violence may even plunge the country into civil war. Efforts are being made to trigger clashes between various communities in the came of caste, creed, community and now also in the name of cow," Mansuri said. He further said that they had held a protest to save the Constitution and humanity in the country.
Dr Jayanti Makadia, a dalit rights activist, said that dalits had participated in the protest because they were also becoming victims of gau rakshaks. "We have been protesting from July 11 last year when Una flogging happened. This is not the issue of a particular community but a question of ensuring justice to everybody," Makadia said.
http://timesofindia.indiatimes.com/city/ahmedabad/dalits-join-muslims-in-protest-against-lynchings/articleshow/59519192.cms
--------
NIA notices to mosque, school linked to Mirwaiz Umar Farooq
July 10, 2017
by Bashaarat Masood
The NIA has sent notices to Srinagar's Jamia Masjid and the Islamia School, both old Valley institutions of religion and education and both linked to the family of Mirwaiz Umar Farooq. The notices have been sent days after separatist leaders were questioned on alleged terror funding from Pakistan. The Mirwaiz presides over the Friday prayers at the mosque in Srinagar and the Islamia School was founded by his family over a century ago.
The NIA's notices, asking for an appearance at its office in New Delhi, have been sent to Mohammad Hussain Khan, who manages the accounts of the Auqaf of Jamia Masjid, and Mohammad Ibraheem Shah, the general secretary of the Anjuman Nusrat-ul-Islam that runs the institution. The Mirwaiz has said the move was a sign of persecution by the state. "Now the NIA sends notice to #IslamiaSchool & JamaMasjid, exposes level of persecution State can go to against those it can't defeat politically!" he tweeted.
Full report at:
http://indianexpress.com/article/india/nia-notices-to-mosque-school-linked-to-mirwaiz-umar-farooq-4743403/
--------
In riot-hit Basirhat, Muslims pool money to help Hindu neighbours
July 9, 2017
by Ravik Bhattacharya
At the heavily guarded Trimohini crossing in Basirhat, a small crowd has gathered around Md Noor Islam Gaji and Ajay Pal. They are standing outside Pal's ransacked paan bidi shop — one of many in the area that were vandalised and looted during Tuesday's communal violence. Gaji and several other Muslim men are talking to Pal, urging him to reopen his shop, pressing him to accept Rs 2,000 from them to get started again.
Muslims in this patch of North 24-Parganas on the Bangladesh border, where tensions erupted at the beginning of the week after a teen's objectionable post on social media, are pooling money to help Hindu neighbours rebuild their gutted shops and businesses. Nearly a hundred shops and homes were vandalised in Basirhat.
"Even after the demolition of the Babri mosque, our town remained peaceful. What happened since Tuesday was not right. Some outsiders and some of our local boys are to blame. But now we are pooling money for our Hindu neighbours. We want them to forget the losses and start afresh," Gaji, a local businessman, said.
"I lost goods worth over Rs 15,000 when hundreds of people came and ransacked my shop on Tuesday. They took away everything. I do not know why. My neighbours and Muslim friends are now offering me money to restart my business. I will take a decision soon," said Pal.
Like him, Ruma De, who owns the next shop, too, has been offered Rs 2,000 for a start. Similar initiatives have been taken by Muslim residents of Masjidpara, Bhyabla, Chapapara and other areas of Basirhat.
"We are all linked in one way or another. I have Hindu friends whom I have known from childhood, and business associates who are Hindu. We have told them that we will do our best to help them start their businesses, and even repair their damaged homes," said Ershad Ali Gazi of Masjidpara. It was because of Ershad that his childhood friend Binay Pal and his family escaped the mob that rampaged through the neighbourhood on Tuesday night.
"Everyone told me to leave my home and flee to save myself. Hundreds of people were swarming the street in front of my house. I called up Ershad, who told me to stay put and rushed to my house. He stayed with us and ensured that we were safe," said Binay, who has a wife and two children. His pharmacy downstairs was, however, ransacked.
"It is not a hollow promise. We have told local shopowners that we will give as much as it takes, Rs 2 lakh or Rs 5 lakh. We will help you, whether by pooling money or by collecting subscriptions to cover your losses. Whatever has happened has happened, do not worry anymore, or have any hard feelings. The tradition of Basirhat has been tarnished. This has never happened before," said Ershad.
Continuing latent tension, shut businesses, schools and colleges, and a heavy presence of police and security forces notwithstanding, Basirhat and Baduria have been calm since Thursday. Two peace meetings have been held in Basirhat, at which leaders of both communities and police were present.
"It was decided that Hindu-Muslim joint groups will keep vigil at night not only in neighbourhoods, but also at religious places. Outsiders will not be allowed in the area. Outsiders of both communities played a key role in the riots," said Babu Gaji, councillor of ward number 14 in Basirhat.
Both Hindus and Muslims have accused police of not taking action as the tension spread and violence began.
Full report at:
http://indianexpress.com/article/india/in-riot-hit-basirhat-muslims-pool-money-to-help-hindu-neighbours-4743098/
--------
Former CJ questions SC's wisdom of examining Personal laws
July 10, 2017
By Abdul Bari Masoud
New Delhi:
It is for the first time after the Supreme Court had heard the petitions challenging the "constitutional validity" of Triple Talaq issue; a former topmost justice of India has questioned the 'wisdom of the court' in this matter.
Speaking at a seminar here the former Chief Justice of India, A M Ahmadi said it was not the business of the court to hear a matter which was related to personal laws. He also wondered, while pointing out the different yardstick of the court in dealing with faith matters, that is why the apex court had constituted a constitution bench on an issue of personal law belonging to a particular faith.
Noted lawyer Kapil Sibal, who defended the Muslim Personal Law case in the court, said the triple talaq issue was raised with a "political purpose" in keeping mind the next general elections.
In his presidential remarks at a seminar on "Personal Laws guaranteed by the Constitution of India – under Target" here at the Islamic Cultural Center, Justice Ahmadi has dwelt the subject in greater details in reference to the Supreme Court's recent hearing on the triple talaq issue.
"I never thought the Supreme Court would take up an issue of personal law and would refer to a Constitution Bench as triple talaq was not a question law in any manner you look at it and it was a sort of customary or personal law," Justice Ahmadi said.
He said he was little surprised when the court agreed to take up the matter while it was raised with a purpose as mentioned by Kapil Sibal in his speech.
Therefore, there was more to it than testing it with the law, he added.
Arguing that triple talaq has been more misunderstood than understood, the former Chief Justice said it has nothing to do with any substantive law enforced at a given point of time but it was something personal belonging to a particular faith.
Concurring with Sibal that the triple talaq was not a simple matter, Justice Ahmadi argued that it is not a matter which really belongs to the Court.
Pointing towards the different yardstick in dealing with personal matters, Justice Ahmadi said: "In fact, the court has in one of the matters said while dealing with a certain shloka that it is in Sanskrit and we do not want to go into it because we are not expert in this language."
Referring this, Justice Ahmadi said it is much more difficult to deal with a proposition which is in Arabic.
I don't know if the present lots of judges are well-versed in Arabic, he asked.
"You can't interpret something which is in Sanskrit; much less you can interpret something which is in the Arabic language ---- yet you are going into that it becomes a purpose totally different".
A five-judge constitution bench of the Supreme Court under the Chief Justice of India had heard the petitions against the practice of triple in talaq in May this year. It must also be noted that the court had itself first filed a petition on this issue while other petitions were the subsequently filed.
While touching upon the uniform civil code issue, Justice Ahmadi pointed out that you need to abandon the Hindu Untied Family (HUF) concept which gives enormous benefit under taxation laws.
Calling upon Muslims to bring out an authoritative text or codified book on Muslim Personal Law, Justice Ahmadi said he had suggested this to the late President of All India Muslim Personal Board Qazi Mujahidul Islam as such books would be also a great help to courts.
In his keynote address, Senior Advocate and Congress leader Kapil Sibal said the triple talaq issue was raised for the 2019 general elections.
They (BJP) understand that people are so gullible that they will accept it, he said and adding that triple talaq is essentially a personal matter of people belonged to a particular faith.
There are many problems in other personal laws but these were never raised by the people in powers who want to polarize the society on the religious ground by raising triple talaq and cow slaughter, Sibal said. Quoting an article, he said polygamy is more prevalent in tribals, Hindus, and Buddhists than in Muslim community but only Muslims are targeted on this count.
Strongly defending Muslim Personal law, Mumbai-based noted lawyer and activist Falivia Agnes said Islam is not against women and it has conferred many rights on women. Asking Muslims to present a coherent and articulate voice on the subject, she said media has created an atmosphere of Islamphobia in the country. Agnes also represented in the Supreme Court on behalf of Muslim Law Board.
Secretary of the National Committee for Legal Redressal and Justice (NCLR), which organized the seminar, Kamal Faruqui said a vilifying campaign is being run in the country to defame Muslims and their religion. Referring to the propaganda unleashed by the media on the issue of triple talaq, he said the NCLR has planned to carry out a series of lectures, seminars, and debates on legal issues pertaining to personal laws.
In the last 2-3 years, the media and a certain section of society have taken up some issues relating to Personal Laws and have debated in the same domain of general public. The issue of pronouncing Talaq by Muslim husbands remained on the forefront for a long time. The Supreme Court decided to examine the issue. Even when the Judgment of the Supreme Court is awaited on the issue of Talaq, the opinion on the issue is frequently published in the so-called national media, NCLR backgrounder note said.
President of BAMCEF Waman Meshram, Vice Chancellor of NALSAR Dr. Faizan Mustafa, senior advocate Yusuf Hateem Muchalaa, Dr. MP Raju and others also spoke on the occasion.
Release innocent youth related to Ayub Pandit's lynching:Er Rashid.
Srinagar:Seeking unconditional release of dozens of youth allegedly accused in the lynching of Dy. S P Ayub Pandit, MLA Langate Er Rashid has said that police and intelligence agencies after failing to crack the real story behind the shameful tragic incident have picked up dozens of youth from Nowhatta and surrounding areas, just for their face saving.
Interacting today with various deputations in Srinagar, Er. Rashid said "while every Kashmiri condemned the brutal act, police is trying to give cover to its negligence that led to the unfortunate incident. Rather accepting its professional lapses and guilt, they picked up youth most of whom are innocent and beat them to pulp, torture them and are constantly humiliating their families. It is shameful that even Juveniles have not been spared. The police force must understand and realise that they can't take on their own people without proper reasoning."
Er Rashid also condemned summoning of Mirvaiz's relatives by NIA to Delhi and said that such actions will take New Delhi nowhere. He said "the various dirty tactics being used against Mirwaiz Umer Farooq are condemnable and deplorable. Let New Delhi not forget that Mirwaiz Umer Farooq had never asked for security and nor is he having it by choice. Summoning and humiliating his relatives by NIA will not force anybody to compromise on the principle stand over Jammu and Kashmir dispute."
Full report at:
http://www.risingkashmir.com/news/former-cj-questions-scs-wisdom-of-examining-personal-laws
--------
Kashmir may soon have a de-radicalisation department
Jul 10, 2017
SRINAGAR: The BJP, which is part of Jammu and Kashmir's ruling coalition led by the PDP, plans to set up a department in the state to counter radicalisation of youth, which the party says is the root cause of the current political situation in the valley. BJP spokesperson and Jammu and Kashmir Project Construction Corporation vice chairman Khalid Jehangir said he was surveying various de-radicalisation models operational in different countries and would soon submit a proposal on it to chief minister Mehbooba Mufti and Union home minister Rajnath Singh.
"Earlier there used to be a social welfare department, but now the government has to concentrate on radicalisation counselling," Jehangir told ET. The Singapore model of de-radicalisation and rehabilitation, he said, was one of the most viable models to follow for the state.
"We have seen many secular and even Muslim countries opening these kind of centres and it is giving good results. Simultaneously, we have to make our police force and security agencies more effective in countering the radicalisation by people who propagate the inhuman nature of religion," Jehangir said.
The process, the BJP leader said, would involve identifying radicalised youth or those who have the potential to get brainwashed. Instead of putting them in jail, these youth would be put for a certain period in some isolated centres where doctors, religious scholars and security experts would counsel them. After being released, they would be put under strict surveillance.
"Anybody who is acceptable to society should head the department and work in tandem with the administration. Youth here are being radicalised, especially in South Kashmir, by the people who have close contacts with outfits like Lashkar and Jama'at ud Dawa," Jehangir said.
Full report at:
http://timesofindia.indiatimes.com/india/kashmir-may-soon-have-a-de-radicalisation-department/articleshow/59522205.cms
--------
Sushma Swaraj slams Pakistan's Sartaj Aziz in series of blistering tweets
Jul 10, 2017
NEW DELHI: Amid Pakistani media reports that India has refused some medical visas to people from that country, Union minister Sushma Swaraj on Monday cleared the air using strong words to hit out at Pakistan's foreign affairs head Sartaj Aziz hoping he "has consideration for the nationals of his country".
On Twitter, Swaraj as much as sais that it's Aziz's fault that Pakistanis in need of urgent medical attention are unable to come to India.
She assured Pakistanis that India is happy to grant medical visas. And she also took the opportunity to call out Aziz for not having "the courtesy even to acknowledge" her letter to him urging he grant a visa to the wife of Kulbhushan Jadhav, the Indian man on death row in Pakistan.
The external affairs minister pointed to recently-changed rules that stipulate Pakistanis wanting a visa for urgent medical treatment must get a letter from Aziz. "But I assure Pakistan nationals seeking medical visa with a recommendation from Mr.Sartaj Aziz, we will issue the visa immediately," said Swaraj.
Then, Swaraj delivers her coup de grace.
The minister talks about how India too has a visa application pending "for an Indian national Mrs. Avantika Jadhav who wants to meet her son in Pakistan". It takes a beat to realise she's talking about the mother of Kulbhushan Jadhav, the Indian national sentenced to death for allegedly "spying" by a military court in Pakistan.
Swaraj says just like the letters Aziz must write for the medical visas, she, too wrote a "personal letter" to him for the grant of Avantika Jadhav's visa.
"However, Mr. Aziz has not shown the courtesy even to acknowledge my letter," she said.
Full report at:
http://timesofindia.indiatimes.com/india/sushma-swaraj-slams-pakistans-sartaj-aziz-in-series-of-blistering-tweets/articleshow/59523244.cms
--------
India slams Pakistan for glorifying Burhan Wani
Jul 10, 2017
NEW DELHI: India slammed Pakistan on Sunday for making a martyr out of Hizbul Mujahideen terrorist Burhan Wani, who was killed on July 8 last year.
Criticising the Pakistani government for glorifying the dead terrorist, MEA spokesperson Gopal Baglay tweeted, "First, Foreign Office of Pakistan read from banned LeT's script. Now, Pakistan COAS (army chief) glorifies Burhan Wani. Pakistan's terror support and sponsorship need to be condemned by one and all."
Baglay's comments came a day after Pakistani army chief Gen Qamar Javed Bajwa praised Wani. Pakistani PM Nawaz Sharif too paid tributes to Wani, saying his death "infused a new spirit in the struggle for freedom" in Kashmir Valley.
Meanwhile, Pakistan summoned India's deputy high commissioner in Islamabad for the second consecutive day on Sunday over alleged ceasefire violations along the LoC, claiming that more civilians were killed in firing by Indian troops. J P Singh was summoned to "condemn and lodge protest over more civilian casualties at the LoC due to unprovoked ceasefire violations by India", Pakistan's Foreign Office said in a statement.
A Pakistani spokesperson alleged three more civilians were killed in Chirikot and Satwal sectors on Saturday by Indian troops, taking the total civilian toll to five.
Director-general (South Asia and Saarc) of Pakistan's Foreign Office Mohammad Faisal, who summoned Singh, "condemned further unprovoked ceasefire violations" by Indian forces. He said "the deliberate targeting of civilians is indeed deplorable and contrary to human dignity and international human rights and humanitarian laws". However, the Indian official told Pakistani authorities that ceasefire violations were started by Pakistani troops in Poonch and Krishnaghati sectors and Indian forces only responded. A strong protest was also lodged over the death of two Indian civilians in Saturday's ceasefire violations by Pakistan.
Full report at:
http://timesofindia.indiatimes.com/india/india-slams-pakistan-for-glorifying-burhan-wani/articleshow/59519711.cms
--------
J&K: Pakistan violates ceasefire along LoC in Poonch; Army retaliates strongly
Jul 9, 2017
NEW DELHI: In yet another incident of ceasefire violation, the Pakistan army fired indiscriminately at Indian Army forward posts and villages along the Line of Control in Jammu and Kashmir's Poonch district on Sunday evening.
The Army retaliated strongly to Pakistan's unprovoked firing.
Giving details about the exchange of fire, Defence Ministry spokesman Lieutenant Colonel Manish Mehta said, "Pakistan army initiated indiscriminate firing and shelling on our positions on the LoC in Poonch district's Digwar and Khaari Karmara."
"Unprovoked firing from Pakistan's side started at around 6.40pm," he added.
He also said that the Pakistan army fired at the Indian posts with small arms, automatics and mortars and the gunfight is still underway.
On Saturday, Army destroyed Pakistani post close to the LoC+ in the same area. The Army action came after an Army jawan and his wife were killed and four persons injured when the Pakistani army violated ceasefire by shelling and firing at forward posts and hamlets along the LoC in Poonch.
The deceased were identified as Sepoy Mohmmad Shaukat of Territorial Army and his wife Safia Bi. Their three daughters identified as Zaida Kouser (6), Robina Kouser (12) and Nazia Bi were injured as was another person.
Following the ceasefire violation, Indian troops had retaliated.
There have been 23 incidents of ceasefire violation, one BAT attack and two infiltration bids by Pakistan in June this year in which 4 people including 3 jawans were killed and 12 injured, officials said.
On June 29, two Indian Army jawans were injured when Pakistani troops fired from small arms and shelled mortars on forward posts and civilian areas along the LoC in Poonch.
On June 26, the occasion of Eid-ul Fitr, the Pakistani army fired small arms and automatic weapons and shelled mortars along the LoC in Bhimbher Gali sector of Rajouri.
On June 22+ , in the third such attack this year, a team of Pakistani special forces sneaked 600 metres across the LoC into the Poonch sector and killed two Indian jawans and lost one Border Action Team (BAT) member in retaliatory action.
The attack by the Pakistani special forces team had taken place at around 2 PM on an Army patrol party in the Gulpur belt of Poonch under heavy cover fire by troops from across the LoC.
Full report at:
http://timesofindia.indiatimes.com/india/jk-pakistan-violates-ceasefire-along-loc-in-poonch-army-retaliates-strongly/articleshow/59515782.cms
--------
Deputy SP's Mohammad Ayub Bhat Lynching Case Cracked, 14 Held: Police
July 10, 2017
POLICE ON Sunday claimed to have cracked the case of lynching of Deputy Superintendent of Police Mohammad Ayub Bhat. The officer was killed in the premises of Srinagar's Jamia Masjid on Shab-e-Qadr. Sources said the police have arrested 14 people, who were allegedly present on the spot when the officer was killed. "We have almost managed to crack the case and arrested around 14-15 people. This is a high-profile case and we are investigating all aspects to build a water tight case," said a senior police officer. Soon after the killing, the police had constituted a team of senior officials to investigate the case. They arrested three people who were injured in firing by Bhat while he was being chased by the mob.
After questioning the injured persons, the police, the sources said, managed to get names of some others who were in the crowd that attacked the police officer with stones, iron rods and sticks. The sources said they also managed to recover Bhat's service revolver and his identity card. They also got some video evidence of the killing that took place on the night of Shab-e-Qadr. Sources said five people also surrendered before the investigating team.
Full report at:
http://indianexpress.com/article/india/deputy-sps-mohammad-ayub-bhat-lynching-case-cracked-14-held-police-4743421/
--------
Blocked: Valley tabloid's FB page that had Burhan Wani sketch
by Bashaarat Masood
July 10, 2017
Facebook has blocked the official page of Kashmir Ink, a tabloid, for posting a sketch of the late Hizbul Mujahideen commander Burhan Wani, which is the cover picture of the magazine's current edition. The weekly tabloid is published by the Greater Kashmir Communications Centre that runs Jammu and Kashmir's largest circulated English daily, Greater Kashmir, as well as an Urdu daily and an Urdu weekly.
"You are temporarily blocked from posting," Greater Kashmir quoted the official Facebook message. "This temporary block will last for 24 hours." Kashmir Ink had on Friday uploaded the cover picture of July 9 issue on its official Facebook page. The cover story, Kashmir – A year after Burhan's death, had a sketch of Wani, who was shot dead by security forces last year on July 8.
Full report at:
http://indianexpress.com/article/india/blocked-valley-tabloids-fb-page-that-had-burhan-wani-sketch-4743416/
--------
Europe
Muslim leaders begin European tour to protest against terror
July 8, 2017
PARIS: Dozens of religious leaders boarded a bus on the Champs Elysees in Paris on Saturday to kick off a European tour of the sites of recent Islamist attacks to remember the victims and condemn violence. Imams from countries including France, Belgium, Britain and Tunisia were joined by representatives of other religious communities at the spot where French policeman Xavier Jugele was shot dead in April.
Tour stops will include Berlin — where organizers say they hope to meet Chancellor Angela Merkel — Brussels and Nice, with a return to Paris for July 14, the first anniversary of the Nice truck attack.
Islamic State claimed responsibility for the Nice attack when a truck killed 86 people celebrating Bastille Day on the seafront and a truck attack on a Christmas market in Berlin last December that killed 12. The Imam of Drancy and French writer Marek Halter were behind the initiative of the current tour.
"We are here to say that our religion and the values of Islam are opposed to those assassins," Hassen Chalghoumi, the imam de Drancy, told France Inter radio on Saturday.
Some 30 people boarded the bus on Saturday with more expected to join on the way bringing the total number of participants to 60.
http://www.freemalaysiatoday.com/category/world/2017/07/08/muslim-leaders-begin-european-tour-to-protest-against-terror/
--------
UN slams Pakistan over repeated terrorist attacks on schools, police abuse of Afghan refugees
Shreerupa Mitra
Jul, 10 2017
The United Nations (UN) is "concerned" about continuing terrorist attacks on educational institutions and the military's use of schools, especially in the Federally Administered Tribal Areas (FATA) and Balochistan, a report of the UN's review of Pakistan's social, cultural and economic rights says.
The UN has urged the Pakistani government to "completely ban" the military use of schools and to endorse the Safe School Declaration, a report by the UN Committee on Economic, Social and Cultural Rights (CESCR) shows during a periodic review of the country.
CESCR is a body of 18 independent experts that monitors the International Covenant on Economic, Social and Cultural Rights by state parties and usually meets twice a year in Geneva.
"A particular area of concern is Balochistan where attacks are carried out by nationalist, sectarian and Islamist armed groups on schools and universities," Human Rights Watch (HRW) says in its report to the UN committee as part of the evaluation exercise.
According to the Global Coalition to Protect Education from Attack, between 2009 and 2012 there have been at least 838 attacks on schools.
Though the UN body recognises the efforts made by the Pakistani government to close down radical madrassas, it is concerned that some madrassas provide no education other than the Quran and "that some textbooks and curricula for Sindh and Punjab contain stereotyped images of religious and ethnic minorities".
Hazara students have difficulties reaching Quetta because of the large number of sectarian killings along the route and, therefore, public transport operators don't allow Hazaras on board because of danger to other passengers, HRW reports. It is concerned about the right to education for the Hazaras in Quetta and Balochistan.
HRW documented reports of 96 school attacks in Pakistan in 2012 alone, most of which were in Khyber Pakhtunkhwa province and the FATA. Additionally, there were at least 78 targeted attacks on schools, teachers, and students in 2013 while 360 schools were destroyed in the FATA, 166 schools in North Waziristan Agency, 139 in Khyber Agency, and 55 in South Waziristan Agency in 2015.
"The use of child suicide bombers by the Taliban and other extremist armed groups also continued in 2015," HRW says.
There are "well-documented" reports of police abuse of Afghan refugees: What HRW calls a "policy of punitive retribution" following a Tehreek-e-Taliban attack in December 2014 which need to be immediately investigated, the UN report says.
Currently, there are 1.5 million Afghan refugees and one million Afghans seeking asylum in Pakistan making it the second largest refugee-hosting country globally.
The UN committee also urged the government to ensure that all registered Afghan refugees are allowed to stay in the country "until it is safe for them to return or resettle in another country" and to reopen the registration procedure for unregistered Afghans as well as to extend the Proof Residence (PoR) cards that will expire on 31 December.
There is a "very high proportion" of poor in the country, especially in certain regions, like Sindh, FATA and Balochistan, where people face additional obstacles like a very low level of birth registration and often delayed registration, which "seriously limits persons without birth certificates from enjoying their economic, social and cultural rights".
Combined with poverty, there is a very low level of public funding, particularly around employment, social security, housing, water and sanitation, health and education, "which cannot be justified by high levels of defence expenditure". The tax-GDP ratio of Pakistan is very low, and that the tax regime of the state party characterised by "limited tax base, non-progressive tax system and heavy reliance on indirect taxes, is also a matter of concern to the economic rights experts.
The "insufficient framework legislation" to provide for the protection of all women, particularly Hindu and Christian women, in relation to marriage, divorce, custody and inheritance, is a matter of concern to the global body: It recommends that legislation be adopted in line with international norms and standards. It is also concerned that the practice of "forced conversion of non-Muslim women and forced marriage continue" and recommends that the state party prohibit forced conversion without consent.
The UN experts also recommend that certain other laws and practices be brought in line with international standards like the West Muslim Personal Law (Shariat) Act of 1962: Which permits polygamy and provides that a daughter is entitled to receive only half as much inheritance from her parents as her brother receives: and the Qanun-e-Shahadat (Law of Evidence) that stipulates that the value of women's court testimony is half that of a male witness.
Despite measures taken by the government, the UN experts are concerned at the prevalence of corruption and the magnitude of corruption cases involving high-level officials.
There are repeated reports of abduction, killings and intimidation of human rights defenders, particularly those fighting for economic, social and cultural rights, allegedly committed in some cases by state agents, including members of military intelligence services, the report says.
It recommends that the Pakistani government in its next periodic report provide comparative annual statistical data disaggregated by sex, age, geographical location, disability, religion, and other status to better monitor the progressive realisation of the covenant rights.
Full report at:
http://www.firstpost.com/world/un-slams-pakistan-over-repeated-terrorist-attacks-on-schools-police-abuse-of-afghan-refugees-3794957.html
--------
Frenchman arrested with Belgians charged over terror
July 10, 2017
PARIS - A 42-year-old Frenchman suspected of plotting attacks with two Belgian brothers was charged with terror offences on Sunday, a judicial source said.
The source said the man, known to authorities before his arrest, was charged with arms possession and having links to extremist groups. The suspect is believed to be connected to Akim and Khalid Saouti, two brothers charged in Brussels on Wednesday with belonging to a "terrorist group". They were believed to be planning an attack with a large stash of weapons including Kalashnikov rifles.
The pair, arrested the previous night in the Brussels suburb of Anderlecht, are brothers of convicted jihadist Said Saouti, a member of the Kamikaze Riders, a notorious bikers' club based in the Belgian capital.
Last year, Saouti was jailed for six years for recruiting people to jihadist organisations and supporting the Islamic State (IS) group on social media. A source close to the probe said authorities feared the three men were planning "an imminent attack in France or Belgium."
The French suspect has been jailed four times for acts of violence and theft and was put under surveillance after leaving prison in May 2015 where he was believed to have been radicalised.
Full report at:
http://nation.com.pk/international/10-Jul-2017/frenchman-arrested-with-belgians-charged-over-terror
--------
Germany starts pulling out troops from Turkish base
Jul 9, 2017
German defense authorities have finally ordered the start of withdrawal of troops from a base in southern Turkey after the two countries failed to settle disputes on how Berlin could access the base.
A German defense ministry spokesman said Sunday that the pull-out had begun earlier in the day, adding that a German air tanker refueller left Incirlik for a new air base in Jordan.
The official said that German tornado jets were scheduled to be deployed in the Jordanian base by October. He said the jets were due to keep operating out of Incirlik at least until the end of July as Germany continues to contribute to an alleged military fight against Daesh in Iraq and Syria, an operation which is led by the United States. German authorities would move the necessary material to Jordan in the meantime, the official added.
The Turkish government confirmed that the withdrawal of German troops had began, with an official saying Germany's defense minister had informed her Turkish counterpart about the day the action could start at a recent summit of NATO alliance in Brussels.
The German parliament approved the pull-out of troops from Turkey last month after Turkey refused to allow Germany lawmakers to visit German military personnel at Incirlik.
Turkey and Germany have been locked in a number of diplomatic disputes, including Turkey's way of handling the aftermaths of a failed coup in July last year, which has sparked massive criticism in Germany.
Full report at:
http://www.presstv.ir/Detail/2017/07/09/527934/Germany-Turkey-troops-withdrawal
--------
Prisons face a bigger rethink to tackle threat of radicalisation
July 10, 2017
The current leaders of Isis and al-Qaeda, two of the most hunted terrorists in the world, owe their education in mass murder to their time in prison. Such radicalisation is a common thread in modern jihadism, with its roots in the torture prisons of postwar Egypt under its military leader, Gamal Abdel Nasser.
Sayyid Qutb, the intellectual godfather of today's Islamists, was imprisoned by Nasser. His writings and execution in 1966 made him a martyr. By then his core idea — that only violence could restore Muslim purity — had taken hold among his acolytes.
One such was Ayman al-Zawahiri, al-Qaeda's current leader. He too was schooled in Egypt's prisons, which only served to harden his approach to terror. A similar trajectory has been followed by the Isis leader, Abu Bakr al-Baghdadi, whose path to radicalisation appears to have come through Camp Bucca prison, a finishing school for extremists in post-Saddam Iraq.
Those charged with combating Islamist terrorism worldwide are aware of the growing challenges posed by prison radicalisation, in particular the overlap between low-level criminality and jihadism. Gilles de Kerchove, the EU's counterterrorism co-ordinator, has described prisons as a massive incubator for radicalisation.
France is a case in point. It is estimated that some 60 per cent of France's 70,000 prisoners are of Muslim origin. Amedy Coulibaly, who killed four Jewish customers at a Kosher store in Paris, and Chérif Kouachi, one of the brothers who carried out the attack on the offices of the Charlie Hebdo magazine, were radicalised in a French prison. Others believed to have turned to radical Islam in jail include Mohammed Merah, the al-Qaeda militant who carried out attacks in 2012, and Mehdi Nemmouche, who orchestrated the 2014 attack on the Brussels Jewish Museum.
Britain too faces a growing problem. Justice ministry figures show there are more than 12,000 Muslim prisoners in England and Wales, with some 131 Muslims in prison on extremism-related charges. Terrorism investigators recently confirmed that the Manchester Arena bomber, Salman Abedi, twice visited an imprisoned extremist in the months leading up to the attack.
The difficulty is how to stop such extremists from poisoning the minds of others. The UK government thinks the answer is to hold extremist prisoners in specialist units, dubbed "jails within jails", to stop them from radicalising others. The first such unit is being set up at HM Prison Frankland near Durham in north-east England, with two other centres due to open in coming months.
Whether such a move is legal is questionable, and it could face a challenge in the courts. It moves away from a long-established policy of dispersing the most dangerous terrorist prisoners throughout high-security jails. Similar models were tried in Northern Ireland and Germany for extremist republican and leftwing offenders in the 1970s and 1980s, with mixed results. In France and the Netherlands, Islamist terrorists have been held in isolation wings. Critics say it risks creating a Muslim Alcatraz, as well as allowing the most dangerous extremists to build stronger networks inside prison.
Full report at:
https://www.ft.com/content/49d37696-633e-11e7-8814-0ac7eb84e5f1
--------
Pakistan
Pakistan sets rules for banks wanting to be fully sharia compliant
JUL 10, 2017
Pakistan's central bank has issued guidelines covering how banks that want to be fully-fledged sharia compliant can achieve that status, setting a three-year time frame for applicants to complete the process.
The rules aim to accelerate the growth of Islamic banking in the Muslim-majority country. The sector enjoys double-digit growth but lags conventional banks in terms of size and profitability.
Islamic banks follows religious principles such as bans on interest and pure monetary speculation, ruling out the use of interest-based financial instruments such as bonds and treasury bills.
Eligible applicants must have existing Islamic finance operations and the conversion process must start within six months of approval, the central bank said in a circular.
After the conversion of conventional branches, the applicant can then apply for a full-fledged Islamic banking license.
Converting back to conventional banking operations will not be allowed, the circular said.
Such conversions are rare in Islamic finance but are seen as a way to increase the scale of Islamic banking and widen its reach into under-served rural areas.
Islamic banking in Pakistan, the second most populous Muslim-majority nation after Indonesia, currently includes five full-fledged Islamic banks and 16 conventional banks offering Islamic financial products.
As of March, they held assets worth 1.9 trillion rupees ($17.9 billion), a 16 percent increase from a year earlier and 11.7 percent of total banking assets.
However, their capitalisation and profitability ratios remain below the industry average in Pakistan.
http://economictimes.indiatimes.com/news/international/business/pakistan-sets-rules-for-banks-wanting-to-be-fully-sharia-compliant/articleshow/59522977.cms
--------
CTD invites VCs of 11 universities to briefing on terrorism
July 09, 2017
KARACHI - The Counter Terrorism Department (CTD) of the Sindh police has convened the meeting of vice chancellors (VCs) of eleven major universities of the province to counter extremism and terrorism.
The decision has been taken keeping in view the involvement of highly educated persons in incidents of terrorism in the country.
According to a senior CTD official, the Special Cell of Sindh police have invited the vice chancellors to a meeting so that the CTD could brief them about the radicalization of youth at educational institutions.
Letters have been dispatched to all the VCs to attend the meeting at CTD office on July 12.
The officer further said that not only the CTD would brief them about the role of terrorist organisations, but would also seek their suggestions as how to stop such activities at educational institutions.
It is reminded here that the law enforcement agencies have found that students of different universities are involved in acts of terror.
They believe that the terrorist or extremist organisations have made the universities their target from where they recruit highly educated students in their outfits.
A senior police officer said, "We have the example of Saad Aziz before us. Not only Saad, but there are several other cases of terrorism which had their roots in universities. Youth are brainwashed by their colleagues or teachers at varsities. Things have changed now as in the past, professional fighters were enough for militancy, but now the terror outfits have shifted their strategy and are now focusing more and more on the recruitment of engineers and other highly educated persons and varsities are the best places for them."
The universities whose VCs have been invited include University of Karachi, Federal Urdu University, Iqra University, National Institute of Computer and Emerging Sciences University, IBA, Bahria University Karachi Campus, Jinnah University for Men, Muhammad Ali Jinnah University and Sir Syed University.
Full report at:
http://nation.com.pk/karachi/09-Jul-2017/ctd-invites-vcs-of-11-universities-to-briefing-on-terrorism
--------
DPO killed, two other police officials injured in Chaman blast: reports
Dawn.com | Syed Ali Shah
July 10, 2017
A senior police official was killed and at least two other police officials were injured in a blast near Boghra Road in Balochistan's Chaman area on Monday morning.
The nature of the blast has not yet been confirmed, although initial reports suggest it was caused by an Improvised Explosive Device targeting a vehicle carrying the police officials, DawnNews reported.
District Police Officer Killa Abdullah Sajid Mohmand, who was critically wounded in the blast, succumbed to his injuries. Two other police officials who were in the vehicle are also seriously injured, DawnNews reported.
An emergency has been declared in hospitals and law enforcement and rescue officials have been dispatched to the site of the incident.
Full report at:
https://www.dawn.com/news/1344405/dpo-killed-two-other-police-officials-injured-in-chaman-blast-reports
--------
Journalist returns home after 20 hours in detention
Imtiaz AliUpdated
July 09, 2017
Abdullah Zafar, a journalist associated with English daily The Nation who was allegedly taken away from his residence in Lawyers' Society Karachi in the early hours of Sunday, returned home after being held for nearly 20 hours.
Abdullah was dropped off near Karachi airport late Sunday night by the same men who had picked him up from his residence.
"The motive behind my detention is uncertain, so is the identity of those who abducted me," Abdullah wrote in a text message to his colleagues.
Abdullah's father, Zafar, had told Dawn that around 10 to 15 people had come to his house at around 3:30am and taken Abdullah away after blindfolding him. Two of the men were in police uniforms while the remaining men, who had arrived in three vehicles, were in plain clothes, he added.
According to Zafar, the men had also detained his brother after raiding his residence in Shah Faisal Colony.
The plain-clothed men accused Abdullah of giving a "fake cheque" worth Rs50 million, which they said later "bounced". Zafar, however, claimed that his son was innocent and such allegations were "laughable", adding that his son has no association with any religious or political party.
Zafar alleged that an officer at the Sachal police station received his application but "appeared to be reluctant to register the FIR" on his complaint.
Senior Superintendent of Police, Malir, Rao Anwar, told Dawn that the police was not involved in Abdullah's alleged abduction, adding that the Inspector General of Police, A.D. Khawaja, had also asked him to look into the disappearance of the journalist.
Rao Anwar said that he has directed the Sachal police SHO to lodge the case if the family submitted an application.
Full report at:
https://www.dawn.com/news/1344215/journalist-returns-home-after-20-hours-in-detention
--------
At least 2 FC personnel killed, 5 injured in Kurram Agency blast
July 10, 2017
At least two Frontier Core (FC) personnel killed and five injured in result of blast near Lakka Tegga Check Post in Kurram Agency near Pak-Afghan border, reported Waqt News.
According to details, the personnel were targeted through a landmine when they were going to get water.
The injured personnel were rushed to nearby hospital.
The security forces have reached the site as a search operation is underway.
On April 27th, Four security personnel were killed and three others seriously wounded in a roadside bomb explosion near Balochistan's Turbat town.
The victim Frontier Corps personnel were on patrol when their vehicle was hit by an improvised explosive device (IED) in Mand area, according to security sources.
Banned militant group Balochistan Liberation Front (BLF) claimed responsibility for the deadly attack.
On January 18th, Five FC personnel died, while two got injured in a blast in Marget, Quetta. The blast took place near a security forces' vehicle.
The deceased were identified as Awais Muhammad, Muhammad Qasim, Fareed, Muhammad Saleem, Mubashir Nadeem and the injured as Aqeel and Gulab.
Full report at:
http://nation.com.pk/national/10-Jul-2017/at-least-2-fc-personnel-killed-5-injured-in-kurram-agency-blast
--------
3 terror suspects held from Quetta, Zhob
July 10, 2017
RAWALPINDI:- In sequel to the ongoing operation Radd ul Fasaad the Frontier Corps (FC) on Sunday apprehended three terror suspects and recovered cache of arms as well as ammunition from outskirts of Quetta and Zhob. According to the Inter Services Public Relations, the FC during various search operation apprehended two terror suspects having links with a banned outfit from Killi Ismail area of Quetta while another was rounded up from Zhob.–APP
The raiders recovered a Small Machine Gun, 4 rifles, pistols and terror projecting materials.
The apprehended terror suspects are being interrogated.
http://nation.com.pk/national/10-Jul-2017/3-terror-suspects-held-from-quetta-zhob
--------
Three terrorists of banned outfits held with arms
July 09, 2017
The Law Enforcement Agencies (LEAs) personnel arrested three terrorists of banned outfits, recovered arms and other material used in terrorist activities during separate actions here on Sunday.
Inter Services Public Relations (ISPR) said that under the umbrella of operation Raddul Fasaad, research operation was conducted in Kaley Ismail area of Quetta during which two terrorists of defunct organisation were held with one SMG, four rifles, pistol and other material used in terrorist activities.
Another terrorist of a defunct organisation was arrested from Gawal Ismailzai area of Zhob district.
The LEAs confiscated the recovered arms and the nabbed terrorists were shifted to undisclosed locations for further investigation.
http://nation.com.pk/national/09-Jul-2017/three-terrorists-of-banned-outfits-held-with-arms
--------
South Asia
Taliban to be 'tagged' as terrorists, warns Ghani
July 10, 2017
Kabul - Afghan President Mohammad Ashraf Ghani has once again called on the Taliban group to join peace process, warning that the group will be designated as global terrorists if it pursues violence.
Speaking during a conference in Kabul on Sunday, President Ghani said the Taliban group should understand that time is not waiting for them, reported Afghan news agency Khaama Press.
"They should wholeheartedly accept the peace process or they should get ready to be included in the international list of the globally -designated terrorists," President Ghani said.
President Ghani further added that the government of national unity has a crystal clear approach and policy towards peace process since the beginning of its formation.
He said the Afghan government will continue to pursue its policies for peace and reconciliation although it has not been successful so far but the government is ready to achieve it at the cost of lives and finances. The Afghan president also added that it is the time that the international community should understand and ask themselves that what is the solution when the militants are even attacking embassies and consulates.
According to President Ghani, the Afghan government and nation is in the frontline in the fight against terrorism and for Afghanistan and global security.
The remarks by President Ghani are delivered at a time when the Taliban group is not ready for the peace talks and has repeatedly rejected to participate in reconciliation despite persistent efforts by the government to end the violence through negotiations.
http://nation.com.pk/national/10-Jul-2017/taliban-to-be-tagged-as-terrorists-warns-ghani
--------
Drone strike leaves 7 militants dead in Paktia province
Jul 09 2017
At least seven militants were killed in a drone strike apparently carried out by the US forces based n Afghanistan.
The airstrike was carried out late on Saturday night in Paktia province in southeastern parts of the country, located along the Durand Line.
Provincial governor's spokesman Abdullah Hasrat confirmed the report and said the airstrike was carried out in the vicinity of Zurmat district.
He said the militants were carried out in the vicinity of Mamozo area of Zurmat.
It is yet not clear to which group the militants were belonging to as both the Taliban insurgents and militants affiliated with the foreign insurgent groups, including Al-Qaeda and the Haqqani terrorist network are actively operating in various parts of the province.
Two senior leaders of the Haqqani terrorist network were killed in a similar airstrike in this Paktia province late last month.
The Ministry of Interior (MoI) said the two top Haqqani network leaders were killed in the vicinity of Orgun district earlier today.
Full report at:
http://www.khaama.com/drone-strike-leaves-7-militants-dead-in-paktia-province-03112
--------
Deadly airstrike target ISIS leaders in Jawzjan in North of Afghanistan
Jul 09 2017
A deadly airstrike was carried out on the leaders of the Islamic State of Iraq and Syria (ISIS) terrorist group's offshoot in Afghanistan, ISIS Khurasan, in northern Jawzjan province of Afghanistan.
The Afghan Intelligence, National Directorate of Security (NDS), said the airstrike was carried out in the vicinity of Qosh Tapa district.
A statement by NDS said a total of five key leaders of the terror group were killed in the airstrike.
The statement further added that the ISIS leaders killed in the airstrike have been identified as Mullah Abdul Ahad, Qri Muhibullah, Damullah Sadruddin, Qarid Mawdood, and Faiz Mohamad.
Among those killed are one of the key leaders of the terror group, Qari Mawdood, who was in charge of the terror group's financial affairs in Jawzjan.
The anti-government armed militant groups including the ISIS terrorist group have not commented regarding the report so far.
The security situation in Jawzjan province has started to deteriorate during the recent years with the rampant insurgency led both the Taliban and ISIS militants.
At least 52 farmers were abducted by the militants believed to having links with the ISIS terrorist group in mid-February this year.
At least six employees of the International Committee of Red Cross were also shot dead by militants in this province during the same month.
Full report at:
http://www.khaama.com/dead-airstrike-target-isis-leaders-in-jawzjan-in-north-of-afghanistan-03111
--------
Hekmatyar asks tribal elders to maintain security in their regions
Jul 10 2017
The leader of Hezb-e-Islami Gulbuddin Hekmatyar has asked the tribal elders across the country to maintain security in their respective regions.
Hekmatyar made the remarks during a large gathering in Kabul to discuss the ongoing violence and conflict.
He said one of the easiest ways to ensure security and stability in the country is to use the influence of the tribal elders.
The leader of Hezb-e-Islami further added that the tribal elders must declare the areas under their control as safe zones and prohibit the militants to establish sanctuaries for the insurgency activities.
Hekmatyar insisted that necessary measures should be taken to ensure stability so that the residents of the country can live peacefully and without any fear.
He also called on the Afghan people to remain united and thanked the people for their participation in the large gatherings in Kabul, Laghman, and Jalalabad, emphasizing that Hezb-e-Islami can play a role in ending the ongoing violence.
In the meantime, a member of the executive council of Hezb-e-Islami Qutbuddin Helal said they are hopeful that Hekmatyar's presence will help in peace process and end the ongoing violence and conflict in the country.
Full report at:
http://www.khaama.com/hekmatyar-asks-tribal-elders-to-maintain-security-in-their-regions-03114
--------
From star student to militant leader
July 09, 2017
Al Mamun Sagor Kushtia
This is the story of how a talented young boy turned out to be a notorious militant
From class 1 to class 5, Hasan had always been the top student in his class. No one was surprised when he got the primary scholarship.
Despite coming from a village madrasa, he made it to a merit list of 10 students on the Pabna Zila School's admission test.
Fast forward 20 years and this promising boy is now a top terrorist plotting one of the deadliest terror attacks in Bangladesh.
Sohel Mahfuz alias 'Haatkata' Mahfuz, who was captured by the police on July 8 in Chapainawabganj, is known to not only Bangladeshi but also Indian authorities as a top terrorist capable of terrible misdeeds.
Law enforcement from both sides are witness to his cunning and a rich repertoire of skills which helped him evade arrest for almost two decades.
Mahfuz, an explosives and covert communications expert, was one of the oldest members of the terrorist group Jama'atul Mujahideen Bangladesh (JMB) and quickly rose through its ranks during its heydays.
To the residents of Sadipur Union's Kablipara village however, he is Abdur Sobur Khan alias Hasan, the fourth of the 10 children of a poor farmer, Rezaul Karim alias Rajem Sheikh.
Hasan's sister Rahima Begum told the Dhaka Tribune that her brother Hasan was an extremely talented student when he was younger.
"He got scholarship in class 5. He paid for his own tuition. He would cross the Padma river every day to go to school in Pabna," she recalled.
Law enforcement says in his student days Hasan became involved with Islami Chhatra Shibir, the student wing of the Islamist party Jamaat-e-Islami.
Also Read- Hatkata Mahfuz placed on 7-day remand
After a rift with the JMB leadership here, Mahfuz moved to India in 2006 where he built up an organisation by himself and trained radicalised youths in bomb-making and weapons. He was known there as Nasirullah and has a Rs10 lakh bounty on his head.
In 2014, he returned to the country and joined the New JMB, the group that is responsible for the Gulshan cafe attack and pledges allegiance to Islamic State. There, he planned the Gulshan attack with its leaders Tamim Chowdhury and his relative Nurul Islam Marjan.
Hasan's youngest brother, Hafizur Rahman Sakib, 25, is also a terrorist like his elder brother, and was in regular contact with Mahfuz. Sakib graduated from Sadipur's Alia Madrasa in 2015. He was captured by the RAB and police in a raid on his house in lieu of his connection to terrorism. He is currently serving his sentence in Dhaka Central Jail.
Hasan's three other brothers are living normal lives. His eldest brother, Nazrul Islam, runs a tea shack in the area. Monirul Islam, another of his brothers, is working at a medicine firm, and the other brother, Helal is a carpenter in Comilla.
Rahima Begum first found out about Mahfuz's terrorist links in 2005, when RAB came to her house looking for her brother. He was in class 10 then. Mahfuz left the house after the raid. He kept in touch through phone after that, but 2008 was the last time when he visited home, with his wife. He has not kept in touch with his family since, according to Rahima Begum.
Aftab Hossain, ward councilor for Sadipur Union told the Bangla Tribune: "Hasan was a very talented student since childhood. But he has not been seen around here in the last 8-10 years."
Full report at:
http://www.dhakatribune.com/bangladesh/crime/2017/07/09/star-student-militant-leader/
--------
Persuade Myanmar to take back Rohingyas
July 10, 2017
Prime Minister Sheikh Hasina yesterday urged the international community, including the UNHCR, to persuade Myanmar to take back Rohingya refugees from Bangladesh.
In a meeting with visiting United Nations High Commissioner for Refugees, Filippo Grandi, at the PM's Jatiya Sangsad Office last evening, the premier also said the prolonged refugee problem can only be solved by ensuring a "sustainable repatriation" of the Myanmar refugees to their homeland.
"Myanmar should create a congenial atmosphere for the repatriation of its refugees from Bangladesh," PM's Press Secretary, Ihsanul Karim, quoted the premier as saying while briefing reporters, BSS reported.
The prime minister said the Myanmar refugee problem has created pressure on the socioeconomic condition of the overpopulated Bangladesh.
She said her government has identified some islands for rehabilitation of the Myanmar refugees and planned to build necessary infrastructures such as shelters, schools and hospitals for them.
Hasina said Bangladesh had an insurgency problem in the Chittagong Hill Tracts region, but the problem was ultimately solved through bilateral discussions.
"We brought back our nationals who took refuge in India," she said.
The UN High Commissioner for Refugees assured Bangladesh of extending all possible help to solve the refugee problem.
Filippo Grandi expressed immense gratitude to Bangladesh for its sacrifice by giving shelter to a huge number of Myanmar refugees.
"Bangladesh needs full appreciation and recognition for the sacrifice it is making for the Rohingya refugees," he said.
PM's Principal Secretary, Dr Kamal Abdul Naser Chowdhury, and UNHCR Country Representative in Bangladesh, Shinji Kubo, were present on the occasion.
GRANDI VISITS ROHINGYA REFUGEES TODAY
Our diplomatic correspondent reports that the visiting head of the UN refugee agency will visit the Rohingya refugees in Cox's Bazar today, to observe the plight of Myanmar's Muslim minority, who fled to Bangladesh due to persecution.
Filippo Grandi, arrived in Dhaka on Saturday, on a three-day trip met Prime Minister Sheikh Hasina and Home Minister Asaduzzaman Khan Kamal yesterday. He also met Foreign Minister AH Mahmood Ali on Saturday, to discuss the refugee situation.
During the meeting, the foreign minister urged the UNHCR to ask the government of Myanmar to take "meaningful measures" and ensure the return of all Myanmar nationals staying in Bangladesh.
Earlier, Grandi visited Myanmar and met top government leaders, including State Counsellor Aung San Suu Kyi. He also visited Rakhine state and met with displaced Muslims in Sittwe's Dar Paing camp and Maungdaw, and urged Myanmar to grant citizenship to the Rohingyas.
International attention in the months since has been on reports of grave human rights violations allegedly perpetrated by security forces against the Rohingyas. Nearly 75,000 members of the Muslim minority have fled to Bangladesh since the crackdown began on October 9 of that year.
According to an official estimate, there are 75,000 new additions. Of the 33,000 of these registered Rohingyas, 13,000 are in Kutupalong and 20,000 in Nayapara refugee camps. Another three lakh Myanmar nationals have been living illegally in Cox's Bazar, Chittagong, Bandarban and Rangamati districts for a while.
Official sources said Filippo Grandi will visit the registered refugee camp at Kutupalong in Ukhiya upazila and other unregistered Rohingya camps. He is likely to talk with the Myanmar nationals and listen to their safety and livelihood concerns.
The UN refugee chief also held a meeting in Cox's Bazar with the government and UN officials engaged in refugee camp management.
On return from Cox's Bazar, Filippo Grandi will hold a press conference at 6pm today.
Full report at:
http://www.thedailystar.net/backpage/persuade-myanmar-take-back-rohingyas-1430974
--------
Taliban suffer casualties in joint operations conducted in Logar
Jul 10 2017
At least sixteen Taliban insurgents were killed in a joint operation conducted in central Logar province of Afghanistan.
According to the local government officials, the operation was launched in the early hours of Sunday morning in Mohammad Agha district.
The provincial government media office in a statement also confirmed the operation.
"An operation was launched around 4 am local time in Mohammad Agha district which ended in the afternoon and as a result 16 insurgents were killed," a statement by the provincial government said.
The statement further added that eight Improvised Explosive Devices stored in a mosque were also confiscated during the operation along with ten motorcycles.
The anti-government armed militant groups including the Taliban insurgents have not commented regarding the report so far.
Logar is among the relatively volatile provinces in central Afghanistan where the Taliban insurgents are actively operating in a number of its remote districts.
Full report at:
http://www.khaama.com/taliban-suffer-casualties-in-joint-operations-conducted-in-logar-03115
--------
Southeast Asia
Indonesian Islamic Boarding Schools to Counter Radicalism through Digital Program
July 10, 2017
The East Java branch of the Indonesian Pesantren Association (IPI) is going to build a digital pesantren (Islamic boarding school) in order to counter the spread of Islamic radicalism throughout the internet and on social media.
The association head, Zaini Akhmad, said the digital pesantren would strengthen students, usually known as santri, and their knowledge about technology.
"All santri at all pesantren, especially those who join the association, will have education and training sessions through this digital pesantren," he said in Surabaya on Sunday as quoted by Antara.
Zaini also said that by accessing the digital pesantren, the santri would minimize their time looking for hate speech and radicalism on the internet.
"As a religion of rahmatan lilalamin [blessing for the universe], the santri should spread peace instead of hatred. Pesantren should counter radicalism to promote a peaceful Islam," he said.
Zaini suggested that pesantren cooperate with IT experts from universities for the digital program.
"To support this program, the IPI will cooperate with private providers. We have booked five million GSM sim cards for the santri," he said. (ecn/dmr)
http://www.thejakartapost.com/news/2017/07/10/islamic-boarding-schools-to-counter-islamic-radicalism-through-digital-program.html
--------
Zaid to Jakim: Help Muslims, don't just preach
July 10, 2017
PETALING JAYA: Former minister Zaid Ibrahim says the Malaysian Islamic Development Department (Jakim) should focus on tangible ways of helping Muslims instead of just telling them about their sins.
In a blog post today, he said the problem with Muslim leaders in Malaysia is that they like to talk about other people's sins all the time and not their own.
"They behave as if they themselves are free of sin, and so, every day, they tell fellow Muslims how to lead good 'sin-free' lives, as if only they know how.
"This is what makes the Muslim community weak and divided. Muslim leaders are busy telling others what to do with respect to small irrelevant things when they themselves have contributed little to the development of their community."
Zaid referred to the case of Nurhanizah Abdul Rahman, who caused a stir when news surfaced that she had been keeping a stray dog as a pet.
Jakim director-general Othman Mustapha had responded by urging Muslims not to keep dogs as pets, saying Nurhanizah's actions were against Islamic teachings.
Instead of being criticised, Zaid said Nurhanizah should be commended for having "a golden heart".
"A true Muslim is a kind and caring person. So, instead of scolding her, Jakim should be proud of Nurhanizah's kindness and humanity."
Even if Nurhanizah had sinned by touching the dog, Zaid said she alone bore that responsibility.
"Which human being, including Othman, is free from sin?
"Othman should be concerned about his sins and not those of others. One does not become an angel just because one assumes the post of director-general of Jakim or by serving the prime minister well.
"It's not Othman's business to ask dog-lovers to repent. That's God's business," he said.
Instead of being preoccupied with the sins of others, he said Jakim should focus on concrete ways to help Muslims such as making sure that children in religious schools have proper curricula and teachers.
Jakim could also make sure that all the zakat collected is used properly and in the best interests of the Muslim community, he said.
"A proper audit on the application of collections should be thorough, and Jakim can help streamline the administration of Muslim inheritance matters, which sometimes take years to settle because of inefficiency and bureaucratic delays.
"Jakim can also make sure that the Baitul Mal organisation in each state is properly audited to prevent 'leakages'.
Full report at:
http://www.freemalaysiatoday.com/category/nation/2017/07/10/zaid-to-jakim-help-muslims-dont-just-preach/
--------
Daesh Real Enemies of Umno: Def Min of Malaysia
9 July 2017
KUALA LUMPUR: The Daesh militants are the real enemies of Umno, not the opposition.
Stating this, Defence Minister Datuk Seri Hishammuddin Hussein urged Umno delegates to see beyond politics for the good of the nation.
"Our consideration is beyond political position, our consideration is beyond individual position, we want to ensure Malaysians, regardless of race or religion, as long as they are Malaysians, Umno will defend their security.
"Our enemy is not (Pandan MP) Rafizi, not (Permatang Pauh MP Datuk Seri) Wan Azizah, not (Selangor Mentri Besar Datuk) Azmin Ali. Our enemy is bigger than them.
"Our enemies are those who are slaughtering (people) on Youtube; the ones who are burning (people) alive in Jordan; who do mass killings in Marawi. This should be our real agenda," he told the Cheras division delegates at its meeting yesterday.
Hishammuddin reiterated the need for unity within the party, stressing that one of Umno's struggles is to spread the counter narrative against Islamic militancy.
"Do not allow anybody to divide us. If Umno is really fighting for the true face of Islam… Islam is under siege at the moment, if that is the phase that has consistently been part of our struggle then we have to work even harder to understand the threats and allegations that have been thrown at Islam," he said.
Noting that Malaysia is respected for its security, Hishammuddin said Malaysians cannot be complacent.
"We are still respected by many because Daesh has not stepped foot on our land. But as of today, the denials that Daesh can never enter the region have now become a reality.
"This is the direct effect of the success of coalition between Mosul (Iraq) and Raqqa (Syria) countries," he said, adding that Mosul and Raqqa have become free from Islamic State occupancy.
However, he cautioned the militants have openly announced that they are looking at this region as an Islamic Caliphate.
"If that is their agenda, of course, this area will be the area of their focus. We will not be exempted from their focus …
"So, if we are messed up with our politics and dispute among us fighting for position and power we would become vulnerable to IS," Hishammuddin told a press conference after opening the division meeting.
He said Malaysia's established relationship with Saudi Arabia among others was for the common struggle.
Full report at:
http://www.thesundaily.my/news/2017/07/10/daesh-real-enemies-umno-hishammuddin
--------
Terrorist organization – Jemaah Islamiyah rises in Indonesia
July 10, 2017
In the years following the 2002 and 2005 Bali bombings, Indonesian security forces have been appreciated for their effective counter-terrorism initiative to counter the security threat from the militant Islamist group Jemaah Islamiyah (JI). The group, once capable of frequent and at times sophisticated, co-ordinated assaults, has seen a reduction in its operational capabilities and has not managed to conduct a large-scale attack since the one on the JW Marriot and Ritz Carlton hotels in central Jakarta in July 2009.
Led by Densus-88, Indonesia's elite counter-terrorism unit, security forces have succeeded in infiltrating and dismantling JI cells, and have eliminated or captured commanders, and led have massively cracked down on financial ties and resources with international terrorism networks. Densus-88 recieves substantial assistance by the United States and Australian governments through intelligence-sharing programmes, as well as the funding and training of personnel.
The success of the police and military has not been limited to tackling JI. The authorities have largely limited the actions of JI splinter groups, such as Jemaah Ansharut Tauhid (JAT), to conduct attacks. In 2010, the authorities successfully shredded to pieces a large militant training camp in Aceh, in the far west of the country, and arrested Abu Bakar Baasyir, JI's spiritual leader and the founder of JAT.
Security forces have also been successful to curtail the threat of more recently established militant groups, such as the Mujahidin Indonesia Timur (MIT) and other pro-Islamic State groups, to operate in the country. These groups have staged far fewer successful operations in comparison to the operational prime of the JI between the late 1990s and early 2000s.
Moreover, these attacks have tended to be smaller in scale and have resulted in relatively few, fatalities. The tasks accomplished by Indonesia's counter-terrorism forces are indeed impressive and have seemed to boost the impression that the JI network has effectively collapsed. Although security forces have been successful in reducing the group's ability to execute large-scale attacks, persistent corruption, a reliance on excessive force, and a mismanaged prison system have allowed for the JI network to continue in the form of smaller cells maintained by longstanding kinship networks, leaving open the probability for revival of the outfit in its wider operations.
Following a period of inactivity due to the arrest of Baasyir and the deaths of senior commanders and expert bomb makers – such as Noordin Mohammad Top in September 2009 – in clashes with security forces, JI appears to be regrouping. The organisation is seemingly rebuilding weapons caches, raising funds, training new recruits, and proselytizing, indicating a noteworthy step-change in its modus operandi
According to Sidney Jones, the director of Jakarta-based think-tank the Institute for Policy Analysis of Conflict (IPAC), the group once again initiated its recruitment efforts in 2012. This statement was echoed by a national police spokesperson, Anton Charliyan, in March 2015. Speaking to Indonesian media outlets, he said that "based on intelligence information" the group had "hundreds" of members again. In a speech at the National University of Singapore's Institute of Southeast Asian Studies' Regional Outlook Forum in January 2015, Jones said the group had almost recovered to its size at the time of the Bali improvised explosive device (IED) attacks. According to US Department of State figures, the group had approximately 1,000 members at its peak.
Speaking specifically about recruitment tactics, Jones indicated that JI leaders were now less focused on drafting new members from pesantrens – religious boarding schools that have historically played a large role in producing new militants. She claimed the JI now focused on Indonesian universities and laid emphasis on recruiting chemical engineers, tech specialists, and managers to replace those with bomb-making skills who had been killed or captured by the Indonesian authorities Attempts have been made via social media to reach out to university students specifically.
The group's ability to refill its ranks relatively quickly from its low point in 2010 indicates the resilience of its ideology and appeal to the small subset of Indonesian society predisposed to support militant Islamism. Its effectiveness in this regard is particularly significant given that it faces a vigilant and capable security force, as well as competition from other militant Islamist groups, particularly those claiming affiliation to the Islamic State.
Despite its effectiveness in securing territory, JI leaders have opposed Islamic State leader Ibrahim al-Badri's (alias Abu Bakar al-Baghdadi) declaration of a caliphate in Iraq and Syria. Instead, the organisation remains nominally affiliated to the Al-Qaeda network and its leader Ayman al-Zawahiri. According to Greg Fealy of the Australian National University, in a speech at the London School of Economics in December 2015, this places the JI leadership in line with the sentiments held by militant Islamists and their sympathisers in Indonesia. Fealy argued that the majority of this community remains opposed to the Islamic State "judging by social media pages [and] anecdotal information".
Indeed, it is possible that the rise in membership since resumption of recruitment efforts in 2012 is simply a return to the status quo. Since the end of Dutch colonial rule in 1945, Indonesia has faced a reasonably constant threat from militant Islamism. JI itself is an outgrowth of Darul Islam, a movement that waged a low-level, albeit long-running, insurgency against the Indonesian government between 1948 and 1962. Although the government successfully cracked down on the insurgency, its members were able to regroup in various guises, as organisations such as Komando Jihad and finally JI in 1993. Although these groups failed to pose an existential threat to the functioning state, they nonetheless could cause significant disruption and harm to the lives of average Indonesians causing dire security threat
Although significant and important research has been conducted regarding Indonesians who have gone to fight for the Islamic State in Iraq and Syria, little has been reported on the involvement of JI members in the Syrian conflict. The conflict has facilitated the group to recruit new members, receive training and funds, and re-establish ties with the international community of militant Islamist groups, despite its percieved opposition to the Islamic State.
According to the United Nations, JI's humanitarian wing, Hilal Ahmar Society Indonesia (HASI), has helped to raise funds and has conducted activities to "support the recruitment and travel of JI foreign terrorist fighters to Syria" since mid-2013. A UN Security Council sanctions report published on 13 March 2015 claimed that the group had facilitated the travel of two JI commanders, Bambang Sukirno and Angga Dimas Pershada, to the conflict zone.
These findings appear consistent with a report published by Jones and Solahudin, Co-Director at the IPAC, in Southeast Asian Affairs in 2014. According to the pair, JI sent four teams in 2012 and another five in 2013, totaling approximately 50 people. Although none of these teams seemingly worked with the Islamic State, they were supported by other militant Islamist groups, namely Harakat Ahrar al-Sham al-Islamiyya.
Fealy, citing government figures, his own work, and IPAC figures, has indicated in several speeches between 2015 and 2017 that in total approximately 300 to 350 Indonesians had gone to Syria and Iraq between 2011 and 2015. This figure appears to exclude the wives and children of individual militants who may have travelled alongside their partners. Fealy said that precise figures of those who have aligned themselves with the Islamic State or otherwise remain unavailable, but broadly speaking those who are affiliated with Al-Qaeda-linked groups are a minority.
Despite the increased interest in militant Islamism as a result of the conflict, the proportion of fighters that have returned to Indonesia currently remains nominal. Approximately one third – according to figures from Fealy, Jones, and the Indonesian police – have died in combat and many have simply stayed in Mosul or Raqqa.
However, as the Islamic State's fortunes have waned in the Middle East conflict zones, militants may opt to return home and reintegrate into existing networks. The threat of returnee JI militants or members of an alternative group training new recruits or generating positive publicity for the group on the back of their newfound credibility of having engaged in combat thereby remains a possibility in the coming six months. To date, the threat appears mitigated somewhat by the low numbers of returnees (on 7 November 2016 National Police Chief Tito Karnavian said 50 returnees had been identified by November 2016), watchful security services, and historical precedent in that the vast majority of participants in the conflicts in Afghanistan and Bosnia did not engage in violence on their return to Indonesia, despite an often explicit purpose of training in order to return to establish an Islamic state via a militant Islamist campaign.
However, the nature, context and ideologies driving participation in the Bosnian and Afghan conflicts differs from that of current trends of militant Islamism in Iraq and Syria, with for instance substantial crevices in views between rival militant groups and a higher inclination for encouraging attacks abroad, most notably on the part of the Islamic State.
Very less information appears to be available regarding the size of weapons caches held by the group. Several Indonesian media outlets reported in March 2014 that police had found a weapons storage bunker in Bantul, a town about 10 km south of Yogyakarta. The authorities seized firearms and grenades, and believed that there were other similar caches in the area. Suspected JI members subsequently arrested in 2016 were often found in possession of grenades, shotguns, and large quantities of ammunition. Five counter-terrorism operations took place in Indonesia in 2016 linked to non-Islamic State Islamist militancy in which weapons, explosives, or precursor materials for explosives were confiscated, with further arrests and weapons seizures recorded in connection with Islamic State-affiliated suspects. However, JI's deficiency of a dedicated training camp or indeed a physical stronghold indicates that its ability to store weapons for long-drawn-out periods is inadequate. As the raid in Bantul indicated, buying and stockpiling weapons in a given location increases the likelihood of uncovering and a crackdown by the authorities.
Despite a potential lack of success in maintaining a sizeable cache of weapons, the recent raids have indicated that some factions within the group are ready to return to armed conflict after a period of relative passiveness. This may be motivated by recent experiences in Syria or a need to show supporters and members that the group is capable of opposing the Indonesian state effectively, especially in the face of recent attacks by pro-Islamic State militants, including the high-profile but low casualty attacks in Jakarta in January 2016.
JI's recruitment efforts could potentially receive a lift from the return of members recently released or scheduled to be released from prison. According to Indonesian media reports in November and December 2013, approximately 100 convicted militants were scheduled for release between 2014 and 2016 as their sentences were about to get over.
ABC News, an Australian broadcaster, also reported in October 2015 that among those released were Abu Dujana and Zarkashi, two JI members who had active roles in the group's operations in Bali and Poso. The men were reportedly released for good behaviour and commitment to deradicalisation programmes.
The effectiveness of Indonesian deradicalisation programmes has been the subject of intense debate. Greg Barton of Monash University in Melbourne, Australia, wrote in December 2008 that although some JI members "can be de-radicalised and reintegrated… this will probably amount to no more than 20 percent in the longer run. The experience of Darul Islam suggests that most will remain linked into the social networks and quietly committed to the cause". There is already a famous example for the failure of such deradicalisation programmes, most notably in Saudi Arabia, where some Saudi inmates released from the US detention facility at Guantanamo Bay simply bided their time and pretended to actively engage in deradicalisation and integration efforts, before returning to fight for Al-Qaeda in the Arabian Peninsula (AQAP) at the next opportune movement.
This is not to suggest that these men will commit or plot violent acts despite a return to the militant Islamist community. Research by Thomas Hegghammer of the University of Oslo indicates that although militants will rejoin networks – often due to a failure to reintegrate into mainstream society – less than 10% of fighters who participated in conflicts in the 1990s and early 2000s returned to their countries of origin to conduct further attacks. Moreover, the presence of former detainees, who are often still scrutinized by security forces or known to local authorities, may attract unwarranted attention to cells attempting to remain concealed. Conversely, Hegghammer's analysis of the lethality of attacks conducted in Europe has also shown that attacks planned by returnee foreign fighters are more likely to be conducted, and tend to be more damaging, than those by perpetrators without such a background, probably a result of combat experience and better training in weapons use and operational planning.
Nevertheless, it may be too early to judge the impact of these recent releases on JI's capabilities in the longer term. Even if only a few return to the fold, they may be able to handover their skills and expertise to new recruits, quickening their training process. Furthermore, their experience with the security services may also help the group to learn how to evade detection in the future.
Limitations on the capabilities of its members and choked supply of funding and arms have seemingly driven JI to focus primarily on building community support. The group has traditionally declared periods of "Hijra" (emigration) in times of significant opposition from the state, alluding to the Prophet Muhammad's journey from Mecca to Medina, fleeing persecution. During these periods, JI leaders have sought shelter in neighbouring Malaysia or remained passive in Indonesia, having declared a termination of struggle until conditions become more suited.
JI leaders appear to be adopting the latter approach and have in the past few years increased their dawa (proselytisation) efforts, particularly on new social media platforms such as Telegram, Twitter, and Facebook, which did not have the same reach and scope when the group was active in the early and mid-2000s. Social media posts also show that the group has been reactivating old networks on mobile telephone messaging service Blackberry Messenger, but at the same time acknowledge that these channels are now insecure.
The group also uses the Majelis Dakwah Ummat Islam (MDUI), a body established by older JI members in Jakarta, to conduct its outreach and education efforts. The MDUI's website publishes articles, audio clips, and videos espousing the "virtues of helping fellow Muslims" or asserting that Islam as practiced in the Arab world is compatible with local Javanese culture. However, it is uncertain as to how many of the group's supporters read these screeds or attends the workshops and meetings held by the MDUI.
The monitoring of social media forums over the past year has shown that JI supporters often acknowledge the success of nationalist-Islamist groups and protest organisations such as the Front Pembela Islam (FPI), or Islamic Defenders Front, in rallying public support for the group's causes. Most notably, the FPI, along with several other such organisations, mobilised hundreds of thousands of people in a series of street protests at the end of 2016 in opposition to Jakarta's Christian-Chinese governor, Basuki Tjahaja Purnama, by claiming he blasphemed against the Quran. Online, JI supporters have often said that they support these maneuvers and claim to be attempting to emulate them.
It remains to be seen how successful JI supporters and its leadership are in mobilizing similar levels of support. A JI spokesperson told Reuters on 15 February 2016 that the group would remain peaceful "up to a certain point" in order to garner public support. However, despite the growing conservatism of Indonesian Muslims, as indicated by growing protest movements in the country, the use of violence has historically created a substantial backlash against Islamist groups, militant or otherwise, in the country. Public opinion of the JI collapsed significantly following the Bali IED attacks in 2002 and 2005 and other attacks in Jakarta, particularly when the identities of Muslim victims were revealed.
This suggests that JI will not be able to retain widespread support should it return to violence. Instead, the group is likely to continue to rely on kinship networks fostered through marriage and historical links to communities in rural West and Central Java as well as Poso and Ambon, for its support, funds, and occasional shelter, should the group attempt to return to violence and establish a stronghold.
Geographically, areas supportive of JI during its peak in the late 1990s and early 2000s were the same areas that were most active during the Darul Islam rebellions during Indonesia's initial years of independence. These areas include West Java, Central and South Sulawesi, and Aceh. The Darul Islam movement's offshoots such as Komando Jihad, participants of the Afghan conflict, and more recent groups such as JAT and MIT, derive the majority of their recruits from these locations or find sufficient community support that they are able to set up training camps or bases there. Additionally, numerous academic studies over the years have shown that JI members were often direct descendants of Darul Islam fighters or had married into the movement.
The fact that militant groups in Indonesia have drawn from the same regional communities and familial networks for most of Indonesia's independent history shows that JI is likely to receive community support in the form of shelter, food, donations, and even in its recruitment efforts. Should the authorities launch a crackdown on the group for preaching, running pesantrens, or establishing a training camp in areas such as Poso, Central Sulawesi, Ambon, Maluku, or in villages in the outskirts of Depok, West Java, JI militants are likely to be able to blend into these communities, enabling the movement to survive in the longer term.
Full report at:
https://www.newdelhitimes.com/terrorist-organization-jemaah-islamiyah-rises-in-indonesia/
--------
Christian leaders should engage with mainstream Muslims, forum told
Nur Khairah Alegria Suner
July 8, 201
KUALA LUMPUR: A Muslim academic has called on Christian groups in Malaysia to engage more with local mainstream Islamic leaders, saying this could help avoid controversies borne out of misunderstanding as shown in the recent call to ban Christian evangelicalism.
International Islamic University Malaysia (IIUM) lecturer Maszlee Malik said such efforts can be done without the fear of proselytisation, or attempts to convert a person from one religion to another.
"Evangelical churches should start engaging with mainstream Muslim groups and authorities, without the element of proselytisation," he told a forum organised by Christian think tank Kairos Dialogue Network, which was also attended by Bishop Emeritus Hwa Yung of the Methodist Church.
Maszlee called for more dialogues with mainstream Muslim figures such as Federal Territory mufti, Zulkifli Mohamad al-Bakri and Perlis mufti, Mohd Asri Zainul Abidin, as well Islamic associations such as the Malaysian Islamic Youth Movement (Abim), All-Malaysia Muslim Welfare Association (Perkim) and the Malaysian Chinese Muslim Association (Macma).
He said one misunderstanding among Muslims in Malaysia was that local Christians are pro-Zionists, the ideology adopted by the state of Israel.
A local rights group called Centre for Human Rights and Advocacy (Centhra) recently sparked outrage among Christian groups after it accused evangelicalism of threatening religious harmony in Malaysia.
Saying the evangelicalism movement was inclined towards openness "without limitation", the group urged the government to consider introducing an anti-evangelicalism law.
Speaking at the forum today, Bishop Hwa Yung pointed out a general misunderstanding on the term "Evangelicalism".
He said evangelicalism was not an ideology about dominating the world, and disputed claims that it supported present-day Israel as well as the proselytisation of Muslims.
He said it was also wrong to associate local evangelicalism to the movement that appeared in 1942 in the United States under the National Association of Evangelicals.
Meanwhile, Maszlee said misunderstanding about "the others" were mutual between Muslims and non-Muslims.
"I still remember when I talked to some Chinese from the younger generation, they only picked up stories or understood about Islam from the Chinese media.
"The same goes to Malays, they only pick up stories about Christianity, Buddhism from the Malay media," he said.
Full report at:
http://www.freemalaysiatoday.com/category/nation/2017/07/08/christian-leaders-should-engage-with-mainstream-muslims-forum-told/
--------
Need for more open dialogue with Muslim groups
July 10, 2017
By Josh Wu
I had the wonderful opportunity of attending a dialogue on Saturday, entitled "Deceitful? Distracting? Or Dedicated? Evangelicals & Current Controversies", which was organised by Kairos Dialogue Network and the STM Centre for Religion and Society.
First off, I have to say that I was greatly encouraged by the number of Muslims who attended the dialogue, especially since the event was held on Wesley Methodist KL's grounds, albeit in a multipurpose hall. There were also attendees from Pertubuhan Ikram Malaysia (Ikram), Angkatan Belia Islam Malaysia (Abim), and the Christian Federation of Malaysia (CFM).
Bishop Emeritus Hwa Yung started off his presentation by briefly mentioning a few issues which have recently arisen, namely, accusations against Hannah Yeoh's biography, the cancelled Jerusalem Jubilee event, the CEO of the Centre of Human Rights Research and Advocacy (CENTHRA) calling for evangelicalism to be outlawed in Malaysia, and Nik Abduh's statement that Christians have infiltrated a major political party in the country to carry out their Christianisation agenda.
Bishop Hwa Yung went on to say that such issues are based on a confusion of terms, a misrepresentation of who evangelicals are, and religion being highly politicised. He then explained the difference between evangelicals, evangelicalism, and evangelism, based on an article written by local Christian theologian, Ng Kam Weng.
The fact that the CEO of a think tank conflated such terms are highly illustrative of why interfaith/interreligious dialogues are necessary. If the CEO of a think tank could make such a mistake, what more us ordinary folks?
International Islamic University Malaysia (IIUM) lecturer Maszlee Malik, later in the dialogue, gave an example of Christians praying for the establishment of the kingdom of Jesus Christ, and how Muslims may be alarmed because they fail to understand what a Christian means when he/she says that. Understanding each other can most definitely, allay unnecessary fears and conflicts.
During his allotted time Mazlee raised a good point, suggesting that one of the ways forward is by dialogues, but more specifically, by engaging more mainstream Islamic groups such as Abim, Pertubuhan Kebajikan Islam Malaysia (PERKIM), and the Malaysian Chinese Muslim Association (Macma). Or even figures like the Federal Territories mufti and/or the Perlis mufti, both of whom represent more mainstream Islam.
On top of Mazlee's suggestions, I would like to put forth certain propositions for the consideration of any party concerned in this matter.
Firstly, civil societies like Kairos Dialogue Network should go even further than what Mazlee suggested, by engaging with groups like Ikatan Muslimin Malaysia (Isma) which are perceived as more hardline.
Its president, Abdullah Zaik Abdul Rahman, has been under the spotlight in recent years due to a few controversial statements he has made. It would be good for him to be able to present his views on interfaith matters, free of any misrepresentation, and to be allowed to defend them under scrutiny (either through the questions of fellow panellists or by way of questions from the audience).
Inviting speakers of differing views would also make the dialogues more productive. As much as I respect Mazlee and his willingness to participate in these dialogues, his moderate views might result in the dialogues being an echo chamber or information cocoon of some sort.
Perhaps these dialogues could also be streamed live on platforms such as Facebook and/or YouTube.
Although Saturday's dialogue was recorded, a live stream would allow the entire discussion to be shared on social media, hence raising awareness about the existence of such events. People who could not attend the dialogue due to a variety of reasons would be able to have access to the content of what was discussed, in the event there is a livestream.
Besides that, the moderator, Rev Sivin Kit mentioned before the start of the Q&A sessions that the organisers are aware of suggestions that the dialogues should be conducted in the national language and be held elsewhere.
It is my sincere hope that the organisers can implement these recommendations in the future. Having these dialogues in the national language would allow the information discussed to be heard and understood by a greater majority of Malaysians.
Furthermore, if Muslim groups are open to this idea, future dialogues could/should be held on mosque grounds (not necessarily at the area where prayers are conducted if that would be inappropriate).
Understandably, not all Muslims are comfortable entering church grounds. Thus, having it on mosque grounds would make it much easier for Muslims to participate in these dialogues.
Full report at:
http://www.freemalaysiatoday.com/category/opinion/2017/07/10/need-for-more-open-dialogue-with-muslim-groups/
--------
At G-20 Summit, Jokowi Calls for Unity in Fighting Terrorism
July 10, 2017
Jakarta. President Joko "Jokowi" Widodo called for unity in fighting terrorism during the Group of 20 Summit in Hamburg, Germany on Friday (07/07).
"Are we going to surrender to terror? Are we going to keep quiet? We must not give up, nor can we afford to do nothing – we must unite to fight against the threats of terrorism," Jokowi said, as quoted in a press release by the Cabinet Secretariat.
During his speech, Jokowi said that a balanced approach of soft power and hard power is an effective solution in counterterrorism efforts, citing deradicalization programs in Indonesia as an example.
"History teaches us that weapons and military power alone cannot eradicate terrorism. Waywardness can only be corrected by showing better ways and ideas," Jokowi said.
The president also touched on the deadly siege of Marawi City in Southern Philippines, where more than 400 people have been killed and around 260,000 displaced as fighting continues between the Philippine military and Islamic militants affiliated with the Islamic State.
Jokowi said that the situation in Marawi should be a reminder to the rest of the world that the militant group continues to spread its destructive ideology and influences local terrorists.
Indonesia has lately experienced a series of terrorist attacks – targeting mainly policemen – the suicide attack at the Kampung Melayu bus station in East Jakarta in May, which killed three officers, and knife assaults in Medan and Jakarta last month.
In the face of the attacks, the House of Representatives is speeding up the revisions to the existing antiterrorism laws. The government has also joined hands with other countries in counterterrorism efforts. A trilateral partnership with neighboring Malaysia and the Philippines has been established in response to the situation in Marawi.
"In the future, Asean [the Association of Southeast Asian Nations] will also work with Australia to counter terrorism in the region," Jokowi said.
Jokowi urged fellow G-20 countries to increase their surveillance of money flows financing radical and terrorist groups, adding that G-20 must utilize information technology to offer a counternarratives to radical ideologies and promote peacebuilding.
The president also said that G-20 countries should cooperate in intelligence sharing, addressing the issue of foreign terrorist fighters (FTF) and developing capacity-building programs.
He added that G-20 countries need to address the roots of terrorism, which include social inequality and injustice, by strengthening inclusive economic empowerment.
The Group of 20
As leaders convene and bilateral meetings are held between heads of states, what can be achieved by the Group of 20 is multifold and far-reaching.
The summit poses a great opportunity for leaders of the world's biggest economies to discuss and enact concrete strategic steps to improve security and well-being of people across the globe.
This year, however, the summit has been seen as the most complex G-20 meeting in years, with the recent United States withdrawal from the Paris Agreement, President Donald Trump's stance on free trade and his "America First" approach, which might hinder cooperation with other participants.
Full report at:
http://jakartaglobe.id/news/g-20-summit-jokowi-calls-unity-fighting-terrorism/
--------
Mideast
Huge crowd rallies in Istanbul against Turkey's post-coup crackdown
July 10, 2017
ISTANBUL - Turkey's main opposition leader told a huge protest rally on Sunday that the country was living under dictatorship and pledged to keep challenging the crackdown launched by the authorities after last year's failed military coup.
Addressing hundreds of thousands of people waving Turkish flags and banners demanding justice, Kemal Kilicdaroglu said his 25-day march from Ankara to Istanbul - culminating in Sunday's rally in Istanbul - was the first stage of a long campaign. "We will be breaking down the walls of fear," he told the crowd who gathered to welcome him at the end of his 425 kmtrek from the Turkish capital.
Kilicdaroglu's protest march drew only modest support in its early days, but as more people joined him it grew into the biggest protest yet against the year-long, post-coup crackdown launched by President Tayyip Erdogan's ruling AK Party. "The last day of our Justice March is a new beginning, a new step," said Kilicdaroglu, a bespectacled, 68-year-old veteran politician. "Rights, law, justice," the crowd chanted back.
He called on the government to lift a state of emergency enforced after the abortive July 2016 coup, release scores of journalists from prison and restore the independence of Turkey's courts.
Kilicdaroglu, head of the secularist Republican People's Party (CHP), launched his protest last month after the jailing of a fellow parliamentarian for 25 years on spying charges.
Enis Berberoglu was the first CHP lawmaker to be imprisoned in the purge. About 50,000 people have been arrested and 150,000 state workers including teachers, judges and soldiers, have been suspended. "The era we live in is a dictatorship," Kilicdaroglu said.
Rights groups and government critics say Turkey has been drifting toward authoritarianism for years, a process they say accelerated since the coup bid and a referendum in April which granted Erdogan stronger powers.
The government says the crackdown and constitutional changes are necessary to address challenges and security threats. Erdogan criticised Kilicdaroglu when he launched his protest, saying justice should be sought in parliament, not on the street. He likened the protesters to those who carried out the attempted coup, saying they could face charges.
But Kilicdaroglu said the opposition had no alternative because Turkey's courts had been politicised, "the powers of parliament have been seized" and the media had been muzzled.
"There is only a single place for our demand for justice and that is the streets," he said. People in the crowd said they were heartened by the turnout.
"This is now our future at stake," said Beyhan, a 50-year-old civil servant who declined to give her full name. "Seeing this crowd has made my hopes blossom."
"We are here for justice and democracy. We are here because we are against one-man rule," she said. "There is no democracy, there is no freedom, even thinking is a crime."
Samet Burak Sari, 21, a student at Marmara University, said he spent four weeks in prison because he described Erdogan as a terrorist on Twitter. He was released but his trial continues.
He said Sunday's Istanbul rally was the third time the opposition had come together in large numbers - firstly in the 2013 protests in Istanbul's Gezi Park, then in April over the referendum which narrowly approved Erdogan's new powers.
"Through this march again, people with varying opinions have come together for the third time. Things like this keep the public opposition alive," he said.
http://nation.com.pk/international/10-Jul-2017/huge-crowd-rallies-in-istanbul-against-turkey-s-post-coup-crackdown
--------
Yemeni Chief of Staff says Houthis carried out mass executions
9 July 2017
Major General Mohammad Ali al-Maqdashi, chief of staff of the Yemeni Army, said on Sunday that the Houthi militias in the country have carried out mass executions within their ranks, targeting those who tried to flee the fighting fronts in Maarib.
Maqdashi condemned the executions of fighters who attempted to leave their positions in the Mokhadara area in Sirwah, after realizing that they were doomed to lose the battle against government forces.
Maqdashi's remarks were made during his inspection of the army's positions in the vicinity of Mount Marthad, northwest of Sirwah in Maarib.
https://english.alarabiya.net/en/News/gulf/2017/07/09/Yemeni-Chief-of-Staff-says-Houthis-carried-out-mass-executions.html
--------
US, Israel fuel crises in Mideast to sell more arms: Iran official
Jul 8, 2017
The United States and Israel seek the protraction of crises in the Middle East in order to be able to sell more weapons to regional countries, Iranian Parliament speaker's special advisor on international affairs, Hossein Amir-Abdollahian, says.
During a meeting with Syrian Ambassador to Tehran Adnan Mahmoud on Saturday, Amir-Abdollahian said efforts by Washington and the Tel Aviv regime to prolong "regional crises such as the continuation of [the Saudi] aggression against Yemen, threatening Syria with a military attack and the perpetuation of tensions in Riyadh-Doha relations are aimed at selling more weapons to the [countries of the] region."
He added that the White House's review of its policy on Syria shows a "change of tactics and not a change in the objectives of Syria's enemies."
Since the outset of the crisis in Syria more than six years ago, enemies have been seeking to oust the country's legal President Bashar al-Assad, he said.
"Despite such a demand, the Syrian nation's choice and determination will be the only path to determining Syria's final fate and the Islamic Republic of Iran, since the beginning of this crisis, has emphasized on political dialogue and negotiations," Amir-Abdollahian pointed out.
The Iranian official emphasized that Syria stands at the forefront of resistance against the Israeli regime and the fight against terrorism and that it plays an honorable role in this regard.
He pointed to the common stance between Iran and Russia on the Syrian issue and stressed the importance of continued cooperation among the three countries.
Syria has been hit by deadly foreign-backed militancy since March 2011. At Damascus' request, Iran has been providing military advisory support to the Syrian military in its counterterrorism operations.
Russia has been also carrying out an aerial campaign in Syria in coordination with Damascus since September 2015 to further boost the Syrian military's anti-terror fight.
Iran plays undeniable role in Middle East
The Syrian envoy, for his part, said Iran has a leading and undeniable role in the region and added that the US and its Western allies seek to undermine Iran's regional influence.
Mahmoud noted that Tehran and Damascus have a close stance on many regional developments and said the Islamic Republic is playing a vital role in the battle against terrorism both in Syria and the entire region.
Full report at:
http://www.presstv.ir/Detail/2017/07/08/527848/Iran-Syria-Russia-US-Israel-Hossein-AmirAbdollahian-Adnan-Mahmoud
--------
Israeli military court begins trial of Palestinian human rights campaigner
Jul 9, 2017
A prominent Palestinian human rights activist has gone on trial in an Israeli military court on accusations of inciting violence.
Trial of the founder of al-Khalil (Hebron)-based Youth Against Settlements campaign group, Issa Amro, began at the Ofer military court in the occupied West Bank on Sunday. The trial of the 37-year-old activist was adjourned until October 22 after two witnesses testified.
An Israeli military spokesman has said evidence would be presented that Amro had "taken part in riots, attacks on soldiers, calls to violence, and prevented security forces from doing their work." Two soldiers took the stand on Sunday and testified about a demonstration on February 26, 2016.
Speaking to reporters outside the court, Amro called the trial a "joke" and said he had no trust that Israel's military justice system would treat him fairly.
His lawyer Gaby Lasky also said that the "Israeli military cannot stop non-violent demonstrations with weapons, so they're doing it through criminalization of ... freedom of speech and freedom of demonstration."
"I think we proved it wasn't an illegal demonstration and it was not a violent demonstration, and incitement is not carrying slogans" critical of Israel's occupation, Lasky added.
Britain-based rights group Amnesty International has said the charges against Amro do not "stand up to any scrutiny."
"If he is convicted, we will consider Issa Amro a prisoner of conscience," Amnesty said previously.
In June 2016, Amro was charged with 18 counts, some dating back to 2010.
The Israeli military claims that Amro had "taken part in riots, attacks on soldiers, calls to violence, and prevented security forces from doing their work."
Amro denies ever using violence against Israeli forces.
He has stressed that his trial is a political decision by the Tel Aviv regime to target his human rights work.
In December last year, the United Nations denounced daily violations of human rights and international law by the Israeli regime in the occupied Palestinian territories, warning of an increase in the arbitrary detention of Palestinian rights activists.
UN experts further pointed to the cases of Amro and Farid al-Atrash, a Palestinian lawyer from the southern West Bank city of al-Khalil (Hebron), who are being held in Israeli prisons over participation in a peaceful protest in February.
Full report at:
http://www.presstv.ir/Detail/2017/07/09/527956/Israel--Issa-Amro-alKhalil--West-Bank
--------
Arab coalition raids destroy Houthi sites off Jazan
9 July 2017
Arab coalition air forces bombed on Saturday night Houthi military positions off the Jazan port, when militias attempted to target civilian sites on the Saudi border.
Saudi forces provided military information to the coalition regarding the locations of Houthi and Saleh militias, who were stationed near Mount Doud and Mount Shada, Al Arabiya correspondent reported.
Military sources confirmed that the coalition targeted the two sites, which resulted in the destruction of B10 anti-tank shields, military vehicles and ammunition stores, engendering the killing of 27 Houthi and Saleh militiamen.
Yemen's chief of staff, Mohammad Ali al-Maqdashi, had announced earlier that the Houthis had carried out mass executions targeting the members who tried to flee the fighting fronts in Marib.
Full report at:
https://english.alarabiya.net/en/News/gulf/2017/07/09/Arab-coalition-raids-destroy-Houthi-sites-off-Jizan.html
--------
Senior MP: Iran to keep up advisory support to Syria
Jul 10, 2017
A senior parliamentarian says Iran is to keep up its advisory support for the Syrian government and military in the Arab country's fight against foreign-backed terrorists.
"We reserve our right to support the Syrian government and people against terrorists," Tasnim news agency quoted MP Alaeddin Boroujerdi as saying Monday.
"Based on that right, we will stand by the Syrian people and government in their fight against Daesh and other terror groups," said the lawmaker who is also the head of the parliament's National Security and Foreign Policy Committee.
"Iran is determined in confronting terrorism. It makes no distinction among terrorist groups, and does not subdivide them into good and bad ones as some countries do," Boroujerdi asserted.
His remarks coincided with Israeli Prime Minister Benjamin Netanyahu's warning against "Iranian involvement" in Syria following a US-Russia-brokered ceasefire in several southwestern provinces, which took effect on Sunday.
"Israel would welcome a genuine ceasefire in Syria, but this ceasefire must not open the way for Iran's military entrenchment or that of its satellites in Syria in general and in southern Syria in particular," the Israeli premier said on Sunday.
Israeli warplanes have repeatedly bombed Syrian army positions, especially in areas near the occupied Golan Heights where Tel Aviv claims Hezbollah is carving out land for a long-term stay.
On June 18, the Islamic Revolution Guards Corps fired several ballistic missiles from its bases in western Iran and destroyed Daesh positions in Syria's Dayr al-Zawr, which also left scores of terrorists dead.
The strike came in response to a terrorist attack in Tehran which killed 18 people but many analysts said it also served as a message to Israel.
Boroujerdi said the missile strike showed the length which Iran's Armed Forces are ready to go in their response to terrorist movements.
He said "some regional parties which have Syrian and Yemeni blood on their hands back terrorists," calling on all players in the region to clarify their stance on terrorism and end backstage patronage of the terrorists.
Full report at:
http://www.presstv.ir/Detail/2017/07/10/527969/Iran-Syria-Israel-Saudi-Arabia
--------
Iran def. min., SNSC chief hail full liberation of Iraq's Mosul
Jul 9, 2017
Iran's defense minister and secretary of the Supreme National Security Council have sent congratulatory messages to Iraqi government, armed forces and nation on the complete liberation of Mosul from Daesh terrorist group.
Iranian Defense Minister Brigadier General Hossein Dehqan sent two separate messages on Sunday to Hadi al-Ameri, a senior commander of the Iraqi volunteer forces, commonly known by the Arabic name Hashd al-Sha'abi, and Iraqi Defense Minister Erfan Mahmoud al-Hayali.
In his message to Ameri, the Iranian defense minister said the complete liberation of the historical city of Mosul from the control of Daesh terrorist group brought happiness to all advocates and supporters of stability, peace and security in Iraq, particularly the Iraqi nation, government and the armed forces.
It was impossible to achieve such victories in Iraq without the sincerity, bravery and devotion of the volunteer forces under the leadership of top Shia clerics and the country's brave commanders, he added.
The Iranian defense minister also offered his congratulations to Hayali and the Iraqi government, people and the armed forces.
"This major victory thwarted plots [hatched] by the US and the Zionist regime [of Israel]," Dehqan said.
He expressed hope that it would lead to the complete defeat of the arrogant system's strategy of waging proxy wars in the region.
Shamkhani congratulates Iraq PM, Ayat. Sistani on Mosul liberation
In a related development, Secretary of Iran's Supreme National Security Council (SNSC) Ali Shamkhani extended his messages of felicitation to Iraqi Prime Minister Haider al-Abadi and top Shia cleric, Grand Ayatollah Ali al-Sistani, over the Iraqis' success to completely take over Mosul from Daesh terrorists.
Shamkhani said the great victory in Mosul was achieved thanks to the leadership of top Shia clerics, prudence of the Iraqi government and bravery of the country's army and popular forces.
It has been once again proved that the use of Iraq's domestic capacities was a "successful and reliable" experience in the fight against terrorism, he added.
The SNSC secretary emphasized that despite the demand of certain powers and regional countries who were interested in the "long-term existence of contained terrorism in Iraq," the liberation of Mosul and restoration of security to the city brought happiness to the country's people.
He added, however, that the roots of terror-nurturing ideology still remain in the region and the sentiments of the youth are abused by the intelligence services of extra-regional countries and the rulers of some regional states.
Under such circumstances, it is necessary to pay attention to the "cultural and intellectual confrontation with terrorism more than security and military confrontation" with it, the senior Iranian official pointed out.
The prime minister of Iraq on Sunday announced final "victory" over the Daesh Takfiri terrorist group in Mosul after eight months of combat against the extremists, which has left parts of the country's second largest city in ruins.
Full report at:
http://www.presstv.ir/Detail/2017/07/09/527940/Iran-Iraq-Mosul-Hossein-Dehqan-Hadi-alAmeri-Hashd-alShaabi-Erfan-Mahmoud-alHayali
--------
Arms cache of Jaish ul-Adl terror group seized in SE Iran
Jul 8, 2017
Iranian security forces have confiscated a large cache of weapons and an anti-aircraft cannon belonging to the so-called Jaish ul-Adl terrorist group in the country's southeastern province of Sistan and Baluchestan.
The terrorists' arms depot included 35 Kalashnikov rifles, a 14.5-mm anti-aircraft cannon, nine SPG-9 guns as well as a large amount of ammunition, the police commander of Sistan and Baluchestan, Hossein Rahimi, told reporters on Saturday, IRNA reported.
He added that the depot was discovered and confiscated in the heights of Kouh Sefid near the town of Saravan in the eastern parts of the province on Friday following coordinated efforts and planning by police and security forces and their complete monitoring of smugglers and opponent groups.
He noted that the terrorists had plans to use the weapons against local civilians in the area.
Jaish ul-Adl is a small Salafist group on the Saudi payroll. It is based near the border with Pakistan, from where it carries out terrorist attacks against Iran. The terrorist group has killed a number of civilians and border guards.
Over the past months, Iranian forces have been engaged in clashes with terror groups, thwarting their terrorist activities on the border and within the country, arresting several of them and confiscating large amounts of explosives and bomb-making materials.
In September 2016, Iran's Islamic Revolution Guards Corps (IRGC) dismantled a terrorist group, backed by Saudi Arabia and the United States, in Sistan and Baluchestan.
IRGC forces clashed with several members of the so-called Jaish ul-Adl terror group in Kouhak near the Pakistani border and killed five terrorists.
Full report at:
http://www.presstv.ir/Detail/2017/07/08/527824/Iran-Jaish-ulAdl-terrorist-group-Sistan-Baluchestan-Saravan-Kouh-Sefid
--------
Israel not bound by US-Russian ceasefire deal in Syria: Liberman
Jul 10, 2017
Israel has refused to abide by a ceasefire brokered by the United States and Russia which went into force in southwestern Syria on Sunday, saying it would act to protect its interests.
"Israel reserves its complete freedom of action, regardless of any understandings or developments," minister of military affairs Avigdor Liberman said on Sunday.
Russia, the US and Jordan have agreed to back a ceasefire in southwestern Syria and to establish a de-escalation zone in Syrian provinces of Dara'a, Suwayda and Quneitra, which borders the Israeli-occupied Golan Heights.
The truce came into force at noon Damascus time (0900 GMT) on Sunday.
The trilateral agreement on cessation of hostilities was announced on Friday after a meeting between Russian President Vladimir Putin and his American counterpart, Donald Trump, on the sidelines of the G20 summit in the German city of Hamburg.
Liberman said Tel Aviv is mulling the understandings reached between Trump and Putin regarding the truce.
Israel has cited errant fire to launch several attacks on the Syrian territory, targeting civilians and military positions. Many observers believe militants backed by Israel are behind the fire, giving a pretext to Tel Aviv to attack Syrian military positions.
Prime Minister Benjamin Netanyahu also commented on the ceasefire on Sunday, saying Israel will carefully monitor the developments in Syria, "while strongly upholding our red lines."
He cited alleged fears of Iranian or Hezbollah presence in Syria, particularly in the Golan Heights. Netanyahu said the truce must not "enable the establishment of a military presence by Iran and its proxies in Syria in general and in southern Syria in particular."
Syria has been gripped by foreign-backed militancy since March 2011. The Syrian government says Tel Aviv and its Western and regional allies are aiding Takfiri militant groups wreaking havoc in the country.
Israel regularly hits positions held by the Syrian army in the Golan Heights, describing the attacks as retaliatory. Syria says the raids aim to help Takfiri militants fighting against government forces.
On several occasions, the Syrian army has confiscated Israeli-made arms and military equipment from terrorists fighting the government forces. There are also reports that Israel has been providing medical treatment to the extremists wounded in Syria.
Full report at:
http://www.presstv.ir/Detail/2017/07/10/527974/Israel-USRussian-truce-Syria
--------
Erdogan plans regional tour to help resolve Qatar row despite brushoff
Jul 10, 2017
Turkish President Recep Tayyip Erdogan says he may travel to several regional countries to help resolve a crisis revolving around Qatar, even as he has disturbed some of those countries by resolutely taking Doha's side.
"I may have special [diplomatic] traffic after July 15. I want to visit the region once again. We might contribute to the reestablishment of dialog with a visit to the region. We are planning to visit Qatar, Kuwait, and Saudi Arabia in particular," Erdogan said, Hurriyet Daily News reported on Monday.
He was talking to journalists on board his plane returning from the German city of Hamburg, where he participated in a summit of the Group of 20 countries.
The Turkish president said he had discussed the Qatar dispute with all the leaders he had met with at the G20 summit — including the US and Russian presidents — and had told all of them that a solution had to be found through dialog.
Saudi Arabia, the United Arab Emirates (UAE), Bahrain, and Egypt broke off diplomatic ties with Qatar on June 5, accusing Doha of supporting terrorism. They also suspended all land, air, and sea traffic with Qatar, which has denied the accusations against it and has refused to meet the "unreasonable" demands.
Kuwait and to a lesser extent Oman have been involved in mediation efforts in the dispute.
Erdogan referred to the efforts by Kuwait and said his regional tour should not be considered as an attempt at mediation. "What I mean [by this visit] is to contribute to the reestablishment of dialog between the parties," he said.
The Turkish factor
Erdogan's plan to travel to the regional countries comes despite bitter developments that have dragged Turkey — a non-Arab country — deeper into what the feuding Arab states themselves have sought to portray as a family dispute.
Turkey initially attempted to stay impartial, seeking to bring the disputing parties together through calls for dialog. But soon after the diplomatic standoff erupted, Turkey also approved the dispatch of thousands of more troops to a base it maintains in Qatar.
That decision was bound to upset Saudi Arabia and the other countries boycotting Doha. On June 22, they issued a list of 13 demands for Doha to meet in order for the relations to be restored, among them a demand that Qatar close the Turkish military base permanently.
Erdogan later attempted to allay that concern, offering to also build a military base in Saudi Arabia. Riyadh was not impressed, dismissing the offer and saying it needed no Turkish military presence to ensure its security. But Erdogan has also rejected the demands made to Qatar, to the dismay of Doha's adversaries.
An 'unjust' siege well-managed
Qatar has been weathering the blockade smoothly. Sitting on vast reserves of gas and being the world's largest producer and exporter of liquefied natural gas (LNG), it has had little problem managing the impacts of the Saudi-led siege.
On Sunday, the chairman of Qatar Chamber, Sheikh Khalifa bin Jassim bin Mohammed Al Thani, called the blockade "unjust" but said it was affecting its enforcers more than it was affecting the Qatari economy. He said Qatar could immediately meet its needs for all kinds of goods by importing them from alternative countries at the same cost and with better quality, according to Al Jazeera.
Turkey, Iran, Oman, and Kuwait have all been sending increased cargoes of foodstuffs and fresh produce to Qatar since early after the siege began.
Separately, the governor of Qatar's central bank said the country had ample foreign reserves and had no reason to worry about the restrictions imposed on it.
"This is the credibility of our system, we have enough cash to preserve any kind of shock," Sheikh Abdullah Bin Saoud Al Thani told CNBC in an interview published on Monday.
But Qatar's Attorney General Ali bin Fetais al-Marri has also said the country would seek damages from the blockading countries.
He said on Sunday that a special committee would be set up to "receive all claims, whether from the public sector, private sector, or individuals." Complaints could be taken up at courts in Qatar or abroad, including in France and the United Kingdom, he said.
Such action will be particularly meaningful since one of the 13 demands made by the boycotting countries was that Qatar pay compensation for unspecified harm done as a result of its "support for terrorism."
ICC weighs in
Meanwhile, the International Criminal Court (ICC) has said the rights of Qatari citizens are being violated as a result of the blockade.
ICC chief prosecutor Fatou Bensouda made the remark in a Sunday meeting in Doha with Emir Sheikh Tamim bin Hamad Al Thani and Foreign Minister Sheikh Mohammed bin Abdulrahman Al Thani.
'For GCC, the end is nigh'
In separate remarks, a Qatari deputy prime minister said the Persian Gulf Cooperation Council (GCC) was nearing its end.
Abdullah bin Hamad al-Attiyah told Qatari daily al-Sharq on Sunday that the GCC, founded in 1981, now seemed to be in its dying stages.
The remark was an apparent acknowledgement of the schism among GCC members amid the dispute with Qatar. While members Saudi Arabia, the Emirates, and Bahrain have severed all ties with Doha, other members, Oman and Kuwait, have remained impartial.
The only other member is Qatar itself, and there is a likelihood that the Arab body, largely under the influence of Saudi Arabia, may ultimately eject Doha if the dispute escalates in one form or another.
Al-Attiyah also said that Qatar had learned an important lesson as a result of the blockade.
Full report at:
http://www.presstv.ir/Detail/2017/07/10/527968/Turkey-Erdogan-regional-tour-Qatar-dispute
--------
Africa
Al-Shabab militants behead 9 civilians in southeastern Kenya
Jul 8, 2017
Suspected Takfiri al-Shabab terrorists have decapitated at least nine people in an attack on a pair of villages in southeastern Kenya, near the border with restive Somalia.
The deadly attack was carried out overnight on Saturday, when some 15 suspected al-Qaeda-linked militants stormed the two neighboring villages of Jima and Poromoko in the Kenyan coastal district of Lamu, near the Somali border, gathering their civilian victims together before beheading them, Kenyan local police and officials said.
A senior police officer at police headquarters in the capital Nairobi, speaking on the condition of anonymity, also confirmed the brutal incident. "It is true, we have lost nine people in today's attack," he said, without providing further details.
According to villagers, most of the heavily armed assailants appeared to be ethnic Somalis. The victims "were slaughtered like chickens", said a villager, who witnessed the incident.
Residents of the two villages had called the police a day earlier, reporting the presence of al-Shabab militants in the area, but no police forces were apparently deployed in the area to boost security.
The Somalia-based terror group has for years conducted deadly cross-border attacks in Kenya but it has rarely decapitated the victims.
The Saturday attack was carried out in the vicinity of Pandanguo village, where terrorists killed three police officers in an attack on a police post in Lamu on Friday.
The al-Shabab group has vowed retribution on Kenya for deploying troops in 2011 to Somalia to help its fragile central government curb the terror group, which last year became the deadliest terrorist organization in Africa.
In recent months, the terror group has increased attacks, using homemade explosive devices, killing at least 46 people in Lamu and Mandera districts.
The increase in attacks can pose a security threat against Kenya's August 8 presidential election.
In Somalia, al-Shabab militants have been pushed out of all major urban strongholds and ports, but they continue to stage attacks on targets in smaller, more remote areas.
http://www.presstv.ir/Detail/2017/07/08/527829/Kenya-Somalia-al-Shabab-Lamu-Jima-attack
--------
Libya's General Haftar: From captivity and exile to 'conqueror of terrorism'
9 July 2017
General Khalifa Haftar, commander of the Libyan army, is a military figure with an interesting past and a remarkable present. This Libyan strong man refused since returned back from exile in the United States to bargain with terrorism, and has devoted himself to fight it until he managed to root it out from the strategic eastern city of Benghazi, Libya's second largest, with many observers throwing predictions that the general is bound to have a special role in the future of his country.
Going back to the history of his military role during the 1970s, Haftar is the son of Libyan tribe al-Farjan. He has gained his first military experience a decade before that when he joined "the Free Patriotic Officers Movement" established by Muammar Qaddafi to overthrow King Idris and take over authority before being promoted to colonel in the mid-1980s and eventually led ground forces in Libya's war with Chad.
In Chad, Haftar was captured along with a number of other soldiers. Qaddafi would deny their roles and their existence. After his release, Haftar turned away from Qaddafi and became an opponent. He joined the newly formed opposition group, "the National Front for the Salvation of Libya" which was military and financially supported by the US, before leaving to Washington. He participated in crossing the Suez Canal with the Egyptian Army on October 7, 1973 against Israel, and won a military star.
During the Libyan revolution in 2011, Haftar returned to Libya and joined the rebels in the fight against the Qaddafi regime and played a prominent role in overthrowing him.
After the overthrow of the Qaddafi regime, he disappeared again until February 2014 when he announced the launch of the "Dignity Operation" against militias in Benghazi, but he did not find support in the beginning and the Libyan street was divided about his capabilities and intentions. However, with the passing of time and after being able to achieve military victories one after the other, and thanks to his moderate speech, many began to support him and won the legitimacy of the parliament, the government, the support of the major tribes in Libya and even international support by convincing them to join in his fight against terrorists.
These circumstances have prepared the Libyan army commander with the famous phrase "We fight terrorism on behalf of the world", so that he can defeat terrorism in the city of Benghazi, which had fallen into the trap of extremism and became a destination for a number of terrorist militants and political Islamist groups since the death of US Ambassador Christopher Stevens in 2012, Haftar's name became the most common in and out of Libya.
Benghazi's liberation from terrorism was a new military victory that has brought General Haftar more attention to become the most polarized figure in Libya, so many in the Middle East talk about his name after he managed to rid them of the fire of extremist militants that burned them for years after the overthrow of Muammar Gaddafi's regime, until people were betting on him as a last chance to save all Libya from chaos.
Full report at:
https://english.alarabiya.net/en/features/2017/07/09/Libya-s-General-Haftar-From-captivity-and-exile-to-conqueror-of-terrorism-.html
--------
Civil war cancels S Sudan's independence celebration
Jul 9, 2017
For the second year in a row, the world's youngest nation will not have any official celebrations to mark the anniversary of its birth because of the widespread suffering caused by its ongoing civil war.
"We did not feel it was appropriate to spend whatever little funds we may have to celebrate, when our people are hugely affected by the economic crisis," said South Sudan President Salva Kiir in an address to the nation on Sunday. "It's difficult for many people to afford even one meal per day."
Six years after South Sudan gained independence, the country is ravaged by fighting, severe hunger, mass displacement and accusations of war crimes by government and opposition forces.
For the country's 11 million people, what began with optimism has turned into a day of mourning.
During four years of fighting, South Sudan's situation has gravely deteriorated.
Roughly 4 million people have been forced to flee their houses, more than half of them children, said the Norwegian Refugee Council. Six million people — half the country's population — are in need of food aid and almost 2 million South Sudanese are living as refugees in neighboring countries.
"South Sudan's independence day is overshadowed by conflict and an unprecedented food crisis," said country director for the Norwegian Refugee Council, Rehana Zawar.
In his address to the nation, Kiir said the only solution is peace and he called on all armed groups to renounce violence and respect the cease-fire.
Earlier this year, the government declared a unilateral cease-fire, however reports of fighting by government forces have continued.
Four days ago the opposition reported government attacks on rebel-held territory. "They're randomly shelling and killing people along the way," said opposition spokesman, William Gatjiath Deng.
Kiir also urged the international community to support the national dialogue, announcing that the government has earmarked about $200 million for this "crucial national project."
Full report at:
http://www.presstv.ir/Detail/2017/07/09/527936/South-Sudan-Independence-Anniversary-Civil-War
--------
Nigeria: Sultan Advises Parents to Monitor the Activities of Their Children On Social Media
10 JULY 2017
By Mohammed Aminu
Sokoto — The Sultan of Sokoto, Alhaji Muhammadu Sa'ad Abubakar, Sunday called on parents in the country, to monitor the activities of their children on social media, to prevent them from engaging in immoral activities.
The monarch gave the advice at the closing ceremony of the national Quranic competition for Girls' Secondary Schools held at the Sultan Maccido Institute of Quran and General Studies in Sokoto.
He said the need for parents to monitor the activities of their children on social media networks like facebook became necessary so as to prevent them from indulging in anti-social activities.
The monarch described as disheartening the way and manner youths spend much of their time on facebook rather than focus on their education.
He emphasised that it was the responsibility of parents to do whatever it takes to prevent their children from deviating from Islamic teachings.
"You should be vigilant and monitor the activities of your children especially females on facebook to prevent them from engaging in immorality.
"As you are aware, a lot of negative activities are being perpetrated on social media. So, you should rather make efforts to educate our future mothers through the acquisition of western and Islamic education," the monarch advised.
The Sultan underscored the need for Muslims to give priority to education and urged parents to enrol their female children in schools to acquire western and Islamic education as well as encourage them to memorise the holy Quran.
The monarch promised that the Sultanate Council would sponsor the forthcoming national Quran competition.
In his remark, Governor Aminu Tambuwal, who was represented by the Secretary to the Sokoto State Government, Prof. Bashir Garba, said his administration would continue to accord priority to improving girl child education in the state.
He congratulated the winners of the competition for emerging victorious and reminded other participants not to lose hope but to work hard so as to perform well in the forthcoming exercise.
Tambuwal announced a donation of Hajj seat to the overall winner of the competition.
Full report at:
http://allafrica.com/stories/201707100094.html
--------
Uganda: Islamic Banking Can Succeed in Largely Christian Society
10 JULY 2017
By Paul M Kayongo
Parliament on January 6, 2016 passed the Financial Institutions Amendment Bill, which among others things, introduced Islamic Banking. While this was welcome news to the proponents of this system, many financial analysts have been left wondering how such form of banking that is consistent with Islamic Shari'ah (law) will take root in a country that is about 88 per cent non-Muslim and has for long used conventional banking. However, here are reasons why Islamic banking can succeed in Uganda:
As far as macroeconomic indicators are concerned, Uganda's economic growth rates over the last six years are on average generally higher than the global rates and those registered in the Middle East. This implies that the level of economic activity is higher in Uganda than in the Middle East where Islamic banking is rapidly growing.
Such high levels of economic activity are favourable for investment in Islamic banking, since the products of such an investment tend to be on high demand when economic activity is high, especially when they are favourable to clients.
Uganda's inflation is generally average single digit rates. Such rates are, according to Bank of Uganda Governor Emmanuel Tumusiime-Mutebile, within the range desired as a stimulant of economic activity. Indeed, a slight increase in market prices tend to stimulate supply and, therefore, production and investment. This is bound to increase the demand for favourable banking services. So, in terms of key macroeconomic indicators, Uganda offers a viable opportunity for investing in Islamic banking.
Even though Uganda's GDP per capita is generally low, implying low purchasing power per person, it may not have the same effect on investments that target to boost economic activity.
Banking is such an investment and does not deal in consumer goods and services. Its main role is to facilitate financial intermediation by encouraging savings through receiving and keeping financial deposits. It also converts the deposits into financial resources channelled to entrepreneurs and investors, while maintaining a liquidity level necessary to meet depositors' cash withdrawal needs. Boosting such a role is what is needed in Uganda.
Lack of capital that limits most Ugandans' efforts to sustain their established businesses is exacerbated by unfavourable credit terms to which they are exposed by the conventional banks and financial institutions. Different studies have shown that more than 90 per cent of the enterprises established by Ugandans close down as a result of loan terms set by these banks and financial institutions.
The institutions charge high interest rates, which they often increase speculatively; the banks set grace periods and loan repayment and servicing schedules that are inefficient and, therefore, economically oppressive to the clients' business operations. This implies that if a banking system that does not set harsh terms on capital is introduced, many business operators are likely switch to it.
Turning to demographic characteristics, the available statistics indicate that Uganda's estimated population size is 34 million people out of whom 4 million (about 12 per cent) are Muslims. This suggests that investment in Islamic banking has a 12 per cent starting margin in Uganda.
Moreover, despite being 12 per cent of Uganda's population, Muslims claim more than 70 per cent of this country's trade sector. Having the majority of them with a passionate desire for Islamic banking is, therefore, a window of opportunity for investing in this banking in Uganda.
Besides, the coverage of conventional banking is still low in Uganda. It stands at slightly more than 10 million savings and current accounts, which represent only 26 per cent penetration into Uganda's population. This implies that 74 per cent of the population is still uncovered and therefore available to embrace any other banking system, including Islamic banking.
Turning to competition in Uganda's banking industry, it is obvious that Islamic banking has to compete with the various conventional banks and financial institutions operating in this industry. These conventional institutions are 818 in total. However, owing to their harsh credit terms and the high acceptability of most of the financial products and services offered by Islamic banking, this competition is not a threat.
In addition, a review of press reports revealed that there are efforts by the Organisation of Islamic Conference (OIC) to form an Islamic bank called National Islamic Bank of Uganda. Another Islamic bank called AlHuda Centre for Islamic Banking and Economics (CIBE) has initiated its operations in Uganda with the brand name of AlHuda CIBE Uganda.
Full report at:
http://allafrica.com/stories/201707100037.html
--------
80 African migrants rescued off Libyan coast
09 July 2017
Eighty African migrants were rescued off the coast of Libya, a coast guard official said Saturday.
Navy teams rescued the migrants, including 20 women and seven children from a number of countries, according to Libyan navy spokesman Col. Ayoub Qassem, who said the operation took place off the coast of Garabulli, east of Tripoli.
Approximately 1,800 migrants have died in the Mediterranean Sea since the beginning of 2017, according to the UN refugee agency.
http://www.worldbulletin.net/africa/191636/80-african-migrants-rescued-off-libyan-coast
--------
URL: https://www.newageislam.com/islamic-world-news/mosul-loss-huge-deadly-blow/d/111821
New Age Islam, Islam Online, Islamic Website, African Muslim News, Arab World News, South Asia News, Indian Muslim News, World Muslim News, Women in Islam, Islamic Feminism, Arab Women, Women In Arab, Islamophobia in America, Muslim Women in West, Islam Women and Feminism