New Age Islam News Bureau
22 Jul 2019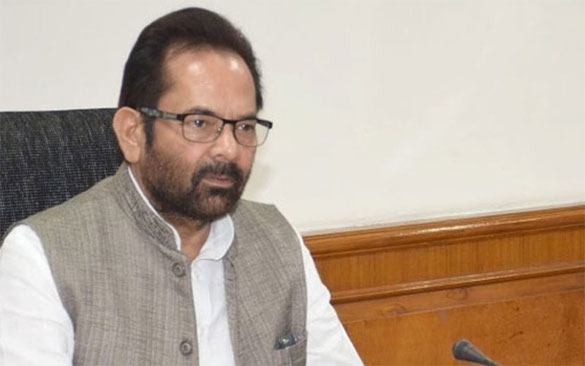 Photo: IANS
-------
• Most of the Lynching Cases 'Fabricated and Fake': Union Minister Naqvi
• J&K Governor Malik to Terrorists: Why Kill Security Forces, Kill The Corrupt Instead
• Muslim Cleric Who Hid Christians during Attacks Honored In the US
• Pageant Winner Ousted After Tweets on Muslims, Black People
• Most Indonesian Islamic Websites 'Run By Extremists'
• China Blames Foreign Forces for Unrest in Xinjiang
• 'Naya Pakistan Is Being Created In Front Of Your Eyes,' PM Imran Tells Packed Crowd in Washington
• Ex-Commander Discloses US Plan to Deploy Tens of Thousands of Terrorists at Iraqi-Syrian Borders
• Bangladesh Neutralizes Militants but Fear Still Persists
• Key Islamist Leader to Stand in Tunisia Polls
• Kushner to Finalize Palestinian Economic Plan On Mideast Tour, Says US Official
India
• Most of the Lynching Cases 'Fabricated and Fake': Union Minister Naqvi
• J&K Governor Malik to Terrorists: Why Kill Security Forces, Kill The Corrupt Instead
• Weeks after Clashes, Old Delhi Residents Uphold Traditional Communal Harmony
• Muslim Youth Threatened To Chant 'Jai Shri Ram' At Aurangabad, Maharashtra
• Hindu Mahasabha offers to bear expenses of sending Azam Khan to Pakistan
• J&K: Police to revamp village defence committees to curb terrorism
• As terror network shifts from east to west in UP, Yogi''s ATS swoops down on new modules
• Ayodhya land dispute panel meets AIMPLB general secretary
--------
North America
• Muslim Cleric Who Hid Christians during Attacks Honored In the US
• Pageant Winner Ousted After Tweets on Muslims, Black People
• Ask Imran Khan to Explain Forced Conversions In Pakistan: US Congress Members To Trump Ahead Of Meeting
• Ilhan Omar's Constituents 'Proud To Stand by Her' Over Trump's Racist Words
• US to press Pakistan PM on Afghan peace, terrorism crackdown
• White House's Kushner to finalize Palestinian economic plan on Middle East tour -official
• Pakistani PM Khan gathers thousands in US capital
• Hezbollah's moves against Druze stalwart flirts with a return to Lebanon's dark days
• Trump's Latest Target for Criticism: A Muslim Congressional Newcomer
--------
Southeast Asia
• Most Indonesian Islamic Websites 'Run By Extremists'
• China Blames Foreign Forces for Unrest in Xinjiang
• Sabah Umno Youth cry foul over DCM's comment on 38-year-old mass Islamisation of Tambunan natives
• US leads global crusade to stop persecution against all religions
--------
Pakistan
• 'Naya Pakistan Is Being Created In Front Of Your Eyes,' PM Imran Tells Packed Crowd in Washington
• Pakistan Turning Blind Eye To Human Rights Abuses In Xinjiang
• No special treatment for Nawaz Sharif in Jail: Imran Khan in US
• Tribal people have rejected PML-N, PPP: Firdous
• Politicians condemn Dera terror attacks
• Afghan issue tops agenda of Bajwa's talks with US officials
• Mengal asks parties to unite for Balochistan's rights
• Eight killed in twin attacks in Pakistan's northwest
--------
Arab World
• Ex-Commander Discloses US Plan to Deploy Tens of Thousands of Terrorists at Iraqi-Syrian Borders
• Turkey Intensifies Attacks on Kurds in Aleppo, Sends Massive Military Equipment to Borders with Syria
• ISIL's Media Emir Killed in Iraqi Force's Operations in Diyali
• Lebanese Media: Hashd Al-Shaabi Base in Amerli Attacked by Israeli Fighter Jet
• Hama: Hundreds of Terrorists Arrive in Key Region for Battle against Syrian Army
• Syrian air defenses thwart hostile targets in city of Masyaf in Hama: State TV
• Egypt expresses dismay to UK envoy over British Airways flight suspension
• Syrian government bombing of rebel stronghold kills 11
• Syrian air defenses thwart 'hostile' fire near Hama
--------
South Asia
• Bangladesh Neutralizes Militants but Fear Still Persists
• 22 Taliban, ISIS militants killed in Afghan Special Forces raids
• Airstrikes kill 17 Taliban militants in Ghazni, Uruzgan and Logar provinces
• Suicide vest goes off among Taliban in Ghazni killing several militants, suicide bombers
• 10 sedition cases filed against Priya Saha
• Airstrike targets large Taliban gathering in Faryab province
• PAE Systems to provide contractor logistic support to Afghan armed forces: Pentagon
--------
Africa
• Key Islamist Leader to Stand in Tunisia Polls
• Islamic Movement In Nigeria Denies Allegation Of Violence
• Drone strike near Tripoli kills seven fighters loyal to Haftar
• Libyan army downs Turkish drone over Tripoli
• Haftar forces preparing for new push to capture Tripoli: Report
• Libya: Tripoli-based gov't strikes hit Haftar forces
• Lamu village on lockdown as security forces hunt for al Shabaab
--------
Mideast
• Kushner to Finalize Palestinian Economic Plan On Mideast Tour, Says US Official
• 2 IRGC Forces Martyred in Clashes with Terrorists in Southeastern Iran
• Israel begins demolitions of Palestinian homes near Jerusalem
• Iranian MPs thank IRGC for seizing British-flagged tanker, call for Gulf tolls
• Zarif: Bolton failed to lure Trump into war, turning his 'venom' against UK
• Turkish court upholds singer's prison sentence for insulting Erdogan
• Russia says Iran's tanker seizure arguments more convincing than UK's
--------
Europe
• Another Mosque Desecrated As Anti-Muslim Attacks Continue To Spread Across Germany
• Europe leaves Turkey in lurch on migrant issue
• Iran-backed terror cells could be used in UK attacks if situation worsens
• Junior defense minister: UK committed to military presence in Middle East
Compiled by New Age Islam News Bureau
URL: https://www.newageislam.com/islamic-world-news/most-lynching-cases-fabricated-fake/d/119264
--------
Most of the Lynching Cases 'Fabricated and Fake': Union Minister Naqvi
July 21, 2019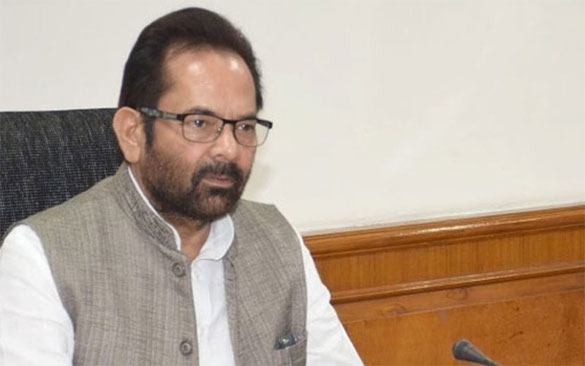 Photo: IANS
----
NEW DELHI: Union Minority Affairs Minister Mukhtar Abbas Naqvi on Saturday called most of the lynching cases 'fabricated and fake'.
Naqvi made the statement in response to Samajwadi Party MP Azam Khan's statement on Saturday saying that the growing cases of mob lynching against Muslims are a punishment for not migrating to Pakistan after the partition in 1947.
Lynching- 'fabricated and fake'
Reacting to Khan's statement, Naqvi told a news channel that most cases of mob lynching are "concocted and fake". Khan had said: "If Muslims went to Pakistan, they would not get this punishment. Why our ancestors did not go to Pakistan? They regarded India as their own country. Now they will be punished and they will have to endure."
Congress leader Randeep Singh Surjewala slammed Naqvi and told India Today, "I respect Naqvi Ji but does he even know what is happening with a minority in this country?"
"BJP doesn't feel anything for the minorities. Everyone in the ruling party is trying to shield the culprits", Surjewala added.
Incidents of mobs lynching
The mob lynching incidents from different parts of the country have constantly gone up.
The mob lynching on the basis of rumors has become "the norm of the day" where the fierce mob has started believing they can take law and order in their own hands and dispense instant justice on basis of mere rumors.
On Saturday (July 20th), a 58-year-old man was beaten to death by a mob in Madhya Pradesh's Neemuch district on suspicion of stealing peacocks.
On Friday (July 19th), three men thrashed to death on the charge of cattle theft in the Baniyapur area of Saran district.
News portal The Quint reported as many as 98 deaths across India since 2015.
https://www.siasat.com/mukhtar-abbas-naqvis-big-statement-mob-lynching-1555602/
--------
J&K governor Malik to terrorists: Why kill security forces, kill the corrupt instead
Jul 21, 2019
SRINAGAR: Jammu and Kashmir governor Satya Pal Malik said on Sunday that terrorists instead of killing security force personnel should kill the "corrupt who have robbed their state".
His remarks drew swift condemnation from former J&K CM and National Conference leader Omar Abdullah who said on Twitter, "This man, ostensibly a responsible man occupying a constitutional position, tells militants to kill politicians perceived to be corrupt. Perhaps the man should find out about his own reputation in Delhi these days before sanctioning unlawful killings & kangaroo courts."
Omar Abdullah
✔
@OmarAbdullah
This man, ostensibly a responsible man occupying a constitutional position, tells militants to kill politicians perceived to be corrupt. Perhaps the man should find out about his own reputation in Delhi these days before sanctioning unlawful killings & kangaroo courts. https://twitter.com/indiatoday/status/1152945501278310402 …
India Today
✔
@IndiaToday
#BREAKING: J&K governor gives a shocking statement. @ShujaUH tells us more about this.
Watch LIVE: http://bit.ly/IT_LiveTV
Embedded video
1,066
8:04 PM - Jul 21, 2019
Twitter Ads info and privacy
882 people are talking about this
The governor's remarks came while addressing local residents at a tourism promotion function in Kargil. "They are killing them unnecessarily. Why are you killing them, bhai," the governor said.
"These youth with guns, they are killing PSOs and SPOs. Why are you killing them? You should kill those who have looted Kashmir. Why are you killing the security forces? Have you killed any of the corrupt who have looted your Kashmir," the governor said.
"They (referring to mainstream politicians) are telling (sic) something else here and something else in Delhi," the governor said. Malik added that no one could make the government bow before a gun.
He said the situation in Kashmir had changed for the better.
"These boys (terrorists) have been indoctrinated by these mullahs that they will get jannat (in the) hereafter, but I promise to them give two jannats — one here in Kashmir and another (in the) hereafter," the governor told the gathering.
https://timesofindia.indiatimes.com/india/jk-governor-malik-to-terrorists-why-kill-security-forces-kill-the-corrupt-instead/articleshow/70321006.cms
--------
Muslim cleric who hid Christians during attacks honored in the US
By Bukola Adebayo
July 18, 2019
Lagos, Nigeria (CNN)The US government is honoring an 83-year-old Muslim cleric who hid 262 Christians in his home and mosque during an attack in central Nigeria.
Imam Abubakar Abdullahi, along with four religious leaders from Sudan, Iraq, Brazil and Cyprus, were awarded the 2019 the International Religious Freedom Award, which is given to advocates of religious freedom.
Abdullahi was recognized for providing shelter for hundreds of Christians fleeing attacks from Muslim herdsmen who had launched coordinated attacks on Christian farmers in 10 villages in the Barkin Ladi area of Plateau State on June 23, 2018, the award organizers said in a statement.
The cleric refused to give them up when their attackers asked about their whereabouts, International Religious Freedom Ambassador Sam Brownback said at the awards ceremony in Washington on Wednesday.
"The imam gave refuge to his Christian neighbors, sheltering 262 Christians in his mosque and his home.... then stood outside the doors confronting the Muslim attackers, pleading with them to spare the lives of the Christians inside, even offering to exchange his own life for theirs," Brownback said.
"His actions bear witness to true courage, true selflessness, and true brotherly love," he said.
More than 80 people were killed in the attacks by suspected herders who also set fire on many homes in the villages. Violence between the nomadic Fulani herdsmen, who are mostly Muslims, and farmers, who are predominantly Christians, in Nigeria's middle belt dates back to 2013.
The State Department, organizers of the award, given to advocates of religious freedom, said the Muslim cleric selflessly risked his own life to save members of another religious community who without his intervention would have been killed.
Armed herders have unleashed mayhem on communities in central states to evict farmers in a conflict said to be deadlier than the Boko Haram insurgency.
https://edition.cnn.com/2019/07/18/africa/nigeria-cleric-honored-intl/index.html?no-st=1563502148&fbclid=IwAR0oFN_WqyIAM1bssqptXyso7rEToZvLVZtlFL8CXfgOYmevIAon-9Jyk1I
--------
Pageant winner ousted after tweets on Muslims, black people
Jul 21, 2019
The Miss World America organization has stripped its Michigan pageant winner of her title, which she says was because of tweets she made about Muslims and black people.
Kathy Zhu was crowned the pageant's Michigan winner last week. She's a University of Michigan conservative who's active with a group called Chinese Americans for Trump.
In since-deleted tweets from the last two years, Zhu alluded to Muslim women wearing hijabs as "being oppressed under Islam" and disparaged black people for "blaming others" in regard to crime.
After being stripped of her crown, she posted a letter online in which pageant officials described her tweets as "offensive" and "inappropriate." Zhu calls the decision discriminatory and defends the tweets.
Pageant officials didn't respond to a Sunday message seeking comment. It's unclear who'll represent Michigan in Miss World America's October competition in Las Vegas.
Miss World America is separate from the more widely-known Miss America contest.
https://abcnews.go.com/Entertainment/wireStory/michigan-pageant-winner-ousted-tweets-muslims-64472554
--------
Most Indonesian Islamic websites 'run by extremists'
July 22, 2019
Most of Indonesia's Islamic website are in the hands of radical groups, raising the risk of extremism spreading, according to one of the country's leading Muslim clerics.
Nasaruddin Umar, the grand imam of Istiqlal Mosque in Jakarta — reputed to be Southeast Asia's largest mosque — says militant groups control virtually all the country's Islamic sites, leaving only a few being run by moderate groups.
"Based on our research 80 percent of Islamic websites are controlled by radical groups. Only 20 percent are run by moderates," Umar told ucanews.com on July 18.
He did not give specific numbers but said his Nasaruddin Umar Office (UNO) conducted the research.
Umar, also a professor at Jakarta Syarif Hidayatullah Islamic State University said he established the UNO in January this year with the main goal to oppose hard-line groups that from spreading radical ideology through the internet.
"Websites run by radical groups are active in teaching," he said, which is dangerous as they teach a misleading interpretation of Islam.
He said he raises such issues with the authorities, who take action against them.
The Communication and Information Ministry blocked 500 sites in 2018 including those with the content on radicalism and terrorism, but many still exist, Umar said.
The cleric, who is also the founder of the Indonesian interfaith organization, Masyarakat Dialog antar Umat Beragama, says UNO is focused on empowering Islamic sites run by moderate Islamic groups to counter teachings spread via sites run by radical ones. "It's actively pursuing the formation of more professional mosque clerics and preachers, in order to provide limited space for militant groups to spread radicalism," he said.
Indonesian citizens who love their country should also take up a more active role in efforts to stop extremism, and not leave what is a complicated job to government alone.
The UNO, he said, is a tool that can boost people's participation in counter radicalism. It was established out of a concern to accommodate and create a peaceful, tolerant, and civilized society.
The institution is promoting 17 programs that include fostering deradicalization, counter-terrorism, while also promoting research, and interfaith dialogue.
Father Antonius Benny Susetyo, a member of a presidential task force that promotes national unity, said extremism is a serious threat to national unity.
Echoing Umar's concerns he said authorities need to up their game to ensure radical sights are blocked as quickly as possible
At the same time deradicalization efforts targeting schools and families must also be maintained, he said.
https://www.ucanews.com/news/most-indonesian-islamic-websites-run-by-extremists/85678
--------
China blames foreign forces for unrest in Xinjiang
Jul 21, 2019
BEJING: China blamed foreign forces on Sunday for causing unrest in its western region of Xinjiang, which has a large population of Muslims and borders Pakistan. The statement comes in the wake of international criticism about the Chinese government allegedly running re-education camps for local Muslims.
China has issued a white paper saying, among other things, that "hostile forces in and outside China, especially separatists, religious extremists and terrorists, have tried to split China and break it apart by distorting history and facts".
The white paper did not name any country as the sources of hostile forces. But Xinjiang leaders have in the past blamed the Taliban, based in Pakistan and Afghanistan, for providing support to the region's separatists. Turkey's role has also been questioned by some Chinese scholars because the Uyghur Muslims speak the Turkic language and have close connections with some Turkish people.
The white paper also said that the Uyghur people did not choose Islam as their religion and that it had been forced on them in the past. This is part of China's defence against allegations that it was mistreating the region's Muslims.
"The Uygur people adopted Islam not of their own volition … but had it forced upon them by religious wars and the ruling class," the whiter paper said. Uyghur were forced to accept Islamic beliefs during the expansion of Arab states, the document said while describing it as a historical fact.
The white paper was released by the information office of the State Council, China's cabinet, soon after ambassadors of 22 countries signed a letter calling for a halt to the mass detention of Uygurs in Xinjiang. This is the first such joint move on the issue at the UN Human Rights Council. The signatories included envoys from Britain, France, Germany, Australia, Canada, Japan and Switzerland. The US did not sign the letter because it had quit the forum a year ago.
China responded by getting a letter signed by the ambassadors of 37 countries, including several Muslim-majority states like Saudi Arabia and Pakistan, supporting Beijing's policies in Xinjiang. It said that the show of support was "a powerful response to the groundless accusations made against China by a small number of Western countries".
The white paper also targeted the historical links between the Uyghur and Turkey. "Historically, the Uyghurs' ancestors were enslaved by the Turks," the document said. As evidence, the paper cited a history of conflicts between the two groups dating back to the 8th century CE.
"Xinjiang has borrowed from international experiences, combined them with local realities, and taken resolute measures against terrorism and extremism," the document said.
Government-run media has been releasing videos to show that Xinjiang people kept in camps are healthy and happy to counter allegations of harsh conditions and abuse published in the Western media.
https://timesofindia.indiatimes.com/world/china/china-blames-foreign-forces-for-unrest-in-xinjiang/articleshow/70321058.cms
--------
'Naya Pakistan is being created in front of your eyes,' PM Imran tells packed crowd in Washington
July 22, 2019
Prime Minister Imran Khan, while addressing a large crowd at a community event at Washington's Capital One Arena on Sunday, said that a 'Naya Pakistan' was being created in front of people's eyes.
"People ask where is 'Naya Pakistan', it is being created in front of your eyes," the premier said.
Earlier, the organiser of the event Dr Abdullah Riar had said that they were expecting between 15,000 and 20,000 at the event.
PM Imran was accompanied by Foreign Minister Shah Mahmood Qureshi, Adviser to the Prime Minister on Finance Dr Abdul Hafeez Shaikh, Adviser to Prime Minister on Commerce Abdul Razak Dawood, and Minister of State for Overseas Pakistanis Zulfi Bukhari.
Addressing the crowd in the American capital, Prime Minister Imran Khan said that the problem in Pakistan was that when political leaders were asked for answers, they say that [political] revenge is being taken and when courts make decisions they say 'kyun nikala'.
"Today what is happening in Pakistan, is the formation of Naya Pakistan — these people had never been asked for answers before."
He said that in Pakistan, the leadership had never been asked for answers before and this was the creation of a 'Naya Pakistan' taking place.
The premier said that there were two mains reasons — a system of merit and leaders being answerable — that democracy had gone forward in the world and left monarchy behind.
Citing a sports example, the PM said that the Australian cricket team had gone forward as they had a system that brings up talent and relies on merit.
"I have played cricket all around the world. I have seen the most cricketing talent in Pakistan. But [because] there is no system of merit, we can't bring that talent up.
"This is why we are not dominating the world because there is no meritocracy."
PM Imran said that America had a system based on meritocracy, through which good leaders replaced bad ones.
He said that in Pakistan there was a "type of monarchy" and merit did not come into play in the country.
"A society that doesn't have merit, doesn't go forward."
The premier said that the second factor that took democracy forward was the leaders being answerable.
"Democracy is successful when the leadership is answerable."
Prime Minister Imran said that cases against political leaders in Pakistan were not new.
"All the cases against them are old. We did not [start] any case [...] all we have done is make institutions independent."
"We have seen Pakistan go down before our eyes," he said, adding that when he was growing up in the country during the 1960s, Pakistan was considered to be the fastest developing country in the subcontinent and Asia.
He said the Pakistani bureaucracy was considered the top one in Asia and people used to come from abroad to study in the country.
"This is the same Pakistan we saw go down."
PM Imran explained that the form of socialism in place during the 1970s had led to industrial growth in the country stopping and then after 1985, bribery came into politics when the "real damage" took place.
"We saw Pakistan go down before our eyes."
He said two things — public office holders being held accountable and merit — were required to lift the country up.
"Anyone who is a public office holder should answer to the people."
While referring to political leaders in the country, the premier said: "They have one purpose, they want to hear three words from me NRO [National Reconciliation Ordinance]."
He said that now the powerful individuals in Pakistan were being held accountable, which included the seizure of their benami properties.
"Remember this is the time that Pakistan will change, it is changing before you."
The premier added that a merit-based system was required in the country.
"A system of merit will come when family-based politics end.
"Pakistan Tehreek-i-Insaf (PTI) is the first party where no relative or friend of Imran Khan is in any post," he said, adding that new leaders, such as Minister for Communications and Postal Services Murad Saeed and Federal Minister for Economic Affairs Division Hammad Azhar, would emerge from the party.
"Our country will rise before you. You will see we will fix the system and let the lower segment come up."
'Where did the money go?'
The premier said that ten years ago, the country's debt was Rs6,000 billion.
"After ten years, these two raised it to Rs30,000 billion," referring to former prime minister Nawaz Sharif and former president Asif Ali Zardari.
"Where did the money go? We need to take [back] this money from them. I want to tell them again that you can do what you want.
"Everyone comes together to save democracy, to save their money. Come together, if you want to stage a 'dharna', I will give you containers.
"Do what you want, you will have to return the money."
While referring to Nawaz, PM Imran said that he would remove the former premier's TV and air conditioner from jail.
"I know that Maryam [Nawaz] bibi will make a lot of noise, but Maryam bibi give back the money, then he can go from jail."
PM Imran said that he had noticed that when former president Zardari went to jail, he would spend all of his time in the hospital.
"Asif Zardari, [we] will also keep you in jail, there will no TV nor will there be an air conditioner."
"It is very easy to be released from jail: return the money, we will release you from jail."
"Until today, the powerful in Pakistan were never questioned. This is the biggest change and this is why our country will rise."
Education
PM Imran said that the education system in Pakistan did not allow the less privileged to come up.
"There is an education apartheid. Here [in America] people are given opportunities."
The premier said that for the first time in Pakistan, they were attempting to fix the system of government schools in the country and attempting to introduce one main syllabus so that people have the opportunity to rise up.
Corruption
"Our country has been left behind because of one reason: corruption," said the premier.
He said that he had met companies in the United States, Qatar, Saudi Arabia and China for investment and they all said that they don't come to Pakistan because there is corruption.
"Through a clean government [and] by ending corruption, we will lift this country."
Riyasat-i-Madina
The prime minister said that the current government's vision was to turn the country into a welfare state on the pattern of Riyasat-i-Madina, Radio Pakistan reported.
He said that the principles of Riyasat-i-Madina were compassion, justice, rule of law, and looking after women, children and elderly.
The premier said that he would present the case of the Pakistani people before President Donald Trump, who he is scheduled to meet on Monday (today).
"I will not let you be embarrassed in front of Donald Trump."
During the event, a documentary of PM Imran's journey was also shown to the audience.
The premier concluded his address by vowing that he would never let Pakistan bow down before anyone.
https://www.dawn.com/news/1495534/naya-pakistan-is-being-created-in-front-of-your-eyes-pm-imran-tells-packed-crowd-in-washington
--------
Ex-Commander Discloses US Plan to Deploy Tens of Thousands of Terrorists at Iraqi-Syrian Borders
Jul 21, 2019
The Arabic-language al-Arabi al-Jadid news website quoted former commander of the so-called Free Syrian Army (FSA) terrorist groups in Southern Syria Abu Ans al-Hariri as saying that at present, members of Jeish al-Maqawir, Ahmed al-Abdou and Aswad al-Sharqiyeh terrorist groups are being trained in al-Tanf region in Syria, adding that most of the commanders of these groups are at present in Jordan and are being supported and trained.
Al-Hariri who had earlier been supported by the US Military Operations Command (MOC) stated that Washington also intends to form another military power to prepare for a possible confrontation against Syria and the resistance front.
He said that the terrorists are the Arabian version of the Syrian Democratic Forces (SDF) but they lack a real central command or political formations and cannot make decisions without orders from al-Tanf base.
At present, the US has established ties with certain terrorist groups in Syria, including Jeish al-Izza.
The Arabic-language media outlets had also reported earlier this month that Washington planned to bring back a more dangerous version of the ISIL terrorist group to Iraq and Syria after its failure to achieve its mischievous goals in the region.
The Arabic-language website of the Russian Sputnik news agency quoted Hessam Sho'aib, a Syrian military expert on terrorist organizations, as saying that a recent report by the US-based Institute for Studies of War (ISW) on rebirth of the ISIL terrorists in Iraq and Syria exposed this reality that the US Central Intelligence Agency (CIA) had created the ISIL and is preparing the grounds for the return of the terrorist groups, specially the ISIL, to the region.
Sho'aib noted that the ISW's report on ISIL's dominance over several regions in Iraq and Syria such as Mosul shows that the US is not looking for establishment of peace in the region and ISIL's retreat from Raqqa has taken place on CIA's order and not a defeat in war against the SDF.
He reiterated that the SDF is also a part of the CIA's plot for Syria, and said, "The US has come to know that it cannot conduct any kind of military operation against Iran, and therefore it has resorted to reviving the terrorist groups to carry out terrorist attacks as a much cheaper scenario for the region.
Sho'aib noted that Washington uses the terrorist groups in the region as a pressure lever, and said that the purpose for reviving the terrorist organizations is preoccupying the regional countries' armies, specially Iraq, Syria and Iran.
https://en.farsnews.com/newstext.aspx?nn=13980430000981
--------
Bangladesh neutralizes militants but fear still persists
July 22, 2019
From late 2015 through 2016, Barnabas Hembrom spent days and nights fearing that he was going to be murdered by Islamic militants.
Hembrom, 45, a pastor and regional head of the Bangladesh Baptist Church in northern Rangpur division, received death threats three times via the post from a shadowy Islamic militant outfit.
"I stopped going outside church premises to conduct my pastoral services and on my request police were deployed in front of the church gate. I spent many fearful days and sleepless nights. It was the most terrible experience in my 20 years as a pastor," Hembrom told ucanews.com.
"Today, things have improved greatly thanks to a government crackdown and ongoing monitoring, but fears remain that extremism might re-emerge."
Hembrom received the first letter on Nov. 25, 2015, and the final one two months later.
"Fathers, priests, eat whatever food you want by Dec. 20 and do not forget to say goodbye to your wives," the letter read. "The commander of Syria IS has sent a letter to us seeking your severed head. Soon we will send him your head as a gift.
"This time our plan is to kill one by one all those who are preaching Christianity in Bangladesh. Our country will be run only under Islamic laws."
The first death threat came a week after the Nov. 18 shooting of Italian Catholic missionary Father Pietro Parolari in northern Dinajpur district, for which transnational terrorist outfit Islamic State (IS) claimed responsibility.
Earlier, on Oct. 5, Luke Sarkar of the Protestant Faith Bible Church also narrowly escaped death in northern Pabna district after alleged members of the banned Islamic militant group Jamaatul Mujahedhin Bangladesh (JMB) tried to slit his throat.
Then, on June 5, 2016, alleged Islamic militants brutally hacked to death Sunil Gomes, 72, a Catholic, at his grocery shop near Our Lady of Lourdes Catholic Church in Bonpara, northern Natore district.
During 2015 and 2016, more than two dozen Catholic priests, Protestant ministers and Christian aid workers received death threats similar to Hembrom's through the mail, text messages and phone calls.
The attacks and deaths threats to Christian leaders, priests, pastors and aid workers were unprecedented in Bangladesh, where Christians are a tiny minority but highly regarded for their significant role in the education, healthcare and social welfare sectors.
The campaign of terror against Christians was a part of an ambitious strategic mission of homegrown Islamic terror outfits to establish Islamic rule in a Muslim-majority Bangladesh, long known for its secular culture and religious pluralism.
Indeed, since 2013 Bangladesh has seen a lethal rise in Islamic extremism.
Local extremists, pledging allegiance to global terror outfits IS and al-Qaeda, have murdered about 50 people from various backgrounds: Christians, Buddhists, atheist bloggers, writers and publishers, liberal academics, gay activists, foreigners, religious and Shia Muslims.
In the worst attack, five militants murdered 20 guests, most of them foreigners, at a cafe in capital Dhaka on July 1, 2016.
In response, the government launched a massive anti-militancy crackdown, leaving some 50 militant leaders and operatives dead. Hundreds more were arrested and put on trial.
Militancy neutralized, fears linger
Bangladesh is a success story in terms of overcoming the threat of extremism, but there is no place for complacency, says Father Anthony Sen, convener of the Justice and Peace Commission at Dinajpur Diocese, which covers Bangladesh's northern region. The area is known as a hotbed for Islamic extremism.
"We have never seen such savagery in the name of religion in this country and the perpetrators were from this land. That is shocking both for the nation and the government. However, militancy has been neutralized so far, thanks to the government's efforts," Father Sen told ucanews.com.
The government continues to prioritize anti-militancy efforts while police continue to guard church premises, acknowledging that the threat has not totally disappeared, the priest noted.
Another sign that fear persists it that all churches ask for police protection during big festivals and also finish evening programs early, even on Christmas and Easter, Father Sen pointed out.
"The government has broken down militant networks by force but it's not enough," he said. "Militancy was born and raised with socioeconomic and ideological patronage here in Bangladesh, and as long as these roots are not uprooted there is always a risk for their re-emergence."
A retired brigadier and Dhaka-based security analyst, M. Shakhawat Hossain, has similar concerns.
"The threat of militancy appears to have dissipated, even if it is not uprooted," Hossain told ucanews.com. "But we need to keep in mind that militancy took a long time to grow, so it will take some time to die out.
"We are in a much better situation today but everyone, including law enforcers and people at large, need to stay alert."
An alliance of lawmen and people
It is not only the authorities waging anti-militancy drives — Bangladeshi citizens are also doing their best to eradicate the threat, said Monirul Islam, head of the Bangladesh police force's Counter-Terrorism and Transnational Crime unit.
"Militancy won't be able to establish strong roots in Bangladesh because people here believe in non-communal culture and religious pluralism," Islam told ucanews.com. "Besides our regular anti-militancy activities we have also engaged with citizens by spreading awareness and collecting information they give to us. When lawmen and people work together any big threat can be tackled successfully."
After recent terrorist attacks in New Zealand and Sri Lanka, Bangladesh was also at risk but vigilance from law enforcers averted such threats, he said.
"We believe our strong efforts dismantled the organizational structure of militants in Bangladesh," Islam added. "We are watchful for people who support extremist ideologies and sympathize with extremists but we have the capacity to stop the re-emergence of militancy locally, nationally and globally."
https://www.ucanews.com/news/bangladesh-neutralizes-militants-but-fear-still-persists/85664
--------
Key Islamist leader to stand in Tunisia polls
July 21, 2019
Tunis: Rashid Gannouchi, the influential leader of Tunisia's moderate Islamist Al Nahda party, will stand in the next parliamentary elections in October, a move widely seen as an attempt to seek a leadership position in the country.
Exiled in London for about two decades during the time of former president Zine Al Abidine Bin Ali, Gannouchi has been a major force since Tunisia's 2011 revolution, but he has never run for any official position.
The 78-year-old remains a dominant figure who critics say effectively controls the country in tandem with the secular-minded President Beji Qaid Al Sebsi, 92, often dubbed the "two sheikhs" in reference to their age.
"The decision to present Gannouchi at the top of the party's electoral list in Tunis1, is to have leaders of parties play a more important role at this crucial stage in the history of the democratic transition in Tunisia," Al Nahda party official Emad Khmiri told Reuters.
Gannouchi's candidacy for a parliamentary seat reinforces expectations that he is seeking to play a bigger role, possibly as prime minister or speaker of parliament, if his party wins the election.
Parliamentary elections are expected to be held on October 6 with a presidential vote following on November 17.
https://gulfnews.com/world/mena/key-islamist-leader-to-stand-in-tunisia-polls-1.65358713
--------
Kushner to finalize Palestinian economic plan on Mideast tour, says US official
22 July 2019
White House senior adviser Jared Kushner will lead a US delegation on a tour of the Middle East to finalize details of his proposed $50 billion economic development plan for the Palestinians, Jordan, Egypt and Lebanon, an administration official said on Sunday.
Kushner, Middle East envoy Jason Greenblatt, State Department official Brian Hook and Kushner aide Avi Berkowitz are expected to make stops in Israel, Jordan, Egypt, Saudi Arabia, Qatar and the United Arab Emirates, the official said.
They leave late this month and return to Washington in early August.
The official said the purpose of the trip is to "continue on the momentum that was created at the workshop in Bahrain and finalize the economic portion of the plan."
They will also discuss the possibility of locating the development fund in Bahrain, the official said.
Kushner, US President Donald Trump's son-in-law and the plan's main architect, sought to build support for his ambitious economic proposals for the Palestinian territories at an international meeting in Bahrain in June.
Palestinians poured scorn on the Trump administration's $50 billion investment plan to help achieve Middle East peace, but US Gulf Arab allies said the economic initiative had promise if a political settlement is reached.
Kushner and Treasury Secretary Steven Mnuchin last week discussed creation of the fund with World Bank President David Malpass, the official said. The World Bank has a role in managing the fund.
The delegation was not expected to discuss Trump's long-awaited political plan for the Middle East, and when it will be released remains unclear.
https://english.alarabiya.net/en/News/middle-east/2019/07/22/Kushner-to-finalize-Palestinian-economic-plan-on-Mideast-tour-says-US-official-.html
--------
India
Weeks after clashes, Old Delhi residents uphold traditional communal harmony
July 21, 2019
Hindus and Muslims lived cheek by jowl here for generations until a minor quarrel over parking led to a communal clash and newspaper headlines. But within weeks, thanks to saner elements in both communities and a little nudging from Delhi Police, social harmony has been restored in the Hauz Qazi area of the old city and locals of both communities are resolute in upholding the long-cherished spirit of amity and good neighbourliness.
Many in the area were shocked when religious clashes broke out over a mere parking issue on June 30. After tension prevailed for over 10 days with the police registering three FIRs, a peace procession on July 9 reinstalled the idols in the vandalised Durga temple in the area. Chants of "Jai Shri Ram" echoed through the streets, while music filled the air and hearts. For each Muslim musician playing shehnai in the march, a Hindu counterpart matched it with the beats of the dhol (drum).
"The musicians from both the communities depicted the unity among the generations-old communities living in old Delhi", the Peace Committee that comprises both Hindus and Muslims told IANS. The committee organised the procession.
During the procession, several communities and locals from both religions came forward to provide a helping hand to renovate the temple and show respect and love for the other faith. People from both the communities were also seen offering support by serving food in the public feast.
Anil Kumar Pandey, the priest of Durga Mandir, tags the residents as "brothers and sisters" who respect each other.
Hauz Qazi's residents, many members of the working class community, not just live together but also work alongside in nearby markets.
"For several days after the incident, the area was on high alert and labelled as sensitive. Delhi Police and Central Reserve Police Force (CRPF) personnel were deployed to ensure peace in the area. There was a huge loss of business as well which was never seen in the area for ages especially due to such communal clashes. Life has come back to its normal pace," Agrim Mishra, a local shopkeeper, told IANS.
The daily-wages workers who faced financial difficulties due to paucity of work in the area, known for its maze of shops and commercial establishments alongside centuries-old homes, since the incident are now happy to have found work again.
"I have been working here from the past eight years as a rickshaw puller but have never seen anything of this sort. I had to live empty stomach for a couple of days. We hardly make Rs 200-250 per day. In that we have to eat, pay the rent and look after our other needs as well. Now, we have work again. I can go home peacefully and sleep after working the entire day," Wasim Tahseen, a rickshaw puller, said.
Locals in the area believe that the area is a paragon of communal harmony as both the communities have traditionally lived here as "brothers and sisters" and blame outsiders for stoking the trouble.
Mohammad Hussain, a resident of Hauz Qazi, said that the area believes in social unity and not divisions on the basis of religion or caste. "The area is very peaceful and some outsiders try to harm its peace," Hussain told IANS.
"Our generations have lived here for years and years. Even when the Babri Masjid case happened, there was no clash, only police officials were deployed as a preventive measure but there was no violence," said Mohammad Waqaar, a resident of Hauz Qazi.
Efforts are on to avoid future clashes in the area. As per members of the Peace Committee, senior citizens of the area and members themselves, are holding regular meetings in order to ensure that no such incidents happen again to spoil the social peace and the reputation of the neighbourhood.
https://www.indiatoday.in/india/story/hauz-qazi-1571880-2019-07-21
--------
Muslim Youth Threatened To Chant 'Jai Shri Ram' At Aurangabad, Maharashtra
July 22, 2019
Aurangabad (Maharashtra) : Two Muslim youth alleged that they were forced to chant "Jai Shri Ram" here on Sunday night.
Shaikh Aamer, one the victims told reporters here that the incident took place at Azad Chowk when he with his friend was out for work. He claimed that the duo was waylaid by a few miscreants who came in a car.
"They asked us to chant Jai Shri Ram, which we refused. They did not thrash us. They threatened us and fled away," Aamer told ANI.
The incident has been caught in the CCTV camera installed at the spot. Heavy police deployment has been made in the area to maintain law and order.
Full report at:
https://www.siasat.com/muslim-youth-threatened-chant-jai-shri-ram-1555980/
--------
Hindu Mahasabha offers to bear expenses of sending Azam Khan to Pakistan
Jul 21, 2019
AGRA: The Akhil Bharat Hindu Mahasabha on Sunday announced that it will bear all the travel expenses of Samajwadi Party MP Azam Khan and his associates if they wish to go and settle in Pakistan.
Reacting to Azam Khan's statement that Muslims in India are being punished for their decision to not to migrate to Pakistan after the partition in 1947, Hindu Mahasabha spokesperson, Ashok Pandey, said that there is no difference between the MP and ISI terrorists.
Despite living in India and holding a public office, Khan's love for the neighbouring country seems to be overwhelming, said Ashok, adding that the MP should go to Pakistan and settle there.
"It's we who are being punished due to his presence in India rather than they being punished for living here. He wants Pakistan kind of environment across the nation", said Ashok.
"If they are stopped for doing gundagardi then they feel they are being punished," he said, adding that if Khan had done such kinds of things in Pakistan, he would have been hanged.
Khan, an MP from Rampur in Uttar Pradesh, claimed that Muslims have not been able to live a dignified life in the country. "We have been living a very disgusting life since the partition of the country and we are very ashamed of it," said Khan, adding that Maulana Azad, Pandit Jawaharlal Nehru, Sardar Patel, and even Bapu had appealed Muslims not to migrate to Pakistan, when asked about his views on growing incidents of mob lynching.
Full report at:
https://timesofindia.indiatimes.com/india/hindu-mahasabha-offers-to-bear-expenses-of-sending-azam-khan-to-pakistan/articleshow/70319380.cms
--------
J&K: Police to revamp village defence committees to curb terrorism
Jul 21, 2019
JAMMU: Nearly 500 elderly Village Defence Committee (VDC) members and Special Police Officers (SPO) in Kishtwar district of Jammu and Kashmir will be replaced soon, a senior police officer said on Sunday.
The step is part of a strategy to counter terror activities in the hilly district which was rattled by the killing of BJP state secretary Anil Parihar and his brother Ajeet Parihar on November 1 last year, followed by the assassination of senior RSS leader Chanderkant Sharma and his security guard inside a health centre on April 9.
The decision was taken despite reservations expressed by former chief minister Mehbooba Mufti over arming of civilians in Chenab valley.
"Keeping in view the present security scenario in Kishtwar town and the overstaying of SPOs in the district (Kishtwar), an overhauling is being done. A process to replace 352 VDC members and 117 VDC SPOs who are above the age of 60 years has been set into motion," the officer said.
The SPOs, who have overstayed at a particular place have also been replaced. Besides this, 9 VDC SPOs have been disengaged from the VDC rolls for non compliance of orders, the officer said.
In response to the recently held SPOs recruitment, he said a list of around 85 meritorious candidates was sent to police headquarters for final approval.
The VDCs were setup in the mid-1990s with an aim to strengthen the security of Hindus living in remote and mountainous areas of Doda, Kishtwar, Ramba, Rajouri, Reasi, Kathua and Poonch districts of the region.
The members of these committees not only guard the identified villages along the border, but also the infrastructural installations in and around them.
Kishtwar along with several other districts of Jammu province were declared terrorism free over a decade ago but after the recent killings, the authorities have taken various steps to counter attempts by terrorists to gain a foothold in the Chenab valley. Inspector General of Police, Jammu, M K Sinha recently said at least 10 local militants — eight belonging to Hizbul Mujahideen and two affiliated to Lashker-e-Toiba were active in the district.
Describing the reported plans of the Centre and the Jammu and Kashmir administration to arm civilians in the sensitive Chenab valley as "alarming", Mufti, who is also Peoples Democratic Party (PDP) president, had warned that the move would have "dangerous consequences".
She said similar experiments of arming civilians under the anti-militancy grid in the 1990s had led to complete chaos and the wounds inflicted upon the general masses were still fresh.
"Reports about the administration trying to arm civilians under the garb of creating VDC in Chenab valley are disturbing and alarming especially at the time when the government has to be inclusive to avoid further alienation of youth across the state," Mufti had said in a statement on Saturday.
On Friday, police registered a case against former PDP MLC Firdous Tak and some other party leaders after they staged a demonstration against the state administration for strengthening VDCs in the district.
Mufti dubbed the FIR "false and frivolous" and demanded its immediate rollback.
"The party leaders have represented the sentiments and aspirations of the people but it seems that the local administration are working under pressure from a particular political organisation. The registration of the case only speaks about the sorry state of affairs in Chenab valley," she said.
On July 17, a three-member delegation of senior BJP leaders led by former deputy chief minister Nirmal Singh met governor Satya Pal Malik at Raj Bhavan in Srinagar and demanded the strengthening of the security apparatus including VDCs and provision of mobile bunkers in Chenab valley region.
Full report at:
https://timesofindia.indiatimes.com/india/jk-police-to-revamp-village-defence-committees-to-curb-terrorism/articleshow/70318355.cms
--------
As terror network shifts from east to west in UP, Yogi''s ATS swoops down on new modules
22 JULY 2019
Lucknow, July 22 Once a breeding ground for homegrown terror, resulting in the creation of dreaded militant outfit Indian Mujahideen (IM), eastern Uttar Pradesh''s Azamgarh town is now focusing on Kaushal Vikas -- the Centre''s skill development scheme for the unemployed youths. Although IM that bombed several cities across the country a decade back, has been eliminated, the terror networks seem to be shifting from east to western borders of the state.
Pakistan''s spy agency, the Inter-Services Intelligence (ISI) continues to exploit communally sensitive pockets, particularly in Muslim dominated towns of Amroha, Sambhal, Kairana, Nagina, Dhampur, Deoband and Bijnore in the west Uttar Pradesh, reveals a report of State Intelligence Department. ISI, according to report, has been trying to recruit its agent who in turn provide funds to sleeping terror modules.
Apprehending revival of sleeping modules, fostered by the ISI, the Yogi government instructed its Anti-Terrorist Squad (ATS) to activate its radar in communally sensitive pockets.
The ATS, with the help of National Investigation Agency (NIA) and Operations Cell of Intelligence Bureau, not only identified the troubled areas but busted a new terror module, Harkat-ul-Harb-e-Islam in Amroha in December last.
"On July 10, we seized weapons from a madarasa in Bijnore. Several persons, with shady background were arrested. We now have a zero tolerance policy on syndicate and terror crimes. Such raids (like the one in the madarasa) were not possible in earlier regimes. Police was not allowed to raid certain localities, despite credible inputs on criminal activities," said an Inspector General rank police official.
In fact, the previous Akhilesh Yadav government in 2012, had contemplated to drop charges of terror crimes against 15 undertrials accused of killing 43 person in Uttar Pradesh. The charge against the 15 accused mainly related to serial blasts in Lucknow, Faizabad (now Ayodhya), Varanasi in 2007, and a bomb explosion in Gorakhpur in the same year.
However, the Allahabad High Court later intervened in the matter saying that most of the terror accused were booked in Central Acts and such heinous cases of terror crimes cannot be withdrawn without the consent of the Union government.
In 2017, after the arrival of Yogi Adityanath as Chief Minister, the ATS was re-activated. One of the main task given to ATS was to ensure that Kumbh Mela in Allahabad, (a mass Hindu pilgrimage at the banks of River Ganga) passes peacefully. Coordinating with various state and central agencies, the ATS went out of the way to bust terror and espionage modules located as far as Gujarat.
After the Kumbh, the ATS, at present is on strict vigil to oversee the Kanwar Yatra, where several lakh Hindu devotees march on foot from various parts of the state to Haridwar.
For Uttar Pradesh, the porous Nepal border too poses different types of security threat. The over 1,700-km-long border has been a source of gun running, smuggling of fake currency and infiltration of suspected terrorists.
The state police with a better team work along with the Central para-military Sahastra Seema Bal (SSB), enhanced human intelligence and patrolling at border, resulting in a major drop in fake Indian currency smuggling and gun running.
"There is high alert on the Nepal border. The fake currency racket has also come down. The ATS coordinates with district police in a more effective manner, especially with the ones sharing its border with Nepal. Recently a maoist rebel leader, having terror links across the border, was apprehended from Bareilly," said Rajesh Pandey, a founder member of ATS now serving as DIG Bareilly range.
Full report at:
https://www.outlookindia.com/newsscroll/as-terror-network-shifts-from-east-to-west-in-up-yogis-ats-swoops-down-on-new-modules/1580030
--------
Ayodhya land dispute panel meets AIMPLB general secretary
July 21, 2019
The mediation panel set up to resolve the politically sensitive Ram Janmabhoomi-Babri Masjid land dispute met the general secretary of All India Muslim Personal Law Board here.
"The mediation panel met me yesterday night at VVIP Guest House, Lucknow," said AIMPLB general secretary Maulana Wali Rehmani on Sunday.
Former Supreme Court judge F M I Kallifulla, who heads the panel, met Rehmani along with the committee's another member, senior advocate Sriram Panchu.
Another member of the panel spiritual guru Sri Sri Ravishankar was not present in the meeting.
Full report at:
https://www.indiatvnews.com/news/india-ayodhya-land-dispute-panel-meets-aimplb-general-secretary-536965
--------
North America
Ask Imran Khan to explain forced conversions in Pakistan: US Congress members to Trump ahead of meeting
July 22, 2019
Ahead of Pakistan PM Imran Khan's scheduled meeting with US President Donald Trump, a group of 10 US Congress members wrote to the President asking him to raise the issue of human rights violations in the country, especially Sindh Province.
In a letter addressed to Trump on July 19, the group of Congresspersons said that while the US has given over $30 million in aid to Pakistan, there are no major improvements in the social and economic conditions of the people.
Imran Khan arrived in the US on his maiden trip during which he will hold talks with Donald Trump and reboot bilateral ties that were hit after the US president publicly criticised Islamabad, cancelled military aid and asked it to do more to fight terrorism.
Khan will be meeting Trump at the White House on Monday.
This is the first time that ten members of Congress have written a letter to the President of US on the Sindh issues.
"Nowhere is that failure more evident than in Sindh Province, which has continued to suffer from numerous economic and social injustices, often at the hands of the Pakistani government," read the letter written by 10 members of the US House of Representatives.
The statement also goes on to point the cases of forced conversions of young Hindu and Christian girls who are first kidnapped and then forced to convert to Islam. "Often, they are married to men decades their senior. According to an independent watchdog group, there were around one-thousand cases of forced conversions in Sindh Province in 2018 alone. The actual number is certainly higher," the Congresspersons said in the letter.
The group has also directly targeted the Imran Khan government for terrorising the entire Sindh Province with "enforced disappearances".
Congress members Brad Sherman, Ann Wagner, Adam B Schiff, Jan Schakosky, Eleanor H Norton, Carolyn B Maloney, David E Price, Juan Vargas, David Schweikert and Dan Crenshaw signed the letter asking Trump to bring up these and other issues in his talks with Imran Khan.
The group has also pointed at the severe water crisis, terrorism and the recent HIV outbreak in Sindh.
https://www.indiatoday.in/world/story/ask-imran-khan-to-explain-forced-conversions-in-pakistan-us-congress-members-to-trump-ahead-of-meeting-1572054-2019-07-22
--------
Ilhan Omar's constituents 'proud to stand by her' over Trump's racist words
21 Jul 2019
When Donald Trump began targeting Ilhan Omar and other progressive congresswomen of color with racist attacks, demanding they leave the country, Erica Mauter knew she had to counter his dangerous message.
"If [Trump] was going to let that message be the one that resounds and resonates from him, then if she was indeed coming back home to Minnesota, we're going to welcome her," said Mauter, who lives in the state's fifth district, which Omar represents. "We wanted to affirm that we miss her and want her to keep doing what she's doing."
Mauter was one of about 150 supporters who greeted Omar, one of the first two Muslim women to serve in Congress, when she arrived home from Washington on Thursday, a day after the president lashed out at her at a rally in North Carolina that culminated with his supporters chanting: "Send her back! Send her back!"
That racist rallying cry – from which Trump later attempted to distance himself – was the culmination of close to a week of bigoted broadsides, beginning with tweets calling on Omar, Alexandria Ocasio-Cortez, Ayanna Pressley and Rashida Tlaib to "go back and help fix the totally broken and crime infested places from which they came".
Omar is an American citizen born in Somalia. The other three lawmakers were born in the US. All four have been sharp critics of Trump, particularly on immigration.
Trump's comments and his supporters' racist chanting drew widespread criticism and a formal rebuke from the Democrat-held House. But Republicans offered silence, mild criticism or even outright defence.
"We all know that [the lawmakers] are a bunch of communists," said Senator Lindsey Graham, one of the president's key supporters on Capitol Hill. "They hate their own country."
With Trump and his allies attacking Omar and the rest of the so-called "Squad" as anti-American, Mauter and others went to the Minneapolis airport to show solidarity – and to send a message that Omar's constituents have her back.
"Her district is totally behind her," Mauter told the Guardian.
Omar, 37, came to the US as a refugee from Somalia in 1992 and became an American citizen in 2000. She was elected in 2018 to serve the most diverse district in Minnesota, covering Minneapolis and some of its suburbs, and has been one of the most progressive Democrats in Washington.
But she has also faced criticism, including for her language in messages meant to scrutinize US policy on Israel. Omar has apologized for using phrases like "all about the Benjamins", which was slammed as antisemitic. Much criticism has been in bad faith. Trump has spread several lies, including a far-right conspiracy theory that she was once married to her brother and the claim she is a terrorist sympathizer.
"The statements by President Trump against Congresswoman Ilhan Omar and her colleagues are racist," Minneapolis city council member Abdi Warsame, who is also Somali-American, told the Guardian by email.
"Any citizen of the United States uttering those words brings shame to our country. This adds to the long list of things President Trump has done that tarnish the legitimacy of our highest office both domestically and abroad."
'She's got the bold ideas'
With Omar under attack, supporters within her district, which she won with a stunning 78% of the vote in 2018, are rallying behind her.
"What's happening right now is so horrifying that standing with her in solidarity is so important," said Rita Farmer, a fifth-district resident from north-east Minneapolis. "Not only to send a message to her that we support her, but to the rest of the world that we stand by her.
"That support isn't going away. If anything, these recent attacks on her just strengthen it."
Omar grew up in Minneapolis, which has a large Somalian and East African community. Her district includes Little Mogadishu, the base of the Somali community in Minneapolis, and previously elected Keith Ellison, the first Muslim to serve in Congress who is now state attorney general.
To Farmer, "appalling" attacks from Trump need to be called out. But the fact that Omar has continued to focus on her agenda, including support for Medicare for all, which she touted in a town hall on Thursday evening in Minneapolis, has made Farmer "that much prouder to stand by her".
"People aren't just standing by her for symbolic reasons," Farmer said. "She's got the policy proposals. She's got the bold ideas to back it up. That's what really excites people and keeps them coming back."
Erica Mauter was heartened that the community rallied round. But the president's attacks chilled her, raising concerns about the congresswoman's safety – and her own.
"He put a target on her back," Mauter said. "I'm a black woman – that can be me."
On Friday, Trump abandoned his attempt to distance himself from the racist chant, praising the North Carolina crowd as "incredible people" and "incredible patriots".
Some analysts suggest he has at least in part been seeking to exploit divisions among Democrats. But the party has stood together.
Mara Glubka, a politically active fifth-district resident, told the Guardian she showed up to the airport on Thursday because she and other constituents felt compelled to "defend" their representative.
"It felt really good," she said of witnessing "love and enthusiasm" for Omar.
Glubka, who is trans, said the congresswoman has been strong on LGBTQ issues, fulfilling promises made to constituents. Trump's attacks have only appeared strengthened her support.
Full report at:
https://www.theguardian.com/us-news/2019/jul/21/ilhan-omar-minnesota-trump-the-squad-minneapolis
--------
US to press Pakistan PM on Afghan peace, terrorism crackdown
22 July 2019
US President Donald Trump is likely to press Pakistani Prime Minister Imran Khan for help on ending the war in Afghanistan and fighting militants when the two leaders meet at the White House on Monday amid their countries' strained relations.
Last year, Trump cut off hundreds of millions of dollars in security assistance to Pakistan, accusing Islamabad of offering "nothing but lies and deceit" while giving safe haven to terrorists, a charge angrily rejected by Islamabad.
Khan, who arrived in Washington on Saturday, is expected to try to mend fences and attract much-needed US investment, hoping the arrest last week of a militant leader with a $10 million US bounty on his head will lead to a warmer reception.
"The purpose of the visit is to press for concrete cooperation from Pakistan to advance the Afghanistan peace process and to encourage Pakistan to deepen and sustain its recent effort to crackdown on militants and terrorists within its territory," a senior US administration official said.
The official, who spoke on condition of anonymity, said the United States wants to make clear to Pakistan that it is open to repairing relations if Pakistan changes how it handles "terrorists and militants."
In Afghanistan, the official said, the peace process is at a critical point and Washington wants Pakistan "to pressure the Taliban into a permanent ceasefire and participation in inter-Afghan negotiations that would include the Afghan government."
Trump wants to end US military involvement in Afghanistan and Pakistan's cooperation will be essential to any deal to end the war and ensure the country does not become a base for militant groups like ISIS.
Khan's visit follows the arrest on Wednesday of Hafiz Saeed, the alleged mastermind of a four-day militant attack on the Indian city of Mumbai in 2008, news that Trump welcomed on Twitter.
However, Pakistan has yet to release Shakil Afridi, the jailed doctor believed to have helped the CIA hunt down Osama bin Laden, the mastermind of the September 11, 2001, attacks on the United States.
Full report at:
https://english.alarabiya.net/en/News/world/2019/07/22/US-to-press-Pakistan-PM-on-Afghan-peace-terrorism-crackdown.html
--------
White House's Kushner to finalize Palestinian economic plan on Middle East tour -official
July 21, 2019
WASHINGTON: White House senior adviser Jared Kushner will lead a US delegation on a tour of the Middle East to finalize details of his proposed $50 billion economic development plan for the Palestinians, Jordan, Egypt and Lebanon, an administration official said on Sunday.
Kushner, Middle East envoy Jason Greenblatt, State Department official Brian Hook and Kushner aide Avi Berkowitz are expected to make make stops in Israel, Jordan, Egypt, Saudi Arabia, Qatar and the United Arab Emirates, the official said.
They leave late this month and return to Washington in early August.
The official said the purpose of the trip is to "continue on the momentum that was created at the workshop in Bahrain and finalize the economic portion of the plan."
They will also discuss the possibility of locating the development fund in Bahrain, the official said.
Kushner, US President Donald Trump's son-in-law and the plan's main architect, sought to build support for his ambitious economic proposals for the Palestinian territories at an international meeting in Bahrain in June.
Palestinians poured scorn on the Trump administration's $50 billion investment plan to help achieve Middle East peace, but US Gulf Arab allies said the economic initiative had promise if a political settlement is reached.
Kushner and Treasury Secretary Steven Mnuchin last week discussed creation of the fund with World Bank President David Malpass, the official said. The World Bank has a role in managing the fund.
Full report at:
http://www.arabnews.com/node/1528836/middle-east
--------
Pakistani PM Khan gathers thousands in US capital
Vakkas Dogantekin
22.07.2019
More than 30,000 Pakistanis gathered in the U.S. capital on Sunday to attend a speech by Prime Minister Imran Khan, astonishing even the Pakistani-Americans who have never seen such a crowd for any other Pakistani leader before on American soil.
Imran Khan began his three-day maiden visit to the U.S. on Sunday by addressing the Pakistani diaspora at a landmark rally at the Capital One Arena stadium in Washington D.C., which was scheduled days in advance.
Khan emphasized that Pakistan would not be seeking any U.S. aid and assured the jubilant crowd that his country won't bow to anyone.
He is set to meet U.S. President Donald Trump at the White House on Monday.
The two leaders are expected to discuss the Afghan peace process, measures to improve worsening relations between Pakistan and the U.S. as well as the Indian efforts to put Pakistan into the black list of Financial Action Task Force (FATF).
The FATF has put Pakistan on the "grey list" and could put it on the "black list" in October if it fails to show major progress in combating terrorism, according to media reports.
In a first, the country's top military leadership, including the powerful army chief, Gen. Qamar Javed Bajwa, and newly-appointed head of the spy agency, Inter Services Intelligence (ISI), Gen. Faiz Hameed, are also accompanying Khan in his talks with the Trump administration on a variety of issues ranging from terrorism to Afghanistan.
Full report at:
https://www.aa.com.tr/en/americas/pakistani-pm-khan-gathers-thousands-in-us-capital/1537939
--------
Hezbollah's moves against Druze stalwart flirts with a return to Lebanon's dark days
Khaled Yacoub Oweis
July 22, 2019
A political crisis in Beirut following a deadly shooting last month has revived memories of one of the most controversial chapters in Lebanon's post-war history, when a court imprisoned a prominent opponent of the Syrian regime.
When Hezbollah-backed political foes of Druze leader Walid Joumblatt suggested he was somehow involved in a firefight last month that killed two bodyguards of a pro-Hezbollah Druze minister and alleged it to be an assassination attempt, observers recalled the 1994 war crimes trial of Christian leader Samir Geagea.
Mr Geagea became the only figure from Lebanon's civil war to be tried for his role in the conflict. He received multiple death sentences, later commuted to life and ended up spending 11 years in prison. He was only released when Syrian President Bashar Al Assad was forced to withdraw his forces from the country in the face of international pressure and mass protests in 2005.
That trial was hugely influenced by the Damascus government, at a time when it had 35,000 troops in Lebanon. Today, the Syrian regime is once again emboldened, as Iranian and Russian support helps turn the tide of the country's eight-year-long civil war.
Across the border, Lebanon's Justice Ministry fell to Christian allies of Shiite militia-cum-political party Hezbollah, a friend of Damascus, after a new cabinet was formed in January, intensifying a clampdown on critics of the Syrian regime and Hezbollah. The crackdown forced Fidaa Itani, a prominent Lebanese investigative journalist to flee to London to escape what turned out to be a four-month jail sentence.
Much more could be at stake for Mr Joumblatt, who has survived at least one assassination attempt and is used to navigating the tough school of Lebanese politics. Except that, this time, Hezbollah has been buoyed by a deeper reach into the country's security apparatus and state organisations.
According to one of his confidants, who asked not to be named, Mr Joumblatt is preparing to counter a similar campaign to the one that once silenced Mr Geagea. Bringing down Mr Joumblatt would increase the influence of Hezbollah, and by extension Damascus and Tehran.
According to Fadi Ahmar, assistant professor at Lebanon's Holy Spirit University of Kaslik, "Behind every move against Joumblatt we have seen lately, Hezbollah looms. The Syrian regime is not far either."
The crisis is the latest pitting Hezbollah, the only non-state group in Lebanon allowed to bear arms after the 15-year civil war that ended in 1990, against weakened political opponents who have renounced violence but are trying to stave off what they regard as renewed vassalage to the Syrian regime.
Although a small country, the direction of Lebanon's internal politics usually reflects the wider regional, and even international, balance of power.
With the outbreak of a civil war in 1975, Lebanon became "the chessboard on which each outside power tried to checkmate the other," said Lebanese banker Joe Sarrough.
At one point, the Syrian regime, the United States, France and Israel, all had troops in the country during the civil war. Saddam Hussein supported Michel Aoun, the current president who is now friendly to Damascus. Not to be outdone, Iran, as well as Damascus, was instrumental in founding Hezbollah in the 1980s. Among the foreign militias were the Palestine Liberation Organisation factions and the Kurdistan Workers' Party (PKK), the group outlawed in Turkey. Emerging relatively unscathed in what became a swap for foreign powers was late Syrian dictator Hafez Al Assad, supported militias from all sects, even ones that were fighting each other.
"We are friends to all in Lebanon," the late Assad once said.
A shadow of this international battleground remains on Lebanon. Hezbollah acts as a regional spearhead in support of Iran. France, meanwhile, is leading aid efforts to rescue the struggling economy.
Key players on this chessboard, Mr Geagea and Mr Joumblatt, were instrumental in shaping Lebanon's history of bloodshed and relative peace since the end of the civil war in 1990.
Although not as powerful as they once were, they remain politically significant, partly because of their opposition to Hezbollah and the Syrian regime, at a time when many see Lebanon as under threat of renewed subjugation to Damascus.
Though Syrian troops withdrew from Lebanon in 2005, Damascus is seeking to increase its influence in the country through its ally Hezbollah. Today, critics such as Messrs Joumblatt and Geagea fear a return to an era where all opposition to Assad family influence is silenced.
But figures like them remain vulnerable. Lebanon's post-war era has been marked by political assassinations of those who opposed Damascus or Hezbollah.
Standing today as the most prominent survivor is the enigmatic Joumblatt, whose acute political radar-guided shifting alliances, which have preserved the interests of the Druze, allowing the small religious minority political relevance larger than the community's size may suggest. While no census has been conducted in Lebanon since the 1930s because of sectarian sensitivities, the Druze, one of 18 recognised communities, account for around 5 per cent of a population estimated at 6 million.
Mr Joumblatt, 69, is one of few politicians in Lebanon whose positions cut across sectarian lines, from his attempts to protect what is left of Lebanon's environment – which earned him the loathing of businessmen linked to Hezbollah and to President Assad's associates – to criticising widespread bigotry towards Syrian refugees.
Both he and Mr Geagea, also in his 60s, hail from the mountains. Mr Joumblatt is the son of the monumental Lebanese politician Kamal Joumblatt, from Al Moukhtara in the Chouf mountains south of Beirut, a hereditary seat of Druze leadership. Mr Geagea is from Bsharri in northern Lebanon, hometown of the famed writer Gibran Khalil Gibran.
Both studied at the American University of Beirut. Mr Joumblatt read politics, and Mr Geagea medicine. Mr Joumblatt carries the title of Beik, which harks to Ottoman feudal times, while Mr Geagea is known as Al Hakeem, which means
Otherwise, Mr Joumblatt and Mr Geagea are a world apart politically, with Mr Geagea's current anti-refugee rhetoric contributing to a violent backlash against ordinary Syrians.
But the lessons of the Geagea trial, mainly the propensity of Lebanon's judicial system to perform a show trial under political pressure, are difficult to ignore for a seasoned politician such as Mr Joumblatt. Like a quarter of a century ago, the geopolitics have turned once again in favour of the Syrian regime and its Lebanese allies, with current events exposing Lebanon's thinly concealed fault lines and revealing how easily Lebanon could slide back into conflict.
Today, Hezbollah is perhaps more powerful than at any time since its founding in the 1980s. Its patron, Iran, is ascendant regionally and neighbouring ally Mr Assad looks set to survive the civil war. As in the past, Hezbollah had few reservations about the means it uses to solidify its power.
The recent incident involving Mr Joumblatt is illustrative of how the group attempts to pull strings in Lebanon, without direct involvement in events.
In late June, Foreign Minister Gebran Bassil, a Hezbollah ally and son-in-law of President Michel Aoun, planned to visit an area in the Chouf. The move was apparently to strengthen his standing among Christian co-religionists, many of whom Mr Joumblatt drove out from the Chouf during the civil war and only returned in recent years.
The trip was a challenge to Druze communities fiercely opposed to Hezbollah and Mr Assad, and Mr Bassil backed down. Instead a junior Druze minister, Saleh Al Gharib – who is a rival to Mr Joumblatt and backed by Hezbollah – went to the area. What happened next is disputed, but shooting began and two of Mr Al Gharib's bodyguards were killed. Mr Joumblatt later organised the handover of two suspects to authorities and demanded the other side do likewise.
What became known as the Al Basateen incident followed an earlier killing of a Joumblatt supporter by a pro-Hezbollah Druze gunman last year. In that case, the suspect fled to Syria. Mr Joumblatt has called on the Lebanese judiciary to prosecute both incidents.
But Lebanon's Justice Ministry, a post once held by Mr Joumblatt's ally Prime Minister Saad Hariri's Future Movement, is now headed by an ally of Mr Aoun and Mr Bassil.
Now Mr Joumblatt's supporters fear the Druze leader could be framed for the Basateen incident.
Hezbollah leader Hassan Nasrallah said in an interview last week that after his group's intervention in Syria helped prop up the Damascus regime, the Shiite organisation now sees its main critic, Mr Joumblatt, as a target, claiming the Druze leader has slighted Hezbollah since 2005.
Of particular ire is Mr Joumblatt's repeated criticism of Hezbollah's self-declared right to bear arms, which gives the group power no other Lebanese movement enjoys.
"He is the one who wronged us when he talked about the weapons of treachery," Mr Nasrallah told Hezbollah's Al Manar television, referring to Mr Joumblatt's 2005 description of Hezbollah's arms.
Hezbollah's backing for Mr Al Gharib is part of a strategy to split Mr Joumblatt's support base, Mr Ahmar of the Holy Spirit University told The National. "Hezbollah is aiming hard at Joumblatt's core this time," he said.
Hezbollah and its allies in government want a special state body they have large sway over to prosecute suspects in the Basateen incident, which Hezbollah's allies claim was an assassination attempt against Mr Al Gharib.
That body, called the Judicial Council, has a history of politically charged proceedings, in 1994 it was the one responsible for Mr Geagea's imprisonment over civil war crimes.
Now Hezbollah is trying to capitalise on an ally holding the Justice Ministry to call for the case to be passed to the Judicial Council for review. While Mr Bassil also wants this, his (until now) good working relations with Mr Hariri could complicate such a move.
Even amid a brutal civil war, Mr Geagea was renowned as ruthless as he rose within Maronite Christian factions implicated in mass killings of Palestinians. They also turned their guns against each other in an internecine war that hastened Syrian regime dominance.
Near the start of the war in 1975, there were clashes between Maronite factions and Palestinian guerrillas who had moved to Lebanon after taking part five years earlier in a shorter civil war in Jordan, although part of Lebanon's societal and political problems date back to before the arrival of the Palestinians.
Early on, the late Hafez Al Assad showed an interest in shaping the outcome of the war.
The older Al Assad, who died in 2000, sent forces to Lebanon in 1976 in support of the Maronites, partly to undermine PLO leader Yasser Arafat and seize control over his organisation.
But then Assad later turned on the Maronites, who welcomed an Israeli invasion of Lebanon in 1982 although it failed to impose a government friendly to Israel.
The 1989 Taif agreement that helped end the Lebanese civil war tinkered with the country's quota system, under which representatives of numerous sects share power. It reduced the Maronite influence in favour of more Muslim representation. But it also indirectly contributed towards turning post-war Lebanon into a satellite of the Syrian regime.
During the war, Mr Joumblatt and Mr Geagea were foes. But afterwards, they co-operated to back the small but growing supporters of an independent Lebanon that culminated in the 2005 Cedar revolution. They then carried this into a successful but relatively brief March 14 alliance (named after the biggest rally against Syria in 2005 that estimates suggest well over 1 million people attended) with others attempting to curtail the Syrian regime.
But many in the alliance or with similar views of Lebanese independence paid a heavy price for opposing the Syrian regime. In years leading up to and after 2005, a string of anti-Syrian journalists, writers, academics and politicians – including the ex-prime minister Rafic Hariri whose murder on February 14, 2005, sparked the mass protests – were assassinated.
Years earlier in 1977, Mr Joumblatt's father, Kamal Joumblatt, was also assassinated. Two Syrian agents suspected in the killing have never faced justice.
Mr Geagea alone continued to vocally oppose Syrian involvement in Lebanon long after others had acquiesced, making him a key target of Hafez Al Assad.
At the behest of Damascus, Lebanon's judiciary singled out Mr Geagea for prosecution over political killings committed during the war, despite the 1991 General Amnesty law passed by parliament to prevent people being tried for crimes committed during the conflict. The case became Lebanon's trial of the century, though the result was a foregone conclusion.
Mr Geagea was sentenced to death, later commuted to life imprisonment, for ordering four assassinations. Among them was a 1987 helicopter bombing that killed Sunni Prime Minister Rashid Karami and the 1990 killing of Dany Chamoun, a Maronite figure from the Chouf who by the end of the civil war had reconciled with Mr Joumblatt, and most of Chamoun's family.
While few had doubted Mr Geagea's willingness during the war to use violence to achieve his goals, Amnesty International said his trial was "seriously flawed". The evidence was thin and largely circumstantial.
But, by then, international powers had little incentive to challenge Hafez Al Assad, being more interested in promoting negotiations between the late dictator and Israel.
Mr Geagea was imprisoned for 11 years in a windowless cell three floors below ground at the Defence Ministry in the Yarzeh hills overlooking Beirut. He was only released as Syrian forces withdrew from Lebanon in 2005, under international pressure that followed the assassination of Lebanese statesman Rafic Hariri, father of current Prime Minister Saad Hariri.
Hezbollah was suspected of the killing but has refused to hand over four of its operatives to an international tribunal in The Hague set up to pursue the case.
Mr Joumblatt meanwhile manoeuvred the post-war environment with prudence, becoming minister of the displaced following the Taif agreement. In 1991, as the amnesty law was passed, he spoke out, arguing that every major political figure, himself no exception, should be investigated for war crimes.
Mr Joumblatt may no longer be able to maintain such candour, although he remains well connected in European capitals and, to some degree, in Moscow. And, inside Lebanon, President Al Assad does not have the same reach since withdrawing forces in 2005. But the risks remain.
The confidant of Mr Joumblatt, who asked to remain anonymous, said Mr Joumblatt is mindful he could face a politically motivated prosecution such as that which jailed Mr Geagea.
Mr Ahmar of the Holy Spirit University of Kaslik said Mr Joumblatt has met with ambassadors in Beirut to seek support and has backing from Prime Minister Hariri.
"I think the crisis has strengthened the bonds between Joumblatt and Hariri," Mr Ahmar said.
In particular, he said Mr Hariri's support while he remains prime minister makes it difficult for Hezbollah's ally to deploy the judiciary against Mr Joumblatt.
But in a sign of the seriousness of the ongoing crisis, the Lebanese cabinet – fragmented along pro- and anti-Hezbollah lines – has not held its weekly meetings since the shooting on June 30.
Mr Geagea's Lebanese Forces is represented by four ministers out of 30 and has accused Hezbollah and its allies of withholding the quorum unless they get to dictate the course of events in the aftermath of the shooting.
But the divisions in cabinet run deeper than just this incident. For example, when the Cabinet was formed on January 31 this year, Mr Geagea's Lebanese Forces had appointed May Chidiac for the post of minister of state for administrative development. Ms Chidiac was one of the country's most famous journalists and repeatedly called on Syria to stop meddling in Lebanon. In September 2005, a one-pound explosive device hidden in her car detonated as she got in. Although she survived the assassination attempt, she lost a leg and it left her with other lasting injuries. Now she now represents Mr Geagea in a cabinet alongside Hezbollah and others who back Damascus.
While Mr Joumblatt may be safe for now, history has shown the expendability of non-violent politicians in Lebanon if they lose the support of powerful backers or cross Hezbollah.
As Hezbollah and its allies sharpen their knives for the Mr Joumblatt, Mr Geagea has remained quiet, perhaps due to the memory of his own incarceration, and his long and blood-soaked history shared with Mr Joumblatt.
Full report at:
https://www.thenational.ae/world/mena/hezbollah-s-moves-against-druze-stalwart-flirts-with-a-return-to-lebanon-s-dark-days-1.888912
--------
Trump's Latest Target for Criticism: A Muslim Congressional Newcomer
By Ken Bredemeier
July 18, 2019
U.S. President Donald Trump has found his latest target for public criticism — a hijab-wearing Muslim newcomer to Congress named Ilhan Omar. She is a Somali refugee but naturalized U.S. citizen whom Trump views as something less than a patriotic red, white and blue American.
Trump railed against the lawmaker Wednesday night at his 2020 re-election campaign rally in North Carolina. He stoked the packed crowd at a college basketball arena with his claims that she is proud of al-Qaida terrorists, blames the U.S. for the political crisis in Venezuela and launches "vicious anti-Semitic screeds."
"Send her back! Send her back!" the frenzied crowd of Trump supporters chanted as he paused to listen for 13 seconds but without responding. It was reminiscent of Trump's 2016 campaign, when supporters regularly shouted, "Lock her up!" in a call to jail his opponent, Democrat Hillary Clinton, the former U.S. secretary of state.
Back in Washington on Thursday, the president disavowed the chant against Omar, saying, "I was not happy with it. I disagree with it."
Still, to Trump, Omar has in short order become a suitable proxy for opposition Democrats trying to oust him next year after a single term in the White House. He singled her out last weekend, along with three other Democratic lawmakers who also are women of color, but unlike Omar, all U.S. citizens by birth. The president said they ought to "go back" to their home countries to "fix" things there before criticizing the U.S.
House condemnation
The Democratic-controlled House of Representatives voted to condemn Trump's remarks as "racist," but Trump dismissed any contention he is a racist. Instead, he praised the almost unanimous support he won from Republican lawmakers who opposed the resolution, only four of whom voted with Democrats against him.
"These left-wing ideologues see our nation as a force for evil," Trump said at the rally, describing them as "hate-filled extremists who are constantly trying to tear our country down."
"They don't love our country," he said. "I think, in some cases, they hate our country. You know what? If they don't love it, tell them to leave it."
"Tonight, we renew our resolve that America will never be a socialist country," Trump said. "A vote for any Democrat in 2020 is a vote for the rise of radical socialism and the destruction of the American Dream — frankly, the destruction of our country."
Omar swiftly rebuffed Trump, saying, "We have said this president is racist. We have condemned his racist remarks. I believe he is fascist."
Now in her late 30s, Omar told the Minneapolis Star Tribune that she, like many refugees, does not have a birth certificate. She is the mother of two daughters and a son, ranging in age from 7 to 15. Since January she has been a congresswoman from Minneapolis, a large city in the U.S. heartland state of Minnesota. Once divorced, she is married to Somali-born Ahmed Abdisalan Hirsi, the father of her three children and recently an aide to a Minneapolis City Council member.
She has been a naturalized U.S. citizen for about two decades, after fleeing the civil war in Somalia with her family in 1991 when she was a child. She lived in a Kenyan refugee camp for four years before moving to the U.S. in the mid-1990s. She held several politics-related jobs in Minneapolis in recent years, before winning a seat in the Minnesota House of Representatives in 2016, becoming the first Somali-American Muslim legislator in U.S. history.
Fierce critic
Last year, she won her congressional seat, overwhelming a Republican candidate to fill the seat of a Democratic congressman — Keith Ellison, also a Muslim American — who left it to win election as the state's attorney general.
Now Omar has become one of Trump's fiercest critics, regularly attacking his immigrant detention policies at the southern U.S. border with Mexico as immoral and assailing the country's long-standing support and alliance with Israel, which she says comes at the expense of Palestinians living alongside the Israelis.
More broadly, she has attacked her adopted country, saying it has "failed to live up to its founding ideals," a place that had disappointed her and so many immigrants, refugees and minorities like her.
Aside from drawing Trump's attention and his ire, the outspoken Omar has in six-plus months in Congress often rankled her Democratic colleagues, a number of them Jewish and more broadly, regardless of their religion, longtime supporters of Israel.
Earlier this year, the freshman lawmaker made a statement that played off tropes questioning the influence of Jewish money in American politics. Later, she said, "I want to talk about the political influence in this country that says it is OK for people to push for allegiance to a foreign country," specifically Israel.
In both instances, the uproar and condemnation from her Democratic colleagues, and many Republican lawmakers as well, was quick and unrelenting. She subsequently apologized to Jewish groups for some of her comments.
Both times, within days, the House of Representatives approved resolutions to indirectly rebuke Omar that condemned anti-Semitism. Neither statement named her, even though some lawmakers wanted to.
'Go back' to their countries
Omar, along with three other progressive congresswomen, argued with congressional Democratic leaders over the treatment of migrants at the U.S.-Mexican border. Omar, along with the three others Trump denigrated — Alexandria Ocasio-Cortez of New York, Ayana Pressley of Massachusetts and Rashida Tlaib of Michigan — wanted more compassionate control over government actions, and they voted against most Democrats.
Asked about their split with party leaders, House Speaker Nancy Pelosi seemed dismissive, saying the group, collectively known as "the squad," amounted to only four lawmakers who had rallied no one else to their views demanding more controls on the treatment of migrants.
But after Trump vilified the four with his "go back" to their countries demand, Pelosi led the fight to condemn Trump's language as racist.
Omar's comity with her Democratic colleagues, however, could be short-lived.
She is proposing a resolution defending the pro-Palestinian boycott, divestment and sanctions (BDS) movement against Israel.
"We are introducing a resolution … to really speak about the American values that support and believe in our ability to exercise our First Amendment rights [in the U.S. Constitution] in regard to boycotting," Omar said.
But a competing resolution condemning the BDS movement has wide support in the House and is much more likely to win approval, if any resolution passes.
Full report at:
https://www.voanews.com/usa/us-politics/trumps-latest-target-criticism-muslim-congressional-newcomer
--------
Southeast Asia
Sabah Umno Youth cry foul over DCM's comment on 38-year-old mass Islamisation of Tambunan natives
22 July 2019
BY JULIA CHAN
KOTA KINABALU, July 22 ― Sabah Deputy Chief Minister Datuk Madius Tangau's recent Facebook post on the mass conversion of villagers in Tambunan nearly 40 years ago has the state's Umno Youth seeing red.
The Opposition party wing's chief Abdul Aziz Julkarnain said Tangau's remarks were unbecoming of his position as a senior state Cabinet member and smacked of sedition.
"He is not supposed to say such things that could incite anger or hurt. There is no evidence or basis for his statement, and it was over 38 years ago in 1981," Abdul Aziz told Malay Mail today.
"As a deputy chief minister, an MP, he is in a position of influence. Anything coming out of his mouth can be misconstrued and dangerous, so he should be more careful," he added.
Abdul Aziz said that representatives from Sabah Umno youth wing, PAS youth, United Sabah National Organisation (USNO) and other non-governmental organisations are expected to lodge a police report at 2pm today.
"We want police to investigate and arrest him for making such comments that could disrupt unity in our country," he said.
Yesterday, Tangau posted on his official Facebook account that a Sabah government leader had gone to Tambunan 38 years ago and held a mass Islamisation ceremony, forcing many to convert by threats and dangling carrots of jobs and land titles.
"In comparison, today, the Muslim chief minister comes to Tambunan not to persuade anyone to convert but to give an allocation of RM1 million to upgrade churches here. We are grateful for and pray that his spirit of unity, respect and tolerance continues on our beloved land," he said.
Abdul Aziz said that Tangau had no evidence to support such claims of mass Islamisation.
"38 years ago in 1981, Sabah was under Tan Sri Harris Salleh. I thought he may be referring to Tun Mustapha Mohamad, but we don't know. There is no evidence, nothing at all, and that is very dangerous," he said.
Tun Mustapha Mohamad was Sabah's first governor in 1963 to 1965 and also chief minister from 1967 to 1975 and was known to have propagated Islam during his tenure, believing that unity can be achieved through common language and religion.
It was reported that around 75,000 non-Muslim Sabahans had been converted to Islam in 1974 and 20,000 more by 1975.
Harris was chief minister after that from 1976 to 1985.
Tangau, when contacted said that the group was welcome to make a police report and everybody was entitled to an opinion.
"As I said this is a free country. Let there be greater awareness on this issue. Let there be no more such incident now and in the future," he said.
https://www.malaymail.com/news/malaysia/2019/07/22/sabah-umno-youth-cry-foul-over-dcms-comment-on-38-year-old-mass-islamisatio/1773703
--------
US leads global crusade to stop persecution against all religions
July 22 2019
Bringing religion into diplomacy is not a novelty. Indonesia, which has the world's largest Muslim population, has been doing just that for the last 15 years, promoting interfaith dialogues worldwide.
Now the United States is joining in, taking the lead in the global campaign for the promotion of freedom of religion or belief.
Last week, the US State Department brought together more than 1,000 government representatives, religious leaders and civil society organizations from more than 130 countries to join in its campaign to stop the persecution of people for their beliefs — all beliefs, not just one or two.
Promoting religious freedom is now a central part of US foreign policy, backed by Republican President Donald Trump, who invited some survivors of religious persecution to the White House last week, and by Democratic House Speaker Nancy Pelosi, who spoke at t...
Full report at:
https://www.thejakartapost.com/news/2019/07/22/us-leads-global-crusade-stop-persecution-against-all-religions.html
--------
Pakistan
Pakistan turning blind eye to human rights abuses in Xinjiang
Jul 21, 2019
WASHINGTON: While the United Nations has said that at least one million ethnic Uighurs and other Muslims have been detained in China, experts believe that neighbouring Pakistan has turned a blind eye to the human rights abuses in Xinjiang.
China's close ally, Pakistan, is a Muslim country and one of the most powerful members of the Organisation of Islamic Cooperation (OIC). However, it has covered up the massive human rights abuses against followers of Islam in Xinjiang.
"I see the main reason...as the implementation of the China-Pakistan Economic Corridor (CPEC). Obviously, raising the question of the Uighurs domestically as well as internationally is perceived as provoking Beijing, which would have potential negative ramifications for the CPEC implementation," said Dr Siegfried O Wolf, the Director of Research at Brussels-based South Asia Democratic Forum (SADF).
"In this context, we should also expect that the Pakistan leadership does not want to raise the question in order to not stir further anti-Chinese sentiments in the country which are already increasing. This would further deteriorate the security situation of Chinese projects, workers, and companies," he added.
Wolf said that another factor is that Islamabad, especially its all-powerful military, wants to appease Beijing by ignoring the mistreatment of the Muslim communities in China. This helps in shielding the deepening Pakistan-China bilateral ties in security and military-related matters, which find its most visible expression in the delivery of Chinese weapons and military hardware.
Recently, nearly two dozen nations at the UN Human Rights Council wrote a letter, urging China to halt its mass detention.
US secretary of state, Michael Pompeo, also called China's treatment of Uighurs the "stain of the century". The state department estimates that between 8,00,000 to two million Turkic Muslims, including Uighurs, are being held in internment camps that Beijing has called "re-education" centres.
The issue of Uighurs in Xinjiang is expected to be raised during Pakistan Prime Minister Imran Khan's meeting with the US Secretary of State on Tuesday. Khan will be in the US from July 21 to July 23 on an official visit, during which he is also scheduled to meet US President Donald Trump.
Experts believe that Pakistan is hand-in-glove with China to cover up the massive human rights violations in Xinjiang.
Dusan Vejinovic, a Senior Research Analyst at the European Foundation for South Asian Studies (EFSAS) said, "The same way that China appears to maintain double standards on combating terrorism, manifested through the years-long postponement of the designation of Masood Azhar as a global terrorist, while simultaneously detaining 'preventatively' Muslims on alleged suspicions of Islamist radicalisation and terrorism, Pakistan follows the model of its patron, by playing a double standard in dealing with issues related to Muslims".
"Pakistan will sell its proxy war in Jammu & Kashmir as Jihad for their Muslim brothers, but totally deny any knowledge of the treatment of Uighurs by China," he added.
Wolf also said that Pakistan will attempt to continue its old tactic of playing a double game during Khan's visit to Washington.
"Until now Pakistan was known for supporting the 'US war against terror' but at the same time, it also supported the Taliban and other insurgent groups in Afghanistan which were fighting against the US troops, their allies and the Afghan government. However, this version of the double game reduces significance among Pakistan security mindset with the reduction of the US troops in the country, the growing strength of the Taliban and the deepening of relations wherein China is substituting US financial aid," Wolf added.
"However, Pakistan's military knows very well that Chinese military hardware is not a match until now for US technology and capabilities in the areas of defence production. Furthermore, the top brass of the Pakistani army is also well aware that Chinese support is strictly limited when it comes to an armed confrontation with its arch-rival India. As such, the military looks for a diversification of its supplies for military equipment," he further said.
Wolf believes that Islamabad's stand on Iran, as well as the trilateral relations shared by Iran-Pakistan-China, could be used as a bargaining chip in talks with the US. However, it is unlikely that the Uighurs will play any significant, severe role in the latest and upcoming conversations between Imran Khan and the US administration, besides some "lip service".
https://timesofindia.indiatimes.com/world/pakistan/pakistan-turning-blind-eye-to-human-rights-abuses-in-xinjiang/articleshow/70314535.cms
--------
No special treatment for Nawaz Sharif in Jail: Imran Khan in US
Jul 22, 2019
WASHINGTON: Claiming that Nawaz Sharif eats home-made food in his air-conditioned jail with television in it, Pakistan Prime Minister Imran Khan here on Sunday said that he will ensure the "criminal" does not receive such treatment.
"Nawaz Sharif wants food from home in jail, he wants air conditioning in jail. But in a country where half the population has no air conditioning or TV, what kind of punishment would this be?" said Khan in a 50-minute speech televised by Samaa TV.
"I am going to go back and make sure there is no air conditioning or no tv for Nawaz Sharif who is a criminal. I know (PML-N leader) Maryam Bibi will make some noise, but I say to her, return the money. It's as simple as that," he added.
The 69-year-old former Prime Minister was convicted in the Al Azizia Steel Mills case and sentenced to seven years in jail. He is currently serving the sentence in Lahore's Kot Lakhpat jail.
Khan made these remarks while addressing the Pakistani diaspora during 'Jalsa' in Capital One Arena stadium, which was attended by 30,000 Pakistanis, despite the stadium capacity of 20,000.
Continuing his attack against Sharif, Khan alleged that the PML-N leader was "propped up" by a military dictator.
"Nawaz Sharif was propped up by military dictator. Shahbaz Sharif was propped up because he was his brother. Asif Zardari and Bilawal became leaders on the basis of some piece of paper that left the party behind to them. Similar stories with other parties," said Khan.
Targeting the other politicians, Khan said that the government has started seizing their undeclared properties. He claimed that these leaders have looted the country when they were in power.
"We have started seizing their undeclared properties; the billions they have taken overseas, we are in talks with other governments to bring that looted wealth back to Pakistan," he said.
"The ones who have been sitting in power and looting the country; but let me say it again, that despite the messages even from the outside that you are having sent to me, we will not let accountability go. On the other side, we have secular Bilawal Bhutto who has joined them. And then PML-N who have no idea what they themselves are have also joined them. They just want to hear three letters," he added.
Full report at:
https://timesofindia.indiatimes.com/world/pakistan/wont-let-nawaz-sharif-special-treatment-in-jail-imran-khan-in-us/articleshow/70323756.cms
--------
Tribal people have rejected PML-N, PPP: Firdous
July 22, 2019
SIALKOT: Special Assistant to the Prime Minister on Information and Broadcasting Dr Firdous Ashiq Awan has claimed that the people of tribal areas have rejected both the Pakistan Muslim League-Nawaz and Pakistan Peoples Party and their policies.
Speaking at a press conference here on Sunday evening, she said democracy and democratic process had won after the peaceful, free, fair, impartial and transparent elections held in tribal districts, adding that this was the first time that Pakistan won in that region.
Dr Awan said there was no doubt that the people of tribal areas were also loyal and patriotic Pakistanis, adding that they defeated terrorism, militancy, insurgency and poverty by rendering sacrifices. Early establishment of durable peace in tribal areas was a top priority of the government that had "successfully" brought tribal people into mainstream after holding elections there.
Dr Awan said the opposition's no-confidence move against Senate Chairman Sadiq Sanjrani would be knocked out and it would face a big defeat in the house over this issue. The ruthless accountability of all those who looted national wealth would continue unabated, she added. She said the politically mature people had strongly rejected the immature politics of the PML-N and PPP. "Now, they are crying to gather sympathies of the people in a bid to cover their massive corruption," she added.
The special assistant said Prime Minister Imran Khan's visit to the United States would boost relations between the two countries. She said PM Khan had converted his visit into a people-to-people interaction from government-to-government contact, which was a great success for Pakistan. The premier's address to a gathering of overseas Pakistanis would help promote the country's soft image globally, she added.
Dr Awan said: "Prime Minister Khan is appearing before the world with the most credible face of Pakistan. He is a hero of Pakistan and the Pakistani nation, as he is representing the sentiments of the nation most effectively. PM Khan will also urge the overseas Pakistanis to come forward and play their pivotal role in economical stability of Pakistan by bringing maximum investment here."
She claimed that Mr Khan had set an example of simplicity and saving by travelling to the US through a commercial flight, and the world was appreciating this act. Everyone should replicate this example of simplicity and saving, she added.
Full report at:
https://www.dawn.com/news/1495487/tribal-people-have-rejected-pml-n-ppp-firdous
--------
Politicians condemn Dera terror attacks
July 22, 2019
PESHAWAR: Leaders of various political parties on Sunday condemned the armed attack at a police post and a suicide bomb blast in a hospital in Dera Ismail Khan, and expressed sorrow over the loss of precious lives in the terror incidents.
Qaumi Watan Party chairman Aftab Ahmed Khan Sherpao, Pakistan Muslim League-N provincial president Amir Muqam, and Jamiat Ulema-i-Islam-F chief Maulana Fazlur Rehman, in their separate statements here described the incidents failure of the government to ensure complete eradication of the anti-state elements.
The leaders stressed the need that the government should take preemptive steps to ensure protection to the lives and properties of the citizens. Besides, they also urged the government to provide appropriate medical facilities to the wounded people and proper compensation to the families of the people who lost lives.
The JUI-F chief said that the brutal attacks proved negligence on part of the government to take decisive action against the anti-state elements. He said such incidents were frequently taking place in Dera Ismail Khan but the government had failed to take effective steps to curb them.
Full report at:
https://www.dawn.com/news/1495404/politicians-condemn-dera-terror-attacks
--------
Afghan issue tops agenda of Bajwa's talks with US officials
July 22, 2019
WASHINGTON: Chief of the Army Staff Gen Qamar Javed Bajwa will interact with top US military leadership at the Pentagon during a three-day visit to Washington, the military's media chief said.
Briefing journalists at the Pak­is­­tan Embassy, Washington, on Saturday afternoon, Director General of the Inter-Services Public Relations Maj Gen Asif Ghafoor urged the media not to link the army chief's visit with that of Prime Minister Imran Khan.
But he did say that the army chief would attend the prime minister's meeting with US President Donald Trump on Monday. This marks the first time that the country's top generals are accompanying the prime minister to a White House meeting with the US president.
US sources told Dawn that Gen Bajwa is expected to meet US defence secretary, the current and the newly nominated chairmen of the Joint Chiefs of Staff and other senior military officials during his visit to the Pentagon.
Other military and security officials accompanying the prime minister will also have separate meetings with their counterparts. The US sources say that those meetings will focus on Pakistan's support for the Afghan peace process and the security situations in Afghanistan and Pakistan.
Recently, the United States declared a Baloch separatist group — the Balochsitan Liberation Army — a global terrorist outfit, making it a crime for all US citizens to have any dealings with this group. Pakistan has appreciated the US gesture.
Last week, Pakistan also fulfilled a long-standing US demand by arresting Lashkar-e-Taiba chief Hafiz Saeed. The US blames him for masterminding the 2008 Mumbai terrorist attacks, which also killed American citizens, and wants him prosecuted and punished. At the briefing, the ISPR DG underlined the need for Washington to revise its travel advisories, which portray Pakistan as an insecure place.
Maj Gen Ghafoor said the situation in Pakistan was "far better now" as the "sacrifices of [the] Pakistani nation and security forces have started yielding results". Pakistan, he said, was so far the only state that had defeated terrorism on its soil, which was a universally acclaimed achievement.
The ISPR chief also defended the decision to fence the Pak-Afghan border, as it had improved border control and ­continued to reduce terrorism-related incidents.
Full report at:
https://www.dawn.com/news/1495491/afghan-issue-tops-agenda-of-bajwas-talks-with-us-officials
--------
Mengal asks parties to unite for Balochistan's rights
July 22, 2019
QUETTA: Balochistan National Party-Mengal (BNP-M) president Sardar Akhtar Jan Mengal has appealed to leaders of all political parties of the province to unite on one platform and launch a joint struggle for taking back rights of the province from the federation.
Talking to journalists at the wedding ceremony of the son of the party's vice president Wali Kakar in Kuchalak on Sunday, Mr Mengal said his party was trying its best to protect rights of all people of Balochistan.
He claimed that his party had rendered great sacrifices for the rights of the people and for protecting resources of the province.
In the prevailing situation, the BNP-M leader said, it was the need of the hour that people of all communities and nationalities living in the province unite and stand up for waging a struggle for the rights of the people which have been denied to them by the federation for a long time.
Referring to criticism by his party's opponents, Mr Mengal said that his party had been highlighting main issues the province and its people were facing for a long time and one of the major issues of the province was missing persons.
"We could have compromised on missing persons' issue by taking some ministries but we preferred to raise the issue of these oppressed and neglected people instead of taking some ministries or some other government perks."
Full report at:
https://www.dawn.com/news/1495485/mengal-asks-parties-to-unite-for-balochistans-rights
--------
Eight killed in twin attacks in Pakistan's northwest
Jul 21, 2019
At least eight people have been killed and dozens of others wounded in twin attacks in northwestern Pakistan, officials say.
Local officials said gunmen on motorcycles first struck a security post on the outskirts of the northwestern city of Dera Ismail Khan early on Sunday, killing at least two policemen. The attackers fled the scene.
Later, a female assailant detonated her explosives at a government hospital where the bodies of the policemen from the first attack had been transferred to.
"In addition to those killed in the [firing], two policemen and four civilians were killed in the hospital explosion," district police chief Saleem Riaz said. "About seven kilograms of explosives were used."
At least 30 people were wounded from the force of the explosion at the District Headquarters hospital, the official said.
The Tehreek-e-Taliban Pakistan (TTP) claimed responsibility for the attacks in a statement sent to local media.
Pakistan has been battling the TTP and affiliated outfits since the group was formed in 2007.
Despite frequent offensives by the Pakistani army, acts of terror by militant cells continue to target security forces as well as civilians.
Full report at:
https://www.presstv.com/Detail/2019/07/21/601486/Pakistan-twin-attacks
--------
Arab World
Turkey Intensifies Attacks on Kurds in Aleppo, Sends Massive Military Equipment to Borders with Syria
Jul 21, 2019
The Kurdish-language Hawar News reported that the Turkish Army and the Ankara-backed Free Syrian Army (FSA) pounded the city of Tal Ra'afat and its surrounding areas in Northern Aleppo with rockets.
It noted that the Turkish Army and FSA, meantime, hit the towns of Malekieh, Shavareqeh and Maranaz near the city of Afrin in Northwestern Aleppo with tens of rockets and canon shells.
The Syrian Observatory for Human Rights, meantime, pointed to the attacks by the Turkish Army and its allied militants on Ein Daqaneh, Mang, outskirts of Tal Ra'afat and Tal Maziq in Northern Aleppo, and said that the Kurdish militia heavily pounded the Turkish Army's military positions in Northern Aleppo.
The SOHR also pointed to the deployment of massive military equipment by Ankara along border regions adjacent to Manbij in Northern Aleppo and Tal Abyaz in Northern Raqqa, and said that the Turkish Army and its allied militants are planning to conduct massive military operation against the Kurds in Manbij city.
In a relevant development on Wednesday, the Turkish Army's fresh military convoys comprising elite forces had arrived along the border with Syria as Ankara and its allied militants continued their attacks on the Kurdish militias' military positions in Northern Aleppo.
The Ankara-backed militants of the Euphrates Shield launched mortar attacks on Al-Bab Military Council's positions in the town of Kurhovik town in Eastern al-Bab in Northeastern Aleppo from their positions in Jeb al-Dam town, the Kurdish-language Hawar News said.
Meantime, battlefield sources reported that a new military convoy comprising the Turkish Army's Special commando forces together with armored military vehicles and equipment was sent to the city of Kelis in Southern Syria and near the border with Syria.
The sources also reiterated that the Ankara-backed terrorists known as the National Army have reinforced their military positions in al-Daghalbash and Ableh regions near the Kurdish-controlled areas in al-Bab city in Northeastern Aleppo and deployed heavy military equipment in the region.
https://en.farsnews.com/newstext.aspx?nn=13980430000685
--------
ISIL's Media Emir Killed in Iraqi Force's Operations in Diyali
Jul 21, 2019
The Arabic-language al-Maloumeh news website quoted a security source in Diyali province as saying that the Iraqi security forces continued their anti-ISIL military operations in Sabiayat and al-Miteh regions in Diyali province and near al-Azim area in Salahuddin province.
ISIL's media emir Abu Eshaq Araqi was killed in the Iraqi security forces' military operations in Diyali province, the news website said.
Meantime, the Iraqi forces declared the start of the third phase of their mop-up operations against the ISIL in Northern parts of Baghdad and in the surrounding areas of Diyali, Salahuddin and al-Anbar provinces.
The Iraqi al-Hashd al-Sha'abi also reported that the Iraqi Air Force also pounded and fully destroyed ISIL's biggest military base which was used as a medical center near Sensoul lake in Southwestern Mosul.
In a relevant development earlier this month, at least 25 military positions and command centers of the ISIL terrorist group were destroyed in the Iraqi Army's cleansing operation in different parts of Western Iraq.
During the Iraqi Army's military operation known as Eradeh al-Nasr (Will of victory) in desert areas stretching from al-Anbar province to Salahuddin and Nineveh provinces in Western Iraq, more than a dozen hideouts of the terrorists were destroyed and all terrorists inside them were killed, Commander of Iraq's Hashd al-Sha'abi (Popular Mobilization Forces) in al-Anbar Province Qatar al-Abidi said.
Meantime, a security source in Iraqi Diyali province said that the Iraqi Army and security forces managed to fully cleanse Imam Veis region and its outskirts after destroying several of their military positions and hideouts.
Full report at:
https://en.farsnews.com/newstext.aspx?nn=13980430000626
--------
Lebanese Media: Hashd Al-Shaabi Base in Amerli Attacked by Israeli Fighter Jet
Jul 21, 2019
The Arabic-language al-Ahd news website quoted informed security sources as saying on Sunday that Hashd al-Shaabi positions were targeted by three Israeli Harop missiles, 'Loitering Munition', which weight 23kg, are mounted on a flying object and explode when hitting the target.
It added that these warheads can be controlled remotely and their range is 1,000km.
"Only Israel is in possession of this type of weapons in the Middle-East," al-Ahd reported.
Informed security sources told al-Ahd that the Israeli F-16 fighter jets infiltrated into Southeastern al-Ratbah in al-Anbar province over the Baghdad-Amman and Baghdad-Damascus international road and fired the warheads.
Earlier reports said that an unmanned drone had on Friday bombed a base operating by Hashd al-Shaabi in Iraq with sources saying two people were wounded.
"The Al-Shuhada base of the Hashed al-Shaabi in the Amerli region was hit at dawn… by an unidentified drone, wounding two people," the Iraqi military said in a statement on Friday.
Meantime, a spokesman for Iraq's Hashd al-Shaabi forces dismissed media claims that the Iranian military advisors had been killed in a recent drone attack against Amerli base, located in the Tuz Khurmatu district of Northern Iraq's Salahuddin province.
"Opposite to what the biased media said, no advisors or IRGC (Islamic Revolution Guards Corps) forces have been killed," Ali al-Hosseini was quoted by the Arabic-language Baghdad al-Youm news website as saying on Saturday.
Also, the Arabic-language al-Etejah news channel quoted special sources in Nineveh province as saying that before the Friday attack against the Hashd al-Shaabi base in Amerli, a US spy plane conducted reconnaissance operations against the Hashd al-Shaabi and Iraqi army forces in the region.
The source said that the spy plane carried out reconnaissance operations over Sanjar mountain and the Southern areas of the region.
Full report at:
https://en.farsnews.com/newstext.aspx?nn=13980430000367
--------
Hama: Hundreds of Terrorists Arrive in Key Region for Battle against Syrian Army
Jul 21, 2019
The pro-militant Arabic-language Anab Baladi news website reported that about 500 Tahrir al-Sham terrorists and other terrorists of al-Fath al-Mobin Operations Room have been sen t to Sahl al-Ghab region in Northwestern Hama.
Meantime, the Syrian Army troops engaged in fierce clashes with the terrorists who had attacked the government forces' military positions in the town of al-Qasabieh in Northern Hama and fended off their attacks after destroying their military and armored vehicles as well as killing a large number of terrorists.
Meantime, the Syrian Army troops also targeted terrorists' positions in Northern part of Mahradeh City in Northern Hama and cleansed the region.
The Arabic-language al-Watan newspaper also reported that the Syrian Air Force heavily pounded the military positions of Jeish al-Izzeh and Turkistani Party terrorists in Western Hama, inflicting heavy losses on them.
Meantime, four civilians were killed and injured in terrorists' rocket attacks on New Aleppo district in the city of Aleppo.
In a relevant development on Wednesday, the Arabic-language media outlets reported that the terrorist groups destroyed a crucial bridge in Sahl al-Ghab region in Northwestern Hama to prevent the Syrian Army troops from making further advances there.
The Arabic-language website of the Russian Sputnik News Agency quoted local sources in Northern Hama as saying that the terrorist groups stationed in Sahl al-Ghab annihilated Jasr Beit al-Ra'as Bridge which is linked to the areas under the Syrian Army's control.
The sources noted that Jasr Beit al-Ra'as was the last bridge which was connected to areas controlled by the Syrian Army in Sahl al-Ghab, and said that this measure of the terrorists was due to their fear from the Syrian Army's advances in areas under their control in Sahl al-Ghab.
Meantime, the Syrian Army's artillery and missile units attacked the military positions of Tahrir al-Sham al-Hay'at (the Levant Liberation Board or the Al-Nusra Front) and Islamic Turkistani Party in several regions of Northern Hama and Southern Idlib.
The Syrian Army destroyed a number of military positions and centers of the terrorists in Northern Hama and Southern Idlib, inflicting heavy losses on them.
Full report at:
https://en.farsnews.com/newstext.aspx?nn=13980430000488
--------
Syrian air defenses thwart hostile targets in city of Masyaf in Hama: State TV
22 July 2019
Syrian air defenses on Sunday thwarted hostile targets in the northwestern city of Masyaf in Hama Governorate, state TV reported.
It said explosions heard in Masyaf were a result of shells launched by rebel groups in the western countryside of Hama.
https://english.alarabiya.net/en/News/middle-east/2019/07/22/Syrian-air-defenses-thwart-hostile-targets-in-city-of-Masyaf-in-Hama-State-TV.html
--------
Egypt expresses dismay to UK envoy over British Airways flight suspension
21 July 2019
Egypt's aviation minister on Sunday expressed his dismay over British Airways' decision to suspend flights to the Egyptian capital to the UK's ambassador to Cairo.
International Airlines Group's British Airways suspended flights to Cairo on Saturday for seven days "as a security precaution" as it reviews security at the city's airport.
Later on Saturday, Germany's Lufthansa said it had canceled services from Munich and Frankfurt to Cairo but it resumed flights on Sunday.
Air France, Emirates and Etihad Airways continued to operate flights to Cairo.
Younis Al-Masry "expressed his displeasure at British Airways taking a decision unilaterally concerning the security of Egyptian airports without referring to the competent Egyptian authorities," the aviation ministry said in a statement released after a meeting between the Egyptian aviation minister and British Ambassador Geoffrey Adams.
The statement went on to say that Adams had apologized for not informing Egyptian authorities before the decision was made and cited him as saying the flight suspension was not related to the security measures at Egyptian airports.
The British embassy in Cairo could not immediately be reached for comment.
A spokesman for Air France, in a statement sent to Reuters, said the airline had decided to maintain its service to Cairo after liaising with French and Egyptian authorities.
An Emirates spokeswoman said its flights were operating to schedule.
"We are closely assessing the situation and are in contact with the relevant aviation authorities with regards to our flight operations to Egypt," the spokeswoman said.
Full report at:
https://english.alarabiya.net/en/News/middle-east/2019/07/21/Egypt-expresses-dismay-to-UK-envoy-over-British-Airways-flight-suspension.html
--------
Syrian government bombing of rebel stronghold kills 11
21 July 2019
Syrian first responders and activists say government bombing of the last rebel stronghold in the country has killed at least 11 civilians, as the nearly four-month offensive shows no sign of abating.
The Britain-based Syrian Observatory for Human Rights says six people were killed, including a child, in the government bombing of the village of Urum al-Joz in southern Idlib province. The opposition-operated Shaam news agency says those killed had been displaced from the southern tip of the rebel stronghold.
Rescue workers, known as Syria's Civil Defense or White Helmets, say three children and a woman were killed in Kfaruma, south of Urum al-Joz.
A White Helmet volunteer was killed in the town of Khan Sheikhoun, the group says.
Full report at:
https://english.alarabiya.net/en/News/middle-east/2019/07/21/Syrian-government-bombing-of-rebel-stronghold-kills-11.html
--------
Syrian air defenses thwart 'hostile' fire near Hama
Jul 22, 2019
Syrian air defenses have thwarted what the state TV called "hostile" fires in the northwestern city of Masyaf in the Arab country's Hama governorate.
According to government-affiliated sources, explosions heard in Masyaf were a result of shells launched by anti-Assad militants in the western countryside of Hama.
The city of Masyaf is known to be one of the places where the Russian air defense system S-300 is deployed.
The explosions came a few hours after a cargo train carrying phosphate through central Syria was targeted and derailed by a "terrorist" attack, the Syrian transport ministry announced.
The train's crew suffered "various injuries" when it came off the tracks in Homs province, spilling the loads from two cars and starting a fire, it said.
A bomb placed by "unknown people" on a stretch of track east of Palmyra had exploded as the train passed, the UK-based Syrian Observatory for Human Rights reported.
The train was put "entirely out of service" as a result of the incident, the war monitor added.
Meanwhile, the Syrian army's airstrikes against militants' positions in Idlib region killed at least 18 people in the northwestern region, the Observatory said.
Idlib is a final flash point and the last bastion for foreign-backed militants.
The Syrian army warned civilians to leave Idlib before the campaign began to flush terrorists out of the region.
Syria has been gripped by foreign-backed militancy since March 2011. The Syrian government says the Israeli regime and its Western and regional allies are aiding Takfiri terrorist groups that are wreaking havoc in the country.
Full report at:
https://www.presstv.com/Detail/2019/07/22/601528/Syria-intercept-hama-masyaf-train-phosphate-
--------
South Asia
22 Taliban, ISIS militants killed in Afghan Special Forces raids
21 Jul 2019
The Afghan Special Forces have killed 22 Taliban and ISIS militants during the operations conducted in past 24 hours.
The informed military sources said Sunday that the Afghan Special Forces conducted an operation in Tagab district of Kapisa, killed 6 Taliban fighters and destroyed a small weapons cache.
The sources further added that the Special Forces conducted a similar raid in Nahr-e Saraj district of Helmand. The Special Forces killed 4 Taliban militants and destroyed an IED.
Furthermore, the military sources said the Afghan Special Forces conducted a raid in Farah district of Farah and killed 2 Taliban fighters.
The Afghan Special Forces also conducted an operation in Qara Bagh district of Ghazni and killed 8 Taliban fighters. The Special Forces detained 3 Taliban militants during the same raid.
Meanwhile, the military sources said the Afghan Special Forces detained 4 Taliban militants during an operation in Pul-e Alam district of Logar and destroying a small weapons cache.
The Afghan Special Forces killed 2 ISIS militants in an operation in Surkh Rod district of Nangarhar province. They also detained 4 others and destroying a small weapons cache during the same operation.
https://www.khaama.com/22-taliban-isis-militants-killed-in-afghan-special-forces-raids-03402/
--------
Airstrikes kill 17 Taliban militants in Ghazni, Uruzgan and Logar provinces
21 Jul 2019
The security forces carried out a series of airstrikes in three provinces in the past 24 killed at least 17 Taliban militants.
The military officials said Sunday that airstrikes killed 4 Taliban militants in Qarabagh district of Ghazni province.
The officials further added that similar airstrikes killed 11 Taliban militants in Khas Uruzgan district of Uruzgan province.
Furthermore, the officials said an airstrike killed 2 Taliban militants in Baraki Barak district of Logar province.
Full report at:
https://www.khaama.com/airstrikes-kill-17-taliban-militants-in-ghazni-uruzgan-and-logar-provinces-03403/
--------
Suicide vest goes off among Taliban in Ghazni killing several militants, suicide bombers
21 Jul 2019
A suicide vest accidentally went off among Taliban militants in Ghazni province, killing several militants and suicide bombers.
The Ministry of Interior (MoI) in a statement said a suicide vest strapped in the body of a Taliban militant went off prematurely, killing 3 suicide bombers and 12 militants.
The statement further added that the incident took place in Musa Kalim area of Nawa district on Saturday.
Furthermore, the interior ministry said the militants were looking to launch an attack on an organization in Ghazni province.
The militant groups including Taliban have not commented regarding the incident so far.
The security situation in Ghazni province has deteriorated during the recent months.
Taliban militants are active in some districts of the province and often conduct terrorist related activities.
Full report at:
https://www.khaama.com/suicide-vest-goes-off-among-taliban-in-ghazni-killing-several-militants-suicide-bombers-03401/
--------
10 sedition cases filed against Priya Saha
July 21st, 2019
A press release issued by the Foreign Ministry on Saturday strongly condemned Priya's actions
Md Sanaul Islam Tipu; Md Serajul Islam, Sylhet; Kamal Mridha, Natore; Tauhid Zaman, Jessore; SM Rezaul Karim, Jhalakathi; SM Hedait Hossain, Khulna; Ujjal Chakrabarty, Brahmanbaria
Ten sedition cases have been filed against Priya Saha, an organizing secretary of the Bangladesh Hindu-Bouddha-Christian Oikya Parishad afterher video clip that went viral on social media.
The video showed Priya, one of the organizing secretaries of the Bangladesh Hindu-Bouddha-Christian Oikya Parishad, pleading with US President Trump, to save 18 million people of minority groups in Bangladesh from persecution.
She said 37 million Hindus, Buddhists, and Christians, have disappeared from the country, persecuted at the hands of fundamentalist Muslims groups, who enjoyed political support.
In Dhaka, Advocate Md Ibrahim Khalil, executive committee member of the Dhaka Bar Association, filed a complainant suit with Dhaka Metropolitan Magistrate Abu Sufiyan Md Noman. Barrister Syed Sayedul Haque Suman, Supreme Court lawyer and International Crimes Tribunal (ICT) prosecutor, also filed a sedition case against Priya Saha with the court of Dhaka Metropolitan Magistrate Md Ziaur Rahman yesterday morning.
In Sylhet, Sylhet Jubo League Leader Rimad Ahmed Rubel filed a sedition case against Priya Saha, accusing her of giving false information about Bangladesh to US President Donald Trump. Rubel filed the sedition case with Sylhet Additional Chief Metropolitan Magistrate Mostayen Billah's court on Sunday morning.
Metropolitan Chhatra League leader, Advocate Sarwar Ahmed, has filed yet another sedition case against Saha as well.
In Natore, journalist Nasimuddin Nasim also filed a sedition case against Priya Saha with the Natore Sadar Cognizance Court of Magistrate Mamunur Rashid.
Former metropolitan Chhatra League Vice-President of Jessore, Golam Mostofa Kamal too, filed a sedition case against Priya Saha. And in Jhalkhathi, the Joint Convener of the city Jubo League, Md Chabir Hossain, filed a complainant case against Saha.
In Khulna, the organizing secretary of the district Awami League, Md. Kamruzzaman Jamal, and Madan Kumar Saha of the city's Station Road area, filed a complaint against Priya Saha. In Branhamanbaria, a maulana by the name of Md Asad Ullah filed a sedition case against Saha too.
Earlier, two courts in Dhaka dismissed separate pleas seeking to bring sedition charges against Priya Saha as they lacked legal grounds.
Full report at:
https://www.dhakatribune.com/bangladesh/court/2019/07/21/sedition-case-filed-against-priya-saha
--------
Airstrike targets large Taliban gathering in Faryab province
21 Jul 2019
An airstrike targeted a large gathering of Taliban militants in Faryab province of Afghanistan.
The 209th Shaheen Corps in a statement said the security forces conducted the airstrike at around 5 pm local time on Saturday.
The statement further added that the security forces carried out the airstrike in Bulchiragh district.
Furthermore, the 209th Shaheen Corps said the airstrike killed at least 28 Taliban militants.
Full report at:
https://www.khaama.com/airstrike-targets-large-taliban-gathering-in-faryab-province-03999/
--------
PAE Systems to provide contractor logistic support to Afghan armed forces: Pentagon
20 Jul 2019
The U.S. Department of Defense has announced that the Virginia-based PAE Systems will provide contractor logistic support to the Afghan armed forces.
The Department of Defense in a statement said it has awarded a contract to PAE Government Systems Inc. to provide contractor logistic support to Afghan National Defense and Security Forces.
The statement further added that the value of the contract is $22,578,864.
The statement also added that the company will perform the work in Kabul, Afghanistan, with an estimated completion date of Aug. 30, 2022.
Full report at:
https://www.khaama.com/pae-systems-to-provide-contractor-logistic-support-to-afghan-armed-forces-pentagon-03989/
--------
Africa
Islamic Movement in Nigeria denies allegation of violence
Jul 21, 2019
The Islamic Movement in Nigeria says it holds Nigerian President Muhammadu Buhari responsible for the 2015 Zaria massacre. It also says the government has failed to respect a court's verdict to release the movement's leader Sheikh Ibrahim Zakzaky. Press TV correspondent Danjuma Abdullahi has more from Abuja, the Nigerian capital.
https://www.presstv.com/Detail/2019/07/21/601524/Islamic-Movement-in-Nigeria-denies-allegation-of-violence
--------
Drone strike near Tripoli kills seven fighters loyal to Haftar
July 21, 2019
BENGHAZI: At least seven fighters loyal to Libyan National Army (LNA) forces commanded by Khalifa Haftar were killed overnight in a drone strike in southern Tripoli, a military source said.
Eastern-based LNA had downed a drone on Sunday in Tripoli's southern suburb of Ain Zara, it said without elaborating.
In the latest turmoil since the toppling of Muammar Qaddafi in 2011, Haftar's LNA has been unable to take Tripoli from the internationally recognized government despite fighting that has caused havoc in the capital's southern suburbs and displaced tens of thousands of civilians.
http://www.arabnews.com/node/1528756/middle-east
--------
Libyan army downs Turkish drone over Tripoli
21 July 2019
The Libyan National Army (LNA) said it downed a Turkish drone over Tripoli on Sunday.
https://english.alarabiya.net/en/News/world/2019/07/21/Libyan-army-downs-Turkish-drone-over-Tripoli.html
--------
Haftar forces preparing for new push to capture Tripoli: Report
Jul 21, 2019
Libya's UN-recognized government says forces loyal to strongman General Khalifa Haftar appear to be preparing for a new offensive to capture the capital city Tripoli.
Haftar's initial offensive launched on April 4 to take the city from the Government of National Accord (GNA) failed to break through Tripoli's defenses.
His forces are currently bogged down on the capital's southern outskirts, but the renegade general has defied a truce call by the United Nations and ordered his troops not to relent in their offensive..
The GNA said on its Facebook page Saturday that it is "concerned over reports, confirmed by the UN and the media, on preparations for a new military escalation".
Videos circulated on social media in recent days show columns of military vehicles belonging to Haftar's self-styled Libyan National Army (LNA), trucking towards the south of the capital.
Via a post published on one of its official Facebook pages on Friday, LNA urged young people in Tripoli to join Haftar's forces to eliminate all militias allied with the Tripoli-based government.
#Libyan Militia Declares 'Zero Hour' for Capturing #Tripoli / #Haftar https://t.co/1fADACv5HZ
— Bruno Surdel (@BrunoSurdel) July 20, 2019
Haftar's offensive has upended efforts to stabilize Libya and threatened to plunge the country into a full-blown civil war.
It has left nearly 1,093 people dead, and over 5,750 wounded, according to the UN's World Health Organization. The fighting has also forced more than 100,000 people to flee their homes.
In his offensive, Haftar is supported by the UAE, Saudi Arabia, Egypt, Jordan and France.
US President Donald Trump has also "recognized Field Marshal Haftar's significant role in fighting terrorism and securing Libya's oil resources," according to the White House.
European countries, including Italy and France, have taken a strong interest in Libya, both because of its natural resources and its status as a leading departure point for refugees attempting to enter Europe across the Mediterranean Sea.
The GNA has said France has been blocking resolutions at the UN Security Council, the European Union, and other international organizations opposing Haftar's push to capture Tripoli.
In a tweet on Saturday, the United Nations mission in Libya said it was "doing its utmost with all local and foreign actors to avoid military escalation and to ensure protection of civilians".
Libya has been plunged into chaos since 2011 when NATO's intervention in the country's popular uprising led to the ouster of long-time dictator Muammar Gaddafi and his execution by unruly fighters.
Since then, the North African country has been divided between two rival governments — one located in the east and the other in the west of the country and each backed by an array of rival militias.
The GNA is recognized by the UN as the official government of Libya, while the other government based in the eastern city of Tobruk has the support of forces loyal to Haftar.
Full report at:
https://www.presstv.com/Detail/2019/07/21/601458/Libya-Haftar-Tripoli-GNA-LNA
--------
Libya: Tripoli-based gov't strikes hit Haftar forces
Gulsen Topcu
22.07.2019
TRIPOLI, Libya
Airstrikes of Libya's Tripoli-seated Government of National Accord (GNA) Sunday struck forces led by the commander Khalifa Haftar in south of the capital Tripoli, a military official said.
The airstrikes targeted positions around the Valley of Spring and the old airport, Mustafa Al-Majai, a spokesman of the GNA's military operation against Haftar, told Anadolu Agency.
He said the airstrikes destroyed scores of military vehicles.
In April 4, Haftar announced the launch of a campaign to capture Tripoli, which faced a counter-operation by the GNA forces.
Libya has remained beset by turmoil since 2011 when a NATO-backed uprising led to the ouster and death of long-serving President Muammar Gaddafi after more than four decades in power.
Full report at:
https://www.aa.com.tr/en/africa/libya-tripoli-based-govt-strikes-hit-haftar-forces/1537842
--------
Lamu village on lockdown as security pursue al Shabaab
22 July 2019
Residents of Ras Kamboni village on the Lamu-Somalia border were on Saturday held temporarily under a curfew as security units led by the Kenya Defense Forces combed the area in search of suspected al Shabaab militants.
Apparently, the security agencies had received intelligence that the terrorists had arrived in the area and were planning attacks.
The villagers' movements were limited after they were instructed not to wander far from home lest they get hurt during the operation.
The massive crackdown is believed to have been largely precipitated by the recent IED terror attacks in the border area of Kiunga, Ishakani and other hotspots.
Both areas fall under those mapped for the Linda Boni security operation launched in 2015 to flush out al Shabaab militants believed to be holed up inside Boni forest.
Residents said they were locked in their houses for the better part of Saturday, with many reporting hearing gunshots and explosions around their village indicative of a fierce exchange of fire.
Locals were also barred from using the Ishakani-Ras Kamboni route.
"We stayed indoors for almost the entire day. They didn't force us but made us understand that it was a security crackdown on suspected al Shabaab militants. All the while, we could hear loud gunshots and explosions. They were very close to our village," said Ahmed Islam.
Residents reported hearing of an IED attack at a location between Ras Kamboni and Ishakani at dawn on Saturday which left two civilians dead.
"We believe it's the attack that prompted them to put a curfew on our village and conduct the operation. Its only until around 6pm in the evening that we were allowed to even go to the shops," said Omar Mohamed.
Security officers refused to comment on the curfew or give details about the alleged IED attack that killed two people.
A senior security officer denied Ras Kamboni village had been on lockdown and said the gunshots and explosions reported by the villagers were from a routine drill at a nearby camp.
Last week, three al Shabaab militants were felled by security officers from Rapid Border Patrol Unit along the Ishakani-Ras Kamboni road in Kiunga, Lamu East shortly after an IED planted by the militants went off.
Two officers were killed.
Full report at:
https://www.the-star.co.ke/counties/coast/2019-07-22-lamu-village-on-lockdown-as-security-pursue-al-shabaab/
--------
Mideast
2 IRGC Forces Martyred in Clashes with Terrorists in Southeastern Iran
Jul 21, 2019
The Quds base's public relations office announced in a statement that the two IRGC forces were martyred in Keshtegan region of Safavan by terrorists and two others were also wounded.
The IRGC is actively engaged in security operations against anti-Iran terrorist groups and accordingly is attacked by entities and terrorist groups which hold grudge against Tehran.
The incident came days after the IRGC servicemen from Hamzeh Seyed al-Shohada base disbanded a team of terrorists in West Azerbaijan province.
The IRGC announced in a statement that the terrorists were ambushed as they were trying to infiltrate the country from the province's Chaldoran County. Two terrorists were killed in the clashes and several others were wounded.
Two IRGC servicemen lost their lives during the operation as well, the statement noted.
According to the statement, a considerable amount of weapons, ammunition, and communication equipment were also seized.
Last month, the IRGC dismantled a 4-member terrorist gang in the same province near the border with Turkey.
The IRGC forces managed to kill one, injure two and arrest one members of a terrorist group active in Chaldoran region, in an ambush attack, the IRGC's Hamzeh Seyed al-Shohada Base said in a statement.
The security forces were hunting for the 4-strong sabotage gang in the past two days.
Also, IRGC forces seized a number of weapons and some ammunition from the terrorists in the operation.
https://en.farsnews.com/newstext.aspx?nn=13980430000580
--------
Israel begins demolitions of Palestinian homes near Jerusalem
22 July 2019
Israeli forces began demolishing buildings near a military barrier on the outskirts of Jerusalem on Monday, in the face of Palestinian protests and international criticism.
Bulldozers accompanied by hundreds of Israeli soldiers and police moved in to Sur Baher, a Palestinian village on the edge of East Jerusalem in an area that Israel captured and occupied in the 1967 Middle East War.
Palestinians fear that the razing of homes and buildings near the fence will set a precedent for other towns along the route of the barrier, which runs for hundreds of kilometers around and through the Israeli-occupied West Bank.
The demolition is the latest round of protracted wrangling over the future of Jerusalem, home to more than 500,000 Israelis and 300,000 Palestinians, and sites sacred to Judaism, Islam and Christianity.
Israeli forces cut through a wire section of the barrier in Sur Baher under cover of darkness early on Monday, and began clearing residents from the area.
Floodlights lit up the area as dozens of vehicles brought helmeted security forces into the village.
After first light, mechanical diggers began destroying a two-story house as soldiers moved through several floors of a partly constructed multi-storey building nearby.
"Since 2 a.m. they have been evacuating people from their homes by force and they have started planting explosives in the homes they want to destroy," said Hamada Hamada, a community leader in Sur Baher.
The work was filmed and photographed by Palestinian, Israeli and international activists who had mobilized to try and stop the demolition.
Israel's Supreme Court ruled in June that the structures violated a construction ban. The deadline for residents to remove the affected buildings, or parts of them, expired on Friday.
Full report at:
https://english.alarabiya.net/en/News/middle-east/2019/07/22/Israel-begins-to-demolish-homes-on-Jerusalem-outskirts-stoking-Palestinian-fears.html
--------
Iranian MPs thank IRGC for seizing British-flagged tanker, call for Gulf tolls
21 July 2019
A group of Iranian MPs thanked the country's Islamic Revolutionary Guard Corps (IRGC) for seizing a British-flagged oil tanker on Saturday, the semi-official Tasnim news agency reported.
The MPs thanked the IRGC for their "decisive move" in a statement which so far has been signed by 160 MPs, according to Tasnim.
Earlier today, Iran's Speaker of Parliament Ali Larijani said that "[Britain] committed maritime piracy, so [the IRGC] gave them a response for it," in response to an MP who criticized him for not issuing a statement in support of the IRGC's seizure of the British-flagged oil tanker Stena Impero on Saturday.
At the end of the statement, the MPs asked President Hassan Rouhani to attend to the topic of charging tolls on ships passing through the Strait of Hormuz, a motion which was proposed in the Iranian parliament earlier this month.
Amirhossein Qazizadeh Hashemi, a member of the presiding board of the parliament, said on July 7 that the tolls would compensate Iran for the expense of "providing security" for foreign ships, the semi-official Tasnim news agency had reported.
As foreign ships pass through the Strait of Hormuz, they enter Iranian waters and therefore Iran should collect tolls from them, he said, according to Tasnim.
The strait, which is only about 20 miles wide at its narrowest point, is split between the territorial waters of Iran and Oman.
Full report at:
https://english.alarabiya.net/en/News/middle-east/2019/07/21/Iranian-MPs-thank-IRGC-for-seizing-British-flagged-tanker-call-for-Gulf-tolls-.html
--------
Zarif: Bolton failed to lure Trump into war, turning his 'venom' against UK
21 July 2019
Iranian Foreign Minister Mohammad Javad Zarif said on Sunday that US National Security Adviser John Bolton is "turning his venom against the UK" after failing to "lure Trump into [the] War of the Century]."
On his official Twitter account, he added that only "prudence and foresight" could alleviate tensions between his country and Britain after Tehran's seizure of a British-flagged oil tanker.
"Only prudence and foresight can thwart such ploys."
Javad Zarif
✔
@JZarif
Make no mistake:
Having failed to lure @realDonaldTrump into War of the Century, and fearing collapse of his #B_Team, @AmbJohnBolton is turning his venom against the UK in hopes of dragging it into a quagmire.
Only prudence and foresight can thwart such ploys.
3,047
4:58 PM - Jul 21, 2019
Twitter Ads info and privacy
1,394 people are talking about this
Britain has called Iran's capture of the Stena Impero in the Strait of Hormuz on Friday a "hostile act." Tehran for weeks has vowed to retaliate for the seizure of its Grace 1 oil tanker by British forces for violating European Union sanctions on Syria.
https://english.alarabiya.net/en/News/middle-east/2019/07/21/Zarif-Bolton-turning-his-venom-against-UK-after-failing-to-lure-Trump-to-war.html
--------
Turkish court upholds singer's prison sentence for insulting Erdogan
21 July 2019
A Turkish court upheld the 11-month and 20-day sentence delivered to singer and actress Zuhal Olcay in December 2017 for insulting President Recep Tayyip Erdogan, the BBC reported.
Investigators received a complaint that Olcay had changed the lyrics of one of her songs and made hand gestures to insult the president during a 2016 concert in Istanbul.
According to footage of the concert, she modified a line in her song "Bos Vermisim Dunyani" (I Let Go of the World) to: "Recep Tayyip Erdogan, it's all empty, it's all a lie. Life will end one day and you'll say 'I had a dream.'"
Oclay denied having "any ulterior or insulting motive" but instead had intended to improve the rhyme.
Prosecutors had asked for Olcay to be sentenced to four years in prison. However, the court upheld the longer sentence after suspending it last year.
Full report at:
https://english.alarabiya.net/en/News/world/2019/07/21/Turkish-singer-sentenced-to-prison-for-insulting-president-during-concert.html
--------
Russia says Iran's tanker seizure arguments more convincing than UK's
Jul 22, 2019
Russia says Iran's arguments for its recent seizure of a UK-flagged oil tanker in the Strait of Hormuz were more convincing than those of London.
"Arguments cited by the Iranian side to explain its actions are much more convincing than vague references to the European Union's sanction law that were used by the Gibraltar authorities with the United Kingdom's backing at the moment of the arrest of a Panama-flagged tanker carrying Iranian oil," said Russian Deputy Foreign Minister Sergey Ryabkov.
"Iran's arguments are much more right than those of Gibraltar and London who are indulging in piracy," he went on to say. "Iran is taking care of the ecology in the Strait of Hormuz."
On July 19, the Islamic Revolution Guards Corps (IRGC) Navy captured British oil tanker Stena Impero for violating international maritime laws when crossing the high-traffic Strait of Hormuz in the Persian Gulf.
Iranian officials says the vessel had switched off its GPS locator, in contravention of international regulations, and was sailing into the strategic waterway in a wrong traffic pattern.
The taker was transferred to the port of Iran's southern city of Bandar Abbas for maritime casualty investigation.
Iran's seizure of the UK tanker came almost one month after London seized an Iranian supertanker for allegedly violating unilateral European Union sanctions on Syria.
UK Prime Minister Theresa May is to hold a meeting of Britain's emergencies committee on Monday to discuss Iran's seizure of Stena Impero in the Persian Gulf.
In one of her final important acts as prime minister before resigning on Wednesday, May will chair a meeting of Britain's COBR emergencies committee at around 10:30 am (0930 GMT), a Downing Street office said.
A spokeswoman said in a brief statement that "as well as receiving the latest updates from ministers and officials, the COBR meeting will discuss the maintenance of the security of shipping in the Persian Gulf."
It will be the third emergency committee meeting held in the UK since Iran seized the Stena Impero tanker on Friday.
All NPT signatories can enrich uranium
Russia on Sunday also took Iran's side against the US' claim that Tehran should not be allowed to enrich uranium at any level.
Mikhail Ulyanov, the permanent representative of Russia to International Organisations in Vienna, said all signatories of the Treaty on the Non-Proliferation of Nuclear Weapons, commonly known as NPT, are allowed to enrich uranium.
That is their inalienable right, and no one can deny them of that right, Ulyanov said, dismissing earlier allegations raised by the US president's national security adviser, John Bolton.
Bolton had claimed in a tweet on Friday that "one of the worst mistakes of the Iran deal, now on full display, was allowing Iran to maintain enrichment capabilities. There should be no enrichment for Iran."
In May, Iran began initiating a set of measures to respond to the US's departure from the JCPOA and the European partners' refusal to guarantee Tehran's business interests under the deal.
Full report at:
https://www.presstv.com/Detail/2019/07/22/601532/Russia-Ulyanov-ryabkov-npt-Iran-tanker-enrichment
--------
Europe
Another Mosque Desecrated As Anti-Muslim Attacks Continue To Spread Across Germany
18.07.2019
Unidentified assailants desecrated a mosque in the town of Minden in the very northeast of Germany's North Rhine-Westphalia state late Tuesday.
The assailants tore pages of a copy of Quran, the Islamic holy book, at the Barbaros Mosque, managed by the Turkish Islamic Union for Religious Affairs (DITIB).
DITIB representative Sebahattin Çiğdem said on Wednesday an investigation into last night's attack was launched after they saw a copy of Quran ripped up inside the mosque and called the police Wednesday morning.
He recalled, "our mosque had also been attacked on January 22, 2018. PKK terrorist organization supporters sprayed political messages on the doors and windows of the mosque.''
Another mosque in the German city of Cologne was attacked on Tuesday by three unidentified people, who caused considerable damage to the service building of the mosque.
The Chorweiler Mosque, also run by the DITIB, was targeted by three perpetrators who caused serious physical damage and broke the donation boxes. Security cameras recorded that the attackers damaged the administration room and service building, broke the donation boxes and ran away.
An investigation has been launched into the attack. Germany's Turkish-Muslim community last Wednesday had called on authorities to take stronger action against far-right extremists, amid a growing number of threats and attacks targeting mosques and community centers.
DITIB Chairman Kazım Türkmen said despite an increase in anti-Muslim crimes in recent years, perpetrators often go unpunished.
A bomb threat that was sent to the DITIB last Tuesday forced an evacuation of Germany's largest mosque in Cologne, which is run by the group.
After searching the complex with bomb-sniffing dogs, the police found no bomb and the area was deemed safe.
The DITIB has a total of 857 mosques in Germany, where almost a 1,000 imams work. Most of the imams are appointed by Turkey and after working for four years in Germany, return back to Turkey. The salaries of these DITIB imams are paid by Turkey.
Cologne-based DITIB is one of the largest Islamic organizations in Germany. It was founded in 1984 as a branch of the Presidency of Religious Affairs (Diyanet), Turkey's top religious body.
Germany, a country of over 81 million people, has the second-largest Muslim population in Western Europe after France. Among the country's nearly 4.7 million Muslims, 3 million are of Turkish origin. Many Germans of Turkish descent are second and third-generation descendants of Turkish immigrants, who moved to the country during the 1960s.
Meanwhile, the Federation against Injustice and Racism (FAIR) came up with an initiative against the rising numbers of mosque attacks, named #brandeilig (brighted). The initiative says that between the years 2014 and 2018, they have registered 420 mosque attacks. They underlined, however, that they are yet to determine all the attacks. They added that many attacks went unreported. According to FAIR, on average, there has been an attack on a mosque every week and states that they want to change the habit of overlooking of these attacks and bring attention to the issue.
The organization also expresses that the attacks make the Muslim community in Germany feel unsettled and the attacks are not only a threat to Muslims but to the whole society. Coming up with a timeline on the issue on the website of the initiative, FAIR shows the frequency and the number of attacks every month of each year. According to the timeline, the number of attacks on the mosques was at its highest in March 2018. There is also a map for the locations of the attacks as well as a data library.
Germany has witnessed growing anti-Muslim sentiments and hatred of migrants in recent years triggered by far-right parties, which have exploited fears over the refugee crisis and terrorism.
Police recorded 813 hate crimes against Muslims last year. At least 54 Muslims were injured in those attacks carried out mostly by far-right extremists. The attacks come as anti-Muslim groups gain more political ground and power in Europe, as well as deadly assaults on mosques in Western countries, including the attack in Christchurch, New Zealand this March which took 51 lives and caused serious injuries.
https://www.dailysabah.com/europe/2019/07/18/another-mosque-desecrated-as-anti-muslim-attacks-continue-to-spread-across-germany
--------
Europe leaves Turkey in lurch on migrant issue
Efsun Yilmaz
21.07.2019
IZMIR
Turkey's interior minister late Saturday said that Europe has deserted Turkey on the issue of irregular migrants.
"If Turkey does not bear this issue [of irregular migrants] with determination, no government in Europe will be able to withstand this wave for more than six months," Suleyman Soylu said.
Soylu said those who want to turn Turkey into a center for irregular migrants will eventually pay a price for this indifference.
"It is not enough to pat Turkey's back. They will criticize Turkey from their seats in the European Parliament and behave like leftists from 300 years back," he said.
Turkey has been the main route for irregular migrants trying to cross to Europe, especially since 2011, the start of the Syrian civil war which has seen more than 10 million people displaced, according to UN figures.
Ankara has accused the EU of failing to fulfill its obligations under a 2016 deal aiming to discourage irregular migration to Europe via the Aegean Sea.
Full report at:
https://www.aa.com.tr/en/europe/europe-leaves-turkey-in-lurch-on-migrant-issue/1537716
--------
Iran-backed terror cells could be used in UK attacks if situation worsens
July 22, 2019
Iran-backed terrorist cells could be used to launch attacks in the UK if the crisis between the two countries worsens, intelligence sources warn.
MI5 and MI6 officials consider Iran to be the third greatest threat to Britain's security.
They believe Tehran has organised and funded sleeper cells across Europe, including the UK, and could have them attack in response to conflict in the Middle East.
The cells are linked to Hezbollah, the Lebanese militant group, intelligence sources told The Telegraph.
"Iran has Hezbollah operatives in position to carry out a terrorist attack in the event of a conflict," the newspaper reported. "That is the nature of the domestic threat Iran poses to the UK."
Tehran has been publicly blamed for several cyber attacks in the UK, including one on members of parliament in 2017 and another on emails of post office, local government and private sector last year.
Tension has risen between the two countries after oil tankers were seized by both the UK and Iran.
On Friday, the Steno Impero vessel was seized in Omani waters before it was re-routed by the Islamic Revolutionary Guard's special forces to be detained in Iran.
London described the incident, a response to the seizure of Iranian vessel Grace I by the British navy in Gibraltar, as illegal.
"Current tensions are extremely concerning and our priority is to de-escalate," the government said to the UN Security Council. "We do not seek confrontation with Iran.
"But it is unacceptable and highly escalatory to threaten shipping going about its legitimate business through internationally recognised transit corridors."
An audio recording was released on Sunday, in which a personnel on the British ship is heard warning an Iranian patrol boat on radio against interfering with the oil tanker before it was seized.
Full report at:
https://www.thenational.ae/world/mena/iran-backed-terror-cells-could-be-used-in-uk-attacks-if-situation-worsens-1.889035
--------
Junior defense minister: UK committed to military presence in Middle East
21 July 2019
Junior UK defense minister Tobias Ellwood said on Sunday that Britain is sending "assets" to the region, and is committed to providing a military presence in the Middle East to keep the Strait of Hormuz open.
"Our first and most important responsibility is to make sure that we get a solution to the issue to do with the current ship, make sure other British-flagged ships are safe to operate in these waters and then look at the wider picture," he told Sky News.
Full report at:
https://english.alarabiya.net/en/News/world/2019/07/21/Junior-defense-minister-UK-committed-to-providing-military-presence-in-Middle-East.html
--------
URL: https://www.newageislam.com/islamic-world-news/most-lynching-cases-fabricated-fake/d/119264
New Age Islam, Islam Online, Islamic Website, African Muslim News, Arab World News, South Asia News, Indian Muslim News, World Muslim News, Women in Islam, Islamic Feminism, Arab Women, Women In Arab, Islamophobia in America, Muslim Women in West, Islam Women and Feminism