New Age Islam News Bureau
25 Jun 2019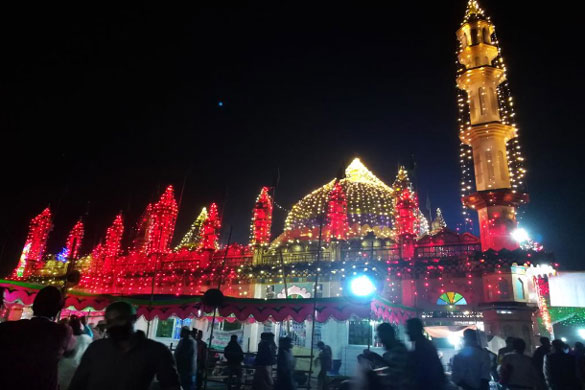 Devotees throng to an Islamic gathering in Chittagong in this Feb. 10 file photo. About 56 percent of Islamic militants in Bangladesh had a general education rather than studying at a madrasa, research has found. (Photo by Stephan Uttom/ucanews.com)
---------
• Most Islamic Militants in Muslim-Majority Bangladesh Hail from Schools than Madrasas
• Major General Visits Darul Uloom, Deoband; Urges Students to Join Forces
• Hassan Farhan al-Maliki, Anti-Wahhabi Saudi Thinker Faces Execution: HRW
• Saudi Arabia's Nuclear Ambitions Raise Alarm In Mideast
• Trump Trying to Sell All That Palestinians Have, Including Islam's Holy Sites: Ayat. Qassim
• Israel Will Do 'Everything' To Stop Iran Going Nuclear: Benjamin Netanyahu
• Nothing Wrong With Asking For Non-Muslim Feedback on Islamic Curriculum
• Indonesian Muslim Figures Help Promote 'Middle Islam' In the Netherlands
• Sudan Military Council Rejects Ethiopia's Proposal for Peace, Accepts African Union's
South Asia
• Most Islamic Militants in Muslim-Majority Bangladesh Hail from Schools than Madrasas
• Taliban Threaten Afghan Media, Say Reporters to Be Targeted
• 83 militants killed, wounded in Farah operations in past 5 days: MoD
• 11 Taliban militants killed, wounded in Special Forces raid in Faryab
• Extremism growing among Rohingya children in Cox's Bazar camps
• 4 policemen killed in Taliban checkpoint attack in W. Afghanistan
• Top Sri Lanka defence official faces charges over Easter attacks
• Afghan forces retake Faryab district a year after it was captured by Taliban
--------
India
• Major General Visits Darul Uloom, Deoband; Urges Students to Join Forces
• 4 Neo-Jamaat-ul-Mujahideen Bangladesh Islamic State Operatives Arrested In Kolkata
• 'Obvious Religious Hatred': Muslim Man in India Lynched On Video
• Pompeo at high table: Terror, trade top agenda of talks with PM, Jaishankar
• Colonel, 30 jawans booked after 'terrorising villagers'
• Hizbul Mujahideen behind smuggling of narcotics into Jammu & Kashmir: IGP
• Doors open for talks with Hurriyat, but only within Constitution: BJP
--------
Arab World
• Hassan Farhan al-Maliki, Anti-Wahhabi Saudi Thinker Faces Execution: HRW
• Saudi Arabia's Nuclear Ambitions Raise Alarm In Mideast
• Hezbollah is now giving orders to Syria's army – and using it to spy on Israel
• U.N.'s Bachelet says 55,000 linked to IS in Syria, Iraq should be tried or freed
• Iraqi security forces destroy 10 Islamic State tunnels
• Suspected jihadists kill 4 workers in Egypt's Sinai
• Syrian MP: Recent Clashes in Hama Direct Russia-Turkey Confrontation
• Aleppo: Ankara Looking for Setting Up New Military Base in Afrin Region
• Saudi soldier shoots dead three comrades, turns himself in: Report
--------
Mideast
• Trump Trying to Sell All That Palestinians Have, Including Islam's Holy Sites: Ayat. Qassim
• Israel Will Do 'Everything' To Stop Iran Going Nuclear: Benjamin Netanyahu
• US Palestine Deal Falls between Arab Bid, Israeli Stance: Kushner
• Iran's Rouhani: US sanctions on Khamenei futile as he has 'no foreign assets'
• Iran dismisses British call for release of aid worker Zaghari-Ratcliffe
• Turkey puts 16 public figures on trial for 2013 anti-government protests
• Israel blocks Gaza fuel supply over fire balloons
• Houthis have smuggled various weapons from Iran: Arab coalition
• US-led coalition against Iran 'will fail': Tehran
• Iran says US sanctions mean diplomacy is now 'permanently closed'
--------
Southeast Asia
• Nothing Wrong With Asking For Non-Muslim Feedback on Islamic Curriculum
• Indonesian Muslim Figures Help Promote 'Middle Islam' In the Netherlands
• Malaysia's Islamist Party PAS Puts Faith before Integrity in Choice of Leaders
• Ulemas from Prabowo's Electoral Strongholds Stifle Calls for More Street Protests
• A thank-you note from a Muslim to the Sisters of the Infant Jesus
• Kelantan religious council's conversion plans for Orang Asli unconstitutional, claims NGO
--------
Africa
• Sudan Military Council Rejects Ethiopia's Proposal for Peace, Accepts African Union's
• West African task force says troops killed 42 Islamic State fighters near Lake Chad
• 11 Chadian soldiers killed in Boko Haram attack: authorities
• UN to reintegrate 126 ex-Shabab militants in Somalia
• UN urges Sudan to halt 'repression' against protesters
• Nigerian army rescues 95 Boko Haram captives
--------
Pakistan
• Pakistan Doing Best to Eliminate Terrorism: Army Chief
• Jaish chief injured in Rawalpindi hospital blast?
• Fazl turns down suggestion to postpone APC
• Pakistan's score on Childhood Index improves: report
• PM Imran forms body to ease business registration
• Bilawal dubs debt commission 'unconstitutional, undemocratic'
• Pakistan, UK militaries hold strategic dialogue
• Qatar announces $3 billion in deposits, direct investment
• Three terrorists killed in fire exchange with law enforcers: Khuda Baksh Goth
• NATO Secretary General and Pakistan's Foreign Minister discuss Afghanistan
--------
North America
• Bolton: Iran Just Has To 'Walk through Open Door', Enter Negotiations with US
• Trump 'champion' of Khashoggi killers: Washington Post
• US calls on Houthis to end attacks on Saudi Arabia
--------
Europe
• UK Will 'Have To Consider' Supporting A US War with Iran 'On a Case-By-Case Basis'
• Russia says it will counter new US sanctions on Iran
• Britain warns of accidental war between US and Iran
• Arms sold from UK to Israel during Gaza protests: Group
• Mosque in Spanish enclave Ceuta comes under gun attack
• Germany says it has lost track of 160 ISIS members
Compiled by New Age Islam News Bureau
URL: https://www.newageislam.com/islamic-world-news/most-islamic-militants-muslim-majority/d/118987
--------
Most Islamic Militants in Muslim-Majority Bangladesh Hail from Schools than Madrasas
June 24, 2019
Most Islamic militants in Muslim-majority Bangladesh hail from a general education background while less than one third have roots in a madrasa education, a police study has found.
About 56 percent of militants had a general education, 22 percent had a madrasa education and 22 percent are either uneducated or have an English medium education background, according to research by police headquarters in the capital Dhaka.
The research was carried out on 250 suspected militants arrested from 2015 to 2017, police said.
"A madrasa education cannot be blamed for militancy as most of the militants in our custody are from a general education background," Mohammad Moniruzzaman, additional deputy inspector general (intelligence) of the anti-terrorism unit, told the Daily Star newspaper on June 22.
He said about 80 percent of religious extremists and terrorists were indoctrinated through the internet and social media, while the rest were influenced by acquaintances.
The unprecedented revelation about militancy roots is a cause of concern for Bangladesh, observers warn.
"The popular perception is that people with poor and uneducated backgrounds get radicalized, but slowly this perception is diminishing. Now we find people from affluent families and higher education backgrounds are more likely to be radicalized and choose destructive paths," Father Anthony Sen, convener of the Justice and Peace Commission in Dinajpur Diocese in northern Bangladesh, told ucanews.com.
Bangladesh has long been known as a moderate Muslim-majority country thanks to its tradition of religious pluralism and harmony.
Since 2013, Bangladesh has seen a deadly rise in Islamic militancy. Homegrown militants, pledging allegiance to global terror outfits Islamic State and al-Qaeda, have murdered more than 50 people.
In response, Bangladeshi security forces launched a massive anti-militancy crackdown that saw more than 50 suspected militant leaders and members shot dead and hundreds arrested.
Northern Bangladesh was particularly hit by militancy. Liberal academics, Shia Muslims, Ahmadis and religious minorities were murdered, while an Italian Catholic priest and a Protestant pastor narrowly escaped brutal murder attempts.
"We are living in an age when getting radicalized is easy, and we have seen in Bangladesh how devastating an impact radicalism can have. Meanwhile, an ongoing social movement against militancy in necessary, and in particular all education institutes must be monitored constantly," Father Sen said.
Nur Khan, a Dhaka-based human rights activist and radicalism researcher, had similar concerns.
"It's a terrible development when we hear that people from good education backgrounds with wealthy socioeconomic status are getting involved in extremism. Poor people might get radicalized for money, but a misguided ideology drives affluent people to radicalism, which is most dangerous," Khan told ucanews.com.
"Social awareness among all quarters of people and relentless surveillance from law enforcers can help prevent radicalism from taking root."
https://www.ucanews.com/news/bangladeshi-schools-produce-more-militants-than-madrasas/85485
--------
Major General Visits Darul Uloom, Deoband; Urges Students to Join Forces
Jun 24, 2019
Major General Subhash Sharan visited the prestigious Islamic seminary Darul Uloom at Deoband in Uttar Pradesh. This is the first time in its 150-year history that the seminary witnessed a visit from a top Army officer. Major General Subhash Sharan, who was ADG (UP & Uttarakhand), urged the students of Darul Uloom students to join the forces.
The major general visited Darul Uloom on Saturday evening and met its chief Maulana Mufti Abul Qasim Nomani. Maulana Nomani apprised him of the rich cultural history of the seminary. Major general told the students that after passing out from the seminary, they could join the forces as 'maulvis'.
According to Deccan Herald, the Army official presented a copy of the 'Bhagavad Gita' to Maulana Nomani, who in turn gave the former a book containing the history of Darul Uloom.
Darul Uloom was established in 1866 by Mohammed Qasim Nanautavi at Deoband in UP's Saharanpur district.
https://www.siasat.com/news/major-general-visits-darul-uloom-deoband-urges-students-join-forces-1524026/
--------
Hassan Farhan al-Maliki, Anti-Wahhabi Saudi Thinker Faces Execution: HRW
Jun 24, 2019
Human Rights Watch has condemned the Saudi authorities for seeking the death penalty against a reformist religious thinker and critic on charges that bear "no resemblance to recognized crimes."
Hassan Farhan al-Maliki was arrested in September 2017 and has been held in detention since then. The Saudi authorities finally brought charges against him in October 2018.
HRW said al-Maliki's prosecution for peacefully expressing his religious views contradicts Crown Prince Mohammad bin Salman's claims in October 2017 that he wanted to "revert" the kingdom to "a moderate Islam open to the world and all religions."
"Mohammed bin Salman has consistently pledged to support a more 'moderate' version of Islam while his country maintains a prosecution service that seeks the death penalty against religious reformers for expressing their peaceful ideas," Michael Page, deputy Middle East director at HRW, said.
"Saudi Arabia's real road to reform lies in allowing religious thinkers like al-Maliki to express themselves without fear of arrest and possible execution," Page added.
According to the US-based rights group, al-Maliki is currently on trial over 14 charges, nearly all of them having "no resemblance" to crimes recognized by law.
HRW, which reviewed al-Maliki's charge sheet, said the first two charges relate to his peaceful expression of his religious opinions about the veracity of certain sayings of the Prophet (PBUH) and his criticism of several seventh century Islamic figures.
Maliki was also charged with "insulting the country's rulers and the Supreme Council of Religious Scholars, and describing them as extremist", and accusing Arab countries of the Persian Gulf of supporting the Daesh terrorist group.
The Other charges included praising Seyyed Hassan Nasrallah, Secretary General of Lebanon's Hezbollah resistance movement, and "having sympathy" for the Yemen's Houthi Ansarullah movement.
He is also facing charges for voicing his religious views in television interviews, attending discussion groups in the kingdom, writing books and studies and publishing them abroad.
The rights group cited a Saudi activist as saying that the Specialized Criminal Court in Riyadh, which specializes in terrorism trials, has held at least three trial sessions on the cleric's case. The next hearing has not yet been scheduled.
Saudi Arabia has lately stepped up politically-motivated arrests, prosecution and conviction of peaceful dissident writers, human rights campaigners and independent clerics.
Saudi officials have also intensified security measures in the Shia-populated Eastern Province.
Eastern Province has been the scene of peaceful demonstrations since February 2011. Protesters have been demanding reforms, freedom of expression, the release of political prisoners, and an end to economic and religious discrimination against the oil-rich region.
The protests have been met with a heavy-handed crackdown by the regime, with security forces increasing security measures across the province.
Over the past years, Riyadh has also redefined its anti-terrorism laws to target activism.
In January 2016, Saudi authorities executed Shia cleric Sheikh Nimr Baqir al-Nimr, who was an outspoken critic of the Riyadh regime. Nimr had been arrested in Qatif, Eastern Province, in 2012.
https://www.presstv.com/Detail/2019/06/24/599296/Saudi-religious-thinker-faces-execution-HRW
--------
Saudi Arabia's nuclear ambitions raise alarm in Mideast
Jun 24, 2019
Saudi Arabia's expanding nuclear and missile programs have raised fears that it aims to acquire nuclear weapons, with analysts warning that a nuclear Riyadh under its "reckless" leadership would pose a threat to the countries in the region.
Saudi Arabia, a signatory of the nuclear Non-Proliferation Treaty (NPT), signed in 2005 a so-called small quantities protocol with the International Atomic Energy Agency, which exempts countries with no or minimal nuclear programs from inspections.
Riyadh, which is constructing a nuclear reactor, has so far resisted calls by the IAEA to implement proportionate safeguards and an inspection regime that would prohibit possible deviation towards weaponization.
"The small quantities protocol was designed to simplify safeguards for states with minimal or no nuclear material, but it is no longer adequate for Saudi Arabia's expanding nuclear program," Kelsey Davenport, director of Nonproliferation Policy at Arms Control Association, told Middle East Eye.
Referring to Saudi Arabia's threats to pursue nuclear weapons, its exemption from inspections and its developing ballistic missile program, Davenport said: "There are legitimate reasons to be concerned that Saudi Arabia is seeking to develop the technical capabilities that would allow Riyadh to quickly pursue nuclear weapons if the political decision were made to do so."
Saudi Crown Prince Mohammad bin Salman, who enjoy strong support from US President Donald Trump, said last year that his country would promptly acquire nuclear weapons if Iran does.
Iran has warned that it has noticed some of its neighbors with a "proven black record of supporting terrorist movements" working on "suspicious nuclear projects," which would force Tehran to revise its defense strategy.
According to a report by MEE, Saudi Arabia's nuclear and missile programs are bound to have significant regional implications.
Earlier this month, Democratic US Senator Tim Kaine revealed that the Trump administration had approved the transfer of nuclear know-how to the kingdom seven times, twice after the Riyadh regime's killing of Saudi dissident journalist Jamal Khashoggi inside the Saudi consulate in Istanbul in early October 2018.
The money-driven politics of the American president have raised doubts about Washington's resolve, or even ability, to keep possible Saudi nuclear ambitions in check.
The Trump's administration approved six authorizations that allow American companies to secretly provide Saudi Arabia with nuclear technology or technical assistance, revealed a document issued by the Department of Energy and seen by Reuters in late March.
Simultaneously, Saudi Arabia has reportedly stepped up its ballistic missile program with the help of China.
"Saudi Arabia's development of ballistic missiles goes against long-standing US policy of opposing missile proliferation in the region," said Nicholas L. Miller, professor of government at Dartmouth College. "But the Trump administration has so far been relatively quiet about its response."
"There seems to be a pattern in this administration of looking the other way at provocative Saudi behavior due to the laser-like focus on Iran," Miller argued.
'Reckless' leadership in Saudi Arabia
Saudi Arabia's concurrent and mostly clandestine missile and nuclear activities combined with bin Salman's warnings that the kingdom would pursue atomic weapons are also sounding alarm bells in certain regional capitals.
"A nuclear Saudi Arabia means nuclear proliferation in the most unstable and volatile region of the world," Ali Bakeer, a Turkey-based political analyst, told the online news outlet.
"Given the reckless leadership in Riyadh, this is an alarming development for small states in the [Persian] Gulf in particular, which might either seek a nuclear umbrella from great powers or consider constructing parallel deterrence capabilities of their own if they could afford it," he added.
Qatar is one of those countries that has feared an invasion by Riyadh. US officials said that Saudi Arabia was planning to invade Qatar and seize its North Dome gas field, before its imposition of an all-out diplomatic and economic boycott on the nation in June 2017.
https://www.presstv.com/Detail/2019/06/24/599284/Saudi-nuclear-ambitions-raise-alarms
--------
Trump trying to sell all that Palestinians have, including Islam's holy sites: Ayat. Qassim
Jun 24, 2019
Bahrain's most senior Shia cleric outlines how a so-called peace plan devised by the United States under President Donald Trump seeks to irreversibly compromise Palestinians' entire entitlements.
Sheikh Isa Qassim made the remarks during an address at a conference in the north-central holy city of Qom in Iran on Monday.
The US announced the scheme last year, but withheld its details. Leaked information, however, indicate that it features serious violations of the Palestinian's age-old demands.
Palestinian officials from all factions have unanimously spurned the scheme, citing strong suspicion about the US's intentions. The Palestinian Authority began refusing any intermediary role by Washington in the Israeli-Palestinian conflict in late 2017 after Trump recognized the holy occupied city of Jerusalem al-Quds as Israel's "capital."
Ayatollah Qassim said the US plan amounted to selling everything the Palestinians have, including Islam's holy sites.
Rejecting the deal means rejecting slavery and accepting freedom, he added, and noted that there was no choice for the Islamic world but to resist America's plans for Palestinians.
He said Washington's deal was a trial for Arab rulers to show their true colors.
Many Arab states have reportedly nodded their approval of the plan. Bahrain has even chosen to host a US-led conference, which will kick off on Tuesday to divulge the economic aspects of the plan.
The White House, itself, broadly referred to the economic component of the plan, which Trump has hailed as "the deal of the century," on Saturday, saying it envisages $25 billion in new investment to aid Palestinians within the next 10 years. Palestinian officials reacted by saying that Palestinians' would not be giving up their rights and demands to such economic incentives.
The Bahraini cleric noted that the Bahraini people were against both the deal and the Manama conference.
Ayatollah Qassim enjoys huge popularity among Bahrain's Shia-majority population as a pro-independence figure. He has proven a prominent source of inspiration for the nation's 2011-present popular protests against the US-backed Bahraini authorities' campaign of suppression targeting the Shias.
Over the past years, the authorities have been leading tremendous effort to constrain Qassim's freedoms and rights, including stripping him of his citizenship and raiding his house on numerous occasions, forcing him to live in exile since July 2018.
https://www.presstv.com/Detail/2019/06/24/599359/Bahrain-United-States-deal-of-century-Palestine-Sheikh-Isa-Qassim-Qom
--------
Israel will do 'everything' to stop Iran going nuclear: Benjamin Netanyahu
Jun 24, 2019
JERUSALEM: Israel's Prime Minister Benjamin Netanyahu said Monday his country will do "everything" to prevent arch-rival Iran from obtaining nuclear weapons, during a visit by a senior Russian security official.
"Israel will not allow Iran, which calls for our destruction, to entrench on our border; we will do everything to prevent it from attaining nuclear weapons," Netanyahu said.
He was speaking alongside Nikolai Patrushev, the head of Moscow's powerful security council, whose visit followed weeks of simmering tensions between Tehran and Washington in the Gulf.
Israel has carried out repeated strikes to prevent Iranian forces becoming embedded in neighbouring Syria, where both Iran and Moscow back the government of President Bashar al-Assad.
The Israeli government has vowed never to let Iran obtain a nuclear weapon, believing Israel would be the target.
Iran insists its nuclear programme is entirely for civilian purposes.
Netanyahu has long campaigned against a 2015 nuclear agreement between Iran and world powers, from which the Trump administration unilaterally withdrew last year.
Patrushev did not directly mention the Islamic republic in his comments to the press.
"We pay great attention to Israel's security," he said.
"To resolve this issue in practice, it is necessary to bring peace and stability to the region, including on Syrian territory."
Their meeting came a day after Netanyahu hosted US national security advisor John Bolton, who shares the Israeli premier's tough stance on Iran.
Bolton is set to meet Patrushev on Tuesday along with their Israeli counterpart Meir Ben-Shabbat.
Tensions between Washington and Iran have flared after Iranian forces shot down a US drone Thursday, the latest in a series of incidents including attacks on tankers in sensitive Gulf waters that have raised fears of an unintended slide towards conflict.
Trump has tweeted that Washington would place "major additional sanctions on Iran on Monday".
Russia on Monday denounced the new sanctions as "illegal". Its President Vladimir Putin has warned of "disaster" if the US were to use force against Tehran.
https://timesofindia.indiatimes.com/world/middle-east/israel-will-do-everything-to-stop-iran-going-nuclear-benjamin-netanyahu/articleshow/69933267.cms
--------
Nothing wrong with asking for non-Muslim feedback on Islamic curriculum
Tajuddin Rasdi
June 25, 2019
The education ministry recently announced a task force to re-look the Islamic education curriculum in government schools.
In line with the vision of Malaysia Baru, the task force invited feedback from all Malaysians. Immediately, Muslim and Malay groups said the move was undermining the sanctity of Islam by allowing non-Muslims to participate in the survey.
The main criticism is that non-Muslims should not comment on Islam.
Islam is a Malaysian issue, not just a Muslim one. I don't want to use simplistic arguments, such as Dr Zakir Naik being allowed to comment on other religions, or a mufti who comments on Hindu practices.
Non-Muslims could ask if the Islamic education syllabus should address the use of derogatory terms on them.
Perhaps they could raise the issue of Quranic recitations being blared for hours from mosque loudspeakers, disturbing Muslims and non-Muslims alike. Does it require a degree from Al-Azhar to tell that it is wrong to disturb others?
Prophet Muhammad once admonished imams who recited lengthy chapters of the Quran during prayers, as it was hard for the elderly and those with young children.
Once, the caliph Umar Abd Aziz recited the Quran loudly in the mosque in the wee hours of the morning with the intention of waking people up for prayers. An elderly Muslim then told him to recite silently.
Perhaps the Islamic syllabus could also address the silence of some Muslims when non-Muslim lives are destroyed in terror attacks, leading some to ask if they are only concerned about Muslim lives.
Perhaps the curriculum could correct the perception that all non-Muslims are enemies.
Perhaps non-Muslims could ask to re-look at how gender issues are addressed so that wife-beating can be considered a crime.
During the time of the Prophet, women were treated so badly that Prophet Muhammad had to carefully change this culture by recommending to the Arabs that they be tapped lightly instead.
What about changing the way some Muslims treat minority groups such as Shias and Ahmadis, or those among the LGBT?
The curriculum should also warn students against performing the haj and umrah using dirty money.
Lastly, non-Muslims may want to ask that a new Islamic curriculum teaches students to treat non-Muslims with dignity.
The Prophet once stood up to pay respects to a funeral procession of a Jew, much to the surprise of the Muslims. When asked, he replied, "Did he not have a soul, too?"
Students should also be told how early Muslims sought protection from a Christian king in Abyssinia. Thus, young Muslims should be taught dignity and respect for people of other faiths who strive to do good.
We must learn to accept constructive comments on our faiths to help us co-exist peacefully.
https://www.freemalaysiatoday.com/category/opinion/2019/06/25/nothing-wrong-with-asking-for-non-muslim-feedback-on-islamic-curriculum/
--------
Indonesian Muslim figures help promote 'middle Islam' in the Netherlands
June 24, 2019
Indonesian Muslim figures spoke at the second international conference on moderate Islam, "Seeking The Middle Path (Al Wasatiyya): Articulations of Moderate Islam" in Radboud, Nijmegen, the Netherlands, to promote moderate Islam along with hundreds of international Muslim figures.
As reported by Antara news agency, according to Renata Siagia, spokesperson of the Social Cultural Department of the Indonesian Embassy in Den Haag, the conference was a biannual event organized by Nahdlatul Ulama's special chapter in the Netherlands with Radboud University.
The aim of the conference is to promote the concept of al-wasatiyya, which is often translated as "middle Islam" or the "common ground".
Middle way religion was not only hope for a state or community, but a common interest for the whole world, Indonesian Religious Affairs Minister Lukman Hakim Saifuddin said during his keynote speech.
Middle way religious practices are needed to create a peaceful, harmonious, antiviolent and diverse world, he said.
The conference was attended by 300 people comprising academics, researchers and cultural practitioners from various backgrounds from Indonesia and the Netherlands.
Among them were Yahya Cholil Staquf, NU supreme council secretary-general who also serves as an adviser to President Joko "Jokowi" Widodo and Syafiq Mughni, the president's special envoy for interfaith dialogue.
The conference also held a Muslim-Christian interfaith dialogue titled "Promoting 'Costly' Tolerance: Challenges for States and Religious Communities" at Sekolah Indonesia Den Haag, Wassenar, in which about 100 people attended. (gis)
https://www.thejakartapost.com/news/2019/06/24/indonesian-muslim-figures-help-promote-middle-islam-in-the-netherlands.html
--------
Sudan military council rejects Ethiopia's proposal for peace, accepts African Union's
Jun 24, 2019
Sudan's military has rejected a proposal made by Ethiopian mediators and already accepted by the opposition coalition for the creation of a civilian transition body, and instead expressed gratitude to Saudi Arabia and the United Arab Emirates (UAE), both of whom are accused of backing the junta's crackdown against civilians.
The ruling Transitional Military Council (TMC) rejected Ethiopia's proposal on Sunday, saying Ethiopia and the African Union (AU) should be unified in their efforts to mediate between the council and an opposition coalition on the structure of the country's transitional government.
Back in April, Sudan's military announced that it had unseated president Omar al-Bashir and later imprisoned him. It then set up the TMC to rule the country and promised to hand over after elections.
But protests, under whose pressure Bashir was forced out, have continued in Sudan, with people demanding that more civilians be on the council than military figures during the transition period.
Peaceful protests turned violent earlier this month, when the military started cracking down on demonstrators and using force to disperse sit-ins in the capital Khartoum.
The ruling generals and the coalition have also been holding talks for several weeks, but have so far failed to find a way out of the crisis.
In the meantime, Ethiopian mediators suggested that a ruling sovereign council would be made up of seven civilians and seven members of the military, with one additional seat reserved for an impartial individual, Reuters reported.
The council's spokesman, Lieutenant General Shams El Din Kabbashi, said on Sunday the council had rejected Ethiopia's proposal, but had agreed in principle to the African Union's plan, details of which were not immediately known.
"The African Union's initiative came first," said Kabbashi, adding that the council had not studied the Ethiopian initiative, which he described as unilateral.
"We asked the mediators to unite their efforts and submit a joint paper as soon as possible to return the parties to negotiations," Kabbashi added.
"The president (of the military council) clarified that he gave the mediators until tomorrow to present the joint vision," said Yasser al-Atta, a member of the military council.
Atta also went on to dismiss reports that Saudi Arabia and UAE interfere in Sudan's internal affairs.
"We do not accept dictations from any country," Atta said. "Saudi Arabia and the UAE have not and will not dictate political or economic conditions."
Both Riyadh and Abu Dhabi have announced their support for the transitional military council. They have also expressed support for measures taken by the council following Bashir's ouster.
n a separate statement on Saturday, the deputy head of the military council, Mohamed Hamdan Dagalo, thanked both Saudi Arabia and the UAE, saying they have provided the country with assistance without interfering in its affairs.
Dagalo, currently the second most powerful man in Sudan, has had close ties with both Riyadh and Abu Dhabi, since his country joined a Saudi-led war against Yemen more than four years ago.
He has been overseeing Sudan's more than 10,000 ground troops in Yemen.
Back in May, the general met Saudi Crown Prince Mohammed bin Salman in a visit to the kingdom. Reports said Riyadh pledged to continue supporting the military if Khartoum agrees to keep its forces in Yemen.
Dagalo said on Friday that Khartoum deployed some 30,000 troops to join the coalition in Yemen.
The US-based Armed Conflict Location and Event Data Project (ACLED), a nonprofit conflict-research organization, estimates that the Saudi-led war has claimed the lives of over 60,000 Yemenis since January 2016.
https://www.presstv.com/Detail/2019/06/24/599293/Sudan-unrest-Saudi-Arabia-Ethiopia-Arab-Union
--------
South Asia
Taliban threaten Afghan media, say reporters to be targeted
Jun 24, 2019
KABUL: The Taliban have issued a threat to Afghan media, saying journalists will be targeted unless news outlets stop broadcasting what they describe as government propaganda against the insurgents.
Monday's statement gives Afghan radio stations, TV channels and others a week to cease transmitting anti-Taliban announcements paid for by the government.
The Taliban say that Afghan media that refuse to do this will be considered enemy intelligence nests and their journalists and other staffers will not be safe.
The government in Kabul pays media outlets to regularly air please to the public to inform authorities if they see any suspicious Taliban activities.
The Taliban have targeted Afghan media, radio and TV stations in the past but this is the insurgents' first threat over a specific issue such as the government-paid announcements.
https://timesofindia.indiatimes.com/world/south-asia/taliban-threaten-afghan-media-say-reporters-to-be-targeted/articleshow/69925587.cms
--------
83 militants killed, wounded in Farah operations in past 5 days: MoD
24 Jun 2019
The security forces have killed at least 70 Taliban militants during the operations in western Farah province.
The Ministry of Defense (MoD) in a statement said the operations were conducted in Bala Bolok district five days ago.
The statement further added that the security forces also wounded 13 militants during the same operations.
Meanwhile, the Ministry of Defense said the security forces destroyed 25 motorcycles, 61 roadside bombs, 7 sacks of explosives, 1 rocket launcher and several depots of weapons and explosives.
Full report at:
https://www.khaama.com/83-militants-killed-wounded-in-farah-operations-in-past-5-days-mod-03712/
--------
11 Taliban militants killed, wounded in Special Forces raid in Faryab
24 Jun 2019
The Afghan Special Forces killed ten Taliban militants during an operation in Faryab province.
The informed military sources said Monday that the Special Forces conducted the raid in Khwaja Sabz Posh district.
Furthermore, the Special Forces wounded another Taliban militant during the same operation.
The sources said "Afghan Special Forces conducted a clearance operation in Kwhaja Sabz Posh district killing 10 Taliban fighters and wounding 1 other."
This comes as the security situation in some districts of Faryab has deteriorated during the recent years.
Taliban militants are active in some remote districts of Faryab and often conduct terrorist related activities.
Meanwhile, the Afghan forces routinely conduct counter-terrorism operations against the anti-government armed groups in this province.
Full report at:
https://www.khaama.com/11-taliban-militants-killed-wounded-in-special-forces-raid-in-faryab-03718/
--------
Extremism growing among Rohingya children in Cox's Bazar camps
by Sumon Corraya
06/24/2019
Cox's Bazar (AsiaNews) – Abdur Rahaman, 12, a Rohingya refugee has lived in a camp in Cox's Bazar, Bangladesh for more than two years. When he was home, in Myanmar, he wanted to be a doctor, but now everything has changed. "Here I cannot go to school. My parents enrolled me in a madrassa. Now I will never be a doctor."
Like Abdur, thousands of other children cannot go to regular school and are increasingly becoming "prey" to Islamic radicalism taught in 1,200 Islamic schools.
Together with his parents, Abdur fled Myanmar after the outbreak of the violence in August 2017. At present, about 740,000 Muslim refugees live n various camps along the border between Bangladesh and Myanmar.
Abdur currently lives in Camp 3 in Ukhiya where he attends the Majida Arafat Madrassa. "I enjoyed my school in Myanmar. There, I was in grade three," he told AsiaNews. Now he has to go an Islamic school because he can't go to a regular school.
Bangladesh doesn't allow refugee children to attend local schools along with Bangladeshi pupils. Local and international NGOs run pre-schools or child friendly spaces where they learn Burmese and English. But according to parents, what is offered is not up to the task of providing a real education.
Ali Johar, 45, has three children. In his view, the children are only getting recreational time. "For our kids, it is just to pass time. They don't learn much. I see them: Most of the time, the children play, eat, or sing.
Madrassas are filling the educational gap. Children learn Arabic and are taught to memorise and recite Qur'ānic verses, without any critical study of the religion. These schools are run by Hefazat-e-Islam Bangladesh, a group with a long history of protests.
During the visit to the Ukhiya camp, Atur Rahman, the group's local leader, says: "All religions have terrorists. But when Muslims act, you call us extremists or militants."
The proliferation of madrassas in refugee camps has set off alarm bells among experts and activists, according to whom children are the easiest target for radicalisation.
"There are 39 militants groups in Rohingya refugee camps," said Shahriyar Kabir, a Bangladeshi journalist, filmmaker, and human rights activist. "That is big threat for Bangladesh".
Full report at:
http://www.asianews.it/news-en/Extremism-growing-among-Rohingya-children-in-Coxs-Bazar-camps-47366.html
--------
4 policemen killed in Taliban checkpoint attack in W. Afghanistan
2019-06-23
HERAT, Afghanistan, June 23 (Xinhua) -- Four policemen were killed and another was wounded when Taliban militants attacked a security checkpoint in western Afghanistan's Herat province on Saturday night, a police official said.
"Taliban launched a coordinated attack on a police checkpoint in Guzara district of Herat province early Saturday morning, killing four policemen and injuring another," Sulaiman, the Guzara district police chief, told Xinhua.
Full report at:
http://www.xinhuanet.com/english/2019-06/23/c_138166726.htm
--------
Top Sri Lanka defence official faces charges over Easter attacks
Jun 24, 2019
COLOMBO: Sri Lanka's most senior defence official on Monday became the latest government figure to face possible criminal charges over "major lapses" linked to the Easter Sunday bombings that killed 258 people.
Hemasiri Fernando, who was defence secretary before the April 21 bombing of three churches and three hotels, should be investigated for his failure to prevent or minimise the attacks, attorney general Dappula de Livera said.
The attorney general said in a letter to Sri Lanka's acting police chief that a presidential commission of inquiry had found "major lapses" by Fernando, who has since resigned from his top job.
While Fernando is the most senior defence official to face action, President Maithripala Sirisena also suspended police chief Pujith Jayasundara after he refused to step down over the handling of the attacks.
Jayasundara and Fernando have testified before a parliamentary inquiry and accused Sirisena of failing to follow established protocols in assessing threats to national security.
Last week, the attorney general ordered investigations against nine police officers for failing to act on warnings ahead of the bombings, carried out by Islamic State-backed local jihadists.
All nine were senior officers in the districts where the attacks were carried out and have now been transferred from their posts pending disciplinary action and criminal investigations.
Authorities have admitted that warnings sent by India of an impending attack by a local group, the National Thowheeth Jama'ath (NTJ), were ignored.
Some 45 foreign nationals were among the dead and 500 people were injured in the attacks. The tourist hotspot has been under a state of emergency since.
Sri Lanka's State Intelligence Service (SIS) has also been criticised for failing to act on the Indian warnings, but no-one from the state spy service has been put under investigation.
Sirisena, who is also defence minister and law and order minister, has also faced allegations that he could have prevented the attacks.
The president has objected to a parliamentary investigation into the attacks and ordered police not to co-operate. The hearings have gone ahead, however, and police have testified before legislators.
Full report at:
https://timesofindia.indiatimes.com/world/south-asia/top-sri-lanka-defence-official-faces-charges-over-easter-attacks/articleshow/69928607.cms
--------
Afghan forces retake Faryab district a year after it was captured by Taliban
25 Jun 2019
The Afghan security recaptured the Bulcheragh district in Faryab province on Tuesday morning. almost a year after it collapsed into the hands of Taliban.
The Ministry of Defense in a statement said Tuesday that the Afghan National Defense and Security Forces cleared Belcharagah district of Faryab province from enemies.
Meanwhile, the Ministry of Interior (MoI) in a statement said the security forces recaptured the district earlier today.
The statement further added that Taliban militants were in control of the district for the past one year.
The interior ministry also added that the Taliban militants had taken the residents of Bulcheragh as hostages, closed the schools and were extorting the people.
The Taliban militants have not commented regarding the recapture of Bulcheragh district so far.
The security and defense officials had earlier vowed that the security forces would to retake the control of all fallen districts from the militants.
Full report at:
https://www.khaama.com/afghan-forces-retake-faryab-district-a-year-after-it-was-captured-by-taliban-03725/
--------
India
4 Neo-Jamaat-ul-Mujahideen Bangladesh Islamic State operatives arrested in Kolkata
25 June 2019
The Kolkata Police's Special Task Force (STF) arrested four neo-Jamaat-ul-Mujahideen Bangladesh (JMB) or the Islamic State (IS) operatives from near Sealdah station's parking lot and Howrah station on Tuesday. A mobile phone containing photos, videos, jihadi text and literature were found on them.
Two operatives identified as Md. Jiaur Rahman and Mamonur Rashid. Who are Bangladeshi nationals, were arrested from Sealdah Railway Station's parking lot. Two others identified as Md. Sahin Alam and Robiul Islam were arrested from Howrah Station. While Alam is a Bangladeshi national, Islam is an Indian national and lived in West Bengal's Birbhum district and helped them by harbouring as well as recruiting and collecting fund from India.
The three Bangladeshi nationals were taking refuge in India to escape arrest in Bangladesh and were involved in recruitment under the Islamic State banner and collected funds for organisation too.
This is a breaking news story. More details will be added soon. Please refresh the page for the updated version.
https://www.newsnation.in/india-news/4-neo-jamaat-ul-mujahideen-bangladesh-islamic-state-operatives-arrested-in-kolkata-sealdah-howrah-jmb-is-article-228555.html
--------
'Obvious Religious Hatred': Muslim Man In India Lynched On Video
Jun 25, 2019
Indian police say they have arrested one person and are searching for a dozen others over the torture of a Muslim man who later died of his wounds, in the latest suspected lynching in the country by Hindu vigilantes.
A 10-minute video shows Tabrez Ansari, 24, being beaten by a group of men last week over accusations he had carried out a burglary in Kharsawan district, in Jharkhand state.
Tied to a pole, Ansari is also forced to shout "Jai Shri Ram" (Hail Lord Ram), a slogan used by Hindus, according to the footage, which has gone viral.
Kartik S, a local police chief, told the AFP news agency that the villagers beat Ansari for nearly 12 hours, before he was taken into custody and then hospital. He died in hospital of his injuries on Saturday, four days after he was attacked.
"We have arrested the main accused for the murder, but a dozen people from the mob are on the run," the police chief said.
"An environment has been created across the country that enables and encourages this kind of violence," said Harsh Mander, a founding member of Karwan-e-Mohabbat ("a caravan of love"), a solidarity campaign for victims hit by hate violence, including lynchings.
"For perpetrators, such attacks are an act of heroism. Ansari was not only lynched by a mob, there was an obvious religious hatred in the manner it was done by asking him to shout Hindu slogans," he told Al Jazeera.
Commenting on reports that police registered a case against Ansari after he was handed over to authorities, Mander said: "It is a pattern by the police; they tend to register cases against the victim [first] rather than the accused. There is a bias which is always been legitimised, by police."
On Monday, India rejected a US State Department report that said religious intolerance and violence has increased against minorities in India under the government of the Hindu nationalist Bharatiya Janata Party, led by Prime Minister Narendra Modi.
The US religious freedom report stated that there had been growing numbers of attacks by Hindus claiming to protect cows - which is considered sacred by Hindus - since 2014 when Modi came to power.
After the attack on Ansari, Jharkhand Minister CP Singh, said in a press conference on Monday that such incidents should not be politicised and linked to BJP and Rashtriya Swayamsevak Sangh, a Hindu supremacist organisation that wants India to be defined as a Hindu nation.
"The government will conduct an investigation. The trend to politicise such incidents is wrong," Singh was quoted as saying by local media group NDTV.
Earlier this month, Modi condemned a rise in mob attacks saying: "Killing people in the name of 'gau bhakti' (cow worship) is not acceptable. No person in this nation has the right to take the law in his or her own hands. in his rare comments on the cases."
Full report at:
https://www.aljazeera.com/news/2019/06/religious-hatred-muslim-man-india-lynched-video-190624141020360.html
--------
Pompeo at high table: Terror, trade top agenda of talks with PM, Jaishankar
Shishir Gupta
Jun 25, 2019
Terrorism, Afghanistan, the Indo-Pacific, Iran, trade issues, and growing bilateral defence ties will be the focus of discussions between the Indian government and visiting US secretary of state Mike Pompeo on Wednesday, with India in favour of de-escalation of the Persian Gulf crisis through dialogue, according to officials aware of the developments who asked not to be named.
Secretary Pompeo is scheduled to have a pre-lunch meeting with external affairs minister S Jaishankar, followed by a lunch hosted by the latter. He will then call on Prime Minister Narendra Modi before leaving for Osaka the next day for the G20 Summit.
While much focus in the recent past has been on bilateral trade issues, both sides are committed to working out a win-win formula under the directions of PM Narendra Modi and President Donald Trump post their bilateral meeting on the sidelines of the summit in Japan. Bilateral trade issues are handled by US trade representative Robert Lighthizer, commerce secretary Wilbur Ross, and director of trade and manufacturing policy Peter Navarro in the White House.
The key focus of the bilateral meetings with Pompeo will be terrorism in light of the growing concern that Pakistan is not taking concrete actions to uproot terror groups targeting India and de-stabilising Afghanistan. That Pakistan has not moved on the Mumbai, Pathankot, Uri and Pulwama terror attack investigations will be pointed out to Pompeo, along with the fact that Islamabad continues to shelter Indian fugitive Dawood Ibrahim.
"As far as Afghanistan is concerned, India is for an Afghan people-led, owned and controlled peace process, which is inclusive and does not undermine the political gains in the past 18 years in the form of the establishment of a constitution and a proper Afghan government," one of the officials cited above said.
While Indian oil companies have not signed any fresh contracts with Iran, New Delhi is prepared to scour for alternative sources for its growing hydrocarbon needs in the international market, including the US, another official said.
The Modi government, however, is worried that the growing escalation between the US and Iran could lead to problems for its nine million-strong expat population in the Gulf as well as lead to disruption in its oil supplies, 60% of which come from West Asia, a third official said.
Although officials in South Block are tight-lipped about the Pompeo visit, the situation in Iran is likely to figure, with New Delhi interested in both Washington and Tehran taking de-escalatory steps to ensure peace in the region. The Modi government is also concerned over the targeting of oil tankers in the Persian Gulf, and wants that the sea lanes of communication are free of any unilateral action by either side.
Officials aware of the matter said that India and the US will further strengthen their defence ties in the context of the situation in the Indo-Pacific and the Gulf regions. While a number of high-end military hardware acquisitions are in the pipeline from the Pentagon, the purchase of 24 MH60 Romeo Seahawk naval helicopters and a missile defence shield for New Delhi are on the verge of finalisation, with talks on the Indian military acquiring armed drones from the US figuring high on the agenda. A number of hardware items are also in the process, including 10 P8I long-range maritime reconnaissance aircraft, six more Apache-64 attack helicopters and the possible purchase of multi-role fighters from the US, the officials said.
"The regional security environment, including the military rise of China and its ramifications on the Indo-Pacific, will also feature in the bilateral meetings with Secretary Pompeo. Apart from this, the plan for PM Modi going for a bilateral with President Trump in Washington in September and the latter coming to India late December or early January 2020 are also on cards," said one of the official cited above.
Full report at:
https://www.hindustantimes.com/india-news/pompeo-at-high-table-terror-trade-top-agenda-of-talks-with-pm-jaishankar/story-7WQUFKORSxj1X19YypJDnL.html
--------
Colonel, 30 jawans booked after 'terrorising villagers'
Jun 25, 2019
PUNE: The Khed police in rural Pune registered on Sunday an offence of unlawful assembly of people "armed with deadly weapons" against a serving Army colonel and 30 to 40 army jawans after a complainant accused them of entering a farm, damaging crops and terrorising people at Gulani village, 54 km from here off the Nashik highway, on June 22. The colonel is posted with the artillery centre in Hyderabad.
Police said the farmland is part of a 65-acre property and the incident appears to be the fallout of an ongoing ownership dispute between the colonel's family and two other families. The names of members of these two families have been entered in the land records as owners of the farm where the incident allegedly occurred. A civil suit relating to the property has been pending in the Khed sessions court since 2013 while an appeal is also pending before the sub-divisional officer, Khed.
On June 14, there was unrest involving the colonel's father and brother on one side and members of the other two families and their supporters on the other. The police had intervened then to control the situation.
"On Saturday, the colonel brought 30 to 40 armed jawans in four military vehicles to the village (all the way from Hyderabad) and used a tractor to plough the disputed land where the soya bean crop had been sowed," the police said, citing the FIR lodged by a woman member of one of the opponent families. The complainant also alleged that the colonel threatened and restrained her family from accessing the land.
While the complainant could not be contacted despite repeated attempts, the colonel, who has been on leave before the incident, denied having committed any act as has been alleged in the FIR and maintained that the police complaint was a "conspiracy by the opponent families to frame him and malign the image of the Army".
Pune rural superintendent of police (SP) Sandeep Patil said, "All the jawans were in uniform and armed when they reached the village in the military vehicles. They also accompanied the colonel and his family members to the disputed land. They stood guard around the land as the colonel's family members ploughed it using a tractor. As of now, we have registered an FIR and will investigate further."
Full report at:
https://timesofindia.indiatimes.com/india/colonel-30-jawans-booked-after-terrorising-villagers/articleshow/69935041.cms
--------
Hizbul Mujahideen behind smuggling of narcotics into Jammu & Kashmir: IGP
Jun 24, 2019
JAMMU: A top police officer on Monday said terror outfit Hizbul Mujahideen is also engaged in smuggling narcotics into Jammu and Kashmir from across the Line of Control.
Jammu Inspector General of Police MK Sinha told reporters about Hizbul's drug smuggling nexus while announcing the arrest of a smuggler near LoC in Poonch district, nabbed with 12kg heroin.
Mohammad Altaf alias 'Hafiz', a resident of Behrouti Kanga village of Balakote area in India's Mendhar sector was arrested on June 21 on a tip off by of his two accomplices, nabbed last month along.
The duo, Fayaz Ahmad Dar of Bijbehara in Anantnag district and Arshad Ahmad of Shopian, were arrested on May 27 and were found in possession of 260 grams of heroin and over Rs 12 lakh, said Sinha.
The IGP said four accounts belonging to one of the three arrested smugglers were frozen and further investigation is on.
Drug smugglers Dar and Arshad were arrested by a police team on from Vivekanand Chowk in Jammu.
"During his interrogation, the arrested smugglers revealed that there is a nexus between Hizbul Mujahideen terrorists, trained in Pakistan and presently living with narcotics smugglers on this side of the border," he said.
"Hizbul Mujahideen is smuggling the narcotic substance through its conduits into the country," he said.
"At the moment we are still investigating and trying to study how the money is circulated and where it is used," said Sinha "A five member special investigation team headed by SP (North) Amrit Paul Singh was constituted and during sustained interrogation, Arshad broke down and named Hafiz who is actually receiving the consignment at the zero line in his village and smuggling the same into India," the IGP said.
He said Hafiz was arrested on June 21 and at his disclosure, 12kg heroin was recovered from his village on Sunday.
"Fayaz had gone across the LoC in January 2018 to meet his brother Ayaz who is a Pakistan-trained Hizbul Mujahideen militant.
He fled to Pakistan after remaining active here for many years and is presently living in Rawalpandi," said Sinha.
Highlighting police achievements against its anti-drug drive, Sinha said so far 454 drug peddlers were arrested this year and 341 cases under the NDPS Act registered against the 302 arrests and 231 cases during the same period last year.
Full report at:
https://timesofindia.indiatimes.com/india/hizbul-mujahideen-behind-smuggling-of-narcotics-into-jammu-kashmir-igp/articleshow/69933483.cms
--------
Doors open for talks with Hurriyat, but only within Constitution: BJP
June 25, 2019
by Naveed Iqbal, Arun Sharma
Two days after Jammu and Kashmir Governor Satya Pal Malik signalled that separatist Hurriyat leaders were ready for talks, BJP national vice-president and J&K in-charge Avinash Rai Khanna said Monday that "our doors are open for anyone who wants to talk while keeping their faith in the Constitution of India." His remarks also come after Hurriyat chairman Mirwaiz Umar Farooq told The Indian Express that the Hurriyat would respond "positively" if "meaningful dialogue" is initiated by New Delhi.
Speaking on the sidelines of an event in Srinagar, Khanna said that though there is no formal offer from the Centre, "What I'm saying, is an offer. Develop faith in the country's Constitution and assist in maintaining the law and order situation, then we can talk."
He also said that Prime Minister Narendra Modi has created such an atmosphere in the country that any person can contribute to the peace process. Khanna's remarks assume significance with BJP president Amit Shah taking over the Union Home Ministry in the second Modi government.
The J&K BJP unit, too, said that the Hurriyat would need to "publicly acknowledge the indisputable status of Jammu and Kashmir and that it is an integral part of India,'' and "commit their loyalty to the Constitution of India and seek talks only under its ambit''.
In a statement Monday, BJP's state spokesperson Brigadier (retired) Anil Gupta said: "Any talks with the JRL (Joint Resistance Leadership)/Hurriyat at this stage without them publicly accepting these pre-conditions will be counter-productive and a retrograde step."
"None of the Hurriyat leaders have signalled any change in their stance and continue to promote separatism,'' Gupta said, adding that "mere appeals for talks with the Centre is no indicator of any change in their mindset''.
On Saturday, Governor Malik had announced that Hurriyat leaders were ready for talks. Responding to the Governor's statement, Mirwaiz Farooq had said that "if meaningful talks are initiated, there will be a positive response. Dialogue is the only way and that is our consistent stand," he said, adding that "Hurriyat has always been in favour of talks as the means of resolution. We have not said anything new. We have always been saying this. As the most affected party with daily killings of our young, we would naturally want peaceful resolution of the issue."
Political parties in the state have welcomed the development, considering the deadlock over Kashmir for the past 13 years. National Conference president and Srinagar MP Farooq Abdullah said that talks "must be held" with the Hurriyat and called for including Pakistan in the dialogue. "The Governor has himself stated that Hurriyat is ready for talks, and if they are, then talks should be held. Everyone should be included in the talks, including Pakistan."
Full report at:
https://indianexpress.com/article/india/hurriyat-kashmir-dialogue-bjp-satya-pal-malik-narendra-modi-mirwaiz-umar-farooq-5797999/
--------
Arab World
Hezbollah is now giving orders to Syria's army – and using it to spy on Israel
24 June 2019
Earlier this month, the Syrian Observatory for Human Rights, a UK-based watchdog group, reported that Israeli fighter jets struck Hezbollah positions on the Syrian side of the Golan Heights. There was no Israeli comment on the claim.
The report said one of the targets was a post on Tel al-Harra, a mountain that is considered a strategic point that overlooks the Golan Heights, while the other was in Quneitra, near the UN-monitored border crossing with Israel, where Arab media reports a Syrian air-defense position and a Hezbollah intelligence center are located.
The Iran-backed Lebanese terror group had been trying to set up a front on the Syrian Golan for years, but had previously been unable to gain a sufficient foothold in the area. However, Syrian President Bashar Assad's conquest of the border area last summer provided the regime-allied organization with an opportunity to once again attempt to establish the necessary infrastructure with which it could threaten Israel near the border.
The alleged Israeli strikes near the border were a rare occurrence. In the past Israel has targeted villages and towns along the Golan Heights frontier after identifying Iranian and Hezbollah attempts to establish cells and infrastructure in the area.
But the incident also highlighted a reality once unthinkable in Syria: With Hezbollah one of the chief powers setting the tone in the country after years of civil war, Syrian army forces are now in some cases taking their orders from the organization — and helping it spy on Israel.
Hezbollah's presence in Syrian territory opposite the Israeli border is a natural continuation of the group's expanding activity in the Middle East (in Yemen, Iraq, Syria, and Lebanon, among others), and the civil war that has been raging in Syria for approximately eight years.
Its increased clout is particularly noticeable in the region of southern Syria that the Syrians call Hauran. In the same area that gave rise to the protests against Assad in March 2011 in the city of Daraa, a situation has now formed in which Syrian soldiers receive "recommendations" — which are in effect orders — from Hezbollah commanders.
A segment of the Syrian army that controls the southern part of the country works closely with many consultants from Hezbollah, which use it for purposes such as intelligence-gathering, and is also helping the Lebanon-based group prepare for an expected future war with Israel (as well as assisting it in dealing with local opposition).
To put it in the simplest terms, these Syrian troops are now serving Hezbollah's Shiite army in Lebanon. Bashar's deceased father, Hafez Assad, would be rolling in his grave: During his time the elder Assad waged war against Hezbollah in Lebanon, and killed hundreds of its members.
How did the tables so turn? The civil war was, without a doubt, the key event, with the Syrian army now dependent on assistance from Hezbollah and Iran in order to survive.
Earlier in the war, when Assad's regime appeared to be on its last legs, Hezbollah sent numerous advisers to the region whose stated purpose was simply to aid the fighting against the opposition groups in Hauran. A great deal has happened since then, and about a year ago — with Assad buoyed also by Iranian and particularly Russian forces — it became clear that the battle for Syria had been decided: the regime had won. But Hezbollah didn't stop at that point — it began to establish its forces permanently throughout Syria, particularly in its southern sector.
This process took place with quite a bit of hesitation by Hezbollah's leaders, especially regarding the financial implications of leaving troops on Syrian soil. In the end, the strategic thinking that troops should be positioned against Israel on the Syrian side of the Golan Heights won out.
This had to be done clandestinely though: Following the understandings that Israel reached with Russia, Iranian and Hezbollah presence is prohibited at a distance of approximately 80 kilometers (50 miles) from the Syrian border with Israel.
And thus a "Southern Headquarters" operated by Hezbollah is currently operating in secret in the territory known as Hauran. It is a military organization in every sense, which operates with several dozen Lebanese and hundreds of Syrians, most of them from Hauran: Thanks to financial difficulties brought on by the war, Hezbollah has had little trouble recruiting quite a few locals to serve its purposes.
The force, led by Lebanese commander Munir Ali Naim Shaiti (better known by the alias Hajj Hashem), is now focusing less and less upon threats at home and much more on the old threat: Israel.
The Southern Headquarters is armed with weapons that include antitank missiles and particularly powerful short-range rockets with a minimum weight of approximately 250 kilograms and effectiveness at a range of approximately four kilometers. Their original purpose was to strike opposition targets, but they are now being repurposed with the aim of destroying Israeli villages on the Golan Heights or the upper Galilee.
The purpose of the Southern Headquarters is to collect high-quality intelligence about the Israeli side of the border. The headquarters works under the radar of international forces and does its best to hide its tracks. Seeking to avoid Israeli attacks on its forces, Hezbollah has done its best to camouflage its activity. Its people do not act openly, and it has recruited troops from Syria Army's 1st Corps to assist its operations.
It is believed the group has set up approximately 20 lookout positions on the Syrian Golan Heights facing Israeli territory. Each such outpost is manned by Syrian soldiers, often accompanied by Hezbollah members but sometimes on their own. These soldiers gather intelligence according to the orders of Hezbollah: training exercises on the Israeli side, the day-to-day security routine, activity in villages and more. The information is sent to several Hezbollah operations rooms in the Syrian Golan Heights, and from there it is relayed to headquarters in Lebanon and/or to the Iranians.
In addition, the Southern Headquarters makes use of technology to attempt to listen in on the Israeli side, via communications networks or other means.
Simultaneously Hezbollah continues to build its offensive capabilities in the Golan Heights. These efforts are led by veteran terrorist Ali Musa Daqduq, also known as Abu Hussein Sajed, a Lebanese man who is wanted in the United States for attacks against American forces in Iraq, including planning an attack in Karbala in 2007 that resulted in the deaths of five US soldiers.
According to the US Treasury Department, Daqduq has served "as commander of a Hezbollah special forces unit and chief of a protective detail for Hezbollah Secretary General Hassan Nasrallah." Daqduq was arrested in 2007 and imprisoned in Iraq, but was released five years later and sent to Lebanon.
Daqduq leads an operational unit in every sense, whose purpose is to act mainly in situations of large-scale escalation and carry out high-quality terror attacks. In March, the IDF said it had exposed a nascent Hezbollah terror cell led by Daqduq and established in a border village on the Syrian Golan Heights.
While the commanding officers of this unit are Lebanese, most of its troops — which number approximately two hundred — are Syrian, who were recruited from, among other places, Druze communities such as Khadar and Arnah on the Syrian Golan Heights.
The concern now is that the intelligence and operational arms will join forces: If Hezbollah commanders decide to use Daqduq's troops to carry out an attack on Israel from the Syrian Golan Heights, they will likely do so with intelligence provided by Hajj Hashem's Southern Headquarters.
https://www.timesofisrael.com/hezbollah-is-now-giving-orders-to-syrias-army-and-using-it-to-spy-on-israel/
--------
U.N.'s Bachelet says 55,000 linked to IS in Syria, Iraq should be tried or freed
JUNE 24, 2019
GENEVA (Reuters) - U.N. human rights chief Michelle Bachelet said on Monday that 55,000 captured Islamic State fighters, including foreigners, and their families detained in Syria and Iraq should face fair prosecution or be freed.
States "must assume responsibility for their nationals" and should not inflict statelessness on fighters' children who have already suffered so much, Bachelet also told the U.N. Human Rights Council as it opened a three-week session in Geneva.
The 55,000 include alleged foreign fighters from nearly 50 countries and 11,000 family members held at the al-Hol camp in northeastern Syria "in deeply sub-standard conditions", she said.
Authorities in northeast Syria have been urging Western countries to take back citizens who joined Islamic State and their relatives after the U.S.-backed Syrian Democratic Forces (SDF) captured the group's last enclave this year.
Full report at:
https://www.reuters.com/article/us-syria-islamic-state-un/u-n-s-bachelet-says-55000-linked-to-is-in-syria-iraq-should-be-tried-or-freed-idUSKCN1TP0PS
--------
Iraqi security forces destroy 10 Islamic State tunnels
by Mohammed Ebraheem
Jun 23, 2019
Baghdad (IraqiNews.com) – Iraqi authorities announced on Tuesday destroying 10 tunnels of the Islamic State terrorist group between Nineveh and Salahuddin provinces.
In a press statement carried by the Alsumaria News TV channel, the Security Media Cell said that counter-terrorism forces, backed by army personnel and international coalition warplanes, launched wide-scale security operations to track down remnants of the Islamic State group between Nineveh and Salahuddin provinces.
The troops managed to destroy 10 Islamic State tunnels, the statement read. Several IS terrorists were also killed in the operations.
The Islamic State group appeared on the international scene in 2014 when it seized large swathes of territory in Iraq and Syria, declaring the establishment of an Islamic "caliphate" from Mosul city.
Full report at:
https://www.iraqinews.com/iraq-war/iraqi-security-forces-destroy-10-islamic-state-tunnels/
--------
Suspected jihadists kill 4 workers in Egypt's Sinai
Jun 25, 2019
EL-ARISH, Egypt — Egyptian officials said Saturday that suspected jihadists have attacked construction workers in the restive northern Sinai Peninsula, killing at least four civilian workers.
The officials said the attack took place in the Mediterranean city of el-Arish as workers were building a fence around the city's airport. They said the attackers wounded five other workers and burned two vehicles.
The officials spoke on condition of anonymity because they were not authorized to brief the media.
No group immediately claimed responsibility for the attack, which bore hallmarks of an affiliate of the Islamic State group.
Egypt has been battling Islamic terrorists for years, but the insurgency gathered steam and grew deadlier after the 2013 ouster of an Islamist president by President Abdel-Fatah el-Sissi, then defense minister.
The country's security forces launched an all-out offensive against militants in February last year.
Earlier this month, the Egyptian Interior Ministry reported that security forces killed four suspected jihadists in the restive northern Sinai allegedly involved in a deadly attack week on a police checkpoint.
The ministry said the suspected attackers were killed in a shootout as security forces raided a building used as a hideout in el-Arish, and three assault rifles and an explosive vest were seized.
The ministry said the four were implicated in an Islamic State-claimed attack on a police checkpoint in northern Sinai days earlier that authorities said left eight policemen dead.
Full report at:
https://www.timesofisrael.com/suspected-jihadists-kill-4-workers-in-egypts-sinai/
--------
Syrian MP: Recent Clashes in Hama Direct Russia-Turkey Confrontation
Jun 24, 2019
Syrian lawmaker Safvan Qorba from Idlib Province, in an interview with the Arabic-language al-Watan newspaper, said that another dimension of the recent clashes in Hama province pertained to the direct confrontation between Russia and Turkey because the Turkish side due to its direct presence in Northern Syria battle was massively present in the frontline - and not behind the contact line.
Qorba pointed to the Turkish Army commanders leading the terrorist groups in battles in Hama, and said that Ankara has unprecedentedly supplied the terrorist groups with state-of-the-art weapons and armored vehicles.
Meantime, another Syrian lawmaker from Idlib province Jamal Mostav noted that a large number of Idlib province's residents are waiting to join the Syrian Army, and said there is extensive cooperation between Idlib residents and the Syrian Army as Syrian citizens inform the Syrian Army of the places where the terrorist groups are stationed and expose their plots for conducting false-flag chemical attacks.
Mostav also pointed to Ankara's continued efforts to occupy Idlib province, and said that tens of thousands of foreign terrorists, including from Chechnya and China have arrived in Northern Aleppo with the help of Turkish Army and they have been fully stationed in several towns and prevent the Syrians from entering those regions.
"The foreign terrorists have the full support of Turkey and receive orders from Ankara," the Syrian lawmaker added.
On the other hand, another Syrian parliamentarian from Idlib province Fatemeh Khamis said that a large number of people abducted by the terrorist groups are currently in Turkey and even according to the intel their locations have been designated.
Khamis said that the terrorist groups use the kidnapped people as a pressure lever against the Syrian government.
In a relevant development on Saturday, the commanders of terrorist groups held a meeting in Idlib province to prepare for false-flag chemical attacks on areas under the control of the Turkish army to falsely accuse the Syrian Army.
Special sources in Idlib said that the commanders of Tahrir al-Sham al-Hay'at have decided to conduct fresh false chemical attacks in the province to point the finger of accusations at the Damascus Army.
They noted that the terrorist commanders have agreed to conduct chemical attacks on spots 9 and 10 controlled by the Turkish Army to portray that the Syrian Army has carried out the attack.
Meantime, the Syrian Army's artillery and missile units pounded the terrorists' military positions in the towns of al-Latamineh, Kafar Zita and al-Hobait in Northern Hama and Southern Idlib in response to the terrorists' rocket attacks on residential areas of Sheikh Hadid and al-Jornieh in Northern Hama.
The Syrian Army's artillery units also pounded Tahrir al-Sham's military convoys in the town of al-Mastoumeh and near Jabal al-Qarbain towards the city of Ariha in Southern Idlib, inflicting heavy losses on the militants.
Full report at:
https://en.farsnews.com/newstext.aspx?nn=13980403000679
--------
Aleppo: Ankara Looking for Setting Up New Military Base in Afrin Region
Jun 24, 2019
The terrorist group known as 'Olive Branch' affiliated to Ankara have cut over 1,000 trees in the town of Basafoun in Afrin region, the Xeber24 news website quoted local sources as saying.
The sources underlined that the trees have been destroyed with the aim to set up a new military base by Turkey in a vast area in the Basfoun town.
Meantime, the Hawar News pointed to Ankara's attempt to drive a wedge between Afrin and mainland Syria by constructing a wall around the region. The length of the wall in the towns of Marimin, Jalbareh and Kimar has exceeded 4 kilometers.
In a relevant development earlier in June, thousands of family members of Tahrir al-Sham al-Hay'at (the Levant Liberation Board or the Al-Nusra Front) terrorists had been sheltered in areas occupied by the Turkish army in Aleppo to replace the local population.
The Kurdish-language Hawar news quoted a special source as saying at the time that Ankara had transferred nearly 190,000 family members of Tahrir al-Sham terrorists from Idlib city to regions stretching from Afrin and E'zaz to the towns of al-Bab, Jarabulus and al-Ra'ei in Northern Aleppo.
It added that Ankara was attempting to expel the local population in Afrin in Northwestern Aleppo and seize their lands and properties, noting that the Turkish army has so far sheltered over 64,000 family members of the terrorists in this region's towns and villages.
Turkey has been aiding the terrorist groups militarily and supporting their family members.
In a relevant development on Sunday, media reports said fierce clashes heightened between the residents of the city of al-Bab and the Turkish Army in Northern Aleppo after popular protests demanded expulsion of occupiers from the region, media reports said Sunday.
Hawar News reported that residents of al-Bab city and the district of Jabal al-Sheikh Aqil launched massive protests calling for exit of Turkish occupying forces and evacuation of their military bases there.
The residents of Al-Bab city gathered in front of a military base of the Turkish Army in Sheikh Aqil region, and chanted slogans in Arabic and Turkish languages to condemn the brutal and occupying policies of Turkey there.
Meantime, local sources reiterated that the Syrian people and Turkish army engaged in fierce clashes after the Turkish Army and its allied militants attacked the people to suppress their popular uprisings.
Several Syrian citizens were injured in the clashes, while the Turkey-controlled hospitals refrained from admitting civilians.
Meantime, two consecutive explosions rocked Al-Bab City in Northern Aleppo, killing and injuring at least 15 Ankara-backed terrorists.
In a relevant development on Saturday, over 2,800 civilians were arrested by the Turkish Army and its allied militants in line with the crackdown on the local population by occupying forces in Northern Syria.
The Syrian Observatory for Human Rights (SOHR) reported that the Ankara-backed Free Syrian Army (FSA) terrorists detained at least 31 civilians on different charges, including cooperation with Kurdish units by attacking their houses in the towns of Kafar Zit, lower and upper Kafar Daleh as well as Kazieh in Afrin in Northwestern Aleppo.
It noted that 2,038 civilians, out of 2,800 arrested since the occupation of Afrin, are still in custody of the Turkish Army and its allied militants.
Full report at:
https://en.farsnews.com/newstext.aspx?nn=13980403000607
--------
Saudi soldier shoots dead three comrades, turns himself in: Report
Jun 24, 2019
A Saudi soldier has reportedly opened fire on his comrades at a military base in the kingdom's southwestern border region of Jizan, killing three of them before turning himself in to authorities.
The Arabic-language Sabq News news website, citing unnamed security sources, reported on Monday that the soldier, whose identity was not immediately known, opened fire on fellow soldiers at a base in the Abu Arish district of the region, located 966 kilometers south of the capital Riyadh.
The sources added that a personal conflict between the shooter and a staff sergeant had motivated him to kill his comrades.
The soldier turned himself in to security officials and handed over his assault rifle after the incident.
Jizan region police have yet to release an official statement about the shooting, and the circumstances surrounding it.
On April 21, four assailants targeted state security forces in Zulfi City, located about 260 kilometers north of Riyadh.
The London-based Arabic-language daily newspaper Asharq al-Awsat reported that they had rammed a vehicle into a security barrier around the station in an attempt to gain entry.
Two gunmen then stepped out of the vehicle and opened fire, sparking a gun battle with police.
A third attacker attempted to flee but was also gunned down, while a fourth died as he tried to set off an explosive belt.
There were no immediate reports about casualties among the security personnel.
Militants have targeted security installations in Saudi Arabia for years.
Back in early April, two assailants were killed and two others got arrested in an attack on a security checkpoint in the oil-rich and Shia-populated Eastern Province.
Full report at:
https://www.presstv.com/Detail/2019/06/24/599306/Saudi-soldier-shoots-dead-three-colleagues-turns-himself-in-Report
--------
Mideast
US Palestine deal falls between Arab bid, Israeli stance: Kushner
Jun 25, 2019
US President Donald Trump's son-in-law and senior adviser says Washington's upcoming deal on the decades-long Israeli-Palestinian conflict will fall somewhere between the 2002 Arab Peace Initiative on the issue and Tel Aviv's position.
In an exclusive interview with Qatar's al-Jazeera broadcaster that would be broadcast on Tuesday, Jared Kushner stressed that the US's proposal — which is called the "deal of the century" — would not adhere to the Arab initiative.
"I think we all have to recognize that if there ever is a deal, it's not going to be along the lines of the Arab peace initiative," he said. "It will be somewhere between the Arab peace initiative and between the Israeli position."
The Arab initiative, which has been adopted by the Arab League, calls for the normalization of ties between the Tel Aviv regime and Arab states in exchange for Israel's withdrawal from lands it occupied in the 1967 war, including the West Bank, East Jerusalem al-Quds and Syria's Golan Heights.
In 2016, Israeli Prime Minister Benjamin Netanyahu backed "the general idea" behind the initiative.
Kushner called the Arab initiative "a great effort," adding, however, that "if that was where a deal was going to be made, a deal would have been made a long time ago."
He made the remarks shortly before his departure for a US-sponsored workshop in Manama, Bahrain, where officials and businessmen from the US and some Arab states will discuss the economic section of Trump's "peace" plan.
Referring to the two-day Manama conference that is due to begin on Tuesday, Kushner claimed that the event would be a success despite a Palestinian boycott.
"We've been working very carefully on a very detailed proposal for what we think can help bring this conflict, which has been stuck, forward and we're hopeful that we'll be able to put that out soon and hopefully parties will be responsible, they'll engage on it and they'll try to move forward," he said.
All Palestinian factions have boycotted the Manama summit, accusing Washington of offering financial rewards for accepting the Israeli occupation.
Palestinian President Mahmoud Abbas said recently that a political solution must first be hammered out before an economic one.
"The Palestinians are seeking an entity, statehood, and after that we look at the economy," he said.
On Saturday, the White House unveiled the details of the economic portion of Trump's deal, which would inject $50 billion into struggling economies in the Middle East over the next ten years.
Under the document, dubbed "Peace to Prosperity," over half of the funds ($28 billion) would go toward the West Bank and the Gaza Strip and the remaining to Jordan, Lebanon and Egypt, which have absorbed Palestinian refugees.
It also includes a $5 billion "transportation network" to connect the West Bank and Gaza.
https://www.presstv.com/Detail/2019/06/25/599369/Israel-Palestine-Jared-Kushner
--------
Iran's Rouhani: US sanctions on Khamenei futile as he has 'no foreign assets'
25 June 2019
Iran's President Rouhani said on Tuesday that US policy towards Tehran displays the Trump administration's "despair", adding that the White House is "mentally retarded."
He added that recent US sanctions on Supreme Leader Khamenei are futile as "he has no foreign assets."
https://english.alarabiya.net/en/News/middle-east/2019/06/25/Iran-s-Rouhani-US-sanctions-on-Khamenei-futile-he-has-no-foreign-assets.html
--------
Iran dismisses British call for release of aid worker Zaghari-Ratcliffe
24 June 2019
Jailed British-Iranian aid worker Nazanin Zaghari-Ratcliffe will serve out her five-year prison sentence, Iran's foreign ministry spokesman said on Monday, dismissing a call for her release by a British minister visiting Tehran.
"Mrs. Zaghari is an Iranian. She has been convicted on security charges and is spending her sentence in prison," Iranian Foreign Ministry Spokesman, Abbas Mousavi, was quoted as saying by the state media. "Iran does not recognize dual nationality," he said.
Foreign Office minister Andrew Murrison pressed Iran for the "urgent and unconditional release" of Zaghari-Ratcliffe on Sunday, during a visit to Iran to discuss the situation in the Middle East, his ministerial area of responsibility.
Fears of a direct military confrontation between Washington and Tehran have risen sharply since Iran shot down a US drone last week and US President Donald Trump called off a retaliatory strike while bombers were in the air.
Zaghari-Ratcliffe, a project manager with the Thomson Reuters Foundation, was arrested in April 2016 at a Tehran airport as she headed back to Britain with her daughter after a family visit.
She was sentenced after being convicted of plotting to overthrow Iran's clerical establishment, a charge denied by her family and the Foundation, a charity organization that operates independently of Thomson Reuters and Reuters News.
Zaghari-Ratcliffe's husband Richard started a hunger strike outside the Iranian Embassy in London last week to draw attention to his wife's plight.
"We do not approve such measures. They are against international conventions," Mousavi said in the statement. "If someone has a request, we advise them to follow it through legal channels and let the Iranian embassy do its work."
A day earlier, Iran state media cited Deputy Foreign Minister Abbas Araqchi as saying "Iran's judiciary will not be influenced by such blackmail and those who are sentenced for spying, should finish their sentences." In an email to Reuters Ratcliffe said his wife still faced a second court case and was being prevented from seeing their daughter Gabriella.
Full report at:
https://english.alarabiya.net/en/News/middle-east/2019/06/24/Iran-dismisses-British-call-for-release-of-aid-worker-Zaghari-Ratcliffe.html
--------
Turkey puts 16 public figures on trial for 2013 anti-government protests
Jun 24, 2019
Turkey has put on trial 16 high-profile figures accused of involvement in acts of "terror" and trying to overthrow the government of then-Prime Minister Recep Tayyip Erdogan in 2013 nationwide protests.
The trial, taking place in a prison complex on the outskirts of Istanbul on Monday, was about the mass "Gezi Park" demonstrations that started in the summer of 2013 as a protest against the redevelopment of one of the last green spaces in central Istanbul.
The protests snowballed into a nationwide movement and marked one of the biggest challenges to Erdogan's rule at the time.
Turkish prosecutors said in a 657-page indictment that all the 16 defendants, including businessmen, academics and artists, would face life sentence if convicted in the case as they "attempted to overthrow the government" through organizing and financing an "uprising."
During the 2013 unrest, Erdogan dismissed the idea that the protests were environmentally motivated, saying they aimed to topple his government. The Turkish riot police used tear gas and water cannon to disperse mostly peaceful protesters, leading to widespread criticism of how Turkey's authorities handled the protests.
The Monday indictment named 746 people as injured parties during Gezi Park nationwide protests in 2013, holding the defendants responsible for all injuries and damage to property.
Human Rights Watch denounced the charges as "bogus" and said the indictment falls short of explaining how the defendants allegedly planned an uprising.
The international organization said the aim of the trial was to "silence and punish the defendants for their legitimate and entirely peaceful civic activities and work."
Among the defendants was prominent businessman and philanthropist Osman Kavala, whose detention since November 2017 has made him a symbol of what critics say is a crackdown on civil society.
Kavala, who along with other defendants has repeatedly denied the charges, said in his testimony on Monday that there was no evidence against him to substantiate the claims that he had planned an uprising in 2013.
"I'm no different than the hundreds of thousands of people who conducted peaceful activities during the Gezi events and I request my release and acquittal," Kavala told the Silivri court in the west of Istanbul.
"The accusation for which I have been imprisoned for the past 20 months is based on a series of claims that have no factual basis and defy logic," he added.
Several hundred supporters of the defendants gathered outside the courthouse, with riot police watching nearby.
Full report at:
https://www.presstv.com/Detail/2019/06/24/599316/Turkey-trial-Gezi-Park-protests-Osman-Kavala
--------
Israel blocks Gaza fuel supply over fire balloons
June 25, 2019
JERUSALEM: Israel blocked fuel deliveries to the Gaza Strip Tuesday, citing new incendiary balloons from the Palestinian enclave.
The move follows "the release of arson balloons from the Gaza Strip toward the State of Israel" which caused fires across the border, the Israeli defense ministry department responsible for Palestinian civil affairs said.
Fuel transfers were halted at the Karem Shalom goods crossing on Tuesday morning and would remain blocked "until further notice," COGAT said in a statement.
Balloons with attached incendiary devices are flown over the Gaza border by Palestinian demonstrators seeking to start fires in nearby Israeli farmland.
During regular demonstrations last year, the balloons started hundreds of fires, though they have been curbed in recent months.
Fuel deliveries, which are coordinated with the United Nations and paid for by Gulf state Qatar, were agreed in late 2018 as part of a truce agreement between Israel and the strip's Islamist rulers Hamas.
They have improved electricity supply in the strip, where residents currently receive around 12 hours of power a day, according to the UN.
Before the deal, the daily power supply was regularly as low as six hours.
Israel has maintained a crippling blockade of Gaza for more than a decade.
Full report at:
http://www.arabnews.com/node/1515901/middle-east
--------
Houthis have smuggled various weapons from Iran: Arab coalition
June 24, 2019
RIYADH: The Arab coalition supporting Yemen's internationally recognized government said on Monday that the Houthi militia has received various types of weapons smuggled from Iran.
Speaking at a weekly press conference in Riyadh, spokesperson Col. Turki Al-Maliki said the militia has suffered heavy losses and as a result they have been targeting civilians and civilian installations.
Col. Al-Maliki also said that the Houthis are digging trenches and building fortifications in Hodeidah in violation of the Stockholm agreement.
He said that the Iran-backed militia is trying to provoke the coalition, but "we will apply international law."
Full report at:
http://www.arabnews.com/node/1515511/saudi-arabia
--------
US-led coalition against Iran 'will fail': Tehran
Muhammet Kursun
24.06.2019
A U.S.-led coalition against Iran will not succeed, an Iranian spokesman said on Monday.
"Even if Washington comes to the [Middle East] region every day, it will fail," Foreign Ministry spokesman Abbas Mousavi told a news briefing.
He said the "contradictory" statements by Washington "reflect how chaotic U.S. administration is".
On Sunday, U.S. Secretary of State Mike Pompeo said he was leaving for the Middle East to meet allies in the region to form a "global coalition" against Iran.
Pompeo's visit comes only days after the U.S. and Iran came to the brink of war last week after Tehran shot down an American surveillance drone over the Strait of Hormuz.
U.S. President Donald Trump, meanwhile, said he called off a retaliatory strike against Iran in the last minute because it wouldn't be a "proportionate" response.
Tensions have been rising between the U.S. and Iran since May 2018 when Washington unilaterally withdrew from a landmark 2015 nuclear deal between Tehran and the five permanent members of the UN Security Council plus Germany and the EU.
The U.S. has since embarked upon a diplomatic and economic campaign to ramp up pressure on Iran to force it to renegotiate the agreement.
Full report at:
https://www.aa.com.tr/en/americas/us-led-coalition-against-iran-will-fail-tehran/1514225
--------
Iran says US sanctions mean diplomacy is now 'permanently closed'
June 25, 2019
Iran has said the "road to diplomacy" with the United States is now permanently closed following a raft of sanctions imposed by Washington on Tehran's leaders.
Foreign Ministry spokesman Abbas Mousavi said in a statement that the "fruitless sanctions ... mean the permanent closure of the road of diplomacy with the frustrated US administration".
His words were echoed by Iran's President Hassan Rouhani, who also slammed the heightened sanctions and said that the White House is "afflicted by mental retardation".
He called the sanctions targeting the country's supreme leader, Ayatollah Khamenei, "outrageous and idiotic", saying they would ultimately fail as Mr Khamenei has no assets abroad.
The Trump Administration announced the sanctions on top officials as it sent officials to the Middle East and Europe and called for consumers of Middle Eastern oil to share the burden of protecting shipping lanes.
Speaking in Jerusalem, US National Security Adviser John Bolton said all Iran has to do is "walk through that open door" to enter negotiations with the US.
Tehran has refused to enter negotiations until the US relieves previously-imposed economic sanctions. The US has said it remains open to negotiations but insists they will not relieve sanctions before talks begin.
On Monday, US Secretary of State Mike Pompeo toured Saudi Arabia and the UAE discussing maritime security, while US special representative to Iran Brian Hook proposed an enhanced multinational maritime force.
The new Acting Defense Secretary Mark Esper is heading to Europe on Tuesday to persuade Nato allies to work with the Trump Administration on countering Iran in the Middle East.
The EU, France, Germany and the UK are all still signatories to a 2015 nuclear deal that Mr Trump withdrew from last year. It relieves international sanctions in exchange for Iran curtailing its nuclear ambitions.
Europe's attempts to circumnavigate US sanctions on Iran has infuriated Washington, although all countries agree on the need to counter Iranian aggression.
Attacks on six tankers in the Gulf of Oman, the shooting down of a US drone and bombings of a Saudi airport and oil infrastructure have been all attributed to Iran, or Iranian proxy forces in the region.
A top Japanese official said the protection of the Strait of Hormuz, through which 60 per cent of their oil travels, is a matter of "life and death" in terms of energy security. A Japanese tanker was one of those targeted in the Gulf of Oman.
Mr Trump mentioned Japan's reliance on the Strait in a tweet on Monday, bemoaning the US protection of shipping lanes.
"We are seriously concerned about rising tensions in the Middle East," Chief Cabinet Secretary Yoshihide Suga said.
"In particular, the safety of shipping in the Straits of Hormuz is a matter of life and death for our country in terms of energy security."
Full report at:
https://www.thenational.ae/world/mena/iran-says-us-sanctions-mean-diplomacy-is-now-permanently-closed-1.878838
--------
Southeast Asia
Malaysia's Islamist party PAS puts faith before integrity in choice of leaders
JUN 21, 2019
Hazlin Hassan
KUANTAN - Malaysian opposition party Parti Islam SeMalaysia (PAS) must prioritise electing Muslim leaders - even if they have no integrity, its president Hadi Awang said on Friday (June 21).
"Integrity without Islam is not accepted by Allah, and a person with faith who has no integrity is still better than someone with integrity but no faith," he told 3,000 party delegates and observers at the opening of the party's annual three-day assembly. Datuk Seri Hadi said in his opening speech that any cooperation must benefit Islam, the country and Malays, and must prioritise Muslim unity.
He also urged non-Muslims to reject what he called "racially fanatic and chauvinist" political parties that are "negative towards Islam and ungrateful", while at the same time attempting to reassure non-Muslims that the PAS state government in the two states it rules seeks to protect their rights.
PAS leaders have been accused of accepting money from Umno, with Hadi's own son-in-law revealing that there was a "dedak cartel" within the party which received money in exchange for political support. Dedak, Malay for animal feed, is a term popularised by Prime Minister Mahathir Mohamad referring to bribes.
Several Umno leaders have also been slapped with corruption charges, including former president Najib Razak and current president Zahid Hamidi.
It is the first time the PAS muktamar is being held in Pahang, in a strong signal of its close ties with former foe Umno, which controls the state assembly.
Umno deputy president Datuk Seri Mohamad Hasan attended the congress, and hugged PAS party leaders on stage.
Other Umno leaders present included vice-president Khaled Nordin, youth chief Asyraf Wajdi Dusuki and former Perlis menteri besar Shahidan Kassim.
Leaders from Barisan Nasional (BN) ally Malaysian Indian Congress were also present.
Last year, Umno's Datuk Seri Zahid attended the PAS muktamar, or conference.
Delegates are expected to debate and approve a new policy to formalise PAS' collaboration with former foe Umno, called "ta'awun siyasi" or political collaboration.
Biennial party polls were also being held on Friday with Datuk Seri Hadi's loyalists sweeping the top posts.
Hadi and his deputy, Datuk Tuan Ibrahim Tuan Man, have retained their posts uncontested.
The chief and deputy of the powerful clergy wing also won uncontested, as well as the youth wing chief.
"That (the lack of competition) is a sign of calm in the party. And there are no video activities in PAS," Hadi told a news conference, in a sly reference to the gay sex video scandal plaguing Anwar Ibrahim's Parti Keadilan Rakyat.
He denied that there were pockets of opposition within PAS towards working with Umno.
"To make it easier for us, those who oppose, can leave the party and set up their own. They have already left the party and created Amanah," he said, adding that all members have accepted the idea of cooperating with Umno.
Some older leaders, however, are still doubtful of working with Umno.
Kelantan PAS ulama speaker Ishak Hassan said many grassroots members in Kelantan oppose the move due to Umno's past treatment of Kelantan when it was in power, such as denying it oil royalties.
"On the cooperation with Umno, I agree but we have to be careful. Umno has betrayed PAS in Kelantan before," Mr Ishak was quoted as saying.
Hadi said: "Being cautious is normal. In PAS, there is still Umno-phobia, but in Umno, there is also PAS-phobia. But Muslims with morals must prioritise peace and efforts to unite the ummah (community) before your own emotions."
PAS contested against Tun Dr Mahathir's Pakatan Harapan and BN coalitions in the last general election, splitting the votes three ways.
Following BN's stunning defeat, the Islamist party entered into an alliance with Umno, and the two have scored several victories in by-elections this year.
https://www.straitstimes.com/asia/se-asia/malaysias-islamist-party-puts-faith-before-integrity
--------
Ulemas From Prabowo's Electoral Strongholds Stifle Calls for More Street Protests
JUNE 24, 2019
Jakarta. Religious leaders, including heads of Islamic boarding schools, from Prabowo Subianto's electoral strongholds have called on Muslims to refrain from participating in street protests during the election dispute trial at the Constitutional Court.
"I urge restraint. Muslims have to maintain unity," said M. Saidih Hz., the chairman of the South Tangerang branch of the Indonesian Ulema Council, on Sunday.
Saidih made the statement at an event in Tangerang, Banten, one of Prabowo Subianto's electoral strongholds.
Saidih's call came after a message spread on social media and WhatsApp group chats urging Muslims to take part in street demonstrations at the Constitutional Court from Monday to Friday.
The event has been called "Halal Bi Halal Akbar 212" ("Grand Meet-Up 212"), a clear reference to a similarly named street protest to bring down Jakarta's former governor Basuki "Ahok" Tjahaja Purnama in 2016.
The street demonstrations are planned to take place at the same time as the Constitutional Court convenes behind closed doors after days of hearing witness testimonies.
Legal teams acting on behalf of Prabowo Subianto, who filed a suit at the court alleging "massive and systematic" frauds in April's election, President Joko "Jokowi" Widodo and the General Elections Commission, have all made their cases last week.
"Demonstration will not solve anything," Saidih said.
"Muslims are an important political force in our democracy. We should refrain from participating in street demonstrations that can be seen as unconstitutional," he said.
"If left unchecked, [unconstitutional actions] can sow seeds of division. Islam as a religion is rahmatan lilalamin; it always puts unity first," Saidih said.
Muslihuddin, the head of the Almuqriyah pesantren (Islamic boarding school) said Muslims should ignore provocations by the country's political elites.
"Islam is not intolerant. Muslims should not insult, slander or spread false news against each other," he said.
Police Skeptical of Motive
The Halal Bi Halal Akbar 212 poster shared online promises a peaceful gathering filled with prayers. Novel Bamukmin, a spokesman from the "212 Alumni Brotherhood," said they merely want to urge the Constitutional Court judges to act fairly and independently.
Andre Rosiade, a spokesman for Prabowo's campaign team, said they will follow Prabowo's order to avoid mass gathering or protest during the court proceedings.
"But we cannot stop [those who still want to go]," he said.
The police said they are worried the demonstrations will take a violent turn, just as they did last month.
"Police discretion was abused [during the Jakarta riots last month]. If you want to hold a halal bi halal, do it at home," Jakarta Police spokesman Chief Cmr. Argo Yuwono said on Sunday.
He said the police will turn people away from Jakarta if they can't state their purpose of coming to the capital.
Full report at:
https://jakartaglobe.id/context/ulemas-from-prabowos-electoral-strongholds-stifle-calls-for-more-street-protests
--------
A thank-you note from a Muslim to the Sisters of the Infant Jesus
Noor Asmaliza Romlee
June 25, 2019
Simple Dans Ma Vertu, Forte Dans Mon Devoir (Simple in My Virtues, Steadfast in My Duties).
This was my school motto which still lingers in my heart. My best friend who was from a boarding school once told me, "I don't get this strong emotional attachment of convent girls with their schools. It's like there is this ghost umbilical cord between you guys." Okay, that sounds like an eerie Malay ghost story but on a serious note, my friend's statement made me think hard about why former convent girls like myself love and take pride in our missionary schools so much.
Here's why.
During primary school, I vividly remember my friends and I paying our respects to Sister Fedelis, who was a kind nun and a caring English teacher. We attended an elaborate Christian funeral and carried candles, and our non-Christian friends and teachers (including our ustaz and ustazah) joined in the prayers for her in an old chapel with mesmerising neo-Gothic architectural influence.
Many conventional Muslim parents, including mine, waited patiently for us outside the chapel until we finished the ceremony. Our parents respected the schoolteachers and trusted that the Christian ceremony would not cause their daughters to deviate from their faith. That trust was built upon the professionalism, competency and transparency of the nuns and the other teachers.
The chapel is within the school compound but there were no extremists who requested that it be separated from the school, not even our Islamic teachers. I felt that the school belonged to all races and faiths where religious tolerance and moderate Muslims existed in harmony. As a Muslim, I think convent school shaped me and my other Muslim friends into independent thinkers and profound believers in Allah who are not easily offended by the activities of other religions.
Convent Light Street (CLS) is the oldest school in Southeast Asia, the history of which dates back 167 years. That is how long the school has been having a positive impact on our education system. I still remember my history lesson conducted in an old wooden classroom located in an Anglo-Indian building known as the Government House. Captain Francis Light, the founder of Penang, and Stamford Raffles, who founded Singapore, worked briefly at that Government House which is part of the CLS premises.
My history teacher once told us that where we sat in the classroom was the "sweet spot" for Light to watch his ships with his binoculars out of the wooden window. My point here is not about the English captain, but about my former dedicated Malaysian teachers who were passionate about their work. I had teachers who were willing to spend their leisure time after official school hours conducting extra classes to prep us for our exams.
Full report at:
https://www.freemalaysiatoday.com/category/opinion/2019/06/25/a-thank-you-note-from-a-muslim-to-the-sisters-of-the-infant-jesus/
--------
Kelantan religious council's conversion plans for Orang Asli unconstitutional, claims NGO
24 June 2019
BY TERENCE TANG
KUALA LUMPUR, June 24 — The Kelantan Islamic Religious and Malay Customs Council's (Maik) plan to convert Orang Asli to Islam is against the Federal Constitution, Pusat KOMAS claimed.
According to the human rights group's account officer Faribel Maglin, while the Federal Constitution states that Islam is the official religion of the country, Article 11(2) provides that every person has the right to profess and to practice his or her religion.
"Maik should not issue such statements because we, as Malaysians, uphold the Federal Constitution as the highest rule of law in our country. Everyone should have the right to profess their own beliefs and it should be respected.
"However, even if they intend to change their religion, it should come from their own willingness. We should not force them to convert because then, I believe that they would experience a 180-degree change in their lives," she said in a statement today.
Pusat KOMAS also expressed disappointment at claims that 13 of the 15 Orang Asli who were suspected to have died from a measles outbreak were buried according to Muslim rites, instead of their traditional funeral rituals.
The group claimed that those Orang Asli had not yet converted to Islam. Only two of the deceased Orang Asli were laid to rest according to their traditional rites.
"The right to religious freedom should be practised by government agencies and public institutions. The indigenous people should be given the freedom to choose their own religion, including the traditional religion of their ancestors," Faribel added.
Bernama reported yesterday that five Orang Asli from the Bateq tribe were buried in a Muslim cemetery in Kuala Koh, after Maik claimed that the deceased's family members permitted the Muslim burials.
Faribel noted that there are individuals from the mainstream religions who look down at indigenous people's beliefs and labelled them as "pagans".
Faribel also highlighted that the Orang Asli have a close relationship with elements of nature, including forests, rivers and soil.
"They have practiced the animistic beliefs for thousands of years as this was their ancestors' faith. This relationship with nature enables them to become the real 'caretakers of nature' as they gained plenty of benefits from nature such as food, medication and shelter. Thus, the Orang Asli has a big role to play in the forest ecosystem as they can preserve the flora and fauna," she said.
Pusat KOMAS also expressed support for Orang Asli Development Department (Jakoa) head Profesor Juli Edo, who warned religious preachers not to take advantage of the Orang Asli and beguile them to switch religions.
The rights group urged Maik to withdraw their statement and place more emphasis on the Orang Asli's wellbeing in terms of their health, education and safety needs.
"This Orang Asli community's welfare is under the responsibility of the Kelantan state government as they are citizens of the state. What's the point of being known as Mecca's Verandah when the welfare of their own non-Muslim people are not being taken care of?" Faribel added.
She also noted that this right is enshrined in Article 8 (1) of the Federal Constitution, where every person shall be equal under the law and have equal protection of law, regardless of their race and religion.
Full report at:
https://www.malaymail.com/news/malaysia/2019/06/24/kelantan-religious-councils-conversion-plans-for-orang-asli-unconstitutiona/1765084
--------
Africa
West African task force says troops killed 42 Islamic State fighters near Lake Chad
JUNE 23, 2019
ABUJA (Reuters) - West African troops killed 42 suspected Islamic State fighters in a battle in the Lake Chad region on June 21, the heaviest death toll suffered by the insurgents in the last six months, a regional military task force said in a statement. The Multinational Joint Task Force (MNJTF) comprising troops from countries bordering the lake - said one of its soldiers was killed and 10 others were injured.
In an apparent reference to the same clashes, Islamic State said its fighters had killed 15 soldiers in fighting on June 21 at Garno, a town in Nigeria's northeastern Borno state near Lake Chad. It said a suicide bomber detonated an explosive device but did not refer to any of its fighters having been killed.
Islamic State West Africa Province (ISWAP) was formed in 2016 when a faction of Nigerian Islamist group Boko Haram pledged allegiance to Islamic State. The insurgency has affected countries that border Lake Chad - Nigeria, Niger, Chad and Cameroon, as well as islands on the lake itself.
The MNJTF said in a statement issued on Saturday that "42 terrorists (were) neutralized" during fighting on and around a Lake Chad island called Doron Naira. It said it meant it had "inflicted the heaviest loss in 6 months on ISWAP".
Islamic State, in a statement issued through its Amaq news agency, said: "Fifteen African coalition soldiers were killed and others injured when Islamic State fighters attacked them."
The insurgency, which began in northeast Nigeria, has killed more than 30,000 people and displaced about 2 million since 2009.
https://af.reuters.com/article/topNews/idAFKCN1TO09L-OZATP
--------
11 Chadian soldiers killed in Boko Haram attack: authorities
June 24, 2019
N'Djamena (AFP) - At least 11 Chadian soldiers were killed in an attack blamed on Boko Haram jihadists at Lake Chad, the latest in a surge of attacks in the region, authorities said on Sunday.
"The Chadian army lost 11 men including three officers... and six soldiers were wounded," the regional authority told AFP.
It added that Chadian forces killed "26 Boko Haram members" in fighting at Tchoukoutalia after the soldiers recovered cattle that the militants had seized.
Boko Haram militants have been waging a decade-long insurgency in northwest Nigeria, but the conflict has spilled into the Lake Chad region where Nigeria borders Niger, Chad and Cameroon.
Security sources earlier said seven Chadian soldiers and a guard were killed in the ambush that happened on Friday in Mbomouga in Chad's Ngouboua area.
Since 2018, Boko Haram has carried out at least nine attacks on Chad. But the jihadist group has stepped up attacks outside Nigeria after a period of calm last year.
Last month, militants killed four people in an attack on a Cameroonian island on Lake Chad and Boko Haram killed another 13 villagers in eastern Chad.
In March jihadists killed at least 23 Chadian soldiers in an attack on an army post in the group's deadliest attack on the country's military.
Full report at:
https://news.yahoo.com/boko-haram-jihadist-attack-kills-8-chad-sources-131016511.html
--------
UN to reintegrate 126 ex-Shabab militants in Somalia
2019-06-22
MOGADISHU, June 22 (Xinhua) -- The United Nations said 126 former al-Shabab combatants have completed a rehabilitation program and are ready for reintegration.
The former combatants graduated from the Baidoa Rehabilitation Center, in Somalia's South West State, on Friday after completing an intensive rehabilitation program.
Aden Hussein, national project officer in charge of disarmament, demobilization and reintegration program at the International Organization for Migration (IOM), said the rehabilitation (DDR) program will encourage more youths in al-Shabab to lay down arms and contribute to the country's peace process.
"The ex-combatants undertook various vocational training lessons, among them, electricity, masonry, tailoring as well as welding," Hussein said, according to a statement issued by the UN Assistance Mission in Somalia (UNSOM) on Friday evening.
He called for more support for the program, saying al-Shabab cannot only be fought using arms, but also through training and the reintegration of ex-combatants.
"This is the best method, and hopefully the graduates will integrate back into the community and be constructive in their communities," Hussein said, referring to the program.
The program graduates, comprising youths from various parts of the country, received vocational training and psychological support at the center.
The UNSOM, the IOM and other development partners have supported the establishment of similar rehabilitation and transition centers in Mogadishu, Beletweyne and Kismayo.
South West State DDR director Ilyas Ali Nur said the program has proven to be a success, noting that hundreds of youths who defected from al-Shabab have been trained and reintegrated into the community.
Full report at:
http://www.xinhuanet.com/english/2019-06/22/c_138164746.htm
--------
UN urges Sudan to halt 'repression' against protesters
Jun 24, 2019
UN human rights chief Michelle Bachelet has called on Sudanese military rulers to end "repression" against pro-democracy protesters and restore the country's severed Internet services.
Bachelet made the plea on Monday after she said her office had received reports that more than 100 protesters were killed and many more injured during an assault by Sudanese soldiers on a peaceful sit-in outside the defense ministry headquarters in the capital, Khartoum, on June 3.
The uprising in Sudan "has been met with a brutal crackdown by the security forces this month," Bachelet said in a speech at the UN Human Rights Council in Geneva.
The UN human rights chief added that the Sudanese authorities must grant her office's monitors access to the crisis-ravaged country and allow investigation into the deadly crackdown on pro-democracy protesters.
Bachelet also urged authorities to "immediately" end shutdown of the Internet in Sudan.
Sudan's ruling military council said on Sunday that Ethiopia and the African Union (AU) should be unified in their efforts to mediate between the council and an opposition coalition on the structure of the country's transitional government.
The Sudanese military overthrew long-time President Omar al-Bashir after some four months of widespread protests against him over dire economic conditions on April 11.
Following Bashir's ouster, the coup leaders established the so-called Transitional Military Council (TMC), presumably to run state affairs in the post-Bashir era. But the generals also moved to consolidate power and faced popular protests themselves.
Protesters camped outside the military headquarters in Khartoum for weeks to demand the ruling military council hand over power to a civilian government, before security and paramilitary forces dispersed them in a June 3 crackdown that killed tens of people.
The umbrella protest movement Alliance for Freedom and Change says 113 people were killed in the crackdown. The government puts the death toll at 61 people, including three security personnel.
Sudan's opposition groups have accused "some Arab countries" of supporting the military council in order to protect their own interests in the country.
A group of five United Nations rights experts has urged the Human Rights Council to launch an "independent investigation" into possible violations committed by Sudanese security forces against "peaceful protesters".
Full report at:
https://www.presstv.com/Detail/2019/06/24/599333/UN-Bachelet-repression-Sudan-
--------
Nigerian army rescues 95 Boko Haram captives
Abu 'Adnan
24.06.2019
LAGOS, Nigeria
At least 95 prisoners of the Boko Haram terror group were rescued over the weekend in military operations in northeast Nigeria, the country's armed forces said Monday.
Army spokesman Sagir Musa said in a statement that three terrorists were killed in the operations in Borno, their birthplace and remaining stronghold.
Musa said 13 women and 26 children were rescued during the operations in Kobe and Boboshe villages, respectively.
He said an additional 29 women, 25 children and two men were freed when troops destroyed another Boko Haram camp in the Tafana 1 and Tafana 2 villages.
"Items recovered [during the operations] included two boxes filled with Quran, two terrorists' flags, five bicycles, five SIM cards of different networks and assorted clothing materials," he added.
Full report at:
https://www.aa.com.tr/en/africa/nigerian-army-rescues-95-boko-haram-captives/1514501
--------
Pakistan
Pakistan Doing Best to Eliminate Terrorism: Army Chief
June 24, 2019
Speaking at the International Institute for Strategic Studies (IISS) in London recently, Pakistan's Army Chief General Qamar Javed Bajwa has said that the country is using all its available sources to eliminate terrorism from its soil and is moving towards attaining sustainable peace and stability.
"We are doing our best, utilising all available sources to wipe out the enemies of peace and prosperity. It is a fact that peace and stability in South Asia was dependent on the resolution of conflicts and disputes in the region," a Pakistani daily quoted the Army Chief General as saying.
General Bajwa also suggested that all nations must cooperate with each other in "wiping out terrorism" since it is a common enemy for all.
"Our suggestion to all countries - especially our neighbouring nations - come forward and cooperate with each other. We have suffered a lot in the past. Better security will pave the way for foreign investment in Pakistan - the foreign investment plays a pivotal role in regional coordination," he added.
The Army Chief General's comments came a day after the Financial Action Task Force (FATF) directed his country to "swiftly" complete its action plan to curb terror financing within October or face the consequences.
The warning was made in a statement issued by the financial watchdog following a plenary meeting in Orlando, United States. Pakistan is currently on the greylist of FATF: A list of countries that have been inadequate in curbing money laundering and terror financing.
"Pakistan should continue to work on implementing its action plan to address its strategic deficiencies. FATF expresses concern that not only did Pakistan fail to complete its action plan items with January deadlines, it also failed to complete its action plan items due May 2019," a statement issued by FATF read.
https://www.indiatoday.in/mail-today/story/pakistan-eliminate-terrorism-army-chief-1554847-2019-06-24
--------
Jaish chief injured in Rawalpindi hospital blast?
Jun 25, 2019
NEW DELHI: The Pakistan army on Monday remained tight-lipped about the blast that hit its Rawalpindi hospital where banned terror outfit Jaish-eMuhammed's chief Masood Azhar was being treated for his renal ailment.
There was no word on Azhar amid rumours that the Jaish chief may have been among the injured.
Indian intelligence agencies did not have an independent confirmation yet. But social media, particularly a Telegram channel which an intelligence official here said is "normally reliable" put out the update that Masood Azhar was among the 10 injured in the blast. It added that there was total media blackout by the authorities.
Masood Azhar, who suffers from renal failure, is a regular visitor to the Army hospital for dialysis. Late Sunday night, several Pakistani Twitter users uploaded videos of the blast, with some claiming that 10 people had been injured.
A Twitter handle with the name Ahsan Ullah MiaKhail, who identifies himself as a human rights worker and PTM (Pashtun Tahafuz Movement) activist, posted a video of the blast along with a comment: "Huge #blast at Military Hospital in #Rawalpindi, #Pakistan. 10 injured shifted to emergency. Jaish-e-Mohammad chief Maulana Masood Azahar is admitted here. Completely Media blackout by Army. Media asked Strictly not to cover this story (sic)." The videos show smoke emerging from the building even as traffic is seen on the road. Following the Pulwama attack in J&K, India had retaliated by bombing a Jaish terror camp in Balakot on February 26.
Incidentally, Azhar escaped the air strikes as he was believed to have been undergoing treatment at the Rawalpindi hospital.
Full report at:
https://timesofindia.indiatimes.com/world/pakistan/jaish-chief-injured-in-rawalpindi-hospital-blast/articleshow/69934999.cms
--------
Fazl turns down suggestion to postpone APC
Jun 25, 2019
ISLAMABAD: Jamiat Ulema-e-Islam (JUI-F) Chief Maulana Fazl-ur-Rehman has turned down the suggestion to postpone the date of the proposed All Parties Conference (APC) and said it will be held as per schedule on June 26, a private media house reported on Tuesday.
Reportedly, Pakistan People's Party (PPP) and Muslim League-Nawaz (PML-N) had proposed changing the date of the APC due to the ongoing budget session.
However, the JUI-F chief refused to change the date and said: "there was no point in postponing the conference if the opposition did not accept the budget".
"[There is] no point in attending the assembly session if we [opposition] do not accept the budget," Rehman was quoted as saying.
Two days earlier, in telephonic conversations with the major opposition leaders on Sunday, Jamiat Ulema-e-Islam-Fazl (JUI-F) Chief Maulana Fazl-ur-Rehman formally extended the invitation for the proposed All Parties Conference (APC), scheduled to take place on June 26.
The JUI-F chief called Pakistan Muslim League-Nawaz (PML-N) Vice President Maryam Nawaz, President Shehbaz Sharif, and Pakistan People's Party (PPP) Chairman Bilawal Bhutto-Zardari, amongst others.
Reportedly, Rehman couldn't contact with Balochistan National Party (BNP) Chairman Akhtar Mengal as he was abroad. Mengal's party is a coalition partner of PTI in the Centre.
Rehman claimed that Mengal has assured him of his presence at the APC. Earlier on June 14, Mengal hinted at joining hands with the opposition, saying the party will "not be able to remain with the government if political issues in Balochistan remained unresolved".
BNP has also summoned a party meeting to discuss the decision regarding the APC.
Full report at:
https://www.pakistantoday.com.pk/2019/06/25/fazl-turns-down-suggestion-to-postpone-apc/
--------
Pakistan's score on Childhood Index improves: report
Syeda Shehrbano Kazim
June 25, 2019
ISLAMABAD: Pakistan's score on the Childhood Index has improved from 540 in 2000 to 626 in 2019, the Global Childhood Report 2019 says.
The report was launched by Save the Children at the concluding ceremony of 'Children's Action against Oppression and Neglect (CHAON)' project.
The IKEA Foundation-funded project combined child protection systems, accelerated learning and a school health programme in Sindh and Punjab in collaboration with the provincial governments, reaching over 600,000 adults and over 800,000 children.
According to the report, at least 280 million children — or one child in eight — are dramatically better off today than at any time in the past two decades.
More children are healthy and surviving past their fifth birthday. More children have enough good food to eat, so their growth isn't stunted. More children are in school and learning.
Former senator Farhatullah Babar said while there had been global improvements, children had not been on the agenda of governments and political parties in Pakistan.
"The space for INGOs has been shrinking for the past several years. The reason I came here was also to raise a voice for expanding the space for INGOs and NGOs which are doing child welfare work. I wish to advocate for the space for INGOs to work.
"Of course, there should be regulation and laws by the government. But it should be done through legislation, but through discussion and debate involving all political parties and all stakeholders," he said.
Kemi Williams, Deputy Head DFID, said: "The work of Save the Children around the world and in Pakistan is important and it is important because children and young people are often neglected, forgotten and marginalised.
"Yet as we have heard this morning, they are our future and they have so much to offer. Pakistan has the potential for a demographic dividend if it can generate the jobs needed to bring more people, especially the most marginalised, into productive work." She added: "Pakistan is one of the youngest countries in the world; 64pc of the country's population is under the age of 29, some 30pc between the ages of 15 and 29. For at least the next three decades Pakistan will continue to be a very young country with a population projected to reach 352 million by 2100.
"So, with a burgeoning youth population there is a potential for a once in a lifetime dividend which could accelerate economic growth and set Pakistan on a trajectory out of poverty to become a high-income country by 2047."
Swedish Ambassador Ingrid Johannson commended the collaboration between Save the Children and IKEA Foundation.
"These types of collaborations should be expanded further, and the role of NGOs and INGOs in development could not be exaggerated," she said.
"This is true worldwide and also true in Pakistan. I truly appreciate the efforts made in the last eight years through the CHAON project to fight root causes of child labour and strengthen children's rights," she added.
Full report at:
https://www.dawn.com/news/1490184/pakistans-score-on-childhood-index-improves-report
--------
PM Imran forms body to ease business registration
Syed Irfan Raza
June 25, 2019
ISLAMABAD: Prime Minister Imran Khan on Monday approved the constitution of a steering committee on Pakistan Regulatory Modernisation Initiative (PRMI) to help devise a regulatory framework for simplifying the process of business registration.
The government said that the high-powered body will support the business community to start new ventures and attract investments by improving the 'ease of doing business' ranking of the country.
Among 190 economies, Pakistan ranks at 136, according to the World Bank report on ease of doing business.
The steering committee will be jointly headed by Adviser to the Prime Minister on Establishment Shahzad Arbab and Adviser to the Prime Minister on Commerce Abdul Razaq Dawood.
The decision was taken at a PRMI meeting, which was chaired by PM Khan. Besides the two advisers, special assistants to the premier Dr Firdous Ashiq Awan and Yousuf Baig Mirza as well as chairman of the Federal Board of Revenue (FBR) Shabbar Zaidi attended the meeting.
Giving a detailed briefing on the initiative, Adviser Shahzad Arbab informed the meeting that its basic objective was to ease registration of new ventures, issuance of permits and no-objection certificates.
Under the PRMI, the process of mapping, rationalisation, modernisation and automation would be initiated, Mr Arbab said.
The prime minister was told that the business body would help reduce corruption and provide opportunity of automation to Small and Media Enterprises (SMEs).
PM Khan said the SME sector had been affected adversely in the past due to the legal requirement of obtaining NOCs from different government departments and lack of automation.
"Where conditions of NOCs and registrations from different departments have paved the way of corruption, foreign investment has also been affected," he added.
The meeting was told that the PRMI steering committee would be jointly headed by Mr Arbab and Mr Dawood, while the commerce secretary, FBR chairman, chairman of the Securities Exchange Commission of Pakistan (SECP), chairman of the Board of Investment (BOI), president of the Federation of Pakistan Chambers of Commerce and Industry (FPCCI), presidents of the chambers of commerce and industry of Lahore, Karachi and Faisalabad and representatives of Pakistan Business Council (PBC) will be members of the steering committee.
Mr Khan said PRMI's formation was an important step in government's reforms agenda. "The basic idea behind improvement in the process of regulation and improve it on modern lines to provide ease of doing business to the business community of the country," he added.
Fata merger
In a separate meeting, parliamentarians representing the erstwhile Federally Administered Tribal Areas (Fata) raised the issue of Federal Excise Duty (FED) with Prime Minister Khan.
They said the Federal Excise Duty (FED) was still imposed in the tribal areas even after their merger with the provincial government of Khyber Pakhtunkhwa.
The prime minister assured them that their reservations would be addressed soon. He highlighted the need for early fulfilment of all commitments made with the people of tribal areas.
They also discussed problems in the way of ongoing development activities in the tribal districts.
PM Khan said keeping in view of the needs of the people of the tribal areas, the federal government had, for the first time, allocated Rs83 billion development budget for the erstwhile Fata.
He was of the opinion that people of the tribal areas had given countless sacrifices. "The government is well aware of these sacrifices and will fulfil all promises made with them," he added.
Mr Khan called for involving people's representatives in development activities in ex-Fata and addressing demands of the people areas.
Also, US-based leader of the ruling party Sajjad Barki met the prime minister and discussed with him his [PM's] upcoming visit to the US.
Full report at:
https://www.dawn.com/news/1490185/pm-imran-forms-body-to-ease-business-registration
--------
Bilawal dubs debt commission 'unconstitutional, undemocratic'
Amir Wasim
June 25, 2019
ISLAMABAD: Dubbing the recently-formed Commission of Inquiry to probe the utilisation of foreign debts by the two previous governments over the past 10 years as "ridiculously unconstitutional and undemocratic", Pakistan Peoples Party (PPP) chairman Bilawal Bhutto-Zardari on Monday categorically declared on the floor of the National Assembly that they would not subject themselves before this commission.
"Budgetary decisions, including debt, are the sole domain of the National Assembly. We will not subject ourselves before any institution, let alone some debt commission. This is absolutely undemocratic and unconstitutional," said Mr Bhutto-Zardari while taking part in the debate on the federal budget amidst desk-thumping by the opposition members, including his father Asif Ali Zardari.
"After undermining our political, human and democratic rights, they (government) now want to undermine the sovereignty of the parliament," he said, questioning as to how could the collective wisdom of this House be questioned by National Accountability Bureau, Inter-Services Intelligence or Military Intelligence?
"These all institutions are answerable to this House. This House is not answerable to any institution," he went on saying while referring to the inclusion of the officials of the intelligence agencies in the 11-member inquiry commission.
Mr Bhutto-Zardari also questioned the need for constituting a National Development Council (NDC) and inclusion of the army chief in it, though he did not name him. He said the armed forces of the country should be kept away from politics and economy.
He questioned the "legal basis" of the NDC in the presence of the constitutional forum of National Economic Council to discuss economic issues.
'Selected PM'
The controversy over the use of the term "selected" for Prime Minister Imran Khan continued in the house as the opposition members not only criticised Deputy Speaker Qasim Suri for barring them from using this word, but also continued to call Mr Khan the "selected PM" and used some alternative words like "handpicked" and "chosen" for him during their speeches.
The issue was first raised by Dr Nafeesa Shah of the PPP who asked the deputy speaker to clarify if he had issued a ruling on the matter as reported by some newspapers. She was of the view that if he had issued a ruling then it must be binding upon all. Secondly, she said, if the deputy speaker barred the use of the term "selected" then he would also have to bar the use of "thieves and robbers" by the treasury members for the opposition leaders.
In response, the deputy speaker said he had requested the members to "let this beautiful democracy remain as it is because they all have been elected due to democracy". He said he had requested the members not to use such words which brought disgrace to this house.
Mr Suri said this was a democratic house and all the members should respect the house by not uttering unparliamentary words.
Later, Mr Bhutto-Zardari, who had coined this term in his first speech in the house in the presence of Prime Minister Imran Khan in August last year, regretted that the deputy speaker in his absence had expunged the word "selected" and banned it, despite the fact that Mr Khan had thumped the desk when he was called the "selected PM" the first time in this very parliament.
"If Imran Khan is not a selected prime minister then why committee for election rigging was formed?" he asked.
"This censored Pakistan is unacceptable. An independent Pakistan is the solution not a censored Pakistan," he said.
In her hard-hitting speech, PML-N's Marriyum Aurangzeb used the term "handpicked" for the government when she was asked by the deputy speaker not to use the term "selected". Former deputy speaker and PML-N leader Murtaza Javed Abbasi in his speech again called Mr Khan a "selected" PM.
A number of speakers, including the PPP chairman, criticised Speaker Asad Qaiser for not issuing production orders of the two arrested MNAs from Waziristan, Mohsin Dawar and Ali Wazir.
Mr Bhutto-Zardari urged the speaker to issue production orders of the two MNAs so that all opposition members were able to vote on the budget.
"Mr Speaker, I hope that by tomorrow... when the opposition needs to have its full numbers, you will issue the production orders of the MNAs of Waziristan. Otherwise, accusations will be made that this is nothing short of rigging the budget," he said.
Speaker Asad Qaiser clarified that he had received the formal application for the issuance of the production order on June 22 and he would make the decision after getting a legal opinion from the law ministry.
Mr Bhutto-Zardari, however, said the speaker did not need any advice and he had the powers to issue the production orders.
The daylong proceedings were dominated by the fiery speeches of the opposition members.
Communications Minister Murad Saeed in his usual style responded to the PPP chairman's speech. The focus of his speech, however, was the alleged corruption committed by the two opposition parties in the past.
The communications minister asked the opposition members to get themselves cleared from courts if they are innocent.
Giving references from the book written by former US Secretary of State Condoleezza Rice, he alleged that slain PPP leader Benazir Bhutto had approached the US for seeking an end to her cases and for lifting a constitutional bar on her becoming prime minister for a third time.
According to APP, Mr Saeed recalled that former prime minister Nawaz Sharif claimed that he did not take any salary, but actually his $327,000 medical expenses and travel expenses were paid from the national exchequer in the year 2016.
An amount of Rs1,000 million of public money was spent by Nawaz Sharif on the security and fencing of his Jati Umra residence, while 2,700 policemen were deployed for the security of his residence and Rs2,000m was spent on that account.
The Punjab government issued notifications declaring four houses in Model Town, Jati Umra and Defence Housing Authority as camp offices of Shahbaz Sharif, he added.
Meanwhile, some members of the PPP and PML-N met Maulana Asad Mehmood of the Jamiat Ulema-i-Islam-Fazl (JUI-F) and requested him to delay the multiparty conference convened on Wednesday as they would be busy in voting on cut motions during the passage of the budget.
Full report at:
https://www.dawn.com/news/1490210/bilawal-dubs-debt-commission-unconstitutional-undemocratic
--------
Pakistan, UK militaries hold strategic dialogue
Jun 25, 2019
The militaries of Pakistan and the United Kingdom held on Monday delegation level strategic dialogue to discuss geo-strategic environment and bilateral military cooperation.
According to the ISPR, Chief of Army Staff General Qamar Bajwa, who is in Britain on an official visit, visited the Ministry of Defence, where he was received by UK's Chief of Defence Staff General Sir Nick Carter.
On Sunday, the army chief along with DG ISPR Major General Asif Ghafoor was in attendance at the Lord's stadium to support Pakistan cricket team in their World Cup match against South Africa.
The COAS, who reached London on June 20, last visited the UK in October 2018.
Full report at:
https://www.pakistantoday.com.pk/2019/06/24/coas-gen-bajwa-meets-cds-uk-gen-sir-nick-carter/
--------
Qatar announces $3 billion in deposits, direct investment
JUNE 25, 2019
Qatar on Monday announced a $3 billion direct investment package for Pakistan. Talking to the state-run Qatari News Agency (QNA), Qatari Deputy Prime Minister and Foreign Affairs Minister Sheikh Mohammed bin Abdulrahman Al-Thani said the Qatari support came after Emir of Qatar Sheikh Tamim bin Hamad Al-Thani's visit to Pakistan to underscore the deep relations between the two brotherly countries and people.
"Upon the directives of Emir Sheikh Tamim bin Hamad Al-Thani, Deputy Prime Minister and Minister of Foreign Affairs Sheikh Mohammed bin Abdulrahman Al-Thani announced new investments in the form of deposits and direct investments in the Islamic Republic of Pakistan worth a total of $3 billion," the press release stated.
"The investment expresses the confidence of the State of Qatar in the strength of the Islamic Republic of Pakistan's economy and the vision and good management of the current government headed by Pakistan's Prime Minister Imran Khan," the statement quoted Abdulrahman Al-Thani as saying.
"The Qatari-Pakistani economic partnership will amount to $9 billion. Qatar affirms its aspiration for further development in the relations between the two countries at all political, economic, sports and cultural levels," Abdulrahman Al-Thani said.
The announcement of Qatari investment came after Pakistan visit of Qatar's Emir Sheikh Tamim bin Hammad Al-Thani. During the visit, Pakistan and Qatar signed several memoranda of understanding for trade and investment, tourism and cooperation in other fields.
"Qatar is making $3 billion dollars worth of new investments in Pakistan, in the form of deposits and direct investments," said Special Assistant to Prime Minister on Information and Broadcasting Dr Firdous Ashiq Awan on Monday. Dr Awan, while talking to the media, thanked the Qatari Emir and his cabinet for the announcement, said Radio Pakistan. She said that this amount would help Pakistan overcome its economic challenges, adding that Prime Minister Imran Khan's announcement to grant visa on arrival for Qatari citizens will develop tourism sector in Pakistan. She also hailed Qatar lifting the ban on Pakistani rice, saying it was good news for rice exporters and the economy of the country, Radio Pakistan reported.
Advisor to the Prime Minister on Finance, Revenue and Economic Affairs Abdul Hafeez Sheikh also thanked Emir of Qatar Sheikh Tamim Bin Hamad Al Thani for pledging US $3 billion in Pakistan's deposits and direct investment. "[I] want to thank the Emir of Qatar HRH Sheikh Tamim Bin Hamad Al Thani for announcing US $3 Billion in #deposits and direct #investments for #Pakistan and for #Qatar's affirmation to further develop relations between the two countries," he tweeted.
Saudi Arabia had earlier provided Pakistan a $3 billion loan and a similar amount every year in oil supply on deferred payments. Another Gulf state, the United Arab Emirates had also announced a $3 billion loan package for the country. China had given $4.6 billion in shape of deposits and commercial loans. In total, the four countries have pledged to provide nearly $16 billion to Pakistan.
Pakistan also reached an agreement in principle with the International Monetary Fund for $6 billion bailout package for three years, aimed at shoring up its public finances and strengthening a slowing economy. Finance Ministry officials said that UAE withheld release of the last tranche of $1 billion after Prime Minister Imran Khan visited Qatar early this year.
The terms of the Qatari financial assistance have not been shared by the Finance Ministry. The Chinese government has provided deposit of $2 billion at around 1 per cent interest rate and $2.6 billion at around 5.5 per cent interest rate. The Saudi and UAE loans have been received at over 3.2 per cent interest rates.
During the visit of Qatari Emir, Pakistan and Qatar had also signed the three memoranda of understanding (MoU). They signed an MoU on the establishment of Pakistan and Qatar Joint Working Group (JWG) on trade and investment signed by Qatar Finance Minister Ali Shareef Al Emadi and Advisor on Commerce Abdul Razak Dawood.
The MoU for cooperation in the field of tourism and business events between Qatar and Pakistan signed by Secretary General of Qatar National Tourism Council Akbar Al Baker and Inter-Provincial Coordination Minister Dr Fehmida Mirza.
Full report at:
https://dailytimes.com.pk/418095/qatar-announces-3-billion-in-deposits-direct-investment/
--------
Three terrorists killed in fire exchange with law enforcers: Khuda Baksh Goth
JUNE 24, 2019
KARACHI: Three terrorists were killed in an alleged exchange of fire with law enforcers in Khuda Baksh Goth near Super Highway at Northern Bypass in Karachi late on Sunday.
Police and intelligence agencies, on a tip-off, conducted an operation in Khuda Baksh Goth where the exchange of fire took place with the militants. In retaliation, three terrorists were killed, while taking advantage of the darkness, two of their accomplices managed to escape.
The police claimed to have recovered a suicide jacket, hand grenades and large quantity of arms from their possession.
Full report at:
https://dailytimes.com.pk/417668/three-terrorists-killed-in-fire-exchange-with-law-enforcers-khuda-baksh-goth/
--------
NATO Secretary General and Pakistan's Foreign Minister discuss Afghanistan
24 Jun 2019
The NATO Secretary General Jens Stoltenberg met with the Foreign Minister of Pakistan Shah Mahmood Qureshi on Monday.
According to a statement released by NATO, the meeting took place in NATO headquarters in Brussels.
The statement further added that Mr. Stoltenberg underscored the mutual added value of NATO-Pakistan political dialogue and practical cooperation.
The statement also added that Mr. Stoltenberg also expressed his appreciation for Pakistan's continuous support to NATO's long-standing efforts in Afghanistan.
Meanwhile, the NATO Secretary General pointed out NATO Allies' and partners' firm commitment to peace and lasting security in Afghanistan.
He also pointed out the alliance's commitment to the further development and sustainment of the Afghan security forces, through the Resolute Support training mission, and with funding.
Furthermore, Mr. Stoltenberg welcomed Pakistan's recent steps in support of an Afghan-led and Afghan-owned peace process and the latest encouraging developments in the bilateral relations between Afghanistan and Pakistan.
Full report at:
https://www.khaama.com/nato-secretary-general-and-pakistans-foreign-minister-discuss-afghanistan-03721/
--------
North America
Bolton: Iran just has to 'walk through open door', enter negotiations with US
25 June 2019
All Iran has to do is "walk through that open door" to enter negotiations with the US over the nuclear program, National Security Adviser John Bolton said on Tuesday during a visit in Jerusalem.
https://english.alarabiya.net/en/News/world/2019/06/25/Bolton-Iran-just-has-to-walk-through-open-door-enter-negotiations-with-US.html
--------
Trump 'champion' of Khashoggi killers: Washington Post
Michael Hernandez
25.06.2019
WASHINGTON
U.S. President Donald Trump has become an unwavering ally of the main perpetrators of the brutal murder of Washington Post journalist Jamal Khashoggi in the eight months since it occurred, the newspaper said Monday.
"Mr. Trump has become steadfast champion of the royal court that sent a team of killers to murder Khashoggi," the Washington Post's editorial board said in an op-ed.
"The premeditated murder of a contributing columnist who believed in democracy does not concern him, but the care and feeding of the dictatorial kingdom that sent the killers gets his lavish attention and slavish devotion. What does the United States get in return? Complicity in a criminal war in Yemen, and an indelible stain on its moral record," the board added.
The scathing write-up follows last week's publication of UN Special Rapporteur Agnes Callamard's report on Khashoggi's murder in which she determined it was an "extrajudicial killing for which the State of the Kingdom of Saudi Arabia is responsible".
Following the report's release, Trump said Khashoggi's murder did not come up during a Friday morning phone call with Saudi Crown Prince Mohammad Bin Salman, whom the CIA determined with relatively high confidence had ordered it.
Trump and his top officials have sought to shield Bin Salman from any responsibility for the journalist's murder, despite initially saying there would be "very severe" consequences if Saudi Arabia were responsible.
In the report, Callamard, the UN special rapporteur on extrajudicial, summary or arbitrary executions, said she found "credible evidence" to further probe Saudi officials' individual liability in the Khashoggi killing, including Bin Salman.
Among its other recommendations, the UN's report calls for the FBI and UN secretary general to launch criminal investigations into the murder of Khashoggi, who was a U.S. resident.
Asked during an interview with NBC News on Sunday if the FBI should probe Khashoggi's death, Trump was circumspect.
"I think it's been heavily investigated," he said.
Khashoggi was killed and dismembered by a group of Saudi operatives shortly after he entered the country's consulate in Istanbul on Oct. 2 last year.
Riyadh offered various, conflicting narratives to explain his disappearance before acknowledging he was murdered in the diplomatic building while seeking to shift blame for his death on a botched rendition operation being carried out by rogue agents.
Full report at:
https://www.aa.com.tr/en/americas/trump-champion-of-khashoggi-killers-washington-post/1514777
--------
US calls on Houthis to end attacks on Saudi Arabia
Umar Farooq
24.06.2019
WASHINGTON
U.S. Secretary of State Mike Pompeo on Monday called on Houthi rebels to cease attacks on Saudi Arabia after an airport in the country suffered from a drone attack.
Pompeo also singled out Iran, who the U.S. accuses of funding and supporting the Houthis, for putting the lives of Americans in Saudi Arabia at risk.
The attack on the Abha International Airport on Sunday, according to the secretary, caused one death and 20 injuries, and was the second strike on the Saudi airport in two weeks.
"These Iranian-backed attacks are unacceptable, and all the more reprehensible given that they targeted innocent civilians. They also put Americans living, working, and transiting through Saudi Arabia at risk," Pompeo said in a statement.
"We call on the Iran-backed Houthis to end these reckless and provocative attacks on behalf of the Iranian regime," he said.
Impoverished Yemen has been wracked by conflict since 2014, when the Houthis overran much of the country, including capital Sanaa.
The conflict escalated in 2015 when Saudi Arabia and its Sunni Arab allies launched a wide-ranging military campaign aimed at rolling back Houthi gains in Yemen and shoring up the country's Saudi-backed government.
An estimated 8.4 million people are at risk of severe famine and more than 22 million people, 75 percent of Yemen's population, are in need of humanitarian assistance.
Riyadh has repeatedly accused the Houthis of acting as a proxy force for Iran, Saudi Arabia's arch-rival in the region.
The secretary urged the Houthis to work within the bounds of the UN-led peace process "to end the conflict and adhere to the commitments they made in Sweden."
Pompeo is currently in Saudi Arabia on a trip to discuss tensions with Tehran, and said "the United States will continue to stand with all of our allies and partners in the region."
Full report at:
https://www.aa.com.tr/en/americas/us-calls-on-houthis-to-end-attacks-on-saudi-arabia/1514626
--------
Europe
UK will 'have to consider' supporting a US war with Iran 'on a case-by-case basis'
Jun 24, 2019
The British government will "have to consider" any request from US President Donald Trump for a war with Iran "on a case-by-case basis," says Tory leadership candidate Jeremy Hunt.
"We will stand by the United States as our strongest ally but of course we have to consider any requests for military support on a case-by-case basis," Hunt said Monday.
He made the comments as Trump was insisting that he was not seeking war against Iran, further bolstering the US economic terrorism against the country.
The British foreign secretary further admitted that the tensions between the US and Iran is a grave concern for Britain.
"We want to de-escalate the situation but we are of course extremely worried."
He further repeated the Trump administration's baseless allegations against Iran, including a recent tanker attack in the Sea of Oman, which Washington blamed on Tehran with no credible evidence.
"We do strongly believe that the solution is for Iran to stop its destabilizing activity throughout the Middle East and we are very concerned about the sabotaging of tankers that has happened recently, which is almost certainly Iran, and we're constantly in touch with the United States," said Hunt, who is vying to become leader of Britain's Conservative Party and the country's next prime minister.
Meanwhile, Trump's secretary of state was in Abu Dhabi to rally up support for war with Iran in a meeting with Emirati member of the B-team, Abu Dhabi's Crown Prince Mohammed bin Zayed.
"We'll need you all to participate, your military folks," said the notorious war hawk. "The president is keen on sharing that the United States doesn't bear the cost of this."
The UAE joined the UK, Saudi Arabia, and the US to allegedly call for "diplomatic solutions" despite Trump's incessant threats and a "maximum pressure" campaign against Iranians.
"We call on Iran to halt any further actions which threaten regional stability, and urge diplomatic solutions to de-escalate tensions," read a joint statement released by the United States on Monday.
'Thirst for war'
Tehran has time and again asserted that it does not seek war with the US, yet stands ready to defend its interests in the region.
In a tweet on Monday, Iranian Foreign Minister Mohammad Javad Zarif asserted that the B-team -- also including Saudi Arabia's Crown Prince Mohammed bin Salman, Israeli Prime Minister Benjamin Netanyahu and US national security adviser John Bolton -- are thirsty for war with Iran.
"@realDonaldTrump is 100% right that the US military has no business in the Persian Gulf. Removal of its forces is fully in line with interests of US and the world. But it's now clear that the #B_Team is not concerned with US interests—they despise diplomacy, and thirst for war," said the Iranian top diplomat.
https://www.presstv.com/Detail/2019/06/24/599355/Britain-will-have-to-consider-backing-a-US-war-with-Iran
--------
Russia says it will counter new US sanctions on Iran
24 June 2019
Russia and its partners will take steps to counter new sanctions that Washington has said it will impose on Iran, Deputy Foreign Minister Sergei Ryabkov was quoted as saying by Russian news agencies on Monday.
In the comments reported by TASS and RIA, Ryabkov did not specify what those steps would be.
He said the imposition of US sanctions would aggravate tensions, and Washington should instead be seeking dialogue with Tehran, the agencies quoted him as saying.
New sanctions imposed by the US on Iran are illegal, Kremlin spokesman Dmitry Peskov said on Monday.
Full report at:
https://english.alarabiya.net/en/News/world/2019/06/24/Russia-says-it-will-counter-new-US-sanctions-on-Iran.html
--------
Britain warns of accidental war between US and Iran
24 June 2019
Britain does not think either the United States or Iran want a war but is very concerned an accidental war could be triggered, Foreign Secretary Jeremy Hunt said on Monday.
"We are very concerned: we don't think either side wants a war, but we are very concerned that we could get into an accidental war and we are doing everything we can to ratchet things down," Hunt told BBC radio.
Hunt said Britain had been closely in touch with the United States over the "very dangerous situation in the Gulf."
Full report at:
https://english.alarabiya.net/en/News/world/2019/06/24/Britain-warns-of-accidental-war-between-United-States-and-Iran.html
--------
Arms sold from UK to Israel during Gaza protests: Group
Muhammad Mussa
24.06.2019
LONDON
The British government approved arms sales to Israel worth over $17 million in 2018, when Israeli soldiers were accused of intentionally firing on and murdering Palestinian protestors at the Gaza border.
The information released by the Department of International Trade (DIT) and compiled by the Campaign Against the Arms Trade (CAAT) shows that licenses were issued for the sale of weapons that included parts for assault rifles, ammunition and other arms that would be used against Palestinian demonstrations.
Last year on May 18, an arms sale worth more than $125,000 was approved by the government just four days after 68 Palestinians were shot by Israeli soldiers. Ironically, the export was approved the same week, when then-Prime Minister Theresa May described killings as "extremely concerning".
Moreover, during a debate in the parliament on the same day, seven MPs urged for greater scrutiny on U.K. weapon exports to Israel. Some even called for imposing a total ban on arms sales to Tel Aviv.
Nonetheless, this did not stop the government from approving licenses to supply missile technology, military radar equipment and night vision gear amounting to $18 million from March 30 to the end of 2018.
"The message it sends is that, no matter what atrocities are inflicted on the Palestinian people, arms sales will continue" said CAAT spokesman Andrew Smith. "If shooting on the border didn't stop the arms sales, if the bombardment in 2014 and 2008 did not stop them, what more will it take?" he asked.
Smith said that although it is not clear whether the U.K.-made weapons were used specifically on the protestors, it symbolizes the government's priorities in choosing business over morality and ethics. He said the government is also making highly probable that its weapons will be used against innocent Palestinians in the future.
The recent revelations come after a U.K. court of appeal declared that the U.K. weapons exports to Saudi Arabia were unlawful, as they contributed to civilian deaths and casualties in the Saudi-led bombing of Yemen. The court further said the government had failed to assess whether such a contribution would breach international humanitarian law.
In an interview with the Middle East Eye, Husam Zomlot, Palestinian ambassador to the U.K., said that it is the British government's responsibility to assess whether its arms sales are lawful or not and that there was a wider legal context that must be analyzed beyond the arms trade.
"The U.K. government can only say if it has done its due process. We are not aware of such a process to ensure that these weapons do not harm innocent Palestinians and they do not end up aiding Israel in its illegal occupation and colonization of the land and people of Palestine," Zomlot said.
He said it was also a question of illegal occupation of land by a state in contravention to the basic U.K. and international law.
In March 2018, as many as 190 Palestinian civilians were killed and more than 6,000 were injured while demonstrating against Israel's brutal occupation and siege on the Palestinian territories. The demonstrations were labelled the Great March of Return and the Breaking of the Siege.
Full report at:
https://www.aa.com.tr/en/europe/arms-sold-from-uk-to-israel-during-gaza-protests-group/1514596
--------
Mosque in Spanish enclave Ceuta comes under gun attack
Senhan Bolelli
24.06.2019
MADRID
A mosque in Ceuta, a Spanish enclave in the North Africa, was attacked on the wee hours of Monday, a local media reported.
People were praying inside the Muley el Mehdi mosque, known as the largest of Ceuta, when it became the target of at least four gunshots fired by unknown assailants, Spanish news agency EFE said citing police sources.
One or two people are suspected for the attack, according to the EFE.
No casualties were reported, police launched a probe into the incident.
Full report at:
https://www.aa.com.tr/en/europe/mosque-in-spanish-enclave-ceuta-comes-under-gun-attack/1514428
--------
Germany says it has lost track of 160 ISIS members
June 24, 2019
More than 160 Germans who travelled to Iraq and Syria to join ISIS remain unaccounted for, Germany's government has admitted.
The latter was also slammed for supposedly having "no plan" for dealing with the 120 ISIS members who fled Germany for the Middle East and are held in prisons abroad.
About 1,050 Germans travelled to Iraq and Syria to join terror groups since 2013. Roughly a third have returned and another 220 are thought to have been killed. The rest remain in the region or have moved elsewhere, reported Sunday newspaper Welt am Sonntag.
The figures were revealed after a request to the interior ministry by Linda Teuteberg, secretary general of the Free Democratic Party.
The government said most of the 160 ISIS fighters it has lost track of are probably dead but conceded that "in rare cases, these individuals could have succeeded in escaping and/or disappearing."
It insisted, however, that "various measures" such as wanted lists would make "uncontrolled re-entry" very difficult.
Thousands of foreign fighters are languishing in jails run by the Kurdish-led Syrian Democratic Forces, who pushed ISIS from its last patches of territory in eastern Syria earlier this year.
Western governments remain fearful that returning ISIS members could launch attacks at home or try to radicalise others.
Some have resorted to stripping extremists of their citizenship.
But Ms Teuteberg said the German government was not doing enough – especially in light of the "very fragmented" EU borders.
"It is particularly worrying that the Federal Government appears to have taken no further measures to prevent the uncontrolled re-entry of submerged IS fighters," she said.
Ms Teuteberg also hit out at the government for failing to produce a coherent policy on how to deal with foreign fighters.
"This applies to the Germans detained in the conflict zones, as well as the more than 200 former IS supporters who are now back in Germany," she told Welt am Sonntag
Full report at:
https://www.thenational.ae/world/europe/germany-says-it-has-lost-track-of-160-isis-members-1.878419
--------
URL: https://www.newageislam.com/islamic-world-news/most-islamic-militants-muslim-majority/d/118987
New Age Islam, Islam Online, Islamic Website, African Muslim News, Arab World News, South Asia News, Indian Muslim News, World Muslim News, Women in Islam, Islamic Feminism, Arab Women, Women In Arab, Islamophobia in America, Muslim Women in West, Islam Women and Feminism