New Age Islam News Bureau
18 Jan 2018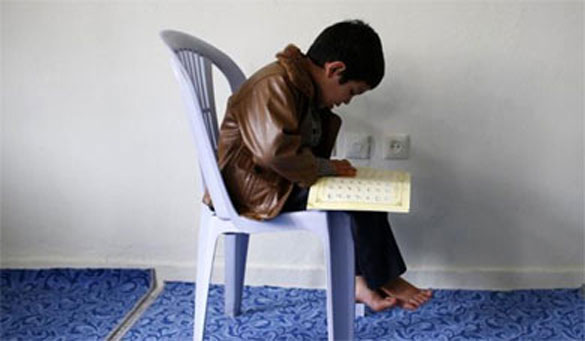 An Uighur refugee boy reads the Quran [Photo/Umit Bektas/Reuters]
-----
• Most Extreme Qaradawi Fatwas That Threatened Millions of Lives
• Senator Questions If Anti-Terrorism Fatwa Applies To Cross-Border Jihad
• China Bans Muslim Children from Quran Classes
• Afghan President Criticizes Pakistan's Anti-Terror Islamic 'Fatwa'
• Shia, Sunni Clerics File FIR against Uttar Pradesh Shia Waqf Board Chief
Arab World
• Most Extreme Qaradawi Fatwas That Threatened Millions of Lives
• 10,000 Bodies Buried in Mass Graves across Syria's Raqqah: Official
• Muslim World League in partnership to launch global UN conference
• Egypt's Al-Azhar hosts int'l conference on Jerusalem
• US Resorts to Secrecy over Arms Shipment to Kurds in Syria
• Sharp decline in Iraq, Syria terror deaths last year
• Egypt presidential hopeful says bureaucrats blocking his bid
--------
Pakistan
• Senator Questions If Anti-Terrorism Fatwa Applies To Cross-Border Jihad
• Taliban Leader Approved Islamabad Meeting On Afghan Peace Talks: Sources
• Pakistan will not compromise on national interests under any circumstance: Asif
• Pakistan opposes US attempt to alter Al-Quds legal status: Rabbani
• CII members complain of their names being included without consent in recent fatwa
• Yousaf urges Muslim ummah to forge unity against Israeli atrocities
• CJCSC showcases Pakistan's counter-terror efforts at NATO session in Brussels
• Lahore rally yields no concrete plan to oust Sharifs
• Drone strikes on both sides of Pak-Afghan border kill 2
--------
Southeast Asia
• China Bans Muslim Children from Quran Classes
• Islamisation Will Tear Malaysia Apart, Says Marina Mahathir
• China Bans Children in Predominantly Muslim County from Attending Religious Events during Winter Holidays
• Indonesia still struggling to keep its generals confined to barracks
--------
South Asia
• Afghan President Criticizes Pakistan's Anti-Terror Islamic 'Fatwa'
• 7 Ethnic Rakhine Killed As Myanmar Police Fire on Riot
• Afghan army to collapse in six months without US help: Ghani
• Anti-Terror Fatwas in Pakistan a result of US pressure: Afghan MPs
• US drone strike leaves 6 militants dead, wounded in East of Afghanistan
--------
India
• Shia, Sunni Clerics File FIR against Uttar Pradesh Shia Waqf Board Chief
• Scared Of Attack, Muslim Corporator in Meerut Hands over Cow to Police
• Shift to Pakistan, ISI man urges terror suspect
• Muslim Bodies Demand Competitive Bidding for Haj Travel
• No evidence is sufficient against 'sahib' Hafiz Saeed: BJP on Pakistan PM's remark on 26/11 mastermind
• 30 children fall sick after consuming food at madrasa in Thane
--------
Mideast
• Abbas: Jerusalem Al-Quds Can Be Gate to Peace or War; Trump Must Choose
• Muslim Guardians of Jerusalem's Many Churches
• Israeli Settlers Storm Al-Aqsa Mosque under Military Protection
• Yemeni snipers shoot five Saudi soldiers dead in Jizan
• US freezes funding for Palestinian refugees
• Turkey begins first wave of artillery fire on Kurds in Afrin
--------
North America
• Tillerson Says U.S. Troops to Stay in Syria beyond Battle with ISIS
• Terrorist Screening Lawsuit by CAIR Backs 5 Muslim Americans
• White supremacists killed 18 in the U.S. last year. Islamic extremists killed 9, report finds
• The Influential Network for a New Generation of American Muslim Leaders
• Muslim leaders get pushback on plans to build mosque in residential neighborhood
• Kids at Kushner's school urged to write letter backing Trump Jerusalem move
--------
Africa
• Nigeria Just Bought the JF-17 Thunder To Blast Boko Haram
• 12 Killed, 48 Injured In Suspected Boko Haram Attack in Nigeria
• 2 killed in Cameroon suicide attack near mosque
• Nigeria: Police Arrest Muslim Cleric with Human Parts
• Tanzania: Drama As Terror Suspects Strip in Arusha Court
• Nigerian protesters call for release of Zakzaky
--------
Europe
• Jewish and Islamic Groups Join to Help Refugees in Greece
• Ex-Muslims blast Pope Francis for saying Islam is a good religion
• Pakistani Humanist Denied UK Asylum after Failing to Identify Plato
• Russia's World Cup likely target for Daesh: US analysis firm
Compiled by New Age Islam News Bureau
URL: https://www.newageislam.com/islamic-world-news/most-extreme-qaradawi-fat-that/d/113980
--------
Most Extreme Qaradawi Fatwas That Threatened Millions of Lives
17 January 2018
Yusuf al-Qaradawi is an Egyptian Islamic theologian based in Doha, Qatar, and chairman of the International Union of Muslim Scholars.
He is the first Egyptian on the terror list announced by Saudi Arabia, Egypt, the UAE and Bahrain. The countries have collectively designated 59 individuals and 12 institutions that have financed terrorist organizations and received support from Qatar.
Over the years, Qaradawi issued numerous fatwas (religious edicts) that have been considered extreme and violent, even by al-Qaeda's radical standards.
Al Arabiya's Death Making" program on Jan. 17 will focus on those fatwas.
The most important of these fatwas came three years ago during his show on Al Jazeera channel when a viewer asked him about Syrian civilians in areas under regime and military control and whether it was permissible to kill them knowing that many of them would be supporters of Bashar al-Assad's government.
"We are not looking for intentions. Anyone who did not go out on Bashar al-Assad and remained under his authority must be fought and killed, whether civilian or military," Qaradawi replied.
https://english.alarabiya.net/en/features/2018/01/17/VIDEO-Most-extreme-Qaradawi-fatwas-that-threatened-millions-of-lives.html
--------
Senator Questions If Anti-Terrorism Fatwa Applies To Cross-Border Jihad
Jan 18, 2018
ISLAMABAD: Senator Farhatullah Babar has questioned whether the anti-terrorism fatwa of religious scholars, declaring private jihad as well as suicide bombings as un-Islamic, also covered the so-called jihad across the national boundaries as has been proudly claimed by some militant outfits.
Farhatullah Babar expressed these views in a meeting of Senate Foreign Affairs Committee that met here on Wednesday to discuss Pak-US relations and other related issues.
The meeting, chaired by Senator Nuzhat Sadiq, was attended by Senators Daud Khan Achakzai, Karim Khawaja, Mushahid Hussain Syed, Ayesha Raza Farooq and Farhatullah Babar, besides Foreign Minister Khawaja Asif, Foreign Secretary Tehmina Janjua and other senior officials.
The absence of the words "across the national borders" in the fatwa unequivocally rejecting private jihad has created space for some jihadists, Farhatullah Babar said and asked the foreign minister whether the Foreign Office (FO) was on board in the exercise leading to the formulation of fatwa.
The foreign minister affirmed that the fatwa also banned private jihad across national boundaries. "The senator is entitled to hold his view but my view is different from him," he added.
Farhatullah Babar enquired whether some actions were being taken to mainstream militant organisations without taking the Parliament on board, and asked whether the FO was aware of any such move.
He further said that the soft treatment meted out to former Taliban spokesman Ehsanullah Ehsan, bail of Maulana Sufi Muhammad, shielding Masood Azhar from UN sanctions, and lately, the militant organisations entering into electoral politics pointed towards these undeclared moves.
Khawaja Asif informed that the FO was not aware of any move to mainstream militant organisations in the country.
Senator Babar also asked whether a three-member delegation of Afghan Taliban from their Qatar political office had arrived in Pakistan recently, as reported in the media, as part of the efforts to encourage them to join the reconciliation process. The foreign minister, however, denied that FO was aware if such visit had taken place.
The meeting also discussed the case of Haji Abdul Ghafoor, a Pakistani national who went missing in Madina last year. Foreign Secretary Tehmina Janjua informed the committee that Hajj minister's visit to Saudi Arabia early next month would include this issue in the agenda of his talks with Saudi authorities.
The committee recommended that the Saudi authorities be asked to focus on the testimony of two officials of Pakistan House, Madinah of the altercation Haji Abdul Ghafoor had with police at the gate of Masjid-e-Nabvi after which Haji Abdul Ghafoor reportedly went missing.
The committee noted that this provided a crucial lead in tracing the missing Haji and asked the FO to focus on it.
https://www.pakistantoday.com.pk/2018/01/17/farhatullah-babar-questions-if-anti-terrorism-fatwa-applies-to-cross-border-jihad/
--------
China bans Muslim children from Quran classes
Jan 18, 2018
Chinese government authorities have banned Muslim children from attending religious events during winter break, in a county in western China that is mostly populated by Muslims.
The notification for the ban has been posted online by the education bureau, as authorities step up their suppression of religious freedoms.
School students in Linxia county in Gansu province, home to many members of the Muslim Hui ethnic minority, are prohibited from entering religious buildings over their break, a district education bureau said, according to the notification.
Students must also not read scriptures in classes or in religious buildings, the bureau said, adding that all students and teachers should heed the notice and work to strengthen political ideology and propaganda. China is an atheist, communist state.
Reuters was unable to independently verify the authenticity of the notice.
The Linxia education bureau has declined to comment on the document's validity.
Xi Wuyi, a Marxist scholar at the state-backed Chinese Academy of Social Sciences and an outspoken critic of rising Islamic influence in China, shared the picture and welcomed the apparent move by the authorities.
With the notice, the county was taking concrete action to keep religion and education separate, and sticking strictly to education law, she said on the Weibo social media platform.
New regulations on religious affairs released in October last year, and due to take effect in February, aim to increase oversight of religious education and limit religious activities.
Last summer, a Sunday School ban was introduced in the southeastern city of Wenzhou, sometimes known as "China's Jerusalem" due to its large Christian population, but Christian parents found ways to teach their children about their religion, regardless.
Chinese law formally grants religious freedom for all, but regulations on education and protection of minors also say religion cannot be used to hinder state education, or children taught to believe in a religion, rather than communism.
Authorities in troubled parts of China, such as the far western region of Xinjiang, home to the Turkic-speaking Uighur Muslim minority, ban children from attending religious events.
But religious communities elsewhere rarely face blanket restrictions.
Fear of Muslim influence has grown in China in recent years, sparked in part by violence in Xinjiang.
The Chinese-speaking Hui, who are culturally more similar to the Han Chinese majority than to Uighurs, have also come under scrutiny from some intellectuals, who fear creeping Islamic influence on society.
http://www.aljazeera.com/news/2018/01/china-county-bans-muslim-children-religious-events-180117123448774.html
--------
Afghan President Criticizes Pakistan's Anti-Terror Islamic 'Fatwa'
January 17, 2018
ISLAMABAD —
Afghan President Ashraf Ghani says he believes an anti-terrorism Islamic edict, or fatwa, issued by Pakistan, should have covered the entire Muslim world, including Ghani's war-torn nation.
Ghani spoke Wednesday, a day after more than 1,800 Pakistani clerics unveiled the edict at a government-sponsored event in Islamabad. The directive declared as un-Islamic acts that include suicide bombings, sectarianism, and calls for jihad in the name of religion without the consent of the state.
He told a gathering in Kabul of Afghan youths, women, civil society activists and clerics that fatwas issued under Islam have never been confined to geographical boundaries of a single nation. Clerics in the audience voiced their agreement when the Afghan leader asked for their opinion.
"If they [Islamic principles] extend to all [of the world] of Islam, then it [the Pakistani edict] should first and foremost be implemented in relation to Afghanistan," Ghani said.
'Astonishing' comments
There was no immediate official reaction in Pakistan to Ghani's comments, but privately, authorities dismissed them as "astonishing," citing long-running accusations of Pakistani interference in Afghanistan's internal affairs.
Analysts viewed Ghani's criticism as another indication of deep mistrust and tension in relations between the neighboring countries.
Relations between Pakistan and Afghanistan have deteriorated over Kabul's allegations that Taliban insurgents and their allies are using Pakistani soil for sustaining and expanding insurgent activities.
In turn, Islamabad alleges Afghanistan's intelligence agency — the National Directorate of Security, with the help of Indian counterparts — is sheltering fugitive Pakistani militants and helping them to plot terrorist attacks against the country.
"It would be inappropriate for Pakistan to pressure or to press upon their clerics to give a statement regarding any other country," said Zahid Hussain, a Pakistani columnist and author of books on extremism.
Instead of taking "a narrow view" of the edict, President Ghani should have appreciated Pakistan's effort rather criticizing it," Hussain said.
Doing all it can
Afghan officials say that during a visit to Kabul last October, Pakistani military chief General Qamar Javed Bajwa had assured Ghani he would seek a fatwa from Pakistani clerics with regard to the Afghan conflict. Pakistani officials have not confirmed those assertions.
Pakistani Interior Minister Ahsan Iqbal, while addressing Tuesday's ceremony where the edict in question was announced, reiterated that his country is doing all it can to fight terrorism and has suffered tens of thousands of casualties in the process, in addition to massive economic losses.
"Terrorism has no place in Islam, whether against our own people or against other people. Pakistan is committed to not allowing any group to use its territory to carry out any act of terrorism against anybody. What is not good for us is not good for others also," Iqbal said.
Government under fire
The government itself has been under fire since issuing the fatwa. Critics, such as rights activist Tahira Abdullah, raised objections about the participation of certain clerics at Tuesday's event.
She said the list of those invited to the conference, held in the office of President Mamnoon Hussainin Islamabad, contained names of clerics with ties to banned Islamic organizations.
"We strongly protest and condemn this blatantly obvious — but failed —attempt to confer respectability and legitimacy on religious-political organizations, individuals, and groups, which are either proscribed themselves, or have very close links with such entities," Abdullah said.
The activist said she saw the participation of controversial clerics as part of alleged official efforts to mainstream extremist groups in national politics.
"This is a monster, which will boomerang back at us all," she said.
The Pakistani fatwa was ratified by, among others, Muhammad Ahmed Ludhianvi, who is known for his ties to the outlawed Sunni-based sectarian group, Ahle Sunnat Wal Jamaat (ASWJ). Authorities accuse the group of being behind attacks on Pakistan's minority Shiite community.
Another signatory was Hamid-ul-Haq, the son of the Pakistani cleric Sami-ul-Haq, who is widely referred to as the "Father of the Afghan Taliban." The cleric's Islamic seminary, near the northwestern city of Peshawar, is where prominent radical leaders, including Taliban founder Mullah Mohammed Omar, received an education.
https://www.voanews.com/a/afghanistan-pakistan-anti-terror-fatwa/4213076.html
--------
Shia, Sunni clerics file FIR against Uttar Pradesh Shia Waqf Board chief
January 17, 2018
Shia and Sunni clerics on Wednesday unitedly filed an FIR against the Uttar Pradesh Shia Waqf Board chief for allegedly spreading hatred against the Muslim community and its educational institutions. At a press conference at New Delhi, they lashed out at Wasim Rizvi for stating that madrassas are breeding grounds for terrorists. "The remarks of Rizvi are patently false and have been deliberately and dishonestly made as part of a conspiracy. This is part of a larger conspiracy to create a rift and animosity between the Hindus and the Muslims and also between Shia and Sunni communities. We are filing an FIR against him," Shia cleric Syed Kalbe Jawad Naqvi said.
The clerics then went to the Lodhi Road police station and filed the FIR. Rizvi had earlier written a letter to Prime Minister Narendra Modi and Uttar Pradesh Chief Minister Yogi Adityanath in which he said, "How many madrassas have produced engineers, doctors, IAS officers? Yes, but some madrassas have produced terrorists." The clerics also accused Rizvi of being involved in selling off Waqf properties and other corruption cases.
"He is a person with criminal bent of mind and has many FIRs against him in Lucknow, Saharanpur, Meerut and many other cities of Uttar Pradesh. He is saying all these to save himself from these cases," alleged Maulana Arif Kasim, chairman of All India Imam Foundation. "He is trying to please the RSS and the BJP by saying that our madrassas are breeding terrorists. Till today there has not been a single case where it has been proved that students have been given any kind of training in madrassas to become terrorists or go against our own country," Naqvi emphasised.
The leaders urged the prime minister to look into the matter and take strong legal action against Rizvi.
http://indianexpress.com/article/india/shia-sunni-clerics-file-fir-against-uttar-pradesh-shia-waqf-board-chief-5028842/
--------
Arab World
10,000 bodies buried in mass graves across Syria's Raqqah: Official
Jan 17, 2018
A senior Syrian medical official says members of the Daesh Takfiri terrorist group have executed 10,000 people and buried their bodies in mass graves across the country's northern city of Raqqah.
Syrian Forensic Medicine General Director Zaher Hajo told Arabic-language and pro-government al-Watan daily that his colleagues had confirmed the presence of 4,000 bodies in one single grave.
Hajo went on to say that Syrian Health Minister Nizar Yazigi has ordered the formation of a committee in order to collect the remains of the victims and transfer them to the military hospital in the northwestern city of Aleppo.
He stated that identification of the victims, using their teeth and bones, will start next week, stressing that he will chair the committee.
Hajo said the mass graves have been found in areas now controlled by the so-called Syrian Democratic Forces (SDF) – a US-backed group of Kurdish and Arab forces.
The SDF said on October 20, 2017 that it had "liberated" Raqqah after driving out Daesh terrorists from the city, which served as Daesh's de facto capital in the war-ravaged Arab country.
The US-backed forces later said the political future of the city and the province of the same name would be determined "within the framework of a decentralized, federal, democratic Syria."
SDF spokesman Talal Silo said that the group would hand over the control of Raqqah to what he called "the Raqqah Civil Council."
Syrian Minister of National Reconciliation Affairs Ali Haidar reacted by saying that Raqqah's future could only be discussed "as part of the final political structure of the Syrian state."
The so-called Syrian Observatory for Human Rights (SOHR) has, meanwhile, said that the SDF's purported operations in Raqqah have killed civilians and damaged infrastructure in the city.
"When you're killing around 1,200 civilians — nearly half of them women and children — and destroying 80 percent of the city, that's not liberating Raqqah," Rami Abdel Rahman, the head of the SOHR, told Arab News daily newspaper.
http://www.presstv.com/Detail/2018/01/17/549245/bodies-mass-graves-Syria-Raqqah
--------
Muslim World League in partnership to launch global UN conference
18 January 2018
MOHAMMED AL-SULAMI
JEDDAH: The secretary-general of the Muslim World League (MWL), Dr. Mohammed Al-Issa, on Wednesday signed a cooperation agreement with the World Council of Religious Leaders (WCRL). Bawa Jain, the secretary-general of WCRL, signed for his organization.
Both parties agreed to organize an international conference at the UN to be attended by a number of religious, intellectual and political leaders.
In this context, the adviser for international relations at the MWL, Adil Al-Harbi, said the step constitutes a key shift in the framework of enhancing the global programs of the MWL.
The MWL has become one of the leading cultural and religious foundations around the globe in its capacity as an umbrella of the Islamic nations and its strong and influential relations, said Al-Harbi.
He said the MWL has represented the Islamic World at a number of global forums and presented a civilized message that has maintained Islamic identity and, at the same time, coped with the contemporary period in a positive way.
Al-Harbi said the proposed conference is expected to have a big international presence with special emphasis on peace and clearing the atmosphere, materially and morally, and facing extremist and terrorist ideology.
Full report at:
http://www.arabnews.com/node/1228231/saudi-arabia
--------
Egypt's Al-Azhar hosts int'l conference on Jerusalem
17.01.2018
An international conference on Jerusalem kicked off in Egypt on Wednesday amid outcry in the Muslim world over last month's U.S. decision to recognize the holy city as Israel's capital.
Officials and figures from around 86 countries are attending the conference, which is organized by Al-Azhar Al-Sharif, the highest seat of learning in the Sunni Muslim world.
Palestinian President Mahmoud Abbas, Secretary-General of the Organization of Islamic Cooperation (OIC) Yousef bin Ahmad Al-Othaimeen, Arab League chief Ahmed Aboul-Gheit, Secretary-General of the World Council of Churches Rev. Olav Fykse Tveit are among attendees in the event.
The two-day conference will discuss ways of providing support for preserving the Palestinian and Arab identity of the holy city.
On Dec. 6, U.S. President Donald Trump officially recognized Jerusalem as the capital of Israel and ordered the relocation of the U.S. embassy from Tel Aviv to the holy city.
The U.S. policy shift has triggered outcry in the Arab and Muslim world and a wave of protests in the Palestinian lands that left at least 16 people dead.
Shortly after the U.S. move, the grand imam of Al-Azhar, Ahmed al-Tayeb called for holding an international conference to discuss ways of defending the holy city.
In the same month, Turkey hosted an extraordinary OIC summit, which called on world countries to recognize East Jerusalem as the capital of Palestine.
Full report at:
http://aa.com.tr/en/middle-east/egypts-al-azhar-hosts-intl-conference-on-jerusalem/1033445
--------
US Resorts to Secrecy over Arms Shipment to Kurds in Syria
Jan 17, 2018
The US-led coalition refused to say whether it gave man-portable air-defense system (MANPADS) to the Syrian Democratic Forces (SDF) in Syria, the Public Affairs Office of the Combined Joint Task Force-Operation Inherent Resolve (CJTF-OIR) said.
"The international Coalition is resolved to train, equip and support our SDF partners to attain the lasting defeat of ISIL. Due to operational security concerns, we will not provide details of weaponry provided to specific units in specific locations," the press office said when asked about reports that the US had provided MANPADS to Kurdish forces in Syria.
The AMN reported on Monday citing own sources Washington provided the Kurdish fighters operating in Syria, MANPADS within the framework of the secret agreement.
The US had provided the MANPADS to the Kurdish forces earlier in the month under the agreement between Washington and Kurds, according to the report.
According to the news outlet, the MANPADS have been delivered to the Kurds in the Northwestern part of Syria near the town of Afrin.
It comes as Ankara announced that Turkey is ready "at any moment" to start an operation in a besieged border area of Syria.
"The Turkish Armed Forces will resolve the Afrin and Manbij issue as soon as possible. Our preparations are finalized, an operation may start at any moment," Tukish President Recep Tayyip Erdogan told an opening ceremony in the capital, Ankara on Monday.
The US-led coalition announced on Sunday it is helping to create a new Border Security Force to fight terrorists in Syria. The unit, stationed along the Syrian border with Iraq and Turkey, as well as along the Euphrates River Valley, is expected to be comprised of up to 30,000 people. SDF veterans will make half of the unit, while the other half are yet to be recruited.
Damascus, Moscow, Tehran and Ankara have strongly blasted the US new decision to form a Border Security Force.
The United States' military support for the militia first began under the administration of US President Donald Trump's predecessor, Barack Obama, which provided Kurds with weapons and training.
Washington also continues providing Kurdish fighters with more military hardware in Syria despite US President's promise to his Turkish counterpart to halt arms shipment to the Kurdish fighters.
Ankara said late November 2017 that Trump told Erdogan that he had issued instructions that weapons should not be provided to Kurdish fighters in Syria.
Full report at:
http://en.farsnews.com/newstext.aspx?nn=13961027001378
--------
Sharp decline in Iraq, Syria terror deaths last year
18 January 2018
Iraq and Syria saw a sharp drop in the number of people killed in terror attacks last year, a report published Thursday by Jane's Terrorism and Insurgency Centre has found.
Despite ongoing violence in both countries, there was a fall in the number of deaths in attacks by non-state actors such as ISIS.
In Iraq 3,378 were killed in militant attacks last year, a fall of 60 percent compared to 8,437 fatalities in 2016, according to research by the London-based center. A similar trend was charted in Syria, where there was a drop of nearly 44 percent.
In total 3,641 people were killed in terrorism and insurgency in 2017, down from 6,477 the previous year.
The report does not include militants who died in attacks, nor the substantial number of people killed in government-led air strikes in countries such as Syria.
Despite losing significant territory in the two countries last year, ISIS continued as the world's most active terror organization by number of attacks.
Transition to insurgence
"As it came under growing territorial pressure, ISIS transitioned back to insurgent operations, conducting a higher tempo of low intensity violence against security forces and non-state adversaries in areas newly recaptured from the group," said Matthew Henman, head of the research center.
The group killed 6,499 people in attacks last year – a 40 percent decrease compared to 2016, despite upping the number of assaults by nine percent to 4,612 last year.
Although Iraq and Syria experienced a fall in the number of deaths in militant attacks, the scale of terrorism and insurgency in the two countries remained unparalleled globally.
Comparatively, in Afghanistan 2,299 people were killed last year, followed by 1,466 fatalities in Somalia, and 1,092 in Yemen.
Full report at:
https://english.alarabiya.net/en/News/middle-east/2018/01/18/Sharp-decline-in-Iraq-Syria-terror-deaths-last-year.html
--------
Egypt presidential hopeful says bureaucrats blocking his bid
17 January 2018
By HAMZA HENDAWI
CAIRO: A rights lawyer who hopes to run in Egypt's presidential election in March said Wednesday that bureaucrats loyal to the government were obstructing efforts to get him on the ballot, while his campaign officials said police and government supporters were intimidating potential voters.
The complaints, aired at a news conference held at Khaled Ali's campaign headquarters in downtown Cairo, suggested that he was struggling to secure the 25,000 signatures, or "recommendations," necessary to challenge President Abdel-Fattah el-Sisi, who is widely expected to run for and win a second four-year term.
Alternatively, a presidential hopeful could secure the formal backing of 20 elected lawmakers. But the overwhelming majority of the chamber's 596 members already have pledged their support to el-Sisi, who has yet to formally announce his candidacy.
"The battle for the recommendations is the real battle in this election. Either we win together or I fail alone." Ali told reporters.
Ali has until Jan. 29 to submit the certified signatures. He said he wanted to submit them on Jan. 25, the seventh anniversary of the popular uprising that toppled longtime autocrat Hosni Mubarak. El-Sisi's supporters portray the uprising as a foreign conspiracy aimed at destabilizing the country.
Malek Adly, a rights lawyer and another January "revolutionary" from Ali's campaign, told the news conference that supporters were "taking a risk" by visiting government offices to certify their signatures. He also criticized the personal attacks waged against Ali by pro-government talk show hosts.
"The legal team will start legal proceedings against every one of them," he pledged. He said the campaign also complained about the thousands of street billboards in support of el-Sisi, saying they violate the timeline laid out by the election commission. Campaigning is supposed to begin Feb. 24 and last for under four weeks.
The vote will be held March 27-28 with runoffs, if needed, the following month.
Ali said government workers dragged their feet when his supporters asked for their signatures to be certified.
"We are fully aware of the difficulties and dangers involved in the battle to defend politics and win back public space," he said. "This is the battle to regain our self-confidence and our ability to work together."
Several campaign officials who spoke to The Associated Press said Ali supporters were intimidated and threatened by undercover policemen and el-Sisi supporters crowding the government offices. They expressed fears that the process of gathering and certifying signatures would allow authorities to target supporters after the vote.
They spoke on condition of anonymity because they were not authorized to discuss confidential deliberations.
Since el-Sisi led the military overthrow of an elected Islamist president in 2013, authorities have arrested thousands of people, mainly Islamists but also several prominent secular activists, including many who were behind the 2011 uprising. Street protests have been effectively banned, human rights groups placed under severe restrictions and many critics in the media have been silenced.
El-Sisi has said such measures are necessary to restore stability and rebuild the economy after years of unrest, and to combat a Daesh-led insurgency.
Ali shot to national fame when he won a court case that annulled Egypt's transfer of two Red Sea islands to Saudi Arabia. The government went ahead anyway with the transfer after the agreement was hurriedly ratified by parliament.
He was convicted and sentenced to three months in prison in September for allegedly making an obscene gesture while celebrating the court's ruling in January 2016. He is appealing the verdict, but if his conviction is upheld he would not be eligible to run.
Another hopeful, former Egyptian lawmaker Mohammed Anwar Sadat, said this week he won't run, arguing that the political "climate" was not conducive to campaigning. The nephew of Egypt's late leader Anwar Sadat told reporters Monday that his decision was partially taken to protect his campaign workers from intimidation or arrest.
Last week, former prime minister and air force general Ahmed Shafiq also pulled out of the race, saying he was not the "ideal" person to lead the country at this stage. His decision followed a flood of harsh criticism, some personal, by the pro-government media. Shafiq, who finished second in the 2012 elections, could have potentially lit up the race.
The withdrawals have led many to wonder whether el-Sisi would end up as the only name on the ballot. For decades, Egypt's presidents were elected in rigged, one-name referendums.
Full report at:
http://www.arabnews.com/node/1228276/middle-east
--------
Pakistan
Taliban leader approved Islamabad meeting on Afghan peace talks: sources
January 18, 2018
A delegation approved by the Taliban's supreme leader visited the Pakistani capital this week for exploratory talks on restarting peace negotiations to end Afghanistan's 16-year war, two senior officials in the movement said.
It was unclear if any progress was made in the unofficial meetings with a representative of a prominent Afghan politician. Many previous attempts have failed to revive direct talks that ended nearly as soon as they started in 2015.
The Islamabad talks on Monday followed another back-channel meeting over the weekend in Turkey between individuals with Taliban connections and representatives of Hizb-i-Islami, the party of a former Taliban-allied commander who last year laid down arms to join Afghan politics.
A spokesman for Afghan President Ashraf Ghani said on Wednesday he was not aware of the Islamabad talks, while the Taliban did not respond to queries. Both sides on Monday denied participating in the Turkey talks.
However, two senior Taliban officials said on condition of anonymity that supreme leader Haibatullah Akhundzada had approved Monday's exploratory meeting in Islamabad on restarting talks to end the war that kills thousands of Afghans each year.
Akhundzada is widely believed to be in hiding in Pakistan.
Meanwhile, Taliban spokesman Zabihullah Mujahid said the Turkey meeting had no legitimate Taliban representatives in attendance.
"This is an intelligence game that aims at defaming and damaging the real peace process in Afghanistan," he said in a statement that referred to the Taliban position that true negotiations can only happen once all foreign troops leave.
SAFE HAVENS
Washington has piled pressure on to Pakistan to persuade the insurgents' leaders to negotiate as well as crack down on alleged Taliban safe havens inside the country - tactics that Pakistan has said are incompatible.
The three-member Taliban delegation from Qatar included Shababuddin Dilawar and Jan Mohammad Madani from the Taliban's political office in Qatari capital as well as the brother-in-law of Mullah Jacoob, son of the late Taliban founder Mullah Mohammad Omar, the sources said.
They met representatives of Afghan politician Pir Syed Hamid Gilani, head of the National Islamic Front of Afghanistan and the son former High Peace Council chief who died last July, a senior aide to Gilani confirmed on condition of anonymity. Gilani's office did not respond to queries.
The Taliban's Haqqani network last week released 14 Afghan army soldiers in the eastern province of Paktia as a goodwill gesture ahead of the talks, according to both the Taliban officials and the aide to Gilani.
In his latest report to the United Nations Security Council last month, the U.N. secretary general said there had been "no meaningful progress towards a peace settlement".
Under a new strategy announced last year, the United States has stepped up air strikes and boosted assistance to Afghan government forces fighting the Taliban to try to break a stalemate and force the insurgents to the negotiating table.
Though the Afghan government still controls less than two-thirds of the country, U.S. Ambassador to the United Nations Nikki Haley on Wednesday touted the new strategy as a success and specifically mentioned possible future direct talks with the Taliban . "The U.S. policy on Afghanistan is working," Haley told reporters in New York on Wednesday after travelling to Kabul at the weekend with the U.N. Security Council. "We are seeing that we're closer to talks with the Taliban and the peace process than we've seen before."
She said Afghan officials had told the envoys that since the U.S. strategy was put in place "they're starting to see the Taliban concede, they are starting to see them move towards coming to the table".
Haley said that the entire peace process was Afghan-led and owned, adding: "We don't think that we need to facilitate the peace process, we think we need to support the peace process."
https://nation.com.pk/18-Jan-2018/taliban-leader-approved-islamabad-meeting-on-afghan-peace-talks-sources
--------
Pakistan will not compromise on national interests under any circumstance: Asif
January 17, 2018
Foreign Minister Khawaja Asif on Wednesday said Pakistan will not compromise on national interests under any circumstance.
In a Senate formed parliamentary committee over foreign policy the foreign minister stated that Pakistan's relations with the US are not at par and that there's still friction between the two nations.
He said that the US has not shifted its position and our reaction still stands where it did before, however, we do wish to have a balance in relationship with the US. "We have conveyed our message to the US military and political administration saying Pakistan does not want any aid and Pakistan will not compromise over is national interests. The US must stop putting the blame of its own failures on Pakistan," Asif maintained.
Over the fatwa on terrorism and jihad, Asif said "a suicide bomb is a suicide bomb whether it happens here or on the moon and it is against the preaching of Islam." The fatwa only reaffirms that killing people under any situation is unacceptable.
More than 1,800 Pakistani religious scholars have issued an Islamic directive, or fatwa, forbidding suicide bombings, a book due to be unveiled by the government.
1,800 Pakistani religious scholars declare suicide bombings 'haram' in new fatwa
He also said that the Afghan Taliban coming to Pakistan is not under their notice. China has shown interest in spreading CPEC till Afghanistan and Pakistan throws its weight behind this decision.
Asif said that over 60,00 to 70,000 Afghan refugees travel from Afghanistan to Pakistan and Pakistan has given refuge to the Afghan people but its not possible anymore. "We want better border management and return of Afghan refugees now," foreign minister noted.
Earlier, Asif said India and Israel have anti-Islam nexus, which is evident from their occupation of Muslim territories.
In an interview with a private channel, he said India has occupied the territory of Kashmir, while Israel is occupying a vast area of Palestine, Radio Pakistan reports.
The foreign minister said Pakistan never accepted Israel. India has been involved in the killing of a large number of Muslims in Gujrat, he mentioned.
Turkey's Erdogan slams US, Israel for intervention in internal affairs of Pakistan
Commenting on Pakistan's sacrifices on war against terror, he said, "Pakistan's valiant armed forces have been fighting war on terrorism with full force and they have achieved many successes in it."
Israeli PM on extremism
Israeli Prime Minister Benjamin Netanyahu said, on Tuesday, he was discussing with India ways to strengthen security cooperation against the menace of from extremism that both democracies faced.
Netanyahu spoke while on a six-day tour of India, the first by an Israeli premier for 15 years, and is being feted by Indian counterpart Narendra Modi, whose Hindu nationalist party has long admired Israel for its tough posture against terrorism.
India, wary of upsetting Arab nations on which it was dependent for oil, and heeding the sentiments of its own large Muslim minority, kept a distance from Israel for decades. But under Modi, the two sides have embraced a closer relationship based on security and economics.
The right-wing Netanyahu told a security conference that India and Israel were two democracies with a natural affinity, but their open and liberal societies faced risks.
"Our way of life is being challenged, most notably, the quest for modernity, the quest for innovation (are) being challenged by terrorist offshoots from a variety of corners," he said.
Both Israel and India have long sought to counter militants – in Israel's case, mainly from Gaza and Egypt's Sinai region and, in India's case, mainly from Pakistan. Away from the public eye, India and Israel have been cooperating against the threat through, in part, intelligence sharing, officials say.
"We've discussed in this visit how we can strengthen our two nations in the civilian areas, in security areas, in every area," Netanyahu told the conference.
His trip to India comes just six months after Modi made the first trip by an Indian prime minister to Israel, during which he did not go to Ramallah, seat of the self-ruling Palestinian Authority and a customary stop for leaders visiting the region.
Netanyahu in India for first visit by Israeli PM in 15 years
Netanyahu toured the Taj Mahal on Tuesday and will also visit Modi's home state of Gujarat and India's financial capital Mumbai.
He will join an 11-year-old Israeli boy, Moshe Holtzberg, whose parents were murdered by Pakistan-based militants in Mumbai in 2008, for a memorial event at the Indian financial hub's Jewish center where the attack took place.
Full report at:
https://tribune.com.pk/story/1610867/1-netanyahu-says-israel-india-face-threat-islam/
--------
Pakistan opposes US attempt to alter Al-Quds legal status: Rabbani
Jan 18, 2018
ISLAMABAD: Chairman Senate Mian Raza Rabbani has said that Pakistan strongly opposes US attempt to alter legal and historical status of Al-Quds terming the move as blatant violation of international law and UN Security Council resolutions.
The Chairman Senate is leading a delegation of Senators to participate in the 13thsession of Parliamentary Union of Islamic Countries (PUIC) being held in Tehran, Iran. The Chairman Senate was specially invited by the Speaker of Iranian Majli –e- Shora.
According to a statement issued here on Wednesday, Mian Raza Rabbani said that Pakistan condemns the decision to derail Middle East Peace Process in an already volatile and strife-stricken region.
"This move not only defies the rule of law and international norms, but also reinforces the hegemonic and belligerent "might is right" policies in international politics" Raza Rabbani remarked.
He cautioned that success of the international campaign against terrorism will be undermined by such regressive moves that only serve to perpetuate and deepen frustration and anger among the affected populations.
He said that Pakistan fully supports Palestinians' demand for an independent state with Al-Quds as its capital and the Parliament of Pakistan has also consistently and unequivocally supported the just cause of the Palestinian people.
Senate and National Assembly, he said, in their respective sittings in August 2014, passed separate resolutions expressing strong support for the Palestinian cause and to condemn Israeli atrocities and genocide in Gaza recently.
Raza Rabbani, however, underscored the need to make both OIC and PUIC more vibrant and proactive in responding to challenges as well as other needs of the Muslim world today.
"We must resolve and rise above divisive conflicts be it sectarian, ideological or communal" he observed.
He proposed that the way forward lies in enhancement of multi-stratum cooperation in areas such as economy, trade, infrastructure, investment, education, health, science and technology, agriculture, energy and defence.
He remarked that twin issues of economy and security pose a grave threat to the peace and harmony of the entire Muslim Ummah and increased security and defence cooperation between the PUIC countries is key to remove the roadblocks to progress and prosperity that terrorism poses.
He said that Pakistan has borne the brunt of the War on Terror for over one and a half decade. Thousands of Pakistanis, military personnel as well as civilians have lost their lives and almost as many have been maimed and wounded, he maintained. He said that Pakistan will continue to play a proactive role against this tide of extremism and anarchy.
He termed PUIC a step forward for increased mutually-beneficial integration within the Muslim world as it envisages the "strengthening of contacts, cooperation and coordination between the various Muslim countries' parliamentary, governmental and non-governmental organizations, with the aim of advancing common objectives". He wished the organizers success for conference and hoped that the conference may significantly contribute towards further strengthening of ties between all the Muslim countries and finding solutions to common challenges.
Mian Raza Rabbani said, "We must admit that we haven't yet fully exploited the huge potential for progress that the Muslim world collectively possesses".
Full report at:
http://onlinenews.com.pk/index.php?page=newsdetail&news_id=11316#
--------
CII members complain of their names being included without consent in recent fatwa
January 17, 2018
Members of Council of Islamic Ideology have complained over inclusion of their names without consent in the recent fatwa published over declaring suicide attacks haram.
More than 1,800 Pakistani religious scholars have issued an Islamic directive, or fatwa, forbidding suicide bombings, a book due to be unveiled by the government.
Fatwa released on countering extremism and terrorism has names of workers of Council of Islamic ideology without their consent, reports suggest.
According to Express News, a session of Council of Islamic ideology was held in Islamabad chaired by Dr Qibla Ayaz. Many workers retaliated over not being taken into confidence over the recently released issued fatwa by state. Workers say that they didn't get a chance to go through it and neither did they sign it and they questioned why their names are written on it. The workers want prompt investigation over the matter.
1,800 Pakistani religious scholars declare suicide bombings 'haram' in new fatwa
Seeking to curb terrorism that has resulted in tens of thousands of casualties since the early 2000s, the clerics declared suicide bombings to be forbidden, or "haraam".
"This Fatwa provides a strong base for the stability of a moderate Islamic society," President Mamnoon Hussain wrote in the book.
"We can seek guidance from this Fatwa for building a national narrative in order to curb extremism in keeping with the golden principles of Islam."
One of the members of the council said that even if a good deed is done in a wrong manner it will leave a wrong impact later. Zahid Qasmi said that the president of the council summoned everyone over his request thus they should not start a new problem. Chairman council Qibla reassured members of proper investigation over the matter.
Council of Islamic ideology also strongly condemned the Kasur incident. Chairman said that eight-year-old was tortured to death and the inefficiency of police is appalling. This incident is proof that our society is not progressing at all and it a horrible moment for the nation.
Council also said that fatwa and the national narrative is a representation of constitution. It is important to deal with major issues through collective means and by rejecting extremism, only the state has the right to wage jihad.
Full report at:
https://tribune.com.pk/story/1611191/1-cii-members-complain-names-included-without-consent-recent-fatwa/
--------
Yousaf urges Muslim ummah to forge unity against Israeli atrocities
Jan 18, 2018
ISLAMABAD: Religious Affairs and Interfaith Harmony minister Sardar Muhammad Yousaf on Wednesday strongly rejected President Trump's decision to move the US embassy from Tel Aviv to Jerusalem and also urged the Muslim ummah to take a united stand against the Israeli atrocities.
Addressing an international Jerusalem conference in Egypt, he thanked the Imam of the Al-Azhar University for arranging such a conference on the Palestine issue, a message received here said.
Yousaf said that the Palestine issue was very sensitive for the whole Muslim ummah and such conferences were imperative for mustering the support of all the Muslims. He also said that Pakistan always supported Palestine and condemned the atrocities of Israel, adding that the country had played a vital role in giving the UN membership to Palestine.
He said that Arabs were the aboriginal inhabitants of Palestine and Israel was an illegal state.
Full report at:
https://www.pakistantoday.com.pk/2018/01/17/yousaf-urges-muslim-ummah-to-forge-unity-against-israeli-atrocities/
--------
CJCSC showcases Pakistan's counter-terror efforts at NATO session in Brussels
Jan 18, 2018
RAWALPINDI: Chairman Joint Chiefs of Staff Committee (CJCSC) General Zubair Mahmood Hayat on Wednesday highlighted Pakistan's efforts and achievements in counter-terrorism domain at a Chiefs of Staff session of NATO Military Committee in Brussels, military's media wing said.
The meeting of the committee which discussed peace and security-related matters was attended by representatives of 66 NATO and partner nations, the Inter-Services Public Relations (ISPR) said in a statement issued here.
General Hayat also informed the participants about Pakistan Army's efforts towards regional peace by means of special security measures along Pakistan-Afghanistan border, including the raising of additional FC forces and fencing, the ISPR statement said.
Full report at:
https://www.pakistantoday.com.pk/2018/01/18/cjcsc-showcases-pakistans-counter-terror-efforts-at-nato-session-in-brussels/
--------
Lahore rally yields no concrete plan to oust Sharifs
Ahmad Fraz Khan
January 18, 2018
LAHORE: The joint opposition's gathering to seek ouster of the Pakistan Muslim League-Nawaz government ended abruptly on Wednesday after Sheikh Rashid's repeated cursing of parliament and announcement of resignation from his National Assembly seat prompted Imran Khan to consider quitting the assemblies on the grounds that parliament had lost its utility in protecting people's rights.
The announcement of resignation by Mr Rashid and Mr Khan's indication to follow suit drew interesting remarks from PML-N leader Maryam Nawaz when she tweeted: "Oh Lord, those who gathered to demand resignations are now offering resignations."
The Pakistan Tehreek-i-Insaf chairman also advised Pakistan Awami Tehreek chief Tahirul Qadri not to let the protest run out of steam and continue building pressure on the government if he wanted results.
Later the PAT chief, winding up the daylong activity, said that the joint opposition would hold a meeting in the next two days and finalise a plan of action for future protest strategy. His assertion, however, flew in the face of his earlier promises which said that a steering committee of opposition parties would meet in the container after the rally and decide about the next phase of the protest.
The PAT chief was also expected to come up with a consensus "charter of demands" that the government would have to meet. The absence of the meeting of the steering committee and the charter of demands only fuelled rumours that the joint opposition was not fully united. Splitting of the rally in two sessions, one chaired by Pakistan Peoples Party leader Asif Ali Zardari and other presided over by Imran Khan, had generated such rumours.
Earlier, in his address Mr Khan took the Sharifs to task, saying that they had destroyed all institutions and services due to personal reasons. Since they had been using police for political reasons, they were not ready to let the force work independently, he alleged. During the last 10 years, they had spent over Rs750 billion on police but law and order situation had not improved, he said. "It was because police are serving the house of the Sharifs, not the people of Pakistan."
Presiding over the first session, Asif Zardari also lambasted former prime minister Nawaz Sharif. Referring to Mr Sharif's recent speech on Balo­chistan wherein he likened the situation in the province to that leading to creation of Bangladesh, Mr Zardari said that the only "threat to Pakistan is from Mujibur Rehman of Jati Umra [Nawaz Sharif's residence].
Questioning Mr Sharif's patriotism, the PPP leader said that the former could go to any length to save his ill-gotten wealth and promote his self-interest.
"He is still dreaming of greater Punjab which can serve as a platform for his flourishing friendship with Indian Prime Minister Narindra Modi."
Mr Zardari said that Mujibur Rehman had dismembered Pakistan and Mr Sharif was saying that he was being turned into a Mujibur Rehman.
The PPP leader reminded Mr Sharif that he had never faced hostility like he (Zardari) and Benazir Bhutto had done. "But she and I always talked about strengthening Pakistan, not weakening it."
Pak Sarzameen Party chief Mustafa Kamal also spoke at the rally.
The political impact of the joint opposition's rally was evident in the city as it appeared to have temporarily revived its history of being a political hub. Since morning, almost all city roads witnessed small flag-bearing rallies moving towards the venue of the rally on the Mall. Carrying flags that covered almost the entire political spectrum of the country, the participants, raising slogans, turned the city into a big political theatre. All major roads leading to the venue of the rally were festooned by banners and panaflexes of political parties and personalities, giving the city a festive look.
Though there was huge political hustle and bustle in the city, the actual attendance in the rally left much to be desired. It was also because all political workers came to the venue of the rally when their own leaders were speaking and left as soon as their leader finished their speeches. The attendance built up only when the PTI chairman entered the scene.
Full report at:
https://www.dawn.com/news/1383607/lahore-rally-yields-no-concrete-plan-to-oust-sharifs
--------
Drone strikes on both sides of Pak-Afghan border kill 2
JANUARY 18, 2018
ISLAMABAD: At least one man was severely injured in a drone strike allegedly carried out by a US spy plane in Kurram Agency's Badshah Kot area near the Pak-Afghan border. According to officials, the man severely injured in the strike was identified as Khalid, said to be an "Afghan extremist". The missile fell close to a house in the area, eyewitnesses said. In a similar strike carried out on the Afghan side, two "Afghan extremists" were killed in the Khost province of Afghanistan, said officials. The two men were killed in the strike carried out close to an extremist den in the Khani Kila area. According to eyewitnesses, US spy drones have been circling the Pak-Afghan border since Wednesday morning. On December 26, 2017 two people were killed in a drone strike which targeted a vehicle. The strike occurred in the Mata Sangar area of Kurram. In the same month, last year, a US drone had fired a missile at a compound in the same area. The missile had been fired at the compound at around 9pm, but no casualty was reported.
https://dailytimes.com.pk/183643/drone-strikes-sides-pak-afghan-border-kill-2/
--------
Southeast Asia
Islamisation will tear Malaysia apart, says Marina Mahathir
18 JANUARY, 2018
KUALA LUMPUR — Malaysia is on a slippery slope if the nation carries on with its Islamisation agenda, which will not only divide society, but also promote violence, said socio-political activist Marina Mahathir.
Citing a recent example of a man slapping a Muslim woman for not wearing a headscarf in public, the daughter of opposition Pakatan Harapan chairman Mahathir Mohamad, said Islamisation is not going to be positive or healthy for the nation.
"What could possibly have given the man the idea that he is entitled to harangue and slap a Muslim woman for not wearing a tudung as happened recently in Penang," she said at a book launch at the Kuala Lumpur and Selangor Chinese Assembly Hall on Wednesday (Jan 17) night.
The footage of a man slapping a woman for allegedly not wearing a headscarf some two weeks ago went viral on social media.
The man had singled out one of the women seated at a bus stop believed to be in Penang and questioned her about her religion and the way she was dressed.
He then slapped the woman in the face.
Touching on the book she launched on Wednesday night, Illusions of Democracy, Ms Marina said the publication provided "empirical back-up" to her stand on the Islamisation of Malaysia because "it is another form of colonisation, a concept that has never been known to being non-violent".
"Whether it is the growing numbers of modest fashion of family cosmetics to the denunciation of any friendly overture to people of other faiths, to the demonisation of anyone that does not fit into one's official interpretation of Islam, all of these have proven not only to be divisive in our society but has led to inevitable violence," she said.
She also commented on a statement by "a former educator" who said minorities should not be given scholarships, and also questioned "a political party leader" for suggesting a Muslim-only cabinet.
At the Rise of the ummah convention recently, Mr Raof Husin, a former education officer said Putrajaya was constitutionally bound to limit study aids to Bumiputeras.
PAS president Abdul Hadi Awang said last year only Muslims will occupy decision-making roles in the Islamist party's cabinet.
"If you didn't know better, wouldn't you think that Isis (Islamic State) had said these things?"
"And yet in our enthusiasm to fight terrorism in this country, some people become confused," Ms Marina said.
While it is said that Malaysians are moderate people who want peace and freedom of religion, sometimes the "toxic tones of the most violent Islamic groups in the world" are also practised, she said.
"On the one hand, some groups are labelled liberal and pluralist, yet at the same time, they are mentioned in the same breath as Isis despite the fact that liberal and pluralist are not words that would describe that particular group.
"Instead, some of the more official pronouncements that we hear or read about are more reminiscence of Isis than any liberal could ever be.
"There are people who want doctors to cut off people's hands for stealing for instance… some people think that women who speak their minds and protest their own discrimination in the name of religion are unsuited to call themselves Muslims."
"There are those who call for the prosecution of academics who warn against the increasing radicalisation of our institutions."
"Are we merely confused or just hypocrites?"
She said although it is easy to spot the black mark in an "undemocractic" state where "lies are touted as truth", she is still positive that Malaysians will persevere.
"I have seen ordinary Malaysians resisting falling for the provocations, how they have refused to react in the way they are expected to."
"Malaysians have refused to believe that the burning of churches or the throwing of pig heads were the acts of real people like them rather than hired goons."
"They have taken insults, contained their anger and prayed instead. Malaysians have reached out across faith and race to help one another in times of trouble."
She added that although the authorities are finding ways to differentiate and separate society, Malaysians still have hope and are capable of respecting one another.
"This is a country where those in power change the name of hot dogs while ordinary people got together to learn how to love canines."
"We are carrying on as normal even though the authorities are finding ever more things to differentiate us and keep us apart."
But Ms Marina remains optimistic that despite all these setbacks, Malaysians are humane and capable of respecting one another, and who can respond in love.
Ms Marina was speaking at the launch of Illusions of Democracy, a compilation of articles by Ms Sophie Lemiere, an academic from the Weatherhead Centre at Harvard University, with contributors speaking about democracy in Malaysia.
Ms Lemiere, who moderated the forum, said more research needs to be done about democracy in Malaysia. THE MALAYSIAN INSIGHT
https://www.todayonline.com/world/islamisation-will-tear-malaysia-apart-says-marina-mahathir
--------
China bans children in predominantly Muslim county from attending religious events during winter holidays
Jan 18, 2018
A predominantly Muslim county in western China has banned children from attending religious events during the winter holidays, as authorities step up control of religious education.
School pupils in Linxia county in Gansu province, home to many members of the Muslim Hui ethnic minority, are prohibited from entering religious buildings over their break, the district education bureau said in a notice posted online.
Students must not read scriptures in classes or religious buildings, said the notice, which also ordered pupils and teachers to work to strengthen political ideology and propaganda.
A picture of the notice was shared online by Xi Wuyi, a Marxist scholar at the state-backed Chinese Academy of Social Sciences and an outspoken critic of rising Islamic influence in China. In a post on the social media platform Weibo, she welcomed the apparent move by authorities.
A man who answered the telephone at the Linxia education bureau hung up when asked by Reuters to verify authenticity of the notice, while a woman at the district education bureau declined to comment.
New regulations on religious affairs, announced by China in October last year and due to take effect in February, aim to increase oversight of religious education and provide for greater regulation of religious activities.
Last summer, a Sunday school ban was introduced in the south-eastern city of Wenzhou, sometimes known as "China's Jerusalem" due to its large Christian population. But Christian parents found ways to teach their children about their religion regardless.
Chinese law officially grants religious freedom for all but regulations on education and protection of minors also say religion cannot be used to hinder state education or to "coerce" children to believe.
Authorities in troubled parts of China, such as the far western region of Xinjiang, home to the Turkic-speaking Uighur Muslim minority, ban children from attending religious events.
But religious communities elsewhere rarely face blanket restrictions.
Fear of Muslims influence has grown in China in recent years, sparked in part by violence in Xinjiang.
The Chinese-speaking Hui, who are culturally more similar to the Han Chinese majority than to Uighurs, have also come under scrutiny from some intellectuals who fear creeping Islamic influence on society.
In 2016, the government of Gansu banned religion in nurseries after a video of a young girl reciting the Quran was posted online.
The province is home to around 1.6 million Muslims, the third largest Islamic population among China's regions.
Full report at:
http://www.independent.co.uk/news/world/asia/china-children-religious-events-ban-muslim-county-linxia-winter-holidays-gansu-province-education-a8163896.html
--------
Indonesia still struggling to keep its generals confined to barracks
17 January 2018
Indonesia's democracy still faces the New Order legacy of military ambition within civilian political institutions, even after 19 years of reformation and the retreat from politics of the Indonesian military (known in Indonesian as the Tentara Nasional Indonesia, or TNI). The recent public displays of political aspiration by former general Gatot Nurmantyo provide an illustrative example.
Indonesian military Chief Gatot Nurmantyo gestures as talks to reporters in Jakarta, Indonesia, 5 January 2017 (Photo: Reuters/Beawiharta).Nurmantyo pursued controversy during his leadership as a TNI commander. He attended a politically motivated mass rally in 2016 and presented a series of lectures at a number of universities and Islamic boarding houses. He also gave speeches at several political party events. These political acts reflect the struggle of Indonesian political institutions to manage the legacy of Suharto-era military-backed authoritarianism.
The TNI is grappling with how to best respond to three key issues: institutional constraints on the political ambitions of its high-ranking officers, the growing concerns of conservative religious identities and military modernisation.
For some analysts, Nurmantyo's political bravado does not automatically indicate a setback to Indonesian democracy, since it may represent only individual political ambition. As an institution, the TNI has extricated itself from national and local political institutions. The military focusses much of its attention on external threats and focusses comparatively little on internal threats.
But while the TNI has no role in politics, it is involved in activities that are not directly military, such as turning soldiers' houses into detention centres for corruptors; building and protecting vital infrastructure and engaging in government programs, such as food self-sufficiency.
The result of all this is a complicated picture of the extent to which the TNI can achieve professionalisation, modernisation and regional influence.
Nurmantyo's ambition to be active in political matters is not unique in recent decades. In their waning days of service, some high-ranking officers run for regional and national elections instead of remaining neutral. This raises the question of how the TNI can control these political aspirations.
Internal military reform began with the abolition of the TNI dual-function in 2000, and was institutionalised under the 2004 TNI Law, but could not generate strong institutional constraints on the political aspirations of senior military officers. The TNI Law requires officers to be neutral and resign from their military positions before running for elections, but it does not specifically address potential abuses of power by officers using their military positions and facilities for their own political gains (particularly to boost their profiles prior to elections).
Since the end of Suharto's New Order, the TNI has redefined its role in Indonesian democracy and in relation to Islamic identity politics. Islamic political groups and their proponents have grown in power over the past three years, especially in terms of their ability to mobilise supporters. During the early reformation, the military used Muslim groups to underpin its previous dominance. More recently, Indonesia's consolidated democracy provides an arena for both conservative Islamic groups and the military to express their complementary interests. For conservative Islamic groups, the TNI's support boosts their bargaining power towards entities that they consider an 'enemy of Islam' — including the current administration. Likewise, the military manipulates Islamic voices to underpin its role outside of its defence-related duties.
As a result, civilian oversight of the TNI's primary functions remains weak. Conservative Islamic groups and the TNI have both received greater public attention due partly to their exploitation of one of Indonesian President Joko Widodo's political weaknesses: his lack of a stronghold in either the Islamic grassroots or the military.
In line with this weak oversight, Nurmantyo's reign as TNI commander did little to further the President's ambitious Global Maritime Fulcrum, and the military's full response to this plan is still unclear. Nurmantyo displayed limited interest in charting a course for the TNI to help Indonesia become a global maritime fulcrum for Asia.
The Indonesian Navy is transforming its brown-water navy (a navy that can operate only in fluvial and immediate coastal regions) into a green-water navy (a navy that can operate further out in a country's territorial waters). This is intended to boost Indonesia's naval projection power at the regional level. Accordingly, the Navy Blueprint 2013 calls for Indonesia to have a 274-ship force structure, 12 submarines and three independent fleets operating across the country by 2024.
This plan is insufficient to cover strategic shipping routes, such as the Strait of Malacca and the Strait of Lombok — both of which are critical for Indonesia to be a 'global maritime fulcrum'. In addition, the Navy's capability and credibility to act as a guardian in protecting sea lanes and international navigation channels that pass through Indonesian waters is questionable. Given that the Indonesian Navy has long suffered from a defence budget that is insufficient to upgrade its military vessels, developing a green-water navy capability by 2024 may be too ambitious.
The Navy also struggles to manage shipping and the quality of its seaports — the baseline of the Indonesian maritime fulcrum. To further complicate the story, the Indonesian maritime policy lacks strong coordination among the 13 maritime security agencies. Interagency clashes are not uncommon and the Navy lacks the authority to act as a central command. A strategic plan and a complicated maritime regime were absent during Nurmantyo's leadership.
Full report at:
http://www.eastasiaforum.org/2018/01/17/indonesia-still-struggling-to-keep-its-generals-confined-to-barracks/
--------
South Asia
7 ethnic Rakhine killed as Myanmar police fire on riot
January 17, 2018
Thirteen more people have been injured in the clash
Myanmar police said Wednesday they opened fire on a crowd of ethnic Rakhine Buddhists as they tried to seize a government office, in unrest that left seven dead in a state already scored by violence and bitter divisions.
The incident unfurled as around 5,000 Buddhists gathered late Tuesday for a nationalist ceremony in Mrauk U, a town that has so far remained unscathed by the military's crackdown on the region's minority Rohingya Muslim community.
It was not immediately clear why the rally descended into violence.
But ethnic Rakhine, many of whom are poor and marginalised, have a long-standing enmity with the Myanmar state which is dominated by ethnic Bamar.
The clashes also came on the same day as a repatriation agreement was signed between Myanmar and Bangladesh to start the return of some 655,000 Muslim Rohingya refugees from squalid camps back over the border.
The ethnic Rakhine revile the Rohingya, who they decry as illegal "Bengali" immigrants to a Buddhist land.
A police spokesman blamed the crowd for "starting the violence" by throwing stones and barging into a district administrative office and hoisting the Rakhine State flag.
"Security forces asked them to disperse and fired warning shots with rubber bullets… but they didn't stop, so police had to use real bullets," spokesman Colonel Myo Soe told AFP.
"Seven people were killed and 13 injured," he said adding more than 20 police were wounded by the crowd, who were calling for the "sovereignty of Rakhine state."
"The situation is under control now. Security is being deployed in the town at this moment," the police spokesman said.
A hospital in the nearby state capital of Sittwe said it was treating six of the wounded who arrived early Wednesday.
"Five of them had gunshot wounds while another looked to have been beaten," Dr Khing Maung Than, of Sittwe hospital told AFP.
Communal hatreds
Mrauk U, home to an ancient Buddhist complex of the last Rakhine kingdom, lies a few dozen kilometres from the epicentre of violence that saw Rohingya driven in their hundreds of thousands into Bangladesh since last August.
The military led a brutal crackdown against the Rohingya after militants attacks against border posts killed around a dozen police.
Security forces, backed by hardline Buddhist nationalist mobs, torched hundreds of Rohingya villages, forcing their residents to flee.
Refugees arriving in Bangladesh have brought with them consistent testimony of murder, rape and arson in the violence justified by the army as a legitimate response to the militant attacks.
Already shredded by communal hatreds, Rakhine state also has a Buddhist rebel group called the Arakan Army which is fighting Myanmar's army.
The clashes garner little attention in a state dominated by violence against the Rohingya and in a country where several larger ethnic insurgencies are burning.
Observers warned Tuesday's violence could open a new chapter of unrest in the febrile state.
"I think there will be a risk for spillover into intercommunal violence," independent analyst Gabrielle Aron said.
"The degree of risk will depend partly on how well or poorly security forces are seen to respond to the events of last night," she said, adding the situation "could deteriorate".
https://www.dhakatribune.com/world/south-asia/2018/01/17/7-ethnic-rakhine-killed-myanmar-police-open-fire-riot/
--------
Afghan army to collapse in six months without US help: Ghani
Anwar Iqbal
January 18, 2018
WASHINGTON: President Ashraf Ghani has said that the Afghan National Army will not last more than six months without US support and the Afghan government will also collapse.
Mr Ghani acknowledged his government's almost absolute dependence on Washington in an interview to a television show CBS 60 Minutes, broadcast earlier this week.
But Gen John Nicholson, the commander of US forces in Afghanistan, said in the same programme that with America's new strategy and with increased US pressure on Pak­istan to cooperate, he was certain he could win Washington's longest war, which was now in its 16th year.
According to a transcript released on Tuesday, a CBS journalist asked the Afghan president to comment on what she had heard from people in Afghanistan: "If the US pulled out, your government would collapse in three days."
"From the resource perspective, they are absolutely right. We will not be able to support our army for six months without US support, and US capabilities," President Ghani responded.
In a report titled "Kabul under siege while America's longest war rages on", the US news channel noted that "in 16 years, the Afghan war has cost 2,400 American lives and $1 trillion. But with the country's capital under siege, the end still seems far away."
"Did you just say that without the US support your army couldn't last six months?" the journalist, Lara Logan, asked again. "Yes. Because we don't have the money," Mr Ghani said.
The US contributes around 90 per cent of Afghanistan's defence budget and observers in Washington say that in 16 years the US and its allies have only made some moderate gains. They claim that the Taliban still control large chunks of land in the Pashtun belt and the government in Kabul has so far been unable to dislodge them.
In the interview, President Ghani also acknowledged the threatening presence of 21 international terrorist groups in his country, adding that dozens of suicide bombers were also being sent to Afghanistan.
"There are factories producing suicide bombers. We are under siege," he said. "By terrorising the people, the Taliban have sown deep doubts about the government."
This campaign of terrorism, he added, brought out "angry protesters in the capital chanting death to Ashraf Ghani".
"If you can't secure the capital, how are you going to secure the rest of the country?" the journalist asked. "You tell me. Can you prevent the attack on New York? Can you prevent the attack on London?" Mr Ghani replied.
Unlike President Ghani, Gen Nicholson appeared confident that he could still win the war. Asked if he had everything he needs, the general said: "Yeah, with the new policy I do … this is the end game. This is a policy that can deliver a win."
Full report at:
https://www.dawn.com/news/1383601/afghan-army-to-collapse-in-six-months-without-us-help-ghani
--------
Anti-Terror Fatwas in Pakistan a result of US pressure: Afghan MPs
January 18, 2018
Legislators in Afghanistan's Wolesi Jirga (Lower House of Parliament) on Wednesday raised doubts over a recent anti-terror Fatwa (religious decree) reportedly signed by over 2,000 clerics in Pakistan , saying the Fatwa was as a result of ongoing pressure on the political front in Pakistan by the United States, reported Tolo news.
At least 2,000 Pakistani religious scholars, representing different schools of thoughts, on Saturday reportedly signed a fatwa that declared suicide attacks, armed insurgency against a state and use of force in the name of imposing Shariah law (Islamic law) as forbidden in Islam.
Meanwhile, President Ashraf Ghani said in a statement that the decree by the Pakistani clerics shouldn't be limited to a particular geography.
Pakistan's notorious cleric Maulana Fazal-ur-Rahman, who is an influential politician, powerful cleric, and the Secretary-General of Jamiat Ulema-e-Islam (F), has on several occasions legitimized fighting Jihad (holy war) in Afghanistan.
He said that Pakistan's foreign policy on Afghanistan has failed.
"Pakistani clerics' fatwa came at the wrong time," said one MP, Wazhma Safai.
"Why was this decision not made ten years ago, prohibiting suicide attacks are prohibited," said MP Habib Afghan .
"The pressures recently imposed on Pakistan have led to results," MP Ghulam Farooq Majroh said.
"The Fatwa by Pakistani clerics bans suicide attacks in Pakistan , but not in Afghanistan," said MP Obaidullah Barakazai.
Full report at:
https://nation.com.pk/18-Jan-2018/anti-terror-fatwas-in-pakistan-a-result-of-us-pressure-afghan-mps
--------
US drone strike leaves 6 militants dead, wounded in East of Afghanistan
Jan 17 2018
At least six militants were killed or wounded in the latest US drone strike in eastern Nangarhar province of Afghanistan, the Afghan military officials said Wednesday.
The airstrike was carried out in the vicinity of Khogyani district targeting a vehicle carrying the anti-government armed militants.
The 201st Silab Corps officials in the East said a vehicle carrying armed militants was targeted in the vicinity of Dandu Nokar Khel area, leaving three militants dead.
The officials further added that three other militants were also wounded in the airstrike and the vehicle was totally destroyed.
The anti-government armed militant groups including the Taliban and ISIS insurgents have not commented regarding the report so far.
This comes as the counter-terrorism operations are underway in different parts of Nangarhar province both the by the Afghan and US forces to counter the terror groups who are attempting to expand foothold in this province.
Full report at:
https://www.khaama.com/us-drone-strike-leaves-6-militants-dead-wounded-in-east-of-afghanistan-04286
--------
India
Scared of attack, Muslim corporator in Meerut hands over cow to police
Jan 17, 2018
A Muslim corporator in Uttar Pradesh's Meerut town has handed over his cow to the police to avoid being attacked by cow vigilantes or landing in jail amid growing incidents of such violence by self-styled cow protection force.
Abdul Gaffar, a Bahujan Samaj Party corporator from Ward 73, on Tuesday requested the station house officer of Nauchandi police station, Sanjay Kumar, to keep the cow as he didn't feel safe. He was accompanied by his family and neighbours.
Gaffar said he asked Kumar to give his cow only to someone or some organisation who could take care of her.
"I will go and check her well being every month," Gaffar said.
The resident of Manzoor Nagar locality said he was given a receipt by the police after he handed over the cow to them. He said it was a difficult decision for him adding that his sister had gifted him the calf two years ago and he had raised it with affection and care.
He said his decision to give away the cow had nothing to do with his party and that it was his personal decision.
Superintendent of police (city) Maan Singh Chauhan said the cow will be returned to Gaffar.
Gaffar, however, is adamant and doesn't want to take it back.
Cow vigilantism has been the catalyst of violence across India in the last few years. The self-styled gaurakshaks have lynched people, snatched away cows and sparked a fear among a section of the population even without the sanction from the ruling parties and authorities.
Opposition parties accuse the Bharatiya Janata Party-led government at the Centre of not reigning in fringe groups that are allegedly targeting the minority community over issues considered sacrosanct by the Hindus.
http://www.hindustantimes.com/lucknow/scared-of-attack-muslim-corporator-in-meerut-hands-over-cow-to-police/story-bFRJ0iZ8DiRQoJ8rNQ3T0N.html
--------
Shift to Pakistan, ISI man urges terror suspect
Rohan Dua
Jan 18, 2018
MAHARAJGANJ/KANPUR: A conversation between a Nepal-based suspected terrorist and an ISI operative in Karachi reveals how plotters of terror attacks in India are lured into shifting base to Pakistan. TOI has the transcript of a talk between the operative, Mohammad Shafi, who makes such an offer to Shamshul Huda, wanted by India for two strikes on rail tracks in 2016.
In the first, more than 150 people were killed when the Indore-Patna Express derailed near Kanpur, while in the second an improvised explosive device was recovered from the railway tracks in Ghorasahan in Bihar.
In the conversation intercepted by Indian agencies, Shafi, 50, urges Huda to flee to Pakistan. The talk is believed to have taken place in July 2016 from Shafi's Pakistan number, +92 300237****, while he was in the UAE.
Kya hua, koi baat nahi? Koi khidmat ho toh bataiyega. Aur agar Malaysia jaa rahe ho toh yahan aa jao, yeh sasta mulk hai yaar. Woh bahut mehenga mulk hai yaar. Yahan Pakistan aa jao. (What happened? You haven't spoken. If you need something, tell us. And if you are planning to go to Malaysia, come to Pakistan instead. Pakistan is a much cheaper place. Come here)," Shafi is heard telling Huda.
Shafi has so far been booked in India by the National Investigation Agency (NIA) for supplying fake Indian currency notes (FICN). Separately, he has been mentioned in an NIA chargesheet as a mastermind in supplying foreign funds to his aides for planning or executing attacks on railway tracks in India.
Huda, who was arrested by the Nepal police in February last year, is wanted for the Ghorasahan terror case in which an IED fitted into a pressure cooker was found on the railway track on September 30, 2016. Six of his aides, working either as song-writers or scrap dealers in Bihar's Motihari, were arrested by NIA and chargesheeted in October 2017.
According to an NIA chargesheet submitted before a special court in Patna, a copy of which is with TOI, Shafi and Huda plotted railway attacks in Malaysia. The chargesheet discloses how Huda visited Shafi in Karachi to plot "blasts in revenue offices (Malpote in Nepalese language)" in the districts like East Champaran which border Nepal.
Full report at:
https://timesofindia.indiatimes.com/india/shift-to-pakistan-isi-man-urges-terror-suspect/articleshow/62547052.cms
--------
Muslim bodies demand competitive bidding for Haj travel
Jan 17, 2018
A day after the Narendra Modi government announced withdrawal of Haj subsidy, prominent Muslim organisations, including Jamat-e-Islami Hind (JIH), All India Muslim Personal Law Board (AIMPLB) and Jamiat Ulema-e-Hind, on Wednesday reiterated their demand for competitive bidding among airlines to ferry Haj pilgrims between Delhi and Jeddah.
The Muslim bodies unanimously said that the money in the name of Haj subsidy -- that amounted around Rs 200 crore last year -- went to Air India only and that Muslim pilgrims did not get any direct benefit from it.
JIH Secretary General Muhammad Salim Engineer said the "abrupt" withdrawal of subsidy "is bound to increase the overall cost" of performing Haj which will impact many pilgrims from the poor and deprived sections of society.
"A false impression is being created that this subsidy was an appeasement of the Muslim community and a drag on tax payers' money. But the reality is that this subsidy was a payment taken from the Indian Hajis and given to the national carrier Air India, which had a monopoly for ferrying Hajis to Saudi Arabia," Salim said.
"We urge the government to spell out how it plans to permit other airlines to fly Hajis from India given the exorbitant prices Air India charges Indian pilgrims. The government must float a global tender for hiring an airline for Haj," he added.
AIMPLB general secretary Maulana Wali Rahmani said he could not understand why Air India charged something between Rs 65,000 to over Rs one lakh from Indian Haj pilgrims, depending upon the embarkation point, for return ticket to Jeddah.
"In normal days, the return ticket to Jeddah from Delhi costs something around Rs 35,000 to Rs 40,000. Now, if you book the tickets three months in advance, and in bulk, for close to two lakh people, the cost should ideally come further down," Rahmani said.
"But here is Air India charging many times over. Why? Why doesn't the government go for open tendering?" he added.
JUH President Maulana Syed Qari Mohammed Usman, too, was for competitive bidding among airlines for ferrying the pilgrims.
"The subsidy was being shown as a favour to the Muslims, which is not true. We have been demanding this (open tendering) for years, and especially after the Supreme Court direction to the government in 2012 to withdraw the subsidy, various Muslim organisations made this demand," Maulana Usman said.
"It was time the government implemented it, and we are sure the cost of travel would come down," he added.
Full report at:
http://www.hindustantimes.com/india-news/muslim-bodies-demand-competitive-bidding-for-haj-travel/story-b3o4kgkOrNggQEcM3K758O.html
--------
No evidence is sufficient against 'sahib' Hafiz Saeed: BJP on Pakistan PM's remark on 26/11 mastermind
Jan 17, 2018
NEW DELHI: Following Pakistan Prime Minister Shahid Khaqan Abbasi's 'exoneration' of 26/11 mastermind Hafiz Saeed, BJP today said that Pakistan has been provided with enough evidences against Saeed by various countries, however, no evidence is sufficient for Pakistan PM who refers to Saeed as 'sahib'.
"Plenty of evidence against terror activities of Hafiz Saeed have been collected by countries, it's all available with Pak government but they want to turn a blind eye. For a PM for whom Hafiz Saeed is 'sahib' what evidence can anyone supply to him," said BJP National Gen Secretary Ram Madhav, according to ANI.
Demanding action against Saeed, MoS Home Hansraj Ahir, too, dismissed Abbasi's statement and said that India's national strategy is not governed by Pakistan.
"We won't decide our nation's strategy on basis of what Pakistan says. We consider Hafiz Saeed a terrorist. It will be good if Pakistan government takes action but even if they don't, we will," he said.
Abbasi's remark were challenged by former Pakistani diplomat to the US, Husain Haqqani, as well. He said that the Pakistan Prime Minister needs to come forward with convincing proof to back his claim that there is no substantial evidence to try and convict Saeed.
"I think that the international community has offered evidence, and, if the Pakistan Prime Minister feels there is no substantial evidence against Hafiz Saeed, then he should talk to the international community," he said.
After all, the US has spoken about this evidence and I am all for evidence being offered, as we live in a civilized world, and in that, evidence is required and important. But, it is not reasonable to say that what the rest of the world considers substantial, is not considered substantial by the Pakistan Prime Minister," he added.
Earlier, Pakistan Prime Minister Shahid Khaqan Abbasi had said that there is no case registered against Mumbai attack mastermind Hafiz Saeed in Islamabad and without it, action cannot be initiated against anyone.
Full report at:
https://timesofindia.indiatimes.com/india/no-evidence-is-sufficient-against-sahib-hafiz-saeed-bjp-on-pakistan-pms-remark-on-26/11-mastermind/articleshow/62542811.cms
--------
30 children fall sick after consuming food at madrasa in Thane
January 18, 2018
Around 30 students of a madrasa in the Bhiwandi township in Thane suffered from suspected food poisoning after having a meal at a function, an official said on Thursday.
The children were served food at a feast organised by a person at the madrasa on Tuesday afternoon, Bhiwandi's tehsildar Shashikant Gaikwad said.
The students, all boys aged around 12 to 15, complained of vomiting, nausea, stomachache and giddiness on Wednesday following which they were rushed to the government-run IGM hospital in Bhiwandi, he said.
Later, as the health of some of the children started deteriorating, all of them were shifted to the Nair Hospital in neighbouring Mumbai, he said.
Gaikwad visited the children at the hospital Wednesday night and said they all were out of danger.
Full report at:
http://indianexpress.com/article/india/30-children-fall-sick-after-consuming-food-at-madrassa-5029618/
--------
Mideast
Abbas: Jerusalem al-Quds can be gate to peace or war; Trump must choose
Jan 17, 2018
Palestinian President Mahmoud Abbas says the holy city of Jerusalem al-Quds can be the gate to either peace or war, and that it is up to the United States to decide which path to choose.
Addressing al-Azhar International Conference on Jerusalem al-Quds in Cairo on Wednesday, Abbas denounced as "sinful" President Donald Trump's recent decision to recognize the city as Israel's "capital."
Washington, he noted, disqualified itself as a broker in the long-stalled negotiations between Israelis and Palestinian aimed at resolving the decades-long conflict.
In December 2017, Trump said Washington was recognizing Jerusalem al-Quds as the "capital" of Israel and planning to relocate the American embassy from Tel Aviv to the holy city.
The announcement drew widespread condemnation and led to mass protests against the US and Israel.
Abbas said the US has defied international law and resolutions to declare the city, which itself has regarded as occupied territory, as the "capital" of Israel.
He also stressed that Palestinians would file a lawsuit with the International Criminal Court and "continue to peacefully pursue our demands until we win back our rights."
Since 1977, the United Nations General Assembly and Security Council have approved 750 and 86 resolutions, respectively, over Palestine, none of which have been fully enforced, Abbas pointed out.
The United Nations General Assembly rejected Trump's Jerusalem al-Quds move in a vote on December 21, 2017.
Israel lays claim to the whole Jerusalem al-Quds, but the international community views the ancient city's eastern sector as occupied land and Palestinians consider it as the capital of their future state.
http://www.presstv.com/Detail/2018/01/17/549217/Jerusalem-Quds-Mahmoud-Abbas
--------
Muslim Guardians of Jerusalem's Many Churches
Jan 18, 2018
A symbol of religious coexistence in the Holy Land includes a centuries-old tradition found in the hands of Adeeb Joudeh al-Husseini.
Adeeb Joudeh al-Husseini, a Muslim man, is the keyholder of the Church of the Holy Sepulchre in Jerusalem and the holder of the stamp of the Holy Tomb.
He is a part of an old tradition that dates back to the time of the liberation of Jerusalem from the Crusaders.
He, along with many Muslim families in the Palestinian occupied territories, have been guardians of many churches.
http://www.aljazeera.com/news/2018/01/muslim-guardians-jerusalems-holy-sites-180117151747494.html
--------
Israeli settlers storm al-Aqsa Mosque under military protection
Jan 17, 2018
A group of Israeli settlers, escorted by military forces, have stormed the al-Aqsa Mosque compound in East Jerusalem al-Quds.
The settlers forcefully entered the mosque on Wednesday morning, an action which resulted in clashes with Muslim worshippers.
Following the incident, General Director of the Islamic Awqaf and al-Aqsa Affairs Sheikh Azzam al-Khatib voiced concerns over the incident, noting that Israeli authorities are responsible for the clashes.
The Israeli security forces regularly allow extremists to enter the compound under police protection, while restricting Palestinian access.
Under a 1967 deal between Israel and Jordan, the compound's custodian, non-Muslim worship is prohibited at the site.
In defiance of the agreement, the regime in Tel Aviv regularly allows Israeli settlers and extremists to enter the site and carry out religious rituals -- often under armed guard.
The al-Aqsa Mosque compound is a flashpoint Islamic site, which is also holy to the Jews. The mosque is Islam's third holiest site after Mecca and Medina in Saudi Arabia.
Palestinian killed by Israeli forces in Jenin raid
A Palestinian was killed during clashes with Israeli troops late on Wednesday in the occupied West Bank city of Jenin.
The Palestinian Health Ministry identified the slain Palestinian as 22-year-old Ahmed Jarrar.
Eyewitnesses said that several people were also injured in the raids which lasted until the early hours of Thursday.
Israeli media reports claimed that Jarrar had links to the last week shooting incident in the West Bank in which a rabbi was killed.
On January 9, Israel ordered a sweeping crackdown in the West Bank after the shooting death of the Israeli rabbi.
Israeli sources said Raziel Shevah, 35, was killed by shots fired from a passing vehicle near the Israeli settlement of Havat Gilad in the northern West Bank.
Tel Aviv often uses such incidents as pretexts to intensify its already draconian restrictive measures against the Palestinians residing in the territory.
Full report at:
http://www.presstv.com/Detail/2018/01/17/549287/alaqsa-israel-settler-storm
--------
Yemeni snipers shoot five Saudi soldiers dead in Jizan
Jan 17, 2018
Yemeni army soldiers, supported by fighters from allied Popular Committees, have shot dead five Saudi soldiers in the kingdom's southwestern border region of Jizan, in retaliation for the Riyadh regime's military campaign against the crisis-hit country.
The media bureau of Yemen's Houthi Ansarullah movement reported on Wednesday that Yemeni forces had fatally shot the troopers in the region's Quwa and Hamezah villages, Arabic-language al-Masirah television network reported.
Later in the day, Yemeni sharpshooters killed two Saudi troopers in Quwa village.
Yemeni troops and their allies also detonated an explosive device south of Hamezah, targeting a Saudi armored vehicle and killing all those on board.
Meanwhile, an unnamed Yemeni military source said gunmen have shot and killed Colonel Mohammad Qasem al-Hariri, a security officer loyal to resigned president Abd Rabbuh Mansur Hadi, north of the southern port city of Aden.
In another development, Saudi warplanes carried out two aerial attacks against an outdoor market in the Mawza district of Yemen's southern province of Ta'izz, leaving a number of civilians dead and injured.
Elsewhere in the Nihm district of the northwestern Yemeni province of Sa'ada, Saudi fighter jets launched three airstrikes, but there have been no immediate reports of casualties.
At least 13,600 people have been killed since the onset of Saudi Arabia's military campaign against Yemen in 2015. Much of the Arabian Peninsula country's infrastructure, including hospitals, schools and factories, has been reduced to rubble due to the war.
The Saudi-led war has also triggered a deadly cholera epidemic across Yemen.
According to the World Health Organization's latest count, the cholera outbreak has killed 2,167 people since the end of April and is suspected to have infected 841,906.
On November 26, the United Nations children's agency (UNICEF) said that more than 11 million children in Yemen were in acute need of aid, stressing that it was estimated that every 10 minutes a child died of a preventable disease there.
Additionally, the UN has described the current level of hunger in Yemen as "unprecedented," emphasizing that 17 million people are now food insecure in the country.
Full report at:
http://www.presstv.com/Detail/2018/01/17/549231/Yemeni-snipers-shoot-three-Saudi-soldiers-dead-in-Jizan
--------
US freezes funding for Palestinian refugees
January 18, 2018
RAMALLAH - The UN agency for Palestinian refugees warned Wednesday it faced its worst funding crisis ever after the White House froze tens of millions of dollars in contributions, a move Palestinian leaders decried as cruel and blatantly biased.
The agency provides Palestinian refugees and their descendants across the Middle East with services including schools and medical care, but Prime Minister Benjamin Netanyahu has long accused it of hostility toward Israel and called for its closure.
Some five million Palestinians are eligible for its services. On Tuesday, the United States held back $65 million that had been destined for the agency, two weeks after President Donald Trump threatened future payments.
The United States is the largest contributor to the United Nations Relief and Works Agency for Palestine refugees (UNRWA).
"The US has announced it will contribute $60 million to the programme budget. There is for the moment no other indication of possible funding ," UNRWA spokesman Chris Gunness told AFP.
"This dramatically reduced contribution results in the most severe funding crisis in the history of the agency."
He added that "stability in the Middle East is what we are talking about and the potential impact of UNRWA being destabilised is very likely to be widespread, profound, unpredictable and catastrophic."
Senior Palestinian officials reacted with outrage to what they see as another move against them by Trump's White House following his declaration of Jerusalem as Israel's capital.
Hanan Ashrawi, a senior member of the Palestine Liberation Organisation, said the freeze amounted to "cruelty" toward a "vulnerable population".
The Palestinian envoy to Washington, Husam Zomlot, said: "Palestinian refugees and children's access to basic humanitarian services, such as food, health care and education, is not a bargaining chip but a US and international obligation."
Palestinian officials also accused Trump of chipping away at issues long considered up for negotiation as part of a comprehensive resolution to the Israeli-Palestinian conflict, including the status of Jerusalem and the plight of refugees. Around 500 people protested in the Gaza Strip on Wednesday against the freeze.
"Of course this decision will have negative effects and the reduction of the aid will impact our health, our education," Ibtisam al-Sisi, in her 50s, said at the protest.
France meanwhile said it "regrets" the US move and was in contact with Washington about it.
The funding freeze comes with relations between the Palestinians and Washington already on the brink.
On Sunday, Palestinian president Mahmud Abbas denounced Trump's peace efforts as the "slap of the century," while Palestinian leaders have threatened to suspend their recognition of Israel.
US State Department officials insisted the decision to freeze the funding was taken not to pressure Palestinian leaders but to encourage other countries to help pay for and reform UNRWA.
But the call came after a behind-the-scenes tussle between hawks who want to cut all aid to Palestinians and officials concerned about the humanitarian and diplomatic fallout. The State Department said $60 million of what had been a planned $125 million package would go through to keep the agency running, but the rest will be withheld for now.
UNRWA chief Pierre Krahenbuhl expressed alarm and immediately called on other UN members to contribute.
Krahenbuhl said the $60 million would keep schools and hospitals open for now, but noted that it was dramatically less than the $350 million Washington paid during 2017. The State Department's position raised scepticism in the light of tweets sent by Trump on
January 2, at the time when the $125 million contribution had been due to be paid. "We pay the Palestinians HUNDRED OF MILLIONS OF DOLLARS a year and get no appreciation or respect," Trump said.
"They don't even want to negotiate a long overdue peace treaty with Israel," he protested, adding: "Why should we make any of these massive future payments to them?"
Following Trump's outburst, it was reported that his ambassador to the UN Nikki Haley had been pushing for a complete end to US support for UNRWA.
But the United States is the biggest single source of funding for the agency, and other US officials opposed an immediate and total suspension. Israel welcomed the freeze as a victory. Its UN envoy Danny Danon alleged the agency misuses aid and "supports anti-Israel propaganda, perpetuates the plight of Palestinian refugees and encourages hate."
Netanyahu said during a trip to India that "this is the first time that UNRWA is being challenged," Israeli media reported.
"For 70 years, this organisation has been perpetuating the situation of Palestinian refugees and the narrative of the abolition of Zionism."
But many analysts, including Israelis, warn closing or crippling the agency without an effective replacement could lead to further poverty and perhaps violence.
Netanyahu said "there is always a certain amount of risk" with such decisions.
UNRWA has provided health care, emergency aid and schooling to Palestinians since 1950.
It was formed in the wake of Israel's creation in 1948 and the war surrounding it, when hundreds of thousands of Palestinians were either forced from their homes or fled.
UN Secretary General Antonio Guterres said he was "very concerned" by reports of the freeze.
Full report at:
https://nation.com.pk/18-Jan-2018/us-freezes-funding-for-palestinian-refugees
--------
Turkey begins first wave of artillery fire on Kurds in Afrin
17 January 2018
Turkey began its first wave of artillery fire targeting Kurdish fighters in Afrin, Syria on Tuesday night, said an Al Arabiya reporter.
This comes as a retaliation to the Peoples' Protection Units (YPG) firing a large number of missiles targeting settlements in the Azaz region bordering Turkey and Syria, which is controlled by the Turkish-backed opposition Free Syrian Army, media reports said.
Turkish forces began a military fortification plan on their border with Syria on Monday, sending a convoy, including armed vehicles and soldiers.
Turkey's President Erdogan had vowed on Sunday to "purge terrorism" from the country's southern borders, adding that he plans to launch an assault against the YPG in Syria's Kurdish Afrin enclave "in the coming days."
The Afrin district has been a topic of debate recently, especially after the US announced its intention to arm Kurdish border guards on the Syrian-Turkish border, which merited a reaction from Ankara.
Turkey reacted sharply to the US-led international coalition to fight ISIS announcing that they are working on forming a border security force made up of 30,000 men in eastern Syria.
The international coalition said that the goal of this force is to prevent the return of ISIS, but Erdogan threatened to "destroy this terrorist army in its infancy", fearing that it will become a permanent force stationed at the Turkish border.
Full report at:
https://english.alarabiya.net/en/News/middle-east/2018/01/17/Turkey-begins-first-wave-of-artillery-fire-on-Kurds-in-Afrin.html
--------
North America
Tillerson Says U.S. Troops to Stay in Syria Beyond Battle With ISIS
By GARDINER HARRIS
JAN. 17, 2018
WASHINGTON — American troops will remain in Syria long after their fight against the Islamic State to ensure that neither Iran nor President Bashar al-Assad of Syria take over areas that have been newly liberated with help from the United States, Secretary of State Rex W. Tillerson said on Wednesday.
Staying in Syria, Mr. Tillerson said, will help ensure that the Trump administration does not repeat what he described as the mistakes of former President Barack Obama, who withdrew troops from Iraq before the extremist threat was doused and failed to stabilize Libya after NATO airstrikes that led to the overthrow of Col. Muammar el-Qaddafi.
"We cannot allow history to repeat itself in Syria," Mr. Tillerson said during a speech at the Hoover Institution at Stanford University near San Francisco. "ISIS has one foot in the grave, and by maintaining an American military presence in Syria until the full and complete defeat of ISIS is achieved, it will soon have two."
ISIS is another name for the Islamic State.
There were roughly 2,000 American troops in Syria last month, a mix of engineering units that build fortifications and Special Operations units that fight and train with local militias. Additionally, American military contractors in Syria help demine recaptured areas as the Islamic State is pushed back.
Mr. Tillerson's comments were the first time a senior Trump administration official pledged to keep American troops in Syria well after the current battle ends. They also marked another step in President Trump's gradual evolution from a populist firebrand who promised to extricate the United States from foreign military entanglements to one who is grudgingly accepting many of the national security strategies he once derided.
During the presidential campaign, Mr. Trump said that "at some point, we cannot be the policeman of the world."
Mr. Obama won the White House in 2008 in part by promising to wind down the war in Iraq, and agreed to only a limited role in the 2011 airstrikes in Libya. Those decisions have haunted the military officers who now serve in Mr. Trump's cabinet and, in turn, have led to the administration's deepening military involvement in Afghanistan.
Mr. Trump has said American forces must remain in Afghanistan because "a hasty withdrawal would create a vacuum for terrorists, including ISIS and Al Qaeda." Mr. Tillerson repeated that rationale in outlining the administration's decision to keep forces in Syria.
He did not say whether other countries would help pay for the American military effort or other stabilization costs, even though Mr. Trump also promised during the presidential campaign that he would compel Germany and Persian Gulf nations to contribute financing "because they have the money."
Mr. Tillerson said the military commitment to Syria was "conditions-based" and not indefinite. But he underscored that it would take time to foster a democratically elected government in Syria that he — like the Obama administration — said would require Mr. Assad's departure from power.
"Responsible change may not come as immediately as some hope for, but rather through an incremental process of constitutional reform and U.N.-supervised elections," he said.
Analysts raised concerns that there might never come a time when withdrawal would be deemed appropriate.
"Yes, we can leave troops there for the foreseeable future," said Gina Abercrombie-Winstanley, a former ambassador and career diplomat. "But is that 20 years, the way Afghanistan soon will be?"
The United States has five key goals in Syria, Mr. Tillerson said. They are: ensuring that the Islamic State and Al Qaeda never re-emerge; supporting the United Nations-led political process; diminishing Iran's influence; making sure the country is free of weapons of mass destruction; and helping refugees to return after years of civil war.
Mr. Tillerson conceded the steep challenge in fostering peace and democracy in Syria, where efforts by world leaders and diplomats across the Middle East and the West have fallen short.
He is working on a reorganization of the State Department, which so far has resulted in steep budget cuts and the departure of some of its most senior diplomats, including some top Middle East experts. Such expertise is vital to any military or diplomatic ventures in the Middle East, where contradictory and crosscutting rivalries are endemic.
For instance, American backing for a Kurdish-led border force in northeastern Syria has raised alarms in the region and is vehemently opposed by Russia, Turkey, Iran and Mr. Assad's government. The border force has been described as a "terror army" by President Recep Tayyip Erdogan of Turkey, who worries it will be operated by a Kurdish militia that he considers a threat to his country.
On Wednesday, Deputy Prime Minister Bekir Bozdag of Turkey said his country had reached the limit of its patience regarding developments along its borders. Mr. Tillerson sought to allay the concerns, saying that "any interim arrangements must be truly representative and must not threaten any neighboring states."
Nawaf Khalil, a former official in the Syrian Kurdish local government who now works at a German research institute, praised Mr. Tillerson's speech as "a clear American vision on the situation in Syria."
"Stressing the importance of diplomacy, as well as strengthening U.S. allies in the region, is the needed approach at this stage," Mr. Khalil said. He added: "It finally seems like the White House and the Pentagon are on the same page in Syria."
There was no immediate comment from the Syrian government, but it has consistently rejected any American interference as illegal and counterproductive.
Anne Barnard and Hwaida Saad contributed reporting from Beirut, Lebanon, and Karam Shoumali from Berlin.
https://www.nytimes.com/2018/01/17/world/middleeast/tillerson-troops-syria-islamic-state.html?mtrref=www.google.co.in&gwh=5F41CDF54EDE79FE91B0A022F3C01172&gwt=pay
--------
Terrorist screening lawsuit by CAIR backs 5 Muslim Americans
By Associated Press
January 17, 2018
DALLAS — A civil rights group has filed a court challenge to the federal government's Terrorist Screening Database, alleging it stigmatizes its targets without due process.
The Council on American-Islamic Relations filed the lawsuit Wednesday in federal court in Dallas on behalf of five Muslim American citizens. In a statement, the group says the five face consequences because they're on the watch list, "including the inability to fly on airplanes, intrusive screenings at airports, and the denial of applications for credit cards and bank loans."
CAIR's senior litigation attorney, Gadeir (gah-DAYR') Abbas says the database is "nothing more than a list of innocent Muslim citizens who have not been arrested, charged or convicted of a crime."
Full report at:
https://www.washingtonpost.com/national/terrorist-screening-lawsuit-by-cair-backs-5-muslim-americans/2018/01/17/6480d1ec-fc03-11e7-9b5d-bbf0da31214d_story.html?utm_term=.b46854e7666d
--------
White supremacists killed 18 in the U.S. last year. Islamic extremists killed 9, report finds
January 17, 2018
White supremacists were responsible for twice as many U.S. murders as Islamic extremists were reponsible for last year, according to a new report.
Extremists of all stripes killed 34 people last year in the U.S., according to the Anti-Defamation League's "Murder and Extremism in the United States in 2017" report. Of those 34 deaths, white supremacists were responsible for 18 — more than half — while Islamic extremists were linked to 9, the report found.
The number of murders committed by white supremacists doubled from the number of white supremacist-linked killings in 2016, according to the report. Included in that number is the death of Heather Heyer, who was protesting a white nationalist rally in Charlottesville, Va., when rally attendee James Fields, 20, allegedly ran her over with his car.
"We cannot ignore the fact that white supremacists are emboldened, and as a society we need to keep a close watch on recruitment and rallies such as Charlottesville," Jonathan A. Greenblatt, the CEO of Anti-Defamation League, said in a statement.
The total number of extremist-linked murders fell from higher death counts in both 2015 and 2016. Still, the report found, last year was the fifth deadliest in terms of violent extremism since 1970.
"These findings are a stark reminder that domestic extremism is a serious threat to our safety and security," Greenblatt said.
Extremist-linked deaths in 2016 were dominated by the June Pulse nightclub shooting in Orlando, Fla., which left 49 dead, the Miami Herald reports. The suspected shooter, Omar Mateen, was motivated by Islamic extremism.
Eight of the nine deaths linked to Islamic extremism in 2017 occurred during one attack in New York City, when a man drove a rented truck into a bike path on Halloween.
Greenblatt pointed to two separate incidents in the U.S. in 2017 to demonstrate the broad spectrum of motivations for extremist-linked violence in the country — including anti-government extremism, black nationalism, Islamic extremism, white supremacy and more.
"We saw two car-ramming attacks in the U.S. last year—one from an Islamic terrorist and another from a white supremacist in Charlottesville," Greenblatt said. "The bottom line is we cannot ignore one form of extremism over another. We must tackle them all."
In contrast to previous years, murder by firearm became less common in 2017, according to the report. Only 20 of the 34 murders the Anti-Defamation League counted last year were committed with firearms. That's 59 percent of all the extremist murders the Anti-Defamation League tallied, compared to 93 percent committed with a firearm in 2016 and 80 percent in 2015.
Over the last 10 years, an average of 72 percent of extremist-linked murders were committed with firearms, the report said.
But not all white supremacist or extremist plots end in murder. Taylor Wilson, 26 — who had expressed interest in "killing black people," according to the FBI — has been charged with planning to commit criminal acts or acts of terrorism after investigators say he tried stopping an Amtrak train in rural Nebraska last year for a potential attack. Wilson was safely subdued by rain workers until law enforcement arrived.
Full report at:
http://www.newsobserver.com/news/nation-world/national/article195242814.html
--------
The Influential Network for a New Generation of American Muslim Leaders
January 17, 2018
By Monique Parsons
It was June 12, 2016, and a man named Omar Mateen had just opened fire inside the Pulse nightclub in Orlando, Florida, killing 49 people and wounding dozens more.
Shireen Zaman reached for her phone. A program director at the Proteus Fund, a social justice-focused foundation based in Amherst, Massachusetts, Zaman knew the tragedy would hit two groups hard: the LGBTQ community, because the shooter had targeted a gay nightclub; and American Muslims, because he was a Muslim and there was sure to be a backlash. Zaman knew someone who walked in both worlds: Urooj Arshad. "She was in my contact list," Zaman says. "I texted her to ask: How's she doing? Does she need any support or help?"
What happened next opens a window into one of the country's most influential networks of American Muslim civic leaders. Arshad is a co-founder of the Muslim Alliance for Sexual and Gender Diversity, and she met Zaman four years earlier when both were fellows at a professional development program in Los Angeles: the American Muslim Civic Leadership Institute, or AMCLI. Their partnership in a time of crisis is just one example of the impact of this tiny program's powerful network.
Within hours of the Pulse shooting, Zaman connected Arshad with a Proteus grantee who provides free media support. The consultants helped Arshad and others navigate media requests and tell nuanced stories about gay Muslims for national outlets including The New Yorker, the Associated Press and USA Today. Arshad's message—don't use the stories of LGBTQ Muslims to demonize and divide—got out there, fast. Zaman's help was indispensable, Arshad says. "I don't know what we would have done without her."
AMCLI (its alumni call it "AM-a-klee") is based at the University of Southern California's Center for Religion and Civic Culture. The Carnegie Foundation helped kick off the program with an initial $50,000 grant, followed by a $200,000 grant from the Ford Foundation. Since its first cohort graduated in 2009 more than 250 Muslim activists have attended its training programs. Part professional development, part support group, AMCLI has trained national and regional cohorts in intensive sessions led by interfaith organizers, academics, and activists. Its impact on key members of a rising generation of Muslim leaders is profound.
Linda Sarsour, an organizer of the Women's March on Washington, D.C., is an example of an AMCLI alumnus who has national name recognition, as is Rabia Chaudry, an attorney whose advocacy for convicted murderer Adnan Syed later became the focus of the megahit podcast "Serial." Other alumni include Umar Hakim, founder of the ILM Foundation, a community service venture in Los Angeles and Las Vegas, and Kashif Shaikh, a rising Muslim philanthropist. Shaikh's Chicago-based Pillars Fund is poised give out close to $1 million in grants this year, all to U.S.-based nonprofits focused on the Muslim community and social change.
AMCLI alumni represent the broad diversity found in the American Muslim population at large: men and women, Sunni and Shia and Ismaili, gay and straight, urban and rural; many are non-profit leaders and founders working in philanthropy, politics, public policy, immigration rights, social justice advocacy, and more. They're a who's who of prominent Muslim leaders inspired by their faith but primarily working outside of mosques to promote social change.
"I think it's a very exciting institute," says Aminah Beverly McCloud, professor of Islamic Studies at DePaul University in Chicago. She notes it's also a very small one, and wishes the program would build a higher profile. "I don't know that the average everyday person in the community has any clue that it exists."
Its connections can be powerful. Sarsour serves on the Pillars board, and AMCLI alumni often turn to each other when they're looking for contacts, staff, or advice. The network is so close, in fact, that some call it the "FAM-a-klee." Zaman says, "It gives in some ways a stamp of approval when you're reaching out to someone, and they say, 'You're name is familiar,' and you find out you're both AMCLI alums."
As an open, queer Muslim, Arshad didn't have strong contacts among Muslim leaders in the U.S. when she applied for an AMCLI fellowship in 2011. But frustrated by the Islamophobia she saw among many LGBTQ activists, she decided to reach out. There were some painful conversations—she learned later that not everyone in her cohort felt comfortable that she was there—but she left feeling supported and part of something larger. In July 2016, thanks to a referral from another AMCLI alum, Arshad found herself at the White House's Eid al Fitr celebration, watching President Obama give a shout-out to the "LGBT Muslims who are on the front lines in the fight for equality."
The story of AMCLI begins back in 2005, when a UCLA graduate named Edina Lekovic had a bad day at work. (She jokingly calls herself the "patient zero" of the program.) She was in her late 20s, and amid a cacophony of anti-Muslim rhetoric four years after the September 11 attacks, she was writing news releases and doing national media as the communications director for the Muslim Public Affairs Council, an advocacy group based in Los Angeles. "I was working around the clock, I was in over my head, and the landscape of American Muslim advocacy was tiny and disconnected," Lekovic says.
After one particularly long day, she shared her frustrations with two friends, Nadia Roumani and Brie Loskota. "A big part of it was how alone I felt," Lekovic recalls. "I didn't have other colleagues in Muslim advocacy to consult and complain to. We should be able to learn from each other and look at each other as colleagues not competition."
Roumani grew up in Los Angeles, the daughter of Syrian immigrants, and had an expertise in the philanthropic world. She's now director of the Effective Philanthropy Lab at Stanford University's Center for Philanthropy and Civil Society. Loskota worked at USC's Center for Religion and Civic Culture, where she's now executive director. She's a self-described "white blond Pentecostal who has a graduate degree from a Jewish seminary," and a keen understanding of interfaith activism. Roumani and Loskota had collaborated on a project on political activism in American congregations, where they noticed a generation of energetic young Muslims building and leading vibrant new non-profit institutions—but with little structure or support. There was "a constant narrative of burnout and exhaustion," Roumani says.
They decided to do something about it. In late July 2006, tapping their connections and with a small stipend from USC's Center for Civic Culture, they invited 22 young Muslim activists from around the United States to the Pocantico Center in New York's Hudson River Valley. Most who attended paid their own way. "We said, 'Who do you know that wants to figure out this challenge? There's no money on the table. Will you come?'" Roumani recalls. "And everybody came."
For three days, on an estate with a massive, century-old granite barn originally built to house the Rockefellers' horse carriages and cars, they talked about their challenges (work/life balance, institution-building) their frustrations (difficult boards, anti-Muslim media attacks), and the future of American Islam. "There were a lot of tears," Roumani says. The attendees included Rami Nashashibi, whose Inner City Muslim Action Network in Chicago has been a model for a growing set of Muslim non-profit leaders. Nashishibi was awarded a MacArthur Foundation "genius grant" last year.
The meeting was cathartic, Loskota says, adding that many hadn't had a chance to talk about the stress of their work as advocates for a population that felt under siege. "The weight of the world is a shared burden." They emerged from Pocantico with a plan to build a leadership program, and AMCLI was born.
Jewish and Christian activists, involved in building leadership networks in their own communities, were partners from the start, sharing curricula, advice, and contacts. Scholars who have spoken at AMCLI include Marshall Ganz of Harvard University, Manuel Pastor of USC, and University of New Mexico sociologist Richard L. Wood, author of A Shared Future: Faith-Based Organizing for Racial Equity and Ethical Democracy. AMCLI is a "smart and very American endeavor," Wood says, noting the diversity of its cohorts and their expertise. "Anyone with an open mind who is willing to look at their broad profile has got to be impressed with what they are doing." And given the frequently hostile political rhetoric around Islam in America, Wood says, "In taking leadership, these folks are all too often targeted and vulnerable, so it takes courage."
Roumani says the diversity is a point of pride. They make a point of accepting anyone who self-identifies as Muslim, and they purposely look for people from different professional backgrounds—everyone from a fair housing advocate to a physician to a national security expert could be around the same table. The focus is on problem-solving. "How to keep the space diverse—and how to create safety for that to happen—has been one of our biggest accomplishments," Roumani says. The goal is to create "a healthy non profit ecosystem."
As AMCLI moves into its second decade, the plan is to focus on providing greater support and networking opportunities for program alumni. They have also started focusing on shorter, regional sessions; one took place in Nashville last July, and another happened this past fall in Atlanta. "The stories you hear in the South are just more shocking," Roumani says. "My jaw drops from hearing some of those stories. One of our participants was talking about how the KKK was having a meeting at their city hall." Many in the program note an increase in anti-Muslim activity, both in the public domain and in the policy arena, with lawmakers rallying around anti-Shariah legislation.
Loskota acknowledges the mood has changed since they met AMCLI's first national cohort in Washington, D.C., in 2008, a few days after President Obama's election. The first AMCLI meetings were filled with optimism and hope; today, they wrestle with the divisive rhetoric of the Trump campaign, the travel ban from Muslim-majority countries, mass shootings at places of worship, and a rise in anti-Muslim hate crimes. "Some of the things going on deeply pain me," Loskota says. "Then I look around and I see hundreds of people who are working their damndest and working really hard under tough conditions to try to make this place that we live in live up to our aspirations. To me, there's nothing more bouying than that feeling of being around people who know how to get things done and are undeterred by the challenges in front of them."
Zaman of the Proteus Fund agrees. "It was hard to do this work post 9/11 when I started doing this work. But in many ways, who wants to do this now? I can imagine it's really hard to make the decision to engage in this work now when it feels like so many forces are against you."
Lekovic, the "patient zero" of the AMCLI program, sees signs of hope. She takes heart in a recent Pew Research Center survey that showed views of American Muslims have warmed in recent years. And she sees more evidence of cooperation around common concerns. "Case in point, the airport protests," she says, referring to the attorneys and advocates who flocked to airports to support Muslim immigrants after the Trump administration announced travel restrictions on several Muslim-majority nations. "I didn't see that coming."
AMCLI co-founder Loskota says she can't take credit for the work of the program's alumni. "They do incredible things that having nothing to do with us." Roumani agrees. "These people were already leading. They're already amazing leaders in their own right," she says. "We're just able to support them so they can go farther and put them in community with one another."
A recent survey of AMCLI alumni found that the majority found the AMCLI experience, and its alumni network, as critical to their work—a source of jobs, advice, inspiration, and support. Some are starting to invest their time and money back into the organization. An alumnus, Soraya Ahyaudin, started this summer as AMCLI's first full-time program director. And Pillars Fund, Proteus Fund, and the El-Hibri Foundation—all with AMCLI alumni in key roles—have awarded grants to the program.
The network is also playing a role in developing new leadership programs. Kashif Shaikh's Pillars Fund is supporting a new Auburn Seminary initiative to provide two-day intensive media and story-telling training to a cross-section of 120 Muslim leaders. The training workshops will be led by Wajahat Ali, an attorney and writer who has become a popular spokesman on topics relating to American Islam. Shaikh, who says AMCLI's impact has been "massive," says there is room for many different approaches.
Full report at:
http://religionandpolitics.org/2018/01/17/the-influential-network-for-a-new-generation-of-american-muslim-leaders/
--------
Muslim leaders get pushback on plans to build mosque in residential neighborhood
Jan. 15, 2018
CARMEL, Ind. — Residents upset at plans for a mosque about 30 feet from some houses demanded that a Muslim foundation find another place to build.
But religious leaders at the Al Salam Foundation said finding a place in this upscale Indianapolis suburb has not been easy. They've been looking for five years.
"There are very few sellers in the community who are willing to work with us on the idea of building a mosque," foundation President Nadeem Ikhlaque said. "Several said the land is for sale but not for us."
The foundation has submitted plans to build a 28,000-square-foot mosque, to be called the Islamic Life Center, on five acres.
The problem: The location selected is in a residential area. The property backs onto a neighborhood where homes have sold for more than $700,000.
► May 31: New Jersey officials to pay $3.5M to settle mosque lawsuit
► September 2016: How Cat Stevens helped Nashville's Muslims find a home
► August 2016: Muslims sue after Michigan city rejected mosque
The Muslim group is trying to get the Carmel Board of Zoning Appeals to approve its plans as a special use, allowed under the residential code. But homeowners are worried about additional traffic, light, noise and a potential drop in home values.
On Sunday, about a week before the zoning board was scheduled to discuss the plans, the Al Salam Foundation had a community meeting at Carmel Christian Church to address questions. About 100 people filled the pews.
Ikhlaque responded to concerns he had received in letters, promising no outdoor speakers, a hot-line number where residents could report any disturbances from construction, and any cars that parked in the nearby neighborhoods rather than the mosque parking lot would be towed.
"I will take full responsibility personally, and I will take full responsibility as president," he said.
The dome of the building has been lowered from initial plans, so it will be less than 35 feet tall. The entrances are from the main roads, so traffic won't be rerouted to the neighborhoods, Ikhlaque said.
He also expects home values in the area to rise as the mosque creates more demand from Muslims who want to live close to their mosque.
However, the parking lot is along the back of the property, which the architect said was to allow people to enter from the west and head toward the worship area that must face northeast. Plans show 30 feet of vegetation between the lot and some homes' backyards.
One resident complained that he had spent his life savings on an house and will lose his privacy.
Mike Andreoli, a Zionsville, Ind., lawyer who has been hired to represent some residents, criticized the Al Salam Foundation for waiting until a week before the vote to reach out to the community. He questioned whether the group soon would expand to an additional nine acres to the north, which is also part of the sale.
► August 2014: Justice Department sues Minnesota city for denying mosque permit
► June 2014: U.S. Supreme Court won't hear Tennessee mosque case
Al Salam Foundation leaders said they have no expansion plans, and a gas line running through the northern acreage prevents them from building much on that portion of the property. Purchasing the additional land was the only way the seller would agree to the deal, they said.
But residents remained skeptical.
The Muslim group, whose members are drawn mostly from Carmel, Westfield and Zionsville, has outgrown its current rented space with about 150 people squeezing in for Friday prayers. That crowd gathers only from 1 p.m. ET to 2:30 p.m. Fridays; on weekdays the average gathering is about 20 people or seven to 12 cars, Ikhlaque said.
When one homeowner suggested foundation leaders buy a commercial lot a few miles south, Ikhlaque said they made an offer on that property before finding the lot in their neighborhood and were denied.
After the meeting Ikhlaque said he didn't think the refusals to sell or the community's concerns had anything to do with religion.
Church buildings in older residential neighborhoods in many cities are common. In the 1930s when cities began to put zoning codes in place, houses of worship were allowed under municipal zoning codes in residential areas because many people walked to worship, according to Useful Community Development, a website that four city planners write to help others understand zoning issues.
Now various court decisions and the federal Religious Land Uses and Institutionalized Persons Act of 2000 directs local governments not to restrict religious practice in a burdensome way unless the government has a compelling interest. The federal law does not block special-use permits but specifies that religious uses of a parcel cannot be more restrictive than nonreligious meeting places.
► July 2013: Mosque opponents take case to Tennessee Supreme Court
► November 2012: Tennessee mosque mired on controversy opens its doors
Almost seven years ago, a group of residents in Murfreesboro, Tenn., vigorously protested the construction of a larger mosque built for a congregation of 250 families and 1,000 people. The federal Justice Department ended up suing the county based on the 2000 law, and the mosque opened in November 2012.
Residents there mounted a court case saying they had not received adequate public notice of the meeting in which the county's planning commission approved the mosque plans. The U.S. Supreme Court refused to hear the appeal.
More recently, the Islamic Society of Basking Ridge sued Bernards Township, N.J., after township officials continued to add new conditions to grant a special use permit, eventually denying the permit to the congregation. A settlement in May gave the Muslim group $3.25 million and the conditional-use permit it needed to start construction.
► July 2012: Tennessee mosque can open, federal judge rules
► February 2012: Number of U.S. mosques up 74% since 2000
"Not one person who has contacted me asked about religion," Carmel City Councilman Kevin Rider said. He encouraged community members to stop posting on social media, where comments can be misconstrued.
Full report at:
https://www.usatoday.com/story/news/nation-now/2018/01/15/carmel-indiana-mosque-plans/1033737001/
--------
Kids at Kushner's school urged to write letter backing Trump Jerusalem move
Jan 17, 2018
Students at Frisch School in New Jersey, where Jared Kushner once attended, have been encouraged to send letters thanking US President Donald Trump over recognizing Jerusalem al-Quds as the capital of the Israeli regime.
"Dozens of parents at a prominent Orthodox Jewish high school in New Jersey are furious that their children have been asked, without parental consent, to write letters of support to US President Donald Trump," the Israeli newspaper Haaretz reported Wednesday.
Rabbi David Sher, the school's Israel education and advocacy director, reportedly sent an email to kids, asking those who "believe that the president made the right decision," to sign a pre-written letter.
The attempt to promote Trump's globally condemned decision is sponsored by NORPAC, a right-wing pro-Israel political action committee.
"As a religious Zionist school, we encourage our students, as civic-minded American citizens, to write to the administration when they agree or disagree with the government's policies regarding the State of Israel," Frisch principal Rabbi Eli Ciner told Haaretz in an email. "In this particular case, many of our students strongly supported the president's decision recognizing Jerusalem as Israel's capital, and our AISAC club (the American Israel Student Action Committee) has facilitated their ability to express this support through the NORPAC campaign."
On December 6, Trump sparked international outrage as he declared that Washington was recognizing Jerusalem al-Quds as the "capital" of Israel and that he had instructed his administration to begin the process of moving the American embassy from Tel Aviv to the ancient city, claimed by Palestinians as their capital.
Kushner, Trump's Jewish son-in-law, serves as the president's envoy on Middle East issues.
Full report at:
http://www.presstv.com/Detail/2018/01/17/549285/Kids-urged-to-back-Trump-Jerusalem-move
--------
Africa
Nigeria just bought the JF-17 Thunder to blast Boko Haram
By Harold Hutchison
Jan 17, 2018
The Nigerian military has been fighting the radical Islamist terrorist group Boko Haram since 2009. Now, Nigeria is getting some new firepower to deal with the group made infamous by kidnapping over 200 girls from a school in Chibok in 2014.
Nigeria has become the latest country — and the first in Africa — to buy Communist China's JF-17 Thunder multi-role fighter. The country has ordered three for their 2018 defense budget, which also included funds for the maintenance needs of the Nigerian Air Force's nine Alpha Jets, which have conducted strikes against Boko Haram in the past. Nigeria also has nine Chengdu F-7 fighters, which is the export designation for Chinese-built J-7 Fishbeds, a copy of the Soviet-designed MiG-21.
According to the BBC, Boko Haram, which calls itself "People Committed to the Propagation of the Prophet's Teachings and Jihad," and is also known as the "Islamic State in West Africa," has conducted a lengthy campaign against the government of Nigeria. The group has suffered some recent reverses in the wake of the 2014 mass kidnapping, which drew international outrage. The United States has been involved in the campaign against Boko Haram, sending Special Forces to assist countries in the region.
To date, the JF-17's primary user has been the Pakistani Air Force, which sought to replace a mix of French-built Mirages, Nanchang A-5 attack planes, and Chengdu J-7s. The plane was co-developed by Chengdu and the Pakistanis. Myanmar has also reportedly agreed to acquire the plane to bolster their existing force of 31 MiG-29 Fulcrums. They also have a total of 46 older jets, including A-5s, F-6s, and F-7s, according to FlightGlobal.com.
The JF17 is a good fit for the Nigerian Air Force. It can carry a wide variety of air-to-air and air-to-ground weapons from both China and Western countries. This will allow Nigeria to use its current stocks of weapons to try and finish off Boko Haram.
https://www.wearethemighty.com/news/nigeria-just-bought-the-jf-17-thunder-to-blast-boko-haram
--------
12 killed, 48 injured in suspected Boko Haram attack in Nigeria
Jan 17, 2018
Twelve people have been killed and 48 others wounded in an attack by suspected Boko Haram bombers on Nigeria's northeastern city of Maiduguri.
Officials from the State Emergency Management Agency (SEMA) for Borno said two assailants struck a market in the Muna Garage area in the vicinity of Maiduguri, the capital of Borno State, on Wednesday afternoon.
Muna Garage, the site of a camp for displaced people, is a frequent target of Boko Haram attacks.
Witnesses reported that parts of the market were still ablaze in the wake of the assault.
More than 20,000 people have been killed since Boko Haram started its deadly campaign in northeast Nigeria in 2009. The violence has claimed many lives in neighboring countries of Chad, Niger, and Cameroon as well.
Boko Haram has been largely pushed out of its main strongholds in northern Nigeria, according to the country's military and government. The group, however, is still active in its Sambisa Forest enclave in Borno and launches sporadic attacks on civilians and security forces from there.
On January 8, at least 20 loggers were killed near Maiduguri after Boko Haram Takfiri terrorists opened fire on them.
Full report at:
http://www.presstv.com/Detail/2018/01/17/549275/Boko-Haram-attack-Nigeria
--------
2 killed in Cameroon suicide attack near mosque
17 January 2018
At least two civilians were killed and a dozen others injured in a suicide attack near a mosque in the Far North Region on Tuesday night, a government official told Anadolu Agency on Wednesday.
The attack took place in Matakaye-Elie village, according to Far North Region Governor, Midjiyawa Bakari, who blamed the attack on Nigerian armed group Boko Haram.
"He was able to surprise the population by operating his explosive device while the faithful left the mosque," Bakari said.
Alahdji Yussouf, a member of the vigilance committee, said: "We do not know how he managed to outwit the vigilance committees to infiltrate the city."
Gen. Bouba Dobekreo, commander of a joint military operation in the area, urged the population to remain vigilant.
"People tend to think that the Boko Haram page has been turned. No! They [Boko Haram] observe the facts, the people's movements and gestures on a daily basis to find flaws and strike to make a maximum of victims," Dobekreo said.
Villages in the northern part of the Central African country regularly face attacks perpetrated by Boko Haram militants.
Full report at:
http://www.worldbulletin.net/africa/197931/2-killed-in-cameroon-suicide-attack-near-mosque
--------
Nigeria: Police Arrest Muslim Cleric With Human Parts
16 JANUARY 2018
Officers of the Lagos State Police Command on Tuesday arrested an Islamic cleric, Alfa Kayode Abdul-Fatai in Alakuko area of the State for being in illegal possession of human parts including a female private organ.
The suspect, who was arrested at No. 4, Okedumola Street, Off Obadare area of Alakuko, was said to have also been caught with female heart and a female lap discovered in his room.
While confirming the arrest, Public Relations Officer of the State Police Command, SP Chike Oti, said the Islamic cleric was arrested following a tip off and investigation by the officers in the command.
Oti said the suspect, during interrogation, revealed that the said human parts were given to him by an accomplice who has also been rounded up.
According to Oti, the suspect and the accomplice would be charged to court at the end of investigation.
He said the Commissioner of Police, Imohimi Edgal, particularly urged members of the public to be conscious of the activities of people living within their vicinity, and report any suspicious movement to law enforcement agencies.
Full report at:
http://allafrica.com/stories/201801170487.html
--------
Tanzania: Drama As Terror Suspects Strip in Arusha Court
17 JANUARY 2018
By Moses Mashalla
Arusha — In a dramatic turn of events, terrorism suspects arraigned between 2012 and 2014, on Tuesday stripped of their clothes when brought to the court, arguing that investigations into their case have taken far too long.
The 61 accused persons, all together, were brought before the Arusha Resident Magistrate Court at 9:30am but before they embarked from the truck, some stripped naked protesting the time it has taken for investigations to be completed.
The prison warders acted swiftly before the embarrassing sight became public knowledge and took them straight into the remand lock up within the court premises and later into the court room.
However, this was not before they were forced to dress up.
Resident Magistrate Patricia Kisinda later adjourned the case to January 30, when it will come up for mention. This was after prosecution claimed that investigations were yet to be completed.
The accused were sent back to Kisongo Prison along the Dodoma Road on the outskirts of Arusha under tight security.
The 61 accused persons have been arraigned since 2012 in terrorism-related charges, of whom 13 have been accused of undertaking grenade attacks on the home of Sheikh Sudy Ally Sudi on July 13 of the same year in Arusha.
Thirteen others are facing charges of alleged killing of Judith Mushi, Ramadhan Juma, Fahad Jamal and Amir Daffa at Soweto Garden grounds in Arusha on June 15, 2013.
Ten others were allegedly found with explosives for bombs; while three suspects are alleged to have been recruiting youth in Arusha to join the Al Shabaab terror group in 2014.
Full report at:
http://allafrica.com/stories/201801170324.html
--------
Nigerian protesters call for release of Zakzaky
Jan 17, 2018
Hundreds of Nigerians have taken to the streets of the capital Abuja to demand the release of senior Shia cleric Sheikh Ibrahim Zakzaky.
More than 200 members of the Islamic Movement in Nigeria (IMN) and pro-democracy group Concerned Nigerians took part in the protest in Abuja on Wednesday amid police presence, holding placards and banners reading, "Free Zakzaky."
Deji Adeyanju, with Concerned Nigerians, said, "What is happening to the Shia leader and the members of the Islamic Movement is completely injustice. A situation where they kill.... continuously kill their members you know... and continuously detain their leader is uncalled for. It is against the norm of justice and equity."
"As sane Nigerians, as responsible Nigerians, we must as a matter of fact condemn it, which is exactly what we are doing. We are asking the government to do what is right," Adeyanju said.
Concerned Nigerians said in a statement on Tuesday that the group would begin daily "sit-outs" on Wednesday to protest the killing of members of the IMN and call for the release of Zakzaky, the leader of the IMN.
Mohammed Ibrahim Gamawa, a member of the IMN, said during Wednesday's protest that the country's security forces repeatedly target their protests, but added that they "must come out and demonstrate if Sheikh Ibrahim Zakzaky is not being released."
"So we are under threat, definitely we are under threat," he said.
Zakzaky has been imprisoned at an unknown location without charge since he was detained by security forces in 2015 after the Nigerian army carried out a raid on his residence in the northern town of Zaria during which he lost his left eyesight.
During the raid, Zakzaky's wife sustained serious wounds too and more than 300 of his followers and three of his sons were killed. Zakzaky's wife and a large number of the cleric's followers have also been in custody since then.
Full report at:
http://www.presstv.com/Detail/2018/01/17/549258/Nigeria-Zakzaky-protest-release-
--------
Europe
Jewish and Islamic groups join to help refugees in Greece
Jan 18, 2018
A historically Jewish organization and an Islamic group will work together to provide legal services to refugees in Greece.
HIAS, the global Jewish nonprofit that protects refugees, and Islamic Relief USA, the U.S. arm of the humanitarian assistance and advocacy organization, have formed a joint initiative to help the thousands of refugees in the country.
More than 1 million refugees from Syria, Iraq and other countries in crisis passed through Greece in 2015 and 2016. Some 60,000 refugees remain there. Last year, nearly 3,000 refugees arrived in Greece each month, according to HIAS.
The partnership, which will operate in Athens and on the island of Lesvos, will help refugees navigate the constantly changing asylum procedures, increasing limitations on movement and employment opportunities, lack of police protection, and inadequate medical and mental health services that are available to them. HIAS first launched a program for refugees in Lesvos in 2016 to offer direct, individual legal representation to refugees in Greece.
The two groups have been collaborating to advance refugee rights for several years. In June, Islamic Relief USA honored HIAS with its Courage Award. Upon accepting the award in Washington, D.C., HIAS President Mark Hetfield said, "All the Abrahamic faiths are united by the value of hospitality and welcoming the stranger as ourselves, for we were all once strangers in a strange land."
On Wednesday, HIAS received a grant from the Genesis Prize Foundation and its 2017 laureate Anish Kapoor to advocate in support of immigrants and refugees to the United States.
https://www.clevelandjewishnews.com/news/world_news/jewish-and-islamic-groups-join-to-help-refugees-in-greece/article_faeae82a-0e7e-5e9e-81ab-3ffed943063d.html
--------
Ex-Muslims blast Pope Francis for saying Islam is a good religion
17 Jan 2018
Thousands of Muslim converts to Catholicism and their allies have written an open letter to Pope Francis demanding to know why he praises Islam as a good religion and pointing out they risked their lives to become Christians.
The converts ask Pope Francis: 'If Islam is a good religion in itself, as you seem to teach, why did we become Catholic? Do not your words question the soundness of the choice we made at the risk of our lives?'
Muslims are forbidden from converting to other faiths under Sharia law and conversion is considered by some Muslim countries to be a crime punishable by death.
The letter, which first emerged on Christmas day in French and signed by only ten people, has now gained over 3,700 signatures, though it is not clear whether or not some are merely non-Muslim opponents of Islam.
The organisers say that they have written after repeatedly attempting to gain meetings with Pope Francis to discuss Islam and their predicament.
According to LifeSiteNews.com, the organisers are not commenting on how many Muslim converts to Catholicism have signed the letter, though they say the names of the former Muslim signatories and the associations to which they belong would be revealed to the Pope only, were he to ask.
They told the news website in a statement: 'As we said in the presentation of our letter, the ex-Muslims, in general, knowing themselves condemned to death by Islam, avoid making themselves known.'
The letter specifically raises the Pope's teaching on Islam in the 2013 apostolic exhortation Evangelii Gaudium (paragraphs 252 and 253), in which Francis wrote that 'authentic Islam and the proper reading of the Koran are opposed to every form of violence'.
The letter says: 'You do not like to beat around the bush, and neither do we, so allow us to say frankly that we do not understand your teaching about Islam.
'Because it does not account for the fact that Islam came after Christ, and so is, and can only be, an Antichrist, and one of the most dangerous because it presents itself as the fulfilment of Revelation (of which Jesus would have been only a prophet).'
The letter also raises comments by Pope Francis in August 2016 in which he appeared to compare 'Islamic violence' with violence by some individual Catholics.
He was asked why he never talks of 'Islamic violence' by a journalist aboard the papal plane in the wake of the brutal murder of Father Jacques Hamel, the French priest who was slain while celebrating Mass.
The Pope replied: 'I don't like to speak of Islamic violence, because every day, when I browse the newspapers, I see violence, here in Italy ... this one who has murdered his girlfriend, another who has murdered the mother-in-law ... and these are baptized Catholics! There are violent Catholics! If I speak of Islamic violence, I must speak of Catholic violence.'
The letter states: 'Islam prescribes death for apostates (Quran 4.89, 8.7-11), do you know? How is it possible to compare Islamic violence with so-called Christian violence?'
It continues: 'In accordance with His teaching (Luke 14:26), we preferred Him, the Christ, to our own life,' they add. 'Are we not in a good position to talk to you about Islam?...Where the Gospel proclaims the good news of Jesus' death and resurrection for the salvation of all, and the fulfilment of the Covenant initiated with the Hebrews. Allah has nothing to offer but war and murder of the "infidels" in exchange for his paradise.
'In fact, as long as Islam wants us to be its enemy, we are, and all our protestations of friendship cannot change anything.'
The letter does clarify that they it does not confuse Islam with ordinary Muslims, but also says that 'naiveté in the face of Islam is suicidal and very dangerous'.
It questions Pope Francis about his January 20, 2014, remarks for World Migrants and Refugees Day, in which he encouraged a primarily Muslim audience to find hope in the Qur'an.
It asks: 'That the Pope seems to propose the Quran as a way of salvation, is that not cause for worry? Should we return to Islam?'
The letter takes a stance against Islamic immigration, taking issue with Pope Francis for preaching 'the welcoming of migrants regardless of the fact that they are Muslims'.
It warns of impending danger from 'Islamization', stating: 'This is a matter of life and death, and any complacency towards Islam is treasonous. We do not wish the West to continue with Islamization, nor that your actions contribute to it. Where then would we go to seek refuge?'
And it cites 2 John 1:10-11: 'If anyone comes to you but refuses this Gospel, do not receive him among you nor greet him. Whoever greets him participates in his evil works.'
The signatories tell Pope Francis: 'Also, we do not understand that you are pleading for Muslims to practise their religion in Europe. The meaning of Scripture should not be supplied by the proponents of globalism, but in fidelity to Tradition. The Good Shepherd hunts the wolf, He does not let it enter the sheepfold.'
Full report at:
https://www.christiantoday.com/article/ex-muslims-blast-pope-francis-for-saying-islam-is-a-good-religion/123886.htm
--------
Pakistani humanist denied UK asylum after failing to identify Plato
17 Jan 2018
A Pakistani man who renounced his Muslim faith and became a humanist has had his application for asylum in the UK rejected after failing to correctly answer questions about ancient Greek philosophers.
The Home Office said Hamza bin Walayat's failure to identify Plato and Aristotle as humanist philosophers indicated his knowledge of humanism was "rudimentary at best".
The Home Office also said Walayat did not face persecution for his beliefs. In a letter rejecting his asylum claim, seen by the Guardian, it said his assertion that he would be at risk in Pakistan, and could be killed by his family because of his beliefs and his renunciation of Islam, was unfounded.
Walayat, who has lived in the UK since 2011, said he had received death threats from members of his family and community in Pakistan after integrating into secular British life, forming a relationship with a non-Muslim partner and refusing to conform to the expectations of conservative Islam.
Apostates are subject to discrimination, persecution and violence in Pakistan. In March last year, a student who had stated he was a humanist on his Facebook page was murdered at his university.
Blasphemy is punishable by death under Pakistani law. In August, 24 British politicians wrote to the Pakistani government urging it to repeal its draconian blasphemy law, which has been used against religious minorities and humanists.
Walayat claimed asylum in July last year after being served with removal papers for overstaying his student visa.
After an interview with immigration officials, the Home Office said he had "been unable to provide a consistent or credible account with regards the main aspect of your claim, namely that you are a humanist".
When tested on his knowledge of humanism, Walayat gave a "basic definition" but could not identify "any famous Greek philosophers who were humanistic".
The letter said: "When you were informed by the interviewing officer that he was referring to Plato and Aristotle, you replied: 'Yeah, the thing is because of my medication that is strong I just forget stuff sometimes'."
The Home Office concluded: "Your knowledge of humanism is rudimentary at best and not of a level that would be expected of a genuine follower of humanism."
Walayat joined the Humanists UK organisation in August, but said he had believed in the basic principles of humanism from childhood.
According to Humanists UK, "humanism is not a 'canonical' belief system, where adherents must learn and follow a strict set of behaviour codes. As a descriptive term, humanists can be someone who has simply rejected religious belief but holds some positive conception of human values."
In a letter in support of Walayat's asylum application, Bob Churchill, of the International Humanist and Ethical Union, said: "For many, the broad descriptive 'humanist' is just a softer way of saying atheist, especially if you come from a place where identifying as atheist may be regarded as a deeply offensive statement."
Andrew Copson, of Humanists UK, said the move "set a dangerous precedent for non-religious people fleeing persecution. The Home Office is simply incorrect to claim that non-religious people seeking asylum don't get the same protection in law as religious people do."
The questions put to Walayat "reveal a fundamental misunderstanding about the nature of humanism", he added.
Walayat told the Guardian he believed his life would be in danger in Pakistan. The Home Office decision had come as a shock, he added. "I've told the truth and instead of believing me they are trying to find excuses to kick me out of the country," he said.
Many Christians he had encountered in the UK did not have a detailed grasp of the history of their faith, he said, "but it doesn't mean they're not Christian".
Full report at:
https://www.theguardian.com/uk-news/2018/jan/17/pakistani-humanist-denied-uk-asylum-after-failing-to-identify-plato
--------
Russia's World Cup likely target for Daesh: US analysis firm
18 January 2018
BAGHDAD: The World Cup soccer tournament to be held in Russia in June and July will be an "attractive target" for Daesh given Russia's role in the territorial defeat of the militant group, the UK-based analysis firm, IHS, said on Thursday.
"A successful attack (in Russia) would provide a tremendous propaganda boost for the Islamic State and its fighters and supporters, underlining the ongoing international threat posed by the group despite its territorial defeat," an IHS report said.
The participation of the national teams of Saudi Arabia and Iran in the tournament provided an even greater incentive for the group to target it, the report said.
Despite losing all territory in Iraq and Syria by November last year, the group claimed major attacks in Istanbul, London, Manchester, Barcelona and Tehran, killing dozens of civilians.
It targeted the Muslim holy city of Medina, in Saudi Arabia, in 2016.
Daesh leader Abu Bakr Al-Baghdadi is still on the run despite the collapse last year of the caliphate he declared in 2014 over parts of Syria and Iraq.
Full report at:
http://www.arabnews.com/node/1228271/world
--------
URL: https://www.newageislam.com/islamic-world-news/most-extreme-qaradawi-fat-that/d/113980
New Age Islam, Islam Online, Islamic Website, African Muslim News, Arab World News, South Asia News, Indian Muslim News, World Muslim News, Women in Islam, Islamic Feminism, Arab Women, Women In Arab, Islamophobia in America, Muslim Women in West, Islam Women and Feminism