New Age Islam News Bureau
7 Jun 2020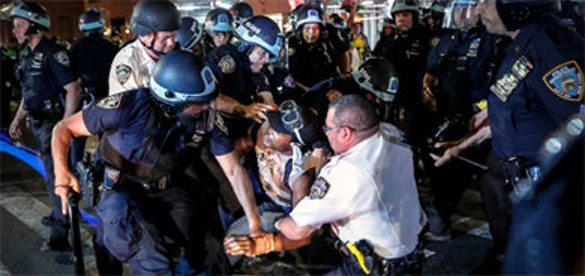 A protester is arrested on Fifth Avenue by NYPD officers during a march, Thursday, June 4, 2020, in the Manhattan borough of New York. Protests continue following the death of George Floyd, who died after being restrained by Minneapolis police officers on May 25. (AP Photo/John Minchillo)
------
• Mosques Across America Dedicate Friday Sermons to Confronting Racism, Police Brutality
• Mosque Volunteers Feed Hundreds Despite Pandemic Food Chain Disruptions
• French Forces Kill Leader of Al-Qaida In the Islamic Maghreb
• Muslims Outraged Over PUBG's New 'Idol Worshipping' Feature
• Lebanese Shia Cleric Warns of Threat of Sectarian Strife in The Country
• Prime Minister Sheikh Hasina: We Observe June 7 as the Six-Point Day
• Islamic Group, NASFAT, Seeks Stricter Punishment for Rape in Nigeria
---------
North America
• Mosques Across America Dedicate Friday Sermons to Confronting Racism, Police Brutality
• Mosque Volunteers Feed Hundreds Despite Pandemic Food Chain Disruptions
• NY Restart: More Worshipers Can Attend Church, Temple, Mosque Services, Cuomo Says
• CAIR-LA, Temecula Mosque Welcome Resignation of Temecula Mayor After Email About Police, Racism
• Thousands demonstrate in front of US consulate in Hamburg against racism
------
Europe
• French Forces Kill Leader of Al-Qaida In the Islamic Maghreb
• Switzerland welcomes Iran, US' humanitarian gesture by releasing prisoners
• R you alright? Boris to announce plans to ease lockdown and restart economy
• British Airways warns it will fire pilots as it looks to legally challenge UK's quarantine rule
------
Mideast
• Muslims Outraged Over PUBG's New 'Idol Worshipping' Feature
• Pres. Rouhani: Iran Top Muslim Country In Scientific Work on Coronavirus
• Leader: Imam Khomeini Shattered Superpowers' Aura of Invincibility
• Turkish atheist group files complaint against Islamist daily for defamation
• Palestine's Islamic Jihad Mourns Former Head, S.G. Ramadan Abdullah Shallah
• Ayatollah Sistani's office urges Iraqis to take health recommendations seriously
• 50,000 Palestinians attend Friday prayers at Al-Aqsa mosque
------
Arab world
• Lebanese Shia Cleric Warns of Threat of Sectarian Strife in The Country
• Qatar Charity thanks supporters of its Ramadan campaign
• Worshippers flock to reopened Prophet's Mosque for Friday prayers
• Saudi health campaign launched in 250 mosques
• Cairo mosque resumes Friday prayers with pandemic plea
• Zusaura: Former Abu Dhabi resident launches modest swimwear for Muslim men
------
South Asia
• Prime Minister Sheikh Hasina: We Observe June 7 as the Six-Point Day
• Covid-19 Symptoms: Some 900 dead in three months in Bangladesh
• A tribal leader and family members killed in Wardak
• 11 security personnel killed in Afghanistan bomb blast
------
Africa
• Islamic Group, NASFAT, Seeks Stricter Punishment for Rape in Nigeria
• Algeria's Islamists want to equate "Black Decade" detainees with Hirak prisoners
• MURIC Warns Miyetti Allah Against Divisive Statements
• Nnamdi Kanu reacts as Miyetti Allah declares Fulani will rule Nigeria forever
• Churches, mosques remain shut as Ogun government studies re-opening guidelines
-------
Southeast Asia
• Malaysian Religious Affairs' Ministry and the Science, Technology and Innovation MinistryCollaborate to Promote Science Among Muslims
• Over $4.9m to be disbursed to mosques, Muslim organisations, madrasahs and other beneficiaries
• Non-muslim marriage registrations must be completed before July 31 - Ismail Sabri
• CMCO: 84 mosques in Pahang allowed to hold subuh, Friday prayers
• Indonesian mosques open for first time since March
• 8:46: A number becomes a potent symbol against police brutality
-----
Pakistan
• Pakistani, Syrian Ministers Discuss Al-Nusra Front's Terrorist Acts Against Muslim Holy Sites
• No role of mosques in COVID-19 spread: PM Imran Khan
• Mosque in Liaquatabad evacuated after hoax bomb threat
• Locust invasion threatens entire country, SC told
• Punjab police use stun therapy on SOP violators
• Notice issued to FIA on PPP leader's plea against US blogger
• Hospitals' data shows decrease in confirmed cases in Rawalpindi
• PTI govt sabotaged Sindh response to Covid-19: Bilawal
-----
India
• Telangana: NamazCan Be Offered with Mask, Says Jamia NizamiaFatwa
• With Rising Covid-19 Cases, Goa's Churches, Mosques Will Not Reopen On June 8
• Haj unlikely this year for Indian Muslims, say sources
• Lockdown 5.0: Islamic Centre of India issues advisory for reopening of mosques
Compiled by New Age Islam News Bureau
URL; https://www.newageislam.com/islamic-world-news/mosques-across-america-dedicate-friday/d/122054
------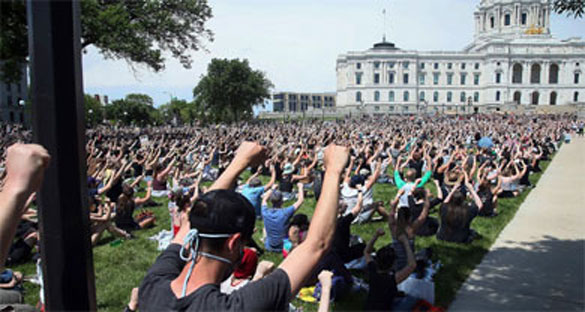 Thousands of people gather at the state Capitol in St. Paul, Minnesota, on June 2, 2020, to protest the death of George Floyd. (AP Photo/Jim Mone)
----
Mosques across America dedicate Friday sermons to confronting racism, police brutality
June 5, 2020
Aysha Khan
(RNS) — George Floyd's killing was a final straw for thousands of Americans protesting against police brutality and systemic police racism.
"This has been a rough week, a rough two months for Black Muslims who have been deeply impacted by police brutality and mass incarceration," said Margari Aziza Hill, co-founder of the Muslim Anti-Racism Collaborative. "We are in mourning, we are tired, we are angry, we are mobilizing."
On Friday, a wave of mosques will dedicate their Jummah sermons to preaching against anti-black racism and police brutality, following urgent calls from black Muslim leaders to publicly speak up with a "Day of Outrage." (For most mosques, these sermons and talks will be livestreamed because of coronavirus closures.)
"We expect all allies to publicly condemn police brutality across the U.S. as despicable, harmful, and an injustice that must end immediately," the group urged. "History is being made, we must not sit on the sidelines."
Led by Imam Jihad Saafir of inner-city community center Islah LA, a coalition of black Muslim leaders in California has demanded that, in Friday sermons and talks, Islamic organizations address racism and that they also address it in letters of solidarity with black Americans.
It's the first step in a longer push. The coalition is encouraging non-black Muslims to take five action items — including committing to addressing anti-blackness internally, calling on Minnesota officials for police accountability and joining local efforts to promote racial justice.
"This is unprecedented," said Hill, who was involved in developing the action items. "We are currently getting a flood of expressions of support, and many in the Muslim community are taking to Islah L.A.'s five demands more seriously."
Thousands of people gather at the state Capitol in St. Paul, Minnesota, on June 2, 2020, to protest the death of George Floyd. (AP Photo/Jim Mone)
The Islamic Association of North Texas has been holding a series of livestreamed conversations on race between local Muslim leaders. Its previous Friday sermon focused on racism, as will this week's.
"Outrage over the murder of George Floyd, and subsequent calls for justice and reform, should not be limited to coming from only African Americans," the mosque told congregants in a statement. "The onus is on everyone. For those that are not African American but are a minority, there is a responsibility to support your fellow brothers and sisters because you, too, know of the pain."
"We stand in love and solidarity with every Black person who was ever excluded, ignored, or made to feel unequal within our Muslim organizations, masjids, Islamic schools, or businesses," the signatories, more than half of which were mosques, agreed. "We will no longer wait for another death to move us to recognize that Black people have an inalienable right to exist peacefully in this country."
In the Bay Area, nearly 30 mosques took part in the Day of Outrage. Most, like the Shia Association of the Bay Area, livestreamed sermons. Others participated in a socially distanced "open air" Jummah service in downtown Oakland focused on confronting anti-blackness and police brutality.
The Northern California Islamic Council was one of the first Muslim organizations to publish a statement in "steadfast solidarity" with black Americans.
"We are all connected through the long, painful, and constant historical struggle for justice, fairness and equality for all," the group, led by Zaytuna College co-founder Hatem Bazian, wrote. "Let's be clear, State violence against Black Americans has gone on for far too long and without any accountability; the time to end it is NOW and calls for our urgent attention."
Bazian, who drafted the NCIC statement and will speak at the Oakland Jummah, told RNS his faith is "founded upon a command to uphold justice." Being Muslim requires working to end every form of racism and discrimination, he said, particularly one that impacts a "sizable segment of our community."
Black Muslims comprise 20% of America's Muslim population, with Arabs and South Asians making up the majority of non-black Muslims.
Most non-black U.S. Muslim communities have long advocated for human rights for Palestinians, Kashmiris, Rohingyas and other vulnerable Muslim communities internationally. But the often immigrant-led mosques have been reluctant to publicly align themselves with other causes that have resonance in black Muslim communities, such as bail reform, the imprisonment of Imam Jamil al-Amin and the police killing of Imam Luqman Abdullah.
Instead, many have attempted to rehabilitate Muslims' image by building positive relationships with local police and elected officials.
People make and display signs while protesting the death of George Floyd in Minneapolis, Minnesota, Thursday, May 28, 2020. Photo by Doug Pagitt
Hill said mosques' responses since Floyd's killing stand in "stark contrast" to the reception to MuslimARC's 2015 "Call for Justice." At the time, about 300 groups and individuals signed the open letter MuslimARC wrote in collaboration with Muslims for Ferguson, a coalition of activists that emerged after the 2014 police killing of Michael Brown in Ferguson.
Back in 2016, Bazian's fellow Zaytuna co-founder Shaykh Hamza Yusuf publicly condemned the Black Lives Matter movement, calling the U.S. "one of the least racist societies in the world," and dismissed the idea of systematic police racism in favor of addressing "black-on-black crime" and a "breakdown of the black family."
Such attitudes persist, leaders note. But non-black Muslim communities' willingness to acknowledge their own anti-blackness and align themselves with movements for racial justice — developments mostly championed by black Muslims and by youth — is a first step.
"Our African American brothers and sisters have been discriminated against and oppressed, and it is our collective responsibility to stand with them and make sure that any discrimination, racism, and prejudice is eliminated," the Islamic Center of Naperville said in a statement.
"We ourselves affirm that we too are bound by the same standard of justice and equity that we expect others to abide by, for like the American community, the American Muslim community too holds justice as a virtue," Islamic Society of Boston Cultural Center, which focused last week's Friday sermon on racism, said.
Dozens of webinars and workshops on allyship with black Muslims have emerged from Islamic organizations, including the Council on American Islamic Relations, the Muslim Political Action Committee, the Islamic Center at New York University and more.
Ethnic-based syllabi and reading groups have also cropped up, including South Asians for Black Lives, Iranians for Black Lives and Arabs for Black Power. And a group of Muslim youth also put together a template for congregants to use to approach their mosque leadership about committing to Islah LA's action items.
When an Ismaili jamatkhana in Minneapolis issued a message to members advising members to avoid certain areas "due to ongoing unrest, riots and violent protests," a young member named Alia Jeraj sent an open letter responding: Why had congregants been "told only to stay away from places where fights for justice are being carried out, and not encouraged to find safe ways to participate in the demand for justice?"
More than 600 Ismailis signed on to the letter, which urged the congregation's leaders to contextualize the violence during the protests and take action to support racial justice.
The national Ahmadiyya Muslim Community condemned Floyd's killing as part of a "long list of unspeakable cruelties committed against Black Americans" and advocated for non-violent efforts at reform.
The Council of Shia Muslim Scholars in North America condemned the recent killings, saying, "Almighty God has equated the killing of an innocent soul to the killing of all people … We all have a responsibility to stand up against all forms of injustice whether it be fueled by racism or any other evil through peaceful and constructive means."
https://religionnews.com/2020/06/05/mosques-across-america-dedicate-friday-sermons-to-confronting-racism-police-brutality/
------
Mosque volunteers feed hundreds despite pandemic food chain disruptions
Lynda Edwards
June 6, 2020
The 2020 Annual National Muslim Soup Kitchen Day arrived one week after Ramadan, the holy month that emphasizes charity, one of Islam's five pillars. The effort has fed thousands of the Capital Region's needy since Muslim Rensselaer Polytechnic Institute students launched the Muslim Soup Project in 2003. Worshippers at the Al-Hidaya Center in Latham volunteer their time to prepare 1,409 meals in one day for homeless shelters and those in need.
Muslim Soup Kitchen Project director UzmaPopal talked about the unique challenges of getting the free meals made and delivered during the pandemic. This is her fifth year at the project's helm.
"This is a frightening and difficult time in our nation and in our local community," Popal said. "The only way we will only be able to conquer this pandemic and its effects is if we stand together in a spirit of unity with each other and service to anyone in need."
People of all faiths volunteer but packaging and delivering meals takes place at local Muslim community centers, she added.
Q: What were some of the unusual challenges the pandemic posed for this year's soup kitchen project? Any problems due to the virus disrupting the food supply chain?
A: Usually we have dozens of cooks who volunteer to cook. However, when COVID-19 hit we right away started to plan for a worst case scenario. So, we put in orders for some of the items ahead of time. We ordered food container boxes over month in advance.
We could not take chances with cooks getting sick or just not feeling comfortable leaving their houses and having to cancel at the last minute. So, we decided to order food from local restaurants. The three restaurants that gave us huge discounts and made it possible are Ali Baba Restaurant in Troy and Albany's LaZeez and Zaitoon.
MSKP's many wonderful cooks still wanted to help so they made desserts.
Since there is a limit on how many items can be bought at one time, our wonderful volunteers made multiple trips to buy what we needed. And serving 1,700 meals means we needed a lot.
Everything was delivered to various locations (nursing homes, hospitals, homeless shelters) instead of served onto dishes by volunteers. Normally, we would have over 100 volunteers who would help serve on site at different shelters.
But we have more drivers now and only ten, max, indoors at a single time. In years without a pandemic, we would have 30 or more volunteers at one time at AL-Hidaya. In the past years, we have encouraged people to bring their children to volunteer but not this year.
2) Q: Do any local farms or grocery stores donate food for the annual effort?
A: We have local stores that give us big discounts and we are very grateful for that. The Bella Napoli in Troy gave us discounts on 1,700 bread rolls
The three restaurants also gave us huge discounts on the chicken and rice.
We had generous donors who gave money. Helping Hands Relief and Development donated $1,000. Also, community members donated through a GoFundme that we set up.
3) Q: Your meals include far more than soup. What was on the 2020 menu?
A: Our menu for this year is: Biryani (rice with chicken), yogurt sauce, salad, bread rolls, and water bottles.
4)Q: Did you have difficulty finding what you needed for meals due to disruptions in the food supply chain?
A: It was a challenge, but volunteers helped by making multiple trips to the stores to make sure we had enough ingredients to make salad and other dishes. For example, I went to 2 different stores to buy 200 cucumbers. Another volunteer went to many different stores to buy 15 heads of lettuce.
MSKP is run solely on dedicated volunteers. Like me many of our volunteers work full time and have families, some with children that they homeschool.
We all need to come together and do our part. That is what a community is. That is what MSKP is. Creating Unity by serving humanity.
https://www.timesunion.com/7dayarchive/article/Mosque-volunteers-feed-100s-despite-pandemic-food-15315780.php
------
French forces kill leader of al-Qaida in the Islamic Maghreb
JUN 6, 2020
PARIS – French forces have killed the leader of al-Qaida in the Islamic Maghreb, Algerian Abdelmalek Droukdel, in northern Mali, French officials said Friday.
Droukdel was killed on Thursday near the Algerian border, where the group has bases it uses to carry out attacks and abductions of Westerners in the sub-Saharan Sahel zone, French Defense Minister Florence Parly said.
"Many close associates" of Droukdel — who also held authority over several affiliate jihadi groups in the region — were also "neutralized," she added.
France also claimed on Friday to have captured a leader of the Islamic State in the Greater Sahara (EIGS) group, which carries out frequent attacks over Niger's western borders.
"On May 19, French forces captured Mohamed el Mrabat, veteran jihadist in the Sahel region and an important cadre in EIGS," Parly said on Twitter.
Mali is struggling to contain an Islamist insurgency that erupted in 2012 and which has claimed thousands of military and civilian lives since.
Despite the presence of thousands of French and U.N. troops, the conflict has engulfed the center of the country and spread to neighboring Burkina Faso and Niger.
A source said that some 500 jihadist fighters had been killed or captured by French troops in the region in recent months, including several important figures including commanders and recruiters.
He had remained a threat in the region, capable of financing jihadist movements ,even though his leadership had been contested, the source added.
Born in 1971 in a poor neighborhood of Algiers, Droukdel took part in the founding in Algeria of the Salafist Group for Preaching and Combat (GSPC).
Abdelaziz Bouteflika, elected Algerian president in 1999, managed to convince most of the armed groups in the country to lay down their weapons.
https://www.japantimes.co.jp/news/2020/06/06/world/france-kill-leader-alqaida-islamic-maghreb/#.XtyYufkzayI
------
Muslims outraged over PUBG's new 'Idol Worshipping' feature
June 06, 2020
Popular game PlayerUnknown's Battlegrounds (PUBG) Mobile's new version outraged Muslim players all over the world over its new 'Idol Worshipping' feature.
As one of the most famous mobile video games in the world, PUBG Mobile boasts almost 750 million active players, 33 millions of whom are in the Muslim world, according to a report by Gulf News.
The Muslim players considered the new feature of the famous war game not only disrespectful to their Islamic faith but also to all other beliefs.
"PUBG has violated Islamic beliefs regarding prostration and bowing to idols, and this is the greatest sin in Islam, because prostrating and bowing is worship and glorification solely and exclusively to Almighty Allah. The special draw of gaming that makes [games] the preferred pastime of so many millions of kids and adults is not just entertainment, it is dangerous because it teaches them polytheism, so they prefer it and become addicted to it," Bassam Al-Shatti, a professor at the University of Kuwait, told Gulf News.
"Indeed, he who associates others with Allah - Allah has forbidden him Paradise, and his refuge is the Fire." ~Quran(5:72)#uninstallPUBG
"These games are dangerous for Muslims, since they could create generations who do not know Tawhid," said Rashid Al-Alimi, another professor at the University of Kuwait, citing the concept of the oneliness of the creator or the unity of God, which is called Tawhid by Muslims.
"Islam promotes tolerance, balance, equality, consensus, reformism, and all things that take the middle path to materialize the best interest of people. So Sharia (Islamic law) permits games that have a preponderant interest, such as shooting, racing, swimming, and horse riding," said Aref Bin Mazyad Al-Suhaimi, a Saudi Islamic scholar.
The game, called "Mysterious Jungle," offered an option to "pray" in front of totems for exclusive supplies, drawing outrage from Muslim players for its negative effect on the beliefs of players who largely consisted of Muslim children.
https://www.yenisafak.com/en/technology/muslimsoutragedover-pubgsnewidolworshipping-feature-3531363
------
Lebanese Shia Cleric Warns of Threat of Sectarian Strife in The Country
June 7, 2020
AhlulBayt News Agency (ABNA): President of Lebanon's Higher Shia Council Ayatollah Abdul-Amir Qabalan warned of attempts to foment sectarian strife in the country.
In a statement, Ayatollah Qabalan described such attempts as plots that are in line with the objectives of the Zionist regime of Israel, al-Ahed News reported.
He said enemies are trying to create discord among the Lebanese people and undermine their Islamic and national unity.
The senior cleric further condemned any insult to religious symbols and sanctities of all faiths.
He urged all the Lebanese people to stand up against any move that aims to spread disunity and religious and ethnic conflict.
https://en.abna24.com/news//lebanese-shia-cleric-warns-of-threat-of-sectarian-strife_1044011.html
------
Prime Minister Sheikh Hasina: We Observe June 7 as the Six-Point Day
June 07, 2020
Prime Minister Sheikh Hasina has written an article marking the historic Six-Point Day today. Following is an abridged version of the article:
We observe June 7 as the Six-Point Day. The year 2020 has appeared as a unique year in the life of the Bangalees. This year is very important for us -- meaning the people of Bangladesh. Massive programmes were taken up to celebrate the birth centenary of Father of the Nation Bangabandhu Sheikh Mujibur Rahman. Not only in Bangladesh, the Bangalees around the globe had also taken preparations to this end. The Unesco had decided to observe the day, while the UN member states had taken necessary preparations too. The UN has already released a commemorative postage stamp in this regard.
When such massive preparations were going on, a pandemic emerged across the globe. An infectious disease named novel coronavirus has infected people around the world. The economic, social and cultural operations of almost all the countries have come to a stalemate. Bangladesh, too, is not free from this virus. Under the circumstances, we have suspended all kinds of activities in the areas where there can be mass gathering, considering public interest and thus observing various programmes through radio, television, and digital media.
The Father of the Nation had declared the six-point demand in 1966 which is regarded as the "Charter of Freedom" for the Bangalees. I recall with deep respect Father of the Nation Bangabandhu Sheikh Mujibur Rahman, show my respect to my mother Bangamata Sheikh Fazilatunnesa Mujib as she played a unique role in making the June 7 programmes successful. I remember my beloved family members who embraced martyrdom on August 15, 1975. I also pay my profound respect to the four national leaders, all the martyrs of the Liberation War and my oppressed mothers and sisters.
At the residence of Chowdhury Mohammad Ali in Lahore, the conference of the opposition party began on February 5, 1966, with then Muslim League president Syed Mohammad Afzal in the chair. Bangabandhu placed the Six-Point Demand at a subject committee meeting. But the proposal was not adopted.
The six-point demand had proposed to give self-autonomy to every province of Pakistan. The six-point demand was passed at the working committee of Awami League.
During the Indo-Pak war in 1965, the people of East Bengal or East Pakistan remained totally unprotected as there was no importance to the central government of Pakistan for protecting this region and East Bengal was left at the mercy of India.
After the Indo-Pak war, an agreement was signed between India and Pakistan which is also known as the Tashkent Treaty. The interest or security of East Bengal was ignored in the deal.
When the six-point demand was placed in the wake of torture and oppression by Ayub Khan, public support started to grow fast in favour of it.
Bangabandhu returned to Dhaka on May 8, 1966 after joining a public rally in Narayanganj. He was arrested from his Dhanmondi residence on the same day. He was sent to jail the following day.
On May 13 in 1966, Awami League organised a public rally to observe the protest day and the people extended their full support to the Six-Point Demand. A hartal (strike) was called for June 7 across the East Pakistan and all-out efforts were made to make the strike a success.
My mother, Begum Fazilatunnesa, had played a special role in making the strike a success. Holding secret meetings with student leaders, she gave necessary instructions to this end.
Pakistani military junta and then president Ayub Khan bestowed the full responsibility on East Pakistan governor Monem Khan to resist this movement in any way.
But the people of Bangladesh had extended their support to the Six-Point Movement by enforcing the hartal on June 7, ignoring all the oppressions. But it was a matter of regret that police opened fire on the people without any instigation. Labour leader MonuMian and 10 others were killed.
On June 10-11 in 1966, a meeting of the Awami League executive committee thanked students-workers and general people for lending their support to the Six-Point Demand by observing the hartal.
Different programmes, including meetings, rallies, protest processions and distribution of leaflets, were taken up to spread the autonomy movement across the country. Steps were initiated to mobilise public opinion in support of the demand.
On January 18 in 1968, Bangabandhu was brought to the detention centre at Dhaka Kurmitola Cantonment from Dhaka Central Jail. A sedition case was filed against him, widely known as the Agartala Conspiracy Case. Bangabandhu was made the number one accused in the case.
The proceedings of the case were initiated by setting up a court inside the cantonment. Besides, the Ayub government was unleashing torture and repression on the people.
The general people spontaneously began to build resistance against the torture, oppression, and repression by the Pakistani government. They took to the streets.
On March 7 in 1971, the Father of the Nation proclaimed, "This time the struggle is for our freedom. This time the struggle is for our independence."
On March 25, the Pakistani military junta launched genocide. In the first hours of March 26, Bangabandhu declared the independence (of Bangladesh) and instructed all to continue the war.
After the nine-month war, Bangalees achieved the final victory. The Bangalees have got the status as a nation in the world, got the nation-state -- independent, sovereign Bangladesh.
https://www.thedailystar.net/backpage/news/six-point-demand-charter-freedom-1910157
------
Islamic group, NASFAT, seeks stricter punishment for rape in Nigeria
June 7, 2020
By Don Silas
An Islamic group, NastrulLahilFatih Society of Nigeria (NASFAT), has called for stricter penalties against gender-based violence in the country.
Engr. Muhyideen Yusuf, the Chairman of NASFAT in Kaduna State, made the appeal in a statement on Saturday in Kaduna, NAN reports.
Yusuf expressed concern over the escalation of gender-based violence against women and the girl-child in Nigeria and called for urgent action to stem it.
"We now call on all religious organizations, Civil Society Organizations, Non-Governmental Organizations and citizens to join hands with the government at all levels to stop these evils that have infested our society.
"NASFAT prays for the repose of the souls of all departed victims of this violence and condoles with their families," he said.
Meanwhile, Nigerians, in the past few days, alongside prominent figures called for an end to rape in the country.
The call became necessary after the murder of one Vera Omozuwa who was raped and killed by unknown people in a church in Benin.
------
North America
NY restart: More worshipers can attend church, temple, mosque services, Cuomo says
Jun 06, 2020
Syracuse, N.Y. -- Starting this weekend, the size of religious services can expand to include 25 percent of a church, mosque or temple's capacity, Gov. Andrew Cuomo said today.
Previously indoor religious ceremonies were limited to 10 or fewer people in an effort to stop the spread of the coronavirus.
Cuomo said the state reported 35 deaths in the past day, the lowest death rate since the state starting tracking the virus nearly 100 days ago. That's down from the deadliest day, when 800 died.
Hospitalizations and intubations are also continuing to decrease, he said. That's why, he said, he changed the order involving religious services.
Hospitalizations and intubations are also continuing to decrease, he said. That's why, he said, he changed the order involving religious services.
Cuomo said he would also issue an executive order allowing commercial buildings to conduct temperature checks for anyone entering the building.
"We didn't just flatten the curve," Cuomo said of people's efforts to slow the spread of the virus. "We bent the curve."
https://www.syracuse.com/coronavirus/2020/06/ny-restart-more-worshipers-can-attend-church-temple-mosque-services-cuomo-says.html
-----
CAIR-LA, Temecula Mosque Welcome Resignation of Temecula Mayor After Email About Police, Racism
June 6, 2020
Ibrahim Hooper
(LOS ANGELES, CA – 6/6/2020) – The Greater Los Angeles Area office of the Council on American-Islamic Relations (CAIR-LA) and the Islamic Center of Temecula Valley (ICTV) today welcomed the resignation of Temecula Mayor James Stewart after being criticized for an email in which he said he mistakenly wrote he didn't "believe there's ever been a good person of color killed by a police officer."
According to the Riverside Press, Stewart said the word "good" was accidentally added to an email he dictated Tuesday responding to a resident who asked what Temecula was doing about police violence and racism against black people.
The email was posted on social media after public outcry. On Thursday, Stewart apologized and said he would decide whether he would resign, which he did later that night.
"Two weeks after George Floyd was murdered in the streets of Minneapolis as the result of police brutality and less than three months after Breonna Taylor was murdered in her home by police who broke in unannounced, statements like Mr. Stewart's are definitely not welcome. All prejudice is unacceptable, but it is very dangerous when it is expressed by elected officials."
"Elected officials should be working towards assuring their constituents that Black lives matter just as much as every other life. We commend the statement of Mayor Pro TemMaryann Edwards, who said Temecula was "poised to close this chapter" and keep fighting against racial injustice."
CAIR-LA is Southern California's largest Muslim civil liberties and advocacy organization. Its mission is to enhance understanding of Islam, protect civil rights, promote justice and empower American Muslims.
https://www.cair.com/press_releases/cair-la-temecula-mosque-welcome-resignation-of-temecula-mayor-after-email-about-police-racism/
------
Thousands demonstrate in front of US consulate in Hamburg against racism
June 7, 2020
Hamburg police have dispersed Black Lives Matter protesters, citing a violation of coronavirus restrictions. Germany held the largest demonstrations over the death of George Floyd outside the US on Friday.
Police in the northern German city of Hamburg on Friday intervened in an anti-racism protest, declaring the rally over after just 30 minutes.
Authorities claimed the attendees had violated police instructions to adhere to coronavirus rules such as wearing face masks and maintaining physical distancing.
Around 4,500 people attended the protest outside the city's US consulate along the banks of the Alster river.
The rally was registered under the slogan: "Justice for Floyd - stop killing blacks - stop the racial terrorism in the USA." Crowds did not immediately disperse following police instructions with photos posted on social media showing people sitting instead on the ground.
Protest organizers appealed to demonstrators to go home peacefully. The rally eventually started to break up in the late afternoon.
The largest anti-racism demonstrations outside of the US on Friday appeared to be in Germany. In addition to the Hamburg protest, thousands of people rallied in Germany's financial hub, Frankfurt.
Protesters were seen with raised hands in the air, holding banners with slogans such as: "Your Pain Is My Pain, Your Fight Is My Fight."
In reference to the George Floyd killing caught on camera by bystanders in Minneapolis, one poster at a Frankfurt demonstration read: "How Many Weren't Filmed?"
Police described the Frankfurt demonstration as peaceful and said that those attending had followed the rules introduced to curb the spread of the coronavirus, including wearing face masks.
https://en.abna24.com/news//thousands-demonstrate-in-front-of-us-consulate-in-hamburg-against-racism_1043970.html
------
Europe
Switzerland welcomes Iran, US' humanitarian gesture by releasing prisoners
June 6, 2020
AhlulBayt News Agency (ABNA): Switzerland has welcomed the recent move by Tehran and Washington to release and repatriate American and Iranian nationals.
"Switzerland welcomes the humanitarian gesture of Iran and the United States. Switzerland remains ready to support and to facilitate more confidence building measures between the two countries as part of its good offices," the Swiss foreign ministry announced on Friday.
Tehran announced on Friday the release of a US citizen, Michael White, who had been imprisoned on security charges in Iran.
Foreign Ministry Spokesman Abbas Mousavi said Mr. White was released on Thursday night with Islamic kindness and based human rights considerations and left Tehran to join his family soon.
Mousavi noted that since White had no one in Iran, he was handed over to the US interests section in the country, i.e. the Embassy of Switzerland.
Mousavi also said, "Simultaneous with White's release, Majid Taheri, an Iranian scientist who was imprisoned in the United States for false reasons, was released too."
Majid Taheri was sentenced to 16 months in prison for charges of circumventing unilateral anti-Iranian sanctions.
On Wednesday, Another Iranian scientist SirousAsgari who had been imprisoned in the United States has returned to the country.
https://en.abna24.com/news//switzerland-welcomes-iran-us-humanitarian-gesture-by-releasing-prisoners_1043572.html
-----
R you alright? Boris to announce plans to ease lockdown and restart economy
by Jack Peat
June 7, 2020
Boris Johnson will soon set out plans to "rebuild Britain" in the wake of the coronavirus pandemic, amid reports he wants to ease lockdown restrictions quickly to save millions of jobs.
The Prime Minister is expected to use a major speech to effectively relaunch the Conservatives' domestic agenda after the Government's attention turned to the Covid-19 crisis, during which the Tories' poll rating has plummeted.
Mr Johnson will this week chair a meeting of his Cabinet to update them on the next lockdown-easing steps for a number of sectors, which are expected to take effect from June 15.
The Sunday Times reported that the PM will unveil plans to ease restrictions on weddings and funerals from next month, as well as possible measures to reopen hairdressers before July 4.
And the paper said Mr Johnson has told Transport Secretary Grant Shapps to secure "travel corridor" deals with holiday hotspots by June 28.
Downing Street announced on Saturday night that churches and other places of worship are set to open for private prayer from June 15, but worship groups, weddings and other services will still not be permitted.
The PM is said to have signed off on plans to reopen the economy after being warned by Business Secretary Alok Sharma that a failure to reopen the hospitality sector could cost 3.5 million jobs. Mr Johnson reportedly replied: "Christ!"
However, there are concerns that the reproduction rate of coronavirus is dangerously high – with a report by Public Health England and Cambridge University placing the R value just above 1 in the North West.
If R is 1 or higher, the virus will spread exponentially through the population, while a value less than 1 indicates the virus is in decline.
The Sunday Telegraph, meanwhile, reported that the Prime Minister would outline plans to accelerate major infrastructure projects – including pledges to build 40 new hospitals and key road upgrades – in a speech in the coming weeks.
Mr Johnson is also said to want to fast-track recruitment campaigns for doctors and nurses to increase the NHS's resilience before the winter.
A Whitehall source told the paper that "getting the immediate crisis under control remains the Prime Minister's main focus", but said the Government is "also preparing for tough economic times ahead".
"In the election the PM made the right diagnosis of the problems many people face. He believes now is the time to be even more ambitious with his plans to unite and level up the country."
An Opinium poll suggested just under half of the population disapprove of the Government's handling of the crisis, while the Tory vote share has fallen to 43 per cent, with Labour on 40 per cent.
Anti-racism protests following the death of George Floyd in Minneapolis were held across the UK – despite a plea from the Health Secretary for people not to gather during lockdown.
Healthcare chief Chris Hopson said NHS trusts were not consulted on plans for all hospital staff to wear surgical face masks and visitors and outpatients to wear face coverings from June 15.
The Department of Health and Social Care said another 204 people had died after testing positive for coronavirus, taking the death toll to 40,465. The total toll for all deaths involving Covid-19 across the UK is thought to have passed 50,000.
https://www.thelondoneconomic.com/politics/r-you-alright-boris-to-announce-plans-to-ease-lockdown-and-restart-economy/07/06/
------
British Airways warns it will fire pilots as it looks to legally challenge UK's quarantine rule
June 7, 2020
British Airways is battling its pilot union that's pushing back on further job cuts as the carrier initiates the legal process to block the UK's 14-day self-isolation plan for arrivals starting Monday.
The airline warned its pilots union that it would dismiss all of the company's 4,300 pilots and rehire them on individual contracts unless the union reached an agreement with the carrier. The company, which is negotiating a planned reduction of 1,130 roles represented by the Balpa union, sought another 125 pilot jobs on Wednesday, the union said in an email.
"This has seriously undermined our talks which now hang by a thread," Brian Strutton, the general secretary of the union, said in an email. "It calls into question whether BA is even capable of conducting industrial relations properly and whether anything they say can be trusted."
A spokesperson for the airline, which is working on cutting 12,000 jobs across the company, said in an email it's "acting now to protect as many jobs possible," adding that "the airline industry is facing the deepest structural change in its history, as well as facing a severely weakened global economy."
Concerned the self-isolation requirement would block its plans to restart services in July, British Airways' parent IAG sent a letter to the Home Office to start the process to block the quarantine, which could lead to a lawsuit, according to a copy of the letter seen by Bloomberg News.
The letter, also signed by Europe's two biggest discount carriers Ryanair and EasyJet, pointed to how the measures will apply to travellers from countries with lower infection rates than the UK, and disproportionately affect those from England than Scotland, Wales and Northern Ireland, the letter showed. The Telegraph first reported the letter.
The 14-day quarantine for travellers is also more stringent than the one for those who test positive for the virus, according to the letter. The carriers also pointed out that the UK is imposing the self-isolation on arrivals from countries that have a lower infection rate than the UK.
"In our view, the government has failed to identify a valid justification for the blanket nature of the regulations, more especially given the extremely severe nature of the self-isolation provisions that apply," according to the letter.
The Home Office declined to comment on the potential legal action late Saturday. On Friday, James Slack, a spokesman for prime minister Boris Johnson, told reporters the government wants to work with the industry as the country moves through the pandemic.
British Airways' move came a day after IAG chief executive Willie Walsh said he is considering legal action to block the measure. Ryanair said Friday it would support legal action by its rival. The quarantine is being introduced as carriers try to salvage the normally busy summer season.
If British Airways and the airlines push ahead with a legal challenge, a court proceeding known as a judicial review will be held in London's High Court. The transport sector isn't a stranger to a judicial review. Earlier this year, the procedure was used to force the government to take full account of climate change agreements over its plans for a third runway at Heathrow Airport.
The procedure allows members of the public and corporations to hold the government to account over policy decisions. The process is designed to weigh the lawfulness of how a government decision has been reached, rather than whether the decision is right or wrong. Public bodies that lose judicial review cases can make the same decision again as long as they do so using the right procedures.
Like airlines worldwide, IAG is slashing costs to contend with a historic drop in travel. Carriers in Europe have signaled plans to eliminate more than 50,000 positions since the onset of the coronavirus pandemic, including 10,000 on Wednesday at Germany's Lufthansa.
https://www.thenational.ae/business/aviation/british-airways-warns-it-will-fire-pilots-as-it-looks-to-legally-challenge-uk-s-quarantine-rule-1.1029882
------
Mideast
Pres. Rouhani: Iran top Muslim country in scientific work on coronavirus
June 7, 2020
AhlulBayt News Agency (ABNA): Iran is the number one country in the region and the Islamic world in carrying out research and scientific activities in the battle with COVID-19, Iranian President Hassan Rouhani said.
n comments at a Saturday session of the Coronavirus Fight National Headquarters, Rouhani highlighted the successful research and scientific programs the country has launched to contain and cure the novel coronavirus.
Apart from the great efforts that Iran's medical society has made for the treatment of patients, the Islamic Republic ranks 15th in the world and is the number one country in the region and the Islamic world in the scientific field in the battle with COVID-19, the president added.
He further warned that the epidemic will possibly last long, stressing the need to observe the health regulations until a vaccine is made available to the public.
"We do not exactly know when it (coronavirus epidemic) will end, so the (health) instructions must be observed for a long time," Rouhani added.
He also said that Iran has made such great progress in the medical sphere that many Iranian expatriates or foreigners are on waiting list to receive treatment inside Iran.
Last month, Iranian Health Minister Saeed Namaki said the country has outperformed the most powerful countries in tackling the novel coronavirus pandemic despite financial problems.
The Health Ministry has already announced that 80 percent of the coronavirus positive cases in the country have fully recovered from the infectious disease and left the hospital.
https://en.abna24.com/news//pres-rouhani-iran-top-muslim-country-in-scientific-work-on-coronavirus_1043917.html
------
Leader: Imam Khomeini Shattered Superpowers' Aura of Invincibility
June 05, 2020
Leader of the Islamic Revolution Ayatollah Seyyed Ali Khamenei commemorated the founder of the Islamic Republic, Imam Khomeini, on the 31st anniversary of his passing, saying the late leader shattered the presumed aura of superpowers' invincibility.
In a televised address to the Iranian nation, Ayatollah Khamenei paid homage to the late revolutionary leader and recounted his legacy.
Decades after his departure, Imam Khomeini "is still alive among us, and should remain so", the Leader was quoted as saying by Press TV.
Ayatollah Khamenei recalled how Imam Khomeini also transformed people's attitude toward the so-called superpowers and their presumed invincibility to the point that the then US rulers acknowledged that the Imam had "humiliated" them.
"Imam, those who worked for him, and the youths who would mobilize at the wave of his hand, humiliated the superpowers in the true sense of the word, broke down their will and ousted them from the stage," he said.
"At that time, no one assumed that anything could be done contrary to what the US willed. Imam Khomeini proved that superpowers are not invincible. We witnessed what happened to the Soviet Union. And today we are watching the US and see what is transpiring there," Ayatollah Khamenei said, adding that Imam Khomeini taught the masses how these big powers can be overcome.
The Leader also addressed the widespread protests that have engulfed the United States in the aftermath of the gruesome killing of African American citizen George Floyd at the hands of a white police officer in Minneapolis.
Ayatollah Khamenei said what the US has come face to face with today in the form of protests are "realities that had always been kept concealed", and have now risen to the surface causing disgrace for the American administration.
"The brutality that was used against Floyd is what the United States has been doing across the world. They have done the same in Afghanistan, Iraq, Syria, Vietnam and many other countries. This is the US government's nature and character that is being exposed today," he said.
The Leader referred to "I Can't Breathe" slogan that the American protesters were chanting all across the United States during the protests and called it "the heartfelt words of all nations against which the US has committed many atrocities".
As another instance of the US disgraceful behavior, he cited Washington's mishandling of the coronavirus' outbreak, even though the country came to grips with the disease later than other nations.
The Leader pointed out that Washington has been treating Americans in the worst possible manner, saying the people of the United States have every right to feel embarrassed and ashamed of their administrations, particularly the current one.
From a young age, Imam Khomeini would call for "rising up in the path of God", he added, reminiscing how the late leader would invoke "spiritual revolution" among people through his speeches.
The Leader stated that Imam Khomeini managed to eventually bring about "change across the whole Iranian nation", and prompted the people to abandon the spirit of lethargy and capitulation in the face of oppression.
Iran's Islamic Revolution "did not deviate from this pro-change approach" even after Imam's departure, he said, citing various instances of progress and transformation across the country's various areas in the post-revolution era.
"We underwent change in various areas and became more powerful than before. The revolutionary attitude is still alive today," he added, citing the country's scientific and defensive achievements.
Grand Ayatollah Seyyed Ruhollah Mousavi Khomeini passed away on June 3, 1989, at the age of 87. Hailed as one of the 20th-century's true revolutionary leaders, he spearheaded the Islamic Revolution, the Iranian nation's struggle against the tyrannical United States-backed Pahlavi monarchy toward eventual victory in 1979.
https://financialtribune.com/articles/national/103664/leader-imam-khomeini-shattered-superpowers-aura-of-invincibility
------
Turkish atheist group files complaint against Islamist daily for defamation
Jun 06 2020
The Turkish Atheists Association filed a criminal complaint against pro-government Islamist YeniAkit newspaper for insulting atheists in article published in February.
One of the association's lawyers, Mehmet Türkaslan, filed the complaint with Ankara's chief prosecutor's office over an article dated Feb. 11, titled, "What are the stages of atheism? Do atheists respect everyone?" T2 news site reported.
The YeniAkit report violates the Article 216 of the Turkish Criminal Code, the association's team of lawyers said, which imposes penalties for inciting "groups of the population to breed enmity or hatred towards one another," by means that include the denigration of religious values.
The news article claimed atheists evolved through several stages, transforming from a general respect for everyone, to narcissism, hedonism and, finally, anarchism.
"Some atheists may reach a final stage of savagery. Not feeling pity for anyone," the article said. "This is generally seen in Western societies and countries in which disbelief is widespread."
https://ahvalnews.com/lawsuit/turkish-atheist-group-files-complaint-against-islamist-daily-defamation
-----
Palestine's Islamic Jihad Mourns Former Head, S.G. Ramadan Abdullah Shallah
June 7, 2020
AhlulBayt News Agency (ABNA): The former head of the Palestinian Islamic Jihad Movement on Saturday died in the hospital where he was being treated.
The group said Ramadan Abdullah Shalah, 62, succumbed to disease.
"We have been witnessing the struggle of the Islamic Jihad Movement since its establishment, and we remember his leadership and national stance with honor and dignity," it said in a statement and added that Shallah always protected his Arab and Islamic identity by supporting Palestinian resistance.
Palestinian President Mahmoud Abbas issued a condolence message, according to the Palestinian official news agency, WAFA.
"By losing Shallah we lost a great national man," Abbas said.
Shallah was born in Gaza in 1958 and became the head of the movement in 1995 after the assassination of FathiShaqaqi.
US authorities added Shallah to a terrorist list in 2003, and the FBI added his name to its wanted list in 2017.
Ziad al-Nakhala was chosen to lead the Palestinian Islamic Jihad Movement in 2018 because of Shallah's illness.
https://en.abna24.com/news//palestine%e2%80%99s-islamic-jihad-mourns-former-s-g-ramadan-abdullah-shallah_1043955.html
-----
Ayatollah Sistani's office urges Iraqis to take health recommendations seriously
June 6, 2020
AhlulBayt News Agency (ABNA): The office of senior Iraqi Shia cleric Ayatollah Seyed Ali al-Sistani in a statement urged people to take health recommendation seriously to prevent the spread of the coronavirus.
The statement referred to a new surge in coronavirus infections in Iraq and said taking precautionary measures like maintaining social distancing, wearing face masks and refusing to shake hands is necessary, al-Sumaria TV reported.
It warned that failing to observe the health protocols could result in a growing number of COVID-19 cases.
The statement underlined that it is the duty of all citizens and officials to make efforts to prevent further spread of the disease.
It also lauded the medical staff and nurses in the country for their efforts and the difficulties they are going through to help the victims.
The novel coronavirus, known as COVID-19, has infected more than 6.8 million people and killed nearly 400,000 worldwide.
The number of confirmed cases in Iraq is 9,864 and 285 people have died from the disease in the country so far.
https://en.abna24.com/news//ayatollah-sistani%e2%80%99s-office-urges-iraqis-to-take-health-recommendations-seriously_1043748.html
------
50,000 Palestinians attend Friday prayers at Al-Aqsa mosque
June 6, 2020
AhlulBayt News Agency (ABNA): Friday prayers were held at Al-Aqsa Mosque in Quds (Jerusalem) for the first time yesterday after weeks of the mosque's closure.
According to Al-Alam news network, the Islamic Awqaf Department of Quds said in a statement that more than 50,000 worshippers attended the Friday prayers.
The mosque's officials said health protocols were observed during the prayers, with the guards distributing face masks and sanitizers among the worshippers and ensuring that proper social distance is maintained.
The Quds Islamic Waqf Organization had in March banned presence of worshippers at the mosque to stem the spread of the coronavirus.
Al-Aqsa Mosque was reopened on Sunday on the condition that all health instructions are fully observed by those visiting the mosque.
https://en.abna24.com/news//50000-palestinians-attend-friday-prayers-at-al-aqsa-mosque_1043660.html
-----
Arab world
Qatar Charity thanks supporters of its Ramadan campaign
June 06 2020
Qatar Charity (QC) has expressed its sincere thanks to all government agencies and private institutions for contributing to the success of its Ramadan campaign for the year 1441 AH, which was implemented in Qatar and 30 other countries around the world, benefiting approximately 2.4mn people worldwide.
QC had taken into consideration public safety and precautionary measures during the implementation of its Ramadan projects and collection of donations, aiming to fight the Covid-19 pandemic.
Accordingly, food baskets and Iftar meals were distributed within and outside Qatar to feed fasting persons, using cars designated for this purpose, due to coronavirus, QC said in a statement.
Qatar Charity's website, app and various other digital tools enabled generous donors to pay their Zakat and perform charitable acts easily while at home, it noted.
The Ramadan campaign consisted of three main seasonal projects: Iftar of fasting persons (food baskets and meals), Zakat al-Fitr and Eid Clothes. It also included special assistance to fight the coronavirus within and outside Qatar.
The list of supporters of the Ramadan campaign included ministries, government institutions, companies, banks, shopping centres, social figures, voluntary and youth initiatives, and communities residing in Qatar.
Mohamed Rashid al-Kaabi, assistant CEO for the Communication and Resource Development Sector at QC, thanked all supporters of the campaign for the significant efforts - showing their sincere desire to support humanitarian action within the framework of their social responsibility, especially in the blessed month of Ramadan when the rewards are multiplied.
In particular, he thanked ministries, including the Ministry of Administrative Development, Labour and Social Affairs, Ministry of Foreign Affairs and Ministry of Interior, in addition to the Regulatory Authority for Charitable Activities, Qatar Airways and the International Foundation for Wildlife Research.
Qatar Charity also lauded the role of commercial establishments and banks in supporting the Ramadan campaign, including Ooredoo, Doha Bank, Qatar Islamic Bank, Talabat, Qatar Stock Exchange, Al Meera, Spar Qatar, LuLu Hypermarket, Haider Holding, Mazzraty, Wooden Bakery, Al Wajba Dairy, Al Jazira Security, Safety and Contracting, Doha Festival City, Hyatt Plaza, Al Muftah Group, and Aouina for Trips & Agricultural Tools.
Further, QC commended the role of the media in supporting the Ramadan campaign by broadcasting radio and TV programmes produced by Qatar Charity, namely Al Quran Al Kareem Radio, Qatar TV, Qatar Radio, Qatar English Radio, Sout Al Khaleej Radio, Qatar Urdu Radio, Qatar News Agency, newspapers, ('Gulf Times', 'Arrayah', 'Al Sharq', 'Al Arab', 'Al Watan', 'Lusail', 'The Peninsula', 'Qatar Tribune', 'Al-Araby Al-Jadeed', 'Al-Quds Al-Arabi') Anadolu Agency, Marsal Qatar, Nadeeb Qatar and the iloveqatar website.
https://www.gulf-times.com/story/664963/Qatar-Charity-thanks-supporters-of-its-Ramadan-cam
------
Worshippers flock to reopened Prophet's Mosque for Friday prayers
June 06, 2020
MADINAH: Hundreds of thousands of worshippers attended the first Friday prayers to be held at the Prophet's Mosque in Madinah since the gatherings were suspended to stop the spread of the coronavirus disease (COVID-19) outbreak.
The green light for the resumption of the prayer meetings came as part of a plan to gradually reopen the Kingdom's mosques while ensuring worshippers and visitors adhered to preventive measures.
A ban on access to the Rawdah remained in place and only groups of worshippers numbering up to a maximum of 40 percent of the mosque's capacity were being allowed entry.
Precautionary measures also included the allocation of specific doors for the entry of worshippers, the installation of thermal cameras, removal of all carpets so that prayers could be performed on the marble, sanitization of the mosque's floors and courtyards, periodic opening of domes and canopies to ventilate the mosque, and the removal of Zamzam water containers.
The Prophet's Mosque in Madinah will be closed after evening prayers and reopened one hour before dawn prayers. Parking lots will operate at 50 percent capacity and a media awareness campaign has been launched to highlight safety procedures at the holy site.
On May 31, Saudi authorities reopened all mosques for prayers, except in Makkah, as part of the Kingdom's plan for a gradual return to normal life.
Last week the minister of Islamic affairs, dawah and guidance said that the country's mosques were ready to welcome back worshippers, following his field trips to check that necessary preparations had been made.
All worshippers must still maintain a distance of 2 meters between rows, wear masks to enter a mosque, and Friday sermons and prayers have been limited to a maximum of 15 minutes.
https://www.arabnews.com/node/1685491/saudi-arabia
------
Saudi health campaign launched in 250 mosques
June 06, 2020
RIYADH: Health volunteers will work in 250 mosques across the Kingdom as part of a campaign launched on Friday by the Saudi Ministry of Health in coordination with the Ministry of Islamic Affairs, Dawah and Guidance.
The 1,500 volunteers will be present in mosques to raise awareness and teach virus prevention methods to be used during prayers. The campaign aims to contribute to reducing the spread of the coronavirus over the next six weeks by providing volunteering opportunities, empowering over 4,000 health volunteers in 20 cities.
https://www.arabnews.com/node/1685476/saudi-arabia
-------
Cairo mosque resumes Friday prayers with pandemic plea
MOHAMED AL-SHAMAA
June 05, 2020
CAIRO: Friday prayers returned to Cairo's Al-Azhar Mosque, 66 days after being suspended as a precautionary measure to prevent the spread of the coronavirus.
Ahmed Hashem, a member of the Senior Scholars Committee in Al-Azhar, was the khatib, or preacher, for the first Friday prayers since the shutdown.
Only 20 worshippers from among the mosque's imams and employees took part in the prayers. Regular worshippers were absent in line with virus restrictions.
"To all those working in the medical force, from doctors to nurses, work sincerely and know that in your work of treating the sick, you are conducting the best form of worship," Hashem said during his sermon, addressing health-care workers.
"What we experienced with this pandemic, and being unable to find a cure despite the genius of modern science, is an indication that this universe has God," he added.
Hashem told journalists earlier that praying in Al-Azhar Mosque was a good omen, saying he prayed to God to "lift the pandemic off humanity as a whole."
A member of the Council of Senior Religious Scholars said that it was common knowledge among scholars that in Al-Azhar Mosque, prayers are answered.
Shoukry El-Gendy, undersecretary of the Religious Affairs Committee in Parliament, said the return of prayers in mosques will depend on worshippers following social distancing, especially in large venues.
Only 20 worshippers from among the mosque's imams and employees took part in the prayers. Regular worshippers were absent in line with virus restrictions.
Egypt's mosques will follow protective guidelines when they reopen, with worshippers wearing face masks, keeping a safe distance and each having their own prayer mat.
The Friday prayers were the first to be held in Al-Azhar Mosque since the Grand Imam Ahmed Al-Tayyeb, sheikh of Al-Azhar, temporarily stopped public prayers on March 21 to help prevent the spread of the coronavirus.
The Ministry of Endowments confirmed that the next Friday prayer, on June 12, will be held in the Imam Hussein Mosque, and will include around 20 mosque employees and endowment workers.
The Council of Ministers said that a coronavirus crisis management committee meeting next week will make a decision on the reopening of mosques. The committee is responsible for ensuring that government instructions on the virus are being implemented.
This was not the first time Al-Azhar Mosque stopped worshippers congregating. During the era of the Ayyubid state (1174-1250 AD), Salah Al-Din Al-Ayyubi overthrew the Fatimids at a time when the mosque was neglected.
During the rule of Egypt's Ayyubid dynasty, Sadr Al-Din bin Derbas, a judge appointed by Salah Al-Din Al-Ayyubi, was prohibited from praying in it. Al-Hakim Mosque became the only mosque in which congregational prayers, including the Friday prayer and khutbah, took place.
https://www.arabnews.com/node/1685436/middle-east
-----
Zusaura: Former Abu Dhabi resident launches modest swimwear for Muslim men
Hafsa Lodi
June 6, 2020
Modest fashion is booming – the State of the Global Islamic Economy Report 2019-20 projects that Muslim spending on fashion will reach $402 billion (Dh1.4 trillion) by 2024. But while conservative cuts have been trending in retail, a major criticism of the movement is that it centres on clothing for women, and overlooks the possible modesty requirements of male consumers.
When one hears the phrase modest swimwear, for instance, the mind usually conjures up images of burkinis. They are worn primarily by Muslim women who want to go swimming while adhering to their conservative dress codes.
Muslim men, meanwhile, often strut around topless and in shorts, or perhaps fitted swimming trunks. Those who wish for more coverage opt for a topsy-turvy combination of larger-sized shorts and T-shirts, which look neither sleek nor stylish.
But a husband-and-wife duo in the UK, Amir and Yasmin Latifi, are adding a new dimension to the modest fashion sector with their brand Zusaura – a swimwear label for men that launched in London last month and combines faith with functionality and style.
Amir, a British-Pakistani who was raised in Abu Dhabi, has a background in the oilfield services sector, while his wife, Yasmin, is a doctor. "The idea for Zusaura took seed when we were on holiday in Dubai in 2012 and could not find swimwear for myself that met our faith and taste needs," he tells The National.
"This, judging from the attire of other male swimmers on that holiday, seemed to be a shared problem – there were lots of men wearing ad-hoc ensembles of T-shirts with oversized and ill-fitting boardshorts, while at the pool or beach. Paris Fashion Week it most definitely was not."
The two set out to design below-the-knee boardshorts and colourful rash vests using Portuguese and Italian-made swimwear fabrics.
Amir says it was essential that the label's designs complied with modesty guidelines for Muslim men. He explains that in order to embody "haya", the Islamic principle of modesty, both men and women have certain codes of coverage to adhere to.
"In terms of dress, this manifests as a requirement for Muslim men to cover their 'awrah', or intimate parts of the body. The awrah for men is defined as the area from navel to the knee," he says.
Nuriddeen Knight, an author in New York and a Yakeen Institute fellow who often speaks about feminism and gender roles in Islam, says the traditional implementations of modesty, as seen from the example of the Prophet and early Muslims, surpass the textual requirements, and that men need not comply with just the bare minimum (covering naval to knee). "Men as well as women should consider that modesty is and always has been a valuable part of their faith," she says.
Knight says mainstream menswear today consists of sagging trousers, tight muscle tees and flambouyant attire that may not be considered modest according to traditional Islamic thought. "Men should also be cautious of the kind of attention that they are attracting," she says.
Zusaura thus fills a clear gap in the men's swimwear market, according to Amir. "While [existing] ensembles can be put together to attempt to meet Islamic dress requirements for men, they generally fail on one specific point or another. For instance, where a pair of swim shorts and top could be employed, most swim shorts do not cover the knees, let alone reach them. On the other hand, where coverage of the awrah is met – like wetsuits for example – they fail on the requirement to be loose-fitting," he says.
By 2014, while both working full-time and raising three young children, the Latifis produced their first sample, and in 2015, they established Zusaura as a company. Four years later, Amir left his job to concentrate on the label full-time and launched its e-commerce platform this May.
But selling fashion was not enough – in line with the Islamic principles that first sparked the birth of the brand, the Latifis wanted to embed a humanitarian angle into their business. "To further demonstrate our stand on social justice, we committed to donating 20 per cent of our profit to UK registered charities – of which half will be directed for domestic efforts in keeping with our Islamic value of helping the communities in which we live, with the remaining half for international efforts," says Amir.
While it may have been inspired by their religious beliefs, the Latifis are not looking to be pigeonholed as a solely an Islamic brand. "We were decidedly discerning when choosing the tag line for our brand to be 'cultured swimwear for men'. We believe this choice of wording better projects the numerous positive attributes the Islamic concept of haya conveys," says Amir. "We do not seek to proselytise in any manner; indeed our faith stipulates that there is no compulsion in religion."
In fact, as female modest swimwear styles such as burkinis are sometimes worn by non-Muslims (even Lindsey Lohan is a fan), the Latifis believe their brand may attract non-religious consumers too – namely because it protects the skin from sun exposure.
"We believe the ethical stands we have taken thus far, and which we will build upon in the future, will resonate with consumers, across demographics, and perhaps particularly with millennials," says Latifi. "Youth generally acts as the catalyst for change and our brand name somewhat cryptically reflects that – the 'zus' being the first letters of our children's given names, to represent that our efforts are for their generation's future, more so than ours. As with all parents, what we do, is for their future."
Many UAE residents are sharing the news of Zusaura's launch over their community Facebook and WhatsApp groups. "As a mother of four boys, I always found it strange that no modest swimwear was available for males, while there have been multiple up-and-coming modest swimwear options for females," says Dubai resident and senior field co-ordinator for non-profit Hands on Hope, Mai Assaf.
"It's time to change that narrative, because the existing paradigm that implies only females need to dress modesty in our tradition, is inaccurate. Modesty is extolled in all traditional faiths and as a spiritual practice, it opens one up to liberation, which extends beyond the physical form."
Assaf points out that swimming is one of the reported sunnahs (customs of the Prophet) involving sports in Islam. "If wearing more modest swimwear encourages one to take on this activity, then all the power to them," she says.
https://www.thenational.ae/lifestyle/fashion/zusaura-former-abu-dhabi-resident-launches-modest-swimwear-for-muslim-men-1.1029450
------
South Asia
Covid-19 Symptoms: Some 900 dead in three months in Bangladesh
June 07, 2020
Some 900 people died after showing coronavirus symptoms across the country between March 8 and May 31. Of them, 72 people died in March, 319 in April and 509 in May, according to a report.
A team of Bangladeshi students of local and foreign universities, researchers, IT developers and freelancers prepared the report, analysing contents of news portals and online versions of different national dailies. A copy of the report was sent to this newspaper yesterday.
The report said the media outlets reported about "coronavirus symptoms" in case of 390 deaths without mentioning any specific symptoms.
As many as 382 had at least two of the symptoms; fever, cough, respiratory problem, and cold. Besides, 214 people showed at least three of the symptoms, it said.
The report also said samples of 497 were collected for the coronavirus test while samples from 96 were not. There was no mention of sample collection in case of the others.
Of those who passed away at home, 2.18 percent died after one or more hospitals refused to provide them with any kind of treatment in fear of coronavirus transmission, the report added.
It said 21 people were found dead outside their homes. In some cases, the bodies were left untouched for a long time out of fear until police would recover them.
It said 91 of the deceased were identified as farmers, labourers, garment workers, rickshaw-pullers and drivers, fishermen and boatmen.
Thirty-two were employees of different organisations, 30 were traders and shop owners, 29 students, 17 small traders and hawkers, 13 physicians, dentists and health workers, nine teachers of universities, colleges, schools and madrasas, 11 officials and bankers, 10 members of police, Ansar and navy, and seven journalists and cultural activists.
As many as 213 were children, elderly, retired and disabled persons, 123 housewives while the occupational identity of 294 people was not mentioned.
Upazila-wise, the highest 17 people died in Narayanganj Sadar followed by 11 in Keraniganj of Dhaka and 10 in Rupganj of Narayanganj, according to the report.
https://www.thedailystar.net/frontpage/news/covid-19-symptoms-some-900-dead-three-months-1910281
------
A tribal leader and family members killed in Wardak
07 Jun 2020
A tribal leader with 3 of his family members were killed on Friday in Maidan Wardak, a local official said on Sunday.
MohibSharifzai, a spokesperson for the Wardak provincial government office told media on Sunday that Taliban have shot 4 members of a family including a tribal leader in Chak district of Wardak on Friday.
Taliban have reportedly denied their involvement in the incident.
This comes as the Taliban and the Afghan government are on the eve of starting a new phase of intraAfghan peace dialogue which includes the Taliban's presence in the next government.
The U.S special envoy, Zalmay Khalilzad has recently resumed his travels to the relative states in order to facilitate Afghan-owned peace talks between the Taliban and the Afghan figures.
Khalilzad has left Washington D.C on Friday to visit Doha, Islamabad and Kabul.
https://www.khaama.com/a-tribal-leader-and-family-members-killed-in-wardak-9878976/
-----
11 security personnel killed in Afghanistan bomb blast
June 7, 2020
AhlulBayt News Agency (ABNA): In Afghanistan, elven security personnel were killed in a road side bomb blast at Khash district in Badakhshan province today.
The provincial police spokesman said the bomb was planted in a vehicle.
Four Taliban militants including shadow governor of Taliban for Khash district, Mullah Hamid were also killed.
https://en.abna24.com/news//11-security-personnel-killed-in-afghanistan-bomb-blast_1043916.html
-----
Africa
Algeria's Islamists want to equate "Black Decade" detainees with Hirak prisoners
06/06/2020
ALGIERS –Even though many Algerian political prisoners have refused to be used as pawns by political parties, a leading Islamist MP has joined the chorus of voices calling for the release of prisoners of opinion after opposition JilJadid party (New Generation party) revealed that President Tebboune intends to release prisoners of opinion in the near future.
MP Hassan Aribi, from the Islamist Justice and Development party, joined the campaign to release these prisoners by announcing that he sent a message to Algerian President AbdelmadjidTebboune, asking him "to release those who were detained during the Hirak movement and the civil war".
Detained Hirak leader Karim Tabbou rejected the initiative in a letter he addressed to his supporters and to the Algerian people from his prison cell. In his letter, he described the authors of the initiative as "a new generation of opportunists, and political pawns without scruples".
Aribi, an advocate of Islamist causes, wants to invest in the situation of prisoners of the dissolved Islamic Salvation Front, who are serving long sentences (exceeding twenty years in some cases). This was illustrated by his call for the lifting of what he described as the "systematic restrictions" imposed on Algerian Islamist activist Ali Belhadj.
In his letter, the deputy stated that although it has been more than a year since the Hirak movement began, many issues are still pending, including those of political prisoners. Among the civil war prisoners, 160 are serving life sentences, others are on death row. He said these detainees include military personnel and civilians who were arrested at the beginning of the 1992 crisis, because of their affiliation with the Islamic Salvation Front (FIS) or sympathies with the Islamist party after it was banned in March 1992. The detainees were charged with planning and carrying out attacks after being tried by courts of justice designated by the regime after January 1992.
Karim Tabbou warns against political and partisan exploitation of the issue of prisoners of opinion, saying that the country is advancing towards a better future even if the path of freedom is strewn with obstacles. He called Algerians to keep the hope alive and stay united in order to achieve the freedoms for which they are striving.
Aribi claimed that human rights activists presented sufficient evidence proving that the sentences were unconstitutional, and called for the re-trial of the convicted prisoners of the Black Decade. The regime still insists however on considering them political prisoners who are not entitled to being pardoned according to the provisions of the 2005 National Reconciliation Referendum.
The issue of Islamist prisoners in Algeria is quite contentious due to the objection of the families of people killed during the civil war because of their affiliation with the regime or for opposing the jihadist stance promoted by Islamists in Algeria during that period.
The Algerian civil war (known as the Black Decade) caused 250,000 victims, according to official statistics. The National Reconciliation Referendum enacted by former President Abdelaziz Bouteflika could not ensure the right of victims to compensation, as it handled the cases of only 15,000 Islamists who came out of the underground and dismantled their armed groups by the end of the last century.
Political activists and members of the opposition rejected the notion of classifying prisoners of the popular Hirak movement in the same category as the detainees belonging to the Islamic Salvation Front. They say that the issue of Islamist detainees will be dealt with when the demands of the Hirak are met.
In his letter, Aribi insists that those detained during the civil war are political prisoners much like those who were arrested because of their involvement in the Hirak movement. Both groups, he says, are in prison because of their political opinions.
He argued that civil war prisoners are past the age of 60 and are exhausted by the conditions they have endured so far. They families hope to be able to spend the remainder of their lives with them, especially that some of the detainees have already passed away in prison.
https://thearabweekly.com/algerias-islamists-want-equate-black-decade-detainees-hirak-prisoners
------
MURIC Warns Miyetti Allah Against Divisive Statements
JUN 06, 2020
The Muslim Rights Concern has condemned a statement credited to National President of Miyetti Allah KautalHore, Bello Abdullahi Bodejo, that the Fulani will rule Nigeria forever.
In a statement on Saturday by Director of the organisation, Prof Ishaq Akintola, MURIC said that Nigeria belonged to no particular tribe or ethnic group.
The group warned Miyetti Allah against divisive, explosive and provocative statements capable of causing disharmony in the society.
The statement reads, "We call on Miyetti Allah to confirm or deny the alleged statement. We affirm that Nigeria belongs to no particular tribe and every ethnic group has a stake in the Nigerian project. Leadership is therefore not the birthright of any ethnicity.
"We appeal to Nigerians to ignore the statement allegedly made by Miyetti Allah and to allow the group to make clarifications. We call on leaders to avoid divisive, explosive and provocative statements."
http://saharareporters.com/2020/06/06/muric-warns-miyetti-allah-against-divisive-statements
-----
Nnamdi Kanu reacts as Miyetti Allah declares Fulani will rule Nigeria forever
June 6, 2020
By John Owen Nwachukwu
Nnamdi Kanu, the leader of the Indigenous People of Biafra, IPOB, has reacted to the declaration made by the National President of Miyetti Allah KautalHore, Bello Abdullahi Bodejo, that the Fulani own Nigeria and will rule the country forever.
Kanu said that his group, the IPOB, had for years warned, screamed and worked tirelessly to let the whole world know what is happening now and about to happen but they (Kanu and his followers) were ignored, insulted, spat at and ridiculed.
Abdullahi had in an interview at the weekend also disclosed that his organisation had concluded arrangements to flag-off its own security outfit which would be deployed across the country.
"They produced the first prime minister. If they produced the first president, another president, another president and so on, are they not the owner of the country?
Reacting, Kanu wrote on Facebook, "For years IPOB warned, screamed and worked tirelessly hard to let the whole world understand what is happening and about to happen but I was ignored, insulted, spat at and ridiculed.
"This is what happens when cowards are in charge of your mainstream media and half-educated dimwitted buffoons see themselves as intellectuals."
https://dailypost.ng/2020/06/06/nnamdi-kanu-reacts-as-miyetti-allah-declares-fulani-will-rule-nigeria-forever/
-----
Churches, mosques remain shut as Ogun government studies re-opening guidelines
06 June 2020
Gov. Dapo Abiodun of Ogun says churches, mosques and other worship centres are to remain shut while the government reviews suggested guidelines on the re-opening of religious centres in the state.
The governor explained that the government had recently taken written submissions and met with religious leaders on Thursday to discuss modalities for the reopening of the worship centres.
He added that the meeting had agreed that a sub-committee, inclusive of the religious leaders, should review the submissions and the discussions to enable government to arrive at a composite framework for the gradual lifting of the ban.
"The June 12 deadline for the submission of the guidelines is to enable the gradual opening of religious activities to tentatively commence on June 19, subject to the review of preparedness by our churches and mosques to the new normal," he said.
Continuing on the fallout of the Thursday meeting, Abiodun said that a task force, comprising of the religious leaders, government and security agencies, would be established to monitor and ensure compliance with the agreed guidelines for religious activities.
"The guidelines will be reviewed at regular intervals based on developments, including expert opinions and data from the field," he said.
He gave assurance that the state government would continue to engage stakeholders and intensify enlightenment and education of the public on the various guidelines to combat the pandemic in the state.
"As recent as Tuesday, a team of Presidential Task Force was in Ogun State and after the visit applauded our approach, especially keeping a sharp focus on Primary Healthcare Delivery system, despite the efforts to combat COVID-19.
"Government does not derive any pleasure from asking for more time to free the space. It is both a moral and constitutional responsibility for us to ensure the welfare, wellbeing, wellness and security of all our citizens," he said.
https://guardian.ng/news/churches-mosques-remain-shut-as-ogun-government-studies-re-opening-guidelines/
------
Southeast Asia
Malaysian Religious Affairs' Ministry and the Science, Technology and Innovation Ministry Collaborate to Promote Science Among Muslims
06/06/202
KUALA LUMPUR, June 6 -- A strategic partnership will be established between the Prime Minister's Department (Religious Affairs) and the Science, Technology and Innovation Ministry (MOSTI), in efforts to promote science and cultural education among the people, especially the Muslim community.
Minister in the Prime Minister's Department Datuk Dr Zulkifli Mohamad al-Bakri said four aspects would be covered, the first of which would be on fatwa research based on science and technology.
"(Fatwa research) is very much like artificial intelligence (AI), human genome editing and more, according to the infographics," he said in sharing a Twitter infographic taken from Science, Technology and Innovation Minister Khairy Jamaluddin official twitter account.
The collaboration will create the development of databases for big data analytics for use by mosque committees nationwide, as well as for halal research such as blockchain in tracing and tracking halal products and making innovative slaughter techniques.
In addition, more interactive and online edutainment premarital courses will be implemented through the collaboration.
Earlier, Khairy Jamaluddin and Zulkifli held a meeting which saw both parties agreeing to set up a technical committee between MOSTI and the Department of Islamic Development Malaysia (Jakim) in efforts to finetune proposals and steps in inculcating science and technology in the daily life of the Muslim community.
https://www.bernama.com/en/general/news.php?id=1848620
-----
Over $4.9m to be disbursed to mosques, Muslim organisations, madrasahs and other beneficiaries
JUN 6, 2020
Goh Yan Han
SINGAPORE - Over $4.9 million of funds from the Muslim community will be distributed to mosques, Muslim organisations, madrasahs and other beneficiaries this year.
The Islamic Religious Council of Singapore (Muis) said on Saturday (June 6) that it would be disbursing $4,917,943 from the income of Muis-managed wakafs, about 1 per cent more than last year.
Traditionally, a wakaf is defined as the permanent dedication by a Muslim of any property for any purpose defined by Muslim law as religious and charitable, but the concept has evolved to be similar to a trust fund, where money is invested and the returns are used to help the community.
Muis has also created a new Mosque Asatizah Development Fund that can be tapped by asatizah (Islamic religious teachers) employed by the mosques to professionalise, upskill and upgrade themselves.
Muis chief executive EsaMamood said that the asatizah in mosques play an instrumental role in providing religious knowledge and guidance, and must continue to be equipped with skills to respond to contemporary challenges.
"Dedicating wakaf funds to support our asatizah will allow these efforts to be sustained over the long term, and will strengthen our mosques in supporting the religious life of the community," he said.
Masjid Khalid, Masjid Khadijah and Masjid Abdul Gafoor are among the mosques that will receive support for their upgrading and renovation.
A total of $535,158 will be given to 29 Muslim organisations here such as 4PM, Casa Raudha, Pertapis Children Home and United Indian Muslim Association, a 38 per cent increase from last year.
Six full-time madrasahs and 38 part-time madrasahs at mosques will be receiving $476,193, including proceeds from WakafIlmu, a wakaf created for the benefit of Islamic religious education in Singapore.
This is 18 per cent more than 2019, and is meant to support madrasah programmes and initiatives to develop future religious leaders for Singapore, said Muis.
"Just as how the wakaf that has been established by our pioneers in the community continues to support a range of beneficiaries today, more needs to be done to ensure that the community remains resilient in fulfilling its religious needs even in times of crisis in future," said Muis.
Muis will be establishing Wakaf Masyarakat Singapura (Singapore Community Wakaf) to financially support its religious institutions, asatizah development and community programmes, as announced by Minister-in-charge of Muslim Affairs MasagosZulkifli at his Virtual Hari Raya Get-Together 2020 on Friday.
https://www.straitstimes.com/singapore/over-49m-to-be-disbursed-to-mosques-muslim-organisations-madrasahs-and-other-beneficiaries
-------
Non-muslim marriage registrations must be completed before July 31 - Ismail Sabri
07/06/2020
PUTRAJAYA, June 7 -- Non-Muslims couples whose marriage registrations have been affected or delayed by the implementation of the Movement Control Order (MCO) will have until July 31 to finalise their situation, said Senior Minister (Security Cluster) Datuk Seri Ismail Sabri Yaakob.
He said the couples have until the end of July to resolve the matter without having to submit a new application and pay the fees required.
The National Registration Department (NRD) will provide standard operating procedures (SOPs) for marriage and divorce registration matters.
"The NRD will also allow the marriage registrations in 171 houses of worship (temples, churches or religious associations) approved by the Ministry of National Unity throughout the duration of the Movement Control Order (MCO)," he said.
He was speaking at a press conference on the latest developments on the Conditional Movement Control Movement (CMCO) here today.
In the meantime, he said the SOPs on sports activities would be announced tomorrow.
https://www.bernama.com/en/general/news.php?id=1848876
------
CMCO: 84 mosques in Pahang allowed to hold subuh, Friday prayers
06 Jun 2020
KUANTAN, June 6 — The Pahang Islamic Religious and Malay Customs Council (MUIP) today announced that a total of 84 mosques in the state have been allowed to hold the Friday prayers and the congregational Subuh (morning) prayers during the conditional movement control order (CMCO) period.
Its deputy president, Tengku Panglima Raja Tengku Amir Nasser Ibrahim Shah Al-Sultan Abdullah Ri'ayatuddin Al-Mustafa Billah Shah said the permission took effect yesterday and on the requirement that the mosques concerned adhered to the stipulated standard operating procedure (SOP).
In a statement issued here today, Tengku Amir said there are 13 category B district mosques in Pahang, comprising two in Kuantan, Pekan, Temerloh and Bentong and the other five in Jerantut, Bera, Raub, Lipis and Jengka.
Kuantan has the most number of "kariah" mosques (mosques that are allowed to hold Friday prayers), totalling seven, followed by six each in Rompin and Lipis, and five each in Pekan, Maran, Temerloh, Bera, Jerantut, Bentong, Raub, Muadzam Shah, Chenor and Jengka.
Apart from that, two kariah mosques in the Cameron Highlands, namely Masjid KayanganBrinchang and Masjid Kuala Boh, are also allowed to hold the Subuh and Friday prayers. — Bernama
https://www.malaymail.com/news/malaysia/2020/06/06/cmco-84-mosques-in-pahang-allowed-to-hold-subuh-friday-prayers/1873041
-----
Indonesian mosques open for first time since March
June 6, 2020
AhlulBayt News Agency (ABNA): Indonesia's capital opened mosques on Friday for the first time in nearly three months, as the megacity loosens a partial lockdown despite coronavirus cases mounting in the world's biggest Muslim majority nation.
Churches and other houses of worship also resumed service after Jakarta's governor announced an easing of restrictions, with shuttered offices, restaurants, shopping malls and tourist attractions slated to start operations in the coming weeks.
Mosques have remained open in some other parts of the world's fourth most populous country.
But for many residents of Jakarta — home to some 30 million people — it was the first time in months that Muslims have been able to attend Friday prayers.
Mohamad Fathi said he was "full of happiness" at the news after mass prayer was banned in mid-March, including in his at-risk district.
"The enthusiasm to attend Friday prayers was really high in my neighbourhood," said the 35-year-old father who lives in south Jakarta. "It cheered me up and satisfied my longing for mass prayers," he said. "I'm very happy we're now allowed to return to pray."
The weekly service was shorter than usual as part of efforts to lower the risk of Covid-19 infections, he added.
Mosque-goers were also ordered to bring their own prayer mats and abide by social-distancing rules with temperature checks at the door.
East Jakarta resident Yung Bainus said he wasn't worried about getting sick despite the crowds.
"I'm not too worried if health protocols are strictly enforced," he said. "It's important to wear a face mask, wash your hands regularly and avoid touching your face. Just follow the rules properly and, God willing, there will be no problem."
Indonesia has confirmed more than 29,000 cases of coronavirus and 1,770 deaths, with infection rates slowing in Jakarta itself.
But the country of more than 260 million has among the lowest testing rates in the world.
Researchers estimate the true number of virus infections and fatalities nationwide could be several times the official toll.
https://en.abna24.com/news//indonesian-mosques-open-for-first-time-since-march_1043597.html
-----
8:46: A number becomes a potent symbol against police brutality
4 hrs ago
MINNEAPOLIS (AP) — All protest movements have slogans. George Floyd's has a number: 8:46
Eight minutes, 46 seconds is the length of time prosecutors say Floyd, a 46-year-old black man, was pinned to the ground under a white Minneapolis police officer's knee before he died last week.
In the days since, outraged protesters, politicians and mourners have seized on the detail as a quiet way to honor Floyd at a time of angry and sometimes violent clashes with police. Even as prosecutors have said little about how they arrived at the precise number, it has fast grown into a potent symbol of the suffering Floyd — and many other black men — have experienced at the hands of police.
In Boston and Tacoma, Washington, demonstrators this week lay down on streets staging "die-ins" for precisely 8 minutes, 46 seconds. Companies, including ViacomCBS and Google, used the time span in their shows of solidarity.
In Washington, Democratic senators on Thursday gathered in the U.S. Capitol's Emancipation Hall, some standing, some kneeling on the marbled floor for the nearly nine minutes of silence.
Mourners at a memorial service for Floyd in Minneapolis on Thursday stood in silence for 8 minutes, 46 seconds, asked by the Rev. Al Sharpton to "think about what George was going through, laying there for those eight minutes, begging for his life."
Pausing for a full 8 minutes, 46 seconds helps turn the abstract into a reality, said Monica Cannon-Grant, the founder of Violence in Boston Inc., which organized a Tuesday protest that included the minutes of silence.
Protesters lie down on the Ben Franklin Parkway in Philadelphia, Monday, June 1, 2020 during a march calling for justice over the death of George Floyd, Floyd died after being restrained by Minneapolis police officers on May 25. (AP Photo/Matt Slocum)
"All kinds of things were going through my head," she said. "Mainly that I was the mom of four black sons and I'm married to a black man."
Some of the power in the number comes from its striking specificity. In a criminal complaint charging Officer Derek Chauvin in Floyd's murder, prosecutors say they know precisely how long Floyd was pinned to the ground.
"The defendant had his knee on Mr. Floyd's neck for 8 minutes and 46 seconds in total. Two minutes and 53 seconds of this was after Mr. Floyd was non-responsive," the complaint concludes. "Police are trained that this type of restraint with a subject in a prone position is inherently dangerous."
But the timestamps cited in the document's description of the incident, much of which is caught on video, indicate a different tally. Using those, Chauvin had his knee on Floyd for 7 minutes, 46 seconds, including 1 minute, 53 seconds after Floyd appeared to stop breathing.
On Thursday, John Stiles, a spokesman for the attorney general's office — which is leading the prosecution in the case — said the office has reviewed additional video footage "since the original complaint was filed."
Prosecutors repeated their timeline and the 8 minutes, 46 seconds detail in charges filed Wednesday against other officers involved.
"Seven minutes is a long time to have a knee on someone's neck regardless," said Jared Fishman, a former federal civil rights prosecutor. That said, Fishman said it's a detail defense lawyers will scrutinize in court.
For those who hold up the number as part of a peaceful call for change, the precise length of time is beside the point: "It should never have happened to begin with," Cannon-Grant said.
After the 2014 death of Michael Brown, word spread in the community that the black 18-year-old had his hands up in surrender when he was shot by a white police officer. The chant "Hands up. Don't shoot!" quickly became a rallying cry for protesters both in the St. Louis suburb and across the country.
But it never was clear whether Brown actually raised his hands. There were no videos or photos of the shooting. Some witnesses swore to a grand jury that his hands were raised while others swore they were not. Officer Darren Wilson testified to grand jurors that Brown was charging at him, with one hand clenched at his side and the other under his shirt, when Wilson fired the fatal shots.
Several protesters said it didn't matter if Brown's hands literally were raised, because his death remained symbolic of wider racial injustices at the hands of police.
https://www.tulsaworld.com/news/national/8-46-a-number-becomes-a-potent-symbol-against-police-brutality/article_4f1d27a9-539e-5671-98f9-87911019a6f1.html#1
------
Pakistan
Pakistani, Syrian ministers discuss Al-Nusra Front's terrorist acts against Muslim holy sites
Jun 6, 2020,
Islamabad, June 6, IRNA – Pakistani and Syrian Ministers have discussed the terrorist acts of Takfiri groups, including Al-Nusra Front on Muslim holy sites and vowed to protect these places from the hands of terrorists.
According to official statement Pakistan's Minister for Religious Affairs, Noor-ul-HaqQadri during a telephonic conversation with his Syrian counterpart Mohammed Abdul-Sattar al-Sayyed said the people of Pakistan have an emotional attachment to Syria, the land of the Prophets, the Ahl al-Bayt, the Companions and the Saints.
The statement added the Syrian Minister said the terrorist organization Al-Nusra Front has also desecrated other shrines in Idlib as the city remained under their control for a long period.
For last some days a fake news is being spread in Pakistani media, that another sect of Islam is behind the destruction of holy shrine of the Muslims in Syria's Idlib.
However, for past many years terrorist organizations like Daesh and Al-Nasra Front have been destroying and disrespecting holy sites of Muslims in Iran and Syria.
The recent fake video gone viral in the media of such crime is an attempt to create misunderstandings among different sects of Islam.
https://en.irna.ir/news/83811272/Pakistani-Syrian-ministers-discuss-Al-Nusra-Front-s-terrorist
-----
No role of mosques in COVID-19 spread: PM Imran Khan
Mumtaz Alvi
June 6, 2020
ISLAMABAD: Prime Minister Imran Khan on Friday said that mosques had no role in spreading Covid-19 as he ruled out the possibility of reverting to the lockdown to curb the spread of the coronavirus and said that the country now could not afford it.
However, he was optimistic that the country could still avert tough times in its anti-Covid 19 fight if the people followed the standard operating procedures (SOPs) for which the role of the Corona Relief Tiger Force for creating awareness and enforcement was important.
Addressing the Corona Relief Tiger Force, the prime minister sought their role in ensuring adherence to the SOPs and added if people managed to make sure that the precautionary measures would be followed, then Pakistan would be able to slow the spread of the virus and there would not be that much pressure on hospitals. The country's healthcare system, he made it clear, was under pressure, which could only be released by flattening the curve of coronavirus cases.
The prime minister emphasised that even now, if people take precautions and follow SOPs, he was sure Pakistan would not have to go through tough times other countries were going through. He apprised the volunteer force of their future role, particularly for the enforcement of the anti-Covid SOPs as well as relief services in the locked down areas besides in the government's efforts to eliminate the locusts. He said Allah Almighty had showered blessings on Pakistan by protecting it against the much-apprehended bad times for which the prime minister lauded the role of the peopleas well as his team for assessing the situation and making right decisions. "We can't stop the spread of the virus and if we lock people inside rooms, then it will be slowed down for some time but would not stop and if we opt for the lockdown, then the entire world has witnessed that the worst suffers of it are the poor people," he maintained.
The prime minister pointed out that only Pakistan and the United Kingdom had realized the necessity of the volunteers force and around 35,000 volunteers turned up to work in Italy and 60,000 in the UK, but in Pakistan, over million had registered while about 175,000 came to work, which showed a great passion among the Pakistani people. The government, he emphasised, would need the Tiger Force's support to apprise the people of the importance of SOPs at the shops, markets and industries, which were opened subject to the adherence to certain conditions. He said Pakistan was the only Islamic country to allow Taraveeh congregations during the Holy Ramazan and due to the Ulema's cooperation, the country had not seen any breakout from mosques. In that regard, the Tigers also played a positive role by visiting the mosques and making the people follow the guidelines, he added, while exemplifying and appreciating the volunteers' role in Sialkot.
The prime minister noted Brazil had touched the mark of 1,300 deaths in a day, the United States 2,000 plus, and as many in the UK and European countries, but Pakistan was lucky to have recorded only 17,00 deaths in over three months. He told the volunteers that the government would constantly keep them updated about the situation and their role. The government, he explained, might seal some coronavirus hotspots in future and in such a case, the Corona Tigers would have to play their role to ensure food supply and other services to support the city administration. The prime minister said the spike of the coronavirus could be slowed down if the volunteers succeeded to aware and make the people follow the SOPs, reiterating that the poor people would be the biggest casualty if the government reverted to the lockdown. "What to talk of Pakistan, poverty had increased even in the developed countries where the people were seen queued up to receive food. Similarly, the poverty graph surged in India where the people died of hunger owing to the strict lockdown," he contended.
He said the Asian Development Bank had appreciated Pakistan for distributing huge funds among around 16 million people, including small medium enterprises (SMEs), unemployed and job losers within the minimum possible time, and applauded the Ehsaasprogramme chief Dr Sania Nishtar and her team. The situation, he pointed out, could have turned worse had the government not timely distributed cash support among the people and added that the lockdown would not impact the rich or the salaried class but the daily wagers and the government's Ehsaasprogramme could not support the people for long. The prime minister said the pandemic had badly hit even the developed economies and noted that the virus surfaced at a time when Pakistan was getting out of tough financial situation. Due to the pandemic, the country's tax revenues had declined by Rs800 billion.
As the government was in the process of formulating next annual budget, he said it would have to face difficult situation to enhance its revenues. Prime Minister said besides pointing out the hoarders, the Tiger Force volunteers were supposed to keep an eye on the availability of food items at the Utility Stores. He said the government would also require the Tiger Force's support in its efforts against the locust swarms, which, in some countries, could even create famine like situation by destroying the crops and famine was being feared in Africa. He added the force would work along with the administration to fight the locusts. Moreover, he said, the volunteers' role to support the government's 10 Billion Tree Tsunami project was vital to enhance the country's forest cover and thus avert the future water crisis.
Meanwhile, Prime Minister Imran Khan chaired a high level meeting on the budget for the financial year 2020-20 and the government economic team, led by the Finance Adviser Dr Abdul Hafeez Shaikh, who briefed the prime minister on the strategy for implementing the government's priorities, keeping in view the revenue, expenditure and ground realities of the budget for the next financial year.
Addressing the meeting, the prime minister said that the corona epidemic had affected every segment and efforts to stabilise the economy and move it forward have been affected. He said that keeping in view these realities, the first priority of the government was to promote those sectors which would create job opportunities for the youth and boost the economic process. He said that reduction in non-development expenditure, especially reduction in unnecessary government expenditure, has been a priority of the present government from day one. The prime minister said that in view of the current situation, special focus on this goal was needed. He said that the present economic situation demanded that the pace of reforms be accelerated so that the unnecessary burden on the people could be minimised and relief could be provided to them.
Parliamentary Leader of the PPP in the Senate, Sherry Rehman questioned lifting the lockdown and the role of Tiger Force. In her response to Prime Minister Imran Khan's address, the PPP leader said that according to the prime minister, Pakistan cannot afford another lockdown but when did the federal government enforced one in the first place. "Had there been a proper lockdown, the outbreak would not have escalated out of control. Saying that the lockdown has hurt the poor and our economy, and then also firing 9,000 plus Steel Mills workers is ironic," she said.
https://www.thenews.com.pk/print/668437-no-role-of-mosques-in-covid-19-spread-pm
------
Mosque in Liaquatabad evacuated after hoax bomb threat
June 6, 2020
A bomb threat at a mosque in Liaquatabad on Friday turned out to be a hoax. Following the threat, a heavy contingent of the law enforcers, including police and Rangers, evacuated the Jama Masjid Mansoori in Liaquatabad No 5 and cordoned it off. However, after an examination, a bomb disposal squad found no explosives and cleared the site for any threat.
According to Liaquatabad SHO Liaquat Hayat, an unknown person phoned police helpline 15 and warned about the presence of a bomb at the mosque. After the call, he said they immediately went to the mosque and evacuated the worshipers, the mosque committee members and the students at the mosque's seminary from the site.
However, he added, the bomb disposal squad declared it a hoax after no explosive material was found within the premises of the mosque. The officer said they were trying to locate the person who made the hoax call from a cellular number which had been switched off. A case has been registered against the caller.
https://www.thenews.com.pk/print/668574-mosque-in-liaquatabad-evacuated-after-hoax-bomb-threat
-----
Locust invasion threatens entire country, SC told
Nasir Iqbal
June 07, 2020
ISLAMABAD: The Punjab government informed the Supreme Court on Saturday that the entire country was under a serious threat of locust invasion if the menace was not contained in the breeding regions of the country.
An area of 300,000 square kilometres, roughly 37 per cent of the country's total area, is vulnerable to the desert locust. Sixty per cent of the land is in Balochistan, 25pc in Sindh and 15pc in Punjab's Cholistan region.
Balochistan falls within an area known as a spring breeding zone while Punjab and Sindh are in the summer breeding zone, according to a report placed by the Punjab government before the Supreme Court.
The report was filed as part of a reply to a query on May 19 by Chief Justice Gulzar Ahmed about the food security situation in view of the locust invasion. The chief justice was hearing a case on steps taken by the government to tackle the coronavirus crisis.
Attorney General Khalid Jawed Khan had expressed fears that Pakistan was afflicted not only with a medical emergency of gigantic proportions but also an imminent locust threat. This posed a danger to food security.
Now a report submitted by Punjab's Additional Advocate General Chaudhry Faisal Hussain on Saturday explained that three districts — Bhakkar, D.G. Khan and Mianwali — were under the locust threat.
It said the menace had hitherto been confined to Cholistan, but now the central and northern regions were in the crosshairs as well due to climate change and massive egg-laying.
The recent locust wave must have affected forest plants like Shareen, Kikkar, Bir as well as fodder, newly germinated cotton, corn leaves and citrus, the report feared.
During the damage survey, it added, 15 varieties of crops infested with desert locust were observed. The damaged crops, spread over 715 acres, included cotton, sesame and Moong.
According to the report, urgent arrangements were needed for obtaining 50 micron sprayers, five aeroplanes and the services of 50 entomologists to support surveillance and combat operations in Punjab.
The report admitted that Bahawalpur division would be a major battlefield in summer as swarms would be coming from Sindh and Rajasthan.
Desert locust belongs to the grasshopper family Acrididae, which includes most of the short-horned grasshoppers. The desert locusts have up to five generations per year, a clear indication that their population damage is unimaginable.
They can destroy 10 per cent of the world's food grain and cause a serious shortage. Even a swarm over one square kilometre can gobble up an amount of food grain in one day that can be sufficient for about 35,000 people.
Their migratory nature and capacity for rapid population growth present major challenges for control, particularly in remote semi-arid areas, which characterise much of the distribution area, Punjab explained.
Referring to the provincial government's anti-locust strategy, the report stated that the Provincial Disaster Management Authority (PDMA), in collaboration with the NDMA and other Punjab departments, had carried out a successful operation to combat the locust menace during the summer.
Already 84 surveillance teams were stationed at different places under the National Action Plan (NAP) to fight the danger. The second phase of operation has started in Bahawalpur, Rahim Yar Khan, Multan, Khanewal, Lodhran, Vehari, D.G. Khan, Rajanpur, Layyah, Muzaffargarh, Khushab, Bhakkar, Mianwali and Attock.
https://www.dawn.com/news/1561866/locust-invasion-threatens-entire-country-sc-told
------
Punjab police use stun therapy on SOP violators
Saleem Mubarak
June 07, 2020
FAISALABAD: Despite opposition by international human rights bodies like the Amnesty International (AI), stun batons are being used with impunity by local police and other law-enforcement agencies against those flouting Covid-19 related standard operating procedures (SOPs), obviously with the consent of a government whose job is to procure and supply these torture tools to law enforcers.
Stun guns and stun batons are gadgets that inflict a high-frequency shock to the victim, causing loss of balance and muscle control, mental confusion and disorientation, if for only a few seconds.
On Saturday, the district administration and police were witnessed using stun batons on the city roads against those flouting Covid-19 SOPs, especially those who were not wearing masks.
The Amnesty International (AI) is campaigning worldwide for banning the use and trade of torture tools like stun baton, stun belts, spike batons, neck cuffs etc. It argues that no one should profit from pain and suffering of people.
The AI also demands that the United Nations member states should work towards regulations aimed at ending the torture tools trade for good.
Deputy Commissioner Muhammad Ali and Senior Superintendent of Police (operations) Syed Ali Raza led their subordinates on various city roads, including Jail Road and Chenab Chowk where people, mostly motorcyclists and those traveling by motorcycle-rickshaws, not wearing masks, were lined up facing walls and subjected to stun baton shocks.
This new mode of public torture, carried out by plainclothesmen, terrorised the people, besides causing pain to those declared as violators.
According to the AI, gadgets like stun baton come handy for state officials to inflict painful electric shocks to the bodies of the targeted people without leaving any long-lasting physical traces.
Aslam, a motorcyclist who was subjected to such torture on Jail Road, narrating his ordeal said: "I was going on a bike with a friend when a man carrying a strange-looking baton approached us and asked us to line up against a wall along the road. He asked why I was not wearing a mask. Before I could answer, he gave me an electric shock with the baton, causing me immense pain. It was so sudden and painful that for a few seconds I felt like I was dying."
"The official could have imposed a fine or even arrested me, instead of inflicting an electric shock that might cause me a serious physical harm," he lamented. This scribe tried to contact the deputy commissioner and the SSP for their versions on their phones but the officers did not reply.
A police officer, seeking anonymity, said the higher authorities were quite aware of the use of stun batons to control violators and protesters as these gadgets were procured and provide to various departments on their orders.
Justifying the use of stun batons, he said these would be helpful in keeping the people indoors during the pandemic and making them follow the SOPs in public places.
The district administration spokesman said the gadgets had been procured by the civil defense department to control coronavirus patients housed in Paras Quarantine Centre. He claimed the device gave 4 to 5 watts shock and had no side effects.
Following a recent complaint, he claimed, the district administration had banned its use by civil defense staff, adding "it should be used for the purpose for which it was purchased".
https://www.dawn.com/news/1561843/punjab-police-use-stun-therapy-on-sop-violators
------
Notice issued to FIA on PPP leader's plea against US blogger
June 07, 2020
Iftikhar A. Khan
ISLAMABAD: An additional district and sessions judge (ADSJ) of Islamabad has issued a notice to the deputy director of the Federal Investigation Agency's (FIA) cyber crime cell on an application filed by Pakistan Peoples Party's (PPP) district president seeking registration of a criminal case against US blogger Cynthia D. Ritchie.
PPP leader Advocate Raja Shakeel Abbasi filed the application before ADSJ Jahangir Awan under Section 22-A of the Criminal Procedure Code, under which the court may direct the investigation agency to register an FIR.
Talking to Dawn, Mr Abbasi said that notices had been issued to the blogger and the Pakistan Telecommunications Authority since he cited both of them as respondents in the application.
In the application, Mr Abbasi said that FIA did not register FIR on his complaint against the blogger who defamed the slain chairperson of the PPP and former prime minister Benazir Bhutto.
While the PPP and Ms Ritchie have been at loggerheads on Twitter and Facebook for sometime, the latter accused former interior minister Senator Rehman Malik of raping her back in 2011. She also accused former prime minister Syed Yousaf Raza Gilani and Makhdoom Shahab, a former health minister who is currently being tried in an ephedrine case, of physically manhandling her.
In his complaint, Mr Abbasi urged the FIA's cyber crime cell to take action against Ms Ritchie for posting on her Twitter account what he described as derogatory and slanderous remarks about Benazir Bhutto.
The complainant stated that Ms Ritchie had passed extremely derogatory and slanderous remarks about Benazir Bhutto through her Twitter handle/account.
"Her remarks being false, untrue, defamating and slanderous as they are, have caused immense pain and agony to the millions across Pakistan who revere and hold Shaheed Mohtarma Benazir Bhutto in high esteem," it added.
"Your office is requested to take immediate action and initiate proceedings against this woman as prescribed by the law and under your mandate."
Since ADSJ Awan would be on leave on the said date, this case may be heard by ADSJ Syed Faizan Haider Gillani, an official of the district court said.
A spokesperson for Senator Malik has rejected what he called baseless and wild allegations by Ms Ritchie against the senator.
In a statement, the spokesperson said that Senator Malik had endorsed a statement by former prime minister Gilani wherein he had denied the allegations levelled by Cynthia Ritchie.
He said Senator Malik had denied these allegations against him, claiming that Ms Ritchie had levelled the allegations to malign and scandalise the senator with mala fide intentions. He said she had levelled the allegation of rape against Senator Malik after nine years at the "instigation of a group" only to harm his reputation.
According to the spokesperson, some tweets from Indian agency RAW directly threatening Senator Malik already hinted at some dirty moves against him as the senator had "stood up against Indian Prime Minister Narednra Modi" and was committed to the Kashmir cause.
"The senator respects all women, including her, and hence will not use any derogatory remarks. He has always fought for the rights and dignity of women."
The spokesperson said Ms Richie's move appeared to be a reaction to Senator Malik's action as the chairman of the Senate Standing Committee on Interior regarding her derogatory remarks against Benazir Bhutto.
https://www.dawn.com/news/1561914/notice-issued-to-fia-on-ppp-leaders-plea-against-us-blogger
------
Hospitals' data shows decrease in confirmed cases in Rawalpindi
Aamir Yasin
June 07, 2020
RAWALPINDI/ISLAMABAD: While the number of Covid-19 patients continued increasing across the country and in the capital city, the situation in Rawalpindi seemed different as data compiled by hospitals showed the number of positive cases decreasing during the last three days.
According to official figures presented to Commissioner retired Capt Mohammad Mehmood on Saturday, 29 people tested positive and one patient died while 185 people were discharged from hospitals on Saturday.
On Friday, 52 confirmed patients had been reported, on Thursday only 26 while on Tuesday the number of confirmed patients was 18.
Health officials told Dawn that 400 new patients were waiting for their results but the number of confirmed patients received from laboratories decreased during the last three days.
They said the provincial government established two laboratories at Benazir Bhutto Hospital and Holy Family Hospital but majority of the samples were sent to the National Institute of Health (NIH).
When contacted, District Health Authority Chief Executive Officer Dr Suhail Ahmed said the report was prepared on the basis of results received from the NIH.
Meanwhile, the total number of confirmed patients in Rawalpindi district reached 2760 while 108 people have so far died and 1436 patients discharged from four hospitals.
At present, out of the 1216 confirmed patients in the district 820 are isolated in their houses and the others are under treatment at Rawalpindi Institute of Urology, Holy Family Hospital, Benazir Bhutto Hospital and District Headquarters Hospital.
Apart from this, 1214 suspected patients were also brought to three hospitals of Rawalpindi and their samples have been sent to the laboratories but the results are awaited.
Most of the positive cases were reported from LoiBher (304) followed by 251 from I-10, 244 from G-9, 206 from Tarlai, 201 from G-8, 205 from G-7, 188 from BharaKahu, 221 from I-8, 177 from G-6, 169 from G-10, 156 from G-13, 126 from Sohan, 130 from G-11, 117 from Rawat115 from F-6, 109 from E-11, 105 from F-11 and 102 from I-9.
As per the data prepared till June 5, 67pc Covid-19 patients were male and 33pc female. Besides, 1029 patients were in the age group of 30-39, 771pc in 20-29, 678pc in 40-49, 528pc in age group of 50-59, 316pc in 60-69, 262pc in 10-19, 239pc in 1-9, 89pc in 70-79 and 34pc in aged 80 years and above.
The attack rate of the virus per 10,000 people of the age group of 50-59 was 48.85pc followed by 44.32 in the age group of 30-39, 40.33pc in the age group of 40-49, 39.47pc in the age group of 60-69, 24.70pc in the age group of 70-79, 21.76pc in the age group of 20-29, 21.23pc in the age group of 80 and above, 5.57pc in the age group of 10-19 and 4.46pc in the age group of 0-9.
Samples of 185 contacts were collected and sent to the NIH. He said 402 patients had been isolated at their homes and their 185 contacts quarantined.
On Saturday, the capital administration caught dozens of people roaming around markets, commercial centres and roads without any precautionary measures, and imposed fines worth Rs12,200 on them, officials said, adding the capital administration has already made wearing of masks obligatory for people outside their houses.
Moreover, 19 shops were sealed in different areas of the capital over violation of the SOPs. Besides, fines worth Rs39,500 were also imposed on dozens of shops.
Two industrial units and four workshops were also sealed. The violation of social distancing was found in 13 private and public vehicles and as a result fines were imposed on the drivers.
Meanwhile, the number of confirmed Covid-19 cases in Attock district increased to 197 as three new cases were reported during the last 24 hours. District Attock focal person for Covid-19, Dr Asif ArbabNiazi has confirmed that the minister and his staff members were isolated at home.
According to the data released by the health authorities here on Friday, out of 197 confirmed cases 61 have so far recovered and discharged from isolation wards as well as quarantine centers.
According to the focal person, among new three new positive cases, one belongs to tehsil Hazro, one to Pindigheb and the last one had come from abroad.
Meanwhile, Attock Deputy Commissioner (DC) Ali Annan Qamar on Saturday distributed face masks in Attock, Qutba, Hazro and Hassanabdal.
Speaking on the occasion he urged the people to strictly adhere to the SOPs issued by the government to control the spread of Covid-19.
The DC said masks had been declared essential for traders and the public and legal action would be taken against those who violate this condition.
https://www.dawn.com/news/1561801/hospitals-data-shows-decrease-in-confirmed-cases-in-rawalpindi
-----
PTI govt sabotaged Sindh response to Covid-19: Bilawal
June 07, 2020
Imran Ayub
KARACHI: Pakistan Peoples Party (PPP) chairman Bilawal Bhutto-Zardari on Saturday said the prime minister and his government had 'sabotaged' Sindh government efforts made to contain the coronavirus and undermined the lockdown policy through a 'consistent campaign of misinformation' only to save businesses, leaving the country to suffer massive losses on both fronts — health and economy.
The federal government, which continued to deny the importance of lockdown despite repeated demands of doctors all in the name of saving the livelihoods of poor people, had hastened to throw thousands of Pakistan Steel Mills employees out of job amid the pandemic, said Mr Bhutto-Zardari while addressing a press conference at the Sindh Assembly's auditorium hall along with Chief Minister Syed Murad Ali Shah and other members of his cabinet.
Terming the massive retrenchment amid pandemic "against human values", the PPP chairman said the Sindh government with the consent of the provincial governor had done legislation to secure people's employment at least during the Covid-19 crisis. He vowed to challenge the decision at every forum.
The federal government could not abdicate itself from its responsibilities by blaming Sindh for all its failures, right from the handling of coronavirus to the locust attacks that could trigger food crisis, he said. It was unfortunate that a barrage of accusations was levelled against the pilot for the PIA plane crash, which claimed nearly a hundred lives, he regretted. "It's so unfortunate it has become our sick national pastime that we always blame the victims whenever we meet any tragedy or accident," he said.
"I feel sorry how that the character assassination was made of that courageous and professional pilot. As the federal government decides to leave people alone in the coronavirus pandemic, it came up with the same strategy for the victims of PIA crash and their families. We as a nation and also the backers of this government now must think about that how long we can tolerate this incapable government."
He said: "We believe that the lockdown could have been used more effectively and it did work initially but under a conspiracy it was undermined through consistent campaign of misinformation."
Referring to the models of New Zealand, Vietnam and Indonesia, where the same strategy against the pandemic delivered the desired results, he said: "I specially mention Vietnam because it's the country which has no larger resources. It's not a superpower. They came out of the crisis through immediate action and unity. These countries are now opening their businesses and reviving economy. But we have lost that opportunity. Now we would be facing both crisis – economy and the pandemic."
Mr Bhutto-Zardari also warned of the risks ahead and shared his strategy in the PPP-governed Sindh. "What we can do now is to save maximum number of lives," he said. "We should have policy like a toolkit as the lockdown is one of the effective tools. We believe that it can still be used. Local and larger lockdowns are still the options. Now the key policy of the Sindh government is to enhance the testing capacity. We are already building capacity of our healthcare system without any help from the Centre on a war-footing basis.
"The federal government is trying to fool people while confusing them in a number game that such and such number of ventilators and ICUs are available. We know that every provincial capital has the capacity to some extent but that figures don't reflect the state of whole province. That point can't be obscured by the Centre," he said.
Mr Bhutto-Zardari said then raised question about the recently-constituted NFC and warned that such move would not only affect the country's national unity and social fabric but also send a "wrong message at a wrong time" internationally when Pakistan was facing many regional challenges.
The PPP chairman said Prime Minister Imran Khan was "an indecisive man" who always failed to rise to the occasion whether it was making strategy about coronavirus pandemic or a matter of devising policy on the Indian-occupied Kashmir.
"When the NFC was formed the Sindh government sent a letter to Islamabad raising its objection and requesting to address the issue. But you can well assess the seriousness that our May 14 letter has not been responded yet. We have serious reservations that why you have made Gilgit-Baltistan and Azad Kashmir part of this Commission? They are federal territories and that why we give so much fiscal space to the Centre so it can bear the financial responsibility of these areas.
"And what message you are sending internationally when we are under serious regional challenge? Are you telling the world that Azad Kashmir is our province? Does it not make rumours true that we have already made deals over [Indian-occupied] Kashmir? We need serious and wise on these very sensitive issues. Similarly, if you want Gilgit-Baltistan to be a part of this Commission then declare it as a province through defined rules and legislation."
https://www.dawn.com/news/1561863/pti-govt-sabotaged-sindh-response-to-covid-19-bilawal
------
India
Telangana: Namaz can be offered with mask, says Jamia Nizamia fatwa
Jun 7, 2020
HYDERABAD: With mosques in Hyderabad and other parts of Telangana all set to reopen under the new normal condition, Jamia Nizamia, south India's leading Islamic deemed university, on Saturday issued two fatwas (religious decrees) giving clearance for five daily congregational prayers in the changed social and physical distancing scenario due to Covid-19.
"Yes, you can pray wearing masks," said chief Mufti of Jamia, Moulana Mufti Mohammad Azeemuddin. "In view of the serious threat of Covid-19 spread, there is no need to stand shoulder-to-shoulder in congregational prayers."
Mecca Masjid, which was closed for more than two months for the first time in over three centuries, will reverberate with prayers and supplications of the devout. Jama Masjid near Charminar will also function. It was the first-ever lockdown for this Qutub Shahi mosque too. The Badi Masjid (Markaz or headquarters of Tablighi Jamaat in Telangana and AP), which was used as a quarantine centre, will also reopen, said Telangana State Waqf Board chairman Mohammad Saleem.
The fatwas issued by Jamia Nizamia, which was founded in 1876, pave the way for the Islamic religious gatherings in mosques in a new normal world. Incidentally, all the procedures now told to be followed in mosques are contrary to the very spirit of Islam, which lays emphasis on close human contact through congregations. The Mufti has cited Islamic rulings in the past, including those taken during the time of the Prophet and the righteous Caliphs in his support.
The Mufti has also given clearance for prayers maintaining social distance while Islamic jurisprudence calls for people offering prayers with shoulders touching.
However, Islamic scholars of various schools of thought, who held a video conference through Zoom, differed on the use of sanitizers before entering mosques. They said one can use alcohol-based sanitisers at other times and not just before offering Namaz.
"We have recommended use of soap for handwashing and bleaching powder for disinfecting mosques after every prayer. Since most of the sanitisers contain 70% alcohol, they should not be used while entering mosques. One can use them elsewhere," said Moulana Syed Ghulam Samdani Ali Quadri, head of Seerat-un-Nabi Academy. The Friday sermons will be short as also the prayers.
Earlier, the Dar-ul-Uloom, Deoband in Uttar Pradesh, had issued 10 commandments to be followed while entering mosques. Thanks to social distancing, many mosques will not have enough space for Friday congregations.
https://timesofindia.indiatimes.com/city/hyderabad/namaz-can-be-offered-with-mask-says-jamia-fatwa/articleshowprint/76239875.cms
------
With rising Covid-19 cases, Goa's churches, mosques will not reopen on June 8
Jun 06, 2020
Gerard de Souza
Churches and mosques will not reopen in Goa despite permission from the Central government to do so with leaders of the respective communities saying that the situation is still not conducive for reopening places of worship.
In a statement to the media, the Association of All Goa Muslim Jamaats has said that until June 30, they have requested all mosques not to open their doors to followers in view of the spike in cases of Covid-19 in the state.
"In Goa since June 1, Covid-19 cases have been on the rise. We have touched almost 196 positive cases in the past one week and it's an alarming spike in coronavirus cases. We the executive committee members of the Association of All Goa Muslim Jamaats have decided to delay the reopening of all mosques in the state," Shaikh Basheer Ahmed, the president of the association, said.
In a statement, the executive has requested committee members/heads of jamaats of mosques across Goa to implement the advisory which has been issued keeping in mind the rapid spread of Covid-19 cases in the state and to help stop potential community transmission.
"Masjid committees are requested to adhere to our previous advisory guidelines issued by us with regard to offering regular five times namaaz from home including Jumma namaaz (Friday prayers). These guidelines shall be followed till the end of June," he said.
"We would like to inform our priests and faithful that we are critically assessing the novel coronavirus-related fluid situation that has come upon our state and that, therefore, we are not in a position to declare our places of worship open from tomorrow, June 8," Father Barry Cardozo a spokesperson for the Church, said.
"When we eventually decide to open up, with prudence, vigilance and careful discernment, it will be in consonance with the state government's SOPs, which we expect to receive by then," he added.
On Friday, Goa Chief Minister Pramod Sawant said that while religious institutions would be allowed to reopen, only individuals would be allowed at a time.
"No functions can be held in religious places. We have said that if temples, churches and mosques open, then groups of people coming and performing prayers or aarti will not be allowed, it should be limited to routine pooja for individuals or individuals taking darshan," Chief Minister Pramod Sawant said.
Several churches including the Archbishop of Goa have been streaming the religious services live for the benefit of their congregations.
Despite the Central Government allowing for the reopening of religious places, several people have expressed apprehension that the reopening would make these places hotspots of community transmission of Covid-19.
https://www.hindustantimes.com/india-news/with-rising-covid-19-cases-goa-s-churches-mosques-will-not-reopen-on-june-8/story-0tFa2fnYBdHWsTQYOvn7BI.html
------
Haj unlikely this year for Indian Muslims, say sources
JUNE 06, 2020
The government will take a final decision on the matter only after Saudi Arabia makes its position on hosting the pilgrimage clear.
With the coronavirus pandemic showing no signs of abating, it seems unlikely that Muslims from India will be able to undertake the Haj pilgrimage this year, sources said on Saturday.
However, they said the government will take a final decision on the matter only after Saudi Arabia makes its position on hosting the pilgrimage clear.
A circular issued by the Haj Committee of India on Friday said only a few weeks are left for the preparatory work in India for Haj 2020, yet the Saudi authorities have not communicated any further development regarding the pilgrimage.
"In view of the several inquiries received and concerns expressed over uncertainty over Haj 2020, it has been decided by the Haj Committee of India that, those pilgrims who desire to cancel their Haj journey this year, their 100% amount paid so far will be refunded without any deductions," the circular issued by Haj Committee of India CEO Maqsood Ahmed Khan said.
"Coronavirus cases are increasing in Saudi Arabia and two lakh people have to go from here. We had made preparations, but now there is very little time left. We are waiting for an official word from Saudi Arabia," a top source told PTI.
In response to a question, the source said, "This time, it is unlikely that people will be able to undertake Haj from India."
Uncertainty has been looming large over this year's Haj in the wake of the coronavirus pandemic and though Saudi Arabia has not made a decision on whether the annual pilgrimage will be held or not, it did ask Muslims to delay their bookings till there is more clarity.
Over 95,000 COVID-19 cases and more than 600 deaths have been reported in Saudi Arabia due to the coronavirus pandemic, according to Johns Hopkins University data.
Some countries have decided not to send their people for Haj this time. The most prominent among these is Indonesia, the country with the largest Muslim population in the world.
The Haj is one of the five pillars of Islam which every Muslim is required to complete at least once in their lifetime if they are healthy enough and have the means to do so.
https://www.thehindu.com/news/national/coronavirus-haj-unlikely-this-year-for-indian-muslims-say-sources/article31767668.ece
-------
Lockdown 5.0: Islamic Centre of India issues advisory for reopening of mosques
Jun 6, 2020
LUCKNOW: The Islamic Centre of India on Saturday issued an advisory for those visiting mosques in view of the Centre's decision to allow reopening of religious places from June 8.
Islamic Centre of India chairman Maulana Khalid Rasheed FarangiMahali advised people above 65 years and under 10 years of age not to visit mosques and instead offer prayers at home.
He also advised against crowding in mosques, stressing that not more than five people should be present at a time and social distancing be maintained, with the 'namazis' using masks and keeping a distance of six feet among themselves while offering prayers.
He added that the situation would be reviewed after 15 days and if required, another advisory would be issued.
https://timesofindia.indiatimes.com/india/lockdown-5-0-islamic-centre-of-india-issues-advisory-for-reopening-of-mosques/articleshowprint/76237447.cms
------
URL: https://www.newageislam.com/islamic-world-news/mosques-across-america-dedicate-friday/d/122054
New Age Islam, Islam Online, Islamic Website, African Muslim News, Arab World News, South Asia News, Indian Muslim News, World Muslim News, Women in Islam, Islamic Feminism, Arab Women, Women In Arab, Islamophobia in America, Muslim Women in West, Islam Women and Feminism