New Age Islam News Bureau
4 Jun 2013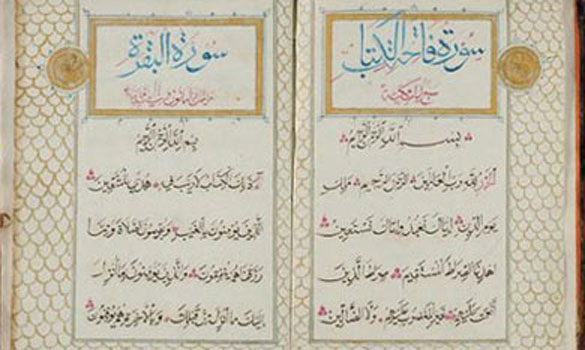 Photo: Egypt requests French auction house stop sale of Quran manuscript
-----------
Arab World
• Mosque Fatima Zahra's name Changed to Al Rahmah to discourage shirk by Shias
• Egypt requests French auction house stop sale of Quran manuscript
• Turkish protesters are 'alcoholics', says Egyptian Islamist leader
• Saudi who killed with car executed by sword
• 8,000 terror websites in Kingdom crosshairs
• Missile kills 26 in Syria village: NGO
• Two Hezbollah fighters including commander killed in Damascus clashes
• Five foreigners sentenced to death for drug smuggling in Egypt
• Syria rebel leader says revolution will fail without weapons from Britain
• Saudi Prince spends millions on closing off part of Disneyland for private party
Pakistan
• Pakistan Ulema Council Urges Parents to Talk To Their Children about Puberty
• Pakistan Army opens war games 'Azm-i-Nau IV'
• Two security officials killed in Mastung blast
• Legislator from Imran Khan's party shot dead
• JUI-F washes its hands of talks with Taliban
• Kulsoom Nawaz Sharif contacts Fauzia Kasuri, asks her to join PML-N
• Countering cold start: Military to adopt new war concept
• Memogate case: SC orders Haqqani to appear within 4 weeks
Europe
• UK soldier's killing: Suspect appears in court, blows flying kisses, holds Quran
• Former Archbishop of Canterbury speaks out on Islam and Sharia Law
• British soldiers admit abusing Afghan civilians
• Muslim religious leaders condemn holocaust deniers
• Britain links decision on arming Syrian rebels to peace talks
• 'Grounds' to believe chemical use by both sides in Syria: UN probe
• NATO may look at training for Libya: official
• 74-year-old Briton sentenced to death in Egypt for drug smuggling
India
• Mushawarat condemns escalation of Syria strife into a Shia-Sunni war
• Minority Commission seeks action against police officer who called a journalist 'terrorist'
• Volunteers help boost science teaching at Madrasas
• President's gallantry award winner J&K cop held for links with militants
• Militants hurl grenade at Army vehicles in J&K, 5 injured
• SIT terms Zakia Jafri's petition 'instigating'
• British Indian Muslims back demand to release Muslims booked for terror in UP
• It's NCP which has done the greatest damage to Muslim image in Maharashtra
• Ishrat case: Court grants permission to arrest Vanzara
South Asia
• Maldives turning into 'terrorist haven'
• Bangladesh Hindu charitable endowments law given final approval
• Afghan traders in Saudi Arabia need to correct status too
• Four killed in spate of Afghan civilian deaths
• Myanmar to examine 2-child rule for Rohingya
• Myanmar's Rohingya Face Healthcare Crisis
• Bangladesh bins 'phantom voters' claims
• Bangladesh F M briefs envoys of Islamic countries on coming General Elections
Southeast Asia
• Indonesia Abstains From Signing Landmark UN Arms Treaty
• PKR stands by phantom voter claims, blames EC for xenophobia
• Thailand says no third country wants Rohingya refugees
• Papua Political Prisoners Decline SBY's Clemency Offer
North America
• US offer $23m in rewards for leaders of five militant groups in West Africa
• CAIR Applauds Missouri Gov's Veto of Anti-Islam Bill
• John Kerry warns Israel of last chance for Mideast peace
• US calls for restraint by Turkish police confronting protests
Mideast
• Syria's chemical weapons program was built to counter Israel
• Israel to send African migrants to third country
• No concessions to west, Iran's Khamenei tells candidates
• New PM says to strive for Palestinian reconciliation
• 'People Are Angry, Very Angry': Protests, Demands Grow in Turkey
Africa
• Suicide bomber blows himself up in Mali's Kidal
• Niger jail break: 22 prisoners escape
• Libya: 5 dead in tribal clashes in southern town
• How a Timbuktu calligrapher saved family manuscripts
Compiled by New Age Islam News Bureau
URL: https://newageislam.com/islamic-world-news/mosque-fatima-zahra's-name-changed/d/11892
-------------
Arab World
Mosque Fatima Zahra's name Changed to Al Rahmah to discourage shirk by Shias
New Age Islam News Bureau
June 4, 2013
Jeddah: The name of Masjid Fatima Zahra in Jeddah has been changed to Masjid Al Rahmah by the Jeddah Municipal Corporation. The change in the name has caused widespread resentment among the Muslims. The reason the Saudi authorities have presented for the change in the name is that the name Fatima was given to the mosque by the trader who built it after his mother's name and it was haram to name a mosque after a person. But the residents of Jeddah say that the name of the mosque was after Fatima Zahra, the daughter of the holy prophet (pbuh), and not after the mother of the builder.
According to reports in the Saudi media, Iranians and Shias had started showing devotion to the mosques after some Irani pilgrims were buried in the mosque. This alerted the Saudis and they changed the name of the mosque from Masjid Fatima Zahra to Masjid Al Rahmah to discourage them from visiting the mosque or showing devotion which to them is tantamount to shirk (worshipping false gods).
----------
Egypt requests French auction house stop sale of Quran manuscript
4 Jun 2013
Al-Azhar Grand Imam Ahmed El-Tayeb called on Egypt's Ministry of Foreign Affairs and several leaders of international organisations to stop the auction of a 19th century Quran manuscript at Paris Fontainebleau Osenat house, scheduled for sale on June 9.
El-Tayeb asked Egypt's Minister of Foreign Affairs Mohamed Kamil Ali Amr, United Nations Educational Scientific and Cultural Organisation (UNESCO) chairman Irina Bokova and Islamic Educational Scientific and Cultural Organisation (ISESCO) director general Abdel Aziz Altawaijri to take action against the sale of the rare manuscript that dates back to the Ottoman era.
According to the auction house catalogue, the manuscript shows the first three pages of the Quran connected to a brown leather notebook with a smooth spine and gilded decoration. The front consists of a net covering with ornaments to spandrels and a central mandorla decorated with interlacing handwritten European digits. The manuscript has a used binder with split back, old restorations, and detached guards, renewed in the early 19th century.
The manuscript shows the two first surah of the Quran: Al Fateha (the opening) and Souret Al-Bakara.
The calligraphy is written in brown ink with some signs and hyphenation written in red ink. The manuscript presents three illuminated pages, which the general title and incipit of the two surahs are in blue, red, green and golden ink.
The catalogue mentioned that the provenance of such a manuscript is from Cairo's Al-Azhar Mosque and mentioned that Jean Joseph Marcel, an owner of a library handwrote "This script was part of the books of the mosque at El-Azhar Kaire. It was saved from pillage and fire the days when this mosque was taken by the French on the revolts of the city who had their general neighbourhood ..."
Al-Azhar Mosque, cultural centre of the Arab world, and a symbol of the revolt against Bonaparte in Cairo. The tax measures, safety and hygiene taken by the French soon made the Muslim population feel belittled and aroused fitna (rebellion) on 21 October 1798.
No action was taken to stop the sale as the French auction house refused to not sell the manuscript since it was taken out of Egypt before 1970. According to a UNESCO convention on the protection of cultural property, no objects of cultural heritage could be excavated or exported from a source nation without elaborate permissions from the national government after 1970. It also prohibited and prevented the illicit Import, export and transfer of ownership of cultural property in combat and conflict. Accordingly, the manuscript was out of Egypt legally.
Ossama El-Nahas, reporter at the ISESCO and director of the department of the repatriation of antiquities, called for the immediate return of such rare manuscript because it was taken from Egypt during the French expedition, which is against the UNESCO convention that stipulates the prevention and prohibition of illicit import, export and transfer of ownership of cultural property in a combat, conflict and colonised country. "The French expedition led by Napoleon Bonaparte was a colonisation," said El-Nahas.
He also asks UNESCO and ISESCO to issue an amendment of their 1970 convention in order to implement such regulation to antiquities, prohibiting the legal and illegal trading of items before 1970.
Until now, no concrete action has been taken, yet Egypt continues to take all steps to stop such auction and restitute the manuscript.
http://english.ahram.org.eg/NewsContent/9/43/72963/Heritage/Islamic/Egypt-requests-French-auction-house-stop-sale-of-Q.aspx
-------------
Turkish protesters are 'alcoholics', says Egyptian Islamist leader
3 Jun 2013
The protest movement in Turkey is an "uprising of alcoholics," a leader of Al-Gamaa Al-Islamiya has claimed.
Alaa Abul-Nasr, who is a leader of the group's political wing, the Building and Development Party, went on to say Turkish Prime Minister Recep Tayyip Erdoğan is a role model for Egyptian Islamists during an interview on Rotana Masriya TV channel on Sunday.
Protests against government plans to tear down trees in Istanbul's Taksim Square turned violent on Friday after a police crackdown.
Tighter restrictions on alcohol sales and warnings against public displays of affection have provoked protests by activists who accuse Erdogan's Justice and Development Party (AKP) of trying to turn secular-oriented Turkey into a more conservative country.
At least a thousand people have been injured during four days of clashes and more than 1700 arrested.
Erdogan's popularity soared in 2011 when Turkey expelled the Israeli ambassador after Tel Aviv refused to apologise for its raid on the Mavi Marmara, a Gaza-bound flotilla. During the raid, eight Turks and an American of Turkish descent were killed.
Erdogan was granted a hero's reception on his arrival in Egypt in September 2011. Many of his most vocal supporters where members of the Muslim Brotherhood.
However, on 16 May 2013 US President Barack Obama stated that negotiations were ongoing between him and Erdogan over normalising relations with Israel.
Obama's statement came after Israeli and Turkish officials began discussing compensation for the flotilla victims in April.
http://english.ahram.org.eg/NewsContent/1/64/73034/Egypt/Politics-/Turkish-protesters-are-alcoholics,-says-Egyptian-I.aspx
-------------
Saudi who killed with car executed by sword
4 Jun 2013
Saudi Arabia beheaded by sword one of its citizens on Tuesday after a court convicted him of murder, the interior ministry said.
Shuwail al-Amri was found guilty of killing Mohammed al-Amri, an apparent relative, by deliberately running him over with a car after a dispute, the ministry said in a statement published by SPA state news agency.
The execution took place in the southwestern region of al-Baha.
His beheading brings to 48 the number of people executed in the ultra-conservative kingdom this year.
In 2012, the kingdom put to death 76 people, according to an AFP tally based on official figures. Human Rights Watch has put the number at 69.
Rape, murder, apostasy, armed robbery and drug trafficking are all punishable by death under Saudi Arabia's strict version of sharia, or Islamic law.
http://english.ahram.org.eg/NewsContent/2/8/73117/World/Region/Saudi-who-killed-with-car-executed-by-sword.aspx
-------------
8,000 terror websites in Kingdom crosshairs
4 June 2013
Saudi Arabia is cooperating with a number of countries in the fight against terror, according to Sultan Al-Tayaar, the Ministry of Interior's legal and international cooperation adviser.
Addressing a seminar at the Naif Arab University for Security Sciences, he said the Ministry of Interior has asserted that a number of countries have links to terrorist organizations, adding that there is international cooperation to ban 8,000 websites that provide a platform for terrorism. While there were only 140 terrorist websites in 1998, the number has now increased to around 8,000 working to lure people into acts of terrorism. Al-Tayaar said the Kingdom's efforts are based on legislative and organizational principles and on the importance of respecting human rights in its fight against terrorism.
Full report at:
http://www.arabnews.com/news/453939
-------------
Missile kills 26 in Syria village: NGO
AFP | Jun 3, 2013
BEIRUT: A missile hit a village near Syria's second city of Aleppo overnight, killing 26 people including six women and eight children, the Syrian Observatory for Human Rights said on Monday.
"At midnight on Sunday, 26 people were killed, including six women and eight children, when what appears to have been a surface-to-surface missile struck the village of Kfar Hamra," said the Observatory.
Full report at:
http://timesofindia.indiatimes.com/world/middle-east/Missile-kills-26-in-Syria-village-NGO/articleshow/20414821.cms
-------------
Two Hezbollah fighters including commander killed in Damascus clashes
4 June 2013
Clashes between the Free Syrian Army and Hezbollah in the Damascus suburb of Madhamiya on Monday have killed two members from the Lebanese Shi'ite militia group, one of them being a field commander, activists said.
The Syrian government troops backed by hundreds of fighters from Hezbollah attempted to infiltrate Madhamiya, activists added.
Meanwhile, activists reported that in another Damascus suburb, Darya, more Syrian regime forces were deployed. Madhamiya and Darya are considered to be the closest to the capital from the west.
Full report at:
http://english.alarabiya.net/en/News/middle-east/2013/06/04/Two-Hezbollah-fighters-including-commander-killed-in-Damascus-clashes.html
-------------
Five foreigners sentenced to death for drug smuggling in Egypt
3 June 2013
An Egyptian court sentenced five foreigners to death by hanging on Monday for smuggling drugs, an official said.
British citizen Charles Raymond Ferndale, 74, and three citizens of the Seychelles were held in a cage inside the courtroom in the popular tourist destination of Hurghada on the Red Sea coast as the verdict was read out.
Full report at:
http://english.alarabiya.net/en/News/middle-east/2013/06/03/Five-foreigners-sentenced-to-death-for-drug-smuggling-in-Egypt.html
-------------
Syria rebel leader says revolution will fail without weapons from Britain
By Ruth Sherlock
03 Jun 2013
General Salim Idris, the chief of staff of the opposition Free Syrian Army, told the Telegraph that Britain has not agreed to provide firepower, despite orchestrating the lifting of a European Union arms embargo on Syria.
"There are no assurance at all," said General Idris. "They [Britain] promised to give us arms. But after lifting of arms embargo we have not receive any signals that we are going to be supported."
For more than two years the insurgency in Syria, partly supported by Saudi Arabia and Qatar, made slow, costly, gains against President Assad, tiring his armed forces, battling in key cities and seizing much of the north of the country.
Full report at:
http://www.telegraph.co.uk/news/worldnews/middleeast/syria/10096669/Syria-rebel-leader-says-revolution-will-fail-without-weapons-from-Britain.html
-------------
Saudi Prince spends millions on closing off part of Disneyland for private party
A Saudi prince splashed out 15 million euros on a private three-day extravaganza at Disneyland near Paris to celebrate his degree, the group that runs the theme park said.
By Henry Samuel
03 Jun 2013
Prince Fahd al-Saud booked entire areas of the park over May 22 to 24 for his 60-odd guests, who included friends, as well as diehard Disney fans and bloggers.
Special security was put in place for the prince, one of the park's top customers, it added.
The Paris event was the grand finale of a world tour entirely at the expense of the Saudi royal called Disney Dreamers Everywhere, which started in Hong Kong Disneyland and moved onto theme parks in Tokyo, California, Florida and then France.
Full report at:
http://www.telegraph.co.uk/news/worldnews/europe/france/10096818/Saudi-Prince-spends-millions-on-closing-off-part-of-Disneyland-for-private-party.html
----------
Pakistan
Pakistan Ulema Council urges parents to talk to their children about puberty
Jun 4, 2013
ISLAMABAD - Pakistan Ulema Council Chairman Hafiz Tahir Ashrafi on Tuesday stressed on the importance of communication between parents and children about "intimate" health issues.
In a statement, he said, "Only 29 percent girls and 41 percent boys have access to correct information about puberty and hygiene in Pakistan. Furthermore, most Pakistani parents are uneasy discussing sensitive but vital health issues with their children. This communication gap makes children vulnerable to exploitation, abuse and life threatening diseases."
"It has become more important with the passage of time that families should guide their children in a friendly manner about the matters and problems related to adulthood," Ahsrafi said.
Full report at:
http://www.pakistantoday.com.pk/2013/06/04/news/national/tahir-ashrafi-urges-parents-to-talk-to-their-children-about-puberty/#sthash.Kl1VPDlv.dpuf
-----------
Pakistan Army opens war games 'Azm-i-Nau IV'
June 4, 2013
ISLAMABAD: The Pakistan Army started on Monday war games codenamed Azm-i-Nau (New Resolve) IV to update its readiness strategy for dealing with the complex security threat environment.
"This Army War Game is the culmination of the series of such exercises and aims at validation and crystallisation of operational plans prepared in view of the emerging threat environment," a military spokesman said about the exercise being held at the National Defence University, Islamabad.
Full report at:
http://dawn.com/2013/06/04/army-opens-war-games-azm-i-nau-iv/
-------------
Two security officials killed in Mastung blast
June 4, 2013
QUETTA: At least four people were killed, including two security personnel and two others sustained injuries in a remote controlled bomb blast and firing incidents in district Mastung and Quetta, on Monday. According to sources, a vehicle of security forces was attacked with a remote-controlled device at Ispilinji area of Mastung district, adjacent to Quetta. Resultantly, two security personnel identified as Sajid and Ghulam Qamar lost their lives on the spot and Abdul Hakeem and Ghulam Nabi sustained serious injuries. Law enforcement agencies rushed to the site shortly after the incident and cordoned off the area. The deceased and injured were shifted to a hospital in Quetta. No group claimed responsibility for the attack.
Full report at:
http://www.dailytimes.com.pk/default.asp?page=2013\06\04\story_4-6-2013_pg7_3
-------------
Legislator from Imran Khan's party shot dead
PTI | Jun 3, 2013
ISLAMABAD: A newly elected legislator from Imran Khan's Pakistan Tehrik-e-Insaf party was shot and killed by unidentified gunmen in the country's restive northwest on Monday.
Farid Khan Aurakzai was being driven home when gunmen riding a motorcycle ambushed his vehicle in the main market in Hangu town of Khyber-Pakhtunkhwa province on Monday evening.
Full report at:
http://timesofindia.indiatimes.com/world/pakistan/Legislator-from-Imran-Khans-party-shot-dead/articleshow/20413751.cms
-----------
JUI-F washes its hands of talks with Taliban
June 4, 2013
ISLAMABAD, June 3: Jamiat Ulema-i-Islam (JUI-F) chief Maulana Fazlur Rehman has said his party is no more interested in playing any role in bringing the Taliban to the negotiation table after concluding that the establishment is not in favour of any such process.
The JUI-F's spokesman, Jan Achakzai, on Monday quoted Maulana Fazl as having said that after the withdrawal of offer for peace talks by the Taliban and because of "disinterest shown by the establishment, there is no opportunity or atmosphere for the negotiations and the JUI-F playing any role in this regard is out of question".
Full report at:
http://dawn.com/2013/06/04/jui-f-washes-its-hands-of-talks-with-taliban/
-------------
Kulsoom Nawaz Sharif contacts Fauzia Kasuri, asks her to join PML-N
June 4, 2013
LAHORE: Kulsoom Nawaz Sharif has reportedly contacted Pakistan Tehreek-e-Insaf member (PTI) Fauzia Kasuri and made her an offer to join PML-N's women wing, according to sources close to the PML-N.
Sources said that Kulsoom had discussed the portfolio being offered to Kasuri during their talk.
One of the central figures of PTI and a close associate of Imran Khan, Fauzia Kasuri has previously served as PTI women's wing president and a liaison person for the party's overseas chapters.
Full report at:
http://tribune.com.pk/story/558693/kulsoom-nawaz-sharif-contacts-fauzia-kasuri-asks-her-to-join-pml-n/
-------------
Countering cold start: Military to adopt new war concept
June 4, 2013
ISLAMABAD: Pakistan's military is all set to adopt a "new concept" of war for fighting future conventional threats, specifically pre-empting India's cold-start military doctrine, revealed security officials.
The new war concept, developed after four years of war games and military exercises, seeks to improve the mobilisation time of troops and develop an integrated response from the combined fighting arms of the army, navy and air forces, in case of a conventional military threat.
Full report at:
http://tribune.com.pk/story/558604/countering-cold-start-military-to-adopt-new-war-concept/
-------------
Memogate case: SC orders Haqqani to appear within 4 weeks
June 4, 2013
ISLAMABAD: The Supreme Court of Pakistan ordered the federal government on Tuesday to bring former ambassador to America Hussain Haqqani back to Pakistan within four weeks as per the rules set by the Constitution, Express News reported.
The order was given during the hearing of the memogate case in the Supreme Court.
Haqqani should appear before the court or the federal government can proceed with the trial on the basis of references provided by the commission, said Justice Asif Khosa.
Full report at:
http://tribune.com.pk/story/558653/memogate-case-sc-orders-haqqani-to-appear-within-4-weeks/
-------------
Europe
UK soldier's killing: Suspect appears in court, blows flying kisses, holds Quran
Kounteya Sinha, TNN | Jun 3, 2013
LONDON: Michael Adebolajo appeared remorseless after he appeared in a court for the first time on Monday.
Twenty-eight-year-old Adebolajo, charged with hacking British soldier Lee Rigby to death in Woolwich in broad daylight, stood at Westminster Magistrates Court, blowing kisses to a supporter sitting in the public gallery.
Holding a Quran in hand, Adebolajo, flanked by armed guards, told the judge that he wanted to be referred as Mujahid Abu Hamza.
His lawyer David Gottlieb and deputy chief magistrate Emma Arbuthnot continuously referred to him as Abu Hamza during the hearing.
Flanked by three guards behind glass panels, Adebolajo disrupted court proceedings several times, saying "May I respond, may I respond," during the 10-minute proceeding.
He also questioned the charges brought against him, besides showing a thumbs up to his lawyer.
Full report at:
http://timesofindia.indiatimes.com/world/uk/UK-soldiers-killing-Suspect-appears-in-court-blows-flying-kisses-holds-Quran/articleshow/20415082.cms
-----------
Former Archbishop of Canterbury speaks out on Islam and Sharia Law
JENNIE BAKER
June 4, 2013
Rowan Williams sent shock waves through Britain in 2008 when he said adopting some aspects of Islamic Sharia law in the UK appeared "unavoidable".
Tonight, the former Archbishop of Canterbury will revisit the controversial lecture and consider whether adjustments to English law, moral and social practices should be considered.
The talk by the master of Magdalene College, Cambridge, comes in the wake of the brutal murder of Drummer Lee Rigby on the streets of Woolwich.
It will take place as part of the book launch of Islam and English Law: Rights, Responsibilities and the Face of Shar'ia, to which Lord Williams of Oystermouth has contributed a chapter.
Full report at:
http://www.cambridge-news.co.uk/Education/Universities/Former-Archbishop-of-Canterbury-Rowan-Williams-speaks-out-on-Islam-and-Sharia-Law-20130603101219.htm
-------------
British soldiers admit abusing Afghan civilians
Jun 4, 2013
Two British soldiers have admitted abusing Afghan civilians at a court martial hearing in Germany.
One soldier admitted indecent conduct towards a child, while the other admitted racially abusing a man during a tour of duty in Afghanistan.
Their patrol commander was cleared of failing to deal with the offences.
The three men have been granted anonymity amid fears that naming them would endanger their lives and those of their families.
The soldiers, referred to as soldiers X, Y and Z, appeared in court at the British army barracks in Sennelager.
Full report at:
http://www.bbc.co.uk/news/uk-22769080
------------
Muslim religious leaders condemn holocaust deniers
4 June 2013
Muslim religious leaders and scholars from around the globe issued a joint statement Monday condemning any attempts to deny or justify the Holocaust in which six million European Jews perished under Nazi Germany.
"We bear witness to the absolute horror and tragedy of the Holocaust where millions upon millions of human souls perished, more than half of whom were people of the Jewish faith," said a statement signed by 10 leading Islamic figures including President of the Islamic Society of North America, Imam Mohamed Magid and India's Chief Imam, Umer Ahmed Ilyasi.
Full report at:
http://english.alarabiya.net/en/News/world/2013/06/04/Muslim-religious-leaders-condemn-holocaust-deniers.html
-------------
Britain links decision on arming Syrian rebels to peace talks
3 June 2013
Britain will decide whether to arm Syrian rebels only after planned peace talks involving President Bashar al-Assad's government and his opponents, the British foreign minister said.
William Hague told Germany's Frankfurter Allgemeine Zeitungdaily in an interview published on Monday that the priority was U.S.- and Russian-led efforts to get the warring sides to the negotiating table, but said he was "not overly optimistic."
"A decision on whether to deliver lethal weapons will depend on how those negotiations go and other countries' attitudes," he was quoted as saying.
Full report at:
http://english.alarabiya.net/en/News/middle-east/2013/06/03/Britain-links-decision-on-arming-Syrian-rebels-to-peace-talks.html
-------------
'Grounds' to believe chemical use by both sides in Syria: UN probe
4 Jun 2013
UN investigators on Tuesday said they had "reasonable grounds" to believe chemical weapons have been used by both sides in Syria, and warned that crimes against humanity are now occurring daily in the war-torn country.
"Allegations have been received concerning the use of chemical weapons by both parties," said the Commission of Inquiry on Syria in a report to the UN Human Rights Council, adding that "the majority concern their use by government forces".
There are "reasonable grounds to believe that chemical agents have been used as weapons," added the investigators.
Full report at:
http://english.ahram.org.eg/NewsContent/2/8/73132/World/Region/Grounds-to-believe-chemical-use-by-both-sides-in-S.aspx
-------------
NATO may look at training for Libya: official
June 4, 2013
BRUSSELS: NATO defence ministers will discuss the possibility of training Libya's military to ensure it is able to police the country's borders properly, a senior US defence official said Monday.
The official, who asked not to be named, said the idea was at an early stage but NATO's 28 defence ministers meeting Tuesday and Wednesday at the alliance's headquarters near Brussels would look at the issue.
Full report at:
http://www.dailytimes.com.pk/default.asp?page=2013\06\04\story_4-6-2013_pg4_13
-------------
74-year-old Briton sentenced to death in Egypt for drug smuggling
A British pensioner has been sentenced to death in Egypt after being found guilty of drug smuggling.
By David Blair
03 Jun 2013
Charles Ferndale and four other men were first arrested in 2011 while trying to bring three tons of cannabis into Egypt from the Red Sea.
The death sentence, originally passed on April 7, was confirmed by a court in the coastal city of Hurghada on Monday. The other defendants, who come from Pakistan and the Seychelles, were also punished with capital sentences.
The Foreign Office voiced "extreme concern", adding that Britain opposed the death penalty in principle under all circumstances. "We're doing our utmost to prevent this execution," said a spokesman. Meanwhile, British consular officials had been in contact with Ferndale.
Full report at:
http://www.telegraph.co.uk/news/worldnews/africaandindianocean/egypt/10096536/74-year-old-Briton-sentenced-to-death-in-Egypt-for-drug-smuggling.html
-------------
India
Mushawarat condemns escalation of Syria strife into a Shia-Sunni war
June 3, 2013
Mumbai: The All India Muslim Majlis-e Mushawarat, the umbrella body of Indian Muslim organisations and eminent personalities, expressed its deep concern today over the sudden escalation of the conflict in Syria and warned the Indian Muslim community to beware of its repercussions.
The AIMMM President, Dr. Zafar ul-Islam Khan, in a statement here condemned the unprecedented and uncalled for, sudden escalation of the conflict in Syria by the induction of Hezbollah fighters into the conflict zone on the side of the Syrian government and the eminent Sunni scholar Shaikh Yusuf Al-Qaradawi's call for a Jihad in Syria to frustrate the "Shi'i designs" in the region. Both these moves have clear sectarian undertones which threaten to change the contours of the conflict in and over Syria into a Shia-Sunni conflict.
Full report at:
http://ummid.com/news/2013/June/03.06.2013/mushawarat_on_syria.html#sthash.cPjrRN9V.dpuf
------------
Minority Commission seeks action against police officer who called a journalist 'terrorist'
New Age Islam News Bureau
June 4, 2013
Mumbai: The Maharashtra Minority Commission Chairman Munaf Hakim has taken strong note of the misbehaviour of some police officers with the journalist of ETV Urdu, Shuaib Hashmi. An officer of Pune police station had allegedly called him 'terrorist' and harassed him when he had gone there to investigate the construction project in Pune that would affect about 20 mosques. Mr Munaf Hakim said that an explanation has been sought from the Police Commissioner of Pune and he had ordered the police to carry out an impartial inquiry into the matter. He said that the statement of the police inspector that there might be terrorists in the guise of journalists was an irresponsible act. If terrorists may enter mosques, the intelligence should remain alert but making such statements shows the irresponsible attitude of the police, Mr Hakim said. He added that the Commission has sought details of the incident from the Commissioner and would take action after the details are received. He said that the media of the other languages including Marathi are permitted to take pictures of mosques but the ETV journalist was stopped from doing it. It defies logic, he said.
------------
Volunteers help boost science teaching at Madrasas
By Udayan Namboodiri for Khabar South Asia in New Delhi
June 03, 2013
Students at India's Madrasas are keen to enhance their knowledge of science, but a lack of qualified teachers has long posed an obstacle. Volunteer groups are seeking to fill the gap by providing the needed training, as part of a larger effort to improve the education and job prospects for the country's Muslims.
On May 24th, thirty Madrasa teachers from Delhi and the surrounding suburbs began a five-day training session, organised by the Sadbhav Mission, a civil activists' organisation that works to promote communal harmony and better education. Three professors from the Indian Institute of Technology (IIT) led the sessions, designed to show teachers how to make physics come alive in the classroom.
Full report at:
http://khabarsouthasia.com/en_GB/articles/apwi/articles/features/2013/06/01/feature-01
----------
President's gallantry award winner J&K cop held for links with militants
PTI | Jun 4, 2013
JAMMU: An 'encounter specialist' sub-inspector, who was instrumental in the killing of 68 militants in the Doda-Kishtwar belt, was arrested on Tuesday for allegedly running a militant module in Jammu and Kashmir.
A recipient of President's gallantry award, SI Shiv Kumar Sharma was arrested in Doda for his alleged involvement in militant activities, official sources said.
State minister for home Sajad Ahmed Kitchloo confirmed the arrest and said investigation is in progress.
Sharma, serving in J&K Police, was allegedly involved in running the militant module in Kishtwar district. The module was involved in the grenade attack on Thathri police station last month, the sources said.
Full report at:
http://timesofindia.indiatimes.com/india/Presidents-gallantry-award-winner-JK-cop-held-for-links-with-militants/articleshow/20425518.cms?prtpage=1
------------
Militants hurl grenade at Army vehicles in J&K, 5 injured
PTI | Jun 4, 2013
SRINAGAR: A police head constable was among five people who were injured on Tuesday when militants hurled a grenade at army vehicles near Deputy Commissioner's office in Anantnag district of south Kashmir, police said.
Militants lobbed the grenade at two stationary army vehicles near Khanabal Chowk in Anantnag town this afternoon, the police said.
The grenade exploded after hitting one of the army vehicle, injuring four civilians and the police head constable, they said.
Full report at:
http://timesofindia.indiatimes.com/india/Militants-hurl-grenade-at-Army-vehicles-in-JK-5-injured/articleshow/20424526.cms
-------------
SIT terms Zakia Jafri's petition 'instigating'
PTI | Jun 4, 2013
AHMEDABAD: The Supreme Court-appointed SIT on Monday termed as "instigating" the petition filed by Zakia Jafri, opposing the closure report filed by SIT giving a clean chit to Gujarat chief minister Narendra Modi and alleged that it could again create communal disturbances in the state.
SIT made this submission before metropolitan magistrate B J Ganatra who was hearing the 'protest' petition filed by Jafri opposing the closure report filed by SIT giving a clean chit to Modi and others for their role in the 2002 post-Godhra riots.
Full report at:
http://timesofindia.indiatimes.com/india/SIT-terms-Zakia-Jafris-petition-instigating/articleshow/20418329.cms
-------------
British Indian Muslims back demand to release Muslims booked for terror in UP
Ashish Tripathi, TNN | Jun 4, 2013
LUCKNOW: British Indian Muslims have expressed solidarity with the RihaiManch which is staging an indefinite demonstration demanding action against police officers responsible for implicating innocent Muslim youths in false terror charges and release of Nimesh Commission report which found discrepancies in arrest of two terror accused Tariq Qasmi and Khalid Mujahid.
The Council of Indian Muslims (UK) has issued a statement in support of the Rihai Manch. It has also written a letter stating: "We salute the brave and honest souls like Magsaysay Award winning social activist Sandeep Pandey, former Director General of Police SR Darapuri and Advocate Randheer Suman, the shining stars of Indian secularism, who have led this campaign and have been exposing the ugly faces of a bunch of fascists bent upon destroying the spirit of peaceful co-existence and pluralism, an ingrained and deep rooted virtue of Indian society".
Full report at:
http://timesofindia.indiatimes.com/india/British-Indian-Muslims-back-demand-to-release-Muslims-booked-for-terror-in-UP/articleshow/20424311.cms
-------------
It's NCP which has done the greatest damage to Muslim image in Maharashtra
A former IG Police and a prominent human rights activist poses some hard questions to the Union Minister Mr Tariq Anwar whose article appeared on this [cover] page in our previous issue [16-31 March 2013]
May 27, 2013
By S.M. Mushrif
It is surprising that an article like "Where is the Indian Mujahideen Headquarters?" should come, as it did, from a political leader like Mr. Tariq Anwar, whose party has been handling the sensitive Home portfolio in the coalition ministry in Maharashtra, the police of which has been discredited the most doing the maximum damage to the Muslim image by falsely implicating innocent Muslim boys in bomb blast cases. And, ironically enough, it is the same Maharashtra Police, which has been doing its best to keep under wraps the skeletons of Sangh Parivar's nationwide terror conspiracy aimed at knocking down the Constitution and establishing the "Aryavart Hindu Rashtra" based on the tenets of "Smritis" (including 'Manu Smriti') and Vedas.
Full report at:
http://www.milligazette.com/news/6672-mr-tariq-anwar-its-your-ncp-in-maharashtra-which-has-done-the-greatest-damage-to-muslim-image
------------
Ishrat case: Court grants permission to arrest Vanzara
Jun 04 2013
Ahmedabad : A special CBI court today granted permission to the central probe agency to arrest Gujarat IPS officer D G Vanzara, in the 2004 Ishrat Jahan fake encounter case.
Vanzara, who is also one of the main accused in the 2005 fake encounter case of Sohrabuddin Shaikh and the murder of his wife Kausar Bi, was yesterday brought to Sabarmati Central jail from a Mumbai jail where he was lodged.
Mumbai court had yesterday issued orders, under section 36 of Criminal Procedure Code(CrPC), to shift Vanzara to Ahmedabad jail under tight security following the order of the city CBI court to grant his custody to the investigating agency in the Ishrat Jahan case.
Full report at:
http://www.indianexpress.com/news/ishrat-case-court-grants-permission-to-arrest-vanzara/1124892/
--------------
South Asia
Maldives turning into 'terrorist haven'
By Minivan News | June 4th, 2013
A Nasheed government would "need external assistance to keep this strategic island nation out of the hands of Islamic extremism Wahabism and Salafism," writes Bhaskar Roy for the Eurasia Review.
"It is known that an increasing number of youths are going to Saudi Arabia and Pakistan to study in Madrasas, which impart extreme religious education and encourage jihad.
"Finances are also coming in from Saudi, Kuwaiti and other NGOs. This happened in Bangladesh in the 1990s and early 2000, leading to a burst of Islamic terrorism, which continues to haunt the country.
Full report at:
http://minivannews.com/category/news-in-brief
-------------
Bangladesh Hindu charitable endowments law given final approval
HAROON HABIB
Jun 4, 2013
The Sheikh Hasina Cabinet on Monday gave final approval to a draft law to ensure proper development and management of the "Devottar property" ( Hindu Charitable Endowments) and make the transfer of those property, donated to Hindu places of worship, completely illegal.
Once the law comes into effect all such property will come under effective control and opportunities will be created for their development, bringing benefit for the members of the Hindu community, said the government. Till now, such properties are managed by committees constituted locally.
The government would make a list of the property of charitable endowment of the Hindu community with the constitution of a management board.
Briefing the media, Cabinet Secretary Musharraf Hossain Bhuiyan said a central board would be constituted to regulate management of the properties. The vice-chairman of the Hindu Religious Welfare Trust would be the ex-officio chairman of the board while a new post of an administrator equivalent to the rank of a joint secretary would be created to run it. The administrator from the Hindu community would act as the member-secretary.
The proposed law provides for fines upto Tk 5,000 or imprisonment for a year for irregularities in managing these endowed properties. But for misleading the Board with wrong information about these properties, the fines could be upto TK 50,000 or a year in prison.
http://www.thehindu.com/news/international/bangladesh-hindu-charitable-endowments-law-given-final-approval/article4778855.ece
------------
Afghan traders in Saudi Arabia need to correct status too
4 June 2013
Saudi Arabia is home to around 500,000 Afghans, who escaped their war-ridden nation decades ago and settled in the Kingdom. The majority of the Afghans who reside in the Western Province come from the northern Afghan province of Baghlan, which is known for its trade-savvy citizens.
Most of the Afghan expatriates arrived in the Kingdom on Umrah or Haj visas and opted to remain in the Kingdom as illegals, seeking work within their tightly-knit ethnic clans as small-time entrepreneurs.
Whether working as a footwear vendor in a mosque yard, a mattress seller in the market or as Bukhari restaurant owner, most Afghan expatriates are registered as labourers (aamil) on their residency permits, while they run their own small businesses.
Full report at:
http://www.arabnews.com/news/453950
-----------
Four killed in spate of Afghan civilian deaths
A father and his three children are killed in western Afghanistan when their car hits a roadside bomb
4 Jun 2013
A roadside bomb killed a father and three of his children in western Afghanistan on Tuesday, the latest of a recent spate of civilian casualties in the 12-year war.
The United Nations mission in Kabul said on Monday that in the past two weeks, 125 Afghan civilians had been killed and 287 injured in the conflict, a 24 percent increase from the same period in 2012.
Full report at:
http://english.ahram.org.eg/NewsContent/2/9/73120/World/International/Four-killed-in-spate-of-Afghan-civilian-deaths.aspx
-------------
Myanmar to examine 2-child rule for Rohingya
Jun 4, 2013
YANGON — Myanmar will examine a controversial ban imposed on Rohingya Muslims having more than two children, a top official said Monday, after criticism from the United Nations and rights groups.
Authorities in the strife-torn western state of Rakhine said last month that they had reaffirmed the longstanding rule — which was first introduced during the junta era — in two townships.
"The central government did not announce that policy. We will look into it," presidential spokesman Ye Htut told AFP.
Full report at:
http://www.saudigazette.com.sa/index.cfm?method=home.regcon&contentid=20130604168456
----------
Myanmar's Rohingya Face Healthcare Crisis
June 4, 2013
Sittwe. Aid workers are calling for better health access for an estimated 140,000 internally displaced persons (IDPs) in Myanmar's western Rakhine State, most of them Rohingya Muslims.
Although a number of NGOs and government mobile clinics are providing basic health services inside the roughly 80 camps and settlements, they are limited, and emergency health referrals remain a serious concern, they say.
According to Médecins Sans Frontières (MSF), conditions inside the camps, combined with the segregation of ethnic Buddhist Rakhine and Muslim Rohingya and ongoing movement restrictions, are having a severe impact on health care.
Full report at:
http://www.thejakartaglobe.com/international/myanmars-rohingya-face-healthcare-crisis/
-------------
Bangladesh bins 'phantom voters' claims
June 4, 2013
The Bangladesh High Commission in Kuala Lumpur has dismissed allegations of its citizens voting in Malaysia's 13th general election as "absurd", a top Malaysian newspaper reports.
Bangladesh High Commissioner to Malaysia AKM Atiqur Rahman said his office had no knowledge of his country's citizens voting in Malaysia on May 5, The Star reported Tuesday.
"The propaganda of Bangladeshi citizens voting in the 13th general election is nothing but a mere fabrication by some interest groups and a sheer misrepresentation of facts," he said in Kuala Lumpur Monday.
Full report at:
http://www.thedailystar.net/beta2/news/bangladesh-bins-claims-its-workers-were-phantom-voters/
-------------
Bangladesh F M briefs envoys of Islamic countries on coming General Elections
June 4, 2013
Foreign Minister Dipu Moni yesterday briefed diplomats of Islamic countries in Dhaka on preparations for holding the next general elections and prospects of political dialogues between the government and the opposition.
She also discussed the ongoing labour law reform issues in Bangladesh and some concrete measures for the protection of Bangladesh's migrant workers in destination countries.
Yesterday's meet was part of Dipu Moni's diplomatic briefings to envoys of different regional groups of countries scheduled for this week.
Full report at:
http://www.thedailystar.net/beta2/news/dipu-moni-briefs-envoys-of-islamic-countries/
-------------
Southeast Asia
Indonesia Abstains From Signing Landmark UN Arms Treaty
June 4, 2013
United Nations. Indonesia abstained from signing a landmark arms treaty on Monday, arguing that it placed the power to regulate sales in the hands of arms-producing nations.
The UN-brokered treaty is the first covering weapons of any kind for more than a decade and aims to bring transparency and protection of human rights into the often dubious $85 billion-a-year global trade.
UN Secretary General Ban Ki-moon said the treaty will "put an end to the 'free-for-all' nature" of weapons dealing and make it harder for warlords, pirates and terrorists to get arms."
The opening of signatures was described as an "extremely important milestone" by ministers and other representatives of Argentina, Australia, Britain, Costa Rica, Finland, Japan and Kenya which sponsored the first 2006 UN resolution calling for treaty talks.
Full report at:
http://www.thejakartaglobe.com/international/indonesia-abstains-from-signing-landmark-un-arms-treaty/
-------------
PKR stands by phantom voter claims, blames EC for xenophobia
BY SYED JAYMAL ZAHIID
JUNE 04, 2013
A member of a Malaysian opposition party shows a video recording of a man he says is not a Malaysian showing his finger marked with indelible ink after casting his vote. — Reuters file pic
PETALING JAYA, June 4 — PKR has stood by its allegations that foreign nationals of Bangladesh origin had voted illegally in Election 2013 despite the denial made by the country's High Commissioner here yesterday, insisting that it has proof to back its claims.
Full report at:
http://www.themalaysianinsider.com/malaysia/article/pkr-stands-by-phantom-voters-claims-blames-ec-for-xenophobia/
-------------
Thailand says no third country wants Rohingya refugees
June 4, 2013
Thailand said Tuesday that it was unable to find any other country willing to accept about 2,000 Rohingya refugees from neighbouring Myanmar who have been detained for several months.
"There is no third country ready to take them," foreign ministry spokesman Manasvi Srisodapol told AFP. "They are worried that if they receive one group, tens or hundreds of thousands of others will follow."
Many of the asylum-seekers have been locked up in crowded detention centres in Thailand for several months, prompting rights groups to call for their release.
Manasvi said the government was aware of the crowded conditions in the centres.
"Thai government agencies are currently discussing ways and solutions to improve their conditions," he added.
Full report at:
http://english.ahram.org.eg/NewsContent/2/9/73123/World/International/Thailand-says-no-third-country-wants-Rohingya.aspx
-------------
Papua Political Prisoners Decline SBY's Clemency Offer
June 4, 2013
Political prisoners held at Papua's Abepura Prison rejected President Susilo Bambang Yudhoyono's offer to grant them clemency as part of the Home Affairs Ministry's proposed "special autonomy plus" program for the restive region.
More than 50 political prisoners will be granted their freedom during an August visit by the president commemorating the new autonomy program. Local leaders floated the proposal during discussions with the president on the implementation of the "special autonomy plus" program — an enhanced version of Papua's existing autonomy agreement that would allow the local government to enter discussions with the armed Free Papua Organization (OPM).
Full report at:
http://www.thejakartaglobe.com/news/papua-political-prisoners-decline-sbys-clemency-offer/
-------------
North America
US offer $23m in rewards for leaders of five militant groups in west Africa
In an unprecedented move, the United States has posted up to $23 million in rewards to help track down five leaders of militant groups accused of spreading terror in west Africa.
04 Jun 2013
The highest reward of $7 million is offered for the Boko Haram leader Abubakar Shekau, who last week called on Islamists in Afghanistan, Pakistan and Iraq to join the bloody fight to create an Islamic state in Nigeria.
The US State Department's Rewards for Justice program also targeted al-Qaeda in the Islamic Maghreb (AQIM), offering its first ever bounties for wanted militants in west Africa.
Up to $5 million was posted for al-Qaeda veteran Mokhtar Belmokhtar, the one-eyed Islamist behind the devastating attack on an Algerian gas plant in January in which 37 foreigners, including three Americans, were killed.
Full report at:
http://www.telegraph.co.uk/news/worldnews/africaandindianocean/10097366/US-offers-23m-in-rewards-for-leaders-of-five-militant-groups-in-west-Africa.html
-------------
CAIR Applauds Missouri Gov's Veto of Anti-Islam Bill
03 June 2013
ST. LOUIS, MO, 6/3/2013) -- The St. Louis chapter of the Council on American-Islamic Relations (CAIR-St. Louis) today applauded Missouri Gov. Jay Nixon's decision to veto an anti-Islam bill (SB 267) passed by that state's legislature.
ACTION REQUESTED: Contact Gov. Nixon to thank him for vetoing SB 267. NOTE: This alert will only work for Missouri residents -- non-Missouri residents, please email your thanks to media@mo.gov and cc info@cair.com.
In a statement today announcing the veto, Gov. Nixon said: "This legislation seeks to solve a problem that does not exist, while creating the very real problem of jeopardizing Missouri's families' ability to adopt children from foreign countries. Here in Missouri, we believe in strengthening families and encouraging adoption. By placing additional barriers between couples who want to adopt and children who need loving homes, Senate Bill 267 is quite simply out of step with these basic values."
Full report at:
http://www.cair.com/press-center/press-releases/11926-cair-applauds-missouri-gov-s-veto-of-anti-islam-bill.html
-------------
John Kerry warns Israel of last chance for Mideast peace
AFP | Jun 4, 2013, 03.50 AM IST
WASHINGTON: US Secretary of State John Kerry on Monday issued a stark warning to Israel to resume long-stalled peace talks with the Palestinians, saying if efforts fail now they may never get another chance.
"We are running out of time. We're running out of possibilities... If we do not succeed now, we may not get another chance," Kerry told a forum in Washington organized by the American Jewish Community lobbying group.
His warning came amid reports that he is planning to return to the Middle East region within days for his fifth trip to Israel since he launched his bid to kickstart the negotiations in early February.
Full report at:
http://timesofindia.indiatimes.com/world/us/John-Kerry-warns-Israel-of-last-chance-for-Mideast-peace/articleshow/20419279.cms
-------------
US calls for restraint by Turkish police confronting protests
Reuters | Jun 4, 2013
WASHINGTON: The United States expressed concern on Monday about the Turkish police's rough treatment of anti-government protesters, in a rebuke to a Nato ally that Washington has often held up as an example of a Muslim democracy.
"We are concerned by the reports of excessive use of force by police," US secretary of state John Kerry told reporters. "We obviously hope that there will be a full investigation of those incidents and full restraint from the police force."
Full report at:
http://timesofindia.indiatimes.com/world/us/US-calls-for-restraint-by-Turkish-police-confronting-protests/articleshow/20418539.cms
-------------
Mideast
Syria's chemical weapons program was built to counter Israel
By Anthony Deutsch and Khaled Yacoub Oweis
Jun 4, 2013
(Reuters) - Syria, defeated by Israel in three wars and afraid its arch enemy had gained a nuclear arsenal, began in earnest to build a covert chemical weapons program three decades ago, aided by its neighbors, allies and European chemical wholesalers.
Damascus lacked the technology and scientific capacity to set up a program on its own, but with backing from foreign allies it amassed what is believed to be one of the deadliest stockpiles of nerve agent in the world, Western military experts said.
"Syria was quite heavily reliant on outside help at the outset of its chemical weapons program, but the understanding now is that they have a domestic chemical weapons production capability," said Amy Smithson of the James Martin Center for Nonproliferation Studies in Washington, an expert on nuclear, biological and chemical weapons.
Full report at:
http://www.reuters.com/article/2013/06/04/us-syria-crisis-chemical-idUSBRE9530QC20130604
------------
Israel to send African migrants to third country
AP | Jun 4, 2013
JERUSALEM: Israel has reached an agreement to send thousands of African migrants to an unidentified country, according to a court document obtained, a plan that has elicited criticism over its potential harm to the migrants.
The plan, if implemented, is an attempt to address one of Israel's more pressing issues: what to do with an influx of roughly 60,000 African migrants who have sneaked into Israel from Egypt over the past eight years.
Full report at:
http://timesofindia.indiatimes.com/world/middle-east/Israel-to-send-African-migrants-to-third-country/articleshow/20419565.cms
-------------
No concessions to west, Iran's Khamenei tells candidates
4 June 2013
Iran's supreme leader Ayatollah Ali Khamenei warned on Tuesday that the country's next president should avoid making "concessions" to the west, saying this would not diffuse tensions over Tehran's nuclear drive.
Khamenei is the ultimate decision maker in Iran and has the final say on all key issues, including its controversial nuclear program, a major source of concern in the West over suspicions the Islamic republic is using it to develop weapons.
"Some [candidates] have the wrong analysis that by giving concessions to enemies, their anger towards Iran will be reduced," Khamenei said in a live televised speech. "This is a mistake."
Full report at:
http://english.alarabiya.net/en/News/middle-east/2013/06/04/No-concessions-to-west-Iran-s-Khamenei-tells-candidates.html
-------------
New PM says to strive for Palestinian reconciliation
3 June 2013
The newly appointed Palestinian prime minister, respected academic Rami Hamdallah, said Monday he will strive to continue the work of his predecessor and that he is ready to stand aside for a Fatah-Hamas unity government.
A day after being hand-picked by Palestinian president Mahmud Abbas, Hamdallah's appointment was hailed by the United States welcomed by Israelis who described him as a moderate pragmatist.
Full report at:
http://english.alarabiya.net/en/News/middle-east/2013/06/03/New-PM-says-to-strive-for-Palestinian-reconciliation-.html
-------------
'People Are Angry, Very Angry': Protests, Demands Grow in Turkey
Andrea Germanos
04 June 2013
Protests continue to swell across Turkey as tens of thousands of people joined the fourth consecutive day of anti-government actions in which "the demands of the protesters have broadened with their numbers."
"We have had enough of the way [Prime Minister Recep Tayyip] Erdogan understands democracy and the way he wants to dictate his rules," Ozgur Aksoy, an engineer demonstrating in Gezi Park on Monday, told Agence France-Presse.
"It's not only about the park here, it is about everything else in the last 10 years. People are angry, very angry."
Full report at:
http://www.commondreams.org/headline/2013/06/03-3
-------------
Africa
Suicide bomber blows himself up in Mali's Kidal
Associated Press
Jun 4, 2013
BAMAKO, Mali (AP) — A man suspected of being an extremist ran for cover inside an abandoned house in the northern Malian city of Kidal, and detonated an explosive vest inside the structure, killing only himself.
Resident Ali Cisse said the explosion occurred around 11 a.m. in the Aliou neighborhood of Kidal, the same district where last week an unidentified gunman opened fire on a French convoy, lightly wounding a French soldier. Cisse said the man ran into a house not far from the residence of Iyad Ag Ghali, leader of Ansar Dine, a local jihadist group working with al-Qaida's North African chapter. Ansar Dine was chased out of northern Mali by French forces in January.
Cisse said the bomber couldn't be identified because his body was torn to bits by the explosion.
http://news.yahoo.com/suicide-bomber-blows-himself-malis-kidal-122433418.html?.tsrc=yahoo
------------
Niger jail break: 22 prisoners escape
4 June 2013
NIAMEY/MADRID: Niger's government spokesman said that 22 prisoner escaped this weekend during an attack on the central prison by suspected militants from the extremist group, Boko Haram, headquartered in Nigeria, Niger's larger neighbor to the south.
Minister of Justice Marou Amadou, the government's spokesman, said on national television late Sunday that among the 22 prisoners was a man named Cheibani Ould Hama, a member of Al-Qaeda in the Islamic Maghreb who was first arrested in 2009 and is accused of having assassinated four Saudi Arabians and an American. Amadou said that Nigerien authorities are actively pursuing the escapees and over the weekend they opened fire on an SUV with tinted windows which refused to stop at a checkpoint. Two prison guards were killed during the escape.
Full report at:
http://www.arabnews.com/news/453902
-------------
Libya: 5 dead in tribal clashes in southern town
3 June 2013
A Libyan security official says clashes between tribes of African and Arab origins have killed five people in a southern Libyan town, the latest sign of chaos in the country.
The official says a fight Monday between two men from al-Shourafa Arab tribe and Tabu in Zweila town in the southern Fezzan region escalated to clashes between members of the two tribes, leaving five dead and three wounded. Warring factions fired light weapons and rocket-propelled grenades.
Full report at:
http://english.alarabiya.net/en/News/africa/2013/06/03/Libya-5-dead-in-tribal-clashes-in-southern-town.html
----------
How a Timbuktu calligrapher saved family manuscripts
By Kate Forbes
Jun 4, 2013
When conflict erupted in Timbuktu, calligrapher Boubacar Sidiki was one of many who fled with a precious cargo secreted away - ancient manuscripts that he feared would otherwise be destroyed.
We were in Bamako at the very end of our month covering the conflict in Mali, last February. Fine dust had settled in every pore and piece of equipment.
I went to settle up with a Malian friend, Amadou, who had organised transport and translation for us. We talked about how the war was being reported.
Full report at:
http://www.bbc.co.uk/news/magazine-22732903
-----------
URL: https://newageislam.com/islamic-world-news/mosque-fatima-zahra's-name-changed/d/11892