New Age Islam News Bureau
17Dec 2013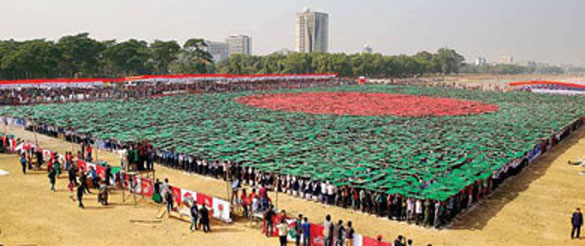 A staggering 27,117 people stand united, holding green and red boards above their heads, to put up the world's biggest ever human flag at the National Parade Ground on Victory day yesterday
--------
Arab World
• More Than 70 People Killed In Attacks Targeting Shia Pilgrims in Iraq
• Air raids kill 13 in rebel area of Syria's Aleppo: watchdog
• New law passed to crush terror: Saudi Arabia's Council of Ministers
• Two killed in Egyptian raid on suspected Islamists
• Iraqi Catholic Leader Says 'Extremist Political Islam' is Growing in Middle East
• Nour Party confused as Salafi preacher's edict ordered referendum boycott
• God supports those who will vote for the constitution: former Egyptian Grand Mufti
• Muslim Brotherhood threatened Islamic project
• Poster advertising Egypt's draft constitution mocked
• Bahrain ready for Gulf union, says King Hamad
• Many historic mosques in Madinah need repair
-------
South Asia
• Ban Terrorist Jamaat-e-Islami and Its Student Wing, Urge Activists
• Bangladesh rewrites record books with largest human flag
• Raids in Satkhira Jamaat dens kill 5, Another 2 killed in Laxmipur
• Maldives council feared sheikh's sermon would disrupt social harmony
• Maldives should honor its history by supporting the rights of the Iranian people
• Dhaka jail opened on Dec 17, 1971 as jailers fled
• Settled war crimes cases: Documents left mostly unprotected
• Wapda killing ground: A testament to Pakistan's brutality
• Molla's execution: Lawyers pray on SC premises, Turkish sympathisers protest
• China says six arrested after deadly riot in Xinjiang
• Bangladesh celebrates Victory Day, violence continues
• Study warns of nuclear instability in South Asia
• Young Afghans hold key to 2014 elections
------------
Africa
• 20 people, including women and Children killed in DR Congo attack
• At least 26 dead in South Sudan fighting: Official
• U.N. Told Up To 500 Killed In South Sudan Clashes - Diplomats
• Cameroon's flourishing Islam, exemplary Muslims
• Three years on, Tunisians mark uprising with new demo
• Somali refugees fear forcible return from Kenya as hunger looms
• Violence leaves 40,000 stranded without aid at CAR airport camp
• Nigeria marks 100 years of unification
---------------
Pakistan
• Fall of Dhaka history is being repeated once again, says Jamaat-i-Islami
• Pakistan resolution expresses concern on Molla execution
• Jamiat Ulema-e-Islam-Fazl ur Rehman outshines ruling coalition
• Imran Khan: Quader Molla innocent
• Voicing concerns: MQM terms Sindh LG Act 2013 a 'black law'
• Pakistan exploring funding options
• 'Pak army needs TV channel to counter Indian propaganda'
• Frustrated with govt, Pakistani man turns to Taliban for help
• No room for terrorism in Islam: Pir Naqib
-----------
India
• Muslim groups slam clerics, SC's verdict on Section 377
• 'Muslim votes only if communal violence bill cleared 'immediately
• India ignores US, says talks with Pakistan only at army level
• Another Imam held over 'Lashkar links'
• Muzaffarnagar relief camp: 'We watch our children make it from one night to the next'
---------
North America
• US Scholars Stand with Palestinians in Boycott of Israel
• New Jerusalem-Based NBC Series 'Legitimizes Israel's Occupation, Apartheid,' say Critics
• US transfers two Guantanamo detainees to Saudi Arabia
• Damaged Torah scrolls from Iraq buried at New York cemetery
-----------
Southeast Asia
• Malaysia A Religious-Fascist State, Not Moderate, Says Ex-Minister
• New Year's No More: Banda Aceh Muslims Asked to Abstain from Secular Holiday
• 29 cases investigated for insulting Islam, monarchy – Bernama
• Work hard to make Malaysia a developed nation, PM tells civil servants
----------
Mideast
• Poll reveals most Palestinians think peace talks with Israel are dead
• Hundreds of migrants protest detention policies in Jerusalem
• Turkey shipped arms to Syria rebels: Report
• Half of Israeli children have nothing to eat
• Iran backs deep-sea gas pipeline to India
--------
Europe
• Mission accomplished in Afghanistan, declares David Cameron
• Kyrgyzstan: Local roots of global jihad
• Syria peace conference to be held from January 22 at Montreux in Switzerland
• Gen Sir David Richards in al-Qaeda African warning
• UN launches biggest ever Syria aid appeal
Compiled by New Age Islam News Bureau
URL: https://newageislam.com/islamic-world-news/new-age-islam-news-bureau/more-than-70-people-killed-in-attacks-targeting-shia-pilgrims-in-iraq/d/34874
------------
Arab World
More Than 70 People Killed In Attacks Targeting Shia Pilgrims In Iraq
December 17, 2013
Iraq has suffered one of its bloodiest days in recent months with a wave of attacks killing more than 70 people, many of them pilgrims.
The deadliest single attack came in the evening when two car bombs targeting Shia pilgrims killed at least 20 in Rashid, a southern suburb of Baghdad.
Thousands of Shia are currently making their way to the holy city of Karbala.
Violence in Iraq this year has reached a level not seen since 2008, raising fears of a return to civil war.
A further 21 people died in a series of bomb blasts around the capital earlier in the day.
Scores more were injured in Monday's violence.
Brazen attacks
Earlier in the day, militants tried to storm a police station in the town of Baiji and a council headquarters in the city of Tikrit.
They were reported to have briefly taken hostages in a council building in Tikrit before it was retaken by security forces.
At least nine people were killed in Baiji while another three died in the attack in Tikrit.
A bus carrying Shia pilgrims in the northern city of Mosul was also targeted in a gun attack which killed 12 people.
Correspondents say the attacks show how insurgents are now targeting symbols of government authority on a near daily basis.
The UN has said the monthly death toll dropped to 659 in November, including 565 civilians and 94 members of the Iraqi security forces, compared with 979 in October.
But more than 7,150 civilians and 950 security forces personnel have now been killed since January, the highest annual toll since 2008.
http://www.bbc.co.uk/news/world-middle-east-25405272
------------
Air raids kill 13 in rebel area of Syria's Aleppo: watchdog
December 17, 2013
Two children were among at least 13 people killed in new air strikes on a rebel-held district of Syria's main northern city of Aleppo on Tuesday, a watchdog said.
It was the third straight day of air raids on the eastern Shaar neighbourhood of the city, Syria's commercial hub before a rebel offensive in July last year made it a key battleground in the conflict which erupted in March 2011, the Syrian Observatory for Human Rights said.
A woman was also among the dead, the Britain-based watchdog said.
The new raids came after air strikes on rebel-held areas of Aleppo on Sunday killed 76 people, among them 28 children. Strikes on Monday killed a further 10 civilians, among them four children.
The Syrian air force has been dropping barrels of explosives on rebel-held areas in its bombing campaign, which has been carried out by helicopter as well as fixed-wing aircraft, activists and the Observatory say.
A Syrian security official said the military prefers the TNT-packed barrels because they are cheaper than regular bombs, which need to be imported from Russia.
http://www.nation.com.pk/international/17-Dec-2013/air-raids-kill-13-in-rebel-area-of-syria-s-aleppo-watchdog
------------
New law passed to crush terror: Saudi Arabia's Council of Ministers
December 17, 2013
Saudi Arabia's Council of Ministers on Monday passed a new counterterrorism law, including a definition of terrorism and tough penalties for funders, terrorists and related organizations.
Culture and Information Minister Abdul Aziz Khoja said the Cabinet, chaired by Crown Prince Salman, passed the law on the recommendation of the Shoura Council and the Interior Ministry.
Khoja said the punishment stipulated in the existing Anti-Money Laundering Act would be applied for terrorists and funders until a new bylaw is enacted.
The law takes into account the consequences of such crimes including infringements on human rights as defined by Shariah.
The law defines terrorism as any act by individuals or groups with a criminal motive, directly or indirectly, to undermine public order and the state's security and stability.
It also covers actions endangering national unity, disabling the country's basic law or some of its articles, defaming the state or its reputation, causing damage to one of the state's facilities or natural resources, attempting to force one of its agencies to take undesired actions, threatening to carry out actions leading to the aforementioned goals, or inciting others to commit these crimes.
The law specifies the procedures to deal with a terror suspect or terror financier.
The Minister of Interior is empowered to provide immunity from prosecution for any person who reports such crimes and cooperates with the authorities during such investigations.
The minister is also allowed to free a sentenced person from jail for cooperating with the government.
Meanwhile, the US has sent two detainees being held at the Guantanamo Bay detention facility back to Saudi Arabia, the Pentagon said on Monday.
Saad Muhammad Husayn Al-Qahtani and Hamood Abdullah Hamood had been held at the Guantanamo facility in Cuba since 2002. They were not charged with a crime. Hamood, 48, was initially listed as a Yemeni national.
Al-Qahtani, 35, told US investigators he was a student who went to Afghanistan in April 2001.
http://www.arabnews.com/news/494001
-----------
Two killed in Egyptian raid on suspected Islamists
Dec 17 2013
An Egyptian police captain and a suspected Islamist militant were killed in a firefight during a raid, local media reported Tuesday.
Captain Ahmed Wahid was killed in an exchange of fire when security forces raided an apartment in the city of Ismailiya, on the Suez Canal, state-run Al-Ahram reported online.
Egypt has been pursuing an intensified campaign against Islamist extremists, mostly based in the Sinai Peninsula east of the canal, since the army deposed Islamist president Mohamed Morsy in July.
Attacks by the extremists on security forces have peaked since Morsy's overthrow and have spread from Sinai to Ismailiya, and neighbouring Sharqiya province.
http://www.thehindu.com/news/international/two-killed-in-egyptian-raid-on-suspected-islamists/article5470102.ece
----------
Iraqi Catholic Leader Says 'Extremist Political Islam' is Growing in Middle East
DECEMBER 16, 2013
JNS.org – Patriarch Louis Sako, head of the Chaldean Catholic Church in Iraq, said "extremist political Islam is growing in the Middle East," causing the death and destruction of the region's Christian communities.
"We feel forgotten and isolated," Sako said, the National Catholic Register reported.
"We sometimes wonder, if they kill us all, what would be the reaction of Christians in the West? Would they do something then?" he said.
Full report at:
http://www.algemeiner.com/2013/12/16/iraqi-catholic-leader-says-%25E2%2580%2598extremist-political-islam%25E2%2580%2599-is-growing-in-middle-east/
------------
Nour Party confused as Salafi preacher's edict ordered referendum boycott
December 17, 2013
A religious edict by Salafi Preacher Abu Is-haq al-Howeiny, urging boycott of constitutional referendum, has caused confusion for the Salaf-led Nour Party.
Khaled Alam Eddin, a party leader, said Howeiny's decision represents a difficulty for the party's campaign to convince the Salafi trend with the constitution, especially that other Salafi preachers rejected the constitution.
"The Salafi Dawa still has a wide segment of the Salafi trend, but we feel the danger, as the referendum failure threatens the roadmap, in case we didn't see the rallies that gathered before polling stations in 2012 constitutional referendum. Moreover, the party and other political groups in general have a problem that citizens feel their votes will not matter after dissolving parliamentary councils and suspending 2012 constitution, which makes it harder," Alam Eddin told Al-Masry Al-Youm.
Full report at:
http://www.egyptindependent.com/news/nour-party-confused-salafi-preacher-s-edict-ordered-referendum-boycott
------------
God supports those who will vote for the constitution: former Egyptian Grand Mufti
December 17, 2013
In statements made on Monday, former Grand Mufti Ali Gomaa has urged citizens to vote for the constitution, saying that "God will support them."
Using religious themes to influence voters is common in Egypt, with each side often accusing the other of not holding true to Islamic religious values. Gomaa's comments aim to spiritually encourage voters as well as combat similar religious arguments coming from the Muslim Brotherhood against the constitution.
Gomaa continued, aiming his words to an international audience. "It is 'yes' in English for those who do not speak Arabic," he said. "We want to impress the whole world, East and West."
Full report at:
http://www.egyptindependent.com/news/god-supports-those-who-will-vote-constitution-former-grand-mufti
------------
Muslim Brotherhood threatened Islamic project
December 17, 2013
Yasser Borhamy, deputy head of the Salafi Daawa, said the Muslim Brotherhood would have formed a threat to the Islamic project if they had remained in power amid popular rejection to them.
Borhamy said during a seminar held by the Salafi Daawa in the mosque Ebad al-Rahman in Shebin al-Koam, Menufiya Governorate, on Saturday: "I called for the overthrow of President Morsy and his group."
Full report at:
http://www.egyptindependent.com/news/borhamy-muslim-brotherhood-threatened-islamic-project
------------
Poster advertising Egypt's draft constitution mocked
December 17, 2013
The authorities in Egypt have had an unfortunate start in their attempt to publicise next month's referendum on a new draft constitution.
A poster showcased at a televised news conference on Sunday was supposed to say "a charter for all Egyptians".
However, the word "Egyptians" in Arabic was misspelt, and instead ended up looking like the word "determined".
It also later emerged that several of the people appearing in the poster were not in fact Egyptians.
Full report at:
http://www.bbc.co.uk/news/world-middle-east-25402875
------------
Bahrain ready for Gulf union, says King Hamad
December 17, 2013
MANAMA: Bahrain's king said Monday he is strongly in favor of a Saudi proposal to upgrade the Gulf Cooperation Council into a union.
"Bahrain is ready from this day for the declaration of the union, to assert our firm will and our solid determination," King Hamad said in an address on the occasion of the kingdom's national day.
"We look forward to the call for a special Summit in Riyadh to announce the establishment of this union," he added.
Full report at:
http://www.arabnews.com/news/493566
------------
Many historic mosques in Madinah need repair
December 16, 2013
MADINAH — Many historic mosques in Madinah are in need of urgent repair, maintenance or complete reconstruction to preserve and keep them intact for many years to come, local daily Al-Madinah reported Monday quoting a noted Saudi historian.
"These mosques are part of our history. They need skilled people who use state-of-the-art technology in their work to repair them," Dr. Tinaidib Al-Faydi said.
According to the historian-researcher, Al-Fash Mosque, located at the bottom of Uhud Mountain, is among those that need maintenance. He recalled that the Prophet (peace be upon him) prayed in this mosque while sitting down due to fatigue. His companions prayed after him also sitting down, Al-Faydi added.
Full report at:
http://www.saudigazette.com.sa/index.cfm?method=home.regcon&contentid=20131217189787
------------
South Asia
Ban Terrorist Jamaat-e-Islami and Its Student Wing, Urge Activists
Muktasree Chakma Sathi
December 17, 2013
Terming the Jamaat-e-Islami and its student wing Islami Chhatra Shibir "terrorist organisations," noted citizens, freedom fighters and socio-cultural leaders of Ganajagaran Mancha yesterday urged the government to ban the party immediately.
At the Bijoy Utsab 2013 held at Suhrawardy Udyan in the capital on the occasion of the Victory Day, they said the Jamaat-Shibir could not be labelled as a democratic political party.
The speakers also called upon people to resist every sort of attack carried out by the Jamaat-Shibir men.
Sector Commanders' Forum chief AK Khandker said the recent spate of violence during the so-called political activities of the Jamaat- Shibir could only be termed "new version of atrocities in 1971."
Full report at:
http://www.dhakatribune.com/politics/2013/dec/17/ban-terrorist-jamaat-shibir-urge-activists#sthash.1iQUUt8X.dpuf
------------
Bangladesh rewrites record books with largest human flag
Emran Hossain
December 17, 2013
It was in an emotional display of patriotism that over 27,000 people proved their collective strength
A staggering 27,117 people stand united, holding green and red boards above their heads, to put up the world's biggest ever human flag at the National Parade Ground on Victory day yesterday
Photo- Syed Zakir Hossain
What could be the greatest strength of a country not larger than a tiny dot on the globe? Its people, obviously!
It was in an emotional display of patriotism that over 27,000 people proved their collective strength yesterday as Bangladesh set the world record for the largest human-flag ever made. And it could not be done at a more opportune moment or against a more desired opponent.
Just days ago, the country saw long-denied justice finally delivered when Abdul Quader Molla who earned notoriety for his crimes against humanity as a collaborator of the Pakistanis in the 1971 War of Liberation was finally executed. Yesterday, Victory Day created an ideal occasion to celebrate that justice.
Full report at:
http://www.dhakatribune.com/bangladesh/2013/dec/17/bangladesh-rewrites-record-books-largest-human-flag#sthash.U6fYQI7C.dpuf
------------
Raids in Satkhira Jamaat dens kill 5, Another 2 killed in Laxmipur
December 17, 2013
Five Jamaat-Shibir activists were killed in clashes with joint forces in Satkhira, a southern district that virtually turned into a valley of terror during recent hartals and blockades of the opposition.
Of them, three died in sadar upazila while two in Debhata upazila in separate battles that ensued when the party supporters attacked the law enforcers who went to make arrests in connection with the latest spate of violence.
In protest, the party called a hartal in the district for today.
Enraged by nonstop Jamaat rampage over the last few weeks, locals yesterday vandalised and torched some 15 houses of the party men, including its Satkhira Ameer Abdul Khaleque.
At least 13 persons, including nine from AL and its associate organisations, have been killed in the district since November 21.
Full report at:
http://www.thedailystar.net/beta2/news/operations-in-jamaat-dens-kill-seven/
------------
Maldives council feared sheikh's sermon would disrupt social harmony
By Ahmed Rilwan | December 16th, 2013
Omadhoo Island Council stopped controversial preacher Sheikh Adam Shameem from delivering a religious lecture at the local mosque Saturday evening, fearing it might "disrupt the stability and social harmony of the island" reports CNM.
Council member Mohamed Ibrahim was quoted as saying that the imam of the Friday Mosque Ahmed Ramzi had confronted a group of senior Maldivian Democratic Party (MDP) members from the island, saying that the party's Mohamed Nasheed is a 'laadheenee' [irreligious] person and that it was because of that he lost the presidential elections.
"They said he is a disbeliever. So, a senior MDP member said, even if the council gives permission, that lecture cannot be held on this island. From that point things got bad," continued Ibrahim.
Full report at:
http://minivannews.com/politics/omadhoo-council-obstructs-sheikh-shameem-religious-lecture-73449
------------
Maldives should honor its history by supporting the rights of the Iranian people
By Dokhi Fassihian | December 17th, 2013
In the coming days, the United Nations General Assembly will adopt a human rights resolution passed last month by its humanitarian committee aimed at improving the lives of Iran's citizens. The human rights conditions of Iranians have been abysmal for three decades now.
This includes entrenched political repression, state-sanctioned gender and religious discrimination, and institutionalised violence and torture of government critics. Today, nearly a thousand political prisoners and prisoners of conscience languish in Iranian prisons due to the exercise of their guaranteed rights to expression, conscience, and religion.
Full report at:
http://minivannews.com/politics/comment-maldives-should-honor-its-history-by-supporting-the-rights-of-the-iranian-people-73519
------------
Dhaka jail opened on Dec 17, 1971 as jailers fled
Kailash Sarkar
December 17, 2013
The Dhaka Central Jail remained open for all on December 17, 1971, the day after Victory Day, as almost all prison officers and guards abandoned their posts and ran away, leaving the prisoners on their own, an official said.
But many prisoners did not leave the jail, despite getting the change to gain their freedom, said Forman Ali, senior superintendent of Dhaka Central Jail.
"Although no documented evidence is available, it has been found – by talking to many officials who were working there then – that a major portion of the prisoners had left the jail, but many others had stayed behind willingly," Ali told the Dhaka Tribune.
Full report at:
http://www.dhakatribune.com/bangladesh/2013/dec/17/dhaka-jail-opened-dec-17-1971-jailers-fled#sthash.LrBJf66J.dpuf
------------
Settled war crimes cases: Documents left mostly unprotected
Udisa Islam
December 17, 2013
It would be a great loss for the nation if the war crimes documents are damaged
Officials at the International Crimes Tribunal are busy preparing a room in the tribunal building for preserving documents and certified copies of the war crimes cases already completed.
Three labourers have been working relentlessly for the last couple of days to prepare a room on the ground floor of the tribunal building on old High Court premises. The temporary room, a 100 sq-ft one, would have security measures installed.
Full report at:
http://www.dhakatribune.com/law-amp-rights/2013/dec/17/documents-left-mostly-unprotected#sthash.SAEcFgpL.dpuf
------------
Wapda killing ground: A testament to Pakistan's brutality
December 17, 2013
The nation is celebrating the 43rd anniversary of its independence, but still there are many historical places, which bear the testimony of the brutality of Pakistani forces and their collaborators during the Liberation War, have remained been neglected for long and Wapda killing ground is one of them.
The Pakistani forces and their collaborators – the al-Badr, al-Shams and razakars – have killed many unarmed Bangladeshis and dumped their bodies at the ground.
As the memorial premise is not preserved properly, the place has now become a place for anti-social activities.
Barisal City Corporation Mayor Shawkat Hossain Hiron unveiled the curtain of a proposed project-board to preserve the spot on June 14, 2012, but it was not implemented for unknown reason.
Full report at:
http://www.dhakatribune.com/bangladesh/2013/dec/16/wapda-killing-ground-testament-pakistan%E2%80%99s-brutality#sthash.NOthRsCi.dpuf
------------
Molla's execution: Lawyers pray on SC premises, Turkish sympathisers protest
December 17, 2013
After the prayers, they brought out a procession demanding an 'end to shooting the opposition men'
Pro-Jamaat and BNP lawyers yesterday offered Gayebana Janaza on the Supreme Court premises for the opposition supporters who had died for protesting the execution of war criminal Abdul Quader Molla on Thursday.
Lawyer Nazrul Islam said during the prayers: "Oh Allah! Please pardon us for our failure to make the court understand that Quader Molla was not the Koshai Quader of Mirpur (Butcher of Mirpur) of the capital."
Full report at:
http://www.dhakatribune.com/politics/2013/dec/16/lawyers-pray-sc-premises-turkish-sympathisers-protest#sthash.fJccjcBf.dpuf
------------
China says six arrested after deadly riot in Xinjiang
17 Dec 2013
BEIJING, Dec 17 (Reuters) - Chinese police have arrested six people they suspect of taking part in a riot near the old Silk Road city of Kashgar, in the restive far western Muslim region of Xinjiang, in which 16 people were killed, the regional government said.
The arrests, reported by the Xinjiang government in a statement on an official news site late on Monday, came a day after Chinese police shot and killed 14 people during the riot. Two policemen were also killed.
Full report at:
http://www.trust.org/item/20131217024827-dsq32/?source=hpbreaking
------------
Bangladesh celebrates Victory Day, violence continues
Dec 17 2013
Dhaka: An uneasy calm prevailed in the Bangladesh capital Monday as the country celebrated the 43rd Victory day of Bangladesh - the day when the Pakistan Army surrendered to the Indian Army and the Mukti Bahini fighters in 1971.
Newspapers were awash with Raghu Rai's pictures of the 1971 war and TV programmes carpet-bombed images and interviews of war veterans, including glorious references to General J F R Jacob.
Throughout last week, vehicles have been burnt, people have been killed on the streets of Bangladesh as Jamaat-e-Islami and its youth wing has been protesting the hanging of their fundamentalist leader Abdul Quader Mollah, widely known as the "Butcher of Mirpur". Since last week, about 30 people have been reported to be killed.
Full report at:
http://www.indianexpress.com/news/bangladesh-celebrates-victory-day-violence-continues/1208467/
-------------
Study warns of nuclear instability in South Asia
NARAYAN LAKSHMAN
Dec 17 2013
A book released this week by a major think-tank in Washington has cautioned that in the fifteen years since India and Pakistan tested nuclear devices in 1998, they have together introduced 17 new nuclear weapon-capable delivery systems and this has produced "conditions that could lead to uncontrolled escalation."
One of the authors of the study, Michael Krepon of the Stimson Centre, told The Hindu that although Indian and Pakistani leaders said after the 1998 tests that "offsetting nuclear capabilities would be stabilising and that they would facilitate more normal relations… things haven't worked out that way."
Full report at:
http://www.thehindu.com/news/international/south-asia/study-warns-of-nuclear-instability-in-south-asia/article5469010.ece
----------
Young Afghans hold key to 2014 elections
PRAVEEN SWAMI
Dec 17 2013
Politicians say outcome will be shaped by generation which grew up after country's epic wars
Matin Bek was a child when his father went to war, fighting against the triumphant Taliban armies that swept across Afghanistan, sweeping aside resistance. He recalls, as if it was yesterday, playing in the midst of grim counsels of war, fleeing into Iran, visiting hospitals filled with amputation-victims from his warlord-father's forces. He remembers the triumph that followed 9/11, and his father's assassination by a jihadist suicide bomber.
He says this, too: "Young people are fighting for a new Afghanistan, not waging the wars of the past."
Full report at:
http://www.thehindu.com/news/international/south-asia/young-afghans-hold-key-to-2014-elections/article5463371.ece
----------
Africa
20 people, including women and Children killed in DR Congo attack
December 17, 2013
More than 20 people, including women and children, have been killed in eastern Democratic Republic of Congo, UN peacekeepers say.
Most appeared to have been hacked to death on Friday and Saturday in two villages in North Kivu, including three girls who were raped and then beheaded.
It is not clear who carried out the attacks, but the UN mission said the atrocities would "not go unpunished".
At least 10 armed groups operate in eastern DR Congo.
The attacks took place near the town of Beni, which is about 250km (150 miles) north of Goma.
The youngest victim is thought to have been only a few months old," the UN Organization Stabilization Mission in the Democratic Republic of the Congo (Monusco) said.
Three girls appear to have been raped and then beheaded. A child's dismembered body is said to have been found in a tree, in the village of Musuku, the statement said.
Full report at:
http://www.bbc.co.uk/news/world-africa-25410876
------------
At least 26 dead in South Sudan fighting: Official
December 17, 2013
At least 26 people have been killed in clashes between rival army factions in South Sudan's capital Juba, an official said Tuesday.
"So far we have 26 dead," Under-Secretary for Health Makur Korion said on local radio.
http://english.ahram.org.eg/NewsContent/2/8/89316/World/Region/At-least--dead-in-South-Sudan-fighting-Official.aspx
------------
U.N. Told Up To 500 Killed In South Sudan Clashes - Diplomats
BY ANDREW GREEN AND LOUIS CHARBONNEAU
JUBA/UNITED NATIONS
Dec 18, 2013
(Reuters) - The United Nations received reports from local sources in South Sudan on Tuesday that between 400 and 500 people had been killed and up to 800 wounded in the latest violence, and the government said it had arrested 10 politicians in connection with a "foiled coup".
"Two hospitals have recorded between 400 and 500 dead and (up to) 800 wounded," a diplomat in New York said on condition of anonymity, citing an estimate United Nations peacekeeping chief Herve Ladsous gave during a closed-door briefing for the 15-member body.
Another diplomat confirmed Ladsous' remarks, adding that the United Nations was not in a position to verify the figures.
Earlier on Tuesday, a South Sudanese health ministry official told Reuters that at least 26 people were dead after fighting in Juba between rival groups of soldiers from Sunday night into Monday morning. Sporadic gunfire and blasts continued up to Tuesday evening.
The Juba government said it had arrested 10 major political figures and was hunting for its former vice president, accusing him of leading a failed coup in the oil-producing country's capital, where gunfire rang out for a second day.
The prominence of the names, including former finance minister Kosti Manibe among those who had been detained, underlined the size of the rift in Africa's newest state, less than 2-1/2 years after it seceded from Sudan.
The United States urged its citizens to leave the country immediately, and said it was suspending normal operations at its embassy.
U.S. Secretary of State John Kerry, on a visit to the typhoon-ravaged central Philippine city of Tacloban, urged a "peaceful and democratic" solution.
"The United States believes very strongly that all parties should refrain from any action that could further escalate the tensions," Kerry told reporters. "Political differences need to be resolved by peaceful and democratic means, those that have been hard fought for."
The White House said President Barack Obama was getting briefings on the situation.
President Salva Kiir, dressed in military fatigues, said on television on Monday that forces loyal to former vice president Riek Machar, whom he sacked in July, had attacked an army base in a bid to seize power.
South Sudan is one of the poorest and least developed countries in Africa despite its oil reserves, and it is plagued by ethnic fighting.
The rift at the heart of its political elite will dismay oil companies that had been counting on a period of relative stability after South Sudan's independence so they could step up exploration. France's Total and some largely Asian groups, among them China's CNPC, have interests there.
It will also be closely watched by South Sudan's neighbours, which include some of the continent's most promising economies, including Ethiopia and Kenya.
After its meeting on the crisis in New York, the U.N. Security Council issued a statement saying it "urged all parties to immediately cease hostilities, exercise restraint and refrain from violence and other actions that could exacerbate tensions."
French U.N. Ambassador Gerard Araud, president of the council this month, told reporters the council would meet again in coming days on the upsurge in violence in South Sudan.
THOUSANDS TAKE SHELTER
Kiir and Machar are from different ethnic groups that have clashed in the past. Machar leads a dissident faction inside the ruling Sudan People's Liberation Movement (SPLM) and was planning to run for the presidency.
Fighting erupted outside his compound in Juba on Tuesday, but his whereabouts were unknown, foreign affairs spokesman Mawien Makol Arik told Reuters. Machar has so far not released a statement.
The government on Tuesday accused him of being the "coup leader" and listed four other wanted men, including Pagan Amum, the SPLM's former Secretary General and the country's main negotiator in a prolonged oil dispute with Sudan.
"Those who are still at large will be apprehended," Information Minister Michael Makuei said in a statement on a government website. He said he believed they had fled to an area north of the capital.
The 10 officials had been arrested "in connection with the foiled coup attempt," the statement said.
Around 16,000 people had taken refuge in U.N. compounds in Juba by noon on Tuesday and the numbers were rising, the United Nations said.
Streets were empty at the start of a dawn-to-dusk curfew, ordered by the president. Mobile phone signals were down for a second day.
"Food and water are an issue for the population as they don't have fridges or city power so they buy food almost daily," said one aid worker in Juba, who asked not to be identified. "They haven't stocked up and are getting worried."
U.N. Secretary-General Ban Ki-moon spoke to Kiir on Tuesday and called for his government to provide an "offer of dialogue to its opponents and to resolve their respective differences peacefully".
The president, who comes from South Sudan's dominant Dinka ethnic group, sacked Machar, a Nuer, after mounting public frustration at the government's failure to deliver tangible improvements in public services and other basic demands.
The government played down suggestions that the conflict had an ethnic element, and said Kiir had met Nuer leaders to dispel the "misleading information" that they were being targeted.
Tensions have been building in the army, broadly along ethnic lines, independently of the Kiir-Machar rivalry, said analysts.
"The personalities involved are clearly important, but we think this is more fundamentally about the SPLA rather than necessarily being completely controlled by the SPLM political figures," said Cedric Barnes, Crisis Group project director for the Horn of Africa, based in Nairobi.
South Sudan is the size of France but has barely any paved roads. The government's critics complain it suffers the same ills as old Sudan - corruption, poor public services and repression by the state of opponents and the media.
(Additional reporting by Drazen Jorgic, Edmund Blair and George Obulutsa in Nairobi, Michelle Nichols in New York, Mark Felsenthal in Washington, and Leslie Wroughton in the Philippines; Writing by Drazen Jorgic and Edmund Blair; Editing by Andrew Heavens and Vicki Allen)
http://in.reuters.com/article/2013/12/18/southsudan-unrest-idINDEE9BG0E420131218
--------
Cameroon's flourishing Islam, exemplary Muslims
December 17, 2013
In the coastal city of Douala, Cameroon's economic capital, local Muslims build a new mosque at least every two years to accommodate with the growing number of believers.
"The expansion of existing mosques and building of new mosques clearly shows that Islam is growing very fast in Douala and Cameroon in general," Sheikh Mohamed Malik Farouk, the chief imam of Douala, told Andolu Agency in an exclusive interview.
"Alhamdulillah [thank God] we have now many mosques for Friday prayers in Douala and this is a sign of the growth of Islam," he added.
The Muslim religious leader said although Islam was first introduced in Cameroon in the 1800's, it only came to Douala in 1922 after Muslims from northern Cameroon and foreign traders came to the coastal city.
Full report at:
http://www.moroccoworldnews.com/2013/12/116047/cameroons-flourishing-islam-
------------
Three years on, Tunisians mark uprising with new demo
December 17, 2013
Tunisians gathered Tuesday at the birthplace of the Arab Spring to vent their anger at social exclusion three years after a street vendor burned himself to death in what became an iconic protest.
The self-immolation of 26-year-old Mohammed Bouazizi in the impoverished central town of Sidi Bouzid on December 17, 2011 unleashed a wave of protest across the North African country.
His tragic act, aimed at attracting attention to economic hardship and repression, was the fuse for uprisings across the region that toppled veteran strongmen in Egypt, Libya and Yemen.
Full report at:
http://english.ahram.org.eg/NewsContent/2/8/89318/World/Region/Three-years-on,-Tunisians-mark-uprising-with-new-d.aspx
------------
Somali refugees fear forcible return from Kenya as hunger looms
December 17, 2013
NAIROBI (Thomson Reuters Foundation) – Many Somali refugees living in Kenya believe they will be forced to return home, with more than 300 out of almost half a million asking for help with repatriation, the United Nations refugee agency (UNHCR) said amid warnings of worsening hunger due to poor rains.
The UNHCR signed an agreement with the governments of both countries on Nov. 10, and half a million Somali refugees living in Kenya are expected to return to Somalia voluntarily over the next three years.
The number of refugees from Somalia – 1.1 million – is the third highest in the world after Afghanistan and Syria. Kenya hosts more of them than any other country with the biggest group living in the world's largest refugee camp, Dadaab, a complex series of tented settlements near the arid Kenya-Somalia border.
Full report at:
http://www.trust.org/item/20131216151858-8d75r/?source=hpeditorial
------------
Violence leaves 40,000 stranded without aid at CAR airport camp
December 17, 2013
BANGUI/DAKAR (Thomson Reuters Foundation) – The threat of violence has left some 40,000 people stranded without food rations at a makeshift camp near the airport in the Central African Republic's capital, a U.N. official said on Monday.
The United Nations World Food Programme (WFP) has 5,000 metric tonnes of food aid stored in warehouses at Bangui airport – enough to last until February 2014, but desperate locals outside the camp are stopping relief workers from delivering it to those displaced by the ongoing conflict, said Guy Adoua, deputy country director for WFP in the CAR.
"Even before we started giving out the aid, I could see men with knives and machetes in the crowd who were not part of our beneficiaries. I immediately decided that it wasn't safe to distribute aid without proper protection," Adoua told Thomson Reuters Foundation.
Adoua was forced to shut down aid distribution at the designated point one kilometre outside Mpoko international airport.
Full report at:
http://www.trust.org/item/20131216160530-4opkb/?source=hpeditorial
------------
Nigeria marks 100 years of unification
BEN SIMON
2013-12-17
LAGOS: January 1, 2014 marks the centenary of the amalgamation of southern and northern Nigeria but the anniversary looks set to be muted, amid lingering questions about whether the union can hold.
In the run-up to the landmark, opinion is split between those who think amalgamation has been a boon and others who consider it the first step in the creation of a still-failing state.
Writer Adewale Maja-Pearce described Africa's most populous nation as one "imposed by the colonialists who dreamt up the fiction which has now become the nightmare we are all struggling to escape".
Full report at:
http://www.dawn.com/news/1074494/nigeria-marks-100-years-of-unification
------------
Pakistan
Fall of Dhaka history is being repeated once again, says Jamaat-i-Islami
December 17, 2013
KARACHI - The history of Fall of Dhaka is being repeated once again in Bangladesh.
This was stated by Jamaat-i-Islami (JI) Karachi Chief Hafiz Naeem-ur-Rehman in a message on the occasion of December 16 (Fall of Dhaka).
Hafiz Naeem said that the Bangladeshi government has awarded death penalty to those who sacrificed their lives and property for the protection of Islam.
He further regretted that the Government of Pakistan is tight lipped over the unjustified act by the Bangladeshi government, adding, that the Pakistani government and its institutions should come forward and present its view point on the death sentence to Abdul Qadir Mullah.
Hafiz Naeem reiterated that the JI will continue its struggle for the protection of Islam and Pakistan.
Full report at:
http://www.nation.com.pk/karachi/16-Dec-2013/fall-of-dhaka-history-is-being-repeated-once-again-says-jamaat
------------
Pakistan resolution expresses concern on Molla execution
December 17, 2013
Pakistan National Assembly adopted a resolution on Monday expressing concern over the execution of convicted war criminal Jamaat leader Abdul Quader Molla, reported Dawn.
The resolution, moved by Pakistan Jamaat-i-Islami member Sher Akbar Khan, was adopted with a majority vote.
"This House expresses deep concern on hanging of a veteran politician of Jamaat-i-Islami Bangladesh for supporting Pakistan in 1971," said the resolution moved by Sher Akbar Khan.
The House expressed grief and sorrow with the bereaved family and demanded to avoid reviving the wounds of 1971 and amicably resolve cases against Bangladeshi leaders of Jamaat-i-Islami.
Full report at:
http://www.dhakatribune.com/2013/dec/17/pakistan-national-assembly-adopts-resolution-molla#sthash.4iDRyOIh.dpuf
------------
Jamiat Ulema-e-Islam-Fazlur Rehman outshines ruling coalition
December 17, 2013
QUETTA: In the Balochistan local government (LG) elections, independent candidates had the lion's share. However, among the political parties, the Jamiat Ulema-e-Islam (Fazlur Rehman) emerged as the single largest party securing 964 seats in different tiers of the LG system.
The official results were announced seven days after the balloting. And Provincial Election Commissioner Sultan Bayazeed cited several reasons for the delay.
"Returning officers (ROs) took time in crosschecking while results from the remote areas of the province were also received after a delay of three to four days," he said. The Election Commission of Pakistan would soon notify the winners, he added.
Full report at:
http://tribune.com.pk/story/646042/balochistan-jui-f-outshines-ruling-coalition/
------------
Imran Khan: Quader Molla innocent
December 17, 2013
He made the assertion while speaking in the National Assembly of Pakistan on Monday
Pakistan Tehreek-e-Insaf (PTI) Chairman Imran Khan claimed convicted war criminal Abdul Quader Molla was innocent and the charges brought against him were false.
He made the assertion while speaking in the National Assembly of Pakistan on Monday, reports Radio Pakistan.
According to the report, a lawyer of the international human rights organisation Reprieve, who was defending Molla, had told Imran Khan that the Jamaat leader was innocent and had nothing to do with the charges brought against him.
Full report at:
http://www.dhakatribune.com/pakistan/2013/dec/17/imran-khan-quader-molla-innocent
------------
Voicing concerns: MQM terms Sindh LG Act 2013 a 'black law'
December 17, 2013
KARACHI: The Muttahida Qaumi Movement (MQM) has rejected the amendments in the Sindh Local Government Act 2013, terming it a 'black law'.
On Monday, the MQM's parliamentarians held a rally from the Sindh Assembly to the Karachi Press Club, shouting slogans against what they termed were unfair policies instituted by the amendments. They demanded the amendments be revoked and the law be changed after consulting all political parties. The MQM will likely hold protests across the province if their demands are not heeded to, The Express Tribune has learnt.
On Saturday, the acting governor, Agha Siraj Durrani, had promulgated three ordinances amending the Sindh Local Government Act 2013. "This ordinance is a conspiracy to snatch powers from the common people," alleged MQM's Syed Sardar Ahmed, while speaking to the media. He was of the opinion that all three ordinances that had amended the Sindh Local Government Act 2013 were aimed to deprive the people of their rights.
Full report at:
http://tribune.com.pk/story/646343/voicing-concerns-mqm-terms-sindh-lg-act-2013-a-black-law/
------------
Pakistan exploring funding options
MEENA MENON
Dec 17 2013
After Iran stated that it was not going ahead with a loan of $500 million to build Pakistan's part of the natural gas pipeline, the country is now exploring other funding options. Shahid Khaqan Abbasi, Federal Minister for Petroleum and Natural Resources told The Hindu on Monday that Pakistan was considering third party options from companies which can build the pipeline and provide gas.
Iran Deputy Oil Minister Ali Majedi was quoted as saying last Saturday that Iran had no funds or obligation to finance Pakistan's share of the project. However, his statement comes days after Mr. Abbasi visited Tehran to discuss the pipeline and other issues.
Full report at:
http://www.thehindu.com/news/international/south-asia/pakistan-exploring-funding-options/article5466902.ece
---------
'Pak army needs TV channel to counter Indian propaganda'
PTI | Dec 17, 2013
ISLAMABAD: The Pakistan army, which is alleged to have huge business interests, must acquire a TV channel to counter the growing penetration of Indian TV and news channels in the country, a senior army officer has suggested.
The unusual recommendation has been made in one of the strategy papers written for the prestigious 'Green Book' of the Pakistan army that provides rare insights into its ongoing internal debates, The News daily reported on Monday.
Full report at:
http://timesofindia.indiatimes.com/world/pakistan/Pak-army-needs-TV-channel-to-counter-Indian-propaganda/articleshow/27492608.cms
----------
Frustrated with govt, Pakistani man turns to Taleban for help
December 17, 2013
PESHAWAR: Frustrated with the government's inability to help him, a man in Pakistan has appealed to Taliban warlords to rescue his 11-year-old son kidnapped by criminals more than a month ago.
"I knocked on the door of each and every government official but no one gave me justice to recover my only son," Fareed Khan told Reuters in Peshawar. "Now the Taliban are my last hope. I believe they will recover my son. The Taliban are good Muslims and good human beings. They don't demand bribes for the provision of justice." Khan, 45, said he had no other choice in his quest to rescue his son, Furqan Fareed, who was kidnapped on November 5 in the city of Bannu.
Full report at:
http://www.dailytimes.com.pk/default.asp?page=2013\12\17\story_17-12-2013_pg7_8
------------
No room for terrorism in Islam: Pir Naqib
December 17, 2013
RAWALPINDI - Islam is a religion of peace and tolerance; so there is no room for terrorism in it and its followers should promote Muslim unity while respecting sentiments of each other.
"We should neither give up our own path nor should we interfere with the belief of others," stressed Pir Muhammad Naqib-ur-Rehman, custodian of Eidgah shrine, while addressing monthly congregation of Barhveen Sharif at Eidgah here on Monday.
Full report at:
http://www.nation.com.pk/national/17-Dec-2013/no-room-for-terrorism-in-islam-pir-naqib
------------
India
Muslim groups slam clerics, SC's verdict on Section 377
Mohammed Wajihuddin,TNN | Dec 17, 2013
MUMBAI: Echoing the sentiments of the LGBT community, some Muslim groups have opposed the Supreme Court's recent order which recriminalizes homosexuality. The groups have demanded scrapping of the draconian section 377.
In a statement signed by over 50 members, two NGOs--Muslims for Secular Democracy (MSD) and Muslim Women's Rights Network—have said that they are "shocked by the SC verdict which, instead of affirming the fundamental constitutional principle of non-discrimination between citizens, criminalises homosexuality." Muslim religious groups, including All India Muslim Personal Law Board (AIMPLB), had supported the SC verdict as they vehemently opposed to homosexuality which they see as "sinful." However, MSD argues that in a democracy every group has right to choose the kind of lifestyle it wants. "While the clergy is entitled to its views on what does or does not constitute a sin, it must realize that in a democracy punishments are only prescribed for crime, not for sins. So they should stop playing god," said MSD's general secretary Javed Anand. He added that same sex relations between consenting adults is not a crime and those engaging in it are no less human than heterosexuals. "Leave alone their being treated as criminals, any kind of discrimination against them is entirely unacceptable," he said.
Full report at:
http://timesofindia.indiatimes.com/india/Muslim-groups-slam-clerics-SCs-verdict-on-Section-377/articleshow/27501217.cms
------------
'Muslim votes only if communal violence bill cleared 'immediately
December 17, 2013
New Delhi, Dec 16 (IANS) Over 1,000 Muslims Monday protested against the Congress party at the Jantar Mantar here, demanding the immediate clearance of the Prevention of Communal and Targeted Violence bill. Shouting slogans like "Bill nahi to vote nahi (no bill, no vote)" and "Insaaf nahi toh vote nahi (no justice, no vote)", victims of the Muzaffarnagar riots along with more than 200 lawyers from the Aligarh Muslim University (AMU) Lawyers Forum demanded the immediate clearance of the Prevention of Communal and Targeted Violence bill in parliament. "We can't tolerate this. Our community has been ignored and brushed aside by both the Uttar Pradesh government and the central government," said Md. Aslam Khan, president of AMU Lawyers Forum.
Full report at:
http://www.firstpost.com/fwire/muslim-votes-only-if-communal-violence-bill-cleared-1290409.html?utm_source=fwire&utm_medium=hp
------------
India ignores US, says talks with Pakistan only at army level
Dec 16 2013
New Delhi : The United States has asked India to reconsider its stand and accept Pakistan's suggestion to include civilian diplomats in the proposed Indo-Pak DGMOs' dialogue mechanism, which is yet to take off despite the understanding reached between Prime Minister Manmohan Singh and his Pakistan counterpart Nawaz Sharif in New York in September.
India, however, is learnt to have turned down the suggestion, which was made during Foreign Secretary Sujatha Singh's just concluded visit to Washington, saying Line of Control was a military problem and must be solved between the two armies. Singh, sources said, conveyed that India did not see a "diplomatic role in what was essentially a military issue".
The US argument was that involving Pakistan Foreign Office representatives would strengthen the hands of the civilian government, allowing it greater say in managing the conversation on an issue that till now remains a preserve of the Pakistani military.
Full report at:
http://www.indianexpress.com/news/india-ignores-us-says-talks-with-pakistan-only-at-army-level/1208088/
----------
Another Imam held over 'Lashkar links'
Dec 17 2013
New Delhi : The special cell of Delhi Police on Monday arrested Imam Hafeez Rashidi, an alleged LeT operative, for allegedly providing logistical support to "plot a terror strike" in the Capital.
On December 6, special cell sleuths had raided his village in Haryana to arrest him and his associate Imam Mohammed Shahid. Shahid was arrested and another Imam (Mohammed Aarish) was let off after interrogation, the special cell sleuths had been looking for Rashidi.
The police said Rashidi and Shahid allegedly belonged to a Lashkar module spread across Delhi, Rajasthan and Haryana and were in touch with Lashkar operative Javed Baluchi.
Police sources said that on Monday morning, Rashidi, Imam of the local mosque in Gagas village near Choti Mewli was spotted by local people who informed police. He was placed under arrest. The Delhi Police claimed Shahid's interrogation revealed Rashidi had brainwashed him to join the conspiracy.
Full report at:
http://www.indianexpress.com/news/another-imam-held-over--lashkar-links-/1208480/
----------
Muzaffarnagar relief camp: 'We watch our children make it from one night to the next'
Dec 16 2013
Since the Muzaffarnagar riots, a number of children have died in relief camps, unable to cope with the hunger, cold and lack of hygiene. Pritha Chatterjee describes a night in the life of the refugees
Ayesha's mother shakes one of the three small tins that make up her kitchen, hoping it will have some last few grains of sugar. The daily supply of 300 grams milk stopped over a week ago, so the tea is always black. Not that Ayesha would mind, since her mother ensures it is sugary. Ayesha is four and her mother, 20, can only make her one glass of tea that must be drunk in small sips to last "as long as possible".
Full report at:
http://www.indianexpress.com/news/muzaffarnagar-relief-camp-we-watch-our-children-make-it-from-one-night-to-the-next/1208053/
---------
North America
US Scholars Stand with Palestinians in Boycott of Israel
December 17, 2013
An association of 5,000 academics on Monday became the largest U.S. scholarly organization ever to join the boycott of Israeli academic institutions.
The American Studies Association, which calls itself "the nation's oldest and largest association devoted to the interdisciplinary study of American culture and history," announced Monday that its membership passed a resolution stipulating the organization "endorses and will honor the call of Palestinian civil society for a boycott of Israeli academic institutions."
The resolution, which was introduced last year and unanimously endorsed by the ASA's national council on November 4th, attracted an unprecedented number of voters, with 66.05% endorsing the resolution, 30.5% against, and 3.43% abstaining, according to the ASA statement.
Full report at:
http://www.commondreams.org/headline/2013/12/16-2
------------
New Jerusalem-Based NBC Series 'Legitimizes Israel's Occupation, Apartheid,' say Critics
December 17, 2013
An upcoming series on the USA Network, owned by NBC Universal, will "give legitimacy to Israel's policies of apartheid, ethnic cleansing and colonization in occupied Palestinian Jerusalem" and should be dropped, a group of Palestinian civil society organizations has charged.
Slated for airing in 2014, Haaretz reports that the drama series called "Dig" from "Homeland" creator Gideon Raff and "Heroes" creator Tim Kring and developed by Israeli company Keshet Media Group
revolves around an FBI agent investigating the murder of an American archaeologist in Jerusalem, and is set in the City of David, a major archaeological site in the East Jerusalem neighborhood of Silwan.
Full report at:
http://www.commondreams.org/headline/2013/12/16-5
------------
US transfers two Guantanamo detainees to Saudi Arabia
December 17, 2013
WASHINGTON: The Pentagon said Monday the United States had transferred two Guantanamo detainees to Saudi Arabia, bringing the total number of inmates remaining at the US prison in Cuba to 160.
After a "comprehensive review" of their cases, Saad Muhammad Husayn Qahtani and Hamood Abdulla Hamood were "designated for transfer by consensus of the six departments and agencies comprising the task force," said a statement by Pentagon spokesperson Todd Breasseale.
Full report at:
http://tribune.com.pk/story/646263/us-transfers-two-guantanamo-detainees-to-saudi-arabia/
------------
Damaged Torah scrolls from Iraq buried at New York cemetery
AP | Dec 17, 2013
WEST BABYLON (New York): Torah scroll fragments found amid a trove of more than 2,700 books and documents in the flooded Iraqi intelligence building basement have been buried in a religious ceremony at a suburban New York cemetery.
"This project is somewhat reflective of the new Iraq," said Lukman Faily, the Iraqi ambassador to the US "We are saying we would like to share and preserve the history and the heritage of the Jews, of the Christians, of the Muslims."
The artifacts were found in May 2003 after the collapse of Saddam Hussein's regime as American troops searched for weapons of mass destruction. The water system in the basement of the Baghdad building had been damaged by an unexploded bomb.
Burial is the method used for the disposal of sacred objects deemed unfit for use under Jewish law. Mold had inflicted much of the damage in this case, according to Maurice Shohet, president of the World Organization of Jews from Iraq.
Full report at:
http://timesofindia.indiatimes.com/world/us/Damaged-Torah-scrolls-from-Iraq-buried-at-New-York-cemetery/articleshow/27500833.cms
----------
Southeast Asia
Malaysia A Religious-Fascist State, Not Moderate, Says Ex-Minister
December 17, 2013
Malaysia's image as a so-called "moderate" nation has been rubbished by a former minister, who said it was closer to being a "religious-fascist" state.
Datuk Zaid Ibrahim said the ongoing religious persecution of PAS deputy president Mohamad Sabu and others before him portends a grave future for religious freedom in Malaysia. Zaid said it was up to Malaysians either to allow this trend to continue or to defend religious freedom.
"We are not only denied political freedom (with the media and the electoral process under government control), but also liberty in matters of personal belief.
"We are already witnessing a new wave of attacks against Shias, which are more often associated with the Middle East and Pakistan.
Full report at:
http://www.themalaysianinsider.com/malaysia/article/malaysia-a-religious-fascist-state-not-moderate-says-ex-minister
------------
New Year's No More: Banda Aceh Muslims Asked to Abstain From Secular Holiday
December 17, 2013
Banda Aceh. Muslim residents of the capital of Aceh province may have to roll back their New Year's festivities this year.
"Christmas greetings by Muslim are clearly haram, because they're a kind of acknowledgment," Abdul Karim Syeikh — head of Banda Aceh's Ulama Consultative Council (MPU), an official body that advises the local government on Islamic affairs — told the Jakarta Globe on Tuesday.
The council issued a fatwa on Nov. 12 banning both Christmas and New Year's greetings and celebrations for Muslims in the provincial capital. The council's rulings are not legally binding but they do hold a strong sway in the conservative province — the only in Indonesia to enforce Shariah law. The edict, like those issued by other Islamic authorities in Indonesia, is not legally biding and acts to serve as a suggestion for Indonesian Muslims.
Full report at:
http://www.thejakartaglobe.com/news/new-years-no-more-banda-aceh-muslims-asked-to-abstain-from-secular-holiday/
------------
29 cases investigated for insulting Islam, monarchy – Bernama
December 17, 2013
The Malaysian Communications and Multimedia Commission (MCMC) have investigated 29 cases until June for allegedly insulting Islam and the royal institution, the Dewan Negara was told today.
Communication and Multimedia Minister Datuk Seri Ahmad Shabery Cheek said an individual was fined RM20,000 by the Sessions Court when he was found guilty for insulting the Sultan of Johor Sultan Ibrahim on a Facebook account.
"The MCMC also received 36 complaints over remarks allegedly insulting Islam. However, the use of Facebook, Twitter and blogs cannot be fully controlled," he said when replying to a question from Datuk Abdul Rahman Bakar.
Full report at:
http://www.themalaysianinsider.com/malaysia/article/29-cases-investigated-for-insulting-islam-monarchy-bernama
------------
Work hard to make Malaysia a developed nation, PM tells civil servants
December 17, 2013
Datuk Seri Najib Tun Razak today asked civil servants to work hard to make Malaysia a developed nation that continues to be highly regarded by world leaders.
The prime minister said he was convinced that with the cooperation of the 1.4 million civil servants who support such an aspiration, Malaysia would progress into the desired high-income developed nation.
He said he wanted the world leaders whom he meets, such as Prime Minister Shinzo Abe of Japan, President Xi Jinping of China and President Barack Obama of the United States, to respect Malaysia as a nation which is gradually progressing into a developed one that Malaysians can be proud of.
Full report at:
http://www.themalaysianinsider.com/malaysia/article/work-hard-to-make-malaysia-a-developed-nation-pm-tells-civil-servants-berna
-----------
Mideast
Poll reveals most Palestinians think peace talks with Israel are dead
December 17, 2013
A majority of Palestinians believe that the current peace talks with Israel have reached a dead end and see no point in their continuation, a public opinion poll published Monday showed.
The poll also showed that a majority of Palestinians expect the talks to fail.
Previous public opinion polls have also indicated that a majority of Palestinians are opposed to the negotiations with Israel and expect a third intifada.
The poll, which covered some 1,000 Palestinians from the West Bank, east Jerusalem and Gaza Strip, was conducted by the Palestinian Center for Public Opinion between November 27 and December 10.
Full report at:
http://www.jpost.com/Diplomacy-and-Politics/Poll-reveals-most-Palestinians-think-peace-talks-with-Israel-are-dead-335157
------------
Hundreds of migrants protest detention policies in Jerusalem
December 17, 2013
Around 200 African migrants rallied outside the Prime Minister's office in Jerusalem on Tuesday, demanding the state recognize their asylum claims and stop jailing them in detention centers in Israel's south.
The group includes migrants who left the new "Holot" open detention facility in the south over the weekend and refused to return.
Around 150 made their way to the Beersheba bus station Sunday night where they tried to board buses to Jerusalem, Tel Aviv, and elsewhere. On Monday night they were given shelter at Kibbutz Nachson in the south and in the morning were driven into Jerusalem by bus, while escorted by police.
Full report at:
http://www.jpost.com/National-News/Hundreds-of-migrants-protest-detention-policies-in-Jerusalem-335254
------------
Turkey shipped arms to Syria rebels: Report
16 Dec 2013
Turkey has shipped 47 tonnes of weapons to Syrian rebels since June despite repeated government denials, a local newspaper reported on Monday.
The Hurriyet Daily News, citing UN and Turkish Statistics Institute records, said 29 tonnes of military equipment were sent to opposition fighters in September alone.
The government of Prime Minister Recep Tayyip Erdogan, a vociferous opponent of Syrian President Bashar al-Assad, has openly supported the rebels but has always denied arming them.
Full report at:
http://english.ahram.org.eg/NewsContent/2/8/89266/World/Region/Turkey-shipped-arms-to-Syria-rebels-Report.aspx
------------
Half of Israeli children have nothing to eat
December 16, 2013
RAMALLAH – An Israeli charitable organization on Monday revealed that half of Israeli children on welfare went days without having anything to eat.
Latet, Israeli Humanitarian Aid's alternative poverty, said in its annual report that half the 360,000 families receiving welfare assistance reporting that their children had gone a full day without food.
The survey, conducted jointly with the Smith Center in Israel, on 50 families being aided by various non-profit organizations showed that some 9 percent of children under 18 were forced to steal food in order to eat, and 12 percent were reduced to gathering food lying around or in garbage bins.
Full report at:
http://www.saudigazette.com.sa/index.cfm?method=home.regcon&contentid=20131217189747
-----------
Iran backs deep-sea gas pipeline to India
ATUL ANEJA
Dec 17 2013
Feasibility studies for the multi-billion-dollar conducted
Iran is focusing on exporting natural gas to India along a deep-sea route — the move coinciding with the cancellation of a loan to Islamabad to build the Pakistani section of the Iran-Pakistan gas pipeline and the signing of the Geneva nuclear accord that could help relax sanctions against Tehran.
"Negotiations were held with three Indian companies for [their] purchase of gas from Iran, and general agreements have been reached," said Ali Amirani, director of marketing at the National Iranian Gas Exports Company (NIGEC), as quoted by the Tasnim news agency.
He added that India's South Asia Gas Enterprise Pvt. Ltd. (SAGE) had conducted feasibility studies for the multi-billion-dollar undersea pipeline, which could carry gas from Iran's giant South Pars gas field to India's west coast. Mr. Amirani said the project cost estimated by the company was $4-5 billion. Once operational, it could channel 31 million cubic meters of gas per day.
Full report at:
http://www.thehindu.com/news/international/world/iran-backs-deepsea-gas-pipeline-to-india/article5466999.ece
----------
Europe
Mission accomplished in Afghanistan, declares David Cameron
December 17, 2013
David Cameron has declared the mission in Afghanistan will have been accomplished by the time all British troops have been withdrawn at the end of next year despite fears of a surge of violence from the Taliban around next year's elections.
The prime minister made the bold claim – with echoes of President George Bush's hubristic triumphalism over the Iraq war – as he visited Camp Bastion, the British base in Helmand province, almost exactly a year before all UK fighting troops are due to be withdrawn from the country.
Full report at:
http://www.theguardian.com/uk-news/2013/dec/16/afghanistan-mission-accomplished-david-cameron
------------
Kyrgyzstan: Local roots of global jihad
By The Fake Spaniard
December 17, 2013
I head to Nariman village, some two kilometers north of Osh city in southern Kyrgyzstan, as I had heard that several youth from there had left for Syria. Incidentally, Nariman had witnessed acts of brutal violence during the summer 2010 clashes between the Uzbek and Kyrgyz communities, including an infamous police sweep on June 21 after the events, resulting in two residents dead and about two dozen wounded.
I scout the village market until I meet a spare-parts seller with a trimmed beard and shaven upper lip, Salafi-style. After some hesitation, he directs me to the house of "B", a local man whom everyone seems to know as the Kori, or "reader", indicating a person of some learning about Islam. B owns the only two-storey house in the village: the gate is ajar and the inner-yard shows a house of means compared with the local average.
Full report at:
http://www.atimes.com/atimes/Central_Asia/CEN-01-161213.html
------------
Syria peace conference to be held from January 22 at Montreux in Switzerland
Dec 17 2013
Geneva: The United Nations plans to precede its internationally brokered peace talks between Syria's warring sides next month with a one-day meeting of foreign ministers in the Swiss city of Montreux, officials said Tuesday.
A daylong gathering for speeches by U.S. Secretary of State John Kerry, Russian Foreign Minister Sergey Lavrov and more than two dozen other foreign ministers is planned for January 22 at a Montreux hotel.
The session is taking place at the opposite end of Lake Geneva to the U.N. European headquarters because a luxury watch fair has taken up all the hotel rooms in Geneva, Khawla Mattar, a spokeswoman for the U.N.'s special envoy to Syria, Lakhdar Brahimi, told reporters Tuesday.
Full report at:
http://www.indianexpress.com/news/syria-peace-conference-to-be-held-from-january-22-at-montreux-in-switzerland/1208707/
----------
Gen Sir David Richards in al-Qaeda African warning
December 17, 2013
The world should be paying more attention to the sub-Saharan threat from al-Qaeda, a former head of the British armed forces has warned.
General Sir David Richards said Britain needed to learn from what it had done "and failed to do".
He also questioned whether the Nato operation against Libya in 2011 was the right thing to do, suggesting it may have contributed to the spread of arms in the region.
Gen Sir David retired last year.
In the past year Islamist groups have stepped up their activities in several African countries.
In Somalia, African Union troops have been battling with militants al-Shabab - which came to global prominence with its attack on a Kenyan shopping centre earlier this year.
French troops spearheaded the response to Islamist insurgents in Mali.
Full report at:
http://www.bbc.co.uk/news/uk-25412334
------------
UN launches biggest ever Syria aid appeal
December 17, 2013
The United Nations has appealed for $6.5 billion for Syria and its neighbors, the largest appeal ever for a single crisis, to help 16 million people next year, many of them hungry or homeless victims of a 33-month-old conflict that has no end in sight.
The Syrian appeal accounted for half of an overall funding plan of $12.9 billion to help 52 million people in 17 countries, announced by U.N. emergency relief coordinator Valerie Amos at a meeting of donor countries in Geneva.
"This is the largest amount we have ever had to request at the start of the year," she told a news conference, referring to the worldwide appeal.
Full report at:
http://www.hurriyetdailynews.com/un-launches-biggest-ever-syria-aid-appeal.aspx?pageID=238&nID=59686&NewsCatID=359
------------
URL: https://newageislam.com/islamic-world-news/new-age-islam-news-bureau/more-than-70-people-killed-in-attacks-targeting-shia-pilgrims-in-iraq/d/34874