New Age Islam News Bureau
23 Jul 2015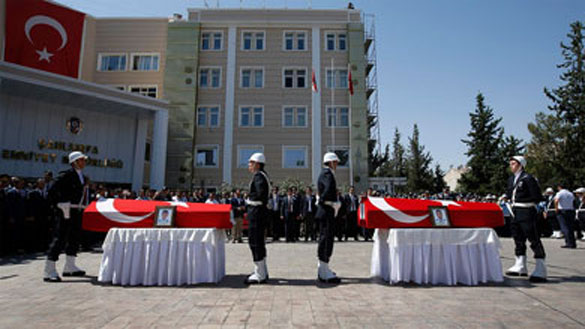 Turkish police officers stand in attention on front of the coffins of police officers Feyyaz Yumusak and Okan Acar, during a funeral procession in Turkey, Thursday, July 23, 2015. (AP)
----------
Africa
• More than 50 dead in suspected Boko Haram attacks in Cameroon and Nigeria
• South Sudan govt forces commit war crimes in Unity
Arab World
• At least 26 killed and over 50 injured in Baghdad market bombings, say Iraqi officials
• Kurd militants say kill two Turkish police to avenge Islamic State bombing
• We Kurds are the antidote to Isis – but we need Britain and Baghdad to help
• Islamic State claims Baghdad car blast that killed 20
• ISIS fighter humiliated on TV for killing 60 unarmed Iraqi army cadets
• Conflicting reports if ISIS executed boxing champ after escape attempt
• Egypt court sentences Mubarak-era prime minister to 5 years jail
• Saudi defence minister orders aid delivery to Yemen
------
India
• Jamiat Ulema e Maharashtra Working For Muslim Community Gives Scholarship To Hindus Students
• Tension in Vadodara village over 'shifting' of Dargah
• India conveys its concerns to US over military sales to Pakistan
• Yakub Memon moves Supreme Court, challenges validity of death warrant
• J&K's law officers are relatives of politicians, babus and judges
• India, Iran to discuss settlement of oil dues this week
-------
Pakistan
• Jamaat-ud Dawa Chief Says 'Jihad' In Kashmir Will Sink India
• Obama Invites Pakistan PM Nawaz Sharif for US Visit: Report
• US seeks Pakistan's cooperation against Islamic State
• JC rejects all three rigging charges by PTI
• Chitral declared calamity-hit, PM announces Rs1 billion aid
• Afghanistan summons Pakistani envoy over cross-border shelling
-------
South Asia
• Taliban Splinter Group Claims Mullah Omar Was Killed 2 Yrs Ago
• Afghan forces thwart deadly car bombing plot in Kabul city
• Suicide bombing at Afghan market kills at least 15 people
• Rocket attack by Pakistani military leaves 4 dead, 2 wounded in Afghanistan
• Terrorists' weapon and explosives supplier arrested in Baghlan
• Bamiyan a war zone tourism site
-------
North America
• Americans pack Times Square to denounce Iran deal
• FBI chief: ISIS bigger threat than al-Qaeda
• Charleston shooting suspect charged with federal hate crimes
• U.S. defence chief makes surprise trip to Iraq
• U.N. envoy sounds alarm over battle at Syria border
-------
Mideast
• Militant Kurds kill 'ISIS fighter' in Istanbul
• Pro-govt forces retake Aden palace, coalition reopens airport
• Turkey detains three over 'PKK attack' on police
• A popular salt lake in Turkey turns reddish orange in color
• Turkish opposition leader sees early election more likely than coalition
• Executions in Iran could top 1,000 this year, says Amnesty International
• Israeli soldiers kill Palestinian in West Bank
---------
Compiled by New Age Islam News Bureau
URL: https://www.newageislam.com/islamic-world-news/new-age-islam-news-bureau/more-than-50-dead-in-suspected-boko-haram-attacks-in-cameroon-and-nigeria/d/104003
--------
Africa
More than 50 dead in suspected Boko Haram attacks in Cameroon and Nigeria
Agence France-Presse
Thursday 23 July 2015, Suspected Boko Haram attacks left more than 50 people dead on Wednesday, after Nigeria's president warned the US that its policy was hitting the fight against Boko Haram.
Twin suicide attacks in Maroua, northern Cameroon, killed at least 11, while 42 lost their lives in a series of blasts at two bus stations in Gombe, north-east Nigeria.
The latest atrocities came after Boko Haram released a new video on Twitter, maintaining they were not defeated and vowing: "We will be coming from where you never expected, stronger than before."
A new five-nation force – from Nigeria, Niger, Chad, Cameroon and Benin – is due for deployment by 30 July to take on the Islamic State-allied militants, whose six-year insurgency has left at least 15,000 dead and increasingly threatened regional security.
The attack in Cameroon saw two girls aged under 15 bomb the central market in Maroua and its adjoining Hausa neighbourhood, said regional governor Midjiyawa Bakari.
A source close to local authorities said "two girls, who were begging, blew themselves up" at about 3pm (1400 GMT), causing "total panic" and leaving gruesome scenes, according to one journalist.
President Paul Biya's office said 11 people were killed and 32 wounded, condemning the attacks against as "cowardly and despicable".
Biya called on Cameroonians to be vigilant, with the attacks the second this month.
On 12 July, two female suicide bombers wearing the full Islamic veil blew themselves up in Fotokol, on the border with Nigeria, killing 10 civilians and a soldier from neighbouring Chad.
Regional authorities have since banned the use of full-face veils.
In Gombe city, blasts ripped through the Dadin Kowa bus station at about 7:30 pm (1830 GMT) and the Dukku terminus about 20 minutes later. Witnesses reported hearing two blasts at both sites.
Lack of electricity in the area made it impossible to confirm whether they were suicide attacks or homemade bombs left at the scenes.
"So far we have recovered 12 dead bodies from the blast scene," said one rescue worker at the first site, who asked not to be identified. "The bodies are badly mutilated and we have several people injured."
Gombe state police spokesman Fwaje Attajiri confirmed the first blast but did not give a death toll. He had no details about the second explosion but the owner of a shop near Dukku bus station said: "There were two explosions. They happened after I had closed my shop for the day.
"I and others who were around came back and began pulling out bodies. I counted up to 30 dead bodies. I became sick and left."
Last Thursday, 49 people were killed in a bomb attack on a market in Gombe city.
http://www.theguardian.com/world/2015/jul/23/50-dead-boko-haram-attacks-cameroon-nigeria
------
South Sudan Govt Forces Commit War Crimes in Unity
By Kieran Guilbert | Reuters, London
Wednesday, 22 July 2015
South Sudanese government forces attacked and killed scores of civilians, carried out public gang rapes and burned people alive during a recent military offensive in northern Unity State, a rights group said on Wednesday.
Government troops and allied militia launched a campaign in April against rebel forces in oil-producing Unity, in a civil war which broke out in December 2013 when a political crisis sparked fighting between forces loyal to President Salva Kiir and rebels allied with his former deputy Riek Machar.
The attacks on civilians and the widespread burning and pillaging of property in the recent offensive amount to war crimes, while the killings and rapes may also constitute crimes against humanity, according to Human Rights Watch (HRW).
"Brutal attacks on fleeing civilians combined with widespread burning of villages, food, and other items that people need to survive suggests that the government's aim was to forcibly displace people from their homes," HRW Africa director Daniel Bekele said in a statement.
South Sudan's presidential spokesman said the government categorically rejected HRW's allegations of human rights abuses; rapes and killing of unarmed civilians, and described the claims as "baseless".
If it came to light that government forces had perpetrated war crimes and crimes against humanity, they would be brought to justice, Ateny Wek Ateny told the Thomson Reuters Foundation by email.
Hanged, burned, crushed by tanks
At least 60 civilians, including children and the elderly, were killed, according to the HRW report "They Burned It All", based on interviews with some 170 victims and witnesses.
Many were hanged, shot while trying to flee and burned alive, others were crushed by tanks, the rights group said.
"They were running with the tanks after the people, and then after they hit them they would roll back over them, to confirm that they were dead," one woman told HRW in the report.
Government soldiers and fighters from the Bul Nuer tribe repeatedly beat women, forced them to carry pillaged property and abducted them, the report said.
More than 60 women were raped in the offensive, including gang rapes by fighters, and only one survivor interviewed by HRW had received any medical assistance afterwards.
"Women and girls are bearing the brunt of this brutal offensive as fighters target them for rape, abduction, beatings and forced labour," Bekele said.
The attacks in Unity which lasted until mid-June left aid agencies struggling to reach tens of thousands of people who fled from towns and villages and remain isolated in rural, often swampy, areas without help.
Thousands of people have been killed and more than 2.2 million uprooted, 500,000 of whom have fled the country, since the world's youngest nation plunged into civil war.
Stephen O'Brien, who replaced Valerie Amos as the United Nations aid chief earlier this year, was scheduled to arrive in South Sudan on Wednesday to discuss the conflict and ways of strengthening the humanitarian operation.
https://english.alarabiya.net/en/News/africa/2015/07/22/South-Sudan-govt-forces-commit-war-crimes-in-Unity-.html
------
Arab World
At Least 26 Killed and Over 50 Injured In Baghdad Market Bombings, Say Iraqi Officials
By: AP
Baghdad: Jul 23, 2015, A pair of car bombs exploded on Wednesday at crowded popular markets in predominantly Shiite neighbourhoods of the Iraqi capital, Baghdad, killing at least 26 people and wounding 58, authorities said. The first explosion took place in the impoverished neighbourhood of al-Bayaa in south-western Baghdad and, a second car bomb detonated in the north-eastern neighbourhood of al-Shaab, Iraqi officials said.
The first explosion took place in the impoverished neighbourhood of al-Bayaa in south-western Baghdad and, a second car bomb detonated in the north-eastern neighbourhood of al-Shaab, Iraqi officials said. (Source: AP)
A pair of car bombs exploded on Wednesday at crowded popular markets in predominantly Shiite neighbourhoods of the Iraqi capital, Baghdad, killing at least 26 people and wounding 58, authorities said.
The first explosion took place in the impoverished neighbourhood of al-Bayaa in south-western Baghdad, a police official said. The blast killed at least 18 people and wounded 36, the official said.
Later Wednesday, a second car bomb detonated in the north-eastern neighbourhood of al-Shaab, killing at least eight people and wounding 22, police said.
Hospital officials corroborated the casualty figures. All officials spoke on condition of anonymity as they were not authorized to brief journalists.
No one immediately claimed responsibility for the attacks. The Islamic State militant group frequently targets Shiite areas across the country, as well as military checkpoints and government installations. The radical Sunni group seeks to destabilize the Shiite-led government in Baghdad and targets those they view as apostates. They hold roughly a third of Iraq and neighbouring Syria in their self-declared "caliphate."
On Friday, the militant group attacked a popular market in Iraq's eastern Diyala province, killing 115 people — the majority of them Shiite — in what was one of the largest single attacks in Iraq over the past decade. Bombings occur almost daily in Baghdad, but violence has been relatively subdued in the capital since the height of sectarian violence in 2006 and 2007.
Large-scale military operations are currently underway in Iraq's western Anbar province and in Salahuddin province, north of Baghdad, as the Iraqi military and the government-sanctioned Popular Mobilization Forces look to reclaim territory in the country's Sunni heartland. A U.S.-led coalition is supporting the operation with airstrikes.
http://indianexpress.com/article/world/middle-east-africa/at-least-26-killed-and-over-50-injured-in-baghdad-market-bombings-says-iraqi-officials/#sthash.ZybuuNIW.dpuf
--------
Kurd Militants Say Kill Two Turkish Police to Avenge Islamic State Bombing
BY ORHAN COSKUN AND DASHA AFANASIEVA
ANKARA | Kurdish militants claimed responsibility for the killing of two Turkish police officers on Wednesday in what they said was retaliation for a suspected Islamic State suicide bombing which killed 32 mostly young students.
The Kurdistan Workers Party (PKK) said in a statement on one of its websites that the two police officers were killed at around 6 a.m. in the southeastern town of Ceylanpinar for "collaboration with the Daesh (Islamic State) gangs".
Security sources earlier told Reuters the officers were found dead with bullet wounds to the head in the house they shared in Ceylanpinar, on the border with Syria about 160 km (100 miles) east of Suruc, the site of Monday's suicide bombing.
Many of Turkey's Kurds and opposition supporters suspect President Tayyip Erdogan and the ruling AK Party of covertly backing Islamic State against Kurdish fighters in Syria, something the government has repeatedly denied.
Anti-government protests after Monday's bombing in Suruc erupted in several cities for a second night on Tuesday, with some of the demonstrators chanting "Murderer Islamic State, collaborator Erdogan and AKP".
"Although Islamic State has been held responsible for this attack, Turkey's AKP government, by resisting the taking of effective measures to prevent Islamic State and other reactionary forces, bears the real responsibility," the opposition Peoples' Democratic Party (HDP), whose support base is mostly Kurdish, said in a statement.
Turkey's NATO allies have expressed concern about control of its border with Syria which in parts runs directly parallel with territory controlled by Islamic State. The prospect of conflict spilling onto Turkish soil, embroiling Kurds, Islamist militants and security forces will raise alarm inside and outside Turkey.
Speaking during a break from a cabinet meeting attended by the commander of Turkey's ground forces on Wednesday, Deputy Prime Minister and government spokesman Bulent Arinc told reporters border security would be tightened.
"What is important in the face of Deash (Islamic State) is to block the terrorists' transit points and to have physical obstacles to this. A physical security system will be established at the border," he said, without giving details.
SUSPECT HAD TRAVELED TO SYRIA
A senior Turkish official told Reuters there was "strong evidence" to suggest the bomber was a 20-year old man born in the south-eastern province of Adiyaman and of Kurdish origin, who had traveled to Syria last year with the help of a group linked to Islamic State.
"He was active in a Syria-linked group supporting the Islamic State. We know that he went to Syria illegally. It was not possible to track him during his time there," the official said, speaking on condition of anonymity because of the sensitivity of the investigation.
He had links with another alleged bomber who attacked an HDP rally in the mostly Kurdish south-eastern city of Diyarbakir days ahead of a June 7 parliamentary election, killing four people and wounding at least 200, the official said.
The Radikal newspaper quoted what it said was the man's mother saying he was a former student at Adiyaman University who had worked as a painter with his 25-year-old brother before going abroad.
"I don't know where he is now. I don't know if they joined ISIL (Islamic State), if they went for jihad," Semure Alagoz told the newspaper. They are both good kids, they wouldn't harm anyone."
Two lawmakers from the HDP submitted separate parliamentary motions on Wednesday naming a 20-year old woman as a suspect, and asking why police had released her from custody last month.
PROTESTS, MEDIA BANS
The turmoil comes at a difficult time for Turkey, with a caretaker government in charge while the AKP seeks a junior coalition partner after losing its majority in the June election for the first time in more than a decade.
At least 51 people have been arrested in protests in Istanbul alone and police seized more than 200 petrol bombs and a rifle, the governor's office in Turkey's biggest city said.
There were also protests overnight in the capital Ankara, where demonstrators carried pictures of those killed in the Suruc attack as well as banners of the youth federation of which many of the victims were members.
Anti-government groups have vowed further demonstrations and the HDP has called for supporters to converge in Istanbul for a mass rally this weekend.
The prospect of further unrest has unnerved investors already worried by the uncertain political outlook.
The lira was the worst performer among major emerging market currencies on Wednesday, falling more than one percent against the dollar, while Turkish stocks also fell.
Access to Twitter (TWTR.N) was blocked for several hours after a court in Suruc ordered the removal of images of the blast and its aftermath. Facebook and YouTube avoided a ban after quickly complying with the court order, according to a statement from the Turkish union of internet access providers.
(Additional reporting by Ayla Jean Yackley, Can Sezer and Daren Butler in Istanbul; Ece Toksabay and Mert Ozkan in Ankara, Seyhmus Cakan in Diyarbakir; Writing by Nick Tattersall; Editing by Ralph Boulton and Andrew Heavens)
http://www.reuters.com/article/2015/07/22/us-mideast-crisis-turkey-idUSKCN0PW0PN20150722
-------
We Kurds are the antidote to Isis – but we need Britain and Baghdad to help
Karwan Jamal Tahir
Thursday 23 July 2015
The grotesque massacres by Islamic State in Tunisia, France, Kuwait and Kobane in Syria confirm deepening fears about its global reach. The victims tell us much about the perpetrators: 30 British sunbathers, Shias at prayer, and 200 Kurdish men, women, and children sleeping in their beds.
To defeat Isis we need a mixture of more inclusive Iraqi politics and increased western military commitment. Politically this means an ideological struggle led by Muslims who have no sneaking regard for Isis. At the forefront is the Kurdistan region, a sworn enemy of Isis, with which we now share a 650-mile border. Kurdistan promotes women's rights and seeks to root its patriotism in a pluralist definition of tolerance. Most Kurds are Sunni Muslims but we positively celebrate being home to Shia Muslims, Christians, Yezedis and others. Sadly, our Jewish compatriots left many years ago thanks to a fascistic mindset throughout Iraq's history, which did us all great damage.
One Peshmerga unit operates a British 25 pounder made in 1941
Unfortunately, Baghdad is not playing its role, thanks to a centralised approach that treats Kurds and Sunni Arabs as second-class citizens. To offer an alternative to Isis, they should implement Iraq's democratic and federal constitution. Iraq must be a binational Arab-Kurdish state that is decentralised and democratic. Only by respecting regional autonomy can Baghdad offer a lasting political deal that is attractive to Sunni Arabs who currently believe they are better off with Isis than Baghdad. Only by sticking by such a deal can Baghdad hope to turn the Sunni Arabs against Daesh as they previously rejected al-Qaida during the surge in 2007.
Instead, over the last 18 months Baghdad has starved us of resources. Baghdad has only transferred a tiny fraction of the budget payments owed to Kurdistan. We are now three months behind in paying salaries to our civil servants. Our once-booming economy is in a tailspin with increasing poverty and unemployment. Hundreds of investment projects have stalled. Our population has grown by a third because of the influx of 1.6 million Arab Muslim and Christian refugees, and it is massively straining our finances and services.
On the military side, western service personnel have protected our homeland and are helping the Iraqi army to recover from its awful defeat last year when it lost one-third of Iraq. Without American and British air power, Kurdistan would be in mortal danger from Isis. However, despite recent Kurdish military victories, neither the Kurds not the Iraqi government can liberate Sunni Arab areas from Isis.
What is needed is a greater military effort in partnership with the Kurds, the only force that is able to push back Isis. The first step is for British airstrikes against Isis in its Syrian stronghold. Michael Fallon, the secretary of state for defence, has already suggested rethinking the decision to restrict air operations to Iraq.
The second step is to massively increase assistance and supplies of heavy weapons to the Kurdish fighters, the Peshmerga. For too long these highly effective soldiers have been deprived of military training and weapons. They lack heavy weapons and basic kit such as protection vests, night vision goggles and even boots. One peshmerga unit operates a British 25-pounder made in 1941.
We have long been deprived by Baghdad of military training and weapons for our peshmerga. Western governments have recently acquired a much better understanding of the past, present and future of the Kurds. We implore them to help us get our Peshmerga on an equal footing and into a fit state to defend ourselves and work with other countries.
One excuse for not sufficiently arming the peshmerga is that it prevents Kurdistan from seeking independence. Many also fear antagonising Turkey. The opposite is true. The more Kurds who see that they receive second-class treatment despite huge sacrifices in the war against Daesh, the more they insist that only independence will ultimately protect them. Moreover, we have excellent relations with our largest investor, Turkey, which has provided logistical support and training to the Peshmerga. Likewise we maintain good relations with Iran. We also know that if we one day exercise our right to self-determination it would require an amicable divorce with Baghdad and increased co-operation on security.
Finally, we need to accept that air strikes and local forces can only do so much. We are containing Isis, not defeating it. In time, western ground troops may be needed to dislodge Daesh. The legacy of the Iraq war is holding back any such move. As long-time and long-term friends of the British, we know that losing soldiers in Iraq caused great grief. We salute their sacred memory, and thank the British people for liberating Iraq from fascism in 2003 and for the life-saving no-fly zone that shielded the Kurds since 1991. We do not lightly suggest that British and other troops may be needed in Iraq and Syria, but this possibility needs to be faced.
Without wider unity to destroy Isis through military and economic means, and doing more to counter their propaganda, there will be many more atrocities. The west has a very willing ally in the Kurds whose prosperity, pluralism and peace are a powerful antidote to Isis's cult of death, mass murder and genocide.
http://www.theguardian.com/commentisfree/2015/jul/23/kurds-isis-britain-baghdad-west-military-iraq
-----
Islamic State claims Baghdad car blast that killed 20
Reuters
BAGHDAD (Reuters) - Islamic State militants claimed responsibility on Thursday for a suicide car bombing in a mainly Shi'ite Muslim district of Baghdad that killed at least 20 people the day before.
In a statement posted online, the Sunni militant group said it had targeted a security checkpoint in the al-Shurta al-Rabaa neighbourhood.
(Reporting By Stephen Kalin; Editing by Robin Pomeroy)
http://news.yahoo.com/islamic-state-claims-baghdad-car-blast-killed-20-074408289.html
-----
ISIS fighter humiliated on TV for killing 60 unarmed Iraqi army cadets
By KHAAMA PRESS - Wed Jul 22 2015
ISIS fighter forced to chew sandal militant of the Islamic State of Iraq and Syria (ISIS) terrorist group who faces death penalty for murdering 60 unarmed Iraqi army cadets, appeared in front of news cameras where he was forced to chew a sandal.
The militant identified as Adnan Abdul Ridha was reportedly arrested by the Iraqi security forces for his role in mass execution of around 770 Iraqi air force cadets.
The mass execution took place last year at the Tikrit Air Academy (formerly called COB Speicher).
At least 24 people were sentenced to death for their role in the massacre by an Iraqi court which used satellite images where the massacre took place as well as ISIS propaganda video of the killings.
According to the local media reports, Ridha has confessed he was involved in the mass execution and massacred 60 students at Speicher Air Base and being a member of ISIS.
The local Al-Mirbad newspaper quoting Ridha during an interview with the Iraqi media outlets reported that the man confessed he took 60 of the captured students, put them on the ground and then shot them in the head.
Ridha also confessed to working for terror group Al-Qaeda in 1996 and that his newest employers ISIS are funded by money from Saudi Arabia, Qatar and Turkey, according to the paper.
This comes as the terror group released a new horrific video of the mass execution earlier this month which contained footage from the previously released video along with new scenes.
The 22-minute-video showed hundreds of army cadets falling out of dump trucks and are forced to lay down next to each other in shallow mass graves before being shot dead one by one.
At one point of the video, the ISIS militants allow a condemned Shia to pry one more time following his plea but they then shoot him in the back of the head.
An excavator is also shown in the video to move piles of bodies after they were brutally shot dead by the ISIS fanatics.
The government forces and allied fighters retook Tikrit from the ISIS militants in April and exhumed around 600 bodies from the mass graves.
According to the highest estimates, around 1,700 army cadets were captured by the ISIS militants after they captured the military base last year.
http://www.khaama.com/isis-fighter-humiliated-on-tv-for-killing-60-unarmed-iraqi-army-cadets-1312
-------
Conflicting reports if ISIS executed boxing champ after escape attempt
Staff writer, Al Arabiya News
Thursday, 23 July 2015
A monitoring group said it received conflicting information whether a German Thai Kickboxing Champion Valdet Gashi was executed by the Islamic State of Iraq and Syria (ISIS) group for trying escape with another group.
The Syrian Observatory for Human Rights said "reliable sources" confirmed to the London-based monitoring group that the German Thai kickboxing champion Valdet Gashi was killed by ISIS militants, however it alluded to "other information reported that Valdet is still alive and that he has tried to run away more than one time but he failed."
In early July, Gashi made his intentions clear that he has long-wanted to joined ISIS in a 90-minute phone interview with Schweizer Radio und Fernsehen.
"I want to do something good and to die while doing it. That is what would make me happy," he said during the interview.
The Observatory, meanwhile, reported about Gashi's plight on the backdrop of information of non-Syrian ISIS militants attempting to leave the hardline group.
"ISIS is trying to cut off communication between the non-Syrian ISIS militants and their relatives, fearing that they will go back to their homes and that some of them may communicate with intelligence agencies," it said.
The Observatory said its activists in the ISIS-stronghold city of Raqqa sounded the alarm that ISIS gave owners of internet cafés a four-day ultimatum "to remove Wi-Fi which provides internet for houses around these cafés, and they have warned them to stop all the house subscription and even the subscriptions of ISIS militants."
It added: "ISIS tries in this step to do a news blackout about is happening inside the city of Raqqa…and arrests all those who publish news about ISIS by carrying out consecutive raids and sending patrols to the internet shops to inspect them."
https://english.alarabiya.net/en/sports/2015/07/23/Conflicting-reports-if-boxing-champ-executed-by-ISIS-for-trying-to-escape-.html
------
Egypt court sentences Mubarak-era prime minister to 5 years jail
Reuters, Cairo
Wednesday, 22 July 2015
Ahmed Nazif, a former Egyptian prime minister under ousted president Hosni Mubarak, was sentenced to five years in jail on graft charges in a retrial on Wednesday, judicial sources said.
Nazif had previously been sentenced to three years before launching an appeal that led to the retrial. Two of Nazif's sons, also facing re-trial on graft charges on Wednesday, were ordered to pay fines, the sources said.
Many other Mubarak-era figures have been cleared of charges in recent months.
Nazif had been acquitted on separate graft charges alongside Mubarak's former interior minister Habib el-Adly in February.
https://english.alarabiya.net/en/News/middle-east/2015/07/22/Egypt-court-sentences-Mubarak-era-prime-minister-to-5-years-jail.html
-----
Saudi defence minister orders aid delivery to Yemen
By Staff writer | Al Arabiya News
Thursday, 23 July 2015
Saudi Deputy Crown Prince Mohammed bin Salman - who is also the kingdom's defense minister - ordered the delivery of cargo planes carrying humanitarian goods to Yemen's government-held southern city of Aden, Al Arabiya News Channel reported on Thursday.
The deputy crown prince issued the order following directions from King Salman bin Abdulaziz.
The delivery planes, which arrive at the newly-reopened airport of Aden, belong to the Royal Saudi Air Force.
They aim at bringing much-needed relief to Yemeni citizens who have been suffering from the violations of the Iranian-backed Houthi militias.
On Wednesday, a Saudi military aircraft landed at Aden airport becoming the first plane to reach the port city in four months.
Some 12.9 million people in Yemen are either "food insecure" or "severely food insecure," according to World Food Program (WFP) estimates.
https://english.alarabiya.net/en/News/middle-east/2015/07/23/Saudi-Defense-Minister-orders-delivery-of-aid-planes-to-Yemen-.html
-----
India
Jamiat Ulema E Maharashtra Working For Muslim Community Gives Scholarship to Hindus Students
By: PTI
Mumbai: Jul 23, 2015, The cheques were distributed here in presence of Maulana Mustaqueem Azmi, state president of Jamiat-Ulema-E-Maharashtra, Gulzar Azmi, president of its legal aid cell, Maulana Halimullah Qasmi, secretary and Congress MLA Amin Patel.
A popular NGO of the Muslim community on Thursday distributed scholarships among others to the Hindu students.
Scholarships to the tune of over Rs 50 Lakh were given to students from Class VI to graduation level as well as to engineering and medical students from various schools and colleges of Mumbai by Jamiat Ulama E Maharashtra, said a release here.
Jamiat says 'underworld links' allegations 'a ploy' by BJP govtJail official asked me to cut beard, terror accused tells court, seeks compensation Kin of Bakery Blast convict seek help from NGO to file appeal Godhra:
The cheques were distributed here in presence of Maulana Mustaqueem Azmi, state president of Jamiat-Ulema-E-Maharashtra, Gulzar Azmi, president of its legal aid cell, Maulana Halimullah Qasmi, secretary and Congress MLA Amin Patel.
"This is not the first time that we have extended scholarships…we have given it earlier too and would continue to do so," the release quoted Gulzar Azmi speaking at the function organised to hand over scholarships.
Maulana Mustaqeem Azmi said that since its inception in 1919, the NGO has shied away from making any kind of religious discrimination while helping the society.
"There are many secular trusts and NGOs which readily provide help to needy Muslim students in the country. In its humble way, the JUM-AM attempts to reciprocate the noble gesture."
http://indianexpress.com/article/india/maharashtra/ngo-working-for-muslim-community-gives-scholarship-to-hindus-students/#sthash.miaqoXHX.dpuf
-----
Tension in Gujarat Village over 'Shifting' Of Dargah
Ranoli, Gujarat
Tension prevailed at a village in Vadodra district of Gujarat on Wednesday over shifting of a dargah located on a highway in compliance with a high court order. The order directs that the popular Hazrat Balapir Ghadiyali Dargah on National Highway no 8 be cleared from the road by shifting it a few metres away, letting the National Highway Authority of India (NHAI) widen the road .
A faction of Muslim priests from Vadodara, however, has objected to the shifting of the dargah revered by Muslims and Hindus alike. A large group of people gathered at the dargah early on Wednesday morning after news of 'damage' to the revered mazaar of Ghadiyali Baba spread.
The issue pertains to the widening of the highway, undertaken by the NHAI since last year. In February this year, NHAI served a notice to the Dargah for its demolition and relocation to a new place. The notice was challenged by a fourth generation Hindu caretaker of the Dargah, Manoj Hari Patel, who petitioned a local Vadodara court to consider the fact that the Mazaar was revered and could not be demolished.
When Patel's petition was rejected, he moved the High Court, which also ruled in favour of the NHAI, following a Supreme Court guideline that directs clearance of all structures obstructing highway widening projects. Patel had urged the court to allow it to be shifted to a location close by. The Gujarat High Court had granted time to the dargah until July 30 to demolish its structure and shift a few metres away from the proposed highway extension.
However, as Patel, along with others began shifting the dargah on the intervening night of Wednesday, some angry locals gathered to stop the shifting, leading to tension in the area.
Syed Rashid Bapu of Vadodara, said, "This is a malicious act by someone wanting to vitiate the peaceful environment. A structure resembling the tomb has come up overnight, secretly. The idea was to make unsuspecting locals believe in some kind of magic. Had the locals not seen what was happening here last night, the people would have cleared the dargah without trace."
Vadodara Superintendent of Police, Sharad Singhal said the factional war within the Muslim community had led to the tension. Singhal told The Indian Express, "A section of Muslims from Vadodara, led by a revered priest, has refused to accept Patel's theory that a dargah can be shifted as it is essentially a burial place.
The Ghadiyali Dargah is known for being adorned with clocks, offered to the shrine by devotees. The Dargah, which was built about 150 years ago, according to Patel's petition before the court, followed the tradition of accepting clocks as offerings after the passing away of the patron Balapir Baba as he believed in "time".
http://indianexpress.com/article/india/gujarat/tension-in-vadodra-village-over-shifting-of-dargah/#sthash.aUvaKXSM.dpuf
------
India conveys its concerns to US over military sales to Pakistan
Jul 22, 2015 | PTI
New Delhi: In April, US approved sale of $952 million worth of helicopters and missiles to Pakistan
New Delhi: New Delhi has conveyed its concerns to the US over sale of missiles and attack helicopters to Pakistan, saying it must take into account Indo-US ties and the impact on India's security before firming up such supplies.
External Affairs Minister Sushma Swaraj, in a written reply to a question in Lok Sabha, also said the government keeps a constant watch on all developments that have a bearing on India's national interest and takes necessary steps to safeguard it.
"Most recently, we have noted that the US State Department made a determination approving possible Foreign Military Sales to Pakistan of AH-1Z Viper Attack Helicopters and AGM-114R Hellfire II Missiles and associated equipment, parts, training and logistical support for an estimated cost of USD 952 million.
"Government has sensitised the US of our concerns on US military sales to Pakistan. Government has consistently conveyed to the US that it must take into account India-US relations and the impact on India's security in deciding its military assistance to Pakistan," Swaraj said.
In April, the US approved sale of USD 952 million worth of attack helicopters, missiles and other defence equipment to Pakistan to help the country with its counter-terrorism operations, but said the deal would "not alter" the military balance in the region.
http://www.asianage.com/india/india-conveys-its-concerns-us-over-military-sales-pakistan-915?utm_source=vuukle&utm_medium=referral
-----
Yakub Memon moves Supreme Court, challenges validity of death warrant
by Utkarsh Anand
New DelhiJul 23, 2015 Lone death row convict in the 1993 Mumbai serial blasts case Yakub Memon moved the Supreme Court on Thursday, challenging the validity of the death warrant issued against him by a TADA court for execution on July 30.
The petition has said the TADA court could not have issued the warrant when his curative petition was already pending before the top court.
Also read: Story of Yakub Memon: He saw it as 'sacrifice'
Memon said the warrant was illegal in view of various apex court rulings that said a death warrant cannot be issued till a condemned prisoner does not exhaust all the legal remedies. He said the warrant was invalidated due to the procedural flaw.
http://indianexpress.com/article/india/india-others/yakub-memon-moves-supreme-court-challenges-validity-of-death-warrant/#sthash.vnBfkHm2.dpuf
-----
J&K's law officers are relatives of politicians, babus and judges
Written by Mir Ehsan
SrinagarJul 23, 2015, At least 12 of the 22 additional advocate generals, deputy advocate generals and law officers appointed last month by the Department of Law, Justice and Parliamentary Affairs in Jammu and Kashmir are relatives of either ministers or ruling PDP leaders, or of sitting and retired judges, bureaucrats, and even separatist leaders.
The government has also announced more than 300 per cent increase in the remuneration of these officers besides increasing their other perks.
J&K Advocate General Jehangir Ganai said he "knew nothing of the matter". Before being appointed A-G, Ganai was legal advisor at the newspaper owned by Bukhari's father.
The relatives:
Mehraj ud din Bhat: The additional advocate general dealing with cases of departments of Social Welfare, Urban Engineering and Environment, Hospitality and Protocol is the son of PDP general secretary and ex-MLA Nizam-ud-din Bhat.
Shahbaz Sikandar: Appointed as additional J&K's law officers are relatives of politicians, babus and judges advocate general, he looks after cases of Housing and Urban Development department, Srinagar Development Authority and Agro Industries Corporation. Sikandar is the son of Himachal Pradesh Chief Justice Mansoor Mir.
Syed Sajjad Geelani: A deputy advocate general, Geelani is the cousin of Animal Husbandry and Science and Technology Minister Sajad Lone. In fact, he is also representing the government in departments headed by his cousin Lone.
Nisar Hussain Shah: A relative of Law and Parliamentary Affairs Minister Basharat Bukhari, Shah has been appointed additional advocate general. Shah's father and the father of Basharat's wife are cousins. Shah is appearing for cases of Vigilance, Revenue, Relief and Rehabilitation departments besides the State Board of School Education and Service Selection Board. The Relief and Rehabilitation department is headed by Bukhari himself.
Shah Amir: Appointed deputy advocate general, Amir is a relative of senior PDP leader and former minister Dilawar Mir, whose wife is Amir's aunt. Mir's son Yawar Mir is an MLA from Rafiabad. Amir is representing Health and Family Welfare and SIDCO departments.
Asif Ahmad Bhat: Nephew of former J&K chief justice Bashir Ahmad Khan, Asif has been appointed additional advocate general and is pleading cases of Power Development, Planning and Development, and Ladakh Affairs departments.
Shahvar Gowhar: Gowhar, an additional advocate general, is pursuing cases of Tourism department and development authorities. He is son of a retired sessions judge, Ghulam Nabi Gowhar.
Shabir Ahmad Naik: An additional advocate general, he is representing School Education and Consumer Affairs and Public Distribution departments. Naik's father-in-law A Q Parray is a former chief justice. Naik's father Ghulam Hassan was a senior Congress leader and a close associate of Chief Minister Mufti Mohammad Sayeed.
Irfan Andleeb: Deputy advocate general Andleeb is looking after cases of Public Health Engineering and Irrigation & Flood Control departments, apart from Handloom Development Corporation. He is the brother-in-law of former J&K advocate general Altaf Naik.
Khalid Hamid: The deputy advocate general is dealing with cases of Technical Education, Youth Services Cultural Academy
and Archives. Hamid is the nephew of Director, Tourism, Farooq Ahmad Shah. Owais Geelani: A government advocate, Geelani is handling the cases of State Forest Corporation and Industries. Geelani, a close associate of Bukhari, is also a nephew of Hurriyat chairman Syed Ali Shah Geelani's wife. Bashir Ahmad Dar: An additional advocate general, Dar is the brother of separatist leader Shabir Ahmad Dar and also close to PDP MP Muzaffar Hussain Beig. He is representing the cases of Home and Estates departments. Among those with political links are Nazir Ahmad Baba, Ghulam Mohidin Reshi, Manzoor Ahmad Sheikh, Javid Sathu and Syed Shuja. Nazir Ahmad Baba, an additional advocate general, was an active member of the ruling PDP before taking up this assignment, while Ghulam Mohidin, Reshi, a deputy advocate general, was associated with the Congress but joined the PDP days before the last Assembly elections. Manzoor Ahmad Sheikh, a deputy advocate general, is an active worker of the PDP in Kupwara district. Javid Sathu, a government advocate, was the PDP in-charge of Anantnag town and campaigned for CM Sayeed during the last Assembly elections, while Syed Shuja, also a government advocate, was one of the election campaigners of minister Bukhari. "This is cheating and misuse of tax payers' money," says former J&K advocate general Ishaq Qadri. Many of the new officers, he adds, "have never pleaded a case in the high court and don't have proper legal knowledge to deal with high-profile cases". Qadri also questioned the increase in the number of additional advocate generals and deputy advocate generals in the state. "During our tenure, there were only 10 of them," he said. "Now there are 20. They have tried to accommodate relatives and lawyers affiliated to their party." - See more at: http://indianexpress.com/article/india/india-others/jks-law-officers-are-relatives-of-politicians-babus-and-judges/2/#sthash.80aBoGuK.dpuf
http://indianexpress.com/article/india/india-others/jks-law-officers-are-relatives-of-politicians-babus-and-judges/2/
------
India, Iran to discuss settlement of oil dues this week
REUTERS —23 July, 2015
NEW DELHI: India's top financial official will visit Iran this weekend to discuss how to pay its oil import dues, sources said on Wednesday after the deal Tehran struck with world powers to curb its nuclear programme in return for the lifting of sanctions.
Finance Secretary Rajiv Mehrishi will lead a delegation of officials from Reserve Bank of India, state-run UCO Bank and oil companies from July 25-26, three sources with direct knowledge of the matter said.
India, the world's fourth-largest oil consumer, has run up a $6.5 billion bill for Iranian oil that it has been largely unable to pay because banking channels were blocked by Western financial sanctions.
Under the July 14 accord, sanctions would be dialled back gradually if Tehran makes good on commitments intended to make it harder to build an atom bomb. Failure to comply would cause the sanctions to "snap" back into force.
India's refiners have been withholding 55 per cent of payments for Iranian oil imports since February 2013. The rest was settled in rupees through UCO Bank and could be drawn on by Iran to buy essential goods such as food and medicines.
The sources, who requested anonymity due to the sensitivity of the matter, said Iran was expected to seek payments from Indian refiners in stages, and not in one go.
Iran will soon begin talks with India on finalising a mechanism to recover the billions of dollars in oil dues held by Indian refiners, Gholam Reza Ansari, Iran's envoy to India, told Reuters last week.
Essar Oil owes $3.34bn, Mangalore Refinery and Petrochemicals Ltd $2.49bn, followed by Indian Oil Corp, which has to pay $581 million to Iran, said one of the sources.
HPCL-Mittal Energy Ltd (HMEL) owes $97m and Hindustan Petroleum Corp has to pay $29m, this source said.
"About 170bn rupees ($2.67bn) are lying in Iran's account with UCO Bank," said a second source.
This source also said ONGC Videsh, the overseas investment arm of the country's biggest explorer Oil and Natural Gas Corp also planned to visit Tehran in the coming days to discuss development rights of the giant Farzad B gas field.
India, Iran's second biggest oil client after China, has reduced purchases from Tehran under pressure from sanctions.
However, in the quarter to June, India's first fiscal quarter and the first three months of annual contracts with Iran, India shipped in nearly 50 percent more oil from Tehran at 306,000 barrels per day (bpd) compared with the same period last year.
http://www.dawn.com/news/1195733/india-iran-to-discuss-settlement-of-oil-dues-this-week
-----
Pakistan
Jamaat-ud Dawa chief says 'jihad' in Kashmir will sink India
Jul 23, 2015 | Age Correspondent
Islamabad: Jamaat-ud Dawa chief Hafiz Mohammed Saeed has said jihad in Kashmir will sink India. "Jihad will end India. They will be defeated and Kashmir will be liberated," Saeed said.
The JuD chief alleged that India wants to destroy Pakistan by supporting terrorist networks. "We should not be naive to the fact that India is enemy number one of Pakistan and the only way to save Pakistan and to liberate Jammu Kashmir from India is jihad," he said while talking to reporters in Ghaziabad district on Tuesday evening.
The JuD chief had visited Ghaziabad to condole the death of former Pakistan-occupied Kashmir "president" Sardar Abdul Qayyum Khan with his son former "prime minister" Sardar Attique Ahmed Khan.
He was accompanied by JuD chief in PoK Aziz Alvi and dozens of his supporters. Saeed said ceasefire violations on LoC and working boundary had mounted since Mr Narendra Modi became the PM. Paying tribute to Sardar Abdul Qayyum Khan as founder of the Kashmir liberation movement, appreciating his bold and clear stance on Kashmir's accession to Pakistan, Hafiz Saeed urged the Pakistan to take a brave stance on the Kashmir issue.
http://www.asianage.com/international/jamaat-ud-dawa-chief-says-jihad-kashmir-will-sink-india-074
--------
Obama invites Pakistan PM Nawaz Sharif for US visit: Report
HT Correspondent,
New Delhi: Jul 23, 2015, President Barack Obama has invited Pakistan Prime Minister Nawaz Sharif for a visit to the United States, according to a media report on Thursday.
The dates for the visit are still being worked out though an unnamed Pakistani diplomat in Islamabad was quoted by the Dawn newspaper as saying that the visit is expected to take place towards the end of October.
Another Pakistani diplomat in Washington told the daily that one purpose of Obama's invitation is to boost Sharif's government, which is "seemingly under growing pressure from the military, particularly with respect to its India policy".
Sharif's visit to the US will be separate from his trip to New York in September to participate in the UN General Assembly session. Obama and Sharif will co-chair a summit on peacekeeping on the sidelines of the General Assembly.
There has been no official announcement from the White House regarding Obama's invitation.
This will be Sharif's second visit to the White House during his current tenure. He visited the US in October 2013, when he and Obama reset ties after a downturn in recent years.
The Pakistani diplomat in Islamabad was quoted as saying that Sharif's upcoming visit is meant to expand and deepen bilateral ties.
Developments in the region too are behind Obama's invitation, the report said. Sharif's foreign policy aides were upbeat about the invitation and one of them said it will take the "strategic partnership to the next level".
The US government has backed Sharif's policy on reaching out to India. The ongoing operations against terrorists and Pakistan's role in the Afghan peace dialogue too have been appreciated.
Before Eid, Sharif sent his Special Assistant, Tariq Fatemi, to the US to prepare the grounds for his visit. In Washington, Fatemi met senior officials of the Obama administration and Congress leaders.
http://www.hindustantimes.com/world-news/obama-invites-pakistan-pm-nawaz-sharif-for-us-visit-report/article1-1372323.aspx
-------
US seeks Pakistan's cooperation against Islamic State
By Our Correspondent
ISLAMABAD, July 23, 2015: US Senator Dianne Feinstein stressed on Thursday the need for continued cooperation between Pakistan and the US to combat the emerging threat of the Islamic State (IS).
The statement came during meetings held between Special Assistant to the Prime Minister on Foreign Affairs Syed Tariq Fatemi and US Senators in Capitol Hill. Both sides reviewed their relationship with a special focus on defence and intelligence cooperation while expressing satisfaction on the growing momentum in this vital cooperation.
Recent achievements with regard to Pakistan's fight against terrorism were highlighted by Fatemi as he discussed the ongoing military operations in Fata, which has entered its critical phase, with Senator Dianne Feinstein, Vice Chair of the Senate Select Committee on Intelligence.
Fatemi went on to explain how successful operation of Pakistani security forces had left militants' command and control infrastructure completely destroyed which led to the diminished ability of terrorists to plan and conduct attacks in Pakistan or across the border.
The US Senators were also informed of arrangements that were being made to completely secure Pakistani territory from militants through holding the gains in FATA and establishing the civilian set up in the area. The Senator was also informed about the plans to rehabilitate the dislocated people from Waziristan.
Senator Feinstein noted Pakistan's efforts to eliminate terrorism and stabalise the region and assured Pakistan of US support for enhancing Pakistan's counter-terrorism capabilities.
Bilateral ties were discussed between Fatemi and Senator Robert Casey, senior member of the Committee on Finance as well as the Joint Economic Committee. Other issues of mutual interest also came under discussion over talks.
Steps taken by Prime Minister Nawaz Sharif to reach out to its neighbours as well as efforts to revive the economy were noted by Senator Casey.
He lauded the commitment made by the Pakistani government and the people of Pakistan to eliminate terrorism and praised Pakistan's positive role in facilitating the reconciliation process for stability in Afghanistan.
Fatemi was assured that the US would work closely with Pakistan to deepen the economic and trade relations between the two countries and to build a mutually beneficial partnership.
http://tribune.com.pk/story/924945/us-seeks-pakistans-cooperation-against-islamic-state/
-----
JC rejects all three rigging charges by PTI
Ansar Abbasi, Muhammad Anis and Asim Yasin
Thursday, July 23, 2015
ISLAMABAD: The three-member judicial commission headed by Chief Justice Nasirul Mulk in its detailed report sent to the Ministry of Law on Wednesday rejected all the three allegations of the Pakistan Tehreek-e-Insaf (PTI) on rigging in the 2013 general elections.
The three main allegations of the PTI included organised rigging in the 2013 general elections, non-transparent polling and theft of the public mandate.The report said there were irregularities to the extent of the Election Commission but they did not constitute a reflection of a deviation from the public mandate.
The report also states in clear words that none of the allegations levelled by the PTI and other parties against any individual or institution were proved. According to official sources, the report of over 274 pages was sent to the Ministry of Law late Wednesday after a meeting of the judicial commission.
The commission also comprises Justice Amir Hani Muslim and Justice Ejaz Afzal.The sources said the sealed report had been sent to the Prime Minister's House and the same would be made public with the permission of the premier. "The report is likely to be released today (Thursday)," the sources.
The PTI chairman had categorically said following the formation of the commission that he would accept the decision of the commission.The judicial commission was against alleged rigging in the polls. The commission initiated its proceedings on April 9 and concluded around 85-day work on July 03.
During its proceedings, the PTI produced 16 witnesses while other parties including the PML-N, PML-Q, Jamaat-e-Islami (JI) and others also presented their witnesses.The commission held 39 hearings while it also held two in camera meetings and one meeting in the chamber.
The PML-N leader and federal minister Ahsan Iqbal in his tweet said that once the truth emerges, the PTI leadership should immediately tender apology. "They staged 126-day sit-in and destroyed the country's economy," he said.However, the PTI leaders Naeemul Haq and Jahangir Tareen said they would give any comments following official verification of the report.
http://www.thenews.com.pk/Todays-News-13-38723-JC-rejects-all-three-rigging-charges-by-PTI
-------
Chitral declared calamity-hit, PM announces Rs1 billion aid
Shah Murad Baig
Thursday, July 23, 2015
CHITRAL: Writing off the agriculture loans of local farmers, Prime Minister Nawaz Sharif on Wednesday announced Rs1 billion for the rehabilitation of the flood-affected people in Chitral district, while the Khyber Pakhtunkhwa government has declared Chitral a calamity-hit area.
The prime minister announced this aid during a visit to the flood-hit Koragh village and Chitral town. He also took an aerial view of the flood-affected areas in the district.
Addressing the affected people, he announced that the Dir-Chitral Motorway would be built at a cost of Rs27 billion. He added that the Chitral-Gilgit Road would be handed over to the National Highway Authority (NHA).
The prime minister also announced allocation of Rs4 billion for the Lowari Tunnel project in the current year plus Rs7 billion in 2016. He declared that the long-delayed mega project would be completed by December 2016. He promised that after the completion of the Lowari Tunnel, the Chitral airport being used for domestic flights would be converted into an international airport. He said the landlocked Chitral district would be linked to China and Tajikistan via road.
Nawaz said the local power house would also be upgraded to meet the electricity shortfall in Chitral. He said the chairman of the Water and Power Development Authority (Wapda) would be directed to start the upgrading work within three weeks. He also announced the opening of Utility Store outlets in the flood-stricken villages in Chitral. He directed the relevant authorities to repair the damaged watercourses, water supply schemes, link roads and bridges.
Earlier, on his arrival in Chitral, the prime minister was received by Khyber Pakhtunkhwa Chief Minister Pervaiz Khattak. The premier was also accompanied by Minister for Information Senator Pervaiz Rashid and Khyber Pakhtunkhwa Governor Sardar Mehtab Ahmad Khan.
Speaking on the occasion, Pervaiz Khattak said the provincial government didn't lack the resources to mitigate the suffering of the flood-affected people. He said that he would spend two days in Chitral to oversee the relief and rescue activities.
Meanwhile, it was learnt that the Pakistan Tehreek-e-Insaf (PTI) Chairman Imran Khan also arrived in Chitral in a helicopter when the prime minister left the valley. He was accompanied by his wife Reham Khan.
Our correspondents/agencies add: Floods have played havoc in southern Punjab as 223,000 people have been displaced in Layyah and several protective dykes in Dera Ghazi Khan, Sadiqabad and Alipur had been washed away in the floodwaters.
At least 15 people were killed on Wednesday when their pick-up truck was swept away by a seasonal stream in the Shah Noorani area of Lasbella near Hub, Balochistan.The vehicle was crossing a seasonal stream when it was swept away in a massive surge of water. "We have found four bodies in the vehicle," local government official Waheedur Rehman said.
"We don't know if some other people were also on board the vehicle as many people usually sit in the rear of such vehicles," he added.Two sisters drowned in a stream while another was rescued alive in Mohmand Agency.
Full Report at:
http://www.thenews.com.pk/Todays-News-13-38724-Chitral-declared-calamity-hit-PM-announces-Rs1-billion-aid
-------
Afghanistan summons Pakistani envoy over cross-border shelling
By Tahir KhanPublished: July 23, 2015
ISLAMABAD: Afghanistan on Thursday summoned Pakistan's ambassador to the foreign ministry and lodged a protest over alleged cross-border shelling.
"Deputy Foreign Minister Hekmat Khalil Karzai summoned Pakistan Ambassador Sayed Ibrar Hussain to lodge a protest and express concern of the Islamic Republic of Afghanistan in relation to the mortar and artillery shelling of Pakistani military forces over the Afghan territory along the Durand Line," a statement issued by the Afghan foreign ministry said.
Afghan deputy foreign minister alleged that Pakistani forces fired as many as 53 rounds of heavy weapons on Speen Zhay, Dwa Khula, Chunchro Tangai and Kamary Lakar areas of Nazyan District of Nangarhar Province, and Batash, Dolay Khor and Chogam areas of Naray and Sheigal Districts of Kunar Province in the last few days.
Three civilians, including a woman, were killed and two others were injured in the cross-border shelling by the Pakistani forces, he claimed.
"The continuity of such attacks is against the principles of good neighbourhood and international law and can significantly harm the friendly relations between the two nations," the Afghan foreign ministry said.
Terming the attacks a "violation of national sovereignty and territorial integrity of Afghanistan," Karzai called for a halt to these attacks immediately.
The minister added that such attacks not only cause financial and physical losses to the people of Afghanistan but also can affect the relations between the two neighbouring countries.
The statement further read that the Pakistani envoy promised to convey the concerns to the authorities.
http://tribune.com.pk/story/925078/afghanistan-summons-pakistani-envoy-over-cross-border-shelling/
-----
South Asia
Taliban Splinter Group Claims Mullah Omar Was Killed 2 Yrs Ago
HT Correspondent
New Delhi: Jul 23, 2015 A splinter group of the Afghan Taliban has claimed militant leader Mullah Mohammad Omar, who has not been seen in public in years, was killed by senior commanders two years ago.
The Afghanistan Islamic Movement Fidai Mahaz's spokesperson Qari Hamza, said the reclusive Omar was killed by commanders Mullah Akhtar Muhammad Mansoor and Gull Agha in July 2013.
Hamza said his group has evidence to prove its claims, Khaama Press reported on Thursday.
Afghanistan's spy agency, the National Directorate of Security (NDS), had said in November last year that Omar had possibly died. There are also reports that the Afghan Taliban has split into three factions.
NDS spokesperson Hasib Sediqi told the media in November last year that the two Taliban factions are led by Mullah Qayum Zakir and Mullah Agha, while the third comprises "neutral" militant leaders.
Reports last year had also suggested that Omar had given his old friend and deputy, Mullah Akhtar Mohammad Mansoor, the authority to make decisions on his behalf regarding the peace process with the government.
Some officials in the presidential palace have claimed Omar is in custody of Pakistani security forces in the port city of Karachi.
Aimal Faizi, spokesperson for former president Hamid Karzai, said this information was shared by US secretary of state John Kerry.
"The current secretary of state John Kerry, who was serving as a US Senator, had shared the issue with President Karzai during a meeting in Kabul," Faizi said.
Karzai sought a clarification regarding Omar's presence in Karachi but received "no satisfactory" response from Kerry.
"President Karzai immediately responded and said why the US is not taking any action to apprehend him? There is a US bounty on him and ordinary civilians are targeted on daily basis under his leadership, but he is in the custody of Pakistani forces," Faizi said.
On July 15, a message purportedly from Omar appeared for the first time to signal approval for peace talks with the Afghan government. It represented the first word in the name of Omar on the budding peace process that has split the Afghan Taliban. The statement posted on a website linked to the Taliban did not include audio or a video.
However, Omar has not been seen in public since the US-led intervention in 2001. Some disgruntled Taliban factions have suggested he is dead or very ill and others may be making statements in his name.
The Afghan Taliban's political chief, Akhtar Mohammad Mansoor, is in favour of negotiations while military commander Abdul Qayum Zakir is against them.
Some disgruntled Taliban commanders have defected to the Islamic State led by Abu Bakr al-Baghdadi.
http://www.hindustantimes.com/world-news/afghan-taliban-splinter-group-claims-omar-was-killed-2-yrs-ago/article1-1372285.aspx
-------
Afghan forces thwart deadly car bombing plot in Kabul city
By MIRWAIS ADEEL - Thu Jul 23 2015
The Afghan security forces thwarted a deadly attack in capital Kabul by arresting a suicide bomber and seizing a Vehicle-borne Improvised Explosive device (VBIED).
The Ministry of Interior (MoI) said the explosives were placed in a Totyota Corolla vehicle and was seized by the security forces in one of the entrance gates of the city.
No further details were given regarding the detained the exact location where the would-be bomber was arrested.
The anti-government armed militant groups including the Taliban militants have not commented regarding the report so far.
This comes as the Taliban-led insurgency has been rampant since the group announced its summer offensive earlier this year and staged numerous attacks across the country including capital Kabul.
The Afghan Intelligence – National Directorate of Security (NDS) also thwarted a plot by the militant groups to carry out rocket attack on Kabul city.
A statement by NDS said the militants had set up two BM-1 rockets in the 8th police district to target the city during the Eid al-Fitr days.
Afghan security forces thwarted a plot by the militant groups to carry out an attack in capital Kabul by detonating a Vehicle-borne Improvised Explosive Device (
Officials in Kabul police department said the VBIED was confiscated by police forces from the vicinity of 15th police district.
The officials further added that the militants were looking to carry out an attack during the Eid days using the vehicle packed with explosives.
Some weapons including Rocket Propelled Grenade (RPG) launchers were also confiscated by the police forces, the officials added.
http://www.khaama.com/afghan-forces-thwart-deadly-car-bombing-plot-in-kabul-city-9535
-------
Suicide bombing at Afghan market kills at least 15 people
By Masoud Popalzai and Jethro Mullen, CNN
July 22, 2015
Kabul, Afghanistan (CNN)A suicide bomber detonated his explosives Wednesday in a busy market in northern Afghanistan, killing at least 15 people and wounding dozens more, police said.
Children were among the dead, all of whom were civilians, said Sayed Masoud Yaqoobi, a local police spokesman.
He warned the number of casualties could rise as several people have suffered life-threatening injuries.
The blast hit the market in Almar, a district of Faryab province near the border with Turkmenistan, around 11:30 a.m. local time Wednesday, Yaqoobi said.
There was no immediate claim of responsibility for the bombing.
Yaqoobi said police believe it was carried out by the Taliban, whom Afghan security forces have pushed back in the region.
http://edition.cnn.com/2015/07/22/asia/afghanistan-violence/
------
Rocket attack by Pakistani military leaves 4 dead, 2 wounded in Afghanistan
By MIRWAIS ADEEL - Thu Jul 23 2015
cross-border-shellingThe Pakistani ambassador in Kabul was summoned by the Ministry of Foreign Affairs of Afghanistan (MoFA) over cross-border shelling from the other side of Durand Line.
The Ministry of Foreign Affairs (MoFA) said Deputy Foreign Affairs Minister on Political Affairs Hekmat Khalil Karzai conveyed the protest and concerns of the Afghan government regarding the shelling.
According to Karzai, at least 53 rockets were fired by the Pakistani military which landed in Spina Zhi, Dowa Khola, Chancharo Tangi and Kamari Lakar areas of Nazian district in eastern Nangarhar province.
He said the rockets also landed in Batash, Doli Khor and Chogam aras of Nari and Shegal districts of Kunar province.
Karzai also added that the shelling left at least four people dead including a woman and injured two others and warned that the continued shelling will have a negative impact on bilateral relations between the two neighboring countries.
He called on Pakistani authorities to take immediate actions in order to halt the cross-border shelling and insisted that such acts is a clear violation of the sovereignty of Afghanistan.
"The shelling has not only incurred casualties and losses to the Afghan people but has resulted to spark concerns and furore among the Afghan people, the national council and government of Afghanistan," Karzai said.
In the meantime, the Pakistani ambassador in Kabul promised to convey the concerns and demands of the Afghan government to relevant authorities in Pakistan.
http://www.khaama.com/rocket-attack-by-pakistani-military-leaves-4-dead-2-wounded-in-afghanistan-9533
-------
Terrorists' weapon and explosives supplier arrested in Baghlan
By KHAAMA PRESS - Thu Jul 23 2015
A Terrorists supplier arrested in BaghlanThe Afghan Intelligence – National Directorate of Security (NDS) announced Thursday that the terrorists' weapons and explosives supplier was arrested in northern Baghlan province of Afghanistan.
A statement by NDS said the suspect was identified as Musafir and was arrested during an operation in Baghlan-e-Markazi district.
The statement further added that the Afghan intelligence operatives confiscated 2 AK-47 assault rifles, 3 pistols, 403 rounds of PK machine gun ammunition and 120 rounds of AK-47 ammunition.
In a separate operation, the Afghan intelligence operatives confiscated 8 pistols, 1 Improvised Explosive Device (IED), a 82mm artillery round and 940 rounds of AK-47 ammunition along with a pistol from Doshi and Baghlan-e-Markzi districts, the statement added.
NDS said numerous attack plots by the anti-government armed militant groups were thwarted with the confiscation of the weapons, ammunition and explosives.
The anti-government armed militant groups have not commented regarding the reports so far.
http://www.khaama.com/terrorists-weapon-and-explosives-supplier-arrested-in-baghlan-9532
----
Bamiyan a war zone tourism site
Jul 23, 2015 | AFP
Once a caravan stop along the fabled Silk Road, the central Afghan city was recently named cultural capital of South Asia for 2015, igniting hopes of restoring its place on the global tourism map
Trudging halfway up a jagged goat trail, guide Mohammad Ibrahim extolled the panoramic view — a vast, ancient landscape of russet-hued cliffs that is on the front-line of Afghan efforts to jump-start warzone tourism.
Bamiyan — famous for empty hillside niches that once sheltered giant Buddha statues that were blown up by the Taliban — is a rare oasis of tranquillity that has largely been spared the wrenching conflict that afflicts the rest of Afghanistan.
Once a caravan stop along the fabled Silk Road, the central Afghan city was recently named cultural capital of South Asia for 2015, igniting hopes of restoring its place on the global tourism map.
One obstacle, however, remains: Bamiyan is hemmed in by war.
Figuring out how to get to the ancient city — endowed with stunning landscapes but wedged between volatile provinces — itself is a challenge.
But that doesn't stop Mr Ibrahim, head of the local tourism association with a penchant for Indiana Jones-style straw hats, from making his sales pitch.
"Bamiyan has caves with the world's oldest oil paintings, the country's first national park and during winter it's home to Afghanistan's only ski slopes," he said, sounding like a walking tourism brochure. Hiking up to the ruined ramparts of Shahr-e-Gholghola — the City of Screams, which was destroyed by Genghis Khan in the 13th century — Mr Ibrahim stopped to catch his breath and picked up a spent bullet shell from the ground, one of many Soviet-era casings that litter the windswept trail overlooking the sandstone cliffs and snow-clad pyramids of the Hindu Kush range.
"Bamiyan is the envy of Afghanistan — it has peace," he said.
Pre-civil war days are a subject of whispered nostalgia in Bamiyan, when it wielded control over strategic mountain passes connecting trade routes from India, China and Persia and the local markets swarmed with stoned backpackers hopping overland on the so-called "hippie trail".
It has failed to revive the heyday of tourism after decades of war, including the Taliban's 1996-2001 reign when they destroyed two massive Buddha statues carved into sandstone cliffs, labelling them an affront to Islam — an act globally condemned as "cultural terrorism".
Reliable statistics are hard to come by but officials admit that the number of foreign tourists has fallen off a cliff in recent post-Taliban years as pessimism abounds about the state of Afghanistan, trapped in a quagmire of escalating violence.
http://www.asianage.com/international/bamiyan-war-zone-tourism-site-036
-----
North America
Americans pack Times Square to denounce Iran deal
By Staff writer | Al Arabiya News
Thursday, 23 July 2015
Protesters poured into New York's Times Square on Wednesday to denounce the Iran nuclear deal as a threat to Israel and global security, demanding that Congress reject the agreement.
Speakers, including Republican politicians, called on Congress to throw it out, whipping up the crowd that included supporters of right-wing Jewish and evangelical Christian groups.
"We're here as Americans to speak with one voice to say stop Iran now, reject this deal," said George Pataki, the former three-term Republican governor of New York.
"This is a God awful deal, this must be rejected. Congress must do its job and stand up for the American people, stand up for our safety and say no to this Iranian deal," he said.
Jeffrey Wiesenfeld, co-organizer of the Stop Iran Rally, claimed that 10,000 people had turned out. Protesters held up US flags and placards denouncing the deal.
A spokesperson for the organizers said protesters had "packed the entire block" on both sides of Seventh Avenue.
The rally expressed support for Israeli Prime Minister Benjamin Netanyahu, whose criticism of the deal has strained relations with President Barack Obama.
In a separate development, President Hassan Rouhani, said on Thursday the historic agreement with world powers was "more valuable" than a domestic debate about its fine details.
"How can one be an Iranian and not cheer for our negotiating team?" he said in a speech to a medical conference broadcast live on television. The accord reflected a new page in history that opened when Iranians overwhelmingly elected him president in 2013, he said, adding that Iranians sought an end to sanctions and policies of moderation.
https://english.alarabiya.net/en/News/middle-east/2015/07/23/Americans-pack-Times-Square-to-denounce-Iran-deal.html
------
FBI chief: ISIS bigger threat than al-Qaeda
By AP | Colorado
Thursday, 23 July 2015
The Islamic State in Iraq and Syria (ISIS) effort to inspire troubled Americans to violence has become more of a terror threat to the U.S. than an external attack by al-Qaida, the FBI director said Wednesday.
FBI Director James Comey told an audience at the Aspen Security Forum that ISIS, which has proclaimed a caliphate in parts of Syria and Iraq, has influenced a significant but unknown number of Americans through a year-long campaign on social media urging Muslims who can't travel to the Middle East to "kill where you are."
Twitter handles affiliated with the group have more than 21,000 English-language followers worldwide, he said, thousands of whom may be U.S. residents.
The FBI has arrested a significant number of people over the last eight weeks who had been radicalized, Comey said, without specifying a number. He repeated his previous disclosure, without elaborating, that several people were arrested who were planning attacks related to the July Fourth holiday.
The bureau has hundreds of investigations pending into such cases across the country.
Comey said it was too soon to say how Muhammad Youssef Abdulazeez, the Chattanooga gunman who killed five U.S. troops last week, became radicalized.
Abdulazeez's relatives have said he had a history of drug use and depression. Comey noted that "the people ISIS is trying to reach are people that al-Qaida would never use as an operative, because they are often unstable, troubled drug users."
Asked if the threat from ISIS had eclipsed that of the rival organization that attacked the U.S. on September 11, 2001, Comey said, "Yes."
The U.S. has tracked dozens of Americans, ranging in age from 18 to 62, who have traveled to Syria or Iraq to fight with ISIS, he said.
"I worry very much about what I can't see," Comey added, because he said ISIS recruiters use encrypted communication software to avoid U.S. eavesdropping.
Comey has sounded the alarm about domestic radicalization before, but his remarks Wednesday signal a deepening concern among U.S. officials about the impact of ISIS's effort to inspire terrorist violence.
As recently as September, senior U.S. intelligence officials were downplaying the group's capacity to attack the U.S. Matt Olsen, then the head of the National Counter Terrorism Center, told Congress in September that the U.S. had "no credible information that ISIS is planning to attack the United States."
Intelligence officials last year were saying they worry most about a mass casualty attack against a U.S. airliner by al-Qaida's Yemen affiliate, or by the Khorasan Group, a cadre of al-Qaida operatives in Syria.
But Comey said Wednesday the threat from the Khorasan Group has been "significantly diminished" by U.S. military strikes.
The Pentagon on Tuesday announced that it had killed the Khorasan Group's leader, Muhsin al-Fadhli, in a July 8 airstrike in Syria.
https://english.alarabiya.net/en/News/middle-east/2015/07/23/FBI-chief-ISIS-bigger-threat-than-al-Qaida.html
------
Charleston shooting suspect charged with federal hate crimes
BY LISA LAMBERT AND EMILY STEPHENSON
WASHINGTON, Jul 22, 2015 | The white man suspected of murdering nine black people during bible study at a South Carolina church was charged on Wednesday with federal hate crimes, adding to multiple state counts that raise the possibility of a death sentence.
"The parishioners had Bibles. Dylann Roof had his .45 caliber Glock pistol and eight magazines loaded with hollow point bullets," U.S. Attorney General Loretta Lynch said after a federal grand jury returned the 33-count indictment against Roof.
The 21-year-old is accused of the deadly shooting spree last month at Charleston's historic Emanuel African Methodist Episcopal Church. The indictment says he targeted the victims on the basis of race, in a house of worship, "in order to make his attack more notorious."
Roof planned the June 17 attack for several months, Lynch said at a press conference to announce the indictment. She said he singled out the nearly 200-year-old church known as "Mother Emanuel" because of its historical significance in the African-American community.
The federal government has not decided if it will seek the death penalty if Roof is convicted, Lynch said. She said officials will consider factors including the wishes of the families of the shooting victims.
Lynch noted that relatives signaled their anger toward Roof as well as a readiness to forgive him, during a series of wrenching statements at the suspect's first court appearance two days after the massacre.
Roof already faces nine murder counts, plus charges of attempted murder and firearms violations, brought by state prosecutors.
The massacre has triggered soul-searching over race relations in the U.S. South, with its history of slavery and segregation. A long debate about the Confederate flag came to a head after the massacre, when photos of Roof draped in the flag surfaced on a website with a racist manifesto. South Carolina removed the flag, a Civil War-era symbol, from the state house grounds.
South Carolina is one of the few U.S. states that has no hate crime statute on its books, contributing the Justice Department's pursuit of the federal indictment.
"The full weight of the national government and our federal judicial system is being brought against this man, as is the full weight of our state judicial system," said Charleston Mayor Joe Riley. "It's important that every legal avenue is used to have this man be held accountable for his brutal, vicious, hateful act."
South Carolina officials have also said they were considering whether to seek the death penalty.
"Please don't suggest that people in South Carolina will not render justice here, because we will," U.S. Sen. Lindsey Graham told CNN after the federal indictment. "Please don't suggest for one moment that justice will not be delivered here without the Attorney General of the United States."
Doug Jones, who prosecuted two white supremacists who bombed the 16th Street Baptist Church in Birmingham, Alabama in 1963, said the hate crime charges would play a valuable role in bringing justice in the South Carolina case.
"It's important to play up the racial hatred as the genesis of this crime so people are reminded what hate can really do in our society," Jones said in a phone interview. "People need to understand that hate is more than screaming at people and racial slurs. It kills."
(Additional reporting by Susan Heavey, Julia Edwards and Lindsay Dunsmuir in Washington, Harriet McLeod in Charleston, S.C., Letitia Stein in Tampa, Fla., and David Adams in Miami; Editing by Frank McGurty and David Gregorio)
http://www.reuters.com/article/2015/07/22/us-usa-shooting-south-carolina-idUSKCN0PW20920150722
------
U.S. defense chief makes surprise trip to Iraq
BY PHIL STEWART
BAGHDAD, Jul 23, 2015 | U.S. Defense Secretary Ash Carter made a surprise visit to Baghdad on Thursday to get a first-hand assessment of the campaign against Islamic State as Iraq tries to retake the fallen capital of Sunni-dominated Anbar province.
Carter, on his first visit since becoming defense secretary in February, said he would meet U.S. commanders as well as Iraqi political leaders, including Prime Minister Haider
al-Abadi.
His unannounced visit coincides with attempts by Iraqi forces to lay the groundwork for an eventual push to try to recapture Ramadi, isolating parts of the city with help from U.S.-led air strikes ahead of a full offensive.
Islamic State seized Anbar's capital Ramadi two months ago, extending its control over the Euphrates valley west of Baghdad and dealing a major setback to Abadi and the U.S.-backed army he entrusted with its defense.
Carter said he sought to form "my own on-the-ground assessment of the campaign".
"I will be doing my own conferring with our military commanders," Carter told reporters ahead of his trip.
The loss of Ramadi was the Iraqi army's worst defeat since Islamic State militants swept through north Iraq last summer. The onslaught further exposed the shortcomings of Iraq's
mainly Shi'ite forces and raised questions about the ability of the Shi'ite-led government in Baghdad to overcome the sectarian divide that has helped fuel the Islamic State's expansion in Anbar.
SUNNI TRIBES
U.S. President Barack Obama responded last month by ordering 450 more U.S. troops to set up at Taqaddum base, which is closer to the fighting in Anbar province and only about 15 miles (25 km) from Ramadi.
One of the goals of a new U.S. deployment to Taqaddum is to encourage Sunni tribes to join the battle against Islamic State, complementing efforts at the Ain al-Asad air base, also in Anbar.
A Pentagon spokesman estimated that as many as 1,800 Sunni recruits had been trained at Taqaddum since the base was set up.
The Sunni forces will play a key role in helping secure terrain but are not expected to lead any advance into Ramadi, something that could happen within the next two months, depending on Iraq's own assessments, the spokesman said.
Carter said he would also meet Sunni leaders during his trip to Iraq, noting Sunni participation in the campaign would be critical to its success.
A senior U.S. defense official said Iraq had shown some "positive momentum" in its engagement with Sunnis in the past months. Carter aimed to build on it, the official said.
Anbar's dominant Sunni population resented former Prime Minister Nuri al-Maliki's government, which it accused of promoting Shi'ite interests and suppressing Sunnis.
(Reporting by Phil Stewart, Editing by William Maclean)
http://www.reuters.com/article/2015/07/23/us-iraq-usa-carter-idUSKCN0PX0NQ20150723
------
U.N. envoy sounds alarm over battle at Syria border
Jul 23, 2015
(Reuters) - The United Nations envoy for Syria said government air strikes had caused widespread death and destruction in the city of Zabadani, the focus of an offensive by the army and its Hezbollah allies to retake the area from insurgents.
Staffan de Mistura, citing local sources, said the Syrian military had dropped a large number of barrel bombs on Zabadani "causing unprecedented levels of destruction and many deaths among the civilian population".
Control of the city, about 45 km (30 miles) northwest of the capital Damascus and about 10 km from the border with Lebanon, is seen as crucial to consolidating President Bashar al-Assad's control over the border zone between Lebanon and Syria.
Fierce clashes continued overnight in the Zabadani area, with heavy aerial bombardments in and around the city and reports of casualties on both sides, the Syrian Observatory for Human Rights monitoring group said on Wednesday. It gave no detailed figures.
Syrian state television said the army had destroyed a 70 meter-long (77 yards) tunnel used by the insurgents to transport equipment into Zabadani.
The Syrian air force has been bombarding areas in and around the city and Sunni insurgents have retaliated by firing rockets and mortar bombs on two villages near Idlib city in the north, the U.N. envoy de Mistura said.
An alliance of insurgents known as the "Army of Fatah" (Islamic Conquest) had targeted Al Foua and Kefraya, northern villages where a large number of civilians are trapped, he said.
"In both cases, civilians are tragically caught in the middle of the fighting," he said.
Al Foua and Kefraya are home to Shi'ite populations.
Earlier this week the Syrian army backed by the Lebanese Hezbollah advanced deeper into Zabadani, two weeks into a campaign to capture it from insurgents, rebels and the army said.
Rebels say although the army had now encircled the insurgents holed up within a five square km radius inside the city center and cut arms and food supplies from nearby towns, they had so far prevented the army and Hezbollah fighters from storming their defense lines in street fighting.
"They have advanced a bit but they have not entered inside the center of city as they had expected they would in just a few days," Abu Ado of the Islamist insurgent group Ahrar al Sham said by phone.
Taking Zabadani from the insurgents would be a strategic gain for the Syrian army which is battling on several other fronts with a range of different insurgent groups.
Hezbollah's military role inside Syria has been growing steadily since the start of the conflict in 2011. The Syrian government has described the group as its main ally in the fight against the insurgents battling to topple Assad.
(Reporting by Sylvia Westall and Suleiman al-Khalidi; Editing by Dominic Evans and Raissa Kasolowsky)
http://www.reuters.com/article/2015/07/23/us-mideast-crisis-syria-city-idUSKCN0PX0EY20150723
------
Mideast
Militant Kurds kill 'ISIS fighter' in Istanbul
By AFP | Istanbul
Thursday, 23 July 2015
A militant group allied to Turkey's outlawed Kurdish party has shot dead in Istanbul an alleged member of the Islamic State in Iraq and Syria (ISIS) who had fought in Syria, media said Thursday.
The reports come amid soaring tensions in Turkey following Monday's suicide bombing in the town of Suruc on the border with Syria that killed 32 and that the authorities blamed on ISIS.
The man, named as Mursel Gul, was assassinated late on Tuesday in Istanbul, Turkish media including the Hurriyet daily and state Anatolia news agency reported.
The Patriotic Revolutionary Youth Movement (YDG-H), seen as the youth wing of the outlawed Kurdistan Workers Party (PKK), claimed responsibility for the killing in a statement, reports said.
The YDG-H statement said that the man had come to Istanbul seven months ago to receive treatment after being wounded while fighting with ISIS against Kurds for the flashpoint town of Kobane in Syria.
The group said it had been tracking his movements for three months and alleged Gul had himself been planning attacks in Istanbul.
"We will continue our operations against the ISIS gang and have identified many of them and will execute and punish them," it added.
"The Suruc murderers will be brought to account," it said.
Anatolia said the the killers, posing as cleaning salesmen, had fired four bullets into Gul's body.
Anti-terror police launched an investigation and have found no links between Gul and ISIS, it added.
The PKK's military wing had Wednesday claimed the murder of two Turkish police as revenge for the Suruc bombing, raising fears the fighting raging in Syria between Kurds and ISIS is spilling over onto Turkish territory.
Many Kurds in Turkey are deeply unhappy with the lack of support given by the Turkish government to the fight against ISIS in Syria and accuse Ankara of collaborating with the group, claims it denies.
Meanwhile, Turkish media reports said an Islamist named Ethem Turkben had been murdered by masked men at his home in the southern city of Adana in a killing also suspected to have been carried out by PKK-allied militants.
The PKK has waged a decades-long insurgency for self-rule for Kurds in the southeast that claimed tens of thousands of lives.
It declared a truce in 2013 after the government opened secret peace negotiations with its chief Abdullah Ocalan but the current violence has put this under threat.
https://english.alarabiya.net/en/News/middle-east/2015/07/23/Militant-Kurds-kill-ISIS-fighter-in-Istanbul-Reports.html
-------
Pro-govt forces retake Aden palace, coalition reopens airport
AFP — 23 July, 2015
ADEN: Yemeni pro-government forces recaptured the presidential palace in Aden on Wednesday and a Saudi military plane landed in the war-scarred southern city following recent territorial losses by Iran-backed rebels.
The arrival of reinforcements freshly trained and heavily armed by the Saudi-led coalition has helped forces loyal to exiled President Abedrabbo Mansour Hadi to retake most of Aden after four months of fierce fighting.
Thirty rebels were killed in the battle for the Al-Maashiq hilltop palace, where Hadi had taken refuge before fleeing to Saudi Arabia in March, a source in the pro-government Popular Resistance militia said.
Underscoring the recent advances by the pro-Hadi forces, a Saudi military plane touched down Wednesday in the city's newly reopened airport.
The plane, carrying relief aid, will be followed by others in the coming days, according to transport minister Badr Basalma, one of two ministers who returned to the city after it was declared "liberated" by the exiled government on Friday.
"This is the beginning of operations at the airport," Basalma told reporters at the site, which Saudi-backed loyalists recaptured last week following fierce clashes with the Huthi rebels and their allies.
On Tuesday, a UN ship docked in Aden carrying much-needed relief supplies, the first UN vessel to reach the city in four months. Another ship sent by the UAE also delivered medical aid.
Saudi Colonel Ali Abu Dahesh, who flew in on the military plane, said an "air link with Yemen will be opened to deliver relief supplies".
Basalma told journalists on Monday that a UAE technical team had arrived to repair the tower and passenger terminal at Aden international airport, heavily damaged in clashes.
The airport closed in late March, when rebels advanced on the city, where Hadi took refuge after escaping house arrest under the Huthis in the capital Sanaa, which is still in rebel hands.The Huthis and allied forces loyal to ousted president Ali Abdullah Saleh overran Sanaa in September, and then advanced into several other regions.
Over the past week there has been a shift in the balance on the ground in Aden in favour of pro-Hadi forces, which had previously struggled to halt the advance of better-equipped rebels.
"The freshly trained troops, equipped with modern weapons, triggered this shift," Yemeni analyst Majed al-Mathhadi said.
A force of about 1,500 former southern Yemeni soldiers have arrived in the city after being trained in Saudi Arabia, he said, adding that the heavy weapons they brought with them had made a huge difference.
"The light weapons that the (southern Popular) Resistance had were not enough to make a change on the ground... They needed heavy weapons like the ones that were sent," he said.
Footage from Aden has shown pro-Hadi forces using new armoured vehicles with mounted machine guns.
Military sources have said officers from the coalition are in Aden coordinating operations.
But to secure the city, loyalists need to push the rebels out of the neighbouring provinces of Lahj and Abyan, according to Mathhadi. Pro-gover­nment forces backed by heavy air power have set their sight on Al-Anad airbase in Lahj, which is held by the rebels. The conflict has had a devastating effect on the Yemeni people.
More than 21.1 million people — over 80 per cent of Yemen's population — need aid, with 13 million facing food shortages, according to the United Nations.
It says the conflict has killed more than 3,640 people, around half of them civilians, since late March.
A humanitarian ceasefire declared by the UN earlier this month failed to take hold. The world body warned at the time that the impoverished country was just "one step away from famine".
http://www.dawn.com/news/1195790/pro-govt-forces-retake-aden-palace-coalition-reopens-airport
------
Turkey detains three over 'PKK attack' on police
AFP, Turkey
Thursday, 23 July 2015
Turkish security forces on Thursday detained three suspects over the killing of two police claimed by Kurdish militants as revenge for a deadly suicide bombing blamed on jihadists.
The arrests came as the two police -- who were shot dead early Wednesday while sleeping in their shared home in a town on the Syrian border -- were laid to rest in an emotional funeral ceremony.
The state Anatolia news agency said the three suspects had been arrested in early morning raids and were being questioned, without giving further details.
The military wing of the Kurdistan Workers' Party (PKK) had claimed the killing of the police in the town of Ceylanpinar, accusing the two slain officers of collaborating with Islamic State of Iraq and Syria (ISIS) extremists.
It described the attack as revenge for a suicide bombing in the mainly Kurdish town of Suruc on Monday blamed on ISIS militants that left 32 people dead.
The two police, aged 24 and 25, were given a funeral ceremony with full honors outside police headquarters in the regional centre of Sanliurfa, their coffins draped in the Turkish flag.
After the ceremony attended by fellow police officers and their grieving families, the coffins were sent to their home regions for burial.
"The martyrs never die, the people will never be divided," dozens of police chanted, using a well-known patriotic slogan.
"We will continue until the end of our battle even if we die," said local police chief Eyup Pinarbasi. "The blood of our martyrs will not be left without a response."
Turkish officials have confirmed a 20-year-old Turkish man linked to ISIS militants carried out the suicide bombing in Suruc.
Kurds have become increasingly frustrated with the government's refusal to support Kurdish groups fighting ISIS militants inside the country.
There have been tense demonstrations in Istanbul and other cities in Turkey over the last days over the government's Syria policy, with police frequently intervening with water cannon and tear gas.
Kurdish separatists in Turkey waged a decades-long insurgency for self-rule in the southeast that claimed tens of thousands of lives but declared a truce in 2013 that now looks increasingly fragile.
The pro-Kurdish Peoples' Democratic Party (HDP) has called for a major "rally for peace" on Sunday afternoon in Istanbul to condemn the Suruc attack.
https://english.alarabiya.net/en/News/middle-east/2015/07/23/Turkey-detains-three-over-PKK-attack-on-police-.html
-----
A popular salt lake in Turkey turns reddish orange in colour
Staff writer, Al Arabiya News
Thursday, 23 July 2015
Due to an enormous bloom of Dunaliella salinas algae, a popular salt lake in Turkey has turned an orangey red colour instead of the conventional blue, green or muddy brown.
Located in the central Anatolia region, Tuz Gola is the second-largest lake in Turkey, and is slowly evaporating amid the summer heat.
"Because the lake is losing water, the salinity is getting higher and higher, which kills off a lot of the plankton that normally eat this red algae," Professor Christopher Gobler of Stony Brook University marine ecology research told ABC News.
Gobler said during dry months, the lake often attracts tourists who can walk on the salt flats until water starts returning during winter months.
"I wouldn't recommend drinking the lake's water, but some people actually grow Dunaliella salinas algae for its antioxidant properties," he added.
The lake is also home to pink flamingos. "The reason they're pink is because they get their coloration through the food web, which starts with the algae," Gobler said.
"This algae gets eaten by plankton, which gets eaten by fish and other organisms that then get eaten by flamingos."
https://english.alarabiya.net/en/life-style/travel-and-tourism/2015/07/23/A-popular-salt-lake-turned-brick-red-in-color-.html
-----
Turkish opposition leader sees early election more likely than coalition
By Daren Butler | Reuters, Istanbul
Thursday, 23 July 2015
The leader of Turkey's largest opposition party was reported on Thursday as saying he saw an early election as more likely than the formation of a coalition government, in comments adding to political uncertainty.
Prime Minister Ahmet Davutoglu needs to find a junior coalition partner after a June 7 election left his ruling AK Party without a parliamentary majority for the first time since it came to power in 2002.
The AKP and the Republican People's Party (CHP) are in coalition talks and an alliance between them is currently seen as the only likely option for a government, but CHP leader Kemal Kilicdaroglu voiced scepticism.
"I see the possibility of an early election as more likely. Well-intentioned steps have been taken for a coalition but if we look realistically there are various difficulties," he told the pro-government Yeni Safak newspaper in an interview.
President Tayyip Erdogan is seen as favouring early polls, an option that would give the AKP he founded a chance to win back a majority and revive his hopes of furnishing his post with the strong executive powers he seeks.
Kilicdaroglu, despite his scepticism regarding the formation of a coalition, still views this as the best option for political stability.
He said a coalition would be a "very healthy" way out of the current uncertainty given that an early election was unlikely to give the AKP a mandate strong enough to deal with the country's problems.
Veteran CHP deputy and former party leader Deniz Baykal reportedly added to scepticism regarding a possible coalition on Thursday, saying the AKP did not want to form a coalition and that an early election was likely in November.
"The AK Party does not want to form a government," IHA news agency quoted him as telling reporters. "The coalition talks are just theatre. There will be an election in November."
A grand coalition between the centre-right, Islamist-rooted AKP and the centre-left, secular CHP would likely be fragile and factious. But it could help placate jittery foreign investors and revive attempts to settle a Kurdish rebellion in the southeast.
https://english.alarabiya.net/en/News/middle-east/2015/07/23/Turkish-opposition-leader-sees-early-election-more-likely-than-coalition.html
------
Executions in Iran could top 1,000 this year, says Amnesty International
Claire Phipps
Thursday 23 July 2015
Iran is thought to have executed nearly 700 people in the first half of 2015, according to reports compiled by Amnesty International that far exceed the 246 deaths officially declared by authorities in Tehran.
UN to fund Iran anti-drugs programme despite executions of offenders
The human rights charity says "credible reports" put the true toll for the period up to 15 July at 694 people, the equivalent of three executions a day, and nearly as many as were put to death in Iran in the whole of 2014.
Said Boumedouha, deputy director of Amnesty International's Middle East and North Africa programme, said: "Iran's staggering execution toll for the first half of this year paints a sinister picture of the machinery of the state carrying out premeditated, judicially-sanctioned killings on a mass scale.
"If Iran's authorities maintain this horrifying execution rate we are likely to see more than 1,000 state-sanctioned deaths by the year's end.
"The use of the death penalty is always abhorrent, but it raises additional concerns in a country like Iran, where trials are blatantly unfair."
Even during the month of Ramadan, when executions are usually suspended, Amnesty reports at least four people were put to death.
According to a report published in March by Ahmed Shaheed, the UN special rapporteur on Iran, at least 753 people were executed in 2014, a 12-year high.
Shaheed called for "a moratorium on executions", noting that most executions were for drug-related crimes, as well as adultery, sodomy and "vaguely worded national security offences".
Amnesty said such charges did not meet international legal standards, which permit the death penalty only for the "most serious crimes". Most of those executed so far in 2015 had faced drugs charges, the charity said.
China carries out the most executions each year, but Iran puts to death more people per capita than any other country.
Several thousand people are believed to be on death row in Iran, although authorities there do not release exact figures.
In June, Atena Daemi, an anti-death-penalty activist who had engaged in peaceful protests, was sentenced to 14 years in prison.
http://www.theguardian.com/world/2015/jul/23/executions-iran-1000-this-year-amnesty-international
------
Israeli soldiers kill Palestinian in West Bank
Reuters in Ramallah
Israeli soldiers have killed a Palestinian and wounded two others during a raid on a house in the occupied West Bank, according to Palestinian medical officials.
An Israeli military spokeswoman said soldiers were attacked while trying to arrest a suspect in the village of Beit Ummar and opened fire on the main attacker.
As the forces left the scene, the spokeswoman said, they were attacked once more, with rocks and bricks, and "responded to the assaults with fire towards the main instigator".
A Palestinian doctor in a Hebron hospital said a 52-year-old man had been shot and killed and two of his sons were injured. The doctor identified the man as Falah Abu Maria.
Yusuf Abu Maria, an anti-Israeli settlement activist in the town, said there had not been any clashes and that the shooting had taken place inside a house.
On Wednesday, a Palestinian was killed in a separate arrest raid when clashes erupted with residents.
Israeli troops enter Palestinian-controlled territory frequently to detain people suspected of militant activity. Palestinians condemn this practice as an encroachment on the limited self-rule they hold in parts of the West Bank.
http://www.theguardian.com/world/2015/jul/23/israeli-soldiers-kill-palestinian-west-bank
-----
URL: https://www.newageislam.com/islamic-world-news/new-age-islam-news-bureau/more-than-50-dead-in-suspected-boko-haram-attacks-in-cameroon-and-nigeria/d/104003