New Age Islam News Bureau
16 May 2015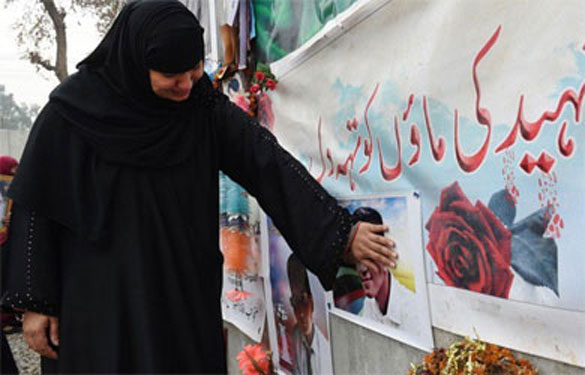 A mother of a schoolchild killed in a Taliban attack on the Army Public School (APS) reacts during a protest against delays in the investigation in Peshawar on February 7, 2015. PHOTO: AFP
--------
Arab World
• Mohamed Morsi Sentenced To Death by Egyptian Court
• ISIS Executes 23 Civilians near Syria's Palmyra
• IS Seizes Govt HQ of Iraqi Provincial Capital
• Ramadi slipping fast from Baghdad's grip
• GCC reassured by Obama's 'ironclad' pledge
• U.S. weapons 'expedited' to Iraq amid ISIS advance
• Baath party TV releases recording of Saddam deputy
------------
Pakistan
• Parents of Slain APS Students Vow To Protest In Front Of Parliament
• Four Balochistan Liberation Army Militants Killed In Karachi Operation
• Two Islamic State Campaigners Arrested In Peshawar
• Taliban Kill Youth Celebrating Cricket Win
• Ulema lambaste Karachi massacre
• Shias have overtaken Christians, Hindus as targets: Fatima Bhutto
• OPF urged to help Pakistanis in Gulf States
• Balochistan opposition leader Maulana Wasey escapes bomb attack
• Forces launch 'massive' op in Shawal Valley
• Investigators suspect IS hand in Safoora Goth carnage
• Judicial commission wants to stick to deadline
------------
South Asia
• US Drone Attack Kills 5 in East Afghanistan
• Blogger hacked to death in busy street in Bangladesh is third killed since February
------------
Africa
• 25 Die as Al-Shabab Militants Raid South Somalia Towns
• Boko Haram Retakes Nigerian Border Town
• South Sudanese rebels storm strategic northern town
-----------
India
• Vandals Want Delhi Roads Named After Hindus Only
• Tablighi Jamaat Attack: Delhi-Sahranpur Security Tightened
• Haj Pilgrimage: MEA Officials to Meet Muslim MPs
• Bangladesh, India agree to private sector partnership in power
----------
Southeast Asia
• Police Probe Islamic State Link in Surabaya Airport Arrests
• 800 Migrants Land In Indonesia, but Hundreds Pushed Back To Sea
• Islam tarnished in M'sia & Dr M started the ROT - G25's Noor Farida
• Supremacy of Constitution not at issue, say Muslim lawyers
• Malaysia should not go against international laws, treating Rohingya inhumanely – Tamil Maran
------------
Mideast
• Israeli Soldiers, Palestinians Clash On 'Nakba' Day
• Across the 'Gate of Tears': Yemen refugees flee to Djibouti
• Al-Qaeda-Linked Tribesmen in Yemen Ban Qat Plant
• Petitioners at Tehran book fair urge end to Saudi Yemen war
• UN chief deplores Israel's settlement plans
• Turkish court remands 10 cops in custody for wiretapping
-----------
North America
• Obama Offers Gulf 'Ironclad' Security
• Beware Of the Muslim Brotherhood, Expert Warns
• Dzhokhar Tsarnaev Given Death Penalty in Boston Marathon Bombing
• Pak-American gets jail for trying to ship thermal camera
-----------
Europe
• French Mayor Claims Islam Will Be Banned From France By 2027
• RUSSIA: Increased fines for "extremist" texts, one jailing so far in 2015
Compiled by New Age Islam News Bureau
URL: https://www.newageislam.com/islamic-world-news/new-age-islam-news-bureau/mohamed-morsi-sentenced-to-death-by-egyptian-court/d/102992
---------
Arab World
Mohamed Morsi Sentenced To Death by Egyptian Court
Nadia Khomami and agencies in Cairo: Saturday 16 May 2015
An Egyptian court has sentenced the ousted president Mohamed Morsi to death for his part in a mass jailbreak in 2011.
The verdict, by Judge Shaaban el-Shami, was announced on Saturday in a Cairo court where Morsi was also facing charges of espionage. As is customary in passing capital punishment, the death sentence on Morsi and more than 100 others will be referred to the country's top Muslim theologian, or mufti, for his non-binding opinion.
Morsi, Egypt's first freely elected president, was ousted by the military in July 2013 after days of mass street protests by Egyptians demanding that he be removed because of his divisive policies.
His overthrow triggered a government crackdown on his Muslim Brotherhood movement in which hundreds of people have died and thousands have been imprisoned.
In May 2014, Morsi's successor, the former military chief Abdel Fatah al-Sisi, secured a landslide victory in Egypt's presidential elections.
Before Saturday's sentencing, Morsi was already serving a 20-year term on charges linked to the killing of protesters outside a Cairo presidential palace in December 2012.
Defendants in both trials were brought into the caged dock on Saturday ahead of the verdict. "We are free revolutionaries, we will continue the march," they chanted.
Morsi was not brought in, but his co-defendant and Brotherhood leader, Mahmud Badie, was present, wearing the red uniform of those convicted to death after a previous sentence.
In Saturday's first case, Morsi and 130 others, including dozens of members of the Palestinian Hamas movement and Lebanon's Shia Hezbollah group, were accused of escaping from prisons and attacking police during the 2011 uprising against the former Egyptian president Hosni Mubarak.
The Muslim Brotherhood has been blamed for most of the unrest in Egypt, which has resulted in the death of some 850 people. Egyptian authorities designated it a terrorist group in December 2013, making even verbal expressions of support punishable by imprisonment.
In Saturday's second case, Morsi and 35 co-defendants, including Brotherhood leaders, were accused of conspiring with foreign powers, Hamas and Shia Iran to destabilise Egypt.
Prosecutors said the defendants carried out espionage activity on behalf of the international Muslim Brotherhood organisation and Hamas from 2005 to August 2013 "with the aim of perpetrating terror attacks in the country in order to spread chaos and topple the state".
Morsi's supporters have said that the charges against him are politically motivated. Rights groups have accused Sisi's regime of using the judiciary as a tool to oppress opposition, with Amnesty International denouncing the death sentence as "a charade based on null and void procedures".
http://www.theguardian.com/world/2015/may/16/mohammed-morsi-sentenced-death-egyptian-court-former-president
------
ISIS Executes 23 Civilians near Syria's Palmyra
16 May 2015
ISIS extremists on Friday executed 23 civilians, including nine children, near Syria's ancient city of Palmyra, a monitor said.
"The Islamic State group executed by gunfire 23 civilians, including nine children, in the village of Amiriyeh, north of Tadmor," said the head of the Syrian Observatory for Human Rights, Rami Abdel Rahman.
He told Agence France-Presse that family members of government employees were among those killed near Palmyra, also called Tadmor in Arabic, as the jihadists closed in on the UNESCO world heritage site.
The well-preserved city of Palmyra remains one of the most important cultural centers in the ancient world, known for its unique blend of Graeco-Roman and Persian influences.
On Thursday, the monitor also reported that the militants executed 26 civilians after the group overran villages near the ancient city.
Earlier on Thursday, the radical group battled Syrian troops near ancient Palmyra, threatening the UNESCO world heritage site with destruction like that which it has already wreaked in Iraq, the monitoring group said.
http://english.alarabiya.net/en/News/middle-east/2015/05/16/ISIS-executes-23-civilians-near-Syria-s-Palmyra.html
---------
IS seizes govt HQ of Iraqi provincial capital
May 16th, 2015
BAGHDAD: Fighters of the self-styled Islamic State (IS) group seized the government compound in the city of Ramadi on Friday and edged closer to what would be their biggest victory in Iraq this year, officials said.
The loss of the capital of Anbar province, which Prime Minister Haider al-Abadi had said would be the next target of government forces after wresting back Tikrit last month, would be a major setback for Baghdad.
IS has threatened to take control of Ramadi for months and the breakthrough came after a wide offensive on several fronts in the province, including an assault using several suicide car bombs in Ramadi on Thursday.
The militants seized the government complex at around 2pm and raised the black flag, a police officer said, giving them nearly full control over Anbar's capital.
IS "now occupies the government centre in Ramadi and has also raised its flag over the police HQ for Anbar", the police major said.
The group issued a statement saying its fighters broke into the government complex, and blew up the adjacent buildings of Anbar's governorate and the police headquarters.
A senior tribal leader in charge of the coordination of local fighters with regular government forces confirmed the government complex had fallen. "The only (government) forces still fighting are confined to a few pockets in Ramadi but they have no command post anymore," Sheikh Hekmat Suleiman said by phone.
Provincial council member Adhal Obeid al-Fahdawi had described the situation as "critical" earlier and said civilians were fleeing the city centre, the second time in a month they have done so following another IS offensive in April.
"Families are trying to flee on foot, leaving their cars and homes behind, but most areas around Ramadi are under IS control," said Sheikh Jabbar Adjadj al-Assafi, a tribal leader.
The IS said earlier that it had carried out several attacks on army positions east of Ramadi, including one by a British suicide bomber it named as Abu Musa al-Britani.
"Another vehicle driven by our brother martyr Abu Khobayb al-Shami attacked the Al-Majd police station near Al-Haq mosque in Ramadi, followed by an assault that killed who was left," the group said in its daily radio broadcast on Friday.
It also claimed to have killed 13 Iraqi soldiers in an attack on a hill east of Ramadi and executed 14 Sunni tribal fighters when it took over the central neighbourhood of Jamiya.
http://www.dawn.com/news/1182277/is-seizes-govt-hq-of-iraqi-provincial-capital
---------
Ramadi slipping fast from Baghdad's grip
16 May 2015
BAGHDAD: Islamic State militants on Friday captured the main government compound in Ramadi, the capital of Iraq's western Anbar province, raising their black flag over the facility and torching the police headquarters.
Ramadi's Mayor Dalaf Al-Kubaisi said the militants raised their black flag over the compound — which houses provincial and municipal government offices — after troops were forced to withdraw during a complex attack in which six suicide car bombs killed at least 10 police. Dozens more were wounded, he said.
He said the IS militants, who also seized other parts of the city, are now attacking the Anbar Operation Command, the military headquarters for the province.
Anbar provincial councilman Taha Abdul-Ghani said the militants killed dozens more captured security forces in the city as well as their families, without providing an exact figure. He said Iraqi and coalition warplanes were bombing the militants inside the compound.
http://www.arabnews.com/middle-east/news/747551
------------
GCC reassured by Obama's 'ironclad' pledge
16 May 2015
GCC nations were given reassurances that the U.S. would remain steadfast in its support for them despite rapprochement with Iran said Abdel Aziz Aluwaisheg assistant secretary general for the Gulf Cooperation Council at the conclusion of the Camp David summit.
"We're very happy the outcome of the results disappointed pundits, and exceeded beyond most expectations," added Aluwaisheg.
The Camp David summit brought together the leaders and delegations of the six GCC states and U.S. President Obama at the presidential retreat in the U.S. state of Maryland.
Obama had "renewed the U.S. commitment to the region, to the Gulf states" according to Aluwaisheg.
The U.S. has pledged to bolster its security cooperation with the Gulf in various fields including counterterrorism, cybersecurity and a ballistic missile defense system.
"The security of the GCC states is vital to the interests of the United States," Aluwaisheg said.
The Arab diplomat added that "the US is ready now to go even a little bit further," and that already strong ties had been raised to the level of "strategic relationship."
Obama had told reporters at the summit that U.S. commitments to its Gulf allies was "ironclad."
In a communique delivered at the end of the summit, the U.S. and Gulf nations condemned Iran's subversive activities across the region.
Gulf nations are concerned that if a nuclear deal is signed with Iran by the end of June, it would strengthen Iran's destabilizing activities in Syria through its backing for Syrian President Assad and its support of Houthi militias in Yemen who have forced Yemen's elected president to flee to Saudi Arabia.
Full report at:
http://english.alarabiya.net/en/News/middle-east/2015/05/16/GCC-states-reassured-by-Obama-s-ironclad-pledge.html
---------
U.S. weapons 'expedited' to Iraq amid ISIS advance
16 May 2015
The United States is sending "continued and expedited" weapons to Iraq, Vice President Joe Biden told Prime Minister Haider al-Abadi on Friday, amid a major ISIS advance.
The phone call took place after ISIS extremists seized a government compound in the city of Ramadi earlier in the day, edging closer to what would be their biggest victory in Iraq this year.
Biden thanked Abadi "for his steadfast leadership in Iraq and for promoting national unity at a time of significant security challenges, including today's ISIL attack on Ramadi," a White House statement said, using an alternative acronym for the militant group.
The White House said that Biden reaffirmed "continued U.S. support for the Iraqi government's ongoing efforts to defeat ISIL."
"The vice president assured the prime minister of continued and expedited US security assistance to confront ISIL," the White House added, including heavy weaponry, ammunition and supplies for Iraqi forces.
Full report at:
http://english.alarabiya.net/en/News/middle-east/2015/05/16/U-S-weapons-expedited-to-Iraq-amid-ISIS-advance.html
---------
Baath party TV releases recording of Saddam deputy
15 May 2015
The TV channel of Iraq's former ruling Baath party on Friday released an audio recording purportedly of the elusive Saddam Hussein deputy some officials said had been killed last month.
Several officials and leaders of Shiite militia groups had claimed to have killed Izzat Ibrahim al-Douri more than a month ago near the city of Tikrit.
Pictures had emerged of the body of a red-haired man bearing some resemblance to Saddam's feared deputy, who is the most senior former regime member believed to still be at large.
The authorities however have since been unable to positively identify the body as Douri's, arguing that they lacked DNA samples for comparison.
Friday's audio recording was released by the Baath party's Al-Tagheer channel.
Douri clearly refers in the recording to events that have happened since rumours of his alleged death surfaced on April 17, notably the deployment of Shiite paramilitary groups in the Nukhayb region earlier this month.
Full report at:
http://english.alarabiya.net/en/News/middle-east/2015/05/15/Baath-party-TV-releases-recording-of-Saddam-deputy-.html
---------
Pakistan
Parents of Slain APS Students Vow To Protest In Front Of Parliament
By Web Desk, May 16, 2015
PESHAWAR: Parents of the martyred Army Public School children said on Saturday that if justice is not served, they will hold a peaceful protest in Islamabad in front of the Parliament House on June 16.
The parents said that the judicial inquiry team formed to probe into the school attack has not produced any results as yet, and they want the culprits to be brought to justice.
"I would say that we will hold a 'dharna'," the parent addressing a news conference in Peshawar said after pausing suddenly.
"No, dharna is an overly used term. We will hold a peaceful protest outside the Parliament," he quickly clarified.
Full report at:
http://tribune.com.pk/story/887436/parents-of-slain-aps-students-vow-to-protest-in-front-of-parliament/?utm_source=Daily+Roundup+Newsletter&utm_campaign=eafb4d4804-Daily_Roundup_5pm&utm_medium=email&utm_term=0_19961368d8-eafb4d4804-65338937
-----
Four Balochistan Liberation Army Militants Killed In Karachi Operation
By Faraz Khan: May 16, 2015
KARACHI: At least four militants affiliated with the Balochistan Liberation Army (BLA) were killed in a search operation conducted by Karachi Police and Rangers on Saturday in Karachi's Pak Colony area.
According to initial reports, the militants were affiliated with the outlawed BLA and were also heavily involved in the Lyari gang war as well.
During the operation, the militants resorted to indiscriminate firing on the Rangers. Police and Rangers conducted retaliatory firing during which the four militants were killed.
A huge quantity of narcotics along with a cache of weapons was also recovered during the operation.
Full report at:
http://tribune.com.pk/story/887445/four-militants-killed-in-rangers-operation-in-karachi/?utm_source=Daily+Roundup+Newsletter&utm_campaign=eafb4d4804-Daily_Roundup_5pm&utm_medium=email&utm_term=0_19961368d8-eafb4d4804-65338937
-----
Two Islamic State campaigners arrested in Peshawar
ALI AKBAR
May 16th, 2015
PESHAWAR: The Khyber Pakhtunkhwa Counter Terrorism Department (CTD) claimed to have arrested two campaigners of the self-styled Islamic State (IS) from Notia Bazaar Peshawar late on Friday.
Leaflets and pamphlets calling for support for proscribed IS militant organisation were also recovered from the arrested suspects.
The arrested men are affiliated to a militant organisation and were preaching for IS in Peshawar's Notia Bazaar area when they were arrested, according to CTD officials.
Read more: Islamic State a serious threat to Pakistan, Foreign secretary admits
Cases have been registered under the Anti-Terrorism Act, 1997 against the campaigners.
According to initial intelligence information both the suspects were trained in Afghanistan.
Security in Peshawar was put on high alert after the incident.
Daesh — or Islamic State — had recently announced it was setting itself up for operations in Pakistan and Afghanistan.
Full report at:
http://www.dawn.com/news/1182334/two-islamic-state-campaigners-arrested-in-peshawar
---------
Ulema lambaste Karachi massacre
May 16, 2015
HAFIZABAD
Ulema in almost all the principal mosques strongly condemned the worst terror incident of the year in which 46 innocent people were massacred in Karachi on Wednesday. They called upon the government to arrest the terrorist involved in this barbaric incident to provide sense of security to the masses particularly in Karachi.
Special prayers were offered for the departed souls after Friday congregations. The Ulema, in Friday sermons, stressed the need for unity among all the sects and political parties and urged them to cooperate with the government and Pakistan Army to wipe out the menace of terrorism from the country.
They also appealed to the government to launch crackdown on all the militant groups without any discrimination to weed out terrorism which was inevitable for the integrity and prosperity of the country.
Full report at:
http://nation.com.pk/national/16-May-2015/ulema-lambaste-karachi-massacre
------------
Shias have overtaken Christians, Hindus as targets: Fatima Bhutto
May 16th, 2015
NEW DELHI: Saying Shias have overtaken Hindus and Christians as targets of sectarian killings, Fatima Bhutto has said that Pakistan has become a country of ghosts.
"They are everywhere, the victims and the perpetrators both," she wrote in The Hindu on Friday.
Ismailis, she said, were a peaceful community of Muslims who shared a closeness with the country's Shia minority and are thus victimised. "Seventy per cent of Pakistan's Muslims are Sunni. And in this predominantly Muslim country, it is no longer Hindus or Christians who face the largest threat of violence from orthodox and radicalised groups but Shias," Ms Bhutto said.
Also read: 'Goodbye, my son!' — After spate of attacks, Shias flee Pakistan
"We cannot look at the dead too long — only long enough to check that what ended their lives will not end our own. Fatal lists swing wildly from the specific to general. Are you Hazara? Are you Shia? Are you an Ahmadi? Any of the above will get you killed."
Implicitly slamming the murder of bloggers in Bangladesh, she said: "Soon, are you a liberal? Supporters of Imran Khan's Pakistan Tehreek-i-Insaf party, young Pakistanis living inside and outside the country, already troll the Internet attacking anyone vaguely critical of their values... Every journalist that criticises their party is a 'lifafa journo', implying the only reason to raise a bad word against them would be money, rather than common sense.
"Soon, like in Bangladesh, you will be asked: Are you a writer?
Full report at:
http://www.dawn.com/news/1182276/shias-have-overtaken-christians-hindus-as-targets-fatima-bhutto
---------
OPF urged to help Pakistanis in Gulf states
May 16th, 2015
ISLAMABAD: A National Assembly committee urged the Overseas Pakistanis Foun­d­ation (OPF) on Friday to evolve a mechanism to protect Pakistanis in Gulf countries in case of any untoward situation.
The NA Standing Commi­ttee on Overseas Pakistanis and Human Resource Development, at a meeting held at the OPF headquarters, praised the foundation's efforts in timely repatriation of Pakistanis from Yemen.
It asked the OPF to evolve a mechanism to cope with any untoward situation and protect Pakistanis residing in member countries of the Gulf Cooperation Council (GCC).
NA committee praises Yemen repatriation operation
The meeting was chaired by Mir Amir Ali Khan Magsi and attended by federal Minister for Overseas Pakistanis and Human Resource Develo­pment Pir Syed Saddaruddin Shah Rashdi, members Rana Afzal Khan, Chaudhry Abid Raza, Syed Sajid Mehdi, Mian Najee­buddin Awaisi, Mian Imtiaz Ahmad, Sabiha Nazir, Shakila Khalid Luqman, Musarat Rafique Mahesar, Sheikh Salahuddin, Aliya Kam­­ran, federal Secretary Sikandar Ismail Khan and OPF Managing Director Habibur Rehman Khan.
Full report at:
http://www.dawn.com/news/1182294/opf-urged-to-help-pakistanis-in-gulf-states
---------
Balochistan opposition leader Maulana Wasey escapes bomb attack
SYED ALI SHAH
May 16th, 2015
QUETTA: Balochistan Assembly Opposition Leader Maulana Abdul Wasey, who belongs to the Jamiat Ulema-e-Islam-Fazl (JUI-F), narrowly escaped a remote-controlled blast in Pishin Friday night.
Levies sources told DawnNews that militants targeted Wasey's convoy through a roadside remote-controlled bomb. The blast damaged Wasey's bullet-proof vehicle but the provincial opposition leader remained unharmed, sources said.
Full report at:
http://www.dawn.com/news/1182169/balochistan-opposition-leader-maulana-wasey-escapes-bomb-attack
---------
Forces launch 'massive' op in Shawal Valley
May 16, 2015
WANA/Rawalpindi - Army soldiers began preparations on Friday for an offensive to try to push the Taliban from their last major stronghold in mountainous North Waziristan Agency.
The heavily forested ravines of the Shawal Valley are dotted with Taliban hideouts and the area is a key smuggling route into neighbouring Afghanistan.
"It is a massive military action against the Taliban militants and their allies in the Shawal mountains," said a government official who asked for anonymity because he was not authorised to speak about military operations.
The Taliban controlled almost all of the northwestern region of North Waziristan until troops launched an offensive there last year.
The Taliban still control the Shawal Valley and have used it as a launchpad for attacks on forces.
The area is a stronghold of Khan "Sajna" Said, a leader of a Taliban faction whose name was added to a sanctions list of "specially designated global terrorists" by US authorities last year.
Air force jets began bombing the valley in the early hours of Friday, and a military statement said 15 militants were killed.
A Taliban spokesman said the 15 were all civilians.
It was impossible to verify the reports because the fighting is in areas sealed off to journalists.
"Hundreds of trucks and pickups full of soldiers and weapons .
.
.
are moving towards Shawal," said Zainullah, a telephone operator in the valley.
"There are roadblocks everywhere, no one can come in or go out.
There is a complete curfew and phones lines are also being cut.
" Several military officials told Reuters the military had requested help from Afghanistan to prevent militants from fleeing over the border.
Any cooperation would be a significant step forward in a thaw in relations that began when Afghan President Ashraf Ghani took office last year.
Neither the Pakistani nor the Afghan military responded to requests for comment.
Government officials in the area said they were not authorised to comment.
A resident said there had been fighting between the militants and the military on the edge of the Shawal Valley and civilians feared being trapped.
"We are in fear, especially the kids," he said.
"We are now preparing to leave the area and shift to safe places, because last night artillery shells were fired continuously.
"
According to AFP, air strikes on Friday killed at least 17 militants in the country's restive tribal areas bordering Afghanistan, security officials said, part of a major operation against the Taliban.
The strikes came two days after the massacre of 45 Ismailis in Karachi claimed by the Islamic State group (IS) and the Taliban's Jundullah faction which has previously reportedly allied itself to IS.
Full report at:
http://nation.com.pk/national/16-May-2015/forces-launch-massive-op-in-shawal-valley
---------
Investigators suspect IS hand in Safoora Goth carnage
IMTIAZ ALI
May 16th, 2015
KARACHI: Police investigators are slowly arriving at the conclusion that the self-styled Islamic State militant group was behind the Safoora Goth carnage, it emerged on Friday.
The attackers left an IS pamphlet at the crime scene before fleeing on motorcycles.
Forty-three people, including 17 women, belonging to the Shia Ismaili community were shot dead on Wednesday morning in an armed attack on their bus near Safoora Goth. The death toll rose to 45 after two of the injured died on Thursday.
Take a look: Scope of bus attack investigation widened
An official at the Aga Khan University Hospital said four of the six injured had been discharged on Thursday and two on Friday.
"The shadow of Islamic State could be seen behind the Safoora Goth carnage," said Counter-Terrorism Department (CTD) official Raja Umer Khattab, who is assisting the team formed to investigate the incident.
Mr Khattab, who has been extensively dealing with terrorism-related cases in Karachi for several years, believed that the shadow of IS could also be seen in other terrorist activities in the city, including attacks on an American academic and members of the Bohri community and targeted killing of police officers.
Full report at:
http://www.dawn.com/news/1182280/investigators-suspect-is-hand-in-safoora-goth-carnage
---------
Judicial commission wants to stick to deadline
NASIR IQBAL
May 16th, 2015
ISLAMABAD: The judicial commission made it clear on Friday that it had every intention of completing its investigation into allegations of malpractices in the 2013 general elections within the stipulated 45 days.
"We would like to conclude preferably in 45 days," Chief Justice Nasir-ul-Mulk observed while heading the three-judge commission.
The observation came when Abdul Hafeez Pirzada, representing the Pakistan Tehreek-i-Insaf (PTI), requested the commission to take some time off since he would not be available on May 19 and would return late the next day. "I know it will be asking too much if the commission postpones its hearing until May 21, after recording evidence on Monday," the counsel said.
Also read: Sound byte: 'Judicial commission is not an inquisition'
"We are running out of time," observed Justice Amir Hani Muslim, but Mr Pirzada recalled that the presidential ordinance asks that the inquiry preferably be completed in 45 days, but had not set a definite date.
Given the current pace of proceedings, legal observers believe it will be an arduous task to complete the inquiry within the given timeframe. If 45-day rule is enforced from the first hearing of the commission on April 9, it would have to complete its investigation by May 23.
On Friday, the commission recorded the testimony of three witnesses; Musa Raza Afandi, managing director of Printing Corporation of Pakistan (PCP), Islamabad, PCP Lahore's former manager Mohammad Rafiq and Pakistan Post Foundation (PPF) Islamabad managing director Ijaz Ahmad. They were cross-examined by Mr Pirzada, Shahid Hamid who represents the PML-N, and Salman Akram Raja representing the Election Commission of Pakistan (ECP).
Mr Afandi, in his testimony, said that initially the PCP was assigned to print 103.7 million ballot papers, but the number was later increased to 109 million due to the re-printing of ballots for seven National Assembly constituencies and five provincial assembly constituencies, though the action plan provided by the ECP asked for 103 million.
Explaining reasons for re-printing additional ballot papers for the 12 constituencies, the witness said the print order increased because matters pertaining to these constituencies were pending before different courts and the PCP started printing as it received the respective court orders.
The press had to print and deliver ballot papers for the Rawalpindi division, Islamabad, Fata and Khyber Pakhtunkhwa, whereas PCP Lahore had to supply ballots to the Gujranwala and Lahore divisions, he said.
Full report at:
http://www.dawn.com/news/1182281/judicial-commission-wants-to-stick-to-deadline
---------
South Asia
US drone attack kills 5 in east Afghanistan
May 16, 2015
At least five people have been killed and another injured when a US unmanned aerial vehicle carried out a fresh assassination strike in Afghanistan's eastern province of Nangarhar, Press TV reports.
Local authorities, speaking on condition of anonymity, said the airborne attack targeted a vehicle as it was travelling in Bati Kot district of the province, located 140 kilometers (86 miles) east of the capital, Kabul, early on Saturday.
The officials further claimed that those killed in the airstrike were members of the Taliban militant group, including a senior commander. The Taliban, however, have not yet made any comments on the incident.
In this file photo Afghan men carry the coffin of a civilian killed in a US-led drone strike on the outskirts of Jalalabad in Nangarhar Province, Afghanistan. (© AFP)
On May 9, at least 13 people were killed in a similar aerial assault.
Another drone strike in the Goshta district of Nangarhar province killed at least four people on May 7. The development came only hours after a drone struck the Khas Kunar district of Kunar Province, northeastern Afghanistan, killing at least seven people.
The United States carries out targeted killings through drone strikes in Yemen, Pakistan, Afghanistan, and Somalia.
Full report at:
http://www.presstv.in/Detail/2015/05/16/411276/afghanistan-drone-
---------
Blogger hacked to death in busy street in Bangladesh is third killed since February
MAY 16, 2015
A MASKED gang wielding machetes hacked a blogger to death in Bangladesh on Tuesday — the third deadly attack since February.
Ananta Bijoy Das was murdered in broad daylight as he headed to work at a local bank in the city of Sylhet, police said.
A group of four masked men attacked him with machetes around 8:30am on a busy street in the country's fifth biggest city, before melting back into the crowd.
"They chased him down the street and first attacked his head with their machetes and then attacked him all over his body," Sylhet police commisoner Kamrul Hasan said. Das was pronounced dead on arrival at the hospital.
Police would not comment on a motive for the brutal attack. However fellow writers say he was on a 'hit list' drawn up by militants behind a spate of killings including fellow blogger Avijit Roy — a Bangladeshi-born US citizen who was hacked to death in the capital Dhaka in February.
Head of a Bangladeshi bloggers' association, Imran Sarker said Das was an atheist who regularly blogged for Mukto-Mona, a website that used to be run by Roy.
"We condemn this heinous killing. It once again confirms our fear that there is a culture of impunity in Bangladesh. Anyone can now get away with killing a progressive free thinker," Mr Sarker said.
The United States condemned the killing as part of "string of attacks against writers and bloggers" in the country, according to US State Department Spokesman Jeff Rathke.
Police chief Hasan said they are investigating an announcement by an unknown group called Ansar Al-Islam who said on Twitter that al-Qaeda in the Indian Subcontinent was responsible for Das's murder and warned of more to come.
The group has already claimed responsibility for the deadly attack on Roy on February 26 in which his wife was badly injured. An Islamic extremist has been arrested over his murder.
Debasish Debu, a friend of recently killed blogger Das, said the 33-year-old banker was an editor of a quarterly magazine called Jukti (Logic) and headed the Sylhet-based Science and Rationalist Council.
"In recent months he received threats from Islamist extremists for his writings. He was on their hit-list," Debu told AFP from Sylhet.
"He was hacked on the head repeatedly, the same way Roy was attacked by the assailants," Debu added.
Full report at:
http://www.news.com.au/world/asia/blogger-hacked-to-death-in-busy-street-in-bangladesh-is-third-killed-since-february/story-fnh81fz8-1227357486853
------------
Africa
25 die as al-Shabab militants raid south Somalia towns
May 16, 2015
Somalia government officials say at least twenty-five people were killed after members of the al-Qaeda-linked al-Shabab militant group carried out attacks on two separate towns in the south of the country.
Abdulkadir Mohamed Nur Siidii, governor of the Lower Shabelle region, said at least 10 soldiers and 15 militants were killed when al-Shabab extremists stormed military buildings in the towns of Mubarak, located about 75 kilometers (46 miles) west of the capital, Mogadishu, as well as Awdheegle.
Local residents said hundreds of troops were sent to the two towns in an attempt to regain control over them.
Full report at:
http://www.presstv.in/Detail/2015/05/16/411264/Somalia-alShabab-Puntland-alQaeda
-----------
Boko Haram retakes Nigerian border town
May 16th, 2015
MAIDUGURI: Boko Haram fighters seized back the border town of Marte in northeastern Nigeria and attacked outlying villages on Friday, weeks after the military said it had contained the Islamic extremists in a forest stronghold, an official said.
Deputy Gov. Zannah Umar Mustapha of Borno state also said officials fear hundreds of female suicide bombers have slipped into the state capital, Maiduguri.
They could have used the panic that ensued on Wednesday night when hundreds of insurgents tried to attack Giwa Barracks, on the outskirts of Maiduguri, but met fierce resistance from troops who were firing heavy artillery for hours.
Twenty civilians were killed by the military cannon fire, according to Muhammad Gava, a spokesman for a civilian defense group that fights Boko Haram.
Another 16 people died, including soldiers and civilian fighters, according to Gava.
It was the first major assault by Boko Haram since a multinational force from neighbouring countries joined re-armed Nigerian troops to drive the insurgents out of dozens of towns and villages where they had declared an Islamic caliphate.
Full report at:
http://www.dawn.com/news/1182272/boko-haram-retakes-nigerian-border-town
---------
South Sudanese rebels storm strategic northern town
May 16, 2015
Rebel forces from Sudan People's Liberation Movement-in-Opposition (SPLM-IO) have launched a major offensive in South Sudan's conflict-ridden northern state of Upper Nile, triggering fierce exchanges of fire in the area.
Authorities said the rebels crossed the White Nile river on boat, and stormed the strategic northern town of Malakal, situated approximately 650 kilometers (400 miles) north of capital, Juba, just before the night fell on Friday.
"The rebels of Riek Machar have attacked Malakal from all directions, from east, west, north and south, and the fighting up to now is continuing," Information Minister Michael Makuei Lueth stated.
He added that government troops from the Sudan People's Liberation Army (SPLA) have so far "managed to repulse the rebels" and prevent them from gaining control of the town, which serves as the capital of the oil-rich Upper Nile State.
The minister further claimed that Major General Johnson Olony, who commands Shilluk militia in the northern South Sudanese state, had helped SPLA-N members mount the assault against Malakal.
Full report at:
http://www.presstv.in/Detail/2015/05/16/411303/South-Sudan-Malakal-Upper-Nile
---------
India
Vandals want Delhi roads named after Hindus only
May 16, 2015
NEW DELHI: A day after signages of roads named after Muslim personalities and rulers were defaced by Shiv Sena Hindustan, a right-wing outfit, New Delhi Municipal Council (NDMC) got them cleaned and repaired on Friday. While Shiv Sena Hindustan has claimed responsibility for it, the police have registered an FIR against unknown persons.
NDMC officials said, "Signages of Safdar Hashmi Marg, Feroz Shah Road, Aurangzeb Road and Akbar Road were blackened. Some signages will have to be replaced. We have lodged an FIR for defacement of property."
Claiming responsibility for the act, members of Shiv Sena Hindustan, a splinter group of Shiv Sena, said that they will continue their protest. Dinesh Kumar, national secretary of the outfit, said, "This was a silent protest against the promotion of Islamic names and culture in the country. These names should be changed. Why are most roads in New Delhi area named after Muslim leaders? Why don't we have roads named after Shivaji?"
"We have written to the government to change the road names named after Muslim rulers and personalities," Kumar added.
Full report at:
http://timesofindia.indiatimes.com/city/delhi/Vandals-want-Delhi-roads-named-after-Hindus-only/articleshow/47303525.cms
---------
Tablighi Jamaat Attack: Delhi-Sahranpur Security Tightened
May 16, 2015
MUZAFFARNAGAR: The security on Delhi-Saharanpur train route has been tightened, in the wake of the May 1 attack on Tablighi Jamaat members in neighbouring Shamli district, police said.
We have raised the security on Delhi-Saharanpur route, in view of the May 1 attack on members of Tablighi Jamaat on board a Delhi-Kandhla train, a senior official said.
The checking carried out by Government Railway Police (GRP) and Railway Protection Force (RPF) in the trains has been intensified on Delhi-Saharanpur route, additional director general of police (Railways), Uttar Pradesh, Javed Ahmad said yesterday.
Videography has also been initiated in the trains, he said, adding that additional police forces would be provided to sensitive GRP police stations falling on the route, such as Baraut (Baghpat) and Shamli.
Full report at:
http://timesofindia.indiatimes.com/india/Tablighi-Jamaat-attack-Delhi-Sahranpur-security-tightened/articleshow/47307173.cms
---------
Haj pilgrimage: MEA officials to meet Muslim MPs
SMRITI KAK RAMACHANDRAN
May 16, 2015
To ease the procedures and address the problems being faced by Haj pilgrims, the Ministry of External Affairs (MEA) will soon convene a meeting with Muslim members of Parliament.
These MPs have been flagging the problems being faced by the community — from having to pay exorbitant air fares to limited quota for travellers from India — and demanding an overhaul of the procedures for Haj pilgrimage.
A meeting with the MPs, to be chaired by Minister of State for External Affairs General (retd) V.K. Singh, is scheduled to take place here next week.
"Following the Supreme Court's judgment of 2012, which struck down the Haj quota given to MPs, there have been complaints that it is harder for the poor to get requisite permissions to travel. There are complaints that private tour operators often end up fleecing people and there is a lot of red tape in the selection of pilgrims," said an official familiar with the issue.
As of now, only the President, the Vice-President, the Prime Minister and the External Affairs Minister have a quota for recommendation, a move that has upset the MPs, who point out that their intervention was helpful for the financially weak.
Full report at:
http://www.thehindu.com/news/national/haj-pilgrimage-mea-officials-to-meet-muslim-mps/article7211825.ece
---------
Bangladesh, India agree to private sector partnership in power
15 May 2015
India and Bangladesh have agreed to open ways for private sector partnership to swap electricity alongside existing government-level cooperation, officials said on Friday as power secretaries of the two countries concluded a two-day meeting in Dhaka.
"We are already engaged in the government level (cooperation in powers sector) and now the two countries agreed to allow private sector partnership in this sector," a Bangladeshi energy ministry spokesman said.
His comments came as the Joint Steering Committee on the Power Sector led by Power Secretary P K Sinha and his Bangladeshi counterpart Monowar Islam concluded its ninth meeting and second in six months late on Thursday.
"Private-private cooperation is just like we have the public-public (involving two countries' state-owned entities) cooperation. That could be either in Bangladesh or in India," Sinha earlier said in brief comments emerging from the steering committee meeting with Islam late on Thursday.
Officials familiar with the meeting said that the proposal of the private sector partnership was floated by the Indian side as several Indian companies including Reliance previously expressed interest for investment in power in Bangladesh.
Full report at:
http://www.dnaindia.com/india/report-bangladesh-india-agree-to-private-sector-partnership-in-power-2086097
----------
Southeast Asia
Police Probe Islamic State Link in Surabaya Airport Arrests
May 16, 2015
Jakarta. Indonesian anti-terror police fear six people detained by authorities at Surabaya's Juanda International Airport on Thursday were destined for Syria, possibly to join the Islamic State movement.
The group, who were arrested as they attempted to board an airplane to Malaysia at about 10:30 a.m., are still being questioned by the National Police's counterterrorism unit, Densus 88, although police say they are officially witnesses.
"We have one week to decide their status," National Police chief Gen. Badrodin Haiti said on Friday. "One of the people has a police record and we believe he has flown to Syria before. This is his second time trying to fly there."
Full report at:
http://thejakartaglobe.beritasatu.com/news/juanda-international-airport-terrorist-densus-88/
------------
800 migrants land in Indonesia, but hundreds pushed back to sea
May 16th, 2015
BANGKOK: Nearly 800 "boat people" were brought ashore in Indonesia on Friday, but other vessels crammed with migrants were sent back to sea despite a UN call to rescue thousands adrift in Southeast Asian waters with dwindling supplies of food and water.
Underlining the hardening of Southeast Asia government's stance on the boatloads of Rohingya Muslims fleeing persecution in Myanmar, Thailand's prime minister warned on Friday that if more migrants arrived they might steal jobs from Thais and Indonesia's military chief warned they would cause "social issues".
About 2,500 migrants have landed on Indonesia's western tip and the northwest coast of Malaysia over the past week.
Full report at:
http://www.dawn.com/news/1182251/800-migrants-land-in-indonesia-but-hundreds-pushed-back-to-sea
---------
Islam tarnished in M'sia & Dr M started the ROT - G25's Noor Farida
by Mariam Mokhtar
16 May 2015
With her razor sharp mind and equally sharp tongue that can slice through any argument, Noor Farida Ariffin is every inch a fighter. So don't let her string of pearls, pale eye-shadow, pastel coloured jacket and welcoming smile fool you.
The effervescent Danny Quah, Professor of Economics and International Studies and Director of the Saw Swee Hock South East Asian Centre of the London School of Economics (LSE), helped facilitate Farida's talk on "Fighting Religious Extremism in Malaysia" in London recently. Despite the exam period, when many students were not available, the event was packed with Malaysians and other nationals. There was standing room only at the back, and late comers were relegated to an adjoining room.
Quah called Farida a "patriot", a "true public servant" and a "genuine Malaysian leader". He also praised her peers in the G25. The G25 is a group of 25 prominent Malaysians, comprising former diplomats and heads of the civil service, who have sought to "reclaim Malaysia from racial and religious extremism".
Quah said, "The kind of vitriol and rhetoric that is peddled by intolerant extremists threatens to poison the nation. "Now, more than ever, we need voices such as Her Excellency's to speak out and help us all come together."
Farida gave a brief but comprehensive review of the incidents of rising religious extremism in Malaysia. She expressed disappointment that the country's so-called leaders had allowed Malaysia to slip downhill.
She said that Malaysia once prided itself as a model of racial harmony and a nation that could display a multicultural and multi-religious society to the rest of the world. But the current reality, she said, was a disturbing picture of Islamic NGOs and religious authorities wielding power over a cowed population, with the Malays being watched by a brutal and unapologetic moral police who act like thugs and the non-Malays and non-Muslims subject to intense provocation.
Full report at:
http://www.malaysia-chronicle.com/index.php?option=com_k2&view=item&id=513081:islam-tarnished-in-msia--dr-m-started-the-rot-g25s-noor-farida&Itemid=2#axzz3aIIMLgsb
---------
Supremacy of Constitution not at issue, say Muslim lawyers
May 16, 2015
By Zainul Rijal Abu Bakar
Persatuan Peguam Muslim Malaysia, as a body of Muslim lawyers which obeys and respects the Constitution and the laws of this sovereign nation, is appalled and concerned with the statement made by Member of Parliament, Lim Kit Siang, as reported in Malaysian Insider (14 May 2015). He was quoted as saying:
"Submissions of MAIWP's Counsel stating that Islamic Laws are above the Constitution raises the concern towards the commitment of the Prime Minister and the Cabinet pertaining to the basic principle of the Constitution which is the supreme law of the Country."
PPMM opines that YB Lim Kit Siang had erred and strayed in his understanding as to the actual statement of MAIWP's Counsel, referred by him. This is so because a reference to the quoted statement of the MAIWP's Counsel as reported widely through the various printed and electronic media states:
"That provisions of Islamic Enactments should not be tested on the fundamental liberty clauses of the Federal Constitution…."
An objective reading of that statement by the MAIWP's Counsel, gives a clear meaning that "any Islamic Enactments promulgated under the Constitution cannot be questioned on its validity by reference to the various liberty clauses as contained in Article 5 to 13 of the Federal Constitution".
Save and except in the news title of one of the portals which I was made to understand has not been said by the MAIWP's Counsel, there is nowhere therein, any statement by the MAIWP's Counsel which says or suggests that the Federal Constitution is not the supreme law of this Country.
YB Lim Kit Siang must give his explanation as to how he came about to reach a distorted understanding with regards to that crystal clear statement, for him to suggest that MAIWP purportedly was challenging the supremacy of the Constitution.
What is also important and clear with regards to this matter is that this Appeal is still in the process of being heard by the Federal Court wherein, the written submissions have been filed by MAIWP through its Solicitors, and the Appeal has been adjourned to 13 August 2015 on the application of the Respondent, to allow the Respondent and the Attorney-General's Chambers to scrutinise and tender their submissions in reply to that new and monumental issue raised by MAIWP's Counsel.
Full report at:
http://www.freemalaysiatoday.com/category/opinion/letters/2015/05/16/supremacy-of-constitution-not-at-issue-say-muslim-lawyers/
---------
Malaysia should not go against international laws, treating Rohingya inhumanely – Tamil Maran
16 May 2015
Since 2013, more then 120,000 minority Rohingya Muslim have fled oppression in the Buddhist-majority Myanmar, paying huge sums to human smugglers.
With the recent crackdown, the smugglers have abandoned the ship, leaving 6,000 refugees to fend for themselves, according to reliable aid workers and human rights group.
International law is explicitly clear barring countries from refoulement, which refer to expulsion of refugees who have a right to be recognised.
According to United Nations secretary-general Ban Ki-moon, countries need to keep their ports and boarders open in order to help the vulnerable people who are in need and it is an obligation under international law.
Asean countries should not play the deadly game of "human ping pong" in rejecting the migrants.
There are two types of immigrants, one from Bangladesh who are mainly economic immigrants and the others, the Muslim Rohingya flee due to state-sanctioned discrimination in Buddhist-majority Myanmar with the recent sectarian violence against them.
This needs to be treated as a law enforcement problem as well as a humanitarian crisis. The latter needs to be addressed immediately and the former requires a comprehensive plan and strategy to be worked out by Asean.
The Bangladeshis, who are economic immigrants, need to be send back after being provided the necessary assistance, once they arrive on our shores, whereas the Rohingya need to be treated differently with the consensus of Asean and the United Nation because they are experiencing systematic religious and ethnic persecution by the Myanmar government though they are living in the Rakhine state in Mynamar for generations.
They are not recognised as citizens denying them the freedom to travel, access to education and the right to vote.
The Myanmar government, must be accountable and be taken to task by Asean. If not, Asean is just a group of armchair critics, trying to gain economic gain by integration, but avoiding any emerging reality of the interconnected region.
Sooner or later Asean will configure itself, whether they like it or not, into a European Union model or closer if they were to survive and sustain.
Having said that, Malaysia, especially needs to lead the Asean to find a solution for the Rohingya refugees.
Full report at:
http://www.themalaysianinsider.com/sideviews/article/malaysia-should-not-go-against-international-laws-treating-rohingya-inhuman
---------
Mideast
Israeli soldiers, Palestinians clash on 'Nakba' day
15 May 2015
Israeli soldiers fired tear gas and rubber bullets at stone-throwing Palestinians in the West Bank on Friday, wounding at least 17 people, medics and security sources said.
Clashes took place near Ramallah and farther north in Nablus, after a new Israeli cabinet took office and as Palestinians marked 67 years since the "Nakba," or "catastrophe" that befell them when Israel was established in 1948.
At a demonstration outside Ofer military prison near Ramallah, dozens of protesters threw stones at soldiers who responded with tear gas and rubber bullets, an AFP correspondent said.
Medics said seven Palestinians were wounded.
In separate clashes earlier in the northern West Bank city of Nablus, rubber bullets and live fire by soldiers wounded at least 10 Palestinians, security sources and witnesses said.
The Israeli army confirmed the clashes, but denied that live rounds were fired.
More than 1,000 settlers from nearby Jewish settlements were bused into the city to visit Joseph's Tomb early in the day, and soldiers blocked off roads leading to the pilgrimage site, Palestinian witnesses and security sources said.
Full report at:
http://english.alarabiya.net/en/News/middle-east/2015/05/15/Israeli-soldiers-Palestinians-clash-on-Nakba-day.html
---------
Across the 'Gate of Tears': Yemen refugees flee to Djibouti
May 16, 2015
Karim LEBHOUR - Dwarfed by warships and giant cargo vessels, the small wooden boats that brave the dangerous crossing between the Horn of Africa and Yemen are a lifeline for the desperate thousands fleeing war.
Each day they come from the Arabian Peninsula to Djibouti, crossing the waters of the Bab al-Mandeb strait - the "Gate of Tears" in Arabic - the key shipping channel of the Gulf of Aden.
Djibouti, a tiny nation of over 800,000 people, is a haven for Yemeni refugees fleeing the air strikes that have devastated their country.
"Nobody wants to help us. Saudi Arabia says no Yemenis. Egypt, no Yemenis. Jordan, no Yemenis," said Nasser Saleh, showing the bullet wounds covering his body.
In late March, a Saudi-led coalition began air strikes against Huthi rebels, after the insurgents, who are backed by ex-soldiers loyal to Yemen's former president Ali Abdullah Saleh, seized control of large parts of the nation.
While Yemen this week began a humanitarian truce, many remain fearful it will not hold as the ceasefire is conditional on the rebels reciprocating and not exploiting it for military advantage. "Where can we go? The only place left for us is the grave and death," Saleh said.
At its narrowest point, there are only some 30 kilometres (20 miles) between Yemen and Djibouti, a port that guards the entrance to the Red Sea and Suez Canal.
Wounded crowd into apartments
The fighting in Yemen has already sent thousands fleeing across the sea to Djibouti, with many more expected to make the crossing. Sitting on the floor in the sweltering heat, Saleh chews fresh green leaves of khat, a mild stimulant. "This is the only pain relief and rest I found, I need more drugs," he said. His right arm has been operated on, his left is bound in a makeshift splint. "I came here in transit, but I've been here now for 16 days and I can't leave... we need specialised surgeons, but there are none here," he said.
Along with Saleh, hundreds of Yemenis have found refuge in a half-built residential development after its owner Ibrahim Lootah offered what space he had to shelter those in need.
Full report at:
http://nation.com.pk/international/16-May-2015/across-the-gate-of-tears-yemen-refugees-flee-to-djibouti
---------
Al-Qaeda-Linked Tribesmen in Yemen Ban Qat Plant
16 May 2015
SANAA: Tribesmen allied with Al-Qaeda's branch in Yemen have imposed a ban on the leafy qat plant, a mild narcotic widely chewed on a daily basis, in a southern port city overrun by the militants last month.
Yemeni men traditionally chew qat for several hours starting around midday, stuffing their cheeks with the leaves and letting its narcotic dissolve in their saliva. At daily qat-chewing sessions Yemenis recline on floor cushions, listen to traditional music, exchange gossip and engage in wide-ranging debates.
The widely cultivated plant consumes 30 percent of the extremely scarce water resources in Yemen, the Arab world's poorest country, and cuts into the production of other crops. The World Health Organization classifies the drug as a narcotic.
Al-Qaeda in the Arabian Peninsula and allied tribesmen overran the city of Mukalla — capital of the vast Hadramaut province — last month, in part because of heavy fighting elsewhere between Shiite Houthi rebels and loyalists of Yemen's President, backed by airstrikes.
The tribesmen, who refer to themselves as "Sons of Hadramawt," on Thursday distributed pamphlets saying qat chewing is banned and that violators "will be held fully responsible under Shariah law," without elaborating.
Full report at:
http://www.arabnews.com/middle-east/news/747306
---------
Petitioners at Tehran book fair urge end to Saudi Yemen war
May 16, 2015
Visitors to the 28th Tehran International Book Fair (TIBF) have been signing a petition in condemnation of the deadly Saudi aggression against Yemen, Press TV reports.
The signatories at the TIBF, with more than 300 thousand visitors a day, are demanding an immediate end to Saudi Arabia's airstrikes against the impoverished people of Yemen, in the so-far-30-meter-long petition which is addressed to the United Nations Secretary General Ban Ki-moon.
The petitioners, including distinguished religious and political figures, are urging the world body to take immediate action to halt Saudi Arabia's brutal attacks on Yemen.
Meanwhile, over 4,360 signatories to an online petition by Press TV had signed the "Stop Saudi Invasion of Yemen" petition, on the global platform change.org by Saturday morning, calling on the Saudi regime to stop its brutal attacks on war-torn Yemen.
People from around the globe participated in the campaign, voicing their anger at the Saudi aggression and condemning its partnership with the United States and Israel against Muslims across the world.
Full report at:
http://www.presstv.in/Detail/2015/05/16/411305/Tehran-Book-Fair-Saudi-agression-Yemen
---------
UN chief deplores Israel's settlement plans
May 16, 2015
United Nations (UN) Secretary General Ban Ki-moon has strongly condemned Tel Aviv's latest plans to construct illegal settlement units in Palestinian territories, calling on the Israeli regime to scrap the projects.
Ban "strongly deplores the advancement of settlement activities on three occasions over the past three consecutive weeks" in the West Bank and in East al-Quds (Jerusalem), the UN chief's spokesperson said in a statement released on Friday.
The UN chief reiterated that Israeli settlements are "illegal under international law" and urged Tel Aviv "to halt and reverse such decisions in the interest of peace and a just final status agreement."
"The international community will not recognize unilateral actions on the ground and that the status of Jerusalem can only be resolved through negotiations," Ban added.
The photo shows cranes and excavators at a construction site of settlement units in the northern area of east al-Quds (Jerusalem) on January 30, 2015. © AFP
The remarks came a day after the Israeli Housing Ministry issued new tenders for the constructions of 85 settlement units just five kilometers northwest of occupied al-Quds and of 1,500 hotel rooms in the city's Jabal al-Mokabber neighborhood.
Full report at:
http://www.presstv.in/Detail/2015/05/16/411284/Israel-UN-illegal-settlement--Ban-Kimoon
---------
Turkish court remands 10 cops in custody for wiretapping
May 16, 2015
A court in Turkey has put 10 police officers under formal arrest as part of an ongoing investigation into the alleged forging of official documents and eavesdropping on top officials, including President Recep Tayyip Erdogan.
On Friday, a court in the country's capital city of Ankara remanded the policemen on charges of "establishing a criminal gang" and "forgery of official documents."
The ten officers were among the 17 who were detained in an operation carried out in Ankara earlier this week. The other seven were later released but banned from leaving the country.
Ankara Public Prosecutor Alparslan Karabay on Monday ordered the detention of 34 security personnel, among them police chiefs, in 16 provinces on accusations of conducting illegal wiretapping between 2007 and 2011.
Dozens of serving and former Turkish police officers have already been detained over the past few months as part of the investigation into alleged eavesdropping on Erdogan and other key individuals, including businessmen, politicians and government officials.
Many of the police officers arrested were reportedly involved in an anti-government corruption probe and have been removed from their posts.
Full report at:
http://www.presstv.in/Detail/2015/05/16/411279/Turkey-Erdogan-Ankara-Gulen
-----------
North America
Obama offers Gulf 'ironclad' security
May 16, 2015
CAMP DAVID - President Barack Obama tried to reassure America's Gulf allies Thursday that engaging with Iran would not come at their expense, at a Camp David summit that proved short on concrete outcomes.
Pledging to counter external threats to Gulf states amid Iran's growing role in the region, Obama said his security commitment to the decades-old allies was "ironclad.
"
He said the United States was prepared to help "deter and confront an external threat to any GCC (Gulf Cooperation Council) state's territorial integrity.
" But behind the warm words, there remains deep unease.
Only two out of six Gulf heads of state accepted the invitation to visit the presidential mountain retreat, in what was widely seen as a snub to the US leader.
Around the table, Obama faced the tough task of convincing skeptical emirs, princes and sheikhs that his ambition to reach a nuclear deal with Tehran will not come at their expense.
Iran stands to regain in excess of $100 billion in blocked cash if sanctions are lifted - cash the Gulf states believe could help fund the Islamic republic's "destabilizing" activities in the region.
"Most of the destabilizing activity that Iran engages in is low-tech, low-cost activity," Obama said, indicating that he believed Iran would be more interested in fixing its economy than bumper weapons buys.
Gulf states are not so sure, and had asked the United States to provide a written guarantee of their security.
But that suggestion has been rebuffed.
"We're not initiating treaties, mutual defense treaties," said senior Obama advisor Ben Rhodes.
"That is a very complicated piece of business.
" Such a pact would be difficult to pass through a pro-Israeli Congress, and the White House sees asymmetric threats and internal unease at closed political systems as a greater security priority.
The Gulf states had to settle for progress on ballistic missile defense, joint military exercises and cyber and maritime security initiatives.
But Obama also insisted that close security ties with Gulf nations were not designed to box in Iran.
"The purpose of security cooperation is not to perpetuate any long-term confrontation with Iran or even to marginalize Iran," he said.
Full report at:
http://nation.com.pk/international/16-May-2015/obama-offers-gulf-ironclad-security
-----------
Beware of the Muslim Brotherhood, expert warns
May 15, 2015
Authorities should be concerned about the unseen hand of the Muslim Brotherhood gripping sections of Canada's diverse Muslim community, says a U.S. security expert.
The movement has planted its revivalist interpretation of Islam, political ideology and activism among some Muslims here and sees itself as a minder and broker between them and the rest of society, Lorenzo Vidino, who specializes in Islamism and political violence, told the Senate's national security committee recently.
"They basically aim to be the gatekeepers to Muslim communities, that whenever politicians, governments or the media try to get the Muslim voice, if there were such a thing, they would go through them, sort of the self‑appointed leaders of Muslim communities," he said.
Vidino is director of the program on extremism at George Washington University and author of The New Muslim Brotherhood in the West (Columbia University Press, 2010). He sees no direct links to terrorism among the group's western supporters. In fact, some work to prevent violent radicalization, he said.
"It would be an analytical mistake to lump them, as some do, with al-Qaida or ISIL. These are not organizations that plan attacks in the West, and actually in many cases they do condemn them."
The problem is more indirect, Vidino said. "Generally speaking, the movement has not abandoned violence as a tool to advance its agenda." Tactically, it doesn't pursue violence, "but it's not heartfelt," he said.
"They have this narrative where they lump together foreign policy issues with issues like cartoons and so on as part of a big narrative that proves this point that the West hates Muslims and Islam. It's that mainstreaming of this narrative which is very much the staircase to violent radicalization and the brotherhood does mainstream that. It provides somewhat of a fertile environment.
"That kind of narrative in the mind a 16- or 18-year-old is extremely dangerous, because violence is justified when Muslims are under attack. If it's OK in Gaza and Afghanistan, why is it not OK in the West, where you're also telling me that Islam is under attack?"
The brotherhood is a banned terrorist organization in some Middle East and other countries, notably Egypt, where the movement was born. But it has different profile in the West.
To start, there is no group calling itself the "Muslim Brotherhood" in North America. Instead, a few hundred sophisticated, politically savvy and well-funded supporters in Canada have over the past 50 years created vocal and visible organizations that represent a very small part of the Muslim community. They exert a disproportional influence over mosques, schools and spaces where Muslims come together, said Vidino.
Full report at:
http://ottawacitizen.com/news/politics/beware-of-the-muslim-brotherhood-expert-warns
-----------
Dzhokhar Tsarnaev Given Death Penalty in Boston Marathon Bombing
By KATHARINE Q. SEELYE
MAY 15, 2015
BOSTON — Two years after bombs in two backpacks transformed the Boston Marathon from a sunny rite of spring to a smoky battlefield with bodies dismembered, a federal jury on Friday condemned Dzhokhar Tsarnaev to death for his role in the 2013 attack.
In a sweeping rejection of the defense case, the jury found that death was the appropriate punishment for six of 17 capital counts — all six related to Mr. Tsarnaev's planting of a pressure-cooker bomb on Boylston Street, which his lawyers never disputed. Mr. Tsarnaev, 21, stood stone-faced in court, his hands folded in front of him, as the verdict was read, his lawyers standing grimly at his side.
Immediate reaction was mostly subdued.
"Happy is not the word I would use," said Karen Brassard, who suffered grievous leg injuries in the bombing. "There's nothing happy about having to take somebody's life. I'm satisfied, I'm grateful that they came to that conclusion, because for me I think it was the just conclusion."
She said she understood that all-but-certain appeals meant the case could drag out over years if not decades. "But right now," she said, "it feels like we can take a breath and kind of actually breathe again."
The bombings two years ago turned one of this city's most cherished athletic events into a grim tragedy — the worst terrorist attack on American soil since Sept. 11, 2001. Three people were killed, and 17 people lost at least one leg. More than 240 others sustained serious injuries.
Full report at:
http://www.nytimes.com/2015/05/16/us/dzhokhar-tsarnaev-death-sentence.html
---------
Pak-American gets jail for trying to ship thermal camera
May 16, 2015
WASHINGTON - A US citizen of Pakistani origin was sentenced on Thursday to 24 months in prison for trying to ship a thermal imaging camera to Pakistan, according to American media reports.
Bilal Ahmed, 33, of Bolingbrook, Illinois, pleaded guilty to willfully violating export control regulations, specifically the International Emergency Economic Powers Act, according to the US Attorney's office.
US District Judge Rebecca Pallmeyer sentenced him to 24 months in prison and two years of supervision after his release, according to a statement from federal prosecutors.
Bilal Ahmed was owner and President of Trexim Corp., which used the address of a virtual office in Schaumburg, according to federal prosecutors. Between November 2013 and February 2014, he emailed with a California company and negotiated the purchase of a FLIR HRC-U (infrared) camera for about $210,000.
On March 7, 2014, Ahmed took the camera to a shipper in Elk Grove Village and left it to be shipped to a company in Pakistan, the indictment said. The package included a handwritten note containing the letters "NLR," meaning "No Licence required."
Full report at:
http://nation.com.pk/international/16-May-2015/pak-american-gets-jail-for-trying-to-ship-thermal-camera
---------
Europe
French mayor claims Islam will be banned from France by 2027
May 15, 2015
by Massoud Hayoun
After the mayor of a small French city called this week for France to ban Islam, at least one French Muslim political activist was rejoicing.
Mayor Robert Chardon of the Southern French city of Venelles tweeted multiple times on Thursday that "the religion of Islam will be banned in France on Oct. 18, 2027."
Mehdi Meftah, founder of Parti des Indigènes de la République (PIR), a political party representing the interests of people from many of France's predominantly Muslim former colonies in Africa and elsewhere, called the mayor's calls to outlaw Islam "absurd."
"We are interpreting this as a great thing," Meftah said. The comments, he added, show that "We, [French Muslims] are more and more visible. We have our mobilizations. We have our visions of what France should be."
Chardon was not immediately available for comment.
A spokesman for Chardon's party, the center-right UMP of former French President Nicholas Sarkozy, told Al Jazeera that they are considering banning Chardon from the party.
"We condemn this but have yet to issue a formal comment on the issue," UMP spokesman Pierre-Albert Mazars said. "We have begun procedures to look into removing [Chardon from the Party]."
Mazars said the party had no idea why Chardon had chosen the date of Oct. 18, 2027.
Meftah said Chardon's tweets reveal that French politics "are in a state of disarray" and undermines the legitimacy of Islamophobia as a political platform.
French politicians "see [Muslims] as a threat," Meftah said, a sign that French Muslims are gaining power as a political entity.
Unlike in the past, when French Muslims were marginalized, they now have their own movements like the PIR and can push back against what Meftah calls the "white political establishment."
Full report at:
http://america.aljazeera.com/articles/2015/5/15/french-mayor-aims-to-ban-islam-from-france.html
---------
RUSSIA: Increased fines for "extremist" texts, one jailing so far in 2015
15 May 2015
Russian people and religious organisations charged with distributing banned "extremist" texts face sharply increased fines after May changes to Article 20.29 of the Administrative Code. Confiscations of religious texts from both Muslims and Jehovah's Witnesses, mostly during raids or detentions, frequently result in prosecutions of people, Forum 18 News Service notes. Convictions have led to liquidation, or threats of liquidation, against Jehovah's Witness or Muslim communities they belong to. This has most recently happened in April, after a Jehovah's Witness was convicted of distributing texts on the street. Tikhoretsk Inter-District Prosecutor's Office warned the local Jehovah's Witness congregation about the "inadmissibility of extremist activity" and stated that if it is not heeded "the question of liquidating the above organisation may be considered". In March a Perm Region resident was jailed for five days for posting a banned video on the VKontakte social network, entitled "The Wonders of the Koran". Other recent convictions have taken place after the Islamic texts concerned have been ordered to be taken off the Federal List.
Russian people and religious organisations charged with distributing banned "extremist" texts face sharply increased fines after President Vladimir Putin on 2 May signed into law amendments to Article 20.29 of the Code of Administrative Offences. This punishes "the mass distribution of extremist materials included in the published Federal List of Extremist Materials, as well as their production or storage for mass distribution". Confiscations of religious texts from both Muslims and Jehovah's Witnesses, mostly during raids or detentions, frequently result in prosecutions under Article 20.29, Forum 18 News Service notes.
If an item is on the Federal List, possession of it carries the risk of a fine or imprisonment for up to 15 days, and confiscation of the banned literature. The Federal List now runs to over 2,500 items, often does not include full bibliographical details, and is irregularly updated, making it difficult for anyone to keep abreast of recent bans (see Forum 18's "Extremism" Russia religious freedom survey http://www.forum18.org/archive.php?article_id=1724).
Courts continue to rule texts "extremist", opening the way for more prosecutions for their possession or "mass distribution". These include the Google Translate Russian version of a collection of sayings of the Islamic prophet Mohammed, a video commenting on the attempted seizure by bailiffs of saints' relics from the Russian Orthodox Autonomous Church, and Jehovah's Witness texts (see F18News 20 March 2015 http://www.forum18.org/archive.php?article_id=2049).
Despite Article 20.29 using the term "mass distribution", prosecutors have often brought charges even if only one copy of a text is discovered. Court decisions usually order "extremist" materials to be confiscated and often destroyed (see Forum 18's "Extremism" Russia religious freedom survey http://www.forum18.org/archive.php?article_id=1724).
Full report at:
http://www.forum18.org/archive.php?article_id=2062
---------
URL: https://www.newageislam.com/islamic-world-news/new-age-islam-news-bureau/mohamed-morsi-sentenced-to-death-by-egyptian-court/d/102992