New Age Islam News Bureau
6 March 2012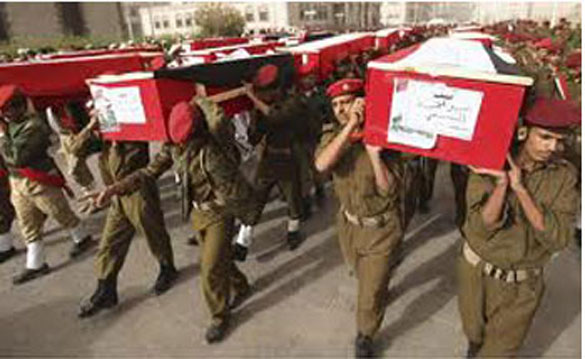 • Qaeda attacks leave 110 soldiers dead in Yemen
• Libya: Semi-autonomy sought by leaders in east
• Syrian refugees in Lebanon recount terror
• More than half of Americans back Obama's Quran apology
• Hizbut Tahrir has nothing to do with terrorism: Organisation's counsel
• Waheed adds more Gayoom loyalists to Maldivian cabinet
• Saudi diplomat shot dead in Bangladesh: Police
• Kingdom of Saudi Arabia tells UN: Rein in Assad
• 'Anti-Muslim' rant causes furore in Gujarat, an Indian state, assembly
• Afghanistan avalanche kills 37 in Badakhshan
• Iran crisis: IAEA offered conditional access to Parchin
• Netanyahu: Israel has right to defend itself
• Another small girl found raped, strangled in Karachi
• 'Qaeda terrorists' kill 27 policemen in Iraq
• 25 police killed in western Iraq shooting spree
• Balochistan C M orders steps to curb terrorism
• 'Modern research is imperative for uplift of any country': Pakistani Scientist
• Summons be pasted on Musharraf house: SC
• Nawaz against another term for Gen Pasha
• Four killed as militants fight over key bunker in Landi Kotal, Pakistan
• Pakistan: 7 militants killed in Dera Bugti clash
• Suicide attack on Bagram, Kabul airbase kills two
• PPP leaders meet; post-senate elections situation discussed
• ECP upholds Balochistan Senate results
I• brahim Kalifulla elevated to Indian Supreme Court
• Osama family members to leave Pakistan
• West's game plan in Afghanistan hits a stumbling block
• Russia, China step up diplomatic role in Syria
• Turkey exploring paths to end Kurd conflict
• Al-Qaeda militants parade captured Yemen troops
• Omar Abdullah equates poll results with Delhi quake
• US-Afghan strategic partnership talks stalled
• Russia says US draft on Syria needs more balance
• Bangladeshis stuck in Indian visa complexities
• We won't tolerate further attacks, Nigerian military warns Emancipation of Niger
• Riyadh book fair showcasing 200,000 titles to open today
• Replicas of Two Holy Mosques added to Makkah exhibition
• Canada bans dealings with Syrian central bank
Complied by New Age Islam News Bureau
Photo: Suicide bombers linked to al-Qaeda killed as many as 110 soldiers in Yemen
URL: https://newageislam.com/islamic-world-news/minorities-karachi-rally-behind-hindus/d/6795
--------
Minorities in Karachi Rally Behind Hindus on Abduction
ANITA JOSHUA
ISLAMABAD, March 6, 2012
Sikhs and Christians of Karachi have come out in support of the Hindu community over the alleged kidnapping and forced conversion of a 17-year-old girl from the Ghotki district of Sindh under the patronage of a Pakistan People's Party (PPP) legislator. On Sunday, members of various minority communities joined hands to stage a protest outside the Karachi Press Club demanding justice.
Rinkle Kumari is said to have been kidnapped from her home in Mirpur Mathelo in Ghotki district on the night of February 24 by men owing allegiance to the PPP member of the National Assembly, Mian Abdul Haq. She was then taken to Bharchundi Sharif of which Mian Haq is the spiritual leader. The girl's family claims that she was forcibly converted to Islam, rechristened 'Faryal' and married to Naveed Shah, a supporter of the MNA.
However, another version that is in circulation is that Rinkle left home on her own to marry Naveed.
This is not disputed by some of her family members with her uncle Daya Ram being quoted in Pakistan Today as saying Rinkle was supposed to meet Naveed on the night of February 24 on the assumption that he would be alone. However, he was accompanied by armed men who abducted her and taken to the shrine where she was converted and married to Naveed.
With Rinkle's family registering a case on her kidnapping, the matter came up in court but there are numerous versions on what transpired there. Claiming that the court ordered Rinkle to stay with her "husband'' without giving adequate time for her and her family to state their case, they now want the girl to be sent to a shelter pending final decision.
With a PPP MNA involved, President Asif Ali Zardari himself had stepped in early in the case to call for a transparent and speedy investigation. Taking serious note of reports of the kidnapping, the President had called for a report from the provincial government on February 26.
The Human Rights Commission of Pakistan has written to the President, Prime Minister, Chief Justice of Pakistan besides the Governor and Chief Minister of Sindh to conduct a judicial enquiry into the case and also ensure that no one is forced to convert to another religion.
http://www.thehindu.com/news/international/article2964434.ece
--------
Qaeda attacks leave 110 soldiers dead in Yemen
Tuesday, March 06, 2012
* 55 soldiers held captive, paraded on streets of Jaar town
* Yemeni president vows to fight al Qaeda
ADEN/SANAA: Sneaking across the desert behind army lines, al Qaeda terrorists launched a surprise attack against military bases in south Yemen, killing 139 soldiers and capturing heavy weapons they later used to kill more troops, officials said on Monday.
The military officials said at least 32 of the terrorists were killed in Sunday's fighting in Abyan province and scores were wounded from both sides.
Medical officials in the area confirmed the death toll figures. They said the poor services in local hospitals accounted for the death of many soldiers who suffered serious wounds but could have survived had they been given better medical care.
The high death toll among the troops is believed to be the highest on record in battles fought by the army against al Qaeda, who have been emboldened by the political turmoil roiling the impoverished Arab nation for more than a year.
The terrorists' attack appeared to be al Qaeda's response to a pledge by Yemen's newly inaugurated president, Abed Rabbo Mansour Hadi, to fight the Yemeni branch of the terror network. The military officials said the terrorists' surprise attack outside Abyan's provincial capital Zinjibar also led to the capture of 55 soldiers. The captives were paraded on the streets of Jaar, a nearby town that, like Zinjibar, has been under al Qaeda's control for about a year.
The officials spoke on Monday on condition of anonymity because they were not authorised to speak to reporters.
While the terrorists claimed capture of some 70 soldiers in a raid after suicide bomb attacks on two military posts outside the southern city of Zinjibar on Sunday, the most lethal attack since President Abd-Rabbu Mansour Hadi took office last month.
Residents said terrorists from the al Qaeda-linked Ansar al-Sharia displayed weapons and military vehicles, extolling their 'victory' by megaphone in the streets of Jaar.
"The festivities have been going on since last night, celebrating what they described as gains for Ansar al-Sharia, and they displayed the loot in front of everyone," said one resident who declined to give his name.
At least 20 terrorists also died in the fighting.
"We intend to confront terrorism with full force and whatever the matter we will pursue it to the very last hiding place," Hadi said at a meeting with British Minister for the Middle East and North Africa Alistair Burt, according to the state news agency Saba.
The violence highlights the challenges Hadi faces as he tries to stabilise Yemen after a year of political upheaval that eventually unseated his predecessor, Ali Abdullah Saleh. agencies
http://www.dailytimes.com.pk/default.asp?page=2012\03\06\story_6-3-2012_pg7_1
--------
Libya: Semi-autonomy sought by leaders in east
6 March 2012
Civic leaders in eastern Libya have called for semi-autonomy for the oil-rich region.
They made the announcement at a meeting attended by hundreds of people near the eastern city of Benghazi.
Supporters of the move say the region, which is known as Cyrenaica and contains much of the country's oil, has been neglected for decades.
But the governing National Transitional Council has argued against federalism, amid fears it could break up Libya.
Delegates danced and sang as they met to discuss the issue of autonomy at a hanger on the outskirts of Benghazi, the BBC's Gabriel Gatehouse reported from the meeting.
In a statement, tribal and political leaders said "a federal system is the choice of the region" of Cyrenaica, which stretches from the central coastal city of Sirte to the Libyan-Egyptian border in the east.
They said they had appointed Ahmed al-Zubair, Libya's longest serving political prisoner under Col Muammar Gaddafi and a member of the NTC, as leader of a governing council.
Mr Zubair pledged to protect the rights of the region but added that the council would recognise the NTC to run Libya's foreign affairs, the Associated Press reports.
A spokesman for the meeting, Their Elheiri, told the BBC they were simply reverting to a constitutional agreement from the 1950s, which divided Libya into three states - Cyrenaica, Tripolitania and Fezzan - and gave Cyrenaica a large degree of autonomy.
He said the move had the support of the local army as well as political and tribal leaders.
Although their declaration has no legal force, it will cause tensions with the interim government in Tripoli, our correspondent says.
http://www.bbc.co.uk/news/world-africa-17271431
--------
Syrian refugees in Lebanon recount terror
AP | Mar 6, 2012
QAA, LEBANON: Syrian refugees fleeing to neighboring Lebanon have said they feared they would be slaughtered in their own homes as government forces hunted down opponents in a brutal offensive against the opposition stronghold of Homs.
With world pressure at a peak in the boiling crisis, U.S. Sen. John McCain called for airstrikes against Syria. He said the United States has a moral and strategic obligation to force out Assad and his loyalists.
"The only realistic way to do so is with foreign airpower," McCain said from the Senate floor. "The United States should lead an international effort to protect key population centers in Syria, especially in the north, through airstrikes on Assad's forces."
Also Monday, the U.N. refugee agency said that as many as 2,000 Syrians crossed into Lebanon over the last two days to flee the violence in their country. In the Lebanese border village of Qaa, families with women with small children came carrying only plastic bags filled with a few belongings.
"We fled the shelling and the strikes," said Hassana Abu Firas. She came with two families who had fled government shelling of their town al-Qusair, about 14 miles (22 kilometers) away, on the Syrian side.
The town is in Homs province, where the government has been waging a brutal offensive for the past month.
"What are we supposed to do? People are sitting in their homes and they are hitting us with tanks," Firas told The Associated Press. "Those who can flee, do. Those who can't will die sitting down."
Lebanese security officials say more than 10,000 Syrians are believed to be in the country. One official said as many as 3,000 are believed to have crossed in recent days because of violence in Homs, though it is unclear how many have returned to Syria.
The officials spoke on condition of anonymity under government protocol.
Inside Lebanon, many Syrians fear agents from their own country's security services. Stories have circulated of kidnappings and collaboration between Lebanese and Syrian security forces. Syria controlled Lebanon for decades and Hezbollah, the party which now dominates Lebanon's government, is closely allied with Syria and Iran.
Turkey says it hosts more than 11,000 Syrians in camps along the border with Syria, including more than 1,000 who crossed in the last month. About 100 have entered in the last two days.
Jordan has more than 80,000 Syrian refugees, according to the government.
As international condemnation mounts, the Syrian regime agreed to allow in two prominent international emissaries it had previously rebuffed - former U.N. Secretary-General Kofi Annan, the new special envoy to Syria, and U.N. humanitarian chief Valerie Amos.
Annan goes to Damascus on Saturday and Amos said she will arrive in the capital on Wednesday and leave on Friday. Amos said the aim of the visit is "to urge all sides to allow unhindered access for humanitarian relief workers so they can evacuate the wounded and deliver essential supplies."
The Obama administration added Syrian state television and radio to a U.S. sanctions list - part of an effort to block Syrian government assets within the U.S. The Treasury Department's sanctions chief, Adam Szubin, said the Syrian General Organization of Radio and TV has "served as an arm of the Syrian regime as it mounts increasingly barbaric attacks on its own population and seeks both to mask and legitimize its violence."
He said any institutions supporting President Bashar Assad government's "abhorrent behavior will be targeted and cut off from the international financial system.
Activists have accused the regime of trying to hide its crimes from the world as the military cracks down on an anti-government uprising that has raged for nearly a year.
The hardest-hit district of Homs is Baba Amr, an area that had been held by rebels for several months before regime forces drove them out on Thursday after nearly four straight weeks of relentless shelling.
Although the government promised to let the Red Cross enter Baba Amr immediately, regime forces refused to let the humanitarian teams inside, citing security concerns.
Concerns were mounting over the humanitarian situation in Baba Amr. Activists alleged that after the Syrian forces seized control of Baba Amr, they killed dozens of residents execution-style and burned homes in revenge attacks against those believed to be supporting the rebels. Civilians also were facing severe cold and hunger.
Activists say hundreds have been killed in the monthlong Homs offensive, and the U.N. recently put the death toll for a year of violence in Syria at 7,500. However, activists group say the toll has already surpassed 8,000.
Homs activist Mulham al-Jundi accused Syrian forces of keeping aid teams out of Baba Amr to hide their activities there. He said he heard a few explosions in the neighborhood and saw columns of smoke from a rooftop elsewhere in the city.
"We have heard explosions in Baba Amr, so it seems that they are destroying some of the houses and important centers there," he said via Skype.
After seizing Baba Amr from the rebels, regime forces appeared to be turning their attention to other rebellious areas, including the town of Rastan in Homs province and the northern province of Idlib, which borders Turkey.
The shift suggested that the Syrian military is unable to launch large operations simultaneously, even though the security services remain largely strong and loyal.
Assad, and his father who ruled before him, stacked key military posts with members of their minority Alawite sect - an offshoot of Shiite Islam - over the past 40 years, ensuring the loyalty of the armed forces by melding the fate of the army and the regime.
Still, there have been reports of steady defections from the mostly Sunni conscripts.
Made up largely of defectors, the Free Syrian Army is perhaps the most potent armed force trying to topple the regime, although they remain largely disparate around the country and do not hold any significant amount of territory. In Idlib, Free Syrian Army fighters said they were on high alert after receiving information warning of tanks and heavy artillery being moved into position around the city.
"What happened in Homs is the act of the Assad army and nasty bandits," Seif Al Hak, an FSA fighter, told the AP. "But God willing, we are ready. If the Syrian Army tries to enter our city, we are in our rights. This is our land. We will defend our land, our country and we will not surrender until death and we will be martyrs."
Some families have already fled Idlib; a truck overloaded with women and children left the city Sunday. In at least one area, the only movement on the streets was by Free Syrian Army patrols.
Also Monday, Canada, following the United States, Britain and France, announced it has closed its embassy in Syria because of the crackdown by Assad's government.
Chris Day, a spokesman for Canada's foreign minister, said Canada has pulled its people out and closed the embassy and consulate.
Syria, meanwhile, recalled its ambassador to Britain, according to Britain's Foreign Office.
http://timesofindia.indiatimes.com/world/middle-east/Syrian-refugees-in-Lebanon-recount-terror/articleshow/12158601.cms
--------
More than half of Americans back Obama's Quran apology
Mar 06, 2012 | Reuters | Washington
More than half of Americans support President Barack Obama's apology for U.S. troops burning copies of the Quran, an incident that triggered a spate of bloody protests and attacks on U.S. soldiers in Afghanistan.
In a Reuters/Ipsos poll released on Monday, 56 per cent of those surveyed backed Obama, who has been criticized by U.S. Republican presidential candidates for apologising to Afghan President Hamid Karzai. Twenty-three per cent disagreed.
While the spasm of violence that erupted following the incident on a NATO base in Afghanistan does not appear to have significantly altered Americans' perspective on the war, 66 per cent of those polled also said Washington should bring its troops home immediately.
Obama's formal apology and the debate that decision created have underscored the delicate course the president must tread in his campaign for re-election in November.
Afghanistan and other foreign policy issues are sure to take a backseat to the economy in the campaign but Obama is loath to give Republicans more ammunition in the crucial months before the elections.
The poll, conducted from March 2 to March 5, showed that far more Democrats supported Obama's apology, with 76 per cent of them saying Obama made the right decision.
Only 37 per cent of Republicans backed the apology, and almost half said Obama was not right to do so. Some 53 per cent of independents supported the apology.
In keeping with calls from Capitol Hill, Democrats surveyed professed even less support than Republicans for a continued U.S. presence in Afghanistan.
Some 76 per cent of Democrats said U.S. troops should be withdrawn immediately, compared with 53 per cent of Republicans. Seventy per cent of independents favored an immediate withdrawal.
The poll included 1,143 Americans interviewed online. The poll had a credibility interval of 3.4 percentage points.
Obama cannot allow the outcry over the Koran incident and other NATO missteps to undermine tentative security gains, weakening his ability to point to a series of security successes such as the killing of al Qaeda leader Osama bin Laden, or worsen tensions with the mercurial Karzai government.
His decision received extra scrutiny when, several days later, two U.S. officers were shot dead by an Afghan inside the Afghan Interior Ministry, one of a spate of so-called 'insider' attacks on NATO forces since the Quaran burnings took place.
The Quran burnings could be behind the death of up to six American soldiers.
On Monday, a suicide bomber killed at least two civilians at the gates of the base where the Quran were burned. The Taliban said the attack was an act of 'revenge'.
http://www.asianage.com/international/more-half-americans-back-obamas-quran-apology-862
--------
Hizbut Tahrir has nothing to do with terrorism: counsel
Tuesday, March 06, 2012
Staff Report
ISLAMABAD: Hizbut Tahrir is a non-political organisation and does not operate clandestinely, rather it works openly within society in order to bring back the glorious era of Islam, the organisation's Counsel, Chaudhry Umar Hayat Sindhu, said on Monday.
Addressing a press conference, he said that his organisation had nothing to do with terrorism.
He said a ban was imposed on the organisation during President Pervez Musharraf's regime on the suspicion of terrorism. He claimed that nobody had proved yet that Hizbut Tahrir was a terrorist organisation. The counsel said the organisation filed a petition in the court against the government's decision, but the case had not been heard despite the passing of several years.
Sindhu further claimed that Hizbut-Tahrir was working in 40 countries, including Pakistan, Indonesia, Sudan, Yemen, Iraq, Lebanon, Germany, UK, Denmark, Turkey and Jordan. It has hundred of thousands followers but has never been involved in any act of terrorism.
The counsel demanded the government lift ban on the organisation and provide justice to its activists.
http://www.dailytimes.com.pk/default.asp?page=2012\03\06\story_6-3-2012_pg7_21
--------
Waheed adds more Gayoom loyalists to Maldivian cabinet
MALE, March 5, 2012
Maldivian President Mohamed Waheed on Monday picked up two more Gayoom-era officials to fill up the crucial cabinet berths of Foreign Affairs and Finance, even as the all-party talks to reconcile political differences and set out a future roadmap lay in shambles.
Dr. Waheed appointed Abdul Samad Abdulla, Maldives' envoy to Bangladesh during Maumoon Abdul Gayoom's time as the new Foreign Minister, and gave the finance portfolio to Abdulla Jihad, who earlier held the ministry as well as the position of the Central Bank governor during Gayoom's regime in 2008.
With the new appointments, former loyalists of the Gayoom regime now dominate Dr. Waheed's cabinet that also has the former dictator's daughter, Dhunya Maumoon as a State Minister for Foreign Affairs.
Dr. Waheed had earlier appointed former Justice Minister Mohamed Jameel Ahmed, as the Home Minister, and Mohamed Nazim, a former military officer under Gayoom, as his Minister of Defence and National Security.
He also chose Gayoom's spokesperson, Mohamed Hussain Shareef as his Minister for Human Resources, Youth and Sports and made Gayoom's lawyer, Azima Shakoor, as the Attorney General.
The appointments came at time when differences are widening between the government supporters and those of ousted President Mohamed Nasheed, with the all party talks to take forward an India-brokered deal lying suspended.
http://www.thehindu.com/news/international/article2963703.ece
--------
Saudi diplomat shot dead in Bangladesh
AFP | Mar 6, 2012
DHAKA: A Saudi Arabian diplomat was shot in the chest and died in the Bangladesh capital in the early hours of Tuesday, the deputy commissioner of Dhaka police said.
Police found Khalaf Al Ali's body at an intersection just two buildings away from his residence in the city's upmarket Gulshan district and rushed him to a hospital where he died three hours later, Lutful Kabir said.
"He was hit by a bullet in the left chest," he said, adding that the 45-year-old was the head of Saudi citizen affairs at the Royal Embassy of Saudi Arabia.
The police did not give any indication of who might have been behind the attack.
The embassy confirmed the death, but would not give further details.
Saudi Arabia is a key ally of and a major donor to Bangladesh.
More than two million Bangladeshis work in the ultra-conservative Muslim kingdom, accounting for a quarter of the country's total overseas population.
http://timesofindia.indiatimes.com/world/south-asia/Saudi-diplomat-shot-dead-in-Bangladesh-Police/articleshow/12160168.cms
--------
Kingdom of Saudi Arabia tells UN: Rein in Assad
By ARAB NEWS
Published: Mar 6, 2012
Cabinet exhorts Security Council to shoulder its moral responsibility
RIYADH: Saudi Arabia yesterday urged the UN Security Council to shoulder its moral responsibility toward ending the bloodbath in Syria, being perpetrated by the regime of Bashar Assad. The Kingdom appealed to the UN to take immediate steps to provide medical and humanitarian assistance to civilian victims.
The Council of Ministers, chaired by Custodian of the Two Holy Mosques King Abdullah, also welcomed the UN decision to hold a humanitarian forum in Geneva on Thursday to estimate the relief requirements of the Syrian people.
"The council reiterated its call for the Security Council to exercise its legitimate role and shoulder its moral responsibility by taking initiative to call for an end to violence and put an end to the killing of Syrian people," Culture and Information Minister Abdul Aziz Khoja said.
Shoura Council Chairman Dr. Abdullah Al-Asheikh, meanwhile, told a conference of Arab parliamentarians in Kuwait City yesterday that Saudi Arabia was following the situation in Syria with deep concern as a result of growing violence in the country.
The Cabinet commended the resolutions taken by a GCC meeting held in Riyadh on Sunday, which discussed the king's proposal to transform the six-member group into a powerful union in order to achieve greater integration among its member countries.
The Cabinet referred to the Jeddah Economic Forum, the International Book Fair in Riyadh, the Saudi-Lebanese Economic Forum in Beirut and the Saudi-Sudanese Joint Committee meeting in Khartoum, saying these events would contribute to strengthening the Kingdom's economic and cultural development and enhancing its international stature. Khoja said the Cabinet authorized Prince Sultan bin Salman, chairman of the Saudi Commission for Tourism and Antiquities, to hold talks with South Korea and sign an agreement on tourism.
Justice Minister Muhammad Al-Eissa has been assigned to hold talks with his Uzbek counterpart to sign an agreement for cooperation in judicial matters.
"The Cabinet also endorsed an agreement with Poland to avoid double taxation and prevent tax evasion," Khoja said. The two countries signed the taxation accord in Riyadh on Feb. 22, 2012.
The Cabinet approved the final accounts of the Saudi Fund for Development for 2010.
The meeting appointed Abdul Aziz bin Ibrahim Al-Ghadeer and Dr. Adel bin Muhammad Noufal as ambassadors; Gharamallah bin Ateeq Al-Zahrani as minister plenipotentiary at the Foreign Ministry; Abdullah bin Ateeq Al-Fawaz and Yahya bin Muhammad Al-Matroudi as legal experts at the Cabinet's experts committee; and Murshid bin Abdullah Al-Anazi assistant undersecretary at the governorate of the Northern Border Province.
http://arabnews.com/saudiarabia/article583755.ece
--------
'Anti-Muslim' rant causes furore in Gujarat assembly
TNN | Mar 6, 2012
GANDHINAGAR: A Gujarat minister's reported "anti-minority'' comment about population explosion in minority communities led to ruckus in the state assembly on Monday. There was little clarity on what Nitin Patel actually said, but slogan shouting began immediately after he spoke. Congress MLAs, led by Arjun Modhwadia, criticized the government for its "anti-democratic manner" when ministers told the speaker not to allow them to use the word "anti-minority''. "Why can't one say the government is anti-minority in the same way as we call the government anti-poor or pro-industry?" asked Modhwadia.
Congress legislature party chief whip Iqbal Patel called it an effort to "muzzle democratic rights of the MLAs to speak". He took exception to Patel's remark, saying it reminded one that, despite Sadbhavna, things had not changed. He recalled how it is similar to what chief minister Narendra Modi said about Muslims on September 9, 2002 at Bahucharaji - "panch ke pacchees''.
Giasuddin Sheikh, Congress MLA from Shahpur, Ahmedabad, called Modi's Sadbhavna a "sham", terming it "unreal". He accused the government of being not just anti-minority, but anti-human as well. "You buy up burkhas and topis from shops in an effort to show how minorities support Modi's Sadbhavna fast.''
It all began during the Question Hour when Congress MLA Faooq Sheikh referred to the government's negative attitude towards minorities. State agriculture minister Dilip Sanghani, known to be close to Modi, raised a point of order over Sheikh's remark, calling it highly objectionable. "Such a statement cannot be allowed to be made in the House."
http://timesofindia.indiatimes.com/india/Anti-Muslim-rant-causes-furore-in-Gujarat-assembly/articleshow/12156220.cms
-------
Afghanistan avalanche kills 37 in Badakhshan
6 March 2012
At least 37 people have been killed by an avalanche in Afghanistan's north-eastern Badakhshan province.
The provincial governor's office said another six people were injured when the snow hit a village in Shekay district, near the Tajikistan border.
The village had been wiped away, said spokesman Abdul Marouf Rasikh, and the death toll is expected to rise.
Badakhshan is one of the country's poorest and most remote regions and is shut off by heavy snow every year.
Afghanistan is suffering one of its harshest winters in many years.
Deputy governor Shams Ul Rahman told the Associated Press that 200 people had lived in the village. He said 37 bodies had been recovered.
Many people are still reported to be missing and a rescue team is making its way to the area.
Mr Rasikh told the BBC that provincial governor Shah Wali Ullah had been visiting at the time the avalanche hit on Monday night.
He was rescued by helicopter and taken to a remote area on the border with Tajikistan, he said.
Nasir Hemat, director of the Red Crescent in Badakhsham, said up for 4m of snow was lying in some areas of the province and that roads between the capital, Faizabad, and remote rural areas were impassable for six months of the year.
He told the BBC that 60 people had been killed by the snow this year and that homes and cattle had been lost.
"This has been a tragedy this year," he said.
Local officials said in January that the winter conditions were at an emergency level and appealed for help.
http://www.bbc.co.uk/news/world-asia-17273198
--------
Iran crisis: IAEA offered conditional access to Parchin
6 March 2012
Iran says it is prepared to give the UN's International Atomic Energy Agency (IAEA) access to a key military site.
IAEA inspectors wanted to visit Parchin last month to clarify the "possible military dimensions" of Iran's nuclear programme, but they were denied entry.
But on Tuesday, Iran's mission to the IAEA said it had asked the agency to "combine all related issues" and then "once more, access would be granted".
The West suspects Iran wants to build a nuclear bomb - an accusation it denies.
'Serious concerns'
The complex at Parchin, south of Tehran, is dedicated to the research, development and production of ammunition, rockets and explosives.
Concerns about its possible role in Iran's nuclear programme emerged in 2004, when reports surfaced that a large explosives containment vessel had been built there to conduct hydrodynamic experiments.
Considering the fact that it is a military site, granting access is a time consuming process and cannot be permitted repeatedly"
Iranian mission to the IAEA in Vienna
The IAEA has warned that hydrodynamic experiments, which involve high explosives in conjunction with nuclear material or nuclear material surrogates, are "strong indicators of possible weapon development".
In 2005, IAEA inspectors were twice given access to parts of Parchin and were able to take several environmental samples.
A report issued in 2006 noted that they "did not observe any unusual activities in the buildings visited, and the results of the analysis of environmental samples did not indicate the presence of nuclear material".
But suspicions about Parchin persisted and the IAEA has repeatedly sought to visit the facility again. The latest attempt came in February, when inspectors were turned away despite "intensive efforts".
The IAEA subsequently complained it had been unable to "provide credible assurance about the absence of undeclared nuclear material and activities in Iran" and that it continued to have "serious concerns regarding possible military dimensions to Iran's nuclear programme".
On Monday, Iran's mission in Vienna issued a statement suggesting that IAEA inspectors would once again be permitted to visit Parchin.
"Considering the fact that it is a military site, granting access is a time consuming process and cannot be permitted repeatedly," it said.
"In the light of this background and principle the Agency was requested to combine all related issues such as hydrodynamic experiments, and then once more, access would be granted."
The statement said the visit required an agreement on "modality".
http://www.bbc.co.uk/news/world-middle-east-17269341
--------
Netanyahu: Israel has right to defend itself
Mar 06, 2012 | AP | Washington
Israel's Prime Minister on Monday vigorously asserted his country's right to defend itself against the nuclear threat emanating from Iran, warning that time was growing short and declaring he wouldn't 'gamble with the security of the state of Israel'.
Benjamin Netanyahu's tough talk in a speech to thousands of American Jewish supporters was his strongest suggestion yet that he wouldn't hesitate to launch a unilateral pre-emptive attack on Iran. It differed starkly in tone from President Barack Obama's appeal earlier in the day to give diplomacy and sanctions more time to work before resorting to force.
Israel has 'patiently waited' for diplomacy and sanctions to work but time is working against that approach, Netanyahu told a record gathering of the America Israel Public Affairs Committee, the pro-Israel lobby in Washington.
"None of us can afford to wait much longer. As Prime Minister of Israel, I will never let my people live in the shadow of annihilation," he said to a roaring standing ovation.
Israel, like the U.S. and much of the West, rejects Iran's claims that its nuclear program is designed to produce energy and medical isotopes. The head of the U.N. nuclear agency fed concerns further on Monday by saying his organization had 'serious concerns' that Iran may be hiding secret atomic weapons work.
But Israel and the U.S. disagree over when a strike might be appropriate and how effective a unilateral Israeli attack might be against scattered and heavily fortified Iranian nuclear facilities.
The Israeli leader dismissed arguments that an attack on Iran would exact too heavy a toll by provoking Iranian retaliation. He held up a copy of a 1944 letter from the U.S. War Department rejecting world Jewish leaders' entreaties to bomb the Auschwitz death camp because it would be 'ineffective' and 'might provoke even more vindictive action by the Germans'.
"My friends, 2012 is not 1944," Netanyahu said. "Today, we have a state of our own. And the purpose of the Jewish state is to defend Jewish lives and to secure the Jewish future."
Netanyahu's speech drew tumultuous applause and numerous standing ovations from the crowd of more than 13,000 people, reflecting the immense support Israel enjoys in the U.S.
It also drew attention to the gap between the U.S. and Israel over how to handle Iran.
As he entered his meeting with Netanyahu at the White House earlier on Monday, Obama declared, "The United States will always have Israel's back," but quickly added, that "both the prime minister and I prefer to solve this diplomatically."
Netanyahu responded that Israel must remain 'the master of its fate' but made no reference to letting diplomacy and sanctions percolate.
Israel assesses that Iran is close to being able to build a bomb and wants to stop it before it reaches that point. Some Israeli defense officials have said Israel must strike by summer because Iran is moving key operations out of the reach of Israeli air power.
The Obama administration sees this course as dangerously premature, arguing that Tehran has not yet decided whether to actually produce atomic weapons and might still respond to non-military pressure. Because of its superior firepower, the U.S. reasons it would be able to act many months after Israel could.
http://www.asianage.com/international/netanyahu-israel-has-right-defend-itself-871
--------
Another small girl found raped, strangled in Karachi
KARACHI, March 5: A seven-year-old girl, who had gone missing a day earlier near her home in Gulistan-i-Jauhar, was found raped and murdered in a locality graveyard on Monday, police said.
They said that the girl went missing on Sunday evening while playing outside her house in Husain Hazara Goth in Gulistan-i-Jauhar.
Her family kept looking for her during the night and informed the police about her disappearance on Monday morning.
The girl's body was found in a graveyard near Kamran Chowrangi, the police said, adding that killers had strangled her.
The body was shifted to the Jinnah Postgraduate Medical Centre for a post-mortem examination.
Dr Rohaina Hasan, the woman medico-legal officer at the JPMC, said that the girl, aged between six and seven years, had been subjected to rape. "Apparently she tried to put up resistance, as she had bruises on her hand and other parts of her body," the WMLO told Dawn.
The victim girl studied at a Madressah. She was a daughter of a rickshaw driver.
He lodged a case (FIR 127/12) under Sections 363 (punishment for kidnapping), 302 (premeditated murder), 376 (punishment of rape) and 34 (common intention) of the Pakistan Penal Code with the Gulistan-i-Jauhar police station.
"We are taking the incident very seriously…we have talked to the family but so far they have not showed any suspicion about anyone," said DIG East Tahir Naveed.
In response to a query about similar incidents taking place in the past, the DIG said that the police were also investigating whether or not a single person or gang was involved.
Earlier, on January 11, a five-year-old girl, also a resident of Husain Hazara Goth, was kidnapped while playing outside her home. A day later she was found strangled in Sikandar Goth within the remit of the Sachal police station. A post-mortem examination confirmed that the little girl was subjected to rape.
The police have yet to solve this case, as those involved in the rape and murder of the girl are still at large.
In yet another incident, the body of a five- or six-year-old girl was found within the remit of the Pirabad police station in the last week of February. The post-mortem examination confirmed that she was subjected to rape before being strangled.
The police are still clueless about the culprits involved in the case.
Also on Dec 15, 2011, an eight-year-old girl was found raped and strangled on a vacant plot in Gulistan-i-Jauhar opposite Shaikh Zayaid Islamic Centre of Karachi University. The girl had gone missing from outside her house within the remit of the Jauharabad police station on Dec 12.
Later, the police claimed to have arrested two men on charges of killing and raping the little girl.
http://www.dawn.com/2012/03/06/another-small-girl-found-raped-strangled.html
--------
'Qaeda terrorists' kill 27 policemen in Iraq
Tuesday, March 06, 2012
HADITHA: Suspected al Qaeda gunmen, some wearing army uniforms, raged through a western Iraq city on Monday in a pre-dawn shooting spree that killed 27 policemen, including two officers. The assault saw insurgents dressed in military uniforms simultaneously attacking two checkpoints in the east and west of Haditha before storming other security posts and raiding the homes of the two officers. Monday's violence, the deadliest in Iraq since February 23, comes just weeks before an Arab League summit which is scheduled to be held in Baghdad at the end of the month. Haditha's hospital director told AFP that they received 27 dead bodies, all of them policemen, and treated three policemen who were wounded. He added that the hospital also received the body of a gunman. Haditha police spokesman Major Tareq Sayeh Hardan said the attack started when several armed men wearing security uniforms and carrying forged arrest warrants attacked several checkpoints. According to police Lieutenant Colonel Owaid Khalaf the gunmen first attacked checkpoints at the eastern and western edges of Haditha. "More than 50 gunmen altogether started attacking checkpoints all over the town," Khalaf said, noting that at least one attacker was killed in the gunfights. He said the attackers also targeted two senior police officers' homes – Colonel Mohammed Shauffeur and Captain Khaled Mohammed Sayil. They killed three bodyguards at each of the officer's houses, and kidnapped both. Shauffeur's body was found in a Haditha marketplace and Sayil was discovered in an alleyway, blindfolded with fatal gunshots to the head. afp
http://www.dailytimes.com.pk/default.asp?page=2012\03\06\story_6-3-2012_pg7_3
--------
25 police killed in western Iraq shooting spree
By ASSOCIATED PRESS
Published: Mar 5, 2012
BAGHDAD: A gang of gunmen disguised in military-style uniforms and carrying forged arrest warrants killed 25 police Monday, then hoisted the battle flag of Al-Qaeda in a carefully planned early morning shooting spree in western Iraq, officials said.
The killings in Haditha highlight Al-Qaeda's success in regaining a foothold in an area they once dominated through police executions and murdering city officials.
By going after police, the militants demonstrate to the residents of Haditha, a desert city closer to the Syrian border than to Baghdad, how isolated they are from the central government's protection and intimidate those who want to join the security forces.
The city's proximity to the border, just 65 miles away, means it is vital territory to Al-Qaeda if they want to ramp up operations in Syria to help overthrow the government of President Bashar Assad. Already, Sunni militants who revile Assad because he's a member of an offshoot religion of Shiism are crossing from Iraq into Syria.
The killings carried out by Al-Qaeda Monday morning demonstrated a high degree of coordination, knowledge of their targets and a boldness that indicated little fear of the local security forces ability to fight back.
The violence began with an attack on a suburban checkpoint around 2 a.m. in Haditha and ended with the gang disappearing into the desert a half hour later.
"We consider this attack as a serious security breach and we believe that Al-Qaeda or groups linked to it are behind this," said Mohammed Fathi, spokesman for the governor of Iraq's western Anbar province where Haditha is located.
Iraqi officials described a systematic plot to kill police in Haditha, 140 miles (220 kilometers) northwest of Baghdad, with attackers disguising themselves in military uniforms and driving cars painted to look like Iraqi interior ministry vehicles.
Fathi said the gang claimed they were military officials with arrest warrants for city police. They were stopped at a checkpoint outside Haditha, where they took away the guards' mobile phones before shooting nine of them, he said.
The gang's convoy, described by one Haditha police lieutenant as stretching 13 cars long, then stopped at the homes of two Haditha police commanders, including the colonel who served as the city's SWAT team leader. Brandishing the fake arrest warrants, the gunmen forced the commanders into the convoy, and shot both less than a quarter-mile (400 meters) away, Fathi said.
Fathi said the gang had false arrest warrants for 15 police officials in Haditha. As their convoy moved through the city, they were stopped at another checkpoint near the city's main market. A fierce gun battle broke out, with the gang raising the black flag of Al-Qaeda in a show of defiance. Six policemen were killed in that skirmish, and another six were killed in shootings as security forces chased the gang through the city, Fathi said.
Most of the gang escaped, fleeing north into a desert area in bordering Ninevah province known as Jazeera, according to a police lieutenant in Haditha. On the way out, Fathi said, another two policemen were killed at a checkpoint on Haditha's outskirts.
Police at the scene said three of the attackers were killed but the rest escaped. Fathi said only one insurgent's body has been identified. Such confusion is common in the immediate aftermath of an attack in Iraq.
Haditha is a former Sunni insurgent stronghold of about 85,000 people in a valley where the Euphrates River runs through the desert. It is halfway between Baghdad and the border town of Al-Qaim, which for years was a way station for insurgents coming into Iraq from Syria. Within a year of the 2003 US invasion, Haditha was the headquarters for Abu Musab Al-Zarqawi, the slain leader of Al-Qaeda in Iraq.
For many Iraqis, the city is a symbol of some of the worst atrocities during the war.
The mayor of Haditha and his son were executed in July 2003. The next year, after US forces pulled back their protections, insurgents executed dozens of local policemen in a soccer stadium. US troops returned to Haditha with force in 2005, but at least 20 Marines and an interpreter were killed in separate attacks.
But it was a November 2005 bombing that touched off an attack that still has people in Haditha seething.
A Marine convoy hit a roadside bomb in Haditha that day, killing three US troops. Incensed, the surviving Marines shot five men by a car at the scene and stormed several nearby houses, where they cleared rooms with grenades and gunfire. Twenty-four Iraqis were killed, including unarmed women and children. Only one Marine was convicted, although he was spared prison time.
The dominant Sunni tribe in Haditha are the Al-Jughaifi. The SWAT team leader, Col. Mohammed Hussein, was a Al-Jughaifi tribesman, and was also a founding member in Haditha of the Sahwa militiamen, or Awakening Councils, that joined forces with the US military to fight Al-Qaeda at the height of Iraq's insurgency. The Al-Jughaifi are traditionally farmers or smugglers who live in the area between Haditha and Al-Qaim.
Many tribesmen were Al-Qaeda until they switched allegiances to the US military.
The Jazeera desert area is also a few hours from the Syrian border. Iraqi intelligence officials say weapons smugglers and fighters have secretly crossed into Syria to fight alongside local opposition forces against Assad.
Insurgent groups have been hammering Iraqi security forces with attacks, seeking to undermine the public's confidence in the ability of their policemen and soldiers. The impersonation of military personnel by insurgents also makes citizens distrustful of anyone wearing a uniform.
Monday's strike was the third in as many weeks that showed evidence of careful planning by an insurgency bent on proving their might.
On Feb. 23, widespread shootings and bombing across Iraq killed 55 and wounded more than 200 in attacks for which Al-Qaeda immediately claimed responsibility. Two days earlier, a suicide bomber detonated his car as a group of police recruits left their academy in Baghdad, killing 20.
The Haditha lieutenant described Monday's killing spree as "the first bold attack" on the city in years.
Authorities in Haditha quickly locked down the city with a curfew and deployed the Iraqi army there to keep order.
http://arabnews.com/middleeast/article583649.ece
--------
Balochistan C M orders steps to curb terrorism
Saleem Shahid
QUETTA: Balochistan Chief Minister Nawab Aslam Raisani has ordered the heads of law enforcement agencies, including Frontier Corps and police, to take steps to fight terrorism, kidnapping for ransom and other heinous crimes in the province.
He was speaking at a meeting, presided over by him and the commander of the southern command here on Monday, to review the law and order situation in the province.
The meeting was attended by military officials, the home secretary, the Frontier Corps inspector general, the provincial police chief and officials of secret agencies.
It was decided that all possible steps would be taken to curb terrorist activities, kidnapping for ransom and other crimes that were increasing in the province.
"Law enforcement agencies should take all measures to ensure security of the people in Balochistan," the chief minister said.
The meeting decided that the army, Frontier Corps, police and other law enforcement agencies would implement the orders of the chief minister for ensuring law and order and providing security to people.
Home Secretary Nasibullah Khan Bazai briefed the meeting about steps taken by law enforcement agencies to improve the situation.
According to sources, the chief minister expressed concern over the performance of law enforcement agencies and said police and Frontier Corps personnel were not properly patrolling areas in and around the provincial capital at night.
The chief minister and the home secretary had taken a round of Quetta at night a few days ago and observed that police and FC personnel were not on patrol.
The chief minister had suspended over 10 policemen found sleeping instead of performing their duty.
It was decided that police and Frontier Corps would increase their patrolling to keep an eye on elements involved in terrorist activities, kidnapping for ransom and other crimes.
Army officials briefed the chief minister about development projects launched by the military in Sui and Kohlu. Nawab Raisani lauded the efforts.
The chief minister was also informed about incentives being given to the first 20 candidates at the Quetta Institute of Medical Sciences that has been set up under the southern command in Quetta.
http://www.dawn.com/2012/03/06/raisani-orders-steps-to-curb-terroris.html
--------
'Modern research is imperative for uplift of any country': Pakistani Scientist
KARACHI: March 06, 2012, Modern research is imperative for the development of any country. Dr Abdul Qadeer Khan expressed these views while addressing the faculty, students and staff of Dr AQ Khan Institute of Biotechnology and Genetic Engineering (KIBGE), University of Karachi (KU). A KU statement on Monday said that a ceremony was organised in honour of the visit of Dr Abdul Qadeer Khan to KIBGE, KU. It said that Dr Khan has visited his Alma Mater after eight years. On this occasion, he expressed his satisfaction on the fact that KIBGE is satisfactorily playing its part in the progress of the country's research sector. He added that this institute is the one that was initiated by him and is now being nurtured by the scholars and knowledge seekers of KU. KU Vice Chancellor Prof Dr Muhammad Qaisar welcomed Dr Khan. He also congratulated KIBGE Director Prof Dr Abid Azhar and appreciated his efforts in running the institute efficiently. The vice-chancellor expressed his anticipation regarding a productive and better future of the institute. He acknowledged that the institute has already emerged as a leading institute in biotechnology and genetic engineering. Prof Dr Abid Azhar in his welcome address expressed his gratitude on the presence of Dr Khan in KIBGE and briefed the audience about the institute's progress and success. app
http://www.dailytimes.com.pk/default.asp?page=2012\03\06\story_6-3-2012_pg12_10
--------
Summons be pasted on Musharraf house: SC
ISLAMABAD: The Supreme Court hearing a plea for registration of a second FIR in the Benazir Bhutto assassination case ordered on Monday that a summons be pasted on the wall of former president Gen (retd) Pervez Musharraf's residence in Islamabad.
A three-member bench comprising Chief Justice Iftikhar Mohammad Chaudhry, Justice Khilji Arif Hussain and Justice Tariq Parvez said the move was aimed at informing the retired general of the case that would be taken up again after two weeks.
Mohammad Aslam Chaudhry, who filed the petition, is one of the injured witnesses of a gun-and-bomb attack on the former prime minister outside Liaquat Bagh in Rawalpindi on Dec 27, 2007. He served the slain PPP leader as protocol officer for 21 years.
The petitioner had challenged the rejection by the Lahore High Court of a plea for registration of the second FIR in the case.
He had also sought the initiation of criminal proceedings against Gen Musharraf and others for allegedly planning and executing the plot to assassinate Ms Bhutto and named as respondents former Punjab chief minister Chaudhry Pervez Elahi, Interior Minister Rehman Malik, former law minister Babar Awan, then acting interior minister Lt-Gen (retd) Hamid Nawaz, former director general of Intelligence Bureau Syed Ijaz Hussain Shah, former interior secretary Syed Kamal Shah and senior police officers of Rawalpindi.
Last week the government formally requested the Interpol to issue 'red warrants' for the arrest and extradition to Pakistan of Gen Musharraf, who is facing a case in an anti-terrorism court for not providing adequate security to Ms Bhutto. The ATC-III has already issued non-bailable warrants for Gen Musharraf and declared him a proclaimed offender.
On Monday, the apex court was informed that notices had been sent to Gen Musharraf on the address available, but the 'server's' report suggested that he was living abroad.
The Punjab prosecutor general submitted a reply on behalf of the city police officer (CPO) and district police officer of Rawalpindi, opposing the registration of the second FIR on the grounds that a challan had already been submitted to the relevant court.
The court accepted a request of the Federal Investigation Agency to become a party in the case.
The court asked Advocate Rasheed A. Razvi, the counsel for Aslam Chaudhry, to furnish complete and correct address of Babar Awan in two days and ordered that on its receipt the process of issuing the notice be repeated.
The court said that since former CPO of Rawalpindi Saud Aziz, then SSP (operations) Yasin Farooq and then SP of Rawal Town Khurram Shahzad (respondents) belonged to the police force, the inspector general of Punjab police would ensure that notices were issued to them.
http://www.dawn.com/2012/03/06/plea-for-second-fir-in-benazir-assassination-case-summons-be-pasted-on-musharraf-house-sc.html
--------
Nawaz against another term for Gen Pasha
LAHORE: PML-N president Nawaz Sharif has categorically stated that he is against giving extension in service to ISI Director General Shuja Pasha.
Talking to journalists after offering fateha for Col Sheraz who died in a terrorist attack in the Bara subdivision of Khyber Agency, he said he would not say anything on the matter because the residence of the late Colonel was not an appropriate place to discuss such issues.
He said he was there to offer condolences to the family of the army officer who had sacrificed his life for the country.
He, however, said the masses suffered whenever army generals ventured into politics. Answering a question about Prime Minister Yousuf Raza Gilani's statement on the Seraiki province, Mr Sharif said that the prime minister should speak and act 'responsibly' on such issues.
Also on Monday, addressing a meeting of the general council of Punjab PML-N, he said the time for change was not far off. A revolutionary programme is being prepared to transform the destiny of the country and bring prosperity to people and raise their standard of living.
He said the PML-N would implement its agenda in cooperation with the masses to project sovereignty of the country and to give it a dignified status in the comity of nations.
Had the democratic governments been allowed to complete their tenure, he said, the situation would have been different from it was today.
He congratulated Shahbaz Sharif on his unopposed election as president of PML-N Punjab and asked him to speed up work on the party's mission to serve people.
PML-N chairman Raja Zafarul Haq, Senator Ishaq Dar, Iqbal Zafar Jhagra, Syed Ghaus Ali Shah, Sardar Zulfiqar Ali Khan Khosa, Hamza Shahbaz Sharif, Ahsan Iqbal, members of national and provincial assemblies, provincial ministers, members of the council from all over the province and a large number of PML-N workers were present on the occasion.
http://www.dawn.com/2012/03/06/nawaz-against-another-term-for-gen-pasha.html
--------
Four killed as militants fight over key bunker in Landi Kotal, Pakistan
Ibrahim Shinwari
LANDI KOTAL, March 5: Four militants were killed when rival groups clashed with each other to get control over an important bunker in Tirah valley of Khyber Agency on Monday.
Sources said that Taliban of Tariq Afridi group attacked a bunker of Lashkar-i-Islam (LI) in Dwa Thoe area of the valley. Both the groups traded heavy fire, which resulted in killing of four militants. LI sources in Bara claimed that they not only repulsed the offensive but also killed three of their opponents.
The LI had captured the same post after expelling Taliban from the Kukikhel dominated areas of Tirah valley. Both groups have been fighting with each other since October last year to gain full control of the area.
Taliban had lost most of the areas, they had been occupying after they were expelled from Darra Adamkhel following a military operation about two years ago.
Also, an official of Mehsud Scouts was killed in a blast while headless body of a tribesman was found in Bara on Monday.
Officials said that security forces were conducting a search operation in Naway Kamar area on Sheen Qamar Road when an explosive device planted inside an empty house exploded.
The explosion caused injuries to a soldier, who later succumbed to his wounds in a hospital.
In Akkakhel, local residents found headless body of Tor Mullah Zakhakhel, a tribesman, at a deserted place. Sources said that reason behind beheading the tribesman could not be ascertained immediately.
Meanwhile, Kukikhel volunteers defused an explosive device planted on a roadside in Serhai area on Monday.
Local sources said that the device was spotted minutes before a Kukikhel jirga was held in the area. Nobody has claimed responsibility for planting the improvised explosive device.
However, Taliban of Tariq Afridi group have claimed responsibility for a suicide attack carried out at a LI base in the same region on Friday.
In Landi Kotal, unidentified militants blew up a government primary school on the night between Sunday and Monday.
Officials said that militants planted huge quantity of explosives at Malik Jafar Khan primary school at midnight that exploded later. The blast damaged the building. Nobody has so far claimed responsibility for the blast.
http://www.dawn.com/2012/03/06/four-killed-as-militants-fight-over-key-bunker.html
--------
Pakistan: 7 militants killed in Dera Bugti clash
QUETTA: At least seven militants were killed and nine injured in a clash between security forces and unknown militants in Dera Bugti area of Balochistan, Geo News reported Tuesday.
According to security sources, an FC convoy was ambushed by unknown gunmen in Sui area and after an hour of fire exchange, seven attackers were killed while nine others were injured. Security men remained unhurt in the incident, sources told.
Security forces started the investigation after arresting the injured militants.
http://www.thenews.com.pk/article-38472-7-militants-killed-in-Dera-Bugti-clash
--------
Suicide attack on Bagram, Kabul airbase kills two
KABUL: March 06, 2012, Afghan officials say a suicide bomber, on Monday, killed at least two civilians after detonating explosives at the gates of the NATO base where copies of the holy Quran were burned.
The bomber targeted a vehicle belonging to the NATO-led International Security Assistance Force (ISAF), said district Governor Kabir Ahmad Rahil. He added that there could be foreign casualties, although a NATO spokeswoman said no coalition troops had been harmed in the attack.
Rahil says four more civilians were wounded in the attack.
Taliban spokesman Zabihullah Mujahid in a text message claimed responsibility for the attack, saying it was "revenge" for the holy Quran burning, He added that "a number of Americans" were killed and their tanks destroyed in the attack. Afghanistan's army chief has said burning of the holy Quran last month at the NATO base north of Kabul advanced the Taliban's cause and warned that any repeat of such "negligence" by Western forces could be disastrous.
The United States described the burnings as unintentional and apologised, but the apology has failed to quell widespread protests that killed at least 30, wounded hundreds and plunged Afghan-American relations to a new low. The burnings could also be behind the deaths of six American soldiers, including two high-ranking officers in the Afghan Interior Ministry, who are believed to have been shot by Afghan security forces.
Afghanistan's top religious council last week demanded that those responsible for the burning of the holy Quran should be put on a public trial. The results of an inquiry into the incident have not been released. The Washington Post has reported that five US soldiers were involved in the burning incident. Citing US military officials, the Post said an investigation had established that the soldiers removed copies of the holy Quran from a prison at the Bagram air base after they were found to contain extremist messages. The books were placed in an office for safekeeping, only to be mistaken for garbage and taken to a landfill where Afghan employees identified them as the holy Quran just as the pages caught fire, according to the investigation.
Afghan President Hamid Karzai has used the public outrage over the incident to press his demand that the Bagram prison be handed over to Afghan control. Last Monday, a suicide car bombing – also claimed by the Taliban to be in revenge for the incident – targeted NATO troops at an airport in eastern Afghanistan, killing nine people but no foreign soldiers. The US-led NATO force has 130,000 troops fighting the Taliban, who were toppled from power in a US-led invasion in 2001. Just hours before the attack on Bagram, a suicide bomber on foot blew himself up at a police checkpoint in the eastern city of Jalalabad, killing a member of Afghan security forces and wounding eight, the Interior Ministry said. agencies
http://www.dailytimes.com.pk/default.asp?page=2012\03\06\story_6-3-2012_pg7_2
--------
PPP leaders meet; post-senate elections situation discussed
ISLAMABAD: A meeting of some federal ministers and senior leadership of Pakistan Peoples Party (PPP) was held at the Aiwan-e-Sadr on Monday, President Asif Ali Zardari and Prime Minister Syed Yousuf Raza Gilani chaired the meeting.
Those who were present during the meeting included Senator Syed Nayyar Hussain Bukhari, Ch. Ahmed Mukhtar, Dr. Firdous Ashiq Awan, Senator A. Rehman Malik, Mir Hazar Khan Bijarani, Makhdoom Shahab-ud-Din, Syed Naveed Qamar, Senator Dr. Babar Awan, Senator Jahangir Badar, Senator Faisal Raza Abidi, Senator Sardar Ali Khan, Spokesperson Farhatullah Babar, Nazar Muhammad Gondal, Qamar Zaman Kaira, Raja Parvez Ashraf, Ms. Fouzia Wahab, Ms. Rukhsana Bangash and Ms. Fouzia Habib.
While briefing about the meeting Spokesperson to the President Farhatullah Babar said that political situation with particular reference to the post-senate elections situation was discussed.
The participants felicitated the party's Co-Chairman President Asif Ali Zardari and party leadership that PPP had emerged as the single largest party in the Senate.
They also noted that the government of Prime Minister Gilani had achieved the unique distinction of holding two consecutive Senate elections during its tenure despite political hurdles.
The forthcoming address of the president to the Parliament was also discussed during the meeting. This would be the fifth address in a row of the president to the Parliament.
http://www.dawn.com/2012/03/04/pcb-scorers-continue-to-suffer-in-aftermath-of-sl-team-attack.html
--------
ECP upholds Balochistan Senate results
Amir Wasim
ISLAMABAD: The Election Commission of Pakistan upheld on Monday the previously declared Senate poll results for seven general seats from Balochistan, prompting a furious protest by the Pakistan Muslim League-N which threatened to take the matter to the Supreme Court.
Balochistan Election Commissioner Abdul Jabbar Jamali, who was also returning officer in the Senate elections, made the announcement in the presence of members and lawyers representing the Pakistan People's Party, Awami National Party and the PML-N.
The PML-N's lawyer, Senator Syed Zafar Ali Shah, ANP Senators Haji Mohammad Adeel and Zahid Khan, and a former deputy attorney general, Shah Khawar of the PPP, were present in the Election Commission of Pakistan office where they were asked to assemble for a recount.
The angry PML-N leaders later held a news conference at Punjab House, alleging that the provincial election commissioner had backtracked from his own commitment by upholding the previous decision without holding a recount.
The PML-N's Balochistan president Sanaullah Zehri, MNA Abdul Qadir Baloch and Dr Tariq Fazal Chaudhry said that while withholding the results for seven general seats late on Friday night, Mr Jamali had announced that final results would be declared after recounting the votes in Islamabad.
The Pakistan Muslim League-N leaders said they would submit an appeal against what they called "biased decision" to the chief election commissioner, adding that they would file a petition in the Supreme Court if they didn't get "any justice".
They said an MPA had wrongly put a tick mark on the name of a candidate instead of the given box. The returning officer had rejected the vote cast in favour of a PML-N candidate, but accepted a similar one for a PPP candidate, they alleged. "Had this vote been counted, the PML-N candidate would have won the election."
The Pakistan Muslim League-N leaders alleged that state machinery had been used to rig the Senate elections and Rs650 million spent on the purchase of votes.
Sardar Fateh Muhammad Hasni, Muhammad Yousaf and Nawabzada Saifullah Magsi of the PPP, Mir Israrullah Zehri of the Balochistan National Party-Awami, Saeedul Hasan Mandokhel of the PML-Q, Daud Khan Achakzai of the Awami National Party and Hafiz Hamdullah Saboor of the JUI-F had been declared winners in the Senate elections held on Friday.
The Pakistan Muslim League-N had refused to accept the results, alleging that one of the votes polled in favour of its candidate had wrongfully been excluded from the counting by the returning officer.
After having failed to resolve the dispute, the Balochistan election commissioner had announced that a recount would be held in Islamabad on Monday.
Talking to Dawn, Zafar Ali Shah said PML-N candidate Syed Nawab Shah had obtained more than the seven votes required to win a general seat, but he had intentionally been deprived of one vote. In reply to a question, he said that because of the
complicated process it would be difficult for him to say who would lose the seat if the PML-N candidate was declared a winner.
The Awami National Party's Zahid Khan said his party was worried about the dispute because its candidate Daud Khan Achakzai was at number six on the list.
He said it was a dispute between the PPP and the PML-N because PPP's Muhammad Yousuf was at number seven according to the votes polled in the Balochistan Assembly.
The Awami National Party leader hit back at allegations by the PML-N, contending that under the law, the provincial election commissioner could not hold another recount after already having done it on the polling day.
He said if the PML-N had any objection, it could challenge it at appropriate legal forums.
http://www.dawn.com/2012/03/06/pml-n-threatens-to-challenge-decision-in-supreme-court-ecp-upholds-balochistan-senate-results.html
--------
Ibrahim Kalifulla elevated to Indian Supreme Court
J. VENKATESAN
The Supreme Court will soon get one more judge — Chief Justice of the Jammu and Kashmir High Court F.M. Ibrahim Kalifulla — with the collegium of judges clearing his name for elevation.
Justice Kalifulla, who hails from Tamil Nadu, will be the second judge to represent the Madras High Court, after Justice P. Sathasivam.
In August 2009, the collegium recommended the elevation of Justice P.D. Dinakaran of Tamil Nadu, who was then the Chief Justice of Karnataka, along with four other High Court Chief Justices. But his elevation did not materialise.
The collegium, headed by Chief Justice of India S.H. Kapadia, at its meeting last week considered the elevation of Justice Kalifulla, though he became a permanent judge of the Madras High Court only in March 2000, and there are several other Chief Justices much senior to him.
Justice Kalifulla was posted as a judge of the Jammu and Kashmir High Court in February 2011. He became its acting Chief Justice in April 2011 and permanent Chief Justice in September that year. He will have little over four years in tenure as Supreme Court judge and will be the third Muslim Judge, after Justice Altamas Kabir and Justice Aftab Alam.
His appointment is expected to materialise in two-three weeks.
The Supreme Court now has 25 judges, against the sanctioned strength of 31. Though appointments are not made on the basis of seniority or regional considerations, as per convention, every State is represented by at least one judge at any point of time.
After the retirement of Justice Cyriac Joseph, there is no representation for Christians. Similarly, after the retirement in 2010 of the former Chief Justice of India, K.G. Balakrishnan, there is no representation for Scheduled Castes. Before Justice Balakrishnan, Justice K. Ramaswamy represented the community, retiring as he did in 1997.
The present strength of judges is represented as follows: three each from the Bombay, Delhi and Patna High Courts; two each from Rajasthan, Punjab and Orissa and one each from the High Courts of Calcutta, Madras, Gujarat, Allahabad, Madhya Pradesh, Andhra Pradesh, Kerala, Karnataka, Jammu and Kashmir and Jharkhand.
There is no representation for Assam or the northeast after the retirement of Justice Mukundakam Sharma in July last. Though the Punjab and Haryana High Court is represented, there is no representation for Haryana as such, and a bigger High Court like the Allahabad High Court has only one representation.
With Justice Dalveer Bhandari likely to be appointed a judge of the International Court of Justice in May first week, the strength will come down once again to 25.
http://www.thehindu.com/news/national/article2964551.ece
--------
Osama family members to leave Pakistan
Mar 06, 2012 | PTI | Islamabad
Pakistani authorities have allowed family members of slain al Qaeda chief Osama bin Laden, including his widows and children, to leave the country, a media report said on Tuesday.
A Yemeni brother-in-law of bin Laden has arrived in Pakistan to take away his two Yemeni widows, the mass circulation Urdu language Jang newspaper quoted official sources as saying.
Bin Laden was killed by US special forces in an early morning raid in the garrison town of Abbotabad on May 2 last year.
He is believed to have lived in a compound near the elite Pakistan Military Academy for nearly five years.
A commission investigating the US raid and bin Laden's presence in Pakistan has allowed the al Qaeda chief's family members to leave the country as they are no longer required for questioning.
The commission's members had interviewed bin Laden's widows as part of the investigation. Three widows and several children and grandchildren of the al Qaeda chief are in the custody of Pakistani security agencies.
The report said bin Laden's brother-in-law was busy preparing documents for the two Yemeni widows who will be taken back to Yemen.
There was no official word on the development. The daily further reported that bin Laden's family members had been shifted from a safe house operated by security agencies to an unspecified location in Islamabad.
Police commandos have been deployed to protect them and the family could leave Pakistan in a couple of days, the report said.
Saudi authorities have refused to accept the Saudi widow of bin Laden, the report said. The US troops had handed over all the family members of bin Laden after the 40-minute operation on May 2.
One Yemeni widow has been quoted by the media as saying that bin Laden had lived in Abbottabad for five years.
Pakistani authorities razed bin Laden's compound late last month as it had become a security concern because hundreds of people were visiting it every day.
The compound was located just two kilometres from the Pakistan Military Academy, which was attacked with rockets in late January.
No one was hurt and the attack only caused minor damage to the wall of the academy.
http://www.asianage.com/international/osama-family-members-leave-pakistan-869
--------
West's game plan in Afghanistan hits a stumbling block
SANDEEP DIKSHIT
NEW DELHI, March 6, 2012
The western game plan of involving Afghanistan's neighbours in tackling the post-2014 situation, by which time the bulk of its troops would be back home, seems to have struck a stumbling block with Russia expressing its reluctance, said diplomats focussed on the Af-Pak region.
"Russia was the most difficult,'' they said of last-November's Bonn conference, which was the last of the mega meets that began with the same location in 2001 and travelled through London, Kabul and Lisbon.
Now, with the West pinning hopes on specialised meets such as the ones in Chicago, Tokyo and Ashgabad to bring focus on Afghanistan's immediate needs, western Af-Pak envoys who have visited India recently realised the need to quickly bring around most of the neighbours who were generally kept on the sidelines while the 10-year-war in the country raged, first with the al-Qaeda and then with the Taliban.
'IRAN NOT A BAD PARTNER'
Despite the U.S. and European Union's attempts to bring Iran to its knees by hitting at its mainstay of oil exports, diplomats described Tehran as "not a bad partner" in stabilising Afghanistan due to its shared concerns of narco-trafficking, Taliban's viciousness in the social sphere and anti-Shia orientation.
But it was Russia which was a cause for concern because its "proxies," as a western Af-Pak envoy who visited India recently described Uzbekistan, Tajikistan, Kyrgyztstan and Kazakhstan, are also likely to align with Moscow because of the closely guarded NATO plans of leaving behind a military presence. Only Turkmenistan, which styles itself as the "Switzerland of Central Asia" (because of its 'neutral' position), seems enthusiastic.
"Russia is the most difficult partner, even more than Pakistan. Even China did not support the Russian position at the Bonn conference,'' they said.
With the tough task of going beyond platitudes now looming ahead, the West would need China, Russia and the four Central Asian countries to subscribe to the formulas being discussed in western capitals, including Brussels, where the military component of western forces in the post-2014 era is being discussed.
FUNDS FROM CHINA
The West has great expectations from the cash-flush China in contributing to the upkeep of the Afghan National Security Forces (ANSF) as well as development projects.
"We are in the midst of discussions on sharing the costs of maintaining the ANSF" they said, while acknowledging that the present strength of 3.52 lakhs was unsustainable and pushed solely by the U.S. overriding reluctance by the European countries.
In addition to the commitments for maintaining and "monitoring" the ANSF, talks in Tokyo would deliberate on the financing of confidence-building measures in the security, economic and cultural fields that are being drafted in Kabul.
With the western countries already contributing substantially in Afghanistan for the past decade, additional funds are likely to come from other countries such as China.
Diplomats said they could not understand Russia's resistance to falling in line with the "world community." But with neither the West's military plans in the post-2014 era having been spelt out nor the fine print of quid pro quo expected from Kabul in return for sustained aid till 2024 clear, officials here expect a long line of Afghanistan's neighbours — Iran, Pakistan, Russia, Tajikistan, Kyrgzistan, Uzbekistan and Kazakhstan — to still remain on the sidelines.
http://www.thehindu.com/news/international/article2964712.ece
--------
Russia, China step up diplomatic role in Syria
ATUL ANEJA
DUBAI, March 6, 2012
Russia and China have stepped up their diplomatic intervention to find a home-grown non-prescriptive solution to the crisis in Syria — contrary to the call by the Arab League and the western powers for the Syrian President Bashar Al Assad to step down.
China is rushing Li Huaxin, its former envoy to Syria, apparently to test the acceptability of its newly drafted six point plan. Mr. Li is set to arrive in the Syrian capital on Tuesday. The Chinese have been escalating the tempo of their diplomacy in Syria in recent weeks.
In February, Zhai Jun, a Vice-Foreign Minister, had held talks with President Assad in Damascus, and later that month, China's special envoy for West Asia had blitzed across several regional countries, including Israel.
On Sunday, the Chinese unveiled a detailed plan that could lead to the easing of tensions in Syria, and facilitate the search for an internationally backed, internal solution to end conflict in the strife-torn nation.
In sync with the Chinese initiative, the Russians are sending their Foreign Minister Sergei Lavrov to Cairo for talks on Syria with the leadership of the Arab League While calling for the exit of Mr. Assad, the League is yet to unite on a common position on how this has to be achieved. Analysts point out that the shrill demand of Qatar and Saudi Arabia of arming the Syrian opposition, which is itself divided, does not find wide resonance inside the 22-nation grouping. Ahead of the upcoming burst of diplomacy, the Syrian forces have wrested control of the restive Baba Amr district in trouble- torn Homs. The International Committee of the Red Cross said it had managed to reach humanitarian supplies on Monday to Baba Amr residents, who had fled to an area nearly three km away, after escaping from the previous week's heavy fighting. The ICRC described the development as a "positive step," though it was yet to obtain governmental permission to enter the Baba Amr district, the heart of the conflict zone.
U.N agencies said there was a heavy influx of refugees from Syria to neighbouring Lebanon.
http://www.thehindu.com/news/international/article2964444.ece
--------
Turkey exploring paths to end Kurd conflict
By REUTERS
Published: Mar 6, 2012
ANKARA: Turkish Gendarmerie Colonel Ridvan Ozden was killed in 1995, his wife says, not by Kurdish militants, but by his own colleagues for opposing their "dirty war" and saying the solution to the Kurdish problem was not through "killing and being killed".
Times have changed however. Turkey now acknowledges that alongside military offensives to crush the rebel Kurdistan Workers Party (PKK), there can be a place for talks with related groups to find a peaceful way to end the 27-year conflict.
Secret talks between the Turkish intelligence service MIT and the PKK had already broken down by the time tapes of the meetings in Oslo were leaked last year; but while there is a chasm of mistrust, both sides appear willing to try again.
Asked by Reuters last week if talks with the PKK had been resumed, President Abdullah Gul stopped short of any confirmation, but commented:
"You see, if there are important problems in a country, to try to solve those problems either openly or in a closed environment, that is the duty of every state. And it is only natural that within this framework, initiatives have been realized and they are still being realized."
Turkey has always viewed the PKK as a terrorism problem, but under Prime Minister Tayyip Erdogan's AK Party government there is now a recognition, hardly there in the 1990s, that there are other dimensions to the Kurdish issue, and other ways besides the military option of trying to solve it.
"Obviously I don't know who the PKK is," Gul said in an interview. "Of course they might have civilian extensions. There might be those who are on the same line in political life. There are those who are legitimate, and there are those who fight against us in the mountains."
Some 40,000 have been killed since the PKK began its armed campaign for a Kurdish state in 1984 under Abdullah Ocalan, now held on a prison island in the Sea of Marmara, near Istanbul.
The conflict, besides its human cost, has put a brake on economic development and added to tensions and instability in the southeast, which borders Iraq, Iran and Syria.
Erdogan says he is sticking by his "democratic opening" to grant greater cultural and linguistic rights to the nation's Kurds, some 20 percent of the population, but there has been little let-up in military operations even during the winter.
State prosecutors have also been busy arresting hundreds of suspected PKK sympathizers across the country, including many elected Kurdish politicians. Twenty-five of the 28 members of Kiziltepe local authority in southeast Turkey are now behind bars either on trial, or waiting for their cases to come to court, an official from their pro-Kurdish party said.
Investigators are also excavating a string of mass graves of Kurds believed killed by militant agents of the "deep state", the fiercely nationalist and secularist establishment of the 1990s that also did its best to break the rising power of Erdogan, Gul and other politicians with Islamist roots.
The opening of Col. Ozden's grave in an Istanbul Martyrs' Cemetery is part of the investigations.
A lawyer for the family said there was no trace of a bullet wound in the forehead as recorded as the cause of death in what authorities at the time said was a clash with the PKK.
Ozden had also exposed petrol and drugs smuggling operations within the gendarmerie.
"This won't finish here," Zaman newspaper quoted Tomris Ozden as saying. "If not me, then my children and my grandchildren will take over this case. The truth will come out and those responsible will face judgment."
The PKK for its part, also acknowledges there is no purely military solution to the conflict and that it cannot overcome the second biggest army in NATO with its guerrilla campaign in southeast Turkey, directed from the mountains of northern Iraq.
But it accuses the government of insincerity and of only negotiating in order to try to divide the militant group, classed as a terrorist organization by both the United States and the European Union, and gain the upper hand in the fighting.
Talking to the PKK is no longer quite as unpalatable to public opinion as it was in the past, but militant attacks such as the one in October last year which killed 24 Turkish troops only serve to inflame the hatred most Turks feel for the group.
The recordings of the Oslo talks were almost certainly leaked in order to try to discredit Erdogan and the government, and analysts say there are still elements within the security apparatus deeply opposed to a negotiated end to the war.
"You appreciate this is an extremely sensitive situation, a situation of unacceptably high political risk," said Hakan Fidan, then Erdogan's special envoy, in the recording from the Oslo talks. "The prime minister said several times he was serious and sincere on this point and ready to accept the political risk."
Fidan was later promoted to head MIT.
Erdogan's government last month quickly passed a law to halt attempts by prosecutors to question him and other agents in the talks — an indication he still backs their behind-the-scenes work.
Those talks, hosted in Norway, a country noted for its peace-making efforts in Sudan, Sri Lanka and the Middle East, also featured an English voice, hinting at a possible British role.
Made during 2010, it is clear from the recording it was the fifth such meeting, but it was not clear if it was the last and whether that line of contact has been closed for good. But there are also other routes and parties with a clear interest in trying to bring the two sides together.
Foremost among these is Iraq's Kurdistan Regional Government (KRG) which is keen to promote closer political and economic ties with Turkey, the main route for its oil and gas exports, but says it has faced 28 Turkish cross-border operations into its territory in pursuit of the PKK in the last 20 years.
While no natural friends of the PKK, Iraqi Kurdish forces are unable to dislodge the Turkish Kurd group from its headquarters in the Qandil Mountains which even Saddam Hussein failed to capture from Kurdish peshmerga fighters at the height of his power.
Any such move against fellow Kurds by the KRG would also be deeply unpopular with its own public.
Qandil is also too far from Turkey for its troops to attempt to storm without a full-scale invasion, but Turkish warplanes regularly bomb PKK bases there and civilians have been killed, a further cause of concern for Iraqi Kurdish authorities.
Iraqi Kurdistan regional President Masoud Barzani is to host a national conference in July where there will be an attempt to find a way toward a peaceful end to Turkey's conflict with the PKK, Kurdish sources said on Friday.
ut Iraqi Kurdish officials stressed that while Barzani had always said he was willing to help in the cause of peace, he was not mediating between Turkey and the PKK.
A delegation from Turkey's pro-Kurdish Peace and Democracy Party (BDP) visited the Iraqi Kurdish capital Arbil two weeks ago and agreed a commission should be formed to prepare for the conference which is also to invite Kurds from Iran and Syria.
"While the Middle East and the world is being transformed, the world's biggest nation without a state wants to determine a strategic approach toward this process," said senior BDP parliamentarian Hasip Kaplan.
Asked whether the PKK would also be invited, Kaplan said: "This commission will try to listen to everyone and achieve the participation of everyone."
http://arabnews.com/middleeast/article583677.ece
--------
Al-Qaeda militants parade captured Yemen troops
By AHMED AL-HAJ | AP
Published: Mar 5, 2012
SANAA: Sneaking across the desert behind army lines, Al-Qaeda militants launched a surprise attack against military bases in south Yemen, killing 107 soldiers and capturing heavy weapons they later used to kill more troops, officials said on Monday.
Military officials said the militants' surprise attack outside Abyan's provincial capital Zinjibar also led to the capture of 55 soldiers. The captives were paraded on the streets of Jaar, a nearby town that, like Zinjibar, has been under Al-Qaeda's control for about a year.
At least 32 of the militants were killed in Sunday's fighting in Abyan province, and scores were wounded on both sides, officials said. Medical officials in the area confirmed the death toll figures. They said the poor services in local hospitals accounted for the death of many soldiers who suffered serious wounds but could have survived had they been given better medical care.
The death toll among the troops is believed to be the highest on record in battles fought by the army against Al-Qaeda militants, who have been emboldened by the political turmoil roiling the impoverished Arab nation for more than a year.
The militants' attack appeared to be Al-Qaeda's response to a pledge by Yemen's newly inaugurated President Abed Rabbo Mansour Hadi to fight the Yemeni branch of the terror network, believed to be the world's most active.
Hadi repeated that pledge on Monday during talks with a visiting British diplomat.
"The confrontation will continue until we are rid of the last terrorist, whether in Abyan or elsewhere," local Yemeni media quoted him as saying.
The military officials said the militants' surprise attack outside Abyan's provincial capital Zinjibar also led to the capture of 55 soldiers. The captives were paraded on the streets of Jaar, a nearby town that, like Zinjibar, has been under Al-Qaeda's control for about a year.
The officials spoke on Monday on condition of anonymity because they were not authorized to speak to reporters.
The battle in Abyan province shows how militants have taken advantage of the turmoil created by the yearlong uprising against then-President Ali Abdullah Saleh, who last month handed over power to Hadi.
The scale of Sunday's attack also points to the combat readiness of the militants as they launch more attacks in a region that the United States considers a key battleground in the war on Al-Qaeda.
Militants seized control of Zinjibar in May and Jaar the month before as Yemen security officials were focused on putting down a popular uprising against Saleh's regime.
Yemen's new president vowed on Monday to pursue the militants to their last hiding place.
"We intend to confront terrorism with full force and whatever the matter we will pursue it to the very last hiding place," Hadi said at a meeting with British Foreign Office minister for the Middle East and North Africa Alistair Burt, according to the state news agency Saba.
The violence highlights the challenges Hadi faces as he tries to stabilize Yemen after a year of political upheaval that eventually unseated his predecessor.
Saleh stepped down last month in a US-backed power transfer deal that Washington hoped would allow Yemen's new leaders to move against Al-Qaeda. But the fighting highlights the difficulties faced by Hadi in combatting the militant movement and restoring state authority in the lawless south.
Sunday's fighting followed the dismissal last week by Hadi's government of the military commander of the southern region, to which Abyan belongs, along with other security officials from the province.
The Al-Qaeda attack led to demonstrations on Monday by thousands of university students in the coastal city of Aden, Yemen's second largest after Sanaa. The demonstrators demanded that Maj. Gen. Mahdi Maqoula, commander of an armored battalion deployed outside Zinjibar, be put on trial for suspicion of collaboration with Al-Qaeda.
The military officials said the militants were able to seize armored vehicles, artillery pieces, assault rifles and rockets from the stores of an army base they attacked. Some of the heavy weapons were later used against the troops, causing most of the casualties. The weapons were captured from Maqoula's 31st armored battalion, according to the military officials.
A Defense Ministry statement on Sunday said the fighting began when militants detonated "booby trapped vehicles" at an army base in the region of Koud near Zinjibar. The wording of the statement suggested that the base had been occupied by the militants before army forces regrouped and took it back. The fighting lasted the whole day.
http://arabnews.com/middleeast/article583611.ece
--------
Omar Abdullah equates poll results with Delhi quake
Mar 06, 2012 | IANS | JAMMU
As the results of polls in five states came in Tuesday, Jammu and Kashmir Chief Minister Omar Abdullah could not resist equating them with the quake in Delhi and neighbouring areas a day earlier.
Abdullah, whose National Conference rules Kashmir in alliance with the Congress, which has received a drubbing in Uttar Pradesh, Goa and Punjab, tweeted: "Clearly the aftershocks of yesterday's tremor have only gotten worse in Delhi #Elections2012.
http://www.asianage.com/india/omar-abdullah-equates-poll-results-delhi-quake-867
--------
US-Afghan strategic partnership talks stalled
KABUL: Doubts grew on Monday that the United States and Afghanistan could narrow sharp differences in negotiations and reach a long-term strategic partnership deal.
The Strategic Partnership Agreement, which Washington and Kabul have been discussing for over a year, will be the framework for US involvement in Afghanistan beyond 2014, when the last foreign combat troops are due to leave Afghanistan.
The Kabul government wants the United States and NATO to agree to stop carrying out night raids on Afghan homes as a precondition for signing an agreement with Washington and a timeline to assume control over detention centres.
But while the rules covering night raids and air strikes have been tightened, they continue to cause great resentment among many Afghans. Movement on the detention issue has also stalled, causing a deadlock.
"The impasse in talks could threaten the strategic partnership," said an Afghan foreign ministry official.
Relations have been heavily strained in recent weeks over the burning of copies of the Muslim holy book at a NATO base, which triggered violent protests and prompted some Afghan security forces to turn their weapons on American soldiers.
A senior Afghan government official told Reuters that Kabul has been pressing the Americans hard to hand over the detention facility at NATO's Bagram air base, where the Korans were burned.
"The United States government thinks Afghanistan does not have the ability or the international standards to run the prison and also insists that night raids can't be stopped overnight as it's a key tool against the insurgents," he said.
"The United States government believes that Afghan forces are not yet ready to take over the control of night raids from US troops," the official said.
Gavin Sundwall, a spokesman for the US embassy in Kabul, suggested a pact may not be possible. "We have always said it is more important to get the right agreement than to get an agreement," he said in a statement.
The Obama administration has been hoping it can conclude an agreement before a meeting of NATO leaders in Chicago in May.
While the document would not nail down details, it is expected to contain an agreement in principle to some sort of US military presence in Afghanistan beyond the end of 2014, when most NATO combat troops are expected to be gone.
A failure to broker a deal might strain US-Afghan relations, already complicated by the Koran burnings and a spate of insider attacks on foreign forces, even further. It would certainly raise questions about how the West can establish a stable future for Afghanistan as NATO nations bring their troops home.
In Washington, the State Department said the agreement remained an important goal.
"There have been a couple of sticking points. We are continuing to try to work through those and I don't have anything to report at this time with regard to completing the document or settling those two issues," State Department spokeswoman Victoria Nuland told reporters.
US officials have said the night raid and detention issues may be broken out into a separate document, perhaps allowing them to conclude the strategic partnership more quickly.
One US defense official said that "any round of negotiations on agreements of this significance is bound to surface disagreements from time to time. No one should suggest that we're at the point of failure." (Reuters) \
http://www.thenews.com.pk/article-38454-US-Afghan-strategic-ties-talks-stalled
--------
Russia says US draft on Syria needs more balance
By REUTERS
Published: Mar 5, 2012
MOSCOW: A new US-drafted UN Security Council resolution on Syria is only slightly different from a draft Russia vetoed last month and needs to be more balanced, Russia Deputy Foreign Minister Gennady Gatilov said on Monday.
Western envoys at the United Nations said last week that the United States had drafted an outline for a new resolution demanding access for humanitarian aid workers in besieged Syrian towns and an end to the violence there.
"The new US draft UN Security Council resolution on Syria is a slightly renewed version of the previous vetoed document. It needs to be significantly balanced," Gatilov said on Twitter.
http://arabnews.com/middleeast/article583685.ece
--------
Bangladeshis stuck in Indian visa complexities
Hasan Jahid Tusher
Tuesday, March 6, 2012
Bangladeshi nationals planning to travel to India for medical, tourism or business purposes have been facing difficulties in obtaining visas for months.
The problem, which the Indian authorities attribute to application overload, is particularly hampering the activities of Bangladeshi businesspeople.
"If you fill in the Indian visa form online, you can complete it. But at the end, you won't get any date for the visa", a businessman, preferring anonymity, has said.
"If you try again and again for a few days, you will find the same result if you don't know that the date option is kept open for a very limited time during a certain period of the day".
The Daily Star verified the claim and found it to be true.
The Bangladesh and Indian business communities as well as common people have expressed their dissatisfaction over the issue and called for making the online visa processing hassle free.
AK Azad, president of the Federation of Bangladesh Chamber of Commerce and Industries (FBCCI), has told The Daily Star that the business people were facing difficulties in getting visas.
He said the FBCCI would raise the issue with the Indian High Commission in Dhaka shortly.
Manoj Kumar Mohapatra, first secretary (political and press), Indian High Commission, has told The Daily Star that the authorities are not creating any problem in the online visa system.
"The problem is on the side of demand and supply. We try our best to help people get visas easily".
Mohapatra said Indian visas were generally given to tourists, patients, and others within 48 hours of depositing visa forms. Everyday 3,000 visas are issued from the high commission, he added.
The official said the authorities could not issue 10,000 visas per day, as the High Commission did not have that capacity, like infrastructure and manpower, right now.
"We have plans to increase the number of visas in the future. But it is also difficult to get space with public facilities like waiting rooms and toilets in Dhaka".
The High Commission used to issue manually 1,500 visas, while now it issues 3,000 everyday through digital processes, Mohapatra said, claiming it a substantive development and a miraculous task.
The Indian official also claimed that Bangladeshi business people did not know about the facilities that the High Commission offered them.
"We have a separate booth for business persons at the visa deposition and collection centre. Unfortunately, the business people of your country [Bangladesh] do not know about it".
Asked about his response, the FBCCI president said it was not true that the Indian High Commission provided extra facilities for business persons. "They are regularly complaining about visa complexities".
Home Minister Shahara Khatun, who visited New Delhi on February 24-25 and met Indian Prime Minister Dr Manmohan Singh, Finance Minister Pranab Mukherjee and her counterpart P Chidambaram, discussed the visa issue and urged the authorities to make visa processing easy.
Taking it positively, the Indian authorities assured Shahara of resolving the problems. The home minister pointed out the matter in a written statement during the weekly cabinet yesterday.
Recently, Tripura Chief Minister Manik Sarkar told The Daily Star in an interview that the visa processing should be made easier so that Bangladeshis could travel to India, which, he thinks, would play a major role in strengthening bilateral relations between the two neighbours.
"What is the problem if the visa system is made easy?" he asked.
Another claim made by Mohapatra is that only 30-40 visas are given from the Bangladesh High Commission in New Delhi and 300-400 visas from the Deputy High Commission in Kolkata.
Enamul Haque Chowdhury, press minister at the Bangladesh High Commission in New Delhi, has said the authorities issue over 200 visas from New Delhi and some 500 from Kolkata.
"We would like to say that 100 percent Indian nationals, who apply for Bangladeshi visas, are given visas without any complexities.
"There is no example that anyone seeking a Bangladeshi visa has been refused".
http://www.thedailystar.net/newDesign/news-details.php?nid=225120
--------
We won't tolerate further attacks, Nigerian military warns Emancipation of Niger
By Chris Agbambu, Abuja
06 March 2012
THE military has threatened militants in the Niger Delta with a decisive response if its personnel in the region are attacked again.
The warning came on the heels of last week's killing of a lieutenant-colonel and three other naval officers by a group that used to attack ships.
At a joint press briefing by the security information managers in Abuja, on Monday, spokesman of the committee, Commodore Kabir Aliyu, speaking on behalf of his colleagues, said on March 1, 2012, at about 1.30 p.m, a naval gunboat deployed to Shell Petroleum Development Company (SPDC) for security duties was ambushed by armed militants in five speed boats at One Man camp, near Boro community, Rivers State.
During the ensuing gun battle, a wounded militant, Apudu Gole, was arrested, while three militants' boats were sunk.
According to him, the suspect, Apudu Gole, 30, hails from Eklemare Odimodi, Burutu Local Government Area of Delta State, while the gang leader, Mr Shedrack Itokofuwei, also known as Mammy Water, from Azagbene in Southern Ijaw Local Government Area of Bayelsa State, was among those killed, as disclosed.
Commodore Aliyu said it was instructive to note that the various attacks on JTF personnel within the last three months in the Nigerian territorial waters were actually carried out by a few different uncoordinated groups within the Niger Delta.
This, he said, had exposed the lie and deception of the so-called Movement for the Emancipation of Niger Delta (MEND), trying to seek relevance by creating the false impression that the attacks were being carried out by groups of militants it was coordinating.
http://tribune.com.ng/index.php/news/37121-we-wont-tolerate-further-attacks-military-warns-mend
--------
Riyadh book fair showcasing 200,000 titles to open today
By KHALID TAWALBEH
Published: Mar 6, 2012
RIYADH: The Riyadh International Book Fair 2012 under the aegis of Custodian of the Two Holy Mosques King Abdullah will open today with the theme "Life is Reading."
It is being organized by the Ministry of Culture and Information at the Riyadh International Exhibition Center.
At a press conference held before the opening, the Cultural Attaché of Sweden on behalf of the Swedish ambassador thanked the ministry for providing Sweden with the opportunity to participate as a guest of honor at the fair. He said: "It is part of the consolidation of relations between the two countries."
He added the Swedish wing at the fair would reflect the culture and the nature of Sweden and define the country that has been associated with the famous Nobel Prize.
He said: "A high-level delegation, led by the chief of the Swedish Institute, will attend the opening of the Riyadh International Book Fair. The Swedish Institute is as important as the British Council." The chief of the institute will deliver a speech at the opening ceremony.
Undersecretary of the Ministry of Culture and Information for Cultural Affairs Nasser Al-Hujailan, who is also general supervisor of the fair, said: "The Minister of Culture and Information will announce from his office the 10 books winning the award and the names of their authors."
Six hundred publishing houses from Arab and foreign countries will participate in the exhibition, he said, adding that 200,000 books will be exhibited. "We accepted the publishing houses closest to the standards set by us," he said, adding the ministry has developed a five-year plan to help determine the eligibility of publishing houses to participate in the Fair.
The exhibition will continue for 10 days. Minister of Culture and Information Abdulaziz Khoja expressed his thanks and appreciation to King Abdullah for his patronage of the fair.
Khoja welcomed the Swedish guests of honor at the fair this year, hoping such participation will allow the visitors to understand the culture of Sweden and the scientific and technical achievements that would benefit cultural dialogue and exchanges between people.
http://arabnews.com/saudiarabia/article583735.ece
--------
Replicas of Two Holy Mosques added to Makkah exhibition
By ARAB NEWS
Published: Mar 6, 2012
Makkah: Two magnificent replicas of the Grand Mosque and Prophet's Mosque have been added to an exhibition in Makkah.
The replicas are a three dimensional presentation of the two mosques after completion of their expansion work.
The replicas are showcased at the Two Holy Mosques Exhibition in the Umm Al-Joud district on the old Makkah-Jeddah road close to the Kiswa factory, the Saudi Press Agency reported yesterday.
They show the latest construction projects such as the expansion of the Masaa (the area between Safa and Marwah) and the expansion of the courtyard of the Grand Mosque.
Both the replicas have an exquisite internal illuminating system matching the spiritual environment of the two holy structures. Another feature of the replicas is an inbuilt screen displaying the history of the construction of the Two Holy Mosques over the past centuries as well as slides on different phases of the expansion of the mosques, director of the exhibition Mohsen Al-Sulami said.
The exhibition also highlights the architectural fine points in the construction of the two mosques from the Umayyad period till the present. It also showcases a number of calligraphic inscriptions related to Islamic history.
It also exhibits rare copies of the Holy Qur'an, manuscripts, artifacts and inscriptions and photos in addition to many artifacts of ancient times.
http://arabnews.com/saudiarabia/article583734.ece
--------
Canada bans dealings with Syrian central bank
By REUTERS
Published: Mar 5, 2012
OTTAWA: Canada imposed fresh sanctions on Syria on Tuesday, banning all dealings with the central bank and seven cabinet ministers as part of a campaign to stop President Bashar Assad's crackdown against rebels.
The measures also prohibit the provision or acquisition of financial or other related services to or from anyone in Syria or those acting on Syria's behalf.
"The continuing, appalling violence perpetrated by the Assad regime on the people of Syria compels us to again tighten the vice on those responsible ... Our message remains clear: Assad must go," Foreign Minister John Baird said in a statement.
The sanctions are the sixth round imposed by Ottawa on Damascus.
http://arabnews.com/middleeast/article583662.ece
URL: https://newageislam.com/islamic-world-news/minorities-karachi-rally-behind-hindus/d/6795