New Age Islam News Bureau
10 Feb 2018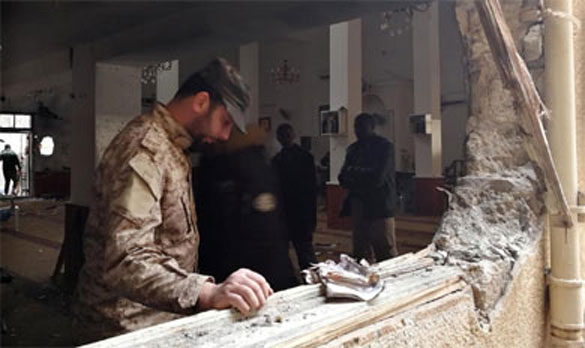 A member of the Libyan National Army inspects the damage following a twin bombing inside a mosque in Benghazi, Libya February 9, 2018. REUTERS/Stringer
----
• Military Operations against Terrorism Deemed Jihad: Al-Azhar -e-Fatwas Center
• 'Stop Us If You Can': Religious Parties in Mardan Protest Conviction of 31 Men in Mashal's Murder
• CII to Recommend Instant Triple Divorce Punishable Offence: Qibla
• Cleric Maulana Sayyed Salman Hussaini Nadvi Suggests Shifting Babri Site, Triggers Row
• Myanmar Forces and Buddhist Villagers Torched Rohingya Homes, Then Killed: Report
• Bombing At Mosque in Libya's Benghazi Kills Two, Wounds 55: Medics
Arab World
• Military Operations against Terrorism Deemed Jihad: Al-Azhar -e-Fatwas Center
• Iraqi Kurds Accused of Carrying Out 'Mass Executions' Of ISIS Members
• ISIL Makes Money with Online Casinos
• Over 50 Terrorists Killed in Heavy Infighting in Southern Syria
• 'Defanged' Saudi religious police bring relief, foreboding
• UN Security Council considers measure demanding 30-day ceasefire in Syria
• Egypt launches massive operation targeting Islamic militants in Sinai
• SDF to Study Any Request to Hand over British IS Militants Captured in Syria
• ISIS fighters move to Syria's Idlib, clash with factions
• US has no plan to contribute to rebuilding post-Daesh Iraq: Officials
--------
Pakistan
• 'Stop Us If You Can': Religious Parties in Mardan Protest Conviction of 31 Men in Mashal's Murder
• CII to Recommend Instant Triple Divorce Punishable Offence: Qibla
• 'We're Still Training Kashmiris for Jihad,' Hizbul Leader Claims
• TTP Appoints Maulvi Khatir as Acting Chief after Sajna's Killing
• Senate committee passes Transgender Protection of Rights Bill 2017
• JUI-F fiercely opposes blasphemy law amendment
• Afghan President Ashraf Ghani tweets support for Islamabad sit-in: report
• COAS confirms death penalty for seven terrorists
--------
India
• Cleric Maulana Sayyed Salman Hussaini Nadvi Suggests Shifting Babri Site, Triggers Row
• Aurangzeb Was a 'Terrorist' Whereas Dara Shukoh Stood For True Islamic Values: BJP MP Maheish Girri
• India can play a role in Middle East peace process: Palestine Prez Mahmoud Abbas
• Babri Masjid Issue: Some Muslim Intellectuals Attempt Out Of Court Settlement, Meet Sri Sri Ravi Shankar
• Loud Speakers Should Be Banned In Mosques and All Other Paces of Worship: Javed Akhtar
• Terrorists attack Army camp in Jammu's Sunjwan, atleast four injured
• Trump phones Modi over Maldives, Burma, and Afghanistan as US, India strive for strategic consonance
• Pakistan says India has not responded to queries on Kulbhushan Jadhav
• Laskhar man convicted for terror financing, money laundering in Karnataka
--------
South Asia
• Myanmar Forces and Buddhist Villagers Torched Rohingya Homes, Then Killed: Report
• Journalists Held For Probing Rohingya Massacre: Reuters
• Former Bangladesh PM's 'Fugitive' Son Is Now BNP Acting Chief
• Ghani supports Pashtun Long March, hopes the protests uproot terrorism
• Haqqani network members likely killed in North Waziristan drone strike
--------
Africa
• Bombing At Mosque in Libya's Benghazi Kills Two, Wounds 55: Medics
• South Africa: Brave Conversations Needed About LGBTQI+ Muslims
• Somalia: Al-Shabaab Militants in Jilib Train Elders to Shoot
• Boko Haram: Canadian minister visits Bama, pledges more support for IDPs
--------
Southeast Asia
• Bar: Indira's Ruling Not against Islam's Status, But Ummah Free to Challenge
• Rohingya Issue: Asean Told To Beware Of Region-Wide Guerilla War
• Shifting sands of terrorism in South-east Asia
• Hardline Muslim Groups Accuse Facebook of Discrimination
• Philippines to attempt bringing Filipinos home after Kuwait deaths
--------
North America
• U.S. Sanctions Three People, Three Firms for Supporting Islamic State
• General: U.S. Struck Afghanistan Training Camps Used by Taliban-Linked Chinese Jihadists
• Tillerson sees tough talks with Turkey, others on Mideast trip
• Iran Says U.S. 'Even Worse' Than Isis after Bombing Supreme Leader's Allies In Syria
--------
Mideast
• 25 Ethiopian Refugees Missing After Forced Into Yemen Sea
• Arab coalition forces destroy Houthi missile targeting Al-Mukha in Yemen
• Ould Cheikh: Talks between Yemeni parties to be held in Muscat
• Yemenis destroy Saudi-led missile system in Ta'izz with ballistic missile: Report
• Turkey bombs US-backed militants in northern Syria
• Israeli F-16 fighter jet shot down amid Syrian fire, pilot safe: Israeli military
• 85,000 displaced in 10 weeks as violence rages in Yemen: UN
--------
Europe
• France's Macron Presses Putin to Push for End to Syria Crisis
• European Parliament condemns Egypt's death penalties
• Germany: Afghan man sentenced to life for murder of converted Muslim
• Italy condemns Syrian regime's attacks on E. Ghouta
• French Muslim singer quits TV show amid row over online posts
Compiled by New Age Islam News Bureau
URL: https://www.newageislam.com/islamic-world-news/military-operations-terrorism-deemed-jihad/d/114236
--------
Military Operations against Terrorism Deemed Jihad: Al-Azhar -e-Fatwas Center
Feb. 10, 2018
CAIRO – 10 February 2018: Al-Azhar Global Center for Electronic Fatwas, which publishes fatwas and religious guidance online, affirmed in a Friday statement that the military operations in Sinai are deemed "Jihad for the sake of God and that history will record it with golden ink in the book of eternity."
The statement continued that the crimes committed by extremist groups that spilled blood, spread fear, ruined houses of religion in the name of religion are held to be forbidden in Islam for being considered banditry and must be punished by complete elimination.
"The brave Egyptian Army, which has been conquering its enemies throughout history, would not just watch such dire violations without acting against," the statement added. "The army has decided to sacrifice for the sake of the nation, knowing that this grants immortality in heavens."
The center added that the Egyptian Army will forever remain an eminent fort against all sorts of extremism, protecting Egypt's safety and independence.
The statement affirmed that all authorities affiliated with Al-Azhar are standing in solidarity with the Armed Forces against extremist ideologies.
The center also called upon media outlets to adhere to accurate and professional coverage in broadcasting and publishing news or information about the armed operations against terrorism.
https://www.egypttoday.com/Article/1/42372/Military-operations-against-terrorism-deemed-Jihad-Al-Azhar-E-Fatwas
--------
'Stop us if you can': Religious parties in Mardan protest conviction of 31 men in Mashal's murder
Sirajuddin | Hassan Farha
February 09, 2018
Life in Khyber Pakhtunkhwa's Mardan district came to a halt on Friday as thousands of workers and supporters of religious parties took to roads to pressure the government into releasing the 31 men convicted in the brutal murder of Abdul Wali Khan University Mardan student Mashal Khan, who was lynched in April 2017 after being falsely accused of blasphemy.
Thousands of members of the Tahaffuz Khatm-i-Nabuwat Organisation, Jamaat-i-Islami (JI) and Jamiat Ulema-i-Islam-Fazl (JUI-F) joined by locals participated in the protest that began at Pakistan Chowk after Friday prayers.
Holding banners that read "Mashalyon [Mashal supporters], stop us if you can!", the protesters chanted slogans against Mashal and the government.
The demonstration led by Tahaffuz Khatm-i-Nabuwat leader Qari Ikramul Haq demanded that the men convicted for the murder be released.
Several of the men acquitted by the court, including Ajmal Mayar, attended the rally and were given a "Ghazi welcome" [Muslim fighters' welcome].
The rally was scheduled to march from Pakistan Chowk to College Chowk, but concluded earlier at Katlang Chowk after a dua (grand prayer) for those acquitted. The protest resulted in heavy traffic jams in the area.
Advocate Syed Akhtar, a JI leader and one of the counsels of the accused in the Mashal Khan murder case, in his address to the rally said the "entire ummah" stands behind those who have been convicted.
He said the protesters wanted to warn the government that if it goes ahead with appealing the acquittal of the 26 men in court, then "we will block the roads".
"Imran Ali [the man who shot Mashal] is our hero, he is a Ghazi," a religious leader said while addressing the gathering.
'Heroes' welcome'
The JI had also held a gathering in Mardan on Thursday to 'welcome' those acquitted by the anti-terrorism court (ATC).
On Wednesday night, a jubilant crowd of religious party workers had gathered at the Mardan Motorway Interchange to "welcome" the 26 "heroes" who had been acquitted by the court, and to protest the ATC's verdict against the 31 convicts.
The charged crowd chanted slogans against the murdered student and vowed to "move the Supreme Court against the verdict".
At least six of the acquitted reached Mardan on Wednesday night. One of the acquitted, Aizaz, was welcomed and garlanded enthusiastically by the crowd.
Aizaz, who was showered with petals and carried on the shoulders of supporters, addressed the crowd in Pashto, vowing that anyone who committed blasphemy or spoke against Khatm-i-Nabuwwat would "meet the same end as Mashal".
It is pertinent to note here that the joint investigation team (JIT) tasked by the court with probing the murder of Mashal Khan found the student had not committed blasphemy. The JIT in its report stated that a group in the university had incited a mob against the 23-year-old on pretext of blasphemy.
https://www.dawn.com/news/1388351/stop-us-if-you-can-religious-parties-in-mardan-protest-conviction-of-31-men-in-mashals-murder
--------
CII to recommend instant triple divorce punishable offence: Qibla
February 10, 2018
Islamabad - Council of Islamic Ideology Chairman Dr Qibla Ayaz said that the act of issuing three divorces instantly in one sitting would be declared a punishable offence in Pakistan.
In an interview with BBC, he said that recommendations had been prepared in this regard and would be presented before the parliament soon.
Dr Ayaz, who was appointed the chairman of the Council of Islamic Ideology (CII) by the Law Ministry in November last year, said, "We are preparing a bill to be presented before the Law Ministry which will suggest punishment for the action. The act of instantly issuing three divorces in one sitting will be declared prohibited and a punishable offence."
He said that women are important part of social activities and there was no prohibition on their becoming part of economic activities.
To a question regarding declaring DNA concrete evidence, he said that scientists and Fuqaha would be consulted in this respect.
Sahibzada Sajidur Rehman, Khursheed Nadeem, Hafiz Fazlur Rahim and Allah Bakhsh Kalyar were among the members of the CII . The purpose of the establishment of CII was to endorse the laws that are in accordance with the Quran and Sunnah. It was established in 1962 by then President Ayyub Khan.
Maulana Raghib Hussain Naimi, Qari Abdur Rashid, Ghulam Hussain Sialwi, Pir Rooh-ul-Hasnain Moin and Allama Arif Hussain Wahidi were also appointed as members of the body.
The council consists of 20 members. Ten members of the body had completed their tenure last year.
Earlier, the Supreme Court of India by a majority verdict in August last year ruled that the practice of divorce through triple talaq among Muslims is "void", "illegal" and "unconstitutional". The apex court by 3:2 verdict held that the triple talaq is against the basic tenets of Quran.
While Chief Justice JS Khehar and Justice S Abdul Nazeer were in favour of putting on hold for six months the practice of triple talaq, asking the government to come out with a law in this regard, Justices Kurian Joseph, RF Nariman and UU Lalit held it as violative of the Constitution.
https://nation.com.pk/10-Feb-2018/cii-to-recommend-instant-triple-divorce-punishable-offence-qibla
--------
Cleric Maulana Sayyed Salman Hussaini Nadvi Suggests Shifting Babri Site, Triggers Row
Mohammed Wajihuddin
Feb 10, 2018
HYDERABAD: Controversy marred the first day of the 26th plenary of the All India Muslim Personal Law Board (AIMPLB) in Hyderabad on Friday with a top cleric from Lucknow's Nadwa seminary suggesting that land for a magnificent mosque and a university away from the disputed site in Ayodhya could be an option for Muslims.
The cleric in the centre of the storm, Maulana Sayyed Salman Hussaini Nadvi, who is also executive member of the AIMPLB, was part of a delegation of six Muslims who met Art of Living founder Sri Sri Ravi Shankar in Bengaluru on Thursday to find a solution to the Ayodhya dispute.
The audio-video clip where Maulana Nadvi says the Hanbli school of Islamic jurisprudence allows 'shifting of mosques' and that Muslims will agree to the plan has gone viral. Nadvi made this statement on Thursday, when the Supreme Court, while hearing a bunch of petitions on the Ayodhya issue, said it would hear the case as "a pure land dispute".
Nadvi also said top Hindu and Muslim leaders should meet to hammer out an out-ofcourt settlement to the lingering dispute. He said the government should allot land to Muslims away from the disputed site for a mosque and a sprawling university and Hindu leaders should not stake claim to any other Muslim place of worship.
NADVI DRAWS FLAK FROM OTHER BOARD MEMBERS
Without referring to Nadvi's statement, AIMIM president and Hyderabad MP Asaduddin Owaisi said Muslims believe that 'once a mosque it's always a mosque'. He said before the formal meeting of AIMPLB, "I expect the board to decide on these lines."
Maulana Nadvi, who teaches at the Islamic seminary Nadwatul Ulema or Nadwa Madrassa in Lucknow, has drawn flak from other senior members of the board who met at Hyderabad.
A source close to Jamiatul Ulema-e-Hind president Maulana Arshad Madani said he was vehemently opposed to Nadvi's suggestion which he likened to sabotaging Muslim claims over the disputed site in Ayodhya. He is learnt to have demanded action against Nadvi at the Hyderabad meeting. Both Madani and Nadvi are attending the Board meeting.
A special invitee to the personal law board's meeting who came from Lucknow said, "Salman Nadvi should not have made this comment when the Board has already said we would abide by the court order."
Zafar Sareshwala, chancellor, Maulana Azad National Urdu University (MAANU) who is close to Maulana Nadvi, however, came out in his support. "You cannot doubt his credibility and credentials as an Islamic scholar. His statement has been blown out of context. What he said makes sense," Sareshwala said.
https://timesofindia.indiatimes.com/india/cleric-suggests-shifting-babri-site-triggers-row/articleshow/62858347.cms
--------
Myanmar forces and Buddhist villagers torched Rohingya homes, then killed: Report
February 10, 2018
Bound together, the 10 Rohingya captives watched their Buddhist neighbours dig a grave. Soon afterwards, on the morning of Sept. 2, all 10 lay dead. At least two were hacked to death by Buddhist villagers. The rest were shot by soldiers, two of the gravediggers said.
The killings marked another episode in the violence sweeping Myanmar's northern Rakhine State. The Rohingya accuse the army of arson, rapes and killings. The United Nations has said the army may have committed genocide. Myanmar says its "clearance operation" is a legitimate response to attacks by insurgents. Rohingya trace their presence in Rakhine back centuries. But most people in majority-Buddhist Myanmar consider them to be unwanted Muslim immigrants from Bangladesh. The army refers to the Rohingya as "Bengalis," and most lack citizenship. In recent years, the government has confined more than 100,000 Rohingya in camps where they have limited access to food, medicine and education. Nearly 690,000 Rohingya have fled their villages and crossed the border into Bangladesh since August.
Reuters has pieced together what happened in the days leading up to the killings in Inn Din, drawing for the first time on interviews with Buddhist villagers who confessed to torching Rohingya homes, burying bodies and killing Muslims.
This account also marks the first time soldiers and paramilitary police have been implicated by testimony from security personnel. Three photographs, provided to Reuters by a Buddhist village elder, capture key moments, from the Rohingya men's detention by soldiers in the early evening of Sept. 1 to their execution shortly after 10 a.m. on Sept. 2.
The Reuters investigation was what prompted police authorities to arrest two of the news agency's reporters, Wa Lone and Kyaw Soe Oo, on Dec. 12 for allegedly obtaining confidential documents relating to Rakhine. Then, on Jan. 10, the military issued a statement that confirmed portions of what Reuters was preparing to report, acknowledging that 10 Rohingya men were massacred in Inn Din.
But the military's version of events is contradicted in important respects by accounts given to Reuters by Rakhine Buddhist and Rohingya Muslim witnesses. The military said the 10 men belonged to a group of "200 terrorists" that attacked security forces. But Buddhist villagers interviewed for this article reported no attack by a large number of insurgents on security forces in Inn Din. And Rohingya witnesses told Reuters that soldiers plucked the 10 from among Rohingya who had sought safety on a nearby beach.
Scores of interviews with Rakhine Buddhist villagers, soldiers, paramilitary police, Rohingya and a local administrator further revealed:
– The military and paramilitary police organized Buddhist residents of Inn Din and at least two other villages to torch Rohingya homes, Buddhist villagers said.
– An order to "clear" Inn Din's Rohingya hamlets was passed down the command chain from the military, said three paramilitary police officers and a fourth police officer at an intelligence unit in the regional capital Sittwe.
– Some members of the paramilitary police looted Rohingya property including cows and motorcycles in order to sell it, according to Inn Din's Buddhist administrator and one of the paramilitary police officers.
Asked about the evidence Reuters has uncovered about the massacre, government spokesman Zaw Htay said, "We are not denying the allegations about violations of human rights. And we are not giving blanket denials." If there was "strong and reliable primary evidence" of abuses, the government would investigate, he said. "And then if we found the evidence is true and the violations are there, we will take the necessary action according to our existing law."
When told that paramilitary police officers had said they received orders to "clear" Inn Din's Rohingya hamlets, he replied, "We have to verify. We have to ask the Ministry of Home Affairs and Myanmar police forces." Asked about the allegations of looting by paramilitary police officers, he said the police would investigate. He expressed surprise when told that Buddhist villagers had confessed to burning Rohingya homes, then added, "We recognize that many, many different allegations are there, but we need to verify who did it. It is very difficult in the current situation."
Zaw Htay defended the military operation in Rakhine. "The international community needs to understand who did the first terrorist attacks. If that kind of terrorist attack took place in European countries, in the United States, in London, New York, Washington, what would the media say?"
NEIGHBOUR TURNS ON NEIGHBOUR
Events began to unfold on Aug. 25 when Rohingya rebels attacked police posts and an army base in northern Rakhine. Fearing for their safety, several hundred of Inn Din's Buddhist villagers took refuge in a monastery. On Aug. 27, about 80 troops from Myanmar's 33rd Light Infantry Division arrived in the village. Five Buddhist villagers said the army officer in charge told them they could volunteer to join security operations. He found willing participants among Inn Din's Buddhist "security group," members of the organization and villagers said.
In the days that followed, soldiers, police and Buddhist villagers burned most of the homes of Inn Din's Rohingya Muslims, a dozen Buddhist residents said. One of the police officers said he received verbal orders from his commander to "go and clear" areas where Rohingya lived, which he took to mean to burn them. A second police officer described taking part in several raids on villages north of Inn Din. Security forces wore civilian shirts and shorts to blend in with the villagers, according to the second police officer and Inn Din's Buddhist administrator, Maung Thein Chay.
After the Rohingya had fled Inn Din, Buddhist villagers took their property, including chickens and goats, Buddhist residents told Reuters. But the most valuable goods, mostly motorcycles and cattle, were collected by the commander of the 8th Security Police Battalion and sold, said the first police officer and the village administrator.
Reached by phone, the commander, Thant Zin Oo, did not comment. A police spokesman, Colonel Myo Thu Soe, said the police would investigate the allegations of looting. By September 1, several hundred Rohingya from Inn Din were sheltering on a nearby beach, witnesses said. Among them were the 10 men who would be killed. Five of the men were fishermen or fish sellers, two ran stores, two were students and one was an Islamic teacher.
Rohingya witnesses said the Islamic teacher, Abdul Malik, had gone back to his hamlet to collect food and bamboo for shelter. When he returned to the beach, at least seven soldiers and armed Buddhist villagers followed him. Then the military beckoned to the Rohingya, these witnesses said, and picked out the 10 men. A photograph, taken that evening, shows the 10 kneeling on a path in the village. On Sept. 2, they were taken to scrubland near a graveyard, Buddhist villagers said, where they were photographed again. Security personnel questioned them about the disappearance of a local Buddhist farmer named Maung Ni, according to a Rakhine elder. Several Rakhine Buddhist and Rohingya villagers told Reuters they knew of no evidence connecting any of the 10 to the farmer's disappearance. Three Buddhist witnesses said they watched as the captives were led by soldiers towards the site of their deaths. One of the gravediggers, retired soldier Soe Chay, said Maung Ni's sons were invited by the army officer in charge of the squad to strike the first blows. The first son beheaded the Islamic teacher, Abdul Malik, according to Soe Chay. The second son hacked another of the men in the neck.
A Rakhine elder provided Reuters reporters with a photograph which shows the aftermath of the killings. Explaining why he chose to share information with Reuters, he said: "I want to be transparent on this case. I don't want it to happen like that in future."
http://indianexpress.com/article/world/myanmar-massacare-army-and-buddhist-villagers-torched-rohingya-homes-then-killed-investigation-5057855/
--------
Bombing at mosque in Libya's Benghazi kills two, wounds 55: medics
February 09, 2018
Two people were killed and 55 wounded in a twin bombing inside a mosque in the eastern Libyan city of Benghazi on Friday, medics said.
Two weeks ago about 35 people died in another twin bombing at a mosque in Benghazi, the second-largest city in the country.
Friday's explosions occurred during prayers at a small mosque located in the Majouri district, residents said. The devices, placed in bags at the mosque doors, appear to have been activated remotely using a mobile phone, a military source said.
Benghazi is controlled by the Libyan National Army (LNA), the dominant force in eastern Libya led by commander Khalifa Haftar.
The LNA was battling Islamists, including some linked to Islamic State and al Qaeda, as well as other opponents until late last year in the Mediterranean port city.
Haftar, a possible contender in national elections that could be held by the end of 2018, has built his reputation on delivering stability in Benghazi and beyond, promising to halt the anarchy that ensued after a NATO-backed uprising ended Muammar Gaddafi's long rule nearly seven years ago.
Haftar launched his military campaign in Benghazi in May 2014 in response to a series of bombings and assassinations blamed on Islamist militants.
In past months there have been occasional, smaller scale bombings apparently targeting LNA allies or supporters.
Haftar does not recognize the UN-backed government based in the western capital Tripoli.
The UN has been trying to mediate for years, hoping elections can help stabilize Libya . But staging a vote is a major challenge in a country still split among military and political factions, and where rival governments have claimed authority since the result of a 2014 vote was disputed. Security in many parts of Libya is poor.
https://nation.com.pk/09-Feb-2018/bombing-at-mosque-in-libya-s-benghazi-kills-two-wounds-55-medics
--------
Arab World
Iraqi Kurds accused of carrying out 'mass executions' of ISIS members
9 February 2018
Human Rights Watch on Friday accused Iraqi Kurdish security forces of carrying out mass executions of detainees alleged to be members of ISIS.
The watchdog said the Kurdish Peshmerga fighters detained Iraqis and foreigners at a school in Sahel al-Maliha, 70 kilometers northwest of Mosul, from which ISIS was expelled in July.
"The evidence suggests that Asayish (Kurdish) security forces conducted mass executions of captured ISIS suspects night after night for a week, perhaps killing scores or even hundreds of male detainees," said Lama Fakih, HRW's deputy Middle East director. "Iraqi and KRG (Kurdish Regional Government) authorities should urgently and transparently investigate the allegations of mass executions and hold those responsible to account," she said in a statement. The executions allegedly occurred between August 28 and September 3.
Questioned about the report by HRW, Iraqi Kurd government official Dindar Zebari denied the accusations. Zebari said that according to the head of the Asayish, the Peshmerga were battling IS on a 71-kilometre front line as the jihadists attempted to flee to Syria.
During the clashes, many ISIS and Peshmerga fighters died, and "the corpses of the killed ISIS members in this fighting were probably brought in one place to be buried", he was quoted as saying.
The front line is located about 40 kilometers from the site at which the bodies were found, said HRW, casting doubt on his account.
"This explanation does not match the state the bodies were found in, shot in the head" and buried "in a solitary desert area, far from where any fighting had occurred," said the watchdog.
https://english.alarabiya.net/en/News/middle-east/2018/02/09/Iraqi-Kurds-accused-of-carrying-out-mass-executions-.html
--------
ISIL Makes Money with Online Casinos
Feb 09, 2018
"As a result of successful operations of the Syrian Armed Forces that enjoy the support of the Russian Air Force, the ISIL has lost access to the vital oil and gas deposits and to the channels for their transportation and sales," he said, the AMN reported.
"The data at our disposal indicates the organization was getting $ 2 mln a month at the most at the end of 2017," Nebenzya said. "As for their overall revenues in the Middle East, they've fallen to $3 mln a month."
He cited by way of comparison the UN data for 2016, which suggest the ISIL had earned $260 mln from the sales of crude oil.
"In these conditions, the ISIL has plunged into a frantic search for new sources of subsistence," Nebenzya said. "They're refining their skills in the utilization of up-to-date technologies. For instance, accomplices of the terrorists steal the monies of innocent civilians through internet shops in one of the countries neighboring Syria."
"Nor are the fighters for the Caliphate ashamed of making money through online casinos," he said adding that the militants were using intensively the already established system of messengers and the Hawala an informal system of financial settlements in the Middle East, Africa and Asia, which experts believe is closely linked to money laundering and the financing of terrorism.
"The ISIL criminal earnings increasingly often reach the accounts of quite respectable financial institutions in the Persian Gulf, Europe, the Middle East, and Central Asia," Nebenzya said, adding that Russia had long submitted all the information available to it to the Financial Action Task Force [FATF].
He called attention to the ISIL striving to invest in legal businesses outside the Middle East.
"Some Western companies also seem to have an itch to do business with terrorists," Nebenzya said.
Full report at:
http://en.farsnews.com/newstext.aspx?nn=13961120000889
--------
Over 50 Terrorists Killed in Heavy Infighting in Southern Syria
Feb 09, 2018
The sources said that 26 terrorists, including several commanders, were killed and 28 more were wounded in clashes between the ISIL and FSA in Hawz al-Yarmouk in Western Dara'a in the last 24 hours.
The sources further said that a number of the injured terrorists have been sent to Jordan and Israel for medical treatment.
Earlier reports said that the ISIL-linked Jeish Khalid Bin Walid clashed fiercely with two FSA-affiliated groups in Hawz al-Yarmouk in Dara'a that inflicted eight casualties on the FSA.
Full report at:
http://en.farsnews.com/newstext.aspx?nn=13961120000813
--------
'Defanged' Saudi religious police bring relief, foreboding
February 09, 2018
A veiled Saudi woman and an unrelated man jig and twirl on a busy street, stirring a furious debate about the waning influence of the once-feared religious police, notorious for enforcing sex segregation.
For decades the "mutawa", as they are known, wielded unbridled powers as arbiters of morality, patrolling streets and malls to snare women wearing bright nail polish and chastise men seeking contact with the opposite sex.
In recent years, Saudi Arabia launched a series of reforms, including gradually diminishing the mutawa's powers to arrest.
Crown Prince Mohammed bin Salman has further cut back the political role of hardline clerics in a historic reordering of the Saudi state.
The brief video of the street dance - no minor infraction in a society steeped in conservatism - roiled public opinion as it surfaced this week, prompting calls for the couple to be arrested.
Authorities pledged swift action amid raging commentary on social media, which laid bare the resentment in conservative quarters over the mutawa's diminishing presence and the uncertainty over their future role.
"Where are the religious police?" was a popular refrain among angry Saudi social media users, with some also asking "Why are they silent?" and "Does their silence mean approval?"
The mutawa, who fall under a government agency known as the Committee for the Promotion of Virtue and the Prevention of Vice, did not respond to AFP's repeated requests for comment.
'Backlash'
The mutawa's declining presence has also been met with relief from many of the country's young.
Tearing down partitions dividing the genders, many restaurants in Riyadh are now seen humming with music and mixed-gender crowds, a scene unimaginable until two years ago.
One segregated cafe was seen taking down their partitions as soon as patrolling mutawa, dressed in white robes and red-checkered headscarves, left the area.
In recent weeks, columnists in Saudi newspapers such as the prominent pro-government Okaz have openly, and some would say daringly, called for the mutawa to be abolished, arguing that they are an unnecessary financial burden.
Their decline comes as 32-year-old Prince Mohammed - himself a millennial in a country where half the population is under 25 - pursues a liberalisation drive that has upended years of conservative tradition.
He has lifted bans on women driving and cinemas and introduced an array of entertainment and sporting options, sidelining the kingdom's arch-conservatives, once the traditional backers of the royal family.
Opposition to the prince's reforms has been muted - at least publicly - after his crackdown on dissent, including arrests of prominent clerics with millions of followers on social media.
High-profile clerics who made regular appearances on television have disappeared from the public eye, and prominent Sheikh Aaidh al-Qarni recently declared to have "divorced" himself from politics.
Self-styled religious scholars recently appeared on Saudi TV shows advocating against shutting down businesses during prayer time, an idea once anathema in the kingdom.
"The influence of conservative clerics has always been exaggerated," Hesham Alghannam, a Saudi researcher at Britain's University of Exeter, told AFP.
"Girls' sports, cinemas, concerts or even the disbanding of religious police are not things they can prevent from happening. The kingdom is able to push through such reforms without expecting a backlash."
'Very dangerous'
Still, there is a delicate balance between social liberalisation and alienating conservatives, and authorities appear careful not to antagonise religious sensitivities.
"There is a difference between moderate Islam and no Islam at all," said a Riyadh-based businessman, requesting anonymity as he did not want to be seen criticising the crown prince.
"Aside from upholding public morals, the mutawa also went after drug dealers and criminals harassing the public."
Uncertainty looms over their future as it remains unclear what the government will do with them.
"They can't just disband them and throw them in the street," James Dorsey, a fellow at Singapore's S. Rajaratnam School of International Studies, told AFP.
"The best bet is to integrate them into general law enforcement."
Fanatical elements within the religious police could be "very dangerous if unemployed and angry, posing a substantial threat," said Bruce Riedel, author of a book on Saudi Arabia titled "Kings and Presidents".
Meanwhile, the mutawa appear to be undergoing an image makeover, with training sessions instructing them to be "gentle and kind" and approach the public with pleasantries such as "my dear brother".
Not without power
But even without the right to arrest, the religious police are not entirely powerless.
They now typically work in tandem with the security services and are expected to report violations to civil police.
Over the years, videos of their excesses have proliferated, most notoriously in a fatal incident in 2002, when they were accused of blocking the doors of a burning school as the schoolgirls were not properly veiled.
But now young Saudis appear increasingly to be challenging their authority.
An altercation broke out at a Riyadh mall in December when a group of female employees stranded outside during prayer time complained they were harassed by a policeman who wanted them out of sight, Al Riyadh newspaper reported.
Full report at:
https://nation.com.pk/09-Feb-2018/defanged-saudi-religious-police-bring-relief-foreboding
--------
UN Security Council considers measure demanding 30-day ceasefire in Syria
10 February 2018
The UN Security Council is considering a draft resolution demanding a 30-day ceasefire in Syria to allow for deliveries of humanitarian aid, according to the text seen by AFP on Friday.
Sweden presented the measure that would also demand an immediate end to sieges, including in Eastern Ghouta where a bombing campaign by government forces has killed more than 240 civilians in five days.
Earlier this week the council failed to back an appeal by UN aid officials for a month-long pause in fighting after Russia rejected the proposal.
Russian Ambassador Vassily Nebenzia said it was "not realistic" to impose a ceasefire because armed groups fighting Syrian President Bashar al-Assad's forces were unlikely to uphold it.
Russia has repeatedly blocked action in the council that would target its ally in Damascus.
Diplomats said it was unclear whether Russia would resort to its veto to block the draft resolution proposing the 30-day truce.
The measure would demand that all parties in Syria allow medical evacuations 48 hours after the start of the humanitarian pause and that UN aid convoys be authorized to make weekly deliveries to civilians in need.
It calls on all parties to "immediately lift the sieges of populated areas" and that they "cease depriving civilians of food and medicine indispensable for their survival."
UN aid officials accuse the Syrian government of blocking all aid convoys to besieged areas since January.
Western powers have expressed alarm over the government's bombing campaign in rebel-held Eastern Ghouta, where 400,000 people have been living under siege since 2013.
The draft resolution expresses "outrage at the unacceptable level of violence escalating in several parts of the country," in particular in Eastern Ghouta and Idlib.
Sweden and Kuwait, two non-permanent council members, are leading efforts to address the humanitarian crisis in Syria at the top UN body.
Full report at:
https://english.alarabiya.net/en/News/middle-east/2018/02/10/Un-Security-Council-considers-measure-demanding-30-day-ceasefire-in-Syria.html
--------
Egypt launches massive operation targeting Islamic militants in Sinai
9 Feb 2018
Egypt has launched a massive offensive against Islamic militants in the Sinai peninsula, seeking to end a bloody conflict that has killed hundreds of civilians and soldiers in recent years.
A military spokesman said the operation would cover large parts of Sinai plus parts of the Nile delta and the western desert, where other militants have waged attacks.
Egypt's president, Abdel Fattah al-Sisi, a former general, ordered the military to defeat militants in north Sinai within three months after an attack on a mosque in November killed 300 people, the deadliest such incident in the Arab world's most populous country.
Sisi posted on his Facebook account on Friday: "I follow with pride the heroic actions of my sons in the armed forces and police to clear Egypt's territory of terrorist elements."
The offensive, which involves the army, navy, air force, border patrol and police, takes place weeks before the presidential election in which Sisi is seeking a second term. He is running virtually unopposed and set to win comfortably, despite anger over austerity measures and persistent unemployment. The success or failure of the military offensive will most likely not affect the result.
Sinai has been under a state of emergency since October 2014, when Islamist militants killed more than 30 soldiers in a single operation.
Full report at:
https://www.theguardian.com/world/2018/feb/09/egyptian-military-offensive-targets-islamic-militants-sinai
--------
SDF to Study Any Request to Hand Over British IS Militants Captured in Syria
Feb. 9, 2018
AMUDA, Syria/WASHINGTON (Reuters) - The U.S.-backed Syrian Democratic Forces (SDF) has not received a request from any foreign government to hand over two British Islamic State militants in its custody but will study any such request if made, a senior SDF official told Reuters on Friday.
"We have not received any official request from any international party to hand over the two prisoners," Redur Xelil, the SDF official, said. Any such request would be studied, he added.
U.S. officials said on Thursday that the SDF, a militia force, had last month captured Alexanda Kotey and El Shafee ElSheikh, two of four militants known as the "Beatles" for their English accents. They were notorious for their role in the kidnap, torture and killing of Western hostages in Syria.
The SDF released pictures of the two men on Friday.
Earlier U.S. and European officials said on Friday that Britain, the United States and officials in the region are discussing what should happen with the two militants.
"Together with our coalition partners, we are still considering options regarding ElSheikh and Kotey, but rest assured there is a common intention to hold anyone accountable who commits acts like those they are alleged to have committed," said a spokesman for the U.S. National Security Council.
British government officials declined to comment.
Xelil also confirmed that officials from the U.S.-led coalition against Islamic State had taken part in the questioning of the two Britons.
Earlier Xelil told Reuters Kotey was captured in a rural area of Raqqa province on Jan. 24 and was aiming to reach Turkey when he was captured by the Kurdish-led forces.
"He was intending to escape toward Turkey with cooperation and coordination with friends of his on the Turkish side," Xelil said. "He is now under investigation with us," he said. Xelil gave no information about the second militant, ElSheikh.
A senior security official in Turkey, however, accused the SDF of anti-Turkish propaganda, saying it was "nonsense" that an Islamic State militant would say they were going to Turkey, and that Ankara was taking every step to eliminate IS militants in Turkey.
"It is not that easy to cross the border without permission. There is a wall as well," said the official.
The SDF, which is spearheaded by the Kurdish YPG militia, has consistently accused Turkey of supporting Islamic State militants in northern Syria, where the U.S.-led coalition has helped the SDF to drive the jihadists from swathes of territory.
In 2016 Turkey launched a military incursion into northern Syria to drive back IS fighters from the border, and it has built a wall along its 911-km (566-mile) frontier to try to halt infiltration.
Turkish authorities have also detained hundreds of people across Turkey suspected of being Islamic State members since IS fighters were defeated in the Syrian city of Raqqa in October by the SDF.
Turkey views the YPG as an extension of the Kurdistan Workers' Party (PKK), which has fought a three-decade insurgency in Turkey and is listed as a terrorist group by the United States and the European Union.
It launched an offensive into the Kurdish Afrin region of northwestern Syria on Jan. 20, aiming to crush the YPG.
The senior Turkish security official said: "Turkey is open to joint cooperation, including intelligence, with all its international partners. Turkey has been fighting with IS in every way both inside the country and abroad."
The New York Times reported on Thursday that the British government had revoked the British citizenship of both Kotey and ElSheikh.
Britain has taken similar action in the past against dual nationals who left Britain to join militant groups abroad. In the case of a former London resident who joined the Somali militant group al Shabaab, the militant Mahdi Hashi was sent for a federal court trial on terrorism related charges in New York.
Full report at:
https://www.usnews.com/news/world/articles/2018-02-09/british-is-militant-was-trying-to-reach-turkey-sdf
--------
ISIS fighters move to Syria's Idlib, clash with factions
9 February 2018
ISIS fighters battled Syrian insurgents in the northwestern province of Idlib on Friday, a monitoring group and a rebel commander said, accusing pro-government forces of opening a corridor for the militants to reach the region.
The Syrian Observatory for Human Rights said government forces had allowed ISIS fighters to leave a besieged pocket of territory at the intersection of Aleppo, Idlib and Hama provinces, and then go to southern Idlib.
A military news outlet run by Lebanon's Hezbollah, which is fighting on the side of the Syrian government, reported gains by the army and its allies against ISIS in that pocket, but made no mention of the militants being allowed to leave.
A commander in the alliance fighting alongside Syria's army said the ISIS militants left the enclave. "The pocket is finished. A crossing was opened till they exited, and then it was closed," the commander said.
The Syrian army could not be reached for comment. A Syrian military statement said troops and allied forces had gained control of several towns in rural parts of Hama, Idlib, and Aleppo provinces.
"The strategic importance of this achievement is that it ends the presence of the terrorist ISIS organization in both Aleppo and Hama provinces," the statement said, using the Arabic acronym for ISIS The advance also secures supply routes between Hama and Aleppo and links them to the southeast desert near the Iraqi border, it said.
The military said it had destroyed militant targets, and made no mention of a corridor letting ISIS fighters depart.
"The regime started the operation against this pocket seven days (ago). Suddenly they were able to take 80 villages and towns after giving them a corridor," said Rami Abdulrahman, director of the Observatory, a Britain-based war monitoring group.
Hasan Haj Ali, commander of the Free Idlib Army rebel group, confirmed the report. Ali said his fighters were taking part in clashes against some 200 ISIS fighters who had arrived in southern Idlib early on Friday.
"This morning at dawn we were surprised by the joint treachery by the regime and ISIS," he told Reuters. Clashes were under way in the village of Lweibdeh, he said. "They have six armored vehicles with them."
A source in the Ahrar al-Sham faction said ISIS fighters had pushed into south Idlib from government territory.
"The rebel factions are repelling ISIS attempts to advance," the source said. "The regime's militias opened a gap helping the besieged ISIS forces pass."
Full report at:
https://english.alarabiya.net/en/News/middle-east/2018/02/09/ISIS-fighters-move-to-Syria-s-Idlib-clash-with-factions.html
--------
US has no plan to contribute to rebuilding post-Daesh Iraq: Officials
Feb 9, 2018
US and Western officials say Washington has no plan to allocate money to the reconstruction of Iraq, ravaged by the war against the Takfiri Daesh terror group, at an upcoming international fund-raising conference in Kuwait.
The officials told Reuters on Thursday that Washington does not plan to contribute any money at the conference in Kuwait next week to fund the rebuilding of the war-ridden country.
"Absolutely nothing," said a Western official, who was speaking on condition of anonymity, when asked whether Washington would announce any financial contributions at the conference to fund long-term reconstruction projects.
A US official also said, "We are not planning to announce anything" at the conference, which will be attended by US Secretary of State Rex Tillerson.
The official, however, said Tillerson could still decide closer to the time to announce a contribution.
Commenting on the issue, State Department spokeswoman Heather Nauert said, "I'm not aware of any announcements that we will be making."
Former head of the US Agency for International Development's (USAID) Office of US Foreign Disaster Assistance, Jeremy Konyndyk, said by not contributing to reconstruction, especially in combat-ravaged areas, the Trump administration could help set the stage for new militancy.
"We've seen this movie before. There is a very real risk if the US doesn't put money into reconstruction, that having just won the battle, you lose the peace," said Konyndyk, who now works for the Center for Global Development think tank.
James Jeffrey, a former US ambassador to Iraq said, "The fact that we're not putting any money up will weaken our case, and that's unfortunate."
An unnamed US official in Baghdad said, "What we are trying to do in Kuwait next week is to put together companies that want to look at Iraq ... and possibly also talk about ways to finance projects."
US President Donald Trump said during the 2016 US presidential campaign that if elected "the era of nation-building will be ended."
Iraqi Prime Minister Haider al-Abadi has said his country needs up to $100 billion to rebuild territories that have been torn apart by Daesh.
The Takfiri terrorists captured areas in the north and west of Iraq in 2014 and even managed to reach areas near the capital Baghdad. However, Iraq recaptured the cities, towns and villages one by one, and authorities declared after the liberation of Mosul last July that the country was effectively purged of militants.
The development comes as NATO diplomats said Washington is pressing the Western military alliance to set up a long-term mission in post-Daesh Iraq.
Reuters cited five senior NATO diplomats as saying on Wednesday that US Secretary of Defense Jim Mattis sent a letter to NATO headquarters in January, calling for a formal NATO mission to Iraq with a semi-permanent or permanent command to purportedly train Iraqi forces.
Months after Daesh emerged in Iraq, the US and its allies began a military campaign in Iraq under the pretext of fighting the terror group. The US-led alliance did little to eliminate Daesh, but faced repeated accusations of targeting civilians and aiding Daesh terrorists.
The volunteer forces helping the Iraqi army on the battlefield said on numerous occasions that they have documented evidence showing Washington provides the terrorists with weapons and military support.
The US new plan for Iraq comes as many Iraqi people are calling on US troops to leave Iraq now that the Takfiri group is defeated in the Arab country.
On Tuesday, the Iraqi premier unveiled a plan for the gradual drawdown of US-led coalition forces from Iraq after the collapse of Daesh.
Iraq has been wracked by a vicious cycle of violence since the US invasion of the country in 2003, which has destroyed the nation's infrastructures.
Full report at:
http://www.presstv.com/Detail/2018/02/09/551769/Iraq-reconstruction-US
--------
Pakistan
'We're still training Kashmiris for jihad,' Hizbul leader claims
F.M. SHAKIL
FEBRUARY 10, 2018
The supreme commander of Hizbul Mujahideen (HM), Syed Salahuddin – a Pakistan-based Kashmiri militant who was declared a global terrorist by US authorities last year – appears quite determined to take the Kashmir struggle forward to its "logical conclusion," come what may. While Pakistan is under pressure from the Trump administration to clean up its act, Salahuddin remains as defiant as ever.
The US move against Salahuddin and his Kashmiri militant organization looks to have had zero impact. Salahuddin, labeled a 'Specially Designated Global Terrorist' (SDGT), simply laughs the designation off.
"Pakistan has just ignored the Trump administration's wrong-headed decision of terming a 'freedom fighter' a 'terrorist,'" which violates United Nations resolutions and the US Constitution," he tells Asia Times in an exclusive interview. "Pakistan knows very well that a 'mujahid' cannot be a 'terrorist,' [and therefore] continues to provide 'moral' and 'diplomatic' support to the forces fighting for the right of self-determination in Kashmir."
His assertion reinforces India's claims that Pakistani authorities have been lending support to militant outfits in the region.
Pakistan issued a fatwa known as 'Paigham-e-Pakistan' ("Pakistan's message") on January 16 this year. It empowers only Pakistan's federal government, rather than militant groups, to announce holy wars (jihad). Terming the decree a "blessing," Salahuddin's response is to suggest that the government use it to declare a holy war in Kashmir.
"Pakistan is pursuing a weak Kashmir policy in the face of deepening political chaos," Salahuddin says. Mounting international pressure to end support for the "Kashmir resistance struggle" and other Islamist movements against US intervention in the region has diverted the focus of Pakistan's policymakers, he contends.
Government sources told Asia Times that Pakistan has asked such militants to keep a low profile. Salahuddin denies, however, that the government has laid any restrictions on his movements or barred the HM from participating in public activity. "I participated in the public meetings held on October 27 last year and again addressed the Kashmir Martyrs Day rally on November 27," he claims.
Despite minimal activity in most of Pakistan, HM leaders are certainly active on the Muzaffarabad side of Pakistan-held Kashmir. They enjoy high-level security cover there – provided by the country's premier agencies. Salahuddin insists that "the HM struggle for Kashmir 'liberation' has gained momentum after the India-US nexus conspired to crush Kashmiris."
When the armed militancy erupted in the Indian state of Jammu and Kashmir (J&K) in the 1980s, the Jammu Kashmir Liberation Front (JKLF), a group of young Kashmiri men trained in Pakistan, played a leading role. As the Indian Army began to recover lost ground over subsequent years, the HM established itself as the most prominent Kashmiri militant group to operate in the Kashmir Valley. However, following major reverses, its influence waned, and the Lashkar-e-Toiba (LeT) began to emerge. Unlike the HM, the LeT had mostly Pakistani cadres.
The rise of a young Kashmiri man on social media a few years ago revived the HM, however. Burhan Wani's Facebook and Twitter postings garnered him a massive following in the Valley. On July 8, 2016, Wani was killed by Indian security forces following a brief gun battle. As soon as the news of his death spread, massive protests erupted across the Valley, leading to more deaths, and hundreds being maimed by pellets fired by the police.
Salahuddin, acknowledging Wani's loss, believes the HM has created enough awareness among the youth to "give a tough time to the Indian forces whenever a Kashmiri dies." In fact, Wani's death gave Kashmiri jihad a new lease of life, he says. "We have now trained a score of youth in Kashmir to utilize social media channels to disseminate the message of Kashmiri jihad and to motivate the people to support the armed resistance."
There have been rumors of links to Pakistan's Interservices Intelligence (ISI) and Jamaat-e-Islami, a conservative political party. Salahuddin denies these but hastens to add that a majority of Pakistanis support HM's cause. "We have 'spiritual bonds' with Jamaat-e-Islami and share its religious and ideological perception, but other than that HM has no link whatsoever with Jamaat-e-Islami," he says.
It is worth stating, for the record, that these 'spiritual bonds' include the fact that Jammat-e-Islami's media wing ran HM's media and public relations operations for several years out of Punjab.
http://www.atimes.com/article/still-training-kashmiris-jihad-hizbul-leader-salahuddin/
--------
TTP appoints Maulvi Khatir as acting chief after Sajna's killing
Feb 10, 2018
PESHAWAR: Tehreek-e-Taliban Pakistan's (TTP) Mehsud Halqa has appointed Maulvi Khatir as acting chief of their faction after TTP's deputy chief Khan Said Sajna was reportedly killed in a US drone strike in the Pak-Afghan border region late on Thursday night.
Sources said that at least nine close associates of Sajna were also killed in the strike which occurred in Kharh Tangi area of Afghanistan.
The death has not yet been denied so far by the Mehsud faction of the TTP which Sajna heads.
Said, who is 36, is believed to be involved in the attack on a Naval base in Karachi and is also credited with masterminding a 2012 jailbreak in which the Taliban freed 400 inmates in the northwestern city of Bannu.
"Sajna has no basic education, conventional or religious, but he is battle-hardened and has experience of fighting in Afghanistan," an official had said earlier.
On Thursday, missiles fired from US drone slammed into a vehicle in Afghanistan's eastern Paktia province, killing four militants, said Shah Mohammad Aryan, a spokesman for the provincial chief police.
The strike took place in the mountainous Barmal district of Paktia province, where fighters from both the Haqqani network and Pakistan's Tehreek-e-Taliban militant group are believed to operate.
Confirmation of the strikes came shortly before Afghanistan Deputy Foreign Minister Hekmat Khalil Karzai arrived in Islamabad for talks with Pakistani officials.
Full report at:
https://www.pakistantoday.com.pk/2018/02/09/ttp-appoints-maulvi-khatir-as-acting-chief-after-sajnas-killing/
--------
Senate committee passes Transgender Protection of Rights Bill 2017
Feb 10, 2018
ISLAMABAD: The Senate Functional Committee on Human Rights here on Friday passed, 'The Transgender Persons (Protection of Rights) Bill, 2017' to ensure a conducive environment for the transgender community to live with dignity and respect like any other citizen of the country.
"The bill is focused on the welfare of transgenders, who have an equal right to live according to their own free will and get as much respect as other people of the society", said Senate committee chairperson, Senator Nasreen Jalil.
The committee considered two bills on the same agenda, one moved by Senator Rubina Khalid, Senator Samina Saeed and Senator Kalsoom Parveen while the second bill was tabled by Senator Karim Ahmed Khawaja, and after thorough discussions a clubbed bill was unanimously passed.
The Senate body approved the recommendations of the Council of Islamic Ideology (CII), which suggested that no separate board was required for the identification of transgenders, rather it was better to consider their own self-perceived gender.
However, the council said that if there was any complication in the inheritance issue and the matter was referred to the court, medical board can be conducted on orders if required.
The committee strongly condemned forced disappearance of people and recommended that a new commission on forced disappearances should be established with a new chairperson.
"No one is above the law and any person, innocent or accused, should be tried under the law," committee members suggested.
The committee dropped the agenda regarding an attempted abduction of a journalist and also deferred the agenda of re-consideration of the amendments regarding procedural changes to check the misuse of blasphemy law in Pakistan.
Full report at:
https://www.pakistantoday.com.pk/2018/02/09/senate-committee-passes-transgender-protection-of-rights-bill-2017/
--------
JUI-F fiercely opposes blasphemy law amendment
Feb 10, 2018
ISLAMABAD: The Jamiat Ulema-e-Islam-Fazl (JUI-F) on Friday said it would fiercely resist any move to amend the blasphemy laws of the country.
During a meeting of Senate's Functional Committee on Human Rights, JUI-F's Senator Mufti Abdul Sattar said that the penalty of blasphemy against Holy Prophet (PBUH) is the capital punishment which could not be changed. He said that JUI-F would not allow anyone to alter the blasphemy law because it could lead to further crises, referring to the events that followed amendment to the parliamentary oath that ended in the resignation of federal law minister Zahid Hamid.
Responding to Senator Sehar Kamran's question, Mufti Sattar said that if two testimonies were recorded against an accused, he would be hanged.
The discussion on the amendment was then deferred.
The committee strongly condemned the enforced disappearances of people and recommended the formation of a new commission with a new chairperson to deal with the issue.
The committee's agenda on the attempted abduction of journalist Taha Siddiqui on January 10 was dropped because of his absence.
Full report at:
https://www.pakistantoday.com.pk/2018/02/09/jui-f-fiercely-opposes-blasphemy-law-amendment/
--------
Afghan President Ashraf Ghani tweets support for Islamabad sit-in: report
Feb 10, 2018
KABUL: Afghan President Ashraf Ghani has supported the ongoing sit-in staged by the Mehsud tribesmen against the extrajudicial killing of Naqeebullah in a fake encounter by former SSP Malir Rao Anwar, according to a report by a private media outlet.
In a series of tweets Friday, the Afghan president called upon the people of this region to voice against the terrorism. 'The main purpose of #PashtunLongMarch is to mobilize citizens against fundamentalism and terrorism in the region,' he tweeted.
A large number of civil society members, tribesmen have gathered in the Federal Capital to protest against the injustices and authorities' failure to nab the police officer involved in the murder.
A delegation of Mehsud and Wazir tribes met Prime Minister Shahid Khaqan Abbasi on Tuesday and demanded immediate arrest of and taking to justice to those responsible for the extra-judicial killing of Naqeebullah, a native of South Waziristan. The PM assured them that all resources would be utilized to arrest Rao Anwar and fulfill the requirements of justice.
The issue has now attracted global media attention. Nobel Prize winner Malala Yousufzai has also backed the sit-in seeking help of army chief to arrest the police officer.
President Ashraf Ghani stated that "The historical importance of this march traces back to the great proponent of non-violence, Bacha Khan, whose philosophy was based on the non-violent ideology."
Full report at:
https://www.pakistantoday.com.pk/2018/02/10/afghan-president-ashraf-ghani-tweets-support-for-islamabad-sit-in-report/
--------
COAS confirms death penalty for seven terrorists
FEBRUARY 10, 2018
ISLAMABAD: Chief of Army Staff (COAS) General Qamar Javed Bajwa on Friday confirmed the death sentences awarded to seven hardcore terrorists, according to a statement issued by the Inter-Services Public Relations (ISPR).
The terrorists were involved in heinous offences related to terrorism, including killing of innocent civilians, attacking law enforcement agencies and armed forces of Pakistan, the ISPR said in a statement, adding the seven convicted terrorists were involved in the killing of 85 people and were responsible for injuring to 109 others. The convicts were tried by military courts.
According to the ISPR, five more convicts were awarded imprisonment of various durations. According to details issued by the ISPR, Atlas Khan son of Mada Mir Jan and Yousaf Khan son of Mir Azam Khan were members of a proscribed organization and involved in attacking armed forces of Pakistan. The convicts admitted their offences before the magistrate and the trial court. Both convicts were awarded death sentences.
Farhan son of Seen Gul was member of a proscribed organisation. He was involved in killing of innocent civilians and attacks on law enforcement agencies and armed forces of Pakistan, which resulted in death of ASI Jan Daraz Khan and two other police officials, Subedar Irfan, Naib Subedar Abudullah as well as 12 other soldiers. The convict admitted his offences before the magistrate and the trial court. He was awarded death sentence.
Khalay Gul son of Niaz Min Gul and Nazar Moon son of Akimoon were members of a proscribed organisation. They were involved in attacking law enforcement agencies of Pakistan. These convicts admitted their offences before the magistrate and the trial court and were awarded death sentences.
Nek Maeel Khan son of Amal Khan was also member of a proscribed organization and involved in attacking law enforcement agencies of Pakistan. He was found in possession of explosives. The convict admitted his offences before the magistrate and the trial court. He was awarded death sentence.
Full report at:
https://dailytimes.com.pk/198792/coas-confirms-death-penalty-seven-terrorists/
--------
India
Aurangzeb was a 'terrorist' whereas Dara Shukoh stood for true Islamic values: BJP MP Maheish Girri
February 9, 2018
BJP MP Maheish Girri on Friday dubbed Mughal ruler Aurangzeb a "terrorist" and hailed his brother Dara Shikoh as a scholar, who espoused "syncretic values", and pitched for building greater awareness about his life. The MP from East Delhi was interacting with reporters on the sidelines of the inauguration of twin events- a conference 'Aurangzeb & Dara Shukoh: A Tale of Two Brothers' and an exhibition, titled, 'Dara Shukoh, the Forgotten Prince of Islam' at the IGNCA here. Dara Shikoh was also known as Dara Shukoh.
"Aurangzeb was a terrorist, in today's parlance… the punishment that he should have got he did not get, but at least, the road named after him, has been changed," he told reporters. Aurangzeb Road in Lutyens' Delhi was rechristened Dr APJ Kalam Road in 2015. Girri had sent a proposal to the Centre for renaming the street after the former president.
Muslim groups had objected to the New Delhi Municipal Council's decision to rename Aurangzeb Road, terming it a "deliberate" move that is "likely to set the trend of rechristening other cities/streets distorting history". Earlier, addressing a gathering at the launch of the events, he said, "I used to feel extrme pain whenever I saw that signage of a road bearing the name of a cruel ruler. I felt is was against the idea of India and not in the interest of the country. So, I went after it (renaming)."
"I also faced obstacles and received threats from people, but I went ahead," he said.
The Lok Sabha member hailed the qualities of the Mughal emperor's brother Dara Shukoh, and said his life and times, and the values he stood for, should be taught simulataneosly, while telling the story of Aurangzeb. "When it come to Dara, history has not been told or portrayed, the way it should have been. He stood for the true values of Islam unlike his brother, who was cruel and oppressed people," Girri told reporters. Dara Shukoh was the eldest son of Mughal emperor Shah Jahan, who his heir apparent. Aurangzeb got him killed in 1659.
"In schools, when you teach Aurangzeb, you must also teach about his brother. It will not only present a balanced perspective, but also help people judge the two as to who was good and was bad. If you just show Aurangzeb, that teaching of history is also wrong," Girri said. Former Speaker of Iranian Parliament Gholam Ali Haddad-Adel also hailed Shukoh as a "miracle of India".
"Instead of contemplating wars and bloodshed to expand the Mughal empire, Shukoh engaged in dialogue with people of different faiths and produced scholarly works. He promoted peace and co-existence," he said.
Later, on the sidelines, Adel said, "The world needs to focus more on Dara Shukoh than Aurangzeb".
Vice President M Venkaiah Naidu, who was scheduled to inaugurate the two events, was not present because of his preoccupation with Parliament. The vice president is also the chairman of the Rajya Sabha. The exhibition of nearly 30 paintings by contemporary artists in Mughal style, depicting the life of Dara Shukoh, hosted at the Indira Gandhi National Centre for the Arts (IGNCA), will end on Sunday.
http://indianexpress.com/article/india/aurangzeb-was-a-terrorist-says-bjp-mp-maheish-girri-5057802/
--------
India can play a role in Middle East peace process: Palestine Prez Mahmoud Abbas
February 9, 2018
Ahead of Prime Minister Narendra Modi's historic Palestine visit, President Mahmoud Abbas said he will discuss with him India's role in the Middle East peace process and the creation of a multilateral forum of negotiations to strike a final deal with Isarel. Modi, the first Indian Prime Minister to visit Palestine, is reaching Ramallah on Saturday amid heightened tensions in the region after US President Donald Trump recognised Jerusalem as the capital of Israel.
The unilateral US decision to declare Jerusalem as the capital of Israel was challenged at the UN General Assembly where 128 nations, including India, voted to turn down the move as "null and void". "We are receiving Prime Minister Modi in a historic visit that will demonstrate the strong ties and relations between the Palestinian people and the brotherly Indian people," Abbas told PTI in an e-mail interview. Though India has shied away from becoming a party in the Israel-Palestinian conflict, the Palestinian leader on several occasions has stressed on a possible role for New Delhi in the Middle East peace process. "We will discuss the recent updates with Prime Minister Modi, and the recent developments in the peace process, the bilateral relations, and the regional situations. And the possible role India can play in enhancing peace in the region, as well as discussing different economical aspects beyond the existing ties we already possess," Abbas said.
Describing India as a "very respected country in the international arena", the 82-year-old Palestinian President said that India can have a possible role in creating a multilateral forum of negotiations between the Palestinians and Israelis to reach a final agreement. He said Modi's visit to the region reflects India's long-held position of supporting peace and stability in the region. "We believe in the importance of a possible Indian role…to reach a final agreement based on international consensus and resolutions, in which India and other countries can be part of," Abbas said.
"The long Indian position of supporting the two-state solution is well known. India has supported the Palestinian cause throughout the years of conflict, and we rely on the Indian support in order to reach the independence of the Palestinian State," he added.
As Palestine works to establish an international multilateral mechanism of negotiations, the Palestinian leader stated that "India can play a role in this". "The relations between India and Palestine are historical…This visit will culminate the historic ties between the two brotherly people, and will help in increasing and strengthening these ties that we possess," he stressed.
The Indian Prime Minister would be skipping Israel during his forthcoming tour of Middle East in a clear message that New Delhi is de-hyphenating its ties with the Jewish state and Palestine. Modi had visited Israel last year in July in a standalone visit that had led to many analysts questioning the future of the Indo-Palestine ties.
When asked about India's growing engagement with Israel, an unperturbed Abbas said that "any state has the right to establish relations with other countries". "We believe in the importance of our relationship with the brotherly Indian State, the support of India to the Palestinian people, and the relationship we possess with the Indian people, will not be effected by India's relations with any other State," he emphasised.
"India has recognised the State of Palestine in 1988, and we cannot forget the last Indian vote in favour of Palestine's rights in Jerusalem in the United Nations General Assembly, and all the political stands that India has taken to support the Palestinian rights in the international arena," Abbas said referring to India's vote at the UN.
India has consistently voted in favour of resolutions supporting the Palestinian cause at international forums, an issue that has bothered strategic partner Israel. Israeli Prime Minister Benjamin Netanyahu recently said that he was "disappointed" at the Indian vote at the UN but also expressed hope that there will be a possible change of heart over a period of time.
Appreciating India's assistance in strengthening Palestinian economy through executing several projects in the Palestinian areas, Abbas said that "he cannot forget" New Delhi's support and wishes to further discuss with Modi areas of cooperation in the economic sphere. A number of MoUs are likely to be signed between the two sides during Modi's three-hour visit to Palestine under which India will provide funding for a number of projects in the fields of health, education, culture and women's empowerment. "The Indian Government and its people have provided significant assistance and aid to the Palestinian people by establishing training centres, schools, and the necessary humanitarian aid to the Palestinian people under occupation in the West Bank and Gaza," Abbas noted. "And in 2016 we laid the foundation stone to establish the Palestine India Techno Park project in Ramallah, and we are also looking forward the establishment of the Institute of Diplomacy that is kindly funded by the Indian Government", he noted.
Full report at:
http://indianexpress.com/article/india/india-can-play-a-role-in-middle-east-peace-process-palestine-prez-mahmoud-abbas-5057797/
--------
Babri Masjid issue: some Muslim intellectuals attempt out of court settlement, meet Sri Sri Ravi Shankar
February 9, 2018
Bengaluru: A delegation of Muslim intellectuals and scholars on Tuesday called on Sri Sri Ravi Shankar founder of 'Art of living'. They discussed many issues including Babri Masjid dispute.
Following the meeting, the Art of Living in a press release stated that key members of Sunni Waqf Board, All India Personal Law Board and others supported out of court settlement of Ayodhya issue during the meeting with Ravi Shankar. The Art of Living claimed that Muslim leaders had supported the proposal of shifting the Masjid outside to another place on some conditions. According to the release, several Muslim intellectuals are cooperating in the matter.
Sri Sri stated that 16 leaders from multiple organizations attended the meeting, including Muslim Personal Law Board executive member Maulana Syed Salman Hussain Nadwi, Uttar Pradesh Sunni Waqf Board chairperson Zafar Ahmad Farooqui, Maulana Wasif Hasan of Teelay Wali Masjid in Lucknow, retired IAS officer Dr Anis Ansari, Centre for Objective Research and Development (CORD) director Athar Husain Siddiqui, businessman A R Rahman, London-based World Islamic Forum chairman Maulana Isa Mansuri, Lucknow advocate Imran Ahmed, former Haj committee of India chairman A Abubakr and Dr Musa Kaiser of Bengaluru.
https://www.siasat.com/news/babri-masjid-issue-muslim-intellectuals-attempt-court-settlement-meet-sri-sri-ravi-shankar-1315370/
--------
Loud Speakers Should Be Banned In Mosques and All Other Paces of Worship: Javed Akhtar
February 09, 2018
Last year, singer Sonu Nigam created a storm online and then offline when he tweeted out in April to say that he doesn't appreciate being woken up in the morning by the azaan, reported The Indian Express.
Going as far as to call it "gundagardi". Now in 2018, lyricist Javed Akhtar has tweeted out his support (rather belatedly) to the singer and anyone who opposes loudspeakers in mosques or any any place of worship in residential areas. "This is to put on record that I totally agree with all those including Sonu Nigam who want that Loud speakers should not be used by the mosques and for that matter by any place of worship in residential areas," he tweeted.
Last year, the azaan row went on for weeks and even resulted in Nigam shaving his head after a Muslim cleric announced a reward of Rs 10 lakh for anyone who will tonsure the singer. At the time, several Bollywood bigwigs added their voice to the controversy, but this new year, the conversation around the issue seems to have been reprised with Akhtar's tweet. Though, in January, the Uttar Pradesh government had banned the unauthorised use of loudspeakers and public address systems at religious and public places across the state.
Quite unsuprisingly, the tweet ruffled quite a few feathers, with people responding with words of support as well as dissent. "Being a Muslim I don't have problem with loudspeakers or any religion activity .I respect all religions every religion has it's own history everyone has a right to practice .i request all use something else to b in limelight leave religions aside," tweeted one person, while another said, "Im not interested in the Mosque waking me up at 5.30am or the Temple waking me up at 4.30am. God does not need loudspeakers. No religion had loudspeakers as part of its history."
Full report at:
https://nation.com.pk/09-Feb-2018/loud-speakers-should-be-banned-in-mosques-javed-akhtar-supports-sonu-nigham
--------
Terrorists attack Army camp in Jammu's Sunjwan, atleast four injured
M Saleem Pandit
Feb 10, 2018
NEW DELHI: Jaish-e-Mohammed terrorists attacked the Sunjwan Army camp in Jammu in the early hours of Saturday, leaving three Army men and the daughter of an Army personnel injured.
The injured have been moved to the military hospital. One of the soldiers is critical.
According to ANI, one Army personnel was martyred in the attack.
At least 3 Jaish-e-Mohammed terrorists breached the rear side of the Sunjwan camp of the 36 Army Brigade, barged into the JCO family quarters in the garrison and opened fire.
It is believed that the terrorists have been isolated in one of the buildings.
"Around 4.55am, suspicious movement was noticed by the santri. The santri bunker was fired upon and they retaliated. The number of terrorists isn't known, they've been cornered in one of the family quarters. The operation is on," Jammu IGP SD Singh Jamwal said.
Heavy firing is on. The area was cordoned off after the arrival of the Army's special forces and SOG.
Schools within 500 metres of the camp have been asked to remain closed by the district administration.
The camp, which is spread over many acres of land, is located adjacent to several shopping arcades and motor showrooms, and private schools on the by-pass in the heart of Jammu city. It has been targeted for the second time during in 10 years .
Home Minister Rajnath Singh spoke to the J&K DGP and directed MHA officials to look into the matter.
Intelligence inputs had warned of an attack on the army or security establishment by JeM in view of the death anniversary of Afzal Guru who was hanged on February 9, 2013, reported PTI.
Full report at:
https://timesofindia.indiatimes.com/india/terrorists-attack-army-camp-in-jks-sunjwan/articleshow/62858014.cms
--------
Trump phones Modi over Maldives, Burma, and Afghanistan as US, India strive for strategic consonance
Feb 10, 2018
WASHINGTON: Geo-political alignment and strategic consonance between the United States and India is proceeding apace going by the phone call initiated by President Trump to Prime Minister Modi on Thursday. The White House said in a read-out about the call that both leaders 'pledged to continue working together to enhance security and prosperity in the Indo-Pacific region,' and while 'affirming President Trump's South Asia strategy, they reiterated their commitment to supporting Afghanistan's security and stability.'
Two other regional issues (the situation in Maldives and Myanmar) appeared to be triggers for the telephonic talks, and the read-out suggested the two sides also agreed on common ground on both issues. "Both leaders expressed concern about the political crisis in Maldives and the importance of respect for democratic institutions and rule of law," the White House read-out said, while revealing "They also exchanged views on Burma and ways to address the plight of the Rohingya refugees."
Carrying on from where the Obama administration left off on the India relationship and enhancing it even further, the Trump administration appears comfortable ceding a larger regional role to New Delhi amid periodic challenges from Beijing with its support to an increasingly feeble and unstable Pakistan.
The White House readout seemed to pointedly refer to the 'Indo-Pacific region,' a formulation that is scoffed at by China, which sees itself as an Asia-Pacific power without an Indian role in East Asia even as it pushes into the Indian Ocean, which India sees as its sphere of influence.
In fact, the White House readout went so far as to reveal that "President Trump and Prime Minister Modi then discussed further steps to ensure denuclearization of North Korea," drawing India into a crisis that the US has been trying to handle with surrounding powers such as China, Russia, Japan, and South Korea.
US recognition of India's primacy in the region, including in Afghanistan, is driving Pakistan and China crazy, but the read-out makes it clear there is no rethink on President Trump's South Asia strategy that includes holding Pakistan's feet to the fire for its support of terrorism.
The exchanges come just ahead of Prime Minister Modi's visit to Palestine - the first by an Indian PM - as New Delhi undertakes a feat that has won it many admirers: Of managing antagonistic forces such as Saudi Arabia and Iran, and Israel and Palestine.
Full report at:
https://timesofindia.indiatimes.com/india/trump-phones-modi-over-maldives-burma-afghanistan-as-us-india-strive-for-strategic-consonance/articleshow/62855720.cms
--------
Pakistan says India has not responded to queries on Kulbhushan Jadhav
February 9, 2018
Pakistan on Friday said that India has not responded to its questions on Indian death-row prisoner Kulbhushan Jadhav's passport and details of his service. "It is regrettable that India has so far not given us any reply on how commander Kulbhushan Jadhav was in possession of the passport of Hussain Mubarak Patel, or any details of his retirement from Indian Navy," Foreign Office spokesman Dr Mohammad Faisal said.
Faisal claimed that Pakistan arrested "serving Indian Naval Commander Kulbhushan Jadhav", who confessed to his involvement in numerous terrorist incidents in Pakistan.
47-year-old Jadhav was sentenced to death by a Pakistani military court in April last year on charges of espionage and terrorism. This prompted India to move the Hague-based International Court of Justice in May. Subsequently, a 10-member bench of the ICJ restrained Pakistan from executing Jadhav till adjudication of the case.
While Pakistan claims its security forces arrested Jadhav from restive Balochistan province on March 3 in 2016 after he reportedly entered from Iran, India maintains that he was kidnapped from Iran where he had business interests after retiring from the Indian Navy.
Full report at:
http://indianexpress.com/article/india/pakistan-says-india-has-not-responded-to-queries-on-kulbhushan-jadhav-5057586/
--------
Laskhar man convicted for terror financing, money laundering in Karnataka
February 9, 2018
A terrorist of the Pakistan-based terror group Lashkar-e-Taiba (LeT) has been sentenced to seven years rigorous imprisonment by a local court here in a terror financing and money laundering case, officials said today.
Bilal Ahmed Quta alias Imran Jalal, who operated from Karnataka, has also been fined Rs 50,000 by the court, they said. A special PMLA court of Judge Shivshankar Amarannavar pronounced the verdict yesterday.
The case dates back to January, 2007 when the man was arrested with an AK series assault rifle, 200 bullets, five hand grenades and a satellite phone by the Karnataka Police while he was getting down from a bus in Bengaluru.
He was charged with "waging war" against Government of India, possession of arms and explosives and other sections of the Indian Penal Code (IPC).
Quta was involved in these activities since 2001 and was a member of the LeT, they said.
The Enforcement Directorate (ED) later booked Quta under the criminal provisions of the Prevention of Money Laundering Act (PMLA) in 2009, taking cognisance of the police charges and subsequent conviction by a local court.
The central probe agency had also "confiscated" Rs 34,830 funds of Quta under anti-money laudering laws as it identified the money to be meant for terror financing.
This is the fourth case of conviction under the PMLA in the country.
The PMLA was enacted in 2002 and implemented from 2005 to check serious crimes of tax evasion, generation of black money and money laundering.
The first conviction under the PMLA in the country had come in January last year when a Ranchi court convicted former Jharkhand minister Hari Narayan Rai and sentenced him to seven years rigorous imprisonment and imposed a fine of Rs 5 lakh.
Subsequently, in March last year, a man identified as Alauddin was convicted in a money laundering case relating to illegal possession of narcotic drugs by a Kolkata court.
Full report at:
http://indianexpress.com/article/india/laskhar-man-convicted-for-terror-financing-money-laundering-in-karnataka-5057395/
--------
South Asia
Journalists held for probing Rohingya massacre: Reuters
February 10, 2018
BANGKOK : Two Reuters journalists detained for two months by Myanmar authorities were arrested over their investigation of a massacre of 10 Rohingya men, the news agency said in a report that detailed the grisly killings.
It is the first time Reuters has publicly confirmed what Myanmar nationals Wa Lone, 31, and Kyaw Soe Oo, 27, were working on when they were arrested on December 12 on the outskirts of Yangon.
The pair are now facing up to 14 years in prison on charges of possessing classified documents in violation of the colonial-era Official Secrets Act.
Their plight has sparked global alarm over withering press freedoms in Myanmar and government efforts to curb reporting in northern Rakhine state - a crisis-hit region where troops are accused of waging an ethnic cleansing campaign against Rohingya Muslims. Nearly 700,000 Rohingya have fled the area since last August, carrying stories of atrocities at the hands of troops and vigilante groups in the Buddhist-majority country.
Myanmar authorities deny the allegations but have virtually cut off northern Rakhine, barring independent media from accessing the conflict-hit areas.
On Thursday Reuters published a report describing how Myanmar troops and Buddhist villagers executed 10 Rohingya men in Rakhine's Inn Dinn village on September 2, 2017 before dumping their bodies into a mass grave.
"The Reuters investigation of the Inn Din massacre was what prompted Myanmar police authorities to arrest two of the news agency's reporters," the report said.
The account was based on testimony from Buddhist villagers, security officers and relatives of the slain men.
It included graphic photographs of the victims, hands bound kneeling on the floor before the killing - and of their bodies in a pit after.
A month after the journalists' arrests, Myanmar's army issued a rare statement admitting that security forces took part in extrajudicial killings of 10 Rohingya "terrorists" in Inn Din village.
The Reuters report said witnesses denied there had been any major attack from Rohingya militants before the alleged massacre .
A Myanmar government spokesman could not be immediately reached for comment.
But Myanmar vehemently denies systematic abuses by its security officers, despite a mounting volume of evidence pointing to atrocities.
Judges have denied bail to the two reporters during a pre-trial hearing period, despite calls for their release from human rights groups and diplomats around the globe.
The next hearing is scheduled for February 14.
https://nation.com.pk/10-Feb-2018/journalists-held-for-probing-rohingya-massacre-reuters
--------
Former Bangladesh PM's 'fugitive' son is now BNP acting chief
Feb 9, 2018
DHAKA: Bangladesh's main opposition party, the BNP, has named the 'fugitive' and convicted eldest son of Khaleda Zia as its acting chief, a day after the former prime minister was sentenced to five years rigorous imprisonment in a graft case.
The 72-year-old three-time former prime minister was sentenced yesterday by the Dhaka's Special Court in connection with the embezzlement of 21 million taka (about $250,000) in foreign donations meant for the Zia Orphanage Trust, named after her late husband Ziaur Rahman, a military ruler-turned- politician.
The verdict simultaneously sentenced Zia's "fugitive" eldest son and Bangladesh Nationalist Party (BNP's) senior vice president Tarique Rahman as he was tried in absentia.
Rahman, 53, and four others have also been sentenced to 10 years in prison.
"Tarique Rahman is now the acting chairman of BNP," senior secretary general of the party Ruhul Kabir Rizvi said.
Senior BNP leader Nazrul Islam Khan later told PTI that the decision was taken in line with the party's constitution and Rahman would lead the party from exile as he is now in London.
Rehman fled to London in 2008 after he was detained by an army-backed government for more than 18 months.
In 2016, he was convicted in absentia and sentenced to seven years in jail on charges of money laundering.
"There is no problem for him to be the party chief," Khan said when asked as a fugitive convict if he was qualified to run the party from abroad.
The opposition party's move evoked sharp response from the ruling Awami League.
Awami League general secretary and road transport minister Obaidul Quader sharply reacted to the decision, saying the BNP preferred to make someone corrupt to head the party.
He said the BNP recently scrapped a section of its constitution that had debarred dishonest people from being the party leader.
"It is now crystal clear why the BNP abolished Section 7 from its constitution. Now there is no bar in the BNP's constitution for corrupt and convicted persons to be a leader of this party," he said at a party function.
Rahman is also being tried on several other charges with one being the August 21, 2004 grenade attack on a rally of the then opposition Awami League.
Full report at:
https://timesofindia.indiatimes.com/world/south-asia/former-bangladesh-pms-fugitive-son-is-now-bnp-acting-chief/articleshow/62852560.cms
--------
Ghani supports Pashtun Long March, hopes the protests uproot terrorism
Feb 09 2018
The Afghan President Mohammad Ashraf Ghani says he fully supports the Pashtun Long March in Pakistan as he expressed hopes that the movement will help in uprooting the terrorism from the region.
"I fully support the historical #PashtunLongMarch in Pakistan. The main purpose of which is to mobilize citizens against fundamentalism and terrorism in the region," President Ghani said in a Twitter post.
President Ghani further added that the historical importance of this march traces back to the great proponent of non-violence, Bacha Khan, whose philosophy was based on the non-violent ideology.
"Just like the Lawyers' Community in Pakistan succeeded in their movement, I hope #PashtunLongMarch would also succeed in uprooting and eradicating terrorism from their region," he added.
He said "After the tragedies of Kabul, I had remarked that Afghans and the people of this region should align against terrorism. I consider the #PashtunLongMarch a response to those remarks and a wake-up call against fundamentalism."
This comes thousands of Pashtuns in Pakistan launched protests in reaction to the killing of a Pashtun Model Naqeebullah Mehsud who was killed by the police forces in Karachi on 13th January.
The police forces in Karachi had accused Mehsud was having links with the Taliban group however his family reject the allegations.
Full report at:
https://www.khaama.com/ghani-supports-pashtun-long-march-hopes-the-protests-uproot-terrorism-04458
--------
Haqqani network members likely killed in North Waziristan drone strike
Feb 09 2018
At least two members of the Haqqani terrorist network have likely been killed in a drone strike of the US forces in North Waziristan tribal region of Pakistan.
According to the local officials quoted by local media outlets, at least three peopl were killed in the latest drone strike conducted in the vicinity of North Waziristan close to Durand Line.
The officials further added that the US drones fired two missiles targeting a compound in Growek area, leaving at least three dead, including two Haqqani network members.
No further details have been given regarding the identities of those killed in the latest airstrike.
This comes as the US forces carried out a similar airstrike targeting a commander of the terror network in North Waziristan nearly three weeks ago.
The US forces have stepped up airstrikes against the terrorist networks including Haqqani and Taliban leaders both in Afghanistan as well as the tribal regions of Pakistan since the announcement of the new US strategy by President Donald Trump.
Full report at:
https://www.khaama.com/haqqani-network-members-likely-killed-in-north-waziristan-drone-strike-04457
--------
Africa
South Africa: Brave Conversations Needed About LGBTQI+ Muslims
9 FEBRUARY 2018
By Ayesha Fakie
For me and other progressive Muslims, excluding LGBTQI+ persons from the faith goes against another deeply embedded part of Islam - inclusion and compassionate justice against all systems of oppression, even the ones that cause straight Muslims discomfort.
I saw a tweet the other day by a South African Muslim saying that there is no such thing as LGBTQI+ Muslims. That LGBTQI+ Muslims who claim their queer identity and their religion don't know what Islam involves and that it's not open for discussion. I haven't used a direct quote nor embedded the tweet; the person is not a public persona so I have no interest in shining a spotlight on them. I do, though, want to talk about the ideas expressed.
I believe the Muslim community in South Africa - as elsewhere - needs to have some brave conversations about LGBTQI+ Muslims.
I know what Islam teaches us about gay, lesbian, transgender, and queer people. A lot of the time it's not even taught as a "must not do" because it's such a given that it is "wrong". I know the Quran and Hadith and Shariah are cited when Islamic leaders condemn same-sex or any non-heteronormative relationships. I know that...
http://allafrica.com/stories/201802090736.html
--------
Somalia: Al-Shabaab Militants in Jilib Train Elders to Shoot
8 FEBRUARY 2018
Al-Shabab militants have been training clan elders in southern Somalia on how to use guns to shoot accurately, in the latest attempt by the jihadists to win the hearts of residents, media outlets affiliated by the group have reported.
A radio station and a website operated by the al-Qaeda-affiliated militants have broadcast and published pictures of elderly men holding guns in what appears to be a shooting range, as a huge crowd looks on.
Radio Andalus said about 40 elders from different clans took part in the shooting competition which involved men between the ages of 60 and 80 in Jilib, Middle Jubba Region, southern Somalia.
"Each elder was given three bullets to fire to a target placed 60 steps away," a reporter with Radio Andalus said.
"Every elder was carrying an AK47 rifle... the elders had practiced shooting before the contest."
Somali Memo website posted photos showing several elders holding rifles with masked men - supposedly al-Shabab fighters - coaching them on how to shoot. In one of the photographs, three men are seen lying on the ground aiming at targets, while some, standing, appears to be coaching.
"I want to be on the frontline for the mujahidin," a man told Radio Andalus.
"It is the responsibility of each and every individual to defend their country from the invading foreign troops," another said.
The Islamic militant group often holds events to seek the support of the residents in the areas that the militants control.
In the past, they have organized various sports activities, including arrow shooting, tug of war and breaking of mud pots.
Full report at:
http://allafrica.com/stories/201802090258.html
--------
Boko Haram: Canadian minister visits Bama, pledges more support for IDPs
February 9, 2018
By Maina Maina
The Honourable Minister of International Development and la Francophonie', Canada, Marie-Claude Bibeau has commended the Nigerian Military for the successes so far recorded in the fight against insurgency in the northeast, Nigeria.
The minister also expressed joy for the continuous support to the Humanitarians agencies while rendering their services to the vulnerable in Borno State and the North East in general.
The Minister made the commendation yesterday, at the Headquarters 21 Brigade Nigerian Army in Bama, Borno State when she led a special Canadian government delegation on a visit to Bama.
Bama, a local government about 65km from Maiduguri, the Borno state capital is one of the council areas worse hit by the Boko Haram insurgency.
Honourable Bibeau, who was accompanied by the Canadian Ambassador to Nigeria, Ambassador Christopher Thornley expressed satisfaction with the level of cooperation between the military and the various Humanitarian agencies rendering their assistance in Bama.
She, however, pledged her government continuous support towards ameliorating the plights of the Internally Displaced Persons in Bama Camp.
In his remarks, the Commander 21 Brigade Nigerian Army, Brigadier General Garba Busala Audu expressed happiness and thanked the team for the visit.
Full report at:
http://dailypost.ng/2018/02/09/boko-haram-canadian-minister-visits-bama-pledges-support-idps/
--------
Southeast Asia
Bar: Indira's ruling not against Islam's status, but Ummah free to challenge
BY JERRY CHOONG
February 9, 2018
KUALA LUMPUR, Feb 9 — The Malaysian Bar stressed today that the Federal Court's landmark decision on M. Indira Gandhi's case was correct and does not contravene the status of Islam as the religion of the federation.
Bar president George Varughese however said any organisation is free to file a judicial review against the Federal Court's decision, after Muslim coalition Ummah announced its intention to do so.
"But that does not mean the decision was wrong, as the Federal Court's reasoning and grounds given have been commented upon and appreciated not only by the lawyers in practice but also people from academia and also the judiciary itself.
"The decision gave precedence to the Federal Constitution and also takes into account the welfare of the children, in coming to that decision," he said during the opening of the bar's new building here today.
Ummah said recently that it will be filing a judicial review to challenge the watershed ruling by the country's apex court.
Its secretariat chief Aminuddin Yahaya reportedly said the decision should be reviewed since it is not in accordance to Islam's constitutional status, and that it had provided power to the civil courts to intervene in matters related to Shariah courts.
Varughese insisted the decision does not change the fact that Islam is the religion of the federation, as stipulated in Article 3 of the Federal Constitution.
"It will not in any way have something to that effect, as it is already provided for in the Constitution," he said.
Last week, the Federal Court voided the conversion of Hindu mother Indira's three children that was done by her Muslim convert ex-husband without her consent.
The apex court had also ruled that the consent of both parents is needed to convert a minor, saying that the Federal Constitution clearly stated so.
At the event today, the Malaysian Bar obtained its new premises, formerly Wisma Straits Trading after two and a half years of negotiations.
A total of RM55 million was contributed by the bar's members in the purchase of the building named Wisma Badan Peguam Malaysia.
http://www.themalaymailonline.com/malaysia/article/bar-indiras-ruling-not-against-islams-status-but-ummah-free-to-challenge#HuEywskbrupytfcg.97
--------
Rohingya issue: Asean told to beware of region-wide guerilla war
Sheith Khidhir Bin Abu Bakar
February 10, 2018
PETALING JAYA: A human rights group has warned Asean of a region-wide security crisis unless it foregoes its non-interference policy to deal with the alleged massacre of the Rohingya in Myanmar.
Klang MP Charles Santiago, who chairs the Asean Parliamentarians for Human Rights, recently spoke to FMT about the possible build-up of Rohingya resistance against the Myanmar government and said he feared the escalation of such resistance into a guerilla war that could spread to other Asean countries.
He said the Arakan Rohingya Salvation Army (Arsa) was already in talks with other Rohingya groups about intensifying their resistance efforts.
"The Arsa can potentially organise and start a guerilla war against Myanmar in Rakhine," he said.
He noted the existence of a Rohingya diaspora across Asean and said such a war could spread to Thailand, Malaysia and Indonesia because of their proximity to Myanmar.
He said Asean must suspend its non-interference policy to forestall the problem.
"By keeping quiet and trying to play the smart opportunistic game, Asean may inadvertently be putting itself in danger in the long run."
He suggested that Asean use its international influence to bring about an arms embargo against Myanmar, noting that the regime's main arms suppliers were China and India.
He also called for targeted sanctions against the army leaders responsible for the alleged massacre. "Put them up to the law," he said.
Last month, Santiago led a delegation of Asean parliamentarians on a visit to Rohingya refugee camps in Cox's Bazar, Bangladesh.
He told FMT the group heard many horror stories.
"The first group of refugees we met were six or seven women who recounted how they lost their land and were raped. One was raped by five policemen.
"We also met this man whose son was killed by the army. His wife was being raped while she was holding on to her son. So the soldier slit the child's throat and continued to rape the wife.
"The worst case was when an entire village in Rakhine was wiped out. The people were lined up in front of a river and shot."
Bangladesh and Myanmar have struck an agreement for a repatriation plan, but Santiago noted that the refugees were refusing to return.
"They want guarantees that the same things would not happen again," he said. "They want citizenship and to be known as Rohingya and to have their freedom of religion. They also want compensation for the loss of life and land.
"Without this, no one wants to go back. They are protesting and you can see the protests inside the refugee camps."
He said thousands of Rohingya were still making their way to Bangladesh. "Before this, it was by the tens of thousands. They are now arriving by the thousands. That means the violence is still going on even as we speak."
Full report at:
http://www.freemalaysiatoday.com/category/nation/2018/02/10/rohingya-issue-asean-told-to-beware-of-region-wide-guerilla-war-2/
--------
Shifting sands of terrorism in South-east Asia
Feb 10, 2018
In October 2002, bombings on the Indonesian resort island of Bali catapulted terrorism to the top of the list of security priorities for the governments of maritime South-east Asia, and there it has remained.
In the ensuing years, security agencies across the region were seized with the transnational and cross-regional dimensions of this threat. There was good reason for this. Investigation into the Bali bombings uncovered links to the notorious international terrorist group Al-Qaeda.
It also emerged that Jemaah Islamiah (JI), the regional terror group, was attempting to create a Daulah Islamiah, a regional Islamic state, in maritime South-east Asia by means of violence. While its vision failed to materialise, South-east Asian militants have persisted in their pursuit of cross-regional cooperation.
In point of fact, this pursuit has precedents that predate Bali or Daulah Islamiah. It was incubated in the Afghanistan-Pakistan border between 1985 and 2000, when South-east Asian militants crossed paths with each other and also with foreign fighters from other parts of the world while training alongside mujahideen fighters then waging jihad against Soviet occupation of Afghanistan. It was during this time that bonds were built among the South-east Asians who would go on to form the backbone of JI.
Yet while JI did possess a regional footprint by dint of active cells in Indonesia, Malaysia, the Philippines and Singapore, the establishment of an operational cross-regional network proved a difficult proposition for reasons of geography, culture, language and divergent strategic objectives. That much was evident from conflicts such as in Ambon (1999-2005) and Poso (1998-2007), where coordination proved elusive despite the presence of a range of militant groups, most of whom preferred to wage their own "jihad" independent of each other.
Even at the height of Al-Qaeda's interests in South-east Asia, the international terrorist group's priorities were focused on the region more as a base for operational planning and the movement of funds than a key theatre for operations of a cross-regional nature.
THE SYRIAN CATALYST
It is against this backdrop that the outbreak of conflict in Syria in 2011 catalysed a new cycle of terrorist and militant activity in South-east Asia and raised fresh concerns over the prospects for cross-regional cooperation between militant groups.
At the forefront this time stood ISIS, the Islamic State in Iraq and Syria. The fact that at the peak of its powers ISIS started to notice South-east Asia was evident not only from regular coverage of the region in ISIS media such as its Amaq news agency and its English-medium publication, Dabiq, but also in its introduction of Malay-language propaganda, clearly tailored for a regional audience, and its creation in September 2014 of Katibah Nusantara, the South-east Asian fighting unit operating under its umbrella.
Indeed, Katibah Nusantara was an effort by the central administration of ISIS to bring together Malay-and Indonesian-speaking fighters to overcome the language barrier that impeded effective tactical deployment of South-east Asians (most of the Indonesians couldn't speak Arabic or English, while the Malaysians fared slightly better in English but couldn't speak Arabic).
Yet the existence of this South-east Asian unit belied differences that prevailed between the Malaysians and Indonesians in its ranks. Indonesians were dismissive of their Malaysian counterparts based on the perception that their religious knowledge was inferior. Concomitantly, Malaysians were relegated to menial roles in the Indonesian-led Katibah Nusantara. This explains the reluctance on the part of Malaysians to even join Katibah Nusantara in the initial stages of its formation, preferring instead to fight with other militant groups operating in Syria and Iraq (Malaysians did join eventually). In fact, even the Indonesians within Katibah Nusantara could not quite get along: one faction under Abu Jandal eventually split to form Katibah Masyaariq.
Notwithstanding the bickering that beset ISIS' South-east Asian fighters, the reality remains that by virtue of being in a distant land engaged in the selfsame conflict, they were bonded together, however imperfectly. Because of this, the matter of whether these ties will be transplanted back into South-east Asia as some battle-hardened militants return with new skills, renewed ideological commitment, and established international connections is a valid concern that needs to be treated seriously.
Indeed, this was precisely the scenario that Afghanistan presented two decades ago, and it certainly doesn't take too many hardened returnees to create problems.
THE AFGHANISTAN ANALOGY
Researchers at the respected Jakarta-based Institute for Policy Analysis of Conflict estimate that among Indonesians who returned from foreign conflict zones in the last two decades or so prior to ISIS coming into existence, 42 were veterans of the Afghanistan conflict, 50 were alumni of the Moro struggle in the southern Philippines, and three had fought in Kashmir with the Pakistani group, Lashkar-e-Taiba.
Of the three conflicts, Afghanistan stands out for the fact that, unlike the southern Philippines, which was mostly regional in scope , it was in Afghanistan that South-east Asians came to be acquainted with - and exposed to - not only each other but foreign fighters from all over the world. But we should also consider differences inherent in the Afghanistan-Syria comparison that bear on our assessment of the utility of the Afghan analogy.
First, for Indonesian fighters in Afghanistan, the largest group in the South-east Asian contingent by far, their main objective was not the liberation of Afghanistan from Soviet occupation but preparation for armed struggle back in Indonesia against the Suharto government upon their return.
Most South-east Asian fighters who left for Syria, on the other hand, did so with no intention of returning, although some may well be compelled to after ISIS is eventually vanquished, or perhaps under instruction from ISIS. (The latter scenario would be a cause for much concern.)
Second, South-east Asians in Afghanistan comprised able-bodied males who went alone, whereas a sizeable number of women and children went to Syria with their husbands and fathers to live in the self-styled Islamic state.
Finally, while South-east Asian fighters were funded to go to Afghanistan, many of those who went to Syria, especially in the initial stages, had to raise their own funds. Having liquidated property and cashed out bank accounts to make the trip, not many will be able to afford the return cost on their own.
Afghanistan and Syria invite further comparisons in terms of the motivations behind the decisions of South-east Asians to travel afield. Not all who went to the Middle East went to join ISIS, or for that matter, even to fight. Some joined anti-ISIS militant groups like Ajnad al-Sham, while others went on humanitarian missions, or were simply corralled into going to Syria by their families.
Moreover, while some were doubtless drawn by the desire to live in an "authentic" Islamic state, this does not automatically mean they were prepared to fight for it (not by choice anyway). All this is to say the regional authorities should take care not to paint all returnees with the same broad brushstroke.
CHANGING NATURE OF MILITANCY
The audacious five-month siege of Marawi, the most recent high-profile conflict in the region, suggests that Islamist militancy in South-east Asia is evolving on a number of counts.
First, there has been a discernible shift in militant tactics. Motivated by a desire to prove their credentials to ISIS, which continued to withhold formal recognition of southern Philippines as a "wilayah" (province), Marawi marked the first attempt at seizing and holding urban territory by pro-ISIS militants in South-east Asia. It is not likely to be the last.
Second, recruitment patterns and profiles have changed. Barely a decade ago, militancy in the region mostly revolved around a network of radical groups. While these groups remain active today, a pattern has emerged that sees a new generation of recruits, many educated and from middle-class backgrounds, being drawn to the ideas of a radical transformation of society through the puritanical implementation of Islamic law, yet who do not have any prior affiliation to the known radical groups. In other words, many of these new recruits have been radicalised less via connections to known groups than by exposure through the Internet.
This leads us to the third change: Technology is featuring more prominently. The use of digital and social media as a means of encrypted communication, recruitment and propaganda has been both rampant and crucial. Through platforms such as Facebook, Twitter, Instagram, WhatsApp and Telegram, militants have managed to capture the imagination and augment the pool of sympathisers and potential recruits.
In prisons, extremist preachers who sow the ideological seeds that militancy reaps continue to enjoy access to their followers via smartphones. Technology has not only been leveraged for the purposes of communication and propaganda. During the Marawi siege, militants used commercially acquired quadcopter drones for surveillance, and advanced heavy firearms to hold off Philippine military units.
The fact that digital media technology enables the creation of a sense of belonging that transcends geography circles us back to the important point about cross-regional cooperation and networks. Marawi is also noteworthy for the fact that it was a devastating example of cooperation on a considerable scale. Evidently the brainchild of the Maute group led by brothers Omarkhayyam and Abdullah, Marawi nevertheless involved other Philippine groups such as Isnilon Hapilon's Basilan faction of the Abu Sayyaf, as well as Malaysians and Indonesians.
The Philippine authorities also reported the presence of fighters from Saudi Arabia, Chechnya, Yemen and Singapore in Marawi, all of whom worked together under an apparent central command. The Malaysian, Mahmud Ahmad, a fund raiser for the Marawi operation, reportedly played an instrumental role in bringing South-east Asia's pro-ISIS groups together in the conflict. Whether this is a harbinger of things to come remains to be seen. But there is already evidence of chatter among South-east Asian militants exhorting unity like that which was in evidence in Marawi.
Indeed the reality is that South-east Asian militants will continue to attempt cross-regional cooperation, notwithstanding the proven difficulties this entails. For this reason alone, regional governments should hasten efforts to widen and deepen their own cooperation.
Full report at:
http://www.straitstimes.com/opinion/shifting-sands-of-terrorism-in-south-east-asia
--------
Hardline Muslim Groups Accuse Facebook of Discrimination
January 13, 2018
Hundreds of people belonging to various Islamic mass organizations demonstrated in front of Facebook's representative office in Central Jakarta on Friday (12/01), accusing the social media giant of discrimination for blocking accounts and pages belonging to hardline groups that violate its community standards.
They alleged that Facebook blocks these despite it only being used for humanitarian purposes, such as assisting flood victims, building homes, providing medication and proselytizing.
The protestors, who sent a delegation to discuss their concerns with Facebook representatives, demanded that the company changes its policies. They also accused it of assuming that all Muslim groups on Facebook are involved in terrorism.
Full report at:
http://jakartaglobe.id/eyewitness/hardline-muslim-groups-accuse-facebook-of-discrimination/
--------
Philippines to attempt bringing Filipinos home after Kuwait deaths
9 February 2018
The Philippines will ask its private airlines to evacuate its nationals from Kuwait within 72 hours after the discovery of a Filipino migrant worker dead in a freezer, the latest in what Manila calls a pattern of abuse in the Gulf state.
An emotional President Rodrigo Duterte live on television showed graphic photos of the body of a Filipina found in the freezer of an abandoned apartment in Kuwait and made a plea to Gulf states to treat his countrymen with dignity.
"I implore you, I am making a plea to all Arabs, the Filipino is no slave to anyone, anywhere and everywhere,' Duterte said.
"Do not give us back a battered worker or a mutilated corpse."
The tough-talking leader said his suspension on sending workers to Kuwait, announced in January after a series of deaths of Filipino workers, would remain indefinitely.
He warned of "drastic measures" to prevent further loss of lives. He did not say what that would be.
"What are you doing to my countrymen? And if I were to do it to your citizens here, would you be happy?" he asked.
The Kuwait government could not immediately be reached for comment.
Deputy Foreign Minister Khaled al-Jarallah was last month quoted by Kuwait's state news agency KUNA as saying that legal proceedings had been taken in the cases of four domestic workers mentioned by the president.
More than 250,000 Filipinos work in Kuwait, the Philippine foreign ministry estimates, most of them as domestic helpers. There are also large numbers in the United Arab Emirates, Saudi Arabia and Qatar.
"Those who want to be repatriated, with or without money I will ask PAL (Philippine Airlines) and Cebu Pacific to provide the transportation," Duterte said.
"I want them out of the country, those who want to go out, in 72 hours. We will count our lives by the hours because apparently every hour there is suffering and agony," Duterte said.
He has repeatedly expressed anger about alleged abuse in Kuwait, where he said low-paid Filipinos were made to endure rape and starvation.
More than 2.3 million Filipinos are documented as working abroad.
Full report at:
https://english.alarabiya.net/en/News/world/2018/02/09/Philippines-to-attempt-bringing-Filipinos-home-after-Kuwait-deaths.html
--------
North America
U.S. sanctions three people, three firms for supporting Islamic State
Feb 10, 2018
WASHINGTON: The United States said on Friday it had imposed sanctions on three people and three companies in the Philippines, Turkey and Somalia that supported the Islamic State militant group, including a business that procured parts for unmanned aircraft.
The U.S. Treasury, in a statement, said it had imposed sanctions on Abdulpatta Escalon Abubakar for providing financial and material support for Islamic State and its network in the Philippines.
It sanctioned Yunus Emre Sakarya and his Turkey-based firm Profesyoneller Elektronik for procuring parts for unmanned aircraft for Islamic State. And it sanctioned Mohamed Mire Ali Yusuf and his firms Liibaan Trading and Al Mutafaq Commercial Company for activities supporting Islamic State in Somalia.
https://www.dailystar.com.lb/News/World/2018/Feb-09/437509-us-sanctions-three-people-three-firms-for-supporting-islamic-state.ashx
--------
General: U.S. Struck Afghanistan Training Camps Used by Taliban-Linked Chinese Jihadists
9 Feb 2018
American airstrikes targeted training camps along the Afghanistan-China border used by the Taliban and their Chinese Uighur jihadi allies from the East Turkestan Islamic Movement (ETIM).
U.S. Central Command (CENTCOM), charged with American military activity in the Middle East, has made Afghanistan the main effort of its air campaign following the Islamic State (ISIS/ISIL).
"This wasn't an attack on people. This was an attack on defensive fighting positions [training camps]. And these were defensive fighting positions that we have witnessed the Taliban using, as well as ETIM using," U.S. Maj. Gen. James B. Hecker, the commander of American and NATO air operations in Afghanistan, told Pentagon reporters, referring to the air campaign.
However, Faqir Mohammad Jowzjani, the police chief of the northern province of Jowzjan, told the Associated Press (AP). the strikes killed an ETIM fighter and three Uzbek militants were killed in the joint U.S. and Afghan airstrikes.
Gen. Hecker told reporters on Wednesday:
Over the past weekend, United States forces conducted air operations to strike Taliban and East Turkestan Islamic Movement, or ETIM, training facilities in [the Afghan] Badakhshan province [along China's border].
The destruction of these training facilities prevents terrorists from planning any acts near the border with China and Tajikistan. The strikes also destroyed stolen Afghan National Army vehicles in the process of being converted to vehicle-borne improvised explosive devices.
Gen. Hecker noted that ETIM Chinese Uighur (or Uyghur) terrorists operate in China and the along the international boundary the Asian giant shares with Afghanistan, particularly in the province of Badakhshan.
China's Muslim Uighur-majority Xinjiang, the largest province in the country, borders Afghanistan and Pakistan-occupied Kashmir, a Muslim-majority region claimed by Beijing, Islamabad, and their rival New Delhi.
China faces a terrorist threat stemming from within Pakistan and to a lesser extent Afghanistan, according to a commission convened by the U.S. government. Uighur terrorists have long been training in the Afghanistan-Pakistan region, home to the largest concentration of U.S.-designated terrorist groups in the world.
The U.S. commander explained:
ETIM enjoys support from the Taliban in the mountains of [northern Afghanistan's] Badakhshan, so hitting these Taliban training facilities and squeezing the Taliban's support networks degrades ETIM capabilities … We didn't actually strike ETIM terrorists when we were doing this. We were strictly striking the training camps that both the Taliban as well as the ETIM use.
Hecker described the training facilities as "defensive fighting positions" that needed to be taken out.
On Twitter, U.S. Forces-Afghanistan (USFOR-A) acknowledged that the February 4 air offensive involved two American Air Force B-52s, including one that dropped the most bombs such an aircraft has ever launched — 24.
The U.S. has officially deemed ETIM a foreign terrorist organization.
"We believe increasing the Afghan air capability will be one of the most significant keys to expanding its control over the population in the next two years," noted Gen. Hecker.
The Taliban does not yet possess air campaign capabilities besides being able to try to take out warplanes or other aircraft from the ground.
However, Russia, Iran, and Pakistan are reportedly helping the Taliban expanse its military capabilities, arguing that they are doing to help the group take on ISIS.
Currently, the Taliban's strength and influence have reached unprecedented levels — an estimated 60,000 of the group's jihadists control or contest about 45 percent of Afghanistan.
Nevertheless, U.S. officials told a Senate panel that Trump's recently unveiled Afghan strategy is beginning to bear fruit, reversing the terrorist group's momentum that flourished soon after former President Barack Obama ended the American combat mission at the end of 2014 and withdrew the majority of American troops.
"Despite recent setbacks stemming from horrific and senseless acts of violence, the President's South Asia strategy is showing some signs of progress," John Sullivan, the Deputy Secretary of State, told lawmakers on Tuesday. "On the battlefield, we are seeing the Taliban's momentum begin to slow."
Full report at:
http://www.breitbart.com/national-security/2018/02/09/general-u-s-struck-training-camps-in-afghanistan-used-by-taliban-linked-chinese-jihadists/
--------
Tillerson sees tough talks with Turkey, others on Mideast trip
February 10, 2018
US Secretary of State Rex Tillerson expects to have tough talks during a five-nation trip of the Middle East next week, including in Turkey , where he will urge leaders to rein in an offensive in northern Syria, US officials said on Friday.
Briefing reporters on Tillerson's February 11-16 trip to Jordan, Turkey , Lebanon, Egypt, and Kuwait, US officials acknowledged there would be difficult conversations at each stop.
Jordanian leaders were upset when the United States recognized Jerusalem as the capital of Israel and suspended some aid for the Palestinians.
Tillerson's trip to Cairo, where he will meet Egyptian President Abdel Fattah al-Sisi to emphasize joint security cooperation, takes place just as Egypt has launched a major military offensive against militants on the Sinai peninsula.
Egypt also faces a March 26-28 election in which Sisi has only a single, last-minute challenger who had previously said he supported the incumbent.
In Kuwait, Tillerson will attend an Iraq reconstruction conference at which Washington does not plan to contribute any money. Still, he hopes to make headway toward ending a dispute between Qatar, Saudi Arabia and the United Arab Emirates.
Kuwait has sought to broker an end to the dispute triggered when the UAE, along with Saudi Arabia, Bahrain, and Egypt, cut off travel and trade ties with Qatar last June.
They accused Qatar of supporting terrorism and their arch-rival Iran. Doha denies the charges and says the countries are trying to curtail its sovereignty.
Turkey , a US ally, has launched a military air and ground operation into the Afrin region in northwest Syria targeting the Kurdish YPG militia despite US objections.
The United States and Turkey are allies in the North Atlantic Treaty Organization (NATO).
Yet they have diverging interests in the Syrian civil war, with Washington focused on defeating Daesh and Ankara keen to prevent Syria's Kurds from gaining autonomy and fueling Kurdish insurgents on Turkish soil.
"We are urging them to show restraint in their operations in Afrin and to show restraint further along the line across the (border) in northern Syria," a US State Department official told reporters in a conference call. "That's going to be a difficult conversation."
'Really tough issues'
Speaking of US-Turkish relations, he added: "Look it's difficult. The rhetoric is hot. The Turks are angry, and this is a difficult time to do business but it's our belief that there are still some very fundamental underlying shared interests."
The Turkish ambassador in Washington, Serdar Kilic, defended the Afrin operation, criticized the US plea to the Turks to limit the scope of the operation and called on Washington to "cease their support" of the YPG.
"We are going to terminate that threat," Kilic told reporters in Washington.
On January 21, Jordan's King Abdullah told US Vice President Mike Pence that Washington must rebuild "trust and confidence" in a two-state solution for Israel and the Palestinians after President Donald Trump recognized Jerusalem as Israel's capital.
Speaking of the trip generally, the State Department official said: "These are really tough issues and these are going to be tough conversations.
"These are some of our closest partners but they are also partners with whom we are facing some of the toughest issues that we have to face in the region, whether its terrorism, whether it's the future of US assistance, whether it's the final defeat of ISIS."
In Egypt, all opposition figures thought to pose a serious challenge to Sisi have pulled out of the race, accusing the government of underhanded tactics to ensure Sisi an easy win. Sisi has said all candidates have an equal opportunity and that the election will be free and transparent.
Another State Department official said Washington supported a "genuine and a credible electoral process".
Full report at:
https://nation.com.pk/10-Feb-2018/tillerson-sees-tough-talks-with-turkey-others-on-mideast-trip
--------
Iran Says U.S. 'Even Worse' Than Isis After Bombing Supreme Leader's Allies In Syria
By Tom O'connor
2/9/18
Iranian supreme leader Ayatollah Ali Khamenei condemned U.S. foreign policy across the Middle East, accusing Washington of destabilizing the region through its intervention.
Khamenei made the remarks Thursday while addressing a gathering of air force commanders in Tehran, which last month was rocked by protests that Iran suspected of being partially instigated by the U.S, Israel and Saudi Arabia. The top cleric said the U.S. had created the Islamic State militant group (ISIS), which once claimed nearly half of Iraq and Syria, and the U.S. was responsible for the death and destruction it caused. In response, he said, Iran's primary goal was to "stand against cruelty and corruption at the international level and to discredit" the U.S.
"Today, the U.S. government is the cruelest and most merciless system in the world, which is even worse than the savage ISIS members," Khamenei told the commanders on the 39th anniversary of the air force's founding, according to the semiofficial Tasnim News Agency.
ISIS has its roots in Iraqi jihadi groups, especially Al-Qaeda in Iraq, that rose in the wake of the U.S. invasion and occupation of the country in 2003. After toppling Iraqi President Saddam Hussein, the U.S. struggled to stabilize the country and faced regular attacks from ultraconservative Sunni Muslim groups such as Al-Qaeda as well as other revolutionary Shiite Muslim groups backed by Iran. As ISIS consolidated control over large parts of Iraq, both U.S.-backed and Iran-backed forces fought alongside one another to defeat the militants in every major city they held.
The U.S. and Iran also fought ISIS in neighboring Syria but did so in separate campaigns that sometimes clashed with each other. The U.S. initially funded Syrian rebel groups trying to oust Syrian President Bashar al-Assad, an ally of Tehran and Moscow, but later switched to supporting mostly Kurdish groups after the majority-Arab Sunni Muslim uprising became increasingly radical.
Throughout Syria's nearly seven-year civil war, Kurdish militias fought both alongside and against the Syrian military, which is supported by Russian air cover and various pro-government militias, many of which were backed by Iran. The Syrian military also allowed Kurdish fighters to cross through government territory in order to combat a Turkish invasion and the insurgent Free Syrian Army supporting it.
Recent violence between pro-Syrian government forces and the Pentagon-backed Syrian Democratic Forces, the name given to the Kurd-dominated coalition fighting ISIS, threatened to open a new front during an already intense period of the prolonged conflict. In an incident that both sides blamed the other for instigating, a clash Wednesday in the eastern province of Deir Ezzor left one Syrian Democratic Forces fighter wounded from enemy fire and up to dozens of pro-Assad fighters dead as a result of U.S.-led coalition airstrikes.
Russia and Syria quickly accused the U.S. of protecting an ISIS pocket east of the Euphrates River, but the U.S.-led coalition dismissed those allegations and later launched airstrikes on ISIS positions near the Iraqi border. Additional clashes between pro-Syrian government fighters and the U.S. coalition were reported Friday.
In his speech on Thursday, Khamenei also blasted the U.S. for backing Israel over Palestine; for a Saudi-led war on Shiite Muslim rebels known as the Houthis in Yemen; and for undermining a landmark 2015 nuclear treaty signed under the administration of President Barack Obama. His successor, President Donald Trump, has instituted a much more hard-line position against Iran, which Trump has accused of funding terrorism and developing ballistic missile technology that compromised regional security.
Full report at:
http://www.newsweek.com/iran-says-us-even-worse-isis-bombing-supreme-leader-allies-syria-802257
--------
Mideast
25 Ethiopian refugees missing after forced into Yemen sea
Feb 9, 2018
The International Organization for Migration (IOM) says 25 Ethiopian refugees have gone missing after being forced into the sea as they approached the coast of Yemen.
The men were on one of the four boats that ferried Ethiopians to Yemen on Thursday, Mohammed Abdiker, director of operations and emergencies at the UN migration agency, tweeted on Friday.
Abdiker further said that the people on the boat were dumped into the sea and "forced to swim to shore" as they approached Yemen's Shabwa province from Somalia.
No bodies have been recovered.
IOM spokesman Joel Millman said nearly 600 Ethiopian refugees, men and women, were aboard the ships. The figure is an unusually large number of refugees to arrive off the Yemeni province at one time.
According to International Organization for Migration figures, some 87,000 people risked their lives trying to reach Yemen from the Horn of Africa by boat in 2017.
At least 30 African refugees drowned when their boat capsized off the coast of war-torn Yemen last month with reports that their smugglers opened fire on those on board.
Saudi Arabia and its allies launched a bloody military campaign early in 2015 and have, ever since, been ceaselessly pounding the country in an attempt to reinstall Abd Rabbuh Mansur Hadi, Yemen's former president and a staunch ally of Riyadh, and to crush the Houthi Ansarullah movement. The Saudi-led coalition has also maintained an embargo on the country where, so far, at least 13,600 civilians have been reportedly killed.
Yemen's lawless southern regions, which are mostly controlled by militants loyal to Saudi Arabia and Yemen's resigned president Abd Rabbuh Mansur Hadi, have become a fertile ground for smugglers who vow to transfer refugees from the region to wealthier Arab states in the Persian Gulf.
However, most of those smugglers leave refugees at sea as they fear being arrested by militants or Saudi Arabia's military forces.
http://www.presstv.com/Detail/2018/02/09/551813/Ethiopian-refugees-Yemen
--------
Arab coalition forces destroy Houthi missile targeting Al-Mukha in Yemen
10 February 2018
The Arab coalition's Patriot air defense systems intercepted a ballistic missile fired by the Houthi militia from Ras Kutayb area of Hodeidah province in the direction of Al-Mukha city in Taiz province western Yemen.
According to local sources, the missile was destroyed before reaching the target.
The coalition fighters targeted by an air strike a location controlled by the militia in the city of Hodeidah, which is believed to be the launch site, the sources said.
The Yemeni army, backed by the Arab coalition forces, was able on Thursday, to eliminate six Houthi leaders, and 50 other militants, during clashes in Tiba area near Saada.
A source confirmed to Al Arabiya that the coalition aircrafts destroyed vehicles and military machinery that the militias were using in the battles which lasted about five hours.
Full report at:
https://english.alarabiya.net/en/News/gulf/2018/02/10/Arab-coalition-forces-destroy-Houthi-missile-targeting-Al-Mukha-in-Yemen.html
--------
Ould Cheikh: Talks between Yemeni parties to be held in Muscat
10 February 2018
Special Envoy for Yemen Ismail Ould Cheikh Ahmed, on Friday dismissed that his term of office was "unsuccessful", saying that the role of the envoy is "to mediate" between the parties. "If they are keen on reaching peace they will, and if they seek the opposite, no result or solution could be reached."
Ould Cheikh added that the new UN envoy will begin preparations for a round of talks starting with meetings between the Houthis and the General People's Congress but he didn't reveal further details.
He said that the late Yemeni President Ali Abdallah Saleh who was killed at the hands of the Houthis last December, officially broke the partnership between the two parties, and called for a people's revolt against them.
The UN envoy said that the talks will be hosted by the Sultanate of Oman, stressing the need to make concessions from both parties to reach a peaceful settlement, and called on the Yemeni people and all parties to seek resolve peacefully and return to the table of negotiations.
He mentioned in statements to the Omani News Agency, that the new UN envoy will find a crystal clear roadmap that is based on specific grounds.
Ould Cheikh said several days ago that the peace process in Yemen should be carried out according to what was achieved in previous talks in Kuwait.
He stressed that an armed militia cannot be a partner in peace while holding on to their weapons, referring to the stance of the Houthis.
Full report at:
https://english.alarabiya.net/en/News/gulf/2018/02/10/Ould-Cheikh-Talks-between-Yemeni-parties-to-be-held-in-Muscat.html
--------
Yemenis destroy Saudi-led missile system in Ta'izz with ballistic missile: Report
Feb 10, 2018
The Yemeni army, supported by allied fighters from the Houthi Ansarullah movement, has managed to successfully destroy a missile system run by Saudi Arabia's mercenary forces in Yemen's southwestern province of Ta'izz, a report says.
Brigadier Aziz Rashed, the deputy spokesman for the Houthi-allied army, told Yemen's Arabic-language al-Masirah television network that the Friday attack completely destroyed the American-made MIM-104F (PAC-3) missile system installed near the port city of Mokha.
He further said that the missile launched by Yemeni forces hit the target with high precision and totally destroyed the advanced air shield. He added that the attack had paved the way for a larger operation to clean Yemen's western coast of the presence of the Saudi-led forces.
There was no immediate comment from Saudi officials on the missile attack.
On February 1, al-Masirah reported that Yemeni forces army forces, backed by Popular Committees, had launched a locally-designed Qaher M-2 ballistic missile against the Om al-Rish military base, run by the Saudi-led military coalition, in Yemen's central province of Ma'rib.
Yemeni forces' missile attacks are part of a national retaliation campaign against the Saudi aggression.
Since March 2015, the Saudi regime, together with a coalition of its allies, has been heavily bombarding Yemen as part of a brutal campaign against its impoverished southern neighbor. It has been attempting unsuccessfully to reinstall Yemen's former president Abd Rabbuh Mansur Hadi, a staunch ally of Riyadh.
The Saudi campaign has killed at least 13,600 people since its onset. Furthermore, much of the country's infrastructure, including hospitals, schools, and factories, has been reduced to rubble in the Saudi war.
Famine and outbreaks of cholera and diphtheria are other results of the Saudi-led war.
Full report at:
http://www.presstv.com/Detail/2018/02/10/551837/Yemen-ballistic-missile-MIM104F-Taizz-Mokha
--------
Turkey bombs US-backed militants in northern Syria
Feb 9, 2018
Turkey has bombed US-backed Kurdish fighters in Afrin with impunity, just after Washington cited an alleged attack on the militants to target pro-government forces in Syria.
The Turkish army said in a statement on Friday that the overnight strikes destroyed 19 targets, including ammunition depots, shelters and gun positions, state-run Anadolu news agency said.
The so-called Syrian Observatory for Human Rights said seven US-backed militants with the Kurdish People's Protection Units (YPG) as well as two civilians were killed in the attacks.
Turkey began the attacks on January 20, but halted them after terrorists downed a Russian jet in the northwestern Syria province of Idlib, in order to allow Moscow to reinforce its air defense system.
The offensive is aimed at the YPG, which Turkey says bears ties with anti-Ankara militants.
The Turkish raid against Washington-backed forces comes two days after the US attacked pro-Damascus forces in the western Syrian province of Dayr al-Zawr, reportedly killing more than 100 of them as the fighters were engaged in an anti-Daesh operation.
The US claimed that it launched the attack to protect SDF militants whose ranks are filled with YPG fighters.
Syria rejected the claim and condemned the attack as a "war crime" meant to boost Daesh terrorists.
Turkey has been targeting the US-backed militants as part of Operation Olive Branch which Ankara launched after the United States said it sought to create a force near the Turkish border in Syria.
Ceasefire plan falls flat
Meanwhile, members of the United Nations Security Council failed to reach an agreement on a statement over the humanitarian situation in Syria.
Head of the UN Office for the Coordination of Humanitarian Affairs, Mark Lowcock, had called for an immediate 30-day ceasefire in Syria.
He cited Eastern Ghouta near Damascus, which has been the scene of clashes between Syrian government forces and militants for weeks.
Full report at:
http://www.presstv.com/Detail/2018/02/09/551776/Syria-Turkey-Afrin-United-States-Russia-United-Nations
--------
Israeli F-16 fighter jet shot down amid Syrian fire, pilot safe: Israeli military
10 February 2018
JERUSALEM/BEIRUT: Syrian anti-aircraft fire shot down an Israeli fighter jet on Saturday and Israel struck an Iranian target that had launched an unmanned aircraft into its airspace from Syria, the Israeli military said.
"IDF (Israel Defence Forces) has targeted the Iranian control systems in Syria that sent the #UAV into Israeli airspace. Massive Syrian Anti-Air fire, one F16 crashed in Israel, pilots safe," Israeli military spokesman Lieutenant Colonel Jonathan Conricus said on Twitter.
Israeli media said the jet crashed in northern Israel.
Syrian air defences opened fire in response to an Israeli act of "aggression" against a military base on Saturday and hit "more than one plane", Syrian state media cited a military source as saying.
Full report at:
http://www.arabnews.com/node/1243251/middle-east
--------
85,000 displaced in 10 weeks as violence rages in Yemen: UN
Feb 9, 2018
The United Nations has expressed deep concern over surging violence across Yemen, warning that the worsening situation has pushed some 85,000 people from their homes over the past 10 weeks.
United Nations High Commissioner for Refugees (UNHCR) said on Friday that more than 70 percent of those displaced since December 1 last year had escaped clashes between Houthi Ansarullah fighters and Saudi-backed militiamen loyal to Yemen's resigned president, Abd Rabbuh Mansur Hadi, in Yemen's western coastal provinces of Hudaydah and Ta'izz.
The UN refugee agency also cautioned against the dire condition of displaced people, who are caught in areas close to hostilities in the two provinces.
"Most of those displaced in the governorates of Hudaydah and Ta'izz remain hosted by relatives or friends, trapped inside homes or in caves as ground clashes, aerial bombardment and sniper fire rage around them," UNHCR spokeswoman Cecile Pouilly told reporters in the Swiss city of Geneva.
She noted that the UN is witnessing an upsurge in new displacements from other parts of Yemen, including the northern provinces of al-Jawf and Hajjah, as well as the oil-rich eastern province of Shabwa.
"The main needs of the displaced and other conflict-affected populations continue to be access to shelter, health, food and water and sanitation," Pouilly said.
She warned that Yemen is "seeing a spike in needs, fueled by ongoing conflict, a collapsing economy and diminishing social services and livelihoods."
Last month, the UN appealed for nearly $3 billion (2.45 billion euros) to combat imminent famine as well as cholera and diphtheria outbreaks in Yemen this year.
At least 13,600 people have been killed since the onset of Saudi Arabia's military campaign against Yemen in 2015. Much of the country's infrastructure, including hospitals, schools and factories, has been reduced to rubble due to the war.
The Saudi-led war has also triggered a deadly cholera epidemic across Yemen.
According to the World Health Organization's latest tally, the cholera outbreak has killed 2,167 people since the end of April 2017 and is suspected to have infected 841,906.
In November 2017, the United Nations children's agency, UNICEF, said more than 11 million children in Yemen were in acute need of aid, stressing that it was estimated that every 10 minutes a child died of a preventable disease there.
Additionally, the UN has described the current level of hunger in Yemen as "unprecedented," emphasizing that 17 million people were food insecure in the country.
Full report at:
http://www.presstv.com/Detail/2018/02/09/551782/85000-displaced-in-10-weeks-as-violence-rages-in-Yemen-UN
--------
Europe
France's Macron presses Putin to push for end to Syria crisis
9 February 2018
French President Emmanuel Macron on Friday pressed Russia's Vladimir Putin to do all he can to ensure the Syrian government puts an end to a deteriorating humanitarian crisis in eastern Ghouta and Idlib, the Elysee Palace said in a statement.
In a telephone call, Macron told Putin it was imperative that peace talks made progress and expressed his concern over signs that chlorine bombs had been against civilians in recent weeks.
"The president stressed the need to overcome obstacles blocking negotiations and start a credible political process in the coming weeks under the auspice of the United Nations towards rebuilding peace, stability and unity in Syria," the French presidency statement said.
Standing beside Putin in Versailles last summer, Macron said any use of chemical weapons represented a "red line" and that Paris could launch unilateral air strikes against targets in Syria if it were crossed.
https://english.alarabiya.net/en/News/world/2018/02/09/France-s-Macron-presses-Putin-to-push-for-end-to-Syria-crisis.html
--------
European Parliament condemns Egypt's death penalties
09 February 2018
The European Parliament (EP) condemned the Egyptian government for the use of the death penalty, calling for the country to "halt any imminent executions", according to a resolution on Thursday.
The European Parliament in their resolution on executions in Egypt stated that they are "seriously concerned" about the mass trials by Egyptian courts and the "large number of death sentences handed down by them".
In the resolution the EP also called on the Egyptian authorities "to review all pending death sentences in order to ensure that those convicted in flawed trials will have a fair retrial".
Additionally the EP expressed its concerns about the basic human rights restrictions of the Cairo administration and called for an end to all forms of violence and hate speech in the country.
Egypt has been roiled by turmoil since the military unseated Morsi, the country's first freely elected president, in a 2013 coup.
Full report at:
http://www.worldbulletin.net/europe/198651/kremlin-regrets-courts-rejection-of-olympic-athletes-appeals
--------
Germany: Afghan man sentenced to life for murder of converted Muslim
09.02.2018
A court in the southern German city of Traunstein on Friday sentenced a 30-year-old Muslim refugee from Afghanistan to life in prison for killing a woman who had converted to Christianity from Islam.
Although the man could legally be released after 15 years under the sentence, this seldom occurs in practice.
In giving the harsh sentence, the court accepted the prosecution's argument that the motive behind the killing was a religious one.
The man, whose application for asylum in Germany had been officially rejected, fatally stabbed the 38-year-old woman, also an Afghan refugee, in front of a supermarket in the Bavarian town of Prien am Chiemsee in April last year. The murder was committed before the eyes of two of the woman's sons, aged 5 and 11 at the time.
The woman, who converted to Christianity while still in Afghanistan, had lived in the town since 2011 and was involved in the Protestant church community. The man had only a passing acquaintance with her.
The man had apologized to his victim's relatives in his final address to the court.
Plea for leniency
In a summation for the defense, the man's lawyer, Harald Baumgärtl, had appealed for leniency, saying his client had been confronted "from his earliest childhood with violence, blood and death."
The accused, who is illiterate and had undergone psychiatric treatment before the murder, claimed that the woman had called on him several times to convert to Christianity as well. He said this had been hard for him to accept as a Muslim and "disturbed his mind."
The man, who has lived in Germany since 2013, had admitted the deadly attack to a court expert before the trial, but initially told the court he could not remember having committed the crime.
Islam forbids its adherents to convert to other religions or renounce their faith, and doing so is punishable by death in some countries.
Full report at:
http://www.dw.com/en/germany-afghan-man-sentenced-to-life-for-murder-of-converted-muslim/a-42516438
--------
Italy condemns Syrian regime's attacks on E. Ghouta
09 February 2018
Italy on Thursday condemned the Syrian regime's attacks on civilians in Syria's Damascus suburb of Eastern Ghouta.
"I firmly condemn the indiscriminate bombing the regime is carrying out against defenseless people and civilian infrastructure," said a statement by Angelino Alfano, Italy's Foreign Minister.
"I wish to voice my deep concern over the deterioration of the situation in Syria," he added.
Additionally the statement said that Italy "sides with the United Nations and the International Red Cross in demanding the granting of immediate humanitarian access to the people under siege in Syria in the eastern Ghouta region".
The Syrian regime forces have been conducting intensified airstrikes on the region since Thursday morning.
Located in the outskirt of the capital Damascus, Eastern Ghouta was declared a de-escalation zone in which acts of aggression are forbidden.
The Syrian regime, however, has repeatedly violated the deal and has targeted residential areas in the city killing a total of 524 people and leaving around 2,000 others injured since Dec. 29, 2017.
Home to roughly 400,000 residents, Eastern Ghouta has remained under a crippling regime siege for the last five years.
Syria has been locked in a devastating civil war since March 2011, when the Assad regime cracked down on pro-democracy protests with unexpected ferocity.
Full report at:
http://www.worldbulletin.net/europe/198655/kremlin-regrets-courts-rejection-of-olympic-athletes-appeals
--------
French Muslim singer quits TV show amid row over online posts
9 February 2018
A Muslim singer who became an internet sensation following her performance on France's The Voice has quit the TV show after being criticised for comments she had made on social media.
In one post, Mennel Ibtissem, 22, had expressed doubts about the terrorist nature of the 2016 Nice lorry attack.
She said the message from the day after the attack was taken out of context.
A video of her singing Leonard Cohen's Hallelujah had gone viral, being watched 900,000 times on YouTube.
The social media comments, which have now been deleted, emerged after her acclaimed performance on the programme.
French media reported that in a post about the attack in Nice, in which 86 people were killed on Bastille Day, she said: "It has become a routine, one attack a week!
"And to always remain faithful the 'terrorist' took his identity papers with him. It's true that, when you're planning a dirty move, you don't forget to take your papers."
The message reportedly included the hashtag "#PrenezNousPourDesCons", meaning "take us for idiots".
The driver of the lorry was identified as a 31-year-old Tunisian man.
Weeks later, after men burst into a church in Saint-Etienne-du-Rouvray killing an elderly priest, she said: "The real terrorist is our government."
The comments sparked a social media storm, with some users saying it was an insult to the victims of the Nice attack. The association of the victims said they were "unacceptable" (statement in French).
Pressure also piled on broadcaster TF1, The Voice's producers, to remove the singer from the competition.
Others, however, came to the singer's defence, saying she was being unfairly targeted for being a Muslim.
After the posts emerged, Ms Ibtissem apologised, saying she "obviously condemned terrorism". But on Friday, she announced she was leaving the programme.
"[I'll] keep spreading my message of peace and tolerance, far from all types of fanaticism."
Full report at:
http://www.bbc.com/news/world-europe-43002832
--------
URL: https://www.newageislam.com/islamic-world-news/military-operations-terrorism-deemed-jihad/d/114236
New Age Islam, Islam Online, Islamic Website, African Muslim News, Arab World News, South Asia News, Indian Muslim News, World Muslim News, Women in Islam, Islamic Feminism, Arab Women, Women In Arab, Islamophobia in America, Muslim Women in West, Islam Women and Feminism