New Age Islam News Bureau
21 Oct 2014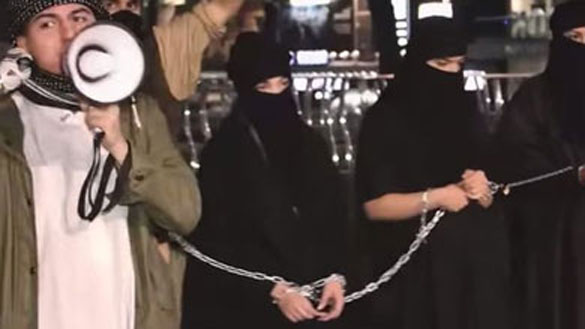 Photo: The group acts out a 'slave auction' in London's Leicester Square
----------
Australia
• Message of the Mujahid: Australian Teen Is New Public Face of Islamic State
• Australia to deploy 200 Special Forces troops in Iraq after govt signs deal
India
• South Asia Al-Qaeda Head in Region Flags UP Riots, Shamli Relief Camp
• Don't Malign All Madrasas: Jamiat Ulema-e-Hind
• Inter-Faith 'Love Interest' In Gujrat Triggers Clashes, 30 Detained
• US Fund Flow into Pakistan-Occupied Kashmir Dam Floods Delhi with Concern
• India raises concern with UK as Pakistani group plans anti-India rally
• Mumbai: ISIS sympathiser who discussed terror plot arrested
Pakistan
• Pak Taliban Fires Its Spokesman over Allegiance to Islamic State
• Khyber Agency Militants Warn 'Human Shield' Tribesmen to Stay Put
• Pakistani cleric denies he was drunk on TV
• Asia Bibi case: HRCP pins hope on SC
• Hanif Abbasi slams Imran with hefty defamation suit
• Memon urges MQM to review it decision to pullout Sindh government
South Asia
• 35 Taliban militants killed in joint clearing operations
• Taliban blast in Kabul kills four Afghan soldiers
• PM Sheikh Hasina: August 15 carnage a plot to destroy liberation spirit
• Complaint filed against Khaleda for hurting religious sentiment
• Bangladesh: Cops foil Islami Andolon's bid to bring out March without permission
Arab World
• Baghdad restaurant bombs kill 21
• Iraqi Forces Kill Dozens of ISIL Terrorists in Diyala
• Iraqi Soldiers Kill Several ISIL Terrorists in Baghdad
• ISIL Terrorists Suffer Major Losses in Anbar Province
• Jordan's King Abdullah warns against Islamic and Zionist extremism
• Syria Kurds weather militant assault as they await reinforcements
• No plan for Egyptian military action against Islamic State in Iraq, Syria: Egypt's PM
• A collection of ancient Egyptian artefacts recovered from London
• Syria: Army Regains Control over Strategic Regions in Aleppo Countryside
Mideast
• Palestinian Official Urges Summit over Aqsa 'Division'
• Turkey Appeases US in Token Gesture on Islamic State Battle
• Turkey won't bow to unfair criticism from West: Erdogan
• Israel broadens limits on Palestinians' access to Al-Aqsa: Report
• Israel can't allow Gaza reconstruction if Hamas rebuilds infiltration tunnels
Africa
• Tunisia Vote Offers Post-Arab Spring Hope
• Gaddafi Cousin Keen to Attend Libyan Peace Talks
• Libya's parliament allies with renegade general, struggling to assert authority
• Warring S Sudan leaders accept 'responsibility' for civil war
Southeast Asia
• Putrajaya helping foment Islamic radicalism, opposition tells Canberra
• Don't over-simplify Islamic teachings, touching dog not 'haram', says Dr Asri
Europe
• #BBCTrending: The Mock Islamic State Slave Auction In London
• Britain sends drones to fly surveillance missions over Syria
• If Macedonian Muslims want jihad, they better must die for Macedonia: head of the
• Muslim community
• We don't want to see incursions across the Line of Control: David Cameron
• Denmark tries a soft-handed approach to returned Islamist fighters
• UN chief urges resumption of Israel, Palestine talks
• EU to expand Syria sanctions
• West unmoved by Iran's nuclear 'compromises'
North America
• PYD not terrorist under US law, Turkey should provide them support: Washington
• Canada police kill 'radicalized' driver
• Saudi inmate to stay at Guantanamo, another cleared for transfer
• CAIR-DFW to Host Academic Forum on ISIS October 23 at SMU
Compiled by New Age Islam News Bureau
URL: https://www.newageislam.com/islamic-world-news/new-age-islam-news-bureau/message-of-the-mujahid--australian-teen-is-new-public-face-of-islamic-state/d/99649
---------
Australia
Message of the Mujahid: Australian Teen Is New Public Face of Islamic State
21 Oct, 2014
A TEENAGE boy from western Sydney has been used as a new public face of Islamic State, starring in a propaganda video "especially" targeted at Australia and claiming that Tony Abbott should know the terror group will never surrender.
Abdullah Elmir, a 17-year-old who told his family that he was going on a fishing trip with a friend before leaving Australia to join the conflict in Syria and Iraq, is fighting with Islamic State and is now front and centre in the fourth episode of the series entitled Message of the Mujahid.
The video, released by Islamic State just hours ago, sees Elmir — identified as "Abu Khaled from Australia" — clutching an assault rifle while delivering a 90-second diatribe with between 70 and 100 heavily armed fighters stand behind him.
"This message, I deliver to you, the people of America," he says in the video. "I deliver this message to you, the people of Britain. And I deliver this message to you — especially — the people of Australia.
"And I say this about your coalition. You threaten us with this coalition of countries. Bring every nation that you wish to us. Bring every nation that you want to come and fight us. It means nothing to us."
He claims the group will eventually take control of the US and UK, and directs a threat to Tony Abbott that Islamic State will also take its fight to Australian shores.
"To the leaders — to Obama, to Tony Abbott — I say this: These weapons that we have, these soldiers, we will not stop fighting. We will not put down our weapons until we reach your lands, until we take the head of every tyrant, and until the black flag is flying high in every single land," he says.
"Until we put the black flag on top of Buckingham Palace. Until we've put the black flag on top of the White House, we will not stop and we will keep on fighting. We will fight you and we will defeat you."
Elmir is believed to have been with Islamic State for the past four months.
In June, his family went public after Elmir and another Sydney teen flew out of the country, with their lawyer claiming that the federal government could be sued for allowing him to leave.
The boy had reportedly been "brainwashed", and his family were keen to find out who paid for his airfares.
The boys had flown from Sydney to Perth, and then onto Malaysia, Thailand and Turkey — where they reportedly made contact with their respective families.
The other teen, known as Feiz and reportedly age 16, has since been taken to Lebanon by his father.
http://www.theaustralian.com.au/in-depth/terror/australian-teen-abdullah-elmir-is-new-public-face-of-islamic-state/story-fnpdbcmu-1227097275395
---------
Australia to deploy 200 special forces troops in Iraq after govt signs deal
21 Oct, 2014
CANBERRA: Australia will send around 200 of its Special Forces to Baghdad to advise and assist Iraqi troops after Foreign Minister Julie Bishop finalized legal arrangements for their deployment on Monday.
Bishop said she had settled the legal framework during meetings with Iraqi government leaders in Baghdad on Saturday and Sunday, about a month after the special forces members were sent to the Middle East.
The 200 Special Forces members, as well as an additional 400 air force personnel, have been in the United Arab Emirates since September in preparation for Australia's deployment approval.
Now, they will be sent to Iraq, where they will maintain a strictly advisory role alongside Iraqi troops in their fight against Islamic State (ISIL) militants.
"I received briefings from Iraqi leaders and international coalition partners on the campaign against ISIL and the current political situation," Bishop said in a statement on Monday.
"I emphasized the importance of the Iraqi government's efforts to deliver policies that share power and resources amongst Iraq's various communities." "I also met groups of minority leaders to hear their concerns and to underline Australia's close interest in the protection of minorities in Iraq."
In moving into the region, Australian commandos will assist Iraqi Security Forces, but Bishop reiterated that Australian troops will not be placed on the ground to fight alongside Iraqi soldiers.
"We've not been asked and we've not offered (to send troops to Iraq)," Bishop said on Sunday. "So I do not envisage that being part of our arrangements with Iraq."
Australian F/A-18 Super Hornets began missions over Iraq in early October, but arrangements to allow the special forces into the country took longer to complete. Asked about the situation on the ground in Iraq, Bishop said on ABC radio on Monday that the Iraqi government was "confident of holding Baghdad" but the situation remained tense.
http://www.dailytimes.com.pk/region/21-Oct-2014/australia-to-deploy-200-special-forces-troops-in-iraq-after-govt-signs-deal
---------
India
South Asia Al-Qaeda Head in Region Flags UP Riots, Shamli Relief Camp
Written by Praveen Swami
October 21, 2014
In first remarks on the Muzaffarnagar riots in western UP last year, South Asia al-Qaeda chief Asim Umar has described adjoining Shamli as "a refugee camp for Muslims" and accused the "Indian establishment" of "working methodically to bring the Muslims down from the level of former kings and emperors to the level of Shudras, Dalits and lower castes so that they lose the will and strength to stand up to the Hindus".
Writing in the inaugural issue of the Resurgence — the 117-page magazine in English has been brought out by al-Qaeda's media house, al-Sahab, and released online Monday — Umar says: "Shamli has now turned into a refugee camp for Muslims… the same Shamli where righteous scholars defeated the British in the Jihad of 1857. Forty kilometres from Shamli lies the place known to history as Panipat, the door to Delhi for Muslim conquerors. It is this symbol of Muslim dominance that has been unfortunately forgotten by the Muslims (but not the Hindu)".
"It must never be forgotten that oppressing the weak and crushing the downtrodden is in the psyche of the Hindu. By religious conviction, the Hindu is a worshipper of power. He accepts anyone more powerful than himself as his God; but there is no place for principles, ethics, morality, leniency or kindness for the weak in a Hindu society," he writes.
The magazine also has an exclusive first-person account by fugitive al-Qaeda commander Ayman al-Zawahiri of his life with Osama bin-Laden. The lead editorial in the Resurgence says "it is our hope that the blood of our martyrs in Afghanistan and Pakistan will pave the way for the liberation of Muslims from Kashmir to Arakan and the establishment of the Shariah as the supreme authority throughout the Indian Subcontinent". Hassan Yusuf, another contributor, writes that al-Qaeda has decided to form a new unit under Umar's command "to unite the efforts of the Mujahideen for making the Shariah of our Lord the supreme authority throughout a region which is home to at least one third of the Muslim Ummah (nation)". India's influence is also invoked to legitimise jihad in other regional states. In one article on Bangladesh, Sulaiman Ahmad claims "Indian influence in Bangladesh is not just political or economic. Even culturally, this Muslim nation is being turned into an Indian outpost. The city of mosques, Dhaka, has been turned into a city of idols… Hindu culture is spreading like cancer, with full support of the Awami League government".
http://indianexpress.com/article/india/india-others/qaeda-head-in-region-flags-up-riots-shamli-relief-camp/#sthash.XfGM6KTf.dpuf
---------
Don't malign all madrasas: Jamiat Ulema-e-Hind
October 21, 2014
Alleging that the Burdwan blast incident was being used by certain circles with vested interests to malign the entire madrasa system and those associated with it, speakers under the banner of the state unit of Jamiat Ulema-e-Hind organised a rally in Burdwan on Monday to condemn the attack on madrasas as breeding ground for terror activities.
Claiming that such attacks on madrasas will not help the community, Siddiqullah Chowdhury, general secretary of the state committee of the Jamiat Ulema-e-Hind said no madrasa in West Bengal should be closed down either on account of panic or as an administrative measure. Urging all madrasas to resume normal classes and teachings, Chowdhury said any attack on madrasas will have serious repercussions.
"Some bearded criminals are involved in the Burdwan bomb blast. But this incident of criminals should not be used to malign an entire madrasa system," Chowdhury said, while demanding exemplary punishment for the culprits. He added that people linked to madrasas should take a vow that no untoward incident be allowed to be perpetrated in these.
Chowdhury said that the previous government under Buddhadeb Bhattacharjee fell soon after he described illegal madrasas as cradle of terrorist activities that spewed anti-national elements, adding that the present Mamata Banerjee-led government will also have to face the same fate if it does not restrain the police excesses. "You do not need to take shelter behind a madrasa to indulge in a subversive activity. One can do it from any platform," he said. The Muslim leader said if one goes by the BJP's analysis of five to seven per cent of Muslims in madrasas to be involved in "jihadi activity" in West Bengal, this would imply that no less than 15 lakh Muslims have a "jihadi" background. "These are dangerous utterances," Siddiquallah warned, adding that these could alienate the entire community. Earlier, Rafiqul, a spokesperson of the All India United Democratic Front, said it was pointless to malign the entire madrasa system. "The land of Bengal is the land of democracy and communal harmony. It should not be vitiated by narrow political gains," he said. Maulana Imtiaz, a Burdwan-based leader of the Jamiat Ulema-e-Hind said a madrasa is no place for violence. "It preaches peace and amity. Muslims are as much patriotic and nationalist as any other citizen in the country," Imtiaz said. Asim Chatterjee, a former Naxalite, who joined the rally said Muslims should not think they are alone and assured them that thousands of Hindus will stand to support them if any attack was launched on their community.
http://indianexpress.com/article/cities/kolkata/dont-malign-all-madrasas/#sthash.B55yio96.dpuf
---------
Inter-Faith 'Love Interest' In Gujrat Triggers Clashes, 30 Detained
October 21, 2014
A clash broke out between two communities in Dhanyavi village, about 15 kilometers from Vadodara, on Monday afternoon, over an alleged inter-religious "love interest" between a girl and boy. The police detained over 30 persons and confiscated several weapons, including swords and rifles, from the villagers. Although the situation has been brought under control, a strong police presence continues to guard the tense village.
Dhaniyavi village near Vadodara remained tense since late Sunday night after two communities flared up over an alleged "love interest" between a girl of the Darbar community and a boy of a Garasiya Muslim family in the village. Sword-wielding groups of both communities attacked each other Monday afternoon, despite the police presence since Sunday night. When the clash turned ugly, policemen on duty fired four rounds in the air to disperse the villagers and avert the clash from taking a communal turn. While villagers claim that the situation flared up as the locals suspected the girl and the boy to be romantically involved, police said that the family of the girl revealed that the boy was "pursuing" their daughter through other villagers. The matter came to light on Sunday after messages sent by the boy, intended for the girl, were disclosed by an intermediate friend and members of the Darbar community brutally thrashed the boy. Villagers said that the family of the girl had recently sent her off to a hostel in Vadodara for her further education so as to keep her away from Dhaniyavi.
Full report at:
http://indianexpress.com/article/cities/ahmedabad/inter-faith-love-interest-triggers-clashes-30-detained/#sthash.CuM26wgY.dpuf
---------
US fund flow into Pakistan-occupied Kashmir dam floods Delhi with concern
Dipanjan Roy Chaudhury,ET Bureau | Oct 21, 2014
NEW DELHI: India, upset with a recent US move to mobilize funds for a hydel-power project in Pakistan-occupied Kashmir (PoK), will lodge a protest with the Obama administration for supporting a venture in a territory which it considers to be illegally occupied by Islamabad.
Delhi, that has long protested moves by outsiders including China to support Diamer-Bhasha dam hydel-power and irrigation project and other infrastructure ventures in PoK, is particularly peeved as the US is acting decision comes at a time when Pakistan has upped the ante on Jammu & Kashmir through repeated ceasefire violations and subsequent efforts to internationalise the issue.
The Modi government is expected to use diplomatic channels to lodge a protest with the US, official sources said, adding that PoK was under illegal occupation of Pakistan and any infrastructure project in that area is illegal. Delhi maintains that the entire state of Jammu & Kashmir, including the PoK, is an integral part of India. Delhi had always protested against the construction of Diamer-Bhasa project located in Gilgit-Baltistan area of PoK. The issue has been repeatedly raised with both China and Pakistan in the past, sources recalled.
Full report at:
http://timesofindia.indiatimes.com/india/US-fund-flow-into-Pakistan-occupied-Kashmir-dam-floods-Delhi-with-concern/articleshow/44896533.cms
---------
India raises concern with UK as Pakistani group plans anti-India rally
October 21, 2014
NEW DELHI: India has raised with Britain its concerns about a Pakistani group planning to host an anti- India rally in London to highlight the Kashmir issue.
The matter was taken up by external affairs minister Sushma Swaraj during her talks with deputy prime minister of Britain Nick Clegg in London last week.
External Affairs ministry spokesman Syed Akbaruddin said the British side maintained that matters between India and Pakistan should be best addressed and resolved by the two countries.
"We had a discussion with our colleagues and interlocutors in London who assured us that their approach to this matter is that matters between India and Pakistan are best addressed and resolved by India and Pakistan and we have confidence that as two pluralist and open societies India and UK will not do anything that is inimical to their interest," the Spokesperson said.
Full report at:
http://timesofindia.indiatimes.com/india/India-raises-concern-with-UK-as-Pakistani-group-plans-anti-India-rally/articleshow/44888972.cms
---------
Mumbai: ISIS sympathiser who discussed terror plot arrested
October 21, 2014
The Maharashtra Anti-Terrorism Squad has arrested a city-based software engineer, who admired the middle-east terror group Islamic State of Iraq and Syria, for allegedly conspiring to blow up US establishments here including a school.
Anees Ansari (24) who worked at a multi-national software company was apprehended from his office in suburban Andheri and produced before a court yesterday which remanded him in police custody till October 26, an ATS official said today.
The online chats of Ansari, whose office job involved designing navigation maps, hinted at a plot to target US establishments including a school in suburban Bandra, the official said.
Ansari was booked under section 120 (B) (criminal conspiracy) read with 302 (murder) of Indian Penal Code, and relevant sections of Information Technology Act. He sympathised with ISIS fighters and described, in his online conversations, the Americans as tormentors. ATS also seized his computers, a mobile phone, and has obtained `mirror images' to extract the data. Full report at:
http://indianexpress.com/article/india/india-others/mumbai-isis-sympathiser-who-discussed-terror-plot-arrested/#sthash.oEaEj56l.dpuf
-----------
Pakistan
Pak Taliban Fires Its Spokesman over Allegiance To Islamic State
PTI | Oct 21, 2014
ISLAMABAD: Tehreek-i-Taliban Pakistan has fired its spokesman after he along with five other commanders declared allegiance to the Islamic State terror group, which has been vying for supremacy with the al-Qaida in the region.
Taliban spokesman Shahidullah Shahid last week said that he along with five other Taliban commanders have accepted the leadership of Abu Bakr al-Baghdadi, chief of the Islamic State which has seized hundreds of square miles in Iraq and Syria.
According to a Taliban statement, Shahidullah's actual name was Abu Omar Sheikh Maqbool and the group had allowed him to use the nom de guerre designated for its spokesperson.
The Taliban made it clear that he was no more a spokesman and Sheikh Maqbool was removed and another "brother" was named to replace him but still the decision was not made public.
The group said Sheikh Maqbool was still using it despite declaring support and allegiance to Al-Baghdadi.
Full report at:
http://timesofindia.indiatimes.com/world/pakistan/Pak-Taliban-fires-its-spokesman-over-allegiance-to-Islamic-State/articleshow/44898063.cms
---------
Khyber Agency Militants Warn 'Human Shield' Tribesmen To Stay Put
21 Oct, 2014
PESHAWAR: With a major military operation expanding into the restive Khyber Agency, Bara-based militants warned local tribesmen on Tuesday against leaving the area — a move aimed at using the local population as human shields.
Local and official sources confirmed that militants made announcements on the radio, warning that they would take over and blow up the houses of those who leave the area or pledge support to the government.
The militants have already destroyed the homes of around 30 of their own fighters, including two militant commanders, who had surrendered to the authorities.
Ealier, key commanders of the outlawed militant group Lashkar-i-Islam (LI), Hafi Faqeer and Malam Khan, had surrendered to the security forces along with more than 80 of their men.
Militants later destroyed the homes of LI activists who had defected and surrendered to the government.
Full report at:
http://www.dawn.com/news/1139403/khyber-agency-militants-warn-human-shield-tribesmen-to-stay-put
---------
Pakistani Cleric, Ashrafi, Denies He Was Drunk On TV
21 October 2014
An influential Pakistani cleric denied accusations that he had appeared on television drunk and claimed that political rivals had started a smear campaign against him, the Independent reported.
Hafiz Tahir Ashrafi, head of a body that advises Pakistani authorities on matters pertaining to Islam, was the centre of attention on social media after a video of him slurring his words on a television show surfaced online.
Asharfi appeared on a television show in which he spoke audible words in criticism of cricketer-turned-politician Imran Khan's recent activity.
Khan's supporters had organized large protests in the country's capital of Islamabad calling for the step down of Prime Minister Nawaz Sharif.
Full report at:
http://english.alarabiya.net/en/News/asia/2014/10/21/Pakistani-cleric-denies-he-was-drunk-on-TV.html
---------
Asia Bibi case: HRCP pins hope on SC
21 Oct, 2014
LAHORE: The Human Rights Commission of Pakistan (HRCP) hopes the Supreme Court will look into all aspects of the case of Asia Bibi, whose appeal against her conviction by a trial court on a blasphemy charges was turned down by the high court last week.
In a statement issued here on Monday, HRCP said: "The outcome of Asia Bibi's appeal has upset a large number of people and all eyes are now on the Supreme Court. While the Commission is of the opinion that every effort should be made not to interfere with the judicial proceedings by making any comment, the fallout of the case cannot be ignored.
"Pakistan is in a difficult situation because the blasphemy law and the manner in which it is implemented have not been subjected to due scrutiny. While we continue to expect that the judiciary will not fail the hopes for justice of a poor woman, the essential task lies with the lawmakers and ulema. For if they do not realise the impact that this law is having on the thinking of the people and in fueling intolerance in Pakistan we will face even greater difficulties.
Full report at:
http://www.dawn.com/news/1139342/asia-bibi-case-hrcp-pins-hope-on-sc
---------
Hanif Abbasi slams Imran with hefty defamation suit
October 21, 2014
Rawalpindi- Pakistan Muslim League-Nawaz (PML-N) member and former MNA Mohammad Hanif Abbasi sent a defamation notice worth one billion rupees in damages to Pakistan Tehreek-i-Insaf (PTI) Chairman Imran Khan tonight.
The PML-N leader alleged that the PTI chairman had been spreading "slanderous propaganda" against him. He also maintained that Imran Khan, during his speeches, had called Abbasi a 'drug pusher'. Abbasi sent the legal notice to Imran through his counsel Ghulam Mustafa Kidwal.
In his notice, Abbasi has demanded an apology from Khan within 15 days otherwise he should pay Rs1 billion in damages to his reputation. Abbasi said that he would initiate legal proceedings against Khan if he didn't pay damages. It may be pointed out that Abbasi had been accused of misappropriating 500kg ephedrine quota back in 2010.
http://nation.com.pk/national/21-Oct-2014/hanif-abbasi-sends-a-hefty-defamation-notice-to-imran
---------
Memon urges MQM to review it decision to pullout Sindh government
21 Oct, 2014
Karachi- Sindh's Information Minister Sharjeel Memon today said that mischief should not be created out of someone's statements, adding that MQM should review impulsive decisions.
Talking to journalists he said it is unfortunate that Pakistan People's Party (PPP) chairman Bilawal Bhutto's 'message of love' was misunderstood. He hoped that MQM would not take an impulsive decision.
Addressing a press conference after midnight, Memon said that the government was not functioning through the support of crutches, adding that they were silent only because of the policy of 'reconciliation'.
He said no one should be under the impression that PPP doesn't have answer. He said that Pakistan was the identity of every Pakistani. Sharjeel Memon said that there should be no politicking over the issues faced by the country. He said Khursheed Shah has already offered unconditional apology and explanation over his slur about 'Muhajir' community. Memon said that the land of Sindh was like mother and that they will not let it be divided.
http://nation.com.pk/national/20-Oct-2014/memon-urges-mqm-to-review-it-decision-to-pullout-sindh-government
---------
South Asia
35 Taliban militants killed in joint clearing operations
By KHAAMA PRESS - Tue Oct 21 201
At least 35 Taliban militants were killed and 8 others were injured following joint military operations by Afghan National Army, Afghan National Police and Afghan intelligence – National Directorate of Security (NDS) operatives.
The Ministry of Interior (MoI) following a statement, said "In past 24 hours, Afghan National Police conducted several anti-terrorism joint operations with Afghan National Army and NDS to clean some of the areas from terrorists and enemies of peace and stability of Afghanistan."
The statement further added that the operations were conducted in Kandahar, Zabul, Uruzgan, Ghazni and Paktika provinces, as a result 35 armed Taliban members were killed, eight wounded and nine others were arrested by Afghan National Security Forces.
Afghan National Police discovered and confiscated light and heavy rounds ammunition, MoI said.
The statement also added, Afghan National Police discovered and defused seven different types of IEDs placed by enemies of Afghanistan for destructive activities in Nangarhar, Laghman, Balkh, Maidan Wardak and Logar provinces.
The Taliban militants group has not commented regarding the report so far.
http://www.khaama.com/35-taliban-militants-killed-in-joint-clearing-operations-moi-8856
---------
Taliban blast in Kabul kills four Afghan soldiers
21 October 2014
At least four Afghan soldiers were killed, and around a dozen people including six civilians wounded after a roadside bomb planted by the Taliban exploded in the Afghan capital on Tuesday, officials said.
The blast, caused by a remote-controlled bomb, targeted an Afghan army bus at around 06:45 am (0215 GMT) in the western part of Kabul, the Ministry of Defense said.
"In a remote-controlled bomb attack against an army bus at 6:45 am in Aqa Ali Shams in Kabul, four army personnel were killed and 12 wounded, including six civilians," the ministry said in a statement.
The Taliban, who have this year stepped up their attacks against the Afghan security forces, claimed responsibility via their official Twitter account.
It is the latest in a series of attacks on local security forces as foreign combat troops withdraw from Afghanistan by the end of the year.
A residual force of 9,800 U.S. troops will remain, however, under a U.S.-Afghan security agreement signed last month.
Afghan casualties have rocketed over the past two years as NATO has handed over most combat duties to the nation's police and army.
The U.S. military estimated this month that 7,000-9,000 Afghan police or troops had been killed or wounded so far this year.
http://english.alarabiya.net/en/News/asia/2014/10/21/Taliban-blast-in-Kabul-kills-four-Afghan-soldiers.html
---------
PM Sheikh Hasina: August 15 carnage a plot to destroy liberation spirit
21 Oct, 2014
Prime Minister Sheikh Hasina has said the carnage of August 15 was plotted to destroy the spirit of the war of liberation and distort the history.
She made the statement while distributing prizes among the winners of chess, drawing and cultural competitions organised by Sheikh Russell Jatiya Shishu Kishore Parishad marking the 50th birth anniversary of Sheikh Russell.
He said: "The carnage of August 15 was not only aimed at annihilating a family. The conspiracy was hatched with a view to destroy the spirit of the Liberation War, distort the history, divert the country to another direction and put forth the country to the hands of the defeated force."
The prime minister's advisor Dr Towfiq-e-Elahi Chowdhury, secretary general of the Parishad Mahmudus Samad Chowdhruy, MP, advisor of the Parishad Sirajul Islam Mollah, MP president of Dhaka chapter K M Shahidullah and member of Parishad Israt Jahan Ema also spoke on the occasion while president of the Parishad Raqibur Rahman was in the chair.
http://www.dhakatribune.com/conspiracy/2014/oct/21/pm-august-15-carnage-plot-destroy-liberation-spirit#sthash.AhZyaPaP.dpuf
---------
Complaint filed against Khaleda for hurting religious sentiment
21 Oct, 2014
A complaint has been lodged against BNP Chairperson Khaleda Zia for allegedly making false and instigative remarks on religious issues, involving the ruling Awami League.
AB Siddique, president of Bangladesh Jananetri Parishad, a pro-Awami league organisation, filed the complaint with the Court of Chief Metropolitan Magistrate on Tuesday morning.
According to the complaint statement, BNP chief Khaleda Zia has made "false, derogatory and instigative" remarks over religious issues, involving the Awami League while addressing a function marking Durga Puja at the capital's Engineers Institute on October 14.
"Khaleda's remarks in which she said secularism is Awami League's mask and is a party of atheists, has hurt the religious sentiment of the people of the country," claimed the complaint.
The plaintiff's lawyer Rowshan Ara Daizey told the Dhaka Tribune that Metropolitan Magistrate Md Mostafijur Rahman has recorded the deposition of AB Siddique around 11am and asked the Shahbagh police to submit a probe report by November 19.
Earlier on October 14, while addressing a programme of the Hindu Community people, Khaleda Zia said the Awami league is a party of atheists and their professed secularism is nothing but a sham.
http://www.dhakatribune.com/law-rights/2014/oct/21/remarks-religious-issues-complaint-filed-against-khaleda#sthash.7ySTwzWe.dpuf
----------
Cops foil Islami Andolon's bid to bring out march without permission
21 Oct, 2014
Law enforcers yesterday fired tear gas canisters and charged baton to disperse several hundred Islami Andolon Bangladesh men trying to bring out a procession blocking the capital's Paltan road before the Baitul Mukarram mosque, causing six of the Islamist organisation to fall sick.
The agitators were protesting the bar on them from holding a rally at Suhrawardy Udyan today demanding capital punishment for former post and telecommunications minister Abdul Latif Siddique for his recent remarks on Hajj, Prophet Muhammad (pbuh) and Tablighi Jamaat.
The six were treated at Dhaka Medical College Hospital and local clinics.
However, the organisation's leaders, at a hurriedly called press conference at their Purana Paltan head office, claimed over 100 activists were injured while another 100 had been arrested.
They also announced holding rallies at Chittagong's Laldighi Maidan on October 31, Khulna on November 14 and in the capital on December 26.
Dhaka Metropolitan Police Deputy Commissioner (Motijheel Division) Ashrafuzzaman told The Daily Star that there had been no arrests and the organisation had no permission to organise political programmes in that area.
http://www.thedailystar.net/city/cops-foil-islami-andolons-bid-to-bring-out-march-without-permission-46672
---------
Arab World
Baghdad restaurant bombs kill 21
21 Oct, 2014
BAGHDAD - A series of bombs targeting restaurants across Baghdad killed at least 21 people on Tuesday, police and medics said.
The Iraqi capital has witnessed a surge in bombings over the past month, most claimed by Islamic State militants who have overrun large parts of Iraq and neighbouring Syria.
Twelve people were killed in Baghdad's northern Talibiya district when a car bomb blew up directly in front of a restaurant and another in the parking lot.
A homemade bomb exploded close to a restaurant in Baghdad's Sheikh Omar neighbourhood, killing 2 civilians, and two more blasts near restaurants in the south of the capital left a further seven people dead, police and medical sources said.
Islamic State militants surged towards Baghdad in June after seizing the northern city of Mosul but have not captured the capital.
http://www.jpost.com/Breaking-News/Baghdad-restaurant-bombs-kill-21-379395
-----------
Iraqi Forces Kill Dozens of ISIL Terrorists in Diyala
21 Oct, 2014
The Iraqi security forces foiled an attack by the Islamic State of Iraq and the Levant (ISIL) terrorists on Taba village in Diyala province, and killed ten of them.
''The policemen in cooperation with the Peshmerga forces foiled an attack by the terrorists on Taba village," an informed source said Monday.
''The security forces killed many terrorists and foiled an attempt to detonate a car bomb in the village,'' the source added.
''The Commanding General of the Armed Forces, Prime Minister Hayder Ebadi, instructed to accelerate in sending military forces to rescue Taba village since the terrorists imposed a siege on the village,'' the source concluded.
http://english.farsnews.com/newstext.aspx?nn=13930729000947
---------
Iraqi Soldiers Kill Several ISIL Terrorists in Baghdad
21 Oct, 2014
Iraqi troops inflicted heavy losses on the ISIL terrorists in Southern Baghdad, leaving several members of the Takfiri group dead and wounded.
The Takfiri terrorists suffered major losses, as the Iraqi Army stormed their strongholds in Jamea'a and Obaydat districts in Southern Baghdad, killing more than seven terrorists.
The ISIL Takfiri terrorists currently control parts of Syria and Iraq. They have threatened all communities, including Shiites, Sunnis, Kurds, Christians, Ezadi Kurds and others, as they continue their atrocities in Iraq.
Senior Iraqi officials have blamed Saudi Arabia, Qatar, and some Persian Gulf Arab states for the growing terrorism in their country.
The ISIL has links with Saudi intelligence and is believed to be indirectly supported by the Israeli regime.
http://english.farsnews.com/newstext.aspx?nn=13930729000241
---------
ISIL Terrorists Suffer Major Losses in Anbar Province
21 Oct, 2014
Globemuslims:Severe clashes erupted between the Iraqi troops and the Takfiri terrorists in the Southeastern areas of Fallujah, in which fifteen terrorists were killed.
Zaubba village was the epicenter of the army's fight against the terrorists.
The ISIL Takfiri terrorists currently control parts of Syria and Iraq. They have threatened all communities, including Shiites, Sunnis, Kurds, Christians, Ezadi Kurds and others, as they continue their atrocities in Iraq.
Senior Iraqi officials have blamed Saudi Arabia, Qatar, and some Persian Gulf Arab states for the growing terrorism in their country.
The ISIL has links with Saudi intelligence and is believed to be indirectly supported by the Israeli regime.
http://globemuslims.com/en/news/4388/isil-terrorists-suffer-major-losses-in-anbar-province
---------
Jordan's King Abdullah warns against Islamic and Zionist extremism
21 Oct, 2014
Jordan's King Abdullah equated "Zionist extremism" to Islamic extremism in remarks regarding the fight against terrorism he made in a meeting with Jordan's president and members of the Lower House's Democratic Gathering Bloc, The Jordan Times reported on Monday.
While saying that there is a civil war taking place between moderate and extremist camps within Islam, the Jordanian monarch added that, on the other hand "there is Zionist extremism...stakeholders should acknowledge there is extremism in all camps."
The king said Christians and Muslims in Jordan would work to "keep these threats away from our borders. We have to think together how to deal with the various challenges. We are living in a new and changing world."
Full report at:
http://www.jpost.com/Arab-Israeli-Conflict/Jordans-King-Abdullah-warns-against-Islamic-and-Zionist-extremism-379386
-----------
Syria Kurds weather militant assault as they await reinforcements
21 Oct, 2014
Kurdish fighters in the battleground Syrian town of Kobane weathered an onslaught by Islamic State (IS) group militants on Tuesday as they awaited promised reinforcements.
The Kurdish militia faced a fierce attack by IS fighters, including suicide bombers, late on Monday, that appeared aimed at cutting off the border with Turkey before any reinforcements could arrive, the Syrian Observatory for Human Rights said.
Fighting continued on Tuesday with exchanges between IS forces in the east of the town and Kurds in the west and there were reports of an explosion, probably a car bomb, the Britain-based monitoring group said.
Kobane has become a crucial symbolic battleground in the war against IS, which is fighting to extend areas under its control in Iraq and Syria where it has declared an Islamic "caliphate".
Ankara announced on Monday that it would help Kurdish forces from Iraq to relieve Kobane's beleaguered defenders, in a major shift of policy that was swiftly welcomed by Washington.
Iraqi Kurdish officials have said they will provide the training, although any forces sent will be Syrian Kurds.
Full report at:
http://www.themalaysianinsider.com/world/article/syria-kurds-weather-militant-assault-as-they-await-reinforcements#sthash.0wU6FmT7.dpuf
---------
No plan for Egyptian military action against Islamic State in Iraq, Syria: Egypt's PM
21 Oct, 2014
Egypt has no plans to provide the United States with direct military assistance in its war against Islamic State in Iraq and Syria even though American aerial bombardment may not be enough to defeat the group, the country's prime minister said.
But Ibrahim Mehleb left open the possibility of military action if Cairo's Gulf Arab allies are threatened by the al Qaeda offshoot.
With one of the biggest armies in the Middle East and wide experience in battling militancy, Egypt is regarded as a vital ally for the United States, which provides billions of dollars in annual aid to Cairo.
Mehleb said Egypt's priority is ensuring stability at home, where security officials face resilient jihadist insurgents based in the Sinai Peninsula and regard militants in neighbouring Libya as a serious threat.
"For the Egyptian army the most important thing is its borders and the stability of its country and the protection of its country," Prime Minister Ibrahim Mehleb told Reuters in an interview.
Full report at:
http://english.ahram.org.eg/NewsContent/1/64/113548/Egypt/Politics-/-No-plan-for-Egyptian-military-action-against-Isla.aspx
---------
A collection of ancient Egyptian artefacts recovered from London
21 Oct, 2014
After a year of legal and diplomatic negotiations, Egypt is to receive Tuesday a collection of 15 ancient Egyptian objects from London.
Ali Ahmed, head of the Antiquities Recuperation Section of the antiquities ministry said that these objects were monitored last year by the section as they were on the selling lists of Christie's and Bonham's auction halls in London.
After examining the photos of these objects and comparing them with the ministry's registry, archaeologists of the Recuperation Section approved their authenticity. All legal procedures were then taken immediately to stop their sale and remove them from auction halls.
Full report at:
http://english.ahram.org.eg/NewsContent/9/40/113538/Heritage/Ancient-Egypt/A-collection-of-ancient-Egyptian-artefacts-recover.aspx
---------
Syria: Army Regains Control over Strategic Regions in Aleppo Countryside
21 Oct, 2014
The Syrian army continued its advances in many areas of Aleppo in the Northern parts of the country and seized back control over several strategic regions.
The army units regained full control over the Al-Jabilieh village and a glass-making factory and a cement factory as well as a military base near the Aleppo Central Prison.
Tens of militants were killed and dozens more injured in heavy clashes with the army.
Also in the past 24 hours, the Syrian army cut all supply routes to terrorists in Mourek city in Hama countryside, paving the way for regaining full control of the town.
Elsewhere, the Syrian army took full control of Zamalka region near Jobar in Damascus countryside.
Full report at:
http://english.farsnews.com/newstext.aspx?nn=13930729000534
---------
Mideast
Palestinian official urges summit over Aqsa 'division'
World Bulletin/News Desk
21 Oct, 2014
A Palestinian official on Monday called for holding an emergency Arab and Islamic summit to discuss Israeli plans to divide the Al-Aqsa Mosque compound between Jews and Muslims.
"Israel is racing against time to legitimize storming of the Al-Aqsa Mosque compound by herds of extremist settlers," Ahmed Qurei, a member of the Executive Committee of the Palestine Liberation Organization (PLO), said in a statement.
The Al-Aqsa Foundation for Endowments and Heritage, a Palestinian NGO, has said that the Knesset was planning to discuss a draft law next month aimed at partitioning the Al-Aqsa Mosque compound between Muslims and Jews.
"The Jerusalemites will not stand hand-tied toward these aggressive Israeli schemes, which risk dragging the holy city to a cycle of violence and religious warfare," Qurei said.
He said the lack of action on the part of Arabs, Muslims and the international community encourages the Israeli government to go ahead with it violations against the Al-Aqsa Mosque.
In recent months, groups of extremist Jewish settlers – often accompanied by Israeli security forces – have repeatedly forced their way into East Jerusalem's flashpoint Al-Aqsa Mosque complex.
Full report at:
http://www.worldbulletin.net/headlines/146673/palestinian-official-urges-summit-over-aqsa-division
----------
Turkey appeases US in token gesture on Islamic State battle
21 Oct, 2014
Turkey finally made a token concession to the US in its battle against Islamic State, allowing some Iraqi Kurdish fighters to aid their brethren in the Kurdish Syrian town of Kobani. But it was a move made only for show.
Turkey has rejected aiding NATO in its fight against Islamic State, since Ankara sympathizes with its Sunni jihadist ideology – and because it sees the group as weakening its long time Kurdish foes.
Efraim Inbar, director of the Begin-Sadat Center for Strategic Studies at Bar-Ilan University, told The Jerusalem Post on Monday that he sees Turkey's latest move as part of a negotiation process with the US.
Turkey is "throwing a bone to try to get the US to commit itself against [Syrian President Bashar] Assad," said Inbar, adding that Erdogan's strategic goal is to oust Assad, which will benefit Sunnis.
Full report at:
http://www.jpost.com/Middle-East/Analysis-Turkey-appeases-US-in-token-gesture-on-Islamic-State-battle-379368
----------
Turkey won't bow to unfair criticism from West: Erdogan
World Bulletin/News Desk
21 Oct, 2014
Turkey will not bow to double standards and unfair criticism from the West while taking the same level of security precautions as them, said Turkish President Recep Tayyip Erdogan on Tuesday.
Speaking at the second International Ombudsman Symposium in Ankara, Erdogan defended the introduction of a bill granting more powers to law enforcement agencies in Turkey. The bill comes after the outlawed Kurdistan Workers' Party, or PKK, -led demonstrations during the Eid al-Adha (Feast of Sacrifice) holiday at the beginning of October resulted in the deaths of 36 people.
Demonstrators took to the streets under the pretext that the Turkish government was allegedly doing nothing to halt the advance of militants of the ISIL who were advancing on the Turkish-Syrian border town Kobani.
Full report at:
http://www.worldbulletin.net/turkey-wont-bow-to-unfair-criticism-from-west-erdogan/146713/turkey-wont-bow-to-unfair-criticism-from-west-erdogan
----------
Israel broadens limits on Palestinians' access to Al-Aqsa: Report
21 Oct, 2014
Israel's Knesset will discuss a parliamentary bill in November that proposes separate prayer times and sites at the Al-Aqsa mosque, Israeli sources told the UAE-based 24Media website.
According to the news website, a Knesset committee has finalised drafting the bill, which prohibits Palestinians from legally protesting the measure.
The Jerusalem-located Al-Aqsa mosque is the third holiest site in Islam and Israel's recurrent violations against the mosque have historically been a major source of tension and anger among Palestinians.
Last week, Israeli authorities banned the entry of Palestinians under the age of 60 to the mosque. This act followed earlier clashes on 8 October as the occupation forces permitted ultra-Orthodox Jews to enter the Al-Aqsa compound during the Feast of Tabernacles holiday.
Mufti for Jerusalem and Palestine, Sheikh Mohamed Hussein, slammed Israeli police in a phone call with Reuters.
Full report at:
http://english.ahram.org.eg/NewsContent/2/8/113516/World/Region/Israel-broadens-limits-on-Palestinians-access-to-A.aspx
----------
Israel can't allow Gaza reconstruction if Hamas rebuilds infiltration tunnels
21 Oct, 2014
Israel will not allow construction materials to enter the Gaza Strip if Hamas rebuilds infiltration tunnels destroyed by the IDF during Operation Protective Edge, Defense Minister Moshe Ya'alon said on Monday.
During a meeting with UN Secretary-General Ban Ki-moon at his officein New York, Ya'alon expressed his concern over a Hamas claim that its members were continuing to dig underground passageways leading from the coastal enclave into Israel.
"We [Israel] want the resident of Gaza to live in dignity and prosperity, rebuild their homes and return to normal life. But, we are very worried. Just yesterday Hamas representatives said they intend to reconstruct the infiltration tunnels, instead of rebuilding the home of Gaza's residents," Ya'alon told Ban.
http://www.jpost.com/Breaking-News/Yaalon-Israel-cant-allow-Gaza-reconstruction-if-Hamas-rebuilds-infiltration-tunnels-379364
----------
Africa
Tunisia vote offers post-Arab Spring hope
21 Oct, 2014
Tunisians vote Sunday to elect their first parliament since the country's 2011 revolution, in a rare glimmer of hope for a region torn apart by post-Arab Spring violence and repression.
After three weeks of largely low-key campaigning, more than five million voters are to elect 217 deputies in a ballot pitting the Islamist Ennahda movement -- the country's largest party -- against a host of secular groups.
Tunisia has enjoyed relative stability since the region's 2011 uprisings in contrast to the lawlessness of Libya and Yemen, the military takeover in Egypt and Syria's bloody civil war.
But the country has flirted with disaster, particularly last year when a rise in militant activity, the assassination of two opposition lawmakers and an economy in the doldrums threatened to drag Tunisia down the same path.
Its political class, although often at loggerheads, caved in to pressure from civil society groups in January to schedule Sunday's vote and set presidential elections for November 23.
Tunisia's model of coalition government -- in which Ennahda shares power with two secular parties -- was praised by the international community.
Full report at:
http://english.ahram.org.eg/NewsContent/2/8/113578/World/Region/Tunisia-vote-offers-postArab-Spring-hope.aspx
---------
Gaddafi cousin keen to attend Libyan peace talks
World Bulletin/News Desk
21 Oct, 2014
A cousin and former aide of Muammar Gaddafi said he wants to take part in proposed talks aimed at bringing together Libya's warring parties, in a rare bid by a member of the ex-ruler's inner-circle to regain influence.
The Gaddafi family has kept a low profile since the 2011 uprising in which the leader was killed, ending 42 years of one-man rule. Rival armed groups have since battled for power, pushing the internationally-recognised government from the capital and raising fears of a full-scale civil war.
"I welcome the idea of having talks under the sponsorship of the United Nations outside Libya," Ahmed Gaddaf al-Dam, Gaddafi's cousin, told Reuters in Cairo where he lives in exile.
"We thank Algeria for hosting such a dialogue." Gaddafi's spokeswoman later confirmed that he wanted to attend the talks that have been proposed by Algiers which, like Cairo, fears that chaos in Libya could allow the vast country to become a base for militants.
Full report at:
http://www.worldbulletin.net/headlines/146663/gaddafi-cousin-keen-to-attend-libyan-peace-talks
----------
Libya's parliament allies with renegade general, struggling to assert authority
21 Oct, 2014
Three years after the overthrow of Muammar Gaddafi, the oil-producing desert state is in chaos, with Islamists and other militias fighting for territory and influence and the regular armed forces reduced to near-impotence.
One faction has seized Tripoli, setting up its own assembly and administration in the capital and forcing the internationally-recognised government to take refuge in the east of the country.
Khalifa Haftar, a former general under Gaddafi, is one of dozens of commanders of irregular forces calling the shots in the country. Last week, his forces launched a new offensive against Islamist militias in the eastern city of Benghazi.
The House of Representatives, Libya's elected parliament which has relocated to Tobruk in the far east, has endorsed Haftar's Operation Dignity against Islamists, giving him an official role, parliament spokesman Farraj Hashem said.
Full report at:
http://english.ahram.org.eg/NewsContent/2/8/113535/World/Region/Libyas-parliament-allies-with-renegade-general,-st.aspx
---------
Warring S Sudan leaders accept 'responsibility' for civil war
21 Oct, 2014
ARUSHA – South Sudan President Salva Kiir and his arch-rival rebel chief Riek Machar said that they accepted mutual responsibility for a 10-month civil war in which thousands of people had been killed.
"The parties acknowledge a collective responsibility for the crisis in South Sudan that has taken a great toll on the lives and property of our people," said the text of a deal signed by Kiir and his sacked former deputy Machar in the Tanzanian town of Arusha.
http://www.dailytimes.com.pk/foreign/21-Oct-2014/warring-s-sudan-leaders-accept-responsibility-for-civil-war
---------
Southeast Asia
Putrajaya helping foment Islamic radicalism, opposition tells Canberra
OCTOBER 21, 2014
KUALA LUMPUR, Oct 21 —The Malaysian government's tacit support for right-wing Islamic groups helps foment Islamic radicalism in the country and beyond, opposition figures were reported as telling Australia's Foreign Minister Julie Bishop recently.
Quoting PKR vice-president and Pandan MP Rafizi Ramli, Australian-based independent news website AAP reported that the issue was raised alongside other "anti-democratic" developments in the country in light of Opposition Leader Datuk Seri Anwar Ibrahim's possible jail sentence for sodomy.
"In an environment where the state subtly and indirectly endorses criticism and intimidation against the minorities, it is easier for the messages of radical groups like ISIS to take hold," Rafizi was quoted as saying.
Full report at:
http://www.themalaymailonline.com/malaysia/article/putrajaya-helping-foment-islamic-radicalism-opposition-tells-canberra#sthash.i0YExyEH.dpuf
---------
Don't over-simplify Islamic teachings, touching dog not 'haram', says Dr Asri
21 Oct, 2014
Touching a dog is not "haram" (forbidden) although the animal is categorised as "najis" (unclean), says Datuk Dr Mohd Asri Zainul Abidin.
To conclude that it is "haram" was an over-simplification of the Islamic teachings, the former Perlis mufti added.
He said this is because Muslims scholars have agreed that touching a dry dog is not "najis" despite differing views when it comes to touching wet dogs.
Pointing out that the Shafie school of thought (which Malaysia follows) is strict on the matter, he said the views in other Islamic schools were wider and easier.
"The Maliki school of thought is the most flexible and wide when it comes to dogs," he said, commenting on the controversy surrounding the "I Want to Touch a Dog" event held in Bandar Utama in Petaling Jaya yesterday.
Full report at:
http://www.themalaysianinsider.com/malaysia/article/dont-over-simplify-islamic-teachings-touching-dog-not-haram-says-dr-asri#sthash.ypPR6tvi.dpuf
---------
Europe
#BBCTrending: The Mock Islamic State Slave Auction In London
21 Oct, 2014
The savvy social media campaign against Islamic State by Kurdish activists continues - with a video of a mock "Islamic State sex slave market" in the heart of London watched more than quarter of a million times on YouTube.
The video shows the group's supposed ringleader bellowing into a microphone. Behind him stand a group of women - all of them actors - fully covered and chained together. "We have four women for you here today," the man announces, "and we are here to sell them courtesy of the Islamic State."
Shot on 14 October, the stunt was organised by Compassion 4 Kurdistan, a group of Kurdish diaspora trying to raise awareness if IS's alleged actions in Iraq. It has now been viewed more than 250,000 times on YouTube. On the same night, the group performed the scene outside Downing Street and the Houses of Parliament as well.
Full report at:
http://www.bbc.com/news/blogs-trending-29691764
---------
Britain sends drones to fly surveillance missions over Syria
21 Oct, 2014
Britain said on Tuesday it was authorising armed and unarmed drones to fly surveillance missions over Syria "very shortly" to gather intelligence on Islamic State (IS) militants.
Michael Fallon, the defence minister, said both Reaper and Rivet Joint drones would fly over Syria as part of "efforts to protect our national security from the terrorist threat emanating from there."
But in a written statement to parliament, he stressed that Reapers would not be allowed to use their weapons in Syria, something he said would require "further permission." A defence ministry spokeswoman was unable to immediately clarify whether that meant ministerial approval or a vote in parliament.
Fallon announced last week that Britain was deploying armed Reaper drones to the Middle East to conduct air strikes against Islamic State in Iraq.
Parliament voted to approve air strikes against IS in Iraq last month, after a request from the Iraqi government, but Britain isn't conducting air strikes in Syria. It has previously said such strikes would require fresh parliamentary approval.
http://english.ahram.org.eg/NewsContent/2/8/113596/World/Region/Britain-sends-drones-to-fly-surveillance-missions-.aspx
----------
If Macedonian Muslims want jihad, they better must die for Macedonia, says the head of the Muslim community
21 Oct, 2014
Skopje. "If Macedonian Muslims want to die, then it's better to die for Macedonia," the head of the Muslim community Syuleiman Redjepi stated, cited by Macedonian Vecer daily.
According to Syuleiman Redjepi jihad is to take up arms in defence of the motherland.
"What motherland they seek in Iraq, or Syria, when they are from Macedonia? Their motherland is the Republic of Macedonia and if they want to die, they must die for Macedonia," Syuleiman Redjepi.
http://www.focus-fen.net/news/2014/10/20/351922/vecer-macedonia-if-macedonian-muslims-want-jihad-they-better-must-die-for-macedonia-says-the-head-of-the-muslim-community.html
---------
We don't want to see incursions across the Line of Control: David Cameron
October 21, 2014
LONDON- British Prime Minister David Cameron today encouraged India and Pakistan to engage in talks to ease tensions. "We don't want to see any incursion across the Line of Control," he said while commenting on the recent cross border firing incidents.
"We want to see good relations between India and Pakistan. We think it is very important that India and Pakistan have those conversations," he said talking to an Indian channel.
http://nation.com.pk/national/21-Oct-2014/we-don-t-want-to-see-any-incursions-across-the-line-of-control-david-cameron
---------
Denmark tries a soft-handed approach to returned Islamist fighters
21 Oct, 2014
AARHUS, Denmark — The rush of morning shoppers parted to make way for Talha, a lanky 21-year-old in desert camouflage and a long, religious beard. He strode through the local mall with a fighter's gait picked up on the battlefields of Syria. Streams of young Muslim men greeted him like a returning king.
As-salamu alaykum.
Wa alaikum assalaam.
In other countries, Talha — one of hundreds of young jihadists from the West who has fought in Syria and Iraq — might be barred from return or thrown in jail. But in Denmark, a country that has spawned more foreign fighters per capita than almost anywhere else, the port city of Aarhus is taking a novel approach by rolling out a welcome mat.
In Denmark, not one returned fighter has been locked up. Instead, taking the view that discrimination at home is as criminal as Islamic State recruiting, officials here are providing free psychological counselling while finding returnees jobs and spots in schools and universities. Officials credit a new effort to reach out to a radical mosque with stanching the flow of recruits.
Full report at:
http://www.helsinkitimes.fi/world-int/world-news/international-news/12454-denmark-tries-a-soft-handed-approach-to-returned-islamist-fighters.html
---------
UN chief urges resumption of Israel, Palestine talks
IANS | Oct 21, 2014
UNITED NATIONS: UN secretary general Ban Ki-moon has called on the Israelis and Palestinians to return to the negotiation table.
Ban made the appeal Monday while meeting Israeli defence minister Moshe Yaalon here, Xinhua quoted the UN spokesperson's office as saying.
While stressing the vital importance of the Israelis and Palestinians returning to dialogue to resolve their issues, Ban said "there was no time to lose if hope was to be kept alive".
The Israelis and the Palestinians resumed peace talks in July 2013 after a three-year hiatus.
The talks were deadlocked in March this year and collapsed in April, with both sides accusing the other of failing to keep its commitments. Israel wanted the Hamas- controled Gaza Strip demilitarised while Hamas demanded a lift to the blockade on the enclave.
During Monday's meeting, Ban welcomed Israel's support in setting up a temporary mechanism for facilitating the reconstruction of Gaza but demanded positive initial steps be sustained.
Last month, the UN brokered an agreement between Israel and the Palestinian National Authority to allow the necessary construction materials into the Gaza Strip under the UN monitoring.
http://timesofindia.indiatimes.com/world/middle-east/UN-chief-urges-resumption-of-Israel-Palestine-talks/articleshow/44894645.cms
---------
EU to expand Syria sanctions
21 Oct, 2014
LUXEMBOURG — European Union foreign ministers have agreed to expand sanctions against Syria, adding 16 names and two entities to the blacklist, EU sources said Monday.
Most of the new names were targeted for their role in government-directed repression in Syria and others for offering "practical support" to the regime of President Bashar Al-Assad, one diplomatic source said.
Another source said the changes were made so as to include recently appointed Syrian officials on the sanctions list. The EU foreign ministers meeting in Luxembourg are expected to make a formal announcement later Monday, the sources said.
In July, the EU had added three people and nine entities to the list of Syrians subject to an asset freeze and a ban on entering the EU.
The July decision brought the total number of people on the EU Syria sanctions list to 192, alongside 62 entities. The EU also maintains an oil embargo on Syria and curbs on financial transactions.
The United Nations estimates that more than 191,000 people have died in Syria since a 2011 popular uprising against Assad turned into a bloody sectarian conflict which has also displaced millions and destroyed much of the country.
http://www.saudigazette.com.sa/index.cfm?method=home.regcon&contentid=20141021221803
---------
West unmoved by Iran's nuclear 'compromises'
21 October 2014
Iran is pushing what it portrays as a new compromise proposal in nuclear talks, but Western negotiators say it offers no viable concessions, underscoring how far apart the two sides are as they enter crunch time before a Nov. 24 deadline.
In the negotiations with six major powers, the Iranians say they are no longer demanding a total end to economic sanctions in return for curbing their nuclear program and would accept initially lifting just the latest, most damaging, sanctions.
Western officials dismiss the proposal as nothing new and say the Iranians have always known that the sanctions could only end gradually - with each measure being suspended and later terminated only after Iranian compliance had been proven.
Full report at:
http://english.alarabiya.net/en/perspective/analysis/2014/10/21/West-unmoved-by-Iran-s-nuclear-compromises-.html
---------
North America
PYD not terrorist under US law, Turkey should provide them support: Washington
21 Oct, 2014
The Democratic Union Party (PYD) is not a terrorist organization under the U.S. law despite its affiliation with the Kurdistan Workers' Party (PKK), a U.S. official has said, adding that Washington has told Ankara the importance of providing support to the group in their fight against the Islamic State of Iraq and the Levant (ISIL).
"The PYD is a different group than the PKK legally, under United States law," U.S. Department of State Deputy Spokesperson Marie Harf said during a daily press briefing on Oct. 20.
The PYD's military wings, the People's Protection Units (YPG), and its all-female branch the Women's Protection Units (YPJ), have been leading the fight against ISIL's latest assault on the Syrian Kurdish town of Kobane, located across the Turkish border.
"We made it clear to Turkey that we believe it's incredibly important to support groups like the PYD, these Kurdish fighters and a small number of non-Kurdish fighters on the ground are pushing back against ISIL," Harf added.
Full report at:
http://www.hurriyetdailynews.com/pyd-not-terrorist-under-us-law-turkey-should-provide-them-support-washington.aspx?pageID=238&nID=73259&NewsCatID=359
---------
Canada police kill 'radicalized' driver
21 October 2014
A Canadian man who was killed by police on Monday after trying to run over two soldiers in Quebec "had become radicalized," the government said after the first such incident in Canada since the country joined the fight against Islamic State militants.
The Canadian government did not specify what it meant by radicalized but in the past has used the term to refer to Canadians who become supporters of militant Islamic groups.
Canadian media, citing police, identified the driver as Martin Couture-Rouleau, a resident of the town of Saint-Jean-sur-Richelieu, near Montreal.
A neighbor, speaking on condition that her name not be used, told Reuters the man became radicalized about a year ago after getting involved with extremist Muslims.
Quebec police shot and killed the 25-year-old driver after a chase following the incident. One of the two soldiers who was run over had life-threatening injuries. Police did not say whether the soldiers were in uniform.
Full report at:
http://english.alarabiya.net/en/News/world/2014/10/21/Canada-police-kill-radicalized-driver-after-he-rams-two-soldiers-.html
---------
Saudi inmate to stay at Guantanamo, another cleared for transfer
21 Oct, 2014
A Saudi inmate with links to al Qaeda will remain at the Guantanamo Bay prison and a second Saudi man has been cleared for transfer home, a U.S. national security panel said on Monday.
Muhammed Abd Al Rahman Awn Al-Shamrani, 39, should stay at the U.S. prison in Cuba because he remains a security threat, the Periodic Review Board said in an online posting.
The panel took into consideration Shamrani's history as a facilitator and recruiter for al Qaeda and for the Taliban in Saudi Arabia and his frontline fighting in Afghanistan, it said.
Shamrani also did not take part in a May review hearing and has had "significant disciplinary infractions" in prison, the posting said. He has been held at the Guantanamo Bay U.S. Naval Base since January 2002.
A second man, Muhammad Murdi Issa al-Zahrani, who was suspected of fighting in Afghanistan for al Qaeda, was cleared for transfer back to Saudi Arabia.
The panel said it took into account the uncorroborated nature of information about Zahrani's links to al Qaeda as well as his expressions of regret. Once transferred, he will take part in a Saudi rehabilitation program.
Full report at:
http://english.ahram.org.eg/NewsContent/2/8/113571/World/Region/Saudi-inmate-to-stay-at-Guantanamo,-another-cleare.aspx
----------
CAIR-DFW to Host Academic Forum on ISIS October 23 at SMU
21 October 2014
(DALLAS/FORT WORTH, TX, 10/20/14) -- On Thursday, October 23, the North Texas chapter of the Council on American-Islamic Relations (CAIR-DFW) will host an academic forum at Southern Methodist University (SMU) titled "What is ISIS? Religious Extremism and the Politics of Fear."
The forum will offer an opportunity for political and religious scholars to discuss the issue of ISIS beyond media reporting. Sheikh Abdul Nasir Jangda, Dr. Robert Hunt and Professor Sahar Aziz will be the expert panelists for the evening. A portion of the evening will be dedicated to answering moderated questions from the audience. The event is free and open to the public.
CAIR-DFW Executive Director Alia Salem said in a statement:
"ISIS is a terrorist group made up of criminals who will never represent Muslims. The group has been overwhelmingly denounced by Muslims the world over. People of good conscience must unite if we are to rid the world of all extremists and oppressors, regardless of which religion or ideology they proclaim to uphold."
CAIR is America's largest Muslim civil liberties and advocacy organization. Its mission is to enhance the understanding of Islam, encourage dialogue, protect civil liberties, empower American Muslims, and build coalitions that promote justice and mutual understanding.
http://www.cair.com/press-center/american-muslim-news/12695-cair-dfw-to-host-academic-forum-on-isis-october-23-at-smu.html
---------
URL: https://www.newageislam.com/islamic-world-news/new-age-islam-news-bureau/message-of-the-mujahid--australian-teen-is-new-public-face-of-islamic-state/d/99649