New Age Islam News Bureau
14 Oct 2014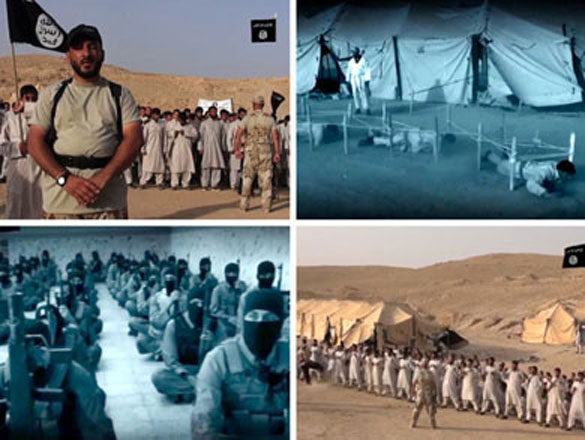 Photo: ISIS Training Video Promises Recruits They Will Leave Iraq's Battlefields As 'Martyrs'
-----------
Mideast
• Men Shaving Beard To Avoid Jihadist Stigma in Southeast Turkey
• Rebels Seize Major Yemen Port City: Security Source
• Turkish cleric links objections to infant rape to pre-marital sex
• Palestinian Mosque in West Bank Torched In Suspected Arson
• Iran hits back at Saudi claims of 'occupying' Syria
Arab World
• ISIS Training Video Promises Recruits They Will Leave Iraq's Battlefields As 'Martyrs'
• Over 50 ISIL Terrorists Killed in Samarra by Iraq's Warplanes
• Nasrallah: Hezbollah Determined to Defeat Terrorists, Takfiri Militants
• Four Egyptians behind ISIS Takfirist Ideology: Sources
• Syrian Kurds get arms from Iraq, but cannot send them to Kobane
• Iraqi Bombers Kill Several ISIL Terrorists in Dhuluiya
• Iraqi Airstrike Kills Dozens of ISIL Terrorists in Southern Tikrit
Europe
• Rise Of IS Exacerbates Islamophobia in Europe
• State-Backed Iraq Shiite Militias Commit 'War Crimes': Amnesty
• Peace Prize Winners' Religion Not A 'Big' Issue: Norway PM
• Child abuse policy at school run by Muslim hardliner was based on Sharia
• UK anti-terrorism police arrest six in Syria-linked operation
• More than 10,000 UK jihad suspects on security services radar, claims MP
Pakistan
• Six Top TTP Commanders Announce Allegiance to Islamic State's Baghdadi
• Islamabad Briefs P-5 to Internationalize Kashmir Issue
• Dialogue only option for India, Pakistan: Nawaz Sharif
• Elimination of terrorism will make Pakistan ideal market: Moody's
• Musharraf for tit for tat response to India
• Tunnel in Karachi Central Jail 'to spring 100 jailed militants' found
Africa
• ISIS to Launch TV Station Based In Sirte: Report
• No Justice, No Peace for Northern Mali
• Cameroon vows to 'totally wipe out' Boko Haram after hostages' release
India
• UN ignores Pakistan's bid to seek intervention on Kashmir
• India offers $4 million for Gaza reconstruction
• Bangladeshi terror link keeps Bengal on its toes
• Nobel Peace Prize brings little impetus for peace in India and Pakistan
• 22,000 'Nitaqat' Returnees Seek Government Assistance
South Asia
• Taliban ambush kills 22 Afghan soldiers, police in north
• 26 Taliban militants killed in clearing operations, MoI says
• Around 3,000 Afghans may be fighting in Syria
• The WUC Condemns China's Sentencing of 12 Uyghurs to Death
• Bangladeshi Nobel laureate Yunus gets Global Entrepreneurship Award
• Bangladesh: 30% rape cases 'settled' before trial
North America
• Shariah financing growing popular in the West
• Obama, foreign military chiefs, to thrash out Islamic State plans
• Violent jihad a 'duty' for Ottawa terror plotter: Judge
• IEA: ISIS oil production reduced by air strikes
Southeast Asia
• Indonesian scholar is against Malaysia's Islam
• I suggested Bible-burning only to Muslim parents, says Perkasa chief
• Report militant sites, Malaysians told
Compiled by New Age Islam News Bureau
URL: https://www.newageislam.com/islamic-world-news/new-age-islam-news-bureau/men-shaving-beard-to-avoid-jihadist-stigma-in-southeast-turkey/d/99512
----------
Mideast
Men Shaving Beard To Avoid Jihadist Stigma in Southeast Turkey
October 14, 2014
Barbers in a south-eastern Turkish city are doing a roaring trade shaving off the beards of men worried about being labelled jihadists, the İhlas News Agency (İHA) reported on Oct. 13.
Last week's violent protests against the Islamic State of Iraq and the Levant (ISIL) left 37 people dead and many wounded throughout the country. The highest death toll was in the south-eastern province of Diyarbakır, where supporters of the outlawed Kurdistan Workers' Party (PKK) clashed with Hizbullah members, who allegedly sympathize with ISIL.
After several people were reportedly targeted by a mob that accused them of being ISIL sympathizers due to their beards, hundreds started rushing to barbers in Diyarbakır as the protests died down.
Barbers who spoke to İHA said on some days up to 15 customers were coming to get rid of their potentially trouble-making beards.
"Some citizens who have nothing to do with ISIL or Hizbullah were victimized during the protests because of their beards. We saw a similar trend in the 1990s," said İsmail Kazak, a barber in the city's Sur neighbourhood. "Citizens now come to us either to shave their beards off or redesign its shape."
Yakup Bahadır, another barber from the Yenişehir neighborhood, said the average number of beard shavings had been just three or four per day. "I've been doing this job for 15 years and I've never before shaved so many beards," Bahadır said.
http://www.hurriyetdailynews.com/a-farewell-to-beards-men-shaving-to-avoid-jihadist-stigma-in-southeast-turkey.aspx?pageID=238&nID=72930&NewsCatID=341
----------
Rebels seize major Yemen port city: Security source
14 October 2014
Yemeni rebels have captured the Red Sea city of Hudeida, home to the country's second most important port, just weeks after seizing the capital, a security official said Tuesday.
The Huthi Shiite rebels met little resistance as they swept into Hudeida, located 226 kilometres (140 miles) west of Sanaa, taking over its air and sea ports, the official said.
It came hours after President Abdrabuh Mansur Hadi named a new prime minister Monday in a fresh bid to end the impoverished country's crippling political crisis.
"Huthi militants are deployed across vital installations, including the airport and the port," said the security official.
He said a security guard was killed when the rebels seized a court in the city, which is home to more than two million people.
Military and rebel sources confirmed that Huthi militants were seen deployed across main roads in Hudeida.
Huthi militiamen stormed into Sanaa on September 21, easily seizing key government installations, and they now man checkpoints and run patrols across the capital in almost total absence of the security forces.
Military sources had warned that the rebels were looking to take control of Hudeida and to extend their presence to the narrow Bab al-Mandab strait, which leads to the Suez canal.
The rebels, who are also known as Ansarullah and have fought the central government for more than a decade, already had thousands of armed men in Hudeida.
Yemen has been wracked by political turmoil and sporadic violence since the 2012 toppling of strongman Ali Abdullah Saleh, with rebels and militants battling to exploit a power vacuum and seize control of territory.
Hadi on Monday named an envoy to the UN, Khalid Bahah, as the new premier, after the rebels rejected an earlier choice.
Bahah's nomination appeared to have the support of Huthi rebels, and the appointment of a neutral prime minister was seen as a key step in persuading them to withdraw from Sanaa.
Yemen, located next to oil-rich Saudi Arabia and key shipping routes in the Gulf of Aden, is a key US ally in the fight against Al-Qaeda.
http://english.ahram.org.eg/NewsContent/2/8/113050/World/Region/Rebels-seize-major-Yemen-port-city-Security-source.aspx
-------------
Turkish cleric links objections to infant rape to pre-marital sex
October 14, 2014
The mufti of the Black Sea province of Samsun has raised eyebrows after questioning the sincerity of those who object to the rape of infants, saying they should also display the same reaction to youngsters engaging in pre-marital sex.
"If you cannot object to a 18-year-old's pre-marital sex, your objections to seven-month-old babies being raped are just crocodile tears … Chastity can be lost with very attractive offers following puberty. A relationship that starts with good intentions can end up badly. A youngster loses their chastity while in the bloom. Unchastity begins with the eyes, ears and hands," mufti Hayrettin Öztürk said in a speech in Samsun on Oct. 13.
"Passion is such a thing that if you don't draw a line, there is no place to stop you. Allah tells us 'do not show [yourself] like women of ignorance,'" he added.
His statement has prompted the Directorate of Religious Affairs (Diyanet) to launch an internal investigation on the case.
"We have invited our cleric to Ankara, we will meet and listen to him," said Mehmet Emin Özafşar, the vice head of the Diyanet.
Öztürk previously made headlines after warning people against performing the "horon," a Black Sea folk dance, with other members of the opposite sex. Men and women dancing together was religiously impermissible, he warned.
http://www.hurriyetdailynews.com/turkish-cleric-links-objections-to-infant-rape-to-pre-marital-sex.aspx?pageID=238&nID=72949&NewsCatID=341
----------
Palestinian Mosque In West Bank Torched In Suspected Arson
14 October 2014
A mosque was set alight in a suspected arson attack in the occupied West Bank on Tuesday and the name of an Israeli vigilante group called "price tag" was found scribbled on an outside wall, Palestinian officials and witnesses said.
Israeli police said they were investigating the incident, which took place in Aqraba, a village east of Nablus.
Residents told Reuters they noticed smoke coming from the building before dawn and rushed to douse the flames, which damaged a carpet and blackened one of the walls.
"If we hadn't rushed to put out the fire the entire building could have gone up in flames," said Maher Fares, a villager.
Ghassan Daghlas, a Palestinian official from the Nablus area, said he suspected Jewish settlers in the area had carried out the attack. The settlement of Itamar is about 4 km (2.2 miles) north of Aqraba.
"They broke a window and threw a firebomb into the mosque which burned the carpet," Daghlas said.
Hebrew script reading "price tag" had been scrawled on the outside of the mosque, a Reuters cameraman said.
The "price tag" group has carried out scores of attacks on Palestinian, Israeli Arab, and church property in the West Bank and inside Israel since 2008. The group says it aims to exact a price for any opposition to settlement building.
http://english.ahram.org.eg/NewsContent/2/8/113045/World/Region/Palestinian-mosque-in-West-Bank-torched-in-suspect.aspx
----------
Iran hits back at Saudi claims of 'occupying' Syria
October 14, 2014
Iran hit back Oct. 14 at demands from Saudi Arabia that Tehran withdraw its "occupying" forces from Syria and insisted no country was more committed to confronting jihadists in the region.
The two regional powers have been at odds over Syria since unrest broke out in 2011, but the unusually high-profile exchange threatens to undermine a recent diplomatic push to patch up their differences.
Responding to Saudi Foreign Minister Prince Saud al-Faisal's comments that Iran was "part of the problem, not the solution" in Syria, Tehran rejected the claim.
"The Islamic Republic of Iran is the most important country in the region committed to the fight against terrorism," Deputy Foreign Minister Hossein Amir-Abdollahian was quoted as saying on the website of state television.
"Iran has helped the governments of Iraq and Syria fight against terrorism within the framework of international law."
Iran supports Syrian President Bashar al-Assad with financial and military aid, while Saudi Arabia has backed armed rebels trying to overthrow him.
The threat to Iran and Saudi from Islamic State (IS) jihadists prompted them to try to improve relations this summer but the angry exchange of the past 24 hours on Syria laid bare their differences.
"We recommend that Saudi Arabia pay attention to the plots of the enemies of the region... and play a positive role," Amir-Abdollahian said, without elaborating.
Iran denies having fighters on the ground in Syria. Assad, however, is backed by fighters from Lebanon's pro-Iranian Shiite movement Hezbollah.
Iran has accused Saudi Arabia and other Gulf countries of aiding the jihadists' initial rise in Syria.
However, Saudi and four other Arab nations are now taking part in or giving support to air strikes by the US-led coalition against IS militants in Syria.
The Iranian and Saudi foreign ministers met in New York before the UN General Assembly last month to agree on what was billed as "a new page in relations between the two countries." The encounter was the first between the top diplomats since Iranian President Hassan Rouhani came to power in August 2013.
However, Prince Saud on Monday hit out at Tehran, saying that "in many conflicts, Iran is part of the problem, not the solution."
In this case, we can say that Iranian forces in Syria are occupying forces," he said.
"If Iran wants to be part of the solution in Syria, it has to pull its forces from Syria. The same applies elsewhere, whether in Yemen or Iraq."
Iran is accused of backing Shiite rebels in Yemen who overran the capital Sanaa on September 21 and of supporting the Shiite-led government in Iraq.
http://www.hurriyetdailynews.com/iran-hits-back-at-saudi-claims-of-occupying-syria.aspx?pageID=238&nID=72945&NewsCatID=352
----------
Arab World
ISIS training video promises recruits they will leave Iraq's battlefields as 'martyrs'
14 Oct, 2014
A slick promotional video has been released showing Islamic State of Iraq and Al-Sham recruits at a so-called desert "graduation ceremony."
The three-minute film, called "Blood of Jihad," shows the terror group's latest members doing kung-fu style martial arts routines and learning how to strip down Kalashnikov machineguns.
Apparently shot in Nineveh province, northern Iraq, it features about 100 young men being trained in the ways of insurgent warfare.
It is the latest promotional video produced by ISIS, which has been at pains to burnish its global image in the minds of disenchanted Muslims.
Last week another jihadi film was released, produced in a training camp in Kirkuk.
The group has even published an online propaganda magazine called "Dabiq" – named after a key site in Muslim apocalypse theology where the "final hour" of humanity will occur.
Introducing the latest ISIS video, an on-screen narrator wearing a baseball cap explains that "the first group of volunteers for jihad in the path of Allah has graduated."
Standing in front of a young boy holding the group's notorious black flag, the narrator explains that there are three stages of the training process.
Full report at:
http://news.nationalpost.com/2014/10/12/blood-of-jihad-isis-training-video-promises-recruits-they-will-leave-iraqs-battlefields-as-martyrs/
----------
Over 50 ISIL Terrorists Killed in Samarra by Iraq's Warplanes
14 October 2014
Iraqi bombers launched massive strikes against the positions of the ISIL terrorists in the city of Samarra, Salahuddin province, on Tuesday and killed more than 50 Takfiri terrorists.
A military source told state news agency that Iraq's attack aircraft targeted the hideouts and convoys of the terrorists in the Aziz Balad area, Samarra city, and killed a huge number of them.
The ISIL Takfiri terrorists currently control parts of Syria and Iraq. They have threatened all communities, including Shiites, Sunnis, Kurds, Christians, Ezadi Kurds and others, as they continue their atrocities in Iraq.
Senior Iraqi officials have blamed Saudi Arabia, Qatar, and some Persian Gulf Arab states for the growing terrorism in their country.
The ISIL has links with Saudi intelligence and is believed to be indirectly supported by the Israeli regime.
http://english.farsnews.com/newstext.aspx?nn=13930722000561
----------
Nasrallah: Hezbollah Determined to Defeat Terrorists, Takfiri Militants
14 October 2014
Hezbollah Secretary General Seyed Hassan Nasrallah said the Lebanese Resistance Movement is determined to defeat terrorists and Takfiri militants.
"The resistance movement is strong and will be victorious in its fight against the terrorists," Hezbollah chief said during a visit to Lebanon's Eastern Bekaa Valley region, press tv reported.
He gave assurances that the movement is ready to confront and stop any aggression against Lebanon and its people.
"Rather, the resistance is present, strong and ready to confront and repel any aggression," he added.
Full report at:
http://english.farsnews.com/newstext.aspx?nn=13930722000888
----------
Four Egyptians behind ISIS takfirist ideology: sources
14 Oct, 2014
London, Asharq Al-Awsat—Four Egyptian men are at the heart of attempts by the Islamic State of Iraq and Syria (ISIS) to find religious justification for its bloody attempts to forge a new "caliphate," a number of experts on fundamentalist movements told Asharq Al-Awsat on Saturday.
The sources said the four men formed the "core" of the group's ideological leadership, and oversaw its attempts to administer its own brand of Islamic justice in areas under its control, despite having little education in mainstream Islamic scholarship.
They are Helmi Hashim (known as "Abdul Rahman Shakir Naamallah"), who hails from Upper Egypt and is the group's main jurisprudential authority; ISIS's head Shari'a judge Abu Muslim Al-Masri; another man bearing the same name, who is now believed to have been killed and who was the group's main Shari'a judge in Aleppo; and Aboul Harith Al-Masri.
Full report at:
http://english.alarabiya.net/en/News/middle-east/2014/10/13/Analysts-ISIS-s-extremist-ideology-stems-from-four-Egyptian-men.html
----------
Syrian Kurds get arms from Iraq, but cannot send them to Kobane
October 14, 2014
Syrian Kurds have received a "symbolic" amount of military aid from Iraq's Kurdistan Regional Government (KRG) that is meant for Kobane but is stuck in northeastern Syria because Turkey will not open an aid corridor, a Syrian Kurdish official said.
The aid designed to help in the Kurdish fight against Islamic State of Iraq and the Levant's (ISIL) in Kobane, also known as Ayn al-Arab, includes ammunition for light weapons and mortar shells, said Alan Othman, media official in the Syrian Kurdish military council in the northeastern Syria, speaking to Reuters via Skype.
"It is a symbolic shipment that has remained in the Jazeera canton," he said, using the Kurdish name for northeastern Syria.
http://www.hurriyetdailynews.com/syrian-kurds-get-arms-from-iraq-but-cannot-send-them-to-kobane.aspx?pageID=238&nID=72947&NewsCatID=352
----------
Iraqi Bombers Kill Several ISIL Terrorists in Dhuluiya
14 October 2014
Iraqi warplanes fired several rockets at the positions of the ISIL terrorists in Dhuluiya, and claimed the lives of too many of them.
A military source told National Iraqi news agency that the fighter jets targeted the convoys of the terrorists in Salahuddin province on Monday, and killed more than 10 members of the Takfiri group.
The ISIL Takfiri terrorists currently control parts of Syria and Iraq. They have threatened all communities, including Shiites, Sunnis, Kurds, Christians, Ezadi Kurds and others, as they continue their atrocities in Iraq.
Senior Iraqi officials have blamed Saudi Arabia, Qatar, and some Persian Gulf Arab states for the growing terrorism in their country.
The ISIL has links with Saudi intelligence and is believed to be indirectly supported by the Israeli regime.
http://english.farsnews.com/newstext.aspx?nn=13930722000159
----------
Iraqi Airstrike Kills Dozens of ISIL Terrorists in Southern Tikrit
14 October 2014
Iraqi air force fighter jets killed dozens of the Islamic State of Iraq and the Levant (ISIL) terrorists in Southern Tikrit.
The Iraqi air force killed dozens of ISIL fighters and destroyed 4 armored vehicles belonging to the terrorists in Southern Tikrit, a security source in Salahuddin province said Monday.
Earlier Monday, ISIL terrorists blew up the house of Salahuddin governor and other residential buildings, located in central and Northern Tikrit.
http://english.farsnews.com/newstext.aspx?nn=13930722000394
----------
Europe
Rise of IS exacerbates Islamophobia in Europe
14 Oct, 2014
Despite the personal sensitivity of her story, Yusra did not hesitate to answer when asked if she would like to see it published. She immediately said, "Yes, certainly. We want the world to know that what the Islamic State (IS) is doing thousands of kilometers away from us has become a story that aggravates our daily lives."
This effect has exceeded all limits. Yusra was walking with her sister, Amal, in a big amusement park in Belgium. The cheers and clamor did not prevent the hurtful comments from reaching the two young women's ears. The comments were hurtful with premeditation: "Look, a terrorist," one said to his companions.
The trauma left by repeatedly hearing those words made the holiday miserable for the two girls. Yusra started crying, while her sister consoled her even though she was the one targeted. "Do not be sad," said Amal. "This is not a personal comment, because these people do not know me. If they knew me, they would not have said that."
Full report at:
http://www.al-monitor.com/pulse/culture/2014/10/httpwwwassafircomarticle1377040.html#ixzz3G6m2KAQ4
----------
State-backed Iraq Shiite militias commit 'war crimes': Amnesty
October 14, 2014
Shiite militias backed by the Iraqi army are committing war crimes against civilians in their fightback against the Islamic State in Iraq and the Levant (ISIL), rights watchdog Amnesty International said Oct. 14.
It accused the Baghdad government of supporting and arming groups of Shiite fighters who have carried out a string of kidnappings and killings against Sunni civilians in response to ISIL's lightning capture of swathes of Iraqi territory in June.
Amnesty said it had seen evidence of "scores" of "deliberate execution style killings" against Sunnis across Iraq as well as Sunni families having to pay tens of thousands of dollars to free abducted relatives.
Many of those kidnapped are still missing and some were killed even after their families paid hefty ransoms to secure their release, the group said in a report.
The watchdog called on the government of newly-installed Prime Minister Haidar al-Abadi to rein in the scores of militias targeting civilians across Iraq.
Full report at:
http://www.hurriyetdailynews.com/state-backed-iraq-shiite-militias-commit-war-crimes-amnesty.aspx?pageID=238&nID=72935&NewsCatID=352
---------
Peace Prize winners religion not a 'big' issue: Norway PM
AMIT BARUAH
Oct 14, 2014
Norwegian Prime Minister Erna Solberg said religious or national background was not such a big issue when asked whether it was appropriate to mention the religious affiliation of Kailash Satyarthi and Malala Yousafzai in their Nobel Peace Prize Citation.
Ms. Solberg was responding to a specific question from The Hindu whether it was appropriate to mention their religious background when millions of Muslims and Hindus lived together in India.
"The [Norwegian] Nobel Committee regards it as an important point for a Hindu and a Muslim, an Indian and a Pakistani, to join in a common struggle for education and against extremism," the citation for the Prize said.
Full report at:
http://www.thehindu.com/news/international/world/peace-prize-winners-religion-not-a-big-issue-norway-pm/article6500587.ece
----------
Child abuse policy at school run by Muslim hardliner was based on Sharia
14 Oct, 2014
A school run by a Muslim hardliner was citing Sharia in its child protection policies, it emerged yesterday.
Ofsted inspectors found that Al-Aqsa school in Leicester operated on the basis that 'Ulema' – Islamic scholars – should be consulted in child abuse and welfare cases, as well as 'relevant outside agencies'.
The school – founded by Ibrahim Hewitt, an Islamist fundamentalist who says homosexuals should be lashed – declared 'Sharia and the law of the land will be the prime arbiters in child protection concerns'.
Full report at:
http://www.dailymail.co.uk/news/article-2789447/child-abuse-policy-school-run-muslim-hardliner-based-sharia-islamic-scholars-consulted-welfare-cases.html#ixzz3G6j9a0ju
----------
UK anti-terrorism police arrest six in Syria-linked operation
14 October 2014
British police arrested three men and three women on Tuesday in a counter-terrorism operation linked to the civil war in Syria.
Counter terrorism officers detained the suspects in London, Portsmouth, on England's south coast, and in Farnborough, west of the British capital.
The group, aged between 23 and 57, were being held on suspicion of range of terrorism offences.
"Officers would like to reassure residents that the police activity today is in relation to conflicts overseas and is not linked to any immediate threat to local communities or anywhere else in the UK," the South East Counter Terrorism Unit (SECTU) said in a statement.
Britain raised its international threat level to the second-highest classification of "severe" in August, meaning an attack was considered highly likely.
Full report at:
http://english.ahram.org.eg/NewsContent/2/8/113040/World/Region/UK-antiterrorism-police-arrest-six-in-Syrialinked-.aspx
----------
More than 10,000 UK jihad suspects on security services radar, claims MP
14 Oct, 2014
More than 10,000 suspected Islamic extremists are being monitored by the security services in the UK, an MP has warned.
He claimed that nearly 2,000 had already travelled to the battefields of Syria and Iraq.
Khalid Mahmood, Labour MP for Birmingham Perry Barr, said the numbers were growing and putting the British authorities under strain.
London mayor Boris Johnson revealed last week that "low thousands" of terror suspects were being monitored in the capital.
Mr Mahmood told the Mirror: "I am not surprised by the numbers.
"There are certainly over 10,000 people being monitored nationally. Overall you are talking about a significant number and it is growing.
"There are a fair amount of people who are out in the community who are acting as recruiting sergeants.
Full report at:
http://www.mirror.co.uk/news/uk-news/more-10000-uk-jihad-suspects-4428658#ixzz3G6kgB3o7
----------
Pakistan
Six top TTP commanders announce allegiance to Islamic State's Baghdadi
October 14, 2014
PESHAWAR: Six top commanders of the outlawed Tehreek-i-Taliban Pakistan, including spokesman Shahidullah Shahid, have announced their allegiance to Abu Bakar Al-Baghdadi of the Islamic State and an allegiance statement was also issued in this regard.
Shahidullah Shahid in the statement said he along with five TTP district chiefs have announced their allegiance to IS, also known as Daish, and would be their lead fighters in Pakistan.
The statement did not elaborate on the stance of the six on Mullah Omar, chief of the Afghan Taliban widely regarded by militant groups in Afghanistan and Pakistan as the Amirul Momineen (leader of the faithful).
"I am confirming my allegiance to Amirul Momineen Abu Bakar Al-Baghdadi and would abide by all his decisions, whatever is the order, and whatsoever the circumstances, I shall be loyal to him and obey his orders," Shaidullah Shahid said in a statement issued in Arabic and Urdu.
Shahidullah said he along with TTP amir for Orakzai Agency Saeed Khan, TTP's Kurram Agency chapter chief Daulat Khan, Fateh Gul Zaman, who heads TTP in Khyber Agency, TTP's Peshawar amir Mufti Hassan and TTP's Hangu chief Khalid Mansoor, was announcing allegiance to Abu Bakar Al-Baghdadi Al Qureshi Al-Hussaini.
Full report at:
http://www.dawn.com/news/1137908/six-top-ttp-commanders-announce-allegiance-to-islamic-states-baghdadi
----------
Islamabad briefs P-5 to internationalize Kashmir issue
TNN & Agencies | Oct 14, 2014
NEW DELHI: Seeking to further internationalize the J&K issue, Pakistan on Monday briefed the envoys of P-5 countries on the LoC situation asking them to urge India to respect the ceasefire.
Sartaz Aziz, foreign affairs adviser to PM Nawaz Sharif, expressed concern that "ceasefire violations by India and the provocative statements by Indian leadership" were not only a setback to peace efforts but also a distraction from Pakistan's counterterrorism commitments in the ongoing Operation Zarb-e-Azb.
Sharif himself told a visiting delegation of US Senators that UN resolutions must form the basis of any solution of J&K issue and that the solution must be acceptable to Pakistanis, Indians and Kashmiris.
Full report at:
http://timesofindia.indiatimes.com/india/Islamabad-briefs-P-5-to-internationalize-Kashmir-issue/articleshow/44808590.cms
----------
Dialogue only option for India, Pakistan: Nawaz Sharif
October 14, 2014
ISLAMABAD: Prime Minister Nawaz Sharif said that relations between Pakistan and India can only gain through dialogue.
Nawaz said the United Nations resolutions must form the basis for any solution for Kashmir dispute and the people of Kashmir be made part of it. He was talking to US Senators Tim Kaine, Member of the Senate Armed Services Committee and Angus King, Member of the Senate Armed Services Committee, who called on him at the PM House. He asked the UN to honour its own resolutions on this matter. Talking about Pakistan-India ties, the prime minister expressed his disappointment on the cancellation of foreign secretary level talks. He said the only acceptable solution of Kashmir will be the one which is endorsed by all parties, including Pakistan, India and Kashmiris.
Full report at:
http://www.dailytimes.com.pk/national/14-Oct-2014/dialogue-only-option-for-india-pakistan-nawaz
----------
Elimination of terrorism will make Pakistan ideal market: Moody's
October 14, 2014
WASHINGTON: Finance Minister Ishaq Dar held separate meetings with the representatives of Moody's, Standard & Poors and Fitch Rating agencies in Washington.
Moody's and S & P have been declaring their sovereign ratings on Pakistan while Fitch Ratings has recently shown its interest in sovereign ratings on Pakistan and requested for discussions with the Finance Ministry during World Bank and IMF Meetings. The finance minister highlighted the turnaround in Pakistan's economy during the last fifteen months. He said that Pakistan did not entirely bank upon the EFF but broad spectrum of reforms, enhancement in tax to GDP ratio, curtailment of inflation to single digit, subsidies, privatisation of public sector enterprises and incentives in oil & gas sectors have been pursued side by side in addition to the comprehensive agenda of initiatives in the financial sector without any compromise on the development and social safety programmes.
Full report at:
http://www.dailytimes.com.pk/business/14-Oct-2014/elimination-of-terrorism-will-make-pakistan-ideal-market-moody-s
----------
Musharraf for tit for tat response to India
October 14, 2014
KARACHI: Pervez Musharraf said that Pakistan should respond tit for tat for ceasefire violations by India along the Working Boundary and Line of Control (LoC).
In an interview with a private news channel, the former military ruler spoke his heart about ongoing skirmishes with India. He said Pakistan has limitations as it knows that if it responded with shelling, the Kashmiri brethren on the other side of the LoC would be the ultimate sufferers. Musharraf said the Indian government and the army has no concern for the sufferings of the Kashmiri people. "Mr Modi is an anti-Muslim and an anti-Pakistan politician. While negotiating with him one must hold cards close," Musharraf said. "Instead of running to attend his (Modi) inauguration like we used to do in British Raj, we should keep our dignity," the former president said.
Full report at:
http://www.dailytimes.com.pk/national/14-Oct-2014/musharraf-for-tit-for-tat-response-to-india
----------
Tunnel in Karachi Central Jail 'to spring 100 jailed militants' found
October 14, 2014
KARACHI: A 45-metre-long and 10-metre-deep tunnel being built just a few meters from the Karachi Central Jail to spring 100 'dangerous militants' was discovered in a house situated in a neighbouring locality, an officer disclosed on Monday.
Several suspects belonging to a banned outfit were arrested when the house was raided this weekend, while five more suspects were later picked up on information provided by them during interrogation. The move was followed by a jail operation during which all prisoners were searched physically that led to the recovery of electric wires, scissors, radios, jihadi literature, knives, party flags and a modified ladder, said a Rangers spokesperson.
The house situated in Ghausia Colony, a shanty town close to the main penitentiary in Karachi, had been bought by the suspects some five months ago, said Col Tahir Mehmood of Pakistan Rangers, Sindh, while speaking at a press conference at the Rangers Headquarters.
"They were only 10 metres from their target when the raid was conducted," the colonel said.
80pc digging work had been done when suspects caught
There's an underground water tank in the house where the suspects had started tunnelling their way to the jail, the officer said. He explained that they were using 'sophisticated equipment' for digging, besides having arranged lights and some wooden stuff to keep the tunnel dry.
Full report at:
http://www.dawn.com/news/1137743/tunnel-being-built-to-spring-100-jailed-militants-found
----------
Africa
ISIS to launch TV station based in Sirte: report
14 October 2014
ISIS, also know as the Islamic State and Daash, is to launch a satellite TV station called Tawheed, broadcasting propaganda from Sirte.
An official page for the new station which has appeared on social media says that it will be transmitting a "call for uniformity to all parts of the world".
The page claims that Tawheed will broadcast messages from various religious figures.
Mustafa Zand, a leader of the Libyan Popular National Movement, a group with strong ties to the former regime and which was banned from taking part in elections in 2012, has claimed two other television channels are under the direction of the co-called Islamic State.
Speaking on the Egyptian programme Cairo Today, Zand alleged that stations in Sabratha and Derna as well as Sirte were already controlled by the Takfiri group.
With Takfiri camps near both Sabratha and Sirte, the two towns are viewed as increasingly Islamist strongholds. However, extremist groups in the towns have not publicly declared their allegiance to ISIS or its leader Abu Bakr Al-Baghdadi.
Full report at:
http://www.libyaherald.com/2014/10/12/isis-to-launch-tv-station-based-in-sirte/#ixzz3G7hJbCho
---------
No Justice, No Peace for Northern Mali
14 October 2014
Bamako — Thousands of northerners who experienced human rights abuses during the occupation of Mali's north are struggling to find redress amidst concerns that a climate of impunity is continuing and the government's control in many areas of the north is at best shaky.
People in the north were exposed to forced disappearances, torture, summary executions and sexual abuse, with most of the offences committed after March 2012 when Islamist extremists occupied large parts of territory.
Investigations begin, but hesitantly
"Investigations into crimes committed during the occupation and its aftermath have just started," said Guillaume Ngefa, head of the human rights division within MINUSMA, the UN's Multidimensional Integrated Stabilisation Mission in Mali. "While judges and prosecutors are stalled by an instable security situation in the north many victims have not been given adequate legal assistance or access to the judiciary," Ngefa continued.
Full report at:
http://allafrica.com/stories/201410133032.html?viewall=1
----------
Cameroon vows to 'totally wipe out' Boko Haram after hostages' release
14 October 2014
Cameroon's President Paul Biya on Monday vowed his government would go after the Islamist group Boko Haram "until it's totally wiped out".
He made the promise as he received 10 Chinese and 17 Cameroonians freed last week after spending months as hostages of armed men thought to belong to Boko Haram, an anti-Western rebel group in Nigeria which has been increasingly making incursions into Cameroon.
"The Cameroonian government assures you that it will ceaselessly continue to fight Boko Haram until it's totally wiped out," Biya said.
The 27 Cameroonians and Chinese were delivered to authorities on Friday night.
The government has not said how they were freed, but a security source said that "a ransom" was paid and around 20 imprisoned Islamists were freed in exchange.
The Chinese were seized in May from a construction camp in Waza near the border with Nigeria in an attack that left one Cameroonian soldier dead.
Full report at:
http://english.ahram.org.eg/NewsContent/2/9/113024/World/International/Cameroon-vows-to-totally-wipe-out-Boko-Haram-after.aspx
---------
India
UN ignores Pakistan's bid to seek intervention on Kashmir
PTI | Oct 14, 2014
UNITED NATIONS: Pakistan's latest efforts seeking UN intervention on the Kashmir issue have failed to draw any new response from the world body which reiterated that India and Pakistan need to resolve all differences through dialogue to find a long-term solution to the dispute.
Sartaj Aziz, adviser to Pakistan Prime Minister Nawaz Sharif on national security and foreign affairs, had written to UN secretary general Ban Ki-moon on the recent border tension with India and sought the UN's intervention, stepping up its attempts to internationalise the Kashmir issue.
In the letter to Ban, Aziz said Pakistan believes the UN has an important role to play in promoting the objective of peaceful resolution of the Kashmir issue, including through his "good offices".
Ban's deputy spokesperson Farhan Haq, when asked to comment on the letter seeking Ban's intervention and his viewpoint on the issue, told reporters on Monday he would refer to a statement that was issued last week by Ban's spokesperson in which the UN chief encouraged India and Pakistan to resolve all differences through dialogue and engage constructively to find a long-term solution for peace and stability in Kashmir.
The secretary general is "concerned about the recent escalation of violence along the Line of Control between India and Pakistan. He deplores the loss of lives and the displacement of civilians on both sides," said the statement.
Full report at:
http://timesofindia.indiatimes.com/india/UN-ignores-Pakistans-bid-to-seek-intervention-on-Kashmir/articleshow/44809464.cms
----------
India offers $4 million for Gaza reconstruction
Oct 14, 2014
NEW DELHI: India has committed $4 million for Gaza reconstruction in response to the recovery plan presented by Palestinian Authority at Cairo International Conference as the international community pledged a total of $5.4 billion for the cause.
Observing that the early realization of the objectives of the Cairo Conference will be an important element in the consolidation of the current ceasefire understanding between Palestine and Israel, India welcomed the mediating role played by Egypt in the current ceasefire in Gaza.
Represented by Sandeep Kumar, joint secretary (west Asia and north Africa) in ministry of external affairs, India participated in the Conference on the Reconstruction of Gaza yesterday and pledged $4 million, in response to the National Early Recovery and Reconstruction Plan for Gaza, presented by the Palestinian Authority, an official release said here.
Maintaining that an early and sustainable resolution of the root cause of the conflict was an imperative, Kumar said India firmly believed that a comprehensive dialogue remained the best guarantee of a durable peace for effectively addressing the issues confronting the region and its people.
Full report at:
http://timesofindia.indiatimes.com/india/India-offers-4-million-for-Gaza-reconstruction/articleshow/44802480.cms
--------
Bangladeshi terror link terror link keeps Bengal on its toes
TNN | Oct 14, 2014
KOLKATA: The Bangladeshi terror link has kept police across Bengal on tenterhooks. A man arrested from Bangaon recently turned out to be a wanted murderer in Bangladesh, who had murdered a popular Awami League activist there.
Javed Jahangir, the prime suspect in the murder of Jubo League leader Abdul Jabbar of Satkania, was arrested by North 24-Parganas police on October 9. According to Satkania police, Javed, a cadre of Islami Chhatra Shibir, the student front of Bangladeshi Jamaat-e-Islami, is an accused in eight cases.
Javed was absconding since July 10 when he was granted bail by Bangladesh high court. He crossed the border on September 12.
Adding to the panic created by the Khagragarh blast, two blasts at Durgapur and Malda left police wondering if there was a terror angle in it that went beyond rivalries.
Full report at:
http://timesofindia.indiatimes.com/india/Bangladeshi-terror-link-terror-link-keeps-Bengal-on-its-toes/articleshow/44806032.cms
----------
Nobel Peace Prize brings little impetus for peace in India and Pakistan
AFP | Oct 14, 2014
NEW DELHI: New Nobel peace laureate Malala Yousafzai wasted little time living up to the accolade last week, inviting the leaders of India and Pakistan to accompany her and fellow winner Kailash Satyarthi, an Indian child rights activist, to the award ceremony.
But, just hours later, a fresh exchange of fire between troops in Kashmir provided a stark reminder that the prospect of lasting peace remains as distant as ever.
The offices of Prime Minister Narendra Modi and his Pakistani counterpart Nawaz Sharif both declined this week to say whether they would accept Malala's overture.
It is a diplomatic hot potato, given the fractious relationship between the nuclear-armed neighbours, who have fought three wars since partition in 1947.
Senior Pakistani analyst Hasan Askari said the joint Nobel award was a clear signal that the international community wanted to see India and Pakistan working together more to promote peace in the region, but that outside pressure would only go so far.
"The issue of improvement of relations between the two countries is a political issue and in the past sometimes the two countries have listened to the international community and sometimes ignored it," he said.
Full report at:
http://timesofindia.indiatimes.com/india/Nobel-Peace-Prize-brings-little-impetus-for-peace-in-India-and-Pakistan/articleshow/44811468.cms
----------
22,000 'Nitaqat' Returnees Seek Government Assistance
14 Oct, 2014
About 22,000 people, who have returned from Saudi Arabia, have registered with the state government seeking assistance for starting self-employment programmes, an official said.
These people, who have come back after the Saudi government applied stricter labour laws called the "Nitaqat", have registered with the Norka (Non-resident Keralites affairs) department that looks after the welfare of the Kerala diaspora and also those who have returned from abroad.
Last year when there was a talk about a mass exodus from Saudi Arabia on account of the "Nitaqat" law which made it mandatory for local companies to hire one Saudi national for every 10 migrant workers, the state government announced it would come out with a rehabilitation scheme for such people to start their own business. It also promised to provide subsidy in both capital and interest on short- and long-term loans.
Full report at:
http://www.ndtv.com/article/diaspora/22-000-nitaqat-returnees-seek-government-assistance-605779
----------
South Asia
Taliban ambush kills 22 Afghan soldiers, police in north
Oct 14, 2014
Taliban insurgents ambushed a convoy of Afghan security forces in a mountainous area of northern Afghanistan on Monday, killing 22 soldiers and police, an official said.
The Taliban fighters attacked from the mountains as the convoy was travelling through Laghman Valley in Sar-e-Pul province, Gov. Abdul Jabar Haqbeen said.
Eight security forces were wounded and seven were taken captive by the insurgents.
"Twelve army and police vehicles are totally destroyed," Haqbeen said.
http://indianexpress.com/article/world/world-others/taliban-ambush-kills-22-afghan-soldiers-police-in-north/#sthash.jy5dcZvd.dpuf
----------
26 Taliban militants killed in clearing operations, MoI says
Oct 14 2014
At least 26 Taliban militants were killed following military operations conducted by Afghan national security forces in the past 24 hours.
The Ministry of Interior (MoI) said Tuesday that the operations were conducted by Afghan National Police in cooperation with Afghan National Army and NDS to clean some of the areas from terrorists and enemies of peace and stability of Afghanistan.
MoI following a statement said the operations were conducted in Kunar, Kandahar and Paktiya provinces, as a result 26 armed Taliban members were killed, seven wounded and six others were arrested by Afghan National Security Forces.
Afghan National Police discovered and confiscated light and heavy rounds ammunition during the operations, the statement added.
MoI said Afghan National Police discovered and defused nine different types of IEDs placed by enemies of Afghanistan for destructive activities in Kandahar and Uruzgan provinces.
Taliban militants group has not commented regarding the report so far.
http://www.khaama.com/26-taliban-militants-killed-in-clearing-operations-moi-says-8805
----------
Around 3,000 Afghans may be fighting in Syria
Oct 14 2014
According to reports, around 3,000 Afghan nationals have been deployed to take part in the ongoing Syria conflict.
The Afghan militants are fighting fighting on both sides of the Syrian war, in support of the Syria Bashar al-Assad and the Islamic State of Iraq and Syria (ISIS) militants.
Informed sources in the Afghan government have told The Wall Street Journal that the number includes Iranian-backed Shiites fighting a proxy war in support of Syrian President Bashar al-Assad and against Islamic State and other rebel groups.
The participation of Afghan militants in Syria war has sparked concerns among the Afghan officials some will return to fight in Afghanistan under Islamic State's banner.
Although, there have been no evidence to show the return of the militants to Afghanistan in large numbers. However, certain media reports recently suggested that the Islamic State has started distribution of pamphlets in bordering regions of Afghanistan and Pakistan, in a bid to increase it's influence in South Asian region.
Full report at:
http://www.khaama.com/around-3000-afghans-may-be-fighting-in-syria-8808
----------
The WUC Condemns China's Sentencing of 12 Uyghurs to Death
Oct 14, 2014
The World Uyghur Congress (WUC) condemns the recent death sentences given to 12 Uyghurs in relation to an incident that left scores of innocent civilians dead many other injured back on July 28 of this year. Death sentences have become increasingly common in the region with scores of others suffering the same fate in the past few months. The increase in frequency of these trials and sentences signals that the state has stepped up its one-year anti-terror campaign by exhibiting excessive force against its population. Such an approach will invariably exacerbate an already tense situation in East Turkestan and prove that the Chinese government has no intention to ease such tension, address root causes of the problems and resolve the long-standing conflict.
The initial mass protests were in response to the arrest and brutal beating of a number of women who had gathered to pray to celebrate the end of Ramadan as well as the extra-judicial killing of a family of five in a dispute over the wearing of the traditional headscarf in a house to house search by security forces. The subsequent march of Uyghur protesters to a police station and government office triggered the mass shootings. The protesters merely looked to ensure that those arrested were released and that those involved in the killings could be held to account.
Full report at:
http://www.uyghurcongress.org/en/?p=23854
----------
Bangladeshi Nobel laureate Yunus gets Global Entrepreneurship Award
Oct 14 2014
The only Bangladeshi Nobel laureate Dr Muhammad Yunus, has been selected for the 2nd Global Entrepreneurship Award (GEA-2014).
He was selected for the award under the umbrella of the Centennial Fund (CF) chaired by Prince Abdulaziz bin Abdullah, deputy minister of foreign affairs in the Kingdom Saudi Arabia, reports Arab News.
Abdulaziz Al-Mutairi, the secretary-general of the award, made the announcement on Tuesday.
Yunus won the award for the best leading figure category.
He said the GEA-Award committee's decision was based on Yunus' distinguished efforts at highlighting the culture of entrepreneurship.
Full report at:
http://www.dhakatribune.com/bangladesh/2014/oct/14/yunus-gets-global-entrepreneurship-award#sthash.7uLUVmYy.dpuf
----------
Bangladesh: 30% rape cases 'settled' before trial
Oct 14 2014
To avoid social stigmatisation or fearing further reprisal, most families of rape victims tend to settle the cases with the perpetrators outside the court in mediation of socially influential people or police.
Therefore, police have to give final report discharging the accused instead of pressing charge sheets in the cases. Such cases would be 30% of the total rape cases registered with police stations, according to data available with the police headquarters.
The other cases usually stumble during the trial proceedings for many different reasons including unavailability of witnesses.
Police say around 18,000 cases were filed under the Women and Children Repression (prevention) Act across the country last year. Of those, 4,000 are related to rape of women and children when 23 including 18 children were killed.
Police and prosecution say charge sheets were submitted to the court in around 13,000 cases while final report in the others.
Full report at:
http://www.dhakatribune.com/crime/2014/oct/14/30-rape-cases-%E2%80%98settled%E2%80%99-trial#sthash.EGtX5mDQ.dpuf
-----------
North America
Shariah financing growing popular in the West
14 Oct, 2014
CHICAGO -- Ahmed Irfan Khan was poised to transform his family's small but successful slaughterhouse into a specialty-meat selling juggernaut.
Just one thing stood in his way: His faith.
Khan's thriving business in Chicago's old stockyards -- which sells halal meat -- protein slaughtered in a way prescribed by Islamic law -- might have made him attractive to Main Street investors. But his strict adherence to his Muslim faith made going down that path complicated.
Under Islamic law, collecting or paying interest is prohibited, making it difficult for Khan to borrow the roughly $2 million needed to expand his company, Barkaat Foods.
But Khan was ultimately able to get the capital for his business — and stay true to his faith -- with the help of a traditional bank and a boutique venture capital firm willing to hammer out arrangement that Khan said was "Shariah compliant."
"This shows there are ways to follow your principles," said Khan, who plans to use the money to double the size of his 40-person operation. "Other entrepreneurs are going to be inspired by this."
Full report at:
http://www.usatoday.com/story/money/business/2014/10/11/shariah-compliant-islamic-financing-usa-europe/16828599/
----------
Obama, foreign military chiefs, to thrash out Islamic State plans
14 October 2014
President Barack Obama will hash out a strategy to counter Islamic State on Tuesday with military leaders from some 20 countries including Turkey and Saudi Arabia amid growing pressure for the U.S.-led coalition to do more to stop the militants' advance.
Some three weeks before U.S. congressional elections viewed largely as a referendum on Obama's leadership, the president will aim to show the U.S. public and allies abroad that he is committed to a plan to "degrade" and "destroy" the group that has taken over large swaths of Iraq and Syria.
Obama will attend a meeting led by General Martin Dempsey, chairman of the Joint Chiefs of Staff, with foreign defense chiefs at Andrews Air Force Base outside Washington at 3 p.m. EDT (1900 GMT) to discuss the coalition's work.
"It is part of ongoing efforts to build the coalition and integrate the capabilities of each country into the broader strategy," said Alistair Baskey, spokesman for the White House National Security Council.
Full report at:
http://english.ahram.org.eg/NewsContent/2/8/113046/World/Region/Obama,-foreign-military-chiefs,-to-thrash-out-Isla.aspx
----------
Violent jihad a 'duty' for Ottawa terror plotter: Judge
14 Oct, 2014
A convicted homegrown terrorist believed violent jihad was a "duty" and yearned to see the malignant spread of Taliban-style theocratic government, according to the judge who will sentence him.
Misbahuddin Ahmed, a married father of three, faces a maximum sentence of 24 years after a jury convicted him in July of conspiring to facilitate terror and of financing terror, setting the stage for a sentencing hearing slated to start Tuesday.
The jury, however, acquitted him of the most serious charge -- possessing explosives with intent to endanger life or property for the benefit of a terror group -- which carries a maximum sentence of life.
Because juries don't give reasons for their decisions, Crown and defence lawyers argued last month over the verdict's factual underpinning.
Judge Colin McKinnon then issued a series of damning factual findings that will greatly affect Tuesday's sentencing hearing.
"Mr. Ahmed believed it was his duty to assist violent Jihadist causes," McKinnon wrote in a ruling obtained by the Sun.
Full report at:
http://www.ottawasun.com/2014/10/12/violent-jihad-a-duty-for-ottawa-terror-plotter-judge
----------
IEA: ISIS oil production reduced by air strikes
14 October 2014
U.S.-led air strikes have significantly reduced Islamic State of Syria and Iraq's ISIS) ability to produce, smuggle and refine oil, the International Energy Agency said in its monthly report on Tuesday, citing Western and Iraqi officials.
The coalition's targeting of ISIS-held oil infrastructure has knocked crude production down to around 20,000 barrels per day (bpd) from a high of about 70,000 bpd achieved after the group expanded its territory over the summer, the report said.
The United States and its allies, including Saudi Arabia and the United Arab Emirates, began launching air strikes against ISIS in Iraq in August, and in Syria in September, including targeted strikes against oilfields and refineries controlled by the group.
In parallel, the governments of Turkey and Iraq's Kurdistan Region have cracked down on ISIS's smuggling of crude oil, which had brought in revenue estimated at $1 million to $3 million for the radical Sunni Islamist group.
Full report at:
http://english.alarabiya.net/en/business/energy/2014/10/14/IEA-ISIS-oil-production-reduced-by-air-strikes.html
----------
Southeast Asia
Indonesian scholar is against Malaysia's Islam
October 14, 2014
Putrajaya today upheld its ban on Indonesian Muslim scholar Dr Ulil Abshar Abdalla, calling him an opponent of Malaysia's Islamic stand, despite the fact that he had been the government's guest at a conference in 2002.
The minister in charge of religion Datuk Seri Jamil Khir Baharom said Ulil's teachings contradicted the Sunni Wal Jamaah or Shafie school of thought, which Malaysia follows.
"Jakim and Jawi ordered that he be barred from entering.
"In Malaysia, we are followers of Sunnah Wal Jamaah… so we don't want to admit a person who would be against the stand of the government," the minister in the Prime Minister's department told reporters in Kuala Lumpur today.
Ulil told The Malaysian Insider in a phone interview yesterday that he had been to Kuala Lumpur in July 2002 to attend the International Forum on Islam (Kalif) on "Islam and Politics" when Tun Dr Mahathir Mohamad was the prime minister.
"I was invited by Pak Abdullah Badawi to Malaysia to attend an international conference called Kalif in 2002.
Full report at:
http://www.themalaysianinsider.com/malaysia/article/indonesian-scholar-is-against-malaysias-islam-putrajaya-says-in-upholding-b#sthash.cQjjNDUW.dpuf
----------
I suggested Bible-burning only to Muslim parents, says Perkasa chief
October 14, 2014
Datuk Ibrahim Ali has broken his silence on the issue of his controversial statement last year calling for the burning of Bibles.
In an interview with Utusan Malaysia today, he defended his statement by saying it was only meant for the Muslim parents of students who were allegedly given the holy book outside their school last year, news portal Malaysiakini reported.
"A reporter asked me what was Perkasa's view on the alleged distribution of Bibles and I replied that the parents should just seize the books from their children and burn it. This is so that the children would not be confused.
"I was only referring to the Bahasa Malaysia Bible which has the word 'Allah' in it, which was distributed at the school. I was not referring to all Bibles," Ibrahim said, according to Utusan Malaysia.
Full report at:
http://www.themalaysianinsider.com/malaysia/article/i-suggested-bible-burning-only-to-muslim-parents-says-perkasa-chief#sthash.ZyEZJVa5.dpuf
----------
Report militant sites, Malaysians told
October 14, 2014
The Malaysian Communications and Multimedia Commission (MCMC) wants the public to report any social site accounts that spread militancy or terrorism in this country to the authorities.
Its strategic communications senior director, Sheikh Raffie Abd Rahman said besides reporting to the agency, the public, especially parents also needed to be alert and monitor any changes in their children's behaviour and activities online.
"MCMC always cooperate with police in cases such as this (militancy) to help investigations."
Yesterday, it was reported that militant groups in Syria were not only recruiting Malaysian girls but also tried to recruit students in the name of jihad.
Principal assistant director of the Counter Terrorism Division of the Special Branch at Bukit Aman, SAC Datuk Ayub Khan Mydin Pitchay had said they conducted their recruitment drive through Facebook and targeted students and teenage girls.
Full report at:
http://www.themalaysianinsider.com/malaysia/article/report-militant-sites-malaysians-told-bernama#sthash.DRALyEfz.dpuf
----------
URL: https://www.newageislam.com/islamic-world-news/new-age-islam-news-bureau/men-shaving-beard-to-avoid-jihadist-stigma-in-southeast-turkey/d/99512