New Age Islam News Bureau
06 December 2020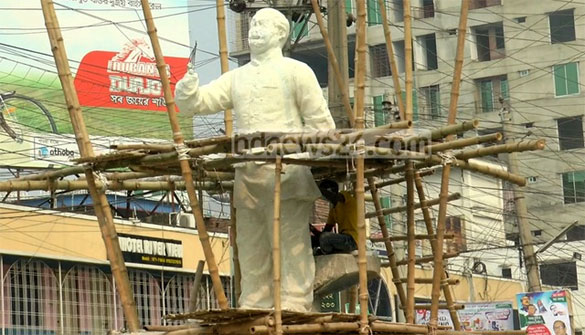 Vandals have defaced a sculpture of Bangabandhu Sheikh Mujibur Rahman under the cover of night in Kushtia amid growing opposition from Islamic groups, including Hifazat-e Islam, to the statues of the Father of the Nation.
-----
• Members Of Radical Islamic Group Damage The Sculpture Of Sheikh Mujibur Rahman In Kushtia, Bangladesh
• Qawmi Madrasa Leaders Demand 'Mujib Minar' Tower In Place Of Bangabandhu's Statue
• Council of Europe Condemns Conversion of Hagia Sophia from Museum to Mosque
• Survivors Given Chance To Read Report Into Christchurch Mosque Attacks Before Release
Licensors
• UP's New Anti-Conversion Law : Fourth Case Lodged Under 'Love Jihad' Law As Father Alleges Conversion
• Africa Rights Court Rules Vagrancy Laws Inconsistent With African Rights Charters
• PDM Heads Meet On 8th To Finalise Long March Plan
• Iran: Defiant Youths in Tehran, Mashhad, and Isfahan Target Mullahs' Repressive Centres
South Asia
• Bangladesh: Members Of Radical Islamic Group Damage The Sculpture Of Sheikh Mujibur Rahman In Kushtia
• Qawmi Madrasa Leaders Demand 'Mujib Minar' Tower In Place Of Bangabandhu's Statue
• Rohingyas In Bhasan Char Island: Elated, Eager To Get To Work
• Bangladesh: Imam Of Mosque Arrested For Rape Of 7 Year Old Girl In Madaripur
• Armed attack on Afghan customs 'Islam Qala' leaves three dead
• Intra-Afghan Negotiations Resume amid Violence Escalation across Afghanistan
• Pakistan Ensures Full Support to Afghan Peace Process
• Afghan Gov't Conducted First Reconciliation Council Meeting
• Taliban Warns U.S Over Violating Peace Agreement
-----
Europe
• Council of Europe Condemns Conversion of Hagia Sophia from Museum to Mosque
• Queen Elizabeth to Get Pfizer COVID-19 Vaccine in Weeks
• The latest chapter in the tragic case of a much-loved imam murdered in Rochdale
• Renowned imam calls on Muslims to engage with France
• Anti-Muslim online abuse 'leaving scars' on Leeds victims as Imam Qari Asim calls for city-wide action
-------
New Zealand
• Survivors Given Chance To Read Report Into Christchurch Mosque Attacks Before Release
Licensors
• Prime Minister promises accountability ahead of royal inquiry release on Christchurch mosque attacks
----------
India
• UP's New Anti-Conversion Law : Fourth Case Lodged Under 'Love Jihad' Law As Father Alleges Conversion
• Two Thousand People Will Be Able To Offer Namaz At Once At the Ayodhya's Mosque; Blueprint of the Mosque Ready
• Team Of Muslim Men Serving Langar All Day To Protesting Farmers At Singhu Border
• Hindu Families Seek 'Justice', Muslims Bereft – UP 'Love Jihad' Law Has Bareilly In Frenzy
• Karnataka BJP State President: Govt Keen On Clearing Love Jihad, Cow Slaughter Bills In Next Legislature Session
• Babri demolition anniversary to be observed with a pledge to defend Kashi & Mathura mosques: Jilani
--------
Africa
• Africa Rights Court Rules Vagrancy Laws Inconsistent With African Rights Charters
• Al-Habibiyyah Sensitises Muslims To COVID-19 Prevention
• Why Boko Haram activities, crime are rising in northeast – Group
• Turkey goes on charm offensive in West Africa
------
Pakistan
• PDM Heads Meet On 8th To Finalise Long March Plan
• Second wave poses serious health challenges, says report
• Appointment of CAA chief challenged in IHC
-------
Mideast
• Iran: Defiant Youths in Tehran, Mashhad, and Isfahan Target Mullahs' Repressive Centres
• Envoy: Iran to legally pursue leak of IAEA confidential report
• Arrogant powers weary of Islamic Iran's development: PMU official
• Iran reacts to UN decision to remove cannabis from list of most dangerous drugs
------
Southeast Asia
• PM launches Johor Sustainable Development Plan 2030
• Muhyiddin attends Johor Legislative Assembly sitting
• Perak Sultan accepts Ahmad Faizal's resignation as MB
-------
Arab world
• Dedicating Day To Islamic Art Encourages Global Acceptance
• Kuwait's Emir Thanks the Custodian of the Two Holy Mosques for the Kingdom of Saudi Arabia's Efforts to Resolve GCC Dispute
• Dubai's Ramadan Campaign To Feed Millions Amid Covid Wins Awards
• Egypt to Contribute to Quranic Education in Pakistan
-------
North America
• Joe Biden Reveals Why He Questioned the Osama bin Laden Raid
• If Stalin Couldn't Unite Russia's Muslims Administratively, No One Will Ever Will, Suleymanov Says
• How this vegan restaurant has defied the odds to become a buzzy Black mecca
Compiled by New Age Islam News Bureau
URL: https://www.newageislam.com/islamic-world-news/members-radical-islamic-group-damage/d/123675
------
Members Of Radical Islamic Group Damage The Sculpture Of Sheikh Mujibur Rahman In Kushtia, Bangladesh:
New Age Islam News Bureau
6 December 2020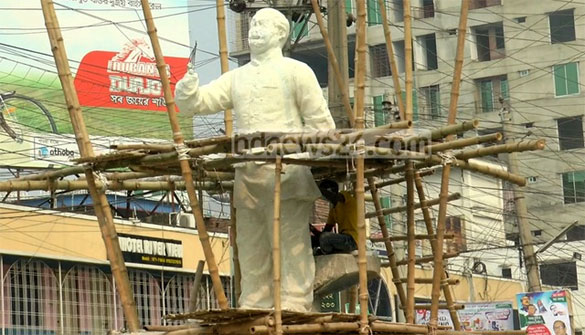 Vandals have defaced a sculpture of Bangabandhu Sheikh Mujibur Rahman under the cover of night in Kushtia amid growing opposition from Islamic groups, including Hifazat-e Islam, to the statues of the Father of the Nation.
-----
Only ten days ago Hefazat-e-Islam leader Junaid Babunagari had threatened to pull down sculptures of Sheikh Mujibur Rahman as he had said statues and sculptures were forbidden in Islam. On Friday night two youth destroyed an under construction sculpture of Sheikh Mujibur Rahman in Kushtia in Bangladesh. A CCTV footage shows two youth apparently in madrasa uniform climb up the pedestal and destroy the sculpture with the help of hammers. They had bags on their back.
Home Minister Asaduzzaman Khan told the media that the two culprits had been arrested and other two were arrested on their information.
Meanwhile, Awami League supporters held protest meetings in various towns. Awami League General Secretary Obaidul Qadir said it was unfortunate and that the party leadershi had been keeping their cadre in control but if they don't restrain themselves, situation can go out of control.
The Home Minister Asaduzzaman Khan said that destroying the statue of the Bangabandhu was a crime as its protection and honour had been enshrined in the Constititution. Any one desecrating or damaging the statue of Bangabandhu will be held responsible for violating the Constitution. He said those guilty shall be punished.
Without naming Hefazat-e-Islam or Junaid Babunagari, Asaduzzaman Khan said that those opposing the sculptures should know that in Muslim countries sculptures and statues have always existed. The statues of Alberuni or Ibn-e-Batuta exist. In Muslim countries, the images of the kings and leaders are printed on currency notes. The image of the Shah is printed on the currency of Saudi Arabia. In Pakistan the image of Qaid-e-Azam is printed on Pakistani currency. Same is the case in other Islamic countries. People carry them in their pockets. Installing sculptures does not mean worshipping them. They are installed in memory of their services and sacrifices for their societies and their nations. He further said that Bangabandhu Sheikh Mujibur Rahman was the founder of Bangladesh and any attempt at dishonouring or insulting him would not be tolerated.
-----
Qawmi Madrasa Leaders Demand 'Mujib Minar' Tower In Place Of Bangabandhu's Statue
06 Dec 2020
bdnews24.com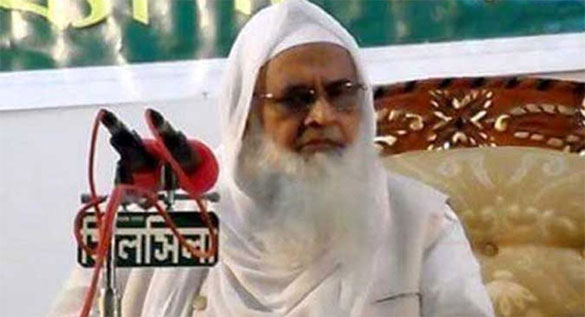 Befaq Secretary General Mahfuzul Haque
------
The Islamists also demand maximum punishment for actions belittling the Prophet Mohammad and permission to use loudspeakers and mikes at religious gatherings.
They raised the demands on Saturday after a meeting chaired by Mahmudul Hasan, acting president of Befaqul Madarishil Arabia Bangladesh or Befaq, and chairman of Al-Haiatul Ulya Lil-Jamiatil Qawmia Bangladesh, the education boards of the Qawmi madrasas.
The leaders sat amid growing opposition by Qawmi-based Hifazat-e Islam and other Islamic extremist groups to statues, including those of Bangabandhu.
Social and cultural activists have continued protests against the Islamists' opposition to statues, while the government has urged calm, saying that it does not want confrontations.
Mahfuzul Haque, secretary general of Befaq, said the meeting pointed out five demands "following the views of Islamic scholars".
Befaq Secretary General Mahfuzul HaqueBefaq Secretary General Mahfuzul HaqueThey will send the demands in a memorandum to Prime Minister Sheikh Hasina and take steps to meet her, he said.
"Sculpture of humans or statues made for any purpose is strictly forbidden by Islam. It is better to find an alternative to building statues in light of the Quran and Sunnah in a country with 90 percent Muslims," the Befaq secretary general said.
Their other demands are: release of previously arrested Islamic "scholars" and close monitoring of provocative and defamatory remarks
https://bdnews24.com/bangladesh/2020/12/06/qawmi-madrasa-leaders-demand-mujib-minar-tower-in-place-of-bangabandhus-statue
-----------
Council of Europe Condemns Conversion of Hagia Sophia from Museum to Mosque
By Anna Wichmann
Dec 5, 2020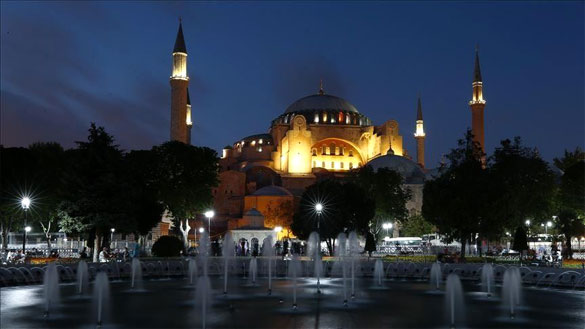 Hagia Sophia
-----
In an official statement released on Friday, the Parliamentary Assembly of the Council of Europe (PACE) condemned Turkey's July 13 decision to convert the Hagia Sophia from a museum into a mosque.
PACE's Committee on Culture, Science, Education & Media labeled the act as "a discriminatory step backward, that clearly undermines Turkey's secular identity and multicultural legacy."
The Hagia Sophia, protected by UNESCO as a World Heritage Site, is one of the holiest sites in Orthodox Christianity. Built where a fourth-century church once stood, the Hagia Sophia was constructed in the sixth century and is one of the best surviving examples of Byzantine architecture.
After the Fall of Constantinople in 1453, the Hagia Sofia was converted into a mosque, and many precious mosaics were destroyed. The rise of secularism in Turkey during the early 12th century culminated in the transformation of the site from a mosque into a museum.
Turkey's decision to change the site once again has faced overwhelming criticism internationally. Many view the act as a nod to Turkish President Recep Tayyip Erdogan's base of religious nationalists.
https://greece.greekreporter.com/2020/12/05/council-of-europe-condemns-conversion-of-hagia-sophia-from-museum-to-mosque/
-----------
Survivors Given Chance To Read Report Into Christchurch Mosque Attacks Before Release
Licensors
06-12-2020
Ardern and several MPs have met with the surviving victims and familes at the Ngā Hau e Whā National Marae in Christchurch today.
The Prime Minister promised accountability when it came to delivering on the recommendations of the Royal Commission into the Christchurch mosque attacks.
"The purpose of today was to really give some time to the people who have been personally affected by March 15 to have received the report, spend a bit of time reading it, it is a very lengthy report, and then for us to come back and just discuss anything that was of concern," she said.
The family of one of the victims described the Royal Commission's report as another missing piece of the puzzle as they adjust to life without their brother and son.
The terrorist's shock guilty plea earlier this year meant no trial and the Royal Commission's report will offer some of the only insight into how exactly the shootings were able to take place.
Two commissioners, Sir William Young and Jacqui Caine, were tasked with looking at the gunman's activities in the lead up to 15 March 2019, what security agencies knew about him, what - if anything - they did with that information, if those agencies could have prevented the shootings and what should be done to stop similar attacks in future.
Ardern will also decide how much of the report is made public, but the Royal Commission has prepared it so no redactions are necessary.
Ardern said it was such a significant report that it was not possible to provide physical copies on a large scale to people overseas.
However, she said the government has managed to provide the report to people in New Zealand, giving them time to read it before it is released publicly.
In response to a question about whether a special minister needs to be appointed, focussing on the attack and what needs to be done, she said: "In terms of how we will make sure that we have that accountability for delivering on the royal commission, I'll be giving a bit more detail about that next week. But that was something I proactively raised with the community. We do want to make sure that after such a hefty piece of work, so much detail, so much time and energy has gone into it, that we make sure that we're acting upon it."
https://www.rnz.co.nz/news/national/432237/survivors-given-chance-to-read-report-into-mosque-attacks-before-release
----------
UP's New Anti-Conversion Law : Fourth Case Lodged Under 'Love Jihad' Law As Father Alleges Conversion
by Manish Sahu
December 5, 2020
Sitapur police have added provisions of UP's new anti-conversion law to an FIR alleging kidnapping of a 19-year-old woman. This is the fourth such case in which the UP Prohibition of Unlawful Conversion of Religion Ordinance, 2020, has been invoked. Beside Sitapur, Bareilly, Muzaffarnagar and Mau police have filed one case each under the new law since it came into effect on November 28.
On November 26, the woman's father got an FIR registered against seven people, including his neighbour Jibrail, on the charge of kidnapping his daughter. Citing some local residents, the father on Thursday told the police that she had been converted to Islam.
"After the woman's father submitted a complaint, we added the UP Prohibition of Unlawful Conversion of Religion Ordinance, 2020 to the case. We included two more IPC sections — 120-B (criminal conspiracy) and 368 (wrongfully concealing or keeping in confinement kidnapped person) — in the FIR," said station house officer of Tambor police station Amit Singh Bhadouriya.
According to the police, the woman went missing on November 24, and two days later, her father got a case lodged on charges of kidnapping against seven people. Besides Jibail, a taxi driver, other accused are his family members, including mother and sister-in-law, and friends, said police.
Bhadouriya said police have arrested two of the accused — Jibrail's elder brother Israil (26) and brother-in-law Usman. The role of other accused is being probe, he said.
Hours after the anti-conversion ordinance was ratified by Governor Anandiben Patel, the Deorania police station in Bareilly lodged the first case against one Owais Ahmed under the new law. Three days, later, police arrested Ahmed.
The second case was registered in Muzaffarnagar's Mansoorpur police station against two persons, and police have yet to make any arrest.
Mau police lodged the third case at Chiraiyakot police station against 14 persons after a complainant alleged that the accused kidnapped his 25-year-old daughter. No one has been arrested so far.
https://indianexpress.com/article/cities/lucknow/fourth-case-lodged-under-love-jihad-law-as-father-alleges-conversion-7092521/
----------
Africa rights court rules vagrancy laws inconsistent with African rights charters
Michael Chege
DECEMBER 5, 2020
The African Court on Human and Peoples' Rights Friday held that vagrancy laws violate the rights of individuals under the African Charter on Human and Peoples' Rights (the charter), the African Charter on the Rights and Welfare of the Child (the children's rights charter) and the Protocol to the African Charter on Human and Peoples' Rights on the Rights of Women (Maputo protocol).
The Pan African Lawyers Union (PALU) submitted the request for the advisory opinion in May 2018. In their submissions they defined vagrancy laws as laws which criminalize the status of individuals as being poor, homeless or unemployed as opposed to specific reprehensible acts. PALU stated that the laws confer broad discretionary powers and lead to arrests without proof of criminal liability. Vagrancy laws existed in many Afriucan states in the 20th century, where they often used to strengthen the political control of colonial and post-colonial regimes. Kenya's vagrancy laws were repealed after the promulgation of the 2010 constitution; the law persist in a variety of other African states, including Tanzania and Uganda.
The court held that the laws violate the charters' provisions on non-discrimination as most of the people arrested are of low income status. Arrests and forced relocations are also inconsistent with the right to dignity and freedom of movement under the charter. Forced relocations also interfere with the right to the sanctity of the family. The arrests are also inconsistent with the right to presumption of innocence. Vagrancy laws were also held to violate children's rights under the children's rights charter. Arrests, detention and sometimes forcible relocation of children infringes on the child's right to non-discrimination and the best interests of children. The laws also infringe on the child's right to a fair trial. The laws were held inconsistent with the duty to protect poor women and provide an environment suitable to their special physical, economic and social needs under the Maputo protocol.
The court held that states have an obligation to amend or repeal all their vagrancy laws, by-laws and regulations so that they conform with the charter, the children's rights charter and the Maputo protocol.
https://www.jurist.org/news/2020/12/african-rights-court-rules-vagrancy-laws-are-inconsistent-with-african-rights-charters/
-----------
PDM heads meet on 8th to finalise long march plan
Amir Wasim
06 Dec 2020
ISLAMABAD: The heads of the constituent parties of the opposition Pakistan Democratic Movement (PDM) are meeting in Islamabad on Dec 8 to review arrangements for the upcoming public meeting in Lahore and to finalise a strategy for the next phase of its anti-government campaign which includes "final and decisive long march" on the capital and the option of submitting en masse resignations from the National Assembly.
Talking to Dawn here on Saturday, a number of PDM leaders said that in the upcoming meeting, the heads of the parties would discuss various proposals for enhancing pressure on the rulers to force them to quit, the strategy for the long march and the option of turning it into an indefinite sit-in.
Sources in the PDM told Dawn that the Pakistan Muslim League-Nawaz (PML-N) and the Jamiat Ulema-i-Islam (JUI-F) were in favour of holding an indefinite sit-in in Islamabad after submission of resignations whereas the Pakistan Peoples Party (PPP) had not so far given its consent to the proposal and had sought some time for an in-house consultation before making a final decision.
He said PML-N wanted to start the proposed long march while carrying their resignations and submit them at the time of the sit-in.
"We should go into long march with resignations. Then there will be no by-elections on such a large scale. Then there will be no option but to go for general elections," he said.
"The choice is either you have controversial by-elections or non-controversial general elections," he said, while expressing the hope that it would not be possible to hold by-elections on more than 100 seats of the National Assembly.
Responding to a question, he claimed that PPP was supportive of the idea of converting the long march into an indefinite sit-in. However, he said, a final decision in this regard would be made from the PDM platform and after a thorough consultation at the leadership level.
"In the Dec 8 meeting, we will discuss the post-Dec 13 strategy," Mr Iqbal said, adding that they might also finalise the date of the long march. He said they would also devise a plan for carrying out activities between their last public meeting in Lahore on Dec 13 and the planned long march.
"This is not a u-turn. Imran Khan's sit-in was a conspiracy of the establishment. People were not with Imran Khan (at that time)," said Mr Iqbal when he was asked that the PPP and the PML-N had in the past always opposed the idea of indefinite sit-in and would it not be a u-turn on the part of the two major opposition parties if they decided to do the same.
Moreover, Mr Iqbal said, despite the fact that they had rejected the 2018 general elections, they provided ample time to the PTI government to deliver, but it failed miserably on all fronts.
"All democratic parties which had previously opposed the PTI's sit-in are now on one page," he said, claiming that the present opposition alliance had the complete backing of the people of Pakistan.
In response to a question, Mr Iqbal ruled out the option of moving a no-confidence motion against Prime Minister Imran Khan, saying it would not be a wise move considering the fact that previously they had not been able to remove Senate Chairman Sadiq Sanjrani through such a move despite having a majority in the house.
On the other hand, it is expected that PPP chairman Bilawal Bhutto-Zardari, who had gone into isolation after testing positive for Covid-19, will attend the meeting via video link.
A senior PPP leader on the condition of anonymity told Dawn that the PPP might also agree to the proposal of an indefinite sit-in and en masse resignations, but it believed that such steps should be taken after consuming all other "democratic options".
When asked to explain the "democratic options," he said a behind the scenes discussion was presently being held within the opposition parties on the option of moving a no-confidence motion against Punjab Chief Minister Usman Buzdar. He said the opposition believed that if they succeeded in changing the set-up in Punjab, the Pakistan Tehreek-i-Insaf (PTI) would not be able to retain the power at the Centre.
When asked about the chances of the success of such a move, he said, they had the reports that there was a group of PTI dissidents in the Punjab Assembly whose members had been waiting for appropriate time to raise their voice against the provincial government due to its "disappointing performance". Besides this, he said, the role of the PML-Q would also be crucial in such a move.
Sources said the PDM heads in their meeting would also approve the draft of the "Charter of Pakistan" containing the demands of the opposition parties. They said the PDM leaders wanted the public signing of the charter and they might do it at the Lahore's public meeting.
On Sept 20, the leaders of the 11 major opposition parties during a PPP-hosted multi-party conference (MPC) in Islamabad had announced formation of the PDM and launch of a three-phased anti-government movement under an "action plan" starting with countrywide public meetings, protest demonstrations and rallies before a "decisive long march" towards Islamabad in January 2021.
The opposition leaders had announced that they would use all political and democratic options, including no-confidence motions and en masse resignations from the parliament to seek "the selected prime minister's resignation and an end to the role of the establishment in politics".
The MPC had also issued a 26-point declaration containing various demands, including "end of establishment's interference in politics, new free and fair elections after formulation of election reforms with no role of armed forces and intelligence agencies, release of political prisoners, withdrawal of cases against journalists, implementation of the National Action Plan against terrorism, speeding up of the projects under China-Pakistan Economic Corridor and across-the-board accountability under a new accountability law".
https://www.dawn.com/news/1594251/pdm-heads-meet-on-8th-to-finalise-long-march-plan
----------
Iran: Defiant Youths in Tehran, Mashhad, and Isfahan Target Mullahs' Repressive Centers
By NCRI
5th December 2020
On the morning of Friday, December 4, 2020, defiant youths targeted several of the regime's centers for repression, and training, and spread of terrorism in Tehran, Mashhad, and Isfahan. They set fire to signs and entrances of these centers. At the same time, Khamenei's large banner was set on fire in Homayunshahr, Isfahan.
Residents welcomed these activities, which were carried out despite tight security measures and the State Security Force being on full alert.
https://www.ncr-iran.org/en/ncri-statements/statement-human-rights/iran-defiant-youths-in-tehran-mashhad-and-isfahan-target-mullahs-repressive-centers/
-----------
South Asia
Rohingyas In Bhasan Char Island: Elated, Eager To Get To Work
Mohammad Al-Masum Molla
December 06, 2020
Abdul Hamid wants to stay on Bhasan Char until he gets to return to Myanmar.
"I had the best sleep in three years. It's quiet and peaceful here," he said yesterday morning with a broad smile.
"We have buildings, we have electricity, and we don't have to carry water from far. This is a wide open space," he said.
Hamid is one of the 1,642 Rohingyas who arrived on Bhasan Char Friday afternoon.
This correspondent talked to at least 40 Rohingyas yesterday morning and all of them expressed satisfaction after spending the first night on the island.
But a majority of them said they needed work to be able to live a better life. They said that they were happy to have moved to plain land from the hilly terrain in Cox's Bazar.
A few said it would have been better if there were bathrooms attached to each room while some others said they would prefer larger rooms.
"It feels safe and it's not chaotic like the camps. Water is easily available, it is easier to walk on plain land, and we don't have to struggle for everything," she said.
Saiful Islam Chowdhury, coordinator NGO Alliance for Bhasan Char, said, "Cooked food were distributed among the Rohingyas after they arrived. Rice and egg curry were served for breakfast, chicken, lentil and rice for lunch, and vegetables for dinner."
"Besides, we have preparations for providing medical support, sanitation services, and education to one lakh Rohingyas for a year," he told The Daily Star.
The living quarters are divided in 120 clusters. They are now living in four. Many of them were still unpacking their belongings yesterday. Men brought the belongings from the vessels while women at home sorted those out.
Muhammad Anwar was selling bettle leaves on a small table near a building. "There were some rowdy people in Kutupalong [camp] who would always create unrest. There will be no such unrest here. That's a relief," he said.
Aktar Hossain chimed in: "The government was saying we would get jobs here. I am a carpenter. The sooner I get work the better. We want work immediately."
On the island, the choices include cattle rearing, farming and fishing. Around 10,000 buffaloes and 1,000 sheep were grazing on a green field.
Commodore AA Mamun Chowdhury, director of the housing project called Ashrayan-3, said the island was also suitable for farming vegetables, fruits, fish, ducks, swans and chickens.
The Rohingyas were taken there amid concerns from the United Nations and other development partners who demanded an independent assessment of the project before the relocation took place.
There were allegations that the refugees were taken to Bhasan Char by force. But none of the Rohingyas said they went there against their will. The project director said the happy refugees will be able to bring more Rohingyas there.
https://www.thedailystar.net/frontpage/news/rohingyas-bhasan-char-elated-eager-get-work-2006433
---------
Bangladesh: Imam Of Mosque Arrested For Rape Of 7 Year Old Girl In Madaripur
New Age Isla News Bureau
6 December 2020
An imam of a Jame Masjid in a village near Madaripur in Bangladesh had been arrested for the rape of a 7 year old girl on 6 December morning. The imam Md Shafiqul Islam Khan, 30 has been accused by the mother of the victim of raping her minor daughter at the dawn of Saturday 5 December when she went to study in the mosque. The imam took the girl in his room and raped her. The local police has registered a case against him and has arrested him. The girl has been sent to the hospital for medical examination, according to the daily Bangladesh Pratidin.
-----
Armed attack on Afghan customs 'Islam Qala' leaves three dead
Dec 5, 2020
News Code 166791
Abdul Ahad Walizadeh, a police spokesman in Herat province in western Afghanistan, said on Sat. that two members of the country's security forces were killed in an attack by unidentified gunmen on 'Islam Qala' customs office in the province.
He added that a civilian was also killed in the attack.
According to him, unidentified gunmen fled the scene after firing on the customs building.
So far, no individual or group has claimed responsibility for the attack.
The Afghan police announced that the investigation to identify perpetrators of the incident has begun.
https://en.mehrnews.com/news/166791/Armed-attack-on-Afghan-customs-Islam-Qala-leaves-three-dead
------------
Intra-Afghan Negotiations Resume amid Violence Escalation across Afghanistan
By Mohammad Arif Sheva
06 Dec 2020
DOHA, Qatar – Working committees of the Afghan government and the Taliban delegations on Saturday held a warm-up session on intra-Afghan peace negotiations after months of struggle on the procedural rules.
The committees are expected to hold the second meeting Sunday, according to sources, leaving the nation on high expectation of a potential peace deal the soonest.
"We welcome the first meeting of the Leadership Committee of the Afghanistan High Council for National Reconciliation, an inclusive and authoritative body on peace efforts," he said in a tweet. "This is another positive step forward."
Addressing the ongoing war that has intensified throughout Afghanistan more recently, Pompeo said the current scale of violence amid peace negotiations is not acceptable, calling for Taliban to "stand down" and put efforts together for a comprehensive ceasefire.
"I made clear to them that the violence levels can't continue while these negotiations go on. It won't work," said Pompeo, as TOLOnews quoted. "And so, we've asked all of them to stand back and indeed stand down. In that respect, I hope we can begin to start to address some of the front-end issues about a cease-fire here before too long."
On September 12, the Afghan and Taliban delegations formally launched intra-Afghan negotiations, but have since then struggled on ground rules to push through the process.
https://www.khaama.com/intra-afghan-negotiations-resume-amid-violence-escalation-across-afghanistan-345345/
----------
Pakistan Ensures Full Support to Afghan Peace Process
By Mohammad Haroon Alim
05 Dec 2020
Pakistan's Foreign secretary, Sohail Mahmood Received Afghanistan's Najibullah Alikhel, Afghan Ambassador to Pakistan, they both highlighted the landmark visit by Imran khan to Kabul.
Sohail also assured Pakistan's full support to the Afghan peace process and reiterated the commitment for further strengthening bilateral ties and resolved for enhancing regional connectivity.
This comes as Pakistan Minister for Railways, Sheikh Rashid Ahmed announced plans to Link Afghanistan and Pakistan through a railway line from Chaman to Spin Boldak.
The first phase would require around 11km of railway track from Chaman to Spin Boldak, and the survey in regards to the project has already completed, and if Afghanistan wanted the project could be extended up to Kandahar province, Dawna News Reported.
Dawn news reported, that this project will facilitate mutual trade and can be efficient for transferring passengers.
In similar bilateral news, Pakistan announced that its 2,600km fence along the Pak-Afghan border will be completed by the coming months.
Pakistan's army media unit, Inter-Services Public Relations told VOA on Friday, that Pakistan completed 83 percent of fencing the border.
The program was launched in 2017 for blocking militant infiltration, smuggling, and other illegal crossings.
The Durand Line is a disputed borderline as 1893 colonial-era demarcation, but Pakistan claims it inherited the international frontier after gaining its independence from Britain in 1947.
https://www.khaama.com/pakistan-ensures-full-support-to-afghan-peace-process-9879799/
----------
Afghan Gov't Conducted First Reconciliation Council Meeting
By Mohammad Haroon Alim
05 Dec 2020
Political leaders in Afghanistan attended the first meeting of the High Council for National reconciliation on Saturday.
Addressing the meeting, President Ghani, the need is clear and that is an agreement on the roadmap for peace, adding to his words he said: "the first phase showed that the process was not easy, but it succeeded".
Abdullah Abdullah, head of the council stressed that Peace needs sacrifices, and we are ready to fully engage with the Taliban to discuss all issues, achieving peace is the national interest, we will decide based on consultation and fully accommodate the rightful demands of the people of Afghanistan.
The first demands of the people are reduction in violence and ceasefire, he said "We have to agree on how to preserve the achievements of the past, and at the same time move forward and have a political settlement. There might be a time that requires the decision of the people of AFG, at that point we shall decide collectively on how to consult the people,".
Head of HCNR said, war destroys the country and every, but peace is a guarantee for the future of everyone, Taliban prisoner swap was a bold step and it demonstrates a sacrifice Afghanistan is forever ready for, he called on international and regional support in regards to peace in Afghanistan.
Former president Hamid Karzai said peace is a demand of every Afghan, and the country is obliged to end the bloodshed.
"As much as Afghans have a right to this land, so do the Taliban, and all Afghans, including the Taliban, have a right to live in a peaceful Afghanistan". The former president said.
Following his speech Jihadi leader Abdul Rab Rasool Sayaf Said, Afghans want peace with dignity in which country's national sovereignty is preserved, he added, that " As much as we demand peace, Taliban does not, Afghans have the responsibility for public security, but Taliban does not" he called on the Taliban to "immediately put an end to chaos and prevent problems to the public".
Former Vice President, Mohammad Yunus Qanoon, iterated that war is not the solution for political settlements and that peace should be taken out of two electoral teams, as this is a national process.
https://www.khaama.com/afghan-govt-conducted-first-reconciliation-council-meeting-8968768/
------------
Taliban Warns U.S Over Violating Peace Agreement
By Mohammad Haroon Alim
05 Dec 2020
Qari Yusuf Ahmadi, a spokesman for the Taliban, said US forces attacked the group's positions in Helmand province last night in violation of the Doha peace agreement between Washington and the Taliban.
He stated on Friday, that US forces had attacked the village of Lavi Bagh in the Nad Ali district of Helmand province following repeated violations of the Doha agreement.
He claimed, Americans have attacked a region far from the battlefield, killing 18 civilians including Taliban fighters, and wounding three others.
According to Ahmadi, the US attack on Helmand province destroyed Taliban strongholds as a result of which civilian residential places were also damaged.
A Taliban spokesman claimed that when people wanted to evacuate the dead and wounded, these people were attacked 7 times during the evacuation process after the initial hit.
Condemning the incident, he warned the US government that "such reckless actions would not go unanswered, and progress against the Doha agreement will result in bad consequences".
This comes as, the press department of Herat's Police HQ stated on Saturday morning, that two soldiers and a civilian were killed by unknown gunmen in the Islam Qala port of Herat province.
According to the statement, unidentified Gunmen in a Corolla vehicle fired on the soldiers at the customs gate in front near the port of Islam Qala, killing two port security unit members and a civilian.
Provincial Police headquarters appointed an investigative team to probe into the incident.
https://www.khaama.com/taliban-warns-america-over-violating-peace-agreement-876876/
-----------
Europe
Queen Elizabeth to Get Pfizer COVID-19 Vaccine in Weeks
By Mohammad Arif Sheva
06 Dec 2020
LONDON, United Kingdom — Britain's Queen Elizabeth II will receive the Pfizer-BioNTech coronavirus vaccine within weeks, according to reports, after the kingdom regulators granted emergency approval
The monarch, 94, and her 99-year-old husband Prince Philip are in line to get the jab early due to their age and will not receive preferential treatment, the Mail on Sunday reported.
The newspaper said Britain's most senior royals would reveal they have been given the inoculation "to encourage more people to take up the vital jab", amid fears so-called anti-vaxxers could dent enthusiasm for it.
Earlier this week, Fizer Inc and BioNTech have applied to the European drugs regulator for conditional authorization of their COVID-19 vaccine, according to sources, following similar steps in the United States and Britain, the companies said on Tuesday.
The application came weeks after the drug maker projected promising result in phase 3 trial of its COVID-19 vaccine, sharing joy over a 90 percent victory in the war against growing respiratory illness.
The company has previously sought the United States on Nov. 20, taking them a step closer to launching their vaccine for public use.
In their pursuit of a European launch, potentially this year, the partners are neck-and-neck with rival Moderna, which said on Monday it would ask the EU regulator to recommend conditional approval for its shot, as Reuters reported.
The British government said last week that the U.S.-German partners had reported the data from their clinical trials to the UK Medicines and Healthcare products Regulatory Agency (MHRA), the report further wrote.
https://www.khaama.com/queen-elizabeth-to-get-pfizer-covid-19-vaccine-in-weeks-34543/
-----------
The latest chapter in the tragic case of a much-loved imam murdered in Rochdale
By Chris Slater
5 DEC 2020
An inquest into the death of a much-loved imam who was murdered will be held - and is likely to examine what was known by the authorities about the risk posed by his killers, it has been ruled.
Jalal Uddin, 71, was killed in a children's play area in Rochdale on February 18, 2016.
Mr Uddin suffered suffered multiple injuries to his head and face in the fatal attack, thought to have involved a hammer.
The police investigation revealed that Mr Uddin had been murdered by Mohammed Kadir, then aged 24, who had acted together with Mohammed Hussain Syeedy, then aged 21.
Syeedy's trial was told Mr Uddin practiced Ruqya, a form of healing in which he used amulets called Taweez and which is controversial in Islam. Jurors were told that Syeedy and Kadir considered it to be "black magic."
Following the killing, Kadir, with the assistance of a third man, Mohammed Syadul Hussein, fled the country and travelled to Turkey and has not returned to the UK since.
https://www.manchestereveningnews.co.uk/news/greater-manchester-news/latest-chapter-tragic-case-much-19406831
------------
Renowned imam calls on Muslims to engage with France
Jennifer Holleis
05.12.2020
France's latest steps in combating Islamist extremism at home have been closely monitored in Arab countries. The brutal killing of French teacher Samuel Paty, who had shown his pupils cartoons of the prophet Muhammad in class, prompted French President Emmanuel Macron to defend the use of the cartoons and France's secularism, which in turn triggered anti-French protests in many Muslim countries.
Macron's statements that he saw "Islam as a religion in crisis" fanned the flames further, as did his interior minister's recent announcement on the potential closure of nearly 80 mosques in France.
Sheikh Mohammed Abu Zaid, Chairman of the Sunni Court and imam of the largest mosque in Saida, near Beirut, however, believes that only peaceful collaboration will improve relations. "Using the state's power and authority will do the opposite," he told DW.
Abu Zaid is widely known as an Islamic scholar focused on dialogue. He is the author of 18 books advocating for a moderate, peaceful Islam and dialogue with non-Muslim or minority-Muslim countries. He has also taught at Stanford University in the US, and was among the first imams to travel to Denmark after protests erupted over the publication of cartoons of the prophet Muhammad in 2005.
"Muslims and the French government need to focus on three aspects," the prominent imam believes. Firstly, he sees the necessity for the French government to be open to the Muslim community of around six million people in France — Europe's largest — by collaborating with their leadership. "Otherwise, people will feel over-ruled," he said. Secondly, he recommends that imams be trained and qualified in the country they live in.
Thirdly, he says, it's crucial to raise awareness that closing mosques will only lead to new problems. "People will not stop praying or listening to imams, they will just do this secretly."
Mohammed Abu Zaid's opinion is rare in the Islamic world. "Fanatics will accuse me of being weak and of giving in to the French authorities," he says.
In the history of strictly secular France none of the around 2,600 mosques and prayer rooms, including their privately employed imams, have been inspected by the state, but Abu Zaid believes the state should take on that task. "As a man of responsibility and long experience I think this is the right way," the 45-year-old imam says.
Abu Zaid sends a clear message to Muslim immigrants to "see themselves as part of the country they live in and not just as visitors." From Abu Zaid's point of view, the religious Muslim community needs "to defend the country that welcomed you and gave you citizenship."
He also deliberately addresses French Muslims, telling them that "you are French citizens, you should not bring your Turkish, Indian, Pakistani or Lebanese customs but you should live according to the new country."
Abu Zaid says he is in favor of a charter that the French Council of Muslim Worship (CFCM) has been working on since mid-November. It is meant to reflect and "recognize the values of the Republic" and is expected to be submitted to the government on December 7.
While the charter, which Macron had urged the CFCM to hammer out in cooperation with the interior ministry, is seen critically in many Muslim countries, Abu Zaid welcomes its message. "Imams need training, this is not about control but about awareness what is legal and what is illegal in a country," he said.
I come from a family of poor carpenters," Abu Zaid explains. While his parents insisted that he and his three sisters study, he is the only one who chose a religious life. After his bachelor's degree in Islamic Sharia law at the Beirut Islamic University, he did a postgraduate degree in Comparative Religions at the University of Saint Joseph, a Catholic university in Lebanon.
"I understood that Christian-Muslim dialogue is the basis for a peaceful understanding," he says. Although he is the head of the largest mosque in Saida, he doesn't put pressure on his own four children to pray at the mosque.
"Sometimes they go, but much more often they don't go," he says, adding that he is "very open-minded" and that he gives his children "the same chance that I had." For him it means to "give them a choice" and "not push them to be religious."
https://www.dw.com/en/renowned-imam-calls-on-muslims-to-engage-with-france/a-55828380
------------
Anti-Muslim online abuse 'leaving scars' on Leeds victims as Imam Qari Asim calls for city-wide action
By Abbey Maclure
5th December 2020
Qari Asim MBE, imam at Makkah Mosque and a government adviser on Islamophobia, says hate speech "has left scars" on victims in Leeds.
His congregation members have been called "Bin Ladens", "ISIS supporters" and yelled at in the street, while women have had scarves snatched in appalling attacks.
Leeds City Council research shows that Muslim people are most likely to be targeted by religiously-motivated hate crime than any other community in the city.
And online abuse can have an equally devastating impact on Muslims in Leeds, Imam Asim said, creating a sense of fear and dividing communities.
It comes as Yorkshire Evening Post's Call it Out campaign shares real-life experiences of abusive online behaviour, calling on the city to unite in the fight against abuse.
"Many of my congregation members have experienced anti-Muslim hatred: being called "Bin Ladens", "ISIS supporters", told to "go back home".
"Such anti-Muslim abuse has left scars on people and created a sense of fear not only for the victims but also families and friends.
"During lockdown, unfortunately we saw historical footage of when mosques were still open circulating on social media, being used to claim that Muslims are violating lockdowns and that cases of coronavirus would increase during Ramadan.
"It is so disheartening to see Islamophobia is still prevailing especially during the most unprecedented times we are all living in."
Home Office statistics show there was an eight per cent increase in hate crime across the UK over the last year and 56 per cent of those crimes were religiously aggravated.
Leeds City Council, in partnership with the Shantona Women's and Family Centre, have launched a Say No to Islamophobia campaign, working with the police, the NHS and other partners to take a pledge to beat Islamophobia.
Imam Asim is encouraged by work in the city and spoke during an online panel discussion led by St George's Church last month, with Rabbi Jason Kleiman and Lay Minister David Kibble.
The livestream was joined by hundreds of people and is one of many projects led by different faiths, opening discussions around how to tackle anti-Muslim hatred and antisemitism in Leeds.
Imam Asim said: "Such social action projects help dispel misconceptions about Muslims and help people in a neighbourhood build rapport with each other.
"Islamophobia is not concentrated just in Leeds but I do feel that because the city is so multicultural, it is more likely to experience intolerance.
"As we draw an end to Islamophobia Awareness Month, I endeavour us all to think about how we treat others and how we may prejudice, even if we don't mean to.
"This means challenging information, speaking to your neighbours, ensuring that differences are celebrated and learning about the impact of intolerance and hatred on not only on the victims but society as a whole.
"It is the strength and will of the British people that we must use to our advantage, to promote cohesion and respect each other's differences."
The council ran a series of online seminars for Islamophobia Awareness Month in November and is set to publish a report on how to challenge Islamophobia in Leeds.
Gipton and Harehills councillor Salma Arif said opening up conversations is key to challenging misconceptions about people of faith, as she calls for continued work extending beyond Islamophobia Awareness Month.
"These attacks tend to increase after terrorist atrocities which are carried out by a Muslim, even if it's elsewhere in the world - that's when there tends to be more of a backlash.
"It's misconceptions around other people who we maybe don't know too well and it's something we need to consistently work on in this area, saying no to Islamophobia.
"Visit My Mosque Day is a great initiative where people of other faiths, and of no faith, are welcomed into the Mosque to ask questions such as: what are Friday prayers? Why does a woman wear a hijab?
"It is our responsibility as neighbours, faith leaders, activists, politicians, journalists, and communities to ensure we celebrate and promote that which binds us together, but equally challenge and debate the issues that may lead to division."
The Call It Out campaign by the Yorkshire Evening Post was launched in July. It is sharing real-life experiences of people from all walks of life who have encountered abusive online behaviour and asking our readers to help play their part in reporting it to account admins, social media platforms and, where needed, the police. The campaign was also highlighted by MP Holly Lynch in Parliament earlier this month.
https://www.yorkshireeveningpost.co.uk/news/crime/anti-muslim-online-abuse-leaving-scars-leeds-victims-imam-qari-asim-calls-city-wide-action-3053338
------------
New Zealand
Prime Minister promises accountability ahead of royal inquiry release on Christchurch mosque attacks
Sam Sherwood Jonny Edwards
Dec 06 2020
Prime Minister Jacinda Ardern has promised "accountability" from the Government based on the findings of the Royal Commission into the Christchurch mosque attacks.
Ardern spent two hours meeting with the victims and families affected by the shootings this morning ahead of the release of the commission's report.
She arrived shortly after 10am at the Ngā Hau e Whā National Marae, Christchurch, and was welcomed along with a group of MPs. They attended a hui with those directly affected by the terror shootings, where a gunman killed 51 people at two mosques in Christchurch on March 15 last year.
After the hui Ardern said the purpose of the day was to allow those directly affected by the attacks to spend time reading the report and raise any concerns.
"There will be some areas they will see us respond immediately, and others that we will come back and work through in more detail and take a bit more time on."
Prime Minister Jacinda Ardern and MPs are welcomed onto Ngā Hau e Whā National Marae for a hui with members of the community affected by the mosque shootings.
Ardern said she would give more detail in the coming week about whether a Government minister would be appointed to oversee inquiry recommendations.
After the hui University of Canterbury Muslim Chaplin Ibrahim Abdelhalim said he was now satisfied as there was a "good end" to a "very hard time".
The gunman who admitted the shootings was sentenced in August to life without the possibility of parole on 51 charges of murder, 40 charges of attempted murder and a charge of committing a terrorist act.
After the attack commissioners Sir William Young and Jacqui Caine were tasked with investigating the gunman's activities in the lead up to the attack, what security agencies knew about him and what they did with this information. Their report will assess whether agencies could have prevented the shootings and what can be done to stop similar attacks in the future.
On November 26 their findings were handed to Governor-General Patsy Reddy and Minister of Internal Affairs Jan Tinetti.
https://www.stuff.co.nz/national/123614663/prime-minister-promises-accountability-ahead-of-royal-inquiry-release-on-christchurch-mosque-attacks
----------
India
Two Thousand People Will Be Able To Offer Namaz At Once At the Ayodhya's Mosque; Blueprint of the Mosque Ready
Shivendra Srivastava
December 6, 2020
The blueprint of the mosque in Ayodhya's Dhannipur is ready, and according to the information accessed by India Today TV, around 2,000 people will be able to offer Namaz in the mosque which will be built in an area equal to that of Babri Masjid.
The Indo Islamic Cultural Foundation Trust has designed the blueprint.
On the instructions of the Supreme Court, five acres of Alan has been allotted in Ayodhya's Dhannipur village to build a mosque. The Indo Islamic Cultural Foundation on September 1 gave the responsibility of designing the mosque, a hospital, an Indo-Islamic research centre and a community kitchen on this land to Jamia Millia Islamia's Prof SM Akhtar who is the chairman of the department of architecture.
The design of the mosque, which is to be built on about 15,000 sqft land, is ready. The mosque has been given a modern look. The shape of the building is oval, while the roof will be a dome and transparent.
Apart from this, solar panels will be installed in the mosque.
https://www.indiatoday.in/india/story/blueprint-mosque-ayodhya-dhannipur-ready-1747045-2020-12-06
----------
Team of Muslim men serving langar all day to protesting farmers at Singhu border
India Today Web Desk
December 5, 2020
While agitating farmers stay put at Delhi's Singhu border to protest against Centre's farm laws, a team of Muslim men are making sure they are well fed. A 25-member team of Muslim men has been serving 'langar' (community kitchen) since Wednesday to the farmers protesting at the Singhu border -- the Delhi-Haryana border.
Led by Faaroqi Mubeen, the team of the Muslim Federation of Punjab says they have come to the Singhu border to "serve the farmers who feed everyone".
"The langar will go on 24x7 till the protests continue. The farmers do so much for us. It is our turn to return the favour," news agency PTI quoted Faaroqi Mubeen as saying.
"It is our responsibility to take care of the farmers. We are a team of 25 volunteers who are working non-stop to keep the 'langar' going," Mubeen said.
Key routes at Delhi's borders with Haryana and Uttar Pradesh continued to remain choked as thousands of farmers on Friday held demonstrations for the ninth consecutive day, after talks between three union ministers and a representative group of agitating farmers failed to yield any resolution on Thursday.
The protesters had on Wednesday threatened to block other roads of Delhi in the coming days if the new agriculture laws are not rolled back soon.
Bharatiya Kisan Union leader Rakesh Tikait on Friday said the farmers are hoping that the government will meet their demands during the fifth round of talks scheduled on December 5, failing which they will continue their protests.
As farmers remained unyielding on their demand for scrapping the new farm laws, the police kept the Delhi-Haryana border at Singhu, Tikri, Jharoda Lampur, Auchandi, Safiabad, Piao Maniyari, and Saboli closed for traffic movement.
It said border points at Dhansa, Daurala, Kapashera, Rajokri, NH 8, Bijwasan/Bajghera, Palam Vihar and Dundahera are open for travel between Delhi and Haryana.
https://www.indiatoday.in/india/story/team-of-muslim-men-langar-protesting-farmers-singhu-border-1746824-2020-12-05
----------
Hindu families seek 'justice', Muslims bereft – UP 'love jihad' law has Bareilly in frenzy
REVATHI KRISHNAN
5 December, 2020
Bareilly: It was around 10.40 pm on 28 November, barely hours after Uttar Pradesh Governor Anandiben Patel had signed off on the state's controversial anti-conversion or 'love jihad' ordinance, that a married woman's father arrived at a police station in Bareilly.
Tikaram, a resident of Sharifnagar in Bareilly, sought to file a complaint against the family's 21-year-old neighbour Uwais Ahmed for allegedly trying to forcibly convert his daughter — married to someone else — to Islam. Based on Tikaram's complaint, Ahmed was booked. He was arrested four days later, this Wednesday.
Ahmed is the first person to have been booked under the state's Prohibition of Unlawful Conversion of Religion Ordinance 2020 or the 'Vidhi Virudh Dharma Samparivartan Pratishedh Adhyadhesh 2020'.
But he wouldn't have been had a young mother from Bareilly's Izzatnagar had had her way. This woman had approached police on 27 November with a complaint against a man named Tahir Hussain (21), whom she identified as her husband.
The anti-conversion ordinance doesn't name any religion but has been brought by the Yogi Adityanath government with the stated objective of curbing so called 'love jihad', which Hindutva hardliners describe as a "conspiracy" to convert gullible Hindu women to Islam by misleading them with promises of love.
Not only does Bareilly account for the first arrest under the ordinance, police in the district say they have been receiving multiple complaints from people who want the law invoked retrospectively, for alleged cases dating years back.
Even as some families cheer the law, at least two others have been left bereft by the ordinance itself and the communally-charged suspicions it has triggered within a week of its notification.
With their young sons in jail under charges they allege are trumped up, these families claim they don't know how to emerge from this crisis. The burden of proving their sons' innocence, after all, is their responsibility under the ordinance.
According to the FIR registered on the basis of Tikaram's complaint, his daughter had known Uwais Ahmed since the time they were school students. However, he is quoted as saying, Ahmed started a relationship with his daughter and had recently begun pressuring her to convert to Islam. Among other things, Tikaram has also alleged a threat to his family.
"He kept pressuring my daughter to change her religion, and when my family and I refused, he started abusing us and threatened to kill us," he is quoted as saying in the FIR, which was accessed by ThePrint.
The FIR invokes sections 3 and 5 of the anti-conversion law — while Section 3 states that no person shall convert or try to convert any person from one religion to another by misrepresentation, force, undue influence, coercion, allurement, fraudulent means or by marriage, Section 5 says a person found guilty under Section 3 will be punished with imprisonment of 1-5 years and a fine of up to Rs 15,000. Sections 504 and 506 (intentional insult with intent to provoke breach of peace, and criminal intimidation, respectively) of the Indian Penal Code (IPC) have been invoked as well.
While a case was registered the same day, Ahmed was only arrested on 2 December as he had allegedly been on the run. Ahmed was produced before a magistrate in the Baheri area of Bareilly and remanded in 14 days judicial custody.
ThePrint tried to get in touch with Tikaram for a comment, but couldn't reach him at his home address or via calls and texts to his mobile phone number.
Tikaram's home at Sharifnagar is barely 100 metres from the house where Ahmed, a daily-wager, lives with his parents Mohammad Rafiq and Munni.
Speaking to ThePrint, Rafiq and Munni said their son is innocent and is being framed. "He had not spoken to her (the woman) for almost a year and then she got married in June and moved away," said Rafiq.
Ahmed, Rafiq added, is the sole breadwinner of the family. "How will we survive? He was the only earning member of the family. My other two sons are in Delhi, they don't even know about this case," he said.
A resident of the locality, Rajveer, defended Ahmed too. "The boy is innocent, he did not threaten or try to convert anyone," he said.
When Ahmed was presented before the judicial magistrate at Bareilly's Baheri court, there was much buzz among passersby and lawyers, many of whom crammed inside the courtroom to steal a glance at the "first accused under the new law".
Ahmed has pleaded innocence. While on his way to custody, he told ThePrint that he is being framed. "The girl is already married and I have no link with her. I knew her from before because she was in the same village. This is a false case, I am innocent," he said.
However, a senior police officer, requesting anonymity, rejected the claim that the two had no link, saying they had attempted to elope to Mumbai via Delhi last October. The "plan was foiled", he said, after the woman's father filed a complaint.
A case was subsequently registered under sections 363 and 366 of the IPC (kidnapping and kidnapping, abducting or inducing woman to compel her marriage), but the matter was settled between the two families after the woman contradicted her father's complaint — that Ahmed had lured her — and said she left her house because she was angry with her parents, the senior police officer added.
ThePrint has also accessed the FIR filed in the case at the time, and the statement she made to police about the reason she ran away.
Daya Shankar, the Station House Officer at Deorania, the jurisdiction overseeing Sharifnagar, said they will file the charge sheet in the case in approximately another 10 days "as the new law has not been registered into the computer system".
In Izzatnagar, a woman believed to be around 28-30 years old claims to have had a harrowing experience since she married Tahir Hussain, 21, at a temple in October last year.
According to her FIR, which has been accessed by ThePrint, the woman had been living with Hussain in the Partapur area. She has alleged that Hussain refused to register their marriage and told her upfront that he had only married her to convert her.
"When I got pregnant, I told Tahir (Hussain) that we should get our marriage registered now that we are going to have a child," she said, adding that she wanted to secure her child's and her own future.
On 20 November, she said, when she told Hussain's family that she wanted to get the marriage registered, his mother and brother "assaulted me and kicked me on the stomach", allegedly causing her to miscarry.
"I do not want to marry you and my religion makes me believe in 'love jihad'," the FIR then quotes him as having said. The woman has accused him of rape, committing 'love jihad', and threatening to kill her.
ThePrint tried to reach the complainant and her lawyer, but both of them refused to meet in person or speak on the phone despite numerous calls and text messages.
The Station House Officer of Izzatnagar, Sudess Sirohi, said the FIR invoked sections 376, 313, 323 and 506 of the IPC (rape, causing miscarriage, causing hurt & criminal intimidation, respectively). The case was not registered under the new law because the FIR was filed on 27 November, when it was yet to be notified.
"Although the contents match the ordinance, we cannot book the accused under this law," he added. "If we do that, then we will have cases pending from 2002 and even before that to be tried under this new law."
Superintendent of Police (SP) Sansar Singh said "the complainant kept asking for her case to be registered under the new law, but then we had to explain that if no new incident has occurred since she filed the FIR on (27 November) then a case cannot be registered under the new ordinance".
He added that they have "gotten quite a few requests for retrospective booking of cases/complaints under the new anti-conversion law". "However, we will never entertain such requests. It is not possible," he said.
Like Ahmed, Hussain, a daily-wager who earns Rs 150/day, is the sole breadwinner for his family, which includes his mother Kaneez Banu, two brothers aged 8 and 14 years, and two sisters aged 14 and 17. His father passed away seven months ago after suffering a heart attack.
Speaking to ThePrint, Hussain's employer and friend Musharraf Raza Khan acknowledged that he had started chatting with the complainant on social media under an assumed name but denied the two got married or lived together.
"He started chatting with her (the complainant) on Facebook under the name Kunal, but, aside from that, they had no contact, besides the fact that they stay in the same locality. He is being framed," said Khan.
Asked why, Kaneez said the complainant had threatened them that if Tahir did not marry her, she would get both her "daughters picked up". "She also said she would kick us out of the house," she added.
"How can I live in this house when she keeps threatening us? She also said 'the government is ours (sarkar hamari hai)'… I didn't even know that Tahir and Gita were speaking to each other."
With her son arrested, Kaneez said she didn't know how the family will survive. "For now, people in the neighbourhood have been helping us out with food and other provisions," she added, before breaking down into tears. "Please help us, I have no one else but him."
Ram Sevak, a resident of Partapur who lives in the house adjacent to Hussain's, appeared suspicious about the allegations against him. "I know the boy, he is very innocent and has only been working since his father passed away," he said.
Talking about the complainant, SHO Sirohi said she had been married 5-6 years back and had a child from that marriage aged 9-10 years. At present, he added, there is no proof that the complainant had a miscarriage.
Bareilly is a Hindu-majority district, where 63.64 per cent of the total population (over 44 lakh people) is Hindu and 34.54 per cent are Muslim, according to the official census date of 2011 and population data of 2020.
However, the part of Bareilly where the first case was registered — Deorania — has more Muslims than Hindus, with a ratio of 60:40, said Station House Officer Daya Shankar.
Local residents say there has always been an undercurrent of communal tensions in Bareilly despite the fact that it is known as "saugraha ka sheher" or "peaceful city".
"Before 2014, when the Modi government came to power, for almost three years, at least once a year, a curfew would be imposed in Bareilly. However, since 2014, no curfew has been imposed," said writer Sudhir Vidyarthi, who has written books on freedom fighters Bhagat Singh and Chandrashekhar Azad and has been living in Bareilly since 2003.
Bareilly, he added, has a substantial Muslim population and "the fatwa against Bangladeshi writer Taslima Nasreen was issued here too".
Deputy Inspector General of Bareily Zone Rajeev Pandey said the local Muslim population had two sects — Deobandi Muslims and Bareilvi Muslims — of which he described the former as being more orthodox.
Speaking to ThePrint, religious leaders of both Hinduism and Islam said they saw the new ordinance as a necessary intervention, even though they had very different reasons for saying so.
"Maximum punishment should be hanging (phansi)," said Das. "People from different faiths should not get married. This new law will not be misused at all," he added.
Maulana Shahabuddin Rizvi, the general secretary of the All India Tanzeem Ulama-e-Islam, an organisation of Bareilvi-Sunni Muslims, Bareilly Sharif, welcomed the new ordinance and said it had some positive aspects. "The new law will create fear in the minds of young Muslim boys to not engage in any relationship or get married to non-Muslim women as it is haram (blasphemous)," he said.
He, however, added that the law is political in nature because "whoever was involved in drafting the law was serving their political agenda and did not care about society".
"Their main aim was to create tension and divide in Hindu-Muslim relations and brotherhood," he added, saying the law had potential to be misused. There is no such thing as 'love jihad', he added.
The Uttar Pradesh Prohibition of Unlawful Conversion of Religion Ordinance 2020 sets out a jail term of 1-10 years and a fine of Rs 15,000 to Rs 50,000 under different categories.
One of its more controversial provisions is that the burden of proof is on the person accused of conducting forced conversions, although, under Indian law, the burden of proof in criminal cases is generally on the prosecution side.
This means, under the UP ordinance, an accused person will have to prove that they were not responsible for religious conversion through misrepresentation, force, undue influence, coercion, allurement or by any fraudulent means or marriage.
Advocate Mohammad Arif, who is representing Ahmed, said there is no case made out against his client. According to him, Ahmed is just a pawn for the authorities in Bareilly to curry favour with the state government.
"This is being done to please the BJP government and CM Yogi Adityanath, so that they know the first case under the new ordinance was registered in Bareilly," he said.
Arif added that forcible religious conversion is wrong but said the IPC was sufficient to prosecute such crimes and a separate law was not required.
However, SP Sansar Singh said the law will prevent forced conversions by marriage "which is creating a lot of communal tension in the area".
"Under the new law, all this will come to a stop," he said. "Getting married is one thing but why do you need to change your religion? And mostly it was the girl who would change her religion. So all of that will change now."
The role of police with respect to this law is vital for two reasons, he added. "First, to make people aware of the new law, and second to ensure that it is implemented properly," he said.
https://theprint.in/india/hindu-families-seek-justice-muslims-bereft-up-love-jihad-law-has-bareilly-in-frenzy/557820/
------------
Karnataka BJP State President: Govt Keen On Clearing Love Jihad, Cow Slaughter Bills In Next Legislature Session
06th December 2020
By Express News Service
BELAGAVI: The BJP State Executive in Belagavi, which held marathon meetings at Gandhi Bhavan, has deliberated on cow slaughter and Love Jihad Bills which the state government is keen to clear in the coming legislature session, said BJP state president Nalin Kumar Kateel, here on Saturday.
Given the rising incidents of Love Jihad, particularly in Sullia and other parts of Malnad, the government is serious about bringing the Bill immediately, he said. "We have found several cases of Love Jihad aimed at religious conversion. To tackle such a grave matter, it is vital for the government to bring the Bill at the earliest,'' he added after the end of State Executive.
He also highlighted several instances to defend his party's stand on clearing the Cow Slaughter Bill and said leaders held discussions on both issues in detail at the State Executive. On forming the party Election Execution Committee, he said that the process was delayed due to the Covid19 situation. But it was constituted at the Belagavi meet on Saturday and the State Executive also took a decision to form the party's Disciplinary Committee soon, he added.
On the upcoming Gram Panchayat elections, he said that party activists and leaders have been told to support party contestants in their respective regions. Reacting to MLA Basangouda Patil Yatnal's statements on the change of guard in the state and cabinet expansion, he said, "The party has issued a stern warning to all members against giving statements related to important issues.
The party will take steps to deal firmly with members who violated the party diktat and spoke against party's interests.'' He refused to comment on what action was taken against Yatnal, who had said that the party would replace B S Yediyurappa as chief minister. Kateel, however, said the party will take serious cognisance of statements issued by some leaders against the party interest.
On the expansion of state cabinet, he said that Yediyurappa will take a final decision in consultation with the party top leadership. The issue of cabinet rests solely with the CM, he added. In all, 135 members participated in the meeting physically, while a large number attended it virtually. MLC Ganesh Karnik, MLA Abhay Patil, BJP rural district president Anil Benake and former MLA Anil Patil were present at the press conference.
https://www.newindianexpress.com/states/karnataka/2020/dec/06/kateel-govt-keen-on-clearing-love-jihadcow-slaughter-bills-in-next-legislature-session-2232456.html
---------
Babri demolition anniversary to be observed with a pledge to defend Kashi & Mathura mosques: Jilani
Dec 6, 2020
Ayodhya: Babri Masjid Action Committee (BMAC) will observe the 28th anniversary of Babri demolition on Sunday with a pledge to defend mosques of Kashi and Mathura. BMAC convener Zafaryab Jilani also advised Muslims to hold meetings in private places in adherence to Covid protocols and send a memorandum to the President and Chief Justice of India, seeking a revision plea against acquittal of Babri demolition accused.
For over two decades, Babri Masjid Action Committee held protests against the demolition, send letters to President and Prime Minister for rebuilding the 16th century mosque and demand punishment for those who razed it. However, after the Supreme Court verdict in the Ayodhya title suit last year, BMAC changed tack this year and issued an advisory to the Muslim community to demand retrial of the Babri demolition accused and defend Kashi and Mathura mosques, which is being drawn into a legal battle.In his advisory, Jilani said, pressure should be mounted on CBI director to file an appeal in high court against the special court's September 30 judgment within the time limit. Talking to TOI, Jilani said, "We will file a revision petition this month in high court against acquittal of the Babri demolition accused on behalf of Muslims. We will retaliate in the event of any unlawful activity in the premises of mosques in Kashi and Mathura."
On Saturday, Ayodhya administration strengthened security in Ayodhya and issued instructions to citizens not to hold any programme on the anniversary of the Babri demolition. "We are keeping vigil and won't allow anyone to hold protests on December 6. We will act against those who try to breach peace," said Ayodhya DIG Deepak Kumar.
https://timesofindia.indiatimes.com/city/lucknow/babri-demolition-anniversary-to-be-observed-with-a-pledge-to-defend-kashi-mathura-mosques-jilani/articleshowprint/79587211.cms
---------
Africa
Al-Habibiyyah Sensitises Muslims To COVID-19 Prevention
By Nurudeen Alimi
Dec 4, 2020
HUNDREDS of Muslims in the south-western part of Nigeria have been sensitised to the prevention of the dreaded COVID-19 pandemic by Al-Habibiyyah Islamic Society.
The sensitisation programme, supported by the MacArthur Foundation, was themed 'Sustaining COVID-19 Impact Mitigation Strategies, was held in Ibadan, Oyo State, with participants drawn from the six South West states.
Talking to journalists on the sideline of the event, the National Chief Imam of Al-Habibiyyah Society, Alhaji Fuad Adeyemi, said: "We are in Ibadan today because of two things. Number one: the way the new normal, COVID-19, has brought two things which are health and social challenges.
"In the area of health challenge, many people thought the virus is going, yes it may seem like that but we still need to prevent it. Then, secondly, we are looking at how to cope with the social or economic challenge which the new normal has brought. In the area of empowerment, we are working to see how to cushion the effect of this COVID-19 and also to re-establish the Al-Habibiyyah society in the South West."
Speaking further on the empowerment programme of Al-Habibiyyah, Adeyemi said: "We started what we call Al-Habibiyyah Zakat and Empowerment Foundation. With that, we have been empowering people even before the arrival of COVID-19 but we have to scale it up. You know that not everybody was able to get zakat, we have to look for another organisation to be able to complement the effort of the zakat foundation.
"We established what we call Do Something Initiative where we keep money and work with some financial institutions so that they will be able to lend our people money without any interest and we are going to be the collateral. It is important to note that anybody can benefit, irrespective of religion."
One of the speakers, Director of Nursing Services (Clinical) at the Oyo State Hospital Management Board, Alhaja Risqat Toyosi Nasir, in a lecture entitled 'COVID-19 and You', said: "We believe that there is COVID-19 but what can I do or what can you do in order for us to prevent and control this pandemic that is causing pandemonium?
"It has been observed that though we are recording reduced cases, there is still community transmission of COVID-19. We cannot continue to allow that and people are forgetting gradually that the virus is still very much around. Some other countries are experiencing the second wave of the virus which they say is even deadlier than the previous one."
"Do we have to wait until we have the second one? No, we do not pray for that. It is on this note that we call on our people to always ensure they take precautionary measures to reduce the spread of the virus."
https://tribuneonlineng.com/al-habibiyyah-sensitises-muslims-to-covid-19-prevention/
---------
Why Boko Haram activities, crime are rising in northeast – Group
ByAgency Report
December 4, 2020
Low economic indicators are the main reasons why Boko Haram activities and other related crimes have been on the rise lately in the northeast of Nigeria, a new research group has stated.
The Northeast Research Development and Consultative Forum (NRDCF) said on Thursday that its preliminary research systems confirmed this.
The president of the group, Abubakar Kagu, spoke at a press conference in Abuja on the future of the northeast region in terms of recovery, protection and development.
Mr Kagu said the outcome of the research, which focused on the security situation in the northeast, indicated that low economic indicators as well as prolonged neglect, economic and human capital, in the region was responsible for the periodic rise in insurgents' activities in the region.
He expressed optimism that the Forum would serve as part of the recovery plan for the development of the region via reliable research and data.
"The Boko Haram conflict has evidently affected the region in ways that have exacerbated its pre-existing socio-economic challenges.
"Available data revealed that the northeast region has the lowest developmental indices when compared to the rest of Nigeria even prior to the crisis.
"These low economic indicators were seen by scholars and commentators as among the components that strengthened the ability of Boko Haram insurgents to recruit more people into their camps.
The forum's president, however, agreed that, though there was significant improvement as regards security in the region a few years ago, the resurgence of hostilities and unending attacks on innocent Nigerians have become a cause for worry for the government and Nigerians.
"A lot of things have changed in the region since 2015, particularly as it concerns security and humanitarian affairs. But more action is required to consolidate on whatever achievements have been made.
"But in doing this, we would reach out to every institution and individuals that have a stake in the rebuilding of the northeast as long as we are convinced that they have genuine intentions for the region.
"We will look at the derivatives and other opportunities to ensure that they work for the benefit of the devastated people of the northeast," he said.
On the need for international collaborations, particularly from neighboring countries, Mr Kagu said that the northeast region is peculiar in different ways.
"Some of its state, particularly Borno state, is bigger than some African countries in terms of land mass, and it has a lake Chad which is the biggest in Africa.
"In addition to that, it borders three countries, namely, Chad, Niger and Cameroon, and its borders are porous and so people walk in and out unchecked," he added.
https://www.premiumtimesng.com/regional/nnorth-east/429339-why-boko-haram-activities-crime-are-rising-in-northeast-group.html
------------
Turkey goes on charm offensive in West Africa
Mucahid Durmaz
5 Dec 2020
In a lengthy interview with Jeune Afrique magazine earlier this month, French President Emmanuel Macron accused Turkey of fuelling anti-French sentiments in Africa by playing on "post-colonial resentment".
Whether Africans need a third party to remind them about what they survived under French colonial rule is the subject for another article.
This is not the first time Macron has openly criticised Turkey. Last September, he accused Turkey of having imperial fantasies, and urged Europe to take a collective stance against Ankara.
Macron's comments were not welcomed in the capital. Turkish Foreign Minister Mevlüt Çavuşoğlu said the French president's "arrogant" remarks are rooted in old "colonial reflexes".
Ömer Çelik, Turkey's ruling party spokesperson, drew an analogy that reflects how Ankara asserts itself in the global arena. He said Macron "continues colonialism", while Turkey "continues to defend interests of the oppressed people and frustrate the colonialists' games".
This ideological clash is nowhere more apparent than in francophone Africa, where Turkey is making an audacious bid to challenge France's influence — and is using France's colonial past against it, by constantly emphasising atrocities in which France has been involved, from the Rwandan genocide to Algeria's bloody war of independence.
The importance of this region to Ankara is highlighted by the fact that Çavusoglu has made six visits to African countries in the last five months alone.
In September, he visited Mali shortly after the military coup that ousted Ibrahim Boubacar Keïta. The former president's close links to France were among the drivers of the mass protests against his rule, which preceded the coup.
France's role in Mali is controversial, to say the least; the extended French military presence in the country has been widely criticised, including recently by world-famous musician Salif Keita, who said that France is responsible for acts of ­terrorism in the Sahel.
Against this backdrop, Çavusoglu met with the transitional government — before his French counterpart did — and urged a democratic transition.
He then travelled to another former French colony, Senegal, with which Ankara increased its trade volume sixteen-fold in the last decade. Over the past few years, leading Turkish firms have undertaken significant infrastructure projects including an international airport and a 50 000‑seat stadium. As of 2020, 29 projects worth $775-million have been contracted to Turkish firms in the country — although France remains the largest foreign investor.
Çavusoglu's visit to Niger in July was especially concerning for Paris. A deal signed between the two countries allows Turkey to conduct exploration and mining operations in Niger, a significant move given France's historic domination of the country's mining sector.
More reliant on nuclear energy than any country on earth for its electricity, France imports one-third of the uranium used for this from Niger.
Perhaps more significant still is the military cooperation agreement signed during that same visit, which will soon allow for a Turkish military presence in Niger.
France maintains a strong military presence in the region. Crucially, however, Turkey and France find themselves on opposite sides of the conflict in neighbouring Libya, raising fears of increased tensions in other countries as Turkey expands its military presence on the continent.
Malian soldiers, part of a joint military force, the G5 Sahel, sit in a vehicle as they patrol in central Mali, in the border zone with Burkina Faso and Niger. (Photo by Daphne Benoit/AFP)
Given France's historic ties in West Africa, there is still a long way to go before newcomer Turkey can hope to compete with its sphere of influence in the region.
But there is no doubt that Turkey is trying — and, as a developed Muslim country, without any colonial baggage, its message is likely to resonate with both dissatisfied youth and political leaders looking for new geopolitical options.
https://mg.co.za/africa/2020-12-05-turkey-goes-on-charm-offensive-in-west-africa/
-----------
Pakistan
Second wave poses serious health challenges, says report
Ikram Junaidi
06 Dec 2020
ISLAMABAD: With the emergence of the second wave of Covid-19, the country may face serious health governance challenges both at the policy and implementation level that if not addressed might jeopardise and reverse the gains made in the first phase of the fight against the pandemic.
The first monthly Covid-19 response monitoring report, released by the Trust for Democratic Education and Accountability-Free and Fair Election Network, observed an increase in the number of cases in October from 313,431 on Sept 30 to 333,970 on Oct 31 and deaths from 6,499 to 6,823 in October.
The report is based on data collected through stakeholders' surveys and direct observation of enumerators deployed in 20 project districts.
The sense of urgency for a more serious and focused response by the government is not only dictated by the rampant increase in infections but also by the state of critical factors such as limited infrastructural capacity at the district level, need for capacity building of first-line responders as well as stakeholders like members of civil society organisations (CSOs) and journalists.
The report found that coordination mechanisms established to manage response during the outbreak of the pandemic earlier this year largely remained intact in 14 of the 16 observed districts with key stakeholders, including healthcare staff, elected leaders and CSOs, represented on coordination platforms. The research respondents' opinion about the effectiveness of coordination mechanisms in 16 districts reflected a variance with majority (78pc) rating it between average and highly effective.
Inclusive approach is another area where most of the districts claim to have developed and implement safety standard operating procedures (SOPs) in consultation with key stakeholders, including schools, business and trader associations.
However, as per the opinions of key stakeholders, and observation of enumerators, implementation and enforcement of SOPs remained an area of serious concern.
Capacity to handle the pandemic at the district level also remained an issue that engenders significant variance in response by key stakeholders. Whereas government officials in all 16 districts claimed sufficient stock of personal protective equipment (PPE), most representatives of doctors and paramedics only partially endorsed the statement. Health facilities in the districts overall remained a significant concern as the testing, quarantine/isolation capacity and other provisions such as ventilators are feared to fall short if the rate of infections is not slowed down/checked.
Capacity in terms of the numbers and skill set of healthcare providers is yet another area of concern with the doctors in the majority of districts (11 of 16) and paramedic representatives in a third of districts (5 of 14 districts) agreeing that their colleagues were not adequately trained/skilled to deal with Covid-19.
While the challenge of capacity and coordination cannot be overlooked, political and policy dynamics of the Covid-19 response are becoming increasingly critical. In October, legislative oversight remained marginal while the politicisation of Covid-19 response gathered momentum in the wake of opposition's ongoing agitation against the government.
The government on its part announced steps with the dual consideration of keeping the economic activity running while issuing guidelines, implementing SOPs and protocols for offices, businesses, and individuals to curb the spread of the pandemic.
While the usual challenge of limited resources remained relevant, efforts to control the second wave infections have to contend with increased politicisation and lack of adherence to the SOPs among the general public as major policy challenges - factors that were not as significant during the first wave of the pandemic.
https://www.dawn.com/news/1594243/second-wave-poses-serious-health-challenges-says-report
-----------
Appointment of CAA chief challenged in IHC
Malik Asad
06 Dec 2020
ISLAMABAD: A petition has been filed in the Islamabad High Court (IHC) against the recruitment of retired Flight Lieutenant Khaqan Murtaza as the director general of the Civil Aviation Authority (DG CAA) that seeks contempt of court proceedings against the government functionaries for making this appointment.
A notification on the subject issued by the Establishment Division said: "The federal government has appointed Flt Lt (Retd) Khaqan Murtaza, a BS-21 officer of Pakistan Administrative Service, presently posted under government of Sindh, as director general (of) Civil Aviation Authority, under section 10 of the Civil Servant Act, 1973 with immediate effect and until further orders."
Mr Murtaza was working as principal secretary to the Sindh governor. He was also the chief executive officer of the Sindh Infrastructure Development Company Limited.
In the petition, Capt Asim Nawaz referring to the Nov 27 order of the IHC alleged that Mr Murtaza, an officer of the Pakistan Administrative Service (PAS), was not a qualified person for the highly technical and challenging post, especially when Pakistan is facing a ban of the Inter­national Civil Aviation Organisation (ICAO) on flying by the country's airline pilots to 188 countries.
It's to bring to the kind notice of this Honourable Court that ICAO has already issued serious safety concerns about CAA Pakistan and if not handled properly according to Inter­national aviation regulatory standards, it would have dire consequences against entire aviation industry of Pakistan," the petition said, adding that the government has tried to obstruct the process of the court through deceptive skills and got appointed a DG against the rules, regulations and the Supreme Court ruling.
It further said that after PIA A320 crash and a lot of argument / splash on the media against inefficiency of CAA, the post of DG was advertised by the aviation ministry. After that around 600 candidates applied for the post; among them 18 candidates were short-listed and interviewed by the defunct selection board on Oct 14, but no one was selected by the redundant board.
Thereafter, on Nov 7 the secretary aviation informed the cabinet that they could not find a single suitable candidate among 600 applicants, which was false, fabricated and frivolous statement by him (Responsible 1 in the petition), as all short-listed 18 aspirants were much more qualified than the present DG selected against the IHC orders, the petition contended.
The petition requested the court to set aside the notification for the appointment of Mr Murtaza and issue a directive for making this appointment on merit.
It also requested the court to initiate contempt of court proceedings against the officials responsible for obstructing the court order.
Meanwhile, the Pakistan Peoples Party alleged that the Pakistan Tehreek-i-Insaf (PTI) government was not interested in reviving the national flag-carrier and questioned the intent behind the claim made by a federal minister about fake licences of pilots.
"The European Union's decision to retain its ban on PIA operations in its member countries is another blow to our national airline and is a clear vote of no confidence in two years of gross mismanagement and neglect by the PTI government," Parliamentary Leader of the PPP in the Senate Sherry Rehman said while talking to a group of reporters here.
She said it was rather shocking that despite the previous suspension, conditions laid down in ART 205(c)(2) of the European Union Aviation Safety Agency (EASA) regulations were not met by CAA.
She said what was questionable was the government inaction and flat refusal to take responsibility for landing an already troubled airline in such international disgrace. "Nobody takes responsibility for this combination of criminal negligence and indifference to the squandering of our national assets," she regretted.
Ms Rehman said it was not only the EASA, but the US and UK authorities that had also banned the PIA. She said the national airline was facing huge losses along with being disgraced internationally.
Talking about the fake licence issue, the Senator said the aviation minister had claimed that there were 262 fake licences, but recently the secretary aviation told the IHC that only 28 licences were fraudulent.
"Why then was the airline made to crash by its own minister? Why are Pakistani pilots paying the price all over the world with having their licence brought under a cloud of suspicion, while they lose their jobs and credibility in other airlines? We are still facing the aftermath of such reckless statements, but no one is made answerable in Madina ki Riasat. In any other government many heads would have rolled, but here there is total indifference to public safety, parliamentary caution or moral obligation to be answerable to the people".
https://www.dawn.com/news/1594260/appointment-of-caa-chief-challenged-in-ihc
------------
Mideast
Envoy: Iran to legally pursue leak of IAEA confidential report
Source : Irna
December 6, 2020
Iran's permanent representative to Vienna-based international organizations slammed leakage of Iran's recent confidential report to the IAEA by a western media, saying that Iran will seriously follow up the issue through legal channels soon.
Talking to Khabar Network on Saturday, Kazem Gharibabadi added that Iran's objections and legal proceedings against the IAEA for the protection of confidential information have a history of more than two decades.
All safeguards and JCPOA-related reports, as well as Iran's correspondences with the IAEA and vice versa, are confidential. The agency also places its reports on its internal site, which is only accessible to its members, he said, noting that over 190 countries have access to the site. The agency claims that these reports are not leaked to the media through it, implying that one or more countries may do so.
Iran believes that the IAEA has the primary responsibility for protecting confidential information. And if this information mechanism is flawed, it should be fundamentally revised and amended, Gharibabadi said.
On Friday, the Iranian ambassador criticized the International Atomic Energy Agency (IAEA) for revealing contents of the confidential report on Iran's plan to install three new centrifuge cascades in Natanz and reminded that the body is responsible for protecting the countries' confidential safeguards information.
https://en.abna24.com/news//envoy-iran-to-legally-pursue-leak-of-iaea-confidential-report_1092639.html
----------
Arrogant powers weary of Islamic Iran's development: PMU official
Source : IQNA
December 6, 2020
The recent assassination of a top Iranian scientist shows the desperation of the arrogant powers and their fear of Iran's scientific development.
This is according to Jamal al-Saqir, a senior member of Iraq's Popular Mobilization Units (PMU), who told IQNA in an interview that the Zionist regime of Israel, the US, and other enemies of Islam make every attempt to disrupt the Islamic Republic's progress.
He described the assassination of Mohsen Fakhrizadeh as a cowardly crime and said the martyrdom of the prominent scientist is a source of pride.
The free-thinking people of the world certainly condemn this criminal acts perpetrated by the Zionist regime and its stooges, al-Saqir added.
The PMU official also said one cannot expect any meaningful move from the United Nations and other international bodies against those behind the assassination because these international organizations are stooges of the US.
Fakhrizadeh, who headed the Iranian Defense Ministry's Organization of Defensive Innovation and Research (SPND), was targeted on November 27 in a multi-pronged attack involving at least one explosion and small fire by a number of assailants in Absard city of Damavand County, Tehran Province.
Iranian government officials and military commanders have hinted that the Israeli regime could have been behind the terror attack, vowing harsh revenge against all the criminals involved.
https://en.abna24.com/news//arrogant-powers-weary-of-islamic-iran%e2%80%99s-development-pmu-official_1092647.html
-----------
Iran reacts to UN decision to remove cannabis from list of most dangerous drugs
Source : Irna
December 5, 2020
Iran's Ambassador and Permanent Representative to International Organizations in Vienna Kazem Gharibabadi on Friday said that cannabis and its derivatives (Hashish and marijuana) are still very dangerous and addictive and are legally forbidden.
He made the remarks in reaction to the UN decision to remove cannabis and marijuana from the list of the most dangerous drugs.
Talking to reporters on Friday, he pointed out that using these substances for medical purposes is the responsibility of each country and there is no obligation to implement the decision in this regard.
Many countries still believe that these substances continue to be very dangerous to human health and, therefore, do not believe in their medical uses based on their scientific studies and research, he added.
In Iran, the use of these substances is absolutely prohibited, and the Islamic Republic of Iran, in accordance with its domestic law and the 1961 Convention on Narcotic Drugs, exercises its national and strict control over the illegal use and production of cannabis and related substances, with the aim of protecting public health and well-being. This ban also includes medical uses, Gharibabadi said.
The decision of the UN Commission on Narcotics was approved with 27 positive votes against 25 negative votes of the members. All western member states of the commission voted in favor of this resolution.
https://en.abna24.com/news//iran-reacts-to-un-decision-to-remove-cannabis-from-list-of-most-dangerous-drugs_1092306.html
-----------
Southeast Asia
PM launches Johor Sustainable Development Plan 2030
Bernama
06 Dec 2020
ISKANDAR PUTERI, Dec 6 — Prime Minister Tan Sri Muhyiddin Yassin today launched the Johor Sustainable Development Plan (PPMJ) 2030 at the lobby of Bangunan Sultan Ismail, Kota Iskandar, here.
The Plan which contains eight core thrusts is a reference document for the state leadership, government administrative machinery, industry, local leaders and related parties towards realising the development strategy drawn up for the next 10 years.
Among the thrusts stressed in the Plan are to empower the economy, investment and the digital economy, provision of transport network system and mega infrastructure as well conserve the environment.
Focus is also given to good governance, integrity and dynamism; social wellbeing, strengthening the Islamic education system, human capital development, heritage, empowering women and meeting the aspirations of idealistic young people.
It also emphasizes the people's interests and wellbeing and the state government's aspiration for a sustainable economy for Johor for the prosperity of its people.
"PPMJ 2030 is a directional plan which is expected to spur Johor's development in a progressive and dynamic way centred on the state's "Negeri Berprestasi Tinggi dan Bangsa Johor Bestari" vision.
"I am confident a paradigm shift can be made in charting a sterling future for Johor in the next decade to come to make Johor a high performing state and it fits well with the concept we bring that is "Makmur Johor (Prosper Johor)," said Johor Mentri Besar Datuk Hasni Mohammad during his winding up speech at the State Assembly sitting earlier before the launch of the book on the Plan.
Also present at the launching were Johor State Assembly Speaker Suhaizan Kayat; State Secretary Datuk Azmi Rohani; state executive councillors and Johor Opposition Leader, Aminolhuda Hassan.
https://www.malaymail.com/news/malaysia/2020/12/06/pm-launches-johor-sustainable-development-plan-2030/1929342
-----------
Muhyiddin attends Johor Legislative Assembly sitting
06 Dec 2020
Muhyiddin Yassin
ISKANDAR PUTERI, Dec 6 — Tan Sri Muhyiddin Yassin attended the Johor Legislative Assembly sitting in Kota Iskandar here today.
The Prime Minister, who is also Gambir assemblyman, arrived for the meeting at the Sultan Ismail building at 11.20am, and upon arrival was received by state secretary Datuk Azmi Rohani.
He was seated between the two former mentris besar Datuk Osman Sapian (Bersatu-Kempas) dan Datuk Dr Sahruddin Jamal (Bersatu-Bukit Kepong).
Today is the final day of the meeting with Mentri Besar Datuk Hasni Mohammad scheduled to wind up the debate on the Johor Budget 2021 before it is put to vote.
The Johor assembly meeting that commenced on November 26 began with the tabling of the Johor Budget 2021 themed "Resilient for Prosperity".
All eyes are on the sitting today following the political developments in Perak two days ago, after its Mentri Besar Datuk Seri Ahmad Faizal Azumu, who is also Bersatu deputy president, failed to obtain the majority support of the state assemblymen in the motion of vote of confidence on the menteri besar at the State Assembly sitting.
The Johor assembly has 56 seats with Umno and DAP each having 14 seats, Bersatu (12), MIC (two), PAS (one), Amanah (nine) and PKR (four).
https://www.malaymail.com/news/malaysia/2020/12/06/muhyiddin-attends-johor-legislative-assembly-sitting/1929314
----------
Perak Sultan accepts Ahmad Faizal's resignation as MB
06 Dec 2020
BY JOHN BUNYAN
IPOH, Dec 6 — Sultan of Perak Sultan Nazrin Muizzuddin Shah accepted Datuk Seri Ahmad Faizal Azumu's resignation as the mentri besar.
The Comptroller of the Perak Royal Household, Col (Rtd) Datuk Abd Rahim Mohamad Nor said in a statement that the Sultan thanked Ahmad Faizal for carrying out the mentri besar duty twice, the first since May 2018 and for the second time since March 13 this year.
"After Ahmad Faizal lost the vote of confidence in the State Assembly on Friday, he informed the Sultan that his position as the mentri besar was directly affected.
"Following the incident, Ahmad Faizal presented his resignation letter together with those of all the state executive councillors (exco). The Sultan accepted the resignations," he said.
On Friday, Ahmad Faizal was brought down by a vote of confidence on him that was submitted by a Perak Umno assemblyman and accepted by Speaker Datuk Mohammad Zahir Abdul Kalid, also from Umno.
https://www.malaymail.com/news/malaysia/2020/12/06/perak-sultan-accepts-ahmad-faizals-resignation-as-mb1/1929276
----------
Arab world
Dedicating day to Islamic art encourages global acceptance
By Ayeni Olusegun
06 Dec 2020
Doha: Unesco's resolution proclaiming November 18 as International Day of Islamic Art means recognition and confirmation that Islamic art is a global cultural heritage that contributes to enriching cultural diversity, freedom of expression and calls for reconciliation and tolerance among people, said Dr. Omar Al Ejli, Lecturer at Community College Qatar (CCQ).
Unesco's 40th session in 2019 ratified November 18 Int'l Day of Islamic Art. Since its ruling, several activities across countries have been held to spread Islamic art's history and heritage to all parts of the world.
Islamic art covers the visual arts produced in the Islamic world, which covers periods, genres. Islamic art also includes architecture, calligraphy, pottery, and many more.
"Celebrating Islamic art annually is an invitation for people to know the heritage of this art and to encourage all means that contribute to the celebration of this occasion," Dr. Omar told The Peninsula.
Dr. Omar pointed out that art is a renewed message towards cultural communication and exchange of cultures between nations and peoples and a major milestone for the nation's civilisation, culture, and identity. He emphasised that art is a cultural title and a branch of knowledge that deserves more serious studies, analysis, and writings that reveal its essence, historical path, and its manifestations in the tremendous achievements preserved in museums.
"Islamic art is also seen as an academic subject that deserves attention. There was widespread controversy about some branches among the Muslim thinkers themselves, as well as with the orientalists and others," he added.
On steps that can be taken to ensure global participation irrespective of religion, Dr. Omar said, "The Unesco endorsement of the day is important. However, exhibitions specialising in the heritage of Islamic art must be held, and to benefit from relevant international cultural events, and calling for seminars and lectures for elites of specialists to let people know about this art."
He noted several awareness programmes can be carried out now through social media in different languages documenting its heritage throughout time.
Dr. Omar said Islamic arts should be listed within tourism programmes and events targeting the various groups in society and distributing booklets that define the various Islamic arts. He also called on universities to encourage postgraduate students to choose "The Heritage of Islamic Art" as the subject of their theses and researches.
https://thepeninsulaqatar.com/article/06/12/2020/Dedicating-day-to-Islamic-art-encourages-global-acceptance
-----------
Kuwait's Emir Thanks the Custodian of the Two Holy Mosques for the Kingdom of Saudi Arabia's Efforts to Resolve GCC Dispute
2020/12/05
SPA
Kuwait, December 5, 202, SPA -- The Emir of Kuwait, Sheikh Nawaf Al-Ahmad Al-Jaber Al-Sabah, expressed his thanks and appreciation to the Custodian of the Two Holy Mosques, King Salman bin Abdulaziz Al Saud, for what the Kingdom of Saudi Arabia, under his wise leadership, has made in order to reach the final agreement to resolve the GCC dispute.
In a message sent to the Custodian of the Two Holy Mosques, Sheikh Nawaf affirmed that the Kingdom of Saudi Arabia's representation of the United Arab Emirates, Bahrain and Egypt reflects its prestigious position and pioneering role to support the regional security and stability and its keenness on unity, in light of conditions that the whole world and the region experience.
He said: "What has been agreed on is an achievement that will restore the GCC entity, unity and cohesion and the joint Arab action, in facing the challenges that plague the whole world, so as to enable the GCC to work together, in order to achieve the hopes and aspirations of the GCC peoples for security, stability, prosperity and well-being."
He wished the Kingdom of Saudi Arabia and its people further progress and prosperity, under the wise leadership of the Custodian of the Two Holy Mosques, recalling the benevolent and constructive efforts of the late Emir of Kuwait Sheikh Sabah Al-Ahmad Al-Jaber Al-Sabah, may Allah Almighty bestow mercy on his soul.
https://www.spa.gov.sa/viewfullstory.php?lang=en&newsid=2165419
----------
Dubai's Ramadan campaign to feed millions amid Covid wins awards
December 5, 2020
Web Report
The '10 Million Meals' campaign, which was launched to support Covid-19-hit communities in the UAE throughout the holy month of Ramadan, has bagged six Cresta Awards in creativity and innovation; and five SHORTY Social Good Awards for driving positive impact in society.
The campaign was also shortlisted for MEPRA Award's Best Campaign in the Middle East in 2020 for its innovative idea, design and execution.
Launched by Sheikha Hind bint Maktoum bin Juma Al Maktoum, wife of His Highness Sheikh Mohammed bin Rashid Al Maktoum, Vice-President and Prime Minister of UAE and Ruler of Dubai, and Chairperson of the Board of Trustees of the UAE Food Bank, the '10 Million Meals' campaign had distributed 15.3 million meals to low-income families and individuals.
The '10 Million Meals' campaign created a large move of solidarity across the UAE, drawing overwhelming financial and in-kind donations from citizens and residents of over 115 nationalities, as well as public and private companies. More than 1,000 volunteers helped distribute the donated meals across the UAE.
While companies and prominent entrepreneurs pledged 5.7 million meals, collective donations of humanitarian and charity organisations helped secure 6.8 million meals.
Launched to support the '10 Million Meals' campaign, the 'World's Tallest Donation Box' has garnered 34 international nominations and awards. Launched in collaboration with the Burj Khalifa, the initiative drew donations that secured 1.2 million meals within a week of its launch in May 2020.
Putting Burj Khalifa's 1.2 million lights for sale for as little as Dh10 each, the initiative provided one meal for each light, beaming the world's tallest tower in a powerful gesture of solidarity and hope to people impacted by Covid-19 across the world.
The initiative won six Cresta Awards, which recognises innovative campaigns in 24 different categories. The initiative bagged the Cresta's gold award in digital design; two silver awards in the two categories of campaign websites and microsites, and integrated digital campaigns; three bronze awards in healthcare – Covid-19 Special Categories, Creative technology – Use of Data, and Microsite.
The World's Tallest Donation Box was also shortlisted for Cresta's Brand Activism, Real Time Advertising and the "Wish we'd though of that award" categories.
The World's Tallest Donation Box took home five wins in five categories of the SHORTY Social Good Awards: Best Emergency Relief, Best Work for Hunger & Poverty Relief, Best Work in Government and Politics, Best Data Visualisation and the gold award in the Best in Real Time Response.
Other contestants in the award included World Health Organisation (WHO), United Nations Development Programme (UNDP), United Nations Population Fund, Greenpeace, Goofle and National Geographic.
Mohammad Al Gergawi, Secretary-General of Mohammed Bin Rashid Al Maktoum Global Initiatives, said: "Sheikha Hind bint Maktoum's approach to humanitarian work sets an example of using innovation to reach all segments of society and create solidarity to achieve a sound positive impact.
"Sheikha Hind bint Maktoum's initiatives receive widespread admiration for their capacity to empower vulnerable communities and inspire entities to support humanitarian work in an innovative manner. Employing innovation in humanitarian work stems from Sheikh Mohammed bin Rashid's vision to institutionalise philanthropy and regularly follow up on its results and execution.
"The UAE aims to set new criteria for humanitarian work to provide efficient and swift response to crises, disasters and emergencies to preserve people's dignities and improve lives."
The international awards that recognise the UAE's humanitarian initiatives present "tangible evidence" on their leading status, impact and innovation worldwide.
"The impactful initiatives reflect the UAE's deeply-rooted humanitarian values of giving and dedication. The UAE is built on the principles of aiding the vulnerable and lending a helping hand to the disadvantaged whenever needed, fulfilling no other objective than to improve lives across every corner of the world."
https://www.khaleejtimes.com/news/20201205/dubais-ramadan-campaign-to-feed-millions-amid-covid-wins-awards
-----------
Egypt to Contribute to Quranic Education in Pakistan
Source : Iqna
December 5, 2020
In a meeting between Egyptian Ambassador to Islamabad Tarek Dahroug and officials of Punjab University in Lahore, the plan, dubbed Kalima (word), was discussed, Youm7 website reported.
According to the plan, Pakistani students can take online courses on Quranic skills and Quran interpretation organized with the cooperation of the Egyptian institution.
It is aimed at promoting the true interpretation of Quranic verses and preventing the students from moving toward extremist ideologies, organizers say.
https://en.abna24.com/news//egypt-to-contribute-to-quranic-education-in-pakistan_1092430.html
-----------
North America
Joe Biden Reveals Why He Questioned the Osama bin Laden Raid
Marlow Stern
Dec. 05, 2020
The raid to take out 9/11 mastermind Osama bin Laden will forever remain a subject of fascination—owed in part to former President Barack Obama's refusal to release any footage of the mission or photos of the al Qaeda terrorist's body, and on a more comical level, the fact that Dwayne "The Rock" Johnson somehow knew about it before any other U.S. civilian.
"It's important for us to make sure that very graphic photos of somebody who was shot in the head are not floating around as an incitement to additional violence or as a propaganda tool," Obama explained to 60 Minutes. "That's not who we are. We don't trot out this stuff as trophies.''
Directed by Jeffrey Roth, President in Waiting—premiering Dec. 5 on CNN—sees the filmmaker corral all five living former vice presidents (Walter Mondale, Dan Quayle, Al Gore, Dick Cheney, and Joe Biden), along with Mike Pence, to discuss how the role of vice president has evolved over the years. It all changed with Jimmy Carter, who delegated more authority to Mondale than any prior president.
"I think that all circles back to the Carter/Mondale plan, because prior to that the office was inconsequential, and the presidents wouldn't treat the vice presidents so well," Roth tells The Daily Beast.
It took Roth a year and a half to round up all the VPs and film them—as well as all the living presidents. The only holdout was Trump. "There were requests," Roth says, with a chuckle.
In the film, Biden attempts to clear the air regarding the bin Laden raid, recalling how he told then President Obama to "wait" and do one more flyover with helicopters to see if they could confirm that bin Laden was in fact inside the Pakistani compound.
"I said, 'I think you should wait, and do one more pass'—knowing that if you made a lower pass, they might observe it and he'd flee," Biden says in the film. "But then I walked out as I always did after every meeting with the Security Council, and I walked up to the office with [Obama] and we'd have a private discussion. And I said to him, 'Mr. President—follow your instincts on this one.'"
Later on in President in Waiting, Obama lends the OBL episode some context in expounding on his working relationship with VP Biden.
"Joe could be the foil and create a debate—in some cases might make an argument just to see what kind of responses you'd get around the table, and allowed me to sit back and listen without tipping my hand about which way I was going," says Obama. "He could advance an argument, see what kind of pushback there was, or he might go after somebody else's argument and try to punch holes in it."
Of all the VPs and presidents in the film, Roth believes that Biden and Obama were the "tightest pairing," spending a great deal of time together and leaning on one another.
"President Obama did give Vice President Biden more responsibility," says Roth. "He needed that help because Obama, being a one-term senator coming into Washington, needed that experience—and brought Biden in because of that."
https://www.thedailybeast.com/joe-biden-reveals-why-he-questioned-the-osama-bin-laden-raid?ref=scroll
-----------
If Stalin Couldn't Unite Russia's Muslims Administratively, No One Will Ever Will, Suleymanov Says
Paul Goble
December 5, 2020
Staunton, December 3 – Many Muslims and perhaps even more Russian officials would like to have a single administrative structure supervising all the Islamic groups in the country, but the Russian umma was not unified under either the tsars or the Soviets and won't be at any point in the future, Rays Suleymanov says.
The divisions within the Muslim community are too deep and the ambitions of various muftis and civil authorities too strong to allow that, according to the specialist on Islam notorious for both his criticism of Muslim leaders and close ties to the Orthodox Church and Russian state (ruskline.ru/news_rl/2020/12/03/islam_na_postsovetskom_prostranstve_noveishaya_istoriya_i_sovremennoe_polozhenie).
Indeed, speaking to an All-Russian conference in Kazan last week, Suleymanov said that if Stalin with all his power couldn't form a single Muslim organization to supervise all Islamic groups, no one now should expect to be able to do so. Instead, both Muslims and Russians must accept that the Islamic community will remain divided.
This represents a major departure for Suleymanov who at various points has pushed Talgat Tajuddin, head of the Ufa-based Central Muslim Spiritual Directorate (MSD) as the natural leader of Russia's Muslims, and may signal a shift away from earlier Kremlin preferences for some single structure and leader.
In support of his new argument, Suleymanov presents an updated version of the history of Islamic organizations in the Russian Empire, the Soviet Union, and the Russian Federation, a history that he says shows that "Russia's Muslims in an organizational sense were never united in a single muftiate."
Only six years after St. Petersburg established the Orenburg Mohammedan Spiritual Assembly in 1788 to which Tajuddin traces his Central MSD's origins, the Russian authorities established the Tauride Mohammedan Spiritual Administration in Crimea. Almost a century later, in 1872, they set up one for the Trans-Caucasus.
According to the specialist, the tsarist authorities were working on a plan to create a similar structure in Central Asia, but "the revolution and the coming to power of the Bolsheviks put off that project."
Despite the anti-religious position of the Soviet regime, the Orenburg Mohammedan Spiritual Assembly survived for a time, after being renamed in 1920 the Central MSD. The analogous structure in Crimea also was renamed and lasted until 1927. The Bashkirs created their own MSD, which lasted until 1936.
During World War II, Stalin allowed the creation of the MSD for Central Asia in 1943, the MSD for the North Caucasus and the MSD for the Trans-Caucasus in 1944. Then in 1948, he renamed the Central MSD the MSD for the European Portion of the USSR and Siberia, Suleymanov continues.
That arrangement continued almost to the end of Soviet times. In 1990, Kazakhstan formed its own MSD having withdrawn from the Central Asian one, and then the process of division and the formation of competing MSDs took off. Republics and regions set up their own, even when the number of parishes was small.
But efforts to reverse this process have foundered, Suleymanov argues, because the various muftis cannot agree on who should have primacy and because officials benefit from having a local MSD they can control rather than a larger, all-Russian one, that might be used against them.
It must simply be accepted that this "organizational split is the natural state of the Muslim umma of Russia." It is not "something temporary" but rather is and will remain "the norm."
Two other speakers at the meeting, Olga Brusina and Erik Seitov of the Moscow Institute of Ethnology and Anthropology presented reports Suleymanov judged important enough to discuss in this report on the Kazan meeting.
Brusina reported about the fate of the 17,000 Turkmen Muslims in Stavropol Kray, a group historically less Islamic than others but now infected by radicalism among the young; and Seitov talked about the Shiite community in Moscow, a group that rarely has attracted much attention.
The Shiites in the Russian capital, the scholar said, consist "primarily of Azerbaijanis, Talysh, Khazarites and a small number of converts from among ethnic Russians and Tatars." Until 2016, they worshiped at the Inam Mosque but now are forced to move from place to place for services.
http://windowoneurasia2.blogspot.com/2020/12/if-stalin-couldnt-unite-russias-muslims.html
------------
How this vegan restaurant has defied the odds to become a buzzy Black mecca
BY KC IFEANYI
06-12-2020
Within the first six months of the COVID-19 pandemic, 100,000 restaurants in the United States either permanently closed or shut down for the foreseeable future, leaving nearly 3 million workers unemployed, according to the National Restaurant Association. Amid all the industry tumult, a vegan joint in Atlanta has not only stayed afloat but is having its best year ever.
Founded in 2018 by TV exec turned restauranteur Pinky Cole, Slutty Vegan has become one of Atlanta's buzziest eateries with its saucy take on vegan fast food, attracting celebrity customers including Tiffany Haddish, Tyler Perry, Taraji P. Henson, Megan Thee Stallion, and Woody Harrelson.
On the very day she was born in Baltimore to Jamaican immigrant parents, Cole's father was sentenced to 30 years in federal prison for his involvement in a drug ring.
"The family dynamic changed the minute that I walked into earth," says Cole, who's 33. "My mother would work about three to four jobs, so my grandmother would watch me. And living in a household with a Jamaican grandparent is a lot different from just the average American grandparent."
"I learned about food and how food can bring people together. When my grandmother would cook, everybody would come together as a way of fellowship," Cole says. "I carried that throughout the years."
By her teens, Cole was already turning her passion into profit by catering parties and selling sandwiches at school. After graduating from Clark Atlanta University, Cole decided to pursue a career in entertainment, first as an actor in Los Angeles and then in TV production in New York City. All the while, though, the food business wasn't far from her thoughts.
"Something clicked. I was like, 'I want to open up a business,'" Cole says. "I had my 401(k) saved. And one of my friends who had a restaurant at the time said that there was a restaurant available for lease [in Harlem]."
Cole turned that spot into a Jamaican restaurant serving island staples such as jerk chicken and oxtail, even though she herself was vegan.
Despite her personal conflicts, Pinky's Jamaican and American Restaurant became a local favorite for two years—until a grease fire burned everything to the ground in 2016. On top of that, Cole says she made the rookie mistake of not having the right insurance policy. Left with nothing, she decided to go back into TV with a gig as a casting director for Iyanla, Fix My Life, which films in Georgia.
"One day, I was sitting in the house, coming up with my ideas as normal, and it hit me: Slutty Vegan," Cole says. "I was solving a problem, because there was no late-night vegan food in Atlanta."
If you think Cole perpetually tumbles into restaurant businesses with little more than her love for cooking, she'd readily agree with you.
Cole attributes that drive to not only her mom, who was working several jobs to support the family, but her dad as well, who gave Cole business advice from behind bars.
"My father is a genius. And being a genius, sometimes you don't make the best decisions because you are so committed to a goal," Cole says. "I got two really good examples of parents that were committed to taking care of their family. And because of that, it showed me how to be a boss. It showed me how to level up. It showed me how to not wait on somebody to give me an opportunity but instead go out and get the opportunity my goddamn self."
"I realized I wasn't living in my authentic truth [with Pinky's Jamaican and American Restaurant]," Cole says. "I wanted to do something that was a reflection of who I was, who Pinky Cole is as somebody who loves to cook and get people to see food in a different way."
In fact, according to the Pew Research Center, African-Americans are the fastest growing vegan demographic in the United States. Cole has capitalized on that trajectory by making vegan food more accessible as comfort food.
Breaking down those barriers obviously extends to the name of the company and its menu that includes items like "Sloppy Toppy," "One Night Stand," "Ménage à Trois," and "Hollywood Hooker."
"When we talk about the impact that's been made in the South, to have people lined down the fucking block every single day? I got three locations right now and have a line down a block every day that tells me that obviously we're doing something right," Cole says. "We've been able to show people that veganism can be fun."
"It feels good to be able to walk in my purpose through this business, and I know that it's my purpose because everything is coming the way that I want it—doing partnerships, my foundation, being able to open up all these restaurants in the middle of a pandemic," Cole says. "So many people naturally support this business because it's authentically in alignment to who I am. And that's why the business has been successful."
https://www.fastcompany.com/90582793/how-this-vegan-restaurant-has-defied-the-odds-to-become-a-buzzy-black-mecca
----------
URL: https://www.newageislam.com/islamic-world-news/members-radical-islamic-group-damage/d/123675
New Age Islam, Islam Online, Islamic Website, African Muslim News, Arab World News, South Asia News, Indian Muslim News, World Muslim News, Women in Islam, Islamic Feminism, Arab Women, Women In Arab, Islamophobia in America, Muslim Women in West, Islam Women and Feminism