New Age Islam News Bureau
10 Feb 2015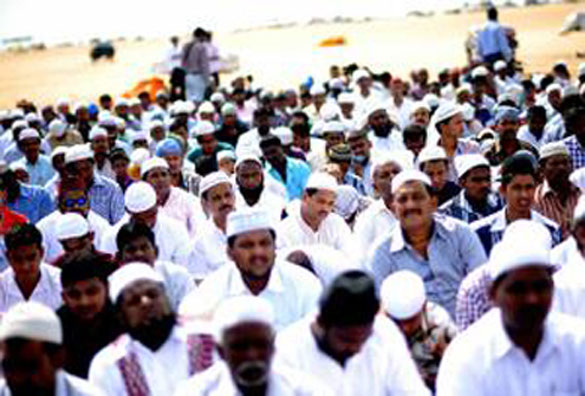 Supreme Court on Monday ruled that a Muslim's fundamental right to profess Islam did not include practicing polygamy (TOI file photo)
-------------
Pakistan
• Maulana Abdul Aziz, the Radical Cleric, Building a New Militia in Pakistan
• 15 Suspected Militants, One FC Man Killed In Balochistan Clash
• Govt to Defend 'Victimised' Blasphemy Accused
• Imran accuses Altaf of terrorising Karachi
• 'Banned' Jamaat ud Dawa thrives in Pakistan
• Zardari seeks 'Q' support for Senate poll
• NA speaker says political forces united against terrorism
India
• Polygamy Not Integral Part of Islam: SC
• Supreme Court Worried Over Future of Secularism
• Centre looks at US, UK models to curb radicals
Arab World
• At Saddam's Palace, Islamic State Militants Threaten To Take Over World
• Syrian Troops Inflict Hefty Losses on Militants in Hama, Deir Ezzur
• Militants' Rocket Attacks Kill Four Civilians in Idlib, Syria
• Shi'ite Lebanese cleric holds out olive branch to Jews, Christians in non-violence campaign
• Iraq Deploys Parody as Weapon against ISIL
• Islamic State pulls forces and hardware from Syria's Aleppo: Rebels
• As defections rise, ISIS faces suicide bomber shortage
• Saudi Arabia's Egypt stance 'unchangeable'
• Assad: We get messages from US-led coalition battling IS
Africa
• Cameroon-Chad Troops Kill 10 Boko Haram Terrorists
• ISIS-Linked Groups Inch Closer To Libya's Largest Oil Port
• Libyan army says has retaken main camp in Benghazi
• EU threatens sanctions against "spoilers" of Libyan peace talks
• Niger approves sending troops to Nigeria to fight Boko Haram
South Asia
• Islamists May Exploit Political Void, Warns Bangladesh International Crisis Group
• 3 Insurgents Killed In Own IED Explosion, 23 Killed In Operations
• 5 suicide bombers killed in attack on Kunduz police HQ
• Awami League: Dialogue only if BNP admits to killing people
• PM Sheikh Hasina: Arsonists-killers are enemies of nation
• Siblings arrested over war crimes in Habiganj
Southeast Asia
• Isma Rallies Muslims to Fight 'Racists' and 'Extremists'
• Indonesian Muslims Try To Counter Islamic State's Appeal
• Anwar's verdict demeans democracy, judiciary, says human rights group
• Jember DPRD Apologizes for School Girl Virginity Test Statement
Mideast
• Turkish Gov't to Require Pre-Nuptial 'Licenses to Marry'
• Gaza Youngsters Flock to Hamas Training Camps
• Israeli bulldozers raze Palestinian home in E. Jerusalem
• Turkish Intel provided weapons to ISIS, terror suspect says
• Ahmadinejad launches website and Instagram account in hopeful political comeback
• Iranian Envoy: Terrorism in Mideast Result of West's Wrong Policies
• Iranian president: world must 'seize opportunity' of nuclear deal
North America
• North Texas Islamic Tribunal Using Sharia Law to Settle Disputes
• 9/11 Hearing Halted After CIA Infiltration Charge
• US adds German rapper turned ISIS fighter to list of known terrorists
Nigeria will not split —US govt
• Obama readying request to use force against ISIS
• FIU unveils its Centre for Muslim World Studies at COSMOS dinner
Europe
• Dutch Muslim Groups Worried About Mosque Protest Escalation
• Vladimir Putin Backs Iran's Right To Enrich Uranium
• Hostage John Cantlie's fate unknown as ISIS releases latest in 'documentary' series
• United Nations: Taliban act like gangsters not would-be government
• UN demands accountability for South Sudan rights violations
• Wiltshire police officer asked newsagent for Charlie Hebdo buyers' details after Paris attacks
Compiled by New Age Islam News Bureau
URL: https://www.newageislam.com/islamic-world-news/new-age-islam-news-bureau/maulana-abdul-aziz,-the-radical-cleric,-building-a-new-militia-in-pakistan/d/101455
---------
Pakistan
Maulana Abdul Aziz, the Radical Cleric, Building a New Militia in Pakistan
February 10, 2015
Maulana Abdul Aziz, the cleric of the Red Mosque and one of the most dangerous men in Pakistan, tells the Telegraph if the country does not implement Islamic law, he and his followers "will solve it".
He is one of the most dangerous men in Pakistan and is supposed to be in police detention.
Instead, as several thousand hard-line Muslim worshippers knelt in prayer at the Red Mosque in the heart of Islamabad, the voice of Maulana Abdul Aziz called out over them defiantly.
Seven years ago, the radical cleric led heavily armed Al Qaeda gunmen in a bloody siege at the mosque against government forces, which left more than 100 children, soldiers and militants dead.
The brutal denouement, including the killing of his brother and son, set off a wave of Taliban suicide bombings which struck at the heart of Pakistan's military establishment.
Now Pakistan's intelligence services believe Aziz is building a new militia, grabbing land for more Madrasas and preparing for another tilt at forcing the country to adopt strict Islamic law. Eyewitnesses said they had seen 30 to 40 heavily armed men from the militant group Sipah-e-Sahaba inside the mosque.
Once again, he is a reminder that one of the West's most important allies against the forces of terror has a problem dealing with the militant voices in the middle of its own capital. In December, a Pakistani court issued an arrest warrant for Aziz but the police have been unable to enforce it. "We are trying our best to implement it," a police official said.
In an interview, Aziz cut a serene figure in a light brown robe, white turban and scholarly spectacles, but offered no comfort to Pakistan's government and those who regard him as the spiritual voice of the country's most deadly terrorists. He described the massacre of staff at the French satirical magazine Charlie Hebdo as the "correct" application of Islamic law for their "blasphemous" cartoons of the Prophet Mohammed. "Whoever disrespects our Prophet, the sentence is death", he said.
Aziz, whose wife has sworn allegiance to the Islamic State of Iraq and the Levant (Isil), has close links to Ayman al-Zawahiri, now the head of Al Qaeda, and the Afghan Taliban, who he represented in talks with Pakistan's government last year. Students at the madrassa run by his wife in the Red Mosque complex do their work in the recently renamed Osama bin Laden Library.
He repeated his assertion that, while the "brutal murder of young children" at Peshawar's Army Public School "cannot be justified", the killers were responding to offensives by the army in Pakistan's tribal areas.
His words are familiar to regulars at Friday prayers, held in a leafy neighbourhood of Islamabad.
The only solution for Pakistan's problems, he continued, was for its government to adopt hard-line Sharia, including a ban on music and women appearing in public without covering their faces. And he gave a chilling warning. Unless the government implements his vision of Islamic law soon, he and his followers "will solve it".
Pakistan's intelligence services believe he is in control of an armed militia. In a report seen by The Daily Telegraph, a senior Inter-Services Intelligence official said: "It's evident that he is following an agenda of reviving [the] Lal Masjid mafia in the heart of the federal capital.
"His links with the TTP [Tehreek-e-Taliban Pakistan] and land grabbers pose a security threat to law and order." He added that Aziz had organised a militant wing, the Ghazi Force, operating under two Taliban leaders in the tribal areas.
Aziz has no regrets over the carnage at his mosque in 2007 and continues to deny that there were gunmen in the complex, despite photographic evidence of militants firing machine guns from the roof and the 18 bodies of armed men, including Chechens, Egyptians and Afghans, that were later found by the security services.
The siege followed a violent campaign by female students from the Madrasa armed with sticks who patrolled the nearby streets in black Burqas, kidnapped an alleged prostitute, harassed Chinese massage parlour staff and eventually torched a government ministry building. At one point they attacked paramilitary troops and seized their weapons and radio equipment.
Aziz said he would not rule out sending the Madrasa girls on to the streets and into confrontation with the authorities again. "That might happen," he said.
His defiance challenges the government's repeated vows to fight terrorism in the wake of the Peshawar school attack. Since the killings in December, more than 8,000 people have been arrested and a number of terrorists executed.
The government has begun verifying all mobile phone sim cards in the country - more than 100 million - to thwart communications. However, arresting Aziz, despite his growing influence, deadly history and command over armed fighters, seems a step too far while the battle rages in the border areas.
"While this is going on what we don't want is to open a third front. We can pick this idiot up any time we want to but we don't want to pick on him now and his people start suicide bombings," said a government official.
The government's biggest mistake was to allow the mosque to be rebuilt and Aziz to preach there, he conceded.
"But people thought they were doing a good job, a religious thing, and were guaranteed a place in heaven," he said.
http://www.newindianexpress.com/world/The-Radical-Cleric-Building-a-New-Militia-in-Pakistan/2015/02/10/article2661913.ece
http://www.telegraph.co.uk/news/worldnews/asia/pakistan/11398667/The-radical-cleric-building-a-militia-in-the-heart-of-Islamabad.html
---------
15 suspected militants, one FC man killed in Balochistan clash
February 10, 2015
QUETTA: At least 15 suspected militants were killed during an exchange of fire with Frontier Corps personnel in the southwestern Balochistan province on Thursday, a spokesman for the security force said.
One FC man was killed and another three were also injured during the clash in the province's Kharan district, the spokesman said.
Security forces launched a search operation in the Basima area of Kharan during which an exchange of fire took place with suspected militants, the spokesman said, adding that security forces seized a huge quantity of arms and ammunition from the militants.
The FC spokesman said that the dead militants were involved in subversive activities in the area, including bombings and targeted killings.
The injured security personnel were rushed to the provincial capital city of Quetta for medical treatment.
The information relating to the clash as well as the death toll could not be independently verified.
http://www.dawn.com/news/1162718/15-suspected-militants-one-fc-man-killed-in-balochistan-clash
---------
Govt to defend 'victimised' blasphemy accused
February 10, 2015
LAHORE: The Punjab prosecution department, in association with the home and police departments, has shortlisted 50 cases currently under trial in courts to speedily decide the fate of alleged blasphemers who, what the government claims, are 'victimised' by complainants.
The cases have been picked from 262 cases in different courts of the province from 2010 to date.
The suspects, who are all Muslims booked under four sections of Chapter XV (of offences relating to religion) of the Pakistan Penal Code, are languishing in jails and are not being convicted because of lack of evidence, poor evidence, and non-availability of their counsel.
A high-powered committee, headed by provincial secretary prosecution Rana Maqbool, sat fourth time a couple of days back since its constitution by the provincial government in Jan 2015 to discuss the modalities to pursue cases on a fast track basis and take all the religious schools of thought into confidence to avoid any backlash following release of the suspects.
50 cases shortlisted for speedy trial
The establishment of the committee followed the assassination of human rights lawyer Rashid Rehman in Multan in May last year who was pleading the case of a blasphemy accused.
Police sources, associated with the outcome of the meetings, told Dawn on Monday that the participants in the meeting were of the view the provincial government would 'defend' the arrested suspects in courts as blasphemy accused hardly got a lawyer to defend his/her case because of societal pressures and threats.
They said only those cases had been picked in the first phase which, according to the committee, were genuine and the accused were victimised, adding some of the arrested accused upon whom doubts prevailed might also be medically examined to determine their mental health.
The sources said the committee as empowered by the government was mulling to get decree from religious scholars of all schools of thought to avoid reaction. They said that in the last meeting which took place on Monday it was decided to increase number of cases for speedy trial and initiate judicial process in near future.
They said a team of police officials, associated with the process, would meet additional prosecutor general Punjab on Tuesday (today) to discuss start of trials.
http://www.dawn.com/news/1162676/govt-to-defend-victimised-blasphemy-accused
---------
Imran accuses Altaf of terrorising Karachi
February 10, 2015
ISLAMABAD: Pakistan Tehreek-i-Insaf Chairman Imran Khan hit out at Muttahida Qaumi Movement chief Altaf Hussain on Monday and accused him of having let loose a "reign of terror" in Karachi.
In the same breath, the PTI chief asked the military leadership to clarify its position on the MQM's accusation that the Inter Services Intelligence (ISI) was hostile to the party.
Accompanied by PTI Vice Chairman Shah Mehmood Qureshi, Imran Khan exuded his usual hostile streak at an explosive press conference.
"I am absolutely clear that the MQM is responsible for bringing Karachi to a stage where nobody is safe at the hands of the party's armed wing. Now with the revelation of the JIT report in which Mr Hussain's party has been held responsible for the killing of over 250 Baldia Town factory workers, the responsibility now lies with the federal government to take action against the perpetrators of the tragic incident," he said.
Mr Khan, who has visibly mellowed down after the end of PTI's sit-in, clenched his fists in anger and heaped scorn on the MQM leadership. And dropped jaws of Mr Qureshi and party leader Naeemul Haq, who were sitting on his right and left respectively, showed the PTI chief wasn't beating about the bush.
He said the killing of factory workers was as grievous a crime as that committed against students of the Army Public School in Peshawar and, therefore, the entire nation should take to the streets against the MQM's London-based chief in the same manner as people had expressed their outrage against perpetrators of the Dec 16 school tragedy.
He asked the military's top brass to reply to the MQM's allegation that the ISI had made a deliberate attempt to implicate the party's leadership in the Baldia factory inferno case. "This is a serious allegation which needs an adequate response," he said.
Mr Khan also lashed out at the federal government for its weak-kneed response to criminals and said that Prime Minister Nawaz Sharif, who had been authorised by the January APC to take action against terrorists of all streaks, must take the lead and use military courts to bring executors of this [Baldia factory inferno] heinous crime to book.
After the publication of the JIT report in media, PTI spokesperson Dr Shireen Mazari had in a press statement on Saturday called for action against the MQM and its leadership.
In response, Altaf Hussain in a telephonic address made some insulting remarks against Ms Mazari and other women members of the party. To many, the PTI chief's outburst was actually in response to what Mr Hussain had said against Dr Mazari and other women leaders.
And this is not the first time the PTI chief had hit out at the MQM leader. He ran a campaign against Altaf Hussain's alleged role in target killings and other crimes afflicting Karachi. Imran Khan even went to London and approached the Scotland Yard for action against Mr Hussain. However, nothing significant happened afterwards.
In reply to a question, Mr Khan said it was the successive governments back home — Gen Pervez Musharraf's and Asif Ali Zardari's — who didn't act against Altaf Hussain out of political expediency. "Unfortunately, Prime Minister Nawaz Sharif, despite having an across-the-board support against criminals, is following the same line of action," he regretted.
If the federal government was ready to provide evidence, notably the arrests it had made in the murder case of Dr Imran Farooq, the MQM leader could be apprehended, Mr Khan claimed.
"Since a decision has been made at the APC that the state will move with full force against armed groups regardless of their party affiliations, what's the federal government then waiting for," he wondered.
Accusing the MQM chief of masterminding the Baldia factory tragedy and target killings in Karachi, Mr Khan, however, clarified that he did not think that all Muttahida leaders and workers were involved in criminal activities.
Putting the blame of killing of PTI's leader Zahra Shahid and journalist Wali Babar in Karachi on the MQM chief, he once again pledged to take Mr Hussain to the British court.
The PTI chief said that in future he would not attend an APC where the MQM was invited.
http://www.dawn.com/news/1162614/imran-accuses-altaf-of-terrorising-karachi
---------
'Banned' Jamaatud Dawa thrives in Pakistan
February 10, 2015
MURIDKE: It is listed as a terror outfit by the UN and its chief has a $10 million US government bounty against him, but Jamaatud Dawa operates freely across Pakistan, testing Islamabad's new resolve to tackle militancy.
Pakistan vowed to end its tolerance of so-called "good" militants after a Taliban massacre at a school in Peshawar in December killed 153 people, the worst terror attack in the country's history.
The government's list of 60 or so banned organisations features the Pakistani Taliban and secessionist rebels from Balochistan province, but the state has long shied away from action against groups considered useful for fighting abroad in India or Afghanistan.
International powers including the US and India consider Jamaatud Dawa (JuD) to be no more than a front for Lashkar-i-Taiba (LT), the militant group blamed for the 2008 Mumbai attacks that left 166 people dead.
But JuD denies any link to violence, and within Pakistan the organisation enjoys a high degree of popularity for the work of its charitable arm, particularly after natural disasters.
Following a UN Security Council resolution, Pakistan said it had frozen the group's assets after the Mumbai attacks — an undertaking it has repeated in recent weeks.
But at JuD's headquarters, a sprawling high-security complex nestled among rice fields in the town of Muridke, north of Lahore, little seems to have changed.
Doctor Akhtar Hussain, a wizened old man with a long grey beard and a broad smile, heads the Al-Aziz Hospital in the heart of the complex which also houses schools where boys and girls study both JuD and official government textbooks.
JuD has set up a network of health and education facilities across Pakistan, including five hospitals, 200 dispensaries, ambulance services and 250 schools.
When AFP visited Al Aziz hospital, elderly women were lining up in a white corridor for eye tests.
Full report at:
http://www.dawn.com/news/1162698/banned-jamaatud-dawa-thrives-in-pakistan
---------
Zardari seeks 'Q' support for Senate poll
February 10, 2015
LAHORE: While PML-Q chief Chaudhry Shujaat Husain on Monday obtained the nomination papers for Senate election, Pakistan People's Party co-chairman Asif Ali Zardari telephoned him and sought his party's support for the PPP candidate from Punjab, Nadeem Afzal Chan.
"Mr Zardari telephoned Chaudhry Shujaat and sought his support for the PPP candidate in Punjab," a source in the PML-Q told Dawn.
He said the PML-Q chief, however, did not give any assurance to Mr Zardari in this regard.
A candidate for general seat will have to bag at least 35 first priority votes to reach the Senate. (Each MPA or voter may mention seven priorities, equal to the number of general Senate seats from each province, in his/her ballot.)
Chaudhry Shujaat or Nadeem Afzal Chan will need at least eight votes from the ruling PML-N, besides getting the support of each others party to become senator.
http://www.dawn.com/news/1162672/zardari-seeks-q-support-for-senate-poll
---------
NA speaker says political forces united against terrorism
February 10, 2015
ISLAMABAD: National Assembly Speaker Sardar Ayaz Sadiq said political forces were united to root out terrorism from the country. He said that terrorism has become a global menace which needs concerted and coordinated efforts by all to completely wipe it out.
He was talking to Foreign Minister of Norway Borge Brende who called on him in the Parliament House.
The speaker said that the scourge of terrorism has disrupted the civic life and economic activity in the country. He said that the cowardly attacks on schools, worship places and innocent civilians have constrained the government to take stern action against the perpetrators. He was confident that the military initiative and stern laws would deter reoccurrence of such instances in future.
Sadiq said that Pakistan attached immense importance to its relations with Norway and desired to further strengthen them through reinvigorating parliamentary linkages between both the countries. He said that parliamentarians from either side would have an apt opportunity to share experiences and best practices. He appreciated the Norwegian support extended to Pakistan on various international forums.
Full report at:
http://www.dailytimes.com.pk/national/10-Feb-2015/na-speaker-says-political-forces-united-against-terrorism
---------
India
Polygamy not integral part of Islam: SC
Amit Choudhary,TNN | Feb 10, 2015
NEW DELHI: Although their personal law permits men to have four wives, the Supreme Court on Monday ruled that a Muslim's fundamental right to profess Islam did not include practicing polygamy.
"What was protected under Article 25 (right to practice and propagate any religion) was the religious faith and not a practice which may run counter to public order, health or morality. Polygamy was not integral part of religion and monogamy was a reform within the power of the State under Article 25," said a bench of Justices T S Thakur and A K Goel.
The bench said that polygamy was not integral to religion and the practice of polygamy did not acquire sanction of religion simply because it was permitted.
It upheld the UP government's decision to sack one of its employees on the ground of misconduct for opting for a second marriage during existence of the first marriage without its prior permission.
Referring to its earlier verdict, the bench said that Article 25 protects religious faith, not a practice. It noted that the court had upheld the views of the Bombay, Gujarat and Allahabad high courts in this regard.
The bench upheld conduct rules framed by UP Government Servant Conduct Rules, saying that it did not violate Article 25 of the Constitution.
In this case Khursheed Ahmad Khan, employed as irrigation supervisor, had married Anjum Begum during existence of first marriage with Sabina Begum. Sister of his first wife had filed a complaint before National Human Rights Commission which ordered a police probe in the case.
The police submitted its report before the commission saying that Khan had married a second time during the existence of the first marriage. On this basis, the state government had initiated proceedings and later removed him from service for failure to take prior permission for second marriage as was required under rule 29 of the conduct rules.
Khan had then approached the Allahabad high court and challenged his removal from service. The HC had dismissed his plea.
http://timesofindia.indiatimes.com/india/Polygamy-not-integral-part-of-Islam-SC/articleshow/46180105.cms
---------
Supreme Court worried over future of secularism
Feb 10, 2015
The Supreme Court on Monday voiced concern over the future of secularism in the country.
"India till now is a secular country… we don't know for how long it will continue to remain secular. There are already too many problems because of this," Justice Vikramjit Sen orally observed.
The Bench was hearing a petition seeking a declaration that the Canon Law is the personal law of Indian Christians and that a decree of dissolution of marriage granted by an ecclesiastical court is valid and binding.
'Stamp out religion from civil laws'
Highlighting the need to "stamp out" religion from civil laws, the Supreme Court expressed anxiety over the challenges faced by secularism in the country.
The petition, seeking a declaration that the Canon Law is the personal law of Indian Christians, also questioned the jurisdiction of criminal courts to prosecute Roman Catholics under Section 494 of the Indian Penal Code for bigamy without considering the Canon Law.
Petitioner Clarence Pais urged the Supreme Court Bench to consider this important question of law and religious freedom, claiming it impacted over one crore Indian Christians on marriage and its dissolution.
During the hearing, the court referred to honour killing as an example of the dangers that may ensue if religious or self-styled socio-political institutions were given legal backing.
The apex court granted four weeks' time to the Centre to file its response to the PIL.
http://www.thehindu.com/news/national/supreme-court-worried-over-future-of-secularism/article6876037.ece
---------
Centre looks at US, UK models to curb radicals
Bharti Jain,TNN | Feb 10, 2015
NEW DELHI: Worried over attempts by outfits such as ISIS to propagate jihadi ideology among young Indian Muslims, the Union home ministry is studying an "extremism counselling hotline" set up recently by the Austrian authorities, for possible replication here. Such a counselling facility, if found feasible in the Indian context, will enable parents, teachers and friends of "vulnerable and indoctrinated" youth to seek professional help for their "deradicalization".
Keen to have a domestic counter-radicalization/deradicalization policy in place to stem the growing appeal of terror outfits among young Muslims, the Indian security establishment has started examining the best practices followed around the world to wean off sections attracted to jihadi ideology. This includes the US' counter-radicalization program focused on community outreach, UK's Prevent and Channel programmes as well as Austria's latest deradicalization counselling initiative.
Though the Indian government maintains that only a "minuscule" number of Muslim youth have fallen prey to ISIS ideology, unofficial figures put their number at 12-15. As many as five among them, including four residents of Kalyan in Mumbai, are known to have joined the ISIS "war" in Iraq and Syria.
Full report at:
http://timesofindia.indiatimes.com/india/Centre-looks-at-US-UK-models-to-curb-radicals/articleshow/46180631.cms
---------
Arab World
At Saddam's Palace, Islamic State Militants Threaten To Take Over World
February 10, 2015
A video shared on Russian-language pro-Islamic State (IS) social networks this week features an address by a group of Chechen IS militants outside a palace of former Iraqi President Saddam Hussein in Tikrit.
The Islamic State group seized Tikrit in June 2014.
The militant who makes the address in the video is Musa Abu Yusuf Shishani, a member of the predominantly Chechen IS faction Katibat al-Aqsa, which fought in Kobani. Musa Abu Yusuf is known for his frequent video and audio addresses in Russian: in one of the most recent speeches he said the entire world, including the United States, Persian Gulf states, and even actors, musicians, and scantily clad women are opposed to the IS group.
It is not clear from the video when exactly it was shot, but it was uploaded to YouTube on February 4 and shared on the Russian social network VKontakte after that date, suggesting that it is recent.
In the video, which is nearly nine minutes long, Musa Abu Yusuf says he is in Tikrit with a group of "mujahedin [militants] from the caliphate army." Musa Abu Yusuf has previously appeared with militants from the predominantly Chechen group within IS, and it is likely that the other militants in the video are also from this group.
Musa Abu Yusuf describes Saddam Hussein as "the very taghut [idolator] who at the start of the Russo-Chechen war promised to send his personal intelligence service to help Russia."
The Chechen militant goes on to say that God has now given "all this land, all these palaces, and all this property that you can see" to "those who merited it."
Musa Abu Yusuf says that the militants with him in the video have all sworn a personal oath to "Sheikh Abu Bakr al-Baghdadi, the caliph," a reference to the leader of the Islamic State group.
Full report at:
http://www.rferl.org/content/saddam-palace-islamic-state-militants-threaten-take-over-world/26838423.html
---------
Syrian Troops Inflict Hefty Losses on Militants in Hama, Deir Ezzur
February 10, 2015
The Syrian army stormed the hideouts of the armed groups in the countryside of Hama and Deir Ezzur provinces, leaving a large number of Takfiri militants dead.
The army troops struck a major blow at the militants in Tal al-Tatan and al-Ghab areas in Hama province, killing and injuring scores of the rebels.
Also, the rebels suffered major losses in in al-Khareta, Ain Bu Jomaa, Hwejat Sakre in Deir Ezzur countryside, as the army made more gains in the province.
Syria has been the scene of insurgency since 2011 when certain western powers and their regional allies voiced loudly that Syrian protests have no diplomatic solution and they started supplying the country's opposition groups with their arms and funds.
In 2014, specially after victory of President Bashar al-Assad in the country's presidential election, the army has gained upper hand in its anti-terrorism campaign, and has been partly successful in sealing borders with Turkey and Jordan.
http://english.farsnews.com/newstext.aspx?nn=13931121000486
---------
Militants' Rocket Attacks Kill Four Civilians in Idlib, Syria
February 10, 2015
Foreign-backed militants fired tens of rocket shells at al-Foua city in Idlib, killing four civilians and injuring others.
Four people were killed in the attack, including 2 women, local sources in the city said. Material damages were also reported.
The sources pointed out that clashes have erupted between popular groups in al-Foua and Takfiri terrorist groups since the morning.
Meanwhile, three civilians were injured during the Islamic State of Iraq and the Levant (ISIL) terrorist group's attacks against Tal Tamr and Tal Harmz in the Western countryside of the Northeastern province of Hasaka.
Local sources said that the ISIL terrorists fired more than 20 artillery shells and tens of mortar shells at Tal Tamr and Tal Harmz, and injured three civilians and caused material damages.
Locals also formed popular resistance groups from the young men in the towns to face the ISIL's attacks.
http://english.farsnews.com/newstext.aspx?nn=13931120001729
---------
Shi'ite Lebanese cleric holds out olive branch to Jews, Christians in non-violence campaign
February 10, 2015
A shi'ite Lebanese cleric has extended an olive branch to Jewish and Christian leaders around the world with a message of non-violence.
Sayyed Muhammad Ali Husseini, secretary general of the Arabic Islamic Council, took to Facebook on Sunday to warn of the dangers of religious extremism.
"We call on rabbis, priests, cardinals and Muslim clerics, Sunni and Shia, to play down the verses, the scriptures, the traditions and the religious texts that call for violence, because they are more dangerous than nuclear weapons," he wrote at the beginning of a long message.
"The various religious texts which call for the use of violence and cruelty to achieve goals are extremely dangerous texts when used by groups that we have warned against in the past, as these texts give religious authorization to commit acts of violence and murder," he added. "Obviously, these are texts that were implemented in specific and even limited times, places and situations - they cannot necessarily be applied to our time, since every situation has its own unique conditions and circumstances.
Full report at:
http://www.jpost.com/Christian-News/Shite-Lebanese-cleric-holds-out-olive-branch-to-Jews-Christians-in-non-violence-campaign-390496
---------
Iraq Deploys Parody as Weapon against ISIL
February 10, 2015
As the ISIL terrorist group seeks to win over young minds by propaganda, Iraqi TV airs show mocking its ideology, media report said.
The ISIL Takfiri group has been running an ambitious propaganda campaign that includes social media and recruitment videos tailored to different cultures and countries, Aljazeera reported.
Now Iraq's government is fighting back, using comedy and art. In a satirical show, the devil arrives to destroy Iraq - and would-be suicide bombers are threatened they will end up washing dishes.
http://english.farsnews.com/newstext.aspx?nn=13931121000263
---------
Islamic State pulls forces and hardware from Syria's Aleppo: Rebels
February 10, 2015
Islamic State has withdrawn some of its insurgents and equipment from areas northeast of the Syrian city of Aleppo, rebels and residents say, adding to signs of strain in the Syrian provinces of its self-declared caliphate.
The group, which has recently lost ground to Kurdish and Syrian government forces elsewhere in Syria, has pulled fighters and hardware from several villages in areas northeast of Aleppo, they said. But it has not fully withdrawn from area.
The Syrian Observatory for Human Rights, which tracks the war using a network of sources on the ground, said Islamic State had redeployed forces from Aleppo province to join battles further east with Kurdish forces and mainstream rebel groups.
Islamic State-held areas northeast of Aleppo mark the western edge of a domain that expanded rapidly in Syria and Iraq last year after the jihadists seized the Iraqi city of Mosul.
Last month, the group suffered its first major setback in Syria since last summer, being driven from the predominantly Kurdish town of Kobani by Kurdish militia backed by U.S.-led air strikes. Syrian government forces waging a separate campaign against the group have also inflicted losses on it recently.
"There are tactical withdrawals. It's not a complete withdrawal," said the leader of a mainstream rebel group, citing contacts in Islamic State-held areas near Aleppo. Other groups had not moved to take the evacuated areas because Islamic State had not fully pulled out, he added.
Full report at:
http://english.ahram.org.eg/NewsContent/2/8/122632/World/Region/Islamic-State-pulls-forces-and-hardware-from-Syria.aspx
---------
As defections rise, ISIS faces suicide bomber shortage
February 10, 2015
The Islamic State of Iraq and Syria (ISIS) militant group is facing a shortage of willing martyrs, after a recent string of defections following the loss of a key Syrian border town, activists within its territory say.
Since the loss of Kobane late last month to Kurdish forces, many militants marked for suicide operations within the group have fled or defected to rival militias, anti-ISIS activist group Raqqa Is Being Slaughtered Silently claims.
A source from inside the northern Syrian city of Raqqa, the de-facto ISIS capital, said that the militants had set up road blocks and imposed strict security checks to stop suicide bombers abandoning their tasks.
Full report at:
http://english.alarabiya.net/en/News/middle-east/2015/02/09/As-defections-rise-ISIS-faces-suicide-bomber-shortage.html
---------
Saudi Arabia's Egypt stance 'unchangeable'
February 10, 2015
Custodian of the Two Holy Mosques King Salman has expressed Saudi Arabia's close bond with Egypt in a phone call with Egyptian President Abdel Fattah El-Sissi.
King Salman described Saudi's stance toward Egypt as "unchangeable" as both countries have strategic links and have a "shared future," Al Arabiya News Channel reported.
The king added that relations between the two nations are too strong to be damaged.
El-Sissi meanwhile, expressed his appreciation for King Salman's sentiments, according to the channel.
El-Sissi on Monday contacted the leaders of Gulf Arab states to reassure them of strong Egyptian-Gulf ties.
Abu Dhabi Crown Prince Mohammed bin Zayed Al-Nahyan told El-Sissi that "any attempts of hatred will not impact relations between the two countries, which are strong and growing".
Quoted by the official WAM news agency, Sheikh Mohammed said the UAE stood alongside Egypt in its efforts to "strengthen security and its development".
El-Sissi has already had similar telephone conversations with the rulers of Bahrain and Kuwait.
Saudi Arabia, the UAE and Kuwait are the main financial backers of El-Sissi's government, having pledged around $12 billion to it since he came to power.
http://www.arabnews.com/featured/news/702236
---------
Assad: We get messages from US-led coalition battling IS
February 10, 2015
Syria's President Bashar Assad said in comments published Tuesday that his government has been receiving general messages from the American military about airstrikes targeting the Islamic State group inside Syria but that there is no direct cooperation.
In an interview with the BBC, Assad said the messages are conveyed through third parties, such as Iraq.
"Sometimes they convey message, general message, but there's nothing tactical," he said.
A US-led coalition that includes four Arab countries is conducting airstrikes in Syria as part of an international campaign against Islamic State extremists. They share the skies with Assad's air force, which also targets the militants.
Syrian officials have maintained that they have not been consulted about the airstrikes since they started in September — only informed through third parties in the beginning.
In the interview, Assad also denied his forces have used barrel bombs. The government's use of the crude explosive devices, usually dropped by helicopters, has been widely documented by international human rights organizations and residents of opposition-held areas in Syria. The barrel bombs, which cannot be precisely targeted, have killed thousands of civilians, according to Syrian activists.
"I know about the army, they use bullets, missiles, and bombs. I haven't heard of the army using barrels, or maybe, cooking pots," Assad said, apparently making light of the allegations.
Pressed again about their use, he replied: "They're called bombs…. There is no barrel bombs, we don't have barrels."
http://indianexpress.com/article/world/middle-east-africa/assad-we-get-messages-from-us-led-coalition-battling-is/
---------
Africa
Boko Haram kidnaps 20 people in Cameroon, executes 12
February 10, 2015
Yaoundé (AFP) - Suspected members of Boko Haram kidnapped 20 people from a bus in northern Cameroon, then executed 12 of them, a security source and resident said Monday.
The kidnapping occurred on Sunday and all of the survivors have since been released, said a resident, on condition of anonymity, whose wife was among those abducted. An official from a local NGO also confirmed the incident.
According to the security source, who is based in the region, the victims were travelling in a bus stormed by alleged Boko Haram members.
"The bus was coming from Koza and was travelling to Mora," the source said, referring to two towns in the country's extreme north near the Nigerian border.
http://news.yahoo.com/boko-haram-kidnaps-20-people-cameroon-executes-12-193431611.html
---------
Cameroon-Chad Troops Kill 10 Boko Haram Terrorists
February 10, 2015
At least 10 Boko Haram terrorists have been killed in clashes with a joint Cameroonian-Chadian force in the Northern Cameroonian town of Kerawa near the border with Nigeria, a security source said Monday.
"Kerawa was attacked Sunday evening by Boko Haram Takfiri militants. The attackers were repelled and at least ten of them were killed," the Cameroonian security source said, World Bulletin reported.
"Eight Cameroonian soldiers were wounded in the gunfight. However, their lives aren't in danger," he said.
The source added that 18 bus passengers had been kidnapped by the terrorists in the nearby Adanga Danga village.
The abductions had not been claimed by any group, the source said, but added, "We think it's Boko Haram."
In recent months, Boko Haram – which operates mainly in neighboring Nigeria – has stepped up attacks on Cameroonian troops and civilians, especially in Cameroon's Far North region.
According to a report, around 600 Boko Haram Takfiri militants have been killed in clashes with joint Chadian-Cameroonian forces since Chadian troops arrived in Cameroon last month.
http://english.farsnews.com/newstext.aspx?nn=13931120001184
---------
ISIS-linked groups inch closer to Libya's largest oil port
World Bulletin / News Desk
Feb 10, 2015
Members of a group loyal to the ISIS in Libya have made advances towards the country's largest oil terminal, according to eyewitnesses and the Libyan army.
ISIS-affiliated group on Monday night staged a military parade in the town of Noufliya, which lies some 60km from the eastern oil port of Sidra, local residents told.
Photos emerged on social media outlets in Libya showing 4X4 vehicles – some bearing the ISIS's trademark black flag – entering the town.
Local residents said top ISIS militants from Libya had attended the parade.
Army spokesman Ibrahim al-Mismari, for his part, told reporters that "Dawn of Libya" militiamen – who remain in de facto control of capital Tripoli – had engaged in deadly clashes with ISIS near the town on Sunday.
"The clashes erupted after four [Dawn of Libya] militants attacked an ISIL checkpoint near Noufliya," he said.
Full report at:
http://www.worldbulletin.net/todays-news/154745/isis-linked-groups-inch-closer-to-libyas-largest-oil-port
---------
Libyan army says has retaken main camp in Benghazi
10 February 2015
Libyan special forces said on Monday they had retaken the main military base in Benghazi from Islamist fighters that they have been battling since October, part of a wider struggle four years after the ousting of autocrat Moammer Qaddafi.
Special forces commander Wanis Bukhamada told Reuters by telephone that his troops had seized the army camp, on a road to the airport outside Libya's second biggest city, as well as nearby offices belonging to state cellphone operator al-Madar.
A video posted on social media websites appeared to show Bukhamada at the camp's gate.
Backed by troops led by general Khalifa Haftar, special forces launched their offensive against Islamists in the city in mid-October aiming to retake the city seized by Islamists last summer. They have regained control of central parts of the city, the airport and several military camps.
Full report at:
http://english.alarabiya.net/en/News/middle-east/2015/02/10/Libyan-army-says-has-retaken-main-camp-in-Benghazi.html
---------
EU threatens sanctions against "spoilers" of Libyan peace talks
February 10, 2015
European Union foreign ministers threatened sanctions on Monday against "spoilers" who obstruct efforts by the United Nations to halt fighting in Libya.
Libya has been in chaos since a NATO-backed revolt ousted Muammar Gaddafi nearly four years ago, with rival governments allied to armed groups fighting for legitimacy in a conflict that threatens to split apart the oil-producing nation.
U.N. Special Envoy Bernadino Leon has been struggling to arrange talks between the main factions and EU foreign ministers said after a meeting in Brussels that the bloc was ready to penalise anyone blamed for thwarting dialogue.
"Those responsible for violence and those who obstruct or undermine Libya's democratic transition must face consequences for their actions," they said in a statement. Ministers gave no details of what sort of sanctions might be imposed.
A confidential discussion paper drawn up by the EU's diplomatic service and seen by Reuters last month set out a range of options for possible sanctions, including imposing a full oil embargo.
Full report at:
http://english.ahram.org.eg/NewsContent/2/8/122651/World/Region/EU-threatens-sanctions-against-spoilers-of-Libyan-.aspx
---------
Niger approves sending troops to Nigeria to fight Boko Haram
February 10, 2015
Niger's parliament has unanimously approved the deployment of troops to northern Nigeria as part of a regional offensive against Islamist militant group Boko Haram, which has launched several cross-border attacks in recent days.
Nigeria, Niger, Cameroon, Chad and Benin agreed at the weekend to send a joint force of 8,700 troops to battle the militant group, which has killed thousands of people and kidnapped hundreds more in its bid to carve out a caliphate.
The crisis has prompted Nigeria to postpone its Feb. 14 presidential election by six weeks.
In recent days, Niger has massed more than 3,000 troops in its southern region of Diffa on the border with Nigeria, awaiting parliamentary approval to go on the offensive.
"The pooling of the efforts and resources of concerned countries will contribute without doubt to crushing this group which shows scorn, through its barbaric acts, for the Muslim religion," Niger's parliamentary speaker Adamou Salifou said after the vote late on Monday.
"Our country has never failed it its solidarity with its neighbours," he said.
The vote was supported by all 102 deputies present.
On Monday, Boko Haram militants bombed the Niger town of Diffa, killing five people - its third attack there in four days. It also carried out raids in neighbouring Cameroon, kidnapping a bus full of passengers.
Residents in Diffa have voiced fears of further attacks in the coming days. Locals in the town, which lies just a few kilometres from territory controlled by Boko Haram, have long spoken of sleeper cells infiltrating their communities.
An intensification of Boko Haram violence near Lake Chad, which straddles Nigeria, Chad, Cameroon and Niger, has sent tens of thousands of Nigerians fleeing across the border.
http://www.hurriyetdailynews.com/niger-approves-sending-troops-to-nigeria-to-fight-boko-haram.aspx?pageID=238&nID=78142&NewsCatID=357
---------
South Asia
Islamists May Exploit Political Void, Warns Bangladesh International Crisis Group
February 10, 2015
Bangladesh has become vulnerable to Islamist extremists due to the "political void" which is a result of the two main political camps refusing to work towards an agreeable middle ground, cautions the International Crisis Group (ICG).
The Brussels-based think tank working to prevent and resolve deadly conflict across the globe recommended in a report yesterday that the ruling Awami League should rein in its repressive behaviour towards political dissent.
The report also says the main political opposition, BNP, should commit to non-violent methods of protests and shuns Jamaat-e-Islami, which is reaping the benefits of its alliance.
It says: "Violent Islamist factions are already reviving, threatening the secular, democratic order of Bangladesh exploiting the current 'political void' left by the two main political parties fighting each other."
The report reads: "While Jihadi forces see both parties as the main hurdle to the establishment of an Islamic order, the AL and the BNP perceive each other as the main adversary."
The think tank observes that "the political crisis is fast approaching the point of no return and could gravely destabilise Bangladesh" if the two sides do not resolve the tension quickly.
It says the ruling party should start "by respecting the democratic right to dissent" and the BNP by "reviving its political fortunes through compromise with the ruling party, rather than violent street politics."
Full report at:
http://www.dhakatribune.com/politics/2015/feb/10/islamists-may-exploit-political-void-warns-icg#sthash.HKYSn8RW.dpuf
----------
3 insurgents killed in own IED explosion, 23 killed in operations
February 10, 2015
Three insurgents have been killed in their own IED explosion while 23 others killed in Afghan National Security Forces operations in past 24 hours.
Three insurgents have been killed in their own IED explosion in Logar Province.
Interior Ministry in a statement issued Tuesday morning states that three insurgents were killed in their own IED explosion in Qala-e-Lalak area of Baraki Barak District, Logar Province yesterday.
Insurgents were planting the landmine on a roadside that exploded on them, killing all three on the spot.
A different statement also issued Tuesday morning states that 23 insurgents have been killed during joint Afghan National Security Forces (ANSF) operations across the country in past 24 hours.
Full report at:
https://www.khaama.com/3-insurgents-killed-in-own-ied-explosion-23-killed-in-operations-29044
---------
5 suicide bombers killed in attack on Kunduz police HQ
February 10, 2015
At least six people including five suicide bombers were killed after a group of suicide bombers launched coordinated attack on provincial police headquarter in Kunduz province of Afghanistan.
Provincial police chief Abdul Saboor Nusrati said the suicide bombers were looking to enter the police headquarter compound but were recognized by security forces.
He said two of the suicide bombers were shot dead while one of them detonated a vehicle packed with explosives, leaving a policeman injured.
In the meantime, Gen. Ayub Salangi, Senior deputy interior minister for security affairs, said the attack was carried out by a group of five suicide bombers.
Gen. Salangi said two of the suicide bombers were shot dead while three others detonated their explosives, leaving one person dead and three others injured.
The Taliban militants group claimed responsibility behind the incident.
https://www.khaama.com/suicide-bombers-launch-coordinated-attack-on-kunduz-police-hq-9316
---------
Awami League: Dialogue only if BNP admits to killing people
February 10, 2015
The ruling Awami League has said it will sit in a dialogue if the BNP accepts the responsibility of all arson deaths.
BNP Chairperson Khaleda Zia, following suggestions from international criminal groups, ordered the terrorists from her party and their partner Jamaat-e-Islami to create violence, the Awami League alleged.
"BNP and its major ally Jamaat do not know what their exact demand is. BNP has become a terrorist organisation because of its excessive dependence on Jamaat-e-Islami," said Mahbub-ul Alam Hanif, joint general secretary of the ruling party, at a press conference in the city yesterday.
The press conference was arranged at their chief Sheikh Hasina's Dhanmondi office to clarify the party's stance regarding the prevailing political situation in the country.
A total of 69 people have been killed so far in arson on vehicles and crude bomb blasts around the country since the BNP-led 20-party alliance started enforcing non-stop transport blockade and intermittent hartals on January 6.
Full report at:
http://www.dhakatribune.com/politics/2015/feb/10/al-dialogue-only-if-bnp-admits-killing-people#sthash.E7lLzWUi.dpuf
---------
PM Sheikh Hasina: Arsonists-killers are enemies of nation
February 10, 2015
Prime Minister Sheikh Hasina has termed those who are burning people to death as enemies of the country, people and humanity.
She called upon all to put up strong resistance against such terrorists, reports BSS.
The PM came up with the call while inaugurating "Digital World 2015", the largest digital exposition of South Asia, in Bangabandhu International Conference Centre (BICC) in Dhaka on Monday.
"I feel extreme pain when I see that the innocent people are burnt to death with petrol bomb, the trucks carrying chicks and vehicles carrying textbooks are torched by the terrorists in the name of movement. It is very difficult to believe that people can do such inhuman acts," she said.
Sheikh Hasina said there are some people in the country who don't see the country's development. "They are blind despite having eyes," she said.
Full report at:
http://www.dhakatribune.com/politics/2015/feb/09/pm-arsonists-killers-are-enemies-nation#sthash.GrRWax2C.dpuf
---------
Siblings arrested over war crimes in Habiganj
February 10, 2015
Police have arrested a union parisahd chairman in Habiganj and his brother for their alleged involvement in crimes against humanity during the Liberation War in 1971.
The arrestees are Mujibur Rahman Angur Mia, 52, chairman of Khagaura union parishad under Baniachang upazila; and his brother Mohibur Rahman, 55.
Mujibur Rahman is also a leader BNP's Baniachang upazila unit.
ASP Masudur Rahman Monir told the Dhaka Tribune that the duo were arrested from Imambari area of Nabiganj upazila on Tuesday morning.
"They are being interrogated at the Police Super's office. Details will be briefed later," he added.
http://www.dhakatribune.com/bangladesh/2015/feb/10/siblings-arrested-over-war-crimes-habiganj#sthash.QDCt0mLH.dpuf
---------
Southeast Asia
Isma rallies Muslims to fight 'racists' and 'extremists'
February 10, 2015
PETALING JAYA: Ikatan Muslimin Malaysia (ISMA) called on Muslims yesterday to defend their faith against "unceasing attacks" from all angles by various parties which it branded "racists" and "extremists".
In a posting on its website entitled, "Bangkit Umatku, kita diserang bertalu-talu" (Rise, my people, we are under unceasing attack) authored by Ustaz Mohd Firdaus Salleh Hudin, ISMA alleged that in the short timespan since the beginning of 2015, the Muslim faith and the Malay community had suffered a laundry list of wide-ranging "attacks" from all and sundry.
Leading the list of dastardly acts was artist Vincent Leong and his depictions of the King and Queen with their backs facing out.
The ustaz also took issue with DAP's alleged criticism of Maktab Rendah Sains MARA's regulations and the branding of Agriculture and Agro-based Industries Minister, Ismail Sabri Yaakob as a "racist". The same party's push for local council elections was also seen as an affront to Malays.
Full report at:
http://www.freemalaysiatoday.com/category/nation/2015/02/10/isma-rallies-muslims-to-fight-racists-and-extremists/
---------
Indonesian Muslims Try to Counter Islamic State's Appeal
Feb 10, 2015
JAKARTA— In the last decade, Indonesia's strategy to combat terrorism through police action and criminal prosecution, not military means, has successfully curbed the local terrorist threat. However, there is growing concern that the rise of the Islamic State in Syria and Iraq could reignite radical movements in the world's largest Muslim-majority country.
At the al-Hikam boarding school, located outside Jakarta, young Indonesian men are learning to counter radical Islamic ideology with moderate Muslim teachings.
The director of this government-funded program, Arif Zamhari, said the newly trained religious scholars will be sent out to speak in mosques across the country.
"We spread a virus of peaceful Islam to our community here. The problem here is you know the loudest voices are from the radicals, so our moderate groups never speak out," said Zamhari.
Full report at:
http://www.voanews.com/content/indonesian-muslims-try-to-counter-appeal-of-islamic-state-group/2634501.html
-----------
Anwar's verdict demeans democracy, judiciary, says human rights group
February 10, 2015
Datuk Seri Anwar Ibrahim's conviction in a "preposterous trial" that has been universally condemned proves Malaysia's criminal justice system is frail and Barisan Nasional (BN) is desperate to remain in power at all costs, human rights group Suaram said today.
Suaram programme coordinator Serene Lim said that Anwar's legal team had raised serious questions that were "swiftly and unjustly dismissed" by the judges, including the meeting between the complainant, Mohd Saiful Bukhari Azlan, and Prime Minister Datuk Seri Najib Razak, the alleged tampering of the DNA evidence, and Saiful's medical report which showed no sign of anal penetration.
"Although the Federal Court's decision is deeply regretted, it however, attests to general conviction on the frailty of our criminal justice system," said Lim in a statement today.
"The fact that Anwar was convicted in a preposterous trial illustrates the ruling coalition's fundamental insecurity and unwillingness to face serious questions about their performance, as well as their desperation to hold onto power, regardless of the ramifications to Malaysia's integrity."
Full report at:
http://www.themalaysianinsider.com/malaysia/article/anwars-verdict-demeans-democracy-judiciary-says-human-rights-group#sthash.GhxxiWlc.dpuf
---------
Jember DPRD Apologizes for School Girl Virginity Test Statement
February 10, 2015
Jakarta. The city council of Jember in East Java has distanced itself from statements made by one of its lawmakers after he said last week all school girls would be required to take a virginity test in order to graduate.
Habib Isa Mahdi, a lawmaker from the People's Conscience Party (Hanura), drew disbelief when he said that Jember Regional Legislative Council (DPRD) was drafting a regulation on "good conduct," which includes an article installing a virginity test as a requirement for female students' graduation.
Isa said the city council thought the regulation was necessary because many secondary and high school students were engaging in pre-marital sexual activities.
On Tuesday, however, the council's deputy speaker, Ayub Junaidi, apologized for the comments and said no such bylaw was being considered.
"On behalf of the Jember Consultative Council we'd like to apologize to the public, especially to all women and girls across Indonesia," the National Awakening Party (PKB) lawmaker was quoted as saying by Kompas.com.
Full report at:
http://thejakartaglobe.beritasatu.com/news/jember-dprd-apologizes-school-girl-virginity-test-statement/
----------
Mideast
Turkish gov't to require pre-nuptial 'licenses to marry'
February 10, 2015
Couples in Turkey will now be required to acquire a "license to marry" before they can wed following a new cabinet decision.
"A person who applies for marriage according to the provisions of this regulation must prepare the affidavit and the license to marry," according to an amended article that was published in the Official Gazette on Feb. 10.
Last week, a deputy from Turkey's ruling Justice and Development Party (AKP) raised eyebrows by suggesting the issuance of a "license to marry" for men, days after he stirred controversy by stressing "the honor of the neighborhood."
"If [domestic violence] occurs between married couples so frequently," said İsmet Uçma, an Istanbul deputy and one of the founders of the AKP, "let's introduce something like a license to marry."
http://www.hurriyetdailynews.com/turkish-govt-to-require-pre-nuptial-licenses-to-marry.aspx?pageID=238&nID=78138&NewsCatID=341
---------
Gaza youngsters flock to Hamas training camps
February 10, 2015
KHAN YUNIS: Hatem is only 14 but has already lived through three wars with Israel. Now the young Gazan says he is making sure he'll be ready to fight in the next one.
"The Israelis killed my niece last summer. Now I want to kill them," he told AFP after completing a week-long youth training camp with militants from the Ezzedine al-Qassam Brigades, the armed wing of the Islamist Hamas movement.
"I will become a resistance fighter," the boy said proudly
during a graduation ceremony in Gaza.
Hatem is one of 17,000 youngsters who graduated late last month from two military training camps where Hamas — the de facto power in Gaza — said it was preparing the next generation to fight against Israel.
Last summer, Israel and Hamas militants fought a 50-day war that killed nearly 2,200 Palestinians and 73 on the Israeli side, and left swathes of the impoverished enclave in ruins.
It was their third conflict in less than five years, following an eight-day bombardment in 2012 and a 22-day war in late 2008 and early 2009.
Full report at:
http://www.dailytimes.com.pk/region/10-Feb-2015/gaza-youngsters-flock-to-hamas-training-camps
----------
Israeli bulldozers raze Palestinian home in E. Jerusalem
World Bulletin / News Desk
Feb 10, 2015
Israeli authorities have demolished a Palestinian house in occupied East Jerusalem on the pretext that it was built without a permit, eyewitnesses have said.
An Israeli police force – backed by four bulldozers – arrived in the Silwan neighborhood early Tuesday and demolished the house, witnesses added.
According to the witnesses, the building was recently built by Palestinian Ahmed al-Abbasi and had housed 14 people, all of whom were forced to spend the night in the open following the demolition.
Palestinian officials accuse Israeli authorities of launching a relentless campaign to seize control of the Silwan neighborhood, which is located only a few hundred meters from the flashpoint Al-Aqsa Mosque compound.
Full report at:
http://www.worldbulletin.net/headlines/154737/israeli-bulldozers-raze-palestinian-home-in-e-jerusalem
-----------
Turkish Intel provided weapons to ISIS, terror suspect says
February 10, 2015
An Islamic State fighter currently under trial in a Turkish high criminal court has implicated Turkey's state intelligence service in the willful transfer of weapons and military hardware to the jihadist group fighting in Syria, Today's Zaman reported on Monday.
Mehmet Askar, who was detained together with another 11 suspects belonging to Islamic State, Jabhat al-Nusra and the moderate Free Syrian Army, revealed that in 2011 a planned transfer of arms was hampered by the capture of key border town by the Syrian army, blocking the route often used to infiltrate the war-torn Arab country.
Askar's accomplice, Haisam Toubalijeh, also known as Keysem Topalca, who was involved in a weapons transfer thwarted in 2013 by Turkish forces, reassured him that contacts inside MIT, Turkey's intelligence organization, would help facilitate the movement of the cache, which included some 100 NATO rifles across the border.
Full report at:
http://www.jpost.com/Middle-East/Turkish-Intel-provided-weapons-to-ISIS-terror-suspects-says-390571
---------
Ahmadinejad launches website and Instagram account in hopeful political comeback
February 10, 2015
After being out of the public eye for over a year, former Iranian president Mahmoud Ahmadinejad began a new public campaign last week, which included the launch of his official website and Instagram account, all indications that he is planning to make a comeback.
His recent media push also included a series of interviews with Iranian TV stations, public appearances, lectures and social events — something he had strictly avoided in the past.
The most interesting part of the website is a statement indicating his future return to politics, supposedly written by outside "specialists." Ahmadinejad still argues that the years of his presidency were "the cleanest and purest years Iran ever had and improved living conditions for many Iranians," though most consider the years of his administration the country's worst years since the Islamic revolution, saying he lead the country into a financial dead end.
Full report at:
http://www.jpost.com/Middle-East/Ahmadinejad-launches-website-and-Instagram-account-in-hopeful-political-comeback-390569
---------
Iranian Envoy: Terrorism in Mideast Result of West's Wrong Policies
February 10, 2015
Iranian Ambassador to Rome Jahanbakhsh Mozaffari stressed that the Middle-East and the Caucasus regions have turned into a haven for the terrorists due to the western countries' strategic mistakes.
"The West's strategic mistakes about issues in the Middle-East region, Central Asia and the Caucasus have turned this part of the world into a haven for the terrorists and extremists," Mozaffari said in an interview with Italy's Agence la Stampa on Monday.
Warning that terrorism is threatening the regional and world states, he said, "Their only goal is destroying civilization, spreading Islamophobia and paving the ground for foreign meddling in the region again."
Mozaffari called for finding the root causes of terrorism and creation of a united front against the ominous phenomenon.
Full report at:
http://english.farsnews.com/newstext.aspx?nn=13931120001193
---------
Iranian president: world must 'seize opportunity' of nuclear deal
February 10, 2015
Iranian President Hassan Rowhani said Tuesday that world powers must "seize the opportunity" of a landmark nuclear deal, saying Tehran had taken the "necessary steps" for an accord.
Rowhani's remarks appeared to be a response to U.S. President Barack Obama, who on Monday said: "The issues now are -- does Iran have the political will and the desire to get a deal done?"
"Right now good progress has been made although we are some distance away from the final agreement," the Iranian president said, during a meeting in Tehran with India's national security adviser Ajit Doval.
"Iran has taken necessary steps and now it's the other side's turn to seize the opportunity."
Two deadlines for a permanent agreement on Iran's controversial nuclear program have already been missed, requiring the talks to be extended.
Negotiators are now working toward the political outline of a deal by March 31, with the cut-off point for the technical details of a comprehensive accord by June 30.
Rowhani said that although gaps remain between Iran and the P5+1 powers -- Britain, China, France, Russia and the United States plus Germany -- it was up to them to close a deal.
Disagreements center on the extent of nuclear activities Iran will be allowed to continue and the timetable for the lifting of sanctions.
http://english.alarabiya.net/en/News/middle-east/2015/02/10/Iranian-president-world-must-seize-opportunity-of-nuclear-deal.html
---------
North America
North Texas Islamic Tribunal Using Sharia Law To Settle Disputes
Feb 10, 2015
Sharia Law, it's how Muslims settle disputes in many countries. Now, that law is being practiced in what's believed to be a first-of-its-kind institution operating in the United States.
In North Texas, just outside of Dallas, three men are the judges who make up what they call the Islamic Tribunal.
"To help to solve the problems and the disputes between two parties," said Imam Moujahed Bakhach.
Following Sharia, or Islamic law, the tribunal is operating as a legal nonprofit registered with the state of Texas.
On their website it states, "The need for a mediation and non-binding arbitration firm that adheres to Islamic principles in the Muslim community has been a long time in the making."
The judges say they only deal with civil cases in the community, helping settle issues ranging from business disputes to divorce.
Most of their cases have concerned divorce. This tribunal has nothing to do with crime or punishments, the men say.
"Our work, we just fix the religious part and we file another suit as a regular case to the civil courts," said judge Dr. Taher El-badawi.
Full report at:
http://www.ktul.com/story/28063464/north-texas-islamic-tribunal-using-sharia-law-to-settle-disputes
----------
9/11 hearing halted after CIA infiltration charge
10 February 2015
A U.S. military judge stalled a hearing at Guantanamo Bay after inmates accused of plotting the 9/11 attacks complained that a court interpreter worked in the CIA's secret prison.
Ramzi Binalshibh, a 42-year-old Yemeni, and one of the five accused, was the first to object to the interpreter's presence in the court room.
"The problem is I cannot trust him because he was working at the black site with the CIA and we know him from there," Binalshibh said in English.
The Arabic interpreter, Louay al-Nazer, is part of the defense team for the five detainees charged in the 2001 attacks that killed almost 3,000 people in the United States.
Binalshibh's allegation added to contentions by the defense that the U.S. government is attempting to infiltrate its team.
Cheryl Bormann, a lawyer for defendant Walid bin Attash, chimed in: "Judge, we have exactly the same issue.
"My client relayed to me this morning that there is somebody in this courtroom who was participating in his illegal torture," she said.
"This is a scenario that concerns my client gravely. He was visibly shaken today. I want to get to the bottom of it."
Full report at:
http://english.alarabiya.net/en/News/world/2015/02/10/Hearing-for-accused-9-11-plotters-halted-after-infiltration-charge.html
---------
US adds German rapper turned ISIS fighter to list of known terrorists
February 10, 2015
WASHINGTON: The United States added German former rapper Denis Cuspert to its list of "terrorists" over his role as a fighter with the Islamic State group in Syria and Iraq, the State Department said Monday.
The 39-year-old, who used to rap in Berlin and now goes by the name Abu Talha al-Almani, is one of the most famous Western fighters for IS. He is already listed as an al Qaeda supporter by the United Nations.
The US listing as a "global terrorist" freezes all of Cuspert's assets under US control and prohibits transactions with him.
Cuspert joined IS in 2012 and has appeared in numerous videos from the group, including one in November "in which he appears holding a severed head he claims belongs to a man executed for opposing ISIL (IS)," the State Department said.
The rise of foreign fighters in the ranks of IS has alarmed many Western nations.
"Cuspert is emblematic of the type of foreign recruit ISIL seeks for its ranks — individuals who have engaged in criminal activity in their home countries who then travel to Iraq and Syria to commit far worse crimes against the people of those countries," the State Department said.
Cuspert has pledged an oath of loyalty to IS leader Abu Bakr al-Baghdadi and is a chief recruiter of German fighters.
German prosecutors have launched an investigation into Cuspert as well as other foreign fighters
http://tribune.com.pk/story/835942/us-blacklists-german-rapper-featured-in-grisly-is-videos/
---------
Nigeria will not split —US govt
February 10, 2015
The United States Consul General in Lagos, Jeffrey Hawkins, has said Nigeria will not split in spite of its current socio-political problems.
Speaking in Lagos, at a press conference on the premiere of the movie, Selma, the US ambassador to Nigeria, Mr James F. Entwistle, dismissed the widely rumoured insinuations that the American government had predicted that Nigeria would split anytime from 2015.
In his remark, Mr Entwistle said Nigeria was not different from all other countries in the world with various degrees of challenges but that would not make them split.
He noted that his country, the United States, had had its fair share of political challenges and that did not make it split.
The ambassador said Nigeria was a strong country that had not shown any sign of disintegration.
He queried why people predicted doom for the country rather than work towards its strength.
''Do you want Nigeria to break up?'' he asked.
Full report at:
http://www.tribune.com.ng/news/top-stories/item/29054-nigeria-will-not-split-us-govt
---------
Obama readying request to use force against ISIS
February 10, 2015
The White House will ask Congress by Wednesday for new authority to use force against Islamic State fighters, congressional aides said on Monday, paving the way for lawmakers' first vote on the scope of a campaign that is already six months old.
The United States is leading an international coalition against Islamic State, and PresidentBarack Obama launched an air campaign in August against the militant fighters, who have killed thousands of people while seizing swaths of territory in Iraq and Syria.
The administration's failure so far to seek a formal Authorization to Use Military Force for the campaign has caused some members of Congress to express concern that it overstepped the president's constitutional authority.
Others have said that lawmakers should weigh in on an issue as important as the use of military force.
The administration has said the campaign is legal, based on authorization passed under President George W. Bush in 2002 for the Iraq War and in 2001 for fighting al Qaeda and associated groups.
Full report at:
http://www.dhakatribune.com/world/2015/feb/10/obama-readying-request-use-force-against-isis#sthash.pS8m0ex8.dpuf
---------
FIU unveils its Center for Muslim World Studies at COSMOS dinner
February 10, 2015
Issues regarding Islam aren't necessarily isolated to any particular region of the world, nor are they exclusive to the topic of theology.
"I think we all agree that it's now time to go beyond the Middle East, as a focus of our current scale program, and to look at Islam on a global scale," said Florida International University Provost Kenneth Furton. "And so I'm pleased to announce that we're launching an initiative to establish the Center for Muslim World Studies."
Furton spoke of the initiative Saturday night, at the fifth annual Coalition of South Florida Muslim Organizations' community appreciation dinner.
The event took place at the University of Miami. Members of the Muslim community, political leaders and academics attended the dinner.
Full report at:
http://www.miamiherald.com/news/local/education/article9643613.html#storylink=cpy
---------
Europe
Dutch Muslim groups worried about mosque protest escalation
February 10, 2015
Dutch Muslim organisations say they are concerned about an increase in anti-Muslim incidents following Saturday's 'occupation' of a mosque under construction in Leiden. 'This was organised and could be the beginning of an escalation,' lobby group Contactorgaan Moslims en Overheid (CMO) told the Volkskrant. 'We are really worried about what might come next.' On Saturday morning five men aged between 21 and 35 climbed onto the roof of the mosque and hung up banners reading 'stop Islam' and 'the victory begins in Leiden'. The men were arrested for trespassing on a building site, questioned and later released.
Far-right group Identitair Verzet (identity resistance) later claimed responsibility on Facebook. 'This is the first act in a series against the Islamisation of the Netherlands,' the Facebook page said. The group called on 'all activists and sympathisers in the Netherlands and Flanders' to join the resistance movement. Organised 'This is unlike other incidents,' said CMO's Yassin Elforkani. 'Those were carried out by individuals. There are enough signs we should be worried about this group.' There has been a rise in anti-Muslim incidents in the past few months. In Almere, a man drove into a group of girls on his bike, kicked them and called them 'c*** Muslims'. In Rotterdam, a girl was spat at and mosques sprayed with graffiti. Identitair Verzet, which has over 5,000 likes on its Facebook page, is led by noted right-wing extremist Paul Peters, according to anti-fascist research group Kafka.
http://www.dutchnews.nl/news/archives/2015/02/dutch-muslim-groups-worried-about-mosque-protest-escalation/
---------
Vladimir Putin backs Iran's right to enrich Uranium
Feb 10, 2015
Iran is entitled to have nuclear enrichment and nobody should try to derive unilateral benefit from the situation, Russian President Vladimir Putin has said.
"I can say with no exaggeration that Russia makes a significant contribution to the settlement of the situation around the Iranian nuclear programme," IRNA quoted Mr. Putin as saying in an interview with an Egyptian daily on Sunday.
"Our position is based on the belief that Iran has a right to peaceful nuclear activity including uranium enrichment, naturally under the control of the IAEA (International Atomic Energy Agency)," he added.
He said it was not an easy task to convince the partners from the P5+1 group of world powers to agree with this approach.
"At first, we continuously asked all the parties involved to sit down at the negotiations table and start a serious discussion on the ways to resolve this problem."
Full report at:
http://www.thehindu.com/news/international/world/vladimir-putin-backs-irans-right-to-enrich-uranium/article6874829.ece
---------
Hostage John Cantlie's fate unknown as ISIS releases latest in 'documentary' series
February 10, 2015
The fate of captured British journalist John Cantlie remained unknown Tuesday as Islamic State released the latest episode in a series of documentary-style propaganda videos.
From Inside Halab, using the ancient name for Aleppo, Syria, was posted on Youtube Monday and was said to be made by Al Hayat Media, with a logo imitating that of Al Jazeera's. The last video in which he was seen was released on January 4 and called From Inside Mosul, in Northern Iraq
The video starts off with Cantlie, who appears healthy and in civilian clothing, in a pile of crumbled buildings, blaming the "Assad air force" and the American anti-IS coalition for the ruins.
"Today we're going to find out if all these bombs, all this fighting, has even slowed down the advance of the Islamic State," he says in a script most likely written by Islamic State.
"Driving into Halab, one can truly appreciate firsthand the large swathes of territory liberated by the mujahadeen [Islamic fighters]."
Full report at:
http://www.jpost.com/Middle-East/Hostage-John-Cantlies-fate-unknown-as-ISIS-releases-latest-in-documentary-series-390562
---------
United Nations: Taliban act like gangsters not would-be government
February 10, 2015
The Taliban are increasingly acting more like gangsters than a "government in waiting," UN experts monitoring sanctions against the Islamic fundamentalist insurgents said in a report circulated Monday.
The panel of experts said the Taliban, who ruled Afghanistan from 1996 to 2001, appear to be increasing their criminal activity including narcotics trafficking, illicit mining, extortion for using roads and kidnapping for ransom.
"The scale and depth of this cooperation is new, and builds on decades of interaction between the Taliban and others involved in criminal behavior," the panel said in a report to the UN Security Council.
Full report at:
http://indianexpress.com/article/world/europe/united-nations-taliban-act-like-gangsters-not-would-be-government/
---------
UN demands accountability for South Sudan rights violations
February 10, 2015
A senior UN official demanded accountability Monday for human rights violations committed by both sides in South Sudan's year-old conflict, saying "nobody is above the law."
Ivan Simonovic, the assistant secretary-general for human rights who just returned from South Sudan, told a press conference Monday that there is a broader acknowledgment of the need to break the cycle of impunity in the country.
But he said it won't be easy to improve the security and justice systems because 70 percent of the police force is illiterate and there are only 100 to 200 judges and a limited number of prosecutors.
Fighting broke out in the world's newest nation in December 2013 after President Salva Kiir, an ethnic Dinka, accused former vice president Riek Machar, an ethnic Nuer, of trying to oust him in a coup. Their political dispute sparked ethnic attacks and fighting between government troops and rebels that has killed tens of thousands of people, displaced over 2.1 million, and sent 500,000 fleeing to neighboring countries.
Full report at:
http://indianexpress.com/article/world/middle-east-africa/un-demands-accountability-for-south-sudan-rights-violations/
---------
Wiltshire police officer asked newsagent for Charlie Hebdo buyers' details after Paris attacks
Feb 10, 2015
A police force was forced to apologise today after one of its officers told a newsagent to hand over the names of four people in the name of community cohesion, after they bought a commemorative edition of the Charlie Hebdo magazine.
Wiltshire police confirmed that it had deleted the names of the buyers from its system, which were collected after officers toured shops warning newsagents to be vigilant during an "assessment of community tensions" in the sleepy market town following the attacks in the French capital in January.
One of the customers, a 77-year-old retired ward sister, described the officer as a "jobsworth" and said that she found the whole situation so unlikely that she thought it was a hoax. "At the time I was a bit miffed," Anne Keat told The Independent. "I thought that's a bit rich, two days after I got my copy, haven't they got better things to do?
"They always talk about the pressure on the resources they have got to put into these things. No wonder they're short of cash."
Full report at:
http://www.independent.co.uk/news/uk/crime/wiltshire-police-officer-asked-newsagent-for-charlie-hebdo-buyers-details-after-paris-attacks-10034327.html
----------
URL: https://www.newageislam.com/islamic-world-news/new-age-islam-news-bureau/maulana-abdul-aziz,-the-radical-cleric,-building-a-new-militia-in-pakistan/d/101455