New Age Islam News Bureau
14 Jul 2019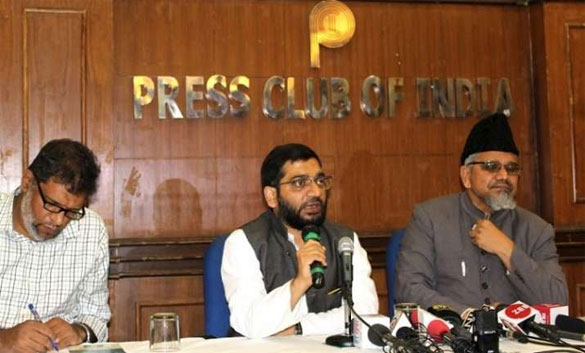 Jamaat-e-Islami Hind for talks to end Islamophobia
-------
•
Maternal Love That Went Beyond Religion and Faith: Hindu Man Writes on Death of Muslim 'Mother', 'My Umma (Mother) Has Honoured The Summons Of Allah. Please Pray For Her Soul'
• Jamaat-e-Islami Hind For Talks To End Islamophobia
• Branded As 'Infiltrators', Muslims In India's Assam Fear For Future
• Pakistan Court Frees Pastor Charged With Blasphemy
• Muslim, Jewish Communities Come Together In Kelowna
• New Zealand Muslims See Silver Lining After Tragedy
• Pacifists No More: Militant Buddhism Is On the March In Sri Lanka
• In Iraq, Minority Children Haunted By Ghosts Of Daesh Captivity
• Nasrallah Says All of Israel Is within Range of Hezbollah's Missiles
India
• Maternal Love That Went Beyond Religion and Faith: Hindu Man Writes on Death of Muslim 'Mother', 'My Umma (Mother) Has Honoured The Summons Of Allah. Please Pray For Her Soul'
• Jamaat-e-Islami Hind For Talks To End Islamophobia
• Branded As 'Infiltrators', Muslims In India's Assam Fear For Future
• Caste Lines Drawn, Muslim Barbers in Moradabad Refuse Haircuts To Dalits
• Sunni Scholars' Group Denied Permission to Protest against Lynchings at IICC in Delhi
• Pak gives in, removes pro-Khalistan leader from Kartarpur talks panel
• Key findings in Tabrez case: 'Discrepancy in police version, medical lapses'
• As India builds houses, Myanmar to reach out to Rohingya in Bangladesh
• Army Chief Bipin Rawat warns Pakistan: Misadventure will be repelled with punitive response
• NIA busts Tamil Nadu-based terror module planning attacks
• New talks to allow Indian Sikhs to visit Pakistan shrine without visa
--------
Pakistan
• Pakistan Court Frees Pastor Charged With Blasphemy
• 'Pakistani Mafia' Uses Bribes, Blackmail To Pressurise Judiciary To Protect Their Laundered Money: PM
• Govt decides to probe Khawaja Asif for 'posing security risk to Pakistan'
• IHC to hear appeals in Al-Azizia, Flagship references in September
• Video leak has made accountability process doubtful: PML-N
• Lawyers urge SJC to reject references against judges
• US, Russia, China, Pakistan favour permanent ceasefire in Afghanistan: Khalilzad
--------
Europe
• Muslim, Jewish Communities Come Together In Kelowna
• New Zealand Muslims See Silver Lining After Tragedy
• Intolerance toward Muslims in Germany growing, survey finds
• UK Says Iran Tanker Will Be Freed After Guarantees On Destination
• Turkish Cypriots propose cooperation over Cyprus gas
• Turkey anxious at attacks on mosques in Germany
--------
South Asia
• Pacifists No More: Militant Buddhism Is On the March In Sri Lanka
• Afghan forces conduct 113 joint, special ops and 21 airstrikes in past 24 hours: MoD
• US soldier killed in Afghanistan: NATO
• Taliban commander Abu Bakar and his fighters killed after attacking ALP posts in Laghman
• Airstrikes kill 8 Taliban militants in Takhar, Wardak and Parwan provinces
• Taliban attack claims the lives of senior police officer, his security guards in Badghis
• Afghan forces put an end to Taliban attack in Qala-e-Naw city
• Afghan Special Forces arrest 5 ISIS-K militants in Kabul
• Taliban militants storm hotel in northwestern Afghanistan, kill at least 8 people
• Taliban storm hotel building in west Afghanistan
--------
Arab World
• In Iraq, Minority Children Haunted By Ghosts Of Daesh Captivity
• Terrorists' Positions, Command Centres Destroyed, ISIL Emir Killed in Iraqi Army Operation in Western Iraq
• Over 100 Terrorists Killed in Syrian-Russian Airstrikes in Idlib, Hama
• US Pressuring Jordan to Block Vital Border Crossing with Syria
• US Sends Hundreds of Trucks Carrying Military Hardware to Kurdish-Controlled Areas in Hasaka Province
• Ankara Sends Heavy Military Equipment, Tanks to Borders with Aleppo to Respond to Riyadh's Movements in Eastern Syria
• Children among 14 civilians killed in Syria strikes
• Hezbollah reduced its forces in Syria, says Nasrallah
• Muslim Brotherhood cell in Kuwait involved in murder of Egypt public prosecutor
• FBI warned Saudi dissidents of threat to their lives after Khashoggi murder: Report
• Assad, Russian diplomats discuss Syria constitutional committee
• Hunt for backers of 'sleeper cell' militants who fled Egypt for Kuwait
• Two-month Idlib campaign nets little for Syria's Assad
--------
Mideast
• Nasrallah Says All of Israel Is within Range of Hezbollah's Missiles
• UK must help immediate release of Iran tanker: Zarif
• Leaked images show US-backed MKO terrorist social media operations against Iran
• Hezbollah says resistance movement stronger than ever
• Israeli naval forces arrest two Palestinian fishermen off Gaza coast
• Turkey gets fresh S-400 shipment as US mulls sanctions
• US ambassador arrives in Turkey as Russian weapons system is delivered
• Turkey begins second wave of operations against PKK in Iraq
--------
Africa
• Boko Haram Leave Trail of Opioid Addicts in Nigeria Desperate To Numb the Pain of War and Hopelessness
• Sudan activists call for 'justice' for killed protesters
• Somalia security forces end militant attack on hotel that killed 26
• Americans among dead as hotel attacked in Somalia
• Sudan activists call for 'justice' for killed protesters
• Sudan: Fresh demonstrations held for killed protestors
• Police Arrest Deadly Al Shabaab Bomb Mastermind
--------
North America
• The Muslim Brotherhood As Auxiliaries Of The Pentagon
• Iranian FM Zarif Heading To New York For UN Conference
• US soldier killed in Afghanistan: NATO
• Trump's nominee for top military post warns against early Afghanistan pullout
• US soldier killed in Afghanistan amid Washington's 'peace talks' with Taliban
--------
Southeast Asia
• DAP MP: Perak Exco, Accuser Should Not Leave Country Until Rape Claim Probe Complete
• Better Late Than Never: Jokowi Finally Has Sit-Down Meeting With Prabowo
Compiled by New Age Islam News Bureau
URL: https://www.newageislam.com/islamic-world-news/maternal-love-that-went-religion/d/119181
--------
Maternal Love That Went Beyond Religion and Faith: Hindu Man Writes on Death of Muslim 'Mother', 'My Umma (Mother) Has Honoured The Summons Of Allah. Please Pray For Her Soul'
July 13, 2019
Kochi: It could have been just another post by a son mourning the death of his foster mother. But for a twist. It was a Hindu man mourning the loss of his Muslim foster mother that brought many to tears.
Subaida Thennad died last month and it would have been a quiet affair in her village had her foster son Sreedharan not put up a Facebook post recently saying "my Umma (mother) has honoured the summons of Allah. Please pray for her soul". The post and the subsequent comments on it revealed a maternal love that went beyond religion and faith.
It turned out that Muslim couple Subaida and Abdul Azeez Haji had fostered Sreedharan and his elder sisters Ramani and Leela from the day their mother Chakki died, when Sreedharan, now 46, was one.
The trio grew up in Subaida's house practising Hindu rites along with the Muslim couple's three biological children. In the mornings, three of them went to the temple and the other three to the madarsa.
Likewise, in the evenings, the Muslim children read the Quran while Subaida's foster children prayed to god with folded hands. "Our foster parents brought us up like their own children and educated us. They got my sisters married. Though we were taken in at an impressionable age, they never tried to convert us. For us, she is no foster mother; she is our own mother," Sreedharan reportedly said in his FB post.
News of Subaida's death shattered him. He sat crying in his room in Oman, holding bottles of perfume he had bought for his mother. Reportedly, he couldn't get himself to rush back home as he couldn't muster the courage to see her body.
"If there is heaven, Subaida is sure to be found there," a leading daily quoted social worker AP Ahamed as saying. "In these days of forced conversions and religious fundamentalism, such paragons of goodness have to be celebrated," he told the daily.
Ahamed is now planning to hold an all-party meeting at Kalikavu to commemorate Subaida. He said he was sure such stories of harmony will help reduce the gulf between the secular and those who follow different faiths.
https://www.india.com/news/india/hindu-man-writes-on-death-of-muslim-mother-post-goes-viral-3716323/
--------
Jamaat-e-Islami Hind for talks to end Islamophobia
July 13, 2019
Amid increasing incidents of mob lynching and communal spat in the country, the Jamaat-e-Islami Hind said on Saturday said it would initiate dialogues at the grass-root level to end Islamophobia and bust myths about the religion.
"We will initiate discourses with people from all religions and minority communities, and will also speak to influencers and religious leaders to bust myths about Islam and end Islamophobia," said Syed Sadatullah Hussaini, President, Jamaat-e-Islami Hind. The organisation would work towards curbing rumours that lead to tensions and unrest in the society and spoil peace, Hussaini added.
The Jamaat-e-Islami Hind press conference was organised to share its roadmap of the current term, which will conclude in 2023.
https://www.indiatvnews.com/news/india-jamaat-e-islami-hind-for-talks-to-end-islamophobia-534874
--------
Branded as 'infiltrators', Muslims in India's Assam fear for future
July 14, 2019
KAMRUP: Born in India 71 years ago, Mohammed Rehat Ali is still traumatized a month after his release from a detention camp, struggling to shake off a fear for the future shared by millions — many of them Muslims — under Prime Minister Narendra Modi.
The push to render stateless people described as "infiltrators" by Modi's right-hand man has been limited to the north-eastern state of Assam, but his Hindu nationalist party wants to replicate it nationwide, alarming Muslims, who critics say are the real focus.
"I have never expected that I would have to prove my citizenship. I am an Indian citizen, we are born here in Assam and living here for generations," Ali, an illiterate farmer, told AFP.
But when he was unable to produce the required documents, a "Foreigners' Tribunal" declared him a Bangladeshi and sent him to a detention camp.
After three years, his sons secured his release by appealing to a higher court, but only after selling their land and cattle to raise legal fees.
He is one of the lucky ones.
Over four million others in the state of 33 million — where immigration has been a hot topic since British colonial rule — were left off a draft "National Register of Citizens" (NRC) last July.
They could not prove that they or their parents or grandparents were in Assam before 1971, when millions fled Bangladesh's war of independence into India.
Those excluded have been able to appeal, but up to two million people could be left off a final list due at the end of this month, reports say.
Understanding the process and producing the necessary documents in a state where many are illiterate and lack even basic papers is a nightmare for many.
One case that for critics encapsulated the absurdity was Sona Ullah, a retired Indian army captain and a veteran of the 1999 Kargil conflict with Pakistan.
He was sent to a detention camp in May due to a mismatch in his papers. Police even seized his old uniform and he was only granted interim bail after an outcry.
Those who fail to make the cut have to go to one of around 100 "Foreigners Tribunals" currently in place. Another 200 are being set up.
These are a lottery however, campaigners say, and the staff often unqualified.
According to online magazine Scroll, Assam's coalition government, which is led by Modi's party, has removed tribunal members if their "performance" falls short.
"The atmosphere has become such that there is a competition to be, what members joke among themselves, the highest wicket-taker — the one who can declare the maximum number of people foreigners," one former tribunal member told Scroll, using a cricketing analogy.
Most of those left off the draft NRC are Muslims, and critics of Modi's Hindu nationalist Bharatiya Janata Party (BJP) say this reflects its aim to serve only its co-religionists.
In January the lower house of parliament passed legislation that will grant citizenship to people who moved to India from Bangladesh, Pakistan and Afghanistan at least six years ago — but not if they are Muslim.
Home Minister Amit Shah has called for the ejection of "termites" and said before the BJP's election victory in May that it would "run a countrywide campaign to send back the infiltrators."
What will happen to those who don't make the cut in Assam remains unclear, with some hard-liners calling for mass deportations, although Bangladesh has already said it will not take any in.
There are currently 938 people in six detention camps. Another with a capacity of 3,000 is set to be built, and the Assam government wants another nine, each for 1,000 people.
But even if people are not moved en masse to camps or ejected, becoming effectively stateless could make normal life — including access to health care or education — tough, raising anxiety levels.
According to the opposition, 44 people have killed themselves since the NRC process began. There are no official figures.
It is a fear that Ali knows well, even as he acknowledges his good fortune in securing a release from the camps.
"I have lost three long years of my life away from my family," he said.
http://www.arabnews.com/node/1525336/world
--------
Pakistan court frees pastor charged with blasphemy
July 12, 2019
A court in the Pakistani city of Lahore has acquitted a Pentecostal preacher two years after his arrest for alleged desecration of Islam's holy book, the Quran, and insulting the Prophet Muhammad.
Judge Zafar Iqbal cleared Jadoon Masih of charges under the nation's penal code.
Masih, an ordained pastor of the Nasiri Pentecostal Church, was arrested by law enforcement officers on Feb. 2, 2017, two months after local Muslims reputedly found 150 pages of the Quran lying on the ground.
Some 100 of these pages were said to have been "martyred," according to a complaint filed at a local police station.
The name of a Christian faith healer named Babu Shahbaz was said to have been inscribed on the pages with a blue marker pen. It was alleged that a similar incident occurred in 2016. Shahbaz is now heading the Nasiri Church in Kamahan village near Lahore.
Lahore's High Court released Masih on bail in 2017. However, the 50-year-old kept living in hiding with his six children while his case was still under trial.
His defense attorney, Nadeem Anthony, told ucanews.com that although technically free, the pastor was not able to return to his church and had become a heart patient.
He allegedly suffered mistreatment amounting to torture while in custody for six weeks when investigators were said to have been under pressure from hard-line religious groups.
The Catholic lawyer has successfully defended four Christians and one Muslim woman who were all accused of blasphemy.
The alleged insulting of Islam has sparked lynchings in the Muslim-majority country. Hundreds of Pakistani Christians have fled abroad to avoid persecution and possibly death because of their religious beliefs.
Church leaders and human rights activists say many accusations stem from personal disagreements.
"We have to be very careful and keep a low profile," said Anthony. "The challenge is to avoid becoming a target while handling such cases. Still, the recent release of Asia Bibi was good news and gave courage to our judges."
Bibi, a Catholic woman, was acquitted of blasphemy after spending eight years on death row and she left Pakistan for Canada in May.
Releasing an annual report on international religious freedom last month, U.S. Secretary of State Mike Pompeo urged Pakistan to do more to stop the abuse of its blasphemy laws.
Pompeo estimated that more than 40 people were serving life sentences or facing execution for blasphemy in Pakistan.
https://www.ucanews.com/news/pakistan-court-frees-pastor-charged-with-blasphemy/85626
--------
Muslim, Jewish Communities Come Together In Kelowna
By Don Plant
July 10, 2019
It sounds like a joke – a Muslim and a Jew walk into a Tim Horton's.
But there's no ethnic punch-line in this story. As representatives of their congregations, Rehan Sadiq and Philippe Richer-Lafleche met over coffee several times to arrange a gathering between members of their communities. After decades of living in Kelowna, B.C., but seldom rubbing shoulders, members of the Muslim and Jewish faiths decided to learn about each other's history and culture by visiting their respective places of worship.
Their latest encounter in Kelowna's main synagogue included a briefing on the Jewish faith and a close-up look at the Torah. Sixty people, more than half of them members of the Kelowna Islamic Centre, listened to a Hebrew psalm, as they sat in the sanctuary of the Okanagan Jewish Community Centre (OJCC) in June.
Afterwards, Kelowna Islamic Centre board member Hassan Iqbal recited from the Qur'an and his teenage son, Musab Hassan, sang prayers in Arabic.
The gathering followed a similar event in February, when Muslim members hosted a contingent of Jewish visitors at their mosque. Members of both communities say they hope to forge a longstanding friendship.
"The last thing I want our children to learn (about our relations) is from the news," Sadiq, the mosque's interfaith director, told both congregations in June. "This kind of meeting is extremely important. We should talk about building bridges."
Organizers circulated the visitors through three stations at the synagogue to inform them about the basics of Judaism. OJCC members showed them the Torah, explained the prayer books and elucidated the symbols and artifacts that were on display in the shul.
Once everyone sat down, lay leader Evan Orloff sang a psalm to the tune of Leonard Cohen's "Hallelujah." OJCC president Steven Finkleman then discussed the importance of loving your neighbour as yourself. He was followed by Grant Waldman and Annik Moyal-Waldman singing Shalom Aleichem.
After Islamic Centre president Mostafa Shoranick made a few remarks, Finkleman said "let's eat," and everyone lined up for a lavish buffet of Middle Eastern dishes. People mingled as they ate and at least one group of Muslim and Jewish women agreed to meet again. Over dessert, Sadiq and Finkleman led a discussion about which charities both faith groups could jointly support.
"I really think peace in the world will come on a one-to-one basis. It's not governments (that create peace)," Richer-Lafleche, whose Jewish and Muslim grandparents married in Morocco, said. "It's within small communities that you actually get to know people.… We make choices. We can choose to be loving or otherwise."
The Muslim community is trying to educate the public and its own members about what Islam is, said Shoranick, who moved to Canada from Lebanon because of the discrimination he faced there.
Many in his Muslim community are new to Canada and want to assimilate, he said. "We come from different countries and different sects. We believe that in this country, we're lucky that we're able to do our religion.… The religion is for God, but the country is for everybody."
When both groups sat down together, they discovered that they share many beliefs, such as regarding Abraham, Isaac, Jacob and Moses as prophets. Neither religion proselytizes or compels anyone to adopt its beliefs, and both agree that it's wrong to judge people.
"It's not our differences that get in the way; it's how we perceive our differences," Orloff said.
https://www.cjnews.com/news/canada/muslim-jewish-communities-come-together-in-kelowna?fbclid=IwAR0ZblV6nLLuguADJmOu_xzShurI4sDJSVPuZ8DYxhAE1pI4j1u-iZdES74
--------
New Zealand Muslims see silver lining after tragedy
13/07/2019
CAIRO - Four months ago, the Muslim community in New Zealand was just another minority in a society that didn't know much about Islam. New Zealanders perceived their Muslims just through outward appearances, especially the stereotypical bearded men and veiled women.
Things changed after the attacks on Al Noor Mosque and the Linwood Islamic Centre in Christchurch in which 51 people died. That event led imams in New Zealand to have direct dialogue with government officials, to whom they relayed grievances of New Zealand Muslims, and explore ways to promote religious tolerance. Those efforts are bearing fruit.
New Zealand Prime Minister Jacinda Ardern on July 6 pledged to have the "Document on Human Fraternity," signed by Pope Francis on behalf of the Vatican and Grand Imam Ahmed al-Tayeb on behalf of al-Azhar, placed in schools, universities and other educational institutions so New Zealand's new generations grow up bearing a message of peace and goodwill.
Since the March 15 attack on Al Noor Mosque, the Muslim community in New Zealand has made impressive gains, including receiving government authorisation to open Islamic schools, the use of loudspeakers for prayer calls and the broadcast of Friday prayers on state television.
Gamal Fouda, imam of the Al Noor Mosque, who witnessed the March attack, said in an interview that the positive reactions have had an effect on the status of Muslim communities in New Zealand and elsewhere.
Al Noor Mosque has become a shrine for politicians and celebrities from around the world, who visit to show solidarity with the Muslim community.
New Zealand media have become increasingly supportive of Muslims. They do not hesitate to attack stereotypes about Muslims and do not shy from countering the discourse of the extreme right in Europe.
Fouda said Arab and Islamic solidarity has helped the Muslim community. The United Arab Emirates, in particular, has played a prominent role in covering the cost of establishing a centre for tolerance and interfaith dialogue. The Forum for the Promotion of Peace in Muslim Societies, hosted by Abu Dhabi, has undertaken initiatives and facilitated visits to New Zealand to establish a culture of interfaith coexistence and humanity.
Fouda said the attacks revealed that neither New Zealanders at large nor the 70,000-person Muslim community in the country were knowledgeable about Islam. Even young New Zealand Muslims who spoke with the foreign press about the incident have shown only a shallow knowledge and insufficient understanding of their faith.
The imam said renovation of the Al Noor Mosque had been completed and its library stocked with a large number of Islamic books and publications in various languages and focusing on religious tolerance and respect for freedom of faith from an Islamic perspective.
He stressed that initiatives aimed at spreading the true concept of Islam require linguistic proficiency. It is important, he pointed out, to choose imams fluent in local dialects because their task is not only to address Muslims but also to engage dialogue with non-Muslims. The imams need to strengthen their knowledge of jurisprudence and other faith matters as well as adopt modern religious discourse and be able to address controversial issues related to Islamic heritage.
Fouda said Westerners who attack Islam do not know much about it and, even if they want to know more about it, they would not be able to find suitable references. It is, therefore, imperative to engage a long-term effort to translate Islamic references and make them available in Islamic centres, he said, adding that it is important to promote academic studies that address false claims about Islam.
Fouda called for international laws to criminalise radical discourse through social media and to counter calls for violence of any kind or purpose.
"The European Union, for example, has not been able to impose its control over extremist rhetoric on the internet despite the fact that its countries have developed preventive educational programmes and videos and that the social media platforms have established clear controls to prevent abusing them to promote content that encourages extremism and terrorism," he said.
About 150 New Zealand nationals, including a leading police figure, have converted to Islam since the attacks. About 150,000 people have visited Al Noor Mosque since the shootings.
https://thearabweekly.com/new-zealand-muslims-see-silver-lining-after-tragedy
--------
Pacifists no more: Militant Buddhism is on the march in Sri Lanka
Hannah Beech
July 14, 2019
The Buddhist abbot is sitting cross-legged in his monastery, fulminating against the evils of Islam, when a petrol bomb explodes within earshot. But the abbot, the Venerable Ambalangoda Sumedhananda Thero, barely registers the blast. Waving away the mosquitoes swarming the night air in the southern Sri Lankan town of Gintota, he continues his tirade: Muslims are violent, he says, Muslims are rapacious.
"The aim of Muslims is to take over all our land and everything we value," he says. "Think of what used to be Buddhist lands: Afghanistan, Pakistan, Kashmir, Indonesia. They have all been destroyed by Islam." Minutes later, a monastic aide rushes in and confirms that someone has thrown a molotov cocktail at a nearby mosque. The abbot flicks his fingers in the air and shrugs.
His responsibility is to his flock, the Buddhist majority of Sri Lanka. Muslims, who make up less than 10 per cent of Sri Lanka's population, are not his concern. Incited by a politically powerful network of charismatic monks like Sumedhananda Thero, Buddhists have entered the era of militant tribalism, casting themselves as spiritual warriors who must defend their faith against an outside force.
Their sense of grievance might seem unlikely: in Sri Lanka and Myanmar, two countries that are on the forefront of a radical religious-nationalist movement, Buddhists constitute overwhelming majorities of the population. Yet some Buddhists, especially those who subscribe to the purist Theravada strain of the faith, are increasingly convinced that they are under existential threat, particularly from an Islam struggling with its own violent fringe.
As the tectonic plates of Buddhism and Islam collide, a portion of Buddhists are abandoning the peaceful tenets of their religion. During the past few years, Buddhist mobs have waged deadly attacks against minority Muslim populations. Buddhist nationalist ideologues are using the spiritual authority of extremist monks to bolster their support.
"The Buddhists never used to hate us so much," says Mohammed Naseer, the imam of the Hillur Mosque in Gintota, Sri Lanka, which was attacked by Buddhist mobs in 2017. "Now their monks spread a message that we don't belong in this country and should leave. But where will we go? This is our home."
Last month in Sri Lanka, a powerful Buddhist monk went on a hunger strike that resulted in the resignation of all nine Muslim ministers in the cabinet. The monk had suggested that Muslim politicians were complicit in the Easter Sunday attacks by Islamic State-linked militants on churches and hotels in Sri Lanka, which killed more than 250 people.
In Myanmar, where a campaign of ethnic cleansing has forced an exodus of most of the country's Muslims, Buddhist monks still warn of an Islamic invasion, even though less than 5 per cent of the national population is Muslim. During Ramadan celebrations in May, Buddhist mobs besieged Islamic prayer halls, causing Muslim worshippers to flee. Because of Buddhism's pacifist image – swirls of calming incense and beatific smiles – the faith is not often associated with sectarian aggression. Yet no religion holds a monopoly on peace. Buddhists go to war, too.
"Buddhist monks will say that they would never condone violence," says Mikael Gravers, an anthropologist at Aarhus University in Denmark who has studied the intersection of Buddhism and nationalism. "But at the same time, they will also say that Buddhism or Buddhist states have to be defended by any means."
Given that Theravada Buddhists constitute overwhelming majorities in the five countries where their faith is practiced – Sri Lanka, Myanmar, Cambodia, Laos and Thailand – it might seem strange that they feel so besieged. But Buddhism, whose adherents make up only 7 per cent of the global faithful, is the only major religion whose population is not expected to grow in absolute numbers over the next few decades, according to the Pew Research Centre.
However, the number of Muslims, who make up just under one-quarter of the world's population, is growing quickly, buoyed by youthful demographics and high fertility rates. By 2050, Pew projects that there will be nearly as many Muslims in the world as there are Christians.
Buddhist monks have made much of that trend in their rhetoric, portraying their faith to be under threat. Sitting in his walled temple compound in Gintota, Sumedhananda Thero gives a bleak prophecy. "If a man dies, it is acceptable," he says. "But if a race or religion dies, you can never get it back."
The military-monastic complex
Thousands of people gathered in Yangon, Myanmar's largest city, in May as Ashin Wirathu, a Buddhist monk who was once jailed for his hate speech, praised the nation's army. Since August 2017, more than 700,000 Rohingya have fled Myanmar for Bangladesh. Behind it all was a campaign of ethnic cleansing by the army and its allies, with Buddhist mobs and the country's security forces subjecting Rohingya Muslims to slaughter, rape and the complete erasure of hundreds of their villages.
Wirathu has rejected the nonviolent teachings of his faith. Military-linked lawmakers deserved to be glorified like Buddha, he said at the rally. "Only the military," he continued, "protects both our country and our religion."
At another protest last October, Wirathu slammed the decision by the International Criminal Court (ICC) to pursue a case against Myanmar's military for its persecution of the Rohingya. Then the monk made a startling call to arms. "The day that the ICC comes here is the day I hold a gun," Wirathu said in an interview.
Experts at the United Nations say top Myanmar generals should be tried for genocide. Yet few members of Myanmar's Buddhist clergy, who have long served as the nation's moral conscience, have condemned the bloodshed. Instead, they refer to the Rohingya as subhuman invaders despoiling a golden Buddhist land.
In late May, the civilian government of Myanmar, which shares power with the military, issued an arrest warrant for Wirathu. The charges were not for hate speech against a minority religion. Instead, the monk is being accused of seditious comments against Aung San Suu Kyi, the Nobel laureate who is the nation's de facto civilian leader. Even though Wirathu has not made much of an effort to hide, and continues to post videos on social media, the police say they cannot find him and will try him in absentia.
Monks like Wirathu inhabit the extremist fringe of Buddhist nationalism. But more respected clerics are involved as well.
At 82 years old, the Venerable Ashin Nyanissara, known more commonly as Sitagu Sayadaw, is Myanmar's most influential monk. In 1988, Sitagu Sayadaw was one of a coterie of monks who blessed the nation's democracy movement, which sent hundreds of thousands of people to the streets in peaceful protest. Myanmar's military rulers responded by massacring hundreds.
That act of violence stained the junta. Another round of crushed pro-democracy protests led by the country's monks, in 2007, hastened a political transition in which some power is now shared with Suu Kyi's civilian government. After the 1988 crackdown, Sitagu Sayadaw slipped into exile in Tennessee before returning home to open Buddhist academies and a monastic university. President Barack Obama and Pope Francis have met with him. Sitagu Sayadaw sits on interfaith councils, and his missionary society runs meditation centres in Texas, Florida and Minnesota.
But just as hundreds of thousands of Rohingya were fleeing their burnt villages, Sitagu Sayadaw sat in front of an audience of army officers and said that "Muslims have almost bought the United Nations".
The army and monkhood, he continued, "could not be separated". Sitagu Sayadaw was pictured in May on a Facebook page linked to the Myanmar military, grinning among soldiers. He has offered up his faith's greatest sacrifice: an army of spiritual soldiers for the national cause.
"There are over 400,000 monks in Myanmar," he told the commander of Myanmar's armed forces. "If you need them, I will tell them to begin. It's easy."
"When someone as respected as Sitagu Sayadaw says something, even if it is strongly dismissive of a certain group, people listen," says Khin Mar Mar Kyi, a Myanmar-born social anthropologist at the University of Oxford. "His words justify hatred."
There are some monks, albeit a minority, who are countering the monastic hate speech. In Yangon in recent weeks, peace advocates handed out white roses to Muslims in order to promote interfaith harmony.
"The extremists are only a small part of Buddhism in Myanmar, but they have loud voices," says Ashin Sein Di Ta, the abbot of the Asia Light monastery. "We should say clearly that if any monk, even respected ones like Sitagu Sayadaw, advocate killing, they should be defrocked."
But in a country where senior monks are so respected, it remains hard to question their authority. Prevailing anti-Muslim sentiment worldwide has heightened prejudice, with social media playing a corrosive role. During the height of the junta's power, unauthorised fax machines were illegal in Myanmar, and the media was censored. Today, much of the population is on Facebook, ill-equipped to sift hyperbole from fact.
"I've been interviewing so many monks, and it is clear that Facebook is what has been driving their hate," says Mar Kyi of the University of Oxford. "Monks learned that Islamophobia existed in the west, and they felt like it justified their feelings."
One nation, under Buddha
Spread on social media, this is how the tale goes: once, great Buddhist empires dominated Asia. Then, beginning in the seventh century, Muslim invaders began tearing across the continent. Buddhist rulers in present-day Pakistan, Afghanistan, Bangladesh and Indonesia succumbed to Islam. The indignities continued into this century when, in 2001, the Taliban blew up the giant Buddha statues at Bamiyan in Afghanistan.
It is not just monks who feel the need to guard their faith. This is a time of profound social change in Myanmar, and some women, in particular, are yearning for a moral force to counter what they see as rising materialism among the nation's youth. Monasteries, they fear, are no longer as alluring as malls. One group that has harnessed this anxiety is the Committee for the Protection of Nationality and Religion, or Ma Ba Tha, which runs Sunday schools and other community events popular across Myanmar. Formed in 2014 with the aim of protecting Buddhism, Ma Ba Tha has pushed successfully for laws that make it hard for Buddhist women to marry outside their faith.
In Myanmar, as in Sri Lanka – where Muslims have been accused of manufacturing underwear that makes Buddhist women infertile or of sprinkling birth control pills into curry consumed by Buddhists – Buddhist figures have often expressed their hatred of Muslims in sexual terms. In 2012, reports that a Buddhist woman had been raped by Muslim men triggered fatal communal clashes in Myanmar. Buddhists in both countries claim that Muslims are waging a "reproductive jihad".
"There is this idea of a hyperfertile Muslim man with his many wives," says Iselin Frydenlund, an associate professor of religious studies at the Norwegian School of Theology. "Ma Ba Tha tapped into this trope, and pure Buddhist women were held up as the symbols of the nation who were in danger of rape by Muslim men."
In fact, it is Myanmar's armed forces that have used rape as a weapon of war in its battles against various ethnic insurgencies. The United Nations has blamed the Myanmar military for "sexual atrocities reportedly committed in cold blood out of a lethal hatred for the Rohingya."
Ma Ba Tha monks reject such findings, and they have been able to continue their hate-mongering even though the group was technically outlawed in 2017. "I don't think anyone would rape Bengali women because they are ugly and disgusting," says one Ma Ba Tha monk, U Rarza, referring to the Rohingya by a pejorative term.
The Buddhist right returns
When suicide bombers linked to the Islamic State blew up churches and hotels in Sri Lanka on Easter Sunday, Buddhist nationalists felt vindicated.
"We have been warning for years that Muslim extremists are a danger to national security," says Dilanthe Withanage, a senior administrator for Bodu Bala Sena, the largest of Sri Lanka's Buddhist nationalist groups.
"Blood is on the government's hands for ignoring the radicalisation of Islam," Withanage says.
After a few years of moderate coalition governance, a fusion of faith and tribalism is again on the ascendant in Sri Lanka. The movement's champion is Gotabaya Rajapaksa, a former defence chief who is the leading candidate for president in elections due this year.
Rajapaksa has pledged to protect religion in the country with the longest continuous Buddhist lineage. He is determined to reconstruct Sri Lanka's security state, which was built during a nearly three-decade-long civil war with an ethnic Tamil minority.
From 2005 to 2015, Sri Lanka was led by Rajapaksa's brother, Mahinda Rajapaksa, an unabashed nationalist who justified the brutal end to the civil war by portraying himself as the nation's spiritual saviour.
Temples decorated their walls with pictures of the Rajapaksa brothers. Money flowed for radical Buddhist groups that cheered on sectarian rioting in which Muslims died. One of the founders of Bodu Bala Sena, or the Buddhist Power Army, was given prime land in Colombo, the capital, for a high-rise Buddhist cultural centre. Last year, Bodu Bala Sena's leader, Galagoda Aththe Gnanasara Thero, was sentenced to six years in prison. But in late May, amid a changing political climate, he received a presidential pardon. On Sunday, he presided over a meeting of thousands of monks intent on making their political presence felt in the upcoming elections.
Before his imprisonment last year, Gnanasara Thero placed his campaign in a historical context. "We have been the guardians of Buddhism for 2,500 years," he said in an interview. "Now, it is our duty, just as it is the duty of monks in Myanmar to fight to protect our peaceful island from Islam."
https://www.independent.co.uk/news/world/asia/buddhism-pacifism-militant-violence-sri-lanka-a8997631.html
--------
In Iraq, minority children haunted by ghosts of Daesh captivity
July 14, 2019
KHANKE DISPLACEMENT CAMP, Iraq: Brainwashed and broken, the Daesh group's youngest victims are struggling to recover from years of jihadist captivity as they return to their own traumatized minority communities in Iraq.
Dozens of Yazidi and Turkmen children were rescued in recent months as Daesh's "caliphate," notorious for its use of child soldiers and "sex slaves," collapsed in Syria.
Many have been reunited with their families, but their mental recovery has been slowed by prolonged displacement, a lack of resources, and a milieu accustomed to fearing, not forgiving, Daesh members.
Lama, a 10-year-old Yazidi girl, has repeatedly threatened to stab herself or jump from a tall building in the few months since she returned to Iraq.
"I fear she'll never be like other Yazidi children," said her mother Nisrin, 34.
All names in the family have been changed to protect their identities.
Lama has spent half her lifetime held by Daesh, who forced her to convert to Islam and speak Arabic instead of her native Kurdish.
During AFP's visit to her tent in the Khanke displacement camp in northwestern Iraq, Lama appeared engrossed in a mobile shooting game with her cousins Fadi and Karam, freed from Daesh around the same time.
Like the boys, Lama dressed in black and kept her hair short. The trio spoke Arabic to one another, switching to Kurdish when addressing her mother.
"They're still brainwashed. When they're bored, they start talking about how they wish they were back with Daesh (IS)," said Nisrin, saying no psychologist had visited them.
Virtually every generation coming of age in Iraq has been seared by conflict, presenting an "unprecedented" challenge, said Laila Ali of the UN children's agency.
UNICEF does not know exactly how many children Daesh recruited, how many returned or where they live.
It estimates that 1,324 children in total were abducted by armed actors in Iraq between January 2014 and December 2017, when Baghdad declared Daesh defeated, but expects the real number is higher.
Of those freed over recent years, dozens live in orphanages or shelters in Baghdad, the former Daesh stronghold Mosul, and the Yazidi regions of Sheikhan and Sinjar.
Others accused of Daesh affiliation are in detention, with some access to psychosocial support in the form of religious re-education.
But the vast majority are growing up untracked and untreated in Iraq's camps, which host some 800,000 children.
"There are no child psychologists in Dohuk," said Nagham Hasan, a Yazidi gynecologist who has become an informal therapist for survivors amid the lack of resources.
The rolling hills of Dohuk are dotted with camps hosting hundreds of thousands of Iraqis displaced by Daesh, particularly from the Yazidi heartland of Sinjar further south.
Displaced families rely on aid groups for food and medical care, and there are even schools in the camps for children. But targeted psychological support for minors is hard to come by.
Hasan said a dozen groups were implementing generic psychosocial programs in camps with few results.
Yazidi cleric Baba Shawish demanded international agencies ramp up services.
"These organizations claim to provide mental support, but do you really think someone who spent five years under Daesh will be cured in five minutes?" he said.
"They need days and months to be rehabilitated."
Forced recruits will need tailored treatments based on age, said Mia Bloom, a US-based academic studying child soldiers.
Abducted infants may be more easily rehabilitated as they have fewer memories of life under Daesh, while those taken as teenagers "have pre-conflict memories and can go back to their happy childhoods," she told AFP.
But those recruited during formative years, like Lama and Fadi, were taught to despise minorities and may lack any positive recollections of their hometowns.
"They need to have their religious identities recharged," said Bloom.
That will require some heavy lifting from the communities themselves, still terrorized by Daesh and often treating rescued children as jihadists-in-wait.
To counter that assumption, UNICEF hosts workshops with religious and tribal leaders to reiterate that the children are, first and foremost, victims of Daesh.
"One of the biggest challenges in rehabilitation and reintegration of children with perceived affiliations is not so much the children's experiences, but the negative perception from the adults around them," said Ali.
Five years after Daesh's rampage across a third of the country, minorities are mostly facing the demons haunting their young ones alone.
Nisrin, herself held by Daesh for two years, said she was self-medicating to cope with her anxiety.
"We're in this tent together day and night," she said.
"If they were taken out for a few hours per day, I could rest and they could learn something."
http://www.arabnews.com/node/1525351/middle-east
--------
Nasrallah says all of Israel is within range of Hezbollah's missiles
Jul 13, 2019
The secretary general of the Lebanese Hezbollah resistance movement says all of Israel is within the range of the missiles of the group, adding that the resistance movement is stronger than ever despite Western sanctions.
Sayyed Hassan Nasrallah made the remarks during a televised interview with Hezbollah's al-Manar television on Friday on the occasion of the 13th anniversary of the Second Lebanon War in 2006.
"Once we said that we could strike targets south of Haifa. Today, we can say that if Israel has sites south of Eilat, then we can also hit them. All of Israel is under the range of our missiles," he said.
The Hezbollah leader, while presenting the group's developed capabilities, warned that in case of any confrontation, the Zionist entity would be brought to the "verge of vanishing, and it knows this."
"We have a larger number of missiles and we have precise missiles that we did not have in 2006. We also have a large and powerful branch of UAVs," Hezbollah's chief further said.
Then, he held up a map of Israeli-occupied territories to the camera, pointing to potential targets for Hezbollah's attacks.
"There is an area 70 kilometers long and 20 kilometers wide ... we can destroy it all," Nasrallah said.
However, he said a war with Israel was unlikely to happen anytime soon, stressing that Israel will not risk another war on Lebanon thanks to Hezbollah's deterrent force.
Nasrallah also said that he had deep hope that "we will pray in al-Quds [Mosque compound]" and that he was "certain of victory in any future war, God is with us."
Elsewhere in his remarks, the Hezbollah leader blasted US President Donald Trump's so-called Deal of the century, as a means to solve the decades-long conflict between Palestinians and the Israeli regime, stressing the proposal is doomed to fail.
The US killed the initiative after it recognized the whole Jerusalem al-Quds as Israel's capital.
"The deal took its last breath when Trump recognized al-Quds as the capital of Israel. There is not a single Palestinian who will agree to a deal in which the Christian and Muslim holy sites of al-Quds will be transferred to Israel," Nasrallah said.
https://www.presstv.com/Detail/2019/07/13/600788/Lebanon-Nasrallah-Hezbollah-Israel-missiles-Trump-Plalestine
--------
India
Caste Lines Drawn, Muslim Barbers In Moradabad Refuse Haircuts To Dalits
July 13, 2019
The police and administration in Moradabad district of Uttar Pradesh are having a tough time as some Muslim barbers have refused to cut hair of Dailts from their village. In turn, the Dalits have approached police and the district magistrate alleging caste-based discrimination.
Dalits in Peepalsana village under Bhojpur police station in Moradabad district have alleged that barbers in their village are refusing to entertain them at their shops. After receiving their complaints, Senior Superintendent of Police (SSP), Moradabad, Amit Pathak formed a joint team comprising cops and local district officials to investigate the matter. The SSP said if the allegations are found true, action will be taken under relevant laws.
THE CASE
Dalits in Peepalsana village have complained they are facing caste-based discrimination at the hands of barbers, who are Muslims. Following the complaint, all barbers have shut their shops in protest. They have been arguing that if they entertain Dalit customers at their shops, members of their own community will stop visiting them. Peepalsana is reportedly a Muslim majority village.
WHAT DALITS SAY
Dalit elders in the village say they have suffered discrimination in their lives but they want the new generation to live freely. They say this caste-based discrimination must end. Dalits in the village said their children are discriminated when they visit saloons run by Muslims.
They say their children are getting educated and in the changing world everyone must be allowed to live with dignity. Dalits said police and district administration have assured them that the matter will be resolved.
Kallan, a Dalit elder, said, "They [Muslim barbers] hate us. This is why they have shut their shops. Our sons are not getting married because people look down upon us. They mock at us because we can't take haircuts in the village saloons. No one wants to marry their daughters to our kids because of this."
Anil Kumar, a Dalit youth, said, "All our relatives humiliate us because we are refused haircuts in our own village. Police negotiated the matter and the barbers agreed that will allow us to avail services. But now they have shut their shops. We have to travel long distances to get haircuts. Our problem must be resolved."
WHAT MUSLIMS SAY
Speaking to India Today TV, Naushad, a local resident, said, "Dalits never used to visit barber shops here. They would take services from a barber shop run by a Dalit in Bhojpur. But now they want to get haircuts here. The barbers were clueless when cops took them to the police station. There they came to know that Dalits have complained against them. I am 45 years old and in my lifetime no Dalit ever took a haircut in our shops. They used to visit the shop in Bhojpur."
He said family members of the barbers are worried as these shops are their only source of income. "If Dalits take haircut and shave in these shops, the towels will become dirty. How will other Muslims take haircuts after that?" he said.
Meanwhile, not just the barbers, even other Muslims are opposing the entry of Dalits in these barber shops. They said Dalits should visit the barber shop they have been using all these years.
"This is Muslim-majority village with 95 per cent Muslim population. Today they [Dalits] are demanding entry in saloons, tomorrow they will start booking marriage halls. There are some people who want to create chaos here. The village has been peaceful for decades. This matter is being raised with ulterior motives," said Ali Ahmed.
Gulam Gaus, another local resident, said the village has always has been peaceful.
"Hindus and Muslims here have never had any enmity. We want peace and won't let anyone vitiate it. As far as saloon service for Dalits, people here don't want them to visit the saloons in the village. If they [Dalits] want, they can start their own shop and avail services there," he said, adding that this issue is being raised unnecessarily and that there are outsiders involved.
https://www.indiatoday.in/india/story/caste-lines-drawn-muslim-barbers-in-moradabad-refuse-haircuts-to-dalits-1568258-2019-07-13
--------
Sunni Scholars' Group Denied Permission to Protest Against Lynchings at IICC in Delhi
Gaurav Vivek Bhatnagar
July 14, 2019
New Delhi: The All India Tanzeem Ulama-e-Islam, the apex body of Sunni scholars of India, has criticised the Central government for preventing it from holding a protest against mob lynching cases at the India Islamic Cultural Centre in New Delhi on July 11.
The Tanzeem had, on July 4, booked a conference hall at the venue and made a payment for it, but permission for the event was denied to them hours before the conference was to start at 5:30 pm.
'Denial of permission an attack on constitutional rights'
Following the cancellation, the Tanzeem's general secretary, Maulana Shahabuddin Razvi, who had made the booking, said his organisation had clearly outlined the purpose of the conference at the time of reserving the hall. It was supposed to be a peaceful gathering of ulema and intellectuals, but the IICC still refused to extend permission use the hall for the event.
Reacting to the denial of permission to hold the event, Razvi said, "This systematic suppression of freedom of speech and criticism by the government has been on the rise and infringes the basic constitutional rights of the people."
He charged that "the government allows mob lynching to go unchecked but goes all out to stop all kinds of protests against such inhuman acts." He criticised the attitude of the Centre, saying it sought to "suppress our fundamental rights."
The trigger for the protest
It was in light of the frequent cases of lynchings that the Tanzeem wanted to organise the protest. Most of these cases have been related to cow vigilantism. According to a Reuters report, between 2010 and 2017 there were 63 cow vigilante attacks in which 28 people, including 24 Muslims, were killed and over 100 were injured.
Lynchings and hate crimes have continued unabated across the country over the past two years as well. The most recent incident took place last month when a daily wager, 24-year-old Tabrez Ansari, was beaten to death by a mob in Jharkhand on the suspicion of being a thief. He was also forced to chant "Jai Shri Ram" and "Jai Hanuman" by the mob.
Five years, 266 hate crimes, 14 in Jharkhand
According to FactChecker, this was the 266th case of hate crime in the country since the Narendra Modi-led BJP government came to power in 2014 and the 14th such case in Jharkhand during the period.
Recently, PM Modi had stated that mob lynching had not started in 2014 and should not be politicised. However, the percentage of attacks on minority community members and lower castes tell a different story.
IICC was formed to promote mutual understanding, amity
Against this backdrop, the Yanzeem's conference assumed significance. It chose the IICC as the venue since the society was formed, in 1981 and got its present premises in 2006, with the main purpose of promoting "mutual understanding and amity amongst the people of this country".
Another aim and objective of the IICC is to "depict the true face of Islam which is most tolerant, liberal, progressive, rational and forward-looking religion, besides being based on cardinal principles of human values irrespective of faith, caste, creed and colour."
No place for hurt sentiments in the Islamic Centre
Naturally, the organisers of the conference felt that the issue of lynching, which has left Muslims deeply scarred, could be discussed peacefully at the centre.
Conference Hall I, which was booked by them, has a seating capacity of 85 persons – which itself shows that the organisers did not want to turn it into a large event.
The hall has a stage, on which five people can be seated, and there is also a podium to assist them in addressing the audience. The IICC site states that programmes which can be conducted in the hall include "conferences, lectures, talks, book releases, press conferences etc".
However, despite collecting Rs 14,160 from Razvi, who had booked the hall with the reference of an IICC member, Mohammad Tariq Amin, the centre cancelled the event at the eleventh hour. The conference hall was booked from 5:30 pm to 9 pm on July 11.
Razvi said that the IICC was clearly told about the agenda of the programme. The conference was to be addressed by scholars like Mohammed Abbas Rizvi and Tauqir Raza Khan.
IICC was okay with the conference, not protest
The IICC denied that its decision was influenced by the Central government and said that the Tanzeem booked the hall for a religious programme but in its invitations stated that it was going to be a protest against lynching.
Full report at:
https://thewire.in/rights/sunni-scholars-india-islamic-cultural-centre-muslim-lynchings
--------
Pak gives in, removes pro-Khalistan leader from Kartarpur talks panel
Jul 14, 2019
AMRITSAR: As Indian and Pakistani delegations prepared to hold talks at Wagah (Pakistan) on Sunday to sort out key issues relating to the Kartarpur corridor, the Pakistani government on Saturday recast its 10-member team to drop a pro-Khalistan member.
Pro-Khalistan Sikh leader Gopal Singh Chawla will not figure in the Pakistan Sikh Gurdwara Prabandhak Committee team which will participate in the talks, which will focus on connectivity at Zero Point and the number of pilgrims to be allowed through the corridor besides security aspects.
Senior government sources in Delhi said Pakistan's move was not unexpected. "We had made our concerns clear in April," said a source. Pakistan obviously wanted to remove this sticking point between the two sides before the talks, he said.
India banned the pro-Khalistan Sikhs for Justice days before the talks.
Chawla, who boasts of his close ties with 26/11 Mumbai attacks plotter and JuD chief Hafiz Saeed, had stoked anger in India last year when he stopped Indian officials from visiting a gurdwara in Lahore to meet Sikh pilgrims from India. His name also figured in the grenade attack in Nirankari Bhawan in Amritsar.
While talking to TOI over the phone from Lahore on Saturday, Pakistan's Sikh lawmaker Mohinderpal Singh said the ministry of religious affairs and interfaith harmony had dissolved the 10-member PSGPC team and reconstituted it with new faces.
The announcement of the new committee without Chawla is seen as a fallout of New Delhi's strong objections over the inclusion of some "controversial elements" in the PSGPC team announced on March 27 by Pakistan's former federal minister for information and broadcasting Chaudhry Fawad Hussain. PSGPC has a significant role in facilitation of pilgrims and management of gurdwaras in Pakistan.
"The Pakistan government has shown a goodwill gesture ahead of the July 14 meeting to ensure a cordial atmosphere for the smooth opening of the Kartarpur corridor," said Mohinderpal Singh.
Despite India's objections, Pakistan had in the recent past "promoted" Chawla by including him as a non-official member of the Evacuee Trust Property Board on April 19, prompting India to hand a démarche to Islamabad.
Chawla still remains a non-official member of ETPB, which is the parent body of PSGPC.
Full report at:
https://timesofindia.indiatimes.com/india/pak-gives-in-removes-pro-khalistan-leader-from-kartarpur-talks-panel/articleshow/70210517.cms
--------
Key findings in Tabrez case: 'Discrepancy in police version, medical lapses'
by Abhishek Angad
July 14, 2019
"Discrepancies in the police's version", "lapses by the doctors" and jail doctor's recording of injuries "allegedly of mob violence" are some of the key findings in a report by the three-member inquiry panel, constituted by the Saraikela-Kharsawan district administration in Jharkhand, to look into the lapses and response into the death of Tabrez Ansari.
Ansari, a welder by profession, was beaten up by a mob in Dhatkidih village of Saraikela-Kharsawan on June 18, after he was caught stealing. The mob had tied him to a pole and thrashed him. A video of the incident shows that the mob allegedly forced him to chant "Jai Shri Ram" and "Jai Hanuman". Ansari died four days later of a head injury.
Sub-divisional magistrate (SDM) Saraikela Basharat Qayyum , then Civil Surgeon A N Dey, and SDPO (headquarter) Chandan Kumar were three members of the panel. Talking to The Sunday Express, SDM Qayyum said that there were "lapses" by the doctors in initially detecting the head injury. "Sub-arachnoid haemorrhage could be a possible cause of death and cannot be ruled out. Injuries were not detected initially and no investigations were ordered. Not even blood pressure and pulse were recorded. This was the initial lapse," he said.
When asked how did the doctors advise Ansari to be fit for travel and allowed him to be taken to the jail, the SDM said, "This is also a lapse."
The Indian Express had first reported on the internal injuries sustained by Ansari where the post-mortem board members had expressed that the injuries were the "possible" cause of death. The actual cause of death will be known after the viscera report.
The findings also state that the jail administration knew that Ansari was beaten up by a mob and had injuries by a blunt object. SDM Qayyum said, "The jail doctor in the 'proforma for health screening of prisoner on admission to jail' mentioned: 'Allegedly assaulted by a mob with hard blunt object'."
This assumes significance as the police had maintained earlier that they "never knew" of the mob violence until the purported video went viral on June 22. The three initial court documents the initial theft complaint, subsequent FIR, and Ansari's confession statement — did not mention anything of the assault. Asked if the police knew about it, the SDM said that he will not be able to comment.
Full report at:
https://indianexpress.com/article/india/key-findings-in-tabrez-case-discrepancy-in-police-version-medical-lapses-5828299/
--------
As India builds houses, Myanmar to reach out to Rohingya in Bangladesh
by Shubhajit Roy
July 14, 2019
With India handing over 250 pre-fabricated houses for the first batch of refugees who are willing to return, Myanmar is likely to send its foreign secretary to the Rohingya camps in Bangladesh — at New Delhi's gentle nudge. Faced with social, religious and ethnic persecution, these families left Myanmar for Bangladesh, in boats, two years ago.
Sources said that while India has built and handed over these houses to the Rakhine provincial government, the visit by Myanmar's top diplomat — possibly later this month — to the Rohingya refugee camps near Cox's Bazar in south-eastern Bangladesh will work towards assuaging the safety and security concerns of the displaced families.
By getting top Myanmar officials to address the refugees who have fled the country since August 2017, India believes it will create an atmosphere wherein the families who are willing to return to their country will have the "confidence to go back and settle down". Delhi is also keen that the "community leaders" should address these refugees, acting as a guarantor of their security.
This is one of the key steps being taken by Myanmar, at the prodding of India, so that the displaced families "feel safe" and stay in these newly built houses.
Ultimately, sources said, Bangladesh has "limited capacity" to host these 1 million refugees, and India's efforts are towards minimising the social and economic burden on Dhaka as well.
India has also been facing criticism for not hosting any Rohingya refugees after August 2017, although it has 40,000 refugees from earlier. So far, 16 Rohingya refugees have been sent back to Myanmar in the last two years.
Apart from building houses, India is also planning to build hospitals, schools, small bridges and culverts in Rakhine state, and wants others like China, Japan and other ASEAN countries to pitch in to create a social and economic ecosystem, sources said. "That is the broad message we would like to convey to the international community," said a source.
Earlier this week, the Indian government handed over a batch of pre-fabricated houses, constructed under the Rakhine State Development Programme (RSDP). India has so far committed $ 25 million for executing projects identified by Myanmar.
These housing units are spread over three locations — 148 in Shwe Zar, 60 in Kyein Chaung Taung and 42 in Nan Thar Taung. Myanmar has allocated these units to the Hindu, Muslim and Rakhine communities. Sources say the new houses are within 3 km of the villagers' previous homes, so that they can go back to their original eco-system. These families are mostly engaged in farming and fishing, sources said.
Each house is prefabricated (housing parts are assembled on site) and is around 40 sq m, roughly the size of a one-BHK flat in Delhi. They have been designed to survive earthquakes, cyclonic storms and are said to be rust-free and water-proof.
The pre-fabricated houses are part of an agreement signed between the two countries in December 2017, when then Foreign Secretary S Jaishankar (now the External Affairs Minister) visited Myanmar.
This comes as Myanmar works towards bringing some sort of normalcy in northern Rakhine amid armed clashes with the Arakan Army and the delayed repatriation of Rohingya refugees from Bangladesh, where over 1 million fled following a violent crackdown in Rakhine in August 2017.
While the first batch of 50 houses were handed over to Myanmar by President Ram Nath Kovind during his visit in December 2018, the remaining houses were handed over by Indian ambassador Saurabh Kumar on July 9. High-level dignitaries from Myanmar, including Union Minister for Social Welfare, Relief and Resettlement, Dr Win Mya Aye, and Minister for Electricity, Industry and Transportation Rakhine State, U Aung Kyaw Zan, were present at the handing-over ceremony.
Full report at:
https://indianexpress.com/article/india/as-india-builds-houses-myanmar-to-reach-out-to-rohingya-in-bangladesh-5828337/
--------
Army Chief Bipin Rawat warns Pakistan: Misadventure will be repelled with punitive response
July 13, 2019
Sending out a stern message to Pakistan, Chief of Army Staff General Bipin Rawat on Saturday said there should be no doubt that "any misadventure will be repelled with a punitive response". The Army chief warned that any future conflicts would prove to be more "violent and unpredictable" and the Army would not take into account the human factor.
Addressing a seminar in New Delhi to mark the 20th year of the Kargil conflict, Rawat said, "Pakistan Army time and again resorts to misadventure, either through flawed proxy wars and state-sponsored terror or intrusions. The Indian Army stands resolute to defend our territory. Let there be no doubt that any misadventure will be repelled with a punitive response."
"Future conflicts will be more violent and unpredictable where the importance of human factor shall remain undiminished. Our soldiers are and will remain our primary assets," he added.
The rise of non-state actors and the readiness to use terror and other irregular methods of fighting have become a new norm, he said.
The Army Chief also noted that the addition of cyber and space domain has changed the battlefield scenario.
He asserted that no act of terror will go unpunished. "Surgical strikes post-Uri and Balakot (terror attacks) have amply demonstrated our political and military resolve against terror. Any act of terror will not go unpunished," he said.
Eight hundred terrorists were killed since 2014, of which 249 were in 2018, the Centre had informed Parliament earlier this month. In a written response to a question in the Lok Sabha, Minister of State in the Defence Ministry Shripad Naik said 104 terrorists were killed in 2014, 97 in 2015, 140 in 2016 and 210 in 2017.
On the eastern front, Rawat said there had been no intrusion by the Chinese in Ladakh's Demchok sector.
"There is no intrusion," Rawat said on the sidelines of an event.
The Army Chief's statement comes amidst reports of Chinese soldiers crossing the Line of Actual Control (LAC) last week after some Tibetans hoisted Tibetan flags on the occasion of Dalai Lama's birthday on July 6.
"Chinese come and patrol to their perceived Line of Actual Control…we try and prevent them. But at times there are celebrations that take place at the local levels. Celebrations were going on our side by our Tibetans in the Demchok sector. Based on that, some Chinese also came to see what was happening. But there has been no intrusions. Everything is normal," the Army chief said.
Full report at:
https://indianexpress.com/article/india/india-pakistan-china-tension-kargil-war-anniversary-bipin-rawat-5827601/
--------
NIA busts Tamil Nadu-based terror module planning attacks
Jul 13, 2019
NEW DELHI: The National Investigation Agency (NIA) on Saturday busted a Tamil Nadu-based outfit planning terrorist attacks in the country with the intention of establishing Islamic rule, and as part of the crackdown raided the houses of three of its members based in Chennai city and Nagapattinam district.
As per the case registered by NIA on July 9, the accused hailing from Chennai and Nagapattinam, and others "while being within and beyond India, had conspired and conducted consequent preparations to wage war against the Government of India by forming the terrorist gang Ansarulla". NIA said it had learnt that the accused persons --Syed Mohammed Bukhari, resident of Chennai; Hassan Ali Yunusmaricar, native of Nagapattinam; and Mohammed Yusuffudeen Harish Mohamed, also from Nagapattinam -- and their associates had collected funds and made preparations to carry out terrorist attacks in India, with the intention of establishing Islamic rule in India.
After it registered a case against them under various sections of the Unlawful Activities Prevention Act and IPC on July 9, NIA on Saturday carried out searches at the house and office of Syed Bukhari in Chennai city besides at the houses of Hassan Ali and Harish Mohammed in Nagapattinam district of Tamil Nadu. The three accused are being questioned by NIA and may be arrested soon.
Full report at:
https://timesofindia.indiatimes.com/india/nia-busts-tn-based-terror-module-planning-attacks/articleshow/70206890.cms
--------
New talks to allow Indian Sikhs to visit Pakistan shrine without visa
SANJAY KUMAR
July 14, 2019
NEW DELHI: India and Pakistan are starting a new round of talks on finishing the Kartarpur Corridor today, discussing pressing issues such as the completion of roads, logistical problems and security concerns.
The proposed border corridor connects the Sikh shrines of Dera Baba Nanak in India's Punjab and Gurdwara Darbar Sahib in Kartarpur in Pakistan's Panjab.
The corridor would allow religious devotees from India to visit the shrine in Kartarpur, 4.7 kilometers from the Pakistan-India border, without a visa. The last talks were held in March this year.
The second round of talks on Sunday at the Wagah border in Pakistan is aimed at completing all the formalities of the corridor by Oct. 31 so that the pilgrims can use the corridor for the upcoming pilgrimage which coincides with the anniversary of the birth of Sikhism's founder, Guru Nanak.
The Indian government is working on a sophisticated passenger terminal and a four-lane approach road and bridge to the Pakistani border for pilgrims. According to media reports the two sides are going to discuss the 250 meter bridge in the corridor at the Indo Pakistan border.
India is building an elevated bridge over the tributary of the river Ravi. Pakistan, on the other hand, is building an embankment, causing fears of flooding in the villages on the Indian side of border.
At the discussion table are also the logistics of conducting the religious tour. Both the neighbors are expected to discuss the number of pilgrims to be allowed per day, how many hours they can stay and whether the corridor should be opened throughout year or not.
Media reports quote Indian Home Ministry officials saying that the "biggest concern is security." New Delhi fears that Pakistan is stoking the Sikh separatist movement by including some of the proclaimed separatist leaders in the committee tasked to prepare the Kartarpur corridor.
"Security is non-negotiable for us, we are putting in place very advanced high-tech security and surveillance system in the corridor," Indian ministry officials told the media.
Panjab-based political analyst Ravinder Singh Robin says that "the bilateral meeting holds a lot of promise."
"The talks give opportunities to both the nations to raise their doubts and concerns. India has genuine concerns about the Khalistan separatist movement finding a foothold in Panjab again if some of the proponents of the separatist movements are patronized by the Pakistani establishment," Robin told Arab News.
Full report at:
http://www.arabnews.com/node/1525226/world
--------
Pakistan
'Pakistani mafia' uses bribes, blackmail to pressurise judiciary to protect their laundered money: PM
July 13, 2019
Prime Minister Imran Khan on Saturday likened Pakistani money laundering suspects to the Sicilian Mafia, saying they, like their Italian counterparts, use bribes, threats and blackmail to pressurise state institutions and the judiciary to protect their billions illegally stashed abroad.
The premier's remark came in a tweet accompanied by a four-year-old news article about a testimony given by former Italian president Giorgio Napolitano during a trial regarding bombings carried out by mobsters in the 1990s.
Napolitano was reported to have told prosecutors that the attacks were a form of "extortion or outright pressure aimed at destabilising the entire system". The bombings had allegedly led to high-ranking Italian ministers negotiating with the Sicilian Mafia to end the violence in exchange for softer jail sentences and better conditions in prison for convicted mobsters, according to The Local's report.
"In a similar vein to the 'Sicilian mafia', the Pakistani mafia uses tactics of bribe, threat, blackmail and begging to pressurise state institutions and judiciary in order to protect their billions of money laundering stashed abroad," Prime Minister Imran wrote on Twitter today.
Although the premier did not name any individual or political party, his observation comes a day after accountability judge Arshad Malik claimed in an affidavit that he was offered a Rs500 million cash bribe by the son of former prime minister Nawaz Sharif, Hussain Nawaz, who demanded that the judge resign on the grounds that he "could no longer deal with the guilt of having convicted" Nawaz under duress in the Al-Azizia/Hill Metal Establishment reference in December 2018.
On July 6, PML-N vice president Maryam Nawaz had opened a Pandora's box with a startling claim that judge Malik had "confessed" that he had been "pressurised and blackmailed" to convict her father in the Al-Azizia reference. A video containing the judge's alleged confession during his conversation with a 'sympathiser' of the PML-N, Nasir Butt, was screened at a presser. The next day, the judge had denied the allegation and being under any pressure, but admitted that Butt was an acquaintance.
On Saturday, Maryam was quick to hit back at the prime minister's insinuation that members of the country's opposition acted as a "mafia".
"You're a part of the mafia that pressurises judges into targeting & punishing your political opponents. It is you who used the institutions to settle scores with your opponents & defaced & maligned them in the process. Shame on you," she wrote, addressing Imran.
In a second tweet in Urdu, she alleged that the prime minister was "part of the heinous conspiracy that was staged to punish Nawaz Sharif and keep him out of the field".
She further alleged that judge Malik had exposed the premier through his alleged confession.
"Don't hide behind your elders now," the PML-N leader told the prime minister.
https://www.dawn.com/news/1493834/pakistani-mafia-uses-bribes-blackmail-to-pressurise-judiciary-to-protect-their-laundered-money-pm
--------
Govt decides to probe Khawaja Asif for 'posing security risk to Pakistan'
July 13, 2019
Special Assistant to the Prime Minister on Information (SAPM) Firdous Ashiq Awan in a press conference on Saturday revealed that the federal cabinet this week granted approval for launching an inquiry against senior PML-N leader Khawaja Asif for allegedly posing a risk to national security.
"A person who served in the capacities of a defence minister, a foreign minister and a water and power minister was found to have drawn a salary from a foreign company. This is a big threat to Pakistan's security," said Awan.
She disclosed that the matter had been referred to the Ministry of Interior with instructions to investigate it from all angles — hidden and obvious — to determine as to "how one tasked with safeguarding the country's national security, the defence minister, was working for another country and presenting a security risk to Pakistan".
Awan said that all the agreements and defence-related MoUs signed during his tenure as the defence minister, and all measures — linked to Pakistan's national security — taken during the period will be evaluated.
"The Dubai company should also be investigated to determine that on the international level, close links with which countries were of benefit to it," she said, before adding that it will also be probed "which countries were given access to our national secrets".
"This is a serious security breach," she said, promising that the media will soon be apprised of the facts that emerge from the investigation.
Talking about the video leak case, Awan said it would be premature to say anything regarding the outcome, and in any case, "we should not comment [on it] until the Supreme Court makes a final decision".
She did, however, go on to remark: "Yes, his [the judge's] affidavit is an eye-opener and points towards the mafia [-like nature of the party], how it traps people and uses them to their benefit, only to throw them away like a tissue paper later".
'Government can't be blackmailed'
Awan saw the nation-wide shutter down strike being observed today as a natural consequence following major revamps being made by the government towards the economy's functioning.
"The time has come to realise that when the status quo is challenged, a natural resistance follows.
"When you wish to no longer be a part of 'business as usual' and wish to go towards a reforms agenda and seek to ensure the implementation of the tax reforms which are the country's need, the status quo beneficiaries will create hurdles in your path," she said.
"We have to look at the traders' difficulties in two ways: the genuine type — where there are real problems, there is no harm in sitting together and talking on these concerns — and then there is the other type in which a middleman who is a leader of a trader wing of a party, seeks to take forward a political agenda and creates chaos and mayhem."
"The real trader is considered by the government as its pivotal partner with which the wheel of progress, government, economy is attached," said Awan.
"A discussion on all their genuine issues will do no harm. Our doors are open for that. They should not feel the need to take out strikes to get their demands fulfilled," she stressed.
Awan said that the Federal Board of Revenue (FBR), as well as, the relevant provincial ministers of industries are already working on a resolution of the matter and are busy in a dialogue.
"Such traders, who by linking trade with politics wish to give oxygen to a political party, should refrain from such tactics and let the wheel of progress move forward, as this is how reforms will be brought and the country will move up in the world," she said, vowing, "The government will not be blackmailed by anyone."
"We will ensure the rule of law and follow the set format of the FBR because the system cannot function without taxes. The country will no longer run on debt or borrowings from different places. This country will now stand on its own feet and the revenue generation will be provided through tax reforms," she declared.
Awan said that a market as big as [Lahore's] Anarkali which has 20,000 shops, was found to have only 600 tax filers.
Full report at:
https://www.dawn.com/news/1493839/govt-decides-to-probe-khawaja-asif-for-posing-security-risk-to-pakistan
--------
IHC to hear appeals in Al-Azizia, Flagship references in September
Malik Asad
July 14, 2019
ISLAMABAD: The Islamabad High Court (IHC) will resume hearing of the appeal of former prime minister Nawaz Sharif against his conviction in the Al-Azizia reference on Sept 18.
The IHC's registrar office has fixed Mr Sharif's appeal along with another appeal filed by the National Accountability Bureau (NAB) against his acquittal in the Flagship Investment reference.
Accountability judge Mohammad Arshad Malik, who has recently been removed from his position over video leaks, authored verdicts in both cases on Dec 24, 2018.
These references were filed before the accountability court by NAB on the directives of the Supreme Court and an apex court judge Justice Ijazul Ahsan was supervising the trial proceedings.
The apex court had constituted a six-member joint investigation team (JIT), comprising officials of the Federal Investigation Agency (FIA) NAB, Inter-Services Intelligence (ISI), Military Intelligence (MI), Securities and Exchange Commission of Pakistan and State Bank of Pakistan.
The JIT conducted the probe on disclosures of Panama Leaks and after due deliberations the court removed Mr Sharif from the prime minister's position and also ordered NAB to file three references against the Sharif family and one against then finance minister Ishaq Dar.
Accountability judge Mohammad Bashir on July 6, 2018 convicted Mr Sharif and his daughter Maryam Nawaz in the Avenfield properties reference. The IHC, however, suspended the sentence.
Full report at:
https://www.dawn.com/news/1493974/ihc-to-hear-appeals-in-al-azizia-flagship-references-in-september
--------
Video leak has made accountability process doubtful: PML-N
July 14, 2019
ISLAMABAD: Pakistan Muslim League-Nawaz (PML-N) vice president and former prime minister Shahid Khaqan Abbasi on Saturday said the removed accountability judge, Arshad Malik, had charge-sheeted himself through the affidavit he had submitted to the Islamabad High Court (IHC).
Addressing a news conference with the party's information secretary Marriyum Aurangzeb and Senator Musadik Malik at the National Press Club, Mr Abbasi said the video leak of the judge who had convicted party's supremo Nawaz Sharif in the Al-Azizia corruption reference had made "the entire judicial system and the so-called accountability process doubtful".
The PML-N leader said they fully respected the courts and they were not talking against any institution, but at the same time they wanted that people should have trust in courts.
Accusing the government of pressurising the judiciary, Mr Abbasi said if the government could "buy or coerce" one judge, then it could do so with other judges as well.
The former PM said there were contradictions in the initial press statement issued by the accountability judge and the affidavit which he later submitted to the high court.
Arshad Malik, who called on the IHC's acting Chief Justice Aamer Farooq twice this week, submitted a letter to him along along with an affidavit claiming that he was blackmailed owing to another 'damaging' video that he termed a "manipulated immoral video in a compromising position" recorded somewhere in Multan.
In his affidavit, Arshad Malik claimed that when Al-Azizia and Flagship Investment references against Nawaz Sharif were transferred to his court, he was approached multiple times by associates and supporters of the PML-N supremo.
According to the judge, due to fear of the "Multan video" he met Nawaz Sharif at Jati Umra on April 6, Hussain Nawaz in Saudi Arabia on June 1, and a PML-N sympathiser, Nasir Butt, pressurised him to get his assistance in preparation of grounds for appeals in the two references.
Mr Abbasi claimed that the judge was concocting stories to save his skin.
"All this shows that something is fishy and the involvement of the present government in it is evident," he said. "The affidavit of the judge sahib is itself a charge-sheet against him. After his own admissions, no one requires to say anything."
Mr Abbasi said it was ironic that a grade-21 judge who had been hearing cases against the three-time prime minister had given the verdict under pressure.
He questioned as to why the accountability judge did not take up the intimidation and threats with the senior judge who had been appointed by the Supreme Court to supervise the whole proceedings and why he did not report the matter to the police, if he was facing threats.
"This is not a little thing. The removal of the judge has created more doubts in the minds of the public. The higher judiciary needs to take notice of the whole situation," he said.
Mr Abbasi said the damage caused to the judiciary by this attack by the government could only be repaired by the action of the higher judiciary.
He claimed that they had more evidence with them, but they had decided not to make them public as it could further damage the country's judicial system.
Mr Abbasi expressed his surprise over the defence of the removed judge by the government ministers after Prime Minister Imran Khan had distanced his government from the whole affair.
The ex-PM said that after the removal of the judge, Nawaz Sharif was now in "illegal custody".
Mr Abbasi asked the judiciary to take notice of the situation and punish all those involved in the case.
Full report at:
https://www.dawn.com/news/1493963/video-leak-has-made-accountability-process-doubtful-pml-n
--------
Lawyers urge SJC to reject references against judges
July 14, 2019
PESHAWAR: As lawyers boycotted court proceedings in different parts of the country, an All Pakistan Lawyers' Convention on Saturday called upon the Supreme Judicial Council (SJC) to reject the references against two judges of superior courts saying the cases were aimed at curtailing the independence of the judiciary.
The convention, held on the premises of the Peshawar High Court (w), unanimously passed several resolutions urging the federal government to withdraw the references against Justice Qazi Faez Isa of the Supreme Court and Justice K.K. Agha of the Sindh High Court and calling upon the SJC to reject the references if the government was not willing to withdraw them.
The convention warned that the lawyers would launch countrywide agitation if the SJC acted against the two judges.
It demanded that the SJC make public judgements of all the references it had so far decided against judges and also hear scores of other references pending before it for the last many years.
The convention condemned placing restrictions on the media by the government and demanded that freedom of media should be respected and not curtailed.
The chairman of the Pakistan Bar Council (PBC)'s executive committee, Hafiz Mohammad Idress, said that as per their information in the July 12 proceedings the SJC had issued show- cause notices to the two judges, which meant that the council would now give decisions on the references.
PBC vice chairman Syed Amjid Shah announced that another convention of lawyers would be held in Quetta on Aug 8, which would also mark the anniversary of the killing of scores of lawyers in a terrorist attack in the city in 2016.
The convention was addressed by the lawyers' top leadership, including former presidents of the Supreme Court Bar Association (SCBA) Hamid Khan, Ali Ahmad Kurd, Yaseen Azad and Qazi Mohammad Anwar, acting president of the SCBA Khan Afzal Khan, PHC Bar Association president Lateef Afridi, Khyber Pakhtunkhwa Bar Council vice chairman Saeed Khan, Punjab Bar Council vice chairman Chaudhry Shahnawaz Ismail, Islamabad Bar Council vice chairman Haroon Rasheed, Balochistan Bar Council vice chairman Rahib Khan Buledi, Sindh Bar Council executive committee member Amanullah Yousafzai and retired Justice Fakhrun Nisa.
The speakers said the references against the two judges, particularly Justice Isa, had been "engineered by the forces who do not want to see an independent judiciary" in the country.
They said the judgements authored by Justice Isa in the Faizabad sit-in case and the Balochistan lawyers' killings had exposed the hidden forces which had been conspiring against democratic set-ups since the creation of Pakistan.
The lawyers' leaders warned the SJC that if it succumbed to the pressure of hidden forces and decided the references, then all of the independent judges on the bench would be targeted one after the other.
Hamid Khan suggested that the lawyers should adopt a three-pronged strategy: Firstly, they should demand transparency in SJC proceedings, which should be open and not in-camera; secondly, they should file a petition under Article 184 (3) of the Constitution challenging the references on ground of being mala fide; and, thirdly, they should further build up pressure by holding such conventions in other cities.
Yaseen Azad claimed that as Justice Isa was likely to become chief justice of Pakistan in 2023, the year when next general elections would be held, the "elements known for engineering polls are worried and want to remove him from the scene".
Through a resolution, the convention demanded that cases registered against advocates Mohsin Dawar and Ali Wazir, who are also MNAs, be withdrawn and their production orders be issued so that they could represent their constituencies in the National Assembly.
The convention also demanded that 175 (A) of the Constitution, as originally provided in the Constitution (Eighteenth Amendment) Act, should be restored so that the say of all stakeholders in appointment of judges to the superior judiciary was given due weightage.
It said parameters of the powers of the Supreme Court under Article 184 (3) of the Constitution should be clearly defined.
Meanwhile, lawyers observed strike throughout KP, Karachi, Lahore and Quetta on the call of the PBC in protest against the government move of filing of references against Justice Isa and Justice Agha.
In Karachi, legal proceedings were disturbed as lawyers did not turn up to plead their cases fixed for the day in the City Courts and Malir District Courts.
In Lahore also, lawyers observed strike as a majority of them did not plead their cases before the courts and spent the whole day sitting in bar rooms.
Full report at:
https://www.dawn.com/news/1493971/lawyers-urge-sjc-to-reject-references-against-judges
--------
US, Russia, China, Pakistan favour permanent ceasefire in Afghanistan: Khalilzad
Anwar Iqbal
July 14, 2019
WASHINGTON: The United States, Russia, China and Pakistan have endorsed the need for a comprehensive and permanent ceasefire in Afghanistan, which should start simultaneously with the intra-Afghan talks, says US reconciliation envoy Zalmay Khalilzad.
Mr Khalilzad, who leads the US team in the Doha talks with the Taliban, also represented Washington in the four-party meeting on the Afghan peace process, held in the Chinese capital on July 10-11.
This was the third meeting of the forum, which included China, Russia, and the United States but has now been expanded to add Pakistan, acknowledging that "Pakistan can play an important role in facilitating peace in Afghanistan".
"We also agreed that violence needs to reduce now and a comprehensive and per­­manent ceasefire should start simultaneously with the intra-Afghan negotiations," Mr Khalilzad wrote in a tweet released on Friday.
"We agreed we will ex­­p­and and ask more international partners to join" the forum, as the intra-Afghan talks began, he said, hoping that the Taliban-Kabul dialogue would lead to a peace framework.
This framework would include a comprehensive programme for political future, which was acceptable to all Afghans, he added.
Earlier this week, the US envoy assured the internati­onal community that Ameri­­ca was not "cutting and running" from Afghanistan. In a video message to a forum at Washington's Georgetown on Thursday, Mr Khalilzad said the US was working with all key players and int­ernational powers to build "a consensus" for establishing peace in Afghanistan.
Gen Mark Milley, Presi­d­ent Donald Trump's nominee for Chairman of the Joi­nt Chiefs of Staff, has also advised against pulling out American troops in a haste.
"I think it is slow, it's painful, it's hard — I spent a lot of my life in Afghanistan — but I also think it's necessary," he said at a congressional hearing this week.
On Friday, The New York Times reported that the Pentagon was privately urging President Trump to keep US Special Operations for­ces in Afghanistan even if all other troops departed after a peace agreement. A senior Pentagon official told NYT that Mr Trump had resisted the idea, as he wanted to keep the promise he made in the 2016 election campaign to end the Afghan war.
"Our ultimate goal in Afghanistan is a negotiated political settlement between the government of the Isla­mic Republic of Afghanistan and the Taliban," Gen Milley told the Senate Armed Services Committee.
Full report at:
https://www.dawn.com/news/1493959/us-russia-china-pakistan-favour-permanent-ceasefire-in-afghanistan-khalilzad
--------
Europe
Intolerance toward Muslims in Germany growing, survey finds
13.07.2019
Prejudice against Muslims is now deeply rooted in Germany with one-in-two Germans considering Islam a valid threat, according to a study published Thursday.
Research by the Bertelsmann Foundation found deficits in religious tolerance in the country, with Islam in particular being perceived negatively by many.
"Dogmatic, rigid beliefs and intolerance toward other religions could be detrimental to democracy in the long term," the study said.
The Bertelsmann Foundation regularly examines the significance of religion for social cohesion via representative opinion polls in the "Religion Monitor" report. The report suggested that this negative perception toward the Muslim community has "consistently taken root" over a couple of years and that the prejudice is stronger in the eastern region, where far fewer Muslims live. The rate of those who perceive Islam as a threat is a staggering 57 percent in eastern Germany, whereas this number drops to 50 percent in the west of the country. Some 30 percent of those in the east went as far as to say they did not want a Muslim for a neighbor, as opposed to 16 percent in the west.
Germany has witnessed growing Islamophobia in recent years triggered by the propaganda of far-right parties. More than 100 mosques and religious institutions were attacked in 2018. Police recorded 813 hate crimes against Muslims last year, including insults, threatening letters and physical assaults. At least 54 Muslims were injured in the attacks. Germany, a country of over 81 million people, has the second-largest Muslim population in western Europe after France. Among the country's nearly 4.7 million Muslims, 3 million are of Turkish descent. Many Germans of Turkish descent are second and third-generation descendants of Turkish immigrants who moved to the country during the 1960s.
At least three mosques across Germany received email threats on Thursday, prompting officials to evacuate the buildings and increase the security measures. Two mosques in the southern German state of Bavaria were evacuated after their staff received emails apparently from a far-right group which threatened to kill Muslims and demanded the release of its members from prison.
Considering the problem of racially motivated strings of attacks, the country has been showing increasingly hostile attitudes toward immigrants, the Muslim community and other minorities such as the Roma, according to a study published last November. Based on a report by the Leipzig-based Competence Center for Right-Wing Extremism and Democracy Research, more than one-in-three Germans think foreigners come only to exploit the welfare state. Around 2,000 attacks were reported last year in Germany, targeting refugees and their dormitories. In response to a question by the Left Party, the German interior ministry reported that the criminal acts recorded ranged from insults, damage to property and physically assaulting people, according to a report by Deutsche Welle. The report also revealed that a significant number of crimes were committed by those with extreme-right views.
https://www.dailysabah.com/islamophobia/2019/07/13/intolerance-toward-muslims-in-germany-growing-survey-finds
--------
UK says Iran tanker will be freed after guarantees on destination
13 July 2019
British Foreign Secretary Jeremy Hunt sought to ease tensions with Iran on Saturday, saying a tanker held by Gibraltar would be released if Tehran guaranteed it was not heading to Syria.
He said he had a "constructive call" with his Iranian counterpart Mohammad Javad Zarif, who he said assured him that Tehran "is not seeking to escalate" tensions between the countries.
"I reassured him our concern was destination not origin of the oil on Grace One," a tanker seized off the coast of the tiny British territory of Gibraltar on July 4, Hunt tweeted.
US officials believed the tanker was destined for Syria to deliver oil, in violation of separate sets of EU and US sanctions.
Hunt said Britain "would facilitate release if we received guarantees that it would not be going to Syria, following due process in Gib (Gibraltar) courts.
"Was told by FM Zarif that Iran wants to resolve issue and is not seeking to escalate."
Tehran had reacted angrily to the seizure, and Britain this week said Iranian military vessels had tried to "impede the passage" of a British oil tanker in the Strait of Hormuz.
Hunt said Gibraltar's Chief Minister Fabian Picardo was doing an "excellent job co-ordinating issue and shares UK perspective on the way forward".
Full report at:
https://english.alarabiya.net/en/News/middle-east/2019/07/13/UK-says-Iran-tanker-will-be-freed-after-guarantees-on-destination-.html
--------
Turkish Cypriots propose cooperation over Cyprus gas
13 July 2019
Turkish Cypriot leader Mustafa Akinci has proposed to the internationally recognized Greek Cypriot government that the two sides cooperate in the search for gas off the island of Cyprus, Turkey's Foreign Ministry said on Saturday.
The proposal comes after a European Union warning that it could curb funding for Turkey in retaliation for what it calls Ankara's illegal drilling for gas and oil off Cyprus in the eastern Mediterranean.
Akinci "presented a new comprehensive cooperation proposal prepared by the Turkish Cypriot side for the exploration and exploitation of hydrocarbon resources around the island of Cyprus to the Greek Cypriot side through the United Nations," Turkey's Foreign Ministry said in a statement.
The proposal said that Turkish and Greek Cypriots "are equal partners on the island, have equal rights, so should share the income and cooperate in the area of hydrocarbon resources and benefit from these resources simultaneously", the ministry said.
If adopted, the proposal would "initiate a new period of cooperation between the two parties," it added.
Cyprus was divided in 1974 after a Turkish invasion triggered by a brief, Greek-inspired coup. Several peacemaking efforts have failed and the discovery of offshore resources in the eastern Mediterranean has complicated the negotiations.
Turkey and the Cypriot government have overlapping claims in the area. Last week Turkey said a drilling ship had arrived east of Cyprus and would start operating there, two months after a first Turkish drilling ship started work west of the island.
Full report at:
https://english.alarabiya.net/en/News/world/2019/07/13/Turkish-Cypriots-propose-cooperation-over-Cyprus-gas.html
--------
Turkey anxious at attacks on mosques in Germany
Ali Murat Alhas
12.07.2019
Turkey has expressed concern at the recent hoax bomb scares and racist threats targeting Turkish-Islamic Union for Religious Affairs' (DITIB) headquarters and mosques in Germany.
In a written statement issued on Friday, Turkish Foreign Ministry said such threats were aimed at disrupting the peace of Turkish community living in Germany.
The statement urged German authorities to conduct necessary investigations.
The ministry, however, also appreciated quick efforts of local German security agencies for taking security measures against such attacks.
Noting that Islamophobia and xenophobic tendencies were on the rise, the statement said such threats and attacks posed a threat to not only Muslims but also to the whole humankind.
Germany's largest mosque in the western city of Cologne had also received a hoax bomb threat on Tuesday.
"If perpetrators are not brought to justice, if they are not held accountable, it would not be possible to stop such attacks," Kazim Turkmen, chairman of the DITIB, told Anadolu Agency, earlier on Tuesday.
The country is witnessing increasing cases of Islamophobia in recent years, triggered by the propaganda of far-right parties.
More than 100 mosques and religious institutions were attacked in 2018.
Police have recorded 813 hate crimes against Muslims last year, including insults, threatening letters and physical assaults. At least 54 Muslims were injured in those attacks.
Full report at:
https://www.aa.com.tr/en/europe/turkey-anxious-at-attacks-on-mosques-in-germany/1530406
--------
South Asia
Afghan forces conduct 113 joint, special ops and 21 airstrikes in past 24 hours: MoD
13 Jul 2019
The Afghan security forces conducted 113 Joint and Special Operations against the militant groups in the past 24 hours.
The Ministry of Defense in a statement said Saturday the security forces conducted 12 joint and 101 special operations to suppress the militant groups.
Furthermore, the Afghan Air Force conducted 21 airstrikes to support the ground forces during the operations.
The statement further added that the security forces conducted the operations in Balkh, Jawzjan, Uruzgan, Takhar, Baghlan, Ghor, Zabul, Badghis, Laghman, Kandahar, Kunduz, Paktiya, Nangarhar, Ghazni, Herat, Faryab, Sar-e-Pul and Helmand provinces.
Meanwhile, the defense ministry said the security forces killed 80 militants and wounded 27 others during the same operations.
In addition, the security forces arrested three suspected militants.
The Ministry of Defense also added that the coalition forces also provided support to the Afghan security forces during the operations.
https://www.khaama.com/afghan-forces-conduct-113-joint-special-ops-and-21-airstrikes-in-past-24-hours-mod-03910/
--------
US soldier killed in Afghanistan: NATO
13 July 2019
A US service member was killed in action in Afghanistan on Saturday, NATO said, the latest international casualty that comes as the US tries to forge a peace deal with the Taliban.
It is the 10th member of the US military to be killed this year, compared to 12 in all of 2018.
"The name of the service member killed in action is being withheld until 24 hours after notification of next of kin is complete," Resolute Support, the US-led NATO mission in Afghanistan, said in a statement.
NATO did not provide any additional details about what happened, and no insurgent group immediately claimed responsibility.
Two US troops were killed last month in an attack claimed by the Taliban, and the US and Afghan forces continue to conduct daily operations against the insurgents.
The US now has some 14,000 troops in Afghanistan -- down from a peak of around 100,000 -- most of them deployed to train and advise Afghan counterparts.
In the nearly 18 years since the US-led invasion to oust the Taliban in late 2001, nearly 2,300 American soldiers have died and more than 20,400 have been wounded.
Full report at:
https://english.alarabiya.net/en/News/world/2019/07/13/US-soldier-killed-in-Afghanistan-NATO.html
--------
Taliban commander Abu Bakar and his fighters killed after attacking ALP posts in Laghman
13 Jul 2019
The security forces repulsed a coordinated attack by Taliban militants on Afghan Local Police security posts in Laghman province.
The 201st Silab Corps in a statement said the Taliban militants attack the security posts in Alisheng district late on Friday night.
The statement further added that the Local Police forces effectively responded to the attack with the support of the soldiers of 1st Brigade of Silab Corps.
Furthermore, the statement added that the security forces killed a Taliban commander Abu Bakar alias Kochai and his 2 militants during the clash.
Full report at:
https://www.khaama.com/taliban-commander-abu-bakar-and-his-fighters-killed-after-attacking-alp-posts-in-laghman-03904/
--------
Airstrikes kill 8 Taliban militants in Takhar, Wardak and Parwan provinces
13 Jul 2019
The security forces carried out airstrikes in Takhar, Wardak and Parwan provinces killing at least 8 Taliban militants.
The military officials said Saturday that an airstrike killed 2 Taliban militants in Namak Ab district of Takhar province.
The officials further added that a similar airstrike killed 2 Taliban fighters in Sayyidabad district of Wardak province.
Furthermore, the official said an airstrike killed 4 Taliban militants in Siagird district of Parwan province.
Full report at:
https://www.khaama.com/airstrikes-kill-8-taliban-militants-in-takhar-wardak-and-parwan-provinces-03912/
--------
Taliban attack claims the lives of senior police officer, his security guards in Badghis
13 Jul 2019
A coordinated Taliban attack in Qala-e-Naw city of Badghis claimed the lives of a senior police officer and his three security guards.
Qazi Abdul Rahim Rahin, a former lawmaker representing Badghis in the parliament said Mohammad Yousuf Akhgar, the police chief of district 3 of Qala-e-Naw Qazi lost his life in the attack.
Rahin further added that the militants launched the attack at around 10 am local time by taking position inside a building and opening fire on the city.
Furthermore, Rahin said three security guards of Akhgar also lost their lives in the attack.
Meanwhile, the Ministry of Interior spokesman Nasrat Rahimi said a group of 3 suicide bombers launched the attack on a hotel in the city at around noon time.
Rahimi further added that the security forces managed to eliminate three of attackers earlier this evening.
Full report at:
https://www.khaama.com/taliban-attack-claims-the-lives-of-senior-police-officer-his-security-guards-in-badghis-03911/
--------
Afghan forces put an end to Taliban attack in Qala-e-Naw city
13 Jul 2019
The Afghan forces eliminated three of the five suicide bombers who attacked a hotel in Qala-e-Naw city of Badghis.
Interior ministry spokesman Nasrat Rahimi said a group of suicide bombers attacked a hotel in Chawk-e-Pesta area of the city.
Rahimi further added that the militants started indiscriminate firing on civilians after attacking the hotel.
However, he said the security forces launched an operation and killed three of the suicide bombers and arrested two others.
Meanwhile, Qazi Abdul Rahim Rahin, a former MP from Badghis said Mohammad Yousuf Akhgar, the police chief of district 3 of Qala-e-Naw Qazi lost his life in the attack.
Full report at:
https://www.khaama.com/afghan-forces-eliminate-2-of-the-3-suicide-bombers-who-attacked-a-hotel-in-qala-e-naw-city-03909/
--------
Afghan Special Forces arrest 5 ISIS-K militants in Kabul
13 Jul 2019
The Afghan Special Forces arrested five militants of the Islamic State of Iraq and Syria Khurasan (ISIS-K) terrorist group in Kabul.
The military officials said Saturday that the Special Forces arrested the militants in Kabul district.
The officials did not disclose further information regarding the detained militants.
The anti-government armed elements including ISIS sympathizers have not commented regarding the operation so far.
https://www.khaama.com/afghan-special-forces-arrest-5-isis-k-militants-in-kabul-03908/
--------
Taliban militants storm hotel in northwestern Afghanistan, kill at least 8 people
Jul 13, 2019
Members of the Taliban militant group have bomb attacked a hotel in Afghanistan's northwestern province of Badghis, killing at least eight people and wounding nearly a dozen more, officials say.
According to Interior Ministry's spokesman Nusrat Rahimi, several Taliban militants assaulted a commercial building housing a hotel in Chawk-e-Pesta neighborhood in the provincial capital of Qala-e-Naw at around 12:40 pm local time on Saturday.
Afghanistan's Tolo News TV further quoted him as saying that the militants began firing indiscriminately at people after entering the hotel, killing eight security officials and ten others, seven of whom were security forces.
Rahimi added that three assailants were killed in an exchange of fire with security forces, and two others were arrested. The hotel siege ended after almost five hours, he added.
Taliban has claimed responsibility for the deadly attack on the hotel, which is located near the police headquarters and the governor's house.
Abdul Latif Rustayee, the director of a hospital in Qala-e-Naw, said the wounded were rushed to a nearby hospital.
The US and its allies invaded Afghanistan under the guise of the war on terror. While the invasion ousted a regime of the Taliban, it failed to eliminate them. Some 18 years on, Washington is seeking truce with the militants as the Taliban has only boosted its campaign of violence across the country.
Washington is currently engaged in direct talks with the militants, excluding the Kabul government. The peace efforts have not, however, stopped Taliban from launching attacks.
Full report at:
https://www.presstv.com/Detail/2019/07/13/600843/Afghanistan-Taliban-Badghis-QalaeNaw-hotel
--------
Taliban storm hotel building in west Afghanistan
July 13, 2019
KABUL: Taliban insurgents stormed a commercial building housing a hotel in western Afghanistan, killing three security officials and injuring 10, officials said on Saturday, the latest in a surge of attacks despite reported progress in peace talks.
The Taliban claimed responsibility for the attacks by three militants and said their fighters had positioned themselves in a building and were firing at the police headquarters.
The militants assaulted the building containing a hotel, several eateries and shops situated near the police headquarters and the governor's house in Qala-e-Naw, the capital city of Badghis province.
Abdul Latif Rustayee, the director of a hospital in Qala-e-Naw, said the 10 wounded, including four security force members, were rushed to hospital.
Abdullah Afzali, a member of Badghis provincial council, said security forces were still battling Taliban gunmen, and officials at the interior ministry in Kabul said that two of the three insurgents had been killed.
Police had surrounded the targeted building, said Nasrat Rahimi, an interior ministry spokesman.
Last week the Taliban and US officials wound up the seventh round of peace talks with signs of progress in efforts to end the 18-year war. At the same time, an Afghan delegation and the members of the hardline Islamist militant group agreed on a "roadmap for peace."
Full report at:
http://www.arabnews.com/node/1525066/world
--------
Arab World
Terrorists' Positions, Command Centres Destroyed, ISIL Emir Killed in Iraqi Army Operation in Western Iraq
Jul 13, 2019
During the Iraqi Army's military operation known as Eradeh al-Nasr (Will of victory) in desert areas stretching from al-Anbar province to Salahuddin and Nineveh provinces in Western Iraq, more than a dozen hideouts of the terrorists were destroyed and all terrorists inside them were killed, Commander of Iraq's Hashd al-Sha'abi (Popular Mobilization Forces) in al-Anbar Province Qatar al-Abidi said.
Meantime, a security source in Iraqi Diyali province said that the Iraqi Army and security forces managed to fully cleanse Imam Veis region and its outskirts after destroying several of their military positions and hideouts.
The source also reiterated that the Iraqi forces killed an ISIL emir and one of his aides in al-Hafayer region.
In a relevant development last Sunday, the Command Headquarters of the Joint Iraqi Operations in a statement reported that the massive joint military operation of the Iraqi forces (named Eradeh al-Nasr) started with the partnership of Hashd al-Sha'abi and tribal forces in the regions stretching among the Salahuddin, Nineveh and al-Anbar provinces towards the border with Syria.
The Arabic-language al-Ma'aloumeh News Website quoted Hashd al-Sha'abi forces as saying that the first phase of the operation covered Nineveh province from three directions, and has already resulted in cleaning up more than 28 towns and villages.
The commander of headquarters of al-Jazireh Operations, meantime, reported that during the clean-up operations in Salahuddin at least 16 hideouts were cleaned up and bombs and military equipment of the terrorists were destroyed, while 15 regions were also cleansed.
Meantime, the Arabic-language website of the Russian Sputnik news agency quoted joint military operations command of Eradeh al-Nasr as saying that during the operation a 10-square-kilometer area behind Iraq's border with Syria has been cleansed and a military base of the ISIL terrorists was also destroyed in Nineveh province.
https://en.farsnews.com/newstext.aspx?nn=13980422001140
--------
Over 100 Terrorists Killed in Syrian-Russian Airstrikes in Idlib, Hama
Jul 13, 2019
The Arabic-language website of Russian Sputnik news agency quoted a military source as saying that the Russian and Syrian fighter jets attacked the military positions of Tarir al-Sham al-Hay'at (the Levant Liberation Board or the Al-Nusra Front) and Islamic Turkistani Party terrorist groups several times in Khan Sheikhoun, Ariha, Ma'aret al-Numan and Jisr al-Shoghour in Western Idlib and their centers inside the city of Idlib.
The source reiterated that several command centers of Tahrir al-Sham and Turkistani Party terrorists were destroyed during the attack and over 100 foreign terrorists were killed and tens more were wounded.
He also noted that the joint airstrikes on the military positions of Tahrir al-Sham and Jeish al-Izzaeh in Kafar Zita and al-Latamineh in Northern Hama left several command centers, operation room, gatherings and military operations destroyed.
Meantime, the Arabic-language al-Morasseloun News Website quoted battlefield sources as saying that at least 71 terrorists were killed in a recent foiled attack on al-Hamamiat town in Northern Hama and over 115 of them were also wounded.
In a relevant development on Friday, the Syrian Army backed by the country's and Russian air forces thwarted a heavy attack by elite militants of Tahrir al-Sham al-Hay'at terrorists aimed at regaining back the strategic al-Hamamiat region in Northern Hama, killing at least 40 of them.
The Arabic-language website of the Russian Sputnik news agency quoted a military source as saying that over 1,000 of elite Tahrir al-Sham terrorists also known as Asaeb al-Hamra, most of them from Chechnya, together with hundreds of Turkistani Party terrorists as well as several suicide bombers have attacked the Syrian Army's military positions in the town of al-Hamamiat in Northern Hama.
The source pointed to the tactical withdrawal of the Syrian Army troops to their military positions in al-Hamamiat region, and said that the Syrian Army fully cleansed al-Hamamiat town and its outskirts after dispatching troops and massive military equipment to the region and starting a heavy attack on the terrorists which left over 40 militants dead and at least 13 vehicles destroyed.
Meantime, the Russian and Syrian fighter jets and the Syrian Army's artillery units pounded the military positions and movements of the terrorists in the towns of al-Latamineh, Kafar Zita, al-Zuka, al-Arbaeen and Khan Sheikhoun in Northern Hama and Southern Idlib, he added.
The source noted that the terrorist groups intend to cut Mahradeh-Saqilbieh Road by taking full control over al-Hamamiat strategic town.
Meantime, after sustaining heavy defeats in al-Hamamiat, the terrorists launched rocket attacks on residential areas in the town of Karnaz, Sheikh Hadid and Mahradeh in Northern Hama which resulted in injury of a number of civilians.
Full report at:
https://en.farsnews.com/newstext.aspx?nn=13980422000517
--------
US Pressuring Jordan to Block Vital Border Crossing with Syria
Jul 13, 2019
The Arabic-language al-Akhbar newspaper wrote that Washington seeks to reduce trade exchanges between Syria and Jordan at al-Nassib passageway in Southern Syria which is one of the two crossings for export of Syrian products to the Persian Gulf littoral states.
It also revealed the US attempts to close all important economic lifelines to Syria, adding that Washington has also sanctioned all countries and companies which sent oil to Banias refinery in Syria and is attempting to pave the ground for the US-backed Kurds to take control of Eastern Euphrates which is rich in oil and gas resources.
Meantime, the US forces which have occupied al-Tanf border crossing which links Jordan to Iraq are attempting to gain control of Albu Kamal-al-Qaem border passageway too.
Also, al-Akhbar reported that reopening of al-Nassib passageway and trade exchanges and ties between the Syrian and Jordanian nations has displeased the West and certain Arab states, adding that many believe that the US intensified economic sanctions against Syria after al-Nassib passageway reopened.
Official reports said that nearly 800 trucks crossed al-Nassib on a daily basis before the crisis in Syria, but the number decreased to 47 trucks in the first 5 months of the current year after the US pressures to prevent trade through the passageway.
Al-Nassib border-crossing in Southern Syria, connecting Dara'a province to Jordan, was reopened officially last October after three years of closure due to the terrorists' presence in the region.
After a new agreement between Damascus and Amman, the Nassib border-crossing kicked off operation.
Several vehicles crossed border and entered Syria from Jordan via the Nassib passageway.
Full report at:
https://en.farsnews.com/newstext.aspx?nn=13980422000708
--------
US Sends Hundreds of Trucks Carrying Military Hardware to Kurdish-Controlled Areas in Hasaka Province
Jul 13, 2019
The Kurdish-language Xeber24 reported that the 200 US trucks carrying military equipment, logistics, military vehicles, oil tankers and covered trucks arrived in US-backed forces' military base in Hasaka province through Simalka crossing from US bases in Iraq.
It noted that the US military convoys have arrived in a military base controlled by the US-backed forces in Tal al-Bidar region of Hasaka province.
The Xeber24, meantime, reported that about 250 US military trucks carrying military and logistical support had arrived in Tal al-Bidar Military Base last week.
The US sends convoys of military trucks to the Kurdish-controlled areas in Eastern Syria while the US and its allied Syrian Democratic Forces (SDF) have claimed that the military operations in Eastern Euphrates have come to an end.
In a relevant development late last month, the Syrian Observatory for Human Rights (SOHR) reported that hundreds of trucks loaded with logistics and military support had arrived in areas under control of the SDF in Hasaka province in Northeastern Syria from the US bases in Northern Iraq.
Full report at:
https://en.farsnews.com/newstext.aspx?nn=13980422000680
--------
Ankara Sends Heavy Military Equipment, Tanks to Borders with Aleppo to Respond to Riyadh's Movements in Eastern Syria
Jul 13, 2019
The Arabic-language al-Quds al-Arabi reported that the Turkish Army has sent massive military equipment comprising hundreds of tanks and military vehicles to the border with Syria.
The daily said that dispatch of this volume of Turkish military equipment to the borders with Syria is unprecedented ever since Ankara threatened to launch a military operation in Eastern Euphrates.
Al-Quds al-Arabi wrote that most of the military equipment have been sent to regions bordering Kurdish forces in Syria, including Ain al-Arab in Aleppo province and Tal Abyaz in Raqqa.
The newspaper also noted that the measure by the Turkish Army has taken place after a high-ranking Saudi delegation accompanied with Emirati officials held meetings with Kurdish commanders in Eastern Syria.
Al-Quds al-Arabi also said that Washington has called for replacement of the US troops with European soldiers in the region.
It also quoted Turkish soldiers as saying that the Turkish Army has also called on the military commanders of the Free Syrian Army (FSA) and Syria's National Army to meet in Ankara.
The terrorist groups in Ankara-controlled al-Bab and Jarablus regions are now on a state of alert in regions West of the Euphrates.
In a relevant development earlier this week, media reports said that Saudi Arabia had offered Hefty Cash to tribal leaders in Eastern Syria to support the US-backed militants in order to threaten Turkey.
The Arabic-language Al-Watan newspaper quoted special sources in Eastern Syria as saying that Saudi Minister for Persian Gulf Affairs Thamer al-Sabhan in his meeting with Syrian tribal leaders asked for helping Kurdish fighters.
Several US officials were accompanying al-Sahban during his meeting with tribal leaders of Eastern Syria, it added.
They have offered to give a hefty sum of $50 million to them indirectly through local councils and also direct financial aid, the paper further said.
Al-Watan newspaper noted that the efforts by Saudi Arabia are in line with support for the Syrian Democratic Forces (SDF) and the presence of al-Sahban in the region is in line with Riyadh's confrontation with Turkey on the issue of Kurds.
The daily noted that Turkey-Saudi Arabia relations are currently very strained.
Al-Watan also quoted special sources as saying that Saudi Arabia threatens Turkey and tries to include itself in the Syrian power balance through the Kurds, specially the SDF.
Meantime, Secretary General of Popular Party Sheikh Navaf Tarad al-Molhem, who is a tribal leader of al-Hasaneh tribe pointed to al-Sahban's cash offer to tribal leaders of Eastern Syria, and said that Eastern Syria tribal leaders will confront any effort by Saudi Arabia, the US and Turkey to disintegrate Syria.
In a relevant development last week, the tribal leaders in Deir Ezzur voiced strong opposition to the Saudi plots to support the SDF's separatist measures in the Eastern parts of the province.
Al-Watan newspaper reported that al-Jamel tribe in Eastern Deir Ezzur had issued a statement to emphasize its opposition to the appointment of SDF-affiliated Ahmed al-Khabil as the Sheikh of al-Bakir tribes in Eastern Deir Ezzur and the head of Syria's military democratic council.
Al-Jamel tribe has referred in the statement to the terrorist acts by the SDF in Eastern Euphrates region, and said that it does not recognize al-Khabil who has been appointed with the support of al-Sabhan and the terrorist militias as the Emir of al-Bakir Sheikhs.
Other Syrian tribes had also earlier stressed their opposition to al-Khabil's appointment.
Meantime, the Arabic-language al-Baladi news website affiliated to the militants reported that one of the leaders of Syria's Arab tribes namely Obaid Khalaf al-Hissan was assassinated in the town of al-Ali Bajeliyeh in Tal Abyadh region in Northern Raqqa after stopping cooperation with the Kurdish forces in Eastern Euphrates.
It added that the SDF commanders had earlier attempted to return him.
Relevant reports also said in June that the Syrian tribes in Deir Ezzur province had stood against a Saudi-US plot to support the Kurds to decompose Eastern Euphrates from Syria.
The Arabic-language al-Ahd news website quoted the leader of al-Moshahedah in al-Jazeerah region in Eastern Euphrates Sheikh Heidar al-Hamadi as saying that all Syrian tribes, except a little number of them, had opposed the recent meeting by al-Sahban to Kurdish-occupied regions to study plots to separate Eastern Syria from the country's territory.
He underlined al-Sahban's attempts to coax the tribes in Eastern Syria into implementation of separatist plots, and said most of them want Damascus to retake control of the region.
Meantime, al-Watan newspaper reported that a Swedish delegation, including the country's representative for Syria affairs, the Swedish foreign ministry official for Syria affairs and the official for the agency on international aid, have entered the Kurdish-occupied regions in Eastern Syria and held meetings with a number of commanders in line with the western states' accelerated attempts to interfere in Syria's internal affairs and assist the SDF in their separatist dreams.
Mohammad al-Akam, a senior Syrian legislator, said that a tripartite coalition has been formed among Saudi Arabia, the Kurdish forces and Israel under the US supervision which pursues pressures on Damascus after gaining victory over terrorist groups, by separating the Northeastern parts of the country.
Head of the politburo of Turkey-backed Lawa al-Mo'etasam-Free Syrian Army terrorists Mostafa Sejari wrote on his twitter page on Monday that Riyadh had stopped financial support for the terrorist groups in Northern Syria in line with a fresh scheme to help Kurds cut off Eastern Syria from the mainland after a Saudi-US delegation met in Deir Ezzur.
He added that Saudi Arabia had decided to cut financial support for the regions occupied by the terrorist groups in Northern Syria.
He added that the measure was adopted after Riyadh started support for the separatist Kurdish groups in Northeastern Syria following a visit by al-Sahban to Kurdish-occupied regions.
Full report at:
https://en.farsnews.com/newstext.aspx?nn=13980422000613
--------
Children among 14 civilians killed in Syria strikes
13 July 2019
Fourteen civilians, including six children and infants, were killed Saturday in air strikes in northwest Syria, targeted for months now by deadly regime and Russian bombardment, a monitor said.
Most of the children were among civilians killed when Russian aircraft raided an informal camp of internally displaced Syrians after midnight Friday, said the Syrian Observatory for Human Rights.
The camp near the town of Khan Sheikhoun, in Idlib region, houses Syrians who had fled raids and clashes in neighboring Hama province.
Hours later a man and his heavily pregnant wife were killed in the eastern Idlib town of Kefraya in air strikes carried out by unidentified aircraft, the Britain-based Observatory said.
White Helmets volunteers found the bodies of the dead woman, and her well-formed baby lying next to her open stomach the umbilical cord still attached, an AFP correspondent said.
In the north of Hama province, three civilians including a child were killed by artillery fire, the Observatory said.
Russian and Syrian regime aircraft have ramped up strikes on Idlib since the end of April, killing more than 590 civilians, while 45 others have perished from rebel fire, according to the Observatory.
Regime forces have also been locked in battle with extremists and allied rebels on the edges of the bastion, which is held by Syria's former al-Qaeda affiliate Hayat Tahrir al-Sham (HTS), including the north of Hama province.
Idlib and its surrounding areas are supposed to be protected from a massive regime offensive by a September 2018 deal between Russia and rebel backer Turkey.
A buffer zone planned under that accord was never fully implemented, and the region has seen an uptick in violence.
Full report at:
https://english.alarabiya.net/en/News/middle-east/2019/07/13/Children-among-14-civilians-killed-in-Syria-strikes-.html
--------
Hezbollah reduced its forces in Syria, says Nasrallah
13 July 2019
Lebanon's Hezbollah has cut down its forces in Syria as fighting died down though it still has fighters all over the country, its leader said on Friday.
"There are no regions in Syria that we have fully emptied out, but there is no need for the numbers to stay the same," Sayyed Hassan Nasrallah said in an interview with Hezbollah's al-Manar TV. "We have reduced the forces based on the needs of the current situation."
The heavily armed, Iran-backed group has played a vital role in helping President Bashar al-Assad's military reclaim much of Syria.
https://english.alarabiya.net/en/News/middle-east/2019/07/13/Hezbollah-reduced-its-forces-in-Syria-says-Nasrallah.html
--------
Muslim Brotherhood cell in Kuwait involved in murder of Egypt public prosecutor
13 July 2019
Arrested members of a militant cell linked to the banned Muslim Brotherhood group in Kuwait were involved in the assassination of Egypt's former Public Prosecutor Hisham Barakat in 2015, local Kuwaiti al-Rai newspaper said in a report.
The newspaper also said that wanted suspects of the cell who were not captured had fled Kuwait to Doha and Turkey.
According to the report, Kuwait has so far extradited the eight arrested suspects to Egypt in accordance with the bilateral agreements between the two countries. They were handed over in two batches.
The newspaper reported that the cell had held meetings in Turkey, Qatar, and Kuwait and are suspected of raising funds for the Muslim Brotherhood in Egypt.
Full report at:
https://english.alarabiya.net/en/News/gulf/2019/07/13/Muslim-Brotherhood-cell-in-Kuwait-involved-in-murder-of-Egypt-public-prosecutor.html
--------
FBI warned Saudi dissidents of threat to their lives after Khashoggi murder: Report
Jul 13, 2019
The FBI has reportedly approached US-based Saudi dissidents and others connected to Jamal Khashoggi to warn them of a potential threat to their lives after the Riyadh-sponsored murder of the prominent journalist.
Speaking on condition of anonymity, at least four Saudis and an Arab dissident in the US told the Middle East Eye (MEE) news portal on Friday that they had received visits by FBI agents following the killing of Khashogg by a Saudi hit inside the kingdom's consulate in Istanbul, Turkey, on October 2, 2018.
Some of them said the agents had tried to calm them and called first and then meeting in a public location near their home.
"They (FBI agents) were like, 'Yep, we are worried about your safety. Your name has been flagged here in certain circles and in Europe'," said the Arab activist, who had been working with Khashoggi.
He said that the agents had told him that they were sorry about the murder of Khashoggi and that they were "doing everything we can to get to the bottom of it."
One of the Saudi dissidents, who met with the FBI agents in early November, said, "I told them that I'm kind of afraid to deal with you guys because the current government has worked closely with [Crown Prince] Mohammed bin Salman and the Saudi government."
"They said, 'Don't worry. We are here to protect people from everywhere. It doesn't matter who is in the White House," he added.
The dissident also noted he had grown wary when the agents suggested that he could help the FBI in return, if he chose to do so, for assistance with his asylum case.
Another Arab dissident said that he had been asked if agents could visit him again and replied, "'If it's just for a chat or something, I'm not available.' I didn't want to have a regular thing with him."
Meanwhile, an FBI spokesperson claimed in an email sent to the MEE that the agency "regularly interacts with members of the communities we serve to build mutual trust around protecting the American public".
Back in May, The Time reported that the CIA and foreign security services had sent warnings to at least 3 Khashoggi associates in Norway, Canada and the US that their continuation of pro-democracy work has made them targets of potential retaliation from Saudi Arabia.
Prominent human rights activist Iyad el-Baghdadi, who lives in political asylum in Oslo, was one of those who had been approached by the CIA.
He told the MEE that the US intelligence agencies' attempts to stop potential Saudi activity show their level of concern.
"They know that MBS is deeply problematic and a terrible ally, an ally who threatened people on your own territory for God's sakes. What kind of ally does this?" he said referring to Mohammed bin Salman.
"In the end, what does it say that they are unable to convince the guy in the White House that this is a problem? It tells us that US intelligence agencies completely know that this guy is trouble and that the only reason he can continue to do this is [Trump's son-in-law and law and senior adviser] Jared Kushner and Donald Trump."
Last month, Agnes Callamard, the UN special rapporteur on extrajudicial, summary, or arbitrary executions, presented findings of her six-month investigation into Khashoggi's murder case.
Full report at:
https://www.presstv.com/Detail/2019/07/13/600797/FBI-Saudi-Arabia-Jamal-Khashoggi
--------
Assad, Russian diplomats discuss Syria constitutional committee
Jul 13, 2019
Syrian President Bashar al-Assad has discussed with two Russian diplomats the formation of a constitutional committee as the war against the foreign-backed terrorists is winding down in the Arab country.
Assad held talks with Russian presidential special envoy for Syria Alexander Lavrentiev and Deputy Foreign Minister Sergey Vershinin in Damascus on Friday.
Syria's official SANA news agency reported that the meeting focused on "the continuous efforts to make progress on the political track, especially in forming a committee for discussing the Constitution and the mechanisms and procedures of its work."
President Assad, Lavrentiev and Vershinin also agreed "to continue working extensively and coordinating on the next steps" and stressed the importance of not allowing certain countries to hinder the process, the report said.
The discussions, it added, also dealt with the latest developments in the war on foreign-backed terrorism and strategic relations between Moscow and Damascus.
The Russian delegation reaffirmed its support for the Syrian army in retaliating against Takfiri terrorist attacks in northwestern Idlib Province, according to the SANA report.
The delegation further backed Syria's right to defend its citizens, preserve the country's territorial integrity and cleanse it from terrorism, it noted.
Meanwhile, the Russian Foreign Ministry said in a statement that Friday's meeting in Damascus "focused on efforts towards the soonest completion of the formation of the Constitutional Committee" in Syria as well as the situation in Idlib.
Russia has been targeting positions held by Western-sponsored terrorist groups inside Syria at the government's request since September 2015.
The airstrikes have helped Syrian forces advance against anti-Damascus terrorists, who have been wreaking havoc in the Arab country since 2011.
100 killed in northwestSyria clashes
In another development on Friday, the so-called Syrian Observatory for Human Rights said that more than 100 people have been killed in fierce clashes between Syrian government troops and anti-Damascus terrorists in northwestern Syria since Wednesday evening.
Full report at:
https://www.presstv.com/Detail/2019/07/13/600812/Syria-Bashar-Assad-Russia-Alexander-Lavrentiev
--------
Hunt for backers of 'sleeper cell' militants who fled Egypt for Kuwait
July 14, 2019
JEDDAH/CAIRO: Security chiefs launched an investigation on Saturday to find out how a militant cell linked to the banned Muslim Brotherhood escaped from Egypt and set up operations in Kuwait.
The militants were arrested on Friday in a series of raids by Kuwaiti security forces. A special unit of Kuwait's Interior Ministry uncovered the cell, identified the locations of its members and detained them in a special operation.
The ministry said all those arrested were wanted by the security services in Egypt. They had evaded Egyptian authorities, and made Kuwait the center of their operations, the ministry said.
After initial investigations, the militants admitted carrying out terrorist operations and breaching security in Egypt. Inquiries are continuing, to find out who helped them flee Egypt, and cooperated with them in Kuwait.
There are large number of Muslim Brotherhood members living "under the radar" in several Arab countries, the Egyptian lawyer Tharwat Al-Kharbawi, an expert on Islamist groups, told Arab News.
Some use illegal passports acquired before the Egyptian security authorities issued orders to prevent them from traveling, he said.
Al-Kharbawi appealed to Arab security services to "wake up and arrest these cells," to avoid "the devastation the Muslim Brotherhood cause wherever they go."
The arrests in Kuwait will prompt the leaders of the group in Turkey and London to consider changing their concealment strategy, said Maj. Gen. Mohammed Al-Ghabari, former director of the National Defense College in Egypt and a security expert at the Nasser Military Academy.
"The Brotherhood believed that by fleeing Egypt they were safe," he said. "But what happened in Kuwait may change their methodology, and encourage those who committed acts of violence to return to Egypt to hand themselves over to the Egyptian authorities."
Al-Ghabari said the Egyptian security services were still investigating Muslim Brotherhood terrorist operations in Egypt, and the search continued for the perpetrators, including those who had fled abroad.
Terrorists had been taking advantage of the spread of freedom in Kuwait and abused it to their advantage, the Saudi political analyst and international relations scholar Dr. Hamdan Al-Shehri told Arab News.
"Arresting these terrorists is a step in the right direction and sends a strong message to those who think they can continue to spread their terrorist ideologies on Kuwaiti soil," he said.
Full report at:
http://www.arabnews.com/node/1525216/middle-east
--------
Two-month Idlib campaign nets little for Syria's Assad
July 13, 2019
BEIRUT: Two months of intensive airstrikes by Syrian government forces and their Russian allies, coupled with a fierce ground assault on rebel-controlled Idlib province, have killed hundreds of people and caused massive displacement while achieving little to no gain for President Bashar Assad.
Despite the heavy bombardment, Assad's troops have been unable to make any significant advances against Al-Qaeda-linked militants and other extremist groups who dominate Idlib province, the last significant area held by opposition forces. Militant attacks have killed an average of more than a dozen soldiers and allied militiamen a day in recent weeks.
The struggling campaign underscores the limits of Syria's and Russia's airpower and inability to achieve a definitive victory in the country's long-running civil war, now in its eighth year.
With crucial military assistance from Russia and Iran, Syrian troops have in the past few years recovered most other opposition-held parts of the country with crushing offensives and long-running sieges. In each of those places, rebels either surrendered or were forcibly exiled to Idlib, where they are now cornered with nowhere left to go. Bitter and desperate, they can only fight to the end. Abu Mohammed Al-Golani, the leader of the main Al-Qaeda-linked group in the region, has called on every able person to "perform his religious duty" and join the fight.
Sam Heller, a Syria expert with the International Crisis Group who closely follows the situation in the rebel-controlled area, said, "Idlib's armed opposition may not be able to win an open battle for the northwest, but they can make a Syrian military victory terribly costly, maybe intolerably so."
Politically, Idlib reflects the tug of war among international players supporting opposing sides of Syria's conflict. A cease-fire brokered last September by Russia, a key ally of Assad, and Turkey, which supports the rebels, collapsed on April 30 when the government began its offensive following months of violations by both sides. Turkey, which hosts 3 million Syrian refugees, fears a full-blown government offensive would cause a new wave of displaced people heading toward its border, but it has been unable — or some say, unwilling — to control the rebels in Idlib that it supports.
Crucially, Iran-backed fighters, including members of Lebanon's Hezbollah group whose participation has been key in previous battles, have not joined fight for Idlib, deeming the region a low priority, unlike more strategic areas bordering Iraq and Lebanon. Even Russia hasn't thrown all its weight into the fray and has continued to talk to Turkey about ways to reinstate the cease-fire.
Rather than a full-blown offensive to recover the province, which is packed with 3 million people, Assad's government has for now restricted its assault to the edges of the province with the aim of reopening key highways crossing through rebel-held areas. But even that has proved futile as the rebels fight back aggressively.
According to the Syrian Observatory for Human Rights, an opposition war monitor, 2,443 people have been killed since April 30. They include 629 civilians, among them 159 children. The dead also include 869 pro-government fighters and troops as well as 945 insurgents, according to the Observatory. Many more have been wounded and many villages destroyed, with the United Nations saying the fighting has displaced more than 330,000 from their homes. Many of them now live in overcrowded tents near the border with Turkey.
Spearheading the offensive on Idlib and northern parts of the central province of Hama is the government's elite Tiger Force led by Brig. Gen. Suheil Al-Hassan, a Russian-backed Syrian officer who took credit for some of the biggest government victories in the eight-year conflict.
But he has not succeeded in breaking Idlib's defenses and remains deadlocked. According to opposition activists, elite forces from the Republican Guards and the Fourth Division led by Assad's younger brother, Maher, have recently started taking part in the offensive.
Opposition activists say government forces and their Russian allies have been targeting schools and medical centers, reportedly killing 10 medical staff since the offensive began, to make it difficult for the local population to stay. The tactic has been used by government troops elsewhere in Syria. Airstrikes have also targeted paramedics, killing four ambulance workers in recent weeks, activists say.
The Idlib offensive began with government forces capturing more than a dozen villages, including Qalaat Al-Madiq and Kfar Nabudah, which are considered the militants' first line of defense of Idlib. Since then, Kfar Nabudah has changed hands several times. Insurgents later took government forces by surprise by launching an offensive and opening another front, in which they succeeded in capturing the villages of Madraset Al-Dahra, Tel Milh and Jubain. Repeated government attacks to retake the area were unsuccessful.
Mohammed Al-Ali, a journalist based in Idlib province, said that two months into the offensive the government now only controls the village of Qassabiyeh in Idlib as well as some dozen villages in northern Hama province and the town of Qalaat Al-Madiq.
Al-Ali said one of the insurgents' biggest successes was opening the new front, in which they cut a main road linking the central city of Hama with government-held villages on the edge of Idlib.
"The rebels' steadfastness and regime's heavy losses made them fail to achieve advances similar to those they did at the start," he said of the government offensive. He said anti-tank missiles were key in slowing the regime's offensive.
The battle could last for months and claim more lives unless Turkey, Iran and Russia reach a new deal for the region similar to last year's cease-fire. The faltering offensive could encourage Russia to reach such a deal with Turkey.
Turkey's presidential spokesman, Ibrahim Kalin, said Ankara is planning to host a summit between the leaders of the three nations in August to discuss Syria, mainly Idlib.
Full report at:
http://www.arabnews.com/node/1524976/middle-east
--------
Mideast
UK must help immediate release of Iran tanker: Zarif
Jul 13, 2019
Iranian Foreign Minister Mohammad Javad Zarif has called on Britain to accelerate efforts meant to release an Iranian oil tanker held in the British overseas territory of Gibraltar since earlier this month.
"The UK government must immediately adopt required measures to end the illegal seizure of the Iranian oil tanker," said Zarif in a phone conversation with his British counterpart Jeremy Hunt on Saturday.
The top Iranian diplomat said that Britain was supposed to continue to defy extra-territorial sanctions imposed by the United States on Iran as a matter of conformity with other members of European Union.
The phone conversation between Iranian and British foreign ministers came 10 days after British naval forces seized the Grace 1 supertanker off the coast of Gibraltar as it was sailing to the east Mediterranean region. Authorities in the British controlled territory said at the time that they had stopped the ship suspecting it was carrying oil to Syria, a destination banned under current EU regulations.
Zarif told Hunt, however, that the seizure of the Grace 1 had been inspired by US sanctions on Iran, which began last year when Washington unilaterally withdraw from an international agreement on Tehran's nuclear program.
He said that Iran would continue to exhaust all avenues to export its oil despite the existing sanctions.
"The Islamic Republic of Iran will continue its oil export under any circumstances," said Zarif, according to an excerpt of the phone call with Hunt covered on the website of the Iranian Foreign Ministry.
For his part, Hunt expressed hope that legal and judicial examinations in Gibraltar would lead to the immediate release of the Grace 1 and its oil cargo.
The British foreign secretary insisted that Iran was entitled to its rights to export crude despite the US sanctions, saying, however, that he was worried about escalated tensions in the Persian Gulf region where a series of military incidents over the past weeks have increases concerns about a potential conflict between Iran and the US.
https://www.presstv.com/Detail/2019/07/13/600863/Iran-UK-Zarif-Hunt-phone-conversation-tanker-Gibraltar
--------
Leaked images show US-backed MKO terrorist social media operations against Iran
Jul 13, 2019
Leaked images have shown social media influence campaigns conducted by the US-backed Mujahedin Khalq Organization (MKO) terror group against Iran.
The images, published by Iran's Khorasan newspaper earlier this week, revealed for the first time part of the organization's secretive social media influence campaign targeting Farsi, English and Arabic-speaking users on social media.
Members are "briefed at the start of their workday and start their social media operations at noon. At the end of the day, feedback is reviewed and issues that have to be used to defame the Islamic Republic are examined for the next day," read the paper.
The MKO is listed as a terrorist organization by much of the international community. Its members fled Iran in 1986 for Iraq, where it enjoyed backing of former Iraqi dictator Saddam Hussein.
The MKO has been banned in Iran and around the world for its role in numerous terrorist activities, especially in the early years after the Islamic Revolution in 1979, taking the lives of thousands of Iranians, along with foreign nationals.
Out of the nearly 17,000 Iranians killed in terrorist attacks since the victory of the Islamic Revolution, about 12,000 have fallen victim to MKO's acts of terror.
Removing a decade-long ban on the MKO, the United States and its allies, however, have sought to use the group as a tool to pressure Iran over the past years.
Despite US and Saudi attempts to empower the MKO, the cult-like group's activities have been largely limited to its now aging pool of members who had originally joined the group in the 1970's and 1980's.
According to the British daily The Guardian, the MKO is even known to rely on busing refugees and young eastern Europeans to fill up its lavish events in Europe, where most of the group's members are known to reside.
Top figures known to have taken part in the terror group's meetings include US National Security Adviser John Bolton, US President Donald Trump's personal lawyer Rudy Giuliani, former Canadian prime minister Stephen Harper, and former Saudi Arabian spy chief, Prince Turki al-Faisal.
The group was already well-known for its reliance on fake social media profiles to push for its Washington-backed anti-Iran agenda before the recent leaks.
Last year, Iranian Foreign Minster Mohammad Javad Zarif slammed Twitter for blocking social media accounts of "real Iranians" while overlooking social media influence operations coming from "actual bots in Tirana", referring to the group's large complex near the Albanian capital.
Amid the Trump Administration's heightened rhetoric and campaign of "maximum pressure" against Iran, the MKO has also sought to gain further support from Washington and its allies by expanding its anti-Iran operations.
Last month, an unverified audio tape leaked from the organization suggested the group may have colluded with foreign powers in carrying out mysterious explosions targeting two oil tankers in the Persian Gulf in June.
Full report at:
https://www.presstv.com/Detail/2019/07/13/600822/MKO-social-media-leak
--------
Hezbollah says resistance movement stronger than ever
Jul 13, 2019
On the anniversary of the start of the 2006 Israeli war on Lebanon, Hezbollah's secretary general has warned Tel Aviv against any aggression on Lebanon. He said the resistance with its current capabilities can take Israel back to the Stone Age. Mariam Saleh reports from Beirut
https://www.presstv.com/Detail/2019/07/13/600858/Hezbollah-resistance-Israel-aggression-
--------
Israeli naval forces arrest two Palestinian fishermen off Gaza coast
Jul 13, 2019
Israeli naval forces have arrested two fishermen after opening fire on a Palestinian fishing boat off the coast of the besieged Gaza Strip.
The Palestinian Information Center reported that the attack took place in the southern Gaza Strip area of Rafah on Saturday morning.
The fishermen aboard the boats were detained, while Israeli forces confiscated their boat and towed it to an Israeli port.
The detainees were identified as Mohammed al-Bardawil and Ahmad al-Bardawil.
Latest figures show the Israeli navy has kidnapped 30 Gaza fishermen within permitted fishing zone since the beginning of 2019.
In recent years, Israeli forces have carried out more than a hundred attacks on Palestinian boats, arresting dozens of fishermen and confiscating some of the vessels.
Under the Oslo Accords signed in 1993, Israel is obligated to permit fishing up to 20 nautical miles, but this has never been implemented.
The accords were signed between the Israeli regime and the Palestine Liberation Organization (PLO) during the 1990s to resolve the Israeli-Palestinian conflict.
In practice, Israel only allowed fishing up to 12 nautical miles until 2006, when the fishing zone was reduced to six and later to three miles.
Israel maintains a heavy naval presence off the coast of the impoverished Palestinian enclave, severely affecting the livelihood of some 4,000 fishermen and at least 1,500 more people involved in the fishing industry.
Over the past few years, Israeli forces have carried out more than a hundred attacks on Palestinian boats, arresting dozens of fishermen and confiscating several boats.
The economy of Gaza has also suffered from years of Israeli and Egyptian blockades.
The Gaza Strip has been under an Israeli blockade since June 2007. It has caused a decline in the standard of living as well as unprecedented levels of unemployment and unrelenting poverty.
Full report at:
https://www.presstv.com/Detail/2019/07/13/600844/Israel-Gaza-Palestinians-Rafah-Mohammed-alBardawil--Ahmad-alBardawil
--------
Turkey gets fresh S-400 shipment as US mulls sanctions
Jul 13, 2019
Turkey says a fresh shipment of Russian S-400 missile defense systems has arrived in the country, a day after it received the first batch of the systems.
"Delivery of S-400 Long Range Air and Missile Defense Systems resumed today," the Turkish Defense Ministry tweeted on Saturday.
It said that a fourth Russian cargo plane had landed at the Murted air base near the capital Ankara, a day after three huge Russian air force AN-124 planes offloaded equipment at the base.
The delivery is likely to anger the US, which has long warned that Turkey cannot have both the S-400 and American F-35 stealth fighter jets.
The US claims the S-400 systems are incompatible with NATO equipment and expose the F-35s to possible Russian subterfuge.
Washington is expected to level sanctions against Ankara under the 2017 Countering America's Adversaries Through Sanctions Act, which mandates US sanctions against anyone making a significant deal with the Russian defense industry.
The US has already halted deliveries of F-35 to Turkey and suspended the training of Turkish pilots to fly the aircraft.
Turkey, however, says it has conducted technical studies on the compatibility of the S-400s and the F-35s and had found no issues of concern as alleged by the US.
It also stresses that the S-400 is a strategic defense requirement, above all to secure its southern borders.
On Friday, Acting US Defense Secretary Mark Esper held a telephone conversation with Turkish Defense Minister Hulusi Akar.
"Minister Akar told his US counterpart that Turkey remains under a serious air and missile threat and that purchase of S-400 defense systems was not an option but rather a necessity," a Turkish Defense Ministry statement said.
Akar, it added, emphasized that Turkey's purchase of the S-400 "does not in any way mean change of its strategic orientation."
NATO said that although it was up to NATO member states to decide their acquisition of military equipment, the US-led military alliance was concerned about the equipment's incompatibility with its own systems.
"It is up to allies to decide what military equipment they buy. However, we are concerned about the potential consequences of Turkey's decision to acquire the S-400 system," a NATO official told AFP.
Full report at:
https://www.presstv.com/Detail/2019/07/13/600820/Turkey-S400-Russia
--------
US ambassador arrives in Turkey as Russian weapons system is delivered
July 13, 2019
ANKARA: At a critical junction in bilateral relations, the new US ambassador to Turkey, David Satterfield, arrived in Ankara on Wednesday just as S-400 Russian air defense systems were delivered to Turkey.
The American diplomat will now look to bring US-Turkey relations back on track, defusing complicated bilateral issues in Syria and derailing Russian-Turkish military cooperation.
The 65 year old envoy served as acting assistant secretary of state for Near Eastern Affairs from 2017.
During George W. Bush's presidency, he was the coordinator for Iraq and senior adviser to the secretary of state between 2006-2009.
As a fluent Arabic speaker, Satterfield also held top positions at US missions in Syria, Saudi Arabia, Egypt and Lebanon.
The ambassadorial post has been vacant since October 2017, mainly due to a visa crisis between Washington and Ankara, as well as Turkey's imprisonment of American Pastor Andrew Brunson on charges of terror propaganda.
Ali Cinar, a US-based foreign policy expert, said that having a US Ambassador in Ankara again is a positive step in the US-Turkey relations.
"The process of nominating an ambassador in the US is long and complicated. During Trump's presidency, there have been a number of ambassador vacancies around the world, including Turkey. Despite the tension between two NATO allies, Ambassador Satterfield was able to be confirmed," Cinar said.
According to Cinar, Ambassador Satterfield's posting comes at a critical time, but his diplomatic skills should help to reconcile the troubled relationship.
"Turkey now has a direct channel through Ambassador Satterfield. Syria and the eastern Mediterranean crisis are the two issues that US and Turkey are facing," he said.
Washington recently voiced concern over Ankara's gas exploration activities in the Mediterranean Sea and called on the Turkish government to stop offshore drilling operations.
Ozgur Unluhisarcikli, Ankara office director of German Marshall Fund of the United States, thinks that despite Satterfield's extensive experience, all he can be expected to do is to contain the potential damage that may be inflicted on the US-Turkey relationship in the near future and perhaps save it from total collapse.
The first batch of S-400 systems started to arrive at Mürted Air Base in Ankara on Friday. However, the US Department of Defense recently announced that it will remove Turkey from the F-35 joint strike fighter program — the most sensitive US aircraft — if Ankara accepts the Russian S-400s.
Acting US Defense Secretary Mark Esper recently met with his Turkish counterpart, Defense Minister Hulusi Akar, during a meeting of NATO defense ministers. Esper emphasized that Turkey will not receive the F-35 if it moves ahead with its S-400 purchase plan.
If enacted, the Countering America's Adversaries Through Sanctions Act is expected to have a devastating effect on the Turkish economy and defense sector. The act will deny visas for Turkish officials or executives, freeze their assets in the US and block money transfers.
Unluhisarcikli noted that there has not been any significant convergence between the two allies in north-east Syria.
"The conflict between Turkey and the Republic of Cyprus, which Turkey doesn't recognize, over the exploitation of the energy resources off the coast of Cyprus is a growing source of tension in the US-Turkey relationship," he said.
Turkey has significantly reduced oil imports from its neighbors after US waivers expired in early May.
Full report at:
http://www.arabnews.com/node/1525046/middle-east
--------
Turkey begins second wave of operations against PKK in Iraq
July 13, 2019
ISTANBUL: Turkey's defense ministry says it has launched a new military operation against Kurdish militants in northern Iraq.
The ministry, in a statement Saturday, announced the start of "Operation Claw-2" to destroy caves and shelters used by members of the Kurdistan Workers' Party, or PKK, in the Hakurk region. It said the operation began late Friday with commandoes, air strikes and artillery.
The PKK began an insurgency against Turkey in the mainly Kurdish southeast in 1984 and the conflict has killed tens of thousands of people. Turkey, the United States and the European Union consider the group, based in the Qandil mountains of northern Iraq, a terror organization.
Full report at:
http://www.arabnews.com/node/1525016/middle-east
--------
Africa
Boko Haram leave trail of opioid addicts in Nigeria desperate to numb the pain of war and hopelessness
Colin Freeman
13 JULY 2019
Six years since the day when Boko Haram gunmen stormed his home town of Bama, Abel Habila still has trouble blotting out the memories.
Prayer has helped, but far more effective are the red and yellow pills that he buys from the street dealers near his home. "At first they just helped me to forget the trauma of the attack, and how we had to run for our lives," he said, voice already drowsy from the two doses he has had this morning. "But now I take them for other reasons too - just to blot out the pain of life here in Nigeria, the boredom and hopelessness. My consumption has rocketed."
The trade name for what Mr Habila knows as "Red Caps" is Tramadol, an opiate-based painkiller originally used...
https://www.telegraph.co.uk/news/2019/07/13/boko-haram-leave-trail-opioid-addiction-northern-nigeria/
--------
Sudan activists call for 'justice' for killed protesters
July 14, 2019
KHARTOUM: Thousands of Sudanese flooded the streets of the capital of Khartoum and other cities on Saturday to mark the 40th day since the deadly dispersal of a protest sit-in as the country's ruling generals and pro-democracy movement prepared to sign a power-sharing deal.
The "Justice First" marches were called by the Sudanese Professionals' Association (SPA), which has been spearheading the protests since December. Those demonstrations led to the military ouster of President Omar Al-Bashir in April.
The marches mark 40 days since the dispersal of the pro-democracy protesters' sit-in in outside military headquarters in Khartoum on June 3. Protest organizers say security forces killed at least 128 people during the dispersal and subsequent crackdown. Authorities, however, put the death toll at 61, including three from security forces.
Protesters have called for a "transparent and fair" investigation into the deaths.
Footage and photos posted by the SPA showed thousands of people demonstrating in the capital and its sister city of Omdurman.
There were protests in other places, including the Red Sea city of Port Sudan and the eastern province of Kassala. Protesters were seen waving Sudanese flags and posters that read: "Freedom, Peace and Justice" and "Civilian (authority) is the people's choice."
The protest organizers hope that large numbers take part in the marches similar to massive rallies on June 30, when tens of thousands of demonstrators flooded the streets in the biggest show of numbers in the uprising. At least 11 people were killed in clashes with security forces, according to protest organizers.
Saturday's marches also put pressure on the ruling military council as it and the Forces for Declaration of Freedom and Change, which represents the protesters, planned to meet to sign a power-sharing agreement. African Union envoy Mohammed El-Hassan Labat originally said a meeting would take place on Saturday night.
But Ahmed Rabei, a spokesman for the SPA, said later the protest movement called for the talks to be postponed until Sunday "for more consultations" within the FDFC on the deal. The signing ceremony was expected to take place earlier this week, but several delays have been announced, raising suspicions the two parties might still be divided over the agreement's details.
The Sudanese Communist Party, which is part of the protest movement, criticized the "vague" talks between the military council and the FDFC. Mahmoud Al-Khateib, the party's political secretary, said his party rejected the current members of the military council participation in the transition.
The deal includes a joint Sovereign Council set to rule for a little over three years while elections are organized, along with a constitutional declaration, according to a copy of the deal obtained by The Associated Press. A military leader is to head the 11-member council for the first 21 months, followed by a civilian leader for the next 18.
The deal, which also includes an FDFC-appointed cabinet, was meant to end a weekslong political deadlock between the military and protesters since the Khartoum sit-in site was cleared.
Full report at:
http://www.arabnews.com/node/1525171/middle-east
--------
Somalia security forces end militant attack on hotel that killed 26
13 July 2019
Somalia's security forces on Saturday ended an overnight attack by the al Shabaab militant group on a hotel in the southern port city of Kismayu that killed at least 26 and injured 56, a police officer said.
"The operation is over," police officer Major Mohamed Abdi told Reuters by telephone from Kismayu.
"So far we know 13 people died. Many people have been rescued. The four attackers were shot dead," the offcier said earlier.
Full report at:
https://english.alarabiya.net/en/News/world/2019/07/13/Somalia-security-forces-end-militant-attack-on-hotel-that-killed-13.html
--------
Americans among dead as hotel attacked in Somalia
Jul 13, 2019
The death toll from the attack on a hotel in Somalia's port city of Kismayu has risen to 26, with Kenyans, Americans, a Briton and Tanzanians among the dead, Jubbaland region's president said on Saturday.
A presidential candidate for upcoming regional elections was also killed in the assault by four militants, Jubbaland president Ahmed Mohamed said in a statement. At least two journalists and a UN agency staff member were also reported to have been killed. Police officer Major Mohamed Abdi earlier told Reuters that security forces had ended the overnight attack.
Takfiri group al-Shabab, which is trying to topple Somalia's central government, on Friday claimed responsibility for the attack, which saw fighters storm the hotel after targeting it with a car bomb while local elders and lawmakers were meeting to discuss the elections.
Regional president Mohamed said that three Kenyans, one Briton, two Americans and three Tanzanians were among those killed.
"Among the dead was also a Jubbaland presidential candidate named Shuuriye. Four militants attacked the hotel. One of them was the suicide car bomber, two were shot dead and one was captured alive by Jubbaland security forces," he said.
He added that 56 people had been wounded in the attack, including two Chinese citizens.
Police had said earlier all the attackers had been killed.
The Somalia office of the UN's International Organization for Migration also said on Twitter one of its local staff members, Abdifatah Mohamed, was among those killed.
SADO Somalia, a local non-governmental organization, also said on Twitter its executive director Abdullahi Isse Abdulle had been killed in the attack.
A journalists' group had confirmed on Friday that two journalists were among the dead; Somali-Canadian journalist Hodan Naleyah, the founder of Integration TV, and Mohamed Sahal Omar, reporter of SBC TV in Kismayu.
Jubbaland president Mohamed said Jama Fariid, Naleyah's husband, had also been killed.
Separately, Mohamed Ibrahim Moalimuu, general secretary of the Federation of Somali Journalists, said in a statement: "We are saddened and outraged by this loss of life, and condemn in the strongest possible terms this appalling massacre."
Al Shabaab was ejected from Mogadishu in 2011 and has since been driven from most of its other strongholds.
It was driven out of Kismayu in 2012. The city's port had been a major source of revenue for the group from taxes, charcoal exports and levies on arms and other illegal imports.
Kismayu is the commercial capital of Jubbaland, a region of southern Somalia still partly controlled by al Shabaab.
Full report at:
https://www.presstv.com/Detail/2019/07/13/600817/Somalia-attack-hotel-Kismayu-alShabab-Americans
--------
Sudan activists call for 'justice' for killed protesters
13 July 2019
Thousands of Sudanese flooded the streets of the capital of Khartoum and other cities on Saturday to mark the 40th day since the deadly dispersal of a protest sit-in as the country's ruling generals and pro-democracy movement postponed a planned a meeting to sign a power-sharing deal until Sunday.
The "Justice First" marches were called by the Sudanese Professionals' Association, which has been spearheading the protests since December. Those demonstrations led to the military ouster of autocratic president Omar al-Bashir in April.
The marches mark 40 days since the dispersal of the pro-democracy protesters' sit-in in outside military headquarters in Khartoum on June 3. Protest organizers say security forces killed at least 128 people during the dispersal and subsequent crackdown. Authorities, however, put the death toll at 61, including three from security forces.
Protesters have called for a "transparent and fair" investigation into the deaths.
Footage and photos posted by the SPA showed thousands of people demonstrating in the capital and its sister city of Omdurman. There were protests in other places, including the Red Sea city of Port Sudan and the eastern province of Kassala.
Protesters were seen waving Sudanese flags and posters that read: "Freedom, Peace and Justice" and "Civilian (authority) is the people's choice."
The protest organizers hope that large numbers take part in the marches similar to massive demonstrations on June 30, when tens of thousands of demonstrators flooded the streets in the biggest show of numbers in the uprising. At least 11 people were killed in clashes with security forces, according to protest organizers.
Saturday's marches also put pressure on the ruling military council as it and the Forces for Declaration of Freedom and Change, which represents the protesters, planned to meet to sign a power-sharing agreement. African Union envoy Mohammed el-Hassan Labat originally said a meeting would take place on Saturday night. But Ahmed Rabei, a spokesman for the SPA, said later the protest movement called for the talks to be postponed until Sunday "for more consultations" within the FDFC on the deal.
The signing ceremony was expected to take place earlier this week, but several delays have been announced, raising suspicions the two parties might still be divided over the agreement's details.
The Sudanese Communist Party, which is part of the protest movement, criticized the "vague" talks between the military council and the FDFC. Mahmoud al-Khateib, the party's political secretary, said his party rejected the current members of the military council participation in the transition.
The deal includes a joint Sovereign Council set to rule for a little over three years while elections are organized, along with a constitutional declaration, according to a copy of the deal obtained by The Associated Press. A military leader is to head the 11-member council for the first 21 months, followed by a civilian leader for the next 18.
The deal, which also includes an FDFC-appointed cabinet, was meant to end a weeks-long political deadlock between the military and protesters since the Khartoum sit-in site was cleared.
They also agreed on an independent Sudanese investigation into the deadly crackdown by security forces on the protests last month, though it's unclear if anyone will be held accountable.
Gen. Mohammed Hamadan Dagalo, deputy head of the military council, told a gathering of military supporters in the Nile River province, about 100 kilometers (62 miles) north of Khartoum, that his forces, the paramilitary Rapid Support Forces, "are not angels and we will try all offenders."
The RSF grew out of the notorious Janjaweed militias used by al-Bashir in the Darfur conflict in the early 2000s. Protesters accuse it of leading the nationwide crackdown and the SPA has called for the force to be disbanded.
Full report at:
https://english.alarabiya.net/en/News/middle-east/2019/07/13/Sudan-activists-call-for-justice-for-killed-protesters.html
--------
Sudan: Fresh demonstrations held for killed protestors
Mohammed Amin
13.07.2019
Protests restarted in Sudan on Saturday after a short pause since nationwide demonstrations began on June 30.
The Sudanese opposition called for demonstrations in the capital of Khartoum to commemorate protestors who were killed on June 3 when government forces dispersed a sit-in outside the military headquarters, killing more than 100 protesters.
Thousands marched in the streets on Saturday protests, calling for the prosecution of those responsible for the killing.
Police and security forces have attempted to disperse demonstrators using tear gas and firing live ammunition in the air to disperse the protesters.
In the meantime, the African Union mediating team that sponsors power-sharing talks between the ruling Transitional Military Council (TMC) and opposition alliance of Forces for Freedom and Change (FFC) said dialogue between the two sides was in its final stages.
Full report at:
https://www.aa.com.tr/en/africa/sudan-fresh-demonstrations-held-for-killed-protestors-/1530964
--------
Police Arrest Deadly Al Shabaab Bomb Mastermind
13 July 2019
On Saturday, Police revealed that they arrested an Al Shabaab member in relation to an Improvised Explosive Device (IED) that hit a police land cruiser on June 15, 2019.
Abdirashid Abdi Adan was arrested on July 2, 2019, and is currently in police custody being processed to face justice.
According to a police report posted on their Facebook page, initial investigations reveal that Abdirashid is a Marehan clansman who fraudulently obtained Kenyan identification documents indicating that he is a Degodia.
"After his arrest, Al Shabaab engaged in a frantic activity to secure his release and frustrate investigations, including relocating his family from the border with Wajir further into Somalia," Charles Wahong'o, the director of corporate communications revealed.
The police director revealed that sustained operations have seen many of the militia pushed into the Somali side of the border.
The group thus resorted to targeting specific clans within the border regions in a bid to intimidate and gain support.
They are notorious for laying explosives within Somalia to target Kenyan businessmen who operate across the border.
On July 9, 2019, they laid an explosive in Wajir county targeting a Degodia businessman, but it exploded killing five civilians traveling in a truck.
The same day, another IED killed three civilians on their way to refill water.
Following the IED attack on police in Wajir, blogger Robert Alai and prison warder Patrick Safari were arrested for sharing the deadly pictures online.
Full report at:
https://www.kenyans.co.ke/news/41680-police-arrest-deadly-al-shabaab-bomb-mastermind
--------
North America
The Muslim Brotherhood as auxiliaries of the Pentagon
by Thierry Meyssan
13 JULY 2019
The Islamists controlled by the Pentagon
At the beginning of the 1990's, the Pentagon decided to work with the Islamists, who had hitherto depended only on the CIA. This was operation Gladio B, by reference to the secret services of NATO in Europe (Gladio A [1]). For a decade, all the Islamist chiefs – including Osama Bin Laden and Ayman al-Zawahiri – travelled on aircraft of the US Air Force. The United Kingdom, Turkey, and Azerbaidjan participated in the operation [2]. As a direct result, the Islamists – who had so far been secret combatants – were publicly integrated into the NATO forces.
Saudi Arabia – which is both a state and the private property of the Saud family – officially became the company charged with the management of world Islamism. In 1992, the King proclaimed a Fundamental Law, which stated "The state protects Islamic Law and applies the Sharia. It imposes Good and fights Evil. It obeys the duties of Islam (…) The defence of Islamism, of society and of the Muslim homeland is the duty of every subject of the King".
In 1993, Charles, the Prince of Wales, placed the Oxford Centre for Islamic Studies under his patronage, while the head of the Saudi secret services, Prince Turki, took over its direction.
London openly became the nerve centre of Gladio B, to the point where people spoke of "Londonistan" [3]. Under the umbrella of the Muslim World League, the Arab Muslim Brotherhood and the Pakistani Jamaat-i-Islami created a large number of cultural and cult-based associations around the mosque in Finsbury Park. This system enabled the recruitment of many kamikazes, from those who attacked the Russian school in Beslan to Richard Reid, the "shoe bomber". Above all, Londonistan was the home for a number of medias, publishing houses, newspapers (al-Hayat and Asharq al-Awsat – both directed by the children of the present King Salman of Arabia) – and television channels (the group MBC of Prince Walid ben Talal broadcasts about twenty channels). They are not destined for the Muslim diaspora in the United Kingdom, but are broadcast in the Arab world. And since the agreement between the Islamists and Saudi Arabia had been extended to the United Kingdom, they enjoyed total freedom of action, although they were banned from interfering in domestic UK politics. The system employed several thousand people and handled gigantic quantities of money. It was to remain publicly in place until the attacks of 11 September 2001, when it became impossible for the British to continue to justify such open collaboration.
Abu Musab "The Syrian" – a survivor of the aborted coup d'état in Hama, who had become a liaison officer between Bin Laden and the Groupe Islamique Armé (GIA) of Algeria – posited the theory of "decentralised jihad". In his Call for a Global Islamic Resistance, he advanced, in Islamic terms, the well-known doctrine of the "strategy of tension". This concerned provoking the authorities in order to spark fierce repression which would lead the people to rise against them. This tactic had already been used by the CIA/NATO Gladio networks in manipulating the European extreme left wing in the 1970's and 1980's (the Baader-Meinhof Complex, the Red Brigades, Action Directe). Of course, there was no question that the strategy would allow the people to prevail, and the CIA/NATO knew that it had no chance of doing so – they were never victorious anywhere – but it was intended to use the repressive reaction of the state to topple the existing élite and place its men in power.
"The Syrian" pointed to Europe – but above all, away from the United States – as the next Islamic battlefield. He fled France after the attacks of 1995. Two years later, he created the Islamic Conflict Studies Bureau in Madrid and Londonistan, on the model of Aginter Press, the Gladio cell which the CIA had created in Lisbon during the 1960's and 1970's. Both these structures excelled in the organisation of false-flag terrorist attacks (from those attributed to the extreme left at the Piazza Fontana, in 1969, to those blamed on Muslims in London in 2005 ).
Simultaneously, the Brotherhood elaborated a vast programme of training for pro-US Arab leaders. The Libyan Mahmud Jibril El-Warfally, professor at the university of Pittsburg, taught them how to speak the language known as "politically correct". Thus he trained Emirs and Generals from Saudi Arabia, Bahrain, Egypt, the Emirates, Jordan, Kuwait, Morocco and Tunisia (but also Singapore). Mixing the principles of public relations with studies of reports by the World Bank, the most brutal dictators were now able to expound straight-faced on their Democratic Ideal as well as their profound respect for Human Rights.
The war against Algeria spilled over into France. Jacques Chirac and his Minister for the Interior, Charles Pasqua, interrupted French support for the Muslim Brotherhood and even banned books by Yusuf al-Qaradawi (the Egyptian Brotherhood preacher). For them, it was essential to maintain French presence in the Maghreb, which the British wanted to wipe off the map. The Armed Islamic Group of Algeria (GIA) took the passengers of an Air France Algiers-Paris flight hostage (1994), exploded bombs in the Métro and various points of the French capital (1995) and planned a gigantic attack – which was foiled – during the World Football Cup in France (1998), including the crash of an aircraft onto a nuclear power plant. Each time, the suspects who managed to flee were able to find refuge in Londonistan.
The war in Bosnia-Herzegovina began in 1992 [4]. On instructions from Washington, the Pakistani secret services (ISI), still supported financially by Saudi Arabia, sent 90,000 men to participate in the fight against the Serbs, who were supported by Moscow. Osama Bin Laden received a Bosnian diplomatic passport and became the military advisor to President Alija Izetbegović (for whom US citizen Richard Perle was diplomatic advisor, and the Frenchman Bernard-Henri Levy was Press advisor). Bin Laden formed an Arab Legion with ex-combatants from Afghanistan and supplied financing from the Muslim World League. Either by a sense of confessional solidarity or in competition with Saudi Arabia, the Islamic Republic of Iran also came to the help of the Bosnian Muslims. With the Pentagon's blessing, it sent several hundred Guardians of the Revolution and a unit of the Lebanese Hezbollah. Above all, it delivered the main weapons used by the Bosnian army. The Russian secret services, who penetrated Bin Laden's camp, found out that the Arab Legion's entire bureaucracy was written in English, and that the Legion was taking its orders directly from NATO. After the war, a special International Tribunal was created. It launched criminal proceedings against a number of combatants for war crimes, but not one was a member of the Arab Legion.
After three years of quiet, the war between Muslims and Orthodox Christians started up again in ex-Yugoslavia, this time in Kosovo. The Kosovo Liberation Army (UÇK) was composed of mafia-style groups trained in combat by the German Special Forces (KSK) at the Turkish base of Incirlik. The Albanians and the Muslim Yugoslavs shared a Naqshbandi culture. Hakan Fidan, the future head of the Turkish secret services, was a liaison officer between NATO and Turkey. The veterans of the Arab Legion joined the UÇK, of which one brigade was commanded by a brother of Ayman al-Zawahiri. He systematically destroyed Orthodox churches and monasteries and forced the Christians to flee.
In 1995, reviving the tradition of political assassination, Osama Bin Laden attempted to eliminate Egyptian President Hosni Mubarak. He did the same a year later with the Libyan Guide, Muammar Gaddafi. This second attack was paid for with £100,000 by the British secret services, who sought to punish Libya for supporting the Irish resistance [5]. However, the operation failed. Several Libyan officers fled to the United Kingdom. Among them was, Ramadan Abidi, whose son, many years later, was to be tasked, still by the British secret services, with carrying out a terrorist attack in Manchester. Libya transmitted its evidence to Interpol and issued the first international arrest warrant for the person of Osama Bin Laden, who still maintained a public relations bureau in Londonistan.
In 1998, the Arab Commission for Human Rights was founded in Paris. It was financed by the NED. Its President was the Tunisian Moncef Marzouki, and its spokesman was the Syrian Haytham Manna. Its objective was to defend members of the Muslim Brotherhood who had been arrested in different Arab countries for their terrorist activities. Marzouki was a left-wing doctor who had been working with the Brotherhood for a long time. Manna was a writer who managed the financial investments of Hassan el-Turabi and the Sudanese Brothers in Europe. When Manna retired, his partner stayed on as the Director of the association. Manna was replaced by the Algerian Rachid Mesli, a lawyer. He was incidentally the lawyer for Abassi Madani and the Algerian Brotherhood.
In 1999 (after the war in Kosovo and the power grab by the Islamists in Grozny), Zbigniew Brzeziński, with a cohort of neo-conservatives, founded the American Committee for Peace in Chechnya. While the first war in Chechnya had been an internal Russian affair in which a few Islamists had taken part, the second war was aimed at the creation of the Islamic Emirate of Ichkeria. Brzeziński, who had been preparing this operation for several years, attempted to reproduce the Afghan experience. The Chechen jihadists, like Shamil Basayev, had not been trained in Sudan by Bin Laden, but in Afghanistan by the Taliban. Throughout the whole war, they benefited from the "humanitarian" support offered by Necmettin Erbakan and Recep Tayyip Erdoğan's Turkish Millî Görüş, and the "IHH – Human Rights and Freedoms". This Turkish association had been created in Germany under the name of Internationale Humanitäre Hilfe (IHH). Thereafter, they organised several major operations – notably against the Moscow Theatre (in 2002 – 170 dead, 700 wounded); against a school in Beslan (in 2004 – 385 dead, 783 wounded); and against the town of Nalchik (in 2005 – 128 dead, 115 wounded). After the massacre in Beslan and the death of jihadist leader Shamil Basayev, Millî Görüş and the IHH organised an extravagant funeral service at the Fatih mosque in Istanbul – the body was not present, but tens of thousands of militants attended the ceremony.
During this period, three important terrorist attacks were attributed to al-Qaeda. But however important these operations may have been, they represented an abasement for the Islamists, who were an integral part of NATO, but at the same time found themselves relegated to the level of anti-American terrorists.
- In 1996, a truck bomb exploded in front of an eight-story tower in Khobar, Saudi Arabia, killing 19 US soldiers. First attributed to al-Qaeda, responsibility for the attack was next pinned on Iran, and then finally, on no one at all.
- In 1998, two bombs exploded in front of the US embassies in Nairobi, Kenya, and Dar-es-Salam, Tanzania, killing 298 Africans – but no US citizens – and wounding more than 4,500. These attacks were claimed by a mysterious "Islamic Army for the Liberation of Holy Places". According to US authorities, the attacks had been committed by members of the Egyptian Islamic Jihad in response to the extradition of four of their members. And yet the same authorities accused Osama Bin Laden of being the instigator of the attacks, and the FBI issued – finally – an international arrest warrant for him.
- In 2000, a suicide boat exploded against the hull of the destroyer USS Cole, harboured in Aden, Yemen. The attack was claimed by al-Qaeda in the Arab Gulf Peninsula, but a US tribunal blamed Sudan.
These attacks occurred while the collaboration between Washington and the Islamists was on-going. Osama Bin Laden therefore held onto his bureau in Londonistan until 1999. Situated in the neighbourhood of Wembley, the Advice and Reformation Committee (ARC), served to disseminate Bin Laden's declarations and also to cover the logistical activities of al-Qaeda, including matters of recruitment, payments, and the acquisition of equipment. Among his collaborators in London, we find the Saudi Khalid al-Fawwaz and the Egyptians Adel Abdel Bary (father of the suspected Jihadi John) and Ibrahim Eidarous, three men who were the objects of international arrest warrants, but had nonetheless received political asylum in the United Kingdom. It was in perfect legality in London that Bin Laden's bureau published, in February 1998, his famous Appeal for a jihad against Jews and Crusaders. Seriously ill with kidney disease, Bin Laden was hospitalised, in August 2001, at the American Hospital in Dubai. A head of one of the Gulf states assured me that he had visited him in his room, where security was provided by the CIA.
The fusion of the two "Gladio" networks and the preparation of Daesh
Following the same logic, the Bush administration blamed the Islamists for the gigantic attacks which occurred on 11 September 2001 in the United States. The official version prevailed, although it contains innumerable incoherences. The Justice Secretary assured that the planes were hijacked by the Islamists, despite the fact that, according to the airline companies themselves, none of the suspects were on board. The Department of Defense published a video in which Bin Laden claimed responsibility for the attacks, despite the fact that he had publicly denied it, and that experts in facial and vocal recognition affirmed that the man in the video was not Bin Laden. In any case, these events served as the pretext for Washington and London to launch the "Endless War" on terrorism and attack their ex-allies, the Taliban in Afghanistan, and Saddam Hussein's Iraq.
Although Osama Bin Laden suffered from chronic kidney disease, he died on 15 December 2001 from the consequences of Marfan Syndrome. A representative of MI6 was present at his funeral in Afghanistan. For a while, several more or less life-like body doubles kept his image alive, one of whom was himself assassinated in 2005 by Omar Sheikh, according to Pakistani Prime Minister Benazir Bhutto.
In August 2002, MI6 organised a conference in London for the Muslim Brotherhood on the theme "Syria for All". The speakers developed the idea that Syria was oppressed by the Alawite cult, and that only the Muslim Brotherhood could offer true equality.
After Sayyed Qutb and Abu Musab "the Syrian", the Islamists found a new strategist, Abu Bakr Naji. In 2004, this character, who seems never to have existed, published a work on the Internet, "The Management of Savagery, a chaos theory" [6]. Although certain authors believed they could recognise the style of an Egyptian writer, it seemed that the book had been written in English, sprinkled with superfluous Qu'ranic quotes, and then translated into Arabic. The "Savagery" in the book's title did not refer to a recourse to terrorism, but a return to the state of nature before civilisation created the state. It was about dragging Humanity back to the time when "Man is a wolf for Man". The strategy of chaos is explained in three phases:
- First, demoralise and exhaust the state by attacking its least-protected flanks. Choose secondary targets, often without strategic value, but easy to destroy and disperse. The point is to give the impression of a general uprising, a revolution.
- Second, when the state has withdrawn from the suburbs and the countryside, conquer certain zones and administer them. It will be necessary to rely on the Sharia to signal the passage to a new form of state. During this period, build alliances with all those who are opposed to Power – they must be given weapons. Then the war will become a war of position.
- Third, proclaim the Islamic state.
This treatise draws on contemporary military science. It places much importance on psychological operations, notably the use of spectacular violence. In practise, this strategy has nothing to do with revolution, but with the conquest of a country by exterior powers, because it supposes a massive investment. As always in subversive literature, the most interesting aspects are those which are not clearly stated, or quoted only incidentally.
- The preparation of populations to gladly welcome the jihadists supposes the previous construction of a network of mosques and social works, as was done in Algeria before the "civil" war.
- The primary military operations require arms, which must be imported beforehand. Above all, after the campaign, the jihadists will have no possibility of acquiring weapons, and even less ammunition. They will therefore need to be supplied from outside. - The administration of the occupied zones supposes the participation of senior executives who have been trained in advance, like those of regular armies tasked with "rebuilding states".
- Finally, the war of position supposes the construction of enormous infrastructures which will require a great deal of equipment, materials, engineers and architects.
By invoking this treatise the Islamists revealed their intent to continue playing a military role on behalf of external forces, but this time on a massive scale.
In 2006, the British asked Emir Hamad of Qatar to place his pan-Arab TV channel, al-Jazeera, at the service of the Muslim Brotherhood [7]. The Libyan Mahmud Jibril, who had trained the royal family to speak in democratic language, was tasked with carefully introducing the Brotherhood into the channel, and creating channels in foreign languages (English, and then later, Bosnian and Turkish), as well as a channel destined for children. The preacher Yusuf al-Qaradawi became the "religious advisor" for al-Jazeera. Of course, the channel broadcast and validated the audio and video recordings of the various "Osama Bin Ladens".
During the same period, US troops in Iraq were faced with a growing uprising. After having been utterly demoralised by the suddenness and brutality of the invasion (the "Shock and Awe technique"), the Iraqis were beginning to organise their resistance. John Negroponte, US ambassador in Baghdad, and then Director of National Intelligence, proposed to overcome the resistance fighters by turning their anger against themselves, and transforming the resistance to the occupation into a civil war. An expert in secret operations, he had notably participated in Operation Phoenix in Vietnam, then organised a civil war in Salvador and the Iran-Contras operation in Nicaragua, and guided the collapse of the Free and Sovereign State of Chiapas in Mexico. Negroponte called on one of the men he had worked with in Salvador, Colonel James Steele. He entrusted him with creating Iraqi Shiite militias against the Sunnis, and Sunni militias against the Shiites. For the Sunni militia, Steele used the Islamists. From al-Qaeda in Iraq, he armed a tribal coalition, the Islamic Emirate in Iraq (future Daesh), under cover of the Special Police ("the Wolf Brigade"). In order to terrify the victims and their families, he trained the Emirate in torture, according to the methods of the School of the Americas and the Political Warfare Cadres Academy in Taiwan, where he taught.
Within a few months, a new terror came crashing down on the Iraqis and divided them according to their religion. Thereafter, when General David Petraeus took command of the US troops in-country, he designated Colonel James H. Coffman to work with Steele and provide him with reports on the operation, while Brett H. McGurk advised the President directly. The principal heads of the Islamic Emirate were recruited at the detention center at Camp Bucca, but were conditioned at Abu Ghraib prison, according to the "brainwashing" techniques of professors Albert D. Biderman and Martin Seligman [8]. The whole programme was supervised from Washington by the Secretary for Defense Donald Rumsfeld, who was Steele's direct superior.
In 2007, Washington informed the Brotherhood that it intended to overthrow the secular régimes in the Greater Middle East, including those of the allied states, and that it should prepare to exercise power. The CIA organised the alliances between the Brotherhood and the secular parties or personalities from all the states in the region. At the same time, it connected the two "Gladio" branches by reinforcing the ties between the Western Nazi groups and the Oriental Islamist groups.
These alliances were sometimes unstable – for example during the "National Conference of the Libyan Opposition", in London, the Brotherhood was only able to bring together the Islamic group fighting in Libya (al-Qaeda in Libya) and the Wahhabi Senussi Brotherhood. The platform of the programme involved re-establishing the monarchy and making Islam the state religion. More convincing was the constitution of the National Salvation Front, in Berlin, which officialised the cooperation of the Brotherhood and ex-Syrian vice President Abdel Halim Khaddam.
On 8 May 2007, in Ternopol (West Ukraine), a number of small Nazi and Islamist groups created an anti-Imperialist Front in order to fight Russia. Organisations from Lithuania, Poland, Ukraine and Russia participated, including the Islamist separatists from Crimea, Adygea, Dagestan, Ingushetia, Kabardino-Balkaria, Karachay-Cherkessia, Ossetia, and Chechnya. Since he could not travel there because of international sanctions against him, Doku Umarov – who had abolished the Republic of Chechnya and proclaimed the Islamic Emirate of Ichkeria – had his contribution read on his behalf. The Front was presided over by Dmytro Yarosh, who, during the coup d'état in Kiev, in February 2014, was to become Assistant Secretary of the National Security Council of Ukraine.
In Lebanon, May-June 2007, the national army began the siege of the Palestinian camp of Nahr al-Bared, after members of Fatah el-Islam had taken refuge there. The combats lasted for 32 days and cost the lives of 76 soldiers, about thirty of whom were decapitated.
Full report at:
https://www.voltairenet.org/article206956.html
--------
Iranian FM Zarif heading to New York for UN conference
13 July 2019
Iranian Foreign Minister Mohammad Javad Zarif was on his way to New York on Saturday to attend a United Nations conference, the official Islamic Republic News Agency (IRNA) said.
Zarif's trip comes at a time of spiraling US-Iranian tensions. The United States blames Iran for several recent attacks on oil tankers and the two foes came close to direct military conflict last month when Iran shot down a US drone and President Donald Trump ordered retaliatory air strikes, only to call them off minutes before impact.
Full report at:
https://english.alarabiya.net/en/News/world/2019/07/13/Iranian-FM-Zarif-heading-to-New-York-for-UN-conference-.html
--------
US soldier killed in Afghanistan: NATO
Jul 13, 2019
KABUL: A US service member was killed in action in Afghanistan on Saturday, NATO said, in a Taliban-claimed attack that comes as America tries to forge a peace deal with the insurgents.
The soldier is the 10th member of the US military to be killed this year - compared to 12 in all of 2018.
"The name of the service member killed in action is being withheld until 24 hours after notification of next of kin is complete," Resolute Support, the US-led NATO mission in Afghanistan, said in a statement.
NATO did not provide any details about the incident for which the Taliban claimed responsibility.
They said they had blown up an "American tank" in the Sayed Abad district of Wardak province. The US does not use tanks in Afghanistan.
The insurgents, who frequently exaggerate claims, said two US "invaders" were killed and three wounded.
Two US troops were killed in the same area last month in another Taliban-claimed attack, while the US and Afghan forces continue to conduct daily operations against the insurgents.
The US now has some 14,000 troops in Afghanistan -- down from a peak of around 100,000 -- most of them deployed to train and advise Afghan counterparts.
In the nearly 18 years since the US-led invasion to oust the Taliban in late 2001, some 2,300 American soldiers have died and more than 20,400 have been wounded.
Full report at:
https://timesofindia.indiatimes.com/world/south-asia/us-soldier-killed-in-afghanistan-nato/articleshow/70204949.cms
--------
Trump's nominee for top military post warns against early Afghanistan pullout
Jul 14, 2019
Trump Administration's nominee for chairman of the Joint Chiefs of Staff has warned against early pullout of US forces in Afghanistan while insisting that China will remain the "primary challenge" to the American military for up to 100 years.
"I think pulling out prematurely would be a strategic mistake," said current Army Chief of Staff General Mark Milley at his confirmation hearing for the top military post before the US Senate Armed Services Committee on Thursday, military news outlet Task & Purpose reported Saturday.
Despite a recent national poll by Pew Research Center, which found that 58 percent of US veterans surveyed believed that the wars on Afghanistan and Iraq were not worth the sacrifice, Milley still emphasized that American troops should stay in the war-ravaged country until a negotiated settlement is reached with Taliban terrorists – the very group the US forces invaded Afghanistan in 2001 to root out in the name of "war on terror."
"I think it is slow; it's painful; it's hard – I've spent a lot of my life in Afghanistan," Milley stated. "But I also think it's necessary."
Milley further boasted that the US-led occupation of Afghanistan has been partly successful, arguing that Washington's initial reason for invading the country was to make sure it would never again be used as a base for a terrorist attack on the homeland.
Since there hasn't been such an attack since 2001, "We've been successful to date," he underlined.
If confirmed, Milley will succeed outgoing chairman of the Joint Chiefs, Gen. Joseph Dunford, to become the highest-ranking military officer in the United States and principal military adviser to President Donald Trump.
The transition would come as the Trump administration confronts a variety of geopolitical challenges, including the continued expansion of China's military might, as seen in areas such as the South China Sea.
"China is improving their military very, very rapidly -- in space, air, cyber, maritime, land domains," Milley said during the hearing. "They're outspending us in research and development and procurement ... We, the United States, need to make sure that we do not lose our advantages that we have relative to other countries, specifically relative to China."
The army general, however, further pointed out that "China is not the enemy," but instead was a "competitor"
The term "enemy" means "you're at war," he added. "We're not there. We don't want to be there. We want peace, not war, with China."
Full report at:
https://www.presstv.com/Detail/2019/07/14/600873/US-military-General-Mark-Milley-chairman-of-the-Joint-Chiefs-of-Staff-nominee-Afghanistan-pullout-China
--------
US soldier killed in Afghanistan amid Washington's 'peace talks' with Taliban
Jul 13, 2019
A US military officer has been killed in Afghanistan, the NATO military alliance's so-called Resolute Support (RS) mission in the country has announced without spilling more details.
The unnamed soldier's death on Saturday brings the number of US service members killed so far this year in Afghanistan to 10, local press reports said.
Nearly 20,000 foreign troops – most of them Americans – remain in the war-torn nation as part of a US-led NATO mission to purportedly "train, assist and advise" Afghan military forces.
The US and its allies invaded Afghanistan under the guise of the war on terror to topple the very Taliban militants they're now negotiating with. Some 18 years on, terrorism rages on across the country chiefly by the Taliban, which now control more Afghan territory than at any time since being ousted in 2001.
Some US troops in Afghanistan are engaged in what Washington has described as "counter-terrorism operations" against radical militant groups.
At least 2,300 American forces have also been killed and more than 20,400 wounded in the country during the 18-year war there.
In June, the Pentagon announced the deaths of two Army officers in Afghanistan's Uruzgan province during combat operations.
The attacks come as the United States continues to negotiate a peace deal with the leading perpetrator of terror attacks across Afghanistan, the Taliban militant group, which targets mostly Afghan civilians and security forces.
Last week, US special envoy to the "peace talks" with the Taliban militants Zalmay Khalilzad described the latest round of the negotiations held in the Persian Gulf state of Qatar as the "most productive session."
"There is still important work left to be done before we have an agreement," Khalilzad wrote in a Twitter message last Saturday, further claiming that substantive progress had been made on all parts of a peace deal.
The Afghan-born US diplomat, who has been negotiating since last year with the radical militant group, intends to secure a political settlement with the Taliban, which have recently intensified their attacks in capital Kabul and elsewhere in the nation.
The two sides want to forge a plan for the withdrawal of the US-led foreign military forces in exchange for guarantees by the Taliban that they will not use Afghanistan as a base for launching attacks on the US and its allies.
Earlier in July, US President Donald Trump vowed during an interview with Fox News to maintain a "very strong intelligence" presence in Afghanistan, while repeating earlier claims that he intended to withdraw American troops from the terror-ravaged country.
"We will be leaving very strong intelligence, far more than you would normally think," Trump said, calling Afghanistan "the Harvard of terrorists."
Last Saturday, a car bomb attack by a Taliban militant killed at least a dozen people, including security forces and civilians, in the country's central province of Ghazni. Authorities said the blast left eight security forces and four civilians dead, while leaving more than 50 more injured.
On July 1, nearly 100 people, including dozens of children, were wounded in a similar Taliban bomb attack in Kabul, which was followed by gunmen battling Special Forces in an area housing military and government buildings.
Full report at:
https://www.presstv.com/Detail/2019/07/13/600823/Afghanistan-US-soldier-peace-talks-Taliban-militants-NATO-Resolute-Support-mission
--------
Southeast Asia
DAP MP: Perak exco, accuser should not leave country until rape claim probe complete
14 July 2019
BY UDA NADIRAH IBRAHIM
KUALA LUMPUR, July 14 — Perak executive councillor Paul Yong, who had allegedly raped his Indonesian domestic worker should have the latter's passport surrendered if police feel there is a flight risk, Kepong MP Lim Lip Eng said today.
Lim said the alleged rape victim, who had lodged the report on Monday should not leave the country as well until the case has been resolved.
"The police should apply for Paul to surrender his passport to the authority if the police think that he might be a flight risk however small the possibility may be.
At the same time, the alleged rape victim should not be allowed to leave Malaysia until the police have investigated the case thoroughly and the case has been tried in court in the event that Paul is charged for allegedly raping her," he said in a statement today.
Lim said police must have had followed the Standard Operating Procedure and gathered enough reasonable evidence before arresting Yong as the rule of law must be upheld at all times, regardless of the person involved in the case.
"The arrest of Paul Yong, an executive councillor of the Perak state government who is accused of rape by his former Indonesian maid has indeed brought into focus once again the police's Standard Operating Procedure.
"The police must have gathered enough reasonable evidence before arresting Paul, otherwise the police would categorise the complaint as 'no further action (NFA)' or investigate the maid for making a false police report," the statement read.
On Wednesday, Yong had acknowledged that he is the Perak official accused of raping his Indonesian helper, but rejected the allegation as false and baseless.
The State Local Government, Public Transport, Non-Muslim Affairs and New Villages Committee chairman was arrested on Tuesday after news of the allegation surfaced following a police report lodged by the domestic worker on Monday.
Yong allegedly raped the Indonesian woman at his house in Meru, Perak.
https://www.malaymail.com/news/malaysia/2019/07/14/dap-mp-perak-exco-accuser-should-not-leave-country-until-rape-claim-probe-c/1771225
--------
Better Late Than Never: Jokowi Finally Has Sit-Down Meeting With Prabowo
JULY 13, 2019
Jakarta. The long-awaited reconciliation meeting between re-elected President Joko "Jokowi" Widodo and his long-time rival Prabowo Subianto finally happened on Saturday on board Jakarta's brand new MRT train as the two leaders spent nearly 20 minutes traveling together from Lebak Bulus to Senayan.
Jokowi and Prabowo admitted the tightly contested presidential election had created unnecessary political division and now is the time to end it.
They described today's meeting as a meeting between "best friends and bothers."
The two appeared relaxed in public despite the fact the election had nearly divided the nation in half.
For months Prabowo refused to accept the official result of the election that showed a clear Jokowi win with 55.5 percent of the total vote.
Supporters of the former Army Special Forces commander rallied on the streets of Jakarta on May 21 and 22. The demonstrations turned violent and ended in isolated riots that killed nine lives.
Prabowo also launched an appeal to overturn the result of the election at the Constitutional Court. The appeal was dismissed on June 27 and Jokowi and his running mate Ma'ruf Amin were officially declared president and vice president of Indonesia for the next five years.
Saturday's kiss and make up meet-up between Jokowi and Prabowo is expected to finally ease political tension in the world's third biggest democracy.
Belated Congratulation
Asked why he had delayed congratulating Jokowi for his re-election, Prabowo said, "I have to follow ewuh pakewuh, manners, a congratulation should be conveyed face to face."
"So that's what I'm doing now, congratulations," Prabowo said as he shook Jokowi's hands.
"Enjoy your duties in the next five years. And congratulations for your new grey hairs," Prabowo said.
Jokowi laughed heartily at Prabowo's attempt at a joke.
Prabowo also said he will assist the Jokowi administration whenever he could, but will not refrain from criticizing the two-term president when necessary.
"This meeting is a symbol that the presidential election is now, finally, over," Gajah Mada University researcher Nyarwi Ahmad told Kompas TV on Saturday.
MRT Date
Analysts are already offering their takes on the two leaders' "MRT date," during which Jokowi and Prabowo chatted amiably as they sat side-by-side on the MRT train's shiny blue plastic bench.
"Since the meeting took place not in the palace but in a public transportation... this [can be read] as a reconciliation not just for the country's political elite but also for the public," Nyarwi said.
However, there has been no hint on what Jokowi and Prabowo discussed inside the train.
"We decided to take a ride on the MRT this morning because I know Pak Prabowo has not tried it," Jokowi said.
Prabowo said even though the meeting had a relaxed air about it, it should be recognized as an important moment in recent politics.
The executive director of political consultant company Charta Politika, Yunarto Wijaya, said the chosen venue for the meeting could be read as a hint of things to come.
"It was not an elitist meeting. It wasn't held in the palace or in a luxury hotel but in a public space… it wasn't just a reconciliation between Jokowi and Prabowo, but [also symbolized one] between the people," Yunarto told Kompas TV.
Gun Gun Hariyanto, a political analyst from State Islamic University Syarif Hidayatullah, meanwhile said the meeting was still elitist because the two leaders refused to divulge what they had discussed.
"[The optics] looked populist but in essence it was still elitist because we didn't know what was discussed and what had happened backstage," he said in an interview with Kompas TV.
No More 'Cebong' Vs. 'Kampret'
During a long year of campaigning that culminated in the country's first simultaneous legislative and presidential elections in April, Jokowi's supporters were pejoratively called "cebong" (tadpoles) and Prabowo's supporters were nicknamed "kampret" (bats).
The two partisan camps traded insults, accusations and threats constantly on social media, leading to what critics feared was a permanent rupture in Indonesian politics.
Both Jokowi and Prabowo now call for an end to the destabilizing division.
"There's no more cebong or kampret. The only thing left is Garuda Pancasila," Jokowi said, referring to Indonesia's national emblem.
"I agree [with what Jokowi said]. There is no more cebong or kampret, all we have is the Merah Putih," Prabowo said. The Merah Putih (Red and White) is the national flag of Indonesia.
After briefly facing the press at the Senayan MRT Station, Jokowi and Prabowo walked to the nearby FX Entertainment mall where they had lunch at Sate Khas Senayan, a restaurant specializing in Indonesian cuisine.
Satay and Court Jesters
Jokowi and Prabowo occupied a table at the restaurant with a background of punakawan shadow puppets.
Punakawan are court jesters in Indonesian wayang who symbolize understanding and friendship.
Prabowo and Jokowi both ate the restaurant's signature satay dish before saying their goodbyes.
"That was an impressive [meeting]... they didn't use it to make any political deal," Gun Gun said.
Cabinet Secretary Pramono Anung, who was also at the meeting, said the two political leaders will hold other meetings in the future.
Saturday's meeting was also attended by National Intelligence Agency chief Budi Gunawan, Transportation Minister Budi Karya Sumadi, the head of Jokowi's campaign team Erick Tohir, Prabowo's Gerindra Party secretary general Ahmad Muzani and Gerindra deputy chairman Edy Prabowo.
Full report at:
https://jakartaglobe.id/context/better-late-than-never-jokowi-finally-has-sitdown-meeting-with-prabowo
--------
URL: https://www.newageislam.com/islamic-world-news/maternal-love-that-went-religion/d/119181
New Age Islam, Islam Online, Islamic Website, African Muslim News, Arab World News, South Asia News, Indian Muslim News, World Muslim News, Women in Islam, Islamic Feminism, Arab Women, Women In Arab, Islamophobia in America, Muslim Women in West, Islam Women and Feminism