New Age Islam News Bureau
3 Dec 2014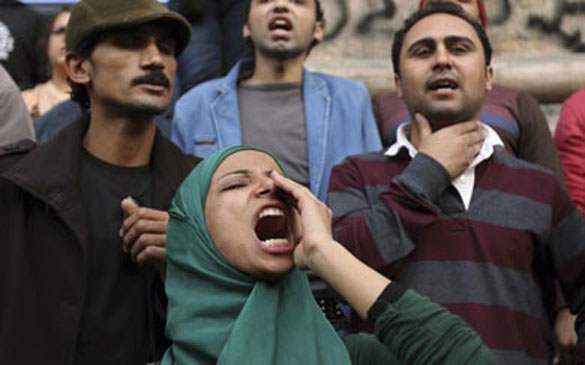 Protests broke out in Cairo Tuesday against the court dropping its case against Egypt's former President Hosni Mubarak. An Egyptian judge sentenced 188 Muslim Brotherhood supporters to death Tuesday. Reuters/Mohamed Abd El Ghany
---------
Arab World
• Mass Death Sentence: Egypt Court Sentences 188 People to Death
• Kurdish Fighters Battle ISIL for Kobani 'Until Last Drop of Blood'
• After Joining IS, Ansar Bayt Al-Maqdis Expands In Egypt
• Egypt's army says it killed 7 militants in North Sinai
• Gunmen kill 7 Lebanese soldiers in ambush near Syria
• Saudi Arabia's 'former extremists' to get business support
• The West is to blame for Syrian conflict, says Saudi prince
• Head of Egypt's al-Azhar condemns ISIS 'barbarity'
• Bahrain to develop central Sharia board for Islamic banks
• Move to UAE has increased knowledge of Islam, say expats
India
• Shadowy Islamic Cult in Thane Probe Focus
• J&K Elections: It's 'Mission Change' For Kashmiri Youth
• Sister of Indian IS militant appeals for his return
• Five militants killed in Kupwara gunfight
• Pak anti-terror court adjourns Mumbai 26/11 trial till Dec 10
Europe
• French National Education Prompts Islamophobia
• Nearly 50 Islamic State Recruits Arrested In Tajikistan
• UNGA approves Arab-backed resolution, urges Israel, India, Pak to renounce nuclear arms
• Conflict, militancy hit human rights in Middle East, African nations
• Denmark's rehab for deradicalisation: Homework, football and Islam
• Britain First releases 'Taliban Hunting Club' hoodie 'just in time for Christmas'
Africa
• Militants Divide Kenya Miners by Religion, Then Begin Killing
• Four killed in suicide attack on UN convoy in Somali capital
• U.N. mission calls for new talks between Libyan groups
• Tunisia holds first parliamentary session after revolution
Pakistan
• Airstrikes Kill 15 Suspected Militants in North Waziristan
• Pakistan Police Register Blasphemy Case against 'Disco Mullah'
• Pakistan Running Special Trains for Terror Mastermind Hafiz Saeed
• Ready to talk if Imran shuns 'double standards': Nawaz
• Won't allow army in tribal areas if elected PM: Imran
• Palestinian issue remains high on our agenda: Bokhari
South Asia
• 33 Taliban militants killed during clearing operations
• Islamic minister dismisses rumour of President Yameen not performing Hajj
• War crimes verdict on ex- Jatiya Party leader Abdul Jabbar any day now
North America
• Us Congress Moves toward Ok for Financing War on IS Jihadists
• Palestinian State Will Only Come Through Talks: US
• Former al-Qaeda Hostage Recounts Nightmare - of Dealing with FBI
• How the US Intervention against the IS Has Alienated Syria's Sunni Arab Opposition
• U.S. Supreme Court rejects Tulsa police captain's lawsuit over Islamic event
• U.S. diplomats to argue against new Iran sanctions
• Islamic State: Kerry says group 'significantly' damaged
Mideast
• Palestinians Urge France to Act on Parliament Vote to Recognise State
• Turkish FM Çavuşoğlu raises concerns on Aleppo at NATO meeting
• Israeli lawmakers to vote on dissolving parliament
• At least one killed in car bomb attack on Iranian diplomat's house in Yemen
Southeast Asia
• Najib reneged on Sedition Act repeal for self-preservation, says PAS
• Indonesian Police escort trafficking victims from Malaysia
Compiled by New Age Islam News Bureau
URL: https://www.newageislam.com/islamic-world-news/new-age-islam-news-bureau/mass-death-sentence--egypt-court-sentences-188-people-to-death/d/100310
----------
Arab World
Mass Death Sentence: Egypt Court Sentences 188 People to Death
December 3, 2014
An Egyptian court has sentenced 188 people to death for a violent attack on a police station in the restive town Giza after the ouster of President Mohamed Morsi last year and the matter will now go before the country's top religious authority.
The ruling which came yesterday found the defendants guilty of attacking the Kerdasa police station on August 14, 2013, the same day when Egyptian security forces dispersed two Brotherhood protest sit-in camps in Cairo and Giza, killing hundreds of people.
They were also found guilty of the attempted murder of 10 other police personnel, sabotaging the police station, torching a number of police vehicles and possessing heavy firearms. The ruling has now been referred to Egypt's Grand Mufti, a requirement in Egyptian law before any execution can be carried out. The decision is legally non-binding to the court.
The court said that the sentences will be confirmed on January 24. Out of the 188, only 135 were present while the rest were tried in absentia. This is the latest mass death sentence handed down by the country's judicial system despite widespread international criticism.
Defence lawyer Bahaa Abdel-Rahman told Ahram Online that among the defendants were two persons who died during the trial, but who weren't dropped from the trial, along with a minor. The ruling came days after an Egyptian court dropped charges against former president Hosni Mubarak, his minister of interior and six aides over killing unarmed protesters in the 2011 revolution.
Since Morsi's ouster last year, the Egyptian government has been cracking down on the Muslim Brotherhood and its supporters. In March, 529 Muslim Brotherhood members were sentenced to death for killing a police officer in last year.
Morsi is currently in prison over charges of murdering peaceful protesters, espionage, escaping from prison during the January 25 Revolution in 2011 and insulting the judiciary.
http://indianexpress.com/article/world/middle-east-africa/egypt-court-sentences-188-to-death/#sthash.Y6LWecgZ.dpuf
----------
Kurdish fighters battle ISIL for Kobani 'until last drop of blood'
December 3, 2014
KOBANI, SYRIA // On the front lines of the battle for Kobani, Kurdish female fighters have been playing a major role in helping defend the Syrian town from an onslaught by ISIL.
Pervin Kobani, the 19-year-old daughter of a farmer, is one of them.
She is part of a team holding an eastern front-line position that comes under regular attack from the extremist fighters, who have been trying to seize the town since mid-September.
The ISIL group has declared a self-styled caliphate in areas under its control in Iraq and Syria, governing it according to its violent interpretation of Shariah law.
The Kurdish men and women fighting in Kobani are determined not to lose the town to the extremists.
A report by the Associated Press last month offered a rare, in-depth glimpse of the destruction inside Kobani after more than two months of fighting in the Kurdish town by the Turkish border.
It also illustrated what life is like for fighters like Pervin, who says she does not really have dreams beyond the present.
"We must save our love for Apo, and Kurdistan and our martyrs," she said, referring to Kurdish rebel leader Abdullah Ocalan, whose group has been fighting Turkey for Kurdish autonomy.
Nearby, one of Pervin's comrades saw something moving amid the destroyed remains of central Kobani and opened fire.
Pervin left home and took up arms two years ago as the overstretched forces of Syrian president Bashar Assad withdrew from Kurdish areas in northern Syria. She joined the Syrian Kurdish women's self-defence force, known by its Kurdish acronym YPJ. The female YPJ fighters are now integrated with the men's units, the YPG.
"I didn't really have any other ambitions. I just wanted to live a free life, as a woman, [to] be able to see our reality, and have our rights and just live," she said.
Aided by a small Iraqi Kurdish peshmerga force and Syrian rebels, they have been defending the town since mid-September, helped by more than 280 airstrikes by the US-led coalition.
"We won't allow the terrorist groups in until the last drop of our blood," Pervin said.
After half a year serving away from her hometown, she returned to Kobani with Kurdish forces two months ago.
Most fighting happens at night. The fighters can only sleep during the day, with a rotating two-hour sentry watch.
Three weeks ago, Pervin bumped into her father on a street corner.
She was surprised to see him holding a gun. She did not know that he too had decided to fight.
Her mother is a refugee in Turkey, her only brother studying in Algeria.
"Honestly when I heard my father is fighting on the western front with the YPG I was so proud of him, and it made me want to fight more," she said.
Her father, Farouk Kobani, joined the town's defenders when ISIL launched their attack in September. He was delighted to see his daughter that day, after months without news about her.
Last week, Pervin went to the western front to see her father again.
She says he is now her comrade – but she hugs him like a father anyway.
* Associated Press
http://www.thenational.ae/world/middle-east/kurdish-fighters-battle-isil-for-kobani-until-last-drop-of-blood
----------
After joining IS, Ansar Bayt al-Maqdis expands in Egypt
December 3, 2014
EL-ARISH, Egypt — The war has become more complicated in the Sinai Peninsula in the past few weeks after the Islamic State (IS), namely Ansar Bayt al-Maqdis in Sinai, began using traps and remote bombing in its confrontation with the Egyptian army. This has multiplied the difficulties facing the Egyptian army in fighting the terrorists who have mastered the art of hiding in the region's arid environment.
According to field information gathered by Al-Monitor over the past 30 days, the terrorist group Ansar Bayt al-Maqdis has planted 21 bombs almost daily along several routes taken by the army and security officials in north Sinai in the areas stretching from el-Arish to Rafah and Sheikh Zuweid.
The security apparatus has succeeded in discovering and dismantling seven bombs, while 14 others exploded. Six bombs targeted military vehicles, killing four security men and wounding 24 others, some of whom were in critical condition, mostly soldiers and officers. Eight bombs exploded without hitting their target.
A researcher specializing in security affairs and jihadist groups in Sinai spoke to Al-Monitor on condition of anonymity for security reasons, saying, "Ansar Bayt al-Maqdis is increasingly using bombs because they are unable to face the Egyptian army, which is better equipped and larger. As a result, the army outdoes them in direct confrontations, which it is well trained for."
The researcher said, "We cannot in any way monitor all roads to prevent planting bombs. The targeting and triggering of explosive devices are done remotely by relying on communications technology. The army tried to prevent these attacks by shutting down mobile networks during daily military movements, from 4 a.m. until 6 p.m. However, the terrorists recently relied on wireless networks and UHF radios, and equipped themselves with electronic intensifier technology to strengthen the signal for detonating bombs from a distance of up to one kilometer [0.6 mile]."
A source sympathetic to the jihadists spoke to Al-Monitor on condition of anonymity and warned that the bombing operations might move to the center of el-Arish, the capital of north Sinai. "With the noose being tightened on the Ansar Bayt al-Maqdis group and with the increasing daily military operations against the southern villages of Sheikh Zuweid, the members of the group headed to the center of el-Arish in an attempt to escape the security [operations]. It is likely that they are planting bombs along internal roads of the city, where security and military armored vehicles constantly move without taking any safety measures," he said.
The jihadist source also warned of moving these operations outside north Sinai, especially to tourist cities in south Sinai, such as Sharm el-Sheikh and Dahab, in addition to other districts in the Nile Valley and in Cairo.
"Ansar Bayt al-Maqdis militants do not exceed 50 [people] inside Sinai, but the group has lately succeeded in opening fronts inside other Egyptian districts, especially after pledging allegiance to IS. Several people who had always dreamed of the jihadist caliphate joined the group, in addition to defecting members from the Muslim Brotherhood, notably those holding a grudge against the state due to the Rabia and al-Nahda massacres," the source said.
Indications on the ground confirm the accuracy of the information relayed by the jihadist source. In the evening of Friday, Nov. 28, Ansar Bayt al-Maqdis — or Wilayat Sinai as it is now called — claimed responsibility for the assassination of a colonel and two soldiers from the Egyptian army in the Suez bridge area in the heart of Cairo, and the killing of an officer and a soldier in Qalyubia governorate. The group declared in an online statement that the two attacks were carried out by a brigade affiliated to it and called the Martyr Abi Ubaidah al-Masri Brigade.
All the latest terrorist operations carried out by Ansar Bayt al-Maqdis confirm that the group relies on the remote targeting strategy in booby-trapping operations, assassinations or bombing of vital state infrastructure such as gas pipelines. This also confirms that the organization is avoiding direct confrontation with the Egyptian army, fearing the loss of its few members, according to sources close to the organization. Moreover, activists and observers in Sinai fear the increase in members of terrorist organizations in the future, if the state continues to fight terrorism with foul practices that harm civilians in the peninsula.
Regarding the bombing of the gas pipelines in Sinai, the jihadist source said that Ansar Bayt al-Maqdis will keep bombing gas pipelines for three reasons. "First, the organization wants to regain its media momentum to prove that it is facing the tough military campaigns in Sinai. Second, it wants to cause losses to the army's economic structure — a structure that greatly relies on the huge profits from cement factories in the center of Sinai and uses gas in its work. Third, the organization wants to stop pumping gas exported to Jordan because the latter joined the anti-IS international alliance."
The Egyptian army's cement plants and other plants owned by businessmen close to the ruling regime in Cairo are suffering losses due to the suspension of production, which is described by one of the workers in these plants as a disaster. Meanwhile, the state is also suffering substantial losses. An officer at the Egyptian Natural Gas Co. (Gasco), the main operator in charge of gas repairs in Sinai, told Al-Monitor on condition of anonymity that every time a pipeline is blown up, the repairs cost millions of Egyptian pounds paid from the state budget.
The Gasco source said that the losses also affected Jordan, which depends on Egyptian gas to generate electricity, stressing that it is impossible to secure the gas lines that are exposed and stretch over 100 kilometers (62 miles) in the vast desert. "This violates the economic contracts signed with Jordan and exposes the two countries to significant economic losses," he said.
One of the managers at the Sinai cement factory, in the industrial zone affected by the gas explosions in central Sinai, told Al-Monitor, "The citizens will incur the consequences of the losses and terrorist operations, including the bombing of the gas pipeline."
"The repeated bombings prompted the departments in charge of the operation of the plants — whether private or military plants — to raise the sale price by 25% as a result of the increase in the production cost. This increase came in response to attempts to replace gas with diesel, which is more costly, especially in terms of transportation to central Sinai," he added.
It is noteworthy that el-Arish's gas pipeline has been bombed 25 times since the regime of former President Hosni Mubarak was toppled.
All information and analyses from the field indicate that the coming phase will be very tough for Egypt, with the potential shift of violence from Sinai to the core of Egypt.
http://www.al-monitor.com/pulse/originals/2014/12/egypt-ansar-maqdis-sinai-spread.html#ixzz3KsiNgLnu
----------
Egypt's army says it killed 7 militants in North Sinai
December 3, 2014
Egypt's army says it killed seven militants and arrested 15 in North Sinai, as part of a campaign to purge the border area of an Islamic militant insurgency.
An army spokesman, Mohamed Samir, said the military conducted "a number of attacks" against "terrorist elements" in the last four days.
The 15 arrested had been involved in attacks on Egypt's police and army, the spokesman said.
The army operations also resulted in destroying two tunnels, 16 militant headquarters and 10 militants' vehicles, the army said.
A number of illegal migration and smuggling attempts were also aborted, through which the army seized 58 persons.
The army has stepped up its campaign on militants in North Sinai after an attack on a checkpoint in October left over 30 soldiers dead. A state of emergency was declared, and a one-kilometre buffer zone was established along the Gaza border, with locals evacuated and houses destroyed.
The Sinai-based militant group Ansar Beit Al-Maqdis, which has claimed several key terrorist attacks since the ouster of Islamist president Mohamed Morsi in July 2013, recently pledged allegiance to the Islamic State.
http://english.ahram.org.eg/NewsContent/1/64/117039/Egypt/Politics-/Egypts-army-says-it-killed--militants-in-North-Sin.aspx
----------
Gunmen kill 7 Lebanese soldiers in ambush near Syria
December 3, 2014
Gunmen killed seven Lebanese soldiers in an ambush on their patrol Tuesday in the east of the country near the border with war-ravaged Syria, media and military sources said.
"Several Lebanese soldiers were martyred in an ambush by armed men on a Lebanese army patrol at Tallet al-Hamra, in the region of Ras Baalbek," said the official NNA news agency.
A military source put the total number of dead at seven.
http://english.ahram.org.eg/NewsContent/2/8/117034/World/Region/Gunmen-kill--Lebanese-soldiers-in-ambush-near-Syri.aspx
----------
Saudi Arabia's 'former extremists' to get business support
3 December 2014
The National Entrepreneurship Institute (Riyadah) has signed an agreement with the Muhammad Bin Naif Counseling and Care Center (MNCC) in Saudi Arabia that aims to provide support for former extremists to start up their own businesses and encourage them to continue rejecting their old ways.
The agreement aims to enable beneficiaries of the program to be aware of ways on how to establish their small business by utilizing the kingdom's support for startups.
Riyadah, which was established as the result of a joint Technical and Vocational Training Corporation (TVTC) and Ministry of Petroleum and Minerals initiative, focuses on enabling Saudis to start their small businesses, raising entrepreneurship cultural awareness, and providing needed support for current small businesses to flourish and overcome market obstacles.
Full report at:
http://english.alarabiya.net/en/perspective/features/2014/12/03/Saudi-Arabia-s-former-extremists-to-get-business-support-.html
----------
The West is to blame for Syrian conflict, says Saudi prince
December 3, 2014
The West's failure to intervene in Syria's civil war contributed to its descent into a bloodbath and not enough is being done, even now, to protect the battered population, according to a senior and influential member of the Saudi royal family.
The decision by western European states to restrict air strikes against Isis was "unacceptable" and "boggles one's mind", said Prince Turki al-Faisal, a former head of the kingdom's intelligence service who served as ambassador to both Britain and the US.
While America and its Middle East allies bomb Isis in Syria and Iraq, Britain, France and other countries are limiting air strikes to Iraq. "How does this make sense, to bomb one place and not the other? It is like taking action against a thief stealing from one neighbour's home, but not [doing] anything about the home next door. It boggles one's mind and is unacceptable," the Prince told the European Council on Foreign Relations in London.
The US and western Europe failed to act on Saudi recommendations in 2012 to arm the moderate Syrian rebels against Bashar al-Assad's regime, he pointed out. "If that had been done, then there would have been no need to use our air force now. The difference between the good guys and the bad guys in the opposition was clear cut then. It was the dilly-dallying at the time that gave Jabhat al-Nusra [branch of] al-Qaeda [its] chance. Because of the time lost it has, of course, become much more difficult now between the good guys and the bad guys."
Full report at:
http://www.independent.co.uk/news/world/middle-east/the-west-is-to-blame-for-syrian-conflict-says-saudi-prince-9898975.html
----------
Head of Egypt's al-Azhar condemns ISIS 'barbarity'
3 December 2014
The head of al-Azhar, one of the most prestigious centers of Sunni Islam learning, on Wednesday condemned "barbaric crimes" committed by the Islamic State of Iraq and Syria (ISIS).
Militants are acting "under the guise of this holy religion and have given themselves the name 'Islamic State' [ISIS] in an attempt to export their false Islam," Sheikh Ahmed al-Tayeb said at an international conference in Cairo on fighting extremism.
http://english.alarabiya.net/en/News/middle-east/2014/12/03/Head-of-Egypt-s-al-Azhar-condemns-ISIS-barbarity-.html
----------
Bahrain to develop central Sharia board for Islamic banks
3 December 2014
Bahrain's central bank is setting up a central sharia board to help oversee Islamic finance products in the Kingdom and will introduce new rules to strengthen governance in the sector, central bank governor Rasheed al-Maraj said.
Traditionally, Islamic banks have practiced self regulation to ensure the sharia-compliance of their products, but a centralized model is increasingly being favored across the global industry.
Sharia boards are groups of scholars who rule on whether financial instruments follow religious principles, such as bans on interest payments and pure monetary speculation.
The central bank will introduce new sharia governance rules to expand the internal sharia review and audit functions, while making it mandatory for banks to have an independent external sharia audit.
"Good governance is a pervasive theme of our times and for Islamic banks its importance cannot be over-emphasized," Maraj said at an industry conference in the capital Manama on Tuesday.
Full report at:
http://english.alarabiya.net/en/business/banking-and-finance/2014/12/03/Bahrain-to-develop-central-Sharia-board-for-Islamic-banks.html
----------
Move to UAE has increased knowledge of Islam, say expats
December 3, 2014
ABU DHABI // Expatriates have embraced the UAE's culture and traditions, and increased their understanding of Islam since they moved here.
Most western expatriates (94 per cent) say they have embraced the culture, followed by Arab expatriates (93 per cent) and Asian expatriates (89 per cent).
And 81 per cent of westerners say they have learnt more about Islam, as did 71 per cent of Asian expatriates.
Filipino Chai Medel says she has happily embraced the local culture.
Ms Medel, 26, an administrative worker, has lived in Abu Dhabi for six months and says has tried to understand much more about Islam.
"I have come to know so much about Islam," she says.
"It is an eye-opening experience. I had certain perceptions about Islam but when I came here I learnt a lot.
Full report at:
http://www.thenational.ae/uae/heritage/move-to-uae-has-increased-knowledge-of-islam-say-expats
----------
India
Shadowy Islamic Cult in Thane Probe Focus
Written by Praveen Swami | New Delhi
December 3, 2014
The National Investigation Agency (NIA) has begun questioning members of the shadowy Mumbai-based religious cult, Islamic Guidance Society, whose members are suspected to have funded and facilitated the travel of four men from the city's suburbs to fight with the Islamic State (IS) in the Middle East.
The widening investigation comes days after the arrest of Thane student turned IS jihadist Areeb Majeed, who returned home with bullet injuries. NIA sources said the agency on Tuesday questioned IGS activists Anil Dolare, Atif Inamdar and Sufian Sheikh, the last a lecturer who taught Anjuman-i-Islam Kalsekar Technical Campus, where Areeb Majeed was a final-year engineering college student.
The NIA's investigation seeks to determine how Majeed and the three men he travelled with to Iraq obtained the Rs 60,000 each of them paid for their tickets. Majeed, the sources said, has told investigators he saved Rs 25,000 for the trip over six months, but has said nothing on how the group raised the remaining money, which they paid in cash to local tour operator Shaheen Travels.
Majeed, along with Shaheem Tanki, Fahad Sheikh and Aman Tandel flew to Iraq on May 23 as part of a pilgrims' group. The four men then caught a taxi to Mosul, travelling through Fallujah.
Full report at:
http://indianexpress.com/article/india/india-others/shadowy-islamic-cult-in-thane-probe-focus/99/#sthash.OnKLSoph.dpuf
---------
J&K Elections: It's 'Mission Change' For Kashmiri Youth
ZAHID RAFIQ
December 3, 2014
The streets and markets in Handwara town wore a deserted look on Tuesday, but polling booths were abuzz with voters queuing up to cast the vote. Tea and kehwa were served inside the booths as children tagged along with parents.
Similar to the first phase of polling, youth came out on larges numbers to vote, a feature that was missing in elections for the past two decades. This time youngsters in Kupwara and Handwara came with a mission, to vote for "change".
"Earlier, leaders made empty promises. They promised government jobs and other things. This time, we are voting for Sajjad Lone and we are sure he will bring change. He will bring factories and industries here and he will completely change this place," said Khalid Ahmad Bhat, a 21-year-old voter from Handwara.
Full report at:
http://www.thehindu.com/elections/assembly2014/jammu-kashmir-assembly-elections-second-phase-voting/article6654123.ece
----------
Sister of Indian IS militant appeals for his return
PTI | Dec 3, 2014
LONDON: The sister of a suspected Islamic State militant of Indian-origin, who posted a picture of himself recently on Twitter holding his baby son in one hand and an AK-47 assault rifle in the other, has appealed to him to return home even if it means going to prison.
Abu Rumaysah, who was born as Siddhartha Dhar, reportedly fled the UK while on bail in September, the day after being arrested in London with radical cleric Anjem Choudary.
"My 'kind and generous' brother had changed beyond all recognition since converting to Islam and being radicalised, and laid much blame at Choudary's door," said Konika Dhar, sister of a 31 year-old British jihadi fighting with Islamic State in Syria.
"I believe that being in prison would be better than where he is now and I want him to realise that as well because his perception of the repercussion is slightly distorted and not accurate and things will be okay if he just speaks to us", Konika was quoted as saying to ITV news.
Dhar was well-known in the UK for frequent television appearances declaring his wish to live with the so-called Islamic State terror group.
"I'm sorry if you think Choudary is your role model because he's not," she said, as a message to her brother whom she considers 'kind and generous'.
Choudary was arrested in September with eight others, including Dhar, as part of an investigation into alleged support of the banned extremist group al-Muhajiroun.
http://timesofindia.indiatimes.com/india/Sister-of-Indian-IS-militant-appeals-for-his-return/articleshow/45359519.cms
----------
Five militants killed in Kupwara gunfight
December 3, 2014
Five militants have been killed in an ongoing gunfight between a group of militants and the army in Jammu and Kashmir's Kupwara district, authorities said on Wednesday.
"Two more terrorists have been killed in Nowgam infiltration bid that has been foiled by alert troops of the army," a senior army officer told IANS.
"Yesterday, three terrorists had been killed. The total number of terrorists killed in this incident so far is five. Two of our soldiers have also been injured. Till last reports came in, the operation was on," he added.
As people were voting in the state assembly elections in Kupwara Tuesday, alert troops foiled an infiltration bid from across the Line of Control in Nowgam sector by a group of heavily armed militants.
http://www.thehindu.com/news/national/other-states/militants-killed-in-kupwara-gunfight/article6657455.ece
----------
Pak anti-terror court adjourns Mumbai 26/11 trial till Dec 10
PTI | Dec 3, 2014
LAHORE: A Pakistani anti-terrorism court which is conducting the trial of seven accused allegedly involved in the 2008 Mumbai terror attacks on Wednesday adjourned the hearing till December 10 as the judge went on leave.
"The hearing of the case could not be held today as Anti-Terrorism Court, Islamabad, Judge Kausar Abbas Zaidi did not turn up as 'he was not well'. The court office adjourned the hearing till December 10," a court official said.
In the last hearing on November 19, three witnesses had testified in connection with identification of two of the accused, bank transactions and a Jamaat-ud-Dawah centre in Sindh province.
Full report at:
http://timesofindia.indiatimes.com/india/Pak-anti-terror-court-adjourns-Mumbai-26/11-trial-till-Dec-10/articleshow/45360591.cms
----------
Europe
French National Education Prompts Islamophobia
December 3, 2014
ISTANBUL — A new document entitled "Prevention of radicalization in schools" sent to the French school administration aims to prevent religious radicalization among French youths. However, it has provoked strong criticism from parents as the document signals growing Islamophobia in French society, and significant intolerance toward the Muslim community.
The document demands that teachers identify students who have a tendency toward radicalization. Teachers are also required to notify school administrators and the French government to keep those students on track. The criteria for suspicion include "an uncut mustache," "Muslim clothing" and "weight loss due to intense fasting." Apart from severe restrictions on appearances, it also includes a point on the "political rhetoric" that students develop in their homework on issues related to Palestine, Syria or Iraq, or religious issues.
The document was reportedly prepared by a team of education specialists and French police forces during the former Nicholas Sarkozy's presidency in 2009 as a response to growing security and safety concerns towards Muslim communities in French society.
Full report at:
http://www.dailysabah.com/europe/2014/12/03/french-national-education-prompts-islamophobia
----------
Nearly 50 Islamic State recruits arrested in Tajikistan
DECEMBER 3, 2014
DOUSHANBEY, Dec 3 — Tajikistan's prosecutors said today that nearly 50 young men from banned Islamist groups have been arrested on grounds they were preparing to join jihadists in Syria.
The men, aged between 20 and 30 and allegedly members of banned groups, were accused of "organising a criminal group for participating in armed conflicts or warfare in other countries," a statement by the regional prosecutor's office in northern Sogd region said.
They were arrested in northern Tajikistan and "were planning to leave to participate in the Syrian war on the side of the armed opposition," it said, adding that they were suspected also of preparing to fight with Islamic State groups.
Authorities in Tajikistan, a mountainous Muslim country that is Central Asia's most impoverished former Soviet republic, have said that 300 Tajik nationals have fought against the regime of Bashar al-Assad in Syria.
Tajikistan, which has been led since 1992 by former Soviet apparatchik Emomali Rakhmon, has arrested scores of people on suspicion of extremist activities in recent months.
http://www.themalaymailonline.com/world/article/nearly-50-islamic-state-recruits-arrested-in-tajikistan#sthash.RLcXXiBV.dpuf
----------
UNGA approves Arab-backed resolution, urges Israel, India, Pak to renounce nuclear arms
December 3, 2014
The U.N. General Assembly overwhelmingly approved an Arab-backed resolution on December 2 calling on Israel to renounce possession of nuclear weapons and put its nuclear facilities under international oversight.
The resolution, adopted in a 161-5 vote, noted that Israel is the only Middle Eastern country that is not party to the Treaty on the Non-Proliferation of Nuclear Weapons. It called on Israel to "accede to that treaty without further delay, not to develop, produce test or otherwise acquire nuclear weapons, to renounce possession of nuclear weapons" and put its nuclear facilities under the safeguard of the U.N.'s International Atomic Energy Agency.
It also urged India and Pakistan to accede to it as non-nuclear-weapon States promptly and without conditions and to place all their nuclear facilities under International Atomic Energy Agency (IAEA) safeguards.
Full report at:
http://indianexpress.com/article/world/world-others/unga-approves-arab-backed-resolution-urges-israel-to-renounce-nuclear-arms/#sthash.zgTo3KaF.dpuf
----------
Conflict, militancy hit human rights in Middle East, African nations
December 3, 2014
LONDON (Thomson Reuters Foundation) - Syria was bottom and Ukraine had the biggest slide in a human rights index published on Wednesday, as countries suffering from conflict grappled with human trafficking and other rights violations.
The worsening situation in Syria and Iraq, two of the three worst performing countries, increased the likelihood of human trafficking, forced labor and child marriage taking place.
"Displaced populations, especially women and children, are exceptionally vulnerable to exploitation through trafficking and modern day slavery," Lizabeth Campbell, director of human rights at Maplecroft, which compiled the index, said in a statement.
Human Rights Watch reported in October that women and girls from the Yazidi sect were being forced to marry fighters of the militant Sunni group Islamic State in Iraq or sent to Syria to be sold.
The Syrian civil war has had a 'spillover' effect on refugees, especially in Lebanon and Jordan where a child under 18 was involved in nearly one third of refugee marriages, the U.N. children's agency (UNICEF) reported in July.
Ukraine, battling Moscow-backed separatists in the east, suffered the biggest deterioration in human rights, with almost 500,000 displaced people open to labor exploitation as they struggled to find a job.
Full report at:
http://www.reuters.com/article/2014/12/03/us-rights-index-syria-idUSKCN0JH00720141203
----------
Denmark's rehab for deradicalisation: Homework, football and Islam
December 3, 2014
AARHUS: How do you turn around a young man who is determined to destroy the West? In the Danish city of Aarhus, you take him to a cafe or a public library and talk about football.
This is the softly-softly approach of Mads, a mentor in an innovative programme to deradicalise young Muslim men who might otherwise turn to violence.
"The guy I'm working with now really wanted to go to Syria," said Mads, who is in his early thirties but asked not to be identified any further for fear of compromising his work.
"My aim is not to disconnect the religion, because I think it's fine that he's religious. But it's about obtaining a balance," he added.
Belying its reputation as a harmonious, wealthy country, Denmark has the second largest number of foreign fighters in Syria relative to its size among Western nations, behind only Belgium, according to an estimate by The Economist magazine.
The young men Mads works with grew up in places like the sprawling Gellerupparken, a dreary housing estate where four out of five are from immigrant homes.
With its graffiti, crumbling concrete and broken glass it is a far cry from Denmark's wealthy image — and only a short walk from Grimhoej mosque, which has gained notoriety for refusing to denounce the ultra-radical Islamic State (IS).
Full report at:
http://www.dawn.com/news/1148494/denmarks-rehab-for-deradicalisation-homework-football-and-islam
----------
Britain First releases 'Taliban Hunting Club' hoodie 'just in time for Christmas'
December 3, 2014
The far-right group Britain First has released a new hoodie "just in time for Christmas".
Dubbed the "Taliban Hunting Club" hoodie, the sweater is aimed at those wishing to "display [their] patriotism in a simple yet effective way".
The "limited edition" black garment features the Britain First symbol topped with a crown on the left breast and a skull and weapons encircled with the slogan "Taliban Hunting Club" on the right breast.
Advertised on the group's official Facebook page, it is available on a website called Patriot Store, which also sells other Britain First garb, including polo shirts, baseball caps and even fragrances. It costs £29.95 excluding VAT.
The latest sales pitch comes just weeks after police officers charged with protecting the Queen launched an investigation into the leader of Britain First over whether the group had made unauthorised use of an image of the monarch's crown.
Officers from the Metropolitan Police's Specialist Operations directorate are looking into whether the group has breached royal copyright by using an image of St Edward's Crown on its clothing.
Full report at:
http://www.independent.co.uk/news/uk/home-news/britain-first-releases-taliban-hunting-club-hoodie-just-in-time-for-christmas-9898396.html
----------
Africa
Militants Divide Kenya Miners by Religion, Then Begin Killing
December 3, 2014
The Kenyan miners were marched off in the predawn dark on Tuesday, some barefoot, others shirtless.
The Somali militants methodically separated the Christian workers from the Muslims and took the Christians to the side of a hill, near a gravel pit. Then they ordered the disbelievers to lie face down.
According to the Kenyan authorities, the militants killed 36 people, most of them young men. Many were shot in the back of the head, at close range, and some were decapitated. It appeared all the Muslims had been spared.
The killings, which followed a similar sequence on a passenger bus less than two weeks earlier, unnerved the Kenyan public and led to the ouster of Kenya's top security chiefs.
"Innocent Kenyan lives have been lost, in a most harrowing manner, to these animals," said Kenya's president, Uhuru Kenyatta.
But, he said, "We will not flinch."
Kenya has been severely hampered by Somali militants next door, a problem that never seems to go away. It started in the 1960s and became acute in the early 1990s, when Somalia's government collapsed and hundreds of thousands of refugees, and waves of gunmen called shiftas, fled into Kenya.
Full report at:
http://www.nytimes.com/2014/12/03/world/africa/mandera-kenya-quarry-shabab-killing.html?_r=0
----------
Four killed in suicide attack on UN convoy in Somali capital
December 3, 2014
MOGADISHU: At least four people were killed Wednesday when a suicide bomber in the Somali capital rammed a car packed with explosives into a UN convoy, police said.
"The bomber drove in between the security escort and the UN armoured vehicles and detonated the car, ramming into one of the escort vehicles," police officer Mohamed Liban told, adding he had seen four dead bodies but feared more may have been killed.
http://www.thenews.com.pk/article-167556-Four-killed-in-suicide-attack-on-UN-convoy-in-Somali-capital
----------
U.N. mission calls for new talks between Libyan groups
3 December 2014
The U.N.'s mission in Libya will call for a new round of talks to start on Tuesday between Libya's warring parties, it said in a statement on Wednesday, to try to end a conflict threatening to tear apart the oil producing nation.
Libya has two governments and parliaments vying for power since a group called Libya Dawn seized the capital Tripoli in August after a month-long battle with a rival group and set up its own cabinet.
Internationally recognized Prime Minister Abdullah al-Thinni has been forced to work from the east of the country where the elected House of Representatives is also based.
The U.N. mission said it "will call a new round of political dialogue" on Dec. 9, without saying where talks would be held nor who would participate.
Full report at:
http://english.alarabiya.net/en/News/africa/2014/12/03/U-N-mission-calls-for-new-talks-between-Libyan-groups-.html
----------
Tunisia holds first parliamentary session after revolution
December 3, 2014
TUNIS // Tunisia's first full elected parliament held its opening session with a challenge to implement the democracy its people sought when they marched in the 2011 revolt against autocrat Zine El Abidine Ben Ali.
The country that saw the first of the Arab Spring revolts chose a temporary national assembly in 2011 to draw up the new constitution approved early this year. The full parliament will sit for the next five years.
The constitution has been hailed as one of the most progressive in the Arab world and an example of Tunisia being a model for transition in a regional in turmoil.
"We have achieved the theoretical side by approving a progressive constitution but today we face the toughest stage, which is how we apply this constitution," Mustapha Ben Jaafar, president of the former transitional assembly, told the new members of parliament.
Full report at:
http://www.thenational.ae/world/middle-east/tunisia-holds-first-parliamentary-session-after-revolution
--------
Pakistan
Airstrikes kill 15 suspected militants in North Waziristan
December 3, 2014
PESHAWAR: At least 15 suspected militants were killed on Wednesday during airstrikes conducted by military fighter jets in the Dattakhel area of North Waziristan tribal Agency.
According to military sources, at least 15 suspected militants, including two key commanders belonging to Tehreek-e-Taliban Pakistan (TTP) were killed in precision airstrikes carried out by the military.
Inter Services Public Relations (ISPR) said in a handout that hideouts and ammunition depots were also destroyed during the airstrikes. However, these claims could not be independently verified as journalists have limited access to the restive tribal agency.
Khyber and North Waziristan are included in Pakistan's seven semi-autonomous regions governed by tribal laws and lies near the Afghan border. The Taliban and other Al Qaeda-linked groups who stage attacks in both Pakistan and Afghanistan are also known to have strongholds in the zone.
Full report at:
http://www.dawn.com/news/1148507/airstrikes-kill-15-suspected-militants-in-north-waziristan
----------
Pakistan Police Register Blasphemy Case against 'Disco Mullah'
December 3, 2014
ISLAMABAD (Reuters) - Pakistan police said on Wednesday they were investigating blasphemy allegations against a man dubbed the "disco mullah" who quit a career in pop music to become a preacher.
The case against Junaid Jamshed, a member of the deeply conservative Tableeghi Jamaat organisation, was brought by Mobeen Qadri, a member of the religious political party Sunni Tehreek.
Blasphemy is punishable by death in Muslim-majority Pakistan. But the law does not define what is blasphemous - anyone can file a case alleging their religious feelings were hurt for any reason.
Qadri filed the case against Jamshed after he used the example of one of Prophet Muhammad's wives to illustrate an argument about the failings of women in a video.
"Now the case is with the investigators," said Mehmood Ahmed, a police officer in Karachi. "We will have to arrest Junaid Jamshed and it is up to him if he moves bail and goes to court against this."
Full report at:
http://af.reuters.com/article/worldNews/idAFKCN0JH0FO20141203?sp=true
----------
Pakistan running special trains for terror mastermind Hafiz Saeed
December 3, 2014
LAHORE: In a sign of official patronage to Mumbai attacks mastermind Hafiz Saeed-led JuD, Pakistan government is running two special trains to transport people to Lahore for the terror group's two-day congregation here.
The chief of Jamaat-ud-Dawah, a front for terror group Lashkar-e-Taiba, Saeed told reporters here on Tuesday that thousands of people would participate in the congregation starting on December 4 at the ground of Minar-i-Pakist ..
http://economictimes.indiatimes.com/articleshow/45352489.cms?utm_source=contentofinterest&utm_medium=text&utm_campaign=cppst
----------
Ready to talk if Imran shuns 'double standards': Nawaz
December 3, 2014
LONDON/ISLAMABAD: Prime Minister Nawaz Sharif said on Tuesday that the government is ready to hold talks with Imran Khan "if he shuns double standards".
The prime minister said there should be no double standards as on the side of the Pakistan Tehreek-e-Insaf (PTI), noting that on the one hand the party was talking about resumption of talks while on the other hand its politics of sit-ins was going on. Nawaz Sharif regretted that the threats about the closure of the whole country were unfortunate. The prime minister said that he as leader of the House, and the leader of opposition in the National Assembly were "creating an ideal democratic rapport" by consulting on vital issues leaving behind the politics of 90s dominated by political vendetta.
Full report at:
http://www.dailytimes.com.pk/national/03-Dec-2014/ready-to-talk-if-imran-shuns-double-standards-nawaz
----------
Won't allow army in tribal areas if elected PM: Imran
December 3, 2014
ISLAMABAD: Pakistan Tehreek-e-Insaf (PTI) Chairman Imran Khan said on Tuesday that if he were in power, army would not have entered the tribal areas.
Addressing his sit-in, which has shrunk, Khan said that if he was elected prime minister, he would not allow army to enter in tribal areas, instead the tribal men would become soldiers. Khan said that "tribal people are our army" and a time will come "when we will establish peace in the entire region without fighting". Imran said he knows that closing down the country would increase the problems faced by the people but he also knows that "only sacrifices could pave the way to freedom". He said that all the political parties have joined together against the PTI, "but the government leaders do not know that PTI has many more plans in the pipeline".
Full report at:
http://www.dailytimes.com.pk/national/03-Dec-2014/won-t-allow-army-in-tribal-areas-if-elected-pm-imran
----------
Palestinian issue remains high on our agenda: Bokhari
December 3, 2014
LAHORE: Senate Chairman and Asian Parliamentary Assembly (APA) President Senator Nayyer Hussain Bokhari on Tuesday said that with political will power, Asia can create a great paradigm shift in the world and that the issue of Palestine remains high in the agenda of the 7th plenary session of the APA.
He was addressing the inaugural session of the APA and formally declared the 7th annual plenary session of the assembly open. It may be noted that the 7th plenary session of the APA is being held in Lahore from December 1-3.
Senator Bokhari said that the Asian parliament and consequently the Asian people have commonly cherished ideals of development, stability and prosperity and with the creation of an Asian Parliament "we would be able to go beyond our expressions of desire and move towards their application".
Senator Bokhari, after being elected as the APA president last year, is very committed towards using this platform for regional cooperation and enhancing regional integration.
"I am confident that the commitments we make here will usher in a new era of prosperity, peace and sustainable development for our people," he said.
He termed raging regional conflicts a matter of great concern and an impediment to Asia's forward march.
Full report at:
http://www.dailytimes.com.pk/punjab/03-Dec-2014/palestinian-issue-remains-high-on-our-agenda-bokhari
---------
South Asia
33 Taliban militants killed during clearing operations
Dec 03 2014
At least 33 Taliban militants were killed and 6 others were injured during military operations by Afghan national security forces in the past 24 hours.
The operations were jointly conducted by Afghan national police, Afghan national army and Afghan intelligence – National Directorate of Security (NDS) operatives.
Interior ministry following a statement said Wednesday that the militants were killed or injured in Zabul, Kandahar, Paktia, Maidan Wardak, Uruzgan, Khost, Jawzjan, Nangarhar, Baghlan, Ghazni, Balkh, Laghman and Paktika provinces.
Afghan security forces confiscated various types of light and heavy weapons along with explosives during the operations, interior ministry said.
The statement by interior ministry also added that Afghan national security forces discovered and seized 9 rounds of improvised explosive device (IED) during the operations in Nangarhar, Laghman, Kandahar and Helmand provinces.
Interior ministry said the improvised explosive device (IEDs) were recently planted by Taliban militants for insurgency attacks in Paktika, Khost, Ghazni and Laghman provinces.
Taliban militants group has not commented regarding the report so far.
https://www.khaama.com/moi-33-taliban-militants-killed-during-clearing-operations-9090
----------
Islamic minister dismisses rumour of President Yameen not performing Hajj
By Ahmed Naish | December 3rd, 2014
Minister of Islamic Affairs Dr Mohamed Shaheem Ali Saeed has dismissed rumours of President Abdulla Yameen not performing the Hajj pilgrimage despite traveling to Saudi Arabia in September.
Asked to address the speculation during minister's question time at yesterday's sitting of parliament by opposition Maldivian Democratic Party (MDP) MP Ibrahim Shareef, Shaheem suggested the rumours were being spread by former President Mohamed Nasheed, who he said was unable to make the pilgrimage while in office.
"The president of the Maldives made the Hajj [pilgrimage]. As you know, he was supposed to go the UN assembly but went to Hajj after cancelling it," he said.
He claimed that former President Nasheed declined an opportunity to perform the pilgrimage during his tenure and had sent the first lady instead.
Shaheem was state minister for Islamic affairs under the Nasheed administration.
Nasheed's remarks concerning President Yameen's Hajj pilgrimage "opens the door for others to talk further about the things they have done," Shaheem said.
"So I think it would be better to stay quiet without going around talking about such personal matters," he said.
Full report at:
http://minivannews.com/politics/islamic-minister-dismisses-rumour-of-president-yameen-not-performing-hajj-91409
--------
War crimes verdict on ex- Jatiya Party leader Abdul Jabbar any day now
December 3, 2014
The verdict on ex-Jatiya Party MP Abdul Jabbar in a war crimes case is expected any day.
The International Crimes Tribunal (ICT)-1 led by Justice Enayetur Rahim finished the trial proceedings in absentia on Wednesday and kept its verdict pending.
The tribunal had declared Jabbar an absconder earlier and appointed Supreme Court lawyer Abul Hasan as his counsel.
On May 11, the prosecution pressed charges against the former Jatiya Party lawmaker.
He is charged with five types of crimes against humanity committed during Bangladesh's Liberation War.
Full report at:
http://bdnews24.com/bangladesh/2014/12/03/war-crimes-verdict-on-ex-jp-leader-abdul-jabbar-any-day-now
----------
North America
US Congress moves toward OK for financing war on IS jihadists
December 3, 2014
US congressional negotiators late Tuesday approved an emergency funding package to pay for military operations against the Islamic State jihadist group in Iraq and Syria, and a vote is expected in the coming days.
A plan to train and equip moderate Syrian rebels, proposed by President Barack Obama, is also expected to be extended. Lawmakers in September had approved it to last only until December 11.
The armed services committees of the House of Representatives and the Senate late Tuesday released the final text of the defense authorization act for the 2015 budget year, which runs from October 2014 to September 2015, after months of negotiations.
The House should adopt the bill by the end of the week, said Democratic Senator Carl Levin and his Republican counterpart James Inhofe. It then goes to the Senate.
The text includes $3.4 billion for the deployment of US forces as part of operation "Absolute Determination" and $1.6 billion for a program to equip and train Iraqi Kurd forces for two years.
Full report at:
http://english.ahram.org.eg/NewsContent/2/8/117054/World/Region/US-Congress-moves-toward-OK-for-financing-war-on-I.aspx
----------
Palestinian state will only come through talks: US
December 3, 2014
Washington Tuesday reaffirmed its "crystal clear" stand that Palestinians will only realize their dream of statehood through direct talks with Israel, just hours after a controversial vote by French lawmakers.
"The US position is clear, that we support Palestinian statehood but believe it can only be achieved through direct negotiations between the parties that resolve the final status issues," said deputy State Department spokeswoman Marie Harf.
French lawmakers voted Tuesday in favor of recognizing Palestine as a state, sparking an immediate angry reaction from Israel which said such "unilateral measures" would harm efforts towards Middle East peace.
Full report at:
http://english.ahram.org.eg/NewsContent/2/8/117051/World/Region/Palestinian-state-will-only-come-through-talks-US.aspx
----------
Former al-Qaeda Hostage Recounts Nightmare - of Dealing With FBI
December 3, 2014
Washington - The only thing as bad as being tortured for months as a captive of jihadists in Syria was dealing with the U.S. government afterward, according to one former American hostage.
Matt Schrier, 36, a freelance photographer held by extremists for seven months in 2013 until he escaped, has told McClatchy that the bureaucracy he endured upon his return home was a second kind of nightmare following the months of abuse he suffered while he was a hostage.
"I never thought it would get this bad," Schrier said.
The FBI never told his father that he had been kidnapped. It waited six months into his capture to produce a wanted poster, and only after his mother prodded. It allowed jihadist forces to empty his bank account – $17,000 – with purchases on eBay, even as the government warned hostage families not to pay ransom so as not to run afoul of anti-terrorism laws.
After his escape, the government made him reimburse the State Department $1,605 for his ticket home just weeks after he arrived in the United States. The psychiatrist assigned to help him readjust canceled five appointments in the first two months. And when he had no means to rent an apartment, FBI victims services recommended New York City homeless shelters.
The FBI declined to comment on the specifics of Schrier's complaints but said in a statement that "When an American is detained illegally overseas, the FBI's top priority is ensuring the safe return of that individual."
Full report at:
http://truth-out.org/news/item/27752-former-al-qaida-hostage-recounts-nightmare-of-dealing-with-fbi
----------
How the US Intervention against the IS Has Alienated Syria's Sunni Arab Opposition
December 3, 2014
Gaziantep and Suruc, Turkey - A dozen men huddle around a campfire in the Turkish village of Ma'sariya, 700 meters north of the Syrian border. They are a fraction of more than 120,000 Kurds who have fled an attack by the Islamic State in Iraq and Syria (ISIS) on Kobani, the strategic town just across the border in Syria.
It's too cloudy to see the US jets flying above, but they make plenty of noise. Applause breaks out at the sound of explosions from the bombs they drop, and the occasional fires they trigger in Kobani. The sound of gunfire that punctuates the damp night prompts worried frowns around the campfire: Many here are fighters with the People's Protection Units - YPG, by its Kurdish acronym - on leave for a few days from the battle across the frontier.
More than a thousand people have been killed in the months-long battle to defend the town, including hundreds of ISIS fighters in airstrikes by US and Arab warplanes.
YPG commanders in Kobani say the airstrikes have turned the tide in their favor, allowing them to capture several hills and cut off ISIS supply routes, making it only a matter of time before the fighters are forced to abandon their siege.
Full report at:
http://www.truth-out.org/news/item/27768-how-the-us-intervention-against-the-islamic-state-has-alienated-syria-s-sunni-arab-opposition
----------
U.S. Supreme Court rejects Tulsa police captain's lawsuit over Islamic event
December 3, 2014
WASHINGTON — The U.S. Supreme Court rejected an appeal from a Tulsa police officer who sued the city over orders to attend an event at an Islamic mosque.
Without comment, the high court declined to review the case of Paul Campbell Fields, effectively ending his three-year-old lawsuit, which failed at three federal court levels. Fields still serves as a captain on the Tulsa police force.
Fields sued the city and top police department officials in 2011 after he was punished for not attending or requiring any of his subordinates to attend a law enforcement appreciation day held by the Islamic Society in Tulsa.
In an email after the directive came down, he told about a dozen department personnel, "It is my opinion and that of my legal counsel that forcing me to enter a Mosque when it is not directly related to a police call for service is a violation of my Civil Rights.
"Please consider this email my official notification to the Tulsa Police Department and the City of Tulsa that I intend not to follow this directive, nor require any of my subordinates to do so if they share similar religious convictions."
Full report at:
http://newsok.com/u.s.-supreme-court-rejects-tulsa-police-captains-lawsuit-over-islamic-event/article/5371907
----------
U.S. diplomats to argue against new Iran sanctions
3 December 2014
Top U.S. diplomats will this week make a "strong case" to lawmakers to hold off on fresh Iran sanctions, hoping to avoid an ugly political showdown which could scupper nuclear talks.
Acting Deputy Secretary Wendy Sherman, who has led the tense, secretive negotiations for months, will be at the vanguard of an administration drive to persuade Congress not to push ahead with draft legislation which would slap even more punitive sanctions on Iran.
Hawkish lawmakers are eager to pass new sanctions through Congress aiming to prod the Islamic republic into a lasting deal that prevents Iranian leaders from developing a nuclear weapon.
Full report at:
http://english.alarabiya.net/en/News/middle-east/2014/12/03/U-S-diplomats-to-argue-against-new-Iran-sanctions.html
---------
Islamic State: Kerry says group 'significantly' damaged
3 December 2014
Air strikes carried out by the US-led collation on Islamic State (IS) have inflicted "significant" damage on the group's capabilities, US Secretary of State John Kerry says.
Mr Kerry said the campaign against the militant group could take years, but that the coalition would remain engaged "as long as it takes".
The US said earlier that Iran, not a coalition member, had carried out air strikes against IS in Iraq.
However, Iran has denied this.
The US said there had been no coordination with the Iranians on any air strikes.
IS controls large areas of Syria and Iraq, imposing a rigid version of Sunni Islam and persecuting or killing non-believers.
Full report at:
http://www.bbc.com/news/world-europe-30306106
--------
Mideast
Palestinians urge France to act on parliament vote to recognise state
December 3, 2014
The Palestinian leadership urged France to act on a parliamentary vote Dec. 2 in favour of recognising Palestine as a state, expressing its "gratitude" to the French lawmakers.
"We call on the French government to translate its parliament's vote into action," Hanan Ashrawi, a senior leader in the Palestine Liberation Organisation, said in a statement.
"We wish to express our gratitude to the members of the French parliament for adopting a resolution on the side of justice and human dignity," she said.
"For peace to prevail, support for the two-state solution must be more than lip service.
"If members of the international community are serious about the creation of the independent Palestinian state... they must undertake serious and concrete measures to end the occupation and to recognise the State of Palestine."
Full report at:
http://www.hurriyetdailynews.com/palestinians-urge-france-to-act-on-parliament-vote-to-recognise-state.aspx?pageID=238&nID=75133&NewsCatID=352
----------
Turkish FM Çavuşoğlu raises concerns on Aleppo at NATO meeting
December 3, 2014
Foreign Minister Mevlüt Çavuşoğlu has reiterated Turkey's concerns about the Syrian province of Aleppo, which is under pressure after having been split roughly in half between opposition groups and government troops that have slowly encircled rebel positions, trying to cut supply routes.
Meeting with his British and Canadian counterparts late Dec. 2 on the sidelines of the NATO foreign ministers' meeting, Çavuşoğlu discussed the situation in Aleppo and urged for an "integrated strategy" to solve the Syrian crisis, according to Turkish diplomatic sources.
Ankara says that if Aleppo was to fall, Turkey would be confronted with an even more serious refugee crisis. Turkey therefore has been pushing the international coalition to set up a no-fly zone and a safe zone inside Syria, as it already hosts 1.6 million Syrian refugees.
Ankara also urges the coalition to broaden its campaign to tackle Bashar al-Assad, in addition to the Islamic State of Iraq and the Levant (ISIL), arguing that there can be no peace in Syria if al-Assad remains in power.
Çavuşoğlu also had a tête-à-tête meeting on Dec. 2 with Danish Foreign Minister Martin Lidegaard. Copenhagen has been pressuring Ankara for an explanation regarding the release of the suspected shooter of a Danish writer in Turkey and has recently brought the issue to the European Union.
http://www.hurriyetdailynews.com/turkish-fm-cavusoglu-raises-concerns-on-aleppo-at-nato-meeting.aspx?pageID=238&nID=75141&NewsCatID=510
----------
Israeli lawmakers to vote on dissolving parliament
December 3, 2014
Israeli lawmakers are set to vote on a motion that will pave the way for early elections.
December 3 vote in the Knesset is a preliminary one and is likely to pass. Further votes expected next week will officially dissolve Israel's parliament, ushering in new polls two years ahead of schedule.
The current government took office in early 2013 and has been riven by divisions from the beginning over the major issues facing the country.
On Tuesday, Israeli Prime Minister Benjamin Netanyahu fired two rebellious Cabinet ministers and said elections would be held "as soon as possible."
The election, expected to be held early next year, would come at a time of growing violence between Palestinians and Jews and deepening despair over the prospects for peace.
http://indianexpress.com/article/world/middle-east-africa/israeli-lawmakers-to-vote-on-dissolving-parliament/#sthash.XWVmklxY.dpuf
----------
At least one killed in car bomb attack on Iranian diplomat's house in Yemen
December 3, 2014
SANAA, Dec 3 — A car bomb struck the residence of Iran's ambassador in the Yemeni capital Sanaa today, killing at least one person and wounding 17 others, security officials and witnesses said.
Ambassador Hassan Sayed Nam was not in the house when the attack took place in the diplomatic district of Hada, according to a security official.
One guard was killed, according to officials who said two of the 17 wounded were guards and the rest passers-by.
The blast left a hole in the outer wall of the house. Nearby homes and cars were also damaged.
Full report at:
http://www.themalaymailonline.com/world/article/at-least-one-killed-in-car-bomb-attack-on-iranian-diplomats-house-in-yemen#sthash.AHFQtDYG.dpuf
----------
Southeast Asia
Najib reneged on Sedition Act repeal for self-preservation, says PAS
December 3, 2014
Prime Minister Datuk Seri Najib Razak's move to retain and strengthen the Sedition Act 1948 is not to protect Islam and the Malays but to secure his position as head of Umno, PAS said today.
Party information chief Datuk Mahfuz Omar said the position of Islam and the special privileges for Malays were already enshrined in the Federal Constitution, while issues like Malay reserve land were not necessarily safeguarded even with the Sedition Act.
"There is enough evidence that the Sedition Act cannot protect the sanctity of Islam and the Malays… Malay reserve lands have been reduced a lot even when the Sedition Act is in place," Mahfuz said at a press conference today.
He said PAS and its allies in Pakatan Rakyat have never disputed the constitutional provisions on the position of Islam, the Malay rulers and Malay special privileges and that the act would be abused on the pretext of guarding these matters.
Full report at:
http://www.themalaysianinsider.com/malaysia/article/najib-reneged-on-sedition-act-repeal-for-self-preservation-says-pas#sthash.ss1Gkk3t.dpuf
----------
Indonesian Police escort trafficking victims from Malaysia
December 03 2014
Indonesian police have brought home 39 Indonesian migrant workers who are alleged victims of human trafficking in Malaysia.
The workers, all women, were taken to the National Police headquarters for further questioning before being sent home.
"They were being temporarily housed in Malaysia before being sent to Middle Eastern countries and various addresses in Malaysia," National Police detective agency human trafficking unit head Adj. Sr. Comr. Adhe Darmantho said on Wednesday.
He said the police had also arrested one man who was allegedly involved in the trafficking.
Earlier, he added, the police had been informed that there were 44 migrant workers but it turned out that there were only 39 people in the compound.
Adhe said most of the victims had been promised work in various countries as domestic assistants, but it turned out they were being sold to the highest bidder.
According to Titin, one of the victims, she was told she would be sent to Malaysia as a domestic assistant but she was kept in an apartment for a month without pay.
The police promised that they would investigate the case and reveal the trafficking syndicate.
http://www.thejakartapost.com/news/2014/12/03/police-escort-trafficking-victims-malaysia.html
-----------
URL: https://www.newageislam.com/islamic-world-news/new-age-islam-news-bureau/mass-death-sentence--egypt-court-sentences-188-people-to-death/d/100310