New Age Islam News Bureau
9 Sept 2012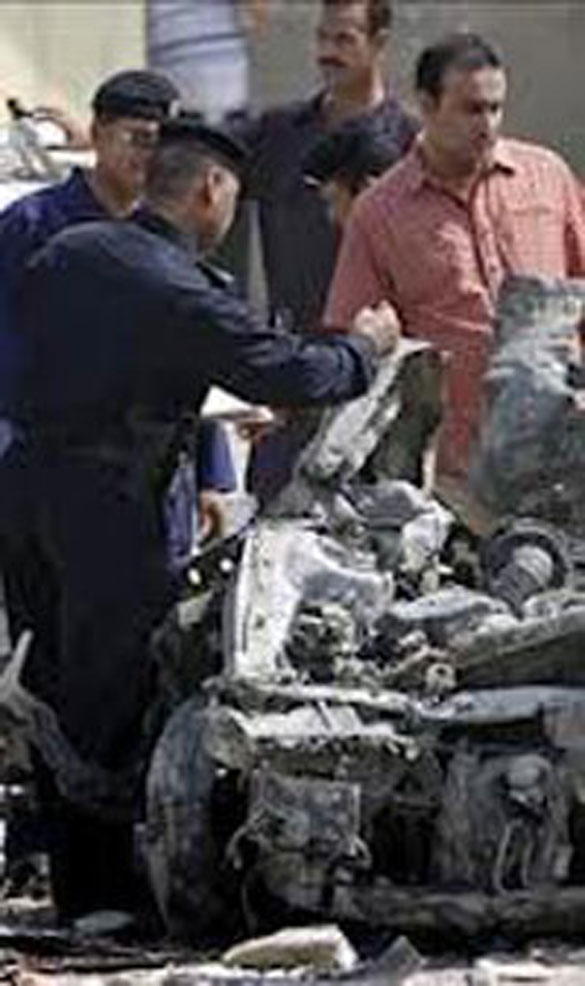 Arab World
• Iraq VP Tariq al-Hashemi sentenced to death in absentia
• Explosions kill 58 in Iraq, French consulate hit
• Bahrain continues crackdown on street protests
• War of words on streets of Syria's Aleppo
• Kuwait warns dissenters against protest rally
• Syria: Hillary Clinton rejects Russian plan for UN
Africa
• Mali: 16 Islamic preachers killed by the army
• Protests against corruption in Tunisia
• Marriage amendment campaigns court Minnesota Muslims
India
• India, Pakistan ink visa agreement
• Pakistan visit fruitful, says India's F M
• Rajasthan, an Indian Stat has a Plan for Muslims
• 'Discontented Muslim youths in Assam may be fodder for terrorists'
• Community upset over 'Muslim' ultras in mock drill
• India wants a stable, peaceful and progressive Pakistan: Indian F M
• India, Pakistan identify 8 areas of mutual cooperation
• Shiv Sena chief: I won't tolerate Pakistani, Bangladeshi Muslims"
• Terror taint: Brother loses job
• 'We have world's largest number of non-literates': Indian Vice President
• Punjab C M welcomes relaxation of visa between India and Pakistan
• India, China, Pakistan dialogue on Afghanistan?
• India, Pakistan welcome release of prisoners, fishermen
• 171 Hindus arrive from Pakistan; seeking refugee status
Pakistan
• Pakistan more of a worry than Iran: Rushdie
• Elements attacking defence installations are enemies of Pakistan: MQM Chief to Pakistan Ulema Council
• Pakistan's Ambassador to US calls for unity in Pakistani community
Mideast Asia
• Islamic Awakening supports Palestinian cause: Iran FM
• Canada's action is unconventional, misuse of international laws - Iran FM
Europe
• British Museum's exhibition highlights Shakespeare's fascination with Islamic world
Southeast Asia
• China pushes Xinjiang hard to ignore Pak
• Three injured in blast at Indonesia 'bomb workshop'
Compiled by New Age Islam News Bureau
Photo: Mali: 16 Islamic preachers killed
URL: https://newageislam.com/islamic-world-news/new-age-islam-news-bureau/mali--16-islamic-preachers-killed-by-the-army/d/8616
--------
Africa
Mali: 16 Islamic preachers killed by the army
The Associated Press
BAMAKO, MALI, September 9, 2012 ,Sources report that 16 Mauritanian and Malian Islamic preachers were shot dead by the Malian army in Diabaly, 430 kilometers (267 miles) north of Bamako, when they were traveling to a conference in Bamako.
Mohamed Bashir, who said he had two cousins die in the shooting, said that 16 ministers - eight Malian and eight Mauritanian - of the peaceful Dawa sect were shot by the Malian army on Sept. 8 in the small village of Diabaly.
The killings were confirmed by a Malian police source, who remained anonymous. He said that outside the village "soldiers arrested the preachers and then led into the darkness away from the village before the shoot." Army spokesman would only say that the military is "just checking" on reports of the killings.
http://www.sunherald.com/2012/09/09/4174512/mali-16-islamic-preachers-killed.html
------
Protests against corruption in Tunisia
Hend Kortam September 8, 2012
Thousands of Tunisians from an offshoot of the moderate Islamic Ennahda Movement gathered on the streets of Tunisia on Friday, demanding an end to corruption, according to the London Asharq Al-Awsat newspaper.
The protest which was called for by a group called the "Ekbes" (Arabic for push) and demanded cleansing of the country's institutions especially the media and political institutions, which they say are still under the control of the former regime. The group is founded the youth wing of Ennahda, said Asharq Al-Awsat.
The protesters gathered at the headquarters of the Tunisian government in the Tunisian capital, Tunis.
Ennahda is the party with the majority of seats in the Tunisian National Constituent Assembly. A coalition has been formed between three political parties, Ennahda, the Leftist Democratic Forum for Labour and Liberties, and the Congress for the Republic.
Not all of Ennahda's coalition partners agreed with the protests, claiming it was Ennahda, not the old regime, which was trying to dominate political life. The Congress for the Republic, which the current President of Tunisia, Moncef Marzouki founded in 2001 and led for 10 years, decided not to join the so-called "Friday of the Accountancy and Cleansing", said Asharq Al-Awsat.
In a speech given by Marzouki last month, he criticized Ennahda adding that there is an increasing feeling that "Ennahda is trying to take control over the country's political and administrative institutions by appointing their allies who may or may not be qualified in them, which reminds us of the previous era."
Yet, according to Asharq Al-Awsat, Ennahda claims to have appointed their allies only in order to remove allies of Zine El Abidine Ben Ali's regime. Last month, Tunisians took to the streets in Sidi Bouzid in protest of the feeling that the revolution has failed to change much in their lives.
This comes at a time when the Tunisian National Constituent Assembly is struggling to put together a constitution for the country. According to AP, there is already an ongoing dispute on how to word the constitution. The status of women and the role of religion are among two of the very thorny issues that have sparked controversy in the Tunisian society.
In December 2010 and January 2011, Tunisians took to the streets, in the first of a string of uprisings in the Arab World, ousting their president of 23 years, Zine El Abidine Ben Ali. Yet, even though Tunisia had a head start, it appears to have a long way to go before it reaches a stable political climate.
http://thedailynewsegypt.com/2012/09/08/protests-against-corruption-in-tunisia/
--------
Marriage amendment campaigns court Minnesota Muslims
Article by: ROSE FRENCH , Star Tribune
September 8, 2012
Winnie Okafor went to Tawfiq Islamic Center in north Minneapolis on Friday stumping for yes votes for the proposed constitutional amendment to ban gay marriage. The Rev. Grant Stevensen was at the opposition headquarters, working with young Muslim staffers to get out the no vote.
As Minnesota's Muslim population grows, both sides of the marriage amendment debate are vying to tap their growing activism and win over an estimated 50,000 potential voters.
The outreach is a dramatic departure from campaigns run in other states and suggests the groups expect the Nov. 6 vote to be very close, scholars say.
John Green, a political science professor at the University of Akron who studies politics and religion, says Minnesota is the first state he's aware of -- out of 31 that have voted -- where groups both for and against the proposed marriage amendment are assertively courting Muslims.
"Muslims are becoming more and more active," Green said. "They're on people's radar screens as folks that might vote, that might be persuaded. That might be willing to listen to arguments."
Full Report at:
http://www.startribune.com/politics/statelocal/169054696.html
-------
Arab World
Iraq VP Tariq al-Hashemi sentenced to death in absientia
9 September 2012
Iraq's fugitive vice-president Tariq al-Hashemi has been sentenced to death in absentia after a court found him guilty of running death squads.
The court ruling came as at least 45 people were killed in a wave of about 24 attacks across Iraq.
Hashemi was the most senior Sunni Muslim in the predominantly Shia Iraqi government until he was charged last December and went on the run.
The charges against him sparked a political crisis in Iraq.
Other Sunni politicians denounced Shia Prime Minister Nouri al-Maliki - who issued the warrant for Mr Hashemi - as a dictator, accusing him of deliberate provocation that risked plunging the country back into sectarian conflict.
Correspondents say the fragile government coalition between Sunnis, secularists and Shia has seemed in danger of collapse ever since.
Sunni insurgents linked to al-Qaeda have been blamed for much of the recent violence in Iraq.
Sunday saw a fresh wave of killings:
In the deadliest single incident, 11 soldiers died in a shooting and bombing attack on an army base north of Baghdad
In the south-eastern city of Amara, two car bombs exploded outside a Shia shrine, killing at least 14 people and wounding more than 60, local officials said.
Seven police officers were killed by a bomb in the northern city of Kirkuk, officials said
Ten soldiers were killed in a dawn raid on a military base in Dujail, north of Baghdad, according to officials
In Nasiriya, in the south, a bomb exploded outside the French honorary consulate, killing one person, according to the city's website. The French government condemned the blast
There were also attacks in Tuz Khurmatu, Baquba, Basra and Samarra.
Sectarian tensions
The Iraqi government issued the warrant for Hashemi's arrest on 19 December 2011, the day after the last US troops left the country.
He fled first to the largely autonomous Kurdish north of the country, and from there to Qatar and on to Turkey.
Prosecutors said Hashemi was involved in 150 killings. During his trial in absentia in Baghdad, some of his former bodyguards said Mr Hashemi had ordered murders.
He says the charges against him are politically motivated and has accused PM Maliki of fuelling sectarianism.
On Sunday, an Iraqi court found Hashemi and his son-in-law guilty of two murders and sentenced him to death by hanging. The judge dismissed a third charge for lack of evidence.
Although violence has decreased since its peak in 2006 and 2007, attacks have escalated again after the withdrawal of US troops from Iraq at the end of last year, amid increasing political and sectarian tensions.
The Iraqi government has been hampered by divisions between Sunni, Shia and Kurdish political groups.
The Iraqi government said July 2012 was the deadliest month in nearly two years, with 325 people killed.
Former Iraqi leader Saddam Hussein was a Sunni, and many Sunnis believe they are being penalised by Shias, who have grown in influence since the US invasion.
Sunnis have accused Mr Maliki of taking an authoritarian approach to government.
http://www.bbc.co.uk/news/world-middle-east-19537301
------
Explosions kill 58 in Iraq, French consulate hit
Reuters
BAGHDAD: Sep 9, 2012, At least 58 people were killed in attacks across Iraq on Sunday, including a car bomb outside a French consulate.
Iraq's conflict has eased since its height in 2006-2007 when sectarian slaughter killed thousands. But Sunni Islamists and an al-Qaida affiliate still launch about one major attack a month in an effort to reignite tensions between Shia and Sunni Muslims following the US military withdrawal in December.
The most serious of the bombings, blasts and shootings on Sunday happened near the city of Amara, 300 km (185 miles) south of Baghdad, when two car bombs exploded outside a Shia shrine and a market place, killing at least 16 people, officials said.
"So far 16 corpses were brought to the hospital, and more than 100 people were wounded," said Sayid Hasanain, a local health official.
With its main hospital overflowing with injured from the attacks, mosques in Amara used prayer loudspeakers to call for blood donations.
Overnight in Dujail, 50 km (30 miles) north of Baghdad, gunmen and a suicide bomber driving a car attacked a military base, killing 11 soldiers and injuring seven, police said.
Later on Sunday, a car bomb killed eight people queuing for jobs as police guards for the Iraqi North Oil Company in the flashpoint city of Kirkuk, 250 km north of Baghdad, police said.
Kirkuk was hit by several other blasts. A car bomb and a bomb packed into a motorcycle detonated outside a crime investigation office, killing seven and wounding 40.
More people were killed in several other blasts across the country, including in the towns of Baquba, Samarra, Basra and Tuz Khurmato.
French target
The car bomb that exploded outside the French consular building in the usually stable city of Nassiriya, 300 km south of Baghdad, killed a police guard and wounded four other guards, authorities said. The consul, an Iraqi citizen, was not at the office at the time of the attack.
Two other people were killed and three wounded by a separate car bomb in the city.
French diplomats have been hit before by violence in Iraq. In June last year, a French embassy convoy was hit by a roadside bomb in Baghdad that wounded seven local Iraqi guards, one month after another embassy convoy was hit by an explosive device.
Since the last US troops left , insurgents have often hit high-profile targets, including Shi'ite religious sites or local military or government offices, to show they can still carry out coordinated attacks and undermine the government's claim to provide security.
Iraq's local al-Qaida wing, Islamic State of Iraq, has claimed responsibility for other major attacks on security forces and Shia neighbourhoods. But former members of Saddam Hussein's outlawed Baathist party and other Sunni Islamist groups are also fighting the government.
Infighting in Iraq's delicate cross-sectarian government, and a resurgence of the al-Qaida wing, have raised fears of a return to widespread violence, especially as Iraq struggles to contain spill over from the growing conflict in Syria.
http://timesofindia.indiatimes.com/world/middle-east/Explosions-kill-58-in-Iraq-French-consulate-hit/articleshow/16323594.cms
--------
Bahrain continues crackdown on street protests
Connor Molloy September 8, 2012
Protests in the Bahraini capital of Manama were broken up by armored troops on Friday. Video posted by the largest opposition party, Al-Wefaq National Islamic Society, show dozens of men marching in the street followed by dozens of women in black niqabs. Troops then rush the group, covering the narrow streets with tear gas.
The protests come after Bahrain's High Court of Appeals upheld jail sentences against 20 prominent activists on Tuesday. The activists were charged with "conspiring to overthrow the government, having contact with foreign entities, and violating provisions of the constitution", eight face life imprisonment.
The decision was criticised by human rights groups and the United Nations. Secretary-General Ban Ki-Moon asked Bahrain, "to ensure the application of international human rights norms, including the right to a fair trial, freedom of expression and peaceful assembly."
Head of the UN Commission for Human Rights, Navi Pillay, was much harsher in her condemnation, saying, "given the gravity of the charges, the scant evidence available beyond confessions, the serious allegations of torture and the irregularities in the trial processes, it is extremely disappointing that the convictions and sentences have been upheld in appeals proceedings that often took place behind closed doors."
On Saturday opposition members held a conference titled "What after the BICI report?" The BICI Report is a document released in late 2011 that outlined extensive human rights abuses that occurred during King Hamad bin Isa Al Khalifa's violent response to Bahraini protests inspired by revolutions in other Arab states. Al-Wefaq parliamentarians resigned en masse last year in response to the government's crackdown.
The conference was held to discuss the fact that though the BICI Report makes several recommendations, few have been implemented. What's more, Friday's violence clearly demonstrates the fact that human rights abuses continue to this day.
http://thedailynewsegypt.com/2012/09/08/bahrain-continues-crackdown-on-street-protests/
--------
War of words on streets of Syria's Aleppo
09.09.2012,
Since the regular army recaptured the city's Christian district of Jdeideh from the rebel Free Syrian Army on August 22, the frontline has come to a virtual standstill in the area despite intermittent outbursts of violence.
Hidden in buildings, snipers await their prey, on the lookout for any blunder by their foes. But most victims are civilians, mowed down as they try to rush across the street.
Less than fifty metres (yards) separate the rival fighters, leaving them within hearing distance.
"They treat us as apostates who deserve to die and we scoff that no virgin will want them in heaven," says Ahmed, a 22-year-old conscript.
According to Muslim tradition, men who die as martyrs defending Islam are entitled to 40 virgins in heaven.
Some soldiers say they have captured Islamist fighters who had women's lingerie hidden in their pockets that they intended to offer their "brides" in paradise.
They swear that some of their enemies go to battle carrying a "passport to paradise" issued by a sheikh of the radical Salafist branch of Sunni Islam.
"With our bullets, we are ready to help them find the gate of heaven," jibes a soldier.
In turn, the Islamists promise them the "fires of hell".
Full Report at:
http://en.tengrinews.kz/unrest/War-of-words-on-streets-of-Syrias-Aleppo--12795/
---------
Kuwait warns dissenters against protest rally
(Reuters) Sep 9, 2012
Kuwait's Interior Ministry said on Sunday it would act firmly against any "unlicensed" protests in the country, a day before a planned demonstration outside parliament.
Opposition parliamentarians and activists have called for a rally at Erada Square on Monday to protest against possible changes to an electoral law which they say could weaken their chances at the next polls.
The government has asked Kuwait's top court to rule on a 2006 law that divides the country into five constituencies, saying the verdict is needed to protect against possible legal challenges to future parliamentary elections.
But some opposition figures say this is a bid to abolish the current boundaries and gerrymander victory in elections expected this year or next. The court is due to rule on the government's petition on Sept. 25.
"Calls for organising a rally, gathering and sit-in in al-Erada (Square) undermine security and threaten public order," the Interior Ministry said in a statement, according to state news agency KUNA.
The ministry "warned that it would act firmly against such unlicensed gatherings," KUNA said.
The ministry respects citizens' freedom of expression "provided they refrain from violating laws or carrying out acts against public security and others' freedom of expression," KUNA said, adding that penalties included imprisonment and fines.
While the OPEC member state has not experienced the kind of mass popular uprisings that have rocked the Arab region since last year, political tensions have grown.
With its elected legislature, lively political debate and media, Kuwait differs from most of its neighbours in a region mostly governed by autocrats who quash dissent.
But the Kuwait's ruling family retains its grip on state affairs. The emir picks the prime minister who in turn forms a cabinet, with the most important posts held by members of the royal family.
Some opposition figures have called for an elected government instead.
Around 3,000 Kuwaitis protested over the electoral law on Aug. 27 at a peaceful rally at Erada with light police presence.
They also criticised a court ruling from earlier this year that effectively dissolved a parliament dominated by opposition lawmakers and reinstated the previous, more government-friendly, assembly.
At the height of frequent demonstrations last year over a political corruption scandal, tens of thousands of youth activists, opposition lawmakers and their followers took part in rallies, culminating in a brief storming of parliament in November. (Reporting by Sylvia Westall; Editing by Robin Pomeroy)
http://www.reuters.com/article/2012/09/09/kuwait-politics-rally-idUSL5E8K91BY20120909
--------
Syria: Hillary Clinton rejects Russian plan for UN
9 September 2012
US Secretary of State Hillary Clinton has dismissed a Russian proposal for a new UN Security Council resolution on Syria as pointless "without teeth".
Russia says it wants Security Council approval for a peace plan agreed in June in Geneva that called for a ceasefire and political transition.
But Mrs Clinton said a resolution without consequences would be ignored by Syrian President Bashar al-Assad.
Activist groups in Syria say more than 160 people died in the latest fighting.
Government air attacks are said to have killed many in the northern city of Aleppo, where a water supply pipe was also hit.
Meanwhile, state TV has shown government troops overrunning rebel-held areas in the south of the capital Damascus.
It also showed them being welcomed by some of the residents, who chanted in support of the army and the regime.
But the BBC's Jim Muir, who is in neighbouring Lebanon, says the fighting in Damascus and its suburbs has been going on for nearly two months now, with rebels reappearing after government forces move on.
Full Report at:
http://www.bbc.co.uk/news/world-middle-east-19535226
-------
India
India, Pakistan ink visa agreement
ANITA JOSHUA
ISLAMABAD, September 8, 2012, In what was described by Pakistan Foreign Minister Hina Rabbani Khar as the first step towards normalisation of relations with India, the long-pending visa agreement to ease travel was inked here on Saturday.
The agreement was signed by External Affairs Minister S.M. Krishna and Interior Minister Rehman Malik after the conclusion of the Foreign Minister-level engagement at the end of the second round of the resumed dialogue process. The new visa regime — the first major overhaul since 1974 — in particular eases travel restrictions for businessmen and introduces a new category of group tourism. Besides, persons aged above 65 will be issued visa on arrival.
The regime also mandates a time frame for issuing visas. From the earlier indefinite time taken to issue a visa, the two missions have now been tied down to a 45-day period for deciding on an application. Visas will continue to be city-specific, but now in place of three cities, applicants can hope to visit five in one visit. And now visitors can enter and exit the country from different checkpoints and change the mode of travel. Earlier, the port of entry and exit had to be the same, and the mode of transport could not be changed.
The agreement had been initialled in May during the Home/Interior Secretaries talks here, but the signing had been delayed as Pakistan wanted it to be done at the political level. This being the first ministerial engagement in either country since May, Mr. Krishna came authorised by the Cabinet Committee on Security to sign the agreement which, in effect, is the domain of the Home Minister.
Another significant decision taken by the Foreign Ministers pertained to the cross-Line of Control (LoC) confidence-building measures (CBMs). The cross-LoC travel will be expanded to include visits for tourism and pilgrimage. Such visits to designated sites will initially be from the Chakoti-Uri and Rawalakot-Poonch crossing points.
Both sides also agreed to extend assistance to valid entry permit-holders to cross the LoC in emergency situations on crossing as well as non-crossing days.
Like the visa agreement, the decisions on the cross-LoC travel are aimed at ensuring that people remain at the heart of the bilateral relationship, said the joint statement issued after the meeting.
http://www.thehindu.com/news/international/article3874388.ece
-------
Pakistan visit fruitful, says India's F M
IANS
Lahore, Sep 9, 2012: External Affairs Minister S.M. Krishna has described as "fruitful" his three-day visit to Pakistan that he wrapped-up on Sunday.
Talking to the media after arriving at Allama Iqbal International Airport for a day-long visit to Lahore, Krishna said he and his Pakistani counterpart Hina Rabbani Khar had signed pacts on visa liberalization and cultural promotion, which would help promote bilateral ties.
He arrived in this capital of the Punjab province on the final leg of his visit that began Friday. Indian High Commissioner Sharat Sabharwal was present.
Krishna said the dialogue between the Indian and Pakistani leadership would be fruitful as Indian Prime Minister Manmohan Singh and the people of India wanted peaceful relations with Pakistan.
He said the peaceful ties between between the neighbouring countries would be helpful for the prosperity of the region.
Krishna met Punjab province Chief Minister Shahbaz Sharif as well as Punjab Governor Muhammad Latif Khan Khosa.
Shahbaz Sharif said India and Pakistan should discuss all outstanding issues.
While in Lahore, the Indian external affairs minister will visit Data Durbar shrine of a sufi saint and the Minar-e-Pakistan, a tall monumental minaret.
The minister arrived in Lahore from Islamabad where he met his Pakistani counterpart Hina Rabbani Khar Saturday. An agreement on a liberalised visa regime was signed by him and Interior Minister Rehman Malik.
The Indian external affairs minister, who reached Islamabad Friday, flies back to India Sunday evening.
http://www.indiatvnews.com/news/world/pakistan-visit-fruitful-says-krishna-8821.html
------
Rajasthan, an Indian Stat has a Plan for Muslims
Jaipur, Sep 9 (IANS): Despite the Sachar Committee Report of 2006 that showed that the literacy rate among Muslims being far lower than national average, and their representation in managerial and professional classes poor, little has been done to facilitate their greater integration with the mainstream. The Ashok Gehlot government in Rajasthan, however, is set to change that.
The Rajasthan government has now formed a separate department to address minority affairs to encourage smoother integration of minority groups, especially their youth and women.
"As desired by the minority community, the chief minister has already brought all the different welfare schemes and departments associated with the minority community under one department," a senior state government official said.
"As a result, administrative control of a host of organisations such as the State Haj Committee, the Waqf Board, Madrassas Board, Minority Commission, Minority Finance and Development Cooperative Corp Ltd is now under one roof," the official told IANS.
"In the next step towards their welfare, more emphasis is being laid on providing employment opportunities for youth from the minority community through better educational facilities, financial help and by improving training services," the official said.
Of the state's total population of 68.62 million, nearly eight percent is Muslim.
Officials said that approval has been granted for opening madrassas (schools traditionally used for teaching Islamic theology) along with schools in areas with substantial Muslim population, to encourage more children, especially girls, to go to school.
According to the State Madrassa Board, the Chief Minister's Office has also started a madrassa modernisation plan for imparting quality education as also for repairing and modernising madrassa buildings.
"Under the modern education plan, approval have been given for a grant of Rs.10.11 crore to 241 madrassas," a senior official in the board said.
Among other steps the government has decided to take are:
* Girls' hostels at each divisional headquarters on the lines of those operating in Jaipur, Kota and Ajmer;
* Rajasthan Knowledge Corp asked to expand its youth employment programme on training the minority community in computers and make them proficient in English;
* Programme for regular education to Muslim children, along with religious texts, so that they don't get left behind in the modern age;
* Ten Industrial Training Institutes opened in areas with large minority population; and
* An officer assigned in each district to oversee programmes for the minority community.
http://www.daijiworld.com/news/news_disp.asp?n_id=149129
--------
'Discontented Muslim youths in Assam may be fodder for terrorists'
New Delhi, Fri Sep 07 2012, National Commission for Minorities Chairperson Wajahat Habibullah on Thursday said there was a threat of militant outfits trying to lure discontented Muslim youths displaced during the recent spate of violence in Assam. His claim comes days after the commission observed that there could be a grave danger if "militant jihadi outfits" from the rest of the country started supplying lethal weapons in the trouble-torn area.
Habibullah said Muslim youths living in camps could be fodder for terrorists who could try to exploit the situation. "These people are vulnerable to the threats of militants and others...they can become fodder for militants," he told The Indian Express. During an interaction with the media here, he pointed out that enough local weaponry was circulating in the hands of Muslims in the affected areas. "They can be hijacked by any terrorist organisation," he added.
When asked which outfit he thought could commit such an act, he said: "Any organisation, for example Lashkar-e-Toiba." He said though the Bodo Liberation Tigers had laid down arms, its ammunition had not been fully confiscated. Habibullah said illegal migration had a very limited role to play in the clashes and blamed the failure of local policing for the situation.
The government, meanwhile, told Parliament on Thursday that it did not have specific details about the magnitude of illegal migration from Bangladesh. Replying to a question in the Lok Sabha, Minority Affairs Minister Salman Khurshid said there were reports of infiltration "despite checks and control". "As this activity takes place clandestinely, no specific details are available about the magnitude of this illegal migration to India...including Assam," he said.
http://www.indianexpress.com/news/discontented-muslim-youths-in-assam-may-be-fodder-for-terrorists/999081/
--------
Community upset over 'Muslim' ultras in mock drill
Soumittra S Bose, TNN
NAGPUR: Sep 9, 2012, A section of Muslim activists has expressed discontent over the portrayal of members of their community as terrorists during the anti-hijacking mock drill conducted at the Dr Babasaheb Ambedkar International Airport here on Thursday. Some Hindu activists too supported the protest, claiming that such portrayals led to reinforcing of stereotypes and that they projected the entire community in a negative light.
Actors playing terrorists in the drill, that was conducted by city police and airport security agencies, wore skull caps and flowing kurtas, which is traditional attire generally associated with Muslim men.
Commandos belonging to city police's Quick Response Team (QRT) and Central Industrial Security Force (CISF) had participated in the drill under the supervision of the anti-hijacking committee. In the drill scenario, the crack team was supposed to free an international aircraft from terrorists who had commandeered it.
Several Muslim intellectuals and organizations expressed their dismay as the terrorists were portrayed as Muslim men. The organizations have also sent their grievances to the state home minister RR Patil.
Activist Mohammed Hamid, president of Indian Muslim Association Noori, said, "I do not understand why the actors wearing terrorists weren't wearing common clothes?" He added that even Bodo militants, Naxals or Hindu radicals were seen as terrorists. "Why turn away from the other aspects of terrorism?" Hamid asked.
Imam Qari Khaleeque Ahmed of Jama Masjid too took a dig at the security agencies. "Whoever is harming the country should be labelled terrorists. But one should not insult the sentiments of Muslim community only," he said. The Imam also added that Islam is a religion of peace and harmony and it does not spread the message of violence, as is sometimes portrayed.
Advocate and activist Tushar Mandlekar said that terrorism has no caste, colour, community or creed. "India a secular democratic country and security agencies must practice restraint in such situations," he said.
Thursday's drill had witnessed several lapses after a QRT jawan was armed with an outdated .303 rifle while rest of the troops had sophisticated firearms like AK-47 and MP5. Also, one of the city police's jeep was stopped in the middle of the drill by CISF jawans from entering the aerodrome. After the lapses were highlighted in TOI's September 8 edition, a senior official is learnt to have taken the QRT commandos to task.
http://timesofindia.indiatimes.com/city/nagpur/Community-upset-over-Muslim-ultras-in-mock-drill/articleshow/16318098.cms
--------
India wants a stable, peaceful and progressive Pakistan: Indian F M
By Sidrah Moiz Khan
LAHORE: September 9, 2012, Completing his three-day visit to Pakistan, Indian Foreign Minister SM Krishna left for India on Sunday.
During his visit to Lahore on the last day of his diplomatic tour, Krishna said that India wants a stable, peaceful and progressive Pakistan as its neighbour.
Speaking to the media at the Allama Iqbal International Airport, the Indian foreign minister said that the Indian Prime Minister, Manmohan Singh, and the people of India would like to see a stable and peaceful Pakistan as it "means quite a bit to the entire region."
Speaking about his Islamabad visit, Krishna said that he had discussions with President Asif Ali Zardari, Prime Minister Raja Pervaiz Ashraf. "After seven years, we had a joint commission meeting of India and Pakistan, with the Pakistani foreign minister, Hina Rabbani Khar … it was a very fruitful visit."
"We were able to make few decisions, we signed the visa liberalisation pact and a cultural pact – all this is going to help foster a much more cordial relationship between the two countries," he said.
The Indian FM met Punjab Governor Sardar Latif Khosa and Punjab Chief Minister Shahbaz Sharif.
During his meeting with the Governor Punjab, Krishna said that India and Pakistan must strive to maintain the trust between the two countries. He added that however all problems cannot be solved during one meeting.
Agreeing with Krishna, Khosa said that all issues including the Kashmir problem should be solved through dialogue.
Speaking to Punjab chief minister, Krishna said that there has been significant progress in Pakistan-India relations and further improvement can be achieved by addressing all the key issues.
Sharif said that both the countries must forget past differences and move forward.
The Pakistan Muslim League – Nawaz (PML-N) also invited Krishna for a luncheon.
During his time in Lahore, Krishna visited Data Darbar, Minar-e-Pakistan and a gurdwara.
http://tribune.com.pk/story/433877/india-wants-a-stable-peaceful-and-progressive-pakistan-krishna/
--------
India, Pakistan identify 8 areas of mutual cooperation
ISLAMABAD: 8 SEP, 2012, India and Pakistan have identified eight areas, including agriculture, education and IT & Telecom for mutually beneficial cooperation.
The Pakistan-India Joint Commission which met here discussed and identified avenues of mutually beneficial cooperation in agriculture, education, environment, health, information, IT & Telecom, Science and Technology and tourism.
Areas for cooperation were identified by Technical Level Working Groups (TLWG) of the commission.
The working group on Agriculture identified certain areas for collaboration including exchange of experts and training of scientists in the areas of crop improvement through the use of biotechnology.
It also discussed cooperation in seed sector, quarantine related matters, livestock and dairy development sector, high efficiency irrigation system and rain water harvesting.
The two sides explored avenues for furthering cooperation in the fields of school and higher education, non-formal education and adult literacy.
The working group on Environment discussed various issues relating to environment and agreed to enhance cooperation in the fields of climate change, renewable energy, environmental protection, energy conservation and Clean Development Mechanism, Bio diversity and sustainable forest conservation, solid waste management.
They also agreed to enhance cooperation in polio eradication and increasing immunization coverage, cooperation in women and child health.
On Issues of Information and Broadcasting, the two sides discussed exchange of journalists and information professionals, organising film festivals in each other's countries, holding of seminars/workshops, between Indian Institute of Mass Communication (IIMC) and suitable Pakistani Institute.
News exchange between official news agencies and exchange of TV and Radio programmes were identified for future collaboration.
The Working group on IT & Telecom discussed avenues of cooperation. Pakistan invited Indian companies to participate in ICT events in Pakistan. India offered to organise a customised e-governance workshop in India for Pakistan. India offered to forward a proposal for establishing telemedicine linkages between the two countries.
In Science and Technology sector, the two sides agreed to work on common areas of interest by holding joint workshops/seminars and short training programmes. They identified areas of medicinal plants and herbal medicines (in Pakistan), renewable energy (in India ) and Standards for such collaboration.
The two sides also explored and identified areas for cooperation particularly in information sharing, Research and Development, human resource development in the field of tourism, Destination management, marketing and promotion, Meetings Incentives Conference and Exhibition (MICE) tourism, travel and hospitality industry.
http://economictimes.indiatimes.com/news/politics/nation/india-pakistan-identify-8-areas-of-mutual-cooperation/articleshow/16315544.cms
-------
Shiv Sena chief: I won't tolerate Pakistani, Bangladeshi Muslims"
SHOUMOJIT BANERJEE
MUMBAI, September 9, 2012, To root out Pakistan-sponsored terror, give me charge of Army, says Sena chief
Issuing a stern warning to extremist elements in the wake of the August 11 rioting near Azad Maidan here, Shiv Sena chief Bal Thackeray said he would not tolerate Muslims from Pakistan and Bangladesh inside Maharashtra.
The Shiv Sena is firm on not letting cricket relations resume with Pakistan, he said in an interview in his party mouthpiece Saamna.
Mr. Thackeray's solution to root out Pakistan-sponsored terror is that he be given charge of the Indian Army.
The Sena leader also lashed out at Bihar's politicians, asking them to nip rioters in the bud if they did not want the Maharashtra police to nab riot-mongers from their State.
A slanging match occurred between Bihar politicians and the Thackeray cousins — Maharashtra Navnirman Sena chief Raj and Shiv Sena executive president Uddhav — after the Bihar administration took offence at the Mumbai Crime Branch arresting an alleged Azad Maidan rioter from Sitamarhi district.
Lauding his estranged nephew, Raj's efforts at mobilising a rally to condemn the Azad Maidan rioting, Mr. Thackeray said only his household reacted to the August 11 incident. "While Raj took out a massive rally, Uddhav unravelled the truth behind the rioting," said the Sena chief.
http://www.thehindu.com/news/states/other-states/article3875110.ece
-------
Terror taint: Brother loses job
Johnlee Abraham
Bengaluru, Sep 09, 2012, Even as the CCB, the Bengaluru city police, the NIA and various other investigating teams are quizzing the 14 terror suspects picked up in Karnataka, their families are dealing with the fall-out - a sibling losing his job, others finding it hard to live in a society that doesn't trust them anymore.
Dr Zaheer Ahmed Solapuri, brother of terror suspect, Dr Zafar Iqbal Solapuri, says he was forced to resign from Fortis Hospital after his brother's arrest.
"I want to make it very clear that we are all against terrorism. No terrorist plotting against the country should be spared. But as far as my brother is concerned, I have reason to believe he is being framed. It's up to the courts to decide. People should understand that we have done nothing wrong and are paying for no fault of ours. Recently, I was forced to resign from Fortis hospital after my brother's arrest. I am not worried, but will our honour and dignity be restored, if tomorrow my brother emerges clean from this affair?" asks Dr Zaheer.
http://www.asianage.com/india/terror-taint-brother-loses-job-596
-------
'We have world's largest number of non-literates': Indian Vice President
TNN
LUCKNOW: Sep 9, 2012, Referring to his return to Lucknow as "home coming", Vice-President Hamid Ansari on Saturday said that he was happy to return to UP to participate in the International Literacy Day celebrations. This is Ansari's maiden visit to the state after being re-elected as the Vice-President for a second term.
Speaking at the National Literacy Awards function organised by the National Literacy Mission Authority, Ansari said India has improved its performance on literary indicators, but had a long way to go in comparison to other neighbouring countries. Saying literacy levels had increased from 12% in 1947 to 74% in 2011, the country's performance is still wanting, when compared with Asian countries. Ansari said, "We have the largest number of non-literates in the world. Our literacy rate of 74%, achieved in the last decade, is much below the world average of 84% and is in sharp contrast to what has been achieved by some Asian countries like China, Iran, Myanmar and Sri Lanka."
Also emphasising inclusive growth for women and persons from scheduled castes, tribes and minority communities, Ansari said at least 44% of India's population fell in this category. He also said there is a need to bridge inter-state and intra-segment inequalities.
"The Right to Education Act has ensured that basic education is now the right of every child. Now, we also need to focus on adult education. The Saakshar Bharat programme, operational in 25 states and 372 districts - 66 of which are in UP - must also focus on quality education and skill training. More over, we must also devise a way to sustain this initiative after the government's programme comes to an end.
'' He also spoke to students at Integral University.
Ansari also applauded the Saakshar Bharat mission programme's emphasis on increasing literacy among women. He said: Though male literacy rate has increased from 75% to 82.14% during the last decade, female literacy in the same period has increased from 53.67% to 65.46%. This has reduced the gender gap from 21% to 16%. There is a need to reduce this gap," Ansari said.
Union minister for human resource development, Kapil Sibal, said the decision to organise the National Literacy Mission in Lucknow was because of chief minister Akhilesh Yadav's "young and progressive" image. Sibal also said that UP, with 66 districts where literacy rates were below 50% against the national average of 74%, needed special focus both from the state government as well as under the National Literacy Mission. He also said that the ministry was targeting to reduce the male-female literacy divide to under 10% in the 12th Five Year Plan.
Acknowledging that though UP's literacy indicators had improved in the past decade, there was much that remained to be achieved, Akhilesh Yadav said a 14% decadal growth in literacy levels was not sufficient. He also said special attention had to be given to education women in UP. Highlighting the Samajwadi government's initiatives to promote education in general and also specifically among women, Akhilesh said: The government has made provisions to pay Rs 30,000 to girls for assisting their education beyond Class X. the same facilities have also been extended to Muslim girls.'' He also added that UP would, within two years, implement the centrally-funded National Optical Fibre Network facility to provide broadband connectivity at panchayat levels in the state. In addition, the CM said that though the state government was using its resources to improve the education infrastructure, additional assistance from the centre, towards this cause, would be welcome.
http://timesofindia.indiatimes.com/city/lucknow/We-have-worlds-largest-number-of-non-literates/articleshow/16318564.cms
--------
Punjab C M welcomes relaxation of visa between India and Pakistan
Sep 8, 2012,
Punjab Chief Minister Parkash Singh Badal on Saturday said relaxation of visa norms between India and Pakistan would usher "a new era of economic development by promoting bilateral trade, thereby benefiting the country in general and Punjab in particular.
Talking to mediapersons after inaugurating the 220KV Grid station here today, the chief minister said the Indo-Pak trade has already got a major fillip with the opening of Integrated Check Post at Attari-Wagah border but it could be enhanced manifolds if visa norms between both the countries are relaxed.
Emphasising on abolition of the physical barriers between the two countries, Badal said the age old socio-cultural ties between India and Pakistan could be strengthened through people to people contact.
Badal said free trade between the two countries would play a pivotal role in the development of the border areas of the state.
Addressing a gathering, the chief minister said the state government was committed to the development of border areas for which "path-breaking" initiatives were being taken by them.
He said that soon a skill centre would be opened at Chohla Sahib in which experts from the foreign companies would impart technical training to the youth of the area thereby enabling them to earn their livelihood.
http://www.dnaindia.com/india/report_badal-welcomes-relaxation-of-visa-between-india-and-pakistan_1738561
-------
India, China, Pakistan dialogue on Afghanistan?
IANS
NEW DELHI: Sep 9, 2012, With the prospect of regional rivalries intensifying over Afghanistan, China is thinking of proposing a trilateral dialogue among New Delhi, Beijing and Islamabad on Afghanistan, a tricky proposition given the rivalry between India and Pakistan in the Afghan theatre.
"Many Chinese scholars have proposed the idea. The Ministry of Foreign Affairs of China is keen on this trilateral dialogue," Zhang Jiadong, assistant director of the Centre for American Studies in Fudan University and a well regarded Chinese expert on international affairs, told IANS here.
With the 2014 drawdown of US-led international combat troops from Afghanistan in mind, China is pushing for greater regional cooperation to stabilize Afghanistan, an approach India has always supported.
Full Report at:
http://timesofindia.indiatimes.com/world/middle-east/India-China-Pakistan-dialogue-on-Afghanistan/articleshow/16323483.cms
-------
India, Pakistan welcome release of prisoners, fishermen
Islamabad, 08 Sep 2012 ANI: India and Pakistan on Saturday welcomed the release of prisoners and fishermen, including those suffering from ailments, in the past year or so.
In a joint statement issued here after delegation-level talks, Foreign Ministers S.M. Krishna and Hina Rabbani Khar said that they agreed that the Agreement on Consular Access should be implemented in letter and spirit, including immediate notification of arrests by either side, consular access to all persons within three months of arrests, release of prisoners within one month of completion of sentence and confirmation of their national status.
According to the joint statement, both mnisters also welcomed the continued work of the Judicial Committee and agreed with the need to implement its recommendations on various aspects of release and repatriation of prisoners and fishermen of each country by the other and adoption of the humane approach in dealing with cases of fishermen and prisoners, especially women, elderly, juvenile, and those terminally ill or suffering from serious illness or physical/ mental disability.
Commenting on the recent talks held between the Director General of the Pakistan Maritime Security Agency and the Director General of the Indian Coast Guard in New Delhi in July, they agreed to the importance of continuing their meetings.
Both further directed that the issues relating to fishermen as contained in the joint statement issued after the Interior/Home Secretaries talks between Pakistan and India in March 2011 would be further examined by the relevant authorities of the two countries.
Both welcomed the decision during the last meeting of the Home/ Interior Secretaries of the two countries in May 2012 to initiate discussions in order to strengthen mutual cooperation in criminal matters.
They also attached importance to promoting peace and security, including confidence building measures, between the two countries, and agreed to convene separate meetings of the expert groups on nuclear and conventional CBMs, in New Delhi in the second half of December 2012. (ANI)
http://www.newstrackindia.com/newsdetails/2012/09/08/320-India-Pakistan-welcome-release-of-prisoners-fishermen.html
-------
171 Hindus arrive from Pakistan; seeking refugee status
JODHPUR, September 9, 2012, A batch of 171 Hindus today arrived here from Pakistan after a three-month long arduous journey with leader of the group saying they were seeking a refugee status in India for the sake of "self respect", religious freedom and children's future.
They have been accommodated temporarily in a temple campus until proper arrangements are made.
"We have intimated the chief minister about this, who was in Jodhpur today and expect him to direct the administration to make some arrangements for them," said Singh Sodha, president of Seemant Lok Sangthan, an organisation fighting for the rehabilitation of Hindu migrants.
"The exodus of Hindus from Pakistan on account of religious, financial and social persecution, is not a new phenomenon but this largest ever migration after the fencing on the Indo-Pak border, is a testimony that the conditions for the Hindu families in Pakistan continue to be intolerable and humiliating," said Sodha.
Full Report at:
http://www.thehindu.com/news/national/article3877910.ece
----------
Pakistan
Pakistan more of a worry than Iran: Rushdie
TORONTO, September 9, 2012 , While Canada has cut ties with Iran and called it "the most significant threat to world peace," author Salman Rushdie is more concerned about Pakistan.
The acclaimed novelist, who spent a decade in hiding after Iranian leaders put a bounty on his head for his book The Satanic Verses, says Pakistan is unstable and already has nuclear weaponry at hand.
Foreign Affairs Minister John Baird announced Friday that Canada is shuttering its embassy in Iran and severing relations with the country.
Rushdie says he doesn't feel confident commenting extensively on Iran, admitting "truthfully, my interest in Iran ended at the point at which they stopped trying to kill me."
These days, his eye is more closely trained on relations between Pakistan and India, which also has an atomic arsenal.
The author made the comments while attending the Toronto International Film Festival, where he is promoting the film adaptation of his Booker Prize-winning novel Midnight's Children.
Rushdie is also preparing to release a memoir, Joseph Anton, which partly deals with his decade in hiding.
In 1989, Iran's late Ayatollah Ruhollah Khomeini issued a fatwa, or death sentence, against Rushdie in response to his novel The Satanic Verses. Leaders ordered Muslims to kill the British writer over what they considered blasphemous writings.
Rushdie and his family were forced into hiding for a decade. The edict was lifted in 1998.
International calls for a tougher stance on Iran come amid allegations it is developing atomic weapons. Iran says its nuclear work is for peaceful energy purposes.
Although Midnight's Children was published some 30 years ago, Rushdie says many of the issues it delves into still plague the world today: religious sectarianism, political corruption, violence and war.
"It's always bad. The world is always terrible," Rushdie said Saturday during a round of interviews at a downtown hotel.
"Fortunately for writers, because then you've got something to write about."
http://thechronicleherald.ca/artslife/134229-pakistan-more-of-a-worry-than-iran-rushdie
--------
Elements attacking defence installations are enemies of Pakistan: MQM Chief to Pakistan Ulema Council
By Our Correspondent
KARACHI: September 9, 2012, The terrorist elements that are carrying out attacks on defence installations, killing Pakistani soldiers and instigating sectarian violence are enemies of Pakistan, said Muttahida Qaumi Movement's (MQM) chief Altaf Hussain on Sunday.
During his telephonic conversation with Chairman of Pakistan Ulema Council Allama Tahir Ashrafi, Hussain said that the people of Pakistan should unite against such elements.
The MQM chief said that on one hand, conspiracies were being hatched against the Muslim world at an international level while on the other hand, Pakistan is being attacked from the inside.
He further added that the acts committed against the minorities are in fact destroying Pakistan.
Informing Allama Ashrafi about the establishment of Muttahida Bainul Muslimeen Forum, Hussain said his party is trying to promote sectarian and religious harmony.
Agreeing with the views of the MQM chief, Allama Ashrafi said that the Muslim world needs to get united.
Allama Ashrafi told Hussain that he supports him for his efforts in favour of Pakistan and Muslims.
"We want a system in Pakistan where the followers of all faiths, sects and schools of thought can live in peace and tranquillity by respecting each other," he added.
http://tribune.com.pk/story/433890/elements-attacking-defence-installations-are-enemies-of-pakistan-altaf-hussain/
------
Pakistan's Ambassador to US calls for unity in Pakistani community
NEW YORK: September 09, 2012, Pakistan's Ambassador to the United States Sherry Rehman on Friday made a stirring call for unity in the ranks of Pakistani community members to help meet the challenges what their homeland faces.
The top Pakistani diplomat made the call at a largely-attended dinner event organised by the Pakistan League of US, a non-political body of professionals, at which she was honoured with their 'Woman of the Year' award.
Over 400 Pakistani Americans from various walks of life attended the event marking the Independence Day and Eidul Fitr. "I thank you. I'm deeply honoured," Sherry Rehman said.
A citation described Ambassador Rehman as a "great parliamentarian, writer and a diplomat". Ambassador Rehman, who has been in the forefront of the struggle for women's rights, dedicated her award to the women of Pakistan, especially her mother and Benazir Bhutto.
Also honoured with the League's 2012 Lifetime Achievement Award was Amir Khan, a British professional boxer of Pakistani origin who is a former two-time world champion and former unified WBA (Super) and IBF Light Welterweight champion.
In her keynote speech, Ambassador Rehman called on the community members to sink their differences and work together to promote the interest of their homeland in the US and in forging good relations between people of America and Pakistan.
She also urged them to take an active part in the American politics in this election season and "multiply your power and influence", and become game-changers.
"You have to overcome your differences and you have to have a dream," the Pakistani envoy added. app
http://www.dailytimes.com.pk/default.asp?page=2012%5C09%5C09%5Cstory_9-9-2012_pg7_21
---------
Mideast Asia
Islamic Awakening supports Palestinian cause: Iran FM
September 08, 2012.
Iran's Foreign Minister Ali Akbar Salehi says the wave of Islamic Awakening in the region supports efforts made to help the liberation of Palestine.
"The wave of Islamic Awakening in the Muslim world, especially in regional countries, is a great opportunity and valuable potential for Palestine," Salehi said in a meeting with the senior Hamas official Mahmoud al-Zahar in Tehran on Saturday.
The Iranian diplomat noted that with the establishment of popular governments in the Muslim countries of the region, the regional nations and countries will strongly continue their efforts to defend Palestine until the liberation of al-Quds (Jerusalem).
Referring to the successful Non-Aligned Movement (NAM) summit in Tehran, Salehi said Iran did its best to make the summit adopt powerful stances on Palestine and the final result of those efforts were quite favorable and materialized in the summit's statement on Palestine.
The final resolution of the 16th NAM Summit called for greater efforts to support the Palestinian cause, expressed support for Iran's nuclear energy program, and rejected the United States' unilateral sanctions against the Islamic Republic.
Al-Zahar, for his part, congratulated Mr. Salehi on the successful holding of the NAM summit by Iran, and expressed hope that during the presidency of the Islamic Republic, the Non-Aligned Movement would defend the rights of the Palestinian nation in international organizations stronger than before.
He emphasized that the Palestinian people will continue their resistance against the Zionist regime of Israel and will not withdraw from their rights and principals.
Al-Zahar also expressed gratitude over the full support of the Leader of the Islamic Revolution Ayatollah Seyyed Ali Khamenei and the Iranian government and nation for the Palestinian people.
http://www.presstv.com/detail/2012/09/08/260498/islamic-awakening-backs-palestine/
---------
Canada's action is unconventional, misuse of international laws - Iran FM
9 September 2012
Islamic Republic of Iran Ministry of Foreign Affairs says Canada's action to close its embassy in Tehran and expel Iranian diplomats from Ottawa is unprofessional, unconventional, unjustifiable, and a misuse of international laws, IRNA reported.
According to Foreign Ministry Media Department, the ministry, in a statement released on Saturday, said the government of Canada, in a hasty decision, has resorted to this 'absurd' action in order to deviate the public opinion from the success of the government of the Islamic Republic of Iran in successfully holding the Non-Aligned Movement (NAM) summit in Tehran.
"The conservative regime of Canada under Mr. Harper, is known with adopting radical policies and following the defeated and outdated policies of Neo-conservatives and widespread criticism of people in Canada against high prices of these approaches confirms this," said the statement.
Iranian Ministry of Foreign Affairs said the policy of isolation and limiting Canada's foreign relations to a very few countries is another manifestation of the policies of present administration of Canada.
The statement continues," the government of Canada, according to the reports of United Nations Rapporteur on indigenous rights, has the worst record on violating human rights, with its radical actions and financially supporting the extremist forces in the region and its all-out, blind support for the Zionist regime which is a racist regime, has adopted policies which does not help the world peace but is a source of threat to international security."
"The Islamic Republic of Iran, in the past two years, while observing the destructive behavior of the government of Canada, and on the basis of the conditioned interaction principle, tried to limit bilateral relations to providing the rights of Iranian community in Canada and keeping people-to people relations."
"In this regard, the personnel of Iranian Embassy in Ottawa was reduced and economic ties were diverted to other areas."
Noting that the Canada decision was against all human principles, Minitry of Foreign Affairs has emphasized that the government of Canada has done its best to increase pressure on Iranian community in Canada.
The statement has mentioned multiple actions of Harper's administration against Iranian nation including closing Consular section of its Embassy in Tehran, closing bank accounts of many Iranians in Canada, and preventing money transfer for Iranian students in Canada, etc.
"The extremist regime of Harper did a lot to prevent the holding of NAM summit in Tehran but countries and international figures completely ignored it and imposed another defeat to this regime."
The statement said Iran will do its best to continue providing consular services to Iranian community in Canada.
Referring to poor record of Canada in protecting diplomatic personnel and buildings, the statement has stressed the responsibility of Canadian government in this regard.
http://en.trend.az/regions/iran/2063337.html
-------
Europe:
British Museum's exhibition highlights Shakespeare's fascination with Islamic world
Middle East Online
LONDON-2012-09-08, Shakespeare: staging the world, a major exhibition at the British Museum provides a new and unique insight into the emerging role of London as a world city four hundred years ago, interpreted through the innovative perspective of Shakespeare's plays.
Britain's most famous playwright, described by his friend Ben Johnson as "not for an age but for all time," was fascinated by the Muslim world. He may have recalled the visit of Abd Abd el-Ouahed ben Messaoud ben Mohammed Anoun, the Moroccan Ambassador to Queen Elizabeth I, who was sent by Muley Hamet King of Morocco to negotiate a global alliance with Elizabeth 1 against Spain.
He arrived in London in 1600 at the head of a delegation which was a source of fascination and fear. El-Ouahed and his men were in the city for six months and would certainly have been known to Shakespeare. Othello, the soldier and 'noble moor' was probably based on El-Ouahed, whose striking portrait is featured in the exhibition.
A tourist album of Istanbul from 1618 belonging to the English merchant Peter Mundy is also on display along with a ceramic jug imported from Ottoman Turkey illustrating London's increasing global influence. The jug could have been made by Paul Baning one of the four London merchants who handled most of the imports from the Levant in 1589.
Videos of readings from famous excerpts from Shakespeare's play can be heard throughout the exhibition. From the Merchant of Venice there is Shylock's famous speech: Hath not a Jew eyes:
I am a Jew. Hath not a Jew eyes? Hath not a Jew hands, organs, dimensions, senses, affections, passions; fed with the same food, hurt with the same weapons, subject to the same diseases, heal'd by the same means, warm'd and cool'd by the same winter and summer, as a Christian is? If you prick us, do we not bleed? If you tickle us, do we not laugh? If you poison us, do we not die?
And if you wrong us, do we not revenge? If we are like you in the rest, we will resemble you in that.
Full Report at:
http://www.middle-east-online.com/english/?id=54267
---------
Southeast Asia
China pushes Xinjiang hard to ignore Pak
Saibal Dasgupta, TNN
BEIJING: Sep 9, 2012, China's central leaders are pushing the troubled border province of Xinjiang to reduce its links with Pakistan and develop economic links with other neighbours, including central Asian countries and Russia.
This follows repeated warnings by Xinjiang's leaders that Pakistan is the source of training and equipment of insurgents involved in violent incidents in the province.
Chinese PM Wen Jiabao recently discussed several projects connecting Xinjiang with central Asia without mentioning any links with Pakistan. A Chinese transmission company is planning a cross-border project for three-way supply of electricity between Xinjiang, Tajikistan and Kyrgyzstan.
Pakistan has been desperately pushing Beijing for a railway line and energy pipeline project connecting it with China's Xinjiang. But Wen ignored Islamabad's requests in his recent address in Xinjiang's Urumqi city.
http://timesofindia.indiatimes.com/world/china/China-pushes-Xinjiang-hard-to-ignore-Pak/articleshow/16317800.cms
-------
Three injured in blast at Indonesia 'bomb workshop'
9 September 2012
At least three people have been injured in an explosion at a building in Indonesia suspected of being used to prepare explosives, police say.
Two people are thought to have fled the scene after the blast in Depok, on the outskirts of the capital Jakarta.
The blast comes days after police raided another house in Jakarta where bomb-making materials were discovered.
In recent years Indonesia, the world's largest Muslim country, has battled violent Islamic extremist groups.
'Like thunder'
One of the injured had 50-70% burns, according to police spokesman, who said bomb-making devices including grenades were also found at the building.
"The explosion was so loud, it sounded like thunder. People shouted "Bomb, bomb!" and we all ran as fast as we could," on resident told the AFP news agency.
Earlier this month, a raid by anti-terror police in the city of Solo left two suspected militants and one police officer dead.
http://www.bbc.co.uk/news/world-asia-19534822
--------
URL: https://newageislam.com/islamic-world-news/new-age-islam-news-bureau/mali--16-islamic-preachers-killed-by-the-army/d/8616