New Age Islam News Bureau
7 Feb 2014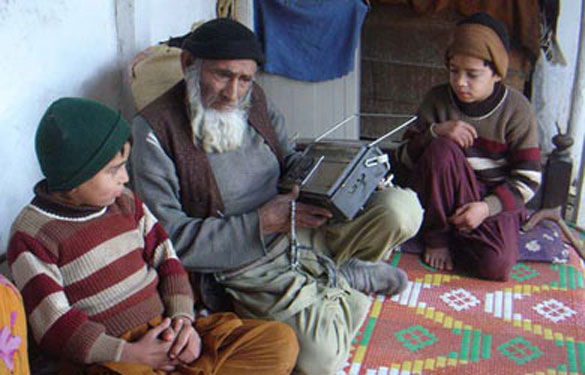 A Pakistani man and his grandsons listen to a radio news bulletin in the mountainous Chitral Valley of Khyber Pakhtunkhwa January 28. Radio plays a key role in counter-extremism efforts in the region, analysts say. [Adeel Saeed]
-------------
South Asia
• Maldives Fiqh Academy VP Endorses Female Genital Mutilation
• Former Warlord Launches Campaign to Succeed Karzai
• Mughal Mosque being dismantled in Old Dhaka
• Afghan-US BSA remain key challenge for Afghanistan in 2014
Arab World
• ISIS Terrorist from UK in Syria
• Syria will join second round of Geneva peace talks: State TV
• 101 killed by Assad's forces in Syria
• Iraq attacks kill nine including election candidate
• Chaldean Patriarch and Grand Mufti: Christians and Muslims together for Peace in Iraq
• Syria rebels launch Aleppo campaign, bombing since Saturday toll hits 257
• Saudis still stereotyped in the West
• Syrian opposition forces capture Assad-controlled Aleppo central prison
• Syria Rebels: US Aid Increased after Geneva Talks
• Iraq signs arms agreement with Iran - ambassador
Africa
• At least 22 dead in central Nigeria attack: locals
• Libya braces for protests against protracted transition
• Central African Republic's Muslim civilians 'at risk'
• Nigeria's ex-militant leader held over 'inflammatory' comments
Pakistan
• Govt negotiators looking at TTP demand to meet PM, COAS, DG ISI
• Radio vital to Pakistani counter-radicalism efforts
• Charar-e-Sharief militant Mast Gul resurfaces with Pakistani Taliban
• Gilgit-Baltistan enhances Northern Areas security
• TTP negotiators authorised to agree on ceasefire: sources
• Militants openly launch campaign in Punjab
• Peace talks with TTP will probably fail: Imran Khan to Bloomberg News
• Pakistan, India to open bank branches soon
• Inmate among 6 killed in Karachi
North America
• Some 50 Americans fighting alongside Syrian rebels and Al Qaeda – US officials
• US designates Lashkar-e-Jhangvi Pakistani extremist as 'global terrorist'
• US senators demand say in any Afghanistan security deal
• US targets businesses for evading sanctions on Iran
• Syrian President Bashar al-Assad making gains, John Kerry admits
• Kin of 9/11 hijacker to face judge in Gitmo
India
• Indian minister: Indian insurgent groups present in Bangladesh
• Kashmir? Settle Pak issues first: Mehr Tarar to jihadis
• Talks with Pak will depend on circumstances: Salman Khurshid
• 3,500 Indians in jails in Gulf countries: Indian affairs minister
• Indian embassy in UAE warns of visa scam
Southeast Asia
• Friday sermon once again stresses that 'Allah' is only for Muslims
• Malaysia postpones execution after outcry, says Amnesty
Mideast
• Shiite Muslim clergy Tortured, Near Death, in Iran for Criticizing Political Islam
• OIC and Turkey slam Israel's new settlement plan in Al-Quds
• Iran makes a bid to reassure West over unfinished nuclear reactor
• Israeli demolition of Palestinian homes at 5-year high
• 70% of Israelis don't trust US on security, says poll
Europe
• UN ready to mediate between India and Pakistan on Kashmir
• UK to boost cooperation with Egypt over recovery of Mubarak-era stolen assets
• Germany Aiming to Become More Muslim Friendly
• Three-day ceasefire in Homs for resolving humanitarian problems in Syria - Russian FM
Compiled by New Age Islam News Bureau
URL: https://www.newageislam.com/islamic-world-news/new-age-islam-news-bureau/maldives-fiqh-academy-vp-endorses-female-genital-mutilation/d/35634
----------
South Asia
Maldives Fiqh Academy VP Endorses Female Genital Mutilation
By Zaheena Rasheed | February 6th, 2014
Vice President of the Fiqh Academy Dr Mohamed Iyaz Abdul Latheef has endorsed female genital mutilation in response to a question posed by a reader on mvislamqa.com.
Iyaz said several credible Hadiths from the Prophet Mohamed demonstrated female circumcision is obligatory in Islam.
"The Prophet (PBUH) said: 'Five things are part of the Fitrah [nature] – circumcision, shaving the pubes, trimming the moustache, cutting the nails and plucking the armpit hairs.' The circumcision in this Hadith applies to both men and women," Iyaz said.
Today is international day of zero tolerance to female genital mutilation. Executive Director of the UNFPA Dr Babatunde Osotimehin said female genital mutilation threatens the lives and futures of women and girls and is "an affront to their human dignity, an assault on their health and an impediment to the well-being of their families, communities and countries."
"Human development cannot be fully achieved as long as women and girls continue to suffer from this human rights violation or live in fear of it," he added.
In 2011, then Vice President Dr Mohamed Waheed Hassan expressed concern over a reported increase in female circumcision in the Maldives.
"We are beginning to hear reports of this occurring, and I have heard on radio and television people justifying the practice. It is quite disheartening," he said at the time.
Obligatory or recommended
Islam calls for female circumcision, but there is dissent between scholars on whether circumcision is obligatory (farz) or highly recommended (Mustahab), Iyaz said.
"A Hadith relayed by Aisha [Prophet Mohamed's wife] says: 'A bath becomes obligatory if one sleeps with your wife and the circumcised parts touch each other.' The word circumcision has been applied to both men and women here. The Hadith demonstrates that women must be circumcised as well," said Iyaz.
He also quoted Saudi Arabia's Fatwa Committee which expressed concern over the decline of female circumcision in Muslim countries.
"Circumcision of girls is a religious obligation that is slowly fading from many Muslim communities. It is an obligation or Sunnah that we must not let go of. It is the symbol that differentiates Muslims from non-Muslims."
The fatwa said female circumcision must be carried out by specialised doctors, and added: "In a woman, the small sliver of muscle and the surrounding skin above the urinary tract is cut during circumcision."
Iyaz said the Prophet Mohamed has ordered circumcision practitioners not to cut severely during circumcision.
Iyaz was elected as the VP of the Fiqh Academy in 2012. The organisation is a body established by the Ministry of Islamic Affairs to advise the government on Islamic jurisprudence.
In early January, Iyaz condemned MPs for approving the sexual offenses bill which recognises marital rape, and advised MPs who voted for the bill to repent.
Zero tolerance
More than 125 million girls and women have been cut in the 29 countries in the Middle East and Africa where female genital mutilation is practiced, the UNFPA has said in a press release today.
The organisation is committed to work with partners to end harmful practices including violence against women and female genital mutilation, the UNFPA said.
"We strongly believe that when young people, especially young women claim their right to health, including sexual and reproductive health, education and decent work, they become powerful agents for social and economic development."
http://minivannews.com/politics/figh-academy-vp-endorses-female-genital-mutilation-77037
----------
Former Warlord Launches Campaign to Succeed Karzai
February 7, 2014
KABUL, Afghanistan — He has been called a mentor to accused 9/11 mastermind Khalid Sheikh Mohammed and the man who welcomed Osama bin Laden to Afghanistan in the 1990s. He was accused of war crimes and atrocities, and even has a terror group named after him in the Philippines.
But these days, Abdul Rab Rasoul Sayyaf has refashioned himself as an influential lawmaker, elder statesman and religious scholar — and possibly the next president of Afghanistan.
While Sayyaf is not the only former warlord among the 11 candidates in the April 5 election to succeed President Hamid Karzai, he appears to have sparked the greatest worry among Westerners because he is seen as having a viable chance at winning. Other front-runners include Abdullah Abdullah, who was the runner-up to Karzai in the disputed 2009 elections; Qayyum Karzai, a businessman and the president's older brother; and Ashraf Ghani, a former finance minister and academic.
"Afghanistan still depends on the goodwill of foreign donors for nearly all of its government's budget," said Graeme Smith, senior Afghanistan analyst with the Brussels-based International Crisis Group. "A Sayyaf win would probably really test those relationships because foreign donors might not be thrilled by some of his positions."
Still, when Sayyaf appeared before thousands of supporters in Kabul on Thursday, he laid out a vision for Afghanistan's future that bore striking similarities to the policy platforms of many of the more moderate presidential hopefuls.
Staunchly anti-Taliban, Sayyaf spoke of the importance of fighting corruption and boosting security and the rule of law. He expressed an openness to signing a security deal with the U.S. as well as support for women to work in professions prohibited under the Taliban.
"We are surrounded by threats, therefore we need to have close relations and deep relations with the whole world," Sayyaf said.
Pointing to the small number of women in the audience, he said, "Women, we will be sure to defend your rights and your dignity."
To loud applause, Sayyaf said women should be permitted to become doctors and teachers, and that he wants to provide a good atmosphere for their education — but one which should be "safe" for women. Allowing images of women on items such as soap boxes is an affront to their dignity and not a way to protect them, he added.
His message resonated with 19-year-old Qudsia Sharifi, who noted the struggles women like her face in Afghanistan.
"I like Sayyaf because he is a professor and he said from his mouth that he's supporting women's rights," she said. "I'm very happy."
An Islamic hardliner who is in his 60s and sports a white beard, Sayyaf enjoys a measure of support in Afghanistan, thanks to his party's deep political roots and popularity in the east of the country.
"Sayyaf is probably in the eyes of many ordinary Afghans the candidate with the strongest religious credentials, with the greatest authority to speak on matters of religion," Smith said. "We shouldn't count out Sayyaf and his power in the rural areas."
The candidate's message on Thursday seemed geared at broadening his appeal. Telling the packed audience that he had no shoes, pens or notebooks as a child, Sayyaf, a charismatic orator, said he had seen poverty firsthand and knows "the difficulty of the people."
Sayyaf first became known in the 1980s for his role as a jihadi leader in the war against the Soviet occupation of Afghanistan. After the Soviet withdrawal, Sayyaf gained notoriety as a warlord during Afghanistan's civil war from 1992 until the Taliban takeover in 1996, leading an ethnic Pashtun militia allied with the Northern Alliance against the Taliban, who are also predominantly Pashtun.
Human Rights Watch has said Sayyaf was directly implicated in abductions and brutal targeting of civilians — namely minority ethnic Hazaras — during the 1990s. In recent years Sayyaf has pressed for legislation to bar war crimes trials for militia leaders.
The Abu Sayyaf, a terrorist organization in the Philippines, takes its name from him.
Equally alarming for the West, according to the 9/11 commission report, he was a mentor to Khalid Sheikh Mohammed, who is charged with aiding and planning the Sept. 11, 2001, terrorist attacks. Mohammed, a Pakistani citizen who grew up in Kuwait and attended college in Greensboro, North Carolina, has claimed to military authorities that he was responsible for the Sept. 11 attacks "from A to Z," as well as about 30 other plots, and that he personally killed Wall Street Journal reporter Daniel Pearl. Mohammed was captured in 2003 in Pakistan.
Sayyaf struck a conciliatory tone toward the West at his rally Thursday, saying that while he would love to see Afghanistan stand on its "own legs," now is not the time to shed foreign assistance.
"We are in a very weak situation," he said. "We need them."
While he stopped short of endorsing a security deal with the U.S. on those grounds, he said that as president he would respect the decision of a council of tribal elders known as the Loya Jirga, which two months ago approved an accord that would allow a small number of U.S. troops to stay in Afghanistan after NATO combat troops withdraw at the end of this year.
Karzai, who is barred from seeking a third term as president, has balked at signing it, and his successor may make the ultimate call. The president has not yet endorsed a candidate and is believed to be keen on wielding influence behind the scenes — though reportedly encouraged Sayyaf to run.
"We are part of this nation," Sayyaf said of the Loya Jirga, "and we support their decisions."
http://www.nytimes.com/aponline/2014/02/06/world/asia/ap-as-afghan-presidential-election.html?partner=rss&emc=rss
--------------
Mughal Mosque being dismantled in Old Dhaka
February 7, 2014
The very old part of the Maulana Mosque on KB Ghosh Street in Armanitola - one of the oldest remaining Mughal-era establishments in the capital - is being demolished by the mosque committee, defying requests from the Department of Archaeology.
The Dhaka Tribune reporter yesterday found workers demolishing the roof of the mosque with only the walls intact. However, the workers stopped working as soon as they saw the reporter.
The committee began demolishing the building three to four days ago terming it very risky for the people who offer prayers, said a committee member. "We started the demolition upon permission of Waqf Bangladesh."
He showed the reporter a letter issued by the state-owned body, dated August 25, 2013. He also showed a letter from the Department of Archaeology dated February 4, 2014, that requested the mosque committee not to raze the part.
Officials at the archaeology department said the vulnerable part of the mosque, believed to be built in 1707, could be retrofitted.
The letter signed by an assistant administrator of Waqf Bangladesh said: "Based on available information, permission is given to demolish the vulnerable part of the mosque fearing collapse."
"The ancient part of the mosque is a Mughal establishment. So, with a view to protect the archaeological site, we requested you [mosque committee] to stop knocking it down," Regional Director of Department of Archaeology Md Ataur Rahman wrote to the mosque committee on February 4.
He asked the mosque authorities to extend the adjacent new part of the mosque instead, where the people offer prayers.
Ataur said even though the mosque was not part of the government list of heritage establishments, they would try for its inclusion.
"I wonder how the Waqf authorities could make such a decision. Action should be taken against those responsible [for giving the approval]," he told the Dhaka Tribune.
http://www.dhakatribune.com/bangladesh/2014/feb/07/mughal-mosque-being-dismantled-old-dhaka#sthash.LD3KTlUb.dpuf
---------
Afghan-US BSA remain key challenge for Afghanistan in 2014
February 7, 2014
The relation between Kabul and Washington is in its all-time low. The Bilateral Security Agreement (BSA) that was supposed to be signed by the end of last year has been dragged over into this year without any clear future. Rangin Dadfar Spanta, Karzai's national security adviser, has expressed optimism about the BSA getting signed before Karzai's term ends, yet the deadlock on the BSA continues with the Afghan government's anti-American rhetoric.
The political and security uncertainties that this deadlock has cause dare affecting the country's economic growth and development achievements. According to the World Bank, last year Afghanistan's economic growth slowed from 14.4% in 2012 to an estimated 3.1% in 2013 due to the political and security uncertainties projected for Afghanistan in 2014 and beyond.
In addition to the country's economic downturn, the U.S. Congress is cutting 50% of development aid to Afghanistan this year. This cut will endanger the last decade's achievements in farming, education, health and other developments. If the BSA is not signed, Afghanistan will face further aid cuts, both financial and military, from the international community and the United States.
While the tension rises between Kabul and Washington, the security of Afghanistan and the future of the BSA remain uncertain. The United States is concerned that Afghanistan could become another Iraq if the U.S. withdraws completely.
Regional Security Pact
For the past few years, many in Washington believe that the insecurity in the region should be dealt with from within the region. Friedrich Ebert Foundation (FES),a German think-tank, produced a joint declaration on regional peace and stability,in which experts from Afghanistan, Pakistan, India, and other countries in the region jointly established policy recommendations for the region.
The joint declaration was presented on February 4 in Washington, D.C. at the Atlantic Council. The declaration states, "A secure Afghanistan is crucial to establishing a secure region." The declaration also calls for Afghanistan's neighbors to take responsibility of supporting Afghanistan's political and security transition in 2014.
The declaration's regional policy recommendations overlook the complexity of the region's history and politics. One of the declaration's short-term policy recommendations for Afghanistan's relation with Pakistan is to determine the root cause of the trust deficit between the two countries and remove the tension and the mistrust. However, the declaration does not provide any realistic mechanism or method of addressing and eliminating the mistrust.
The declaration further suggests encouraging all entities in Pakistan to cooperate in fighting against cross-border threats. Once again, the declaration overlooks the complexity of Afghanistan-Pakistan history and Pakistan's friendly relations with insurgent groups, like the Haqqani network, which poses a security threat to both Afghanistan and NATO forces.
Although the regional and national policy recommendations provided by this declaration are an ideal way of achieving peace and stability in the region. The recommendations are not realistic due to the complexity of the region's politics and history. Furthermore, the declaration fails to provide any methods or mechanisms of institutionalizing these policies in each country and in the region as a whole.
A regional security pact like this declaration is an ideal way of overcoming the insecurity of the region, but it is not realistic due to each country's interest in the region. These policies could become effective only after there is a proper method of institutionalizing such policies. Additionally, these policies are not "quick-fixes"; rather, these policies will take decades to implement and tangible results ensuing from these policies will take even longer to be realized. In order for the region and Afghanistan to achieve security in the next few years, we need policies that are realistic and have fewer hurdles.
U.S.'s new approach
In order to keep the region secure and avoid another crisis like Iraq, the United States should focus on three issues that can be resolved relatively quickly and by realistic means.
First, the United States should keep pressuring Karzai's government to sign the BSA. If Karzai's administration refuses to do so, the BSA should be the first issue on the U.S.'s agenda when dealing with the administration after Karzai.
Second, the United States should be cautious of not damaging the security achievements gained since 2001. Specifically, the U.S. should not cut aid to Afghanistan because such aid cuts reverse the progress made since 2001.
Third, the United States should seriously reconsider its military aid to Pakistan because of the Pakistani military's ties to the Haqqani network.The U.S. should pressure Pakistan financially by cutting aid and halting future aid,and demand Pakistan to cut its ties with any insurgent groups. Pakistan might not cut ties with the Haqqani network, but if the United States cuts military aid to Pakistan it will hinder its ability to aid insurgents across the border.
These policies could help the United States to achieve the security and stability in the region.
Tawab Malekzad is the founder and managing editor of Foreign Policy Today. Follow Tawab on Twitter @T_Malekzad
http://www.khaama.com/afghan-us-bsa-remain-key-challenge-for-afghanistan-in-2014-2762
----------
Arab World
ISIS Terrorist From UK in Syria
February 7, 2014
TEHRAN (FNA)- British terrorist Iftikhar Jaman died during an infighting among terrorist groups in Syria. He has gained a cult following and his death is being eulogized by some in his community. Many of his recruits have now come back to Britain.
http://english.farsnews.com/player.aspx?nn=13921117001100
----------
Syria will join second round of Geneva peace talks: State TV
February 7, 2014
Syria's deputy foreign minister said on Friday the government would take part in a second round of peace talks on Syria's civil war in the Swiss city of Geneva, state media reported.
The 'Geneva 2' peace conference, which had its first round of talks earlier this month, brought Syria's warring sides together for face-to-face negotiations for the first time since the nearly three-year-old conflict began.
State news agency SANA cited Deputy Foreign Minister Faisal as saying the government delegation would attend the talks and demand a discussion "article by article" of the Geneva Communique, the document agreed by the United Nations and world powers as the basis for talks.
Full report at:
http://www.hurriyetdailynews.com/syria-will-join-second-round-of-geneva-peace-talks-state-tv.aspx?pageID=238&nID=62152&NewsCatID=352
----------
101 killed by Assad's forces in Syria
World Bulletin / News Desk
February 7, 2014
Assad's regime forces used heavy weapons in their operations against opponents in various cities yesterday killing 101 people including 17 children and 11 women.
In a statement, Syria National Human Rights Watchdog (SNHR) said the regime forces raided the opposition controlled areas yesterday. 44 people from Aleppo, 20 each from Damascus suburbs and Idlib, 7 from Dera, 5 from Deru'z Zor, 3 from Homs, and 2 from Hama were among the 101 people killed in the attacks.
Full report at:
http://www.worldbulletin.net/todays-news/128416/101-killed-by-assads-forces-in-syria
---------
Iraq attacks kill nine including election candidate
February 7, 2014
Attacks in Baghdad and north of the capital killed nine people on Friday, including a supporter of powerful Shiite cleric Moqtada al-Sadr who was standing in April's parliamentary election.
The murder of Hamza al-Shammari, the first of an election candidate, comes amid a protracted surge in bloodshed with near-daily attacks nationwide and security forces battling anti-government fighters in Anbar province.
Election candidates have been targeted in the past, with nearly 20 hopefuls killed ahead of April 2013 provincial council elections.
Shammari, a senior leader of the Shammar tribe in Baghdad, was killed by gunmen using silenced pistols in the west Baghdad neighbourhood of Ghazaliyah, two security officials said.
He had been due to stand in the April 30 election as part of the Ahrar list, which is loyal to the Sadrists.
Full report at:
http://english.ahram.org.eg/NewsContent/2/8/93660/World/Region/Iraq-attacks-kill-nine-including-election-candidat.aspx
----------
Chaldean Patriarch and Grand Mufti: Christians and Muslims together for Peace in Iraq
February 7, 2014
Baghdad ( AsiaNews) - A "courtesy" visit to strengthen relations of friendship and "brotherhood" between the Christian and Muslim communities, as well as to "broaden" the foundations of "joint action" to achieve the goal of a "lasting peace" in the country . This was the spirit that animated the meeting between the Chaldean Patriarch Mar Louis Raphael I Sako and Sheikh Rafi Taha Al- Rifai, the Grand Mufti of Iraq at the residence of Muslim religious leader in Sulayamaniyya, the capital of the governorate of al- Sulaymaniyya, Iraqi Kurdistan .
The meeting dates back to Jan. 31 , but details only recently emerged on the official website of the Chaldean Patriarchate, describing the atmosphere of the face-to- face meeting between the two religious leaders and common objectives that were set. The Christian delegation also included the Apostolic Nuncio in Iraq Archbishop Giorgio Lingua , the auxiliary bishop Msgr. Shlemon Warduni and the three new recently ordained bishops of the Chaldean Church.
Full report at:
http://www.asianews.it/news-en/Chaldean-Patriarch-and-Grand-Mufti:-Christians-and-Muslims-together-for-Peace-in-Iraq-30246.html
----------
Syria rebels launch Aleppo campaign, bombing since Saturday toll hits 257
February 7, 2014
A coalition of Syrian rebels announced a new military operation in Aleppo province, where more than 250 people have been killed in regime barrel bomb attacks since Saturday.
The Islamic Front -- a huge alliance grouping tens of thousands of rebels -- and the jihadist Al-Nusra Front announced an operation dubbed "Truthful Promise Approaches," the name a reference to a passage in the Quran.
"All military fighters in bases must go to the frontlines or they will be questioned and held accountable," the groups said in a statement.
It asked residents of "occupied areas" to stay away from government checkpoints and bases, saying they would be targeted.
Full report at:
http://english.ahram.org.eg/NewsContent/2/8/93608/World/Region/Syria-rebels-launch-Aleppo-campaign,-bombing-toll-.aspx
----------
Saudis still stereotyped in the West
February 7, 2014
Saudis are still stereotyped in the West as either being super rich, terrorists or riding camels out in the desert, say foreigners who have lived and worked here.
Western journalists, media houses and people on social networking sites, often reinforce these views, they say.
"The image of Saudi Arabia in the West is not positive at all," says Bernard Haykel, professor of Near Eastern Studies at Princeton University, who has visited the Kingdom several times for research.
"It is summed up by the trilogy of excessive wealth, abuse of women and intolerance for other religions. Of course, when Westerners visit the Kingdom and see it for what it is, a place like any other with positive and negative sides, but also a very kind and welcoming people, their ideas change. However, there is an industry of people in the West and elsewhere who make it their business to vilify KSA and to depict the most negative image of the place."
Full report at:
http://www.arabnews.com/news/521931
-------------
Syrian opposition forces capture Assad-controlled Aleppo central prison
World Bulletin / News Desk
February 7, 2014
Syrian opposition forces have captured Aleppo's central prison from the Assad regime and released around 3,500 prisoners.
According to sources, the prisoners were rescued in a joint effort by the Islamic Front and Nusra Front, who earlier today declared that they were teaming up to renew the advance on Aleppo after the Assad regime made key gains in the city.
After the prisoners, including women and children, were escorted to a safe zone, regime helicopters began a blitz of barrel bombs around the prison.
Reports state that around 40 people have been killed by 10 barrel bombs, with 20 others injured, some seriously.
Full report at:
http://www.worldbulletin.net/world/128370/syrian-opposition-forces-capture-assad-controlled-aleppo-central-prison
------------
Syria Rebels: US Aid Increased after Geneva Talks
February 7, 2014
TEHRAN (FNA)- The last few days of the Geneva II peace talks took place under the shadow of US arms transfers to Syrian rebels, with a lot of fear that the US was trying to undermine the deal.
The talks ended with no deals, but a plan to resume mid-February, Antiwar.com reported Wednesday.
Rebels are reporting that virtually the moment the talks ended, the US started pumping hundreds of thousands of dollars in cash to rebel commanders in Jordan. The money was given on condition that they "pressure Assad" in between the talks.
Full report at:
http://english.farsnews.com/newstext.aspx?nn=13921117000508
----------
Iraq signs arms agreement with Iran - ambassador
February 7, 2014
Iraq's ambassador to Tehran announced that Baghdad has signed an arms agreement with Iran.? Muhammad Majid al-Sheikh told the Iranian news agency:? "Iraq has signed an agreement with Iran to purchase weapons and military equipment because Iraq's defense ministry trusts the effectiveness of the Iranian weapons."
"It's crucial for the Iraqi army to receive a part of its weapons from arms produced in Iran," he added.?
Back in 2012 Iranian government offered a military security package but the agreement has not been signed back then. Later, in September 2013, Iraqi Defense Minister Saadoun al-Dulaimi signed a document regarding strengthening defense and security agreements with Iran.
Full report at:
http://voiceofrussia.com/news/2014_02_07/Iraq-signs-arms-agreement-with-Iran-ambassador-4481/
----------
Africa
At least 22 dead in central Nigeria attack: locals
February 07, 2014
JOS, Nigeria: At least 22 people were killed in a raid in restive central Nigeria on Thursday, locals said, in the second such attack in the area this week.
Gunmen opened fire in the predominantly Muslim village of Mavo in the Wase local government area of Plateau state at about 2:00 am (0100 GMT) in an apparent warning, witnesses said.
Security forces in the area went to investigate and the gunmen returned in the early afternoon, shooting villagers and burning houses.
"The attackers came to the village in their hundreds and started shooting sporadically. I counted 22 persons who were already dead. Over 10 houses were also burnt," said local resident Nangak Bako.
Full report at:
http://www.nation.com.pk/international/07-Feb-2014/at-least-22-dead-in-central-nigeria-attack-locals
---------
Libya braces for protests against protracted transition
February 7, 2014
Security forces braced for protests Friday against Libya's protracted political transition from the ousted dictatorship of Moamer Kadhafi amid fears of violence after gunmen attacked army headquarters overnight.
A military spokesman told AFP the unidentified men tried to enter the complex late Thursday but were prevented by guards from doing so.
"The attackers ransacked cars and stole some weapons before pulling back," Colonel Ali al-Sheikhi said.
Nobody was hurt in the incident, he added.
A separate military source gave a different version of events, saying that fighting broke out after a dispute among soldiers.
Full report at:
http://english.ahram.org.eg/NewsContent/2/8/93651/World/Region/Libya-braces-for-protests-against-protracted-trans.aspx
----------
Central African Republic's Muslim civilians 'at risk'
February 7, 2014
Muslim communities in many towns in the Central African Republic are threatened from reprisal attacks on civilians, a medical charity has warned.
Medecins Sans Frontieres said violence has reached intolerable and unprecedented levels.
Many thousands of the minority Muslim population have already fled to Chad or Cameroon.
CAR, one of Africa's poorest nations, descended into religious violence after Muslim rebels seized power last March.
Rebel leader Michel Djotodia, who became CAR's first Muslim leader, resigned as interim president last month as part of a regional peace process, but the violence has continued.
The rebels, who called themselves Seleka, were blamed for a series of deadly attacks on Christians that prompted the creation of Christian militias - widely knows as "anti-balaka", meaning anti-machete.
Full report at:
http://www.bbc.co.uk/news/world-africa-26082003
-------------
Nigeria's ex-militant leader held over 'inflammatory' comments
February 7, 2014
Nigeria's secret police said that it was holding a former militant leader from the oil-rich Niger delta, in the latest crackdown on potential trouble before elections next year.
Presidential and parliamentary polls are scheduled for February 14, 2015 but tensions are already rising between President Goodluck Jonathan's ruling party and the main opposition.
Department of State Services (DSS) spokeswoman Marylin Ogar told AFP that Mujahid Asari-Dokubo, leader of the outlawed Niger Delta Volunteer Force, had been invited for questioning.
Full report at:
http://english.ahram.org.eg/NewsContent/2/9/93620/World/International/Nigerias-exmilitant-leader-held-over-inflammatory-.aspx
----------
Pakistan
Govt negotiators looking at TTP demand to meet PM, COAS, DG ISI
2014-02-07
ISLAMABAD: Federal Information Minister Pervez Rashid on Friday said the government committee was taking into consideration the demand by the Taliban committee to meet the prime minister, army chief and director general Inter-Services Intelligence (ISI), DawnNews reported.
Speaking to media representatives, Rashid said the government was awaiting recommendations from its negotiators on the demand put forth by the Taliban committee, adding that whatever recommendations are brought forward would be facilitated and implemented by the government.
The federal minister said every possible help would be extended to government negotiators and helicopter services would also be provided in case there was a need to send the team for peace talks to Waziristan.
Full report at:
http://www.dawn.com/news/1085503/govt-negotiators-looking-at-ttp-demand-to-meet-pm-coas-dg-isi/print
---------
Radio vital to Pakistani counter-radicalism efforts
February 7, 2014
PESHAWAR – Pakistani radio still plays a dominant role in disseminating pro-peace messages to populations vulnerable to extremist propaganda.
The best way to fight pro-extremist information circulating in rural areas is to broadcast on government-controlled radio stations, FM stations based in urban centres and international stations such as the BBC, according to a 2009 study conducted by Inter Media, a non-profit consultancy.
About 44% of the Khyber Pakhtunkhwa (KP) rural population and 38% of its urban residents listen to radio at least once weekly, the study added.
"The role of radio was enhanced manifold after the war on terrorism started [in about 2007]," Pakistan Broadcasting Corporation (PBC) Senior Reporter Lutf-ur-Rehman told Central Asia Online.
"In ... the Federally Administered Tribal Areas [FATA] and some rural localities of [KP] where militants have easy access to the masses, radio transmission is the main way of reaching the people to warn about the effects of extremism," he said.
Full report at:
http://centralasiaonline.com/en_GB/articles/caii/features/pakistan/main/2014/02/06/feature-01
----------
Charar-e-Sharief militant Mast Gul resurfaces with Pakistani Taliban
February 7, 2014
Hizbul Mujahideen leader Mast Gul, who led the militant siege of the Charar-e-Sharief shrine in 1995, was behind the suicide attack on Shias in Peshawar that killed nine people this week, a Pakistani Taliban commander has said.
Mufti Hasaan Swati, who claims to be the Tehrik-e-Taliban Pakistan (TTP) commander for the Peshawar area, told reporters in Miramshah that he had tasked Mast Gul alias Haroon Khan with carrying out Tuesday's bombing of Pak Hotel in the Kucha Risaldar area of Peshawar's old city. Swati described Mast Gul as a "militant commander for Peshawar", Dawn reported on Thursday. The daily carried a picture of Gul and Swati sitting side by side under a TTP banner with AK-47 assault rifles in their laps.
Full report at:
http://indianexpress.com/article/india/india-others/charar-e-sharief-militant-mast-gul-resurfaces-with-pakistani-taliban-2/
----------
Gilgit-Baltistan enhances Northern Areas security
February 7, 2014
ISLAMABAD – Reports of Tehreek-e-Taliban Pakistan (TTP) intentions of attacking Gilgit-Baltistan (GB) have caused the territorial government to beef up security.
"The Interior Ministry has officially informed GB that the Pakistani Taliban can strike the region," AFP quoted a senior GB administration official as saying. "The Interior Ministry has warned of suicide bombings and attacks on tourists in the region."
Insurgents last June caused widespread panic when they stormed the Nanga Parbat base camp for mountaineers, killing 10 foreigners and one local guide. The massacre devastated tourism, a mainstay of the local economy.
Full report at:
http://centralasiaonline.com/en_GB/articles/caii/features/pakistan/main/2014/02/05/feature-01
----------
TTP negotiators authorised to agree on ceasefire: sources
2014-02-07
ISLAMABAD: The Tehrik-i-Taliban Pakistan (TTP) has given its negotiators the authority to agree on a ceasefire if the government agrees to halt troop deployment, DawnNews quoted sources as saying.
The authority was delegated to the negotiating body headed by Maulana Samiul Haq in a contact between members of the group with Qari Shakeel, who is heading the nine-member monitoring committee of the TTP.
Shakeel has communicated to the negotiators that if the government stops the deployment of forces, a ceasefire can be agreed upon, DawnNews quoted sources as saying.
The communication also entailed discussion on Taliban militants in government custody as well as those abducted by the TTP.
Full report at:
http://www.dawn.com/news/1085500/ttp-negotiators-authorised-to-agree-on-ceasefire-sources
----------
Militants openly launch campaign in Punjab
February 7, 2014
LAHORE - Parallel to the Punjab Youth Festival, being held under official-patronage to support healthy activities among students, some banned militant outfits have launched a full-fledged campaign to covertly engage college and university students to promote jihad in the insurgency-infested Pakistan.
According to the investigations conducted by The Nation, Talba Almarabtoon Lahore (TAL), relatively a low-profile militant offshoot linked to the Tehreek-e-Taliban Afghanistan is holding speech competitions, involving colleges and universities, on the topic of jihad in the Punjab University (New Campus) on Sunday (February 16) at 9am.
Full report at:
http://www.nation.com.pk/editors-picks/07-Feb-2014/militants-openly-launch-campaign-in-punjab
----------
Peace talks with TTP will probably fail: Imran Khan to Bloomberg News
February 7, 2014
The peace negotiations between the government and the Tehreek-e-Taliban Pakistan (TTP) will probably fail and a resulting military operation would lead to more violence, Pakistan Tehreek-e-Insaf (PTI) chairperson Imran Khan told Bloomberg.
In an interview with the New York-based news website, Imran was quoted as saying: "The most likely result is that the negotiations will start, there will be about three or four big explosions and terrorist attacks and the negotiations will be called off."
"There will be people baying for blood and the operation will start," he claimed.
Speaking about the US drone campaign, the PTI chief said the talks will only be meaningful if America announces an end to drone strikes.
"If the US stops drone attacks, announces stopping the drone attacks during the talks, it would be a big plus point," he stressed.
Full report at:
http://tribune.com.pk/story/668772/peace-talks-with-ttp-will-probably-fail-imran-khan-to-bloomberg-news/
----------
Pakistan, India to open bank branches soon
February 7, 2014
KARACHI: Indian High Commissioner to Pakistan T C A Raghavan has said that Pakistan and India are soon going to open bank branches in their respective countries.
"India and Pakistan will sign an agreement next month to open bank branches in Mumbai and Karachi. The much-awaited banking links will give a boost to trade and commerce," Raghavan said.
He was speaking to the business community at the head office of the Federation of Pakistan Chambers of Commerce and Industry (FPCCI) on Thursday.
"It is good that bilateral trade between India and Pakistan has grown considerably in the last few years but it is still far behind its true potential," he added.
The high commissioner said his country wants to provide all possible support to the business community of Pakistan so that the two neighbours can increase bilateral trade according to their potential.
Full report at:
http://tribune.com.pk/story/668618/financial-relations-pakistan-india-to-open-bank-branches-soon/
----------
Inmate among 6 killed in Karachi
February 07, 2014
KARACHI - Six people including an inmate were killed here on Thursday.
Gunmen riding a motorbike shot dead a man who was sitting at a tea stall at New Sabzi Mandi.
Police said Nadir Ahmed Ali was pickup driver in the market. He was sitting at the tea stall with his brother when gunmen riding on a motorbike came and targeted him multiple times. Assailants managed to flee from the scene. The victim rushed to Abbasi Shaheed Hospital where doctors pronounced him dead. Police suspected personal enmity the reason behind the killing. It handed the body over to the family after autopsy.
A man was shot dead in the jurisdictions of Pirabad police station. Police said gunmen riding a motorbike sprayed bullet on a motor mechanic shop at Frontier Colony and fled. One Anwar Ali sustained injuries and died on the way to Abbasi Shaheed Hospital.
Full report at:
http://www.nation.com.pk/karachi/07-Feb-2014/inmate-among-6-killed-in-karachi
----------
North America
Some 50 Americans fighting alongside Syrian rebels and Al Qaeda – US officials
February 7, 2014
More than 50 US citizens have joined Syrian rebels and are fighting to overthrow Syrian government. Some of the US citizens, who have been trained by al-Qaeda-linked groups and have returned back to America, are under FBI surveillance, US intelligence officials said Thursday. Counter-terrorism officials fear that these trained ready-to-be terrorists will try to mount terrorist attacks in US, the Los Angeles Times reports.
"It's probably one of the most significant threats we're dealing with," said a senior intelligence official who requested anonymity because he was not authorized to speak publicly.
The White House and the CIA are highly concerned that al-Qaeda linked militants train Americans and Europeans at camps in Syria and Iraq.
James R. Clapper, the US director of national intelligence, said that there are "7,500 or so" fighters from 50 countries have been trained by al-Qaeda, but he failed to name the exact number of US citizens, which means that the US intelligence cannot take under control alleged terrorist that come to the US, putting under the threat the national security.
Clapper, speaking At a House Intelligence Committee hearing Tuesday, said he was particularly worried about a small cadre of al-Qaeda operatives who have fought in Afghanistan and Pakistan and aspire to attack the United States.
Full report at:
http://voiceofrussia.com/news/2014_02_06/Some-50-Americans-fighting-alongside-Syrian-rebels-and-Al-Qaeda-US-officials-1642/
----------
US designates Lashkar-e-Jhangvi Pakistani extremist as 'global terrorist'
February 7, 2014
WASHINGTON: The United States today designated Lashkar-e-Jhangvi co-founder Malik Ishaq, blamed for the killing of scores of members of Pakistan's Shia minority, as a global terrorist.
The consequences of this designation include a prohibition against American nationals engaging in transactions with Ishaq and the freezing of his property and interests in the US or in the possession or control of US persons, the State Department said.
Ishaq is a founding member and current leader of the banned LeJ. In 1997, Ishaq admitted his involvement in terrorist activity that resulted in the deaths of over 100 Pakistanis.
After spending 14 years in jail, Ishaq was freed in 2011 due to lack of evidence and witnesses in several cases filed against him.
Full report at:
http://timesofindia.indiatimes.com/world/us/US-designates-Pakistani-extremist-as-global-terrorist/articleshow/29998015.cms
----------
US senators demand say in any Afghanistan security deal
2014-02-07
WASHINGTON: A bipartisan group of senators demanding an end to US military involvement in Afghanistan urged President Barack Obama on Thursday to seek congressional approval if he wants to keep troops there beyond 2014.
The Obama administration is negotiating a bilateral security agreement with Afghan President Hamid Karzai that could keep troops in Afghanistan after the longest war in US history winds down at the end of this year, when the Nato mission ends.
"We are introducing a bipartisan resolution to say before any American soldier, sailor, airman or Marine is committed to stay in Afghanistan after 2014, Congress should vote," Democratic Senator Jeff Merkley told reporters.
"Automatic renewal is fine for Netflix and gym memberships, but it isn't the right approach when it comes to war."
Full report at:
http://www.dawn.com/news/1085490/us-senators-demand-say-in-any-afghanistan-security-deal
----------
US targets businesses for evading sanctions on Iran
February 7, 2014
WASHINGTON: The Obama administration targeted a host of businesses across Europe and the Middle East on Thursday for evading sanctions against Iran, a signal that Washington aims to keep pressure on Tehran over its nuclear program.
The announcement marks the second time the United States has designated sanctions evaders since reaching an interim deal with Tehran in November.
Washington says it will continue to enforce existing sanctions until there is a more comprehensive deal to prevent Iran from developing nuclear weapons.
"We strongly believe that sustaining sanctions pressure will be critical," a senior US Treasury official told journalists by telephone.
Full report at:
http://tribune.com.pk/story/668783/us-targets-businesses-for-evading-sanctions-on-iran/
----------
Syrian President Bashar al-Assad making gains, John Kerry admits
AFP | February 7, 2014
WASHINGTON: US secretary of state John Kerry admitted Wednesday that Syrian President Bashar al-Assad was making gains on the ground, but denied US policy in Syria was failing.
"It's fair to say that Assad has improved his position a little bit, yes. But he's still not winning. This is a stalemate," Kerry told CNN television in an interview.
He was adamant, however, that America's policy had not failed in the war-torn country, despite a mounting death toll in the three-year conflict.
"The policy in Syria is just very challenging and very difficult," Kerry added.
Earlier this week, the state department denied reports Kerry told US lawmakers in a private meeting that it was time to change strategy in Syria, where some 136,000 people have died and millions have fled their homes.
Full report at:
http://timesofindia.indiatimes.com/world/us/Syrian-President-Bashar-al-Assad-making-gains-John-Kerry-admits/articleshow/29955901.cms
----------
Kin of 9/11 hijacker to face judge in Gitmo
February 7, 2014
MIAMI — The US military is moving forward with a war crimes case against a Guantanamo prisoner related to a Sept. 11 hijacker. Ahmed Al-Darbi of Saudi Arabia will face charges that include attacking civilians and terrorism for alleged complicity in the Al-Qaeda attack on a French tanker in October 2002 off Yemen that killed one civilian. He faces up to life in prison. The charges were filed in August 2012 subject to approval by a Pentagon legal official. The approval announced Wednesday means Al-Darbi must be arraigned within 30 days at the US base in Cuba. Al-Darbi is married to a sister of one of the hijackers who crashed an airliner into the Pentagon on Sept. 11, 2001. His lawyer did not respond to a request for comment.
http://www.saudigazette.com.sa/index.cfm?method=home.regcon&contentid=20140207195000
-----------
India
Indian minister: Indian insurgent groups present in Bangladesh
February 7, 2014
Indian Minister of State for External Affairs E Ahamed said there had been reports of Indian insurgent groups (IIGs) in Bangladesh.
He made the comment yesterday at the Rajya Sabha, the upper house of the Indian parliament, when three lawmakers asked him about 50 terrorist training camps in Bangladesh.
Ahmed replied: "Security related issues, including the alleged presence of IIGs in Bangladesh, have been periodically taken up with the government of Bangladesh at various political and senior official levels."
The government of Bangladesh had stated that its territory would not be allowed to be used for activities hostile to India, he added.
After the Awami League-led government assumed power in 2009, the top leadership repeatedly pledged zero tolerance to anti-Indian activities.
Full report at:
http://www.dhakatribune.com/foreign-affairs/2014/feb/07/indian-minister-indian-insurgent-groups-present-bangladesh#sthash.HmrnX5Zd.dpuf
----------
Kashmir? Settle Pak issues first: Mehr Tarar to jihadis
TNN | Feb 7, 2014
NEW DELHI: Pakistani journalist Mehr Tarar, who was recently in the spotlight following her ugly twitter exchanges with the late Sunanda Pushkar, raised another controversy with her Kashmir remark on micro blogging site twitter.
"Pakistan sambhala jaa nahin raha, Kashmir ka naara yaad hai (Can't handle Pakistan, remember the Kashmir slogan). FATA, Balochistan, KP, Karachi,& many other places in hell. Think abt them first," Tarar tweeted, in an oblique attack on jihadis.
In another tweet against J&K CM Omar Abdullah , she said, "I always talk against human rights violations in Kashmir; questioned CM Abdullah 2. But today what matters 2 me more is #Pakistan NOT Kashmir."
Full report at:
http://timesofindia.indiatimes.com/india/Kashmir-settle-Pak-issues-first-Mehr-Tarar-to-jihadis/articleshow/29983398.cms
----------
Talks with Pak will depend on circumstances: Salman Khurshid
PTI | Feb 7, 2014
NEW DELHI: India on Friday reacted with caution to Pakistan Prime Minister Nawaz Sharif's invitation to engage in a comprehensive and sustained dialogue, saying it will depend on circumstances which have to be considered "thoughtfully".
"They must have sent an invite which will go to the Prime Minister. The Prime Minister will apply his mind. It will all depend on the circumstances which have to be considered thoughtfully," external affairs minister Salman Khurshid told reporters here on the sidelines of a function here.
Full report at:
http://timesofindia.indiatimes.com/india/Talks-with-Pak-will-depend-on-circumstances-Salman-Khurshid/articleshow/29986429.cms
----------
3,500 Indians in jails in Gulf countries: Indian affairs minister
PTI | Feb 6, 2014
NEW DELHI: Around 3,500 Indians are lodged in different jails in Gulf countries for various offences as per reports given by Indian missions, the Rajya Sabha was told on Thursday.
As per figures made available by the ministry of overseas Indian affairs, 3,497 Indians are lodged in jails of Gulf countries with the maximum number of 1,400 in Kingdom of Saudi Arabia (Riyadh), overseas Indian affairs minister Vayalar Ravi said.
While 1,025 Indians are lodged in prisons in the United Arab Emirates, 568 Indians are lodged in Kingdom of Saudi Arabia (Jeddah) jails, he said.
Ravi said around 250 Indians are lodged in Kuwaiti jails while 106 are there in Oman. Qatar and Bahrain have around 72 and 76 Indians in their jails respectively.
Full report at:
http://timesofindia.indiatimes.com/india/3500-Indians-in-jails-in-Gulf-countries-Vayalar-Ravi/articleshow/29960090.cms
----------
Indian embassy in UAE warns of visa scam
IANS | Feb 7, 2014
DUBAI: The Indian embassy in the United Arab Emirates (UAE) has warned foreigners against falling prey to online visa scamsters operating a website that claims to facilitate Indian visas.
An embassy release issued Thursday stated that some unscrupulous elements have created a website similar to the online visa application website of the government of India and are deceiving people into paying service fees.
"It has come to this mission's notice that a fake website with the heading of 'Online Indian Visa Application Form' and with URL address 'https://india-visa.co/index.php' is available on internet," the embassy said in the statement.
The rogue website instructions also asked users to pay service fee of 55 pounds or $90 or in equivalent euros or Indian rupees.
Full report at:
http://timesofindia.indiatimes.com/india/Indian-embassy-in-UAE-warns-of-visa-scam/articleshow/29999014.cms
----------
Southeast Asia
Friday sermon once again stresses that 'Allah' is only for Muslims
February 7, 2014
The Department of Islamic Development Malaysia, or Jakim, has once again declared that the term "Allah" is exclusive to Muslims, according to the text in the Friday sermon, published on the department's website.
In the sermon, Jakim said that the ban on the use of "Allah" by non-Muslims is based on a National Fatwa Council ruling that the word was specific to Islam and Muslims, and cannot be used or equated to terms in other religions.
The sermon also called on Muslims to prevent the term from being used by non-Muslims.
Jakim's Friday sermon is usually read out in mosques under its purview in the Federal Territories of Kuala Lumpur, Putrajaya and Labuan.
Today's sermon is not the first in which the department announced its stand on the Allah issue.
But its view could likely complicate Putrajaya's stand at resolving the tussle over the term Allah and its assurance through the 10-point solution that Christians in East Malaysia, who have been using the Malay translation of the Bible which contains the Arabic word.
The Jakim stand also shows Putrajaya's inability to get religious departments such as Jakim to convey the same message.
Full report at:
http://www.themalaysianinsider.com/malaysia/article/friday-sermon-once-again-stresses-that-allah-is-only-for-muslims
----------
Malaysia postpones execution after outcry, says Amnesty
February 7, 2014
Amnesty International said today that Malaysia has postponed plans to execute a man for murder in a case that sparked an outcry from rights groups.
Chandran Paskaran, a Malaysian, was sentenced to hang in 2008 for killing another man in a fight five years earlier in the southern state of Johor.
Amnesty had earlier revealed that it learned the execution of Chandran – reported by Malaysian media to be around 30 years old – was set for today.
The government of the Muslim-majority country is tight-lipped about its application of capital punishment and has not confirmed the global rights group's claim.
Shamini Darshni, executive director of Amnesty International's Malaysia chapter, told AFP the execution had been postponed on the order of Johor's state sultan.
Full report at:
http://www.themalaysianinsider.com/malaysia/article/malaysia-postpones-execution-after-outcry-says-amnesty
----------
Mideast
Shiite Muslim clergy Tortured, Near Death, in Iran for Criticizing Political Islam
February 7, 2014
Ayatollah Boroujerdi's condition has reportedly worsened as of January 28, 2014, when he suffered severe body tremors and was motionless for hours in his cell. The authorities still refuse to transfer him to a medical facility and are denying him the most basic medical care. We ask for intervention to save his life.
Ayatollah Hossein-Kazamani Boroujerdi, a senior member of the Shiite Muslim clergy, is presently serving the eighth year of an 11-year sentence handed down to him by the Islamic Republic's courts for advocating the separation of state and religion inside Iran. He has also spoken against political Islam and its leaders. As a result, during his time in prison, he has been exposed to torture especially reserved for the Islamic Republic's dissident clergy and political prisoners. Boroujerdi has endured the rape of his spouse in front of other family members. He has been purposely exposed to toxic chemical agents while kept in a small solitary cell. As a result, he now suffers permanent neurological damage, further aggravated by group beatings. Urgent medical attention has been systematically withheld for his long list of ailments, which are mostly a direct result of years of torture and malnutrition.
Full report at:
http://www.gatestoneinstitute.org/4158/ayatollah-hossein-kazamani-boroujerdi
----------
OIC and Turkey slam Israel's new settlement plan in Al-Quds
World Bulletin / News Desk
February 7, 2014
Secretary-General of the Organization of Islamic Cooperation (OIC) Iyad bin Amin Madani on Thursday lashed out at a recent plan announced by the Israeli authorities to construct new 558 settlement homes in Al-Quds (occupied East Jerusalem).
Madani called on the UN Security Council to take a firm action against Israel's continued settlement construction policy in the occupied Palestinian lands.
"Settlement expansion projects are a flagrant violation against the rights of the Palestinian people," Madani said in a statement that was posted on the organization's website.
"They are also a blatant violation of international legitimacy as well as a threat to the progress of peace talks and the materialization of the two-state vision," he added.
He said Israel's insistence on changing the demography of Al-Quds and isolating it from its Palestinian surroundings must be met with a decisive action from the international community.
Full report at:
http://www.worldbulletin.net/headlines/128389/oic-and-turkey-slam-israels-new-settlement-plan-in-al-quds
---------
Iran makes a bid to reassure West over unfinished nuclear reactor
February 7, 2014
Iran's nuclear chief Ali Akbar Salehi said the unfinished Arak reactor could be modified to produce less plutonium in a bid to reassure the West, local media reported Thursday.
The Arak site is of concern to the West because Tehran could theoretically extract weapons-grade plutonium from its spent fuel if it also builds a reprocessing facility, potentially giving it a second route to an atomic bomb.
"Here we can do some design change ... in order to produce less plutonium in this reactor and in this way allay the worries and mitigate the concerns," Salehi said, according to a transcript of his interview with the English-language Press TV website.
Full report at:
http://voiceofrussia.com/news/2014_02_06/Iran-makes-a-bid-to-reassure-West-over-unfinished-nuclear-reactor-5433/
----------
Israeli demolition of Palestinian homes at 5-year high
World Bulletin / News Desk
February 7, 2014
Aid agencies working in the occupied West Bank and East Jerusalem expressed alarm on Friday at a spike in Israeli demolitions of Palestinian property coinciding with renewed U.S.-backed peace negotiations.
The statement by 25 aid organisations said the number of demolitions increased by almost half and the displacement of Palestinians by nearly three-quarters between July 2013, when the talks began, and the end of the year, compared to the same period in 2012.
Of the 663 Palestinian structures torn down last year, the highest number in five years, 122 were built with international donor aid, the groups said.
The International Red Cross announced this week it would stop delivering tents to Palestinians made homeless by demolitions in the Jordan border region of the occupied West Bank, citing Israeli obstruction and confiscation of aid.
Full report at:
http://www.worldbulletin.net/headlines/128413/israeli-demolition-of-palestinian-homes-at-5-year-high
--------
70% of Israelis don't trust US on security, says poll
February 7, 2014
Seventy percent of Israeli Jews do not believe the US can be relied upon to maintain key Israeli interests and security requirements in the American- brokered agreement being drafted with the Palestinians, a Geocartography Institute poll taken this week found.
When the pollsters asked respondents whether they trusted the US under President Barack Obama to maintain Israel's interests in a deal, 23% said definitely no, 25% said no, 22% said not completely, 17% said yes, 8% said definitely yes and 5% had no opinion.
Full report at:
http://www.jpost.com/Diplomacy-and-Politics/70-percent-of-Israelis-dont-trust-US-on-security-says-poll-340678
----------
Europe
UN ready to mediate between India and Pakistan on Kashmir
Press Trust of India | United Nations | February 7, 2014
The United Nations is available to mediate between India and Pakistan if the two neighbours request such assistance in resolving the Kashmir issue, a spokesperson for UN Secretary General Ban Ki-moon has said.
"On Kashmir, (as with other conflicts around the world), our good offices are available if both sides (India and Pakistan) were to request that. And that remains the case today," Acting Deputy Spokesperson for the Secretary-General Farhan Haq said on Thursday.
Haq was responding to a question on whether the UN chief would propose to India to sit down and talk with Pakistan to resolve the longstanding Kashmir issue.
Among the most vital roles played by the Secretary-General is the use of his "good offices," which are steps taken publicly and in private, drawing upon his independence, impartiality and integrity, to prevent international disputes from arising, escalating or spreading.
"Good offices" are employed to help bring warring parties toward peace or to prevent political and armed conflicts from escalating.
Full report at:
http://indianexpress.com/article/india/india-others/un-ready-to-mediate-between-india-and-pakistan-on-kashmir/
----------
UK to boost cooperation with Egypt over recovery of Mubarak-era stolen assets
February 7, 2014
The UK government plans to send another expert to Egypt to help its authorities recover money stolen during the era of toppled president Hosni Mubarak, Ahram Online has learned.
A British-informed source said that the expert works with the Metropolitan Police's anti-financial crimes department.
A UK Foreign and Commonwealth Office spokesperson told Ahram Online that British Prime Minster David Cameron is "keeping close eyes" on the file regarding asset repatriation.
"We are working very closely with the Egyptian authorities and sharing information in both directions," the spokesperson said.
The spokesperson added that the new financial expert "is due to take up her post in Cairo in February to assist the Egyptians with asset-tracing enquiries," namely helping them determine how Mubarak-era leaders have managed to transfer ill-gained money out of Egypt.
The step is seen as a significant upgrade in the UK's cooperation with Egypt in the recovery of the stolen and frozen assets.
Full report at:
http://english.ahram.org.eg/NewsContent/1/64/93618/Egypt/Politics-/UK-to-boost-cooperation-with-Egypt-over-recovery-o.aspx
----------
Germany Aiming to Become More Muslim Friendly
February 7, 2014
Muslims attending the gathering were offended by the insinuation that Islam could be radical or violent, and demanded instead that the German government take steps to make "Islam equal to Christianity" in Germany. They were equally unwilling to discuss the main item on the official conference agenda: "Gender Equality as a Common Value," and refused even to acknowledge that there might be any connection between Islam and forced marriage.
While focusing his energy on expanding the rights if Muslims in German Interior Minister Thomas de Maizière has been largely silent about the responsibility of Muslim immigrants to take measures to integrate better into German society.
Germany's new coalition government is signaling that it wants better relations with the country's Muslim community.
In a series of newspaper, television and radio interviews, Thomas de Maizière—who was recently sworn in as Germany's new interior minister—has announced a series of pro-Muslim initiatives apparently designed to defuse escalating tensions between Muslims and non-Muslims there.
Full report at:
http://www.gatestoneinstitute.org/4155/germany-muslim-friendly
----------
Three-day ceasefire in Homs to set example for resolving other humanitarian problems in Syria - Russian FM
February 7, 2014
The Russian Foreign Ministry hopes that an agreement between the Syrian government and opposition on a "humanitarian pause" in the besieged city of Homs will "contribute to the creation of a favorable environment for the upcoming second round of talks between the Syrian opposing sides, which is due to start in Geneva on February 10, and set a good example for resolving other urgent humanitarian problems," the Russian Foreign Ministry has said earlier today.
"Moscow welcomed the news from Syria about an agreed upon humanitarian pause in Homs. An agreement on ceasefire for three days and providing the old Homs' civilians with humanitarian aid became the outcome of days-long and difficult negotiations between the governor of Homs and the UN's regional humanitarian coordinator to Syria, Yacoub El Hillo. The Russian embassy in Damascus seriously contributed to the successful outcome of the talks," the Ministry noted.
Full report at:
http://voiceofrussia.com/news/2014_02_07/Three-day-ceasefire-in-Homs-to-set-example-for-resolving-other-humanitarian-problems-in-Syria-Russian-FM-1918/
----------
URL: https://www.newageislam.com/islamic-world-news/new-age-islam-news-bureau/maldives-fiqh-academy-vp-endorses-female-genital-mutilation/d/35634