New Age Islam News Bureau
12 Jul 2017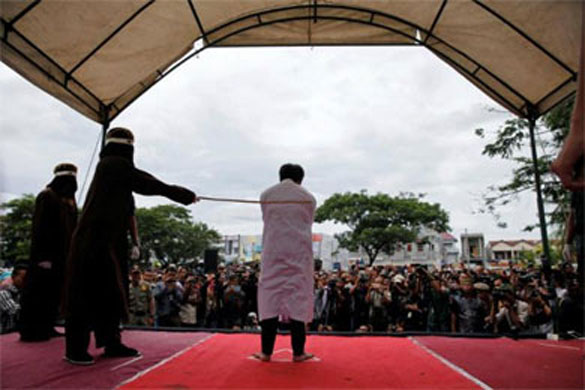 The Malaysian state of Kelantan amended its Islamic laws on Wednesday to allow public canings.
-----
• Malaysian State Introduces Public Caning For Sharia Crimes
• Saudi Body Involved In Putrajaya 'Peace Centre' Linked To Extremism
• Boko Haram Executes Eight for Defying 'Sharia Police'
• Internal Coup Reported Among ISIL Members after Confirmation of Al-Baghdadi's Death
• 'I Worked For ISIS through Social Networking Sites to Motivate Youths': Konakalla Subrahmanyam Alias Omer
• More Than 60 Muslim Leaders Are Touring Europe to Protest against Terror
Southeast Asia
• Malaysian state introduces public caning for sharia crimes
• Saudi Body Involved In Putrajaya 'Peace Centre' Linked To Extremism
• Selangor Government, Religious Authorities Allowed To Argue SIS' 'Deviant' Fatwa Lawsuit
• Indonesia's president signs decree to ban radical groups
• Malaysia to Mindanao: Where ISIS Is Finding a Toehold in Asia
• Muslims in Tarlac won't drop ID
• Muslim nonsupporters 'fair game' for Maute
• Najib calls for enhancing counter-terror cooperation with US
• Najib: Blueprint for Indian community not empty talk
--------
Africa
• Boko Haram Executes Eight for Defying 'Sharia Police'
• Four Suicide Bombers Kill 15 In Nigeria
• US postpones decision on Sudan sanctions for three months
• Tunisian court starts trial of 21 suspects over 2015 Bardo massacre
• Nigeria: Muslim Students Cancel Training in Ikorodu over 'Badoo' Threat
--------
Arab World
• Internal Coup Reported Among ISIL Members after Confirmation of Al-Baghdadi's Death
• Iraq: The US-Led Coalition Warns Of a 'New ISIS'
• Qasem Soleimani: Iraq's army on its way to embracing ideology
• Islamophobia continues to increase: OIC report
• US, Qatar sign MoU on combating terrorism financing
• Identity erasure: Threat to Copts in Egypt
• Saudi Arabia executes four convicted extremists for Qatif attacks
• UN's de Mistura: Syrian Kurds should take part in drafting new constitution
• Rebels strike Syrian warplane east of Damascus
• Lebanese army kills Islamic State-linked militant: sources
• Islamic State tightens grip on village near Mosul after defeat
• Tahrir Al-Sham Arrests Hundreds of ISIL Members
• Syria: One More Militant Group Cuts Ties with Tahrir Al-Sham Hay'at
• Infighting Intensifies Between Rival Terrorist Groups in Southern Syria
• Syrian Army Cuts off ISIL's Supply Lines from Raqqa to Hama
• US eyes continued presence in Iraq after ISIS
• US created Daesh, allowed regional states to fund terror group: Nasrallah
• Syrian army soldiers inflict heavy losses on Daesh militants
--------
India
• I Worked For ISIS through Social Networking Sites to Motivate Youths': Konakalla Subrahmanyam Alias Omer
• Send Gaurakshaks to Fight Terrorists in Kashmir: Shiv Sena
• Hisar: Muslim Slapped, Asked To Raise Bharat Mata Slogan
• 'The Firing Went On and On, I Kept Driving' Says the Muslim Bus Driver Who Saved Several Amarnath Pilgrims
• Amarnath terror strike: 'Kashmiris condemned attack, this will restore India's faith in J&K,' says Union minister Jitendra Singh
• 3 terrorists gunned down in Kashmir's Budgam district
• Killers of Amarnath Yatris not Muslims: Farooq Abdullah
• Madrassa children stopped at Bengaluru station following rumours of trafficking from Bangladesh
• In a first, India gives Rs 3.2 crore aid to Philippines in fight against ISIS
--------
Europe
• More Than 60 Muslim Leaders Are Touring Europe to Protest against Terror
• Thousands Pay Tribute to Muslim Victims of 1995 Srebrenica Massacre
• UK profiting from Yemeni civilians suffering: HRW
• President Erdogan tells BBC: EU wastes Turkey's time
• Moroccan Professor to Chair Organization of Islamic Cooperation's Human Rights Committee
--------
North America
• Cleric Gulen Says He Would Not Flee US to Avoid Extradition to Turkey
• U.S. Must Not Take Victory Lap over Islamic State's Defeat
• US Army soldier held in Hawaii on terror charges
• US eyes continued presence in Iraq after Daesh: Top commander
• Thousands gather at largest 54Th ISNA convention of US Muslims in Rosemont
• US revokes travel cards of Canadians with Muslim sounding names
--------
Pakistan
• Afghan Refugees a Problem for Pakistan: Baloch
• Many Organisations Banned In Pakistan Thrive Online
• 'We have to be a generous society,' says the Aga Khan on his Diamond Jubilee
• Sindh govt extends Rangers powers in Karachi for 90 days
• Peace with Pakistan first, Taliban later
• Pakistan, Malaysia to enhance defence, security cooperation
• Public awareness counted as tool to control population
--------
South Asia
• Leave Differences Behind: Bangladesh Tells Islamic World at OIC
• Taliban Execute Seven Passengers in West of Afghanistan
• Taliban and Civilians Suffer Casualties in Laghman Clashes in East of Afghanistan
• Taliban commander killed in Nangarhar infighting
• US embassy supports thorough investigation in Dostum-Ishchi case
• Taliban's military commission chief killed in Wardak province
• Dostum in Turkey on Attorney General's permission, says President Ghani
--------
Mideast
• Israeli Premier Slams Ireland's Pro-Palestine Stance
• Turkey Extends Detention Of Amnesty Member, Activists
• Turkish police kill five and seize Kalashnikovs in raid on ISIS cell
• Israeli forces kill 2 young Palestinians in raid on Jenin refugee camp
• Cautious calm surrounds the construction of a wall in northern Israel
• EU's Mogherini: Iran deal is an international agreement endorsed by UN
• Under Houthi rule, teachers sit exams on behalf of students forced to fight
• Iran rejects US defense secretary's meddlesome remarks
Compiled by New Age Islam News Burea
URL: https://www.newageislam.com/islamic-world-news/malaysian-state-introduces-public-caning/d/111825
--------
Malaysian state introduces public caning for sharia crimes
July 12, 2017
KUALA LUMPUR: A Malaysian state amended its Islamic laws on Wednesday to allow public canings, sparking criticism that the change was unconstitutional and could infringe on the rights of religious minorities.
Ethnic Malay Muslims make up more than 60 percent of Malaysia's 32 million people and attempts to implement stricter forms of sharia law in recent years have raised concerns among members of the ethnic Chinese, Indian and other minorities.
The new law was approved in the state assembly of Kelantan, which is governed by a conservative Islamist party, PAS, and where nightclubs and cinemas are banned. The northeastern state has been pushing for the adoption of a strict Islamic penal code, called 'hudud', that would provide for punishments such as stoning for adultery and amputations for theft.
The amendment allowing public caning was passed as part of an effort to streamline sentencing under Islamic criminal law, Kelantan deputy chief minister Mohd Amar Nik Abdullah was quoted as saying by the Bernama state news agency. "Caning can now be carried out inside or outside of prison, depending on the court's decision," Mohd Amar said, according to Bernama. "This is in line with the religion, which requires that sentencing must be done in public."
He did not say exactly what crimes would be punished by caning but the list would likely include adultery. Islamic law is implemented in all Malaysian states but is restricted to family issues such as divorce and inheritance, as well as sharia crimes involving Muslims, such as consuming alcohol and adultery. Criminal cases are handled by federal law. Ti Lian Ker, a member of the Malaysian Chinese Association, part of the ruling coalition, said public canings were unconstitutional under federal criminal law.
New 'enemy property' law unfairly targets Indian Muslims, analysts say
"This is a rewriting of our legal system and spells a bleak future for the nation," he said in a statement. Last year, the PAS introduced a bill that would expand the powers of sharia courts and incorporate parts of hudud into the existing legal system.
The bill is expected to be debated in parliament when it reconvenes later this month. Critics of the bill say the implementation of hudud could infringe on the rights of religious minorities and disrupt the fabric of Malaysia's multi-ethnic and multi-religious society.
https://tribune.com.pk/story/1456401/malaysian-state-introduces-public-caning-sharia-crimes/
--------
Saudi body involved in Putrajaya 'peace centre' linked to extremism
Abdar Rahman Koya
July 12, 2017
PETALING JAYA: A Saudi-based organisation involved in a soon-to-be-launched "centre for peace" hosted by the Malaysian government is part of a decades-old apparatus by Riyadh to promote its brand of Islam as well as extremist ideologies.
The Muslim World League (MWL), an organisation heavily funded by Riyadh over the decades and which carries out activites to promote the Saudi regime's Islamic image abroad, is said to be among those involved in the King Salman Centre for International Peace (KSCIP).
Prime Minister Najib Razak recently said that the centre, borne out of talks between Malaysian and Saudi officials, will have a permanent building on a 16ha site in Putrajaya.
Details about the centre's specific role are vague as is its need for such a vast space that roughly equals more than a dozen Olympic football fields.
It is understood that the centre is also associated with Negeri Sembilan-based Islamic Science University of Malaysia (Usim) in Nilai, which welcomed the establishment of KSCIP on its campus.
A statement by Usim, issued in the wake of the visit by Saudi Arabia's King Salman Abdulaziz to Malaysia last March, said KSCIP was jointly established by the defence ministries of both countries as well as MWL, popularly known in the Arab world as Rabitah al-Alam al-Islami.
But MWL has a history of promoting Wahhabism, or Salafism as its proponents prefer to call it. Wahhabism emerged in the 1800s in the Arabian peninsula, and embraced by the Saud family to establish present-day Saudi Arabia.
The controversial stand of Islam is based on a literal interpretation of the Islamic texts, and has been closely linked to many of its more militant offshoots including the Taliban, Al-Qaeda and more recently the Islamic State (IS), from which the Saudi rulers have taken pains to distance themselves.
The doctrine, while commonly misunderstood as part of Sunni Islam, is infamous among rights groups for its views about women, which inspired a Saudi ban on women from driving and from them travelling without being accompanied by a male family member.
An independent global Arabic newspaper, Al-Araby Al-Jadeed (The New Arab), recently reported that MWL had also strongly backed the Saudi-led embargo on Qatar as well as the publication of a list of names accusing prominent individuals and organisations of backing terrorism.
One notable individual in the list is Yusuf al-Qaradawi, a world renowned authority on Islamic jurisprudence, who in 2009 was honoured by the Malaysian government with its Maal Hijrah Award for contributions to Islam.
Last month, MWL was active again backing Riyadh's policies, announcing that it was cutting ties with the Doha-based scholar following accusations that he supported "terrorism".
Links to Taliban, IS
MWL has for years acted as Riyadh's chief mouthpiece in the Muslim world.
Flushed with Saudi petro-dollars for decades, it has financed the construction of large-scale Islamic centres in European cities and promoted Islamic propagation activities in Asia and Africa.
These include publishing Islamic magazines, organising Islamic courses and distributing millions of copies of the Quran, whose translated versions in local languages are endorsed by Saudi scholars.
In 2001, just a month after the 9/11 attacks, Newsweek reported that MWL and its charity affiliate, International Islamic Relief Organization, were used by Osama bin Laden – the Saudi-born militant who was killed by US Special Forces in 2011 – to finance his operations.
The magazine reported that the organisations were left off the list of groups sanctioned by Washington "in order to avoid embarrassing" the Saudi regime, considered the US's strongest proxies in the Middle East.
More recently, following a spate of terrorist attacks in Britain, a report named MWL as being involved in Islamic extremism.
The report, "Foreign Funded Extremism in the U.K.", released early this month by conservative think tank Henry Jackson Society, named MWL and its sister organisation World Assembly of Muslim Youth (WAMY).
Among others, the report said WAMY "has had a long history of involvement with the promotion of violent Islamist extremism and the distribution of hateful literature" in Britain.
"Equally, MWL has had officials and member organisations linked with both Al-Qaeda and the Taliban," the report added.
http://www.freemalaysiatoday.com/category/nation/2017/07/12/saudi-body-involved-in-putrajaya-peace-centre-linked-to-extremism/
--------
Boko Haram Executes Eight for Defying 'Sharia Police'
2017-07-11
Kano - Boko Haram have publicly executed eight villagers in northeast Nigeria who opposed the enforcement of its hardline form of Islam, according to a graphic video seen by AFP.
The eight were blindfolded and lying face down on the ground when they were shot at close range by four masked gunmen. Crowds were seen cheering, the images showed.
One man wearing a white turban told the crowd before the execution that the condemned villagers were "apostates (who) have left the fold of Islam".
"These people are not different from vigilantes fighting us, spies and Nigerian soldiers," said the unidentified man in Hausa, which is widely spoken in northern Nigeria and the Lake Chad area.
He said the eight had defied Boko Haram's "Sharia police" - members who ensure the group's strict interpretation of Islamic law is enforced - and threatened to fight them.
The man warned that anyone else defying the jihadists would suffer a similar fate.
It was not clear when or where the gruesome footage was taken but lush vegetation indicated it was in the ongoing rainy season.
Separate video
The video showed other punishments, including stoning to death for adultery; beheading for drug dealing; amputations for theft; and flogging for drinking alcohol.
Boko Haram's message appears to be designed to debunk Nigerian military claims that it is a spent force that has lost all territories under its control.
The Islamic State group affiliate declared a caliphate in August 2014 after capturing towns and villages across northeast Nigeria.
In October 2014, a similar video was released showing a man being stoned to death for adultery, an amputation for theft and a couple being lashed for having sex outside marriage.
A separate video in the same month appeared to show the beheading of an air force pilot captured after his fighter jet was shot down.
Since early 2015 Boko Haram has been forced out by sustained counter-insurgency operations involving troops from Nigeria and its neighbours Cameroon, Chad and Niger.
Nigeria claims the group is virtually defeated but the latest footage demonstrates there remains pockets where Boko Haram still operates and holds sway over local populations.
http://www.news24.com/Africa/News/boko-haram-executes-eight-for-defying-sharia-police-video-20170711
--------
Internal Coup Reported among ISIL Members after Confirmation of Al-Baghdadi's Death
Jul 11, 2017
After an Iraqi source announced that the ISIL branch in the town of Tal Afar in Western Mosul has declared the death of al-Baghdadi and will decide about his successor soon, internal differences have intensified among ISIL members.
Iraq's al-Soumeriya news channel quoted local sources in Tal Afar as saying that a number of ISIL members who supported al-Baghdadi have disobeyed their commanders.
The source added that the town of Tal Afar is now witnessing an internal coup by ISIL members, and the senior commanders who were waiting for al-Baghdadi's death want to end the chaos to their own benefit.
He added that ISIL has declared curfew for militants, a number of al-Baghdadi fans have been detained and the Arab and foreign leaders of the terrorist group are attempting to control the situation.
The ISIL terrorist group confirmed in a statement on Tuesday that its notorious ringleader al-Baghdadi has died.
It also called on ISIL members to remain in their bases and continue resistance.
Reports said on Monday that the Iraqi security forces in Western Mosul found a document showing that ISIL commanders are under a strong ban to avoid discussing the death of al-Baghdadi or releasing any information in this regard.
Intelligence sources told the Arabic website of Sputnik news agency that the document which was discovered in an ISIL base in Mosul bans any discussion of al-Baghdadi's death in a move to prevent chaos among members.
The document, distributed among the leaders, also emphasizes that "the ISIL will survive even if al-Baghdadi is dead", stressing the need for the terrorist groups' members to keep patient and take orders from their commanders.
A local source in Iraq's Salahuddin reported on Thursday that the ISIL terrorist group has arrested scores of its members in the Eastern parts of the province for speaking about the death of al-Baghdadi.
The source said that the ISIL has arrested over 20 of its members in the villages of Eastern Makhoul in Salahuddin for making public remarks about al-Baghdadi's death.
The terrorist group has accused them of promoting an internal sedition.
According to the source, ISIL members are confused over the ban on speaking about al-Baghdadi's death, specially after the terrorist group was forced to arrest its members.
A well-informed local source in Northwestern Iraq reported earlier this month that ISIL has burned Abu Qatibeh alive on charges of implying the death of Abu Bakr al-Baghdadi, the terrorist group's ring leader, in his sermon on Friday Prayers in the town of Tal Afar.
The sources said that only a few hours after arresting Abu Qatibeh on charges of internal sedition, the terrorist group burnt him in front of tens of people in the Central part of Tal Afar.
"Abu Qatibeh, who was a close friend to al-Baghdadi, implicitly endorsed earlier revelations about the death of ISIL's ring leader and cried for him in his Friday Prayers sermon, which raised several questions. ISIL kept mum on the issue at first, but later arrested him and executed him on charges of sedition," the source went on to say.
http://en.farsnews.com/newstext.aspx?nn=13960420001498
--------
'I Worked For ISIS through Social Networking Sites to Motivate Youths': Konakalla Subrahmanyam Alias Omer
By Mouli Mareedu
12th July 2017
HYDERABAD: Konakalla Subrahmanyam alias Omer, who was arrested recently by the Hyderabad Special Investigation Team (SIT) for having links with ISIS, was allegedly influenced by reading three books on Islam.
In his confessional statement, the 24-year-old Omer said he had met one Abdul Shukur, who worked in a madarsa at Pedana in Krishna district of Andhra Pradesh and was gifted three books—'Shrushtini Kaadu, Shrushti Kartanau Poojinchu', 'O Manishi Nee Shrushti Kartanu Gurtinchu' and 'Life History of Prophet Mohammed and Laailaahailla-Illaihu Mahummadur - Rasoolu-Illah'—which influenced him to convert to Islam.
"I got circumcision (Kathana) at Machilipatnam with the help of Dr Chand Pasha. I also attended prayers at Tabligh Jamath Masjid in Machilipatnam. Later, I attended Tablig Jamat at Siddipur in Gujarat where I met one Mohammed Shafi of Hyderabad. I underwent training in rituals at Darul-ul- Uloom madarsa for nine months at Khali village near Siddipur," he told investigators during his five-day-long questioning.
Omer also allegedly assisted Srinagar youth in collecting funds in Hyderabad. In May, Mohammed Amir of Islamic Global School of Srinagar told him that they wanted to visit Hyderabad to collect donations for his school. "Amir advised me to listen to the speeches and bayaans of prominent religious scholars such as Zakir Naik, Fayaz Syed, Abu Zahid Iamir, Qarie Shoib Ahmed, Mufti Menk, Arshad BashirMadani, Mohammed Ali Mirza that are available on social networking sites. I followed his instructions. I worked for Islamic State Iraq and Syria (ISIS) through social netwokring by motivating the youth and discussing atrocities on Muslims in India," Omer said in his confessional statement.
Omer, who was born and brought up at Kotha Majeru village in Krishna district, came in contact with one Abu Qahafa Al-Hindi Waseem, a resident of Saudi Arabia, through Telegram App. Omer also contacted Abu Muhammad of Pakistan, Abudl Jaleel Oyelese of Nigeria and Aidi Sumaili of Johannesburg Ismail Sha Sahil of Pakistan through Facebook.
"The investigators have obtained Omer's Facebook messenger details from his mobile phone in which Omer had conversation with one Ismail of Pakistan on June 7, 2016 regarding Moulana Masood Azhar, a dreaded terrorist residing in Pakistan. Omer also had a chat with Abu Mohammad of Pakistan on December 20, 2016. Omer received a PDF file by Telegram App from Abu Qahafa Al Hindi on March 3, 2017 on how to prepare a petrol bomb and how to use it. Similarly, Abu informed him that he would sent another important file that would give a useful formula," said sources.
http://www.newindianexpress.com/states/telangana/2017/jul/12/i-worked-for-isis-through-social-networking-sites-to-motivate-youths-1627487.html
--------
More than 60 Muslim leaders are touring Europe to protest against terror
09-07-17
Dozens of religious leaders boarded a bus on the Champs-Élysées in Paris on Saturday at the start of a European tour of the sites of recent Islamist attacks to remember the victims and condemn violence.
Imams from countries including France, Belgium, Britain and Tunisia were joined by representatives of other religious communities at the spot where French policeman Xavier Jugelé was shot dead in April.
Tour stops will include Berlin – where organisers say they hope to meet Chancellor Angela Merkel – Brussels and Nice, with a return to Paris for 14 July, the first anniversary of the Nice truck attack.
Isis claimed responsibility for that attack, when a truck killed 86 people celebrating Bastille Day on the seafront, and a truck attack on a Christmas market in Berlin last December that killed 12.
The Imam of Drancy and French writer Marek Halter were behind the initiative of the current tour.
"We are here to say that our religion and the values of Islam are opposed to those assassins," Hassen Chalghoumi, the imam de Drancy, told France Inter radio on Saturday.
Some 30 people boarded the bus on Saturday with more expected to join on the way, bringing the total number of participants to 60.
http://www.independent.co.uk/news/world/europe/60-muslim-leaders-tour-europe-protest-terror-merkel-a7830856.html
--------
Southeast Asia
Selangor Government, Religious Authorities Allowed To Argue SIS' 'Deviant' Fatwa Lawsuit
11/07/2017
PUTRAJAYA, July 11 (Bernama) -- The Selangor government and its religious authorities have been given the green light to argue in the Federal Court the legal suit filed by Sisters In Islam (SIS) against a Selangor fatwa (edict) labelling the organisation as deviant.
A three-member panel of Federal Court led by Chief Justice Tan Sri Md Raus Sharif today allowed the Selangor Government, Selangor Fatwa Committee and Selangor Islamic Religious Council's (MAIS) application for leave to appeal against the Court of Appeal decision on March 3, 2017.
Justice Md Raus said the three applicants had met the threshold to obtain leave from the court.
He said the parties had to confine their submissions on five legal questions, including whether the fatwa issued under the Administration of the Religion of Islam (State of Selangor) Enactment 2003 is a subject matter within the exclusive jurisdiction of the Syariah Courts.
The other question is whether a company that uses the name 'Islam' and is controlled by those who profess the religion of Islam may be interpreted as 'Islam' for the purpose of Section 2 of the Administration of the Religious of Islam (State of Selangor) Enactment 2003.
The panel made the ruling after hearing submission from counsel Datuk Sulaiman Abdullah, who epresenting the Selangor Fatwa Committe, counsel Yusfarizal Yussoff who represented MAIS and State Legal Advisor Datuk Nik Suhaimi Nik Sulaiman who appeared for Selangor Government, as well as from lawyer A Surendra who represented SIS.
The three applicants are seeking leave to appeal from the Federal Court against the Court of Appeal's decision which allowed SIS's appeal to overturn the High Court's refusal of its judicial review application to challenge the Selangor fatwa (edict) labelling the organisation as deviant.
In reversing the High Court's ruling, the Court of Appeal also ordered the case to be sent back to the High Court to hear the merit of the case before another judge. However the merit of the case has yet to be heard.
On June 24 last year, the High Court dismissed SIS judicial review application to challenge the Selangor fatwa labelling the organisation as deviant, after ruling the civil courts did not have jurisdiction to decide over the issue of fatwa.
Judge Datuk Hanipah Farikullah held that fatwa was a matter of determination by Islamic law and it came under the jurisdiction of the syariah courts, saying that under Article 121 (1A) of the Federal Constitution, the civil courts shall have no jurisdiction in respect of any matter within the jurisdiction of the syariah courts.
On Oct 31, 2014, SIS Forum (Malaysia) had filed the application to challenge the MAIS decision of declaring the organisation as deviating from Islamic teachings and named the Selangor Fatwa Committee, MAIS and the Selangor government as respondents.
They seek a certiorari order to quash the decision of the Selangor Fatwa Committee and MAIS which stated that the organisation and any individuals, as well as groups, which adopted the deviant ideologies of liberalism and pluralism were deviating from the teachings of Islam.
They also applied for a declaration that the decision of the Selangor Fatwa Committee and MAIS in directing through the edict which directed the Multimedia and Communications Commission to block social websites that went against Islamic teachings as contradicting Section 3 (3) of the Communications and Multimedia Act 1998.
They are also seeking a declaration that SIS, which was formed under the Companies Act 1965 as a company limited by guarantee, was not subject to the decisions of the Selangor Fatwa Committee and MAIS.
http://www.bernama.com/bernama/v8/ge/newsgeneral.php?id=1371569
--------
Indonesia's president signs decree to ban radical groups
Jul 12, 2017
JAKARTA, Indonesia: Indonesia's president has signed a decree giving the government the power to ban radical organizations, in a move aimed at outlawing groups behind an apparent rise in the political clout of hard-line Islam.
The measure announced Wednesday by the country's top security minister follows months of sectarian tensions in the world's most populous Muslim nation that shook the government and undermined its reputation for practicing a moderate form of Islam.
It amends an existing law regulating mass organizations, allowing the government to sidestep a potentially lengthy court process to implement a ban. It is likely that Hizbut Tahir, a group that campaigns for Indonesia to adopt Shariah law and become a caliphate, is among the targets of the decree after the government announced in May that it planned to ban the group.
Wiranto, the coordinating minister for politics, security and law, said the decree is aimed at protecting the unity and existence of Indonesia as a nation, and not at discrediting Islamic groups. Wiranto, who uses one name, said the decree was signed by President Joko "Jokowi'' Widodo on Monday.
New York-based Human Rights Watch condemned the move, calling it a "troubling violation'' of the rights to freedom of association and expression despite it being supported by moderate groups such as Nahdlatul Ulama, Indonesia's largest Muslim organization.
Indonesia researcher for Human Rights Watch, Andreas Harsono, said the government already has the power to take legal action against any group suspected of violating the law.
"Banning any organization strictly on ideological grounds ... is a draconian action that undermines rights of freedom of association and expression that Indonesians have fought hard to establish since the Suharto dictatorship,'' Harsono said.
Hizbut Tahir, along with groups such as the violent Islamic Defenders Front, was behind months of massive protests in Jakarta, the capital, against the city's minority Christian governor, an ally of Jokowi who was accused of blaspheming Islam. He subsequently lost a bid for re-election to a Muslim candidate and was imprisoned for two years for blasphemy despite prosecutors downgrading the charge to a lesser offense.
Full report at:
http://timesofindia.indiatimes.com/world/south-asia/indonesias-president-signs-decree-to-ban-radical-groups/articleshow/59556968.cms
--------
Malaysia To Mindanao: Where ISIS Is Finding A Toehold In Asia
JUL 11, 2017
Feared terrorist organization Islamic State in Iraq and Syria makes no secret of its global reach. The group has said it was behind the suicide bombing that killed 22 at a concert in Manchester in May and the Florida night club shooting that killed 49 in June last year, for example. The same group, often abbreviated to ISIS, has been poking around for a stronghold in Asia outside the Middle East too, especially in countries with Muslim populations.
"ISIS has reared its ugly head in Asia in 2016 in a way that indicates it will be a persistent threat to regional security and stability in 2016 and going forward," political risk consultancy Eurasia Group said in a report last year. "Through ISIS' creative use of the internet and social media, it (has) mobilized populations to conduct violence in Asia, with a number of attacks in Indonesia, Malaysia, and Bangladesh."
Indeed, some of the emerging hot spots for ISIS outside of the Middle East are dotted around the Asia region. They're mostly poor places with strong local Muslim populations, making it easy for ISIS to find sympathizers willing to take up its violent causes.
1. Thai-Malaysian border: In May, Malaysian police found an ISIS terrorist cell suspected of smuggling arms from Thailand to Malaysia, proving that the group has at least a toehold. A Muslim-backed anti-government insurgency in southern Thailand killed more than 6,500 people and injured nearly 12,000 from 2004 to 2015, the Bangkok Post says. That element makes the region a prime spot for ISIS to find recruits. Malaysia, known for moderate Islam of the type ISIS dislikes, was attacked a year ago with backing from the extremist group.
Full report at:
https://www.forbes.com/sites/ralphjennings/2017/07/11/sulu-sea-to-sulawesi-these-are-the-5-big-hotspots-for-isis-in-asia/#60ed64c64b23
--------
Muslims in Tarlac won't drop ID
CITY OF SAN FERNANDO — Two Muslim groups that developed their own identification (ID) system in Tarlac province said they won't yield to criticisms, insisting it was both a way to shut out lawless elements and a tool for transacting with the government.
Misangcad Datumaas, president of the Paniqui United Muslims Association (Puma), and Abdul Jabbar, coordinator of the United Muslims Association of Tarlac City (Umat), defended their ID system on Tuesday, clarifying these were not introduced nor imposed by mayors or the local police.
"It's ongoing," Datumaas said when asked about the status of the ID system in Paniqui town. Jabbar gave the same answer when reached by telephone.
Earlier, Chief Supt. Aaron Aquino, Central Luzon police director, described the Tarlac ID system as the "best practice that can be replicated in [the region]."
In Manila, presidential spokesperson Ernesto Abella said "nobody" in the national government was proposing an ID system for Muslim Filipinos.
"The Palace's position is really for a national ID. So, I think we should leave it at that," Abella told reporters yesterday.
"That particular ethnic-centered ID was really a local initiative and… the Palace's position is that there should be a national ID," he added.
"Look, nobody's pushing for that, okay? As the good director of Philippine National Police has already said, this is not a mandate coming from the… higher authorities," Abella said.
Discriminatory
Two senators earlier tagged as discriminatory the proposal to impose an ID system for Muslims.
Senators Sherwin Gatchalian, a member of the Senate majority, and Bam Aquino, of the minority bloc, said the ID system would single out Muslims. Officials of Autonomous Region in Muslim Mindanao said a Muslim-only ID system was discriminatory.
Two officials of the Commission on Elections (Comelec) took to Twitter to criticize plans to distribute ID cards to Muslims, saying the move was religious discrimination.
"An ID for Muslims? Surely not the voters' ID. I won't agree to put religion there," said Comelec Commissioner Rowena Guanzon on her Twitter account.
"An ID for Muslims will have an effect on political rights, discourage them from running for office in local government units and discourage [them] from voting," she said.
Commissioner Luie Guia, who was tagged in one of Guanzon's posts, agreed.
"Suffrage rights do not distinguish race, sex, language, religion, political opinion, social origin, property, birth or other status," he said.
Datumaas and Jabbar, however, said nothing was discriminatory about the ID system because it was their groups' initiative.
Before Puma enforced the ID system in June on more than 400 Maranaos in Paniqui, it required Muslim transients to present their respective biodata and to submit themselves to visits.
Transients, settlers
"We don't easily accept transients or settlers," Datumaas said, adding that the IDs come in handy during transactions with the government and private companies.
"If you don't have an ID, you cannot buy tickets for a ride on a plane or ship," he said.
He also said the ID system was not directly related to the crisis in Marawi where the Islamic State-inspired Maute group seized the city on May 23, bombing it and holding and killing hostages. This prompted President Duterte to declare martial law in Mindanao.
"We just want to be sure that we won't encounter problems with terrorists and other bad elements among transients," Datumaas said.
"No one calls us 'Maute Muslims' but if any Maute [group member] comes, we will have to insist we are not part of the group. There are no bad elements in our ranks. We are traders trying to eke out a living in our host communities," he added.
Puma and Umat issue ID cards to Muslims who have established permanent residences. These are given to people aged 15 and above in Paniqui and those aged 11 and above in Tarlac City. Some Muslims are required to present police clearances in case they have had previous brushes with the law.
The ID cards are signed by Puma and Umat leaders. "We are asking the mayor and the police chief to sign the cards so that these become official. Mendicants and [con men] cannot use these," Datumaas said.
Jabbar said he was expecting the ID system in Paniqui and Tarlac City to be expanded because, he noted, no leaders of the more than 23,000 Muslims in Central Luzon opposed the proposal when it was presented at a forum organized here by the police and military on July 4.
According to Tarlac police, there are 3,447 Muslims in Tarlac City and in the towns of Capas, Concepcion, Camiling, Sta. Ignacia, Victoria, Moncada, Bamban, San Jose, Pura and Paniqui.
Full report at:
http://newsinfo.inquirer.net/913107/muslims-in-tarlac-wont-drop-id
--------
Muslim nonsupporters 'fair game' for Maute
July 12, 2017
MARAWI CITY—"It's like issuing a fatwa (edict) against us," a Lanao del Sur official said as supporters and sympathizers of the Maute Group started branding some individuals here as "murtad fitri" (apostate, or those who have renounced their faith).
Murtad fitri, or born Muslims not supportive of the Maute's cause, are fair game, said pro-Maute social media users, using the hashtag #amaq and #amaqmedia.
"Amaq" refers to the pro-Islamic State website Amaq News Agency.
The Lanao del Sur official, who did not want to be identified for his safety, said the Maute Group continued to claim that the Marawi crisis was a war between Muslims and Christians.
Even on social media, pro-Maute individuals — some of whom used aliases — said the "mujahideens" (holy warriors) were fighting for Islam and those who were not supportive of them were either "kuffar" (unbelievers), or murtad.
"But Allah will punish them for what they are doing to Muslims," said one post in Maranao.
Sgt. Albinir Esmael, a Muslim soldier, said it was painful to be branded as murtad.
"I am a practicing Muslim and I am fighting for peace. Did I lose my identity because I am fighting for peace?" said Esmael, a former Moro National Liberation Front member integrated into the Philippine Army.
Ustadz Abdulharim Ambor, an imam based in Iligan City, said it was not for a particular group to determine who the unbelievers were.
"Islam is a religion of peace and we believe that religion is not compulsory," he said.
Lt. Col. Jo-ar Herrera, spokesperson of Task Force Marawi, said the Marawi crisis was far from being religious.
"This is a war against terror and the Maute group (members) have never been Muslims. They killed helpless civilians. They loot and they use drugs," Herrera said.
He also cited the deaths of some Muslim soldiers in the course of the military's efforts to retake the city.
At least five Muslim soldiers have died since the crisis started on May 23.
They were Sgt. Ashai Sakiran, Sgt. Cassidy Uday, Cpl. Taharuddin Salahudin, Cpl. Alyasir Abdullah and Pvt. Saed Padada.
A Maute propagandist wrote on Facebook that their hearts did not bleed when they killed people who pretended to be Muslims.
"They have to be beheaded if we catch them alive. Their souls belong to hell," the propagandist wrote.
An Islamic scholar said he would not debate with Maute supporters on the issue of apostasy, but he added that most Muslims did not share this idea.
"Our reason is it would be pointless to debate with them because they have their own conviction. But let me put it this way: Their number is only small compared with the majority of Muslims, who believe in coexistence and freedom of choice," said Aleem Taher Amate, president of the United Imam of the Philippines.
As to who the real "shaheed" (martyr) were between slain Muslim soldiers and Maute gunmen, Amate said "only Allah knows."
In Zamboanga City, elders of Muslim organizations are turning the tables on Islamic State-inspired gunmen, tagging them murtad for agitating war and bringing destruction to Marawi.
Aleem Jamal Sakaluran Munib, executive director of Davao City-based Madrasah Comprehensive Development Program and convener of the Youth and Ulama dialogue in Zamboanga, said the Maute and Abu Sayyaf groups launched a personalized war that had nothing to do with religion.
"How can you call it religious or holy when there is massive destruction of properties, violence, killing of innocent people," Munib told the Inquirer on Tuesday.
Munib is one of the speakers at the Promoting Political Climate and Stability for Peace forum in Zamboanga.
Full report at:
http://newsinfo.inquirer.net/913121/muslim-nonsupporters-fair-game-for-maute
--------
Najib calls for enhancing counter-terror cooperation with US
July 12, 201
KUALA LUMPUR: Malaysia is looking forward to further enhance cooperation with the United States (US) in the fight against terrorism, to achieve the shared objectives of peace, security and stability for all, says Prime Minister Najib Razak.
He said, aside from sharing the interests and values, particularly important in these times, was that both countries shared the commitment to fight extremism and defeat the scourge of terrorism wherever it rears its head.
Noting that the US had made the fight against extremism as one of its top priorities, Najib said it would find no sturdier and more reliable ally in this campaign than Malaysia.
"While we have been fortunate enough never to have suffered the Islamic State (IS) or Al Qaeda-linked terrorist attacks that have killed so many in America, we are not immune.
"The first successful IS-linked attack took place just outside Kuala Lumpur in June 2016. Eight were injured and none were killed. But that was not for want of trying," he said during his speech at The American Malaysian Chamber of Commerce dinner in conjunction with the US-Malaysia 60 years celebration here yesterday.
The dinner was also attended by his wife Rosmah Mansor, US Ambassador to Malaysia, Kamala Shirin Lakhdir Min, Women, Family and Community Development Minister Rohani Abdul Karim and International Trade and Industry Minister Mustapa Mohamed.
Najib said Malaysia's security services had foiled many plots and deserved enormous praise for the tireless work although much of it went unsung, but that had kept the people safe and secure.
"Their methods, and our deradicalisation programmes which have been hugely productive in rehabilitating extremists, with an over 90% success rate, are models for countries around the world.
Full report at:
http://www.freemalaysiatoday.com/category/nation/2017/07/12/najib-calls-for-enhancing-counter-terror-cooperation-with-us/
--------
Najib: Blueprint for Indian community not empty talk
July 11, 2017
DENGKIL: The Malaysian Indian Blueprint (MIB) is not a fantasy or empty talk but a comprehensive plan for the advancement of the Malaysian Indian community, says Najib Razak.
The prime minister said his administration would ensure that the blueprint delivered the goods and in doing so reinforce the community's faith in the government.
"This is not a pie-in-the-sky plan or 'vetti pecchi (the same in Tamil) but the first realistic blueprint for the wellbeing of the Indian community.
"The MIB is a good platform to achieve a stronger and more unified leadership of the Indian community," he said at a plaque signing ceremony and launching of the "200 Years of Tamil Education in Malaysia" book at SJKT Taman Permata here today.
Also present were Education Minister Mahdzir Khalid, MIC president and Health Minister Dr S Subramaniam and Urban Wellbeing, Housing and Local Government Minister Noh Omar.
On April 23, Najib launched the MIB as an official government document for the development of the Indian community in the country for the next 10 years.
Adding that the Indian community could grow stronger with good leadership, Najib said he did not want the community to be too fragmented in its representation.
"Once you are unified, once you have a leadership that transcends small groups or groupings, then I'm confident the Indian community can be a lot stronger in the future. There must be efforts to unify the Indian community," he said.
Commenting on the development of national-type Tamil schools (SJKTs), Najib said a total of RM900 million had been allocated for the schools nationwide since he took over the country's leadership in 2009.
"I did this because I believe this is how it should be done, to be fair to all. It does not stop there, we will continue to increase the number of SJKTs.
"In 2013, we promised to build six new SJKTs, bringing the total to 530 schools.
"Four schools are in the process of being constructed, one will be opened next month, and another at the end of the year. We have upheld all the government's promises," he said.
Najib said he also wanted to see each SJKT equipped with a kindergarten, and had approved the allocation for an additional 50 kindergartens this year.
The prime minister also encouraged the Indian community to continue to achieve excellence in education, saying there was no better method to alter the fortunes of a community.
Full report at:
http://www.freemalaysiatoday.com/category/nation/2017/07/11/najib-blueprint-for-indian-community-not-empty-talk/
--------
Africa
Four Suicide Bombers Kill 15 In Nigeria
July 12, 2017
MAIDUGURI: At least 15 people were killed when four female suicide bombers detonated their explosives in the northeast Nigerian city of Maiduguri, police said on Wednesday.
Suicide bombers kill 16 in NE Nigeria: emergency services
Borno state police commissioner Damian Chukwu told reporters the four attacked different areas in the suburb of Molai Kalemari on Tuesday night, "killing 19, including the bombers".
https://tribune.com.pk/story/1456418/suicide-bombers-kill-15-nigeria-police/
--------
US postpones decision on Sudan sanctions for three months
12 July 2017
The United States on Tuesday postponed for three months a decision on whether to permanently lift certain sanctions on Sudan over its human rights record and other issues, the State Department said.
Former President Barack Obama lifted the sanctions for six months starting in January and a decision by his successor, Donald Trump, on whether to scrap the measures permanently was expected on Wednesday.
https://english.alarabiya.net/en/News/middle-east/2017/07/12/US-postpones-decision-on-Sudan-sanctions-for-three-months.html
--------
Tunisian court starts trial of 21 suspects over 2015 Bardo massacre
Jul 11, 2017
A court in Tunisia has begun the trial of nearly two dozen people for their alleged role in a 2015 deadly terrorist attack on a famed museum in the capital Tunis.
According to defense lawyer Ben Amor, 21 detained suspects, including two women, appeared in a Tuesday unannounced hearing in the courtroom in Tunis over the charges of abetting two terrorists who went on a shooting spree on foreign tourists in the National Bardo Museum on March 18, 2015.
The two assailants killed 21 foreign tourists and a police officer before being gunned down by security forces.
A dozen of those on trial could face death penalty if convicted of voluntary homicide with premeditation. Three more defendants, who had not been held in prison, were not included in the trial on Tuesday. Furthermore, some 30 other people are also on trial in absentia, according to defense lawyer Rafik Ghak.
On June 26, 2015, another terrorist attack shocked the North African country, as a gunman killed 38 foreigners, mostly British tourists, at the Imperial Hotel near the Mediterranean resort town of Sousse.
Some critics believe that the lengthy probe into the Bardo case got off a false start, with many suspects nabbed but then freed later.
Amor said if police "had done their job correctly from the start, the attack at the Sousse (beach hotel) could have been avoided as numerous people among those who prepared and planned it are the same ones implicated in the Bardo attack."
However, Judge Bachir Akremi wrote in his report that those confessions that had been secured at the beginning of the investigation were obtained through torturous means, and some allegations against the arrested people were "imaginary."
Both deadly attacks were later claimed by the Takfiri Daesh terrorist group, which is mainly active in Iraq and Syria, but it has also secured a foothold in crisis-hit Libya, Tunisia's neighbor to the east.
The assailant involved in the beach resort attack had actually received trainings from Libya-based Daesh terrorists.
In November 2015, a Daesh bomber also killed 12 Republican Guards aboard a bus on the main avenue in Tunis after he detonated his explosive vest.
Tunisia, which has been in a state of emergency for some 20 months, is also among the countries with the highest per capita number of extremist militants operating in other countries. Reports say over 5,000 Tunisians have already traveled abroad to join terrorist outfits, mainly in Iraq, Syria and Libya.
Full report at:
http://www.presstv.ir/Detail/2017/07/11/528159/Tunisia-Bardo-Daesh-trial-Sousse-Libya-Syria
--------
Nigeria: Muslim Students Cancel Training in Ikorodu Over 'Badoo' Threat
11 JULY 2017
The Muslim Students' Society of Nigeria, MSSN, Lagos State Area Unit, has instructed its branches in Ikorodu to cancel its planned holiday training course, HTC camp, in the area over security concerns.
The HTC camp, themed, "The inheritors", was scheduled to hold between July 14 and 18 across the 44 Area councils in Lagos State to train students on different skills.
The leader of MSSN in the state, Saheed Ashafa, who gave the order during the organisation's executive council meeting at Adeniran Ogunsanya College of Education, Ijaniki, said they were concerned about the criminal activities of "Badoo" boys in the area hence the move.
The cancellation order also came after officials of eight area councils in Ikorodu expressed fear over the 'volatile' security condition in the area.
Mr. Ashafa said, "We are so much concerned about the security situation in the area. We cannot afford to risk the lives of our members despite the importance of the training. The security report from our officials in the area is scary and not encouraging. "The police and other security officials need to step up their intelligence and mobilise more officers to the area. It is worrisome that students who are the future and hope of the country are also suffering from condemnable acts and security lapses in the state. Lagos State deserves advanced intelligence, pre-emptive and sufficient policing to really combat criminal tendencies unfolding lately."
Full report at:
http://allafrica.com/stories/201707110838.html
--------
Arab World
Iraq: The US-led coalition warns of a 'new ISIS'
12 July 2017
The US-led international coalition has warned of the emergence of a "new ISIS" in Iraq.
The warning noted that if the Iraqi government does not change its dealings with the Sunni sector, the war against ISIS organization will not be over yet despite the announcement of the victory in Mosul, reported Al Arabiya.
The commander of the international coalition forces, General Stephen J. Townsend called on the Iraqi government to change its approach to prevent the emergence of ISIS once again, stressing the need for the government to communicate with the Sunni elements and reconcile with it.
Iraqi Prime Minister Haidar al-Abadi announced on Sunday the achievement of a "great victory" in the liberated city of Mosul, according to his media office, following nine months of operations restore Iraq's second largest city.
The office issued a statement confirming that Abadi reached the liberated city of Mosul, and blessed the heroic fighters and the Iraqi people for achieving this great victory.
The US-led coalition countries will begin their meetings today in Washington for three days to discuss ways to guarantee the triumphs of the war against the ISIS organization.
The meetings will also discuss, according to the US State Department, ways to escalate the campaign on different levels.
https://english.alarabiya.net/en/News/middle-east/2017/07/12/Iraq-The-US-led-coalition-warns-of-a-new-ISIS-.html
--------
Qasem Soleimani: Iraq's army on its way to embracing ideology
11 July 2017
Commander of Iran's Revolutionary Guards Quds Force, Qasem Soleimani, says he believes that Iraq's national army "is on its way to embracing ideology".
Soleimani pointed to how this was already happening as the Revolutionary Guards "had been working around the clock to arm the Popular Mobilization militias" after its establishment.
On the sidelines of his participation in the memorial service of one of the guards killed in Syria on Monday, Soleimani said that the Lebanese Hezbollah terrorist group has already provided support to the PMU militias, according to a statement published on Tasnim news agency.
In a related context, Deputy Commander of the Revolutionary Guard Hussein Salami considered that "the arms of resistance," as he called it, was completed in the eastern Mediterranean and in defense of the role of "guard" in the wider region.
https://english.alarabiya.net/en/features/2017/07/11/Qasem-Soleimani-Iraq-s-army-on-its-way-to-embracing-ideology.html
--------
Islamophobia continues to increase: OIC report
MOHAMMED RASOOLDEEN
12 July 2017
RIYADH: The Islamophobia Observatory Report of the Organization of Islamic Cooperation (OIC) described the growing fear against Islam and Muslims in certain parts of the world.
Presenting the report on Monday at the 44th Council of Foreign Ministers Conference in Abidjan, OIC Secretary-General Yousef Al-Othaimeen said: "The growing trend of Islamophobia has not subsided in any tangible way. Muslims have been terrorized and discriminated against. Islamic sacred symbols have been insulted. People with Islamic attire were targeted with hatred. Women with hijabs were abused on streets and in public spaces. Certain governments outlawed Islamic attire or restricted Muslims from having prayer facilities. Right-wing politicians and media spread evil images of Islam."
"Acts of radical and extreme groups in the name of Islam have provided xenophobes with excuses to further their agendas. Their statements and acts have not only been irresponsible, but also conducive to the radical narratives of violent groups and terrorists," he added.
Al-Othaimeen stressed that the OIC has been active in combating Islamophobia at the political, diplomatic and operational levels in order to raise awareness among the international community of the threats that Islamophobia poses to global peace and security.
Full report at:
http://www.arabnews.com/node/1128146/saudi-arabia
--------
US, Qatar sign MoU on combating terrorism financing
Jul, 12 2017
DOHA - The United States and Qatar signed an agreement on Tuesday aimed at combating the financing of terrorism, as US Secretary of State Rex Tillerson visited Doha to try to end a month-long rift between Western-allied Arab states.
Saudi Arabia, Bahrain, the United Arab Emirates and Egypt imposed sanctions on Qatar last month, accusing it of financing extremist groups and allying with the Gulf Arab states' arch-foe Iran, something Doha denies.
Tillerson said the agreement signed with his Qatari counterpart, Sheikh Mohammed bin Abdulrahman al-Thani, had been under discussion for months.
"The agreement which we both have signed on behalf of our governments represents weeks of intensive discussions between experts and reinvigorates the spirit of the Riyadh summit," Tillerson said at a joint news conference with Sheikh Mohammed.
US President Donald Trump met representatives of Arab states during a visit to Saudi Arabia in May.
"The memorandum lays out a series of steps that each country will take in coming months and years to interrupt and disable terror financing flows and intensify counter terrorism activities globally," Tillerson added.
Sheikh Mohammed said the agreement was not linked to the crisis with the four Arab countries, which the United States fears could impact its military and counter-terrorism operations and increase Iran's influence in the region.
Tehran has sent food supplies to Qatar and allows the country's carrier to fly through its airspace.
Qatar denies it supports militant organisations and says the boycott is part of a campaign to rein in its independent foreign policy.
"Today, the state of Qatar was the first to sign the executive programme with the United States to fight terrorism financing," Sheikh Mohammed told the news conference.
Tillerson said the agreement includes milestones to ensure both countries are accountable through their commitments.
"Together the United States and Qatar will do more to track down funding sources, will do more to collaborate and share information and will do more to keep the region ... safe," Tillerson said.
Accompanied by Kuwaiti mediators, Tillerson flew to Doha on Tuesday for talks with the Emir of Qatar, Sheikh Tamim bin Hamad al-Thani, over the crisis. He said he was due to travel to Saudi Arabia for talks with officials from the four Arab countries.
On Monday, he and British National Security Advisor Mark Sedwill met with officials from Kuwait in order to patch up the row among the Western-allied countries.
Following those discussions, the United States, Britain and Kuwait urged all parties to resolve their dispute quickly through dialogue, Kuwait state news agency KUNA reported.
Kuwait's ruler, Sheikh Sabah al-Ahmad al-Jaber al-Sabah, expressed "bitterness" on Tuesday over what he described as an unprecedented rift in the Gulf, but said he intended to push ahead with mediation efforts.
Coming from some of the most influential powers in the dispute, the plea for a negotiated solution may be aimed at an earlier refusal by Qatar's adversaries to discuss renewing ties with Doha until it first acquiesced to a list of demands, including closing the Al Jazeera TV channel, shutting a Turkish military base in Qatar and downgrading ties with Iran.
Full report at:
http://nation.com.pk/international/12-Jul-2017/us-qatar-sign-mou-on-combating-terrorism-financing
--------
Identity erasure: Threat to Copts in Egypt
By Dr.Ashraf Ramelah
Jul, 12 2017
Westerners dealing with global jihad can heed a warning through examination of the struggles of one of the longest surviving and largest remaining Christian minority populations in a jihadi nation. We see that Islam in the majority is never satisfied until the minority is subsumed entirely by its religious-political system, which includes the Arab/Muslim heritage.
Covert jihad quietly undercuts the values, principles and customs of non-Muslim cultures through the legislative process, justice system and sometimes brute force. This goes on in Egypt where discriminatory laws, customs and built-in biases deny equal access and block minorities from political power.
Recently, a bill was proposed in Congress to regulate the civil status of newborn babies by assigning strict guidelines to parents choosing a given name. Consistent with the 2014 Sharia-leaning constitution, the proposal is in line with a current law (Article of Law No. 143) enacted in 1994 and derived from Egypt's now defunct 1971 constitution (Sadat's era).
The former 1971 constitution mandates that "your given name at birth must not offend Allah and His Sharia." Since the roots of Sharia are found in Saudi Arabia, the birthplace of Islam, Egyptian Muslims are proud to be Arab or proud to assume an Arab identity and heritage. So when it comes to Islamic methods of Islamizing the nation, Arabizing is an automatic component. This clause from the former constitution has been lying in wait for just the right moment to pounce onto the people.
It is not surprising then that the Egyptian Parliament which hasn't quite gotten around to addressing any of the country's major problems -- poverty, inflation, illiteracy, unemployment, organ harvesting, domestic terrorism, and kidnapping/sex trafficking -- would think it time to tackle the critical issue of naming newborns.
The bill was presented by MP Badeer Abd El Aziz to the House of Representatives Committee on Suggestions and Complaints proposing a law opposing parents who alienate their newborns by giving them foreign or phony names, i.e., names of non-Arab/Saudi Arabian origin. This indicates that a Christian name like George or Demiana or an Egyptian name like Ramses or Isis would be called into question and most likely rejected as illegal.
From the time of Arab-Muslim conquest and occupation, Egypt's Copts have had to protect their religion and work to preserve a separate and distinct identity -- a language, culture and ancestry rooted in Egypt's ancient past. Egyptians are Copts when their ancestry can be traced back to ancient Egypt not to Saudi Arabia like the Muslim majority of Egypt, and their religion is Christian. Although industrious, entrepreneurial, hard-working and heavily-taxed members of society, the indigenous Copts are under threat of being swallowed up by the prevailing culture's aims to absorb every single person under the umbrella of Arab-Muslim.
Throughout the modern history of Egypt, Copts have been pressured by the Islamic state to become Arab – to assume the Arab-Muslim identity. Blend in and take on the Muslim religion and culture. In many ways Copts have. Egypt's inclination toward an Arab identity became obvious when Nasser renamed Egypt from Kingdom of Egypt to the Republic of Egypt and six years later changed it again to United Arab Republic. To outdo Nasser, Sadat then renamed the country Arab Republic of Egypt, which remains today.
The absurdity of the proposed law was reflected in the negative reaction of the exasperated Coptic Bishop Rafael (Secretary of the Holy Synod) commenting in social media, "I do not understand what foreign names mean. Is my name considered foreign? Are names like Mina Ahmose and Isis considered foreign? Will the priests be named Arab names such as Abu Ali and Abu Bakr?" The bill included a maximum penalty of 2,000 Egyptian pounds and maximum six months jail time for the offending parents.
Egyptian Copts find the whole matter repugnant and are forced to cope with another attempt to chip away at their identity, no matter how insistent El Aziz has been to the contrary. When challenged by both the church and fellow MP's, El Aziz backed-peddled, stating that the law was meant for Muslims only. But how could it be? Laws and penalties in Egypt are not separated for different populations but apply to all citizens; the laws are based on Sharia law which infuses the French civil and criminal court systems adopted under French occupation. Article 2 of Egypt's present 2014 constitution proves this with one clause, "Sharia is the main source of legislation."
With this clause, the 2014 constitution paves the way for a total Islamic Sharia state no matter how hopeful the country is or ever was for democratic reforms after the uprising of June 30, 2013. El Aziz's stated purpose is the return to Arabic-Islamic origins -- an important Islamic-Sharia principle for Muslims – but it pertains to all citizens when Egypt's current constitution ultimately justifies his goals.
The thin veneer of liberal democracy and human rights presented in Egypt is a modern-day "nuisance" hindering Islamization of the country. Why does this impediment exist? Egypt's ruling class clings to this façade. After all, the world must never surmise Egypt's deep desire to emulate Saudi Arabia!
Alas, the effort made by El Aziz was blatant and exposed the intentions of the Islamic majority to acquire gains for a Sharia eventuality. Because it lacked the subtlety necessary to hide behind, member support was not with him. The bill burned on a pyre. Rest assured, a Phoenix will rise up from its ashes when the country is focused on another terror attack -- overt and covert jihad working in tandem.
Applying to Muslims in any geographical location on earth and carrying with it the intent to overturn legal systems, the Sharia is a growing body of laws composed of regulations derived from the Quran, Hadiths and Sera – the Islamic books – along with the edicts accumulated throughout the years (and years to come) in answers by imams to everyday questions from Muslims about very personal items, social manners and private matters. Penalties are included.
Full report at:
http://www.pakistanchristianpost.com/detail.php?articleid=2959
--------
Saudi Arabia executes four convicted extremists for Qatif attacks
11 July 2017
Saudi Arabia's interior ministry has confirmed that authorities executed four convicts responsible for numerous terror attacks in Qatif.
A statement from the Saudi Interior Ministry named the convicts as Amjad Naji al-Moebid, Zaher Abdulrahim al-Basri, Yousif Ali Almushaikhis and Mahdi Mohammed Hassan Sayegh.
Al-Basri and the other three convicts were charged and found guilty for several terror attacks since 2011, including shooting at their guardians, using weapons and explosive devices that targeted the Tarut police station and several security patrol units in the restive Eastern Province area.
https://english.alarabiya.net/en/News/gulf/2017/07/11/Saudi-Arabia-executes-four-convicted-extremists-for-Qatif-attacks.html
--------
UN's de Mistura: Syrian Kurds should take part in drafting new constitution
11 July 2017
Syria's Kurds should not be ignored, and their representatives must be allowed to take part in drafting the country's new constitution, UN envoy on Syria Staffan de Mistura told RIA news agency in an interview published on Tuesday.
The United Nations has hosted two sets of technical talks on the constitution with the various Syrian opposition groups, in Lausanne, in recent weeks, Western diplomats say.
On Monday, de Mistura told a news conference that agreements to de-escalate the fighting in Syria could simplify the conflict and help to stabilize the country, but such accords must be an interim measure and avoid partition,
Speaking at the start of five days of peace talks in Geneva, de Mistura said discussions were being held in Amman to monitor implementation of a ceasefire for southwest Syria brokered by the United States and Russia, the first peacemaking effort of the war by the US government under President Donald Trump.
https://english.alarabiya.net/en/News/middle-east/2017/07/11/UN-s-de-Mistura-Syrian-Kurds-should-take-part-in-drafting-new-constitution.html
--------
Rebels strike Syrian warplane east of Damascus
Jul, 12 2017
DAMASCUS - A Western-backed rebel group in Syria and a monitor of the conflict there said rebels fired anti-aircraft machine guns at a Syrian military jet on Tuesday, damaging the plane, about 80 km (50 miles) east of Damascus.
Western-backed rebels had also hit another Syrian military jet last month, causing it to crash.
It was not clear if the plane hit on Tuesday had crashed, said Saad al-Haj, spokesman for Jaish Osoud al-Sharqiya rebel group. "The men targeted the plane, they saw smoke coming out of it," he said. "It withdrew backwards toward the regime's areas."
There was no immediate comment from the Syrian military.
The Syrian Observatory for Human Rights, a Britain-based war monitoring group, said that the plane was damaged and was forced to come down in the al-Sin military air base in rural Damascus, but that it did not crash.
Ousoud al-Sharqiya is one of the main rebel groups operating in the sparsely populated, southeast Syrian desert known as the Badia, which stretches to the Iraqi and Jordanian borders.
A day earlier, Syrian troops and Iranian-backed militias launched an assault on Bedouin villages in the southeast to consolidate control of a swathe of desert stretching to the Iraqi border, Western-backed rebels said.
Full report at:
http://nation.com.pk/international/12-Jul-2017/rebels-strike-syrian-warplane-east-of-damascus
--------
Lebanese army kills Islamic State-linked militant: sources
Jul, 12 2017
The Lebanese army killed a suspected Islamic State-linked militant accused of carrying out several bomb attacks in Ras Baalbek town near the Syrian border, a security source and a military source said on Tuesday.
The man, a Syrian national, was shot dead during an operation launched after the army received intelligence that an Islamic State-linked cell was meeting, the security source said.
A Lebanese national suspected of weapons smuggling was also arrested in the raid, and the army discovered several bombs, an explosive belt, and nearly 50 kg of explosives, the source said.
The operation took place in the Arsal area, where the army says it has been carrying out a major security operation against suspected militants. In late June, authorities arrested several hundred people in a raid at refugee camps in Arsal.
A Lebanese military prosecutor ordered forensics last week to examine the bodies of four Syrian detainees who died in army custody, after rights groups called for an investigation.
The Lebanese army says it regularly stages operations targeting Islamic State and former al Qaeda-linked militants in the hills around the border.
Full report at:
http://nation.com.pk/international/11-Jul-2017/lebanese-army-kills-islamic-state-linked-militant-sources
--------
Islamic State tightens grip on village near Mosul after defeat
Jul, 12 2017
Islamic State has captured most of a village south of Mosul despite losing control of its stronghold in the city, an Iraqi army officer and residents said, deploying guerrilla-style tactics as its self-proclaimed caliphate crumbles.
Prime Minister Haider al-Abadi declared victory over Islamic State (IS) in Mosul on Monday, marking the biggest defeat for the hardline Sunni group since its lightning sweep through northern Iraq three years ago.
But the militants, armed with machine guns and mortars, have now seized more than 75 percent of Imam Gharbi, a village on the western bank of the Tigris river some 70 km (44 miles) south of Mosul, and reinforcements are expected, the Iraqi army officer said.
Islamic State launched its attack on Imam Gharbi last week, in the kind of strike it is expected to deploy now as U.S.-backed Iraqi forces regain control over cities the group captured during its shock 2014 offensive.
Stripped of Mosul, IS's dominion in Iraq will be reduced to mainly rural, desert areas west and south of the city.
Islamic State also faces pressure in its operational base in the Syrian city of Raqqa, where U.S.-backed Syrian Kurdish and Arab forces have seized territory on three sides of the city.
The campaign to retake Mosul from the militants was launched last October by a 100,000-strong alliance of Iraqi government units, Kurdish Peshmerga fighters and Shi'ite militias, with a U.S.-led coalition providing key air and ground support.
Abadi's government in Iraq now faces a difficult task managing the sectarian tensions which enabled Islamic State to gain supporters in the country among fellow Sunnis who say they were marginalized by the Shi'ite-led government.
The U.S.-led coalition warned that victory in Mosul did not mark the end of the group's global threat.
Full report at:
http://nation.com.pk/international/11-Jul-2017/islamic-state-tightens-grip-on-village-near-mosul-after-defeat
--------
Tahrir Al-Sham Arrests Hundreds of ISIL Members
Jul 11, 2017
According to the Syrian Arabic-language al-Watan newspaper, Tahrir al-Sham has detained the ISIL terrorists in Idlib city and the towns of al-Nayrab, Sarmin, al-Dana, Salqayn, Harem, Isqat, Basnia, Qorqania and Hattan.
Tahrir al-Sham forces also detained tens of former Jund al-Aqsa members who had joined the al-Nusra Front after the terrorist group's dissolution, under the pretext of attempts to form secret grouplets.
Several leaders, including ISIL's commander in Northern Idlib Abu Ibrahim al-Araqi, ISIL's ruler in Northern Syria Abu Qa'ta Jonoubi and ISIL Mufti Abu Soda' Mesri, are among those arrested by the Tahrir al-Sham Hay'at.
During the operations, over 123 ISIL security forces, including 5 commanders, were also arrested.
Sources in Tahrir al-Sham Hay'at said the groups plans to recruit the arrested ISIL members after the latter's frequent defeats in Iraq and Syria.
Leader of Tahrir al-Sham Hay'at Mohamed al-Golani ordered his forces to recruit ISIL's defected commanders and members after Abu Bakr Al-Baghdadi's men sustained heavy defeats in Syria and Iraq, a source close to Golani said on Thursday.
The Arabic-language Al-Watan daily quoted a source close to al-Golani, who also heads the al-Nusra Front, as saying that he has underlined the necessity for recruiting all ISIL commanders and terrorists who have fled the battlefield.
According to reports, al-Golani has ordered Masirah al-Jabouri, nom de guerre Abu Maria al-Qahtani, to contact ISIL commanders and militants and convince them to come to Idlib through safe corridors.
Also, reports said that Hessam al-Shalouf, a senior ISIL commander who had disappeared several days ago, has moved to Idlib along with tens of his forces.
al-Shalouf, along with a number of Free Syrian Army (FSA) commanders like Saddam al-Jamal and Mahmoud Matar, played an effective role in paving the ground for ISIL's control over Deir Ezzur in 2014.
Media sources said that 150 defected ISIL members have fled Raqqa for Idlib along with al-Shalouf.
Full report at:
http://en.farsnews.com/newstext.aspx?nn=13960420001441
--------
Syria: One More Militant Group Cuts Ties with Tahrir Al-Sham Hay'at
Jul 11, 2017
The sources reported that the al-Tamkeen Brigade, one of the largest factions within Tahrir Al-Sham Hay'at, announced that it would not fight for the al-Qaeda-affiliated group before infighting between rival militant groups is halted for an indefinite period of time.
Ansar al-Shari'a and Ajnad al-Sham terrorist groups had defected Ahrar al-Sham and joined Tahrir Al-Sham but after a while they cut relations with the al-Qaeda-affiliated group too.
Tahrir al-Sham has been engaged in severe tensions and clashes with Ahrar al-Sham in Idlib and Jeish al-Islam in Eastern Ghouta, and reports from the region said the battle has inflicted hundreds of casualties on both sides.
Late in June, Tahrir al-Sham Hay'at suffered another setback, as a large faction defected the terrorist coalition and joined rival Ahrar Al-Sham Movement.
Ansar Al-Shariyah Regiment released a statement, confirming defection from Tahrir al-Sham Hay'at to Ahrar Al-Sham Movement.
In the meantime, a security source reported that recent defections from Tahrir al-Sham Hay'at were related to the upcoming Astana talks on Syrian crisis because Tahrir al-Sham Hay'at would be possibly registered in the list of terrorist groups.
The terrorist group of Ajnad al-Sham had also announced that it cut off ties with Tahrir al-Sham Hay'at in mid-June.
The Ajnad al-Sham terrorist group that had previously broken away from Ahrar al-Sham and allied with Tahrir al-Sham Hay'at, declared defection from the latter and once again voiced its allegiance to Ahrar al-Sham earlier this month.
Commander of Ajnad al-Sham Abu Al-Bara Ta'oum, in a statement, once again voiced his group's alliance to Ahrar al-Sham and its commander Abu Ammar.
Full report at:
http://en.farsnews.com/newstext.aspx?nn=13960420001367
--------
Infighting Intensifies Between Rival Terrorist Groups in Southern Syria
Jul 11, 2017
Militants affiliated with the Free Syrian Army repelled a massive attack launched by their rival ISIL terrorists in Western Dara'a.
ISIL-affiliated Jeish Khalid Bin Walid has been assaulting the militant-held village of Heit for two weeks but without making any progress.
According to reports, both warring parties have suffered heavy casualties during the offensive, as more than 30 ISIL militants and 20 rebel fighters have been killed.
A ceasefire came into force in Southwest Syria in the provinces of Dara'a, Sweida and Quneitra in the Southwest, along the Jordanian border on Sunday after a deal was brokered by the US and Russia on the sidelines of G-20 summit in the German city of Hamburg on Friday.
Local sources said on Saturday that two commanders of the Free Syrian Army (FSA) and two other militants came under attack by unknown assailants after intensified insecurity in regions under the control of the terrorists in Dara'a.
News websites affiliated to the terrorists reported that Mahmoud Fowaz al-Qabiti, the commander of Ahl al-Ketab battalion affiliated to the FSA's Houran Shohada division, was killed by unknown raiders in Northern Dara'a.
In the meantime, unknown raiders shot dead Abdullah al-Qazawi, a field commander of Walid al-Qeisi brigade affiliated to Jeish al-Thowrah of the FSA, in front of his house in the town of al-Mazirib in Western Dara'a.
Also, Aswad al-Sunnah division of the FSA announced that Zarar al-Bashir, one of the group's commanders, came under attack by a bomb-laden vehicle in the town of Kafr Shams in Northern Dara'a.
In another incident, a bomb blew up in the vehicle of Qasem al-Rashid, one of the commanders of FSA's division 46 in Dara'a countryside.
Field sources said that militants affiliated to the FSA stormed the position of ISIL-affiliated Jeish Khalid Bin Walid in Dara'a province.
According to the reports, heavy infighting among terrorist groups is underway in Hawz al-Yarmouk, but none of the terrorist groups has been able to push rivals back from the battlefield.
Full report at:
http://en.farsnews.com/newstext.aspx?nn=13960420001003
--------
Syrian Army Cuts off ISIL's Supply Lines from Raqqa to Hama
Jul 11, 2017
The army men continued their anti-ISIL operation in Southwestern Raqqa and managed to capture the town of al-Rasafeh, its surroundings and 15 villages with over 1,500sq/km of area.
A military source confirmed that with over 1,500sq/km of area stretched from al-Rasafeh to Ithriya region in Eastern Hama, all the supply lines of ISIL connecting Raqqa to Hama have been cut off.
The source further added that the army units are to continue their operation to lay siege on the terrorists in the town of Aqayrabat and its nearby villages in the Eastern countryside of the town of al-Salamiyah.
A field source said on Friday that the army's Tiger Forces were gearing up for a new anti-ISIL offensive in Western Raqqa after a week-long hiatus following the liberation of the Khanasser Plain in Southeastern Aleppo.
The source said that the Tiger Forces returned to the Western countryside of Raqqa province, where they were expected to launch a new operation against the ISIL.
Full report at:
http://en.farsnews.com/newstext.aspx?nn=13960420001196
--------
US eyes continued presence in Iraq after ISIS
12 July 2017
The United States and several coalition countries want to maintain a military footprint in Iraq after the eventual defeat of the ISIS group, a top US general said Tuesday.
Lieutenant General Stephen Townsend said the Iraqi government had expressed an interest in having US and coalition troops stay in the country.
"Our government is equally interested in that, as are several coalition governments (who) have expressed an interest in joining in that effort," Townsend said in a video call from Baghdad.
Townsend, who heads the anti-ISIS coalition, added that discussions were in the final decision-making stages.
"I would anticipate that there will be a coalition presence here after the defeat of ISIS," he said.
After Barack Obama completed a long-planned troop withdrawal from Iraq in 2011, the Iraqi security forces quickly weakened under then-prime minister Nouri al-Maliki.
By the time ISIS attacked in 2014, the military was unable to mount a defense and many units turned and ran, often dumping precious weaponry and vehicles.
"All of us can look back to the end of 2011 when the US and coalition forces left Iraq the last time, and saw what played out in the intervening three years. I don't think we want to replay that," Townsend said.
Iraqi authorities are celebrating after declaring that security forces had driven ISIS from their one-time biggest stronghold of Mosul.
But the jubilation is tempered by the fact the fight will continue elsewhere.
"There are still pockets of resistance in Mosul, hold-outs, and hidden IEDs (bombs) that will take weeks to clear, as well as remaining ISIS enclaves in Hawijah and western Anbar," Townsend said.
Currently, there are more than 5,000 US troops in Iraq, many of them advisors to the Iraqi security services.
Townsend said he anticipated the military presence to be smaller in the future and that troops would be housed in existing US facilities.
"We have a fairly robust footprint here that's fairly well distributed around the country, mainly for the purpose of defeating ISIS," he said.
Full report at:
https://english.alarabiya.net/en/News/middle-east/2017/07/12/US-eyes-continued-presence-in-Iraq-after-ISIS.html
--------
US created Daesh, allowed regional states to fund terror group: Nasrallah
Jul 11, 2017
The secretary general of the Lebanese Hezbollah resistance movement says the US created the Daesh terrorists and gave regional states the green light to fund and support the Takfiri militant group.
Sayyed Hassan Nasrallah made the remarks during a live broadcast from Beirut on Tuesday evening following the Iraqi victory over the Takfiri Daesh terrorist group in the northern city of Mosul, which marked the end of the nine-month battle for control over the extremists' former stronghold and Iraq's second largest city.
Nasrallah further went on to praise Iraqi Shia paramilitary forces for the key role in routing Daesh from Mosul.
The Popular Mobilization Units, commonly known by their Arabic name Hashd al-Sha'abi, along with Iraqi army soldiers have been made sweeping gains against Daesh since launching the Mosul operation on October 17, 2016.
He also stressed that contrary to claims by the US army that the battle against terrorism will take years, it in fact only requires a concerted international effort.
The Lebanese leader also slammed some Arab media outlets for their attempts to fuel sectarianism and encourage the Takfiri terrorists to kill innocent people.
He further hailed Iraqi ethnic groups for their unity in the battle against terrorism. He also noted that a religious fatwa by Iraq's top cleric Grand Ayatollah Ali al-Sistani -- which was issued after Mosul fell to the terrorists -- served to galvanize tens of thousands of Iraqi Shias.
Iraqi Prime Minister Haider al-Abadi formally declared triumph over Daesh in Mosul on Monday evening.
"I announce from here the end and the failure and the collapse of the terrorist state of falsehood and terrorism, which the terrorist Daesh announced from Mosul," Abadi said, adding, "It was due to the Iraqi nation's united front and sacrifice that we are now celebrating the victory over Daesh. This is the victory over darkness and terrorism."
Full report at:
http://www.presstv.ir/Detail/2017/07/11/528164/Lebanon-Hezbollah-Nasrallah-Mosul-liberation-Daesh-terrorists-Middle-East
--------
Syrian army soldiers inflict heavy losses on Daesh militants
Jul 11, 2017
Syrian government forces have carried out fresh operations against Takfiri Daesh militants in the war-raved Arab country's eastern province of Dayr al-Zawr, inflicting substantial losses on them.
Syria's official news agency SANA reported that Syrian Air Force fighter jets had carried out a string of aerial assaults against Daesh positions in al-Hussainia, al-Bogheilia, Panorama, Hattla, Marat and Mazloum districts, killing scores of the militants and destroying large amounts of their munitions.
The developments came on the same day that several mortar shells fired by foreign-sponsored Takfiri terrorists landed in al-Joura, al-Qosour and Harabesh neighborhoods of the provincial capital city of Dayr al-Zawr, located 450 kilometers northeast of the capital, Damascus, causing huge material damage. There were no immediate reports of casualties.
Moreover, local sources confirmed that a number of top Daesh militant commanders, including Hamed al-Nouri aka Abu Hamza al-Qaraani, have fled Dayr al-Zawr,
Separately, Syrian army soldiers have regained control over al-Heil oil fields northeast of the ancient city of Palmyra, inflicting heavy losses on Daesh terrorists.
Elsewhere in the southwestern province of Sweida, Syrian army troops established complete control over Tal Shihab mountainous region.
Syrian fighter jet allegedly struck east of Damascus
Meanwhile, a foreign-sponsored militant group affiliated with the so-called Free Syrian Army's Southern Front stated that its fighters had fired anti-aircraft machine guns at a Syrian military aircraft on Tuesday,
"The men targeted the plane, they saw smoke coming out of it. It withdrew backwards towards the regime-controlled territory," Saad al-Haj, spokesman for the Lions of the East Army, said.
The so-called Syrian Observatory for Human Rights also said the plane was damaged and was forced to come down in the al-Sin military air base on the outskirts of Damascus, but it did not crash.
Lebanon-based Arabic-language al-Mayadeen news network and Damascus Now news website also dismissed allegations that the plane had been shot down and crashed in the Um al-Ramam region.
There was no immediate comment from the Syrian military.
UN: Up to 50,000 civilians trapped in Raqqah
Furthermore, the United Nations has expressed deep concerns over the situation of tens of thousands of people, who have been trapped in Syria's militant-held northern province of Raqqah.
"The UN estimates that between 30 and 50,000 people remain trapped in Raqqah city, although certainly over numbers, getting the precise number is difficult given the lack of access. Availability of food, water, medicine, electricity and other essentials has been dwindling, with the situation rapidly deteriorating. It is imperative that trapped civilians are able to secure a safe passage out to reach safety, shelter and protection." Spokesman for the Office of the United Nations High Commissioner for Refugees (UNHCR) Andrej Mahecic told reporters in Geneva on Tuesday.
He added that 20,000 people have left the city over the month of June alone, stressing that those who attempt to leave Raqqah expose themselves to massive airstrikes being carried out by the US-led coalition purportedly fighting Daesh terrorist group.
"They either chose to, they either have to make a choice to remain and risk dying in the fighting, in the fierce fighting, or risking becoming targets as they flee. We have seen a similar situation, a similar pattern, a similar modus operandi in Mosul," Mahecic pointed out.
Full report at:
http://www.presstv.ir/Detail/2017/07/11/528136/Syrian-government-forces-deal-blows-Daesh-Takfiri-militants-Dayr-alZawr
--------
India
Send Gaurakshaks to Fight Terrorists in Kashmir: Shiv Sena
July 12, 2017
Gaurakshaks should be sent to fight terrorists in Kashmir, said Shiv Sena president Uddhav Thackeray on Tuesday. "Should I now believe that instead of grenades and arms, if beef was found in the bags of these terrorists, not a single one of them would have escaped. We have this entire farce around gauraksha and gaurakshaks. Why don't you send these rakshaks to take on the terrorists," Thackeray said, while addressing a gathering of Ganesh mandals in the city.
These mandals are up in arms against various restrictions imposed by the state administration over how the annual Ganesh festivities in the state should be conducted, including sound limits to be ensured. In the wake of the terror strike against Amarnath yatris, Thackeray claimed that Hindus were being targeted in the country. "We are heading towards darkness. Festivals are small moments where we forget our troubles. But if you start imposing such restrictions trust me the Sena will not allow you to be in peace," Thackeray said taking a swipe at the BJP government.
He also took a swipe at those who he claimed had been asking the Sena not to mix politics with culture and sports when it had opposed Pakistani actors and sportspersons. "We were told not to mix politics with culture and sport. But yesterday religion and politics were mixed and terrorists attacked innocent pilgrims. Do you have the guts to say the same things that you told us to these terrorists," Thackeray asked.
The Sena has stated that the government needs to do more than plain lip service to rein in terror in Jammu & Kashmir. It has also stated the Sena founder, Bal Thackeray, had ensured a smooth yatra by threatening to disrupt Haj flights from taking off from Mumbai if Amarnath pilgrims were attacked. "The attack was not only on pilgrims going for the Amarnath yatra but on the entire country and the Central government. Merely condemning the incident will not suffice. It is time that this government does something concrete to give terrorists a befitting reply," Shiv Sena MP Sanjay Raut told reporters in Mumbai.
Raut claimed that the attack was on the entire nation and stated that Hindus of the country were felling targeted. Taking a swipe at the BJP, Raut said that the attack was proof that the surgical strike against the neighbouring country and the demonetisation move had yielded no results. "A permanent cure has to be found against Pakistan and its terrorist activities," the Rajya Sabha member said.
He claimed that the Sena had tackled a similar threat to the yatra in 1996 with the party supremo Bal Thackeray threatening to disrupt Haj pilgrims from flying out of Mumbai. He claimed this threat had ensured there was not a single casualty. "Balasaheb had then publicly announced that if there was a single casualty by a terrorist attack during the Amarnath yatra, the Shiv Sena will ensure that not a single plane from anywhere across the country takes off with Haj pilgrims. The situation today is such that a similar stand needs to be taken now," Raut said. Later in the day, party chief Thackeray said his party was still capable of carrying out Bal Thackeray's threat.
http://indianexpress.com/article/india/send-gaurakshaks-to-fight-terrorists-in-kashmir-sena-4746521/
--------
Hisar: Muslim slapped, asked to raise Bharat Mata slogan
July 12, 2017
A Muslim man was allegedly assaulted by a mob in Haryana's Hisar town Tuesday during a march by Bajrang Dal activists to protest the attack on Amarnath pilgrims. Police said a complaint was filed by the victim, Abid Hussain, a resident of Rajiv Nagar, against 100-125 unidentified people.
"The complainant has not specified who the assailants were. We have intiated the process of lodging an FIR," said an officer.
Haryana Muslim Kalyan Committee president Harphool Bhatti said a group of youngsters slapped the victim as he stepped out of the mosque. A video of the incident showed a group of youths repeatedly asking Hussain to raise the slogan "Bharat Mata Ki Jai". He is seen being slapped by one of them.
http://indianexpress.com/article/india/hisar-muslim-slapped-asked-to-raise-bharat-mata-slogan-4746470/
--------
'The Firing Went On And On, I Kept Driving' Says The Muslim Bus Driver Who Saved Several Amarnath Pilgrims
12/07/2017
Had it not been for Salim Sheikh, it is likely that more Amarnath pilgrims would have died in the terrorist attack on Monday. The bus driver from Gujarat displayed exemplary courage and presence of mind as he powered through a volley of bullets aimed at the vehicle, saving the lives of several people who were on board.
According to some media reports, Salim saved the lives of 50 people.
"God gave me strength to keep moving, and I just did not stop," Salim told ANI.
The bus that Salim was driving was carrying pilgrims from his hometown of Valsad in Gujarat. They had left for Kashmir on 2 July. Seven pilgrims were killed and at least 19 were injured after heavily armed terrorists opened fire on the bus in the district of Anantnag, while they were making their way from Srinagar to Jammu.
The Jammu and Kashmir police have pinned the attack on the Lashkar-e-Taiba terrorist group.
Speaking to The Hindu, Salim said, "God gave me strength and courage to drive on amidst firing from right side. There were possibly three to four terrorists firing. We could not see anything as it was pitch black," Mr. Sheikh said, recalling the life-threatening moments.
"As the firing continued, people were shouting, crying and screaming to stop but I just somehow kept driving for one kilometre. I ducked twice by bending over on driving seat but did not stop till I saw a military camp," he said.
Salim told NDTV, "God gave me strength to keep moving, and I just did not stop. The firing went on and on, so I didn't stop. I kept driving."
Salim drove for around one or two kilometers before he stopped the bus at an army camp.
Gujarat chief minister Vijay Rupani has said that he will nominate Salim for a bravery award. The Jammu and Kashmir government has announced a ?3 lakh award for Salim. The Amarnath Shrine Board has also announced an award of ?2 lakh.
Full report at:
http://www.huffingtonpost.in/2017/07/12/the-firing-went-on-and-on-i-kept-driving-says-the-muslim-bus_a_23025904/
--------
Amarnath terror strike: 'Kashmiris condemned attack, this will restore India's faith in J&K,' says Union minister Jitendra Singh
Jul 12, 2017
NEW DELHI: Union Minister Jitendra Singh on Wednesday said that "the way people from all quarters (of J&K) have condemned the attack on (Amarnath) pilgrims is the real Kashmiriyat."
Singh and Union minister Hansraj Ahir also acknowledged there might have been a security lapse which failed to prevent Monday's terror attack on Amarnath pilgrims that left seven people dead.
"Such incidents help us to overcome and introspect security lapse but be assured that we are dealing with issue seriously," Singh said.
Ahir also said they will investigate the security situation.
"If there are any security shortcomings, we will remove them," said Ahir.
Both minsters were addressing a press conference in Srinagar after attending a high-level security meeting there to discuss Monday's attack.
Reports said that the bus that was attacked was not registered with the Amarnath Shrine Board and therefore may have failed to get security. The ministers said these issues will be fully investigated.
Singh said that in connection with Monday's attack, "all unanswered questions will be answered" and that Prime Minister Narendra Modi is personally monitoring the investigation.
The Union ministers were full of praise for Kashmiris who condemned the attack on pilgrims.
"People of Kashmir valley have come forward to say 'punish the guilty', this is what will restore India's faith in the composite culture of Kashmir. Civil society has vindicated our faith in everything India and J&K stand for," Singh said.
He also "congratulated people of Jammu and Kashmir for the resilience shown in last 25 years".
"Whenever anything of such a nature happens in Kashmir, it finds an echo across the country. And India stands with Kashmir," Singh added.
Singh also said he agreed with home minister Rajnath Singh's recent comment on the attack.
"Yes, Rajnath ji is absolutely right, every Kashmiri is not a terrorist," Singh said.
Rajanath had yesterday said "all Kashmiris are not terrorists" while responding to a Twitter user.
The Twitter user later deleted her tweet.
Echoing, Singh's views, Ahir said that the way people have come out and condemned the attack shows "that the common man is not with the terrorists."
"The yatris didn't look scared. They are bravely carrying on with pilgrimage. Even after the attack, Amarnath Yatris are unfazed and enthusiastic," Ahir said.
Singh earlier said the pilgrims were "adamant" the Amarnath yatra should go ahead.
Full report at:
http://timesofindia.indiatimes.com/india/amarnath-terror-strike-kashmiris-condemned-attack-this-will-restore-indias-faith-in-jk-says-union-minister-jitendra-singh/articleshow/59557338.cms
--------
3 terrorists gunned down in Kashmir's Budgam district
Jul 12, 2017
NEW DELHI: Three terrorists were killed in an encounter that began on Tuesday evening in central Kashmir's Budgam district, Army said on Wednesday.
The gunbattle began on Tuesday evening after security forces launched a search operation following a tip-off about the presence of terrorists in Radbugh village in Budgam's Magam area at around 7.30pm, a senior Army officer said.
"Their bodies along with three assault rifles have been recovered," he added.
He also said the deceased terrorists - identified as Javid Sheikh, a resident of Churpora Narbal, Dawood Ahmad Sofi, a resident of Mustafa Abad Zainakote and Aaquib Gul - belonged to Hizb ul Mujahideen terrorist outfit.
A joint security team of the Central Reserve Police Force, the Indian Army's Rashtriya Rifles and the Jammu and Kashmir Police's Special Operations Group was carrying out a cordon-and-search operation when they encountered the terrorists.
Full report at:
http://timesofindia.indiatimes.com/india/jk-3-terrorists-gunned-down-in-encounter-in-budgam/articleshow/59554395.cms
--------
Killers of Amarnath Yatris not Muslims: Farooq Abdullah
July 11, 2017
Opposition National Conference (NC) president Farooq Abdullah on Tuesday apologised to the people of the country for the attack on Amarnath yatris, saying those "who fired upon innocents were not Muslims". "On my behalf and on the behalf of the people here, I want to apologies to you for this attack and want to tell you that we are not the ones who kill people. We have always shown love and are still showing it today," he said. He referred to the role of Muslims in the Amarnath Yatra. "Even today, when a yatri comes here, it is the Kashmiri Muslim who carries his baggage. The ponywala also is a Kashmiri Muslim," Abdullah said. The former chief minister was speaking at a function to commemorate the 17th death anniversary of his mother Begum Akbar Jehan Abdullah at her mausoleum in Hazratbal in Srinagar.
The whole of Kashmir had been saddened by the attack, he said, adding the attackers wanted to create communal tension in the country.
"There is religious freedom in this country…communalism in India is at its peak again and it can devour us all. This attack is an example of communalism," he said.
He said when the people in Jammu called for a bandh, the Kashmiris should have joined them because "this attack is on religion".
Terrorists on Monday killed seven Amarnath pilgrims, including six women, and injured 19 others as they fired at a bus in Kashmir's Anantnag district.
Terming the attack as one of the biggest tragedies, Abdullah said people of Kashmir were not communal.
The member of Parliament from Srinagar said he was worried about the "repercussions" the attack may have outside the Valley.
"I hope that nothing happens…the attack was not done by the Kashmiris…not by the Muslims of Kashmir. Those terrorists cannot be Muslims," he stressed.
He appealed to every man and woman in India to remain calm and pray for the souls of those who are dead and "pray for those who are in hospital to get well".
"Come in large numbers, the way we visit many shrines in the country, so that these forces are defeated. Our religion teaches us brotherhood and we will continue that," he said.
Abdullah asked the people of the country to love Muslims and Kashmiris.
He said that to bring Kashmir back to normal, people should start loving the people of the Valley.
"The more love you will give them, the more response will there be from here and these forces will be defeated," he said.
He, however, refused to comment on whether the attack was the failure of the state government.
"I don't think today is the time when I have to comment on that," he said, adding that he had "lost his sleep since he came to know about the attack."
"Innocents have been killed. If you (militants) want to fight, then fight against India if you have that power. Why are you firing at innocent?" he asked.
Full report at:
http://indianexpress.com/article/india/killers-of-amarnath-yatris-not-muslims-farooq-abdullah-4745962/
--------
Madrassa children stopped at Bengaluru station following rumours of trafficking from Bangladesh
11th July 2017
BENGALURU: Following an anonymous alert of children being trafficked from the Cantonment Railway Station in Bengaluru, a total of 160 children were stopped by the Karnataka police at the station on Tuesday.
Acting on rumours that they were being trafficked from Bangladesh to Kerala, the children were stopped at around 12 noon, when the train Guwahati Express reached the station.
However, guardians of the children who were accompanying them said that the children were not being trafficked, but were returning back to madrassas in Karnataka after Ramzan vacations.
Police officials who verified documents of these children have dismissed the rumours. According to Jinendra Kanagavi, deputy commissioner police (DCP) (Crime), the children were found to be returning back to madarasas in Sagar, Tumakuru, Madikeri and Bengaluru. "Child trafficking has been ruled out," he said.
Abdul Kalam, guardian of one of the children said his 12-year-old nephew was in the group. "The financial condition of my sister is not good back home. So I told her that I will take care of her son's education and admitted him to madarasa," he said.
Full report at:
http://www.newindianexpress.com/cities/bengaluru/2017/jul/11/madrassa-children-stopped-at-bengaluru-station-following-rumours-of-trafficking-from-bangladesh-1627245.html
--------
In a first, India gives Rs 3.2 crore aid to Philippines in fight against ISIS
Indrani Bagchi
Jul 12, 2017
NEW DELHI: India has rushed financial assistance of $500,000 (25 million pesos or Rs 3.2 crore) to the Philippines as it battles IS-affiliated terror groups in the city of Marawi, 800km south of Manila, in the troubled Mindanao province.
Intended for relief and rehabilitation, it is the first time India is sending aid to another country to save itself from deadly terror groups.
The aid follows a conversation between external affairs minister Sushma Swaraj and Philippines' foreign secretary Alan Peter Cayetano on July 6. A statement by the Indian embassy in Manila says Swaraj expressed "sympathies and condolences for the tragic loss of life in Marawi city."
According to sources, the battle between Philippines forces and IS-affiliated groups is "like 26/11, going on for the past seven weeks". The fighting has claimed the lives of at least 90 soldiers, 380 terrorists and dozens of civilians, according to reports quoting the local police chief. Hundreds are still held hostage as the terrorists battle advancing forces. The battle is still under way.
India is now the largest donor for this crisis. China, which is Philippines' new best friend, came up with 15 million pesos in aid.
As Filipino forces attempt to clear the besieged city, they are reportedly encountering snipers, booby traps, all indicating that the terrorists have been around for a while. Philippines President Rodrigo Duterte put the Mindanao province under martial law for 60 days and is on record to say that he would complete the operation in another 15 days. The terrorists belong to Maute group, which is armed to the teeth and flush with foreign fighters from Malaysia and Indonesia.
Full report at:
http://timesofindia.indiatimes.com/india/india-rushes-aid-to-philippines-battling-deadly-isis-group/articleshow/59548569.cms
--------
Europe
Thousands pay tribute to Muslim victims of 1995 Srebrenica massacre
Jul 11, 2017
Thousands of people have gathered in the Bosnian town of Srebrenica to pay respect to Muslim victims of the 1995 massacre, during which thousands of men and boys were killed by Serbian forces.
The remains of more than 70 recently identified victims were buried on the 22nd anniversary on Tuesday of the Srebrenica massacre, Europe's worst massacre since World War II.
The victims were put to final rest at the Srebrenica-Potocari Memorial Center and Cemetery.
Every year, new bodies are discovered and the remains are identified through DNA analysis before being buried at Potocari.
Thousands of activists each year attend massive marches to remember the genocide victims.
Ahead of the Tuesday ceremony, thousands of people marched across Bosnia-Herzegovina to the memorial site to remember those who were massacred 22 years ago.
In July 1995, a large number of Bosnian Muslim men and boys were systematically massacred by Bosnian Serb forces and buried in mass graves. In addition to those killed, thousands of women, children and elderly people were forcibly deported, and a large number of women were raped across the territory of the former Yugoslavia.
The International Committee of the Red Cross has estimated the number of victims at 8,000. The United Nations has called this "the greatest atrocity on European soil since the Second World War".
The International Criminal Tribunal for the former Yugoslavia (ICTY), a tribunal established by the UN to prosecute those responsible for serious violations of international humanitarian law, and the International Court of Justice have concluded that the acts committed at Srebrenica constituted genocide.
The carnage took place after Bosnian Serbs ran over the Bosnian town, even though it was formally declared a UN-protected area. Serb troops overran the zone despite the presence of hundreds of Western troops tasked with protecting innocent civilians.
Thousands of Bosniaks had sought shelter from Bosnian Serb soldiers in a UN Safe Area base, which was being defended by the Dutch peacekeepers when it was overrun by Serb forces.
Serb death squads butchered a large number of Muslim Bosnian boys and men in Srebrenica over the course of four days.
Last month a Dutch appeals court upheld a 2014 ruling that found the Netherlands responsible for the deaths of 350 Bosniak men in the Srebrenica massacre.
According to declassified US cables, cited in a report by the UK-based daily The Guardian, British, American and French governments were prepared to cede UN-protected safe areas to armed Serb militias during the war in Bosnia.
A former Dutch Defense Ministry official has also said that the UN facilitated the takeover of Srebrenica and the brutal carnage there by providing 30,000 liters of fuel gas to Serbs.
The revelations have posed a serious challenge to the official Western version of events.
In March last year, former Bosnian Serb political leader, Radovan Karadzic, was convicted of war crimes for his role in the Srebrenica killings and was sentenced to 40 years in prison.
Bosnian Serb military chief, Ratko Mladic, is still on trial at The Hague for war crimes and genocide in Srebrenica.
http://www.presstv.ir/Detail/2017/07/11/528148/Srebrenica-Muslims-Potocari
--------
UK profiting from Yemeni civilians suffering: HRW
Jul 12, 2017
Human Rights Watch (HRW) says the United Kingdom is profiting from the suffering of Yemeni civilians by selling arms to Saudi Arabia.
The prominent rights group made the remarks in a press release on Tuesday, after a UK High Court ruling earlier in the week declared that London's arms sales to Riyadh were not illegal.
Describing the judgment as terrible news for Yemeni civilians, the HRW also expressed disappointment at the ruling for not helping pressure Riyadh to end its "unlawful attacks" in the war-torn country.
The organization said it had identified at least 81 unlawful attacks conducted by the Saudi-led coalition on schools, markets, hospitals and homes.
In March 2015, the Saudi regime and its allies, backed by the US, began a military campaign against Yemen to reinstall its former government. The war has killed over 12,000 civilians since then.
British Prime Minister Theresa May has recently licensed £3.5 billion worth of arms export to the Saudi kingdom.
The war-stricken country is also grappling with the cholera epidemic, which has surpassed 300,000 cases and continues to spiral out of control since it erupted in April.
International organizations, including the United Nations and the Red Cross, say the Saudi war and an embargo may be responsible for the cholera epidemic.
Over two years of war and conflict have significantly reduced Yemen's public healthcare capabilities. All operating hospitals and clinics are now over-burdened by the epidemic for the lack of medicine, equipment and staff.
Full report at:
http://www.presstv.ir/Detail/2017/07/12/528180/UK-profiting-from-Yemeni-civilians-suffering
--------
President Erdogan tells BBC: EU wastes Turkey's time
Jul, 11 2017
Turkey will find it "comforting" if the EU says it cannot be accepted as a member, President Recep Tayyip Erdogan has told the BBC.
Speaking to HARDtalk's Zeinab Badawi, he said Turkey was "able to stand on its own two feet".
He also denied the country had jailed 150 journalists, saying only two people with press cards were in prison.
Meanwhile, Turkey extended the detention of the local director of Amnesty International and nine others.
Idil Eser was detained on 5 July during a digital security and information management workshop, along with seven other rights activists and two foreign trainers.
The 10 are accused of being members of an "armed terrorist organisation" - although Amnesty says it is unclear which one.
Their detention has raised alarm internationally, increasing fears that freedom of expression is being suppressed under President Erdogan.
'The EU wastes our time'
"If the EU, bluntly says, 'We will not be able to accept Turkey into the EU' this will be comforting for us..." Mr Erdogan told the BBC.
"The European Union is not indispensable for us... We are relaxed."
Mr Erdogan said the majority of Turks did not "want the EU anymore" and believed its approach to Turkey was "insincere".
"Despite all this we will continue being sincere with the EU for a little more time," he added.
Gulen 'not fleeing'
The president was speaking almost a year to the day since the 15 July attempted military coup. At least 260 people died when rogue soldiers bombed government buildings and drove tanks into civilians.
In the 12 months since then, a state of emergency has been in place across the country. More than 50,000 people have been arrested, and 140,000 dismissed or suspended on suspicion of being linked to US-based Islamic cleric Fethullah Gulen.
The 79-year-old cleric denies Turkey's accusation that he orchestrated the failed coup. However, President Erdogan is seeking his extradition from the US.
Mr Gulen, whose movement is seen by the Turkish government as a terrorist organisation, has told Reuters news agency that "if the United States sees it appropriate to extradite me, I would leave (for Turkey)". He rejected Turkish claims that he was seeking to flee to Canada.
'Just two journalists'
Some 160 media outlets have been closed down in Turkey, and 2,500 journalists or media workers have been sacked from their jobs. According to the Committee to Protect Journalists, Turkey is the biggest jailer of journalists in the world.
President Erdogan disputed this figure, however, telling the BBC: "No-one is jailed because of journalism here."
"Just two actual journalists are in jail right now," he said.
The 63-year-old said his opponents had "infiltrated the judiciary, military, police and the media".
This is how they have organised and attempted the coup as a mob. They'll work together to overthrow a state and then seek refuge as journalist to save themselves. This is not acceptable. We are not afraid of any statements and writings on this issue."
Qatar: 'We don't want to see Muslim killing Muslim'
Asked about his strong backing for Qatar, which is under blockade from some of its powerful Arab neighbours over its alleged support for terrorism, Mr Erdogan said Turkey wanted to promote "dialogue and peace" in the Gulf region.
"Turkey is never in favour of Muslim killing Muslim in this region," he added.
Full report at:
http://www.bbc.com/news/world-europe-40577216
--------
Moroccan Professor to Chair Organization of Islamic Cooperation's Human Rights Committee
By Amira El Masaiti
July 11, 2017
During the OIC's 44th session in the Ivorian capital Abidjan on July 11, Makkawi was chosen, among four other candidates, to serve as the organization's chairperson of the Standing Committee of Human Rights for three renewable years.
According to Parliament.com, Makkawai's election, came as a result of the strong presence of the Moroccan delegation led by the Minister of Foreign Affairs and International Cooperation in charge of Moroccans Residing Abroad and Immigration Affairs, Abdel Karim Benatik, during the recent meeting of the OIC foreign ministers.
During the 44th session of the Council of Foreign Ministers of the 56-member organization of Muslim states, which took place July 10 and 11, the OIC praised Morocco's return to the African Union and the Royal initiative to assist in the development ofthe Africa.
Under the theme 'Youth, Peace and Development in a World of Solidarity', the meeting also honored the conference on the rights of religious minorities organized in January in Marrakech.
Raja Naji Makkawi is a Moroccan scholar and a Fiqh professor. She is the first Moroccan woman to receive a doctorate in Law from Rabat's Mohammed V University and the first woman to deliver a Hassani lesson before King Mohammed VI and a select group of scholars and politicians.
Full report at:
https://www.moroccoworldnews.com/2017/07/222770/organization-islamic-cooperations-human-rights-committee-raja-naji-al-makkawi/
--------
North America
Cleric Gulen says he would not flee US to avoid extradition to Turkey
Jul, 11 2017
SAYLORSBURG, Pa. (Reuters) - Fethullah Gulen, the U.S.-based Muslim cleric accused by Turkey of instigating last year's failed coup, says he has no plans to flee the United States and would accept extradition if Washington agrees to a request by Ankara to hand him over.
In an interview in his gated compound in Pennsylvania's Pocono Mountains, Gulen, 79, denied a Turkish government allegation from February that he was preparing to leave for Canada to avoid extradition.
"The rumors aren't true at all," he told Reuters.
"If the United States sees it appropriate to extradite me, I would leave (for Turkey)," he said, sitting in an ornate meeting room, its walls lined with Islamic scripture.
President Tayyip Erdogan and the Turkish government accuse Gulen of orchestrating last July's attempted coup, in which rogue soldiers commandeered tanks and fighter jets, bombing parliament and trying to abduct or kill Erdogan. More than 240 people were killed in the violence.
The Turkish Embassy in Washington declined to comment on Gulen's latest remarks. The White House did not respond immediately to requests for comment. Officials in Ankara could also not immediately be reached for comment.
Erdogan said in May he would pursue "to the end" Turkey's demand for the extradition of Gulen, who denies any involvement in the coup attempt. But there has been little or no concrete progress on the Turkish request.
U.S. officials have said privately that even though Erdogan has appealed directly to U.S. President Donald Trump on the matter, Turkey has yet to provide enough evidence for the Justice Department to act.
The issue has been a major sticking point in the relationship between the two NATO allies.
Gulen said he hoped that the Trump administration would not allow his extradition to move forward, especially after the resignation of former national security adviser Michael Flynn, a White House aide who quit just weeks after Trump's inauguration.
Flynn, who resigned over his failure to disclose the extent of his contacts with Russia, had performed paid lobbying work that "could be construed to have principally benefited" the Turkish government, according to his lobbying registration filings, and was outspoken in favor of Gulen's extradition.
Gulen said he felt "pity" for Flynn but acknowledged that the former Trump aide's departure might have helped his case.
The Justice Department declined to comment on the status of Turkey's extradition request. There was no immediate response from Flynn's lawyer to a request for comment.
Frail Exile
Gulen, a former Erdogan ally, has lived in self-imposed exile since 1999, presiding over what he says is a humanitarian religious movement. His followers operate a global network of schools and businesses that has been linked to the Gulenist movement.
His network was declared a terrorist group by Turkey's national security council two months before the failed coup. Since then, Gulen himself has become an increasingly marginalized figure across the political spectrum.
Following the putsch, a wide crackdown, which the government says is targeting Gulen's followers, has seen 50,000 people arrested and 150,000 state workers including teachers, judges and soldiers suspended under emergency rule.
Gulen denounced Erdogan's consolidation of power and the seizure of media outlets, comparing him to a "dictator." He urged the Trump administration and European governments to do more to encourage the restoration of political freedoms in Turkey.
"(If Erdogan hears) a strong voice from the United States or European Union, European Parliament, Brussels, saying: 'What you are doing is wrong ... your judicial system is not working,' then maybe he will change his mind," the cleric said.
European leaders have been critical of Erdogan's crackdown, but Washington has been more muted in its response. In a meeting in Washington in May, Trump made no mention of Erdogan's record on dissent and free speech.
The Turkish government has repeatedly said its actions are justified by the gravity of the threat posed to the state by last year's coup, and rejected suggestions that it is clamping down on dissent.
"The rule of law is upheld in Turkey, and it is not just about gaining more power or punishing the opposition," Revza Kavakci Kan, deputy chair of Erdogan's ruling AK Party, told a conference in Washington on Monday.
Gulen praised the political opposition in Turkey and stressed that any fresh effort to remove Erdogan should be through peaceful protest and elections, not non-democratic means.
His followers say his global movement - known as "Hizmet," which means "service" in Turkish - seeks to spread a moderate brand of Islam, which promotes Western-style education, free markets and interfaith communication.
"I have never supported a coup or an ouster," he said.
Today, Gulen is an isolated figure in Turkey, reviled by Erdogan's supporters but also shunned by much of the opposition, who see his network as having conspired over decades to undermine the secular foundations of the modern republic.
Hundreds of thousands of opposition supporters took to the streets of Istanbul on Sunday to protest against Erdogan's crackdown, but there was no sign of sympathy for Gulen.
Gulen appeared frail in the interview, walking with a shuffle, and keeping his longtime doctor close at hand.
http://nation.com.pk/international/12-Jul-2017/cleric-gulen-says-he-would-not-flee-us-to-avoid-extradition-to-turkey
--------
U.S. must not take victory lap over Islamic State's defeat
Jul, 11 2017
After more than eight months of fighting, U.S.-backed Iraqi forces this week succeeded in liberating Mosul — Iraq's second-largest city — from the barbaric Islamic State movement. On Tuesday, there was also a report from a human rights group with a good record of insights into the Syrian civil war that Islamic State leader Abu Bakr al-Baghdadi has been killed in that ravaged nation, where the terror group has also steadily been losing ground.
Given that the victory in Mosul means a respite from carnage that left many thousands dead, a feeling of accomplishment is appropriate — but not a sense of satisfaction. That's because whether the topic is Iraq in particular or the larger picture of Islamist terrorism, there is much to worry about.
The Shiite Muslims who control Iraq's government still aren't trusted by the nation's Sunni Muslim minority. These Sunnis welcomed or tolerated the arrival of Islamic State's Sunni fighters and are likely to have a similar attitude about a future Sunni uprising — unless they are treated more equitably. Iraqi Prime Minister Haider al-Abadi has proven more adept than his recent predecessors and appears to understand that reaching out to Sunnis is crucial. There's been talk of moving to a more decentralized government — allowing Sunnis much more control in the areas where they are predominant — and of sharing oil wealth more broadly among all Iraq's regions. (One of the driving factors in the Shiite-Sunni rivalry is the geologic peculiarity that nearly all the Persian Gulf's oil deposits are located underneath areas where Shiites are concentrated, even in Sunni-majority oil giant Saudi Arabia.)
So there are reasons for hope. But given that the Shiite-Sunni schism dates back to Islam's founding in 632 A.D. — and that the intense fight for regional dominance between Shiite Iran and Sunni Saudi Arabia has only intensified in recent years — Iraq could soon be a proxy war battlefield again.
Meanwhile, all the factors that drive jihadism among young disaffected Muslims remain firmly in place — lack of economic prospects in Europe and the Middle East, resentment of Western affluence and perceived decadence, hatred of the United States and its Western allies for their violent interventions in Muslim nations and the ease of affiliation with like-minded people through the Internet. Maajid Nawaz, a Britain-born former Islamist turned author and politician who is widely respected for his insights into extremism, expects a long struggle with what he calls a "global jihadist insurgency" with followers across the world.
But America needs a reckoning for its own mistakes. In 2003, the United States invaded Iraq not just because of fears of Iraq's weapons of mass destruction but because of the Bush administration's desire to usher in democracy in a region full of authoritarian regimes. The effort has failed. Of the six nations with pro-democracy protests during the Arab Spring of 2011, all are now once again dictatorships, with the exception of tiny Tunisia. And one of the nations in the region that used to be a democracy — Turkey — now looks more like a religious dictatorship as President Recep Tayyip Erdoğan steadily increases his powers and silences critics.
Full report at:
http://www.sandiegouniontribune.com/opinion/editorials/sd-mosul-freed-islamic-state-20170711-story.html
--------
US Army soldier held in Hawaii on terror charges
Jul, 11 2017
WASHINGTON - A US Army sergeant stationed in Hawaii after serving in Iraq and Afghanistan was charged on Monday with attempting to provide material support to Islamic State extremists, including a drone aircraft and combat training instructions.
Ikaika Erik Kang, 34, an air traffic control specialist who also had extensive military training in hand-to-hand combat, was arrested by the FBI on Saturday following a year-long undercover probe, according to the Federal Bureau of Investigation.
An FBI affidavit filed in court with the criminal complaint summarized a lengthy sting operation employing several undercover agents and other "confidential human sources" who posed as Islamic State operatives and sympathizers.
As described in the affidavit, the sting drew to a climax as Kang swore a pledge of loyalty to IS leader Abu Bakr al-Baghdadi, then proceeded to make training videos for the extremist group.
, also known as ISIS, which has seized large swaths of territory in Syria and Iraq.
He was taken into custody that same day, the affidavit said. Hours earlier, according to the FBI, he had purchased a GoPro drone aircraft and camera kit that he intended to be sent to the Middle East to help ISIS fighters evade enemy tanks in battle.
Kang also is accused of attempting to furnish ISIS with classified and other sensitive military records that would have assisted the group in its combat tactics. But the FBI said none of those documents made it to ISIS.
Kang, a member of the 25th Combat Aviation Brigade, 25th Infantry Division, was assigned to the Army's Schofield Barracks, a major garrison on the island of Oahu.
He is believed to be a "lone actor" with no ties to anyone who might pose a threat to Hawaii, the FBI said. He was brought to the FBI's attention by the Army last year, officials said.
At a brief court appearance on Monday, he was presented with the charges against him and ordered to remain in federal custody pending a July 13 detention hearing. He entered no plea.
Kang's attorney, Birney Bervar, told reporters afterwards that he knew "very little" about the case, having spoken only briefly to his client just before the hearing as he was handed a copy of the complaint.
Full report at:
http://nation.com.pk/international/12-Jul-2017/us-army-soldier-held-in-hawaii-on-terror-charges
--------
US eyes continued presence in Iraq after Daesh: Top commander
Jul 12, 2017
A top US commander says Washington plans to maintain a military footprint in Iraq even after the full eradication of Daesh (ISIL) terrorists there.
Lieutenant General Stephen Townsend said on Tuesday that the United States and some of its allies were "interested" to keep their military presence in the Arab country after the eventual defeat of the Takfiri terrorist group.
"We have a fairly robust footprint here that's fairly well distributed around the country, mainly for the purpose of defeating ISIL," he said. "A future footprint would be smaller and probably use a subset of the bases that we have today."
Townsend also claimed the Iraqi government had expressed an interest in having the US-led coalition troops stay in the country, adding that discussions were in the final decision-making stages.
Iraqi Prime Minister Haider al-Abadi formally declared triumph over Daesh in the northern city of Mosul on July 10.
The US and its allies have been bombarding what they say are Daesh positions inside Syria and Iraq since 2014. The coalition has repeatedly been accused of targeting and killing civilians. It has also been largely incapable of fulfilling its declared aim of eliminating Daesh.
Full report at:
http://www.presstv.ir/Detail/2017/07/12/528189/US-Stephen-Townsend-Iraq-Daesh
--------
Thousands gather at largest 54Th ISNA convention of US Muslims in Rosemont
Jul, 11 2017
More than Fifteen Thousands of Muslims and Muslim Americans are converged on Chicago as the city hosts the Islamic Society of North America 54th annual convention, this weekend June 30 - July 3, 2017at Donald E. Stephens Convention Center Rosemont, IL.ISNA convention of the largest umbrella organization of Muslims, representing more than 2,500 mosques and community centers throughout the U.S.
The Islamic Society of North America dates its origin from an early association founded by Muslim students in the Midwest in 1963. Today, it is the largest Muslim body in the United States. The convention had more than 200 hundred of speakers, several roundtable discussions, art exhibits, films, fashion shows, a basketball tournament, a bazaar and many other activities.
This Muslim body when initially incorporated was called the Muslim Student Association or Called MSA, with chapters on university and college campuses. Its goal was to keep the light of Islam alive for the students coming to America for higher education from the Islamic lands. For almost three decades after its formation the organization remained a student oriented body, even as its founders turned forties and fifties and had become well-established professionals.
The theme this year was "Hope and Guidance through the Qur'an,"
The ISNA goal is to unite people across different faiths and different backgrounds in the spirit of peace and better understanding. ISNA President Azhar Azeez said in opening session. He also said in another session "our hope is to continue shaping a new narrative around what it means to be a mainstream Muslim.
Every year, ISNA selects a member of the North American Muslim community who has displayed an exceptional example of commitment and dedication to community service and present them with the Community Service Recognition Award. This year, ISNA honored to present the award to Dr. Sayyid M Syeed for his lifelong dedication to the American Muslim community, globally Islamic work, social justice issues and interfaith.
The keynote speaker was Linda Sarsour who recently was named one of TIME Magazine's 100 Most Influential People. She is a speaker, racial justice and civil rights activist. She is the executive director of the Arab American Association of New York and co-founder of the first Muslim online organizing platform, MPOWER Change. Sarsour has been at the forefront of major social justice campaigns both locally in New York City and nationally. She was also a co-chair of the Women's March on Washington. Sarsour was named among 500 of the most influential Muslims in the world. The ISNA excellence in interfaith award given to Rev Elizabeth Eaton from Evangelical Lutheran Church in America.
This year speaker were, Abdullah Idris, Jamillah Karim, , Linda Sarsour,Yasir Fahmy, Jasser Auda, Nadeem Siddiqui, Azhar Azeez, Zaid Shakir, Moon Khan, Dalia Mogahed, Jamal Badawi, Yasir Qadhi, Altaf Husain,Yaser Birjas ,Abdul Nasir Jangda, , Mehdi Hasan, Ingrid Mattson, Mohamed Magid, Muhammad Al-Yaqoubi, Jamillah Karim, Omar, Suleiman, ,Muzammil Siddiqi, Siraj Wahhaj, Hadia Mubarak and many other. This year record number of female was speaker and also record number of Interfaith & Community Alliances joined convention. The speakers from different academic and social backgrounds talked about the Hope and Guidance through the Qur'an in more than 100 sessions and events throughout the convention.
.
That seems to have been apparent at the 54Th annual conventions where many younger people were involved in running the event. They were very active in providing security, managing logistics, serving on the panels and directing the human traffic generally. It was pointed out that over 325 individuals had volunteered to see the convention through to its successful conclusion.
ISNA and its partner organizations provide many free health screenings and related information to all convention attendees
ISNA organizes huge bazaar at the Annual Convention with more than 550 booths. Participants sell, promote, and market their products and services to a large customer base. Because the Convention represents a broad spectrum of the Muslim community in America, this show also acts as a niche market for businesses. The Bazaar also provides an opportunity for businesses to communicate, understand, and cater to the needs of their customers. Free Health Fair provides various screenings and educational services. Also cultural activities, an Art Exhibit and even a basketball tournament
Full report at:
http://www.chicagotribune.com/suburbs/daily-southtown/community/chi-ugc-article-thousands-gather-at-largest-54th-isna-convent-2017-07-11-story.html
--------
US revokes travel cards of Canadians with Muslim sounding names
Jul, 11 2017
Nexus cards are being canceled for Canadians by the U.S. by email and letter without explanation and in some cases based only a Muslim sounding name, a Canadian international trade lawyer told Anadolu Agency.
Cyndee Todgham Cherniak said she has been contacted by four men who have had their Nexus privileges revoked since the U.S. Supreme Court allowed a partial travel ban on visitors from Iran, Libya, Somalia, Sudan, Syria and Yemen.
The revelations came to light after a man returned from Saudi Arabia, where he was born, and four days later received an email from the U.S. Customs and Border Protection that said his card was canceled because he no longer met the program's eligibility requirements.
Todgham Cherniak said the four people who contacted her had Muslim-sounding names and are either Canadian citizens or permanent residents.
"Not 100 percent," the lawyer said, but often the first name is Mohammed.
U.S. border protection agency spokesperson Jennifer Gabris denied revocations are based on name and told the Canadian Broadcasting Corporation such a claim is "completely false".
A Nexus card is a traveler document that avoids long waits and offers quick processing through Canada and the U.S. customs "at designed NEXUS air, land and marine ports of entry", according to information on the U.S. Customs and Border Protection website. Nexus card holders are extensively vetted before a card is issued.
Todgham Cherniak said the U.S. is not giving any reasons for the revocations and that makes it difficult to regain Nexus status.
"The U.S. takes it away and they don't give it back and they don't give a reason," she said, other than a vague reference that the person is "not of good character".
Those who have had cards cancelled can appeal to the U.S. ombudsman, but most times it takes up to 10 months for the appeal and then the request is denied, once again with no reason provided other than "our original decision stands," Todgham Cherniak said.
"They don't give a fact on what they are basing that (revocation)," she said.
If Canada revokes a Nexus card, the reason or reasons are clearly stated-a previous customs infraction or criminal convictions or charges, for example-but that is not the case with the U.S.
"With the U.S, they don't give you that level of detail, Todgham Cherniak said.
Full report at:
https://www.dailysabah.com/americas/2017/07/11/us-revokes-travel-cards-of-canadians-with-muslim-sounding-names
--------
Pakistan
Afghan refugees a problem for Pakistan: Baloch
July 12, 2017
ISLAMABAD - Federal Minister for States and Frontier Regions Lt Gen. (Retd) Abdul Qadir Baloch said on Tuesday that Afghan refugees are one of the main problems being faced by Pakistan.
Addressing a conference "International Conference on Refugee Crises: Lessons from Pakistan and beyond" organised by the National University of Sciences and Technology (NUST), the minister said, Pakistan as a neighbour had made great contribution in meeting the needs of Afghan refugees. "International community was spending much more on Syrian refugees than the Afghan refugees," he added. He said the international community had now realised that 30 per cent of Afghan refugees were now heading towards Europe.
Representative of Hanss Seidel Foundation Kristof Duwaerts said that Afghanistan has recently formed a high-level Displacement and Return Executive Committee (DiREC) to prioritise assistance needs and reintegration prospects of internally displaced people and returnees under the Afghanistan's National Peace and Development Framework. He said Pakistan also adopted a national policy relating to the management of Afghan refugees and Afghan nationals living in the country. "This provides a comprehensive, predictable and sustainable response to managing refugee and migration issues in Pakistan," he said.
He also said that Afghanistan situation had invited major powers to jointly make efforts for establishment of lasting peace in the war-hit country. However, he said, the role of Pakistan is distinct in terms of geographic and cultural links with Afghanistan.
In his welcome remarks, Rector NUST Lt. Gen. Naweed Zaman said in the backdrop of recent refugee crisis in Europe, there is an increasing realisation to commensurate the global menace with deserving attention.
Though different parts of the world have experienced and shared the pain of losing their population into refugee camps and welcoming refugees in millions, yet the current refugee crisis is arguably the worst humanitarian crisis since the Second World War, he added.
http://nation.com.pk/national/12-Jul-2017/afghan-refugees-a-problem-for-pakistan-baloch
--------
Many organisations banned in Pakistan thrive online
July 11, 2017
The shadows of three men brandishing assault rifles welcome the reader to the Facebook page of Lashkar-e-Islam, one of 65 organisations that are banned in Pakistan, either because of terrorist links or as purveyors of sectarian hate.
Still more than 40 of these groups operate and flourish on social media sites, communicating on Facebook, Twitter, WhatsApp and Telegram, according to a senior official with the Federal Investigation Agency (FIA), which is tasked with shutting down the sites. They use them to recruit, raise money and demand a rigid Islamic system. It is also where they incite the Sunni faithful against the country's minority Shiites and extoll jihad, or holy war, in Indian-held Kashmir and in Afghanistan.
"It's like a party of the banned groups online. They are all on social media," the FIA official told The Associated Press. He spoke on condition his name not be used because agency officials are not allowed to be quoted by name.
Meanwhile, Pakistan is waging a cyber crackdown on activists and journalists who use social media to criticise the government, the military or the intelligence agencies. The interior ministry even ordered the FIA, Pakistan's equivalent of the American FBI, to move against "those ridiculing the Pakistan Army on social media".
The FIA official said the agency has interrogated more than 70 activists for postings considered critical. All but two have been released and a third is still under investigation, he said.
Activists, journalists and rights groups who monitor Pakistan's cyberspace say the banned groups active on social media operate unencumbered because several are patronised by the military, its intelligence agencies, radical religious groups and politicians looking for votes.
Even the FIA official concedes state support for some of the banned groups but said it is a global phenomenon engaged in by all intelligence agencies.
"Everyone is protecting their own terrorists. Your good guy is my bad guy and vice versa," he said, adding that some sites belonging to banned groups are intentionally ignored to gain intelligence.
On one Facebook page, the Afghan Taliban flag welcomes viewers, its masthead emblazoned with Arabic script identifying the page as belonging to the Islamic Emirate of Afghanistan. Still another Facebook site features one of India's most wanted, Hafiz Saeed, the founder of Lashkar-e-Taiba, another banned organisation and a US declared terrorist group.
Saeed even has a $10 million US-imposed bounty on his head. Yet his group, which has been resurrected under several names, is billed as a charity and has several Facebook pages. Currently called Falah-e-Insaniat, the group boasts of its community work, but its pages feature anti-India videos, call Syria a bleeding wound, rail against India and chastise the Pakistan government for siding with the US following the 9/11 attacks.
Facebook and Twitter have said that they ban "terrorist content". In the second half of last year, Twitter said on its site it had suspended 376,890 accounts because they were thought to promote terrorism, although they say less than two per cent of the removals were the result of requests from governments. Facebook, meanwhile, said in a blog last month it uses artificial intelligence and human reviewers to find and remove "terrorist content".
"There is no place on Facebook for terrorism," Facebook spokeswoman Clare Wareing said in an email reply to The Associated Press. "Our Community Standards do not allow groups or people that engage in terrorist activity, or posts that express support for terrorism. We encourage people to use our reporting tools if they find content that they believe violates our standards, so we can investigate and take action."
Shahzad Ahmed, of the Islamabad-based social media rights group BytesForAll, said Pakistan's powerful military and intelligence agencies are waging a "communication war" against progressive, moderate voices and those who criticise the government and more particularly the military and its agencies. They use radical religious groups to promote their narrative, he said.
"Their connectivity on the ground, the mosques, madrassas and supporters translates into social media strength and they are (further) strengthened because they feel 'no one is going to touch us,'" he said.
Ahmed Waqass Goraya is a blogger who was picked up and tortured by men he believes belonged to the country's powerful intelligence agency, known by its acronym ISI. He said Pakistan's social media space is dominated by armies of trolls unleashed by the military, intelligence agencies and allied radical religious groups to push their narrative. That narrative includes promoting anti-India sentiment — India is Pakistan's longtime enemy against whom it has fought three wars.
Critics who openly accuse the military of using extremists as proxies are under attack, said Goraya. He fled Pakistan after social media was used to suggest the he and other bloggers were involved in blasphemy, a charge that carries the death penalty.
Earlier this month, Taimoor Raza, a minority Shiite, became the first person sentenced to death under Pakistan's blasphemy law for a social media posting.
Taha Siddiqui, a Pakistan-based journalist with France 24 and an active social media user who often criticises heavy handed actions of the military or its agencies, has taken the FIA to court to demand to know why he is under investigation after being ordered to come in for questioning. His resistance is taking its toll with family, friends and colleagues, who plead for him to be silent, he said. "They worry someday I will just disappear."
At FIA headquarters in the capital, Islamabad, the official told the AP that banned groups use proxy servers that reveal IP addresses buried somewhere in other countries, making it impossible to track.
That explanation was called "lame" by Haroon Baloch, a social media rights activist who has studied the free-wheeling use of social media by banned groups and purveyors of sectarian hate. He said sites can be blocked, users located and the persons running the pages stopped.
Full report at:
http://nation.com.pk/national/11-Jul-2017/many-organisations-banned-in-pakistan-thrive-online
--------
'We have to be a generous society,' says the Aga Khan on his Diamond Jubilee
Jahanzeb Hussain
July 11, 2017
Prince Shah Karim Al Hussaini, the 49th Imam of the Shia Ismailis, celebrates 60 years today since he inherited the leadership of his community from his grandfather and became the Aga Khan.
Prince Karim is best known for a life dedicated to social services for some of the most underprivileged communities in Asia and Africa.
He is the founder and chairman of the Aga Khan Development Network (AKDN), renowned around the globe for its work in providing quality healthcare, education, revitalisation of cultural heritage, safeguarding the environment, and uplifting of marginalised peoples through community and economic development.
As part of the buildup to his Diamond Jubilee, the Aga Khan gave an exclusive interview to a select group of journalists from different countries, including Dawn.
In his introductory comments, the Aga Khan laid out what he calls "the parameters within which religious institutions in the Muslim world can work," namely that of trying to "improve the quality of life of the people of the community and those amongst them where the community lives, [by] eliminating unfairness, fraud, and giving families the opportunity to think that their future generations can live in an improved society."
He outlined the need to "use material resources for these purposes which are required by the Muslim faith" and said that, for the Jubilee year, he hopes to lead his community to "identify various resources in the civil society in the countries in which [they] are engaged and support them in their mandate."
AKDN spends US$ 925 million annually on non-profit social and cultural development activities. It operates more than 200 health care institutions, 2 universities spanning 6 countries, and 200 schools and school improvement programmes in some of the most remote and poorest parts of the developing world.
The Aga Khan went on to say that "we need to accept today that any institution, any country, which has a pocket of weakness, is an institution or a country at risk" and that "we need to concentrate on eliminating the risk and the damage they have done to these countries."
The leader of the Shia Ismaili community stressed that the basis we should be using to evaluate development initiatives is "public good," for as long as we do that "we should be on the right side of logic." In this regard, the Aga Khan was critical of the whole banking system that is "directed toward the notion of profit rather than the notion of social support."
I asked him to address South Asia in particular, to which he replied that the "financial institutions ought to be a great deal more open to social support needs." For example, "is microcredit doing the job that people hoped it would be doing?" he asked.
"My view is no, it's not because microcredit helps certain demographics but it doesn't affect the whole of the economy of a given country. There are many financial needs which are not addressed by financial institutions today, and I'm talking particularly about the medium-sized enterprises that are definitely, in my view, underfunded."
Above all, however, the "major threat" facing South Asia and much of the developing world is climate change, which needs to be "looked at with great care to address the particular causes of the situation." Tackling climate change is the "first issue" the Aga Khan said he would look at especially since he says he's not "convinced that [much] is happening [in this regard] at the present time."
Addressing climate change and providing access to economic resources have to be part of the plan to alleviate poverty, which has to be the "first priority for South Asia."
Climate change is directly linked to the "quality of life," especially "in the developing world" where there are a "number of situations where there's not sufficient sustenance for ensuring an acceptable quality of life."
The Aga Khan said that his "sense is that there has been very little global thinking about how we deal with issues of pollution, water availability, issues of unstable earth – all issues that are, in a sense, predictable."
He said that he has "been more than worried about situations where everybody knew and have known for decades that they were living in high risk and nothing was done about it."
His Highness the Aga Khan addresses the audience during the Aga Khan University (AKU) Charter acceptance ceremony in Karachi, 1983, one of the Silver Jubilee initiatives. - Photo credit: AKDN / Christopher Little
An equally integral component of the Aga Khan's mandate is pluralism. He emphasised the fact that the societies where his institutions work are "pluralistic and they have been pluralistic for many, many centuries." He deplored the various "forces at play which have tended to separate these societies in separate ethnic and religious groups."
When I inquired as to what role can Islam play in promoting social peace, especially in a region like South Asia, the Aga Khan was unequivocal: "Social ethic is a strong principle in Islam and I think that Muslims would be well advised to respect that as a fundamental ethic of our faith and to live by that, which means that we have to be what I would call an empathetic society, a welcoming society, peaceful society, a generous society."
Commenting on the situation of Muslims in the West, the Aga Khan insisted that it's "absolutely incorrect to try to move Islam out of the context of global monotheism," since "Islam is an Abrahamic faith, it's a monotheistic faith and most of the principles of Islam equate with the principle of other major global monotheistic faiths."
Full report at:
https://www.dawn.com/news/1344437
--------
Sindh govt extends Rangers powers in Karachi for 90 days
July 12, 2017
Sindh government extended the special powers of Rangers for 90 days in the province, reported Waqt News.
According to Sindh government spokesperson the Rangers' powers are being extended from July 15 to October 12.
"Current extension was ending on July 14th," he told media.
On April Sindh Chief Minister Syed Murad Ali Shah yesterday approved a summary giving special powers for 90 days to Rangers in Karachi and allowing their stay in Sindh for another one year.
On April 27th, Sindh government notified extension in Rangers policing powers under ATA for another 90 days from April 16.
The notification stated that government of Pakistan, in exercise of the powers conferred under the clause (i) of Sub-Section (3) of Section 4 of the Anti-Terrorism Act, 1997, (XXVII of 1997) has extended the powers conferred upon Pakistan Rangers (Sindh) in Karachi Division for another period of 90 days with effect from 16th April 2017.
http://nation.com.pk/national/12-Jul-2017/sindh-govt-extends-rangers-powers-in-karachi-for-90-days
--------
Peace with Pakistan first, Taliban later
July 12, 2017
Kabul - Afghan President Ashraf Ghani said on Tuesday that Kabul needs peace with Pakistan first before peace can be forged with the Taliban.
Addressing a press conference in Kabul, President Ashraf Ghani said Pakistan also needs to stop interfering in Afghanistan's internal affairs and instead cooperate with the National Unity Government (NUG), reported Tolo News.
President Ghani stated that Afghanistan and Pakistan have so far not finalised the memorandum of understanding on the exchange of intelligence. "The factory of interference must be closed in Afghanistan. In establishing peace, at first we want peace with Pakistan; peace with the Taliban comes next," said Ghani. This comes after China, Afghanistan and Pakistan recently agreed to form a foreign ministers' dialogue mechanism with the aim of improving relationships between Kabul and Islamabad.
The three countries also agreed to revive the Quadrilateral Coordination Group in order to pave the way for peace talks with the Taliban.
However, Ghani's remarks on Tuesday indicate that the situation between Pakistan and Afghanistan has not changed and that the relationship is still fragile.
Ghani said Pakistan has two options; to use economic opportunities that Afghanistan's location provides or to interfere in Afghanistan's affairs - and that if they choose the latter, the international community needs to increase pressure on Pakistan. Ghani also sent out a message to the Taliban to join the peace process. "Taliban used to say in the past that they had time and the westerners had watches. Today with all due respect to the voice of the people, I say that the Taliban are running out of the time; and they should buy a watch," Ghani stated.
Meanwhile, a number of MPs and senators said they do not think Pakistan will cooperate with Afghanistan. "They (Taliban) are a symbol for (Pakistan's) ISI and CIA. They (ISI and CIA) are working together on this," said Nazar Mohammad Faqiri, a member of Meshrano Jirga (Upper House of Parliament).
Full report at:
http://nation.com.pk/national/12-Jul-2017/peace-with-pakistan-first-taliban-later
--------
Pakistan, Malaysia to enhance defence, security cooperation
July 12, 2017
ISLAMABAD - Pakistan and Malaysia on Tuesday discussed new avenues for enhancing cooperation in the field of defence, security and training of armed forces of the two countries.
This was transpired from series of interactions of the visiting Chief of Malaysian Army General Dato' Sri Zulkiple Bin Haji Kassim with the services of chiefs of Pakistan armed forces.
The visiting dignitary first visited General Headquarters Rawalpindi and called on Chief of Army Staff General Qamar Javed Bajwa.
According to ISPR, they exchanged views on issues of mutual interest, including defence, training and security cooperation between both the countries and overall regional security situation.
Later, the delegation was given detailed briefing on operational and training activities of Pakistan Army. General Dato' Sri Zulkiple Bin Haji Kassim acknowledged and appreciated Pakistan's efforts for elimination of terrorism.
Earlier, on arrival at GHQ, the Chief of Malaysian Army laid floral wreath at Yadgar-e-Shuhada. A smartly turned out contingent of Pakistan Army presented the guard of honour to the visiting dignitary.
Later, General Dato' Sri Zulkiple Bin Hj Kassim also visited Air and Naval Headquarters and separately held meetings with Chief of Air and Chief of Naval Staff.
On his arrival at the Air headquarters, the distinguished guest was received by Air Chief Marshal Sohail Aman, Chief of the Air Staff, Pakistan Air Force.
The visiting dignitary was introduced to the Principal Staff Officers of Pakistan Air Force. He was also given a detailed briefing on the PAF.
Later on, he called on Air Chief Marshal Sohail Aman in his office. Both the dignitaries remained together for some time and discussed matters of professional and mutual interest.
The Chief of Malaysian Army lauded PAF's leading role in the operation Zarb-e-Azb against terrorism. He also appreciated the high morale and sound professionalism of the PAF personnel.
Full report at:
http://nation.com.pk/national/12-Jul-2017/pakistan-malaysia-to-enhance-defence-security-cooperation
--------
Public awareness counted as tool to control population
July 12, 2017
MULTAN-Underlining the need for creating awareness among the masses on importance of family planning, the Commissioner Multan division Bilal Ahmad Butt pointed out on Tuesday Pakistan's population increased at a horrifying rate of four million per year which was much higher than other neighbouring or Muslim countries.
"By 2050, Pakistan's total population will surpass the horrible mark of 350 million. It will gobble up all of our resources. We need to control the population growth," he added while addressing a seminar organised by Population Welfare Department in connection with World Population Day. The Commissioner was of the opinion that majority of the families could resolve a number of problems by keeping the size of their family with proportion to their resources. He said that like other fields of life, planning was also utmost important for family life and we could pave way for a bright future for our coming generations by adopting family planning. He pointed out that big population caused unemployment, poverty and lawlessness.
Speaking on the occasion, District Population Welfare Officer Zeeshan Nasir said that the population welfare department offered services across the province and 41 per cent of Punjab's population benefited from them. He added that four family health clinics, 64 welfare centres, 158 field staff and four mobile service units offered free family planning services to the residents of Multan district. He disclosed that a film show would soon be held in Multan to create awareness on family planning.
Full report at:
http://nation.com.pk/national/12-Jul-2017/public-awareness-counted-as-tool-to-control-population
--------
South Asia
Leave differences behind: Bangladesh tells Islamic world at OIC
2017-07-11
Speaking at the OIC foreign ministers' council at Abidjan in Ivory Coast on Tuesday, he underscored the need "for making use of abundant resources of the Islamic world to pursue a course of faster development".
"…development solves many problems," he said, according to a foreign ministry statement.
The Abidjan meeting stressed the importance of peace, development and Islamic solidarity with greater participation and role of the youth, who constitute the majority of the Muslim Ummah, as the theme of the council was 'Youth, Peace and Development in a World of Solidarity'.
Ivory Coast President Alassane Ouatara inaugurated the meeting on Monday.
Bangladesh will host the foreign ministers' meeting next year as decided earlier. Ali thanked member states for giving this "honour" to the people of Bangladesh for hosting the meeting and "reposing confidence" in the government of Prime Minister Sheikh Hasina.
He suggested a greater intra-OIC trade and investment and made a call for implementing preferential trade and FTAs towards reaching the ultimate goal of an Islamic Common market, the idea that Bangladesh mooted years ago.
He also underlined the importance of sharing each other's best practices and expressed Bangladesh's readiness to share its success stories in the areas of development and poverty alleviation, inter-faith harmony, peace-keeping and peace building, women's empowerment, containing terrorism and radicalization, health and education.
While speaking of better ways of dealing with terrorism and Islamophobia, the foreign minister emphasised on better counter-narratives and appreciated the role of Bangladesh's religious leaders citing the example of Bangladesh Jamiyatul Ulama's anti-militancy fatwa of peace.
He suggested interfaith dialogue and criminalisation of incitement to religious hatred for the problem of Islamophobia.
The foreign minister also spoke about the solution of the Palestine problem.
He reminded the Council of the need for restoring the rights of the Rohingya Muslims and their return and repatriation to their homeland, the Rakhine state of Myanmar.
http://bdnews24.com/world/2017/07/11/leave-differences-behind-bangladesh-tells-islamic-world-at-oic
--------
Taliban execute seven passengers in West of Afghanistan
Jul 12 2017
The Taliban insurgents have executed at least seven passengers in western Farah province of Afghanistan, the local officials said Wednesday.
The incident took place late on Tuesday in the vicinity of Bala Bolok district of Farah after a passenger vehicle was stopped and its passengers were abducted.
The provincial governor's spokesman Mohammad Nasir Mahri confirmed that the passengers were abducted at around 6 pm local time as they were travelling in Herat-Farah highway.
Mahri further added that the highway was closed for several hours during which the abducted passengers were shot dead by the Taliban insurgents.
He said the main reason behind the execution of the civilians has not been ascertained so far.
According to the government's spokesman the highway was reopened after the Afghan security forces launched an operation.
The Taliban insurgents group has not commented regarding the report so far.
Full report at:
http://www.khaama.com/taliban-execute-seven-passengers-in-west-of-afghanistan-03131
--------
Taliban and civilians suffer casualties in Laghman clashes in East of Afghanistan
Jul 11 2017
A famous local commander of the Taliban group in eastern Laghman province was killed along with several other militants during the clashes in this province earlier this morning that also left several other militants and civilians wounded.
According to the local government officials, the incident took place in the vicinity of Alisheng district at around 1 am local time after several Taliban insurgents launched a coordinated attack on the security posts in Islamabad and Karanjawi areas.
The provincial government media office in a statement also confirmed the clash and said at least five Taliban insurgents including a famous commander of the group identified as Azam Gul were killed and 6 others were wounded.
The statement further added that Gul was one of the prominent leaders of the Taliban who had major role in terrorist related activities in Alisheng district since a long time.
At least two policemen also lost their lives during the clashes and five others were wounded, the statement said, adding that the wounded policemen are currently receiving treatment in the hospital.
The provincial government also added that seven civilians also sustained injuries during the clashes between the Taliban and security personnel.
Full report at:
http://www.khaama.com/taliban-and-civilians-suffer-casualties-in-laghman-clashes-in-east-of-afghanistan-03128
--------
Taliban commander killed in Nangarhar infighting
Jul 12 2017
A Taliban commander has been killed during the latest infighting among the Taliban insurgents in eastern Nangarhar province of Afghanistan.
According to the local government officials, the incident took place late on Monday in the vicinity of Bati Kot district.
The provincial government in a statement also confirmed the infighting among the Taliban insurgents.
The statement further added that the information received by the provincial government indicates that the Taliban leader Amad was killed during the infighting in Jantian area.
Amad was reportedly involved in insurgency activities since a long time in Bati Kot district of Nangarhar, the provincial government said.
The anti-government armed militant groups including the Taliban insurgents have not commented regarding the report so far.
This is not the first time a report has emerged regarding the infighting among the Taliban insurgents as numerous similar incidents have taken place in the past in other provinces, specifically following the death of the group's founder Mullah Mohammad Omar.
Full report at:
http://www.khaama.com/taliban-commander-killed-in-nangarhar-infighting-03130
--------
US embassy supports thorough investigation in Dostum-Ishchi case
Jul 12 2017
A top US diplomat in Afghanistan has called for thorough investigation in the torture and sexual abuse case of Ahmad Khan Ishchi involving the first vice president General Abdul Rashid Dostum.
The US Charge d'Affaires Hugo Llorens told reporters in Kabul on Tuesday that the international community supports a thorough investigation into the case of Ishchi and Dostum.
Llorens further added that case involves serious allegations of sexual abuse and torture which needs thorough investigation.
He also warned regarding the attempts to cast shadow on the case using the political and ethnic influence, saying such attempts would harm the legal sovereignty of the country.
This comes as Dostum is in Turkey with the Afghan officials saying he has left the country due to the illness he was suffering from and expects that the first vice president would return upon the completion of his treatment.
President Mohammad Ashraf Ghani has said the First Vice President General Abdul Rashid Dostum is in Turkey for the treatment based on the permission of the Attorney General's Office.
Speaking during a press conference in Kabul on Tuesday, President Ghani said a legal case exists between the First Vice President and Ahmad Ishchi.
However, he said an individual can leave the country in case of facing a severe health issue in accordance with the laws of the country, despite facing any legal case filed against him.
Full report at:
http://www.khaama.com/us-embassy-supports-thorough-investigation-in-dostum-ishchi-case-03129
--------
Taliban's military commission chief killed in Wardak province
Jul 11 2017
A senior leader of the Taliban group has been killed during a clash with the security forces in central Maidan Wardak province of Afghanistan.
According to the local security officials, the Taliban leader, in charge of the military commission of the group for Jalrez, was killed late on Monday in the same district.
The officials further added that a total of four militants were killed during the clash and four others were wounded.
The Taliban leader killed during the clash has been identified as Mawlavi Abdul Rahman, the officials added.
The provincial police commandment also confirmed the killing of Mawlavi Abdul Rahman in a statement.
The statement further added that one policeman also lost his life during the clash and two others were wounded.
The anti-government armed militant groups including the Taliban insurgents have not commented regarding the report so far.
Maidan Wardak is among the relatively volatile provinces in central parts of the country, located close to capital Kabul.
Full report at:
http://www.khaama.com/talibans-military-commission-chief-killed-in-wardak-province-03124
--------
Dostum in Turkey on Attorney General's permission, says President Ghani
Jul 11 2017
President Mohammad Ashraf Ghani has said the First Vice President General Abdul Rashid Dostum is in Turkey for the treatment based on the permission of the Attorney General's Office.
Speaking during a press conference in Kabul, President Ghani said a legal case exists between the First Vice President and Ahmad Ishchi.
However, he said an individual can leave the country in case of facing a severe health issue in accordance with the laws of the country, despite facing any legal case filed against him.
Ishchi, the former governor of Jawzjan province and the rival of Dostum, had c laimed that the vice president detained him and forced him to strip naked besides he was beaten by the bodyguards of Gen. Dostum and was sodomized with a rifle.
In meantime, the relations between Gen. Dostum and the government have witnessed ups and downs during the recent months and specifically after the controversial case of Ishchi and Gen. Dostum regarding the alleged abuse of Ishchi by the vice president and his security gaurds.
Full report at:
http://www.khaama.com/dostum-in-turkey-on-attorney-generals-permission-says-president-ghani-03123
--------
Mideast
Israeli premier slams Ireland's pro-Palestine stance
Jul 12, 2017
Enraged by Dublin's financial aid to anti-Israel Palestinian rights groups, Prime Minister Benjamin Netanyahu has lashed out at visiting Irish Foreign Minister Simon Coveney over his country's pro-Palestine policy.
Netanyahu's office made the criticism in a statement issued on Tuesday after the premier's meeting with Coveney in Jerusalem al-Quds.
The premier "expressed his dissatisfaction over Ireland's traditional stance" on Palestine and urged Coveney to condemn what he called Palestinian "incitement," the statement read.
He also challenged the top Irish diplomat over Dublin's assistance to the "NGOs that call for the destruction of Israel," it added.
Coveney, for his part, said in a news briefing that his discussions with Netanyahu touched on a range of issues, including Israeli settlements, the humanitarian and political situation in the blockaded Gaza Strip and the so-called peace process.
"Of course, we have clear differences on some issues, but these differences are honestly held and openly expressed," he noted.
Ireland runs Irish Aid, an official overseas development program for overseas development.
A number of Palestinian rights groups, such as Al-Haq, Addameer and the Palestinian Center for Human Rights, are funded by the program.
During his three-day trip, which began on Monday, Coveney is scheduled to meet with Palestinian President Mahmoud Abbas, United Nations officials and representatives from the NGOs funded by Irish Aid.
Speaking prior to his departure for the occupied territories, Coveney said he was "looking forward to hearing a diverse range of views from" the Palestinians, Israelis and NGOs.
"Of course, I will also use the opportunity to make clear Ireland's concerns about the impact of the continuing occupation and the fact that, as things stand, the prospects of a comprehensive peace agreement remain dim," he pointed out.
The meeting took place on the same day that Ireland's South Dublin County Council voted unanimously to fly the Palestinian flag over the County Hall in Tallaght for a month in solidarity with the "oppressed people of Palestine."
It has become the fourth Irish local authority to make such a move in recent months.
"I am delighted with [the] vote in solidarity with the people of Palestine. It might seem like a very small gesture but I know from the reaction to similar decisions made by other councils that today's vote will be applauded across Palestine and elsewhere," said Councilor Enda Fanning.
About 600,000 Israelis live in over 230 settlements built illegally since the 1967 occupation of the Palestinian territories.
Palestinian officials say they want the resolution of the conflict with Tel Aviv based on the so-called two-state solution along pre-1967 boundaries.
However, Netanyahu has on several occasions said Israel should maintain its military occupation of the West Bank under any agreement with the Palestinians.
In recent months, the Tel Aviv regime has stepped up its illegal settlement construction activities in the occupied lands and oppressive measures against the Palestinians, leading to an increase in global anti-Israel sentiment.
http://www.presstv.ir/Detail/2017/07/12/528206/Israel-Palestine-Ireland
--------
Turkey extends detention of Amnesty member, activists
Jul 11, 2017
Turkish authorities have extended for another week the detention of a member of Amnesty International and nine other activists.
Researchers working for Amnesty in Turkey said on Tuesday that Idil Eser, the country director of the rights group, would remain in police custody until July 19.
Eser was arrested on July 5 along with seven other activists and two foreign trainers on Buyukada, an island south of Istanbul. The group were attending a workshop on digital security and information management.
Rights campaigners have criticized Turkey for the detention, saying it was another sign of President Recep Tayyip Erdogan's lack of tolerance for freedom of expression. Erdogan has said that the activists were like those contributing to a failed coup in Turkey last year.
"They gathered for a meeting which was a continuation of July 15," Erdogan said on Saturday, referring to the coup attempt against his government, which sparked a massive crackdown across the country and allowed the police and security forces to act with more freedom under a state of emergency. The extension in detention of the Amnesty member and other activists is allowed under the measure.
Amnesty's Turkey researcher Andrew Gardner said on Tuesday that the activists had illegally been kept under custody as they had no access to lawyers and could not contact family members. Turkish authorities also refused to reveal where the activists had been held.
Two of the arrested activists were foreign trainers of the digital information workshop, a German and a Swedish national. The remaining eight were Turkish human rights defenders, including Ilknur Ustun of the Women's Coalition and Veli Acu of the Human Rights Agenda Association.
Prosecutors have accused them of membership in an "armed terrorist organisation". The Britain-based Amnesty has dismissed the allegations as "unfounded".
A judge would decide after July 19 whether to formally charge the activists and place them under arrest ahead of trial.
Amnesty's Europe director John Dalhuisen condemned the decision to extend the detention, saying it was a violation of basic rights for freedom of expression.
"For them to be entering a second week in police cells is a shocking indictment of the ruthless treatment of those who attempt to stand up for human rights in Turkey," said Dalhuisen.
More than 40,000 people have been arrested as part of Turkey's crackdown on suspected plotters and sympathizers of the coup attempt. A further 100,000 people have been discharged from jobs over the same accusations.
Full report at:
http://www.presstv.ir/Detail/2017/07/11/528161/Turkey-Amnesty-activists-detention
--------
Turkish police kill five and seize Kalashnikovs in raid on ISIS cell
12 July 2017
Turkish police killed five ISIS militants in a raid on a house in the city of Konya on Wednesday and four police were slightly wounded, the Dogan news agency said.
Special forces police launched the operation at the house in the Meram district of Konya, in central Turkey, at 5:15 a.m. (3.15 a.m. BST) because they believed the militant cell was planning an attack, the agency said.
Police sealed off the area and approaching vehicles were searched after the clash, which occurred during raids conducted by the police on 10 different addresses in Konya, it said.
Five Kalashnikov rifles and a pistol were seized during the raid on the house, it added.
ISIS militants have in the past carried out gun and bomb attacks in Turkey. In recent years, thousands of foreign fighters had joined the militant group in their self-proclaimed caliphate in Syria and Iraq, many passing through Turkey.
Full report at:
https://english.alarabiya.net/en/News/middle-east/2017/07/12/Turkish-police-kill-five-and-seize-Kalashnikovs-in-raid-on-ISIS-cell.html
--------
Israeli forces kill 2 young Palestinians in raid on Jenin refugee camp
Jul 12, 2017
At least two young Palestinians have been killed after Israeli forces stormed into the Jenin refugee camp in northern West Bank and clashed with the residents.
The Palestinian Information Center reported early Wednesday that three more Palestinians were also wounded during the overnight raid and the ensuing clashes between Israeli forces and the youths at the camp.
It further identified the victims as 16-year-old Aws Salamah and 20-year-old Sa'ad Salah Abu Asir, adding that their bodies were transferred to hospital.
Additionally on Wednesday, the Israeli forces attacked Shuafat refugee camp in the occupied East Jerusalem al-Quds.
The new Israeli raid came only hours after thousands of Palestinians attended the funeral procession for Muhammad Ibrahim Jibril in the West Bank town of Tuqu'.
The 24-year-old Palestinian was shot dead by Israeli soldiers after an alleged car-ramming attack.
The occupied lands have witnessed tensions ever since Israeli forces imposed restrictions on the entry of Palestinian worshipers into the al-Aqsa Mosque compound in East Jerusalem al-Quds two years ago.
The Tel Aviv regime has been trying to change the demographic makeup of Jerusalem al-Quds by constructing settlements, destroying historical sites and expelling the local Palestinian population.
More than 300 Palestinians have lost their lives at the hands of Israeli forces since October 2015, when the tensions intensified.
Tel Aviv has come under fire for using violence against Palestinians and adopting a policy of shoot-to-kill.
Full report at:
http://www.presstv.ir/Detail/2017/07/12/528191/Israel-Palestine-Jenin
--------
Cautious calm surrounds the construction of a wall in northern Israel
12 July 2017
Those who patrol the Israeli border with Lebanon will notice a section made of a concrete wall, seven meters high, on the border of the Lebanese village of Kafarkala, opposite the Israeli settlement of Masjab.
The settlement is located close to the Lebanese village that witnessed an infiltration from a Palestinian group in the 1980s.
The fear of infiltration and intrusion is behind the Israeli decision to build the wall for about 20 kilometers in areas defined by Israel as "sensitive areas," such as the settlement of al-Mutla, opposite the tents and the Naqoura area.
This is due to Israel's belief that Hezbollah will try to occupy border settlements and hold hostages in the next war.
Israel will build the concrete wall and change the security fence, in addition to erecting obstacles and barriers to prevent this scenario from happening.
The Israeli-Lebanese border, which is 81 kilometers long, has been relatively quiet for 11 years, but Israel's current concern is that the construction will lead to a border tension in the presence of workers and troops that might be targeted by Hezbollah.
A defensive strike
Israel has finally hinted that it might target what it says is a missile and ammunition factory set up by Iran in Lebanon for Hezbollah, which could ignite a war.
The head of the military intelligence division in the Israeli army, Herzi Halevi, warned of the strategic threat of this factory that manufactures rockets and ammunition in Lebanon.
Israeli Defense Minister Avigdor Lieberman, said that Israel was following closely the plant which produces medium-range missiles, surface-to-surface missiles and wouldn't deal with it "with indifference," referring to it as target.
Israel continues to conduct military exercises in the northern region simulating the outbreak of war, and the worst scenario would be the launch of about 1,500 rockets per day at the Israeli depth, which may include the occupation of settlements.
The chief of staff of the Israeli army, General Eizenkot, said recently that Hezbollah is deployed in 240 villages in the south, and that every house in every three or four houses contains a Hezbollah forces.
The Israeli army marked control towers created by Hezbollah which are camouflaged as a green environmental community.
Israel is increasingly concerned about the union of the military northern fronts, in both its Syrian and Lebanese sides, so that it can be extended from the Lebanese Naqoura to Syrian Hama.
Full report at:
https://english.alarabiya.net/en/News/middle-east/2017/07/12/Cautious-calm-surrounds-the-construction-of-a-wall-in-northern-Israel.html
--------
EU's Mogherini: Iran deal is an international agreement endorsed by UN
Jul 11, 2017
The European Union's foreign affairs chief Federica Mogherini has stressed that the historic nuclear deal with Iran is an international agreement endorsed by the United Nations.
"The nuclear deal doesn't belong to one country, it belongs to the international community," Mogherini said during a joint press conference with Russian Foreign Minister Sergei Lavrov on Tuesday.
"We have the responsibility to make sure that this continues to be implemented," she added.
Iran and the five permanent members of the United Nations Security Council - the United States, Britain, France, China and Russia - plus Germany signed the Joint Comprehensive Plan of Action (JCPOA) on July 14, 2015 and started implementing it on January 16, 2016.
The UN Security Council later unanimously endorsed a resolution that effectively turned the JCPOA into international law.
During his presidential campaign, US President Donald Trump described the nuclear accord with Iran as a "disaster" and vowed to unilaterally scrap it. While he has not carried out that threat, his administration is conducting a "review" to see whether the provision of sanctions relief to Iran - a US commitment under the deal - is in America's "national interest."
Full report at:
http://www.presstv.ir/Detail/2017/07/11/528177/eu-jcpoa-iran-us-un
--------
Under Houthi rule, teachers sit exams on behalf of students forced to fight
11 July 2017
Sanaa - Houthi militias in Yemen shocked the educational community as they assigned a special committee of teachers to take the primary and secondary examinations on behalf of the students forced to fight with the militias.
The Saada Media Center quoted a local source as saying that the Houthis are instructing teachers to write examination books for the students at the fronts, without being present at all, and to provide ready answers.
The source described this action as shocking and breaking education laws.
Earlier this week, Houthis launched exams for primary and secondary school students in the areas they are controlling.
Reports have surfaced of cheating incidents and tampering in the examination process described by observers as a "systematic destruction" by Houthis of the formal education system to further benefit of their agenda.
Houthis have also been accused of serious breaches in last year's exams where they announced the results of students who did not sit the exams as they were killed in battle.
Full report at:
https://english.alarabiya.net/en/features/2017/07/11/Under-Houthi-rule-teachers-sit-exams-on-behalf-of-students-forced-to-join-militias.html
--------
Iran rejects US defense secretary's meddlesome remarks
Jul 11, 2017
Iranian Defense Minister Brigadier General Hossein Dehqan has dismissed as meddlesome and disgraceful the recent remarks by his US counterpart Jim Mattis against the Islamic Republic, saying they run counter to all principles of the international law.
Instead of ordering other nations around, the US defense secretary and ruling administration had better think about ways to solve the country's domestic issues and study their root causes, Dehqan said on Tuesday.
He added that such internal issues would most probably lead to the collapse of the sitting US government in the near future and pose numerous and serious challenges to the country's political system.
The Iranian defense minister said individuals such as the US defense secretary have an arrogant and bullying nature, overlook the power of nations and ignore historical facts and these factors have robbed them of their common sense.
Dehqan likened such comments to delirious comments by an ill person.
US policies, support for terrorist-nurturing regimes root causes of extremism
Meanwhile, Iranian Foreign Ministry Spokesman Bahram Qassemi also on Tuesday dismissed Mattis's "thoughtless and unfounded" remarks, saying the US government's policies and its support for terrorist-nurturing regimes are the root causes of extremism and terrorism.
"Terrorism and extremism in the region and in the world are rooted in the US thoughtless policies in supporting terrorist-nurturing countries and the state terrorism of the Zionist regime [of Israel]," he said.
He rejected an unfounded allegation leveled by Mattis about Iran's alleged efforts in the past to murder the Saudi ambassador in downtown Washington, saying the US, itself, had drawn up the plot with the support of one of the regional countries.
The Iranian spokesperson said Mattis has repeatedly accused Iran of supporting terrorism while "the US establishment and its current defense secretary, himself, are the symbols of terrorism and violation of human rights."
Qassemi added that the US has been pursuing a hackneyed and fruitless policy over the past decades to cause a divide among the Iranian nation and the Islamic establishment.
Addressing a high school journalism student in Mercer Island, a Seattle suburb on Monday, Mattis called for a regime change in Iran for the restoration of Tehran-Washington relations.
He said any potential rapprochement with Tehran would be difficult, claiming that Iran is not really a democratic country.
Full report at:
http://www.presstv.ir/Detail/2017/07/11/528138/Iran-US-Hossein-Dehqan-Jim-Mattis
--------
URL: https://www.newageislam.com/islamic-world-news/malaysian-state-introduces-public-caning/d/111825
New Age Islam, Islam Online, Islamic Website, African Muslim News, Arab World News, South Asia News, Indian Muslim News, World Muslim News, Women in Islam, Islamic Feminism, Arab Women, Women In Arab, Islamophobia in America, Muslim Women in West, Islam Women and Feminism