New Age Islam News Bureau
15 Jan 2019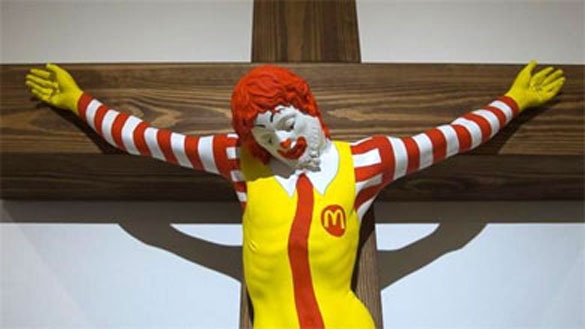 'McJesus' sculpture depicting Ronald McDonald on cross
------
• Malaysian President: Ulama Aspiring For Office Must Know Other Ideologies besides Islam
• 'McJesus' Sculpture Outrages Christian Arabs In Palestine
• Police in Muslim Chechnya Torture Two to Death, Arrest Dozens for 'Homosexuality'
• Starving Syrian Mum Sets Self, Kids on Fire in Refugee Camp near Jordan
• SC Asks Govt, Civil Society and Religious Scholars to Tackle Issue of Increasing Population
• New Delhi Cultural Festival Promoting Interfaith Friendship
• Myanmar Bishop Calls for Talks over Rakhine Crisis
Southeast Asia
• Malaysian President: Ulama Aspiring For Office Must Know Other Ideologies besides Islam
• Malaysia Looking for More Evidence to Act on Zakir Naik's Extradition, Says Anwar Ibrahim
• Lights at Jelutong condo no longer form a cross, says Penang CM
--------
Mideast
• 'McJesus' Sculpture Outrages Christian Arabs In Palestine
• Israeli Troops Prevent Muslim Worshipers from Entering Dome Of Rock
• UN Chief Backs Two-State Solution in Talks with President Abbas
• In Lebanon, US State Dept official calls Hezbollah 'unacceptable'
• Iran launches satellite that failed to reach orbit
• Pompeo slams Houthis for breaking Yemen cease-fire
--------
Europe
• Police in Muslim Chechnya Torture Two to Death, Arrest Dozens for 'Homosexuality'
• 'Military deal with Sudan paves way for Russia to build base on Red Sea'
• Egypt deports another German for alleged Daesh connection
• France pledges €1bn in aid to rebuild Iraq
• UK summons Iran envoy over British-Iranian aid worker
--------
Arab World
• Starving Syrian Mum Sets Self, Kids on Fire in Refugee Camp near Jordan
• Damascus Welcomes Kurds' Call for Talks, Seeks To Reunite Syria
• Egypt deports second German in a week for alleged Islamic State links
• Egypt University Scraps Expulsion of Student over Hug
• Al-Nusra Leader Jolani Voices Support for Turkey's Assault on Kurds
• 'Hezbollah exploiting gold mines in Venezuela,' politician reveals
• Trump says US will hurt Turkey economically if it hits Kurds
• 'Dissident Saudi cleric brain-dead after poisoning'
--------
Pakistan
• SC Asks Govt, Civil Society and Religious Scholars to Tackle Issue of Increasing Population
• Islamabad, Kabul Plan Joint Ulema Conference on Afghan Reconciliation
• JI urges govt not to secure IMF loan on harsh conditions
• Supreme Court never exceeded its limits, says chief justice
• Cases based on figments of imagination can't hold when merit is upheld: Marriyum Aurangzeb
• JUI-F leader receives traffic challan from Swiss police in Peshawar
--------
India
• New Delhi Cultural Festival Promoting Interfaith Friendship
• Did Rahul Gandhi Attribute Mahatma Gandhi's Non-Violence Mantra To Islam?
• Man arrested for providing arms to suspected ISIS-inspired terrorist group sent to judicial custody
• 26/11 attacks accused Tahawwur Hussain Rana unlikely to be extradited till US jail term ends
• Indian High Commission raises 'hacking bid' with Pakistan
--------
South Asia
• Myanmar Bishop Calls for Talks over Rakhine Crisis
• Lay Sisters Bear Witness to Christ among Muslims In Dhaka Slum
• In Buddhist Myanmar, Buddhist Rebels Are Fighting A Buddhist Army
• 27 Taliban, ISIS-K Militants Killed In Separate Operations Of Afghan, Coalition Forces
• UN Calls For 'Rapid And Unimpeded' Aid Access To Myanmar's Rakhine
• Car bomb blast near foreign compound kills four, injures 90 in Afghan capital
• Khalilzad due today amid stalemate in Taliban talks
--------
Africa
• Powerful Union Calls For Strike As Tunisia Marks Revolt Anniversary
• Algeria's Ancient Pyramid Tombs Still Shrouded In Mystery
• Nigeria: Turning the Tables on Boko Haram
• UN refugee agency seeks more resources for African refugees
• Bashir: Sudan protests 'will not change government'
• Libya withdraws from Arab Economic Summit in Lebanon due to offensive video
• Parliament chief: Libya should hold elections even if draft constitution rejected
--------
North America
• Caroline Glick: Mike Pompeo Destroys the Ideological Legacy of Obama's Middle East
• US officials due today for talks on Afghan peace process
• US wants Syria 'safe zone' to protect Turkey, Kurds: Pompeo
• Trump: 'Great potential' for expanded US, Turkey economic development
• Saudi lobby group warns that Canada's relations with Arab-Muslim world could suffer over asylum for teen
Compiled by New Age Islam News Bureau
URL: https://www.newageislam.com/islamic-world-news/malaysian-president-ulama-aspiring-office/d/117465
--------
Malaysian President: Ulama Aspiring For Office Must Know Other Ideologies Besides Islam
15 January 2019
KUALA LUMPUR, Jan 15 — Parti Amanah Negara wants the Muslim ulema to lead the country, but they must possess knowledge about modern civilisation beyond Islamic jurisprudence, President Mohamad Sabu said.
In an interview with pan-Arabic channel Al-Mayadeen, the politician popularly known as Mat Sabu told journalist Zainab Al-Saffar that the concept of leadership by the ulama was introduced during his time in PAS.
"At the time we were influenced by the Islamic Revolution in Iran (in 1979). We respect the ulama but they must have full knowledge in leading people," he said.
Mohamad was answering a query which claimed PAS was unimpressed with Amanah's claims of being an Islamist party since it lacked top ulama figures within its ranks.
"We are trying to include more ulama into Amanah. And we have a special body to look after all these ulama who graduate from the Middle East to join our party in the hopes they can someday lead.
"Their knowledge must be not be limited to certain sectors of the people, but the whole of society. They must have knowledge of other ideologies as well, so they are able to deal with various issues related to Malaysians," he said.
Mat Sabu also added he remained confident in Amanah's future even though PAS may command the majority of the grassroots.
"Even now in the PAS stronghold of Kelantan, its foundations are starting to shake as many PAS members are joining Amanah.
"At present we are seeing more than 2,000 new members from Kelantan a month, so we are very confident of the future," he said, without further elaborating.
https://www.malaymail.com/s/1712733/mat-sabu-ulama-aspiring-for-office-must-know-other-ideologies-besides-islam
--------
'McJesus' Sculpture Outrages Christian Arabs In Palestine
Jan 15, 2019
An art exhibit in the Occupied Territories featuring a crucified Ronald McDonald has sparked protests by the Arab Christian minority.
Hundreds of Christians calling for the removal of the sculpture, entitled "McJesus," demonstrated at the museum in the northern city of Haifa last week. Police say rioters hurled a firebomb at the museum and threw stones that wounded three police officers. Authorities dispersed the crowds with tear gas and stun grenades.
Church representatives brought their grievances to the district court Monday, demanding it order the removal of the exhibit's most offensive items, including Barbie doll renditions of a bloodied Jesus and the Virgin Mary.
Museum director Nissim Tal said that he was shocked at the sudden uproar, especially because the exhibit — intended to criticize what many view as society's cult-like worship of capitalism — had been on display for months. It has also been shown in other countries without incident.
The protests appear to have been sparked by visitors sharing photos of the exhibit on social media.
Christians make up a tiny percentage of the population in the Occupied Territories and say they face unique challenges.
"We need to understand that freedom of expression is interpreted in different ways in different societies," said Wadie Abu Nassar, an adviser to church leaders. "If this work was directed against non-Christians, the world would be turned upside down."
Israeli Culture Minister Miri Regev, who has been accused of censorship for pushing legislation mandating national "loyalty" in art, also called for the removal of the "disrespectful" artwork.
The museum has refused to remove the artwork, saying that doing so would infringe on freedom of expression. But following the protests it hung a curtain over the entrance to the exhibit and posted a sign saying the art was not intended to offend.
"This is the maximum that we can do," Tal said. "If we take the art down, the next day we'll have politicians demanding we take other things down and we'll end up only with colorful pictures of flowers in the museum."
But that did little to placate those who want the artwork removed. A protester remained camped out in a tent at the museum on Monday with a sign reading "Respect religions." Police watched closely as local Christians complained to reporters in front of street signs spray-painted with crosses and windows still shattered from last week's clashes.
"This is very offensive and I cannot consider this art," Haifa artist and devout Christian Amir Ballan said. "We will continue through peaceful rallies and candle vigils… We won't be quiet until we reach a solution."
Jani Leinonen, the Finnish artist behind "McJesus," has also asked that it be taken down — but for a different reason.
He says he supports Boycott, Divestment, Sanctions, or BDS, a Palestinian-led movement aimed at pressuring Israel to change its policies toward the Palestinians. The group has made significant gains in recent years, persuading a number of foreign artists to cancel performances there.
Tal said the museum won't bow to religious or political pressure. "We will be defending freedom of speech, freedom of art, and freedom of culture, and will not take it down," he said.
https://www.presstv.com/Detail/2019/01/15/585819/McJesus-sculpture-outrages-Israels-Arab-christian-community
--------
Police in Muslim Chechnya Torture Two to Death, Arrest Dozens for 'Homosexuality'
14 Jan 2019
Police in Chechnya, a majority-Muslim region of Russia, have relaunched a campaign to arrest suspected gay and lesbian Russians, killing two and arresting over 40 others in the past month according to a report published Monday.
According to Russia's LGBT Network, which seeks to protect LGBT people from repression and violence in Chechnya, the arrests of suspected homosexuals began last month. The group has documented at least two people killed while tortured in police custody.
"We can already say that the torture being suffered by those detained is savage, much worse than for those detained in 2017," the LGBT Network's programme director, Igor Kochetkov, told the Telegraph. "We know of two dead, but probably more have been killed."
The individuals are reportedly being held at an infamous prison in the town of Argun, where they have had their documents seized to prevent them fleeing the region. Authorities have also used the threat of violence against relatives and family members should they speak out about the crackdown.
The arrests are the latest case of an anti-homosexual crackdown in the Muslim majority region, where Putin-backed strongman leader Ramzan Kadyrov has led repressive campaigns in an effort to "purify" the blood of the Chechnyan people.
The most prominent case took place in 2017 when over 100 gay men were rounded up and tortured. Some were handed over to relatives with the expectation they would carry out an "honor killing," while others were forced to sign blank criminal charges for possible future detainment.
On Monday, a spokesperson for Kadyrov denounced the reports as "complete lies [that] don't have an ounce of truth in them." Kadyrov has repeatedly denied all allegations of human rights violations and widespread persecution of LGBT Russians and has previously claimed that gay people "don't exist" in Chechnya because their own relatives would have banished them from the region.
"You cannot arrest or repress people who just don't exist in the republic," Kadyrov said at the time. "If such people existed in Chechnya, law enforcement would not have to worry about them since their own relatives would have sent them to where they could never return."
In an interview with the BBC last January, Kadyrov also said the allegations were mainly from people looking to make money.
"That's all an invention by foreign agents who are paid a few kopecks" he said. "So-called human rights activists make up all sorts of nonsense for money."
Kadyrov's claims have not suppressed evidence of a sustained campaign of repression in Chechnya; former U.S. Ambassador Nikki Haley was among the many figures to publicly condemn the reports.
"Widespread detentions, torture, and killings of gay people have resumed in Chechnya," Kochetkov added. "Persecution of men and women suspected of being gay never stopped. It's only that its scale has been changing."
https://www.breitbart.com/asia/2019/01/14/police-muslim-chechnya-torture-two-death-arrest-dozens-homosexuality/
--------
Starving Syrian mum sets self, kids on fire in refugee camp near Jordan
Jan 14, 2019
An internally displaced Syrian mother has attempted to torch herself and her children to death in a refugee camp in southern Syria after she failed to find food for her family for three straight days.
Civil defense spokesman Khaled al-Ali said Sundus Fathallah, 28, set herself and her three children on fire inside a tent at the desolate Rukban refugee camp near Syria's border with Jordan over the weekend as she helplessly watched her children starving. Other refugees in the camp put out the fire, which damaged the tent, and evacuated the woman and her children to hospital, the spokesman added.
The woman and her infant were seriously hurt while the two other children suffered minor injuries, Ali pointed out.
Last October, the Britain-based so-called Syrian Observatory for Human Rights (SOHR) said people in Rukban camp have been without access to food and humanitarian materials for several months.
The Observatory highlighted that the tough situation is coupled with a closed border by Jordan.
Jordan closed its border with Syria following an attack on its soldiers by Daesh Takfiri terrorists back in 2016. Earlier this week, however, Amman re-opened the Nasib border crossing with Syria for the first time in three years, as the crisis in Syria is gradually winding down thanks to the Syrian army's decisive gains against terrorists.
The United Nations says about 45,000 people, mostly women and children, are trapped inside Rukban refugee camp.
This is while Geneva-based Doctors Without Borders (MSF) has put the number of refugees living there closer to 60,000.
The United Nations Children's Fund (UNICEF) reported early October 2018 that two children had died due to lack of medical care. Four-month-old Huda Raslan died from malnutrition and a lack of medical access while Munaf al-Mahmoud, a one-year-old baby, died due to the lack of adequate medical care as well.
"Once again, UNICEF appeals to all parties to the conflict in Syria and those who have influence over them, to allow and facilitate access to basic services including health for children and families. This is the very minimum for human dignity," Geert Cappelaere, the UNICEF Middle East and North Africa director, said in a statement.
The area where Rukban camp is located is controlled by the former US-backed Shuhada al-Qaryatayn militant group. The extremists were supposed to evacuate to Syria's northwestern province of Idlib in accordance with a Russian-backed deal, but refused to do so.
Syria has been gripped by foreign-backed militancy since March 2011. The Syrian government says the Israeli regime and its Western and regional allies are aiding Takfiri terrorist groups wreaking havoc in the country.
https://www.presstv.com/Detail/2019/01/14/585778/Starving-Syria-mum-sets-self-kids-on-fire-at-refugee-camp
--------
SC asks govt, civil society and religious scholars to tackle issue of increasing population
Haseeb Bhatti
January 15, 2019
The Supreme Court on Tuesday in its verdict in a suo motu case on the increasing population said that the government, civil society and religious scholars should all take steps to tackle the issue.
A three-member SC bench, headed by Chief Justice Mian Saqib Nisar and comprising Justice Umar Ata Bandial and Justice Ijazul Ahsan, was hearing the case. Population control is the latest campaign the SC has extended its support to.
According to the 2017 census, which was held after a gap of 19 years, the country's population is approximately 207,774,520 living in 32,205,111 households. The results show that Pakistan has moved up the ladder becoming the fifth most populous nation only behind India, China, the United States and Indonesia. Top government officials have decided to reduce the population growth rate of 2.4 per cent per annum to 1.5pc.
The SC in its verdict today observed that an increasing population is a stress on the country's resources and likened the growth to an explosion.
"We need a campaign to decrease the population," the court said. "It is a question of the future of our coming generations."
"The entire nation must stand united on the matter of population planning," said chief justice Nisar, who has termed unbridled population growth as the "most disastrous issue" for Pakistan.
In yesterday's hearing, the court was told by the health secretary that a demographic survey is conducted every five years. The last one was in 2018 and its results bore little difference compared to the survey before that, the secretary told the bench.
The chief justice asked about progress made on its earlier orders, to which the secretary had responded that a report was submitted.
"Every three months, the court will assess the implementation of the report," the chief justice said, referring to recommendations made by a task force that had been set up to probe the matter.
"Not adhering to the task force's recommendations could lead to the destruction of the country," Justice Nisar had warned.
https://www.dawn.com/news/1457691/sc-asks-govt-civil-society-and-religious-scholars-to-tackle-issue-of-increasing-population
--------
New Delhi Cultural Festival Promoting Interfaith Friendship
January 14, 2019
In my recent vacation in India I attended a unique 2-day cultural festival called "Jashan Rekhta" in New Delhi on December 15, 16 at the National Stadium. The event is being organized every year for the last five years by the Rekhta Foundation headed by Sanjay Saraf, a New Delhi businessman. While the core theme of the event is Urdu language and its culture of a composite multi-religious, multicultural society, it makes a huge effort to make artists, speakers and the audiences from Hindu, Muslim, Sikh, Christian communities to participate in equal numbers, thereby promoting India's basic composite multi-religious society.
In its various sessions spread over two days the event presented well known authors, poets, moviemakers, ghazal-qawwali-sufi music singers as well as folk singers from various north-Indian regions. In addition to typical Muslim cultural items like mushaira, qawwali, ghazal, sufi music, icons of Hindu culture like Ram Kahani – a rendering of Ramayana in Urdu, and Kabir Kahani – a nugget from the Bhakti movement of medieval India, were presented in equal measure.
The over-riding flavor of the event, though loaded with Urdu and north Indian Muslim culture, was the warm atmosphere of friendship and commonality among men and women from different religious communities and the presence of a substantial number of young, under-40 people. This cultural festival has built such a reputation that a good number of people in the audience were NRIs and visitors from other Indian cities.
Another attraction at the Rekhta event was a large food court comprising of stalls offering rich variety of high quality food, e.g. distinct Delhi cuisine, Lucknow cuisine, Rajasthani cuisine, Kashmiri cuisine, Bihari cuisine, each with their own authentic breads, rices and non-vegetarian/ vegetarian dishes. In the food court also the composite and diverse culture theme was predominant.
The interfaith cultural bonhomie in the 3,000 strong audience was so pervasive that as I was returning home from the event by the Delhi metro, I said to myself " Who says Hindu-Sikh-Muslim-Christian friendship is dead in India". This in the face of the bad news we often receive of Hindu-Muslim tensions and problems in various Indian cities.
All of us have to work harder to support such positive events and debunk the selfish politicians and the sensationalist TV media in India that divide us by propagating distorted precepts of religion, cow and medieval Indian history.
Indeed, India's composite and tolerant Hindustani culture is what is in our bloodstream and what we grew up with. I doff my hat off in respect for the Rekhta Foundation and such other groups that promote such positive cultural and social events to bring people together.
http://www.ummid.com/news/2019/january/14.01.2019/new-delhi-cultural-festival-promoting-inter-faith-friendship.html
--------
Myanmar bishop calls for talks over Rakhine crisis
January 15, 2019
Bishop Alexander Pyone Cho has called on all parties to return to the negotiation table as fighting escalates in Myanmar's restive Rakhine State.
The bishop of Pyay said tensions remain high between the military and the Arakan Army.
"Solving the problem with arms will not lead to a solution, so both sides need to go to the negotiable table [and work] towards stability and peace," Bishop Pyone Cho told ucanews.com.
More than 4,500 people have fled their homes and taken refuge at monasteries and schools in four townships in Rakhine.
"Civilians pay the price of fighting and more people might be fleeing if fighting intensifies," the bishop said.
The 69-year-old bishop said the renewed fighting in Rakhine will have some impact on the peace process as Aung San Suu Kyi's government is trying to negotiate with all armed ethnic groups for a durable peace.
"It is a challenge for the government but I believe Aung San Suu Kyi will not give up her priority of getting peace as she is very committed to it," said Bishop Pyone Cho.
Myanmar's military declared a four-month ceasefire in northern and eastern Myanmar on Dec. 21, but Rakhine was excluded and operations against the Arakan Army have continued.
On Jan. 8, Myanmar's civilian leaders, including state counselor Suu Kyi, met with a delegation led by military chief Min Aung Hlaing to discuss the situation.
The Arakan Army was formed in Rakhine in 2009 to protect ethnic Rakhine people and it is estimated to have several thousand well-equipped soldiers.
Bishop Pyone Cho's diocese covers troubled Rakhine, which has experienced the Rohingya crisis as thousands of people fled to Bangladesh following Myanmar's military crackdown in August 2017.
He said it is hard to tell how many Rohingya refugees in Bangladesh will return to Myanmar as many believe it is not safe.
"From Myanmar's side, it is ready to accept all refugees but from the Rohingya refugees' view, fear still remains," Bishop Pyone Cho told ucanews.com.
The instability in Rakhine might be one more reason for the refugees to remain in Bangladesh, he said.
The bishop acknowledges that international pressure will remain on Myanmar in 2019 but he warns that apportioning blame will only worsen the situation.
"The international community also needs to find out the positive things and give a hand to Aung San Suu Kyi's government to find a lasting solution," Bishop Pyone Cho said.
More than 700,000 Rohingya fled to Bangladesh in the wake of the military crackdown that began in August 2017 following attacks on security personnel by Rohingya militants.
A U.N. Fact-Finding Mission report found that Myanmar's military committed four of the five acts constituting genocide against the Rohingya. It said Min Aung Hlaing and five other senior generals must be prosecuted for genocide and war crimes against humanity.
https://www.ucanews.com/news/myanmar-bishop-calls-for-talks-over-rakhine-crisis/84278
--------
Southeast Asia
Malaysia looking for more evidence to act on Zakir Naik's extradition, says Anwar Ibrahim
Jan 10, 2019
Kuala Lumpur is looking for more evidence from New Delhi before it can act on any request for the extradition of Islamic preacher Zakir Naik, Malaysia's prime minister-in-waiting Anwar Ibrahim said on Thursday.
Last year, India made a request for the extradition of Naik, who was given permanent residency status by the previous Malaysian government led by Najib Razak. Though India has an extradition treaty with Malaysia, current Prime Minister Mahathir Mohamad said last July his government will look at all factors before deciding on Naik's case.
"I've seen that Prime Minister Mahathir has already said we are looking into it, we are waiting for more arguments or the case from India, for the Malaysian government to look at it because what we have now is a request to bring back (Naik)," Ibrahim said on the sidelines of a meeting with Indian Muslim intellectuals.
Speaking shortly after a meeting with Prime Minister Narendra Modi, Ibrahim said he had made it very clear to the Indian leader "that issues of terrorism, in any way, will never be supported or condoned by the Malaysian government".
The National Investigation Agency (NIA) has charged Naik with allegedly inciting youngsters to take up terror activities, giving hate speeches and promoting enmity between communities. Naik is also being investigated for hate speeches that allegedly inspired a terrorist attack on a popular cafe in Dhaka in 2016.
Naik has lived in Saudi Arabia and Malaysia since he left India more than two years ago.
Ibrahim said Malaysia needs India to furnish "documents and reasons" for the extradition request.
"I think you must appreciate the fact that the Malaysian government needs to study this. This is a case mentioned by India, we respect (their views) but the Malaysian government has to look at it and study the case. I'm not in the government per se, but I understand the fact that (Mahathir) is personally looking into it," he said.
Asked if Malaysia would act once more evidence is provided by India, he replied: "I think at this stage, Malaysia is waiting for the documents. If they say that they have supplied (them), Malaysia will look at it positively and then the government will, of course, have to decide."
Ibrahim, who was freed from prison last year after the Pakatan Harapan alliance formed by him and rival Mahathir swept to power in elections, is expected to take over as premier when Mahathir steps down. He refused to set a timeframe for the change. "At the right time, I shall assume the premiership," he said.
During his meeting with Modi, Ibrahim discussed bilateral, regional and global matters of mutual interest. Modi congratulated Ibrahim on being elected president of the Parti Keadilan Rakyat, the dominant player in Malaysia's ruling alliance.
"We engaged in a few subjects. Prime Minister Modi met Prime Minister Mahathir recently, and we are keen to ensure bilateral relations stay on the best terms and include education and culture," Ibrahim said. "India also feels, and we share the concern, that we should extend this understanding and collaboration that covers security interests of the region."
https://www.hindustantimes.com/world-news/malaysia-looking-for-more-evidence-to-act-on-zakir-naik-s-extradition-says-anwar-ibrahim/story-ux2cSnUfgMcSY8GCMGY50M.html
--------
Lights at Jelutong condo no longer form a cross, says Penang CM
14 January 2019
GEORGE TOWN, Jan 14 — The lights at the high-rise Grace Residences building in Jelutong no longer form a cross when they are switched on, Penang Chief Minister Chow Kon Yeow said.
He said a picture of the building last night did not show a cross after previous photos of it sparked a controversy.
"A picture was sent to me last night, it only showed that the carpark was lit up and it doesn't show a cross," he told reporters after a cheque handing over ceremony in Komtar today.
He said he has yet to receive any report from the developer, Nova Mulia Development Sdn Bhd, on the issue.
"I am still waiting for full information on this from the state secretary," he added.
Last week, pictures of the high-rise building with lights along the common areas forming a cross went viral on social media, triggering an outcry among some Muslim groups.
This led to a statement by the Penang mufti Wan Salim Wan Mohd Noor calling on the local authorities to instruct the developer to change the position of the lighting so that it does not resemble a cross when viewed from afar.
He said the issue can be resolved with cooperation by all parties.
Wan Salim also said that the issue should be handled carefully in accordance with the law and not to let anger take the lead.
"I wish to call on all parties to be careful so as not to aggravate the situation and destroy the harmony of society," he said.
Full report at:
https://www.malaymail.com/s/1712402/lights-at-jelutong-condo-no-longer-form-a-cross-says-penang-cm
--------
Mideast
Israeli troops prevent Muslim worshipers from entering Dome of Rock
Jan 14, 2019
Israeli police forces have prevented hundreds of Muslim worshipers from saying their prayers in the Dome of the Rock mosque, which is located inside the al-Aqsa Mosque compound in the occupied Old City of East Jerusalem al-Quds.
The Palestinian Ma'an news agency further reported on Monday that Israeli troops were heavily deployed in all over the compound as Muslim worshipers, after being barred from entering the holy site, gathered in one place to perform prayers together outside of the Dome of the Rock.
The report, citing Firas al-Dibs, spokesperson of the Islamic Waqf (Endowment) organization, as saying that Israeli police forces also prevented a group of imams and sheikhs from entering the site.
He added that the Israeli forces also assaulted Sheikh Omar al-Kiswani, director of the Al-Aqsa Mosque, without giving more details.
Israeli police also held ID cards of all worshipers, al-Dibs further noted.
The al-Aqsa Mosque compound sits just above the Western Wall plaza and houses both the Dome of the Rock and the al-Aqsa mosque.
Tensions continue in the occupied Palestinian territories as part of the aftermath of US President Donald Trump's recognition of Jerusalem al-Quds as Israel's "capital" and relocation of the US embassy to the occupied city.
On December 21, 2017, the United Nations General Assembly overwhelmingly voted in favor of a resolution that calls on the US to withdraw its controversial policy shift.
Despite the vote, the US went ahead with the embassy transfer on May 14, triggering demonstrations in the occupied Palestinian territories, Iran, Turkey, Egypt, Jordan, Tunisia, Algeria, Iraq, Morocco and other Muslim countries.
Infuriated by Trump's move, Palestinian President Mahmoud Abbas boycotted his administration, saying Washington is no longer qualified to serve as the sole mediator in the decades-long conflict with Israel, and that an international mechanism should be devised to replace the US in the so-called peace process.
https://www.presstv.com/Detail/2019/01/14/585808/Palestine-Israel-police-Dome-of-Rock-AlAqsa-Mosque
--------
UN chief backs two-state solution in talks with President Abbas
15 January 2019
The United Nations says Secretary-General Antonio Guterres has met with Palestinian President Mahmoud Abbas and stressed again that a two-state solution to the Israeli-Palestinian conflict is the only path to peace.
Guterres' strong backing for an independent Palestinian state came ahead of the release of a long-awaited US plan for Israeli-Palestinian peace and Israeli elections in April.
UN spokesman Stephane Dujarric says Guterres also congratulated Abbas during Monday's meeting on the election of the Palestinians to preside over the Group of 77, a bloc of 134 mainly developing nations and China that promotes their collective interests at the United Nations.
Abbas will take over the chairmanship from Egypt on Tuesday.
Full report at:
https://english.alarabiya.net/en/News/middle-east/2019/01/15/UN-chief-backs-two-state-solution-in-talks-with-President-Abbas.html
--------
In Lebanon, US State Dept official calls Hezbollah 'unacceptable'
14 January 2019
The US State Department criticized Lebanon's Iran-backed Hezbollah group on Monday for digging tunnels into Israel and stockpiling rockets, as Washington steps up efforts to isolate Tehran.
In recent weeks, Israeli forces uncovered tunnels they said were dug by Hezbollah, and Lebanon complained about Israel's construction of a barrier along disputed parts of the border.
The United States, Israel's closest ally, regards Hezbollah as a terrorist group and has pledged tougher steps to counteract Iranian influence in the region, but it has also reiterated its backing for the Lebanese government - which includes Hezbollah representatives - and army.
Secretary of State Mike Pompeo last week vowed to expel "every last Iranian boot" from Syria, where Iran has been fighting alongside Hezbollah, and where Israel has been carrying out strikes against both.
"While Lebanon has the right to defend itself, that is the right of the Lebanese state alone," said David Hale, US under secretary of state for political affairs, after meeting Lebanese prime minister designate Saad al-Hariri.
"It is unacceptable to have a militia outside the control of the state, and unanswerable to all people of Lebanon digging attack tunnels across the blue line to Israel or assembling an arsenal of over 100,000 missiles with which to threaten regional stability," he added.
Israel, which regards Hezbollah as the biggest threat on its borders, on Sunday said it had completed efforts to find and destroy tunnels under the frontier that it said the group had dug to infiltrate fighters during a future war.
Hezbollah has not commented on the tunnels. Lebanon's National Security Council last week said an Israeli border wall that crosses into territory claimed by Lebanon, constitutes an act of aggression.
However, both sides appear ready to contain matters for now. "Israel's interest is to keep the (situation) quiet. I think for them (Hezbollah), that interest is even greater," Lieutenant General Gadi Eizenkot said last week after completing his term as Israeli army chief.
Oil dispute
Hezbollah was set up by Iran in the early 1980s to fight Israel's occupation of south Lebanon, but it retained its weapons after Israeli forces withdrew in 2000 and has become the strongest political force in the country.
The last conflict between Israel and Hezbollah, fought on Lebanese soil, was in 2006. A United Nations Security Council resolution ending that conflict called for work to delineate the border, but the frontier has still not been agreed.
The border dispute has also affected Lebanese plans to drill for oil and gas near an area of sea claimed by both countries.
Hale's visit comes as Lebanese politicians continue to jostle over the formation of a new coalition government more than eight months after an election.
Hezbollah is part of Lebanon's caretaker government and is expected to be included in any new coalition formed by Hariri.
Full report at:
https://english.alarabiya.net/en/News/middle-east/2019/01/14/In-Lebanon-U-S-State-Dept-official-calls-Hezbollah-unacceptable-.html
--------
Iran launches satellite that failed to reach orbit
15 January 2019
Iran on Tuesday conducted one of at least two satellite launches it plans despite criticism from the United States, but the satellite failed to reach orbit, an official said.
The rocket carrying the Payam satellite failed to reach the "necessary speed" in the third stage of its launch, Telecommunications Minister Mohammad Javad Azari Jahromi told Iranian state television.
Jahromi said the rocket had successfully passed its first and second stages before developing problems in the third. He did not elaborate on what caused the rocket failure, but promised that Iranian scientists would continue their work.
Iran has said it plans to send two satellites, Payam and Doosti, into the orbit. Payam means "message" in Farsi, while Doosti means "friendship."
It's unclear how the failure of the Payam will affect the launch timing for the Doosti. Jahromi wrote on Twitter that "Doosti is waiting for orbit," without elaborating.
Iran usually displays space achievements in February during the anniversary of its 1979 Islamic Revolution. This year will mark the 40th anniversary of the revolution amid Iran facing increasing pressure from the US under the administration of President Donald Trump.
US Secretary of State Mike Pompeo has said that Iran's plans for sending satellites into orbit demonstrate the country's defiance of a UN Security Council resolution that calls on Iran to undertake no activity related to ballistic missiles capable of delivering nuclear weapons.
Iran insists the launches do not violate the resolution.
Over the past decade, Iran has sent several short-lived satellites into orbit and in 2013 launched a monkey into space. The US and its allies worry the same satellite-launching technology could be used to develop long-range missiles capable that could carry nuclear weapons.
Iran denies wanting nuclear weapons. A 2015 nuclear deal it struck with world powers limited its enrichment of uranium in exchange for the lifting of economic sanctions.
Full report at:
https://english.alarabiya.net/en/News/world/2019/01/15/Iran-launches-satellite-that-failed-to-reach-orbit.html
--------
Pompeo slams Houthis for breaking Yemen cease-fire
January 14, 2019
DUBAI: US Secretary of State Mike Pompeo on Monday accused Iran-backed Houthi militias in Yemen of failing to comply with a cease-fire agreement for the Red Sea port city of Hodeidah reached at UN-sponsored talks in Sweden.
His comments came after he cut short his Middle East tour and headed home early to attend a family funeral on Monday.
"The work that was done in Sweden on Yemen was good, but both sides need to honor those commitments," Pompeo said in Riyadh after talks with Saudi King Salman and Crown Prince Mohammed bin Salman. "To date, the Houthis have chosen not to do that."
The US Embassy in Riyadh said Pompeo and Prince Mohammed "agreed on the need for continued de-escalation and adherence to the Sweden agreements," especially the cease-fire in Hodeidah.
"A comprehensive political solution is the only way to end the conflict," the embassy said.
Hodeidah was for months the main front line in Yemen after government forces backed by a Saudi-led military coalition launched an offensive to capture it in June. More than 80 percent of Yemen's imports pass through the port, but it is also a key route for Iranian arms and ammunition supplied to the Houthis, including parts for missiles used to attack Saudi Arabia.
The UN has said the Hodeidah truce has largely held since it came into force on Dec. 18, but there have been delays in the agreed pullback of Houthi and government forces. In 80 minutes of talks with the king and the crown prince, Pompeo restated US concern about the 19-month dispute between Qatar and other Gulf states over Doha's support for terrorism, which he said was threatening regional unity needed to counter Iran.
"We did talk about how we might put the Gulf rift back in a better place," he said. "I think they'd like to see that too."
Pompeo said the king and the crown prince had also assured him everyone responsible for the murder of the Saudi journalist Jamal Khashoggi would be held accountable. Khashoggi, 59, was killed in the Saudi consulate in Istanbul last October. Eleven Saudis have been charged and prosecutors seek the death penalty for five of them.
The Saudi leaders "acknowledged that accountability needed to take place. They talked about the process inside their country, both the investigative process and the judicial process," Pompeo said.
"They reiterated their commitment to achieve the objective, the expectations we set for them."
Pompeo left Saudi Arabia for Oman on Monday but canceled plans to visit Kuwait because of a death in his family.
The ongoing dispute between Qatar and four of America's other close Arab partners also featured in Pompeo's talks, as the rift continues to hamper a US-led effort to unite the Gulf Arab states, Egypt and Jordan in a military alliance to counter Iran.
Full report at:
http://www.arabnews.com/node/1435271/middle-east
--------
Europe
'Military deal with Sudan paves way for Russia to build base on Red Sea'
Jan 14, 2019
A senior Sudanese parliamentarian says a draft military deal with Russia on mutual navy port visits could pave the way for Moscow to build a permanent military base on the Red Sea coast.
Major General Al-Hadi Adam, the head of Sudan's parliamentary defense committee, told Russia's Sputnik news agency on Saturday that the agreement set the guidelines for the entry of Russian and Sudanese warships to the ports of the two countries, hailing it as a step towards establishing strategic relations.
"The date of the requested port call is being discussed. It will be approved if the two countries make an agreement. This deal will pave the way for more agreements and greater cooperation…possibly a Russian base on the Red Sea," the official said.
Musa pointed out that several regional states had already allowed foreign countries to build military bases in their territories, adding that Sudan, just like those countries, reserved the right to allow Russia to establish a military base on its territory.
Last week, Russia's legal information portal website reported that Prime Minister Dmitry Medvedev had approved the draft agreement on port calls with Sudan.
According to the draft agreement, "the entry of warships shall be made after notification has been given not later than seven working days prior to the scheduled date of entry."
The draft document stressed that "within the framework of the Agreement, no more than seven warships can be present simultaneously, in the territorial sea, inland waters and ports of the receiving State."
It does not, however, provide for the building of a military base in Sudan.
In November 2017, Sudanese President Omar al-Bashir met with his Russian counterpart, Vladimir Putin, in the Russian city of Sochi, where both leaders expressed their desire to enhance military ties.
During the visit to Russia, Bashir even offered to build an airbase for Russia on its Red Sea coast.
He also suggested re-equipping the Sudanese army with Russian-built airplanes and military arsenal including surface-to-air missiles.
The Sudanese president also asked Putin to help protect his country from the "aggressive" United States.
Russia is considered as a key ally of the Sudanese government against Western pressure.
https://www.presstv.com/Detail/2019/01/14/585740/Russia-Military-Base-Sudan
--------
Egypt deports another German for alleged Daesh connection
January 14, 2019
BERLIN: Egypt has deported the second of two young German men who were arrested last month as suspected militants, the Foreign Ministry in Berlin said on Monday.
Eighteen-year-old Issa Ibrahim El-Sabagh landed at Frankfurt airport, reported Spiegel Online, following last week's repatriation of Mahmoud Abdel-Aziz, 23.
A ministry spokeswoman confirmed that "the person arrived back in Germany last night."
Both men had vanished in December in Egypt, where the government only reported their arrests following inquiries by Germany.
Their families had raised the alarm and have called the arrests cases of mistaken identity.
El-Sabagh, a German-Egyptian dual citizen and student in the city of Giessen, was arrested in mid-December after landing in the southern city of Luxor.
Egyptian security sources said the two men were suspected of having tried to join the Daesh group's affiliate in the troubled Sinai peninsula.
German prosecutors said last week they were looking into the Egyptian media reports on Abdel-Aziz to investigate whether there were "any indications of criminal offenses."
The 23-year-old has since posted a video on Facebook in which he denied he is an extremist militant who supports violence or has any Daesh links.
The student from the university town of Goettingen also said he had flown to Egypt to visit his grandparents and retracted anything he had said in Egypt "under duress and pressure."
Egypt has been battling insurgency in North Sinai, which spiked following the 2013 military ouster of President Muhammad Mursi.
Full report at:
http://www.arabnews.com/node/1435481/middle-east
--------
France pledges €1bn in aid to rebuild Iraq
January 15, 2019
BAGHDAD: French Foreign Minister Jean-Yves Le Drian says France is committing €1 billion ($1.15 billion) to help Iraq rebuild after its war against Daesh.
Le Drian, meeting with his Iraqi counterpart in Baghdad on Monday, said the aid would go to rebuilding Iraq's most devastated areas.
Iraq's Planning Ministry has estimated the cost of reconstruction at $88 billion. Iraq was able to raise $30 billion at a donor conference in Kuwait last year.
Iraqi Foreign Minister Mohamed Alhakim thanked France for its assistance to Iraq's minority Yezidi community. Daesh militants enslaved and killed thousands of Yezidis during their brief reign in north Iraq earlier this decade.
Full report at:
http://www.arabnews.com/node/1435466/middle-east
--------
UK summons Iran envoy over British-Iranian aid worker
14.01.2019
By Muhammad Mussa
LONDON
British Foreign Secretary Jeremy Hunt has summoned the Iranian ambassador to discuss the imprisonment of British-Iranian aid worker Nazanin Zaghari-Ratcliffe.
The 40-year-old aid worker was jailed for five years in September 2016 after being convicted of spying for the U.K. while she and her daughter were visiting her family in Tehran, a charge they deny.
The foreign secretary, according to the BBC, has praised Zaghari-Ratcliffe for her bravery and endurance and criticised Iran for allowing "an innocent mother to feel she needs to resort to a hunger strike" to call for attention.
Zaghari-Ratcliffe has begun a three-day hunger strike to protest against prison officials who have refused to provide urgent medical care.
Husband Richard Ratcliffe has warned that his wife is in need of neurological care due to severe neck pains and numbness in her arms and legs and that she has to request permission to visit a psychiatrist outside of prison.
According to Amnesty International, Zaghari-Ratcliffe is imprisoned in Iran's notorious Evin prison alongside prominent Iranian human rights activist Narges Mohammadi, who is also in need of urgent medical attention.
"It's outrageous it's had to come to this for Nazanin and Narges. Nazanin and Narges are prisoners of conscience, forced to resort to desperate, life-endangering measures simply to get vital medical care," Kate Allen, Amnesty's U.K. director, said in a press statement.
"The Iranian authorities should stop playing cruel games with Nazanin and Narges and immediately release them. Pending their release, they should be allowed the medical care they urgently need," she added.
Zaghari-Ratcliffe, a British-Iranian dual national, was arrested in 2016 at Imam Khomeini Airport when she was going back to the U.K. after visiting her family in Tehran.
Full report at:
https://www.aa.com.tr/en/europe/uk-summons-iran-envoy-over-british-iranian-aid-worker/1364526
--------
Arab World
Damascus welcomes Kurds' call for talks, seeks to reunite Syria
Jan 14, 2019
The Syrian government has welcomed talks with Kurdish groups aimed at maintaining the country's unity after the Kurds called for a Russian-mediated deal with Damascus.
Syrian Kurdish leaders have sought a Russian-mediated deal with President Bashar al-Assad's government after US President Donald Trump decided to withdraw American troops from the war-ravaged Arab country.
"We hope for the intensification of the dialogue. Many of the Kurdish statements were positive regarding their concern for the unity of Syria," Syria's Assistant Foreign Minister Ayman Sousan told reporters in Damascus on Sunday.
"We are confident that through dialogue we can deal with some of the demands ... and this dialogue guarantees that, as long as it is based on a commitment to Syria's unity," he added.
Syrian Kurds are rattled by Turkey's threats of an invasion to eliminate US-backed YPG militants whom Ankara regards as terrorists.
The deal would mark perhaps the most important milestone because the two biggest chunks of Syria splintered by eight years of war would be rejoined, leaving only a corner in the northwest in the hands of militants.
Senior Kurdish official Badran Jia Kurd told Reuters earlier this month that the Kurdish-led administration that runs much of northern Syria presented a roadmap for an agreement with Assad during recent meetings in Russia, and would pursue one regardless of US plans.
The Syrian minister said intensified dialogue was significant when set against challenges, "especially the expansionist ambitions that lead the policies of the Turkish regime."
On Friday, Moscow said it was important for Syria's Kurds and the Damascus government to begin talking in light of US plans.
Trump said last month that he was bringing home the American troops deployed in Syria -- some 2,000 -- alleging that they had succeeded in their mission to defeat the Daesh terrorist group.
The US said on Friday that it had begun the pullout process, but officials later clarified that the Pentagon was withdrawing only equipment, not forces.
https://www.presstv.com/Detail/2019/01/14/585733/Syria-Kurds--talks-government
--------
Egypt deports second German in a week for alleged Islamic State links
14 January 2019
CAIRO — Egyptian officials said authorities have deported a German teenager they say had come to Egypt with the intention of joining Islamic State militants fighting security forces in the Sinai Peninsula.
They said the Giessen resident was put on a flight to Germany early Monday. They said he was detained at Luxor airport on December 17 when police found maps of Sinai and a compass in his possession.
Earlier reports named him as 18-year-old Isa El Sabbagh.
They said questioning him revealed that he subscribed to IS ideology and was in online contact with members of the militant group.
The officials spoke on condition of anonymity because they were not authorized to talk to reporters.
Full report at:
https://www.timesofisrael.com/egypt-deports-second-german-in-a-week-for-alleged-islamic-state-links/
--------
Egypt university scraps expulsion of student over hug
January 15, 2019
CAIRO: Egypt's Al-Azhar university on Monday overturned a decision to expel a female student who was filmed hugging a male colleague, after the country's top Muslim cleric intervened in her favour.
In a video widely circulated earlier this month, a man was seen carrying a bouquet of flowers kneeling before a woman and then hugging her in what was to be a marriage proposal.
Al-Azhar decided on Saturday to expel the young woman, but two days later the institution's grand imam, Ahmed al-Tayeb, urged the disciplinary board to "reconsider the punishment."
Tayeb cited the student's young age and her educational future, although he said her conduct outside campus was "unacceptable" and unbecoming for "religious and oriental traditions."
Al-Azhar is the most prestigious seat of Sunni Islamic learning in Egypt.
Following an urgent meeting on Monday, the disciplinary board scrapped its earlier decision and instead ruled that the student should be prevented for taking the first half of her exams.
The reversal came after the student "expressed deep regret for what was done, and pledged to abide by the students ethics and the values of society," according to a statement.
The viral video was not shot at Al-Azhar, but at the Mansoura University in northern Egypt where the man filmed is a student.
He was expelled for two years over the footage, university spokesman Hany Helal said, although he can appeal the decision.
On Sunday, the young man was interviewed by telephone by a prominent television talk show host on channel MBC Masr, and said that he had brought the bouquet of flowers to propose to the woman.
"We were supposed to be engaged but after what happened her parents are refusing this completely," said the young man, a first year law student who was identified only by his first name Mahmoud.
Egypt, a predominantly Muslim country, is a largely conservative society.
Full report at:
https://www.nst.com.my/world/2019/01/450643/egypt-university-scraps-expulsion-student-over-hug
--------
Al-Nusra Leader Jolani Voices Support for Turkey's Assault on Kurds
Jan 14, 2019
The Arabic-language Enab Baladi news website, affiliated to the militants, quoted Jolani as saying on Monday that "we support Turkey's action to take control over the Eastern Euphrates region".
He added that the Kurdish forces are considered as the enemy of what he called as Tahrir al-Sham's "revolution", noting, "We believe that these forces should be annihilated and this will happen for sure."
It was the first reaction of Jolani after Tahrir al-Sham's occupation of Idlib province that has forced other terrorist groups to leave the region.
Turkey has in the past few days sent several military convoys to the borders with Syria to launch military operations against Kurds in Eastern Euphrates.
Turkey has undertaken to disarm Tahrir al-Sham in a demilitarized zone that stretches across several Northern provinces in Syria under an agreement signed with Russia, known as the Sochi Agreement.
Yet, Tahrir al-Sham is expanding its territories in Northern Syria and launches daily attacks on Syria army from its positions within the demilitarized zone.
Meantime, sources close to the Ankara-backed militants said earlier today that the Turkish army was rendering logistical support to Tahrir al-Sham.
The Arabic-language al-Watan newspaper quoted sources close to the Ankara-backed National Liberation Front (NLF) militant group as disclosing that their backers are sending military and logistical aid to Tahrir al-Sham in Northern Syria.
They dismissed Ankara's official claims about their struggle against Tahrir al-Sham in Northern Syria, and even said Turkey has called on the terrorist group to continue occupying Idlib province.
Full report at:
http://en.farsnews.com/newstext.aspx?nn=13971024001119
--------
'Hezbollah exploiting gold mines in Venezuela,' politician reveals
14 January 2019
Lebanese militant group Hezbollah controls gold exploration mines in Venezuela, opposition lawmaker Américo De Grazia revealed this week.
In an interview with Miami-based Spanish newspaper Diario las Américas, De Grazia was criticizing President Nicolas Maduro's Orinoco Mining Arc, a mega-mining project to explore 12 percent of Venezuela's territory for non-renewable metals and minerals.
Venezuela is known to have some of the world's largest gold reserves, many of which are beneath the soil of the "mining arc," along with diamonds, coltan, bauxite and other riches.
De Grazia said Hezbollah, as well as the National Liberation Army – a Marxism-aligned armed group involved in the continuing Colombian armed conflict – are "exploiting the mega-mining project to dig for gold."
The politician, who serves as National Assembly deputy representing the mining state of Bolivar in southeastern Venezuela, said Hezbollah "controls a number of special mines to finance terrorist operation for the regime it serves," in reference to Iran.
De Grazia said Maduro's mining project was a "government scam to satisfy Russian, Turkish or Chinese negotiators and get cash."
Full report at:
https://english.alarabiya.net/en/News/middle-east/2019/01/14/-Hezbollah-exploiting-gold-mines-in-Venezuela-politician-reveals.html
--------
Trump says US will hurt Turkey economically if it hits Kurds
14 January 2019
President Tayyip Erdogan's spokesman said on Monday Turkey expected the United States to honor their strategic partnership after US President Donald Trump warned it would "devastate Turkey economically" if they attack a Kurdish militia in Syria.
Relations between the two NATO allies have been strained over US backing for the Kurdish YPG, which Turkey views as an extension of the outlawed Kurdistan Workers Party (PKK) that is waging a decades-long insurgency on Turkish soil.
"Mr @realDonaldTrump It is a fatal mistake to equate Syrian Kurds with the PKK, which is on the US terrorists list, and its Syria branch PYD/YPG," spokesman Ibrahim Kalin wrote on Twitter.
"Terrorists can't be your partners & allies. Turkey expects the US to honor our strategic partnership and doesn't want it to be shadowed by terrorist propaganda," he said.
Trump tweeted earlier about the United States starting its pullout from Syria, while hitting the remaining Islamic State fighters there.
"Will attack again from existing nearby base if it reforms. Will devastate Turkey economically if they hit Kurds. Create 20 mile safe zone...Likewise, do not want the Kurds to provoke Turkey," Trump wrote.
Full report at:
https://english.alarabiya.net/en/News/middle-east/2019/01/14/Trump-says-US-will-hurt-Turkey-economically-if-it-hits-Kurds.html
--------
'Dissident Saudi cleric brain-dead after poisoning'
Jan 14, 2019
A renowned Muslim preacher and a university lecturer has been declared brain-dead after Saudi officials injected poisonous substance into his body during brutal torture in prison as a crackdown led by Crown Prince Mohammed bin Salman against Muslim preachers and intellectuals widens in the conservative oil-rich kingdom.
The rights group Prisoners of Conscience, which is an independent non-governmental organization seeking to promote human rights in Saudi Arabia, announced in a post on its official Twitter page that Dr. Ahmed al-Amari, who was a professor at Faculty of the Holy Qur'an in the Islamic University of Madinah, suffered severe brain hemorrhage after the injection.
He was then taken to King Abdullah Medical Complex in the Red Sea port city of Jeddah, where all doctors confirmed that he is brain-dead shortly afterwards.
Also on Monday, Prisoners of Conscience announced that activist Yaser al-Ayyaf is suffering from severe burns and bruises all over his body as a result of savage torture he endured during his detention in solitary confinement.
Saudi Arabia has lately stepped up politically-motivated arrests, prosecution and conviction of peaceful dissident writers and human rights campaigners.
Saudi officials have also intensified security measures in the Shia-populated and oil-rich Eastern Province.
Eastern Province has been the scene of peaceful demonstrations since February 2011. Protesters have been demanding reforms, freedom of expression, the release of political prisoners, and an end to economic and religious discrimination against the oil-rich region.
The protests have been met with a heavy-handed crackdown by the regime with security forces increasing security measures across the province.
Over the past years, Riyadh has also redefined its anti-terrorism laws to target activism.
Full report at:
https://www.presstv.com/Detail/2019/01/14/585805/Dissident-Saudi-clergyman-university-professor-braindead-after-toxic-injection-Rights-group
--------
Pakistan
Islamabad, Kabul plan joint ulema conference on Afghan reconciliation
Tahir Khan
JANUARY 14, 2019
Afghanistan and Pakistan are planning conferences of religious scholars to explore ways for their role in peace and reconciliation in the war-shattered country, officials of the two countries said on Sunday.
President Ashraf Ghani's special envoy Umer Daudzai discussed the proposal in meetings during his recent visit to Pakistan. Council of Islamic Ideology Chairman Dr Qibla Ayaz told Daily Times that Pakistan supports all efforts for peace in Afghanistan and will positively respond to Kabul's proposal for ulema meetings in Islamabad and Kabul. "We have suggested Afghanistan to send some scholars for preliminary discussions with Pakistani ulema," he said, adding that he assured the Afghan envoy that a joint ulema conference is very much possible. He said Afghanistan will send scholars by March this year.
Afghan High Peace Council Spokesman Ihsanullah Taheri said in Kabul that the Afghan side has reached an understanding with the CII chairman on the Pak-Afghan ulema conference to be held in Islamabad.
Kabul wants Pakistani scholars to issue a fatwa against violence in Afghanistan like the one they issued in January last year which described suicide attacks in Pakistan against the teachings of Islam.
Pakistan has reportedly shared a draft of the joint declaration to be issued by scholars of the two countries but has not received Kabul's response so far. The draft was shared with the Afghan side nearly two months ago and Pakistan drew attention of Afghan envoy during his meetings with Pakistani officials last week.
Members of the peace council and Afghan clerics council visited Pakistan in September last year and held talks with senior Pakistani scholars on a joint ulema conference. However, there has been no progress so for.
https://dailytimes.com.pk/343968/islamabad-kabul-plan-joint-ulema-conference-on-afghan-reconciliation/
--------
JI urges govt not to secure IMF loan on harsh conditions
January 12, 2019
Lahore
The Central Shoora of Jamaat e Islami has called upon the government to adopt stringent action against the people who had plundered pubic money and built properties abroad, and bring their wealth back to the country.
A resolution adopted by the JI central body noted that cases of money laundering to the tune of Rs 324 billion had been unearthed and fake bank accounts of billions of rupees in the name of common vendors and petty shopkeepers had come to surface.
Through another resolution, the Shoora called for subsidizing the agricultural inputs in order to ensure increase in farm production. It stressed that the growers should be ensured reasonable return of their hard labour. It also demanded completion of the Mehmand Dam and the Bhasha Dam within the minimum period.
The Shoora urged the government not to secure IMF loan on harsh conditions, especially at the cost of compromising the country's nuclear facility. .
It urged the government to make recoveries from the people who had got bank loans written off. It noted that the Supreme Court had itself initiated enquiry against these people.
The JI Shoora urged the government to implement the tax reforms with sincerity and levy minimum sales tax to ensure complete documentation of the economy. It called for doing away all forms of tax exemption. It suggested that income tax should be le vied on the income of Rs six lakh per annum.
It also demanded provision of electricity on subsidized rates to the industry to ensure increase in industrial production. It called for promoting technical education and training to overcome the problem of unemployment. It proposed allocation of six per cent of the GDP, for education and health.
Through another resolution, the JI Shoora called for promoting the Islamic culture and way of life in the country so as to raise its image in the world community. It stressed that violation of the Shariah should be avoided in every way of life. It demanded bringing all laws of the land in conformity with the Quran and the Sunnah and refraining from enacting any law that was repugnant to the Quran and the Sunnah as required by the constitution.
Full report at:
https://pakobserver.net/ji-urges-govt-not-to-secure-imf-loan-on-harsh-conditions/
--------
Supreme Court never exceeded its limits, says chief justice
Malik Asad
January 15, 2019
ISLAMABAD: Chief Justice of Pakistan Mian Saqib Nisar said on Monday that the Supreme Court had never exceeded its limits and that the people of the country had confidence in the apex court.
Addressing the launching ceremony of the Police Reforms Committee's report — "Police Reforms: Way Forward" — organised by the Law and Justice Commission of Pakistan (LJCP), he said the Supreme Court had disposed of 85 per cent cases and provided relief to people.
Explore: Judicial overreach?
He said people wanted positive change and the rule of law in the country. He said that every action he had taken as CJP was within the parameter of the law, adding that he had never exceeded his constitutional mandate.
The CJP said the police reforms constituted an integral part of the criminal justice system reforms. Since the independence of the country about two dozen reform initiatives had been undertaken, however, desired results could not be achieved, he added.
He emphasised the importance of the rule of law and an efficient criminal justice system in society. He stated that the police had a crucial role in protecting the right to a fair trial and in the prevention and investigation of crimes.
According to the CJP, an effective police force is one that is assisted by the community they serve as people are confident that justice will be done.
He stressed that the existing criminal justice system urgently required reforms as a whole. Especially upgrade of the law for governance and management is required to ensure a neutral, responsive, accountable and transparent police force. The police force could only function efficiently when they were given administrative, operational and financial autonomy, he added.
CJP Nisar said that the Police Reforms Committee was established with the objective of an independent and impartial police force and its recommendations were very useful because they outline the duties of police officers, the separation of investigation procedures and composition of the Commission to promote transparency.
He stated that by implementing these recommendations, trust deficit between police and public would decrease and it would create a competent, efficient and responsive police force.
The CJP applauded efforts and contribution of members of the Police Reforms Committee, saying that they worked day and night to complete the report.
In his concluding remarks, CJP Nisar stressed the need for de-politicising the police to develop public confidence in the system. He stressed that there was a need to pinpoint lacunae in investigation resulting in the acquittal of criminals.
Report on police reforms
A steering committee headed by Justice Asif Saeed Khan Khosa, senior puisne judge of the Supreme Court and the designated chief justice of Pakistan, worked on the implementation of recommendations.
The convener of the Police Reforms Committee and former inspector general of Sindh Police, Afzal Ali Shigri, stated that performance of police was directly linked to the delivery of justice and performance of judiciary and criminal justice system.
He said in the past several efforts had been made to improve the performance of the criminal justice system. But, he added, the current initiative had the distinction that it was taken by the Supreme Court.
Mr Shigri said after formation of the Police Reforms Committee intensive deliberations and discussion were held within the committee. He said the report contained feasible and practical proposals on matters, like the redressal of grievances and improvement in the quality of investigation.
Mr Shigri also presented the report on police reforms to CJP Nisar.
The report recommends certain measures, such as establishment of "complaint redressal mechanism" at the office of the city police officer headed by an officer of additional inspector general rank in provinces and deputy inspector general in Islamabad.
Full report at:
https://www.dawn.com/news/1457616/supreme-court-never-exceeded-its-limits-says-chief-justice
--------
Cases based on figments of imagination can't hold when merit is upheld: Marriyum Aurangzeb
Jan 15, 2019
ISLAMABAD: Pakistan Muslim League-Nawaz (PML-N) Central Spokesperson Marriyum Aurangzeb on Monday said that cases based on pretentious assumptions cannot hold in the court of law when merit is upheld.
Reacting to the Supreme Court's (SC) decision to uphold suspension of the sentence against Nawaz Sharif, she said that the PML-N leader would be vindicated from all frivolous cases stacked up against him because he is a person with a positive intention and faith.
She said that not a single penny of corruption, kickbacks or misuse of authority at any level had been proven by the vicious political victimisation campaign. "Nawaz Sharif erected projects worth billions of dollars for the progress and development of the people of Pakistan and the ill-wishers could not find a misappropriated dime from the tax-payers money," she added.
"Not a single member of the Sharif family could be indicted under any charge of corruption and kickbacks despite being investigated exhaustively through three generations from great-grandfather to great-granddaughter during this witch-hunt," Marriyum further added.
The former information minister said that Nawaz Sharif had been presenting himself for the process of accountability of three decades of financial transactions despite serious reservations at times, to encourage transparency and accountability in the youth of Pakistan.
Full report at:
https://www.pakistantoday.com.pk/2019/01/14/cases-based-on-figments-of-imagination-cant-hold-when-merit-is-upheld-marriyum-aurangzeb/
--------
JUI-F leader receives traffic challan from Swiss police in Peshawar
Jan 15, 2019
Jamiat-e-Ulema Fazl (JUI-F) leader Arbab Farooq has received a traffic challan from the Swiss government, a private media outlet reported Monday.
According to reports, Farooq had paid a visit to Switzerland some five to six months ago where he had unintentionally violated a traffic rule.
"I have received a letter from Swiss authorities stating that I committed a traffic violation somewhere on the road," he said in a video message, adding that he was fined for 105 Euros.
"I believe this is quite a commendable act that portrays how they follow traffic rules so rigorously."
He added that Pakistanis should also abide by traffic rules and develop a praiseworthy system like Switzerland.
"I will pay the fine. I call upon fellow citizens to follow the traffic rules of the country and show the world that we were law-abiding citizens."
Full report at:
https://www.pakistantoday.com.pk/2019/01/14/jui-f-leader-receives-traffic-challan-from-swiss-police-in-peshawar/
--------
India
Did Rahul Gandhi attribute Mahatma Gandhi's non-violence mantra to Islam?
Nikhil Dawar
January 14, 2019
Did Congress president Rahul Gandhi in his Dubai speech say Mahatma Gandhi picked up the idea of non-violence from Islam? This claim is being widely circulated by Facebook pages such as Nation with NaMo, PMO India: Report Card and Shankh Naad. Rahul Gandhi recently concluded his two-day maiden visit to the UAE.
India Today Fact Check found this claim to be misleading. During his interaction with the Indian diaspora in Dubai, Rahul Gandhi did not credit Mahatma Gandhi's idea of non-violence just to Islam but other religions such as Christianity and Judaism too. These posts have been shared more than 11,000 times at the time of the last count.
In the nine-second video, Rahul can be heard saying, Mahatma Gandhi picked up the idea of non-violence from ancient Indian philosophy, from Islam." The remaining part of the speech was mischievously cropped in the viral video.
Rahul Gandhi's full speech is available on the Congress' Facebook page. In the original video, which is 27 minutes and 37 seconds long, Rahul Gandhi can be heard saying, Non-violence is embedded inside our DNA and it has been embedded not for 50 years. Mahatma Gandhi was a great exponent of non-violence. But Mahatma Gandhi ji picked up the idea of non-violence from our great religions, from ancient Indian philosophy from Islam, from Christianity, from Judaism, from every great religion where it is clearly written that violence will not help anyone achieve anything."
Hence, we can conclude that Rahul Gandhi's video was mischievously edited just to mislead users and give them an incomplete perspective.
In the past too, Rahul was targeted in a similar manner. In November 2018, a video of Rahul Gandhi went viral where he was attacking Prime Minister Narendra Modi. However, the viral video misled netizens by not presenting the complete story as it was cropped too. India Today had successfully debunked the claim.
https://www.indiatoday.in/fact-check/story/fact-check-did-rahul-gandhi-attribute-mahatma-gandhi-s-non-violence-mantra-to-islam-1430676-2019-01-14
--------
Man arrested for providing arms to suspected ISIS-inspired terrorist group sent to judicial custody
14th January 2019
NEW DELHI: A Delhi court Monday sent Muhammad Naeem, arrested for allegedly providing weapons to members of a suspected ISIS-inspired terrorist group, to judicial custody on Monday.
Special Judge Rakesh Syal sent the accused to custody till February 6 after Naeem was produced on the expiry of his NIA custody and the probe agency did not seek his further custodial interrogation, his advocate Muhammad Noorullah said.
The 21-year-old was arrested from Meerut in western Uttar Pradesh on January 3 and produced before the court the next day, who sent the accused to 10 days of NIA custody.
Naeem, the probe agency said, supplied weapons to the members of a suspected Islamic State-inspired terror group which was busted on December 26, wherein the NIA had arrested 10 men, including a 'mufti' from Amroha in western Uttar Pradesh.
The agency said the terrorist group were planning suicide attacks and serial blasts targeting politicians and government installations in Delhi and other parts of north India.
The 10 accused are currently in judicial custody.
Those arrested are: Mufti Mohammed Suhail alias Hazrath (29), Anas Yunus (24), Rashid Zafar Raq alias Zafar (23), Saeed alias Sayeed (28), Saeed's brother Raees Ahmad, Zubair Malik (20), Zubair's brother Zaid (22), Saqib Iftekar (26), Mohammed Irshad (in late 20s) and Mohammed Azam (35).
The accused were arrested after raids in Delhi and Uttar Pradesh — at six places in Amroha, two in Lucknow, two in Hapur and two in Meerut.
The NIA had seized a locally-made rocket launcher, material for suicide vests and 112 alarm clocks to be used as timers during its searches.
The NIA had recently arrested another accused, 24-year-old Muhammed Absar, in the case who was sent to six days of the agency's custody by a Delhi court on Saturday.
The agency said it had recovered 25 kg of explosive materials, potassium nitrate, ammonium nitrate and sulphur, after the raids.
The ISIS-inspired group -- 'Harkat ul Harb e Islam' which loosely translates into war for the cause of Islam -- allegedly had purchased remote control cars and wireless doorbells to use their circuits in assembling remote-controlled improvised explosive devices.
Full report at:
http://www.newindianexpress.com/nation/2019/jan/14/man-arrested-for-providing-arms-to-suspected-isis-inspired-terrorist-group-sent-to-judicial-custody-1925072.html
--------
26/11 attacks accused Tahawwur Hussain Rana unlikely to be extradited till US jail term ends
Jan 15, 2019
There is no immediate possibility of extradition of Pakistani-Canadian Tahawwur Hussain Rana, accused of plotting the 2008 Mumbai terror attacks, to India until he completes his 14-year jail term in the US in December 2021, Indian officials with knowledge of the matter said on Monday.
Rana (58) was convicted by a US federal court in 2013 on charges of participating in a conspiracy to attack a Danish newspaper and providing material support to Pakistani terrorist outfit Lashkar-e-Taiba (LeT) for carrying out the Mumbai attacks in which 166 people, including six US nationals, were killed.
"The NIA [National Investigation Agency], which probed the larger conspiracy to carry out a series of strikes in India beginning from the Mumbai attacks, is in regular touch with its American counterparts to complete the paperwork with regard to his extradition ahead of his release in 2021. We don't want any delay in his extradition. There have been numerous video conferences between the officials of the two countries and a visit by a team of NIA officials to US in this regard," a central counter-terror official said on condition of anonymity.
The NIA team was provided with guidance to complete paperwork over Rana's extradition by the Americans according to their judicial system, the official added. "There are a few things that cannot be discussed in a video conference, therefore a team of officials was sent there," said the official.
Another person familiar with the developments said NIA was the lead agency for dealing with all matters related to Rana's extradition and the external affairs ministry will intervene only if necessary.
An official in the US said while two countries continue to discuss Rana's possible extradition, an early resolution is not expected as the process is "cumbersome" and "time-consuming". A request sent to US department of justice for comments remained unanswered as of press time. The official added there were no recent developments in the process.
The Indian and American officials want to complete paperwork before Rana's release in order to avoid his deportation to Canada, as he is Canadian national. The first official said that the Americans have always been willing to look at the possibility of Rana's extradition to India.
The official said in order to circumvent the clause of double jeopardy, which bars a person to be punished twice for the same crime, India has sought Rana's extradition on the charge of being involved in conspiracy to carry out a series of strikes on installations such as Delhi-based National Defence College and Chabad Houses in several cities and committing forgery to facilitate Indian visa for his co-accused, David Coleman Headley.
Full report at:
https://www.hindustantimes.com/india-news/26-11-attacks-accused-tahawwur-hussain-rana-unlikely-to-be-extradited-till-us-jail-term-ends/story-ZYuHqcNaOM32SWtjYvSRFK.html
--------
Indian High Commission raises 'hacking bid' with Pakistan
January 15, 2019
The Indian High Commission in Islamabad has strongly raised with Pakistan alleged attempts to hack the social media account of one of its diplomats and incidents of close tailing of the Indian envoy and his deputy, official sources said.
The Indian mission, in a note verbale, raised with the Pakistan Foreign Office the incident of the Indian High Commissioner and his deputy being put under an aggressive watch by a Pakistani security official during a wedding reception on December 4 in Serena Hotel in Islamabad.
Sources said that attempts were made to hack the social media account of the second secretary and that the official received an email from Facebook administration that repeated attempts were made by unknown people to log into his Facebook account.
Full report at:
https://indianexpress.com/article/india/indian-high-commission-raises-hacking-bid-with-pakistan-5538597/
--------
South Asia
Lay Sisters Bear Witness to Christ Among Muslims In Dhaka Slum
01/14/2019
The lay nuns of the Secular Institute Believers in Christ Community have dedicated their lives to bearing witness to the Gospel in slums and among Muslims. They teach catechism to Christian students and pray for the healing of the sick.
"Even the [consecrated] sisters appreciate our work," said one nun, "because we tirelessly preach Christian values. Every day we renew our vows of poverty, chastity and obedience."
Fr. Frank J Quinlivan, Holy Cross missionary, established the institute of Catholic lay women who chose the Ordo virginum, i.e. the special form of consecration that allows women to continue their regular life without the obligation to wear the veil or live in a community. Recently the archdiocese of Dhaka gave them a house that can house five people. Before that, they stayed in a rented flat.
Sobita Gomes, 76, is the group coordinator and runs a school for slum children in Dhaka's Tejgaon district. "As a child I wanted to sacrifice my life for Christ," she said. "I wanted to be a nun, but I couldn't make it. In the end I entered this community."
For her, "Our way of life allows us to reach many more people and win their hearts. We can go where we want, we do not have a 'dress code', we can earn money from our profession. But like consecrated sisters, we work for Christ and are ready to sacrifice our lives for him."
Like Sobita, Asha Rozario, 70, loves "this life. This way I work for Christ directly. In addition to my main profession, I teach catechism to Catholic children in the church of Tejgaon and prepare them for the sacraments of the Eucharist and confirmation."
In addition to teaching, the sisters are active in spiritual outreach for the sick. They lead the Rosary recitation in different Catholic areas of the capital and are part of the Liturgy Commission of the Archdiocese of Dhaka.
The group has very specific plans for the future. "We would like to extend the teaching of the Christian religion to Catholic students in Muslim schools," said Sobita, "because they do not receive adequate religious education there. The parents asked us." http://asianews.it/news-en/Lay-sisters-bear-witness-to-Christ-among-Muslims-in-Dhaka-slum-45968.html
--------
In Buddhist Myanmar, Buddhist rebels are fighting a Buddhist army
2019-01-15
Myanmar, previously known as Burma, has a 70-year long history of internal armed conflicts between its predominantly-Buddhist armed forces and the Muslim and Christian separatist ethnic groups like the Rohingyas, the Kachins and the Shans in the Northern and North-Eastern parts of the country.
But of late, the army has been fighting a Buddhist group too. It is called the Arakan Army.
The Arakan Army's grievance is that the two million Arakanese Buddhists, also called Rakhine Buddhists, are being discriminated against by mainstream Myanmarese Buddhists called "Bamar" who are ensconced in power in the national capital, Yangon.
On January 4 this year, the Arakan Army carried out coordinated assaults on four posts manned by the Myanmarese paramilitary Border Guard Police at Buthidaung Township in Rakhine state, close to the border with Bangladesh.
At least 13 policemen were killed and nine wounded in the attacks. Video footage subsequently released showed that at least one base was overrun by rebels using newer AK-series assault rifles, machine guns and sniper rifles and not rudimentary assault rifles and small-arms, and home-made crude Improvised Explosive Devices (IEDs) as before.
The Arakan Buddhists and the Arakan Army consider the "Bamar" to be "colonial oppressors" though they too are Buddhists. "Arakan is ours. If the Myanmarese go back to their native place there will be no fighting," said Khaing Thu Kha, the Arakan Army spokesman in an interview to the media.
The Arakan Buddhists' taking up arms against it has shocked the Myanmarese army officially called "Tatmadaw." It was the Tatmadaw which had nurtured the Arakan Army to help it intimidate and drive out the Muslim Rohingyas of Arakan into Bangladesh.
Over 700,000 Rohingya Muslims were forcibly sent to Bangladesh in the past year or two, on the grounds that they were Bangladeshi immigrants and not indigenous to Myanmar.
As in many other cases the world over, an armed group nurtured by the State or government, eventually turned against its creators or sponsors.
MULTI-ETHNIC ASSAULT
What is more shocking is that the Arakanese Buddhists have teamed up with the Christian Kachins to fight fellow Bamar Buddhists. The Arakan Army has been conducting joint operations with the Kachin separatist army.
According to Myanmarese historian, Thant Myint-U, "The emergence of the Arakan Army is one of the biggest shifts in Myanmar's armed conflict landscape in a generation. It's an upsurge in violence that tears Arakanese and Burmese societies apart in a way unprecedented in modern times. It's a shock to the system."
Unlike the Muslim Rohingya, the majority-Buddhist Rakhine (also known as the Arakanese) are officially recognised by the central government as an ethnic minority. But still they feel marginalised. Historically, Myanmar has been dominated by the Bamar ethnic majority based in Central and Southern Myanmar.
Myanmar's inability to forge its various ethnic and religious groups into one nation has led to peripheral groups demanding either a confederation or outright independence.
Like the Kachins and Shans, the Arakanese Buddhists also want self-determination and independence. They want the restoration of the independent Arakan state which existed till the late 18th century when the Bamar Buddhists occupied it and took away the sacred golden Buddha statue known as Mahamuni. Even today, Rakhine Buddhists mourn the sacking of their capital city by the Bamar army in 1784, and the seizure of Mahamuni.
Presently, the Rakhine Buddhists feel that their region and their economic and political rights have been neglected by the mainstream Bamar Buddhists though their region is rich in natural resources.
China is going to invest in the Rakhine region and develop the Sitwe harbour. But Rakhine Buddhists wonder if they will get a share of the fruits of development or a chance to participate in the development of the region.
The National League for Democracy (NLD) government had refused to share executive power at the state level after the Arakan National Party had won a majority of votes in Rakhine state in the 2015 elections. Rakhine parliamentarians have had no influence over the government. This has given rise to movements named "The Way to Rakitha" and the "Arakan Dream 2020" which are based on the self-determination of the Arakanese.
IMPACT OF ROHINGYA ISSUE
The Rohingya Muslim issue had indirectly helped boost Rakhine Buddhist separatism. While fighting against the Rohingya Muslims, the Arakan Buddhists realised that the only language the Myanmar Government would understand was violence and that Rakhine nationalism would be served best by fighting the State with arms.
Things turned ugly in January 2018 when Rakhine nationalist commemorations to mark the 233rd anniversary of the fall of the Arakan Kingdom to Bamar invaders in the Rakhine town of Mrauk U ended in violence.
Demonstrators tried to seize the local General Administration Department (GAD) building. GAD is a powerful civilian agency controlled by the military. Security forces reacted by shooting dead seven Rakhine Buddhists. Subsequently on January 30, Mrauk U's former town administrator, Bo Bo Min Thaik, was murdered and his body left to rot on a roadside.
LINK UP WITH OTHER REBELS
Interestingly, the Arakan Army was born, not in Arakan, but in the Kachin state bordering China, where it forms part of the China-backed, United Wa State Army (UWSA)-dominated Northern Alliance.
The Northern Alliance (NA) is a coalition of ethnic armies. At present, it includes the Kachin Independence Army (KIA), the Myanmar National Democratic Alliance Army (MNDAA), the Ta-ang National Liberation Army (TNLA) and the Arakan Army (AA).
The Arakan Army and its allies in the Northern Alliance are of greater concern to the Tatmadaw than the Rohingyas' Arakan Rohingya Salvation Army (ARSA). Unlike the poorly-armed ARSA, the Arakan Army and its allies are well-equipped and organised. The Arakan Army also has militant cells in towns to plant explosives and target security and government officials.
Furthermore, unlike ARSA, which has no foreign support, the Northern Alliance has China's support. The government in Yangon is unable to tackle China on this issue because China backs it on the Rohingya issue in the UN and in other world fora where the Yangon regime is pilloried for its abominable treatment of the Rohingyas.
This suggests that the regime in Yangon cannot take measures like complete expulsion as it did in the case of the Rohingya Muslims. It has to negotiate an end to the conflict across the table at some stage or the other.
Full report at:
http://www.dailymirror.lk/article/In-Buddhist-Myanmar-Buddhist-rebels-are-fighting-a-Buddhist-army-161089.html
--------
27 Taliban, ISIS-K militants killed in separate operations of Afghan, coalition forces
14 Jan 2019
At least 27 Taliban and ISIS Khurasan (ISIS-K) militants have been killed during the separate operations conducted by the Afghan and coalition forces in the past 24 hours.
According to the informed military sources, two coalition air strikes in Dahanah-ye Ghori and Baghlan-e Jadid districts of Baghlan province left at least 11 Taliban fighters dead.
The sources further added that the Afghan Special Operations Forces conducted a clearance operation in Achin district of Nangarhar province, killing 5 ISIS-K fighters and destroying a weapons cache.
A coalition air strike in Darah-ye Pech district killing 2 Taliban fighters, the sources said, adding that an Afghan Special Operations Forces operation killed 5 Taliban fighters and destroyed a large weapons cache in Paktika.
Full report at:
https://www.khaama.com/27-taliban-isis-k-militants-killed-in-separate-operations-of-afghan-coalition-forces-03110/
--------
UN Calls For 'Rapid And Unimpeded' Aid Access To Myanmar's Rakhine
Jan 14, 2019
The United Nations has expressed grave concerns about the condition of civilians in Myanmar's state of Rakhine, calling on the government to allow "rapid and unimpeded" humanitarian access to the region.
The plea on Monday came after officials in Rakhine issued a notice last week that banned non-governmental organizations and UN agencies from traveling to rural areas in five townships in the northern and central parts of the state affected by the conflict in recent years.
"We are seriously concerned about new restrictions on humanitarian access which leave thousands of women, children and men in affected areas of Rakhine without access to adequate assistance and protection," said Pierre Peron, a spokesman for the UN Office for the Coordination of Humanitarian Affairs.
"We hope the government responds positively to our call for rapid and unimpeded humanitarian access, and to ensure the protection of civilians in accordance with international humanitarian and human rights law," he added.
Rakhine state -- once home to hundreds of thousands of Rohingya Muslims -- has been the scene of successive rounds of violence against the Rohingya following a military crackdown in recent years.
The Rohingya, the world's most persecuted ethnic minority, have been attacked and driven out of their native Rakhine State in what the UN investigators as well as international rights groups have denounced as "an ongoing genocide."
Rohingya Muslims were subjected to a campaign of killings, rape, arbitrary arrests, and arson attacks by the military and Buddhist mobs in Rakhine mainly between late 2016 and August 2017.
The brutal campaign forced some 700,000 Rohingya to flee their homeland since August 2017 and seek refuge in neighboring Bangladesh. There, they are confined to squalid, overcrowded camps and face forced return back to Myanmar.
Rohingya Muslims, who have lived in Myanmar for generations, are denied citizenship and are branded illegal emigrants from Bangladesh, which likewise denies them citizenship.
Their former communities in Myanmar have been razed. Report say Buddhists have been shuttled and settled there in newly-built structures to repopulate the area.
In late October, Bangladesh and Myanmar agreed to begin to return hundreds of thousands of the Rohingya refugees who fled last year.
Full report at:
https://www.presstv.com/Detail/2019/01/14/585801/United-Nations-Rakhine-humanitarian-access
--------
Car bomb blast near foreign compound kills four, injures 90 in Afghan capital
Jan 14, 2019
At least four people have been killed and dozens of others wounded after a bomb-laden car exploded near a heavily fortified foreign compound in the Afghan capital Kabul.
Afghan Interior Ministry officials said casualties took place after militants targeted Green Village, located near a busy road in the east of the city, on Monday evening.
So far, four people have been confirmed dead and more than 90 wounded, including 23 children, the ministry deputy spokesman Nasrat Rahimi said. Three of the dead were members of the security forces and one was a civilian.
Rahimi said there were fears the toll could rise.
Interior Ministry spokesman Najib Danish earlier said that "special police forces' units have been deployed to the site to check if there are more attackers."
Until recently, some UN staff had lived and worked at the highly secure compound, but Danish said the area was now largely empty and "only a number of guards" were left.
No group has claimed responsibility for the attack yet, but it bears the hallmark of attacks carried out by Takfiri terrorist groups.
The militants have stepped up attacks on foreign targets across the war-torn country over the past months.
In late November, a vehicle bomb exploded outside the compound of British security firm G4S, killing at least 10 people. The Taliban claimed the attack. That was followed by a bomb and gun attack on a government compound in Kabul on December 24 that killed at least 43 people.
The developments come as the Kabul government has stepped up efforts to convince the Taliban to end more than 17 years of militancy amid Washington's failures on the battleground.
The US, too, has been holding talks with the Taliban. The US State Department's special envoy, Zalmay Khalilzad, has said that he had held "productive" meetings in Abu Dhabi with Afghan and international partners "to promote intra-Afghan dialogue towards ending the conflict."
Khalilzad said the Taliban seek an agreement on the withdrawal of foreign forces, while the US wants assurances from the militant group that its forces would not be attacked.
The talks are the latest in a flurry of diplomatic efforts aimed at putting an end to the war in Afghanistan, which began with the US-led invasion in 2001.
US President Donald Trump has ordered the start of withdrawing some 7,000 troops from Afghanistan, about half of the total number of American boots on the ground in the war-torn country.
Full report at:
https://www.presstv.com/Detail/2019/01/14/585796/Afghanistan-Kabul-Nasrat-Rahimi-Danish-US-NATO-Taliban
--------
Khalilzad due today amid stalemate in Taliban talks
Tahir Khan
JANUARY 15, 2019
Zalmay Khalilzad, the US diplomat assigned to lead peace talks with the Taliban, is scheduled to arrive in Islamabad on Tuesday (today) for talks on Pakistan's role in the peace process, officials said Monday.
Khalilzad will hold talks with Pakistani officials on ways how to convince the Taliban sit with the Afghan government. Taliban have ruled out negotiations with the Kabul administration unless they reach an agreement on the issue of withdrawal of foreign troops.
Taliban opened meetings with US in July and met US Deputy Secretary of State Ambassador Alice Wells. Khalilzad held three meetings with the Taliban – two in Qatar in October and November and third in UAE in December.
Daily Times has learnt that the UAE meetings on Dec 17-18 led to tensions after the Taliban refused to meet the Afghan government's representatives who were in the UAE. Officials from Pakistan, Saudi Arabia and UAE attended the talks, which Prime Minister Imran Khan claimed were facilitated by Pakistan.
The State Department said last week that Khalilzad, in his current visit, will meet with senior government officials in each country to facilitate an intra-Afghan political settlement. Leading an interagency delegation, he has already visited India and China and is scheduled to visit Afghanistan after his visit to Pakistan. "US supports the desire of Afghan people and the international community for a political settlement that ends the 40-year conflict and ensures Afghanistan never again serves as a platform for international terrorism. Khalilzad will meet with Afghan government officials and other interested parties to support and facilitate an inclusive peace process in Afghanistan," a State Department statement says.
Special Representative Khalilzad continues to coordinate his efforts with President Ashraf Ghani, Chief Executive Abdullah Abdullah and other Afghan stakeholders to ensure an intra-Afghan peace process, it said.
Full report at:
https://dailytimes.com.pk/344273/khalilzad-due-today-amid-stalemate-in-taliban-talks/
--------
Africa
Powerful union calls for strike as Tunisia marks revolt anniversary
15 January 2019
Tunisia's powerful UGTT trade union on Monday called for a strike as the country, grappling with economic hardships, marked the eighth anniversary of the 2011 revolution that toppled President Zine El Abidine Ben Ali, after 23 years in power.
The Tunisian General Labour Union, the UGTT, called on public sector employees to observe the strike on Thursday - the second since November - to demand a wage rise and economic reforms.
In a speech at the union's headquarters, secretary general Noureddine Taboubi said the strike should go ahead as talks between the UGTT and the government on social and economic reforms remained deadlocked.
Civil servants represent a sixth of Tunisia's workforce and in November the UGTT said it was demanding 673,000 state employees receive salary hikes equal to those granted in 2018 to public companies, which range from 15 to 30 euros ($17-34) a month.
But President Beji Caid Essebsi has urged a boycott of the strike.
"It is necessary to stop or limit" strikes, he said, during a visit at the Bardo National Museum where an exhibit was on display to pay tribute to Tunisian revolution which sparked the 2011 Arab Spring uprisings.
Essebsi added, however, that "we must take into consideration the deteriorating purchasing power of citizens".
The North African country is seen as having had a relatively smooth democratic transition since the January 14, 2011 toppling of President Zine El Abidine Ben Ali after 23 years in power.
At the same time, price hikes fuelled in particular by the fall of the Tunisian dinar, combined with tax increases and stubborn unemployment, have spurred social discontent that escalated into riots across several cities in January last year.
In 2016, the International Monetary Fund granted Tunisia a 2.4-billion-euro loan over the span of four years in exchange for a promise to carry out economic reforms.
The country is grappling with an inflation rate of 7.5 percent and unemployment stands at more than 15 percent, with those worst hit being young university graduates.
Many Tunisians hope there will be change in 2019 when presidential and legislative elections are due to take place.
Meanwhile on Monday, hundreds of Tunisians, including politicians, took to the streets of the capital to celebrate the ousting eight years ago of strongman Ben Ali, gathering in the landmark Habib Bourguiba Avenue in central Tunis.
https://english.alarabiya.net/en/business/economy/2019/01/15/Powerful-union-calls-for-strike-as-Tunisia-marks-revolt-anniversary.html
--------
Algeria's ancient pyramid tombs still shrouded in mystery
January 14, 2019
TIARET, Algeria: Dating back centuries, Algeria's pyramid tombs are unique relics of an ancient era but a dearth of research has left the Jeddars shrouded in mystery.
The 13 monuments, whose square stone bases are topped with angular mounds, are perched on a pair of hills near the city of Tiaret, some 250 km southwest of the capital Algiers.
Constructed between the 4th and 7th centuries, the tombs are believed by some scholars to have been built as final resting places for Berber royalty — although nobody knows who truly laid within.
But Algerian authorities and archaeologists are now pushing to get the Jeddars listed as a UNESCO World Heritage site, in the hope of assuring their preservation and study. Gaining such status is a lengthy process and the Culture Ministry said Algeria's application to the UN body "will be filed during the first quarter of 2020."
Experts from the National Center for Prehistoric, Anthropological and Historical Research have for more than a year been preparing their case for the Jeddars.
The goal is to "preserve this heritage, which is of immeasurable value and an ancestral legacy," said Mustapha Dorbane, a professor at Algiers 2 University's Archaeology Institute. When the Jeddars were built, Berber kings ruled the area in small fiefdoms whose history is poorly known and of which few traces were left.
It was a period of great unrest for the former Roman province of Numidia, as Rome's western empire collapsed, Vandal and Byzantine troops invaded, and Arab forces stormed across North Africa.
For centuries these far-flung monuments sat largely ignored, delivered to the ravages of time and looters. But more recently a group of around 20 archaeology students and their teachers has been working at the monuments.
Moving slowly, they noted vandalized spots and used water and brushes to gently clean stone-engraved symbols before measuring them. A meticulous task, each entry may take upward of two hours.
Algerian archaeologist Rachid Mahouz, who has spent five years on a doctoral thesis about the tombs, deplores the lack of research devoted to the country's "wonders."
"The French archives on the Jeddars are not available and the objects and bones found during the colonial era were taken to France," said Mahouz, who was born and raised nearby.
Archaeology was not taught at Algerian universities until the early 1980s, and until now, no speciality on funerary monuments is offered.
The research team has been working on Jeddar A, which sits on Mount Lakhdar along with monuments B and C. The remaining Jeddars are on a hilltop some 6 km away, Mount Arouri, and are known by the letters D through M.
Each contains at least one room, with the largest mound giving way to a labyrinth of 20 compartments, including funerary chambers.
Some rooms are equipped with benches, areas researchers believe may have been used for worship. Inside the tombs, traditional Christian symbols as well as hunting scenes and animal figures are carved above the doors.
Traces of inscriptions believed to be Latin mark the walls, but time has rendered them unreadable.
Among the layers of history, researchers say they have also found Greek letters — although others dispute this.
The Jeddars were built several centuries after other imposing pre-Islamic funerary monuments, which are found in present day northern Algeria, making them the last of their kind to be erected before the arrival of Islam.
"The most distinctive feature of the Jeddars is by far the date of their construction," said Mahouz, the archaeologist.
The monuments show the evolution of burial practices in the area. From simple mounds of earth and stone, known as tumuli, to stone-walled tombs called bazinas.
But with some reaching heights of 18 meters, some researchers say the size of the Jeddars put them in a category of their own.
The earliest known written description of the Jeddars was made by historian Ibn Rakik in the 11th century, according to famed Arab thinker Ibn Khaldoun.
It was not until the mid-19th century and the first modern archaeological explorations in Algeria, brought on by French colonialism, that the Jeddars began to draw attention.
French troops and colonial authorities began explorations in 1865 of nine of the tombs.
Understanding of the Jeddars was boosted in the late 1960s by Algerian archaeologist Fatima Kadra's three-year study of Jeddars A, B and C — the oldest of the 13 and the only ones to be explored since Algeria's independence.
But several of the structures have never been entered, as gravity and time have brought mounds of dirt and stone crashing down on the tombs within.
Full report at:
http://www.arabnews.com/node/1435511/middle-east
--------
Nigeria: Turning the Tables On Boko Haram
14 JANUARY 2019
By Akinola Olojo
Identity - for both individuals and groups - is shaped by a mix of elements including ethnicity, religion, culture and personal experiences. Much of this is historical in nature. Violent extremist groups drawn on such elements of historical identity in their narratives to further their objectives.
But can this history also be called on to counter violent extremism? Examining how this can be done could offer policymakers ideas at a time when creativity and moving beyond more traditional approaches to addressing violent extremism are needed.
In Nigeria, when Boko Haram's first leader Mohammed Yusuf was alive, his movement drew inspiration from the writings of 13th-century Islamic scholar Ibn Taymiyya. Yusuf and his followers met regularly at a centre they called Markaz Ibn Taymiyyah in Borno State.
Boko Haram aims to establish a caliphate and exploits a key phase in Nigeria's pre-colonial history to justify this. The group's leaders invoke the legacy of the 19th-century Sokoto caliphate - the foundation of contemporary northern Nigeria. The caliphate was the product of a popular jihad - one that appealed to the people of its time and which Boko Haram uses to strengthen its call for a new caliphate today.
Boko Haram leaders have previously referred to the Sokoto caliphate to evoke feelings of a glorious past. This is reflected in the group's audio and video sermons. There are writings regarding one of the videos titled 'Implementing Islamic Laws in the Islamic State of Africa'. In it Boko Haram factional leader Abubakar Shekau reminds followers of how 'war was declared on the Sokoto caliphate by the enemies of Islam ... under the colonial project'.
The power of historical identity could offer the legitimacy to unite people against a common enemy
Can these same historical narratives be used to strengthen efforts against Boko Haram? About a decade ago when Yusuf preached in Sokoto - the present-day location of the ancient caliphate - a few individuals joined his following. Most however remained unpersuaded by his sermons.
Boko Haram was largely rejected in these communities because the people maintained a strong sense of their historical identity. They considered themselves beneficiaries of the jihad which their predecessors had already experienced back in the 19th century; the jihad led by Shehu Usman dan Fodio.
They rejected Boko Haram because they viewed the group as forcing on them a second jihad which they considered a mockery of what they held historically sacred. In the eyes of these communities, the ideological deception that Boko Haram presents as 'jihad' violates an enduring historical ideal on which their Islamic world view is anchored.
The rejection of Boko Haram's preaching in Sokoto is noteworthy as it occurred at a time when this part of Nigeria experienced the highest levels of absolute and relative poverty in the country. This is a crucial reminder that economic deprivation doesn't always lead to violent extremism.
Violent extremism thrives on divisiveness and exclusion
The historical potency of the Sokoto caliphate offers the local actors a reason to contest the position of Boko Haram on an ideological level. The history of these communities inspires resilience and is something the more troubled Borno State in Nigeria's north-east can learn from.
The people of Borno emerge from the history of the Kanem-Bornu empire which existed centuries before the Sokoto caliphate. By the 17th and 18th centuries the empire was attracting some of West Africa's leading scholars, some of whom established contact with the renowned Al-Azhar University in Cairo.
The main traditional leader of present-day Borno is a descendant of Muhammad al-Kanemi, a 19th-century Islamic scholar and political leader who was bold enough to challenge the jihad expansion of the Sokoto caliphate into Borno's territory.
It is this kind of boldness, strengthened by the weight of communal history, that the people of contemporary Borno need to be reminded of when it comes to resisting the influence of groups like Boko Haram.
The historical potency of the Sokoto caliphate provides a means to contest Boko Haram's ideology
Symbolically evoking history and asserting values against violent extremism can take many forms. Following the Charlie Hebdo terror attacks in Paris in January 2015, over a million French citizens reasserted their commitment to the values of the French Republic by gathering at the Place de la République. This is a monument to the country's historic revolution that asserted foundational principles of liberty, fraternity and equality.
Research is still needed in order to identify the local actors in Nigeria who could lead efforts through using history. Nigeria's National Action Plan for Preventing and Countering Violent Extremism would need to strengthen its existing component which focuses on community engagement and resilience. Community and religious leaders should also be part of this commitment.
Full report at:
https://allafrica.com/stories/201901140567.html
--------
UN refugee agency seeks more resources for African refugees
15 January 2019
The United Nations High Commissioner for Refugees on Monday called for more resources to help African refugees in 2019.
The comments by Filippo Grandi came during a two-day visit to Egypt where he met President Abdel Fattah al-Sisi and other government officials.
His trip to Cairo also comes as Egypt prepares to assume the presidency of the African Union in February.
Grandi said "85 percent of the 68 million displaced and refugees are not in those countries of the global north but they are in the global south."
It was now time to "draw resources to Africa," he told a news conference, pointing out that those allocated to the continent were "limited".
Grandi also noted that while Egypt hosts "a lot of refugees," it is not fully recognized as a "refugee-hosting country".
Egypt hosts more than 250,000 registered refugees, more than half of whom are Syrians, according to the UN refugee agency.
Grandi spoke about the goals of the Global Compact on Refugees adopted by 181 countries in December, saying it is "to mobilize not only humanitarian resources, but also development resources".
He also voiced "concern" over the protests in Sudan, saying he fears displacement would occur if the situation deteriorates in the country.
"We hope the situation will stabilize in a peaceful manner," he said.
For Syria, Grandi said about 50,000 refugees had returned to Syria in 2018.
"It's a small number," he said, adding that the number stood at 60,000 the year before.
Full report at:
https://english.alarabiya.net/en/News/middle-east/2019/01/15/UN-refugee-agency-seeks-more-resources-for-African-refugees-.html
--------
Bashir: Sudan protests 'will not change government'
14 January 2019
Defiant Sudanese President Omar al-Bashir said Monday that ongoing protests will not lead to a change in government, as he addressed a rally of cheering supporters in war-torn Darfur.
"Demonstrations will not change the government," Bashir told crowds of supporters gathered in Niyala, the capital of South Darfur state, where just a day ago police had broken up an anti-government demonstration.
"There's only one road to power and that is through the ballot box. The Sudanese people will decide in 2020 who will govern them," said Bashir, who is planning to run for the presidency for the third time in elections to be held next year.
Deadly protests have rocked Sudan since December when angry crowds took to the streets in towns and villages against a government decision to raise the price of bread.
At least 24 people have died in the protests, which swiftly turned into nationwide anti-government rallies, with protesters calling on Bashir to step down.
"Sudan has many enemies and those enemies have few people among us who don't want stability and security," said Bashir, waving his trademark cane as supporters chanted "stay, stay".
"We will not allow anyone to destroy our homeland by looting and burning our properties."
In the initial days of protests, several buildings and offices of Bashir's ruling National Congress Party were set on fire in towns and villages.
On Sunday, the first anti-government demonstrations were held in Niyala and El-Fasher, the capital of North Darfur.
Full report at:
https://english.alarabiya.net/en/News/middle-east/2019/01/14/Bashir-Sudan-protests-will-not-change-government-.html
--------
Libya withdraws from Arab Economic Summit in Lebanon due to offensive video
14 January 2019
Libya has decided not to participate in the Arab Economic Summit in Lebanon because of insults made by the Amal Movement, a Lebanese political party associated with Lebanon's Shiite community which is led by Parliament Speaker Nabih Berri.
The Libyan position comes after an offensive video went viral on social networking sites, showing members of the Amal Movement tearing up the Libyan flag and removing it from a flagpole, replacing it with the party's own flag.
On Sunday, Libyan social network users were angered by the recent Lebanese escalation against Libya. The son of former Libyan leader Muammar Al Gaddafi, Hannibal Al Gaddafi, is being held in Lebanon while Libyans are demanding his release. His case has been controversial, with many Lebanese political parties using the case to demand the postponement of the Arab Economic Summit.
"It is true that our country is in a difficult situation, but we are a nation that has dignity and worth, and we do not accept any state to deprive us of that," said Libyan political activist Fadil al-Ameen, calling on Lebanese authorities to release Libyan national Hannibal, who has been held for more than three years.
Saleh Fahima, a member of Libyan parliament, said to Alarabiya that "this is an individual act by some demagogues, which does not represent the Lebanese people or the policy of the Lebanese state, and will not affect in any way the relationship between Libya and Lebanon."
Full report at:
https://english.alarabiya.net/en/News/middle-east/2019/01/14/Libya-withdraws-from-Lebanon-summit-due-to-offensive-video.html
--------
Parliament chief: Libya should hold elections even if draft constitution rejected
15 January 2019
Libya should press ahead with national elections even if voters reject a draft constitution in a planned referendum, the head of the country's internationally recognized parliament said.
The comments by Aguila Saleh could help assuage UN and Western concerns that the House of Representatives (HoR) might try to undermine efforts to organize elections to help end the years-long conflict in Libya.
The United Nations and Western powers hope Libya will hold its national elections by June, after holding a referendum on a constitutional framework to chart a way out of the conflict, which stems from the overthrow of Muammar Gaddafi in 2011.
"Because we want a constitution (based on) consensus this will take time... We need an executive authority and there is no other choice than (electing) a temporary president (if the draft constitution is rejected)," Saleh told Reuters in a weekend interview in his home town of Qubba in eastern Libya.
He did not mention a possible date for the elections.
A French plan, backed by the United Nations, had initially called for national elections on December 10, but weeks of fighting in the capital Tripoli between rival groups and parliament's failure to approve necessary legislation made that impossible.
Libya has two governments, one in the capital Tripoli and a rival in the east allied to commander Khalifa Haftar, whose forces control the east. Haftar is seen as a likely contender in the next presidential election.
The High National Elections Commission (HNEC) said last month it could organize a referendum in February if it received funding from the UN-backed government based in Tripoli.
Saleh said the HoR could, if needed, secure funds from the Haftar-linked government in the east to allow the referendum on the draft constitution to go ahead.
Persuading voters to approve a draft constitution could prove very difficult in a country so deeply divided between two rival governments and parliaments and also along tribal lines.
If voters reject the draft constitution, Saleh said, a special committee should work on a new version. The current draft envisages a parliamentary system with two chambers but also with a strong presidency.
Full report at:
https://english.alarabiya.net/en/News/north-africa/2019/01/15/Parliament-chief-Libya-should-hold-elections-even-if-draft-constitution-rejected-.html
--------
North America
Caroline Glick: Mike Pompeo Destroys the Ideological Legacy of Obama's Middle East
14 Jan 2019
From the moment that President Donald Trump entered office two years ago, he has been stripping away his predecessor Barack Obama's legacy in the Middle East, piece by piece.
It hasn't been easy.
It took Trump a year to finally overcome the opposition of the professional bureaucracy at the State Department and the Defense Department, and overrule the opposition of his then-Secretary of Defense James Mattis and Secretary of State Rex Tillerson to recognize Israel's capital, Jerusalem. Trump had to overcome further opposition from his senior advisors and the consensus view of the foreign policy establishment to move the U.S. Embassy in Israel to Jerusalem.
So too, to walk away from Obama's signature foreign policy, his 2015 nuclear deal with Iran, Trump had to overcome opposition from Mattis, the foreign policy establishment, the European Union, and the media.
Trump has faced attempts by Obama alumni and the media to undermine his strategy of undermining Iran through a mix of economic sanctions on Iran and strengthening U.S. allies and alliances in the Sunni Arab world. The media hysteria over the assassination of Jamal Khashoggi, an al-Qaeda sympathizer who wrote columns for the Washington Post, was a transparent attempt to undermine Trump's ability to work with Saudi Crown Prince Mohamed bin Salman.
In Syria, Mattis and other senior officials worked to preserve Obama's policy of limiting U.S. operations and focus to fighting Islamic State forces while ignoring Iranian and Iranian proxy forces operating in Syria.
On Tuesday, Secretary of State Mike Pompeo dismantled the ideological foundation of Obama's Middle East policy, at the very place where Obama first set it out.
Less than six months after Obama took office, he set out his perception of America's rightful position in the world generally, and the Middle East, in particular at a speech at American University in Cairo. His speech, "A New Beginning," was billed as a speech to the "Muslim World."
Obama's address was the most radical, most anti-American speech any U.S. president had ever delivered. In his speech at American University in Cairo, Pompeo rejected all aspects of Obama's address — and in so doing, set out the intellectual foundations of Trump's view of America's position and role as superpower in the Middle East.
Obama opened his speech in Cairo by vilifying America and the West. He cast the blame for bad relations between the U.S. and the Islamic world on America and its Western allies.
In his words:
The relationship between Islam and the West includes centuries of coexistence and cooperation, but also conflict and religious wars. More recently, tension has been fed by colonialism that denied rights and opportunities to many Muslims, and a Cold War in which Muslim-majority countries were too often treated as proxies without regard to their own aspirations. Moreover, the sweeping change brought by modernity and globalization led many Muslims to view the West as hostile to the traditions of Islam.
While Obama castigated the United States and the West collectively, he cast Islamic terrorism and other forms of Muslim aggression against the U.S. and the West as the misdeeds of mere "violent extremists," who comprise but "a small but potent minority of Muslims."
Far from rooted in their own ideological or religious beliefs, the crimes of this small minority of "violent extremists" were, in his telling, provoked by American and Western collective malevolence and ill-treatment.
In other words, America's and the West's chickens came home to roost.
After judging his own country as the primary driver of poor relations with the Muslim world, Obama then rejected America's right to act independently in international affairs. The war in Afghanistan was legitimate, he argued, because it was initiated "with broad international support."
The war in Iraq, on the other hand, "was a war of choice that provoked strong differences in my country and around the world."
He promised to withdraw U.S. forces from Iraq quickly, and then scolded his nation, "Events in Iraq have reminded America of the need to use diplomacy and build international consensus to resolve our problems whenever possible."
Perhaps most shockingly, Obama alleged that the U.S. had effectively lost its soul in its response to the September 11 attacks. In his words, "Nine-eleven was an enormous trauma to our country. The fear and anger it provoked was understandable, but in some cases, it led us to act contrary to our traditions and our ideals."
Obama went on to castigate Israel at great length. He echoed the radical Islamic claim that Israel is a colonialist implant in the Muslim world, installed as a salve to the guilty consciences of Europeans in the wake of the Holocaust rather than the ancestral homeland of the Jewish people.
He accused Israel of responsibility for the absence of peace, and drew a moral equivalence between Israel's counter-terror operations and the physical presence of Jews and Israeli communities in Judea and Samaria to the Holocaust.
After demonizing America's closest ally in the Middle East, Obama turned his attention to Iran. Far from committing himself to preventing Iran from acquiring nuclear weapons, Obama committed himself to appeasing Iran. He placed the blame for Iranian hostility towards the U.S. on the CIA's role in the 1953 coup that brought about the overthrow of then-Iranian President Mohammad Mosaddegh.
Then-Egyptian President Hosni Mubarak boycotted Obama's address and refused to follow protocol and greet Obama as he alighted Air Force One at the airport in Cairo. Mubarak turned a cold shoulder to Obama because Obama insisted on inviting Muslim Brotherhood members to his speech.
The outlawed jihadist group, which spawned Hamas, the Egyptian Islamic Jihad led by Ayman Zawahiri, and other major Islamic jihadist terror groups was – and remains still today – the greatest threat to the Egyptian state. During the Muslim Brotherhood's year in power following Mubarak's ouster a year after Obama's speech, it moved steadily to transform Egypt into an Islamic regime.
By delivering his speech in the Egyptian capital to "Muslims around the world," rather than to the Egyptian people, Obama effectively rejected the distinct identity of the peoples of Arab states. By rejecting Arab nationalism, he subverted the legitimacy of the leaders of the separate and distinct Arab states and gave support to the Muslim Brotherhood's perception of the Muslims of the world as one distinct nation or umma, which is supposed to be ruled by a global caliphate.
To sum up, Obama rejected America's moral right to lead in world affairs. He undermined the morality of Israel's very existence. He rejected the legitimacy of Arab governments and elevated the Muslim Brotherhood as a legitimate force in the Muslim world. And he ignored all of the pathologies of the Arab and Muslim world.
Obama's nuclear deal with Iran; his hostile treatment of Israel; his support for the overthrow of allied and non-threatening Arab governments in Egypt, in Tunisia, and in Libya; and his refusal to take decisive action against either ISIS or Iranian aggression in Syria all were rooted in the anti-American principles he set out in his Cairo speech.
On Tuesday, Pompeo disavowed and condemned Obama's speech point by point. Pompeo rejected Obama's denunciation of American power insisting, "America is a force for good in the Middle East."
Of the Muslim Brotherhood's rise to power in Egypt following Mubarak's ouster in 2011, Pompeo said
These lands witnessed convulsions from Tunis to Tehran as old systems crumbled and new ones struggled to emerge. That's happened here, too.
And at this critical moment, America, your long-time friend, was absent too much. Why? Because our leaders gravely misread our history, and your historical moent. These fundamental misunderstandings, set forth in this city in 2009, adversely affected the lives of hundreds of millions of people in Egypt and across the region.
Pompeo then spoke directly to Obama's accusations against America.
Remember: It was here, here in this city, that another American stood before you.
He told you that radical Islamist terrorism does not stem from an ideology.
He told you that 9/11 led my country to abandon its ideals, particularly in the Middle East.
He told you that the United States and the Muslim world needed, quote, "a new beginning," end of quote.
He continued, explaining the disastrous consequences of Obama's ill-assessment of American morality.
In falsely seeing ourselves as a force for what ails the Middle East, we were timid in asserting ourselves when the times – and our partners – demanded it.
We grossly underestimated the tenacity and viciousness of radical Islamism, a debauched strain of the faith that seeks to upend every other form of worship or governance. ISIS drove to the outskirts of Baghdad as America hesitated. They raped and pillaged and murdered tens of thousands of innocents. They birthed a caliphate across Syria and Iraq and launched terror attacks that killed all across continents.
America's reluctance, our reluctance, to wield our influence kept us silent as the people of Iran rose up against the mullahs in Tehran in the Green Revolution. The ayatollahs and their henchmen murdered, jailed, and intimidated freedom-loving Iranians, and they wrongly blamed America for this unrest when it was their own tyranny that had fueled it. Emboldened, the regime spread its cancerous influence to Yemen, to Iraq, to Syria, and still further into Lebanon.
Our penchant, America's penchant, for wishful thinking led us to look the other way as Hizballah, a wholly owned subsidiary of the Iranian regime, accumulated a massive arsenal of approximately 130,000 rockets and missiles. They stored and positioned these weapons in Lebanese towns and villages in flagrant violation of international law. That arsenal is aimed squarely at our ally Israel.
When Bashar Assad unleashed terror upon ordinary Syrians and barrel-bombed civilians with sarin gas, a true echo of Saddam Hussein's gassing of the Kurdish people, we condemned his actions. But in our hesitation to wield power, we did nothing.
Our eagerness to address only Muslims and not nations ignored the rich diversity of the Middle East and frayed old bonds. It undermined the concept of the nation-state, the building block of international stability. And our desire for peace at any cost led us to strike a deal with Iran, our common enemy.
So today, what did we learn from all of this? We learned that when America retreats, chaos often follows. When we neglect our friends, resentment builds. And when we partner with enemies, they advance.
The good news. The good news is this: The age of self-inflicted American shame is over, and so are the policies that produced so much needless suffering. Now comes the real new beginning.
Pompeo went on to describe the Trump administration's actions to restore and strengthen America's alliances with its Arab allies, its strategy for countering Iranian aggression, and cultivating good relations between the Arab states and Israel.
He underlined the America's continued commitment to utterly destroying Islamic State forces in Syria, even after U.S. forces are withdrawn. And he spoke in great detail about U.S. actions to curtail Iranian power and influence throughout the region.
There is little doubt that the media, the foreign policy establishment, the European Union and the Democrats will continue to seek to undermine Trump's policies in the Middle East with the intention of paving the way for a restoration of Obama's policies – based on Obama's Cairo speech from January 4, 2009.
But on Thursday, by condemning and disavowing that speech in detail, from the place where it was delivered, Pompeo drove a spear through the lie at its very heart – that America is anything other than a force of good in the Middle East.
https://www.breitbart.com/national-security/2019/01/14/caroline-glick-mike-pompeo-destroys-the-ideological-legacy-of-obamas-middle-east/
--------
US officials due today for talks on Afghan peace process
Anwar Iqbal
January 15, 2019
WASHINGTON: Two key US officials — special envoy Zalmay Khalilzad and Deputy Assistant to the US president Lisa Curtis — are expected in Islamabad on Tuesday for talks aimed at ensuring the success of a US-backed peace initiative for Afghanistan.
The US Department of State announced last week that Mr Khalilzad is visiting India, China, Pakistan and Afghanistan from Jan 8 for talks to "facilitate an intra-Afghan political settlement".
The announcement did not name Ms Curtis, who looks after South and Central Asian affairs for the White House National Security Council and has been involved in the Afghan peace process since she joined the Trump administration almost two years ago.
Speaking at a Washington think-tank in June, Ms Curtis said that an important component to catalysing a peace process in "Afghanistan is ensuring that Pakistan plays a constructive role".
Media reports claimed that US Principal Deputy Assistant Secretary of State Alice Wells is also likely to visit Islamabad soon, although it's not clear if she will join the US delegation.
The US delegation is likely to spend five days in Islamabad, meeting senior civil and military leaders. The delegation was in Beijing this weekend where Mr Khalilzad discussed with senior Chinese officials the US initiative for a new set-up in Kabul that includes the Kabul government as well as the Taliban.
Also read: Beyond the rhetoric, does the contemporary state really want to rid the world of terrorism?
On Friday, Mr Khalilzad met India's External Affairs Minister Sushma Swaraj in New Delhi and the Indians insisted that any reconciliation process in the Afghanistan "must be Afghan-led, Afghan-owned and Afghan-controlled," the media reported.
On Sunday, US Secretary of State Mike Pompeo met Qatar Foreign Minister Sheikh Mohammed bin Abdulrahman Al-Thani in Doha and pledged to work with Qatar for resolving the Afghan conflict. Qatar hosts a Taliban diplomatic post and also hosted two of the three rounds of US-Taliban talks held so far.
This week, Afghan National Security Adviser Hamdullah Mohib also visited China, the UAE and Saudi Arabia to discuss US-Taliban talks with those governments, Afghan officials said.
While the United States wants the Afghan government to participate in these talks, the Taliban have refused to sit with Kabul officials. The US now wants Pakistan to use its influence to persuade the Taliban to recognise the Afghan government.
Also, the Afghan media reported on Monday that Mullah Abdul Ghani Baradar, the co-founder of Taliban movement was now in Qatar "to participate in Taliban's political processes and moves".
Full report at:
https://www.dawn.com/news/1457617/us-officials-due-today-for-talks-on-afghan-peace-process
--------
US wants Syria 'safe zone' to protect Turkey, Kurds: Pompeo
JANUARY 15, 2019
US Secretary of State Mike Pompeo said Monday that talks were under way on Washington's proposal to establish a "safe zone" in flashpoint border areas of northeastern Syria, where tensions are rising between Turkey and Kurdish militia. "We want to make sure that the folks who fought with us to down the (Islamic State group) have security… and also that terrorists acting out of Syria aren't able to attack Turkey," Pompeo said. "We want a secure border for all the parties," he said in the Saudi capital Riyadh, the latest leg of a whirlwind Middle East tour. Washington is holding talks with all relevent sides about such a "safe zone", he added. His comments came a day after US President Donald Trump in a tweet pushed for the creation of a 20-mile (30-kilometre) "safe zone", without saying who would create, enforce or pay for it. Trump also did not say exactly where such a buffer area would be set up. Turkish Foreign Minister Mevlut Cavusoglu on Monday said his country was "not against" a "security zone" in Syriahttps://dailytimes.com.pk/344284/us-wants-syria-safe-zone-to-protect-turkey-kurds-pompeo/
--------
Trump: 'Great potential' for expanded US, Turkey economic development
15 January 2019 Text size A A A
President Donald Trump said in a tweet on Monday he saw "great potential to substantially expand" economic development between the United States and Turkey, after threatening on Sunday to devastate Turkey's economy if they attack Washington's Kurdish allies in Syria.
Trump, who spoke on Monday with Turkish President Tayyip Erdogan, also said they discussed "our last two weeks of success in fighting the remnants of ISIS, and 20 mile safe zone" in Syria.
Earlier on Monday, President Erdogan's spokesman said that Turkey expected the United States to honor their strategic partnership after US President Donald Trump warned it would "devastate Turkey economically" if they attack a Kurdish militia in Syria.
https://english.alarabiya.net/en/News/middle-east/2019/01/15/Trump-great-potential-for-expanded-US-Turkey-economic-development.html
--------
Saudi lobby group warns that Canada's relations with Arab-Muslim world could suffer over asylum for teen
Jan 15, 2019
A Saudi Arabian lobby group in the United States is warning Canada that its relations with Arab-Muslim countries could suffer in the wake of the federal government's decision to grant asylum to a Saudi woman fleeing alleged abuse back home.
Eighteen-year-old Rahaf Mohammed al-Qunun arrived at Toronto's Pearson International Airport on Saturday, where she was personally greeted by Foreign Affairs Minister Chrystia Freeland. Ms. Freeland then introduced the newcomer to TV cameras as a "brave new Canadian."
Ms. al-Qunun had told authorities she feared her family would kill her if she returned to Saudi Arabia.
A source close to the Saudi government who was not permitted to speak publicly said they believed Ottawa's actions will have a "negative" effect on Canada-Saudi relations.
Riyadh, however, remains officially silent on what Ottawa has done. As of Monday night, three days after Canada announced it would accept Ms. al-Qunun as a refugee, the oil-rich kingdom still had not released a public statement on the matter.
The young woman fled to Bangkok after escaping her family in Kuwait the week before and mounted a social-media campaign for assistance after Thailand denied her entry. Canada moved quickly to offer her asylum ahead of Australia, where she is believed to have been heading.
Salman Al-Ansari, president and founder of the Saudi American Public Relations Affairs Committee (SAPRAC), took to Twitter on Monday to warn Canada that it may face recrimination from Arab-Muslim countries.
"To our Canadian friends," Mr. Al-Ansari wrote. "The provocative and immature policies of [Ms. Freeland] and Justin Trudeau against the biggest Middle Eastern country and the heart of the Arab and Muslim world, Saudi Arabia, might lead major Arab-Muslim nations to review their relations with Canada."
A spokeswoman for SAPRAC said Mr. Al-Ansari was not available to elaborate on his statement. The lobby group is registered as a foreign agent in Washington for the Muslim World League, an organization based in Mecca that receives funding from the Saudi government.
Reem Daffa, vice-president and executive director of SAPRAC, accused the Trudeau government of politicking with an eye to this fall's federal election.
"Canada elections are around the corner and the current government of Canada wants to score points over a family issue and humanitarian rights," she said.
Dennis Horak, a former Canadian ambassador to Saudi Arabia, said he's a bit surprised that the Saudi government has said nothing about Ms. al-Qunun's asylum claim.
But he said he thinks Riyadh has decided to stay mum for now because, after months of intense criticism over the killing of Saudi dissident Jamal Khashoggi, the kingdom has no wish to be drawn into another prolonged international debate about its conduct. "They would probably like this to disappear," Mr. Horak said. "It's shone a light on the guardianship laws that they probably aren't thrilled with."
Under Saudi Arabia's controversial male guardianship system, every Saudi woman is assigned a male relative – often her father or husband but sometimes an uncle, brother or even a son – whose approval is needed if she is to marry, obtain a passport or travel abroad.
Thomas Juneau, an assistant professor at the University of Ottawa's Graduate School of Public and International Affairs, said the Saudis are likely very concerned about trying to limit further criticism from the U.S. Congress. In December, the U.S. Senate delivered a rare double rebuke to U.S. President Donald Trump – one of Saudi Arabia's few defenders today – voting to end U.S. military support for the war in Yemen and blaming Saudi Crown Prince Mohammed bin Salman for the killing of Mr. Khashoggi. The resolution has yet to pass the U.S. House of Representatives.
Full report at:
https://www.theglobeandmail.com/canada/article-saudi-lobby-group-warns-that-canadas-relations-with-arab-muslim-world/
--------
URL: https://www.newageislam.com/islamic-world-news/malaysian-president-ulama-aspiring-office/d/117465
New Age Islam, Islam Online, Islamic Website, African Muslim News, Arab World News, South Asia News, Indian Muslim News, World Muslim News, Women in Islam, Islamic Feminism, Arab Women, Women In Arab, Islamophobia in America, Muslim Women in West, Islam Women and Feminism