New Age Islam News Bureau
17 May 2012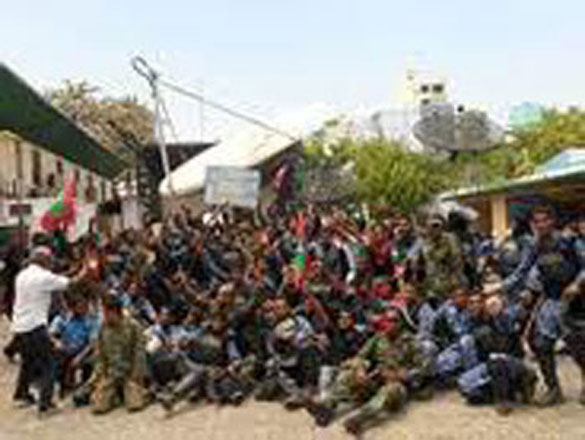 India
• Amicus inquiry made SIT job easier
• Lt Gen (retd) Shah, VC, AMU: I am going to restore AMU to its pristine glory
• School textbooks: Pakistan is part of India; P V Narasimha Rao is country's PM
• Pakistan high commission declines visas to Sikh devotees
• J-K can earn Rs 50,000 crore annually by its resources: Mufti
• Khaleel Chisti lands in controversy over remarks on judiciary
• India to amend Constitution to enable land exchange with Bangladesh
• Your closure report a bid to shield Modi, Bhatt tells SIT Chief
• 26/11, fugitives to figure in talks with Pakistan
• Govt seeks end to Sudan-South Sudan conflict; sends special envoy
• Security beefed up following threat to Pak side of Integrated Check Post
• Engineer held in Saudi may be original IM link to Bihar'
Pakistan
• Restoration of NATO supplies not to stop drone attacks
• Bombing, firing leave eight injured in Balochistan
• Two policemen shot dead in Quetta attack
• Resolution passed on human rights of youth
• Pakistan set to reopen NATO routes; President to attend summit
• Pakistan to get up to $1,800 for each NATO truck
• 1 killed, 3 wounded in a bomb blast in Pakistan
• Two Pakistan trainer aircraft crash over civilian area, four dead
• NATO routes: West missions in Pakistan get 'poison' mails
• South Asian historian: 'Ethnic movements affecting coherent Pakistan identity'
Mideast Asia
• Did a WikiLeaks document doom Iranian 'Mossad agent'?
• Zionist daily: Hezbollah to invade us, if Israel attacks Iran
• Tehran to host 1st intl. conference on women and Islamic Awakening
• Weston family of teen killed in Israel wins huge award against Syria, Iran
• The Dictator & his minders in minis
• In memory Iranian Kurdish teacher, hanged in May 2010 for being "an enemy of God"
• Iran will never give up its nuclear rights: Tehran's chief nuclear negotiator
• Italy police seize more Qaddafi family assets
• Iran hands over 80 Pakistani deportees
• Seven die in clashes in Libyan Desert town
• If there were global justice, NATO would be in the dock over Libya
• Turkey villagers see Israeli spy in migratory bird
Arab World
• Bahrain activist says charge over tweets 'vindictive'
• Al-Qaeda releases English-language jihad manual, encourages attacks in the West
• Kuwait's Ruler Blocks MPs' Islamic Law Proposal
• Syria crisis: Damascus losing information war, says Assad
• Bahrain and Iran in diplomatic row over union proposal
• Suspected US drone kills 2 Qaeda militants in Yemen
• Assad henchmen execute civilians
South Asia
• Malaysian Islamic Ministry, police officers be authorised to grow beards
• Attack on Afghan govt compound kills 7
• Asking a Skeptical Europe to Open Its Wallet for Afghanistan
• Blasts, Arrests during Bangladesh Strike
• DRP MP: MDP government should have continued after Nasheed's resignation
• Commonwealth "intimidating", "punishing" Maldives without mandate
• Afghans seek $4.1 billion a year from NATO summit
• Is it curtains for Afghanistan's fading silver screen?
Southeast Asia
• Malaysia sentences 3 Mexicans to death over drugs
• As polls loom, Najib seizes a chunk of social media'
Africa
• Somali land military court sentences 17 civilians to die
• South Sudan to get anti-aircraft missiles
• American militant in Somalia craves fast food, misses family
North America
• U.S. FBI works to stop discrimination of Muslims
• Board suspends Islamic school's permit after row over anti-Jewish curriculum
• Kissinger warned of Indo-Pak war in 70s
• Pakistan is a 'black hole' for US aid
• India making progress in reducing oil imports from Iran: US official
• Obama to veto bill that seeks curbs on Pakistan aid
• Obama requesting help to pay for Afghan army
• US spy agency unveils scale model of Bin Laden hideout
Europe
• David Cameron warns François Hollande against early Afghanistan exit
• Iran flouts UN sanctions, sends arms to Syria: Experts
Complied by New Age Islam News Bureau
Photo: Islamic Ministry requests MNDF, police
URL: https://www.newageislam.com/islamic-world-news/new-age-islam-news-bureau/malaysian-islamic-ministry--police-officers-be-authorised-to-grow-beards/d/7360
----------
India
Amicus inquiry made SIT job easier
May 17, 2012
SO, THE Special Investigation Team ( SIT) gave a clean chit to Gujarat Chief Minister Narendra Modi while the Amicus Curiae suggested further probe and perhaps prosecution for him. Everyone is happy.
Modi's taint is almost cleared in legal terms.
We got our share of pages to fill and the victims a longer rope to hang themselves with.
As claimed by the SIT, the Amicus Curiae agreed to most of its findings. Agreed, he made out a case against the CM but his report also provided a perfect roadmap for demolishing the same. Amicus Curiae Raju Ramachandran built his case almost completely on suspended IPS officer Sanjiv Bhatt. But ironically, he also demolished Bhatt's credibility in the same report. For an SIT inclined to letting Modi off the hook, the task was made easier. It presented evidence of how Bhatt fabricated two letters which he had submitted to Nanavati Commission and subsequently to the SIT. Consider this: " I am conscious of the fact that though Shri Bhatt has been contending that he would speak only when under a legal obligation to do so, his conduct after making his statement under Section 161 ( of the) Cr. P. C. has not been that of a detached police officer who is content with giving his version. I am left with no doubt that he is actively ' strategising', and is in touch with those who would benefit or gain mileage from his testimony", Ramachandran writes. " But these factors, in my view, cannot be grounds for ignoring his statement at this stage", he adds.
" I am also conscious of the fact that Shri Bhatt made attempts to get other witnesses ( i. e. Shri Tarachand Yadav, Shri K. D. Panth etc.) to support his case, and has been part of a ' strategising' effort", he reiterates later.
" In my opinion, despite the aforesaid background, it does not appear likely that a serving police officer would make such a serious allegation against the Chief Minister, without some basis", he argues.
By the same logic, the affidavits filed by former DGP R. B. Sreekumar ought to have been considered seriously. These affidavits had formed the backbone of Zakia Jafri's complaint that led to the probe and Ramachandran's appointment as the Amicus Curiae. But both the SIT and Ramachandran chose to ignore them.
So it was now left for the SIT to demolish Bhatt's credibility, which it did effectively. It focused on two allegedly forged letters that Bhatt had claimed to have sent to different authorities under his signature on February 27 and 28, 2002.
It simply pointed out how Bhatt contended that the letters had already been handed over to A. K. Malhotra of the SIT in 2009 and Himanshu Shukla in 2011.
" However, the same did not contain any reference to the aforesaid two messages, which Shri Bhatt now claims to have sent on 27.02.2002 & 28.02.2002, despite the fact that copies of all others messages duly mentioned by him in his statement were handed over by Shri Bhatt to Shri Malhotra. Similarly the. ( The) Statement ( of) Shri Sanjiv Bhatt was recorded u/ s 161 Cr. PC by the IO Shri Himanshu Shukla on 21.03.2011 & 22.03.2011, and the same also did not contain any reference to the aforesaid two messages", the SIT wrote in its report The SIT further went on to record how Bhatt did not mention the messages before any other forum including that of the Amicus Curiae and only pulled them out of his hat in December 2011 before the Nanavati Commission and before the SIT only in January. THE SIT further went on to dismantle Bhatt's claims by showing that the numbering of these letters have been fabricated and finally observed: " The oral and documentary evidence available on record would, therefore, conclusively prove that these fax messages now produced by Shri Bhatt have been fabricated, subsequently with an ulterior motive." With Bhatt's credibility comprehensibly squashed, there remains almost nothing to support the edifice of charges against Modi even in the Amicus Curiae's report. Sadbhavana reigns in Gujarat once again, at least for Modi's supporters.
Despite questioning Sanjiv Bhatt's credibility, the Amicus Curiae has based his report on the officer's testimony
Mail Today
----------
Lt Gen (retd) Shah, VC, AMU: I am going to restore AMU to its pristine glory
Pradeep Kaushal
May 17 2012
Former Deputy Chief of Army Staff Lt Gen (retd) Zameer Uddin Shah has been appointed vice-chancellor of Aligarh Muslim University, which had been left headless after a court battle and which had been rocked by campus violence. In this interview, he describes how he hopes to restore the institute to its original stature.
What are your plans for AMU?
I am going to restore AMU to its pristine glory. I will ensure there is proper education, that students gain confidence in themselves, and are equipped to meet the requirements of modern-day jobs. But discipline must be ensured if there has to be an atmosphere conducive to learning; we cannot have strikes and lawlessness on the campus.
Full report at:
http://www.indianexpress.com/story-print/950181/
----------
School textbooks: Pakistan is part of India; P V Narasimha Rao is country's PM
May 17, 2012
NEW DELHI: Pakistan is a part of India and P V Narasimha Rao is the Prime Minister of the country, this is being taught to school students in some states, according to a Member of Parliament.
AIADMK member S Semmalai highlighted this in Lok Sabha today while referring to the controversy over Ambedkar cartoon in CBSE textbooks during a discussion on Central Educational Institutions (Reservation in Admission) Amendment Bill, 2011.
"In the CBSE textbooks of Karnataka, it is mentioned even now that Pakistan is a part of India. It went on to state that American constitution is based on capitalism. Class-III students of Urdu medium in Andhra Pradesh are taught that P V Narasimha Rao is the Prime Minister of the country," Semmalai said, evoking laughter all around the House.
Finding further faults with the textbooks, he said, "In the CBSE textbooks, a forest is defined as a group of trees and heavy industry is defined as one where heavy type of raw materials are used."
The member said that only 15 per cent of graduates are suitable for employment and it is a sorry state of affairs. It reflects the poor quality of education at all levels, from primary to higher levels.
He lamented, "If this is the quality and stuff that we provide to our students, one can imagine what will be the standard of our students.
"Unless we make concerted efforts to allocate six per cent of the GDP to education, our goal will remain unreachable," he added.
http://timesofindia.indiatimes.com/india/School-textbooks-Pakistan-is-part-of-India-P-V-Narasimha-Rao-is-countrys-PM/articleshow/13170970.cms
----------
After controversy over Anand Marriage Act, Dal Khalsa demands Sikh personal law
May 17, 2012
AMRITSAR: Following controversy over Anand Marriage Act, Sikh radical organization Dal Khalsa has favoured for Sikh personal law on the pattern of Muslim personal law.
While talking to media persons here on Wednesday party spokesperson Kanwar Pal Singh said that it was a fact that the amendments being made in the Anand Marriage Act-1909 were unsatisfactory and insufficient.
Commenting on the proceedings of seminar organized by the Chief Khalsa Deewan in which the speakers rejected the amendment bill, he wondered why Akali MP's and Jathedars' remained silent for long while the Union Cabinet was discussing the amendments. However he reminded that the "Sikhs have a historical tendency to act first and think later and the present day Sikh leaders have presented its classic example" quipped he.
Full report at:
http://timesofindia.indiatimes.com/india/After-controversy-over-Anand-Marriage-Act-Dal-Khalsa-demands-Sikh-personal-law/articleshow/13172722.cms
----------
Pakistan high commission declines visas to Sikh devotees
May 17, 2012
AMRITSAR: The Pakistan high commission has refused visas to Sikh devotees aspiring to undertake pilgrimage to gurdwaras of Pakistan to observe the martyrdom day of Guru Arjan Dev.
Shiromani Gurdwara Parbandhak Committee (SGPC) president Avtar Singh Makkar told TOI on Wednesday evening that SGPC had submitted passports of 320 devotees to Pakistan high commission for obtaining visas.
"We were surprised when Pak high commission officials returned all passports after lunch without giving visas or any reason for denial," said Makkar. Condemning the action of Pak officials, Makkar asked Prime Minister Manmohan Singh to immediately take up the issue with Pakistan government so that religious feelings of Sikhs were not hurt.
Though Pakistan high commission in Delhi has not given any reason for denial of visas to Sikh pilgrims, sources are of the view that there was a possibility that refusal to grant visa followed differences in dates of martyrdom day of Guru Arjan Dev.
According to the amended version of Nanakshahi calendar, the martyrdom day of Guru Arjan Dev falls on May 25 whereas according to traditional dates, the martyrdom day falls on June 16.
http://timesofindia.indiatimes.com/india/Pakistan-high-commission-declines-visas-to-Sikh-devotees/articleshow/13180720.cms
----------
J-K can earn Rs 50,000 crore annually by its resources: Mufti
May 17 2012
Jammu : Asserting that Jammu and Kashmir could earn an amount of Rs 50,000 crores annually if its natural resources were properly utilised, opposition PDP today accused successive National Conference regimes of having bartered the state's riches by signing unfair agreements.
"According to a rough estimate, the state of Jammu and Kashmir would earn an amount of Rs 50,000 crores annually through proper utilisation of its natural resources", Patron of Peoples Democratic Party (PDP) Mufti Mohammad Sayeed said addressing a public meeting at Banihal in Ramban district.
"It is unfortunate that successive National Conference regimes in the state have bartered natural resources by signing unfair agreements, just for the lust of power," he said.
He added that PDP in this self-rule document has suggested various measures to properly utilise natural resources of the state to make Jammu and Kashmir economically self-reliant.
Full report at:
http://www.indianexpress.com/story-print/950110/
----------
Khaleel Chisti lands in controversy over remarks on judiciary
May 17 2012
Ajmer : He may have gone home briefly with the Supreme Court's permission but Pakistani virologist Khaleel Chisti has left behind a controversy by his remarks against the judiciary here.
A petition has been filed in a local court for launching contempt proceedings against Chisti, who returned to Pakistan after spending 20 years in a Rajasthan jail, for reportedly saying "there are illiterates in the Indian judiciary but also intelligent judges".
The petition was filed by advocates Devendra Singh Shekhavt and Prakash Meena in the Fast Track Court here.
They alleged that Chisti had said in a television interview that "there are illiterates in the judiciary but also intelligent judges. Intelligent judges reach up to the Supreme Court".
Full report at:
http://www.indianexpress.com/story-print/950104/
----------
India to amend Constitution to enable land exchange with Bangladesh
May 17 2012
New Delhi : An amendment to the Constitution is being drafted to enable the exchange of 111 Indian enclaves in Bangladesh and 51 Bangladeshi enclaves in the Indian territory, External Affairs Minister S M Krishna has said.
"The government is committed to the earliest implementation of the Protocol and Land Boundary Agreement (between the two countries) that would result in exchange of enclaves," he said in a letter to CPI leader Prabodh Panda.
The Protocol and the Agreement, signed during Prime Minister Manmohan Singh's visit to Bangladesh in September last year, are subject to ratification by both governments.
"The ratification, therefore, necessitates an amendment of the Constitution. Necessary preparations to place a draft amendment bill before Parliament are underway," Krishna said, adding that these would "enter into force on the date of exchange of Instruments of Ratification" and facilitate the exchange of these enclaves.
Full report at:
http://www.indianexpress.com/story-print/950597/
----------
Your closure report a bid to shield Modi, Bhatt tells Raghavan
MANAS DASGUPTA
May 17, 2012
State government destroyed "potentially incriminating documents with tacit blessings of SIT"
The suspended IPS officer Sanjiv Bhatt says the closure report submitted by the Supreme Court-appointed Special Investigation Team (SIT) only confirmed his long-standing apprehension that it was only working to "shield" Chief Minister Narendra Modi and other "powerful persons" from legal punishment for their involvement in the 2002 Gujarat pogrom.
In a letter to SIT Chairman R. K. Raghavan on Wednesday, Mr. Bhatt said it was "outrageously shocking" that even after his repeated requests the SIT did not issue any timely direction to the State government for preservation and production of vital contemporaneous documents, and allowed it to selectively destroy the potentially incriminating documents "with the tacit blessings of the SIT."
Claiming that the closure report made it apparently clear that the SIT was carrying out "further investigation" even after the September 12, 2011 Supreme Court order to submit its final report to a competent metropolitan magistrate's court in Ahmedabad, Mr. Bhatt said it was done "with the sole purpose and motive of shielding Mr. Modi and other powerful accused persons from legal punishment."
Mr. Bhatt said the SIT was not required to investigate the observations made by amicus curiae Raju Ramachandran but it deliberately did so to find loopholes in his report and demolish his remark that criminal cases could be framed against Mr. Modi for allegedly creating communal disharmony under Sections of the Indian Penal Code.
Full report at:
http://www.thehindu.com/news/national/article3426438.ece
----------
26/11, fugitives to figure in talks with Pakistan
May 17, 2012
ATTARI: The contentious issues of 26/11 and fugitives hiding in Pakistan will figure prominently during the home secretary-level bilateral talks scheduled for May 24 and 25 in Islamabad.
The Union home secretary RK Singh, who was in Attari on Wednesday to inspect the recently-inaugurated Integrated Check Post (ICP) ahead of the planned visit of home minister P Chidambaram, said that India would try to resolve the contentious issues with Pakistan during the meetings.
"We will try to find a cordial solution to the core issues through the process of dialogue and I hope that relations between two nations would be much better after the talks," said Singh.
He said that India would take up the issues of fugitives hiding in Pakistan and action against perpetrators of 26/11 attack, including its main architect Hafiz Sayeed.
Full report at:
http://timesofindia.indiatimes.com/india/26/11-fugitives-to-figure-in-talks-with-Pakistan/articleshow/13180763.cms
----------
Govt seeks end to Sudan-South Sudan conflict; sends special envoy
May 17, 2012
NEW DELHI: India has again dispatched its special envoy Amarendra Khatua to South Sudan and Sudan as the conflict between the two shows no sign of abating. With oil rich South Sudan suffering the most - more than half of its population facing food shortage - government officials on Wednesday said India would pull out all stops to help the government in Juba, including initiatives to build vocational training centres and hospitals.
Special envoy Khatua, who is a an additional secretary with MEA, held talks in Khartoum with UN special envoy Haile Menkerios and senior officials of Sudan's foreign ministry on Tuesday. He is also expected to meet African Union mediator Thabo Mbeki later this week.
While expressing India's concern over the deteriorating situation, Khatua, who is on his second visit to the region as special envoy, urged authorities in Khartoum to comply with the UNSC resolution earlier this month which seeks to end all disputes related to oil and other issues. He also offered all possible help from India to end hostilities.
Full report at:
http://timesofindia.indiatimes.com/india/Govt-seeks-end-to-Sudan-South-Sudan-conflict-sends-special-envoy/articleshow/13185557.cms
----------
Security beefed up following threat to Pak side of Integrated Check Post
May 17, 2012
AMRITSAR: Security was beefed up on the Indian side of Integrated Check Post (ICP) following reports of threat to Pakistan portion of ICP by Taliban on Wednesday evening.
The reports came after the visit of Union home secretary R K Singh, who was here to inspect the cargo and passengers facilitation at ICP at Attari. Clarifying that threat perception was on Pakistan side of ICP, Senior Superintendent of Police, Amritsar (Rural), Pritpal Singh Virk said, "As a security measure, we are in a state of preparedness to meet any eventuality."
BSF Inspector General (Frontier) Aditya Mishra said they did not have any authentic reports of threat to ICP. "Due to the home secretary's visit, the security is already tight and we are prepared," he said.
http://timesofindia.indiatimes.com/india/Security-beefed-up-following-threat-to-Pak-side-of-Integrated-Check-Post/articleshow/13180625.cms
---------
'Engineer held in Saudi may be original IM link to Bihar'
May 17 2012
Patna: Investigators believe that Faseeh Mehmood, an engineer from Darbhanga who was arrested by the Saudi Arabian police earlier this week, is the Indian Mujahedeen's (IM) original link to Bihar.
Mehmood, sources claim, attended an IM programme in Bhatkal around 2005 and left India after the crackdown on the organisation in 2008. He was introduced to the Bhatkal brothers, Riyaz and Iqbal, by another IM member, they say. Investigators claim Mehmood later did "talent-spotting" for IM.
Mehmood is one of the nearly dozen Indian terror suspects who investigators believe are in Saudi Arabia. He was reportedly arrested on May 13 and is expected to be deported soon. His wife has already been deported.
Full report at:
http://www.indianexpress.com/news/engineer-held-in-saudi-may-be-original-im-link-to-bihar/950286/
------------
Pakistan
Restoration of NATO supplies not to stop drone attacks: analysts
By I Hussain
May 17, 2012
ISLAMABAD: The restoration of NATO supplies would not help in stopping drone attacks, however, the US got the message to be careful in strikes, analysts said on Wednesday.
On May 14, Foreign Minister Hina Rabbani Khar said the supplies could not be kept stalled indefinitely and the Defence Committee of the Cabinet (DCC) asked all stakeholders to conclude talks on restoration of the supplies, indicating reopening the NATO routes, they added.
Lt Gen (r) Talat Masood told Daily Times that the restoration of supplies would have a positive impact on Pak-US ties and Islamabad relations with the NATO countries.
"The suspension was an irritant for Pakistan, the US and NATO. However, the restoration of NATO supplies would never mean that differences are ended. There are still areas that could create bitterness between the US and Pakistan in future," he said. However, the six-month suspension of supplies was a message to the US to be careful in future, he said.
Full report at:
http://www.dailytimes.com.pk/default.asp?page=2012\05\17\story_17-5-2012_pg7_23
----------
Bombing, firing leave eight injured in Balochistan
By Mohammad Zafar
May 17, 2012
QUETTA: As many as eight people, including two policemen, were injured on Wednesday in separate incidents of remote-controlled bombing and firing in Dera Murad Jamali and Pishin respectively.
According to police, a police van was on its way to Goth Pir Sher from Dera Murad Jamali when the roadside bomb exploded in the Mir Hasan police precincts. Two policemen and prisoners each sustained injuries. The police van was damaged in the blast. Police rushed to the spot soon after the incident and shifted the injured to a nearby hospital. The injured were identified as Head Constable Mukim Ahmed, Constable Maqbool Ahmed and prisoners Moin Khan and Ayaz Khan.
The Baloch Republican Army has claimed responsibility. A case has been registered against unidentified people and investigation is underway. Separately, four people were injured after unidentified assailants entered a restaurant and opened fire on people in Pishin District.
According to police, unidentified assailants entered a restaurant and opened fire on people sitting there. Four people sustained injuries. The attackers managed to escape from the spot. Police reached the scene soon after the incident and shifted the injured to the Civil Hospital.
The injured were identified as Pir Muhammad, Abdul Hanan, Nuruddin and Abdul Nasir. The motive behind the incident could not be ascertained. A case has been registered against unidentified assailants and investigation is underway.
http://www.dailytimes.com.pk/default.asp?page=2012\05\17\story_17-5-2012_pg7_25
----------
Two policemen shot dead in Quetta attack
May 17, 2012
QUETTA: Two policemen were killed when unknown assailants fired at a police van in Quetta on Thursday, DawnNews reported.
Three policemen were also wounded in the attack which took place on Quetta's western bypass.
The injured policemen were shifted to the Bolan Medical Complex whereas assailants managed to escape from the scene.
Police cordoned off the site of the attack and began an investigation.
Quetta is the capital of Balochistan province which has seen an upswing in violence recently and is suffering from a separatist insurgency, sectarian violence and Taliban militants.
http://dawn.com/2012/05/17/two-policemen-shot-dead-in-quetta-attack/
----------
Resolution passed on human rights of youth
May 17, 2012
According to the United Nation Development Programme (UNDP), an estimated 103 million Pakistanis, or 63 per cent of the population, fall under the age of 25 years. This remains an important reason why the landmark resolution on the theme "Adolescents and Youth", passed in New York during the 45th session of the Commission on Population and Development (CPD), will play an important role in Pakistan.
The resolution highlights measures to protect sexual and reproductive health and rights of adolescents and youth globally.
A delegation of five people from Pakistan attended CPD. During the negotiation, the Pak Mission in UN was represented by Suljuk Tarar (Counsellor).
Amongst many other important points, the resolution specifies that human rights include the right to have control over and decide freely on matters related to sexuality, including sexual and reproductive health.
It also lays emphasis on strengthening reproductive health services by prioritizing sexual and reproductive health, including family planning, safe abortion (where legal) maternity care, STI and HIV prevention and treatment.
Most importantly it calls for the elimination of harmful practices such as early and forced marriages, female genital mutilation, and other violations of girls and women's rights.
http://dawn.com/2012/05/17/resolution-passed-on-human-rights-of-youth/
----------
Pakistan set to reopen NATO routes; President to attend summit
May 17, 2012
Pakistan President Asif Ali Zardari will attend NATO's upcoming Chicago summit as Islamabad looks all set to open the six-month blockade of the military alliance's supply routes to Afghanistan.
NATO extended an 'unconditional' invitation for its summit next week to Zardari and supply routes for foreign troops in Afghanistan will be reopened after negotiations conclude with the US, Prime Minister Yousuf Raza Gilani said on Thursday.
Both the Defence Committee of the Cabinet, Pakistan's highest body on security issues, and the federal cabinet have endorsed the President's participation in the NATO Summit in Chicago after the invitation was sent by NATO Secretary General Anders Fogh Rasmussen, he said.
A final decision on reopening the 'Ground Lines of Communication' or supply routes for NATO troops in Afghanistan will depend on the outcome of talks between the US and different ministries and organisations of Pakistan, Gilani told reporters on the sidelines of an official event.
'We have directed the concerned departments to conclude their negotiations. The talks are still underway,' he said.
Pakistan closed the supply routes after a cross-border NATO air strike killed 24 of its soldiers in November.
Islamabad and Washington were unable to put their ties on an even keel as Pakistan had been insisting on an unconditional apology from the US for the air strike.
Full report at:
http://www.dnaindia.com/world/report_pakistan-set-to-reopen-nato-routes-president-to-attend-summit_1690094
----------
Pakistan to get up to $1,800 for each NATO truck
May 17, 2012
LAHORE: Under a US-Pakistan deal to reopen a key NATO supply route through Pakistan, closed for nearly six months, the US-led coalition will pay Pakistan a still-to-be-fixed fee of $1,500 to $1,800 for each truck carrying supplies, a tab that officials familiar with negotiations estimated would run nearly $1 million a day.
According to a report in McClatchy newspaper, the agreement would raise the cost of the war effort in Afghanistan by about $365 million annually. The accord, which the Pakistani government announced late on Tuesday, would revive the transport of vital supplies of food and equipment from Pakistani ports overland to land-locked Afghanistan, in exchange for the abovementioned fee.
Pakistan closed the land route after a NATO air strike killed 24 Pakistani soldiers in November last year. One of the routes being used since the closure is nearly 6,000 miles long. The Pakistan route is less than 500 miles.
Full report at:
http://www.dailytimes.com.pk/default.asp?page=2012\05\17\story_17-5-2012_pg1_6
----------
1 killed, 3 wounded in a bomb blast in Pakistan
May 17 2012
Islamabad : One person was killed and two others were injured today when a bomb went off in a market on the outskirts of Peshawar city in Pakistan's restive northwest.
The explosion occurred in a shop in Badabher area on the outskirts of Peshawar, the capital of Khyber-Pakhtunkhwa province.
Three persons were wounded in the blast and one of them has succumbed to his injuries in a hospital, police officials said.
No group has claimed responsibility for the attack.
http://www.indianexpress.com/story-print/950504/
----------
Two Pakistan trainer aircraft crash over civilian area, four dead: Reports
May 17, 2012
ISLAMABAD: Two Pakistan Air Force light aircraft collided mid-air on Thursday, killing four pilots on a routine training mission northwest of Islamabad, police said.
It was the sixth Pakistan Air Force crash in seven months and the second in a week, raising concerns over the safety of its largely Chinese and locally made fleet.
The cause of the accident was not immediately clear.
One of the two-seater propeller Mushshak planes crashed on a house, injuring a girl and an elderly man, and the second fell in nearby fields in the Rashkai area, 160 kilometres (100 miles) northwest of the capital.
"Two Pakistan Air Force trainer aircraft collided mid-air. Four pilots were killed, two were trainee pilots and two were instructors," district police officer Mohammad Hussain said.
"One of the aircraft crashed over a house, injuring a girl and an elderly man, and the second plane crashed in the fields."
Another police official, Hayatullah, who uses only one name, confirmed the casualties.
Last Friday, a fighter jet crashed near the southwestern town of Sonmiani but the pilot managed to eject safely.
The Pakistan Air Force has a fleet of Chinese aircraft including F-7PGs and A-5s, plus US-built F-16s and French Mirages. It recently acquired medium-tech JF-17, or Thunder jets, manufactured jointly by China and Pakistan.
http://timesofindia.indiatimes.com/world/pakistan/Two-Pakistan-trainer-aircraft-crash-over-civilian-area-four-dead-Reports/articleshow/13204041.cms
----------
Nato routes: West missions in Pakistan get 'poison' mails
May 17, 2012
Islamabad: Several Western embassies here on Wednesday received letters containing suspicious powder and threats to poison Nato soldiers in Afghanistan, Pakistan officials said.
Islamabad police chief Bani Amin said that embassies had received small packets containing black powder, which had been sent for laboratory analysis.
The letters said "poison" would be hidden in the Nato supplies should Pakistan decide to lift a nearly six-month blockade on supplies for American and Nato troops fighting the Taliban in neighbouring Afghanistan.
Senior Pakistani security officials said that the French embassy, and the Australian and British High Commissions had received suspicious packages.
"Embassies have received one sachet each. The problem is that it is in a meagre quantity and difficult even to test. It seems somebody has committed some mischief. We are sending it to a laboratory," Amin said.
http://timesofindia.indiatimes.com/world/pakistan/Nato-routes-West-missions-in-Pakistan-get-poison-mails/articleshow/13191751.cms
----------
South Asian historian: 'Ethnic movements affecting coherent Pakistan identity'
May 17, 2012
LAHORE: The rise of ethnic and linguistic movements in Pakistan, especially since the 1980's has further complicated the development of a coherent identity and sense of citizenship, renowned South Asian historian Professor Ayesha Jalal argued in a lecture arranged by Forman Christian College Department of History.
Professor Jalal gave a wide-ranging talk on 'Writing Pakistani History: Problems, Challenges'. She spoke about the initial question – where should Pakistan start its history? Should Pakistan start from the Indus Valley civilisation or from the coming of Islam in the 8th century, or should the 1857 revolt against the British be deemed the turning point? Dr Jalal argued that the issue of Muslim nationhood versus territorial sovereignty also complicated the genesis of Pakistan. The fact that there were millions of Muslims, so-called 'left behind' in India, and that a few million Hindus remained in the new country, meant that almost immediately there was the challenge of what was going to be the basis of citizenship in Pakistan. Professor Jalal then traced the trajectory of the discourse on identity and citizenship in Pakistan, starting with Jinnah's speech of August 11, 1947 and the Objectives Resolution of March 1949. Jalal argued that even though the Objectives Resolution gave some space to religion in the state, "neither religion nor religiosity were evident in the first years of Pakistan".
Prof Jalal argued that it was in 1974 that an 'exclusionary strain of citizenship' was officially endorsed in Pakistan when a section of society was excluded from full participation in the country.
http://www.dailytimes.com.pk/default.asp?page=2012\05\17\story_17-5-2012_pg7_15
----------
Mideast Asia
Did a WikiLeaks document doom Iranian 'Mossad agent'?
By SAM SER
May 17, 2012
Leaked diplomatic cable apparently pointed to Majid Fashi, who was hanged in Tehran on Tuesday for allegedly killing a nuclear scientist
WikiLeaks may have been responsible for exposing Majid Jamali Fashi, the 24-year-old kickboxer who was hanged in Tehran on Tuesday morning after "confessing" to assassinating a nuclear scientist on behalf of Israel, a British media report said.
The Times of London reported Wednesday that a document from the US Embassy in Baku, Azerbaijan, seemingly drew attention to Fashi. The September 2009 US diplomatic document — identified by the code 09BAKU687 — quotes an Iranian source who was a licensed martial arts coach and trainer as describing to his American contacts pressure from the Iranian regime to train soldiers and militiamen in martial arts.
Fashi was reportedly in Baku for an international martial arts competition only days before the US Embassy document was written.
Full report at:
http://www.timesofisrael.com/wikileaks-report-may-have-doomed-iranian-mossad-agent/
----------
Zionist daily: Hezbollah to invade us, if Israel attacks Iran
May 17, 2012
A Zionist daily expressed worries Wednesday lest Lebanese Hezbollah would target sensitive spots in Israel in case Tel Aviv would dare to invade the Iranian nuclear facilities.
(Ahlul Bayt News Agency) - A Zionist daily expressed worries Wednesday lest Lebanese Hezbollah would target sensitive spots in Israel in case Tel Aviv would dare to invade the Iranian nuclear facilities.
The Zionist daily Yediot Ahronet has in its Wednesday evening issue quoted a high ranking official of that regime as saying, "If Israel would launch an air raid against the Iranian nuclear sites Hezbollah would issue an order for launching missile attacks against Israel by its own forces."
Another Zionist daily, Haaretz, too, referring to the nuclear activities of Iran wrote, "Although the International Atomic Energy Agency (IAEA) believes there are still suspicions regarding the Iran nuclear program, but the UN nuclear watchdog has still not openly accused Tehran of having a military nuclear program."
Referring to the ongoing nuclear talks between Iran and the agency in Vienna, this daily has emphasized, "In these talks ways for solving the remaining ambiguities about Iran's nuclear program have been discusses and these talks are a prelude for the later negotiations between Iran and the P5+1 negotiations in Baghdad."
Haaretz added, "In these talks emphasis has been made over the need to dispatch international inspectors to monitor the Iranian nuclear sites and that the basis for Iran's cooperation with the agency would be the nuclear NPT, while stressing the need for refraining from production and proliferation of nuclear weapons in the Middle East region."
Full report at:
http://abna.ir/data.asp?lang=3&Id=315749
----------
Tehran to host 1st intl. conference on women and Islamic Awakening
May 17, 2012
The first international conference on women and Islamic Awakening will be held in Tehran from July 14 to 15.
(Ahlul Bayt News Agency) - Female intellectuals and scholars from across the world, particularly Muslim countries, will attend the conference.
University students, professors, and experts have been invited to submit their articles on the Islamic Awakening to the secretariat of the conference by June 19.
The two-day World Conference on Youth and Islamic Awakening was held in Tehran from January 29 to 30.
The participants of the conference issued a final statement in which they said that the thoughts of the late Imam Khomeini, the Founder of the Islamic Republic of Iran, inspired the Islamic Awakening movement in the Arab world.
http://abna.ir/data.asp?lang=3&Id=315705
----------
Weston family of teen killed in Israel wins huge award against Syria, Iran
BY SCOTT HIAASEN
SHIAASEN@MIAMIHERALD.COM
May 17, 2012
Daniel Wultz, of Weston, was dining in a Tel Aviv restaurant when he and another 11 people were killed by a suicide bomber in 2006.
The family of a Weston teen killed in a 2006 suicide bombing in Israel has won a $332 million court judgment against the governments of Syria and Iran for sponsoring the terrorist group responsible for the attack.
On Monday, a federal judge in Washington ordered the judgment in a lawsuit brought by the family of Daniel Wultz, a 16-year-old who was among 11 people killed by a suicide bomber who attacked a Tel Aviv restaurant on April 17, 2006. Daniel, a student at David Posnack Hebrew Day School in Plantation, was visiting Tel Aviv with his father, Yekutiel "Tuly" Wultz, who also was injured in the blast.
"We don't look for any revenge," Tuly Wultz said Tuesday. "Our purpose in our fight is to fight terrorism. We don't want any more Daniels to die."
Investigators tied the bombing to the Palestinian Islamic Jihad, a terrorist group based in Syria's capital, Damascus, and which claimed responsibility for the attack. Lawyers for the Wultz family presented evidence that the group has received financing and other support from both the Iranian and Syrian governments over the years — making them liable for Daniel's death.
The lawsuit was brought under a special provision of federal law that allows U.S. citizens to bring claims against foreign governments for terrorist acts. Some $300 million of the judgment was in punitive damages designed to punish Iran and Syria for their roles in the bombing.
"When a state chooses to use terror as a policy tool — as Iran and Syria continue to do — that state forfeits its sovereign immunity and deserves unadorned condemnation," U.S. District Judge Royce Lamberth wrote in his order on Monday — six years to the day after Daniel Wultz died from his injuries after 27 days in the hospital. "Barbaric acts like the April 17, 2006, terrorist bombing have no place in civilized society."
In court papers, a lawyer for the Syrian government — former U.S. Attorney General Ramsey Clark — called the lawsuit "baseless" and said the suit violated the United Nations charter.
The Wultz family has already established a nonprofit foundation in Daniel's name, aimed at combating terrorism and promoting tolerance. But collecting the judgment could prove difficult.
Though federal law allows plaintiffs in some cases to collect from any assets frozen in the United States belonging to nations that sponsor terrorism, the plaintiffs typically run into roadblocks in collecting, according to a 2005 congressional report. Both Iran and Syria have been hit with other large judgments in U.S. courts in recent years.
"We are very hopeful that we will be able to find assets" of Iran and Syria to satisfy the judgment, said Robert Tolchin, an attorney for the Wultz family.
The family also has a parallel lawsuit still pending against the Bank of China, accused of being the conduit for the money used to finance the bombing. The bank has denied wrongdoing.
http://www.miamiherald.com/2012/05/15/2801159/weston-family-of-teen-killed-in.html#storylink=cpy
----------
The Dictator & his minders in minis
May 17, 2012
HE HAS attracted a flurry of negative headlines with his risqué publicity stunts for The Dictator . But, despite wielding a golden gun, Sacha Baron Cohen appeared to be on his best behaviour for the film's London premiere last week.
Surrounded by " bodyguards" in miniskirts, the comic turned up as his new alter- ego, despot General Aladeen, loosely based on Colonel Gaddafi and Saddam Hussein. Cohen's wife Isla Fisher also attended the do.
The only sign of potential trouble was when he started pointing his revolver at the head of Harrods boss Mohamed Al- Fayed.
This was tame in comparison to his antics on the red carpet at the Oscars in February when he tipped the " ashes" of Kim Jong- il over a TV reporter's head.
The star arrived standing in the back of an open- top Lamborghini, which was clamped on the back of a council tow truck, and surrounded by Harrods bags.
As he pulled up, he shouted: " Death to the West. I'm sorry I'm late. I was doing some shopping at British Home Stores and I got clamped." Posing with Al- Fayed, he joked: " We have a lot in common.
We were both friendly with Lady Diana. To cut a long story short, I am the father of Prince Harry." The Dictator tells the story of a despot " who risked his life to ensure democracy would never come to the country he so lovingly oppressed".
Mail Today
----------
In memory Iranian Kurdish teacher, hanged in May 2010 for being "an enemy of God"
May 17, 2012
Kamangar, a teacher in Iran's Kudistan region, was hanged in May 2010 for being "an enemy of God"
This month marks the second anniversary of the execution of a primary school teacher, who paid with his life for refusing to make televised confession about a crime he didn't commit.
Farzad Kamangar was 31 when he was detained by the security forces in July 2006 for allegedly collaborating with the Kurdish opposition groups. The government accused him of being "an enemy of god". His mother believes that her son's only crime was his 'Kurdishness' and his lawyer Khalil Bahramian maintained that "there was not a shred of evidence" against him.
Interrogators in numerous prisons where Farzad was held for four years, put him through severe physical and mental torture to break his resistance. Farzad's letters and articles about the inhumane conditions inside prison helped to bring international condemnations from many organisations including UNICEF and the Education International which represents teachers across the globe.
When the authorities realised that they could not break Farzad under torture, they decided to silence him for ever. In the early hours of the 9th May 2010, Farzad and four other prisoners were lead to the gallows. Contrary to Iranian law his lawyer and his family were not informed. Within a few minutes, his lifeless body was hanging from a noose in Evin prison in Tehran.
Full report at:
http://www.guardian.co.uk/world/iran-blog/2012/may/16/iran-kurdish-teacher-farzad-kamangar
----------
Iran will never give up its nuclear rights: Tehran's chief nuclear negotiator
May 17, 2012
TEHRAN: Iran rejects Western pressures over its nuclear activities and will never give up its rights, Tehran's chief nuclear negotiator said on Thursday ahead crunch talks with world powers in Baghdad next week.
"If we participate in the negotiations... it is because of our resistance (to Western powers). Thanks to our resistance, we have defended the rights of the Iranian people," Saeed Jalili said in a speech broadcast on local television.
"The Iranian people will never give up even an iota of their rights," Jalili added, in reference to the Islamic republic's nuclear drive which the West suspects is masking a weapons programme. Tehran vehemently denies the charge.
"I advise Western officials against making calculated mistakes. In Baghdad, we can negotiate for cooperation on the basis of respect for Iran's undeniable rights.
"The path chosen by our country is a path of no return. The (West) would like to block Iran's progress in the nuclear domain, but they have failed. Iran today has become a nuclear power," he said.
Full report at:
http://timesofindia.indiatimes.com/world/middle-east/Iran-will-never-give-up-its-nuclear-rights-Tehrans-chief-nuclear-negotiator/articleshow/13210166.cms
----------
Italy police seize more Qaddafi family assets
May 17, 2012
MILAN: Italy's financial police have seized a further 20 million euros' worth of properties belonging to the family of former Libyan leader Muammar Qaddafi, bringing the total value of confiscated Libyan assets in Italy to over 1.3 billion euros ($1.6 billion).
Italy started seizing assets that it says belong to Qaddafi's family in March at the request of the International Criminal Court.
They include stakes in Italy's largest bank by assets UniCredit, oil and gas giant Eni, defense group Finmeccanica, carmaker Fiat, truckmaker Fiat Industrial and soccer club Juventus.
On Wednesday, police said they had also seized a hotel and fields in the Mediterranean island of Pantelleria.
Italy has said the assets were held by Libya's sovereign fund, the Libyan Investment Authority (LIA), on behalf of the Qaddafi family.
LIA says it is the legitimate owner of the assets and has lodged an appeal to recover them.
http://www.arabnews.com/italy-police-seize-more-qaddafi-family-assets
----------
Iran hands over 80 Pakistani deportees
May 17, 2012
CHAGHAI: Iranian security arrested about 80 Pakistani nationals and handed them over to Pakistani officials on Taftan-Iran border on Wednesday. According to Levies officials, these Pakistani labourers were living in Iran after expiry of their visa period, who had gone to Iran for earning their livelihood. Pakistani officials deployed on Taftan Zero Gate on Pak-Iran border received these deportees and later handed over them to the Federal Investigation Agency (FIA) for further investigation.
http://www.dailytimes.com.pk/default.asp?page=2012\05\17\story_17-5-2012_pg7_8
----------
Seven die in clashes in Libyan desert town
May 17, 2012
TRIPOLI: At least seven people were killed in clashes between armed nomads and residents of a Libyan town on the border with Algeria on Wednesday, officials said, underlining the insecurity that still plagues the country one month before elections. The fighting erupted over control of a checkpoint on the edge of Ghadames on a desert route often used for smuggling, officials told reporters on condition of anonymity. Tension had been building for days between locals and Tuareg tribesmen – nomads who roam the desert spanning the borders of Libya and its neighbours, an official at Ghadames local council said.
http://www.dailytimes.com.pk/default.asp?page=2012\05\17\story_17-5-2012_pg7_9
----------
If there were global justice, NATO would be in the dock over Libya
May 17, 2012
Liberia's Charles Taylor has been convicted of war crimes, so why not the western leaders who escalated Libya's killing?
Libya was supposed to be different. The lessons of Iraq and Afghanistan had been learned, David Cameron and Nicolas Sarkozy insisted last year. This would be a real humanitarian intervention. Unlike Iraq, there would be no boots on the ground. Unlike in Afghanistan, Nato air power would be used to support a fight for freedom and prevent a massacre. Unlike the Kosovo campaign, there would be no indiscriminate cluster bombs: only precision weapons would be used. This would be a war to save civilian lives.
Seven months on from Muammar Gaddafi's butchering in the ruins of Sirte, the fruits of liberal intervention in Libya are now cruelly clear, and documented by the UN and human rights groups: 8,000 prisoners held without trial, rampant torture and routine deaths in detention, the ethnic cleansing of Tawerga, a town of 30,000 mainly black Libyans (already in the frame as a crime against humanity) and continuing violent persecution of sub-Saharan Africans across the country.
A year after the western powers tried to make up for lost ground in the Arab uprisings by tipping the balance of the Benghazi-led revolt, Libya is in the lawless grip of rival warlords and armed conflict between militias, as the western-installed National Transitional Council (NTC) passes Gaddafi-style laws clamping down on freedom of speech, gives legal immunity to former rebels and disqualifies election candidates critical of the new order. These are the political forces Nato played the decisive role in bringing to power.
Full report at:
http://www.guardian.co.uk/commentisfree/2012/may/15/global-justice-nato-libya
----------
Turkey villagers see Israeli spy in migratory bird
May 17, 2012
A migratory bird has caused alarm in a village in south-eastern Turkey after locals mistook it for an Israeli spy.
Villagers' suspicions were aroused when the bird, a common European bee-eater, was found dead in a field with a metal ring around its leg stamped "Israel".
They called the police after deciding its nostrils were unusually large and may have carried a microchip fitted by Israeli intelligence for spying.
It was taken to government experts for examination and declared safe.
Conspiracy theories
The BBC's Jonathan Head, in Istanbul, says the regional office of the Turkish agriculture ministry examined the colourfully plumed corpse and assured residents of the village, near the city of Gaziantep, that it was common practice to fit a ring to migratory birds in order to track their movements.
An official at the ministry told the BBC that it took some effort to persuade local police that the little bee-eater posed no threat to national security.
At one point a counterterrorism unit became involved in the case.
Our correspondent says that wildly implausible conspiracy theories take root easily in Turkey, with alleged Israeli plots among the most widely believed.
Ties between Turkey and Israel deteriorated sharply after nine Turkish pro-Palestinian Islamic activists died in a raid by Israeli security forces on a boat trying to break the blockade on Gaza two years ago.
http://www.bbc.co.uk/news/world-europe-18092775
------------
Arab World
Bahrain activist says charge over tweets 'vindictive'
May 17, 2012
Prominent Bahraini rights activist Nabeel Rajab told a court on Wednesday that a charge that he tweeted insults against the government was "vindictive," as dozens of lawyers turned up to defend him.
(Ahlul Bayt News Agency) - Prominent Bahraini rights activist Nabeel Rajab told a court on Wednesday that a charge that he tweeted insults against the government was "vindictive," as dozens of lawyers turned up to defend him.
"The charge against me is vindictive and is due to my rights activism," Rajab told a judge at Manama's Minor Criminal Court, insisting the decision to arrest and try him was political, according to witnesses.
"I only practiced my right to free expression. I did not commit a crime. The decision to arrest me and put me on trial was a political decision," he said.
More than 50 lawyers, both men and women, gathered at the court to defend Rajab, who has been leading protests following a brutal crackdown on Shiite-led demonstrations against the Sunni Al-Khalifa dynasty in March 2011.
The judge adjourned the trial to Sunday, and ordered Rajab to stay behind bars.
Rajab, who heads the Bahrain Centre for Human Rights (BCHR), was detained on May 5 for "insulting a statutory body via Twitter". He also faces a trial for taking part in a Manama demonstration three months ago.
The activist has insisted on demonstrating inside Manama, unlike the main Shiite opposition which now stages its protests in Shiite villages, after last year's clampdown on protesters who occupied the capital's Pearl Square for a month.
Human Rights Watch on Tuesday urged Bahraini authorities to drop charges against Rajab.
"The charges against Nabeel Rajab are nothing more than attempts to silence one of the Bahraini government's most prominent critics," said Joe Stork, deputy Middle East director at the New York-based watchdog.
"Authorities should immediately drop these charges and release him," he said in a statement.
Despite being a veteran critic of authorities in the Gulf kingdom, Rajab has been spared imprisonment in the wide wave of arrests that targeted activists after security forces quelled the Arab Spring-inspired uprising, possibly for his international exposure and links with rights groups.
Another activist, Abdulhadi al-Khawaja, who is the former head of the BCHR, has been on a hunger strike in prison since February 8. He faces a life sentence among other leading opposition activists.
http://abna.ir/data.asp?lang=3&Id=315751
------------
Al-Qaeda releases English-language jihad manual, encourages attacks in the West
By GABE FISHER
May 17, 2012
Sixteen-page booklet offers practical advice on waging holy war
Soldiers also discovered an explosive device near the West Bank security barrier south-west of Kalkilya.
Al-Qaeda's English media affiliate, Al-Malahem Media, published a 16-page online English-language jihad manual on Wednesday entitled "Expectations Full," which contains advice and instruction for Muslims who wish to wage holy war in the name of Islam.
Much of the focus is on the day-to-day practicalities of waging jihad in countries such as Yemen, Pakistan and Afghanistan, but the author also devotes attention to encouraging Western-based Muslims to carry out attacks in the countries where they are living.
The writer, Samir Khan, a British-born Pakistani al-Qaeda operative who was killed in a US drone strike in Yemen last year, strongly recommends "all the brothers and sisters coming from the West to consider attacking America in its own backyard. The effect is much greater, it always embarrasses the enemy, and these type of individual decision-making attacks are nearly impossible for them to contain."
Khan died in the same US strike that killed Anwar al-Awlaki on September 30, 2011. Al-Awlaki was an American-Yemeni imam and al-Qaeda recruiter — the so-called bin Laden of the Internet. Both were major contributors to "Inspire," al-Qaeda's English-language magazine.
The document does not contain technical advice on how to build a bomb or plan attacks, but rather is a series of notes on how to conduct oneself during jihad activities, interspersed with photoshopped pictures of what are presumably al-Qaeda members going about their activities.
Among other topics, the manual covers personal hygiene, moving from base to base, living outdoors, injuries, how to deal with aerial bombardment, life in training camps, and the possibility of bringing one's family along for jihad (not recommended).
The manual includes a discussion of jinns (genies) and their nature, noting that although the "Apostates of Yemen" (the Yemeni government) use evil jinn and magic against al-Qaeda, there are also good jinn that defend the jihad warriors.
Khan concludes by saying he hopes he has provided adherents with an effective briefing on "everything you should expect when on jihad. There might be a few things left out both intentionally and unintentionally; for those things that are left out intentionally, it is because we don't want our enemy to know what we do."
He says he did not write "to scare my readers or to make them think twice." Rather, he notes, "I want to prepare them for the reality so that they don't commit the major sin of leaving jihad when Allah has blessed them with it. Also, now that you know what to expect, you can compare that with doing jihad in the West, weigh the pros and cons, and make your decision."
http://www.timesofisrael.com/al-qaida-releases-english-language-jihad-manual/
------------
Kuwait's Ruler Blocks MPs' Islamic Law Proposal
May 17, 2012
KUWAIT (Reuters) - Kuwait's ruler has blocked a proposal by 31 of the 50 elected members of parliament to amend the constitution to make all legislation in the Gulf Arab state comply with Islamic law, an MP said on Thursday.
The approval of Kuwait's emir, Sheikh Sabah al-Ahmad al-Saba, is needed for any constitutional change.
"His highness the emir is not in favour," said Mohammad al-Dallal, an Islamist MP and legal expert. The proposal was put forward by the Islamic Justice Bloc and signed by 31 lawmakers, he said.
Political parties are banned in Kuwait so MPs have to rely on forming blocs in parliament. The 15-member cabinet selected by the prime minister can also vote in parliament.
"We must think again about convincing the emir or submitting it again in another format," Dallal said.
"Our society is a conservative society, a lot of people request that laws comply with sharia (Islamic law). We also do not have a stable political system," he said, adding such an amendment could help make lawmaking less chaotic.
Islamist MPs have proposed amending the constitution in this way several times in the past. This time, they asked to change article 79 to make sharia "the only source" of legislation rather than a major or main source as it is now.
Like elsewhere in the region, Islamists have made political gains in the major oil producer.
With many campaigning on an anti-corruption platform, Islamists increased their share of parliamentary seats in Kuwait after a snap election in February which ushered in its fourth parliament in six years.
Kuwait, a regional U.S. ally, is ruled by a Sunni Muslim monarchy and states Islam as its official religion. About 85 percent of Kuwait's population is thought to be Muslim. The next biggest groups are expatriate Hindus and Christians.
http://www.nytimes.com/reuters/2012/05/17/us/17reuters-kuwait-sharia.html?_r=1&ref=global-home
----------
Syria crisis: Damascus losing information war, says Assad
May 17, 2012
Syria is losing the information war against the West, President Bashar al-Assad has admitted, as violence continued across the country.
"They outplayed us... at the very beginning of the crisis - invented stories," he told a Russian TV channel.
Mr Assad also said the results of last week's elections proved Syrians supported his cabinet's reforms.
Separately, Damascus refused to provide a report on torture claims as requested by a United Nations committee.
The Syrian government has complained that UN human rights experts have failed to investigate alleged abuses by opposition forces.
But despite Syria's lack of co-operation, the UN committee in Switzerland is continuing its review of the situation in Syria since the unrest began 15 months ago, the BBC's Imogen Foulkes in Geneva reports.
Full report at:
http://www.bbc.co.uk/news/world-middle-east-18095758
----------
Bahrain and Iran in diplomatic row over union proposal
May 17, 2012
Bahrain's foreign ministry has summoned Iran's charge d'affaires in Manama to protest at what it described a "gross violation of its sovereignty".
It follows official Iranian calls for demonstrations against a proposed union between Saudi Arabia and Bahrain.
A summit of the Gulf states discussed the proposal on Monday but did not reach any decision on the matter.
Bahrain's Sunni royal family has accused Iran of supporting mass protests by the nation's Shia majority.
The proposed union was presented as a first step in a larger integration between all six Gulf Co-operation Council (GCC) members.
It calls for economic, political and military co-ordination and a new decision-making body based in Riyadh, replacing the current GCC Secretariat.
After no agreement was reached, the Saudi foreign minister said the discussions were being postponed.
Full report at:
http://www.bbc.co.uk/news/world-middle-east-18086742
----------
Suspected US drone kills 2 Qaeda militants in Yemen
May 17, 2012
ADEN: A suspected US drone strike killed two al Qaeda militants on Thursday in eastern Yemen, as an army offensive against the extremist group entered its sixth day, a local official said.
Speaking on condition of anonymity, the official said the two al Qaeda suspects were killed in a strike on their car in Shibam, a historic city in Yemen's Hadramawt province.
Air strikes on al Qaeda targets in Yemen have increased since the Yemeni army, backed by US experts, launched an offensive on Saturday to retake southern cities that in the last year had fallen under al Qaeda control.
At least 144 people have been killed in the last six days of fighting which has centred around the three cities of Loder, Jaar and Zinjibar in the southern Abyan province.
A military official involved in the offensive said on Thursday that al Qaeda gunmen retreated from three locations on the outskirts of Loder.
"We have cleansed Loder (of al Qaeda) and the fighters have been forced to flee," said the official on condition of anonymity.
Full report at:
http://dawn.com/2012/05/17/suspected-us-drone-kills-2-qaeda-militants-in-yemen/
----------
Assad henchmen execute civilians
May 17, 2012
BEIRUT: At least 15 civilians were "summarily executed" by regime forces in a neighborhood of the central Syrian city of Homs overnight, the Syrian Observatory for Human Rights said yesterday.
"After regime forces raided the neighborhood of Shammas, 15 civilians were found summarily executed," Rami Abdel Rahman, head of the Britain-based watchdog told AFP, qualifying the killings a "massacre."
The executions came one day after regime forces were accused of committing another massacre in Khan Sheikhoun in northwest Idlib, when they opened fire on a funeral procession and reportedly killed 20 people.
Abdel Rahman said a 43-year-old cleric who had six children was among those killed in Homs. "Everybody loved this cleric, because he called for national unity," said Abdel Rahman, who added he was involved in charity work.
Full report at:
http://www.arabnews.com/assad-henchmen-execute-civilians
--------------
South Asia
Malaysian Islamic Ministry, police officers be authorised to grow beards
By Ahmed Naish
May 17, 2012
The Ministry of Islamic Affairs has requested amendments to the uniform code of the security services to authorise army and police officers to grow facial hair.
A media official from the ministry confirmed that a letter was sent to the President's Office this week officially requesting the policy change "to give permission to police and army officers to grow beards as in other Islamic countries, since our constitution is based on Islamic principles."
Islamic Minister Sheikh Mohamed Shaheem Ali Saeed told local media this week that a number of army and police officers had appealed with the ministry for the change.
Shaheem argued that in spite of disagreement among scholars regarding the issue, the Maldivian constitution provides the freedom to adhere to Islamic codes.
He noted that other Islamic nations such as Qatar, Saudi Arabia, Kuwait and Pakistan permitted beards in the military while Sikhs in the Indian army were allowed to wear beards.
Shaheem explained to local daily Haveeru this week that the Islamic Ministry was not advocating in favour of making beards mandatory for the uniformed bodies, but rather to allow those who requested permission to wear beards.
"While our constitution offers that right, why has it been forbidden by some in an Islamic country?" he asked, adding that he had complete confidence that President Mohamed Waheed "would not turn his back on the request."
"Mocking the Sunnah"
Shaheem's religious conservative Adhaalath Party, part of the ruling coalition, put out a statement yesterday "condemning in the harshest terms" remarks made by two unnamed scholars in a lecture to police officers last week that the party contends "mocked" the Sunnah (way of life prescribed as normative for Muslims on the basis of the teachings and practices of Prophet Mohammed).
The press release did not identify the speakers by name. However, a police media official confirmed that the session was conducted by Dr Ibrahim Zakariyya Moosa and MP Afrashim Ali, a moderate scholar and council member of former President Maumoon Abdul Gayoom's Progressive Party of Maldives (PPM).
According to police media, the pair spoke in detail about sources of disputes among religious scholars, including on the issue of beards.
"In his speech, Dr Afrashim Ali mainly explained the importance of knowing how the Prophet's Sunnah is ranked," reads the police news item.
MP Afrashim argued that issues on which scholars have not been able to reach a consensus could not be declared either compulsory or heretical as "there cannot be a definite conclusion regarding such problems."
According to Adhaalath Party, one of the scholars told police officers that there was no benefit to society from an individual wearing a beard "even if, for example, it was established from the Prophet's Sunnah."
The remarks implied that growing a beard was not mandatory in the Sunnah and cast doubt on its purpose, the Adhaalath party statement argued.
"As some officers of the Maldives police institution wanted to wear beards, he attempted in his talk to convince them that there was no need to do something that was of no benefit to society," the statement reads.
Adhaalath Party noted that there was consensus among Islamic scholars that wearing beards was part of the Sunnah. Scholars however disagreed as to whether the practice was obligatory upon all Muslim males.
"This is as clear as the midday sun," the statement claimed, citing authentic hadith purporting to show that the Prophet "ordered all Muslims to trim their moustaches and grow out their beards."
In its statement, the Adhaalath Party's scholars council also urged all government departments and state institutions to "amend all regulations in conflict with Islamic principles."
Article 10 of the constitution states that the religion of the state is Islam while "no law contrary to any tenet of Islam shall be enacted in the Maldives."
Religious NGO Jammiyathul Salaf meanwhile released a statement yesterday signed by the group's President Sheikh Abdulla bin Mohamed Ibrahim, Sheikh Hassan Moosa Fikry and Sheikh Ahmed Sameer bin Ibrahim insisting that beards were compulsory in Islam.
The Salaf statement further claimed that regulations prohibiting beards in the military were unconstitutional as it was contrary to a well-established tenet of Islam.
http://minivannews.com/society/islamic-ministry-requests-mndf-police-officers-be-authorised-to-grow-beards-37479
----------
Attack on Afghan govt compound kills 7
May 17, 2012
A group of suicide bombers armed with explosive-laden vests, automatic weapons and rocket propelled grenades stormed a government compound Thursday in western Afghanistan, killing at least seven people, officials said.
One of the attackers first blew himself up at the gate of the governor's complex in Farah province, then three others fought their way inside, said Raouf Ahmadi, the regional police spokesman.
An ensuing two-hour gunbattle with the police left all the attackers dead, Mr. Ahmadi said. He said six policemen and one civilian were also killed in the attack, while another 12 people were wounded.
Government offices are a common target for militants in Afghanistan. Last month two Taliban fighters smuggled guns into the governor's compound in Kandahar, sparking a gunbattle in which two guards and both attackers were killed.
Elsewhere, Taliban militants attacked a NATO supply convoy overnight in Herat province. Provincial police spokesman Raouf Ahmadi said one police officer, two security guards and a militant were killed in the fighting.
http://www.thehindu.com/news/international/article3428608.ece
----------
Asking a Skeptical Europe to Open Its Wallet for Afghanistan
By ALISSA J. RUBIN
May 17, 2012
KABUL, Afghanistan — There are few certainties for Afghanistan as the NATO troop withdrawal moves into high gear, but one of them is this: the Continental Europeans have a grimmer prognosis for what can be accomplished than do their American and British counterparts.
As they assess Afghanistan, the Europeans see an economic depression looming as Western aid and military spending evaporate; corruption, already endemic, is escalating dangerously as Afghan power brokers milk the war economy for every last penny before it dries up; security remains elusive — not only because of the Taliban, but also because ethnically based militias are reactivating across large parts of the country.
The American and British, however, emphasize potential: the Afghan security forces are improving; President Hamid Karzai has pledged not to run again, making it possible that there will be a credible election; and the Taliban appear open to peace talks, just not right now.
Full report at:
http://www.nytimes.com/2012/05/17/world/asia/europeans-have-dim-view-of-
----------
Blasts, Arrests During Bangladesh Strike
May 17, 2012
DHAKA, Bangladesh (AP) — Bomb blasts and arrests marked an opposition-called general strike in Bangladesh on Thursday in protest of a court order jailing 33 of the alliance's leaders.
No injuries were reported from several crude bombs that exploded in Dhaka. Schools and businesses were shut in the capital, and public life was disrupted in other major cities and towns during the shutdown. The United News of Bangladesh agency said police arrested at least 17 activists in Dhaka.
ATN Bangla television station said more than 100 opposition supporters were arrested in various districts.
A court on Wednesday had denied bail to 33 opposition leaders charged with involvement in an arson attack during a strike last month. The defendants include former Cabinet ministers and the acting secretary general of the Bangladesh Nationalist Party led by former Prime Minister Khaleda Zia. It heads the 18-party opposition alliance.
Full report at:
http://www.nytimes.com/aponline/2012/05/17/world/asia/ap-as-bangladesh-opposition.html?ref=asia&gwh=E8B3646849CE197FBB55CF7E375AE9F7
----------
DRP MP: MDP government should have continued after Nasheed's resignation
By Mohamed Naahee
May 17, 2012
Dhivehi Rayyithunge Party (DRP) MP Ali Azim has told local media that he believes the Maldivian Democratic Party (MDP) government should have continued following the resignation of former President Mohamed Nasheed on February 7.
The DRP Council Member and MP for mid-Heniveru constituency told local newspaper Haveeru that he did not believe that with the resignation of the former president Nasheed, succeeding president Dr Mohamed Waheed Hassan could abolish Nasheed's cabinet. There was, he said, "a problem" when the MDP was not allowed to complete its five year term which people had voted for in the last presidential elections.
"This government should consist of officials that can sell the ideologies that MDP believed in. I still believe the government should be run with MDP members. They should be given the duration that they had been elected for. Otherwise, that is a problem," Azim told Haveeru.
Azim further said that he opposed the idea of DRP joining with the coalition of political parties currently in support of President Waheed's government. He said he had objected to the decision during his party's council meeting, and that he was one of the three members of the council who had objected to the decision.
He said he had warned that joining the coalition in support of the new government would pave the way for internal conflicts within the coalition, and that such a coalition could not work in the best interest of the country.
Azim said that the DRP joined the coalition because the party council believed that if the party refused to join, then it would further stir up claims of a possible "political deal" between former President Mohamed Nasheed and DRP Leader MP Ahmed Thasmeen Ali.
Azim added that despite his belief that it should still be an MDP government, he would assist the current government through the parliament and by other means.
Minivan News tried contacting Azim but he did not respond at time of press.
In response to Azim's statements, fellow DRP MP Rozaina Adam told Sun Online that she believed the government was now belonged President Waheed and his Gaumee Iththihaadh (GI) – which has 2600 members.
"Whoever is in the position of the President, the government shall be of his party. President Waheed wanted a unity government, and therefore it is now the government of President Waheed. This government has the support of the DRP," she told the newspaper.
However Adam added that even though her party supported the government, it would not support any actions of the government which it was dissatisfied with.
"If this government carries actions about which the DRP disapproves, we will not stand in support of such actions," she added.
Minivan News contacted Rozaina however she said that she had already spoken to the media about the issue and that she did not wish to speak about it again.
Following the controversial resignation of Former President Mohamed Nasheed on February 7, then Vice President Mohamed Waheed Hassan was sworn in as President on the same day. Afterwards, Waheed dismissed Nasheed's cabinet and announced the formation of a 'national unity government', which consisted of the political parties that had opposed Nasheed's administration.
http://minivannews.com/politics/mdp-government-should-have-continued-after-nasheeds-resignation-says-drp-mp-37474
----------
Commonwealth "intimidating", "punishing" Maldives without mandate, Waheed tells diplomats
By Daniel Bosley
May 17, 2012
While the Commonwealth's Special Envoy Sir Donald McKinnon meets with a team of government figures in Male', local media reports that President Dr Mohamed Waheed has told a gathering of diplomats in India that the Commonwealth is being unduly influenced by opposition politicians in the Maldives, and that it is acting beyond its remit.
Speaking at the Taj Palace Hotel in New Delhi during his five day official visit to India, Dr Waheed reportedly told the room that the Commonwealth's Ministerial Action Group (CMAG) had followed the lead of the opposition Maldivian Democratic Party (MDP) in attempting to intimidate the government.
Meanwhile, the Commonwealth's Donald McKinnon arrived in Male' yesterday with proposals to double the current size of President Waheed's Commission of National Enquiry (CNI) to include two representatives favourable to former President Nasheed as well as a Commonwealth judge.
This suggestion comes as the deadline given by CMAG for improved independence and impartiality draws near. President's spokesman Abbas Adil Riza told Minivan News that the discussions between the government team and McKinnon were expected to finish tonight.
There have also been calls from the MDP and civil society groups for international involvement with the investigations.
Abbas said that the make-up of the team involved in discussions with Donald McKinnon was confidential, although Haveeru has reported the team to include the Attorney General Azima Shukoor, Minister of Home Affairs Mohamed Jameel Ahmed, Minister for Gender Dhiyanna Saeed, Minister of Defense Mohamed Nazim, and Special Advisor to the President Dr. Hassan Saeed.
Speaking to the press after a meeting with the Special Envoy yesterday, International Spokesman for the MDP Hamed Abdul Ghafoor summarised his party's concern over the CNI as it stands: "The people we are accusing of overthrowing the government in a coup d'état can't be the same as the people investigating it".
Abbas revealed that representatives from the government aligned Progressive Party of Maldives (PPM) and the Dhivehi Rayithunge Party (DRP) had also been present. The spokesmen for these parties were unavailable for comment at the time of press.
Waheed is said to have reiterated the governing coalition's previous criticism of CMAG's assessment, telling those present in New Delhi that CMAG had acted just as the MDP had done, criticising the workings of the CNI without having taken the time to properly study its methods.
Shortly after President Waheed created the CNI to investigate the events surrounding February's transfer of power, the MDP refused to cooperate with the investigation.
Today's speech marks the first time that Waheed himself has spoken out against the Commonwealth.
During the speech Waheed is said to have repeated an argument first made by former President Maumoon Gayoom last month, in which the utility of Commonwealth membership appeared to be questioned.
"We used to believe that the Commonwealth was the champion of the smaller nations that extended assistance in every way possible. But to the contrary we witnessed the grouping inclined towards Nasheed, head towards punishing us," Haveeru reports Waheed as saying.
Last month, Gayoom, now head of the PPM, said that the priorities of the Commonwealth regarding small nations had changed in recent years. He went on to urge a "rethink" of the Maldives' membership.
Gayoom's statement was soon followed by the submission of a bill in the Majlis from government aligned MPs calling for the country's withdrawal from the Commonwealth.
President Waheed also told the assembled diplomats that CMAG was acting without a mandate, citing the criteria under which a CMAG investigation can be initiated. These conditions had not occurred, he argued, in the Maldives.
The Maldives Permanent Representative to the European Union (EU), Ali Hussain Didi, delivered the same argument in a speech to the EU Parliamentary Group on April 24.
Despite his clear disappointment with the 54 nation group, Waheed said that he would not back the proposals to withdraw from the Commonwealth and expected the bill to be dismissed as soon as the Majlis returned from its current recess.
He is also reported to have told the group of ambassadors that the proposal to re-formulate the commission had already been accepted, with the ongoing meetings being held only to formulate the exact details of the changes.
http://minivannews.com/politics/commonwealth-intimidating-punishing-maldives-without-mandate-waheed-tells-diplomats-37378
----------
Afghans seek $4.1 billion a year from Nato summit
May 17, 2012
KABUL: Afghanistan goes to the Nato summit in Chicago on Sunday with a firm demand for $4.1 billion a year for its security forces after Western troops pull out in 2014 – and insists it is "not charity".
Afghanistan, fearing a new civil war or military advances by hardline insurgents following the withdrawal, sees the cash as an investment in the West's own security against terrorism.
"This is not charity, Afghanistan is and will be on the frontline of the world's fight against terrorism," Deputy Foreign Minister Jawed Ludin told foreign journalists ahead of the summit.
"We Afghans will be making sacrifices for years to come in what is essentially an international war." After the 9/11 attacks in 2001, the United States led an invasion of Afghanistan to topple the Taliban regime for harbouring al Qaeda leader Osama bin Laden – and Nato still has some 130,000 troops fighting an insurgency.
But with the long war increasingly unpopular in the West, Nato has set 2014 as the deadline for pulling its combat troops out, while training some 350,000 Afghan security forces to take over the fight.
Full report at:
http://dawn.com/2012/05/17/afghans-seek-4-1-billion-a-year-from-nato-summit/
----------
Is it curtains for Afghanistan's fading silver screen?
May 17, 2012
KABUL: Clouds of hashish and cigarette smoke float across a screen showing a dancing Pakistani woman, who evokes yowls of excitement from the hundreds of Afghan men passing their time in one of the capital's rundown cinemas.
Once a treasured luxury for the elite, Afghan film connoisseurs are deeply distressed by the dilapidated state of their cinemas, which reflect an industry on the brink of collapse from conflict and financial neglect.
"Before our audiences were educated. Now they are illiterates who understand nothing of cinema and come only to smoke (marijuana)," said Sayed Khalid Sadat, manager of Pameer cinema, which sits on a corner in the bustling centre of Kabul.
Kabul's cinemas show Pakistani films in Pashto, American action films and Bollywood to rowdy, largely unemployed crowds in pursuit of any distraction from their drab surroundings.
Full report at:
http://dawn.com/2012/05/17/is-it-curtains-for-afghanistans-fading-silver-screen/
---------
Southeast Asia
Malaysia sentences 3 Mexicans to death over drugs
May 17, 2012
KUALA LUMPUR: A Malaysian court on Thursday sentenced to death three Mexican brothers and two other people for drug trafficking, rejecting the defense argument that evidence was tampered with.
The Mexicans are from Sinaloa state, the cradle of their country's drug trade, but have no criminal record at home. They were arrested at a secluded drug-making factory in 2008 and claimed they had been cleaning the place, not making drugs.
Kuala Lumpur high court judge Mohamad Zawawi Salleh convicted the five men, ruling that the prosecution had proven its case beyond reasonable doubt. The death sentence is the mandatory penalty for drug trafficking in Malaysia. The other defendants are a Singaporean and a Malaysian.
"The court finds all five accused are aware and are involved in the activity of drug-making," Mohamad Zawawi said, adding that the verdict should be a warning to potential drug offenders.
"We are very sad. We thought we would be acquitted," said the eldest brother, Luis Alfonso Gonzales.
The court had previously rejected the defense's contention that some evidence discrepancies amounted to tampering after a chemist testified that seven items he received for analysis looked different from what he had seen at the factory. The prosecution denied there was any manipulation that undermined the trial.
At the factory where the men were arrested, police found more than 29 kilograms (63 pounds) of methamphetamine worth 44 million ringgit ($15 million).
Judge Mohamed Zawawi said it was clear the men were arrested at an illegal drug laboratory. Traces of drug chemicals were on their clothes, and their claim to have been cleaning the place was not logical because stains were also found on their underwear, he said.
Some of the brothers' family, including two sisters and a wife, attended previous hearings but were not in court on Thursday.
The men are the first Mexicans arrested in Malaysia on drug trafficking charges. They worked making and selling bricks in Mexico, and their family said they left for a job opportunity abroad. Relatives and neighbors insist there was no sign they were involved in the drug trade.
The men appeared calm as the judge read his verdict. They will appeal the decision, said their lawyer, Kitson Foong.
The brothers - Jose Regino Gonzales, 33, Simon, 37, and Luis Alfonso, 44 - were on trial with Singaporean Lim Hung Wang and Malaysian Lee Boon Siah.
Malaysia's government said last year it had hanged more than 440 people in the past 50 years, many of them for drug crimes, while some 700 were on death row.
The Mexican government has not sought to intervene in the case, Isidro Alejandro Ortiz Felix, consular head at the Mexican Embassy, said after attending Thursday's hearing.
Mexico does not have the death penalty and refuses to extradite its citizens in cases where they would face the death penalty.
http://timesofindia.indiatimes.com/world/rest-of-world/Malaysia-sentences-3-Mexicans-to-death-over-drugs/articleshow/13202010.cms
----------
As polls loom, Najib seizes a chunk of social media'
May 17, 2012
KUALA LUMPUR, May 17 — With over one million Facebook friends and 500,000 Twitter followers, Datuk Seri Najib Razak appears to have gained a solid footing in the social media networks which have become the latest battleground for support in the coming general election.
According to the monitoring website socialbakers.com, the prime minister gets over 1,100 Facebook fans a day and some 40,000 people spoke about him in a day on that social media network this past week.
Last Saturday, Najib took an hour off from running the country to discuss football with four Twitter followers over nasi lemak and teh tarik, an indication that the prime minister finds such networking vital in reaching out to voters.
Party strategists and analysts say he is not far off the mark there — in an increasingly technologically savvy world, more Malaysians are turning to the Internet to learn more about the lives of those helming the country.
This turn of events has lead to politicians setting up Facebook, Twitter and even YouTube accounts en masse so that they can virtually reach out to the people, bypassing the mainstream media which has seen dropping circulation for newspapers and shrinking audiences for the pro-government broadcasting stations. RTM recently began a mobile television service to connect with younger audiences whose lifestyle does not keep them at home during prime-time news broadcasts.
"In the old days, politicians relied on newspapers to update the people. But now everything is done through Facebook," said Professor James Chin, who heads social sciences at Monash University in Bandar Sunway, Petaling Jaya.
Full report at:
http://www.themalaysianinsider.com/malaysia/article/as-polls-loom-najib-seizes-a-chunk-of-social-media/
-------------
Africa
Somaliland military court sentences 17 civilians to die
May 17, 2012
A military court in Hargeisa, the capital of the self-proclaimed Somaliland, has sentenced 17 civilians to death for attacking a military base.
The death penalties were handed down the day after the attack in which seven people were killed, a Somaliland official told the BBC.
An armed group carried out the attack, claiming the military had built on land that they had owned for generations.
Somaliland has escaped much of the violence that plagues Somalia.
Swift case
A group of almost 30 armed civilians belonging to the same clan attacked soldiers in the camp on Tuesday, leading to a firefight in which three soldiers were killed, Somaliland's Defence Minister Ahmed Haji Ali told the BBC's Somali service.
After being arrested, 28 people were held overnight - and the military trial held the following day.
Five minors were also given life sentences, after seven people - including three soldiers - were killed, a Somaliland official told the BBC.
Three people were acquitted, and the trial of three others postponed because they had been injured during the fighting.
The civilians had confessed and an attack on Somaliland's military carries a mandatory death penalty for adults, the chairman of the military court, Yusuf Farah, told the BBC.
The BBC's Mohamed Mohamed says activists in Somaliland are likely to raise questions about the swiftness of the case - and whether the civilians had been properly represented.
If the death penalties are carried out, there could be a backlash from other members of the clan involved and they may even resort to violence, our correspondent says.
Land disputes are common and often complex in Somaliland, he adds.
Somaliland unilaterally declared independence in 1991 after the overthrow of Somali military dictator Siad Barre.
It is relatively stable and holds regular elections, which have seen peaceful transfers of power.
http://www.bbc.co.uk/news/world-africa-18101584
----------
South Sudan to get anti-aircraft missiles
May 17, 2012
KHARTOUM: The chief of general staff of South Sudan's military has pledged that within a few months the country will acquire anti-aircraft missiles to defend its territory from attacks by neighbouring Sudan.
When the South Sudanese military receives the missiles, it will "not have an issue with air defence", the the Sudanese Tribune daily quoted General James Hoth Mai as saying at a meeting of high-ranking military officers.
South Sudan became the world's newest independent nation in July last year. However, the country's independence, which followed decades of civil war, has failed to resolve all issues with its northern neighbour Sudan and fighting still rages in disputed territories along the border.
The newly independent state currently has no anti-aircraft batteries or warplanes to defend itself from Sudanese air attacks.
In April, South Sudan forces entered the oil-producing border region of Heglig, which a 2009 ruling of the Permanent Court of Arbitration in The Hague included in Sudan's Southern Kordofan state.
Heglig accounts for 60,000 out of 115,000 barrels of oil produced in Sudan daily.
During recent battles in Heglig, the Sudanese air force carried out regular air attacks on the positions of the South Sudanese army on the border areas but also deep inside the South Sudan territory, the Sudan Tribune said.
The UN has said Sudan's "indiscriminate" aerial bombing of South Sudan and attacks that harm civilians could be considered international crimes.
http://timesofindia.indiatimes.com/world/rest-of-world/South-Sudan-to-get-anti-aircraft-missiles/articleshow/13199893.cms
----------
American militant in Somalia craves fast food, misses family
May 17, 2012
NAIROBI: Top in Bible school, missing his family, and craving Chinese takeaways: an American extremist in Somalia's al Qaeda affiliated rebels recounts his life in an autobiography he has penned.
Titled "The Story of An American Jihadi" and posted on religious websites, the book claims to be written by Alabama-born Omar Hammami — better known as Abu Mansoor al-Amriki (the American).
If confirmed, the book — signed by Amriki "still alive and well" on May 16 — would be the first confirmation he is alive after a furious dispute with Shebab leaders. In March, he issued a video warning he feared he would be killed.
"I guess I hope that Muslims around the world also take my life as an example," he wrote in the book, detailing his time alongside Somali fighters as well as insurgents from the US, Britain, Yemen, Syria, Tunisia, Jordan.
"Not that I'm extremely special, but then again I haven't seen too many middle class 'white guys' from Alabama in jihad these days. Hopefully others will say to themselves: I can do that too!"
Amriki, who has reportedly been based in anarchic Somalia since late 2006 and is wanted by the US on terrorism charges, has issued previous videos calling for foreign recruits, including singing rap songs praising holy war.
Full report at:
http://dawn.com/2012/05/17/american-militant-in-somalia-craves-fast-food-misses-family/
-----------
North America
U.S. FBI works to stop discrimination of Muslims
17 May 2012
Nadia S. Mohammad -
As the American public reads of yet another report released on governmental surveillance of Muslim American communities, it is refreshing to know that for the first time since the 9/11 attacks, the US Senate Judiciary Committee, along with various state legislatures and federal agencies, are directly addressing long-held public concerns about racial and religious profiling – a practice within law enforcement that relies solely on race, religion or ethnicity to determine possible criminal activity. With these recent developments, could we finally be seeing the beginning of the end of racial and religious profiling in America?
The Senate hearing on racial profiling, initiated by Illinois Senator Richard Durbin, took place in conjunction with Durbin's co-sponsored bill, the "End Racial Profiling Act of 2011" (ERPA), on 17 April. Racial and religious profiling has become a particularly sensitive issue for Muslim Americans in the past decade, although it affects multiple racial, ethnic and religious minority groups in the United States. In the United States, some assume that all individuals of South Asian or Arab descent are Muslim, and that being Muslim is somehow dangerous – which has led to members of these ethnic groups being profiled. Such practices violate the constitutional right to equal treatment under the law; moreover, racial and religious profiling is ineffective as it is based on unreliable assumptions about minority groups, rather than criminal behaviour profiles.
ERPA would also provide for additional training to help law enforcement, government officials and neighbourhood watch groups avoid using such tactics.
The political debate on the effectiveness of racial and religious profiling by law enforcement goes back several decades. Interestingly enough, when it last garnered high-profile political attention, it was former President George W. Bush who proclaimed, in a February 2001 address, that racial profiling is "wrong and we will end it in America." He went even further to say that ending racial profiling practices would not compromise security.
Then came the attacks of 9/11 and what Bush once dubbed as "wrong" became an excusable right, in the name of national security. "In the national trauma that followed 9/11, civil liberties came face to face with national security", said Senator Durbin, and all too often the promise of national security won, at the expense of Muslim Americans and other Americans who appeared to be Muslim.
The ERPA hearing comes at a time when racial and religious profiling is being actively challenged across the nation. Numerous civil-rights advocates and legislative officials have called for an investigation and independent nonpartisan oversight of the New York Police Department (NYPD), after it was reported that the NYPD systematically surveilled Muslim Americans and certain ethnic minorities in the area without probable cause.
After several police officers were arrested for illegally targeting and harassing Hispanic Americans in Connecticut, state legislators passed a definitive bill prohibiting "the stopping, detention or search of any person" due solely to "race, color, ethnicity, age, gender or sexual orientation".
The decades of grassroots organising have also allowed civil-rights groups to provide the public with better tools and technology to empower themselves when faced with harassment by law enforcement. The Sikh Coalition, for example, recently launched a mobile application that allows travellers to file direct complaints with the government if they feel they have been unfairly profiled. In turn, these groups have been able to provide advocacy organisations and legislators with better assessments of the extent and the overall ineffectiveness of racial and religious profiling.
Some federal agencies, after public pressure, are taking measures to prevent organisational discriminatory practices. Both the military and FBI have initiated steps to review their training materials, due to recent reports of their use of severely Islamophobic materials. Last month the Chairman of the Joint Chiefs of Staff for the US armed forces ordered a review of the military's training material in its entirety to ensure it does not contain Islamophobic content. This month, the FBI is holding workshops titled "Combating Islamophobia: Truths and Myths about Islam".
While it is difficult to tell, at this point, what the standards of either the military or the FBI are in determining what constitutes Islamophobic material, the attempt to instil better standards is a small step forward.
The passing of ERPA would be a significant achievement at the federal level, but undoing the damage of decades of racial and religious profiling will be a lengthy process. This is only the beginning — in going forward, more legislators and law enforcement agencies will also need to critically examine their discriminatory practices and materials while allowing for greater transparency. Local and federal law enforcement officers will need training to better understand and spot possible criminal behaviour using more effective practices than racial profiling.
In ending racial and religious profiling and ensuring our civil-rights are protected, it is important to remember that we are not compromising our security; instead, we are enhancing our safety and building stronger working relationships between law enforcement and community members.
______________________
Nadia S. Mohammad is an Associate Editor of AltMuslimah.com.
_______________
2012 WNN – Women News Network
WNN encourages conversation. All opinions expressed here belong to the author and do not necessarily reflect the opinion of Women News Network – WNN. This op-ed has been brought to you through an ongoing WNN – Women News Network partnership with CGNews. Source: Common Ground News Service (CGNews), www.commongroundnews.org. Copyright permission is granted for publication.
http://womennewsnetwork.net/2012/05/15/us-fbi-stop-discrimination/
---------
Board suspends Toronto Islamic school's operating permit after row over anti-Jewish curriculum
Stewart Bell
17 May 2012
TORONTO — An Islamic school that had been using teaching materials that disparaged Jews and encouraged boys to keep fit for jihad has lost its license to use Toronto District School Board property.
The board suspended a permit issued to the Islamic Shia Study Centre, which operated the East End Madrassah out of a Toronto high school until an outcry last week over the content of its curriculum booklets.
"The Islamic Shia Study Centre will not be able to permit TDSB property until the police investigation is complete and they are able to demonstrate that they comply with board policies and procedures," said Ryan Bird, a TDSB spokesman.
"Pending the outcome of the police investigation, we are willing to meet with the permit holder to discuss TDSB policies and procedures. As soon as we became aware of this complaint, we started to review the permit and the information that was available."
The school's curriculum, which it had posted on its website, referred to "crafty," "treacherous" Jews and contrasted Islam with "the Jews and the Nazis." The passages were from two books published by Iranian foundations.
The booklets also defended violent jihad and advised boys to keep fit so they would be ready for jihad. Girls, meanwhile, were told to limit their involvement in physical activities and to instead engage in hobbies that would prepare them to become mothers and wives.
The York Region Police hate crimes unit launched an investigation after receiving a complaint from the Friends of the Simon Wiesenthal Centre. The school apologized and promised to review its materials. The Islamic school had been teaching classes on Sundays at David & Mary Thomson Collegiate.
"We are pleased to note the TDSB has taken action in response to the alarming antisemitic hate taught to Muslim schoolchildren at Toronto's East End Madrassah," said Avi Benlolo, President and CEO of Friends of the Simon Wiesenthal Centre.
'We commend the Toronto District School Board for moving to suspend the East End Madrassah's permit'
"We hope the school board will now go one step further and put a plan in place to ensure no group is ever targeted as the Jewish community has been, and that ancient hatreds are never again endorsed and encouraged in Toronto classrooms."
The Centre for Israel and Jewish Affairs, which had complained to the school board, called the suspension "an excellent first step" but said it wants the ban made permanent.
"Given the presence of antisemitic passages in the curriculum, and the dubious activism of its religious leadership, it is clear that the madrassah has disqualified itself as a partner with the School Board on any level," it said in a statement. "We are hopeful that the board comes to this conclusion in due course and that the madrassah is not welcomed back into our public schools."
Neither the school principal nor the cleric affiliated with the centre could be reached for comment. Last week, Imam Syed Muhammad Rizvi told reporters the passages in question had been wrongly copied from two websites.
But they are actually excerpts from two books published by the Al Balagh Foundation in Tehran and the Mostazafan Foundation of New York, which the FBI alleges was a front organization controlled by the Iranian regime — whose president Mahmoud Ahmadinejad is widely known for his antisemitism, Holocaust denial and threats to wipe out Israel.
"The EEM has acknowledged a failure within its internal system that has enabled unauthorized content to be included in the textbook without appropriate review. We are committed to improve the system to ensure that such mistakes are not repeated," Imam Rizvi's centre said in a statement last week. In a video posted online, he dismissed as "absolutely baseless" concerns that school teaching materials were written in Iran.
http://news.nationalpost.com/2012/05/16/toronto-islamic-school-in-anti-jewish-book-row-loses-its-operating-permit/
---------
Kissinger warned of Indo-Pak war in 70s
May 17 2012
Washington : The pro-Pakistan tilt of the US administration continued well into mid-70s, with the then Secretary of State Henry Kissinger expressing concern over Russia's arms sale to New Delhi warning that this could trigger another Indian attack on Pakistan.
The continued Pakistani slant in the then US administration has come to light after the State Department de-classified diplomatic conversations between the American and Russian leadership of those years.
At a meeting in Vienna in 1975 with his Russian counterpart Andrei Gromyko, Kissinger raised doubts over the arm supplies by Moscow to New Delhi and threatened that the US would not take "lightly" another Indian attack on Pakistan.
"There is one point I raised at dinner, that is, our view of Indian intentions, especially since India is buying a lot of Soviet arms. I just hope you keep an eye on it. Because so far, we have sold nothing to Pakistan. We have lifted the embargo but sold nothing," Kissinger told Gromyko.
Gromyko responded by saying that India's behavior gives Russia no concern.
"If there were another Indian attack, it is something we would not take lightly," Kissinger said.
Full report at:
http://www.indianexpress.com/story-print/950509/
----------
Pakistan is a 'black hole' for US aid
May 17, 2012
WASHINGTON: US lawmakers of both Democratic and Republican parties have slammed the Obama administration's request for $2.4 billion for Pakistan, calling it a "black hole" where the US has "sunk" $24 billion over the last decade.
"Pakistan is like a black hole for American aid," Gary Ackerman, top Democrat on the House Foreign Affairs panel on the Middle East and South Asia said during a hearing Wednesday.
"Our tax dollars go in, our diplomats go in - sometimes, our aid professionals go in - sometimes, our hopes go in, our prayers go in," he said. "Nothing good ever comes out."
Alleging that Islamabad continues to pursue its national interest at America's expense and that of its allies, Ackerman said: "Pakistan continues to shelter, directly support and sponsor terrorists."
"Officially acknowledging this indisputable fact might be grossly impolitic; but that doesn't make it less true. American standing in Pakistani public opinion is terrible and getting worse," he said.
Full report at:
http://timesofindia.indiatimes.com/world/us/Pakistan-is-a-black-hole-for-US-aid/articleshow/13199131.cms
----------
India making progress in reducing oil imports from Iran: US official
May 17, 2012
WASHINGTON: India has made a considerable progress in reducing its dependence on Iranian oil, a top Obama administration official has said.
"Progress is being made," on India reducing its dependence on Iranian oil, assistant secretary of state for South and Central Asia, Robert Blake told lawmakers during a Congressional hearing.
Responding to the questions from Congressmen, Blake said India is making progress in this regard not because of any pressure from the US, but because of "financial and commercial considerations".
As a result of the US sanctions on Iran, it is becoming tough for countries to do business with Iran.
Many Indian companies have pulled out of Iran because of market considerations.
So percentage of Indian import of oil from Iran is going down, Blake said, adding that the United States welcomes this.
Referring to the recent visit of secretary of State, Hillary Clinton to India, Blake said that Clinton herself had welcomed the progress that India has made in reducing its dependence on Iranian oil.
Full report at:
http://timesofindia.indiatimes.com/world/us/India-making-progress-in-reducing-oil-imports-from-Iran-US-official/articleshow/13191582.cms
----------
Obama to veto bill that seeks curbs on Pakistan aid
May 17, 2012
Washington: Opposing many provisions of a key defence bill, including conditions imposed on US aid to Pakistan , the Obama administration has threatened to veto it if it impedes the ability of the government to execute the new defence strategy. In a statement issued by the White House Office of Management and Budget on Tuesday , the administration said any conditions imposed on Pakistan for receiving US aid would be counter-productive at this sensitive time.
It strongly opposed the conditions put on aid to Pakistan by the powerful house armed services committee in the National Defence Authorization Act (NDAA) for the fiscal year 2013. Objecting to many provisions of the NDAA-2013 , the administration threatened to veto it if the cumulative effects of the bill impede the ability to execute the new defence strategy and to properly direct scarce resources.
"If the cumulative effects of the bill impede the ability of the administration to execute the new defence strategy and to properly direct scarce resources, the president's senior advisors would recommend to the president that he veto the bill," the eight-page statement warned.
Full report at:
http://timesofindia.indiatimes.com/world/us/Obama-to-veto-bill-that-seeks-curbs-on-Pakistan-aid/articleshow/13191146.cms
----------
Obama requesting help to pay for Afghan army
May 17, 2012
Mapping the way out of an unpopular war, the United States and Nato are trying to build an Afghan army that can defend the country after 130,000 international troops pull out. The alliance's plans for arm's-length support for Afghanistan will be a central focus of the summit President Barack
Obama is hosting on Sunday and Monday in Chicago.
The problem with the exit strategy is that someone has to pay for that army in an era of austerity budgets and defense cutbacks.
The problem for the United States is how to avoid getting stuck with the check for $4.1 billion a year.
"This has to be a multilateral funding effort," said Pentagon spokesman George Little. "We think there should be contributions from other countries."
That's partly why so many non-Nato nations are getting invitations to the summit. About 60 countries and organizations are expected to be represented, including
nations such as Japan that are far removed from the trans-Atlantic defense pact's home ground.
Full report at:
http://www.hindustantimes.com/world-news/Americas/Obama-requesting-help-to-pay-for-Afghan-army/Article1-857223.aspx
----------
US spy agency unveils scale model of Bin Laden hideout
May 17, 2012
WASHINGTON: US intelligence officials have unveiled a once top secret scale model of Osama bin Laden's hideout in Pakistan, a precise replica used to plan the raid that killed the al Qaeda chief a year ago.
The table-top model made its public debut Wednesday in the halls of the Pentagon, where soldiers and office workers stopped in the corridor and gazed in fascination at the elaborate miniature of Bin Laden's compound.
With farm fields carved out of clay and the building's walls made of styrofoam, the model was built in six weeks by a special team at the National Geospatial Intelligence Agency (NGA).
The NGA, which provides satellite imagery to the country's spy agencies, has displayed the model in the entryway of its headquarters in Virginia since October, a spokeswoman said.
Full report at:
http://dawn.com/2012/05/17/us-spy-agency-unveils-scale-model-of-bin-laden-hideout/
-------------
Europe
David Cameron warns François Hollande against early Afghanistan exit
May 17, 2012
Prime minister to urge president not to pull out French troops two years early in talks ahead of G8 summit
David Cameron is to urge the French president to dilute his campaign promise to withdraw 3,400 French troops from Afghanistan two years earlier than planned.
The prime minister will meet François Hollande at the British ambassador's residence in Washington on Friday ahead of the G8 summit hosted by Barack Obama at Camp David. They are the first talks between the two leaders since Hollande won the presidential election in which Cameron openly backed his rival, Nicolas Sarkozy. Cameron declined to meet Hollande when he visited London during the campaign, believing Sarkozy would be re-elected.
French sources insist there is no residual desire to punish Cameron, but warn that Hollande will be a tougher partner over issues such as reducing the British contribution to the EU budget. Cameron was one of the first world leaders on the phone to congratulate Hollande on his victory, and will be anxious to ensure the long-term defence and nuclear co-operation agreements signed by the two countries at Lancaster House two years ago remain intact.
Cameron's talks are likely to centre on testing the detail of Hollande's demand for a switch of focus from austerity to growth in Europe, a slogan that often conceals more than it reveals.
He is due to hold a video conference with Hollande, the Italian prime minister, Mario Monti, and the German chancellor, Angela Merkel, on Thursday afternoon to discuss the economic crisis, and a joint European approach at the two-day G8 summit over the weekend.
President Obama, in separate bilateral talks with Hollande ahead of the Cameron meeting in Washington, will try to tease out the detail of some of the commitments made by his French counterpart.
During the Anglo-French talks, Cameron is expected to press Hollande on his pledge to withdraw French troops from Afghanistan two years ahead of Nato's planned timetable of 2014. With 3,400 personnel, France has the fifth-biggest contingent on the ground, and British and US leaders are said to want Hollande to delay the withdrawal until at least 2013.
Under the Nato agreement the Afghanistan campaign ends in 2014, although most combat operations are to be wound down by the middle of next year and responsibility for security transferred to Afghan forces. During that interim period, US and Nato forces will act primarily as trainers for Afghan troops.
US officials have already been in Paris to discuss what the Socialists mean by Hollande's campaign claim: "Our mission in Afghanistan is complete". The president has said one of his first acts will be to tell world leaders France is pulling out.
The G8 summit is followed immediately by a Nato summit in Chicago.
Sarkozy had already promised to bring forward French withdrawal to the end of 2013 following the killing earlier this year of five French soldiers by a rogue member of Afghan security forces. The original timetable was agreed at a Nato summit in London in 2010.
Cameron and the US are likely to argue that the French troops could remain in a non-combat role, but it is unclear whether the French are even willing to stay as trainers of the Afghan army, one of the critical tasks ahead of the final pullout.
There is doubt that the French could actually complete a withdrawal, including of equipment, by the end of this year, partly due to a lack of transport.
Hollande, who faces French parliamentary elections in June, is under pressure to deliver on his promises, especially since Sarkozy, who was personally unpopular, will no longer be a campaign issue.
Cameron and Hollande are expected to discuss Syria, Iran and Libya, the scene of a successful Anglo-French military operation a year ago.
Obama is pressing international partners reluctant to contribute up to $1.3bn of the estimated $4bn annual cost of providing support to Afghan forces beyond 2014. The Afghan president, Hamid Karzai, won major financial commitments from Merkel on Wednesday, but is looking for cash from European governments at a time when money is being dedicated to Europe's own problems.
http://www.guardian.co.uk/politics/2012/may/17/cameron-hollande-afghanistan-exit
----------
Iran flouts UN sanctions, sends arms to Syria: Experts
May 17, 2012
UNITED NATIONS: Syria remains the top destination for Iranian arms shipments in violation of a UN Security Council ban on weapons exports by the Islamic Republic, according to a confidential report on Iran sanctions-busting seen by Reuters on Wednesday.
Iran, like Russia, is one of Syria's few allies as it presses ahead with a 14-month old assault on opposition forces determined to oust Syrian President Bashar al-Assad.
News of the panel's report came as Tehran and the U.N. International Atomic Energy Agency try narrow their differences on how to tackle concerns over Iran's atomic program, and as Iran prepares for talks with the five permanent council members and Germany in Iraq next week.
The new report, submitted by a panel of sanctions-monitoring experts to the Security Council's Iran sanctions committee, said the panel investigated three large illegal shipments of Iranian weapons over the past year.
"Iran has continued to defy the international community through illegal arms shipments," it said. "Two of these cases involved (Syria), as were the majority of cases inspected by the Panel during its previous mandate, underscoring that Syria continues to be the central party to illicit Iranian arms transfers."
The third shipment involved rockets which Britain said last year were headed for Taliban fighters in Afghanistan.
Full report at:
http://timesofindia.indiatimes.com/world/us/Iran-flouts-UN-sanctions-sends-arms-to-Syria-Experts/articleshow/13181836.cms
----------
URL: https://www.newageislam.com/islamic-world-news/new-age-islam-news-bureau/malaysian-islamic-ministry--police-officers-be-authorised-to-grow-beards/d/7360