New Age Islam News Bureau
14 Oct 2013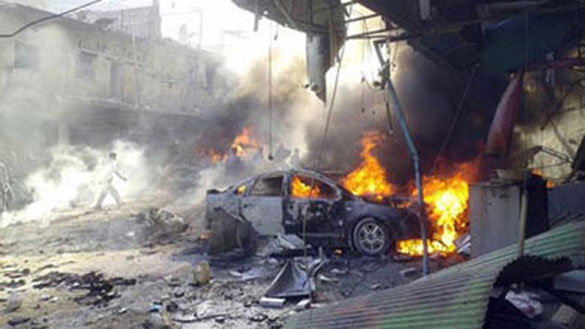 A picture released by the Syrian Observatory for Human Rights of the car blast on October 14, 2013. (AFP)
--------
Southeast Asia
• Malaysian Court Rules Use of 'Allah' Exclusive to Muslims
• Church to fight on after "Allah" decision, says court ignored evidence
• Syattariah followers in Aceh perform Idul Adha prayers today
• Allah ban affects all Bahasa Malaysia Christian publications, says religious group
Arab World
• Islamist militants destroy Sufi shrine in eastern Syria: Activists
• Car bomb kills 20 in northwest Syria's Idlib: NGO
• Syrian opposition group refuses to attend Geneva peace talks
• Kurd state will not be achieved by violence: Barzani
• Islam strictly forbids terrorism, says Grand Mufti in Hajj sermon
• Assad: Loss of chemical weapons is blow to Syria's morale
• Lebanon needs donations not loans to ease refugee crisis
Pakistan
• LeT front JuD raises funds in name of earthquake victims
• Peshawar church blasts: Bombers were foreigners says DNA report
• Karachi police arrest 161 in past 24 hours
• No money to compensate militancy-hit tribesmen
• 'I am Malala': Booksellers take Taliban threat seriously
• HRCP report on Balochistan: Insurgents, sectarian militants on same page
• An unequal election for Pakistan's minorities
Mideast
• Jerusalem Mufti calls for preachers throughout the world to speak about Al-Aqusa Mosque
• Iranian FM eyeing ministerial meet with P5+1 after Geneva nuclear talks
• Al-Qaeda says recent attack targeted Yemeni-U.S. drone base
• Iranian Jews urge Obama to seize on Rouhani overtures
• Hamas 'not meddling' in Egypt's affairs, says Haniyeh
South Asia
• SC majority judges "do not know what they are doing": Nasheed
• Ruling from Maldives SC to address candidate's concerns over fingerprint verification
• HRCM calls on authorities to ensure inmates are able to vote
• Taliban leader: group to fight US-Afghan deal
• Hasina firm on holding polls
Europe
• UK MPs highlight "deteriorating situation" in the Maldives
• UN chief wants credible re-vote in Maldives
• Russia calls on U.S. to bring Syria opposition to peace talks
• Radiation experts confirm polonium on late Palestinian leader Arafat's clothing
• UN names envoy for Syria chemical weapons
• Seven Red Cross workers kidnapped by gunmen in northern Syria
Africa
• Senussi trial in Libya "new potential" for country's justice system, says NGO
• Somalia-US work closely on fighting Al-Shabab says Somali President
• Libyan PM calls coup plotters "terrorists"
• Government Hopes New Tanzanian Constitution Bans Child Marriage
• Three UN peacekeepers killed in Darfur ambush
North America
• 'Urgent' to set date for Syria Geneva 2 meeting: Kerry
• John Kerry says window for nuclear diplomacy with Iran is 'cracking open'
• US attorney 'requests travel ban' on Hasina
India
• Open more border points for India-Pakistan trade: India-Pakistan Joint Business Forum
• Communal harmony, brotherhood key to success: DM Aligarh
• Top Hizb commander arrested in Kashmir valley
• BSF likely to seek flag meeting with Pak Rangers after firing
Compiled by New Age Islam News Bureau
URL: https://www.newageislam.com/islamic-world-news/new-age-islam-news-bureau/malaysian-court-rules-use-of--allah--exclusive-to-muslims/d/13985
---------
Southeast Asia
Malaysian court rules use of 'Allah' exclusive to Muslims
Reuters | Oct 14, 2013
PUTRAJAYA, Malaysia: A Malaysian court ruled on Monday that a Christian newspaper may not use the word "Allah" to refer to God, a landmark decision on an issue that has fanned religious tension and raised questions over minority rights in the mainly Muslim country.
The unanimous decision by three Muslim judges in Malaysia's appeals court overturned a 2009 ruling by a lower court that allowed the Malay-language version of the newspaper, The Herald, to use the word Allah - as many Christians in Malaysia say has been the case for centuries.
"The usage of the word Allah is not an integral part of the faith in Christianity," chief judge Mohamed Apandi Ali said in the ruling. "The usage of the word will cause confusion in the community."
The decision coincides with heightened ethnic and religious tension in Malaysia after a polarising May election, in which the long-ruling coalition was deserted by urban voters that included a large section of minority ethnic Chinese.
In recent months, Prime Minister Najib Razak has sought to consolidate his support among majority ethnic Malays, who are Muslim by law, and secure the backing of traditionalists ahead of a crucial ruling party assembly this month.
His new government - dominated by his Malay-based United Malays National Organisation - has toughened security laws and introduced steps to boost a decades-old affirmative action policy for ethnic Malays, reversing liberal reforms aimed at appealing to a broader section of the multi-ethnic country.
In its case, the government argued that the word Allah is specific to Muslims and that the then-home minister's decision in 2008 to deny the newspaper permission to print it was justified on the basis of public order.
About 200 Muslims outside the court in the administrative capital Putrajaya, greeted the decision with shouts of "Allahu Akbar" (God is Greatest).
"As a Muslim, defending the usage of the term Allah qualifies as jihad. It is my duty to defend it," said Jefrizal Ahmad Jaafar, 39. Jihad is Islamic holy war or struggle.
RIGHTS OF THE MINORITY
Lawyers for the Catholic paper had argued that the word Allah predated Islam and had been used extensively by Malay-speaking Christians in Malaysia's part of Borneo island for centuries.
They say they will appeal against Monday's decision to Malaysia's highest court.
"The nation must protect and support the rights of the minority," said Father Lawrence Andrew, the founding editor of the Herald. "God is an integral part of every religion."
Christians in Indonesia and much of the Arab world continue to use the word without opposition from Islamic authorities. Churches in the Borneo states of Sabah and Sarawak have said they will continue to use the word regardless of the ruling.
The paper won a judicial review of the home minister's decision in 2009, triggering an appeal from the federal government. The court ruled on Monday that the constitutional rights of the publisher had not been infringed.
Ethnic Malays make up 60% of Malaysia's 28 million people, with Chinese accounting for more than a quarter and ethnic Indians also forming a substantial minority. Christians account for about 9%.
http://timesofindia.indiatimes.com/world/rest-of-world/Malaysian-court-rules-use-of-Allah-exclusive-to-Muslims/articleshow/24132687.cms
-------
Church to fight on after "Allah" decision, says court ignored evidence
14 October 2013
The Court of Appeal's decision today prohibiting The Herald from using the word "Allah" goes against all evidence on the issue from around the world, argued the Catholic weekly's editor, Father Lawrence Andrew (pic).
Andrew said that the church could not reconcile with the basis of the ruling today. He pointed out that in 2011, Putrajaya in its 10-point solution to the issue had allowed the printing and distribution of the Al-Kitab, the Bahasa Malaysia translation of the Bible.
"The government allowed the printing and distribution of the Malay Bible but in the same breath is challenging the word used in Herald. This is a serious contradiction," he said.
He described as unfounded the argument that allowing the word to be used in The Herald would disrupt public order.
"This is baseless as we have been using the word for the last 18 years and it has not caused any inconvenience," said Andrew.
He said that today's verdict was not based on law or the Constitution, and stressed that the church will soldier on.
"We are not discouraged, we will appeal to the Federal Court," he said.
Reverend Dr Herman Shastri, general secretary of the Council of Churches Malaysia (CCM), who was also present in court, expressed disappointment with the ruling, saying that he did not agree with the argument that the word "Allah" was not integral to Christianity.
"The learned judges obviously did not take into consideration that the Christians in Sabah and Sarawak and Malay-speaking Christians in Peninsular Malaysia have been using the word even before Independence," he argued.
He explained that Christians in the Middle East and Indonesia have been using the word "Allah", adding that the word predates Islam.
"Even in the Quran it is mentioned that the Christians and Jews believe in Allah, which explains why PAS had also said that Christians can use the word.
"But here, the judges made a ruling without calling expert evidence. This is very disappointing," added Shastri.
He said the CCM could not understand the "public order" argument accepted by the court.
"The people in East Malaysia have been using the word and they have been living in peace, so what public order are they talking about?
"Just because a few extremists are making a big issue of this does not make it a national security issue," he said.
Shastri noted that Putrajaya's 10-point solution to Christians in Sabah and Sarawak had not affected public order.
"If there was no fear of threat to public order then, how can the judges accept that argument now?" Shastri questioned, adding that his organisation would support the Catholic church's move to appeal today's decision.
http://www.themalaysianinsider.com/malaysia/article/church-to-fight-on-after-allah-decision-says-court-ignored-evidence
-------
Syattariah followers in Aceh perform Idul Adha prayers today
October 14 2013
Thousands of Syattariah followers in Aceh performed Idul Adha prayers, which were concentrated at Jamik Mosque in Peulekong village, East Seunagan district, Nagan Raya regency, today.
Followers from several other regencies in Aceh such as Aceh Jaya, Central Aceh, Gayo Lues, Pidie, South Aceh, Southwestern Aceh, and West Aceh, also packed the mosque's yard this morning.
"My family and I always come to this mosque every year to perform Idul Adha prayers. Traditionally, Idul Adha prayers here are carried out one day earlier than other places," said Muhammad, 45, a Syattariah follower from South Aceh, as quoted by kompas.com.
The Syattariah followers were engrossed in Idul Adha prayers led by their leader, Abu Habib Kudrat.
Syattariah has long-existed in Aceh and its followers are descendents of Habib Abu Muda Seunagan. (ebf)
http://www.thejakartapost.com/news/2013/10/14/syattariah-followers-aceh-perform-idul-adha-prayers-today.html
-------------
Allah Ban Affects All Bahasa Malaysia Christian Publications, Says Religious Group
14 October 2013
ruling which banned the use of the word Allah in the Catholic weekly, Herald, has a far-reaching implication as it affects all Christian publications printed in Bahasa Malaysia, said the Christian Federation of Malaysia (CFM).
The CFM said in a statement that the Court of Appeal, by stating "that the name Allah was not an integral part of the Christian faith and practice", had totally ignored the position of Bumiputera and Orang Asli Christians who constitute 60% of the Christian population in Malaysia. And they are all Bahasa Malaysia-speaking Malaysians.
"The Bahasa Malaysia-speaking Christians have been using the word Allah, before and after the independence of Malaya and the formation of Malaysia," said CFM chairman Reverend Dr Eu Hong Seng in the statement.
Dr Eu expressed disappointment with the ruling, stating the judges' decision would "undermine the unity of Malaysians".
He also said that by playing up the Allah issue, various quarters had only fuelled misunderstandings, distrust and brokenness between Muslims and Christians in the country.
"It now appears that a minority religion can only be practised to the extent that it does not upset the peace and harmony of the majority religion," he said.
Earlier today, a three-man Court of Appeal bench led by Datuk Seri Mohamed Apandi Ali had allowed Putrajaya's appeal and ruled that the word Allah was banned from the Bahasa Malaysia section of Herald, a Catholic weekly published by the Archdiocese of Kuala Lumpur.
"It is our common finding that the name Allah was not an integral part of the Christian faith and practice," Apandi said.
"Such usage, if allowed, will inevitably cause confusion within the community," he added.
The judge, who read a summary judgment, said the Home Minister had therefore acted within his powers to disallow the Catholic weekly Herald from using the word Allah in its Bahasa Malaysia section.
"Our common finding is that the use of Allah is not an integral part of the Christian faith, so we find no justification for why they insist on using the name or word in their publication," Apandi told the court.
http://www.themalaysianinsider.com/malaysia/article/allah-ban-affects-all-bahasa-malaysia-christian-publications-says-religious
-------
Arab World
Islamist militants destroy Sufi shrine in eastern Syria: Activists
14 October 2013
A Sufi Muslim shrine was blown up in eastern Syria on Sunday, opposition activists said, blaming al Qaeda-affiliated militants who have joined in the increasingly sectarian civil war.
Militants placed explosives at the shrine of Sheikh Eissa Abdelqader al-Rifaiy in the rebel-held town of Busaira, 45 km (30 miles) east of the provincial capital of Deir al-Zor, and detonated them on Sunday morning, they said.
The activists contacted by Reuters said they suspected al Qaeda-linked fighters of the Islamic State in Iraq and the Levant (ISIL) were behind the explosion.
"The Islamic State has a base outside the town. The ease by which they got to the shrine indicates that their presence is growing," activist Abu al-Tayyeb al-Deiri said from Deir al-Zor.
Video footage and a photo released by the Britain-based Syrian Observatory for Human Rights monitoring group showed the shrine reduced to a field of shattered rock and twisted metal with trees and a small domed building in the background.
Full report at:
http://english.ahram.org.eg/NewsContent/2/8/83937/World/Region/Islamist-militants-destroy-Sufi-shrine-in-eastern-.aspx
---------
Car bomb kills 20 in northwest Syria's Idlib: NGO
14 October 2013
At least 20 people were killed on Monday when a car bomb exploded in the Syrian town of Darkush in northwestern Idlib province, near the Turkish border, a watchdog said.
The Syrian Observatory for Human Rights said the toll was expected to rise due to the large number of people who suffered serious injuries.
http://english.ahram.org.eg/NewsContent/2/8/83970/World/Region/Car-bomb-kills--in-northwest-Syrias-Idlib-NGO.aspx
---------
Syrian opposition group refuses to attend Geneva peace talks
13 October 2013
The main Syrian opposition group within the Syrian National Coalition said Sunday it would not attend a proposed peace conference in Geneva and would quit if the whole coalition participated.
"The Syrian National Council, which is the biggest bloc in the Coalition, has taken the firm decision... not to go to Geneva, under the present circumstances (on the ground)," Council president George Sabra told Agence France-Presse.
Full report at:
http://english.alarabiya.net/en/News/middle-east/2013/10/13/Key-Syrian-opposition-group-rejects-peace-talks-.html
---------
Kurd state will not be achieved by violence: Barzani
14 October 2013
ARBIL (Iraq): The Kurdish people have a right to self-determination and statehood,but this will not be accomplished through violence, Iraqi Kurdish leader Massud Barzani said.
It is "a natural right for there to be a state for the Kurdish people, but this will not be achieved by violence, and must be done in a natural way," Barzani, the president of Iraq's autonomous Kurdistan region, said in an interview.
This "age is the age of understanding, and we encourage dialogue between the Kurds and... the states" where Kurdish populations live, he said.
Full report at:
http://www.dawn.com/news/1049564/kurd-state-will-not-be-achieved-by-violence-barzani
---------
Islam strictly forbids terrorism, says Grand Mufti in Hajj sermon
AGENCIES and DAWN.COM
2013-10-14 1
MOUNT ARAFAT: Hundreds of thousands of Muslim pilgrims thronged Mount Arafat in Saudi Arabia on Monday for the high point of the annual Hajj, praying for an end to disputes and bloodshed.
Hell is the final abode for those who spill the blood of an innocent human, said Sheikh Abdulaziz al-Sheikh, the Grand Mufti of the Ka'aba.
"Islam does not allow terrorism at any cost. Islam condemns all violence and terrorism plaguing the world today. Muslims should demonstrate a love for peace and unity," he said.
Officials said around 1.5 million pilgrims descended on the site, where they offered prayers and listen to the annual sermon from the Saudi top cleric.
Full report at:
http://www.dawn.com/news/1049700/islam-strictly-forbids-terrorism-says-grand-mufti-in-hajj-sermon
---------
Assad: Loss of chemical weapons is blow to Syria's morale, political standing
14 October 2013
Syrian President Bashar Assad told a number of guests gathered in his palace in Damascus recently that his country's loss of chemical weapons resulted in a blow to its morale and political position.
"There is no doubt that the loss of chemical weapons has resulted in a loss of morale and a political loss for Syria. Since 2003, Syria has demanded that the countries in the region dismantle their WMDs, and the chemical weapons were meant to be a bargaining chip in Syria's hands in exchange for Israel dismantling its nuclear arsenal," Lebanese Hezbollah identified newspaper Al-Akhbar reported Monday Assad as saying.
Full report at:
http://www.jpost.com/Middle-East/Assad-Loss-of-chemical-weapons-is-blow-to-Syrias-morale-political-standing-328668
-------
Lebanon needs donations not loans to ease refugee crisis
October 14, 2013
BEIRUT: Lebanon needs donations, not loans, to cope with the Syrian refugee crisis in the country, caretaker Finance Minister Mohammad Safadi said over the weekend. "Lebanon has not caused what is happening in Syria yet it is suffering the burdens of the incidents going on there," Safadi said during a conference in Washington organized to discuss the repercussions of the crisis in Lebanon.
"What is happening in Syria is not Lebanon's problem, so we cannot be asked to take loans to secure the needs of the refugees," he said.
"We will never accept making such a move."
"Lebanon has always been committed to international conventions and it has the right to ask the international community to support it and offer the country donations so that the state will be able to secure the needs of the Lebanese first and the refugees second."
Full report at:
http://www.dailystar.com.lb/News/Lebanon-News/2013/Oct-14/234559-safadi-lebanon-needs-donations-not-loans-to-ease-refugee-crisis.ashx#ixzz2hkaV2tMJ
-------
Pakistan
LeT front JuD raises funds in name of earthquake victims
Oct 14 2013
Lahore : The JuD, a front for the banned Lashkar-e-Taiba, is busy collecting funds in the name of providing relief to victims of an earthquake in Pakistan despite efforts by the world community to cut off its access to financing.
The organisation, whose chief Hafiz Mohammad Saeed has been accused of masterminding the 2008 Mumbai attacks, has set up camps to collect funds across the country, especially in Punjab province where it has a large following.
Saeed announced on Sunday that the Jamaat-ud-Dawah will build 2,000 houses in quake-affected areas of Balochistan province and appealed to people to donate generously for the cause. About 500 people were killed by the quake last month.
The JuD is collecting funds under the umbrella of Falah-e-Insaniyat Foundation, one of its front organisations. The JuD set up the Foundation when Pakistani authorities imposed restrictions on it after the Mumbai attacks.
Full report at:
http://www.indianexpress.com/news/let-front-jud-raises-funds-in-name-of-earthquake-victims/1182412/
---------
Peshawar church blasts: Bombers were foreigners says DNA report
October 14, 2013
PESHAWAR: The DNA report of the suicide bombers who had blown themselves up at the All Saints Church during Sunday mass has revealed that both the attackers were foreigners.
According to police, the DNA report of the suicide bombers has been received which stated that the attackers were not Pakistanis and that one of them was Uzbek.
On September 22, over 80 people were killed and 150 others injured in the twin suicide bombing that took place outside the All Saints church after Sunday mass came to an end. The bombing is believed to be the country's deadliest attack on Christians.
Tehreek-e-Taliban Pakistan had denied its hand in the attack.
Full report at:
http://tribune.com.pk/story/617356/peshawar-church-blasts-bombers-were-foreigners-says-dna-report/
---------
Karachi police arrest 161 in past 24 hours
APP
2013-10-14
KARACHI: The Karachi police during the on-going drive against criminals arrested 161 accused during the past 24 hours.
A police statement said on Monday that those arrested included 75 absconders and proclaimed offenders besides alleged dacoits, killers, robbers and those involved in other crimes.
As many as 40 weapons of various calibres were also recovered from those arrested, it was further stated.
Full report at:
http://www.dawn.com/news/1049701/karachi-police-arrest-161-in-past-24-hours
---------
No money to compensate militancy-hit tribesmen
ZULFIQAR ALI
2013-10-14
PESHAWAR: Although the scourge of militancy has resulted in the destruction of 58,312 houses in three tribal agencies of Fata, yet the question about compensation to the affected families is still unanswered.
A baseline survey conducted by Fata Disaster Management Authority (FDMA) in South Waziristan, Orakzai and Kurram agencies shows that reconstruction of the damaged private houses requires approximately Rs17 billion. The FDMA has conducted door-to-door survey to assess damage in the militancy-stricken areas of the three agencies.
An official said that FDMA had approached the federal government and United States Agency for International Development (USAID) to provide funds for the housing compensation project in three tribal agencies.
Full report at:
http://www.dawn.com/news/1049528/no-money-to-compensate-militancy-hit-tribesmen
---------
'I am Malala': Booksellers take Taliban threat seriously
INTIKHAB AMIR
2013-10-14
PESHAWAR: When Taliban say something, the people of Peshawar listen and local businessmen take the words seriously, as well.
The militants' sinister influence on public life is a reality no one can avoid. Taliban are a reality, they are going to stay here in the foreseeable future, and they mean business about their decrees. People know all this very well.
That's the reason when Tehreek-i-Taliban Pakistan (TTP) banned Malala Yousufzai's memoir 'I am Malala', it was taken seriously.
A major book selling firm of Peshawar cancelled its 'I am Malala' purchase order the day the Taliban decree was published by local newspapers.
"Who can dare ignore their words, they will blow us up," said a sales representative of the company.
Full report at:
http://www.dawn.com/news/1049519/booksellers-take-taliban-threat-seriously
---------
HRCP report on Balochistan: Insurgents, sectarian militants on same page
October 14, 2013
LAHORE: A fact finding report submitted by Human Rights Commission of Pakistan (HRCP) reveals conflicting reports that the pattern of terrorist attacks in Balochistan during the recent past indicate some operational coordination between sectarian militant groups and Baloch insurgents.
The HRCP was not in a position to verify the claim but demanded that such allegations must be taken seriously and investigated fully and, if any evidence of such collaboration was found, it must be made public.
The commission report looked at the terrorist attack on students of a women's university in Quetta and the subsequent attack at a hospital where the casualties were taken, and also the bombing at Quaid-e-Azam Residency in Ziarat.
Full report at:
http://tribune.com.pk/story/617844/hrcp-report-on-balochistan-insurgents-sectarian-militants-on-same-page/
-----------
An unequal election for Pakistan's minorities
Oct 14, 2013
Ahead of the May general elections, a pamphlet was circulated in the constituency of Tharparkar in Sindh province warning Muslims against voting for an "infidel". But what is worse is that no action was taken against the culprits, says I.A. Rehman, secretary-general of the Human Rights Commission of Pakistan (HRCP).
While 10 seats out of the 342 in the National Assembly are reserved for non-Muslims, only one non-Muslim candidate was elected from the 272 general seats this time. After the euphoria over Pakistan's first democratic transition settled, post-election analyses indicate problems for both women and religious minority voters that call for the Election Commission of Pakistan (ECP) to play a more enabling role.
Full report at:
http://www.thehindu.com/news/international/south-asia/an-unequal-election-for-pakistans-minorities/article5231812.ece
---------
Mideast
Jerusalem Mufti calls for preachers throughout the world to speak about Al-Aqusa Mosque
14 October 2013
Jerusalem Mufti Sheikh Muhammad Hussein, who speaks at al-Aqusa Mosque, called on Sunday for preachers from all over the world to allocate part of their sermons for the upcoming holiday of Eid al-Adha this week to support Al- Aqusa and remind the Islamic nation of their duty towards it.
According to a report in the Egyptian newspaper Al-Masry Al-Youm, Hussein said that the Islamic world must address the Jewish attempts to demolish al-Aqusa.
In a video last year posted online by Palestinian Media Watch at an event celebrating the anniversary of the founding of Fatah, the Mufti cited a Hadith – Islamic tradition attributed to Muhammad – that says that the Resurrection will not come until you fight and kill the Jews.
Full report at:
http://www.jpost.com/Middle-East/Mufti-of-Jerusalem-calls-for-preachers-throughout-the-world-to-speak-about-Al-Aksa-Mosque-328628
-------
Iranian FM eyeing ministerial meet with P5+1 after Geneva nuclear talks
14 October 2013
Al Arabiya
Iranian Foreign Minister Mohammad Javad Zarif said on Monday it will be "necessary" to have a new ministerial meeting with the P5+1 world powers after the Geneva talks on Tuesday.
The talks are aimed at reaching an agreement over Teheran's nuclear program.
"I hope that we will be able to reach a roadmap by Wednesday but... it will probably be necessary to have a new ministerial meeting," Agence France-Presse quoted Zarif as saying on his Facebook page late Sunday.
Full report at:
http://english.alarabiya.net/en/News/middle-east/2013/10/14/Iran-wants-additional-ministerial-meeting-after-Geneva-Talks.html
-------
Al-Qaeda says recent attack targeted Yemeni-U.S. drone base
14 October 2013
Reuters, Dubai
The Yemen-based branch of al-Qaeda said on Monday that its attack on a Yemeni army base last month targeted an operations room used by the United States to direct drone strikes against militants, and threatened more such assaults.
Dozens of militants stormed and captured the headquarters of the Yemeni army's Second Division in the eastern city of al-Mukalla on September 30 and took some military personnel hostage. Military officials said four Yemeni soldiers were killed and nine wounded in a counter-strike to retake the base.
Full report at:
http://english.alarabiya.net/en/News/middle-east/2013/10/14/Al-Qaeda-September-attack-targeted-joint-Yemeni-U-S-drone-base.html
---------
Iranian Jews urge Obama to seize on Rouhani overtures
14 October 2013
Tehran's Jewish community has urged US President Barack Obama to seize an "unrepeatable" opportunity to mend fences with Iran now that a reputed moderate holds the Islamic republic's presidency.
The call was made in an open letter from the head of Tehran's Jewish community, Homayoun Sameyah Najaf Abady, a copy of which was sent to AFP.
"If the US and the international community do not make the best of this golden and perhaps unrepeatable opportunity, then it will be in the benefit of those who are against the normalisation of ties between Iran and the US," Sameyah wrote.
"It would also make it easy for pessimists to doubt the good intentions of the US," he added.
His letter comes after Iran's new President Hassan Rouhani's trip to New York for the UN General Assembly last month, when he made a number of diplomatic gestures towards the West.
Full report at:
http://english.ahram.org.eg/NewsContent/2/8/83940/World/Region/Iranian-Jews-urge-Obama-to-seize-on-Rouhani-overtu.aspx
-------
Hamas 'not meddling' in Egypt's affairs, says Haniyeh
14 October 2013
Hamas Prime Minister Ismail Haniyeh denied Sunday that his movement has been meddling in the internal affairs of Egypt.
Haniyeh was speaking during a graduation ceremony for security officers in Gaza City.
"We do not have any security or military role in any Arab country, first and foremost Egypt," Haniyeh said in response to allegations about the involvement of Hamas in terror attacks against Egyptian troops. "We do not intervene in the internal affairs of anyone. What harms the Egyptian people also harms us."
Full report at:
http://www.jpost.com/Middle-East/Hamas-not-meddling-in-Egypts-affairs-says-Haniyeh-328658
--------
South Asia
SC majority judges "do not know what they are doing": Nasheed
By Mohamed Naahee | October 13th, 2013
The opposition Maldivian Democratic Party (MDP) has conducted a counter-assessment of figures highlighted as electoral fraud in the Supreme Court's verdict annulling the results of the February 7 poll.
The Supreme Court in its controversial judgement issued last week based its findings on a secret police report compiled by the court itself, with the assistance of police from the Forensic Directorate Department. The court ruled the election had lacked legitimacy, as there were 5,623 irregularities in the voter registry. The secret report was not shown to the Elections Commission's legal team.
Former President Nasheed – who finished the September 7 poll on top with 45.45 percent of the popular vote – told the press on Saturday that the party's legal team had only noted 242 instances of possible fraudulent votes in the Supreme Court's majority ruling, and 473 instances of potentially fraudulent votes in the dissenting view given by both Chief Justice Ahmed Faiz Hussain and Judge Abdulla Areef.
Full report at:
http://minivannews.com/politics/supreme-court-majority-judges-do-not-know-what-they-are-doing-nasheed-68452
---------
Ruling from Maldives SC to address candidate's concerns over fingerprint verification
By JJ Robinson | October 14th, 2013
The Supreme Court opened at midnight again on Sunday October 14 to order the Elections Commission (EC) to address the complaints of any individual who has the right to stand for election, "including the verification of fingerprints on re-registration forms through the Department of National Registration."
Progressive Party of the Maldives (PPM) candidate Abdulla Yameen earlier told newspaper Haveeru that it "would be hard" for him to approve the voter registry – another recent requirement from the Supreme Court – should the EC not verify fingerprints.
Full report at:
http://minivannews.com/politics/midnight-ruling-from-supreme-court-orders-ec-to-address-candidates-concerns-over-fingerprint-verification-68559
---------
HRCM calls on authorities to ensure inmates are able to vote
By Minivan News | October 13th, 2013 | Category: News in Brief
The Human Rights Commission of the Maldives (HRCM) has issued a statement calling on authorities to ensure that inmates detained at state penitentiaries and police custody are able to vote during the presidential election.
The HRCM stated that the police, human rights and Gender Ministry as well as the Department of Penitentiary and Rehabilitation (DPRS) should complete the things they have to, in order to make sure all persons detained in their facilities are able to vote.
The commission said it had sent a letter to the Supreme Court to discuss the verdict regarding the issue.
Full report at:
http://minivannews.com/category/news-in-brief
---------
Taliban leader: group to fight US-Afghan deal
October 14, 2013
KABUL: The leader of the Afghan Taliban says his group will keep fighting if Kabul signs a key security deal with the United States.
The secretive Mullah Mohammad Omar also urged followers to step up their militant campaign against the Afghan government and NATO forces.
He also called on Afghans to boycott next year's presidential and provincial elections.
Monday's message from the Taliban leader came in an email distributed to media on the eve of the Muslim Eid al-Adha holiday.
Full report at:
http://www.dailystar.com.lb/News/International/2013/Oct-14/234612-taliban-leader-group-to-fight-us-afghan-deal.ashx#ixzz2hka96DwZ
---------
Hasina firm on holding polls
October 14, 2013
Amid growing national tension fearing fresh political violence, Prime Minister Sheikh Hasina has made it clear that the current session of the present Parliament would stretch beyond October 24, 2013 while the opposition termed the decision beyond Constitutional mandate.
She also said the government will deal with an iron fist if opposition parties try to create violence and chaos on issue to parliament's continuation. Her comments came amid growing tension as the both the ruling and opposition parties are planning to hold "massive rallies" in Dhaka on October 25, 2013 to demonstrate their strengths on the issue.
Full report at:
http://www.thehindu.com/news/international/south-asia/hasina-firm-on-holding-polls/article5233359.ece
------------
Europe
UK MPs highlight "deteriorating situation" in the Maldives
By Daniel Bosley | October 12th, 2013
An early day motion has been tabled in the UK Parliament calling upon the House of Commons to support the UN secretary general's call for a "credible and peaceful second round of voting" in the Maldives.
The motion, sponsored by MP Grahame Morris, also called upon members of the House of Commons to declare that it "condemns those who are seeking to prevent President Mohamed Nasheed from participating in any future elections in the Maldives; further condemns the perpetrators of the arson attack that destroyed the opposition-supporting Raaje TV station in Male'; and demands that the authorities take all necessary steps to bring the perpetrators to justice."
Full report at:
http://minivannews.com/politics/uk-mps-highlight-deteriorating-situation-in-the-maldives-68420
-------
UN chief wants credible re-vote in Maldives
The Associated Press
Oct. 14, 2013
The United Nations chief has called for a credible and peaceful re-vote for presidency in the Maldives after the country's Supreme Court annulled results of an earlier election widely hailed as free and fair.
U.N. Secretary-General Ban Ki-moon has noted the court decision to hold fresh elections, his office said in a short statement dated Tuesday.
Maldives' Supreme Court on Monday annulled results of the Sept. 7 first-round presidential vote, agreeing with a losing candidate that the voters' registry included made-up names and deceased people. It said some 5,600 votes were thus tainted.
Full report at:
http://www.lasvegassun.com/news/2013/oct/14/as-maldives-un/
-------
Russia calls on U.S. to bring Syria opposition to peace talks
14 October 2013
AFP, Moscow
Russia on Monday urged the United States to do everything in its power to bring the Syrian opposition to peace talks after a key group said it would not attend a proposed conference in Geneva.
"We very much expect our American partners and other countries, which not only have influence on various opposition groups but also ... encourage these opposition groups to continue fighting, to realize their responsibility for creating conditions for performing their share of the work for convening Geneva 2," Russian Foreign Minister Sergei Lavrov said.
George Sabra, the president of the Syrian National Council, the biggest member of the opposition National Coalition, said on Sunday that the group would not attend suggested peace talks in Geneva.
Full report at:
http://english.alarabiya.net/en/News/middle-east/2013/10/14/Russia-calls-on-U-S-to-bring-Syria-opposition-to-peace-talks.html
-------
Radiation experts confirm polonium on late Palestinian leader Arafat's clothing
14 October 2013
Swiss radiation experts have confirmed they found traces of polonium on clothing used by Yasser Arafat which "support the possibility" the veteran Palestinian leader was poisoned.
In a report published by The Lancet at the weekend, the team provide scientific details to media statements made in 2012 that they had found polonium on Arafat's belongings.
Arafat died in France on November 11 2004 at the age of 75, but doctors were unable to specify the cause of death. No autopsy was carried out at the time, in line with his widow's request.
Full report at:
http://www.hurriyetdailynews.com/radiation-experts-confirm-polonium-on-late-palestinian-leader-arafats-clothing.aspx?pageID=238&nID=56223&NewsCatID=352
-------
UN names envoy for Syria chemical weapons
AFP | Oct 14, 2013
UNITED NATIONS: The head of the United Nations named Sigrid Kaag to lead the UN's joint mission with the chemical weapons watchdog tasked with eliminating Syria's arsenal, diplomats said.
The UN security council, which is set to vote on Kaag's nomination on Wednesday, has formally approved a first joint mission with the Nobel Peace Prize-winning Organization for the Prohibition of Chemical Weapons (OPCW).
UN secretary general Ban Ki-moon made the appointment of Kaag known on Sunday in a letter addressed to Azerbaijan's UN envoy Agshin Mehdiyev, who holds the rotating presidency of the security council.
Full report at:
http://timesofindia.indiatimes.com/world/middle-east/UN-names-envoy-for-Syria-chemical-weapons/articleshow/24137333.cms
---------
Seven Red Cross workers kidnapped by gunmen in northern Syria
14 October 2013
Gunmen kidnapped a team of seven workers from the International Committee of the Red Cross after stopping their convoy early on Sunday along a roadside in northern Syria, a spokesman said.
Simon Schorno, a spokesman for the ICRC in Damascus, said the abduction took place near the town of Saraqeb in Idlib province at about 11.30am local time (08.30 GMT) as the team was returning to Damascus. Six of the people kidnapped are ICRC staff and one is a volunteer from the Syrian Red Crescent, he said.
Full report at:
http://www.theguardian.com/world/2013/oct/13/seven-red-cross-workers-kidnapped-syria
-------
Africa
Senussi trial in Libya "new potential" for country's justice system, says NGO
14 October 2013
The ICC decision to authorise Libya to try Qaddafi's former spy chief Abdullah Al-Senussi has been welcomed by International NGO No Peace Without Justice (NPWJ).
"As the country has embarked on legislative reforms, the ICC ruling marks an historic opportunity for the Libyan authorities to demonstrate their ability to break with the legacy of impunity and abuses that typified Gaddafi's rule," said NPWJ Legal Counsel Alison Smith.
Full report at:
http://www.libyaherald.com/2013/10/12/senussi-trial-in-libya-new-potential-for-countrys-justice-system-says-ngo/#ixzz2hgvnPhkV
-------
Somalia-US work closely on fighting Al-Shabab says Somali President
Oct 14, 2013
The failed U.S. navy Seals raid along the coastal town of Barawe in Somalia was part of a broader US-Somali military and intelligence engagement to fight insurgents in the conflict-prone east African state, Somalia President Hassan Sheikh Mahmoud said in a rare interview.
President Mahmoud said no firm evidence had yet emerged that that Somali nationals were involved in last month's insurgent attack on a mall in Nairobi, Kenya, or that the attack was planned on Somali soil.
In a joint report last week, the United Nations and African Union warned that Al Shabab, the Al Qaeda affiliated militant group that took responsibility for the Nairobi attack, was rearming, regrouping and refinancing even as the 17,709-strong continent of African troops in Somalia (AMISOM) was geographically stretched and unable to make fresh inroads into insurgent territory.
Full report at:
http://www.thehindu.com/news/international/world/somaliaus-work-closely-on-fighting-alshabab-says-somali-president/article5233854.ece?homepage=true
---------
Libyan PM calls coup plotters "terrorists"
14 October 2013
The Prime Minister has accused the Libyan Revolutionaries Operations Room (LROR) and a handful of Congress members who tried to bring down his government by seizing him on Thursday of being terrorists.
Speaking in an interview with Al-Arabiya TV this evening, he said that the two groups had plotted to arrest him after attempts in Congress, first on last Tuesday and then the following day, to gather sufficient votes to remove him had failed.
He accused the LROR of lying and making contradictory statements when it first admitted being involved in the kidnapping on its Facebook page and then denying it.
The mobilization of the 100 armed vehicles that arrived at the Corinthia Hotel where he was staying could not have happened, he said, without orders being giving by someone in authority.
Full report at:
http://www.libyaherald.com/2013/10/13/zeidan-calls-coup-plotters-terrorists/#ixzz2hgviUPOW
-------
Government Hopes New Tanzanian Constitution Bans Child Marriage
BY KIZITO MAKOYE, 13 OCTOBER 2013
Dar es Salaam — Tanzania is banking on the on-going constitutional review process of marriage laws to stop child marriages, according to a report in the government newspaper Daily News.
The marriage Act of 1971 allows girls as young as 14-years-old to marry with parental consent. On average, two out of five girls are married off before their 18th birthday, putting Tanzania among countries with the highest child marriage rates in the world.
Mathias Chikawe, the Constitutional and Legal Affairs Minister said the government has been trying to change the laws that allow child marriages by raising the marriage age to 18 but that society has not been cooperative.
Full report at:
http://allafrica.com/stories/201310140133.html?aa_source=sptlgt-grid?aa_source=sptlgt-grid
--------
Three UN peacekeepers killed in Darfur ambush
AFP
2013-10-14
UNITED NATIONS: Attackers swooped on a UN water convoy in Sudan's troubled Darfur region Sunday, killing three Senegalese peacekeepers, the United Nations said.
It was the second deadly attack on the UN mission in Darfur, UNAMID, in three days and UN leader Ban Ki-moon called on the Sudanese government to act over the incidents.
UNAMID did not identify the group behind the latest attack in which a fourth Senegalese soldier was also wounded.
Full report at:
http://www.dawn.com/news/1049652/three-un-peacekeepers-killed-in-darfur-ambush
-------
North America
'Urgent' to set date for Syria Geneva 2 meeting: Kerry
14 October 2013
US Secretary of State John Kerry said Monday it was "urgent" to set a date for the so-called Geneva 2 meeting on the future of Syria and said a transition government was the only way forward.
After meeting with UN special representative Lakhdar Brahimi in London, Kerry said "we believe that it is urgent to set a date to convene the conference and work toward a new Syria" and added that "there has to be a new governing entity in Syria".
http://english.ahram.org.eg/NewsContent/2/8/83982/World/Region/Urgent-to-set-date-for-Syria-Geneva--meeting-Kerry.aspx
-------
John Kerry says window for nuclear diplomacy with Iran is 'cracking open'
13 October 2013
The US secretary of state, John Kerry, said on Sunday the window for diplomacy with Iran over its nuclear programme was "cracking open", but added that "no deal is better than a bad deal".
Kerry made the comments in a speech made via satellite from London to a foreign policy conference in California staged by the American Israel Public Affairs Committee (Aipac), the most powerful pro-Israel lobbying organisation in the US. The State Department released excerpts of Kerry's prepared remarks.
Also on Sunday, Kerry and the European Union's foreign policy chief, Catherine Ashton, held talks on Iran, Syria, Egypt, the Middle East peace process and other matters.
The focus on Iran's nuclear programme comes before the start of negotiations between the Islamic Republic and the five permanent UN security council members and Germany, which are set for Tuesday and Wednesday in Geneva.
Full report at:
http://www.theguardian.com/world/2013/oct/13/john-kerry-iran
-------
US attorney 'requests travel ban' on Hasina
14 October 2013
A US attorney is seeking travel ban on Bangladesh government higher-ups including Prime Minister Sheikh Hasina, says the PR Newswire.
The attorney, Martin F McMahon, has sent out a letter to US Secretary of State John Kerry requesting to impose the travel ban. Home minister MK Alamgir's name is also in the "ban list."
It was revealed in a seminar in New York Hilton Midtown VIP room on October 12 organised by the Human Rights and Development for Bangladesh (HRDB).
Others in the list are: Dhaka Metropolitan Police Commissioner Benazir Ahmed, Mehdi Hasan of Dhaka Police Motijhil district and Pradip Das of Chittagong Patchlaish Police Station.
Mr McMahon claims that the individuals listed have all violated human rights. He asked that these "egregious violators be barred the privilege of entering the United States, in keeping with the United Nations Convention against Torture and the Immigration and Nationalization Act."
Full report at:
http://www.dhakatribune.com/bangladesh/2013/oct/13/us-attorney-%E2%80%98requests-travel-ban%E2%80%99-hasina#sthash.0lxXS0VL.dpuf
-------
India
Open more border points for India-Pakistan trade: India-Pakistan Joint Business Forum
Yudhvir Rana, TNN | Oct 14, 2013
AMRITSAR: The India-Pakistan Joint Business Forum has urged the two governments to open more border points for trade and chalk out plans for a common market for Bangladesh, India, Pakistan, Nepal and Sri Lanka to help remove trade bottlenecks.
Talking to TOI on their way back to Pakistan, co-chairman of the forum, Syed Yawar Ali, said that during a meeting with their Indian counterparts on October 10 and 11 in New Delhi, they had discussed possibilities of increasing the trade between the two countries that could help people of both nations.
Full report at:
http://timesofindia.indiatimes.com/india/Open-more-border-points-for-India-Pakistan-trade-India-Pakistan-Joint-Business-Forum/articleshow/24113408.cms
-------
Communal harmony, brotherhood key to success: DM Aligarh
October 13, 2013
Aligarh: A Communal Harmony meeting was organised by Shanti Samiti under the aegis of Aligarh Udyog Vyapar Pratinidhi Mandal at Mamta Lodge, Shahjamal, Aligarh.
Addressing the meeting Inspector General of Police of Aligarh Range, Prakash D. said that people of Aligarh are peace loving but sometimes, several anti-social elements try to disturb the peaceful atmosphere of the city but it is heartening to see the people of Aligarh have been successful in diffusing such malicious attempts.
He said that Aligarh Udyog Vyapar Pratinidhi Mandal is a composition of traders of all religions and sects and they are united for their common goals and they deserve appreciation for this.
District Magistrate of Aligarh, Rajiv Rautala said that the time has come when the people of city are expected to change their perception and thinking and don't fall prey to rumours.
"They must maintain communal harmony and brotherhood as this is the key to success for any prosperous city", he said.
Full report at:
http://www.ummid.com/news/2013/October/13.10.2013/communal-harmony-meet-in-aligarh.html#sthash.QzxUw7FH.dpuf
---------
Top Hizb commander arrested in Kashmir valley
PTI | Oct 14, 2013
SRINAGAR: A top commander of Hizb Mujahideen militant outfit has been arrested by security forces from Bandipora district of Kashmir valley, police said on Monday.
Junaid, who used aliases Manzoor and Arshad and was working with the outfit for the past 14 years, was arrested in Turkpora area of north Kashmir's Bandipora district last Wednesday, a police spokesman said.
On specific information about presence of a militant in a house in the area, Army and police had conducted a joint operation and cordoned off a house, where Junaid was hiding.
He tried to break the cordon and escape, but he was overpowered and arrested, the spokesman said.
Full report at:
http://timesofindia.indiatimes.com/india/Top-Hizb-commander-arrested-in-Kashmir-valley/articleshow/24134110.cms
------------
BSF likely to seek flag meeting with Pak Rangers after firing
PTI | Oct 14, 2013
NEW DELHI: BSF is likely to seek a flag meeting with Pakistani Rangers which opened fire in forward areas along the India-Pakistan border in Samba district of Jammu and Kashmir, injuring one jawan.
Home ministry officials said this was the third incident of sniper fire from Pakistan side this year along the international border and cannot be taken lightly as there have been increased activities by militants from across the border.
"BSF is likely to seek a flag meeting with Pakistani Rangers to lodge a strong protest," an official said.
Full report at:
http://timesofindia.indiatimes.com/india/BSF-likely-to-seek-flag-meeting-with-Pak-Rangers-after-firing/articleshow/24159217.cms
---------
URL: https://www.newageislam.com/islamic-world-news/new-age-islam-news-bureau/malaysian-court-rules-use-of--allah--exclusive-to-muslims/d/13985