New Age Islam News Bureau
20 Aug 2019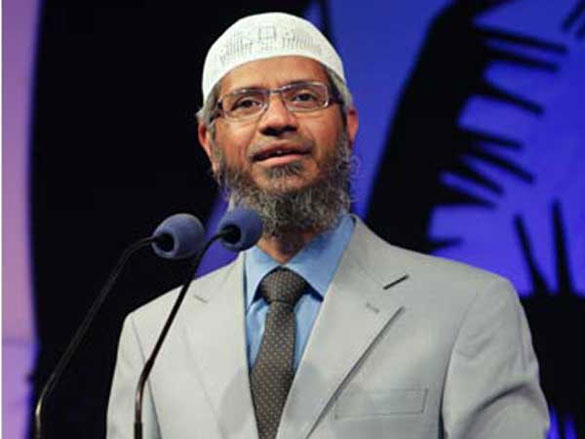 Malaysian Media: Zakir Naik banned from giving speeches in Malaysia. (file pic)
-------
• Malaysia Reportedly Bans Controversial Indian Islamic Preacher Zakir Naik from Giving Speeches
• Preacher Abdul Somad under Fire For 'Blasphemous' Remarks Against Christian Cross
• Triple Talaq: Plea in Delhi HC Says Law Violates Rights of Muslim Husbands
• 200 Pak Twitter Accounts Suspended Over Kashmir Posts
• Afghans Voice Fears That the U.S. Is Undercutting Them in Deal with the Taliban
• Nigeria: Boko Haram - 35,000 Killed So Far in Nigeria - UN
• Internet Infrastructure Companies Must Help Keep Extremists Offline
• Turkish Army Sends Massive Military Convoys to Idlib to Support Tahrir Al-Sham Terrorists
Southeast Asia
• Malaysia Reportedly Bans Controversial Indian Islamic Preacher Zakir Naik from Giving Speeches
• Preacher Abdul Somad under Fire For 'Blasphemous' Remarks Against Christian Cross
• Indian Islamic preacher apologises to Malaysians for racial remarks
• We need a Saddam Hussein in Malaysia, says Asri in hitting out at 'anti-Malay' voices
• Thai official dismisses Muslim insurgent demand on detainees
• Indian Muslim preacher Zakir Naik undergoes 10 hours of questioning in Malaysia
• Attacker of East Java Police Post Linked to Islamic State-Affiliated Group
--------
India
• Triple Talaq: Plea in Delhi HC Says Law Violates Rights of Muslim Husbands
• Rajasthan: Countrywide Alert Sounded After Group of 4 Along ISI Agent Enter India
• Kashmir 'A Bilateral Issue' Between India & Pak: Afghanistan Envoy
• Army denies Shehla Rashid's claims of excesses by security forces in J&K
• PM Modi tells Trump Pakistan's rhetoric and incitement to violence not conducive to peace
• Delhi HC seeks Centre, J-K stand on Shah Faesal's plea against his detention
• After call with Narendra Modi, Donald Trump dials Imran Khan, asks to 'moderate rhetoric'
--------
Pakistan
• 200 Pak Twitter Accounts Suspended Over Kashmir Posts
• Pakistan Opposition Leader Thanks Turkey, China over Kashmir
• PM Imran Khan gives army chief Gen Bajwa 3-year extension
• Pakistan's Mohammad Rafiq rises as a hero after Norway mosque shooting
• Pakistan alarmed at Indian attitude over water treaty
• Two Pakistani Soldiers Killed In Roadside Bomb near Afghan Border
• Suspects booked for sectarian violence in last 10 years to be arrested
• India suffered moral defeat on Kashmir issue: Bilawal
• APC to take up Kashmir issue today
--------
South Asia
• Afghans Voice Fears That the U.S. Is Undercutting Them in Deal with the Taliban
• Bangladesh, UNHCR To Survey Rohingya Regarding Return To Myanmar
• Afghanistan vows to crush Islamic State havens after attack
• Special Forces destroy large weapons cache of Taliban in Helmand
• 4 Taliban, ISIS militants killed, detained in Special Forces raids, airstrike in Kabul
• Afghan Air Force conduct airstrikes in Logar and Ghazni killing 9 Taliban militants
• Afghan forces kill, wound 7 Taliban militants in Farah operations
• Pakistan says will remain a steadfast partner of Afghanistan after multiple bombings
• Afghan forces foil rocket attack on presidential palace and defense ministry in Kabul
--------
Africa
• Nigeria: Boko Haram - 35,000 Killed So Far in Nigeria - UN
• 2 al-Shabaab militants killed, 4 injured in southern Somalia
• Formation of Sudan sovereign council postponed at request of opposition
• Sudan's ex-president got $90mn from Saudi Crown Prince: Official
• Despite uprising, economic crisis bites Sudan civilians
--------
North America
• Internet Infrastructure Companies Must Help Keep Extremists Offline
• Omar, Tlaib host news conference on travel restrictions
• Tearful Tlaib Says Grandmother Advised Her against Israel Trip
• Canada 'disappointed' by British decision on 'Jihadi Jack'
• US anti-Iran policy in high seas harms Europeans: LA Times
• Go to Israel, see 'cruel reality of the occupation': Omar
• Pompeo, Egyptian counterpart discuss Daesh, Libya
• US: Anti-fascist group might be labelled 'terror group'
--------
Mideast
• Turkish Army Sends Massive Military Convoys to Idlib to Support Tahrir Al-Sham Terrorists
• Palestinian president sacks all advisors amid financial crisis
• 17 countries of Saudi-led coalition defeated in Yemen: Houthi
• Iranian Academics Ask for More Efforts to Free Sheikh Zakzaky
• US Secretary of State Pompeo: Release of Iranian tanker 'unfortunate'
• Iran's Zarif rules out talks with US over a new nuclear deal
• Jordan MPs urge government to expel Israeli envoy over al-Aqsa provocations
• Saudi-led coalition strikes Yemen capital six times
• Yemeni forces hit pro-Saudi military parade in Marib with new missile
• Ankara deepens crackdown on opposition politicians
• US scraps West Bank conference over Palestinian protests
--------
Arab World
• Western Countries Continue to Resist Return of ISIS Children
• Iraqi intelligence arrest three Islamic State terrorists in Nineveh
• Pentagon sees Iraq and Syria facing greater threat from ISIS, Iran proxies
• Egyptian Sought in F.B.I. Qaeda Query Says He Has Nothing to Hide
• 44 Suspects Charged with Forming Terrorist 'Cluster' Cells in Egypt
• Senior MP: Hashd Al-Shaabi Arms Cache Near Baghdad Bombed by Israeli Drone
• Rights groups voice solidarity with hunger-striking Bahraini inmates
• Bahrain joins US military coalition in Persian Gulf
• Assad regime warplanes strike Turkish armored convoy in Idlib
• Egypt court hands out 6 death sentences on terror charges
--------
Europe
• Militant Neo-Nazi Group Actively Recruiting Ahead of Alleged Training Camp
• Germany's Jewish council warns against AfD's 'right-wing extremism'
• Macron, Putin hold French-Russian talks before G-7
• The relentless sale of British assets to foreigners shows no sign of abating
• US conveys its 'strong position' to Greece over freed Iranian tanker
Compiled by New Age Islam News Bureau
URL: https://www.newageislam.com/islamic-world-news/malaysia-reportedly-bans-controversial-indian/d/119515
--------
Malaysia Reportedly Bans Controversial Indian Islamic Preacher Zakir Naik from Giving Speeches
20.08.2019
New Delhi (Sputnik): The controversial Indian Islamic preacher Zakir Naik is facing charges of inciting communal hatred and committing unlawful activities in that country. He is also facing charges of inciting terror groups in India and Bangladesh.
Malaysia gave permanent residency to Naik, but his recent hate speeches against Hindus and Chinese nationals in that country, have irked the government of Mahathir Mohamad, which is considering action against the preacher, including deportation.
The move to ban Naik from giving speeches follows his interrogation by police authorities on his hate speeches, reports India Today.
Naik, however, denied the allegations and claimed his speeches were misunderstood. Earlier two ministers had also told the PM that Zakir Naik should no longer be allowed to remain in Malaysia.
Though a Muslim-majority nation, minority Hindus and ethnic Chinese enjoy equal rights in Malaysia.
Zakir Naik is the founder and president of the Islamic Research Foundation and a very popular televangelist in several Islamic countries. He was a trained physician before switching over to religious preaching. Naik's radical speeches are banned in India, Bangladesh, Canada, and the United Kingdom.
Investigations into a terror attack in Dhaka, the capital of Bangladesh, in July 2016 revealed that the terrorists involved in the brutal killings were influenced by Zakir Naik. The Bangladeshi government subsequently banned his TV channel Peace, because it was not "consistent with Muslim society, the Quran, Sunnah, Hadith, Bangladesh's Constitution, our culture, customs. and rituals".
India's counterterrorism agency, the National Investigation Agency also found his influence on terrorists arrested from Hyderabad and had filed a formal complaint against him and his Mumbai-based organisation, accusing him of indulging in unlawful activities and promoting religious hatred.
New Delhi has made a formal request to Malaysia for the extradition of Zakir Naik, wanted in in connection with his role in a terrorist attack in Bangladesh and cases of money laundering and hate speech.
https://sputniknews.com/asia/201908201076589710-malaysia-reportedly-bans-controversial-indian-islamic-preacher-zakir-naik-from-giving-speeches/
--------
Preacher Abdul Somad under fire for 'blasphemous' remarks against Christian cross
August 19, 2019
Muslim preacher Abdul Somad has become embroiled in religious controversy since a video of him calling the Christian cross "an element of the devil" during a sermon went viral on social media. Abdul's scathing remarks regarding the crucifix have garnered strong responses from the public, including religious scholars who criticized the sermon for propagating anti-Christian sentiment. Indonesian Catholic Scholar Association (ISKA) chairman Hargo Mandiraharjo bemoaned Abdul's now-viral sermon, saying that religious differences shouldn't be an excuse for condescension and insults against people of different beliefs. "As a religious figure, [Abdul] was supposed to be a peaceful bridge between different religions," Hargo said on Saturday as quoted by tempo.co. He said Abdul's content...
https://www.thejakartapost.com/news/2019/08/19/muslim-preacher-abdul-somad-under-fire-for-blasphemous-remarks-against-christian-cross.html
--------
Triple Talaq: Plea in Delhi HC says law violates rights of Muslim husbands
August 20, 2019
A petition before the Delhi High Court on Monday alleged that that the new legislation which makes instant triple talaq a punishable offence is a violation of the fundamental rights of Muslim husbands.
The petition by Advocate Shahid Ali, which came up before a bench of Chief Justice D N Patel and Justice C Hari Shankar, said the legislation criminalising the practice of instant triple talaq and making it a non-bailable offence punishable with three years of imprisonment would shut down all room for compromise between the husband and wife.
The plea argued that since instant triple talaq has been declared void by the Supreme Court, the act of its pronouncement cannot be construed to be a criminal offence or even as a simple wrong or a civil wrong. Ali said the Act is violative of Articles 14, 15 and 21 of the Constitution and is liable to be struck down.
The court, after hearing contention of the counsel, listed the matter for further hearing on October 18.
A similar challenge is pending consideration before the Supreme Court where a Kerala-based Muslim organisation has alleged that The Muslim Women (Protection of Rights on Marriage) Act, 2019 violates fundamental rights of Muslim husbands.
Both the petitions were filed a day after President Ram Nath Kovind gave assent to the new legislation.
https://indianexpress.com/article/india/triple-talaq-plea-in-delhi-hc-says-law-violates-rights-of-muslim-husbands-5918372/
--------
200 Pak Twitter accounts suspended over Kashmir posts
Aug 20, 2019
KARACHI: After a sea of anti-India tweets emanating from Pakistan were objected to by the authorities in India, the micro-blogging site Twitter is said to have suspended 200 accounts in Pakistan.
The Pakistan government has specified to the Twitter that 200 accounts that were suspended in the past week were apparently posting about Kashmir, reported Dawn News.
Over the last one week, a large number of Pakistanis have taken to Twitter to report that accounts were being suspended after they posted in support of Kashmir.
The claim came from journalists, activists, government officials and fans of the military tweeting in support of Kashmir. Simultaneously, #StopSuspendingPakistanis was trending on Twitter in Pakistan.
On Sunday, Director General of the Inter Services Public Relations (ISPR) Major General Asif Ghafoor had said the authorities had taken up with Twitter and Facebook the suspension of Pakistani social media accounts posting content on Kashmir.
Giving details about the complaint lodged with Twitter, the Prime Minister's Focal Person on Digital Media Arslan Khalid told Dawn news that the Pakistan TelecommuÂnication Authority (PTA) had lodged an official complaint with Twitter's regional office on Monday.
"We are approaching this case with a multi-pronged strategy where PTA has sent the complaint mentioning (200) accounts to the regional office seeking an explanation for their suspension. We are also working on a long-term strategy through the National IT Board (NITB) so that such a situation does not arise again," he said.
A list of accounts — provided to Dawn by the focal person — reportedly suspended over Kashmir in the past week, includes Twitter handles run by some government officials as well.
One such account is of the focal person to the Punjab chief minister on digital media, Mashwani Azhar. A screenshot of Twitter's notice to Azhar purports that the platform suspended the account for impersonation.
Twitter, however, maintains that it enforced policies judiciously and ensured impartiality of all users, regardless of their political beliefs and country of origin, reports Dawn News.
"We believe people on all sides of an issue have a fundamental right to discuss them within the boundaries of our policies, which prohibit terrorism, hateful conduct, platform manipulation, and abuse. At Twitter no one is above our rules."
The spokesperson did not comment on the reasons that led to certain accounts — specified in the email — being suspended.
"We don't comment on individual accounts for privacy and security reasons," the official said.
Twitter did not deny or acknowledge the spike in government requests from India or Pakistan following the development on Kashmir.
https://timesofindia.indiatimes.com/world/pakistan/200-pak-twitter-accounts-suspended-over-kashmir-posts/articleshow/70748362.cms
--------
Afghans voice fears that the U.S. is undercutting them in deal with the Taliban
By Pamela Constable
August 17, 2019
KABUL — For months, Afghans have been waiting anxiously to see whether negotiations between U.S. officials and Taliban insurgents will lead to a lasting peace and a solid path to power-sharing or leave them bereft, facing revived conflict and a possible Taliban takeover.
Those concerns deepened Saturday as news spread that President Trump's top peace negotiator, Zalmay Khalilzad, had presented him Friday with a nearly finished deal that would remove thousands of U.S. troops but had not locked in Taliban commitments to a cease-fire or political negotiations with Afghan officials.
President Ashraf Ghani, who has been left out of the U.S.-Taliban talks at the insistence of the insurgents, made no statements Saturday. His spokesman, Sediq Sediqqi, said Ghani had not yet been briefed on Friday's developments but that his government would work with U.S. officials to achieve a "dignified and sustainable peace."
Speaking at a news conference, Sediqqi noted that U.S. officials had assured Ghani that a U.S. troop withdrawal would be based on "conditions," meaning only if the Taliban hold to their commitments. He said that if the insurgents are ready to stop violence and turn to political activity, "this can be a good deal for the Afghan people."
Hours later, a bomb ripped through a crowded wedding hall in western Kabul, killing at least 38 people and wounding about 100, security officials said.
No group claimed responsibility for the blast, but it followed two recent bombing attacks in Kabul attributed to the Taliban. In one, a car bomb killed 45 people and injured 145. In the second, a bomb and gun attack on a political party's office left 20 dead and more than 50 injured.
Guests at the wedding posted photos on social media showing bloodstained floors and overturned chairs and tables. Others posted messages saying a suicide bomber posing as a guest had detonated explosives in the crowded hall. Multistory wedding halls in Kabul often host multiple weddings in one night with several thousand guests.
Sediqqi tweeted after midnight that he was "devastated" by the news and added: "How is it possible to train a human and ask him to blow himself up inside a wedding?!! Why this enmity against innocent humans?"
A variety of Afghans raised questions Saturday about the peace talks: Why had they been conducted in secret, and why was the Trump government in such a hurry to send U.S. forces home? What guarantees were there that the Taliban would sit down to talk with Afghan leaders and not sweep back into power once foreign forces leave?
"Nobody knows what has happened in these talks," said Mohammed Arzam, 74, who was talking with friends outside a bakery. "Everyone wonders, could things go back to the way they were in Taliban time? Women were hit with hoses, and people lived like animals in cages. If the Americans go, what will stop them this time?' "
Raihana Azad, a legislator from rural Daikundi province, said Trump is hurrying to get the troops out "for the sake of his reelection, but it is a bad mistake."
Azad added: "The Taliban cannot be trusted to hold up their side. The Americans came to help us build democracy and human rights. If they leave without a good peace deal, we will witness more horror."
The key Taliban demand is that all U.S. military forces, now numbering about 14,000, will leave over an agreed period of time. The group's stated goal is to become the dominant force in Afghan public life and replace the current democratic Islamic Republic with a theocratic Islamic Emirate.
The key American demands have been that the Taliban renounce their ties with al-Qaeda and other violent Islamist groups, agree to a cease-fire and participate in follow-up negotiations with Afghan leaders to design a shared new governing system.
The agreement described by U.S. officials Friday chiefly covers the removal of U.S. troops and the Taliban commitment to cut ties with other extremist groups. It mentions a cease-fire and intra-Afghan talks to follow after a deal is signed, but does not contain a detailed cease-fire agreement or make clear whether the Taliban has agreed to negotiate with Afghan officials.
Analysts said the most critical part of the peace process will be the intra-Afghan talks. If a U.S.-Taliban deal is struck in Qatar, those talks are slated to be held in Oslo soon, with the goal of mapping out a political transition. But they are expected to be difficult, and they could be either helped or hurt by plans for presidential elections in late September.
"Every major transition in our past history has been disastrous, with violence and war or military coups," said Haroun Mir, an independent Kabul-based analyst. "This time we have a government in place, but the Taliban don't accept our constitution, our elections or our system. If they renege on their agreement to negotiate, the U.S. can't just send its troops back here."
Several Afghans raised another concern: What if some hardened Taliban commanders do not go along with a cease-fire pledge or other compromises agreed to in Qatar? What if the religious militia is more fractured and less vertically controlled than it appears?
Unforeseen violence could exacerbate such problems. On Friday, a younger brother of Haibatullah Akhundzada, the supreme Taliban leader, was reportedly killed in a bombing attack at a mosque in Quetta, a city in southwestern Pakistan where key Taliban leaders have lived for years.
In Wardak province southwest of Kabul, where the Taliban controls numerous districts, legislator Hameeda Akbari said local Taliban commanders told her they would not accept concessions made by Taliban negotiators and that they suspect some U.S. forces will stay.
"We have deep concern that this so-called peace deal will bring a new era of crisis," Akbari said. "Some Taliban foot soldiers believe their leaders are betraying them, and they may join other groups or form their own insurgency."
Nasir Ahmad Faqiri, head of the Ghazni provincial council, said Afghans could not trust Taliban promises but that a well-designed peace process might draw the insurgents away from violence and into political life.
"Peace is the priority, but it must include the achievements of the past 18 years," Faqiri said. "Many lives have been lost and much money spent to build a government and a republic. No one should give them away."
Sayed Salahuddin and Sharif Hassan contributed to this report.
https://www.washingtonpost.com/world/afghan-fears-mount-that-the-us-is-undercutting-them-in-deal-with-the-taliban/2019/08/17/f4c7839e-c061-11e9-a8b0-7ed8a0d5dc5d_story.html?noredirect=on
--------
Nigeria: Boko Haram - 35,000 Killed So Far in Nigeria - UN
17 AUGUST 2019
An estimated 35,000 persons have lost their lives in the ongoing Boko Haram insurgency in Adamawa, Borno, and Yobe States and other parts of Nigeria since the beginning of the conflict in 2009, the United Nations has said.
"These are 35,000 too many deaths," it said in a statement.
The agency also said 37 aid workers lost their lives in the course of their duties in the region.
This was disclosed in a statement sent to PREMIUM TIMES on Saturday by the United Nations Office for the Coordination of Humanitarian Affairs (OCHA) in commemoration of its humanitarian day.
"In total, 37 aid workers have lost their lives in service of humanity since the beginning of the conflict. We are here together to honour them and their grieving families, relatives, and children surviving them.
"As I stand before you today, my thoughts also go to the families of our colleagues who are still being held captive by armed groups. The UN and its humanitarian partners call for their immediate release and return to safety.
"My heart also goes out to the families of the thousands of civilians who have been similarly abducted and whose whereabouts are still unknown," it said.
"Today, we are here together to remind the world that the humanitarian crisis hitting Borno, Adamawa and Yobe states is far from over.
"The less attention we pay to the crisis in the North-east, the more risks face our colleagues who are working in extremely volatile areas struck by violence and devastation.
"As respect for the laws of war weakens, aid workers are increasingly vulnerable, though they are more needed than ever before," it added.
Honouring the dead
The UN also acknowledged the female humanitarian workers deployed in the North-east and the ones who died in the line of duty.
"Women are active in every aspect of humanitarian action: from negotiating access to people in need to addressing deadly diseases such as measles and cholera. From reuniting separated children to ensuring people uprooted by natural disasters and conflict have shelter, access to clean water, healthcare, food and education," it said.
"Women humanitarians bring a unique perspective to this work through their understanding of the specific needs and priority of girls and women.
"And women humanitarians extend our global humanitarian access in parts of the world by their ability to reach women and girls who might otherwise be out-of-reach and bring them the information, support and services they need.
"Saifura Hussaini Ahmed Khorsa, Hauwa Mohammed Liman; they were midwives with ICRC and were executed after being held in captivity by non-state armed groups for more than six months. Both aid workers were abducted from Rann town, Borno State in March 2018 along with a nurse from UNICEF who is still held in captivity.
"Faye Mooney, she was a British communications and learning specialist with the non-governmental organisation, Mercy Corps. She lost her life in an attack by gunmen in Kaduna State earlier this year."
https://allafrica.com/stories/201908180028.html
--------
Internet infrastructure companies must help keep extremists offline
08/16/19
Before launching his shooting rampage at a Walmart in El Paso, Texas, 21-year-old Patrick Crusius posted an anti-immigrant screed on the online messaging board 8chan. 8chan has become a popular vehicle for extremists to share hateful content and glorify mass shootings. After the massacre in El Paso U.S. policymakers and tech companies are finally taking notice.
Last Friday, the White House hosted a meeting with tech companies to discuss violent online extremism. President Trump also called upon the Justice Department to work with local, state, and federal agencies as well as tech companies to develop tools that can help detect potential mass shooters. Additional hearings are planned by the House Homeland Security Committee, which has asked 8chan founder Jim Watkins to testify about the proliferation of extremist content.
The El Paso attack was not the only recent extremist incident with links to 8chan. Just prior to the March attacks in Christchurch, New Zealand, Brenton Tarrant posted his manifesto on Twitter and 8chan. The 8chan post also reportedly contained a link to Tarrant's Facebook page, where he later broadcasted the shootings using Facebook Live. A month later, John T. Earnest posted an anti-Semitic manifesto on 8chan prior to initiating his attack at a synagogue in Poway, Calif.
8chan is a web forum and message board website that claims to be committed to anti-censorship and free speech. Although a wide range of topics are discussed on the forum, the site has become a gathering place for far-right extremists and neo-Nazis due to the site's lax content policies and refusal to remove extremist content and violent rhetoric.
In the wake of El Paso however, Cloudflare and other website infrastructure companies have demonstrated that it is possible to combat such inaction and prevent the spread of extremist content.
On Aug. 5, the CEO of Cloudflare, a website security company, wrote that it would terminate 8chan as a customer, stating that "we [the company] draw the line at platforms that have demonstrated they directly inspire tragic events and are lawless by design. 8chan has crossed that line." Cloudflare has done this once before, cutting ties with the neo-Nazi news site, The Daily Stormer. (Though, Cloudflare has not consistently applied this policy with other far-right extremist websites.) Following Cloudflare's decision, 8chan administrators moved the site over to Epik-owned BitMitigate, which also services The Daily Stormer and Gab, a right-wing social media platform. Epik has also touted that it is in ardent supporter of free speech to justify its provision of services to far-right extremists and neo-Nazis.
As it turns out, Epik/BitMitigate was purchasing services from a larger infrastructure-as-a-service provider called Voxility. Voxility was notified of Epik/BitMitigate's provision of services to 8chan, and made the move to sever ties with Epik/BitMitigate—making it that much more difficult for the so-called pro-free speech company to conduct its operations. Voxility's decision effectively helped to prevent ongoing support for 8chan, taking the site offline.
Voxility's decision serves as a useful example of how a business-to-business (B2B) tech company can help prevent the spread of hateful, extremist content by denying critical services to other firms. The case with 8chan has revealed that in spite of a company's insistence on free speech and absolute refusal to remove any content—even when its hateful and linked to violent acts—most tech firms rely on others in order to operate on online. The Internet is effectively a network of networks, an ecosystem where a reliance on others can be leveraged to mitigate the most extreme and dangerous websites. Internet infrastructure providers, such as Voxility, can and should have a role in removing extremist and terrorist material online.
U.S. policymakers and other lawmakers across the globe must consider B2B tech firms such as cloud infrastructure providers as they consider new rules and regulations for the industry. Clearly, their services can be misused by extremist individuals and even the tech companies that support their views and hateful speech. Truly effective counter-extremism legislation and regulation must consider every aspect of Internet services that can be manipulated to promote devastating violence.
https://thehill.com/blogs/congress-blog/technology/457769-internet-infrastructure-companies-must-help-keep-extremists
--------
Turkish Army Sends Massive Military Convoys to Idlib to Support Tahrir Al-Sham Terrorists
Aug 19, 2019
The Turkish Army's military convoys arrived in the cities of Saraqib and Ma'aret al-Numan in Southern Idlib as the Syrian Army has made advances in Khan Sheikhoun in battle against Tahrir al-Sham terrorists.
Battlefield sources said the Turkish Army's military convoy comprised of 28 military vehicles, including tanks and trucks carrying weapons and military equipment, and added that massive military convoys of the National Liberation Army affiliated to Ankara were also sent to the Southern battlefront of Idlib and Northern Hama from Afrin in Northern Aleppo to block the Syrian Army advances.
Accordingly, the Syrian Foreign Ministry in a statement lambasted Turkey's blatant interference in Syria's territorial integrity and support for terrorist groups.
In a relevant development earlier on Monday, the Syrian Army continued its military operations in Southern Idlib and after inflicting heavy losses and casualties on the terrorist groups managed to enter Khan Sheikhoun after five years.
The Damascus Army troops kept on their clashes with the terrorists in Northwestern Khan Sheikhoun in Southern Idlib, and took control of al-Faqir military post and deployed only 900 meters from Aleppo-Damascus Highway around Khan Sheikhoun.
The Arabic-language al-Watan newspaper quoted battlefield sources as saying that the Syrian Army troops entered Khan Sheikhoun city from the North-West after making further advances.
It pointed to the destruction of several bomb-laden vehicles in the region, and said that tens of terrorists started fleeing the scene of the battle as the Syrian Army made its advances.
Meantime, the Syrian Observatory for Human Rights (SOHR) pointed to the arrival of the Syrian Army in Khan Sheikhoun city after five years since the occupation of the city by terrorists, and said that at least 45 terrorists were killed in the Syrian Army's military operation in Khan Sheikhoun.
The Syrian Army's Advances comes as terrorist groups are accusing each other of losing the regions in Idlib.
In a relevant development on Sunday, the Syrian Army continued its military operations around Khan Sheikhoun, and cut off the most important and main route used by the terrorists from Ma'aret al-Numan to Khan Sheikhoun.
The Syrian Army troops, meantime, continued their clashes with Tahrir al-Sham to the Northwest of Kham Sheikhoun, took control of the town of Tal Kafar Eidoun just three kilometers to the West of the International Aleppo-Damascus Highway.
The Syrian Army troops, meantime, continued their advances from Tal al-Nar to the East of Tal Alas and captured Mohammad Qassem al-Najm Farms and Sifu to the East of Kafar Nab.
A military source, meantime, pointed to the Syrian Army troops' efforts to lay full siege to Khan Sheikhoun, and said that by imposing control over the Aleppo-Damascus Highway, the Syrian Army has managed to cut off the main road linking Khan Sheikhoun to Ma'aret al-Numan that hosts the largest bastion of the terrorists in Idlib province.
The English-language al-Masdar reported that the Syrian Army is now just one kilometers away from Khan Sheikhoun.
https://en.farsnews.com/newstext.aspx?nn=13980528000677
--------
Southeast Asia
Indian Islamic preacher apologises to Malaysians for racial remarks
AUGUST 20, 2019
KUALA LUMPUR (Reuters) - Controversial Indian Islamic preacher Zakir Naik apologised on Tuesday for making racially sensitive remarks in Malaysia, a day after he was questioned by police for hours over the comments.
Naik, who faces charges of money laundering and hate speech in India, has come under fire for comments that pitted Malaysia's ethnic and religious minorities against the predominantly Muslim Malay majority.
Malaysian police grilled Naik for 10 hours on Monday about a speech earlier this month in which he said Hindus in Malaysia had "100 times more rights" than the Muslim minority in India, and that Malaysian Chinese were guests of the country.
Race and religion are sensitive issues in Malaysia, where Muslims make up about 60 percent of its 32 million people. The rest are mostly ethnic Chinese and Indians, most of whom are Hindus.
Naik, who has lived in Malaysia for about three years, apologised for his remarks but insisted that he was not a racist. He said his detractors had taken his comments out of context and added "strange fabrications to them".
"It was never my intention to upset any individual or community," he said in a statement on Tuesday.
"It is against the basic tenets of Islam, and I would like to convey my heartfelt apologies for this misunderstanding," Naik said.
Naik has permanent residency in Malaysia. Several ministers called for his expulsion after his controversial remarks and at least seven states have barred him from speaking in public.
Malaysian Prime Minister Mahathir Mohamad said on Sunday Naik was free to preach about Islam but should not speak about Malaysia's racial politics, state media reported.
https://uk.reuters.com/article/uk-malaysia-islam-preacher/indian-islamic-preacher-apologises-to-malaysians-for-racial-remarks-idUKKCN1VA0BC
--------
We need a Saddam Hussein in Malaysia, says Asri in hitting out at 'anti-Malay' voices
August 20, 2019
PETALING JAYA: Perlis mufti Mohd Asri Zainul Abidin has defended his remarks on preserving the Malays' cultural and political dominance, suggesting that there is a free-for-all climate in Malaysia which only a strongman like Saddam Hussein can put a stop to.
He said it was time that authorities rein in leaders from among the minority communities who question the Malay dominance in an attempt to undermine the country's national character.
"We never liked Saddam Hussein and his cruelties. But it was because of him that Iraq was not divided during his time," he said, referring to the Iraqi dictator whose regime collapsed in 2003 following an invasion by US-led coalition forces.
Asri said Malaysia needed a strong, dominant leader to take on the "many thugs we currently have".
"And we will look for a candidate," he added.
"Sometimes, in a place with a lot of gangsters, the leader needs to be one of the gangsters as well," Asri said at a Merdeka-related event at the state-run Kolej Universiti Islam Perlis on Sunday evening.
Saddam, who ruled Iraq with an iron fist for three decades, was accused of committing crimes against the country's majority Shia as well as the Kurdish populations in the north. He was executed in 2006 after he was found guilty of crimes against humanity. Asri also stood by his earlier remarks that Malaysia belongs to the Malays, and rejected accusations that non-Malays have been unfairly treated.
"We (Muslims) are anti-racism, this does not require explanation. Even the uneducated Malays know that Islam does not allow people to force others to accept the religion," he said.
He said his own Islamic policies in Perlis have always emphasised justice and fairness to non-Muslims.
He cited as example Perlis' stand on allowing meat from the Islamic ritual slaughter during Aidiladha celebrations to be distributed to non-Muslims.
"Many of my writings are in defence of non-Muslim rights in this country. You can read my articles on this topic. But now there is an imbalance. The government has no clear direction and everybody can speak up," he said.
Asri said Malaysia's national identity is Malay, adding that the Malays are "land owners" of the country who must be respected.
"There must be an identity. God created nations and tribes so that you can recognise each other. Everyone has an identity. Malays wear the Malay dress, not that there's anything wrong with wearing the Indian dress. But our national dress is baju Melayu.
"Does that mean we have insulted other races? No. Europe has its ways, Thailand has its ways. Tanah Melayu has its ways," he said, using a historical reference for the Malay peninsula.
"But if learning three to six pages of Jawi in Tanah Melayu can trigger a war-like situation, is this being respectful to the land owners?
"Justice is for all. But every land has its identity. In Tanah Melayu, its religious identity is Islam and its cultural identity is Malay," said Asri.
Asri's comments follow his defence of Dr Zakir Naik, in the wake of calls by ruling politicians and non-Muslim groups to deport the controversial Indian preacher.
Last week, police said they would not allow Naik to speak in Perlis, where he was scheduled to appear at several events backed by Asri.
This followed several speeches by Naik in Kelantan, in which he accused Malaysian Hindus of being more loyal to India's Narendra Modi, and suggested that Chinese Malaysians are guests.
Early today, he apologised for his comments, saying he never meant to "upset any individual or community".
Full report at:
https://www.freemalaysiatoday.com/category/nation/2019/08/20/we-need-a-saddam-hussein-in-malaysia-says-asri-in-hitting-out-at-anti-malay-voices/
--------
Thai official dismisses Muslim insurgent demand on detainees
August 19, 2019
BANGKOK: A Thai deputy prime minister dismissed on Monday a demand made by a Malay Muslim group to free those detained over alleged links to the long-running insurgency in Thailand's mainly Muslim south as a pre-condition for formal talks.
Officials of the Barisan Revolusi Nasional (BRN) met a Thai delegation at an undisclosed location in Southeast Asia on Friday and demanded the release of detainees, a leader of the group told Reuters in a rare interview.
The insurgency in the Malay-speaking region of the predominantly Buddhist country has killed some 7,000 people over the past 15 years and has flared on and off for decades.
"How can you say that? Everything must follow the justice procedure," Thai deputy prime minister Prawit Wongsuwan told reporters on Monday when he was asked about the BRN's demand.
The BRN also demanded that the Thai government conduct a transparent investigation into alleged abuses by security forces after allegations that a man from the south, Abdullah Isamusa, 32, fell into a coma after being interrogated by the military.
The army said authorities were investigating and that there was no proof so far of torture.
The BRN, the most active insurgent group in the south, has opted to stay out of peace talks between theThai government and other insurgent groups, although it said it held two previous meetings in recent years.
Full report at:
https://www.freemalaysiatoday.com/category/world/2019/08/19/thai-official-dismisses-muslim-insurgent-demand-on-detainees/
--------
Indian Muslim preacher Zakir Naik undergoes 10 hours of questioning in Malaysia
August 20, 2019
Muslim preacher Zakir Naik has been questioned by police for a second time for allegedly making provocative remarks, in a session which lasted about 10 hours in Bukit Aman.
Zakir, 54, was seen leaving the Bukit Aman police headquarters at 1.30am Tuesday (Aug 20) in a Toyota Innova.
CID director Huzir Mohamed when contacted said Zakir arrived at Bukit Aman at 3.15pm Monday (Aug 19) accompanied by his lawyer.
He said Zakir was being probed under Section 504 of the Penal Code for intentional insult with intent to provoke a breach of the peace.
The preacher from India, who is a permanent resident in Malaysia, had his statement recorded for the first time last Friday for five hours.
He is alleged to have made controversial remarks against Malaysian Hindus and Malaysian Chinese during a talk in Kota Baru on Aug 3, prompting calls for him to be deported to India.
Full report at:
https://www.thejakartapost.com/seasia/2019/08/20/indian-muslim-preacher-zakir-naik-undergoes-10-hours-of-questioning-in-malaysia.html
--------
Attacker of East Java Police Post Linked to Islamic State-Affiliated Group
BY: TELLY NATHALIA
AUGUST 19, 2019
Jakarta. National Police chief Gen. Tito Karnavian has confirmed that the man who attacked a police officer on duty in Wonokromo, East Java, on Saturday has links with the Islamic State-affiliated Jamaah Ansharut Daulah.
The suspect, only identified by the initials I.M., is currently in police custody. He arrived at the police post in Wonokromo on the pretense of filing a report before attacking Adjutant First Insp. Agus Sumarsono with a knife. The officer sustained wounds to his head, arms and face, while another officer who came to his assistance was also wounded.
Those officers managed to subdue and disarm the attacker, who also had a catapult and an airsoft gun in his possession.
"He is a supporter of JAD … he was radicalized online and also by some people in their network," Tito said after visiting the two police officers in a hospital in Surabaya, East Java, on Monday.
He said the perpetrator is from the same group that was involved in the East Java church bombings in May 2018, which resulted in the deaths of at least 28 people, including the attackers.
"Surely, whoever was involved in this latest incident and their network will be tracked down," Tito said, adding that some of those responsible for last year's church bombings remain at large.
Full report at:
https://jakartaglobe.id/context/attacker-of-east-java-police-post-linked-to-islamic-stateaffiliated-group
--------
India
Rajasthan: Countrywide alert sounded after group of 4 along ISI agent enter India
Aug 20, 2019
SIROHI (Rajasthan): A high alert was sounded in the entire country including Rajasthan-Gujarat border on Monday after the district administration came to know that a group of four along with the ISI agent have entered the country on Afghanistani passports.
"Four people with ISI agent on Afghanistani group passports have entered India due to which a high alert has been sounded in the country including Rajasthan, and Gujarat border. They can carry out terrorist activity anytime," says the letter from Sirohi Superintendent of Police (SP) Kalyanmal Meena, which has been sent to all police stations in the district.
Police have been instructed to conduct strict checking in crowded areas such as hotels and bus stations so that no untoward incident takes place.
Police have also been instructed to put up checkpoints in specific areas and keep an eye on the vehicles and also interrogate the suspects.
https://timesofindia.indiatimes.com/india/countrywide-alert-sounded-after-group-of-4-along-isi-agent-enter-india/articleshow/70749313.cms
--------
Kashmir 'a bilateral issue' between India & Pak: Afghanistan envoy
Aug 20, 2019
NEW DELHI/WASHINGTON: Pakistan's desperate efforts to use its so-called Afghanistan card to underscore its equities in both Kabul and Kashmir suffered a significant blow on Monday when Kabul castigated Islamabad for its "reckless, unwarranted and irresponsible" efforts to use the US-led Afghan peace process to force American mediation in Kashmir.
The assertion by Afghanistan's ambassador to the US, Roya Rahmani, follows the warning last week by her Pakistani counterpart Asad Majeed Khan that Pakistan would be compelled to move troops from its western border with Afghanistan to its eastern front because of ongoing tensions over Kashmir.
Islamabad also wants to have its Taliban proxies in power in Kabul so it can revert to using Afghanistan as a "strategic depth" against India.
Rahmani, in a stinging rebuke of Khan, said that Kashmir was "a bilateral issue" between India and Pakistan and that linking it with the US-led Afghanistan peace process bared Islamabad's "sinister intention" to prolong violence in the country.
On Monday, US President Donald Trump, in a 30-minute phone call with PM Narendra Modi, "conveyed the importance of reducing tensions between India and Pakistan and maintaining peace in the region", a brief White House readout issued late Monday night said.
The two leaders, it further said, discussed how they will continue to strenghten US-India economic ties through increased trade, and that "they look forward to meeting again soon". According to an MEA readout, Modi "highlighted the importance of creating an environment free from terror and violence and eschewing cross-border terrorism without exception".
The conversation follows Trump's recent talk with Imran Khan during which he stressed that Islamabad should settle its issues with India bilaterally. This was Modi's and Trump's first conversation since the G20 meeting. Interestingly, Modi referred to the 100th anniversary of Afghanistan's freedom on Monday.
"The PM," MEA said, "reiterated India's longstanding commitment to work for united, secure, democratic and truly independent Afghanistan."
Full report at:
https://timesofindia.indiatimes.com/india/kashmir-a-bilateral-issue-between-india-pak-afghanistan-envoy/articleshow/70746350.cms
--------
Army denies Shehla Rashid's claims of excesses by security forces in J&K
Aug 20, 2019
NEW DELHI: The Delhi Police is examining a complaint against former JNU student and Kashmir People's Movement leader Shehla Rashid over her allegations of violence by the security forces against civilians in the Kashmir valley, which the Army has denied as "baseless" and "unverified", amounting to fake news intended at inciting sentiments.
Police sources said in a complaint marked to the police commissioner, SC lawyer Alakh Alok Srivastava sought Rashid's arrest for spreading fake news against the Indian Army and Government of India. The complaint has been marked to the Special Cell for a probe.
Rashid had alleged that there was widespread violence by the central forces in Kashmir where "people were being abducted from their houses and tortured at detention camps".
Srivastava said that the allegations levelled by Rashid were false, baseless and concocted since she couldn't provide a citation for the allegations she had levelled. Neither did Rashid provide any evidence on the alleged torture by the security forces.
An ANI report quoted the Army as saying: "Allegations levelled by Shehla Rashid are baseless and rejected. Such unverified and fake news are spread by inimical elements and organisations to incite unsuspecting population."
Srivastava's complaint said Rashid's tweets were shared by many Twitter users on international platforms, causing "irreparable injury to the reputation of India".
Stating that her actions amount to instigating disaffection against the state and amounts to sedition, the complaint stated, "Rashid has further committed offences of 'promoting enmity between the classes' under Sections 153, 153-A, 504, 505 of IPC and Information Technology Act 2002 amongst others."
Rashid responded to the complaint and the denial, saying that her tweets are based on conversations with people. "My thread highlights the positive work of the administration too. Let the Army conduct a fair and impartial probe and I'm willing to share the details of the incidents mentioned with them."
She also added that "Isn't it cute that right-wing threatens you with lawsuits, while having suspended every law and every last remaining shred of the rule of law in Kashmir?"
However, Rashid's tweets predictably whipped up a storm on social media. Former DGP of J&K police S P Vaid said on the microblogging site, "It's high time for government agencies to take strict legal action against rumour mongers whose sole aim is to spread misinformation and disrupt the initiatives taken by the security agencies and government for peace."
Full report at:
https://timesofindia.indiatimes.com/india/army-denies-shehla-rashids-claims-of-excesses-by-security-forces-in-jk/articleshow/70746321.cms
--------
PM Modi tells Trump Pakistan's rhetoric and incitement to violence not conducive to peace
Aug 19, 2019
WASHINGTON: Amid Pakistan-instigated ferment and violence from Kabul to Kashmir, Prime Minister Narendra Modi told US President Donald Trump in a 30-minute phone call on Monday that "extreme rhetoric and incitement to anti-India violence by certain leaders in the region was not conducive to peace."
The conversation took place even as the US efforts to arrive at a peace deal in Afghanistan was marred by a horrific bombing at a Kabul wedding on Saturday where the perpetrator was identified as a Pakistani, and India struggled to contain insurgency in Kashmir. Pakistan, which sees Kashmir as its "jugular vein" and Afghanistan as its "strategic depth" against India, is perceived as the spoiler in both places, and although the readout of the phone call did not identify Pakistan by name, it was quite obvious.
"In the context of the regional situation, the Prime Minister stated that extreme rhetoric and incitement to anti-India violence by certain leaders in the region was not conducive to peace. He highlighted the importance of creating an environment free from terror and violence and eschewing cross-border terrorism without exception," the readout from the Prime Minister's office said, adding that Modi "reiterated India's commitment to cooperate with anyone who followed this path, in fighting poverty, illiteracy and disease."
PMO India
✔
@PMOIndia
• 15h
Prime Minister @narendramodi had a telephone conversation today with @POTUS H.E. Mr. Donald Trump. Their thirty-minute conversation covered bilateral and regional matters and was marked by the warmth and cordiality which characterises the relations between the two leaders.
PMO India
✔
@PMOIndia
In the context of the regional situation, PM @narendramodi stated that extreme rhetoric and incitement to anti-India violence by certain leaders in the region was not conducive to peace.
8,314
8:07 PM - Aug 19, 2019
Twitter Ads info and privacy
1,746 people are talking about this
The White House had not commented on the phone call at the time of writing, and Trump did not mention it in his twitterfeed where he railed, as usual, about domestic issues. It was not clear who initiated the call, but the conversation came even as US negotiators neared an agreement with Taliban that would pave way for an American exit from Afghanistan.
Pakistan has been desperately using its so-called Afghan card to underscore its equities in both Kabul and Kashmir, implicitly threatening to be a spoiler in Afghanistan in order to force US mediation in Kashmir.
The country's ambassador to the US Asad Majeed Khan warned last week that Pakistan would be compelled to move troops from its western border with Afghanistan to its Eastern front with India because of ongoing tensions over Kashmir in an effort to draw US intervention in an issue Washington is not inclined to meddle in, except insofar as its affects its drawdown from Afghanistan. Islamabad also wants to have its Taliban proxies in power in Kabul so it can revert to using Afghanistan as a "strategic depth" against India.
The Pakistani envoy's ploy drew a sharp rebuke from his Afghan counterpart in Washington, who said linking the current situation in Kashmir with the ongoing peace efforts in Afghanistan is "reckless, unwarranted and irresponsible."
Asserting that Kashmir is "a bilateral issue" between India and Pakistan, the Afghan ambassador Roya Rahmani said her country believes Pakistan's motive and insistence to tie Afghanistan to the Kashmir issue is a deliberate attempt to prolong the violence happening on Afghan soil.
"The Islamic Republic of Afghanistan strongly questions the assertion made by Pakistan's ambassador to the United States, Asad Majeed Khan, that the ongoing tensions in Kashmir could potentially affect Afghanistan's peace process. Any such statements that link the evolving situation in Kashmir to the Afghan peace efforts are reckless, unwarranted and irresponsible," Rahmani said in a statement, adding that, "It is a poor excuse used by Pakistan to justify its inaction against the Taliban and to avoid taking a decisive stance against the militant group."
Her statement came even as it was revealed that the suicide bomber who attacked a Shia-Hazara wedding in Kabul on Saturday killed 63 people, was a man named Abu Asim Al-Pakistani.
While ISIS took credit for the bombing, it appeared to have got it done with a hireling from one of Pakistan's sectarian outfits which executes the policy of intimidating minority muslims sects (such as shia hazara) so that sunni primacy can be expressed through the likes of Taliban, which is also the objective of the Pakistani military in Afghanistan, currently governed by a more broadbased multi-ethnic dispensation.
Full report at:
https://timesofindia.indiatimes.com/india/pm-modi-tells-trump-pakistans-rhetoric-and-incitement-to-violence-not-conducive-to-peace/articleshow/70743082.cms
--------
Delhi HC seeks Centre, J-K stand on Shah Faesal's plea against his detention
by Pritam Pal Singh
August 20, 2019
The Delhi High Court on Monday sought to know the Centre's and the Jammu and Kashmir administration's stand on a plea by Shah Faesal, the IAS officer from J&K who resigned earlier this year to take up politics, alleging that he was detained illegally at the New Delhi airport and later sent to the Valley against his wishes.
While seeking the court's directions to the authorities to "immediately set him at liberty", Faesal submitted that his life is at "risk", and the "illegal detention amounts abduction".
Taking note of this, a bench of Justices Manmohan and Sangita Dhingra Sehgal directed the Central government's Bureau of Immigration, the State of Jammu and Kashmir and the J&K Police to file their replies to his habeas corpus plea, which also urges that his wife be allowed to meet him.
Solicitor General Tushar Mehta, appearing for the government, opposed Faesal's contention and said that he will file a detailed response.
Full report at:
https://indianexpress.com/article/india/delhi-hc-seeks-centre-jk-stand-on-shah-faesals-plea-against-his-detention-5918632/
--------
After call with Narendra Modi, Donald Trump dials Imran Khan, asks to 'moderate rhetoric'
Aug 20, 2019
US President Donald Trump has in a telephonic conversation urged Pakistani Prime Minister Imran Khan to "moderate rhetoric" with India over the situation in Jammu and Kashmir in an effort to reduce tensions.
Trump's call with Khan - the second in less than a week - came soon after a 30-minute conversation with Prime Minister Narendra Modi on Monday, during which the Indian leader raised the issue "extreme rhetoric and incitement to anti-India violence" by leaders of Pakistan.
Trump spoke by telephone with Khan to discuss "the need to reduce tensions and moderate rhetoric with India over the situation in Jammu and Kashmir," the White House said in a readout of the call.
During the conversation, Trump "reaffirmed the need to avoid escalation of the situation, and urged restraint" on both sides, the White House said. The two leaders also agreed to work towards strengthening US-Pakistan economic and trade cooperation, it added.
In his telephonic conversation with Trump, Modi highlighted the importance of creating an environment free from terror and violence and eschewing cross-border terrorism without exception, a Prime Minister's Office (PMO) release said in New Delhi.
"In the context of the regional situation, the prime minister stated that extreme rhetoric and incitement to anti-India violence by certain leaders in the region was not conducive to peace," it said.
Continuing with his tirade against India over the Kashmir issue, Khan on Sunday had called the Indian government "fascist" and "supremacist", alleging that it poses a threat to Pakistan as well as to the minorities in India.
He also said the world must also seriously consider the safety and security of India's nuclear arsenal as it impacts not just the region but the world.
Earlier this month, India abrogated provisions of Article 370 on the Constitution to withdraw Jammu and Kashmir's special status and bifurcated it into two Union Territories, evoking strong reactions from Pakistan. White House Principal Deputy Press Secretary Hogan Gidley said Trump spoke with Modi to "discuss regional developments" and the US-India strategic partnership.
Full report at:
https://www.hindustantimes.com/india-news/after-call-with-modi-trump-dials-imran-khan-asks-to-moderate-rhetoric/story-rJ97MMkV6XeXaJLaS71vOP.html
--------
Pakistan
Pakistan opposition leader thanks Turkey, China over Kashmir
August 19 2019
Pakistan's opposition leader thanked Turkish and Chinese leaders on Aug. 19 for their weigh behind his country in the current crisis of Jammu and Kashmir.
In separate letters, Shehbaz Sharif, opposition leader in the National Assembly and the president of Pakistan Muslim League (Nawaz group), a major opposition party in Pakistan, addressed Turkish President Recep Tayyip Erdoğan and Chinese leader Xi Jinping to expressed gratitude for their strong and steadfast support for Pakistan over the disputed region.
"I am writing to thank you on behalf of the Islamic Republic of Pakistan and the Pakistan Muslim League (Nawaz) for Turkey's strong and steadfast support to Pakistan on the Kashmir issue," Sharif said in his letter posted on his official Twitter account.
He called it a sign of the longstanding reliable and sincere friendship of the brotherly country Turkey.
"Let me assure you that my party and I will continue to resolutely strengthen this bond of brotherhood.
"Your Excellency, I pray for greater prosperity and success for Turkey under Your Excellency's dynamic & visionary leadership," Sharif said.
Mounting tensions between the nuclear-armed Pakistan and India have further flared following the scrapping of the special status of the picturesque Kashmir valley by New Delhi earlier this month.
Kashmiri leaders and citizens fear this step is an attempt by India to change the demography of the Muslim-majority state, where some groups have been fighting against Indian rule for independence, or for unification with neighboring Pakistan.
Sharif also thanked to China's Xi on behalf of his country and party over his support in the Kashmir issue.
"This demonstrate that China is a reliable and sincere partner of Pakistan and as Your Excellency so aptly put it, our two countries are 'iron Brothers'," he wrote.
Sharif and his party will continue to resolutely support the Belt and Road Initiative and its flagship project, the China-Pakistan Economic Corridor (CPEC), he assured.
http://www.hurriyetdailynews.com/pakistan-opposition-leader-thanks-turkey-china-over-kashmir-145893
--------
PM Imran Khan gives army chief Gen Bajwa 3-year extension
Aug 19, 2019
ISLAMABAD: Prime Minister Imran Khan announced on Monday the extension in tenure of the incumbent Pakistan army chief, General Qamar Javed Bajwa for another three years, ending speculation about the appointment of a new man to the country's most powerful office.
Gen Bajwa was scheduled to retire in November this year. He will now stay on to command the army for another full term.
"General Qamar Javed Bajwa is appointed Chief of Army Staff for another term of three years from the date of completion of current tenure," read a notification issued by the prime minister's office. "The decision has been taken in view of the regional security environment," the brief statement added.
The current government has become the second civilian government to forgo its right to choose a chief of army staff. In 2010, former PM Yousuf Raza Gilani had given an extension of three years to Gen Ashfaq Parvez Kayani.
Despite being fourth in the seniority of top military generals, Gen Bajwa was appointed army chief by ex-PM Nawaz Sharif on November 26, 2016 after the retirement of Gen Raheel Sharif.
Speaking about the extension of Bajwa's tenure, Pakistran foreign minister Shah Mehmood Qureshi said the decision was made by PM Khan taking in view the situation in Kashmir, the security situation in the region and Pakistan's efforts for the peace process in Afghanistan.
When a reporter asked if any improvement was expected in Kashmir and Afghanistan following this decision, Qureshi said a clear message was being conveyed to India that there was "continuation and clarity" in the political and military leaderships in Pakistan.
Before becoming PM, Imran Khan was a staunch opponent of giving extensions to generals and judges after their retirement. In one of his TV interviews a few years ago, Khan had said that all institutions should be run according to their laws. "When you change the laws for an individual, it weakens the entire institution," he had said, adding that generals were not given extensions even during the world wars.
In a tweet in January 2016, he had praised the former army chief for "refusing" to seek an extension. Khan had said that "the nation's respect for Gen Raheel Sharif has gone up after his statement refusing to seek an extension".
It, however, became evident in June this year that Khan would retract from his previous claims after he had included Bajwa as a member of a newly created body in the civilian domain for Pakistan's economic revival — the National Development Council.
Full report at:
https://timesofindia.indiatimes.com/world/pakistan/pm-imran-khan-gives-army-chief-gen-bajwa-3-year-extension/articleshow/70744370.cms
--------
Pakistan's Mohammad Rafiq rises as a hero after Norway mosque shooting
August 19, 2019
OSLO: Admired globally for his relentless valour and unmatched courage, 65-year-old Mohammad Rafiq has become a source of pride for a million Pakistanis at home after he tackled a gunman aiming to attack Muslim worshippers in a mosque in a suburb of the Norwegian capital Oslo on Saturday.
"Rafiq's sheer act of heroism saved a number of Muslims residing in Oslo," Pakistan's ambassador to Norway Zaheer Pervaiz Khan said while praising Rafiq's bravery during a meeting with him at Pakistan's Embassy.
Revealing details about the laudable incident, Rafiq shared, "I was reciting Quran after Zuhr prayers on the day the incident occurred when I saw a man clad in a bullet-proof jacked carrying heavy weaponry; 2 guns and a pistol along with various other ammunition, enter the mosque after breaking through the emergency exit."
"As soon as he opened fire, I rushed towards him while making a jab at him. This made his two guns fall to the floor after which I asked a fellow worshipper named Mohammad Iqbal to take the other weapon away from him. Iqbal did as I instructed, hitting the attacker with the back of the gun, while I held him firmly in my grasp," Rafiq went on to add.
Till the time the police arrived at the scene, Philip made numerous attempts to break free from Rafiq's grasp and even scratched him on the face due to which the old man sustained minor injuries near his eyes.
The terrorist attack caused panic and fear amongst Muslims residents in the country after which peace-loving Norwegians guarded mosques during Friday congregation prayers offering security to worshippers.
Many people also visited Rafiq personally at his residence and congratulated him on his exemplary act of courage.
Full report at:
https://www.thenews.com.pk/latest/514395-pakistans-mohammad-rafiq-rises-as-a-hero-after-norway-mosque-shooting
--------
Pakistan alarmed at Indian attitude over water treaty
Khaleeq Kiani
August 20, 2019
ISLAMABAD: Expressing "deep concern" over Indian attitude towards implementation of the 1960 Indus Waters Treaty, Pakistan on Monday said it would exercise all options to protect its rights given in the treaty.
Minister for Water Resources Faisal Vawda pointed out in a statement that India was obligated under the treaty to provide information about extraordinary flood to Pakistan but had been failing to deliver on the treaty obligation despite repeated requests and reminders.
He said Pakistan's commissioner for Indus waters, who was the regular channel of communication with India under the treaty, had conveyed serious concerns to his Indian counterpart for not honouring the international commitments.
Mr Vawda said the 1960 treaty was an instrument of peace between Pakistan and India and in the region, but if India did not fulfil its obligations, "the treaty provides for a complete mechanism to get justice for Pakistan". He said the Pakistan government was vigilant and would exercise all options given in the treaty. Under Article XII, neither India nor Pakistan could unilaterally abrogate the treaty unless there was a modified and duly ratified treaty in place between the two countries, he explained.
Pakistan's Permanent Commissioner for Indus Waters Syed Mehr Ali Shah told Dawn that he was constantly conveying serious concern to his Indian counterpart over the matters hampering smooth implementation of the treaty. He alleged that India was reneging on about four key commitments relating to annual exchange of flood-related information, overdue visit to the Kishanganga hydroelectric project since 2014, fewer annual meetings and New Delhi's reluctance to provide data on new projects.
Mr Shah said that as Pakistan's first communication link with India on water issues he was putting on record repeated letters on the four subjects before moving on to the next level.
Under the treaty, India is required to provide data in case of 'extraordinary flood' that it had been doing till 1988 floods. Because of the devastations cause by floods, the two sides signed an agreement in 1989 under which India has been providing advance flow data of Ravi, Sutlej and Bias rivers starting July 1 to Oct 10 every year irrespective of the extraordinary flood.
The two sides had also agreed to share information about the locations, format, reservoir inflows and outflows and conservation level and India honoured it all along until 2018 under annual renewal of the agreement. However, New Delhi did not respond to repeated requests from Islam­abad since March this year for renewal of the agreement — an annual feature — or exchange of information until July when it responded in writing that it would provide flood data only under the treaty i.e. only in case of extraordinary flood, thus practically reneging on its 29-year practice of providing regular three-month data.
As a result, India released without prior notice flows into the Sutlej river and did not consider these discharges 'extraordinary'. "Pakistan considers this situation not a good sign for implementation of the treaty because a three-decade arrangement that helped avoid losses has been breached," Mr Shah said.
Pakistan has repeatedly raised questions over six new projects — Kirthai I & II, Sawalkot, Keru, Bursar and Gipsa — being envisaged by India for construction on the rivers dedicated to Islamabad on the pretext that the government had not yet taken a final decision on their construction. Pak­is­tan has sought data about these projects.
The treaty binds India to provide complete data regarding development of hydropower projects and dams six months before the start of construction on them. India is also required to facilitate a visit of Pakis­tani experts to the controversial Kishang­anga hydropower project that it has been denying despite repeated requests since 2014.
The two sides have been holding customary two meetings a year of the Permanent Indus Commission, but India has practically reduced their frequency to one a year at best. The last meeting due in May this year could not be held so far because of evasive attitude of the Indian side.
Full report at:
https://www.dawn.com/news/1500471/pakistan-alarmed-at-indian-attitude-over-water-treaty
--------
Two Pakistani Soldiers Killed In Roadside Bomb Near Afghan Border
August 17, 2019
Two Pakistani army soldiers were killed in a roadside bomb attack in the country's northwest, Pakistani intelligence officials said as reported by AP.
The bomb exploded when a security-forces vehicle was patrolling the Ladha area of South Waziristan.
No group immediately claimed responsibility for the attack.
The Pakistani Taliban has claimed previous such attacks.
The area where the attack took place has been a stronghold of Mahsud militants.
The army claims to have cleared the area near the Afghan border of Islamic militants, following a series of multiple offenses against them in recent years.
On August 16, the brother of the leader of the Afghan Taliban was reported to have been among those killed in a bomb blast at a mosque in southwest Pakistan.
Police said four people were killed and more than 20 injured in the explosion at the mosque some 25 kilometers from the city of Quetta, the capital of the restive Balochistan Province.
Full report at:
https://www.rferl.org/a/two-pakistani-soldiers-killed-in-roadside-bomb-near-afghan-border/30115022.html
--------
Suspects booked for sectarian violence in last 10 years to be arrested
August 20, 2019
RAWALPINDI: As part of security measures for Muharram, City Police Officer (CPO) Mohammad Faisal Rana on Monday directed police to arrest all suspects who have been booked on charges of sectarian violence and under the National Action Plan (NAP) during the last decade but are still at large.
He also directed them to ensure daily attendance of all fourth schedulers at the relevant police stations.
The directives were issued during two separate meetings the CPO held with the sub-divisional police officers (SDPO) and station house officers (SHO) of the respective police circles, police stations and with all the three divisional superintendents of police (SP) of Rawalpindi.
He told the police to obtain surety bonds from miscreants as well as from those having any kind of suspicious or dubious record that they would not create law and order situation.
The CPO told the police that if a fourth scheduler did not register their attendance on daily basis at police station, he should be prosecuted under NAP.
He ordered the police to launch a search operation in private hostels and hotels and if they found a person residing illegally, he should be arrested immediately, besides registering a case against the hotel or hostel's administration.
The CPO directed the police to launch an operation against suspects who were still at large in cases registered under NAP and on charges of creating sectarian and ethnic disturbance during the last 10 years.
The CPO also sought a report on arrest of such suspects on daily basis from the SHOs of all police stations, and asked the SDPOs and SPs to monitor progress in this regard.
The CPO said people placed on the Fourth Schedule of the Anti-Terrorism Act (ATA) would be a risk to social peace and harmony, hence it was very important to keep track of their activities on a regular basis.
Therefore, the attendance of all fourth schedulers on daily basis has been made mandatory at all the relevant police stations, the CPO said.
The CPO said: "We have to maintain an enviable peace in Muharram at all costs; while maintaining the comprehensive writ of the law for which we will take whatever measures we have to take under the legal ambit to serve the requirements of our professional and operational service delivery."
The CPO also directed the SHOs of all police stations to obtain a guarantee from suspects that they would act as law-abiding and peaceful citizens.
Full report at:
https://www.dawn.com/news/1500531/suspects-booked-for-sectarian-violence-in-last-10-years-to-be-arrested
--------
India suffered moral defeat on Kashmir issue: Bilawal
August 20, 2019
Pakistan People's Party (PPP) Chairman Bilawal Bhutto-Zardari on Monday said that India suffered a moral defeat on Kashmir issue at the international forums.
Talking to PPP office-bearers in Skardu, Bilawal said that Indian Prime Minister Narendra Modi was pursuing the ideology of Hindutva.
He said that they would fulfill the promises of Zulfikar Ali Bhutto which he had made with Kashmiris and claimed that Pakistan became a nuclear power owing to the efforts of PPP.
Full report at:
https://www.pakistantoday.com.pk/2019/08/19/india-suffered-moral-defeat-on-kashmir-issue-bilawal/
--------
APC to take up Kashmir issue today
August 20, 2019
ISLAMABAD: Opposition parties will hold an All Parties Conference (APC) today to "chalk out a joint strategy on how to tackle the problems facing Pakistan".
The meeting, which will be presided over by Jamiat Ulema-e-Islam-Fazl (JUI-F) chief Maulana Fazlur Rehman, will have top opposition leaders from the Pakistan People's Party (PPP) and Pakistan Muslim League-Nawaz (PML-N) in attendance.
However, it has been learned that National Assembly Opposition Leader Shehbaz Sharif and PPP Chairman Bilawal Bhutto Zardari will not attend the meeting.
While commenting on the key leaders' absence, Special Adviser to Prime Minister for Information and Broadcasting Firdous Ashiq Awan tweeted that the major opposition parties PPP and PML-N had yet again "played" Fazl by "not showing up".
"Fazl's time would be better spent condemning the atrocities in Kashmir," she wrote.
Earlier, Bilawal and Fazl met on Sunday night to discuss the agenda of all parties moot. According to details, the JUI-F chief had reached Zardari House in Islamabad to meet the PPP chairman to discuss matters related to the multi-party conference, wherein the joint opposition will huddle to evolve a joint strategy over the Kashmir issue as well as the political turmoil.
Making a mockery of so-called world's largest democracy, India's Narendra Modi government on August 5 unilaterally changed the constitutional status of the disputed Jammu and Kashmir region by revoking the occupied region's special status through a rushed presidential order, stoking pro-freedom sentiments in Kashmiris and putting the entire subcontinent at risk of a nuclear war.
President Ram Nath Kovind, in "concurrence" with the "Jammu and Kashmir government", promulgated Constitution (Application to Jammu and Kashmir) Order, 2019 which states that provisions of the Indian Constitution are applicable in the state.
The President issued Constitution (Application to Jammu and Kashmir) Order, 2019 which comes into force "at once", and shall "supersede the Constitution (Application to Jammu and Kashmir) Order, 1954".
"All the provisions of the Constitution" shall apply in relation to the state of Jammu and Kashmir, it said.
Full report at:
https://www.pakistantoday.com.pk/2019/08/19/apc-to-take-up-kashmir-issue-today/
--------
South Asia
Bangladesh, UNHCR to survey Rohingya regarding return to Myanmar
August 19, 2019
DHAKA: Bangladesh will work with the United Nations refugee agency to determine if more than 3,000 Rohingya refugees will accept Myanmar's offer to return home, an official said on Monday, nearly a year after a major repatriation plan failed.
More than 730,000 Rohingya fled Rakhine for camps in Bangladesh after a military-led crackdown in August 2017 the United Nations has said was perpetrated with "genocidal intent," but many refugees refuse to go back, fearing more violence.
"It will be a joint exercise led by UNHCR," Abul Kalam, Bangladesh's Refugee Relief and Repatriation commissioner, told Reuters by telephone on Monday, referring to the refugee agency.
The United Nations Security Council is due to discuss the latest repatriation plan behind closed doors on Wednesday at the request of France, Britain, the United States, Germany and Belgium, diplomats said.
Myanmar has cleared 3,450 people from a list of more than 22,000 refugees provided by Bangladesh, government spokesman Zaw Htay told a news conference in the capital Naypyitaw on Friday.
"We have already negotiated with Bangladesh to accept these 3,450 people on August 22," he said, adding they would be divided into seven groups for repatriation.
A foreign ministry spokesman previously gave Reuters a figure of 3,540 refugees verified under the plan.
Zaw Htay said officials had scrutinized the list to determine whether the refugees had lived in Myanmar and whether they had been involved in attacks on the military.
The 2017 crackdown was preceded by attacks on security forces by insurgents calling themselves the Arakan Rohingya Salvation Army, which Myanmar has classified as a terrorist organization.
Previous attempts at persuading Rohingya to return to Rakhine have failed due to opposition from refugees. An effort in November sowed fear and confusion in the camps, and finally failed after refugee protests.
http://www.arabnews.com/node/1542306/world
--------
Afghanistan vows to crush Islamic State havens after attack
Aug 19, 2019
KABUL: Afghanistan's president is vowing to eliminate all safe havens of the Islamic State group as the country marks a subdued 100th Independence Day after a horrific wedding attack claimed by the local IS affiliate.
President Ashraf Ghani's comments Monday come as Afghanistan mourns at least 63 people killed in the Kabul bombing.
Many outraged Afghans ask whether an approaching deal between the United States and the Taliban to end nearly 18 years of fighting will bring peace to long-suffering civilians.
A sharply worded Taliban statement questions why the US failed to identify the attackers in advance. Another Taliban statement marking independence says to "leave Afghanistan to the Afghans.''
Full report at:
https://timesofindia.indiatimes.com/world/south-asia/afghanistan-vows-to-crush-islamic-state-havens-after-attack/articleshow/70732930.cms
--------
Special Forces destroy large weapons cache of Taliban in Helmand
19 Aug 2019
The Afghan Special Forces destroyed a large weapons cache of Taliban during an operation in Helmand province.
The military officials said the Special Forces discovered the weapons cache during a patrol in Nahr-e Saraj district.
The officials further added that the Special Forces destroyed another small cache of weapons during an operation in Khanabad district of Kunduz.
The Special Forces also arrested a Taliban militant during a patrol in Khwajah Sabz Posh district of Faryab.
Full report at:
https://www.khaama.com/special-forces-destroy-large-weapons-cache-of-taliban-in-helmand-03700/
--------
4 Taliban, ISIS militants killed, detained in Special Forces raids, airstrike in Kabul
19 Aug 2019
The security forces conducted separate operations in Kabul in the past 24 hours killing or detaining 4 Taliban and ISIS militants.
The military officials said the Special Forces arrested an ISIS-K militant during a patrol in Deh Sabz district of Kabul.
The officials further added that the Special Forces also destroyed a small cache of weapons.
Furthermore, the Special Forces arrested a Taliban militant during a separate raid in Mussahi district of Kabul.
The military officials also added that an airstrike killed 2 Taliban militants in Mussahi district of Kabul.
Full report at:
https://www.khaama.com/4-taliban-isis-militants-killed-detained-in-special-forces-raids-airstrike-in-kabul-03695/
--------
Afghan Air Force conduct airstrikes in Logar and Ghazni killing 9 Taliban militants
19 Aug 2019
The Afghan Air Force conducted airstrikes in Logar and Ghazni provinces killing at least 9 Taliban militants.
The 203rd Thunder Corps said in a statement that the Afghan Air Force conducted an airstrike in the vicinity of Pul-e Alam district in Logar.
The statement further added that the airstrike killed at least 5 Taliban militants.
Full report at:
https://www.khaama.com/afghan-air-force-conduct-airstrikes-in-logar-and-ghazni-killing-9-taliban-militants-03694/
--------
Afghan forces kill, wound 7 Taliban militants in Farah operations
17 Aug 2019
The Afghan forces killed or wounded 7 Taliban militants during the operations in western Farah province.
The Farah Police headquarters said in a statement the security forces conducted a clearance operation along the highway between Bala Bolok and provincial capital on Friday.
The statement further added that the security forces also provided escort to a convoy of the security forces travelling on the highway.
Furthermore, the Farah Police said the security forces killed 3 Taliban militants adn wounded 4 others during the operation.
Full report at:
https://www.khaama.com/afghan-forces-kill-wound-7-taliban-militants-in-farah-operations-03677/
--------
Pakistan says will remain a steadfast partner of Afghanistan after multiple bombings
20 Aug 2019
Pakistan has condemned the multiple bombing explosions in Jalalabad city of Nangarhar which left dozens of people wounded.
The Ministry of Foreign Affairs of Pakistan said in a statement "Pakistan strongly condemns the multiple terrorist bomb attacks in Jalalabad today, on the centennial Independence Day of Afghanistan."
The statement further added "These cowardly attacks manifest the desperation of terrorist outfits and spoilers as hopes for peace, stability and national unity in Afghanistan have grown stronger by the day."
Furthermore, the Ministry of Foreign Affairs of Pakistan said "Pakistan remains a steadfast partner of Afghanistan, in the joint efforts to defeat all designs aimed at perpetuating instability in the region. We continue to firmly stand together with the Afghan nation in these testing times."
No individual or group has so far claimed responsibility for the explosions.
Full report at:
https://www.khaama.com/pakistan-says-will-remain-a-steadfast-partner-of-afghanistan-after-multiple-bombings-03702/
--------
Afghan forces foil rocket attack on presidential palace and defense ministry in Kabul
19 Aug 2019
The Afghan forces foiled rocket attack on ARG Presidential Palace and Ministry of Defense in Kabul, the National Directorate of Security said Monday.
According to a statement released by National Directorate of Security, the Special Forces arrested two militants of the Haqqani terrorist network in connection to the attack plot.
The statement further added that the NDS Special Forces conducted operations in various parts of Kabul city and arrested Jamshid alias Sabir and Rahmatullah, the two militants of Mawlavi Ahmad of Haqqani terrorist network.
Furthermore, the National Directorate of Security said the two militants were looking to launch rocket attacks to target the 100th Independence Day ceremonies in ARG Presidential Palace and Ministry of Defense.
The statement by National Directorate of Security also added that the NDS Special Forces arrested the two militants at 9:00 am local time on Monday in Qala-e-Zaman Khan area of Kabul.
Full report at:
https://www.khaama.com/afghan-forces-foil-rocket-attack-on-presidential-palace-and-defense-ministry-in-kabul-03699/
--------
Africa
2 al-Shabaab militants killed, 4 injured in southern Somalia
2019-08-18
MOGADISHU, Aug. 18(Xinhua) -- Two al-Shabaab militants were killed and four were injuried during an intense fighting with government army in southern Somalia on Saturday , a military official told reporters.
A fierce battle broke out in Eel Sanini, a village 15 km from Number 50 Airstrip in Lower Shabelle region after the militants attempted to attack a military base, said Aden Ahmed Ali,Somali National Army ( SNA)' Unit one commander.
"We got a tip-off that al-Shabaab militants moved towards our base and we intercepted them, there was a confrontation, but we overpowered them," said Ali.
"We killed two of the attackers and injured four others. Our forces are now pursuing the rest who ran towards El Dhanane neighborhood, "he added.
Residents said the fighting caused panic in the area.
"As we were on our daily business, heavily armed forces passed by our village, and minutes later we heard the sound of gun fire exchanges by government army and the militants," Hirsi Elmi, a local resident told Xinhua.
The latest battle came barely four days after government forces killed 7 al- Shabab militants and injured ten others in a fierce fight with the militants in Awdeegle town in the same region.
http://www.xinhuanet.com/english/2019-08/18/c_138318429.htm
--------
Formation of Sudan sovereign council postponed at request of opposition
19 August 2019
The formation of Sudan's sovereign council has been postponed for 48 hours at the request of opposition alliance, the Forces of Freedom and Change, until they reach a consensus on their list of five candidates, the Transitional Military Council said on Monday.
On Satuday, Sudan's protest leaders formally signed a deal with the Transitional Military Council in Khartoum, paving the way for a transition to a civilian-led government following the overthrow of President Omar al-Bashir in April.
The agreement was signed by the deputy head of Sudan's Transitional Military Council, Gen. Mohamed Hamdan Dagalo, and Ahmed Rabie, representing the Forces of Freedom and Change opposition alliance, in the presence of regional and international dignitaries including Ethiopian Prime Minister Abiy Ahmed and South Sudanese President Salva Kiir.
https://english.alarabiya.net/en/News/middle-east/2019/08/19/Formation-of-Sudan-sovereign-council-postponed-at-request-of-opposition.html
--------
Sudan's ex-president got $90mn from Saudi Crown Prince: Official
Aug 19, 2019
Sudan's Omar al-Bashir has admitted that he received $90 million in cash from Saudi Crown Prince Mohammed bin Salman and other royals, says a senior police official.
Sudanese Police Brigadier Ahmed Ali, a detective working on the Bashir corruption case, told a Khartoum court on Monday that the deposed longtime president had said the money was "delivered by some of bin Salman's envoys."
"The accused told us that the money was part of a sum of $25 million sent to him by Prince Mohammed bin Salman to be used outside of the state budget," the police official said.
Bashir had also received two previous payments of $35 million and $30 million from Saudi King Abdullah, who died in 2015.
Large amounts of cash were found at Bashir's residence after he was toppled earlier this year.
Lieutenant General Abdel Fattah al-Burhan, who heads the military council currently ruling Sudan, earlier said over 113 million dollars' worth of cash in three currencies were seized at the house.
Bashir, whose military regime ruled Sudan for 30 years, is accused of "corruption, illicit possession of foreign currency and accepting gifts illegally."
His lawyer, Ahmed Ibrahim, has dismissed the accusations, telling reporters after the hearing that it was usual for leaders to hold amounts of foreign currency.
"There is no information or evidence with regards to the accusations of illicit gains aimed at Bashir," Ibrahim said.
The 75-year-old former president was deposed on April 11 following months of protests and is being held in the capital's Kober prison.
Sudan suffered high rates of corruption during his rule, ranking 172 out of 180 countries in Transparency International's 2018 Corruption Perceptions Index.
In May, Bashir was charged with ordering the killing of protesters during the anti-government demonstrations that eventually led to his downfall.
A Sudan affairs expert told Press TV in late July that Saudi Arabia is intentionally preventing the formation of a democratic government in Sudan to manipulate the status quo in the African country in its own favor.
Riaz Karim, director of Veritas Centre for Strategic Studies, said, "I can actually see something very suspicious going on."
"I'll tell you why. I can justify that... Saudi Arabia is now in the picture. Saudi Arabia is pulling the strings."
Wanted by ICC
The International Criminal Court (ICC) has filed more serious charges against Bashir including war crimes, crimes against humanity and genocide for his role in the Darfur war in the early 2000s.
Last week, Amnesty International warned that the corruption trial should not overshadow the more serious charges Bashir faces in The Hague.
"While this trial is a positive step towards accountability for some of his alleged crimes, he remains wanted for heinous crimes committed against the Sudanese people," Amnesty's Joan Nyanyuki said.
"Omar al-Bashir has evaded justice for far too long as the victims of horrific crimes still wait for justice and reparations more than a decade since the ICC issued the first warrant for his arrest."
According to figures released by the United Nations, over 300,000 people were killed and 2.5 million displaced in the Darfur conflict while hundreds of thousands still live in impoverished conditions.
Sudan's ruling military council recently signed a power-sharing deal with the main opposition coalition, paving the way for a transitional government and eventual elections.
The pact sets up a sovereign council as the highest authority in the country, but largely delegates executive powers to the cabinet of ministers.
Full report at:
https://www.presstv.com/Detail/2019/08/19/603952/Bashir-bin-Salman
--------
Despite uprising, economic crisis bites Sudan civilians
19.08.2019
KHARTOUM
Long queues are building up in front of banks, bakeries and gas stations across Sudan, reflecting the ongoing economic hardships facing civilians in Sudan following the ouster of autocrat Omar al-Bashir.
"I'm still suffering with no change in my life," Kamal Hamid, 47, an employee, told Anadolu Agency.
"My salary is still insufficient to cover my expenses because prices are getting high every day and queues for cash and fuel are still there," he said.
Hamid, who works in the state-run electricity company, said he spends between three to five hours a day in queues of banks and fuel stations to get his needs.
"After eight months of the protests that toppled al-Bashir, I don't feel any major change in my life," he lamented. "The economic suffering is still continuing and the prices in the local markets are soaring."
Al-Bashir, who ruled Sudan for 30 years, was removed from power by the military in April after months of protests that started on the backdrop of economic difficulties.
Ali Abdul Rahim, a businessman, complained that the economic situation was getting worse in Sudan.
"As a businessman, I'm facing many difficulties, especially with the fluctuation of the Sudanese pound against U.S. dollar," he said.
He added that despite the p change in Sudan, the U.S. sanctions on the country are remaining and that make it very difficult to do business with banking transactions.
Sudan is still on the U.S. terrorism list, making businesses unable to operate dollar transactions.
Deterioration
After a short relax after al-Bashir's ouster, inflation and exchange rates began to worsen again.
Inflation hit above 72% when the protests began against al-Bashir in December. Although it reached 43% in January, inflation began to climb again, hitting 52% in July.
The Sudanese pound continued to plummet against U.S. dollar, with the dollar is exchanged for 80 pounds, up from only 60 pounds in December.
Ahmed Almanouri, a black market trader, said the dropping value of the Sudanese pound against dollar is confusing the entire business in Sudan.
He expected the exchange rate to worsen further as the demand for the U.S. currency is on the rise for importing many basic commodities, especially medicines, wheat and fuel.
"The U.S. dollar is on rise due to the high demand and the poor income of foreign currency, making the value of the pound to go down and create a big uncertainty in the market."
Reform
Mohamed El-Jack, a professor of economy at Khartoum University, said the Sudanese economy is very exhausted and needs to be reformed.
He opined that the rule of the Transitional Military Council (TMC) is creating more problems as a lot of money has been spent without specific plans.
He said the $3 billion offered by Saudi Arabia and the United Arab Emirates (UAE) to Sudan following al-Bashir's overthrow can help in rebalancing the economy, but it needs to be managed properly.
"The economy is being run by unprofessional plans put in place by the TMC," he said. "This situation is a major defect in itself because the TMC can't save the national economy from the current deterioration."
He believes that the formation of a new government and the handover of power to a civilian administration "will lead to the endorsement of concrete plans of reformation to Sudan's deteriorating economy".
In an official ceremony Saturday, representatives of the TMC and Forces of Freedom and Change (FFC) hammered out a power-sharing deal.
According to the deal, a sovereign council -- consisting of six civilians and five military personnel -- will run the country until the elections.
A prime minister, according to the same agreement, will be appointed with the approval of the council on Aug. 20, to be sworn in before the council and head of the Supreme Court on Aug. 21.
Hamid Eltigani, economy professor at the American University of Cairo (AUC), said the high expenditure of the military and security organs have deeply fatigued the Sudanese economy.
"The former regime was relying on the military machine to repress dissidents; it requires massive spending on armaments and its patronage system," he said.
"Today, the focus is on peace-building and peacekeeping. Millions of IDPs, who were productive individuals, now need to return home to be productive again. The government must invest in them."
He said the coming transitional government should focus on the agriculture and other natural resources to re-build the economy.
Full report at:
https://www.aa.com.tr/en/africa/despite-uprising-economic-crisis-bites-sudan-civilians/1559375
--------
North America
Omar, Tlaib host news conference on travel restrictions
August 19, 2019
ST. PAUL, Minnesota: Democratic US Reps. Ilhan Omar of Minnesota and Rashida Tlaib of Michigan plan to host a news conference Monday afternoon on travel restrictions to Israel and Palestine, after they were denied entry into Israel last week.
At the urging of President Donald Trump, Israel denied entry to the two Muslim representatives over their support for the Palestinian-led boycott movement. Tlaib and Omar, who had planned to visit Jerusalem and the Israeli-occupied West Bank on a tour organized by a Palestinian group, are outspoken critics of Israel's treatment of the Palestinians and support the Palestinian-led international movement boycotting Israel.
Before Israel's decision, Trump tweeted it would be a "show of weakness" to allow the two representatives in. Israel controls entry and exit to the West Bank, which it seized in the 1967 Mideast war along with east Jerusalem and the Gaza Strip — territories the Palestinians want for a future state.
Trump's request to a foreign country to bar the entry of elected US officials — and Israel's decision to do so — were unprecedented and drew widespread criticism, including from many Israelis as well as staunch supporters of Israel in Congress. Critics said Israel Prime Minister Benjamin Netanyahu's decision was a reckless gamble and risked turning Israel into a partisan issue and threatened to undermine ties between the close allies.
Tlaib and Omar are known as supporters of "boycott, divestment and sanctions," or BDS, a Palestinian-led global movement. Supporters say the movement is a nonviolent way of protesting Israel's military rule over the occupied territories.
Last week, Israeli Interior Minister Aryeh Deri said Tlaib had requested and been granted permission to enter the West Bank to see her aging grandmother. Deri's office released a letter that it said was from Tlaib , which promised to respect travel restrictions during her visit. But after the announcement, Tlaib tweeted she wouldn't allow Israel to use her love for her grandmother to force her to "bow down to their oppressive & racist policies."
The two congresswomen are part of the "squad" of liberal newcomers — all women of color — whom Trump has labeled as the face of the Democratic Party as he runs for re-election. He subjected them to a series of racist tweets last month in which he called on them to "go back" to their "broken" countries. They are US citizens.
http://www.arabnews.com/node/1542116/middle-east
--------
Tearful Tlaib says grandmother advised her against Israel trip
August 20, 2019
A tearful US Congresswoman Rashida Tlaib said on Monday that her Palestinian grandmother told her last week not to visit Israel under conditions demanded by the Israeli government.
Tlaib said she had considered accepting Israeli demands to not engage in politics so that she could travel to the West Bank and visit her grandmother, who is around 90 years old.
"She said I'm her dream manifested, I'm her free bird, so why would I come back and be caged and bow down, when my election rose her head up high, gave her dignity for the first time?" Tlaib told reporters.
"And so through tears, at 3:00 in the morning, we all decided as a family that I could not go until I was a free United States congresswoman."
Tlaib and Ilhan Omar, the first two Muslim women ever elected to the US Congress, had planned a trip last week to the Jewish state and Palestinian territories, where they expected to meet with activists and officials on both sides.
But on Thursday Prime Minister Benjamin Netanyahu's government bowed to urging from President Donald Trump and barred them, accusing them of supporting a boycott against Israel.
Shortly after that, the Israelis partially reversed course and offered Tlaib alone permission to visit her grandmother if she accepted restrictions and promised not to promote the boycott.
'Exposing the truth'
Speaking together in Omar's hometown of St. Paul, Minnesota in their first public appearance since the trip's cancellation, Tlaib and Omar accused Israel of bowing to Trump and trying to hide the reality of the Palestinian situation.
Tlaib pointed out that it is common for US lawmakers to visit Israel and meet a wide range of activists.
"What is not common occurrence is members of Congress being barred from entering a country on these fact-finding missions unless they agree to strict set of rules," she said.
"It is unfortunate that Prime Minister Netanyahu is apparently taking a page out of Trump's book, and even direction from Trump, to deny this opportunity," she said.
Omar called the decision to ban the two of them "nothing less than an attempt by an ally of the United States to suppress our ability to do our jobs as elected officials."
Referring to the $3 billion in aid the US gives to Israel each year, Omar said, "this is predicated on their being an important ally in the region and the only democracy in the Middle East."
"But denying visit to duly elected members of Congress is not consistent with being an ally."
She blasted Trump for using the visit as a political cudgel against them and the Democrats.
Full report at:
https://www.thejakartapost.com/news/2019/08/20/tearful-tlaib-says-grandmother-advised-her-against-israel-trip.html
--------
Canada 'disappointed' by British decision on 'Jihadi Jack'
19 August 2019
Canada says it is disappointed the United Kingdom has decided to "off-load their responsibilities" after the British Home Office revoked the citizenship of a dual citizen of the two countries imprisoned in Syria.
Canadian Public Safety Minister Ralph Goodale confirmed on Sunday in statement that Jack Letts, a British-Canadian man dubbed 'Jihadi Jack' by the media who has been behind bars in a Kurdish prison since 2017, has been stripped of his British citizenship. "Canada is disappointed that the United Kingdom has taken this unilateral action to off-load their responsibilities," a statement from Goodale said in a rare rebuke of Canada's ally.
A statement from the Home Office said revoking British citizenships is one way it counters terrorist threats. It said it does not comment on individual cases.
"Decisions on depriving a dual national of citizenship are based on substantial advise from officials, lawyers and the intelligence agencies and all available information," the statement said.
The man's parents are from Oxford and were found guilty earlier this year of sending him money.
They received a suspended sentence.
Organic farmer John Letts, 58, and ex-Oxfam fundraiser Sally Lane, 56, said they were acting as any parents would have when they tried to send their 23-year-old son cash when he begged for help from another country. They say they believed their son, Jack Letts, was in mortal danger and trapped in Raqqa, Syria.
Goodale said terrorism knows no borders, so countries need to work together to keep each other safe.
In 2015, Jack Letts posted on Facebook that he would like to perform a "martyrdom operation" on a group of British soldiers. Police warned the family that "sending money to Jack is the same as sending money to ISIS."
But by the end of that year, Jack Letts was indicating that he wanted to come home. The family tried to transfer more money but the funds were blocked and the couple was arrested.
Jack Letts, now 23, is being held by Kurdish authorities in northern Syria. His future is unclear.
Full report at:
https://english.alarabiya.net/en/News/world/2019/08/19/Canada-disappointed-by-British-decision-on-Jihadi-Jack-.html
--------
US anti-Iran policy in high seas harms Europeans: LA Times
Aug 19, 2019
Gibraltar's release of an Iran-operated supertanker after its seizure by British marines shows the US is facing resistance from its traditional allies, the American daily Los Angeles Times says.
Britain's naval forces seized Grace 1 in the Strait of Gibraltar on July 4 under the pretext that it was carrying crude to Syria in violation of unilateral EU sanctions against the Arab country.
Gibraltar's government said on Sunday it had knocked back a request by Washington to detain the supertanker, arguing that "the EU sanctions regime on Iran is fundamentally different to that of the US."
Ariane Tabatabai, an associate political scientist at Rand Corp., told the LA Times that the Europeans "split with the [US President Donald] Trump administration on the best course of action" against Iran.
She said the US administration's bid to take its "maximum pressure" campaign to the high seas would hurt the interests of its European allies, who mount their own diplomatic efforts to engage with Tehran.
"And as these countries find themselves in the middle of the crossfire between the two sides," she said, "they further object to a policy they already didn't subscribe to."
The LA Times also referred to a proposal by the United States to set up a military coalition in the Persian Gulf to counter what it calls the "Iran threat," saying few European countries have signed on to the effort, with Germany refusing it outright.
Lawrence Brennan, a professor in maritime law at Fordham University and a former Navy captain who served in the Persian Gulf, said the challenges before such a mission are considerable.
"How do you protect ships in these bodies of water? You need multiple ships, with close proximity, with air support," he said.
According to the report, tensions in the Persian Gulf region have already raised insurance rates.
Richard Mallinson, an analyst and co-founder of Energy Aspects, said insurers employing a 10% to 15% war risk premium on vessels and their cargo journeying through the Strait of Hormuz.
The volatility in the strait has also made firms look for alternative ways to transport their oil.
"The question is, are you after a deterrent effect, which you could achieve with a manageable number of vessels, or actively expecting to have to counter a real threat or respond?" asked Mallinson.
Full report at:
https://www.presstv.com/Detail/2019/08/19/603925/US-allies-resist-Trump-campaign-Iran
--------
Go to Israel, see 'cruel reality of the occupation': Omar
August 20, 2019
ST. PAUL, Minnesota: Democratic Reps. Ilhan Omar and Rashida Tlaib sharply criticized Israel on Monday for denying them entry to the Jewish state and called on fellow members of Congress to visit while they cannot.
Omar, of Minnesota, suggested President Donald Trump and Prime Minister Benjamin Netanyahu were suppressing the lawmakers' ability to carry out their oversight role.
"I would encourage my colleagues to visit, meet with the people we were going to meet with, see the things we were going to see, hear the stories we were going to hear," Omar said at a news conference. "We cannot let Trump and Netanyahu succeed in hiding the cruel reality of the occupation from us."
At Trump's urging, Israel denied entry to the first two Muslim women elected to Congress over their support for a Palestinian-led Boycott, Divestment and Sanctions global movement. Tlaib and Omar, who had planned to visit Jerusalem and the Israeli-occupied West Bank on a tour organized by a Palestinian group, are outspoken critics of Israel's treatment of the Palestinians.
Tlaib, a US-born Palestinian-American from Michigan, had also planned to visit her aging grandmother in the West Bank. Israeli officials later relented and said she could visit her grandmother after all.
But Tlaib got emotional as she told how her "Sitty" — an Arabic term of endearment for one's grandmother that's spelled different ways in English — urged her during a tearful late-night family phone call not to come under what they considered such humiliating circumstances.
"She said I'm her dream manifested. I'm her free bird," Tlaib recalled. "So why would I come back and be caged and bow down when my election rose her head up high, gave her dignity for the first time?"
Tlaib and Omar were joined Monday by Minnesota residents who said they had been directly affected by travel restrictions in the past. They included Lana Barkawi, a Palestinian-American, who lamented that she has never been able to visit her parents' homeland.
Barkawi said she had a chance to visit her father's village in the West Bank near Nablus during a family visit to Jordan about 25 years ago, but her parents decided not to risk crossing the border.
"My father could not put himself to be in a position where an Israeli soldier is the person with control over his entry into his homeland," Barkawi said. "This is an enduring trauma that he and my mother live."
Before Israel's decision, Trump tweeted it would be a "show of weakness" to allow the two representatives in. Israel controls entry and exit to the West Bank, which it seized in the 1967 Mideast war along with east Jerusalem and the Gaza Strip, territories the Palestinians want for a future state.
White House spokesman Hogan Gidley kept up the administration's criticism of the two lawmakers.
"Congresswomen Rashida Tlaib and Ilhan Omar have a well-documented history of anti-Semitic comments, anti-Semitic social media posts and anti-Semitic relationships," he said in a statement. "Israel has the right to prevent people who want to destroy it from entering the country — and Democrats' pointless Congressional inquiries here in America cannot change the laws Israel has passed to protect itself."
Supporters say the Boycott, Divestment and Sanctions movement is a nonviolent way of protesting Israel's military rule over Palestinians, but Israel says it aims to delegitimize the state and eventually wipe it off the map.
The two congresswomen are part of the "squad" of four liberal House newcomers — all women of color — whom Trump has labeled as the face of the Democratic Party as he runs for reelection. The Republican president subjected them to a series of racist tweets last month in which he called on them to "go back" to their "broken" countries. They are US citizens — Tlaib was born in the US and Omar became a citizen after moving to the US as a refugee from war-torn Somalia.
Full report at:
http://www.arabnews.com/node/1542471/world
--------
Pompeo, Egyptian counterpart discuss Daesh, Libya
Umar Farooq
19.08.2019
WASHINGTON
U.S. Secretary of State Mike Pompeo discussed a number of bilateral and regional issues with his Egyptian counterpart Monday.
The telephone called included efforts against terrorist groups Daesh and al-Qaeda, according to a statement from State Department spokesperson Morgan Ortagus.
"The Secretary and the Foreign Minister [Sameh Shoukry] shared concern over prolonged violence and instability in Libya, and agreed on the need to achieve a political solution to the conflict," Ortagus said.
The call comes after Egyptian defense chief Gen. Mohamad Zaki visited the Pentagon last month and met Secretary of Defense Mark Esper. The two sides discussed a host of defense and security issues, including "threats emanating from Iran, Libya, and terrorists in the Sinai."
Libya has remained beset by turmoil since 2011, when long-time ruler Muammar Gaddafi was ousted and killed in a bloody NATO-backed uprising after four decades in power.
The oil-rich country has since seen the emergence of two rival seats of power: one in eastern Libya, with which Haftar is affiliated, and the Tripoli-based GNA, which enjoys UN recognition.
Full report at:
https://www.aa.com.tr/en/americas/pompeo-egyptian-counterpart-discuss-daesh-libya-/1559953
--------
US: Anti-fascist group might be labelled 'terror group'
Vakkas Dogantekin
19.08.2019
U.S. President Donald Trump said his administration is giving "major consideration" for listing the U.S.-based Antifa, short for "anti-fascists", a domestic terror group.
"Major consideration is being given to naming ANTIFA an 'ORGANIZATION OF TERROR.'," Trump said in a tweet on Sunday and warned the officials at the city of Portland, the home of Rose City, the oldest and most active Antifa group in the U.S.
"Portland is being watched very closely," Trump said and advised the mayor of Portland to "properly" do his job.
Scott Crow, one of the former Antifa organizers, told CNN in 2017 that the idea of Antifa is to curb hate speech wherever it happens if it is endangering people's lives.
"The idea in Antifa is that we go where they [right-wing] go. That hate speech is not free speech," Crow said.
"And so we go to cause conflict, to shut them down where they are, because we don't believe that Nazis or fascists of any stripe should have a mouthpiece," Crow added, defending Antifa's no-platforming tactic.
Since the election of Donald Trump as president of the U.S., a number of Antifa protesters is on the rise, comprised of mainly young, progressive, liberal and left-wing Americans.
Conservative groups in the U.S. slam Antifa groups for being violent during protests and hampering free speech.
Full report at:
https://www.aa.com.tr/en/americas/us-anti-fascist-group-might-be-labelled-terror-group/1559491
--------
Mideast
Palestinian president sacks all advisors amid financial crisis
Aug 19, 2019
Palestinian President Mahmoud Abbas has fired all of his advisors amid a financial crisis in the occupied West Bank that has led to deep salary cuts.
Palestinian news agency WAFA, citing a statement by the Palestinian leader's office, announced the news on Monday, saying he sacked all of his advisors regardless of their title or ranking.
President Abbas "also decided to abolish the decisions and contracts related to them, and to suspend the rights and privileges they received in their capacity as advisors," the statement added, without providing more details on the number of his advisors, who have been relieved of their duties, or the costs involved.
The decision comes amid a spending crunch created after Israel decided in February to hold back some $10 million a month in tax transfers.
At the time, Israel's cabinet froze about $138 million from within the taxes collected for the Palestinian Authority, stating that the Abbas administration paid the same amount in prisoner stipends in 2018.
The Palestinian president has already accused the occupying regime of blackmail and has so far refused to take any of the tax transfers, which account for some 65 percent of the authority's revenues.
The amount, which totaled around $190 million a month, is collected by the Tel Aviv regime through custom duties imposed on goods and products destined for Palestinian markets that transit through Israeli ports.
The Palestinian Authority has already halved salaries for most of its tens of thousands of employees to keep the government running.
Furthermore, the authority is currently facing steep aid cuts. US President Donald Trump's administration has slashed hundreds of millions of dollars to humanitarian organizations, including $360 million it used to give to the United Nations Relief and Works Agency for Palestine Refugees in the Near East (UNRWA), in a bid to pressure the Palestinians to re-enter so-called peace talks with Israel that collapsed in 2014.
According to Jihad Harb, a Palestinian political analyst, President Abbas appeared to make the decision after reviewing a report he received in June on payments to ministers and officials.
"It is clear that President Abbas received the report from the committee that examined the salaries and benefits of employees," he told AFP, adding that he wanted "to reduce his office's spending by taking austerity measures to confront the current budget crisis."
https://www.presstv.com/Detail/2019/08/19/603964/Abbas-advisors-West-Bank
--------
17 countries of Saudi-led coalition defeated in Yemen: Houthi
Aug 19, 2019
Yemen's Houthi Ansarullah movement says the 17 countries comprising a coalition led by the regime in Riyadh are now divided and only one or two states are keeping up with the bloody Saudi campaign.
"Here are the 17 countries that stood up against our people [and] began to divide, and only one or two countries remain and we will defeat them," Mohammed Ali al-Houthi, a member of the Supreme Political Council of Yemen, was quoted as saying by Yemen's al-Masirah television network.
Houthi also said the Yemeni people have stood up against aggression and terrorism.
He further noted that members of the Political Council praised the Yemeni army and fighters from allied Popular Committees as they had fought since the first day without retreat and withstood the Saudi-led military aggression.
Houthi underlined that, "we are today in front of a global tyranny that wanted to colonize Yemen and subjugate the people of Yemen."
Saudi Arabia and a number of its regional allies launched the devastating campaign against Yemen in March 2015, with the aim of bringing a former Riyadh-friendly government back to power and crushing Ansarullah.
The UK has licensed over £4.7 billion worth of arms exports, including missiles and fighter jets, to Riyadh since the beginning of the deadly conflict. Britain has also been providing combat intelligence and target data to Saudi Arabia over the course of the war, which has killed thousands of Yemeni civilians and put millions more on the verge of famine.
The US-based Armed Conflict Location and Event Data Project (ACLED), a nonprofit conflict-research organization, estimates that the Saudi-led war has claimed the lives of over 60,000 Yemenis since January 2016.
Full report at:
https://www.presstv.com/Detail/2019/08/19/603957/Yemen-Houthi-Ansarullah-Saudi-coalition
--------
Iranian Academics Ask for More Efforts to Free Sheikh Zakzaky
Aug 19, 2019
"The history of Islam has always been witness to the struggle between the freemen and the tyrants and of course the consciousness of the thinkers of the society is a barrier to the oppressors' ambitions," the letter by 50 Iranian academics in Isfahan province's universities said on Monday.
"Today, on the eve of Eid al-Ghdir we observe the manifestation of their arrogance in the measures taken by the Nigerian government against the Sheikh al-ahrar, Ibrahim el-Zakzaky. We feel to be bound to use our pen and tongue to support this great man. Islam has taught us that the ink of the scholar is holier than the blood of the martyr," it added.
"We the academic staff of the Iranian universities request you to take action and demand that the Nigerian authorities release Sheikh Zakzaky and his wife. We urge you to use all your powers and influence to help bring about a swift and peaceful resolution, the letter said, addressing the Nigerian scholars.
"Our responsibility is very serious. Today, if we let them realize their wicked purpose to silence and drown out Zakzaky's voice, tomorrow they will dare commit more violent crimes against Muslims around the world. Our attempts to perform this divine responsibility will bring about victory; In shā Allāh," it added.
They also called on the Iranian Foreign Affairs to take big and rapid legal strides to free the detained leader of the Islamic movement of Nigeria, Allameh Zakzaky, so that he can receive immediate life-saving medical treatment.
Sheikh Zakzaky, a prominent Shiite leader, has been in detention along with his wife for close to four years despite the deterioration of his health conditions.
Last Tuesday, in an exclusive interview with FNA, Dr. Pourrahim Najafabadi, MD, said Sheikh Zakzaky needs to be cured by an experienced medical team of physicians in a specialized multi-specialty hospital outside Nigeria, since there is no such medical center in the African country.
"With the current physical condition of the Sheikh, especially the virulent lead poisoning, Sheikh's life is seriously at risk by delayed treatment. Meanwhile, there is a need for special medical care even in case of complete medical treatment. There is serious risk to Sheikh's life if he is kept under detention," said Najafabadi, the founder and spokesperson of a group of expert physicians who have volunteered to treat Sheikh Zakzaky.
Also, last Sunday, a group of doctors from Pakistan, India, Iran, Afghanistan, Syria, Lebanon and Iraq in a letter to the Nigerian government pointed to Sheikh Zakzaky's physical conditions, and asked the Nigerian government to transfer him to a well-equipped hospital as soon as possible.
Finally, the Nigerian government allowed Zakzaky to be treated in India but the senior cleric decided to return to Nigeria after being pressured in India.
The Islamic Movement in Nigeria, in an official statement, rejected the claims spread by state-sponsored media about the reason why Zakzaky cut his treatment visit to India short, revealing that the decision was made after it was found that Abuja was planning to murder the cleric in India.
Sheikh Zakzaky was, from the very beginning of his travel to India, bothered and pressed by the hostile decision of the Nigerian government, according to a Friday statement signed by Ibrahim Musa, the President of the Media Forum of the Islamic Movement in Nigeria (IMN).
The movement added in its statement that even upon returning from New Delhi, the top cleric was denied a chance to talk to reporters and journalists who had been waiting for his return at Nnamdi Azikwe International Airport for hours.
The IMN condemned the move, and added that it was intended to prevent Sheikh from revealing some realities about his difficulties in New Delhi, and to pave the way for spreading disinformation against him.
According to the statement, upon arriving in New Delhi, Sheikh Zakzaky and his wife were separated from the doctors who accompanied him from Nigeria and were forcibly taken to a hospital which held no respect for the basic rights of patients.
Even a doctor who had flown from London to New Delhi was not allowed to meet with Sheikh Zakzaky.
Full report at:
https://en.farsnews.com/newstext.aspx?nn=13980528000716
--------
US Secretary of State Pompeo: Release of Iranian tanker 'unfortunate'
20 August 2019
US Secretary of State Mike Pompeo said in a television interview on Monday that it was unfortunate an Iranian oil tanker detained off Gibraltar had been allowed to leave.
"It's unfortunate that that happened," Pompeo told Fox News Channel.
He added that if Iran is successful in making profit from the tanker's oil cargo, its Islamic Revolutionary Guard Corps will have "more money, more wealth, more resources to continue their terror campaign."
Earlier on Monday, a State Department official said that the United States has conveyed its "strong position" to the Greek government about an Iranian tanker that sailed for Greece on Monday after it was freed from detention off Gibraltar and Washington says is carrying oil to Syria.
Any efforts to assist the tanker could be considered as providing material support to a US-designated foreign terrorist organization, which has immigration and potential criminal consequences, the official said.
The official said the tanker was assisting the Islamic Revolutionary Guard Corps, which the United States has designated as a terrorist organization, by transporting oil to Syria.
The official said the United States had conveyed its "strong position" to the Greek government, as well as to all ports in the Mediterranean about facilitating the tanker.
On Monday, marine tracking data showed that the Iranian tanker held by Gibraltar since July after being the center of a diplomatic dispute has left port, and is heading to the Greek island of Kalamata, and was scheduled to arrive next Sunday.
Full report at:
https://english.alarabiya.net/en/News/middle-east/2019/08/20/US-has-conveyed-its-strong-position-to-Greece-about-Iranian-tanker-Official.html
--------
Iran's Zarif rules out talks with US over a new nuclear deal
19 August 2019
Iranian Foreign Minister Mohammad Javad Zarif on Monday said Iran is not interested in talks with Washington, but any mediation should focus on bringing the United States back to the 2015 nuclear deal which it left last year.
Zarif was speaking in Finland after meeting Foreign Affairs Minister Pekka Haavisto, who said Europe was doing its best to salvage the deal.
https://english.alarabiya.net/en/News/middle-east/2019/08/19/Iran-s-Zarif-rules-out-talks-with-US-over-a-new-nuclear-deal.html
--------
Jordan MPs urge government to expel Israeli envoy over al-Aqsa provocations
Aug 20, 2019
Jordanian lawmakers have called on the government to expel Israel's ambassador and review a 1994 peace treaty with Tel Aviv in protest at the regime's recent provocations and violation of international law at the al-Aqsa Mosque compound.
During an emergency parliamentary session attended by Jordanian Foreign Minister Ayman Safadi in Amman on Monday, members of the House of Representative discussed 17 non-binding recommendations on Amman's relations with Tel Aviv, Jordan's Al-Mamlaka TV reported.
The recommendations included "expelling the ambassador of the Zionist entity in Amman," closing the Israeli embassy, recalling Jordan's ambassador to Tel Aviv, halting "all forms of normalization," reviewing the 1994 peace treaty, affirming the size of the 144-dunam Al-Aqsa Mosque compound, backing Jordan's continued custodianship of the holy site, and rejecting an Israeli plot to divide the sacred area into Muslim-only and Jewish-only sections.
Jordan and Egypt are the only Arab countries that have formal relations with the regime in Israel.
On August 11, which marked the Muslim occasion of Eid al-Adha (Feast of Sacrifice), Israeli forces attacked Palestinian worshipers at the al-Aqsa Mosque compound, prompting violent clashes at the site.
The violence erupted after Israeli policemen fired stun grenades and tear gas at the Palestinians who had finished their Eid prayers at the compound, allowing, in a rare move, Israeli settlers to enter the holy site to mark the fasting and mourning day of Tisha B'Av.
According to the Palestinian Red Crescent, the clashes had left 61 Palestinians wounded.
Two days after the confrontations, Israeli Public Security Minister Gilad Erdan said that he believes the status quo at the al-Aqsa Mosque compound should be changed to allow Israelis to pray there.
He also estimated that 1,729 Israelis had entered the compound on August 11.
Speaking at Monday's parliamentary session, Jordanian Foreign Minister Ayman Safadi stressed his country's "unwavering position" on Israeli-occupied Jerusalem al-Quds as a redline, adding that protecting Islamic and Christian holy sites in the occupied city is a "responsibility" of Amman.
Jordan, he added, "will do its utmost to protect the holy sites and face the futile Israeli actions targeting them. We condemn the Israeli occupation authorities' provocative practices and ongoing violation of international law, as well as their attempts change the historical and legal situation in occupied Jerusalem and its holy sites."
The top Jordanian diplomat also warned that Israel's actions will "aggravate the conflict, increase tensions and lead to an explosion, thus threatening international peace and security."
Meanwhile, House of Representatives Speaker Atef Tarawneh called an informal voice vote to accept the recommendations, after which many MPs shouted their agreement.
He further urged the government to relay a message to Israel that "peace is threatened in light of its continued aggression against Jerusalem and al-Aqsa Mosque."
After the meeting, Yahya al-Saud, head of the parliament's Palestine committee, said the lawmakers had agreed to hold a sit-in at the Allenby Bridge, which connects the occupied West Bank with Jordan, on Friday.
On Sunday, Jordan's Ministry of Foreign Affairs summoned the Israeli ambassador to Amman and asked him to convey a message to the Tel Aviv regime that it "must immediately cease all violations and attempts aimed at changing the historical and legal situation in the holy compound."
On the same day, Safadi met with European Union representatives to "stress urgency of effective int'l steps against Israeli violations of holy sites in occupied Jerusalem (al-Quds)."
Full report at:
https://www.presstv.com/Detail/2019/08/20/603996/Jordan-Israel-Palestine-Aqsa-Mosque
--------
Saudi-led coalition strikes Yemen capital six times
Aug 19, 2019
The United States-backed Saudi-led coalition, which has been pounding Yemen for the past four years, has launched at least six fresh airstrikes against the impoverished country's capital.
Yemen's al-Masirah network reported the attacks, saying they targeted Sana'a on Monday. It said the invaders were keeping up the assaults, but did not point to any casualties.
Saudi state television, meanwhile, said the coalition had hit "military targets" in the city. It claimed that the coalition had advised civilians to stay away from the targeted areas.
The coalition is, however, notorious for its indiscrimination shown by its numerous attacks against densely-populated centers, including markets, hospitals, and schools.
The strikes, which have taken their toll on civilians, have been found to use US-provided guided bombs among other ammunition. Experts say deployment of such precision armament against civilians shows that the coalition has been intentionally choosing the non-combatants as its targets.
Tens of thousands have died since the onset of the invasion, which has unsuccessfully sought to return Yemen's former Saudi-allied officials.
The invaders include dozens of Riyadh's allied countries, most importantly the United Arab Emirates.
Yemen's popular Houthi Ansarullah movement, which has been defending the nation in the face of the warfare, has said, though, that the invading force has become plagued by besetting divisions.
"Here are the 17 countries that stood up against our people [and] began to divide, and only one or two countries remain and we will defeat them," Mohammed Ali al-Houthi, a member of the Supreme Political Council of Yemen, was quoted as saying by al-Masirah recently.
Full report at:
https://www.presstv.com/Detail/2019/08/19/603985/Yemen-Saudi-Arabia-strikes-Sanaa
--------
Yemeni forces hit pro-Saudi military parade in Marib with new missile
Aug 19, 2019
Yemeni army troops, backed by fighters from allied Popular Committees, have targeted a military parade and gatherings of Riyadh's mercenaries in Yemen's central province of Ma'rib with a new domestically-manufactured missile.
Brigadier General Yahya Saree, the spokesman for the Yemeni Armed Forces, told Yemen's Arabic-language al-Masirah television network that Yemeni missile defense units successfully hit the targets in Mas camp with a Nakal missile on Monday.
Saree said the attack came after a precision intelligence operation, where forces loyal to the regime in Riyadh were preparing a military escalation towards Nihm and Sarwah front lines.
It is the first time the Yemeni army has unveiled the locally-designed Nakal missile, whose detailed specifications have not been announced yet.
Yemeni forces, also backed by Houthi fighters, regularly target positions held by Saudi-led forces both in Yemen and inside Saudi Arabia in retaliation for assaults by a coalition led by the Arab kingdom, which started its campaign against Yemen in March 2015 in an attempt to reinstall a former regime and eliminate the Houthi Ansarullah movement, which has been defending the country along with the armed forces.
The US-based Armed Conflict Location and Event Data Project (ACLED), a nonprofit conflict-research organization, estimates that the Saudi-led war has claimed the lives of over 60,000 Yemenis since January 2016.
Full report at:
https://www.presstv.com/Detail/2019/08/19/603947/Yemen-Nakal-missile-Saudi-military-parade-Marib-Houthis
--------
Ankara deepens crackdown on opposition politicians
August 20, 2019
DIYARBAKIR: The Turkish government removed three mayors from office on Monday over alleged links to Kurdish militants as Ankara deepened its crackdown on the opposition.
The mayors of Diyarbakir, Mardin and Van provinces in eastern Turkey — all members of the pro-Kurdish Peoples' Democratic Party (HDP) elected in March — were suspended over alleged ties to the outlawed Kurdistan Workers' Party (PKK).
A simultaneous crackdown across 29 provinces saw hundreds arrested, in a sign that President Recep Tayyip Erdogan's government has no intention of easing up on its hard line despite recent electoral setbacks.
Police intervened with water cannons as hundreds of people gathered outside Diyarbakir's municipality to denounce the government's actions.
The Interior Ministry said the suspended mayors had active cases against them for "spreading propaganda" or being a member of a terrorist organization, and would be replaced by the centrally appointed governors of their provinces.
It accused them of attending funerals and visiting graves of "terrorists," renaming streets and parks after imprisoned PKK members, and offering jobs to militants' relatives.
The HDP denies ties to the PKK, which has fought a bloody insurgency against the Turkish state for much of the past 35 years.
Diyarbakir Mayor Selcuk Mizrakli told reporters outside municipal headquarters that the move "disregards the will of the people."
The government launched a crackdown on opposition politicians as well as the public sector, media and civil society following a failed coup in July 2016.
Although the coup was not directly linked to the Kurdish issue, the crackdown saw 95 of 102 pro-Kurdish mayors removed from their posts and replaced with central government appointees.
Many were allowed to stand again in the March elections, despite criminal cases against them.
Hundreds of HDP members and around 40 of its mayors are currently in detention.
The former head of the party, Selahattin Demirtas, has been in prison since November 2016 — a case that has been criticized by the European Court of Human Rights.
In April, Turkish election officials annulled results in five districts and towns after they were won by people who had been removed from their posts under the two-year state of emergency that followed the attempted coup.
HDP lawmaker Garo Paylan responded to Monday's suspensions by calling on all parties and the public to oppose what he called a "vile coup."
"Remaining silent will mean Ankara, Istanbul next," he tweeted, referring to the fact that the ruling party lost control of Turkey's two biggest cities in this year's local elections.
Turkish police also carried out raids across 29 provinces on Monday, including Diyarbakir, Mardin and Van, detaining 418 suspects over alleged PKK ties, the Interior Ministry said.
HDP co-leader Sezai Temelli told a press conference in Ankara that "none of our friends detained today are guilty of any crime."
Turkey "cannot solve its democracy problem until the Kurdish issue was solved," he added.
The sacked mayors — Mizrakli, Ahmet Turk and Bedia Ozgokce Ertanall — all won with large majorities in the March elections.
Full report at:
http://www.arabnews.com/node/1542386/middle-east
--------
US scraps West Bank conference over Palestinian protests
August 19, 2019
RAMALLAH: The US Embassy in Jerusalem on Monday was forced to postpone a conference it organized in the West Bank city of Ramallah after Palestinian officials and factions called for a boycott and threatened to organize protests.
The Palestinians cut all ties with the US after it recognized disputed Jerusalem as the capital of Israel in 2017, and view the Trump administration as unfairly biased following a series of actions seen as hostile to their aspirations for an independent state.
The embassy had organized a conference this week to bring together alumni of US educational and cultural programs, including dozens of Palestinians from the Gaza Strip who received permission from Israel to attend.
The territory has been under an Israeli-Egyptian blockade since Hamas seized power there in 2007.
The Palestinian leadership viewed the conference as an attempt to circumvent its boycott of the US administration.
"We are aware of recent statements regarding a planned event for alumni of US educational and cultural programs," the US Embassy said. "In order to avoid the Palestinian participants being put in a difficult situation, we have decided to postpone the event for now."
It said this and other events "are designed to create opportunities for exchange and dialogue between Americans and Palestinians at the grassroots level."
"This event in particular is intended to give alumni of all ages and backgrounds from Jerusalem, the West Bank and Gaza an opportunity to network with each other and to engage in leadership and capacity building activities," it said.
Israel captured east Jerusalem, the West Bank and Gaza in the 1967 Middle East War, territories the Palestinians want for their future state. The Trump administration is at work on a long-awaited peace plan, but has not endorsed a two-state solution to the conflict. The Palestinians have already dismissed the plan, saying it is certain to be slanted toward Israel.
Representatives of several Palestinian factions held a press conference Monday at the hotel where the meeting was to have taken place.
Spokesman Isam Baker told The Associated Press that the Palestine Liberation Organization, an umbrella group, had reached out to the hotel management and the invitees asking them to boycott the meeting.
"Most of the invitees and the hotel administration agreed with us that the invitation has political implications and it is not innocent," he said.
"The US administration, which has cut off all aid to our people, shut down our office in Washington and placed huge pressure on our leadership to accept a pro-Israel political plan will not do any good for our people," he said. "Therefore, we are boycotting any activities it organizes."
The US cut more than $200 million in development aid to the Palestinians last year, gutting several long-running programs .
A statement released Sunday by the "national and Islamic forces of the Ramallah governorate" said they were determined to thwart the conference, calling it an attempt to "break the will of the Palestinian people." It said they planned to organize a "mass popular event to prevent this activity by all available means," calling for a sit-in and marches.
Full report at:
http://www.arabnews.com/node/1542361/middle-east
--------
Arab World
Western Countries Continue to Resist Return of ISIS Children
17 August, 2019
Years after their parents left Belgium and France to join ISIS, 18 children were taken from squalid refugee camps in Syria and flown recently to new lives in Belgium and France, drawing widespread attention in those countries as examples of Europe grudgingly accepting the children of its extremists.
But they were the exceptions, not the rule; estimates vary, but 1,300 or more children of European fighters and followers of the self-professed "caliphate" remain trapped in Syria and Iraq. While some European governments have softened their stands on repatriation, marginally, it is still unclear when — or even whether — the children might be able to leave.
The recent airlifts, which took place only after months of negotiation and vetting of the children, illustrate how resistant Western countries still are. On those flights in June, France and Belgium received only children whose extremist parents were dead; most are orphans, and some were taken to ISIS lands by their fathers, who were killed there, while their mothers remained in Europe.
Days earlier, a Belgian team had set up a makeshift clinic in the overcrowded Al Hol camp in northeastern Syria, which holds thousands of current and former ISIS adherents and their family members, providing medical care and psychiatric assessments for the children of Belgian nationals.
"They wanted to come to Belgium," said Heidi De Pauw, a member of the team. "They kept saying to us, 'We want to come home.'"
But De Pauw, the chief executive of Child Focus, a center for missing and sexually exploited children, had little hope to offer them, in part because most of them had at least one living parent with them in the camp.
With few exceptions, European countries have refused to take back the adults. The Kurdish authorities who run the major camps have made it plain that they do not want to separate families, and do not want to be left holding stateless parents.
The issue is politically charged across Europe. ISIS survivors, even children, are seen as a threat, no matter how reformed they appear. Theo Francken, a former secretary of state for asylum and migration in Belgium who is a lawmaker for a conservative Flemish party, denounced the recent repatriation, warning that it might signal the return of all ISIS children.
"I say no, no, no," he tweeted. "Their parents are no longer fellow citizens."
When ISIS controlled parts of Iraq and Syria, an estimated 41,000 people from other parts of the world left their homes to join the group — about one-third of them from Europe, including the Caucasus. Some took children with them and others had children there. Thousands were killed and thousands more managed to slip away, many of them making their way home and risking prosecution as terrorists.
But as ISIS lost the last of its territory early this year, tens of thousands of survivors crowded into refugee camps that were built for far fewer people. At least 29 children died just in traveling to Al Hol or soon after arriving at the camp, the World Health Organization reported in January.
Violence, disease and despair are common there, and food, medicine — and sometimes even clean water — are scarce. Gerrit Loots, a psychologist who led the Belgian team at Al Hol, said that women still faithful to ISIS threw stones at those who had renounced it.
About 3,000 women and 7,000 children from countries other than Iraq and Syria are held at Al Hol, according to the Kurds and the group Human Rights Watch. Many of them want to return to their home countries. The largest contingents are thought to be Russian and French, while Germany, the Netherlands and Belgium are also among the major nations of origin.
Some women who joined ISIS soured on it, but others believed fervently and even took part in atrocities. Children were indoctrinated and sometimes pressed into service. It can be difficult to determine who is guilty of crimes, who still adheres to radical ideology, and who might change with counseling.
A very few countries, including Kazakhstan and Kosovo, have repatriated many of their people from ISIS territory, including adults. Turkey, Russia and a few others have taken in significant numbers of children recently, mostly orphans, though more remain. But most countries have taken a harder line. Britain has gone so far as to revoke the citizenship of people who want to return. Many European countries, after first refusing, have said they would take in children, but it has been slow going.
https://aawsat.com/english/home/article/1860276/western-countries-continue-resist-return-isis-children
--------
Iraqi intelligence arrest three Islamic State terrorists in Nineveh
by Mohammed Ebraheem
Aug 18, 2019
Nineveh (IraqiNews.com) – Iraqi military intelligence forces arrested on Sunday three Islamic State militants during a military operation in Nineveh province.
In a press release carried by Iraqi TV channel Alsumaria News, the Iraqi Military Intelligence Directorate said its troops arrested the three terrorists in al Sahaji village, west of Mosul.
The three terrorists, according to the statement, were implicated in several terrorist attacks against Iraqi security forces in Mosul city.
The arrest of the Islamic State militants was based on intelligence information, added the statement.
Former Iraqi prime minister Haider al-Abadi announced in July 2017 liberation of the second largest Iraqi city of Mosul from IS militants, who had captured it in 2014. More than 25,000 militants were killed throughout the campaign, which started in October 2016.
The campaign was backed by paramilitary troops and a U.S.-led international coalition.
Full report at:
https://www.iraqinews.com/features/iraqi-intelligence-arrest-three-islamic-state-terrorists-in-nineveh/
--------
Pentagon sees Iraq and Syria facing greater threat from ISIS, Iran proxies
17/08/2019
WASHINGTON - The death of a US Marine in Iraq serves as a reminder that the war against the Islamic State is not over, US defence strategists said. The Pentagon's task in Iraq is further complicated by the presence of pro-Iran proxies in the region.
US Marine Gunnery Sergeant Scott Koppenhafer, 35, died August 10 in northern Iraq during a mission targeting suspected Islamic State (ISIS) members.
In December, US President Donald Trump proclaimed that ISIS had been defeated and that the United States would be withdrawing all troops from Syria. Following an outcry by lawmakers that ISIS was not defeated, the White House retracted the full withdrawal in February and said it would slowly withdraw troops and keep 200 on the ground.
Despite claims that ISIS had been defeated in December, a US Department of Defence report released in August said the pull out of approximately 1,000 US troops from Syria led to a resurgence of ISIS in both Syria and Iraq. The Pentagon report said that 14,000-18,000 ISIS militants are present in Iraq and Syria.
The report noted: "Despite losing its territorial 'caliphate,' the Islamic State in Iraq and Syria (ISIS) solidified its insurgent capabilities in Iraq and was resurging in Syria."
The ISIS campaign of expanding throughout Syria and Iraq makes it difficult for dwindling troops to combat. Defence Department Acting Inspector General Glenn Fine stated in a memo accompanying the report that "the reduction of US forces has decreased the support available for Syrian partner forces at a time when their forces need more training and equipping to respond to the ISIS resurgence."
Iraqi officials deny there has been any resurgence, claiming "the figure announced by the Pentagon is greatly exaggerated" and that the number of ISIS members on the border is only a few dozen.
ISIS may not be the only group looking to take advantage of US disengagement in the region. More than 50 Iran-linked militant organisations in Syria and Iraq are said to be trying to step in the power vacuum in Iraq and Syria. The groups' encroachment asserts greater Iranian influence in the two countries. Many of the groups are battalions of the Iraqi Popular Mobilisation Forces, which allowed them to become active in Syria during the war.
In a recent issue of CTC Sentinel, a publication of the US Military Academy's Combating Terrorism Centre, Michael Knights, a senior fellow at the Washington Institute for Near East Policy, wrote that the "main threat is Abu Mahdi al-Muhandis and Kata'ib Hezbollah," the Iran-backed militant organisation that has become one of the most powerful Iranian affiliates in the region.
Muhandis, the group's founder, has a long history of working with Iran-linked groups, including Hezbollah and the Badr Corps. Muhandis has been associated with several Hezbollah attacks, including the 1983 Kuwait Embassy bombing, and previously served as the leader of the Badr Corps. Muhandis is sanctioned by the United States and wanted by the Kuwaiti government.
Iran-backed groups have significantly strengthened since the US military pulled out of Iraq in 2011. Their increase in funding is because of their access to government funds meant to combat ISIS and corrupt money-making ventures.
The groups have expanded outside of Iraq and proliferate throughout Syria because of the current instability. In 2011, Kata'ib Hezbollah had approximately 400 active members in Iraq while today it maintains 7,500 fighters in Iraq and 2,500 fighters in Syria, Knights said.
The US withdrawal of troops from Iraq and the war with ISIS strengthened the struggling groups. Their actions on behalf of Iran in the Syrian war required larger recruitment, fundraising and training efforts.
The combination of ISIS and Iranian proxies in Iraq and Syria is a particularly challenging issue because allocating funds to fight ISIS acts as fodder to the Iran-backed organisations.
Full report at:
https://thearabweekly.com/pentagon-sees-iraq-and-syria-facing-greater-threat-isis-iran-proxies
--------
Egyptian Sought in F.B.I. Qaeda Query Says He Has Nothing to Hide
By Ernesto Londoño and Letícia Casado
Aug 18, 2019
An Egyptian who has been living and working in Brazil as a furniture mover says he long ago got an inkling that he was on the American security establishment's radar.
A few years ago, while he was living in Istanbul, a friend told the man, Mohamed Ahmed El Sayed Ahmed Ibrahim, that American officials wanted to meet with him, he said. They wanted to learn, he was told, about the diaspora of Egyptians who sought refuge in Turkey after the crackdown on Egypt's Islamist movement in 2013.
"I didn't have interest in speaking to them," Mr. Ibrahim said in a telephone interview on Saturday from São Paulo, the teeming financial hub where he says he is happily married and in the furniture moving business.
Mr. Ibrahim said he had thought little of the American request until last week. That is when the F.B.I. disseminated a bulletin with his name and photograph alleging that he is an operative of Al Qaeda who has plotted attacks against American interests.
The notice said Mr. Ibrahim, who has lived in Brazil for a year and a half, should be considered armed and dangerous and said the bureau wanted to question him.
The bulletin, disseminated through the bureau's most-wanted Twitter account, came as a shock, said Mr. Ibrahim. He attributed his predicament to the Egyptian government's persecution of Islamist political parties.
"I don't know what they want from me," he said. "I didn't do anything wrong."
An F.B.I. spokeswoman, Kelsey Pietranton, said on Sunday that the bureau would not comment on Mr. Ibrahim's case beyond the information in the bulletin.
The State Department said in a statement that it was in "close contact" with the Brazilian authorities about Mr. Ibrahim. "We are concerned about the ability of transnational criminal organizations and foreign terrorist organizations such as Al Qaeda to move money, weapons, goods, and people illegally across international borders, wherever those borders might be," it said.
Neither the State Department statement nor the F.B.I. poster suggested that Mr. Ibrahim faces criminal charges in the United States or elsewhere.
The poster describes the 42-year-old Egyptian as an alleged "Al Qaeda operative and facilitator who has allegedly been involved in planning attacks against the United States and its interests." The F.B.I. said it suspected that he had provided "material support to Al Qaeda since 2013."
Mr. Ibrahim said he had never belonged to a terrorist organization or supported violence as a political tactic. Asked about his views on Al Qaeda, Mr. Ibrahim said he believed the group had effectively ceased existing after the killing of Osama Bin Laden in May 2011.
"Those people are finished," he said.
Later that year, Mr. Ibrahim said he joined El Benaa wel Tanmeya, an Islamist political party begun in Egypt in the months after the popular uprising that ousted President Hosni Mubarak in February 2011.
One of the party's leaders was Tareq al-Zumr, a former military officer who participated in the assassination of President President Anwar Sadat in 1981. Mr. Zumr was among hundreds of imprisoned Islamists freed in the heady days that followed Mr. Mubarak's ouster.
At the time, many Egyptian Islamists who had used violence as a political tactic during the 1980s and 1990s expressed a desire to pursue their goals peacefully through elections.
When the country's first democratic elections were held the following year, Egyptians elected an Islamist, Mohamed Morsi, as president. El Benaa wel Tanmeya, which means the Building and Development Party, competed in the parliamentary election as part of a coalition of parties known as the Islamist bloc, winning 13 seats.
Mr. Ibrahim, who described himself as an ordinary member of the party, said he was elated by the election of Mr. Morsi, a member of the Muslim Brotherhood movement, and relished the idea of living in a democratic nation.
But a crackdown on Islamist groups by the country's military, which ousted Mr. Morsi in 2013, made him feel unsafe and afraid, he said. A turning point, he said, was the August 2013 massacre of anti-government demonstrators in Cairo when the security forces killed at least 900 people.
"The situation became very dangerous," Mr. Ibrahim, noting that hundreds of Islamists and other dissidents were arbitrarily detained that year. "They arrested most people from our party, and we don't know what happened."
Fearing for his safety, Mr. Ibrahim said, he moved to Istanbul in October of that year. There, he said he established a transportation company catering to tourists, arranging airport rides and trips to landmarks.
He described his early years in Turkey as productive, as business prospered. The request to meet with American officials came as a surprise, he said. But Mr. Ibrahim said he had thought little of turning it down because he felt like he had no useful information to provide.
The F.B.I. bulletin includes three photos, including one of a man holding a rifle. Mr. Ibrahim said that photo showed him during a hunting trip in Malaysia. He said he has fired weapons only as a hunter.
"In all my life I didn't kill anyone," he said.
When political and economic upheaval in Turkey began hurting his earnings, Mr. Ibrahim said, he decided in 2018 to start anew once more, this time in Brazil. The South American nation, which has a large Arab community and a relatively open immigration system, was appealing because, like Turkey, it is a popular tourist destination.
Mr. Ibrahim said he had tried to establish a transportation service in São Paulo but that Uber's ride-share dominance thwarted his idea.
"Here you can't make that kind of company," he said.
Still, Mr. Ibrahim said, he built a good life. He married a Brazilian woman and found work moving furniture.
"In Brazil everything is good," he said. "I feel respected. I feel like a human."
Mr. Ibrahim resides in Brazil lawfully, a status attained through marriage. To secure that status, Mr. Ibrahim said he had obtained written confirmation from the Egyptian Embassy that he faced no criminal charges in his native country. Such documentation is standard.
After the F.B.I. bulletin was issued on Aug. 12, Mr. Ibrahim contacted a lawyer who arranged to have him meet with officials from Brazil's federal police. They questioned him for hours last Friday, Mr. Ibrahim said.
Mr. Ibrahim and his lawyer said American officials then conveyed their desire to speak to Mr. Ibrahim alone — without a lawyer present. Mr. Ibrahim's lawyer, Ronaldo Vaz de Oliveira, said he rejected that request.
Ms. Pietranton of the F.B.I. declined to say what steps, if any, the American government had asked its Brazilian counterparts to take.
Officials in Brazil issued a statement last week saying they were willing to work with the American government on Mr. Ibrahim's case. They declined to comment beyond that statement over the weekend.
Mr. Ibrahim said he was willing to answer any questions the American government has. He said he hoped their interest in him turned out to be a misunderstanding.
"I love American people," he said.
Full report at:
https://www.nytimes.com/2019/08/18/world/americas/brazil-fbi-al-qaeda.html
--------
44 Suspects Charged with Forming Terrorist 'Cluster' Cells in Egypt
18 August, 2019
Witnesses in the trial of 44 suspects in the Sinai State case revealed Saturday that the accused funded the group out of their own pockets in order to carry out attacks in Egypt.
Their plots failed however, due to the preemptive measures adopted by the security forces, they added.
Some plots included the targeting of the police chief in Kfar al-Sheikh in the Egypt Delta region. Another "cluster cell" monitored security forces in the Umm Rabih area in the al-Qalyubia region.
The suspects are held on charges of inciting violence in Cairo, Giza, al-Qalyubia, Dakahlia, Kfar al-Sheikh, Faiyum and North Sinai.
The suspects include Aswan club football player Hamada al-Sayyed.
They are charged with forming seven cluster cells and pledging allegiance to the so-called Sinai State terrorist group between 2015 and 2018. They planned to commit terrorist attacks and attacks against the police, armed forced and civilians.
The suspects had received training by the group in northern Sinai. Some members had joined the group in Syria where they also received military training.
Saturday's court hearing has been adjourned to September 14 to complete witness testimonies.
Full report at:
https://aawsat.com/english/home/article/1861426/44-suspects-charged-forming-terrorist-%E2%80%98cluster%E2%80%99-cells-egypt
--------
Senior MP: Hashd Al-Shaabi Arms Cache Near Baghdad Bombed by Israeli Drone
Aug 19, 2019
Karim al-Mahmadawi told the Arabic-language al-Ma'aloumeh news website on Sunday that investigations have proved that the blast in Hashd al-Shaabi's arms depot in al-Saqar region in Southern Baghdad was caused by an Israeli drone with the US support.
He added that the American planes provided Israel with full intelligence about the target, and warned of more airstrikes by Israel against Hashd al-Shaabi bases in Iraq.
Al-Mahmadawi said that the US embassy in Baghdad will interfere in the case and will attempt to postpone declaration of final results similar to what it did about the case of spying on the commander of al-Anbar operations.
One person was killed and 29 others were wounded in an explosion in an arms depot of a military base of Hashd al-Shaabi forces in Southern Baghdad and as a result of shrapnel thrown on the nearby residential areas.
After the blast, an Iraqi security expert said the Tel Aviv regime was planning to target Hashd al-Shaabi in Iraq, adding that Israel has most probably masterminded the recent attack on the weapons cache of Hashd al-Shaabi near Baghdad.
The Arabic-language website of Russia Today quoted Fazel Abu Raqif, a security expert close to Iraq's intelligence apparatus, as saying that intel showed Israel intended to strike the arms depot of Hashd al-Shaabi.
Full report at:
https://en.farsnews.com/newstext.aspx?nn=13980528000810
--------
Rights groups voice solidarity with hunger-striking Bahraini inmates
Aug 19, 2019
Human rights organizations have expressed solidarity with hundreds of political prisoners, who have launched a mass hunger strike in protest against mistreatment as well as poor conditions in Bahraini regime's jails and detention facilities.
On Monday, the European Center for Democracy and Human Rights (ECDHR) expressed solidarity with the hunger-striking inmates in a post published on its Twitter page, demanding the release of all imprisoned dissidents.
ECDHR
@ECDHRbxl
ECDHR in #Bruxelles stands in solidarity with #Bahraini #PoliticalPrisoners who declared a #HungerStrike in protest of the poor prison conditions. We call for the release of all political prisoners in #Bahrain #HumanRightsViolations
#إضراب_سجناء_البحرين #BahrainPrisonersStrike
Embedded video
39
8:30 PM - Aug 19, 2019
Twitter Ads info and privacy
49 people are talking about this
The Americans for Democracy and Human Rights in Bahrain (ADHRB) also expressed solidarity with the prisoners.
ADHRB
✔
@ADHRB
.@ADHRB in #Beirut stands in solidarity with #Bahraini #PoliticalPrisoners who have declared a #HungerStrike in protest of the poor prison conditions. We call for the release of political prisoners in #Bahrain#إضراب_سجناء_البحرين #BahrainPrisonersStrike
Embedded video
21
7:16 PM - Aug 19, 2019
Twitter Ads info and privacy
35 people are talking about this
Earlier in the day, Amnesty International said more than 450 inmates from Jau Prison and Dry Dock Detention Center had gone on a mass hunger strike to express their grave resentment over dire prison conditions, including ill-treatment, the glass barrier separating them from their families during visits, arbitrary searches and confiscation of their belongings.
Amnesty Bahrain
@aibahrain
Over 450 #Bahrain-i prisoners in #Jaw and Dry Dock prisons joined a mass #hungerstrike this week in protest of dire #prison conditions including ill-treatment, the glass barrier during family visits, arbitrary searches and confiscation of belongings. #BahrainPrisonersStrike
11
7:20 PM - Aug 19, 2019
Twitter Ads info and privacy
44 people are talking about this
The action came after fifteen political prisoners started on August 15 an open hunger strike following two full years of systematic isolation in Jau Prison.
The dissidents are imprisoned along with other inmates, who don't share their language, religion, traditions or culture. They are also charged with different crimes.
Thousands of anti-regime protesters have held demonstrations in Bahrain on an almost daily basis ever since a popular uprising began in the country in mid-February 2011.
They are demanding that the Al Khalifah regime relinquish power and allow a just system representing all Bahrainis to be established. Manama has gone to great lengths to clamp down on any sign of dissent. On March 14, 2011, troops from Saudi Arabia and the United Arab Emirates were deployed to assist Bahrain in its crackdown.
On March 5, 2017, Bahrain's parliament approved the trial of civilians at military tribunals in a measure blasted by human rights campaigners as being tantamount to imposition of an undeclared martial law countrywide.
Full report at:
https://www.presstv.com/Detail/2019/08/19/603969/Rights-groups-voice-solidarity-with-hungerstriking-Bahraini-inmates
--------
Bahrain joins US military coalition in Persian Gulf
Aug 19, 2019
The Al Khalifa regime in power in Bahrain has announced support for a US coalition in the Persian Gulf as Washington remains desperate to recruit more allies in its attempts to escalate tensions with Iran.
In an announcement on Monday, the Bahraini authorities confirmed that they are joining forces with the United States.
According to the official Bahrain News Agency, King Hamad bin Isa Al Khalifa "confirmed the Kingdom of Bahrain's participation in the joint effort to preserve the safety of international maritime navigation and secure international corridors for trade and energy in the region."
The announcement from Manamah came as US was isolated among its traditional allies, such as the UK, amid attempts to convince them to join the so-called Operation Sentinel, supposedly aimed at protecting commercial vessels traveling through the Persian Gulf.
As the commander of US Central Command, General Frank, claimed in a statement later, "The free flow of commerce throughout international waterways is a linchpin of the global economy, and we appreciate the Kingdom of Bahrain's leadership and support in preventing aggression from curtailing that freedom."
"Threats to the free flow of commerce are an international problem requiring an international solution, and we are pleased that the Kingdom of Bahrain will be a part of that solution," further claimed the top US commander in the region.
It is not still clear what Bahrain, home to the US 5th Fleet, is supposed to do for the so-called coalition.
Full report at:
https://www.presstv.com/Detail/2019/08/19/603982/Al-Khalifa-backs-US-adventurism-in-Persian-Gulf
--------
Assad regime warplanes strike Turkish armored convoy in Idlib
August 19, 2019
ANKARA: The Astana process to resolve the Syrian conflict was in danger of collapse on Monday after Assad regime warplanes struck a Turkish military convoy just north of Khan Sheikhun in Idlib province.
The strike was backed by Russia, a key participant in the Astana process with Turkey and Iran. "We support the efforts of the Syrian army," Russian President Vladimir Putin said.
Turkish authorities said the convoy of about 50 armored personnel carriers and five tanks was on its way to reinforce one of its observation posts at Morek, south of Khan Sheikhun on the main M5 highway between Damascus and Aleppo.
But the Assad regime accused Ankara of supplying militants from Hayat Tahrir Al-Sham (HTS), who control most of Idlib. "Turkish vehicles loaded with munitions ... are heading toward Khan Sheikhun to help the terrorists," the foreign ministry said.
Pro-regime forces have been battling HTS for the past three days for control of Khan Sheikhun, and the strategic highway. Regime troops took control ofpart of the road north of the city in a new advance on Monday, effectively blocking the Turkish convoy from continuing south.
Ankara condemned the airstrike, in which three people died. The attack was "in violation of the existing memorandums and agreements with the Russian Federation," it said.
With the presidents of Turkey, Russia and Iran due to meet in Ankara next month in the next stage of the Astana process, Monday's airstrike could not have come at a worse time, military analyst Navvar Saban told Arab News.
"Russians and Turks don't have the luxury to destroy Astana. If it collapses, they will have to retreat from Idlib and it would be disaster internally and externally," said Saban, of the Omran Center for Strategic Studies in Istanbul.
"Turkey's aim is to stop regime forces from advancing, and to secure Turkish observation posts. But in case of a direct hit on the Turkish posts, there would be a counter-attack from the Turkish side.
"But Ankara should admit it is too late to secure the area. Regime forces have advanced greatly on the ground."
Dr. Kerim Has, a Russia-Turkey relations analyst in Moscow, said a slow advance of Russia-backed Assad regime forces in Idlib was inevitable because talks so far had not eliminated the terror threat in Idlib. "On the contrary, HTS controls more territory than it did a year ago," he said.
Full report at:
http://www.arabnews.com/node/1542091/middle-east
--------
Egypt court hands out 6 death sentences on terror charges
August 19, 2019
CAIRO: An Egyptian court has sentenced six people to death on terror charges for carrying out attacks that killed at least three people, including a policeman, on the outskirts of the capital.
Giza criminal court on Monday also sentenced 41 defendants, including 28 in absentia, to life in prison on similar charges, including possession of weapons and explosives. Another seven defendants received 15 years, and one got three years. The court acquitted 14 others.
The verdict can be appealed.
The charges stem from two different attacks in 2013 and 2015 in the town of Kerdasa, located near the famed Giza Pyramids.
Full report at:
http://www.arabnews.com/node/1542226/middle-east
--------
Europe
Militant Neo-Nazi Group Actively Recruiting Ahead of Alleged Training Camp
By Mack Lamoureux and Ben Makuch
Aug 16 2019
A neo-Nazi group focused on providing paramilitary-style training to far-right extremists has been conducting a massive recruitment drive and claims to have already conducted live-fire training with its members.
The Base, which is connected to extreme-right groups the Atomwaffen Division and the Feuerkrieg Division, has been promoting its growth on social media with photos announcing its presence in major cities across North America, including New York, Los Angeles, and Seattle, and in Europe, South Africa, and Australia. The images often include a small contingent (typically one to three) of masked, camo-clad men holding weapons standing in front of The Base's flag, a black flag with three white lines running down the centre.
Attacks committed by far-right extremists expressing similar worldviews and ideologies are on the rise. Last week, an alleged Atomwaffen Division member was arrested for planning terrorist attacks on his local synagogue.
A post from a suspected member shows a masked man in front of an electric transformer holding a book known to be an insurgency bible to militant neo-Nazis, with the caption: "The electric grid as well as many other of the system's tentacles that keep the lemming class fat and happy are extremely weak and easy to target."
A series of other posts allegedly shows its Georgia "cell" in live-firing training. One photo depicts a masked man shooting a target painted with a Jewish Star of David. Other posts call for "tit-for-tat" violence.
The group has also been conducting postering campaigns in several of the cities they claim to have members in. Many of the posters went up in universities; others were spotted in less traditional locations, such as on a drive-in menu in Newark. "Would you like some societal collapse with your coffee?" read a social media post of the poster.
Some of the posters, which have been found and reported on by members outside of The Base, contain a QR code that brings a potential recruit to a video entitled "What is The Base?" on Bitchute, a video-hosting service used by the far right.
"Together, we will secure a future for our people" is the last line of the video, echoing the famous neo-Nazi slogan. Posters have been found in Newark, Winnipeg, Seattle, Princeton, and Milwaukee.
The group is reportedly planning a "hate camp," a paramilitary-style training camp among militant neo-Nazis in Washington state, according to an anti-fascist group in Eugene, Oregon that has been investigating The Base. Coined by Atomwaffen Division, hate camps are intended to unify online fascists and provide them with information and skills to carry out violent attacks.
Spokane police spokesperson Officer John O'Brien told VICE that while police are aware of the event and are investigating, they do not believe it will take place within the city or county of Spokane.
"The location has not been shared with me," said O'Brien. "The only connection to Spokane is the possibility that members of that group may fly into our airport to travel to their destination."
O'Brien told VICE that if the group is conducting paramilitary-style training on private property with firearms, "they are within their rights to train."
For Joshua Fisher-Birch, a research analyst at the Counter Extremism Project, a U.S.-based terrorism watchdog, The Base presents a "significant threat" because it is attempting to build a network with "individuals in different groups, or those with slight ideological differences." According to Fisher-Birch, the group has "combined online recruitment efforts with real-world efforts" including supporiting "lone-actor violence" and "shared terrorist tactics."
"The Base is particularly dangerous because of [its] focus on developing and sharing skills useful for terrorism and guerilla warfare, such as ambushes, weapons training, and making explosives," Fisher-Birch said. "This is a radical group that not only wants violence, but is preparing for it."
The Base was founded by Spear in early 2018. Before this, Spear was a follower of the teachings of Harold Covington and the Northwest Front, a neo-Nazi group that wants to create an Aryan ethnostate in the Pacific Northwest. Spear appeared on several white nationalist podcasts and YouTube livestreams in which he preached theoretical violence as a means to an end and complained about the lack of a cohesive white supremacist movement.
The Base is seemingly his attempt to solve these issues. The group counter-intuitively states it does not endorse violence, regardless of its members' frequent postings relating to taking down the current "degenerate system," and rejects charges that The Base resembles a terrorist organization. Interestingly, "The Base" is the English translation of "Al-Qaeda," the jihadist terror group responsible for the 9/11 attacks.
VICE initially reported on The Base in November 2018 and gained access to a secure chatroom shared by members. Once the story went live, the group had its chat pulled by the Matrix server it existed on and moved to Wire, a more secure communication channel. Spear provided a hub for the fascists to meet, and assigned a "trainer" who would dole out information and organize.
At all times all members had access to the group's "library," a Megaupload-esque page of PDFs and books that explored terrorism tactics in depth. The books touched on lone-wolf terror tactics, gunsmithing, data-mining, interrogation tactics, and counter-surveillance techniques. Users could learn how to make bombs or chemical weapons at home, or how to conduct a small-scale ethnic cleansing. The library also featured a plethora of neo-Nazi propaganda and literature, which members could chat about in a separate book club chat.
An active network of anti-fascists has slowly been unmasking the anonymous members of the aspiring terror collective. Using the hashtag Debased Doxx, the network has found several members to be ex-military. Posts made by affiliated members in other far-right chats show the group is still organizing on the Wire platform.
VICE attempted to reach out to Spear on Wire but the request was not accepted.
Evan Balgord, the executive director of the Canadian Anti-Hate Network, told VICE that his group has been watching the growth of The Base in Canada and says that even though the group seems small, it can be dangerous.
"A very small number of individuals, properly motivated, with even the most basic materials could murder a lot of people or damage infrastructure in some significant way," said Balgord. "Groups like The Base, or Atomwaffen Division, are here and they're a clear and present danger, so they should be listed as terrorist entities and be pursued very robustly by law enforcement."
The Base and its affiliated accounts have been purged from Twitter and even the far-right-friendly social platform Gab for their violent rhetoric. However, their content can still be found in some of the darker recesses of the internet where membership is steadily growing.
https://www.vice.com/en_ca/article/bjwx55/militant-neo-nazi-group-actively-recruiting-ahead-of-alleged-training-camp
--------
Germany's Jewish council warns against AfD's 'right-wing extremism'
18.08.2019
The president of the Central Council of Jews in Germany, Josef Schuster, has accused the far-right populist Alternative for Germany (AfD) party of having right-wing extremist tendencies. "In my view, the AfD is much more closely interwoven with right-wing extremism than it appears," Schuster told Germany's Welt am Sonntag newspaper. "The party incites fears and promotes a climate of exclusion of minorities," he said.
The AfD links attacks carried out by Islamist-motivated perpetrators with populist propaganda "in order to stir up hatred against minorities in general," Schuster said, pointing out that this "ultimately also creates a climate against Jews."
Increase in anti-Semitic hate crime
Schuster sees right-wing extremism as posing the "greatest danger" to Germany and Jews living in the country.
The number of anti-Semitic attacks in Germany increased by over 10% from 2017 to 2018, which has prompted many Jews living in the country to consider emigrating. According to official figures, the number of anti-Semitic crimes committed increased from 1,504 in 2017 to 1,646 in 2018. The number of cases considered violent increased from 37 to 62 over the same period.
Germany's anti-Semitism commissioner made headlines in May when he warned Jews not to wear yarmulkes — traditional Jewish skullcaps — in public spaces. Germans showed solidarity with the Jewish community in 2018 by wearing yarmulkes on a march against anti-Semitism.
No to coalition with AfD?
Regional elections are scheduled to take place in the eastern German states of Saxony and Brandenburg on September 1. The AfD, which is Germany's main opposition party, is expected to perform well in the state election in Saxony. The party is polling at 25% in Saxony, behind the CDU at 28%, and ahead of the Left party at 16% and the Greens at 12%.
Schuster warned the remaining political parties against forming a coalition with the AfD, as in his view sustaining such an alliance would eventually require a rightward tilt in their policies and rhetoric.
Integration into common 'system of values' key
The head of the Jewish council also spoke out in favor of tougher measures against Islamists.
Schuster said it's not just about fighting anti-Semitism, but also about integrating into society. All people who come to Germany and live here, he said, should adhere to the nation's values, including recognition of the equal rights of men and women, opposing all forms of anti-Semitism and racism, recognizing the rule of law and accepting the diversity of sexual orientations.
"To convey this system of values is the ultimate purpose of all integration measures," he stressed.
Schuster also spoke out in favor of offering guided tours in Arabic of concentration camp memorial sites. The memorial site in Flossenbürg, Bavaria, is already considering the proposal, Schuster said. "This should be extended to all the concentration camp memorial sites."
Full report at:
https://www.dw.com/en/germanys-jewish-council-warns-against-afds-right-wing-extremism/a-50067299
--------
Macron, Putin hold French-Russian talks before G-7
20 August 2019
French President Emmanuel Macron and Russian President Vladimir Putin vowed to give a new boost to peace talks with Ukraine and to improve Moscow's relations with the European Union during a meeting in southern France on Monday.
But they disagreed on other issues, including Syria and the Russian crackdown on opposition protests.
Macron invited Putin to his summer residence, the Fort de Bregancon on the French Riviera, for a meeting followed by dinner, just a few days before opening a meeting of the Group of Seven nations in the city of Biarritz with U. President Donald Trump and other leaders.
France holds the 2019 presidency of the G-7, which also includes Britain, Canada, Germany, Italy and Japan.
Russia was excluded from the group after it annexed Crimea in 2014.
Macron intends to share the outcomes from his meeting with Putin with other world leaders in Biarritz Aug. 24-26.
Speaking in a joint news conference before the meeting, Macron spoke of his hope that the election of Ukraine's new president, Volodymyr Zelenskiy, provides opportunity to relaunch negotiations in Russia's conflict with the country.
"I think Zelenskiy's points of views, his choices are game-changing," Macron said.
Putin expressed "some optimism" on the subject.
Both presidents opened the door to a four-way meeting involving Ukraine, Russia, France and Germany, possibly in the coming weeks.
The conflict in eastern Ukraine has killed more than 13,000 people since 2014.
A 2015 Minsk agreement, brokered by France and Germany, has helped reduce fighting, but clashes have continued and political settlement has stalled.
France and Russia also agreed to push for de-escalation of tensions between Iran and the US.
Macron has taken a lead role in trying to save the 2015 nuclear accord, which has been unraveling since Trump pulled the US out of the agreement.
Russia, along with Britain, Germany and China, remains a part of the accord.
"We worked a lot in recent weeks to prevent unrest" in Iran and the whole region, Macron said.
Macron and Putin said they would discuss the normalization of ties with the EU, which remain tense after Russia's annexation of Crimea and support for separatist insurgents in eastern Ukraine.
The French president envisioned long-term relations between Moscow and Brussels based on confidence-building and security measures -on condition the conflict with Ukraine is settled.
"The relation of France and Russia, of Russia and the European Union is absolutely decisive," Macron said.
"I know all the things that have divided us, the misunderstandings over the last decades ... I know another thing, which is that Russia is European, very profoundly, and we believe in a Europe which stretches from Lisbon (Portugal) to Vladivostok (Russia)," Macron said.
In a landmark move, the Parliamentary Assembly of the Council of Europe restored the credentials of Russia's delegation in June, five years after it was stripped of voting rights following Crimea's annexation.
Putin thanked France for playing a key role in the decision, and said he is convinced this will help build a relationship of trust on the continent.
Both presidents didn't hide their disagreements on other topics.
Earlier this month, France strongly condemned the Russian crackdown on opposition protests, denouncing the arrests of more than 2,000 people and the "clearly excessive use of force."
Putin defended Russian police, saying he doesn't want his country to see the kind of rioting and other violence that engulfed France during yellow vest protests against economic injustice and Macron's presidency.
Macron said the situations couldn't be compared, adding that in France, protesters were able to run in elections.
Macron and Putin also showed divergences on Syria.
Macron expressed "deep concern" over the military offensive led by the Syrian regime, backed by Moscow, in the region of Idlib, an opposition-controlled area in the northwest of the country.
Full report at:
https://english.alarabiya.net/en/News/world/2019/08/20/Macron-Putin-hold-French-Russian-talks-before-G-7.html
--------
The relentless sale of British assets to foreigners shows no sign of abating
Aug 19, 2019
News that Turkey's military pension fund has reached a deal to buy embattled British Steel will come as a disappointment to supporters of British industry.
The Turkish Armed Forces Assistance Fund (Oyak) says it plans to buy British Steel by the end of the year.
British Steel employs 5,000 people, mostly at the Scunthorpe and Teeside steel works.
The sale of British steel to an unusual foreign entity (Oyak) is in keeping with a long-term trend which began in the Thatcher era of the 1980s.
Under Thatcher's privatization scheme substantial parts of Britain's critical infrastructure, notably the gas and electricity supply industry, were sold off to foreign investors.
The sale of both public and private assets has continued apace since Thatcher departed the arena in November 1990.
Dubbing it "the great British sell-off", The Economist reported in March 2016 that the government had encouraged departments to find land and property to sell, with the aim of raising £5 billion by 2020.
Meanwhile, the sale of private companies has been going on at a much larger scale.
Writing in the Guardian in March 2015, the chair of the Big Innovation Centre, Will Hutton, revealed that in a ten-year period, 2005 to 2015, £440 billion worth of private companies were sold to foreign owners.
Describing the "selling off" of Britain as a sign of "profound weakness", Hutton lamented: "For centuries Britain, courtesy of empire and overseas expansion, enjoyed a phenomenal net surplus of assets; we owned more of the world than foreigners owned us". It is difficult to ignore the logic inherent in Hutton's insight. There does appear to be a direct link between Britain's geopolitical decline and the selling off of British assets, both public and private, to foreign entities.
The "selling-off" of Britain often works to the disadvantage of the people most directly affected by these decisions, namely the workers and their families.
It has been reported that the prospective buyer of British Steel is planning to cut jobs as part of a "productivity drive".
Full report at:
https://www.presstv.com/Detail/2019/08/19/603926/UK-British-Steel-Turkey-Oyak
--------
US conveys its 'strong position' to Greece over freed Iranian tanker
Aug 19, 2019
The United States has conveyed its "strong position" to the Greek government about an Iranian tanker that sailed for Greece on Monday after it was freed from detention off Gibraltar and Washington says is carrying oil to Syria, a State Department official said.
Any efforts to assist the tanker could be considered as providing material support to a US-designated foreign terrorist organisation, which has immigration and potential criminal consequences, the official said.
The Grace 1, now renamed the Adrian Draya-1 and re-flagged as Iranian, cast off late on Sunday for Kalamata in Greece despite an 11th hour attempt by the US to block its departure from the British overseas territory.
Earlier on Monday Iran warned the United States against a second attempt to impound one of its tankers.
Speaking in the Finnish capital Helsinki, Iran's foreign minister Mohammad Javad Zarif denounced US attempts to halt the ship's progress as "politically motivated" while Tehran warned against a new effort to halt the ship's progress.
Gibraltar seized the Grace 1 on the grounds that the vessel was transporting oil against EU sanctions imposed on Bashar Al Assad's regime but ordered the release of the vessel on Thursday after assurances the load would not end up in Syria.
The US-issued warrant issued on Friday sought the forfeiture of the tanker, its 2.1 million tonnes of oil and £1 million (Dh3.6 million) in a US bank account.
It cited the tanker's links to oil sales to Syria, and links to the Iranian Revolutionary Guard Corps, a designated foreign terrorist organisation.
The warrant, issued after Gibraltar ordered the release of the vessel, said an inquiry was also under way over the alleged unlawful use of the US financial system to sell Iranian oil.
Marine tracking services indicated it the ship was due to arrive in Greece on Sunday and it was not immediately clear if the US would make a fresh attempt to seize the ship.
Mr Zarif told reporters that Iran was not interested in direct talks with the United States over the ship. He added that any mediation between Tehran and Washington should be focused on bringing the US back to the 2015 nuclear deal from which it withdrew last year.
Relations between the Iran and the West have been in disarray since May 2018 when the US withdrew from the nuclear deal that had lifted economic sanctions on Tehran in exchange for the Iranian government committing to give up its nuclear weapons programme.
Europe, on the other hand, has attempted to salvage the nuclear deal, attempting to soften the blow of US sanctions on Iran.
Finnish foreign affairs minister Pekka Haavisto emphasised after his meeting with Mr Zarif that Europe remained committed to the 2015 deal.
The split between Washington and European capitals has been brought into sharp relief by the seizure of the Iranian tanker.
Gibraltar said European laws did not provide grounds for complying with the US warrant. Senior IRGC officials are on EU sanctions lists but governments have stopped short of designating the entire organisation.
Sweden, one of the stops on Mr Zarif's northern European tour, is involved in negotiations over the fate of the Stena Impero. The British-flagged vessel, owned by a Swedish company, was stopped by Iranian forces in the Strait of Hormuz on July 19.
The seizure of the ship was viewed as a direct response to the detention of the Grace 1.
Mr Zarif's arrival in Europe has been harshly criticised by the National Council of Resistance of Iran, an exiled opposition group viewed by Tehran as a criminal network.
The group, which has strong backing from Iran hawks in Washington including president Trump's national security advisor John Bolton, accused Tehran of being a state sponsor of terrorism.
The exiled Iranian opposition group also accused Syrian president Bashar Al Assad, who counts Tehran amongst his principal military allies, of carrying out a "massacre of the Syrian people".
Grace 1 was commandeered by British marines on July 4 after officials in Gibraltar were made aware the cargo was heading towards the Baniyas refinery in Syria, under the control of the Assad government.
The Gibraltar government said on Thursday that navigation charts, emails and voyage plans all confirmed the final destination was Baniyas.
Full report at:
https://www.thenational.ae/world/europe/us-conveys-its-strong-position-to-greece-over-freed-iranian-tanker-1.900074
--------
URL: https://www.newageislam.com/islamic-world-news/malaysia-reportedly-bans-controversial-indian/d/119515
New Age Islam, Islam Online, Islamic Website, African Muslim News, Arab World News, South Asia News, Indian Muslim News, World Muslim News, Women in Islam, Islamic Feminism, Arab Women, Women In Arab, Islamophobia in America, Muslim Women in West, Islam Women and Feminism