New Age Islam News Bureau
21 Nov 2016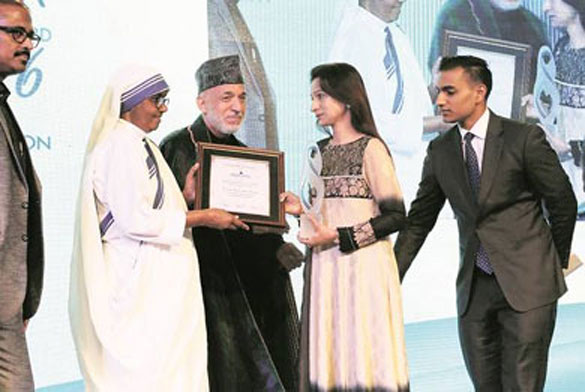 Parents of Faraaz Ayaaz Hossain receving the Mother Teresa memorial internation award from Mr. Hamid Karzai (Former President of Afghanistan) who was a chief guest at JW Marriott, Sahar on Sunday (Express Photo by Dilip Kagda)
--------
• Making Pakistan an Islamic Welfare State under Jamaat-e-Islami Banner
• 'Faraaz Is Bangladesh' Posters Now Define 20-Yr-Old Who Stood By His Friends during Dhaka Attack
• Church in Northern Iraq Reopened After Two Years under IS Control
• Turkish President Warns NATO against Sheltering 'Terrorist' Soldiers
Pakistan
• Making Pakistan an Islamic Welfare State under Jamaat-e-Islami Banner
• Scholars Demand Action against Those Who Lure Youth to Terror
• 14 Pakistanis Reportedly Reach Syria, Afghanistan to Join ISIS
• IS Recruitment Cell Busted In Lahore
• 'Demonetisation reduced number of Sikh pilgrims'
• Nawaz should reach out to Trump: Musharraf
• 'Zardari dictates Sindh government from Dubai'
• Levies man killed in suspected militant attack
• Pakistan records 45pc drop in terror attacks
• Pakistani among 4 arrested with narcotics in Sri Lanka
• Two terrorists held with arms in Balochistan
--------
South Asia
• 'Faraaz Is Bangladesh' Posters Now Define 20-Yr-Old Who Stood By His Friends during Dhaka Attack
• War Crimes Case against Jamaat Chief Maqbul Anytime
• 2 foreign ISIS terrorists killed in East of Afghanistan
• Afghanistan accuses Iran of supporting Taliban
• Explosion in Kabul leaves one dead and another one wounded
• UN Urges Bangladesh to Keep Border Open in Wake of Myanmar Violence
• Tiles factory in Mazar city to resume production with India's support
--------
Arab World
• Church in Northern Iraq Reopened After Two Years under IS Control
• Syrian Army Wins Control over Terrorists' Operation Room in Aleppo City
• Terrorists Agree to Hand over West Ghouta Stronghold to Syrian Army
• White Helmets Cooperating with Terrorist Groups in Syria
• Iraqi forces push on against Daesh in eastern Mosul
• Syria: Over 100 Gunmen Receive Amnesty in Homs Province
• Iraqi troops fortify positions in freed Mosul areas
• Syrian family, pupils killed in Aleppo attacks
• Egypt foils plots to assassinate Sisi, suspects held
• Syrian govt rejects UN proposal on eastern Aleppo
• Syrian Army Scores More Victories against Terrorists Northeast of Aleppo City
• Civilians Risk Their Lives to Flee Terrorist-Controlled Areas in Eastern Aleppo
• Tens of Nusra Terrorists Killed in Syrian Army Attacks in Quneitra
• Syria: Terrorists Retreat in Southwestern Damascus
• Saudi gets 15 years in jail for helping terrorists
--------
Mideast
• Turkish President Warns NATO against Sheltering 'Terrorist' Soldiers
• Senior Syrian MP: Evidence Shows Chemical Weapons Sent To Terrorists In Aleppo From Turkey
• Turkish soldier killed in Islamic State attack
• Violence puts Yemen ceasefire extension in doubt
• Iran calls for Taliban, Afghan govt talks
• Expel Iran from OIC, Arab states urged
• US President Obama seeks to fortify Iran deal before leaving office: Officials
• Yemen truce violated by Saudi forces 114 times: Army spokesman
--------
India
• West Bengal Government against Uniform Civil Code: State Minister
• Why Trump Is a Major Threat to Muslims in the World's Largest Democracy Too
• Malappuram murder: A month ago, Kerala convert had said, 'If they want to kill me, let them'
• J&K: BSF awan killed, 5 others injured after Pakistan violates ceasefire in Rajouri
• NIA may seek Interpol notice against Zakir Naik
• Muslims Hold Key to Electoral Outcome In UP
--------
Africa
• UNSC 'Deeply Alarmed' Over Escalation Of Ethnic Violence In South Sudan
• Daesh close to defeat in Libya's Sirte
• Nigerias In Diapora Express Hope That Trump Will End Terrorism In Africa
• Kenya Police Kill 4 Suspected Extremists at Somali Border
--------
Southeast Asia
• Putrajaya Finally Tables Law to Bar Unilateral Child Conversion
• Respected Muslim scholar sets sights on top office
• James Riady Speaks at NU National Meeting in Jakarta
--------
North America
• Reince Priebus Voices Support for Altered Muslim Ban
• Islamic Community Marches for Peace in Boise
• Obama, Putin talk about Syria and Ukraine in quick summit meet
• Sikh youth mistaken for Muslim, abused at US store
• Muslim youth showcase identity through art at Montreal Museum of Fine Arts
• Obama 'not optimistic' about Syria's near future
--------
Europe
• Kamil Samigullin: 'What Fethullah Gülen has done – it is wrong'
• Sarkozy crashes out of French presidential race after courting far-right with rhetoric on Muslims
Compiled by New Age Islam News Bureau
URL: https://www.newageislam.com/islamic-world-news/new-age-islam-news-bureau/making-pakistan-an-islamic-welfare-state-under-jamaat-e-islami-banner/d/109158
--------
Making Pakistan an Islamic Welfare State under Jamaat-e-Islami Banner
November 21, 2016
LAHORE - Religious scholars and spiritual leaders have expressed their resolve to revive Pakistan movement in order to make Pakistan an Islamic welfare state.
They were attending an Ulema and Mashaikh Conference at Mansoora organised by Jamaat-e-Islami yesterday.
They were of the view that the custodian of shrines could play role in the eradication of corruption, interest based banking and immorality in country.
A declaration was also unanimously adopted at the moot, which was chaired by JI chief Senator Sirajul Haq, pronouncing that the enforcement of the Nizam-e-Mustafa was the goal and ultimate objective of the people of Pakistan. The conference strongly condemned terrorist activities all over the Muslim world and underscored the need for Muslim unity.
It was declared on the occasion that the JI was not the party of any specific school of thought rather it represented all schools of Islamic thought and the Maskaikh were ready to work with it. Prominent among those who attending the conference included Khwaja Moeenud Din Koreja, Diwan Ahemd Masood, Diwan Azmat Syed Muhammad, Khwaja Faridud Din Fakhri Aurangabad, India, Syed Tahir Nizami ( Delhi), Sahibzada Sultan Ahmed Ali, Khwaja Noor Muhammad Sahv, Khwaja Nasrul Mahmud, Pir Ghulam Rasool Awais and Syed Muhammad Bilal Chishti Khwaja from Ajmer Sharif India.
The JI chief, talking to the media, said that the seats of religious and spiritual learning were a big force and had played great role in the Pakistan movement. He said had the Soofia and religious scholars not supported the Quaid-e-Azam, Pakistan would have remained a dream.
Siraj further said that for the last seventy years, Pakistan was being run by those who had shown loyalty to the British rulers. He said that the Maskakhih gathered at Mansoora had agreed to the programme of the JI mission to end the hold of the dictators, feudal lords for the enforcement of the Nizam-e-Mustafa. To a question, he replied if the rulers were involved in corruption the Qatar prince would not be able to save them.
The conference demanded abolition of the interest based economic system.
The moot also criticised the deletion of various topics comprising Islamic teachings from the text books and termed it a conspiracy of the aliens as was bound to damage spiritualism in the society. It demanded immediate restoration of these topics in the text books.
The conference took serious note of different irreligious and immoral activities going on at the shrines under state control and called for immediate end to that.
The moot said that the Council of Islamic Ideology (CII) was a constitutional body meant to make recommendations in the light of the Quran and the Sunnah. It demanded implementation of the recommendations of the CII.
Expressing total solidarity with the Kashmiris facing oppression of the Indian occupying forces, the conference urged the government to approach the United Nations for the solution of the Kashmir issue in line with the UN resolutions.
http://nation.com.pk/lahore/21-Nov-2016/making-pakistan-an-islamic-welfare-state-under-ji-banner
--------
'Faraaz is Bangladesh' posters now define 20-yr-old who stood by his friends during Dhaka attack
November 21, 2016
by Tabassum Barnagarwala
On the night of July 1, a picture of 20-year-old Faraaz Ayaaz Hossain, dead with his arm outstretched supporting the head of his friend Tarishi Jaina after an attack at the holy Artisan Bakery in Dhaka and posted by Islamic State (IS) supporters online, went viral. Hours later, it was after seeing this picture that Faraaz's family came to know that he had been killed.
In the months that followed, Faraaz's death and sacrifice while attempting to save two of his friends has come to mark the resistance or pushback against terrorism in Bangladesh. His family says people name their sons after him and several villages have put up posters saying "Faraaz is Bangladesh".
On Sunday, Faraaz's family was felicitated in Mumbai with the Mother Teresa Memorial International Award for his bravery. An act his mother is proud of while regretting the fact that she lost her son to terrorism at such a young age. Faraaz, studying business in the United States' Goizueta Business School, had come home for summer vacations. It was Ramadan, he had just finished iftaar and told his mother Simen Hossain, "Khuda haafiz. I will see you soon." He was to meet his two friends from American International School Dhaka, Abinta Kabir and Tarishi Jaina, before they left for Delhi and US respectively. Another friend who was to join them got late and was saved when the three were killed by IS gunmen.
It was about 8.30 pm. "We came to know of gola-goli (firing) and left immediately. We stayed outside the cafe the whole night," recalls Zarif Hossain, Faraaz's elder brother. They kept calling Faraaz, saw his profile go online on Facebook once before midnight, but were not sure whether it was Faraaz or someone else checking his phone. He never texted or answered their call that night.
In the morning at the Combined Military Hospital in Dhaka, even as Simen kept asking officials if they had seen a boy with grey polo t-shirt and a blue horse on it, an acquaintance showed the family Faraaz dead in an online picture. That was 12 hours after the attack began at the cafe.
"I knew he would never leave his friends. I was scared the whole night when I heard Bangladeshis and foreign nationals were being separated inside the cafe. Both his friends were from outside Bangladesh," Simen says. According to a Sri Lankan couple and a Bangladeshi woman who survived the attack that killed 23 that night, Faraaz was given an option to leave but he refused to go without his two friends, his family says.
After his death, Zarif had noticed a deep blade cut in his hand stretching up to his arms. Another slit was through his neck. A military official had later told Zarif it was incredible how Faraaz fought back unarmed. "Faraaz was the only Bangladeshi who had no bullet injury. They used a knife on him. He must have resisted it with his hands," Zarif says. A school president, later a volleyball captain, Faraaz was said to be an all-rounder. He had planned to join his family business in Dhaka after his graduation in the US.
Now, even as a city square has been named after him, and the entire Bangladeshi society is galvanising itself against terrorism, Simen says parents and teachers together need to ensure radicalisation does not happen to young people. "These are not Muslims who are raging terror. They are boys who have lost direction, with dysfunctional families. Even the eight boys who attacked the cafe were all from backgrounds with little education," she said.
For the Hossains, terrorism is emerging as a global issue which needs to be tackled fast by the government. "Islam preaches peace, that is what Faraaz attempted that night," she says.
http://indianexpress.com/article/india/india-news-india/faraaz-ayaaz-hossain-is-bangladesh-posters-now-define-20-yr-old-who-stood-by-his-friends-during-dhaka-cafe-terrror-attack-4386613/
--------
Church in northern Iraq reopened after two years under IS control
November 20, 2016
BASHIQA: The bells have rung out after two years of silence in the Mar Korkeis church in the town of Bashiqa, some 15 km (10 miles) north of Mosul, Islamic State's last major city stronghold in Iraq.
Kurdish Peshmerga fighters retook the town on Nov. 7, ending two years of rule by the hardline Sunni group which persecuted Christians and other minorities in the Nineveh plains, one of the world's oldest centres of Christianity.
Women trilled to celebrate the moment when a new crucifix was erected on the church, replacing one that was broken by the Islamic State militants.
The town is largely empty as the Peshmerga have not finished clearing explosives and mines left behind by the insurgents in their fight against U.S.-backed Iraqi and Kurdish forces who launched an offensive on Mosul on Oct. 17.
"We want people to be patient and not to return here until we completely clear the area, as we want to ensure their safety," said Peshmerga Brigadier General Mahram Yasin.
After seizing the Nineveh plains in 2014, Islamic State issued an ultimatum to Christians: pay a tax, convert to Islam, or die by the sword. Most abandoned their homes and fled to the nearby autonomous Kurdish region.
The priest at the Mar Korkeis church, Father Afram, said he would prefer Bashiqa to remain under the control of the Kurdistan Regional Government (KRG) and not revert to the Iraqi central government in Baghdad, about 400 km (250 miles) to the south.
"Of course we would prefer to be part of the KRG, because of our proximity to the area and because, for the past 13 years, the regional government has been looking after us," he said.
"Nobody from Baghdad came here to say hello, at all," since the US-led invasion that toppled Iraqi leader Saddam Hussein, he said.
Christianity in northern Iraq dates back to the first century AD.
The number of Christians has fallen sharply during the violence which followed the 2003 toppling of Hussein, and Islamic State's takeover of Mosul two years ago saw the city purged of Christians for the first time in two millennia.
From a Mosul mosque in 2014 Islamic State leader Abu Bakr al-Baghdadi declared a "caliphate" spanning parts of Iraq and Syria. The recapture of Mosul would mark the effective defeat of the group in Iraq.
http://nation.com.pk/international/20-Nov-2016/church-in-northern-iraq-reopened-after-two-years-under-is-control
--------
Turkish president warns NATO against sheltering 'terrorist' soldiers
Nov 20, 2016
Turkey's President Recep Tayyip Erdogan has warned NATO against sheltering "terrorist" soldiers after Turkish officers in the military alliance's command reportedly sought asylum in the wake of the abortive mid-July coup.
"How can a terrorist, a terrorist soldier, a soldier who has been involved in plotting a coup, be employed in NATO?" Erdogan asked journalists on a plane taking off from Uzbekistan, adding, "They cannot do such a thing."
Erdogan warned NATO against providing them with a haven. "NATO cannot entertain accepting asylum requests of this kind. Those in question are accused of terror."
The Erdogan administration has called for the extradition of the soldiers who have asked for asylum.
On November 18, NATO Secretary-General Jens Stoltenberg said a number of Turkish officers serving in NATO command positions had requested asylum following the botched coup of July 15.
"We would be wrong if we started to go into that kind of legal issue; that's for the judicial system" of the countries concerned, the NATO chief said.
Stoltenberg is due to meet with Erdogan on Monday on the sidelines of a NATO meeting in Istanbul.
President Erdogan has ordered authorities to eradicate all elements involved in the coup attempt.
Erdogan claims that US-based cleric Fethullah Gulen was behind the coup. Gulen has denied any role in the coup attempt. He says Erdogan orchestrated the coup as a pretext to purge all his opponents and pave the way for his undisputed leadership.
President Erdogan has accused Western powers of failure to show solidarity in the aftermath of the coup attempt.
Turkey's repressive measures against journalists following the coup have been widely condemned by European officials and various rights groups.
Tens of thousands of people, including military personnel, judges and teachers, have been suspended, dismissed or detained as part of a massive crackdown by the government in Ankara.
http://www.presstv.ir/Detail/2016/11/20/494415/Turkey-Erdogan-NATO
--------
Pakistan
Scholars demand action against those who lure youth to terror
November 21, 2016
ISLAMABAD: Addressing the "Muslim Awareness Campaign Convention" held here on Sunday, at Jamia Masjid Marhaba, Kuri Road, Rawalpindi, scholars from different religious sects stressed the need for unity of Ummah stating that unity of Muslims is panacea for the current challenges to the Muslim world.
They urged the leadership of Muslim world to educate and rouse the youth against false but attractive offers made by extremist organisations to lure them for their diabolical and heinous agenda that has nothing to do with Islam.They were furious on elements responsible for making missile attack on Makkah and vehemently demanded immediate steps to crush such elements. They also condemned those who wanted to ban reciting 'Azan' in mosques of Palestine.
The convention was presided over by Chairman Pakistan Ulema Council Hafiz Muhmmad Tahir Mehmood Ashrafi. The convention was a sequel of "Muslim Awareness Campaign" being arranged by Pakistan Ulema Council to create awareness among people of Pakistan about challenges confronting the Muslim world and to educate people against increasing menace of extremism and terrorism.
Addressing the convention, Hafiz Ashrafi urged the seminary students to get education both in Islamic studies as well as modern subjects. He said extremism and terrorism are alien to Islam and no extremist or terrorist could become head of state in Pakistan unlike India and U.S where extremist individuals have been elected to the highest position in their country.
He demanded deterrent action against those who are trying to ban Azan in Palestine and also against those making missile attacks on our holiest of the holy places. He declared that Muslim world will not tolerate these nefarious designs. "The world is demonstrating criminal negligence on persecution of Muslims across the globe.
Differences between Iran and Arab world should be settled through peaceful talks but before this foreign interference in Yemen, Bahrain, Syria and Iraq should come to an end," he said.Maulana Abdul Hameed Sabri, President Pakistan Ulema Council Islamabad Chapter said Islam is the religion of peace and security adding that challenges to Muslim world could only be met through unity of Ummah.
He said that anti-Muslim elements are hatching conspiracies to play havoc with holy places of Muslims from Jerusalem to Makkah and Medina. From this platform, we demand of UN and OIC to take action against decision of Israeli parliament to ban Azan in Palestine and against elements making missile attacks in Makkah and Medina.
Another scholar Maulana Nauman Hashir said that leadership of Saudi Arabia has always stood for rights of Muslims across the world and no one should be allowed to make chaos in Harmain-e-Al-Sharifain.
Maulana Muhammad Aqeel said that Madaris-e-Arabia are providing Islamic studies to thousands of students in madrasas adding that these institutions are encouraging students to get command in modern subjects too.
He said that the government has been asked to identify madrasas responsible for fanning extremism and terrorism in the country.The participants of the convention adopted a resolution condemning the bill tabled in Israeli parliament to ban Azan in Palestine. The resolution lauded the bid on part of Aran-Muslim lawmaker who delivered Azan inside Israeli parliament while making speech.
Another resolution adopted at the convention condemned Indian aggression at LOC stating that religious sections of Pakistan are ready for defence of Pakistan and made it clear that Indian aggression will not be tolerated.Maulana Muhammad Hafeez-ur-Rehman, Maulana Sibghatullah, Qari Muhammad Usman, Mufti Muhammad Abdullah also addressed the convention.
https://www.thenews.com.pk/print/166522-Scholars-demand-action-against-those-who-lure-youth-to-terror
--------
14 Pakistanis reportedly reach Syria, Afghanistan to join ISIS
November 20, 2016
LAHORE: At least 14 Pakistani nationals have reached Afghanistan and Syria where they will reportedly join Islamic State in the militant group's so-called war against world governments.
According to security sources, major recruitment was carried out from Islamabad and Punjab. Sources say the Pakistani nationals also include female members.
The security sources say that Qari Abid in Syria would lure citizens into the proscribed organisation through social media and later made them contact his nephew Nabeel Ahmed.
Those who were prepared to join were then sent to Syria and Afghanistan, sources informed.
On November 17, the Counter Terrorism Department (CTD) had arrested eight suspected militants from Lahore over attempts to lure people into joining the Islamic State militant group.
Full report at:
http://nation.com.pk/national/20-Nov-2016/14-pakistanis-reportedly-reach-syria-afghanistan-to-join-isis
--------
IS recruitment cell busted in Lahore
Nov 20, 2016
LAHORE: A nine-member Islamic State cell that was recruiting and transporting people to Syria and Afghanistan has been busted here, police said.
The Counter-Terrorism Department (CTD) Punjab said it busted a cell of the militant Islamic State (IS) group operating in Lahore and arrested nine people.
The cell was recruiting and transporting new members to Syria and Afghanistan. The cell had already managed to send nine recruits to Syria.
After the arrest of these nine people, the total number of IS group members who have been arrested in different parts of Punjab in recent months reached 45.
According to the Counter Terrorism Department of Punjab Police, the nine members of the IS group were arrested in a raid in Cantonment area last week.
Those arrested, included Lahore IS chief Nabil Ahmed alias Abu Abdullah.
"The cell was not only recruiting militants but also radicalising youths and transporting them, along with their families, to Syria or Afghanistan. It was also allegedly working to develop its capacity to establish organisational structure of IS in Pakistan," the CTD said.
The group was also working on a plan to accelerate its activities in Pakistan after announcing a 'caliphate' in the country.
Full report at:
http://timesofindia.indiatimes.com/world/pakistan/IS-recruitment-cell-busted-in-Lahore/articleshow/55528190.cms
--------
'Demonetisation reduced number of Sikh pilgrims'
November 21, 2016
LAHORE: Over 2,000 Sikh Yatris, who had arrived on Nov 12 (Saturday) to attend the 548th birth anniversary of Baba Gurunanak Dev Jee in Nankana and visited temples of their spiritual leaders in Hasanabdal and other cities, will return to India on Monday (today).
Though the Pakistan High Commission in New Dehli had issued 3,318 visas, only 2,000 pilgrims made it to Lahore. The pilgrims spent three days at Nankana Sahib where they attended the main ceremony of Baba Gurunanak's birth anniversary. Later, they participated in a ceremony here in Lahore hosted by the government in their honour.
On Sunday, they (Yatris) participated in a ceremony held to inaugurate the rehabilitated temple of Engheetia Sahib in Kartarpur, Narowal district, according to a spokesman for the Evacuee Trust Property Board.
Full report at:
http://www.dawn.com/news/1297669/demonetisation-reduced-number-of-sikh-pilgrims
--------
Nawaz should reach out to Trump: Musharraf
21-Nov-16
ISLAMABAD: Former military ruler General (r) Pervez Musharraf has said that American president-elect Donald Trump is not well-versed with political dynamics of the region, and has yet to formulate a strategy vis-à-vis South Asia.
"This is a golden opportunity for Pakistan, Prime Minister Nawaz Sharif needs to step up and build an immediate liaison with the president-elect," said Musharraf in an interview with a private television channel. The new American administration, he said, had positive views about Pakistan and this was the time for lobbying.
"India wants to maintain hegemony in the region. It sees itself as a future economic giant not only in the region, but also in the world, and wants to isolate Pakistan not only economically, but also diplomatically," he said. "The India caucus in the US Senate is more vigilant and proactive; Pakistan needs to derive an effective strategy as well to counter the Indian narratives in the US circles," he maintained.
Regarding the civil-military divide, he said that India had exploited this fault line of the Pakistani political spectra. "There has always been a rift between the army chiefs and the political governments, especially the Pakistan Muslim League-Nawaz (PML-N) government," he said.
To a question, he said, "I still enjoy cordial relations with former president Bush and this impression that he had worked with Asif Zardari to outset me is completely false."
Full report at:
http://dailytimes.com.pk/islamabad/21-Nov-16/nawaz-should-reach-out-to-trump-musharraf
--------
'Zardari dictates Sindh government from Dubai'
21-Nov-16
HYDERABAD: President of Pakistan Tehrik Insaf (PTI) Sindh chapter, Arif Alvi has slated what he calls the "dictatorial attitude" of former President, Asif Ali Zardari for dictating Sindh government while staying in Dubai.
Addressing a news conference at the residence of PTI leader, Khawand Bux Jahejo, on Sunday, he said that due to worst governance of the PPP, national institutions have lost their importance. The Chief Minister, Murad Ali Shah, was active in the beginning of his tenure but now he has become submissive to Zardari and a part of prevailing bad governance in the province.
Alvi said that the meetings being held in Dubai on Sindh affairs are condemnable. About Panama leaks, he said that it was a national issue and his party PTI was waiting for court's verdict.
Full report at:
http://dailytimes.com.pk/pakistan/21-Nov-16/zardari-dictates-sindh-government-from-dubai
--------
Levies man killed in suspected militant attack
November 20, 2016
GHALLANAI: A levies man was killed and another injured when suspected militants attacked a security check-post here on Sunday evening.
Security sources said that the alleged militants stormed a security check-post with heavy artillery fire in Mohmand Agency.
One Levies man was killed in the attack while another sustained injuries. The assailants managed to flee after retaliatory action of the security forces.
Full report at:
http://nation.com.pk/national/20-Nov-2016/levies-man-killed-in-suspected-militant-attack
--------
Pakistan records 45pc drop in terror attacks
November 20, 2016
ISLAMABAD: Pakistan has seen substantial decrease in terrorist activities, 45 percent, last year as compared to the corresponding year.
According to the report, 'Global Terrorism Index (GTI) 2016', Pakistan recorded 45 per cent fewer terror attacks and 38pc fewer deaths reported in the year than in the previous year.
This is the second consecutive year in which Pakistan has seen reduction in terrorist activities. Terrorism in the country is now at its lowest level since 2006, says the report released by the US-based Institute for Economics and Peace.
Full report at:
http://nation.com.pk/national/20-Nov-2016/pakistan-records-45pc-drop-in-terror-attacks
--------
Pakistani among 4 arrested with narcotics in Sri Lanka
November 20, 2016
COLOMBO: A Pakistani national and three Maldivian nationals were arrested with two kilos of heroin worth Rs. 20 million in Mount Lavinia on Saturday night, by the Police Narcotics Bureau (PNB).
According to the Director of the PNB, SSP Kamal Silva said, "the raid was conducted on the information gathered from suspects who were already in custody." He further said that at least 10 Maldivian nationals were arrested in the last six months on charges of heroin smuggling.
Full report at:
http://nation.com.pk/national/20-Nov-2016/pakistani-among-4-arrested-with-narcotics-in-sri-lanka
--------
Two terrorists held with arms in Balochistan
November 20, 2016
QUETTA: The law enforcement agencies (LEAs) arrested two terrorists of a banned outfit, recovered arms, mortar shells and explosives during separate operations in various districts of Balochistan on Sunday.
The spokesman of Frontier Corps (FC) said that the paramilitary force and sensitive agencies on an intelligence tip-off raided a hotel at National Highway in Kalat. During operation a terrorist of defunct organization was held with arms and explosives. Meanwhile, the LEAs personnel arrested a banned outfit terrorist during crackdown in Pishin Bazaar. Four mortar shells; tripod and safety fuses were recovered from the possession of the nabbed terrorist.
Full report at:
http://nation.com.pk/national/20-Nov-2016/two-terrorists-held-with-arms-in-balochistan
--------
South Asia
War crimes case against Jamaat chief Maqbul anytime
November 20, 2016
Investigation agency sources said Maqbul Ahmad's case will be enlisted in Razakar's list next month.
Investigators of the International Crimes Tribunal are preparing to file a case against newly-elected Ameer of Jamaat-e-Islami Maqbul Ahmad for his involvement in crimes against humanity in Feni area during the 1971 Liberation War.
Chief Coordinator of the investigation agency Abdul Hannan Khan said that the case would be filed on the base of evidence found against Maqbul, who sworn in as the Jamaat chief on October 17.
"We have made significant progress in the investigation," Hannan said on Sunday.
"The agency launched primary investigation against Maqbul following a recent news report. But, a latest news report, published in the Dhaka Tribune, that published a letter of 1971, will help the agency find evidence of war crimes during the investigation," he said.
"The letter has much worthy information. It will help the investigation agency to move forward," added Hannan.
Dhaka Tribune published a report in its online edition on November 16 and print version on November 17 titled "Are Maqbul and Makbool the same?" where it tracks down a fresh lead on what Jamaat chief Maqbul was up to during the war. In the report was a copy of a 45-year-old letter that shed new light on the murky past of the new Jamaat ameer.
The letter – printed by the Bangla newspaper Nayajug in 1977 – adds credibility to the recent claims of freedom fighters and other critics that Maqbul is indeed a war criminal.
Prior to the aforementioned report, the war crimes investigators on November 13 said that they had evidence that the new Jamaat chief perpetrated crimes against humanity during the war in collaboration with the Pakistani occupation forces. Members of the agency also visited Maqbul's ancestral home in Feni's Dagonbhuiyan.
According to Investigation Officer Nurul Islam, Maqbul would not only be charged as a planner or instructor of crimes, but he may have been charged for his direct involvement in war crimes.
Hailing from Omarabad village under Purbachandrapur union in Dagonbhuiyan upazila, Maqbul worked as the acting ameer of Jamaat for six years and issued press releases from undisclosed locations.
Jamaat and its erstwhile students' wing Islami Chhatra Sangha openly opposed Bangladesh's independence for the sake of an undivided Pakistan and formed auxiliary forces like Peace Committee, Razakar, al-Badr and al-Shams forces to help the occupying Pakistan army carry out genocide on the Bangalis.
An estimated three million people were killed in the war and millions of others forced to seek refuge in India. The number of rape victims is estimated between 200,000 and 500,000.
Since the formation of the war crimes tribunal in 2010, nearly two dozen war criminals –most of who were top Jamaat leaders – were sentenced to different terms for their involvement in war-time crimes. Five of them including the immediate past Jamaat chief, Motiur Rahman Nizami, have been hanged after completing due legal processes.
The Appellate Division of the Supreme Court is set to start appeal hearing in the case of another convicted Jamaat leader, ATM Azhar, soon. Azhar filed the appeal in January last year.
http://www.dhakatribune.com/bangladesh/war-crimes/2016/11/20/war-crime-case-filed-maqbul-anytime/
--------
2 foreign ISIS terrorists killed in East of Afghanistan
Nov 21 2016
At least two foreign loyalists of the Islamic State of Iraq and Syria (ISIS) terrorist group were killed in an airstrike in eastern Nangarhar province of Afghanistan.
According to the local security officials, the two foreign insurgents were killed in Achin district after they were targeted in airstrike carried out by the foreign forces.
The officials further added that the foreign forces used unmanned aerial vehicle to target the two insurgents.
The airstrike did not incur any casualties to the local residents, the officials added.
The anti-government armed militant groups including the loyalists of ISIS terrorist group have not commented regarding the report so far.
Full report at:
http://www.khaama.com/2-foreign-isis-terrorists-killed-in-east-of-afghanistan-02324
--------
Afghanistan accuses Iran of supporting Taliban
20 November 2016
Afghanistan security forces have formally complained of Iran logistically and militarily supporting the extremist activities of the Afghan Taliban group.
An Afghan official told Kabul Television that Iran supports the extremist group by hosting training exercises inside the country.
A former foreign ministry official told German media outlet Deutsche Welle: "This is the first time that Iran has confessed to supporting the Taliban. In the past, they always blamed Pakistan for this."
Late in October, Al Arabiya English reported on how one Afghan Taliban leader revealed details of his group's relations with Iran.
Full report at:
https://english.alarabiya.net/en/News/middle-east/2016/11/20/Afghanistan-officially-accuses-Iran-of-aiding-Afghan-Taliban.html
--------
Expel Iran from OIC, Arab states urged
21 November 2016
The Council of Gulf International Relations (COGIR) has urged Gulf Cooperation Council (GCC) as well as Arab and Islamic states to expel Iran from the Organization of Islamic Cooperation (OIC) because of its harmful acts against Islamic unity and solidarity and its sponsoring of terrorism and promoting sectarianism.
The Council also stressed that Tehran's instigation of its agents in Yemen to target Makkah showed the Muslim world the hatred of this country for Islam's holiest sites.
This was announced by the President of COGIR and Chairman of its Arab Society for Press and Freedom of Information Dr. Tariq Al-Sheikhan.
Last Month, 11 countries wrote a letter to UN Secretary General Ban Ki-moon cautioning that Iran was continuing a negative role in causing tension and instability in the region.
The letter cited Tehran's expansionist regional policies, flagrant violations of the principle of sovereignty and constant interference in the internal affairs of Arab states.
The letter was signed by the UN ambassadors of Bahrain, Egypt, Jordan, Kuwait, Morocco, Oman, Qatar, Saudi Arabia, Sudan, United Arab Emirates and Yemen.
Full report at:
https://english.alarabiya.net/en/News/gulf/2016/11/21/Expel-Iran-from-OIC-Arab-states-urged.html
--------
UN urges Bangladesh to keep border open in wake of Myanmar violence
November 20, 2016
The UN High Commissioner for Refugees has called on Bangladesh to keep its border open and has appealed to Myanmar to safeguard the civilian population in northern Rakhine.
The United Nations High Commissioner for Refugees (UNHCR) has urged Myanmar to protect civilians in northern Rakhine state. At the same time, the UN agency also called upon Bangladesh to keep its border with Myanmar open.
"We are appealing to the government of Bangladesh to keep its border with Myanmar open and allow safe passage to any civilians from Myanmar fleeing violence," UNHCR spokesperson Adrian Edwards made the appeal at a press briefing in Geneva.
"UNHCR is deeply concerned about the safety and well-being of civilians in the northern part of Rakhine state, Myanmar. We are urging the government of Myanmar to ensure the protection and dignity of all civilians on its territory in accordance with the rule of law and its international obligations," said Edwards.
"We appeal for calm and for humanitarian access to assess and meet the needs of thousands of people who have reportedly been displaced from their homes by the ongoing security operation. The affected population is believed to be in urgent need of food, shelter and medical care," he added.
The UNHCR also urged the government of Myanmar to immediately allow humanitarian actors to resume the life-saving activities they had been carrying out for some 160,000 civilians in northern Rakhine state until such activities were suspended on 9 October. Meanwhile, the UN's Office for the Coordination of Humanitarian Affairs (OCHA) said 15,000 people were believed to have fled their homes over the space of 48 hours, according to an AFP report.
"Up to 30,000 people are now estimated to be displaced and thousands more affected by the October 9 armed attacks and subsequent security operations across the north of Rakhine state," said a spokesman for the OCHA.
Full report at:
http://www.thejakartapost.com/seasia/2016/11/20/un-urges-bangladesh-to-keep-border-open-in-wake-of-myanmar-violence.html
--------
Tiles factory in Mazar city to resume production with India's support
Nov 21 2016
The tiles factory in northern Mazar-e-Sharif city will resume production in the near future as the project to resume the operations of the factory is close to conclusion with the support of India.
The Indian Ambassador to Afghanistan Manpreet Vohra informed regarding the finalization of the project during a meeting with the acting provincial governor of Balkh province Ata Mohammad Noor.
Ambassador Vohra also informed Noor regarding the progress of the asphalt work of the main road of Balkh international airport.
Noor in his turn thanked the Indian government and people for their support to Afghanistan and emphasized on continued mutual cooperation between the two nations.
India has played a crucial role by participating in the rebuilding of Afghanistan following the fall of the Taliban regime in 2001.
Full report at:
http://www.khaama.com/tiles-factory-in-mazar-city-to-resume-production-with-indias-support-02325
--------
Arab World
Syrian Army Wins Control over Terrorists' Operation Room in Aleppo City
Nov 21, 2016
"Following hours of non-stop clashes, the army soldiers pushed Jeish al-Fatah militants back from a part of Hananou Housings and seized full control over militants' operations room that led the battle with the government forces in the districts of Oweijeh and the Northern side of Hananou," the source said.
"With the loss of control over their operations room in the Northern side of Hananou Housing Project, Jeish al-Fatah will significantly lose its power in the districts of al-Heidariyeh, Sakhour, Sheikh Khezr, al-Arz al-Hamra and Old Sheikh Najjar," the source underlined.
Meantime, a long convoy of more Army soldiers arrived in Aleppo on Sunday to join the government forces' anti-terrorism operation in the Eastern districts of the city.
"Several hundred soldiers arrived in Aleppo province to join the army men and Liwa al-Quds forces' operation in the neighborhoods of Ba'aeidin, Bostan al-Pasha and Hananou," the sources said.
"Hundreds more of army soldiers are also due to enter Aleppo province in the next few days," another source disclosed.
The source said that army forces are fully ready to enter the Eastern neighborhoods of Aleppo, adding, "The army's special forces and commandoes have deployed in positions overlooking the Eastern neighborhoods of Aleppo, waiting for their commanders' order to start their operation."
http://en.farsnews.com/newstext.aspx?nn=13950901000216
--------
Terrorists Agree to Hand over West Ghouta Stronghold to Syrian Army
Nov 20, 2016
As ceasefire talks was in final stages to give the terrorist groups an opportunity to surrender in return for amnesty or relocate to Idlib province similar to other militant groups in Damascus province, the militants, mainly from the Al-Nusra Front, launched attacks to lift the army siege of Khan al-Sheih town irrespective of the truce and pushed the talks into failure. The army soldiers in response intensified attacks on terrorists and advanced against them in and outside Khan al-Sheih town.
"The recent victories of the army men in the al-Soqour region have compelled the militants to call on the government forces to declare their consent to the entire terms of the neglected agreement for leaving the region," several dissident sources said through their social media pages.
Full report at:
http://en.farsnews.com/newstext.aspx?nn=13950830000612
--------
White Helmets Cooperating with Terrorist Groups in Syria
Nov 20, 2016
"The White Helmets cannot be an independent organization because it works for the interests of the western countries that back terrorist groups in Syria and receives financial support from the US, Britain and Germany instead," Vanesa Bili said.
"It seems to be strange that the White Helmets are constantly in the regions controlled by the ISIL and Fatah al-Sham Front (the al-Qaeda-affiliated terrorist group previously known as the al-Nusra Front) and their affiliated groups. Videos and images taken in these regions prove that the White Helmets cooperate with the terrorists," Bili went on to say.
"The White Helmets not only offer medical services to terrorists and take part in their assassination and execution of civilians, but also work for overthrowing the Syrian government," the journalist added.
Russian Defense Ministry Spokesman Maj. Gen. Igor Konashekov said on Friday that the so-called reports about "hospitals" and "schools" allegedly located in terrorist-held Syrian territory were created by the "White Helmets" group financed by London.
"After three days it is absolutely clear for everyone that the allegedly bombed "hospitals" and "mobile clinics" in Aleppo exist only in US State Department spokesman John Kirby's imagination. This "information blooper" will certainly remain a stain on Admiral Kirby's biography," Konashenkov said, Sputnik reported.
The defense ministry spokesman added that if all the "bombed" "hospitals" and "mobile clinics" were counted, that would mean there is nothing else in Syria apart from them.
Recently, John Kirby blamed the Russian Aerospace Forces for allegedly "bombing hospitals" in Syria.
Full report at:
http://en.farsnews.com/newstext.aspx?nn=13950830000438
--------
Iraqi forces push on against Daesh in eastern Mosul
20 November 2016
MOSUL, Iraq: A top Iraqi commander said on Sunday that troops were continuing to advance toward the center of Mosul, pushing back Daesh fighters, but slowed down by sniper fire and suicide bombings as well as concern over the safety of civilians in a city that is home to some one million people.
A few hundred civilians, meanwhile, emerged from rubble-strewn frontline neighborhoods in search of safer ground, including women and children, some of them carrying bags or small suitcases packed with belongings.
Maj. Gen. Sami Al-Aridi told The Associated Press that his special forces were searching homes in areas retaken from Daesh, looking for militants and vehicles rigged to be used in suicide bombings. Troops in those areas continue to be hit by mortar and sniper fire, he said.
Another Iraqi army commander, Brig. Gen. Haidar Fadel, said a suicide car bomber hiding inside a house attempted late Saturday to drive his vehicle toward troops in the city's Tahrir neighborhood. He was shot dead and his explosives-laden car detonated at a safe distance, he added.
However, Fadel said the car exploded close to a house, causing it to collapse, killing four civilians and wounding four others.
The troops fighting in Mosul's eastern side laid siege Sunday to the Al-Zohour neighborhood, about eight kilometers (five miles) from the city center. The arrival of the troops at the neighborhood's fringes prompted hundreds of civilians to emerge from their homes waving white flags and walking to relative safety behind army lines.
"The biggest hindrance to us is the civilians whose presence is slowing us down," declared Al-Aridi of the special forces. "We are soldiers who are not trained to carry out humanitarian tasks."
The Iraqi military began the campaign one month ago to retake Mosul, Iraq's second largest city and the last major urban center in the country still held by the militants. The campaign has been slow, with IS putting up stiff resistance. Most gains thus far have been made by the special forces operating in the section of Mosul east of the Tigris river. The campaign is being assisted by airstrikes from the US-led military coalition.
Daesh captured Mosul, 360 kilometers (250 miles) north of Baghdad, in the summer of 2014 as part of a blitz that placed nearly a third of Iraq under the militants' control. Iraqi troops, federal police and allied Shiite and Sunni militias have over the past year pushed Daesh militants from most of the vast Sunni province of Anbar, west of Baghdad, and areas to the north and east of the Iraqi capital.
Full report at:
http://www.arabnews.com/node/1013251/middle-east
--------
Syria: Over 100 Gunmen Receive Amnesty in Homs Province
Nov 21, 2016
Based on Decree No. 15 of 2015 National Amnesty, the relevant authorities pardoned 103 wanted people from the towns of al-Rastan and Talbiseh and Homs neighborhoods who had earlier turned themselves in and handed over their weapons.
The pardoned ex-militants vowed officially not to do anything wrong against Syria again.
The Russian Peace Coordination Center in Syria announced on Saturday that four more towns from the provinces of Hama and Lattakia gave up fight with the Syrian Army and joined the nation-wide peace plan.
The Russian center said in its latest statement that representatives of militants in three towns in Hama province and a town in Lattakia province inked the peace agreement with the Syrian government.
Full report at:
http://en.farsnews.com/newstext.aspx?nn=13950901000403
--------
Iraqi troops fortify positions in freed Mosul areas
20 November 2016
Iraqi troops on Sunday fortified their positions in Mosul neighborhoods retaken from ISIS as their advance toward the city center was slowed by sniper fire and suicide bombings, as well as concern over the safety of civilians.
"The biggest hindrance to us is the civilians, whose presence is slowing us down," Maj. Gen. Sami al-Aridi of the special forces told The Associated Press. "We are soldiers who are not trained to carry out humanitarian tasks."
A few hundred civilians emerged from rubble-strewn front-line neighborhoods on Sunday. They included women and children, some of them carrying bags, small suitcases or waving white flags. Mosul is still home to more than 1 million people.
The government sent half-dozen trucks loaded with food aid into the recently liberated areas. Chaos broke out in one neighborhood, where residents climbed on top of the trucks and began helping themselves. Women extended their hands in desperation, trying to get a share of the aid. Young boys chased the trucks and jostled and pleaded for food packages.
"It's hunger that makes people behave like this," said Mohammed Farouq, a 27-year-old resident. "Some families took many boxes, while others did not take any. This is unfair."
Fethi Mahmud Abdulla, another resident, pleaded for people to keep the lines. "People are tired, so tired. Some of them take aid five or seven times," he said.
Counterterrorism units
Counterterrorism units entered into the left coast of Mosul in Iraq amid fierce clashes against members of ISIS.
The unit's forces fighting in the eastern axis of the city managed to liberate the neighborhoods of al-Moharebeen, al-Moalmeen and al-Oalmaa.
According to a statement issued by the commanders of the "We are coming Nineveh" operation, forces fighting ISIS continue liberating the neighborhoods of al-Bakr, al-Zahabiya, al-Khadra, al-Qadisiya al-Oula, al-Tahrir and al-Walaa.
Meanwhile, the army's ninth division continues to progress south east of Mosul in the neighborhoods of the left coast and continues to liberate the neighborhoods which it stormed in the past few days.
It has also seized control of some towns towards the north of Nimrud.
Federal police forces clashed with ISIS members in south west of the city as the latter tried to seize control of areas in the eastern district of al-Shirqat. The battles ended with the death of many ISIS members and the police forces seized control.
Joint forces progressed in the southern axis and reached Mosul's borders and they will later try and head to Mosul's airport which is few kilometers away from them.
Mosul casualties overwhelm aid groups
Mounting civilian casualties from fighting in eastern Mosul between Iraqi forces and ISIS are overwhelming the capacity of the government and international aid groups, the United Nations said on Saturday.
Full report at:
https://english.alarabiya.net/en/News/middle-east/2016/11/20/Civilian-casualties-from-Mosul-are-pressuring-aid-groups.html
--------
Syrian family, pupils killed in Aleppo attacks
November 21, 2016
BEIRUT - Rebel shelling killed eight children at a school in the government-held part of Aleppo on Sunday and a barrel bomb killed a family of six in the rebel-held area, where a heavy government bombardment has knocked out all the hospitals.
Hundreds of people have been killed since Tuesday in a concerted push by the government and its allies to quash resistance in the rebel-held eastern part of Aleppo to reestablish control over Syria's biggest pre-war city.
On Sunday they advanced into the Hanano district on its northern edge, threatening communications between the northern and southern halves of the rebel-controlled area.
The bombardment, one of the most intense in the almost six year-old civil war, has taken a heavy toll on civilians.
Two medics said the al-Baytounji family had suffocated to death because the barrel bomb, which fell in the Sakhour district at about midnight, had been laced with chlorine gas.
The Syrian Observatory for Human Rights, which monitors the war, confirmed the bombing but could not confirm that chlorine gas was used. Damascus has denied use of the gas, which would contravene the international Chemical Weapons Convention.
Rebel shelling killed at least eight children, aged from six to 12 years, among 10 deaths in the Saria Hasoun school in al-Farqan district, the Observatory and Syrian state television reported.
An official with a rebel group based in east Aleppo said there were still no working hospitals there on Sunday, a day after the World Health Organisation reported that bombing had put them all out of action.
The military and Russia's air force had paused their bombardment of eastern Aleppo, except for on the frontlines, for two weeks after a month-long offensive from late September to late October, but recommenced strikes on Tuesday.
The army and its allies began some ground attacks on Friday. The Observatory reported intense clashes in Sheikh Saeed in southeast Aleppo and in Baeedain and Bustan al-Basha in northeast Aleppo.
Lebanon's Hezbollah militia, one of the army's main allies in the fighting, said on Sunday it had advanced in Hanano and pro-government forces were bringing big reinforcements to the city. The Observatory confirmed the Hanano advance.
Full report at:
http://nation.com.pk/international/21-Nov-2016/syrian-family-pupils-killed-in-aleppo-attacks
--------
Egypt foils plots to assassinate Sisi, suspects held
21 November 2016
Cairo's prosecutor general said in a statement on Sunday that the country's President Abdulfatah al-Sisi had faced two previous assassination attempts: one in Saudi Arabia and the second in Egypt.
The prosecutor said two cells, one based in Saudi Arabia, were coordinating to target Sisi during his trip to perform the minor pilgrimage known as umrah in the holy city of Makkah.
The prosecutor said the plot in Saudi Arabia was planned by two workers in the 76-story famous Clock Tower in Makkah.
However, the prosecutor did not disclose when the two cells were arrested, but Sisi had already performed umrah in August 2014.
The second assassination attempt was through a seven-member cell made up of six army officers, who were sacked over their Islamist allegiances, along with a dentist.
The statement also did not detail when the second attempt to kill Sisi was foiled. But the officers, known as the "bearded officers," were arrested last year.
On July 3, 2013, Sisi, who was an army general, replaced the elected Islamist President Mohamed Mursi through a popularly-backed coup. However, Islamists began protests which were put down by the security forces.
Full report at:
https://english.alarabiya.net/en/News/middle-east/2016/11/20/Egypt-Sisi-escaped-two-assassination-plots-.html
--------
Syrian govt rejects UN proposal on eastern Aleppo
21 November 2016
The Syrian government refused the UN envoy's latest proposal for a truce in Aleppo on Sunday, calling on insurgents to withdraw and saying it would not grant autonomy to the rebel-held east in exchange for calm.
UN envoy Staffan de Mistura has proposed that the Syrian government grant eastern Aleppo autonomy in exchange for peace, and called on the estimated 900 al-Qaeda-linked militants in the east to depart to other rebel-held territory.
But Foreign Minister Walid al-Moallem said restoring government rule was a matter of "national sovereignty," and that Damascus would not allow the people of eastern Aleppo to be "hostages to 6,000 gunmen."
"We agreed on the need that terrorists should get out of east Aleppo to end the suffering of the civilians in the city," he said.
He spoke after meeting with de Mistura, who acknowledged a "major disagreement" with al-Moallem and said a "creative" if interim solution was required to halt the violence.
"We are only proposing that there should not be a radical dramatic change in the administration of Aleppo until there is a political solution," he said.
The envoy warned in a recent interview with the UK newspaper The Guardian that the government was chasing a "pyrrhic victory" in Aleppo if it does not reach a political settlement with the opposition.
Full report at:
https://english.alarabiya.net/en/News/middle-east/2016/11/21/Syrian-govt-rejects-UN-proposal-on-eastern-Aleppo-.html
--------
Syrian Army Scores More Victories against Terrorists Northeast of Aleppo City
Nov 20, 2016
Army soldiers made a significant advance against the terrorists near Ba'eidin square Northeast of the city, forcing militants to retreat from their positions in the area.
After taking control of Ba'eidin square, pro-government forces carried out more attacks on Jeish al-Fatah's positions and won back parts of al-Nazarat neighborhood in Northeastern Aleppo city.
Army soldiers, meantime, drove terrorists out of several farms and residential complexes between al-Nazarat and Ba'eidin neighborhoods.
Reports said on Saturday that the Syrian army inflicted heavy casualties on the Jeish al-Fatah coalition of terrorist groups in its major assault in the Eastern districts of Aleppo city, capturing a number of positions.
After hours of fierce clashes with terrorists, army forces have taken control of several positions in Karam al-Tarraf neighborhood in the Eastern part of Aleppo city and western side of Aleppo airport, killing and wounding several terrorists.
In the meantime, at least 11 terrorists were killed in clashes with Syrian soldiers in Bostan al-Pasha in the Eastern part of the city.
Full report at:
http://en.farsnews.com/newstext.aspx?nn=13950830000154
--------
Civilians Risk Their Lives to Flee Terrorist-Controlled Areas in Eastern Aleppo
Nov 20, 2016
Two families comprising 10 civilians escaped the terrorist-controlled areas via Hananu region from the direction of Tal (hill) al-Zohour.
They disclosed that they had tried many times to exit Eastern Aleppo, but every time they were blocked by the terrorist groups.
The two families said that the terrorists have blocked civilians' access to food and medicine to force them to join the militant groups as people are living in very difficult conditions.
They also said that the people in the terrorist-controlled areas cannot escape; "if they could no one would stay there". "Militants have closed off all roads and corridors to the outside world to use people as human shields."
The Syrian army and its popular allies started the long-awaited operation on Friday afternoon to purge the entire city of Aleppo from terrorists.
The army troops and Quds Devotees popular fighters stormed the positions of Jeish al-Fatah terrorists from three different flanks to take back militant-held districts in Eastern Aleppo.
Syrian government forces used the Southern side of Tal (hill) Seifan in the first flank to attack the positions of Nouralddeen al-Zinki terrorists.
Army forces also stormed militants' defense lines via the second flank in Ba'abadin neighborhood towards Ba'eidin square.
Full report at:
http://en.farsnews.com/newstext.aspx?nn=13950830000606
--------
Tens of Nusra Terrorists Killed in Syrian Army Attacks in Quneitra
Nov 20, 2016
Syrian Army tanks targeted a 15-member group of Fatah al-Sham Front near the village of Kasarat Toranjeh in Northern Quneitra, killing all the militants right on the spot.
Army's artillery units, for their part, opened heavy fire at Fatah al-Sham's positions and movements in Karoum al-Kasheh on the Southern side of the town of al-Hadhar, killing at least 10 militants.
In the meantime, army soldiers engaged in heavy fighting with the terrorist groups affiliated to Fatah al-Sham in forests of the village of Toranjeh and surrounding areas of Tal (hill) al-Hamriyedh and repelled their attack on government forces' positions in Zorat al-Kassar and Karoum al-Kasheh South of al-Hadhar in Northern Quneitra, killing a large number of militants and destroying their arms and ammunition.
Full report at:
http://en.farsnews.com/newstext.aspx?nn=13950830000280
--------
Syria: Terrorists Retreat in Southwestern Damascus
Nov 20, 2016
The army soldiers continued to hit terrorists' positions inside the town of Khan al-Sheih and beat the militants back from more building blocks, expanding their rule over more areas in the army-sieged town.
Several units of the army and popular forces, with the back up of missile units and military helicopters, engaged in heavy fighting with terrorists in Khan al-Sheih farms and advanced against them.
In the meantime, al-Watan reported that the army units engaged in fierce clashes with Fatah al-Sham Front (the al-Qaeda-affiliated terrorist group previously known as the al-Nusra Front) in al-Qosour neighborhood East of the town of Khan al-Sheih.
Terrorists suffered a heavy death toll in al-Qosour and retreated from the neighborhood towards surrounding farms, the Arabic-language media outlet said.
Engineering units of the army, for their part, managed to defuse bombs and landmines planted by the terrorists in al-Qosour.
Full report at:
http://en.farsnews.com/newstext.aspx?nn=13950830000219
--------
Saudi gets 15 years in jail for helping terrorists
21 November 2016
JEDDAH: The Special Criminal Court in Riyadh sentenced a Saudi man on Sunday to 15 years in prison for helping a number of terror suspects.
The defendant was found guilty of assisting other perpetrators in hiding a stolen car which had been used by his terrorist brother for killing a Saudi officer.
The court said the man did not report the crime committed by his brother to police, and he funded terrorist acts by handing over SR9,000 to someone at the request of his brother to buy a machine gun, a sniper rifle and pistols.
He was also convicted of purchasing several belts used for carrying machine guns and binoculars at the request of his brother, for monitoring and killing security men, as well as randomly shooting at unfamiliar cars.
Full report at:
http://www.arabnews.com/node/1013566/saudi-arabia
--------
Mideast
Senior Syrian MP: Evidence Shows Chemical Weapons Sent To Terrorists In Aleppo From Turkey
Nov 20, 2016
"This is not the first time that the terrorists used toxic gases against the Syrian government forces in different parts of Aleppo," Syrian MP Fares Juneidan said.
"We have compelling evidence that Chemical weapons have been sent to the terrorists in Aleppo province via Turkish soil," he added.
The senior lawmaker went on to say that when the terrorists failed to break the siege laid by the Syrian army around them in Eastern Aleppo city, they started using chemical weapons against the Syrian government forces.
Juneidan underlined that accurate information shows the chemical weapons have been sent to the militants from Turkey.
"Everyone knows that the terrorists have chemical weapons and according to the accurate information obtained, the supply of these weapons has started since a year ago," he added.
He said this is not the first time that the terrorists use toxic gases in their attacks; they have been hitting the Syrian army's military positions in different parts of Aleppo with chemical weapons for 18 months now.
The lawmaker, meantime, pointed to the situation of the terrorists in the Eastern districts of the city of Aleppo, and said, "The reason why the terrorists refuse to leave Aleppo city's eastern districts is certainly not fear because the Syrian government has given all possible guarantees to them, but the main reason is that they are taking orders from foreign countries as most of the terrorists in Eastern Aleppo are non-Syrians."
On Wednesday, Syria's Foreign and Expatriates Ministry sent two identical letters to the UN Secretary-General and the head of the Security Council on the crimes committed by armed terrorist groups using toxic gases, including chlorine gas, in several areas in Aleppo city, demanding that the Organization for the Prohibition of Chemical Weapons (OPCW) send experts to investigate these crimes.
In the letters, the Ministry said that it has become evident to the Syrian government that the UN and the OPCW pay no attention when terrorist groups use chemical weapons against the Syrian people, and at the same time they cause a ruckus when it comes to baseless allegations accusing the Syrian government of such things.
The Ministry said that terrorist organizations like Fatah al-Sham Front ( formerly known as al-Nusra Front) and their affiliates, which some states label as "moderate opposition", committed crimes using toxic gases including chlorine in several areas in Aleppo, with the Syrian government announcing on November 13th, 2016 that terrorists in Eastern Aleppo fired mortar shells containing chlorine on al-Nairab area, causing scores of injures, including cases of asphyxiation among 30 military personnel, in addition to injuring innocent civilians, including women and children.
The letters asserted that terrorists fired shells containing toxic gasses on residential neighborhoods in Aleppo more than once, including on October 31st when they targeted al-Hamadanieh neighborhood and al-Assad suburb with toxic gases, causing 48 cases of asphyxiation, while on November 3rd terrorists targeted with toxic gases including chlorine the area of Menyan West of Aleppo, causing 8 cases of asphyxiation.
The Ministry noted that all the people injured in these attacks were rushed to hospitals in Aleppo for treatment, where the doctors said that these victims inhaled toxic materials that include chlorine gas.
The letters noted that the Russian authorities said on Friday that they have verified with incontrovertible proof via tests at the specialized and OPCW-recognized labs that the shells fired by armed groups contained toxic gases, including chlorine.
The Ministry said that the Syria condemns the use of chemical weapons by any side at any place and any time, noting that the toxic gases used by terrorists from ISIL, Fatah al-Sham Front, and other terror organizations in Syria and Iraq and which may be used in other places in the world are provided to these terrorists by certain regimes and governments including Saudi Arabia, Qatar, and Turkey, something which Syria informed the UN and the OPCW of in several documents.
The letters concluding by reiterating Syria's demand that the OPCW, as the international organization concerned with this issue, send its experts to Syria to investigate the cases in which terrorists used toxic gasses as per the OPCW's obligations according to its charter and in compliance with transparency and integrity in investigation, stressing that this issue mustn't be politicized because hiding or falsifying facts and adopting resolutions under threats and extortion will not protect humanity from the use of WMDs by terrorists.
http://en.farsnews.com/newstext.aspx?nn=13950830000481
--------
Turkish soldier killed in Islamic State attack
November 21, 2016
ISTANBUL: A Turkish soldier was killed and two others wounded in a bomb attack by Islamic State militants near the northern Syrian city of al-Bab, Turkish security sources said on Sunday. The three soldiers were evacuated alive by helicopter on Saturday and taken to the southern Turkish town of Gaziantep, but one of them died from his injuries.
Turkey launched an incursion into Syria in August, sending in warplanes, tanks and special forces in support of largely Turkmen and Arab rebels, to try to drive Islamic State and Kurdish militants away from its border. Turkish President Tayyip Erdogan had said that Turkish-backed forces were just 2km from Islamic State-held al-Bab and were expected to take it quickly despite some resistance. Al-Bab is of particular strategic importance to Turkey because Kurdish-dominated militias have also been pushing to seize it. Ankara is determined to prevent Kurdish forces from joining up cantons they control along the Turkish border, for fear it will stoke Kurdish separatism at home.
Full report at:
http://nation.com.pk/international/21-Nov-2016/turkish-soldier-killed-in-islamic-state-attack
--------
Violence puts Yemen ceasefire extension in doubt
November 21, 2016
SANAA: Sporadic fighting shook parts of Yemen Sunday as the Saudi-led coalition battling Iran-backed rebels warned that a fragile US-brokered ceasefire would not be extended unless violations ended. Aid agencies have pleaded for unhindered humanitarian access in Yemen to allow the delivery of life-saving supplies to civilians reeling from a conflict that has left thousands dead. The 48-hour ceasefire began on Saturday following an intervention by US Secretary of State John Kerry who met Huthi rebel representatives in Oman and urged President Abedrabbo Mansour Hadi's government to sign up.
Full report at:
http://nation.com.pk/international/21-Nov-2016/violence-puts-yemen-ceasefire-extension-in-doubt
--------
Iran calls for Taliban, Afghan govt talks
November 20, 2016
Iran's Ambassador to UN stressed Iran's full support for the promotion of security in Afghanistan, saying a peaceful Afghanistan will greatly contribute to the security of the region.
Iran's Ambassador and Deputy Permanent Representative to the United Nations, Gholamhossein Dehghani, addressed the General Assembly on the situation in Afghanistan, and reiterated Iran's support for the Afghan-led peace process and deplored the "continued prevailing uncertainty" in peace talks between the Afghan government and the Taliban, Iranian media reported Sunday.
He also called on the international community to support the Afghan government, "which continues to be imperative to bring the fight against terrorism and extremism to its successful conclusion".
Dehghani then referred to the trilateral agreement between Iran, Afghanistan and India to develop the Iranian port of Chabahar, as part of Iran's various projects to help with the development of Afghanistan.
He said: "As it has been the case in the past several years, terrorist groups have continued their subversive and criminal activities in Afghanistan in the past year. My people and government strongly condemns the perpetrators of these barbaric atrocities that culminated, among many others, in the bombings of peaceful demonstrations and religious gatherings on 23 July and in mid-October this year, which led to hundreds of civilian deaths and injuries.
"In committing these crimes, the terrorist groups, led by the Taliban and Daesh and their affiliates, are doing whatever in their power to prevent the country to return to normal and continue on the path of peace and development.
He went on to say his government continues to reiterate its support for any Afghan-led peace process, and acknowledges peace talks between the Afghan government and the Taliban but deplores the continued prevailing uncertainty in this regards.
"At the same time, we condemn any cooperation with the Taliban as we believe that it will encourage them and other terrorist groups in their odious behavior and will prove to be counterproductive to establishing peace and stability in Afghanistan," he said.
He stated that Iran has and continues to warn about the emergence of Daesh and its affiliates in Afghanistan.
"Today, as in the past, strengthening our regional cooperation with Afghanistan is a priority for my government as a major pathway to consolidate peace and economic in the region. During the past decade, Iran has spent hundreds of millions of dollars and engaged experts to help Afghanistan with the completion of hundreds of projects, ranging from infrastructure to training and capacity building in human resources, especially through offering hundreds of scholarships each year.
Full report at:
http://nation.com.pk/international/20-Nov-2016/iran-calls-for-taliban-afghan-govt-talks
--------
Expel Iran from OIC, Arab states urged
21 November 2016
The Council of Gulf International Relations (COGIR) has urged Gulf Cooperation Council (GCC) as well as Arab and Islamic states to expel Iran from the Organization of Islamic Cooperation (OIC) because of its harmful acts against Islamic unity and solidarity and its sponsoring of terrorism and promoting sectarianism.
The Council also stressed that Tehran's instigation of its agents in Yemen to target Makkah showed the Muslim world the hatred of this country for Islam's holiest sites.
This was announced by the President of COGIR and Chairman of its Arab Society for Press and Freedom of Information Dr. Tariq Al-Sheikhan.
Full report at:
https://english.alarabiya.net/en/News/gulf/2016/11/21/Expel-Iran-from-OIC-Arab-states-urged.html
--------
US President Obama seeks to fortify Iran deal before leaving office: Officials
Nov 21, 2016
The administration of US President Barack Obama is planning to take measures in its last months in office to "strengthen" a multi-lateral nuclear deal with Iran, amid the probability that an incoming American president and his hawkish possible appointees may act to undermine the international agreement and the US stature as a result, American officials say.
Senior Obama administration officials, speaking anonymously to The Wall Street Journal, said the planned measures included "steps to provide licenses for more American businesses to enter the Iranian market and the lifting of additional U.S. sanctions" against Iran, the Journal reported Sunday.
They said they also planned to make a strong argument to the incoming President Donald Trump's team that the potential abdication of American commitments under the Iran deal would have "grim consequences" for the United States.
The deal, named the Joint Comprehensive Plan of Action (JCPOA), was reached between Iran on the one side and the US, the UK, France, Germany, Russia, and China on the other in July 2015.
During the raucous presidential campaign in the US, the then-nominee Trump exhibited anti-Iran rhetoric, including by saying that he would "tear up" the nuclear deal with Iran if elected.
Although he has not commented on Iran-related issues since winning the US presidential election on November 8, individuals whom Trump has named or whose names are being floated as possible recruits for high-level posts have been adopting a harsh tone about the deal, which took some 23 months to be negotiated between Iran and its international interlocutors, including the administration of President Obama.
The JCPOA received a United Nations Security Council mandate when it was endorsed in Resolution 2231 (2015) under the UN Charter's Chapter VII. That has effectively turned the deal into international law.
Observers generally agree that if the administration of President-elect Trump, which will take over on January 20, 2017, harmed the deal, it would risk losing close partnership over the issue with the European and other sides to the deal.
The Obama administration officials said that prospect is what worries them.
"Our bet is when they look at this and analyze what the implications would be for tearing up the deal, they won't do it," a senior administration official said. "But as for what they'll actually do? Who knows?"
One US official said that "'it's very hard to tear up the deal' because U.S. allies and partners, including Russia and China, are committed to it."
Full report at:
http://www.presstv.ir/Detail/2016/11/21/494503/US-Iran-deal-Obama-administration-Trump-presidency
--------
Yemen truce violated by Saudi forces 114 times: Army spokesman
Nov 21, 2016
Yemeni military officials say Saudi Arabia and its allies have violated a recent ceasefire declared by Riyadh in the country over 100 times.
Yemen's army spokesman Brigadier General Sharaf Luqman said Sunday that the two-day ceasefire has been violated 114 times by Riyadh's military since it went into effect on Saturday.
He said Saudi forces had launched attacks against various Yemeni provinces including Sana'a, Ta'izz and Sa'ada, adding that in some of the attacks internationally-banned weapons were used.
The Yemeni general said the army forces and allied Popular Committees fighters remained committed to the cessation of hostilities, but were ready to "defend Yemen's independence in the event of continuing aggression."
Saudi Arabia said it had decided to begin a 48-hour ceasefire from 12:00 noon in Yemen's timing (0900 GMT) on Saturday.
Full report at:
http://www.presstv.ir/Detail/2016/11/21/494493/Yemen-ceasefire-army-Shataf-Luqman
--------
India
West Bengal government against uniform civil code: State Minister
November 20, 2016
Accusing Prime Minister Narendra Modi of trying to interfere in the religious rights of the Muslims, West Bengal Minister for Mass Education Siddiqullah Chowdhury today said that the state government was opposed to uniform civil code.
"A few days ago during our party's meeting at Chief Minister Mamata Banerjee's residence, she said that she had received a letter from the central government seeking state government's opinion on Uniform Civil Code. "She had immediately replied to the central government stating that Bengal will never implement the Uniform civil Code in the state," Chowdhury said while addressing a rally by All India Muslim Personal Law Board (AIMPLB).
"If Modi tries to play with the religious rights of the Muslims then the repercussions will be disastrous. Modi and BJP should not forget that India got independence because of the active role of the Muslims. If Muslims had not taken active part, it would have taken 100 years more for India to get its independence," Chowdhury said.
Several TMC ministers and senior party leaders such as Sultan Ahmed, alleged that the central government was "trying to ban Triple Talaq and impose uniform civil code in the country."
http://indianexpress.com/article/india/india-news-india/west-bengal-government-against-uniform-civil-code-state-minister-4386064/
--------
Why Trump is a major threat to Muslims in the world's largest democracy too
November 21, 2016
No doubt you've heard about the blossoming friendship between Russia's Vladimir Putin and president-elect Donald Trump. One international soon-to-be BFF you haven't been hearing about is India's xenophobic Prime Minister Narendra Modi. Modi and Trump have a lot in common. They both really hate Muslims. They both want to crack down on a neighboring country. They both say they're great for the economy and run government like a business.
An important thing to know about Modi: many believe he's responsible for the slaughter of more than 2,000 Muslims in 2002. An investigation commissioned by the Indian Supreme Court found there wasn't enough evidence to move the case against him forward, but the U.S. wouldn't issue him a visa due to his involvement in the Gujarat riots—at least not until he was elected Prime Minister).
Modi is a Hindu nationalist, which isn't that much different from white supremacy in the U.S. Here's the basic ideology: India is a Hindu country. Everyone else must assimilate to Hindu culture. Muslims are bad and trying to take over our country. In India, that ideology is enshrined in Modi's political party (the BJP) while in the U.S. that kind of overt racism was unacceptable in political discourse until recently. While Modi's rise to power and the ideology of his party is troubling, it's worth noting that a secular party (the Indian National Congress) has dominated Indian politics since the country's independence from Britain.
Full report at:
http://fusion.net/story/371348/donald-trump-modi-friends-muslims/
--------
Malappuram murder: A month ago, Kerala convert had said, 'If they want to kill me, let them'
November 21, 2016
Almost a month ago, a local Muslim cleric at Kodinji in Kerala's Malappuram district suggested to Anil Kumar, who had converted to Islam a few months ago and taken on the name Faisal, that he should seek protection from the community. Faisal, 30, turned down the suggestion, saying, "After embracing Islam, I have entrusted everything to Allah (God). If they want to kill me, let them''.
Early morning on Saturday, a day before he was to fly back to Saudi Arabia, where he had been working as a driver for the last six years, Faisal was hacked to death by unidentified men. He was on his way to the local railway station to pick up his parents-in-law, who were coming from Neyyattinkara in Thiruvananthapuram.
Although police have not arrested anyone, sources said Faisal appeared to have been targeted not only for embracing Islam but for encouraging others to do so.
Faisal, who belonged to an upper-caste Hindu Nair family, converted to Islam eight months ago while he was in Riyadh. After he came home in August, he converted his wife Priya, now Jesni, and three children, all below 10.
Local sources in the Muslim community said Faisal wanted his mother Meenakshi to convert too. "Since he was to leave for Saudi Arabia on Sunday, he asked a local Muslim leader to make arrangements for mother's conversion,'' sources said.
Police sources said Faisal wasn't the first in the family to convert to Islam – years ago, his uncle and wife and their two daughters took on the new faith. The uncle's family continues to live in the district.
"Many others in our family had converted earlier. Why only my son was targeted,'' asks Faisal's mother, Meenakshi.
At their home in Kodinji, Faisal's father Krishnan Nair said, "He became a Muslim by choice. No one compelled him. It was his decision. But he was not allowed to live.'' Nair, however, added that some of their relatives were not happy about Faisal's conversion.
While Faisal's parents, who work as daily-wage labourers, live in their ancestral home, he lived with his wife and children in a rented house nearby.
A Muslim neighbour of the Nairs too said Faisal's relatives were upset about his conversion. "After he reached home in August, they protested and threatened to attack him. But Faisal did not take it seriously. He wanted Priya and their three children to convert. Priya stood by her husband's decision, despite the threat from relatives," the neighbour said, adding that "Faisal wanted to take his wife and children to Saudi at a later stage".
Kodinji village in Malappuram is dominated by Muslims, with only four Hindu families near Faisal's home. While the Hindu families mostly work as labourers, the Muslim families have members working in the Gulf. Before moving to Riyadh, Faisal had worked for a local Muslim businessmen.
Members of the Muslim community in Kodinji say Faisal had been planning his conversion for years, even sending to son for Arabic and religious classes. "Though the child went to a regular school, he also studied Arabic separately. He was the only Hindu student in that Arabic class,'' said a local Muslim leader.
Full report at:
http://indianexpress.com/article/india/india-news-india/malappuram-murder-a-month-ago-kerala-convert-had-said-if-they-want-to-kill-me-let-them-4386665/
--------
J&K: BSF awan killed, 5 others injured after Pakistan violates ceasefire in Rajouri
November 21, 2016
A BSF head constable lost his life in the early hours of Monday morning after Pakistani Army resorted to heavy cross-border firing in Rajouri sector of Jammu and Kashmir on Sunday night. Pakistani troops continued firing 120 mm mortar shells at various forward Indian positions and civilian areas along the Line of Control in Rajouri and Poonch districts. They also began firing mortar shells in Krishna Ghati Sector Monday morning. "It's being responded strongly by own troops," said Defence Ministry spokesman, Lt Colonel Manish Mehta.
This was the fourth ceasefire violation since Saturday. Five BSF personnel were injured in shelling at Tarkundi area of Rajouri district, sources said, adding that one of them later succumbed to his injuries. The deceased has been identified as Head Constable Raj Singh of Kheri Sapala, Rohtak in Haryana. He is survived by his wife Sunita Devi, three sons and a mother, sources said.
"Last night in heavy shelling from Pakistan side along the LoC in Rajouri area, four BSF Personnel sustained splinter injuries. Head Constable Raj Singh, who was seriously injured, succumbed to his injuries, while the condition of another personnel was serious," a BSF officer said.
Sunday's ceasefire violation came a day after a BSF jawan and a woman were injured, and two houses were damaged when Pakistani troops targeted Indian posts and civilian areas along the Line of Control (LoC) in Nowshera and Sunderbani sectors of Rajouri with mortar attacks and small arms fire.
Full report at:
http://indianexpress.com/article/india/india-news-india/ceasefire-violation-by-pakistan-in-rajauri-indian-army-retaliates-indian-troops-responded-to-ceasefire-violation-by-pakistan-4386374/
--------
NIA may seek Interpol notice against Zakir Naik
Nov 21, 2016
NEW DELHI: Looking to step up the heat on Zakir Naik, the National Investigation Agency plans to summon him soon and will move for getting a red corner notice issued if he avoids official agencies.
Sources said if Naik doesn't return, they could issue a non-bailable warrant against him and get an Interpol red corner notice issued, which means authorities in Saudi Arabia, where he is believed to be located, would need to hand him over to India.
The agency also wants to examine cases relating to 50 individuals who were allegedly drawn to violent extremism after listening to Naik's sermons.
Full report at:
http://timesofindia.indiatimes.com/india/NIA-may-seek-Interpol-notice-against-Zakir-Naik/articleshow/55531786.cms
--------
Muslims hold key to electoral outcome in UP
November 20, 2016
Muslim voters, who account for nearly 20 per cent of Uttar Pradesh's population, can make or mar the electoral prospects of key political parties vying for the top slot in the upcoming Assembly elections. While divided Muslim votes translate to gains for BJP, a consolidation will change the poll arithmetic as minorities play a crucial role in at least 125 of 403 constituencies, which will go to polls in early 2017.
Samajwadi Party chief Mulayam Singh Yadav's decision to revoke expulsion of his estranged cousin and senior party leader Ram Gopal Yadav might once again bring the political spotlight back on Bahujan Samaj Party (BSP).
As ruling SP grappled with internal feud, BSP supremo Mayawati sought to fish in troubled waters, seeking to drive a wedge in SP camp to wean away the crucial Muslim vote bank.
Muslims are considered the traditional votebank of the ruling Samajwadi Party and the concern over SP family feud has been voiced by several top clerics including, Syed Ahmed Bukhari, the Shahi imam of Delhi's Jama Masjid and Maulana Salman Nadvi of Lucknow-based Darul Uloom Nadwatul Ulama.
These leaders gave a blunt message to SP chief that their votes would end up with BSP if the internecine war in his party did not end.
Even a few days back, the competition seemed even – the SP was battling a damaging power struggle, BSP had been hit by desertions and Congress despite a month-long campaign to woo farmers was still struggling to be taken seriously.
But, the revocation of Ram Gopal's suspension gave a new dimension to the highly surcharged pre-poll scenario. Mayawati termed Ram Gopal's reinstatement as a "drama" to cover up the existing bitterness between Chief Minister Akhilesh Yadav and his uncle Shivpal.
Political analysts say the development could drive the BSP supremo to think of a fresh strategy, especially in the communally sensitive western UP, where she anticipates a keen contest with BJP. So far, she has been harping on the feud in SP to caution Muslims "not to waste their votes".
BSP insiders said the party was contemplating reassessing its strategy vis-a-vis Muslim vote bank, which has strongly been siding with SP post Ramjanmbhoomi-Babri Masjid issue.
They were of the view that revocation of Ram Gopal's suspension was an effort by Samajwadi Party to project itself as a united outfit, especially after a bitter infighting between Akhilesh and Shivpal two months ago.
Sources said Mayawati had directed her deputy Naseemuddin Siddiqui and his son Afzal to accelerate BSP campaign in western UP to mobilize Muslim voters and showcase the party that can halt the saffron surge.
She has also promised a substantial chunk of tickets to Muslims to ensure that the community backs her party over SP. Insiders said the party will take the help of social media to reach out to voters in shortest possible time.
They said Mayawati was of the firm view that wooing Muslims and galvanising them with her core Dalit vote bank could drum up a formidable alliance to take on BJP, which will stand to gain in the event of Muslim votes getting split between SP and BSP.
Full report at:
http://indianexpress.com/article/india/india-news-india/muslims-hold-key-to-electoral-outcome-in-up-4385594/
--------
Africa
UNSC 'deeply alarmed' over escalation of ethnic violence in South Sudan
November 20, 2016
UNITED NATIONS: Strongly condemning attacks against civilians, ethnically targeted killings, hate speech, and incitements to violence in South Sudan, the United Nations Security Council called for urgent steps to address increasing hate speech and ethnic violence, and to promote reconciliation among the people, including through a process of justice and accountability.
According to a statement issued late Saturday, the 15-member council expressed "deep alarm over the escalation of ethnic violence in South Sudan reportedly carried out by the Sudan People's Liberation Army (SPLA), the SPLA in Opposition, as well as militias, and unidentified armed groups."
They underscored that the only way forward in the country is through a genuine and inclusive political process, based on the framework provided by the Agreement on the Resolution of the Conflict in the Republic of South Sudan which allows for all voices to participate in shaping the future of the country.
Stressing that all parties must commit themselves to peace and take meaningful steps to end violence and ceasefire violations, council members called on the parties to immediately agree on implementation of an effective cessation of hostilities in order to avoid escalation of the conflict in the upcoming dry season and reiterated that there is no military solution to the conflict.
The statement further noted that the Council members agreed with Special Advisor on the Prevention of Genocide Adama Dieng in that what began as a political conflict has transformed into what could become an outright ethnic war.
Mr Dieng, along with Ellen Loj, the Special Representative of the Secretary-General for South Sudan, had briefed the Council on Thursday on the situation in the African nation.
Further in their statements, the council members signaled their readiness to consider taking additional measures in order to prevent a further escalation of violence and conflict, including potential sanctions that may be appropriate to respond to the situation.
They also committed to work with the African Union High Representative for South Sudan, former President Alpha Oumar Konaré, the Chairperson of the Joint Monitoring and Evaluation Commission former President Festus Mogae, as well as other stakeholders, in the reinvigoration of the political process and the design of a clear political strategy for the peaceful resolution of the conflict in the country.
http://nation.com.pk/international/20-Nov-2016/unsc-deeply-alarmed-over-escalation-of-ethnic-violence-in-south-sudan
--------
Daesh close to defeat in Libya's Sirte
21 November 2016
SIRTE, Libya: After six months of heavy fighting, Libyan forces have advanced so deep into the strategic city of Sirte that they can pick out the Tunisian and Egyptian accents of their Daesh enemies as they trade insults over the frontline.
Victory is imminent on this remote front of the war against Daesh, with the last few militants staging a last stand in a small area of just 1km, US and Libyan officials say.
But the battle has been long and hard, and holds lessons for US backed forces trying to force Daesh out of the much larger Iraqi city of Mosul more than 2,500km away.
"We faced unbelievable resistance. They won't leave their posts even when houses are collapsing on them," said Osama Issa, a 37-year-old businessman fighting with Libyan forces in Ghiza, the last neighborhood of Sirte that Daesh holds.
"They know they will die anyway so they fight well."
Defeat in Sirte will damage Daesh's ability to show it is expanding globally and deprive it of a foothold outside Iraq and Syria. Losing it and Mosul in quick succession would dent its morale and possibly its ability to recruit followers.
But the militants in Sirte have inflicted heavy losses on the Libyan fighters — at least 660 have been killed and 3,000 wounded — and held out longer than expected.
They have proved their skills in guerrilla warfare, shown the vulnerability of advancing forces that lack expertise in urban warfare and highlighted the limited effectiveness of air strikes when frontlines are so close.
The battle has also underlined the importance of trapping fighters during battle because many have escaped from Sirte — a Libyan commander put the number at 400 — and are now staging attacks behind frontlines with increasingly sophisticated bombs.
Growing rivalry between the various factions in the Libyan forces also serves as a warning to the diverse groups fighting Daesh in Mosul: The end of the battle may bring political chaos and the risk of new military conflicts.
'Dirty war'
Daesh gradually took over Sirte from early 2015, taking advantage of the chaos in Libya since the start of a civil war in which long-time ruler Muammar Qaddafi was overthrown in 2011.
Sirte, Qaddafi's former hometown, became its main base in North Africa. Just as in Iraq and Syria, militant commanders began to impose their strict vision on Sirte, banning shisha pipe smoking and forcing woman to wear all-covering robes.
Later, they enslaved migrant women, imposed taxes and meted out punishments such as public whippings and crucifixions.
Forces from the nearby city of Misrata, aligned with the UN-backed government in the capital Tripoli, started the military offensive to recapture Sirte in May after Daesh threatened their security.
The last militants are holding out in the Ghiza neighborhood of the Mediterranean port city, using improvised tunnels, booby traps and snipers.
Hiding among collapsed rooftops and in rubble-packed streets in Ghiza, they have sand-filled fridges and tunnels which provide protection against shelling and air strikes.
The Libyan forces have been backed by hundreds of US airstrikes and helicopter raids, and small teams of US and British military advisers. They are now using Soviet-era tanks to blast paths through rubble as they go from house to house, trying to end the militants' resistance.
"We hear them at night shouting to us, telling us they are coming for us," said Asruf El-Qat, a student fighting in the rubble of Ghiza's many collapsed villas. "It's snipers, and land mines. We advance, they throw grenades. It's a dirty war."
Sniper fire crackled as Qat's brigade kept watch though holes in walls, and occasional shells whistled overhead.
Another brigade armed with AK-47 assault rifles, some of them older men in uniform, others students in jeans and flip flop shoes, prepared to flush out a sniper holed up nearby.
LOST OUTPOST
Islamic State leader Abu Bakr Al-Baghdadi called this month for jihadists to travel to Libya. It was not his first call for Libya recruits — Tunisians, Sudanese and Egyptian fighters fought in the city. But Sirte as a base is finished.
Full report at:
"They are professional fighters. Their objective is to kill as many of us as possible."
http://www.arabnews.com/node/1013556/middle-east
--------
Nigerias In Diapora Express Hope That Trump Will End Terrorism In Africa
Nov 21, 2016
Nigerians in the diaspora have expressed the hope that US President-elect, Mr Donald Trump will help end terrorism in Africa even as they identified the Islamic Movement in Nigeria (IMN) as a group that must be curtailed by the incoming American government.
The Nigerians based in the United States of America who spoke through More Voices Against Terrorism however condemned a statement issued by the US State Department that criticised the Nigerian Police handling of the Shiites sectarian clashes with security agencies and recently the killing of officers going about their businesses.
Trump drew international ire as the republican candidate when he vowed decisive action against radical Islam if elected.
A statement by Angela Bala, More Voices Against Terrorism's Head of Administration said the group is "hopeful that the incoming administration of President-elect, Mr Donald Trump, which shown remarkable understanding of radical Islam would put the IMN on the terror list and compel Iran to stop exporting its evil to the African continent.
"Even as we await such positive development, we urge the State Department to withdraw its offensive statements in favour of IMN and to desist from further issuing such," it demanded.
The Group described the State Department's statement as alarming for openly castigating the Federal Government while supporting the outlawed IMN, which it described as an affiliate of the Islamic Republic of Iran.
More Voices Against Terrorism lamented that "Much as the statement postured to have addressed both sides to the Kano clash that left several Nigerians dead, we find it absurd that the US State Department spoke of the IMN without acknowledging its ties with terrorism or its relationship with Iran that is known to be a state sponsor of terrorism.
"As a body in the US, More Voices Against Terrorism is very aware that the entire members and leadership of the IMN would have been hauled before a law court if they try a tenth of what they do in Nigeria on a daily basis yet the United States has decided to imbue them with more confidence to delude them that the world is in support of the crimes they are committing.
"This can only end badly for the entire human race same way a delay in designating Boko Haram as a terror group is haunting the world today.
"It is worrisome that the same country that readily incinerates school children and wedding parties with drone fired Hellfire Missiles whenever its marines as much as come under fire in other sovereign nations is now the one questioning the right of Nigeria's security forces to deal with known terrorists.
"It should be placed on record that any administration that gives credence to terrorism above the rights of overwhelming segment of humanity, comprising of women and children who are the worst hit by terrorism all over the world, is to return the human race to the nasty state of nature where life is crude, nasty and brutish.
"That the US designates Iran as state sponsor of terrorism and turns around to support Iranian puppets in Nigeria betrays a deficit in thinking that can only lead to the worrisome conclusion that the long term plan is to replicate the kind of confusing proxies' wars ongoing in Syria overthere in Nigeria. We warn that the outcome of such attempts would be calamitous as the IMN terrorists would eventually ply their wares on US soil and in other condoning countries within the shortest time possible.
"We urge a stop to the duplicity of the State Department. Its double standard is confirmed by the highly repulsive and condemnable act in which its statements are issued and distributed through the IMN spokesman in Nigeria. This is simply unfair, unjust and a very biased position against Nigerians that have been hit hard by IMN activities," the group stated.
Nigerians in the diaspora have expressed the hope that US President-elect, Mr Donald Trump will help end terrorism in Africa even as they identified the Islamic Movement in Nigeria (IMN) as a group that must be curtailed by the incoming American government.
The Nigerians based in the United States of America who spoke through More Voices Against Full report at:
http://www.businessinsider.com/r-in-mali-waning-fortunes-of-fulani-herders-play-into-islamist-hands-2016-11?IR=T
--------
Kenya Police Kill 4 Suspected Extremists at Somali Border
November 20, 2016
NAIROBI, KENYA —
Police officers have killed four suspected extremists in Kenya's volatile Mandera County, a border region hard-hit by recent attacks by the Somali extremist group al-Shabab.
Police killed the men at the Somali border while ambushing a group of about 20 suspected members of a cell of al-Shabab militants on Saturday, North Eastern Regional Coordinator Mohamud Saleh said Sunday.
The group allegedly was planning an attack on a police station. Police recovered four rifles and Somali army jackets during the ambush, Saleh said.
Al-Shabab, the al-Qaeda affiliate in East Africa, has vowed retribution on Kenya for its troop presence in Somalia.
Kenya deployed troops to Somalia in 2011 to fight al-Shabab, which is waging an insurgency against Somalia's weak U.N.-backed government and threatening instability in the region.
The extremist group has carried out at least five mass attacks in the last two years. Al-Shabab gunmen killed 18 people last month in separate attacks on non-Muslims in Mandera County, which lies in northeast Kenya and borders both Somalia and Ethiopia.
Full report at:
http://www.voanews.com/a/kenya-police-kill-4-s/3604316.html
--------
Southeast Asia
Putrajaya finally tables law to bar unilateral child conversion
BY RAM ANAND
November 21, 2016
KUALA LUMPUR, Nov 21 — The government has at last tabled an amendment to the Law Reform (Marriage and Divorce) Act which institutes legal safeguards against unilateral conversions of minors.
The Law Reform (Marriage and Divorce) (Amendment) 2016 was tabled by Minister in the Prime Minister's Department Datuk Seri Azalina Othman for first reading at the Dewan Rakyat this morning, the highlight being the inclusion of a new Section 88A that explicitly states that "both parties" in a civil marriage must agree for the conversion of a minor into Islam.
Specifically addressing the "Religion of a Child" in civil marriages where one spouse has converted to Islam, the amendment also said that the child will remain in the religion of the parents at the time of marriage until the child is 18 years old, when he may choose his own religion.
"Where a party to a marriage has converted to Islam, the religion of any child of the marriage shall remain as the religion of the parties to the marriage prior to the conversion, except where both parties to the marriage agree to a conversion of the child to Islam, subject always to the wishes of the child where he or she has attained the age of eighteen years," the section reads.
The proposed amendment also said that if the parties to the marriage professed to different religions prior to one spouses conversion to Islam, "a child of the marriage shall be at liberty to remain in the religion of either one of the prior religions of the parties before the conversion to Islam."
The issue of unilateral conversions became controversial in recent years after several cases such as that of M Indira Gandhi and S Deepa, who both faced lengthy court battles to gain custody and also reverse the unilateral conversion of their children by their Muslim convert ex-husbands.
The amendment also states that if a person who has converted to Islam dies before the non-Muslim civil marriage is dissolved, the matrimonial assets shall be distributed by court "to interested parties."
The distribution will take into account contributions made by interested parties in money, property or works towards the acquisition of the matrimonial asset.
The proposed amendments shall also be used retrospectively for any cases still pending in courts under this Act.
The problems with unilateral child conversions persisted despite a Cabinet ruling prohibiting the practice, due to the lack of legal weight behind the decision.
Putrajaya had since then been pressed to codify its decision into law, as it has done today.
http://www.themalaymailonline.com/malaysia/article/putrajaya-finally-tables-law-to-bar-unilateral-child-conversion
--------
Respected Muslim scholar sets sights on top office
November 21, 2016
A renowned Muslim scholar listed among the world's top 100 public intellectuals by Foreign Policy magazine in 2008, Mr Anies Baswedan has made no bones about wanting to be Indonesia's next president.
The 47-year-old former rector of Paramadina University in Jakarta is widely respected as an academic who has spoken about the role of Islam in Indonesian democracy at global forums.
His most notable achievement was initiating Gerakan Indonesia Mengajar, or the "Teaching Indonesia" movement, which has recruited and trained young volunteer professionals to teach poor Indonesians in remote regions countrywide.
Of Arab lineage, he is the grandson of the late Abdurrahman Baswedan, who was deputy minister for information under Indonesia's first president, Soekarno. Mr Anies is married with four children.
Eloquent and soft-spoken, he holds a doctorate in political science from Northern Illinois University, a master's in public policy from the University of Maryland School of Public Policy and a business management degree from Gadjah Mada University in Yogyakarta.
His candidacy in the gubernatorial race did not come as a surprise, and he has been touted as a serious contender against the incumbent, Mr Basuki "Ahok" Tjahaja Purnama, although Mr Anies' electability ratings are lower. His supporters are intellectuals and those from the middle and upper classes.
Full report at:
http://www.straitstimes.com/asia/respected-muslim-scholar-sets-sights-on-top-office
--------
James Riady Speaks at NU National Meeting in Jakarta
November 21, 2016
Jakarta. Lippo Group chief executive James Riady said Indonesia can play a bigger role in the world economy, with the country currently serving as one of the key engines of growth in Southeast Asia.
James, who spoke at a national coordinating meeting of Indonesia's biggest Muslim organization, the Nadlatul Ulama (NU), in Jakarta on Saturday (19/11), said the country has led Southeast Asia's economy with its solid performance.
He said the United States contributes about 24 percent of the world economy, followed by Europe (22 percent), Japan (5 percent) and Southeast Asia (3.3 percent).
"In Southeast Asia, about 50 percent of the population, and I am sure about 50 percent of the wealth, comes from Indonesia. In the United States, there are still many problems; economics problems. In Europe, it [the economy] is likely to remain troublesome over the next 10 years, while Japan is seeing its population aging," said James, who is also deputy chairman of the Indonesian Chambers of Commerce and Industry (Kadin).
"In Latin America and Africa there are many troubles also. There is one region that registers good growth; it is Southeast Asia and Indonesia leads," he said.
James was invited to speak at the meeting as he is seen as sharing the organization's vision for the development of the nation.
The businessman called on the government to improve regulations and Indonesia's complex bureaucracy.
"The root of all problems is government policy. Regulations come from policy; if the policy is not good, then it will impact others," he said.
James said the business community needs certainty in doing business, including easier processes to secure permits and less complicated bureaucracy and regulations.
He also praised the NU, which has about 90 million members in the country, for its vision in education and economic development.
Full report at:
http://jakartaglobe.id/business/james-riady-speaks-nu-national-meeting-jakarta/
--------
North America
Reince Priebus Voices Support For Altered Muslim Ban
20/11/2016
GOP chairman and incoming White House chief of staff Reince Priebus said he was "not going to rule out anything" when it came to banning Muslim immigration, but seemed to suggest that such a ban would not explicitly prohibit Muslims outright.
"I'm not gonna rule out anything," Priebus said during an appearance on NBC's "Meet the Press" Sunday, "but we're not gonna have a registry based on a religion."
"I think what we're trying to do is say that there are some people, certainly not all people... there are some people that are radicalized. And there are some people that have to be prevented from coming into this country," Priebus continued. "[President-elect Trump's] position is consistent with bills in the House and the Senate that say the following: If you want to come from a place or an area around the world that harbors and trains terrorists, we have to temporarily suspend that operation until a better vetting system is put in place."
Priebus also said Sunday that there were elements of Islam that he found "problematic."
"Clearly there are some aspects of that faith that are problematic and we know them; we've seen it," he said on ABC's "This Week."
"It certainly isn't a blanket for all people of that faith, but Mike Flynn is one of the most highly respected intelligence officers in America. Certainly no one can deny that."
Flynn, whom Trump has tapped to serve as his national security advisor, has made a number of anti-Muslim statements, including one on Twitter this February in which he stated "Fear of Muslims is RATIONAL."
Priebus' posturing is, indeed, in line with president-elect Donald Trump and his transition team, who have sought ways to limit Muslim immigration to the United States without explicitly forbidding their entrance into the country.
Trump said this summer that he hopes to "suspend immigration from any nation that has been compromised by terrorism until such time it's proven that vetting mechanisms have been put in place." That position constituted a softening of Trump's original statement, in which he called for "a total and complete shutdown of Muslims entering the United States until our country's representatives can figure out what is going on."
Kansas Secretary of State Kris Kobach, who has been advising the president-elect on such matters, has been preparing a proposal to implement a geographically targeted ban. "Trump and the Department of Homeland Security hit the ground running," Kobach told The Huffington Post.
As HuffPost's Amanda Terkel reported, Kobach previously worked on the National Security Entry-Exit Registration System while serving in President George W. Bush's administration. That program sought to track male foreigners 16 and over in the U.S. who hailed from a specific set of majority-Muslim countries. That program was deemed a failure and ultimately shut down.
This article has been updated to include Priebus' comments on "This Week."
Huffington Post reporter Eliot Nelson's book, The Beltway Bible: A Totally Serious A-Z Guide to Our No-Good, Corrupt, Incompetent, Terrible, Depressing and Sometimes Hilarious Government, is out now.
http://www.huffingtonpost.in/entry/reince-priebus-muslim-ban_us_5831c773e4b058ce7aaba1f9
--------
Islamic community marches for peace in Boise
November 20, 2016
BOISE - Members of Boise's Muslim community gathered Sunday morning for an annual march of peace, honoring the life of an historic Islamic leader.
For the fifth straight year, local Shia Muslims, many of them carrying flags or signs denouncing terrorism, walked from Ann Morrison Park to Islamic Center on Orchard Street.
According to event organizers, the event honors Imam Hussain, who died 1,400 years ago when he gave his life for the ideals of freedom, justice and human rights.
Full report at:
http://www.ktvb.com/news/local/islamic-community-marches-for-peace-in-boise/354397365
--------
Obama, Putin talk about Syria and Ukraine in quick summit meet
November 21, 2016
U.S. President Barack Obama and his Russian counterpart Vladimir Putin spoke for around four minutes on Sunday at the APEC summit about Syria and Ukraine, in what is likely to be their last in-person meeting before Obama leaves office.
The two men met at the start of the summit meeting in Lima, Peru's capital. They exchanged pleasantries and remained standing as they spoke.
Obama later said at a news conference he told Putin the U.S. is deeply concerned about bloodshed and chaos in Syria "sown by constant bombing attacks" by the Syrian and Russian militaries, and that a ceasefire and political transition were needed.
"As usual I was candid and courteous but very clear about the strong differences we have on policy," Obama said.
Putin said at a separate news conference he thanked Obama during Sunday's meeting in Lima "for the years of joint work".
Full report at:
http://nation.com.pk/international/21-Nov-2016/obama-putin-talk-about-syria-and-ukraine-in-quick-summit-meet
--------
Sikh youth mistaken for Muslim, abused at US store
Nov 21, 2016
BOSTON: A 22-year-old Sikh, studying at the prestigious Harvard Law School, was allegedly abused and harassed at a store near the campus by a man who mistook him for a Muslim. Over 200 incidents of hateful harassment and intimidation across the US have been reported since Donald Trump won the presidential election+ .
Harmann Singh, a first year law student at the university, said he was shopping in a store in Cambridge, Massachusetts, while speaking on the phone with his mother, when a man walked in and said to the clerk behind the counter, "Oh look, there's a (expletive) Muslim."
"Over the weekend, I was confronted by a man who called me a '(expletive) Muslim' and followed me around a store aggressively asking where I was from, and no one in the store said a thing. I was on the phone with my mom the entire time, and we were both concerned for my safety as this man stood inches away from me," Singh wrote about his experience in The Boston Globe.
Full report at:
http://timesofindia.indiatimes.com/nri/us-canada-news/Sikh-youth-mistaken-for-Muslim-abused-at-US-store/articleshow/55534866.cms?
--------
Muslim youth showcase identity through art at Montreal Museum of Fine Arts
Nov 20, 2016
No matter how busy Wurood Habib gets, she always finds time to pray.
However, with school, work and an internship underway, sometimes she has to get creative to find a private spot to lay her prayer mat.
"You're often faced with having to pray where you work, where you study, it's just part of your daily routine," says Habib.
"So, I just wanted to showcase the little places that I found, that are somewhat private, so I could pray five minutes."
Habib created a collection of photos of different locations in Montreal where she prays.
Her project is called Prayer in a Pinch, and it's one of 10 art submissions chosen to be part of a new exhibit at the Montreal Museum of Fine Arts.
The Art of Inclusion showcases artwork by young Muslims in Quebec.
Peter Flegel from the Michaëlle Jean Foundation says the exhibit is the first of its kind to be shown in a major museum in Canada.
"These are young people who have quite a lot to say, incredible ideas and quite a lot of creativity," says Flegel.
"Sometimes [they] are misunderstood, or stigmatized, and sometimes face barriers in terms of achieving their aspirations."
Close to 50 young Muslims from across Quebec, aged 15 to 30, submitted art projects last summer, exploring their identity and their connection or disconnection to Quebec and Canada.
Marilyn Lajeunesse, the educational programs officer for the museum, was on the jury that selected the finalists. She says they looked for unique, high-quality art.
In the end, nine of the 10 winners ended up being female.
The Crown, an acrylic and oil painting by Zahraa Sbaiti, is a self-portrait that reflects her sense of identity as a Quebecer, and as a woman who wears the veil.
One striking art installation is ten bags of water hanging from hooks, each one pierced by a pencil, yet none are leaking. It's called Escape by Yousra Benziane, who says the pencils represent the media's simplistic depiction of Muslims, and the water shows the permeability of Muslim communities, when faced with negative treatment.
Diversity within the Muslim world
"It's a very unique opportunity for the millennials of Muslim faith to make their voices heard," says Fo Niemi, from the Center for Research-Action on Race Relations.
Niemi says each artwork projects an important social message about who each Muslim Canadian is, and how they see the world around them.
"[The exhibit] illustrates the diversity within the Muslim world, within the Muslim community right here in Montreal," says Niemi.
Mercedeh Baroque created a short film called Daughters of the Believers. It includes Baroque and several of her female Muslim friends, who associate with the same punk movement, and are all struggling with their identities.
Full report at:
http://www.cbc.ca/news/canada/montreal/muslim-youth-art-mmfa-1.3858278
--------
Obama 'not optimistic' about Syria's near future
21 November 2016
US President Barack Obama said on Sunday that chaos in Syria could persist for "quite some time" and that Russian and Iranian support for President Bashar al-Assad's air campaign had emboldened the Syrian leader's crackdown on rebels.
"I am not optimistic about the short-term prospects in Syria," Obama said at a news conference in Lima at the conclusion of a summit with leaders of Pacific Rim countries.
"Once Russia and Iran made a decision to back Assad and a brutal air campaign and essentially a pacification of Aleppo regardless of civilian casualties, children being killed or wounded, schools or hospitals being destroyed, then it was very hard to see a way in which even a trained and committed moderate opposition could hold its ground for long periods of time," he said.
Obama, a Democrat who will be succeeded on Jan. 20 by Republican President-elect Donald Trump, said he told Russian President Vladimir Putin on the sidelines of the Asia-Pacific Economic Cooperation summit in Lima that he was deeply concerned about the bloodshed in Syria and that a ceasefire was needed.
"At this stage, we're going to need a change in how all parties think about this in order for us to end the situation there," Obama said, adding: "There's no doubt that there will continue to be extremist forces in and around Syria because it's still going to be in chaos for quite some time."
Under Obama, the military aid program overseen by the CIA has given arms and training to moderate rebels in coordination with countries including Turkey, Saudi Arabia, Qatar and Jordan.
Full report at:
https://english.alarabiya.net/en/News/middle-east/2016/11/21/Obama-not-optimistic-about-Syria-s-near-future-.html
--------
Europe
Kamil Samigullin: 'What Fethullah Gülen has done – it is wrong'
21.11.2016
A conference devoted to the extremist movements has recently been held in Kazan. On the threshold of the forum, the correspondent of Realnoe Vremya talked to the mufti of Tatarstan Kamil Samigullin and the rector of the Russian Islamic Institute Rafik Mukhametshin. The speakers gave their answers to the criticism of Ildar Alyautdinov on the sermons in Tatar language and expressed their opinion about Fethullah Gülen, who is accused of the coup attempt in Turkey.
The response to Alyautdinov
On 17 November, an international scientific-practical conference 'Russia and Islamic world: search for response to the globalization of extremist movements' opened at the Academy of Sciences of Tatarstan. Several delegates from Armenia and Kazakhstan gave the conference an international status. The others were from different regions of our country. Moreover, speakers with Arabic names were citizens of Russia and spoke on behalf of Russian institutions. Almost half of the audience were students-Orientalists from the Kazan Federal University.
The president of the RT Academy of Sciences Myakzyum Salakhov, deputy head of the Tatarstan Presidential Administartion Aleksandr Terentyev and the mufti of Tatarstan Kamil Samigullin gave welcoming speeches. The moderator of the event was the director of the Center for Islamic Research of RT Rinat Pateyev.
Prior to the conference, the correspondent of Realnoe Vremya had a conversation with one of the main guests of the meeting — the chairperson of the MSB RT (the Muslim Spiritual Board of the republic of Tatarstan), the mufti Kamil Samigullin.
We remind that the chairpeson of the Muslim Spiritual Board of Moscow, the mufti Ildar Alyautdinov expressed concern about the sermons in Tatar language in the mosques of Tatarstan. In August, the delegates of a plenum of MSB RT unanimously supported the initiative of the mufti Kamil Samigullin.
According to Alyautdinov, part of the mosque-goers who do not speak Tatar may leave the mosque. In such matters we need to consider the views of all Muslims. And such decisions can push the believers to the 'embraces' of the sects, believes the Moscow mufti.
Kamil Samigullin in answer to the journalist stated that Alyautdinov 'just does not know the situation'.
'The man expressed his opinion, from the sidelines it maybe looks different,' said Samigullin.
The head of the MSB RT noted that only in three mosques of the Republic the imams were preaching in Russian. The initiative to read vagaz exclusively in Tatar was unanimously endorsed by all the imams at a plenum of the Muslim Spiritual Board of Tatarstan.
'The claims were only from a couple of mosques,' said the mufti to the correspondent of Realnoe Vremya. 'They sent the same 'goers'. Sometimes you look at how Russian guys stand up for Russian sermon, but they do not always come on time to prayer. Their goal is only to pray. They do not always listening (to imam – editor's note).
In the interview with our journalist, Samigullin also said that classes on the fundamentals of Islam continue to be taught in Russian.
'If there will be those who wish, we can arrange lessons in English, find teachers,' he added.
As for the concern of possible leaving of mosque-goers who do not understand Tatar sermon, the chairperson of MSB RT noted that the sermons were always in Tatar and young people leave to the radical movements not because of vagaz in an understandable language for them.
'What Fethullah Gülen has done – it is wrong'
The correspondent of Realnoe Vremya, in his turn, asked an opinion of Kamil Samigullin on an Islamic preacher Fethullah Gülen, whom the Turkish authorities accused of organizing the military coup in July 2016 in Turkey. By the way, a month earlier, the Tatarstan's mufti called the activities of Gülen and his supporters (Turkish abbreviation FETO — 'a terrorist organization of Fethullah Gülen'), inhuman and contrary to Islam norms.
The mufti in conversation with our journalist denied the media statements that he allegedly said that the supporters of the Turkish theologian are non-Muslims. He also stressed that there are quite many followers of Gülen, who now lives in the U.S., in the world.
'Many people loved him, believed in him. They even now refuse to believe his involvement in those events. Although the Turkish side has provided all the evidence. We have seen all the reports,' said the mufti.
Samigullin advised young people who are sympathetic to the Turkish preacher to change their mind, but at the same time, to continue to perform namaz, keep fasts, as they used to do before. He believes that they became Muslims 'not because there is Fethullah Gülen'. And his sermons, according to the chairperson of MSB RT, can be completely replaced by 'our good theologians, great literature.'
However, he is against Turkish-American theologian himself.
'What Fethullah Gülen has done — it is wrong,' emphasizes Samigullin. 'Clearly, there were some political views, it was necessary to replace Erdoğan. But there were released bullets against their own citizens. These generals were living on the country's budget, and shoot the taxpayers — it is unconscionable.'
However, the interlocutor of our newspaper does not detract from the merits of Gülen. He agreed that on his initiative there were built good schools in many countries, universities were founded. However, he criticized another aspect of the actions of the Turkish theologian – dialogue between religions.
'We even discussed the dialogue between religions with Metropolitan Feofan. We have another approach. Dialogue is conducted in order to gather, to sit, to find common points. There are some issues, on which it is impossible to make concessions. For example, it is quite logical when a Muslim loves his religion more than the Christian, and a Christian believes his religion is true. There are internal postulates where we should not interfere. In Tatarstan, we have come to this understanding: we live in a big house, but everyone has their own apartment. We cannot now move to a communal apartment, but their idea was similar to this: let's mix, something will be shared, some postulates can be sacrificed. But this cannot be: we have our own concept, own ideology, the Orthodox and the Jews have their own ones. We will not start these matters. We will only discuss things that unite us. So, there is no need to rummage in the ideology of Christians in order to find something that fits you. It would be pointless and wrong.'
http://realnoevremya.com/articles/937
--------
Sarkozy crashes out of French presidential race after courting far-right with rhetoric on Muslims
21 November, 2016
France's ex-president Nicolas Sarkozy was spectacularly thrown out of the race for the French presidency on Sunday, with voters cutting short a political comeback that tapped into populist sentiment.
Dealt a humiliating blow in the conservative nomination contest, four years after losing a first re-election bid to Socialist Francois Hollande, Sarkozy, 61, alluded to a possible withdrawal from political life when he conceded defeat.
"It's time for me to try a life with more private passions than public ones," he said, thanking his supermodel-turned-singer wife Carla Bruni and his children.
"I feel no bitterness, no sadness, and I wish all the best for my country," he told supporters at his campaign headquarters.
His surprise exit, which had appeared unthinkable days earlier, also marked the failure of a strategy to court far-right voters with divisive rhetoric and tough measures on immigration and law-and-order.
In campaign speeches, Sarkozy had vowed to ban the Islamic burkini swimsuit, had ruled out special school lunches for Muslim children - saying they should fill up on a double portion of chips when pork is on the menu - and told migrants gaining citizenship that their ancestors were Gauls.
Former prime minister Alain Juppe, who was seen going through to the runoff with fellow former premier Francois Fillon, had called Sarkozy's campaign strategy "suicidal".
He came a distant third with about 20 pe rcent of the votes on Sunday, behind surprise frontrunner Fillon's 44 per cent and Juppe's 28 per cent, according to partial results.
Allegations that he took covert funding from Libya, which resurfaced earlier this week, may have also played a role in Sarkozy's defeat.
"Aren't you ashamed of yourself?" he told a journalist who asked him about the claims during a presidential TV debate.
But some voiced doubts about whether Sarkozy, who said he'd quit politics after losing power in 2012 only to make a comeback two years later, would really retire.
"I have seen a certain number of things during my political life, so I'd be careful on retirements," said former prime minister Jean-Pierre Raffarin, who backs Juppe.
The son of a Hungarian immigrant father, Sarkozy debuted in politics as mayor of the wealthy district of Neuilly outside central Paris, before serving as President Jacques Chirac's finance minister. Later as interior minister, he called protesters in a Paris suburb "scum".
As president between 2007 and 2012, Sarkozy's high-energy style and abrasive manner polarised voters. His modest attempts at tax and labour reforms and limited success in creating jobs disenchanted both free-marketeers and centrist voters whom he had also assiduously courted to win power.
Sarkozy promised to quit politics altogether after Hollande defeated him in May 2012. However, he returned to the fray in September 2014, citing the need to rescue France from what he described as the socialist's catastrophic presidency.
Painting Sarkozy as a "prophet of doom", Juppe has said he wants to be a "prophet of happiness", risking ridicule in a country renowned for its pessimism.
Full report at:
http://www.scmp.com/news/world/europe/article/2047811/sarkozy-crashes-out-french-presidential-race-after-courting-far
--------
URL: https://www.newageislam.com/islamic-world-news/new-age-islam-news-bureau/making-pakistan-an-islamic-welfare-state-under-jamaat-e-islami-banner/d/109158
New Age Islam, Islam Online, Islamic Website, African Muslim News, Arab World News, South Asia News, Indian Muslim News, World Muslim News, Womens in Islam, Islamic Feminism, Arab Women, Womens In Arab, Islamphobia in America, Muslim Women in West, Islam Women and Feminism, Moderate Islam, Moderate Muslims, Progressive Islam, Progressive Muslims, Liberal Islam